Are you looking for a new spring dish to create for either Easter coming up or just spring in general? I don't know about you, but I'm so excited it is here! I love you rain, but I need some sun. So I'm whipping out some bright spring dishes to get Spring blooming faster around here. This pink floral chick' in egg is a great way to start spring. The classic chicken tarragon salad is nestled into a pink boiled egg and topped with edible flowers and microgreens. If that isn't Spring, I don't know what is! This cute little play on chicken and eggs is a fun appetizer or dish for Easter coming up!

Photos by Dayna Studios
---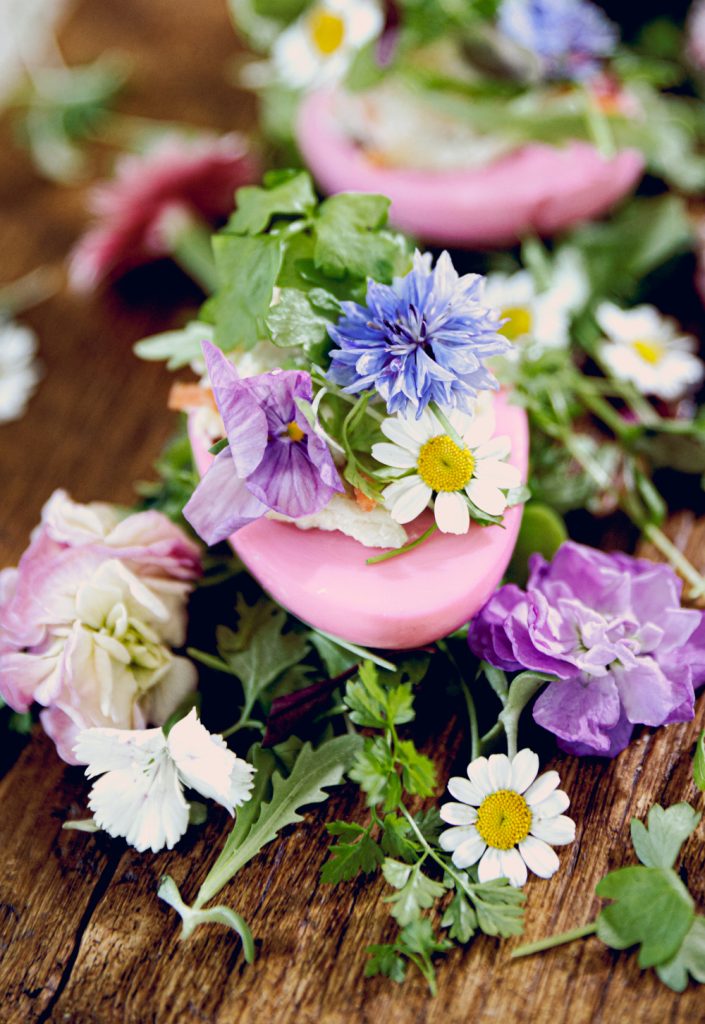 ---
CHICK'N IN EGG SALAD
SERVES: 2-4 people | PREP: 10 MINUTES | COOK: 8 MINUTES
W H A T   Y A   N E E D
Eggs
3 Tbs. sour cream or labneh yogurt or even vegan yogurt
2 Tbs. Dijon mustard
2 Tbs. mayonnaise
2 Tbs. chopped fresh tarragon
2 tsp. honey
1 tsp. chopped pink peppercorns
2 cups  (12 oz./375 g) diced cooked chicken
2 celery stalks, thinly sliced
2 green onions, thinly sliced
2 Tbs. chopped fresh flat-leaf parsley
Kosher salt and freshly ground pepper, to taste
Food Coloring
Edible Flowers
Microgreens
B U S T   O U T
Serving Tray
---
I N S T R U C T I O N S
Beijos Tip: This salad I like to make a batch and it will usually store 2-4 people. For the eggs, it will go a long way. So I would do as many eggs as you need to and save the rest of the salad mix.

1st let's start with boiling our eggs. Put 4-6 eggs into a pot with cold water filled up about an inch above the eggs. Turn the heat on, and wait for a boil. Once boiled, start your timer for 8 minutes. I have timed mine so many times, I know that 8 min and 23 seconds will give me perfect soft pillowy eggs.
Immediately, run under cold water and add ice to stop the cooking. Set aside.

Next, let's whisk together the sour cream, mustard, mayonnaise, tarragon, honey, and pink peppercorns in a bowl. Fold in the chicken, celery, green onions, and parsley—season with salt and pepper. Serve immediately. Now, I like to switch it up when it comes to sour cream. If I'm serving people, I will use sour cream or labneh yogurt. Both give it a tangy note. On the other hand, if it's just a snack for myself, then it's vegan sour cream or yogurt all the way. Either way, they are all yummy!
We are one step closer to serving! Let's dress up the eggs now! Empty your egg yolks from the egg whites, you can add them to the chicken salad if you like. I usually skip it. Then put your white egg yolks into a cold bath of pink dye. I added about 4-5 drops of food coloring. I did pink, but you can do whatever color your little heart desires. Once the color you like is achieved, then take them out and pat them dry on a paper towel.
Last step! Put a spoonful of the chicken salad mix into the egg yolk. Garnish with edible flowers and serve on a bed of microgreens. These cute little ladies will be a hit for any spring get-together you have, especially for Easter!
---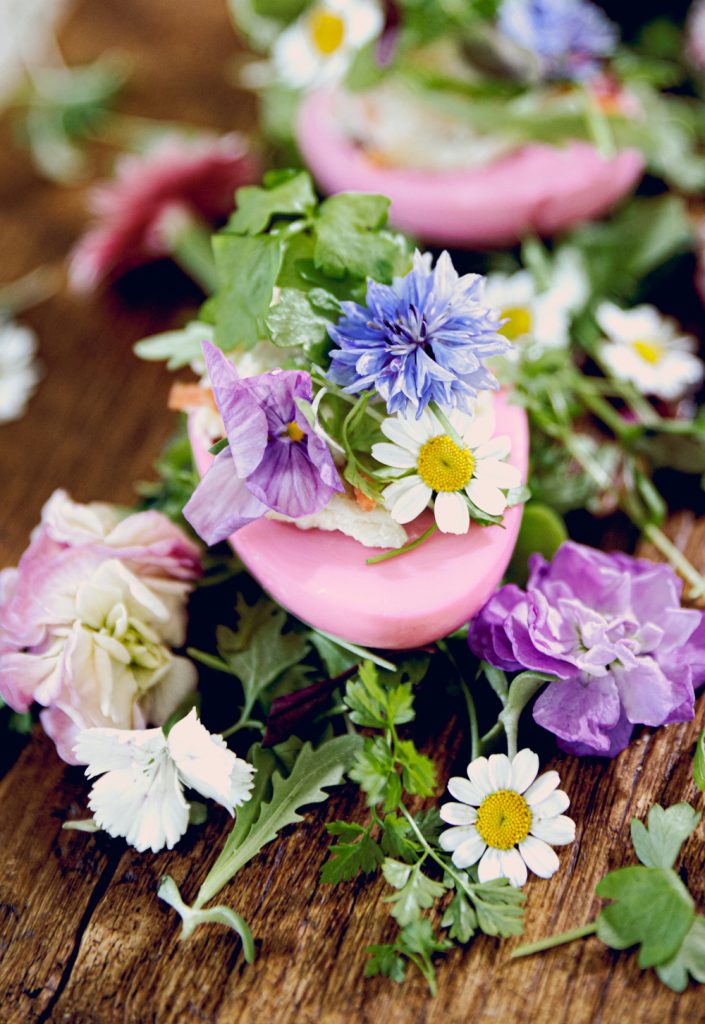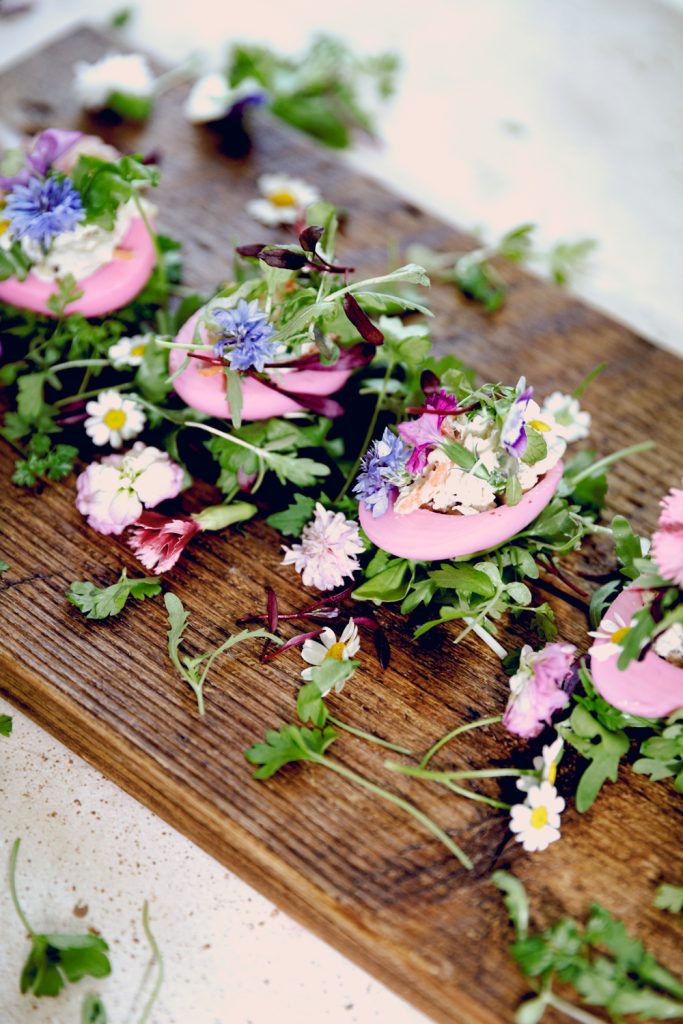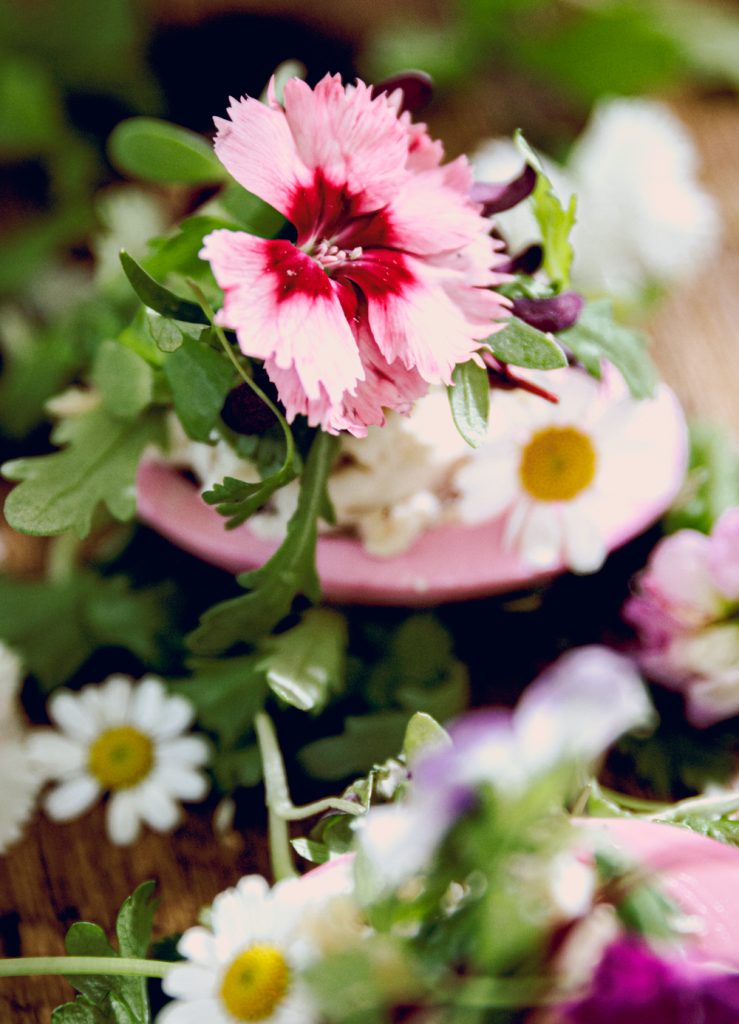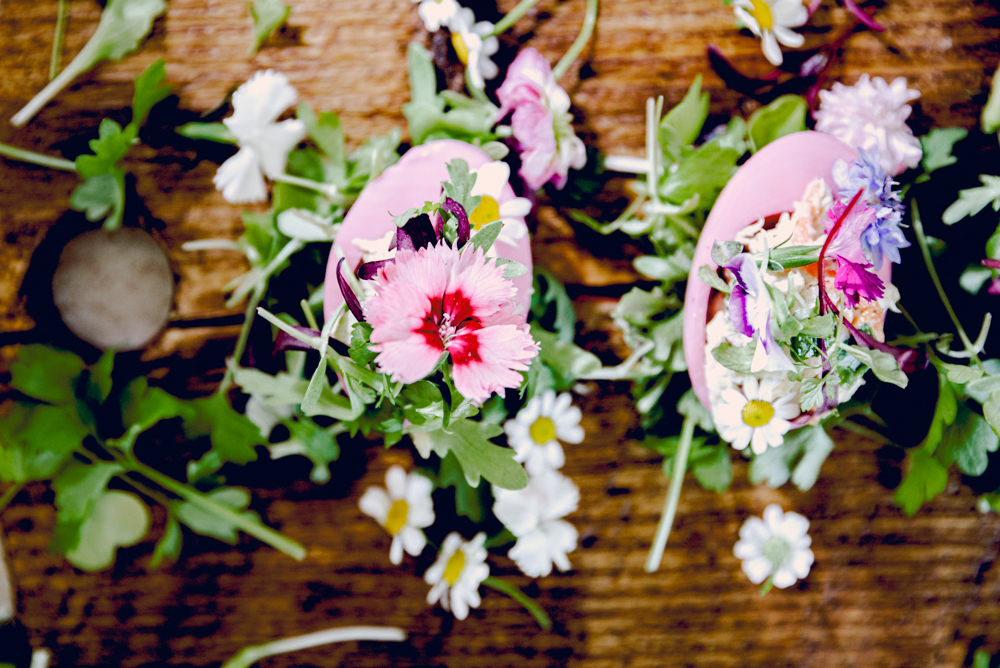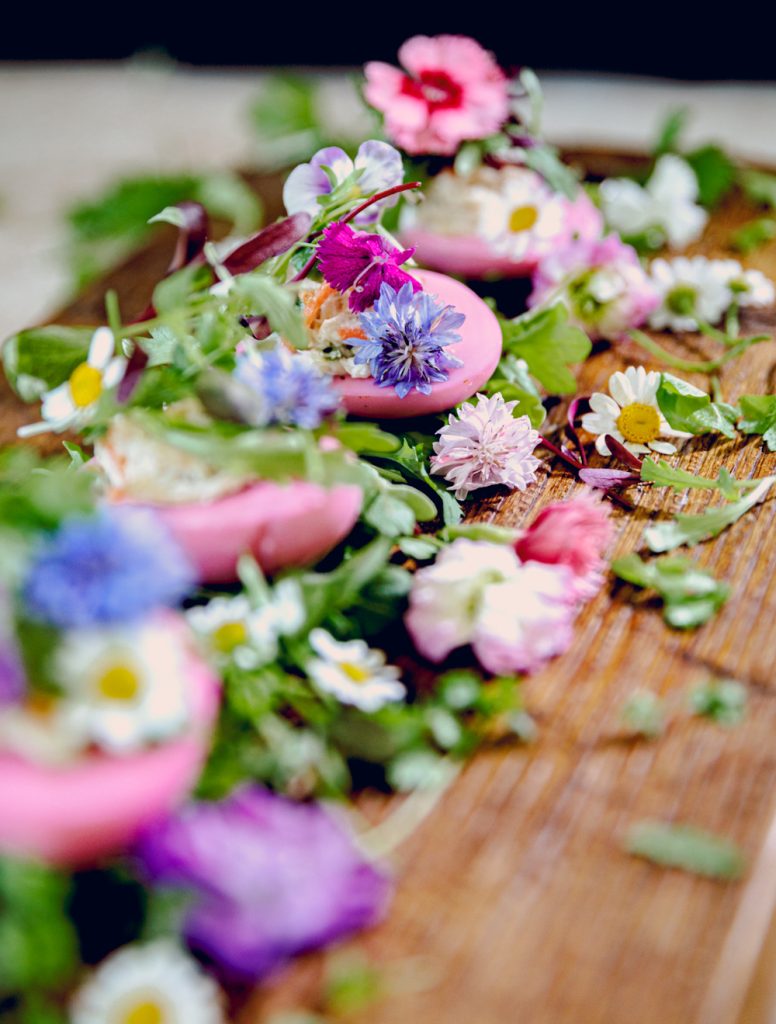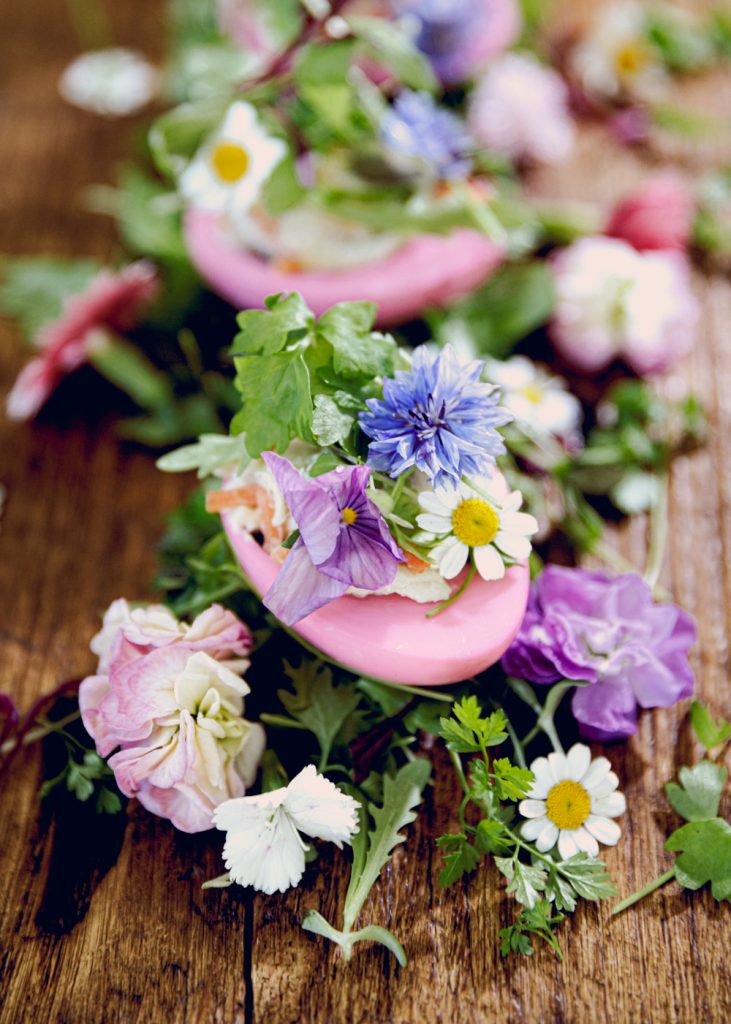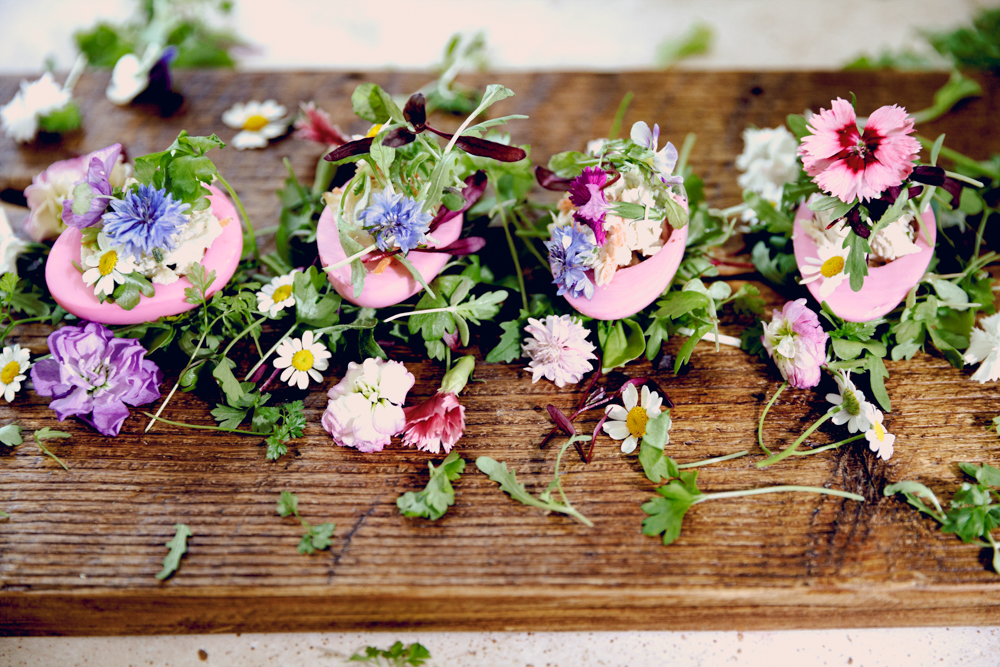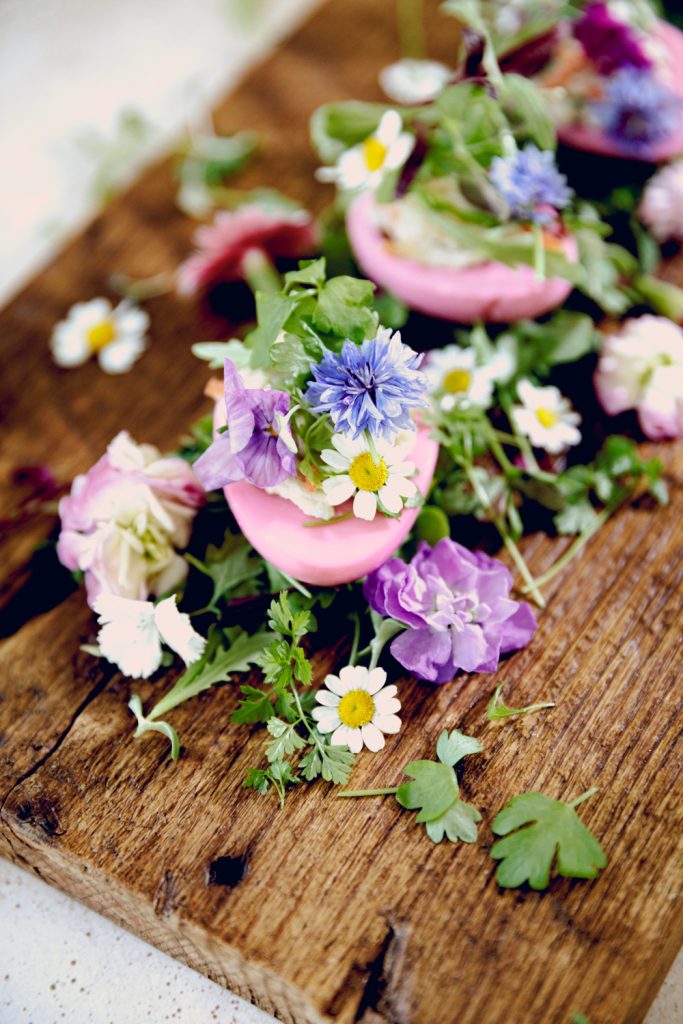 ---
xx
Abby