That creepy season is quickly approaching and what can I say, I'm ready for it! Halloween will be here before you know it and it's time to get festive! Pottery Barn Kids has all the amazing decor and costumes you'd need for one of our favorite holidays. I have so many amazing ideas on how to throw an amazing Halloween party, I can't wait to share them. It's all about a Halloween party at home today, and I'm here to make it spooky and fun!
One of my favorite things of living in my neighborhood is celebrating the holidays! The street we live on has tons of kids and young families and we all get together for every fun event. I'd have to say that Halloween is maybe the best! Everyone goes all out and the kids have the greatest time. There's nothing like making the holidays special for your little ones, so without further ado, let's get to it!
Photos by my friend and neighbor Alison Bernier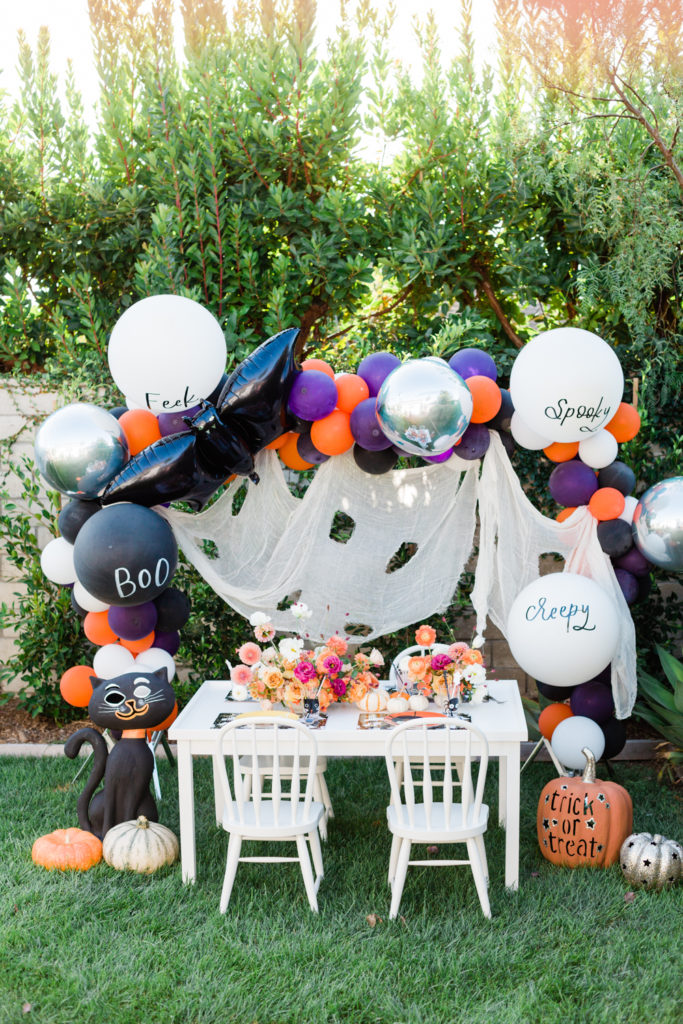 Step 1
Wow the Trick or Treaters!
Your front door and your porch get their time to shine for Halloween! All of the little trick or treaters will be making their way to the door so you have to deck it out. I loved using the Happy Halloween sign and light up spiders from Pottery Barn Kids on my porch. I mixed them with tons of pumpkins, because one can never have enough! Lastly, we use balloon garlands made by The Pop Shop at our parties and events all the time, but what about your front door?! It's definitely a show stopper moment and both kids and adults will be impressed!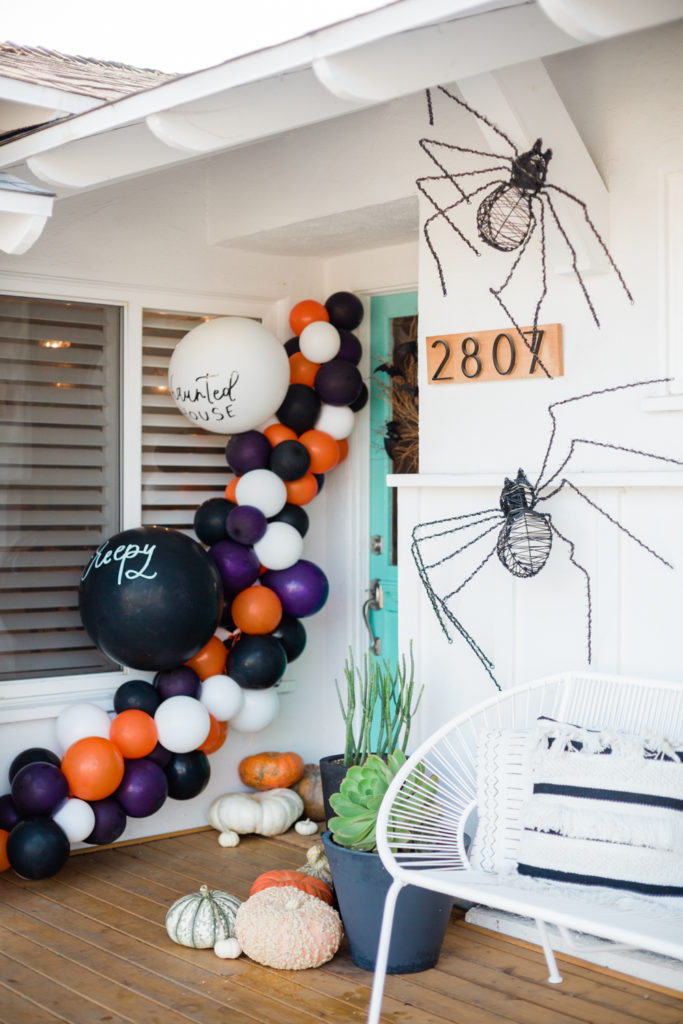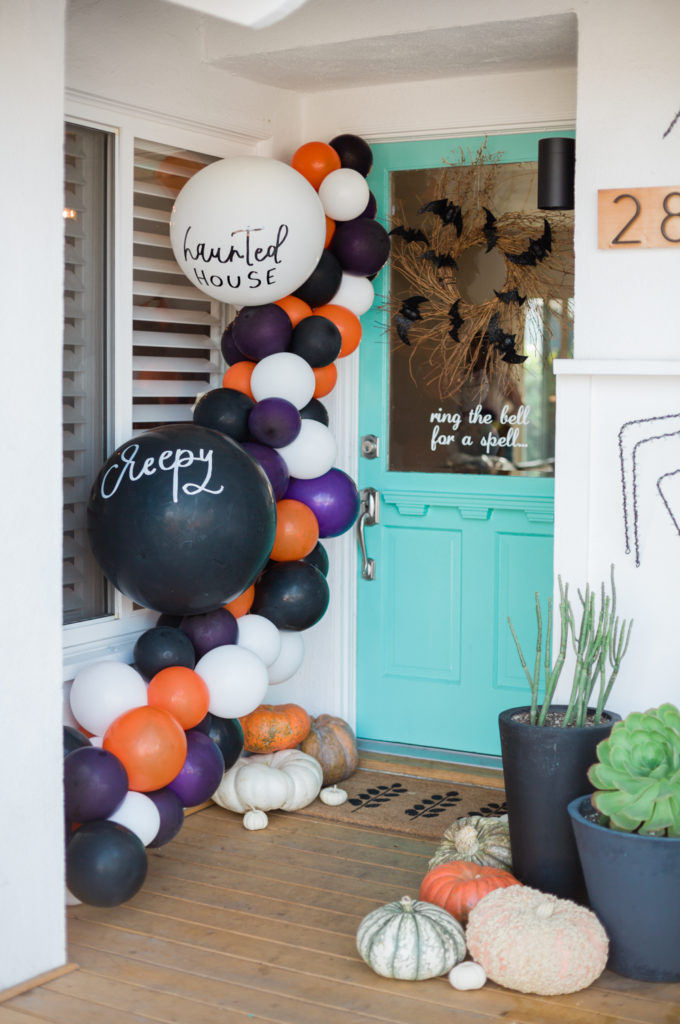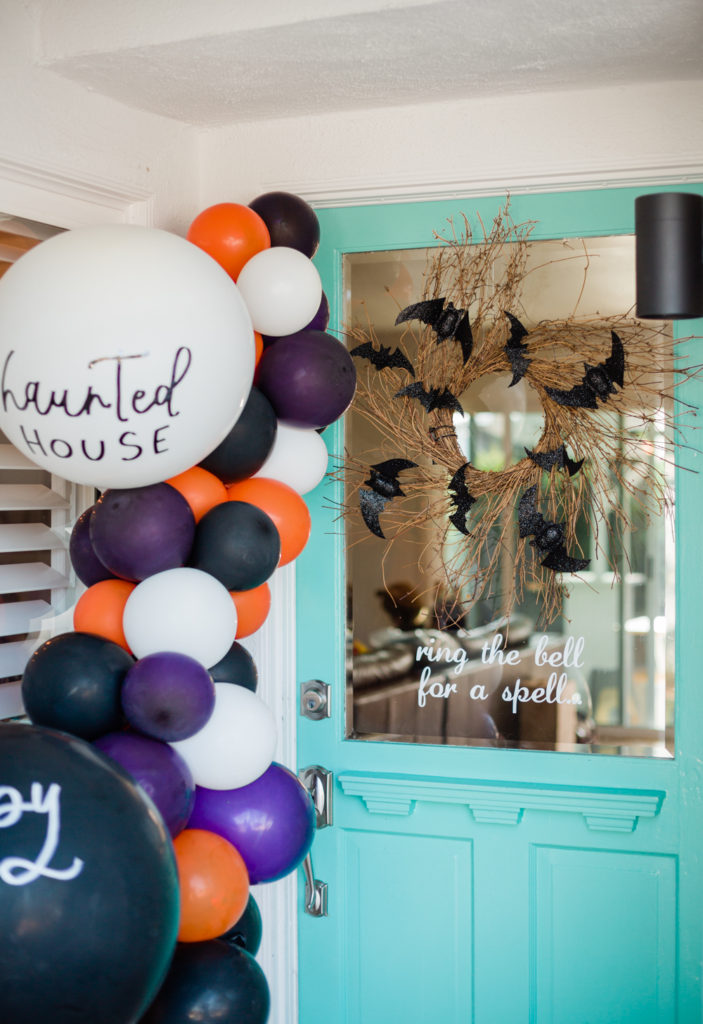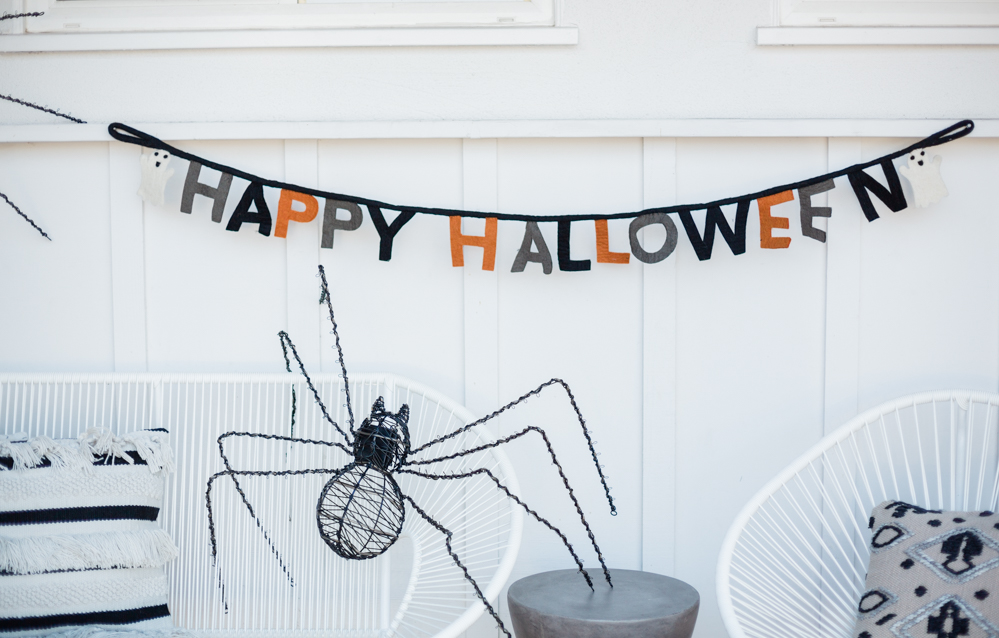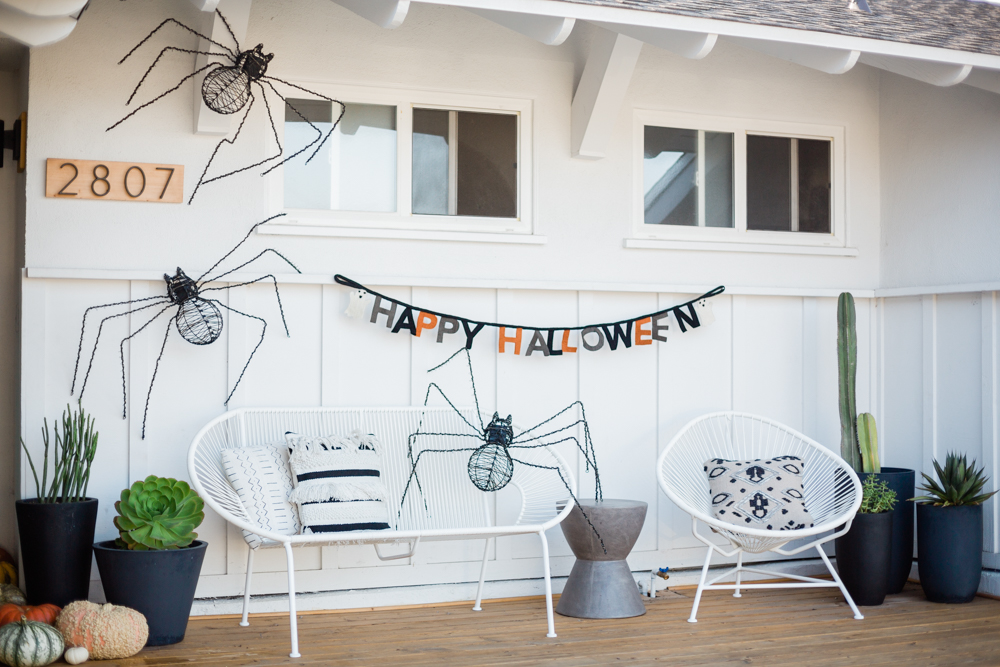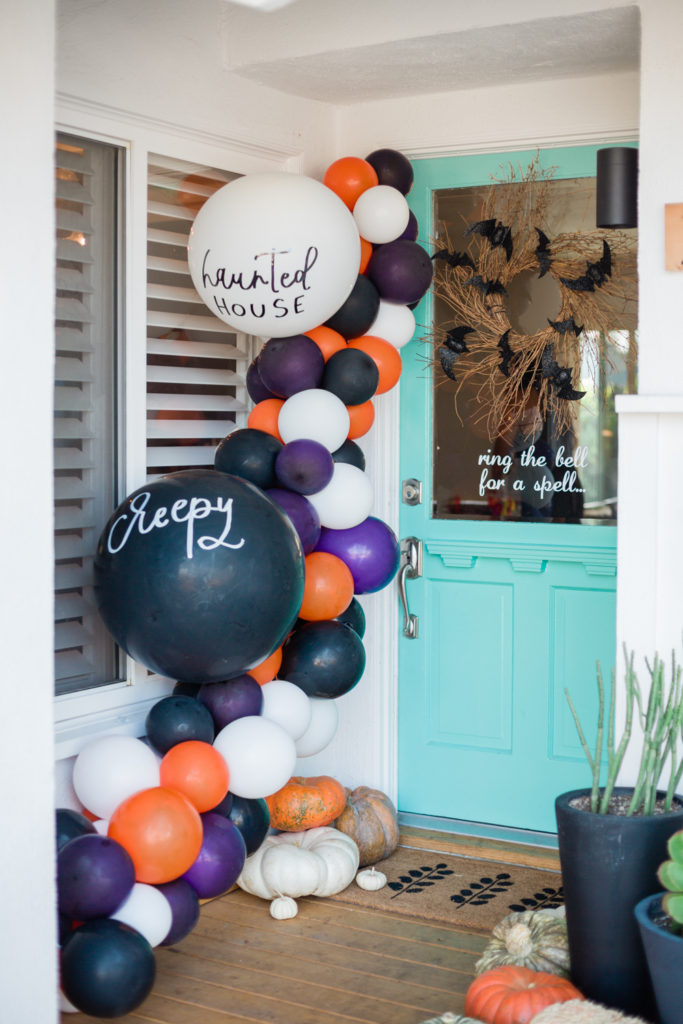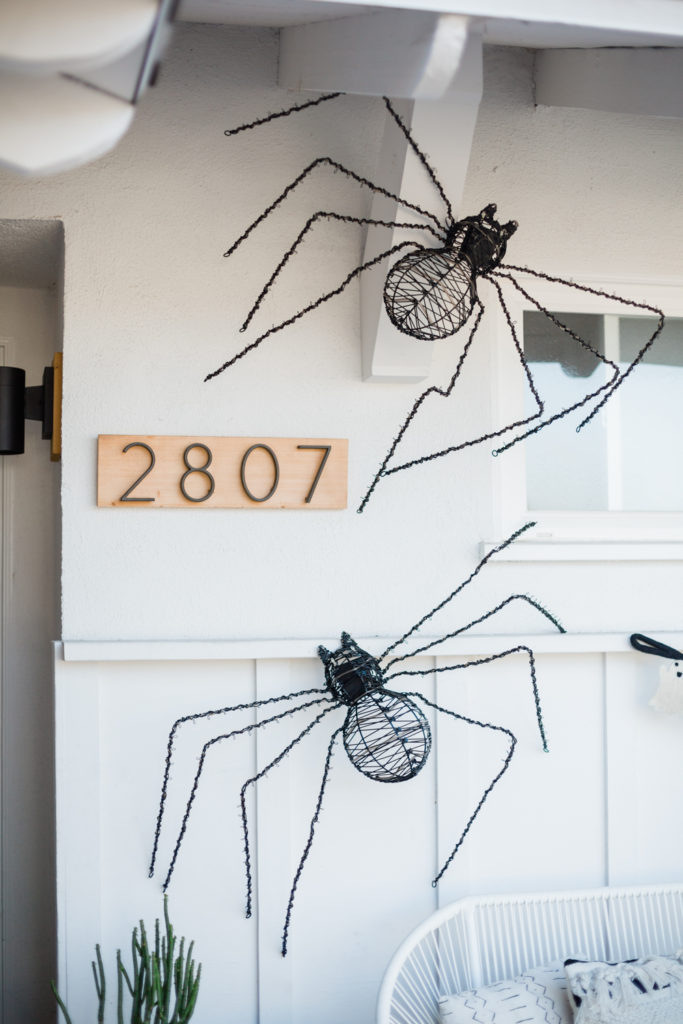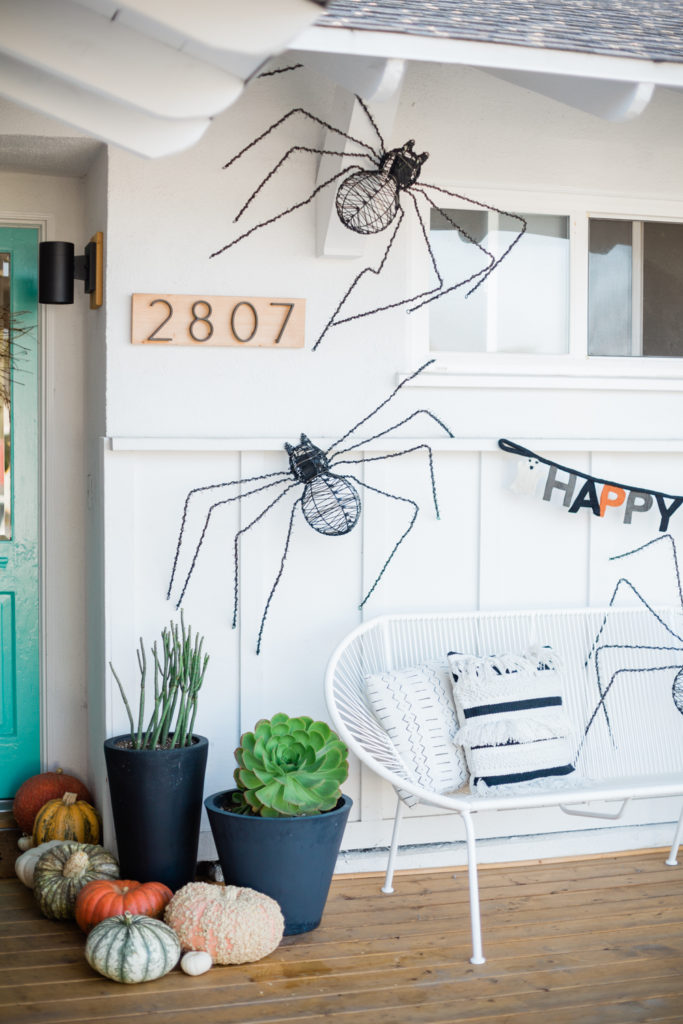 Step 2
Have a surprise at the Door
I fell in love with Halloween Bat Wreath from PBK and had to have it at my door! We added a little decal sticker sign from Poppy Jack Shop that says "Ring the Bell for a Spell" – such a fun way to make your door festive and to give the kids a little fright!! She also did the amazing calligraphy on the balloons, but more on that later…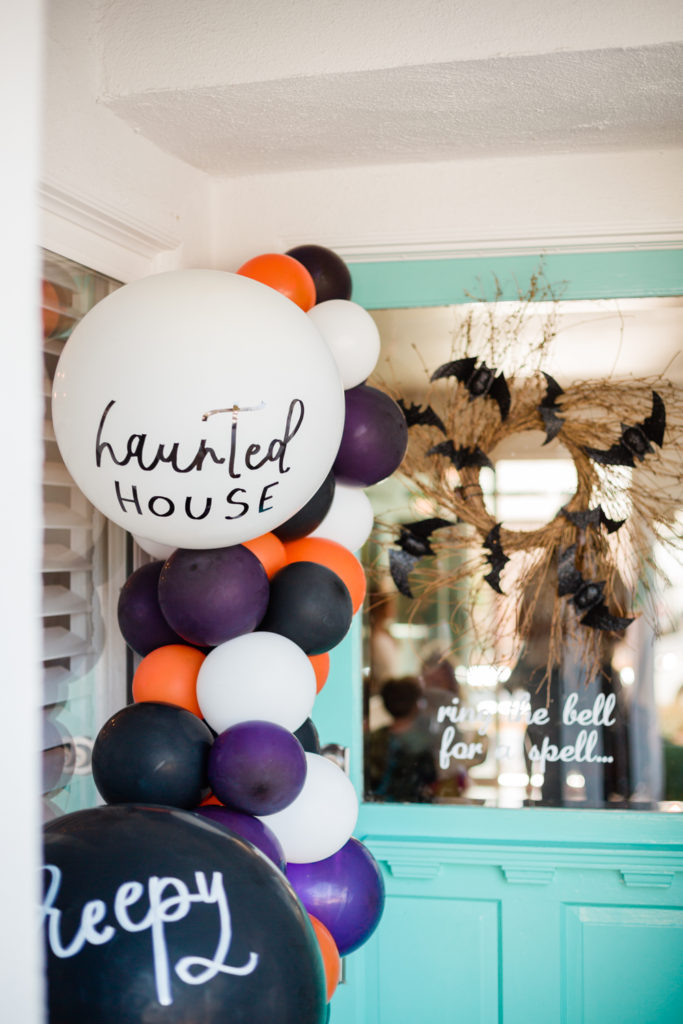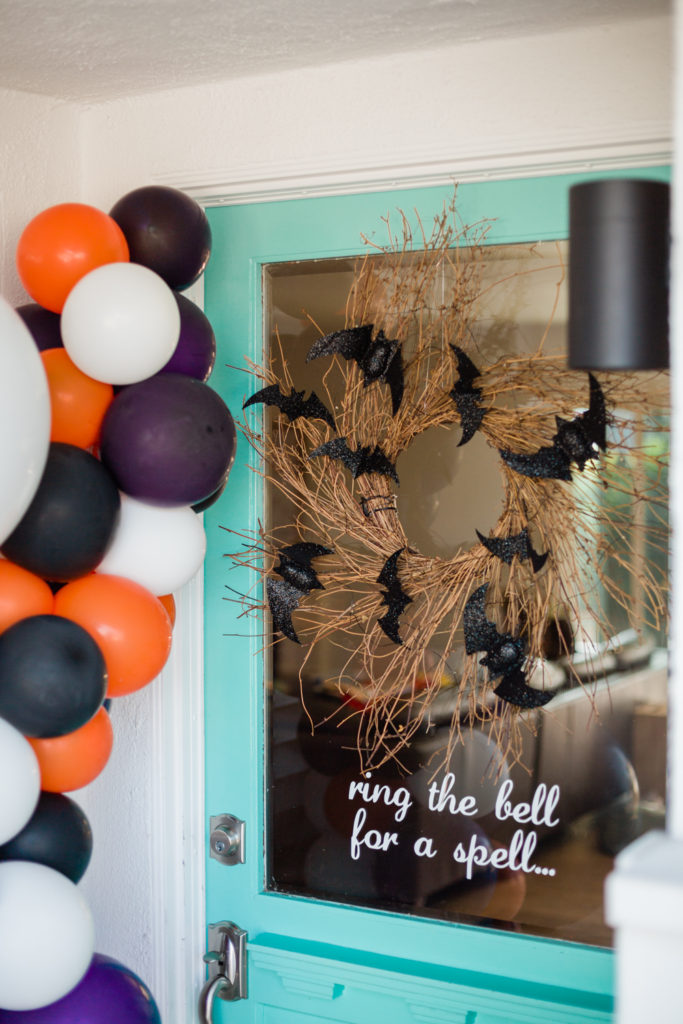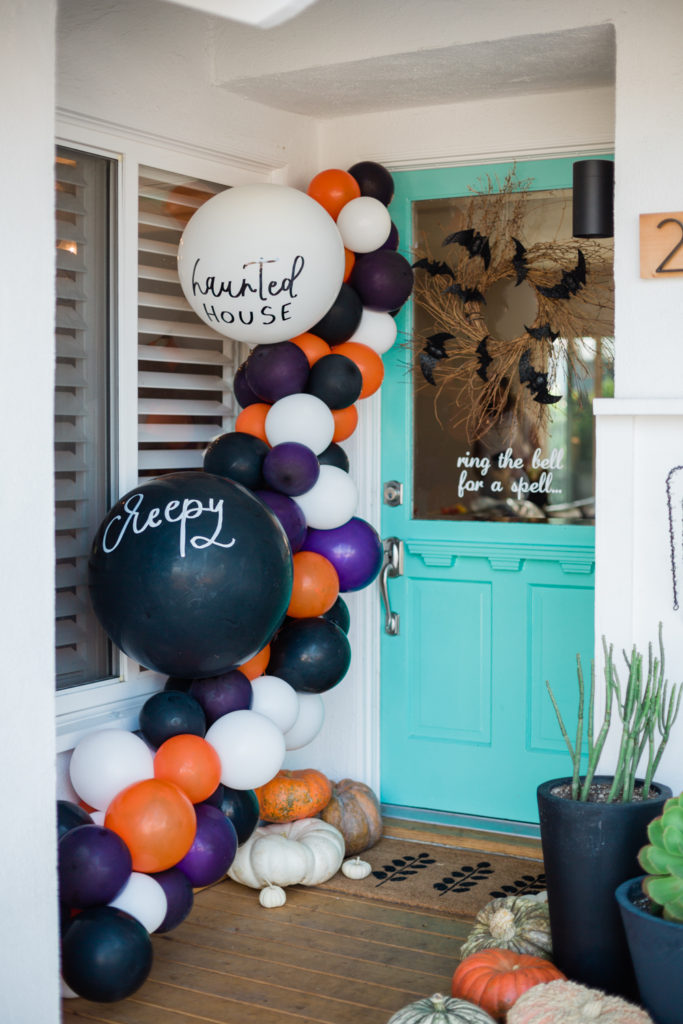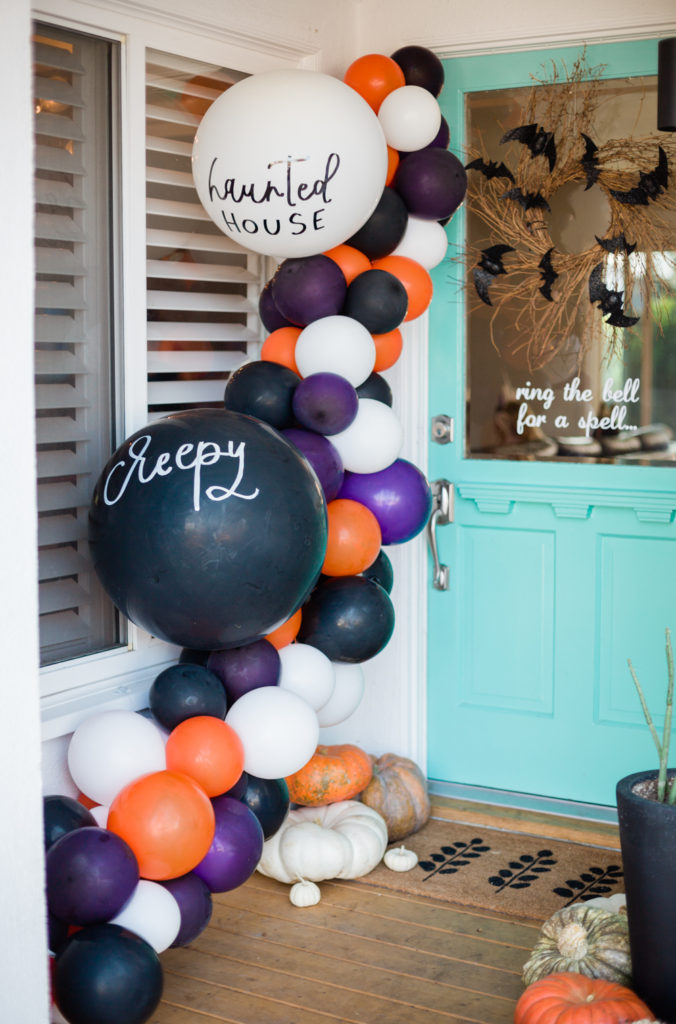 Step 3
Set the table & make it Spooky!
The table in my backyard was set for all the kids to enjoy, we decked it out with all of the fun plates, flatware, cups and placemats. My favorite part is they all glow in the dark!! So they make for some real cuteness even after the sun goes down!
For the balloons I had Poppy Jack Shop do her magic and write on them with fun Halloween sayings. It's so easy to do, anyone could at home! Just get yourself a big sharpie or paint pen and you're set!
One of my favorite details were the creepy cheese cloths that we draped with the balloons.  Oh and I can't forget the adorable luminary pumpkins and kitty cat, which my 3 year old couldn't stop saying "it's so cute!" about! Oh, and don't forget about balloons because there are never enough! The Pop Shop made this party pretty darn epic…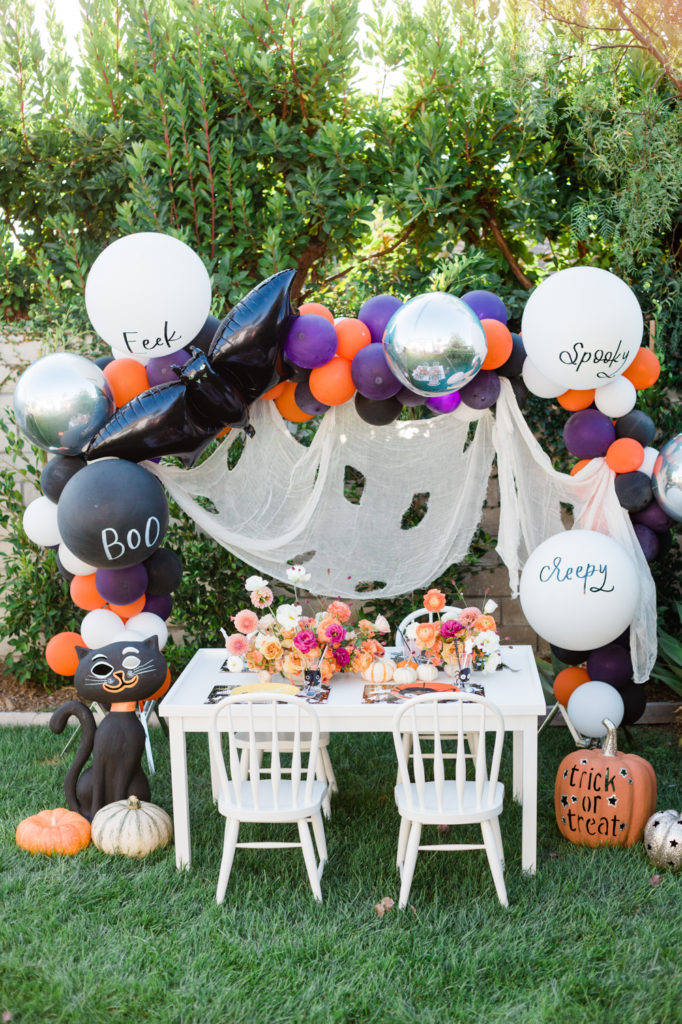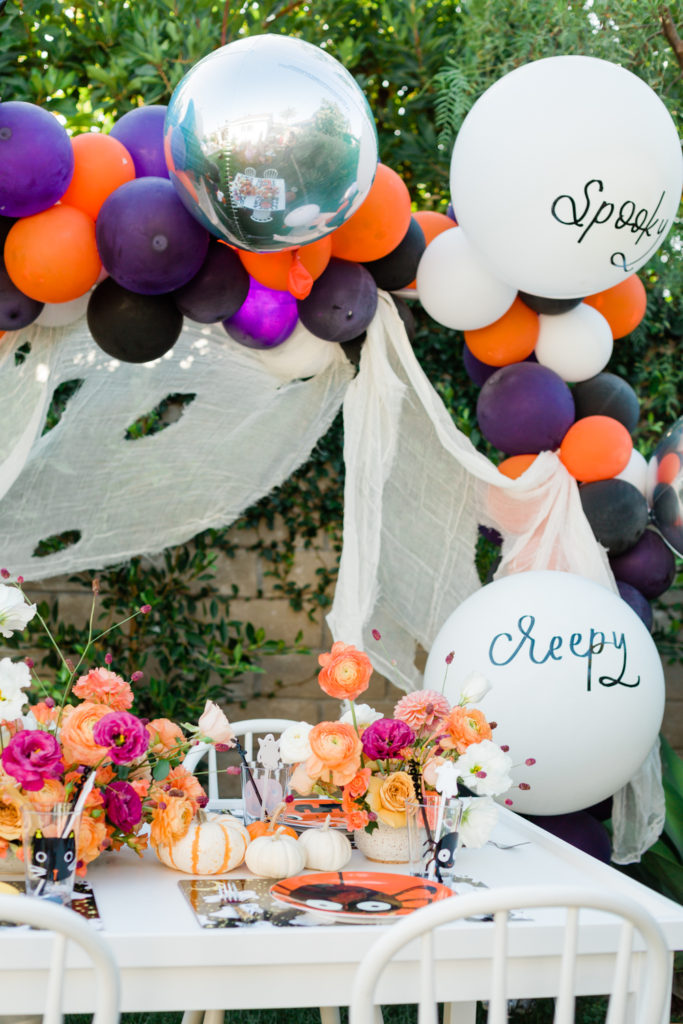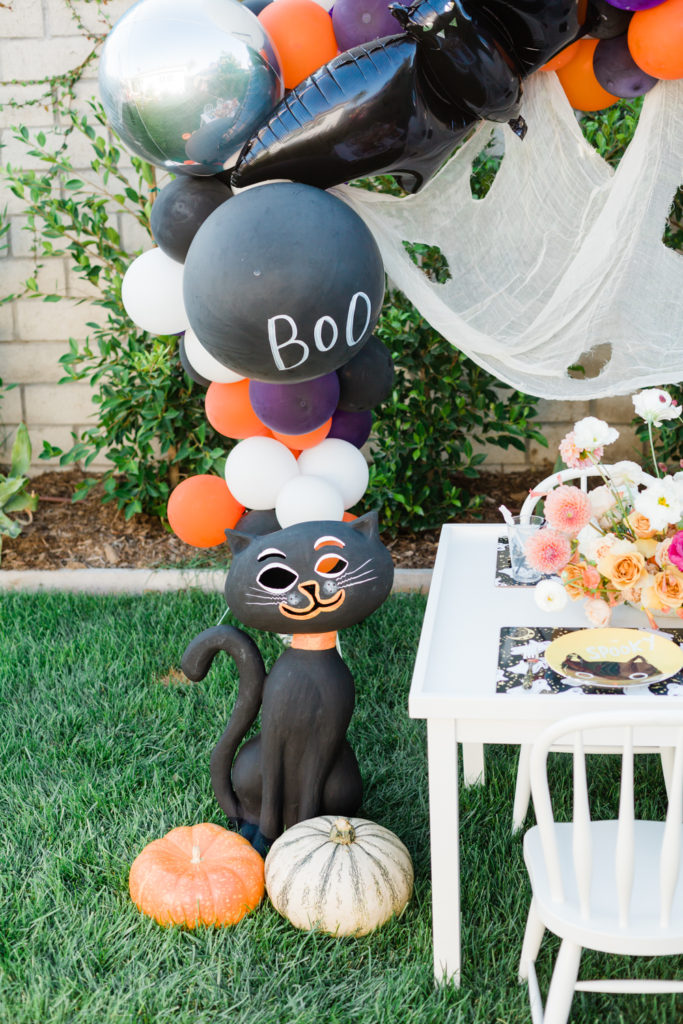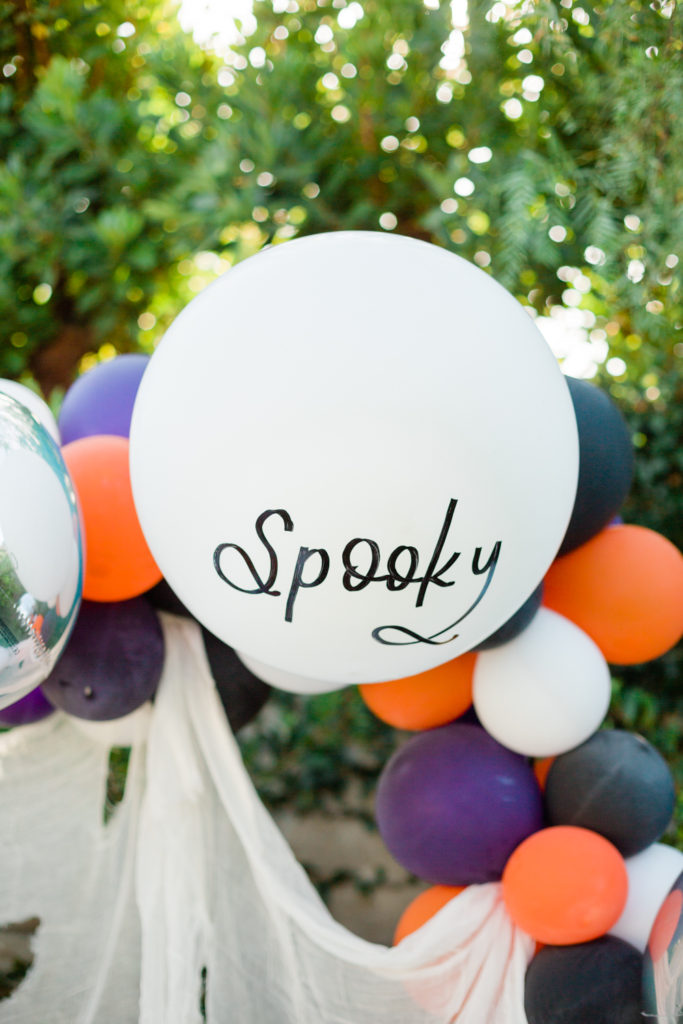 I love this table and I really love the flowers by Not Just in Novels! She did the most amazing job of making it festive with Fall colors and keeping it fresh for a kid's table! And check out each of the cute plates – the spider, cat, pumpkin and bat!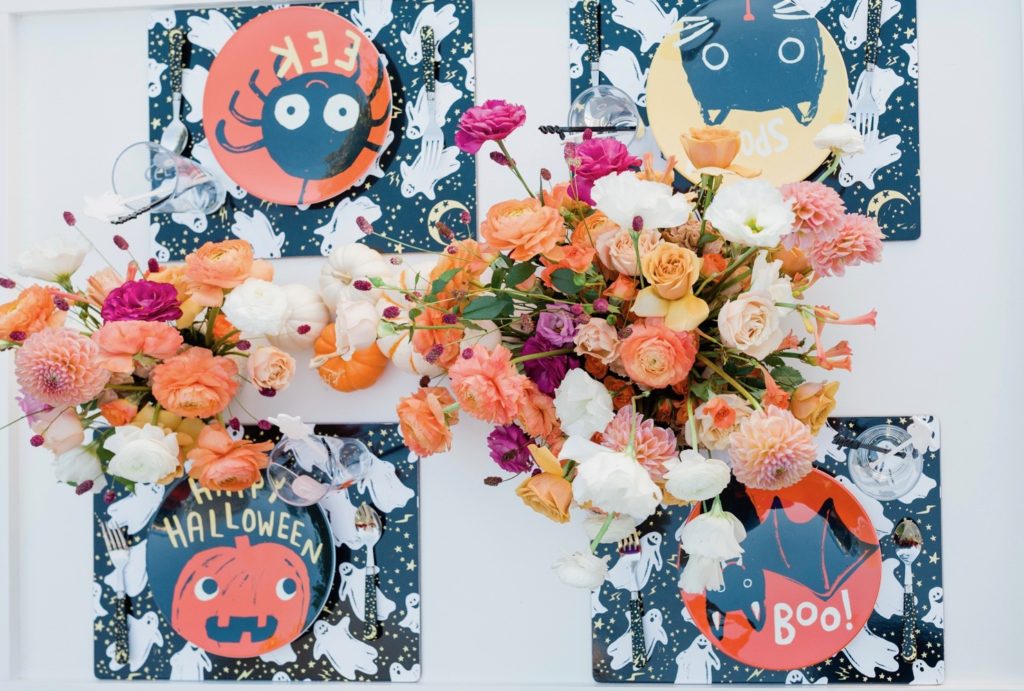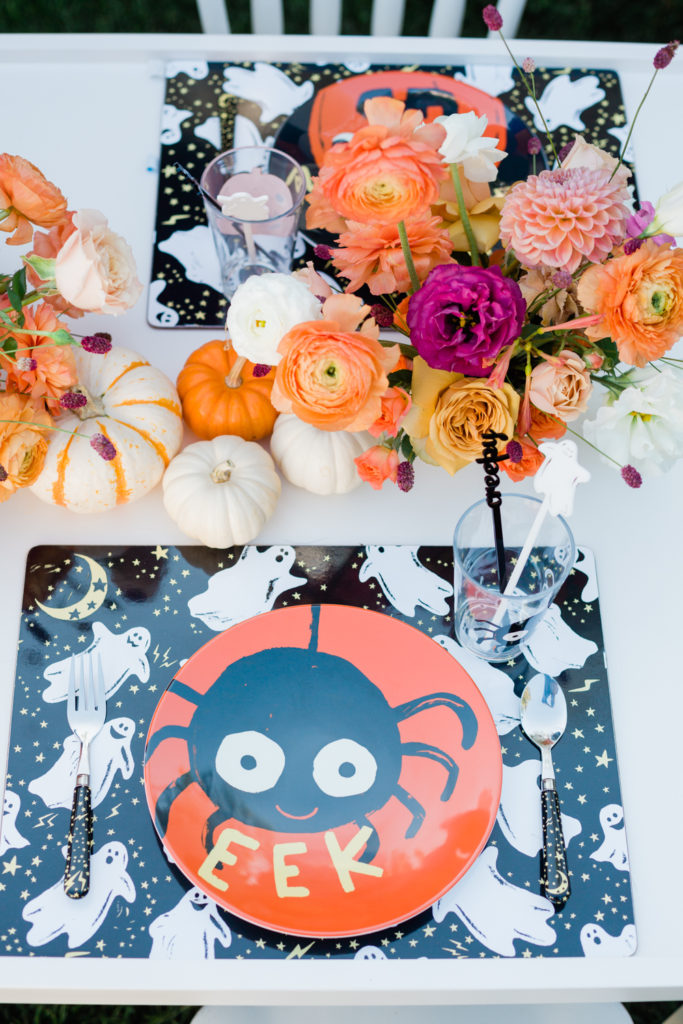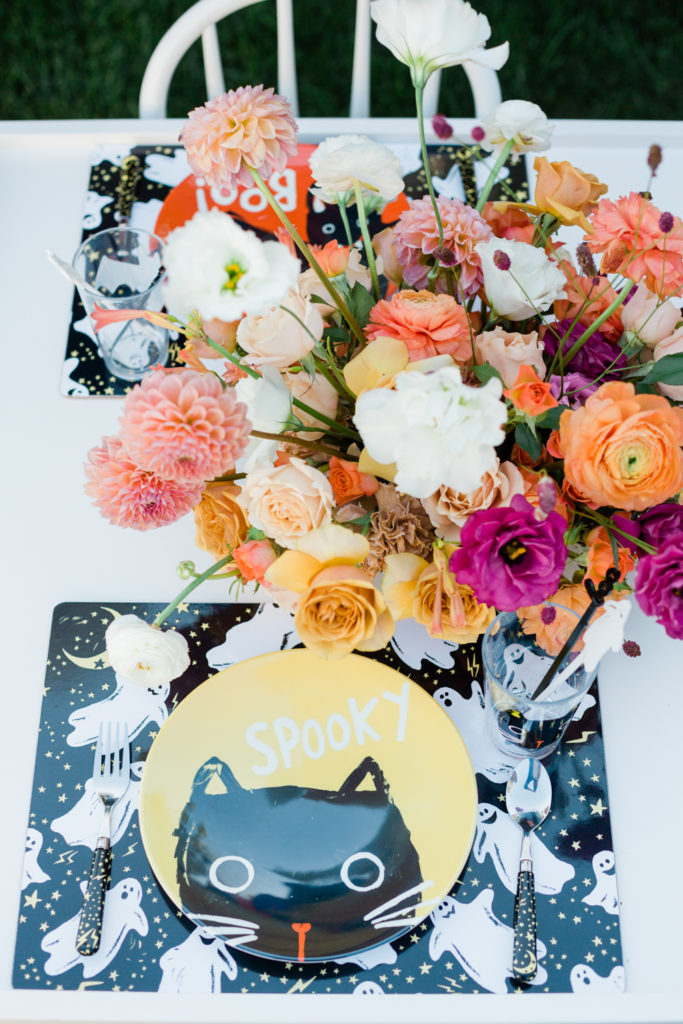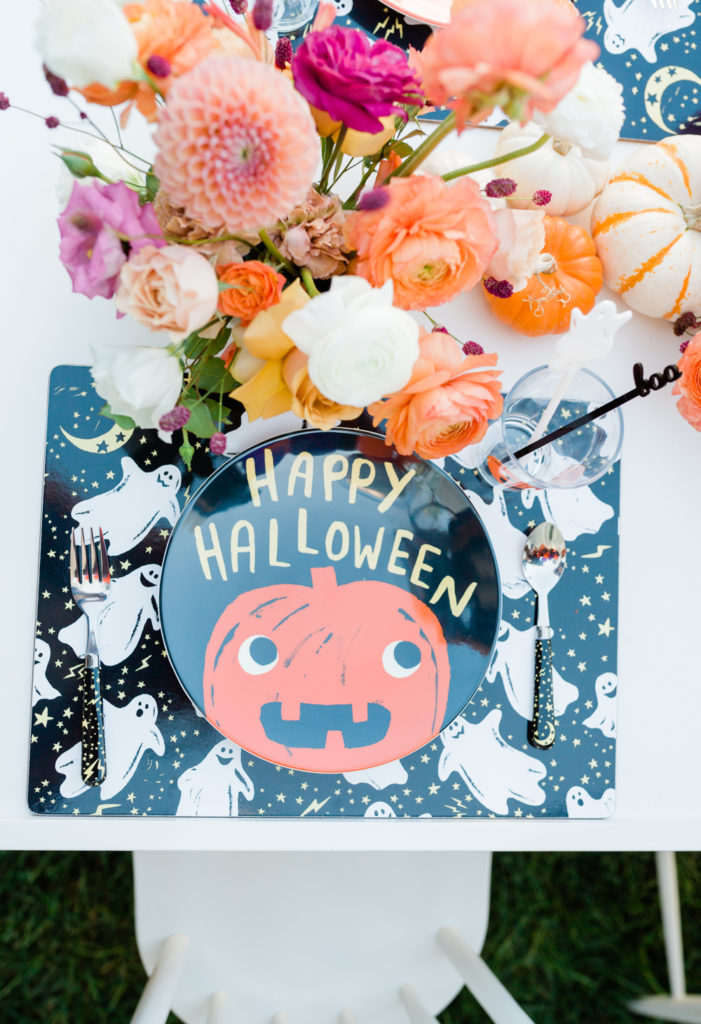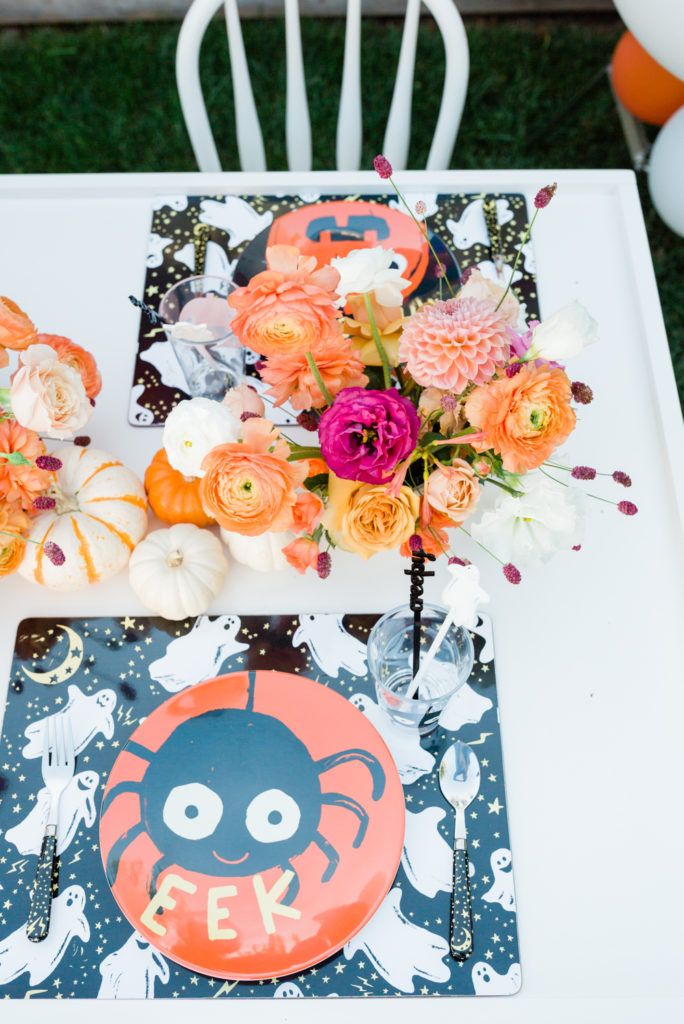 You know me and my stir sticks – gotta have them! They are one of the details I really love to have at parties young and old! Poppy Jack Shop took care of these for me as well!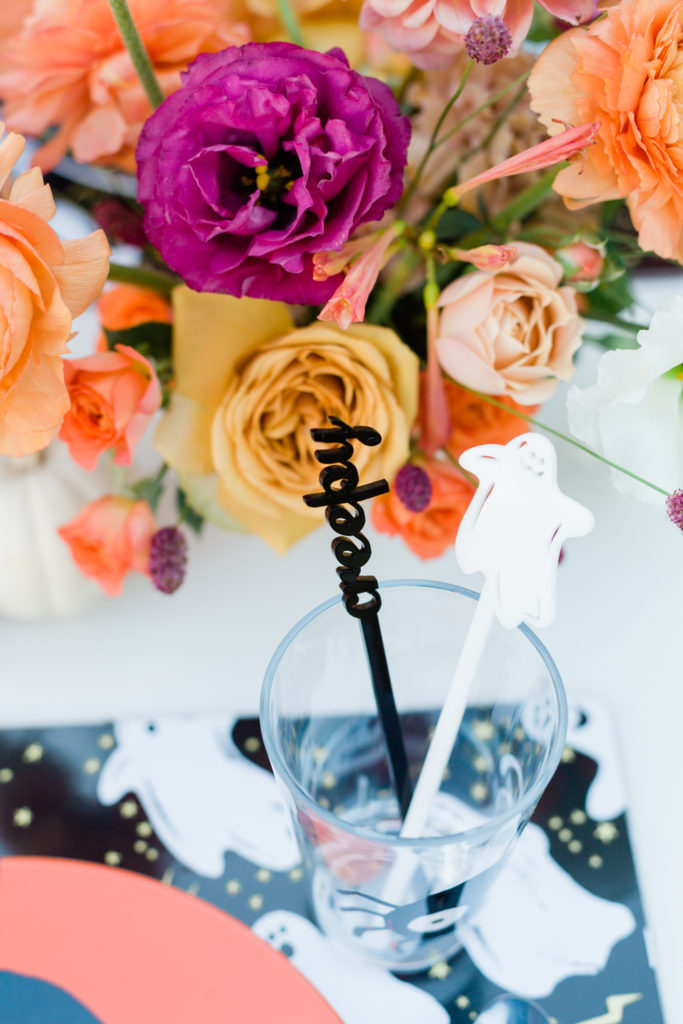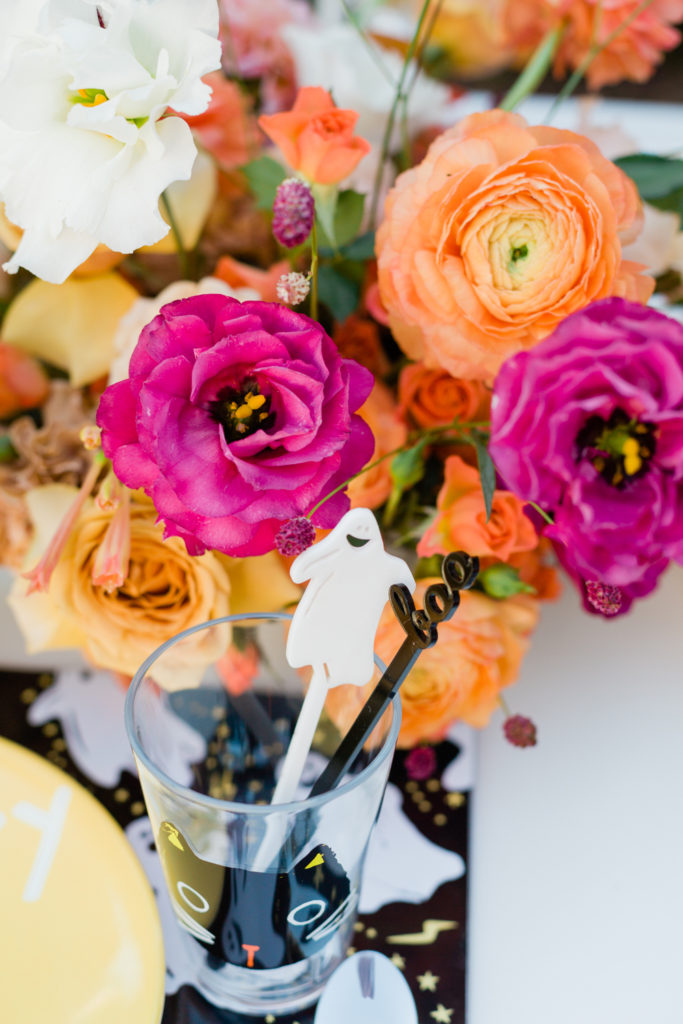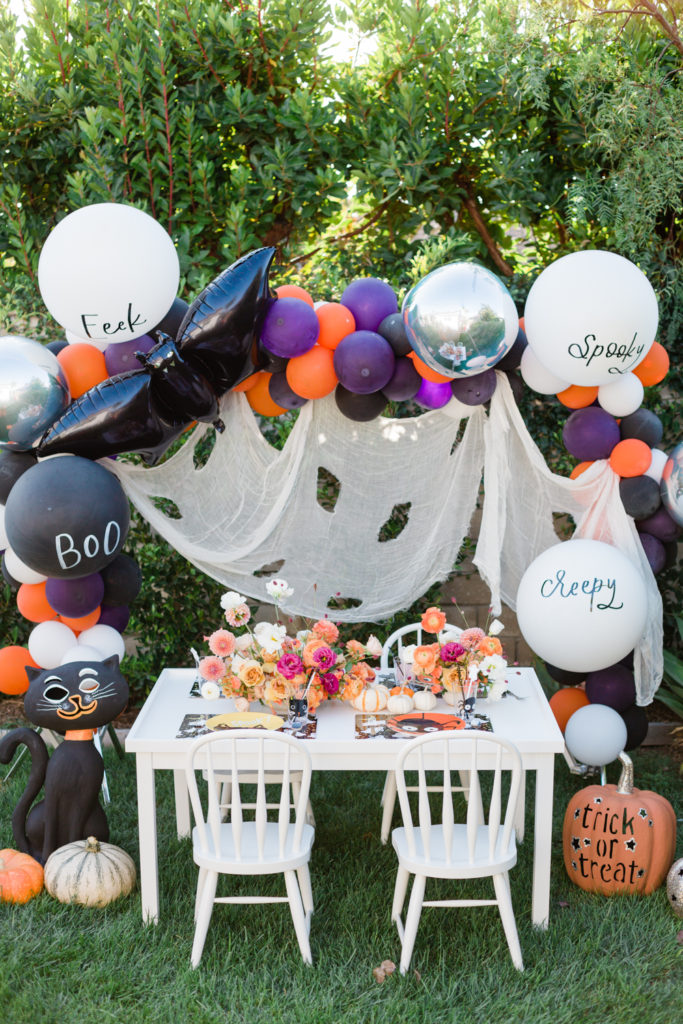 Now to add in some cute kiddos!!! We invited a bunch and they all had a ball together! The costumes this year are the cutest ever and there are a few that even light up, just wait till you see!!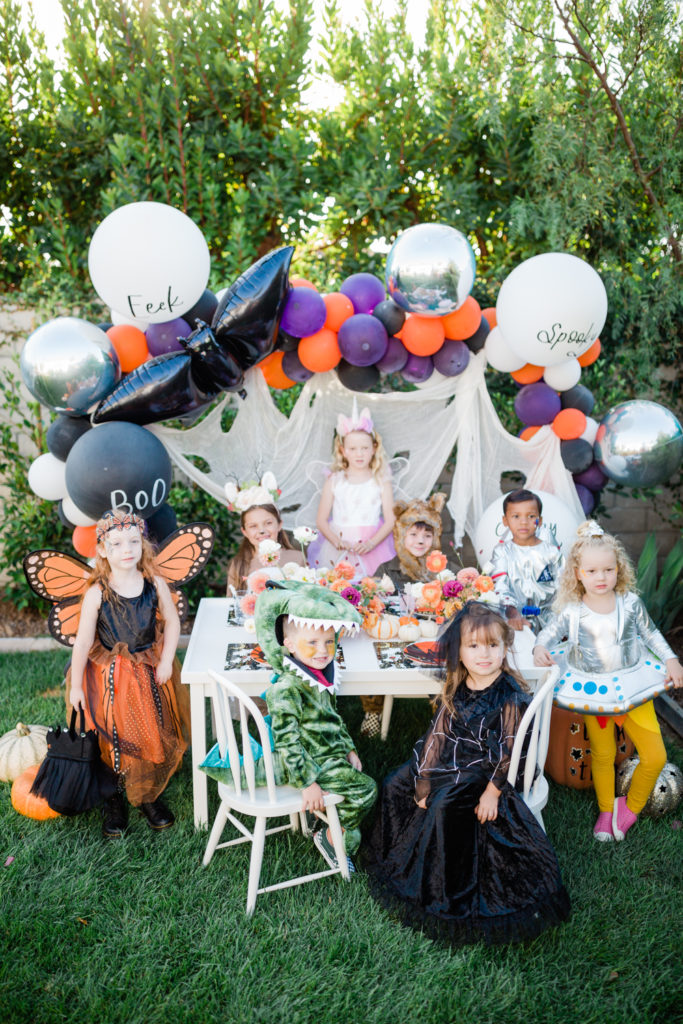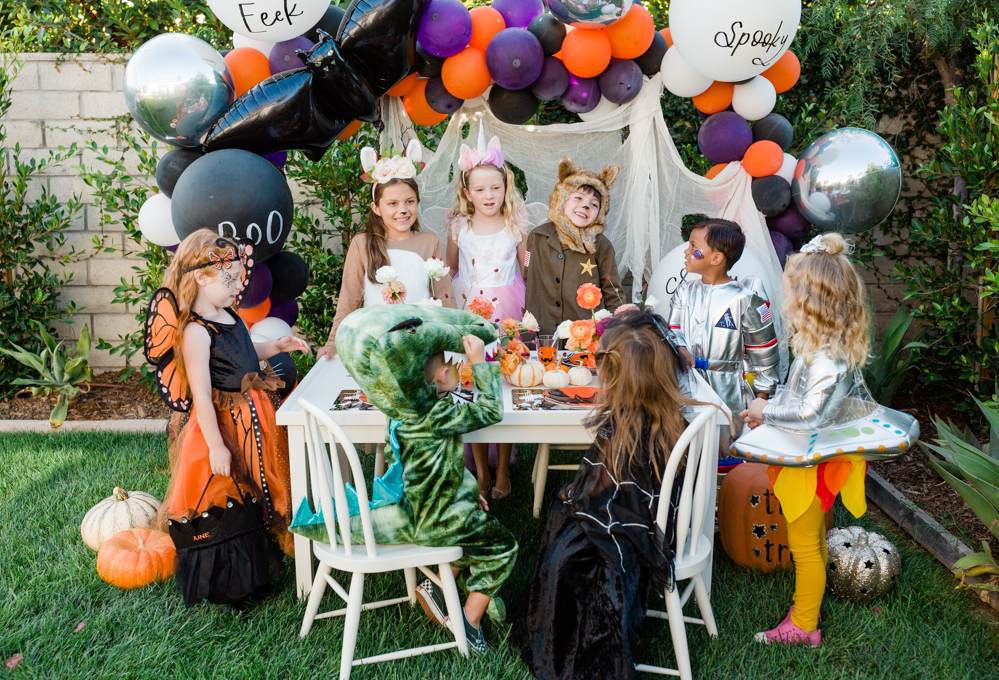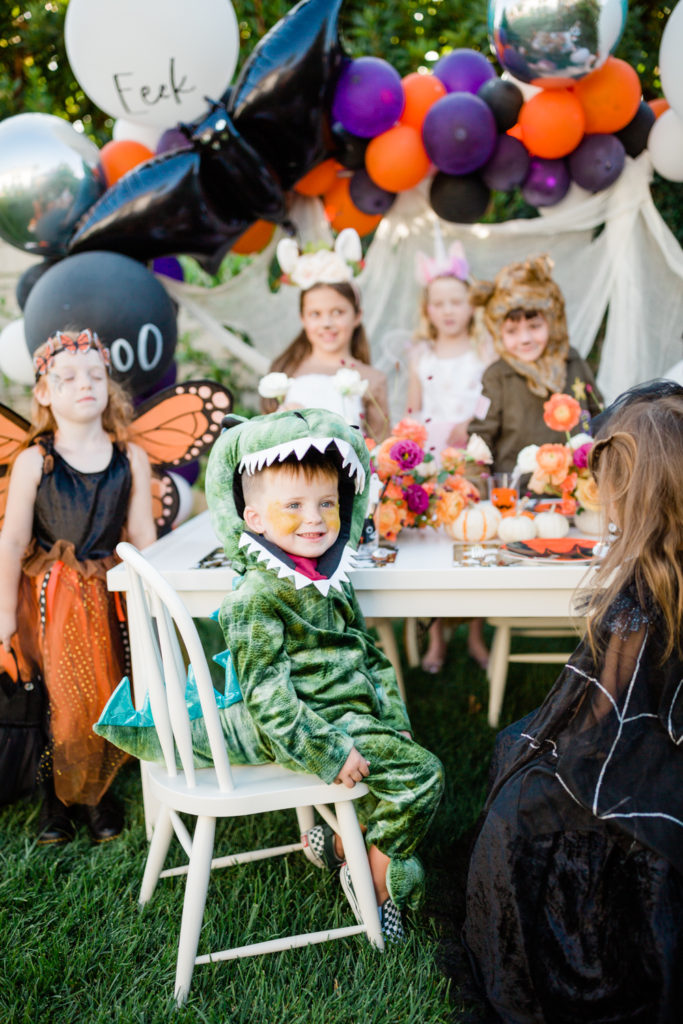 All smiles over here!!!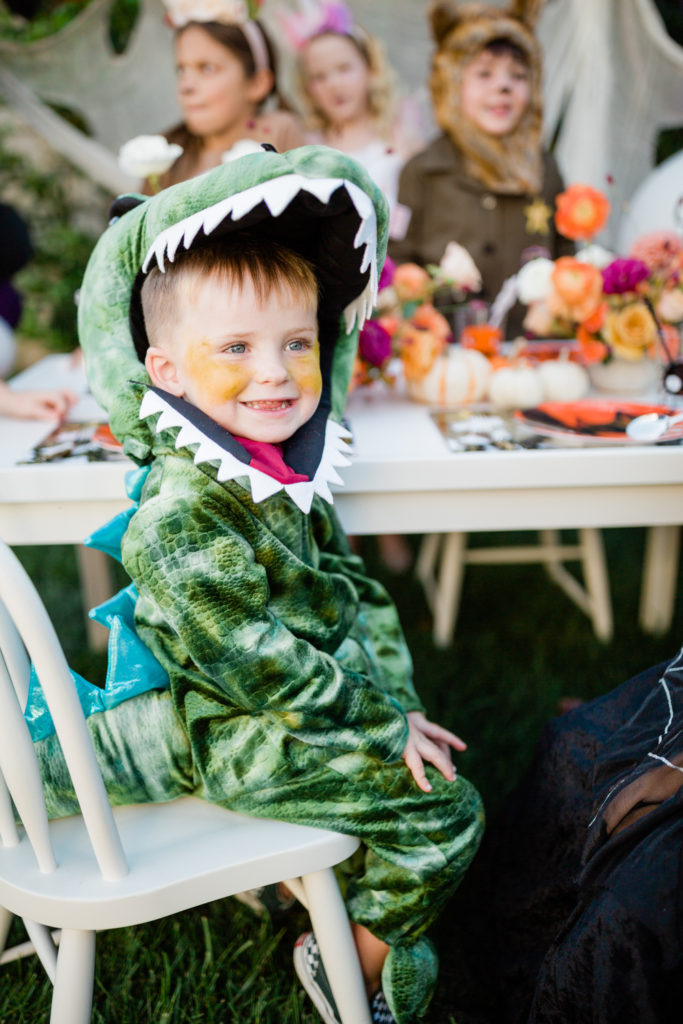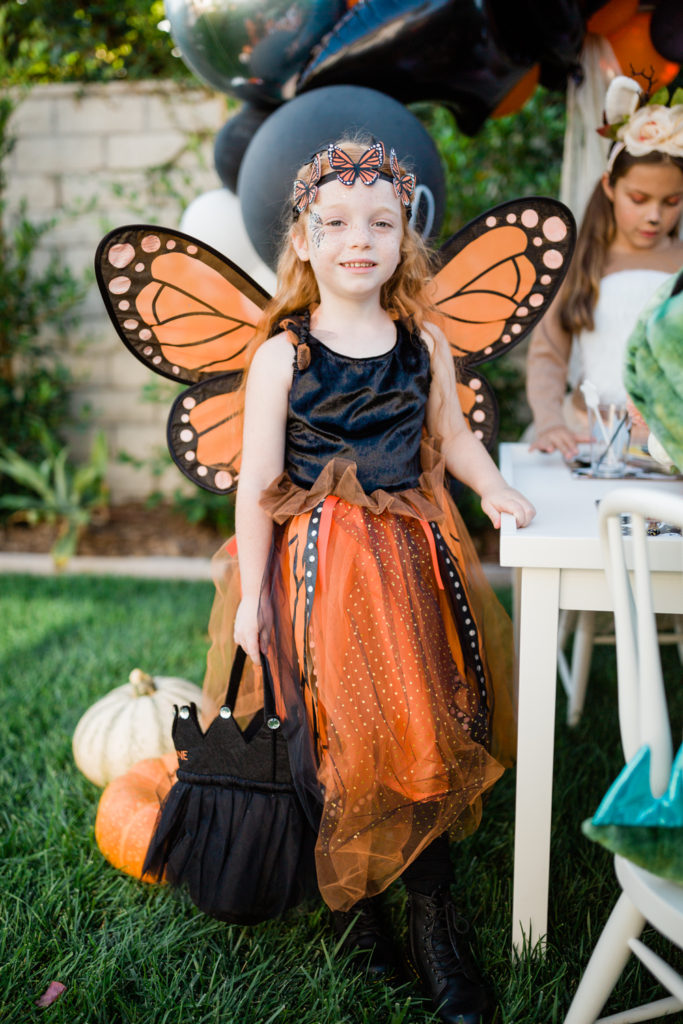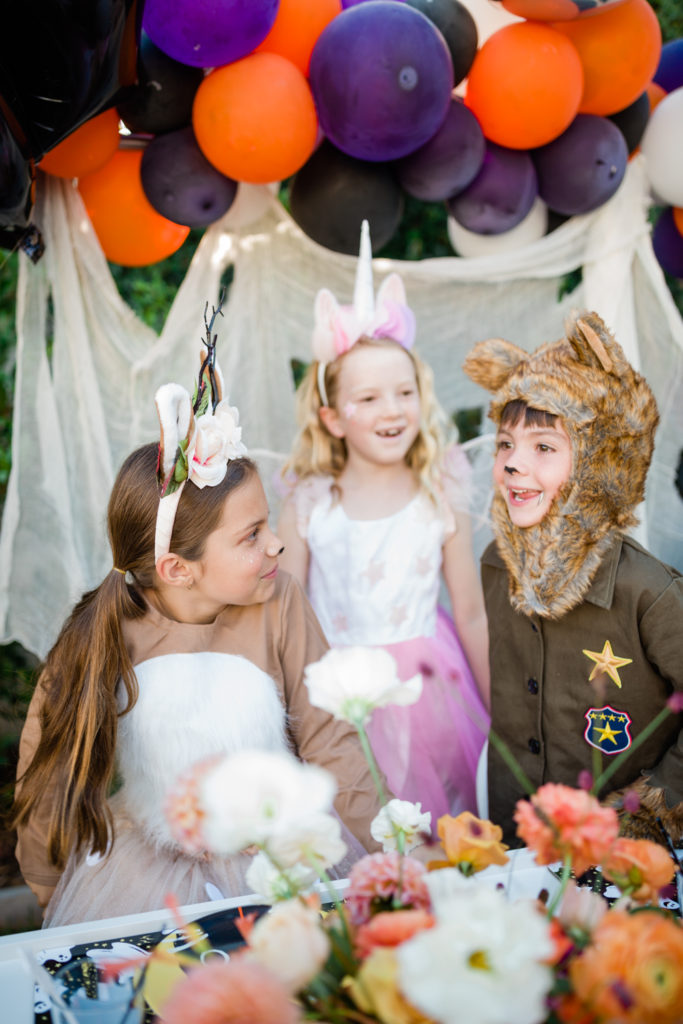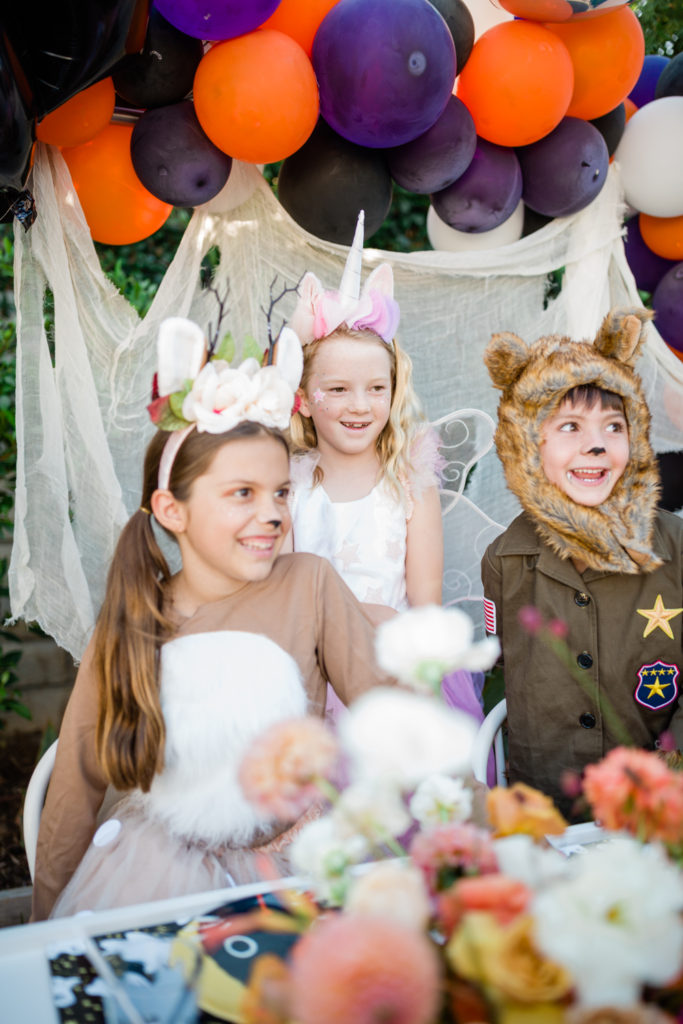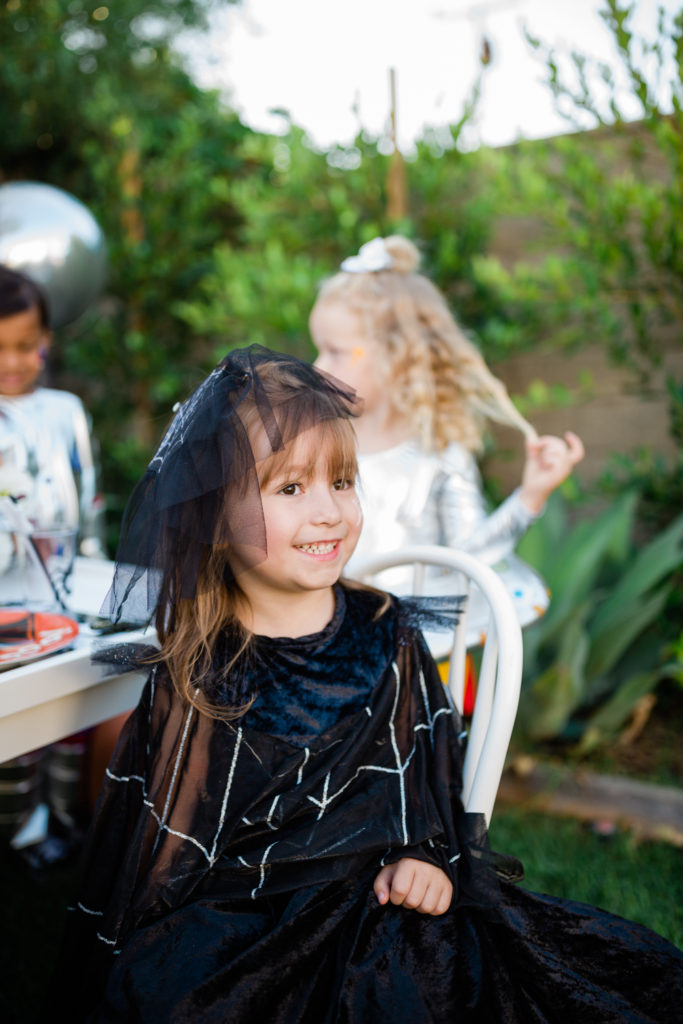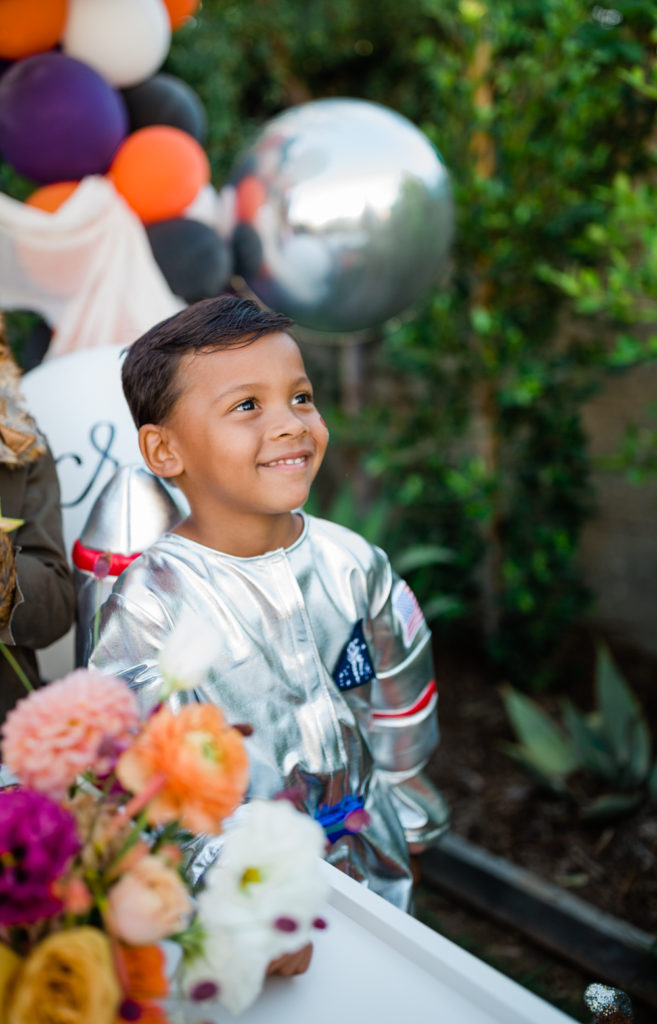 The sweetest!!!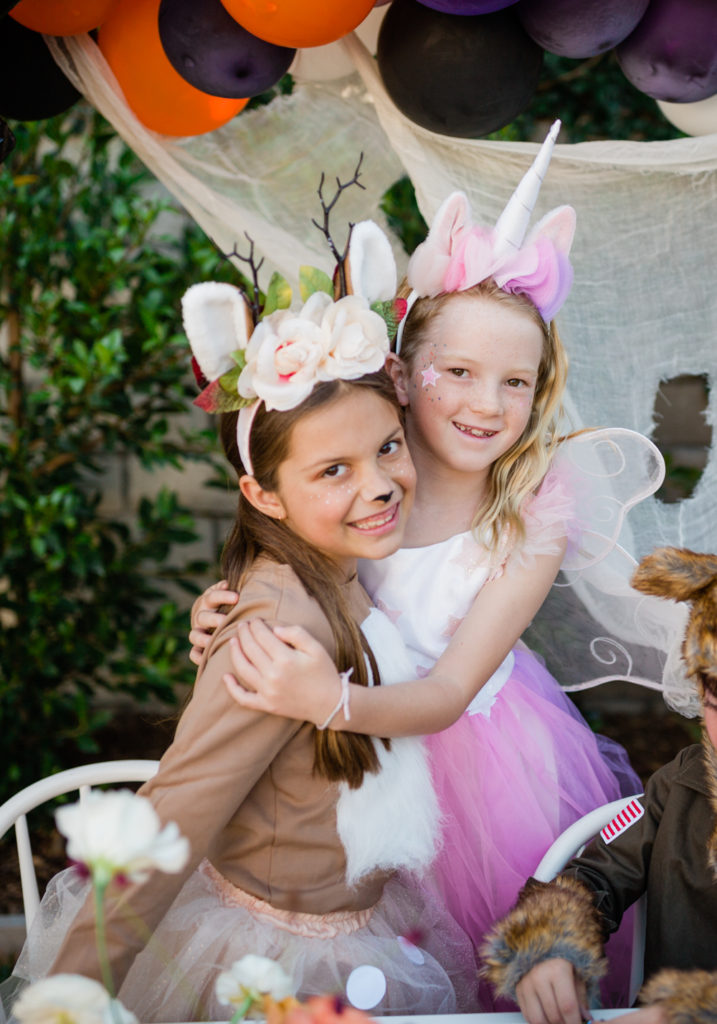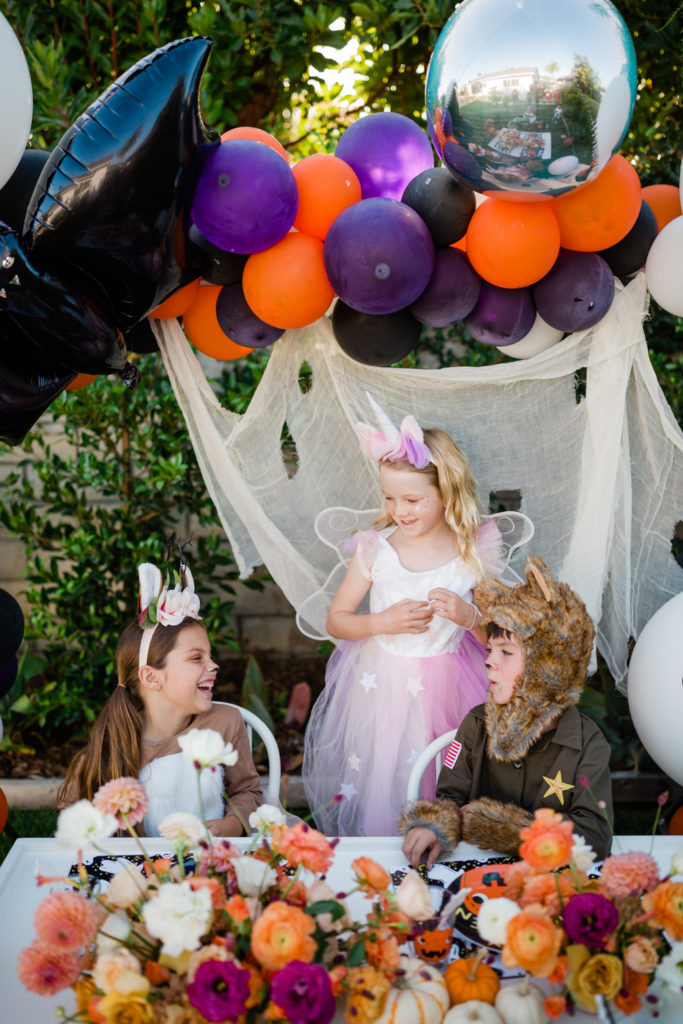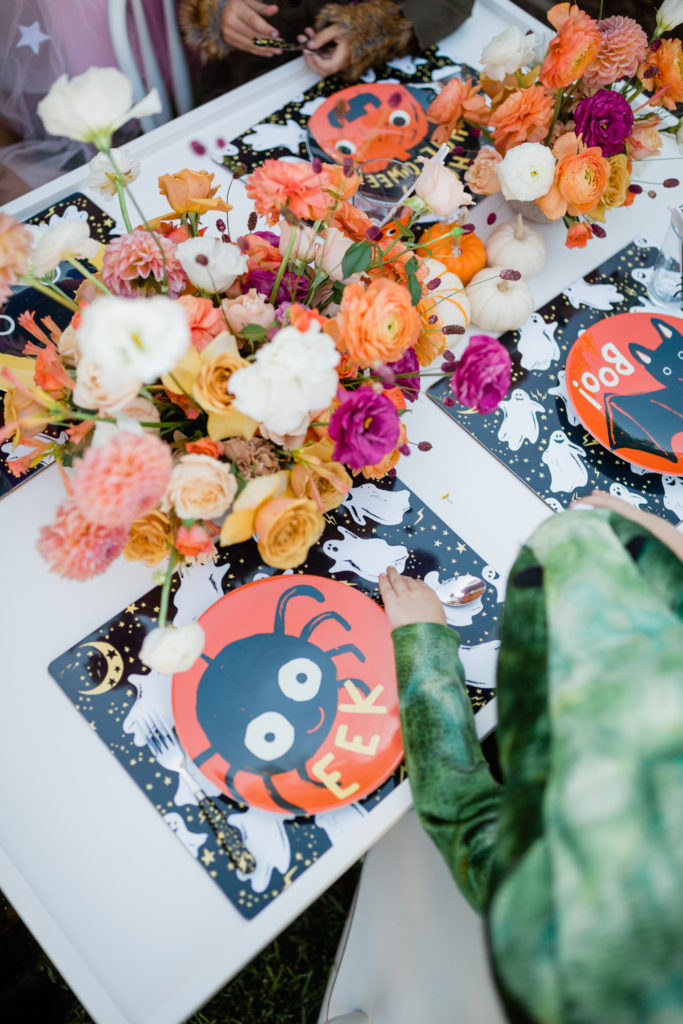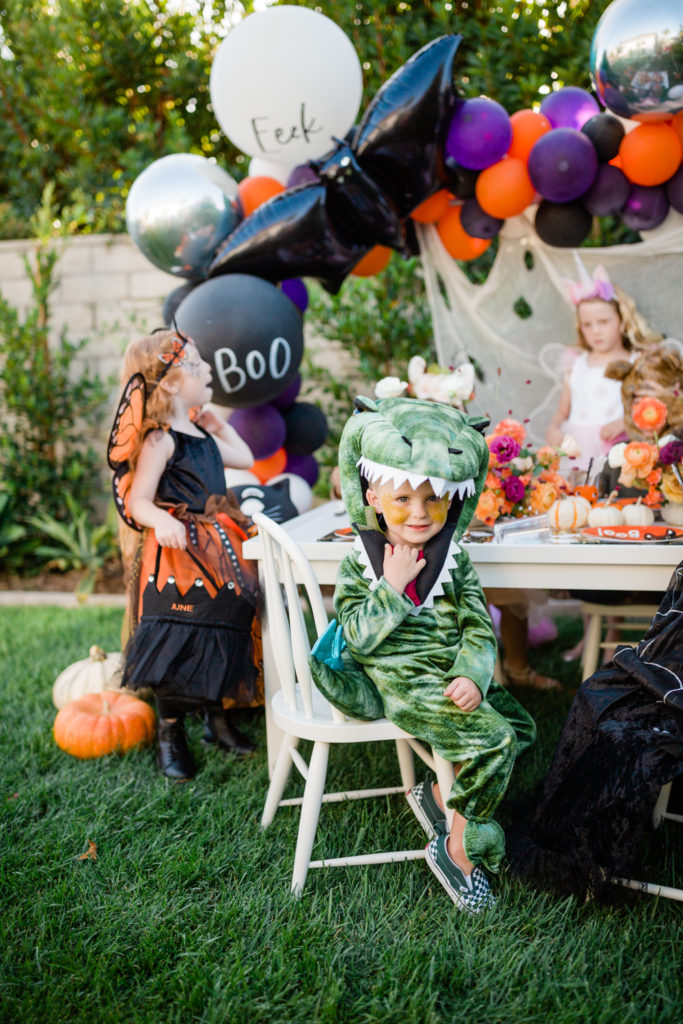 We had a woodland deer, a monarch butterfly and a unicorn fairy….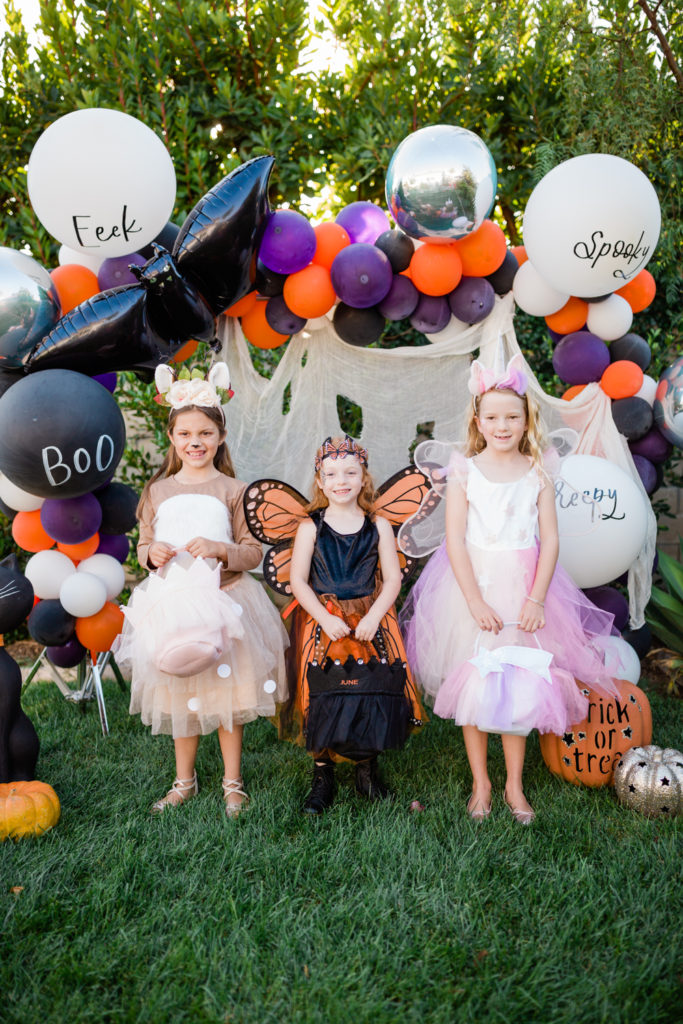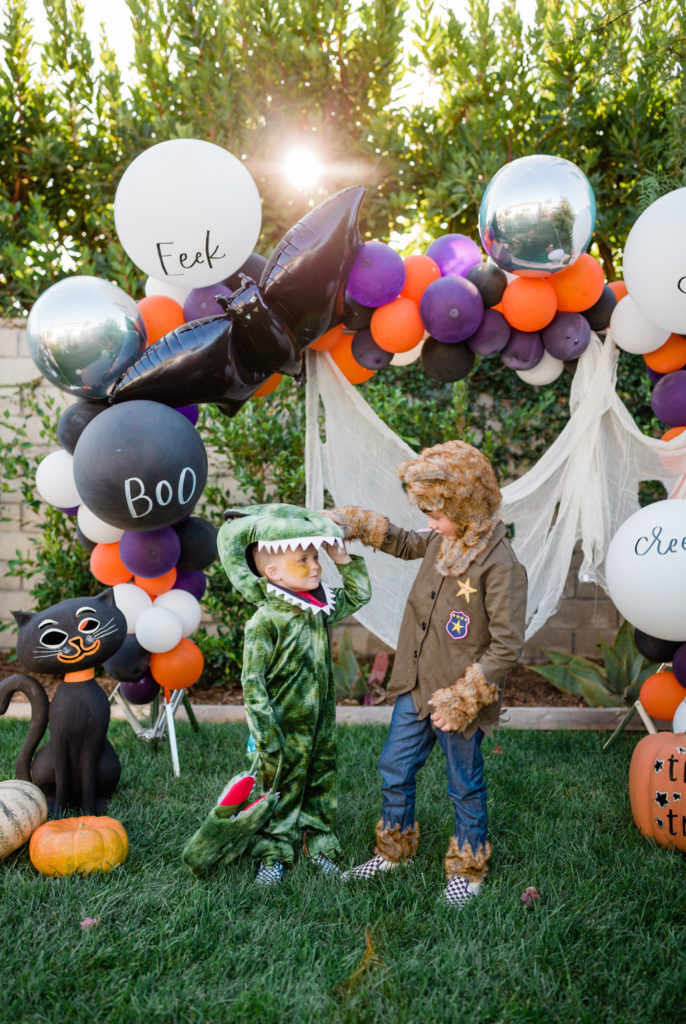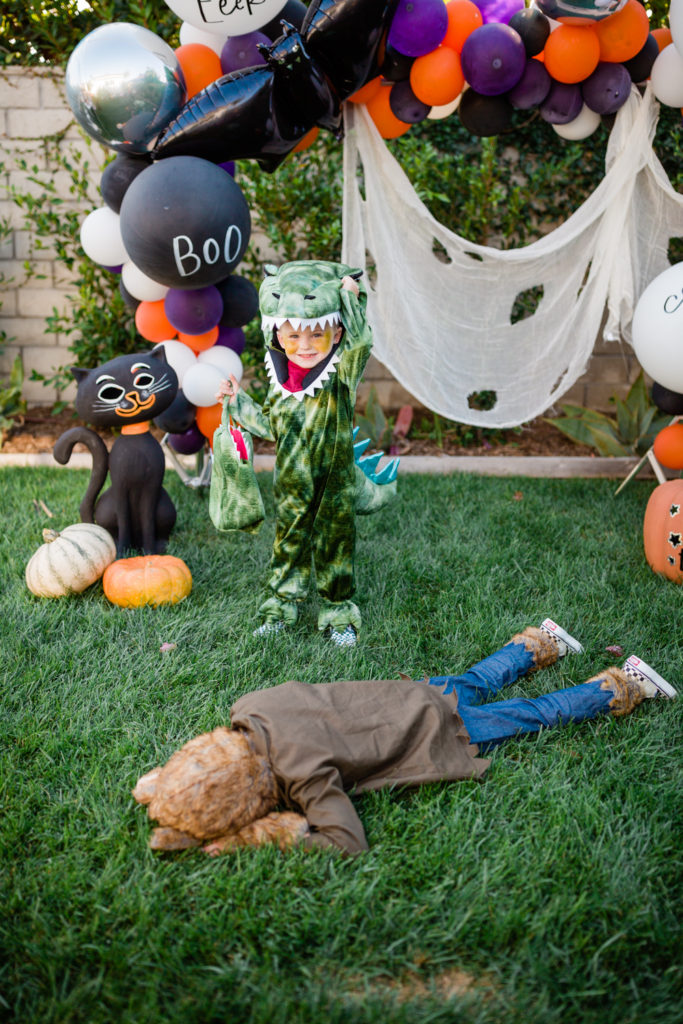 A spider queen…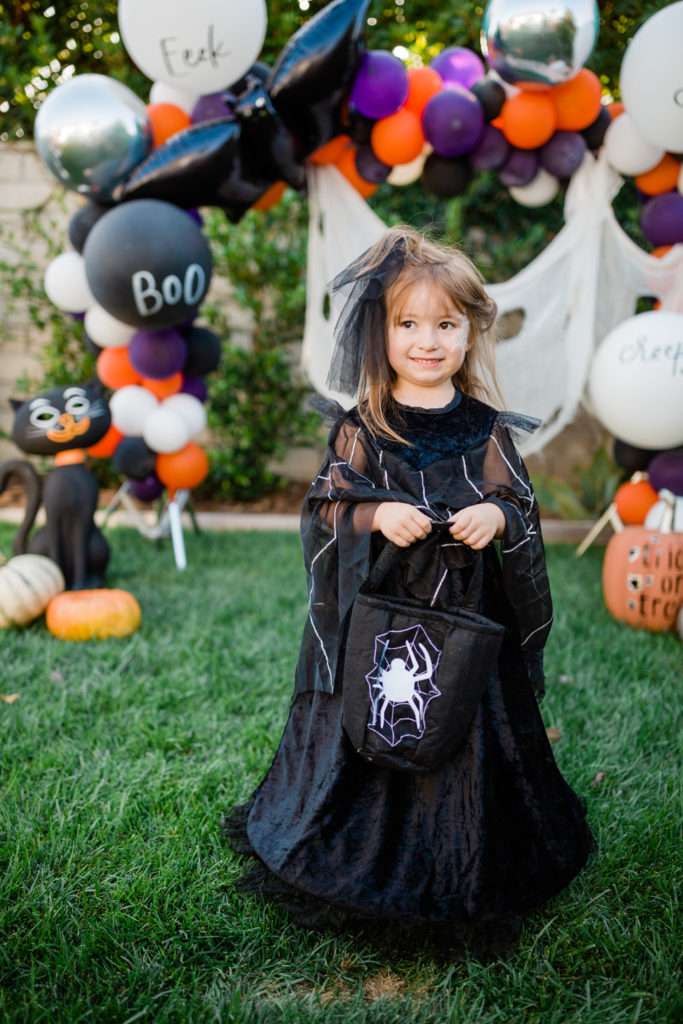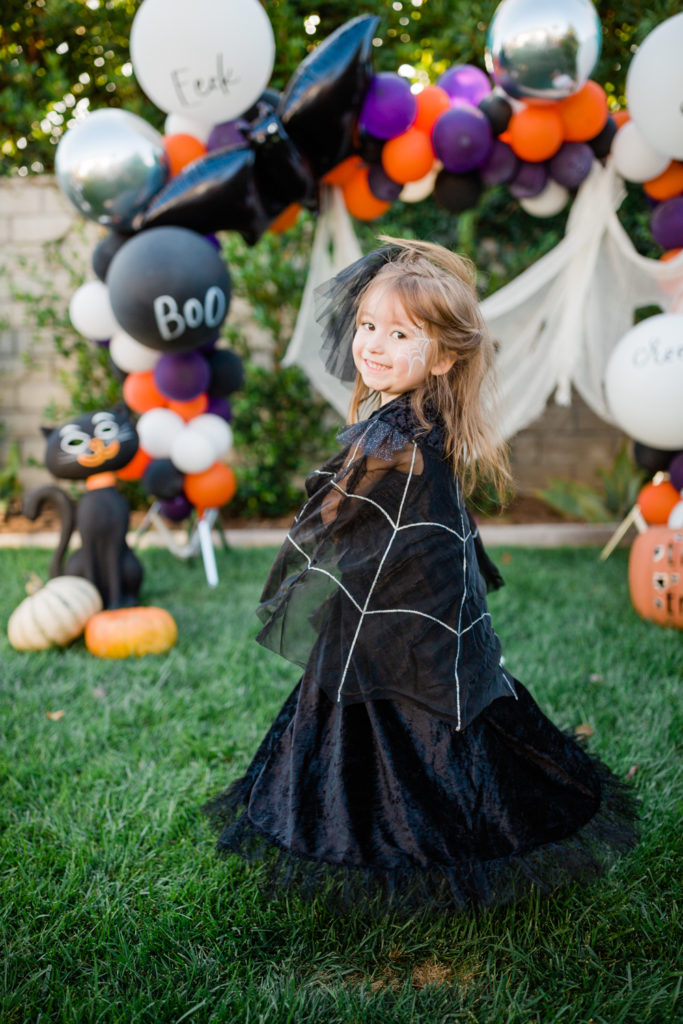 A UFO and a rocket ship…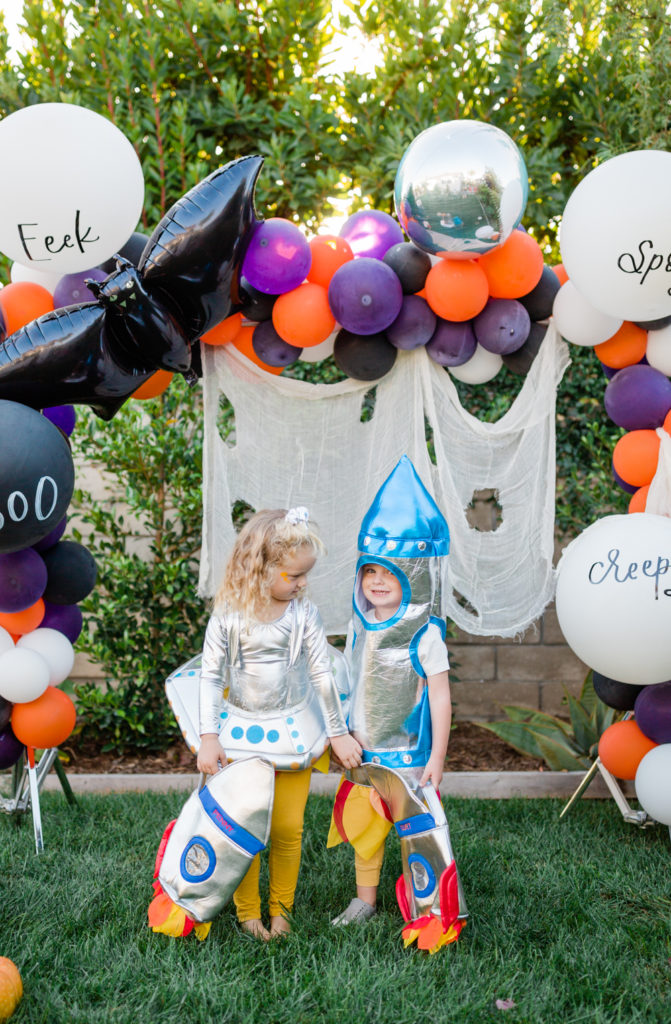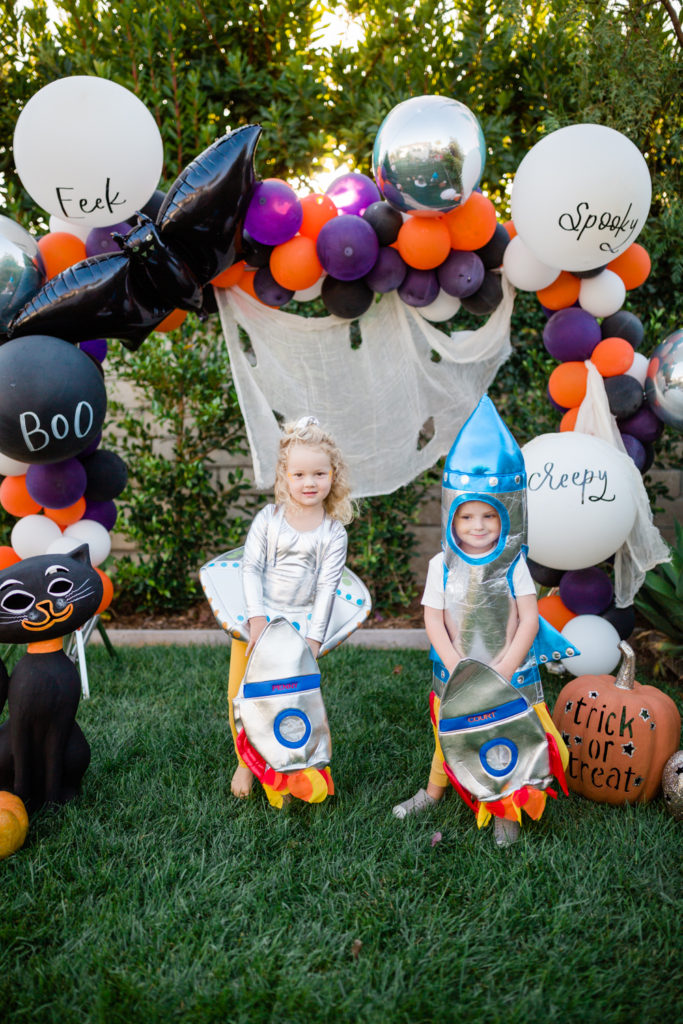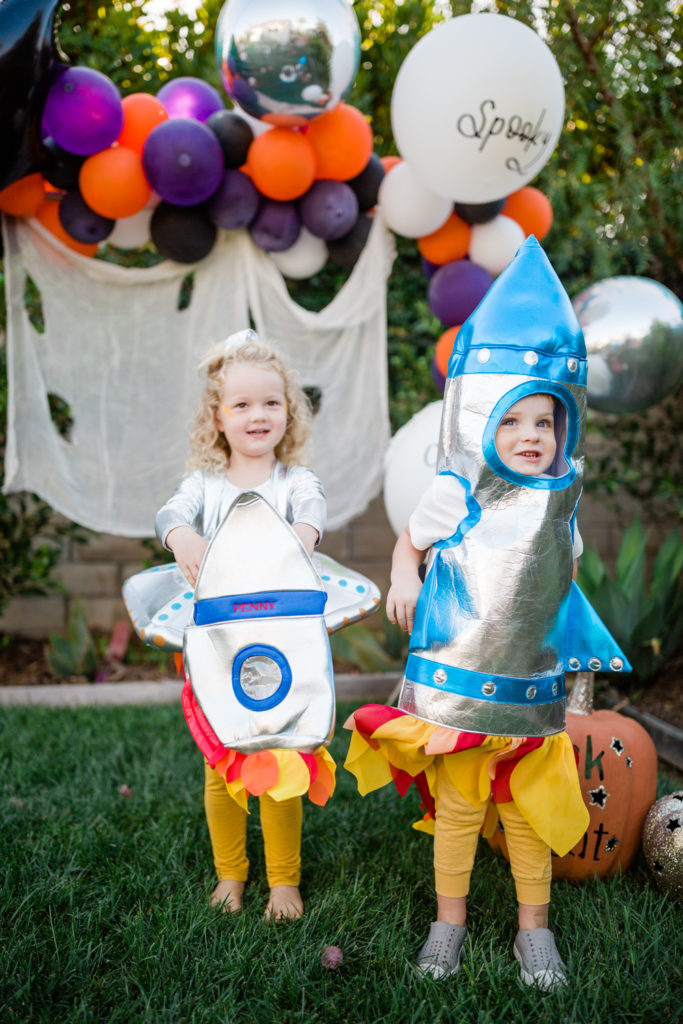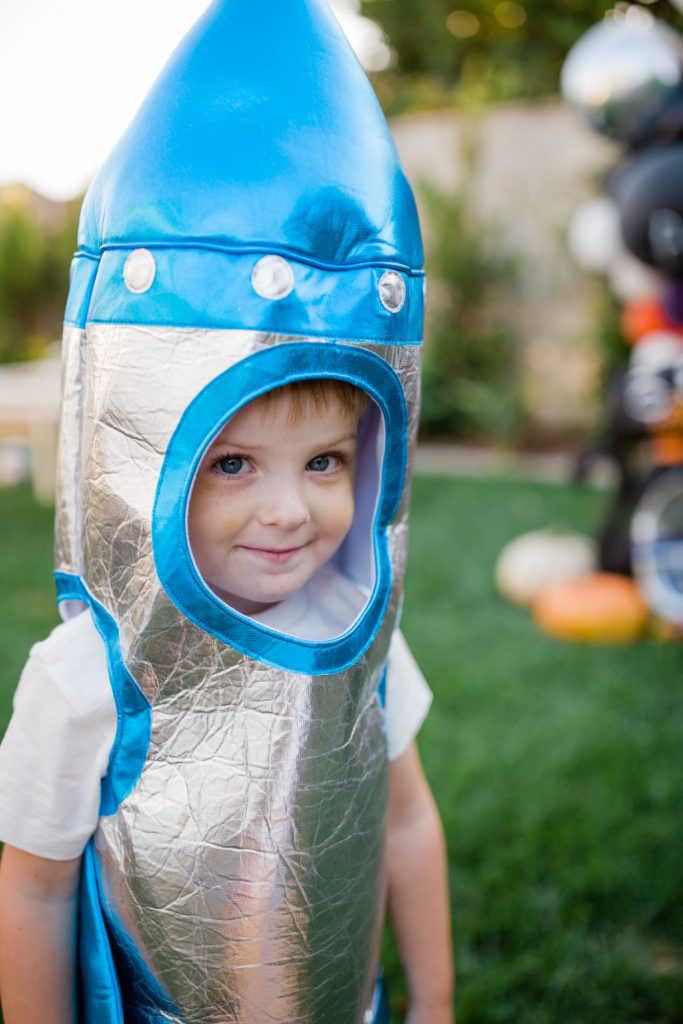 And two cute astronauts!!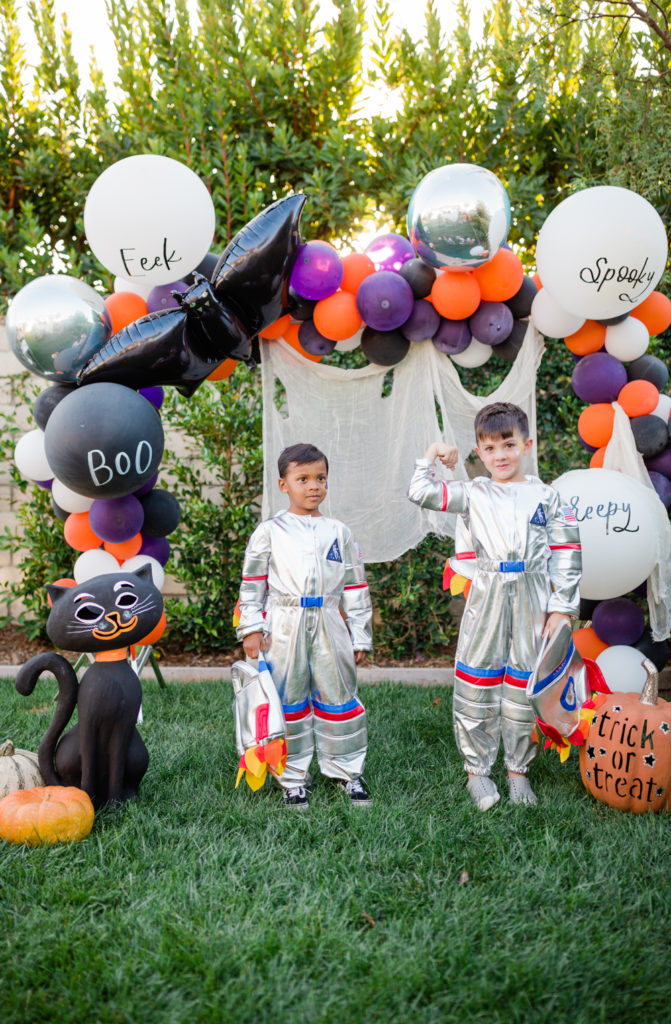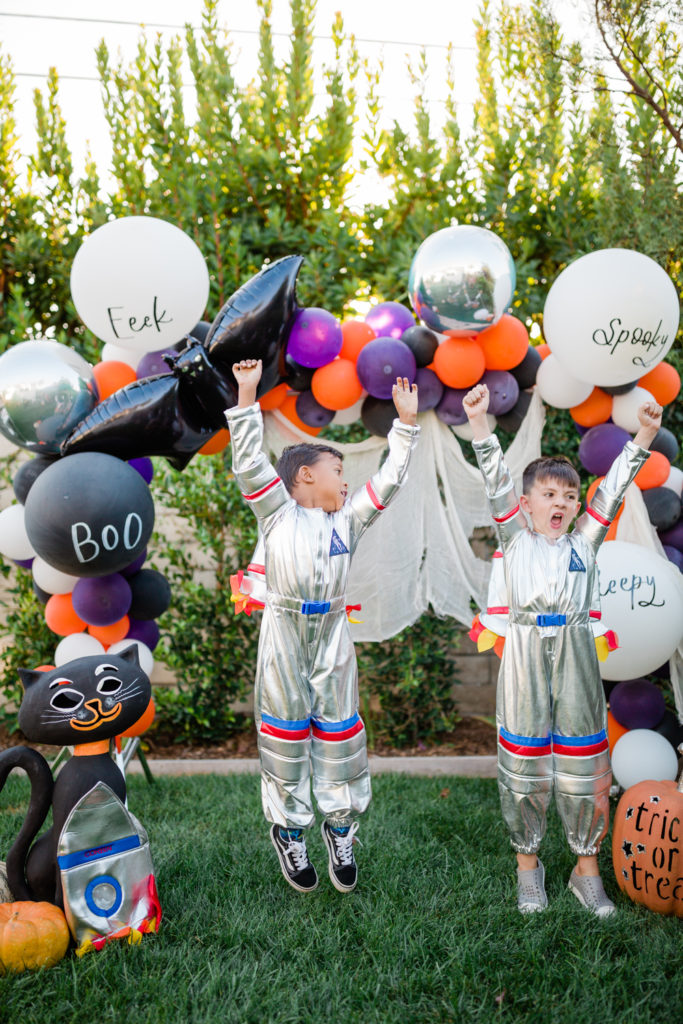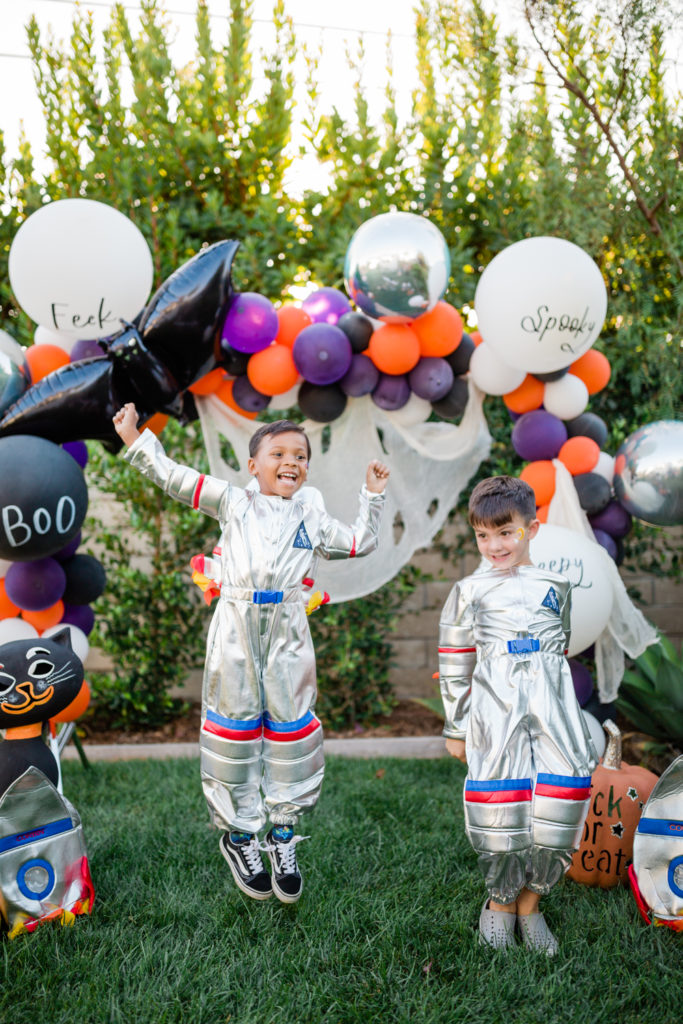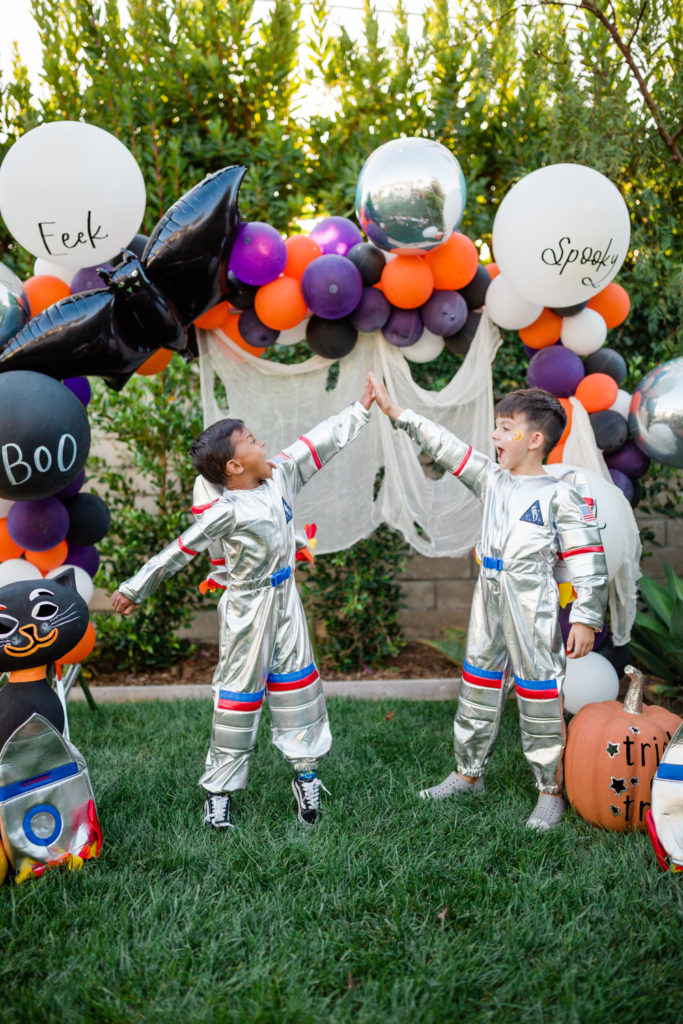 Step 4
Get Creepy with a Game
Although you have all of the trick or treating fun on Halloween, it's always nice to have some other fun activities. For our party we did "Pin the Spider on the Web". Poppy Jack Shop was nice enough to make it for me and you can download it here! We recommend you print at your local Fed Ex or Staples at 24×36, you can print as an engineer print.
The kids went nuts for it! I just bought some spider rings, cut off the ring part and we used glue dots to stick them on! You could blind fold the kiddos if you like for some extra fun as well! They were all begging to have their turn, like I said, it was a hit and distracted them from all the candy for a short minute, haha!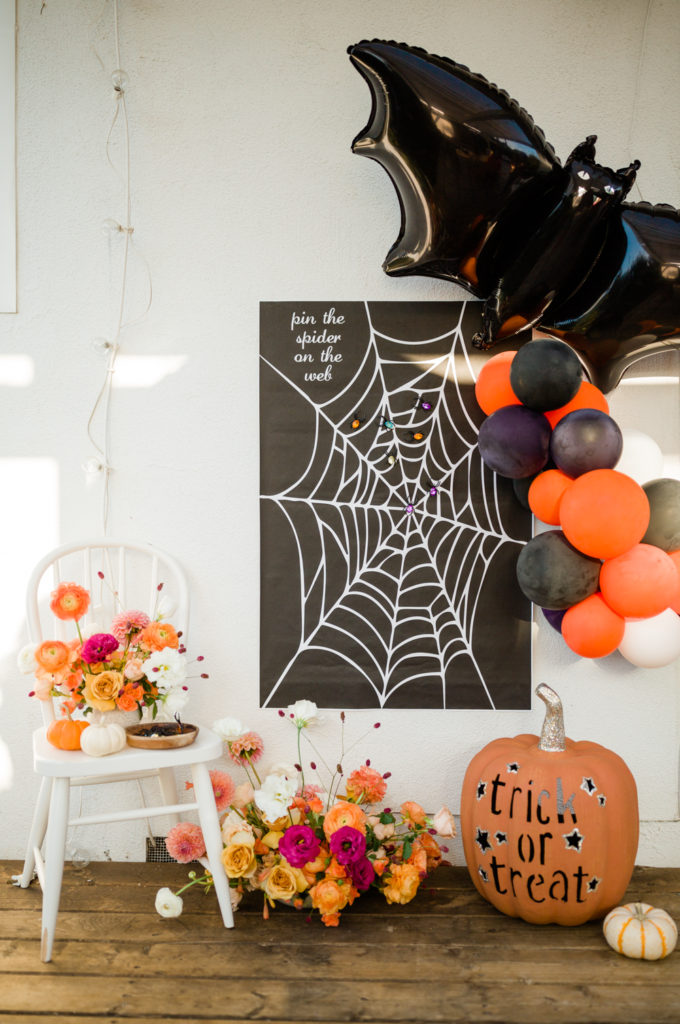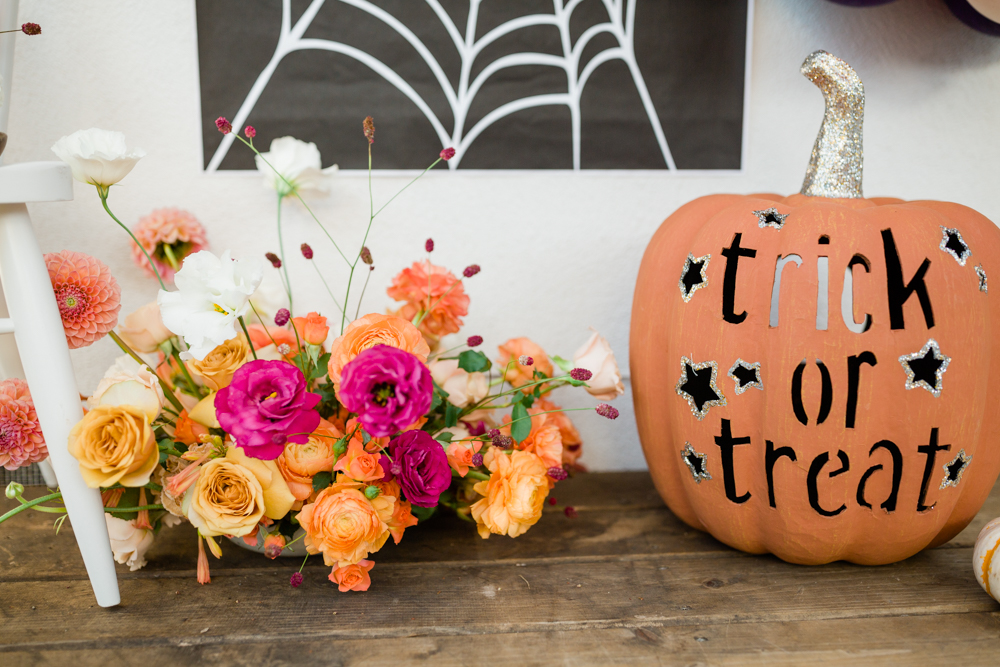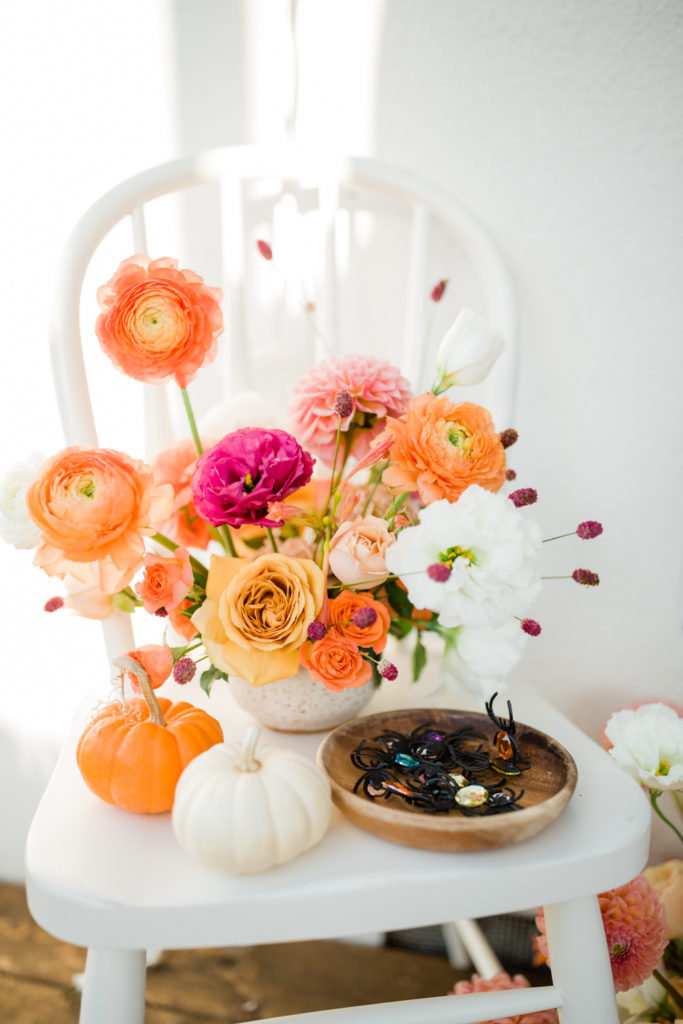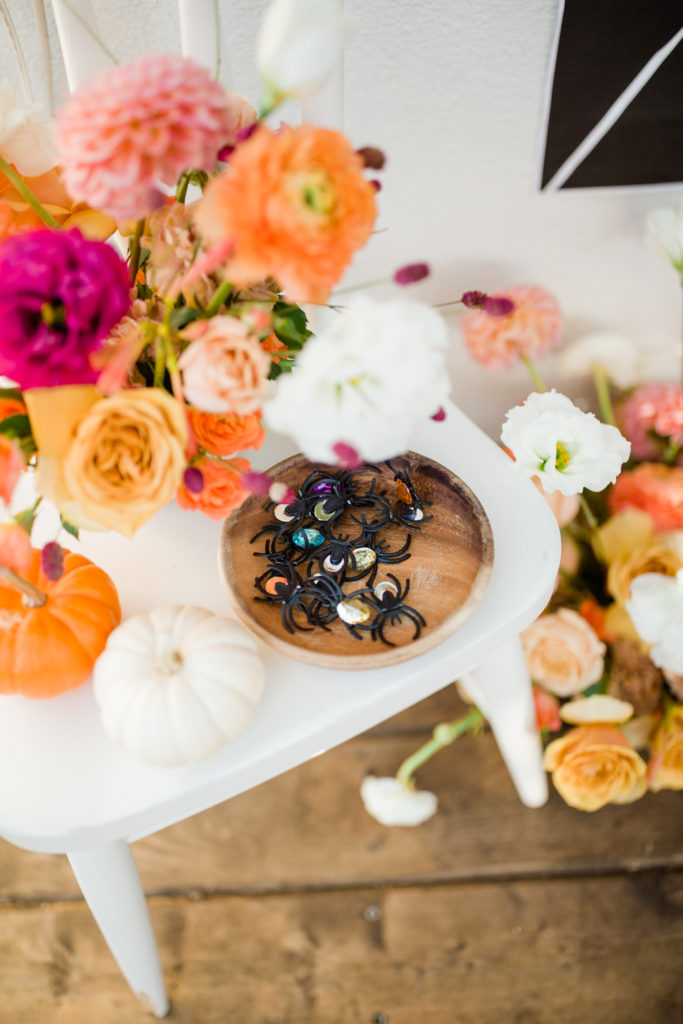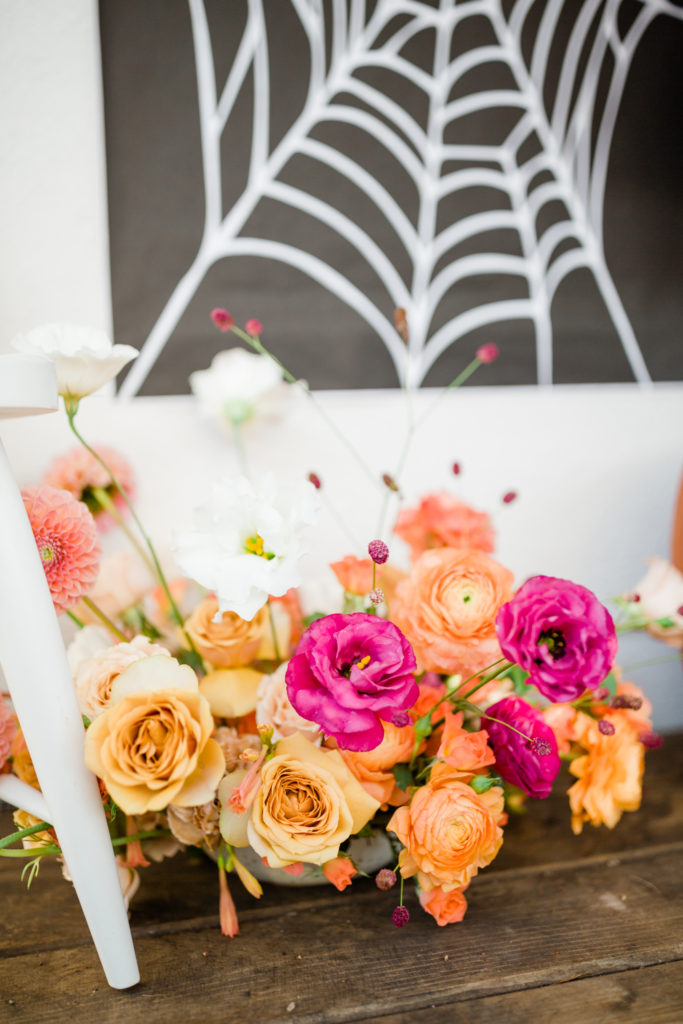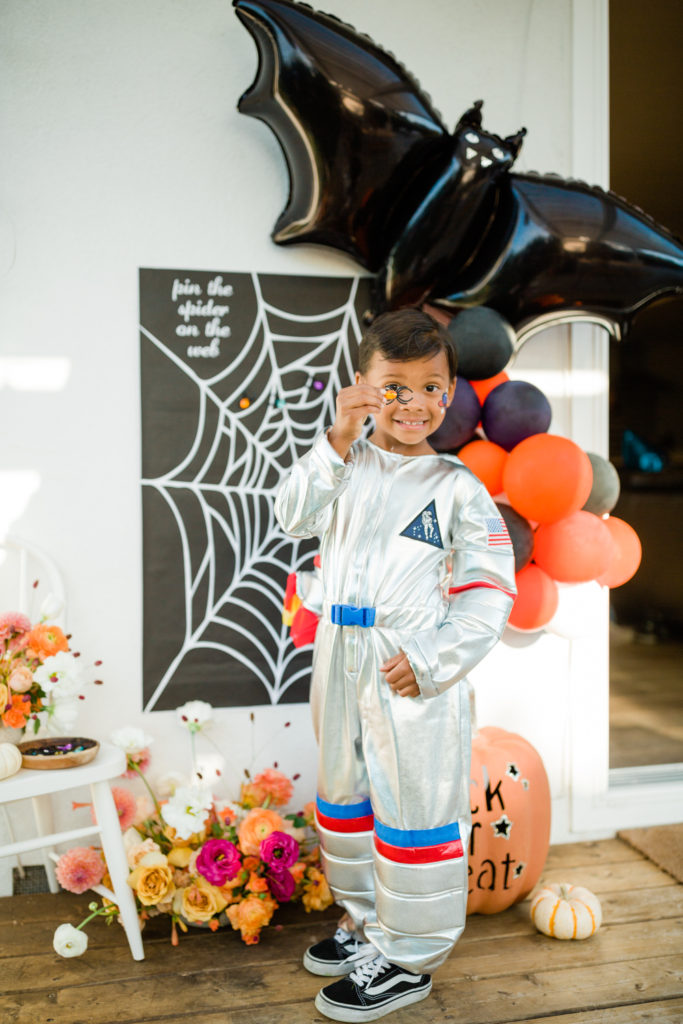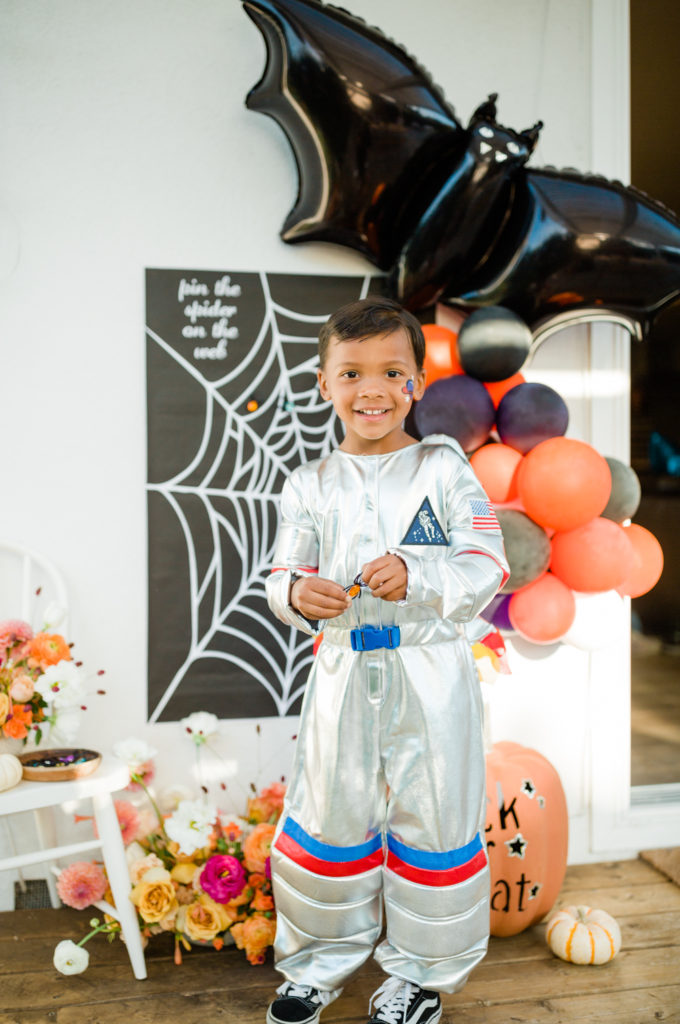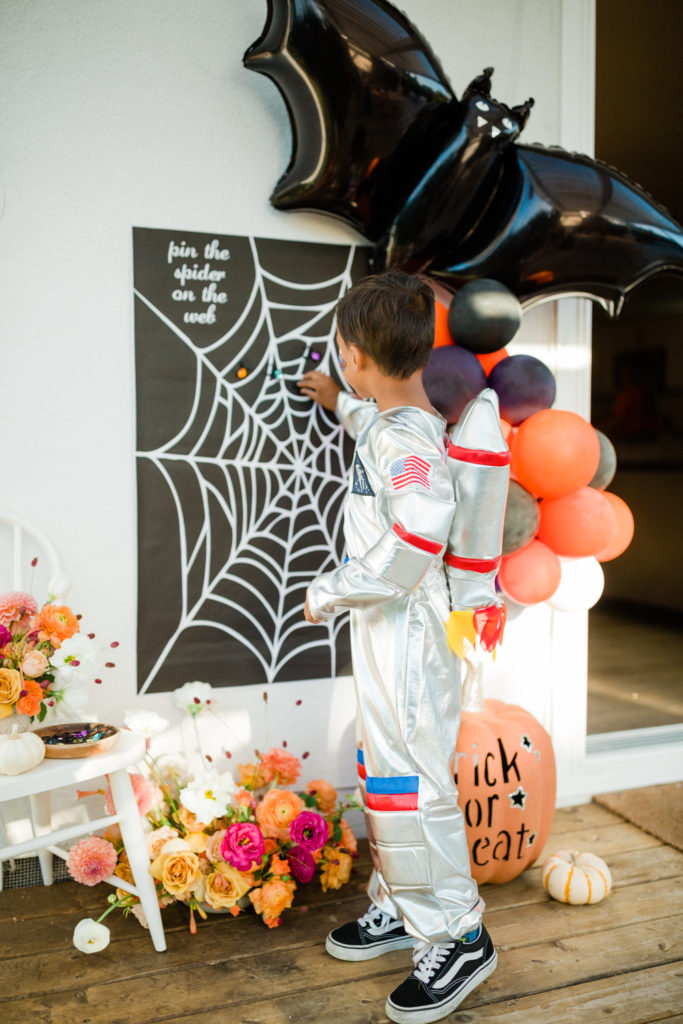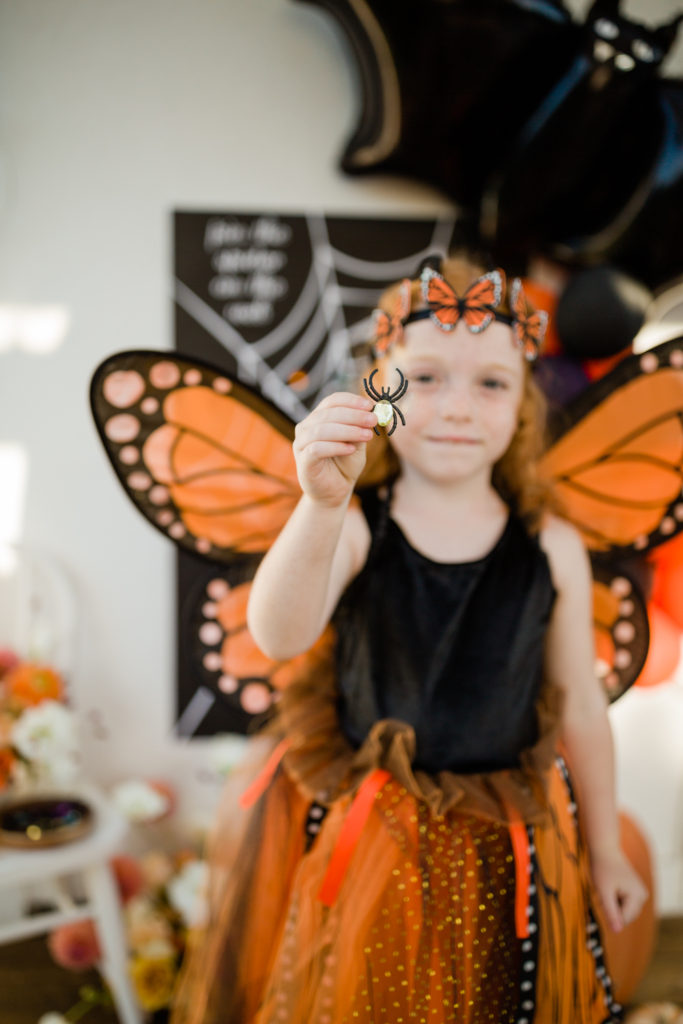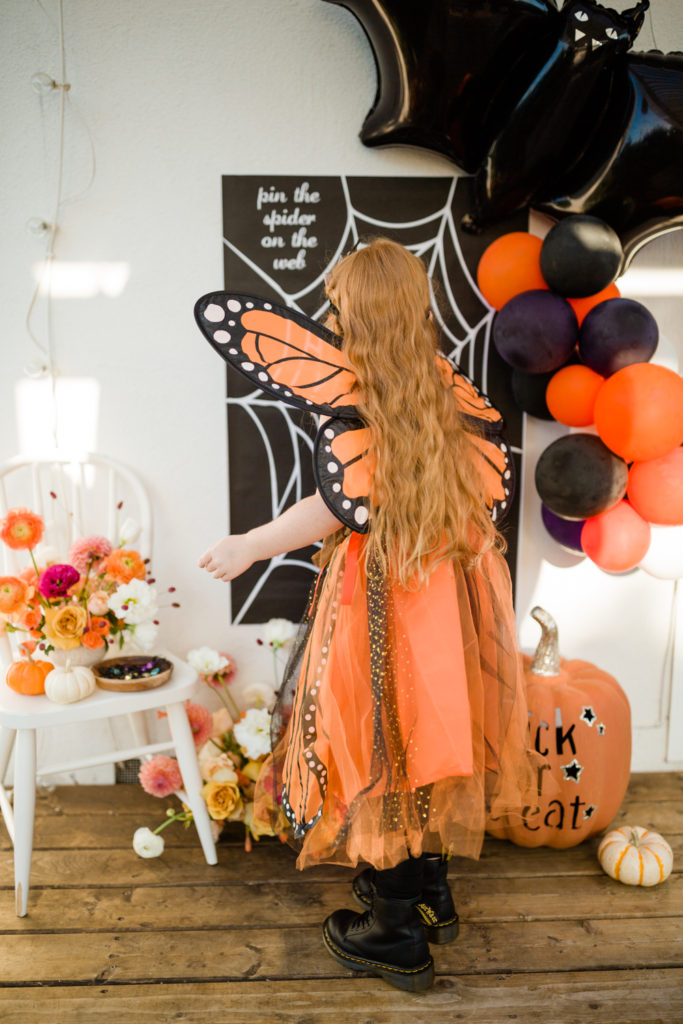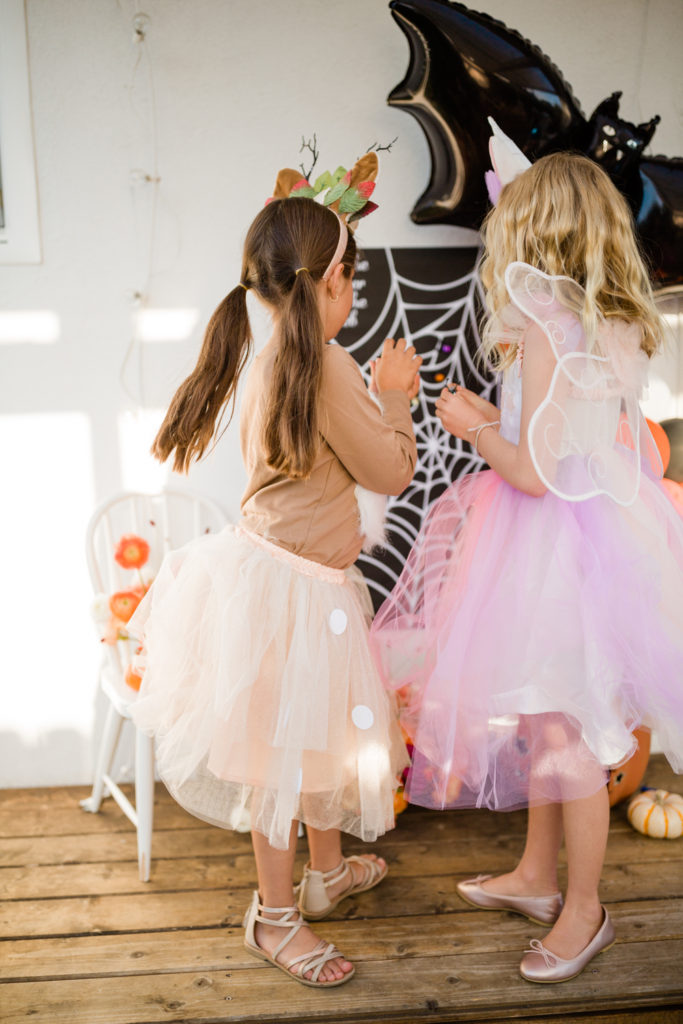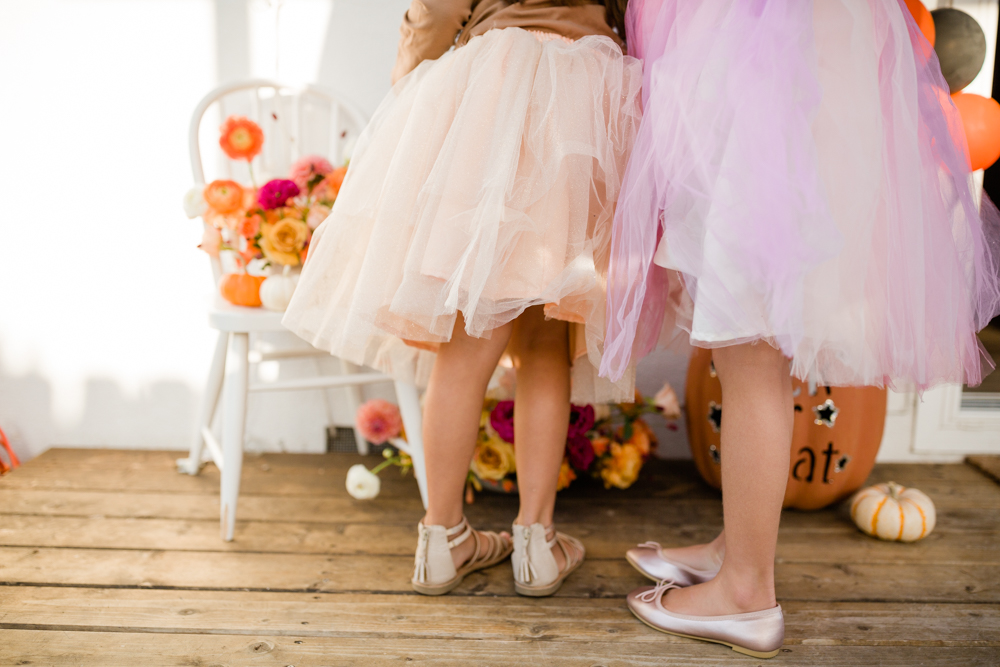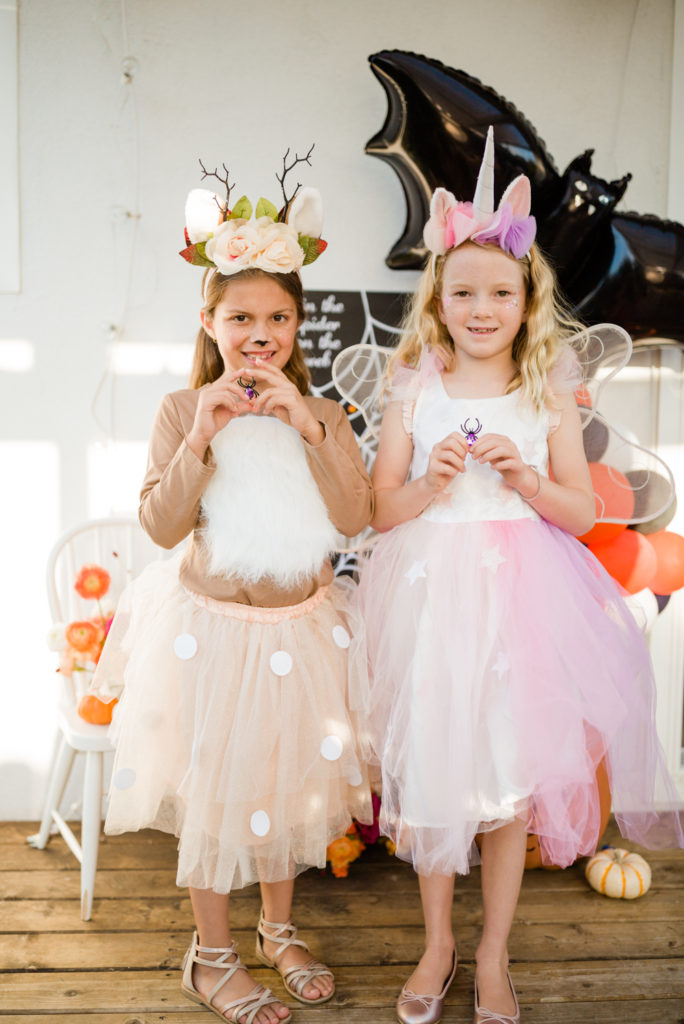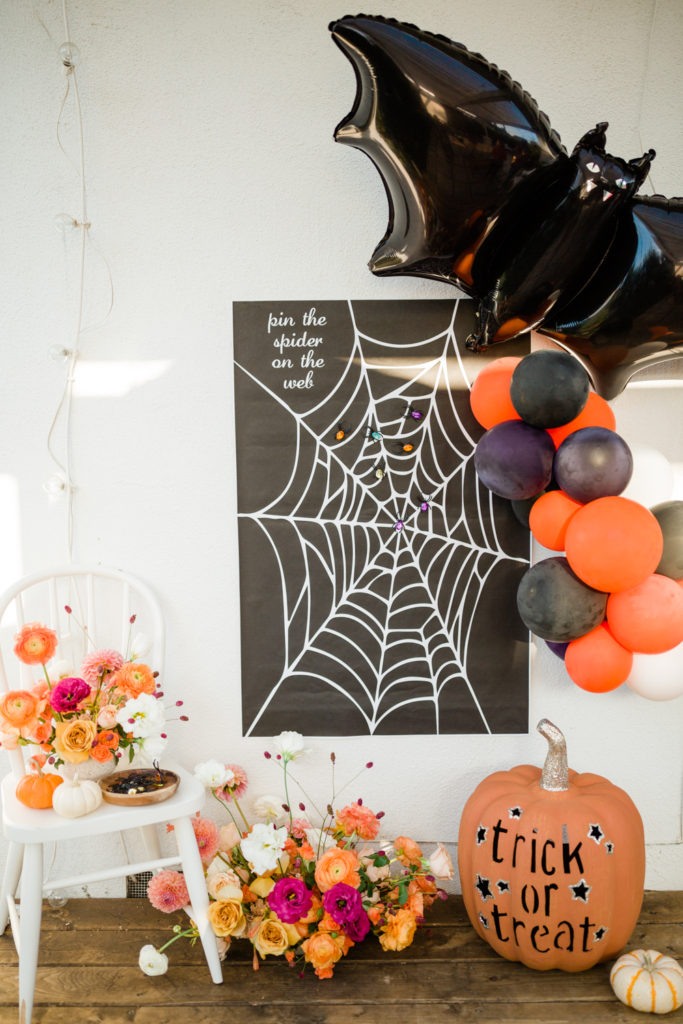 Step 5
Show the Adults some Love
You definitely need an adult hang out spot… We chose my front porch! It was an easy place to hang out and hand out candy and also watch our kiddos play! Oh, and the adults deserve some wine – I mean we are dealing with sugar crazed kiddos after all! Both Leah and my sweaters are from Saltwater Luxe, anyone else ready for sweater weather?!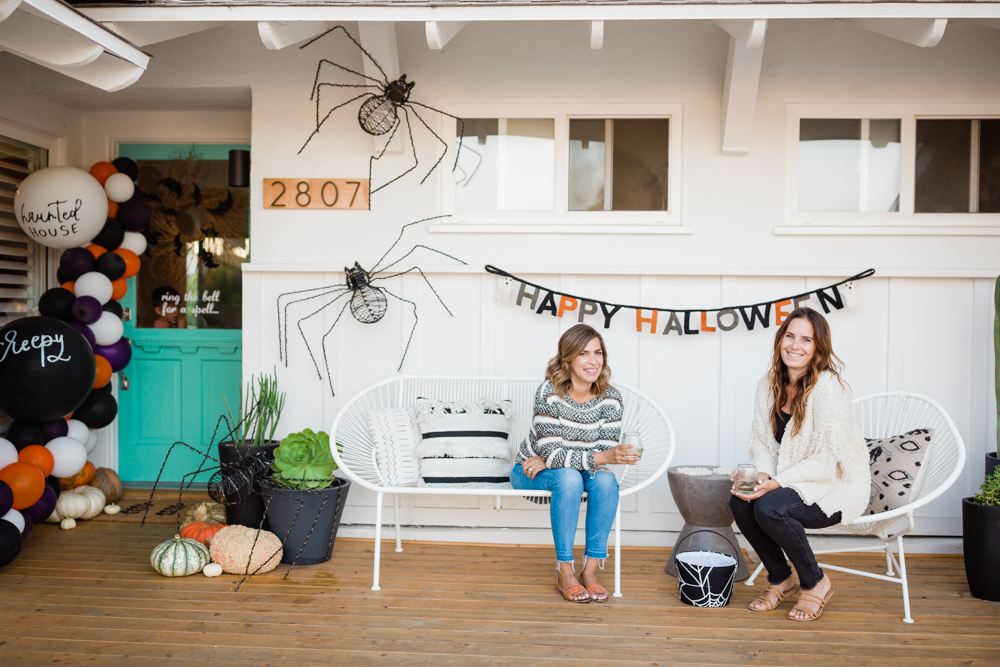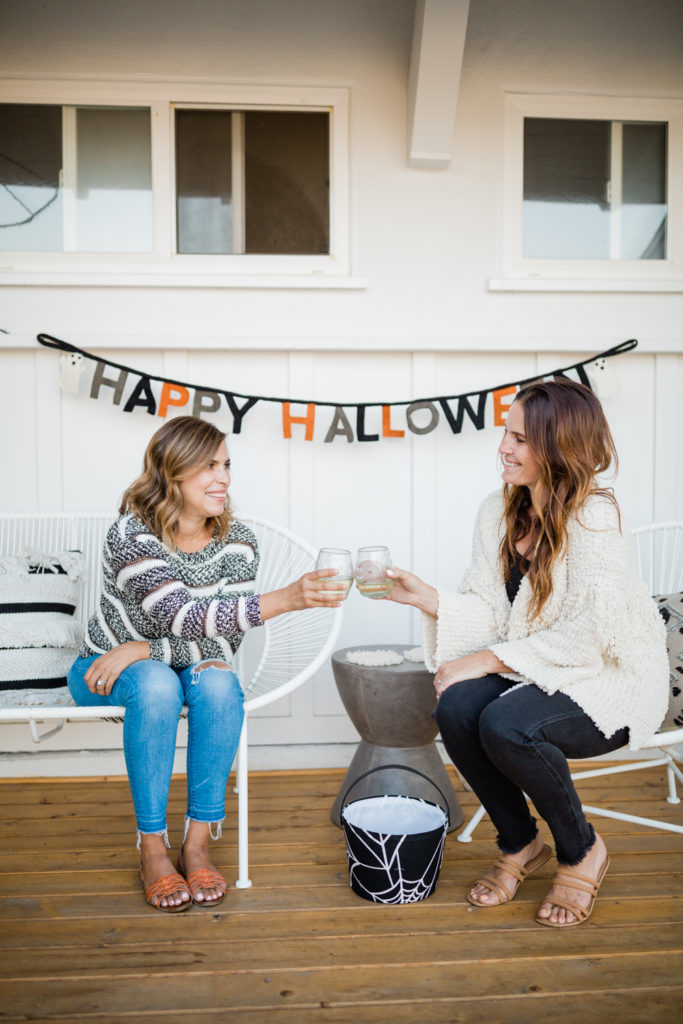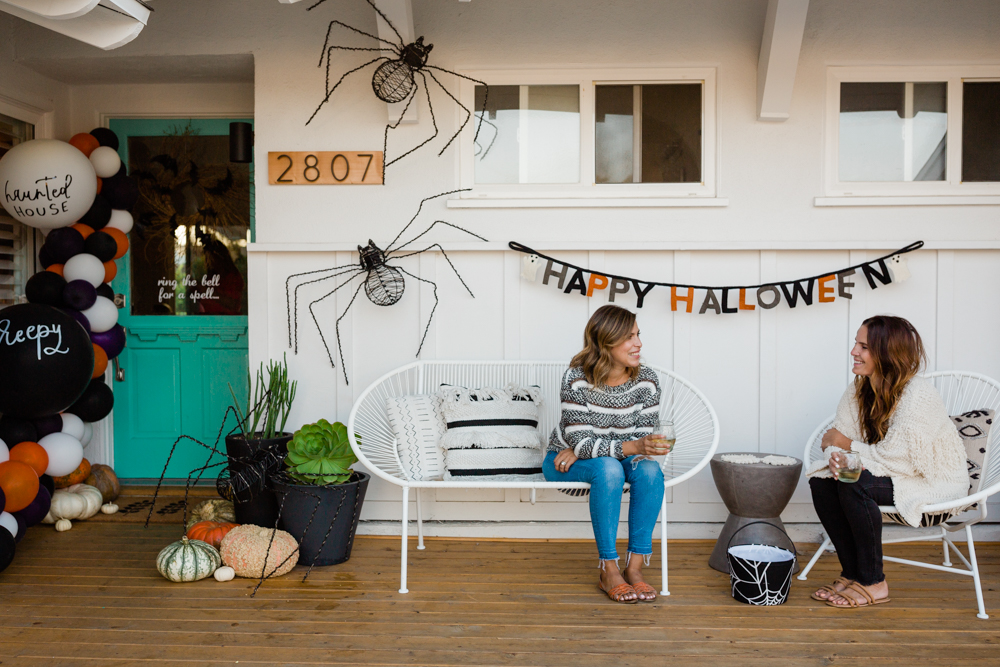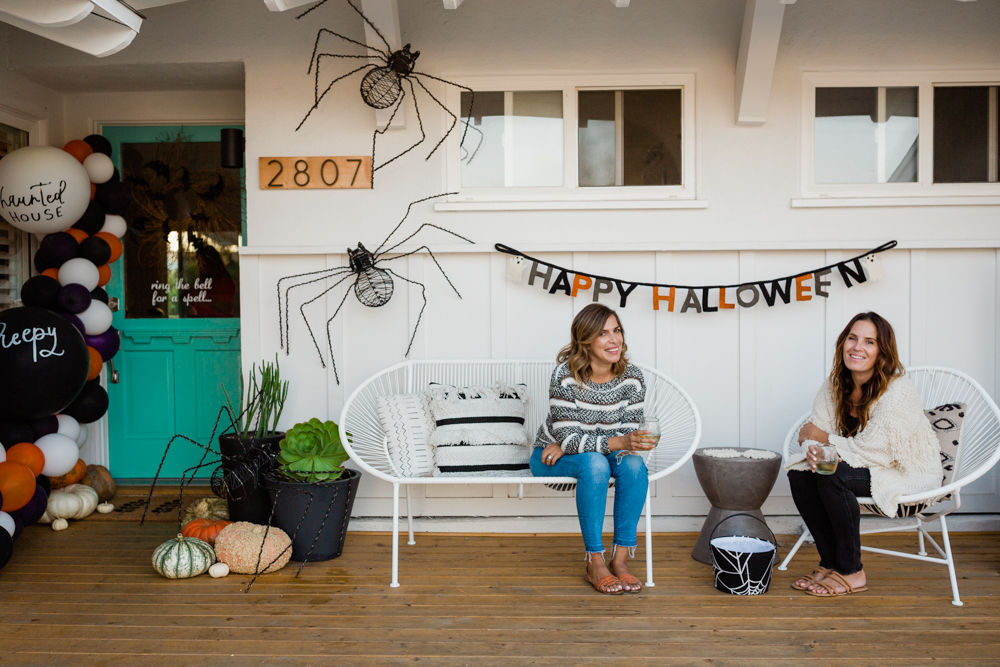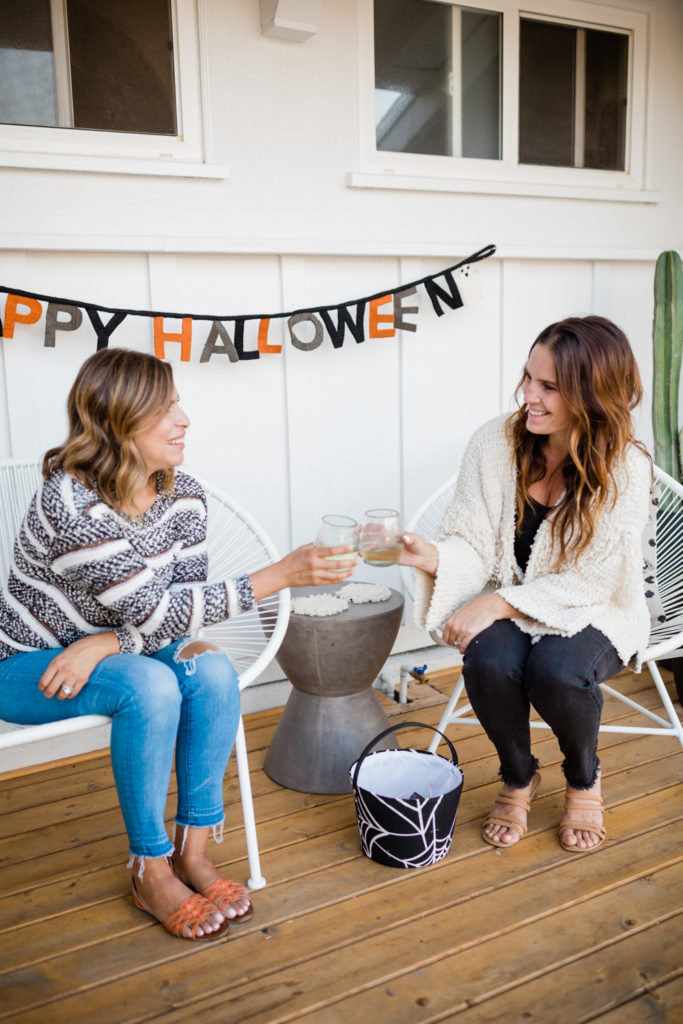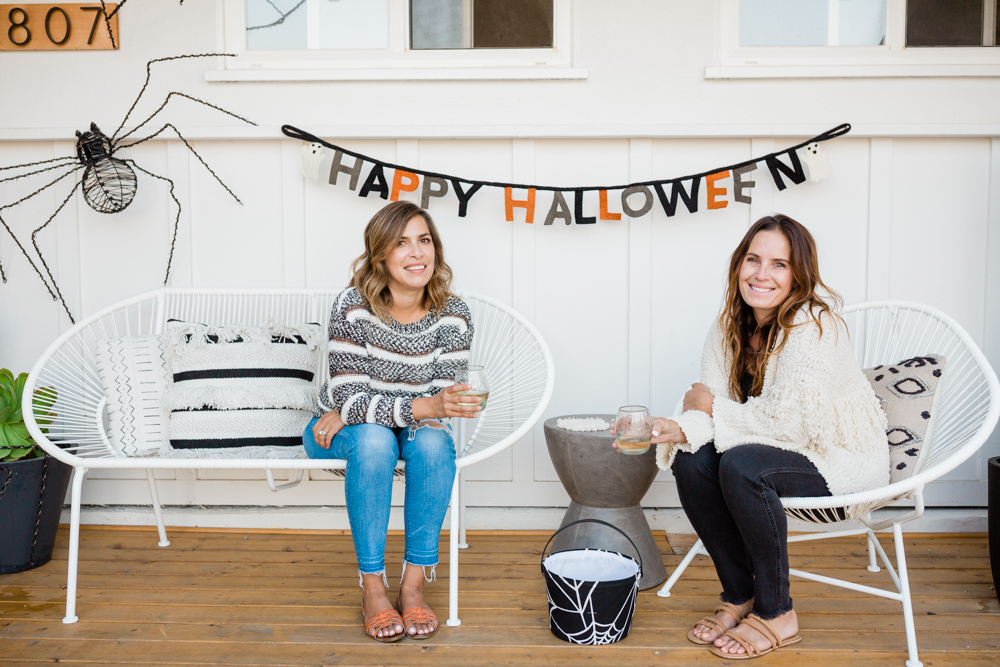 Step 6
You don't just need Candy…
You also need amazing desserts!! Because, come on, is it a party without them?! We had a hauntingly cute cake and cookies made by our friends at Sweet & Saucy Shop and Frost Your Cookie. As you can imagine, the kids loved every bit of this pretty dessert table.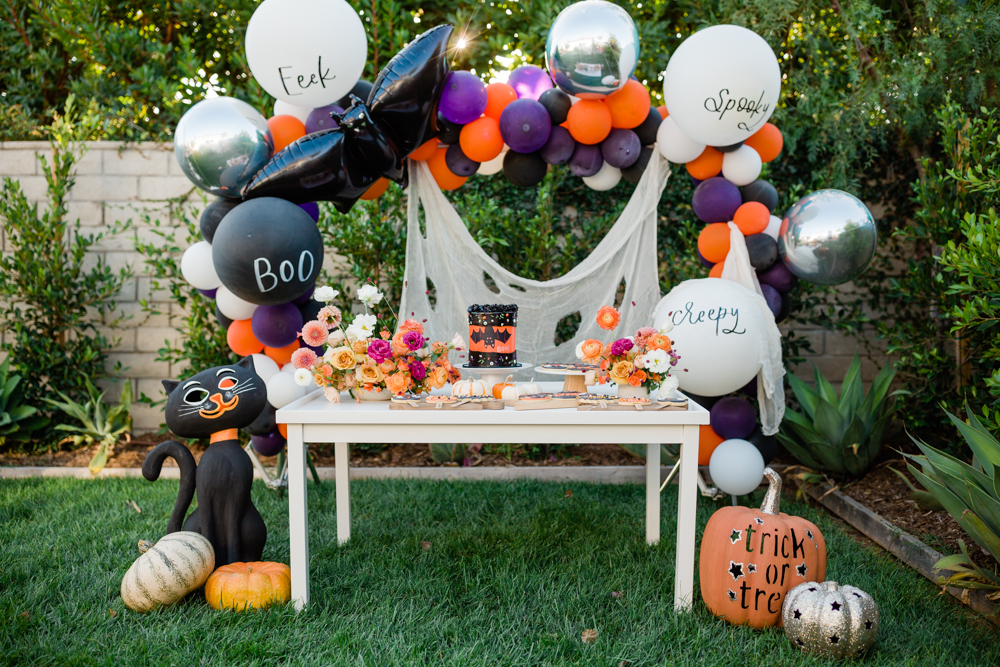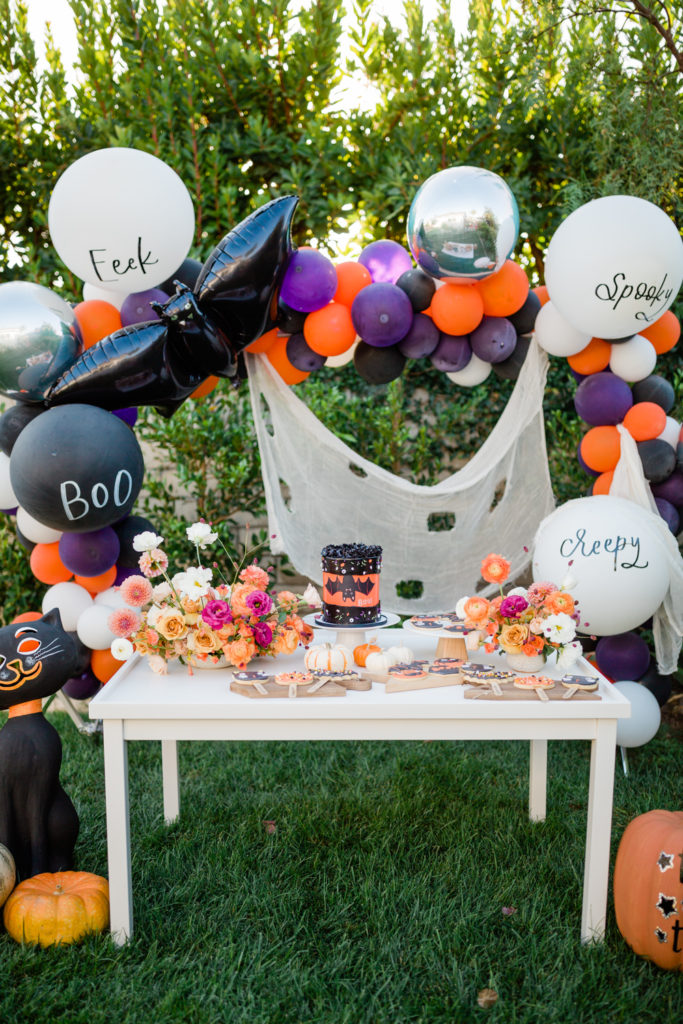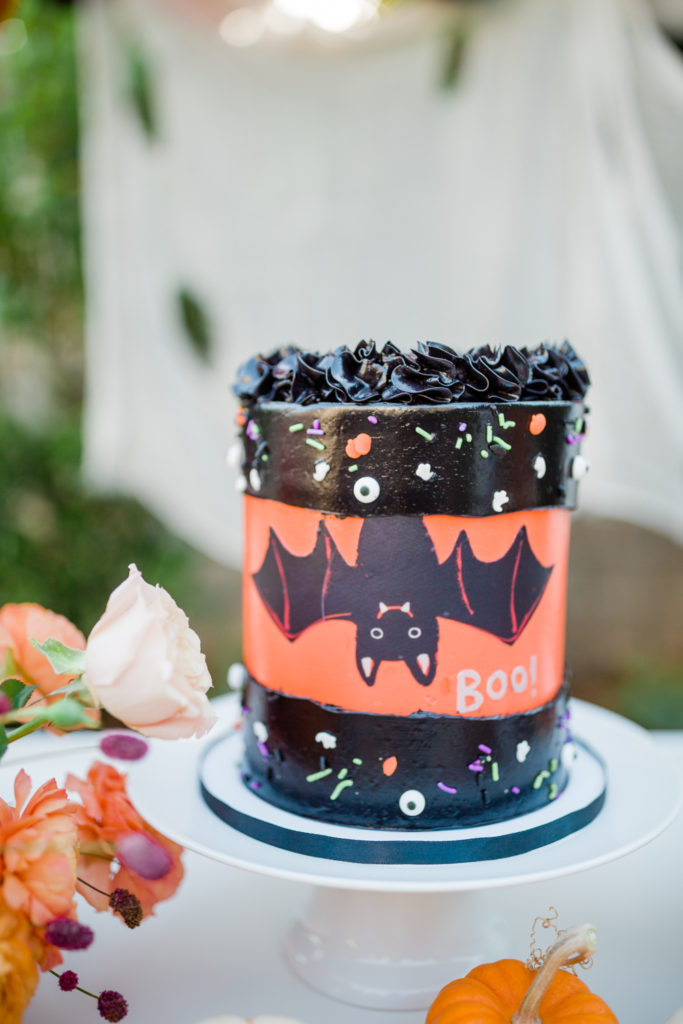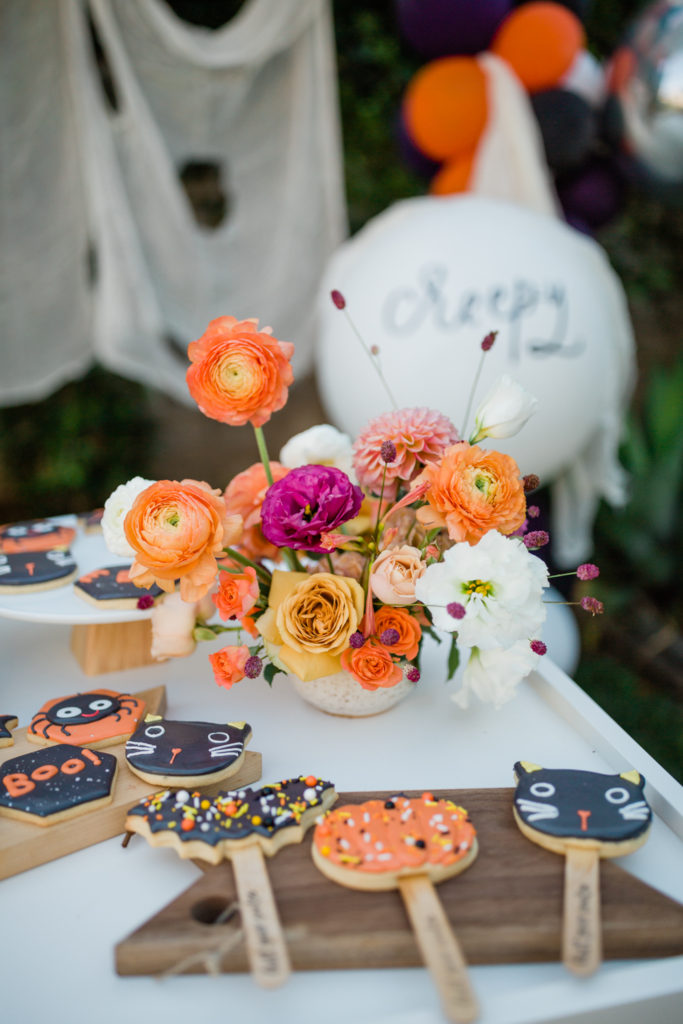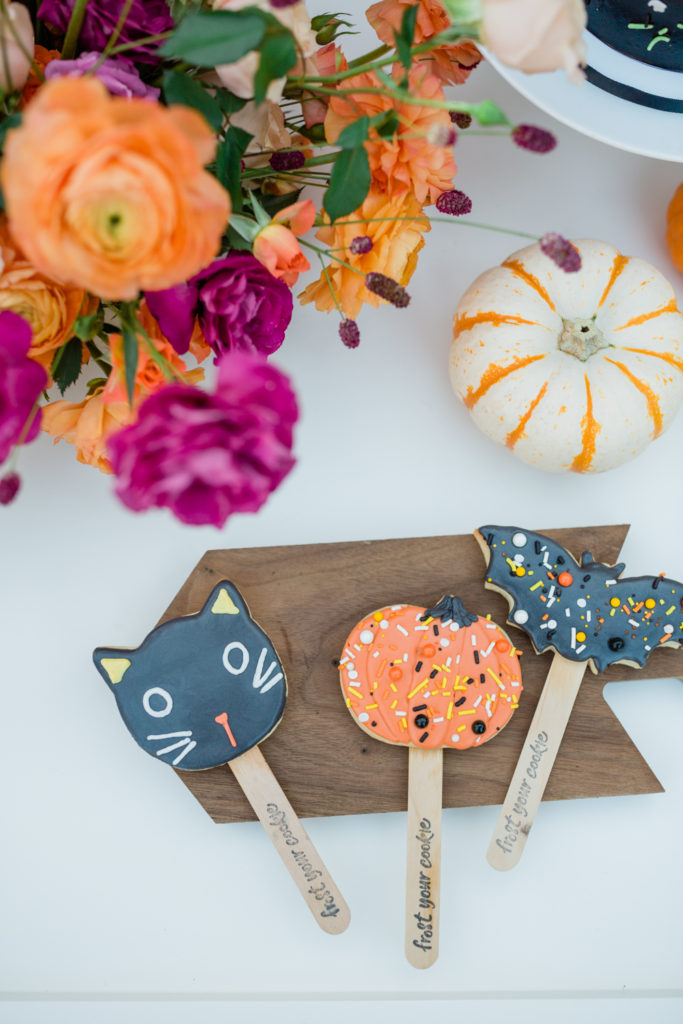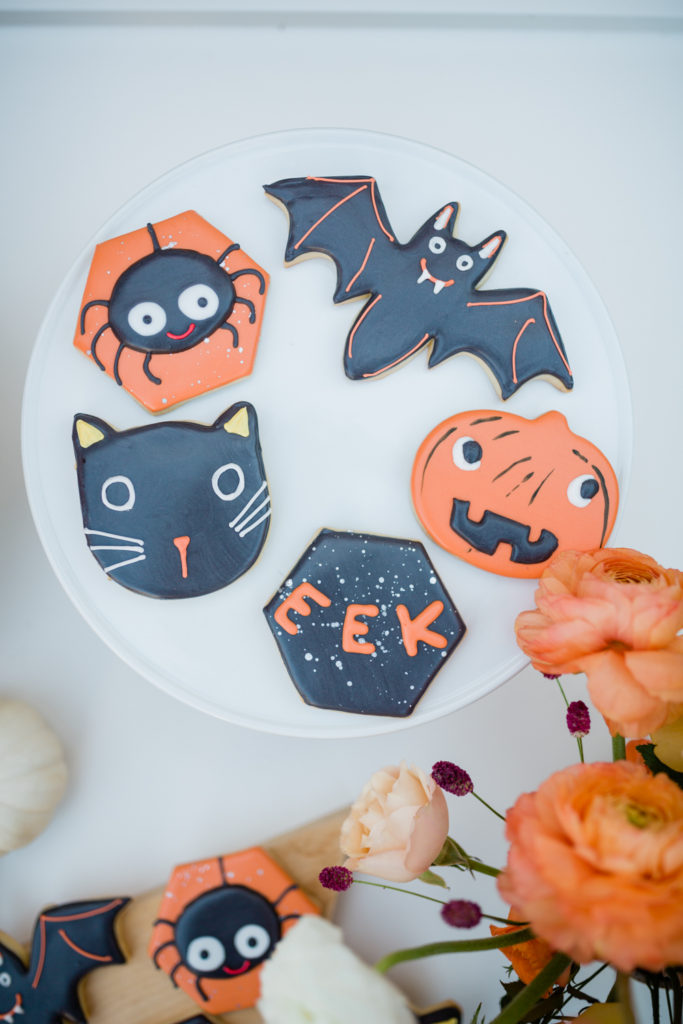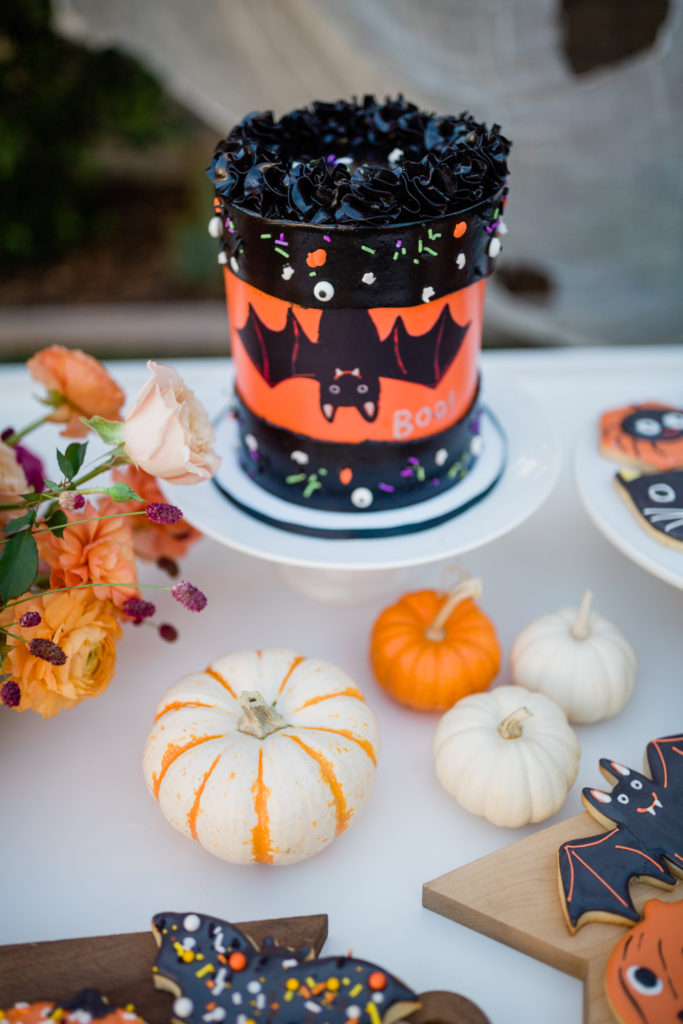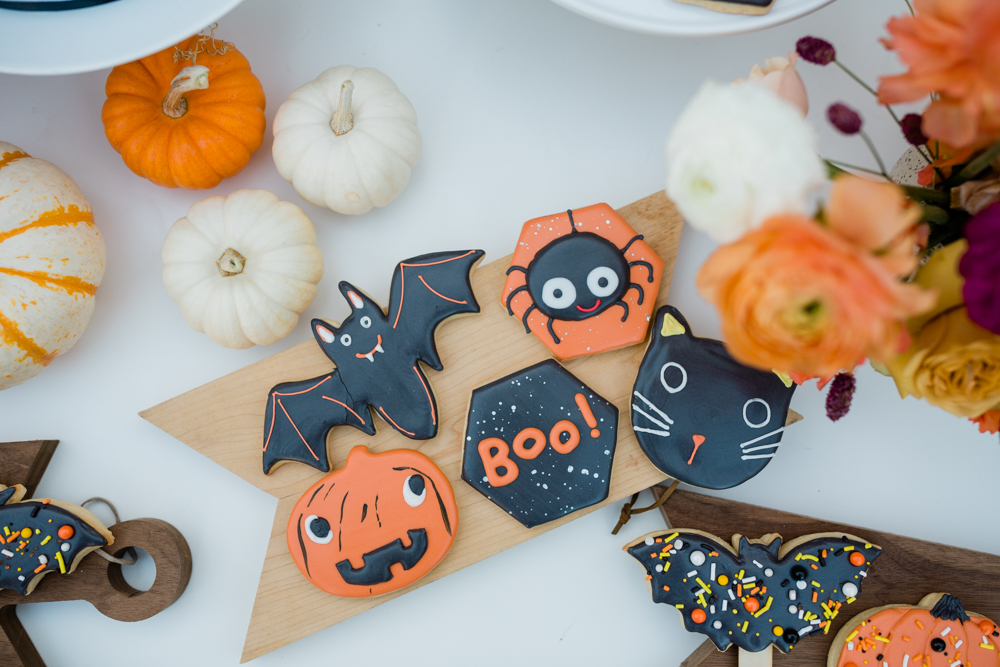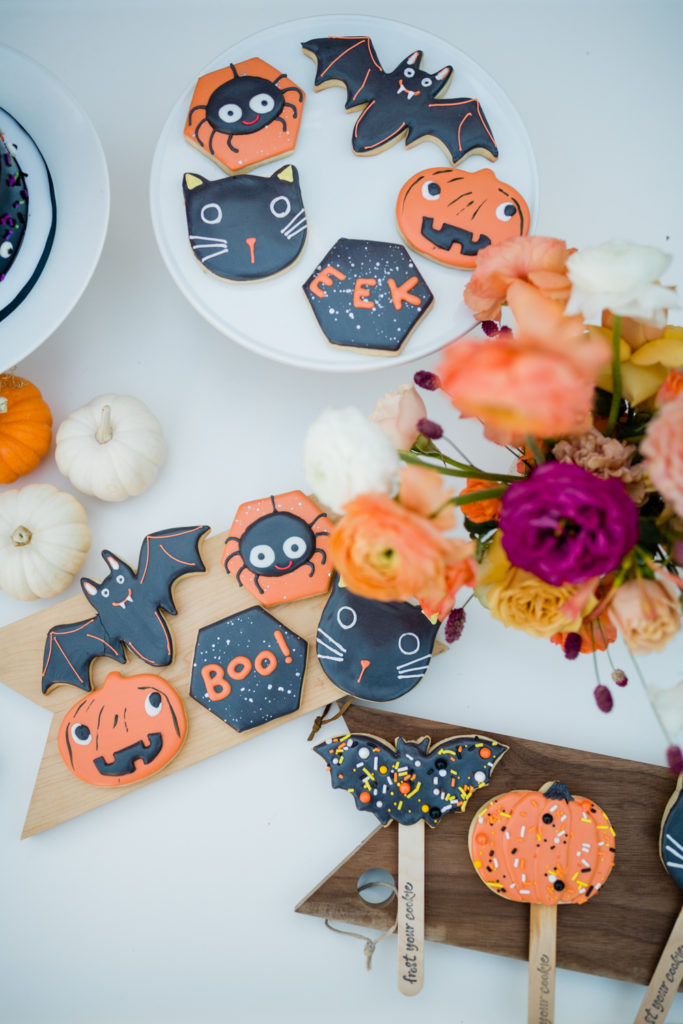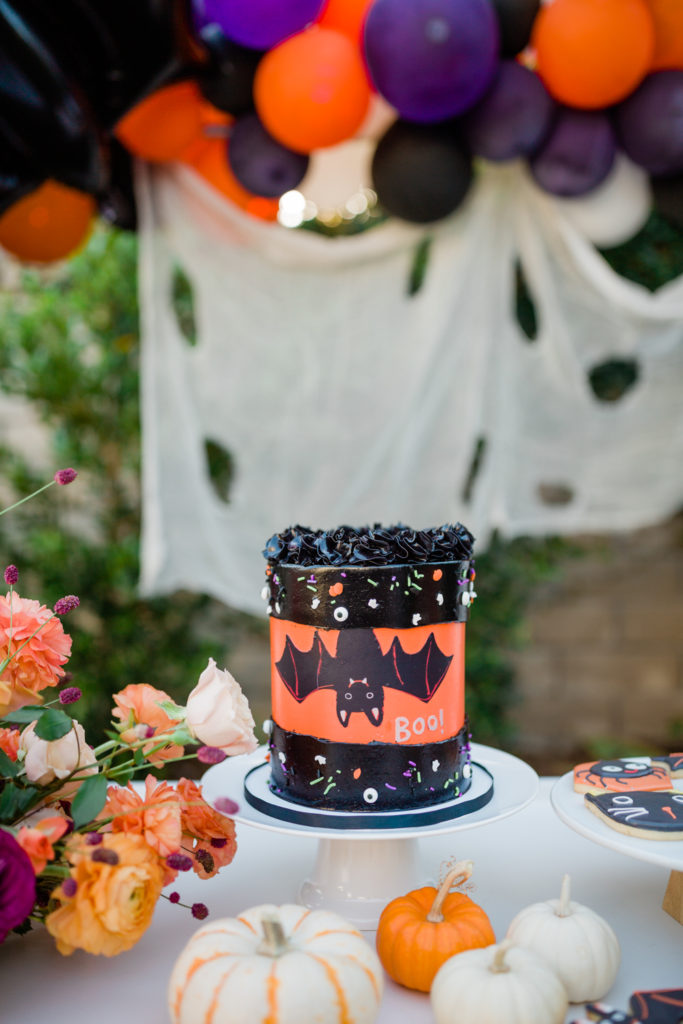 These cookie pops are ALWAYS a hit!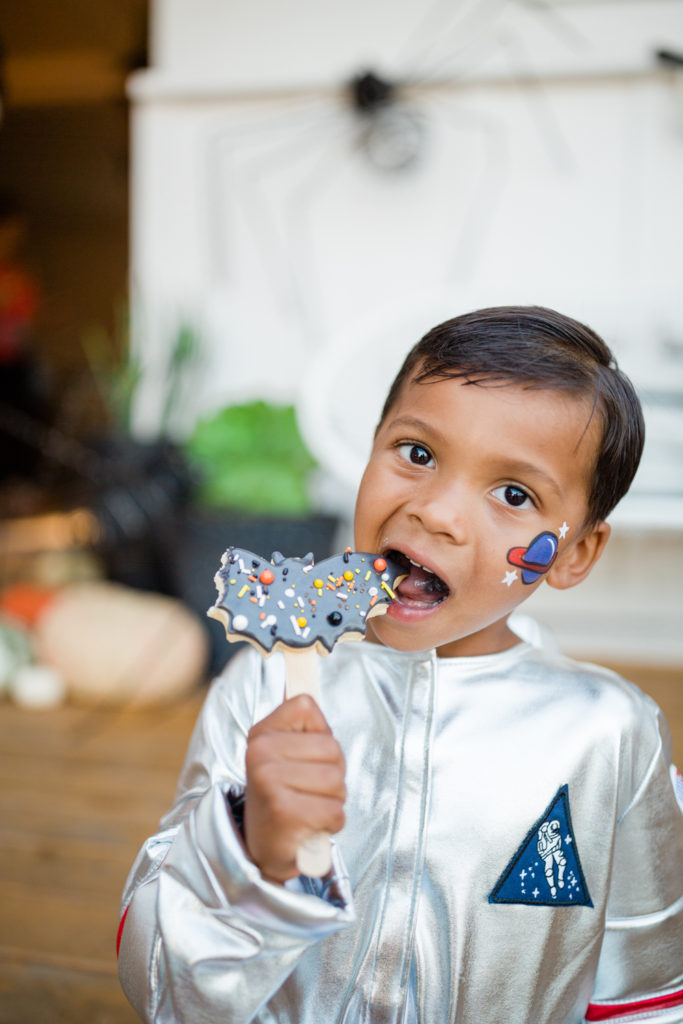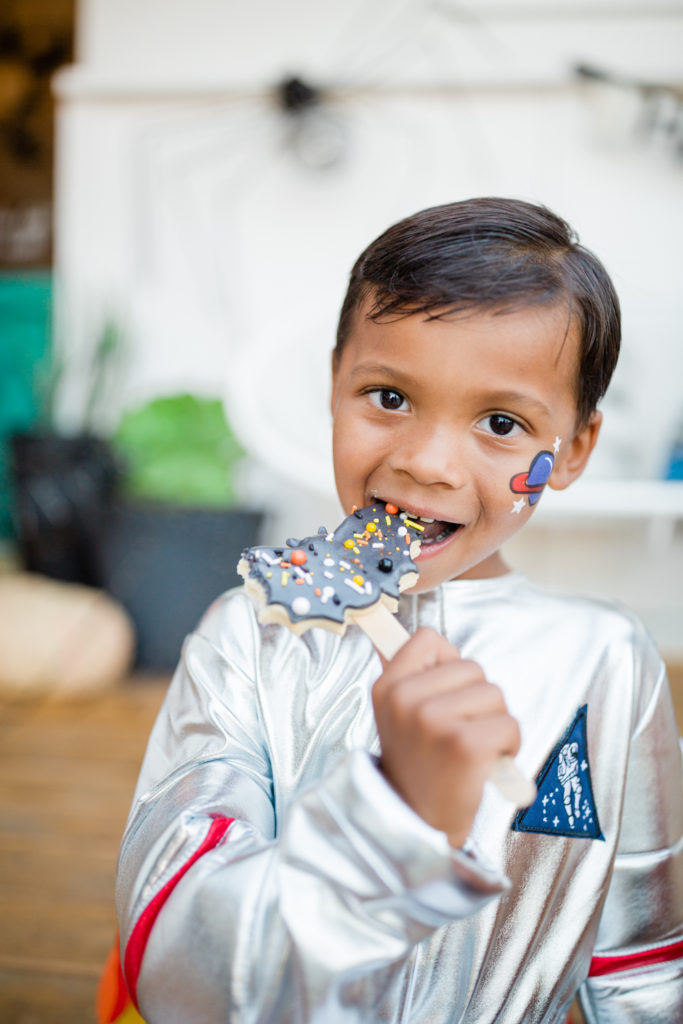 Step 7
Light it Up!
I'm obsessed with all of Pottery Barn Kid's light up costumes!! Our kids were so excited about them and all of the moms were saying how they are a great safety feature! You can't lose them, and they look adorable as well! Make sure you parade up and down the street getting that candy and looking extra bright and adorable!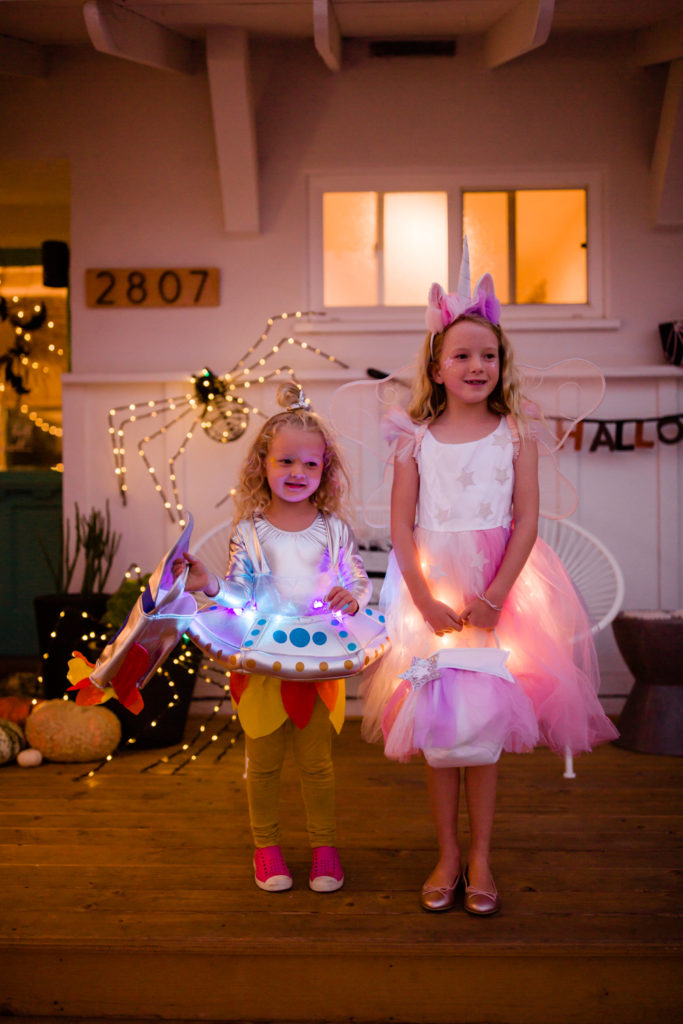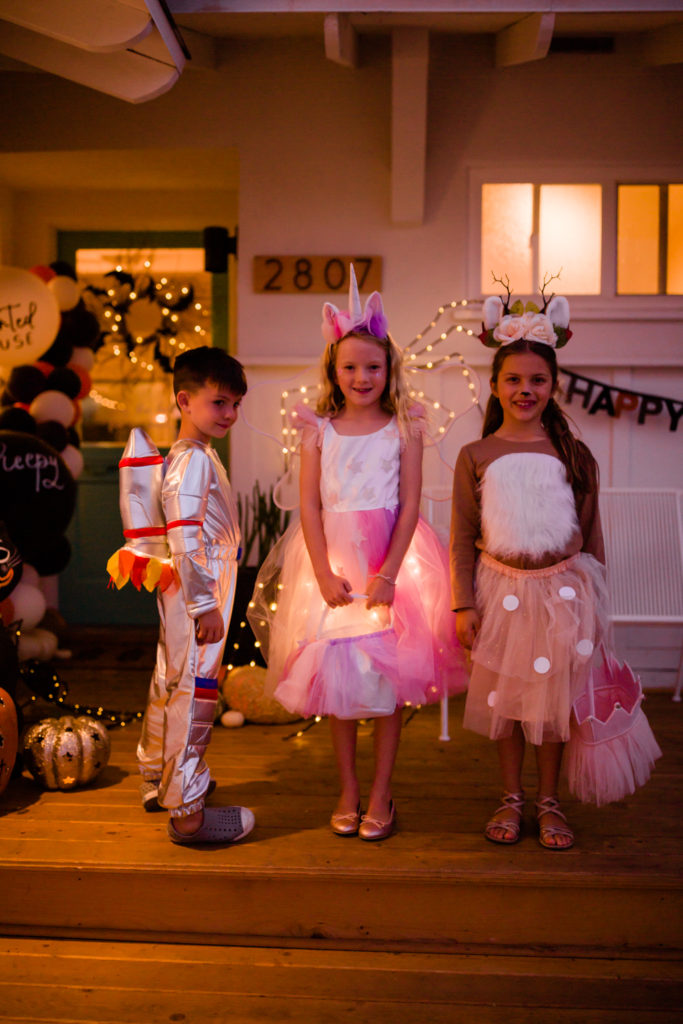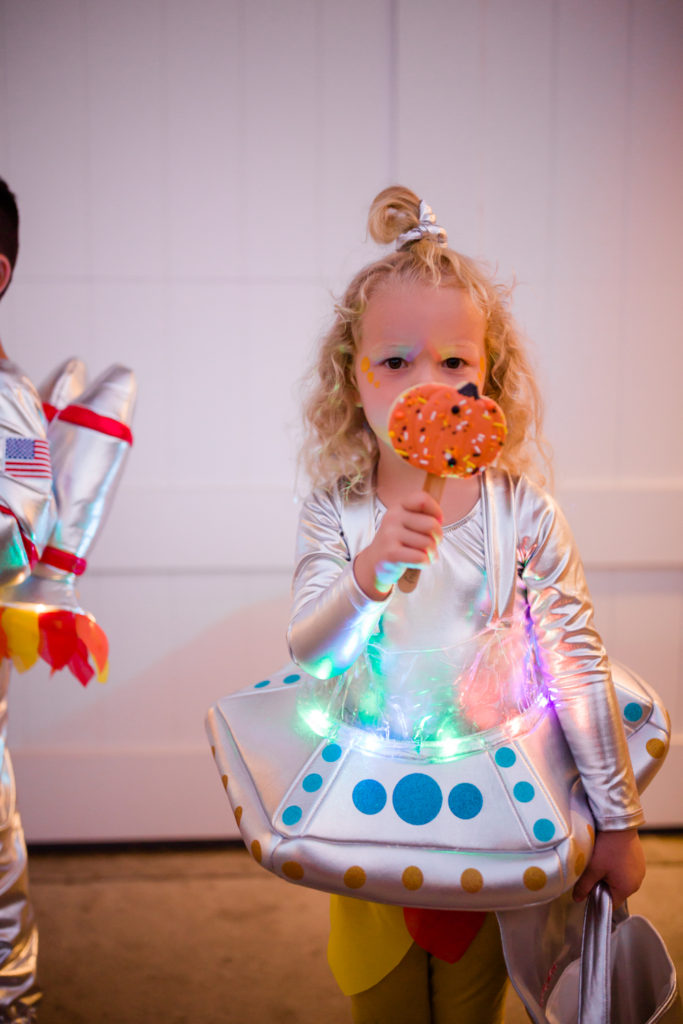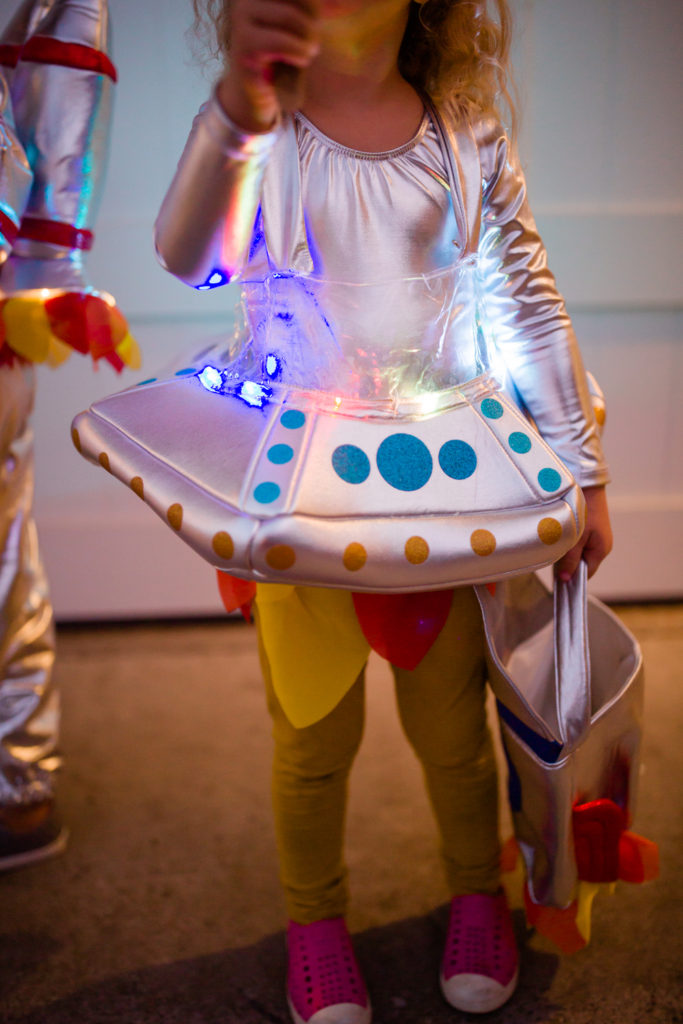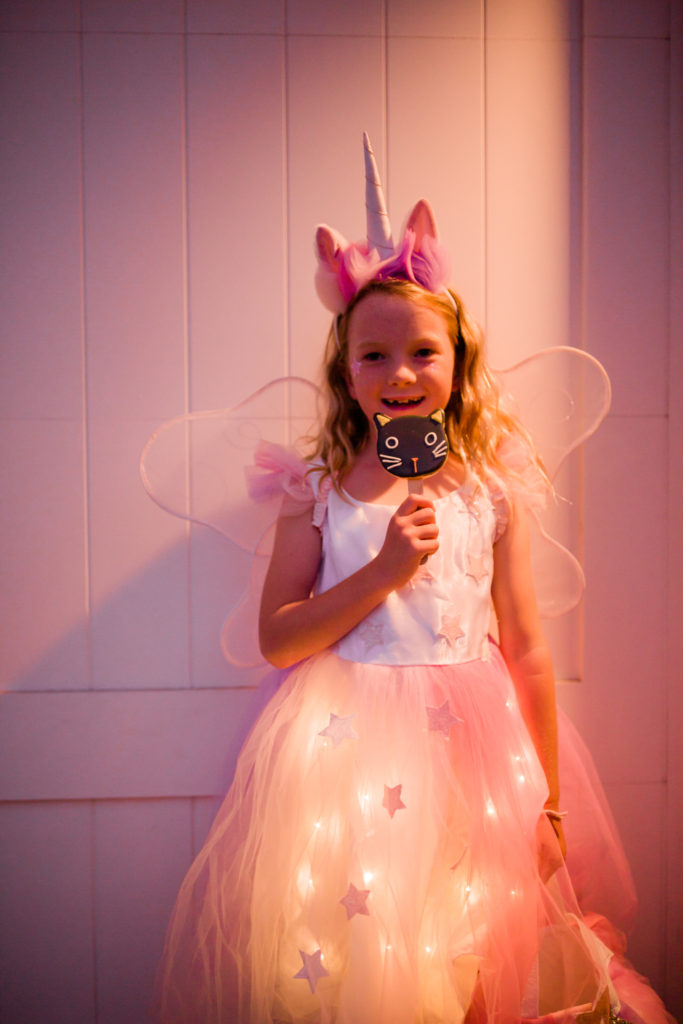 These are the moments they'll remember forever!!!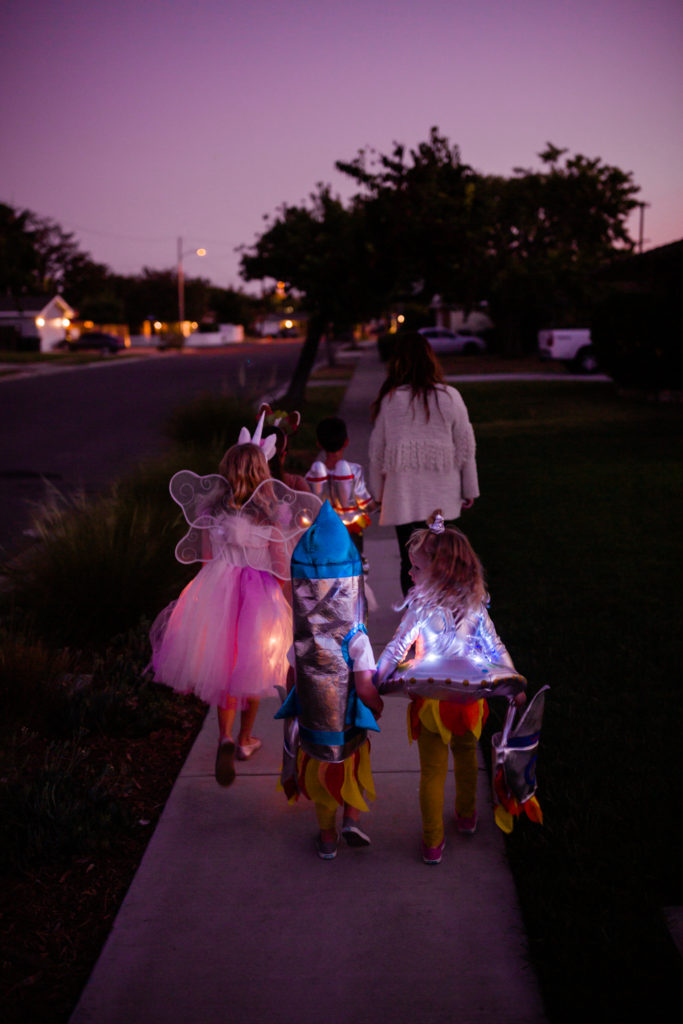 And the best part of all… The Trick or Treating!!!!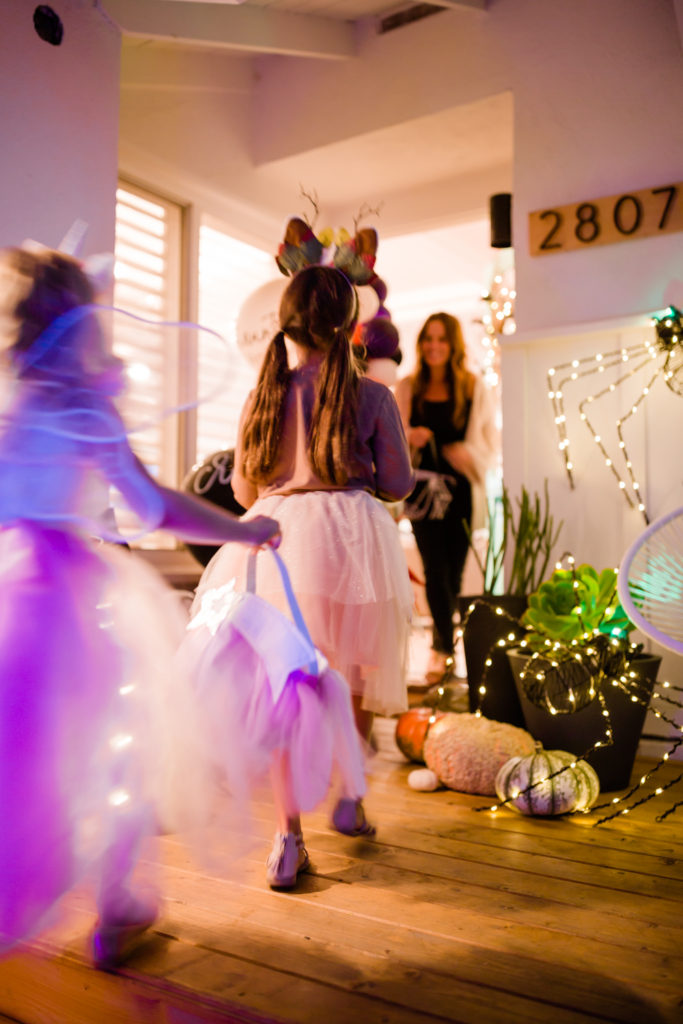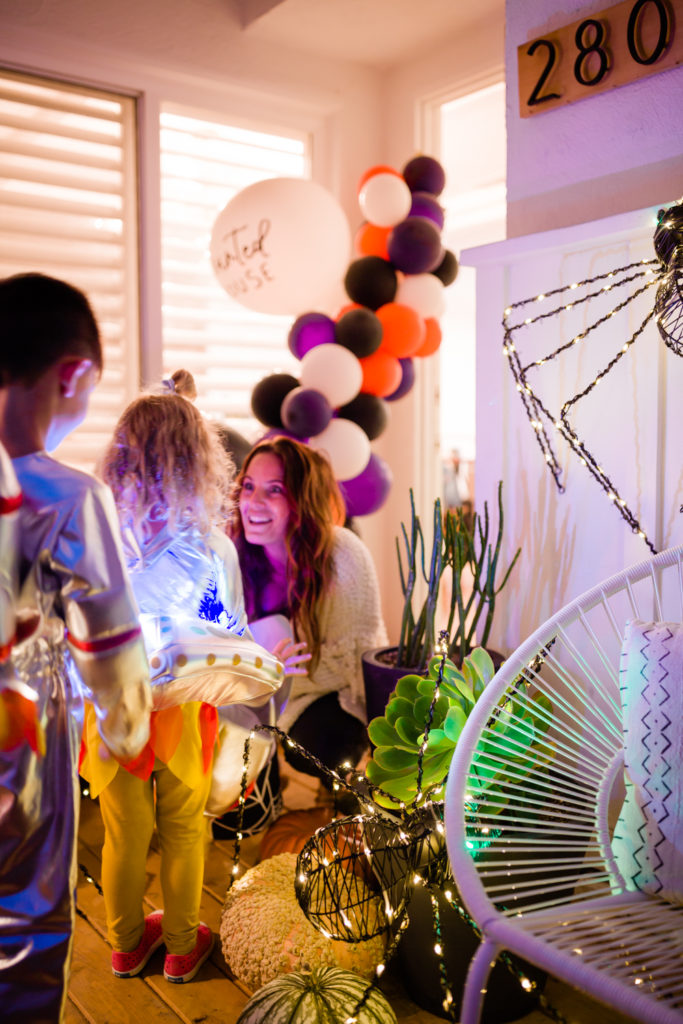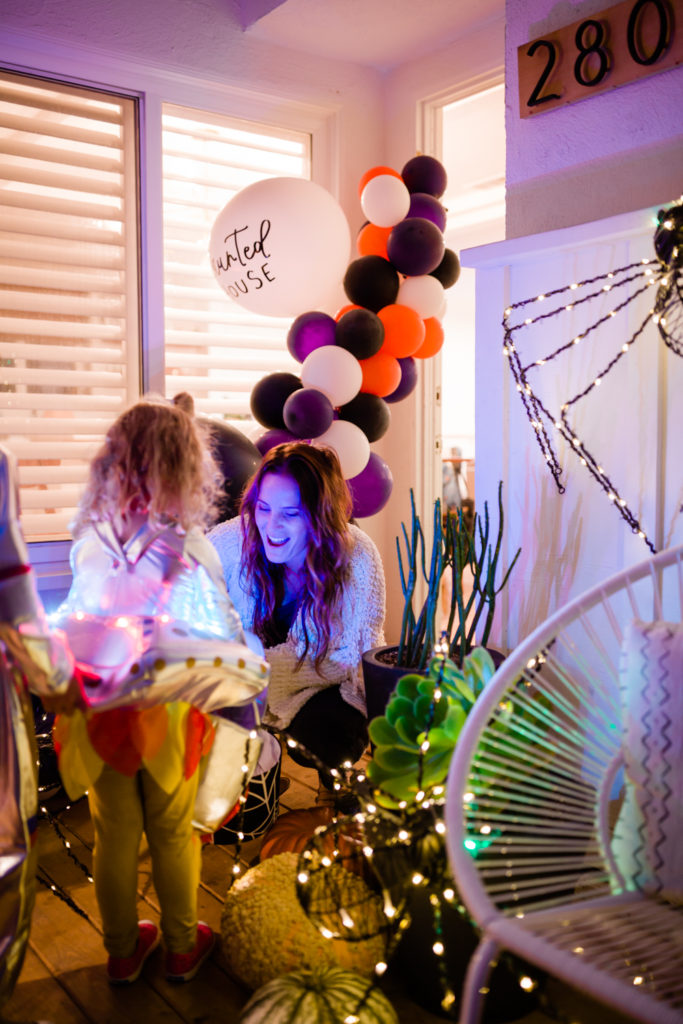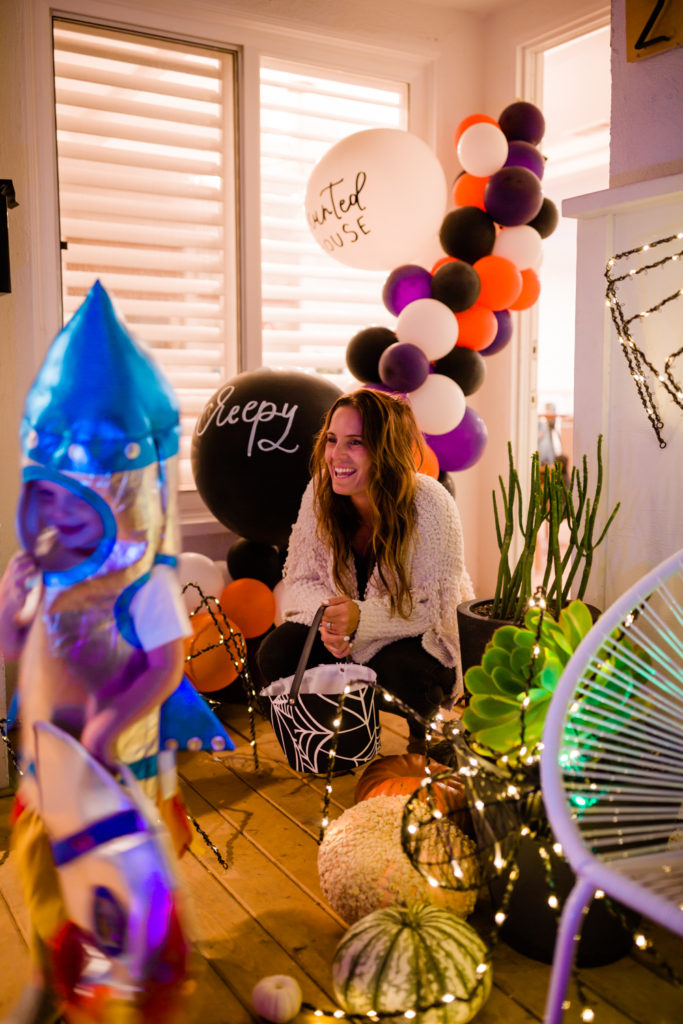 Now that's a good Halloween my friends!!! Hope you enjoyed it as much as we did and that you enjoy your Halloween season!
We have lots more inspiration coming to you next month!! Until then, make sure you shop our picks below before they all sell out!!!

xx
Jacquelyn