About a month ago we had you, our readers, vote on what Target collection you wanted to see as a party! The goal for us was to make throwing a fun party for your kids more accessible to you all. With a store like Target local and affordable to everyone, we thought it was a great option! We gave you lots of options and this space-themed collection was the clear winner!
So today I'm sharing what we put together for you all! I'm really excited to share it and think you all will love this fun party setup. Head to our Instagram to see more tips on how to throw a party at home the Beijos way!
And don't you fret, everything is linked at the bottom of this page to shop away!
Photos by Corrie Lynn Photo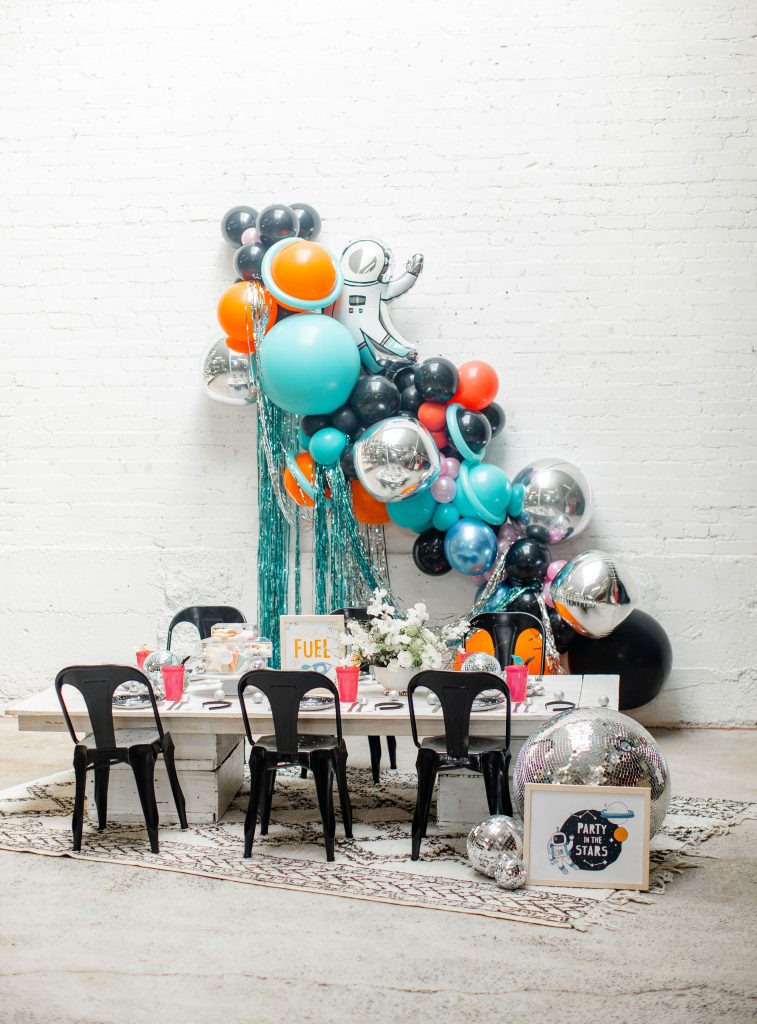 Always gotta start a good party with a good invitation!! This one by Poppy Jack Shop is available to download off of her site! Like we told you, we did our best to make this party accessible and easy for you to throw at home! Poppy Jack Shop also handled all the adorable details like these cute rocket ship place cards, more on the cookies by Really Cute Sweets later…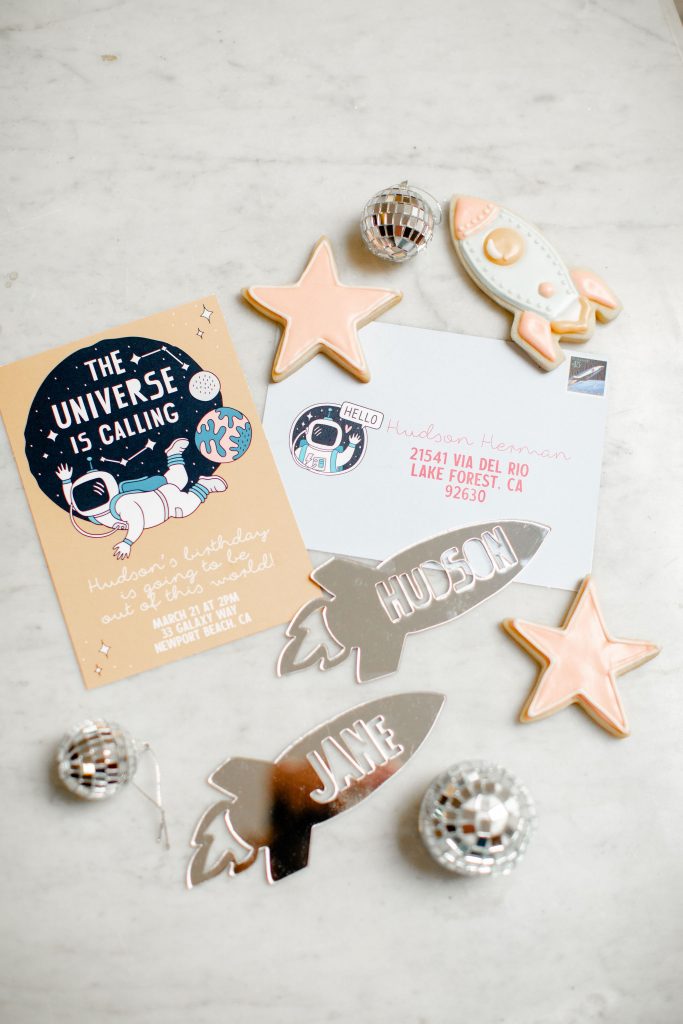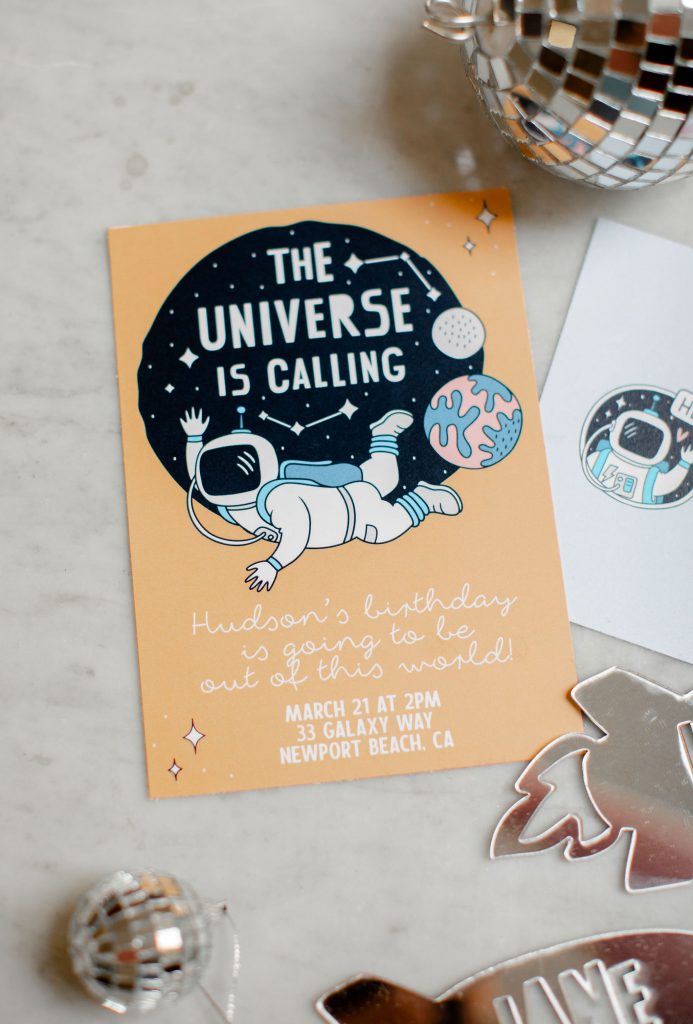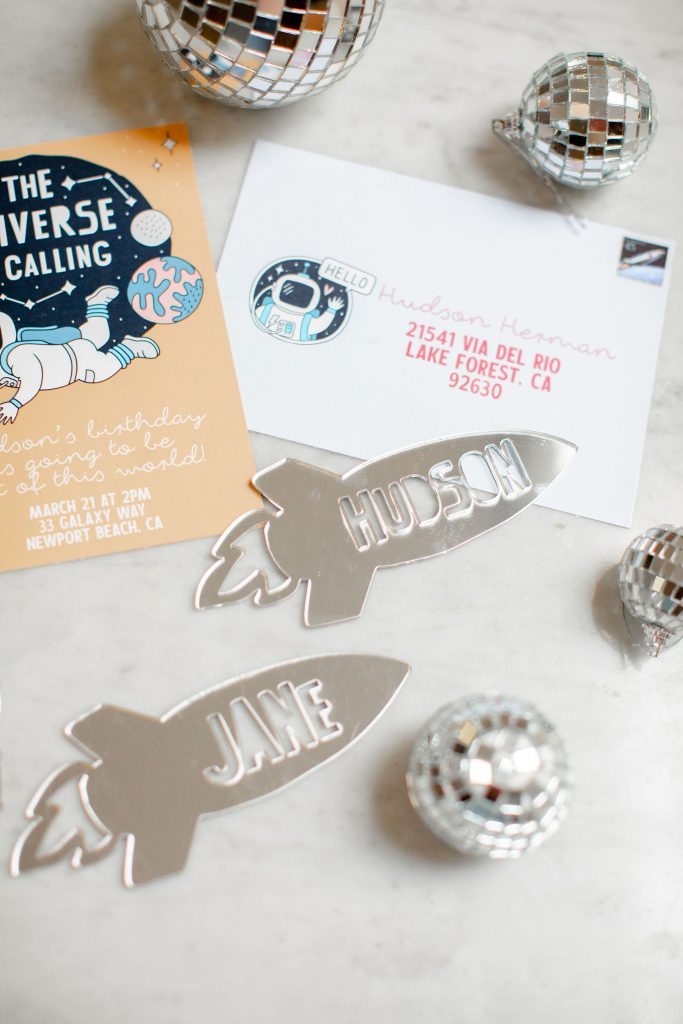 And here are the plates that inspired it all! You can find the plates, napkins, small plates, and flatware all at Target!!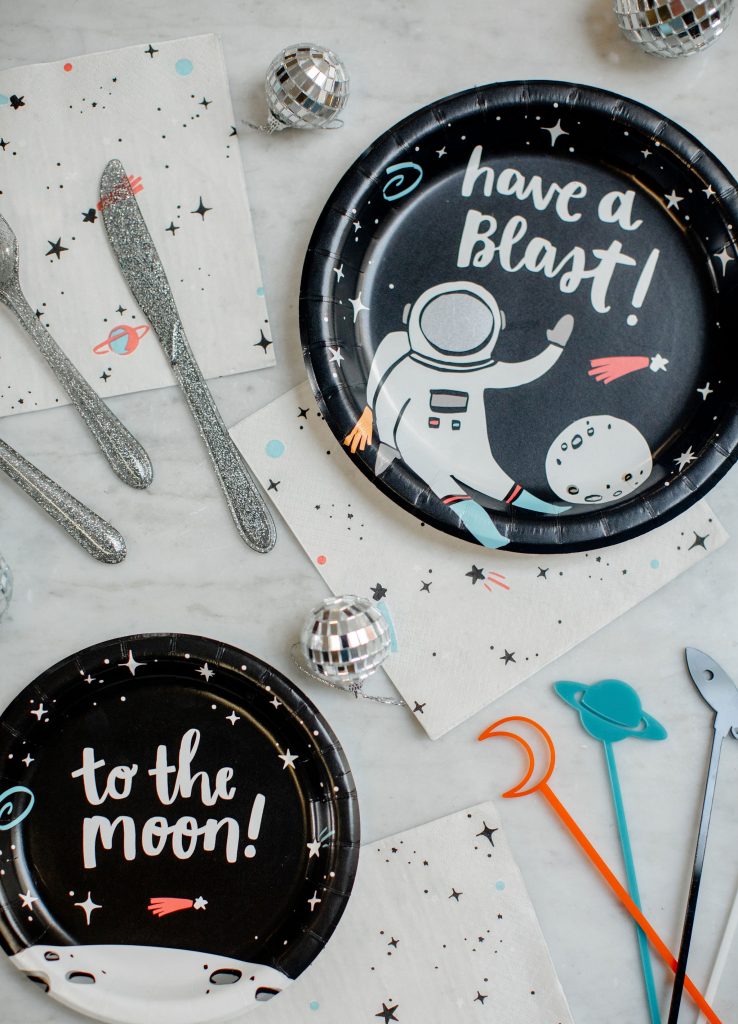 Poppy Jack Shop also created this amazing stir stick set that goes perfectly with our party! I love these little details, of course they aren't completely necessary but I strongly believe it's the small things that make an impact!!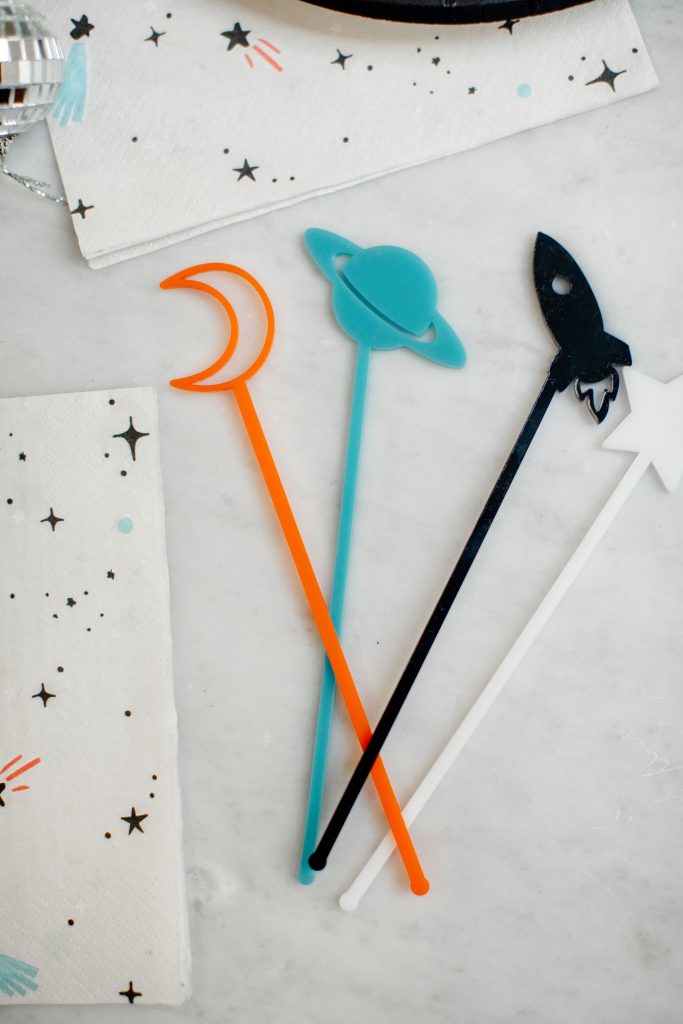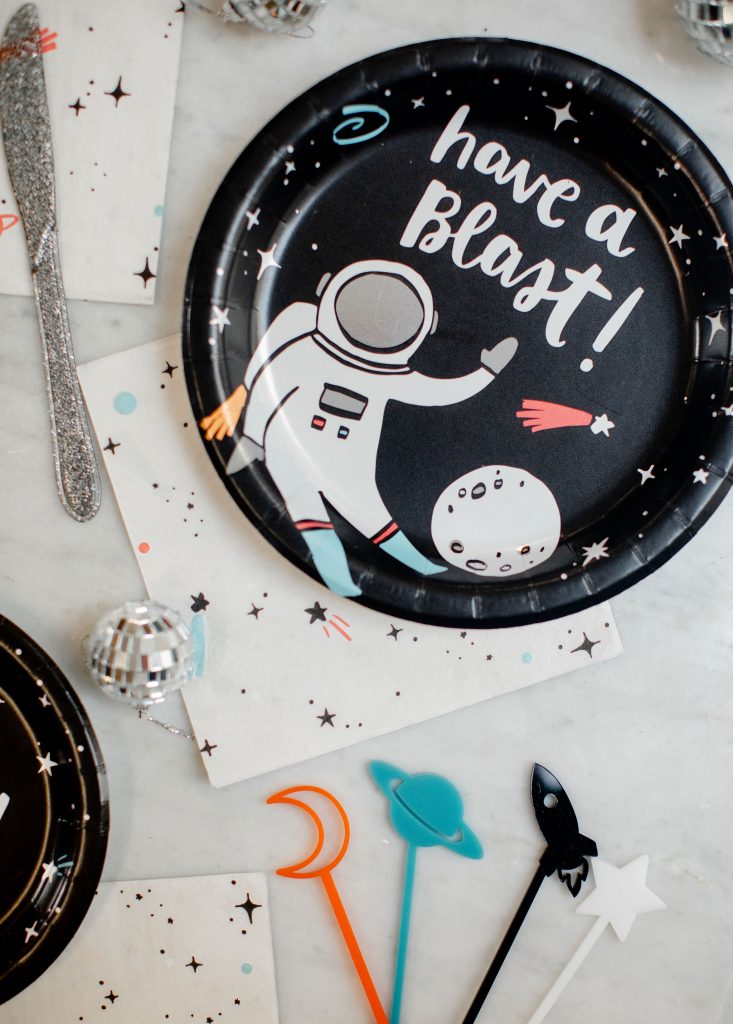 Now for our adorable little table!! When throwing a party at home I think it's important to invest in certain pieces to make it have that wow factor. For example, having a few key rental pieces makes a big impact. Our friends at Sweet Salvage Rentals offer so many fun pieces and you can always mix and match with what you have at home. Plus, they offer will call so you can save by picking up and bringing back yourself, which is often an option I choose myself! In this case I used her white kid's table and those adorable black chairs!!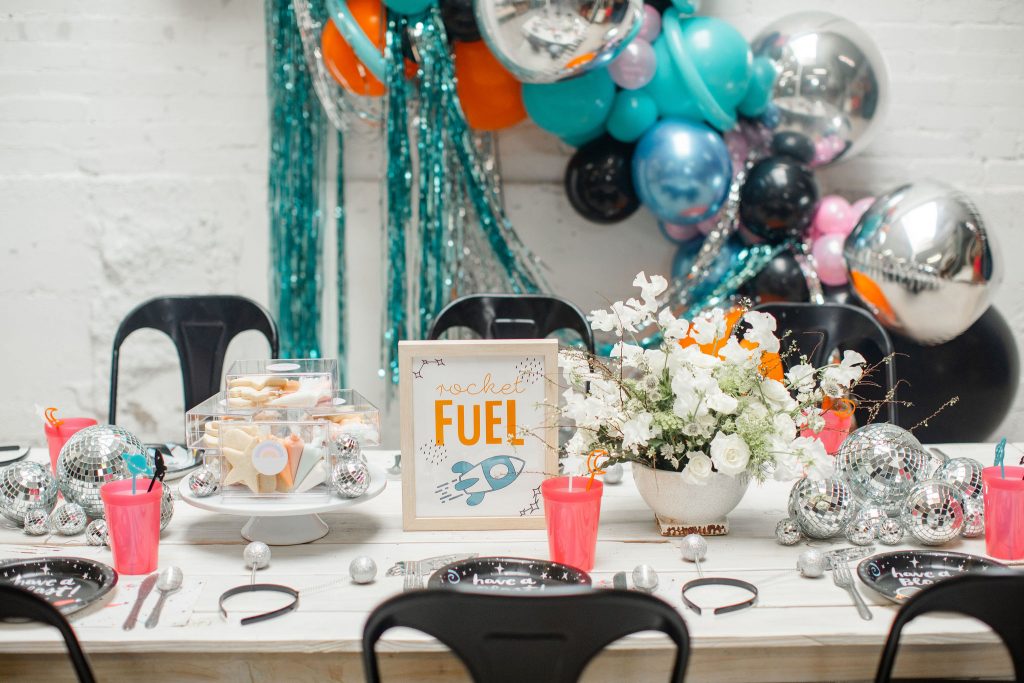 Doesn't the place setting look adorable?! For the cups we found these pink ones at Target and I thought they went so well!!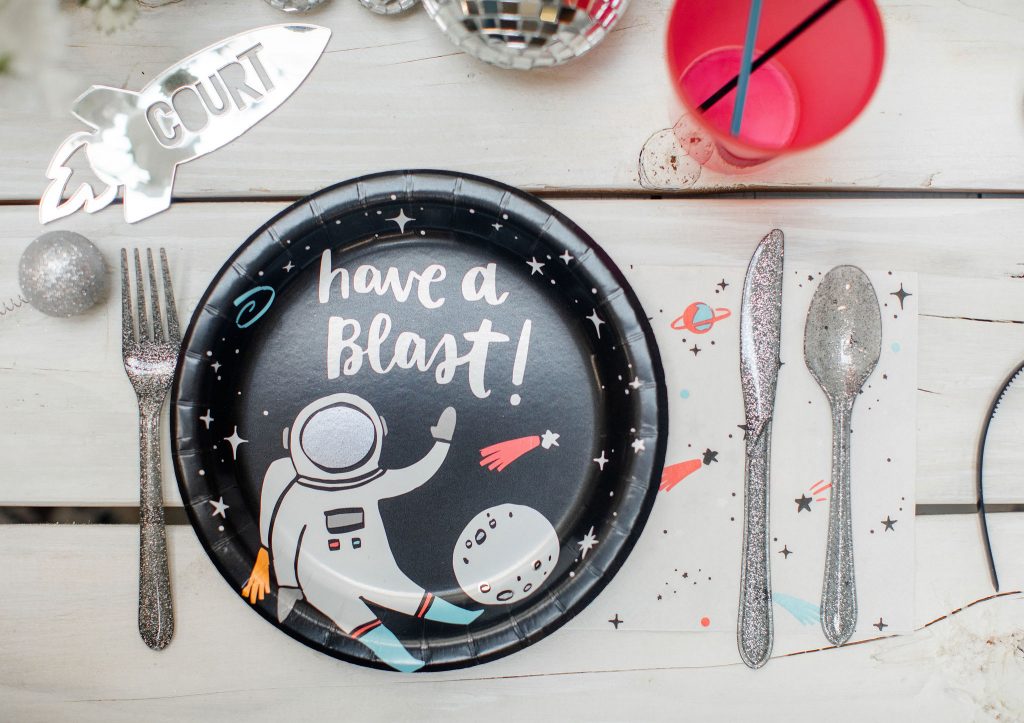 Another subject for party talk – FLOWERS!! In my humble opinion, I think flowers make the party. I've said this plenty of times, but whenever we are setting up an event and the flowers arrive, that's when it all comes together!
However, if you are on a budget, you can still incorporate them and make your table look amazing. I only used one flower arrangement for this table and that was all I needed! Doesn't Sprig and Spring make a pretty arrangement, nice and neutral for this bright and colorful shin-dig!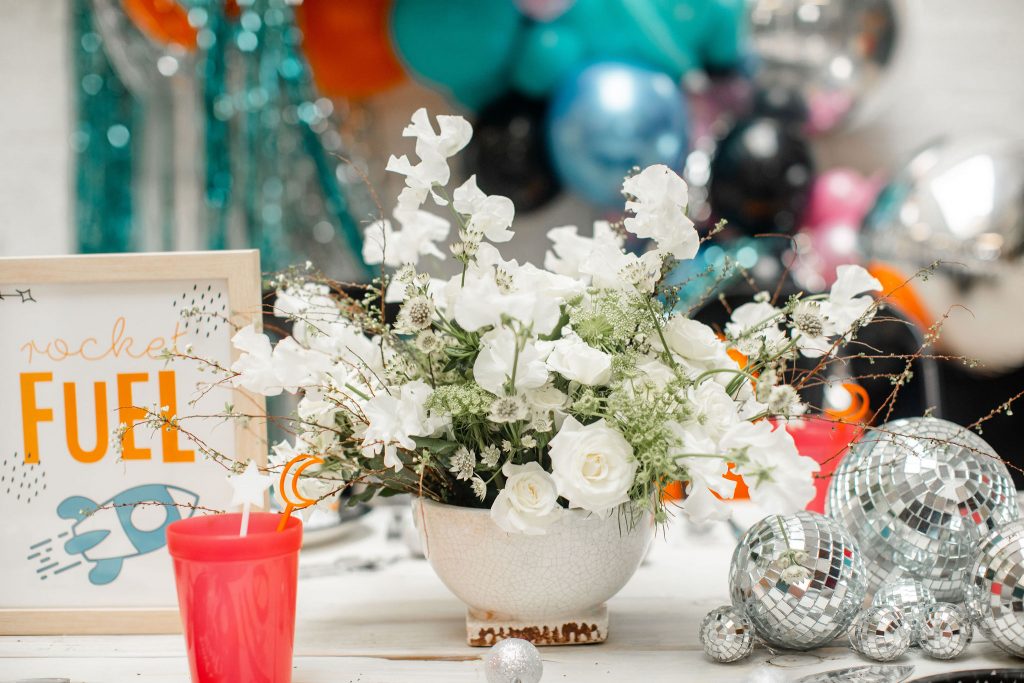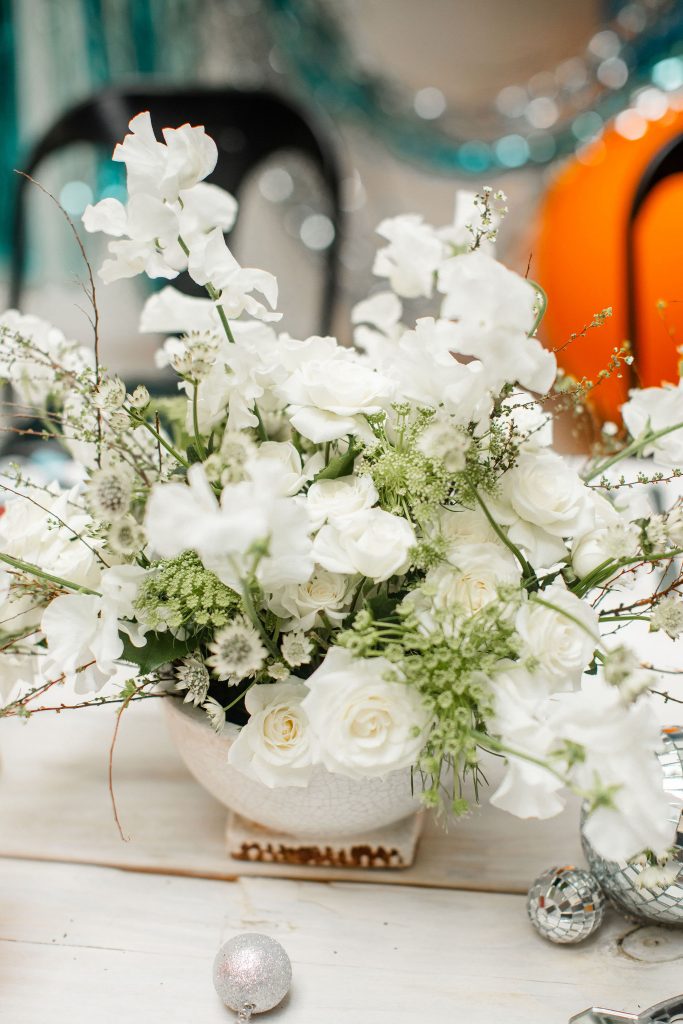 You may have noticed all of the fun disco balls at this cute party! Trying to find other ways to adorn the table without flowers I thought of these bad boys! Disco balls are fun and eye-catching and make quite the impact, without needing too many! You could also do fun glitter or a table runner, but either way, adding something else along the length of your table besides florals is all about using your imagination!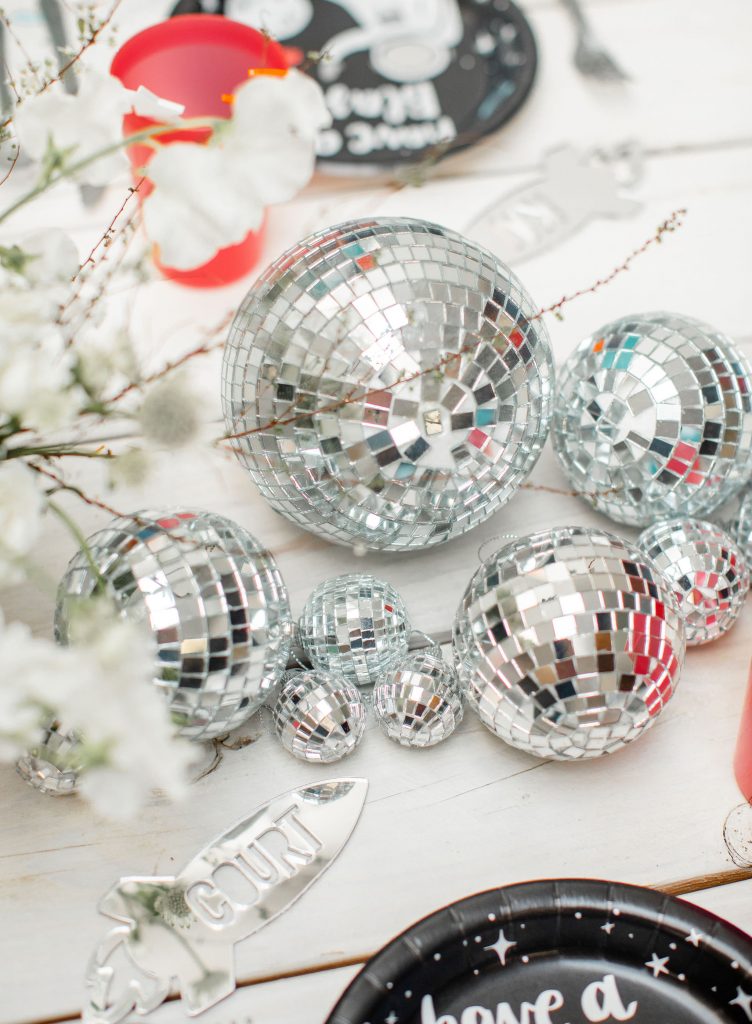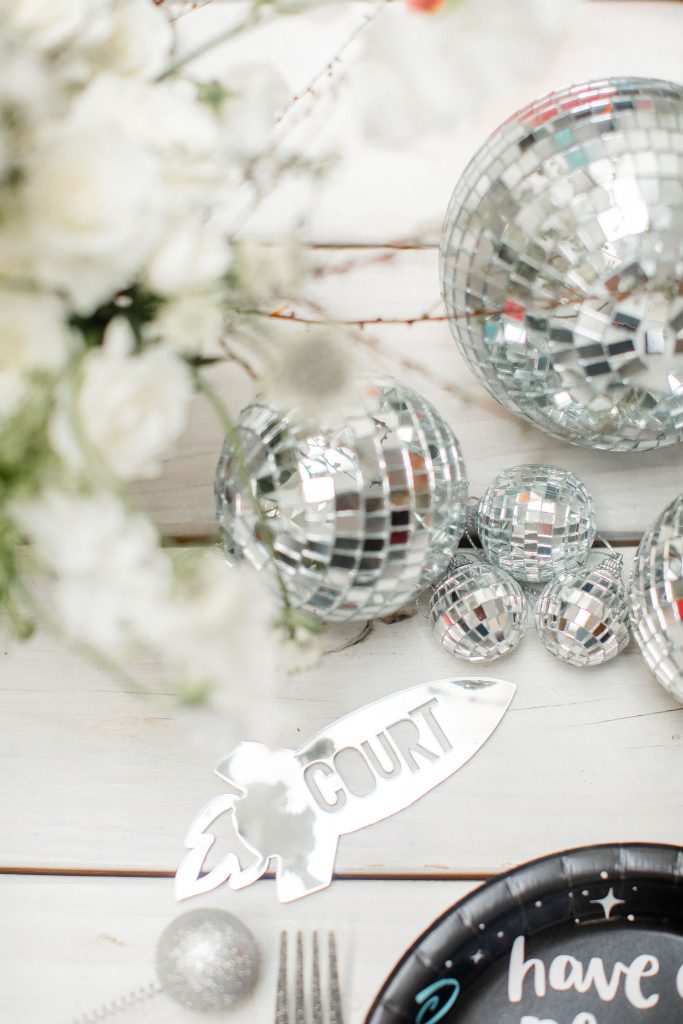 Love me some disco balls!!!! Big or small!!!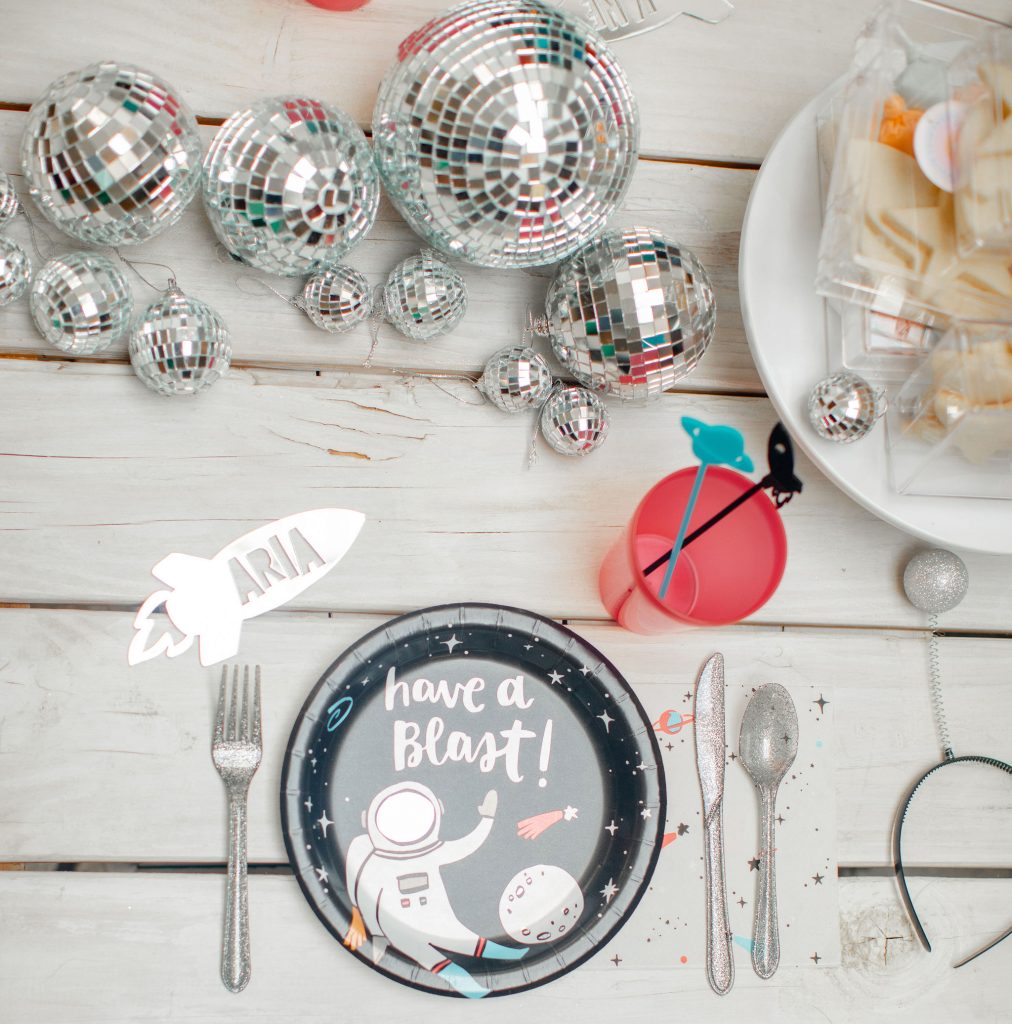 There's those adorable cocktail stirrers in action!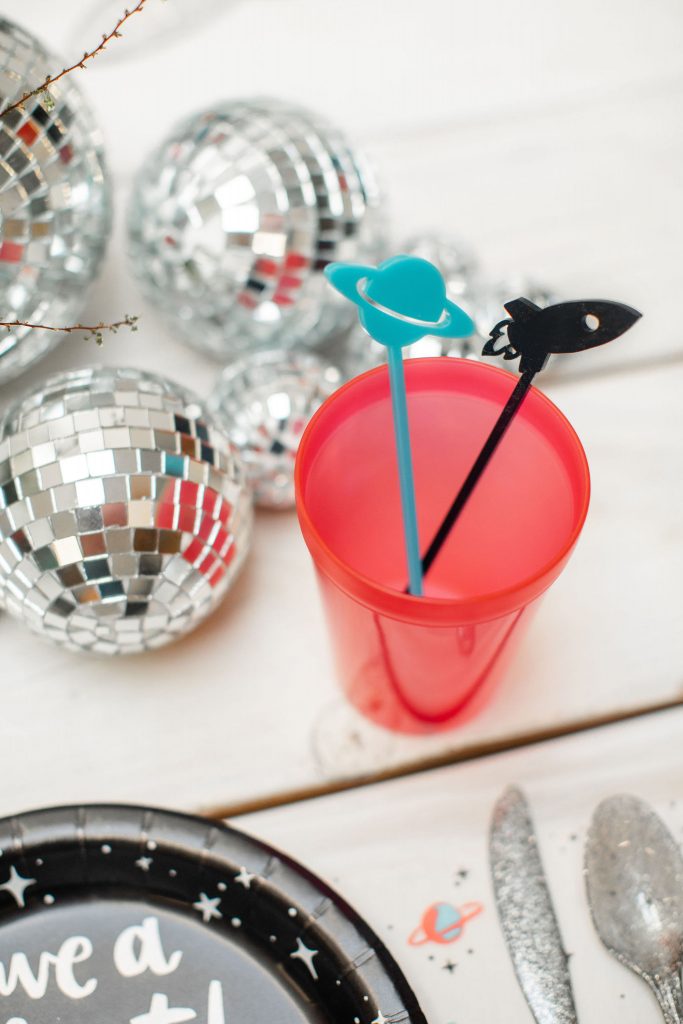 Another way to dress up your table?! Cute signage! Poppy Jack Shop created this adorable 8×10 sign for me that we placed on the table for a bit of extra decor. It's right next to our desserts, which I'll get to in a moment!!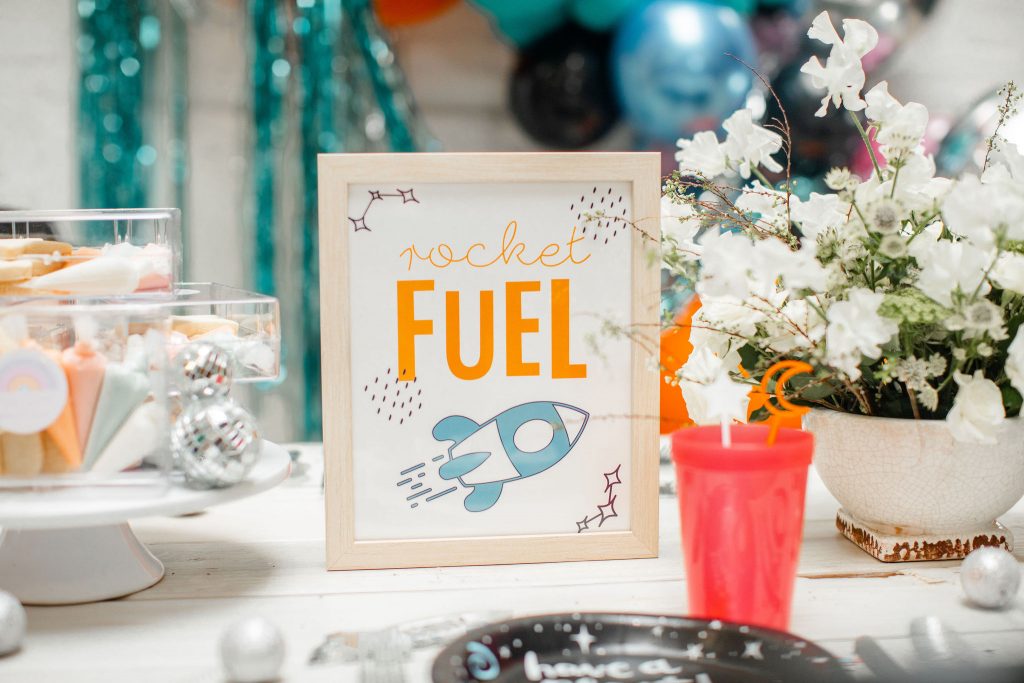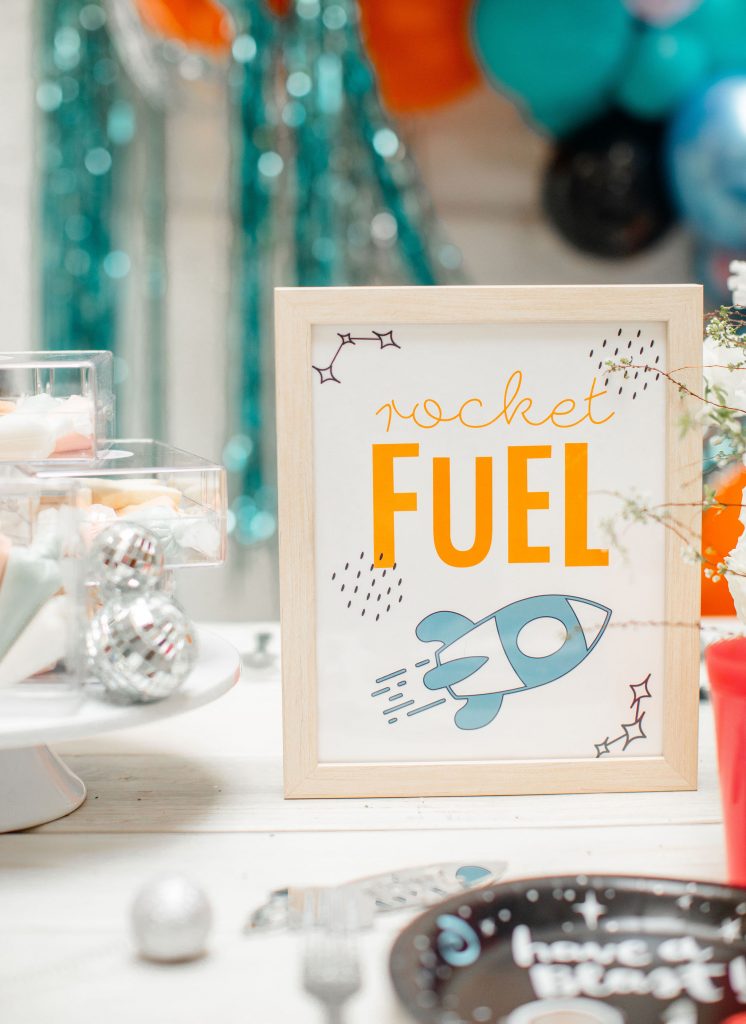 Now for our desserts, which also serve as our party's activity or craft! I had Really Cute Sweets do her amazing cookie kits in our theme and placed them on the table. This is a perfect way to keep the kiddos busy at the party while also giving them a yummy dessert!! Kids of all ages love to bake/decorate cookies so having a handy dandy kit like this is so amazing!! Plus, don't they look cute on the table?!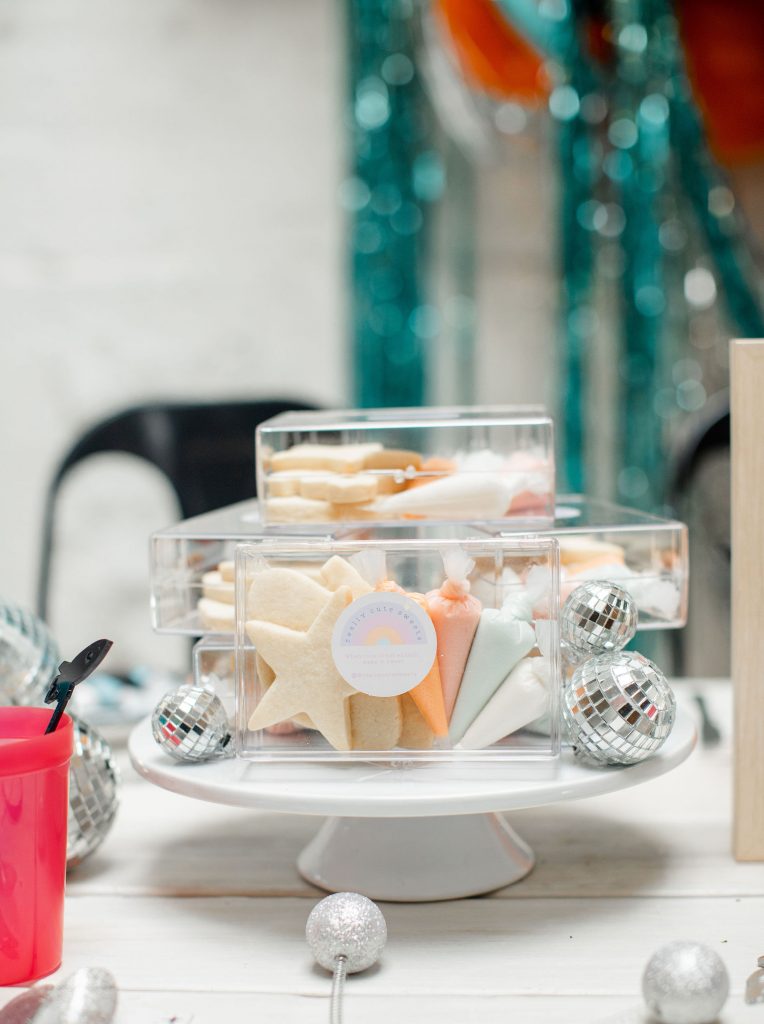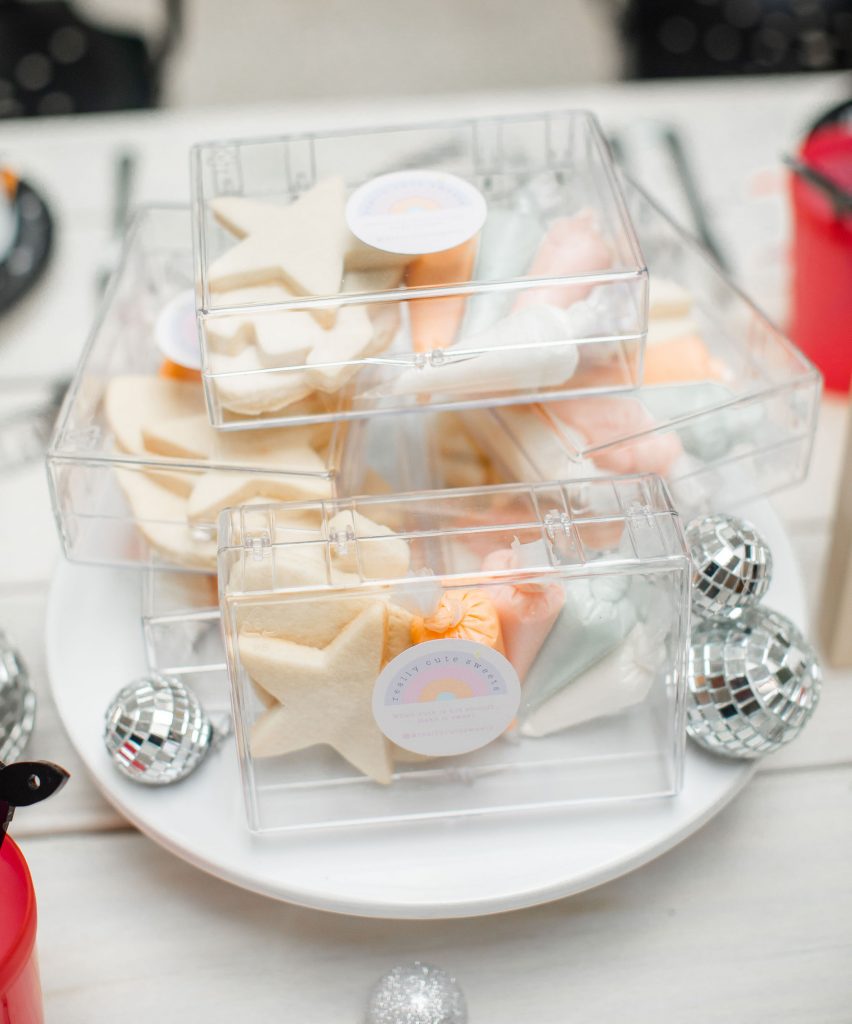 Don't you love this packaging?! And the shapes and colors Really Cute Sweets chose are just perfection!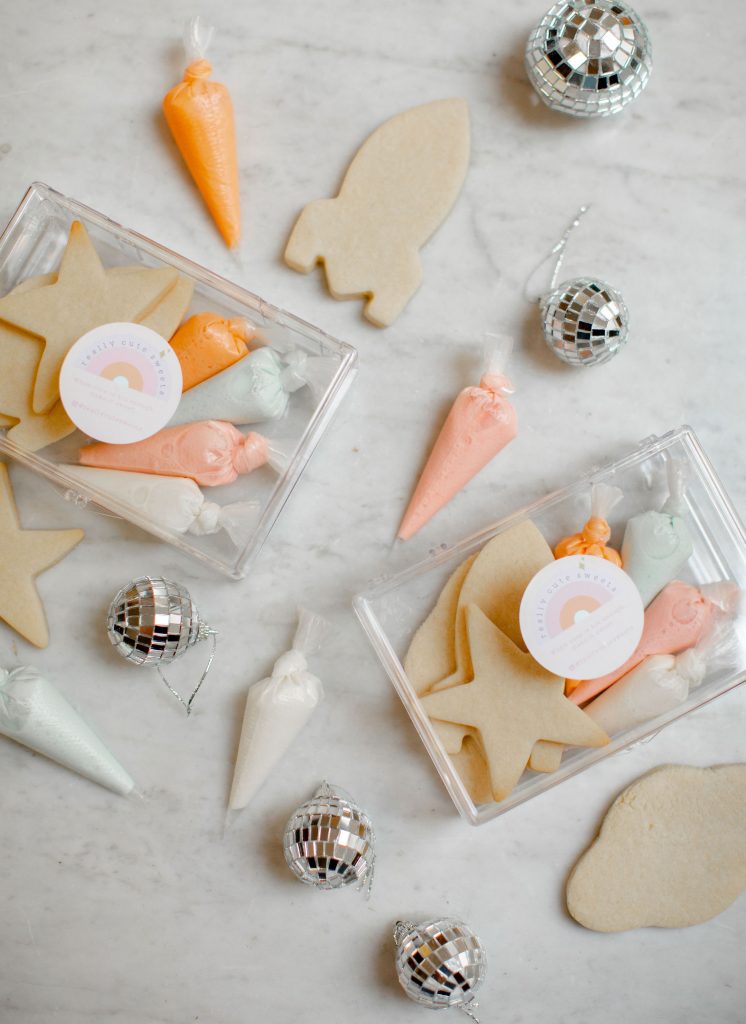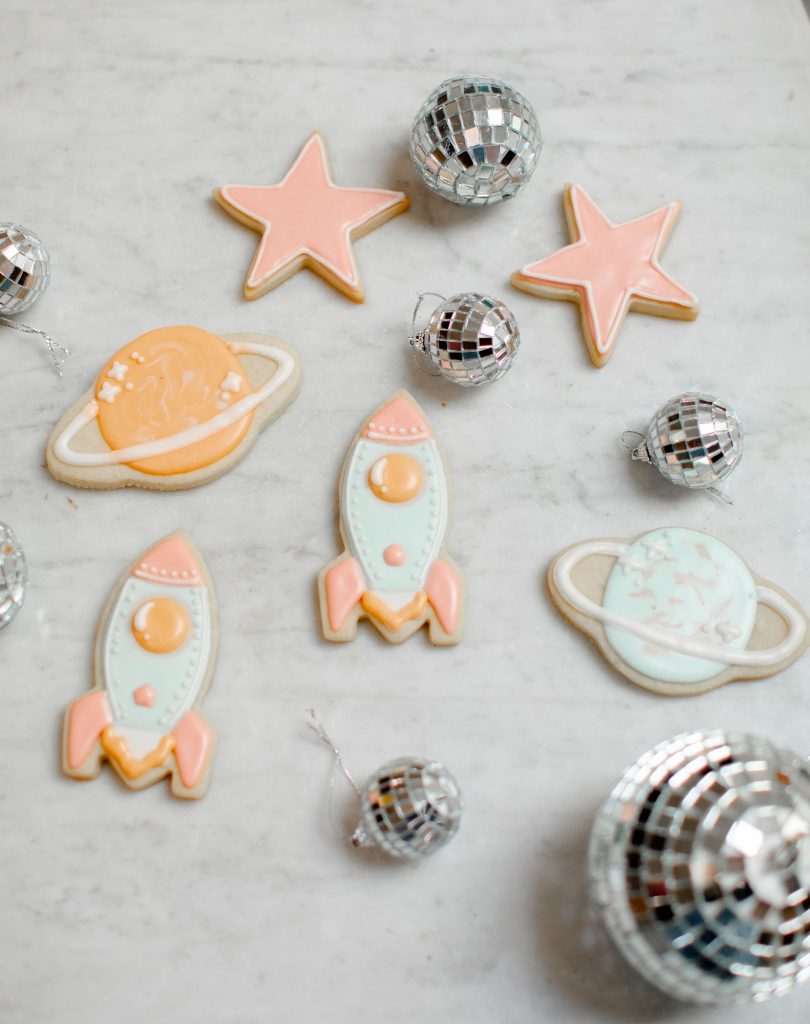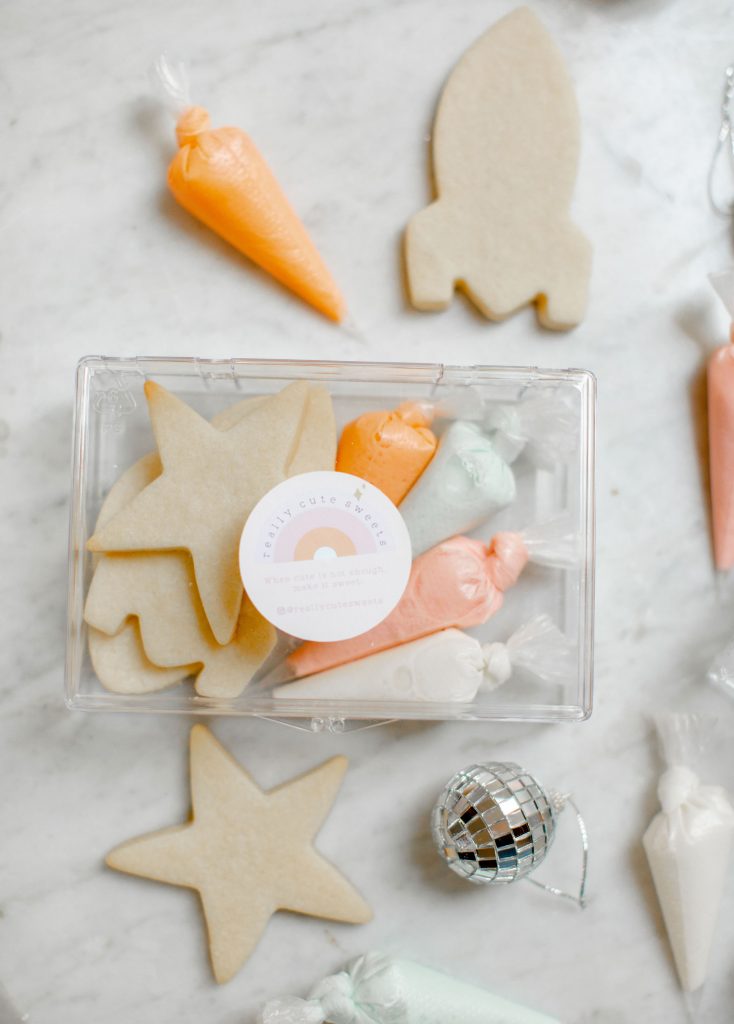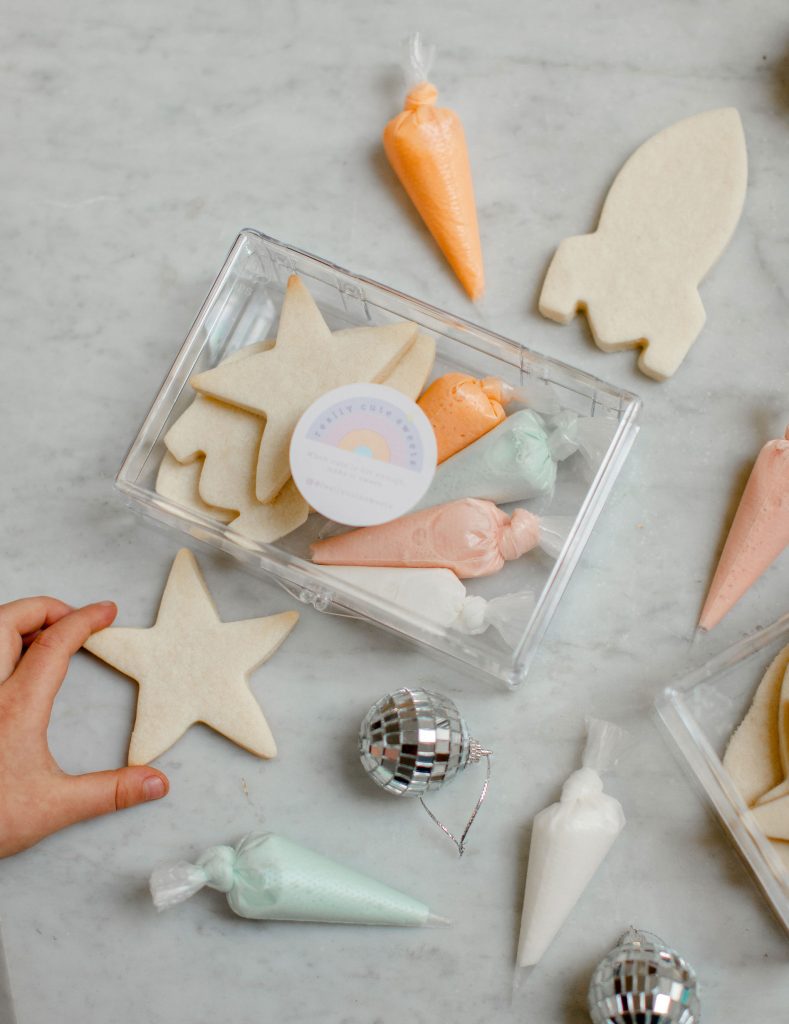 Ok, we obviously couldn't throw a party without balloons!!!! And this balloon wall is the main attraction here!! We do balloons a lot, to the point where I try to mix it up because it's A LOT, but I have to say… I always come back to them! Ellen from The Pop Shop is my main balloon gal and she created this beauty for us. She even is giving us a step-by-step on our Instagram today so head over to see!!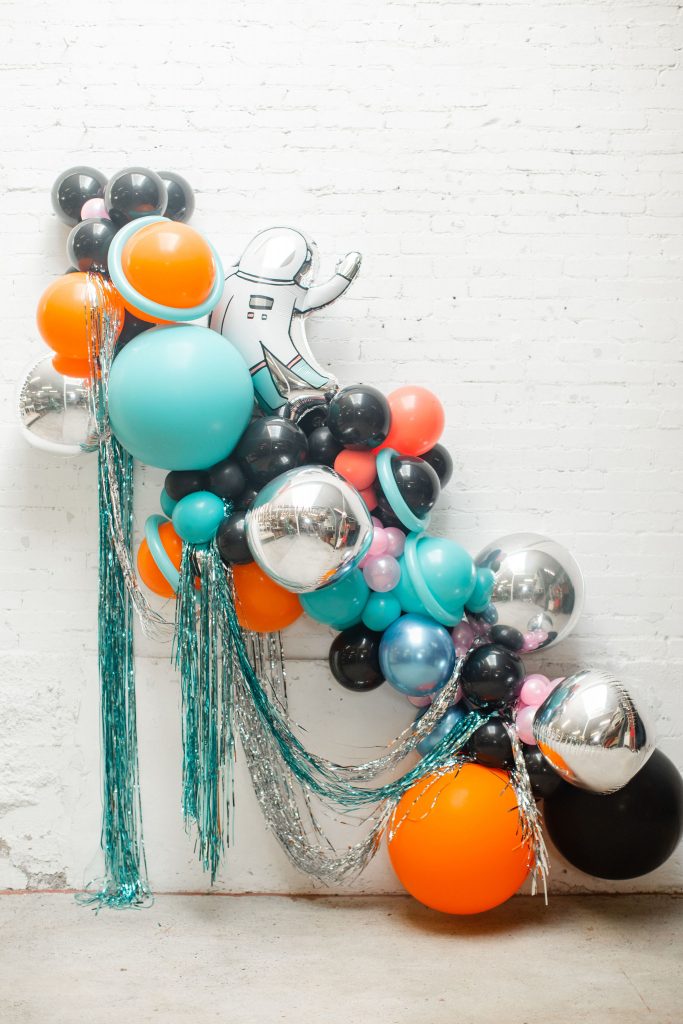 For the balloons, Ellen used her own and added in this cute astronaut dude from Target, along with silver and turquoise fringe, both from Target as well! My favorite is the metallic touches and how she made Saturns out of a few balloons!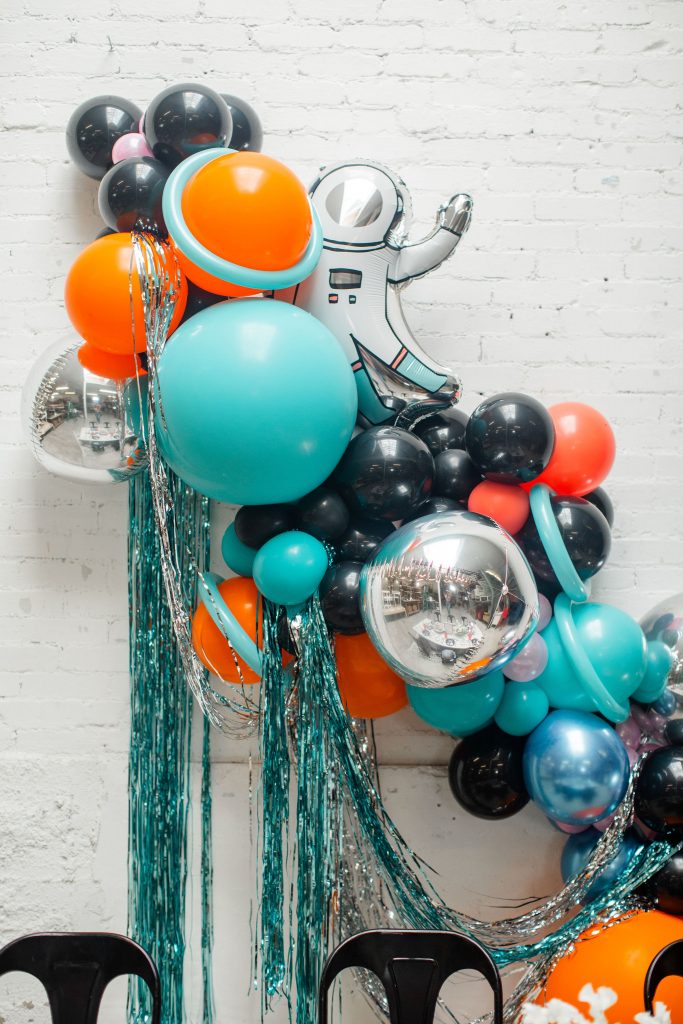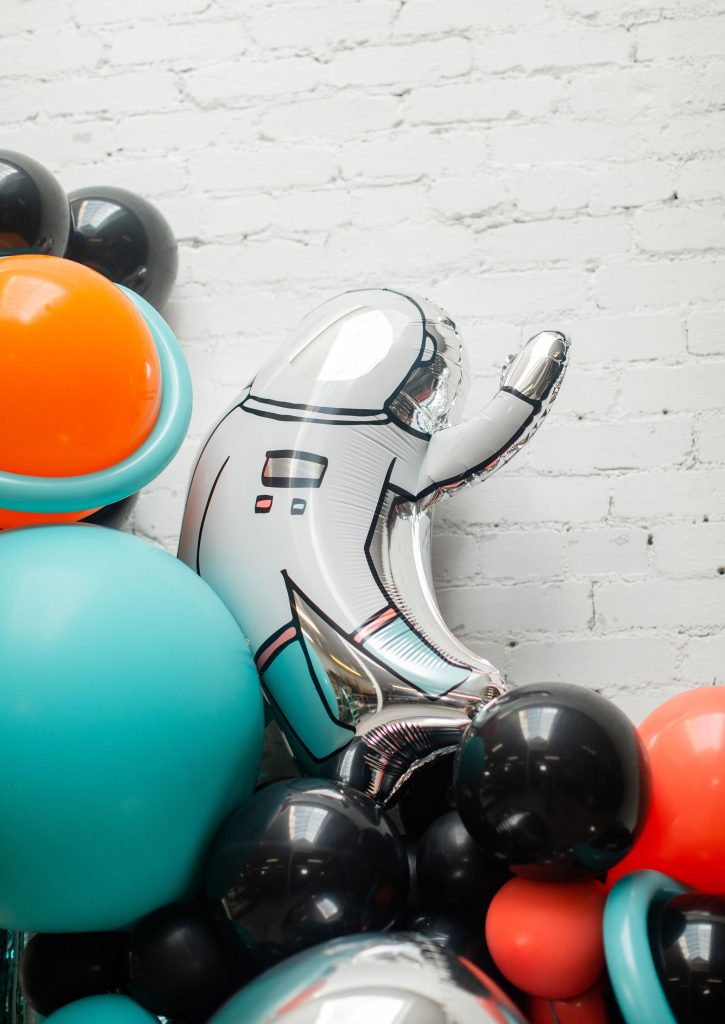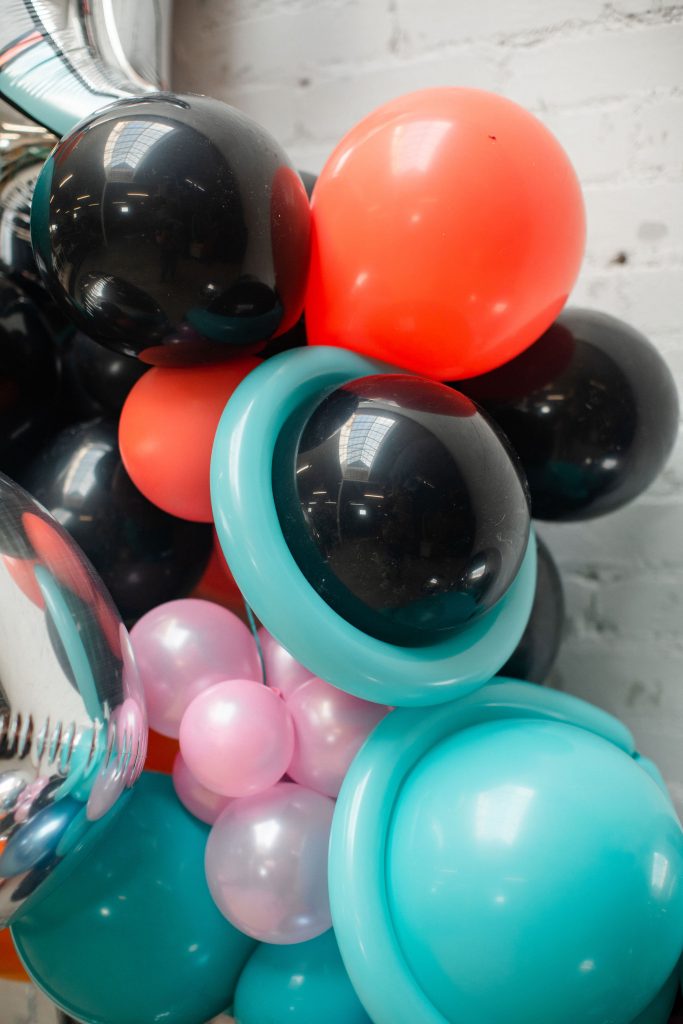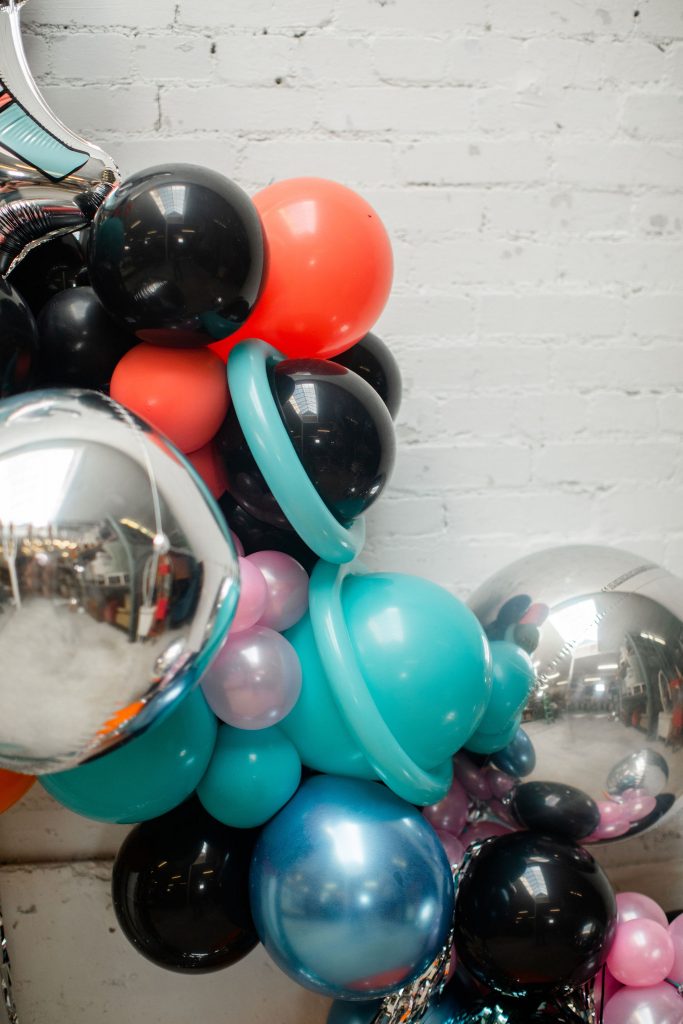 What I love about this party is that it's gender neutral! You could totally throw this party for a boy or a girl, the plate collection from Target has so many fun color options. It really is so fun!!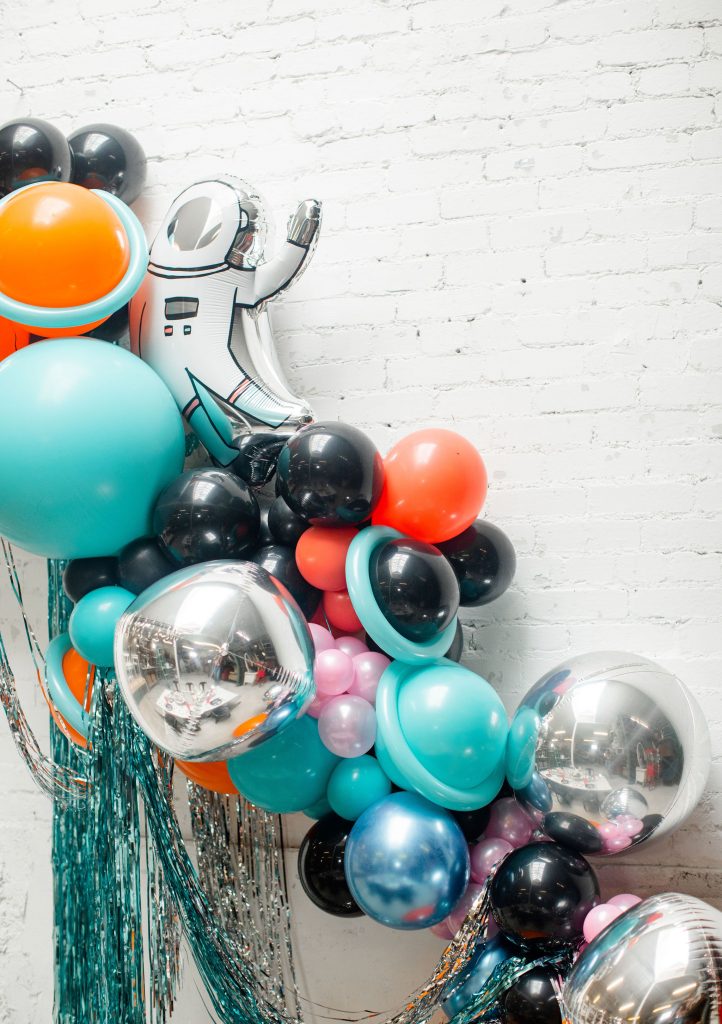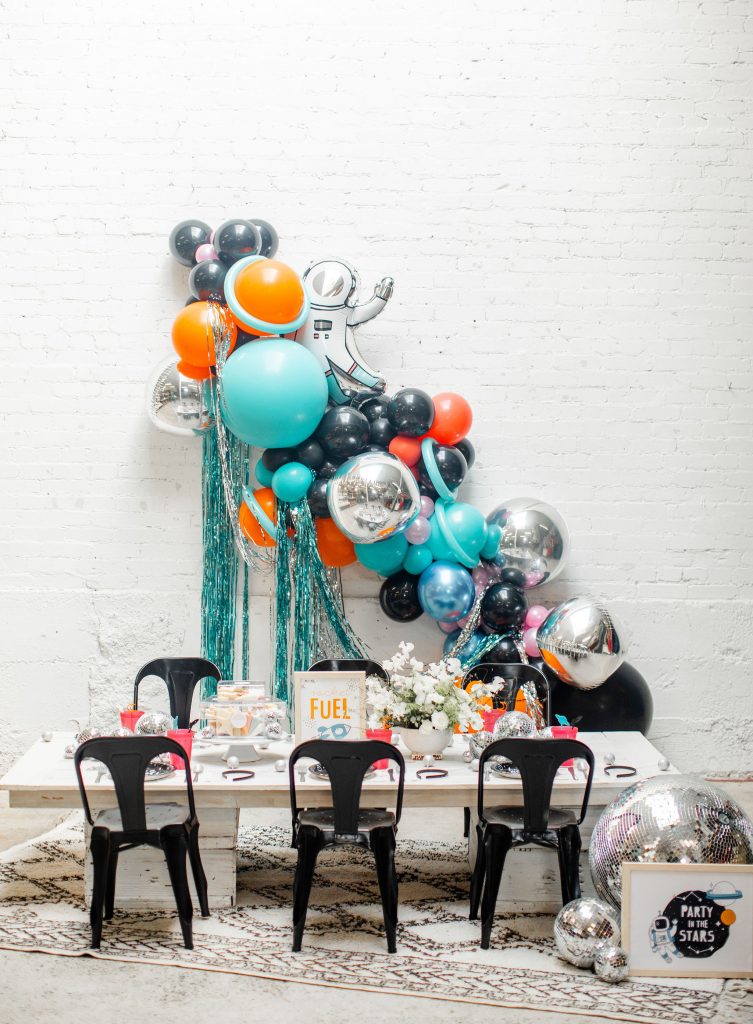 Now to add in some kiddos!!! Mine and Ellen to be exact!!! First are my boys Court & Cruz and then adorable Arya jumps in!! They are all wearing the cutest and coziest space-themed outfits from Chaser Kids. Seriously, Cruz's little sweatsuit is SO soft!! I want one in my size!!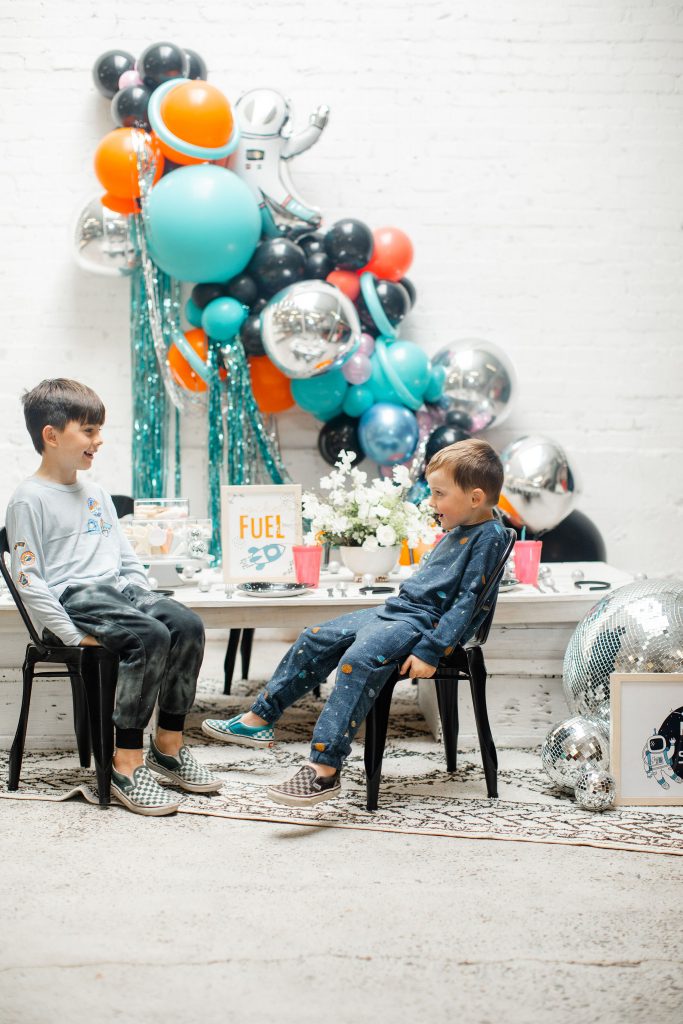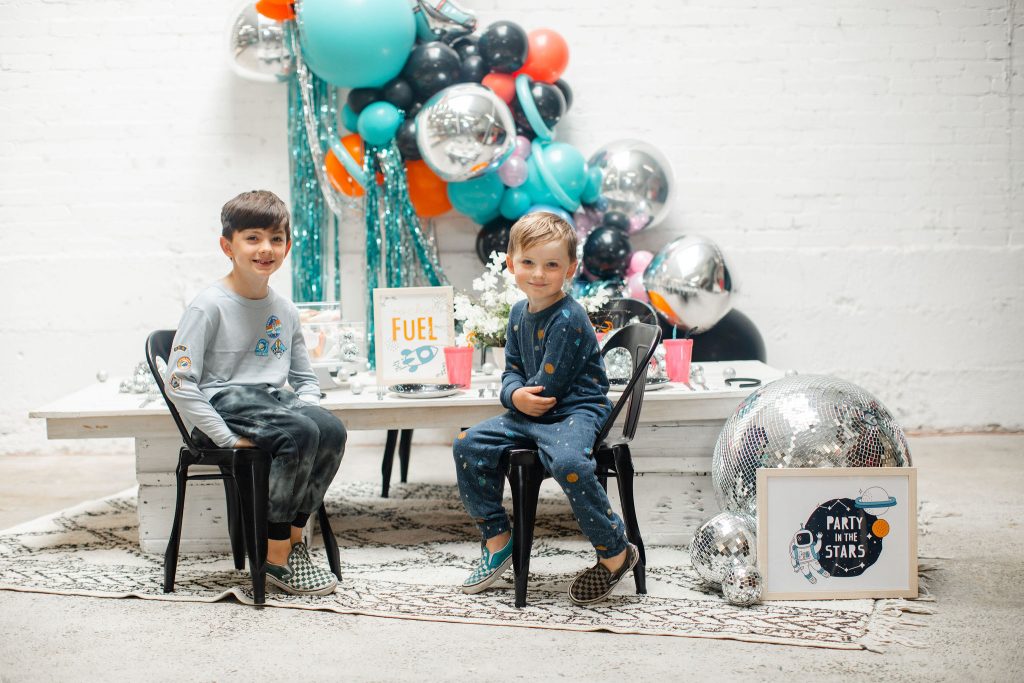 There they all are!!!!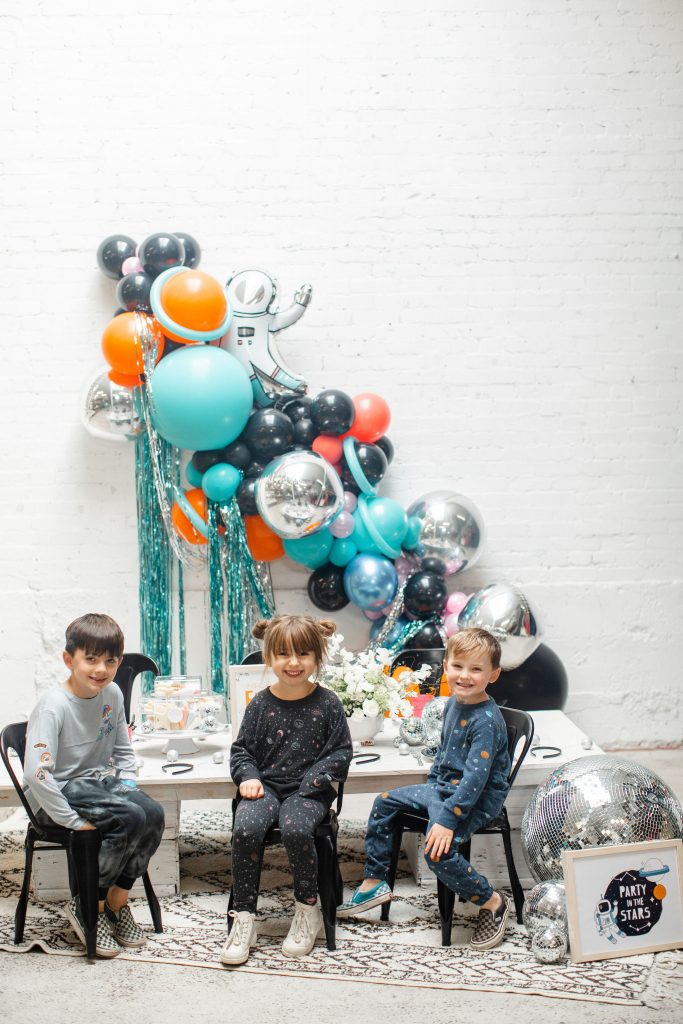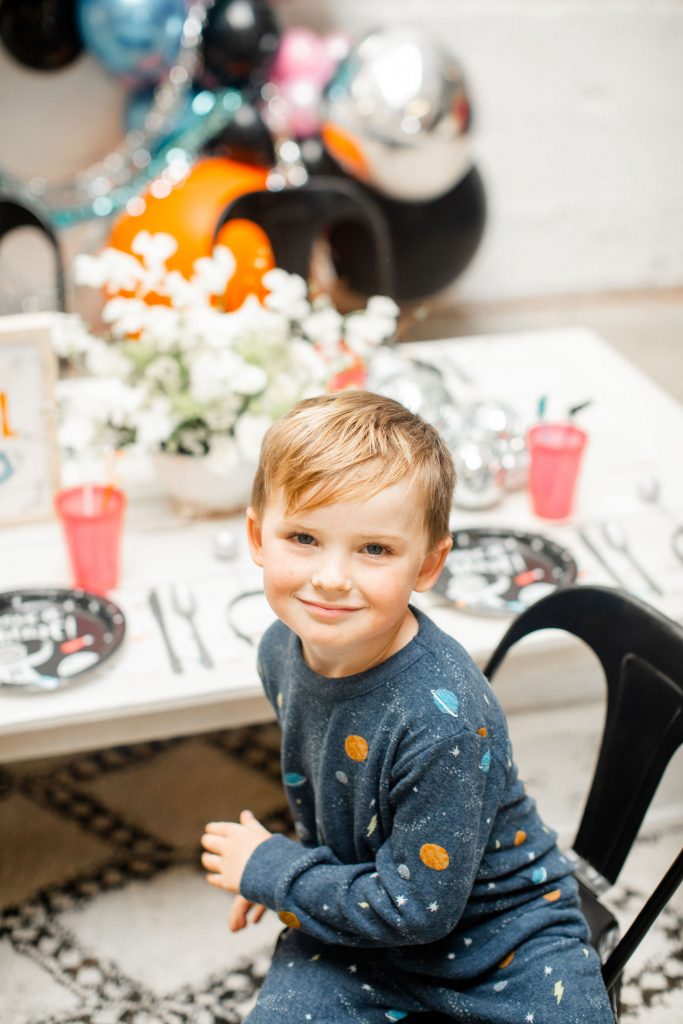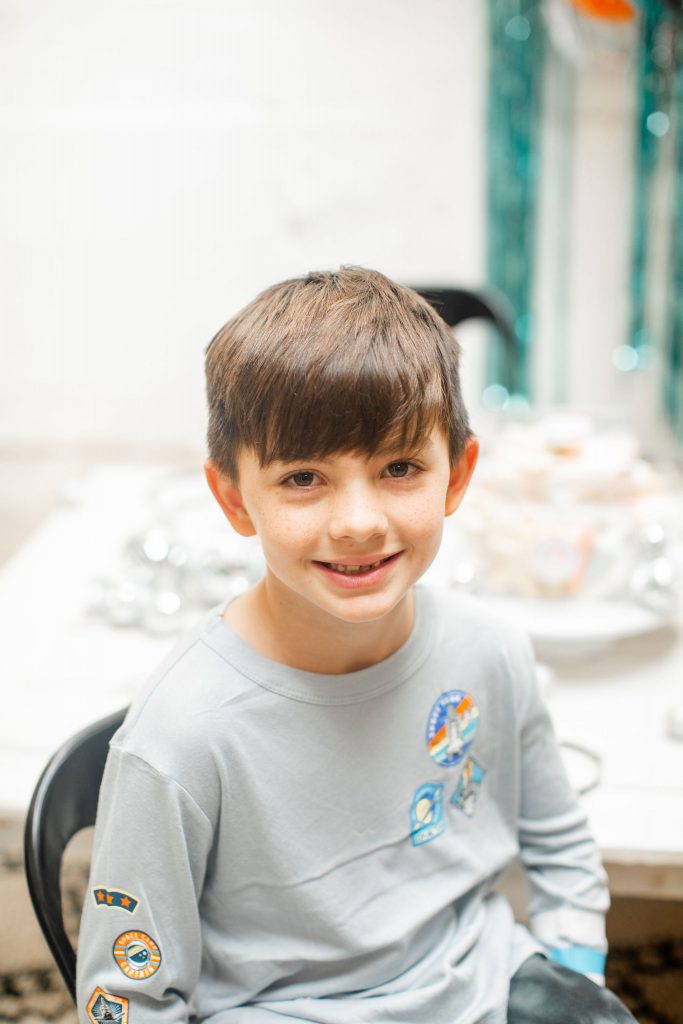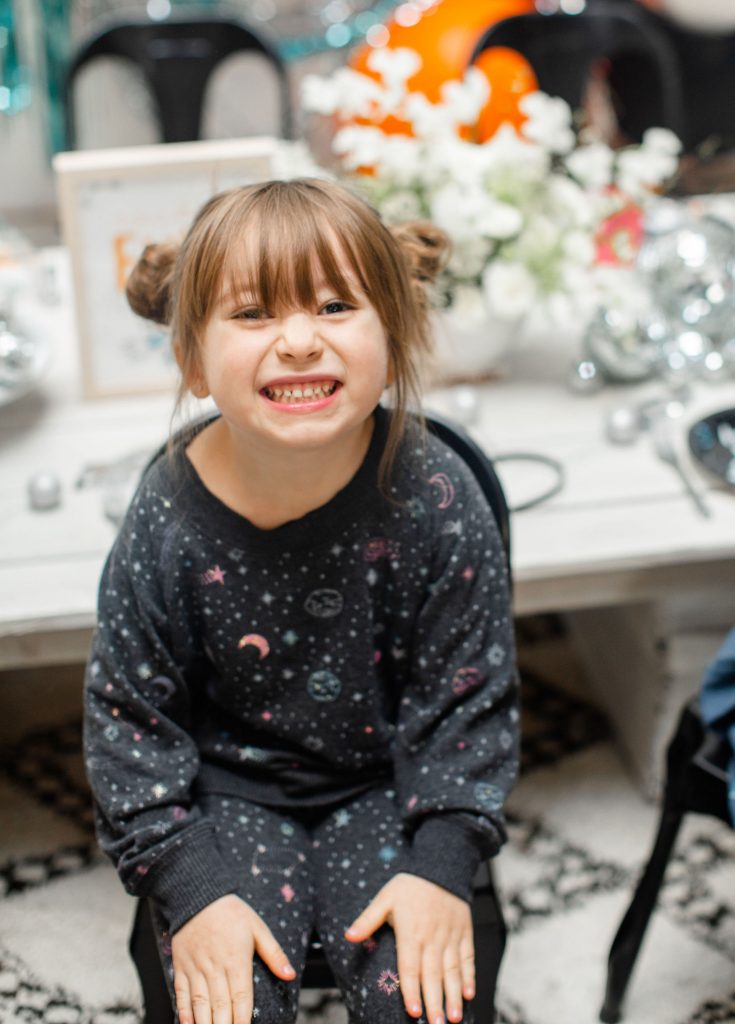 I found these SUPER cute alien ears on Amazon and added them to the table decor as well! The kids loved them and I thought they would be such a fun little favor or gift idea for kids at a party like this!!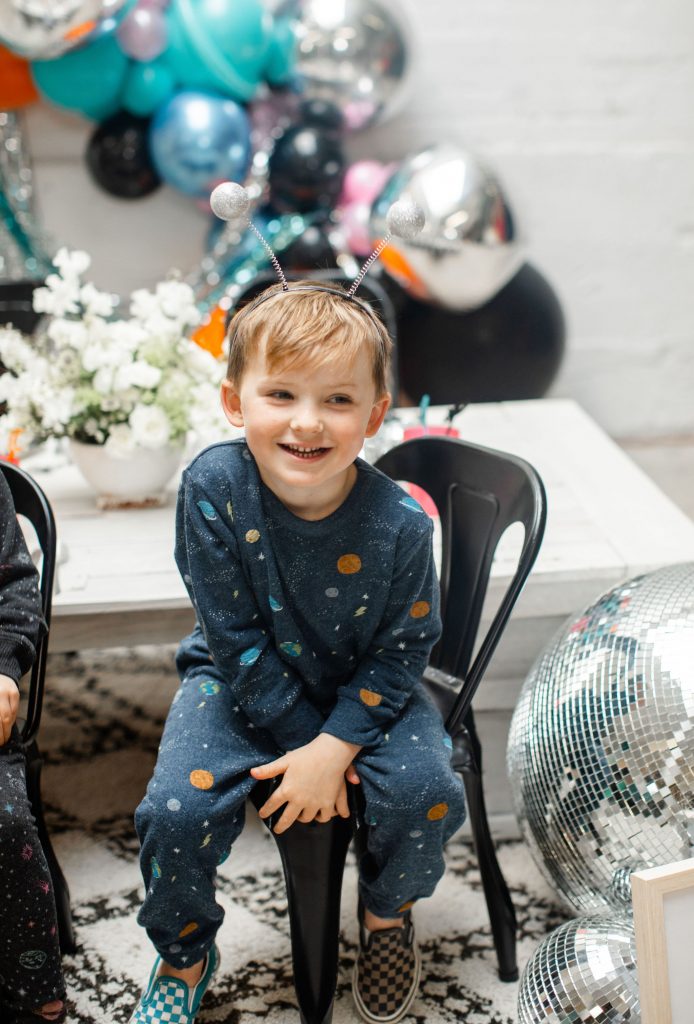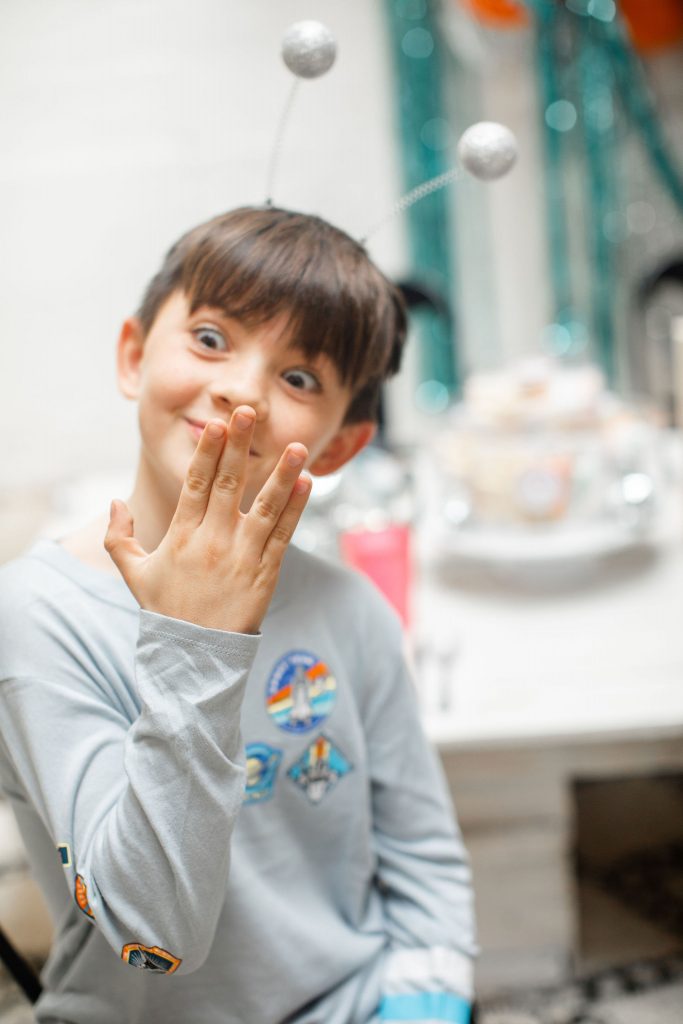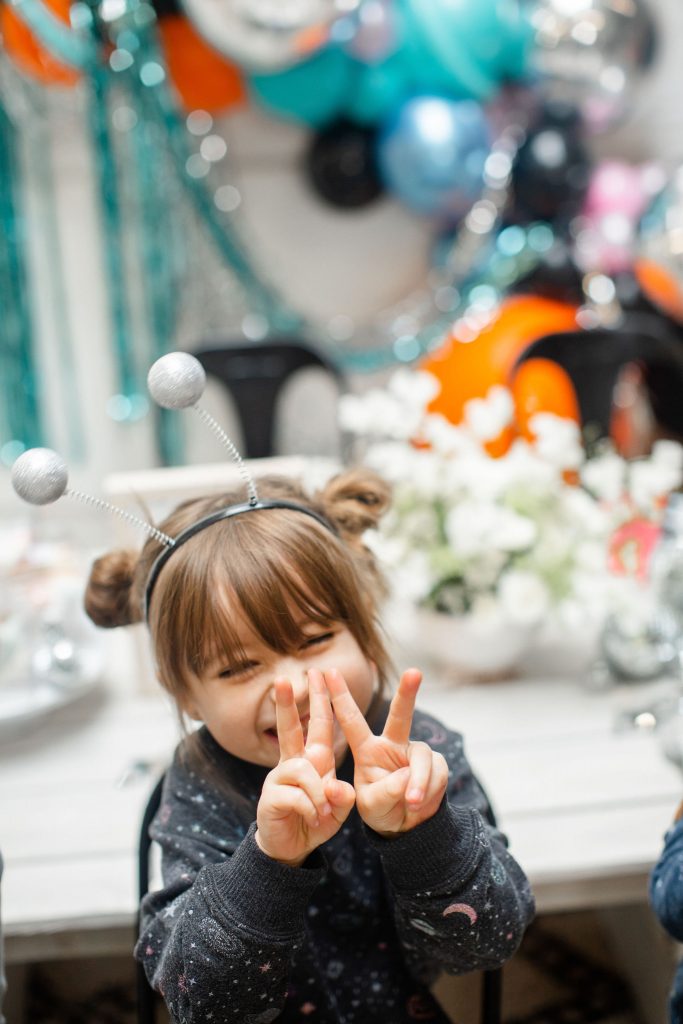 Love these cuties!!!!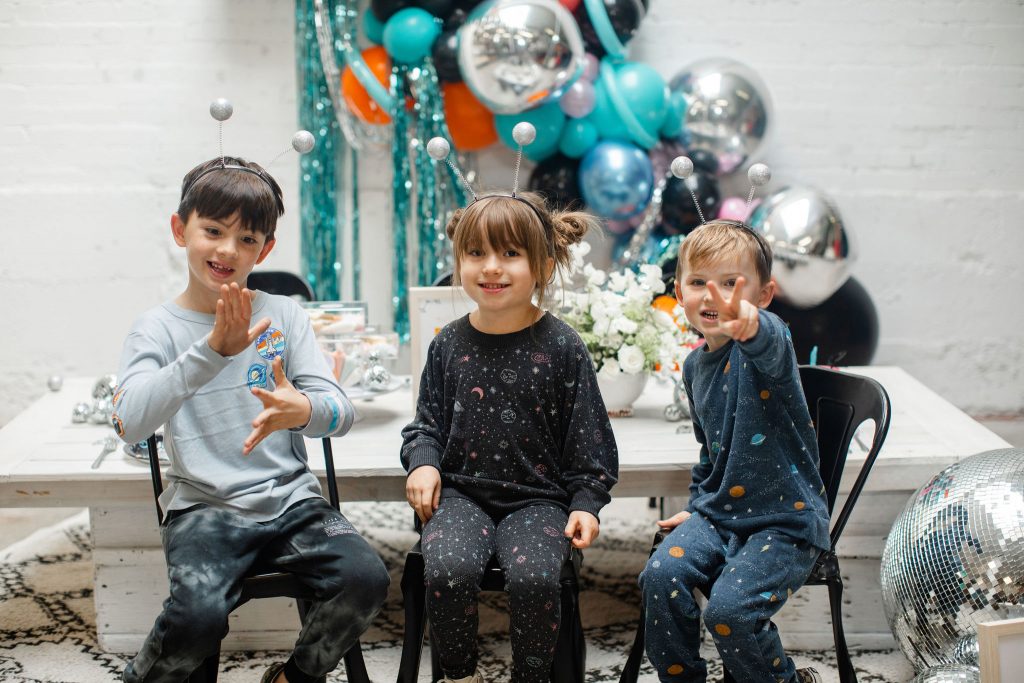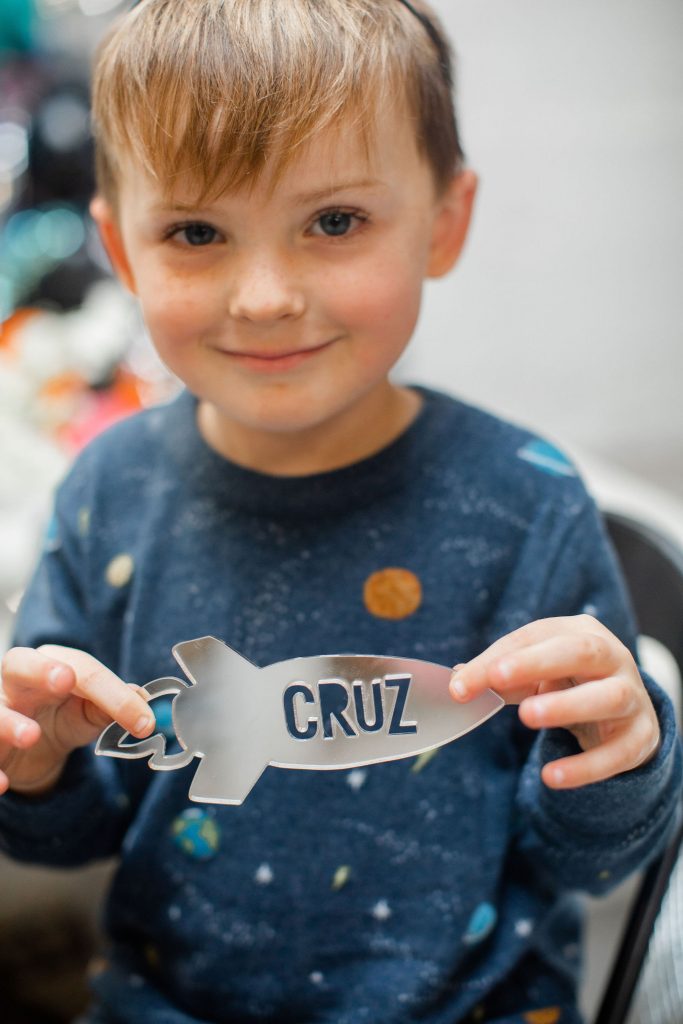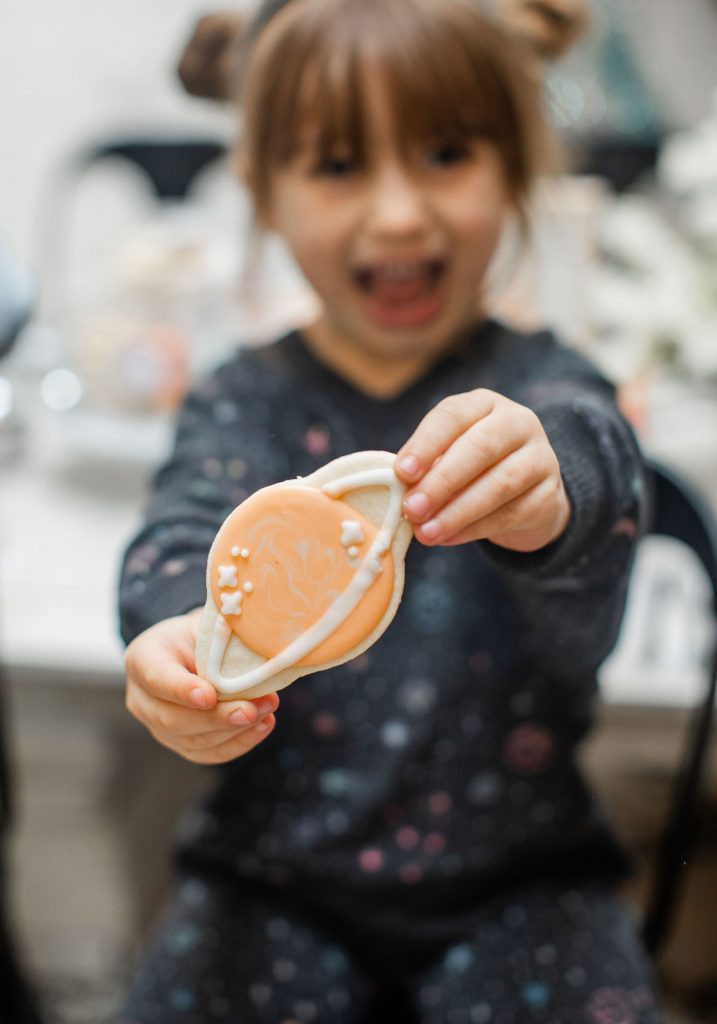 One more decor piece!!! I had this sign on the side of the table, but here is Court holding it for a better look! Another downloadable creation by Poppy Jack Shop! I printed it here to fit in a 12×18″ frame!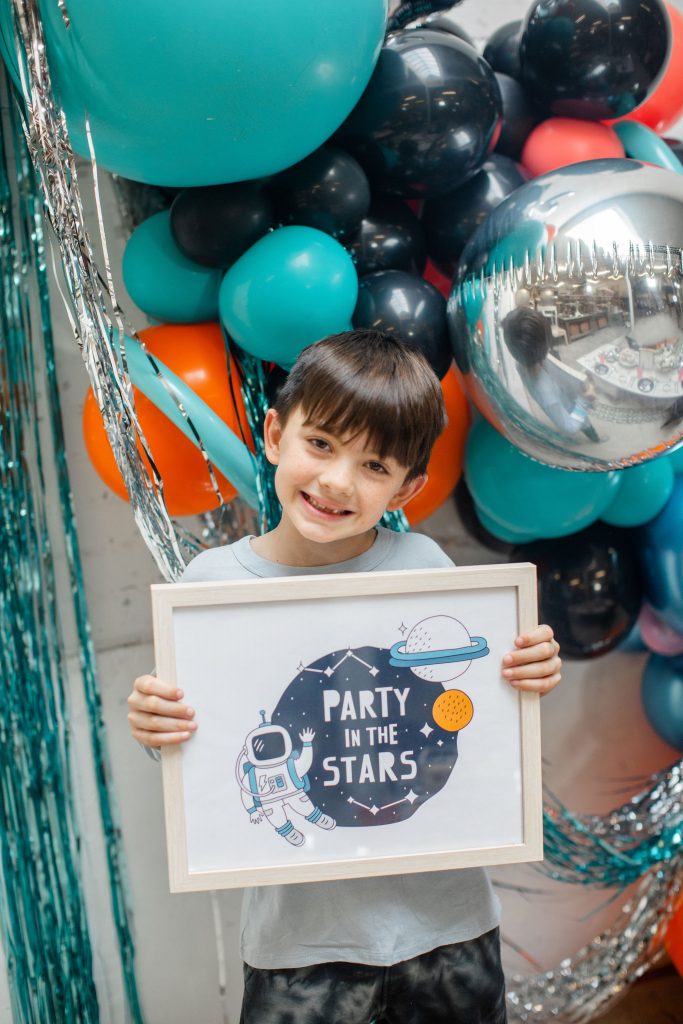 And that's how you throw a cute little space party at home!!! Head to our Instagram for more tips today and make sure you shop the party below!!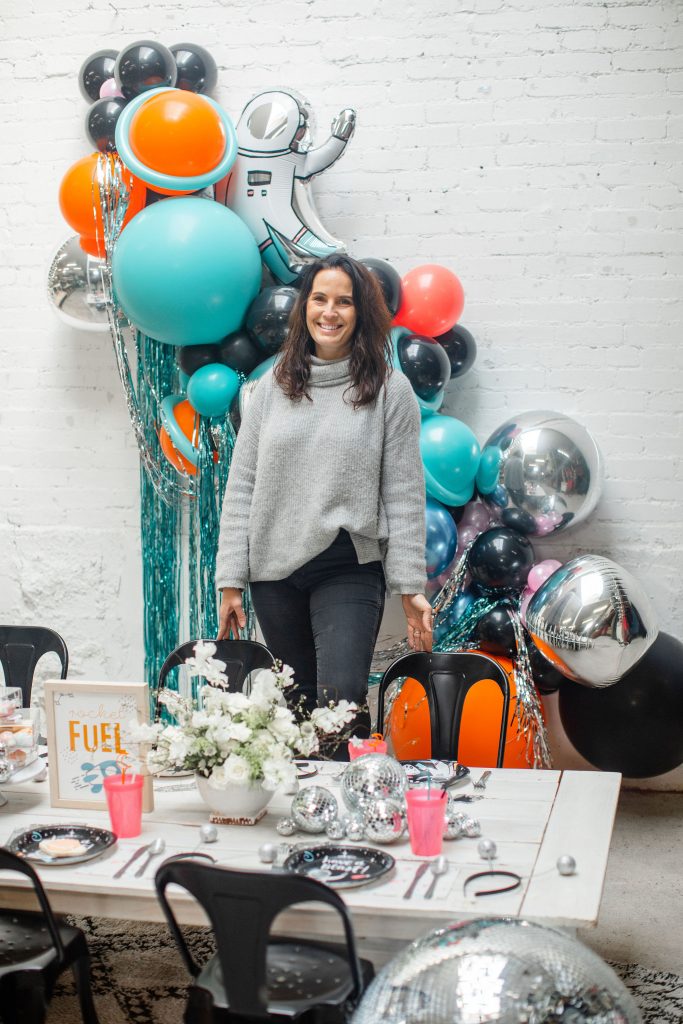 xx
Jacquelyn