I can't believe another year has gone by and I am writing this post. It seems like just yesterday I was writing about Court's 2nd birthday, back then Cruz was still in my belly! I have known what I wanted to do for Court's 3rd birthday for some time now… A super hero birthday party!!! This boy is obsessed with being a super hero! One of the things I love most about Court is his imagination and that he loves to dress up. Each day is a costume and a character. This past year we went from a pirate to a ninja turtle, to batman, to spider man and I don't even know what else! But really his favorites have been super heroes for quite a while.
I wanted to try a fresh take on the Super Hero party. My husband and I are David Bowie fans (who isn't?!) and the lyrics "We can be heroes, just for one day" kept coming to mind when I was planning this party. So that took on a life of it's own and added a little flair to this party, which I loved. It was such a great day full of all of Court's favorite things and people, let's just say it was pretty SUPER!!
This party is also featured on 100LayerCakelet today!!
Photos by Nea Nabayan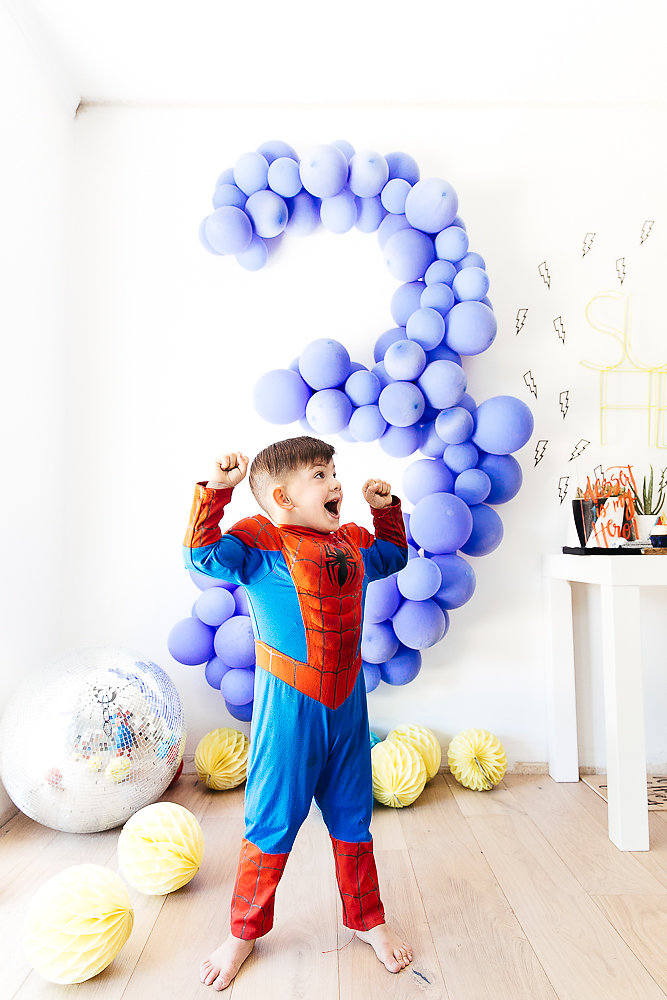 Well, let me start by telling you that this party was very close to not happening! We bought our house in January and had been working on it since, my husband doing a lot of work himself. I had to postpone the party once as we were planning on having the party at our new house. On the week of the party Nate mentioned to me that we should cancel…. Ummmm… You don't tell a mom who is also a party planner anything like that, got it buddy?! This party was happening!!! And I'm so glad it did because Court is still talking about it!
Let's start with the tables! I don't know what I would do without Meghann Miniello, she is so darn talented and she always gets my vision. She created the amazing placemats with our lightning bolt and super hero words like "Pow" and "Zap" in the color scheme of the party. Meghann also made the acrylic names for each kid's place setting. I used Bash Party Goods for all of the tableware. I love their modern designs, they have a new collection coming out that I can't wait to get my hands on! Seriously, who knew paper plates could be so fun! And, I love how easy it is to clean up… No brainer there!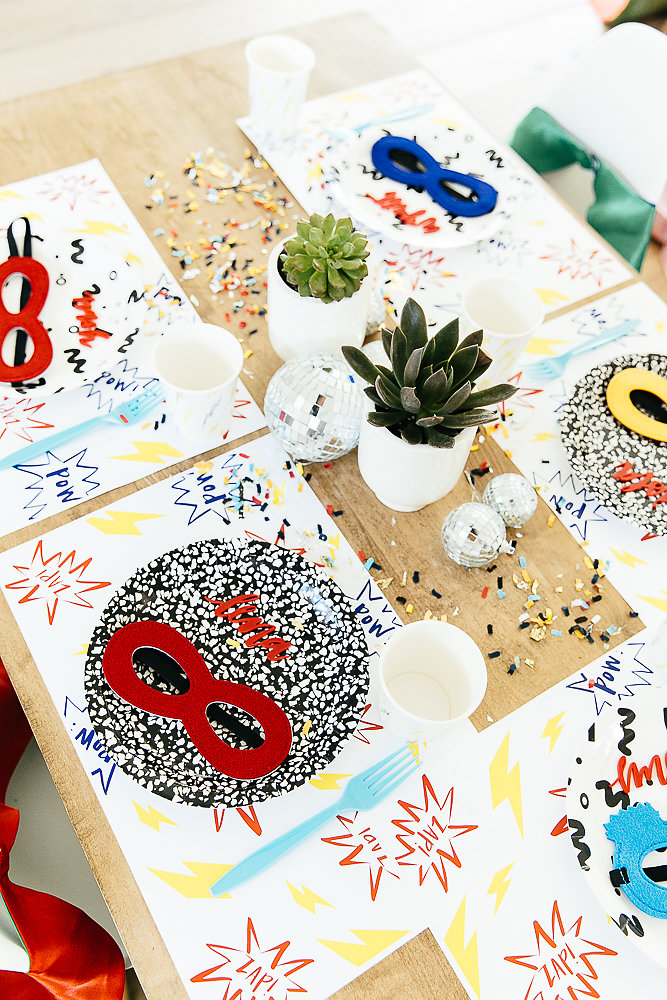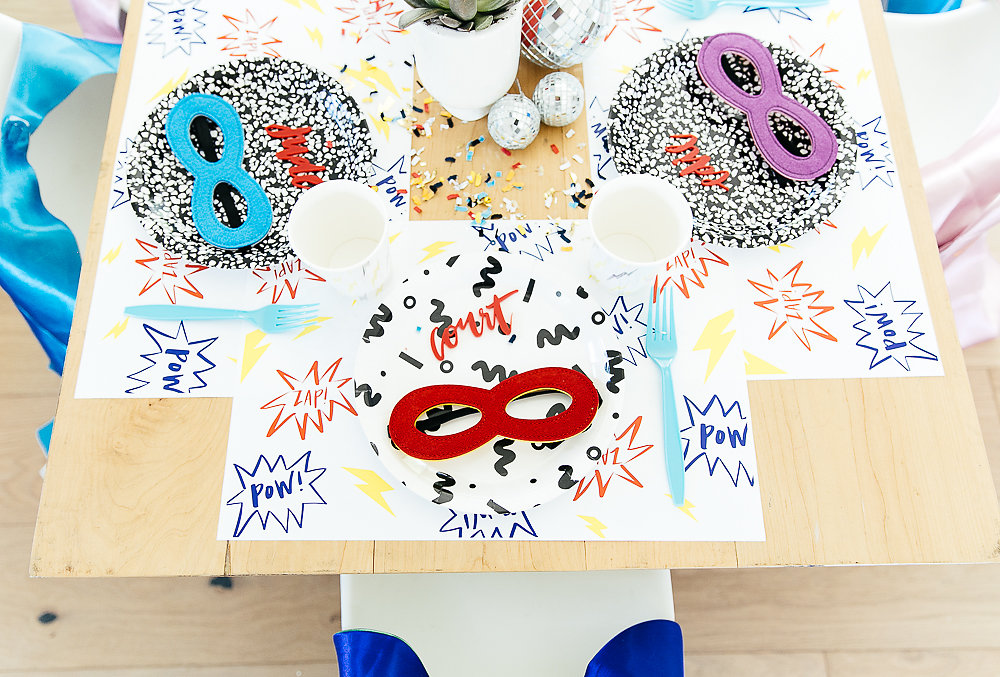 I added custom confetti from The Confetti Bar with sayings like "Super Court" the number "3" and lightning bolts. Along with that I went simple with succulents but the planters are one of my favorites!! They are by Luna Reece Ceramics and they are called the "Bowie" planter!! It was so perfect!! Then I just threw some mini disco balls and called it a day! Haha, if it were only that easy…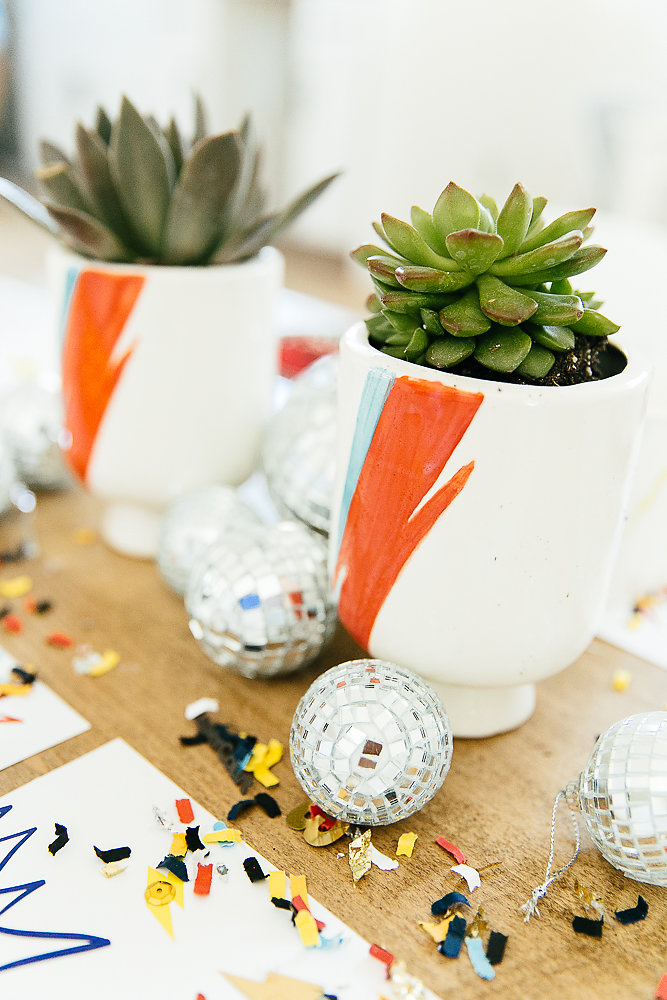 Each kiddo got a mask and personalized cape so they could be super heroes for the day too! The talented Courtney from Poppy Jack Shop personalized the capes for me and did such an amazing job! I had looked into having them embroidered or iron'd on but I love what she did the most!! But seriously, anything looks good in her writing! A few of the parents told me that their kids continued to wear their capes and masks for days and days after the party!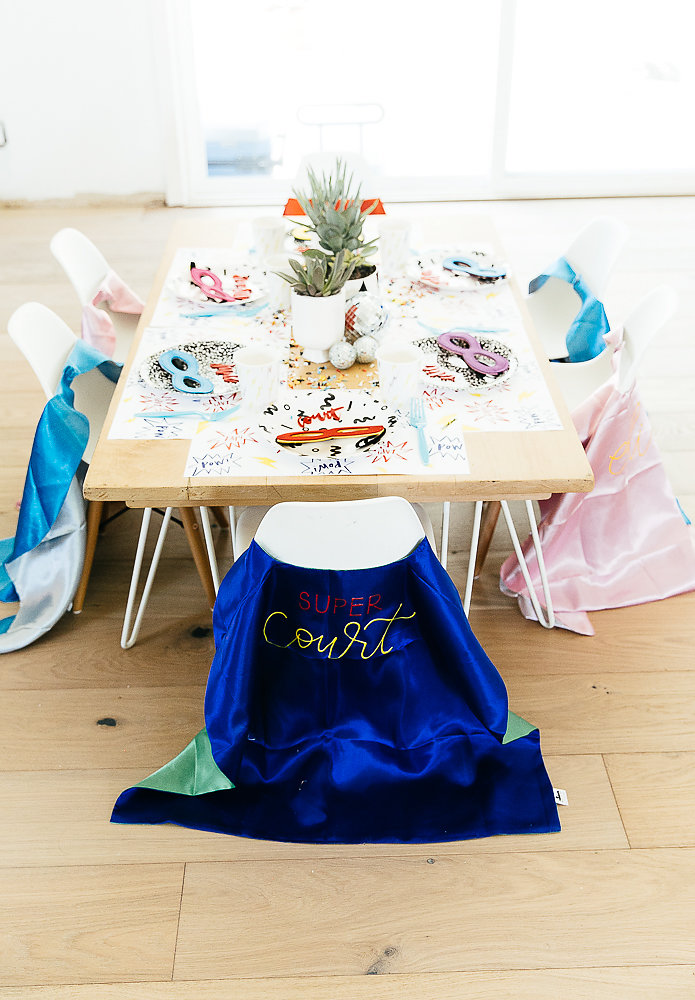 The modern table and chairs are from Witty Rentals, one of our favorite for adults and kiddos!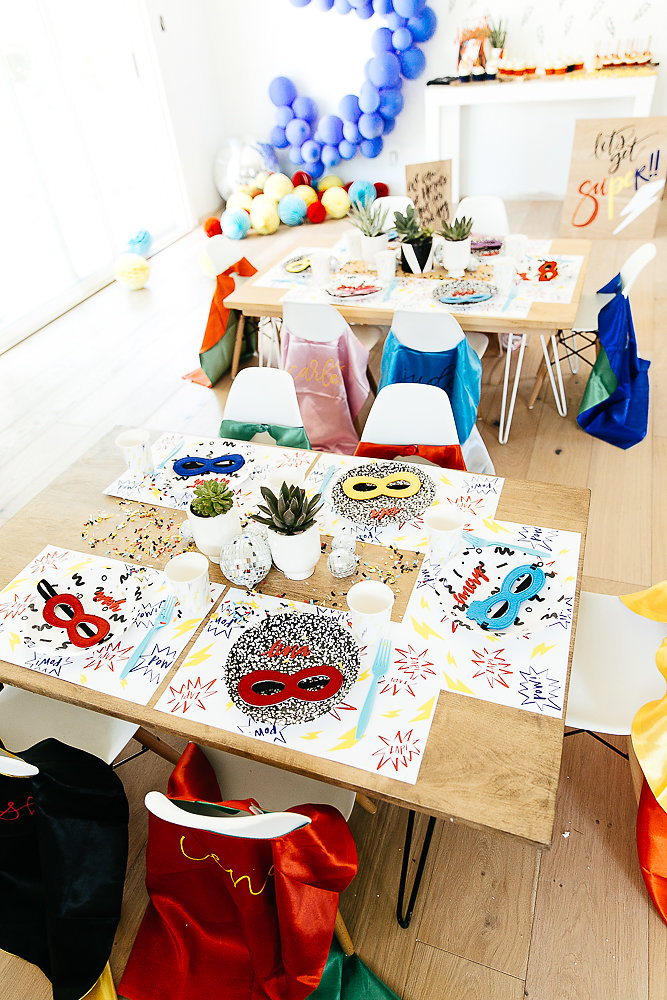 Let's check out the big birthday boy!!! Here is in all his birthday glory!! Meghann Miniello nailed it with all of the cute signage… Yipee! I'm 3! And Court is wearing the cutest lightning bolt tank by Chaser Kids.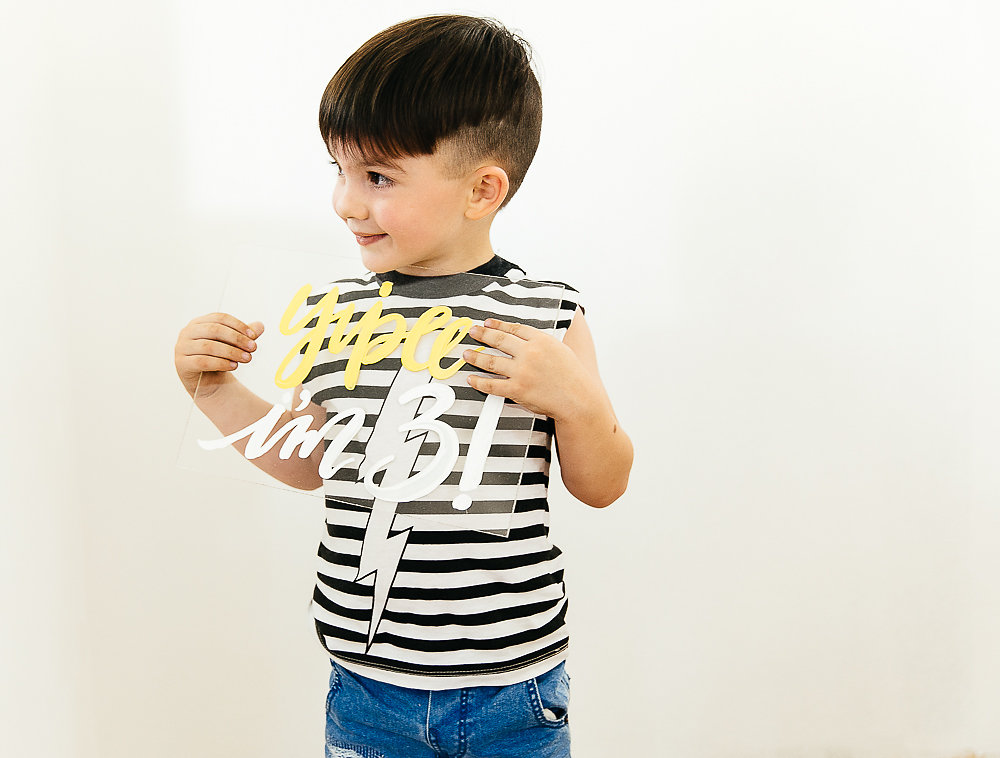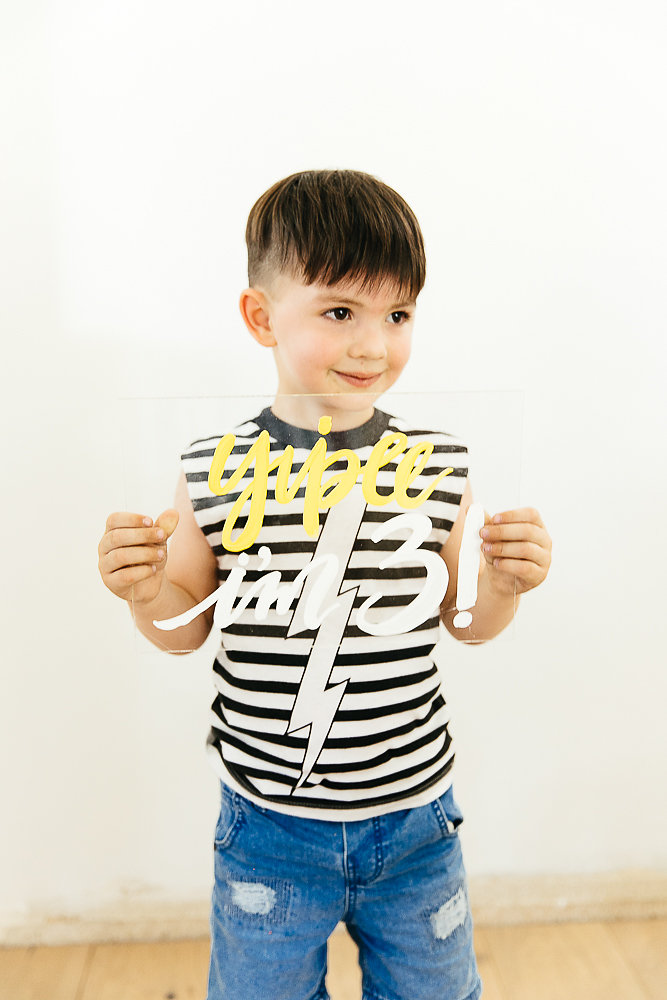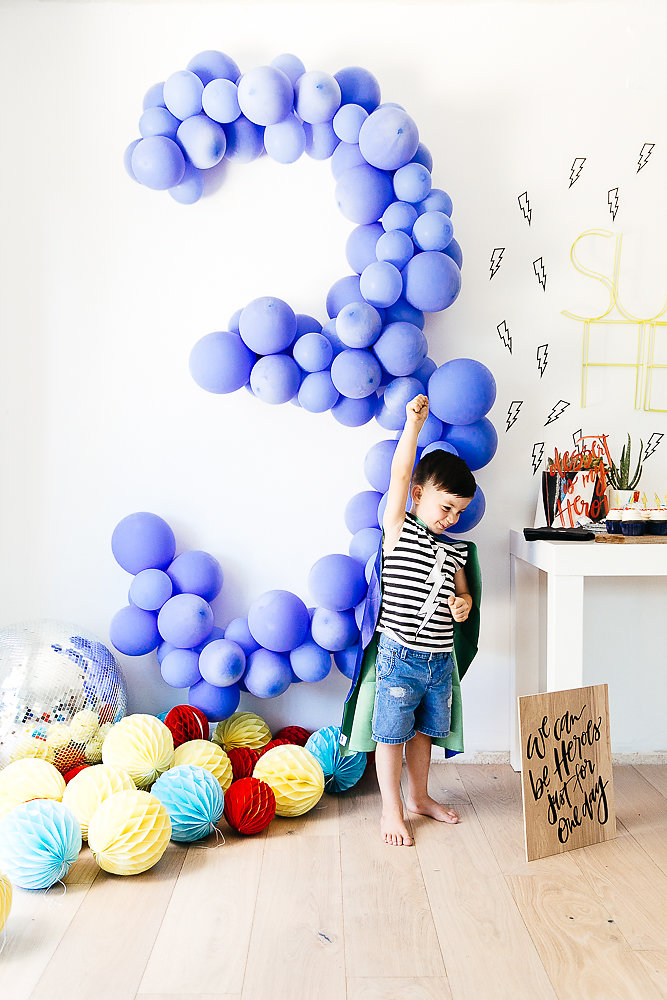 Ok, so the other star of the party… The balloon 3 by Wild Child Party!!! Now I'm convinced every party needs a balloon installation… I love those girls so much and they made my vision a reality with this sucker!! So happy with how it turned out!!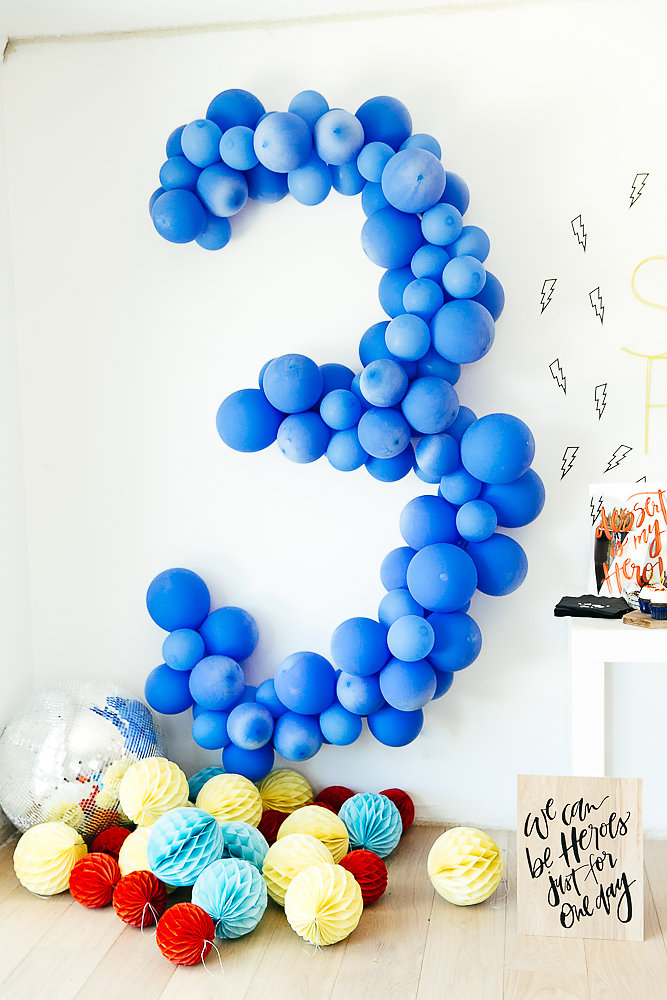 Also, disco balls and honeycombs make everything better…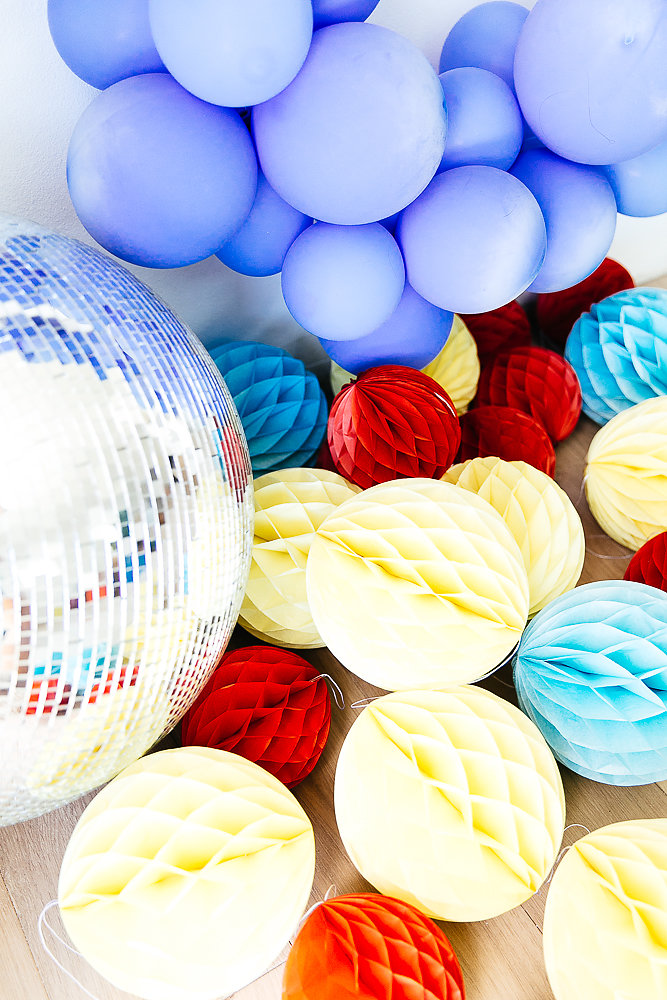 Next up has got to be desserts! I turned to my friends at Sweet & Saucy for that of course! First on the list was a cake, I like my cakes pretty simple so there's that! Then a bunch of fun treats to go with it! Laura at The Creative Muster did the amazing acrylic cake and cupcake toppers. I love the way the layered cake toppers look!! Note to self, next year put the desserts on a higher table, out of reach of little hands!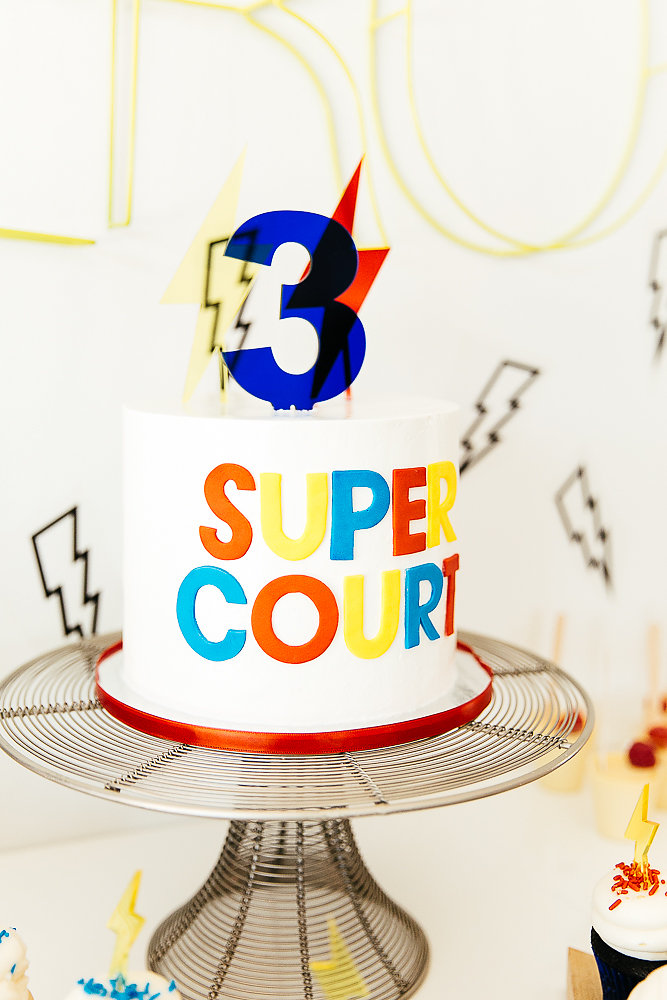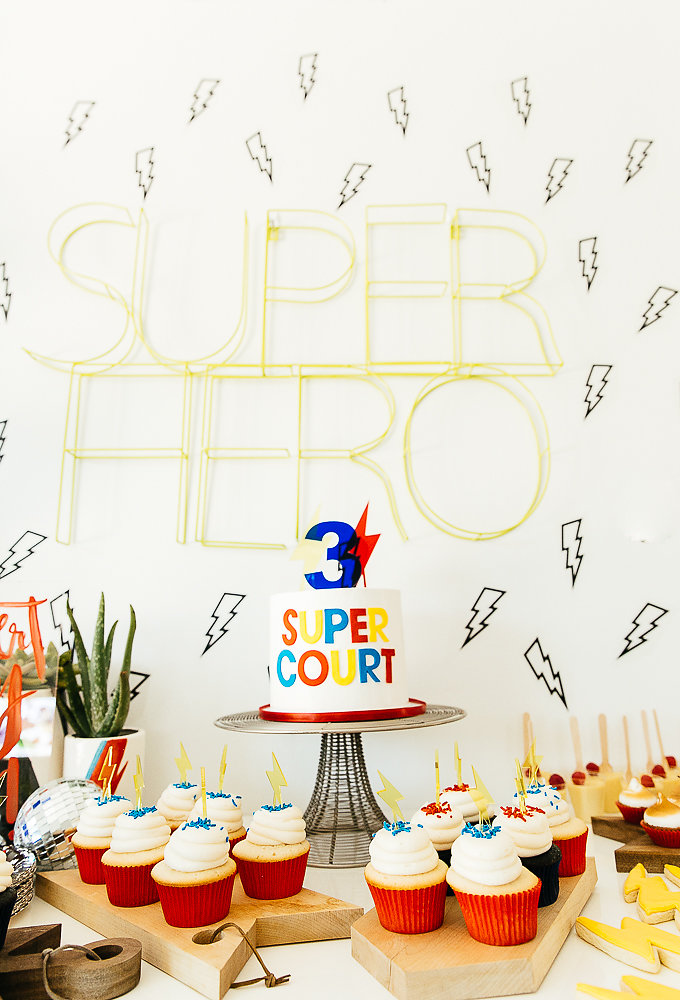 That SUPER HERO sign was a gift from Court's Nina, fellow Beijos babe Leah :) She found it at Target and knew it would be perfect for the party! I got the lightning bolt wall decals off of Amazon and they were such an easy and fun way to add some decor!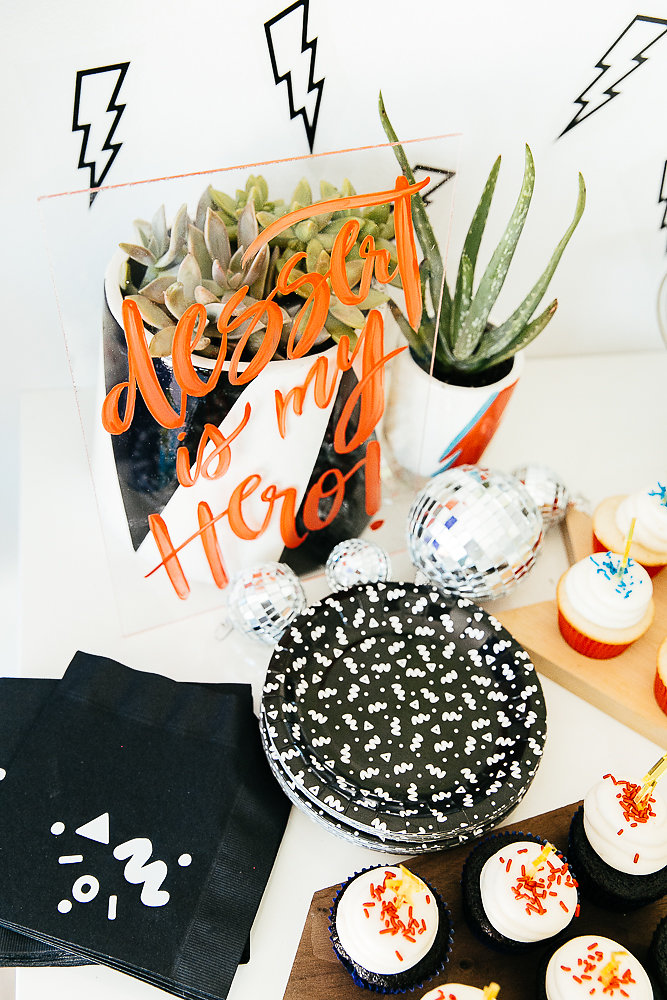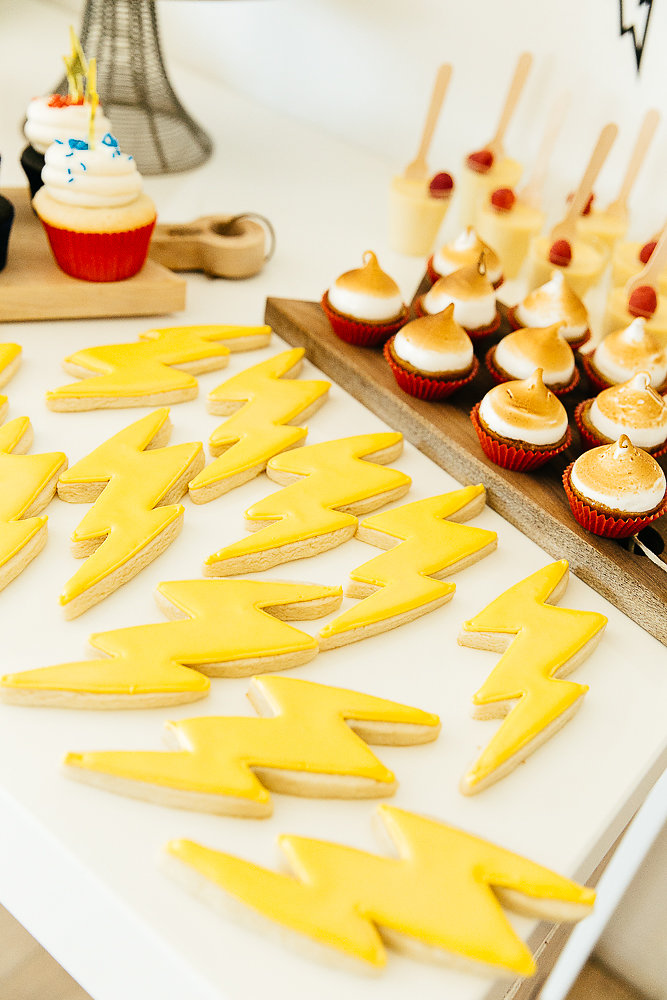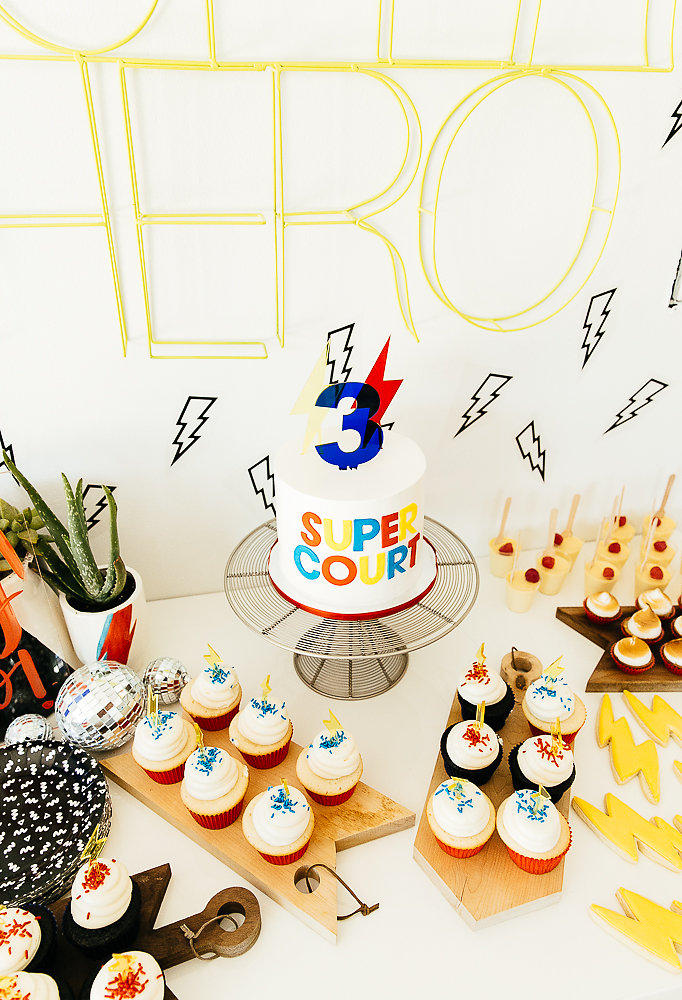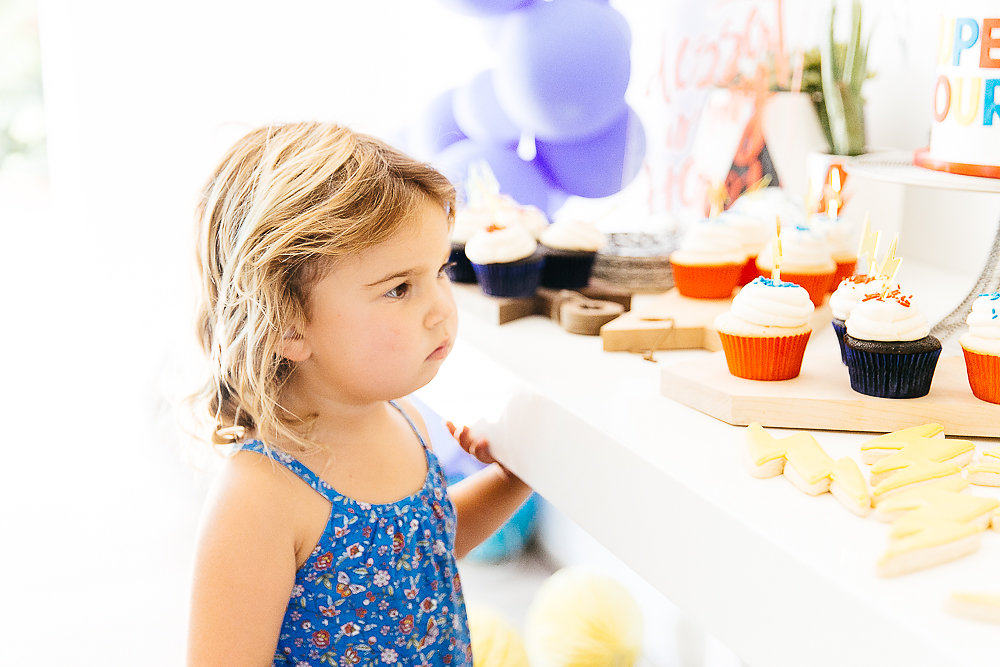 Last but not least, the guest of honor and the person Court is STILL talking about… Spidey!!!!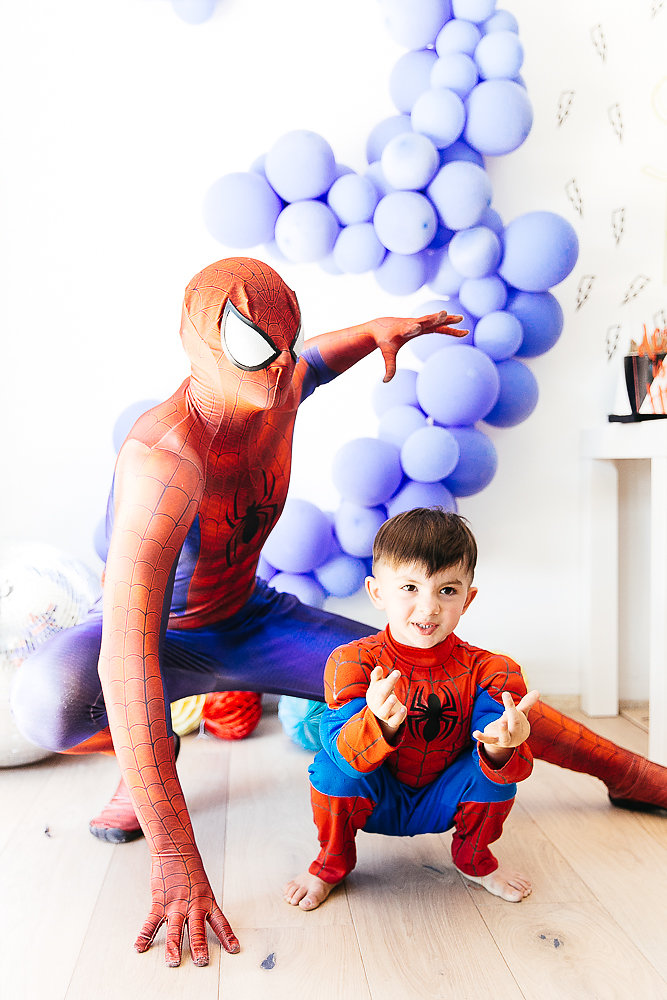 Nate thought I was crazy for having him at the party but he MADE Court's day, maybe even year!! The kids loved him and he entertained them for an hour, teaching them Spiderman moves like somersaults :)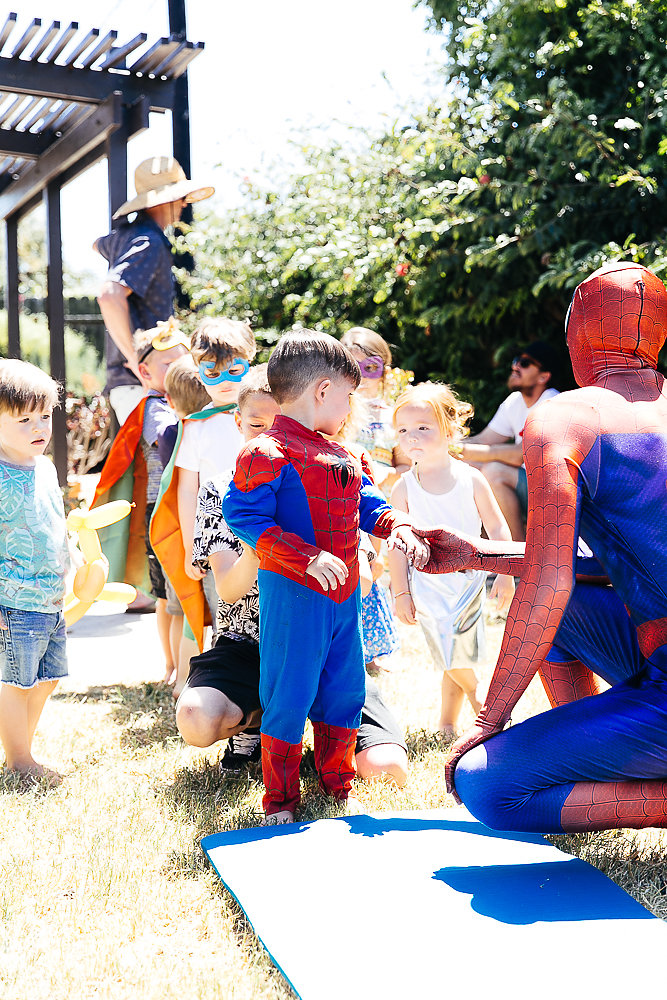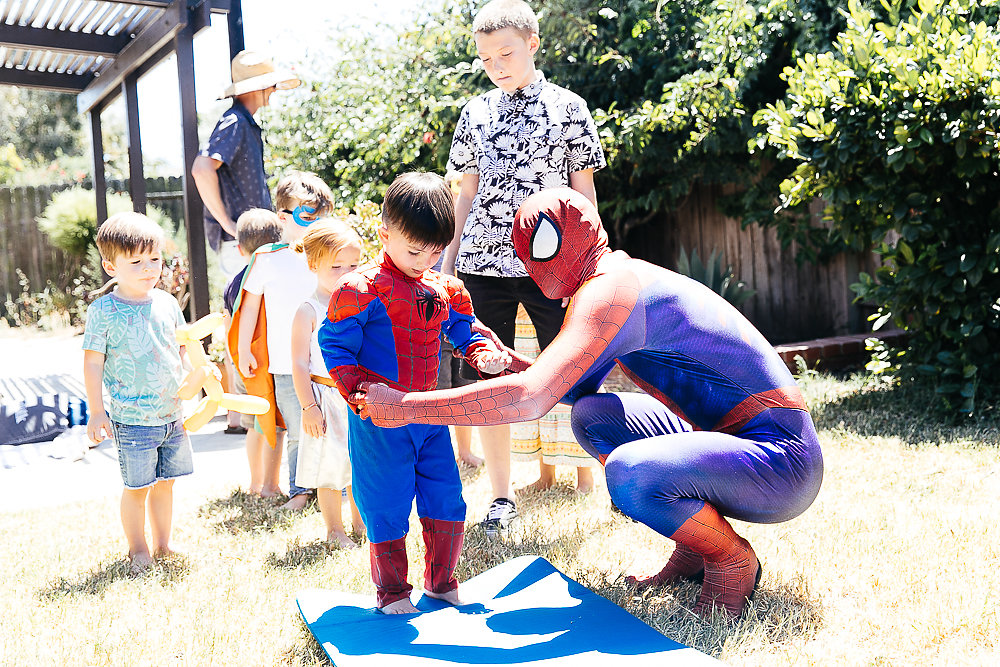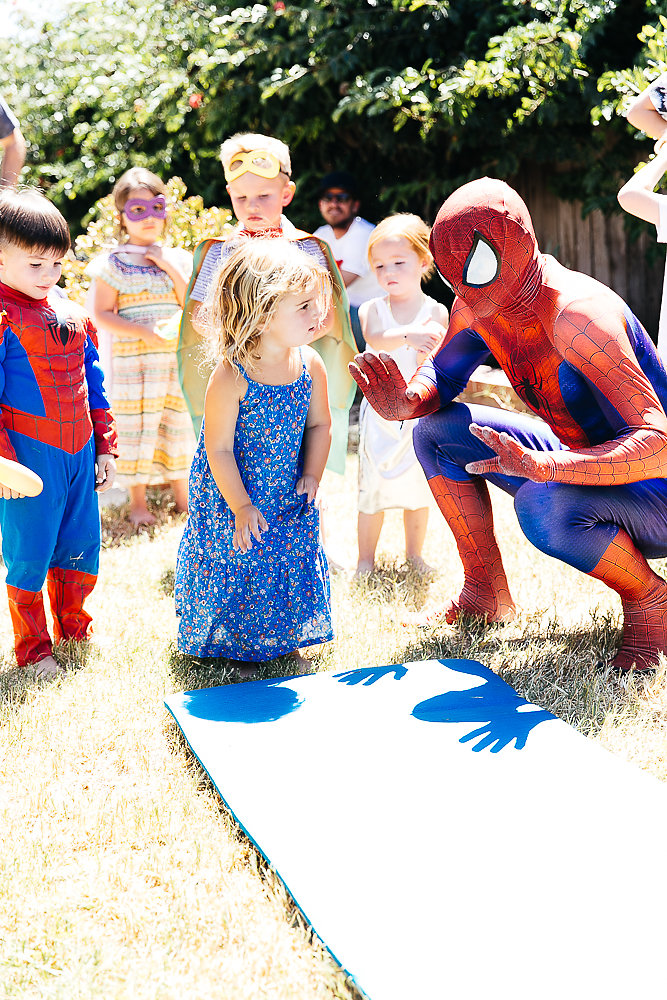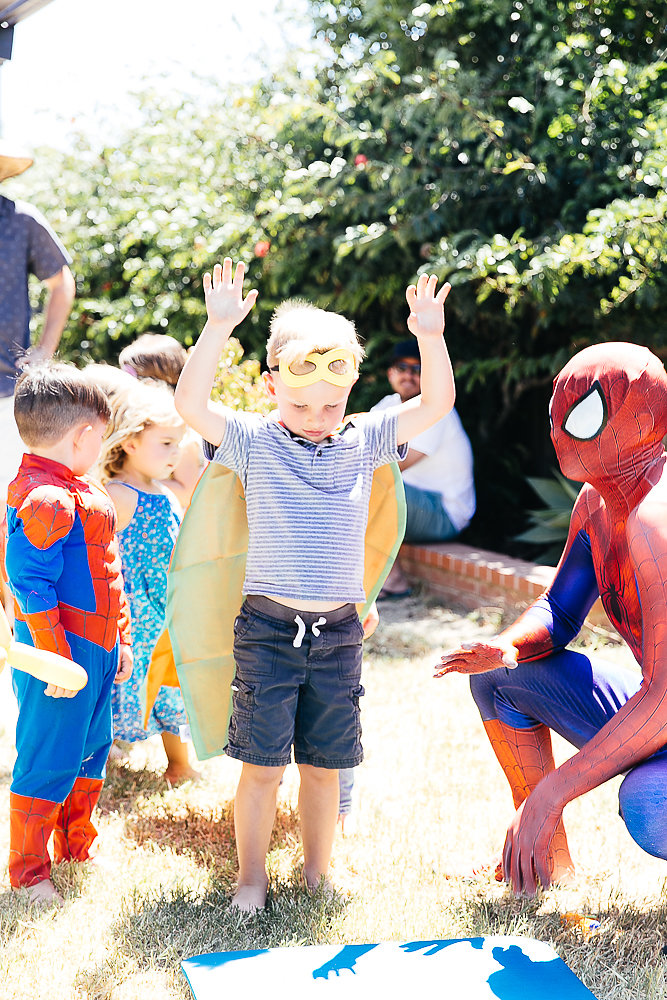 It was such a fun and special day!! Here's another look at all the fun!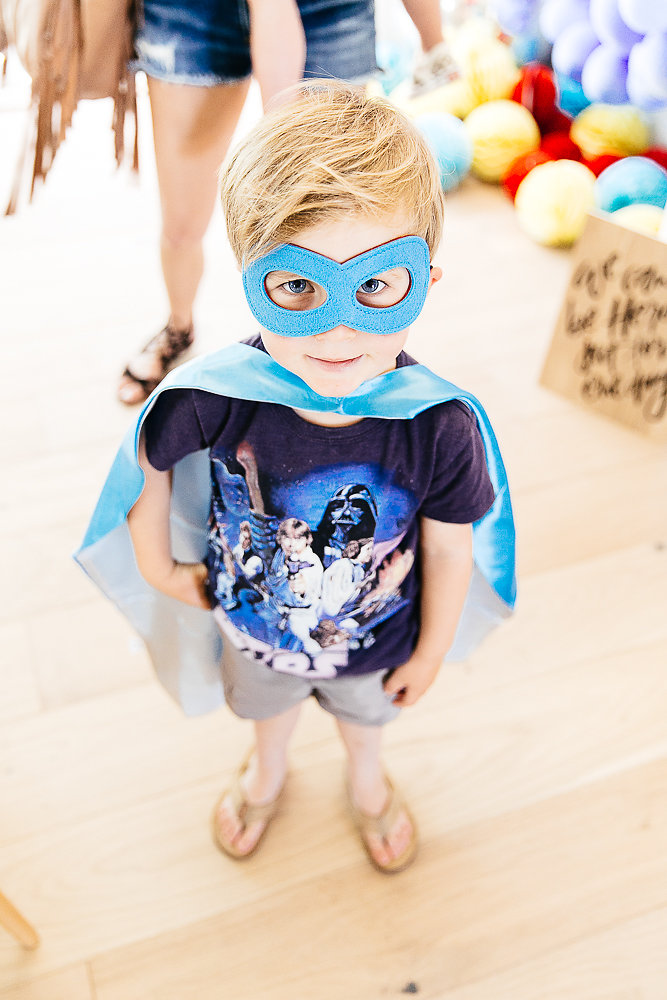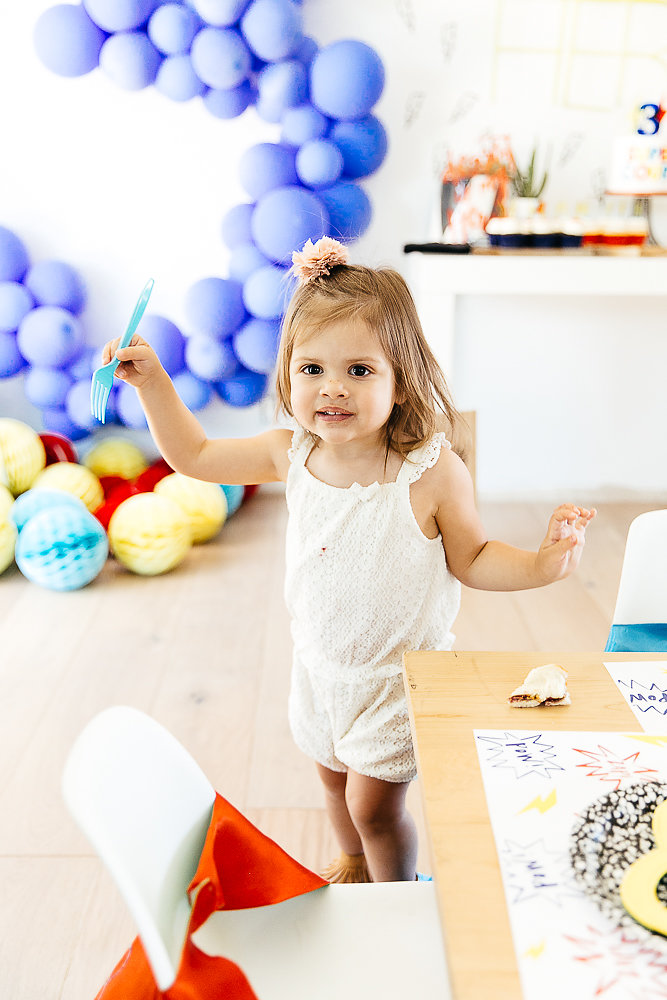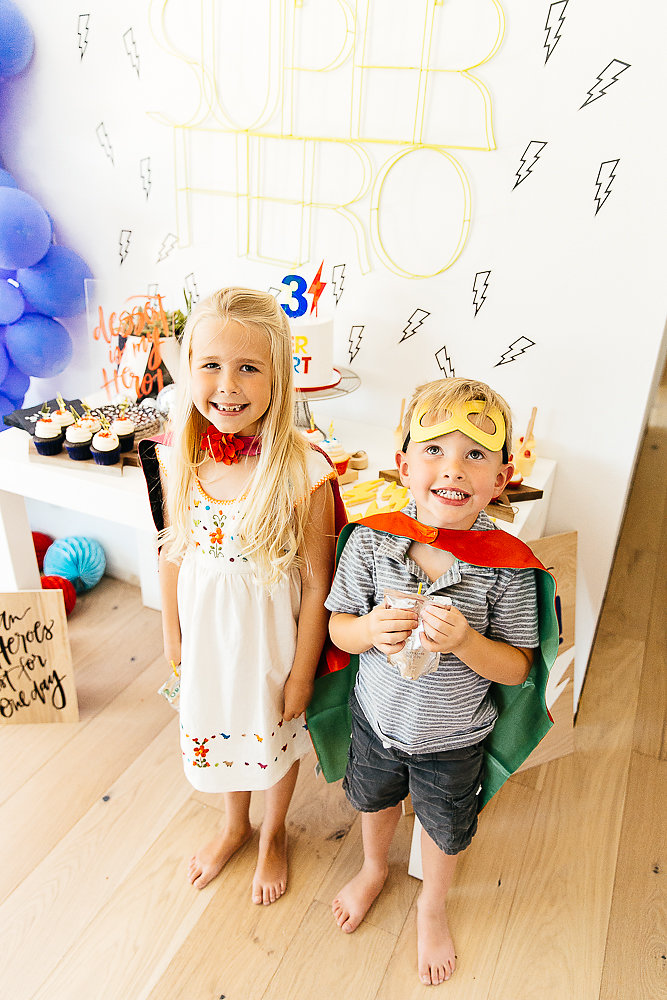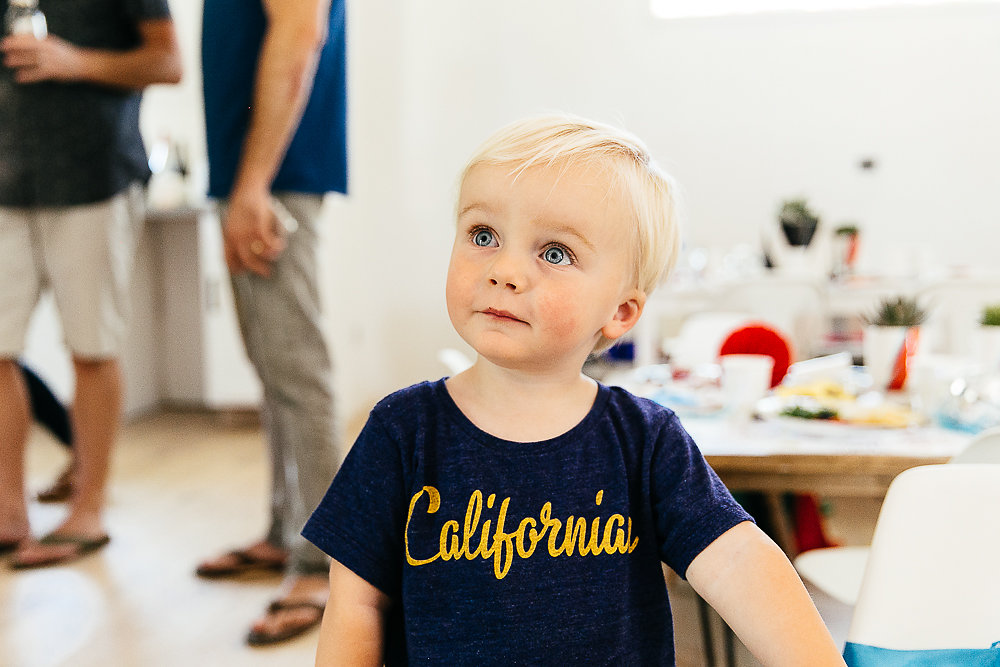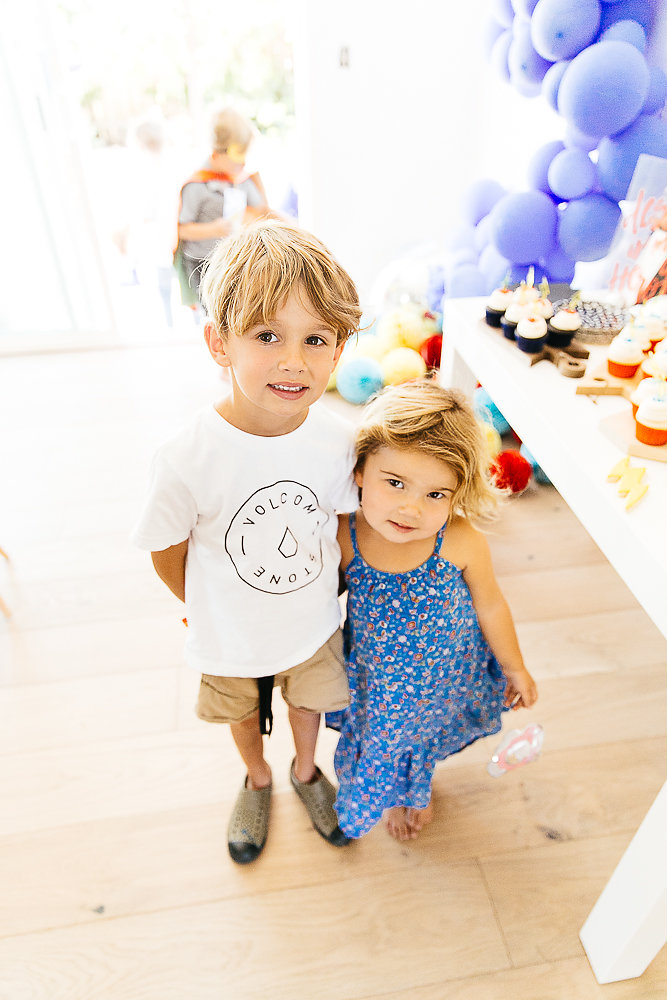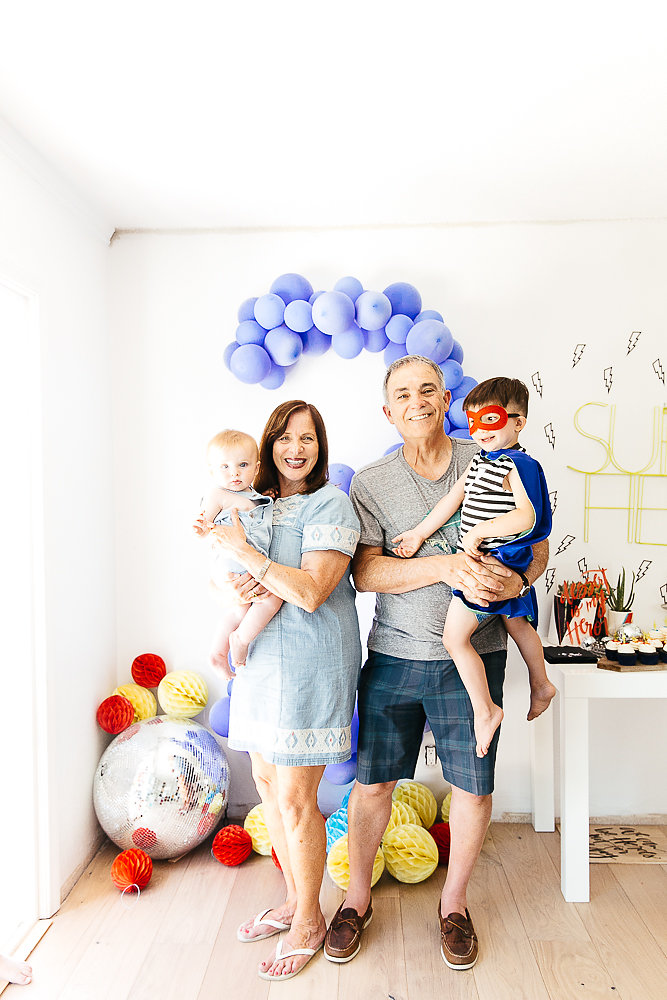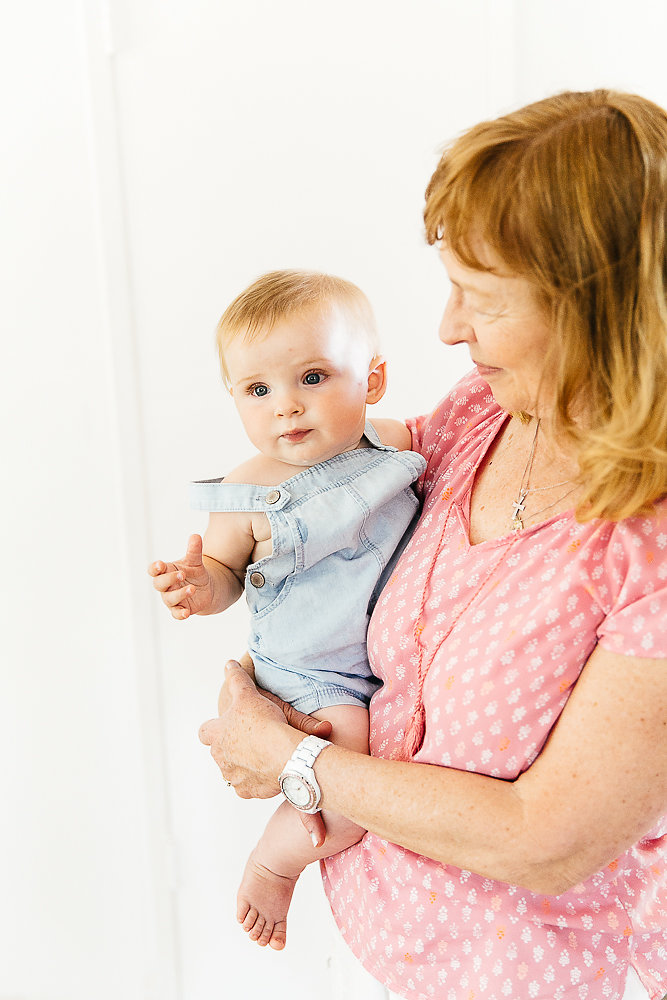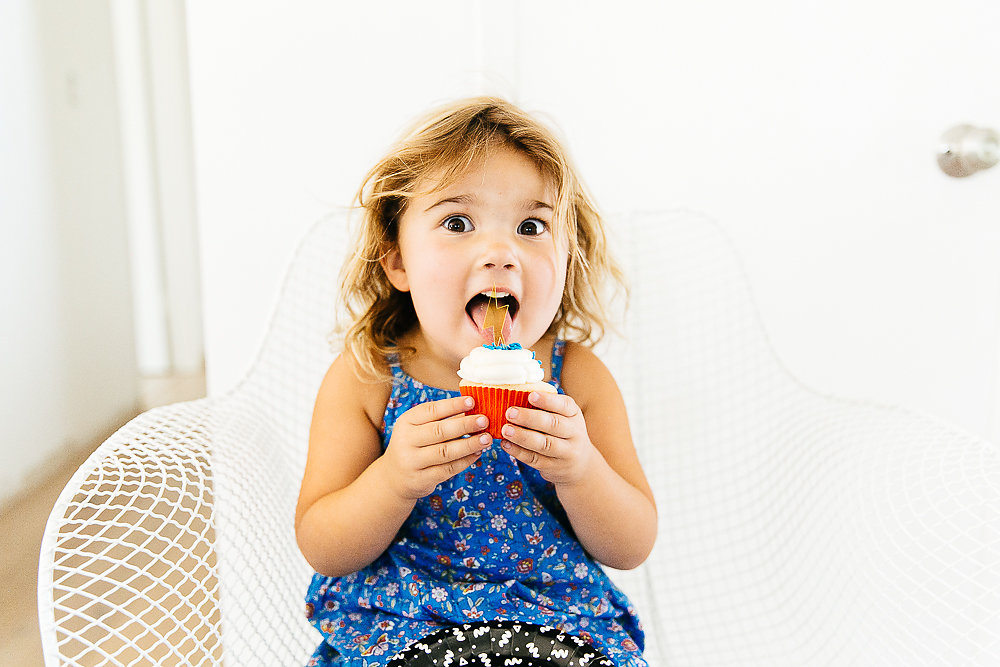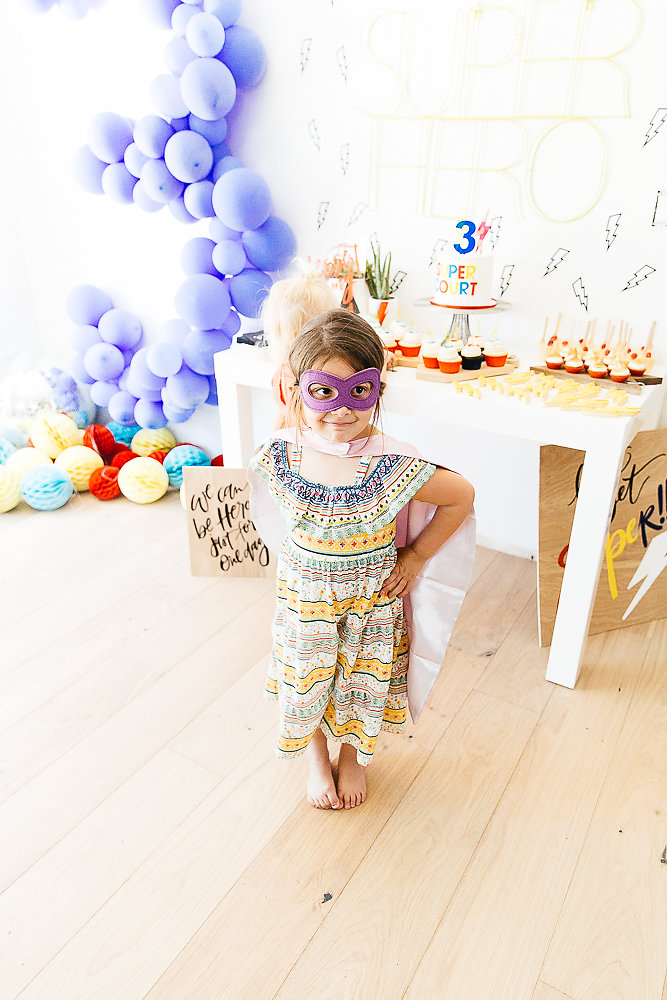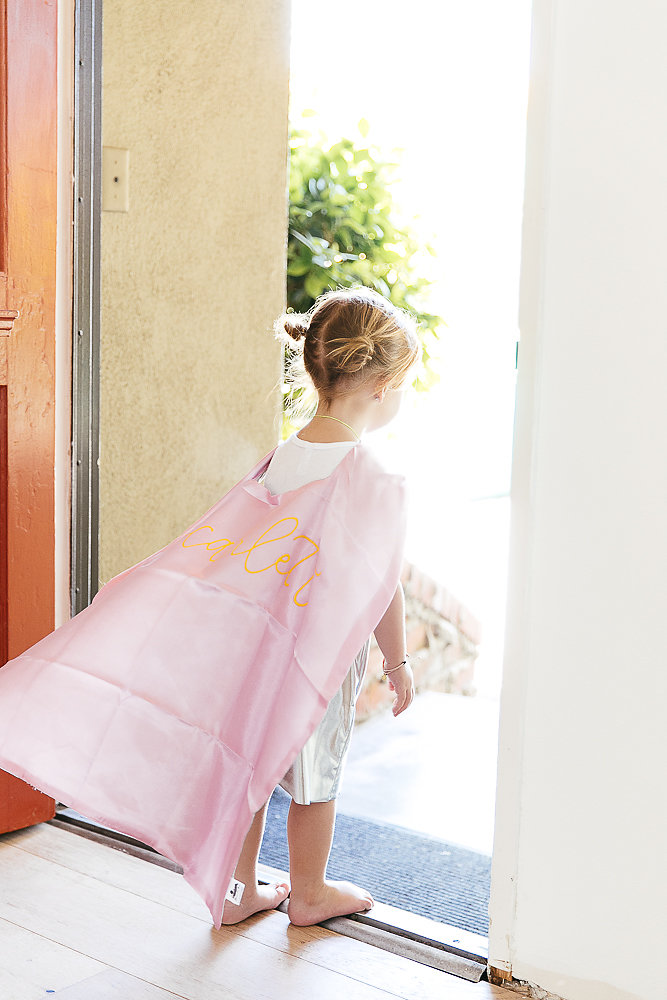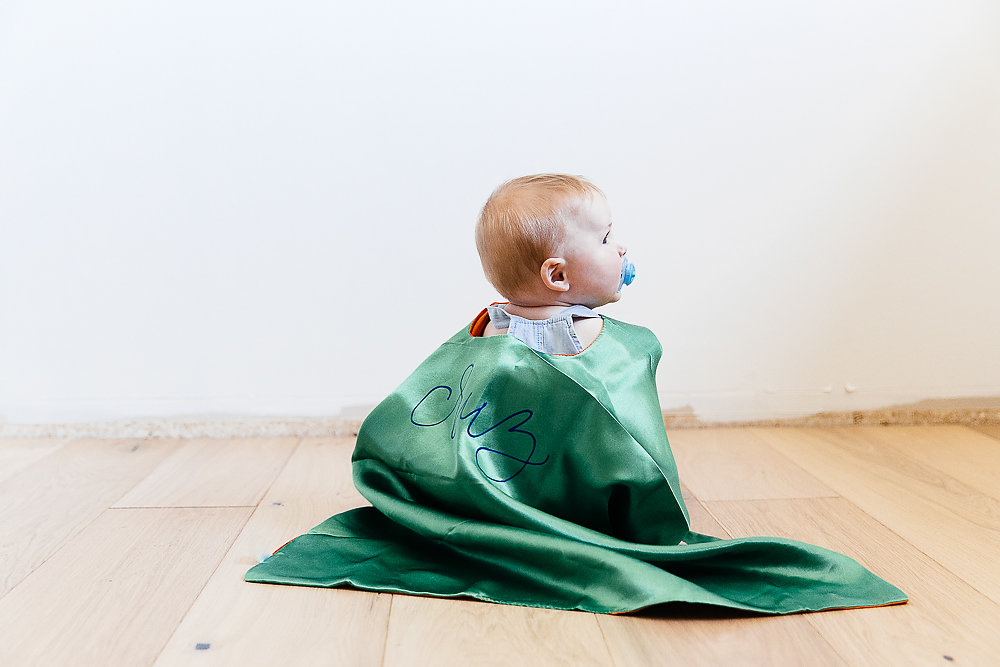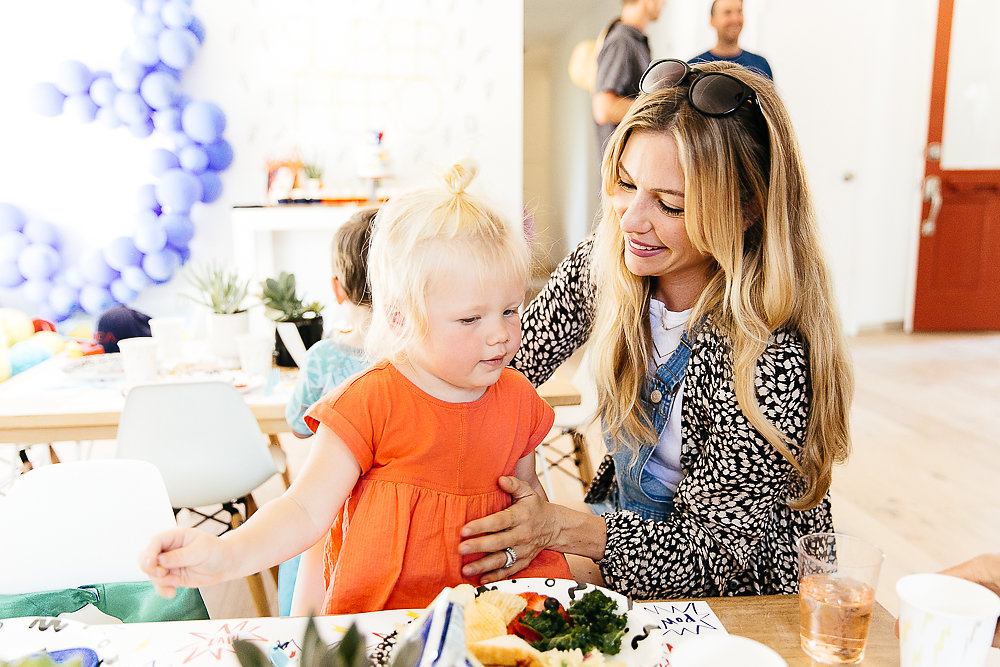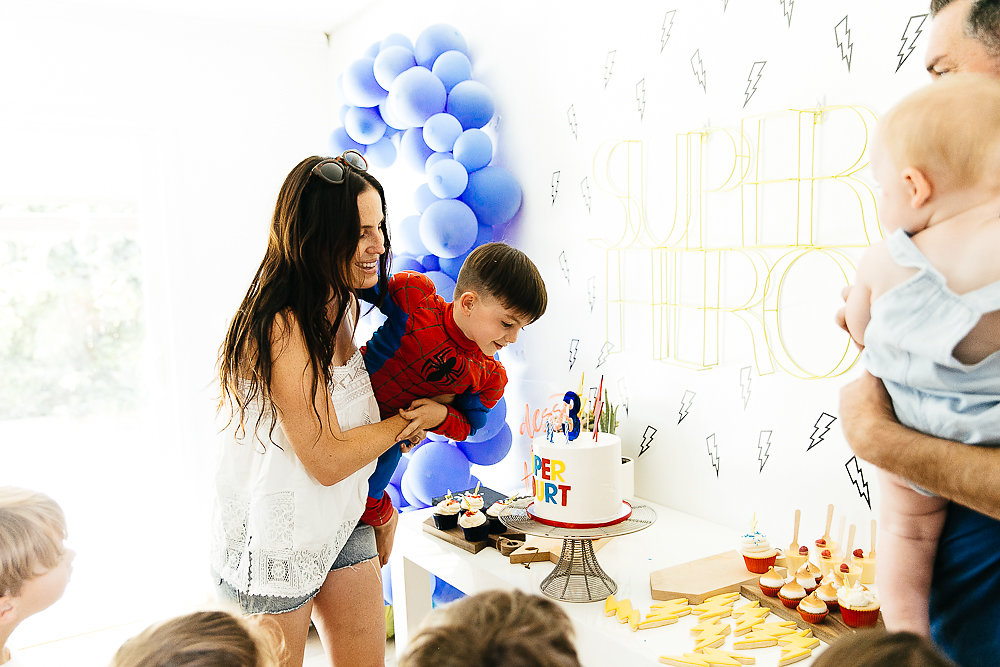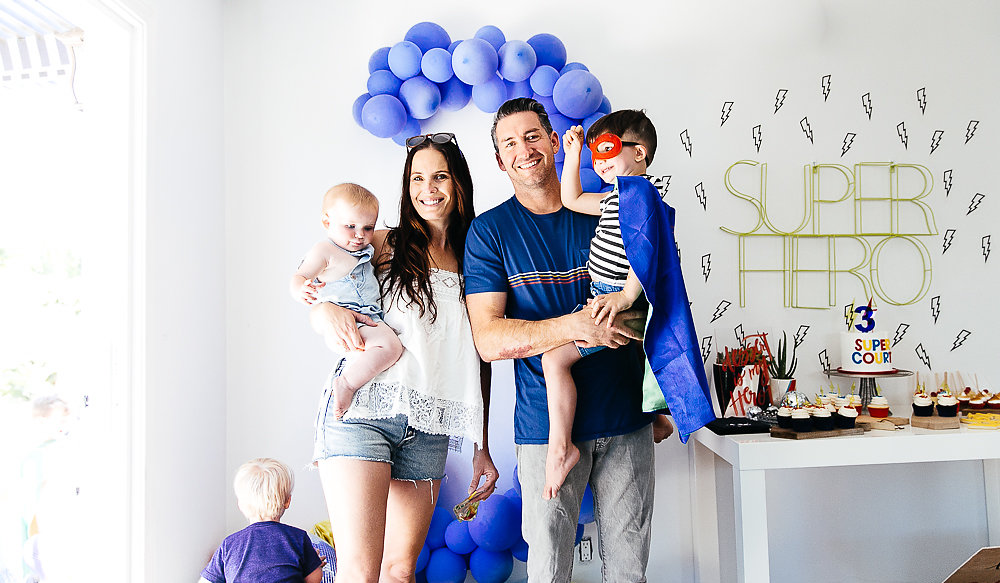 I hope you liked my version of a Super Hero party! As a boy mom it's so fun coming up with different ways to blow my little guy's minds, haha!
You can shop some of the items I used below if you want to throw a party of your own!!

Jacquelyn