Something I always try to instill in my children is a love for art. When choosing their preschool my focus was more socialization, play, and art-based. Obviously, structure and curriculum are important to me but at that young age, I wanted them to mainly have fun and make new friends. We still do art classes frequently and my boys both continue to love drawing, painting and creating! I decided it was time we did an art-themed party, something I'd been wanting to do for a while. It's a crowd-pleaser amongst kiddos and it will be for adults too!
Check out this colorful party encouraging your littles to create and celebrate, we have all the tips to make it a success!
Photos by Corrie Lynn Photo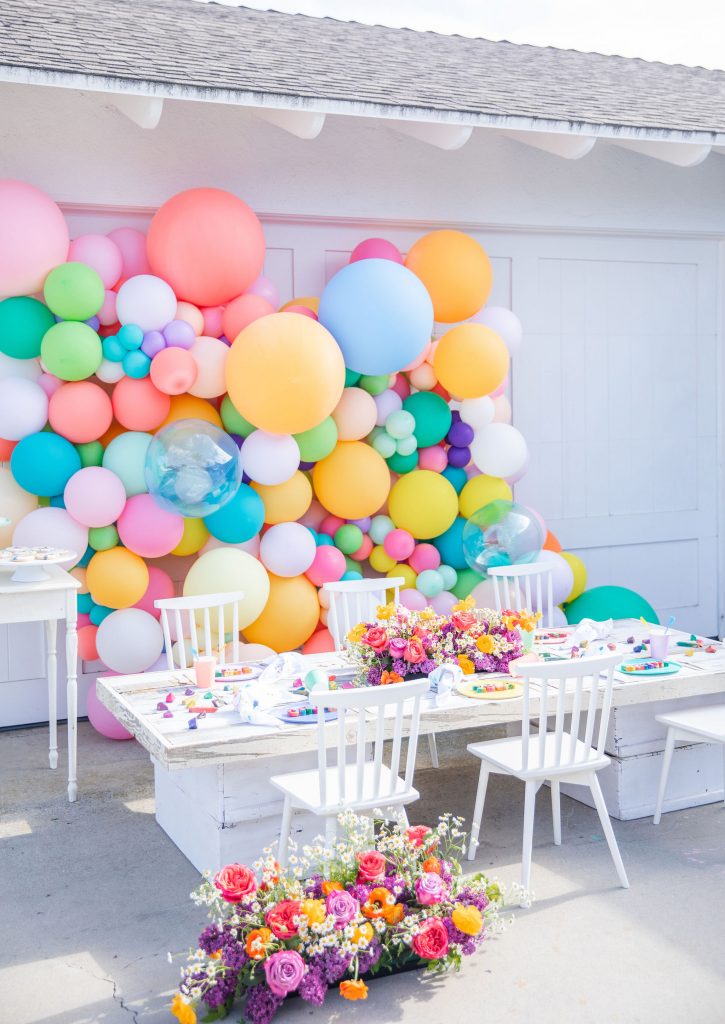 Always gotta have that cute invite!!! As usual Poppy Jack Shop made the sweetest little details. We were lucky enough to play with Tulip Color fabric paint and Art 2 The Extreme crayons. The party was ready for fun with all of these amazing products to use.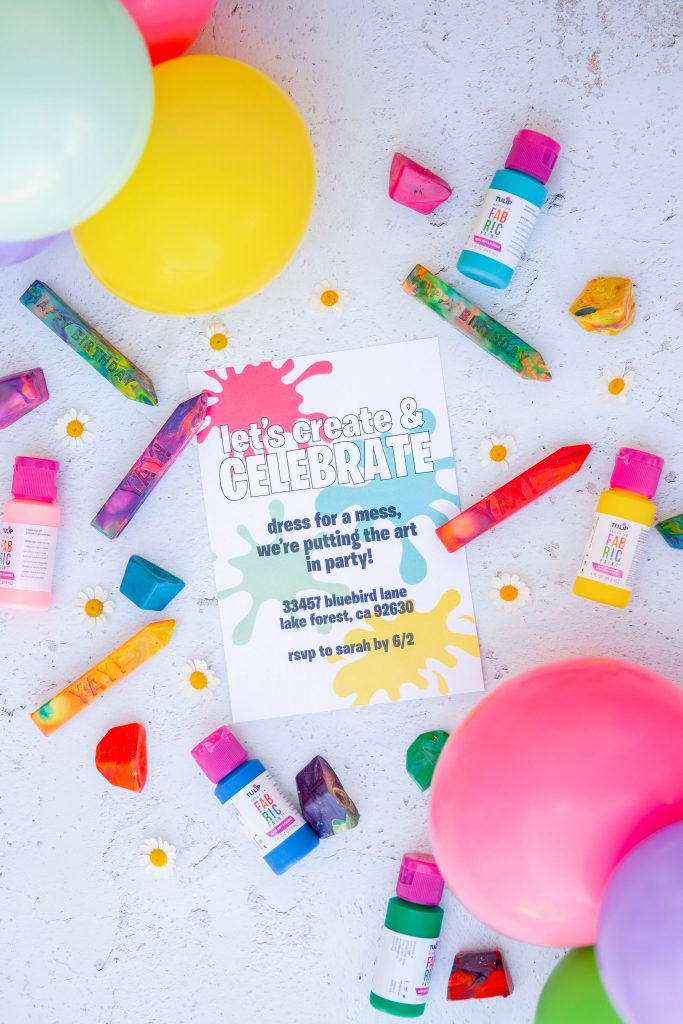 How adorable is this packaging from Art 2 The Extreme?! Wait till you see the amazing crayons that are inside!!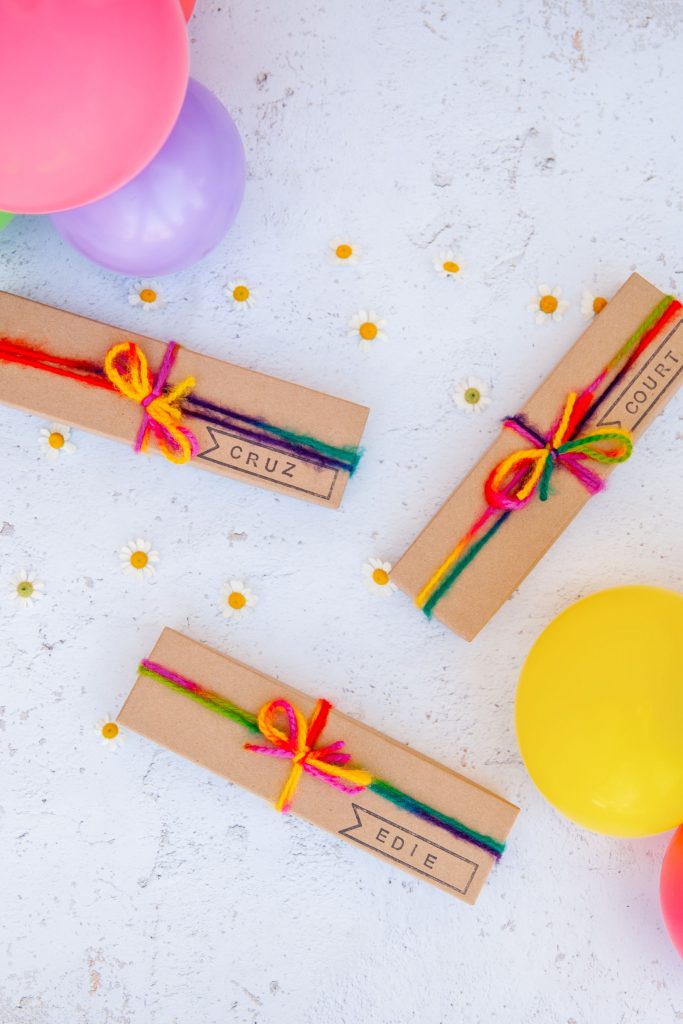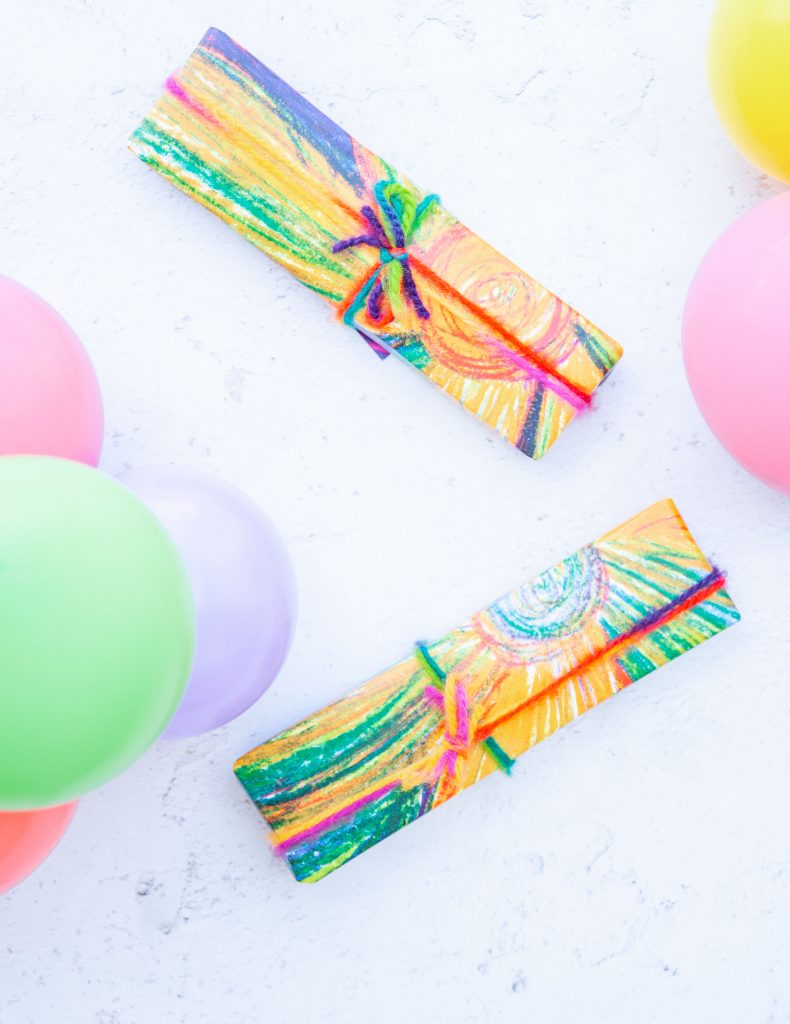 I enlisted the help of my talented friend Jesi Haack to do a few projects for me, one being these rad splatter paint napkins! You clearly need these for an art party!!! Tulip Color's fabric paint did the trick!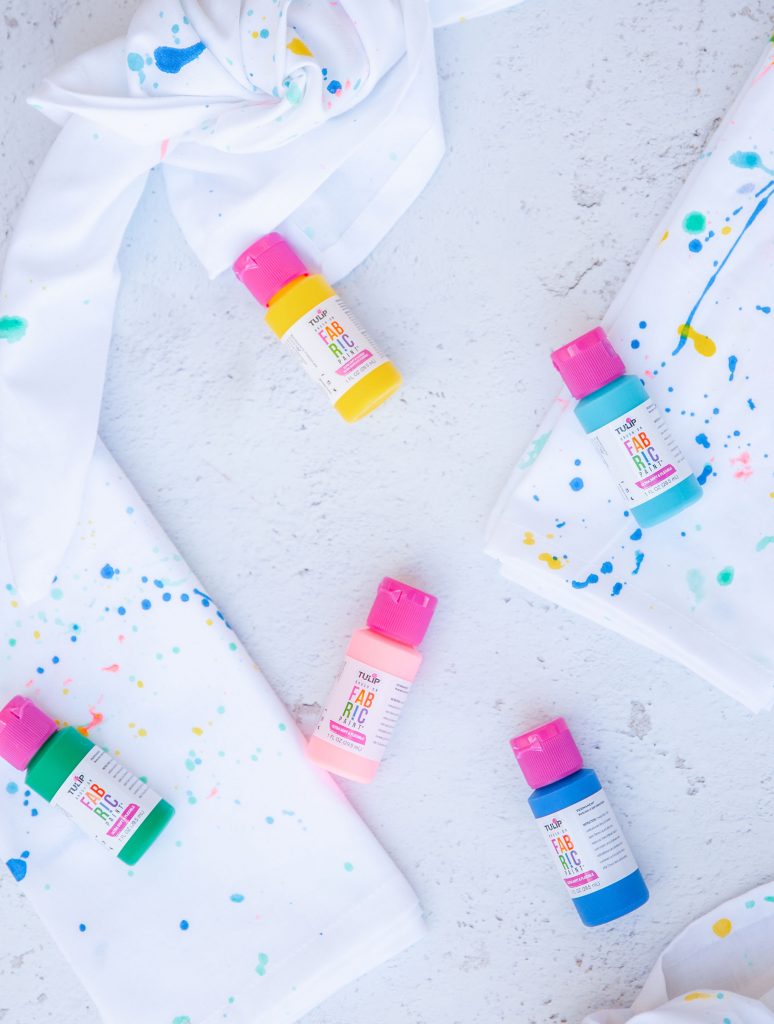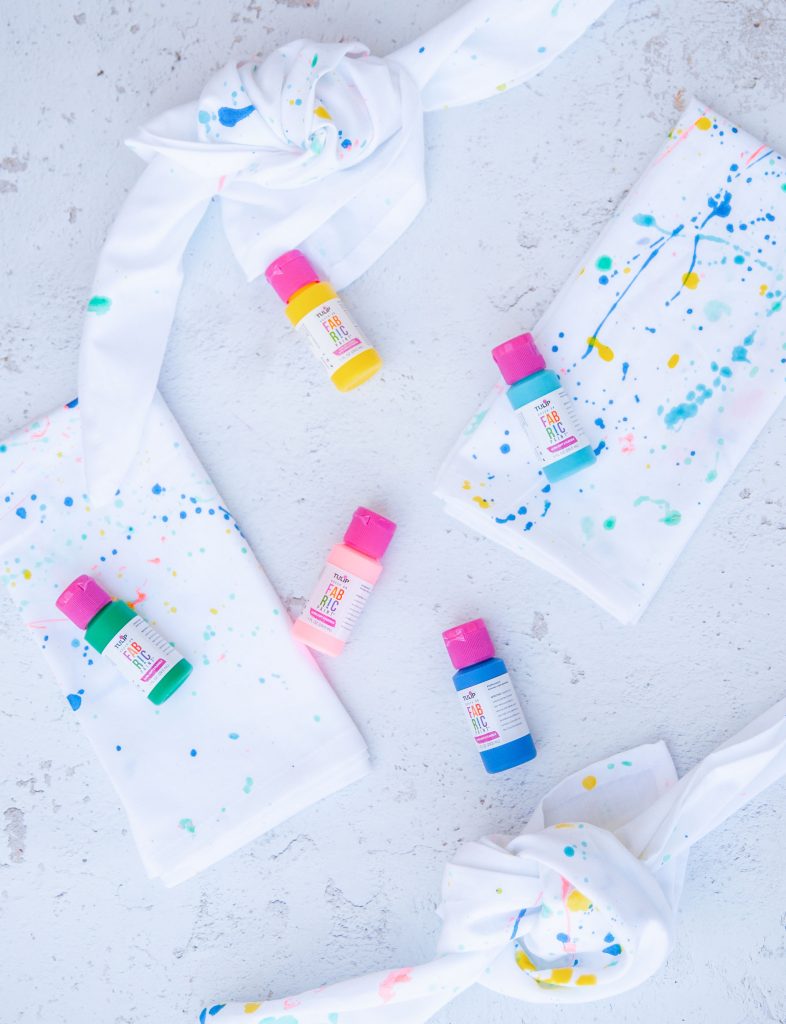 What do you think of our setup?! I think one thing – COLOR!! It's an art party, so we went there! The star is the balloons, of course, our friend Ellen of The Pop Shop is responsible for those pretties! I wanted a colorful balloon wall and well, there you have it! Isn't it amazing?! Love all the texture and color involved. Then there are the cute little rentals from Sweet Salvage Rentals – her kid's rentals are the best!!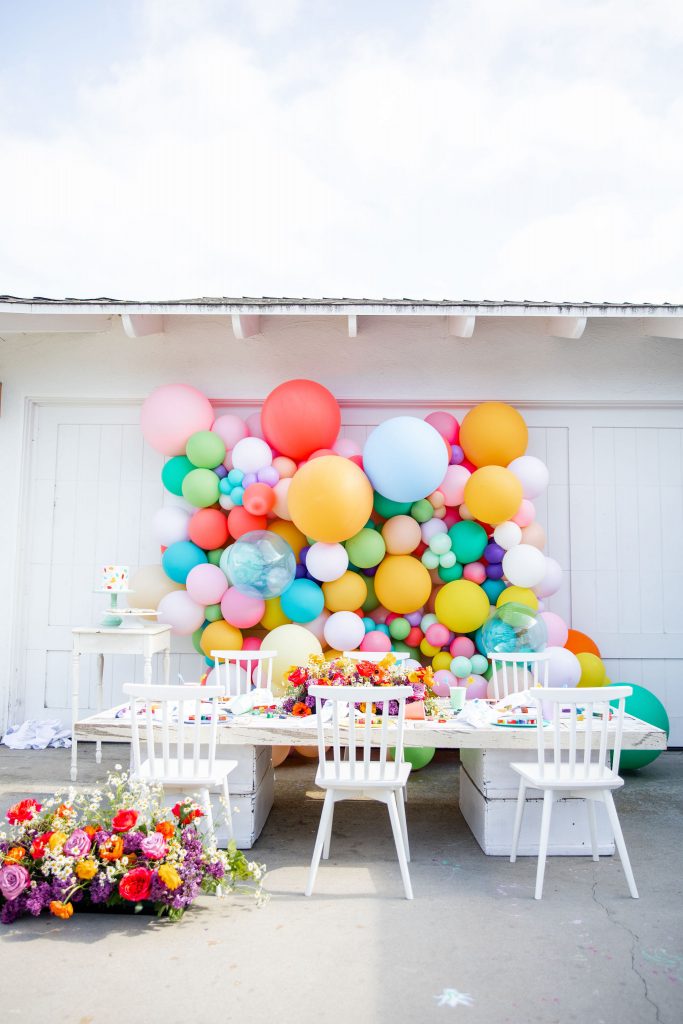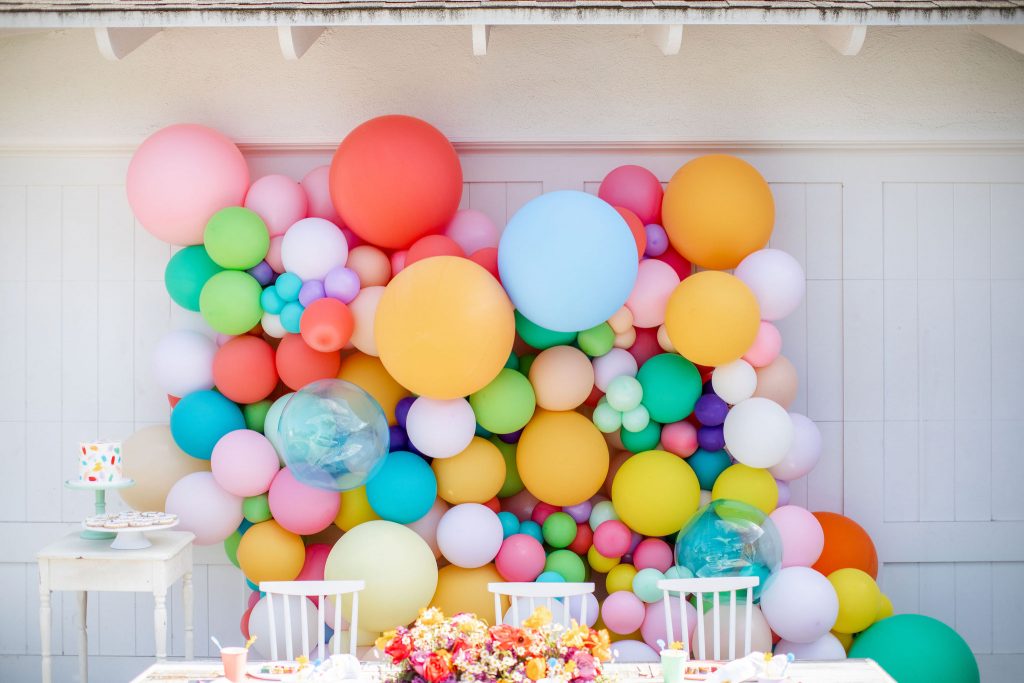 I don't know where to start! There's just so much beauty to cover! Let's start with the flowers… Sprig & Spring is responsible for this gorgeous bunch and when I asked for whimsical and colorful, boy did she deliver!! I loved using Oh Happy Day's colorful modern plates and topping them with Art 2 The Extreme personalized crayons. Not only do they make the best gifts but aren't they adorable place cards? They come wrapped in the sweetest way that I showed a little bit earlier and I think they are such a fun favor for guests to take home as well!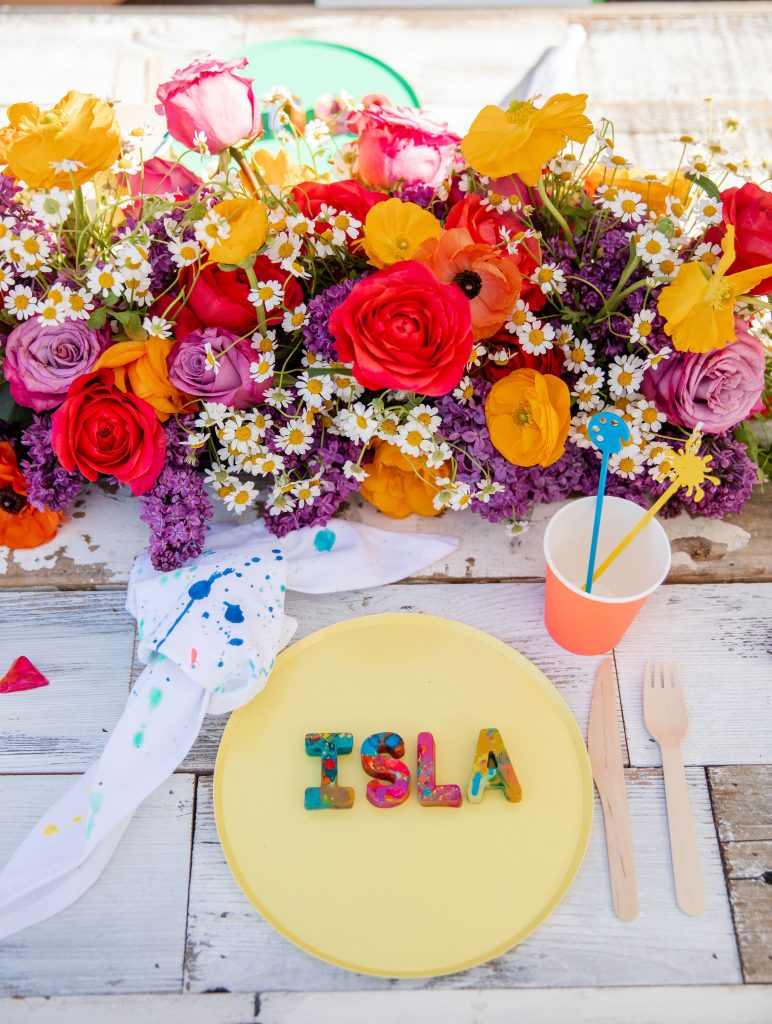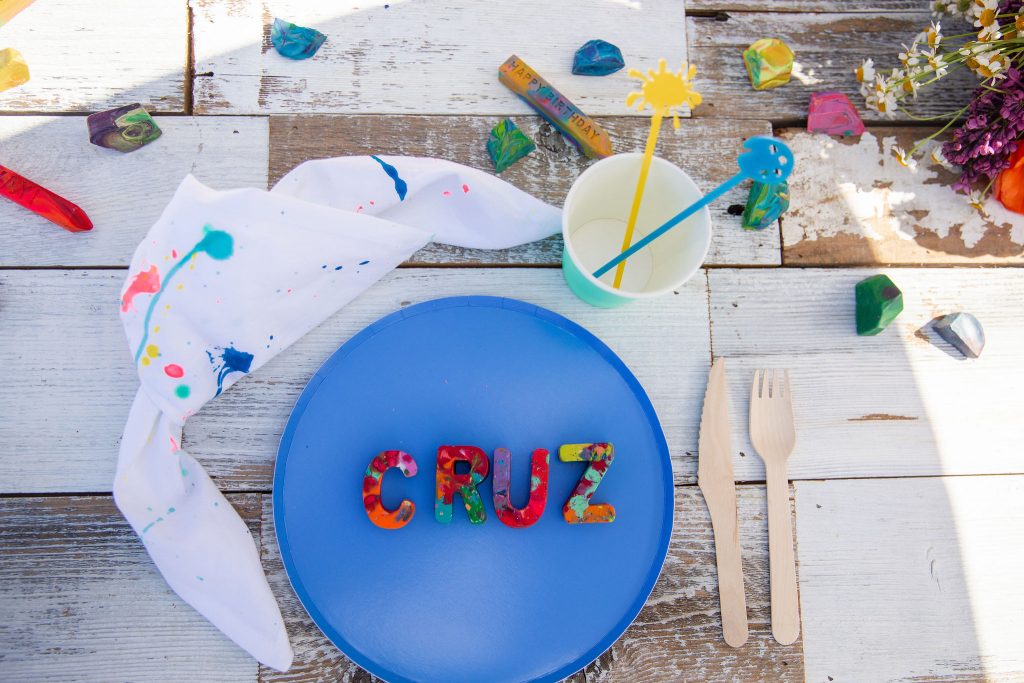 I seriously can't get enough!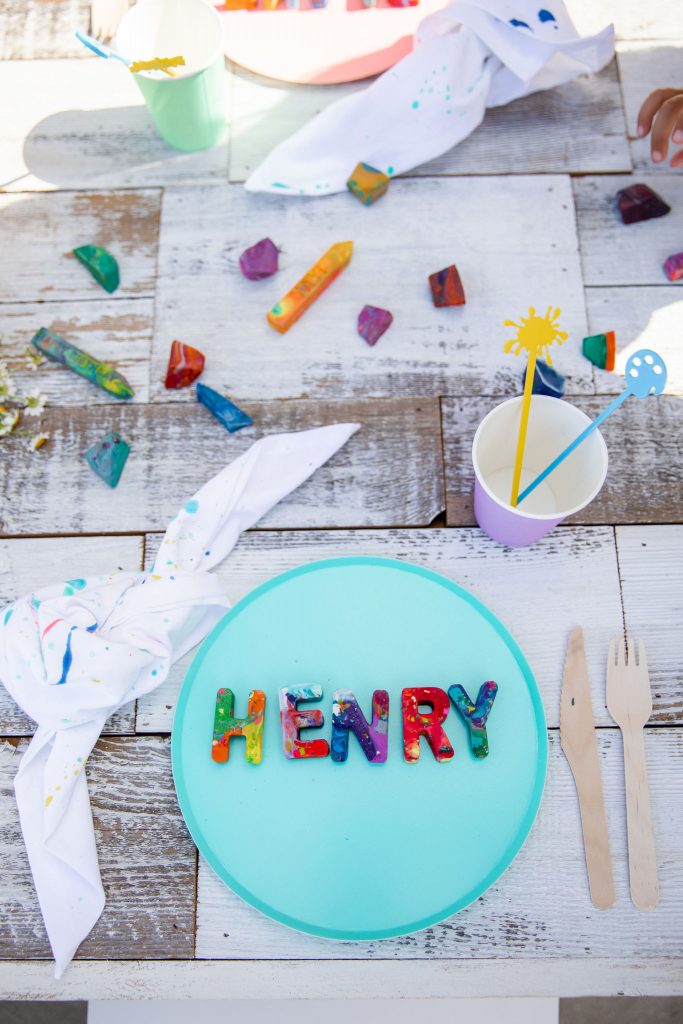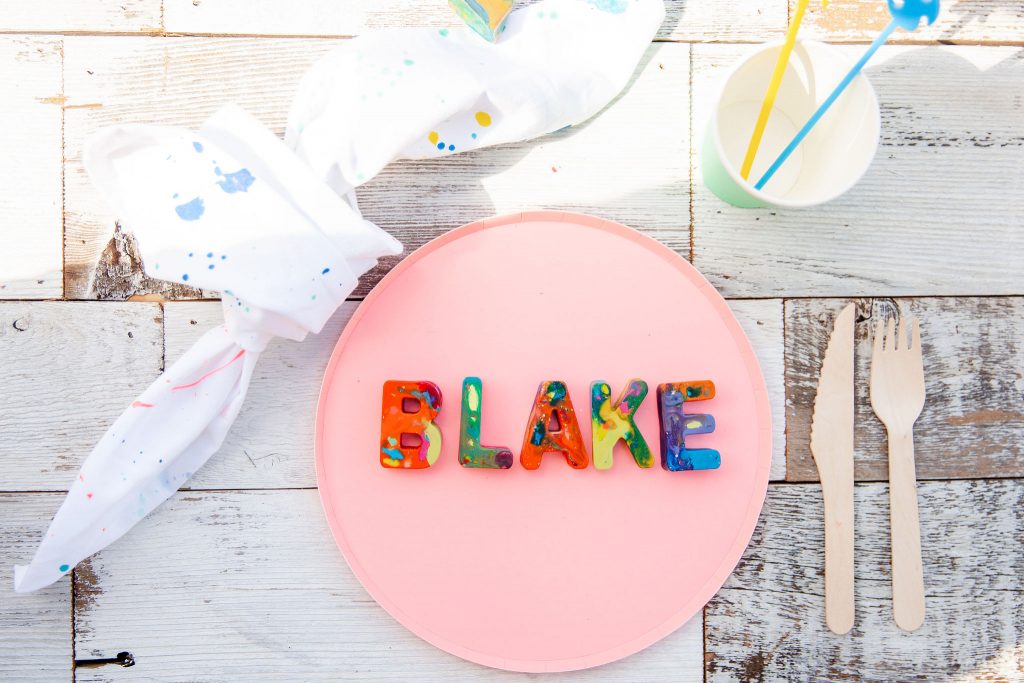 You know Poppy Jack Shop had to add in the perfect drink stirrers! It's always the little things that gets me!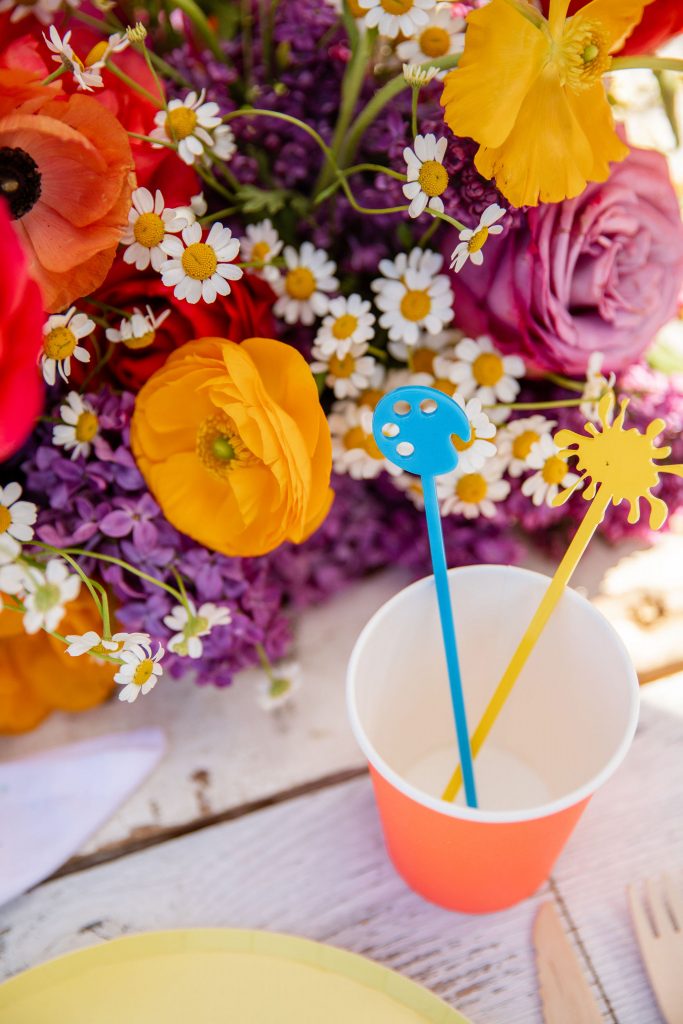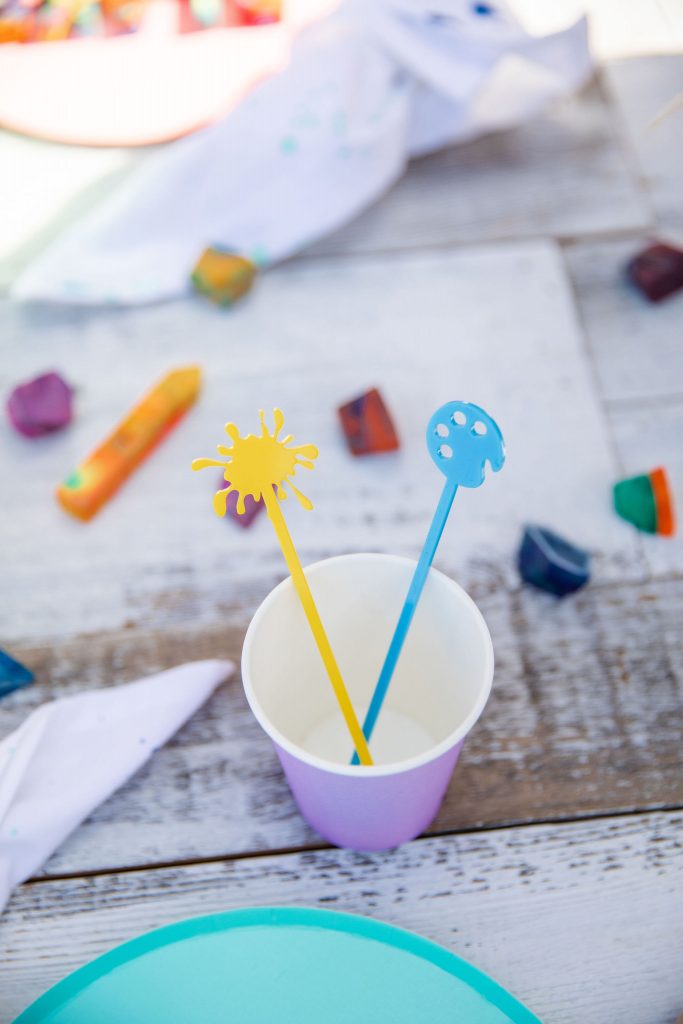 I scattered Art 2 The Extreme's rainbow rock crayons and birthday celebration crayons along the table. Kids were free to get their color on!!!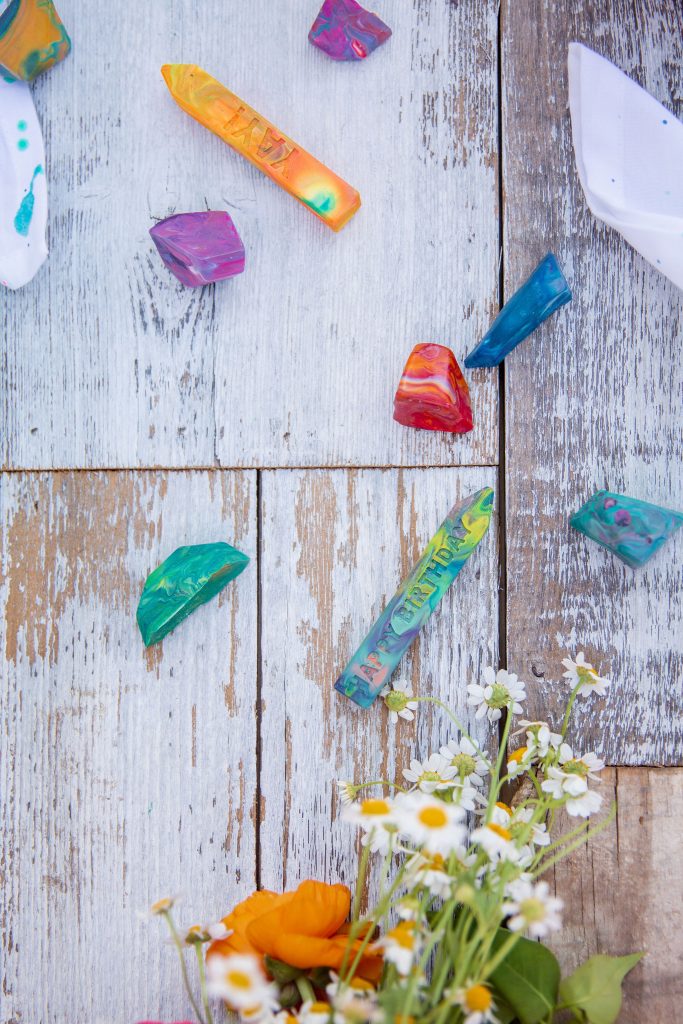 I'm just obsessed with these crazy cute balloons!!!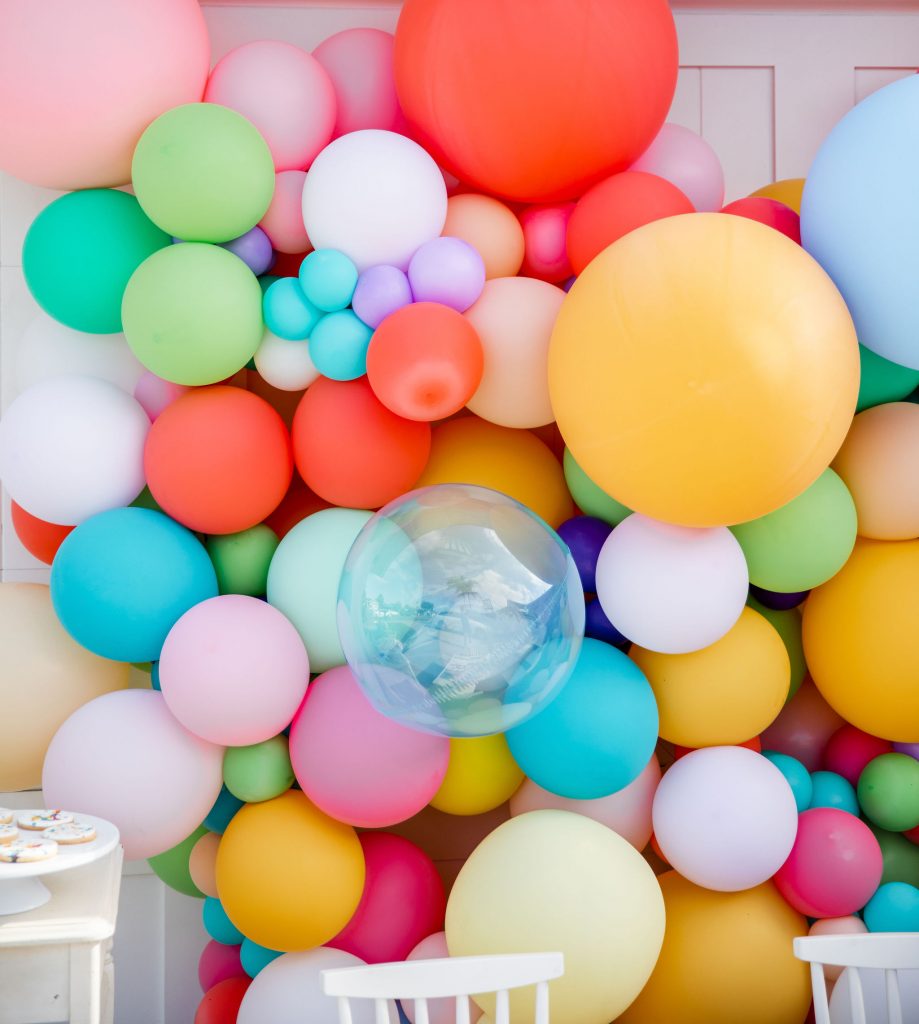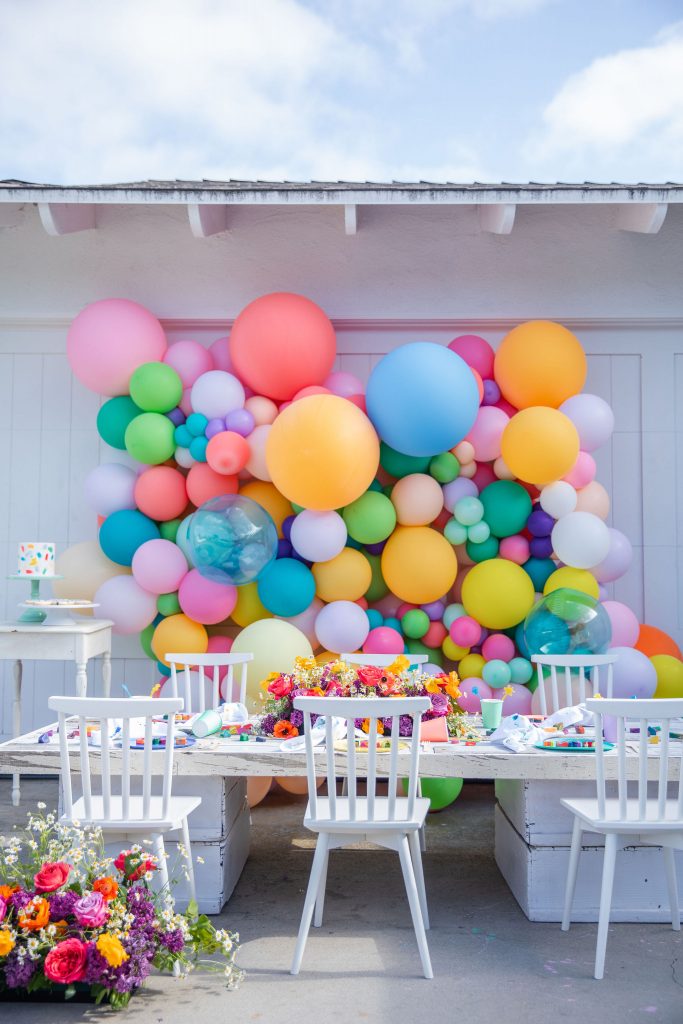 Now time to add in these crazy cute kiddos!!! As usual, our kiddos are decked out in Chaser Kids! They have such fun and bright clothes for summer, we loved each piece!!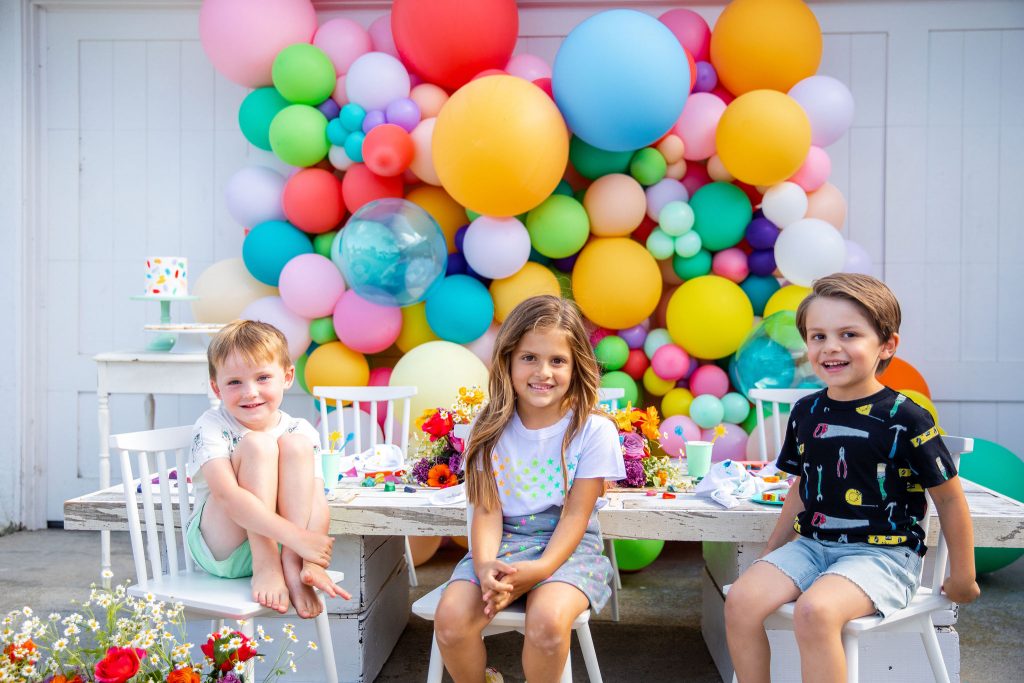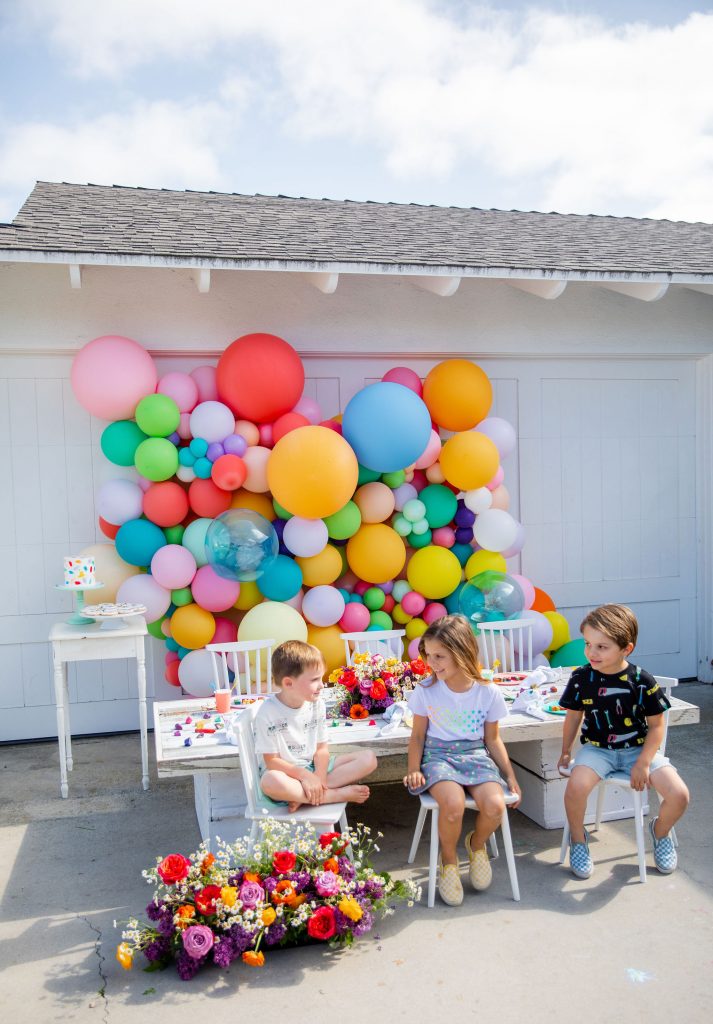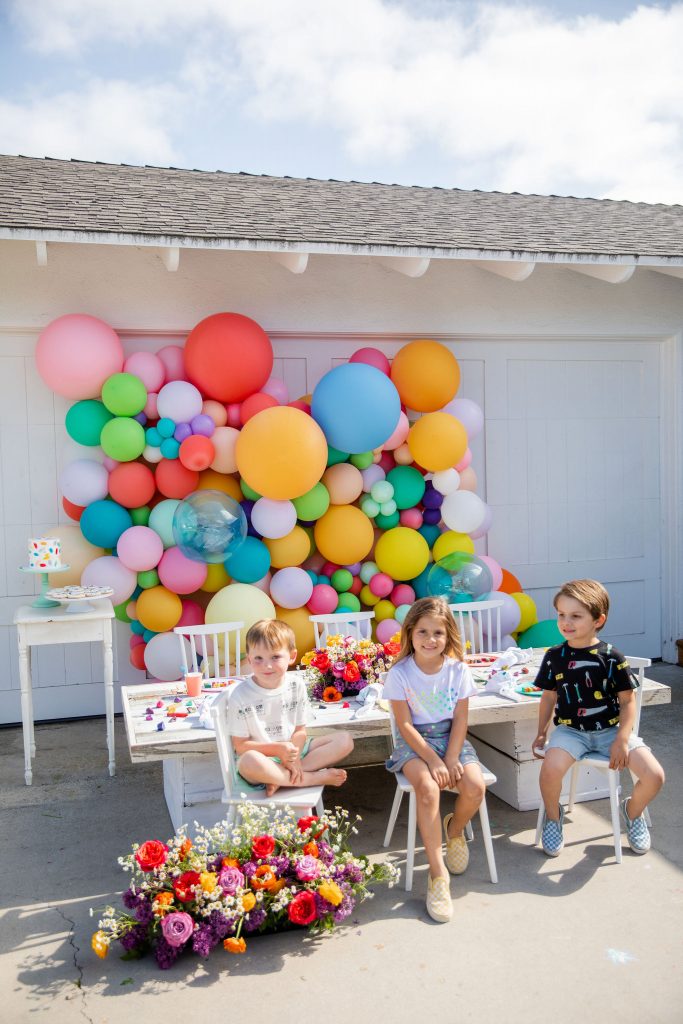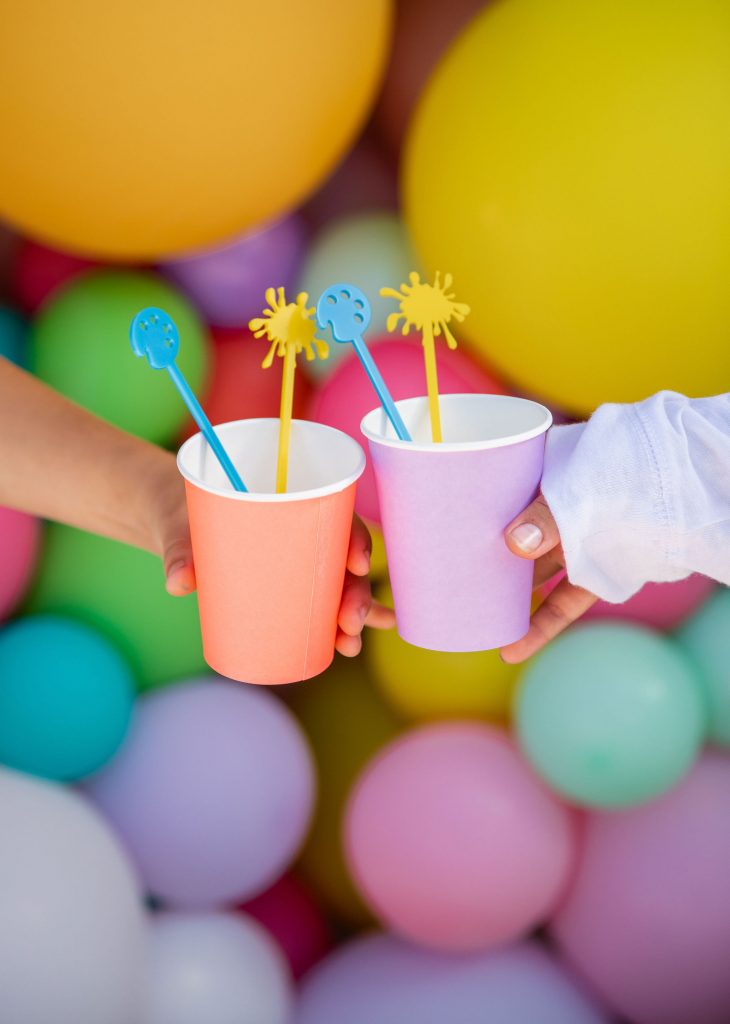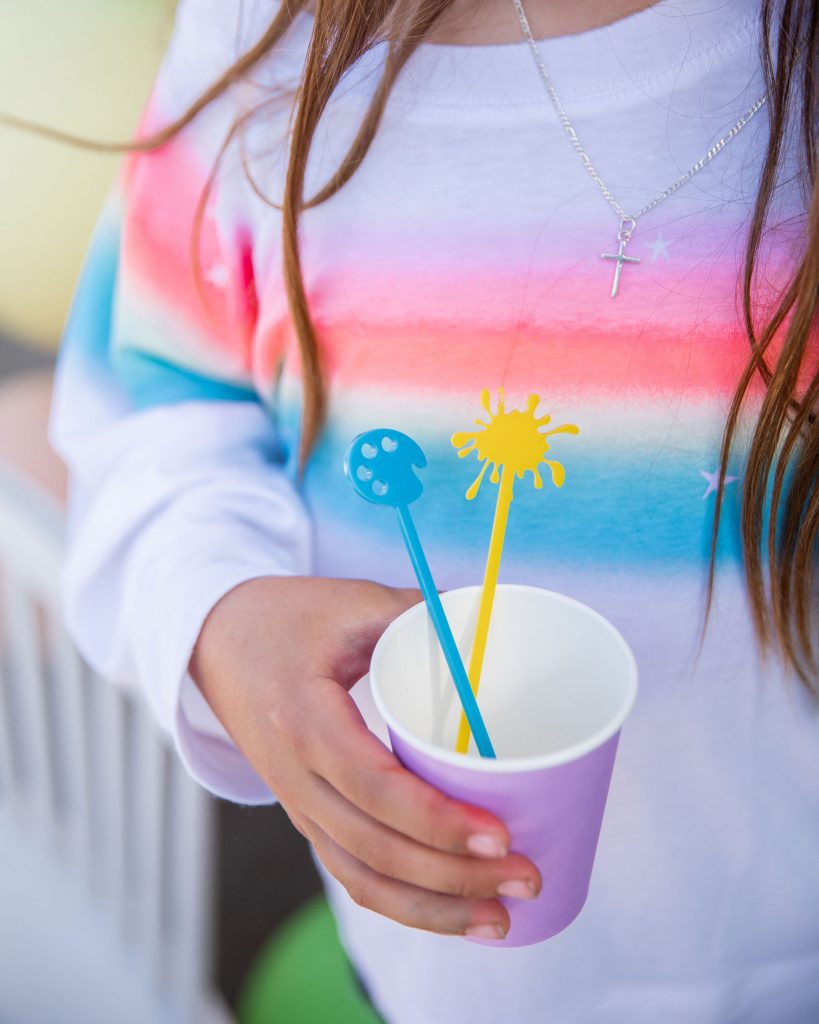 We haven't even gotten to creating but I'm still showing you our desserts!! Sweet & Saucy Shop made the most amazing splatter paint cookies and cake! They tasted as good as they looked too… I had lots of models wanting to get close to those tasty treats!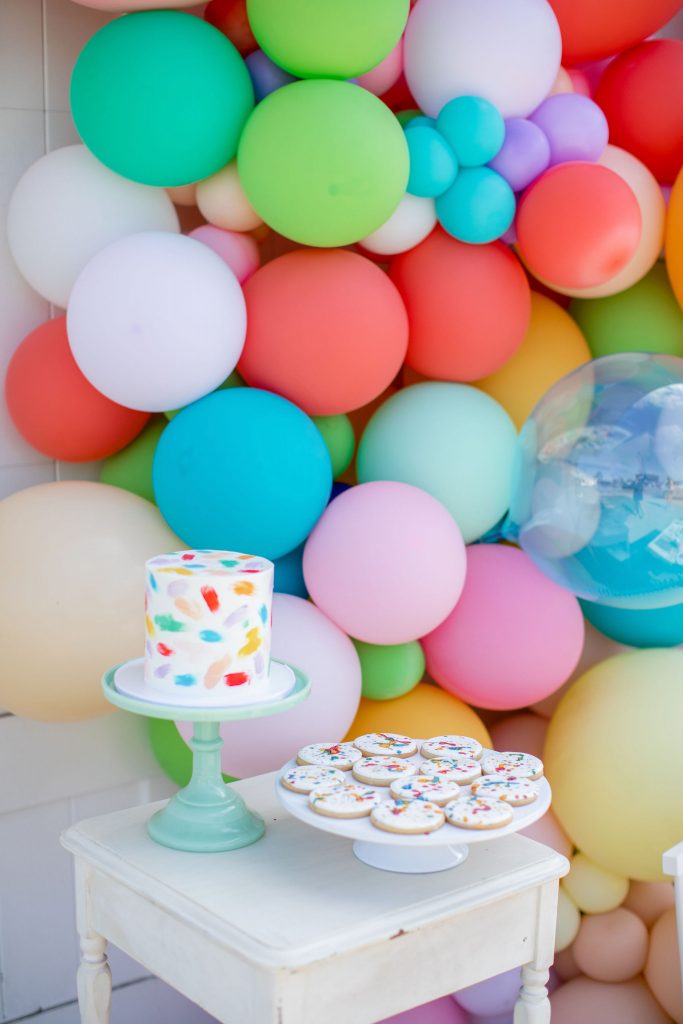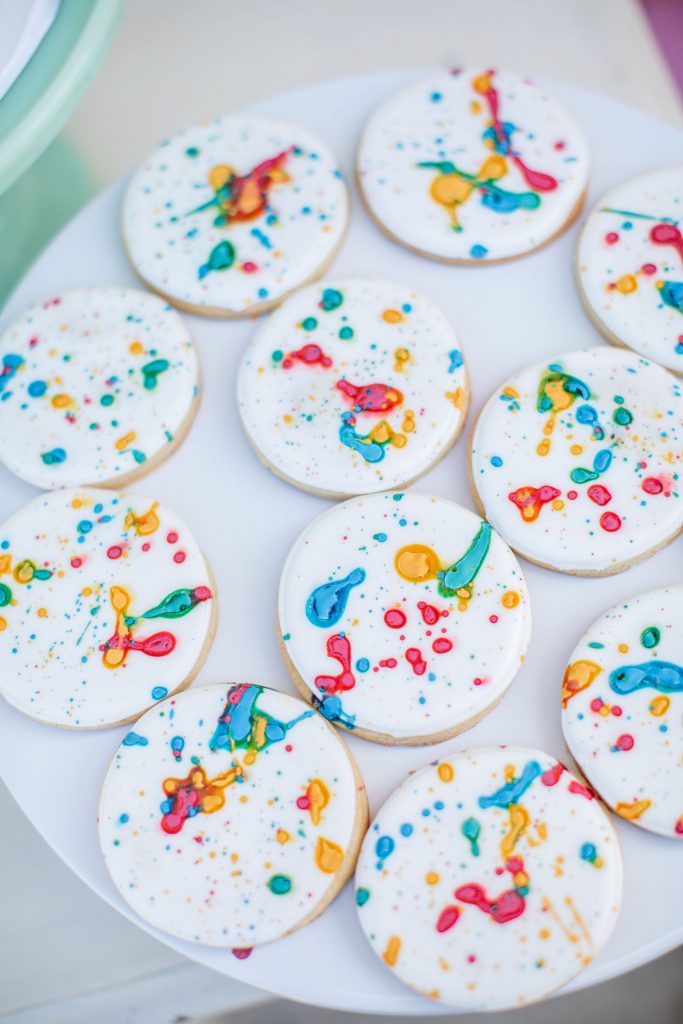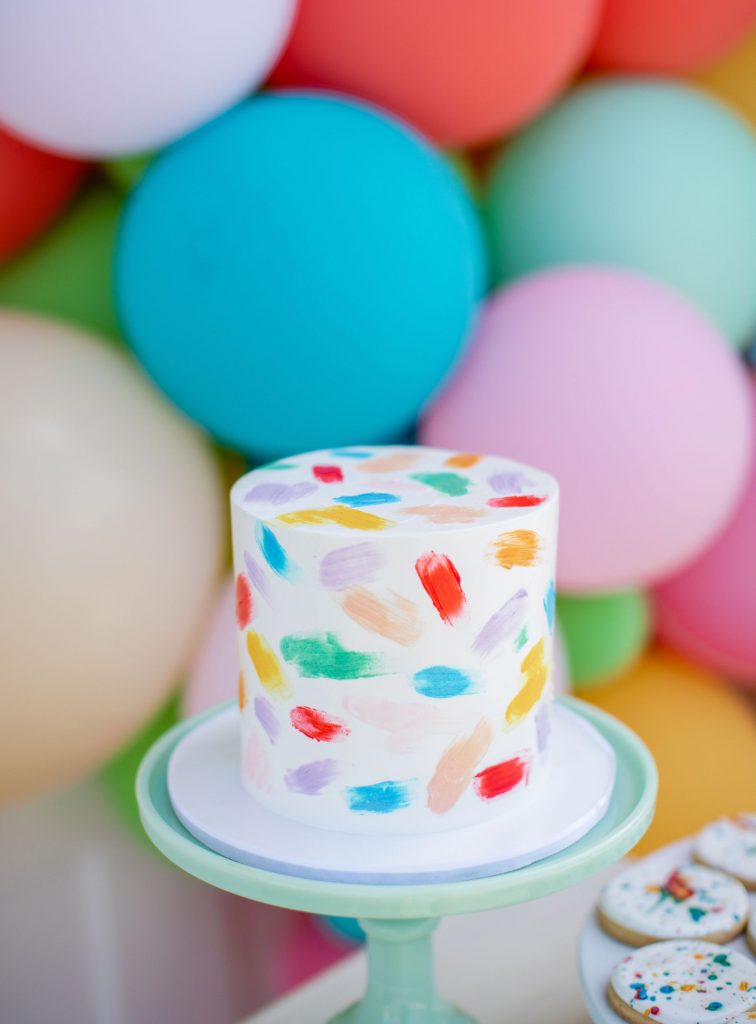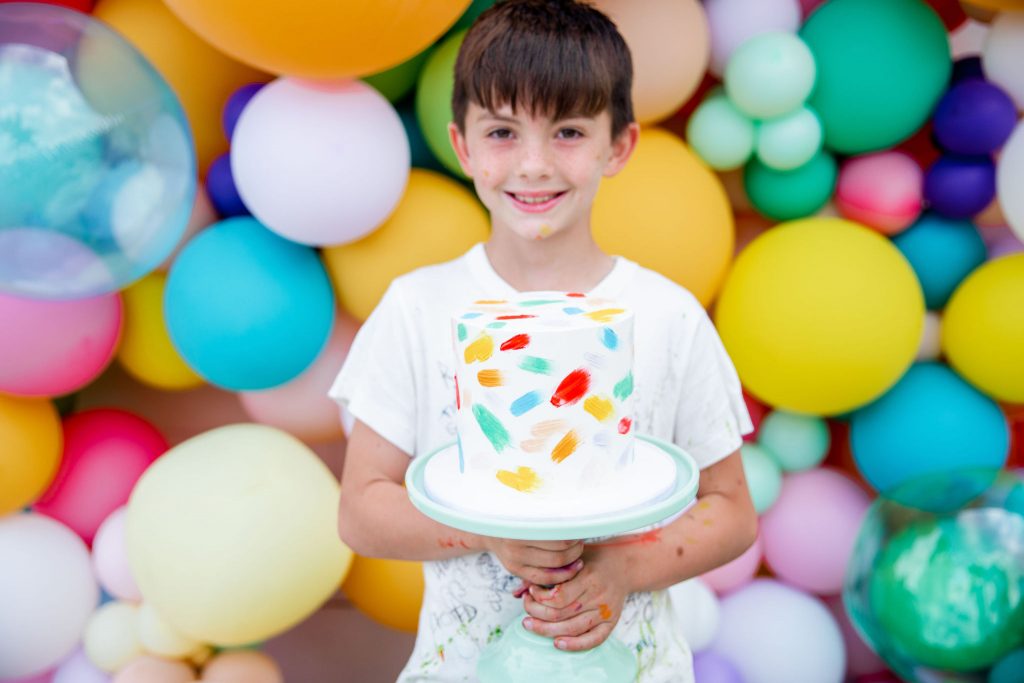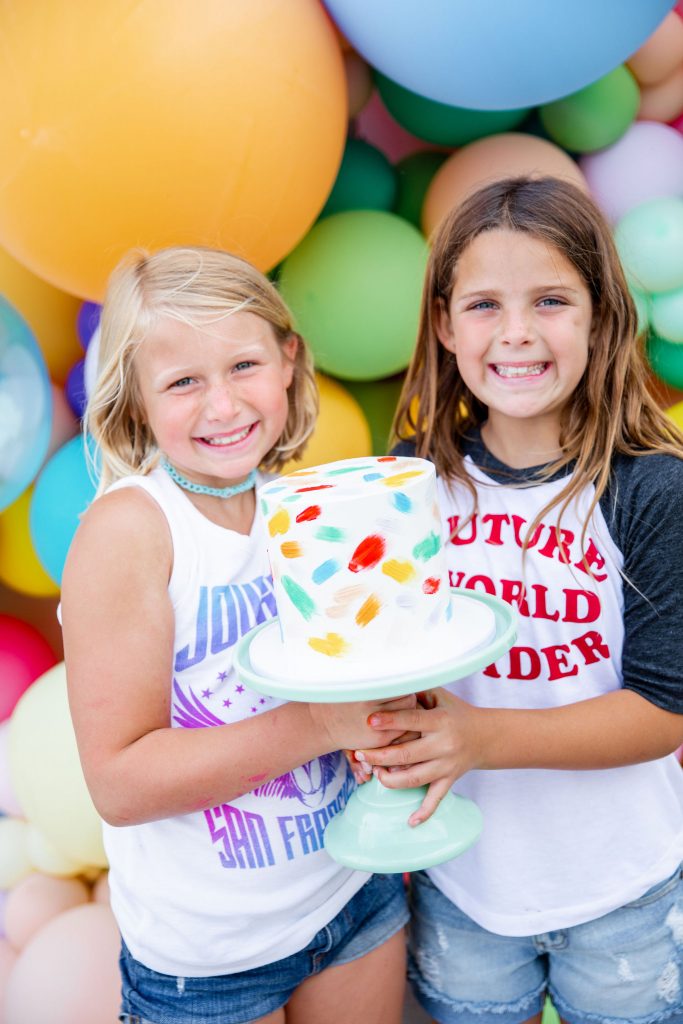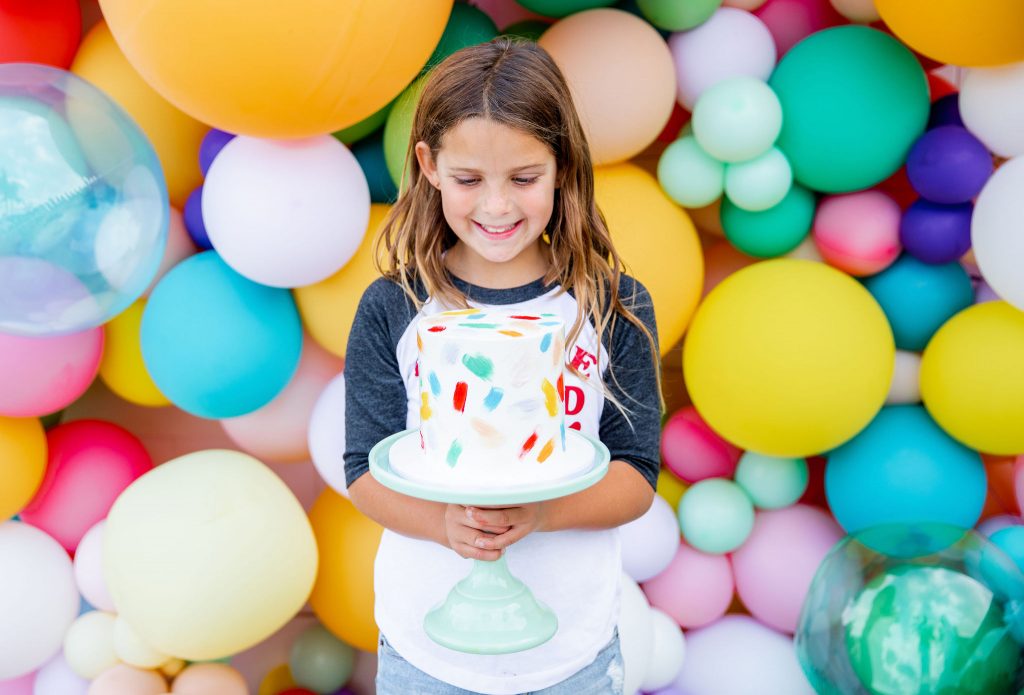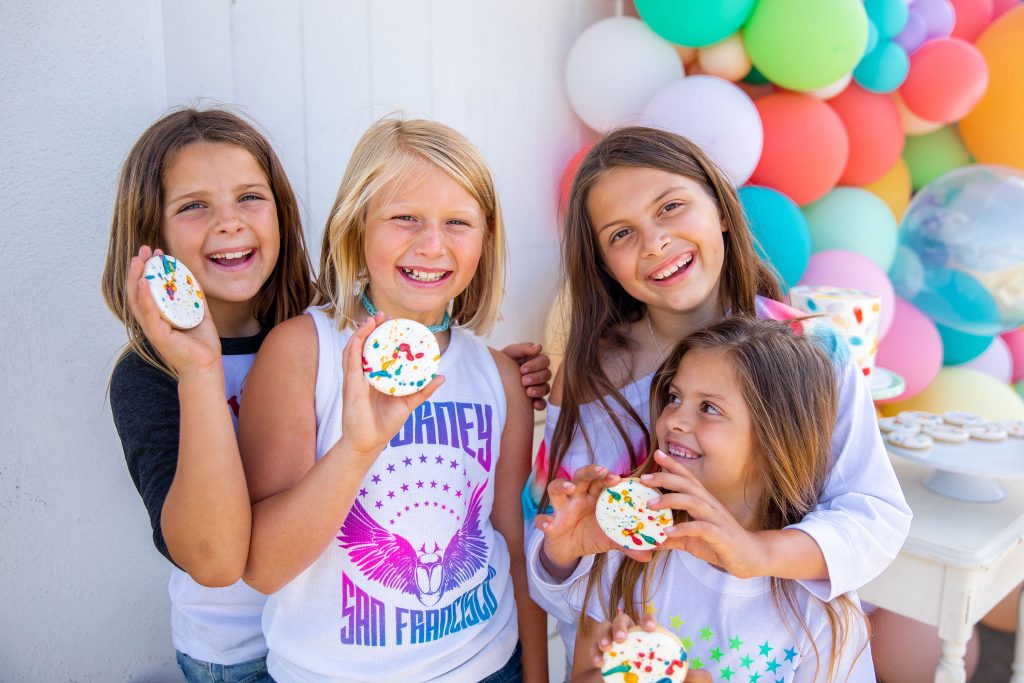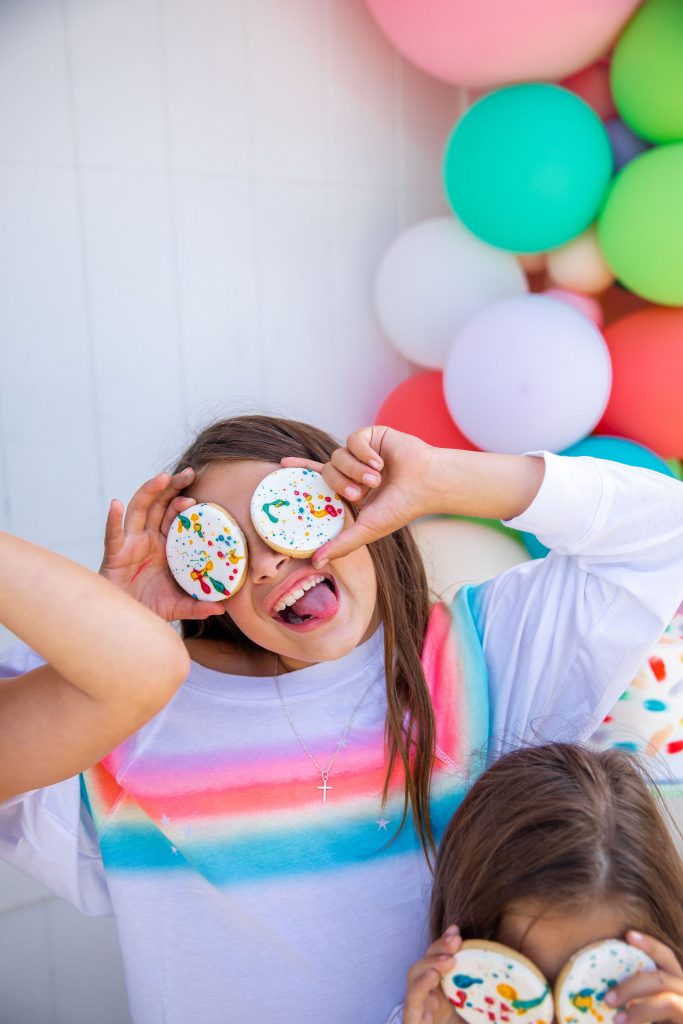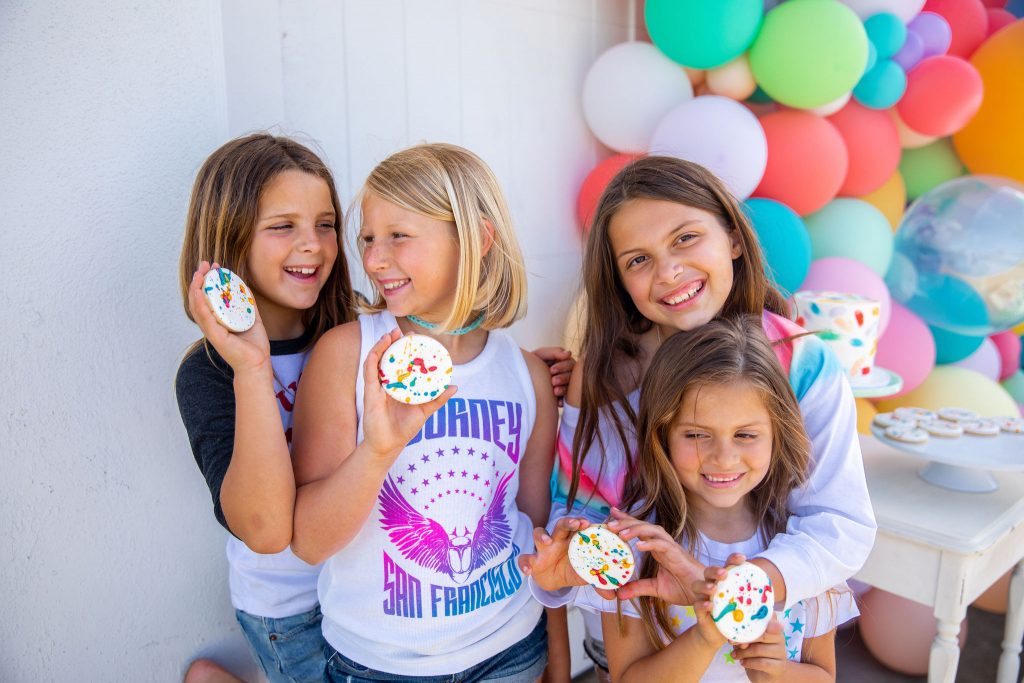 Love this set up so much!!! But guess what?! There's lots more!!!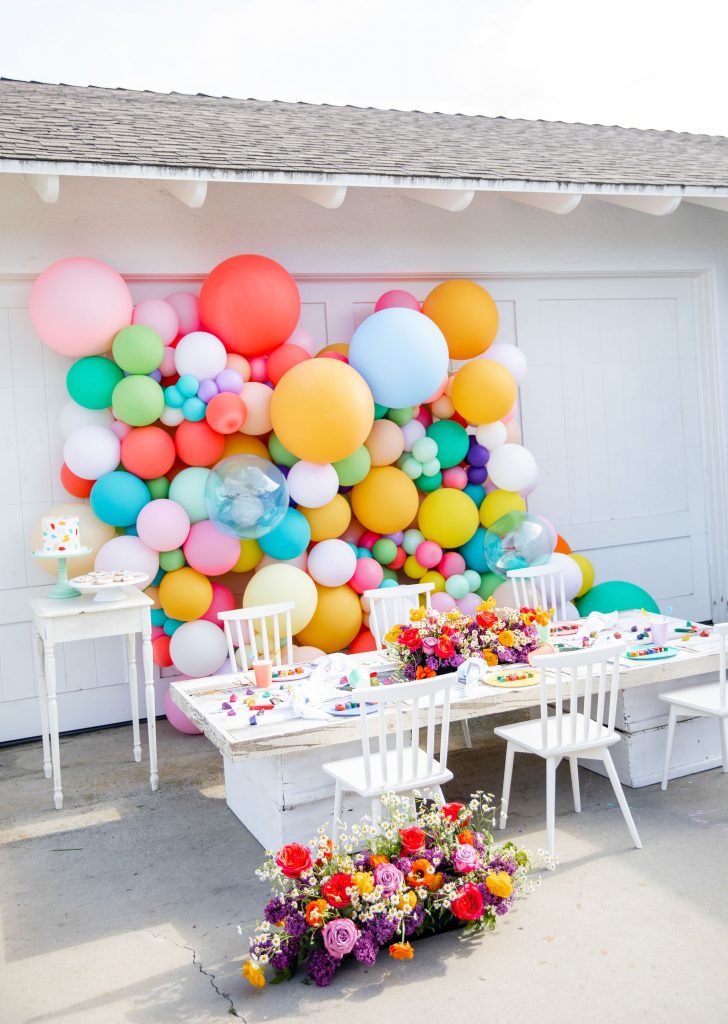 Here's a DIY you and the kids will love!!! A DIY twister was in order with the Tulip Fabric Paint. It's such a fun activity you can roll out for outdoor or indoor play days. My friend Jesi created this one and I love that she went with her own take on the classic game. Splatters over circles, LOVE IT!!! We simply bought a drop cloth on Amazon and went to town. Poppy Jack Shop made the spin board and we let the kids go nuts!
Side note, yes you do see one random yellow and one random purple splatter. This is because, in Jesi's own words, "let's really tire those little shits out and make them work even harder". And I gave a resounding "YES!"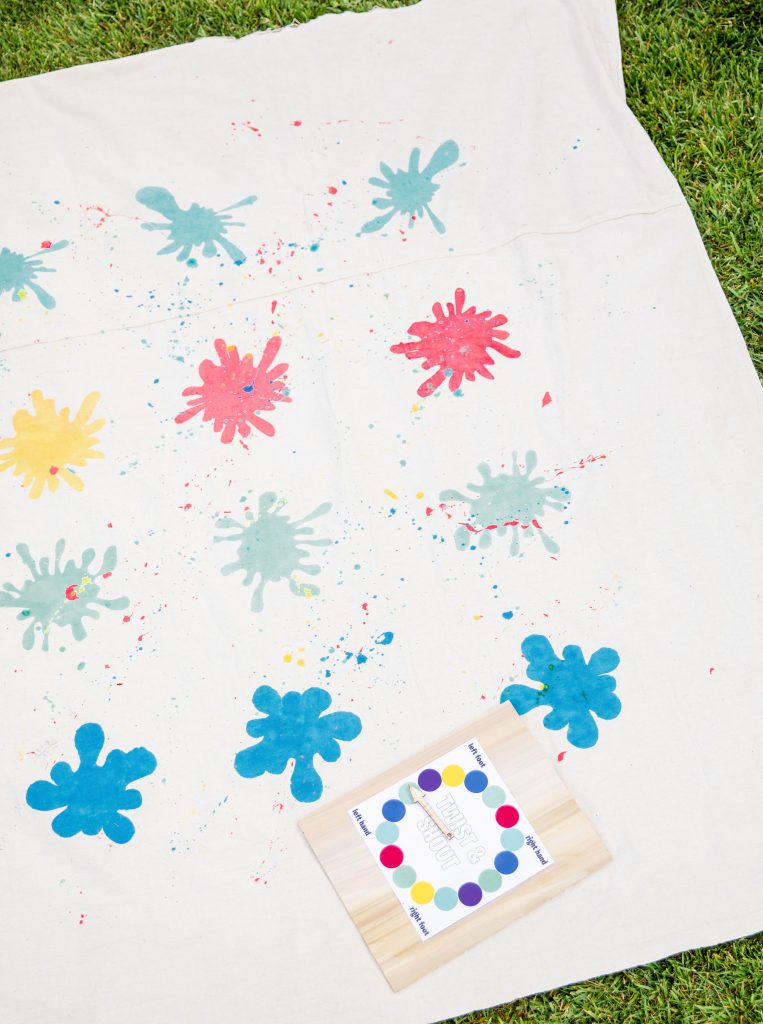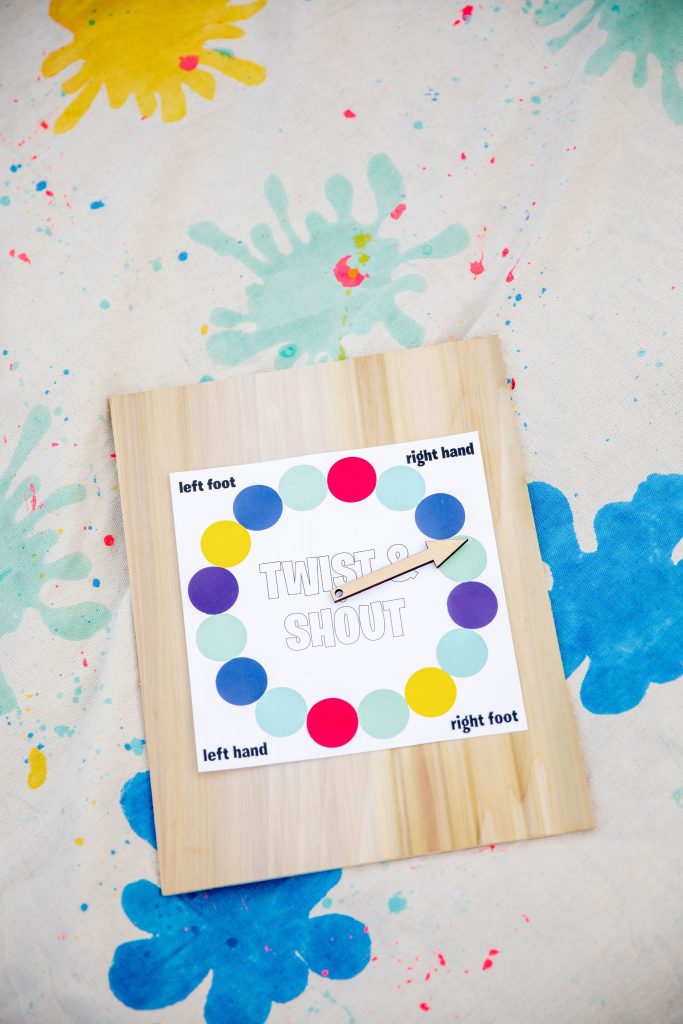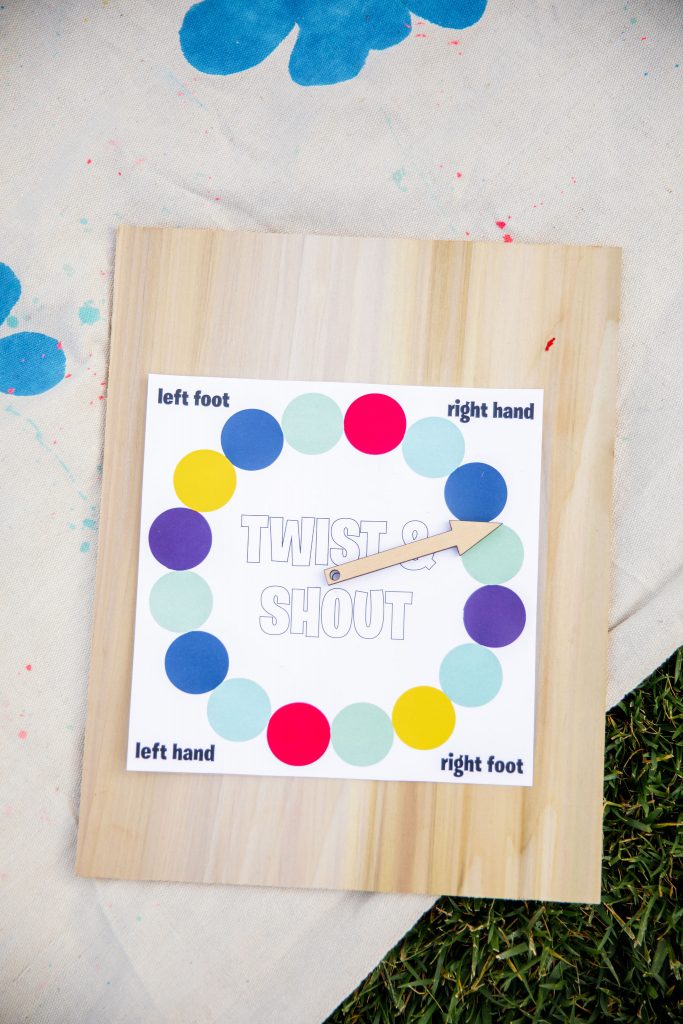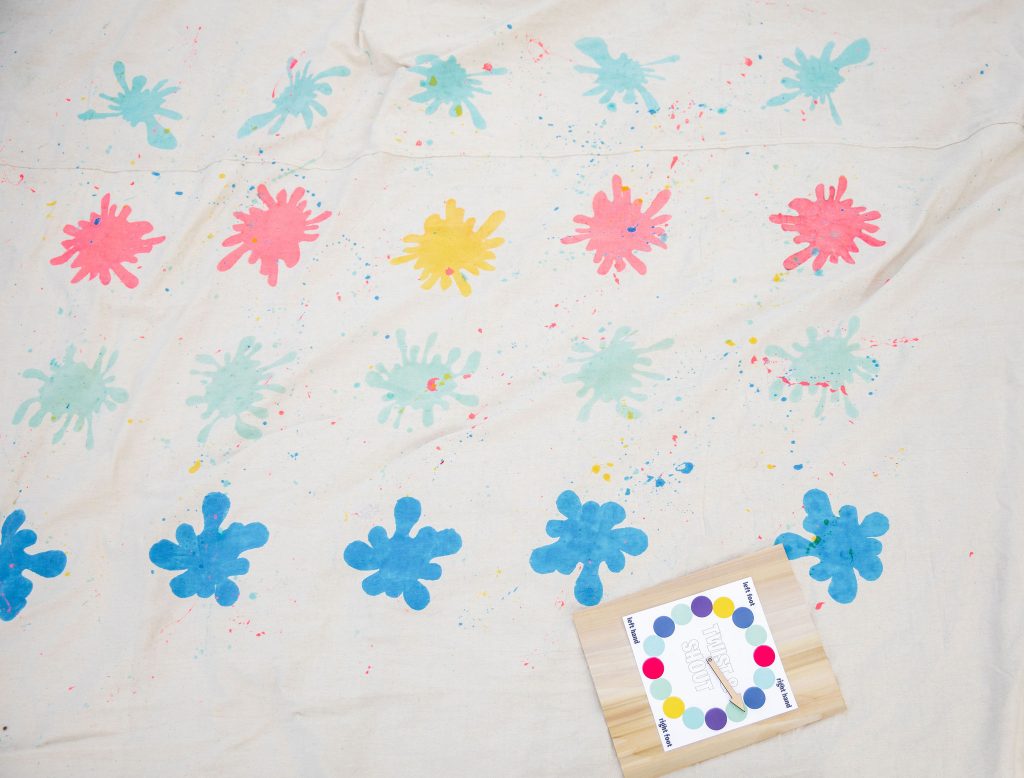 Making them work for it!!! Haha!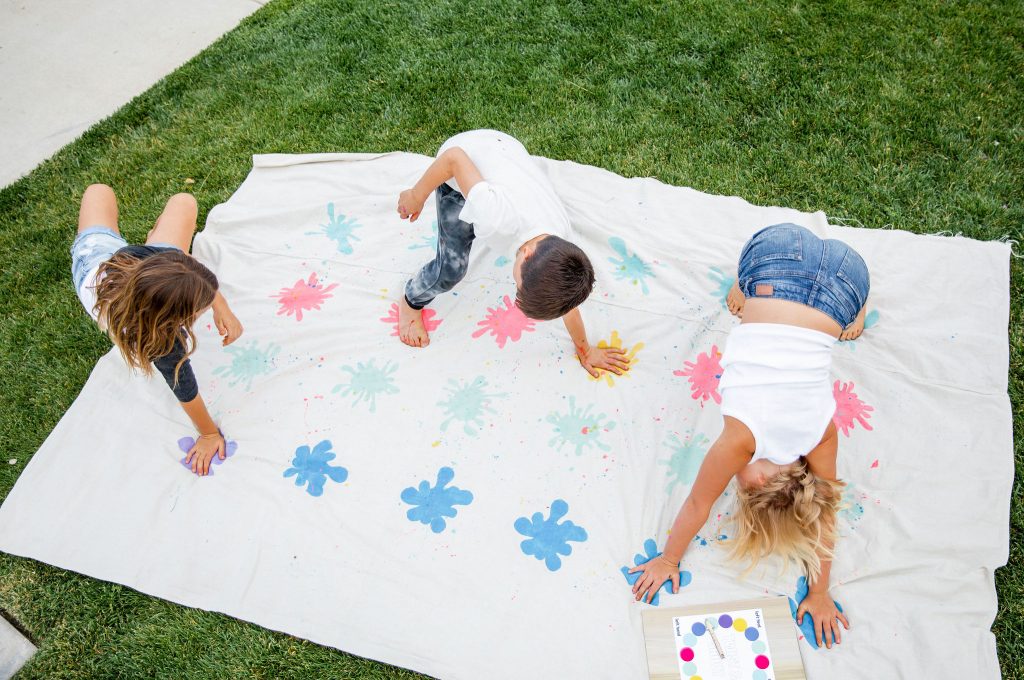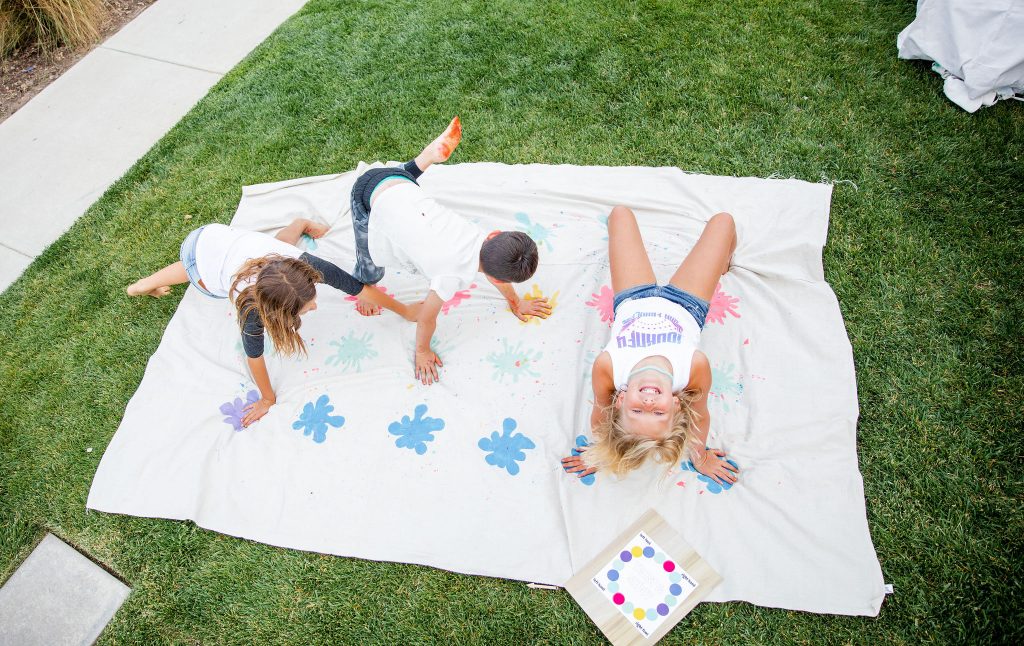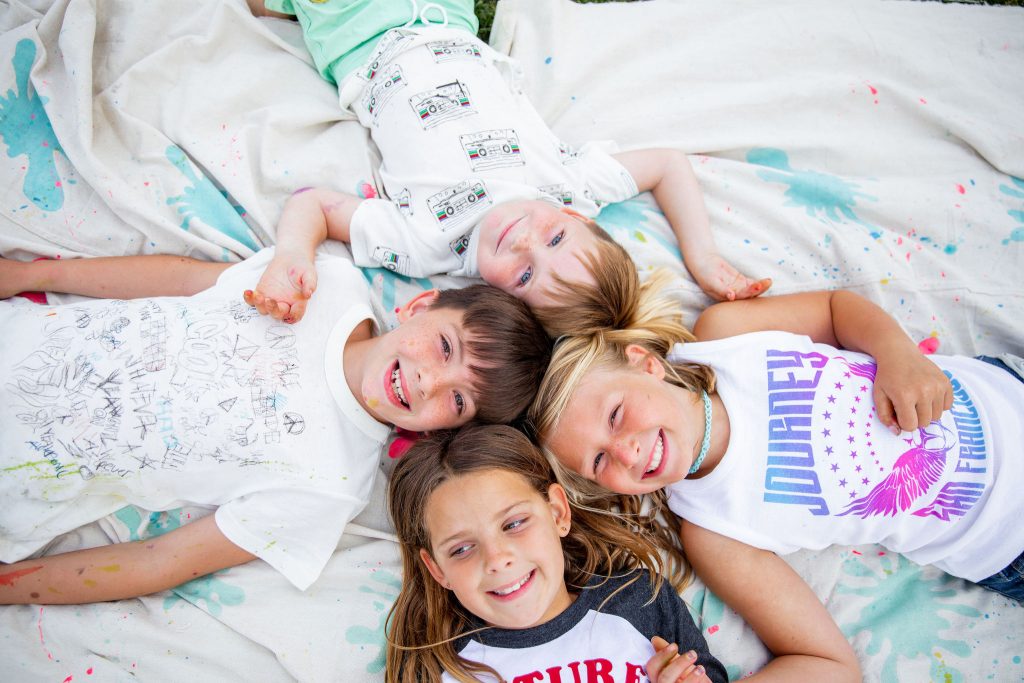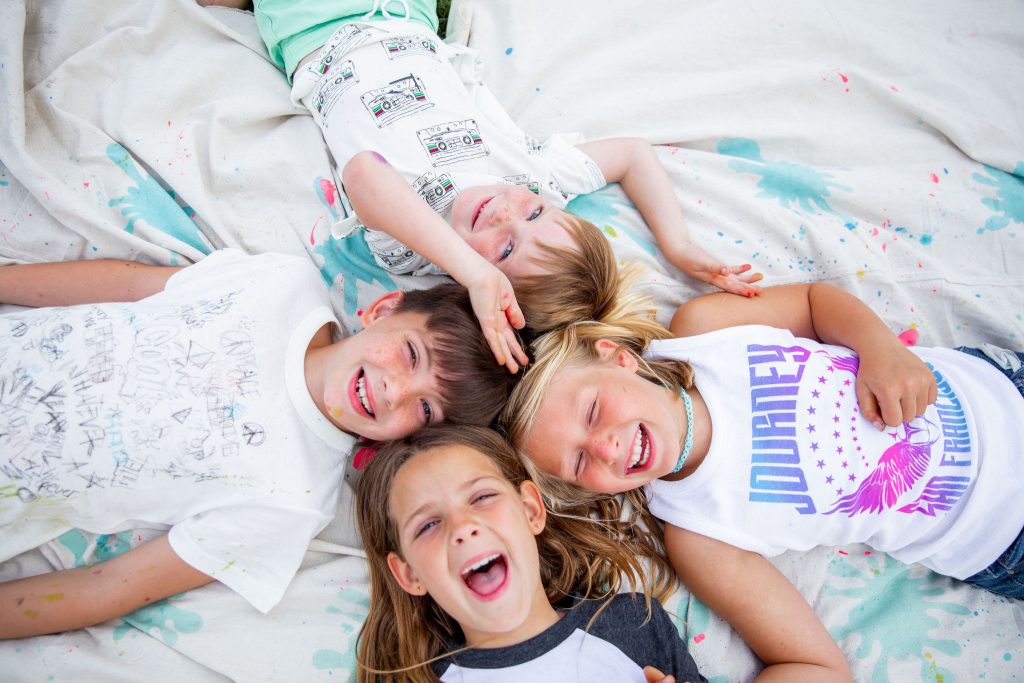 So when I was talking about preschool earlier I should have mentioned my magical preschool for both boys was Camp Lila! This gorgeous gal below is the owner!! Miss Katie has been in my kiddo's lives for the past 5 years and I wouldn't have it any other way. She creates a loving environment encouraging kids to grow through kindness and art. Cruz is still at Camp Lila and Court has graduated, but we still have her come to do art classes for my neighborhood as well. You may have seen her at quite a few Beijos parties as we love to share her!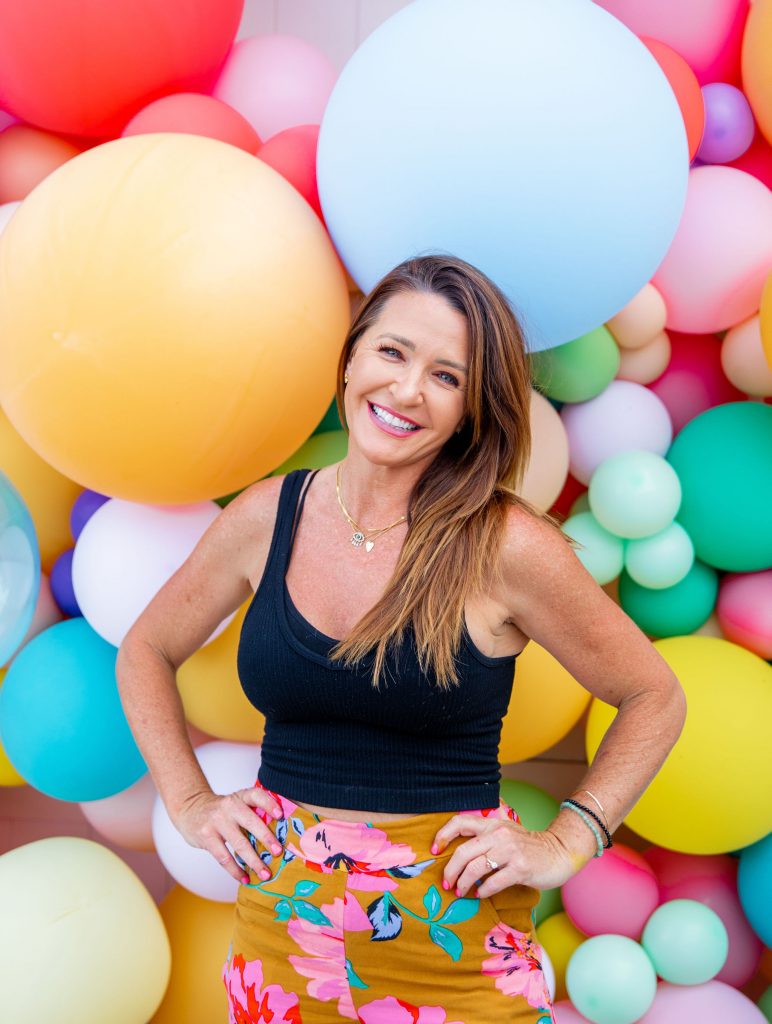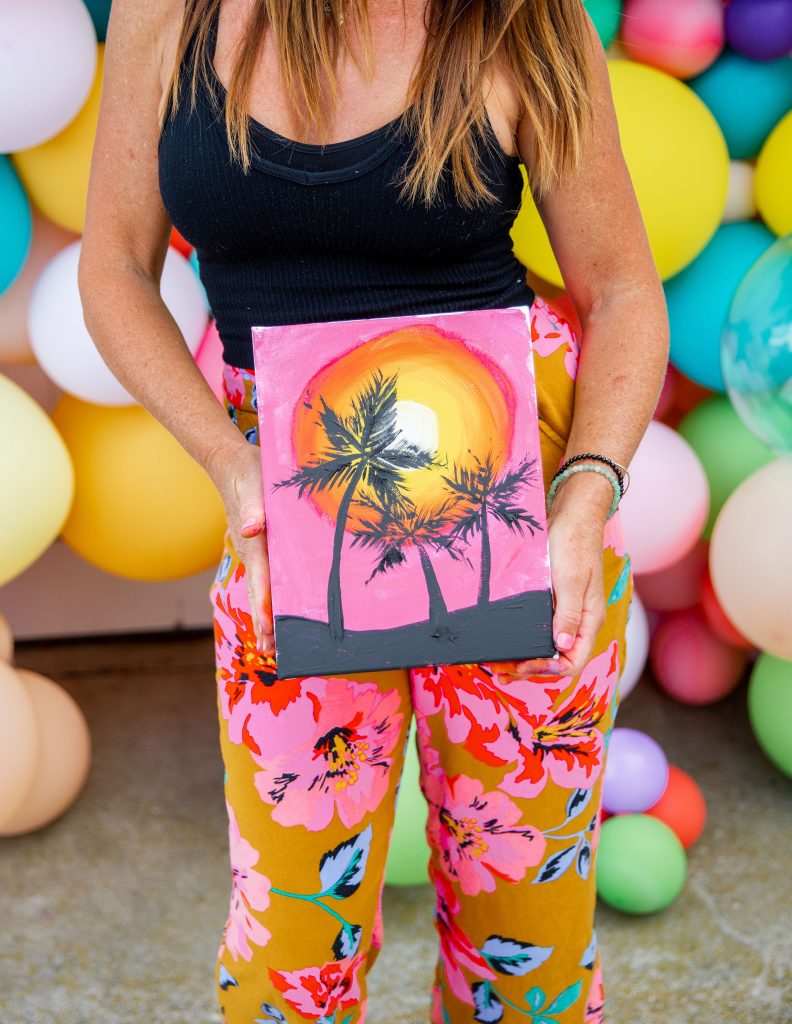 Katie came by to lead the kiddos in a painting! I would always be so excited to see the different artwork my boys would bring home from school, most is up on their bedroom walls now!
When we hire her for parties it's usually a painting and another type of activity or craft. She is so good at keeping the littles preoccupied and busy which is just one of the reasons why we love her. At parties kids gravitate to her, it's funny how even though there will be bounce houses, treats, ball pits, or what not – she is still the highlight! Kids love doing something active with their mind and being creative and parents love to see it.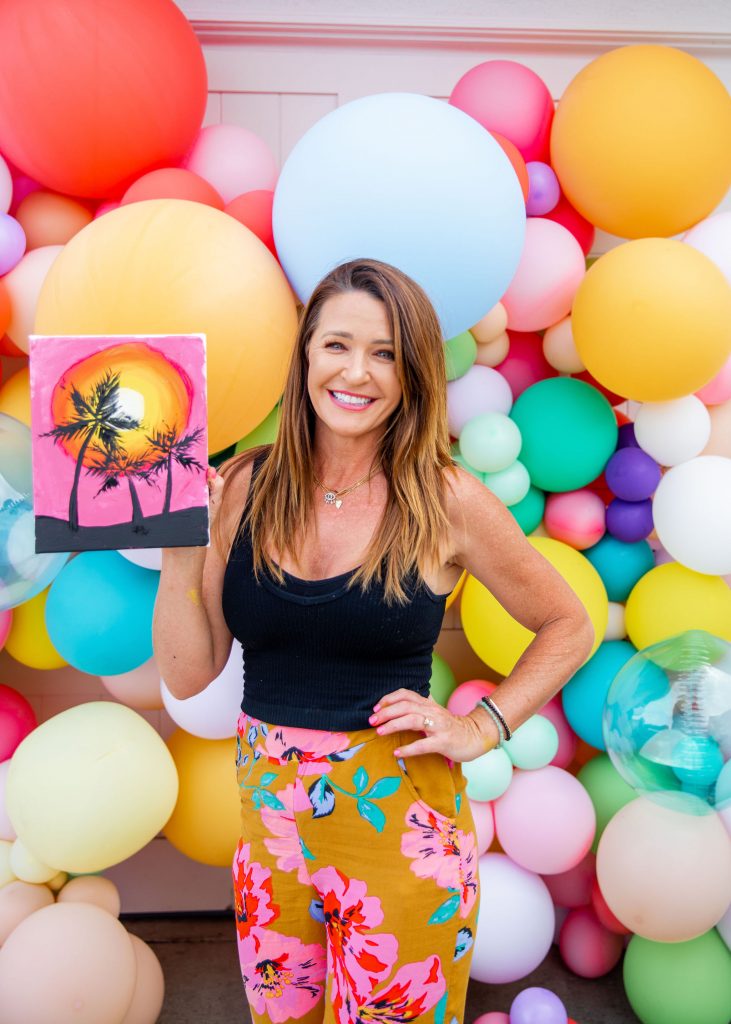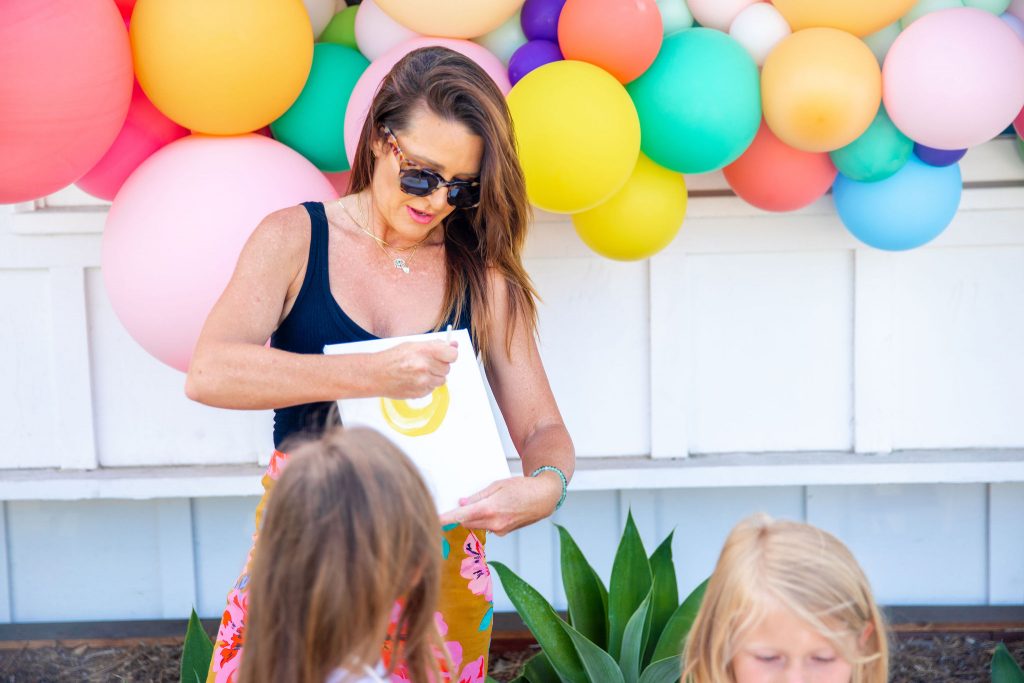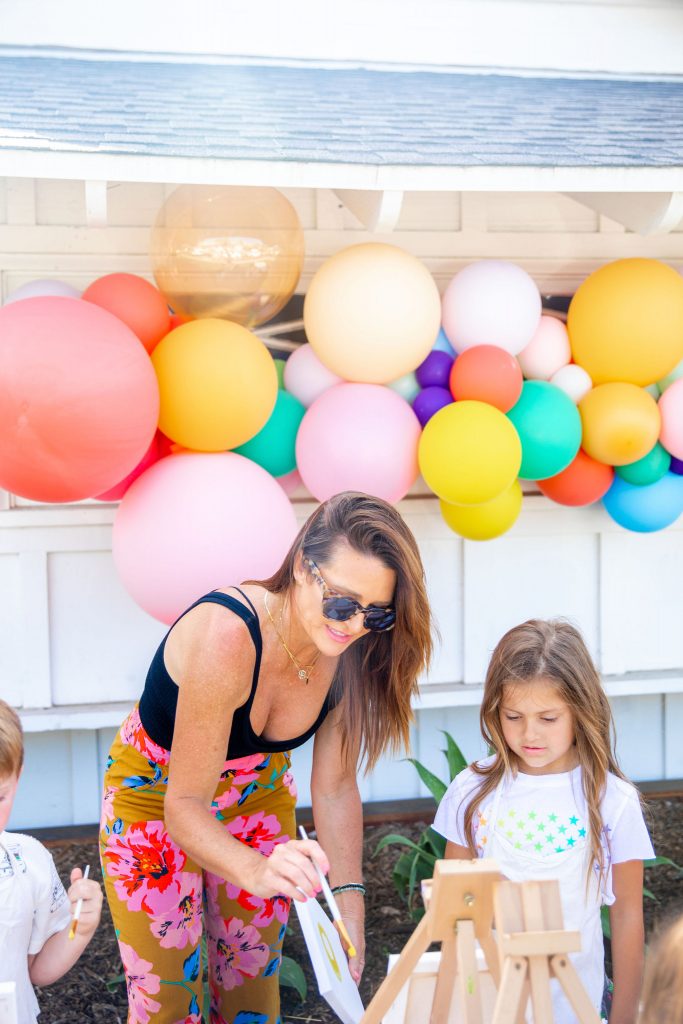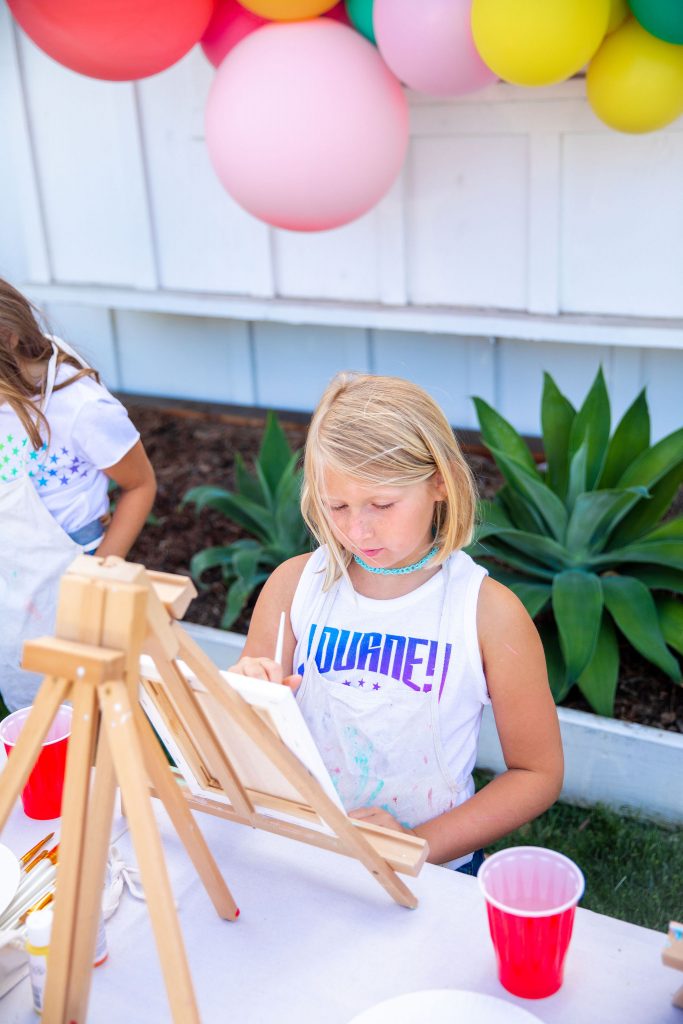 I love seeing all the pride the kids take in their work! Look at them go!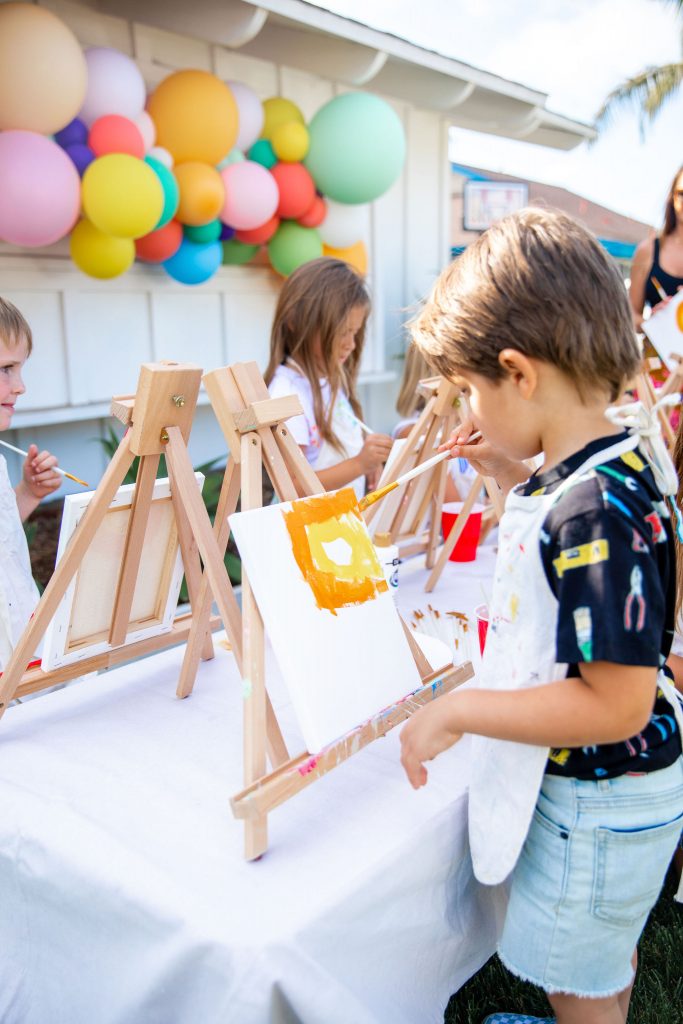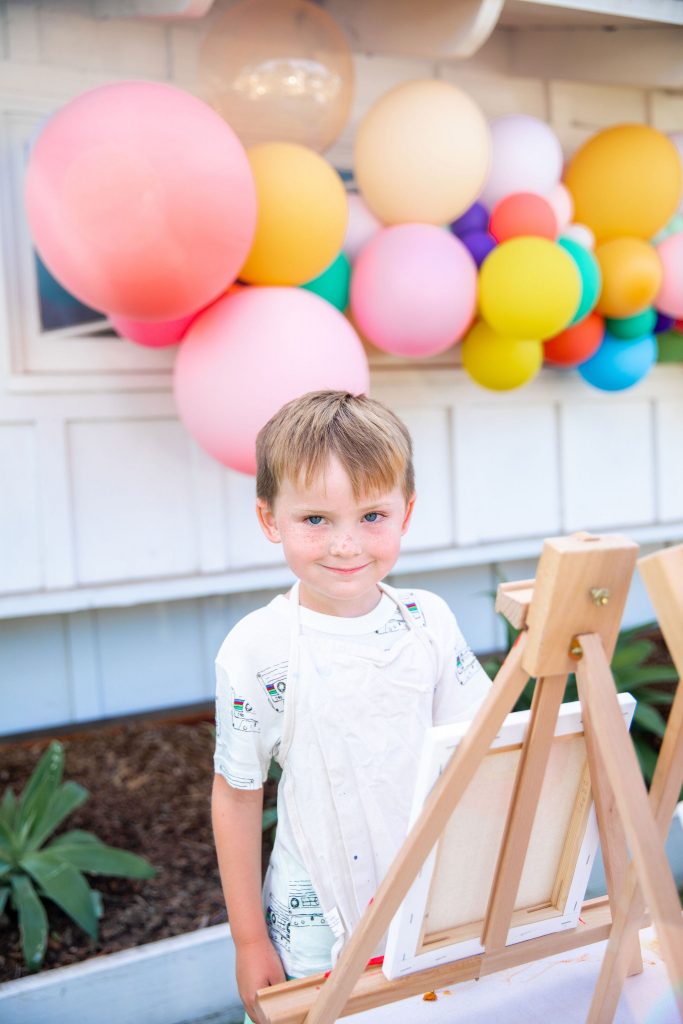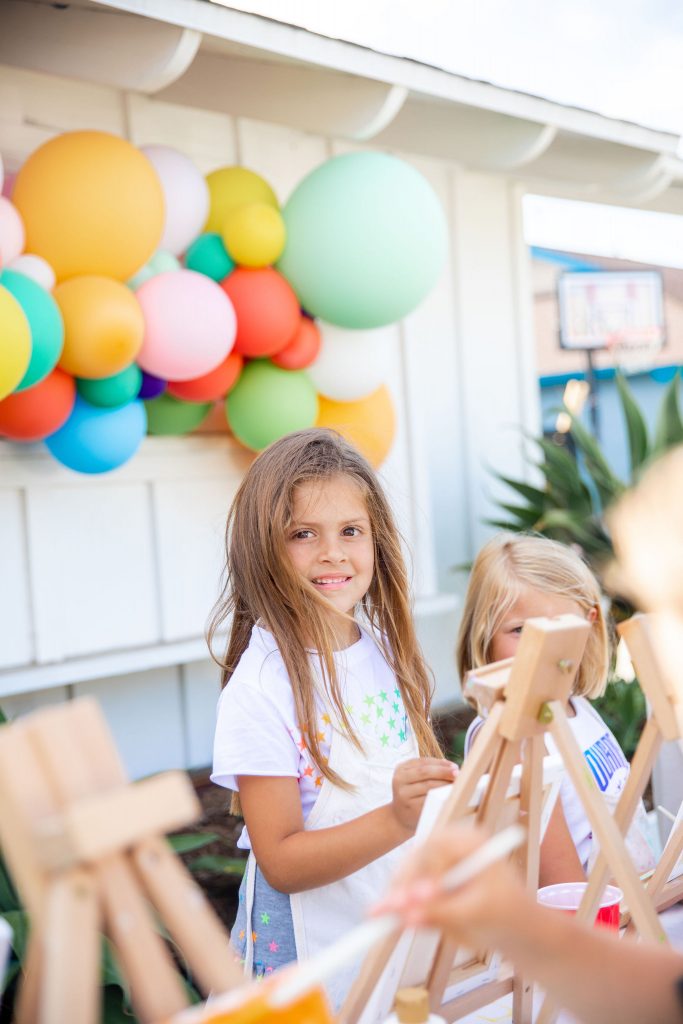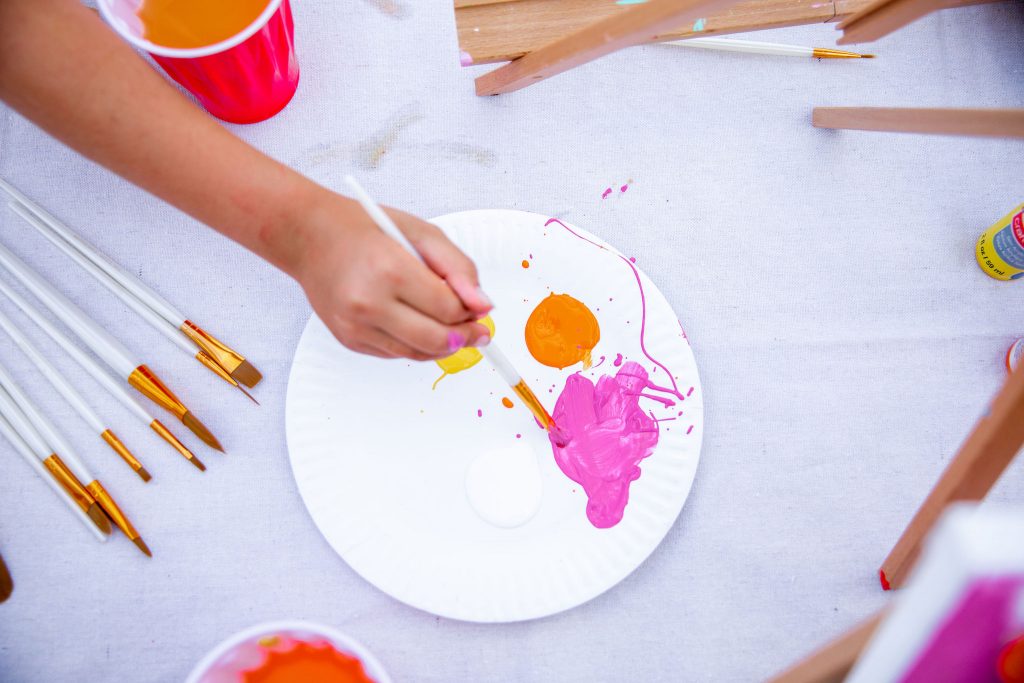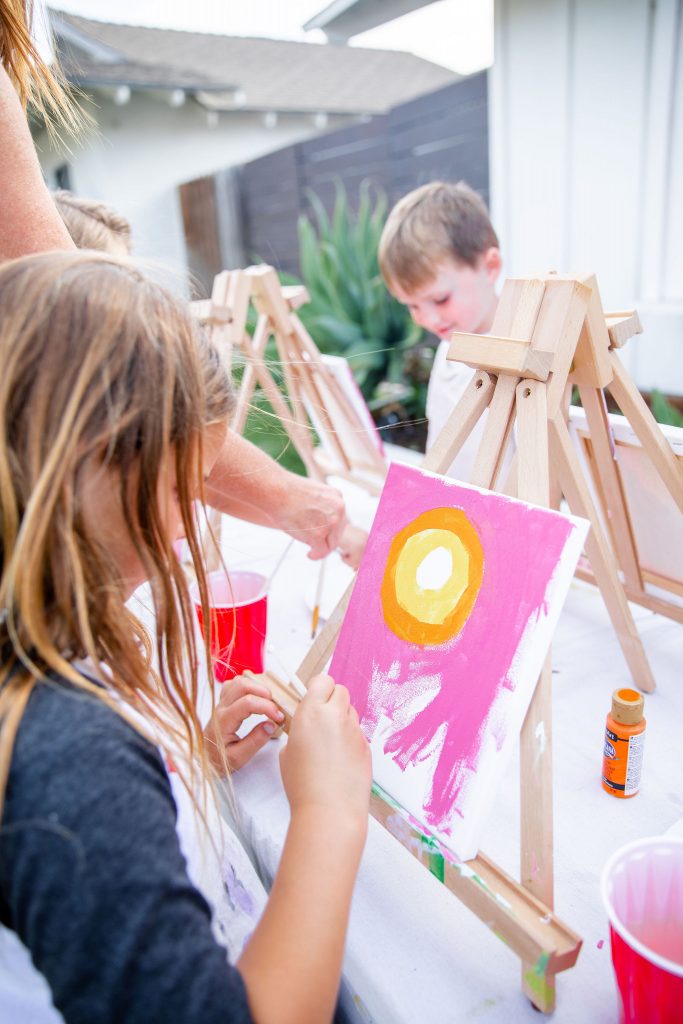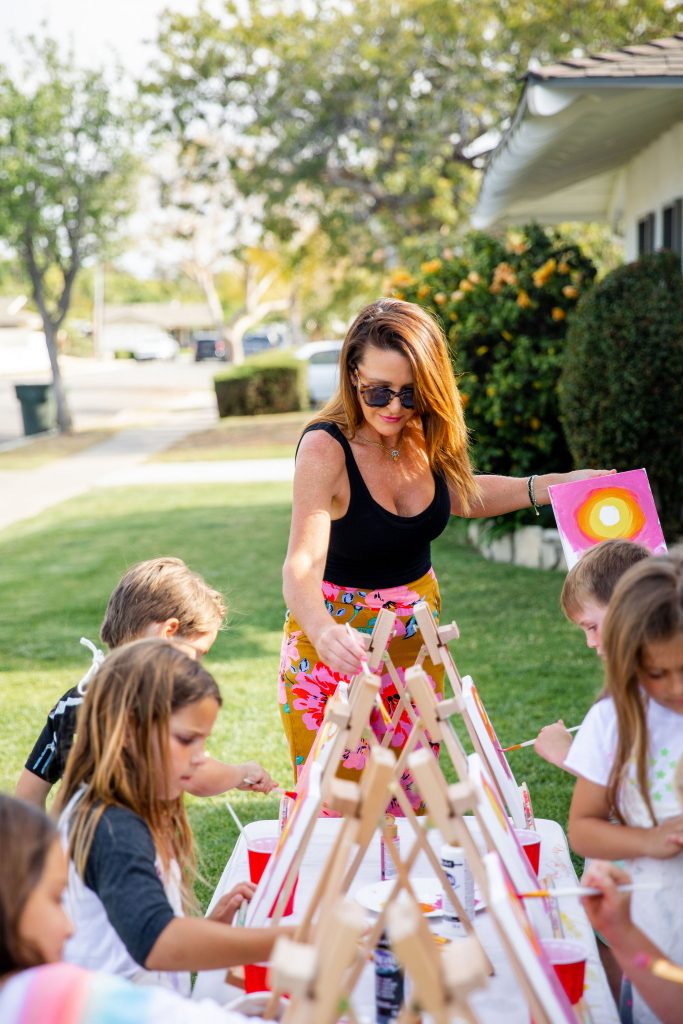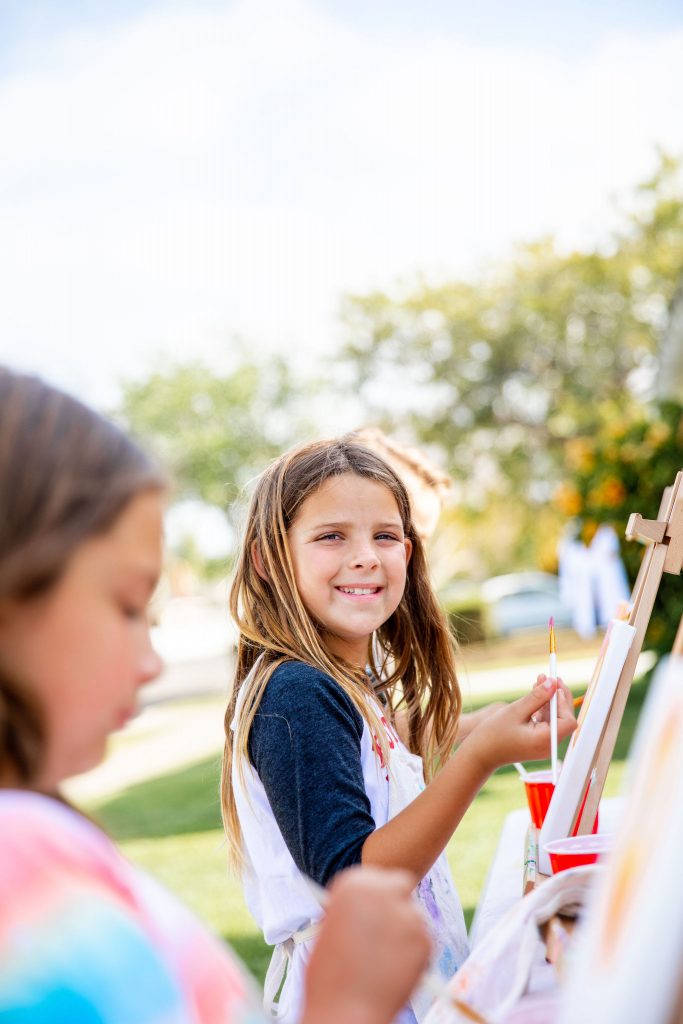 I'll usually host an art party at least once a season and have it coincide with a holiday! The kids love it so much, and it gives us moms a few hours knowing our littles are doing something to expand their minds and hearts!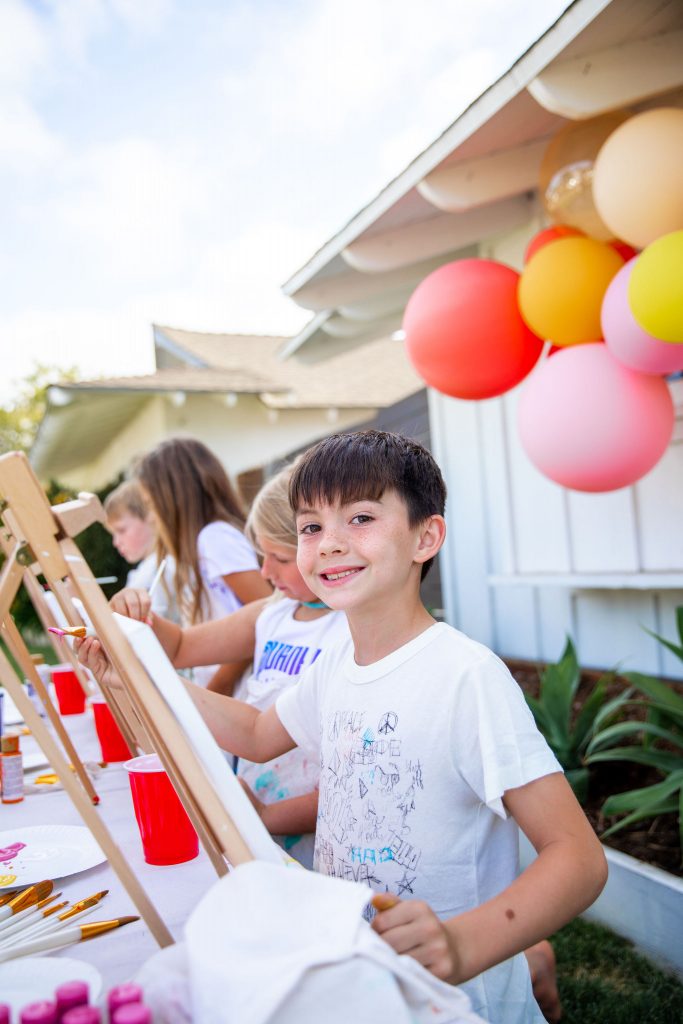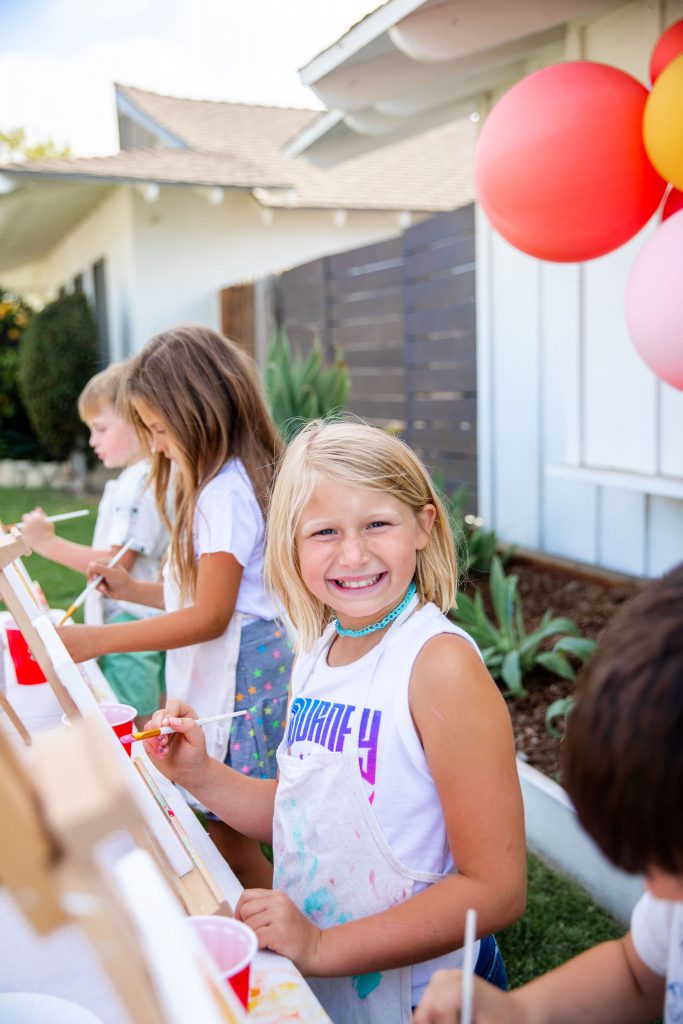 We even used some of the Tulip Fabric Paints here as well! Nothing goes to waste!!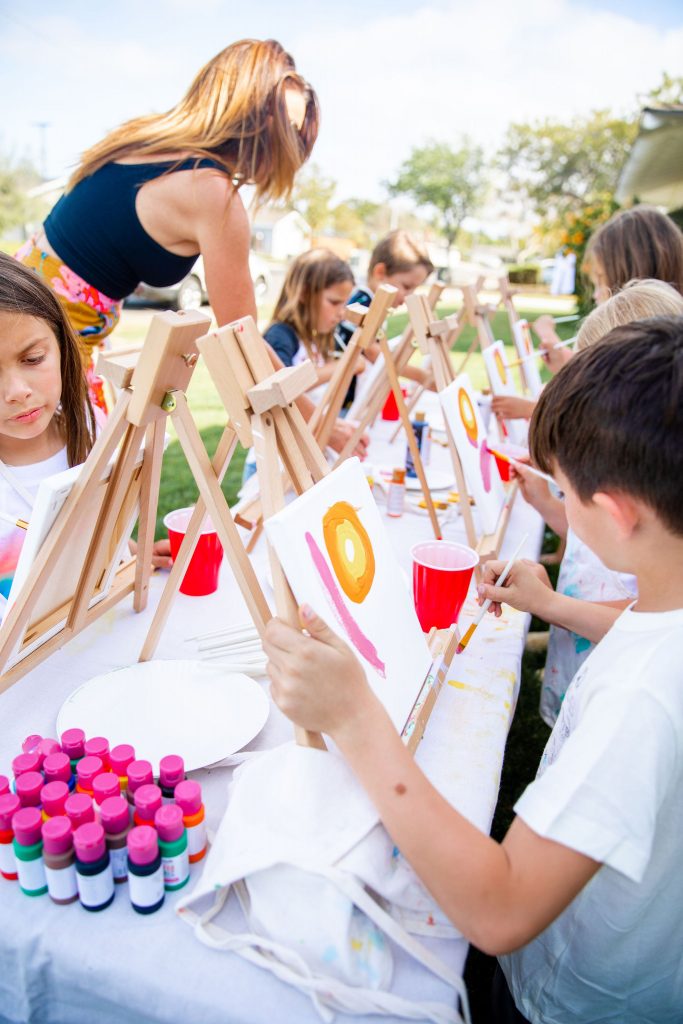 Next on the agenda…. Squirt gun tie-dye!!! I had seen a squirt gun paint activity I showed Katie and she said, why don't we do it with the tie-dye?! Brilliant!! The kids LOVED it so much!!! A little less messy than the real thing and a whole lot more fun!! Of course we used Tulip Color Tie-Dye!!!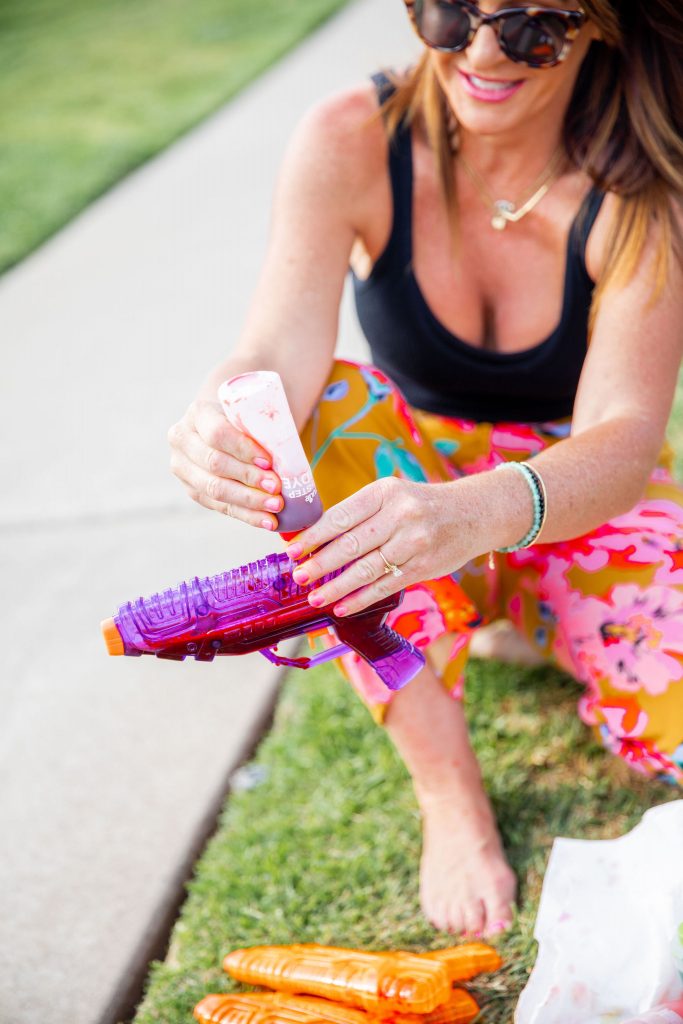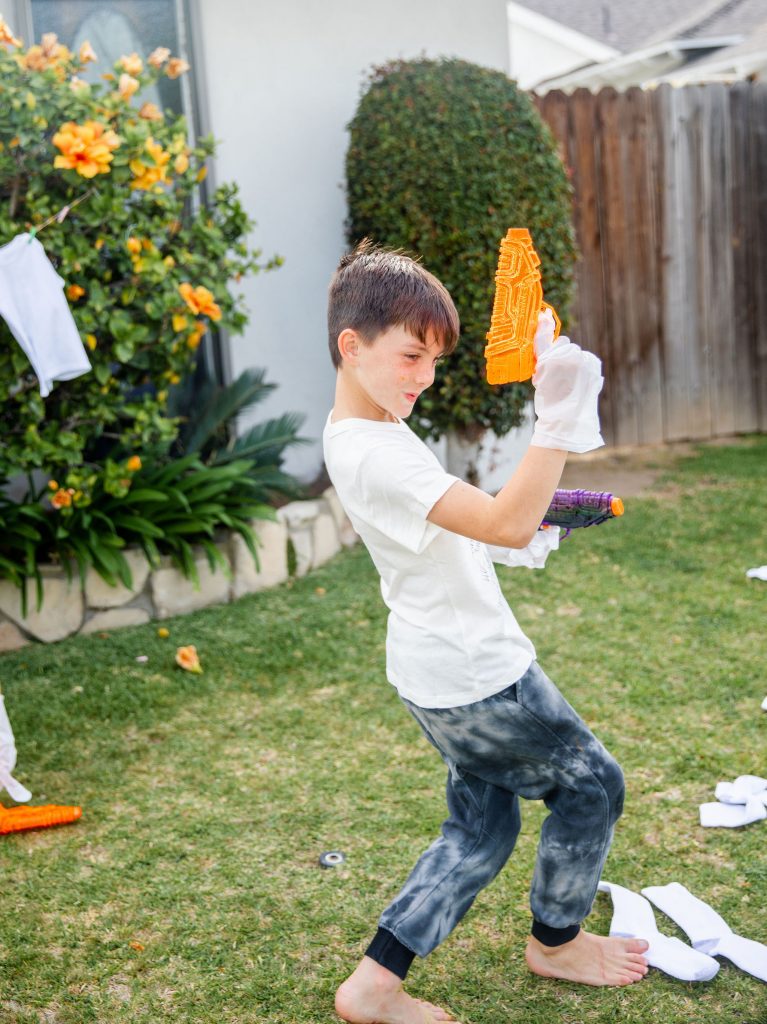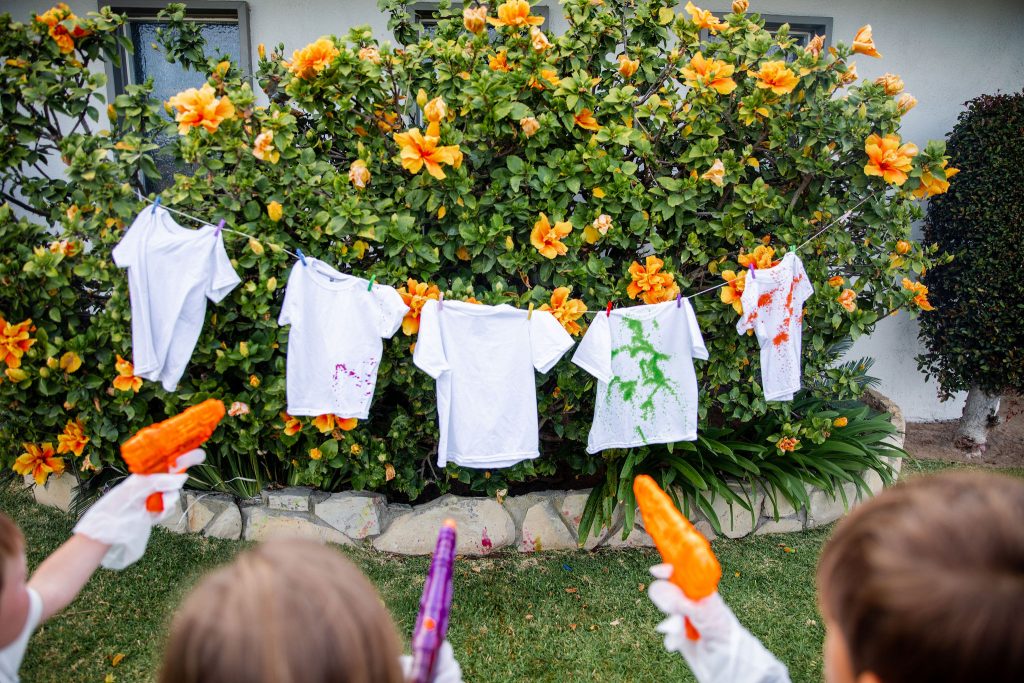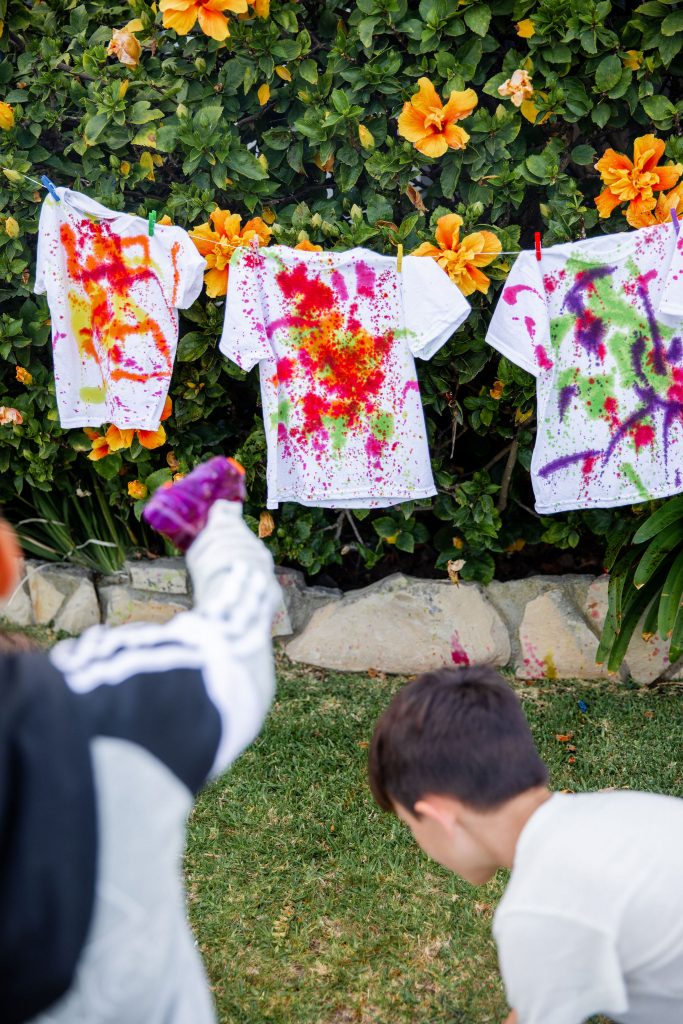 Don't they look awesome!!! Also, shout out to my neighbor who lets my kids run into his yard all the time too and do stuff like this… I owe him some beers…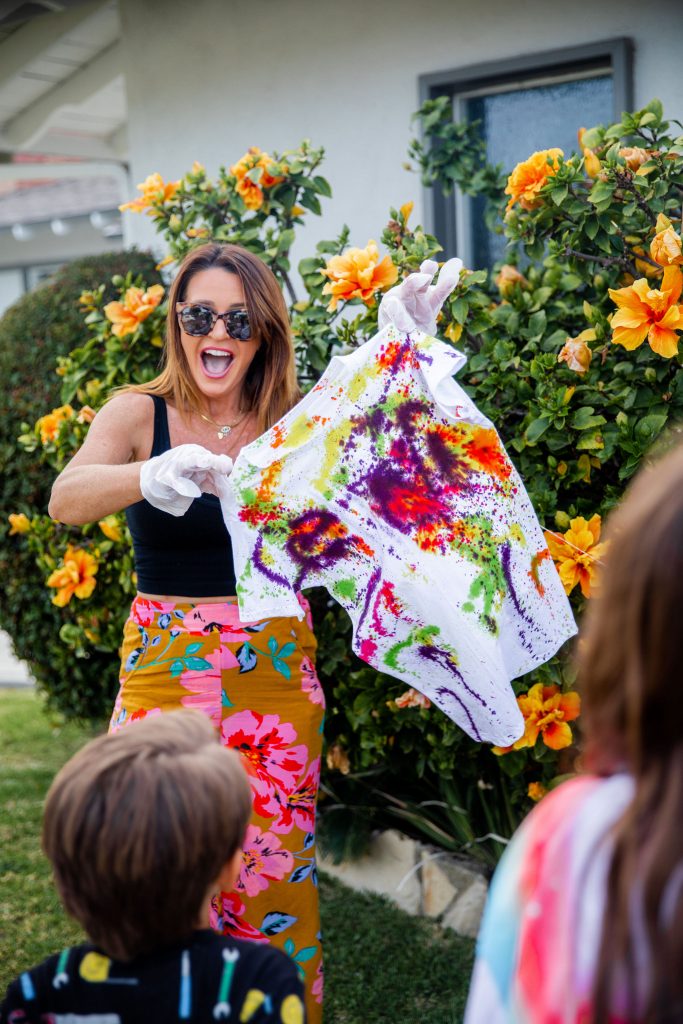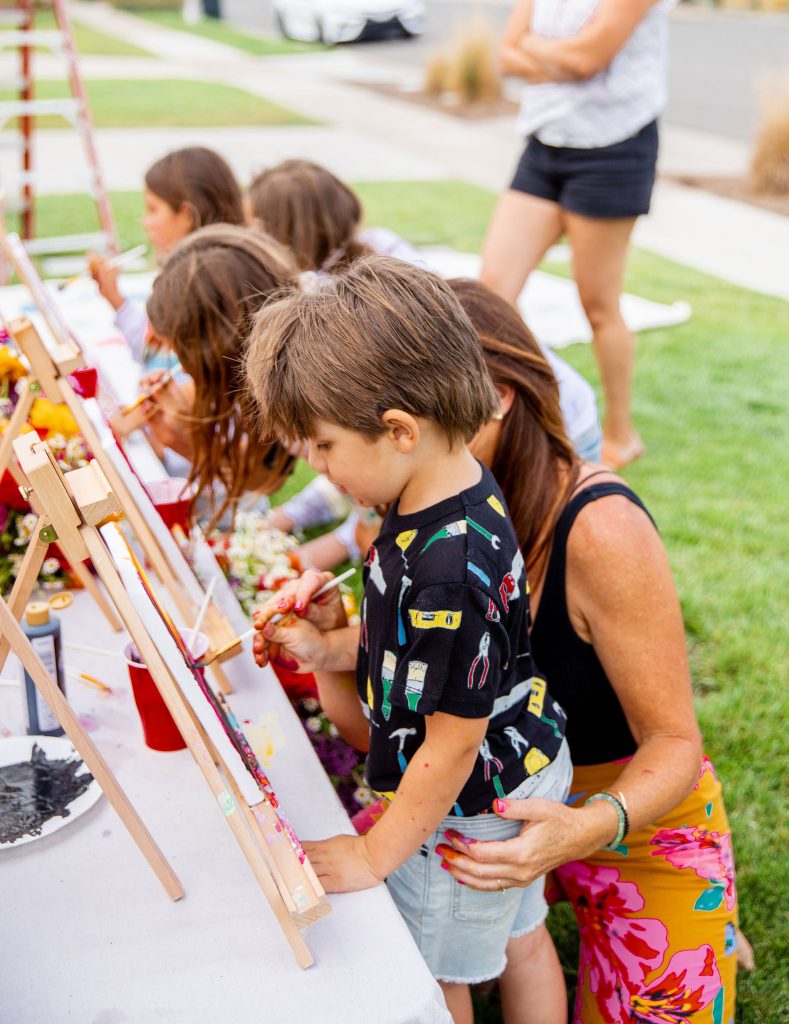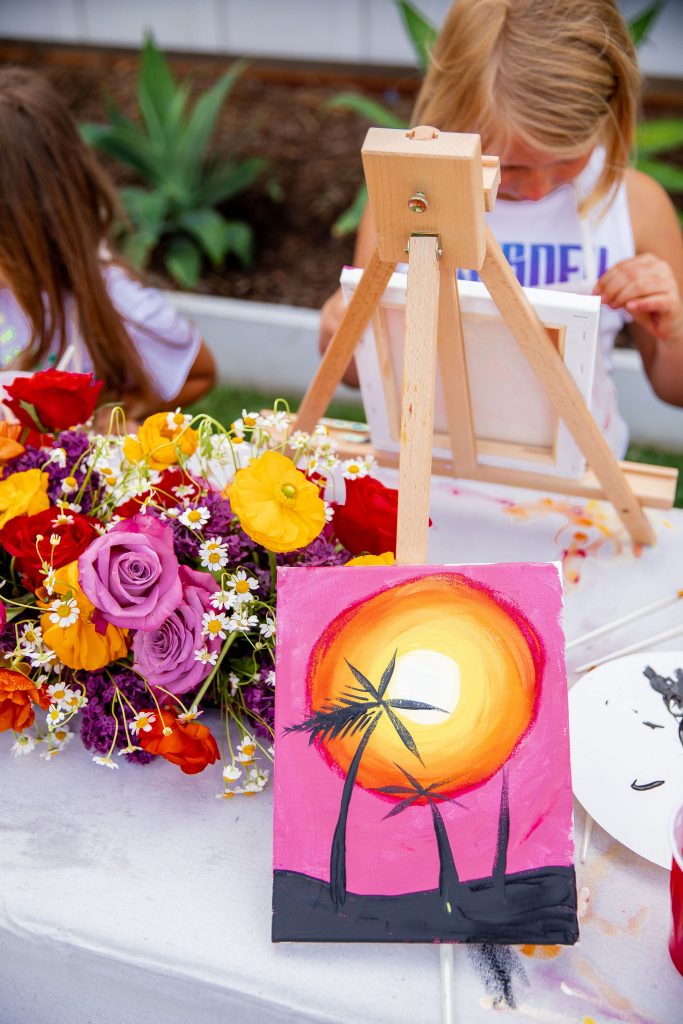 Look at that masterpiece!!!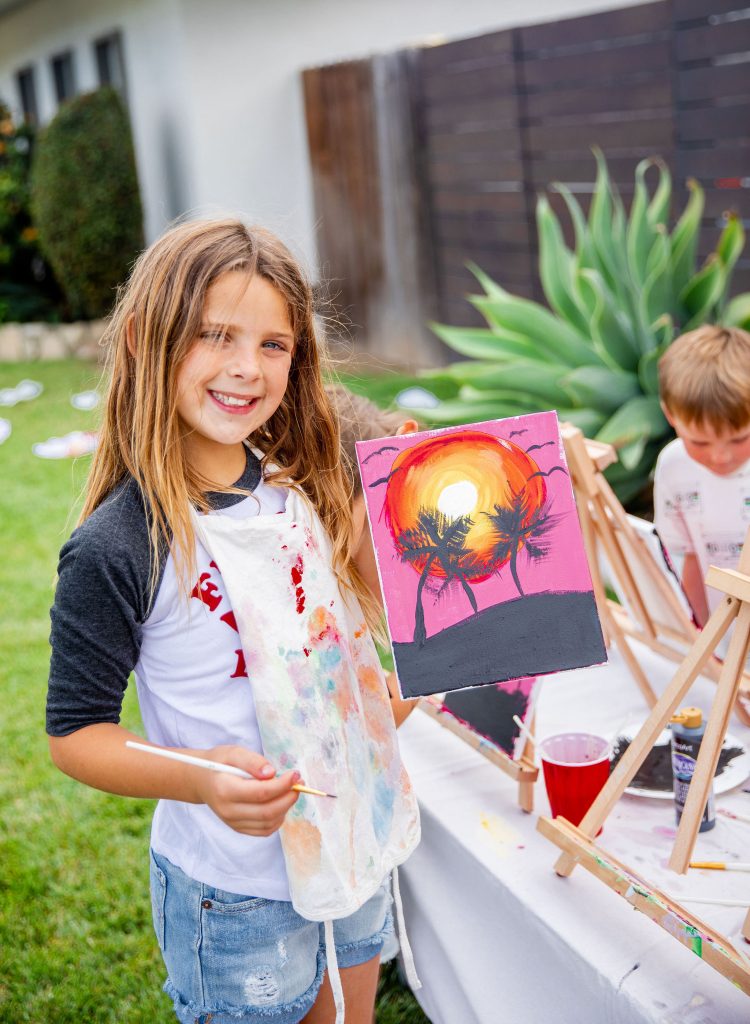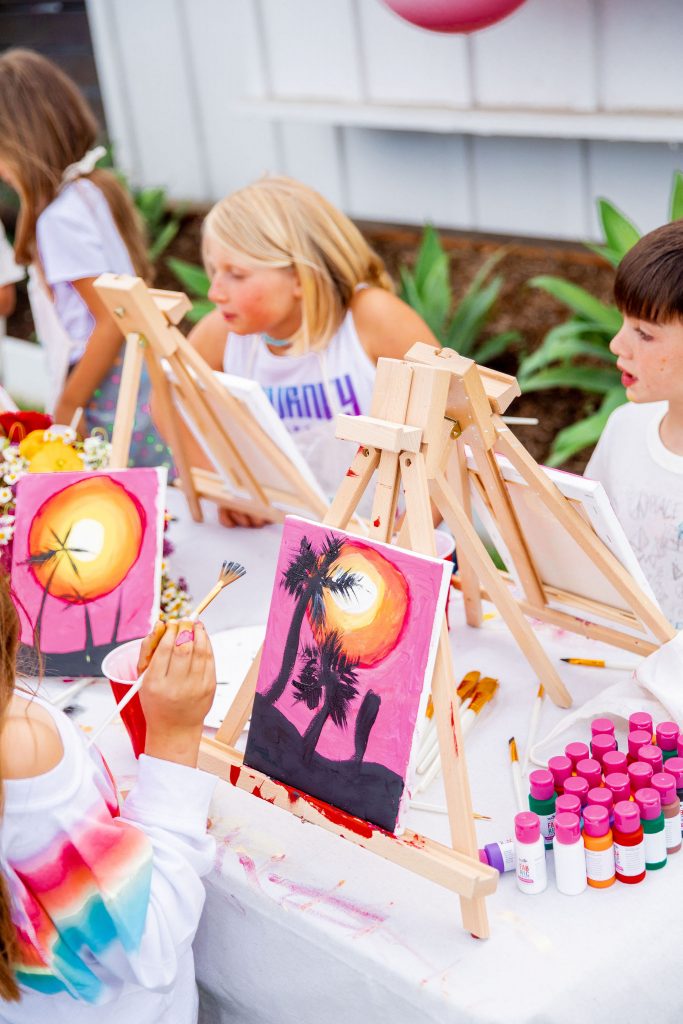 We had to take some group shots in front of that amazing balloon wall!!! These goofballs have absolutely zero fun together…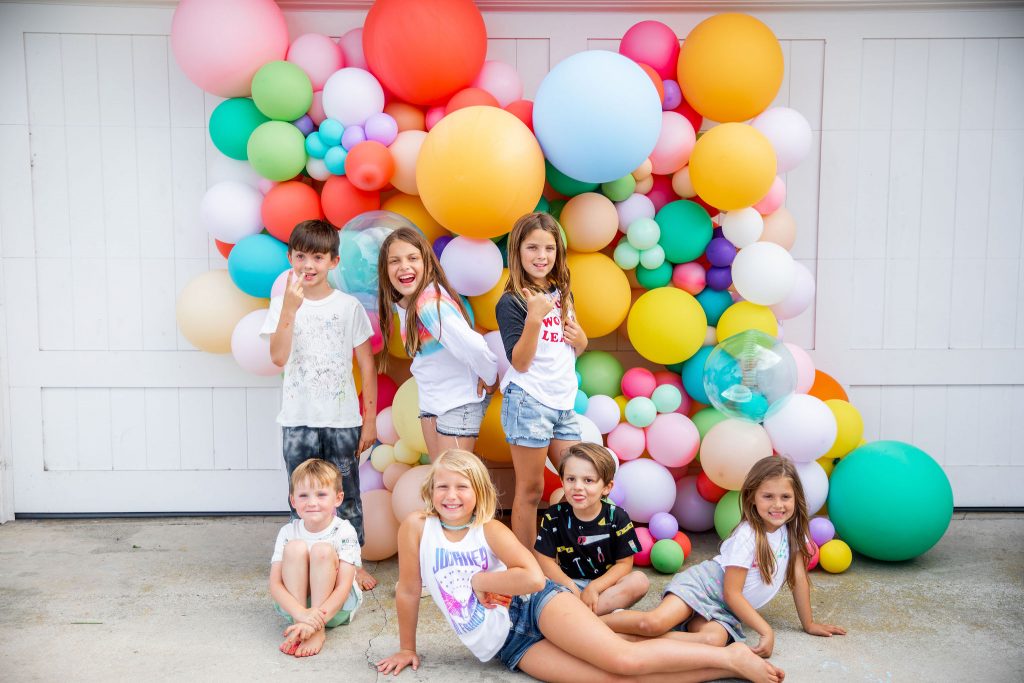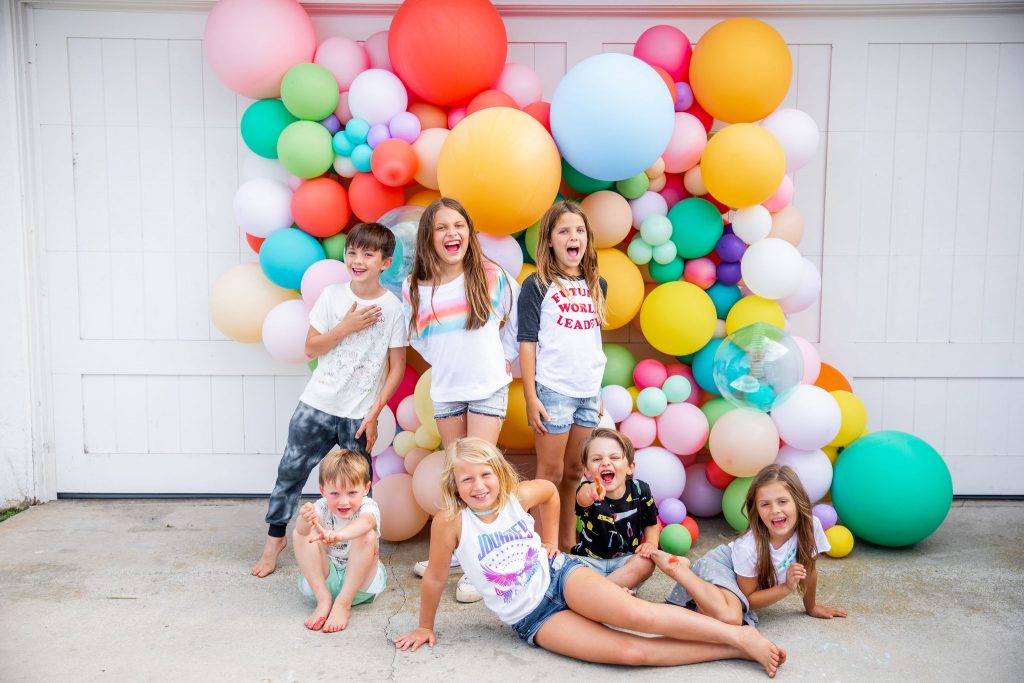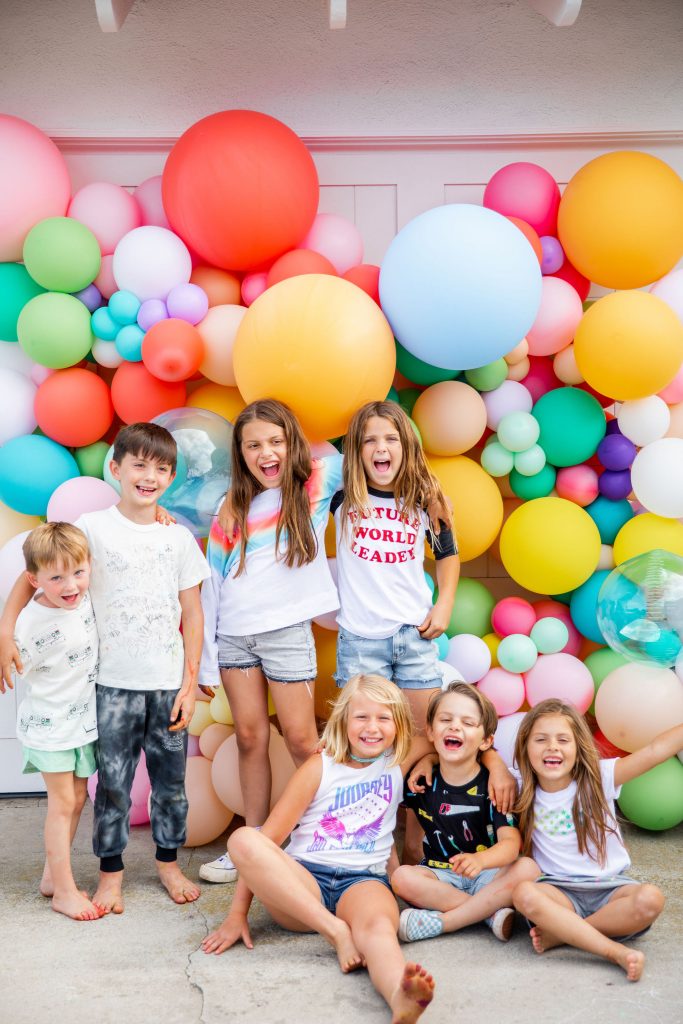 And you always gotta end it by showcasing that art!!!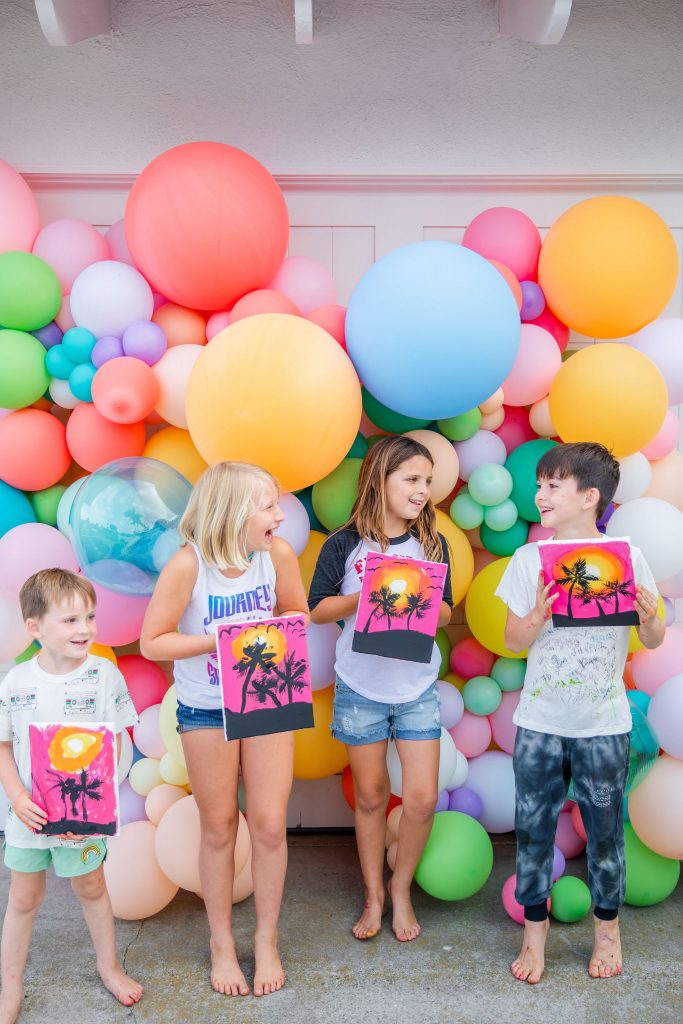 What do you think?! Would you kids like an art party of their own?!! I bet you they would!! Shop the party below!
xx
Jacquelyn