Now, this is my kind of 12 days of Christmas!
Picking out my favorite cocktails to bring you the 12 days of cocktails this holiday season! Starting the list is three easy cocktails that anyone can make, and they all are yummy! A fresh take on the margarita with bringing in flavors of pear and cinnamon. Then a sparkling cocktail made with the classic holiday treats like rosemary and cranberry. Finally, a sweet pretty and pink drink with an edible flower you can eat! So join us, in the 12 days of cocktails! We also teamed up with One Hope Wine to make our cocktails extra yummy!
---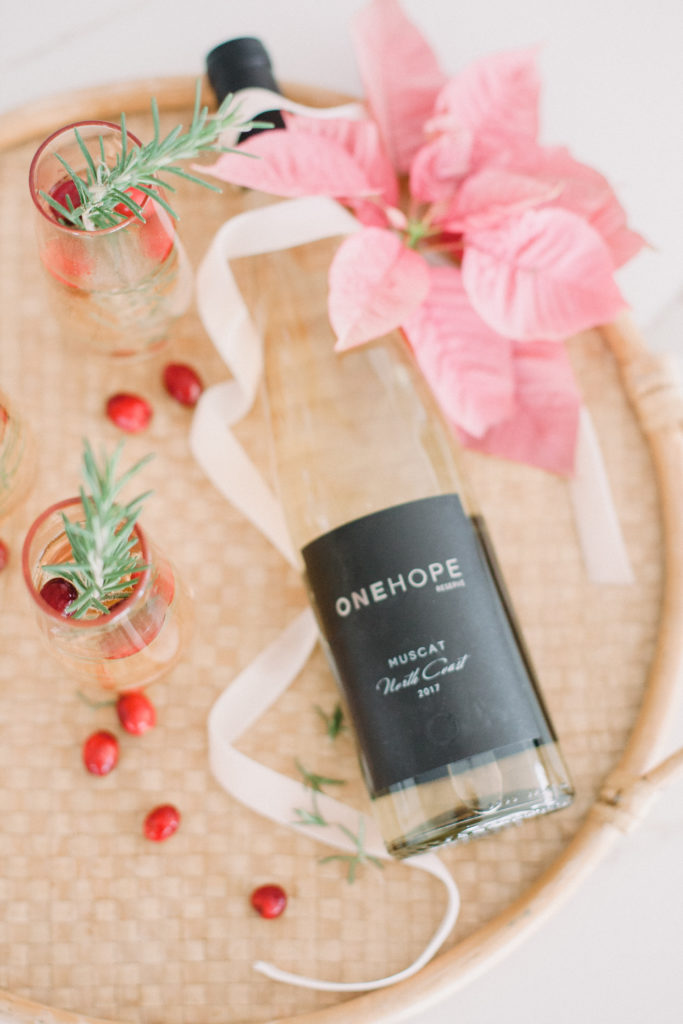 Day #1: SPARKLING PEAR AND CRANBERRY COCKTAIL
serves: 8
W H A T   Y A   N E E D!
Fresh Cranberries
Moscato
Pear Nectar or Pear Juice
Fresh sprigs of rosemary

B U S T   O U T:
champagne flutes

---
I N S T R U C T I O N S
Put fresh cranberries into a small bowl; cover cranberries with Moscato. Soak for at least an hour, or more, the longer, the better!
Divide pear nectar evenly among eight tall champagne glasses. Add boozy cranberries, and then gently pour the Moscato into the glasses. Garnish each with a rosemary sprig.
---
---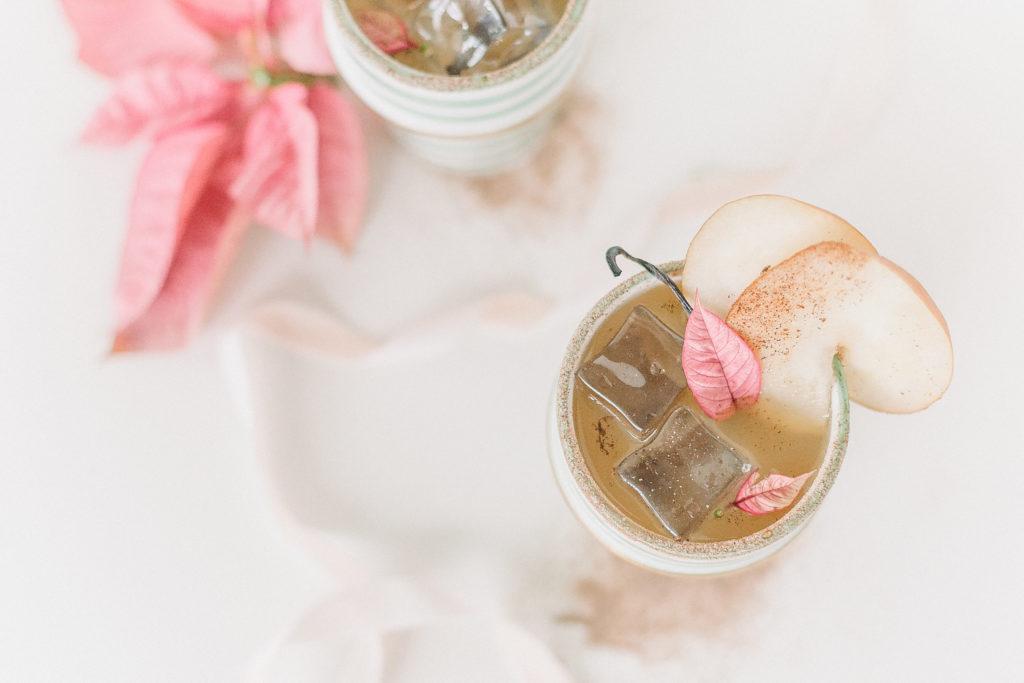 Day 2: VANILLA PEAR MARGARITAS
serves: 1 cocktail
A fresh take on the good ol' margarita with adding winter elements like pear juice, fresh vanilla bean, and cinnamon. You will want two of these guys!
W H A T   Y A   N E E D!
4 ounces pear juice
2 ounces 100% agave silver tequila
1-ounce fresh lemon juice
Fresh vanilla bean seeds from a 3″ piece of vanilla bean
A drizzle of honey (about 1/4 – 1/2 teaspoon)
Pinch of cinnamon
Cinnamon sugar for rim (equal parts cinnamon and sugar or coconut sugar)
** Beijos bar note: I tried this with vanilla extract (curious to see how it would taste), and trust me you need the real deal here guys! Splurge a little more and get the fresh vanilla bean!

B U S T   O U T:
Cocktail Shaker
Pretty glassware
---
I N S T R U C T I O N S
Pour some cinnamon sugar into a small plate. Cut your lemon in half and run it along the rim of a glass and then rim it in the cinnamon sugar. Fill the glass with ice.
Combine all ingredients except for the cinnamon sugar (cause we used that for the rim, duh) in a cocktail shaker and shake until combined. And I mean shake here guys, the honey will want to sink to the bottom on the shaker. Pour over ice and garnish with a slice of fresh pear or vanilla bean.
For extra pretty garnish, sprinkle some cinnamon sugar on half the pear garnish and then place on the glass.
---
---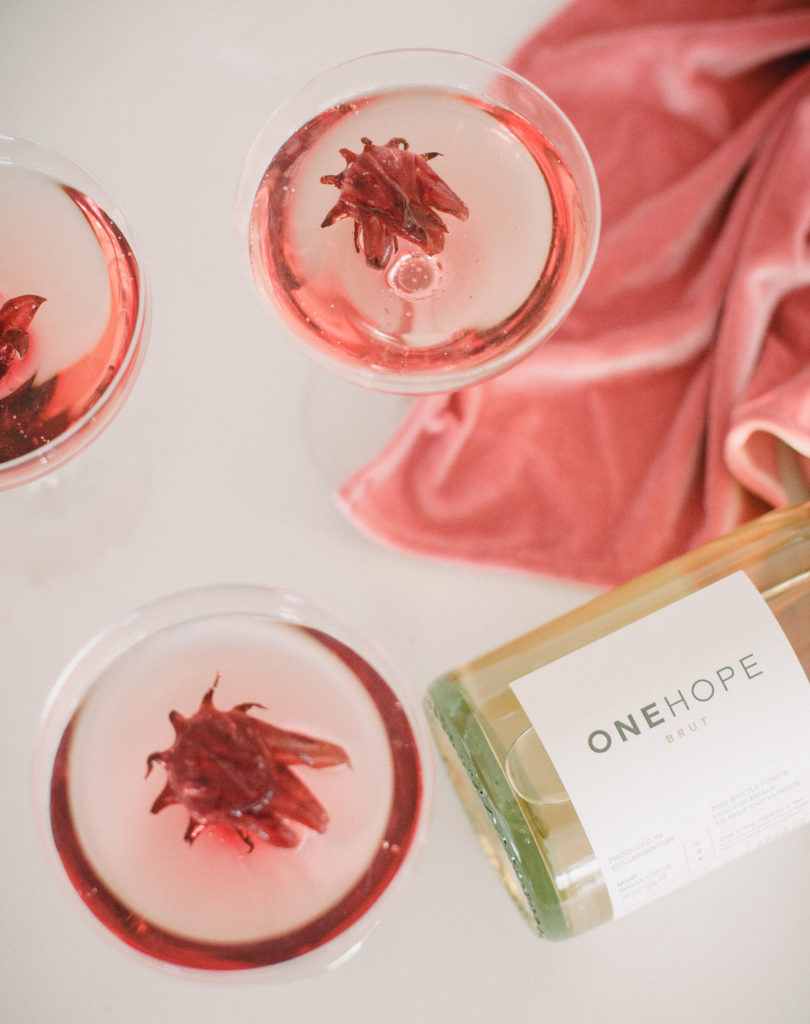 Day #3: HIBISCUS PROSECCO COCKTAIL
serves: 4 cocktails
A pretty pink cocktail where simple meets beautiful, and where you can eat all the flowers!
W H A T   Y A   N E E D!
Whole Hibiscus Flowers in Syrup
Champagne

B U S T   O U T:
champagne flutes

---
I N S T R U C T I O N S
Place a whole hibiscus flower in the bottom of your champagne flute and place a spoonful of the syrup on the bottom as well.
Fill glass with prosecco to 3/4″ of the rim.
Cheers!
---
---
B E I J O S  B A R 

xx
Abby