With Summer kicking off you know the holiday on everyone's mind… The 4th of July!!! It's one of those holidays I look forward to every year! Since buying our house a few years ago one of my favorite things about our neighborhood is how we celebrate holidays – and the 4th of July is the best one! We start the morning off with a parade, people decorate bikes and in most cases golf carts, and ride them around. This is our first year with a golf cart so I'm excited for that! Then it's house jumping all day with fun bbq's at all our neighbors homes. Lastly, fireworks at the end of the day with everyone outside in their front yards celebrating! It's so much fun and such a great day to celebrate with family!
I stepped up my decorating game this year with Pottery Barn. Truthfully, y 4th of July decor was lacking, it's only our third year here and this year we are hosting quite a few guests. Thankfully pottery Barn had just what I needed for outdoor entertaining! Keep scrolling to see how I did it up with our friends for a practice round! You can also shop all of my goodies at the bottom of this post…
Photos by Cyd Weeks Photography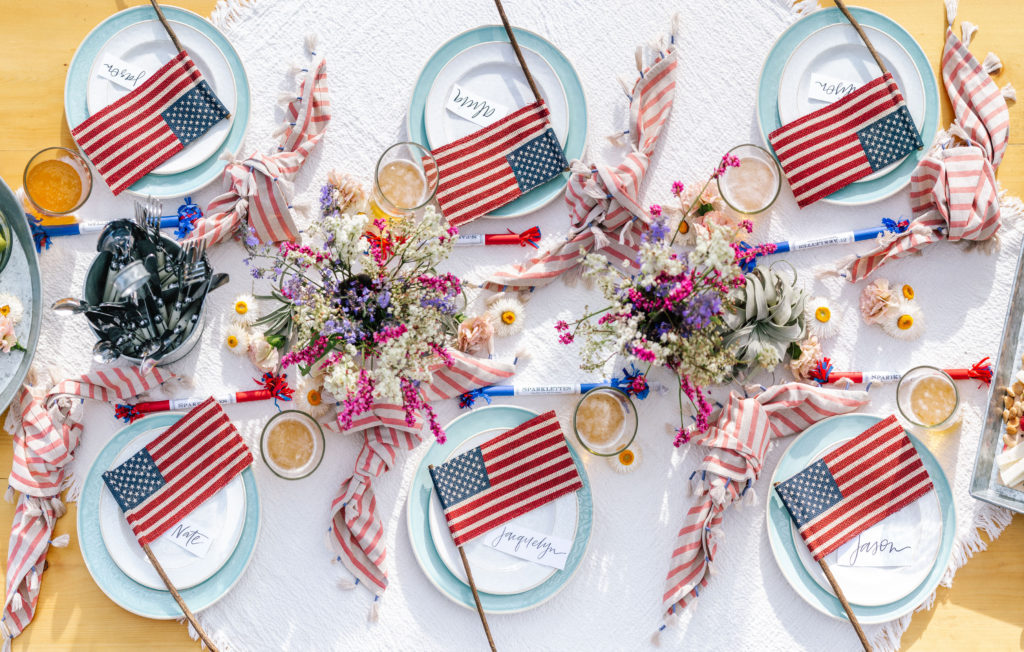 I shopped Pottery Barn's Americana and Outdoor Dining collections when I was looking for what would dress up our backyard. We did our landscaping a year ago and since then we love spending time there. Unfortunately we had to pull 20 trees we planted a few weeks ago and replant other trees (43 of them!) but that's a story for a different time… Haha! But the backyard is looking pretty good so I can't wait to host more things there this Summer!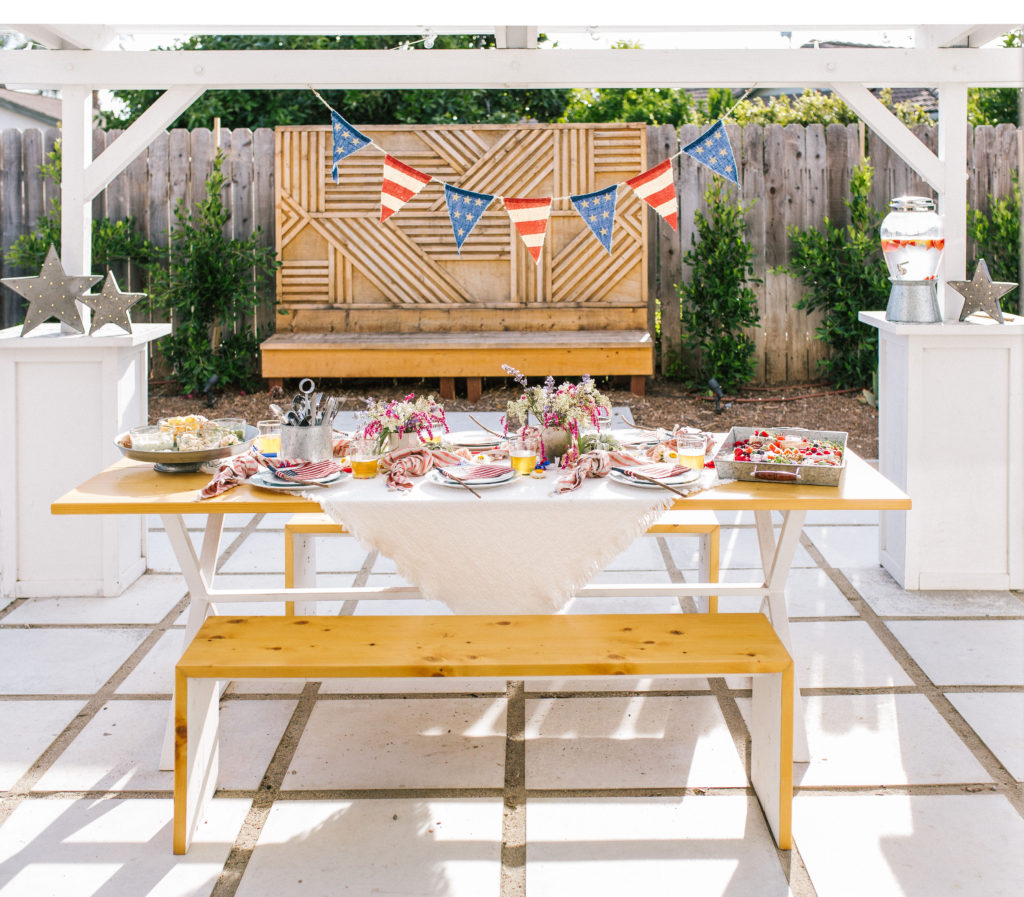 When hosting outside I love having using melamine, it's so much easier than using real glassware and china. It's nice casual vibe is just what I wanted for all the Summer activity. Luckily, Pottery Barn had great glassware, flatware and plate options! I used blues and whites then added those fun striped/fringed napkins! Perfect to add the red to the red, white and blue!! The tablecloth has fringe too – just call us Beijos ladies major fringe lovers!! I am also in love with their rustic flags, I put one at each place setting so guests would each have a flag to wave and show their patriotism!!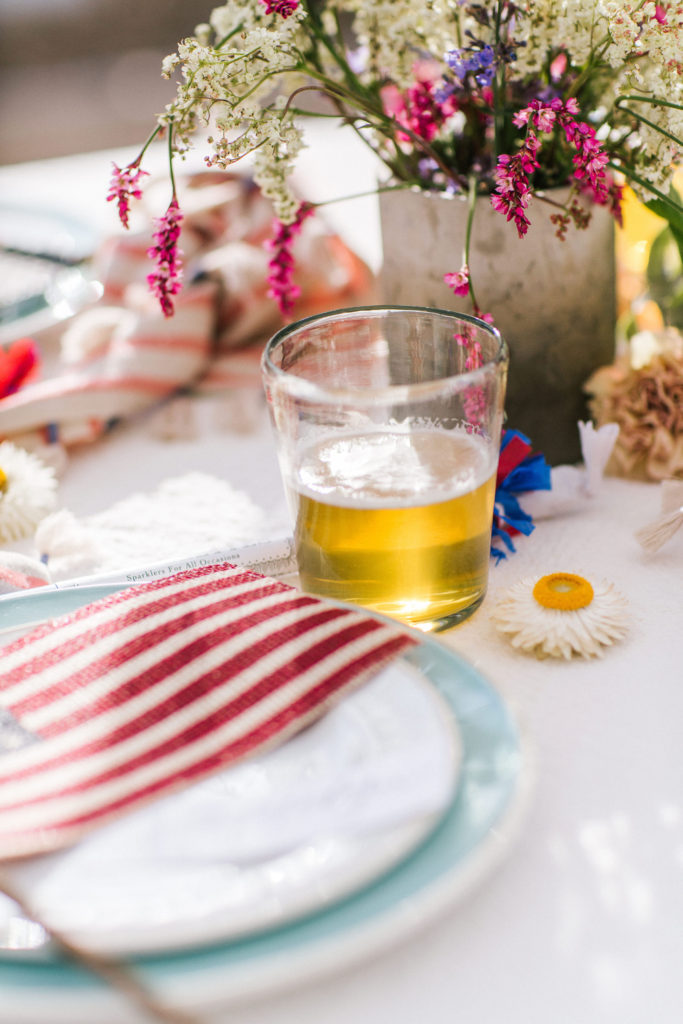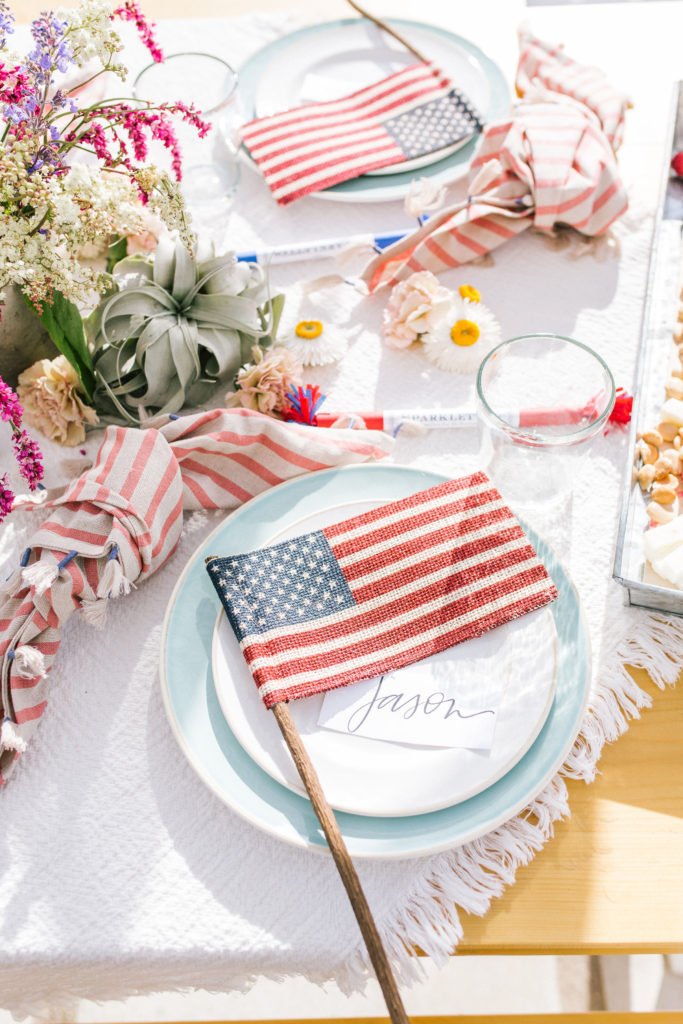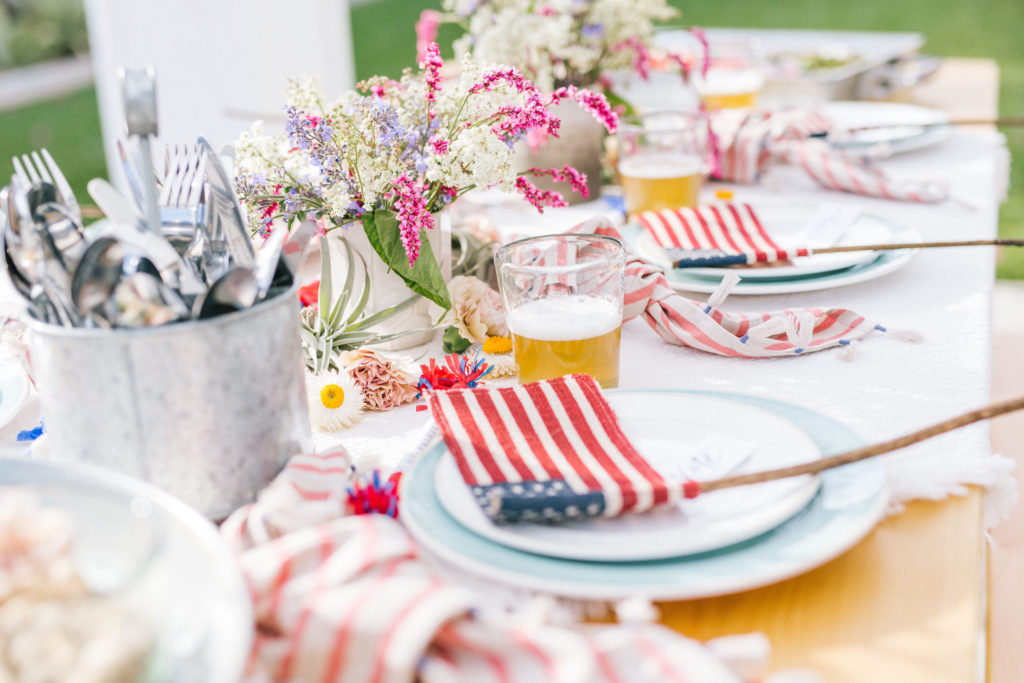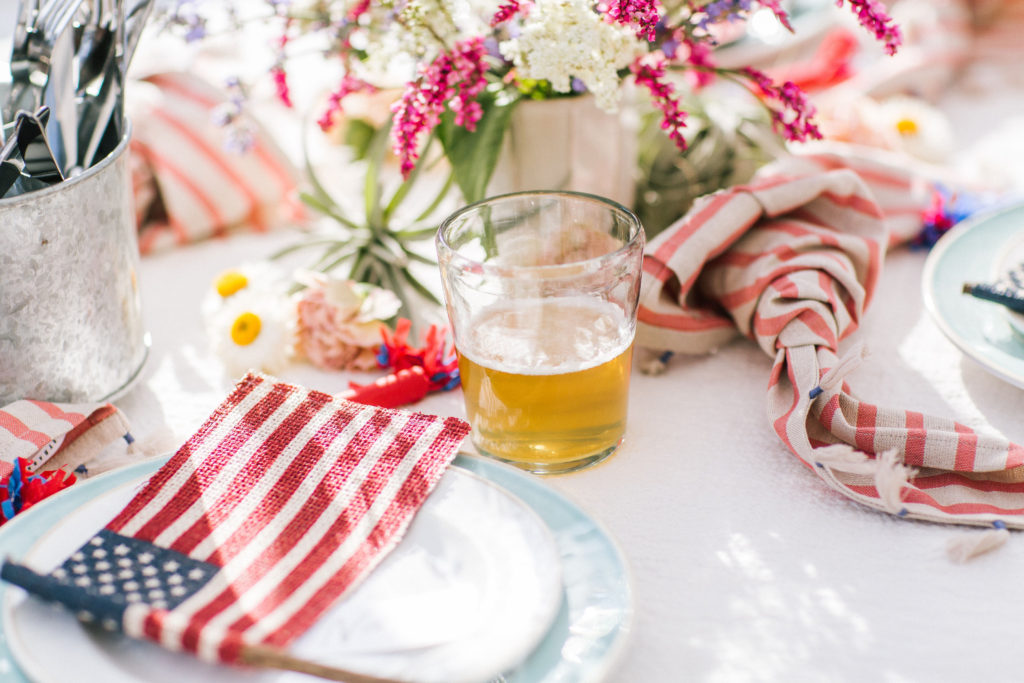 Would you believe me if I told you I did the flowers myself?! Well, maybe you don't think they look that great and you do, but I was pretty happy with myself!! Listen, we love doing beautiful and gorgeous shoots but sometimes you have to do stuff yourself when entertaining and I went to my local flower stand and bought these flowers and played with on my own, no professional florist needed!!
I simply bought pinks, blues and whites… Not too in love with red flowers over here, ha! But the funny thing is, they sort of look like fireworks, right?! I didn't mean to do that but my friend pointed it out to me and I loved that!! I just added some loose dried flowers and fresh carnation heads to the table along with my air plants I already have! Turned out pretty cute if I do say so myself!
For placecards I again went with simple, a pretty font in black on white card stock! Cut it out and voila! Pretty placecards!! In this case I had my friend Meghann Miniello write the names because she has the prettiest handwriting, but you could easily find a nice font online as well!
And for the best little touch?! Sparklers for each guest, because that's the best part about the 4th!!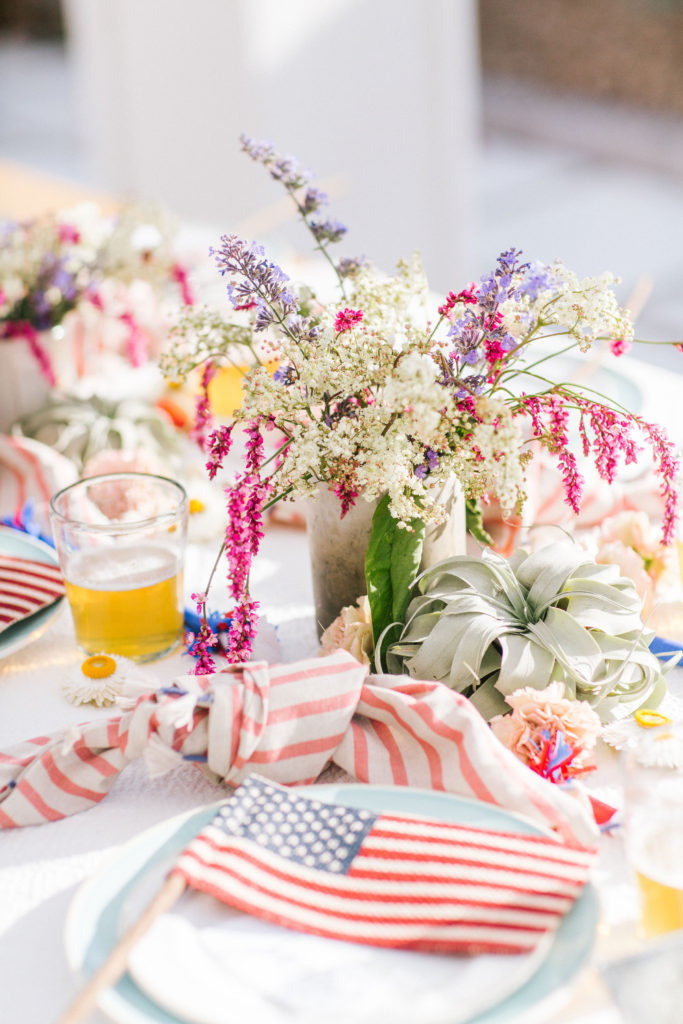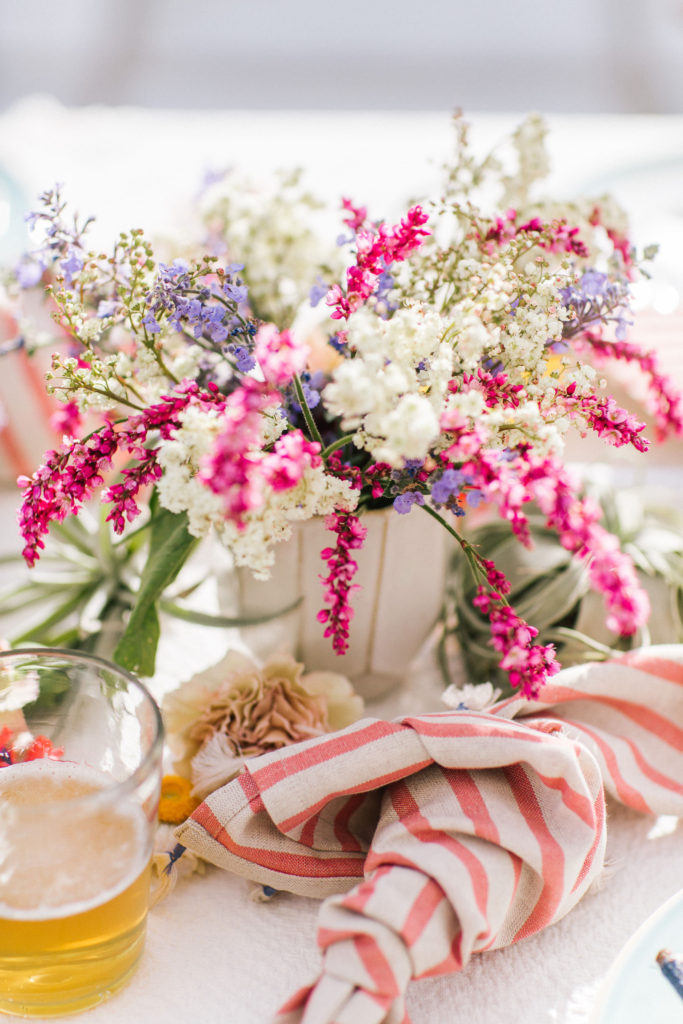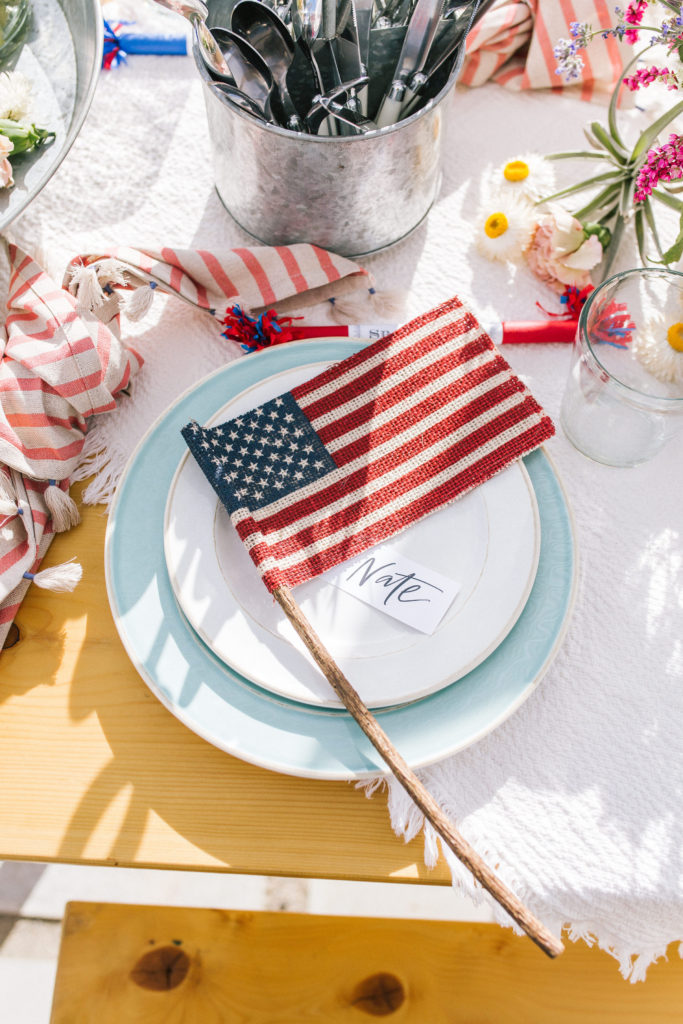 Another star feature for me was this rustic banner! I love how it adds some American flair to your home with class!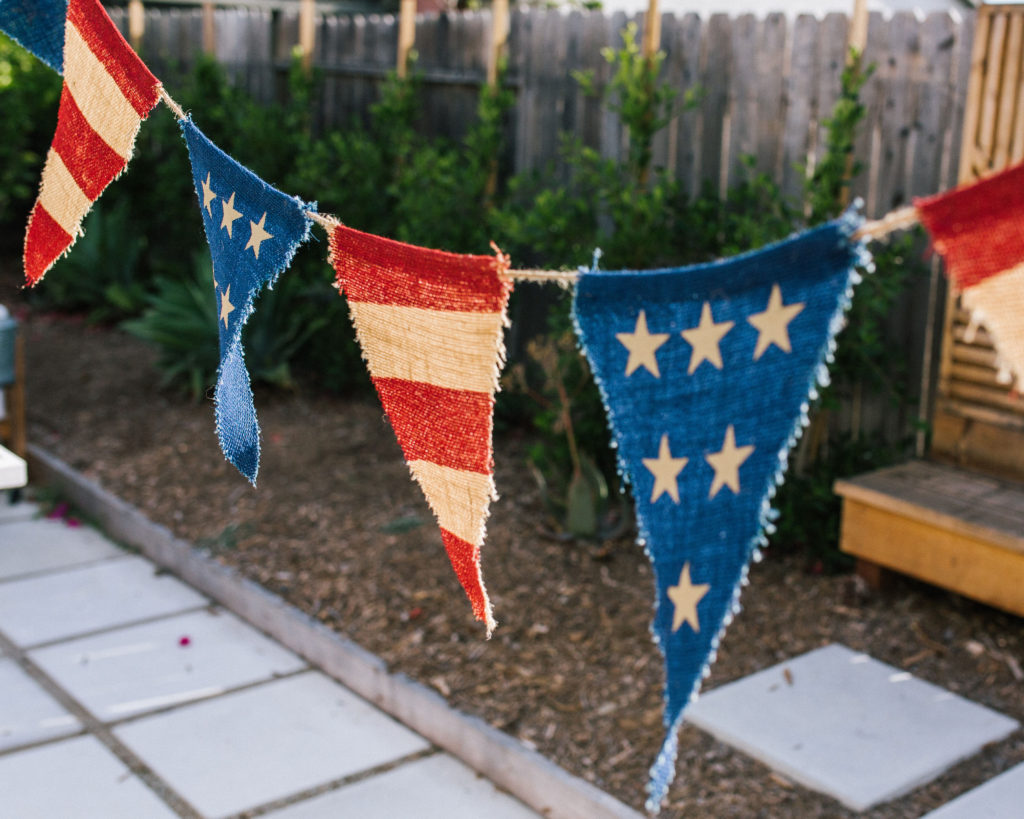 I sort of fell in love with Pottery Barn's galvanized collection for this setting… I used it for all of the outdoor serving pieces. For example, how handy is this flatware caddy? I'm also so in love with the lazy Susan below as well! Just add their outdoor Sayulita bowls with some tasty treats and it's the perfect entertaining tool to keep your guests happy and full of yummy food!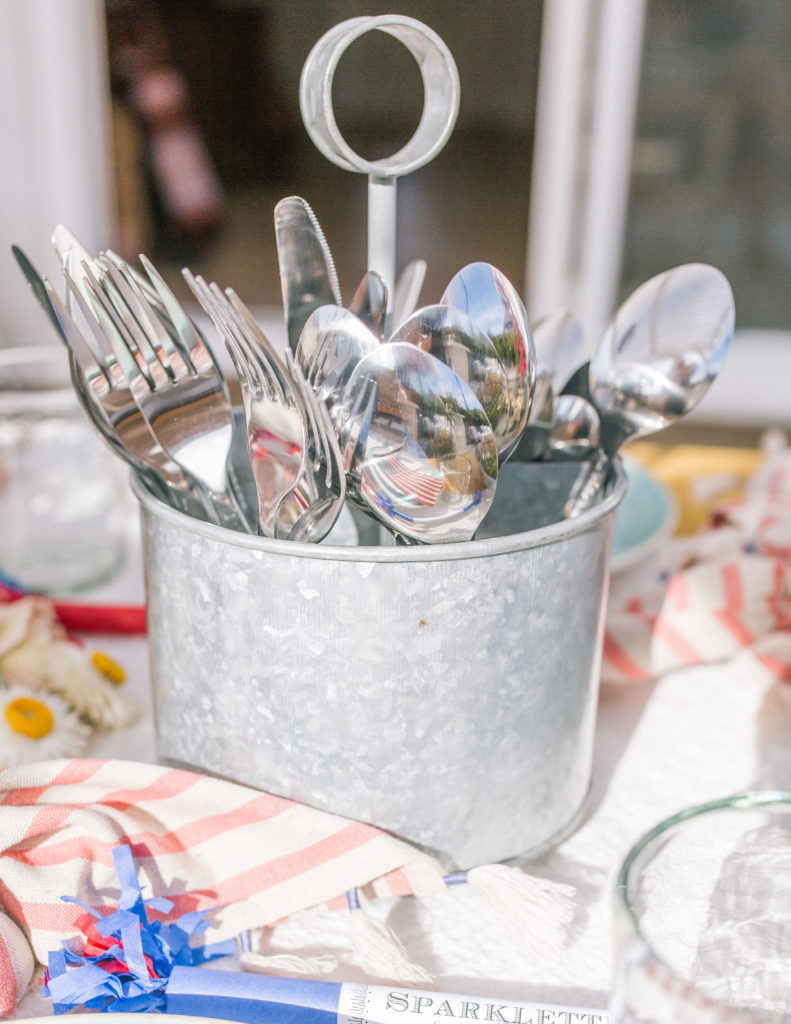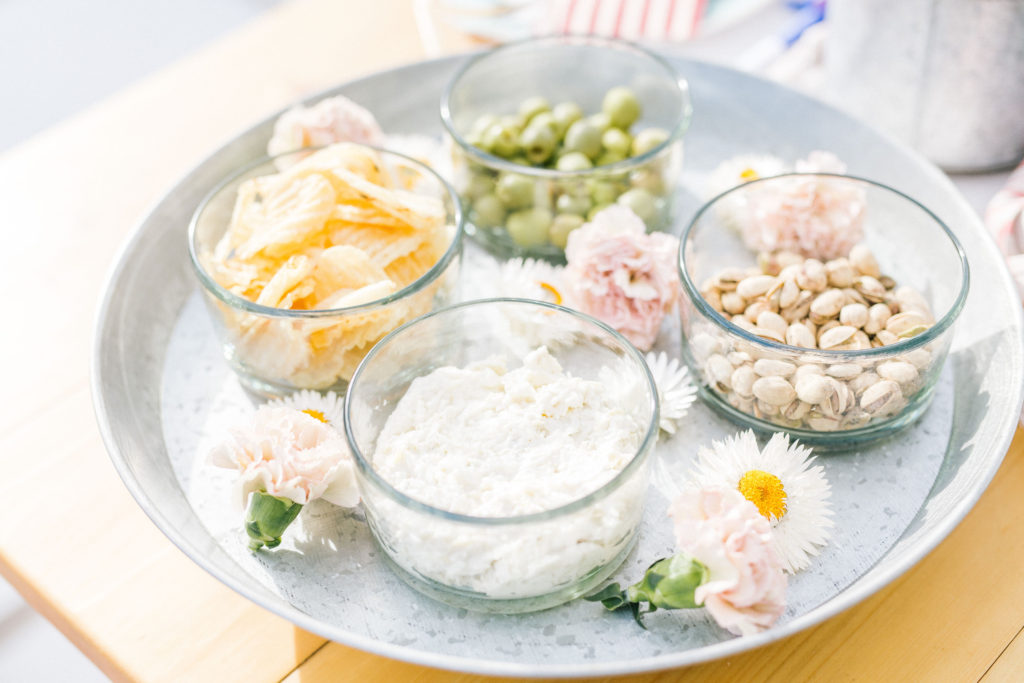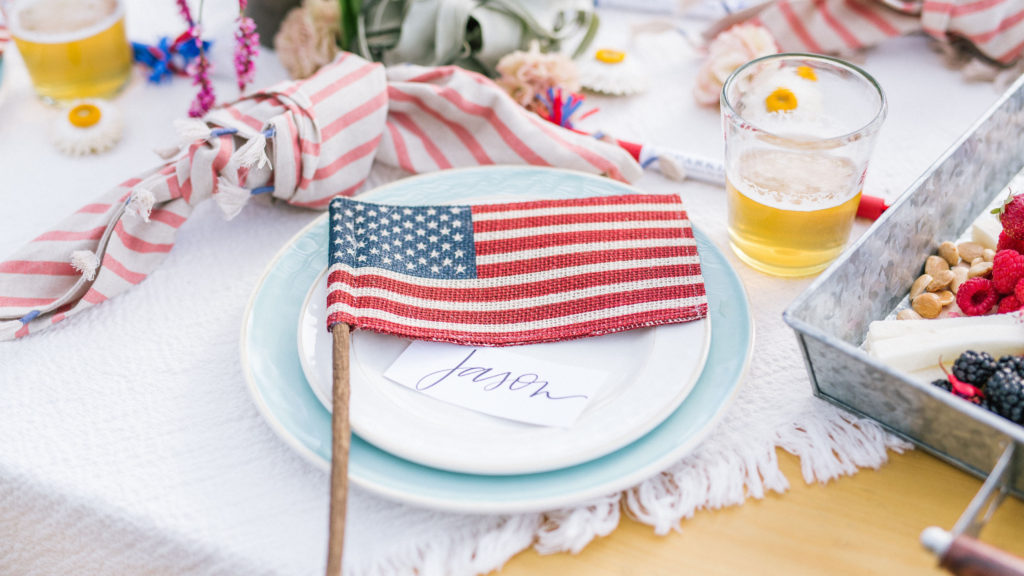 Look at that spread!! More to come on our patriotic charcuterie board too…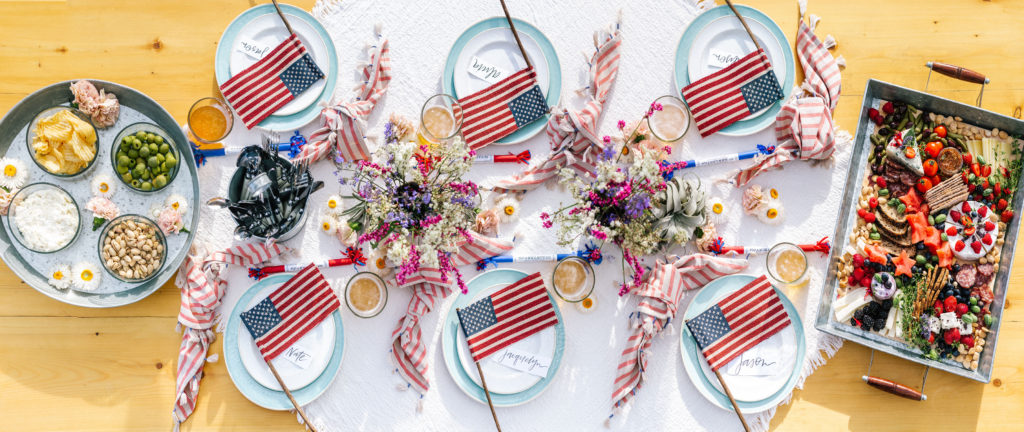 Outdoor entertaining doesn't stop at the table!! I had to do up my lounge area as well. I'm really digging all of the pillow options Pottery Barn has!! From the denim star pillow, to that red & white stripe and that Shibori flag pillow?! I mean come on, so stylish and cute!!!
Another favorite from Pottery Barn are their drink tubs, they somehow make coolers cute! See that low galvanized stand with the wood top in between my chairs?! It basically doubles as a cute side table and cooler! I love that!!! Would also be great for kid's drinks at a party since it's nice and low!! And then the handy double tub to the side is so useful and easy on the eyes!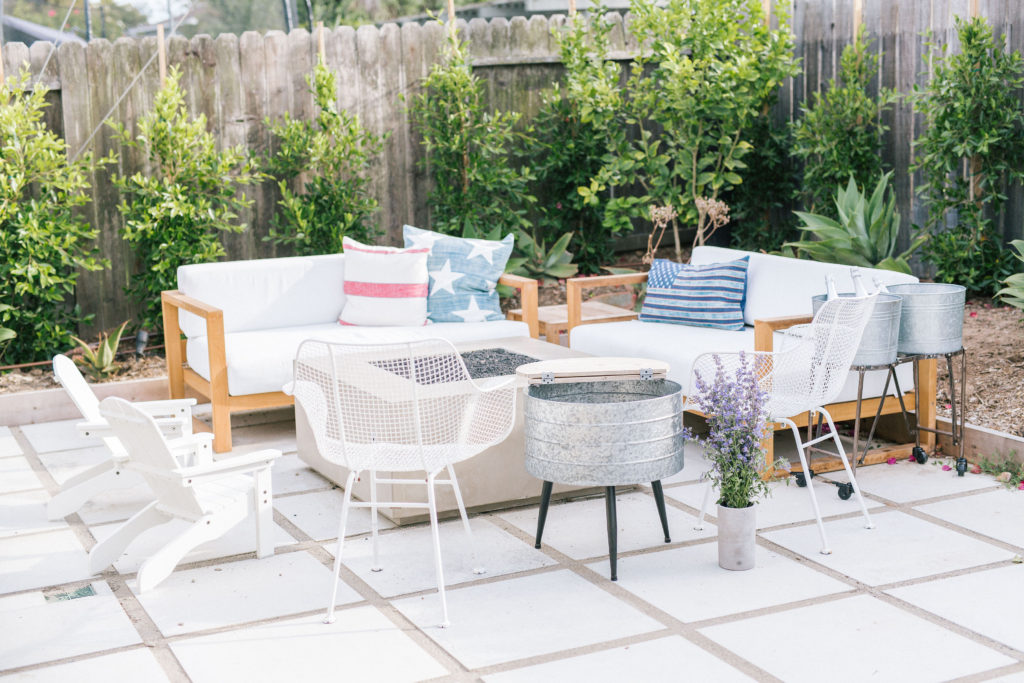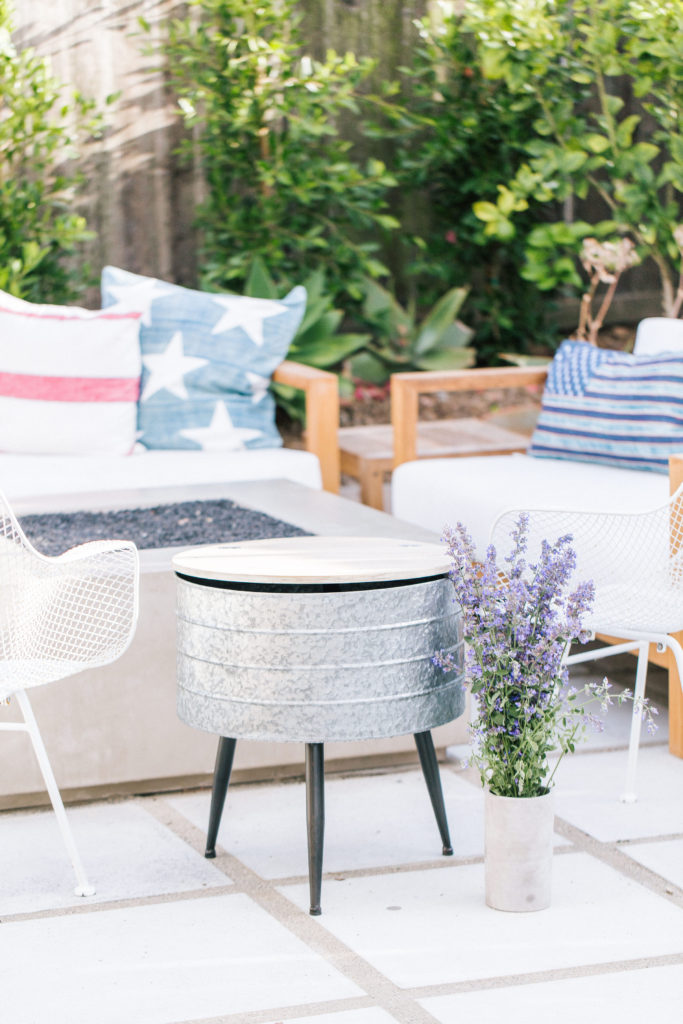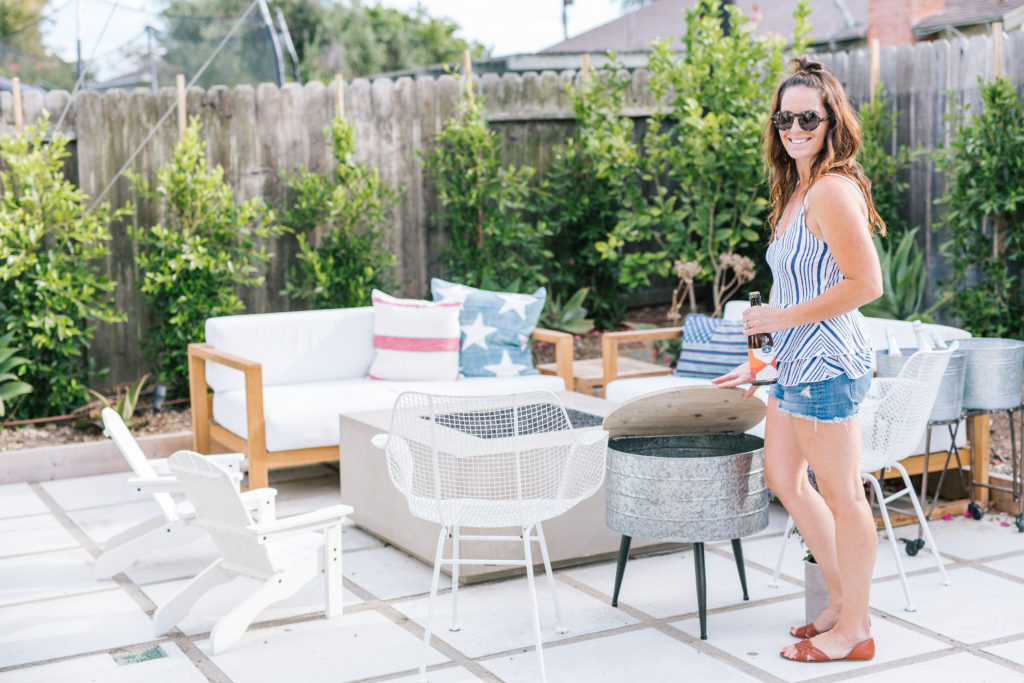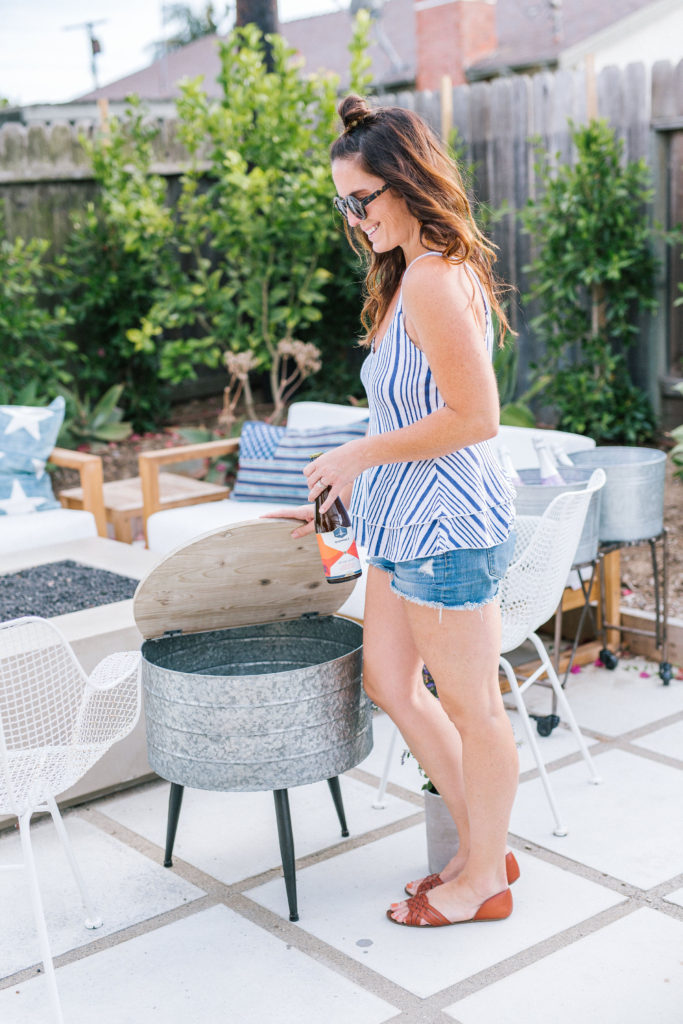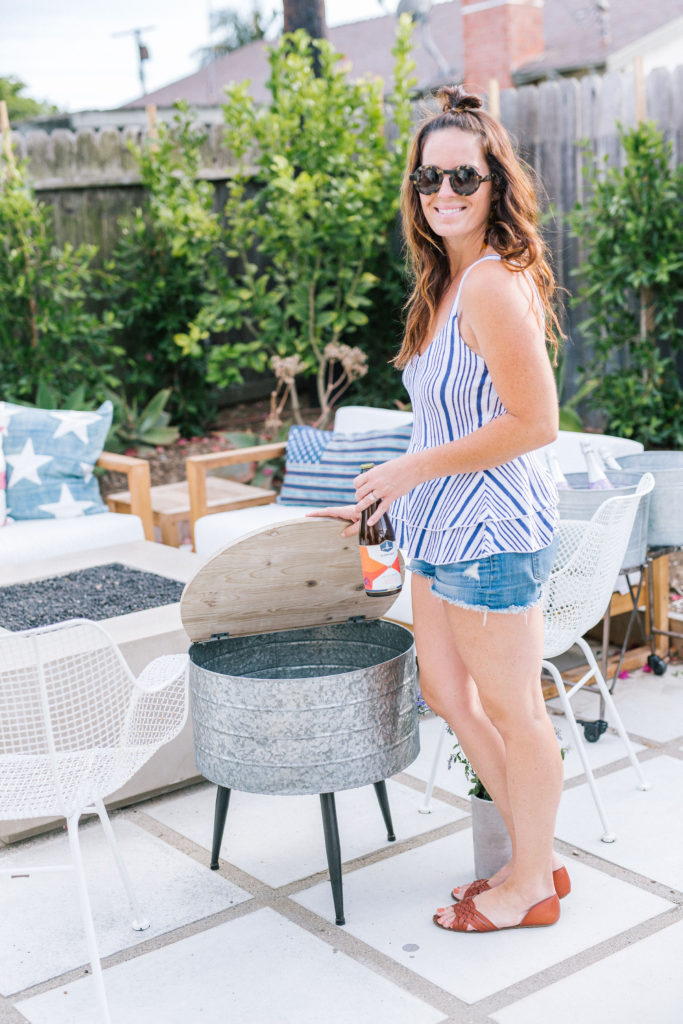 We stocked our coolers with our favorite local beer brand Gunwhale Ales! This particular beer is called On The Shoot and it tastes kind of like a cider to me with a nectarine flavor. It was so yummy!! Decor tip, flowers on ice always make things prettier!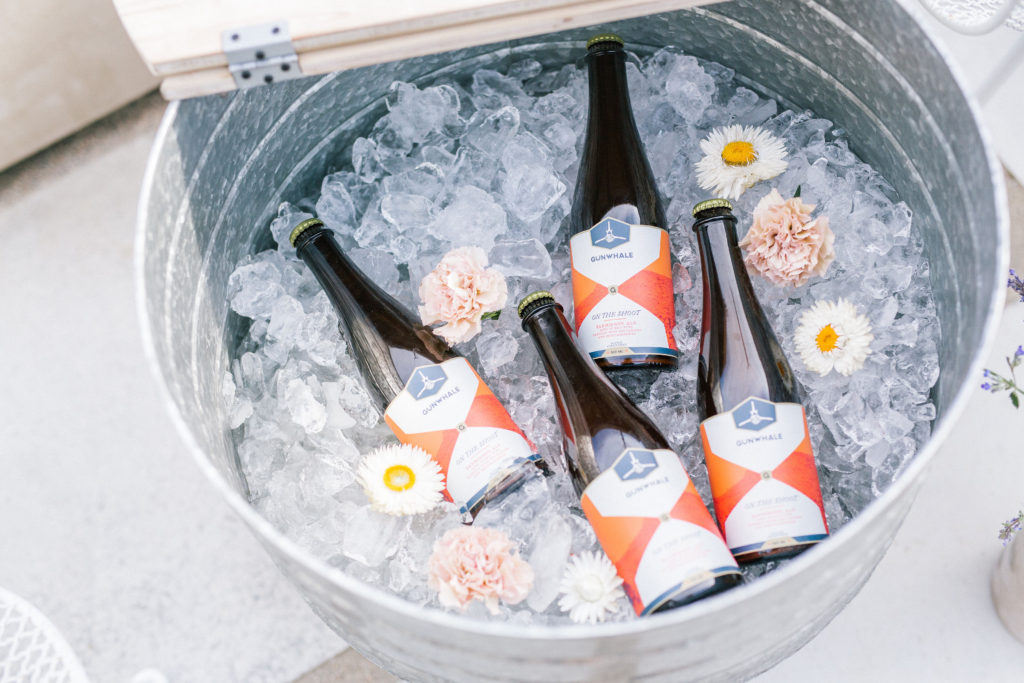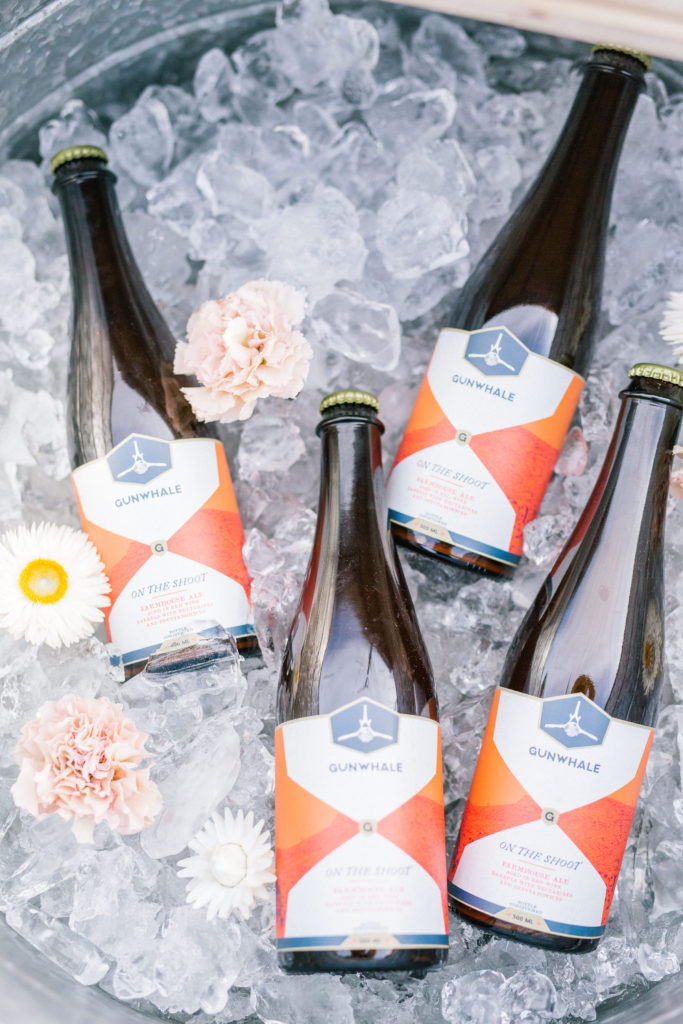 We also had to add some sparkle from One Hope!!! They have these cute glitter red, white and blue bottles that benefit children. So festive!! A sell of each bottle helps feed a hungry child and they have provided nearly 3 million children with meals so far!! Plus it pairs well with our fruit and cheese platter, so win-win!!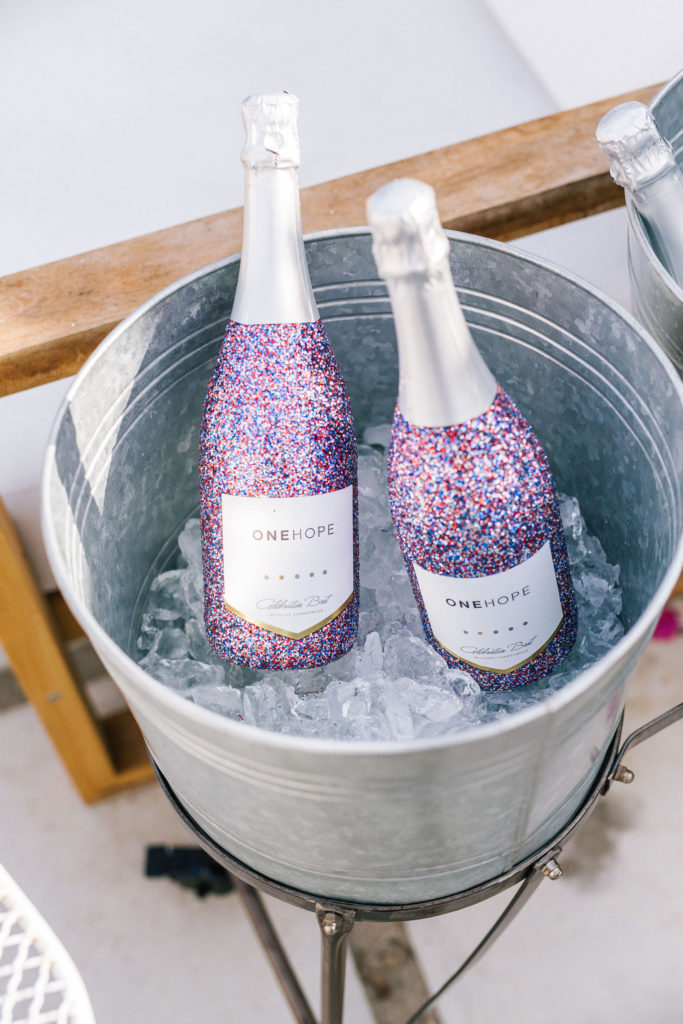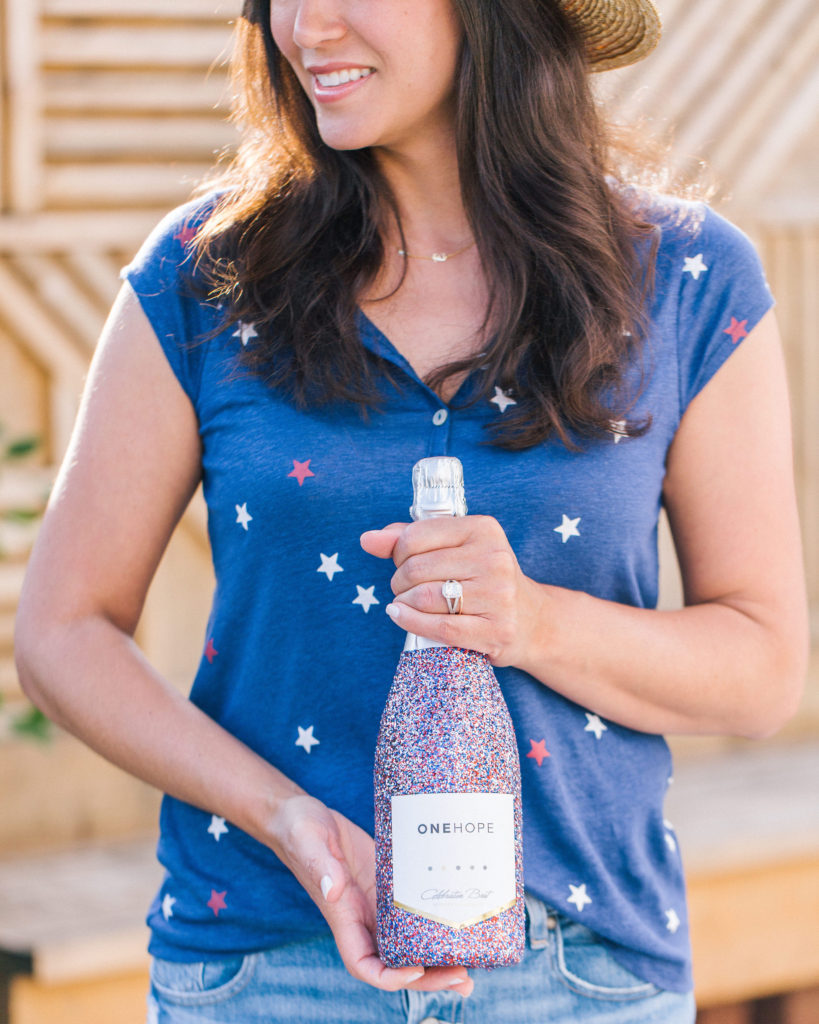 Number one hosting tip – always have a full glass to greet your guests!! I had to pour for all my guests so they wouldn't have an empty glass at the table!!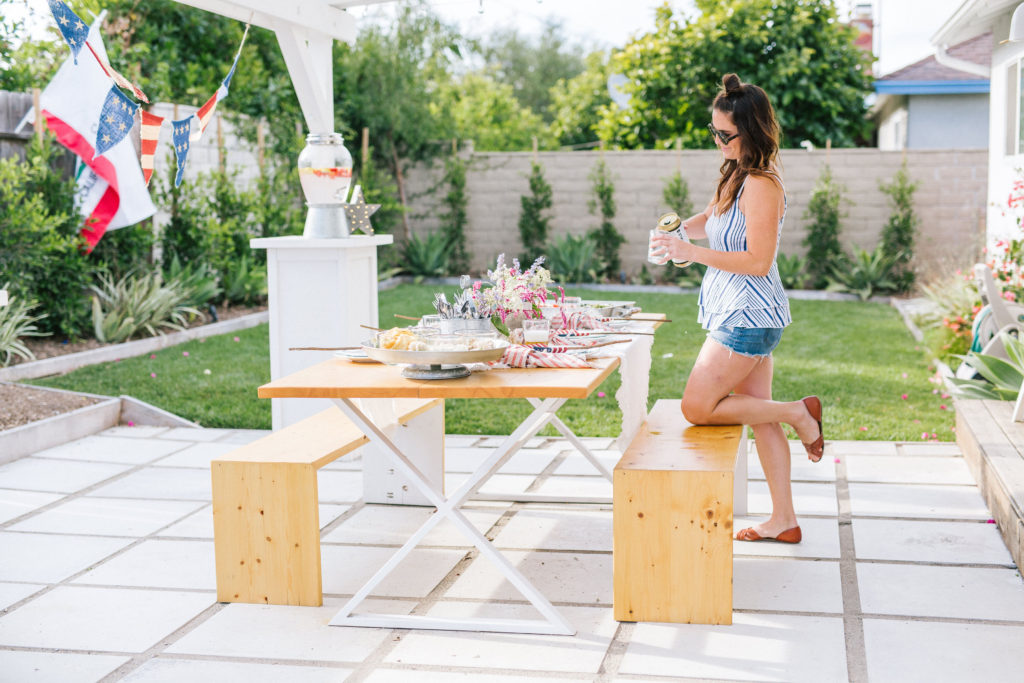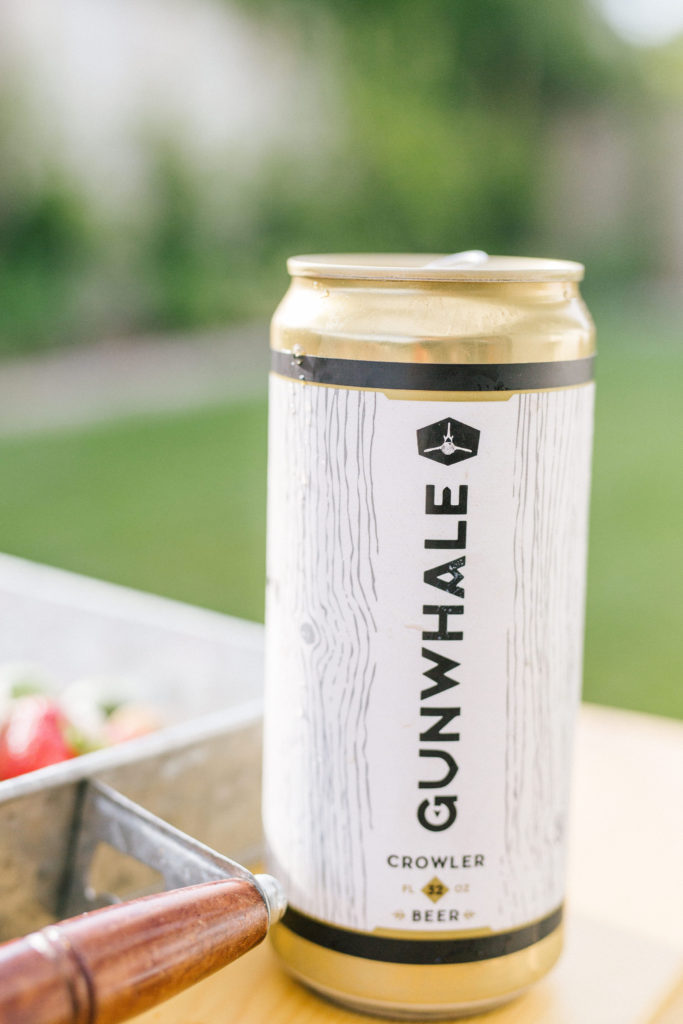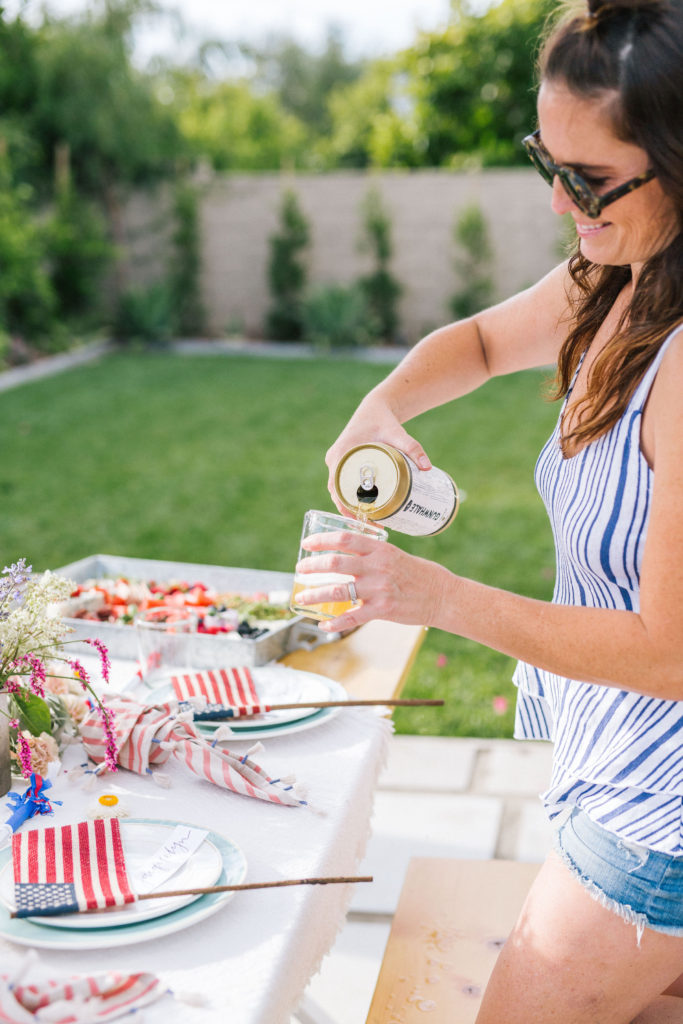 I couldn't pass up these galvanized light up stars for an added decor piece! They will be so cute at night!!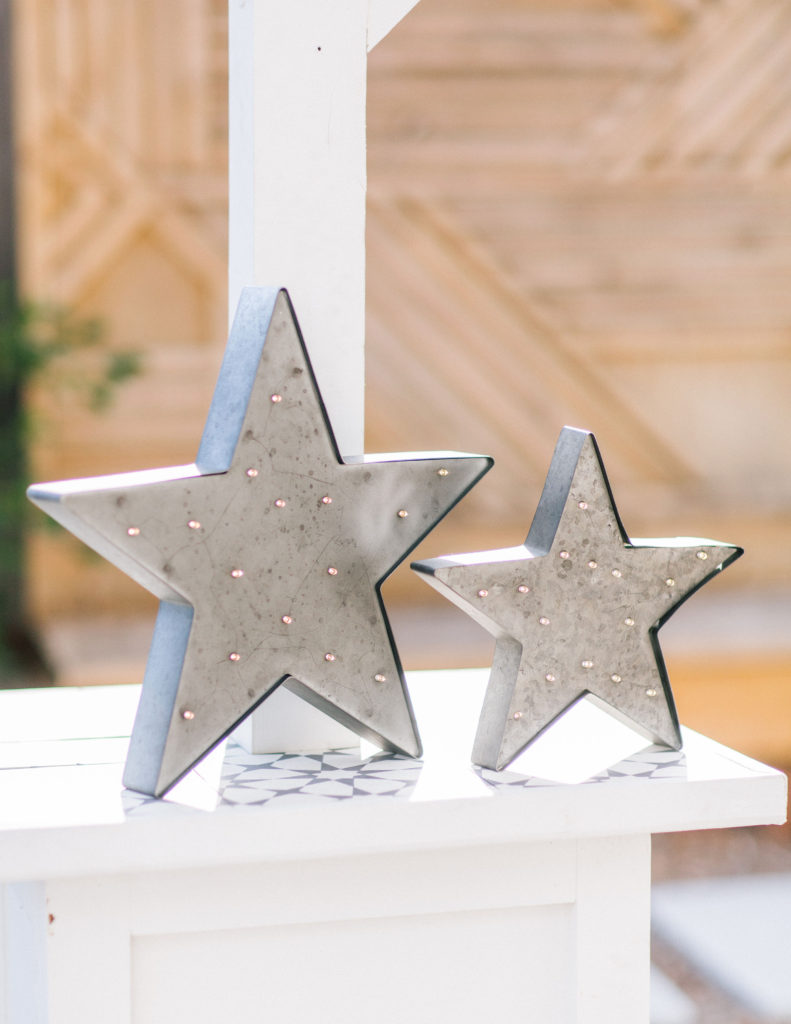 And this drink dispenser is KEY to all parties!! Do you have one?! We love ours and use it at every party we host! Make sure you get both the top an the base, it's nice to add some height to it when pouring. Gotta keep everyone hydrated, plus it's fun to play with different fruits, veggies and herbs to make yummy spa waters! I did a mixture of strawberry and lemon for this one!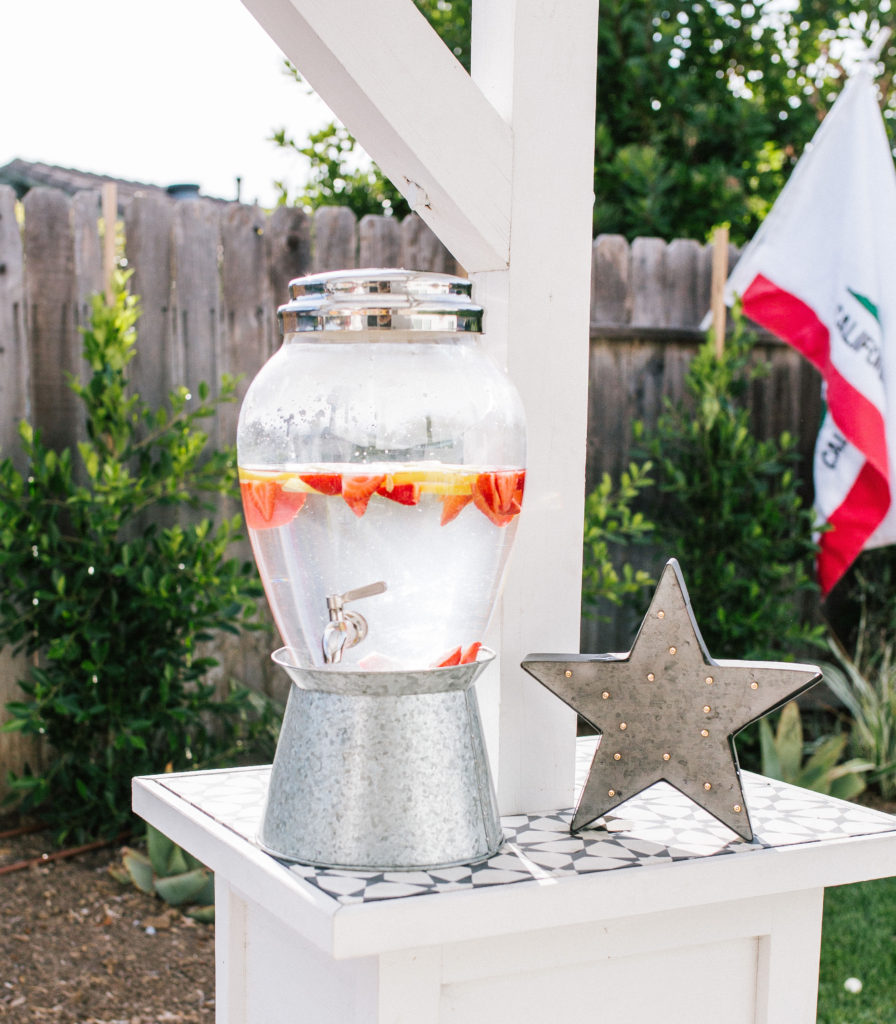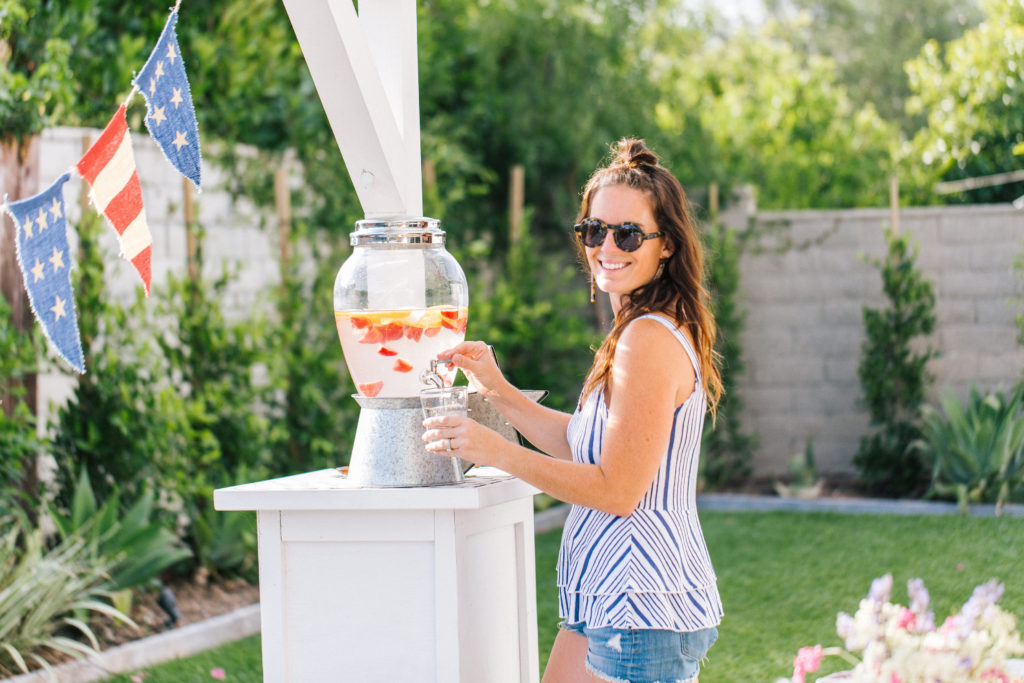 Awww, the cheese board… You know every party needs one! And why not do fun themes for each holiday?! Red, white and blue was appropriate for this one and boy was it yummy! My friend Jenny at Graes Platters was kind enough to bring over this delicious spread!
What I love about cheese boards is that both adults and kids like to nibble on them, so everyone is happy! You could definitely make one of these yourself, but this is one party piece I personally like to have the professionals take care of. We placed it all on this amazing tray from Pottery Barn, love the mix of the wood handles with the galvanized metal!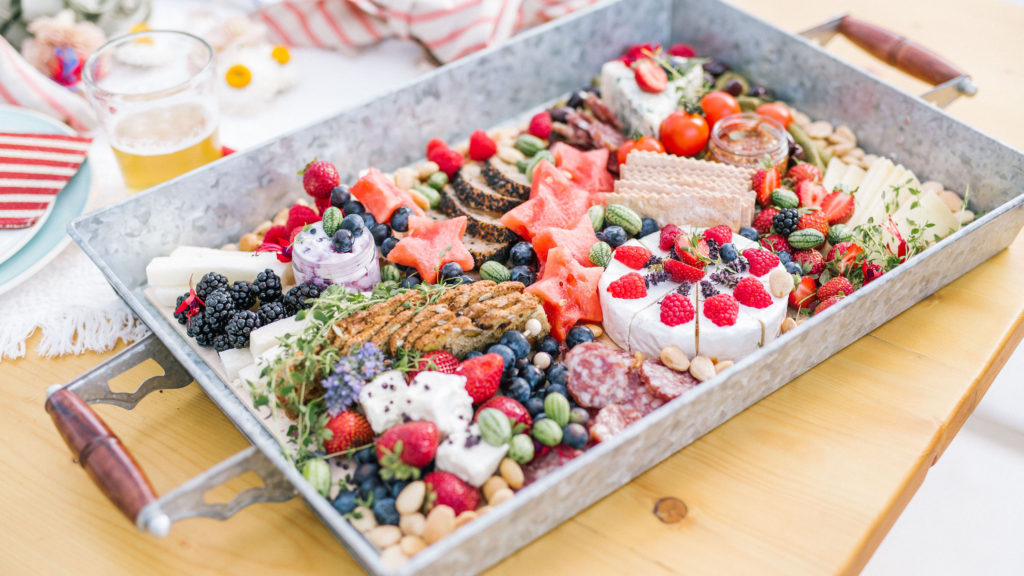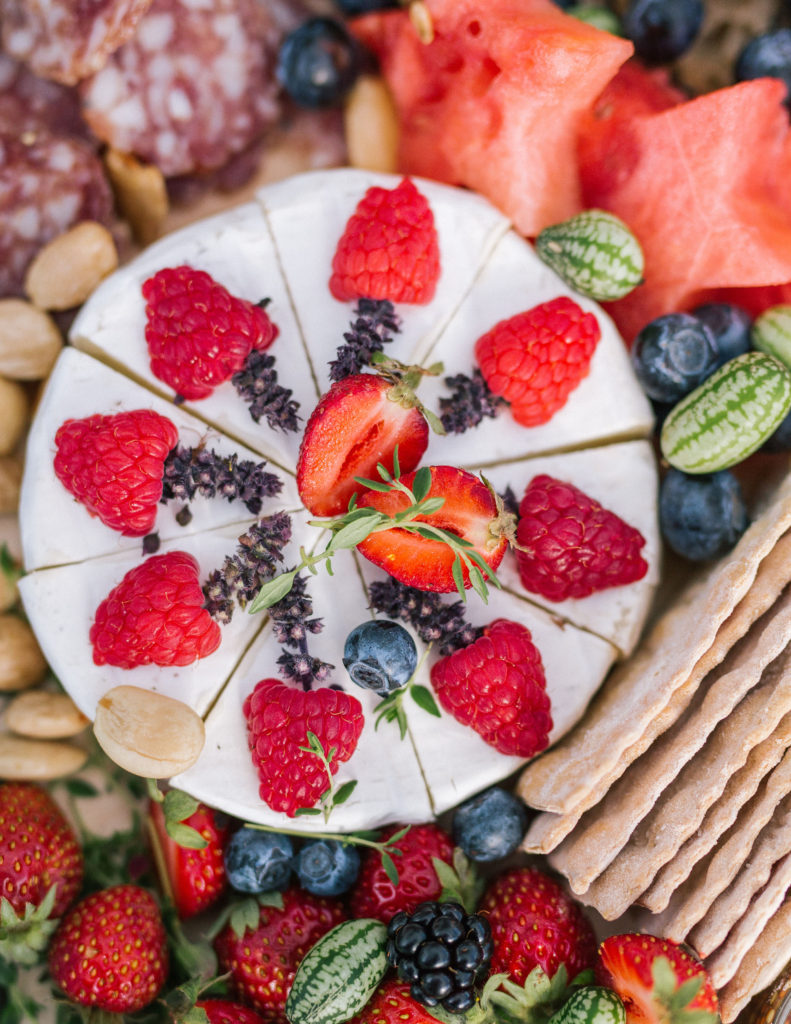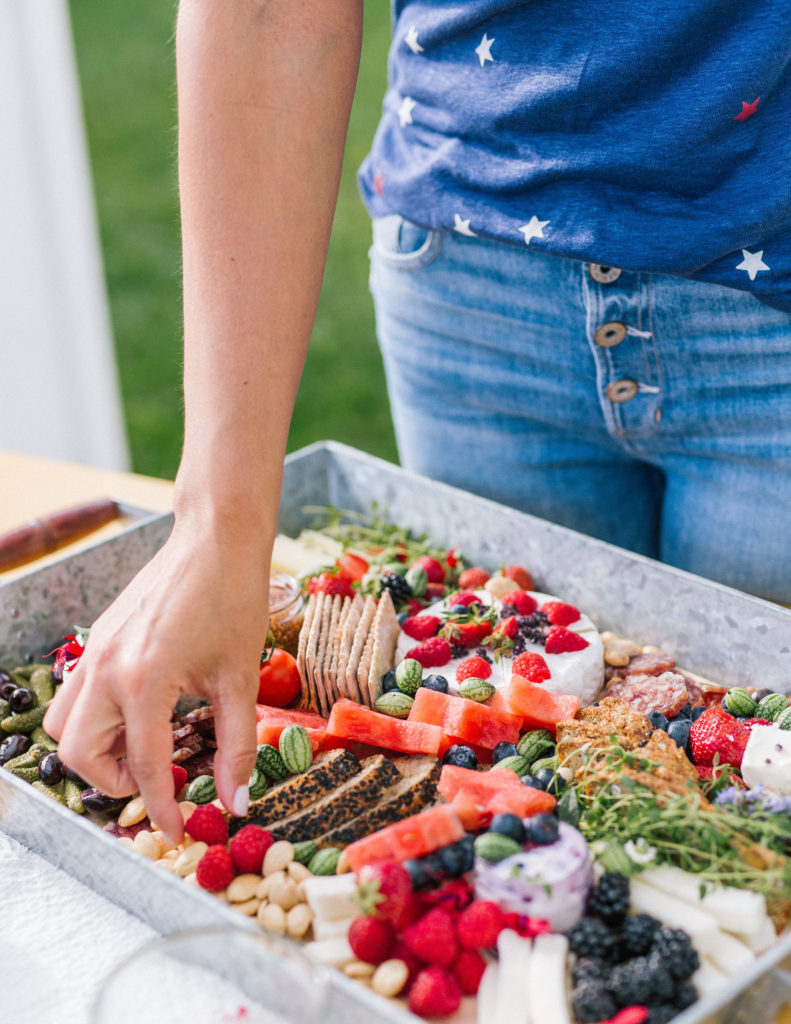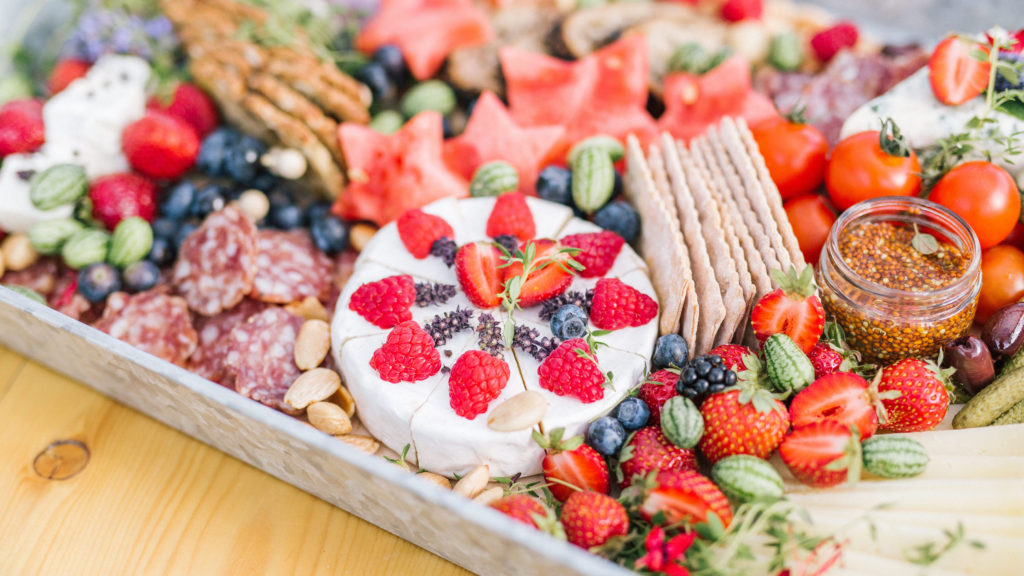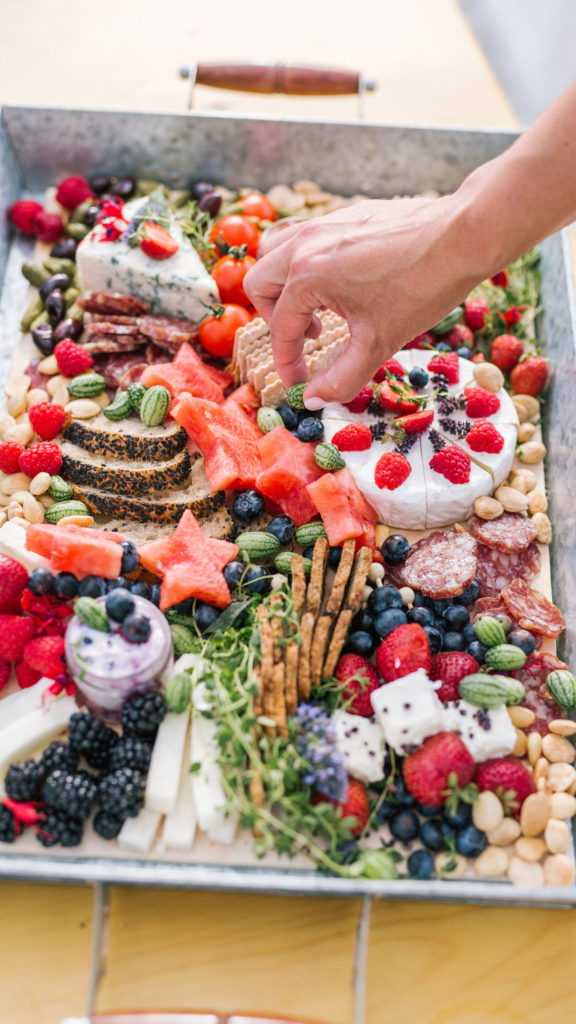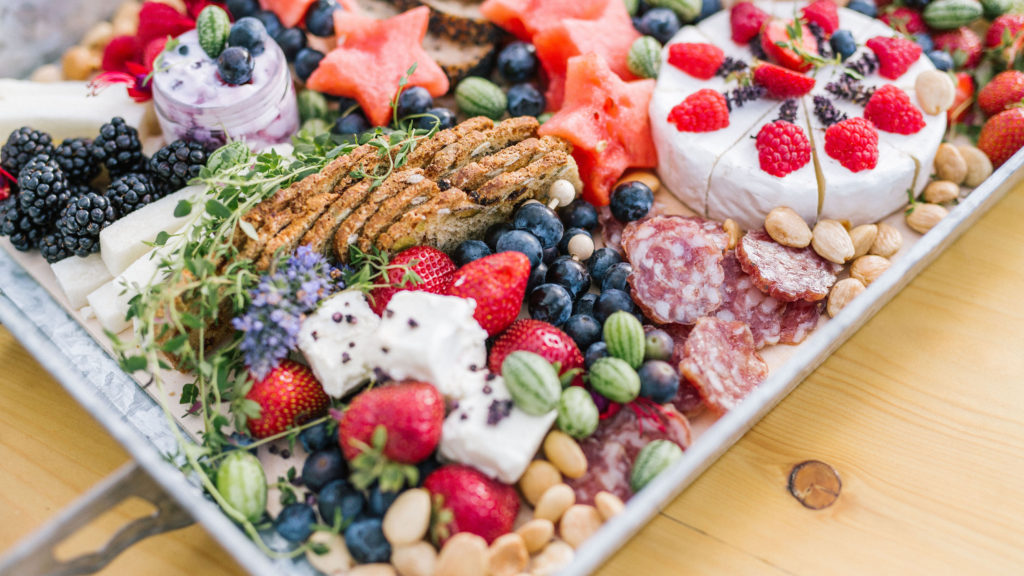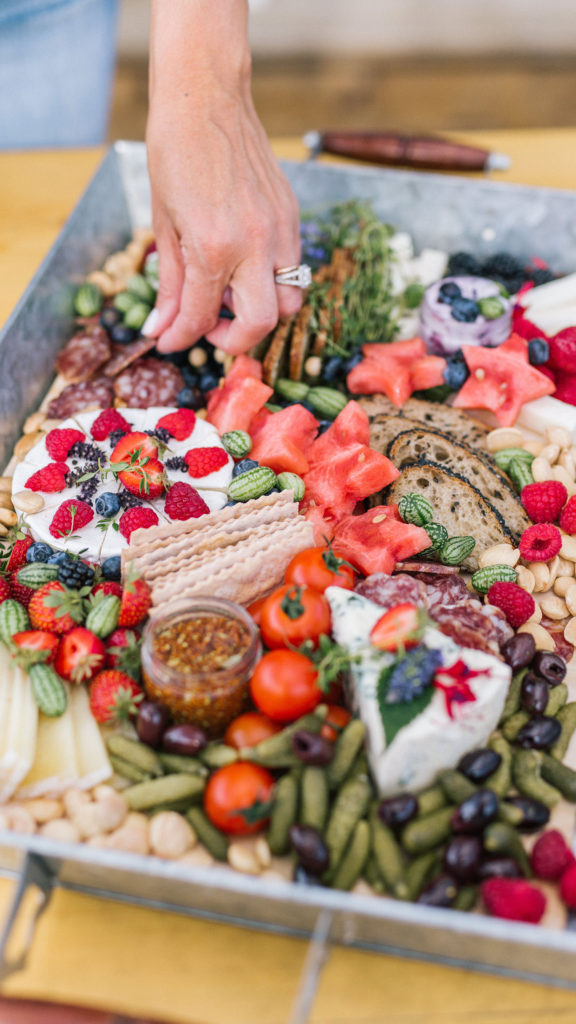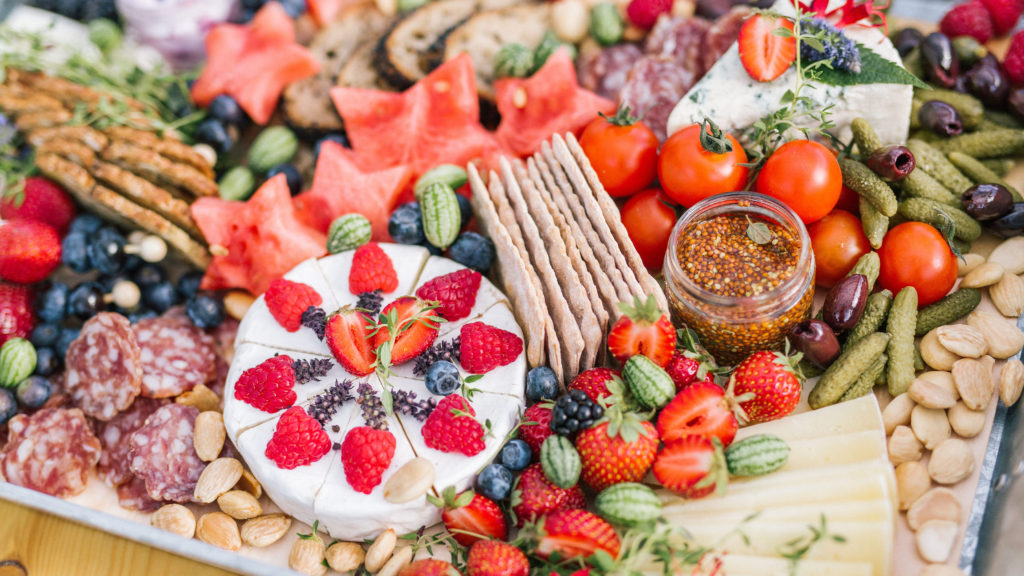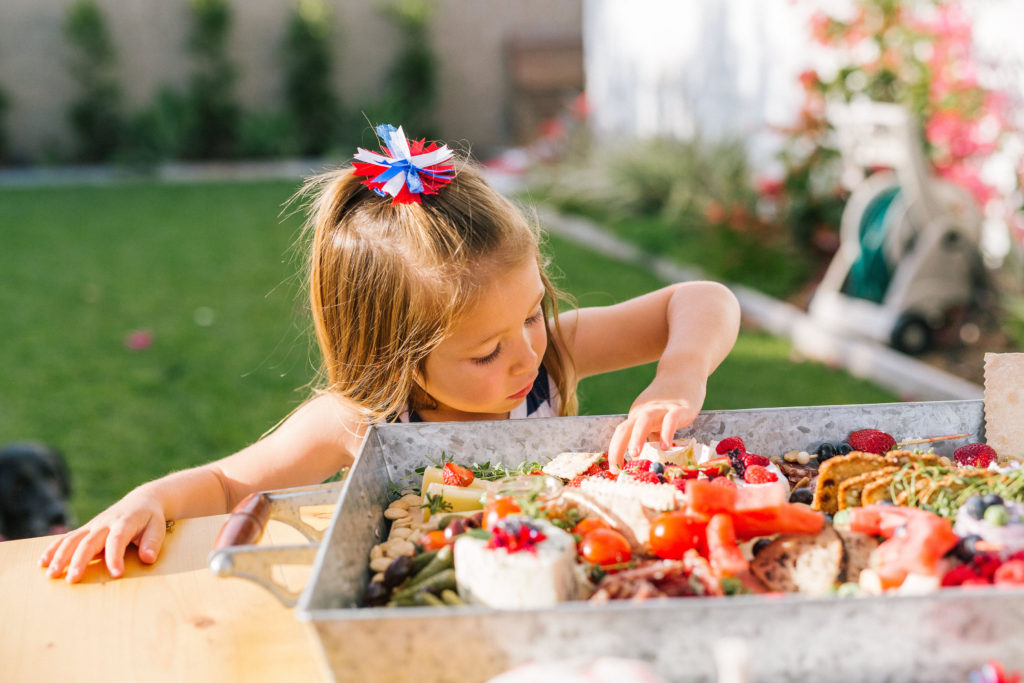 Now to gather everyone around the table! Sort of impossible with kiddos, but we can at least get the adults to sit down and cheers the holiday!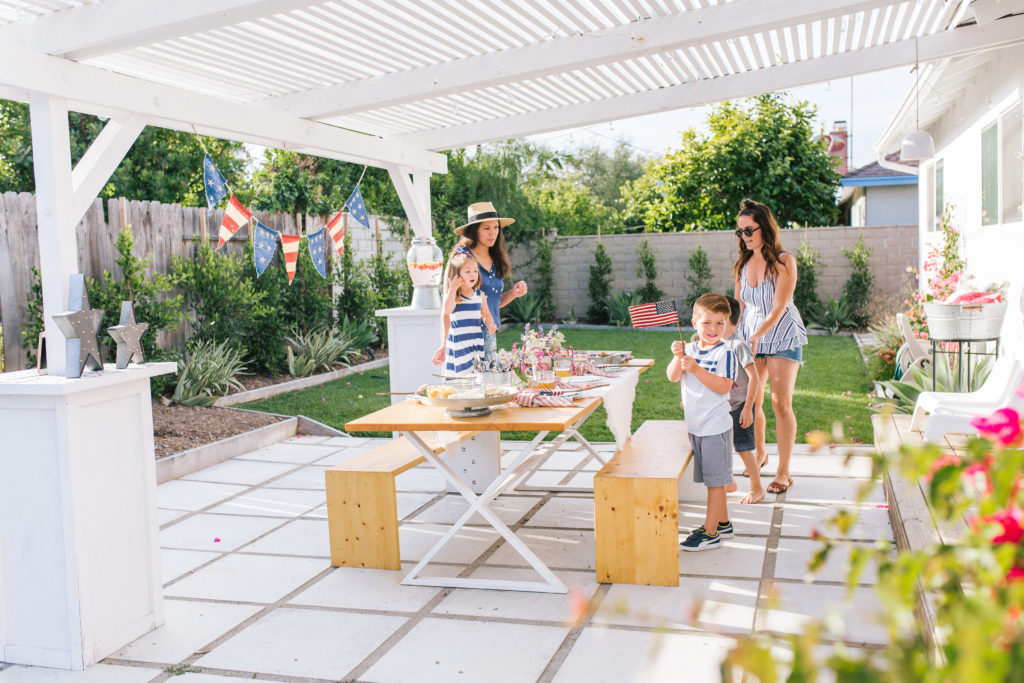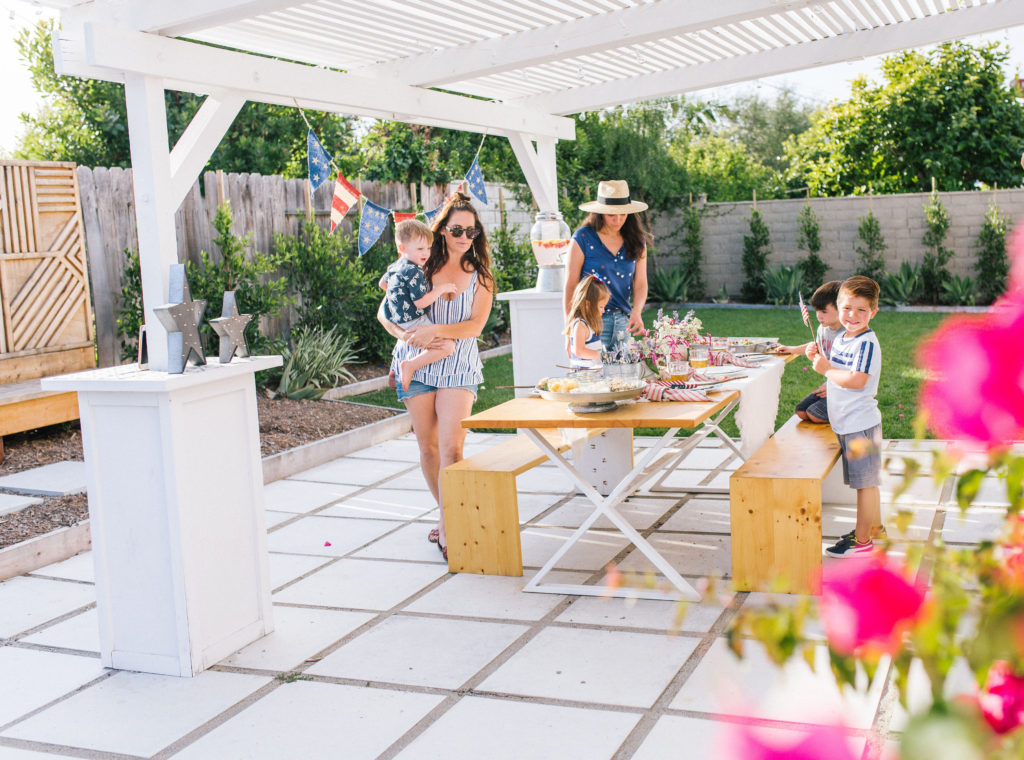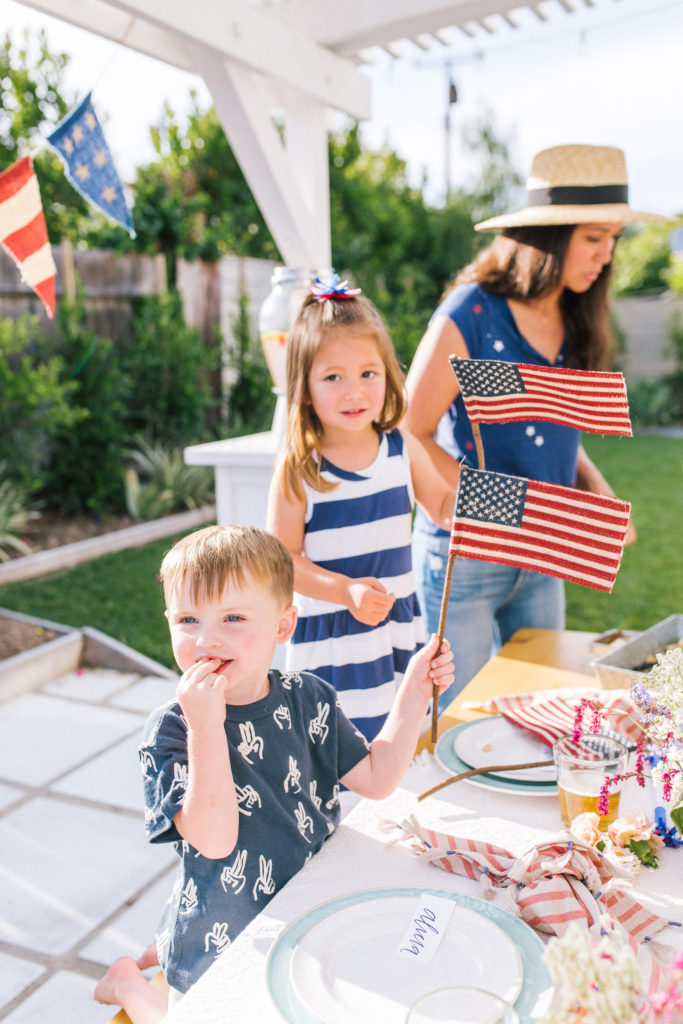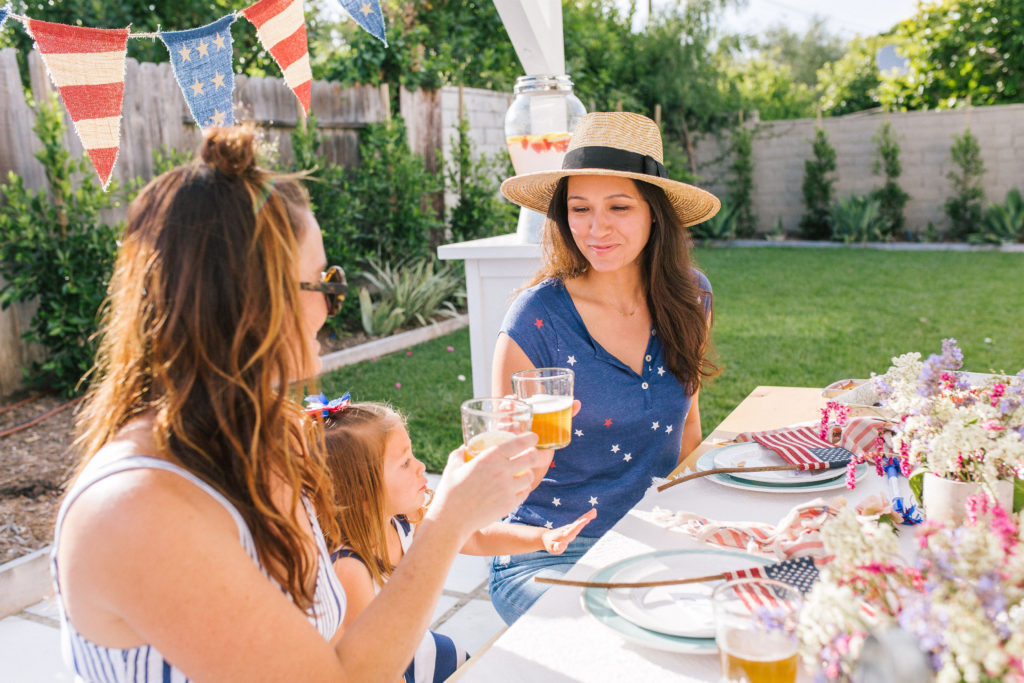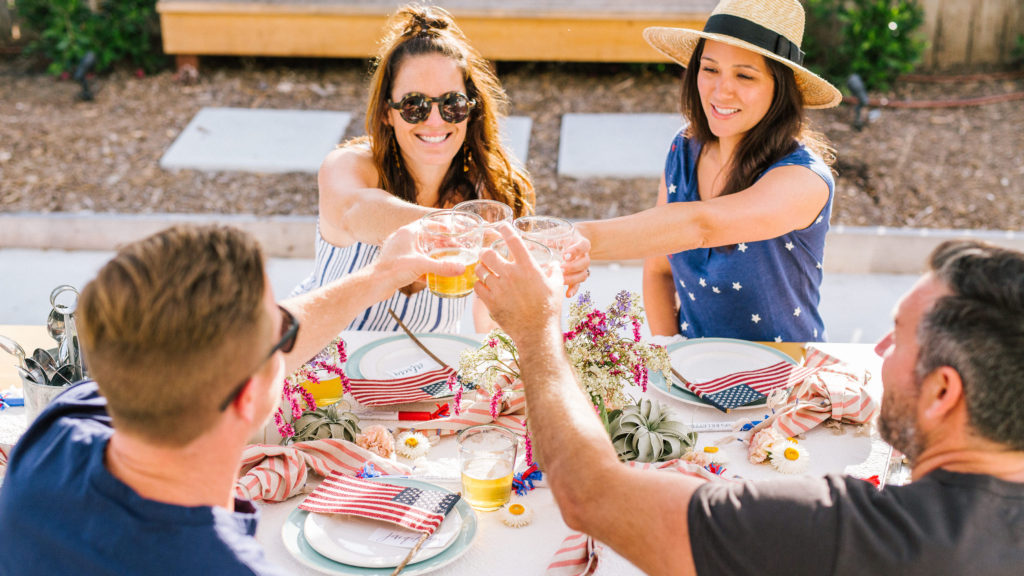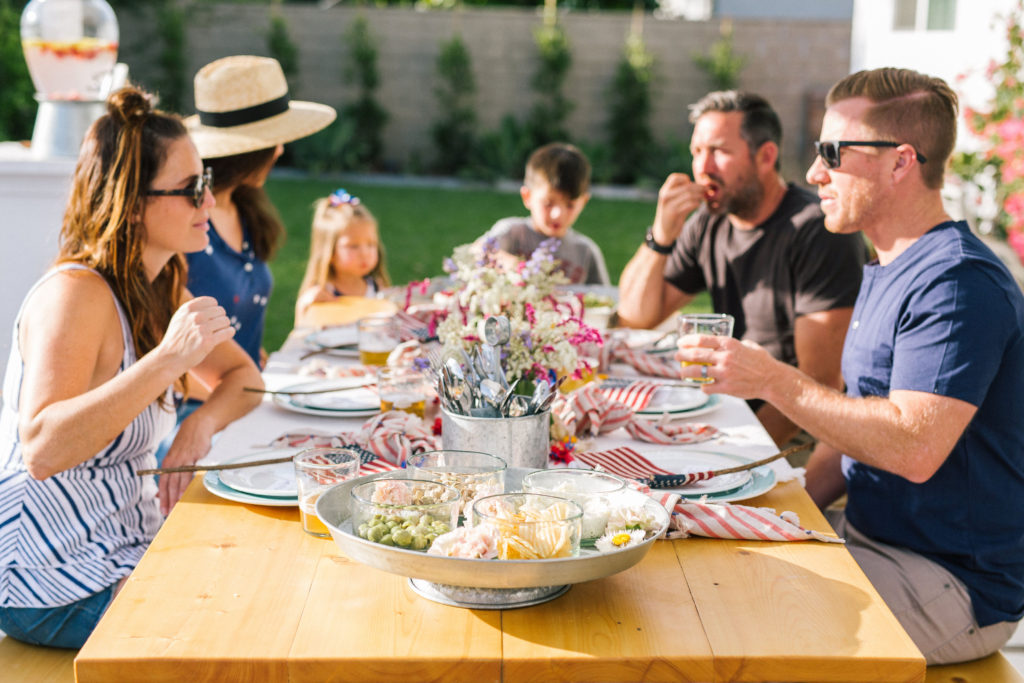 Time to enjoy drinks and each others company by the fire pit. We love ours from Hart Concrete Design. My happy place is a glass of wine and sitting out by it on in the evenings, nothing more relaxing!!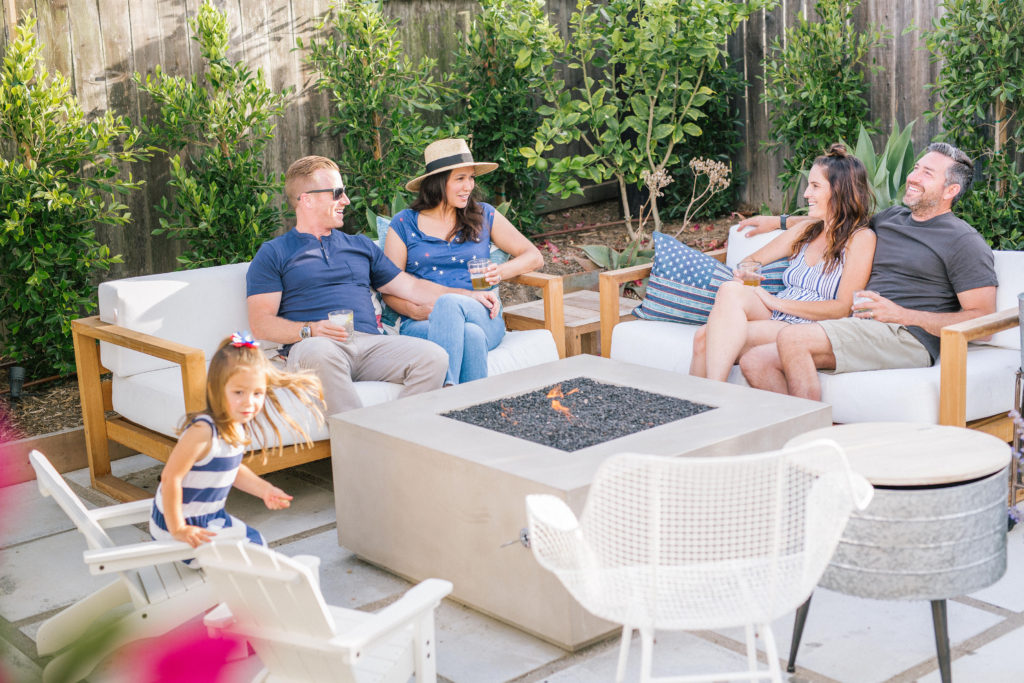 If you thought I forgot about dessert, you don't even know me. Dessert is always happening over here! And what better way than a classic cherry pie!! Complete with the cutest star cut outs – you know, because we don't skip any detail!! Anais of Frost Your Cookie made this bad boy, because don't even ask me to bake something as cute as this! My pie loving husband was in heaven!!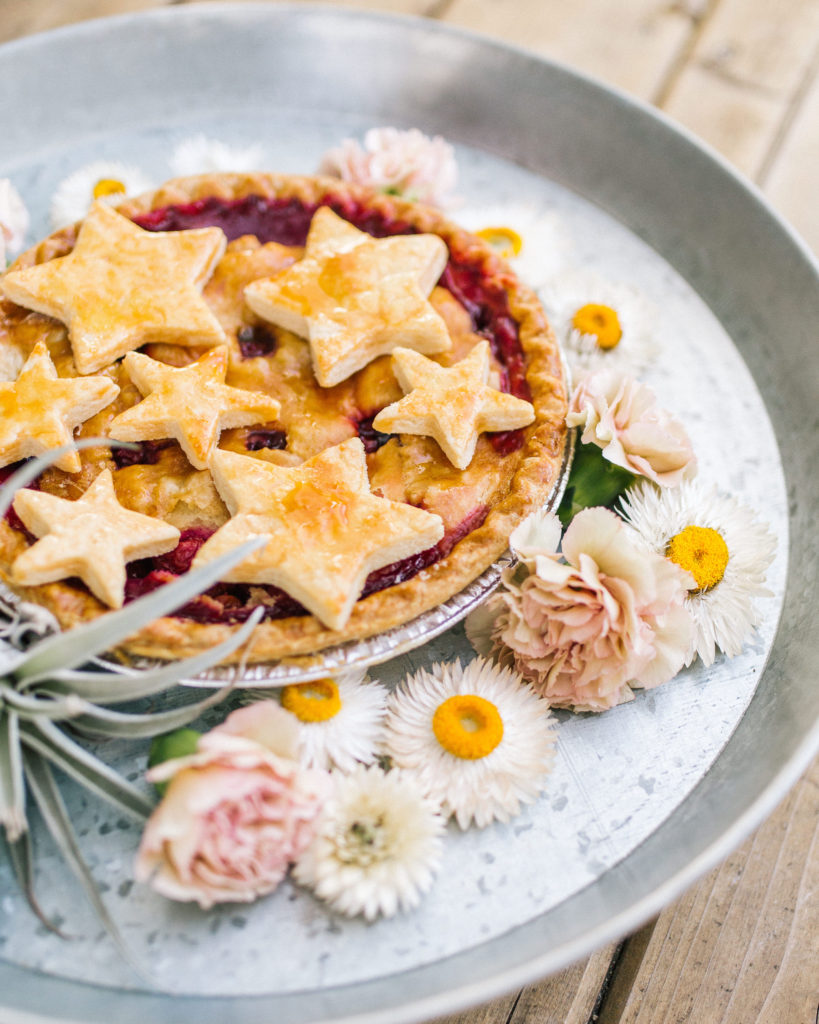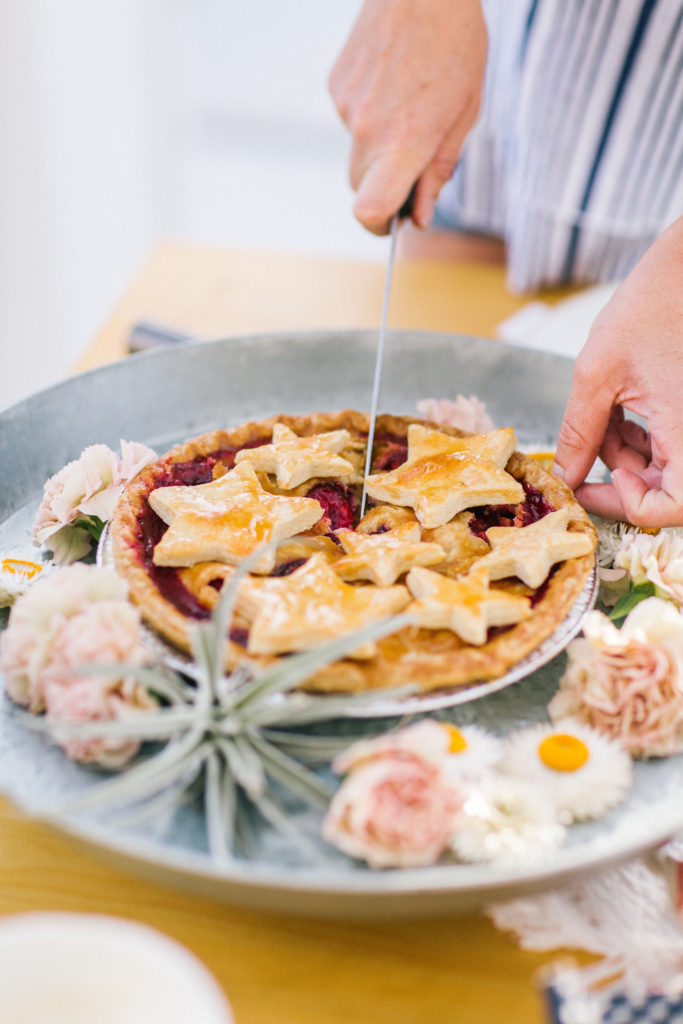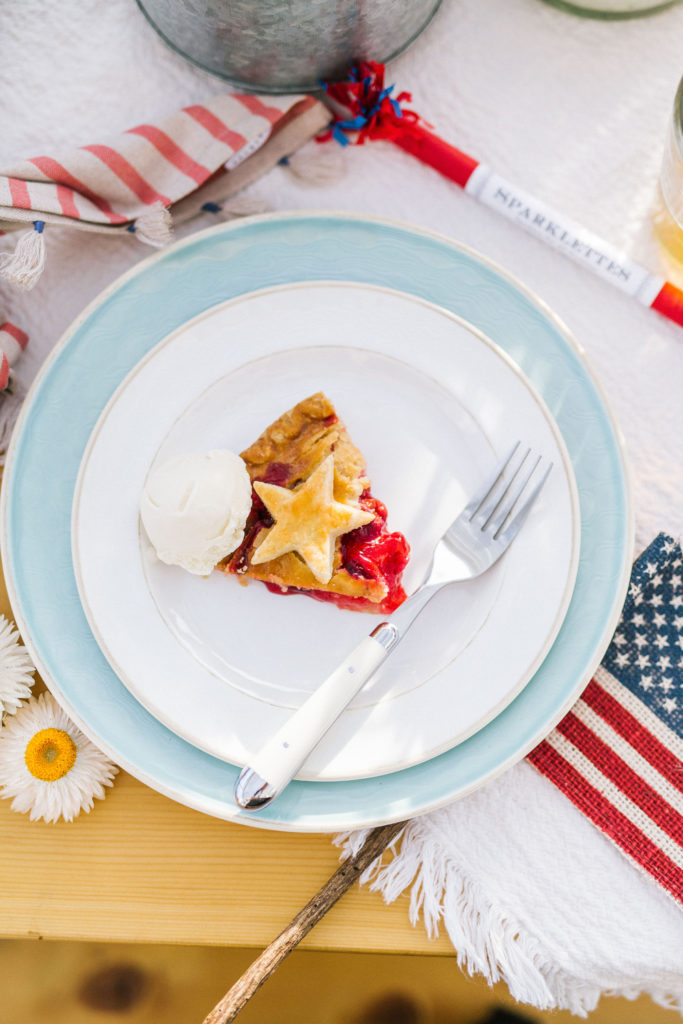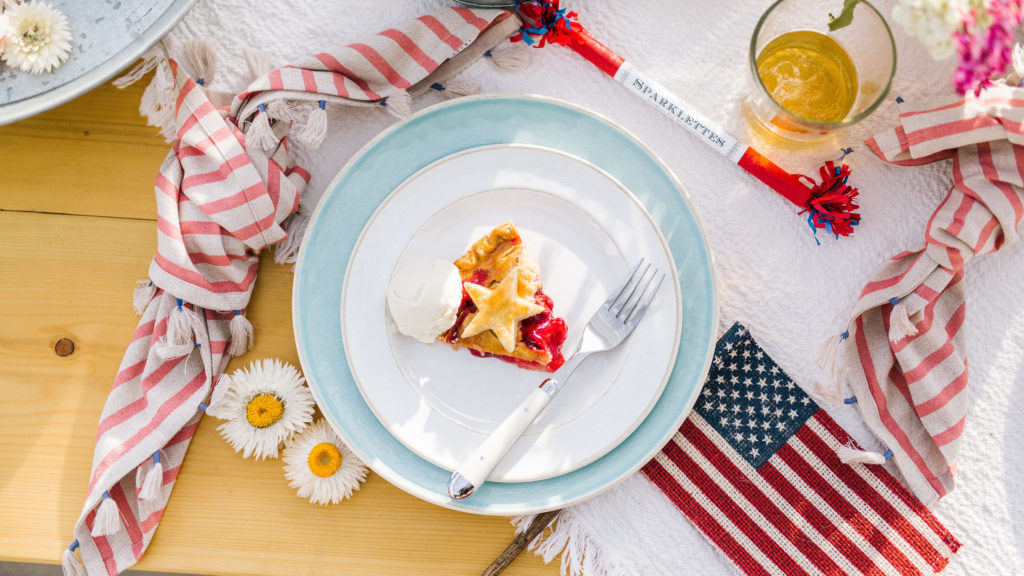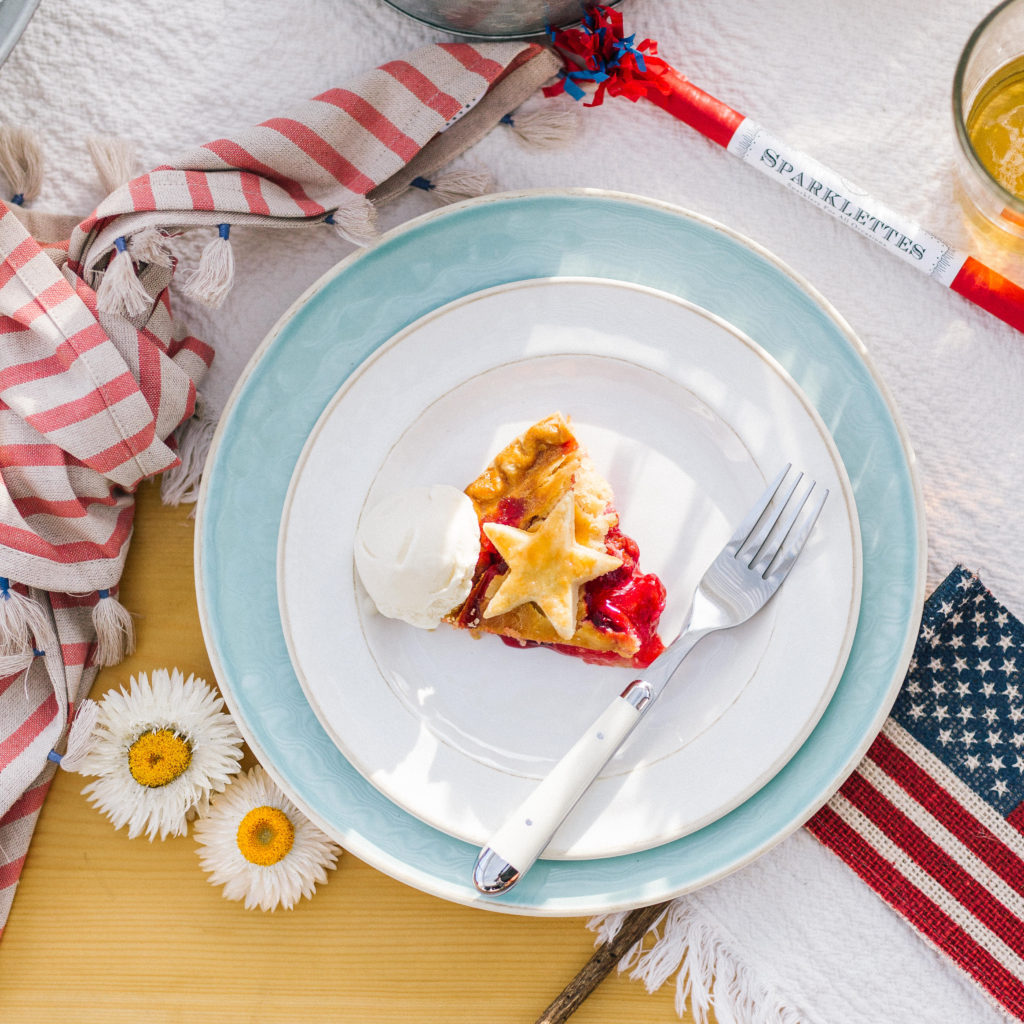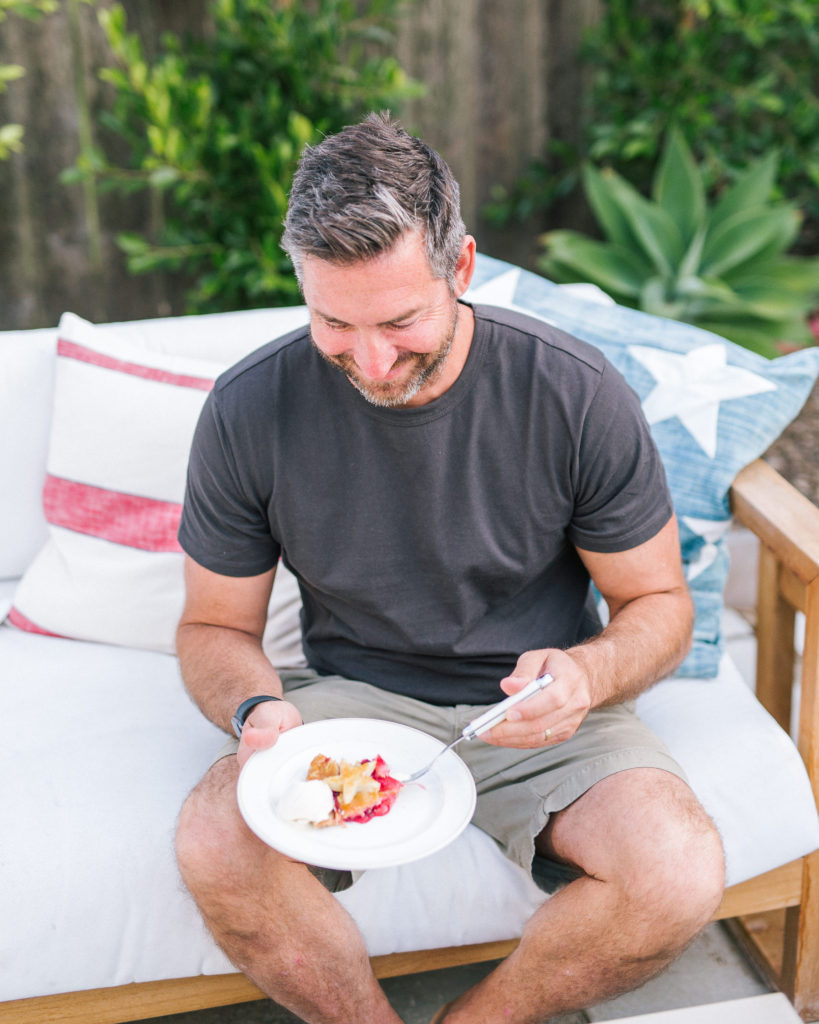 We were finally able to round up this rambunctious bunch! How you ask?! By offering flags to wave, haha! Whatever it makes them happy!
How cute are they in their patriotic gear?! Chaser Kids has so many options – and it doesn't have to be stars and stripes! I found some cute tees and such that were the right colors and they will continue to wear over and over again. Us parents were decked out in Chaser Brand as well. So many cute options for the whole family in the softest fabrics. My sons and husband always say "yay! the soft shirts!"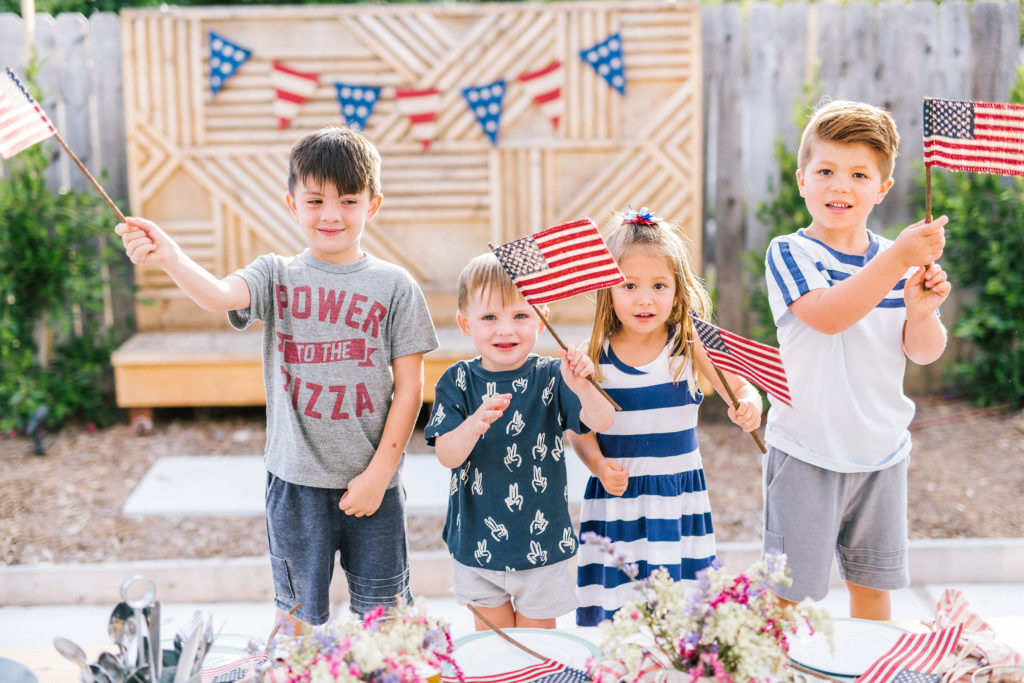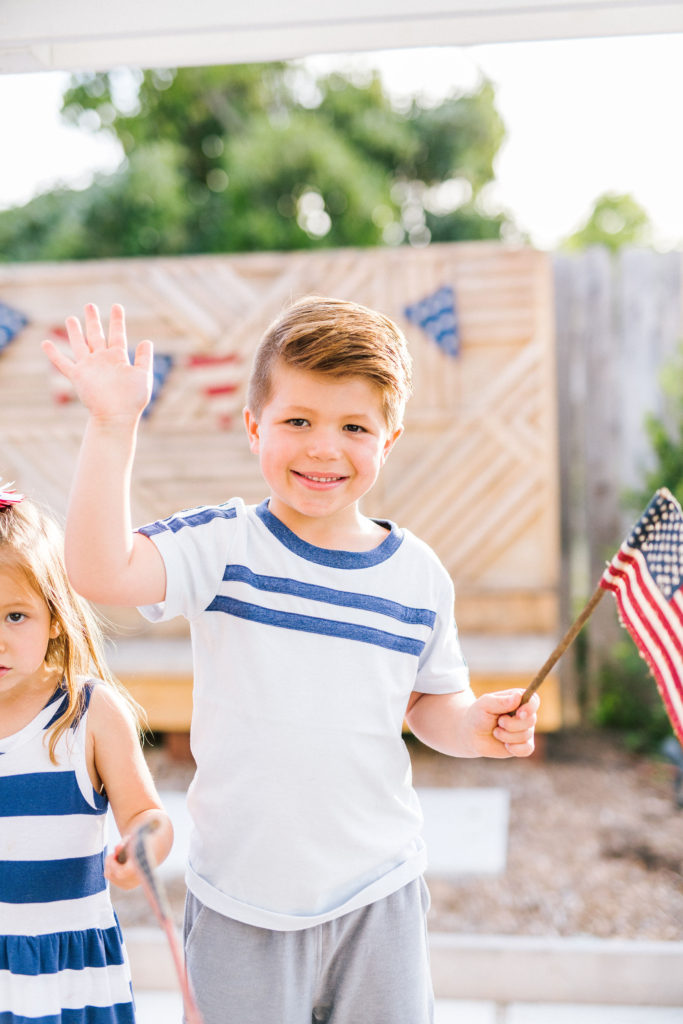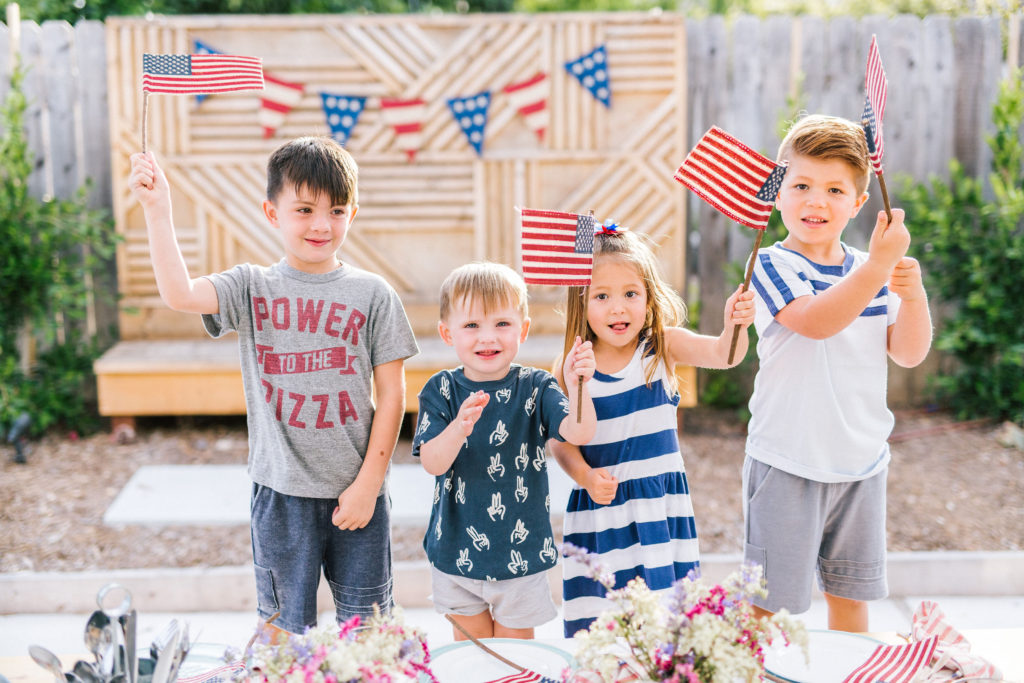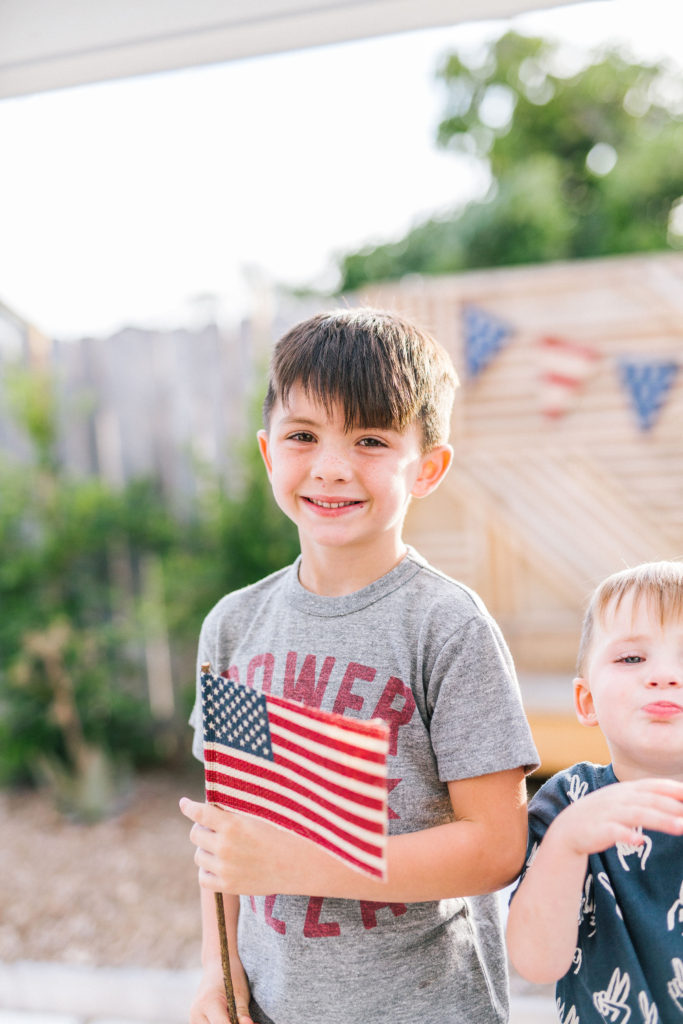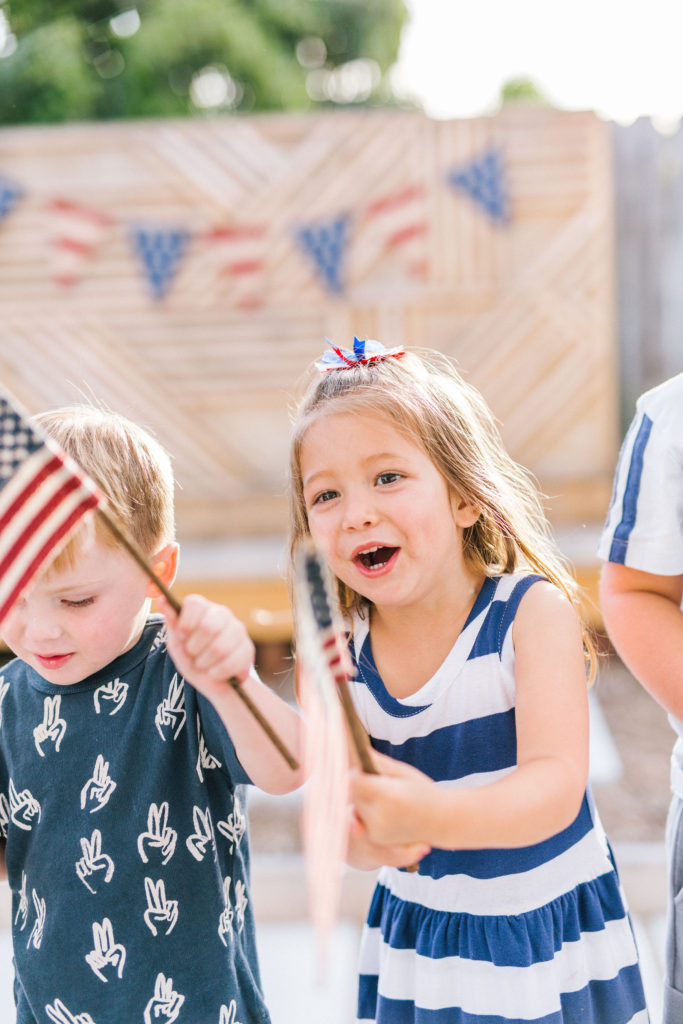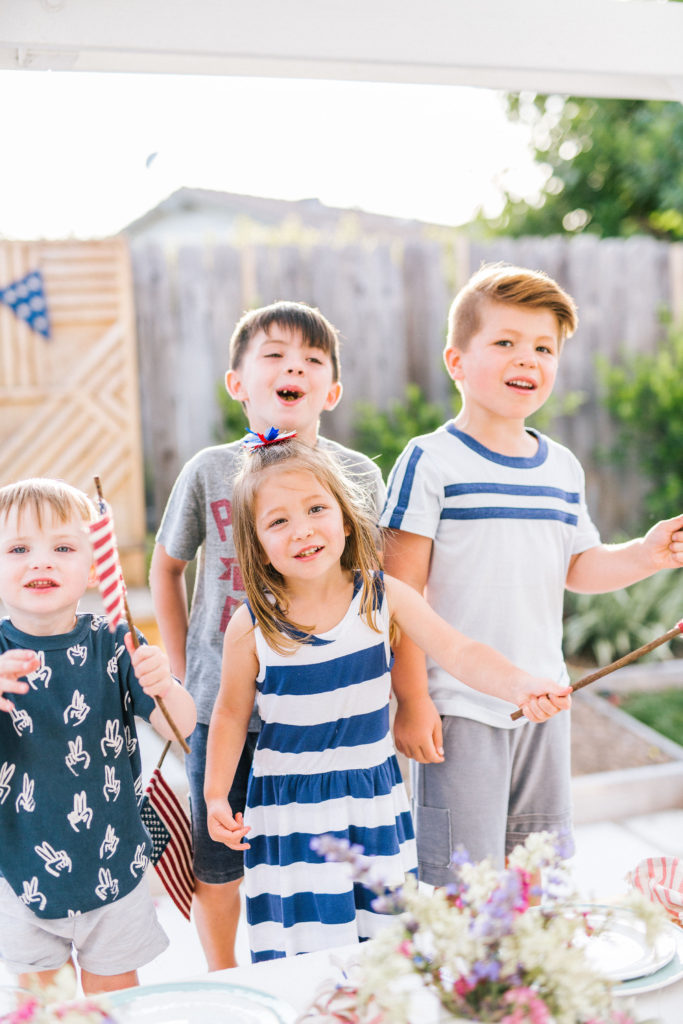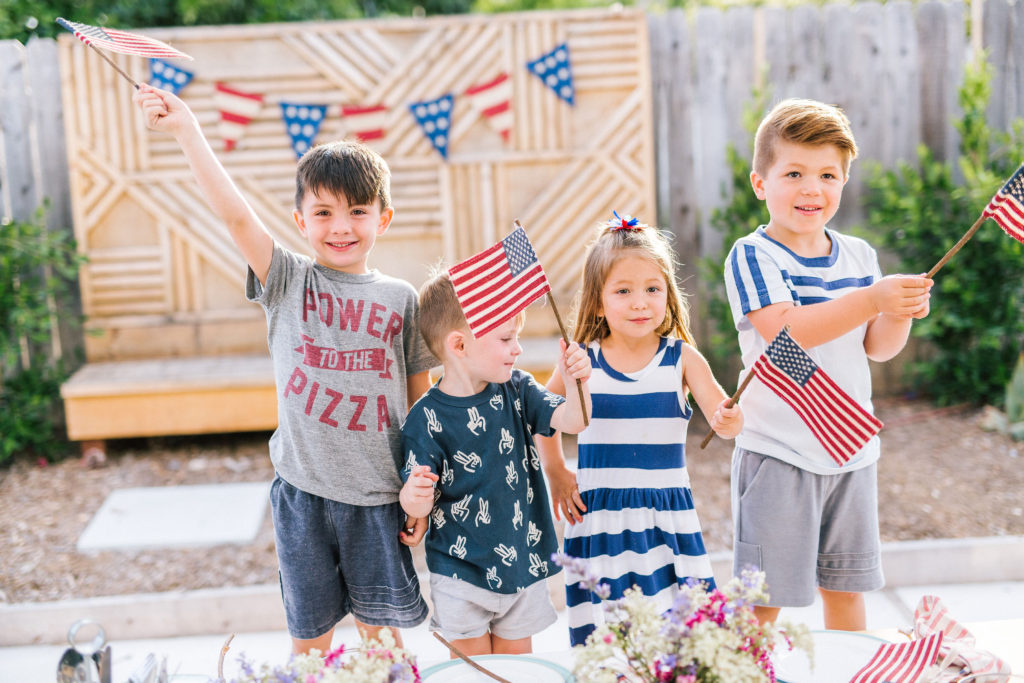 Happy 4th from our families to yours!!!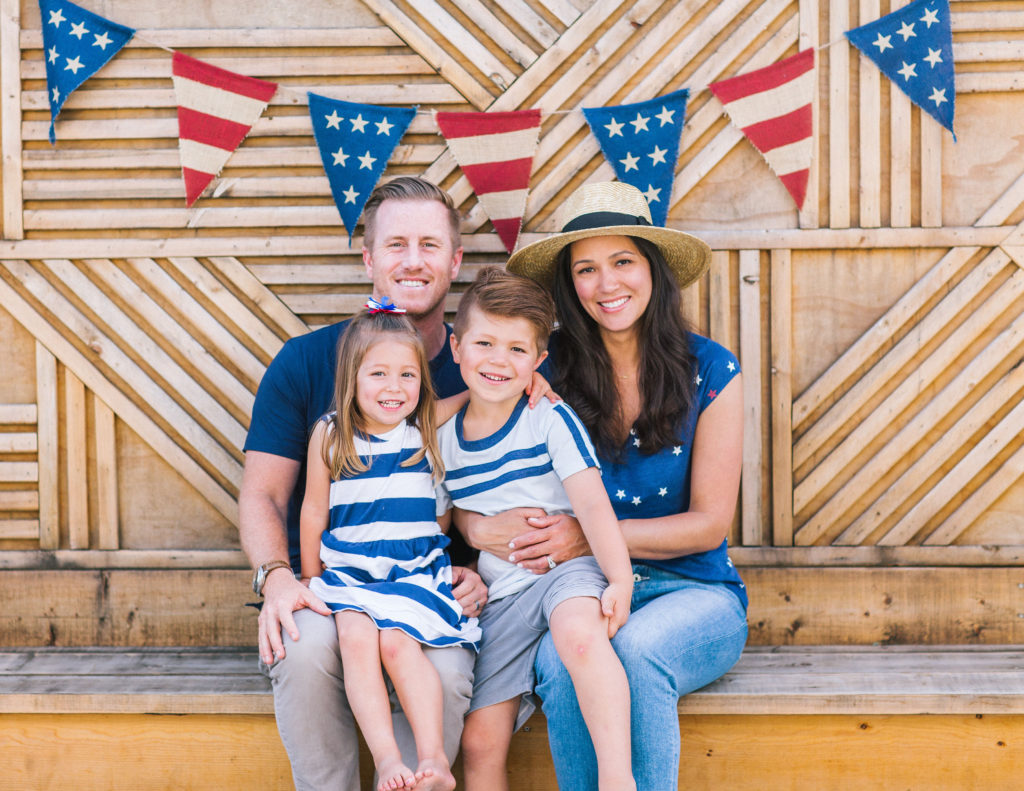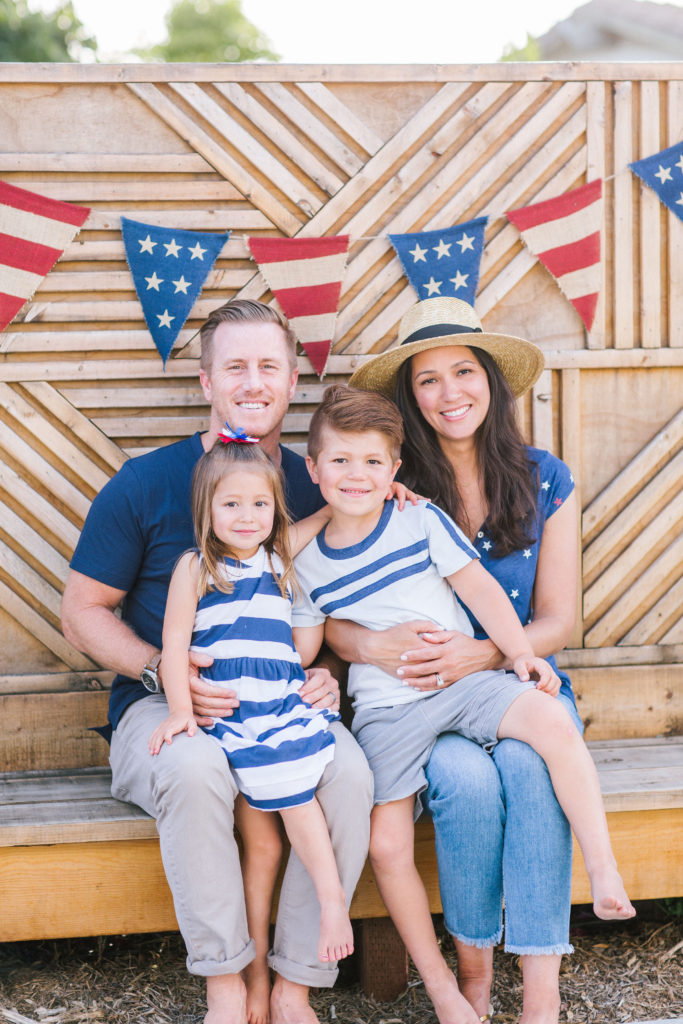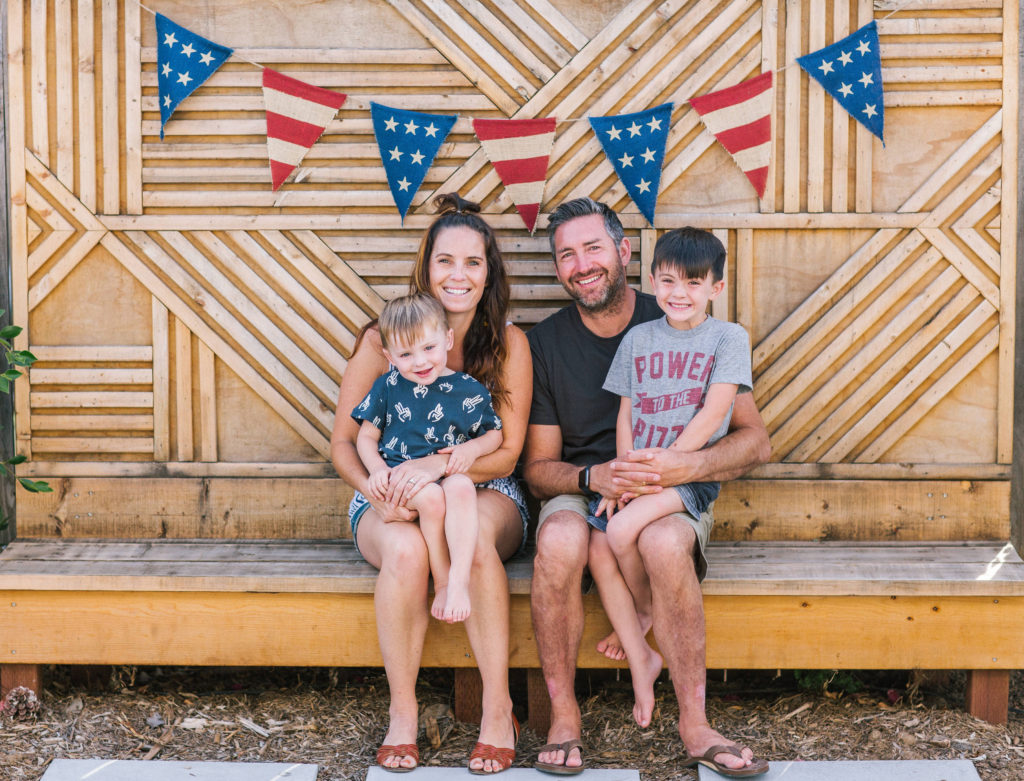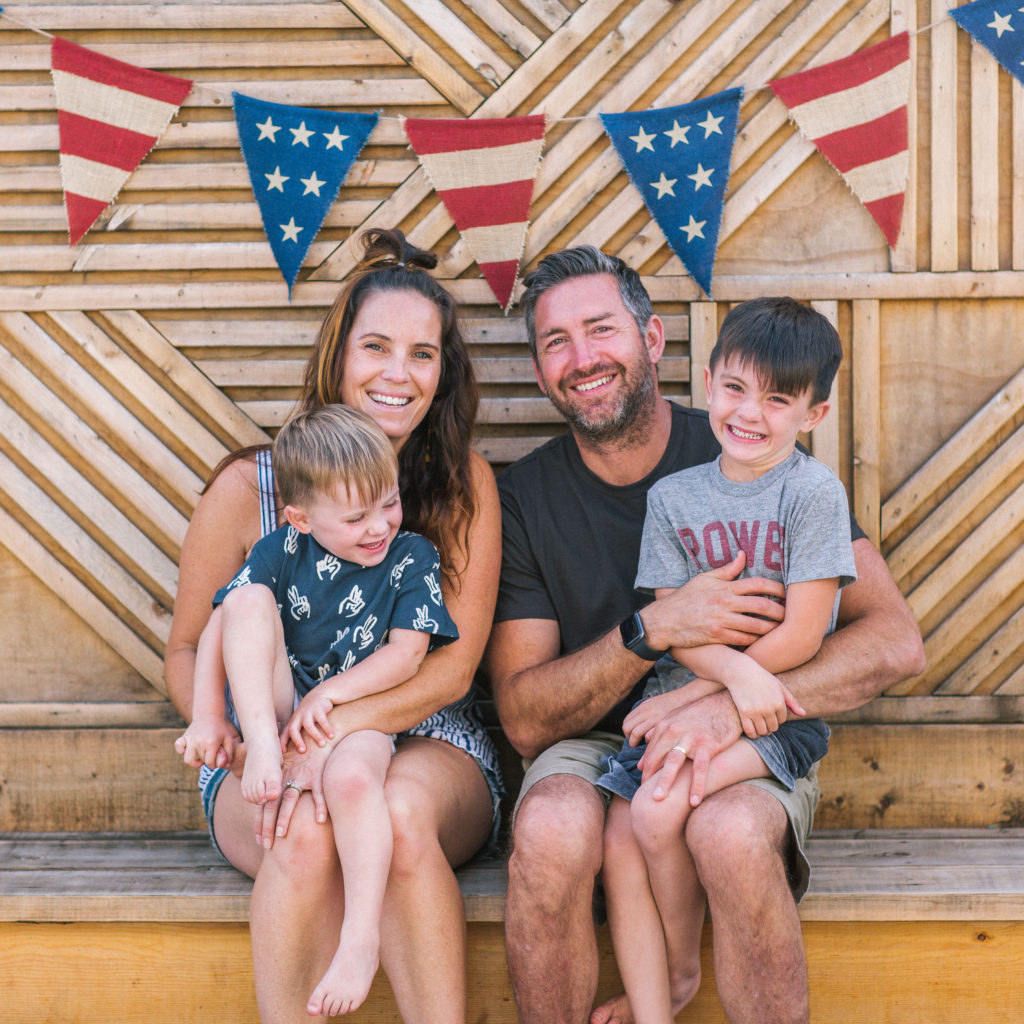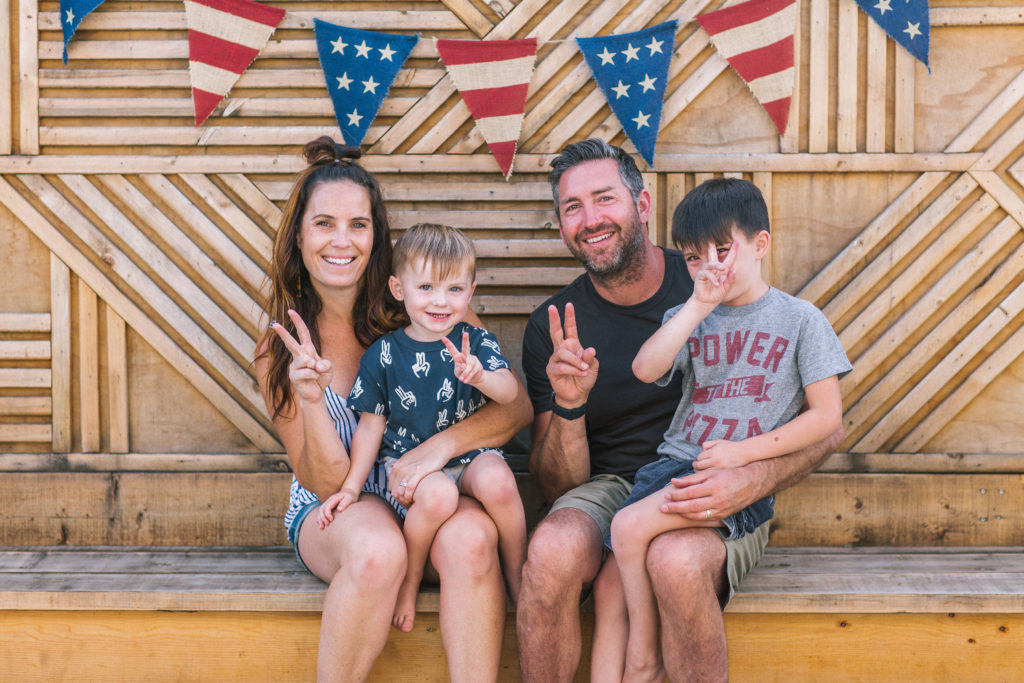 Shop this post below!! Better get it soon, the 4th is just around the corner!!

xx
Jacquelyn