A month ago we got to experience something really fun and different! Our friends at Magnolia Wellness offer tons of fun and interesting wellness group events, one being Astrology 101. I have always been interested in astrology and jumped at the chance to learn more. Jen of Fortune and Flow hosted us and did all of our birth charts along with giving us more insight into the world of Astrology. I learned SO much, things I had no idea about!! I highly recommend doing this if you're interested in astrology because it's much, much deeper than your sun sign.
Of course we had to make it fun and cute, so we added in some fun details, check it out along with a little bit of info from Jen and all the photos by Corrie Lynn Photo below!!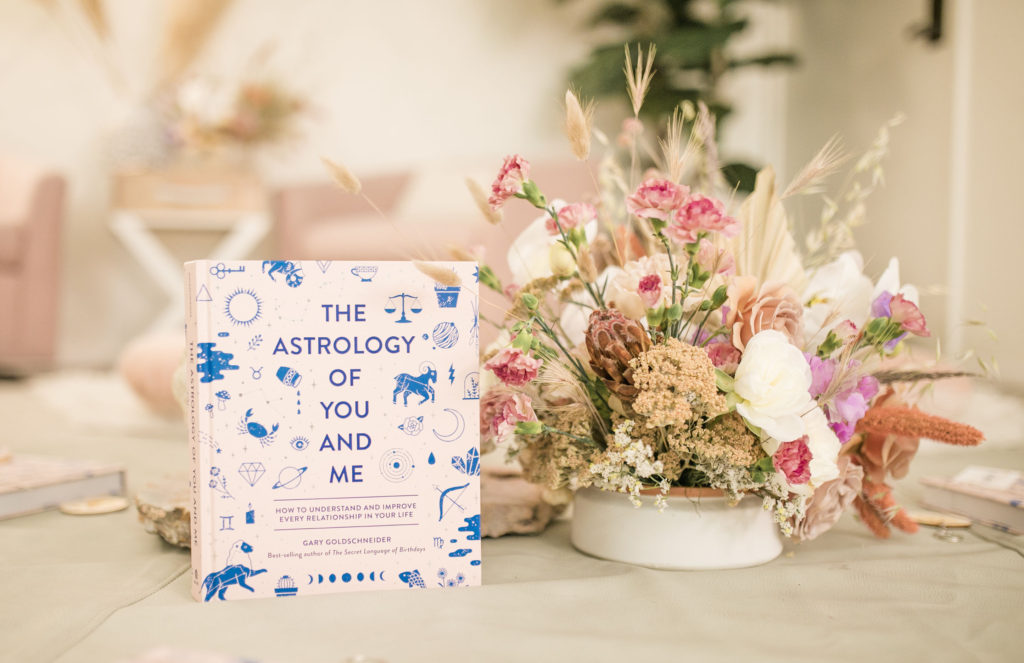 Let's get cosmic and start with this sweet invite from River & Bridge!! Isn't that a fun one?!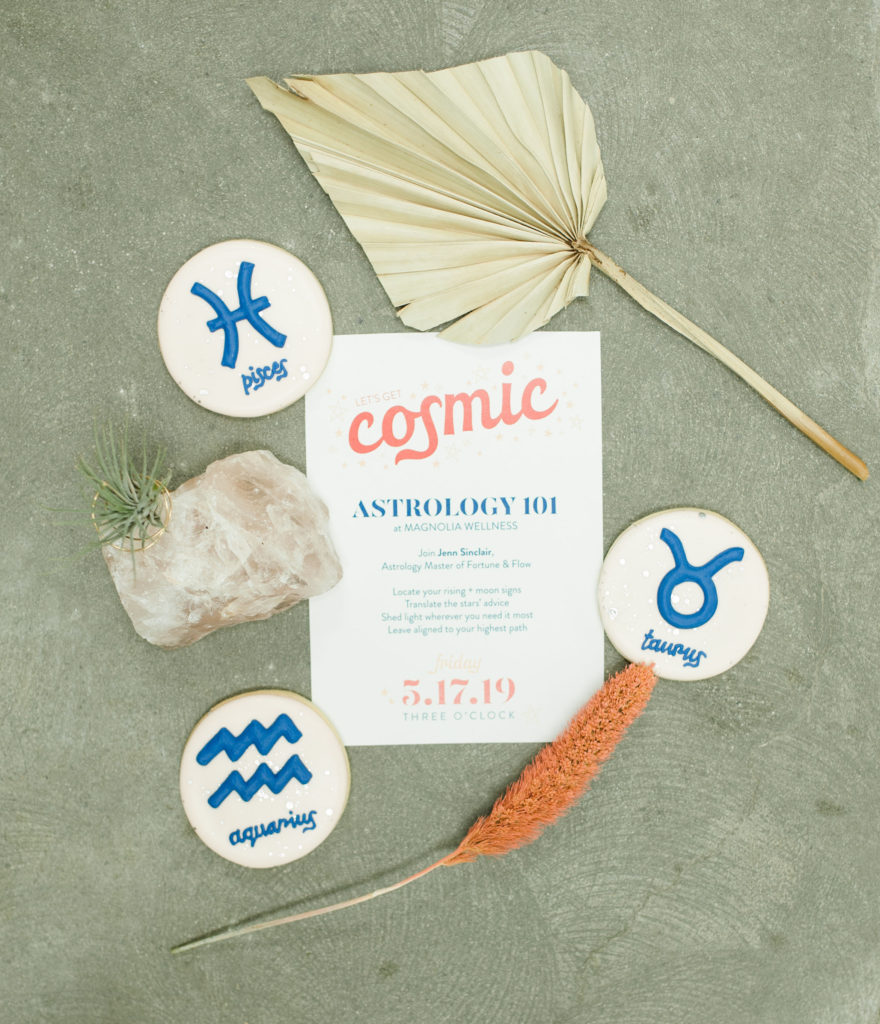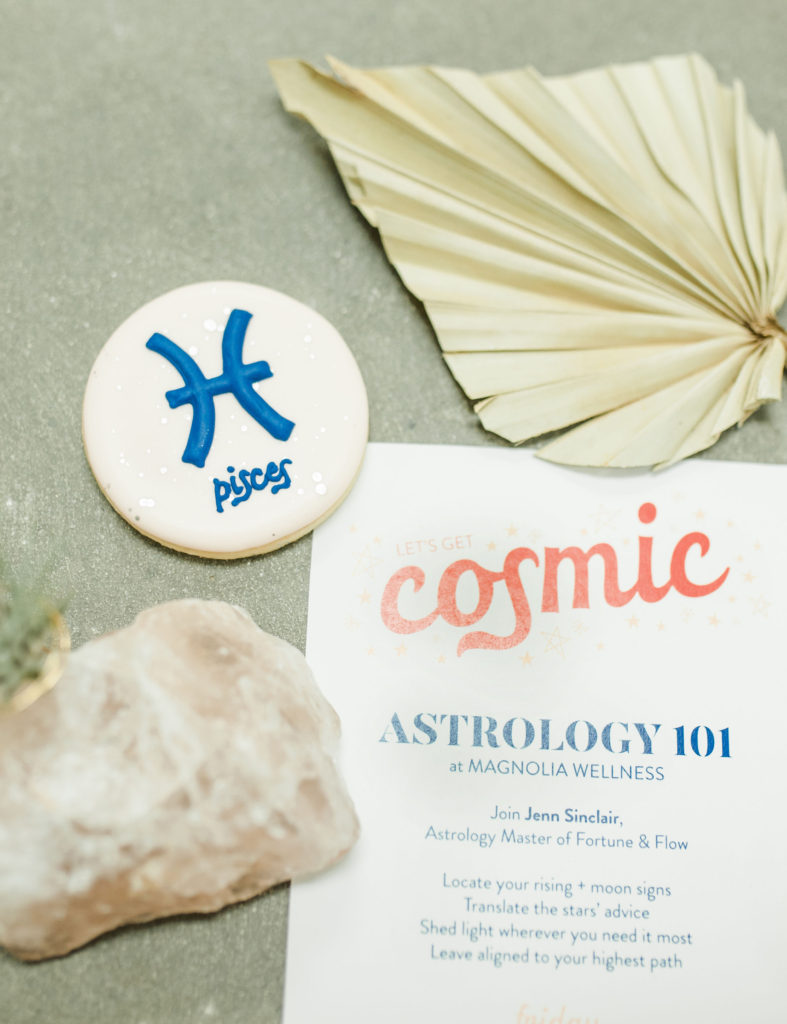 The set up at Magnolia Wellness is so serene. I love all the soft pink hues and the plants they have bring so much life to the space! It was the perfect color palette for our fun girl's gathering!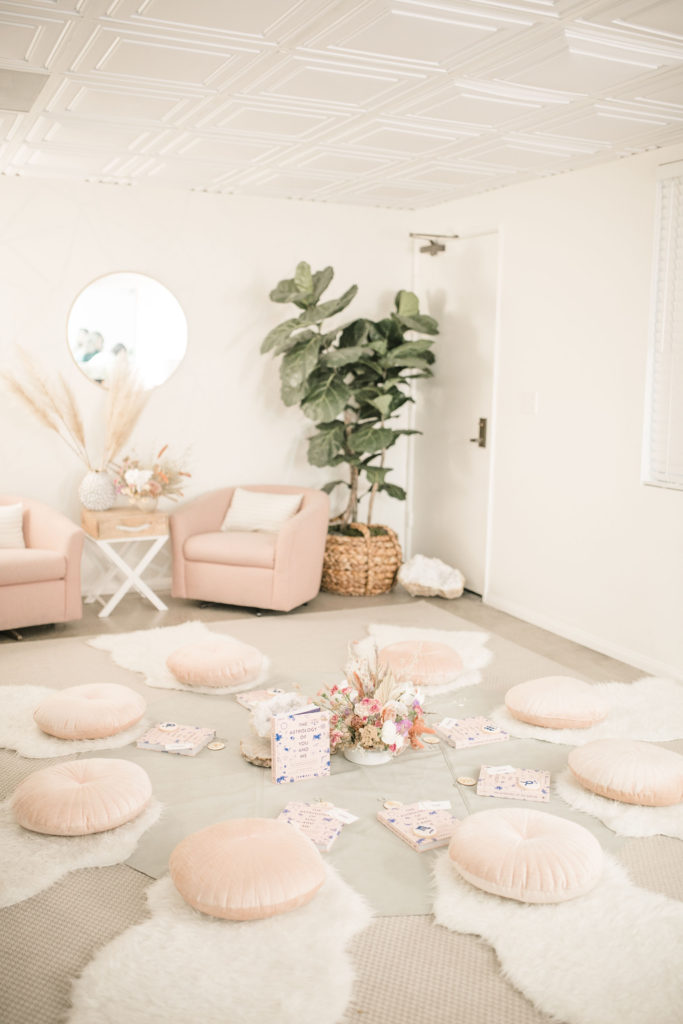 Not Just in Novels did the insanely beautiful flowers for us, it was a mixture of dried and fresh flowers that I was dying over!! The colors were just gorgeous!!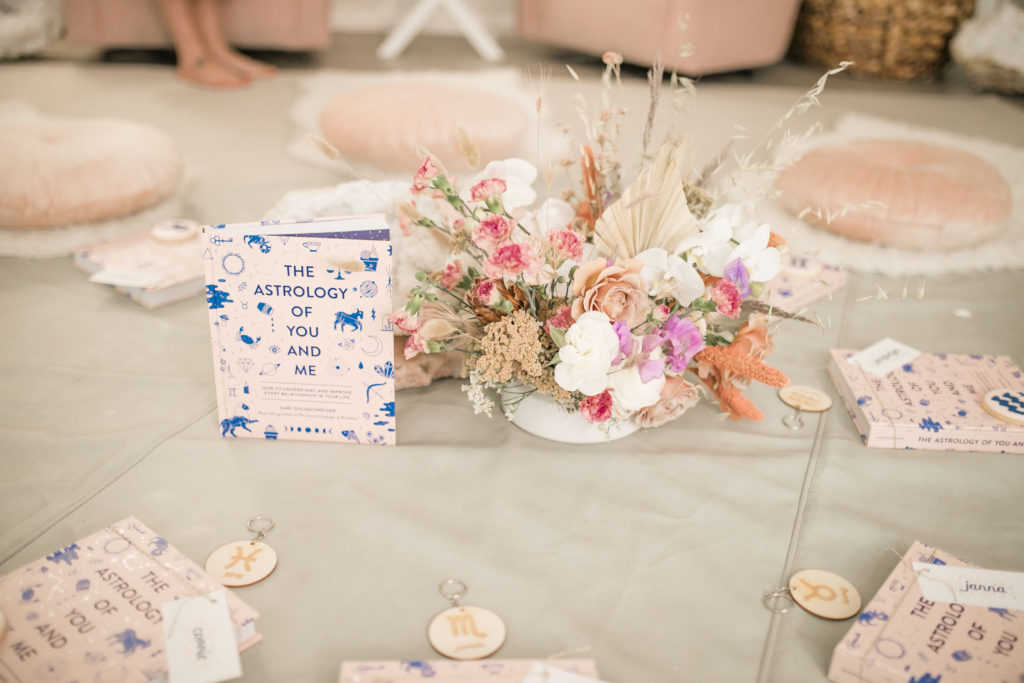 We had some really fun gifts for all of the guests. Quirk Books sent us "The Astrology of You and Me" which is a great tabletop book and read! Isn't it pretty?! I fell in love with it when I saw it and based the design of the event on it's cover!
Guests were also gifted key chains of their sign by River & Bridge and the cutest zodiac cookies by Frost Your Cookie! Such fun little treats!!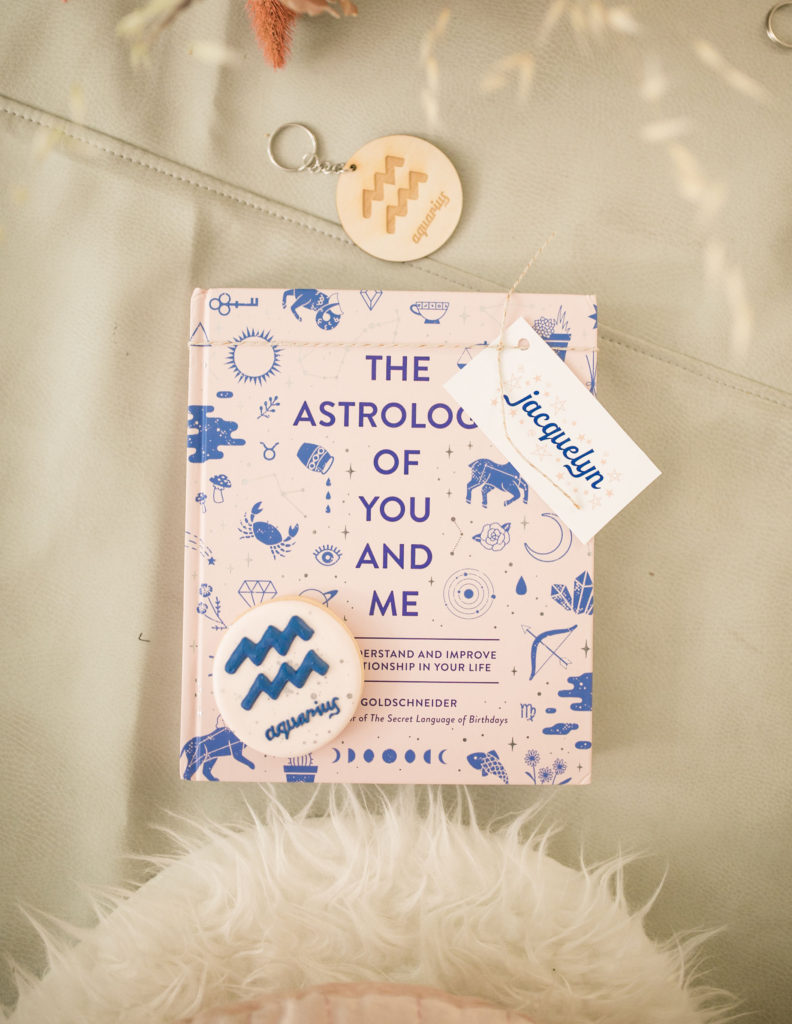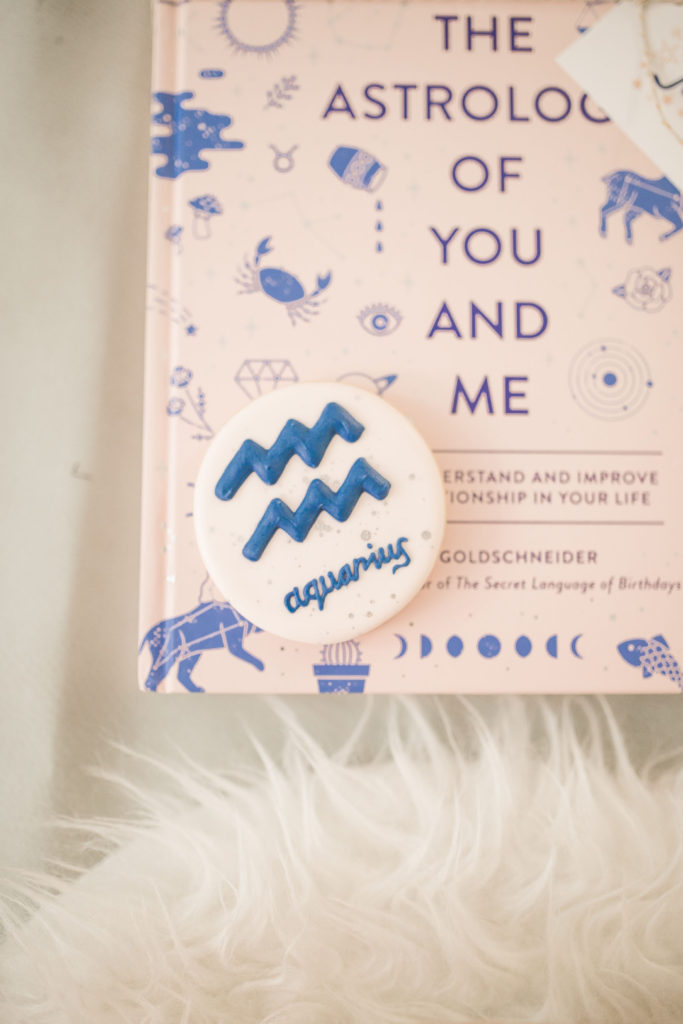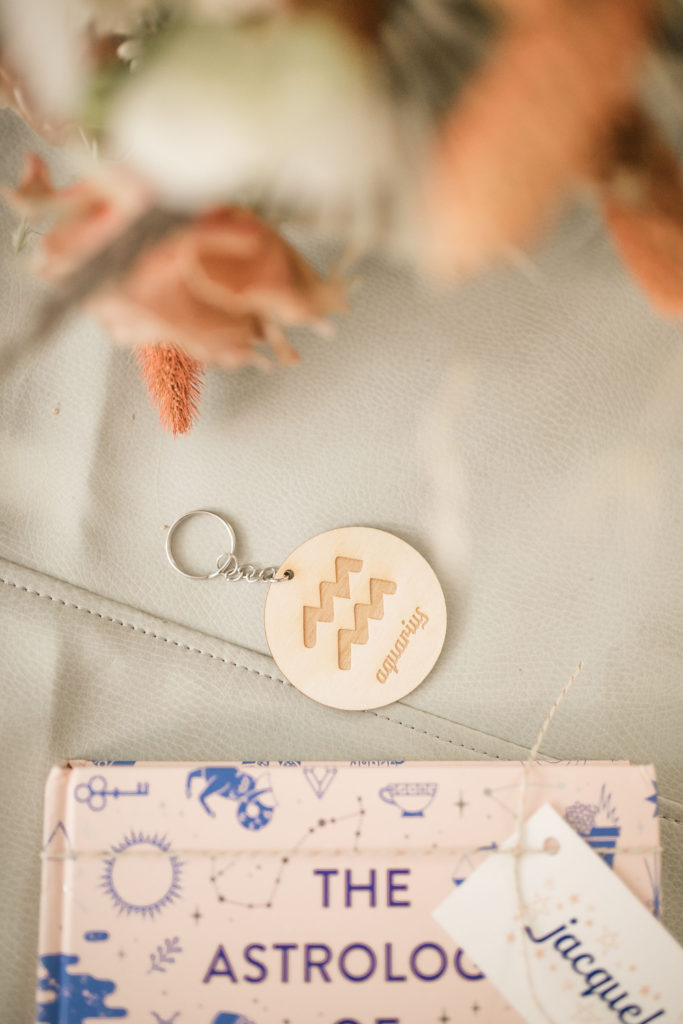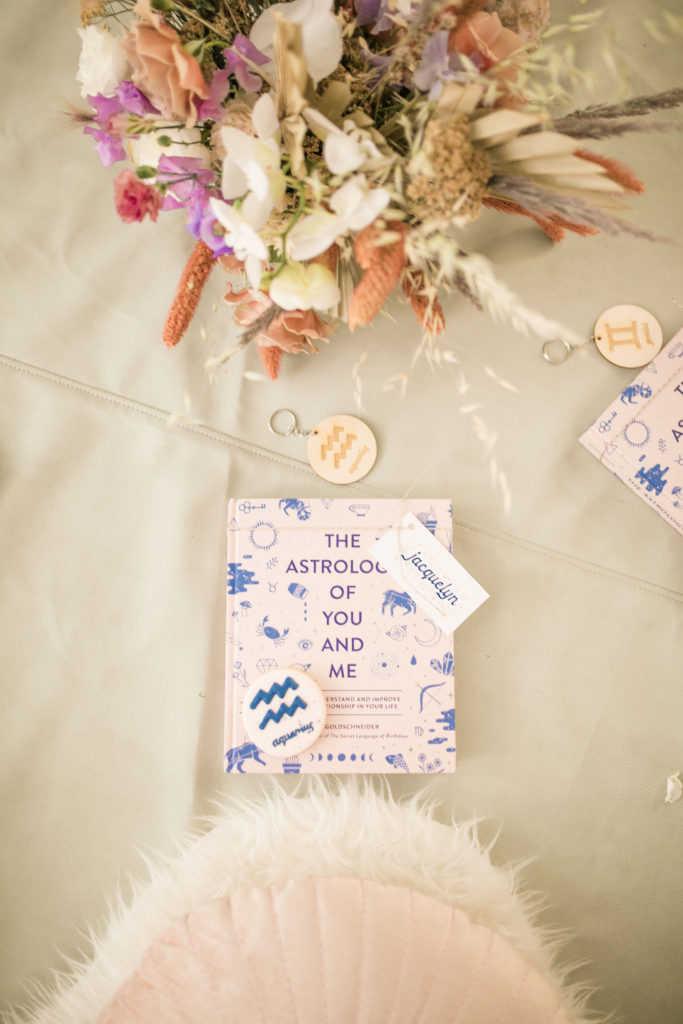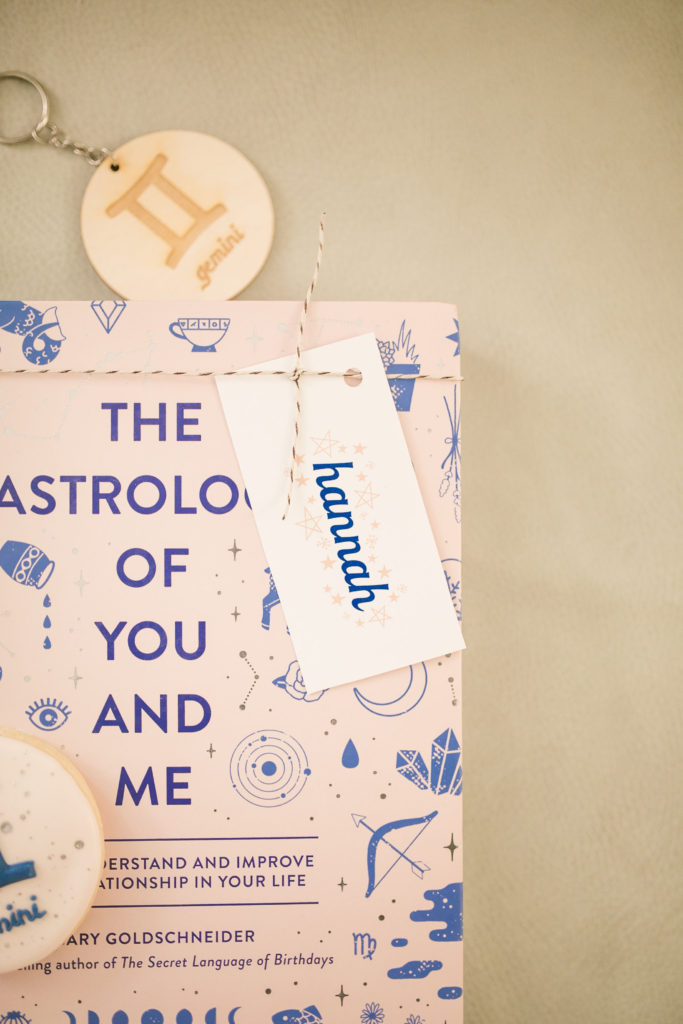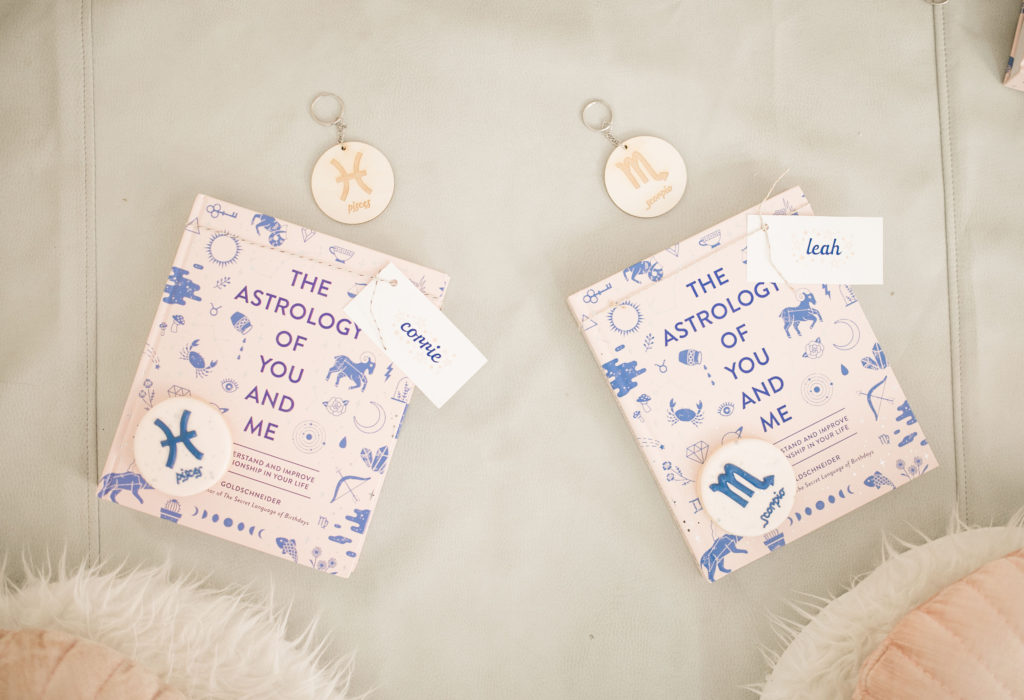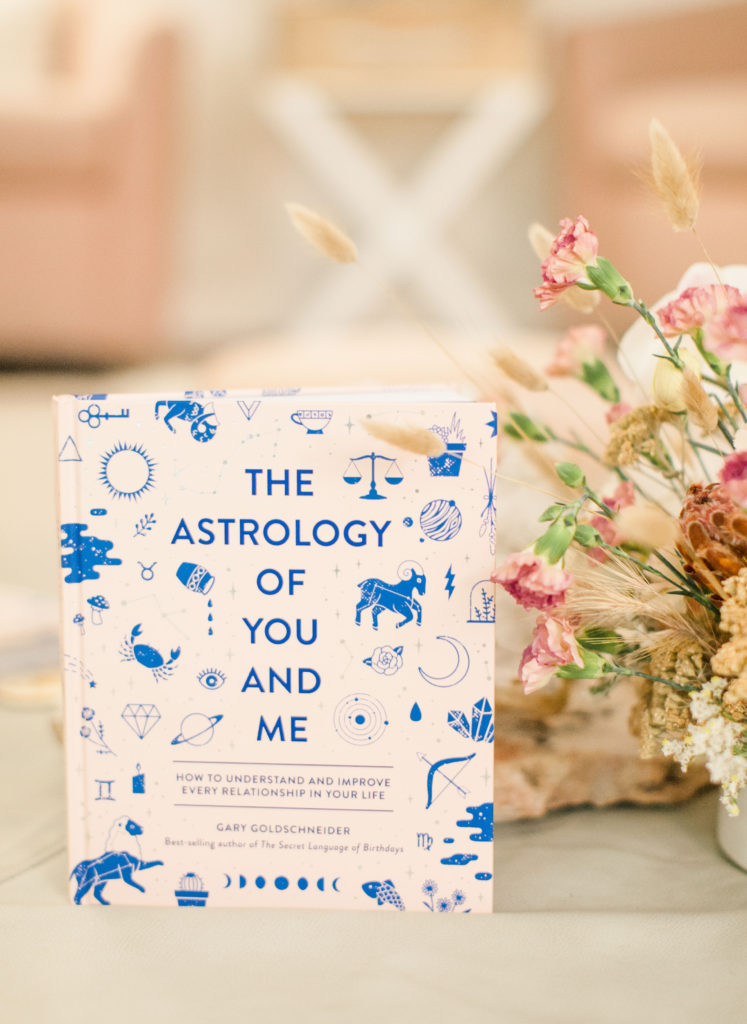 Such a pretty and intimate setting for a group of friends, right?! You just feel relaxed the minute you walk in the door! And yep, still obsessing on those flowers!!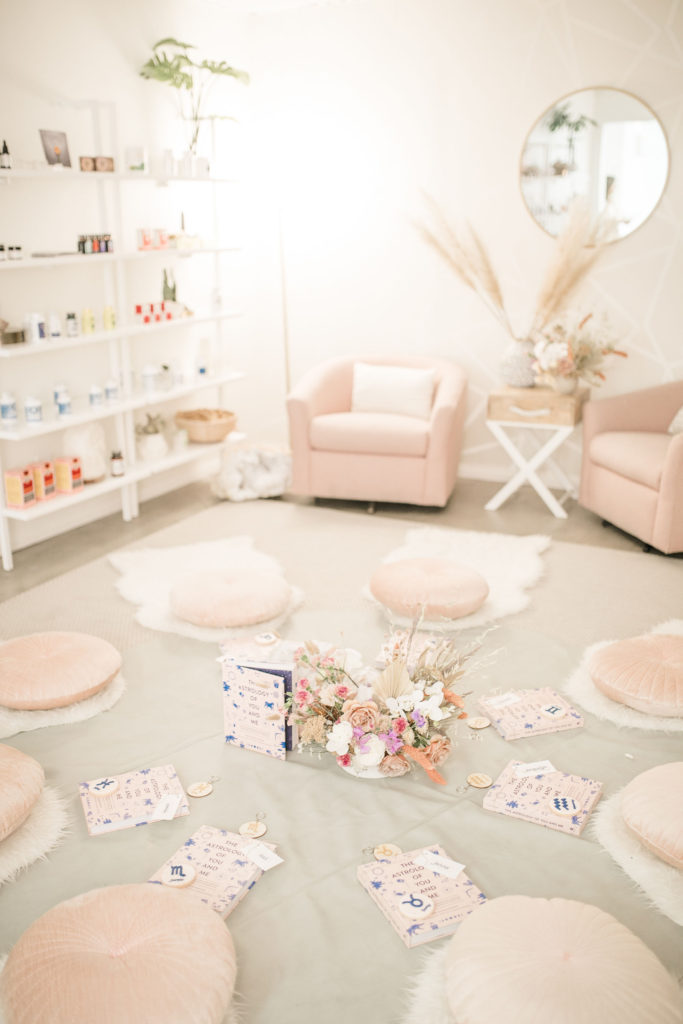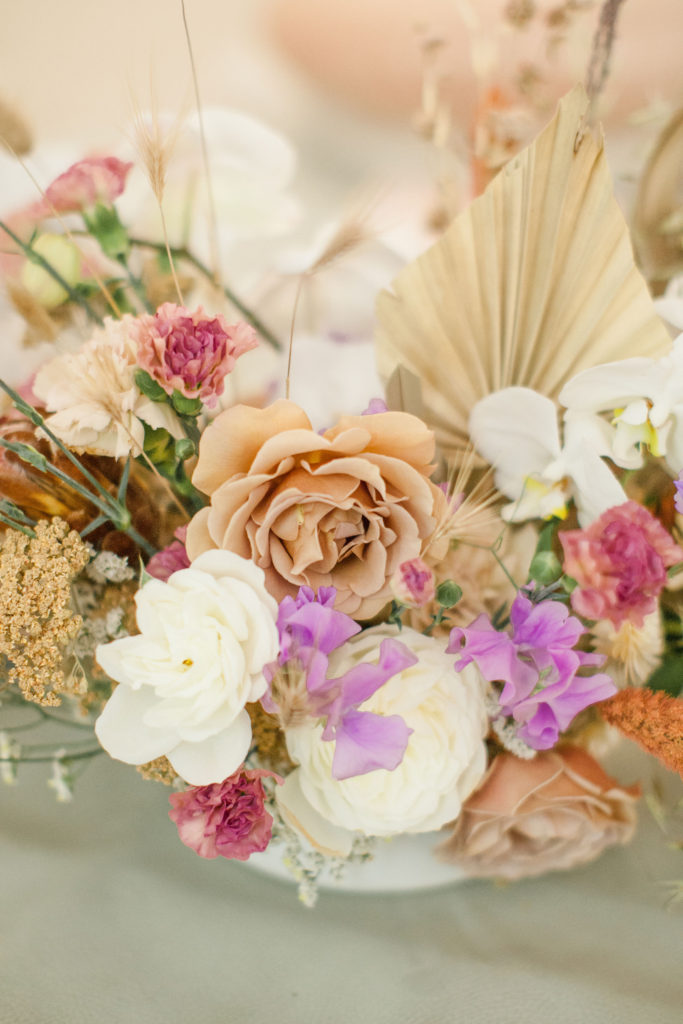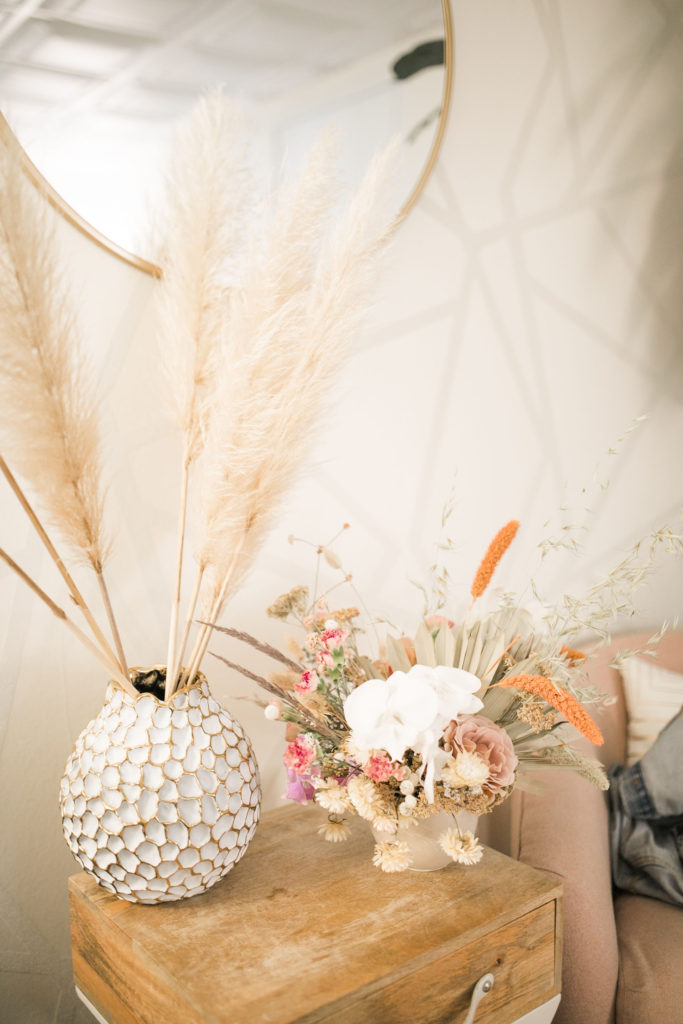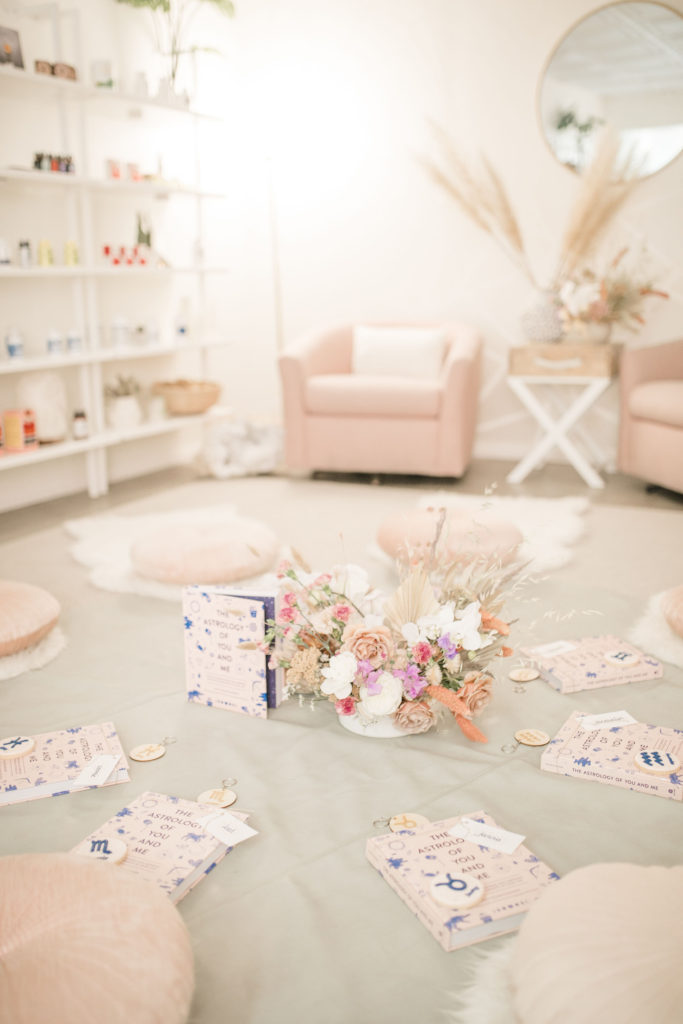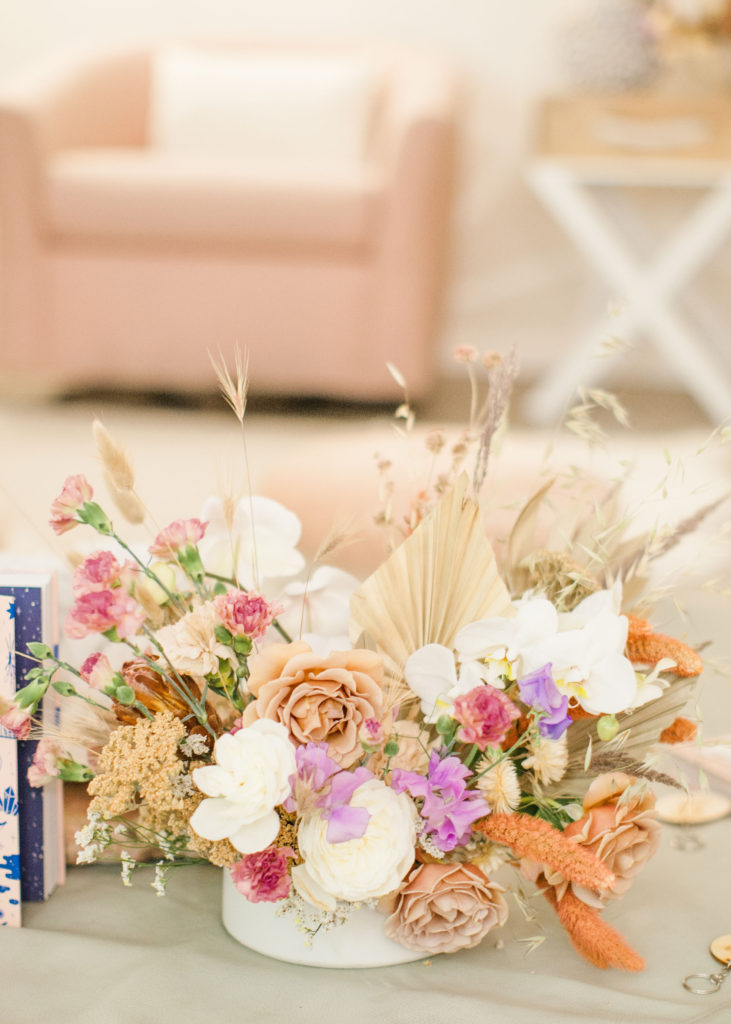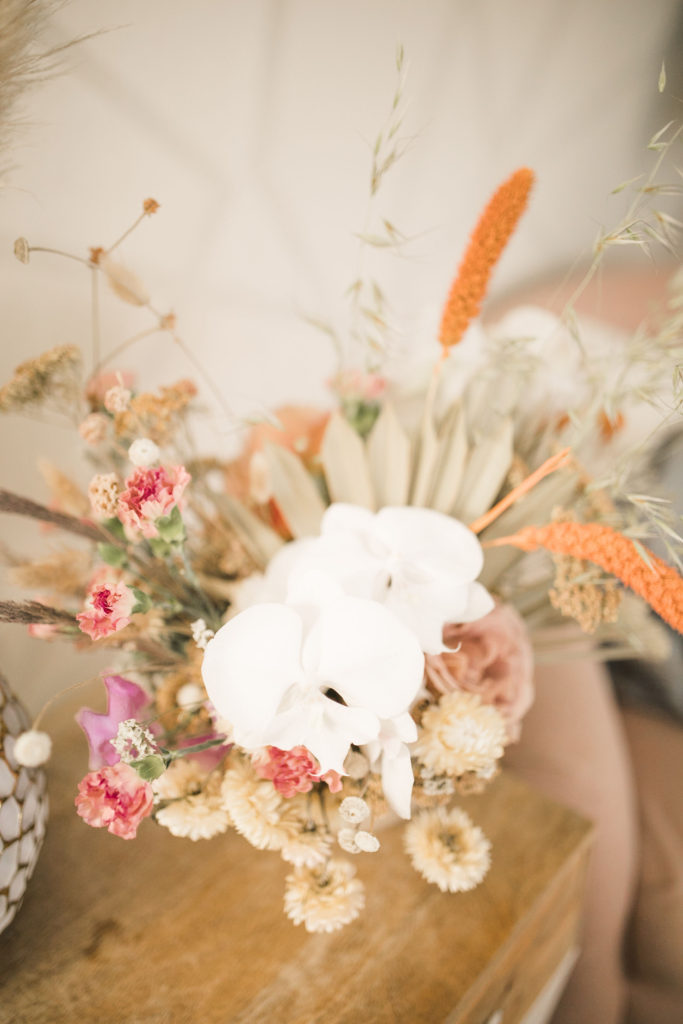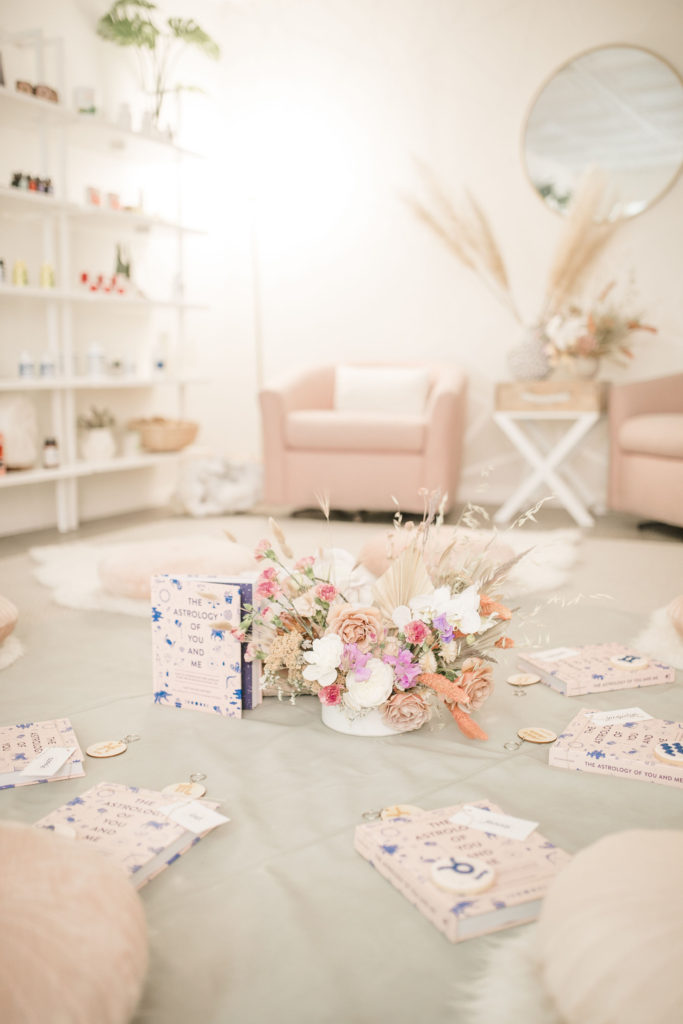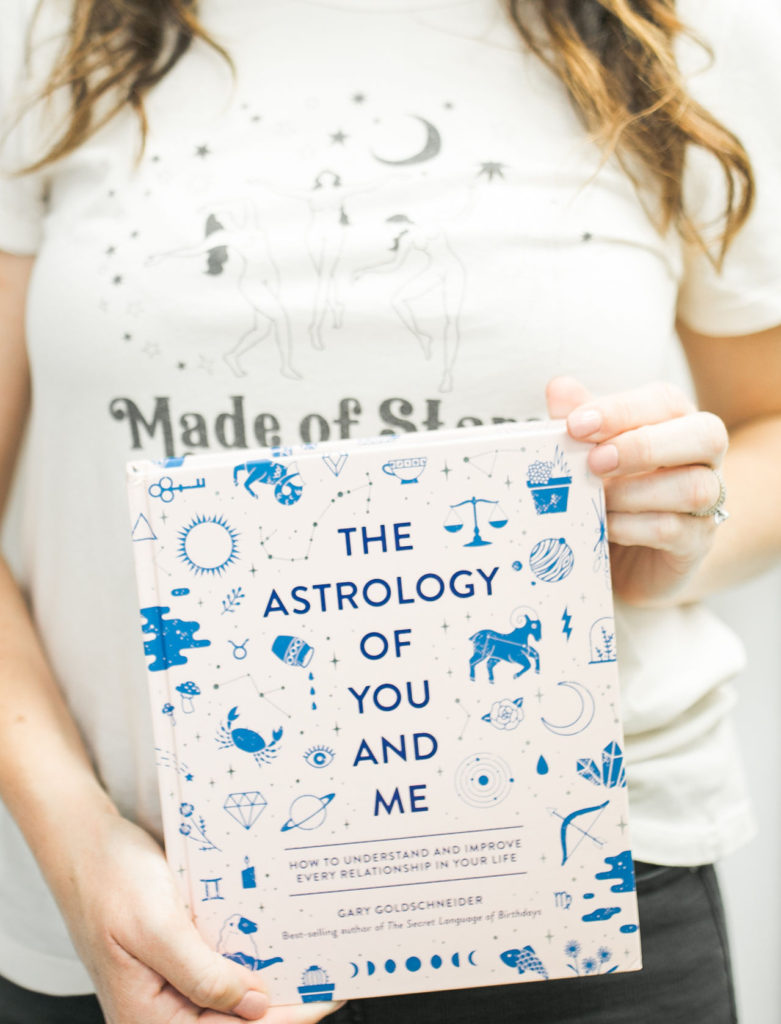 I had to wear my favorite Mate the Label "Made of Stars" tee! Pretty fitting for the day!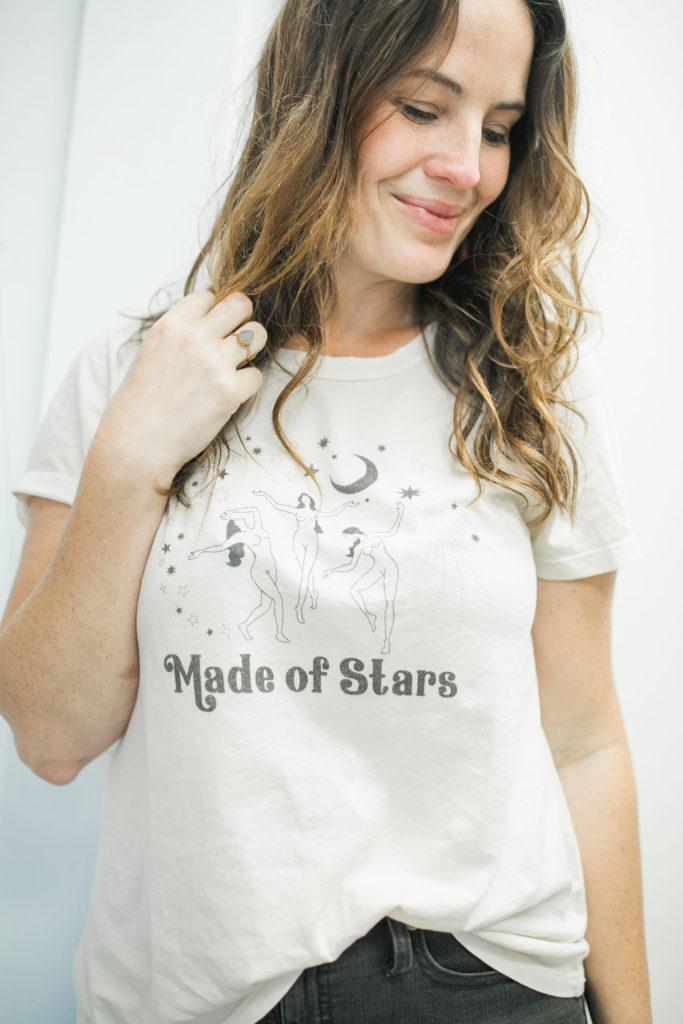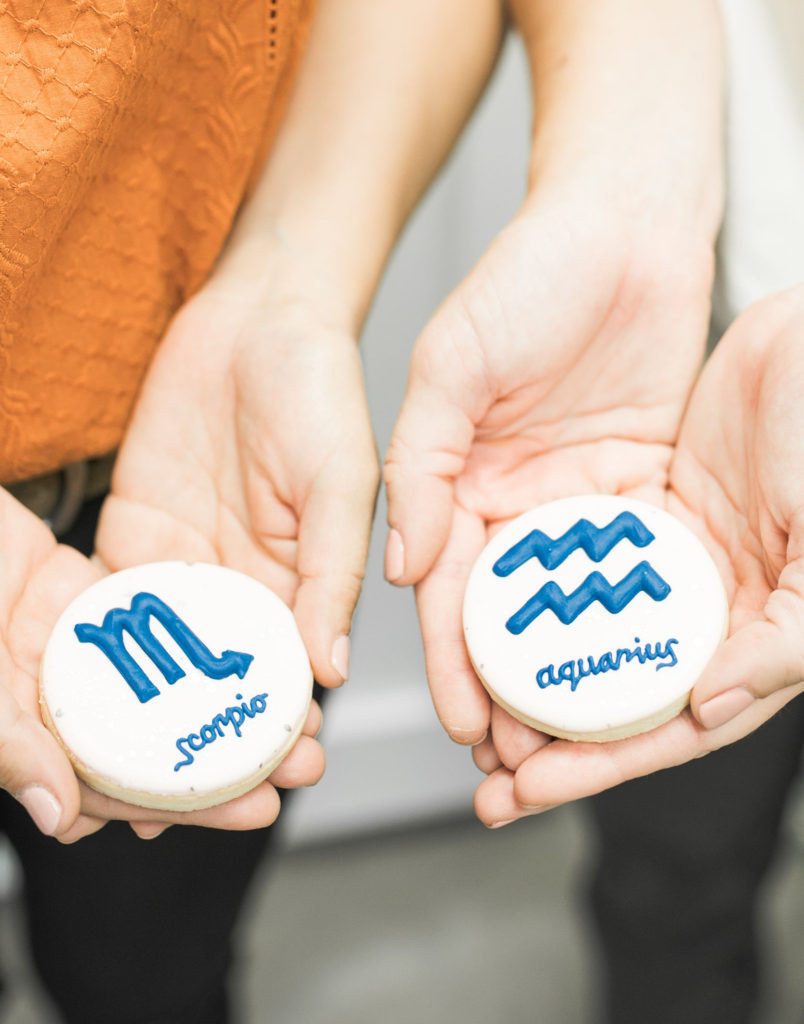 We held the event in the morning so breakfast treats, coffee and mimosas were in order! Thank you to our favorite Black Market Bakery which is right across the street from Magnolia Wellness!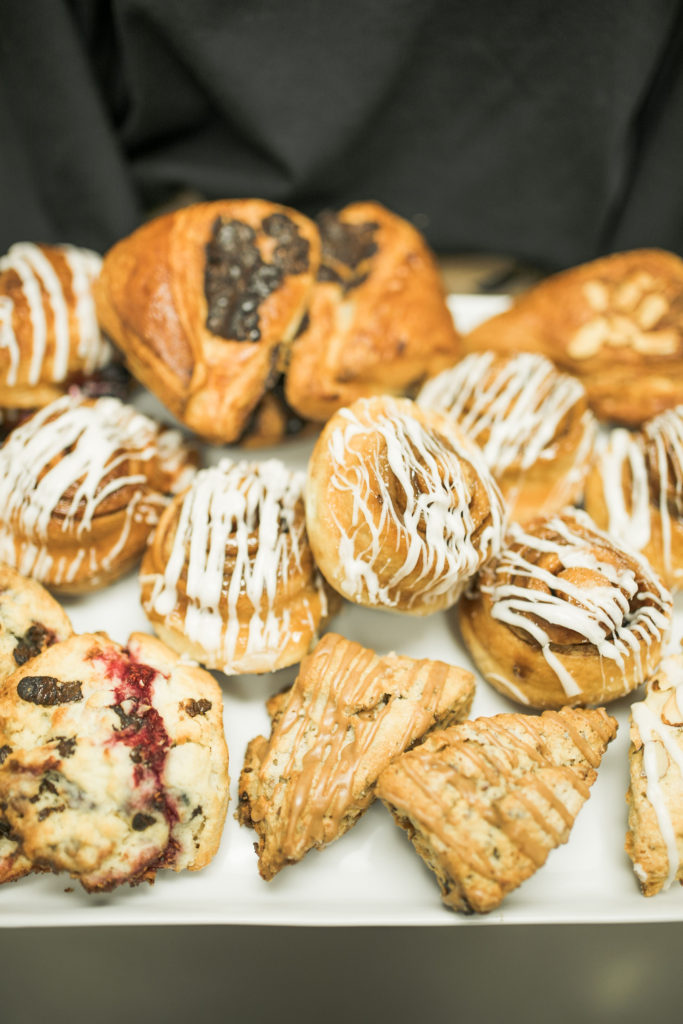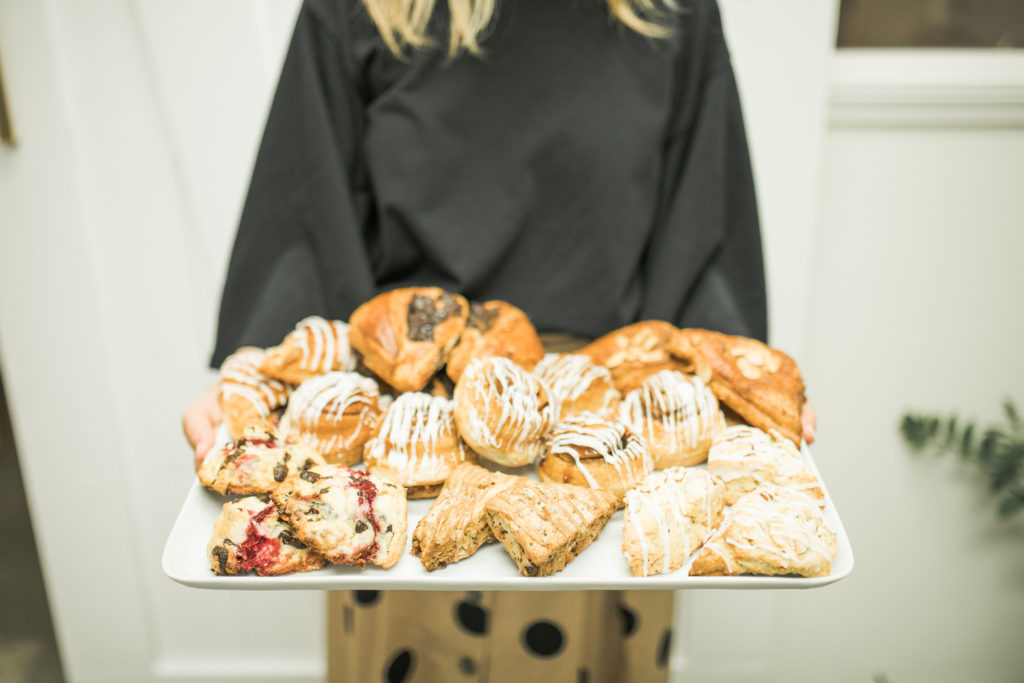 On to our birth charts! We each had to give our name, birth date, time and place so Jen could get our exact birth charts. It was so fun discussing some f the things that came up. The different traits that some of us recognized in ourselves from our signs, there were some laughs and call outs around the room for sure, haha!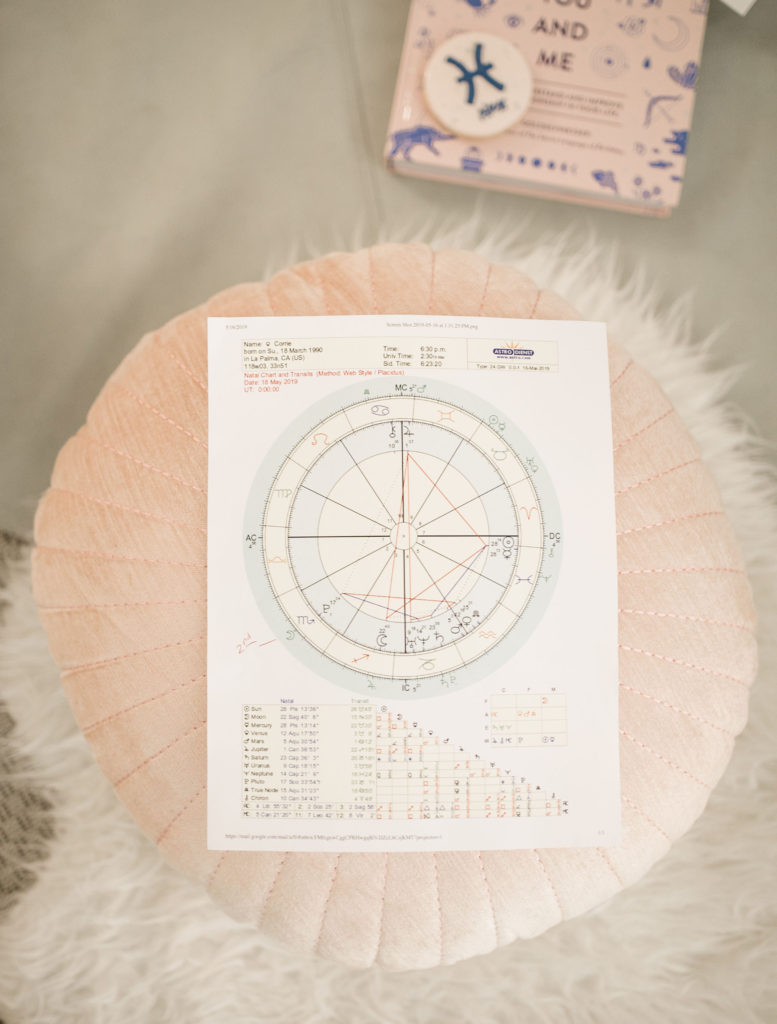 Here's a little bit more from Jen on how she got her start in Astrology and more about our class…
As a kid, I was always interested in the moon and the stars from an astronomy perspective. I took a few astronomy classes in college and learned that going to the moon was not my calling. I knew there was something special about space, but I didn't fully understand where it would lead me. Fast forward many years and career paths later, I was having a hard time adjusting to life as a mom.
Around the same time my brother starting helping me with little bits of information based around astrology. This was at a time I hit an absolute low in my life. With the help of my brother and astrology, I was able to check back in with myself and understand the depths of who I was on a whole new level. I began to peel back layers of myself that I had no idea were there, discovering more about myself than i ever had before. As a sagitarius and seeker of all sorts of truths it satisfied something inside of me I was missing.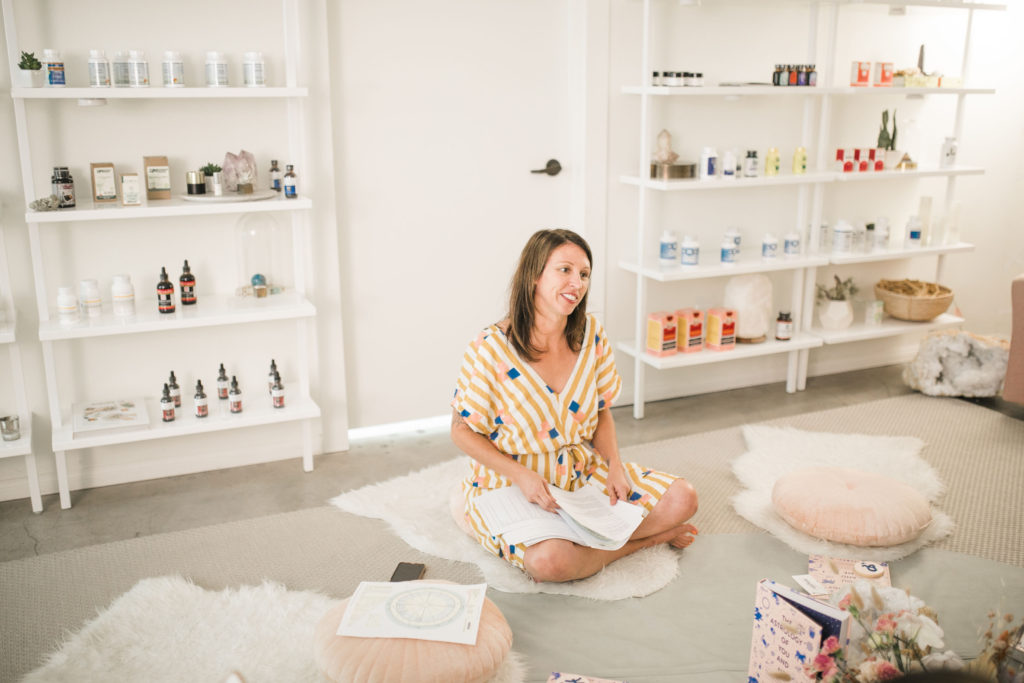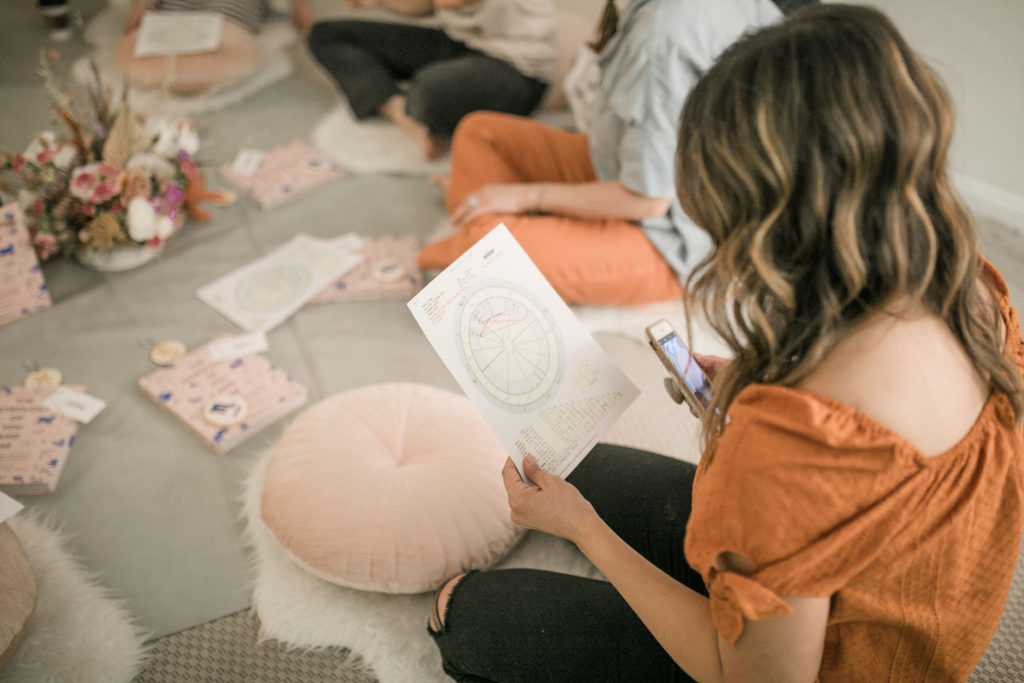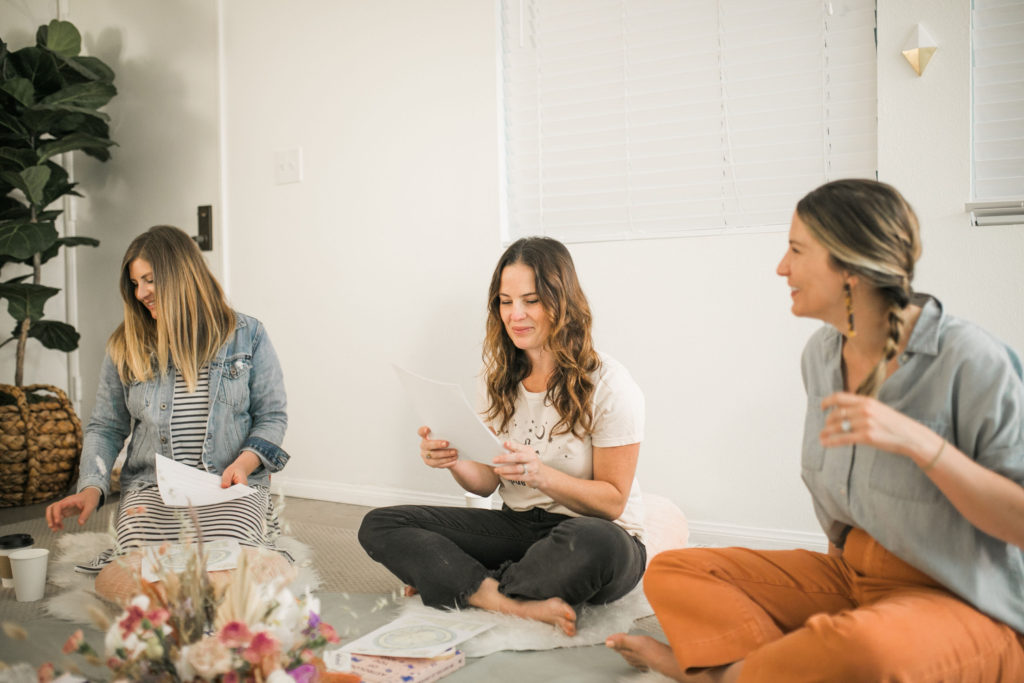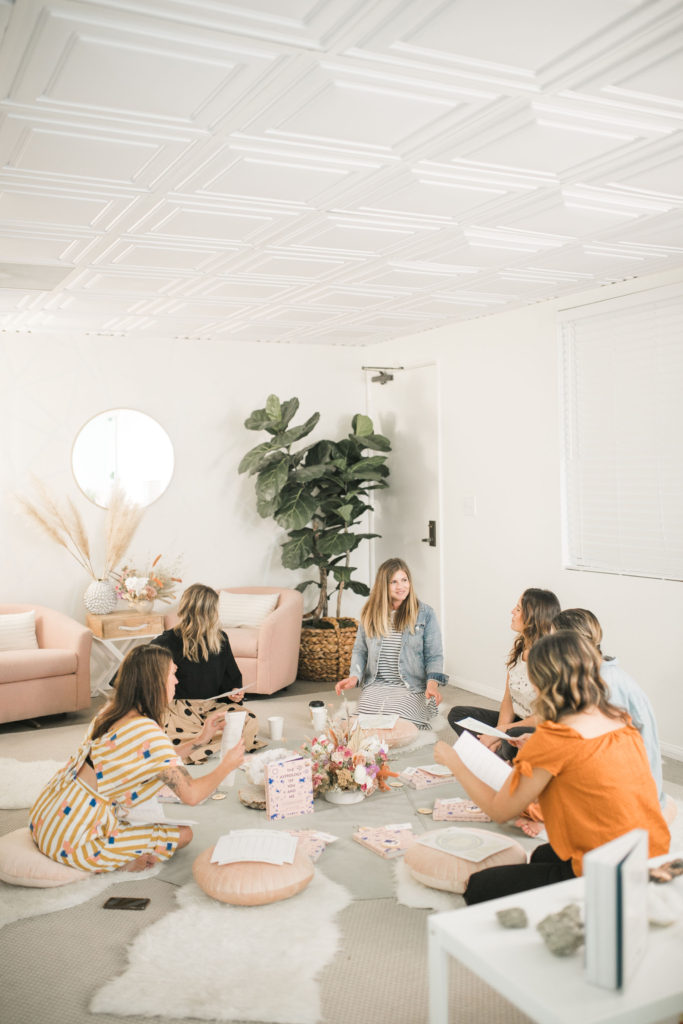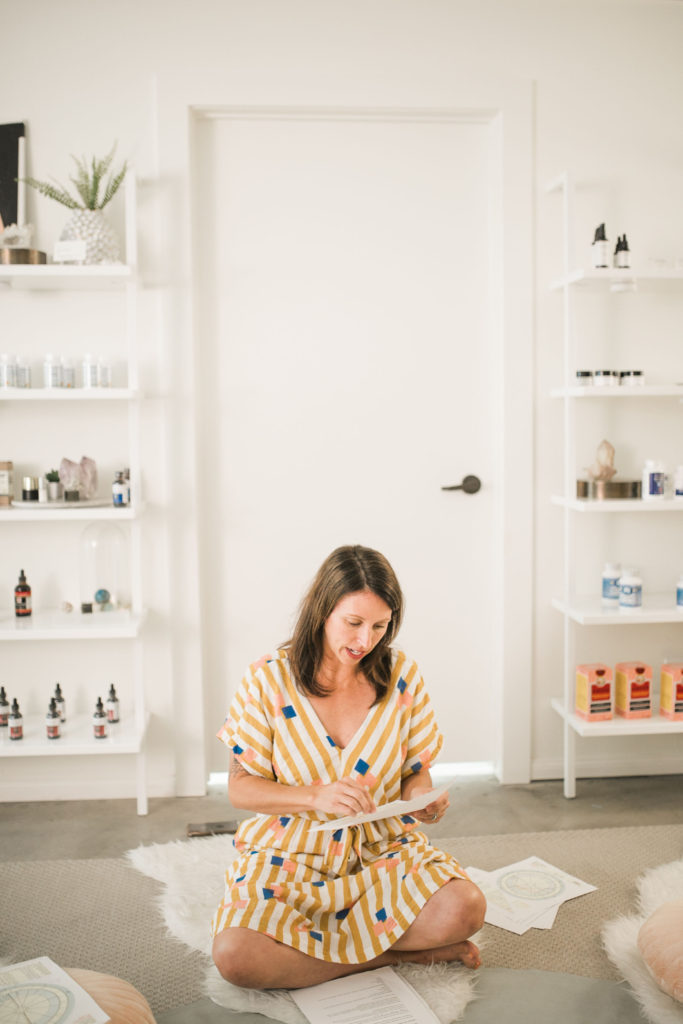 Astrology 101 is an overview of your astrological birth chart. A snapshot of the planets at the exact moment you were born. My goal is to show people that there is so much more to you than your sun sign. We are made up of so many unique combinations of planets and signs and teaching people how to interpret them is vital to understanding yourself. This brings deeper meaning to our habits, strengths, moods and personalities.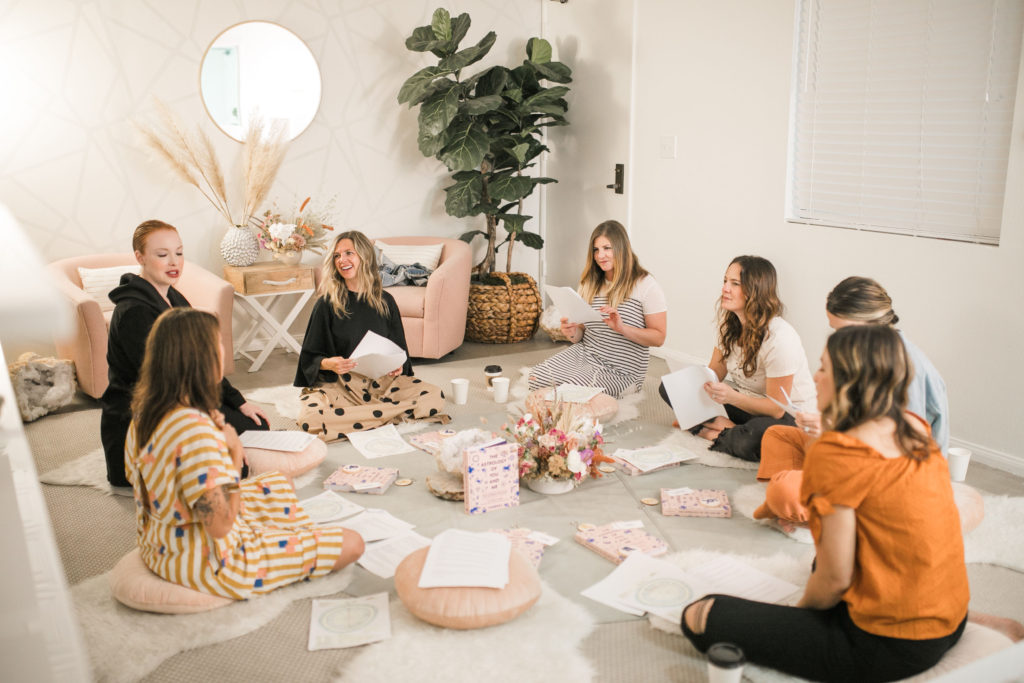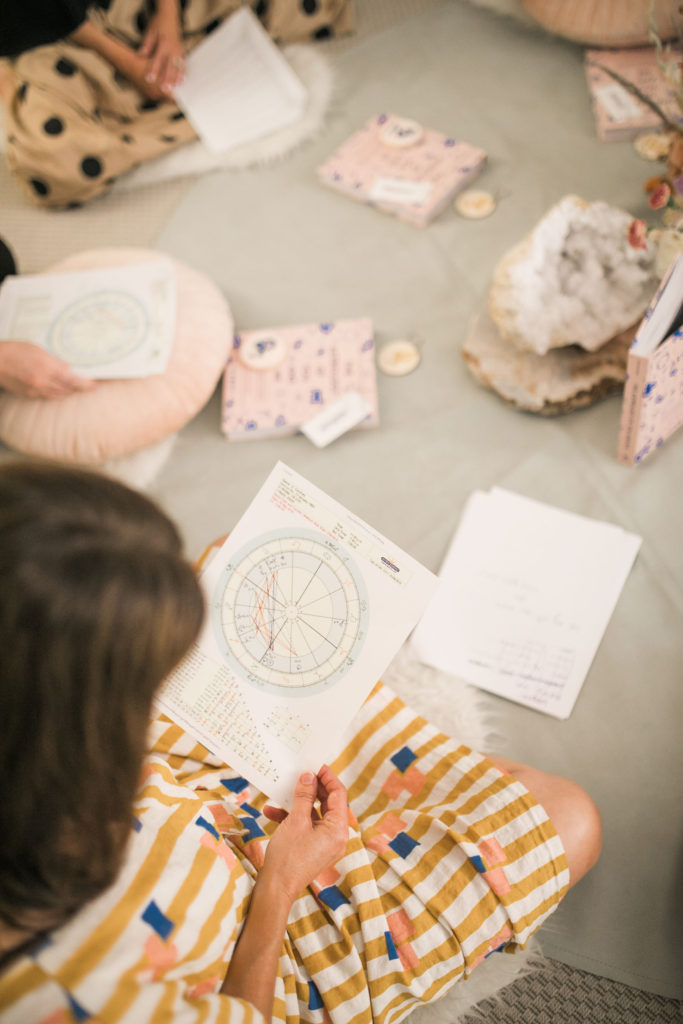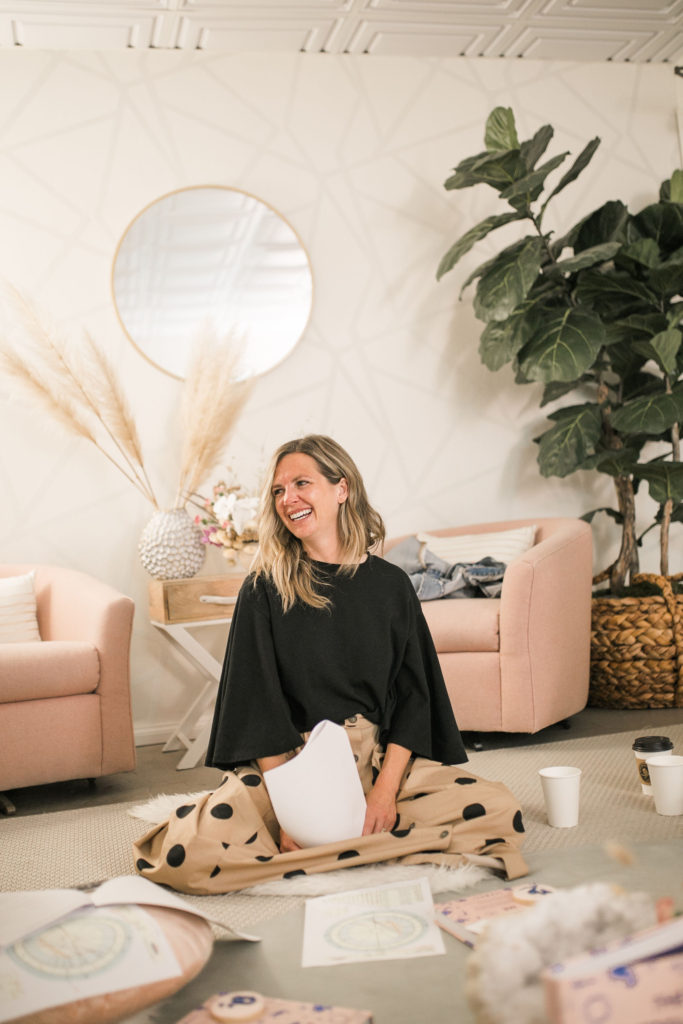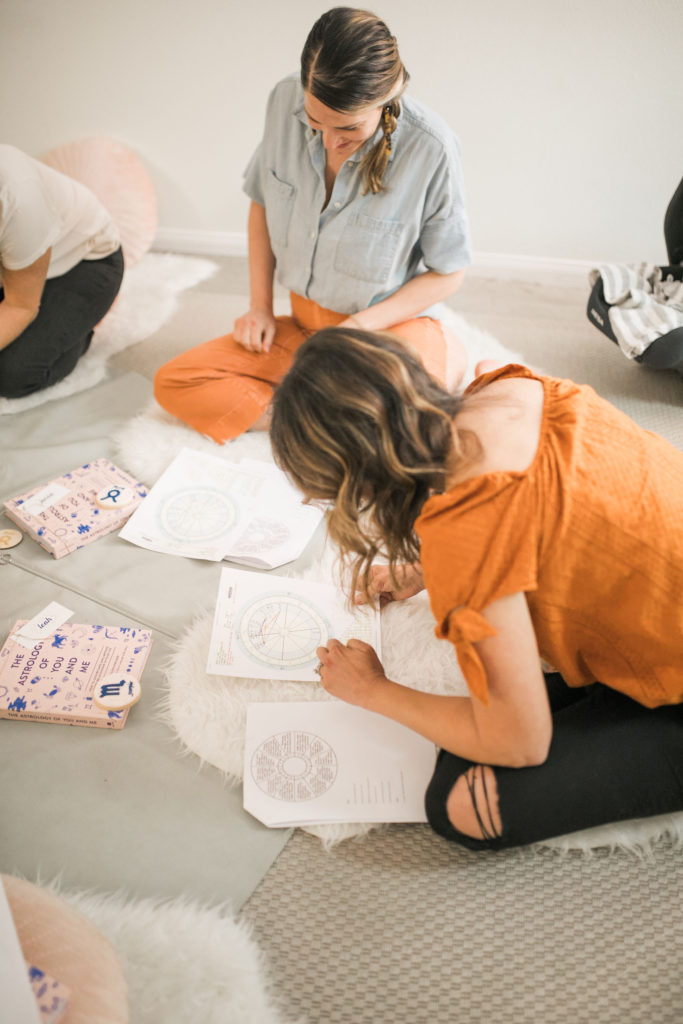 Teaching people about their rising/ascendent and moon sign is probably one of my favorite parts of the class. Immediately people begin to understand themselves in a very different way. A major part of astrology is that it brings a sense of awareness. We tend to get lost in this fast paced world of trying to keep up, searching for fulfillment in places that don't nurture true happiness. And this awareness is a first step towards tapping into our true self. Our charts present a guide to how unique and special we are, we then learn how to grow based on our own needs. As we dive deeper into the chart we start to understand how the planets move, and where they shift your life. You can learn to navigate, anticipate, and be way more present in yourself.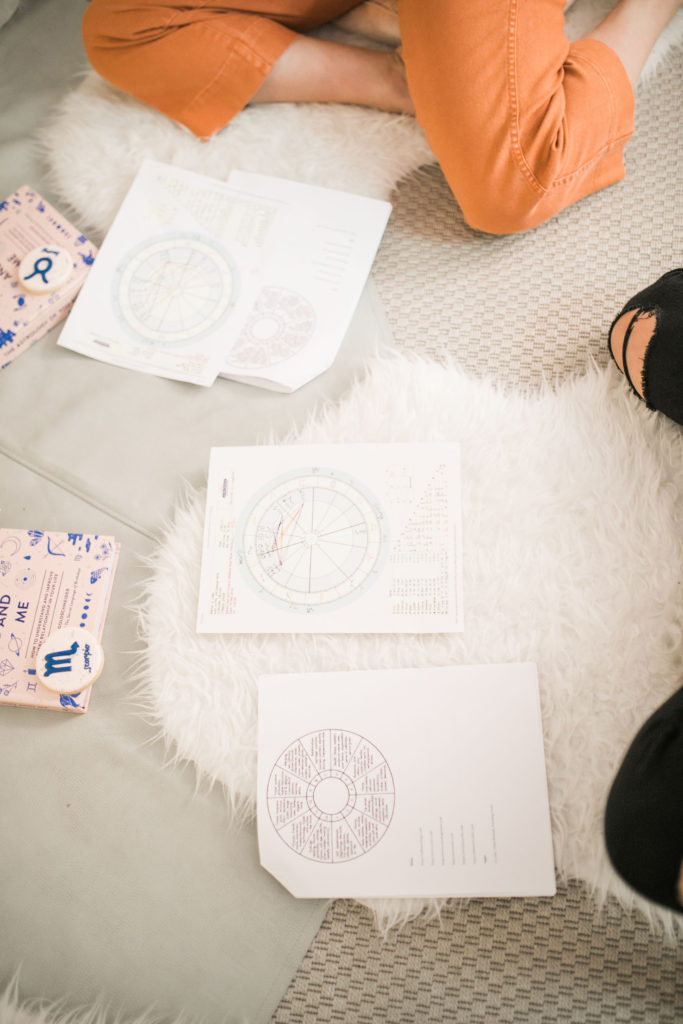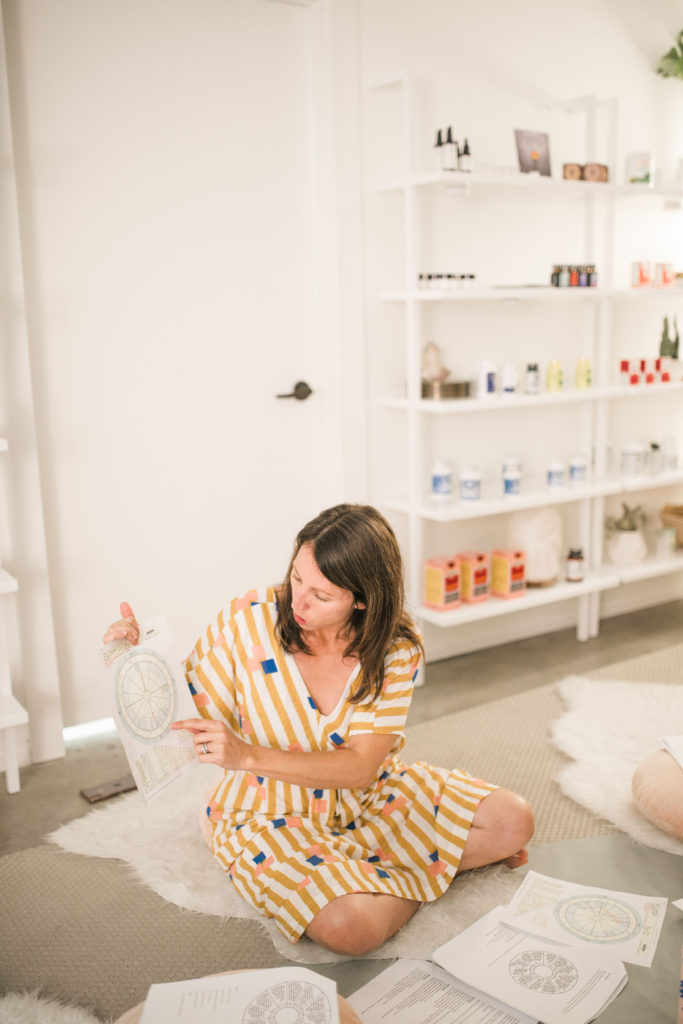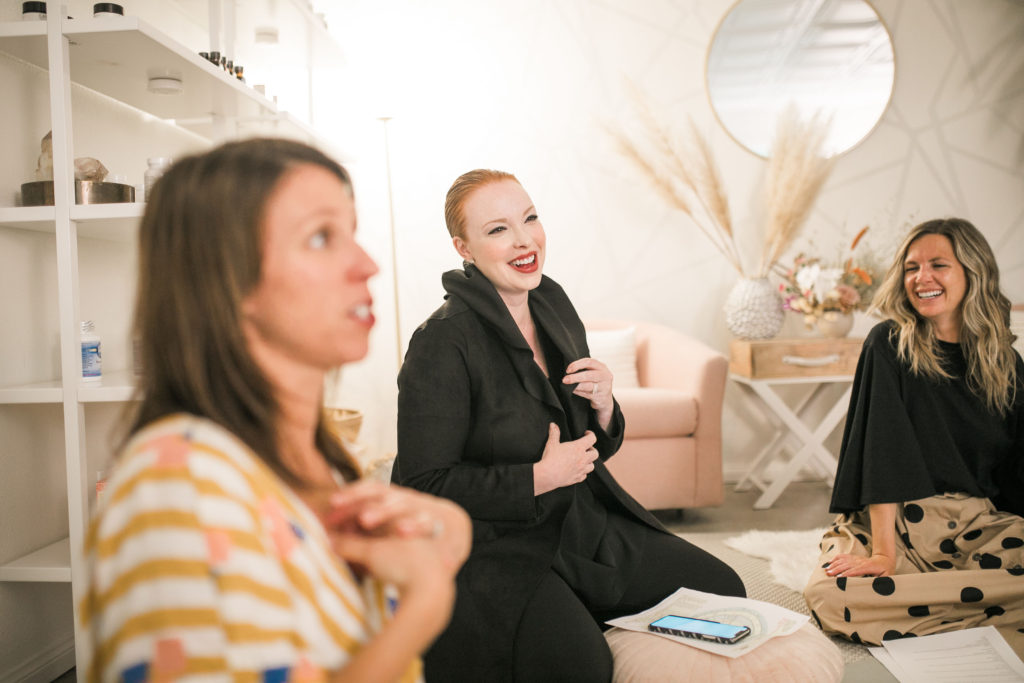 I think my sister and I are laughing below because an interesting thing on my chart was that I am apparently meant to have tons of children… My husband wasn't very excited about that revelation, haha!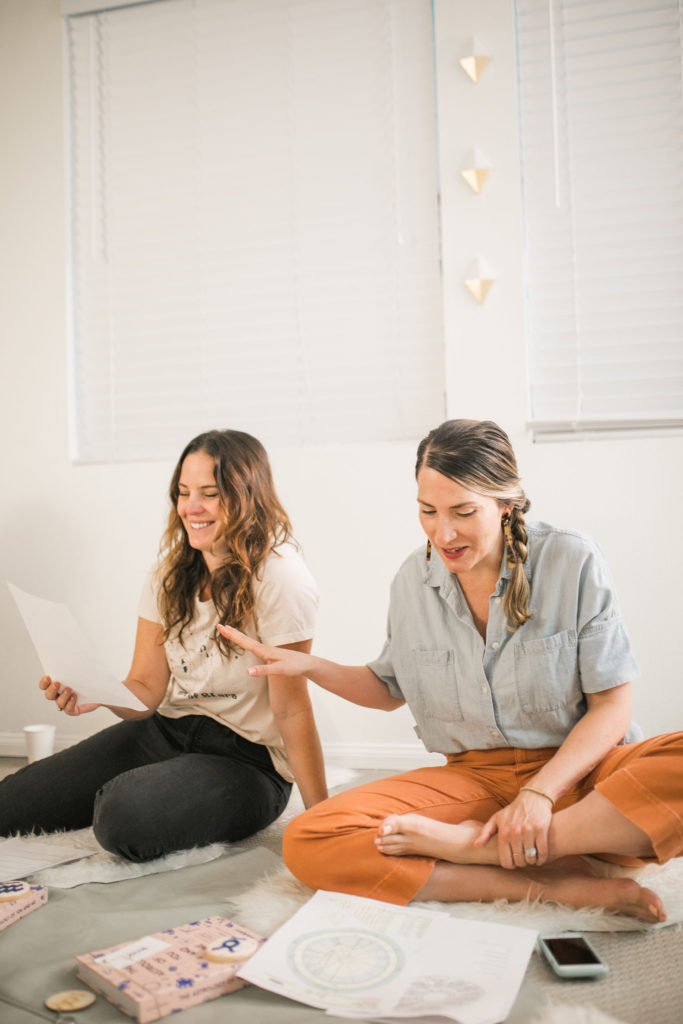 It was such a fun day and again, I highly recommend doing this with a group of friends! It makes for some really interesting conversation and you definitely get to know yourself and each other better. They also do one where you do your kid's birth charts which we all thought would be really interesting!!
Fortune & Flow is actually doing an Astrology 101 event tomorrow June 18th at Magnolia Wellness if you can attend! You can see more events at Magnolia Wellness here – and more information on Fortune & Flow along with future events by following their Instagram.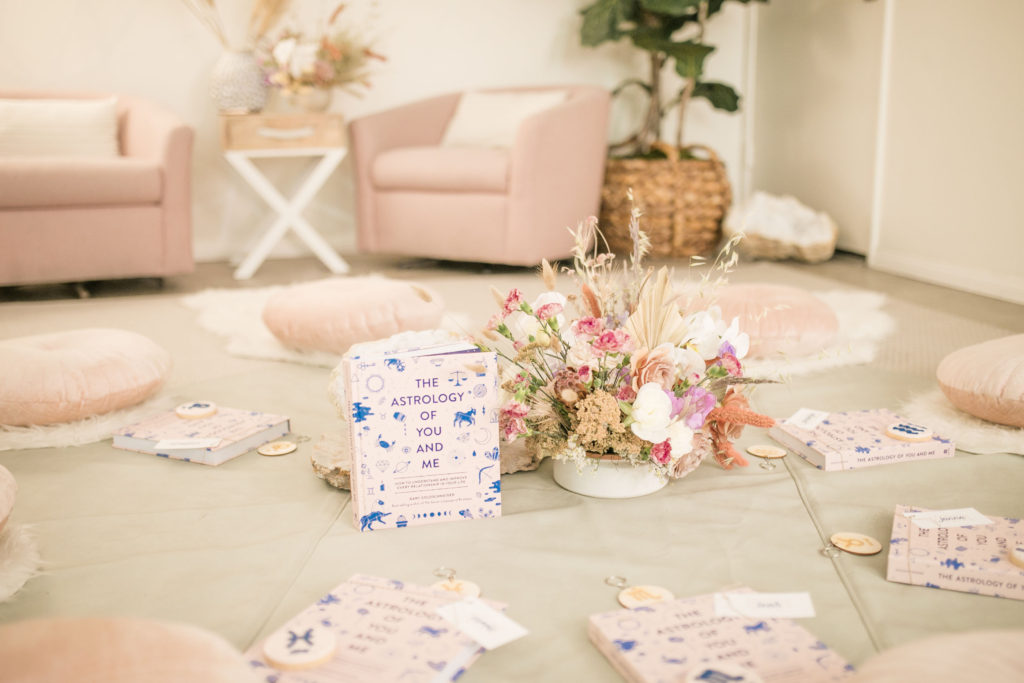 xx
Jacquelyn