Earlier this week I shared a few front door DIYs to add some fun decor to your home for the 4th – today it's about the party!!! I not only have ideas for the 4th of July but also for a little pre-party activity or day of fun too! With the help of Tulip Color Crafts and a few of my favorite vendors, I created this fun table that guests will love. There are lots of fun details, easy DIY tips, and a whole lot of red, white, and blue! Let's get started!
Photos by Alison Bernier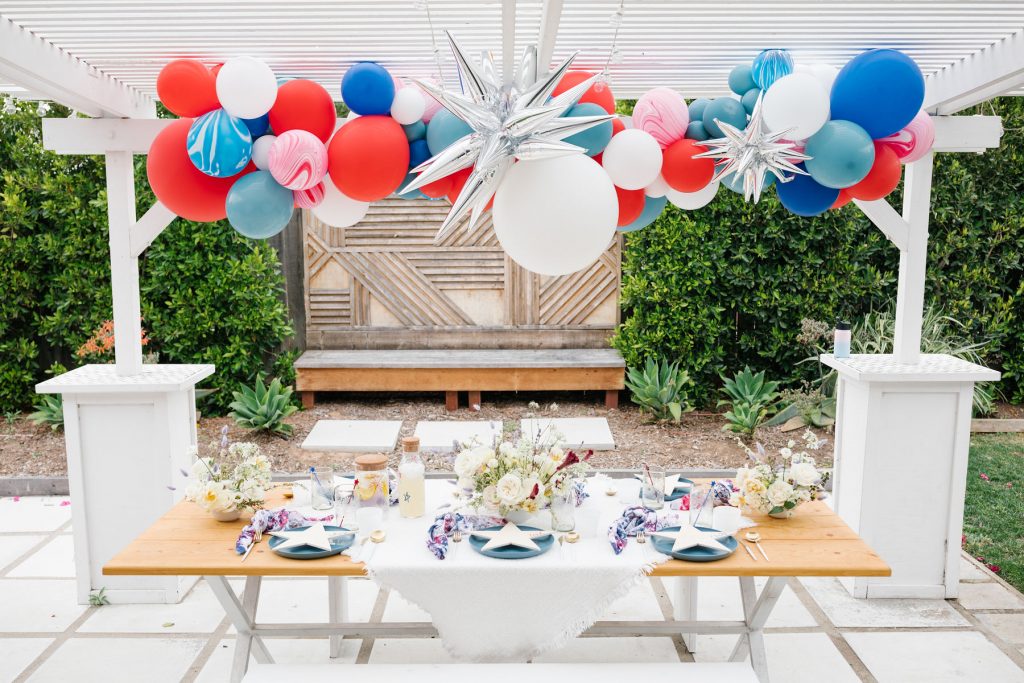 Overall, this looks like a 4th of July party I want to be at!! The balloons by The Pop Shop are the first eye-catcher and they couldn't be more perfect for this fun holiday! I kept the flowers by Not Just in Novels mostly white with touches of blue and red, they look so fresh!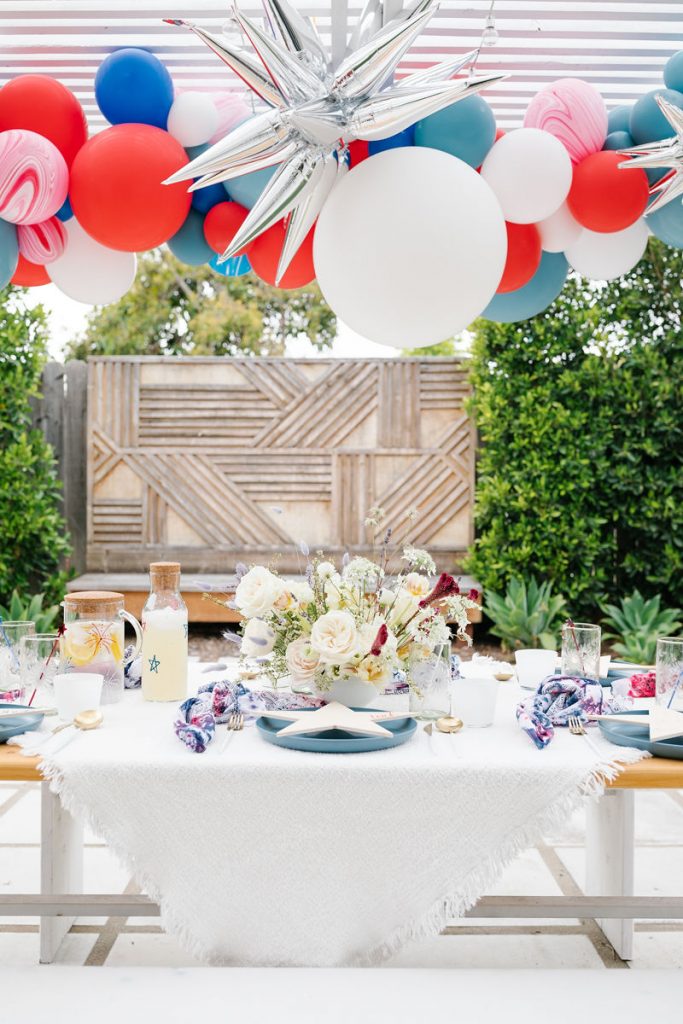 The blue plates are from Target and I love that they aren't a bright blue but more toned down. The flatware, glassware, and tablecloth are all my own! It's amazing what you can whip up with all of the pieces you have in your own home. My favorite part about this table is that it's incredibly inviting to guests!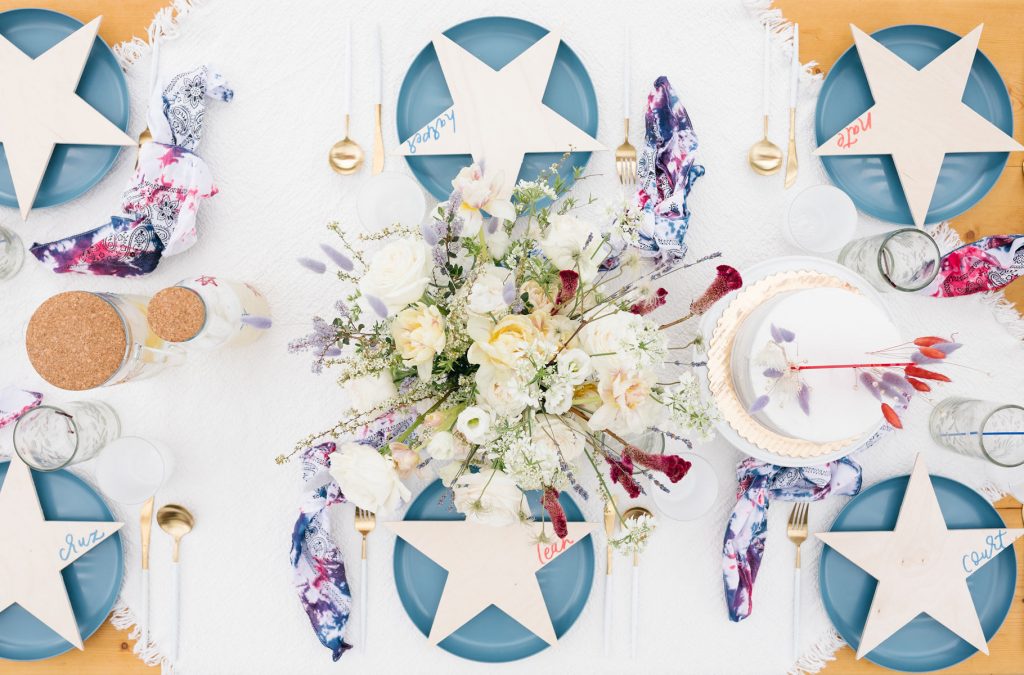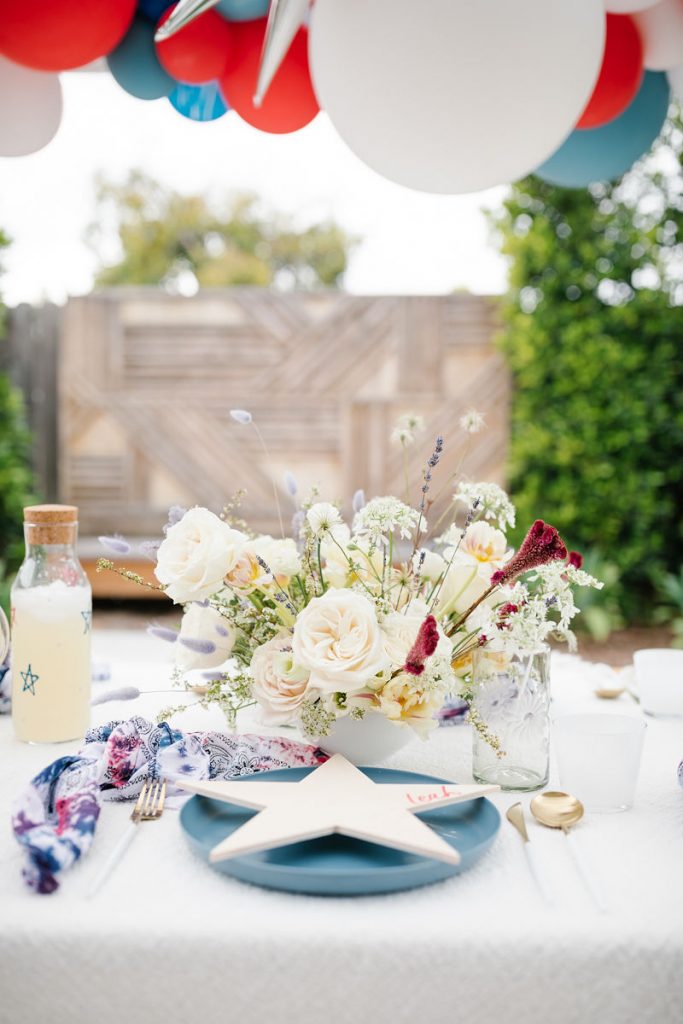 Aren't those flowers so beautiful?! I always love Krista from Not Just in Novels work!!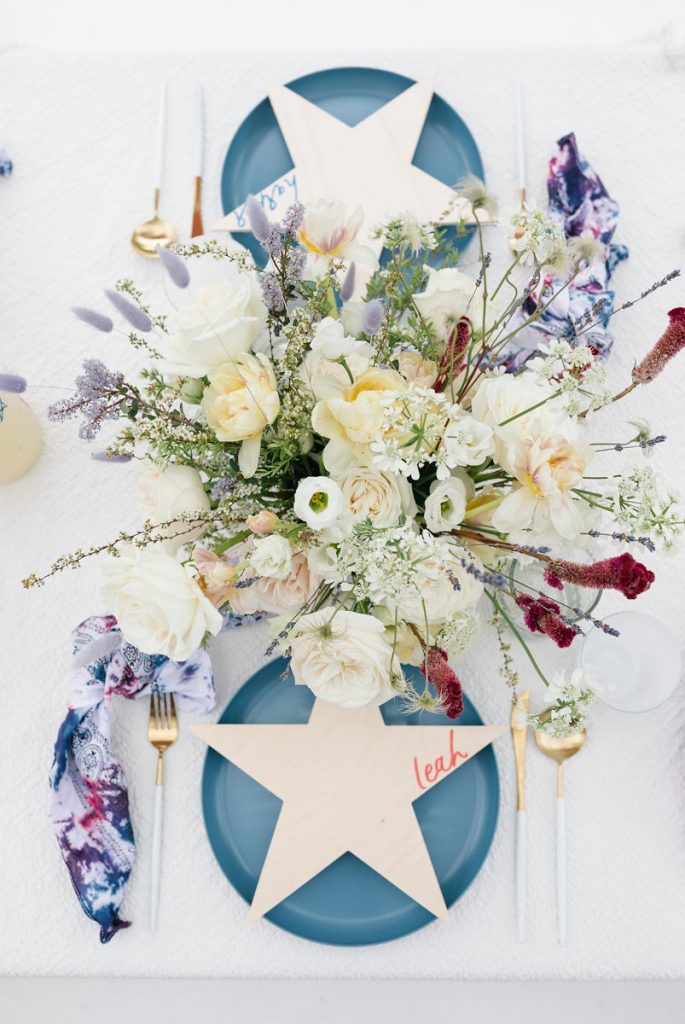 Now let me show you these simple and easy DIYs to make your party stand out!!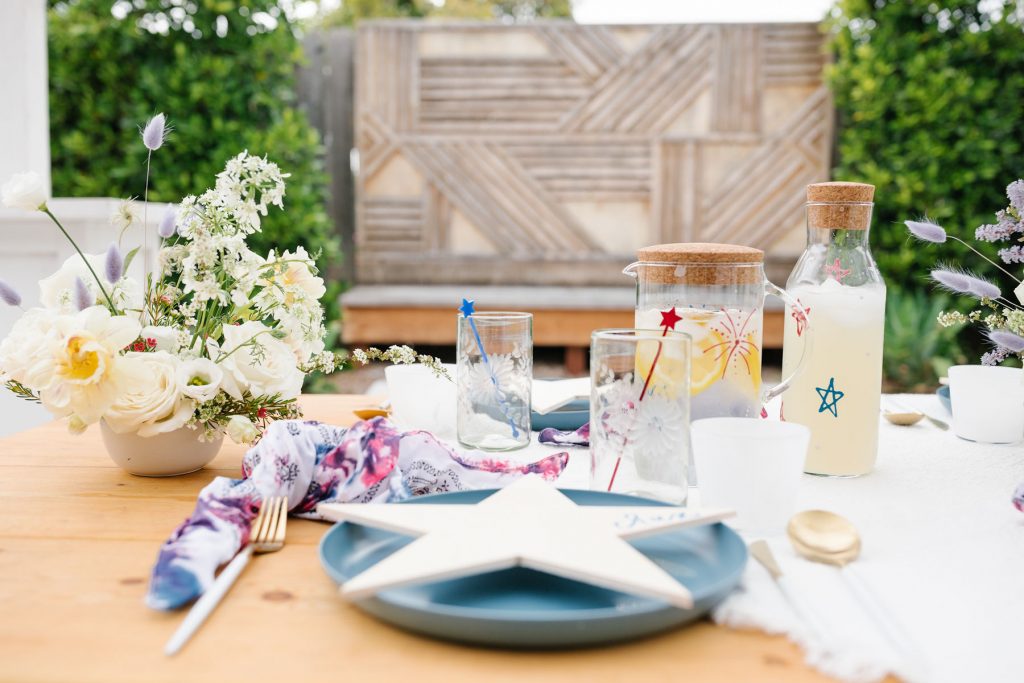 Here are a few of the products we used from Tulip! Fabric Paint, Fabric Markers, Patriotic Red & Blue Tie-Dye Kit, Dimensional Fabric Paint, and Spray Paint! The Spray Paint and Fabric Paint were mainly used in our DIY From earlier this week, however, Krista did use a bit in her floral arrangements!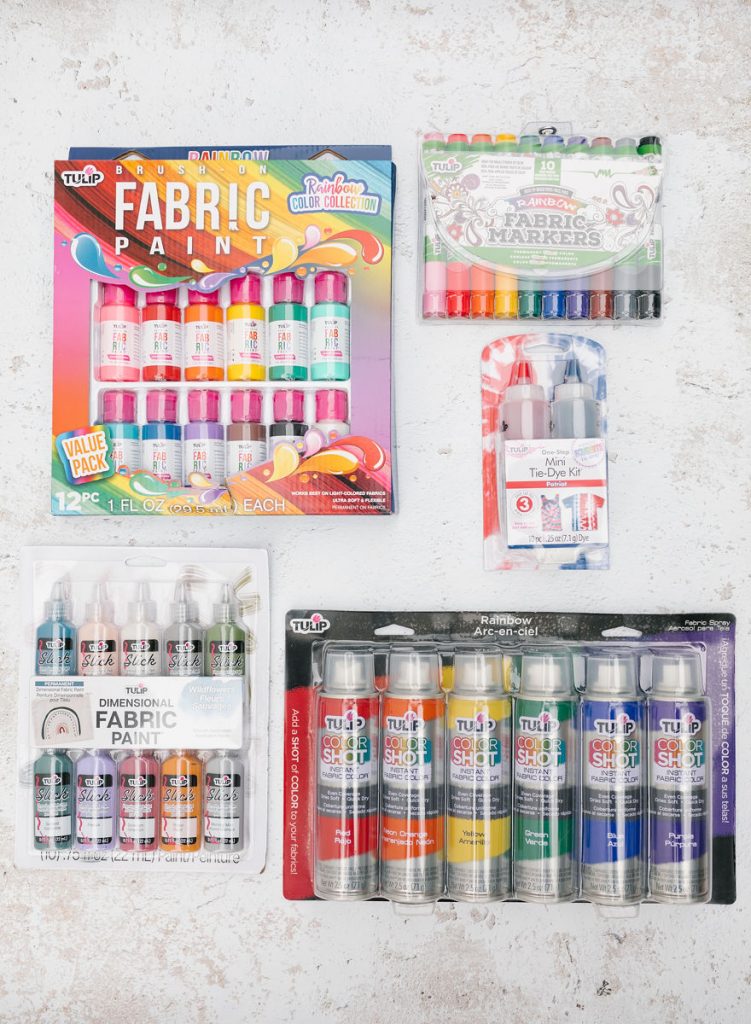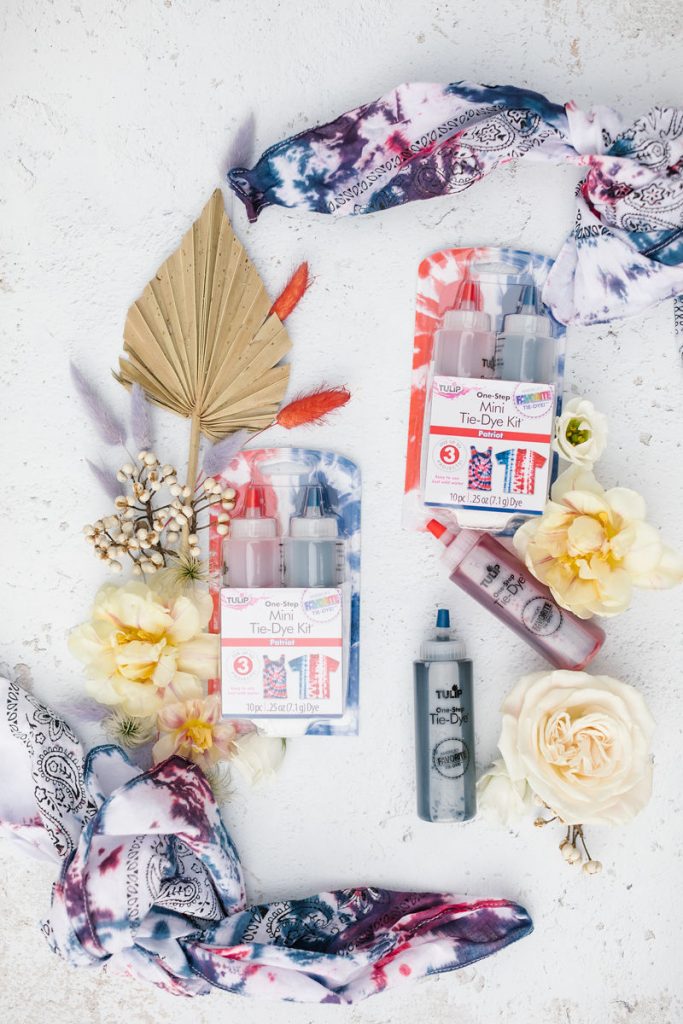 Let's start with the place settings!! I did two fun DIYs to add some personalized and red, white, and blue touches. First I found these wooden stars that were a fun place card/charger! They ended up looking cuter on top of the plates so I just went with that. I had Poppy Jack Shop use her pretty handwriting and the Tulip fabric markers to add each guest's name to the stars! Such a fun little customized nod that we always love!
For the napkins, I used 100% cotton white bandanas and kind of splatter tie-dyed them. Tulip has a great Patriotic Tie-Dye set that is so fun for the 4th! We will share more on that later, but in the meantime, don't those bandanas make great napkins?!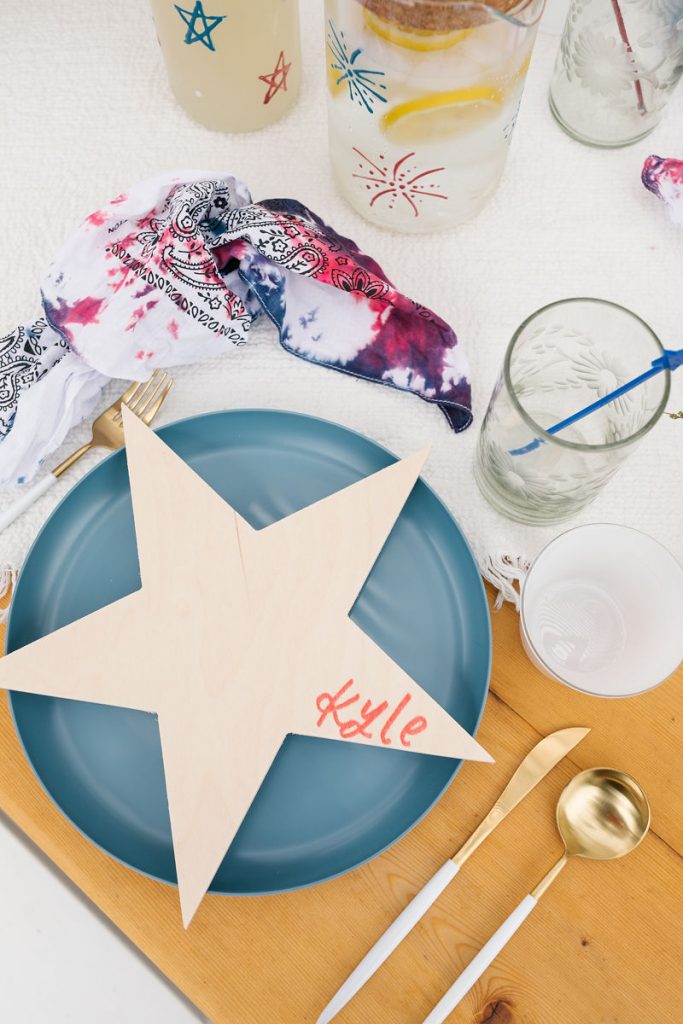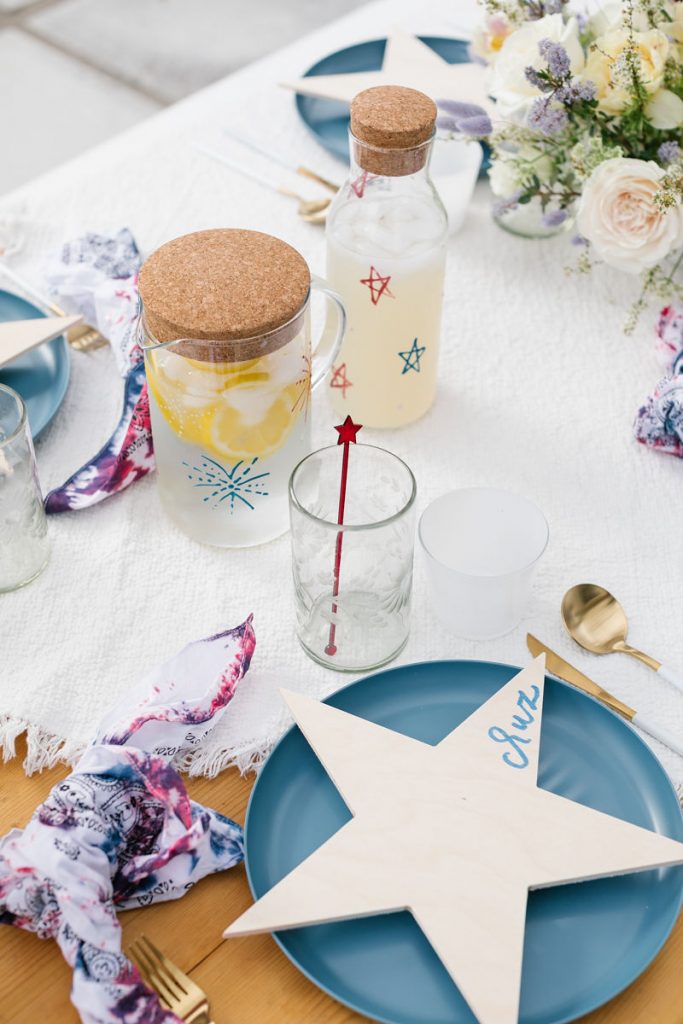 We also used Tulip's Dimensional Paint (or as it's known to anyone who grew up in the 80's/90's – Puff Paint) to jazz up these pitchers!! The pitchers are from Ikea but I got them on Amazon, did you know they sell Ikea pieces there? I didn't and was pretty excited about it! Some cute fireworks and stars were just the personalized touch we needed to make them extra fun!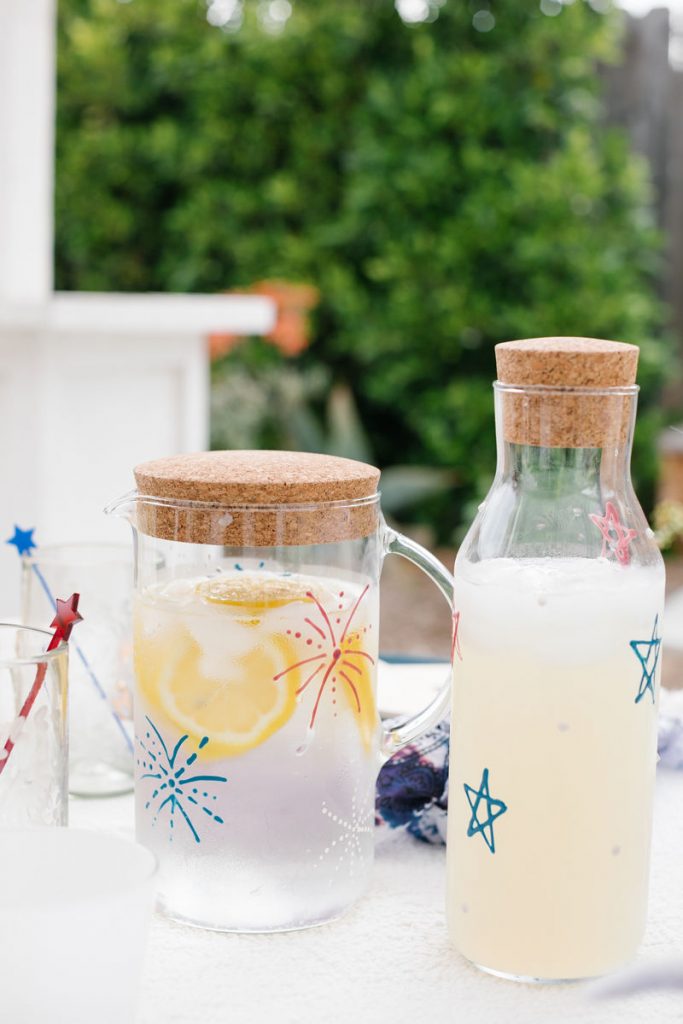 Just a few more photos of those flowers, because I can't get enough!!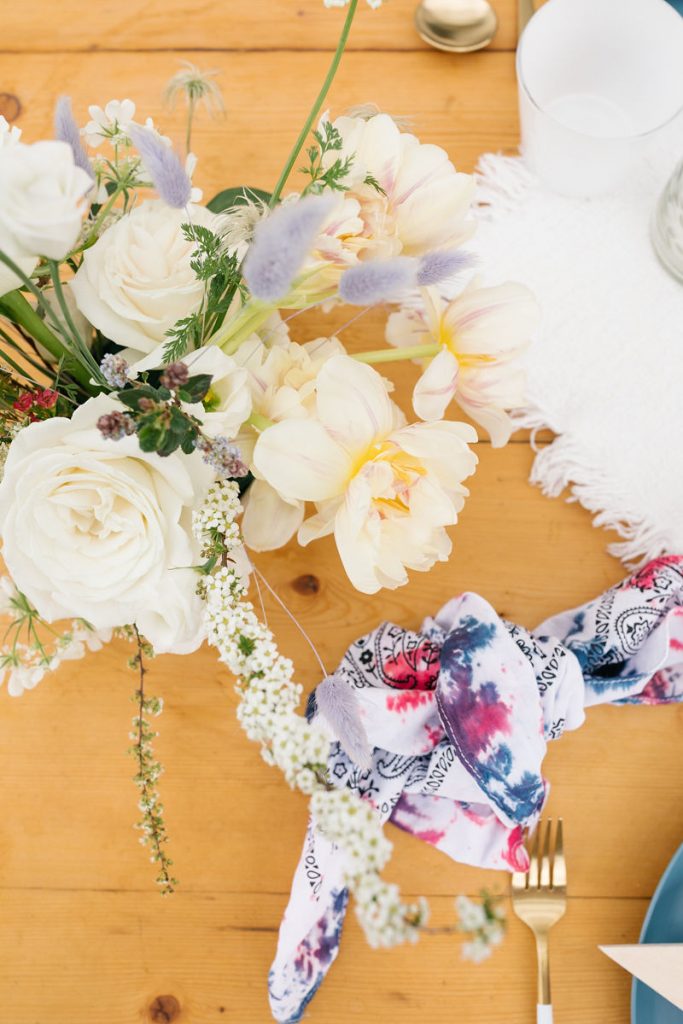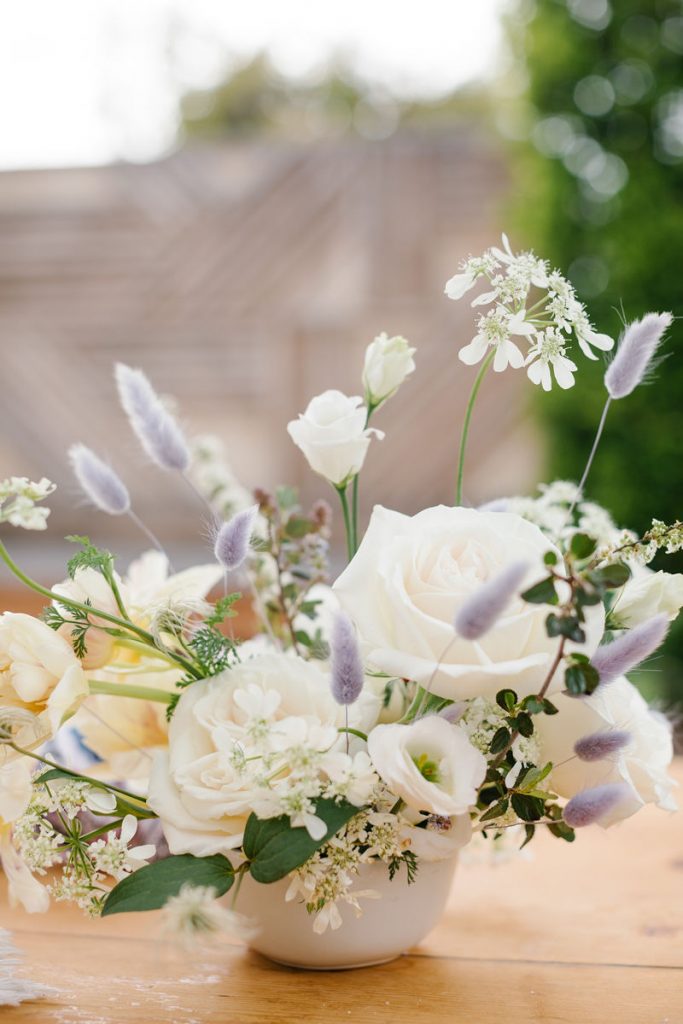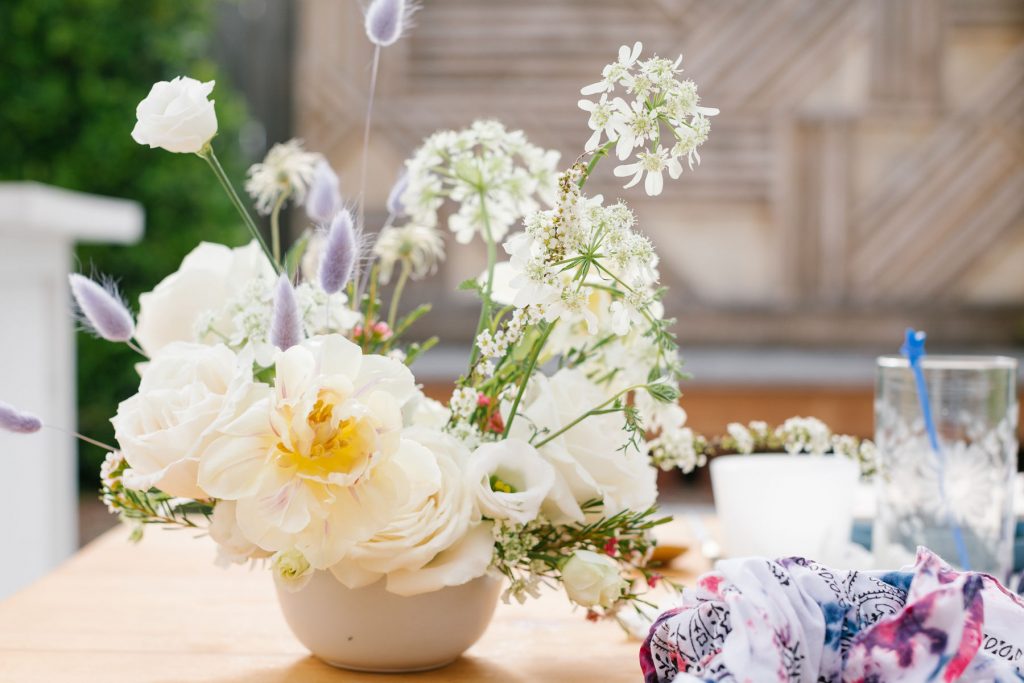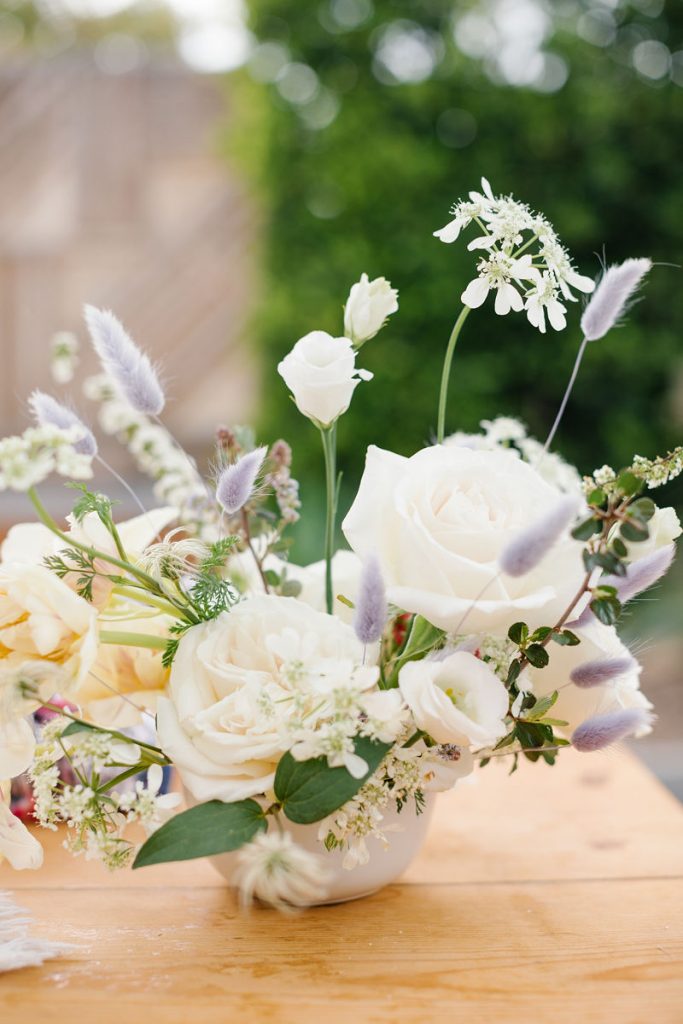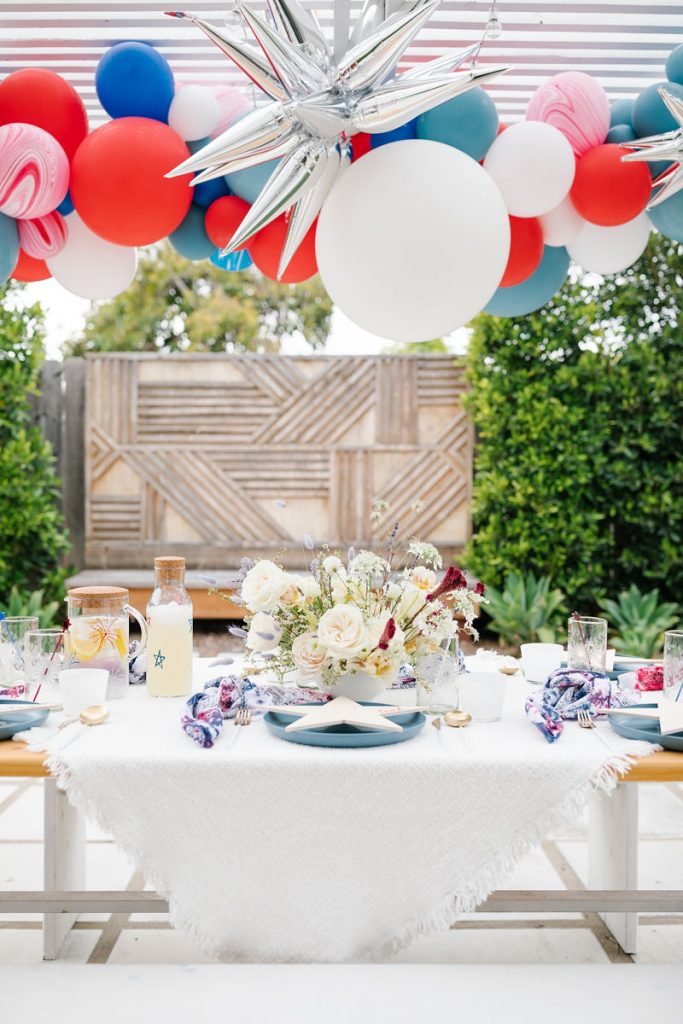 Now, if you do all these fun details ahead of time you can actually enjoy your day and pour your guests a cocktail or a lemonade!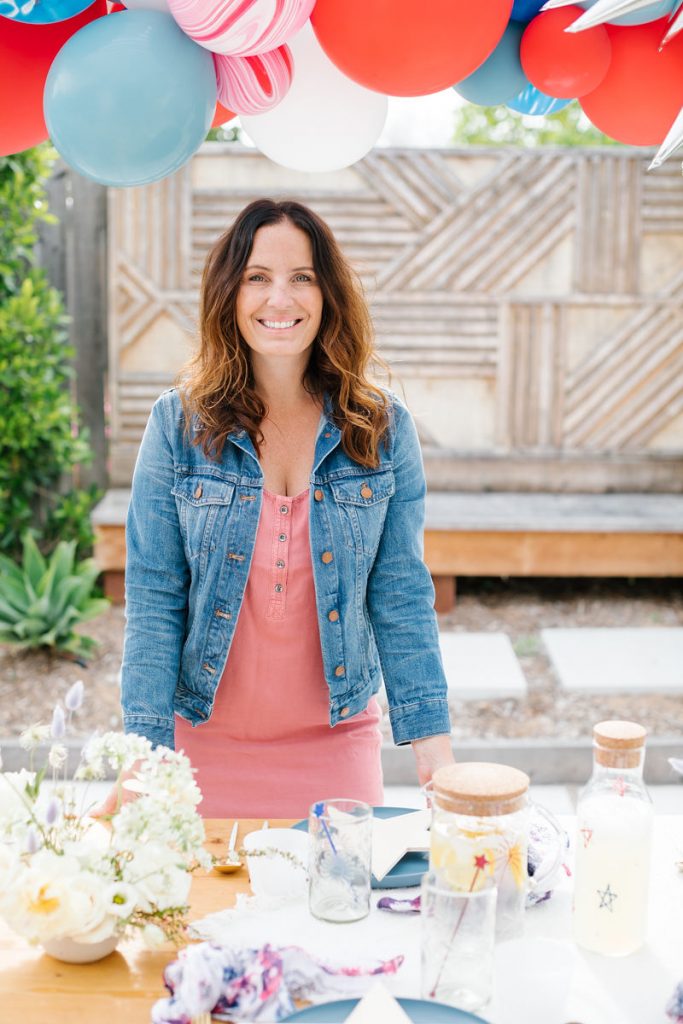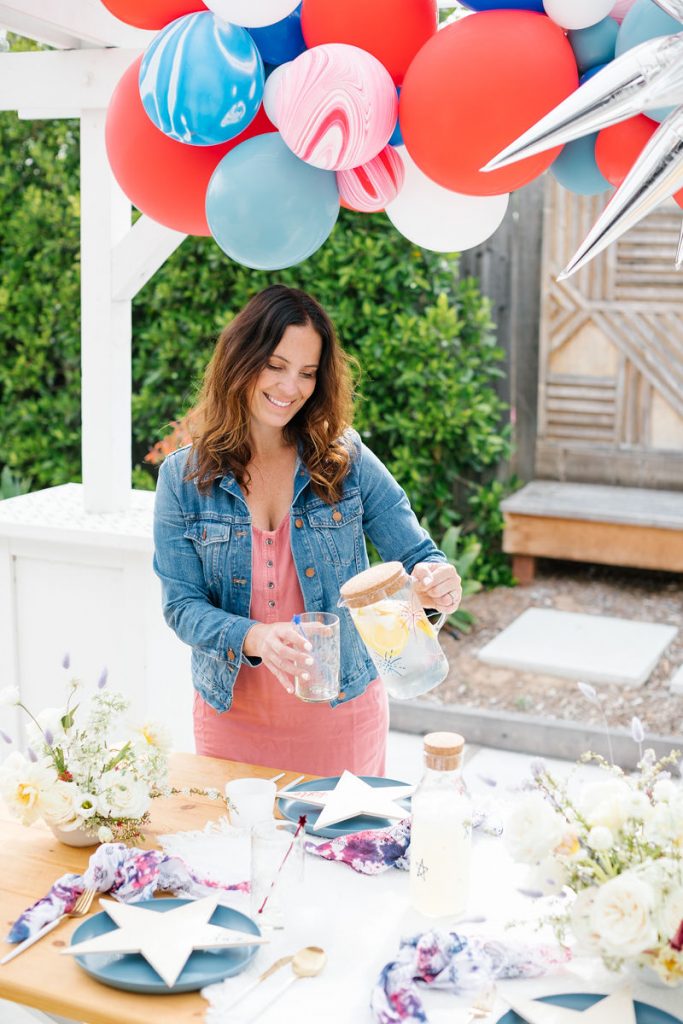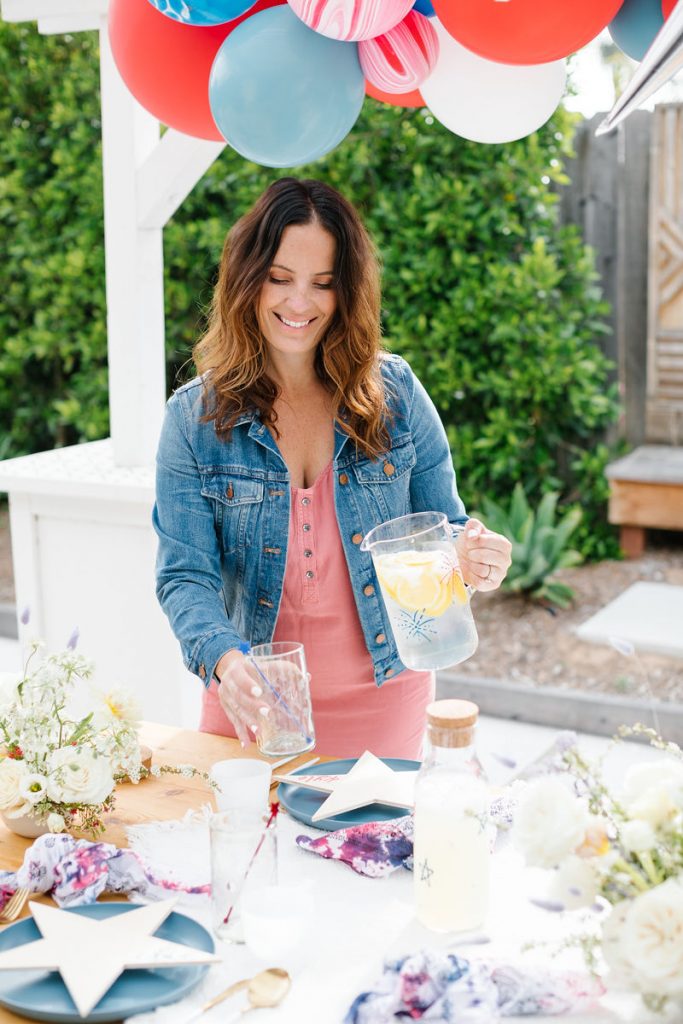 One of my favorite additions to this party was the cake! We are always here for dessert!! And Courtney from Poppy Jack Shop created the perfect cake topper for us – sometimes it's good to go simple with your cake design and let the topper speak for itself!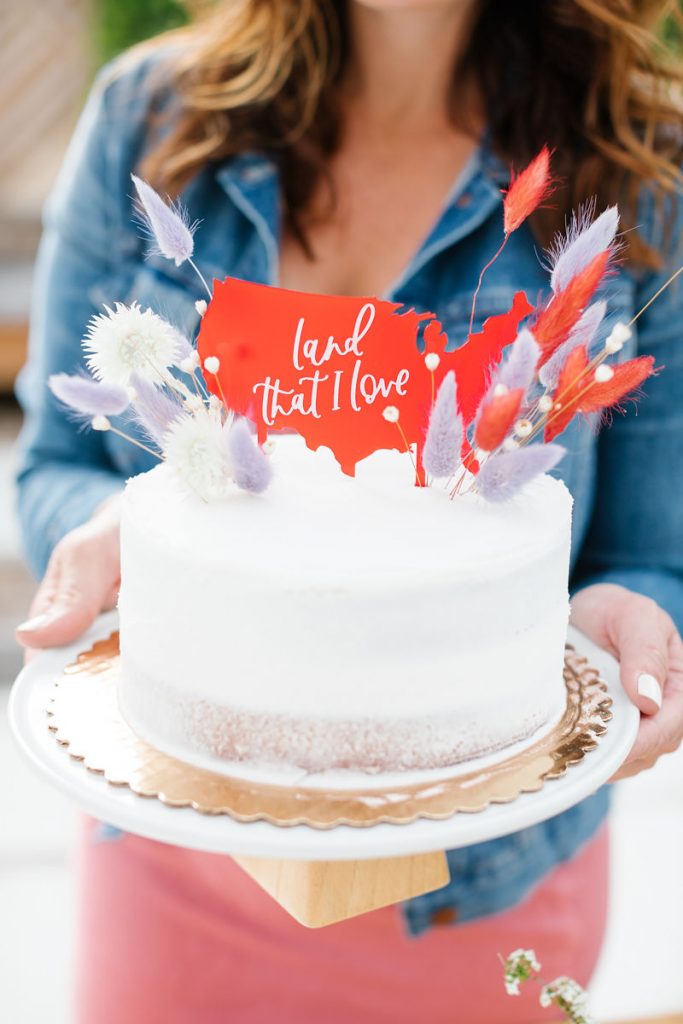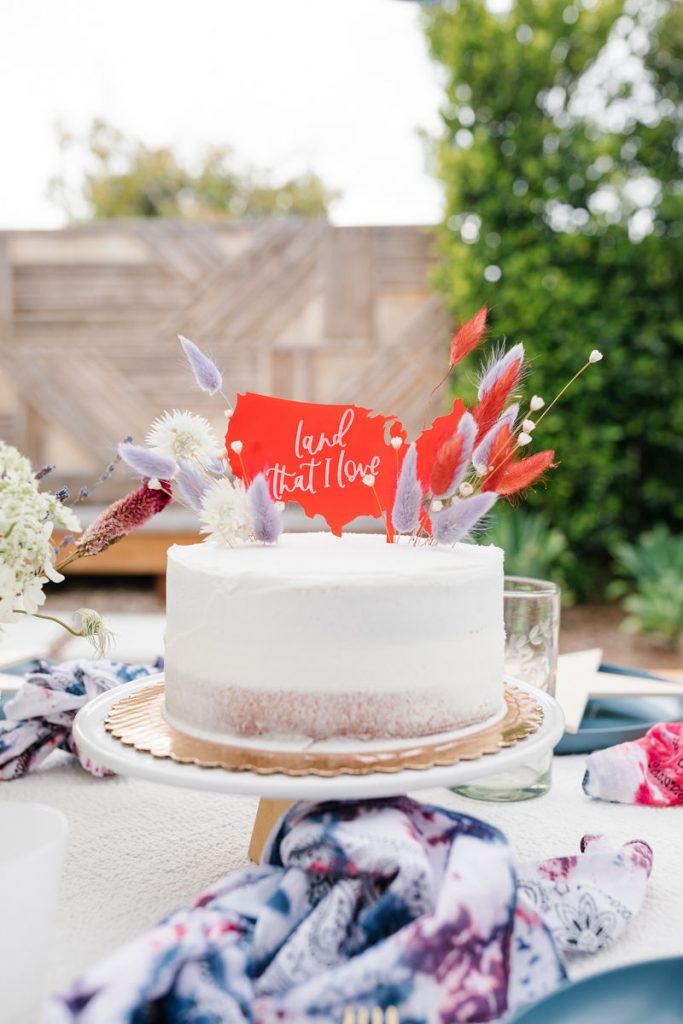 Let's add in some cute neighborhood kiddos, shall we?! I live to make the holidays fun for my kids and the 4th of July is always a good one! You better believe I ordered our waterslide for the front yard back in March!! These little cuties are decked out in red, white, and blue from Chaser! Our go-to kid's line is oh so soft and just adorable!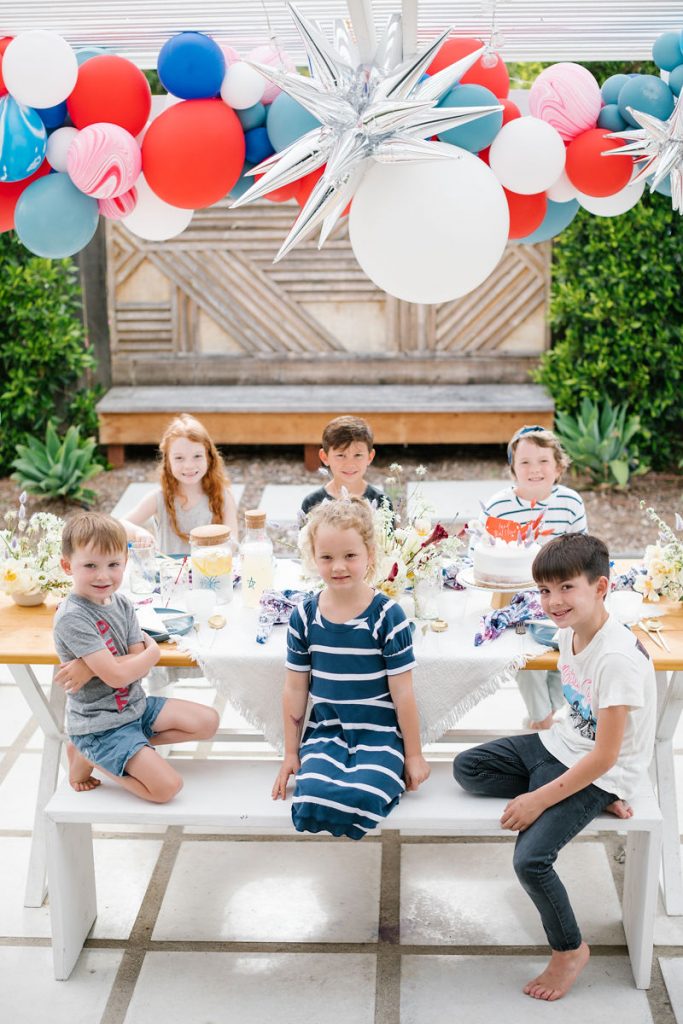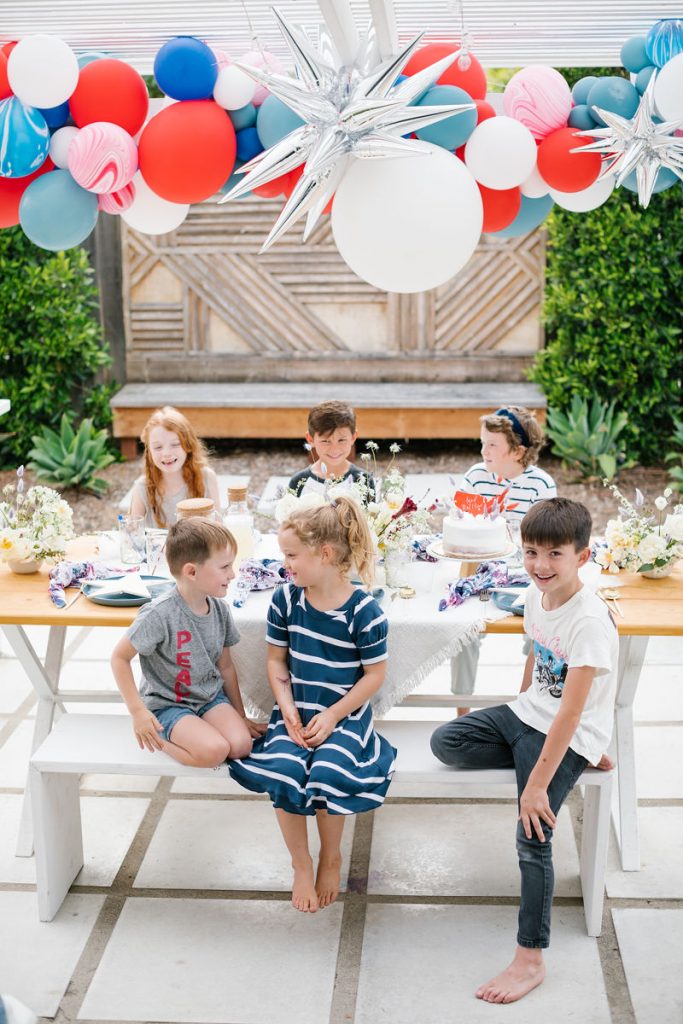 I'm here for all the summer backyard hangs!!!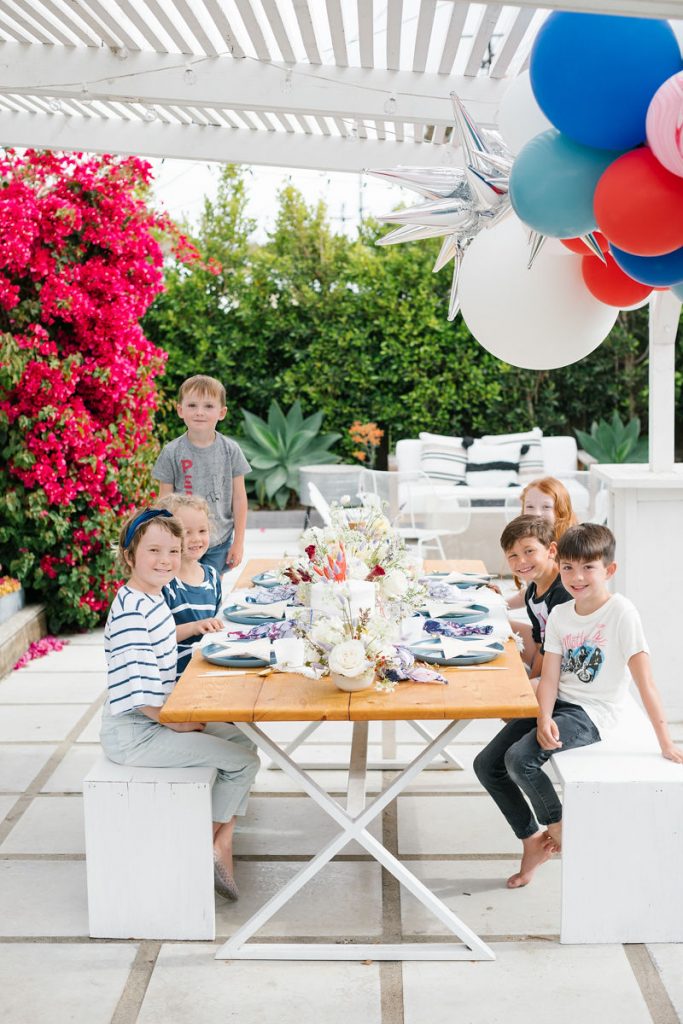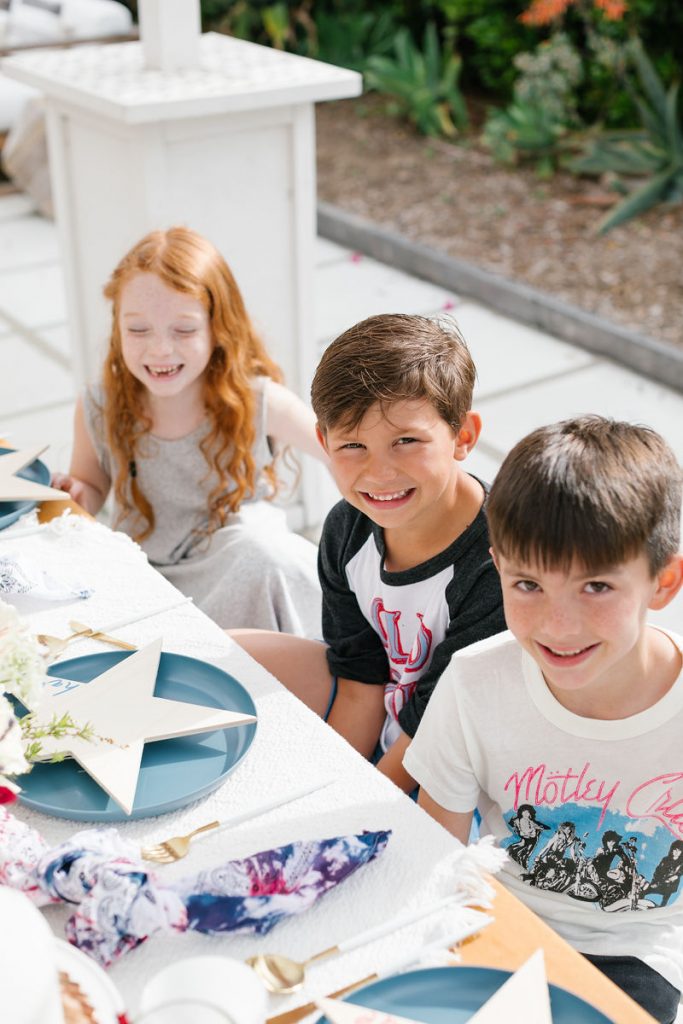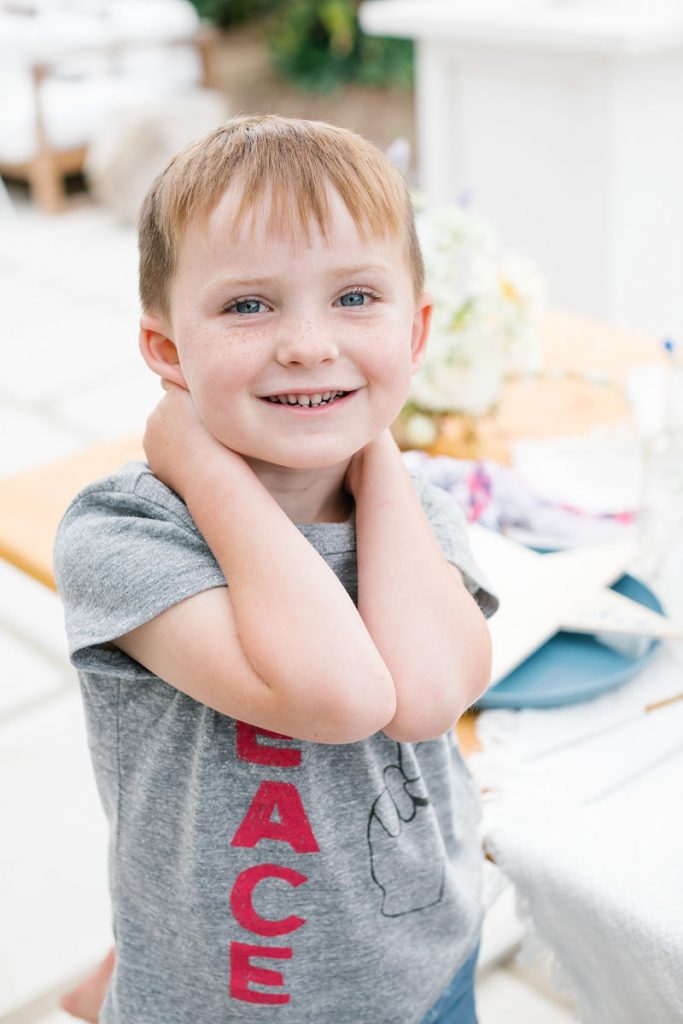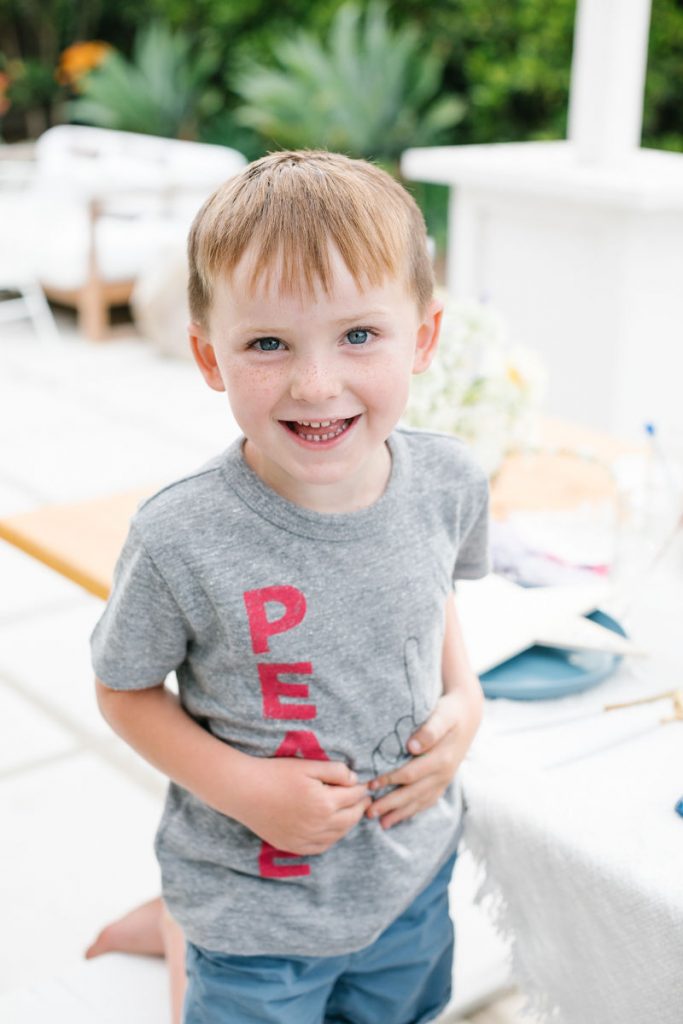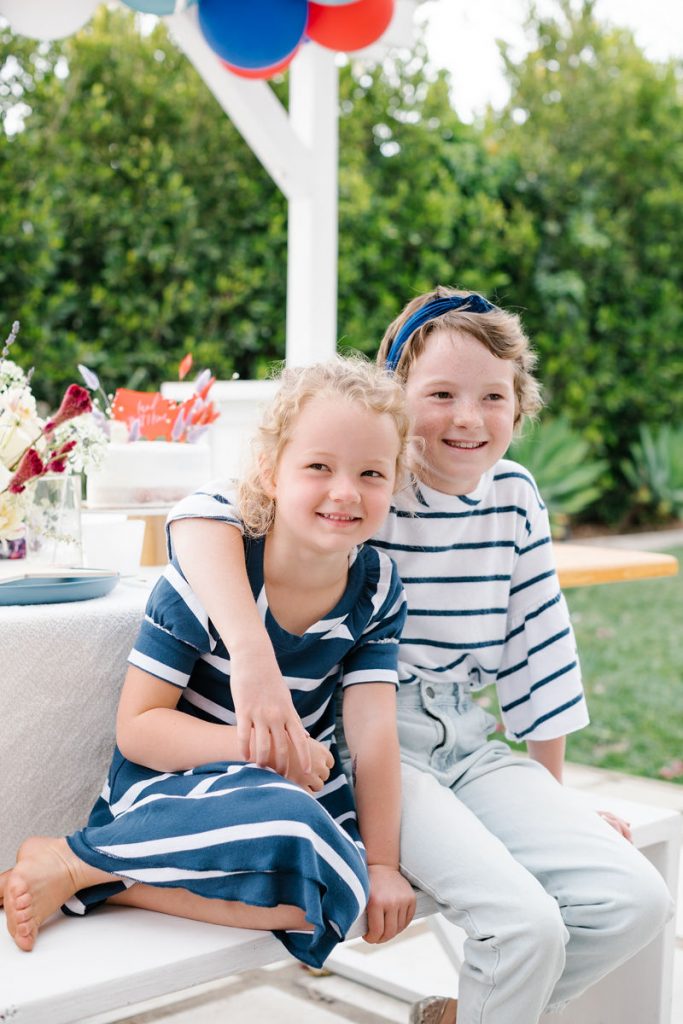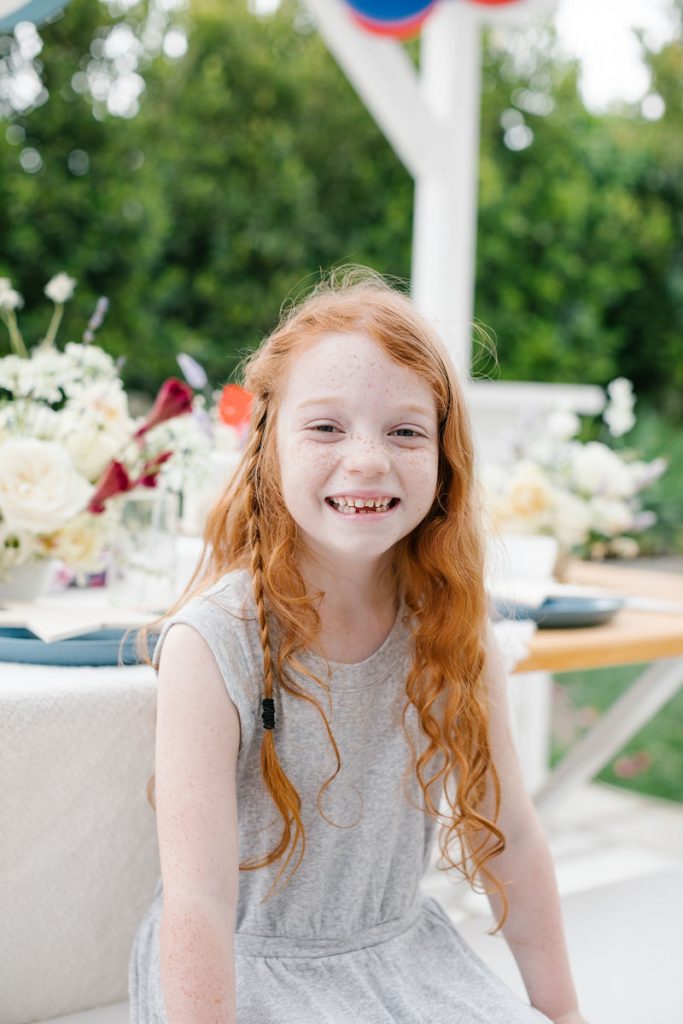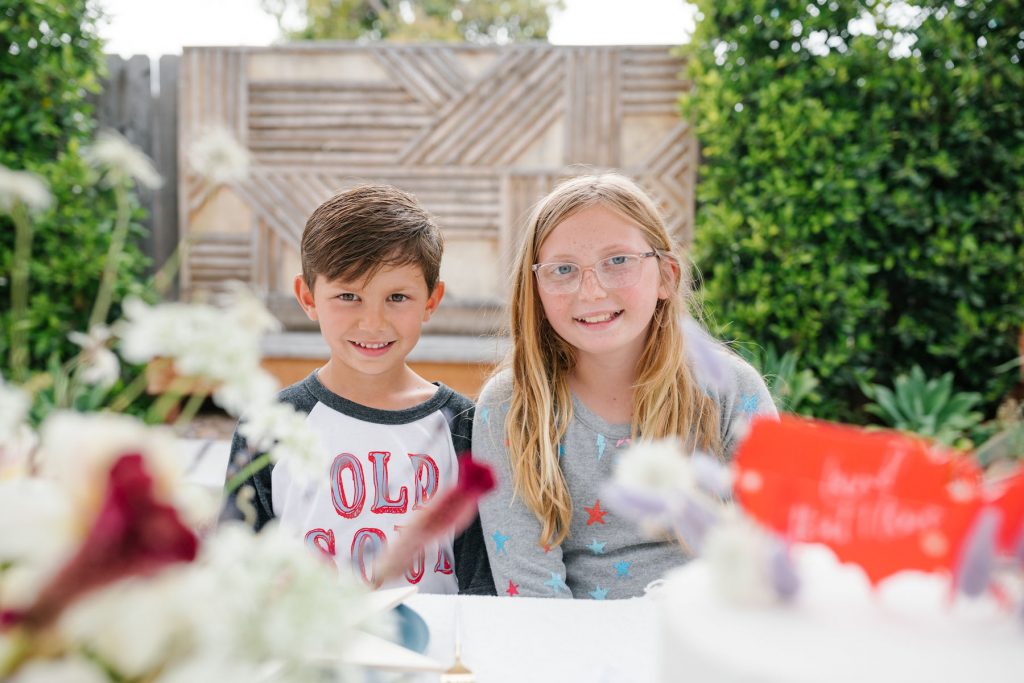 The last step to this party is something I would recommend hosting the week before the 4th but could be a fun day of activity. It's a tie-dye party! How fun is it to invite the neighborhood kids over to tie-dye shirts for them to wear the day of?! Well, we did it and now all of the kids are ready to go! I mentioned Tulip has their amazing Patriotic Tie-Dye Kit which we used for this! Each kiddo got their own and went at it with their own tees.
Be sure to pre-soak your 100% cotton tees beforehand and have enough for each kid to do a few, they tie-dye quick! And get a table cover that you can toss away which makes for easy clean-up!!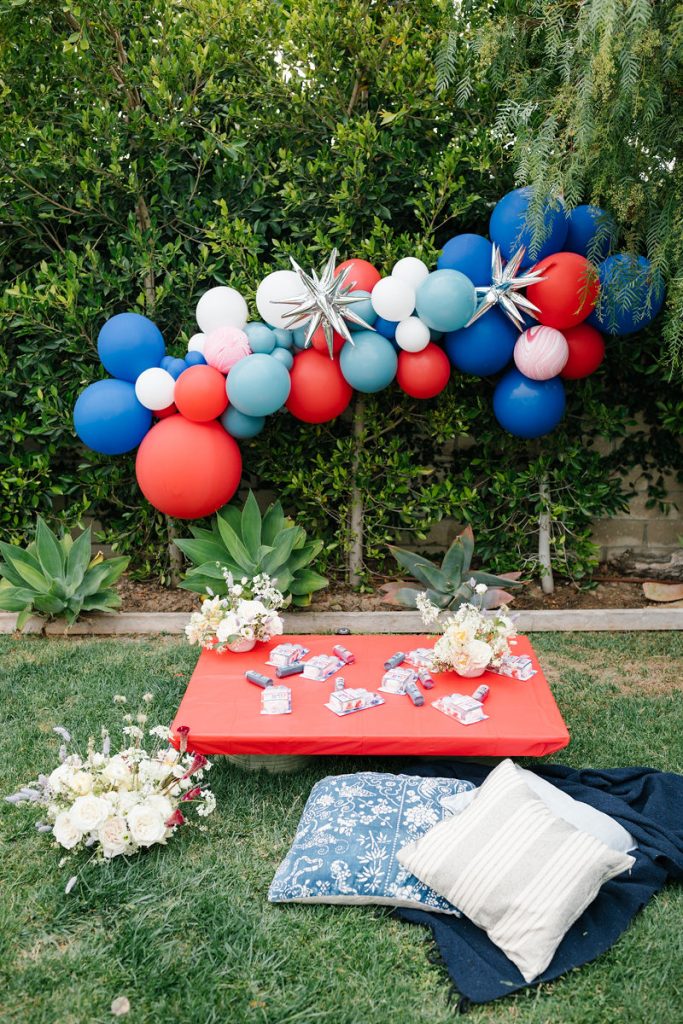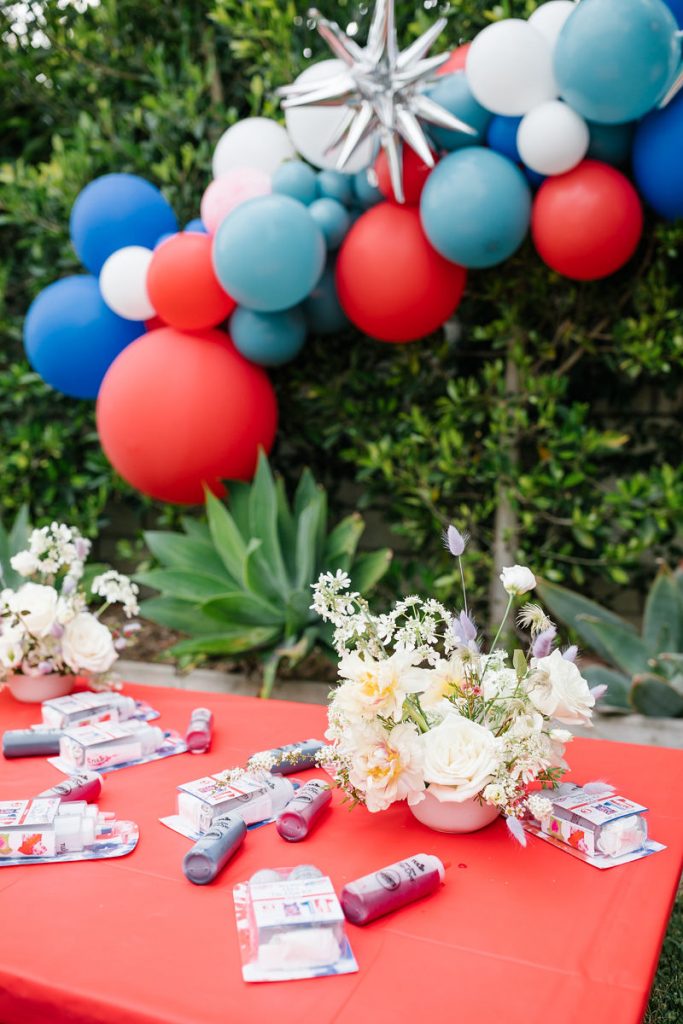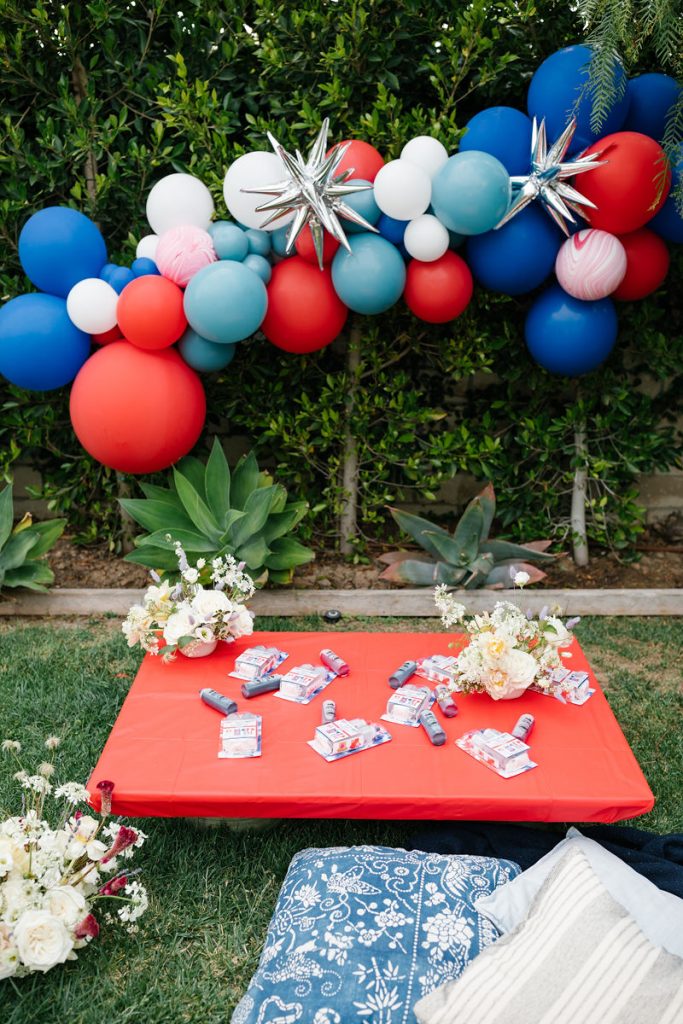 They had so much fun!! And like I said, now we are more than ready for the 4th! I think each kiddo did 3 tees!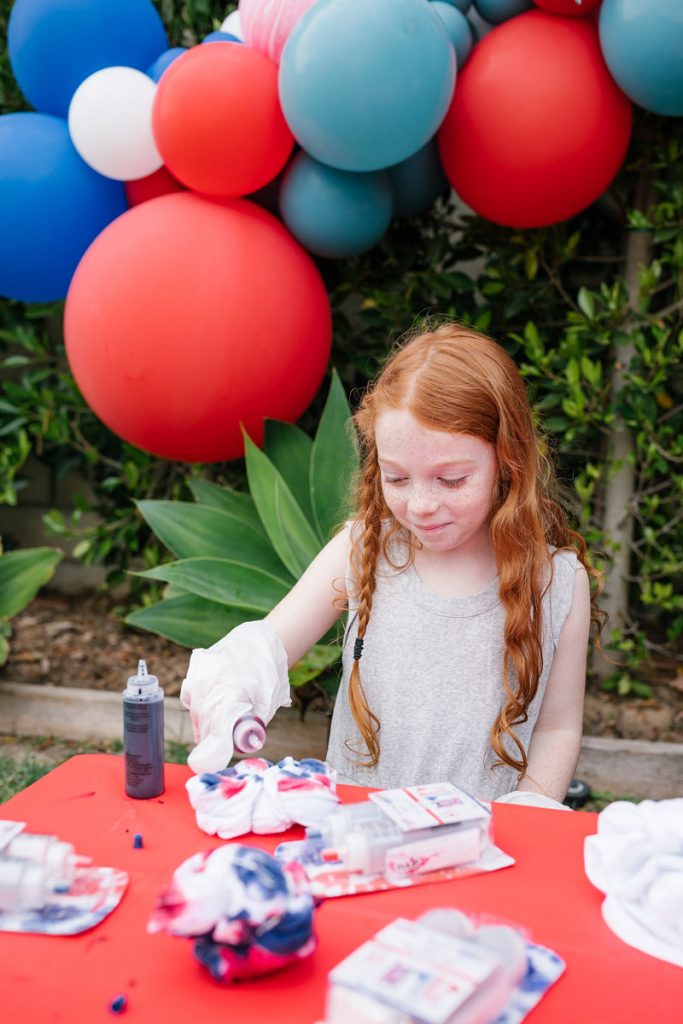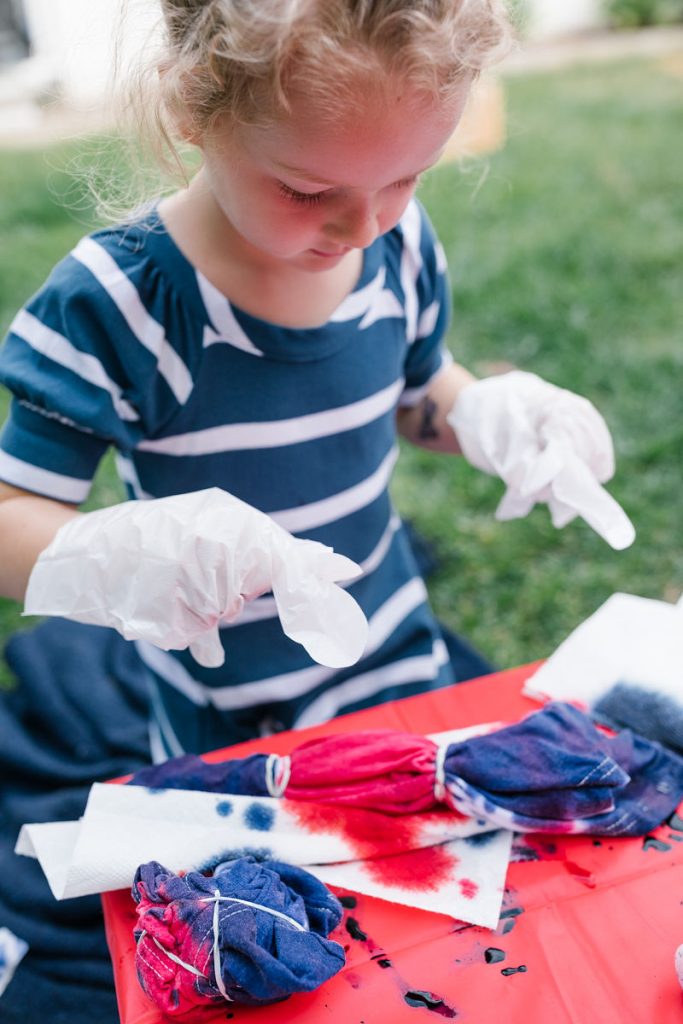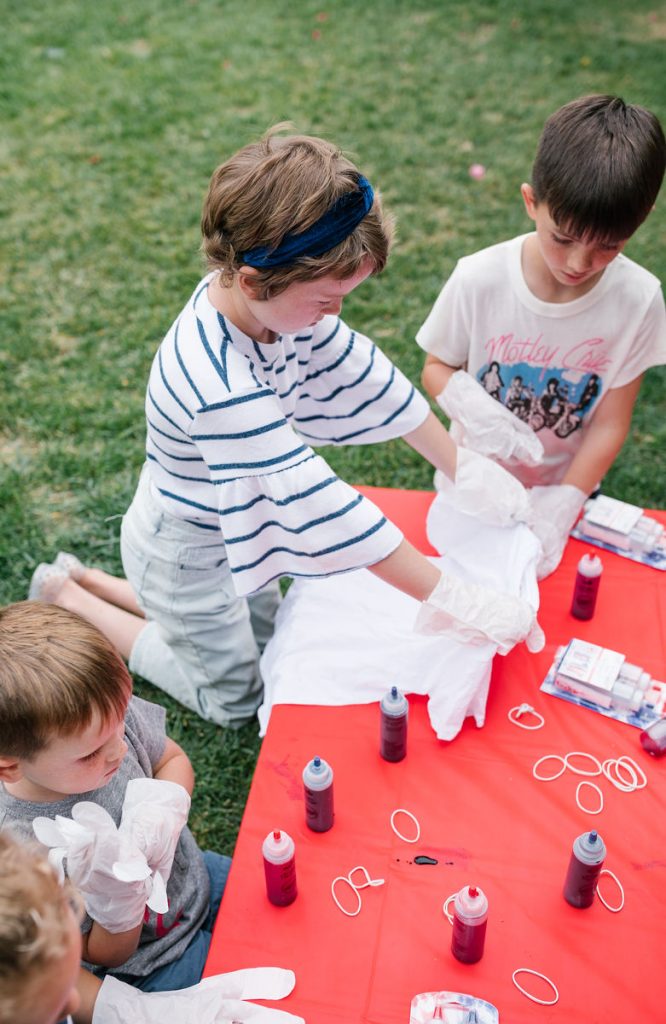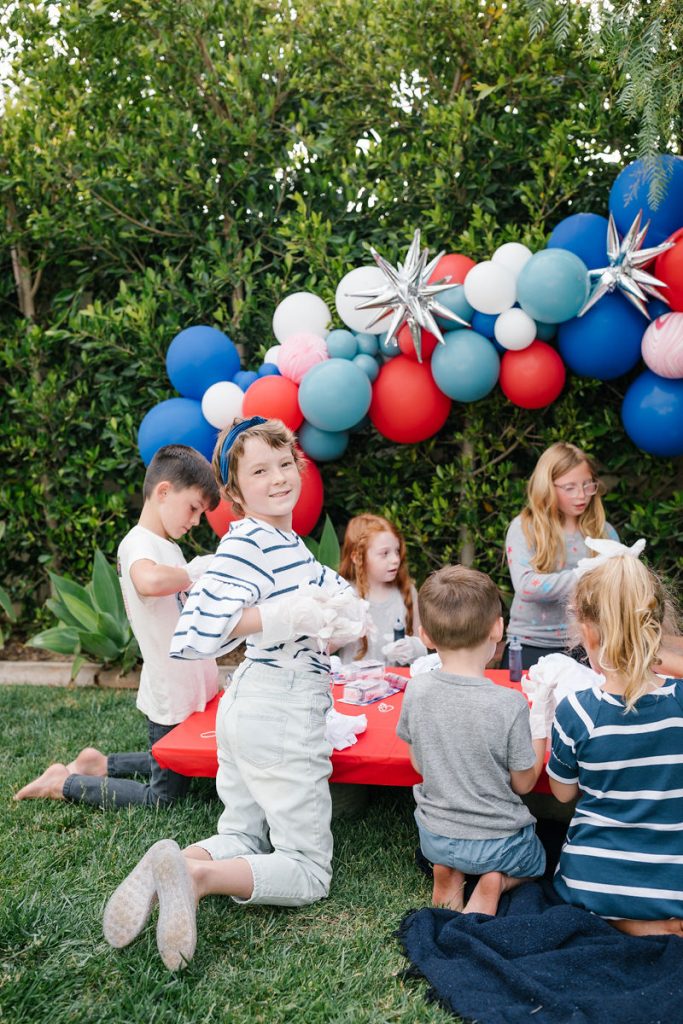 Don't worry, I have everything you need linked here to create these parties at home!!! So excited for the 4th to come soon and for us to party with our friends like old times!!

xx
Jacquelyn