Warm apple pie, you make my heart sing! Celebrate the O.G. of 4th of July gatherings with this apple pie recipe. Nothing better than gooey cinnamon apples that are topped with brown sugar goodness, all wrapped in a flaky butter crust! This is probably one of these easiest pies I have made, so it's perfect for making ahead of time and throwing in the oven right before the festivities begin. Little secret, I used store-bought pie crust! Shh… sometimes you gotta do semi-homemade, especially during summer plans! Plus, learn how I styled it up with some fun florals!

Photos by Dayna Studios
---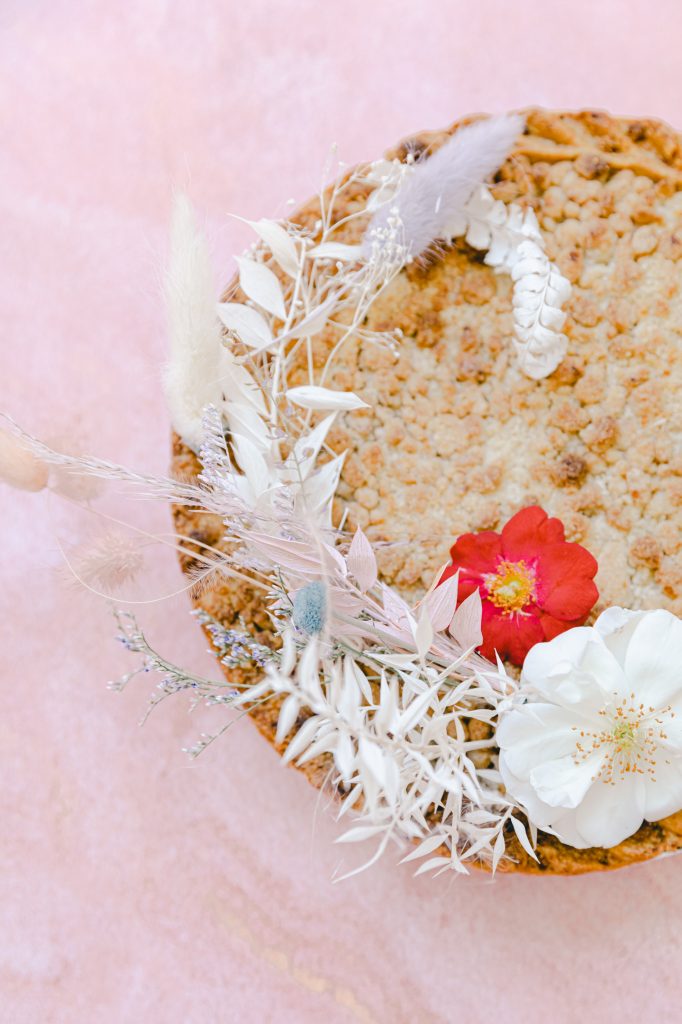 ---
YUMMY APPLE PIE
SERVES: 8 | PREP: 45 MINUTES | COOK: 1 HOUR
W H A T   Y A   N E E D

8 cups peeled apples, sliced ¼-inch thick (about 6-8 apples)
1 teaspoon vanilla extract
¼ cup all-purpose flour
½ cup granulated sugar
¼ cup brown sugar
1 teaspoon ground cinnamon
¼ teaspoon ground nutmeg
¼ teaspoon salt
2 premade pie crusts
B U S T   O U T

Deep Pie Dish
Dried Florals
---
I N S T R U C T I O N S
Super easy here, guys! Place the peeled, sliced apples in a large bowl.
Add the vanilla, ¼ cup flour, granulated sugar, and brown sugar to the bowl with the apples. Sprinkle the cinnamon, nutmeg, and salt over the apples. Stir to combine. Set aside while you do the pie crust. More its sets to the side the better! Let all those flavors combine.

For the pie crust, I went easy this time and just did store-bought. Get two, one for the bottom layer, and then one for the top. Roll out the top layer and cut into strips, about an inch thick. Place your bottom crust in your pie dish, and pour the filling on top. Place the longest strip down the center of the pie. Reserving every other dough strip to go in the other direction on the pie, lay strips across the pie with just a little bit of space between. Then weave in strips going the opposite direction on the pie. Brush the pie crust with milk (to help with browning and to help the coarse sugar stick) and sprinkle with coarse sugar, if desired.
Refrigerate pie for 30 minutes before baking. Meanwhile, preheat the oven to 400° F with a rack in the lower third of the oven. Bake the pie at 400° for 20 minutes, then reduce oven temperature to 350° F. Continue baking the pie for 40-50 minutes more, until the filling is bubbly. Check on the pie halfway through the baking time and tent it with foil as needed to prevent the crust from over-browning.
Let the pie cool at room temperature for at least 2 hours before serving to allow the filling to thicken. Once cooled, you can decorate with dried florals and fresh florals right before serving or placing out for the party! Even an apple pie needs to get dressed up for the 4th!
---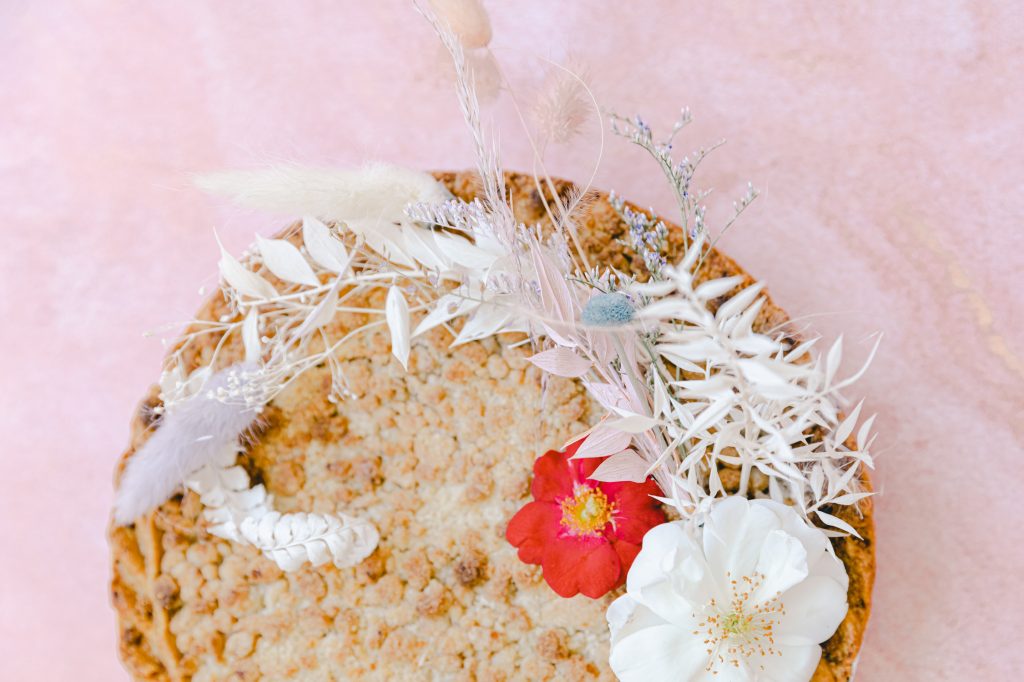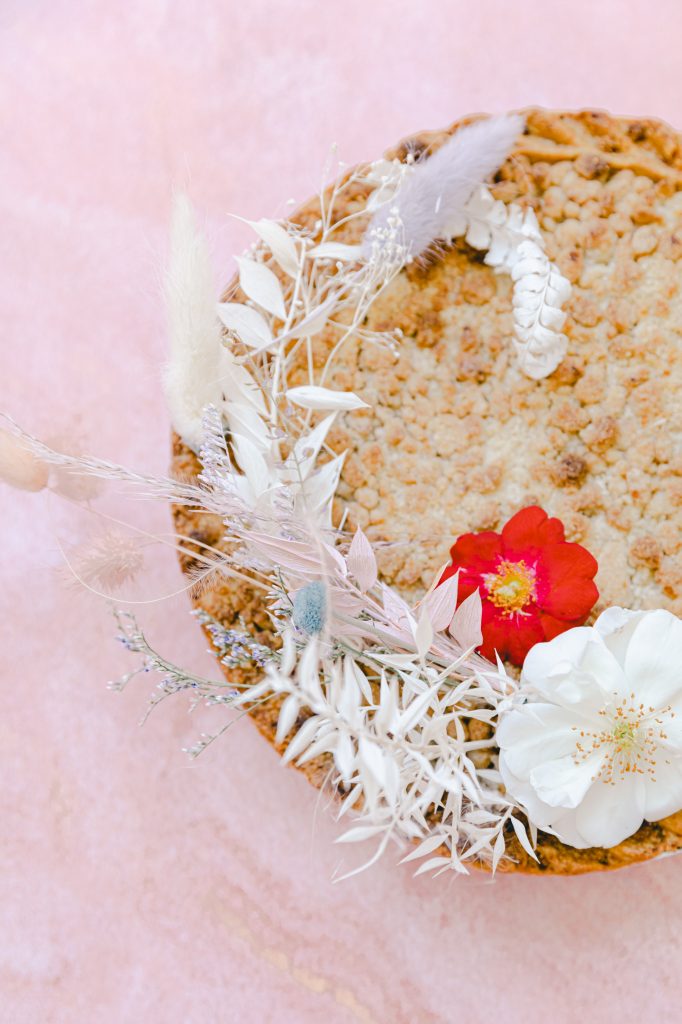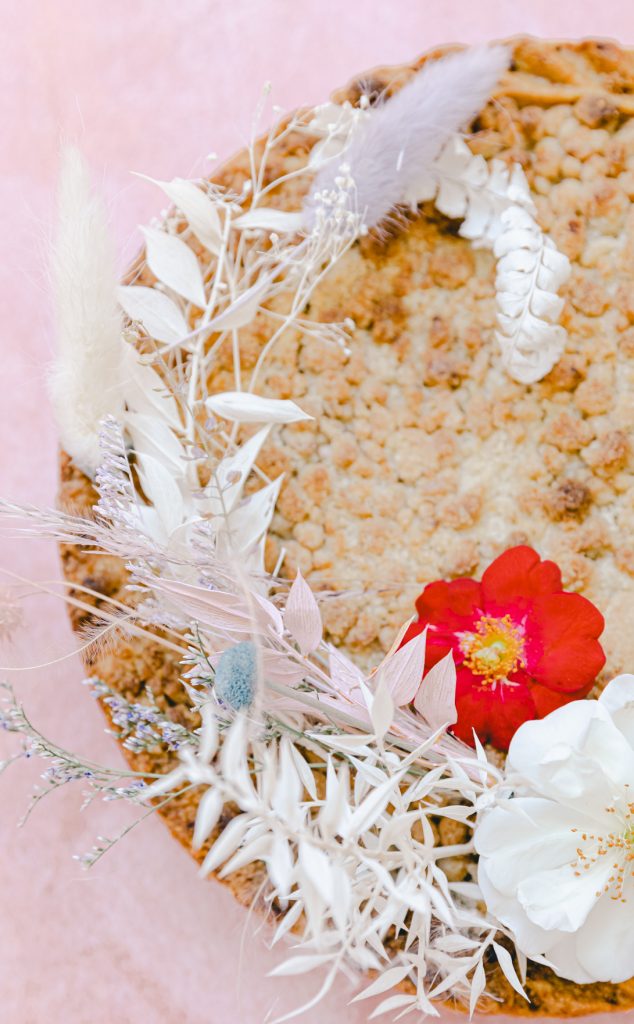 ---
B E I J O S K I T C H E N

xx
Abby