Nothing warms your heart more than homemade gifts from your little ones! Especially when it comes to Mother's Day and Father's Day. This year, I got a really pretty bouquet of egg carton flowers on canvas. Now, that is Father's Day this Sunday, I wanted to try and create something fun that I can do with the kids. A little bit of love from me, and a whole lot from them for the best dad in the world.
We came up with the cookie cake! You know you have seen these fun cakes around. It's pretty simple, cookies, frosting, and fun toppings. I made the cookies and frosted the cake. Back end stuff not very exciting. The kids got the most important job, the decorating. I created fondant circles for them to write on reasons why Dad is rad! I love doing this with them each year for him, cause their answers crack me up! This year the winner was from my daughter Dylan who said, "Dad is rad cause he gives me crackers!". She is nine, lol. I guess the way to her heart is saltines, who would have thought.
The best part about this cake, it's homemade so you know there is lots of love in it. Yes, the kids handwriting may not compare to all those fancy cakes you see us do at our events, but nothing beats making it yourself with your little ones. I think that what makes it so special.Here are all the details on how we made this DAD cake.
---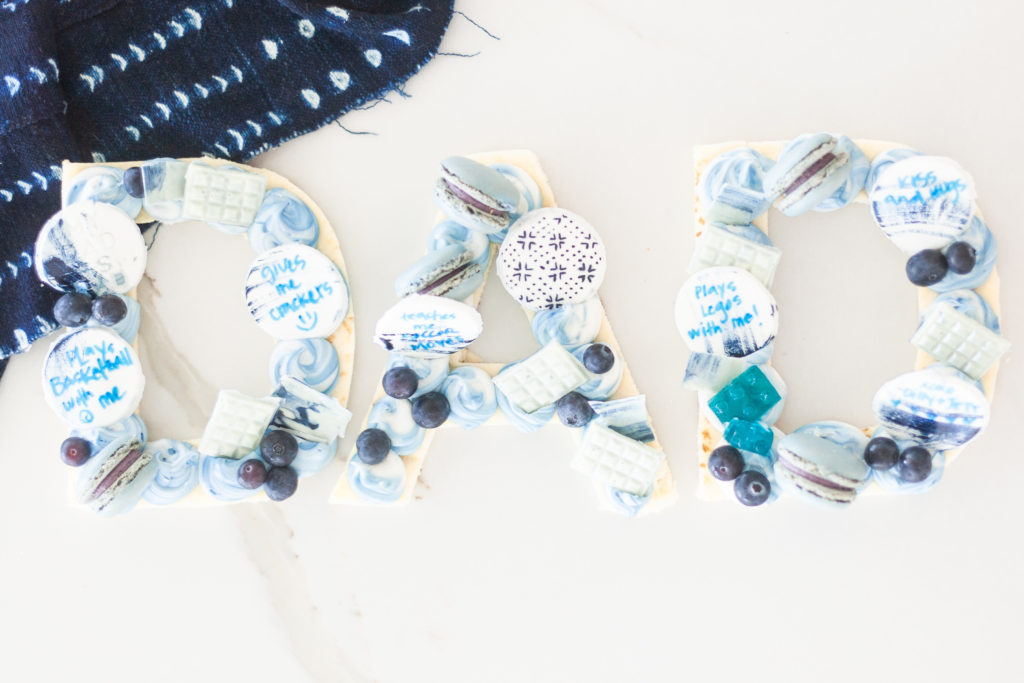 DAD COOKIE CAKE
SERVES: 12 | PREP: 10 MINUTES | COOK: 8-9 MINUTES
W H A T Y A N E E D!
Cookie Sheet
Cutouts of letters D and A
Sugar Cookie Dough
Buttercream Frosting (or any choice you like)
Food Gel Coloring
White fondant
Toppings: The world is your oyster! Go nuts! I used white chocolate bars ( See how I made them below), macaroons, fruit, fondant circles, gummy legos.
Mini chocolate bar mold
White Chocolate Chips
Food markers

B U S T O U T:
Flour
Rolling Pin
Parchment Paper
Microwavable Bowl
Scissors
Pairing Knife
---
I N S T R U C T I O N S
Mini Chocolate Bars
Place your chocolate chips into a glass bowl that can go into the microwave. Do a rotation of 10-15 seconds and stir after each time. Once the chocolate is melted, take out of the microwave. With a spatula, press into the mold by going back and forth with the spatula. Then to achieve the blue streaks, I took navy food gel coloring and placed some on my spatula, and then just wipe it over the chocolate. Super easy and fun! Place in the fridge to set.

Cookie Cake
Print out a "D" and an "A" in large font. I did a size of 650. Cut out your letters and set aside. Roll out the dough on a floured surface. Place your letters on top of the dough, and trace using a pairing knife. Now, you can do two layers so you would need to cut (4) D's and (2) A's. I actually did this but then my sweet little boy ate a D and I didn't have more dough. Shit happens. Ha!
Bake your cookies and set to cool completely before frosting. Fill a piping bag or even a Ziploc bag full of your frosting. I added a couple of drops of navy food coloring to give the frosting an ombre look. Make dots of frosting around one of each letter. Once you're done, carefully place the second corresponding letters on top. Repeat the doing the frosting dots on top.
Lastly, the fun part! Decorating! This is where my kids came in. But first, the fondant circles. Super easy, just roll out some white fondant, and using a circle cookie cutter or even a top to one of your spices, cut some circles. I brought out the navy food gel coloring again and brush some on it. The kids used food markers and wrote why they think Dad is rad. Simply, place your toppings around each letter. Most importantly, have fun doing it!
There you have it!
Once fun homemade cookie cake for Dad!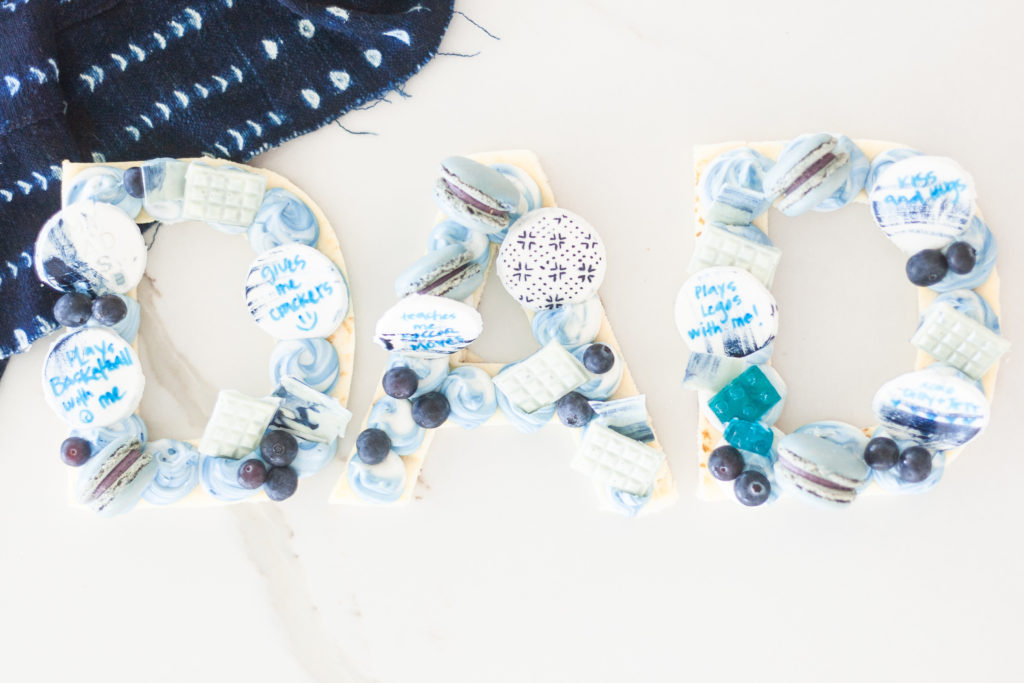 ---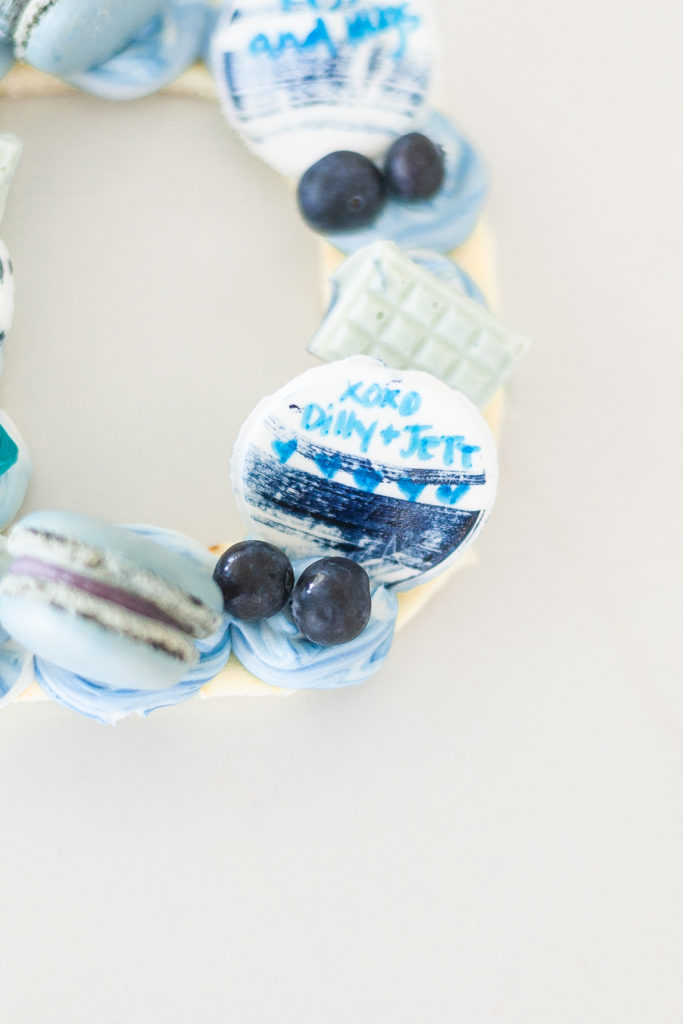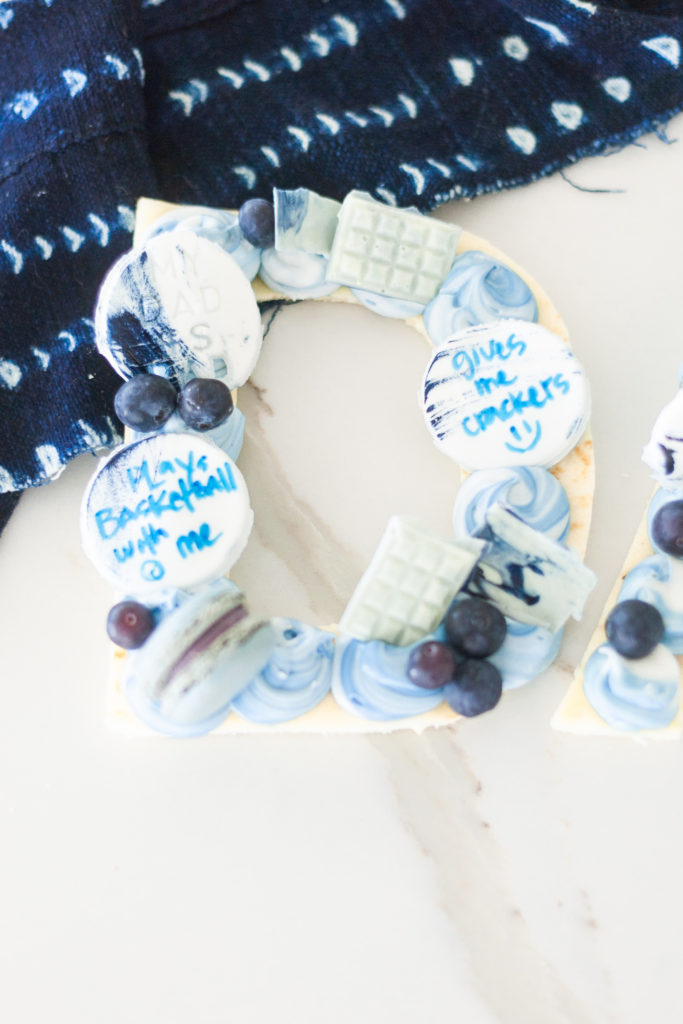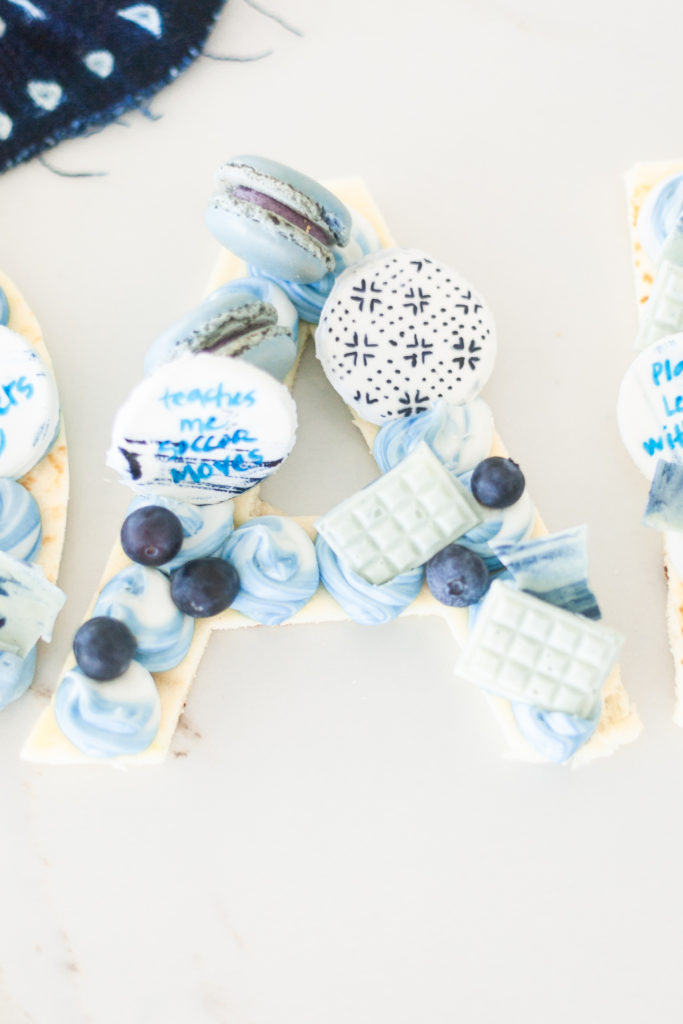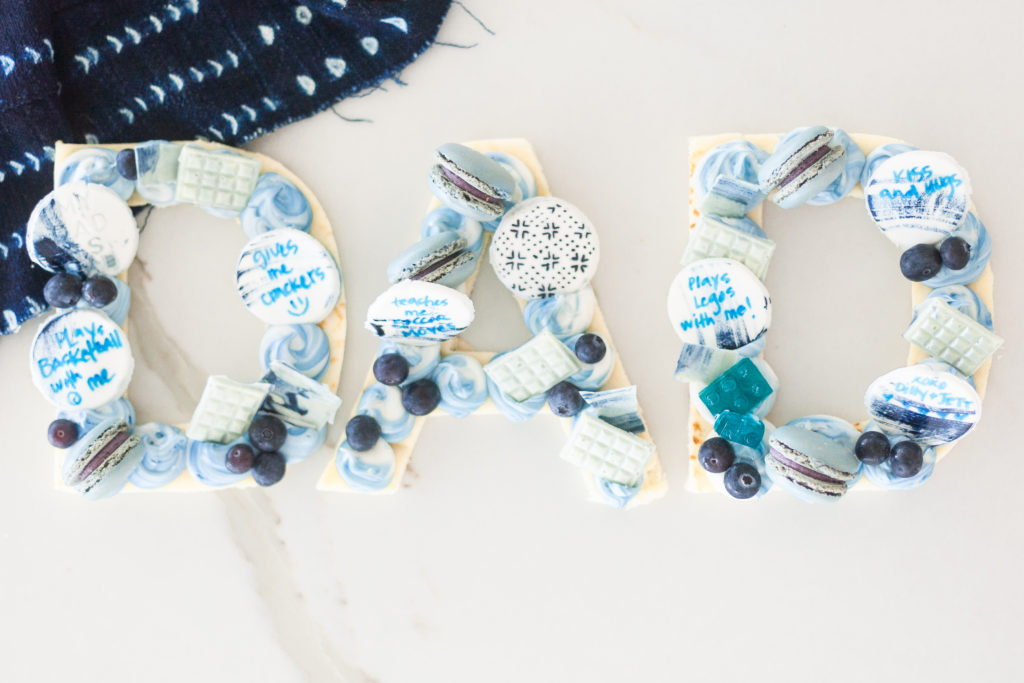 ---
B E I J O S K I T C H E N

xx
Abby