I can't believe my oldest, Court, is a big 5 year old! For some reason 5 just sounds so big, in a way I look at it as the end of babyhood… Going off to kindergarten soon, learning so fast, and just being so independent!! All great things, but not easy on the mama heart!

I obviously wanted to celebrate his 5th birthday in a big way! Well, when do I not want to celebrate big?! But 5 is a milestone, so it was gonna be a good one! I asked Court what theme he wanted and we tossed a few around, in the end he really wanted a Summer Camp theme, and we went with it! It was my usual way, a classic theme done the Beijos way, just the way I like it! So I had fun with it of course, because that's just what we do!!

Hope you like it as much as my family and I did! Not only was this party great to plan and cute, but boy was it fun!! That's the most important thing, right?! Making memories and having a good time! You can also see this party featured on our favorite 100LayerCakelet today as well!
Thanks for all the pretty photos Alison Bernier!!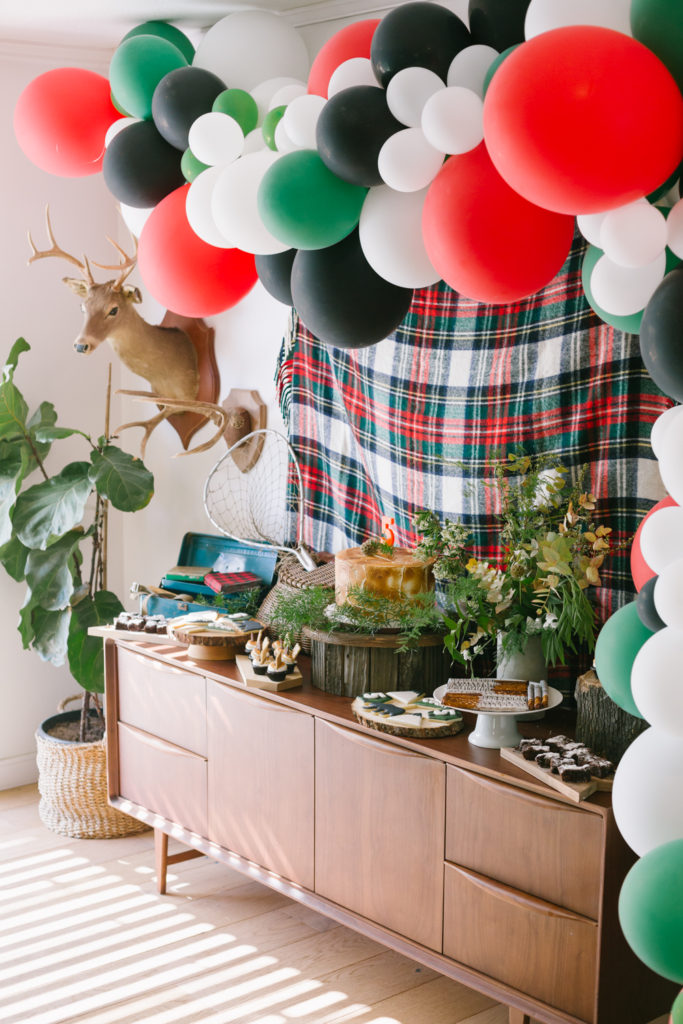 We recently renovated our front porch, my husband built this front deck that made my wifey dreams come true! We added some cute furniture and rad planters from Hart Concrete Design, sharing more on it soon, but we had to make it a fun entry vignette for the party! Camp Court was the place to be and this set the tone! Thanks to Poppy Jack for making the cute signage!!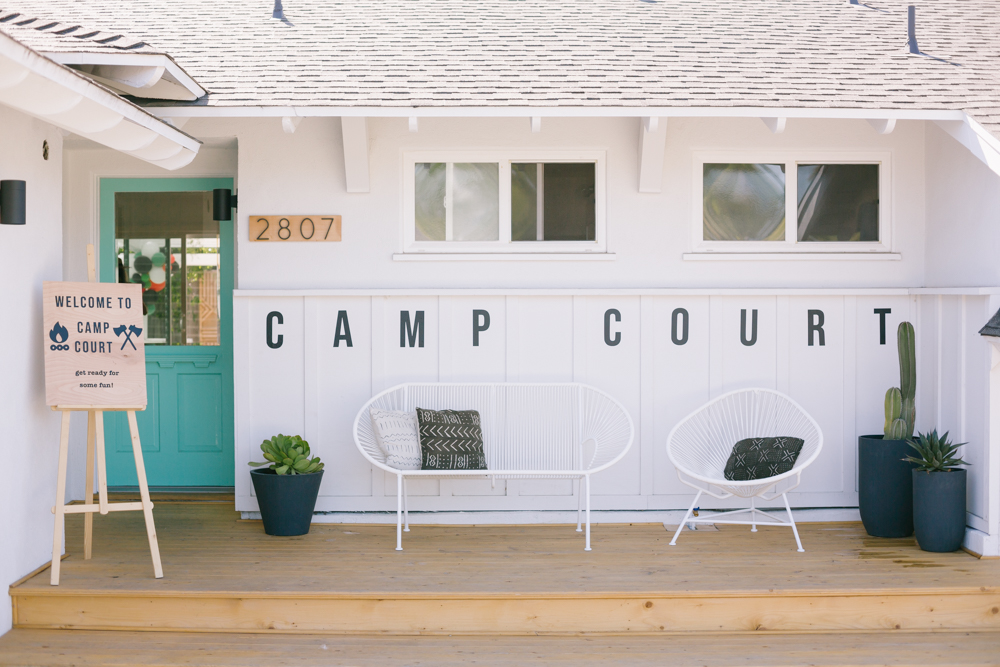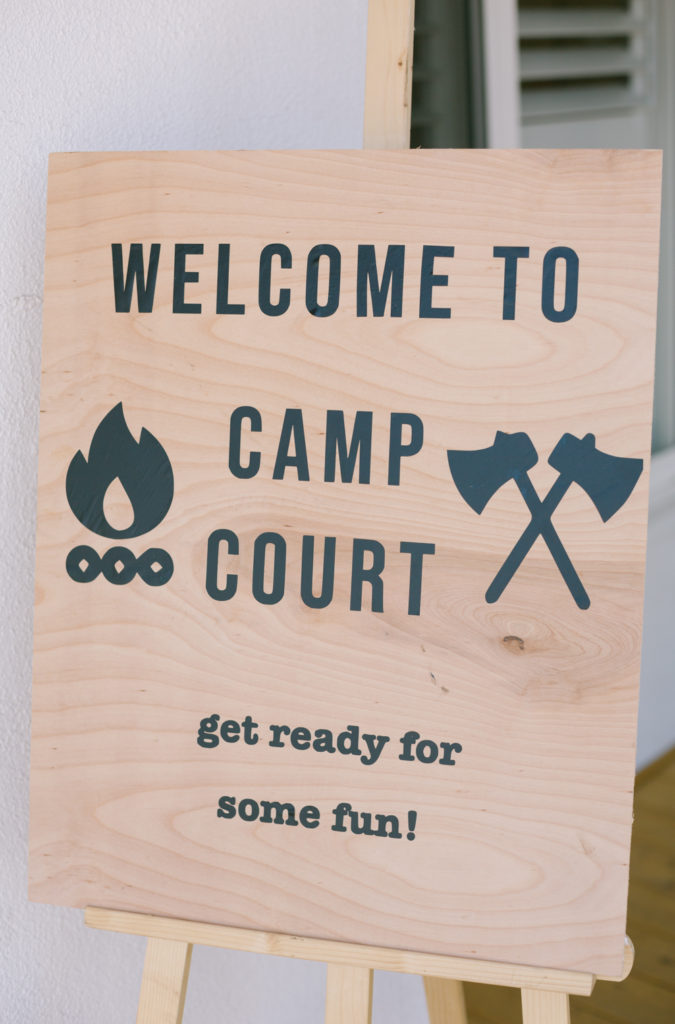 Our backyard was set with all the camping charm! The florals were all done by my friend Alex at Third & Park – She added the sweet greenery to my pergola along with all of the amazing arrangements! We had amazing details like buffalo print placemats, fun signage & camp inspired cocktail stirrers from Poppy Jack, camping mugs for cups, and the best rentals from Sweet Salvage Rentals that make you feel like you're at the campsite!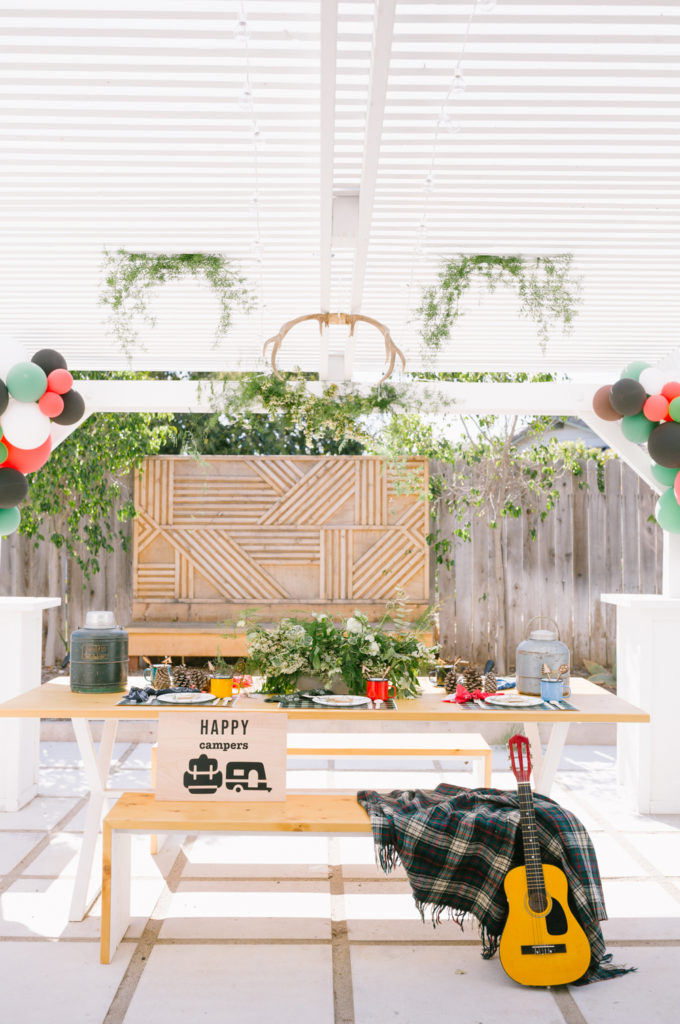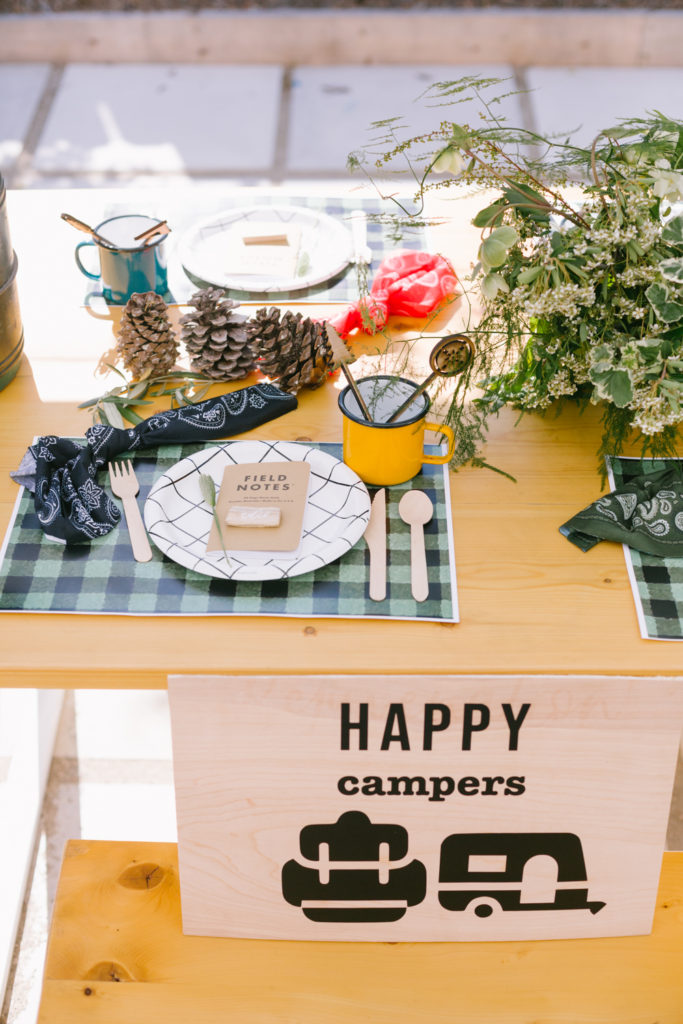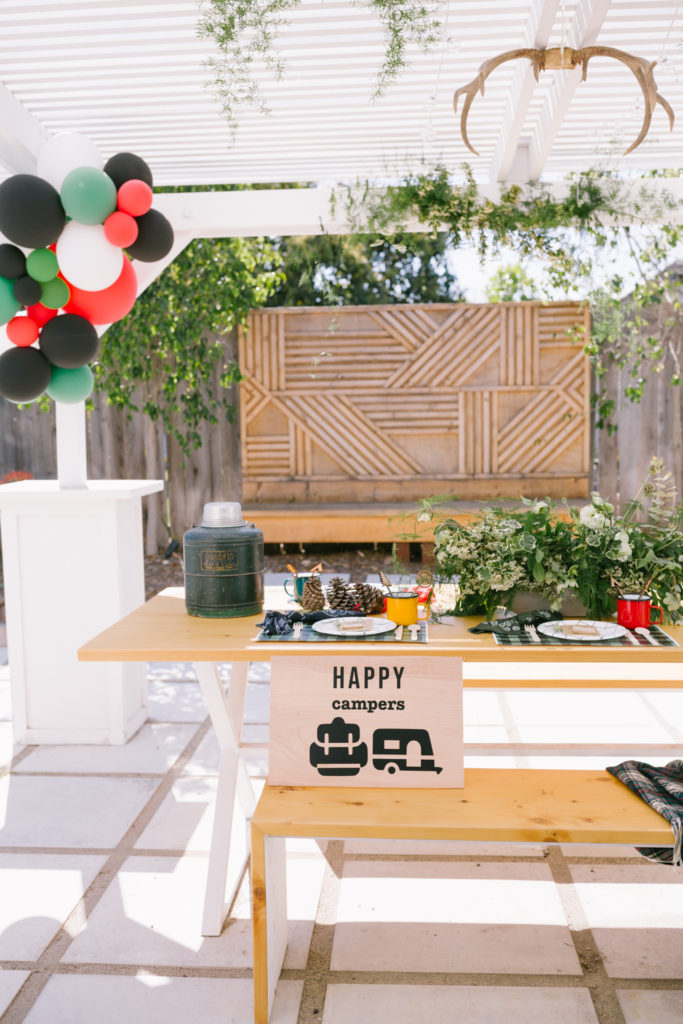 More of these fun balloons from Up Up in the Air later in the post!!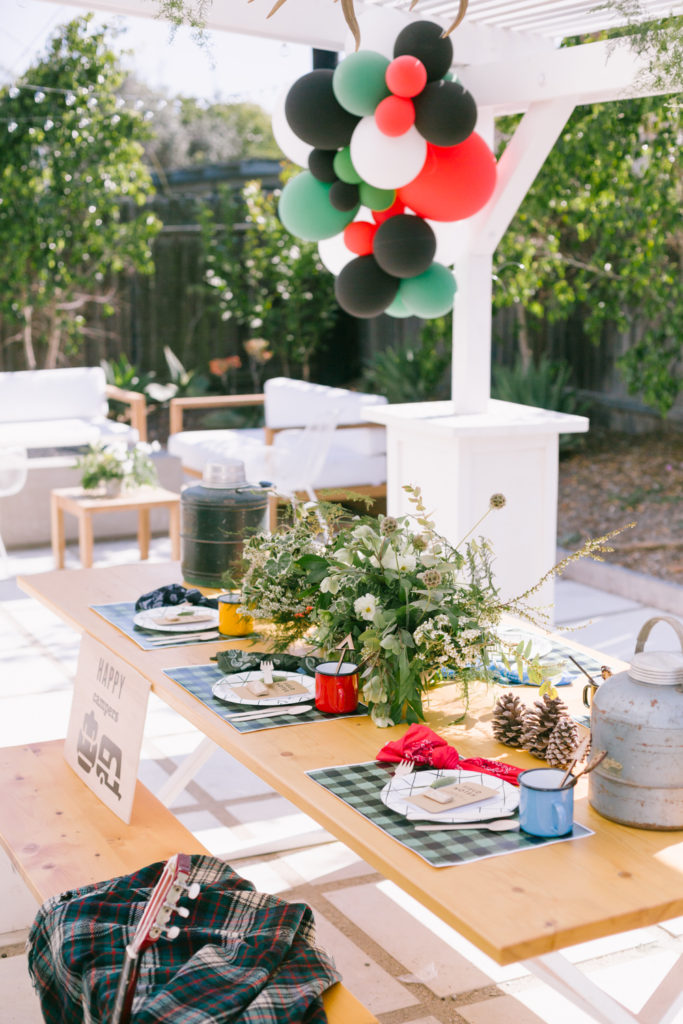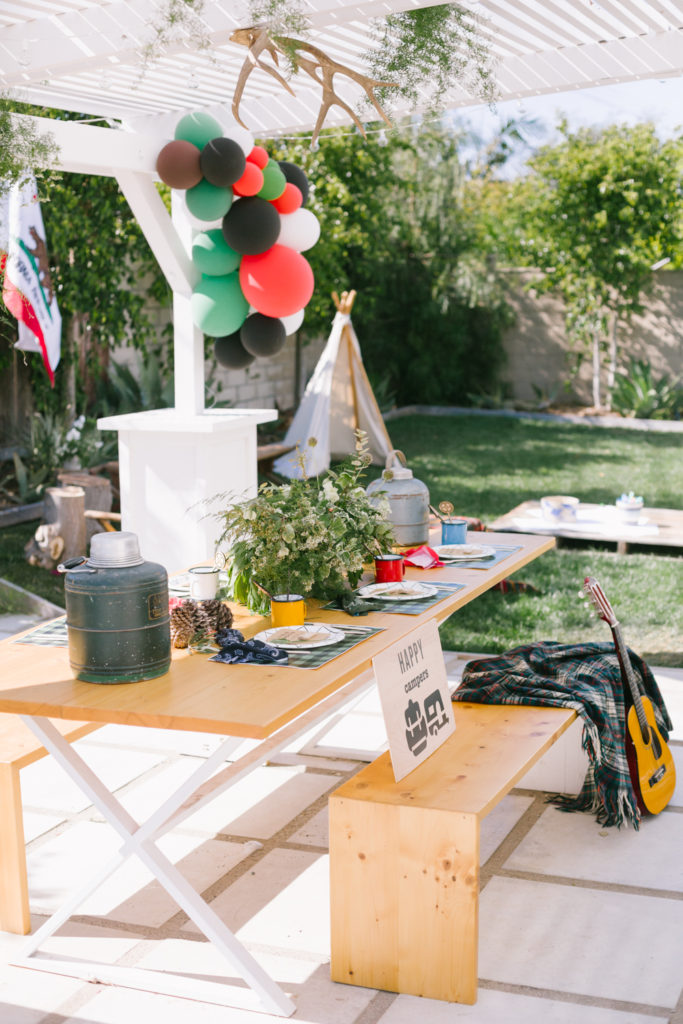 Love these place settings so much!!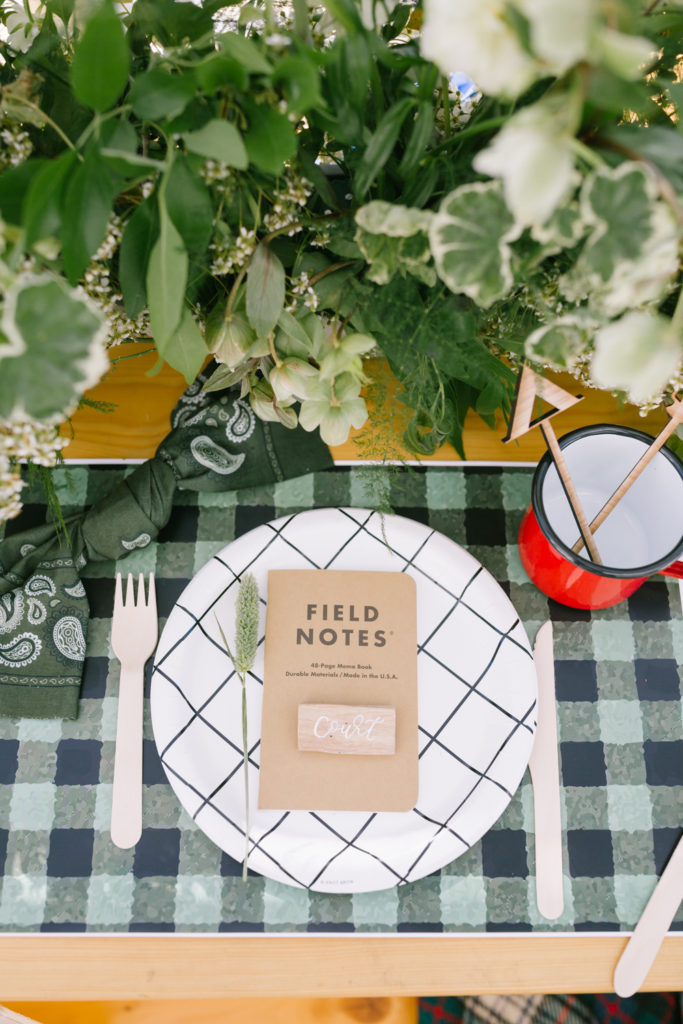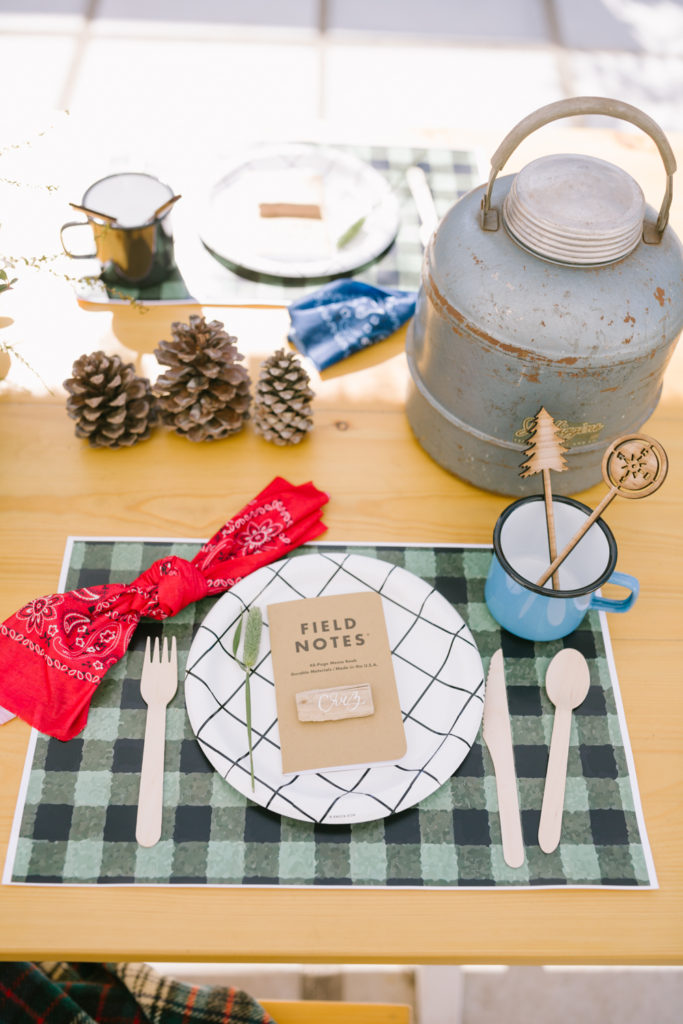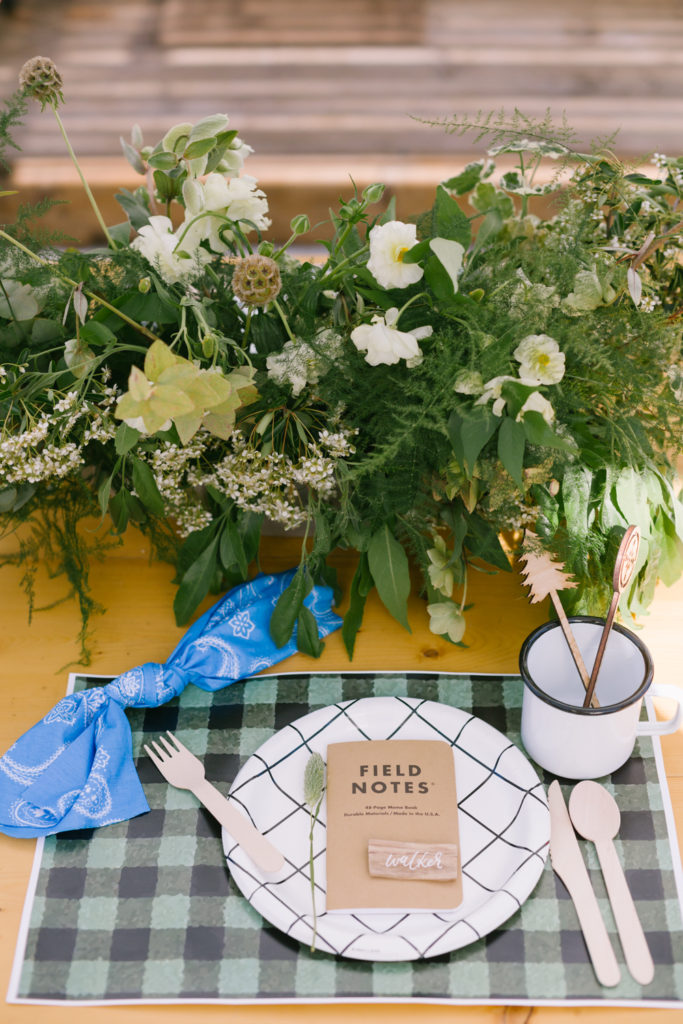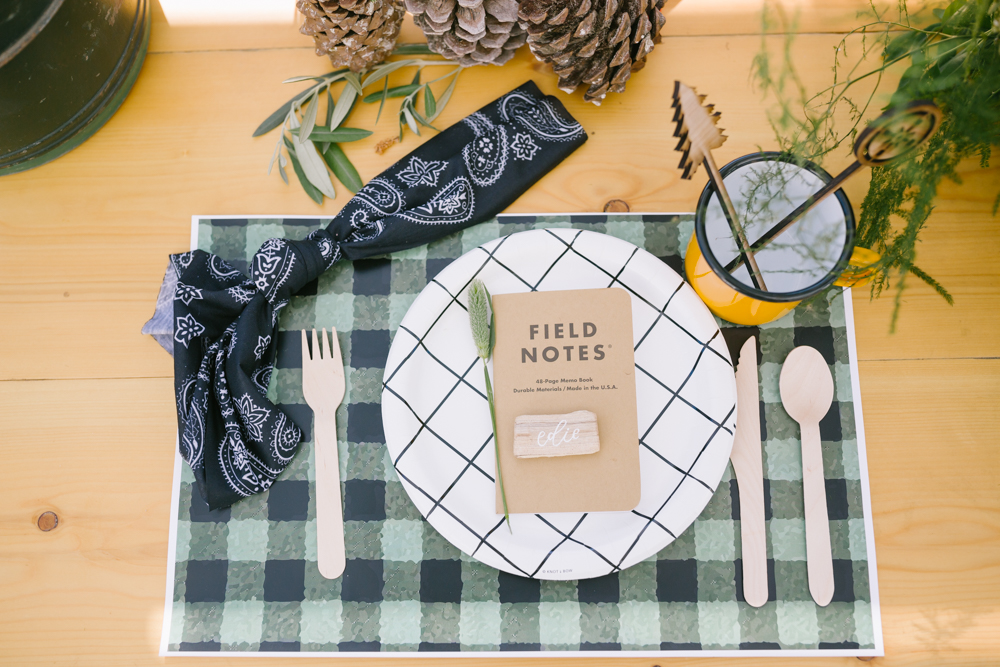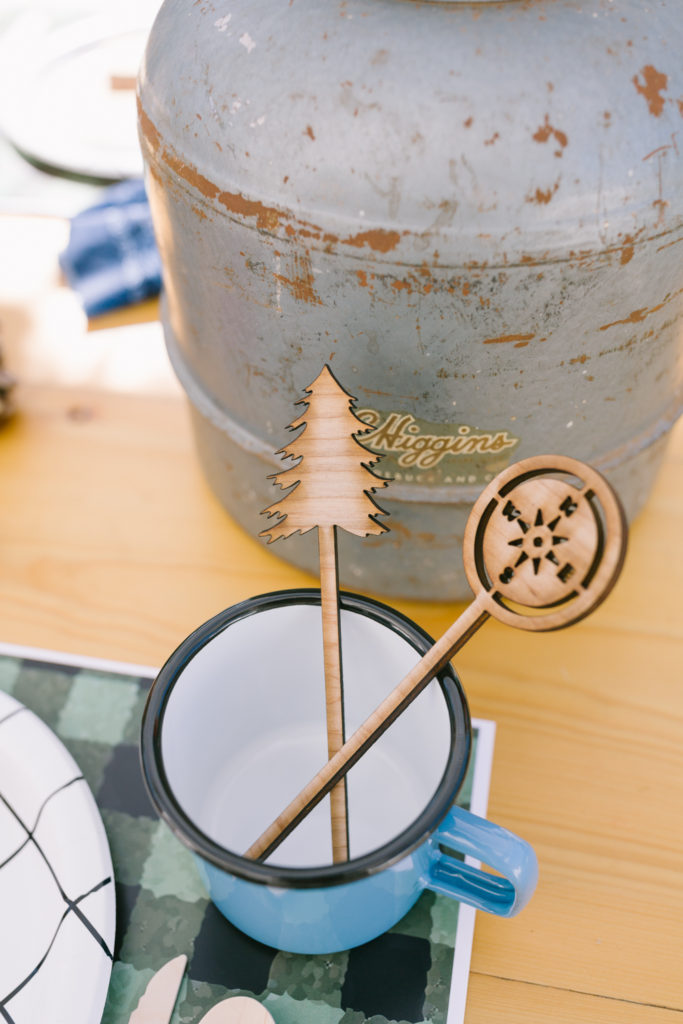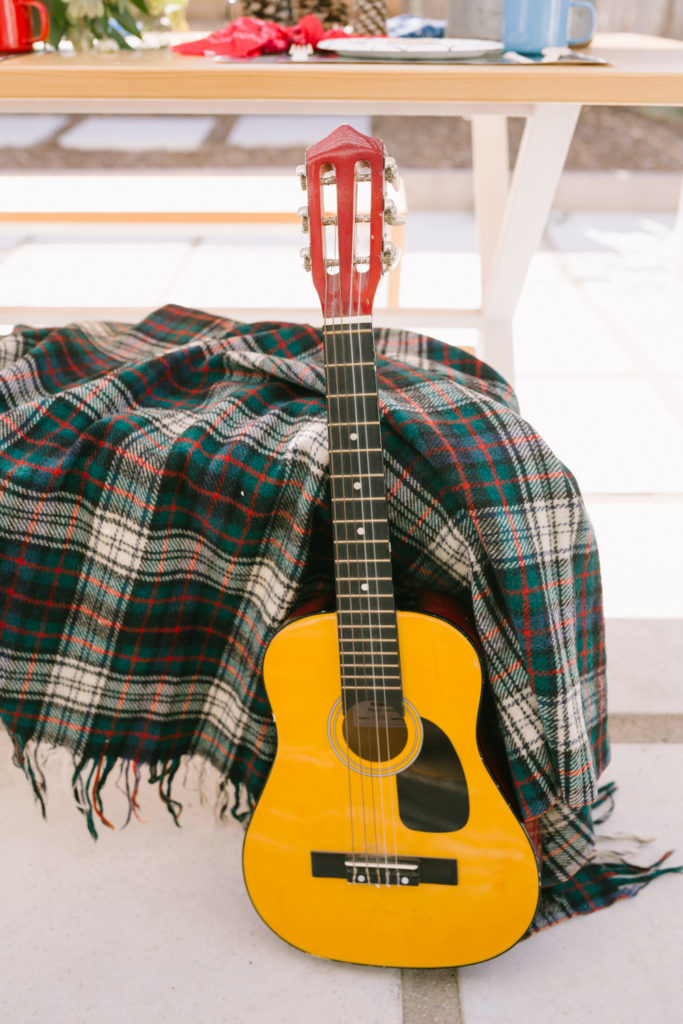 There's the cutest birthday boy!!! My Court James, feels like he was just turning one!! But now he's a big 5 year old and I couldn't be prouder of this strong, caring, loving and adventurous boy!! Him and his sweet brother wore cute t-shirts form Chaser Kids for the party. Oh, and I love his freckles and smile!!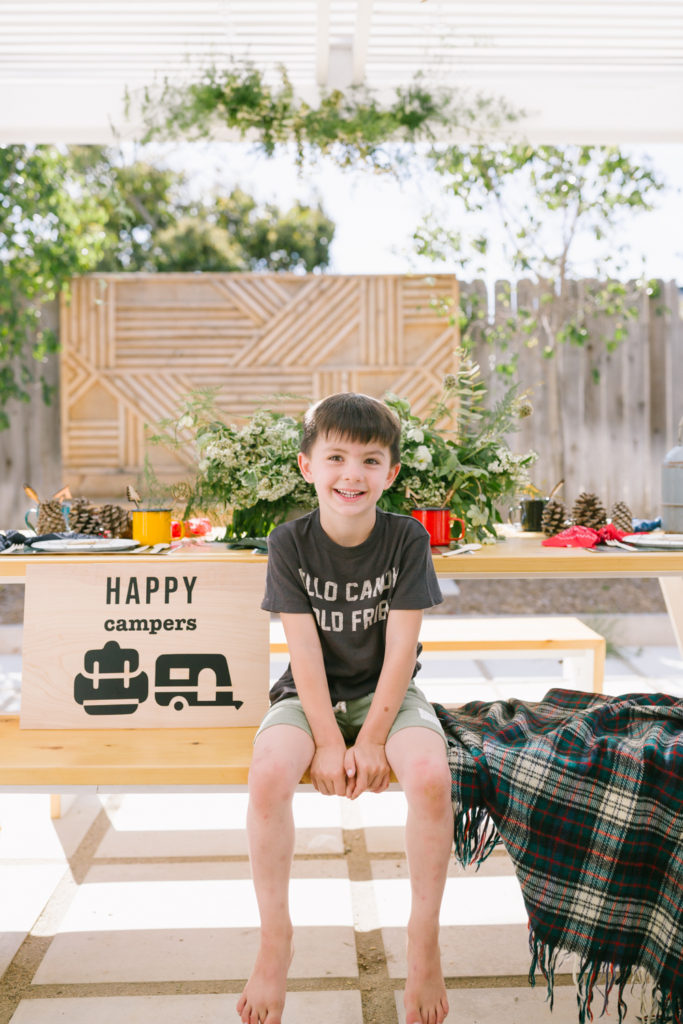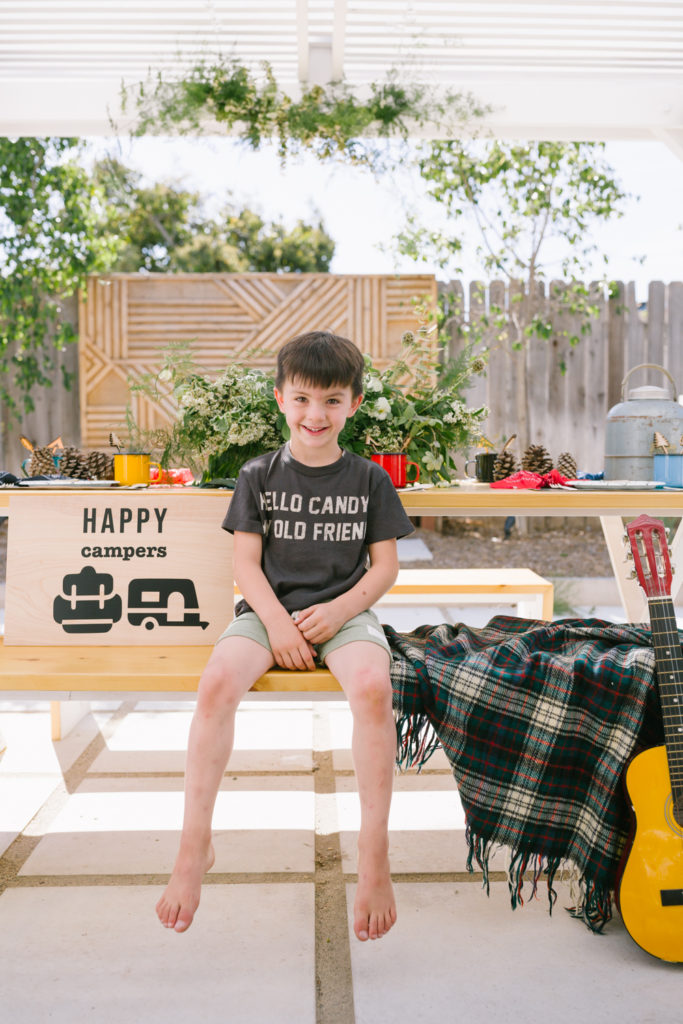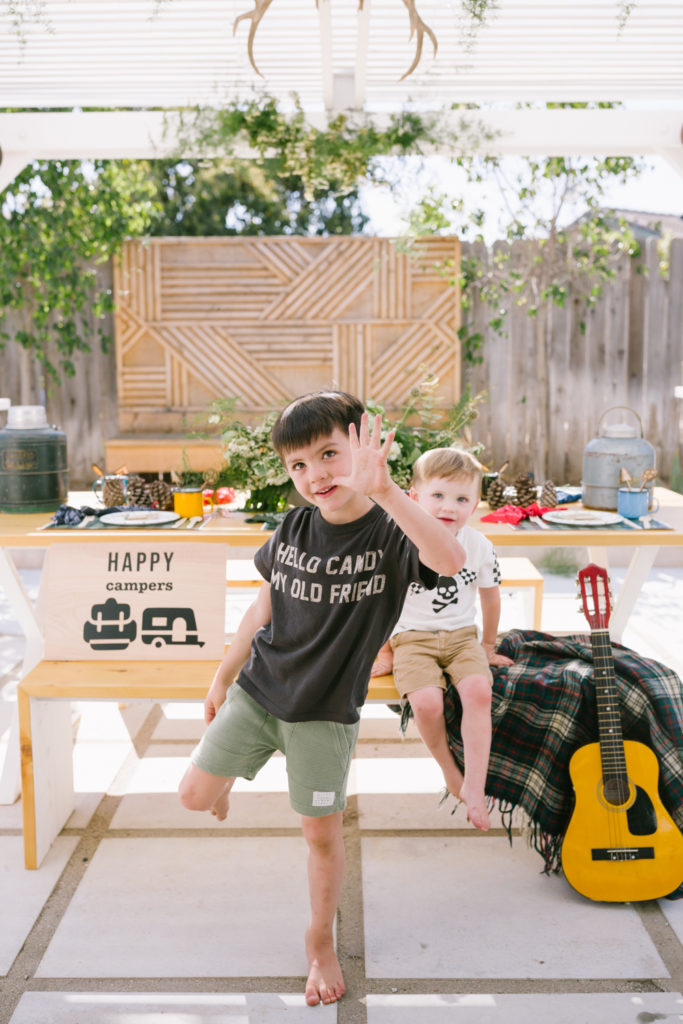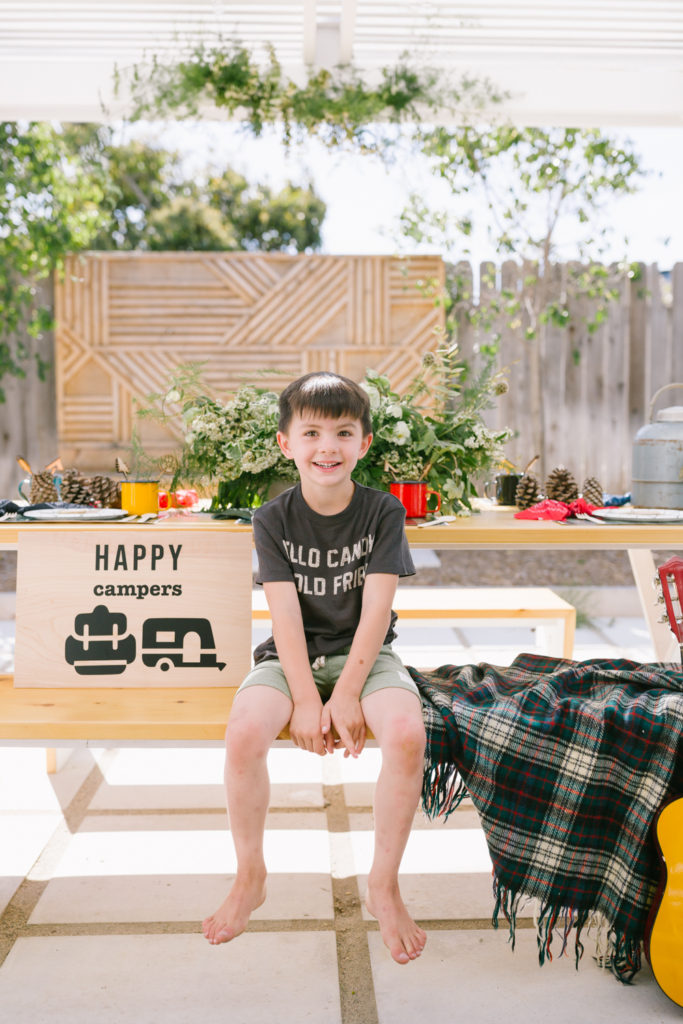 Our backyard was decked out in camping gear, like cots and blankets from Sweet Salvage Rentals. I also had a little coloring station set out in the backyard and borrowed a teepee from a friend. One of my favorite purchases for the party was this California state flag, it's still up! My Dolly girl was loving being the main attraction back there though!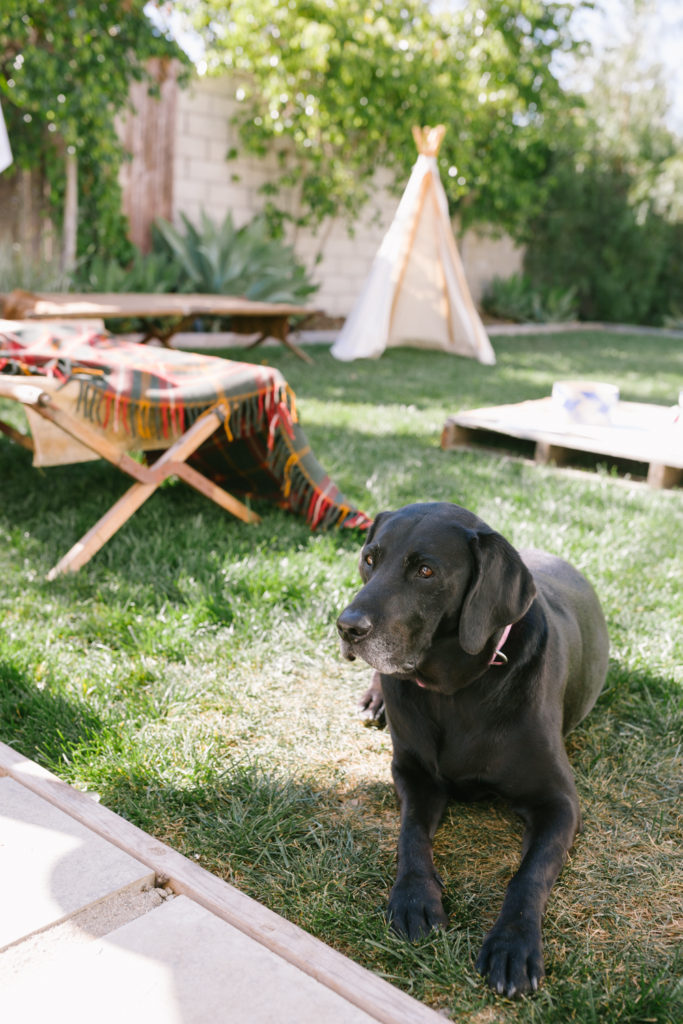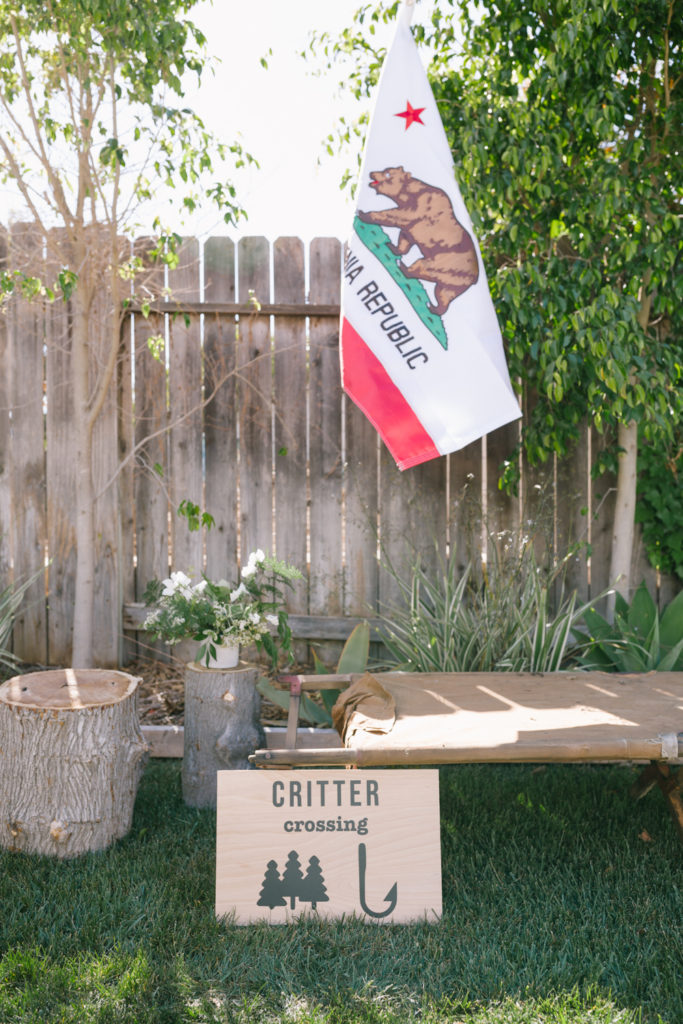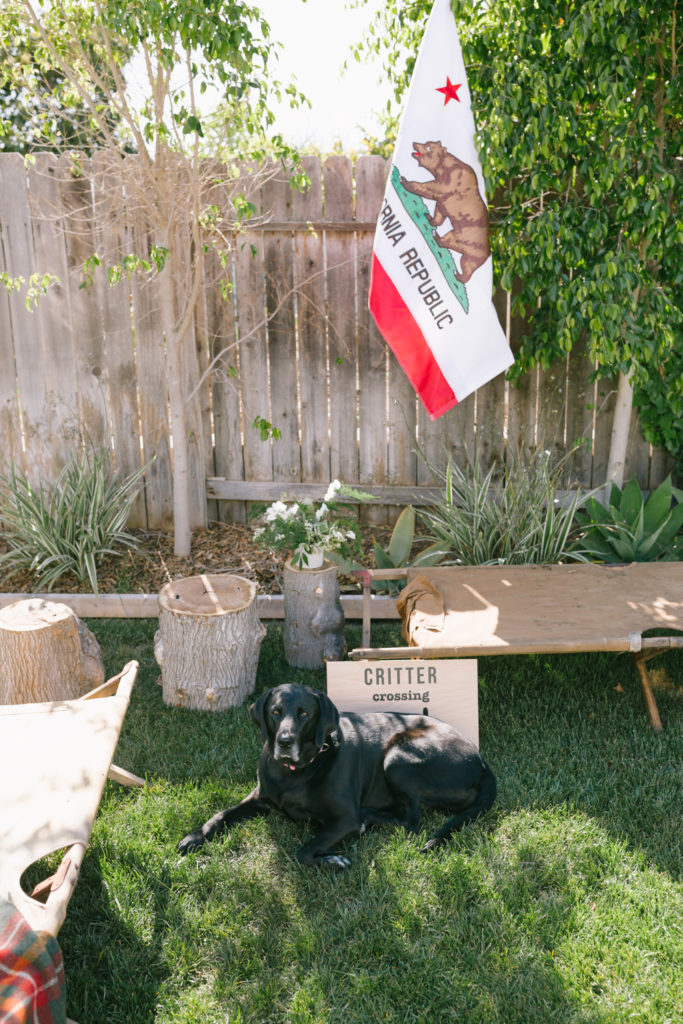 One of the main attractions for the party was the dessert spread! You may remember this spot from Cruz's 1st birthday party where I also set up the desserts. Well that spot just works so well I decided to use it again! I of course had to do fun balloons, because they are just such a great statement piece, and I threw that blanket up there to cover a large mirror that was too hard to take down. Haha, that wasn't the plan at all but sometimes you've just gotta make things work and I actually think it worked out better! I had my husband hang up the deer busts from Sweet Salvage as well, not normally my thing but they just went so well with the party! Although he wasn't too happy about putting holes in our wall, with sacrifice comes great reward, or so I reminded him, haha!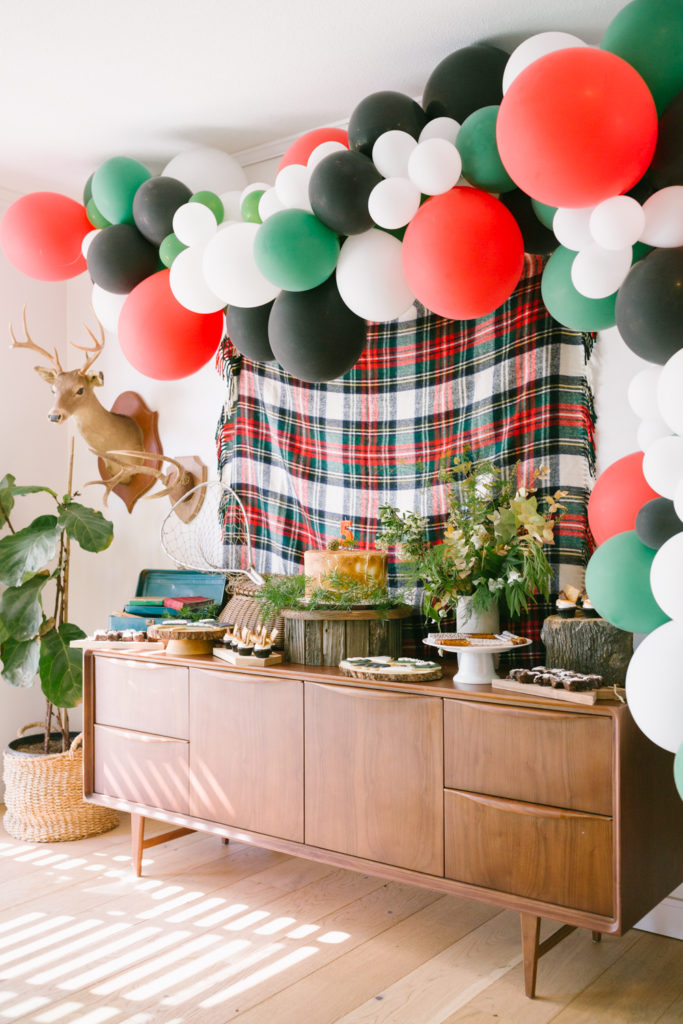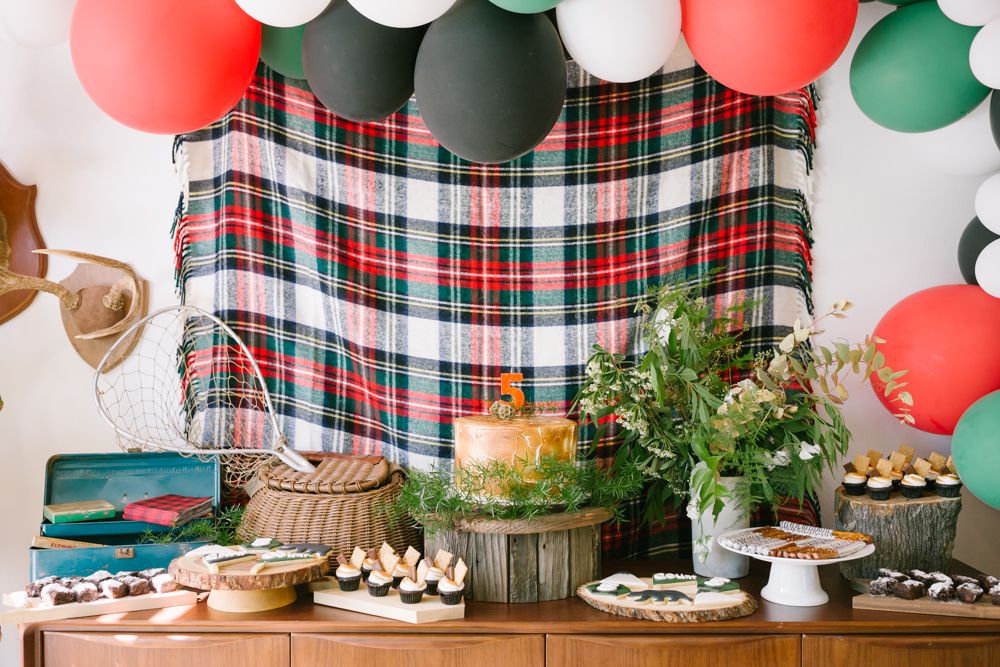 Most of the desserts are by Sweet & Saucy. I did a smores cake and smores cupcakes, they were so yummy and delicious!!! I also love doing the frosted pretzel sticks for kid's parties – kids love them!! My mom and I made the brownies and Frost your Cookie did the adorable cookies.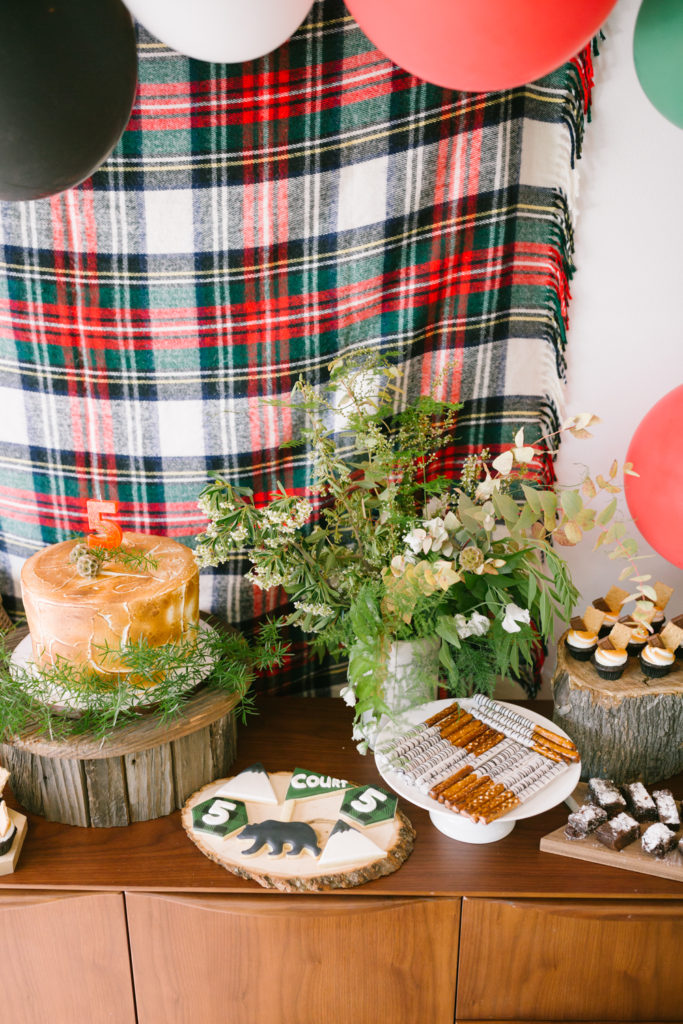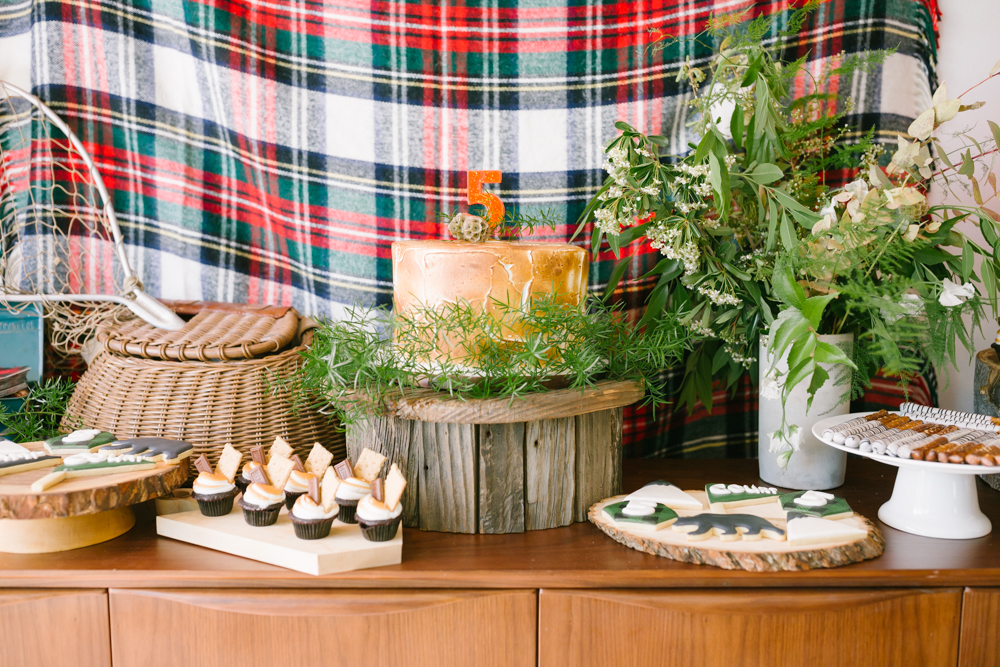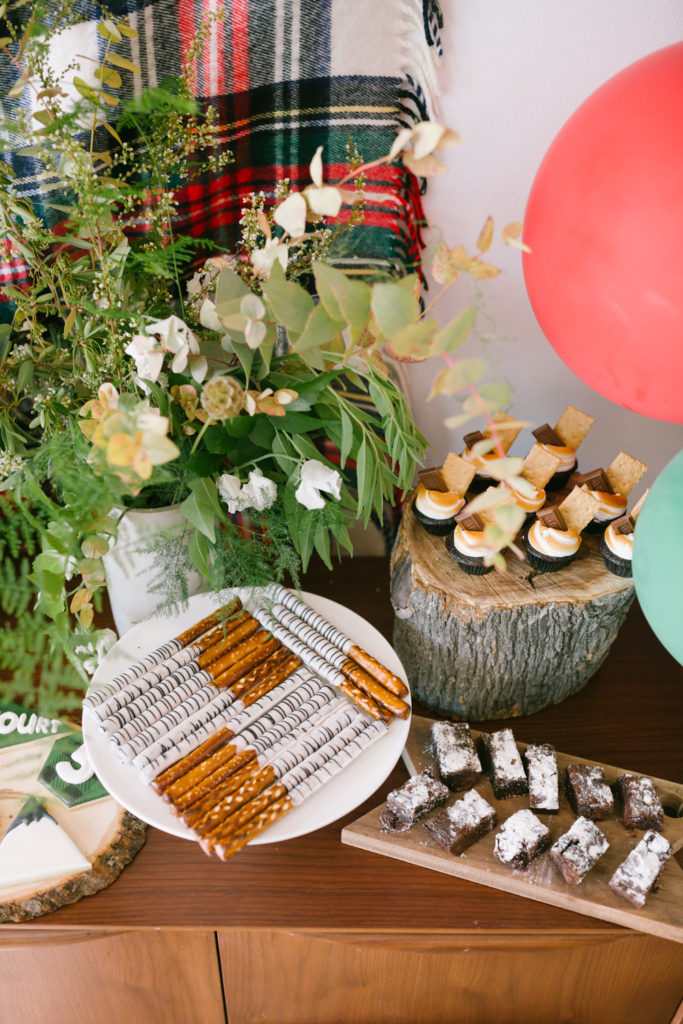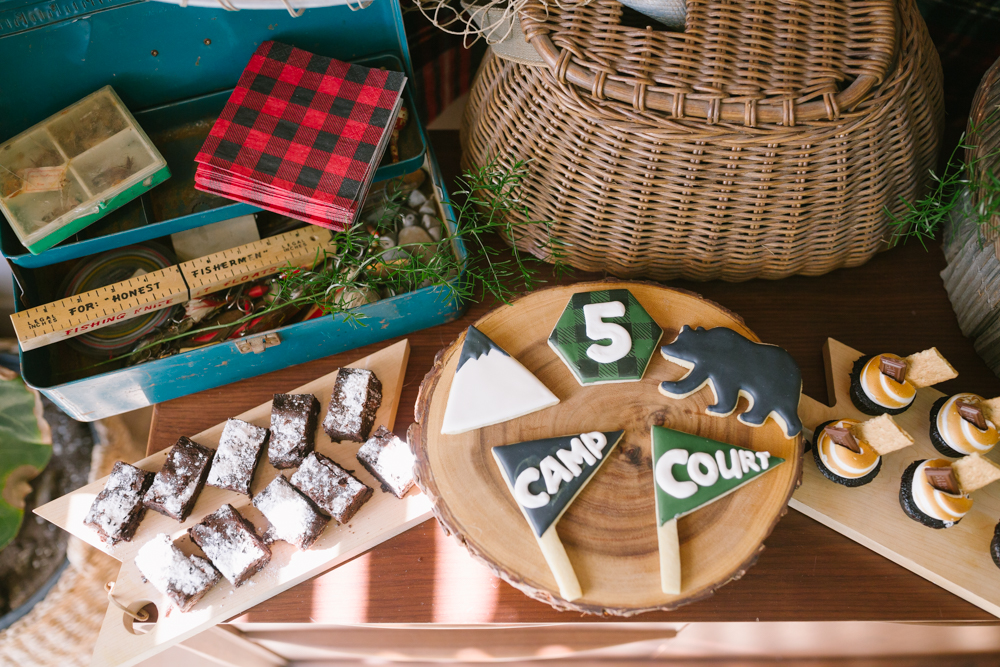 Aren't those cookies so cute?! Frost Your Cookie is so talented!! I added in so many fun rentals from Sweet Salvage to this area as well. Like the fishing basket and tool box. Just makes for something so magical and fun when you add in those details!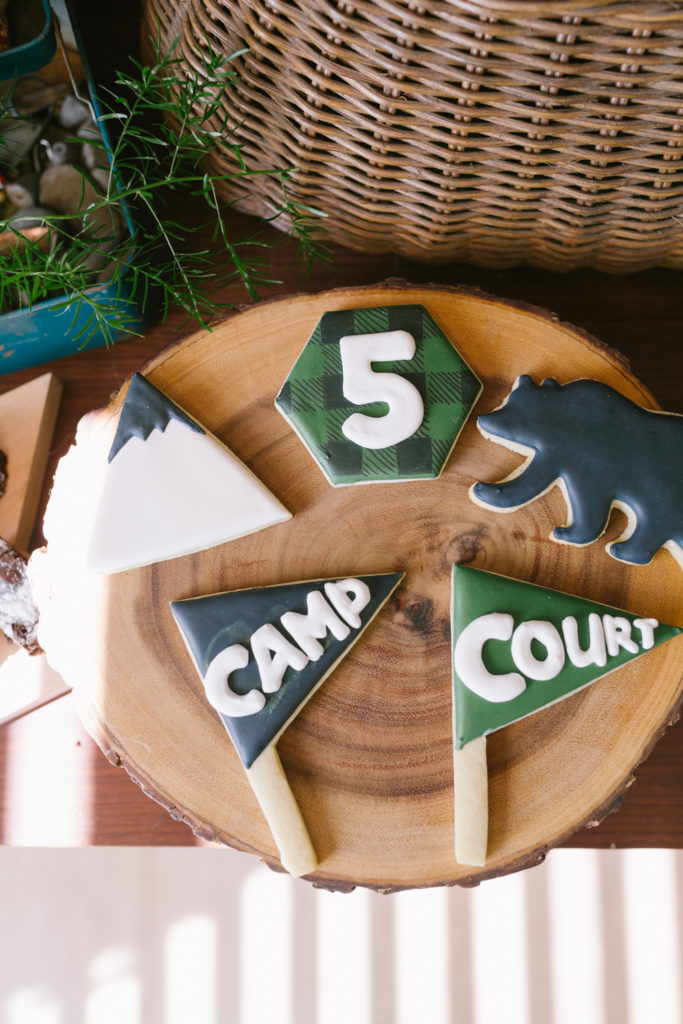 These were my favorite!!! Perfect for a camping party!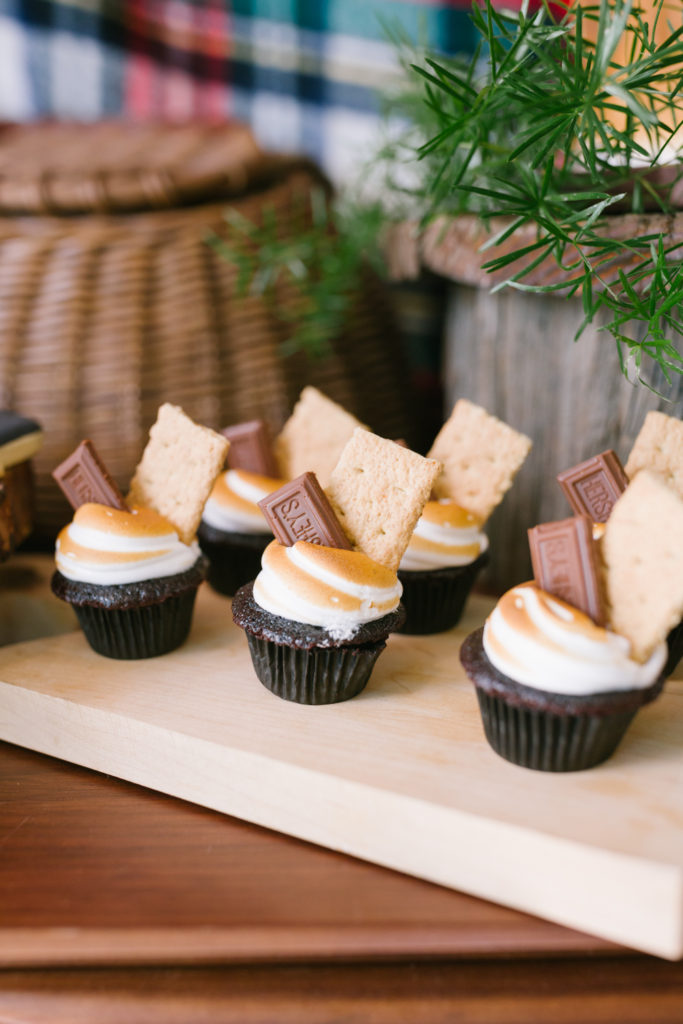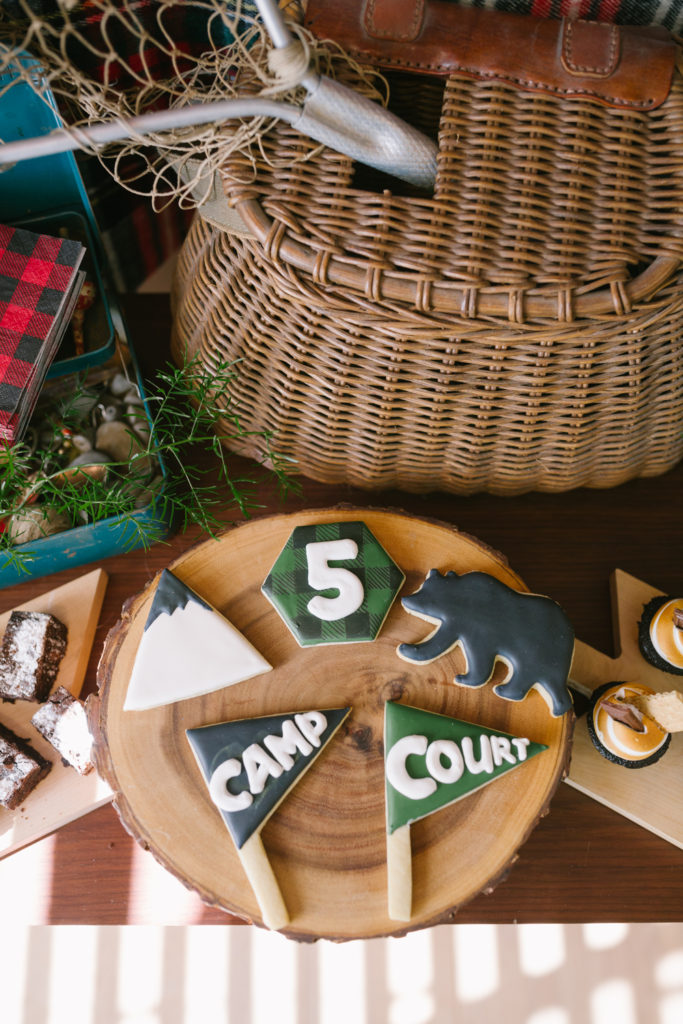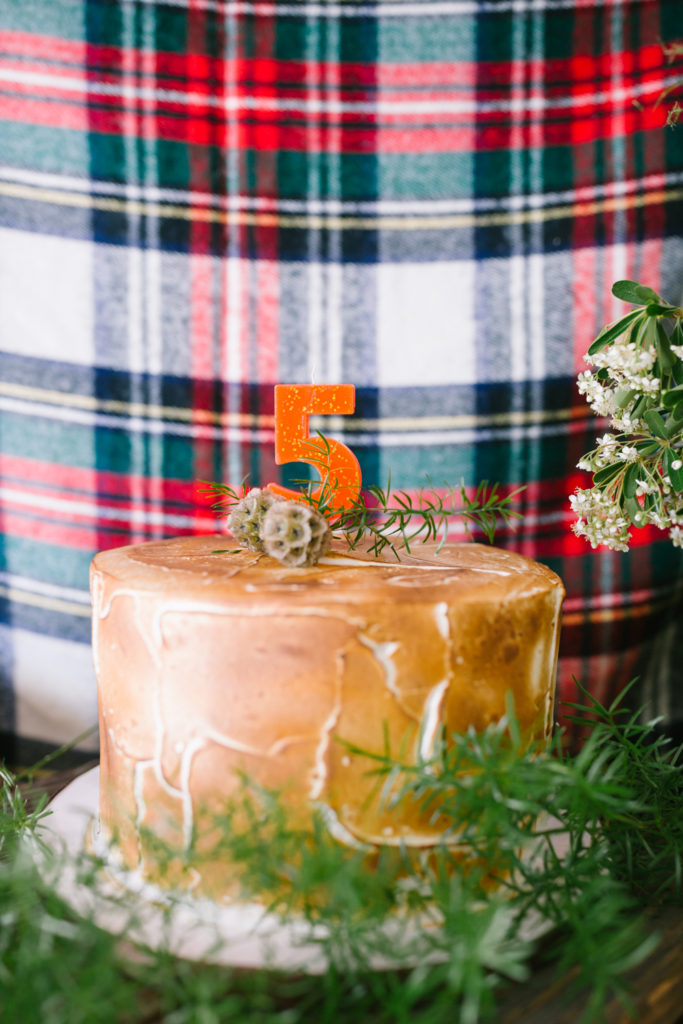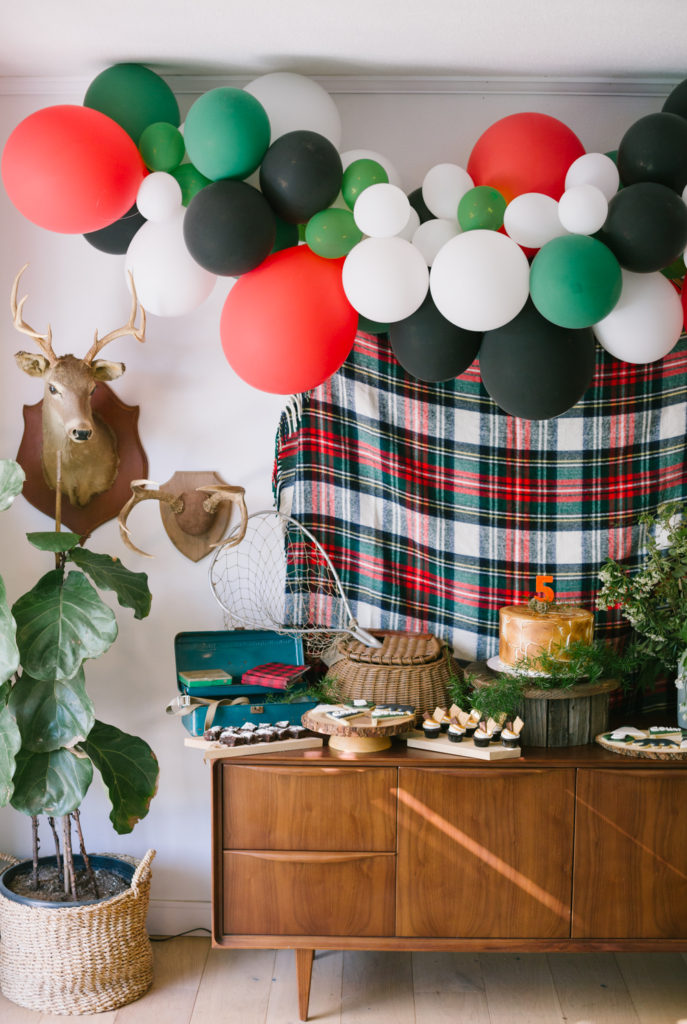 Who knew, but one of the highlights was a last minute addition to the party! My husband and I decided to have Prehistoric Pets come to entertain the kiddos. Well, I decided and my husband went along with it, and it ended up being so fun!! They brought snakes, lizards, toads, you name it! The kids were enthralled and loved every minute. Plus it's educational so I felt like I was winning as a mom, haha!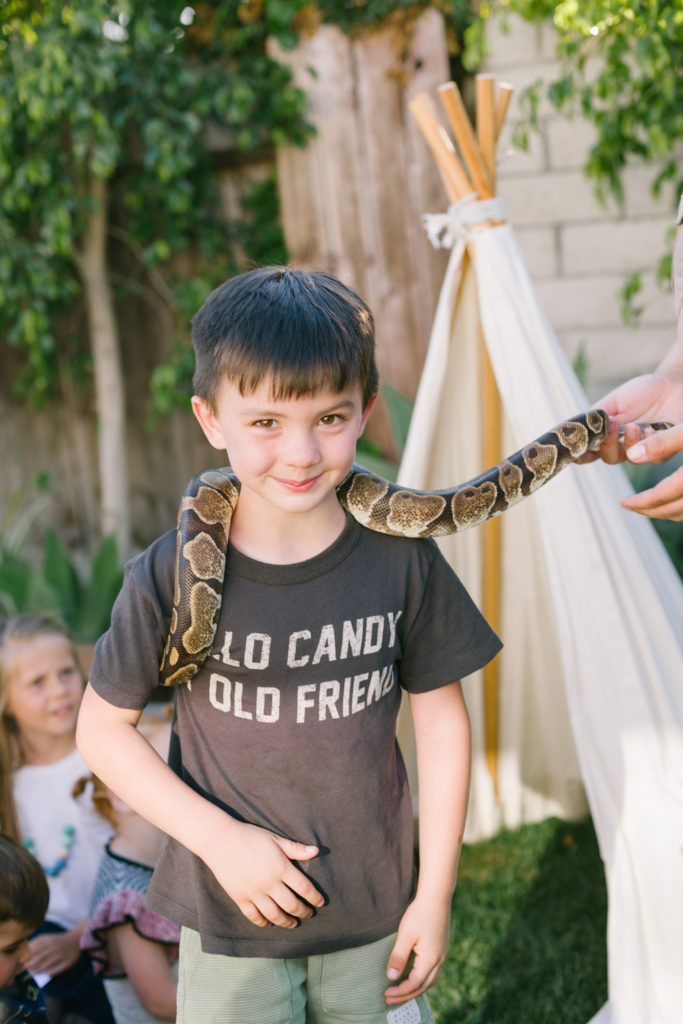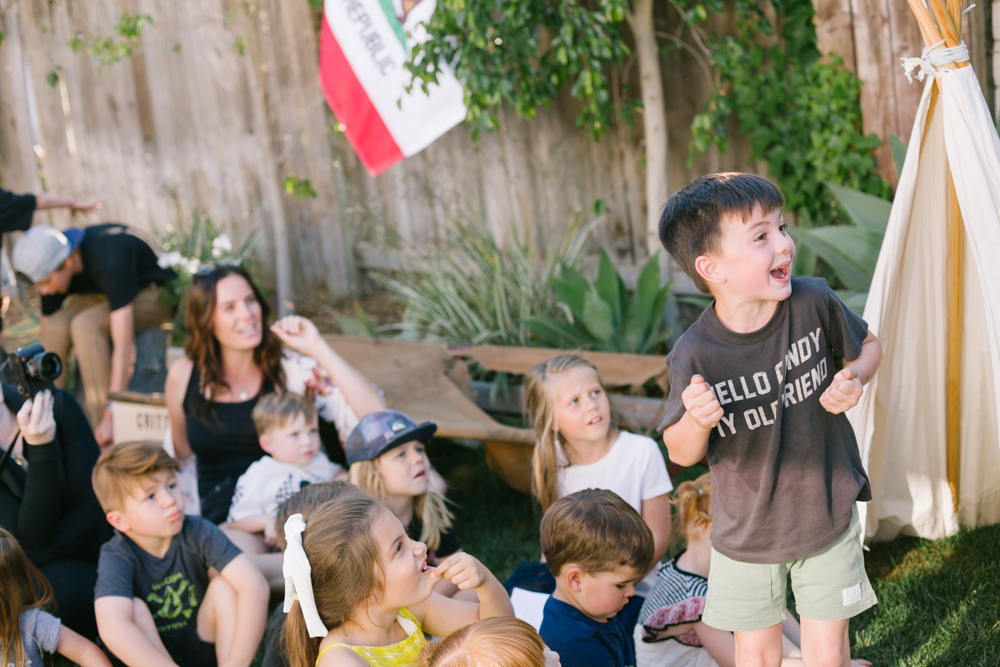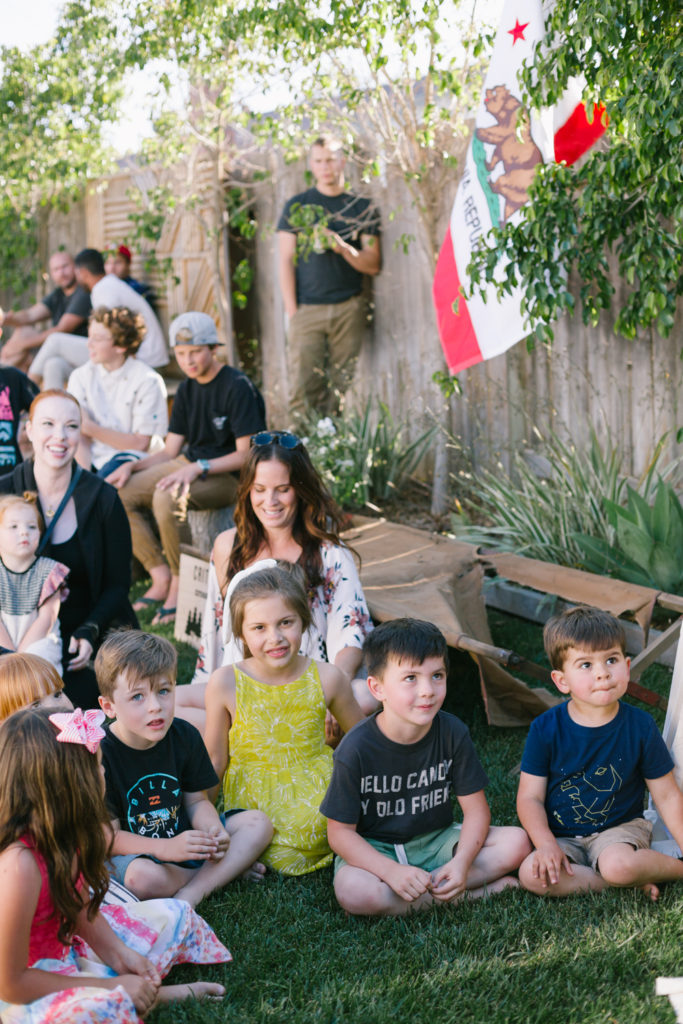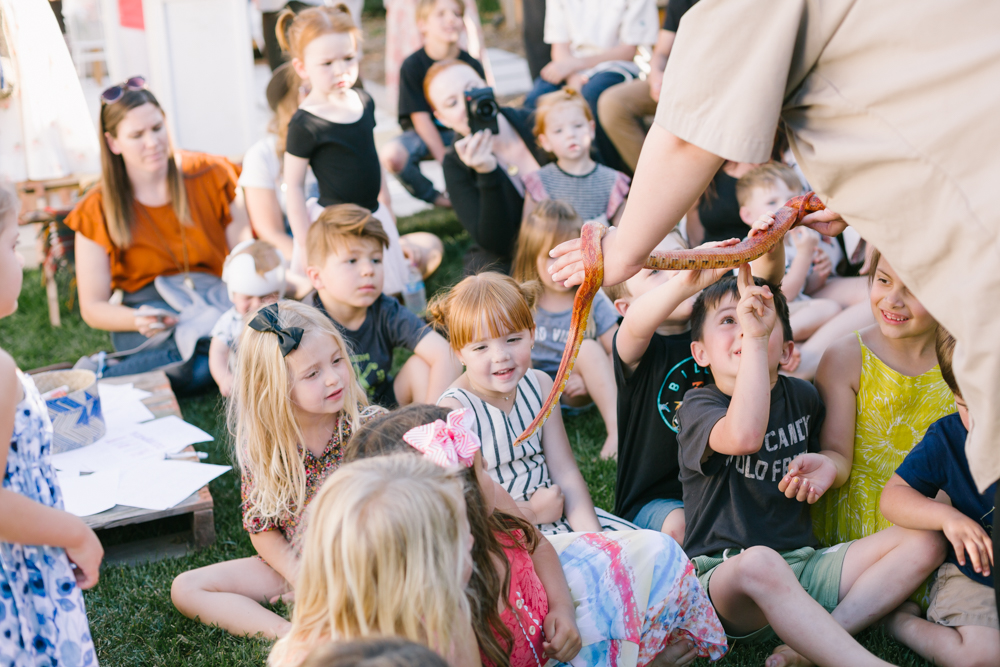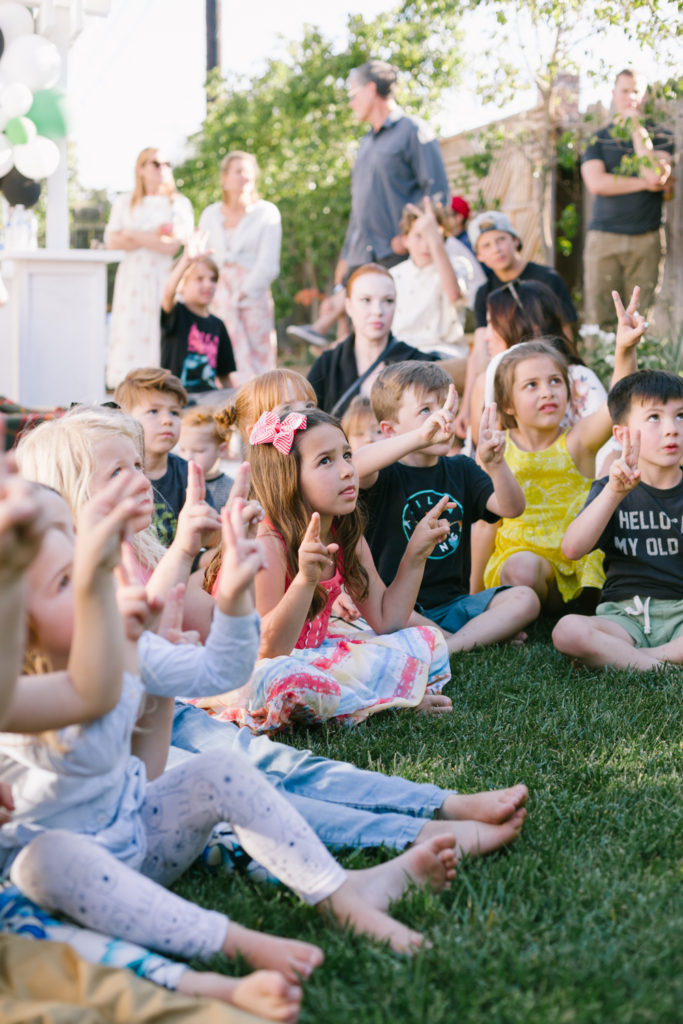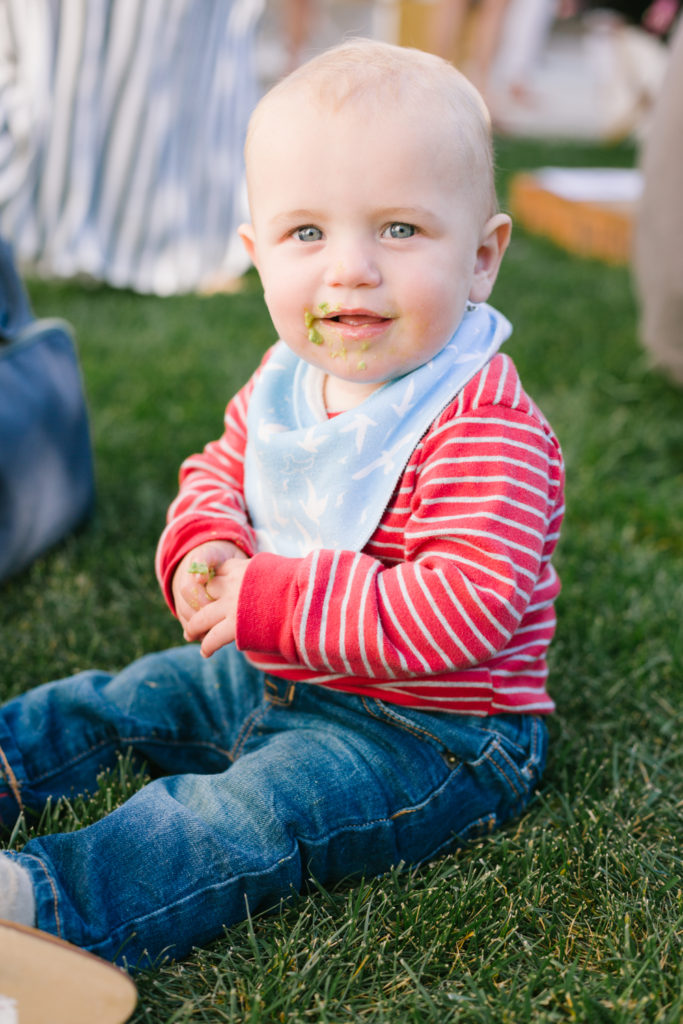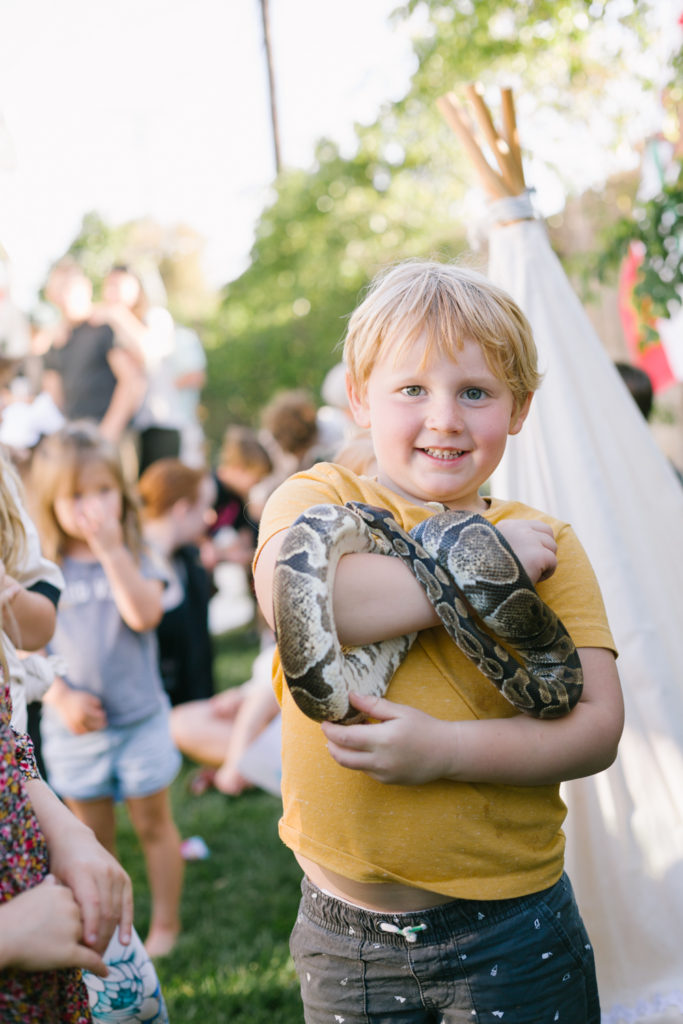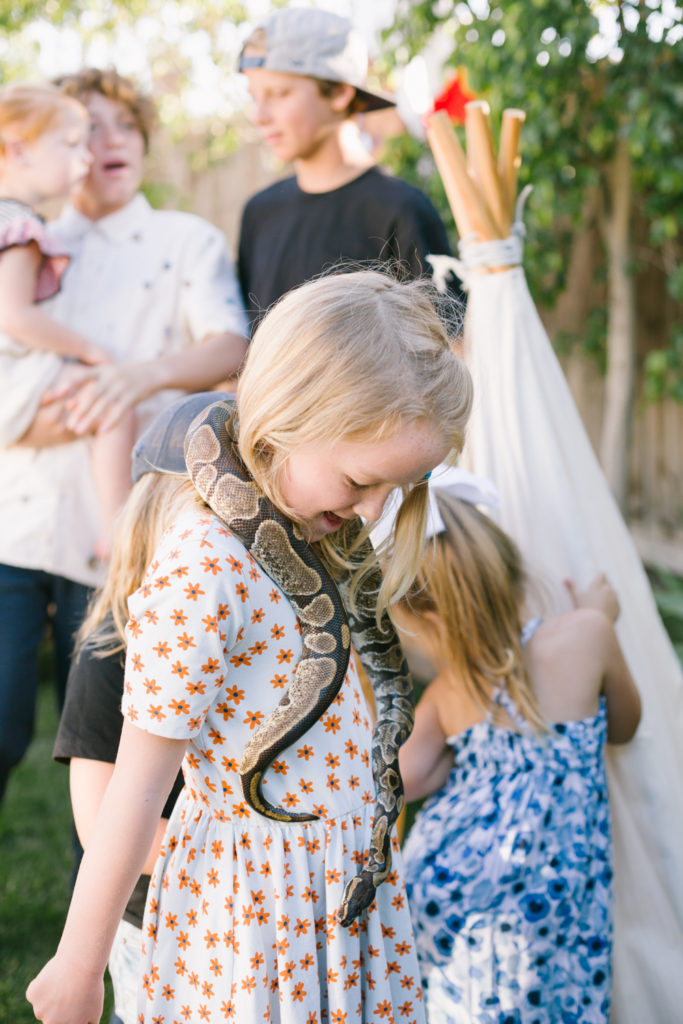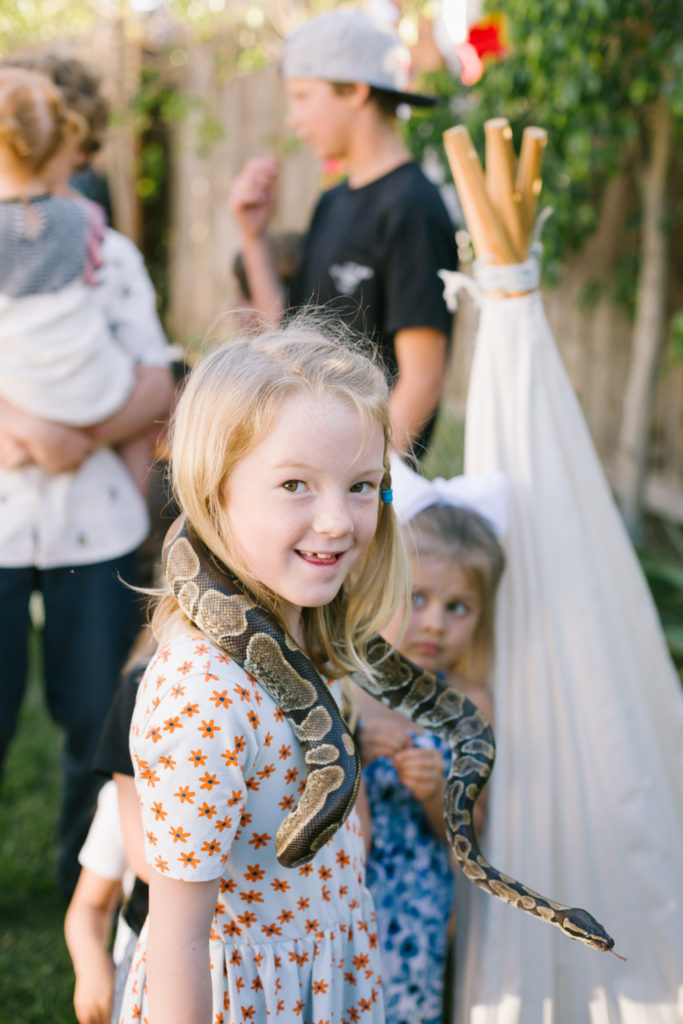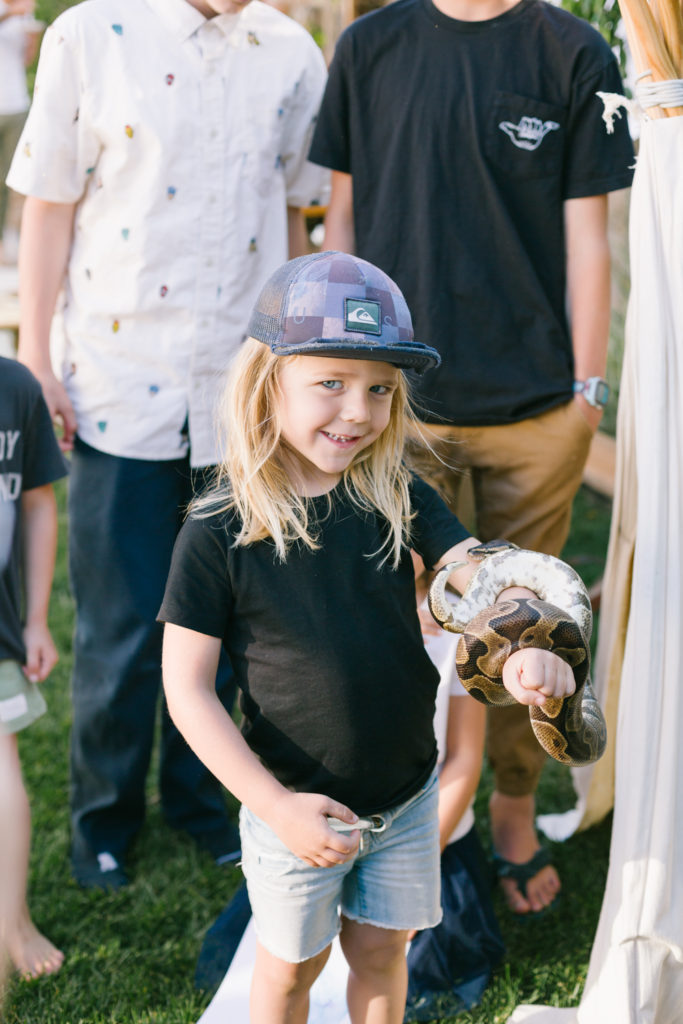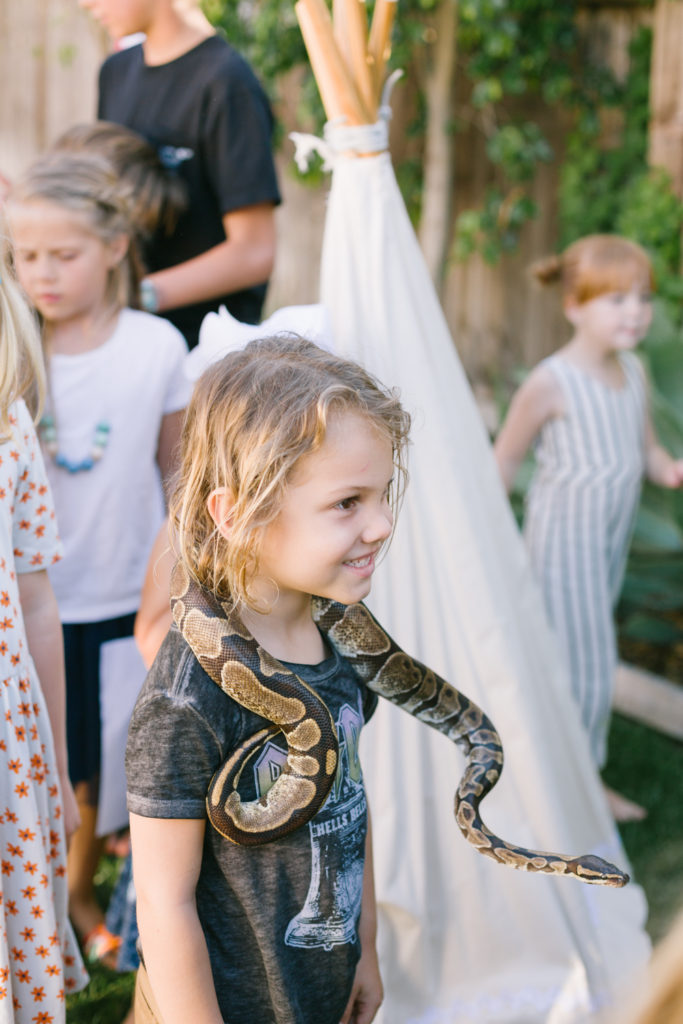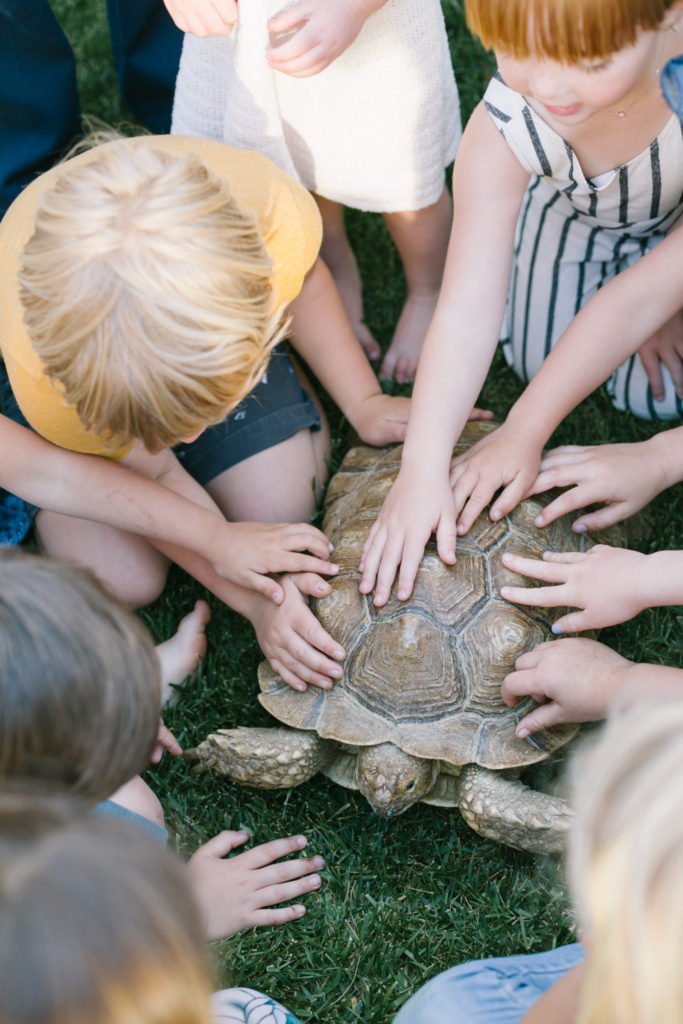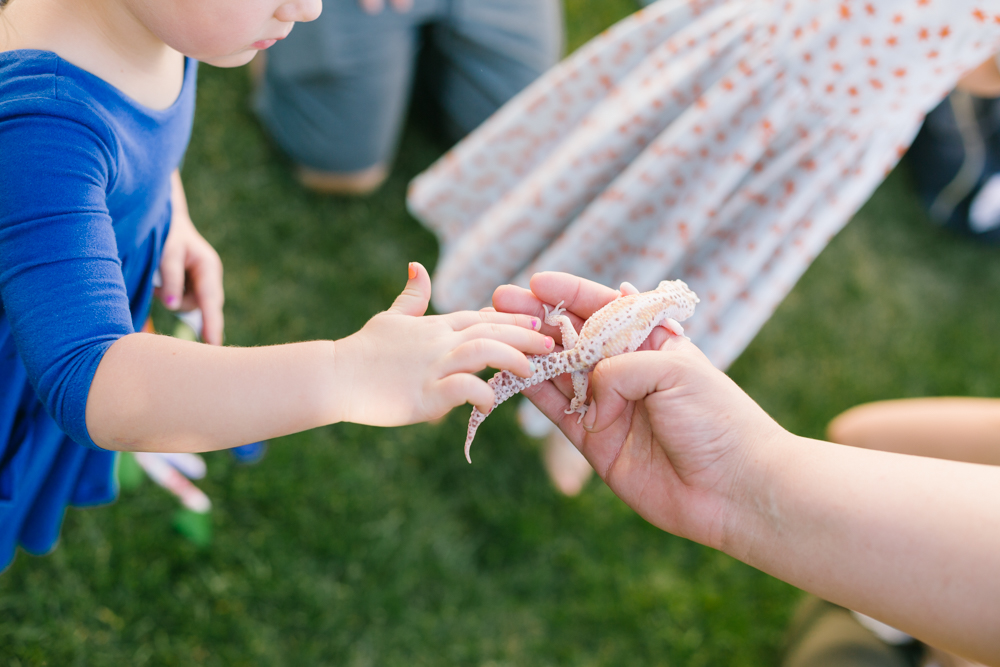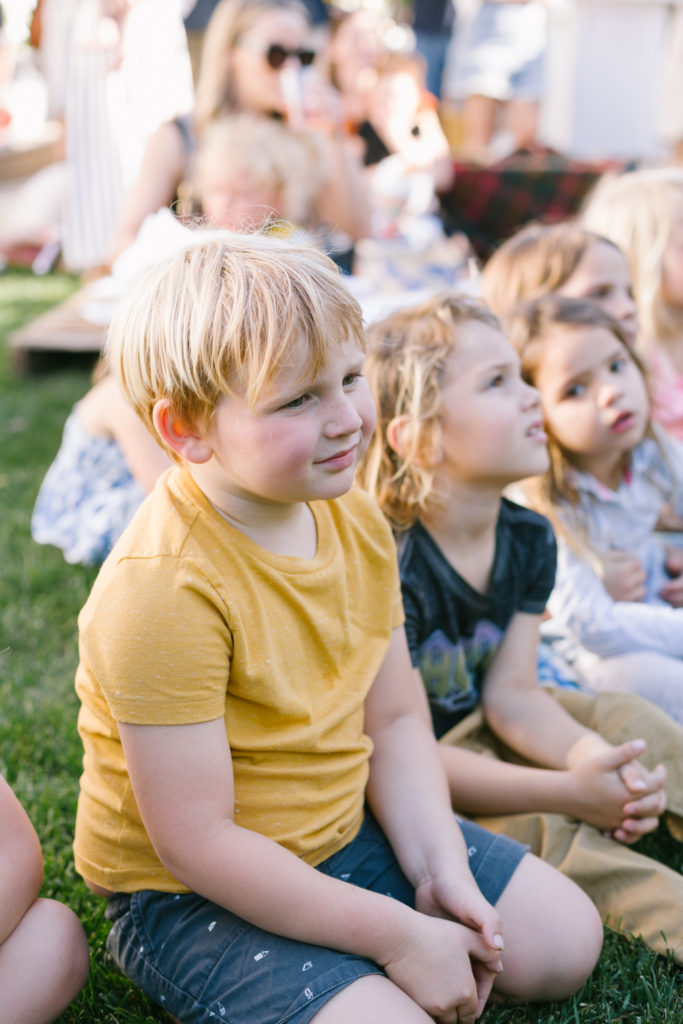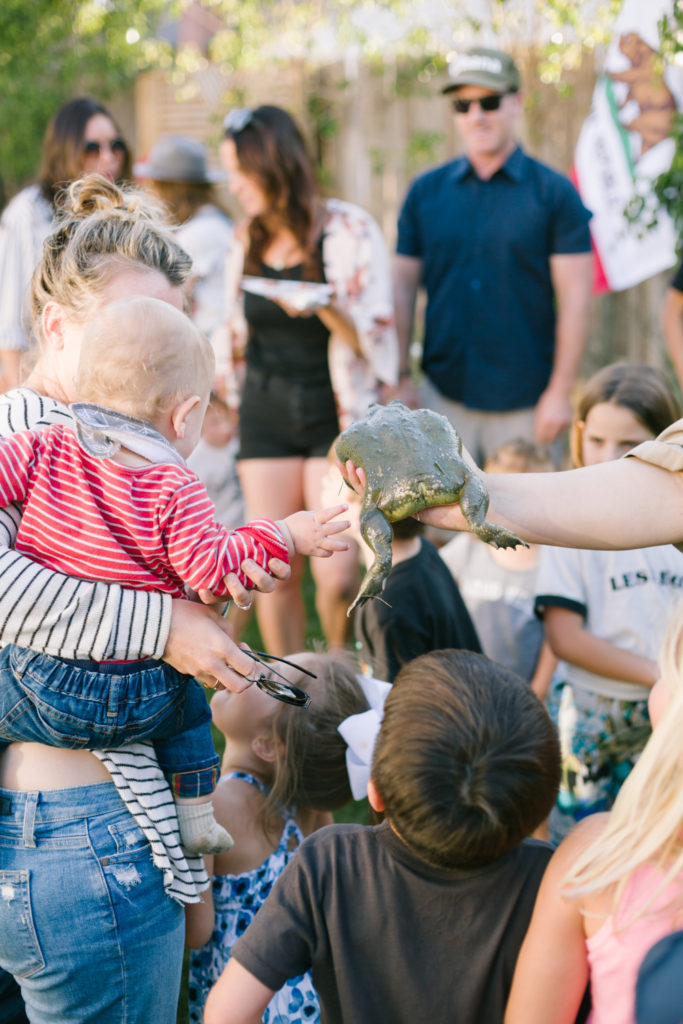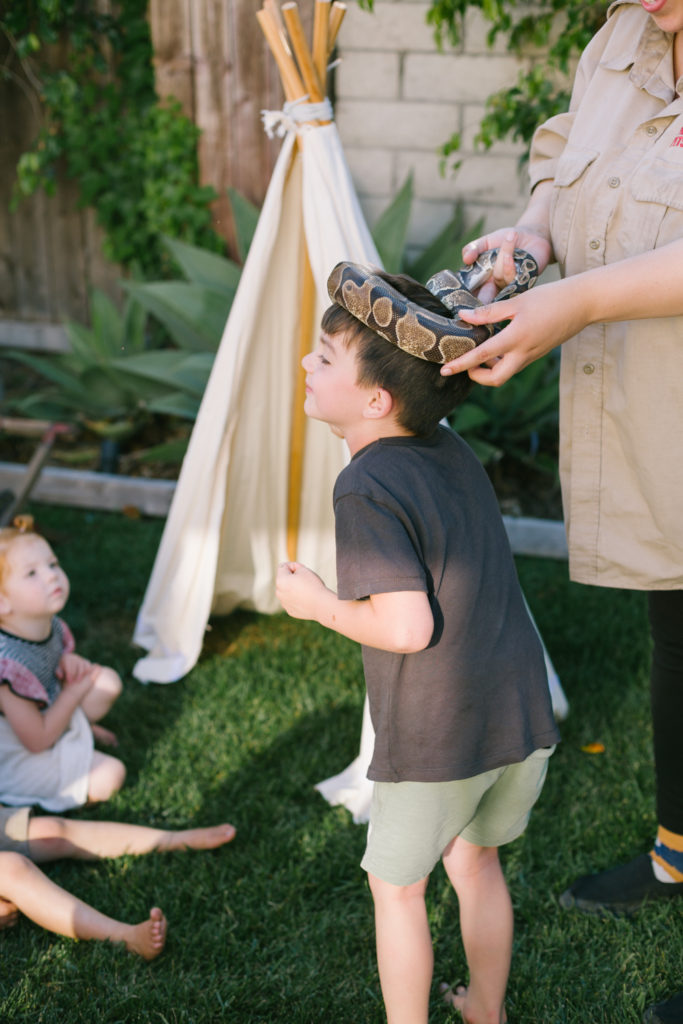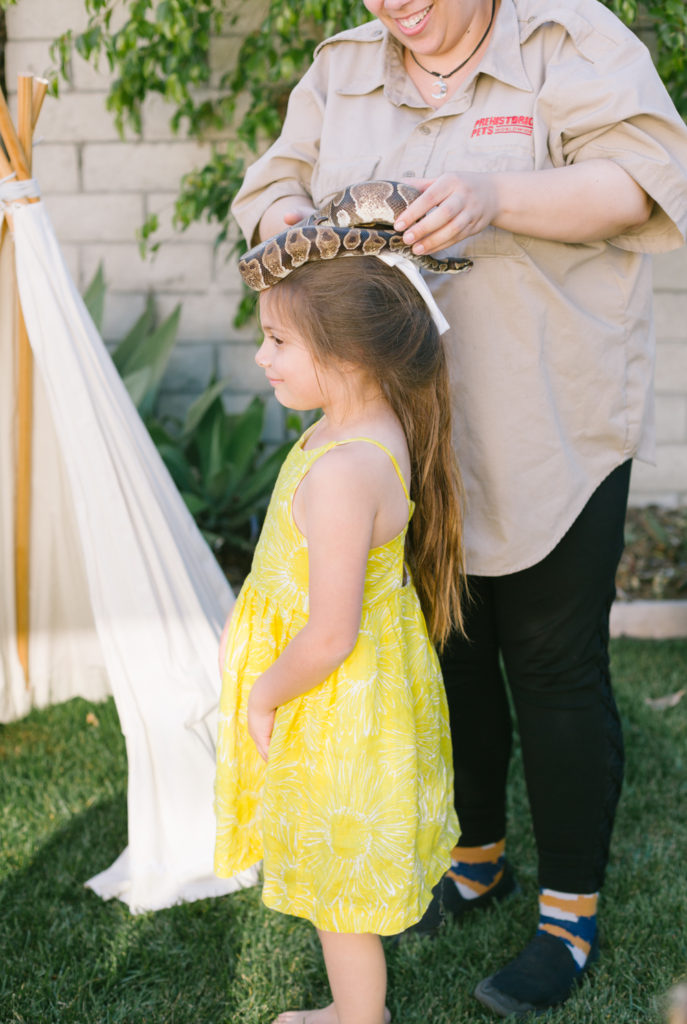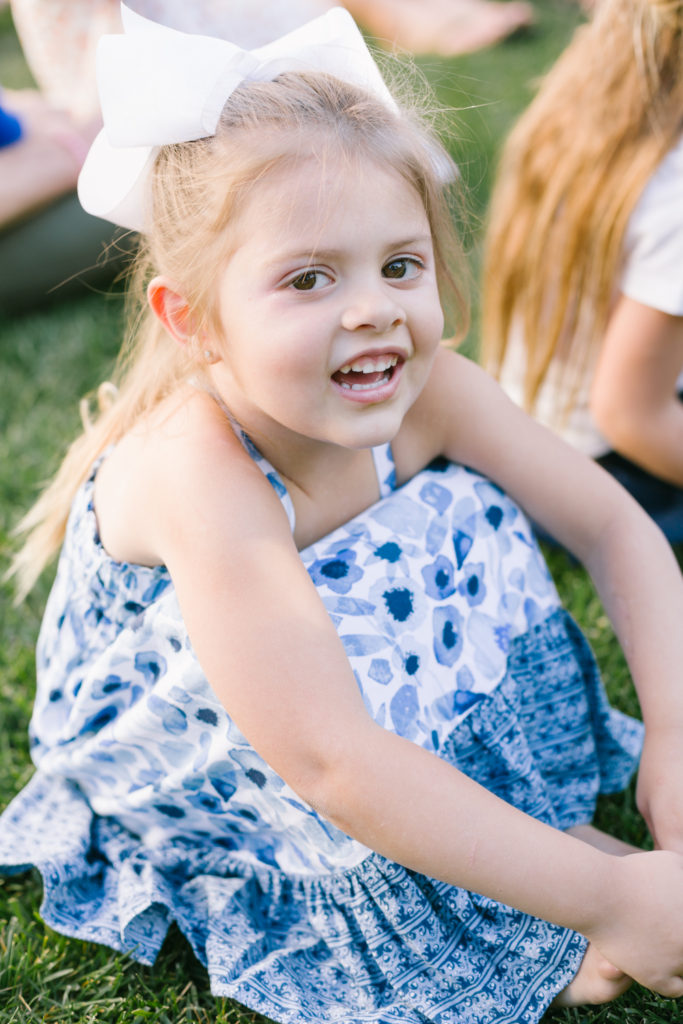 This snake was freaking huge, haha! When I showed my husband their website he said "we can do that, if that snake is there!!" well, it was!! The kids loved it and I even had to get in on the fun…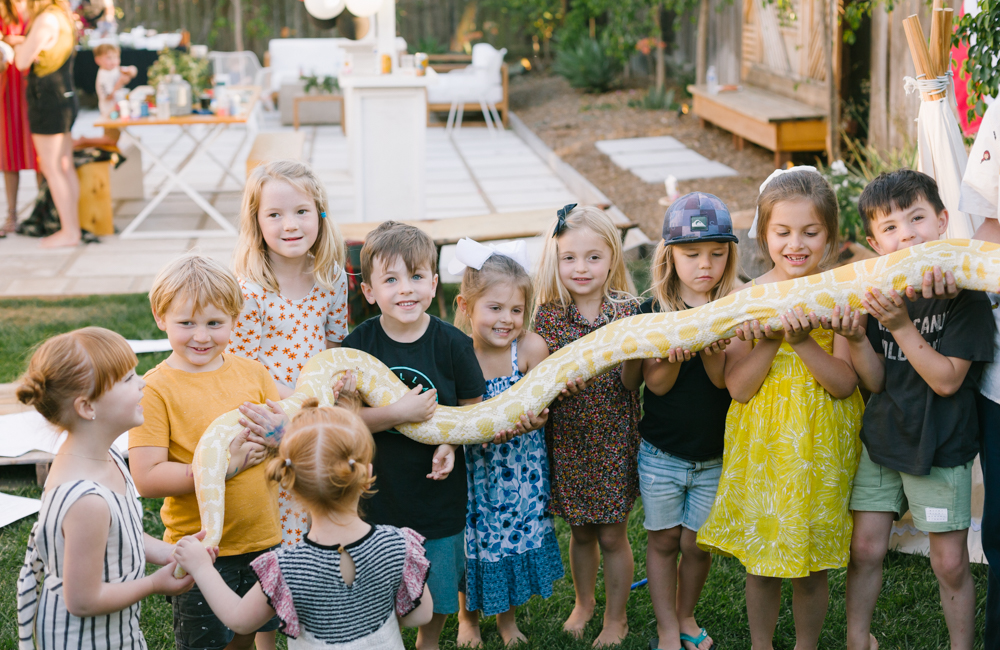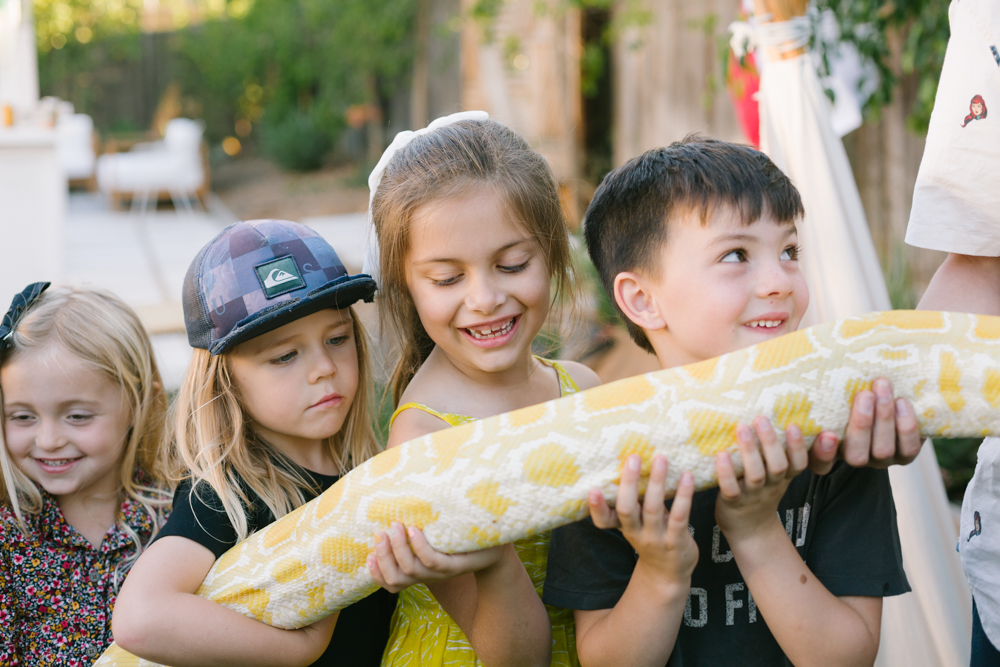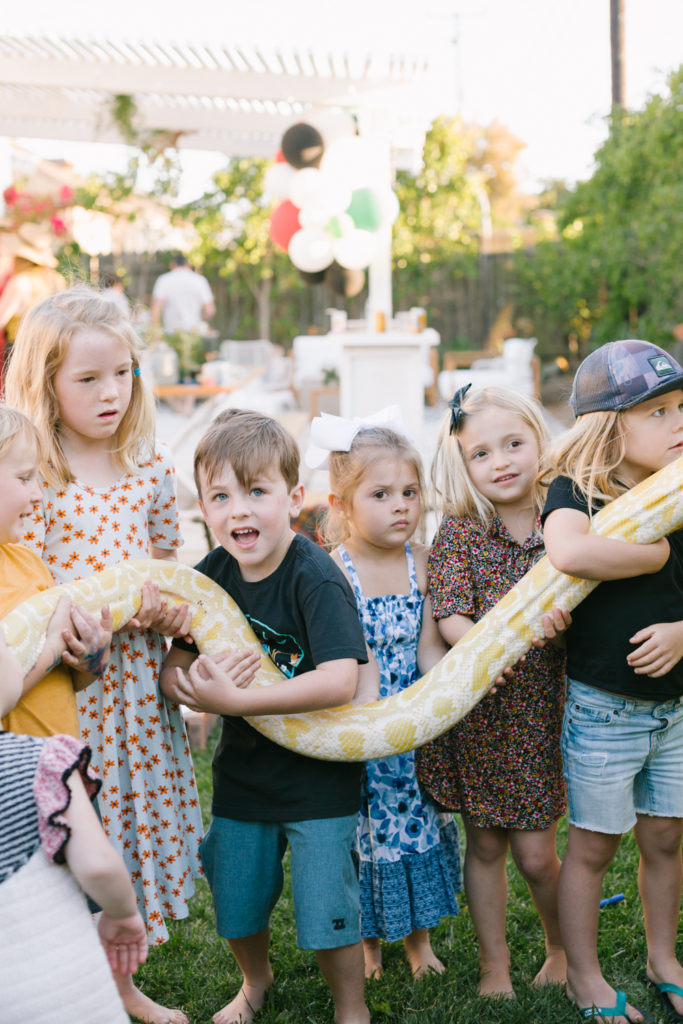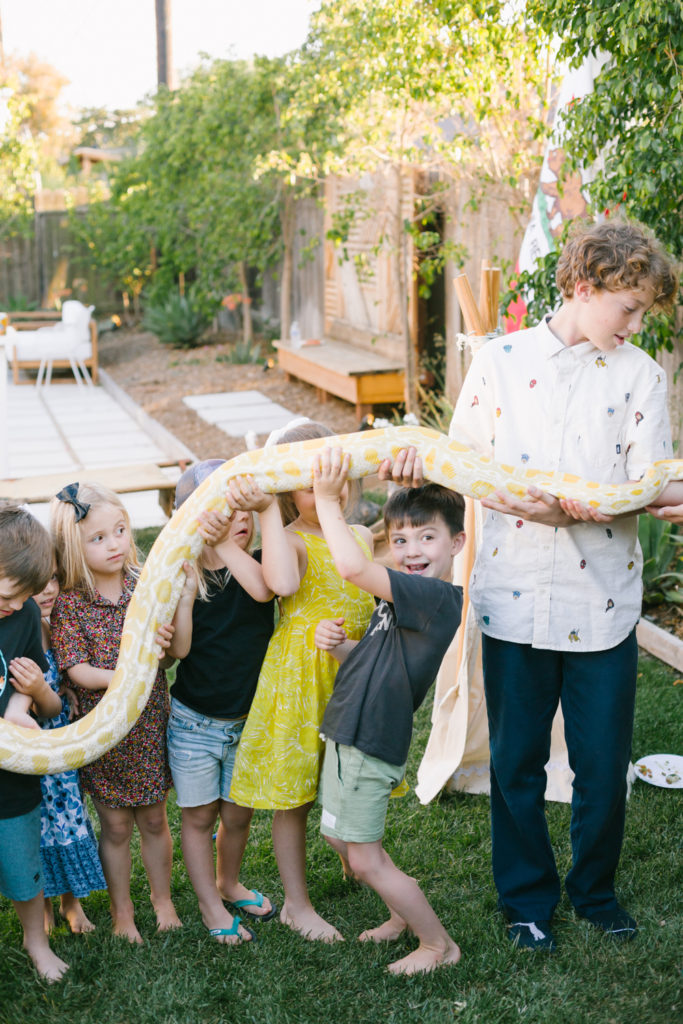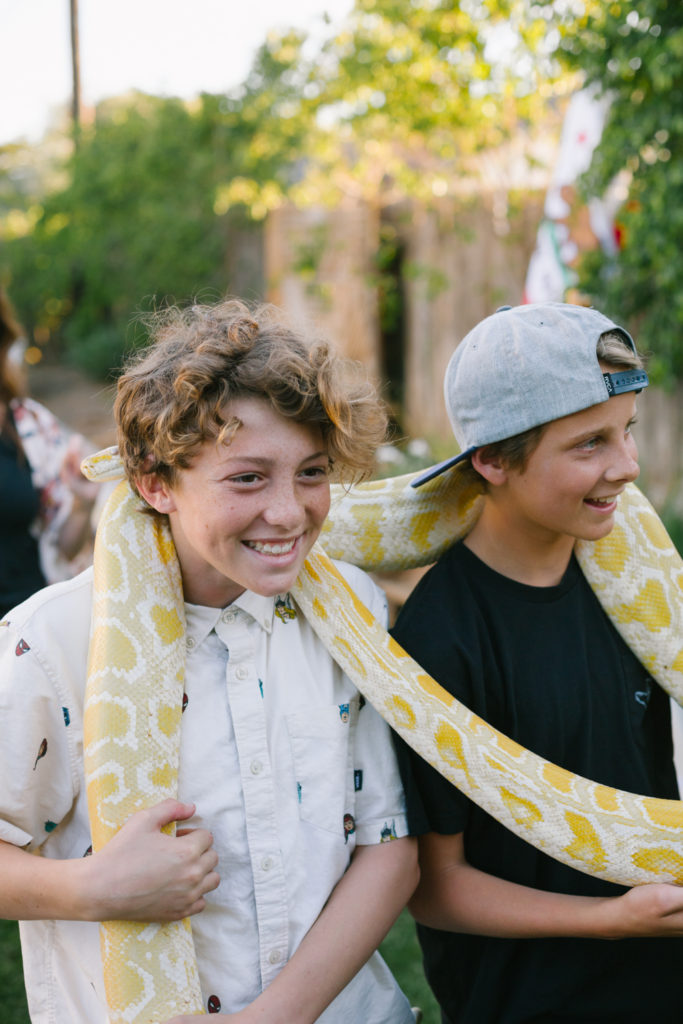 If you want a good laugh keep scrolling to see all the faces and emotions of having a snake around your shoulders… I thought I was going to channel my inner Britney but boy did things go wrong fast! Luckily my friend Alison captured the emotions perfectly….
My kimono is by Saltwater Luxe and tank from Chaser Brand as well!!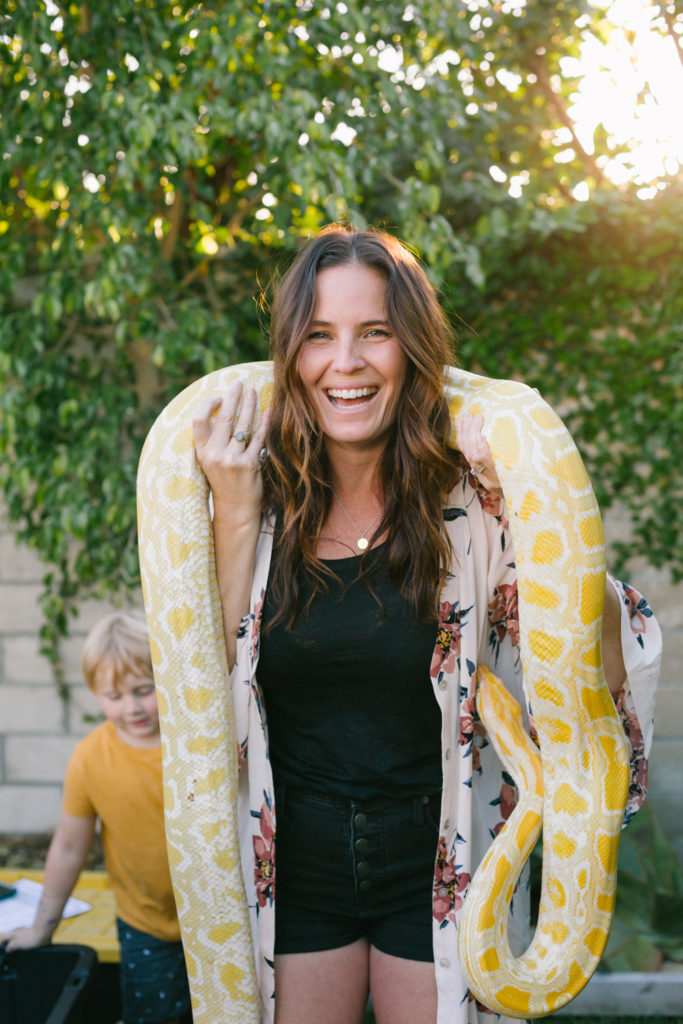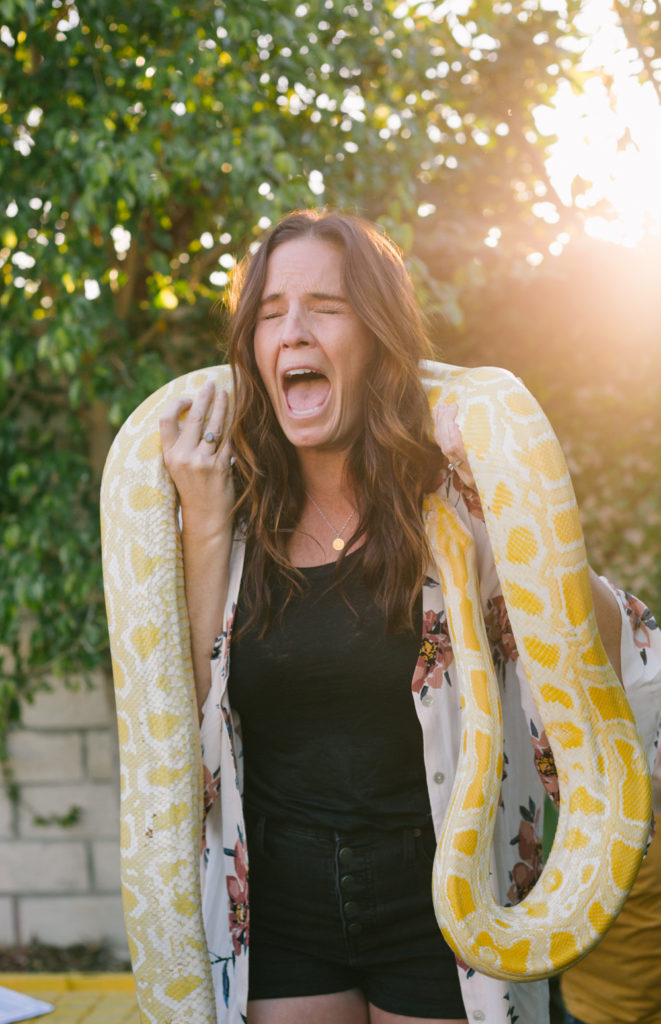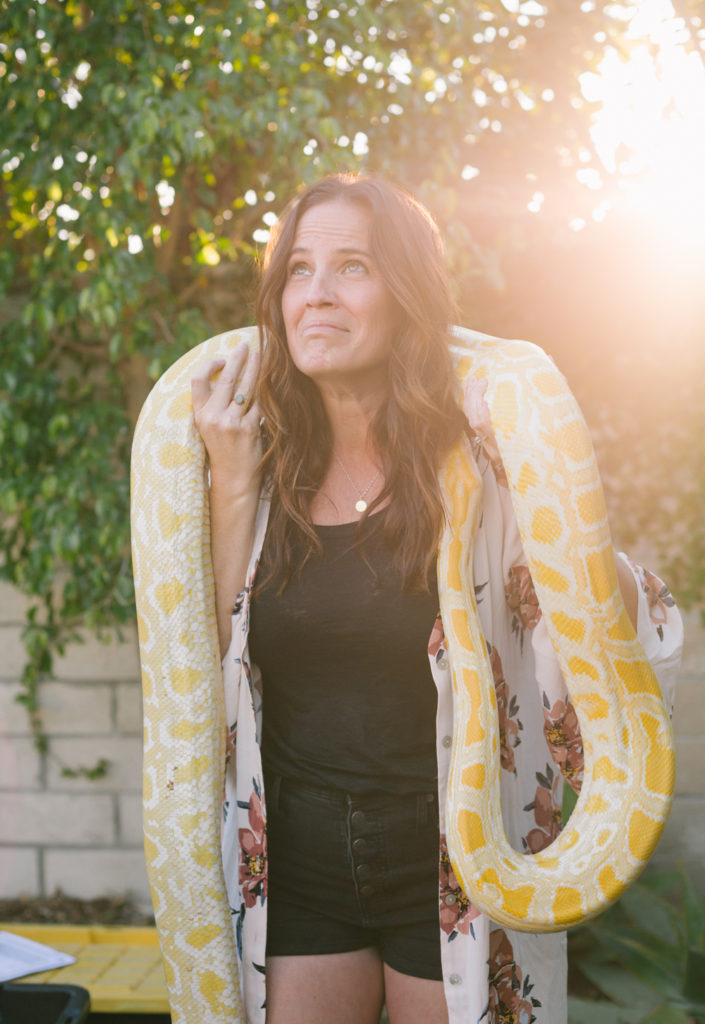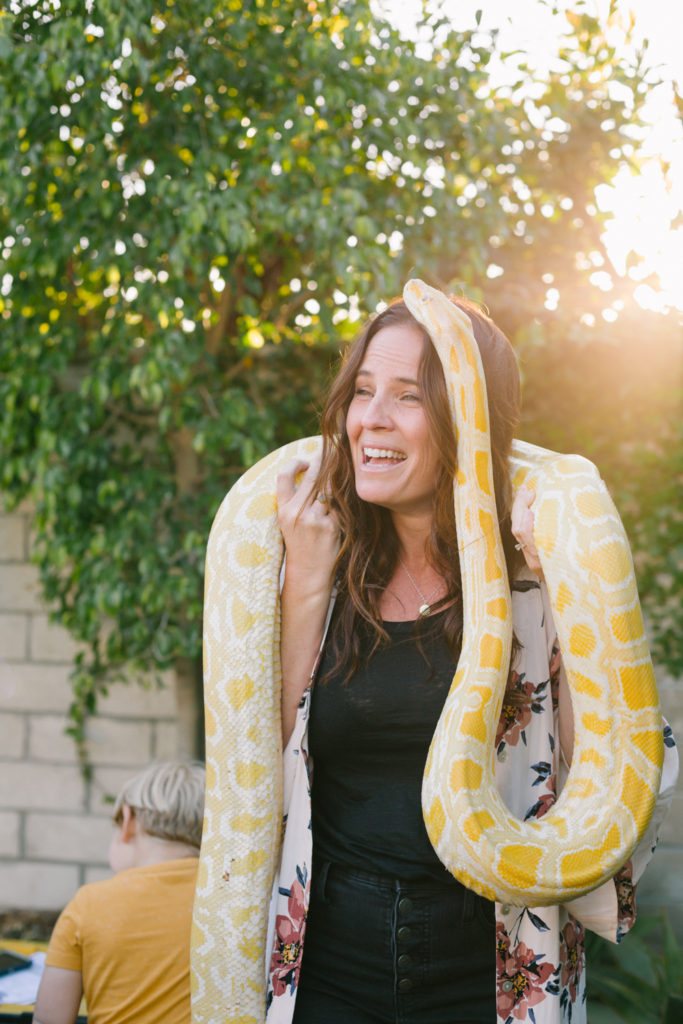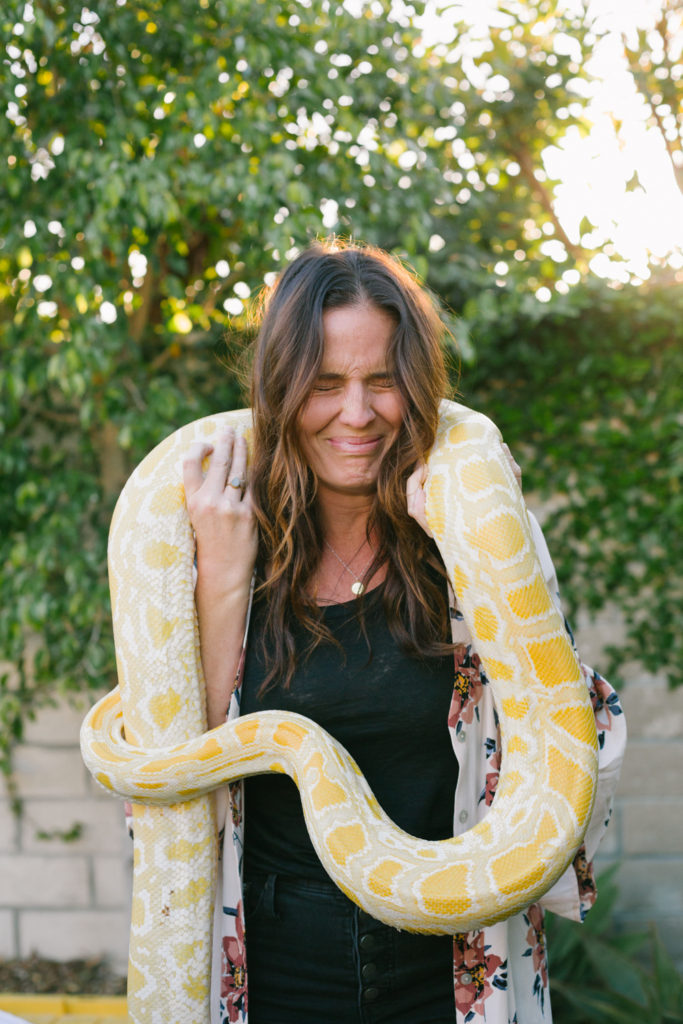 Had to get a mommy & daddy photo op with that bad boy!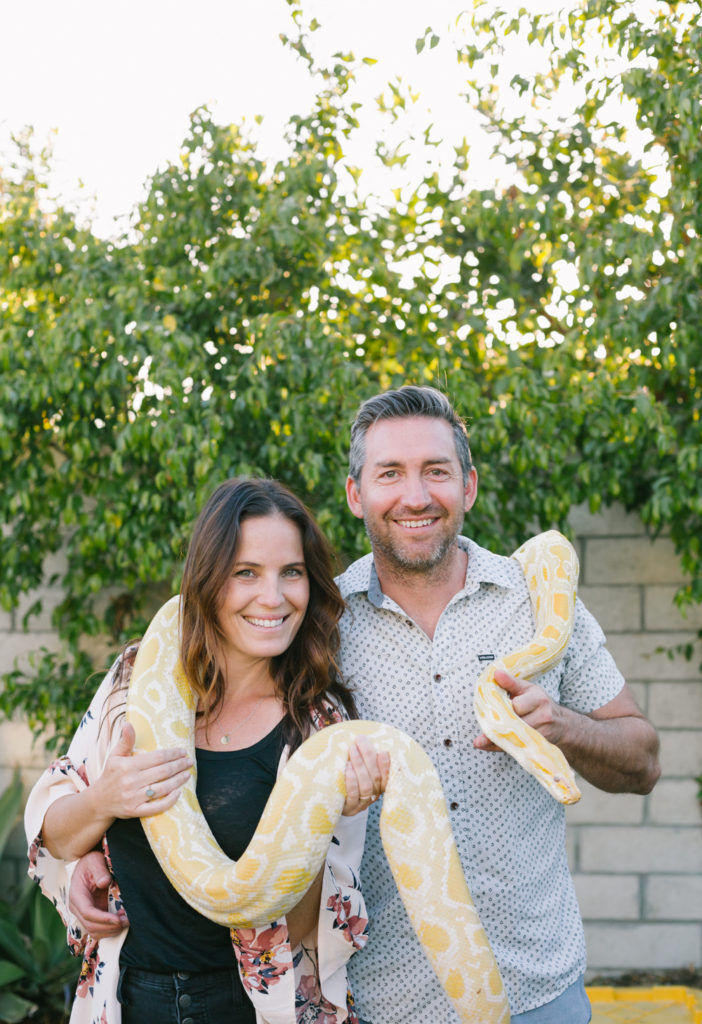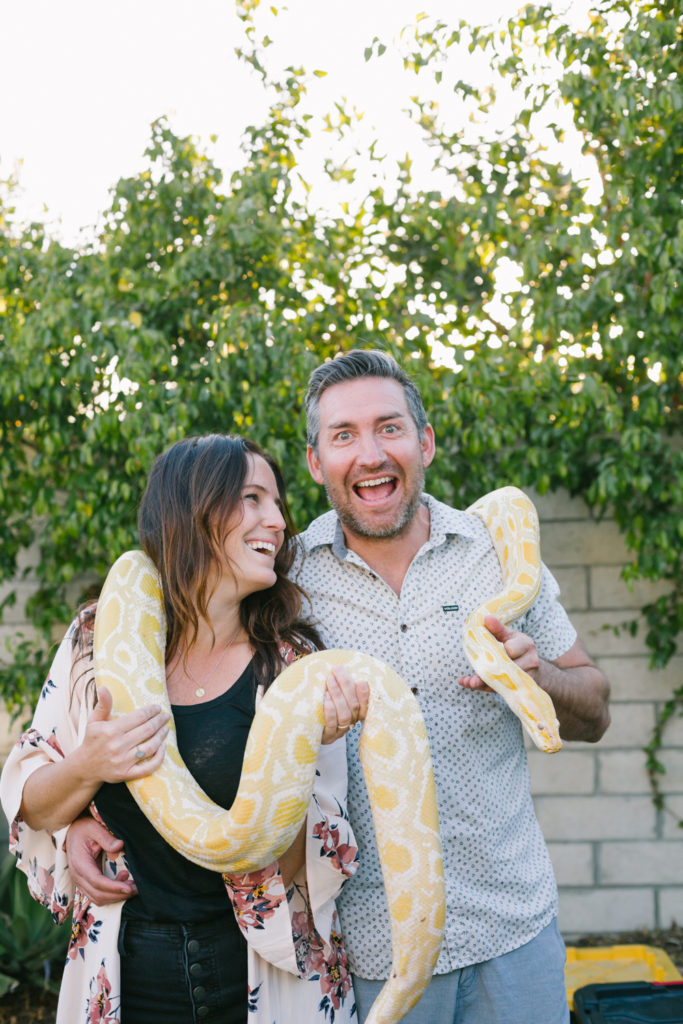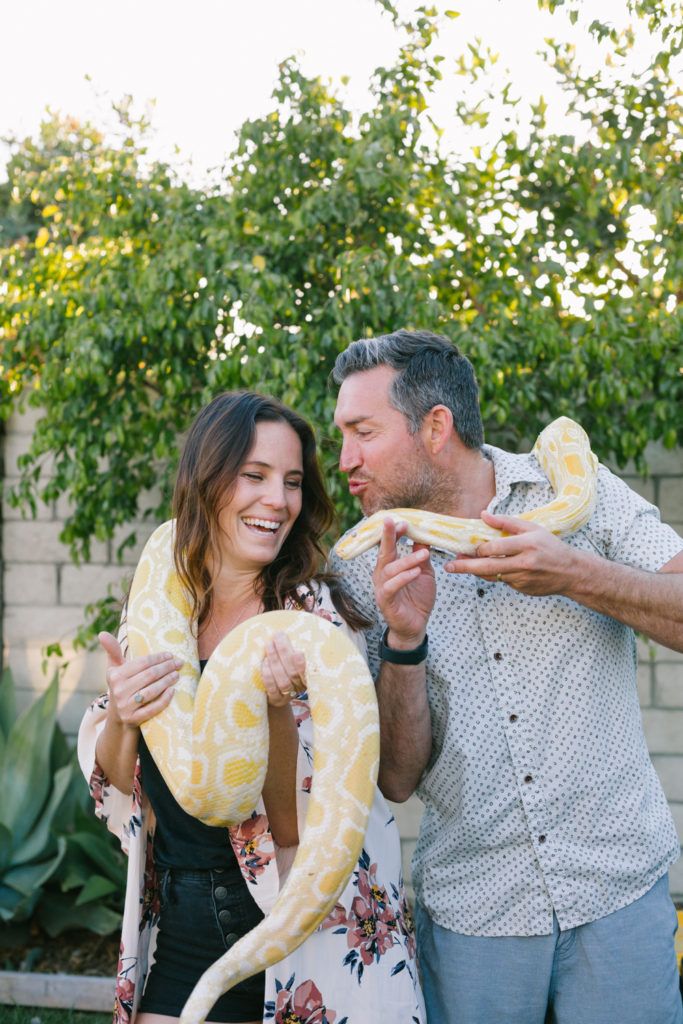 Then it was time to sing happy birthday!! I get so nostalgic looking at these photos! Time is such a thief and it's all going by so fast! I'm constantly reminding myself lately to live in the moment with these boys of mine and enjoy every second!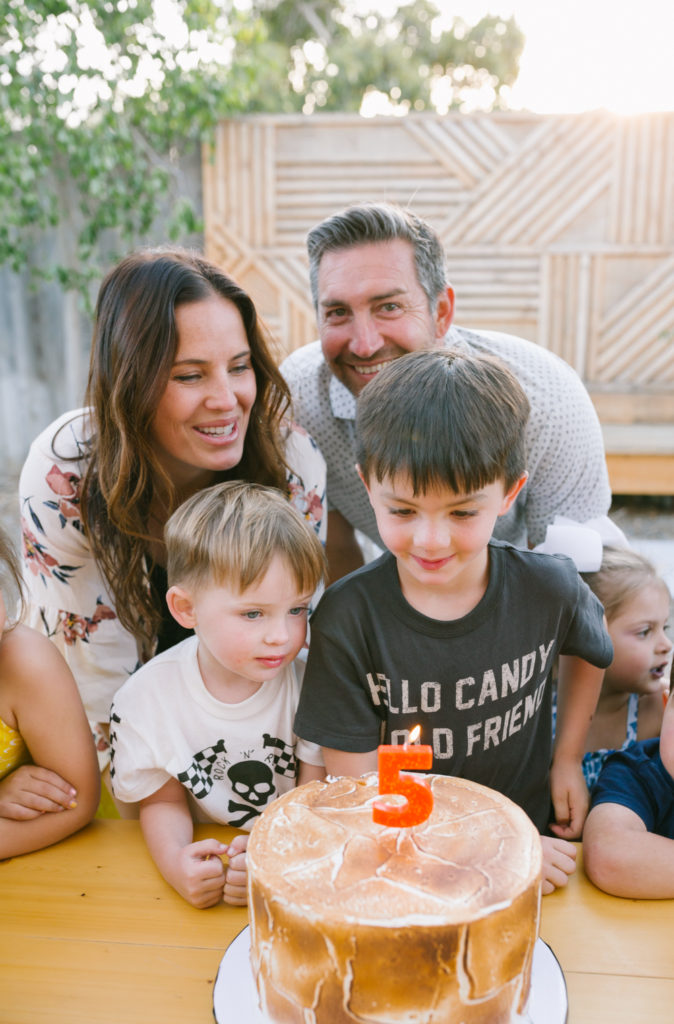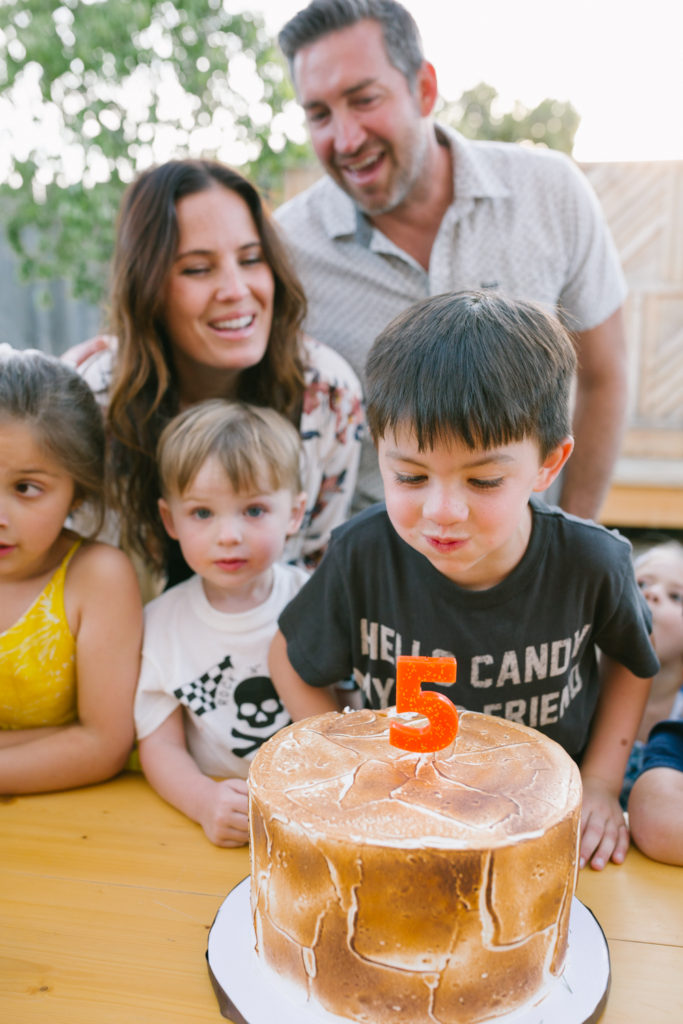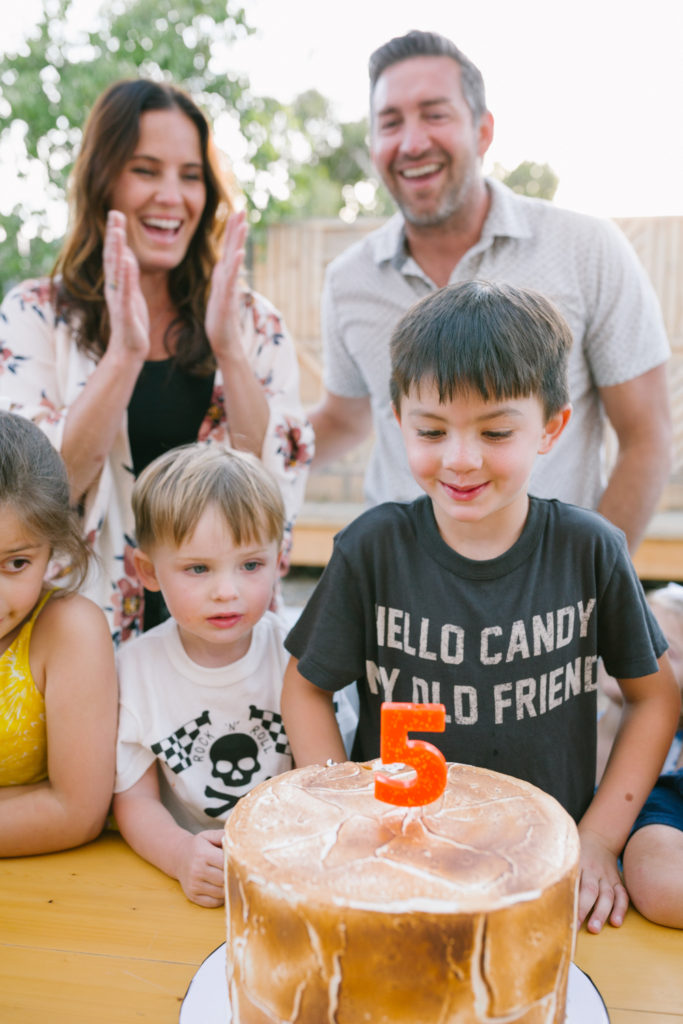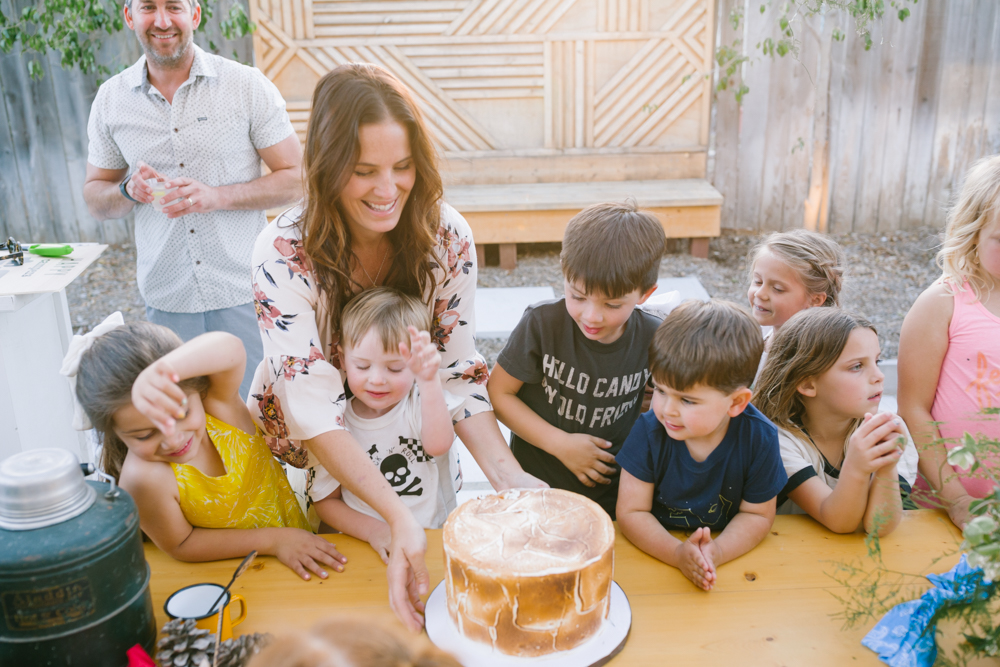 Nothing like having cake with all your buddies on your birthday!!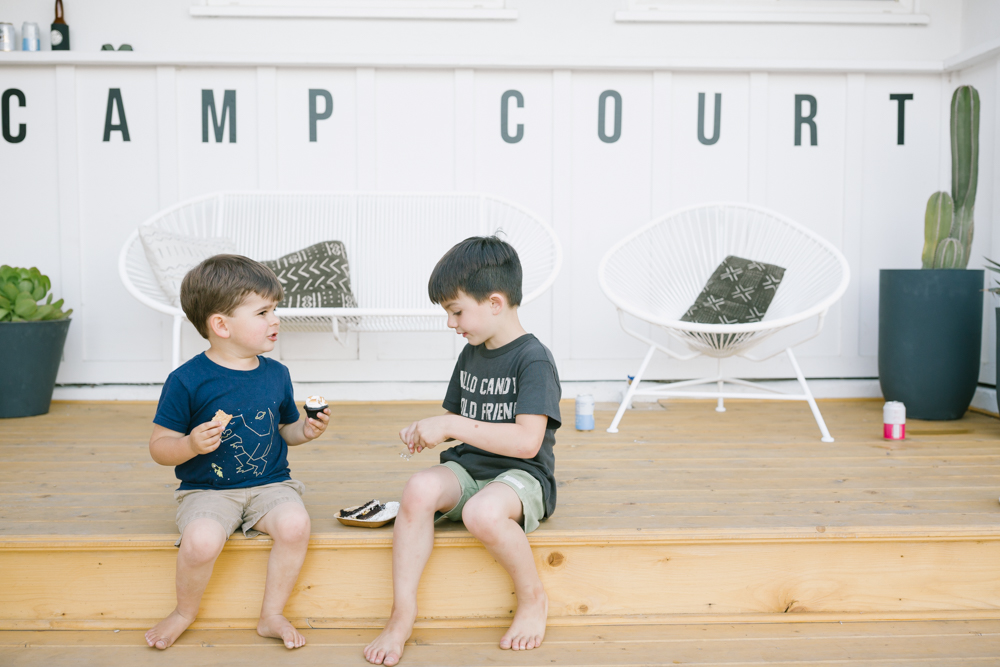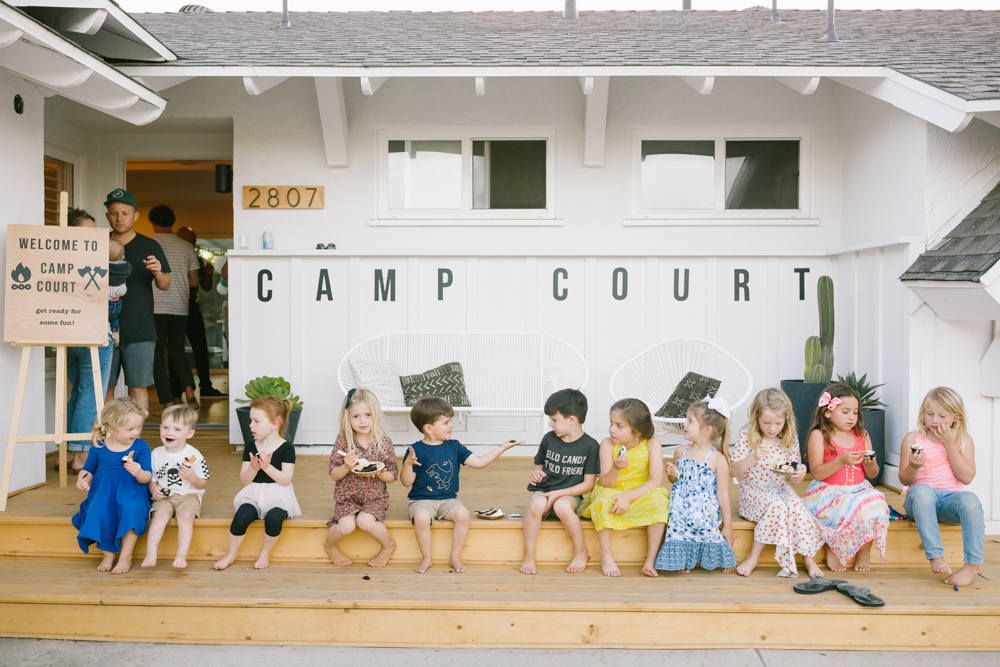 These two little sister and brother besties, they are too cute!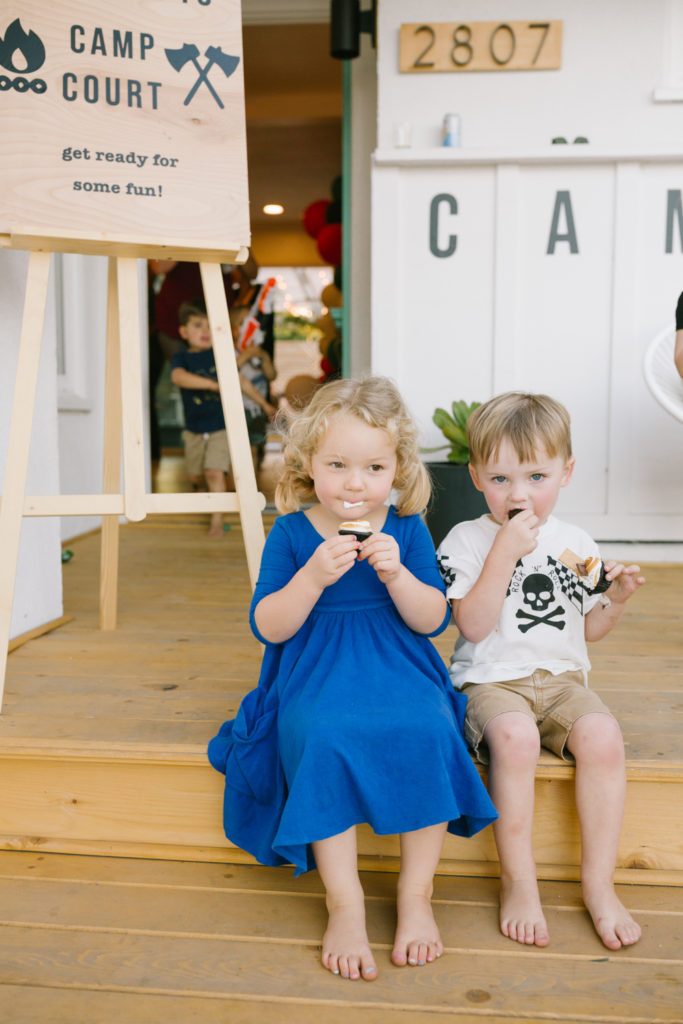 Then it was piñata time!! Because this party never stops!!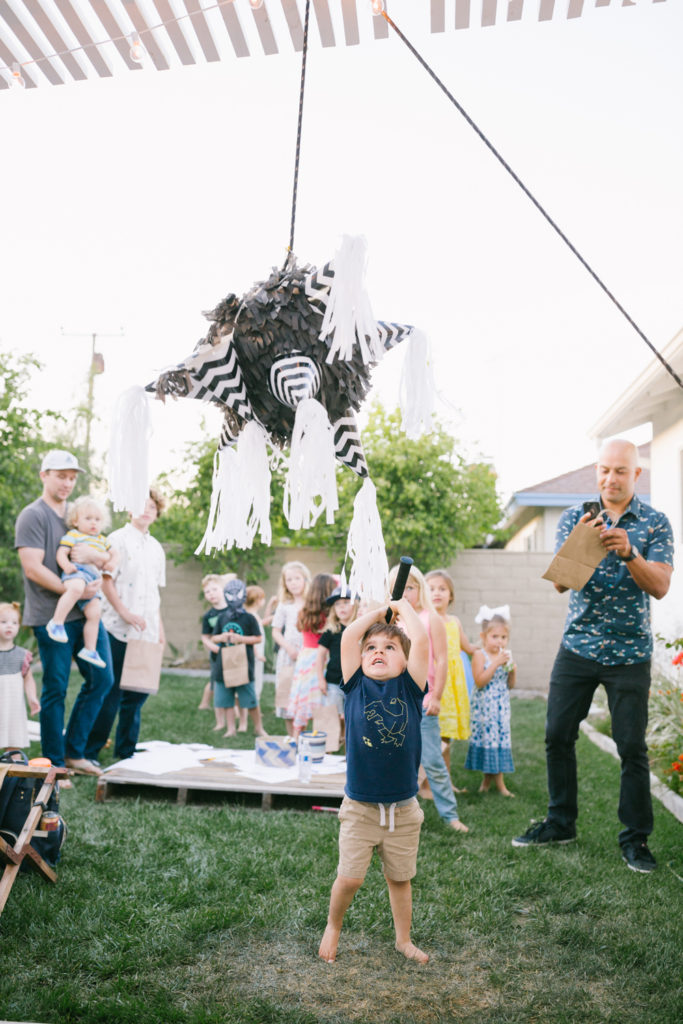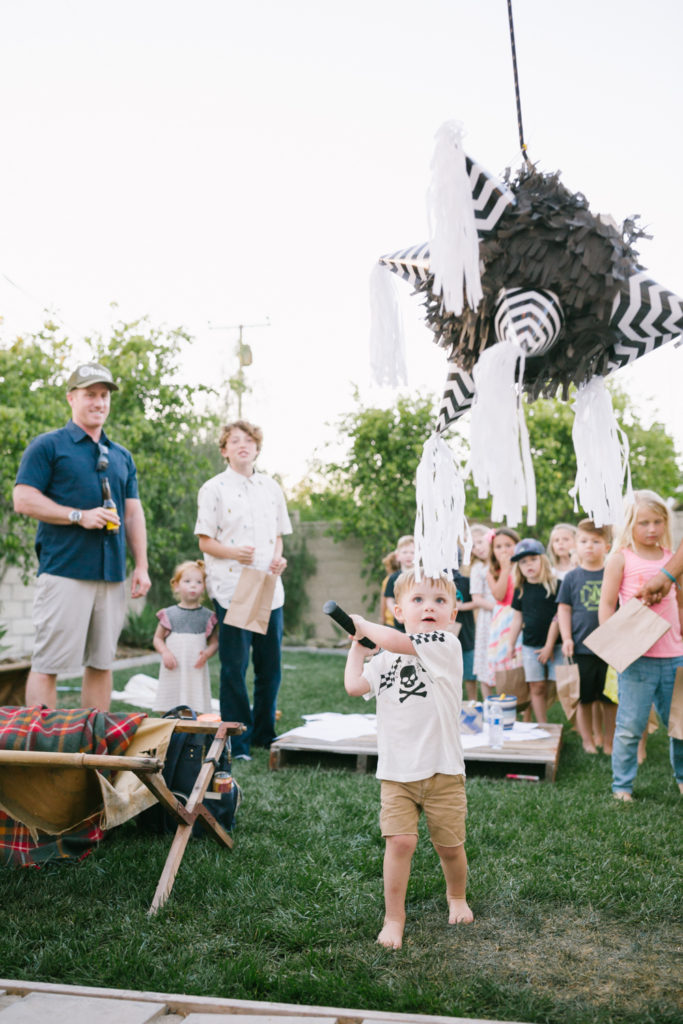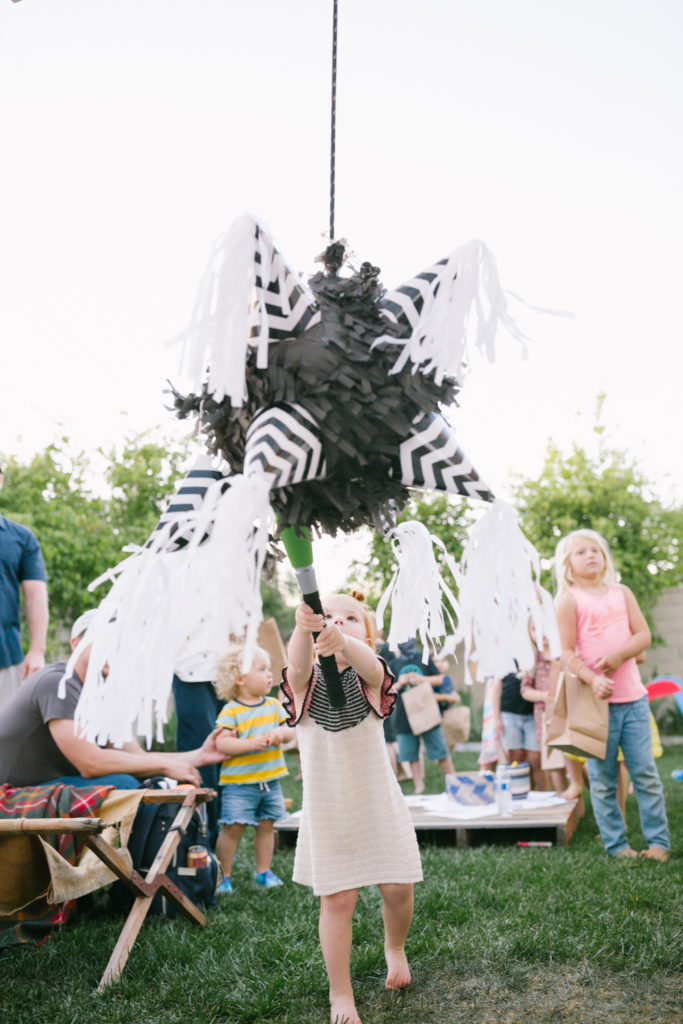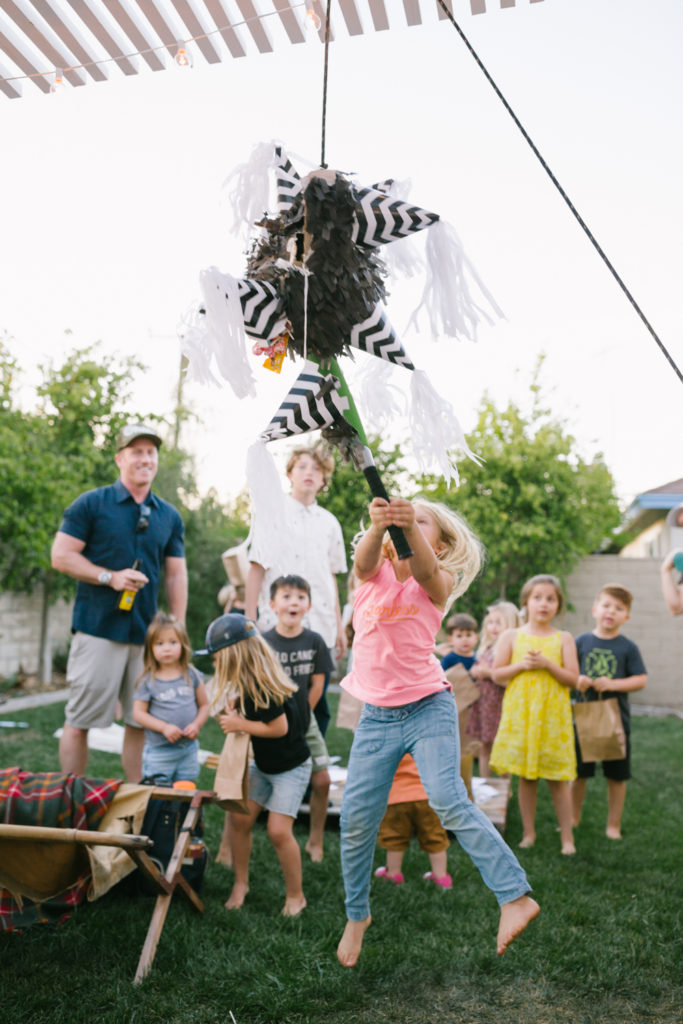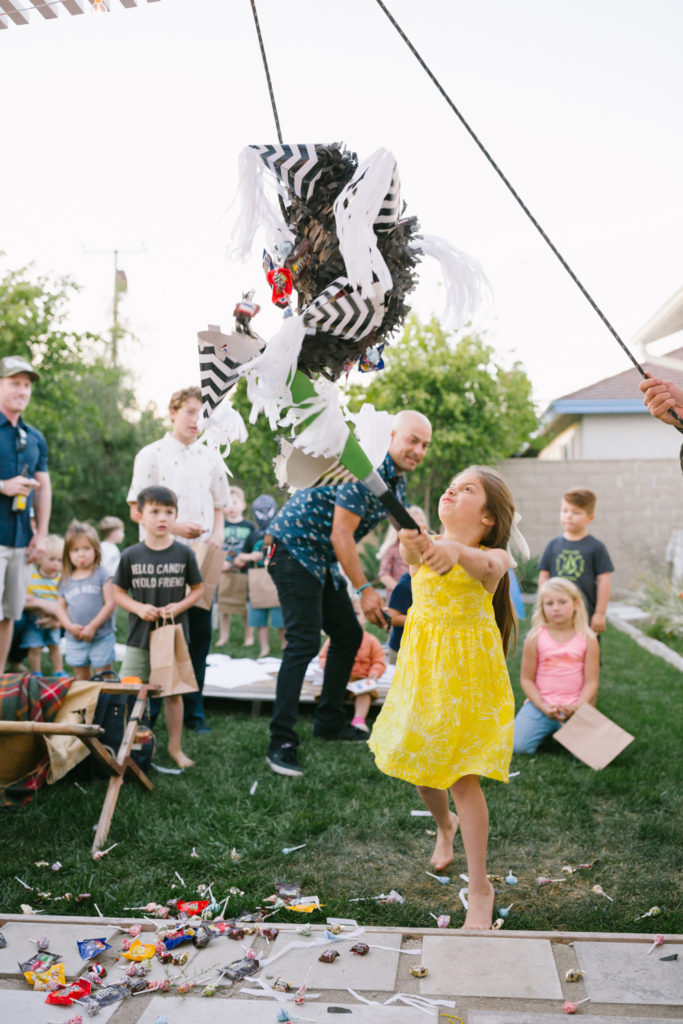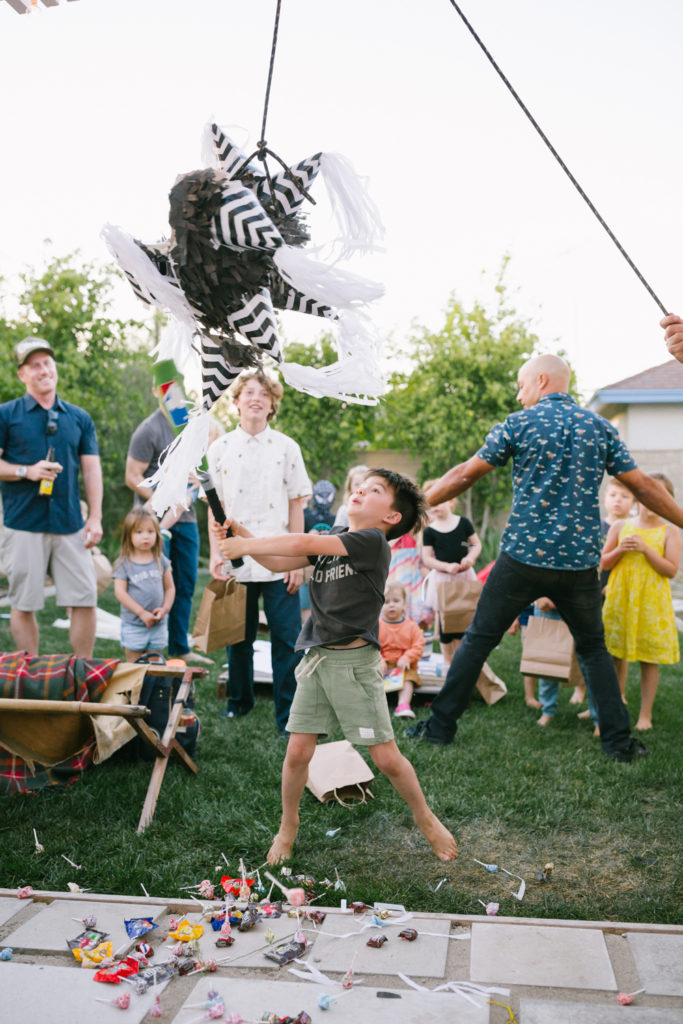 These two best buddies kill me with their cuteness!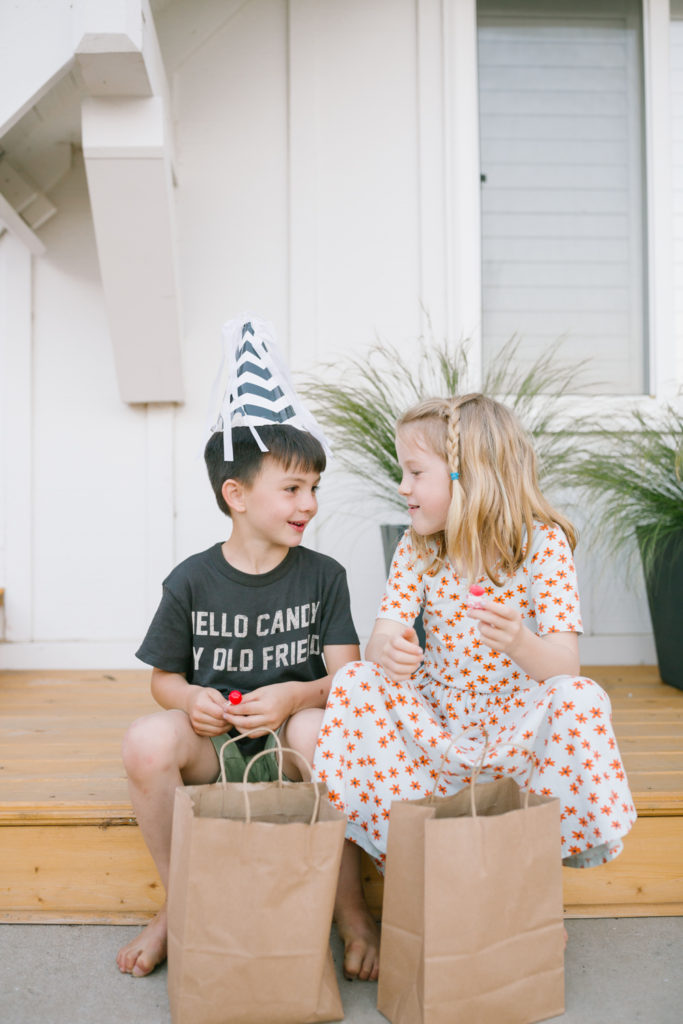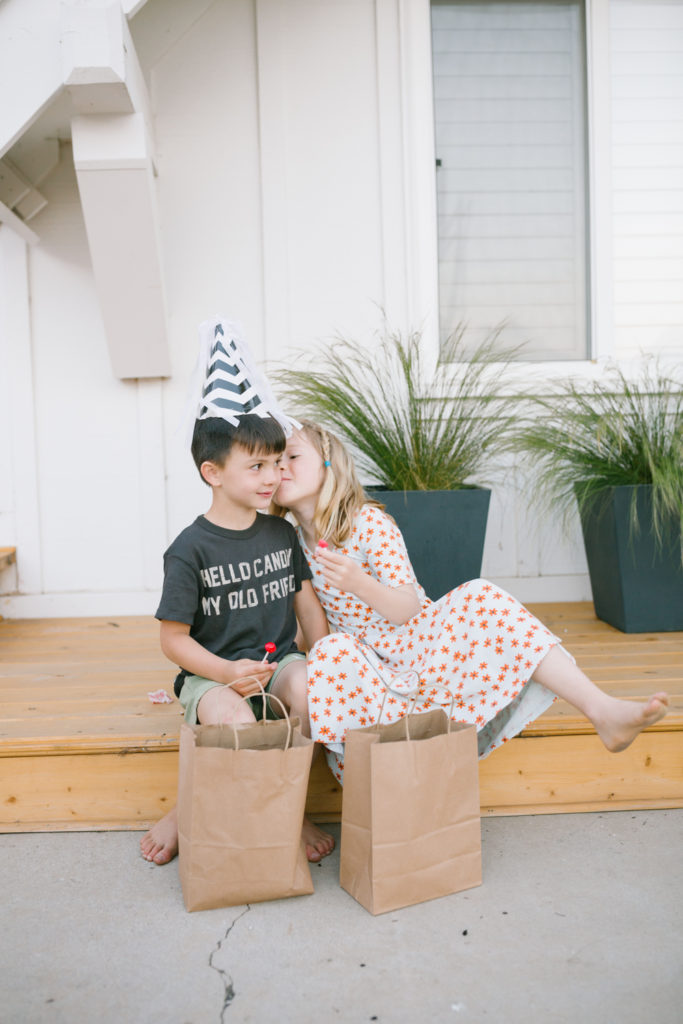 It was such a fun day celebrating my love Court! Happy 5th birthday my love!!!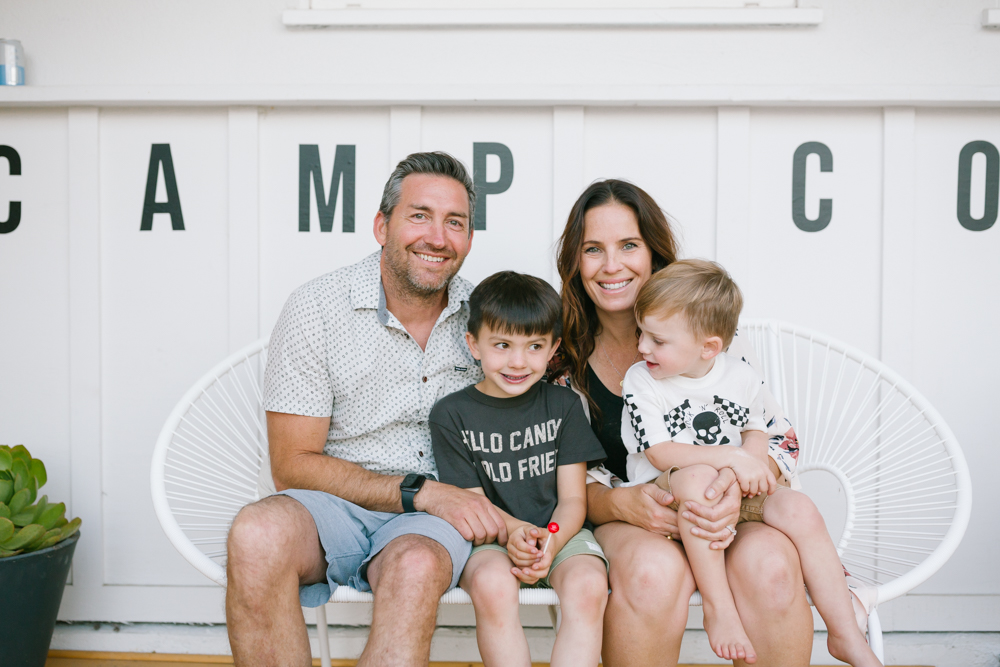 You can shop some of my picks for this party below!

xx
Jacquelyn