Well, just like the rest of 2020, this New Year's Eve is going to look a little different. At home with your pod or just your family is probably how it's going to go, and that's ok! Here's the thing, just because it's different doesn't mean it can't be special! We're here to show you how. Let's keep things cozy at home this New Year's Eve and still make it magical!
Keep scrolling to see just how we did it and also check us out on Inspired By This today! Beautiful photos by my friend Jessica Lynn Photo.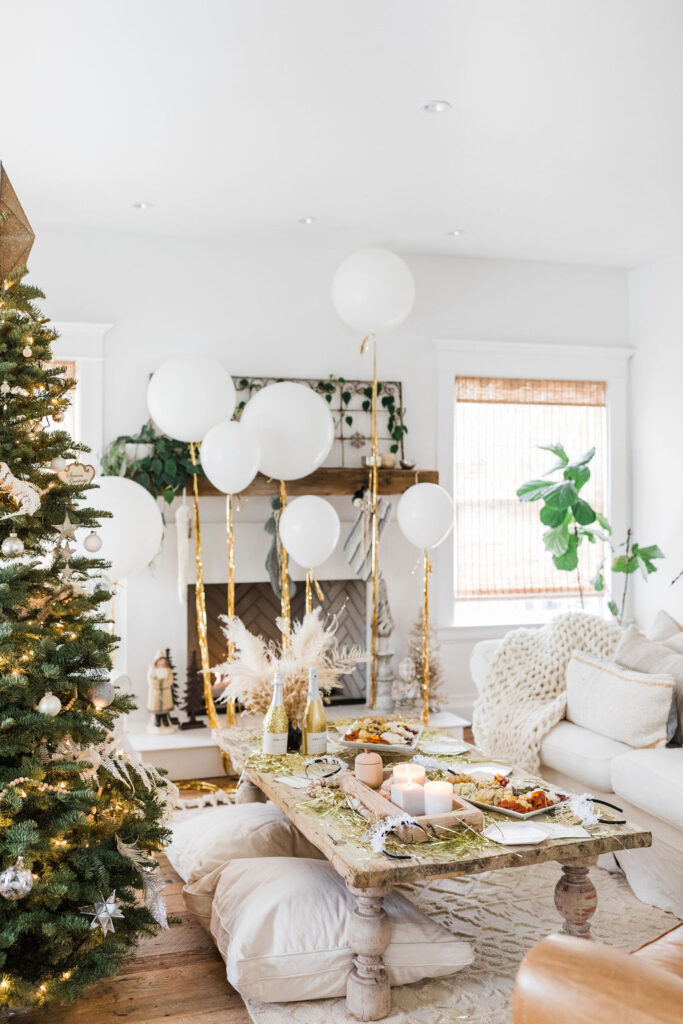 As I was saying, just because you're at home doesn't mean you can't make it the cutest and coziest NYE ever! I teamed up with a few friends to create the perfect cozy night in with a little glam, great cocktails, and yummy food. Starting it off with a beautiful invite that Pirouette Paper created for us. It set the tone for the whole gathering. Even small gatherings deserve a fab invite in my opinion! Adding in amazing details from Creative Amme doesn't hurt either!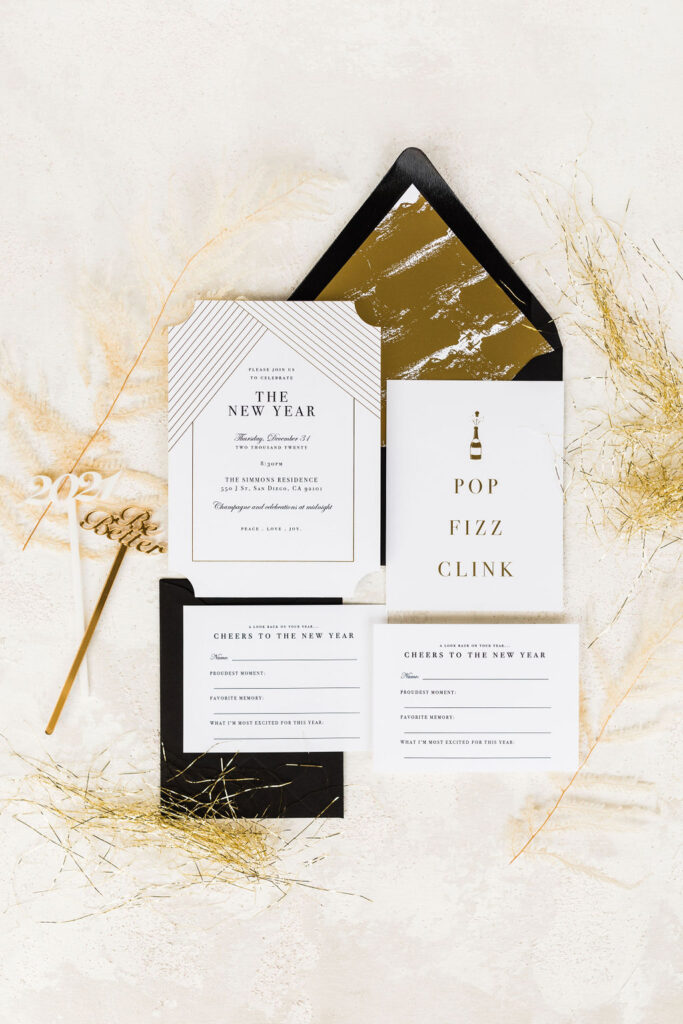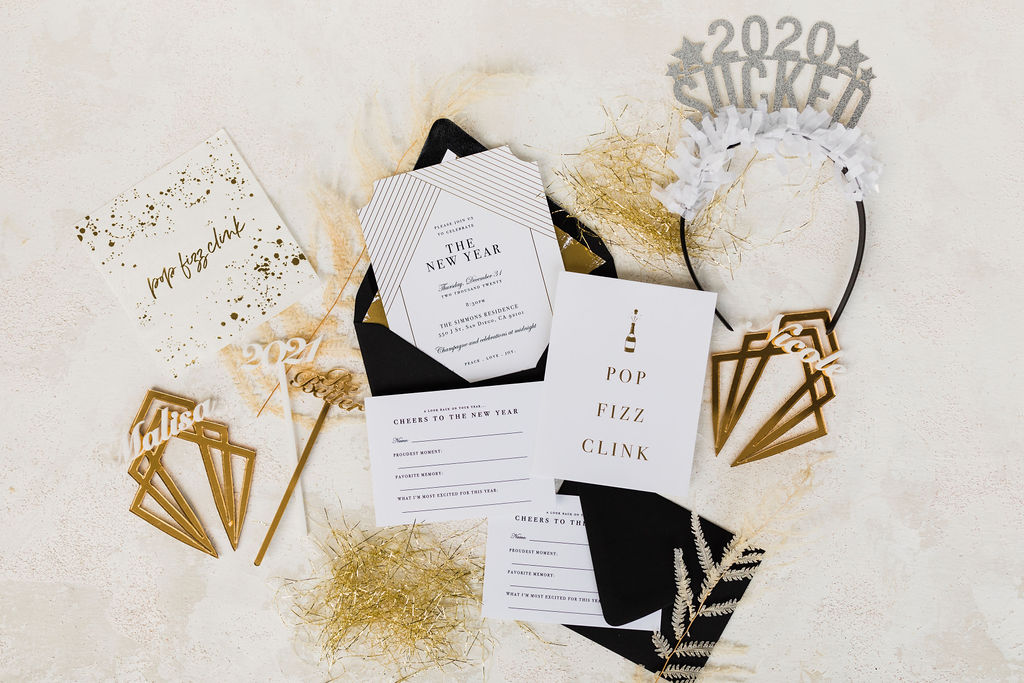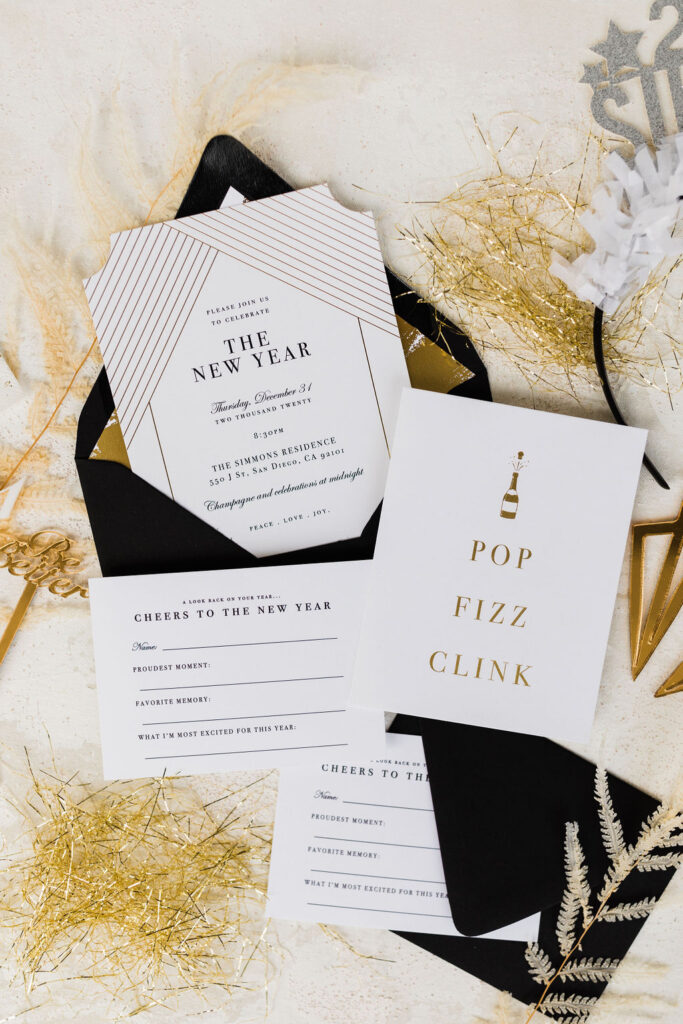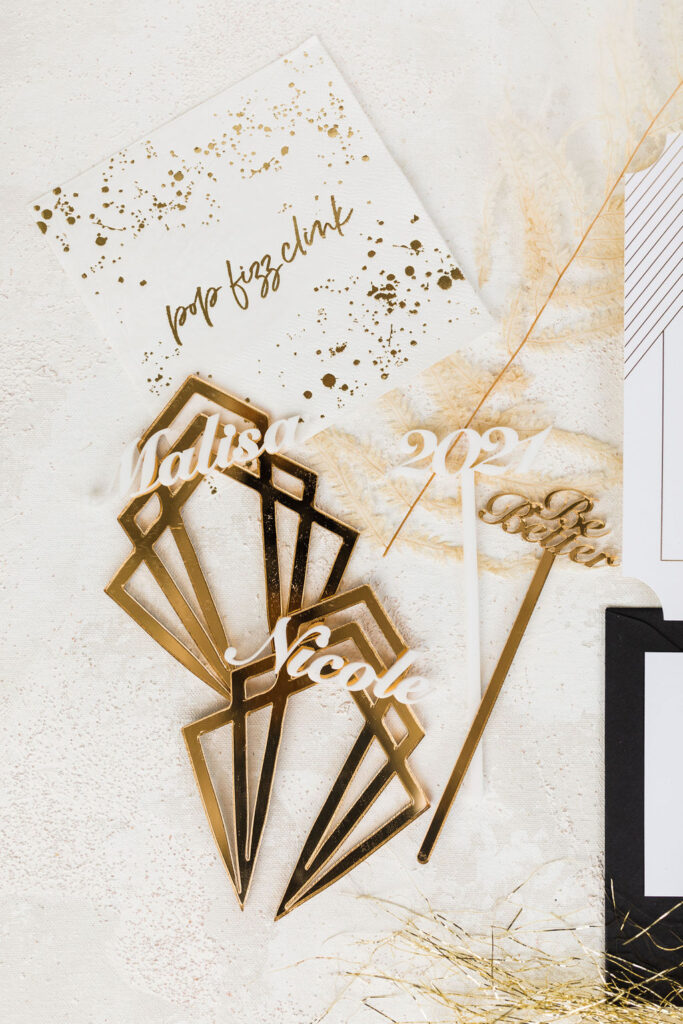 The flair was taken care of by Festive Gal who provided the cutest and funniest headbands for us all to wear, they are a MUST for NYE!! Aren't they hilarious?!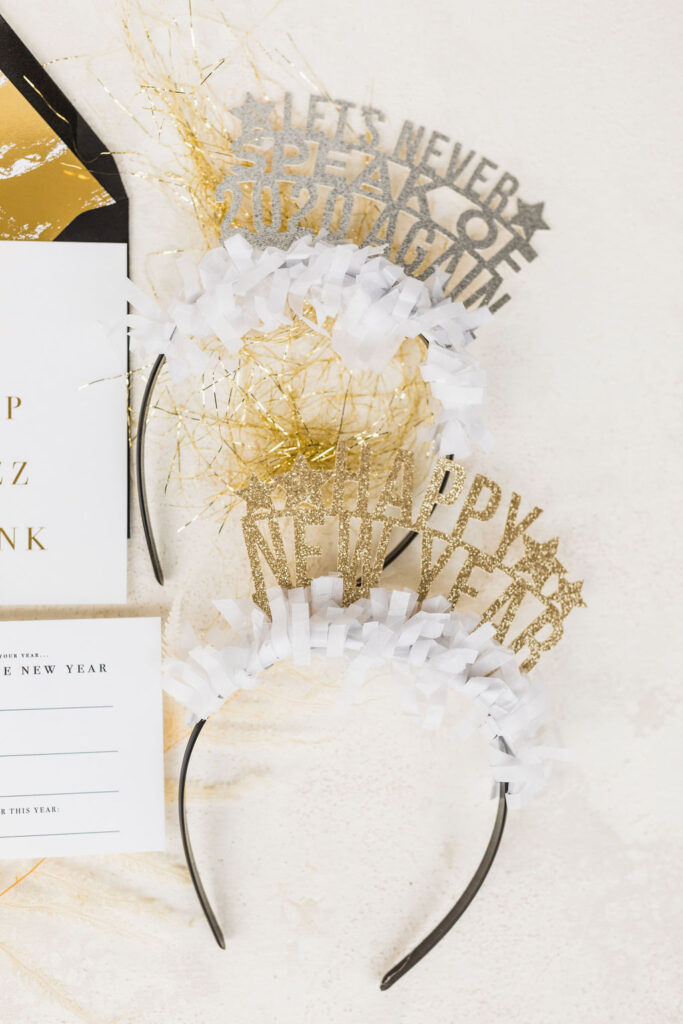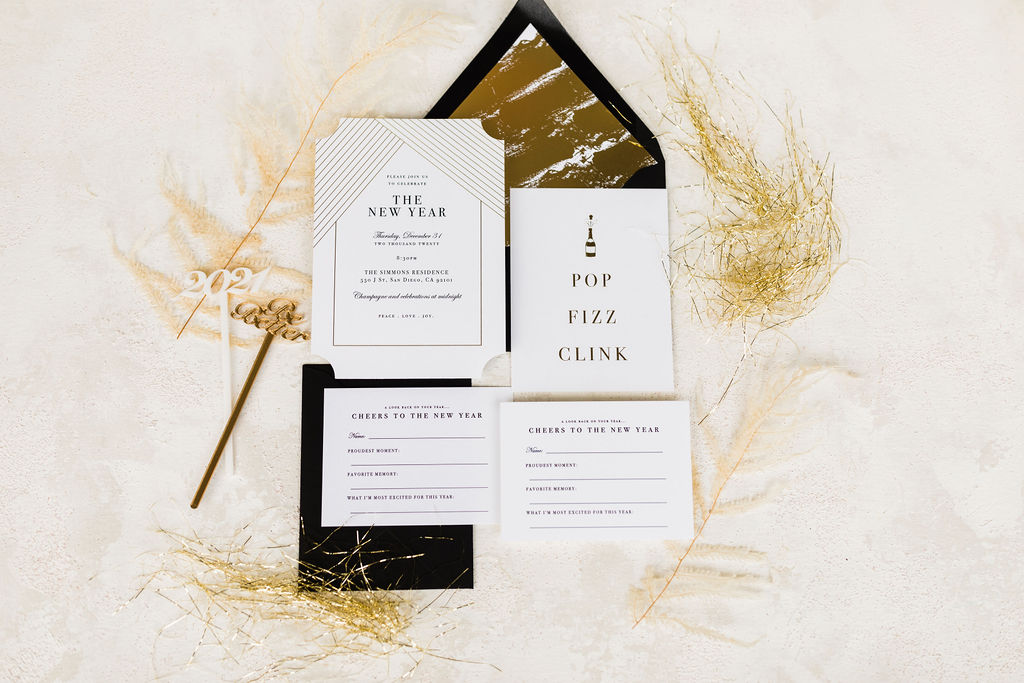 Our color scheme was white and metallics and our friend Marnie, owner of Sweet Salvage Rentals, had the perfect home to host it in! Her home is magic and I just feel lucky to walk through the door whenever I visit, haha. She seriously has so much style!!
We set up an area by the fireplace with pretty balloons from The Pop Shop, scroll down to see the magic happen…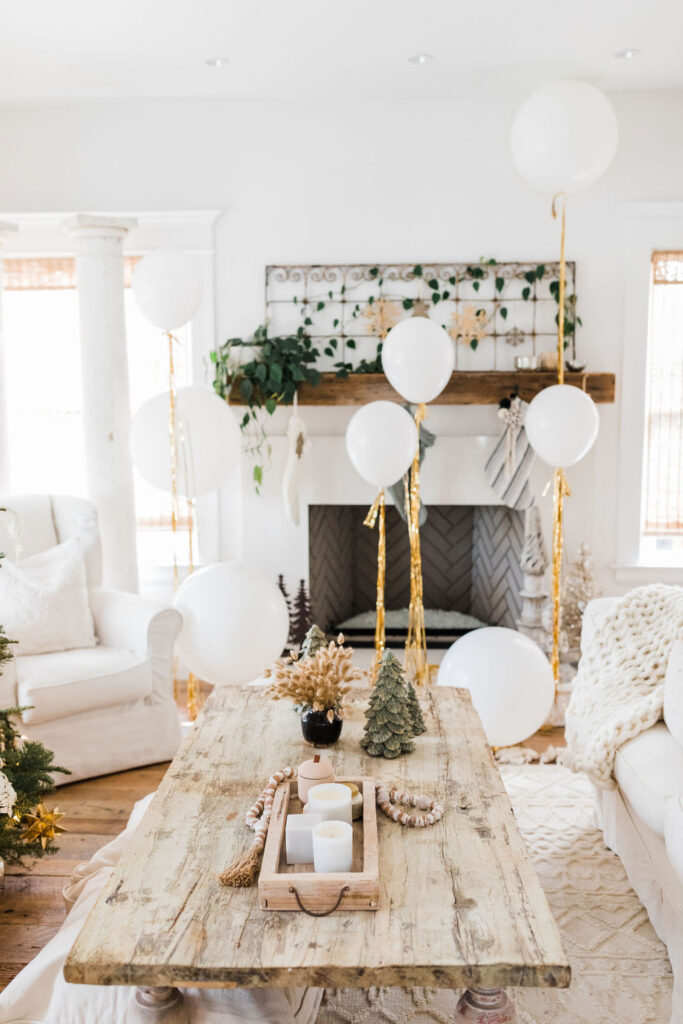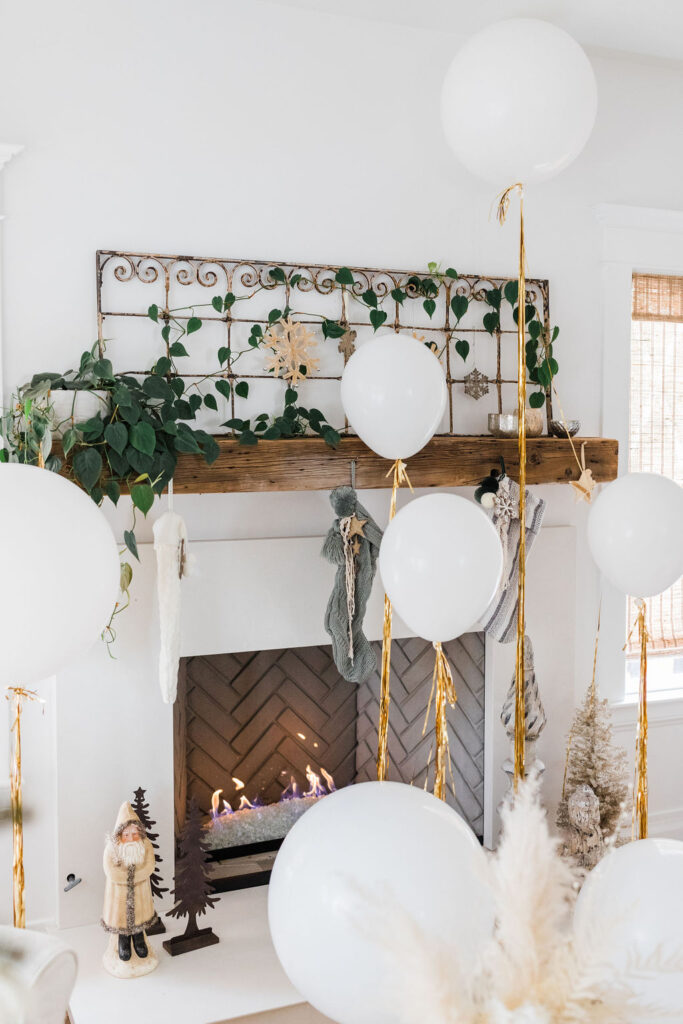 Voila!! Magic made!! I set up an area by the fireplace to get cozy with appetizers from Colette's Catering and enjoy some cocktails from Bottles & Blooms. Just add lots of festive tinsel and confetti to the table to dress it up a bit! I love gathering around a low table like this, it definitely keeps it low key and intimate.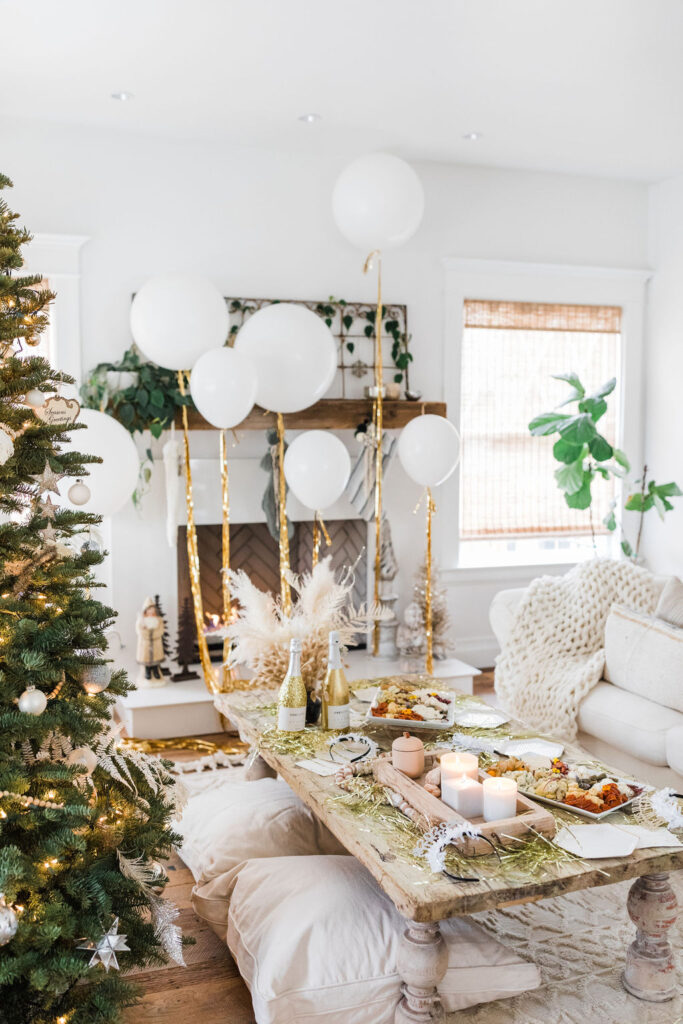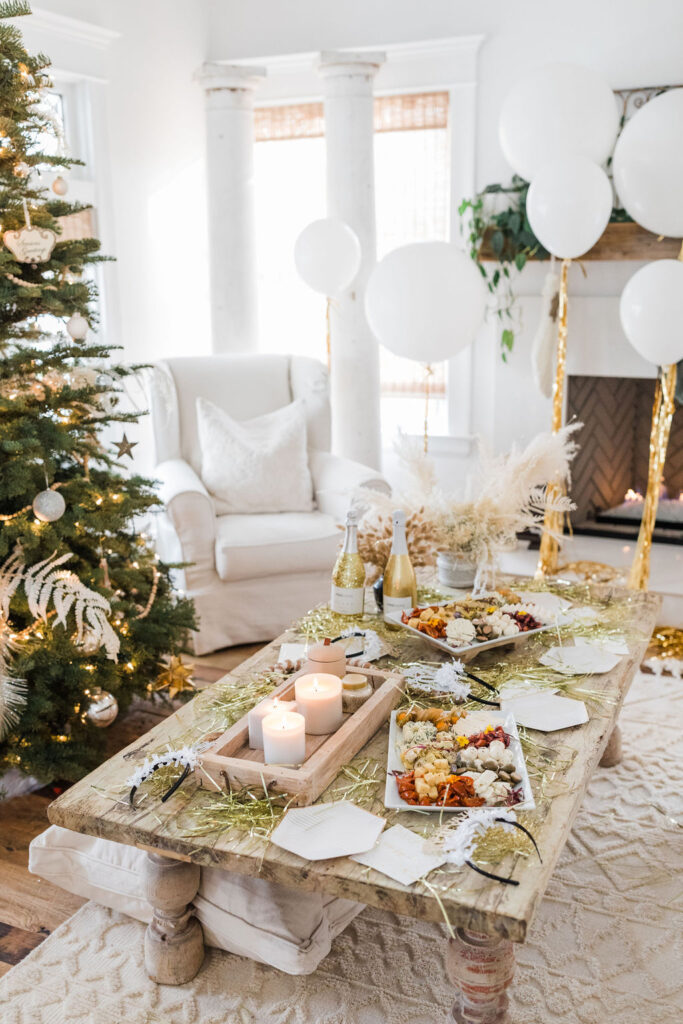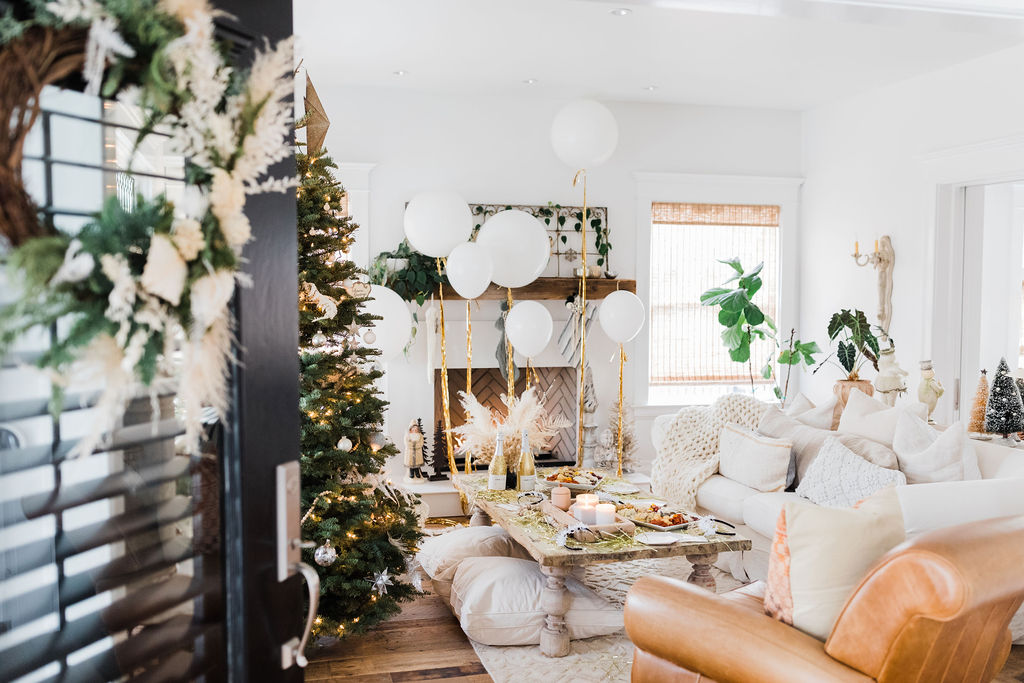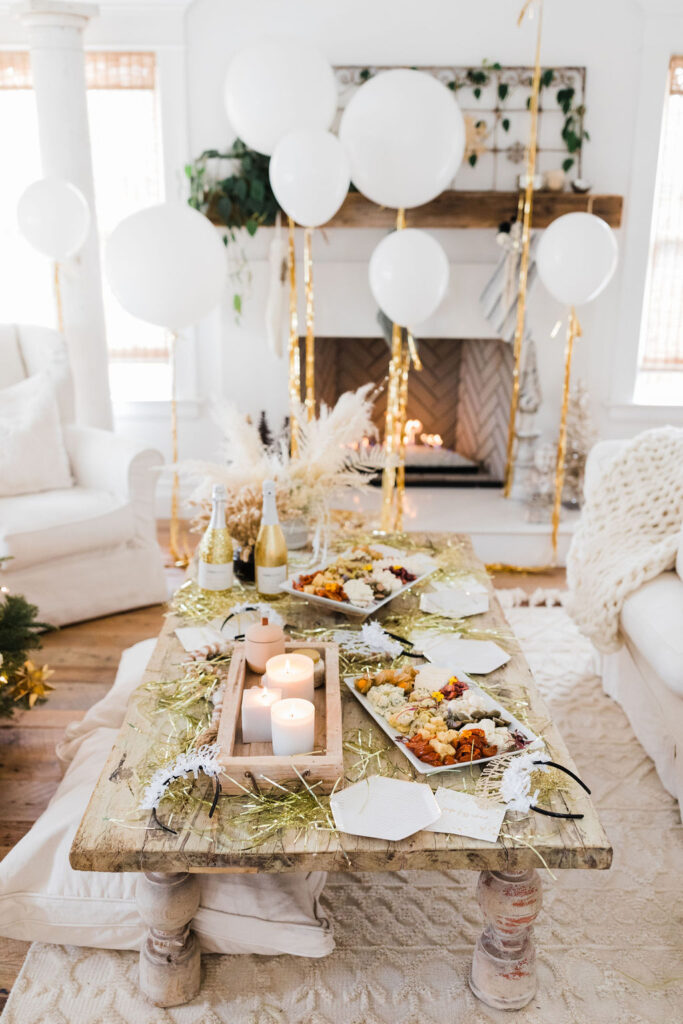 I set the Festive Gal headbands out for guests to grab and wear on the table. Of course, One Hope's shimmer bottles were necessary!! They are the most festive!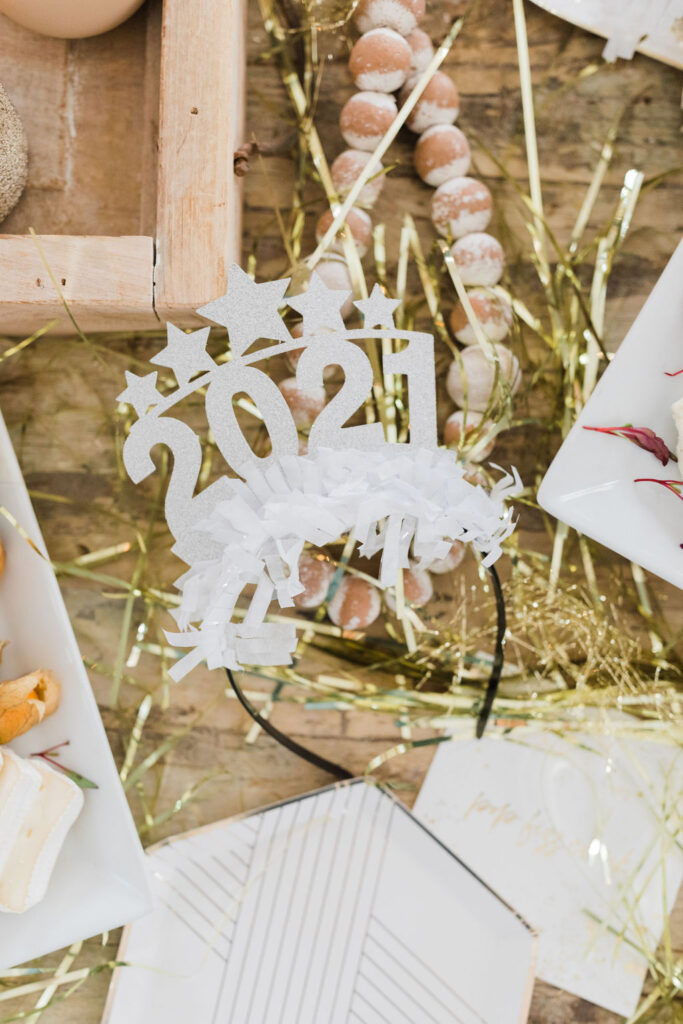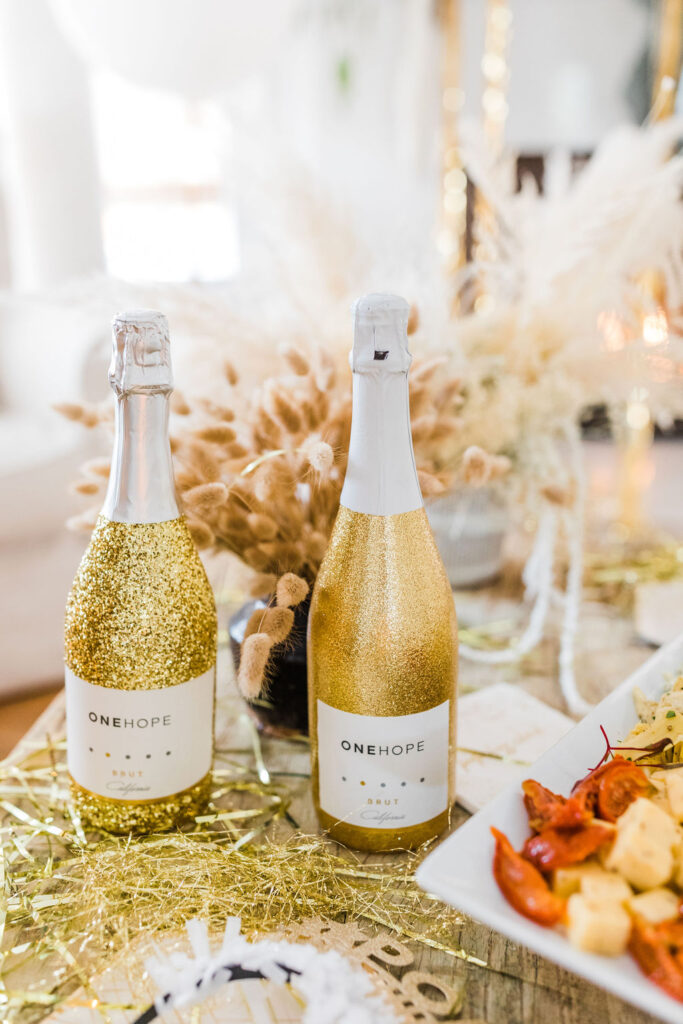 A charcuterie that is just as pretty as it is tasty, that's our jam!! Colette's Catering does it again!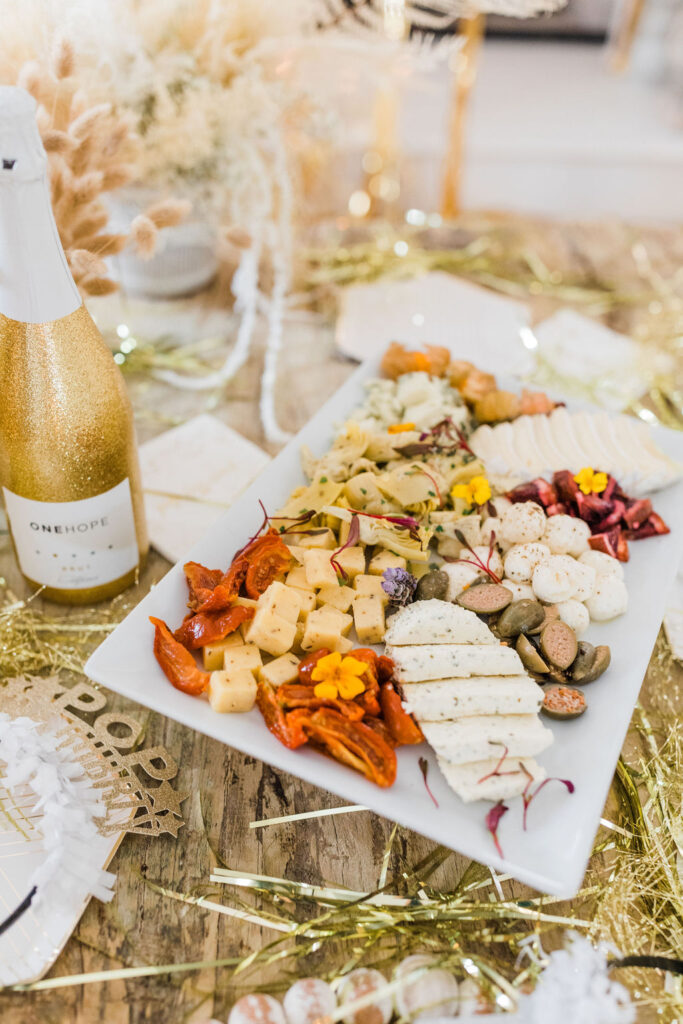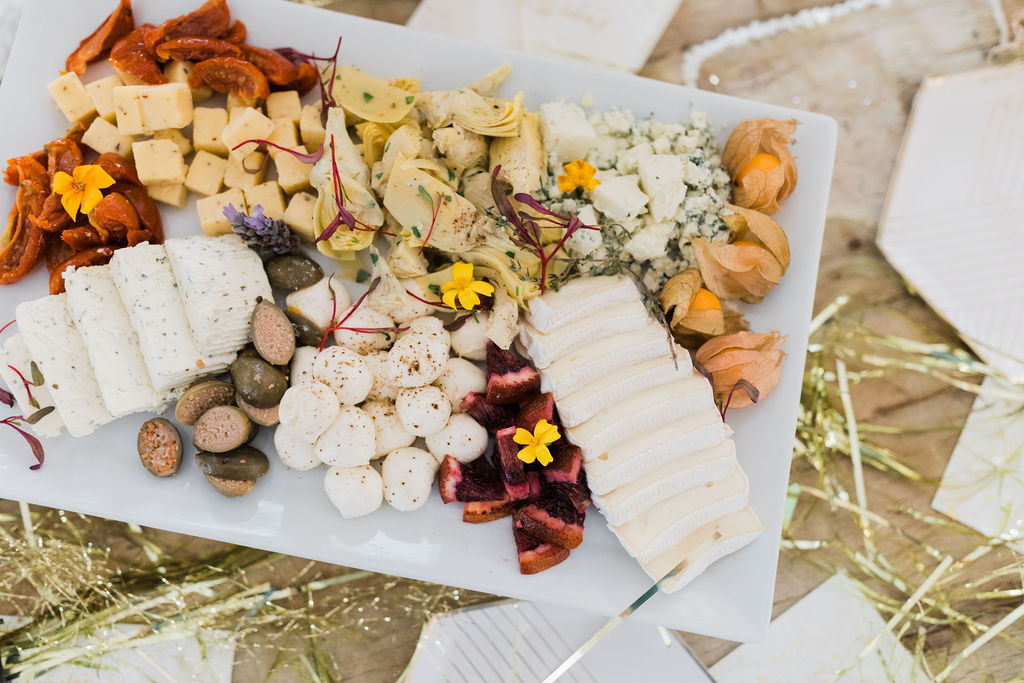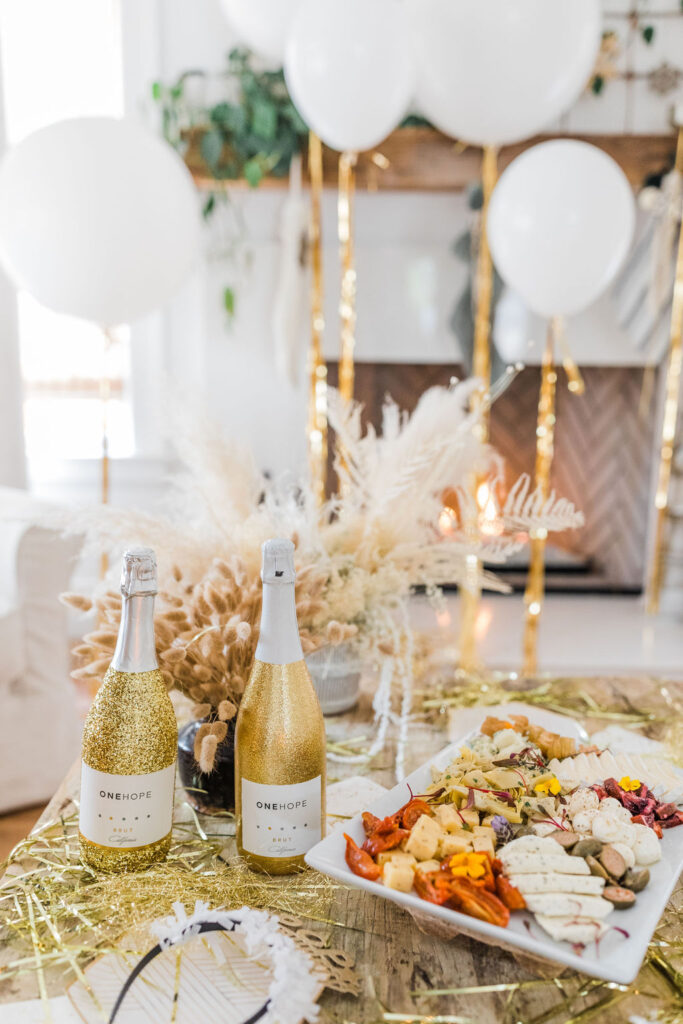 Festive tabletop is also a must!! More on these pretties from Harlow & Grey at the table we set later.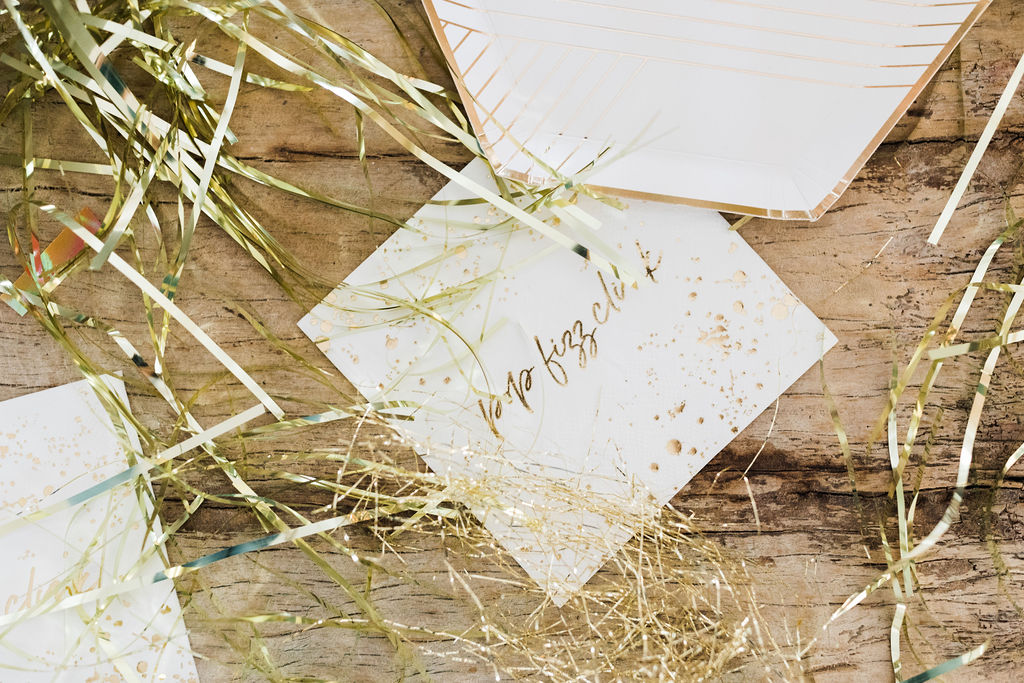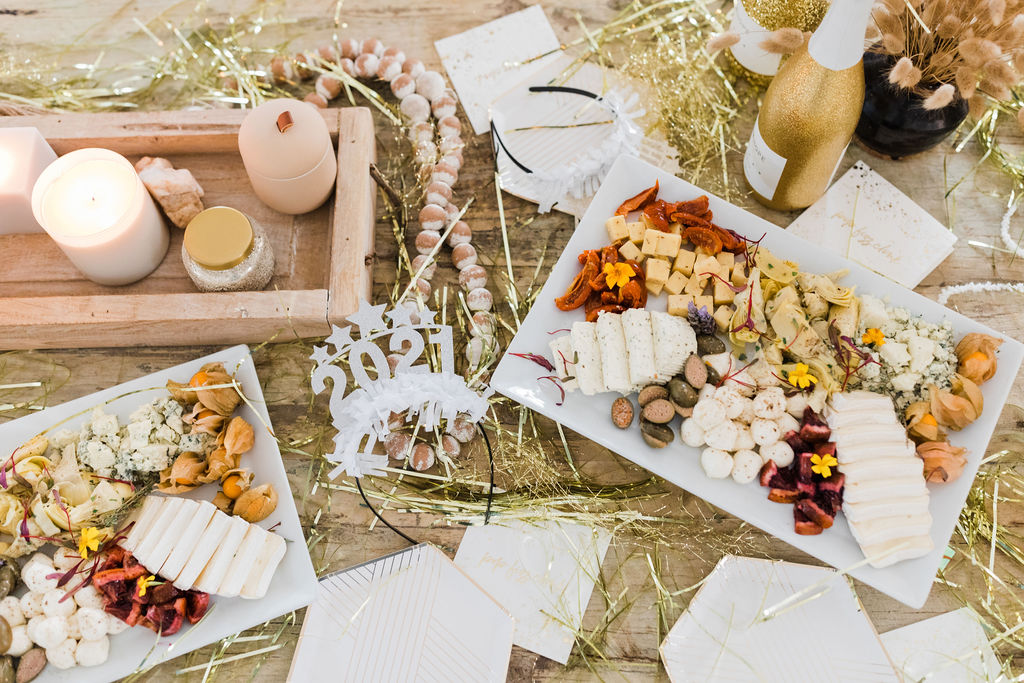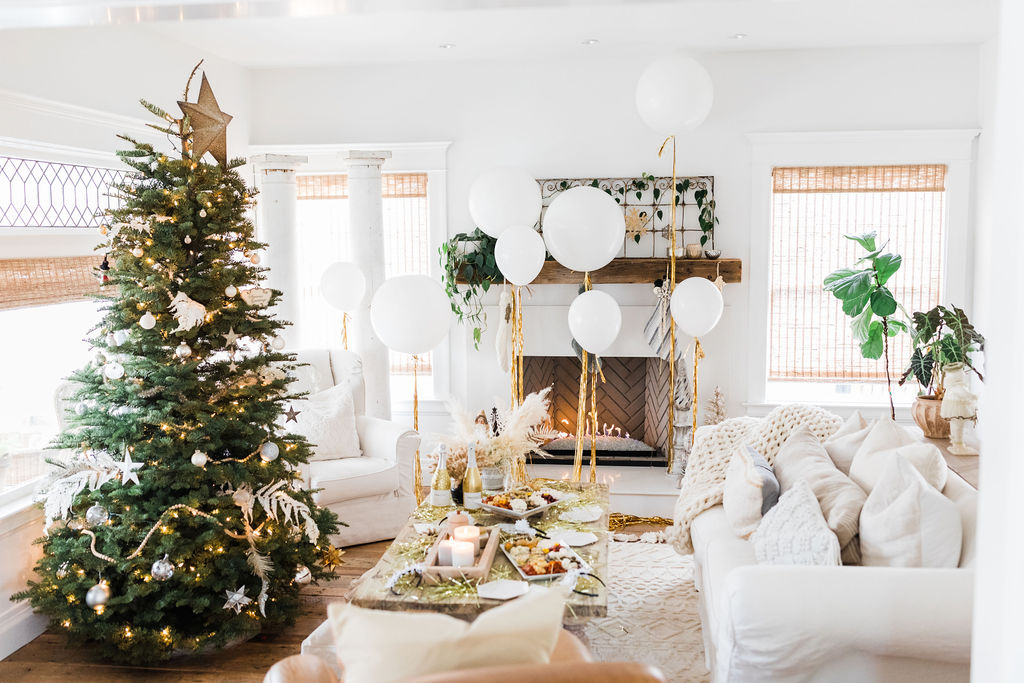 Love this set up! Now, let's add the ladies in!!!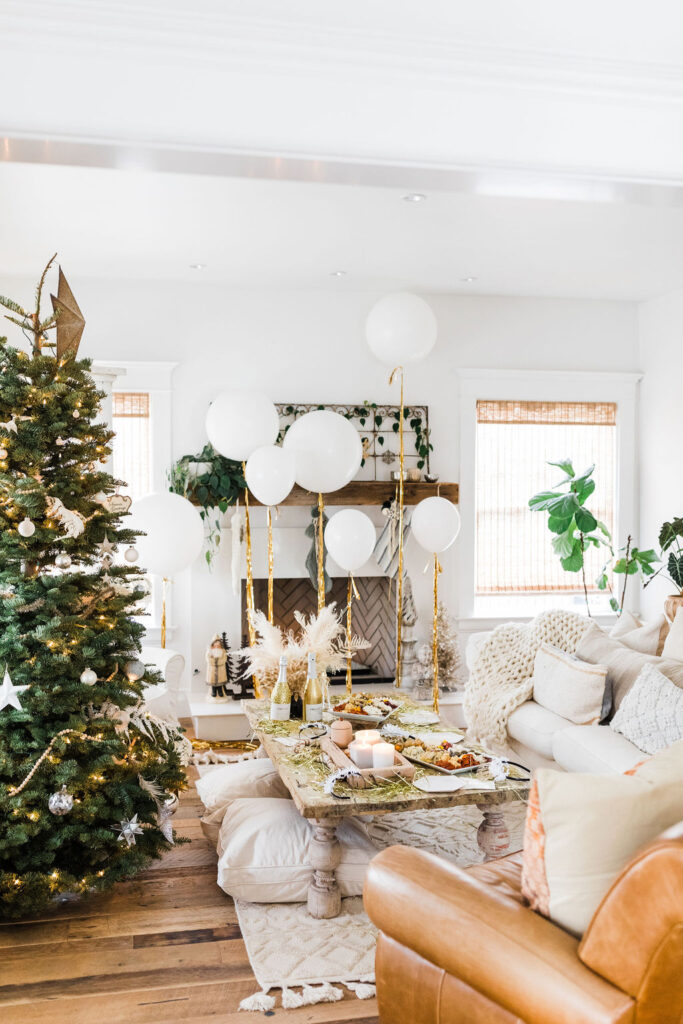 Cheers!!! It's always important to start the night out right, and a toast is the best way!!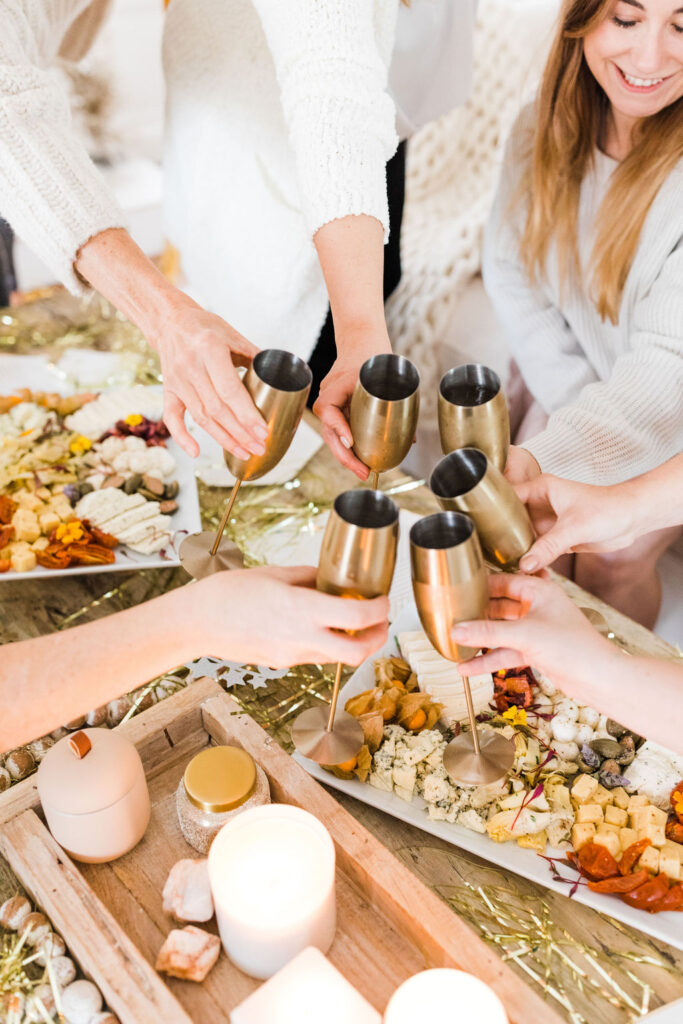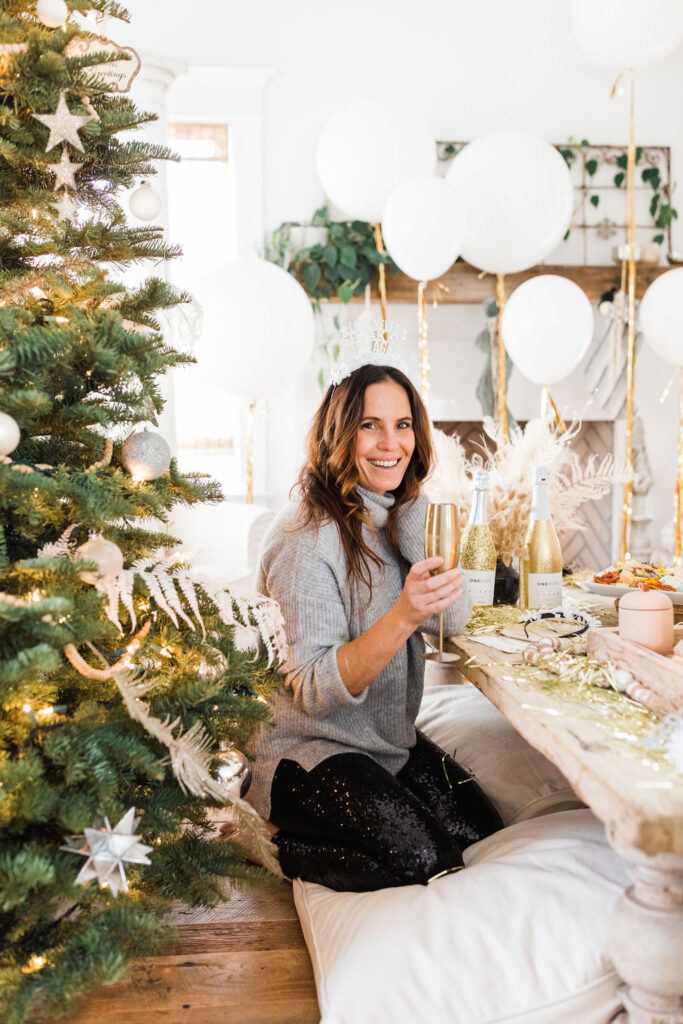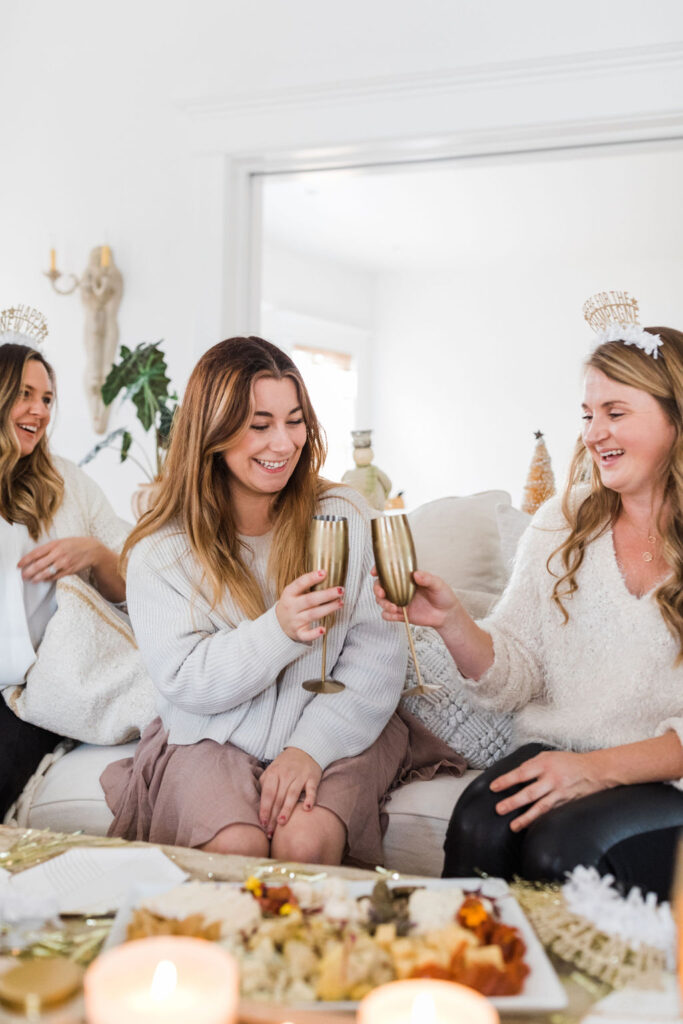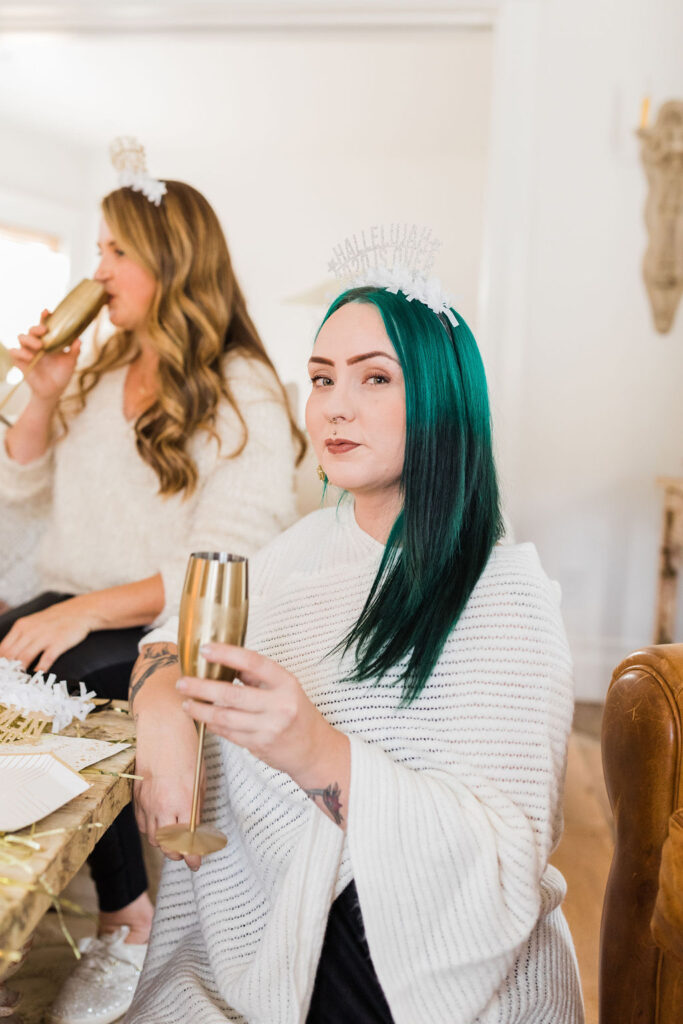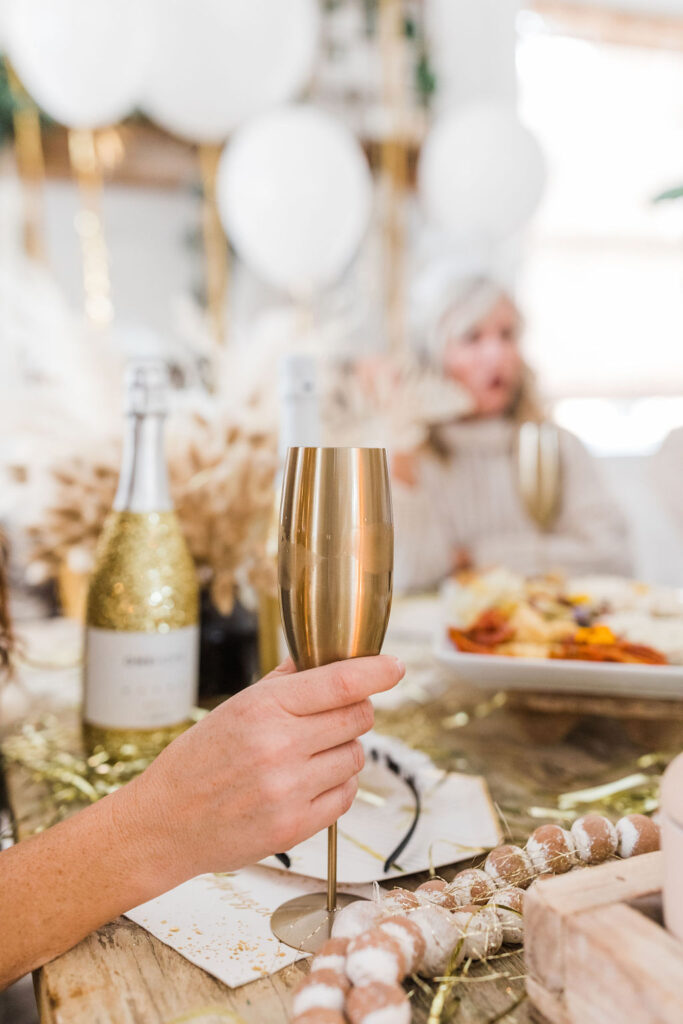 It's so fun to gather with a few friends, I can't wait for larger gatherings but I have to say, these intimate ones are quite nice.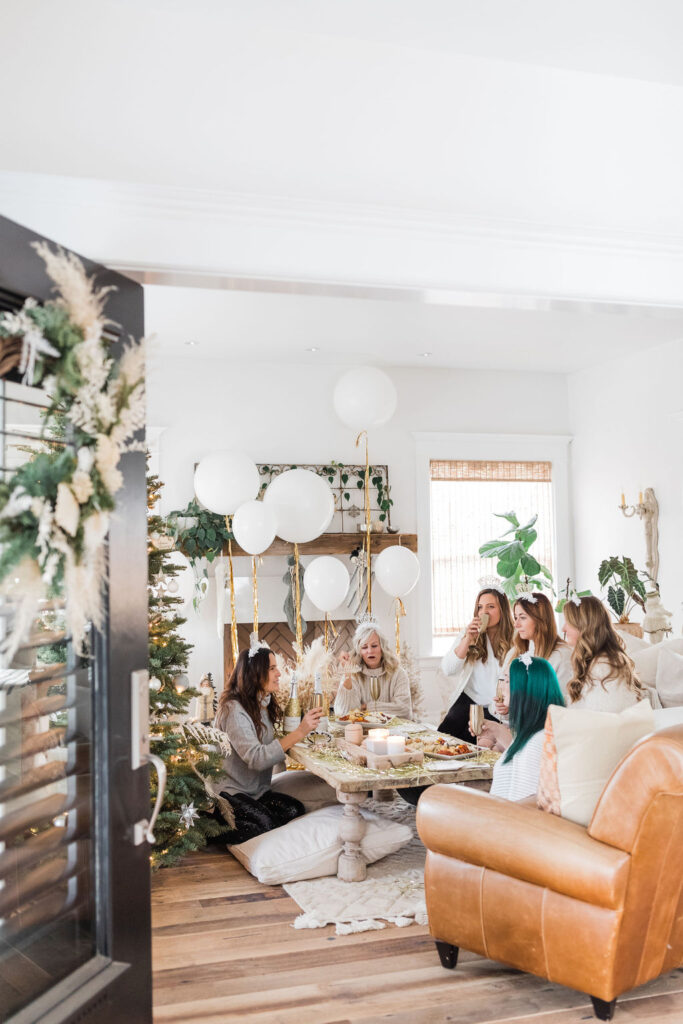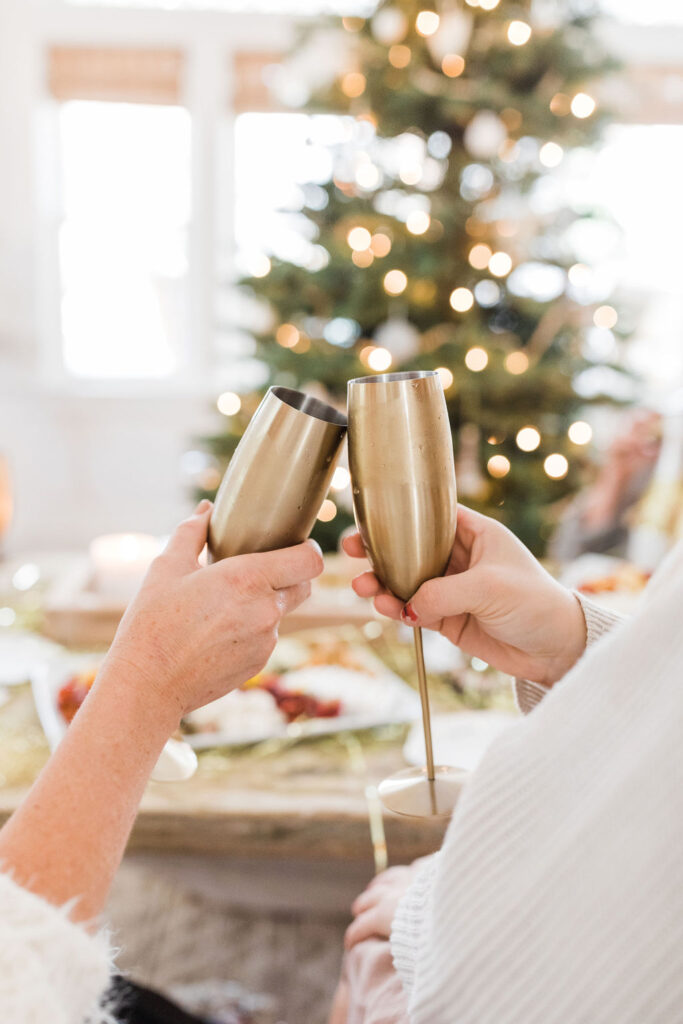 A little balloon installation and photo op moment are always fun to have! The Pop Shop strikes again, and I just love that pretty flash of gold!!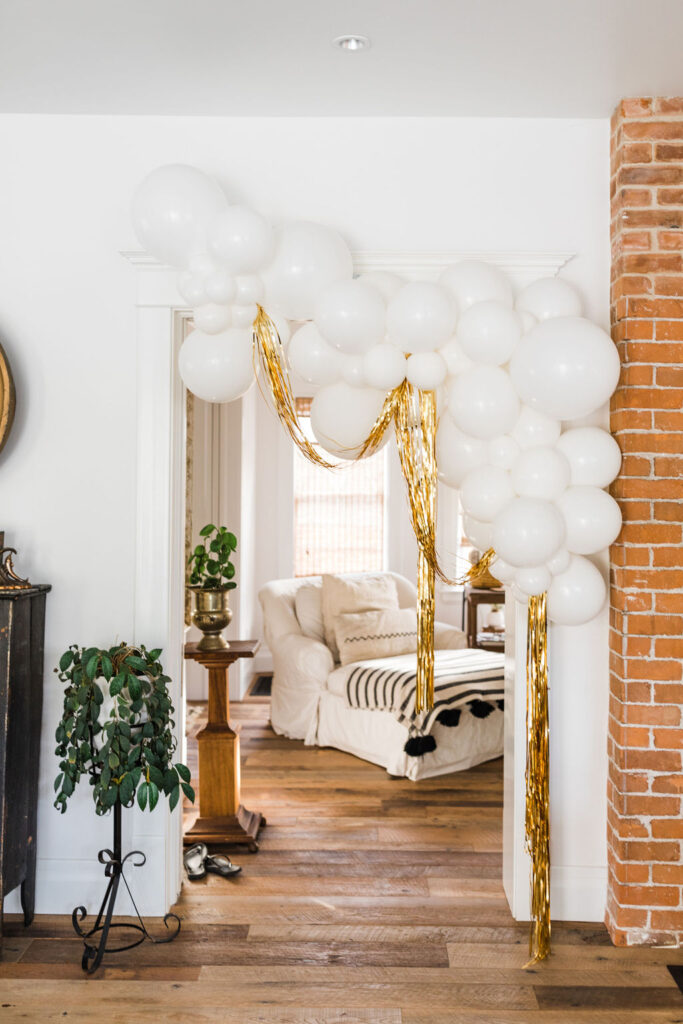 Then we moved to the dinner table which was decked out with the prettiest dried floral garland by Third & Park. She used bleached dried florals through-out the party and I think they are my new favorite!!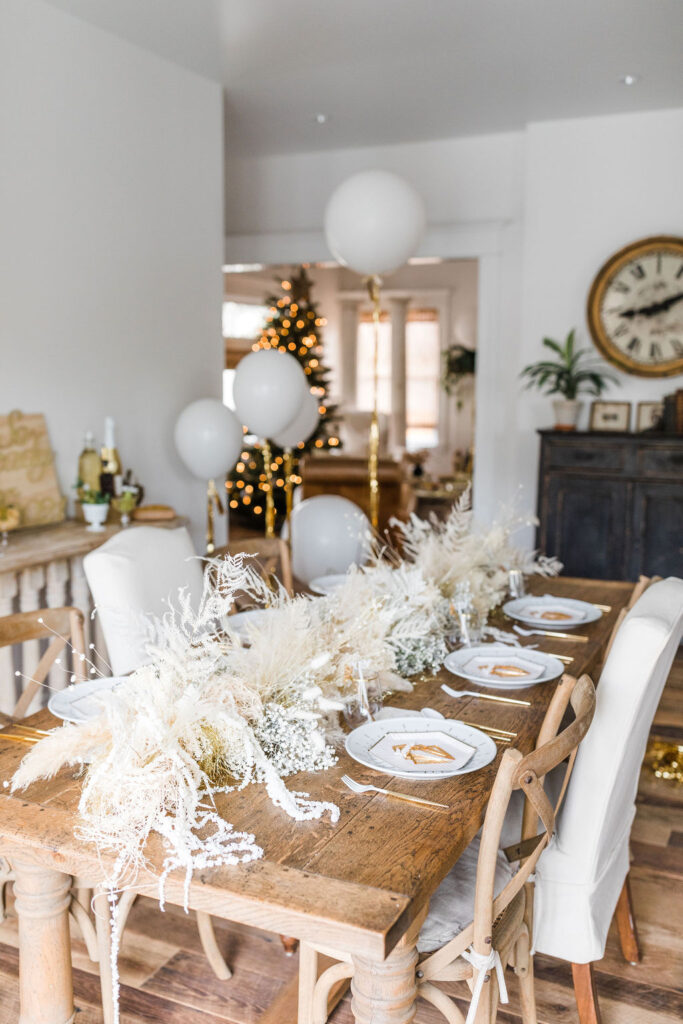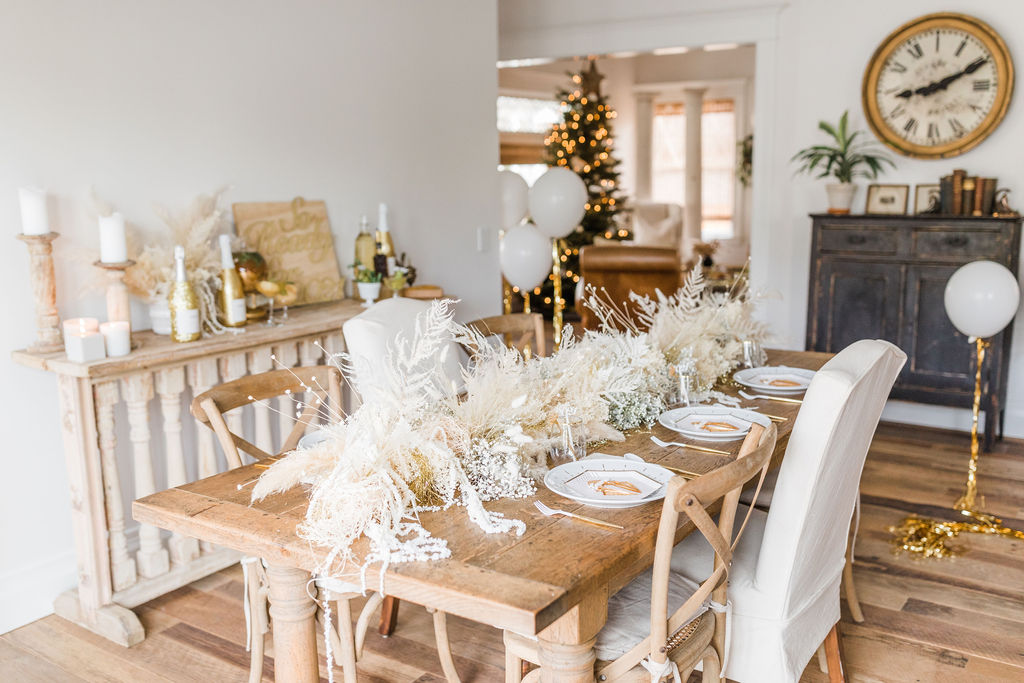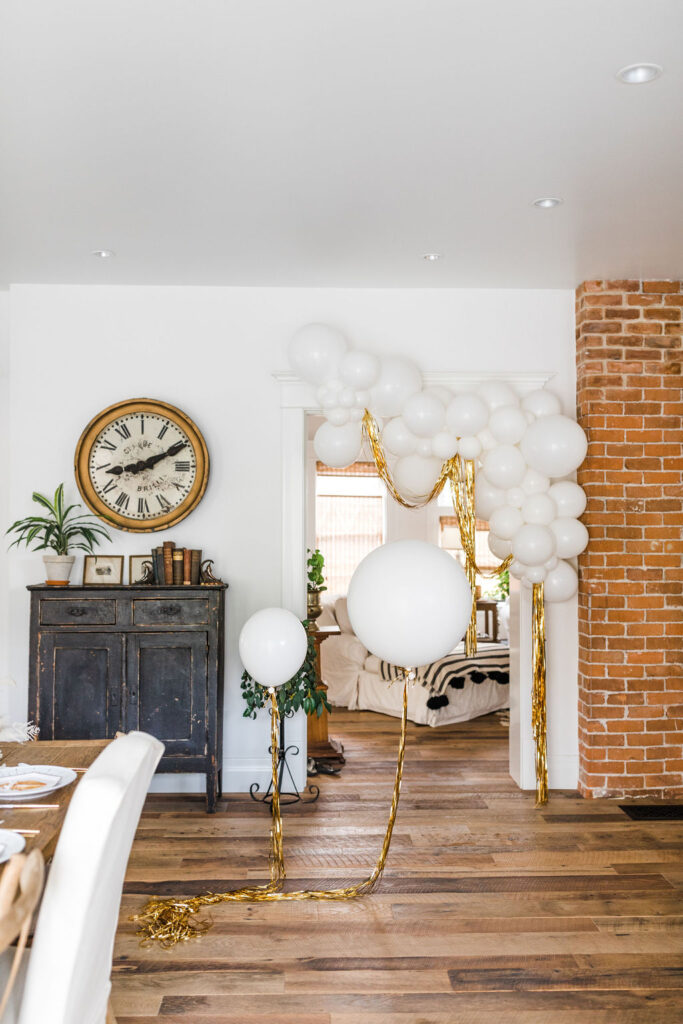 Harlow & Grey's Blanc collection was perfect for our tabletop with it's a pretty gold and white modern look. Creative Amme added the glam details, including my favorite stir sticks – Be Better 2021, haha!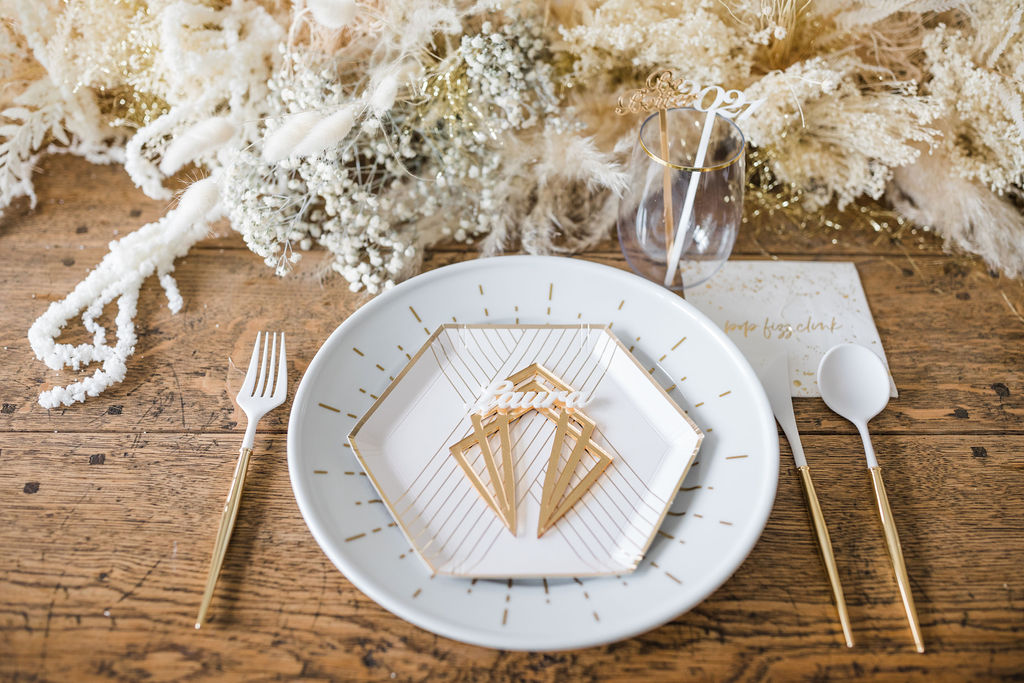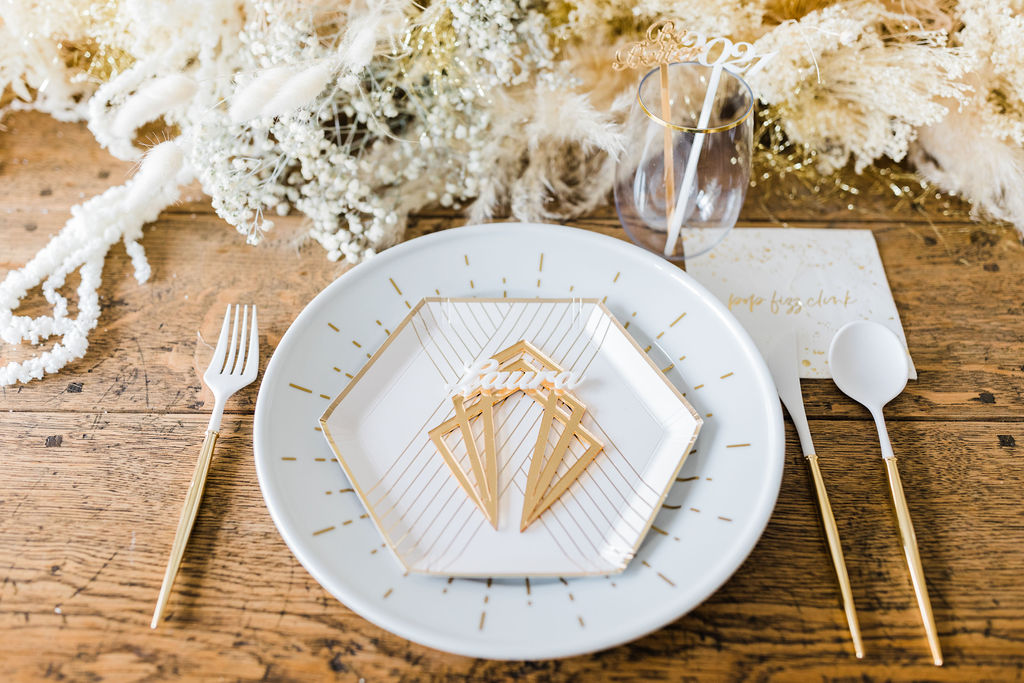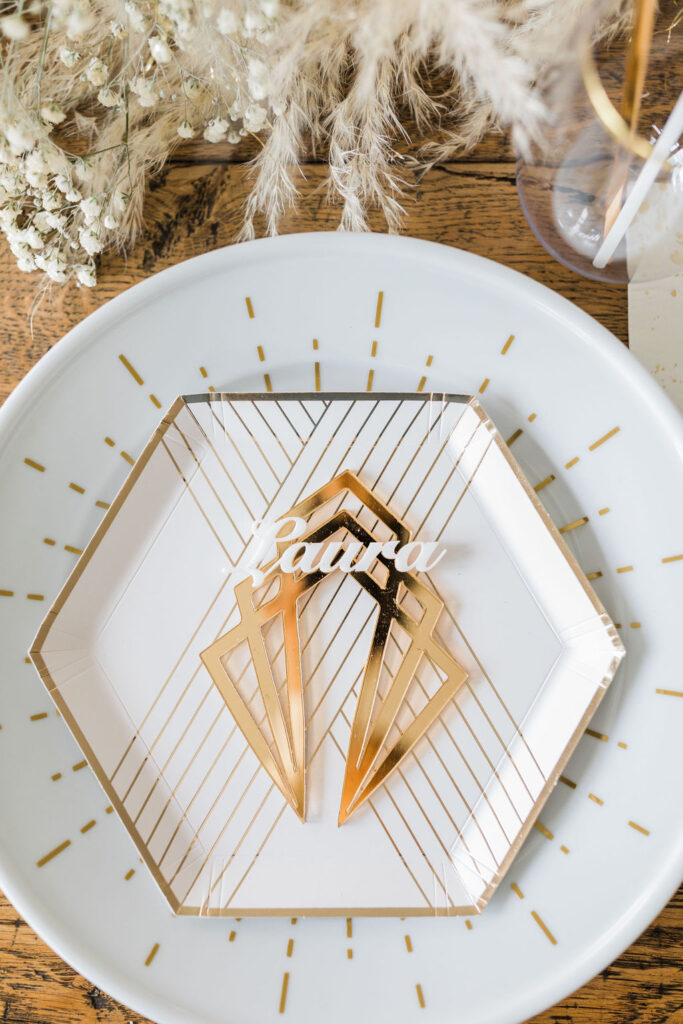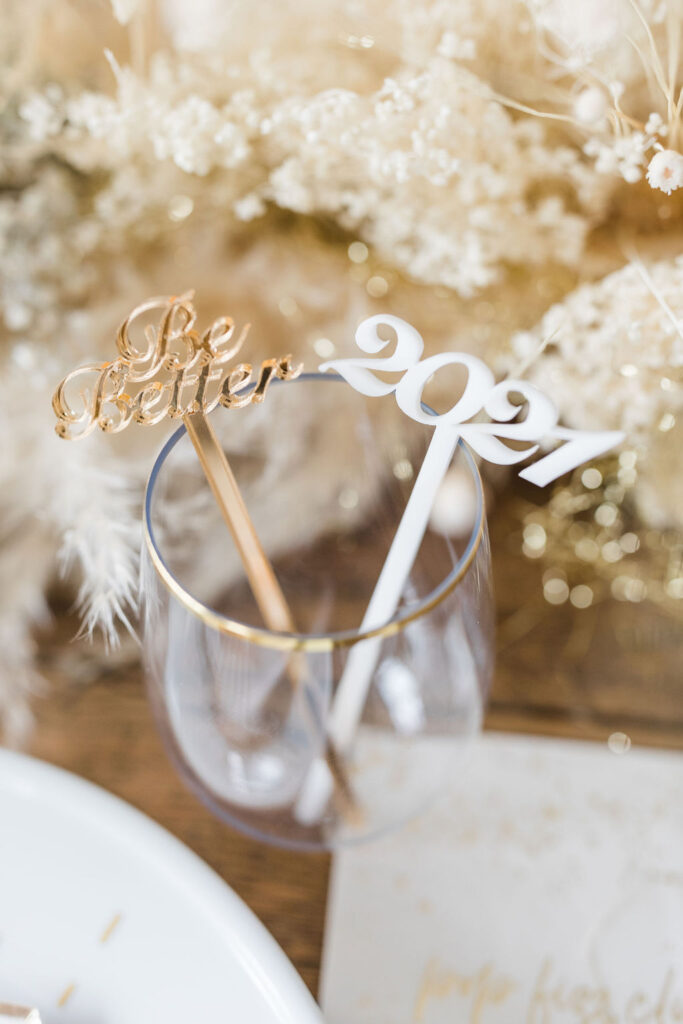 A pretty bar moment is a NYE must, don't you think?! Bottles & Blooms always keeps the drinks flowing and everything pretty, which we of course adore!! Here are the recipes for the delicious drinks they put together. You should definitely bust them out this NYE!!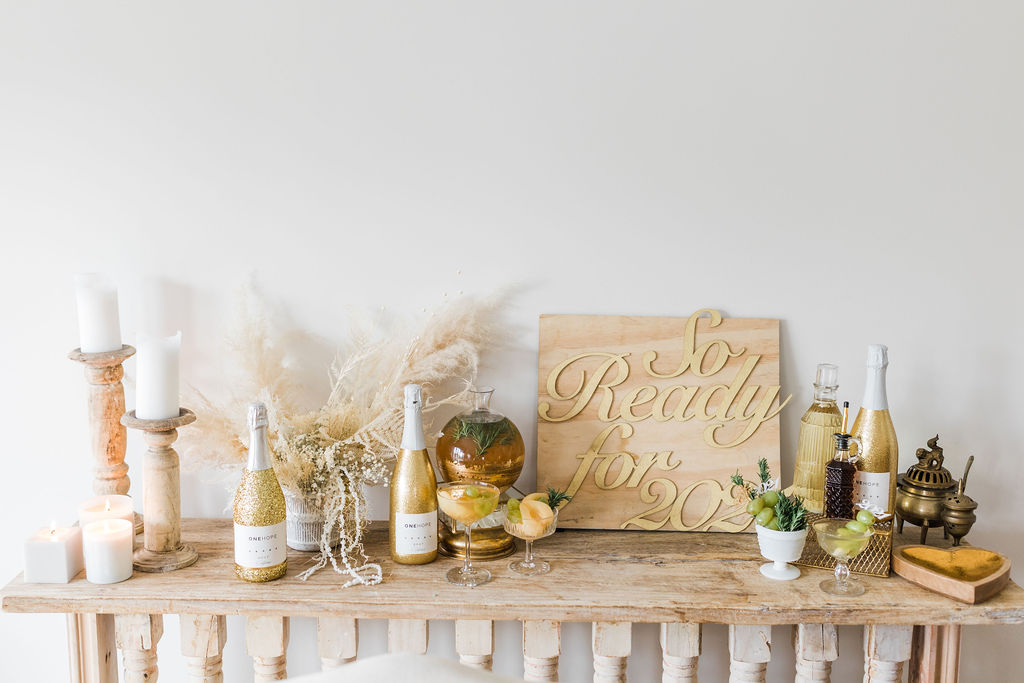 T.G.I.N.Y.E.
In a pitcher, add:
1 bottle White wine
9oz Apple brandy
32oz White grape juice
32oz Pear juice
9oz Triple Sec
1 can Lychees
1 can Pears
10 Rosemary sprigs
Give a good stir.
Upon serving, top each glass with sparkling cider.
Garnish with a scoop of the delicious marinated fruit.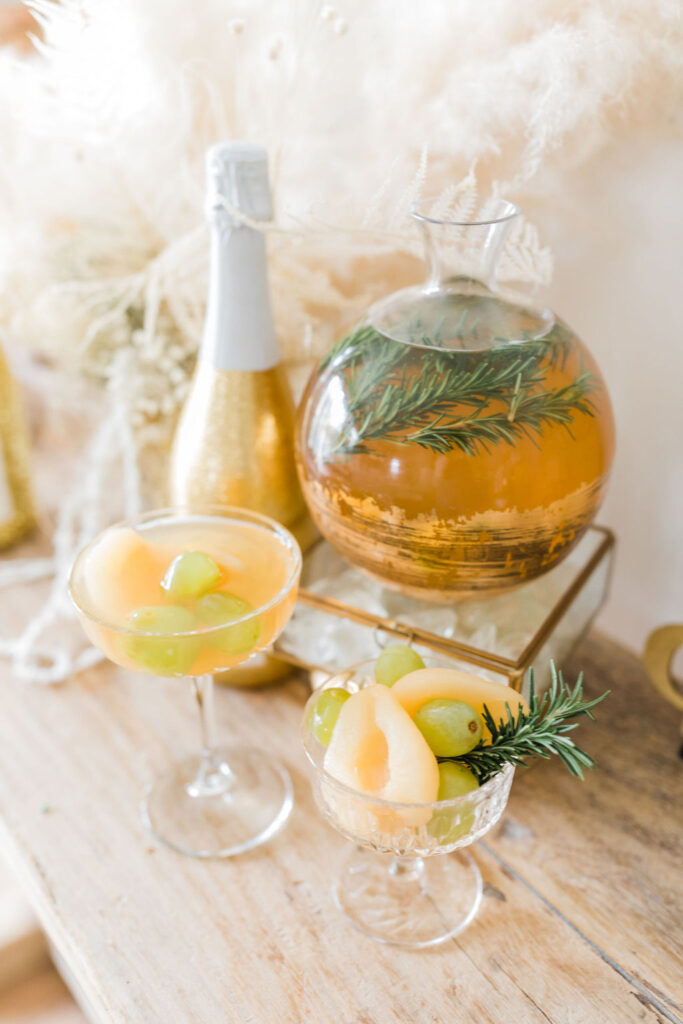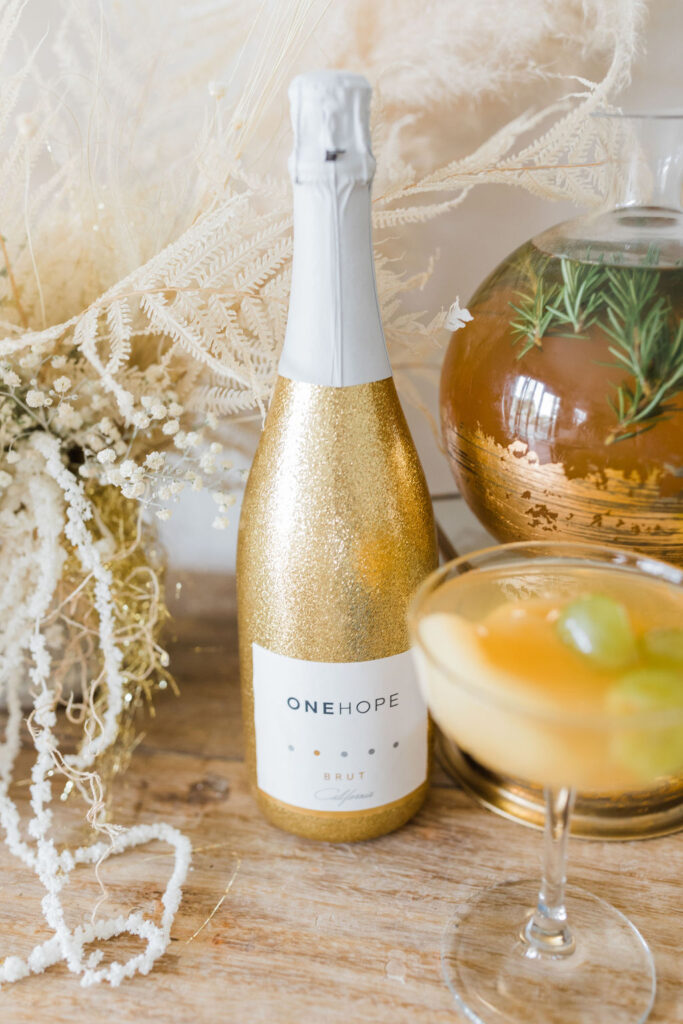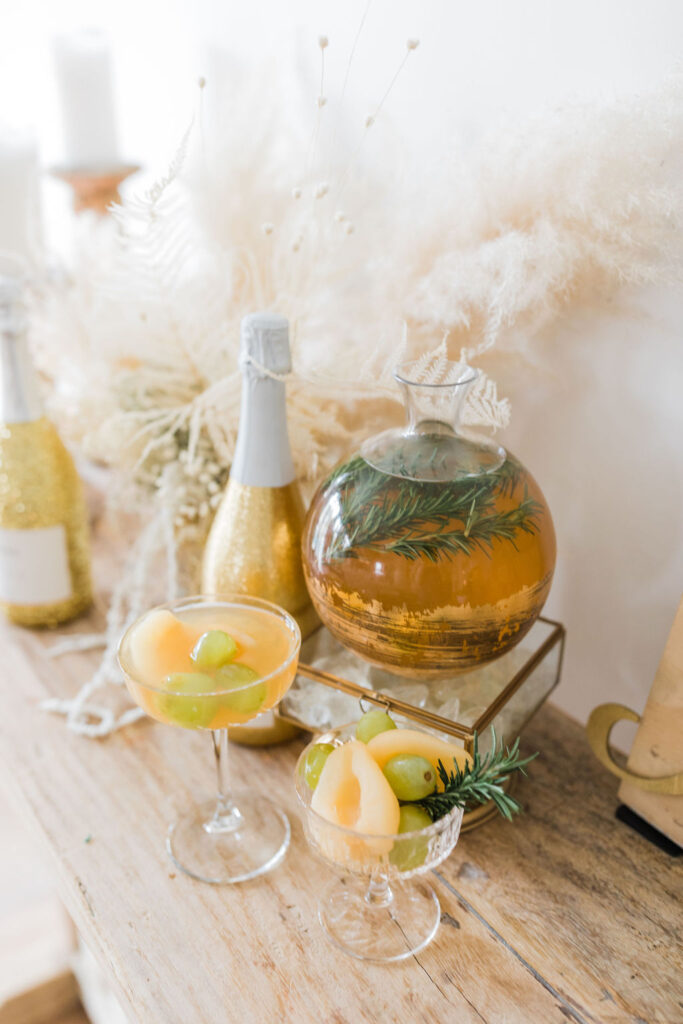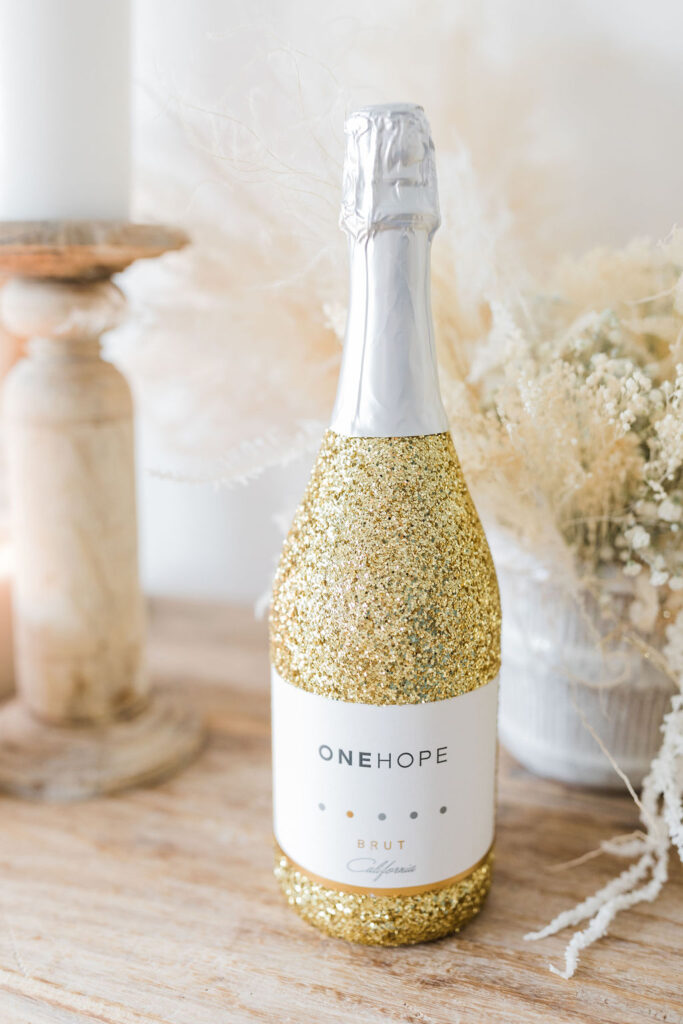 Midnight Kiss
In a shaker with ice add:
3oz White grape
1oz Brown sugar simple syrup
Give a good shake till combined.
Pour contents into a sugar rimmed flute
Top with 2oz Champagne
For the garnish, skewer 12 grapes for the 12 months of the year
And toast for a wonderful new one!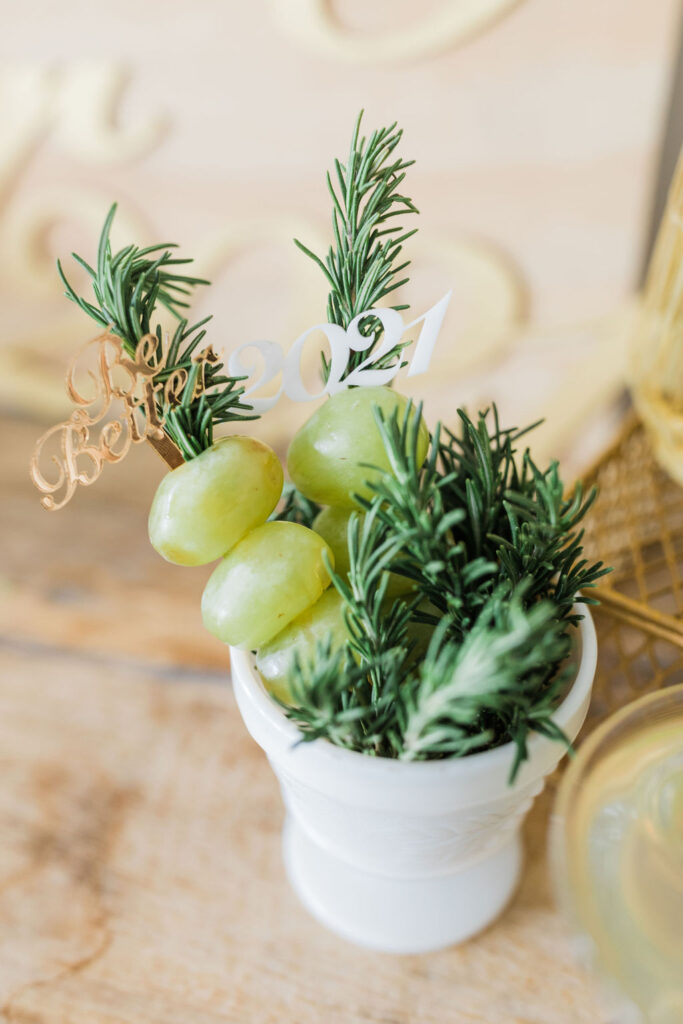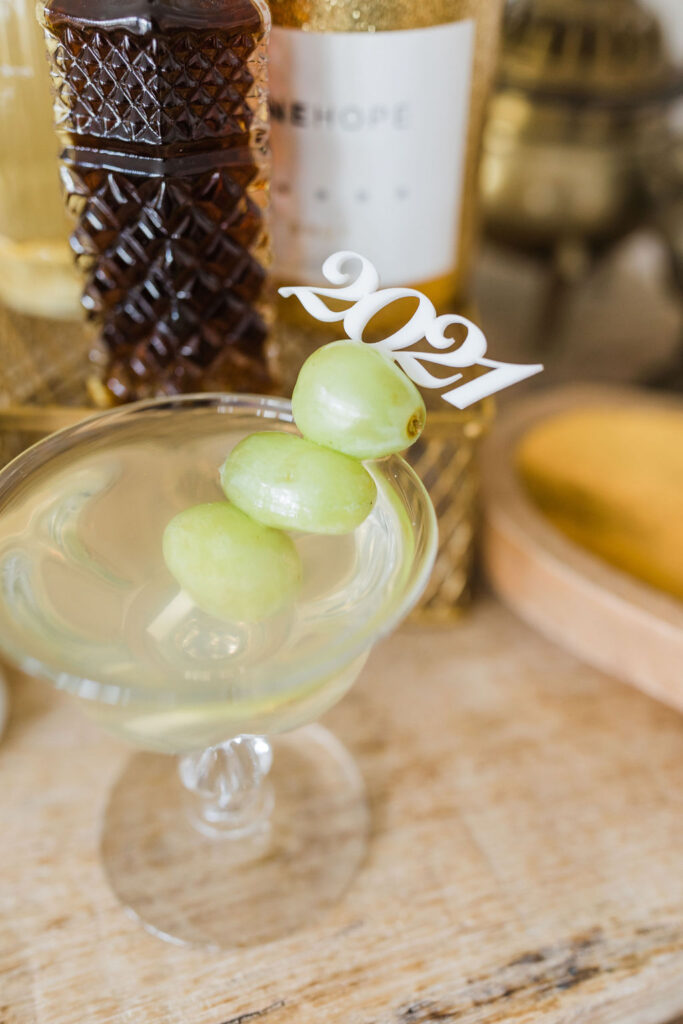 This sign just speaks to me… And I don't think I'm alone there!!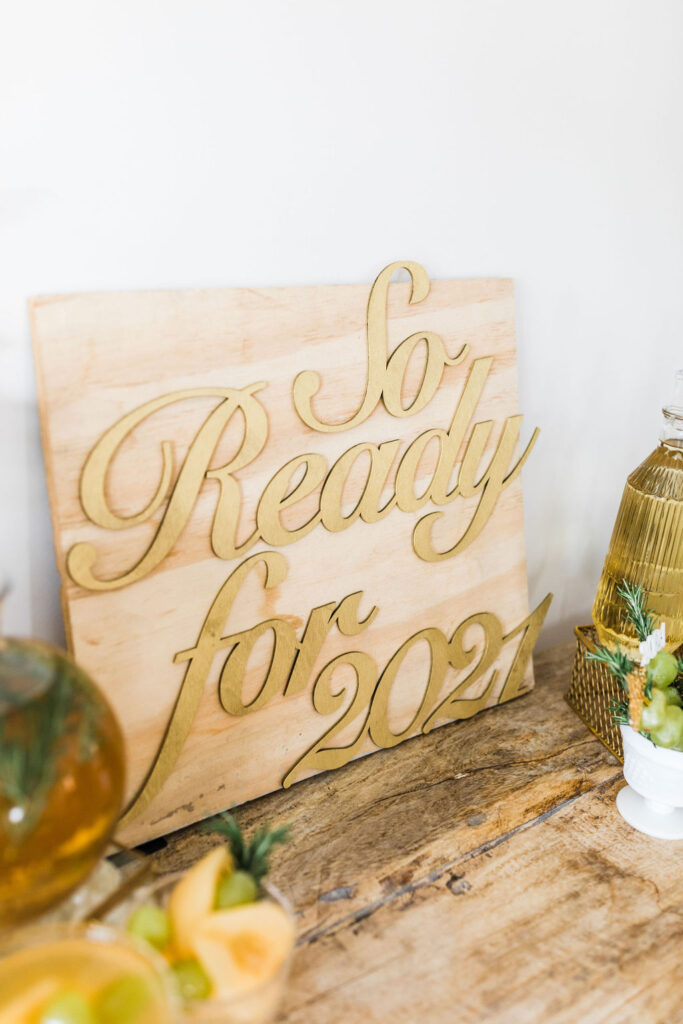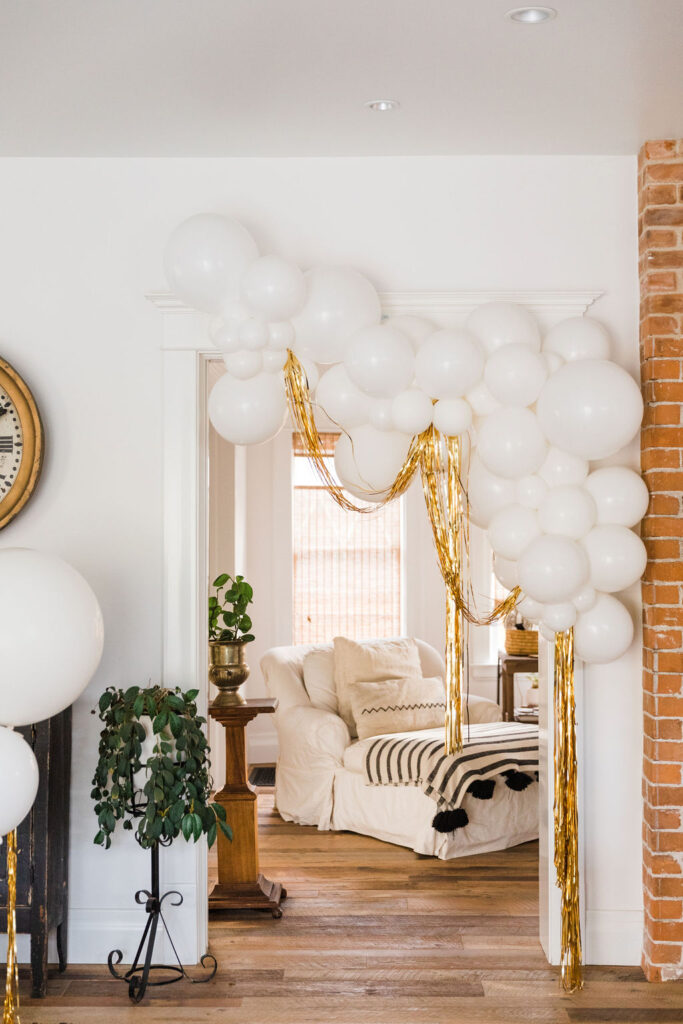 I love these ladies so much!!! 2020 was not easy but they have all made it so fun and special for me. We created so much together and I'm incredibly thankful for that.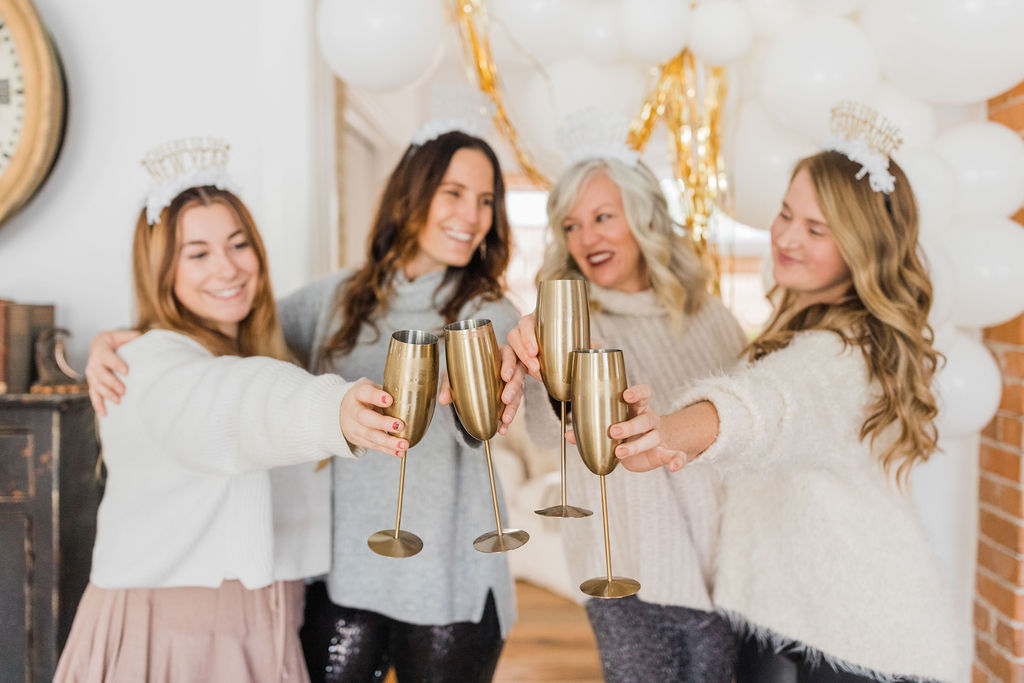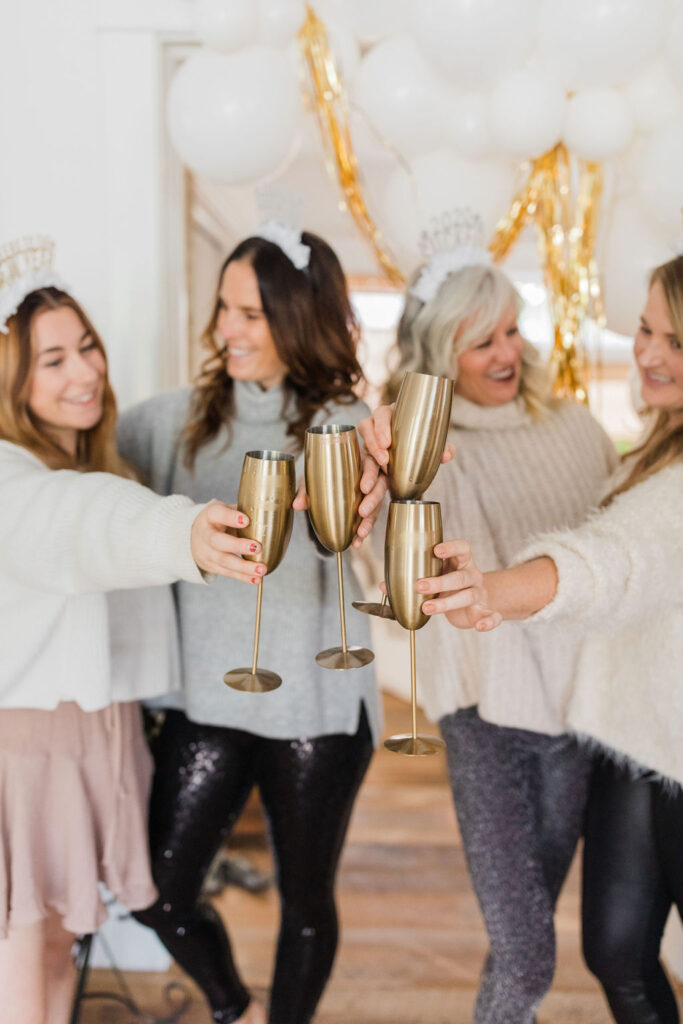 We all kept it cozy with our wardrobe too! Sweaters and sparkly leggings were a favorite!! I'd say we were photo ready!!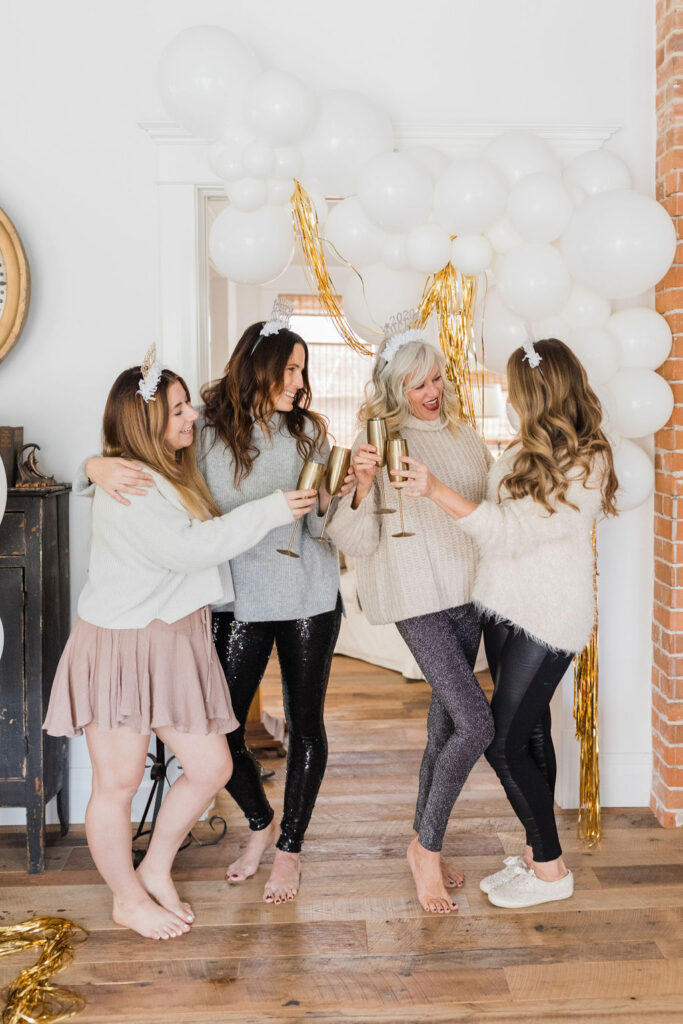 A few more of this stunner of a table!! I just love it so much!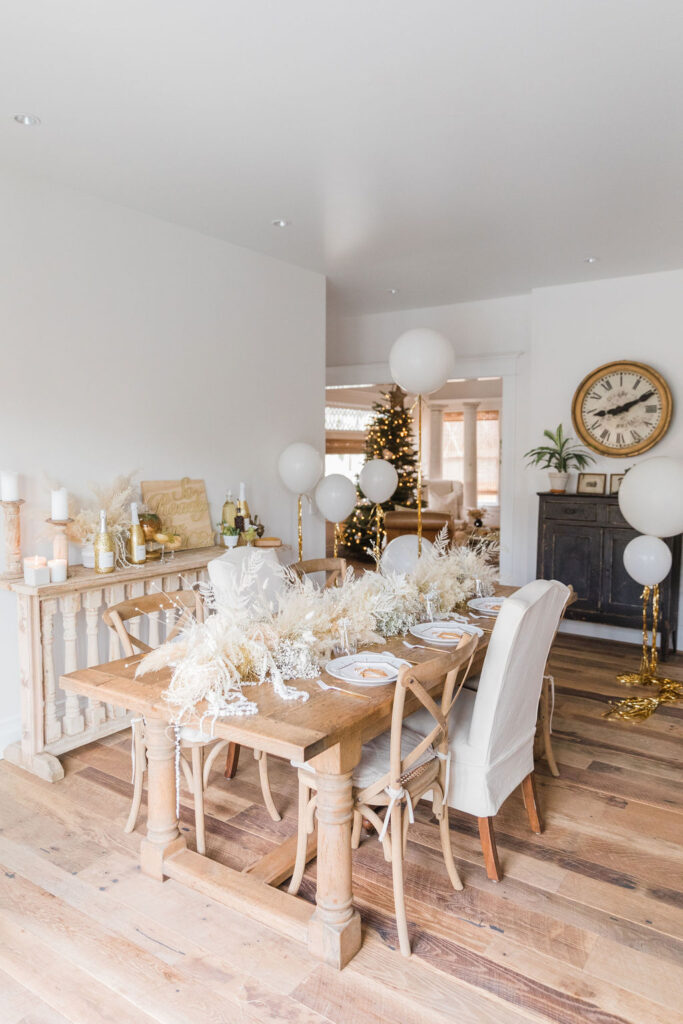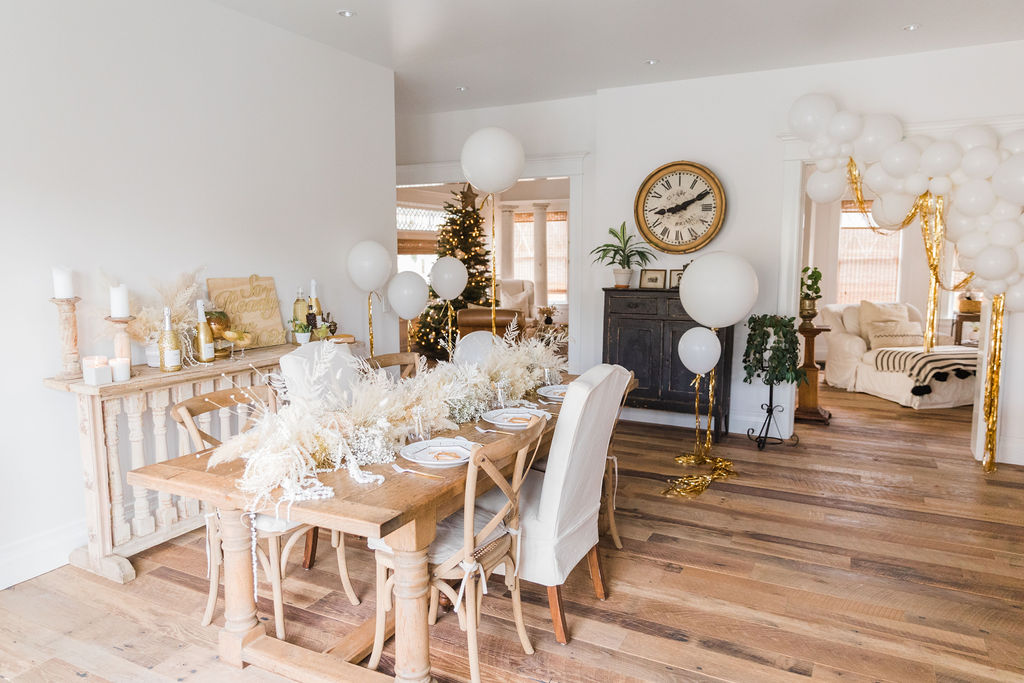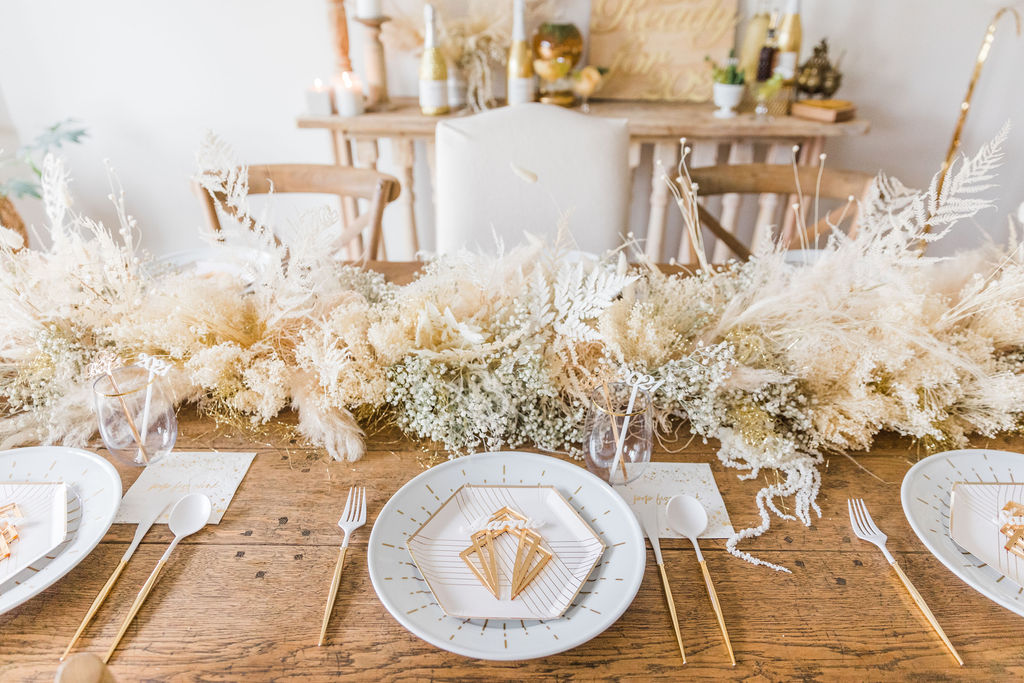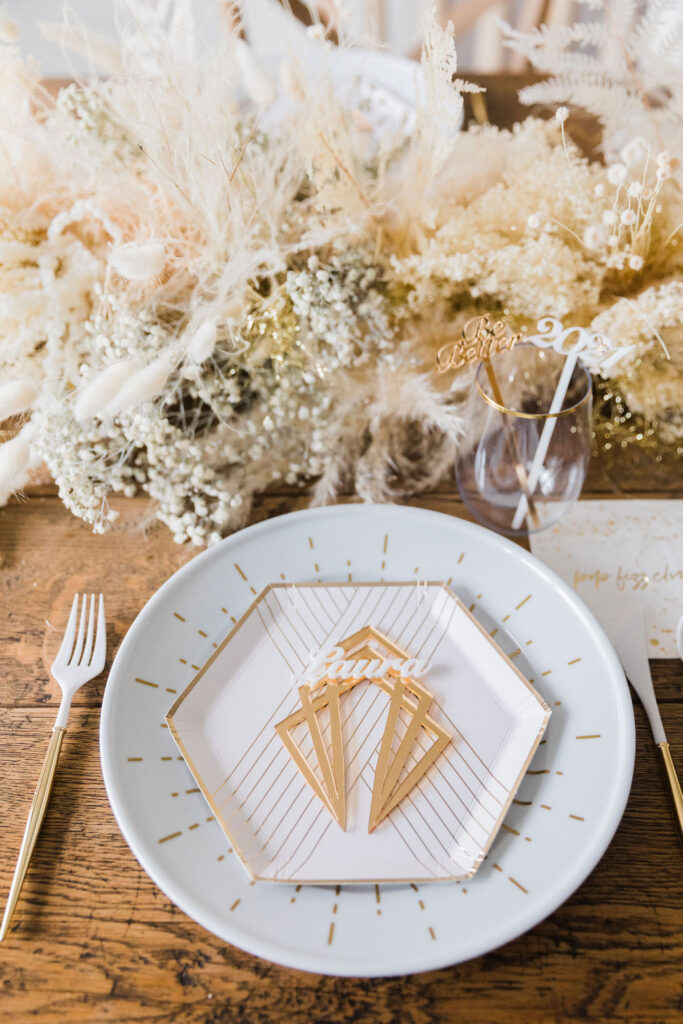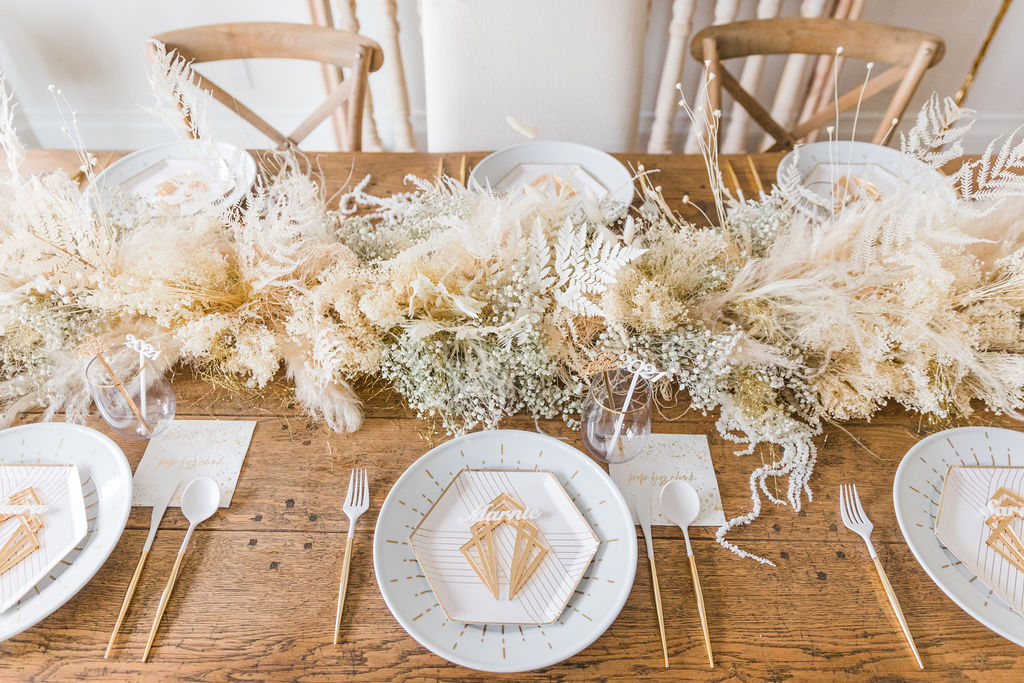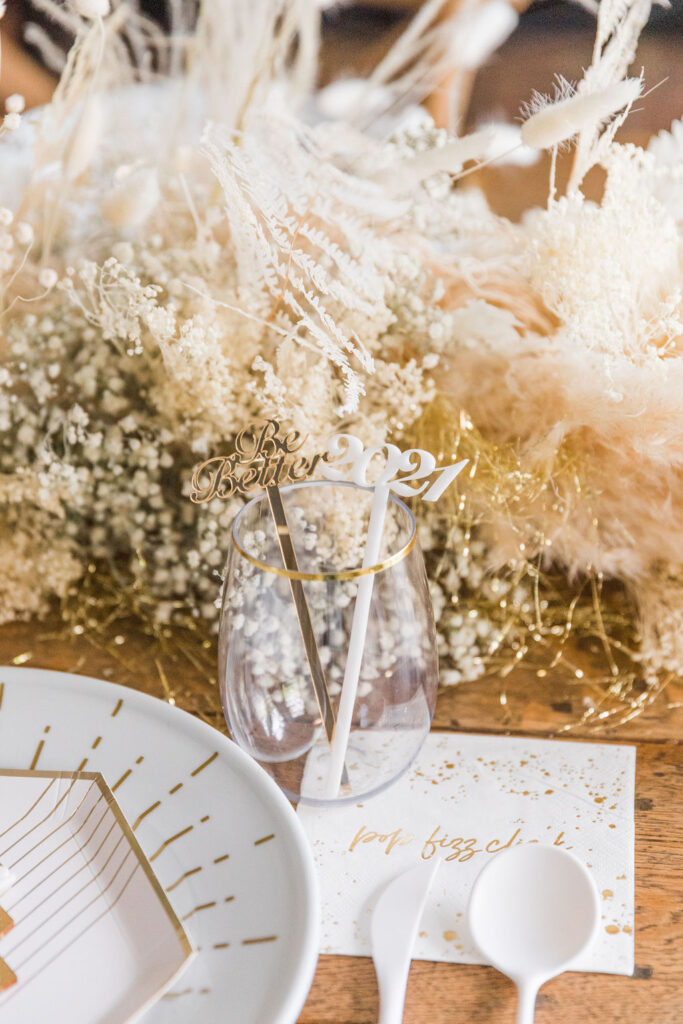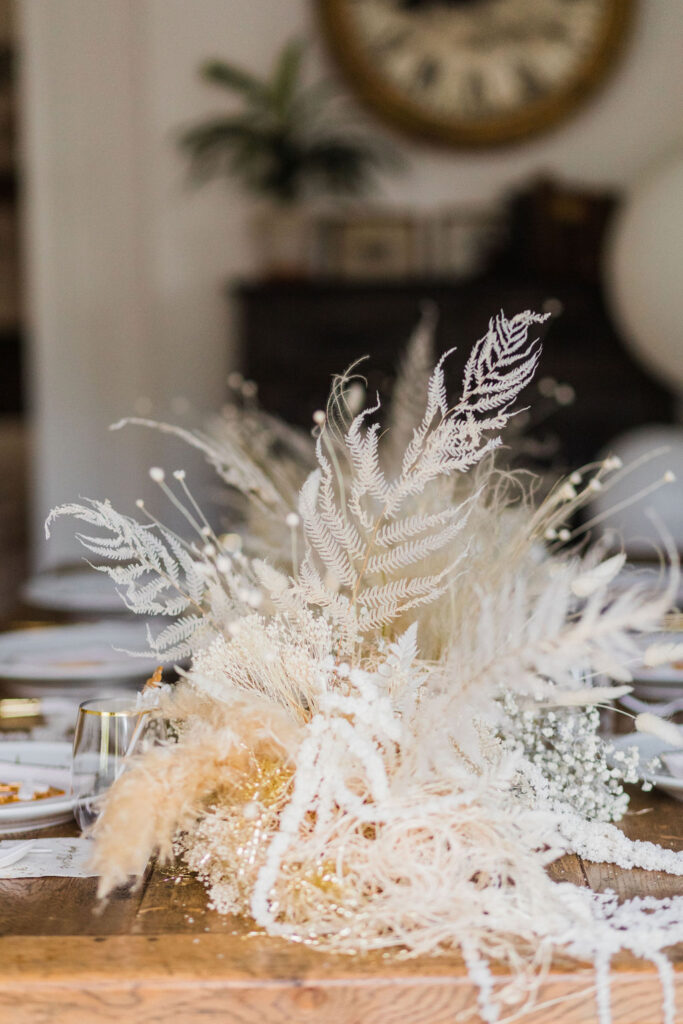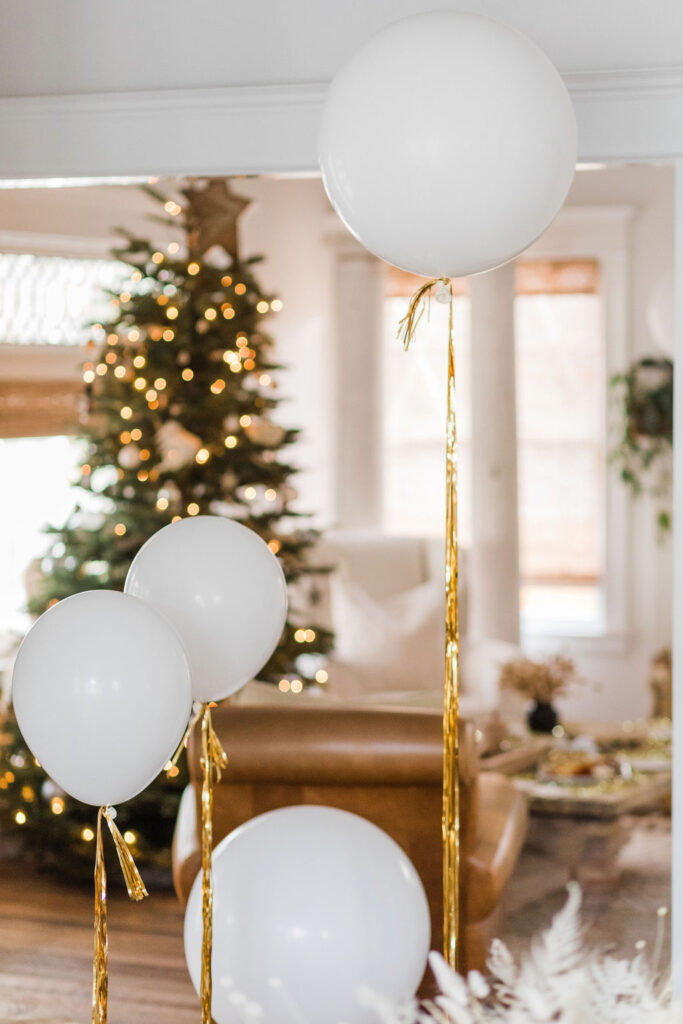 For dinner, Colette's Catering brought the most delicious menu for us to enjoy, so glad I was invited, haha!!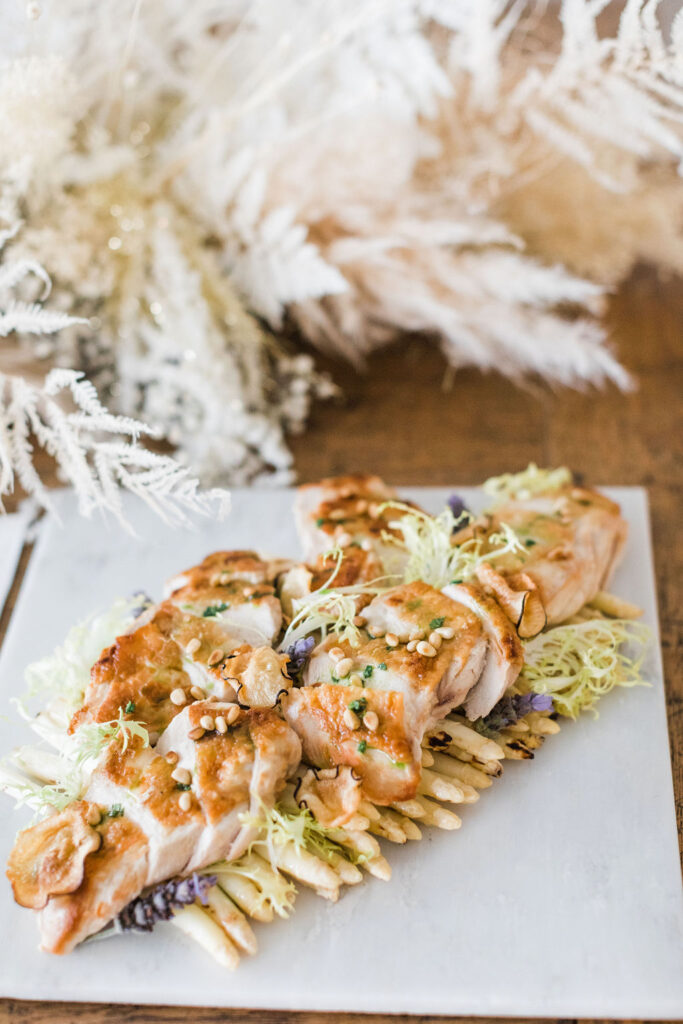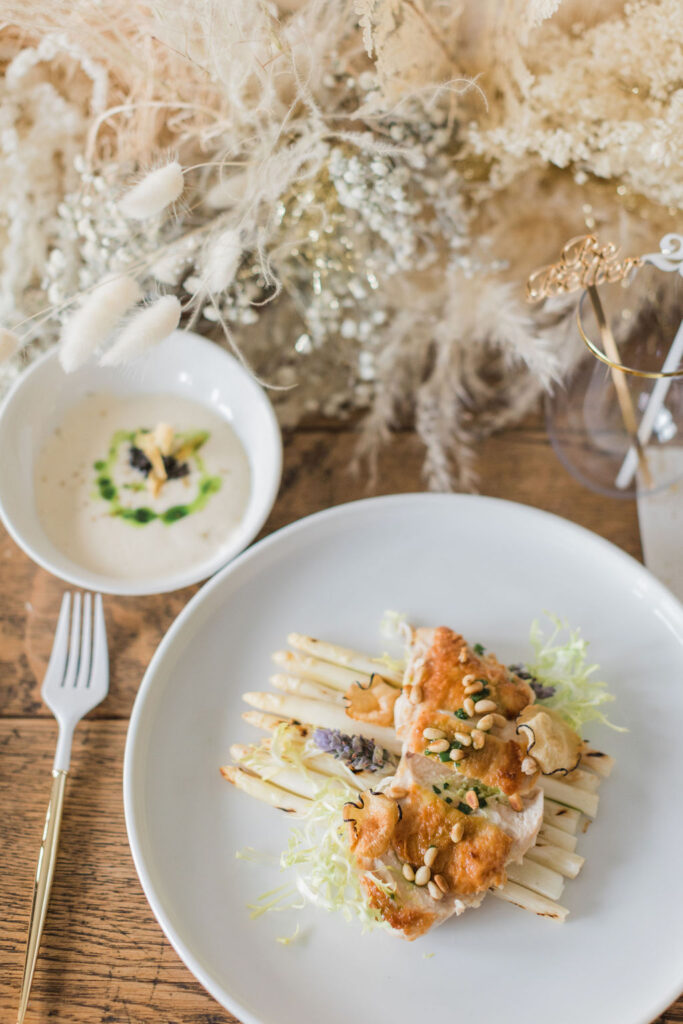 Soup is my favorite, and this parsnip soup was SO delicious!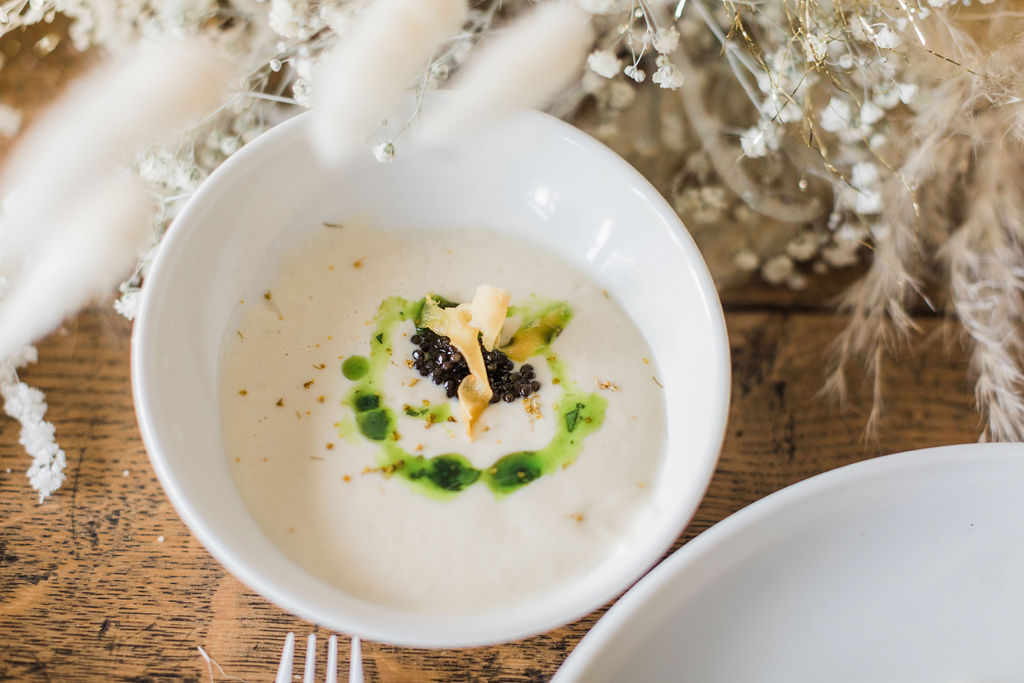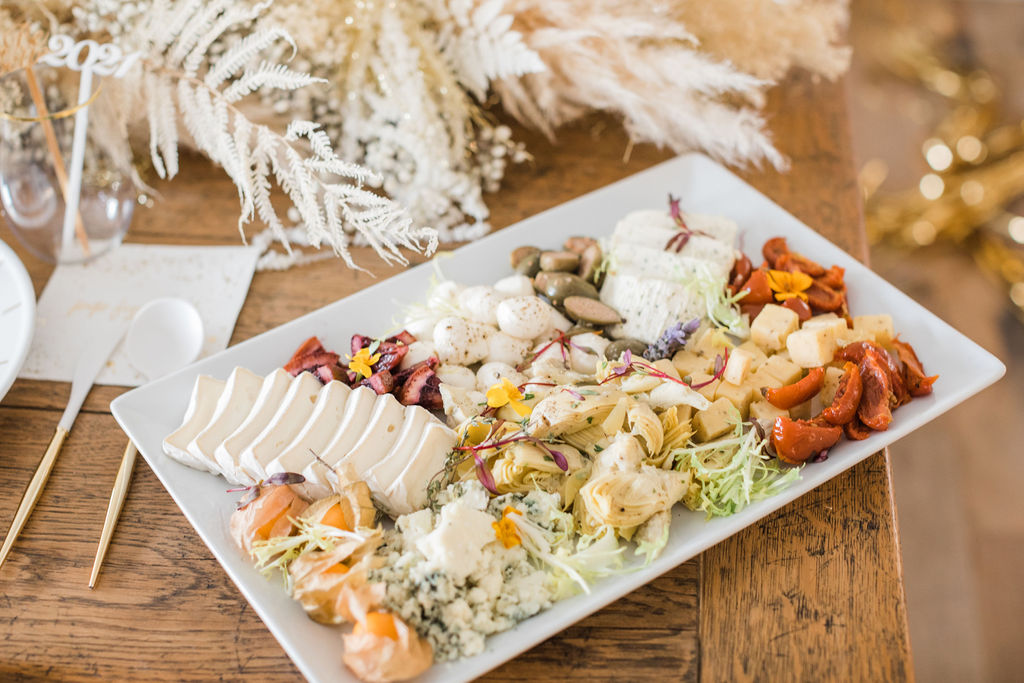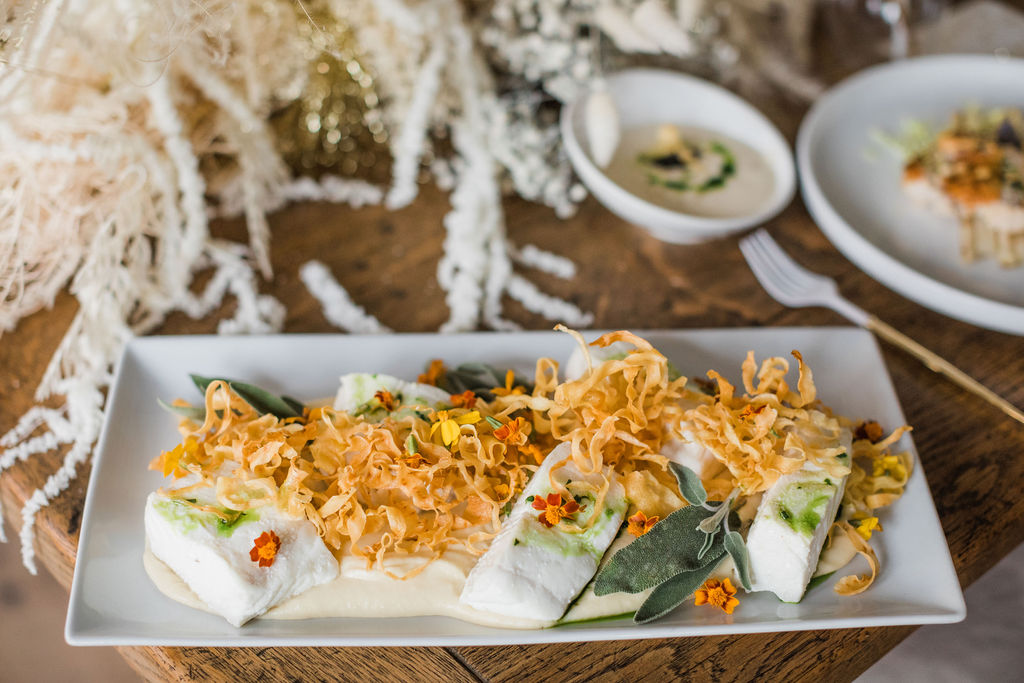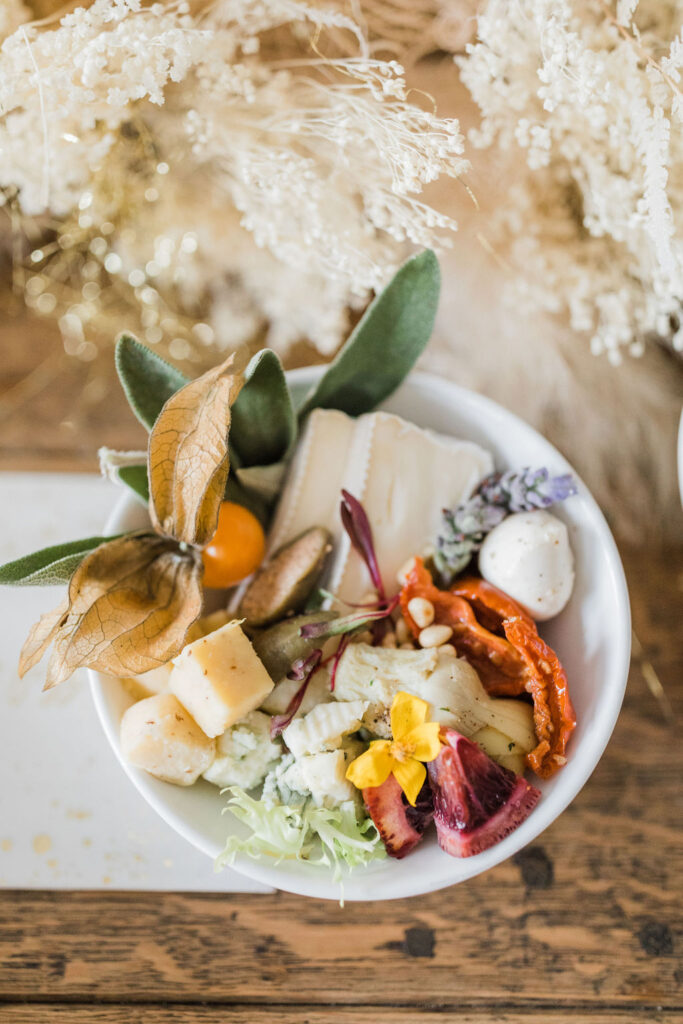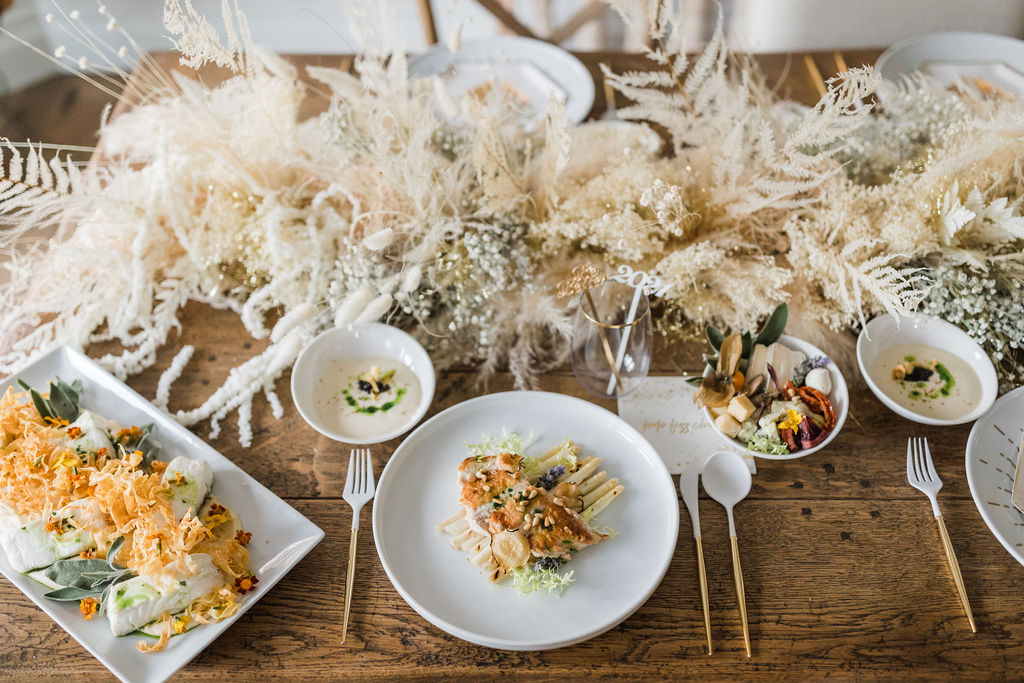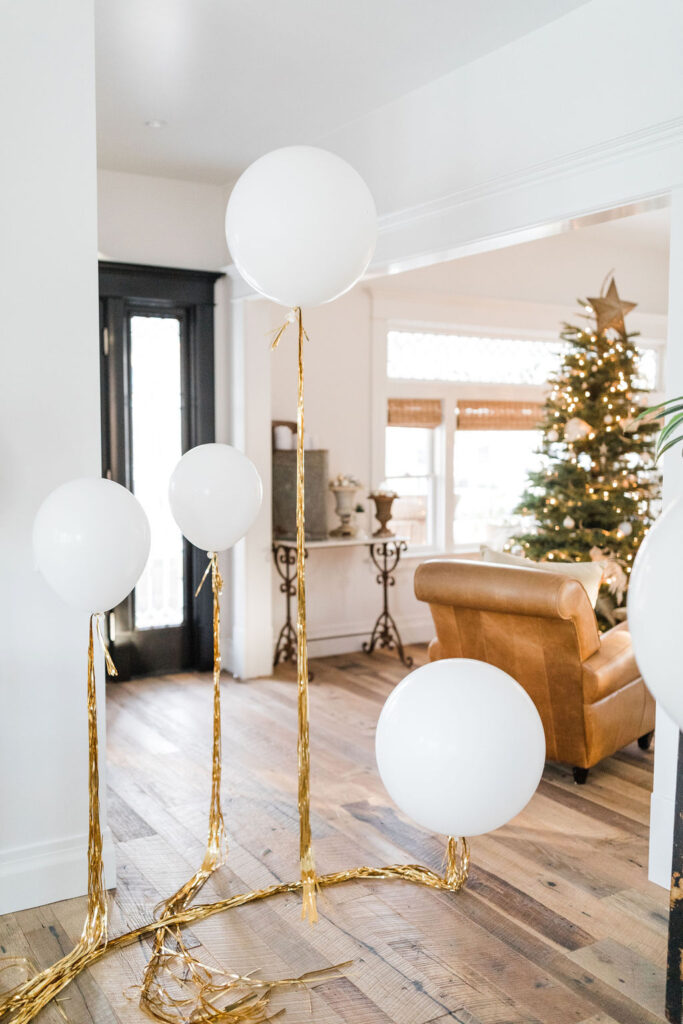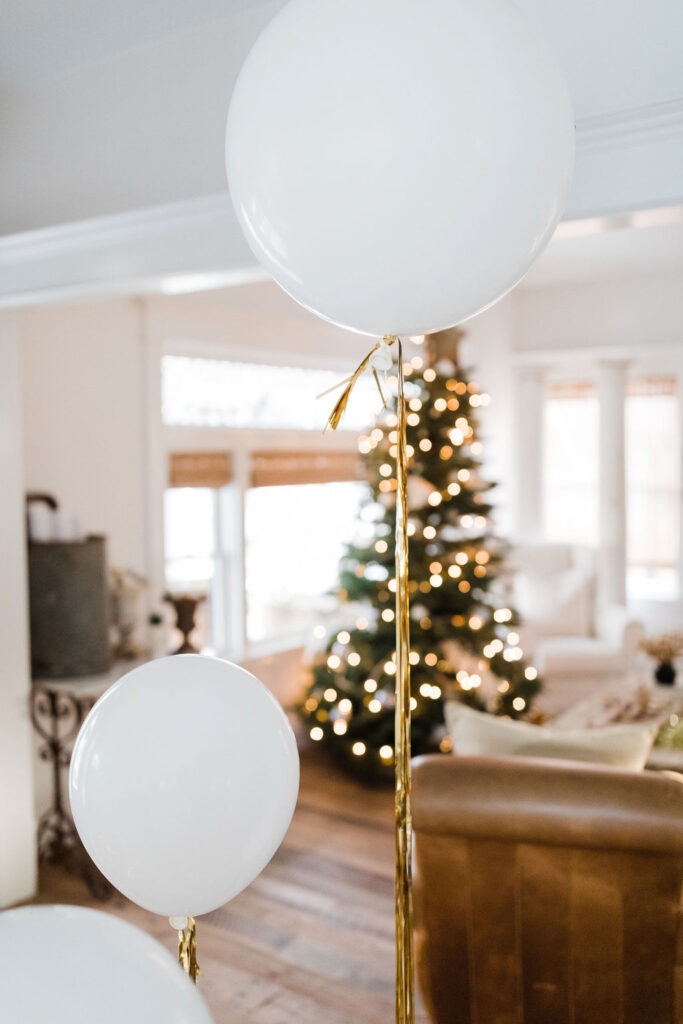 Just a couple of shots of some of my favorite girls!!! Alex from Third & Park is always bringing the party with her, so this shot was perfection! Thank you for always bringing the fun and being such a talent my friend!!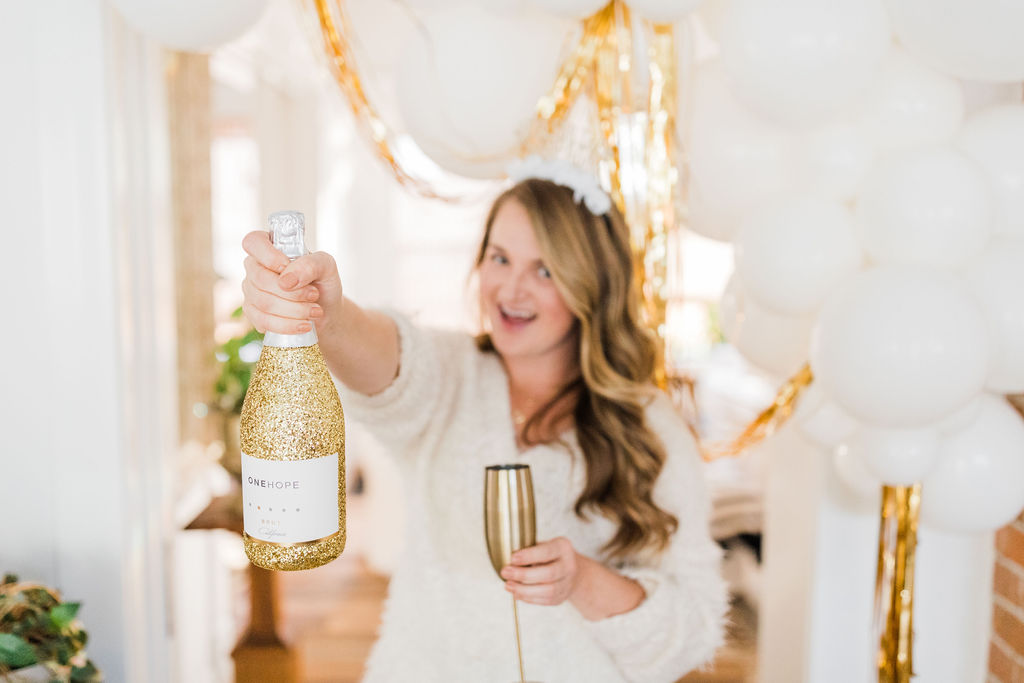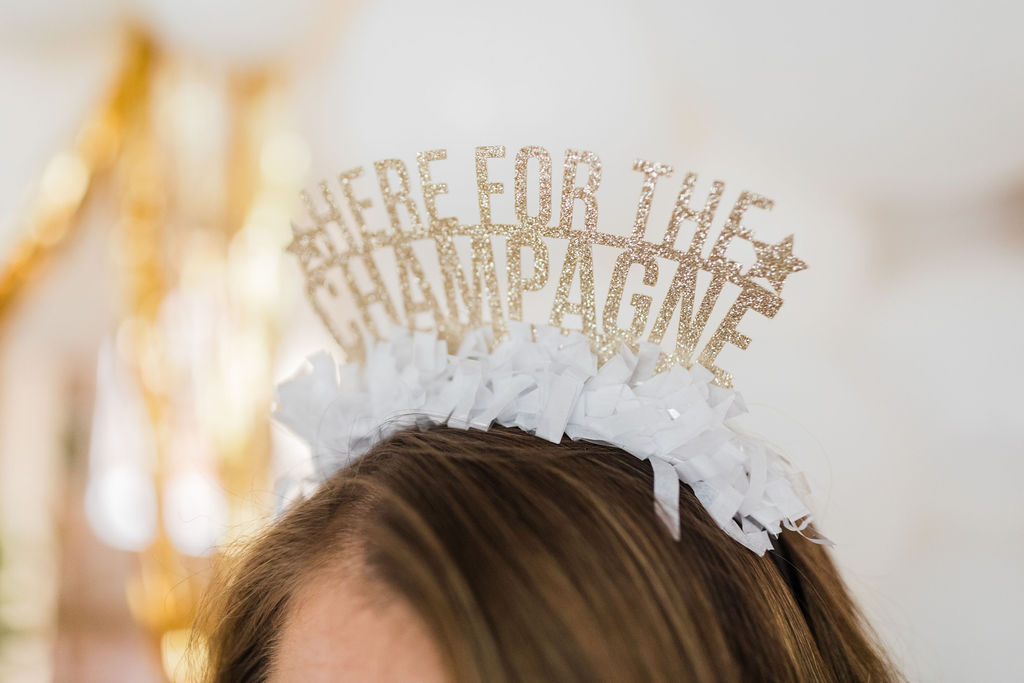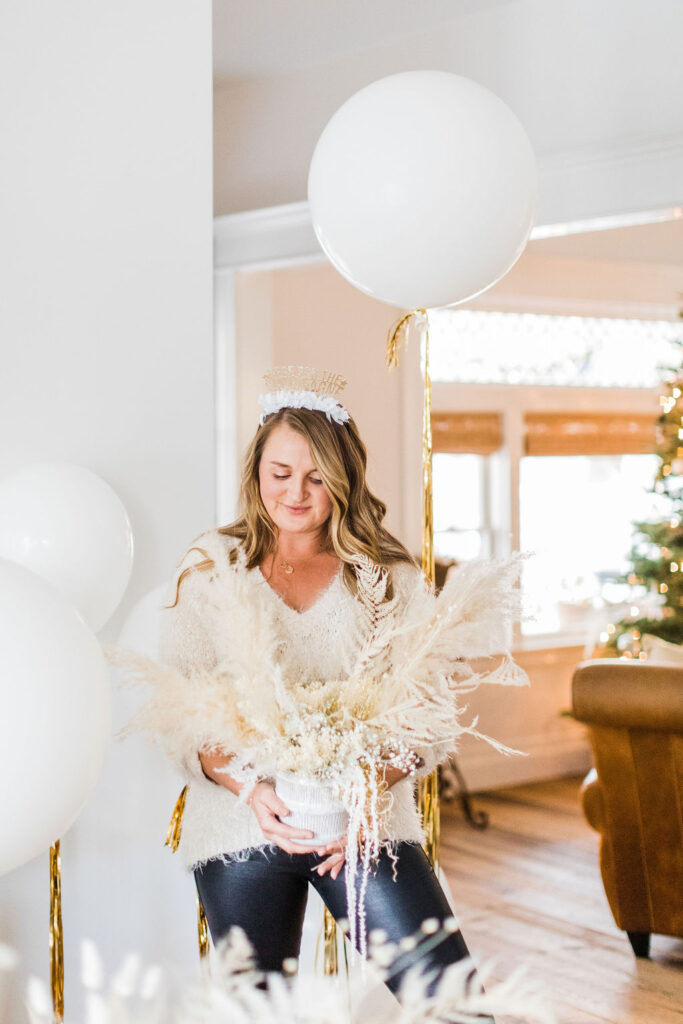 There is our hostess with the mostest! Marnie of Sweet Salvage Rentals is the kindest and most supportive friend, love her so much!! Just waiting for the day I can move into her house, haha!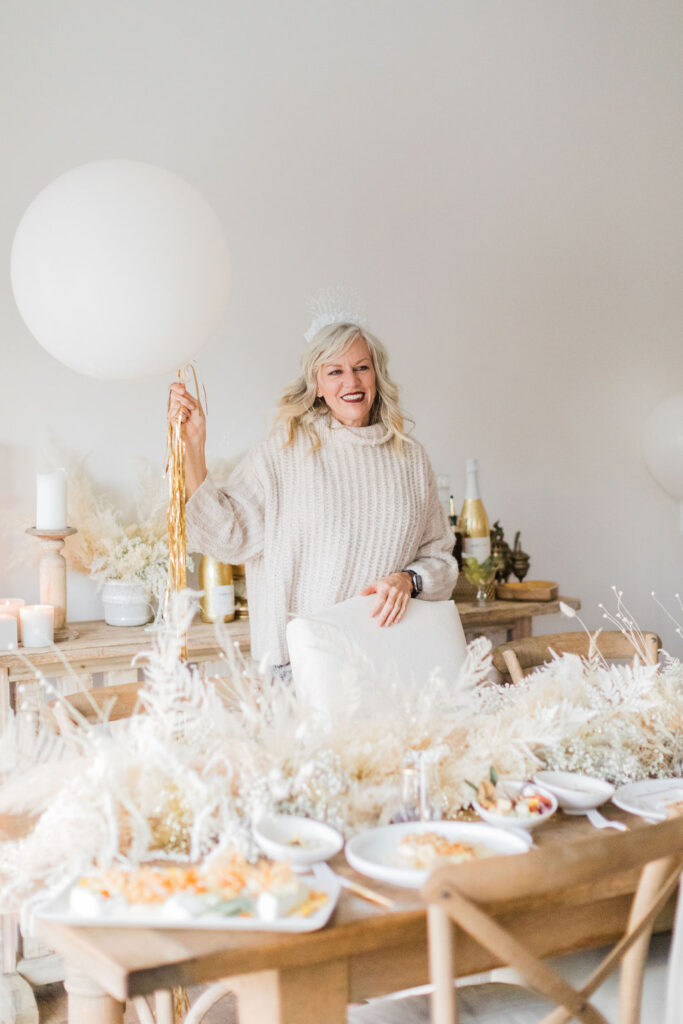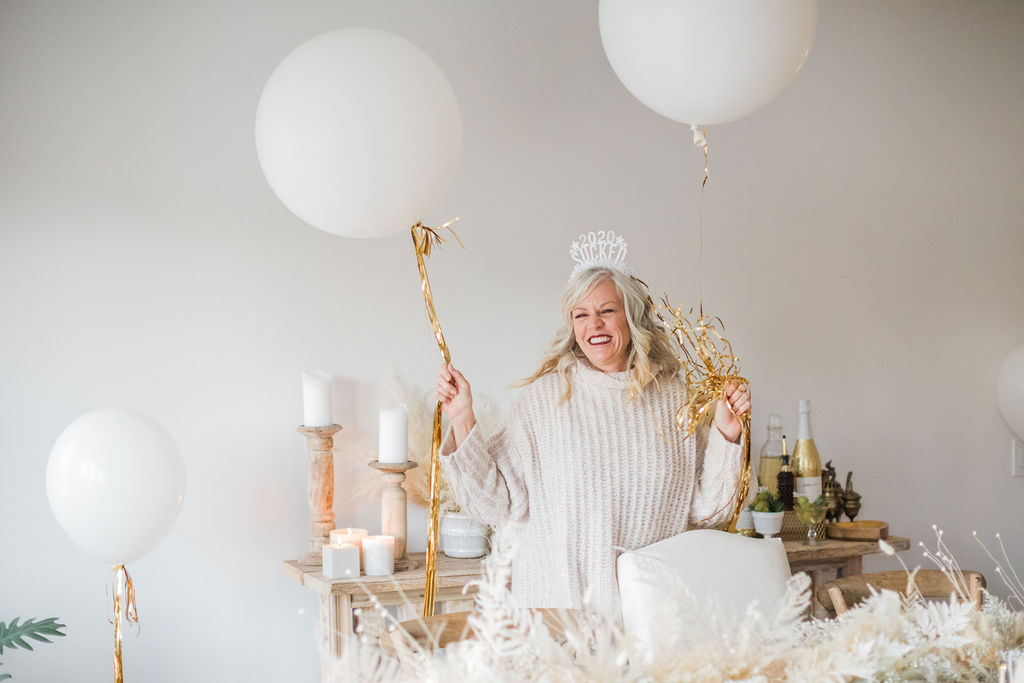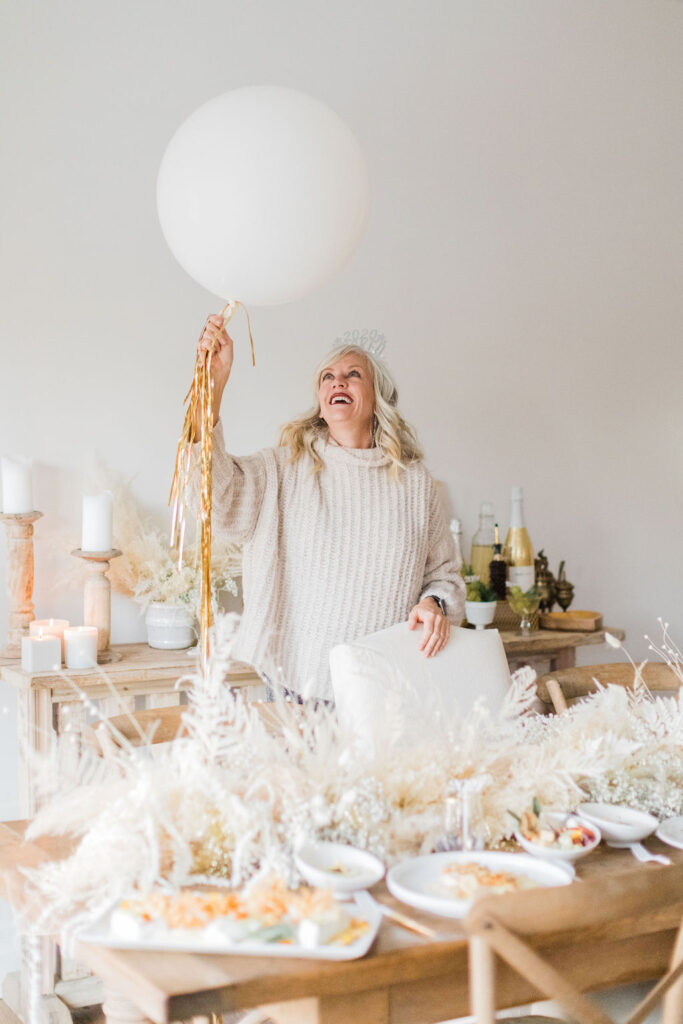 Laura from Bottles & Blooms is always pouring us cocktails, so how could we not love her?! Ha! She is so creative and fun to work with, I'm so grateful I met her this year!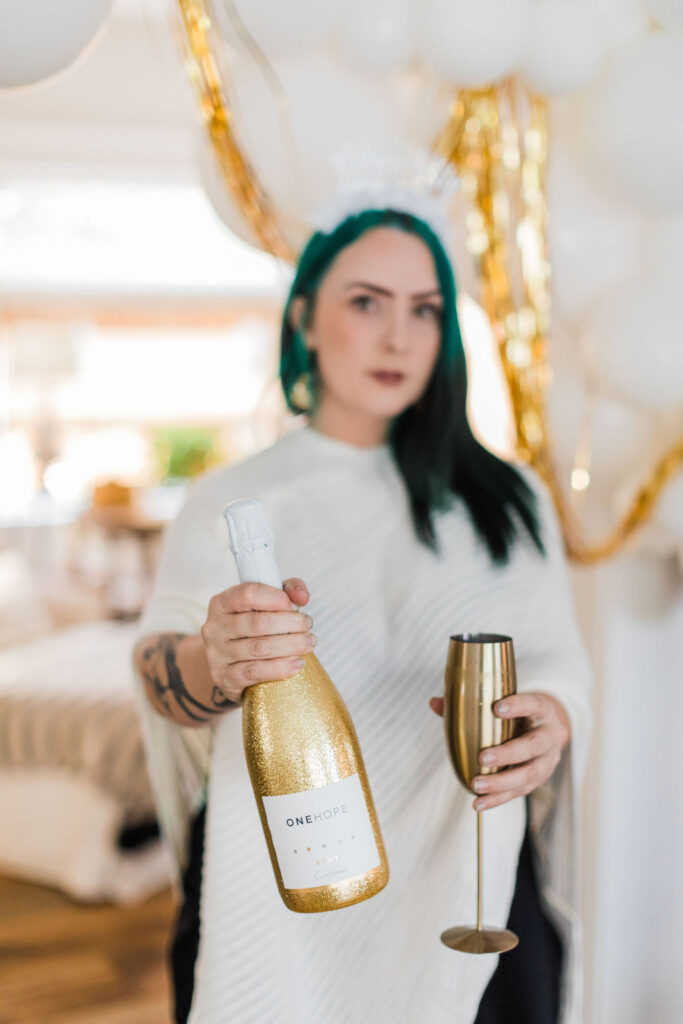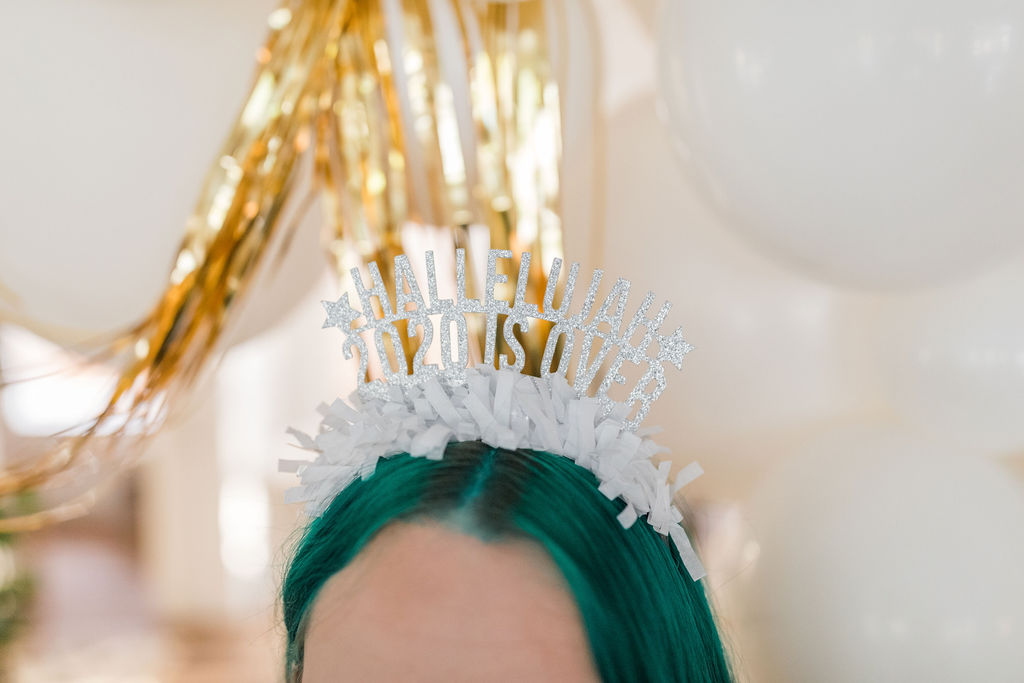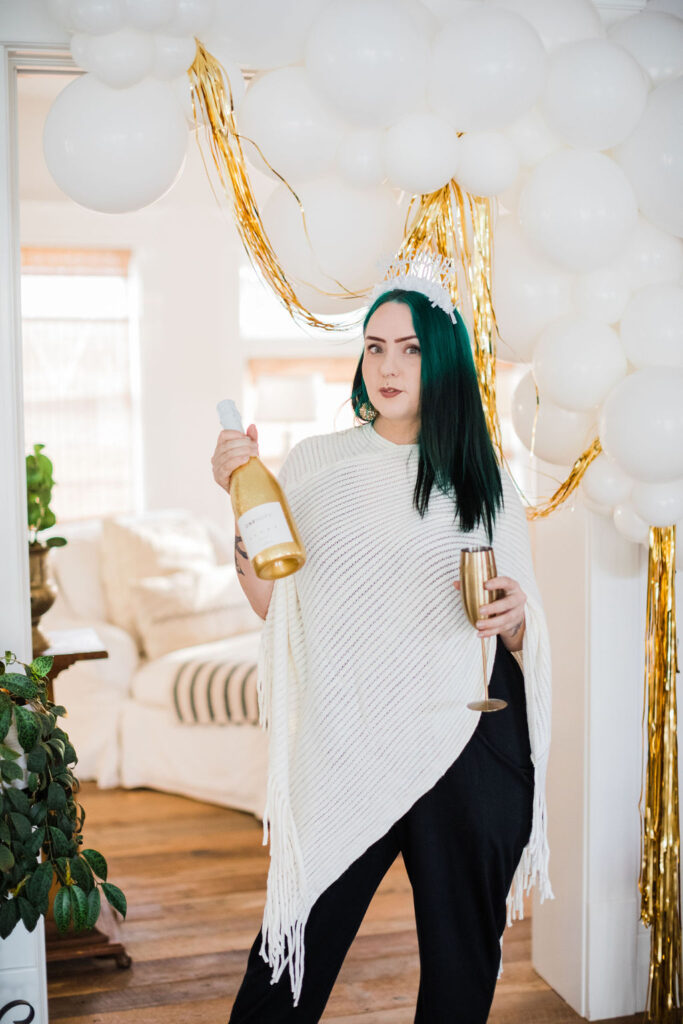 My girl Ellen of The Pop Shop!!! This little lady is always there for us and comes through no matter what! She is so talented and determined and I admire her so much for it!! Love you, Ellen!!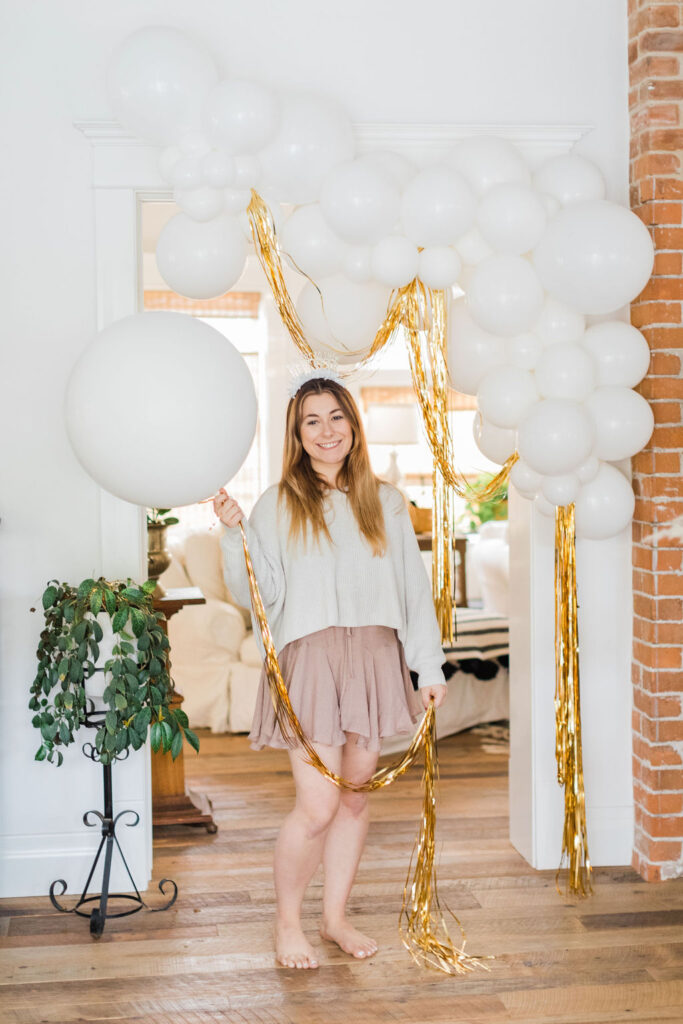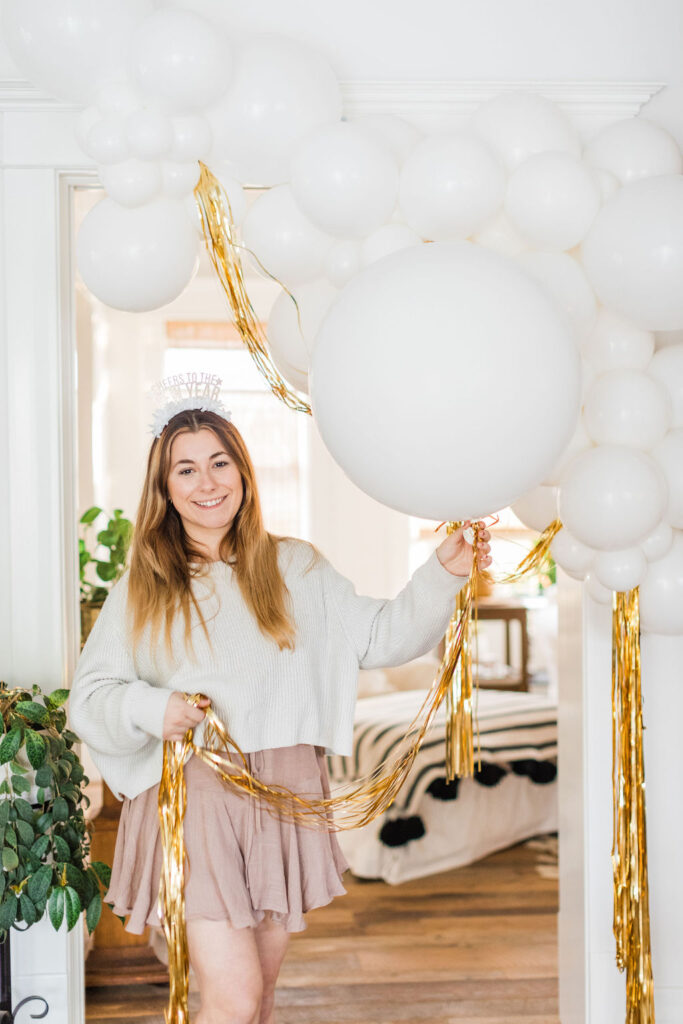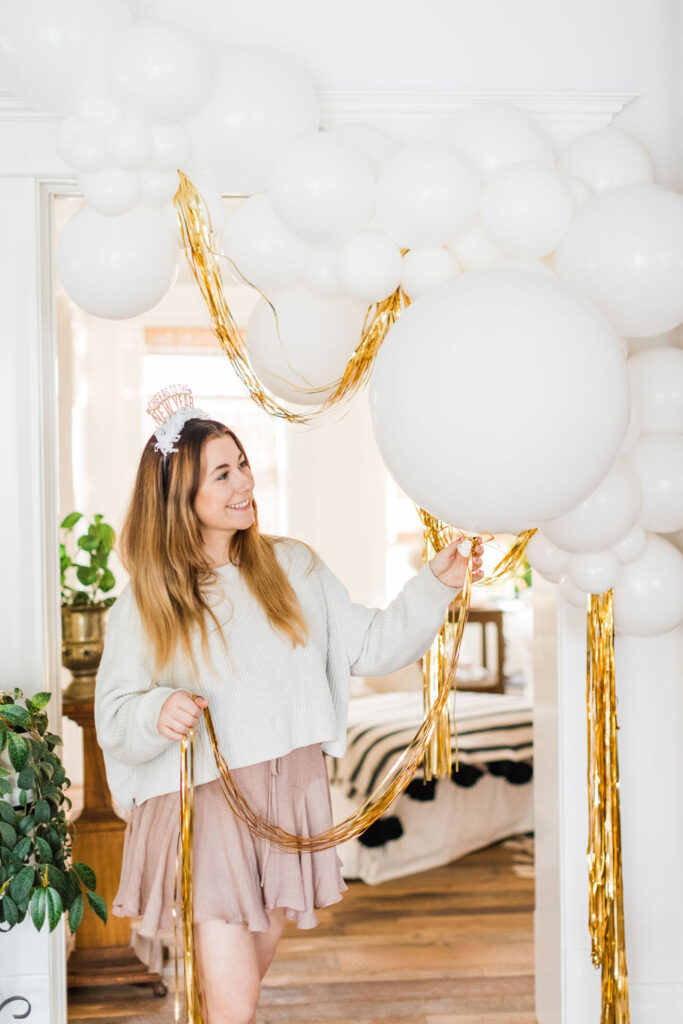 And then there is me!!! Just wanted to say thank you for following along with us this past year. I feel very thankful to be able to create with such amazing friends for such amazing followers! I hope you have enjoyed everything we have made this year, it was a lovely escape from the 2020 craziness for me!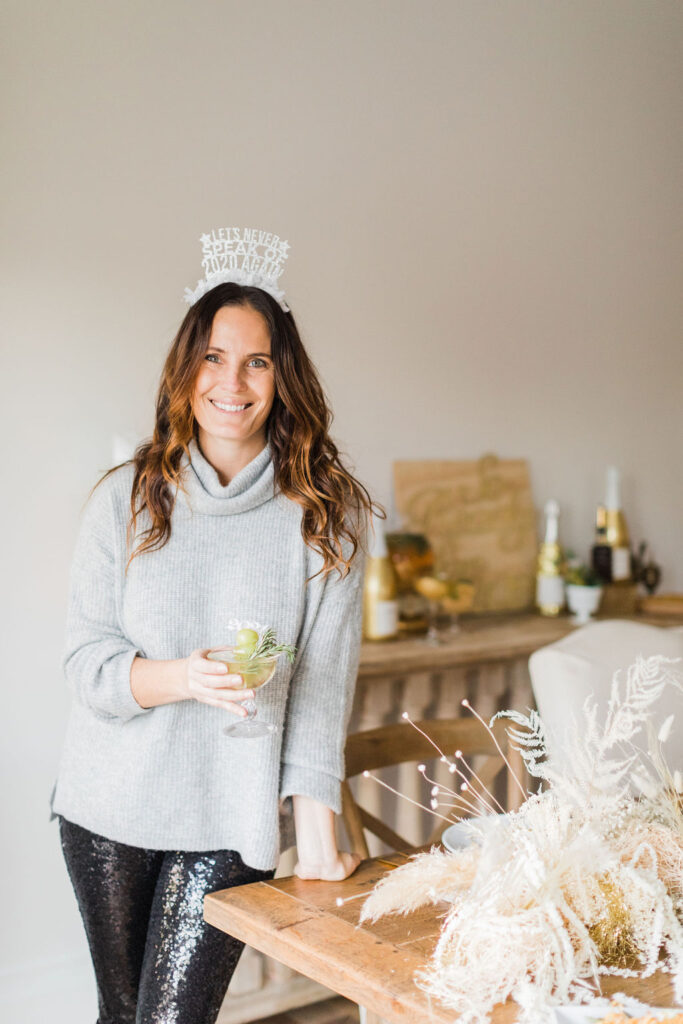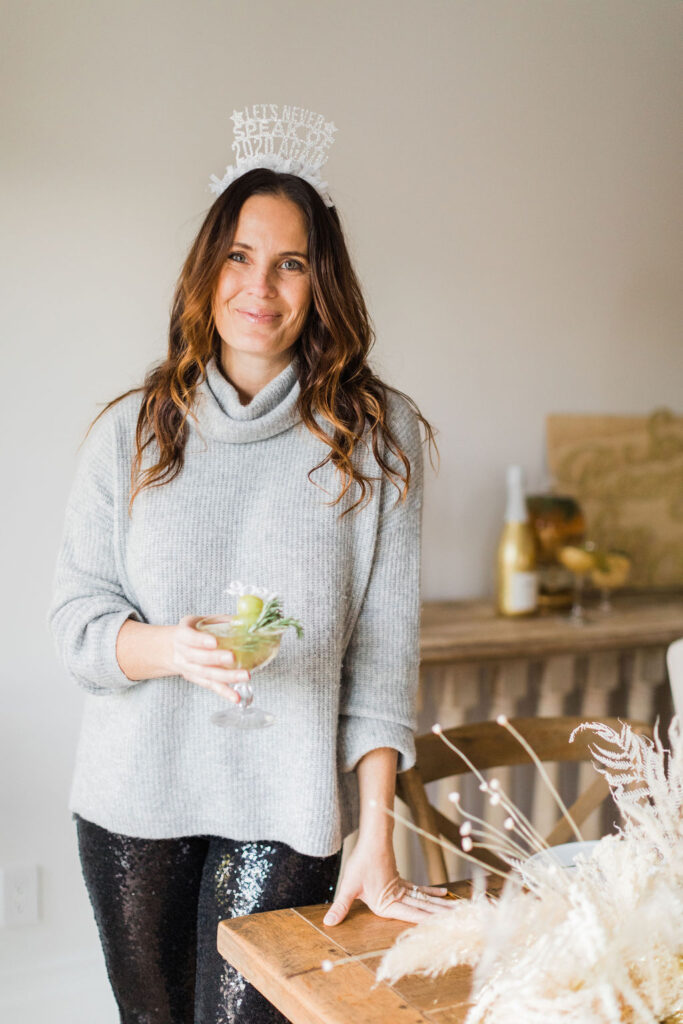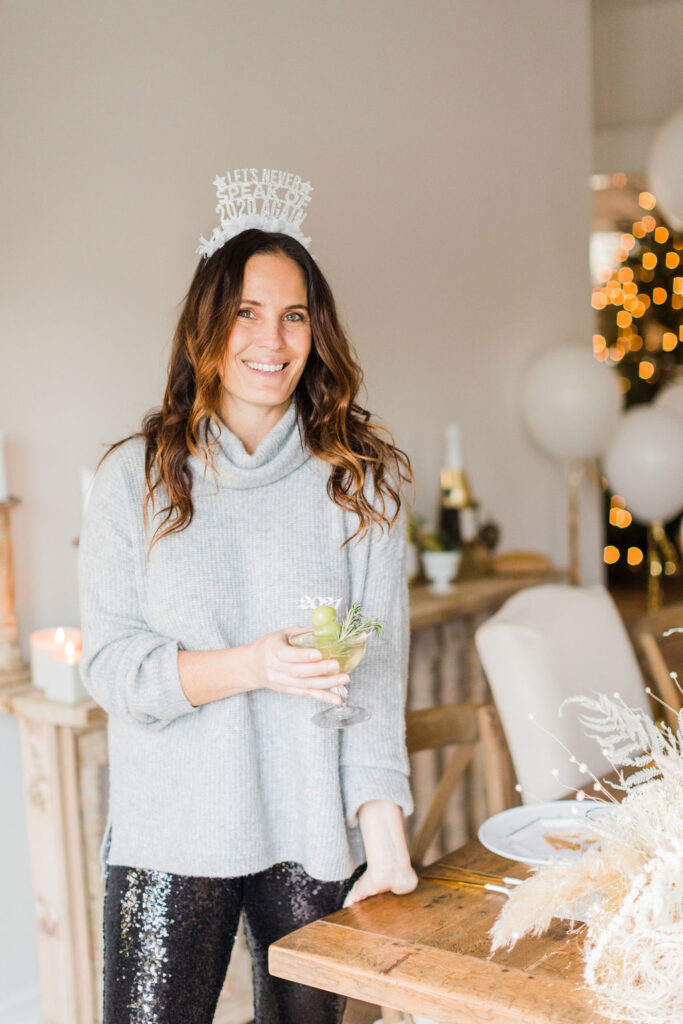 Happy New Year!!!
xx
Jacquelyn