Every year my husband and I make goals for things we want to accomplish. Last year one of my goals was to finally finish both of my son's bedrooms. I had a vision in mind but just hadn't completed them. Well, 2020 gave us LOTS of free time and I was able to accomplish this goal with my friends at Pottery Barn Kids! I originally reached out to them for a few key pieces and they said, why don't we do the whole thing?! Ummm yes, please!!!
When we first moved into our home about 3 years ago I had our boys sharing a room. This didn't prove to be realistic for us and we decided to give them separate rooms. I wanted both of the boy's rooms to be something they could grow into and represent their personalities. My talented friend Jesi Haack is now dabbling in interior design and she offered her expertise. I gave her pieces I wanted to include along with my vision and she created the most amazing design boards for me! I'm so grateful for her help!!
Today I'm sharing my 6.5-year-old Court's bedroom, you may remember his nursery in our old home here.
Scroll to see all of the amazing images by Gillian Le Brun and shop his room through-out the post! Plus some of my tips for creating the perfect space for your little one!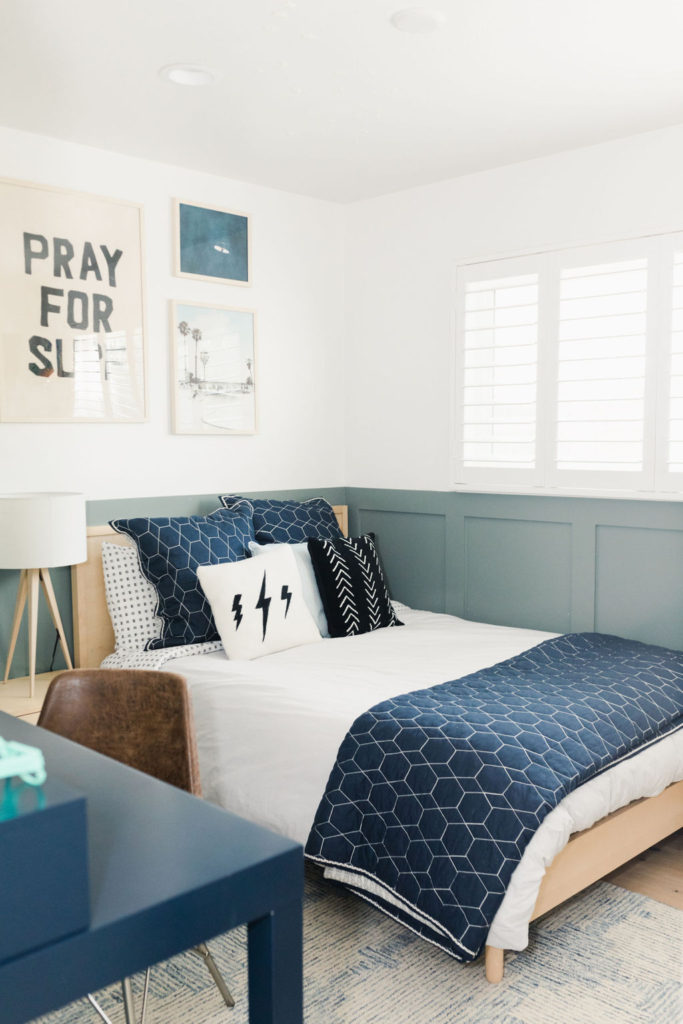 Living in Southern California I'm always inspired by the beach. That was the main inspiration for Court's nursery as well. In the past few years, Court has gotten really good at skateboarding and truly loves it. He also went to his first surf camp last summer and was a big fan! Those were both inspirations for me with his room.
I knew I wanted the Pray for Surf art in his room along with a few key pieces from Minted. When I sent Jesi my ideas they were definitely on the mood board! They set the tone for the room and make a statement the minute you walk in. I love a good gallery wall!!
Of course, I used a Beijos favorite for the frames, Framed & Matted. They are the best and always make it so easy to dial up the art in any room. I linked all of my Minted picks at the bottom of this post! There are so many good ones!!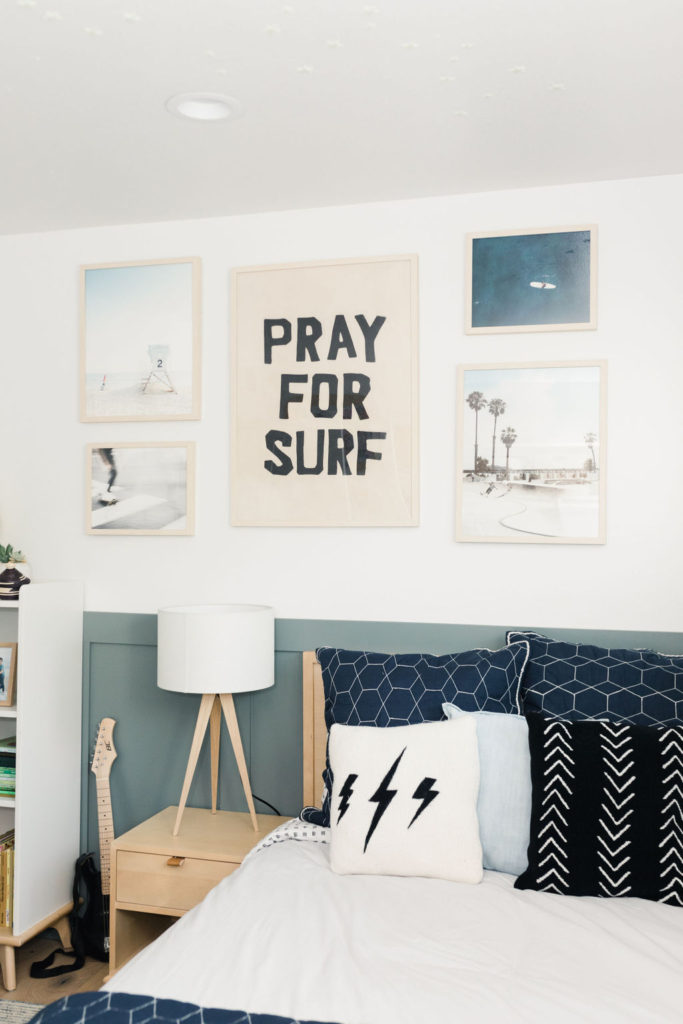 We got Court the Nash bed and nightstand from PBK. I adored the light color of the wood and the leather detail on the nightstand. The lamp is from PBK x West Elm's modern collection. I ended up using it in both boy's rooms because I loved the look of it!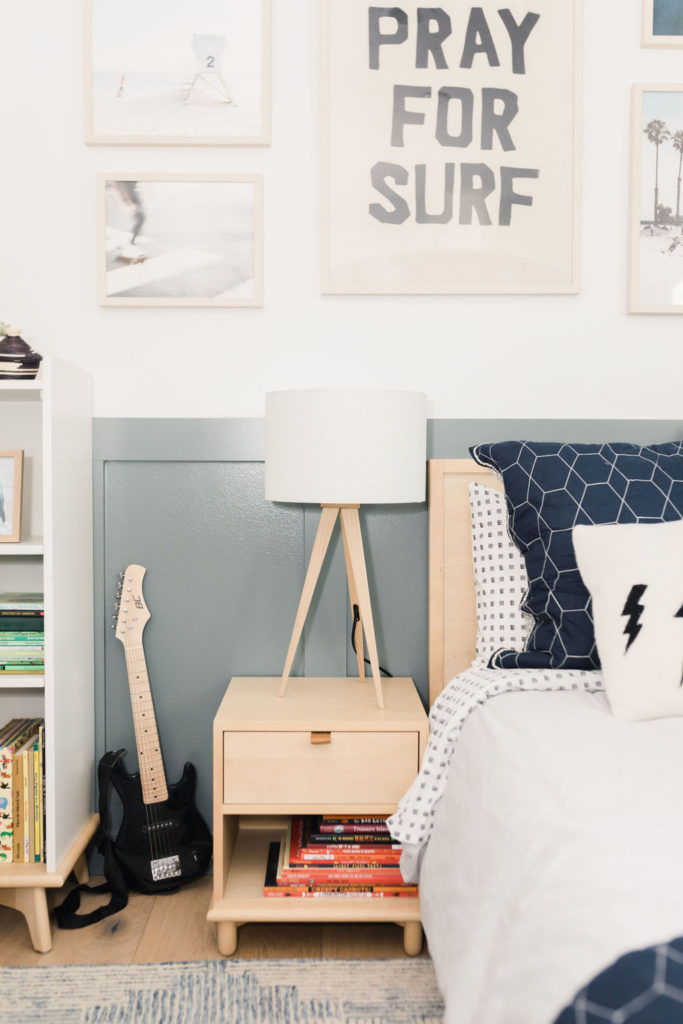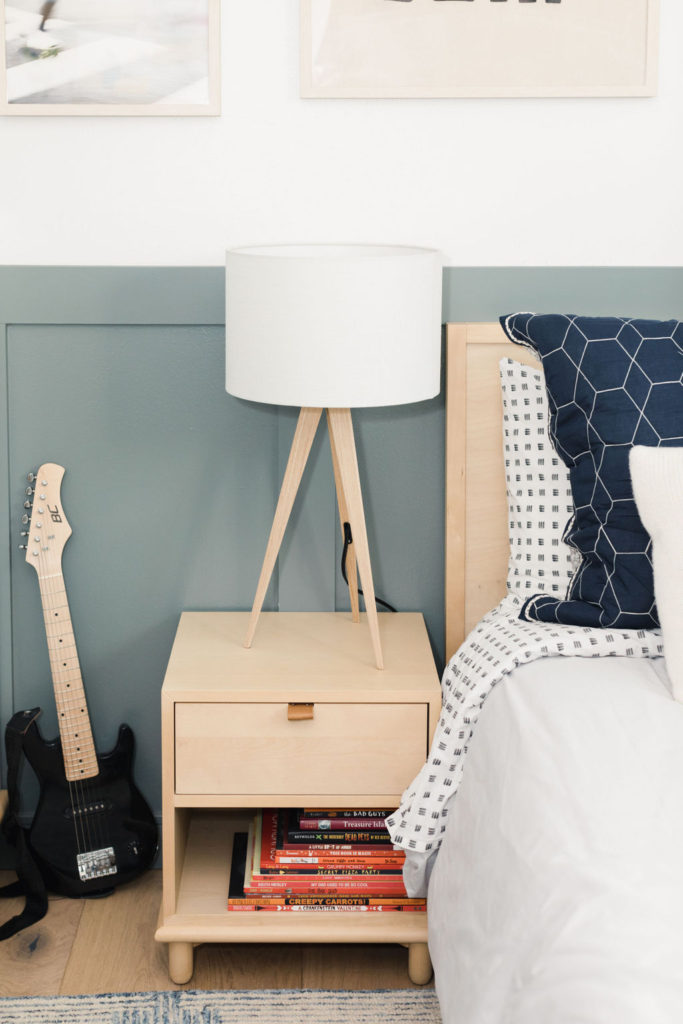 All of the bedding is from PBK as well! I tend to prefer a more simple bedding option and let the rest of the room be the pop! For Court's room, I used the Kelly Slater collection duvet, which is on sale now! Then I paired it with the PBK Geo Dash Sheets and the Honeycomb Quilt & Shams. Lastly, I added the cutest lightning bolt pillow and boho arrow sham.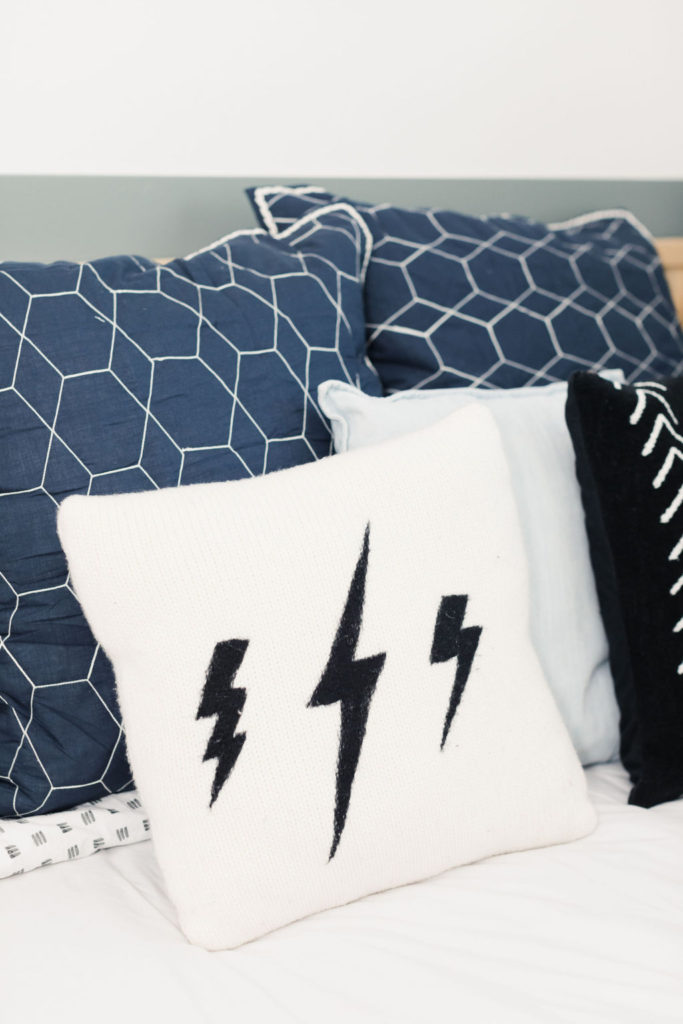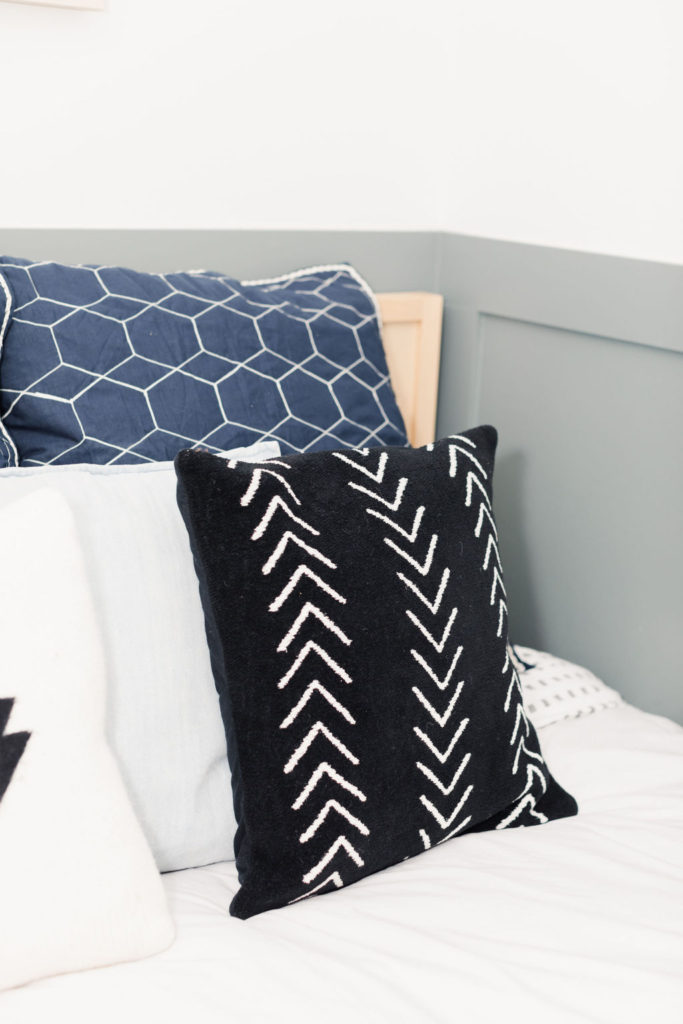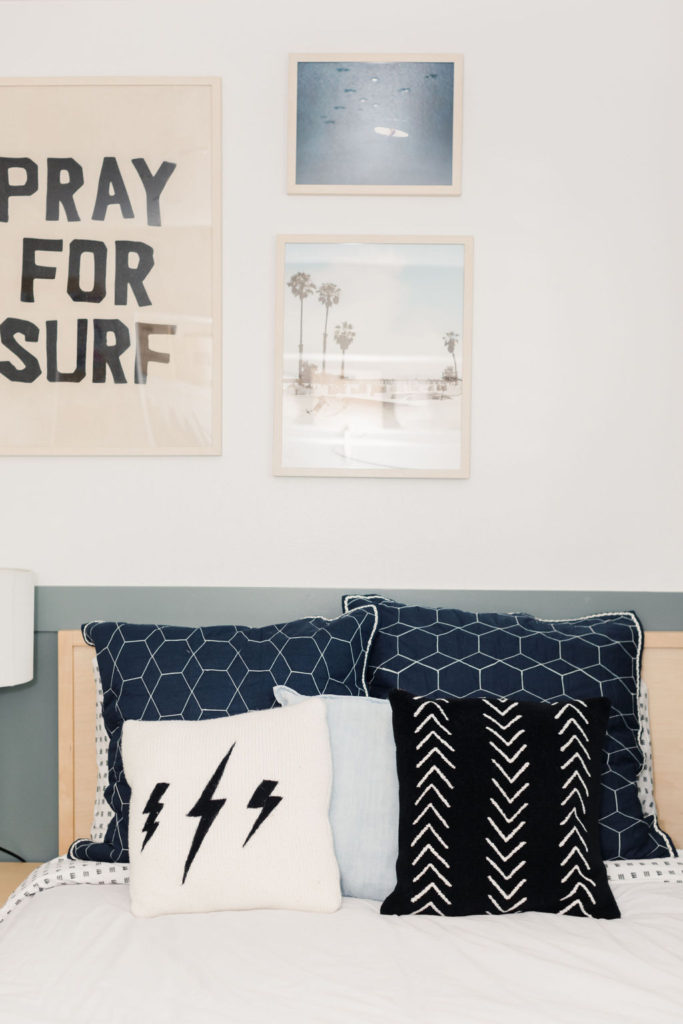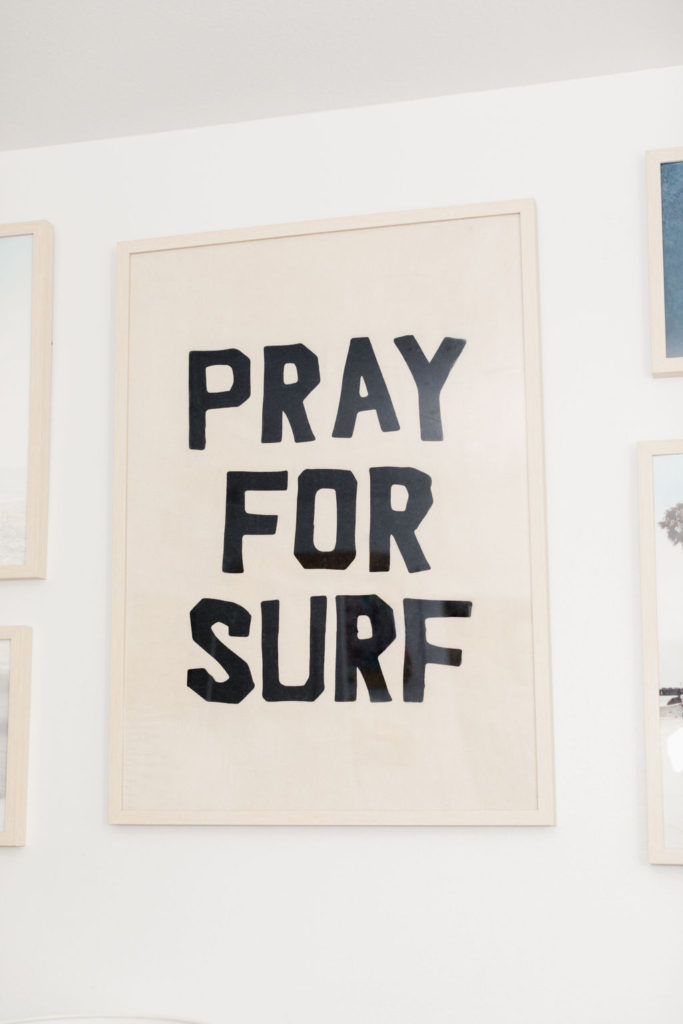 An addition to the room that I love is the board and batten my handy husband added! We were inspired by our designer Jesi Haack who added them to her son's room herself! I love the clean look and the pop of color they added, I think that green goes so well with the blue on the bedding. The color is Coastal Dusk from Valspar Paint.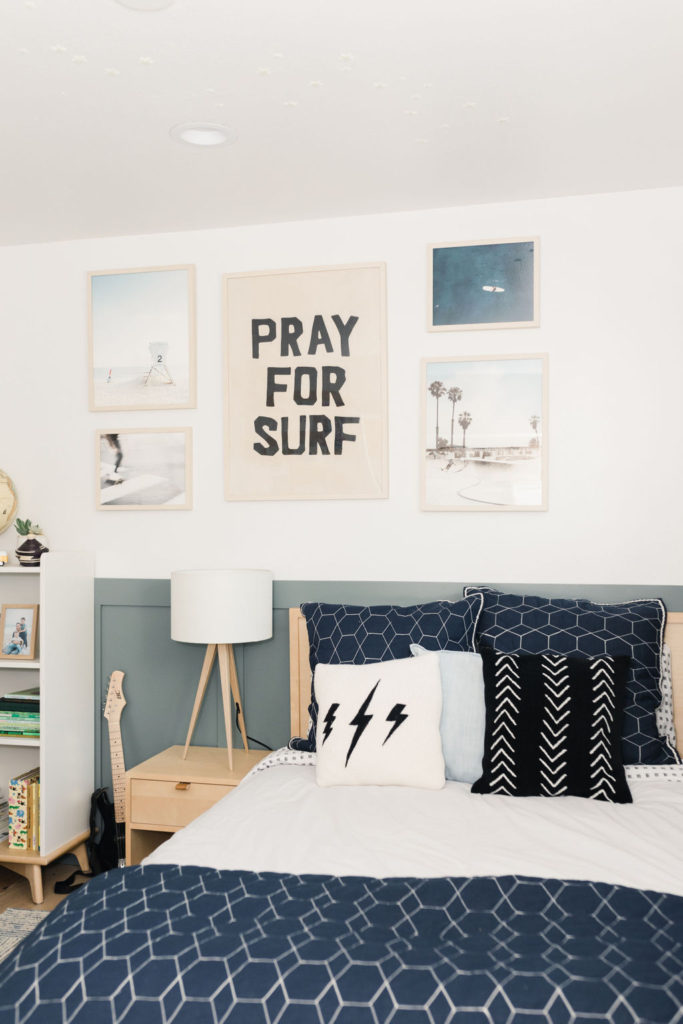 Shop Court's Bed & Gallery Wall Area below!

---
Moving on to Court's desk! Of all the years, this was the year to add a desk. Like many of you, we have been doing distance learning along with in school learning. This desk area has been the best addition and has been so amazingly useful. Not only does he use it constantly for school or to draw but it definitely made him feel like a big boy!!
Again, I went with a navy color here. That was Jesi's idea and I'm so glad she suggested it. I would have gone with wood or white and been pretty basic, but the blue really adds to the room! The desk is the Parson desk and hutch from PBK and the chair was from Pottery Barn. I love the modern feel of both.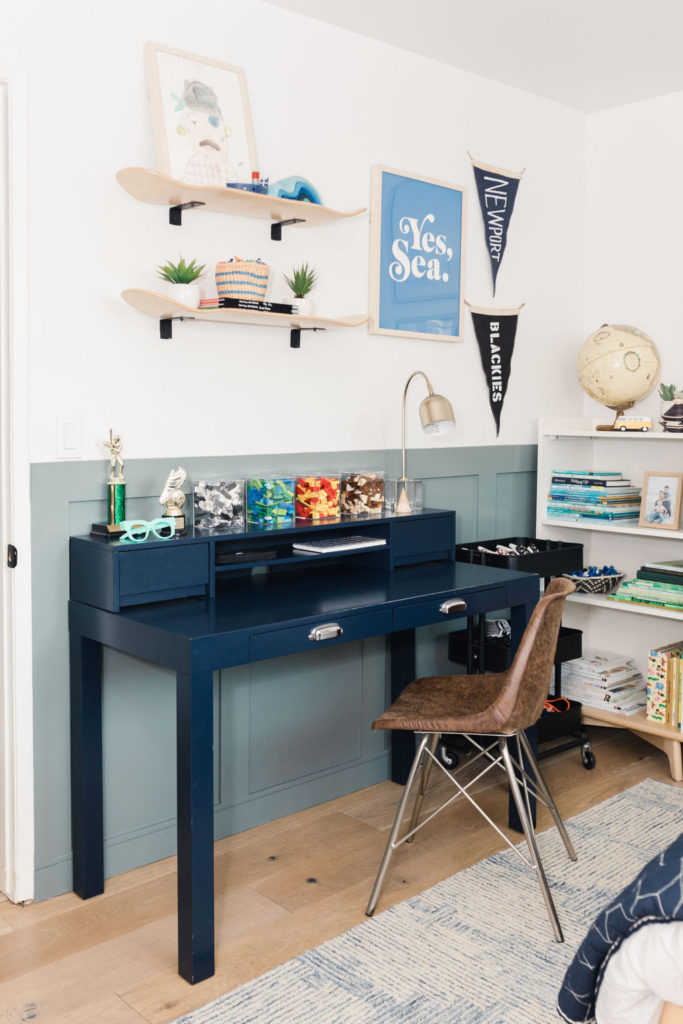 Another handy hubby trick! He built those skateboard shelves for me, again, a Jesi Haack idea! They were simple to do, we purchased the wood skateboards here. After that I added pieces that were meaningful or things that he loves to create a little shelfie situation.
You'll notice in both of my boy's rooms that I have their artwork framed. I love seeing them create and definitely want to give them their moment to shine, so it's a win/win there! I also have his legos divided up by color (an idea I got from Abby in her kid's playroom), sports trophies, books, and trinkets we've gotten traveling.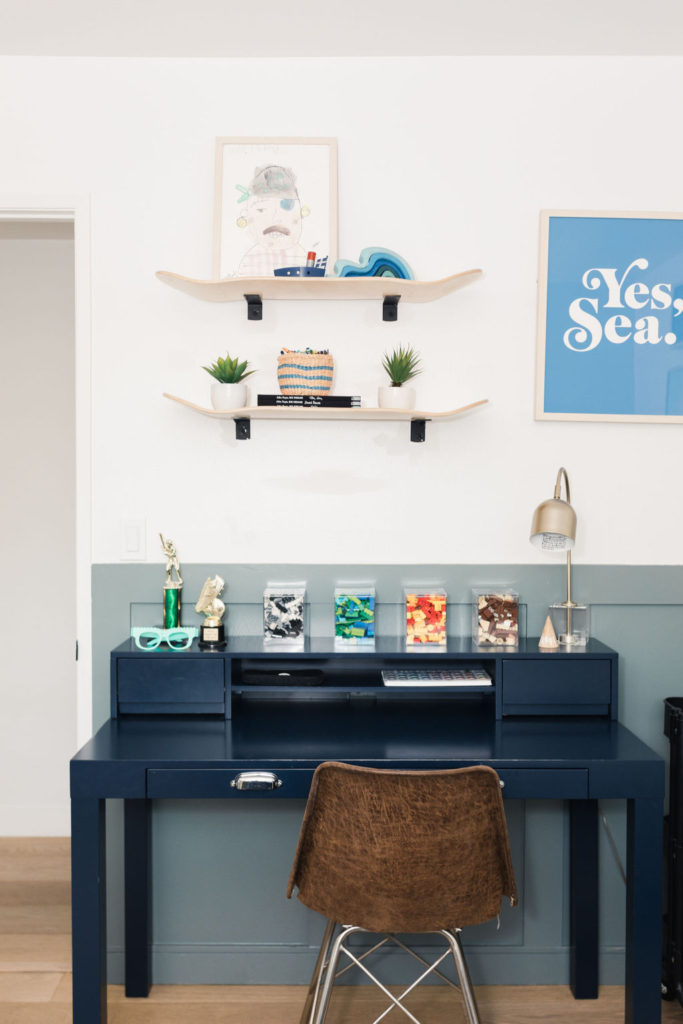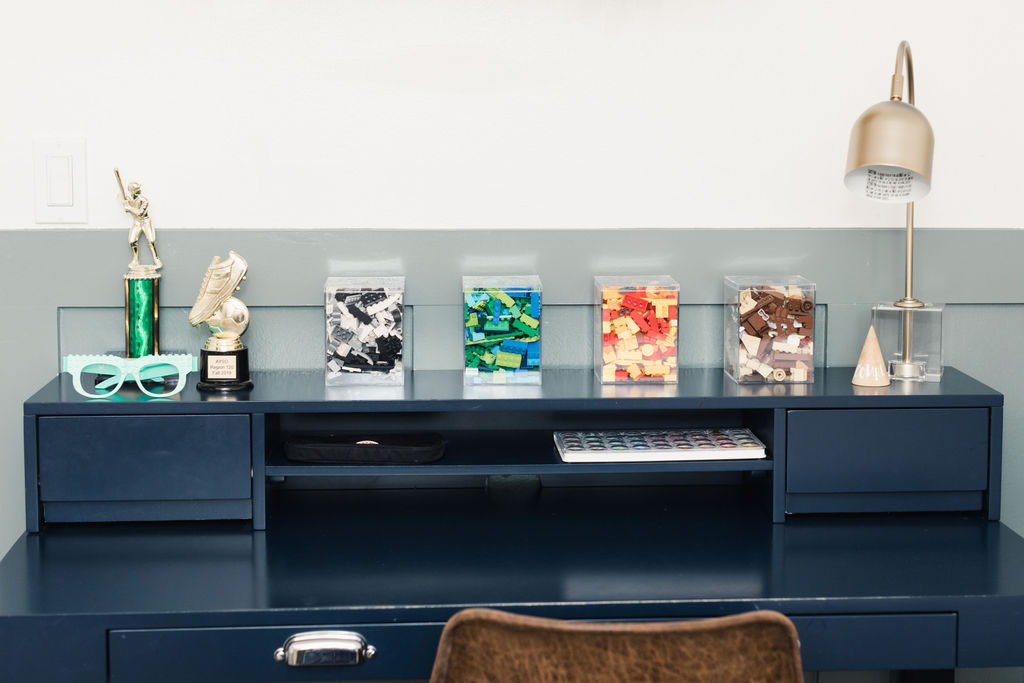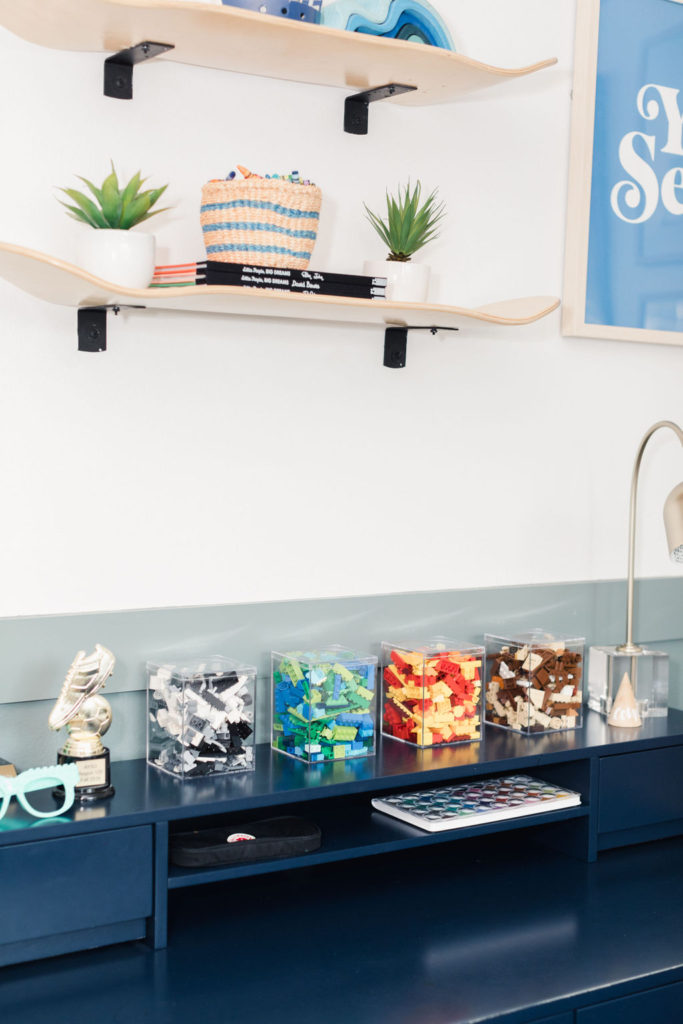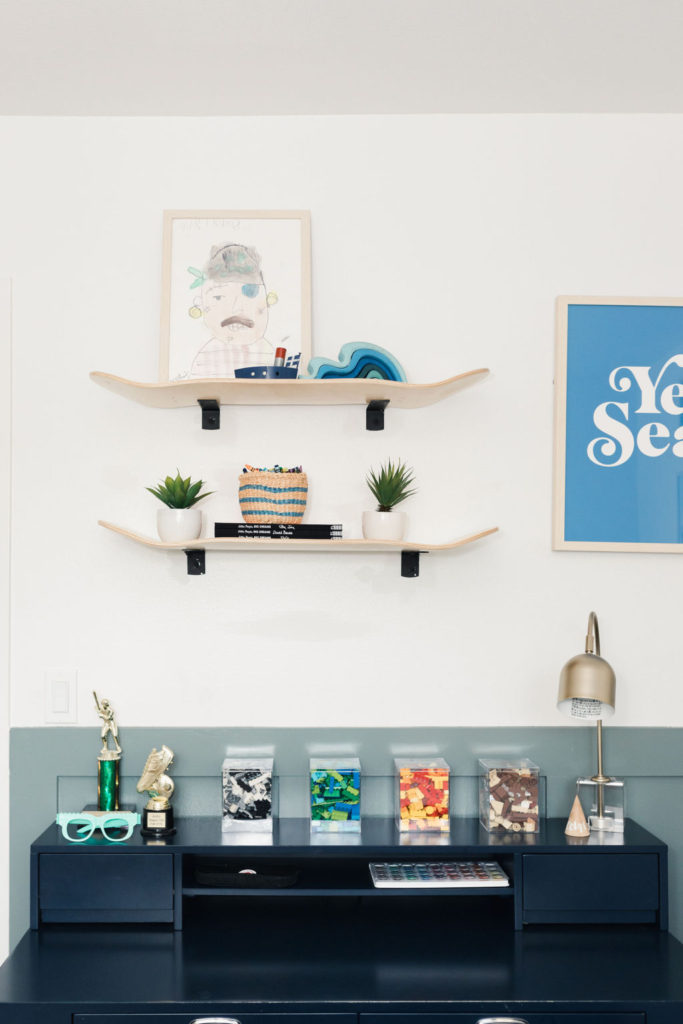 The desk lamp is from PBK, this one is sold out but they have similar currently. I also got the faux plants from PBK, yes they are faux! They definitely add a bit of fun to the room and I don't have to water them, yay!
The striped basket is from The Little Market and I have it filled with crayons. I can't forget the Little People Big Dreams books! They are a favorite in our home!!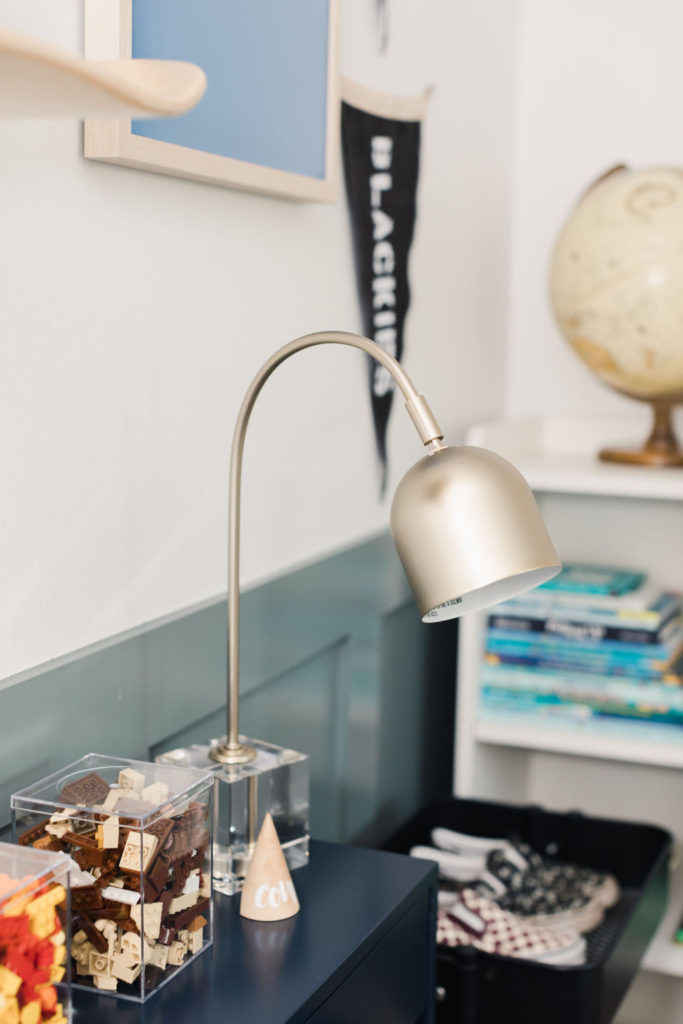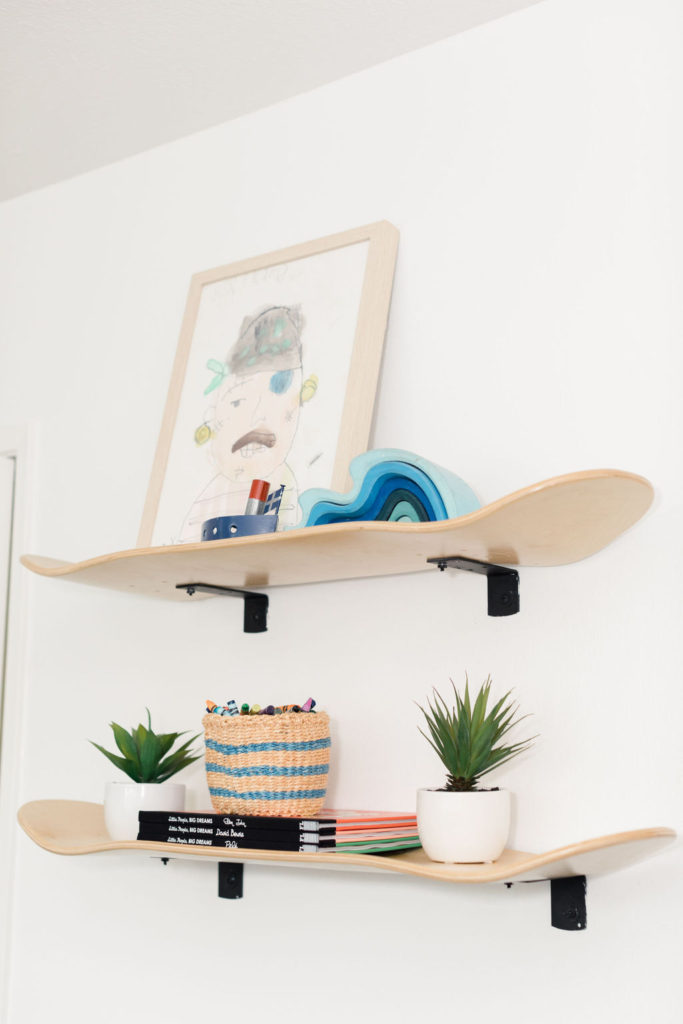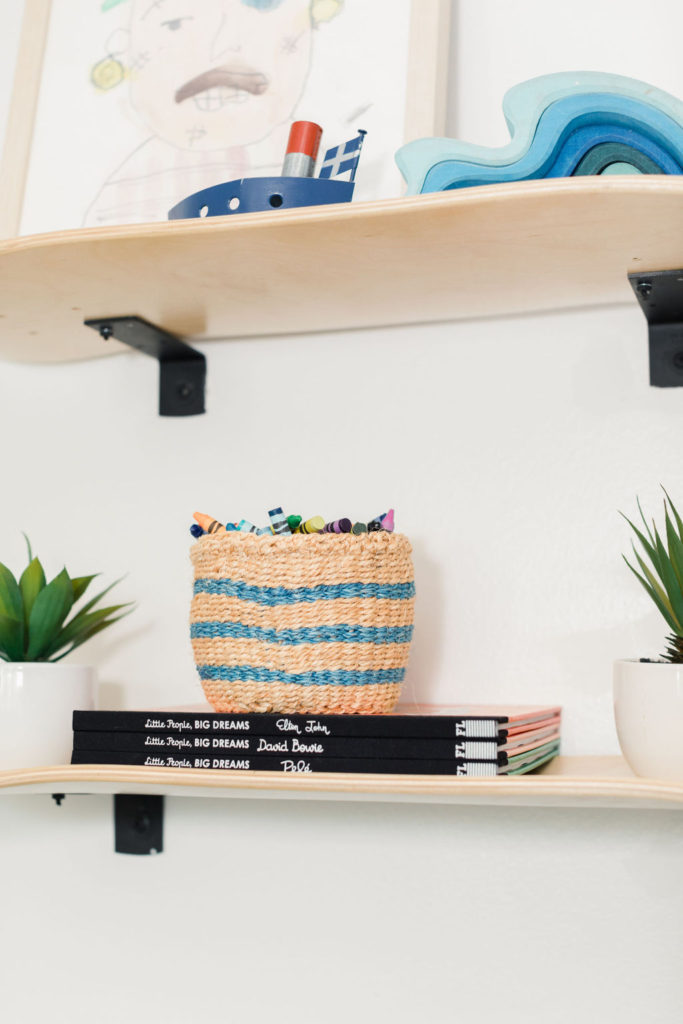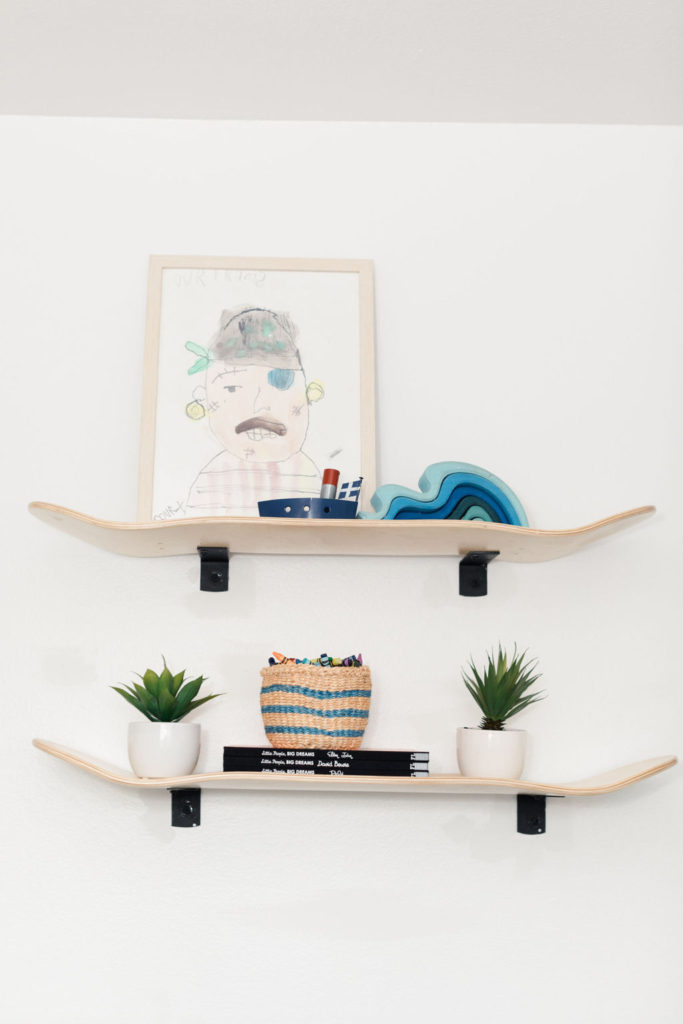 Shop Court's desk area below!

---
As mentioned earlier, when I originally reached out to PBK I only needed a few pieces. They were a bookshelf and a rug. You can see a little peek of the rug here and it happens to be one of my favorite pieces! It's called the Atlantic Rug and the colors are perfect in his room. The bookshelf is another favorite, it's the Sloan Tall Bookcase.
I have to say, one of the most difficult things for me with this room was ordering and placing the items I got so they would fit, haha! I'm not really one to measure… Yikes!! But it all worked out! It was a bit like Tetris, but it all worked out, haha!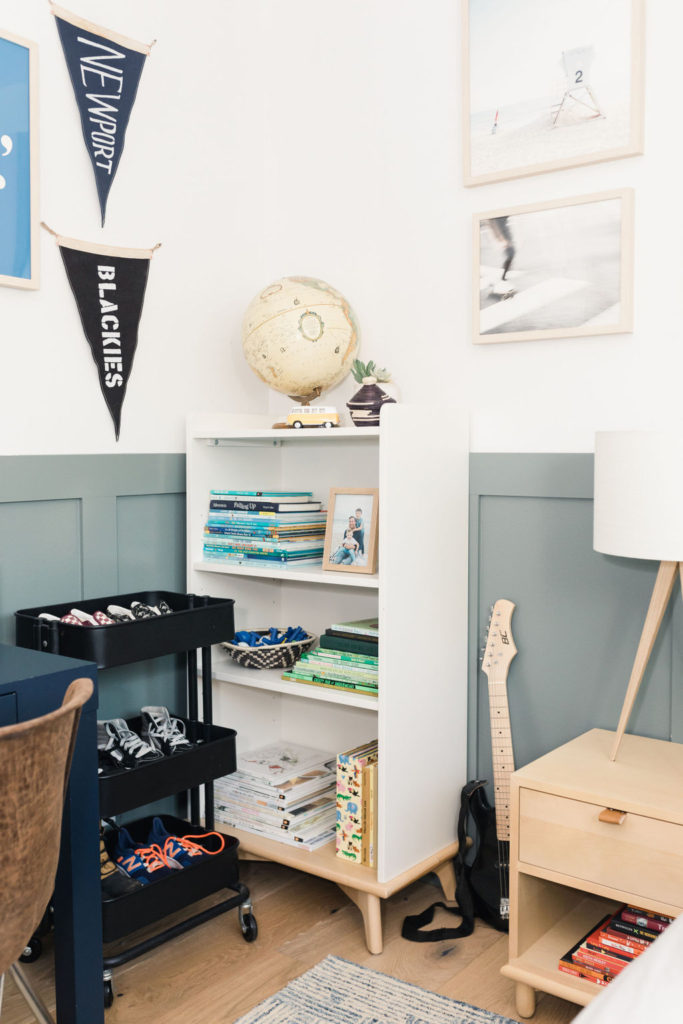 This globe was in Court's nursery! I had to keep it! We purchased it at the Rose Bowl Flea market years ago. The car and plant are both from Pigment and the mini basket is from The Little Market.
I am a bit of an OCD freak and have always arranged my boy's books by color. It's one of my favorite past times, cleaning and organizing their rooms… Haha, ya right, but it does give me joy to see a clean room!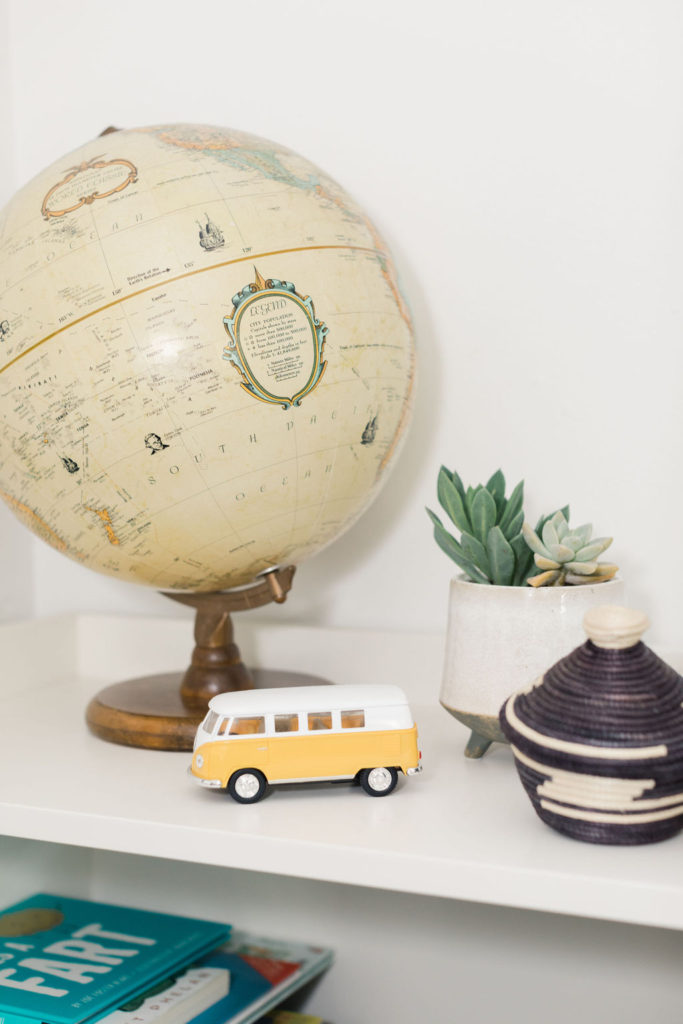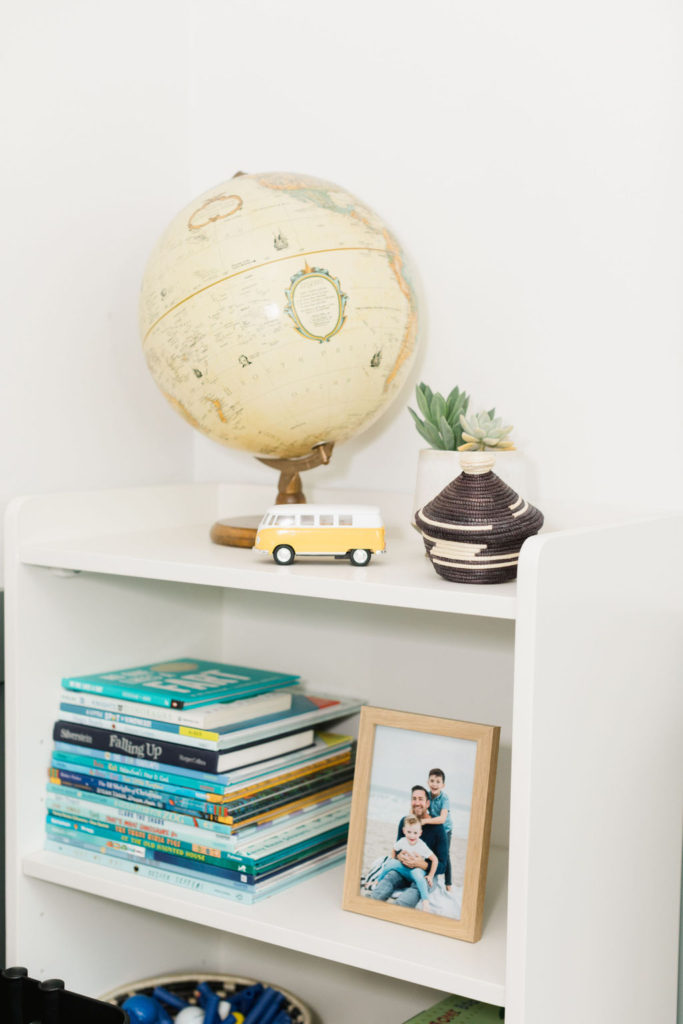 Speaking of clean rooms, let me say, their rooms definitely don't always look like this! Trust me friends, I had my cleaning ladies come the day before and basically made my children sleep outside till we took these photos. That may be a slight exaggeration but I know you mamas out there feel me!! I actually just talked to Redfin about creating a space for kid's that's their style and organized… Something that I love!
I've always loved these Ikea carts and use them for shoes in both of my boy's rooms. What am I going to do when they have big boy feet?! Haha!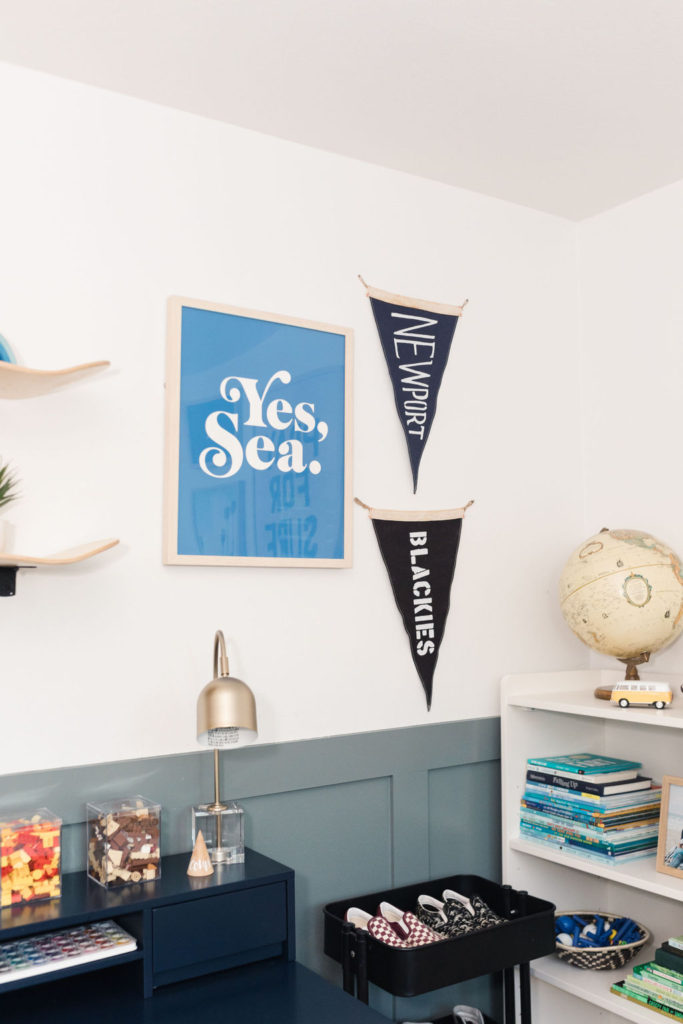 I have to highlight this cute wall situation! Daniella Manini is one of my favorite artists and I have always had her art in my boy's rooms. This Yes, Sea print is a forever favorite, and that pop of blue is amazing!!
The pennant flags are from a local shop called Slightly Choppy. They are a bit pricey but I love the sentimental value they hold. Both boys were born in Newport Beach and we are on the beach basically the whole summer. Plus Court learned to surf at Blackies, so they are the perfect addition!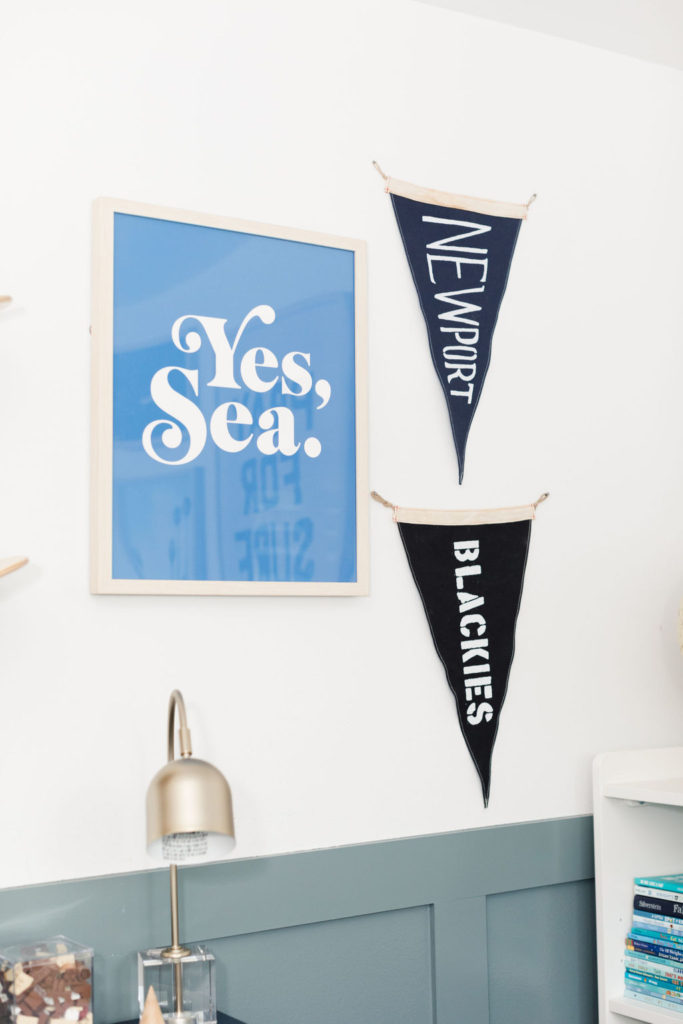 Shop Court's Bookshelf Below!

---
Moving on to the other side of Court's room! Both of the boy's rooms had closets but we decided to take them out and place their dressers inside. This is something I did in our old house as well. It just adds more space to the room and is functional at their current age. Our home is not huge, to say the least, so we need to make the most of each space.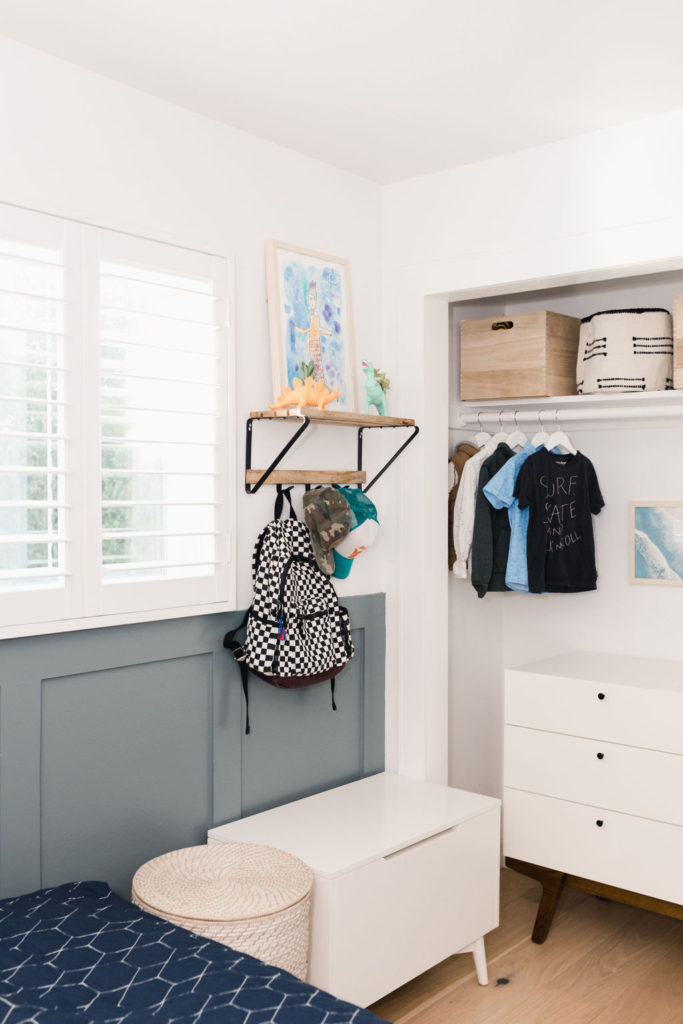 Here is his little landing spot. It's where he hangs his backpack every day and keeps most of his toys. The modern toy chest is such a great addition to any kid's room. I used it for both of my boys! Of course, I added another piece of Court's art and a few dinosaurs from my favorite Plaid Pigeon completed the shelfie!
The hamper is also from PBK and boy am I happy I added that guy! We were all using one hamper, is that weird?! Well, we were and I'm glad we aren't anymore, haha!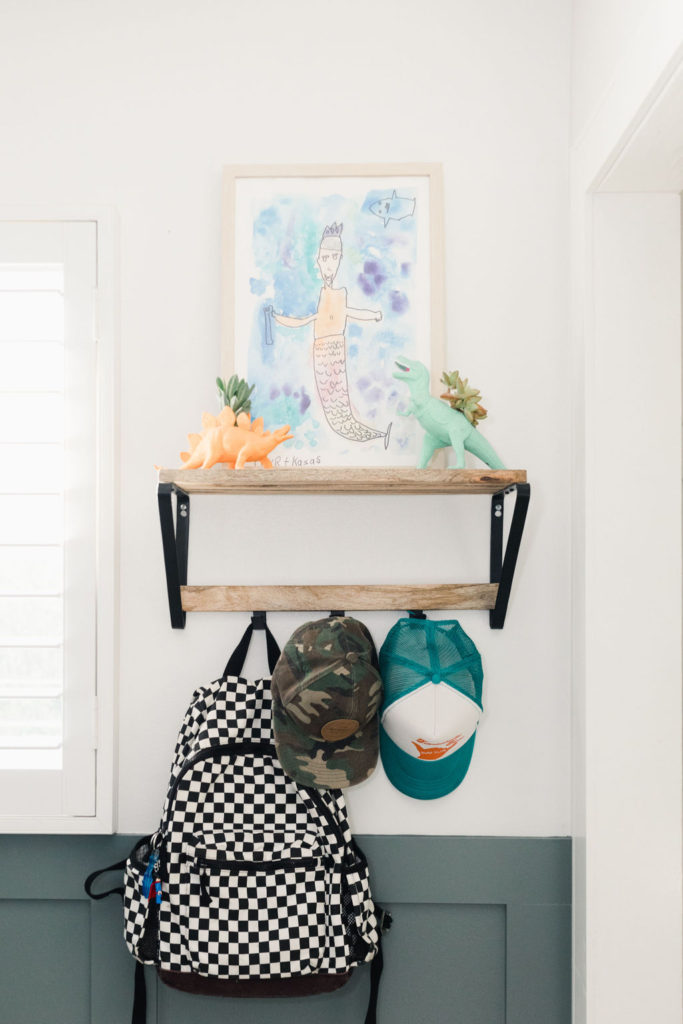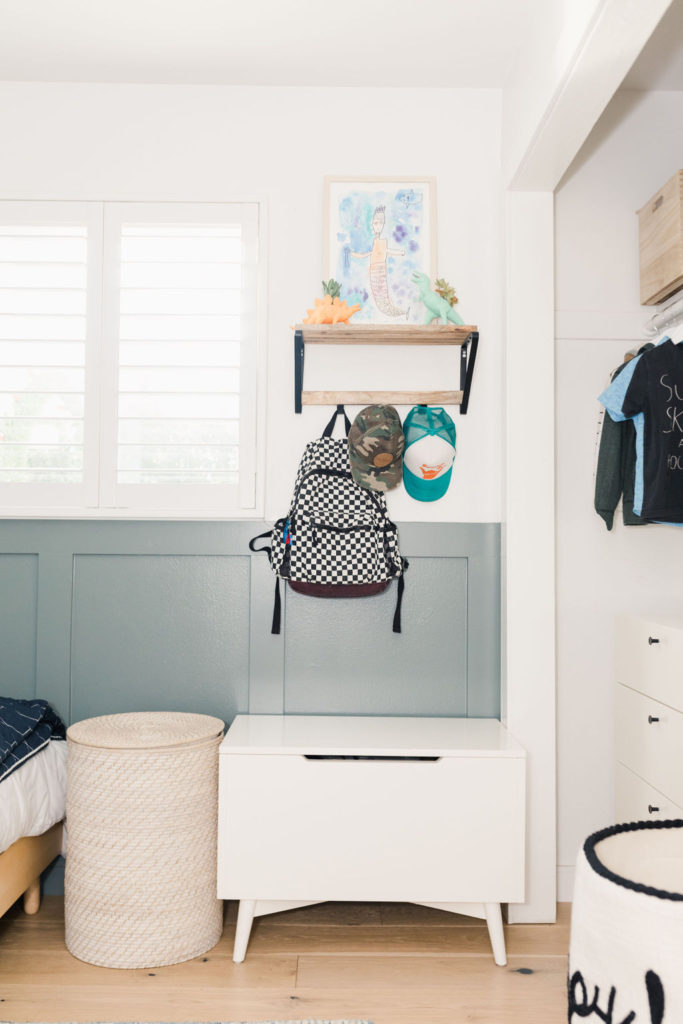 Now for the closet area! As I said, we took out the closet and put our lovely new PBK dresser in it. This dresser is also from the PBK x West Elm Modern collection. I love the mid-century feel and clean lines. Isn't it pretty?!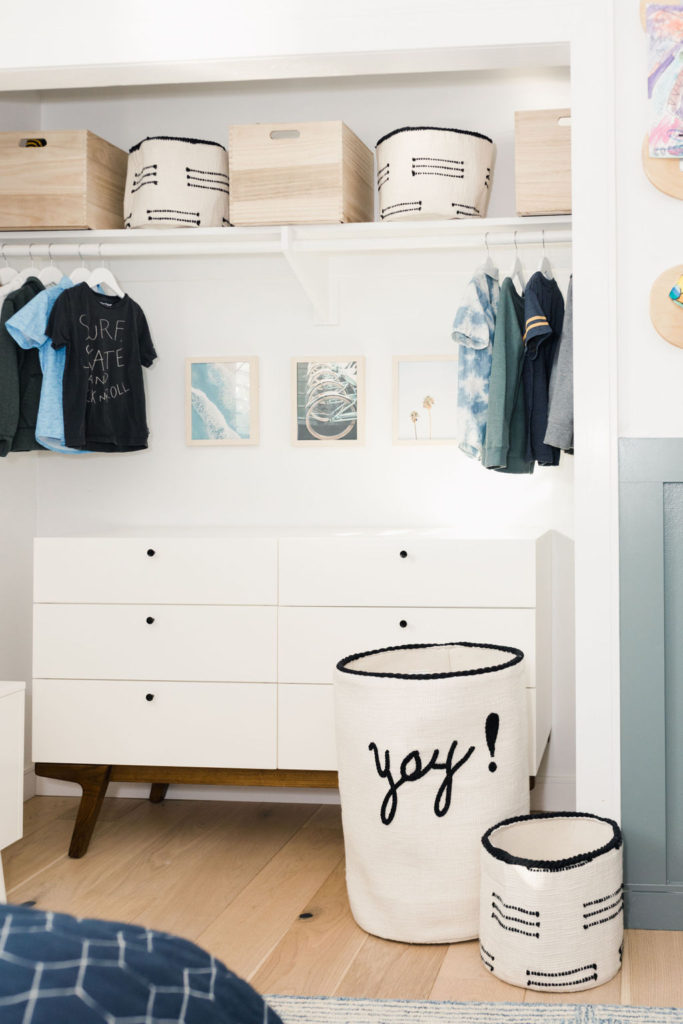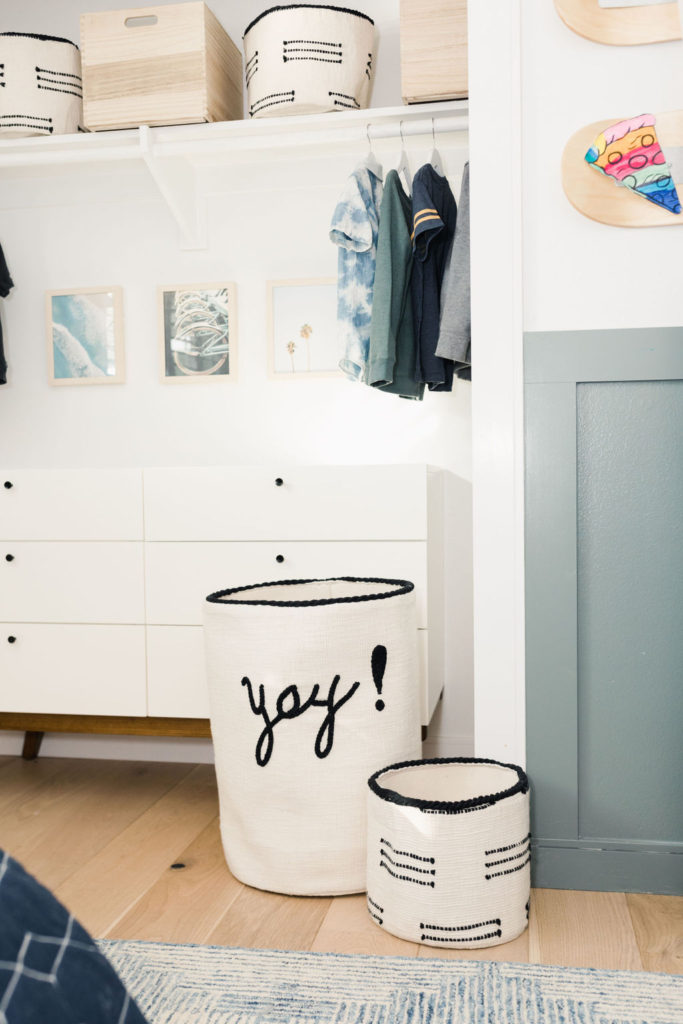 A key thing for any kid's room has to be storage. Any mom knows how many little items or toys accumulate, it's never-ending! Well, I'm here to tell you, the answer is storage!! Luckily PBK has so many options!
I chose these baskets because the black and white easily went with the room and I loved the big "yay!". Say goodbye to clutter with these bad boys, they can hold so much!! I mixed the smaller baskets in the closet with simple wooden boxes from Target. Just add a few more Minted art pieces and you're done!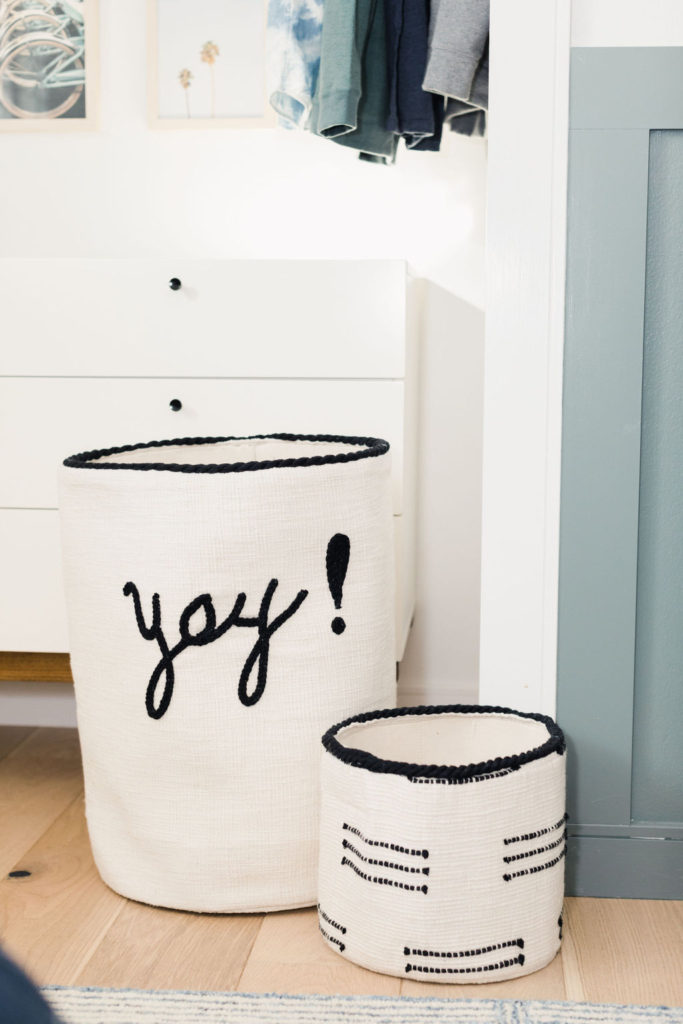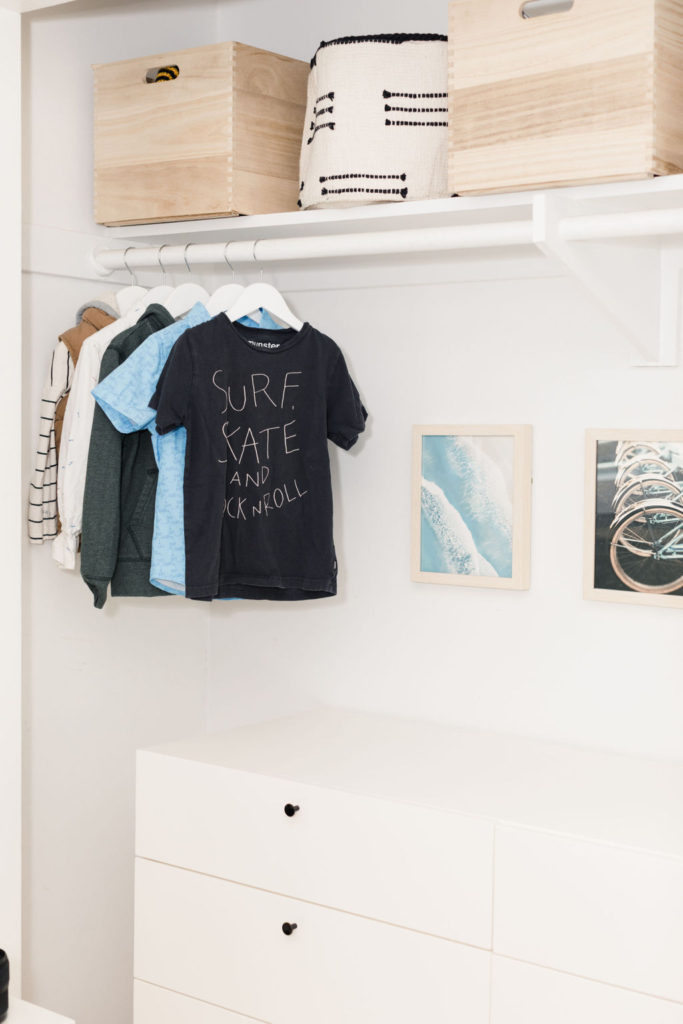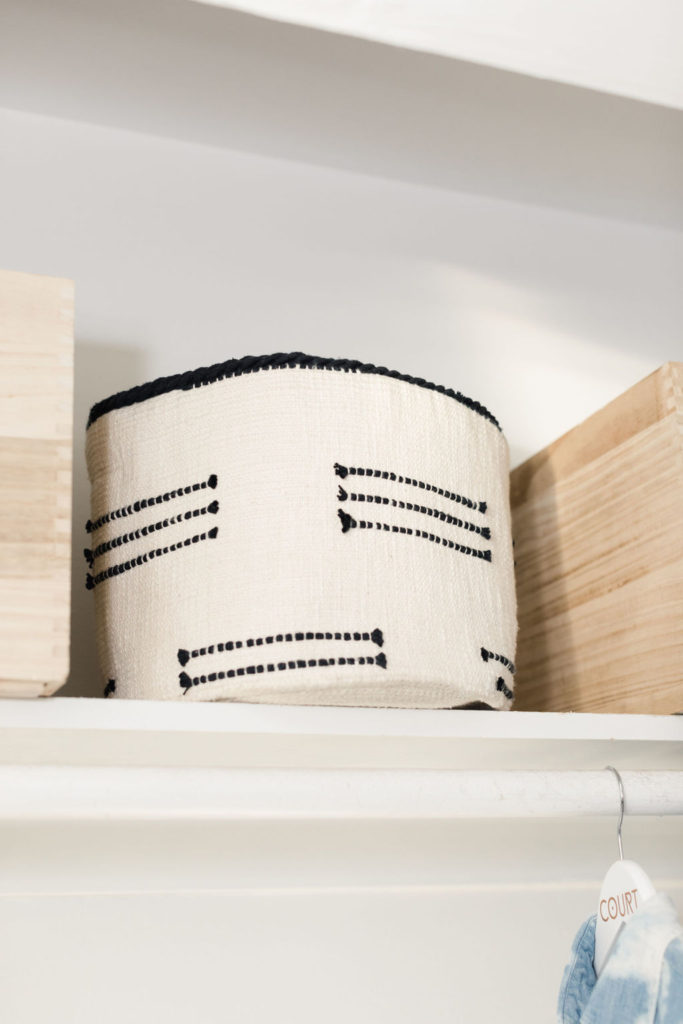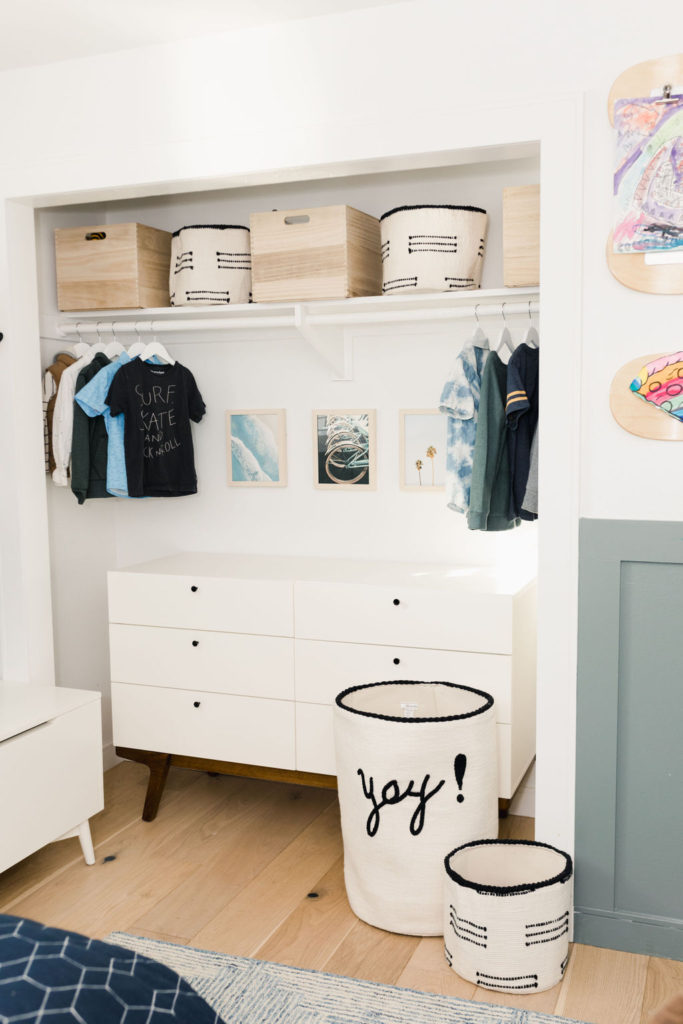 Shop Court's Closet and Landing Spot Below!

---
One of my favorite parts of the room is this gallery wall for Court to showcase his art! I don't know if it's because I sent him to an art-focused pre-school but Court loves to draw. As I mentioned earlier he is always at his desk drawing something. Unfortunately, he's obsessed with permanent markers, but that's a story for another time, haha.
I wanted to have a spot for him to hang up his art. Truthfully this wall in his room used to have his art hanging all over it. To put it bluntly, in a really ugly way, haha. Jesi and I worked on an idea of how to showcase it in a clean and mom-approved way. We came up with this!
My husband used the same wood skateboards and screwed in PBK's magnetic strips with clips. That way the aesthetic still flows and he has a clean way to showcase his work! I love the way it turned out and that my husband made this for him.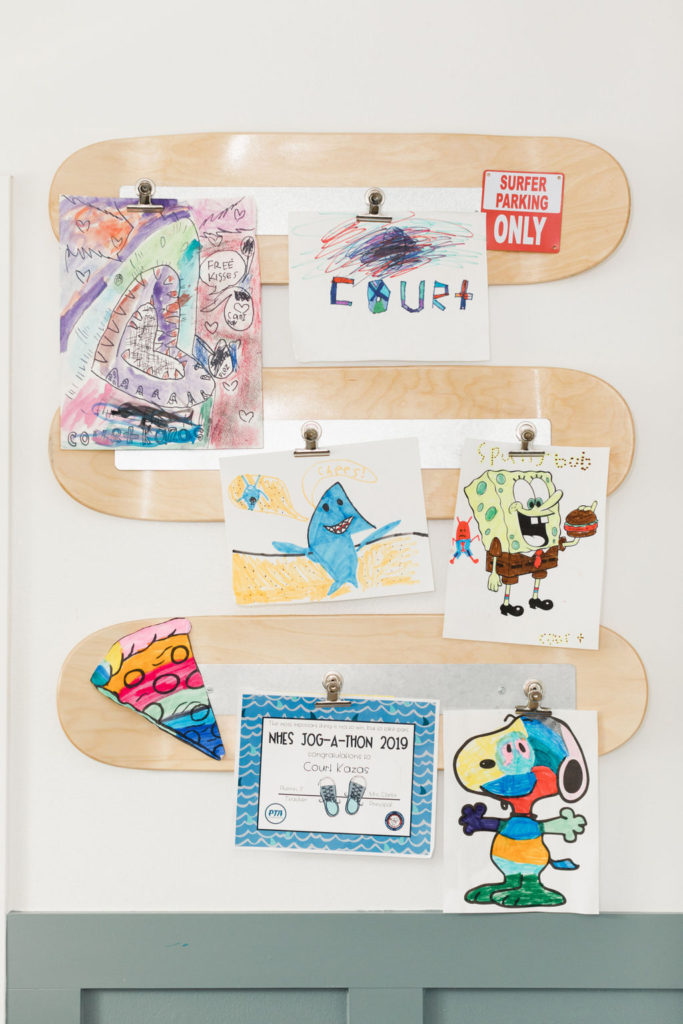 Shop this super easy DIY below!

---
And that's Court's big boy room! I am so incredibly happy with how it turned out and so is he! He gets so excited showing any friend or family member that comes over. Creating a space they are proud of and can connect with is always the goal and we definitely achieved that here!!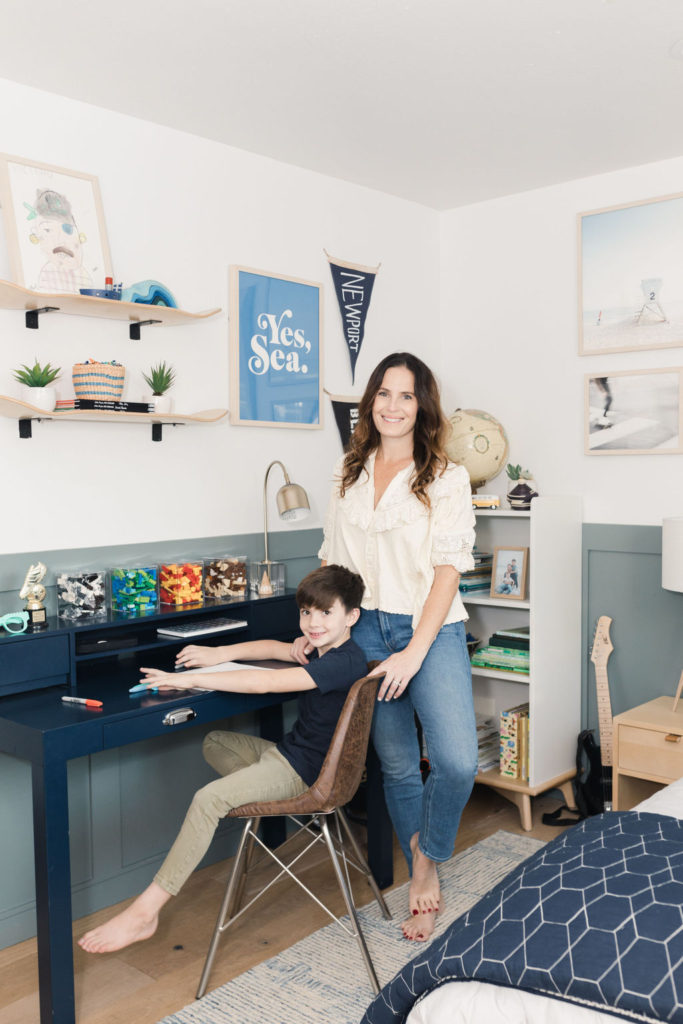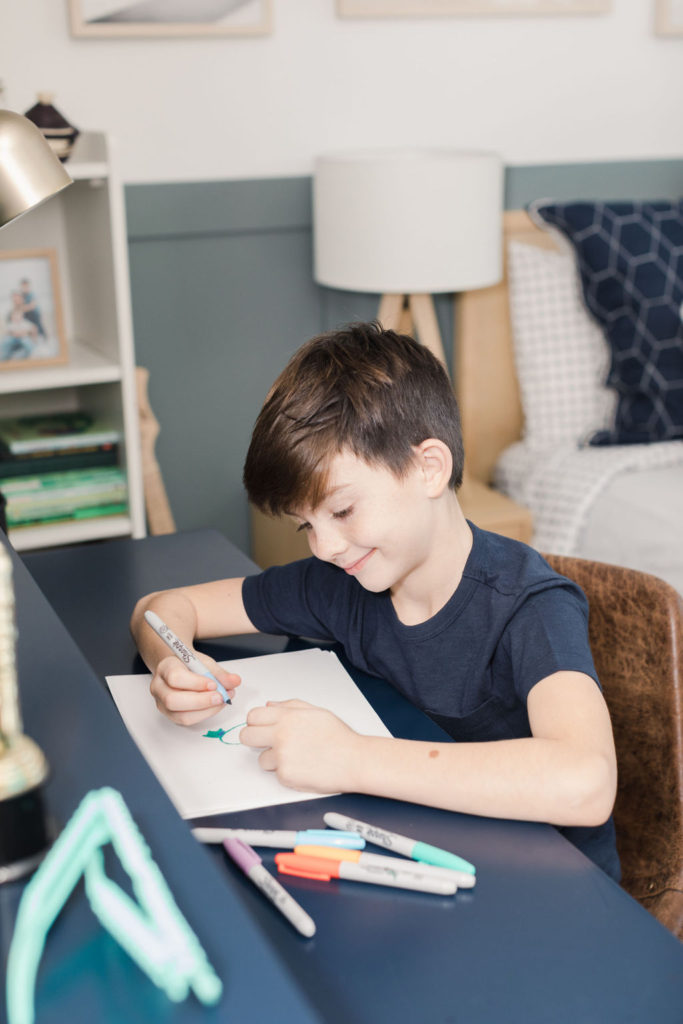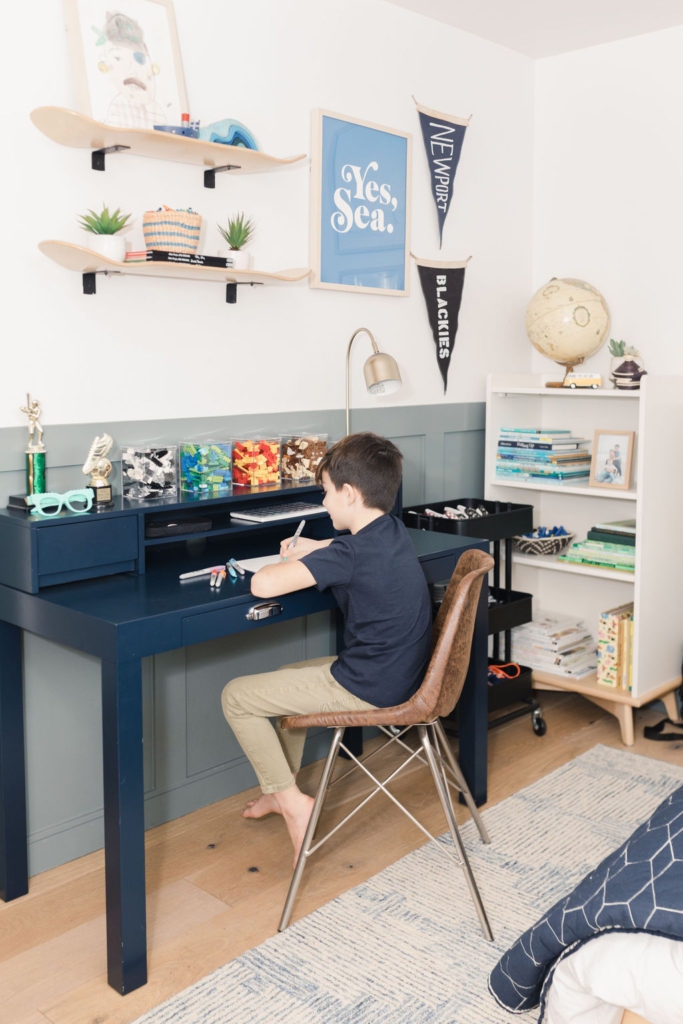 My little monkey is getting so big, but he still loves to jump on the bed! But now he does flips, somebody help….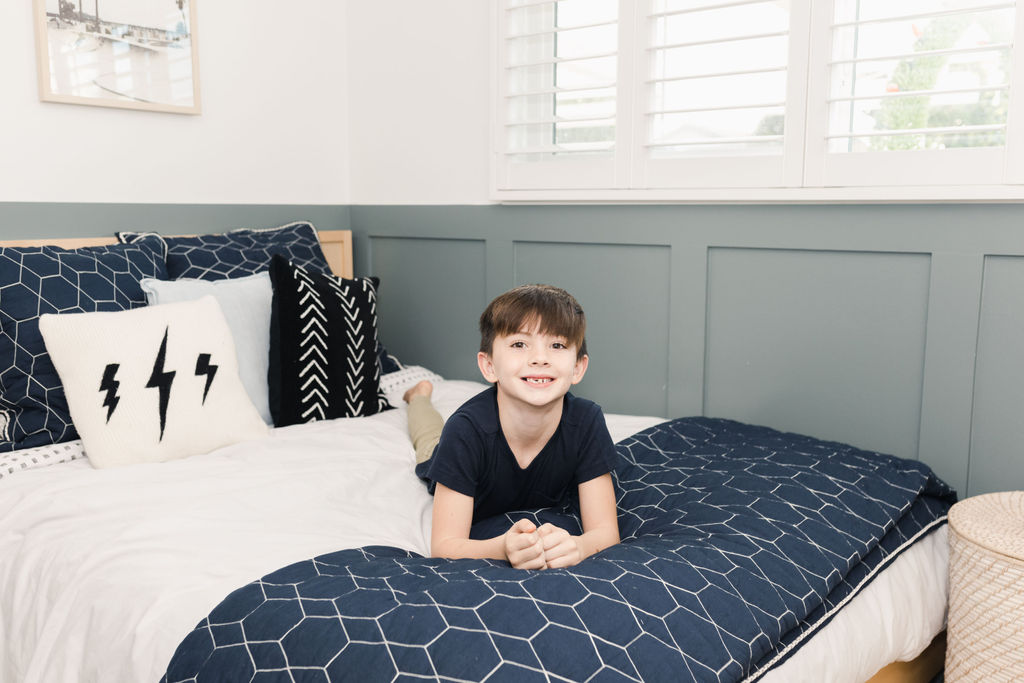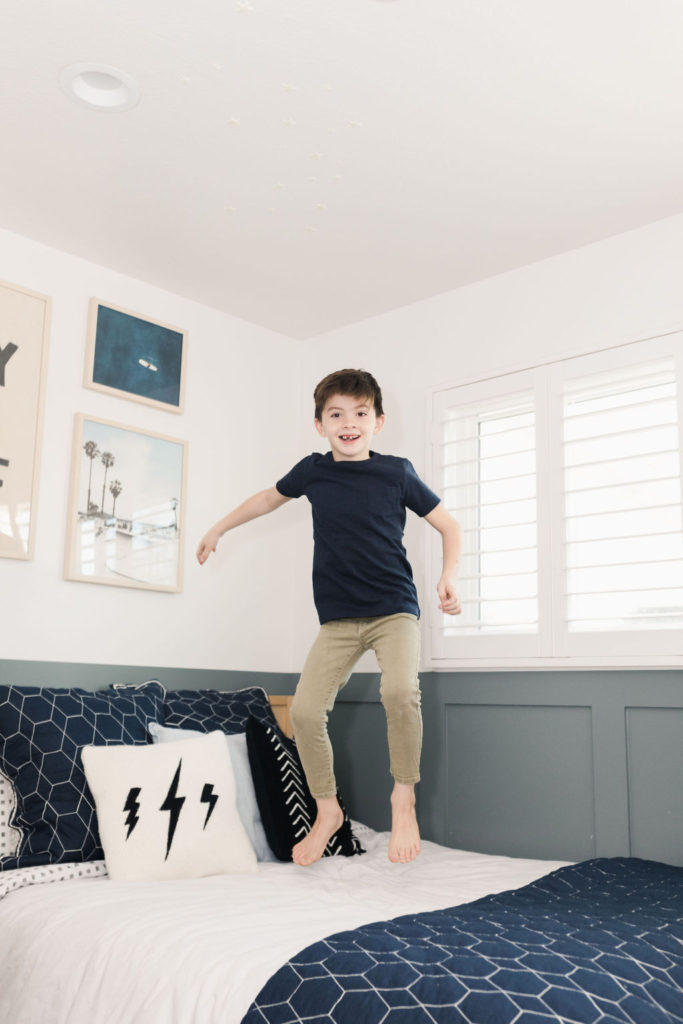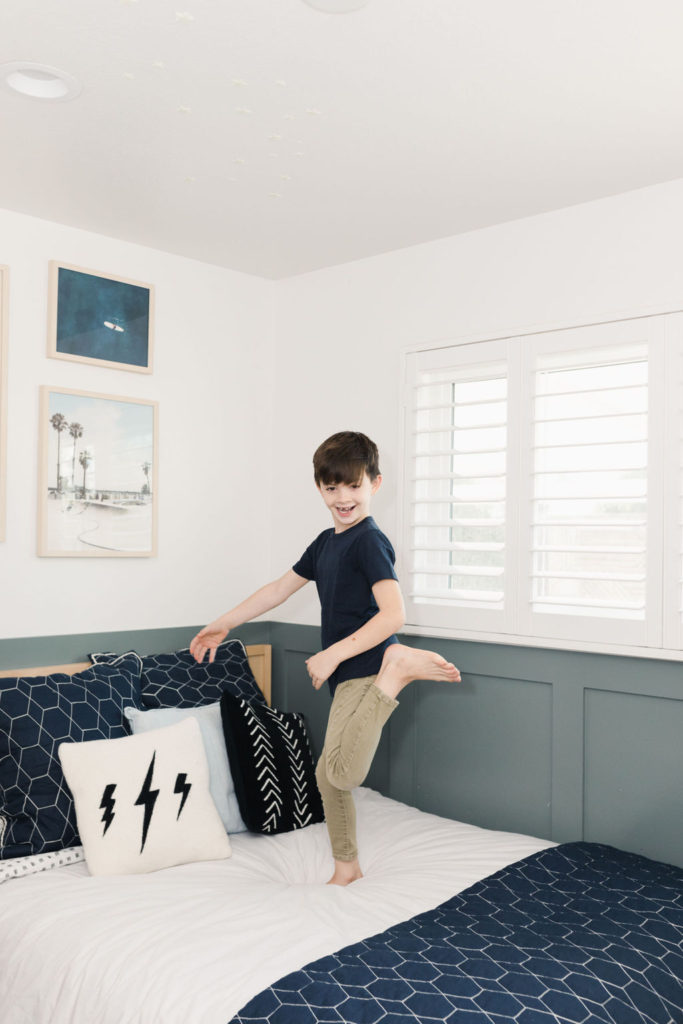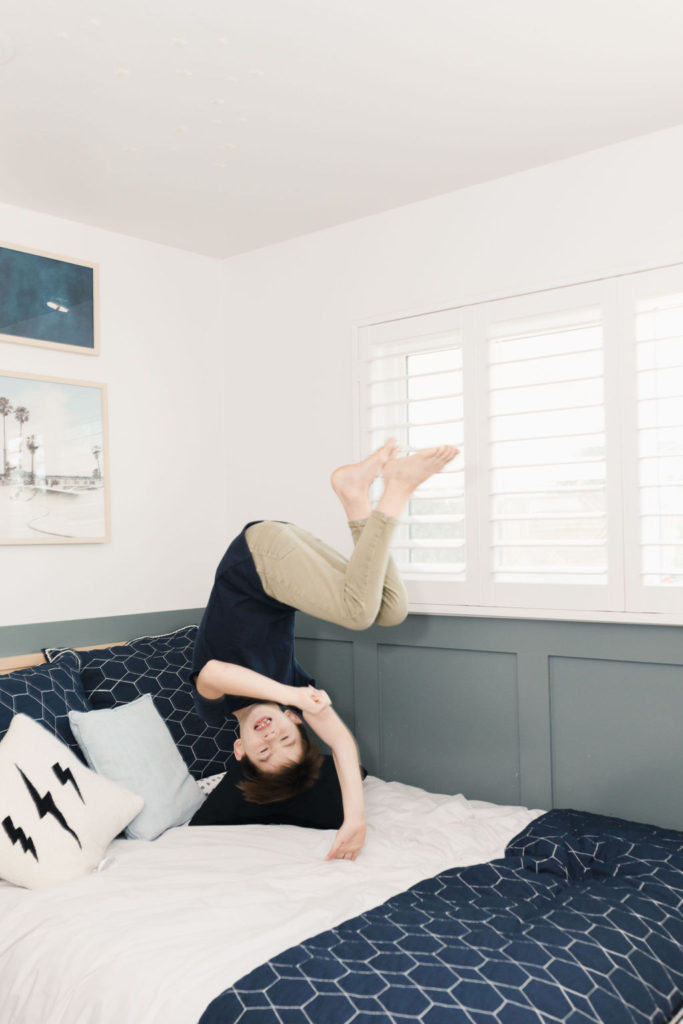 There he is with his art wall! Both my husband and I come from creative backgrounds so it is very important for us to have him be proud of his own creativity. One of the things I love most about Court is his willingness and determination to explore his talents.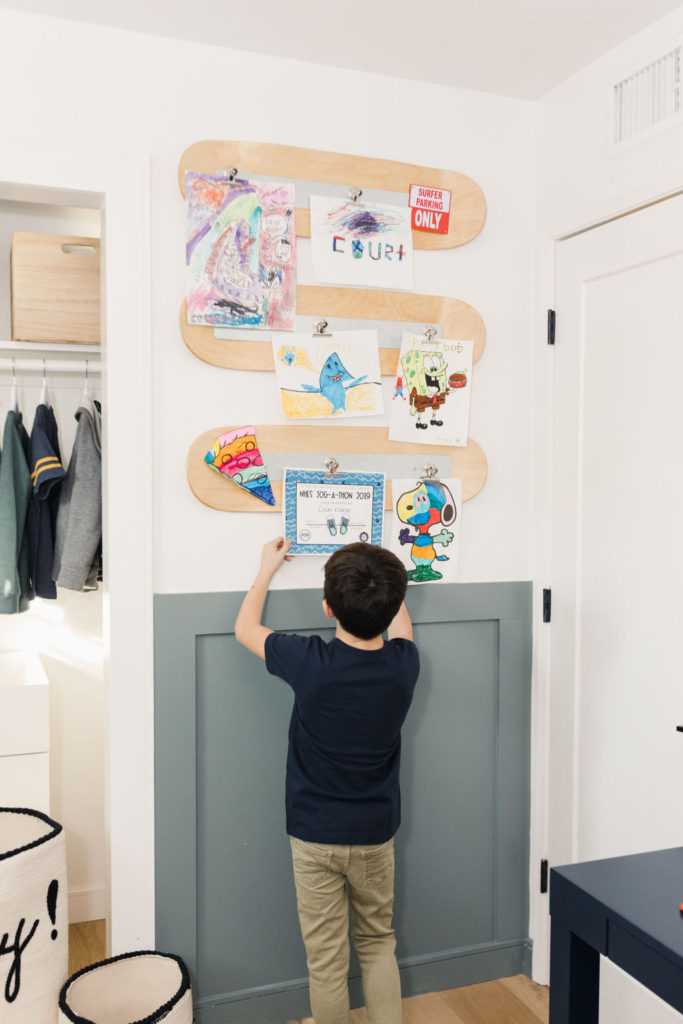 Ignore his dirty feet, haha – boys!!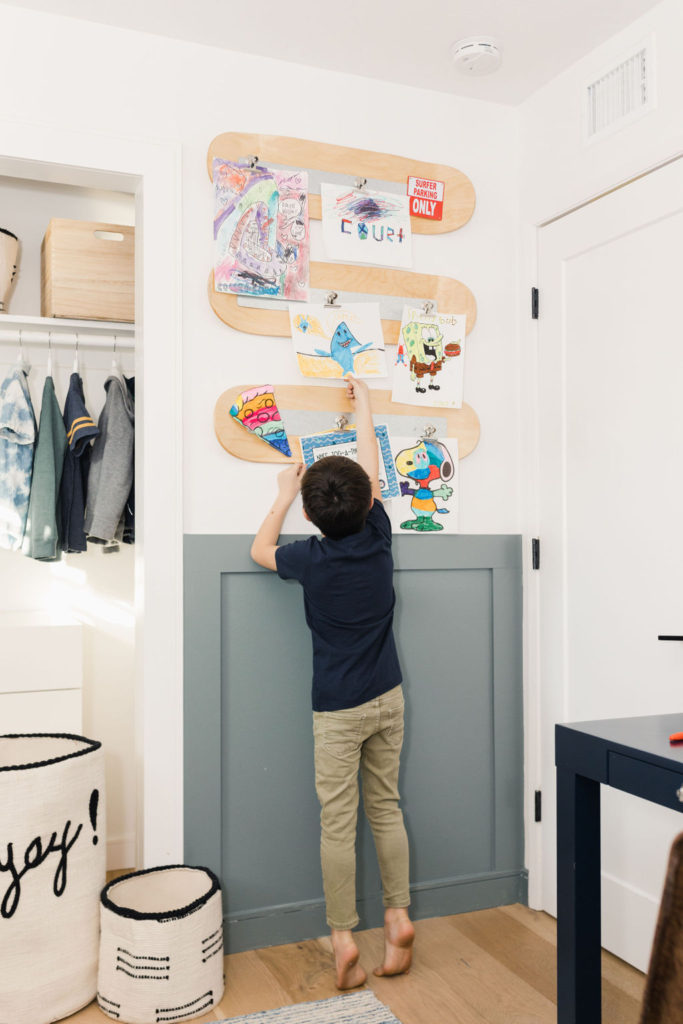 My handsome boy! So crazy to see how big he's getting!!
Shop Court's entire room below!!

---
Let me know if you have any questions! This was such a fun space to create and I'm so happy he is as in love with is as I am! Stay tuned for tomorrow when I share my little guy Cruz's room!
xx
Jacquelyn