Did you all know that Frozen 2 comes out in 10 days?!? That's right TEN DAYS!!! I don't know what I'm more excited for, the actual movie or the sure to be amazing soundtrack! I know we were belting out the songs from the original over and over in my house!!
We threw a Frozen themed slumber party at my house with all things Pottery Barn Kids. Yes, another party with PBK – we can't get enough!! It was an amazing sight to see in my house full of boys, we had to kick the boys out so I could get my girly girl on!! If you're excited or have a Frozen fan in your house you're gonna freak over this party! Every little Frozen detail is happening and you don't want to miss it – so keep scrolling!!
Photos by Alison Bernier
The scene was set in my living room so the girls could watch the first movie in preparation for the second! This movie is probably one the most highly anticipated films this year – so we went all out!! And lucky us, Pottery Barn Kids has everything covered for a great slumber party!!
For example, they have the cutest Frozen sleeping bags and Let it Go pillows! Both have some sparkle to them and I couldn't get over the detail on the sleeping bags!! Absolutely adorable!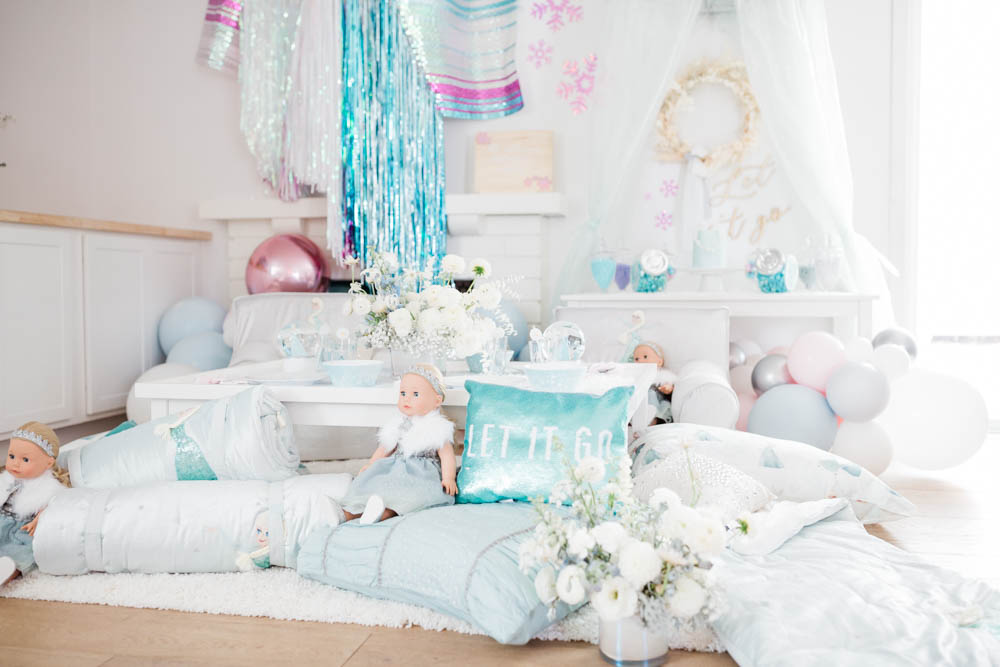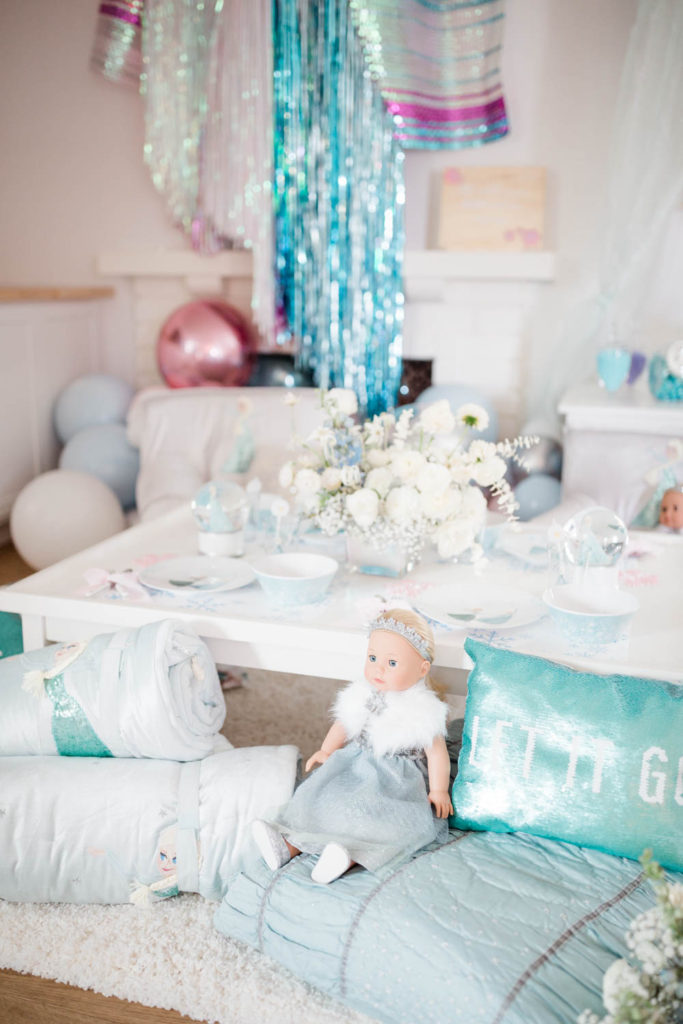 Ashley Renuart created the amazing backdrop for the party – love that fringe and the colors!! Plus we had to add some balloons from The Pop Shop! You'd think Elsa had her hand in the decor as well!
And how adorable is Pottery Barn Kid's infamous Every Day Chair with a Frozen twist?! We added their pretty jewel pillow on top and it's looking pretty lovely!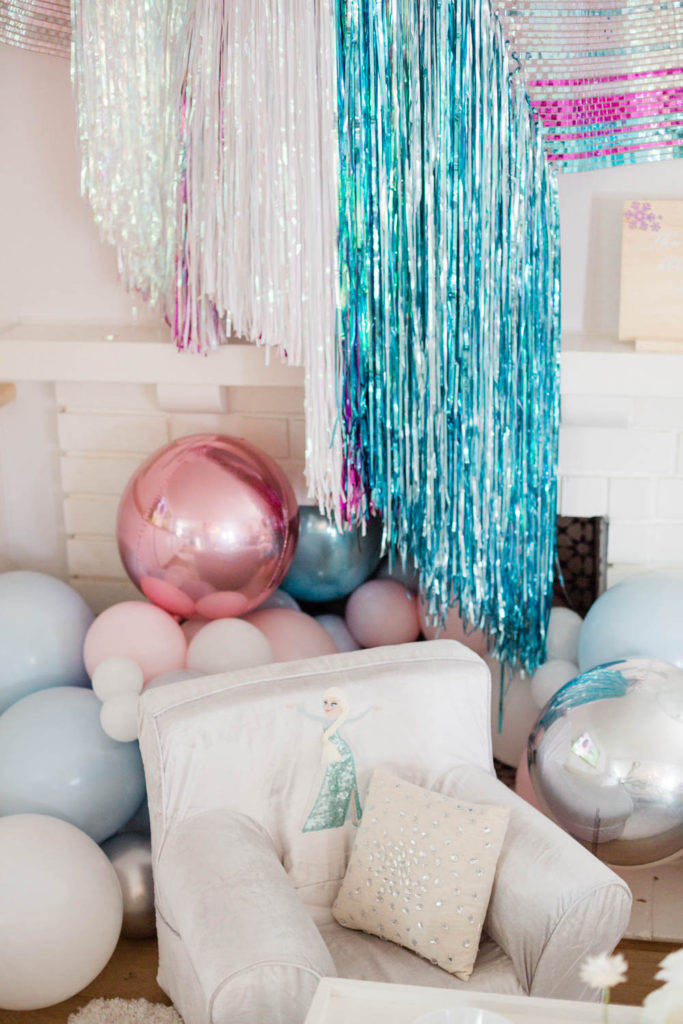 The amazing floral arrangements were by Not Just in Novels – she got the winter touch just right with a bit of whimsy!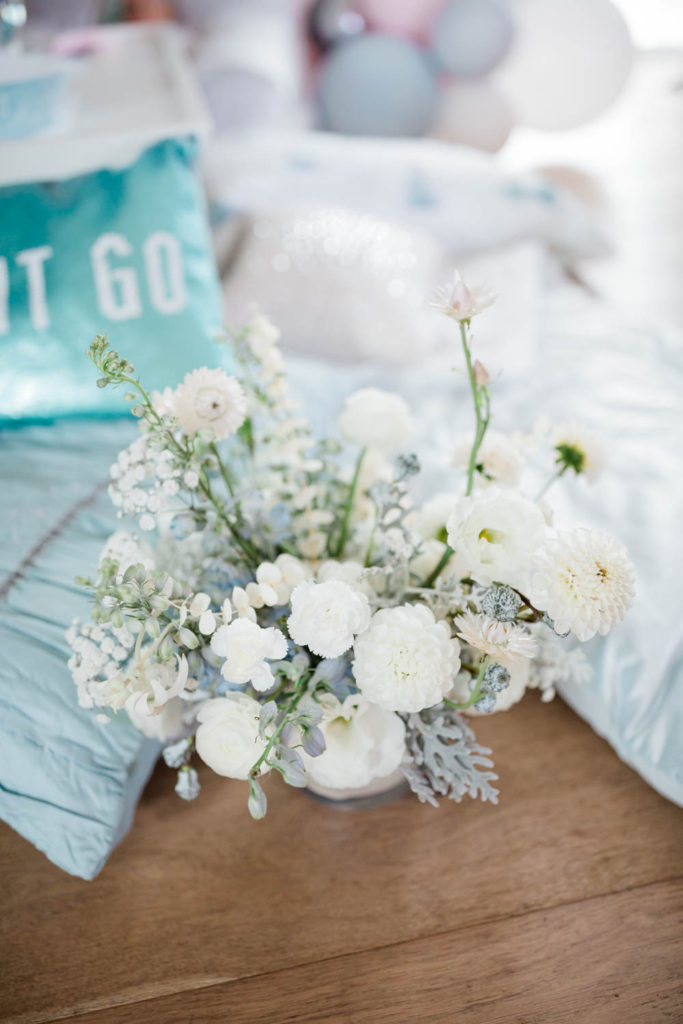 With pretty florals has to come a pretty table! Pottery Barn Kid's Frozen Dinnerware Set is the perfect gift for your little Frozen fan!! I decked out the table with their set and white flatware tied with a pink bow. Creative Amme made the cutest pink snowflake place cards to finish it off!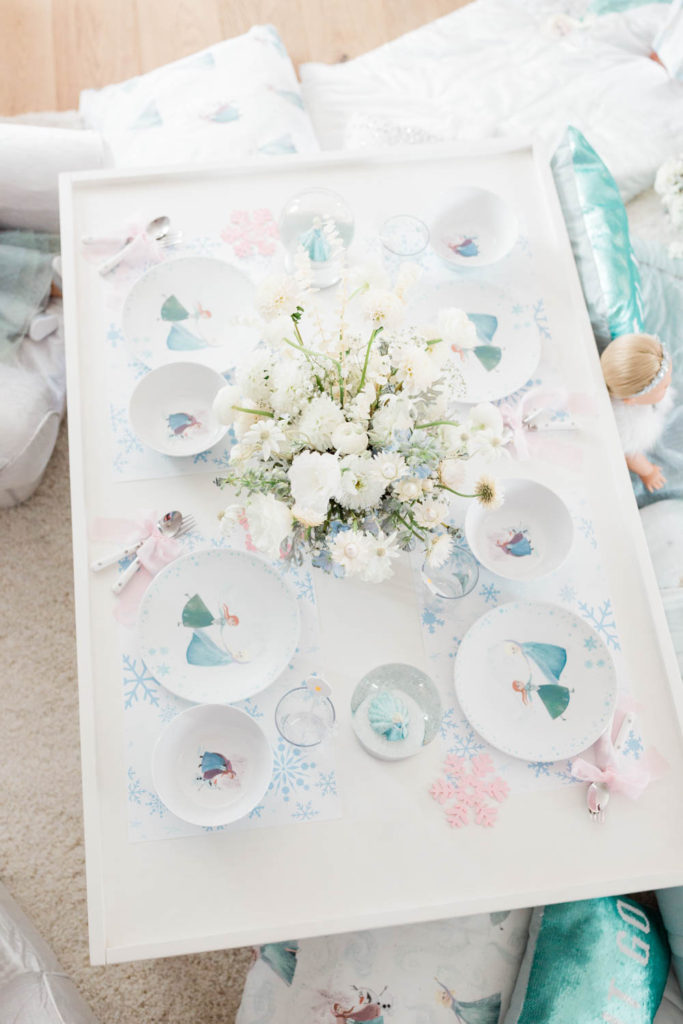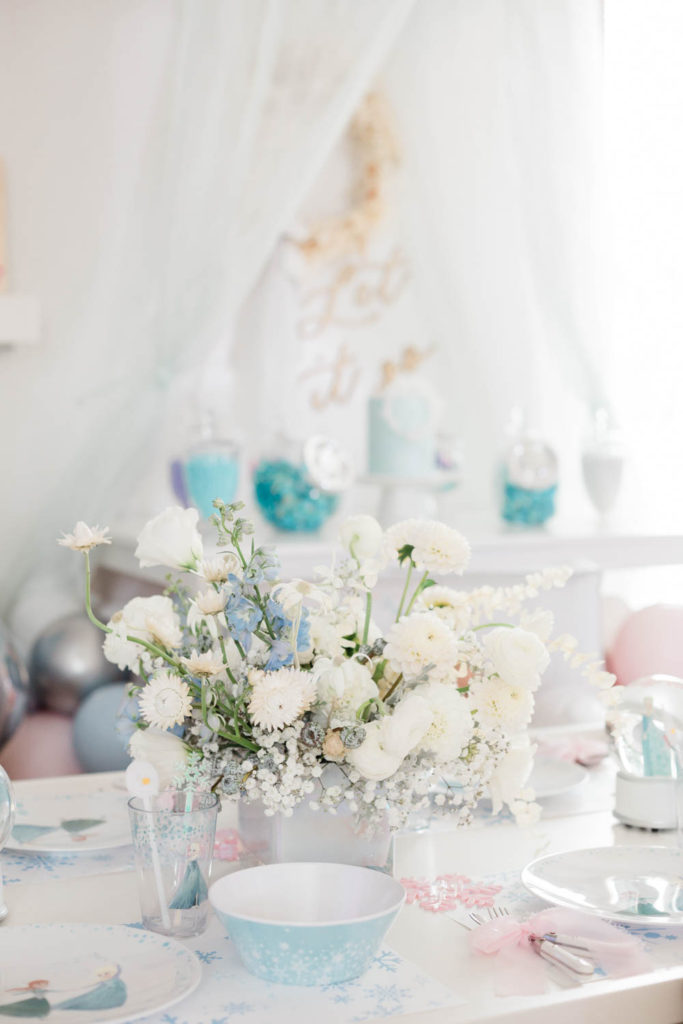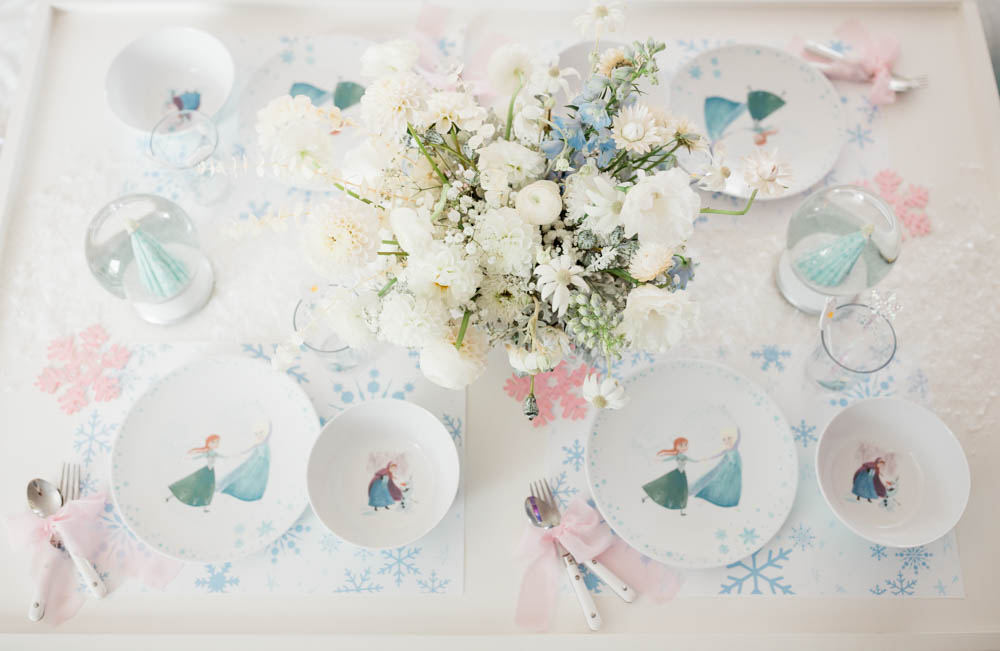 A special thanks to Meghann Miniello for creating the snowflake placemats! I always love adding them to our kid's parties – they are a really great cost effective way to add more detail to your party!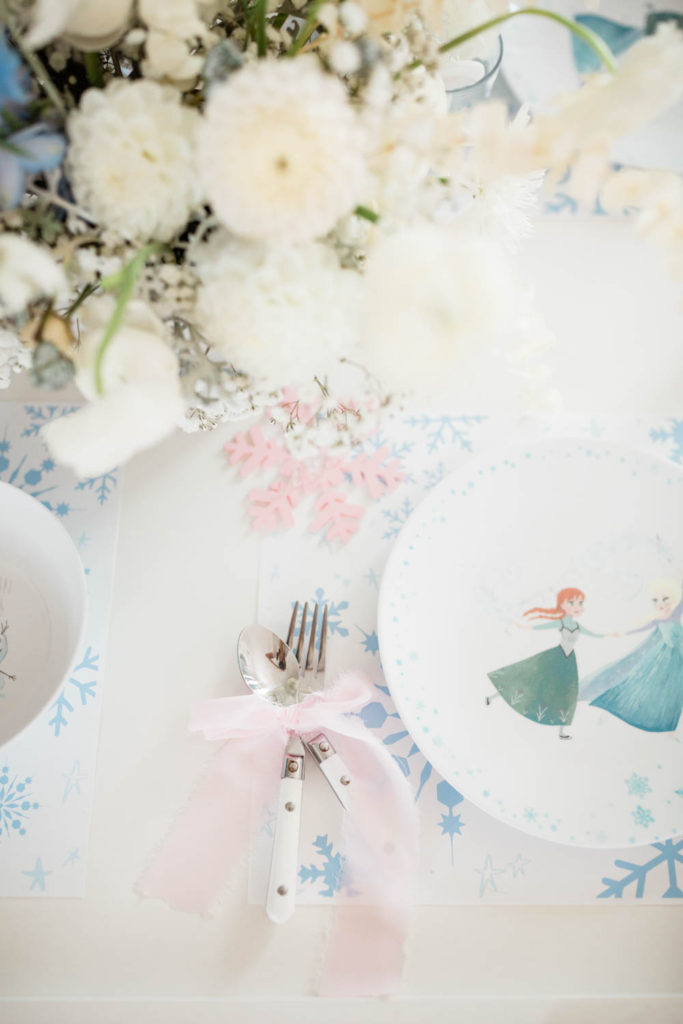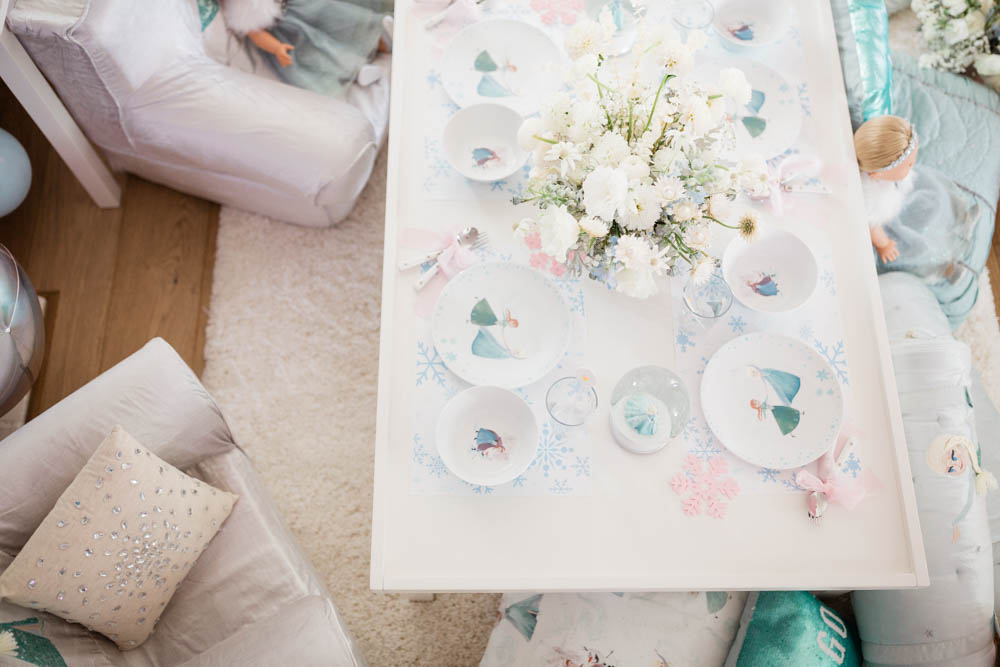 I loved adding Pottery Barn Kid's Elsa Snow Globes to the table. They really added a special detail and the girls went crazy for them!! And can we talk about those cute Olaf drink stirrers along with the snowflake by Creative Amme?! I mean… THE CUTEST!!!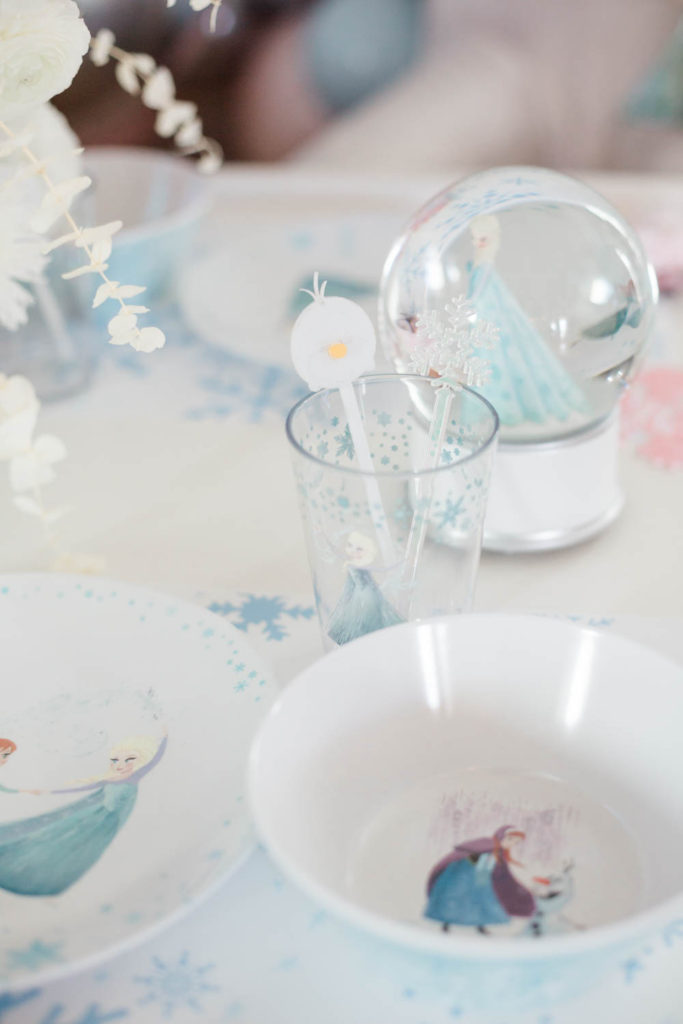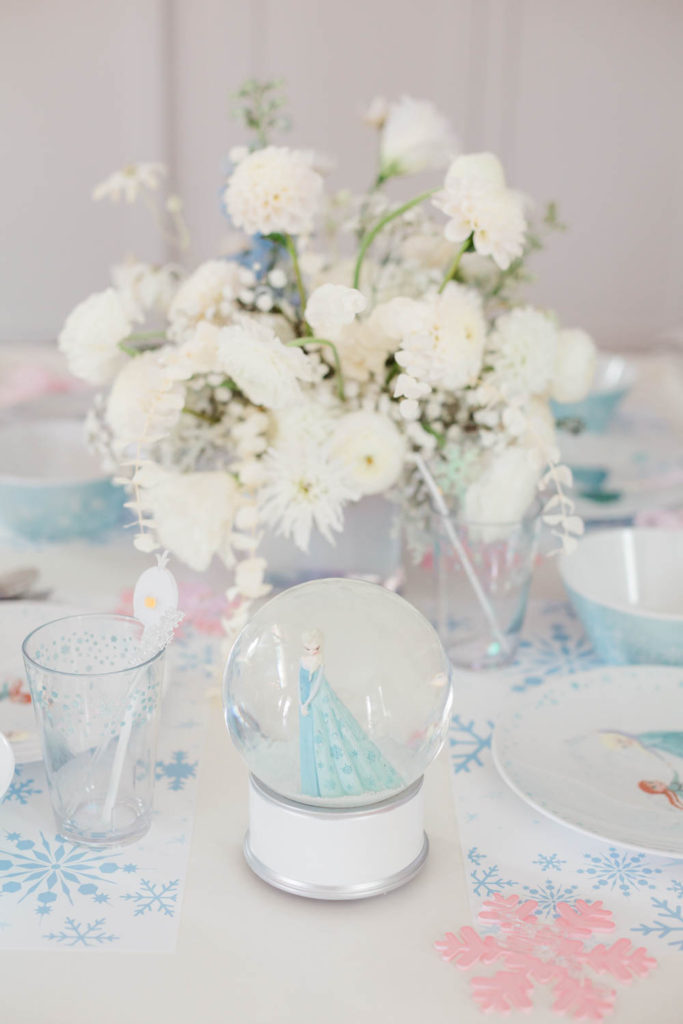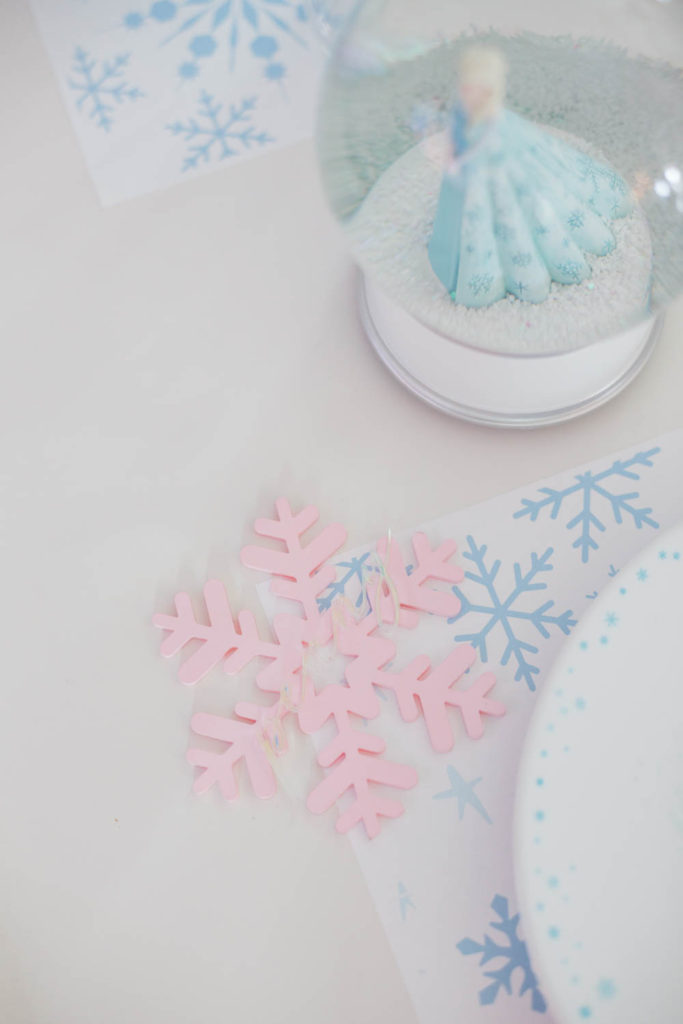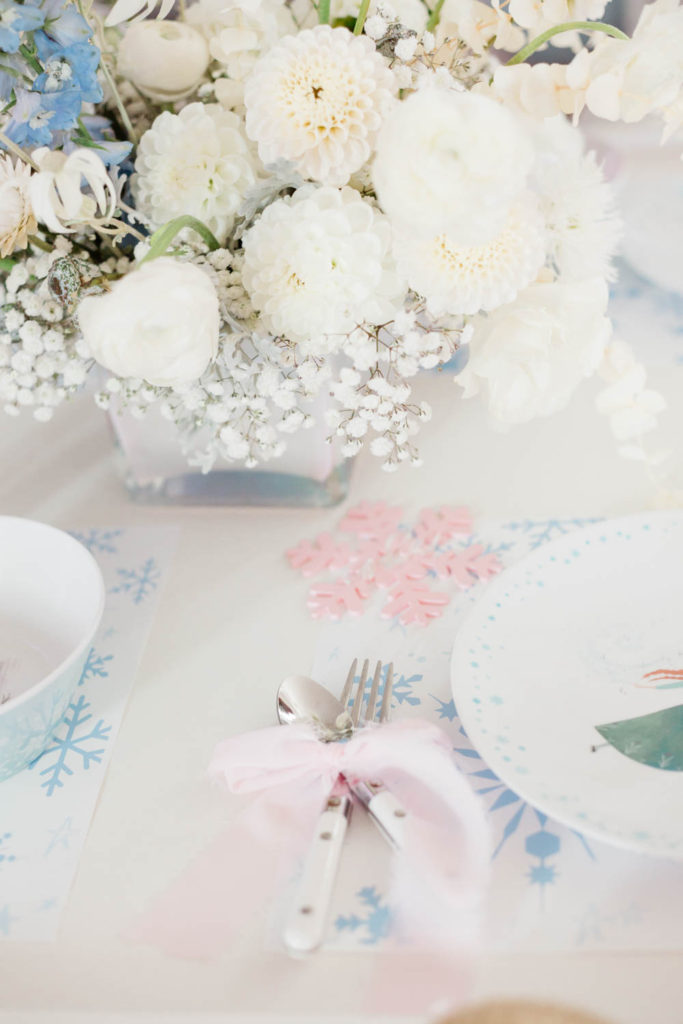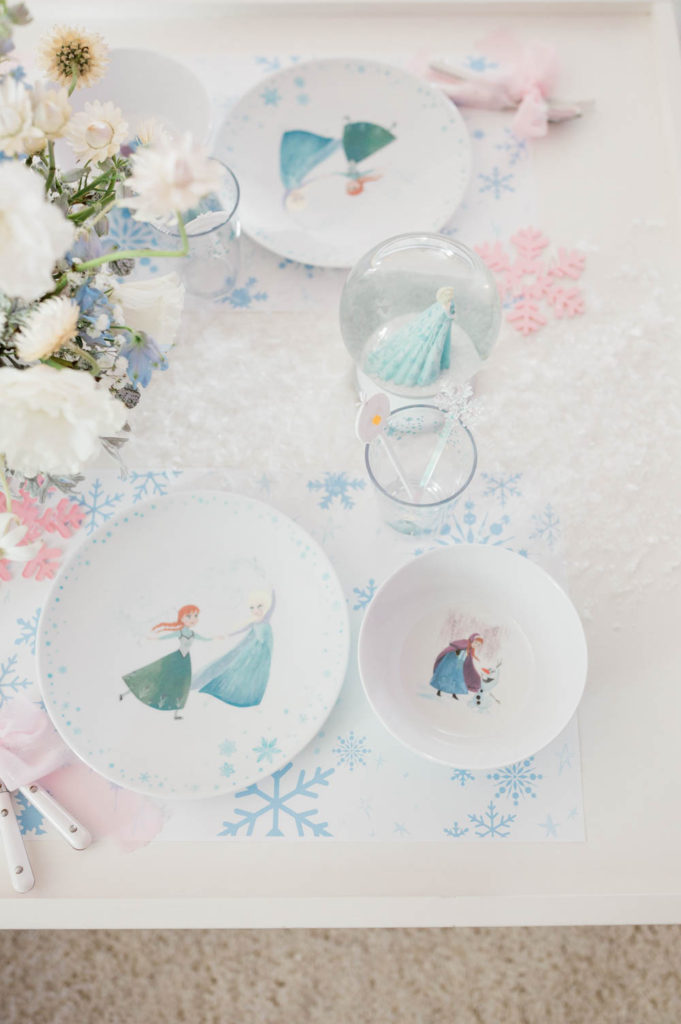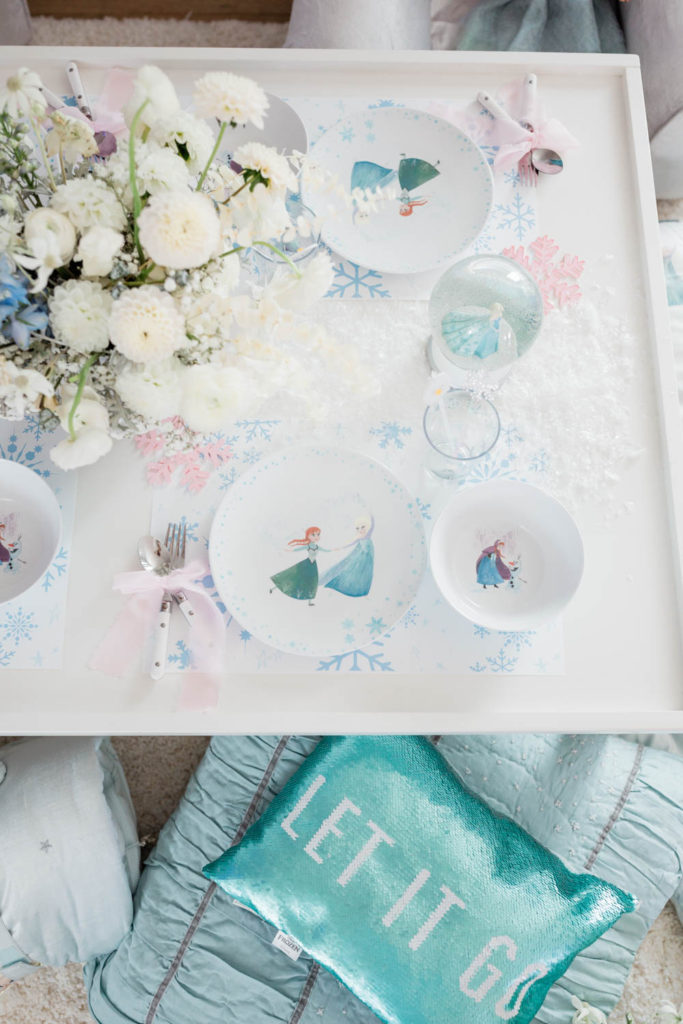 Yep! I'm obsessed with this set up! Now, I think it's time to add some cute little ladies into the mix!!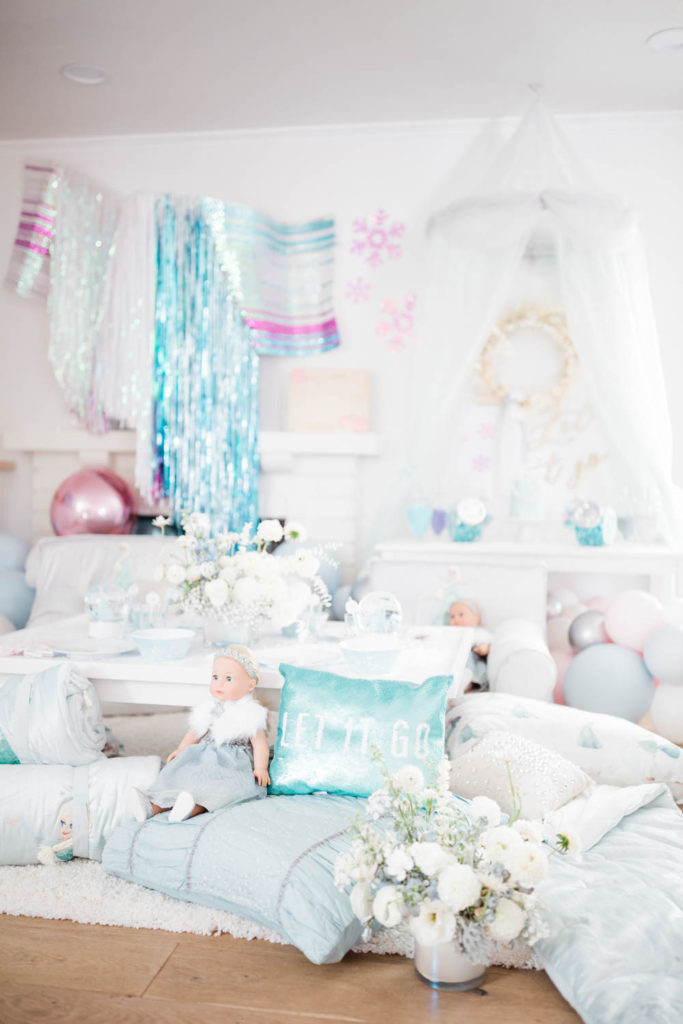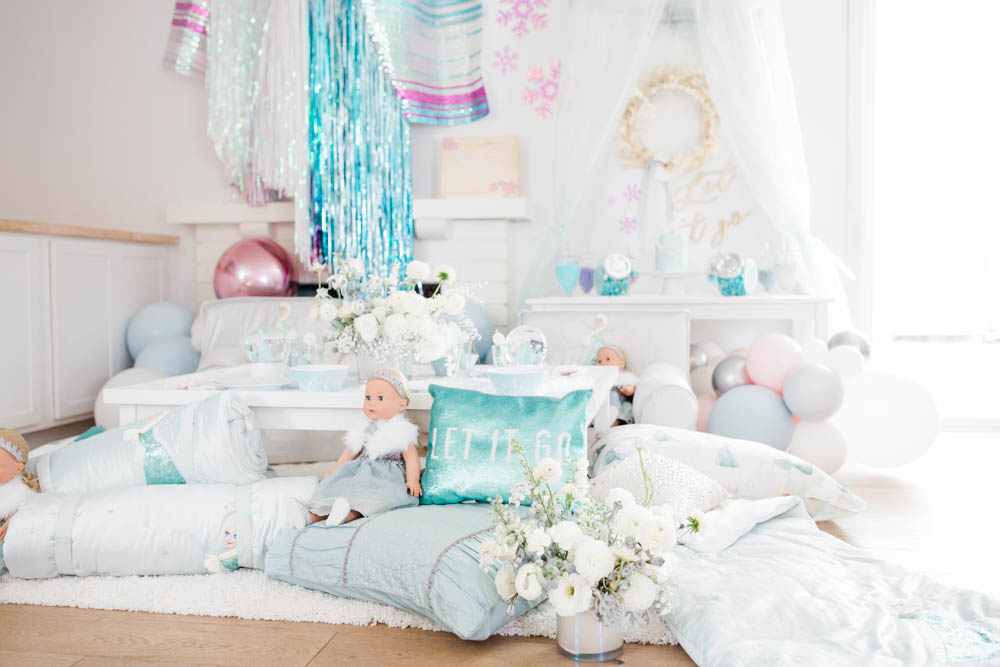 There they are!!! Our sweet little ladies were pretty excited, to say the least!!! I think their year was basically made this day! And how adorable are they in their Frozen nightgowns?! So cozy and perfect for a night of movie watching!!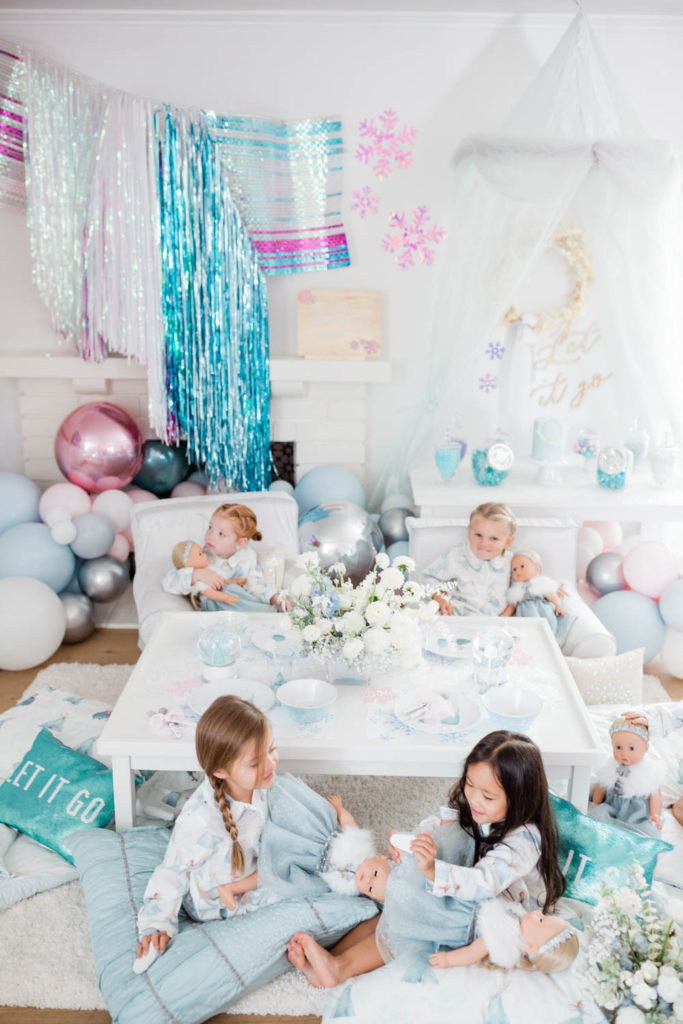 Each of our little guests also got the prettiest doll that looks very similar to Elsa… Pretty lucky girls, right?! They were thrilled and couldn't stop playing with them!! Aww, if only I had a girl, haha! I definitely got my girly fix this day though!!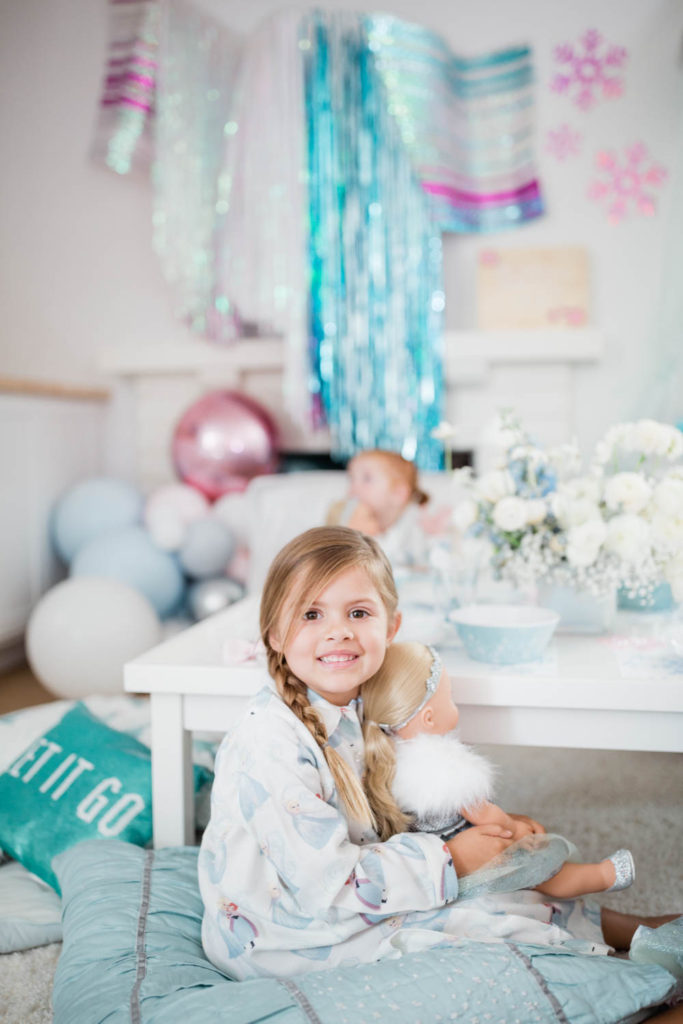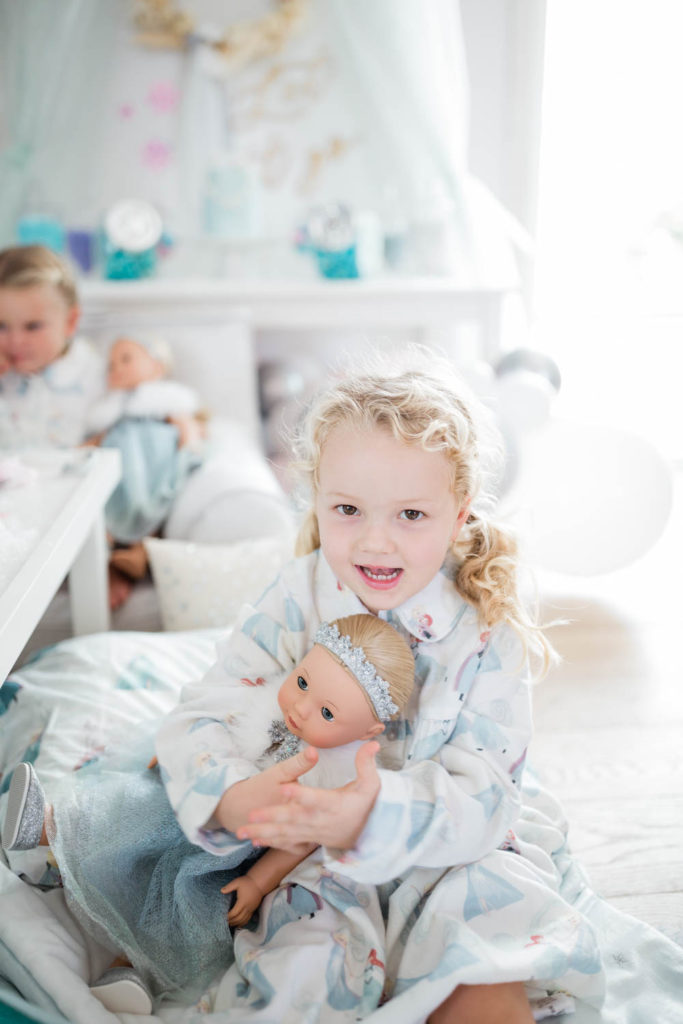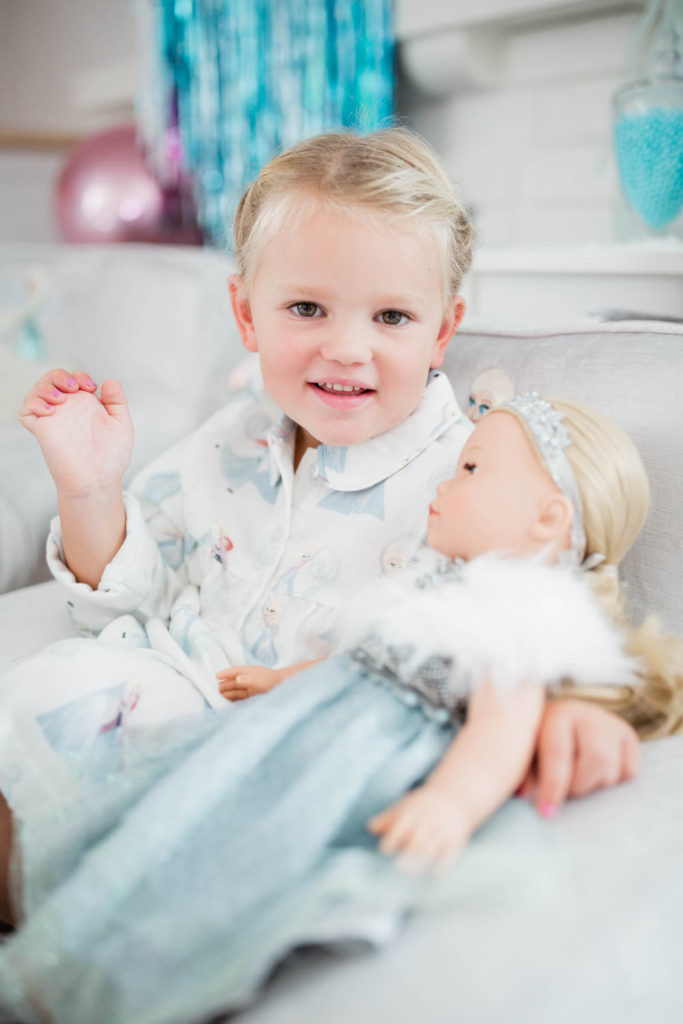 Such a pretty winter wonderland for our guests, don't you think?!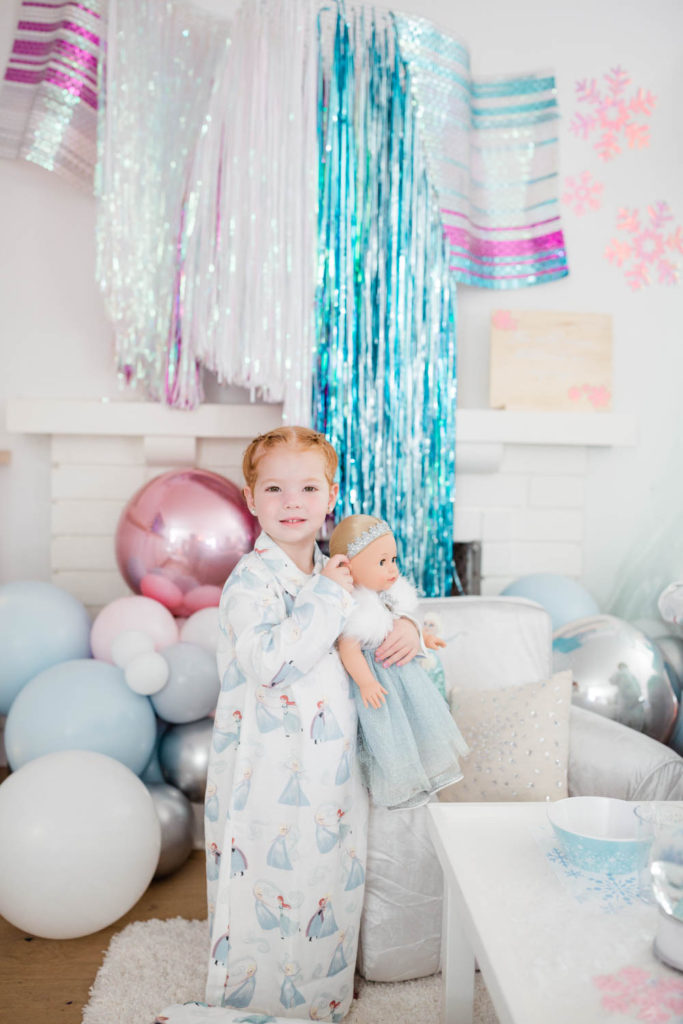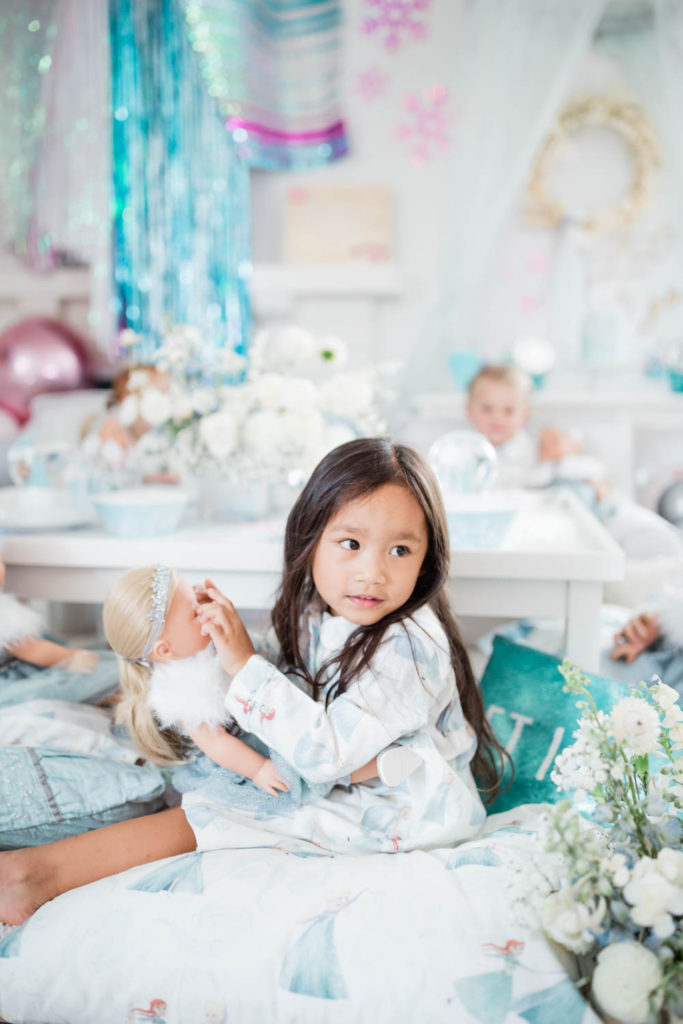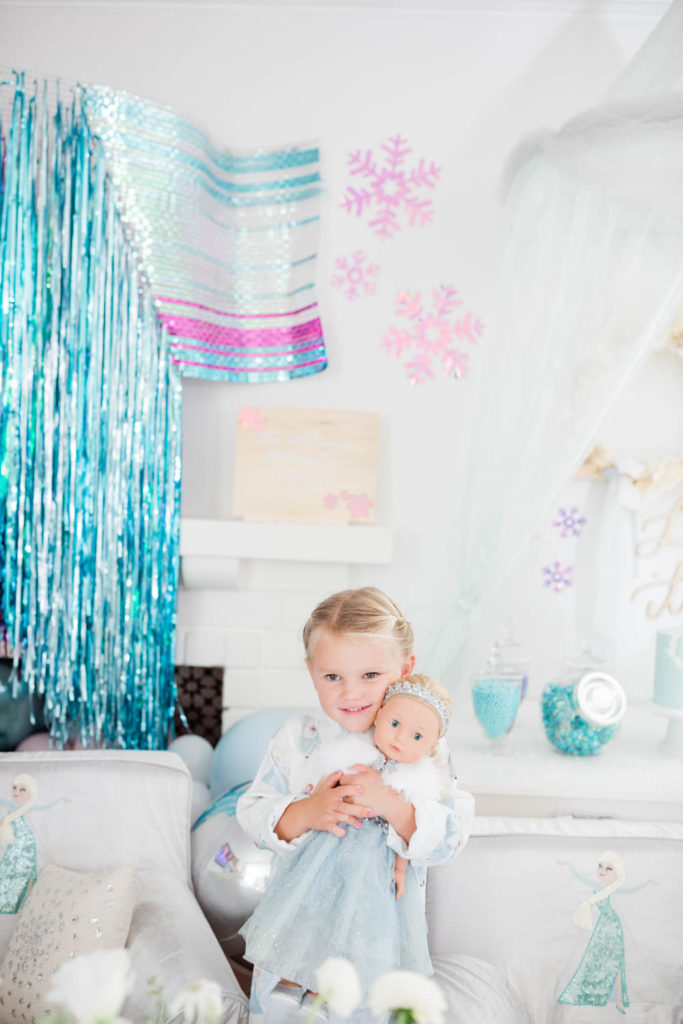 Pottery Barn Kids even has a complete Frozen bedding set that we used – more on it later. But you can see the girls lounging on some of it here! I love the dusty blue color and the quality is amazing!! Such pretty pieces to deck out your little one's bedroom!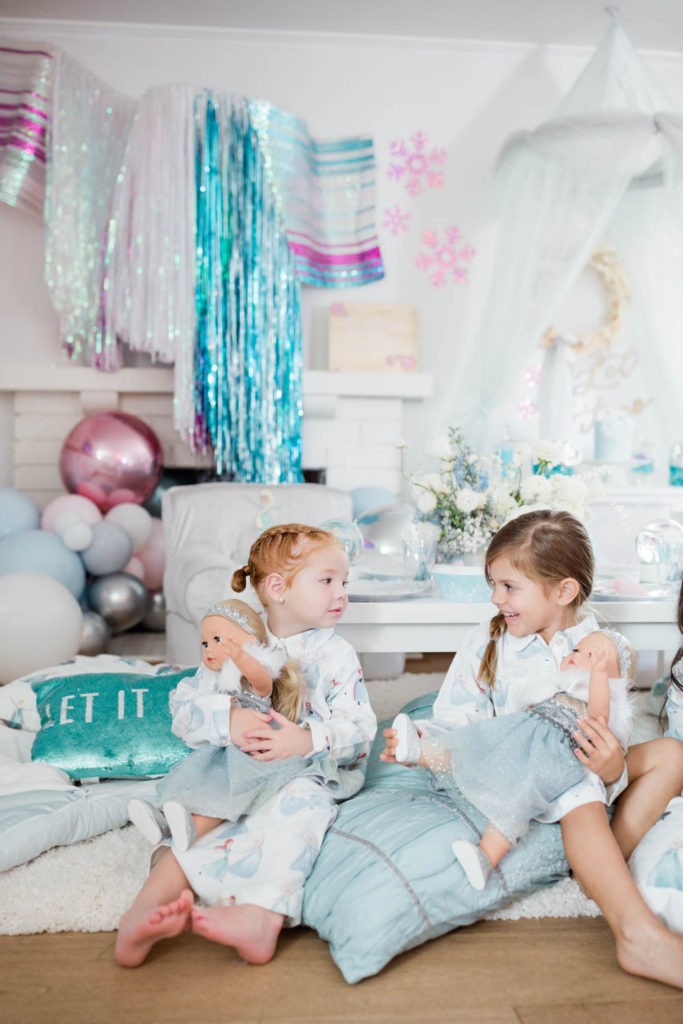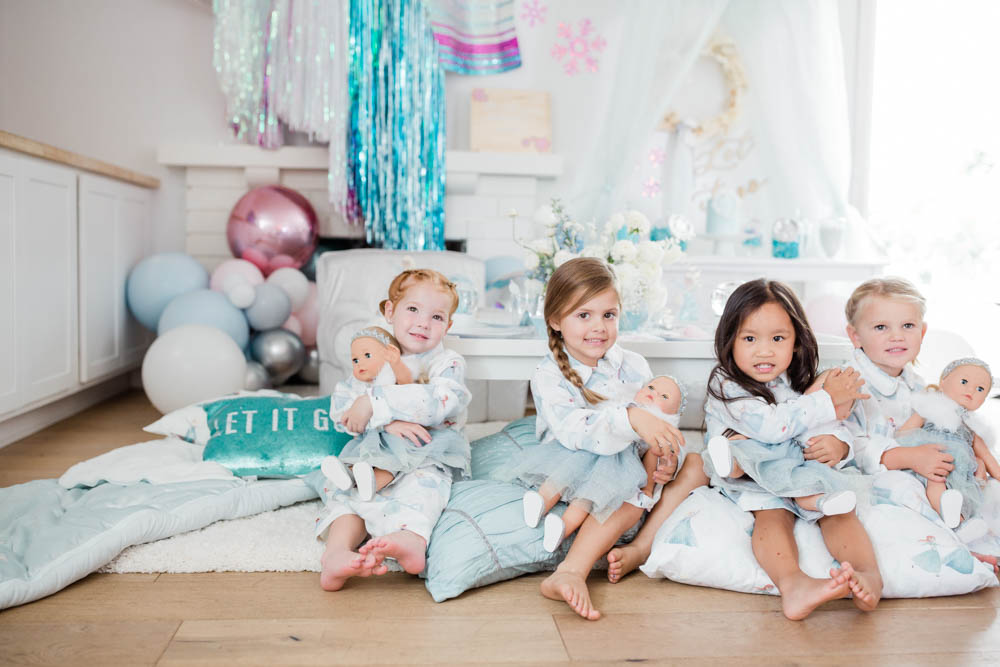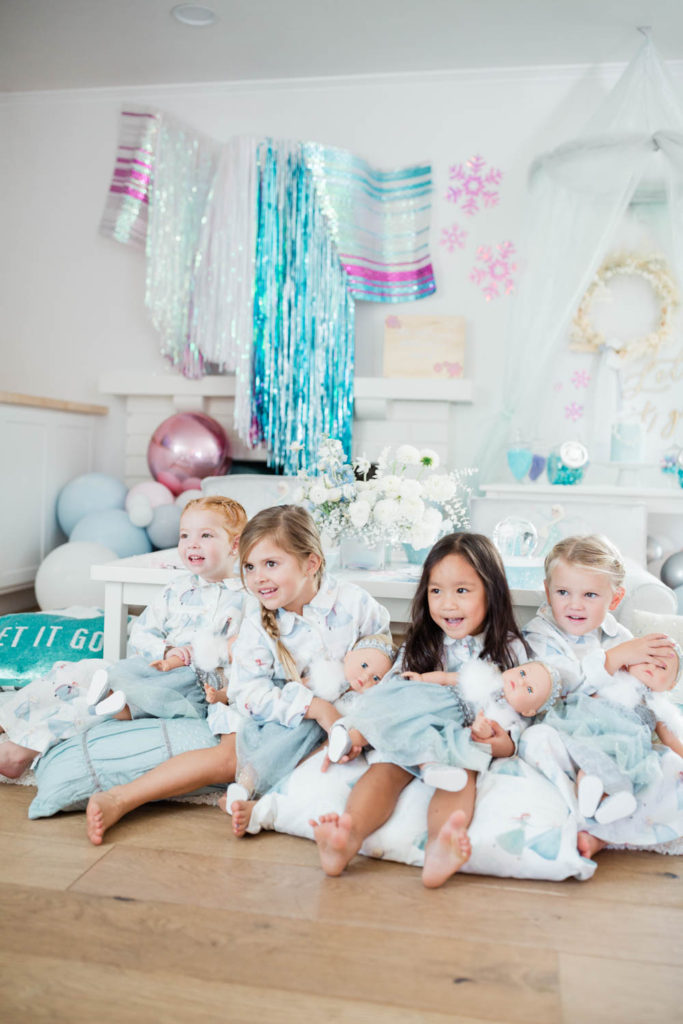 Onto dessert!!! I decided besides a gorgeous cake, we needed a fun way to do popcorn for our movie viewing! I added Color It Candy's amazing assortment of colored candies to mix with the popcorn and the girls went wild for it! They have so many fun colors to choose from, it was hard for me to stop adding more into my cart!! I especially loved the iridescent options for this party!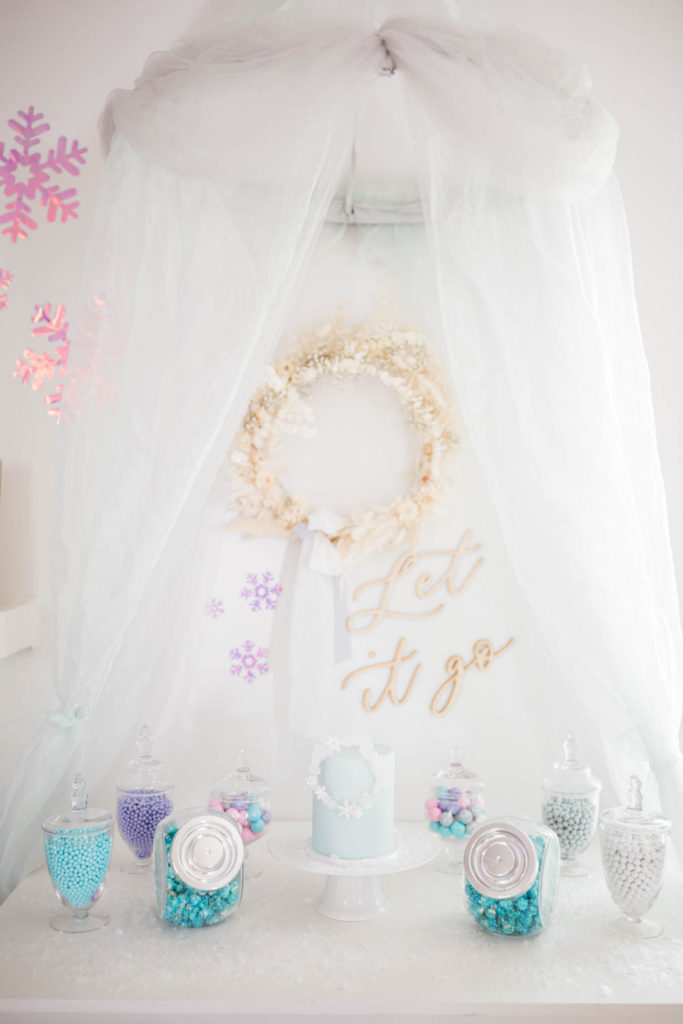 The most perfect Frozen cake was by our friends at Sweet & Saucy Shop. They always have my back on making the most perfect treats for our parties! I love how they used our winter wreath inspiration on the cake, so adorable!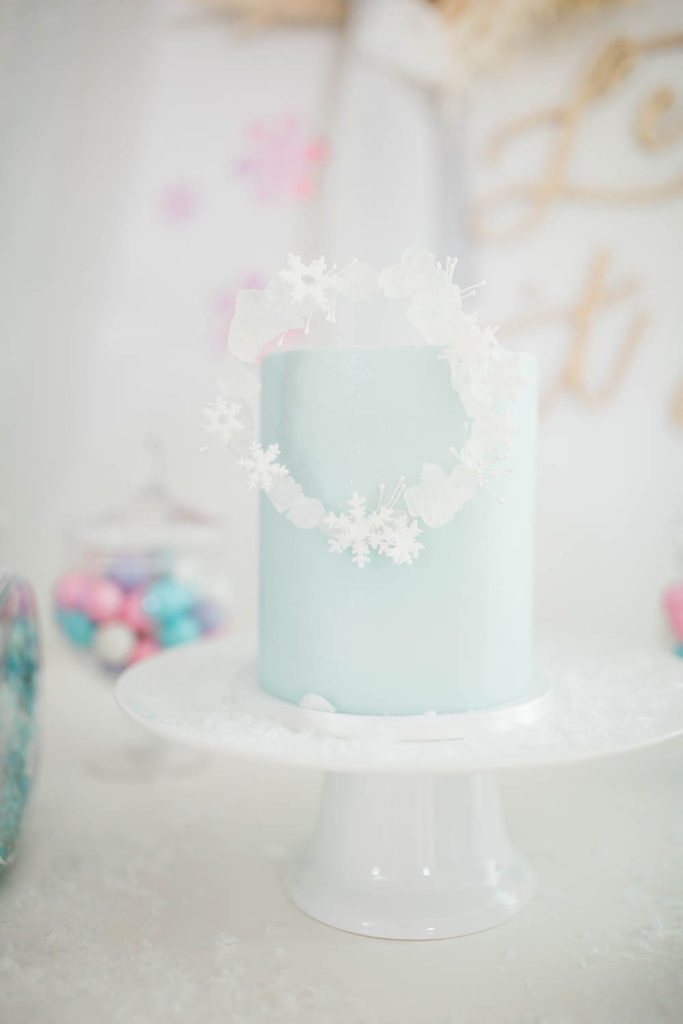 Speaking of winter wreaths, this one by Not Just in Novels is gorgeous and will definitely be staying up in my home through-out the holidays!! And I love the pretty signage by Creative Amme in the famous Frozen tag line! She also added those pretty iridescent snow flakes that I love so much.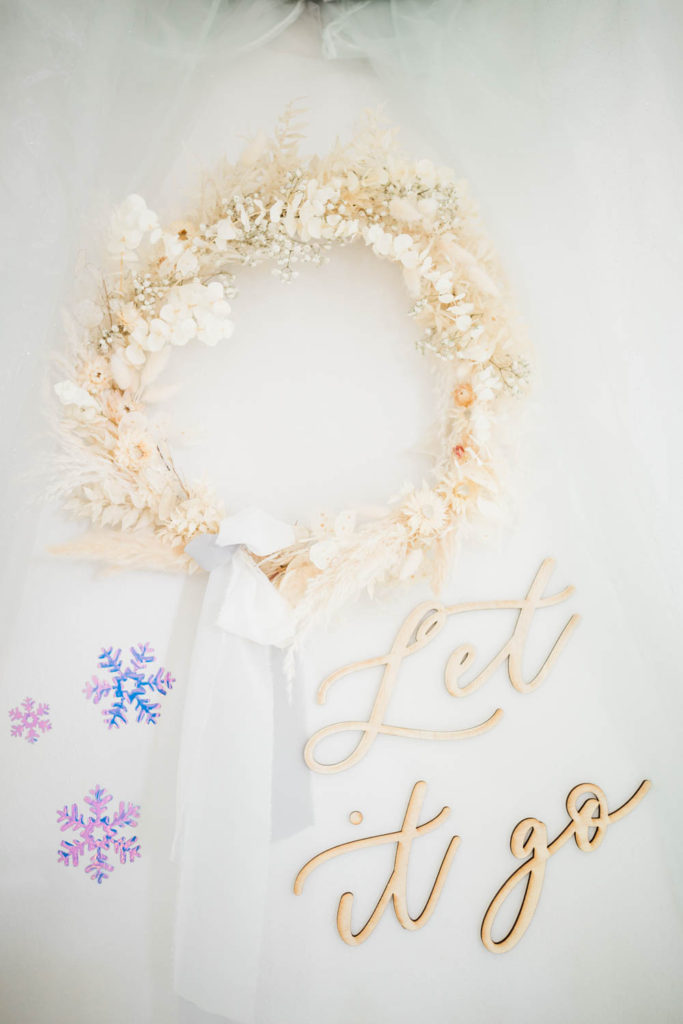 Don't you love how our balloons match our Color It Candy?! So fun!! I ordered this set from Amazon to put all the candies in and this one for the popcorn!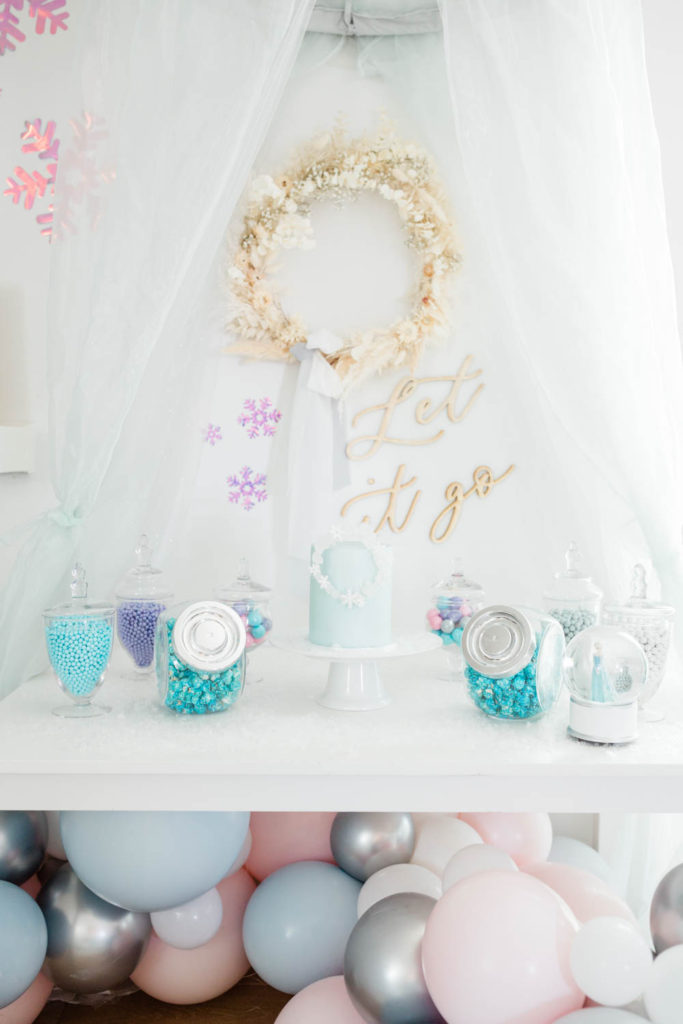 What is it about candy that kids just go gaga over?! When I got this package in the mail I thought my boy's eyes were going to pop out of their heads, haha! I think the girls had the same reaction! They had so much fun choosing which candies and colors to add to their mix. It was adorable! Such a fun party idea, don't you think?!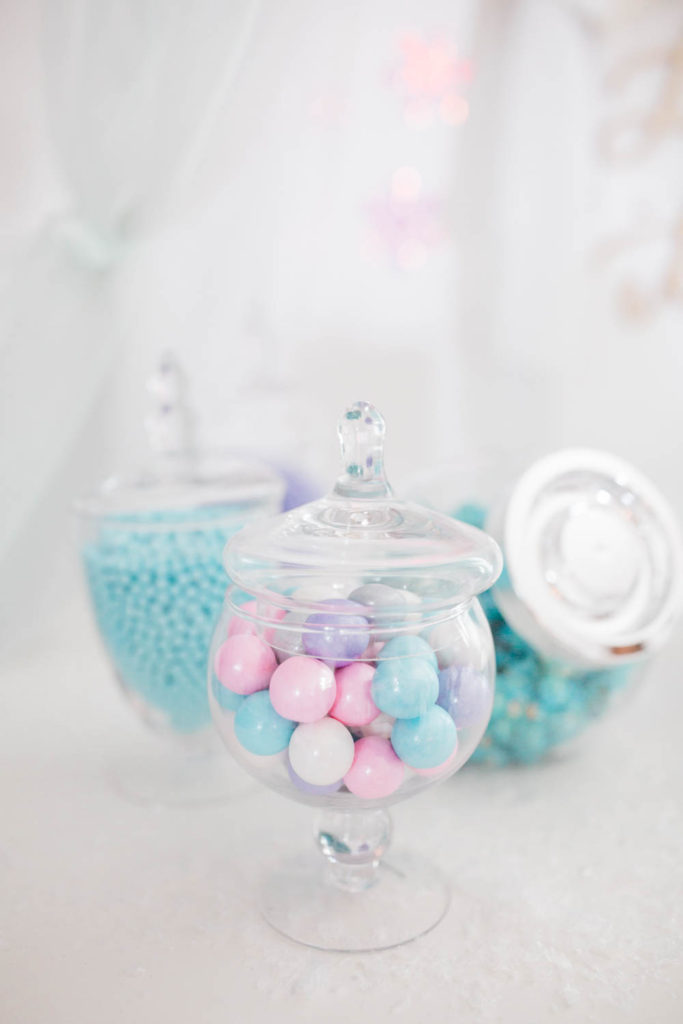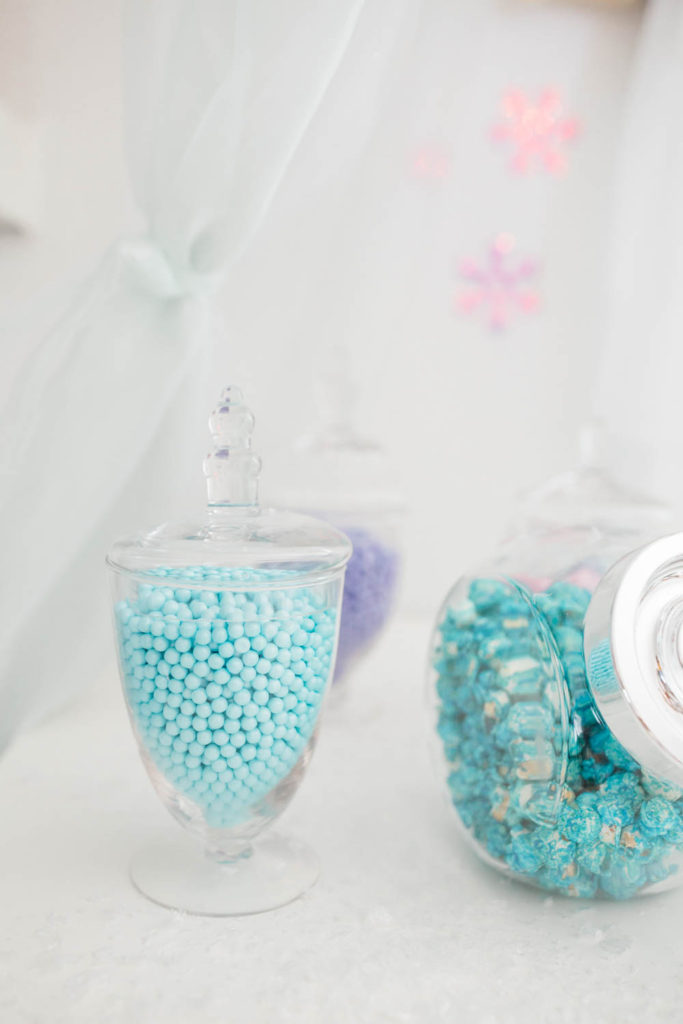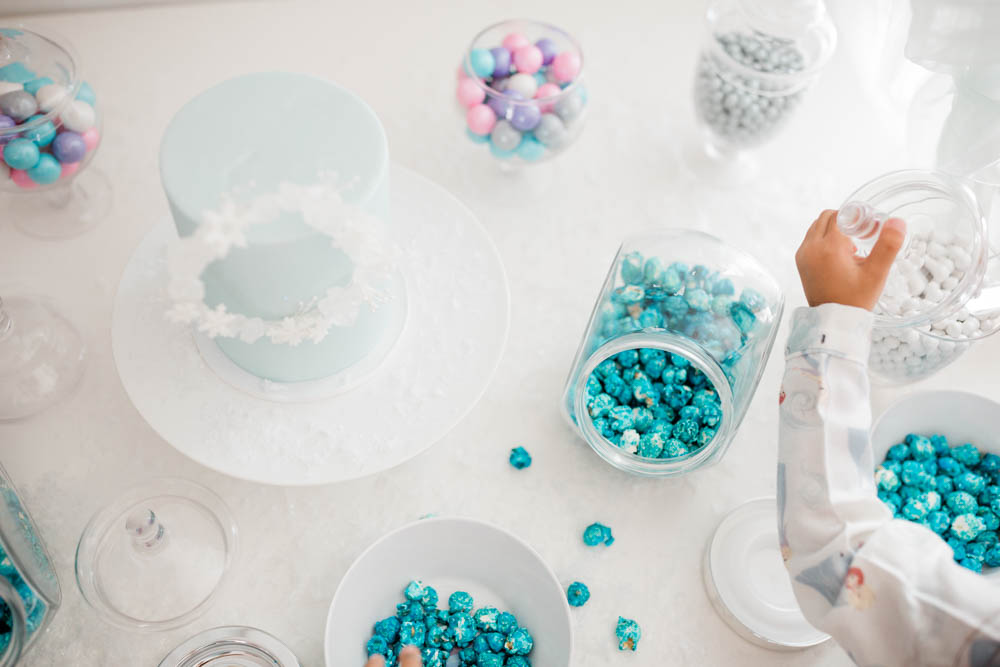 Another Pottery Barn Kids eye catching element was this beautiful canopy that we used over our dessert set up. It would be gorgeous over a bed as well or in a corner of a room for a little reading nook.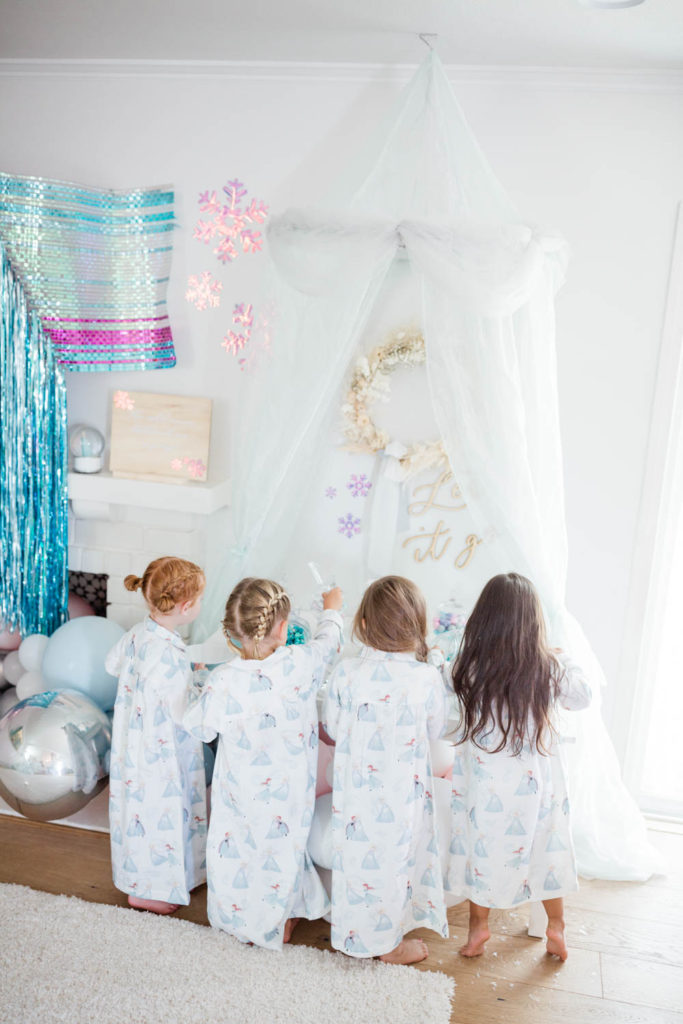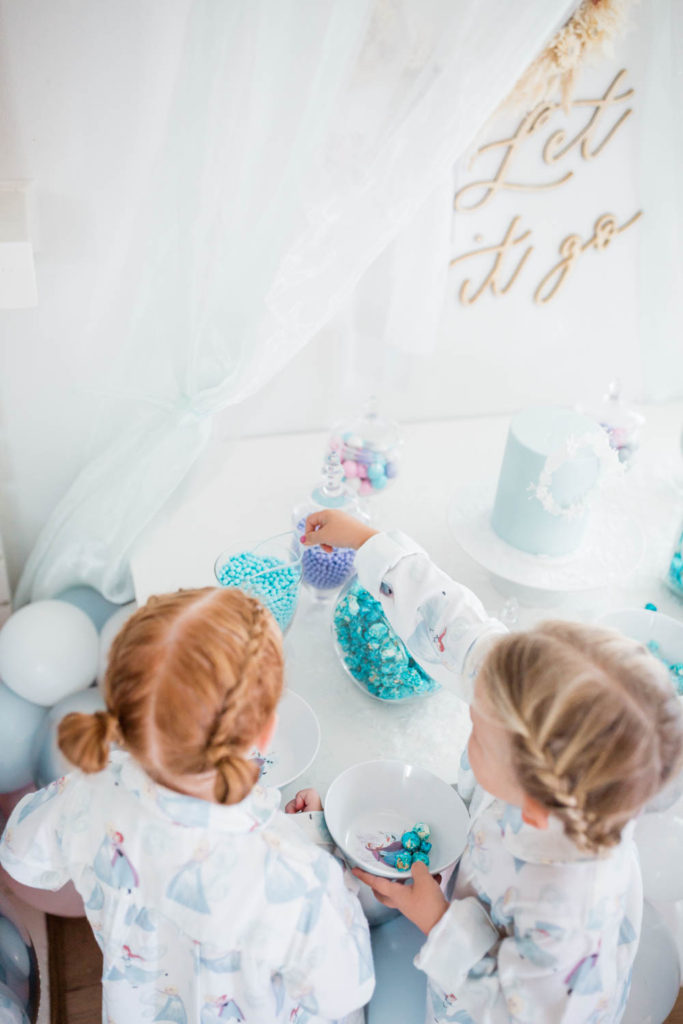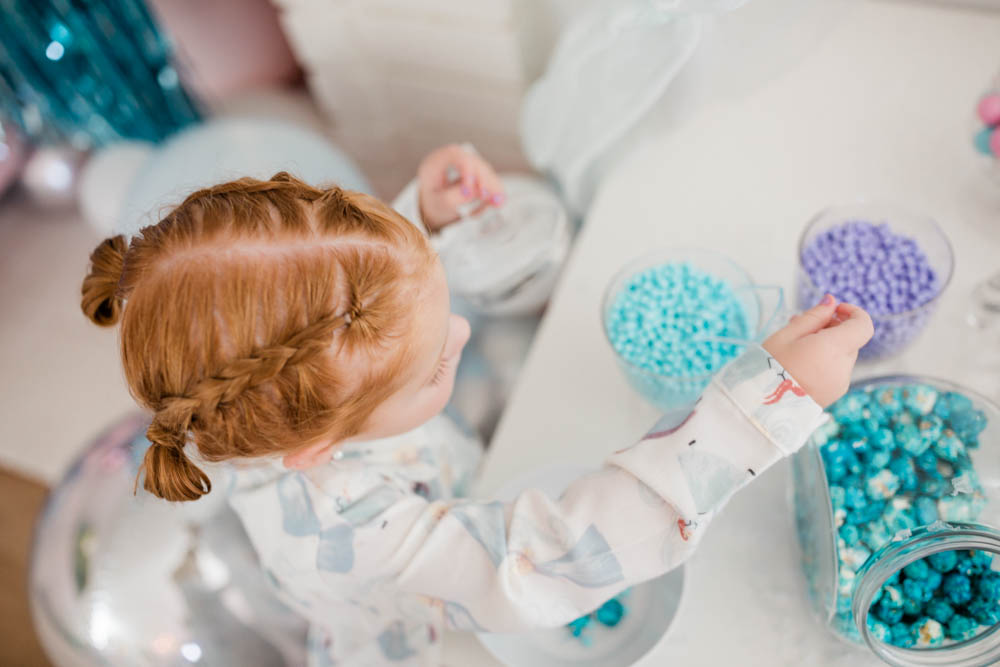 The final outcome!! Look at those fun Frozen themed colors!! Color It Candy has so many options – so you could do this for any party!!!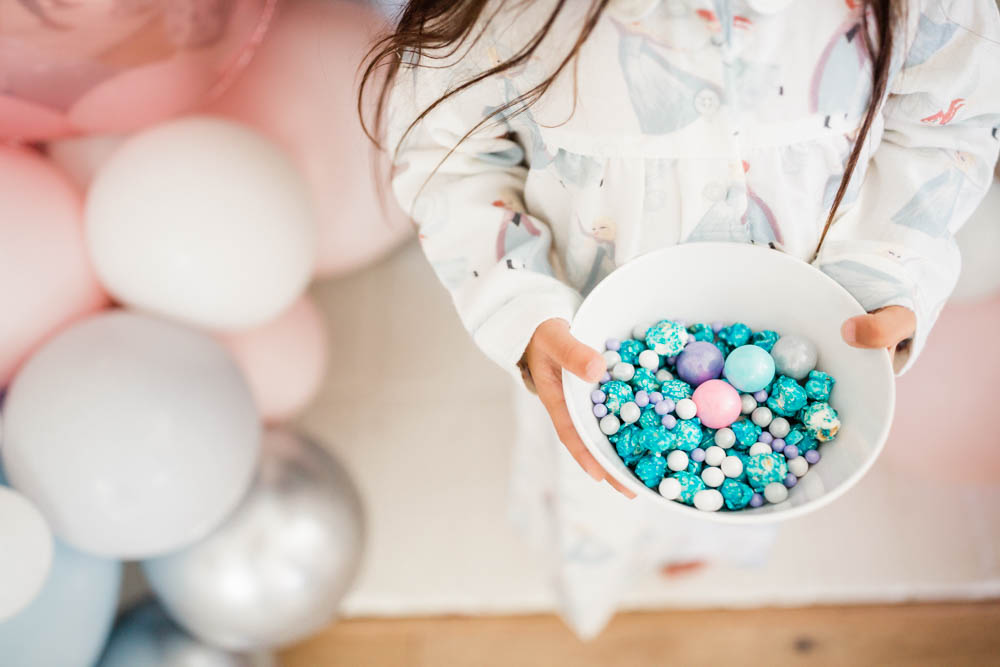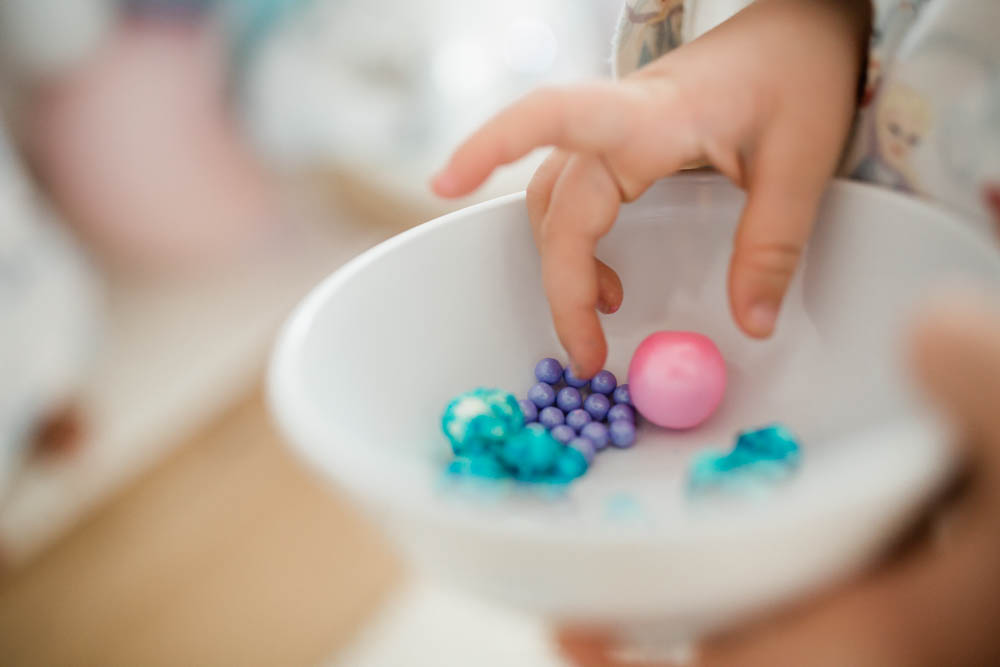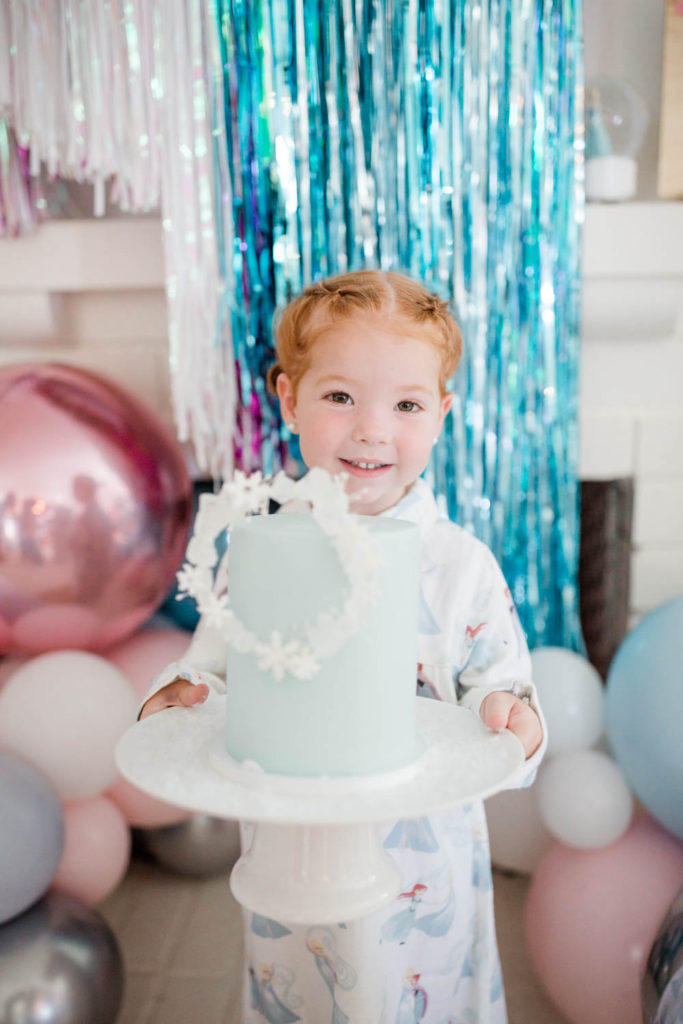 There's that gorgeous bedding set I was telling you about! So cute and cozy for these girls to cuddle in!! They are ready to watch that movie!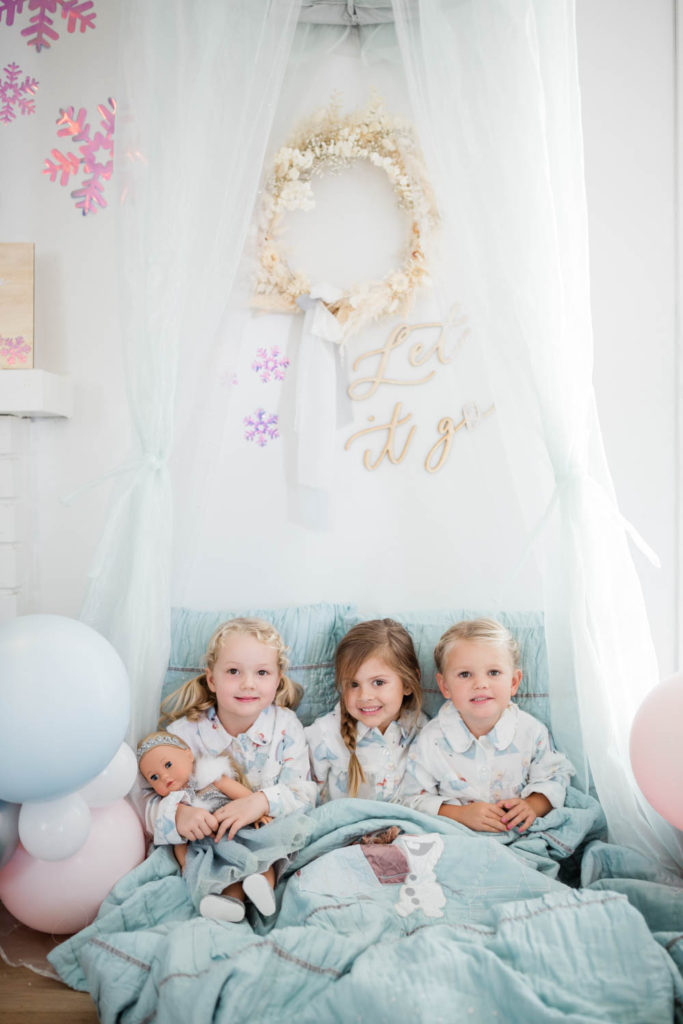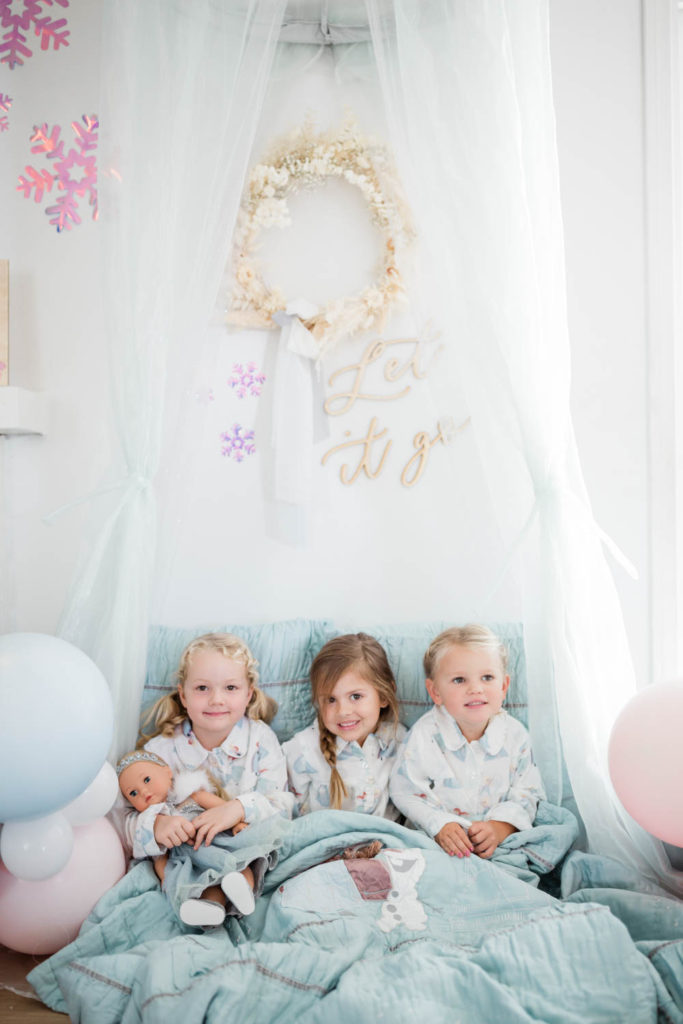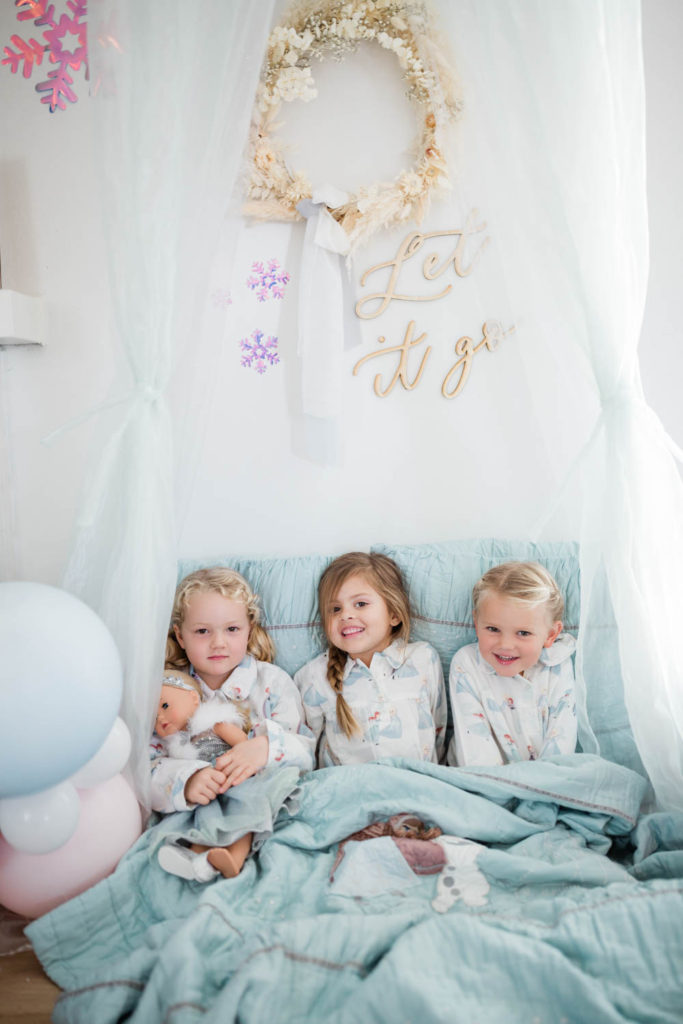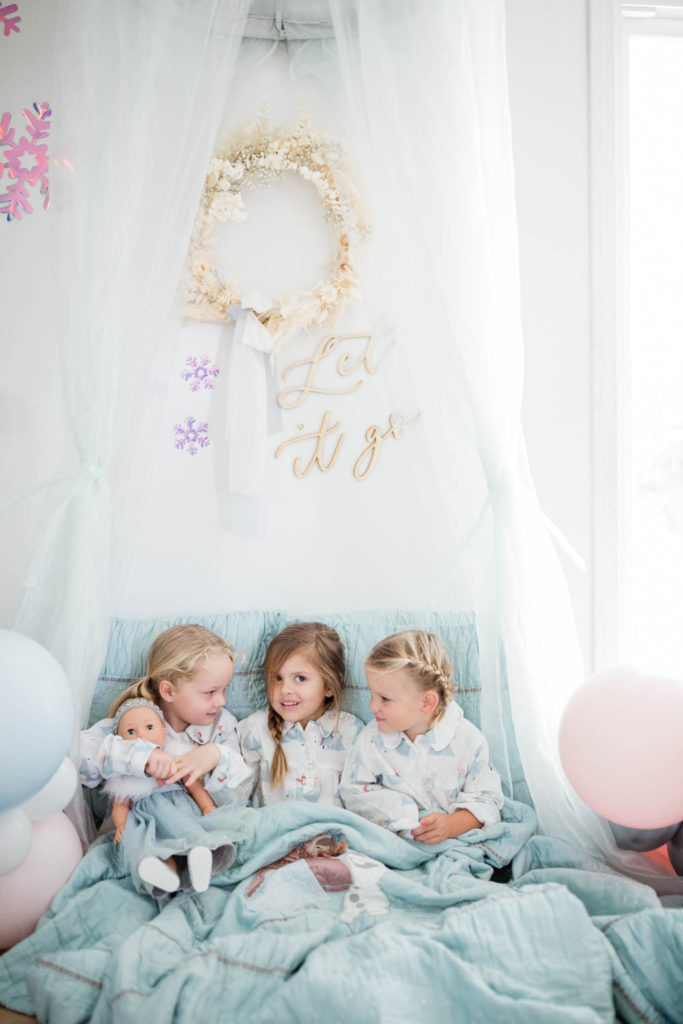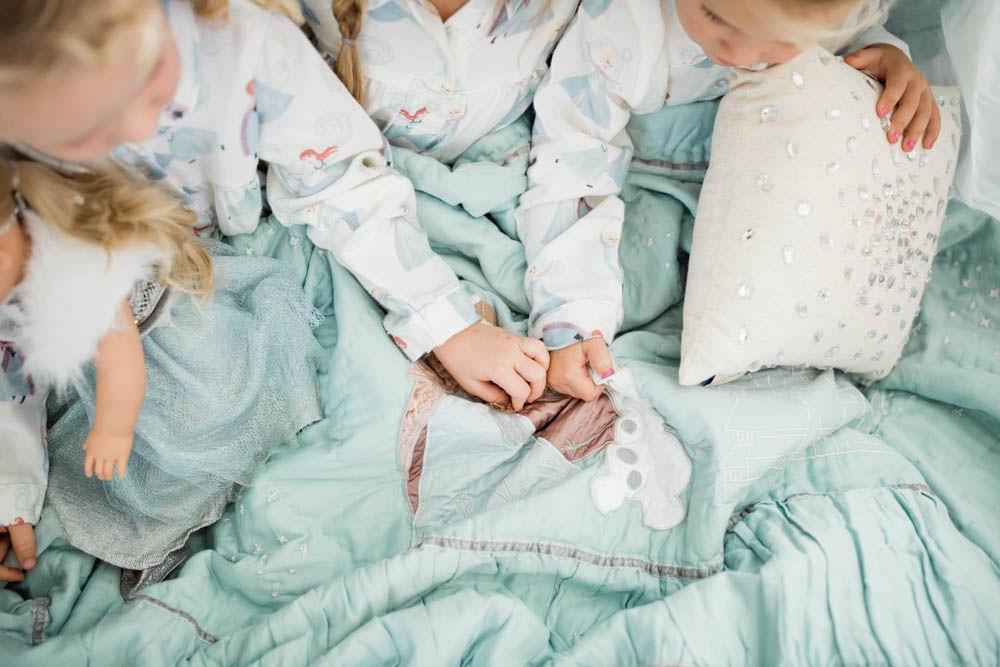 The Let It Go pillow was a favorite among these girls, especially with the two-way sequins!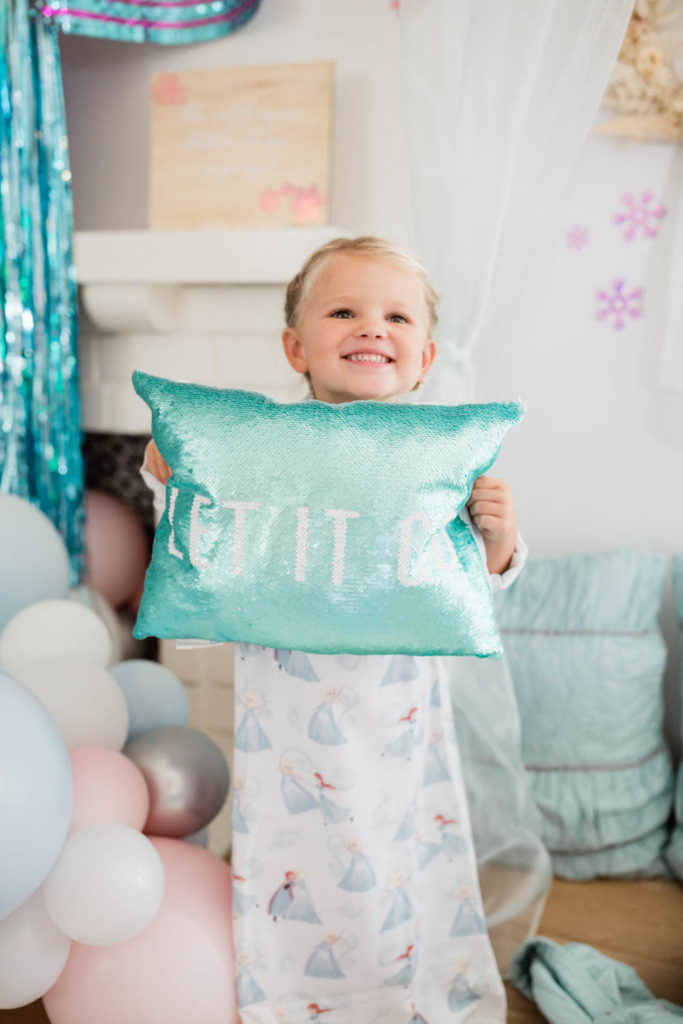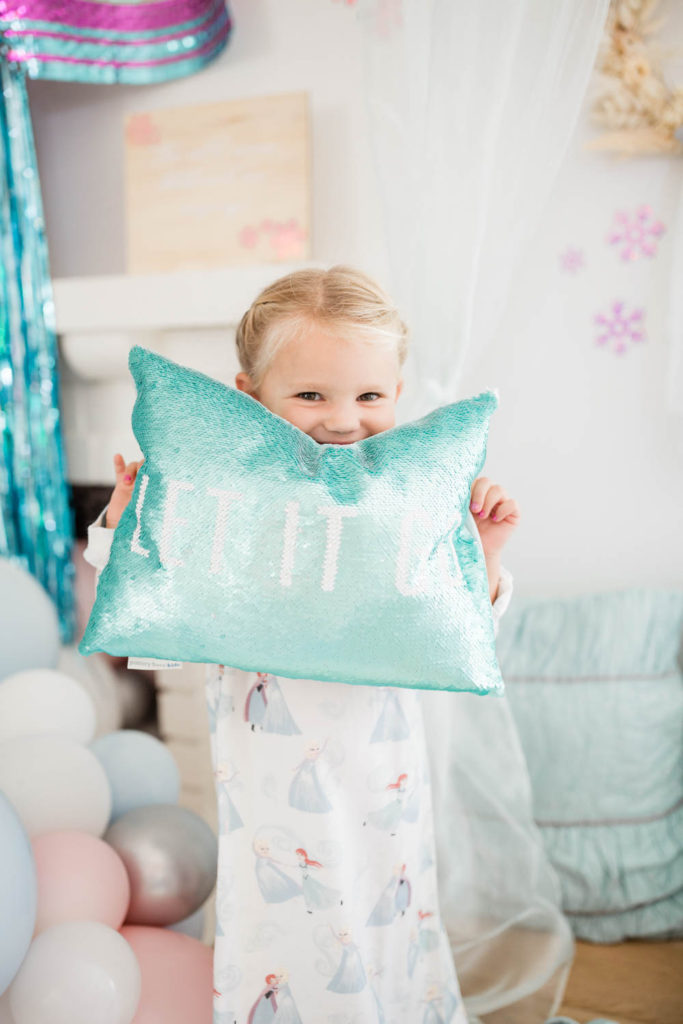 And there's those magical snow globes again!!!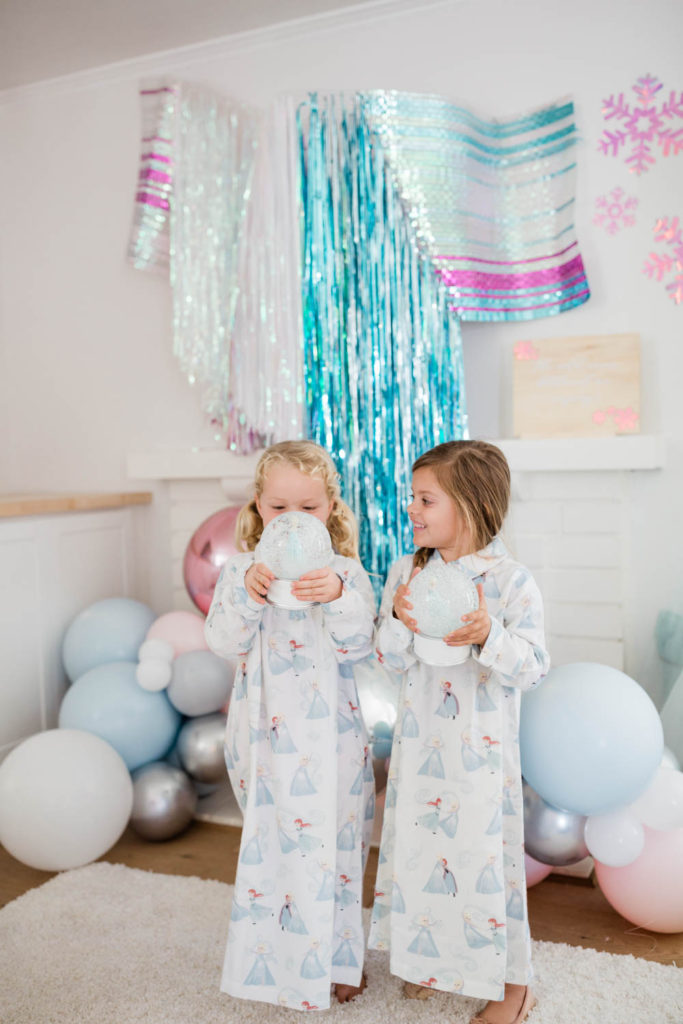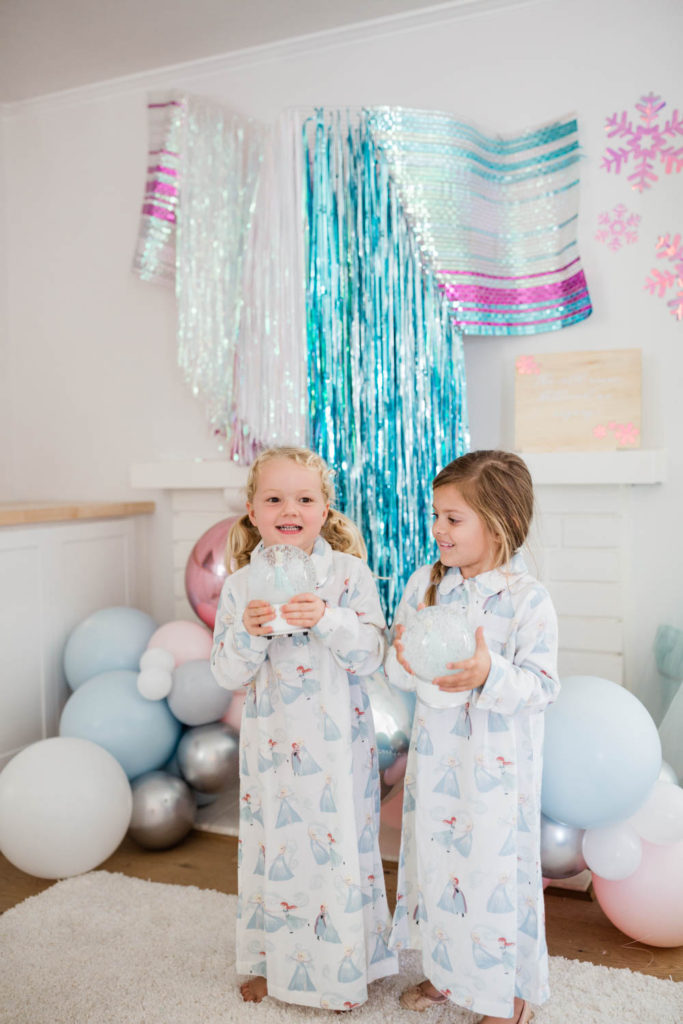 These cuties are ready for a sleepover!!! Laying on the coziest Pottery Barn Rug in their cute sleeping bags along with their Frozen pillowcases. Doesn't get much more perfect than this! Let's start the movie!!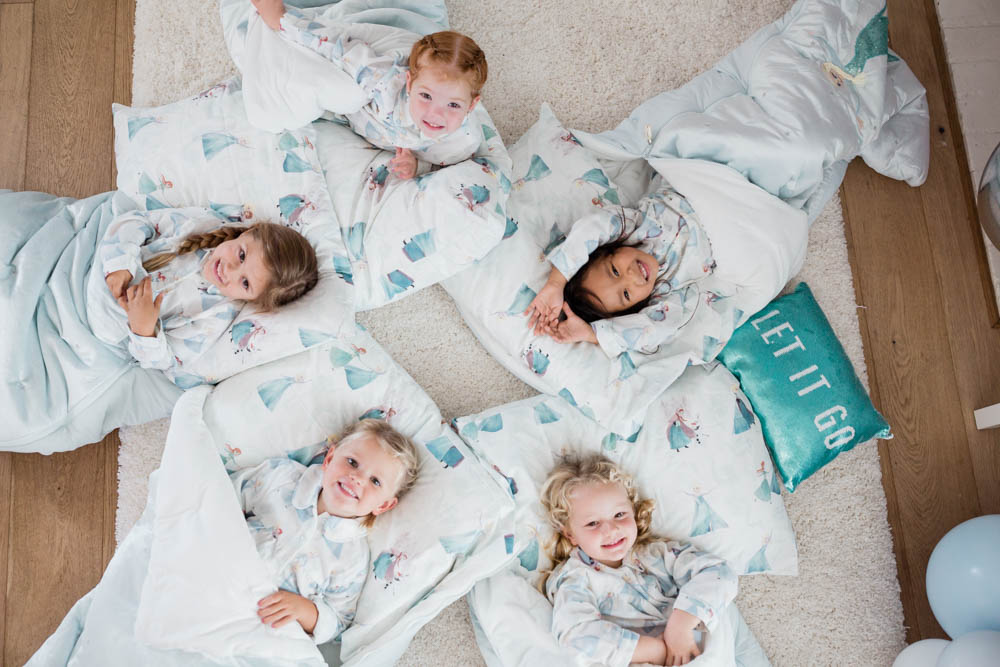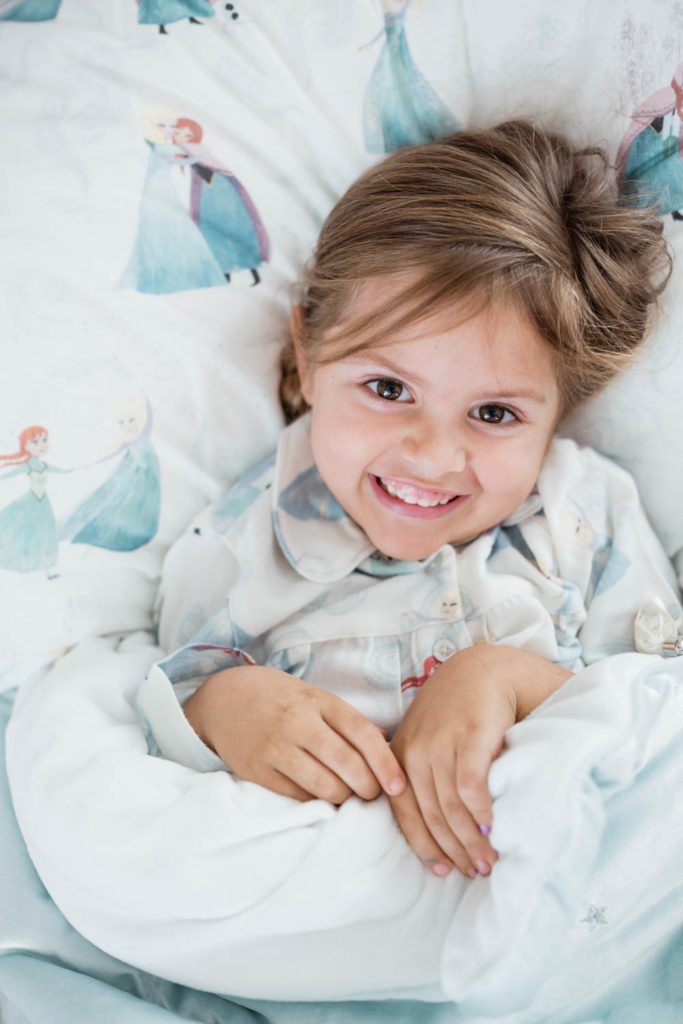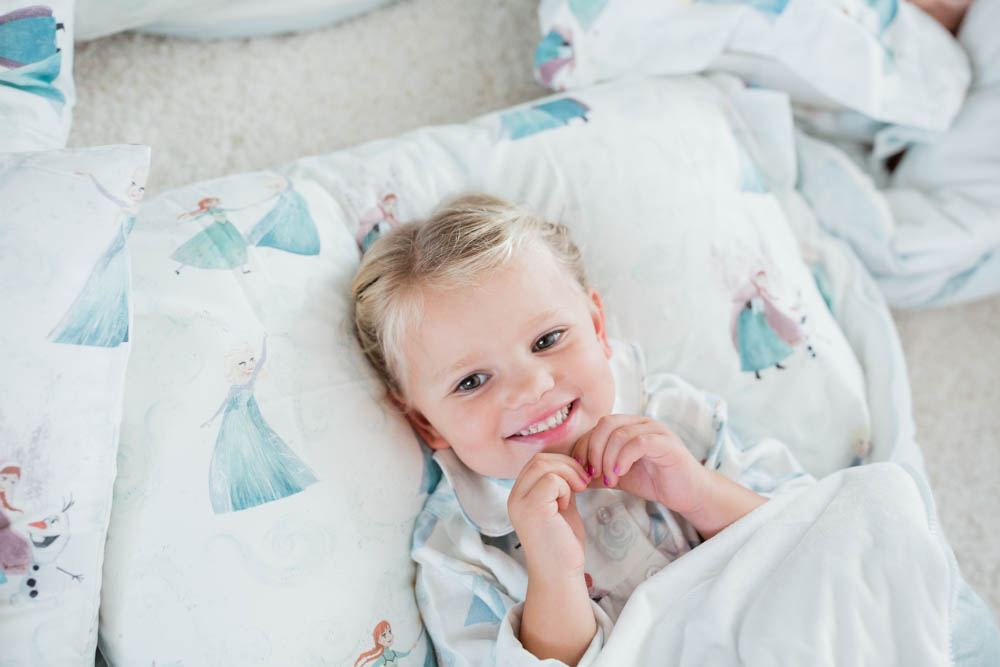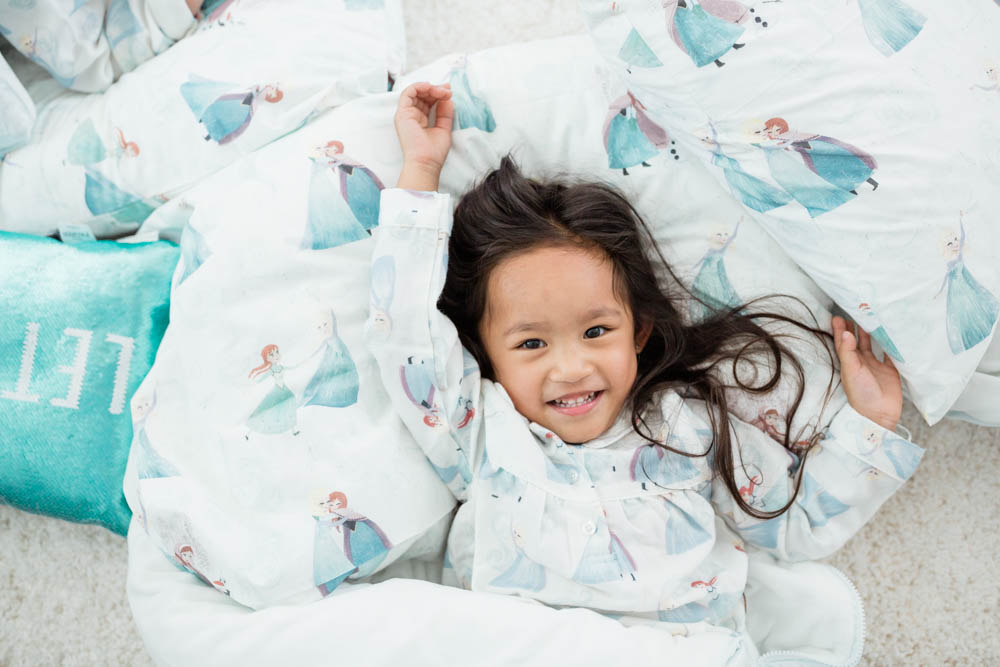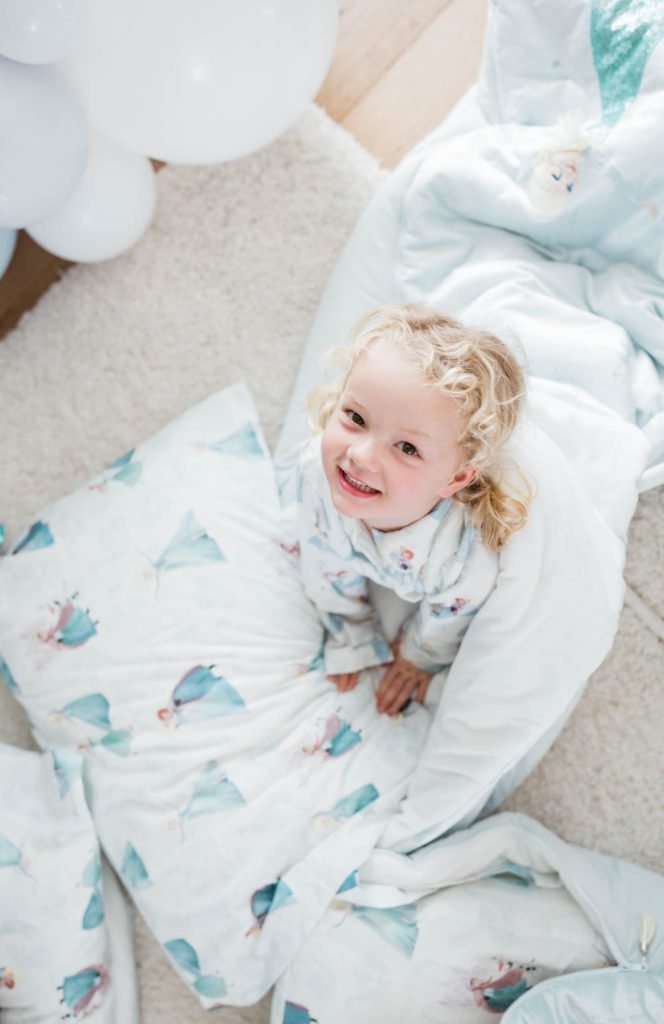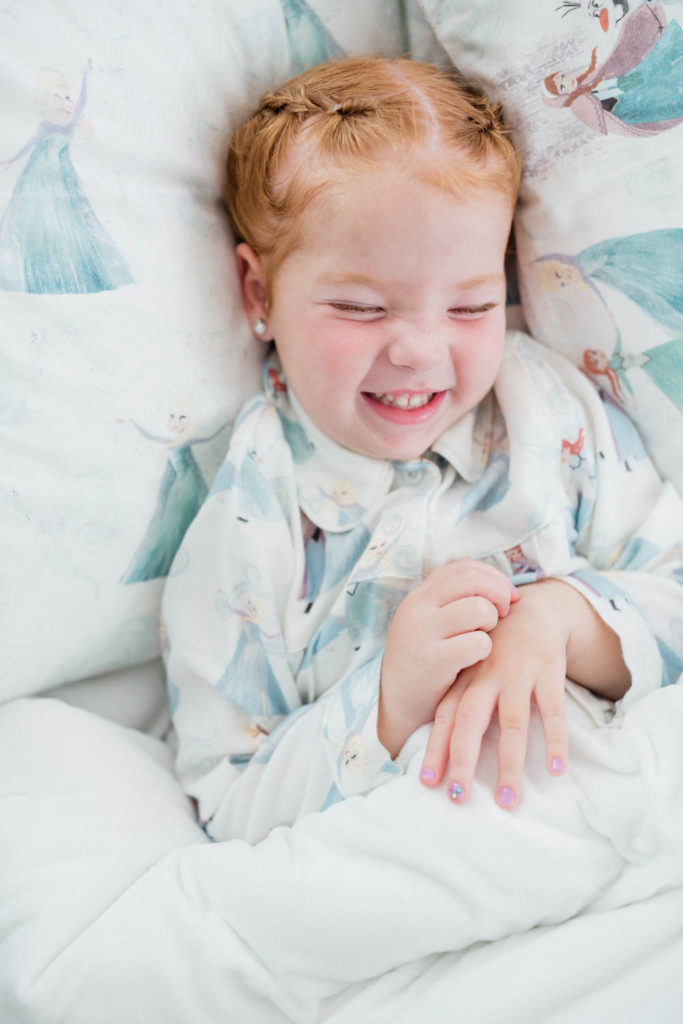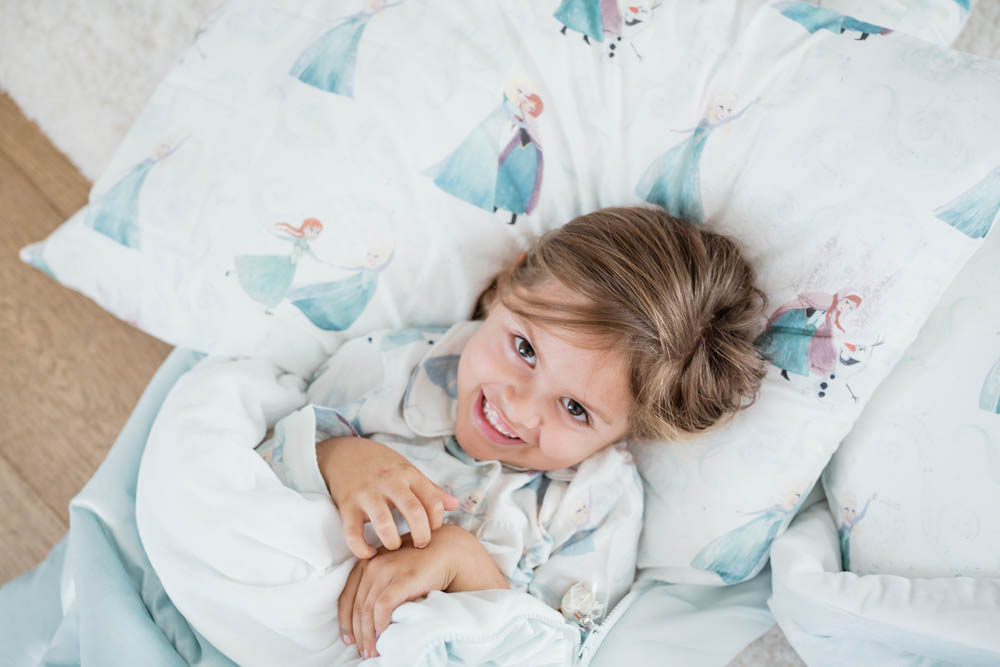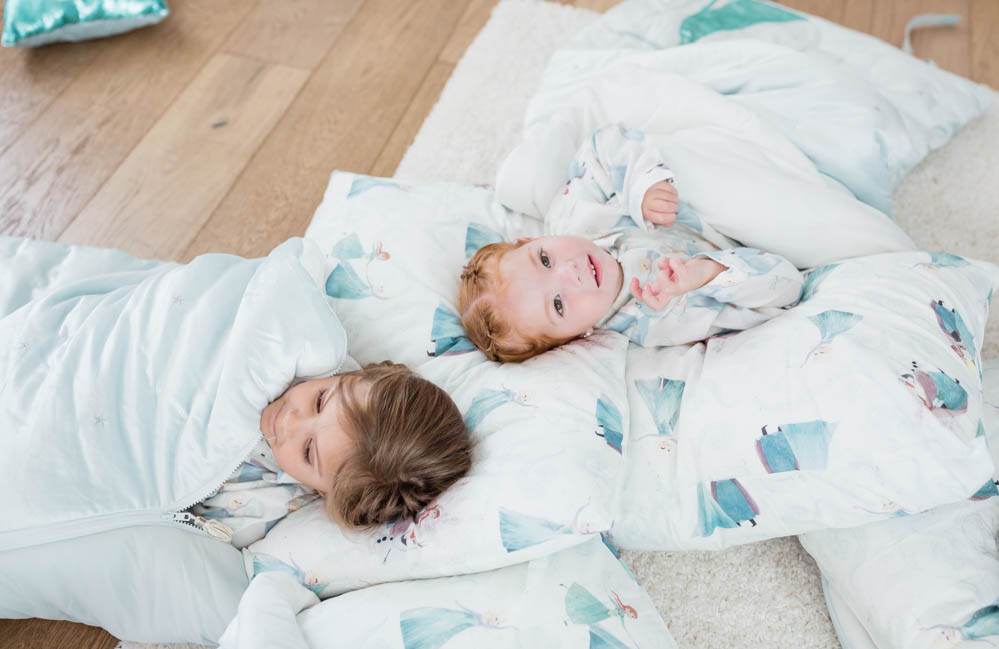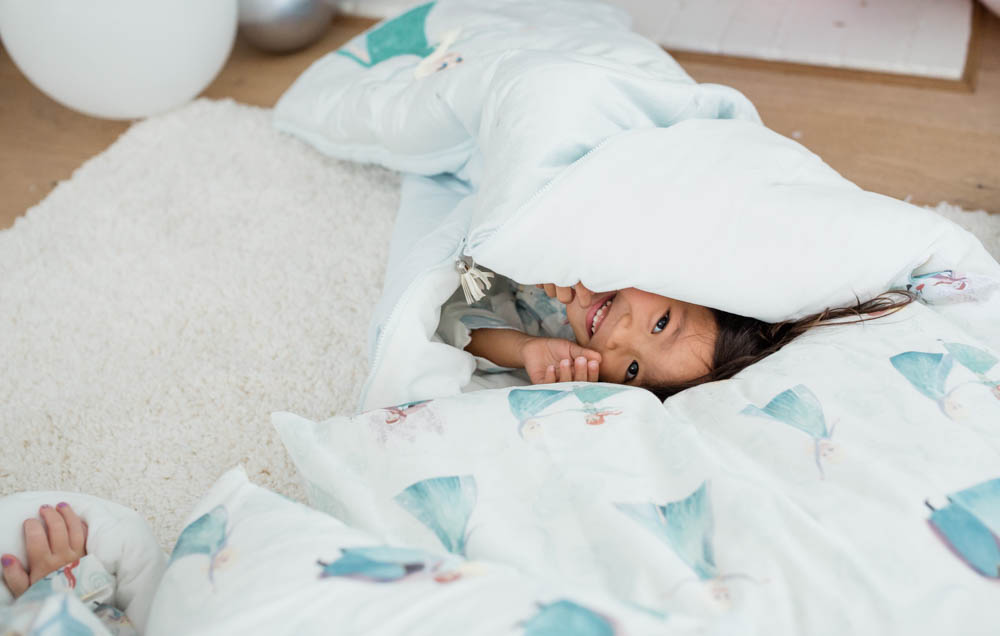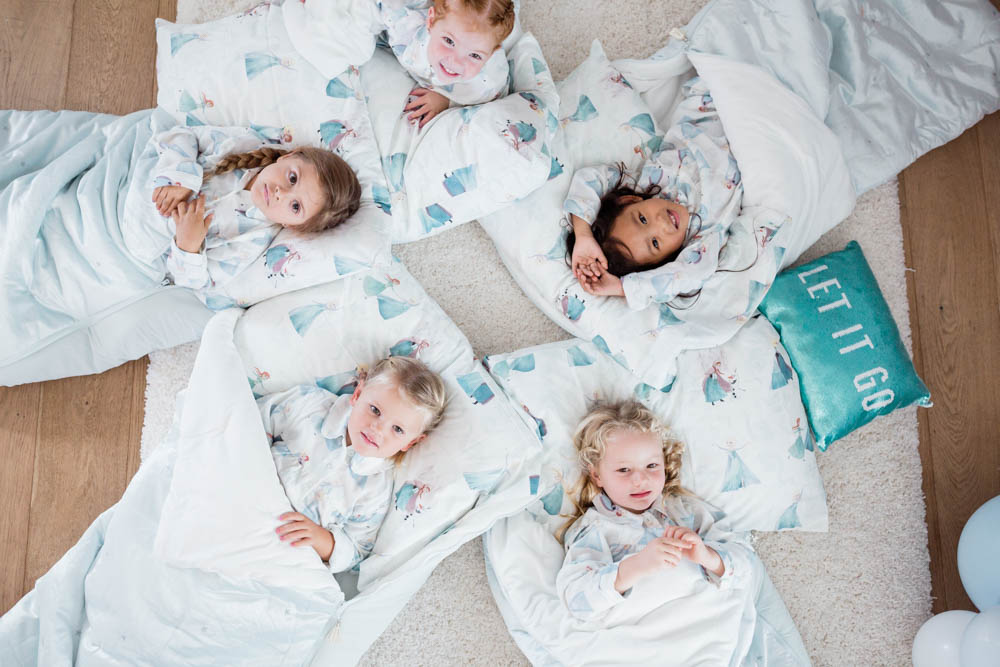 They are SO CUTE!!! I want to relive this day over and over again to hear these girl's giddy giggles!!! It was too much! You can shop all the goodies from this party below!!

Now who's ready for Frozen 2?! The question is, can we wait 10 days?! SOOOO excited!!!
xx
Jacquelyn