Looking stylish on Thanksgiving is up there with making sure you cook that turkey to perfection. Thanksgiving is one of those holidays where if you are hosting, you are up and going till bed. The last thing you want is to be uncomfortable. Luckily, one of our favorite clothing companies, Salt Water Luxe, has the most stylish clothes including the cutest sweats for any occasion. Not only are they so super fun, but they are oh so comfy. And let me tell you, I like to be extra comfy at the end of the day where I am stuffed to the max. Insert my inner Joey from friends.

I'm breaking down my Thanksgiving outfits, and how easy it is to be comfortable yet still looking your best.

Photos by Dayna Studios

The Morning of Thanksgiving

With hosting, unless you are a superhero with magical powers, you will be up early preparing the feast for family and friends. You can prep as much as advance as you can, but there is always things that will need to be done that morning. I like to get up early before the kids and my husband so I can get organized, have a little quiet time, and then dive right in.

With the weather just starting to change in the morning, its all about the leggings and a comfy sweater. I'm bringing out my inner animal with my new obsession, the Reny Pants. You can either dress up or dress down these fun cheetah print joggers. I like to pair them with the Ivy Sweater.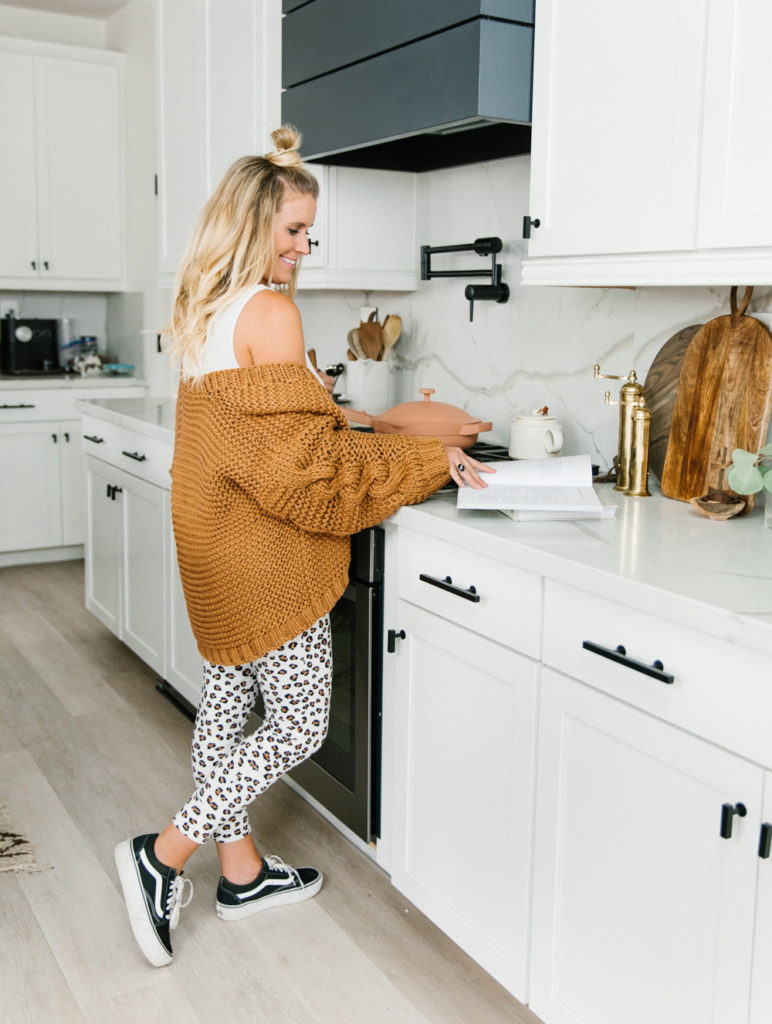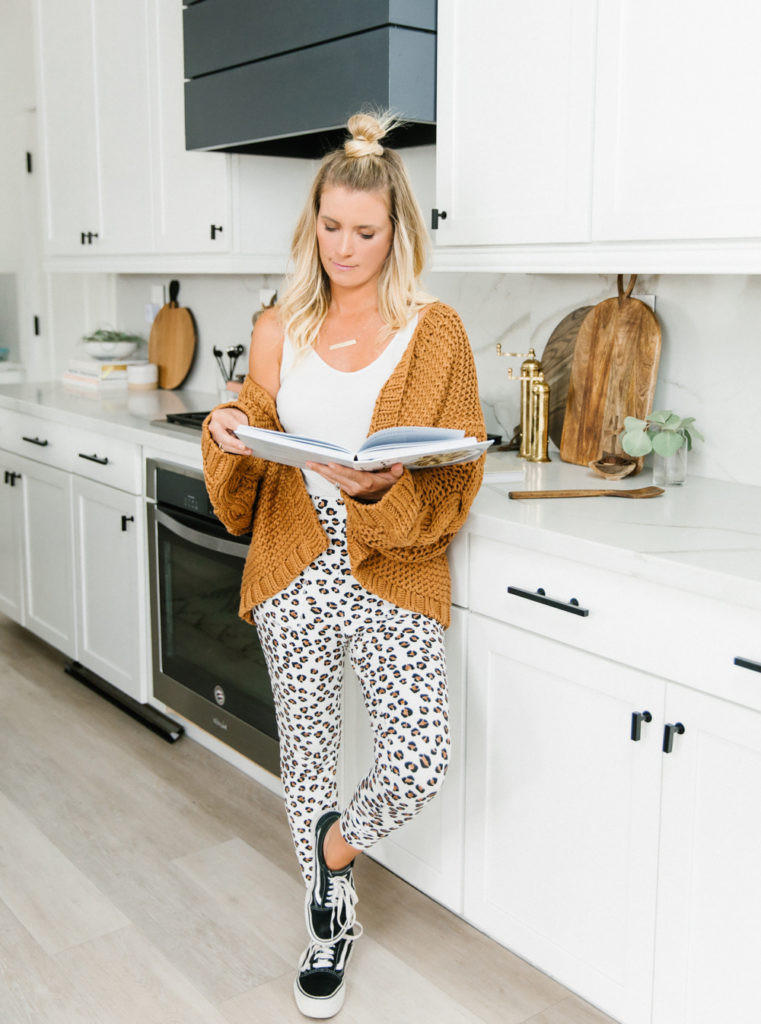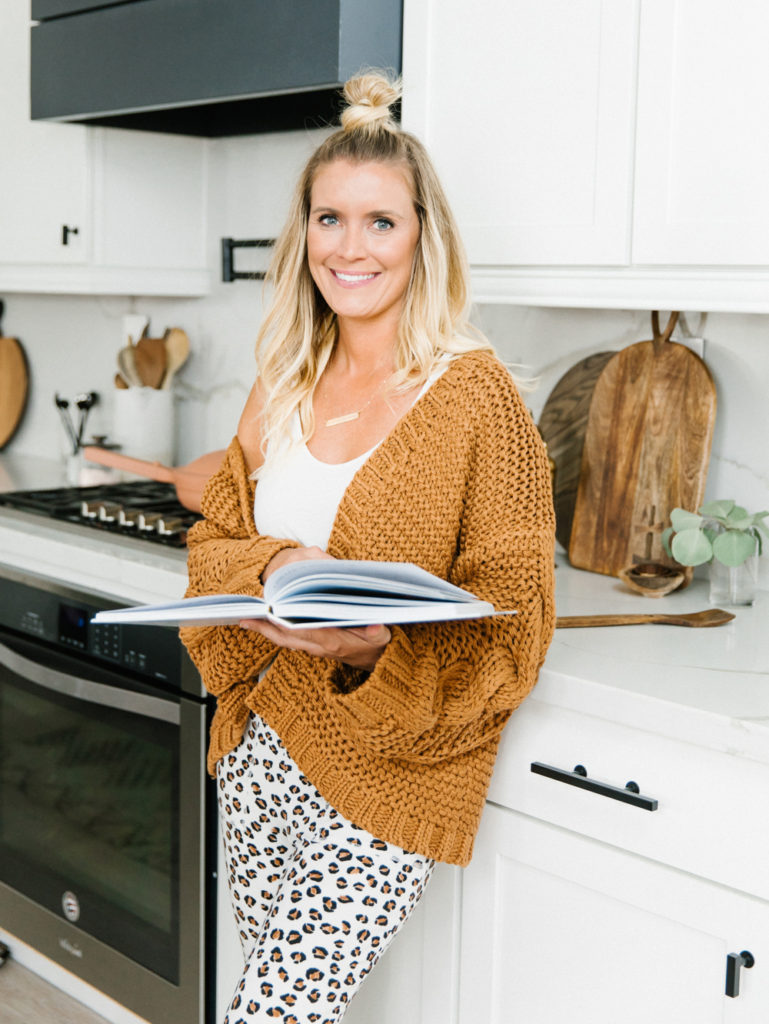 Turkey Time

The morning is going perfectly, you are killing it with your pregame plan. Now, the guests are close to arriving, and its time to put on the final details, for both you and your table.

I switched out of my morning sweats outfit and got a little fancy for the fam bam. There is something so perfect about velvet for the holidays. And this Frankie Mini Dress is perfect for Thanksgiving! It's short and sassy, dark-colored if you spill your wine, and has that feminine touch with the metallic floral embroidery.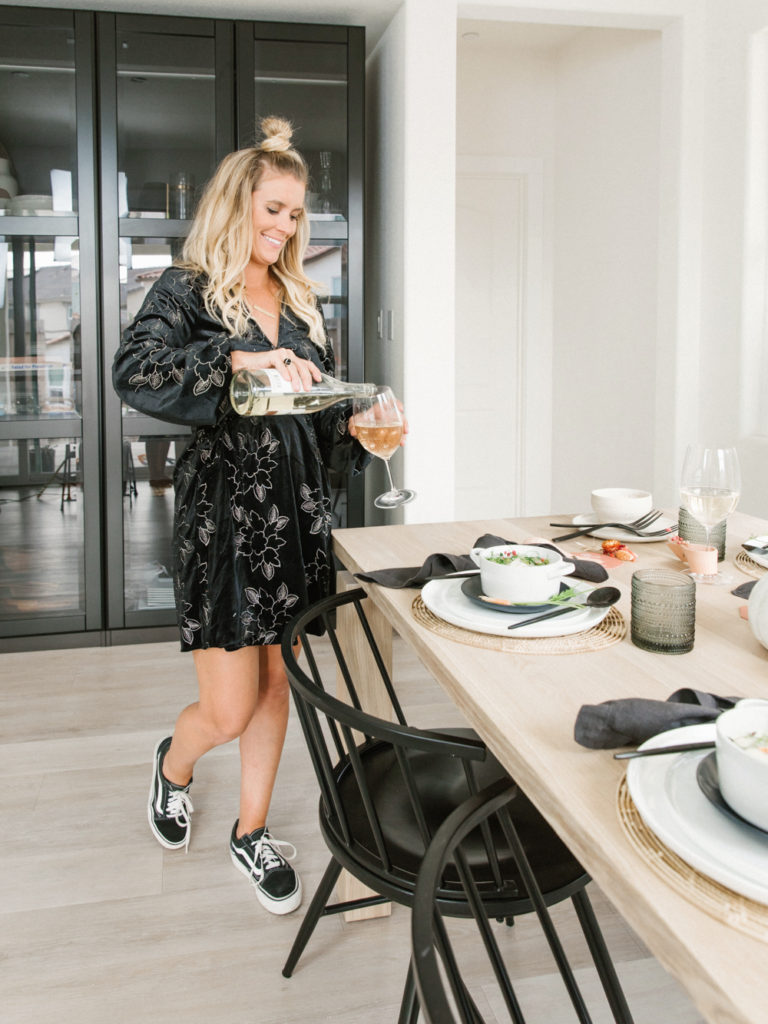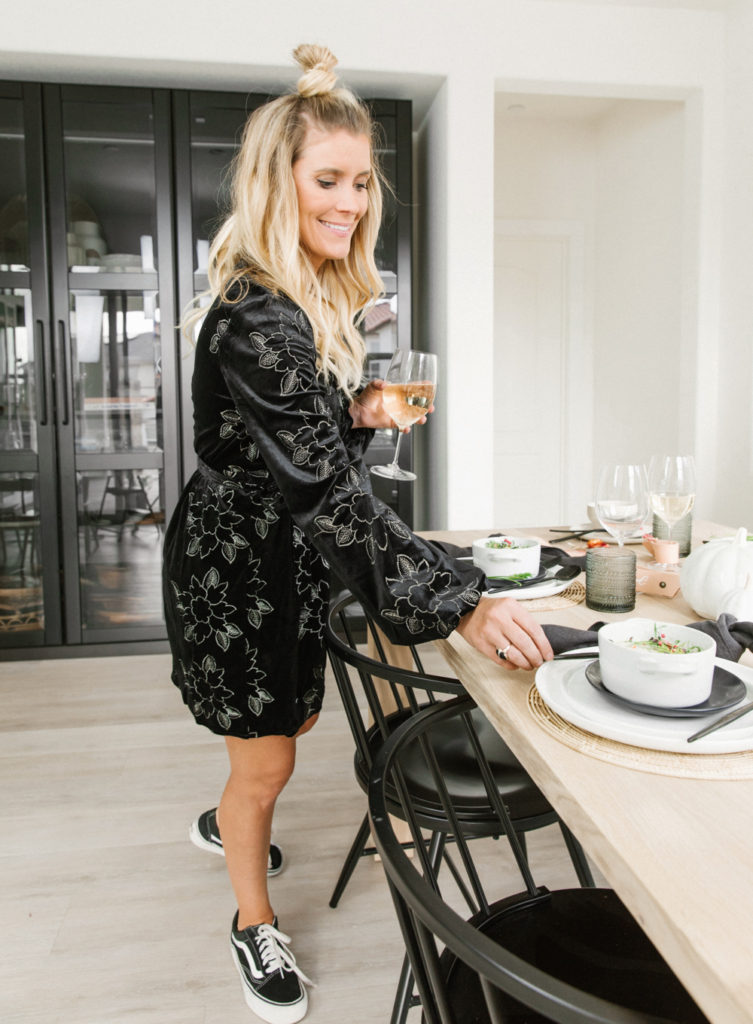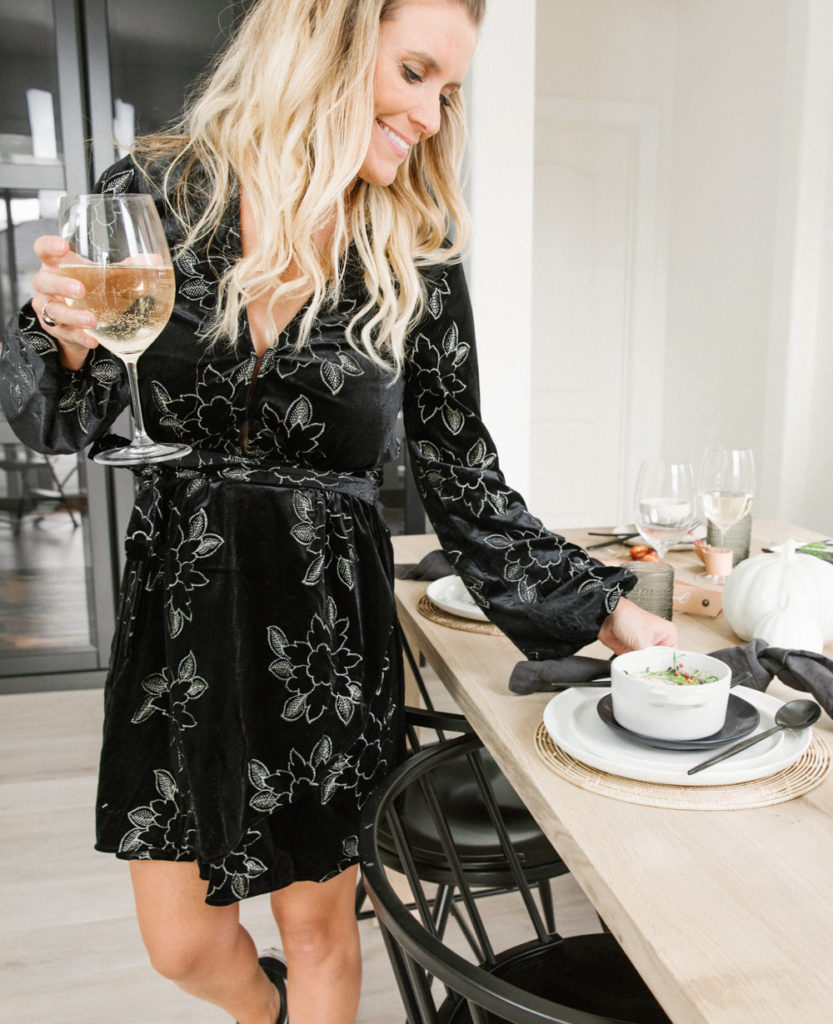 Fat Pants Central (but super stylish of course)
Get your eat on! You overdid it, you are completely stuffed, and all you want to do is put your "fat" pants on and lounge on the couch and take that turkey nap. Slap on these metallic daze joggers. It will be one stylish nap! The Reny Pants is one of those clothing items, that you can wear for multiple occasions. Thanksgiving, or a holiday party, jazz them up with a fun duster or kimono for NYE or spend it on the couch like me with this fun floral number, the Bryant Jacket. The Bryant Jacket is one of those same items you can dress up or down.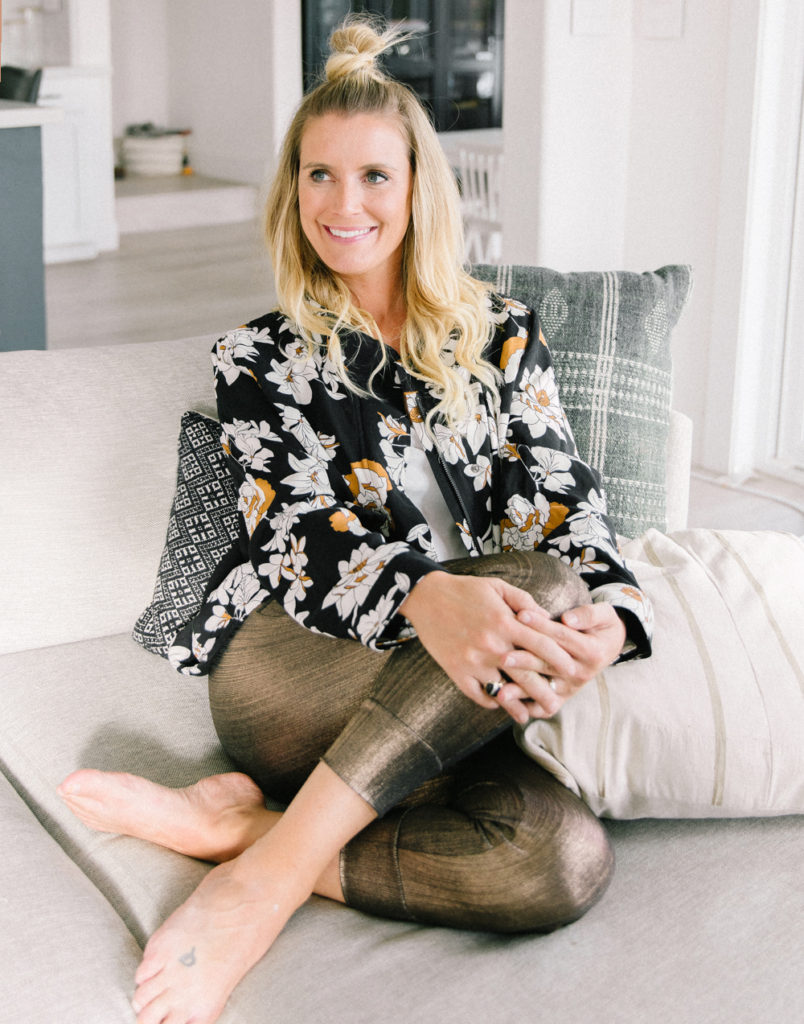 I hope this gave you some inspiration for Thanksgiving and throughout the holidays. Oh, you know the best part, all these literally can be mixed and match, which I love!

xx
Abby