Happy first day of Fall! I feel like I've been waiting forever for this season. I must say, it's one of my favorites! The colors, the coziness, the food! It all makes me so happy and so excited that it is finally here. Our friends at Sur La Table have the perfect Harvest collection for all of your Fall festivities. It has rich warm colors and pretty water color Fall leaves along with some adorable specialty serve ware. I had fun putting this prettiness together with a few of the Harvest collection pieces along with their core collection of rattan and olive wood. Together we made this pretty and I'm excited to share these stunning photos along with a few tips and tricks to creating the perfect Fall atmosphere and party at home!
Photos by the talented Alison Bernier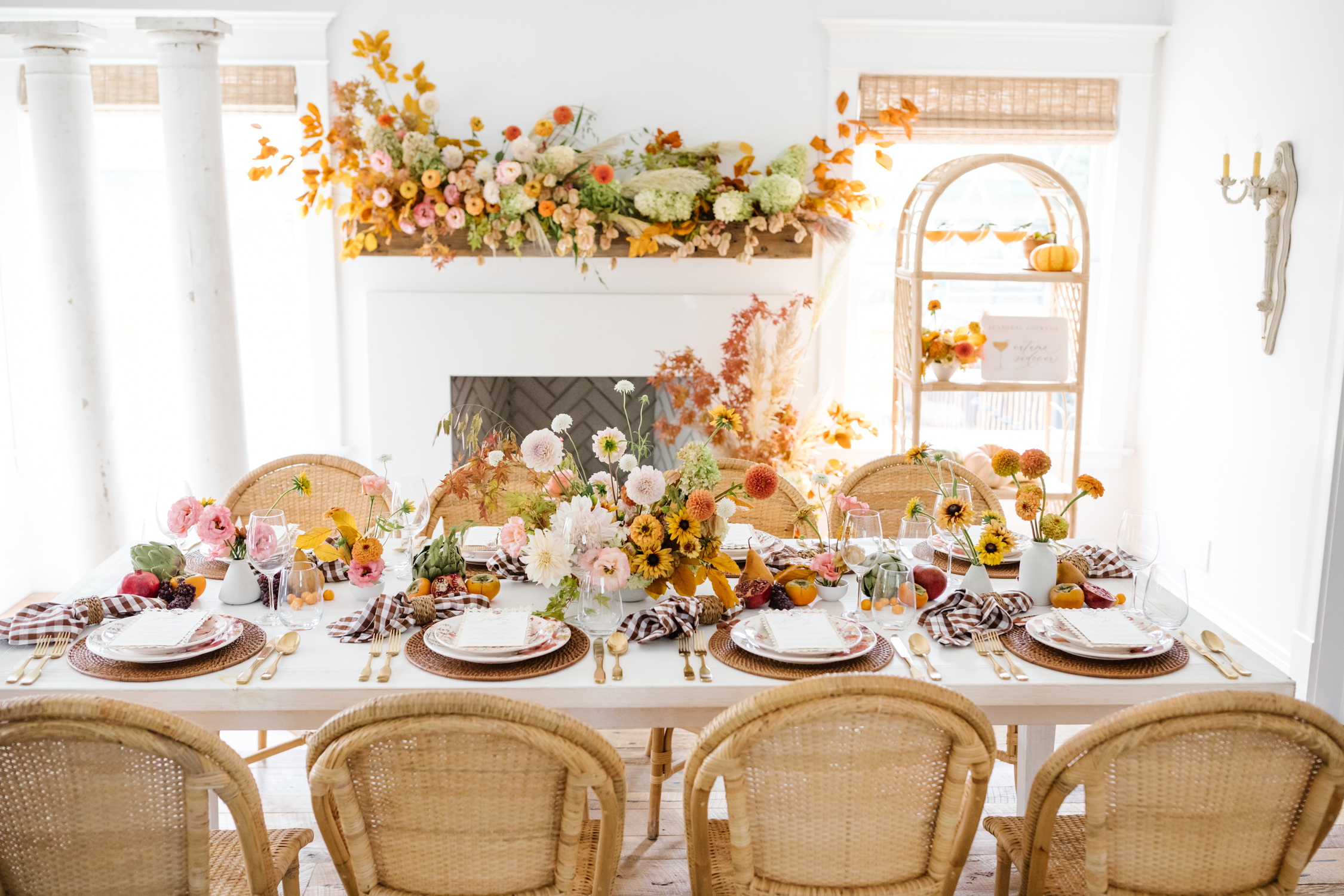 If you know anything about my love for hosting, you know I love the details! For me a stunning invite is everything. It's such a great way to set the tone for your event and when they are as pretty as this one by Pirouette Paper you can't go wrong! Fall colors shine along with touches of rattan (can you even with that envelope liner?!) and rich velvet ribbon make for one showstopper of an invitation!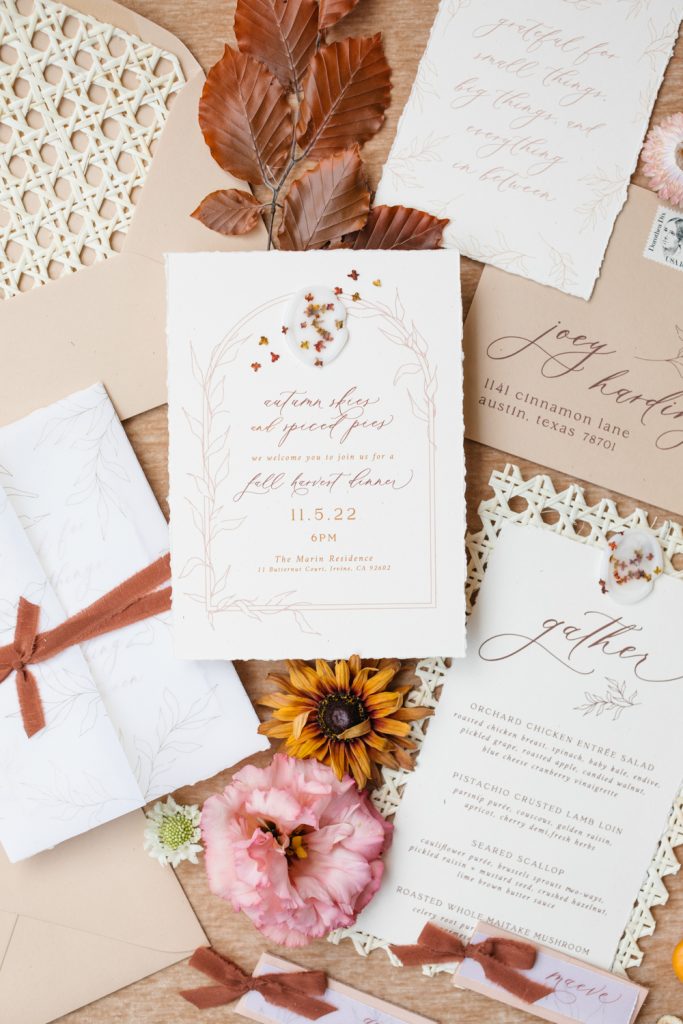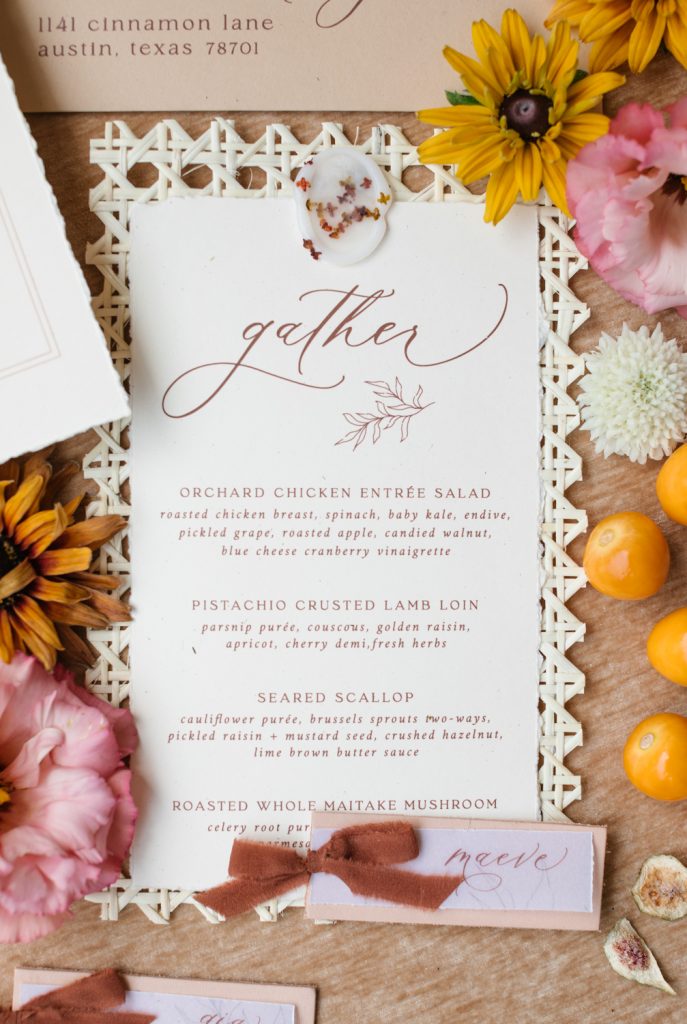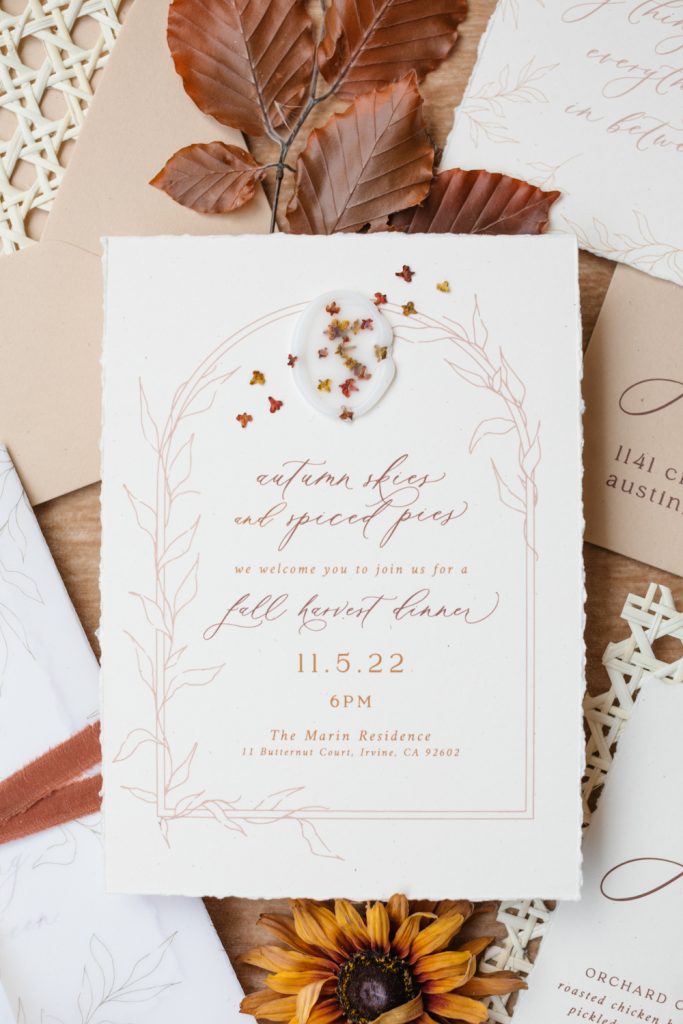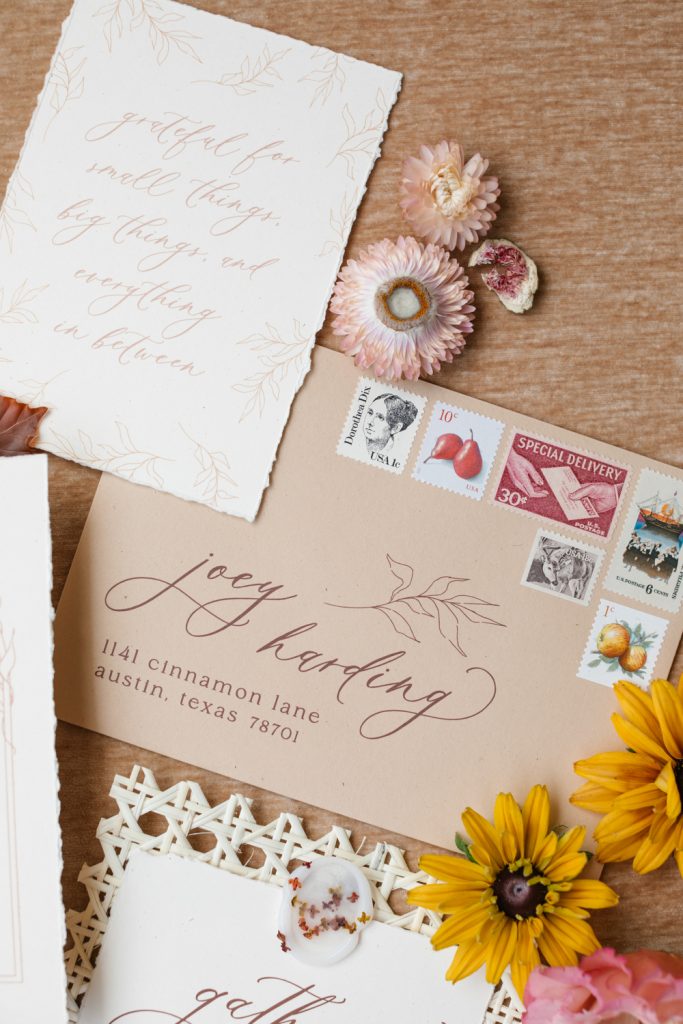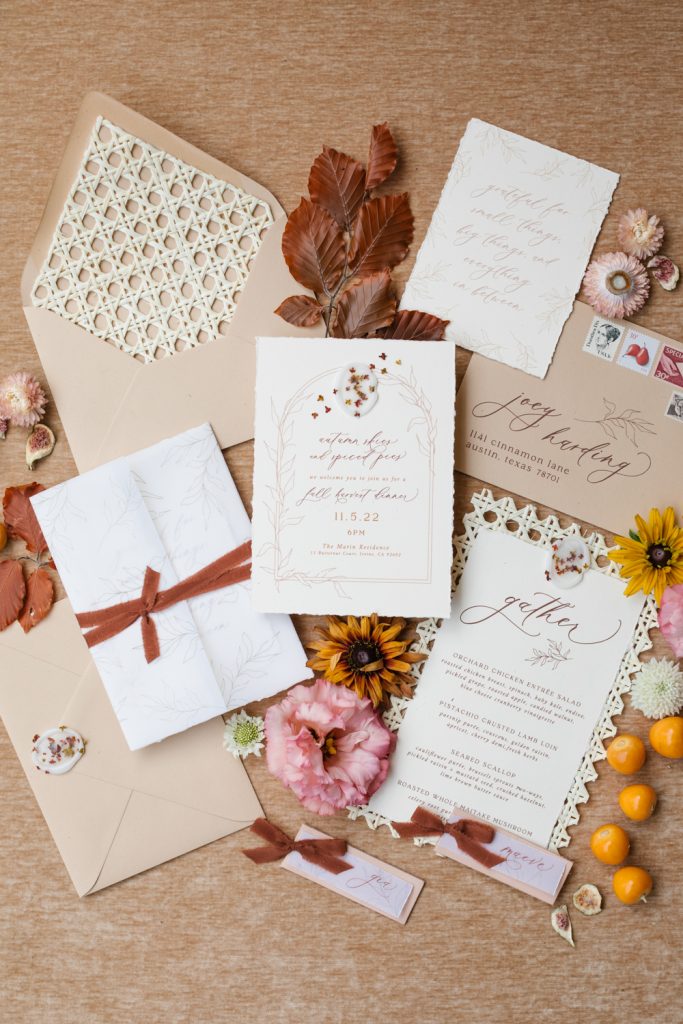 I normally love to host outside, but with Fall approaching I thought it was appropriate to bring guests inside by the fireplace for a cozy night. Inspired by Sur La Table's beautiful Harvest collection we used all of those Fall colors you know and love. Rich hues of orange, tan, yellow, and rust made for the most stunning floral arrangements. As much as I love details, I love florals just as much! It's so fun to add them to a table because it truly completes it all, and when you can go crazy like we did for this one it's even better. Did you see that amazing installation on the fireplace by Not Just in Novels? She does amazing work and I was honored to have her be a part of this one!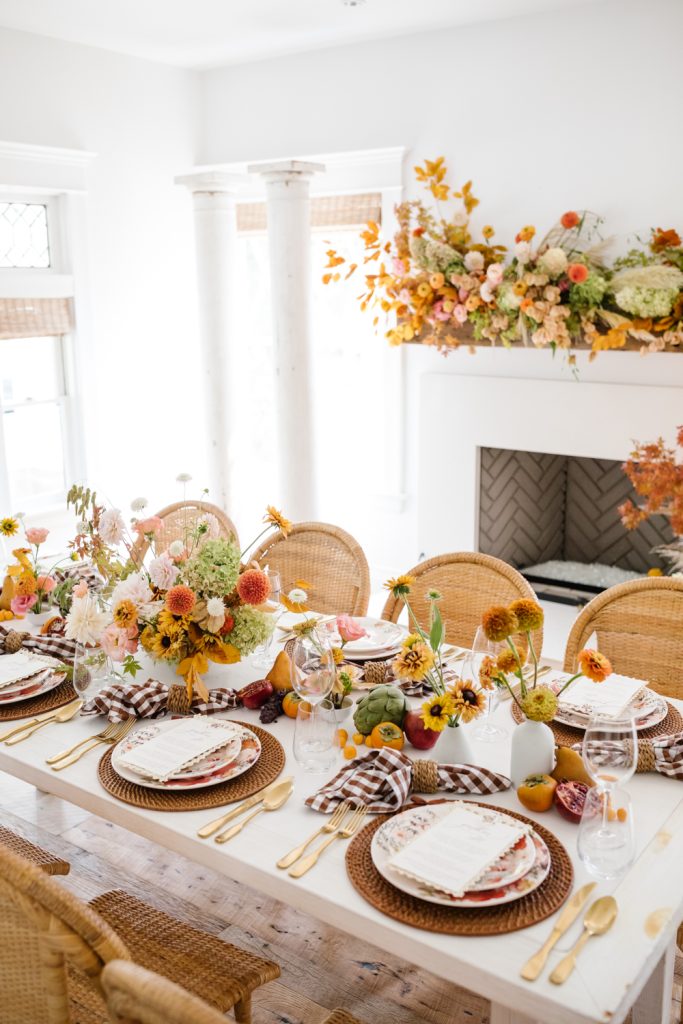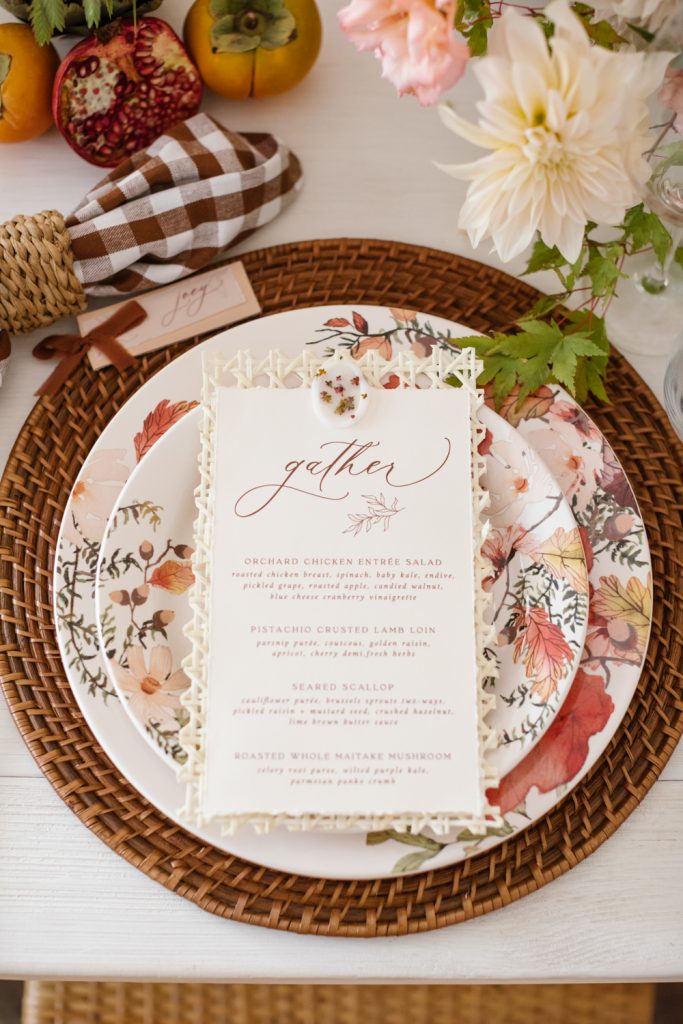 Something I like to do season after season is incorporate fruits or vegetables to my table. It adds texture, color, and personality to your event. Plus, it's very on theme for a harvest collection!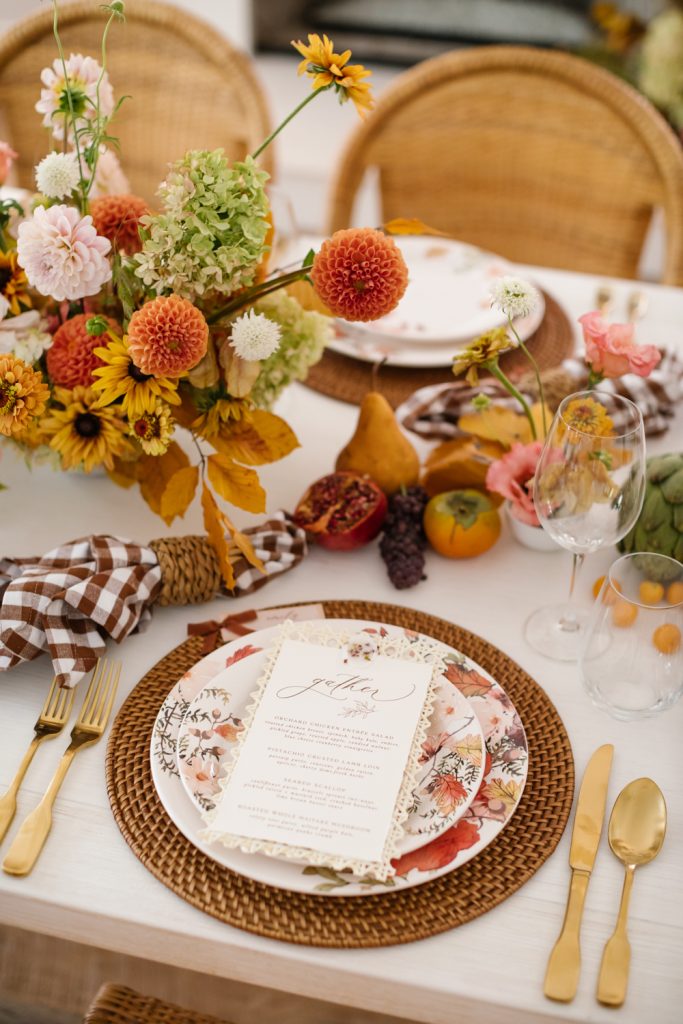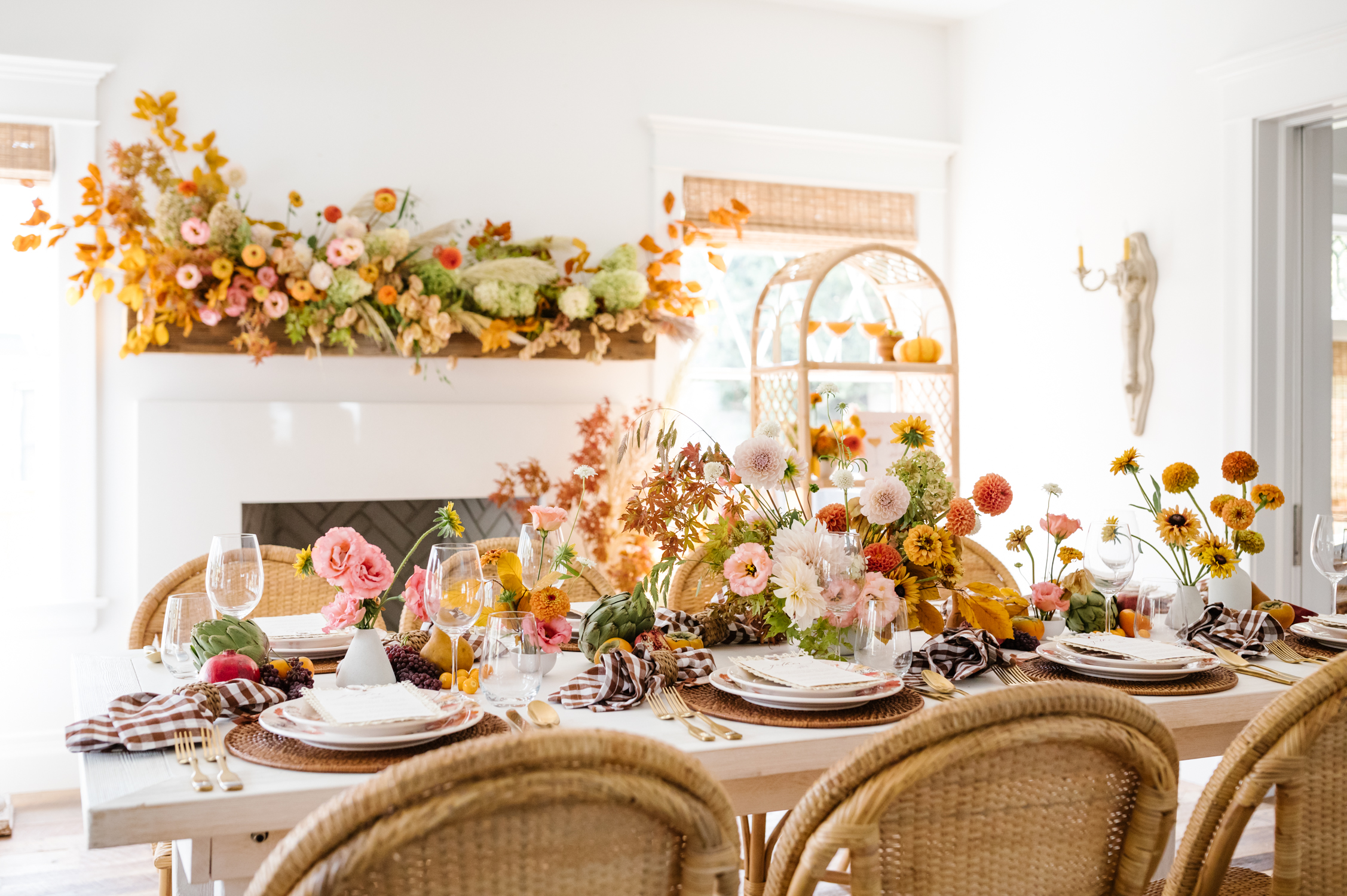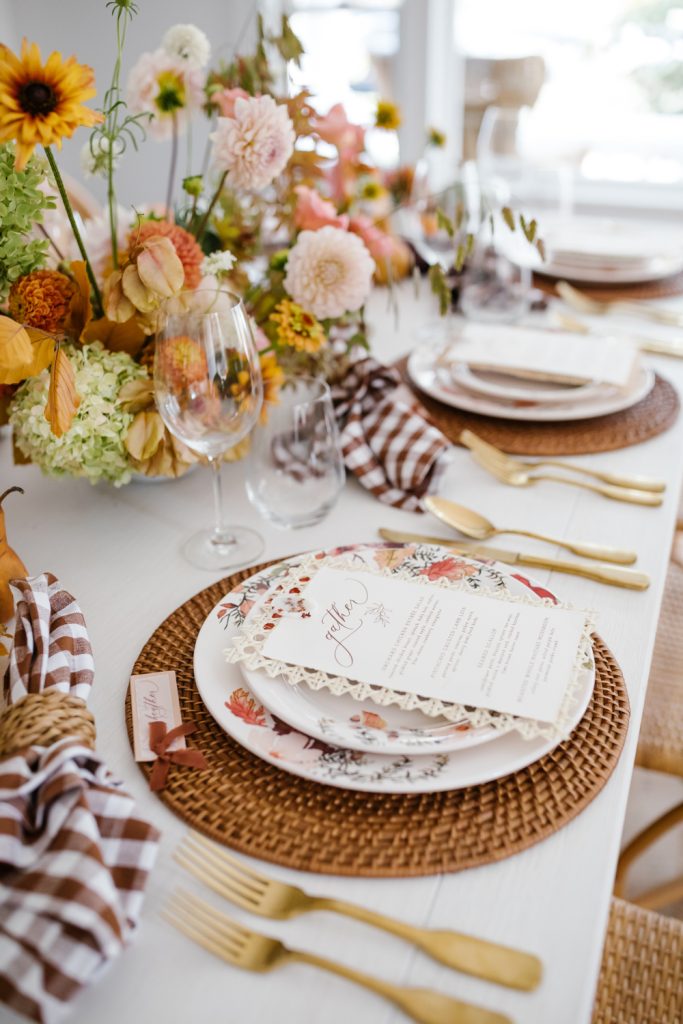 More on this stunning tableware that inspired it all, the Harvest collection from Sur La Table. The gorgeous details on the plates of watercolor Fall foliage paired with the chocolate hued gingham napkins and lovely rattan pieces is perfection. I also used Sur La Tables pretty gold flatware along with their wine glasses. It's always great to have a few staples that you can interchange with more specialty pieces. I love how that pop of Fall is seen with the plates and the napkins but you can interchange the rest of the tableware season after season.
It's all placed on Sweet Salvage Rentals gorgeous white wood table and paired with their rattan chairs. Love it all!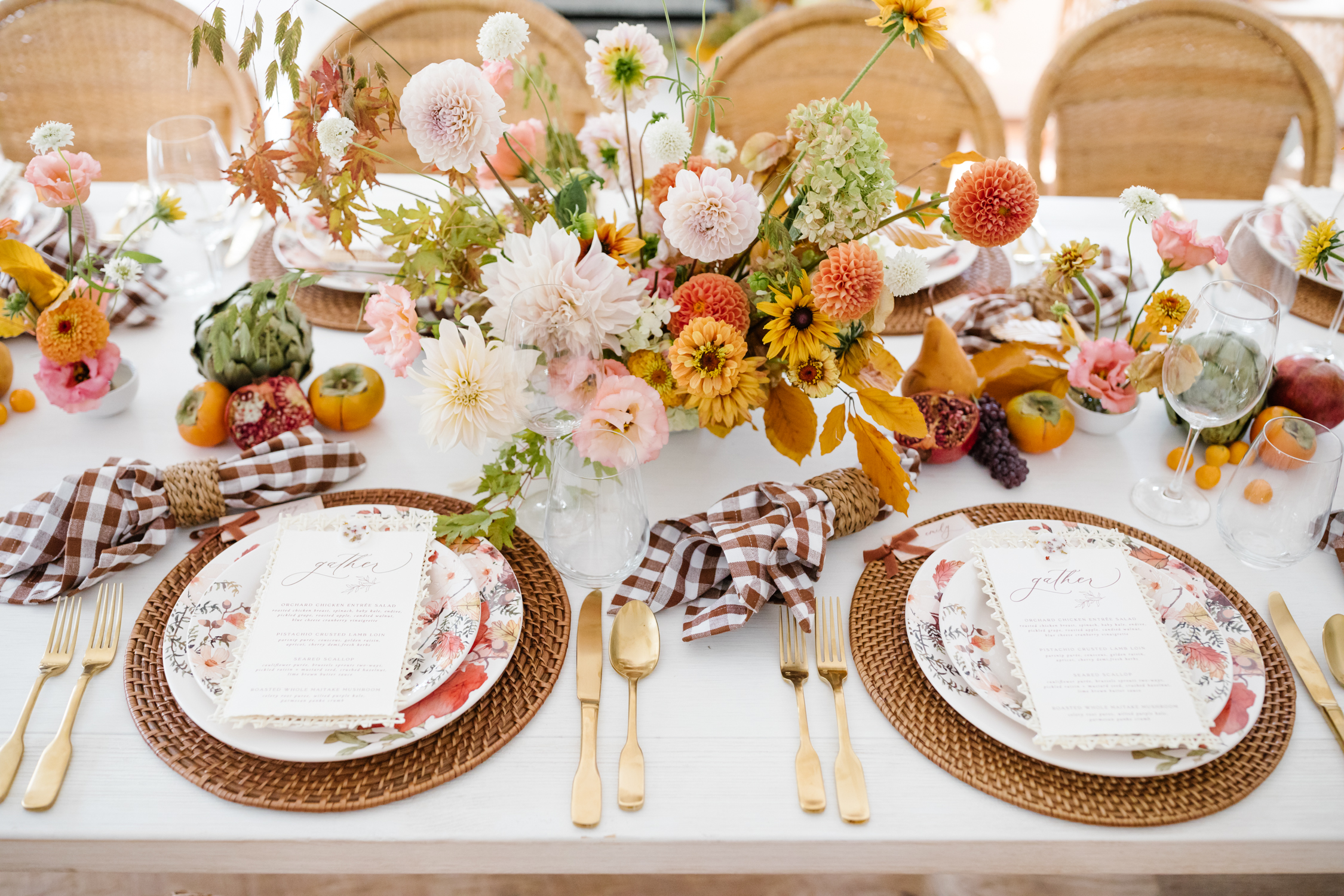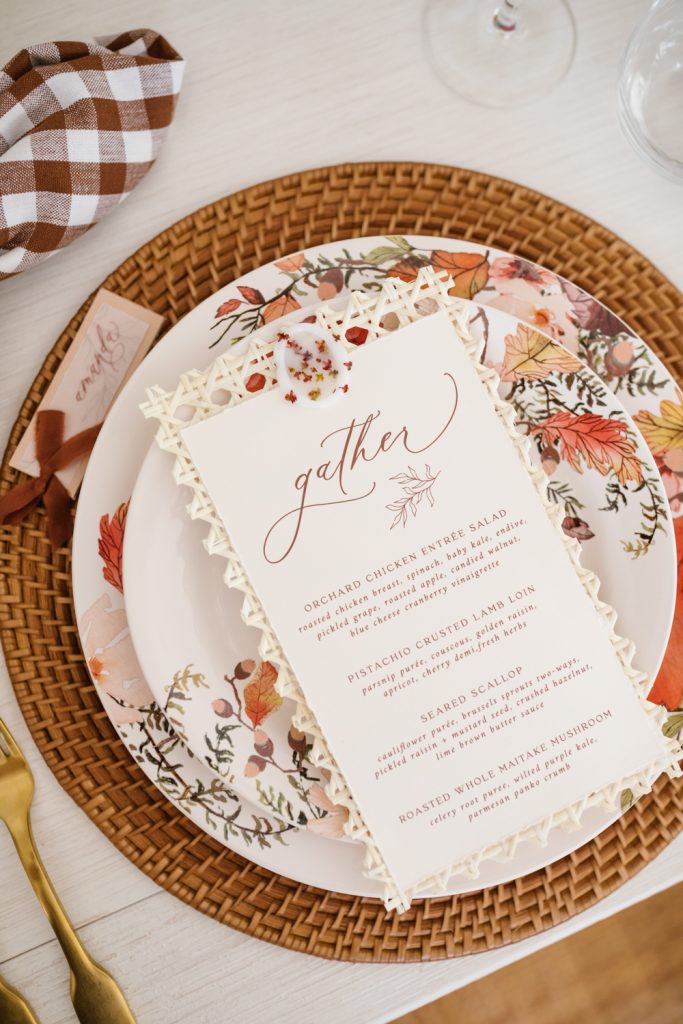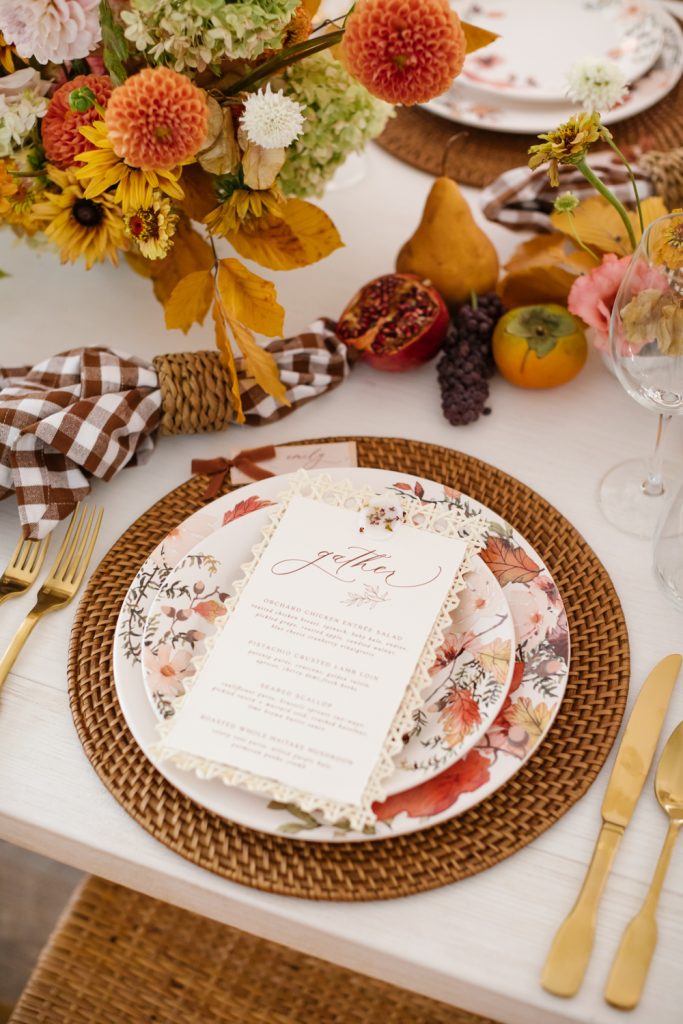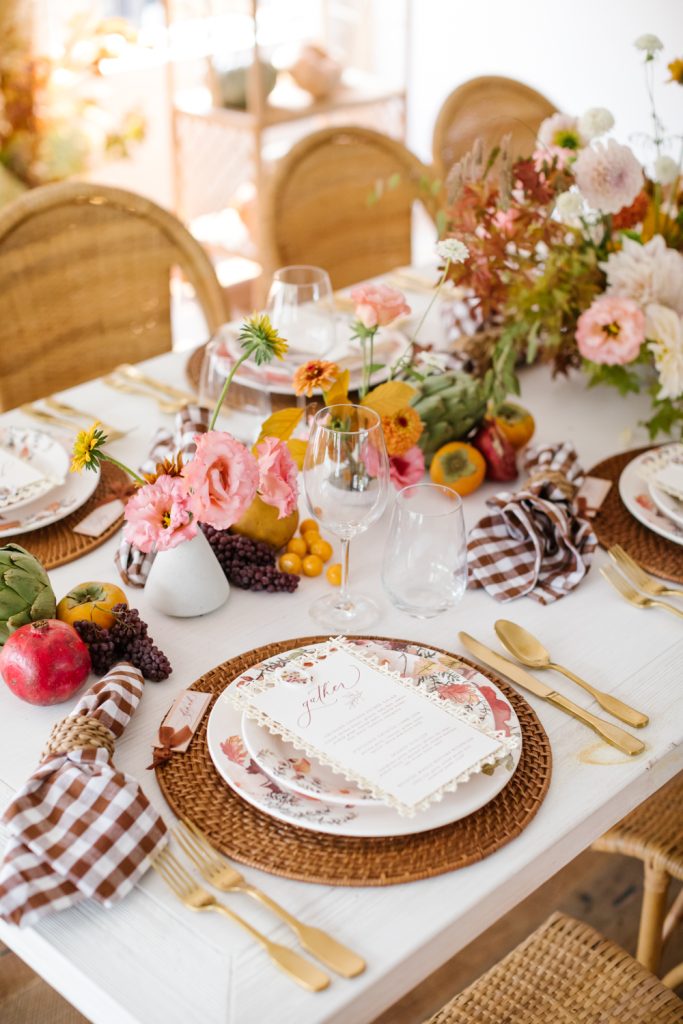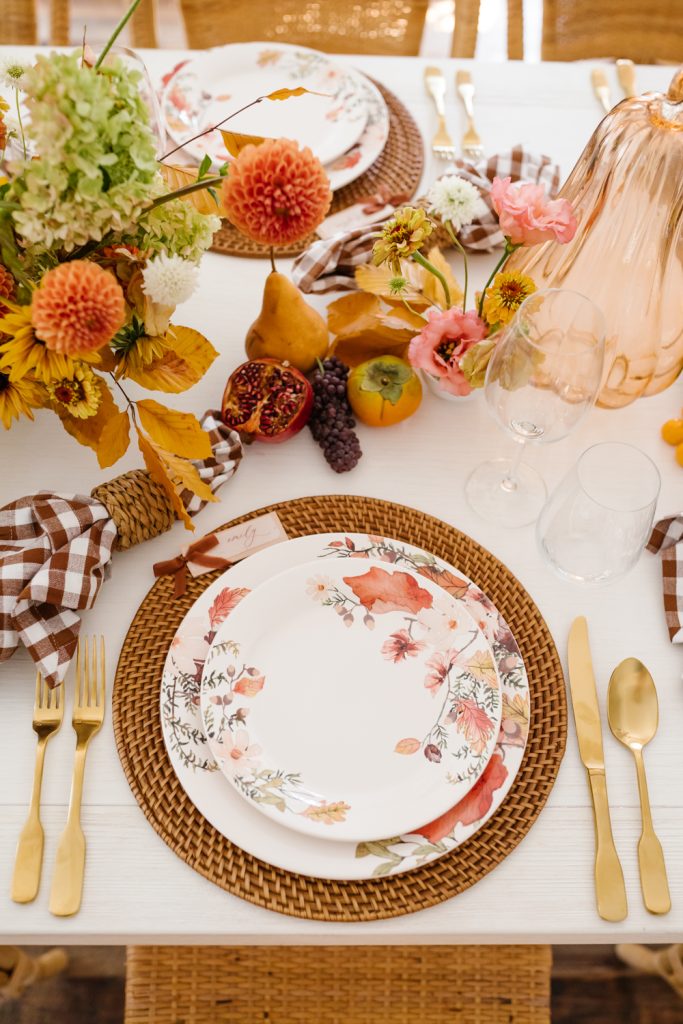 There's more of those stunning florals! Are you as in love as I am?! Absolutely gorgeous!!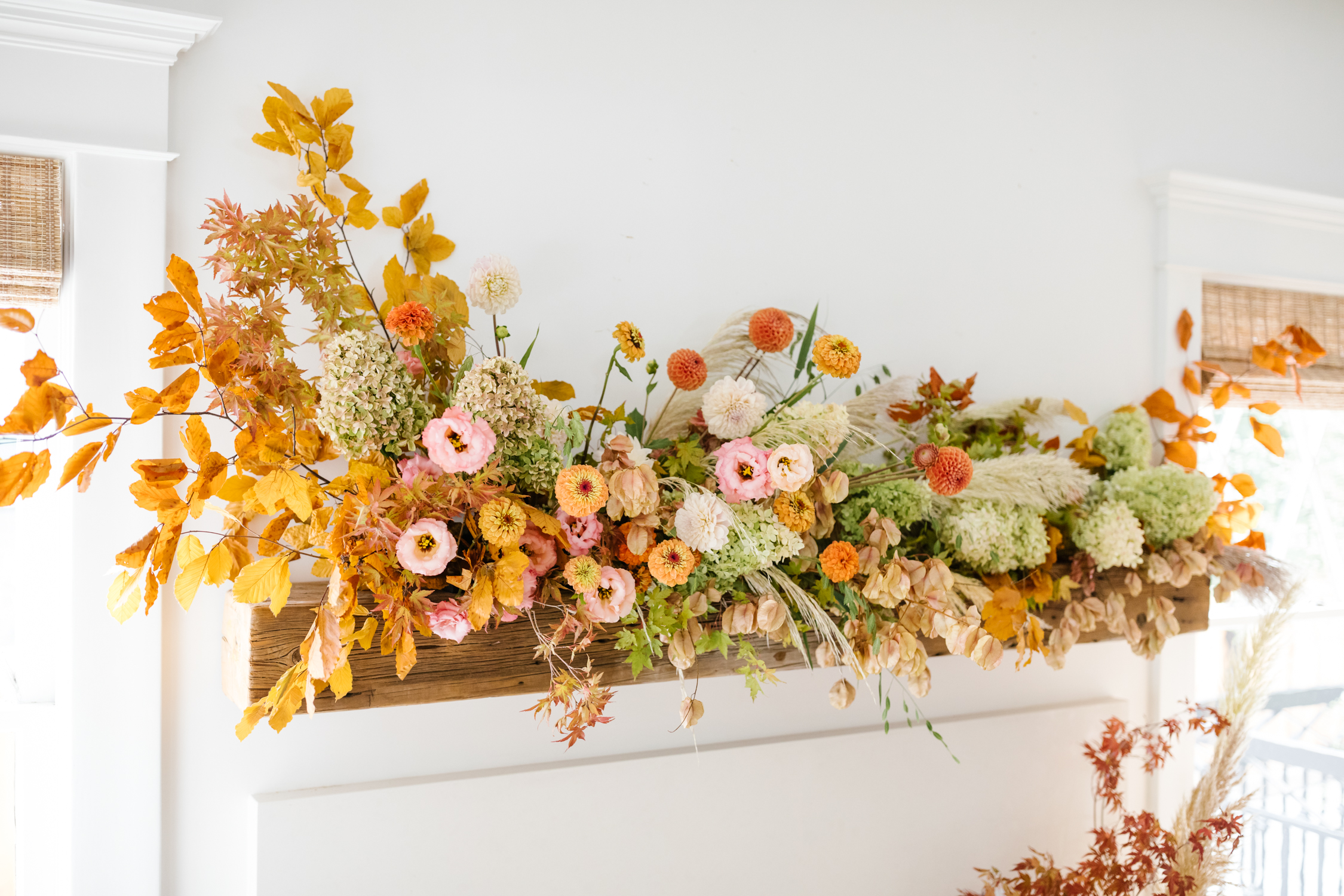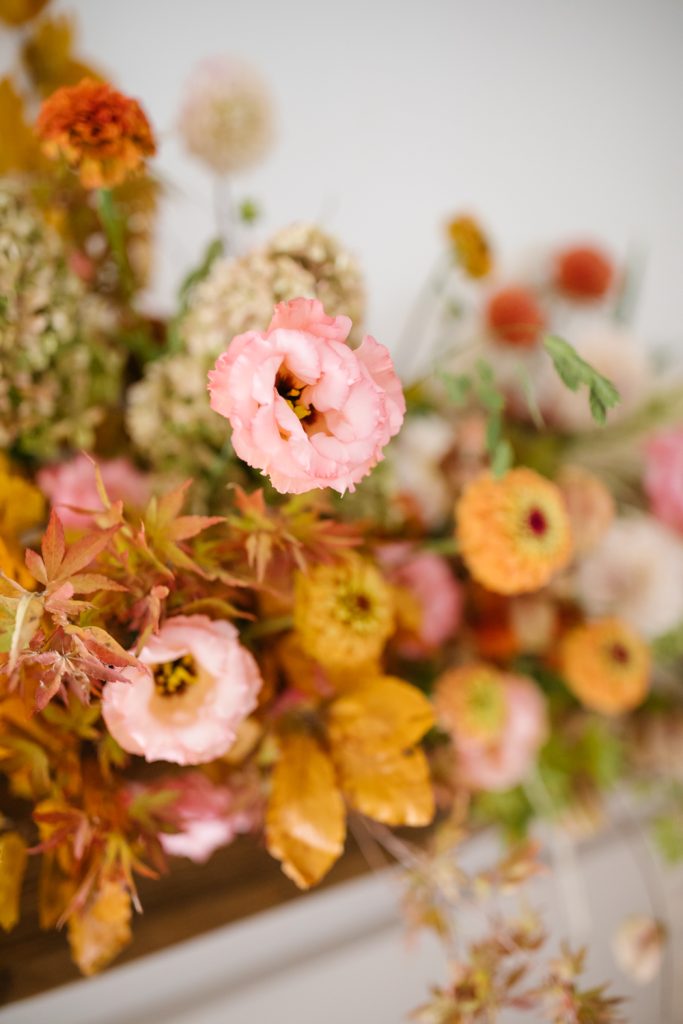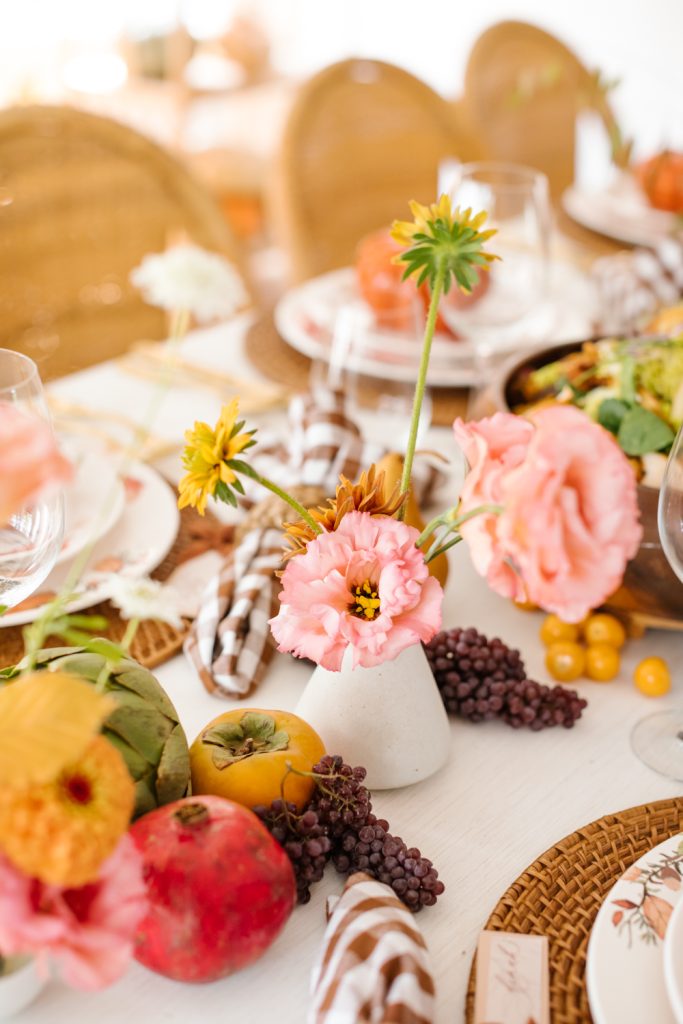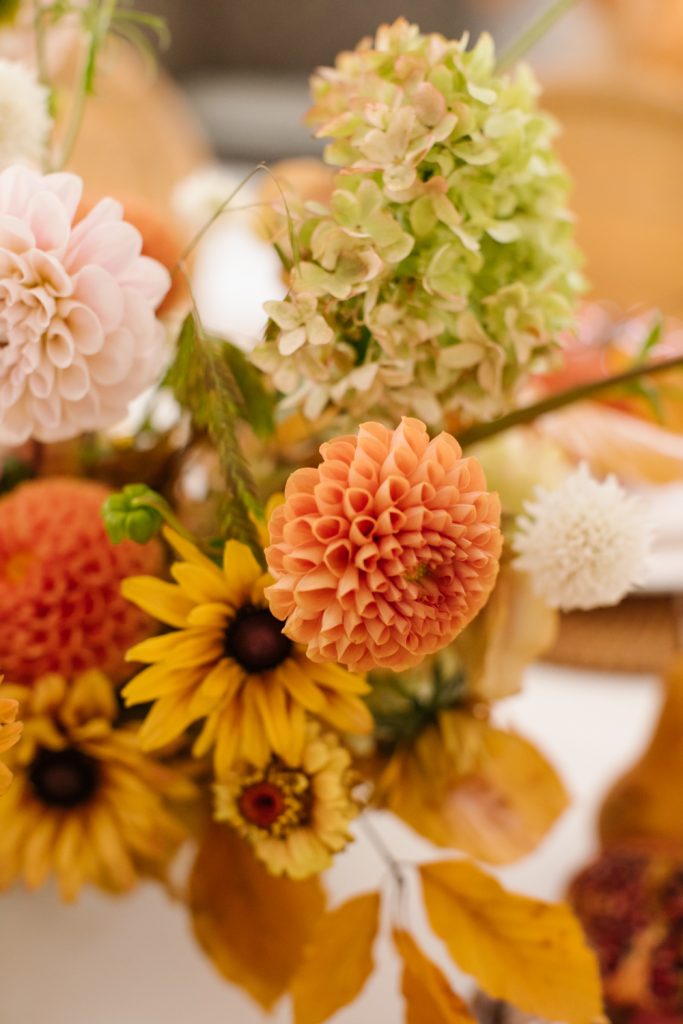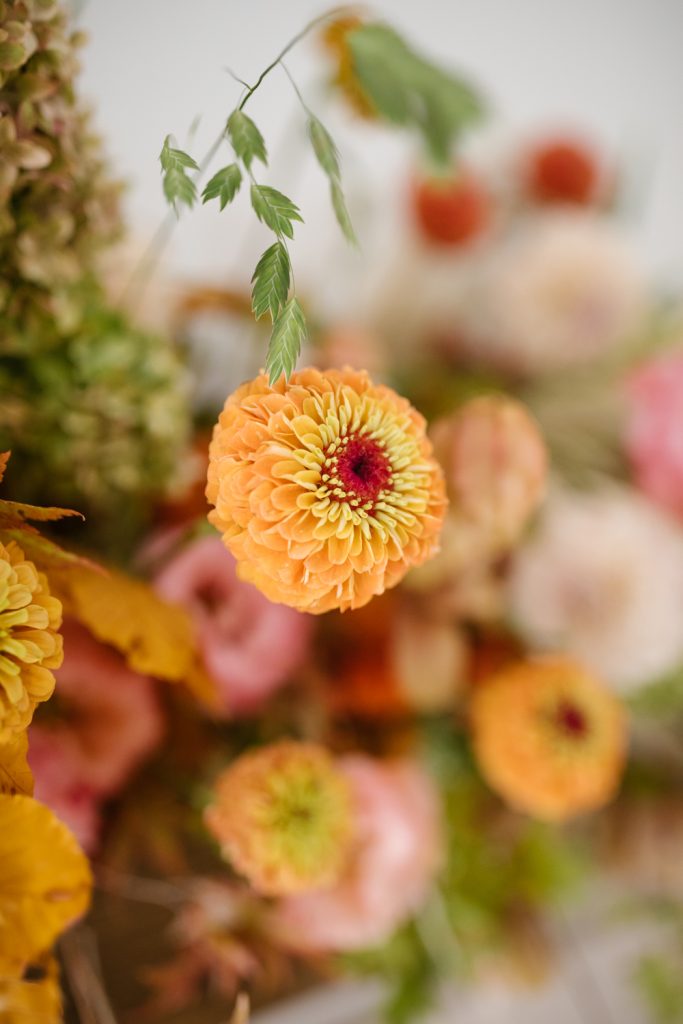 Another fun detail I added to the table from Sur La Table were these pretty glass pumpkins! They are the perfect decor addition to your home for Fall, you can use them through-out your home not just on your table.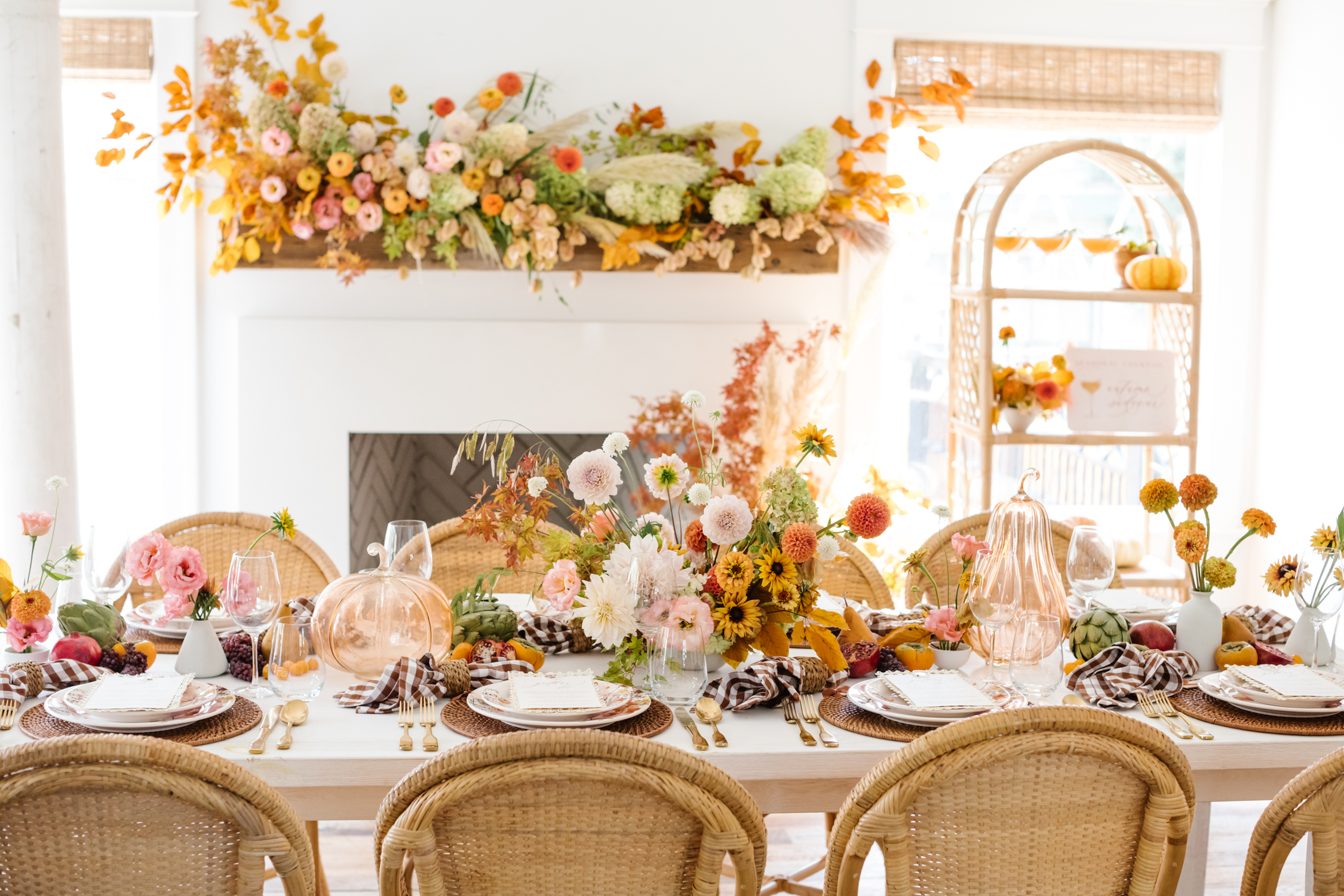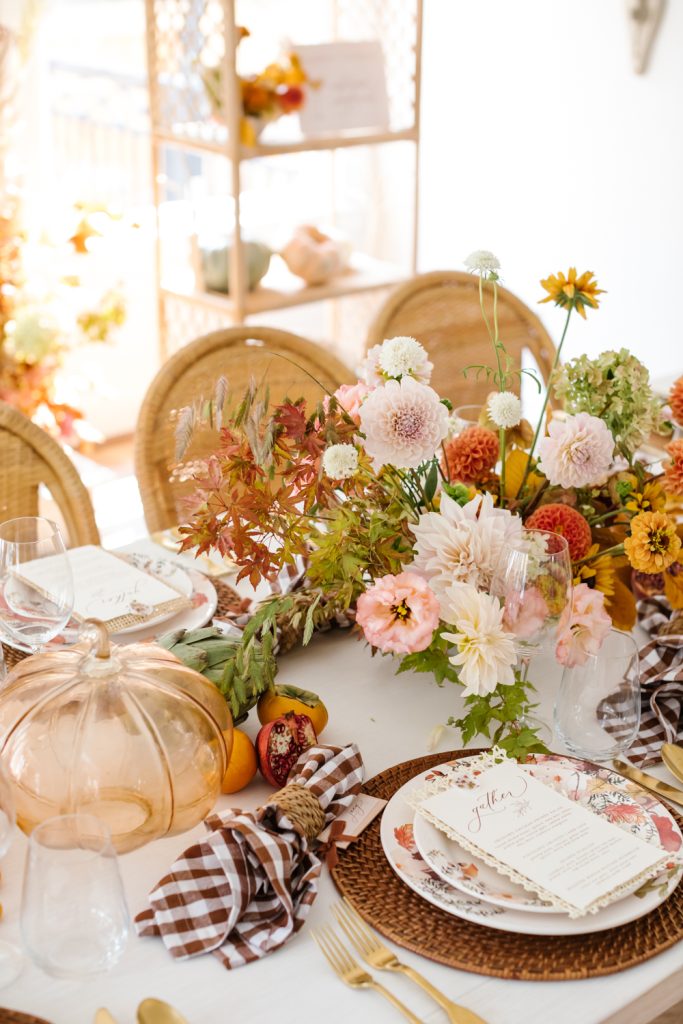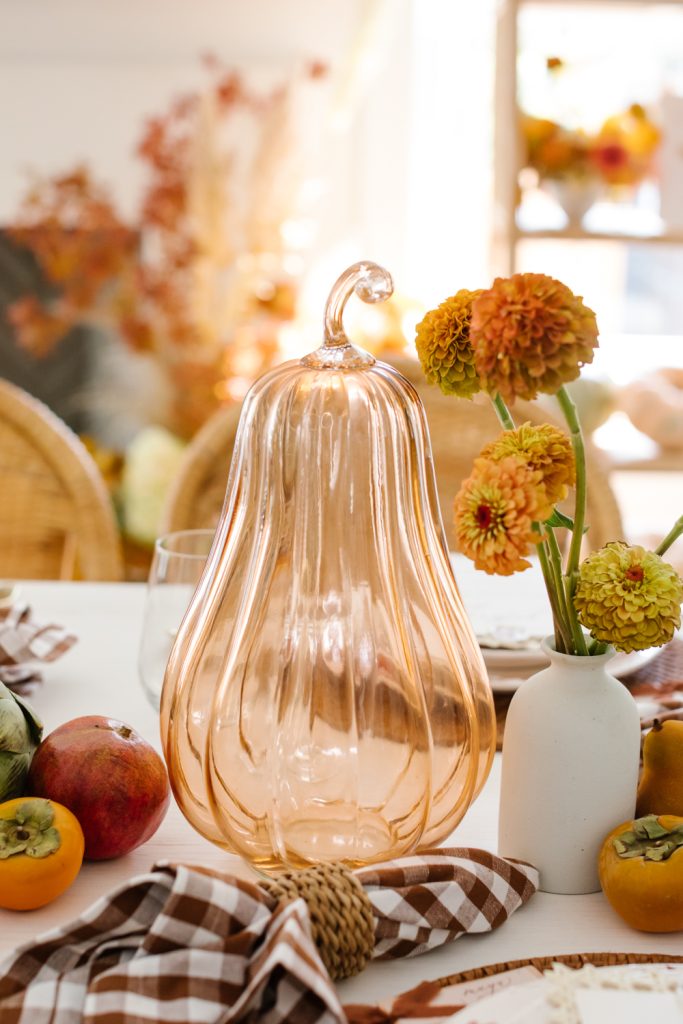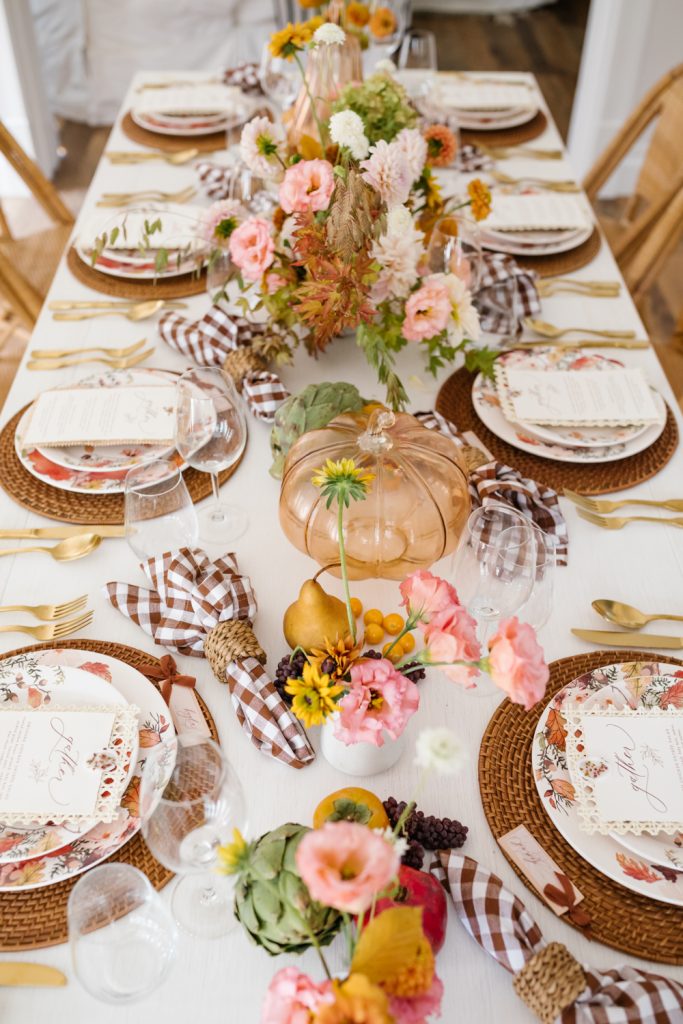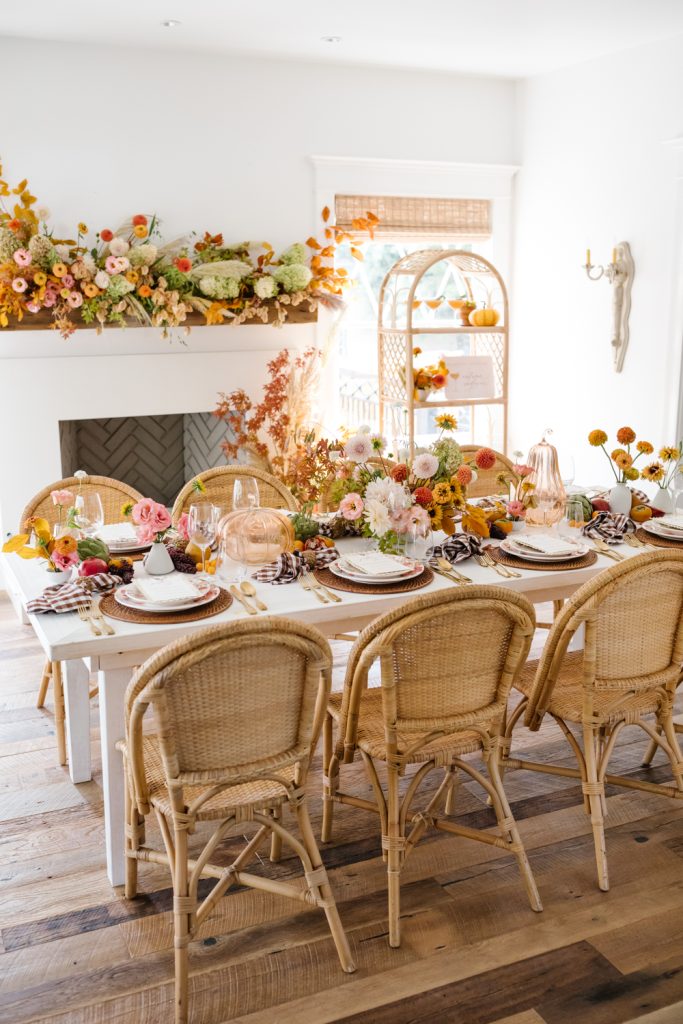 With every good dinner party there's a cocktail! Colette's Catering brought these delish Autumn Sidecars – the perfect treat to start the evening!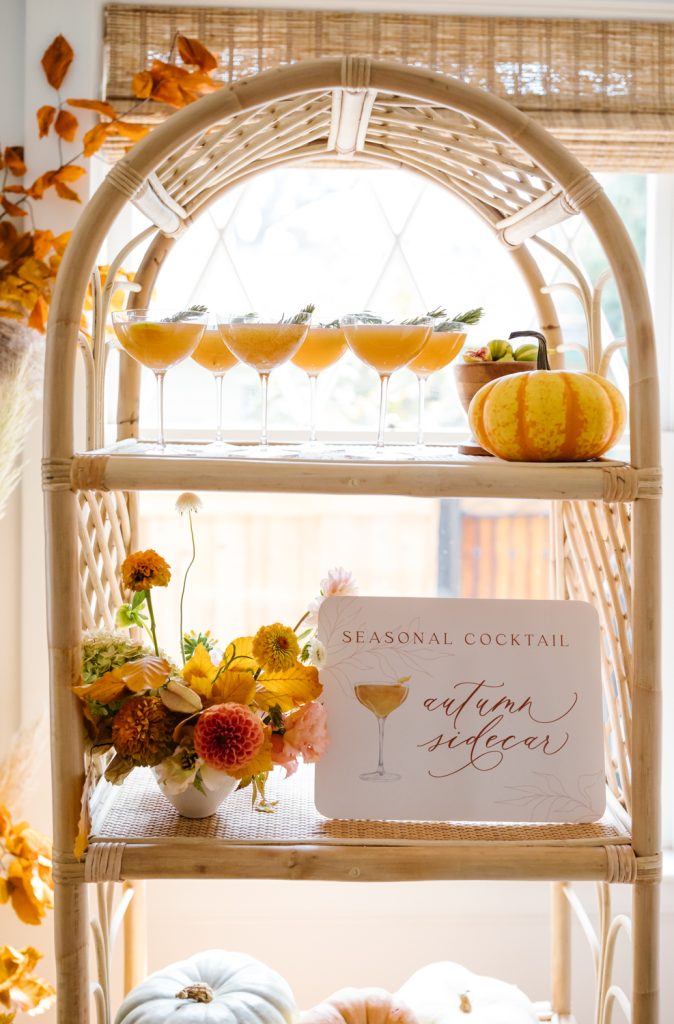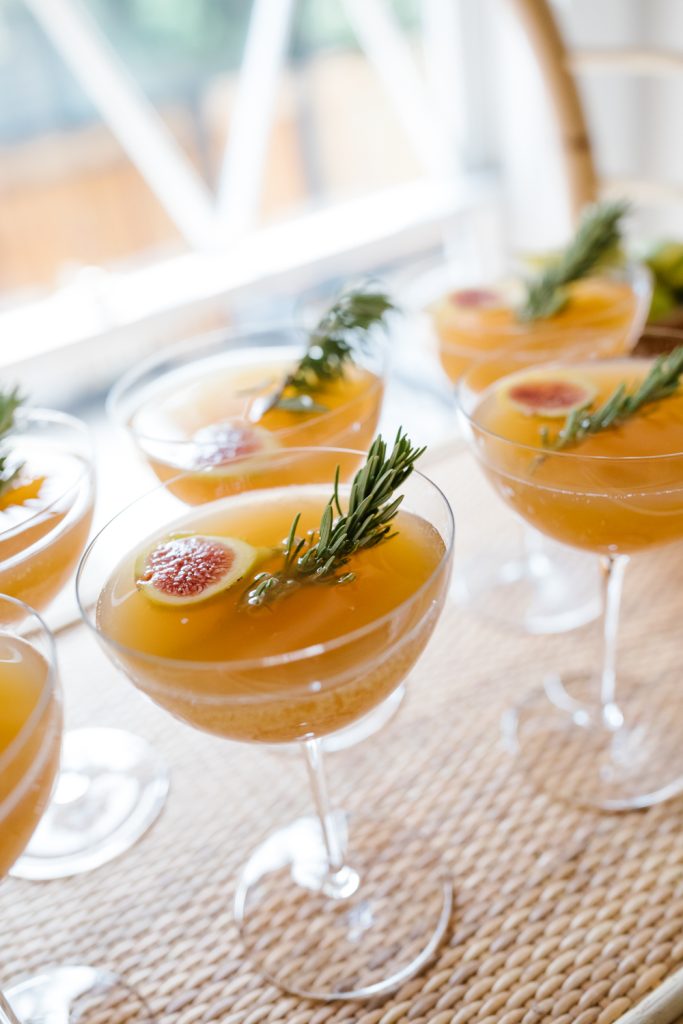 And the perfect sign from Pirouette Paper to showcase it!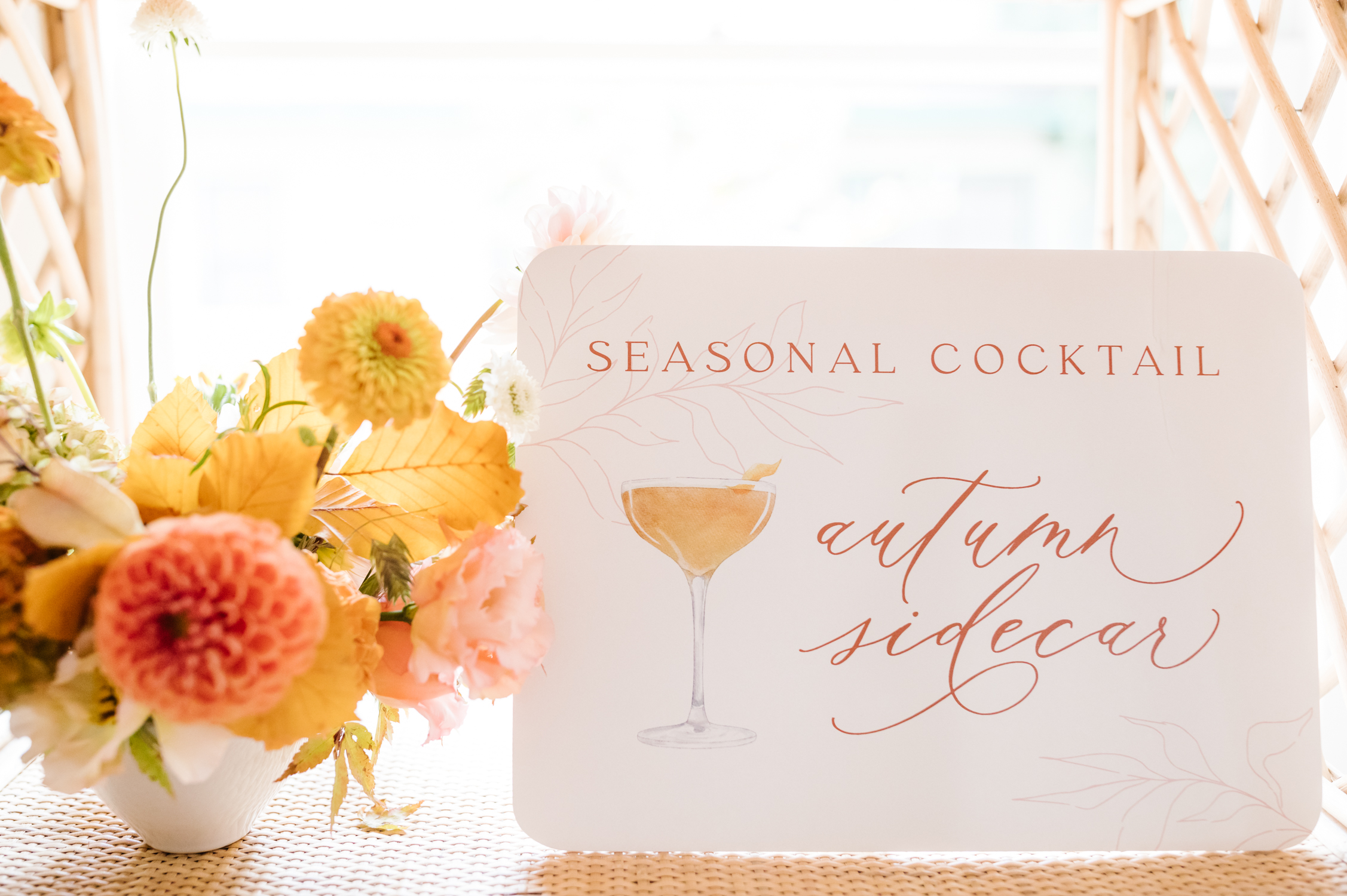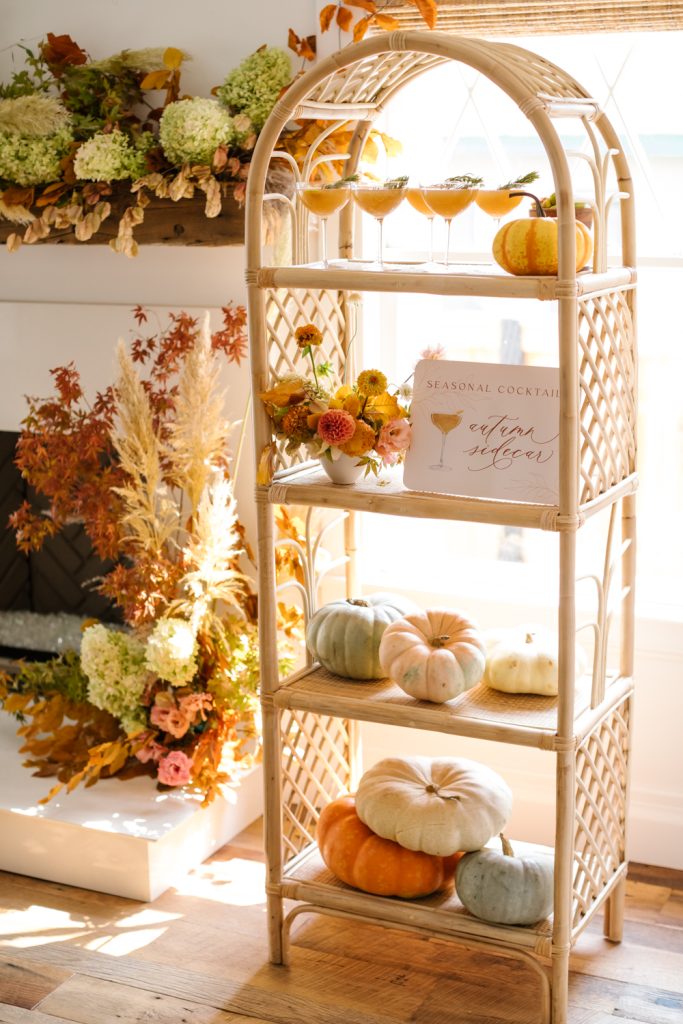 Setting a beautiful table brings me joy, especially with pretty pieces from Sur La Table, that makes it even better!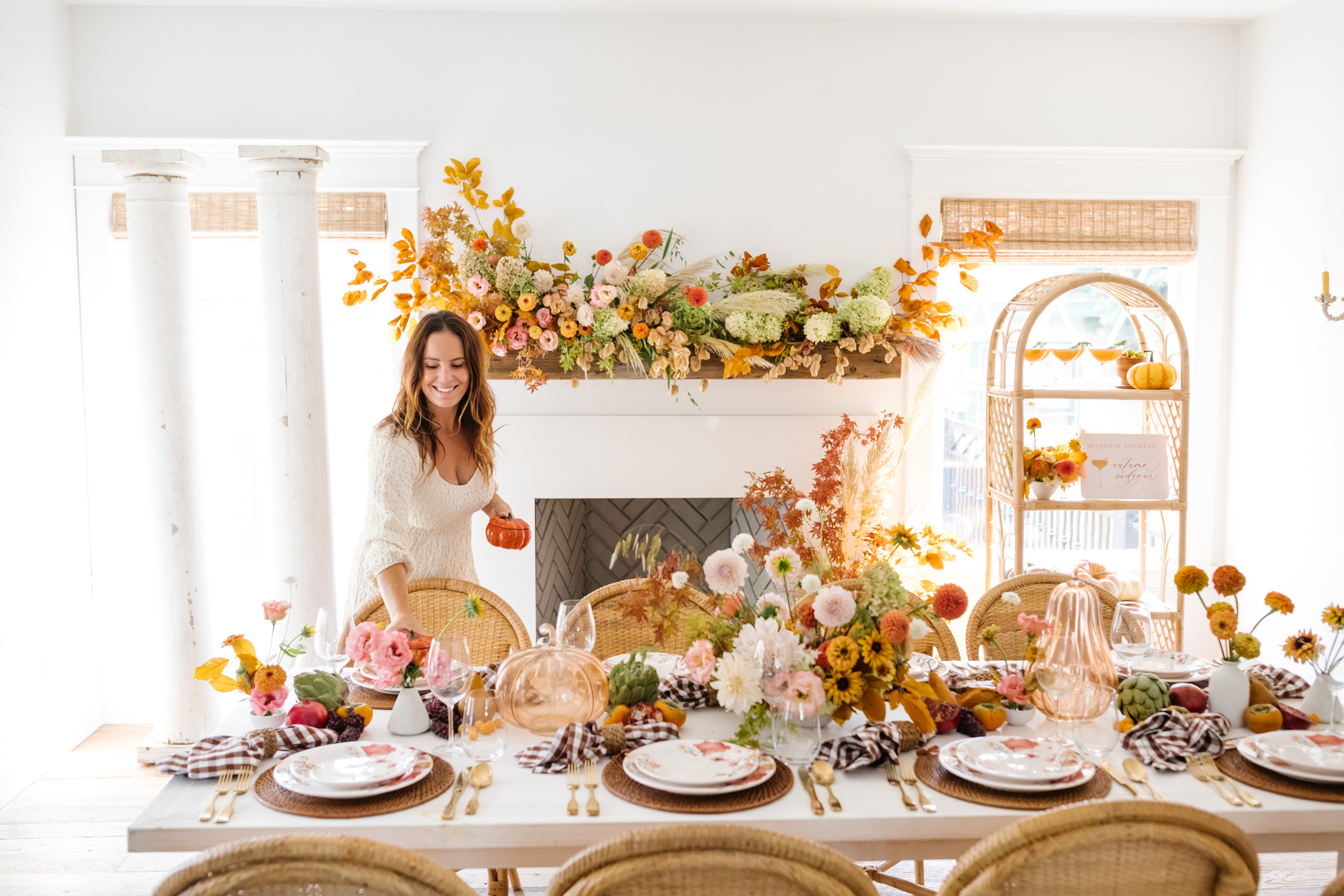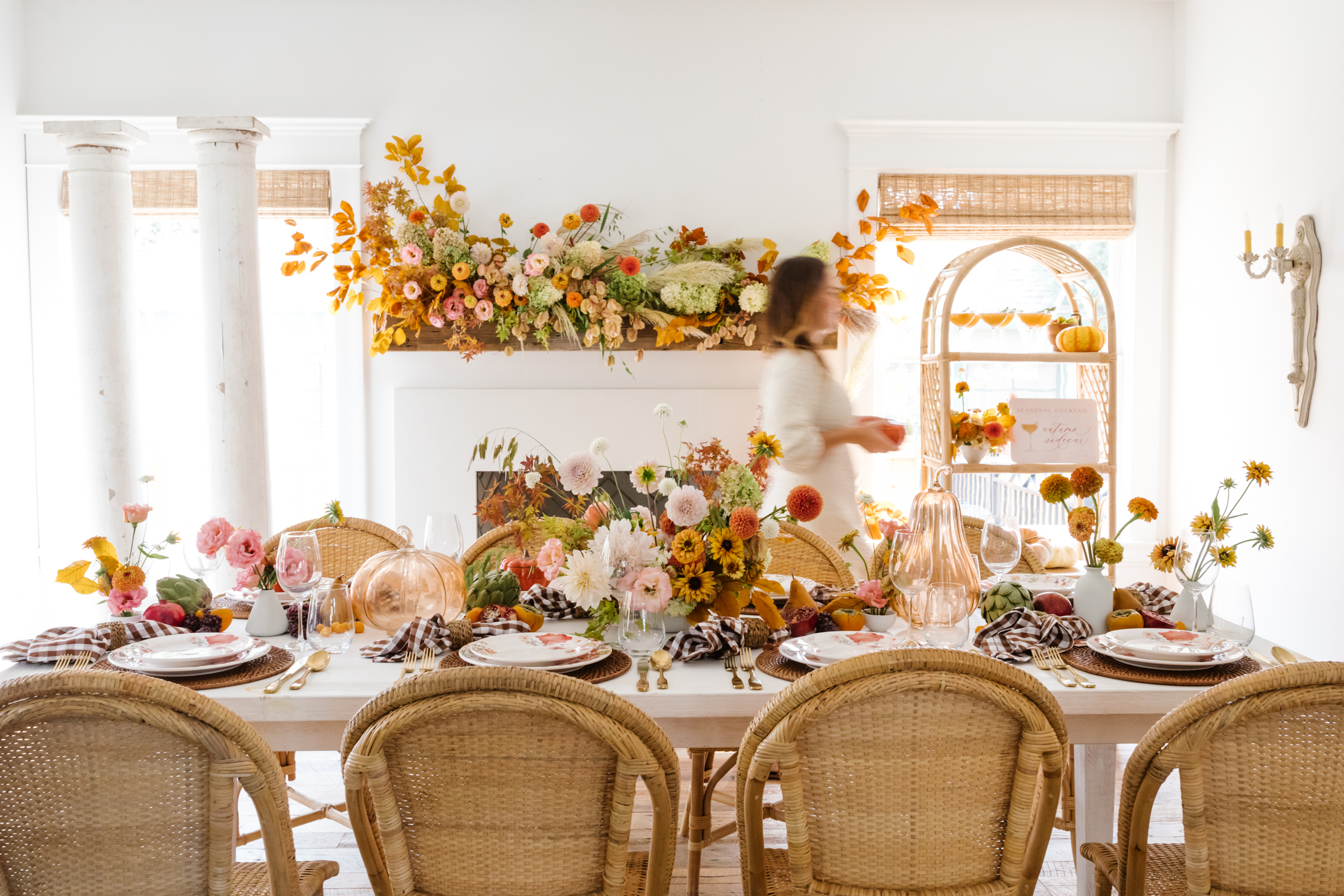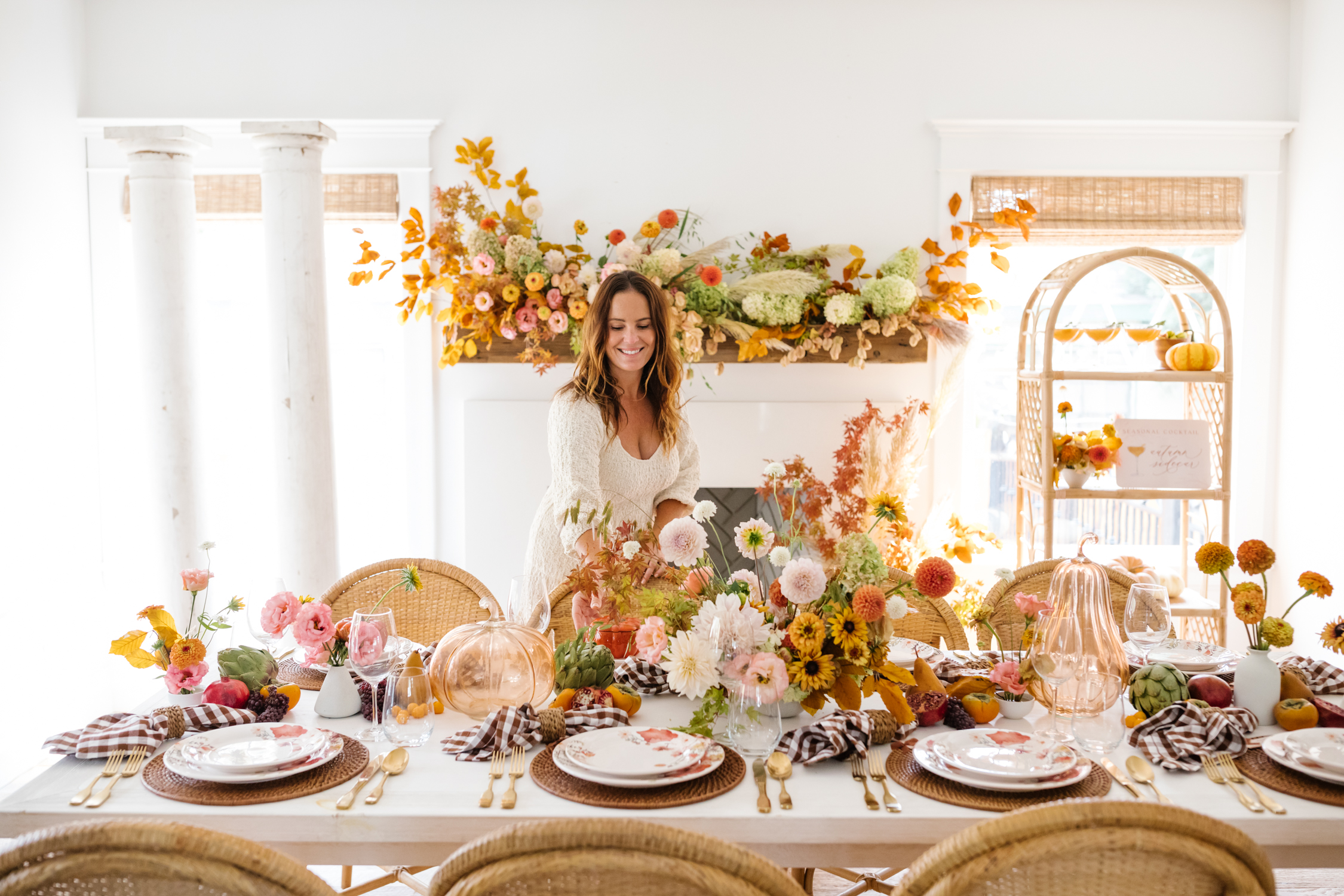 Let's get to the good stuff, the food! When I think of Sur La Table I think of all the yummy! When I saw they had these adorable pumpkin bowls I knew they had to be part of this spread. My favorite food is soup, and butternut squash is one of my favorites! Colette's Catering served up this deliciousness and my mouth just about watered! How sweet is that dish towel from Sur La Table as well? Great for Fall kitchen decor!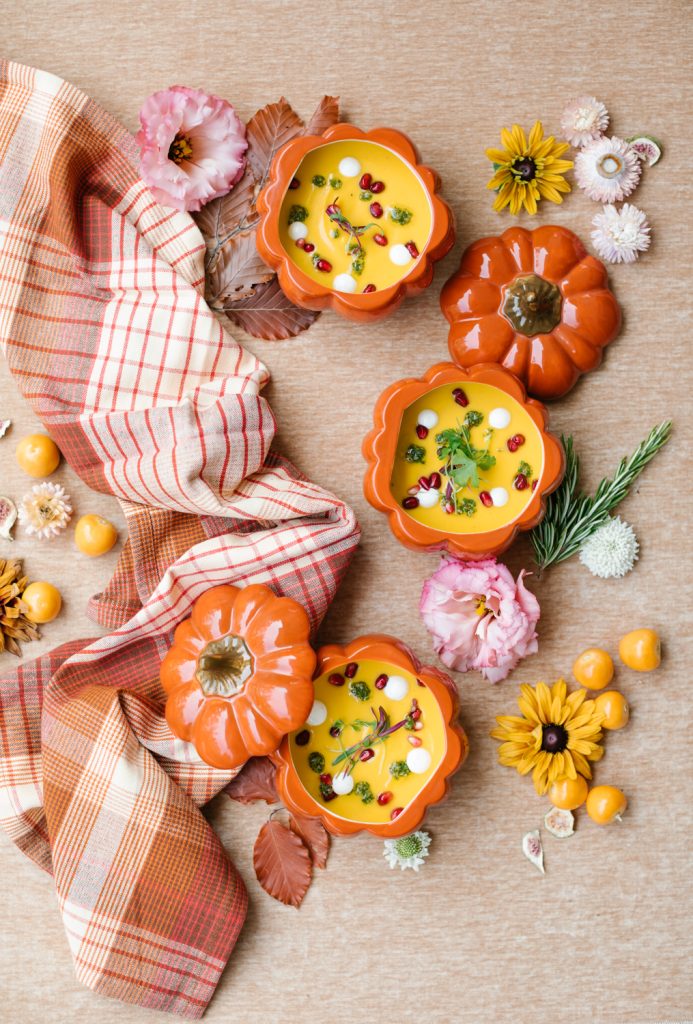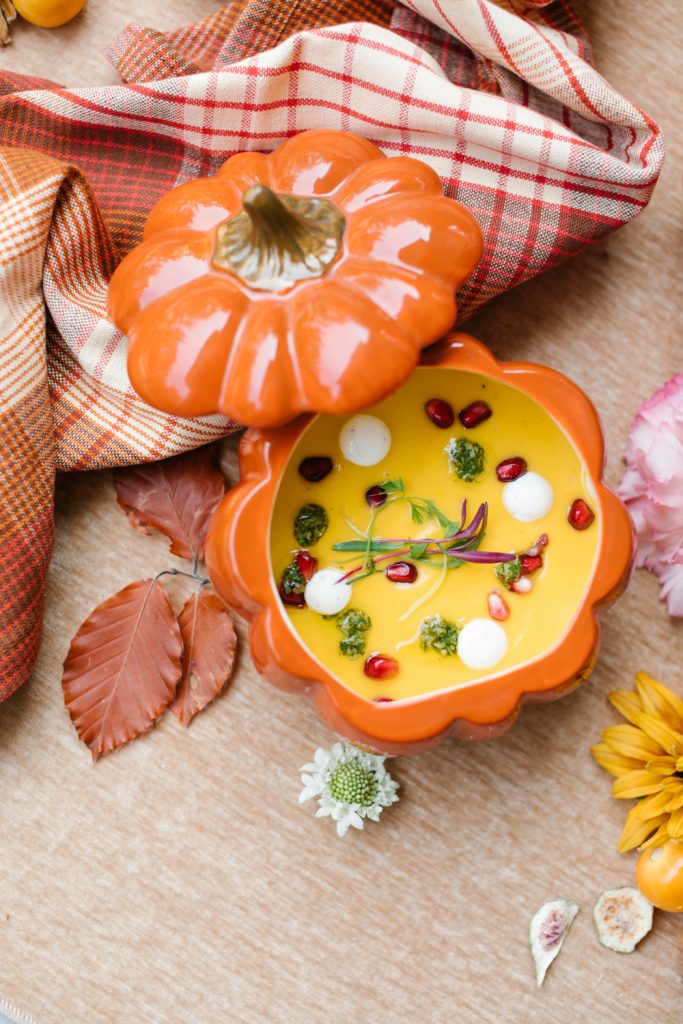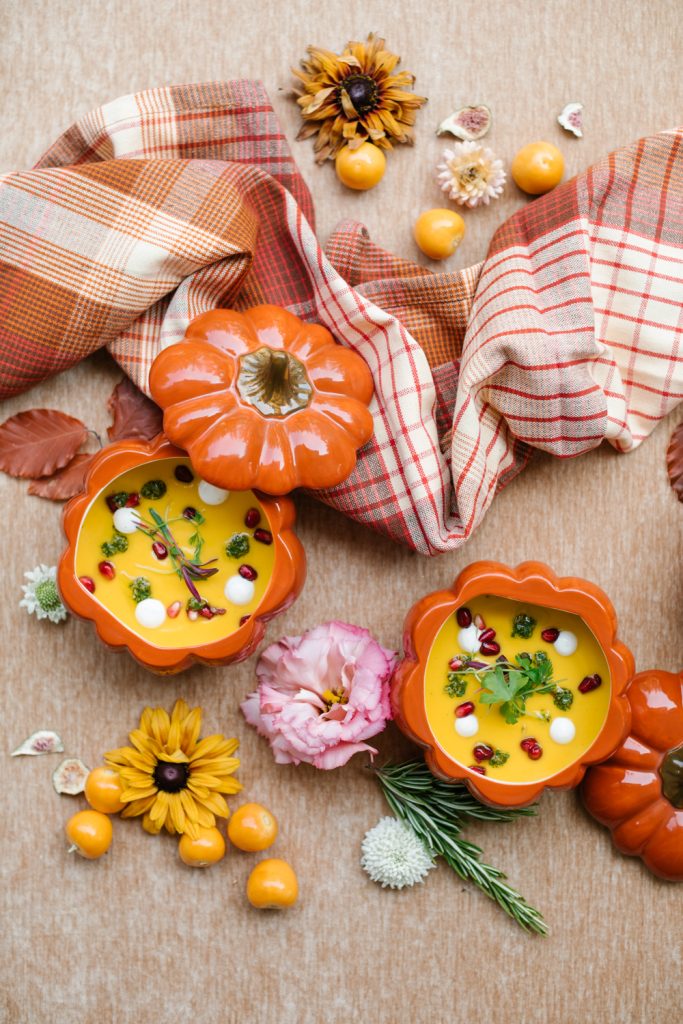 And they are even prettier on the table!! That's a place setting I want to see when I enter a dinner party!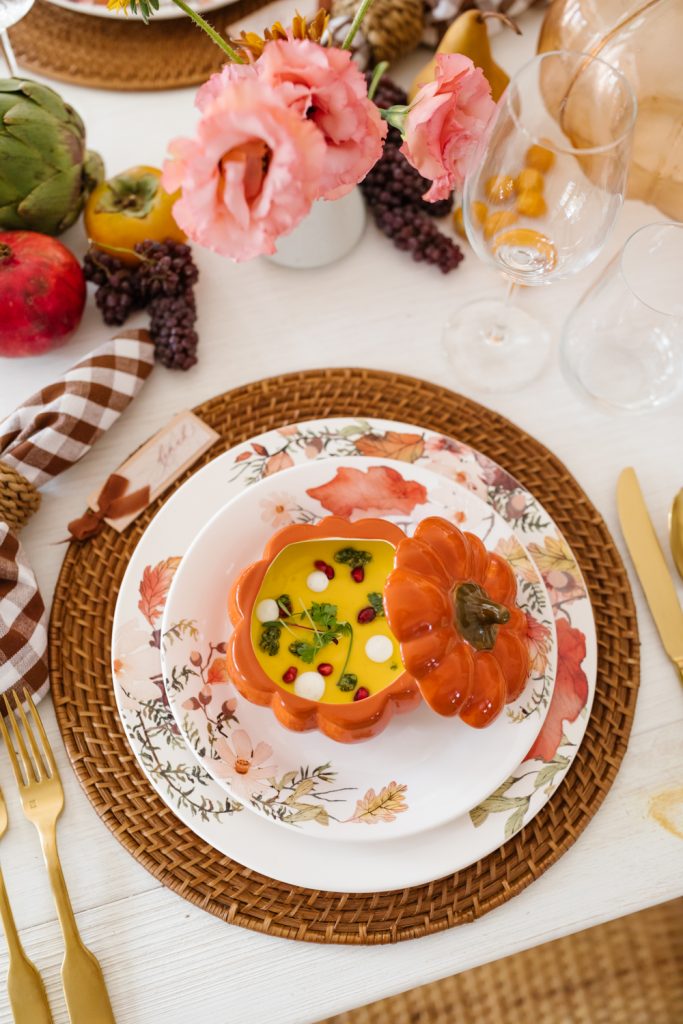 All the yummy soups lined up in a row!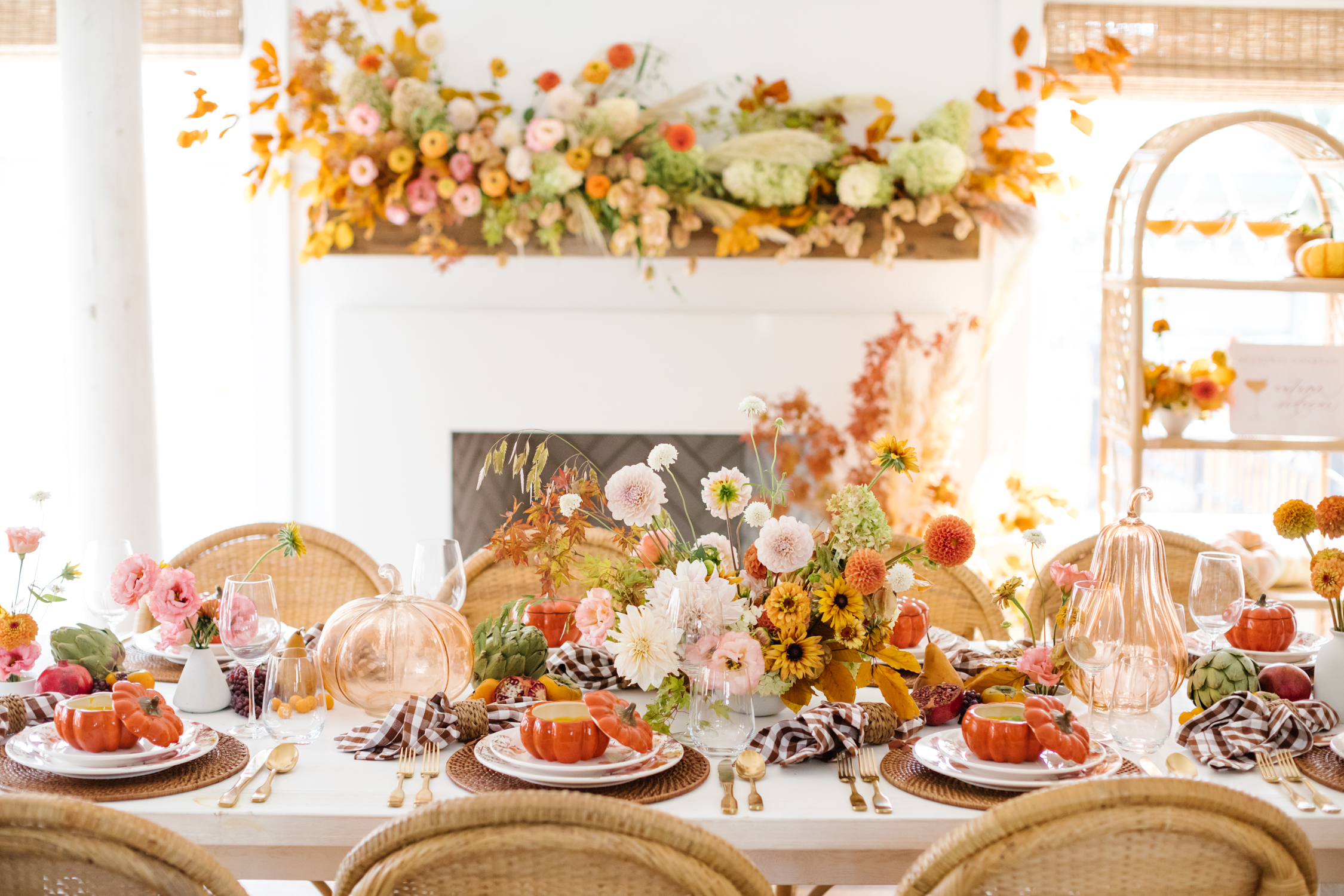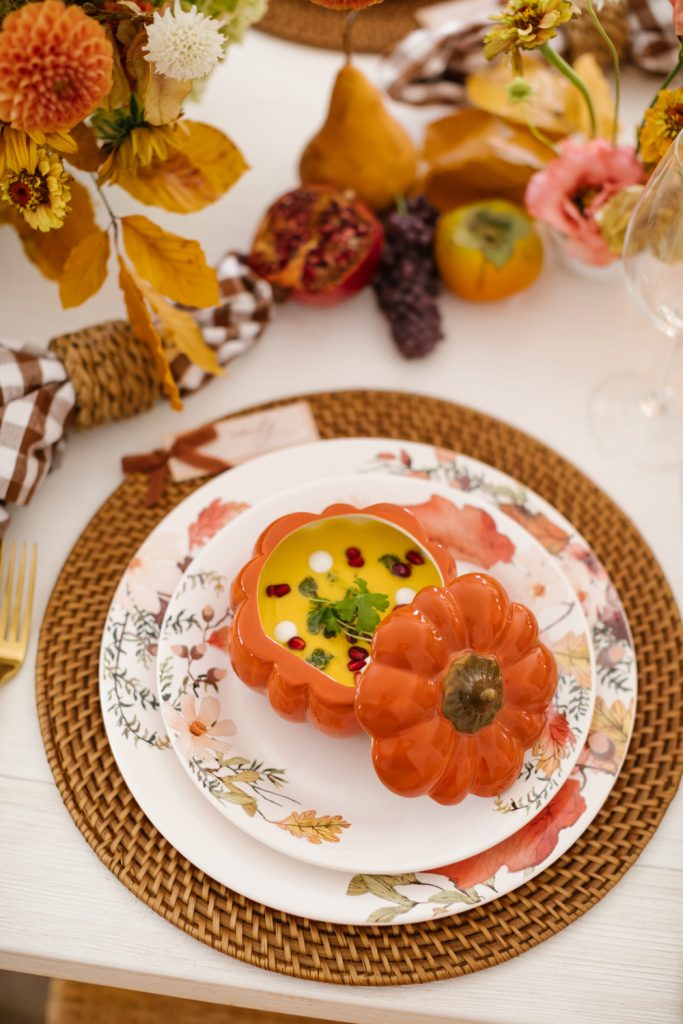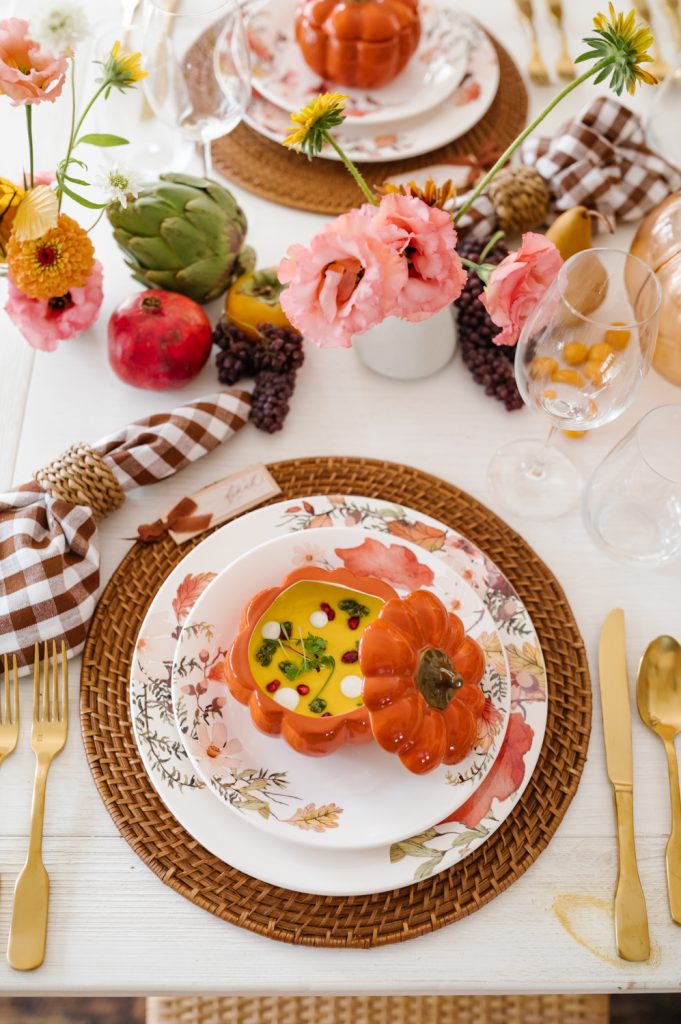 Time to add an outstanding Fall salad full of the best harvest has to offer. Placed in a classic olive wood bowl from Sur La Table. And there you have the perfect start to our dinner. But there is much more to come…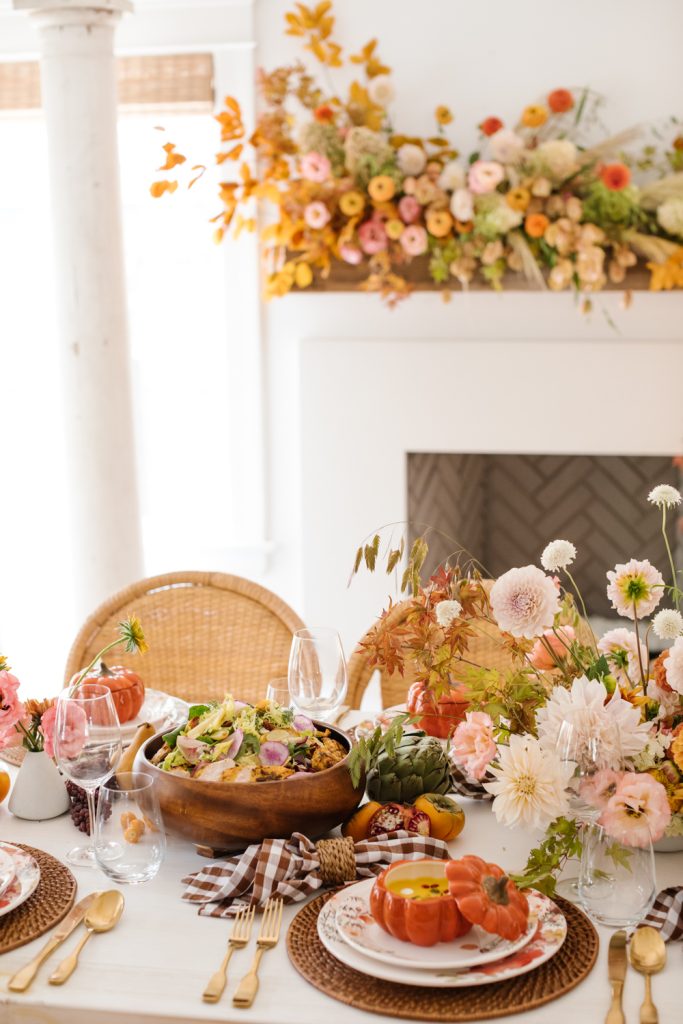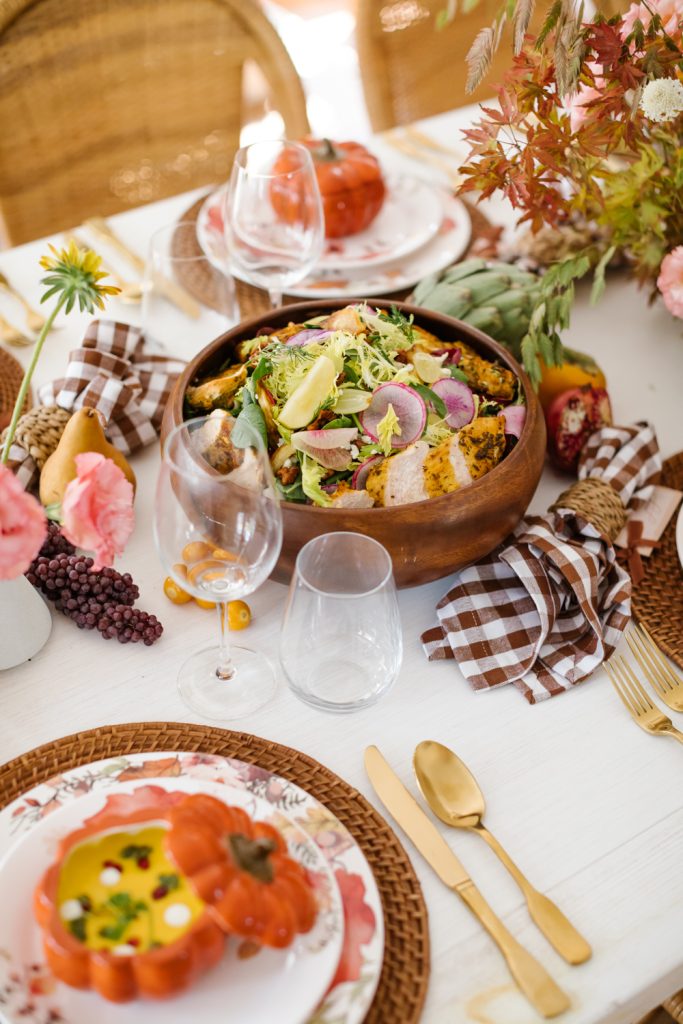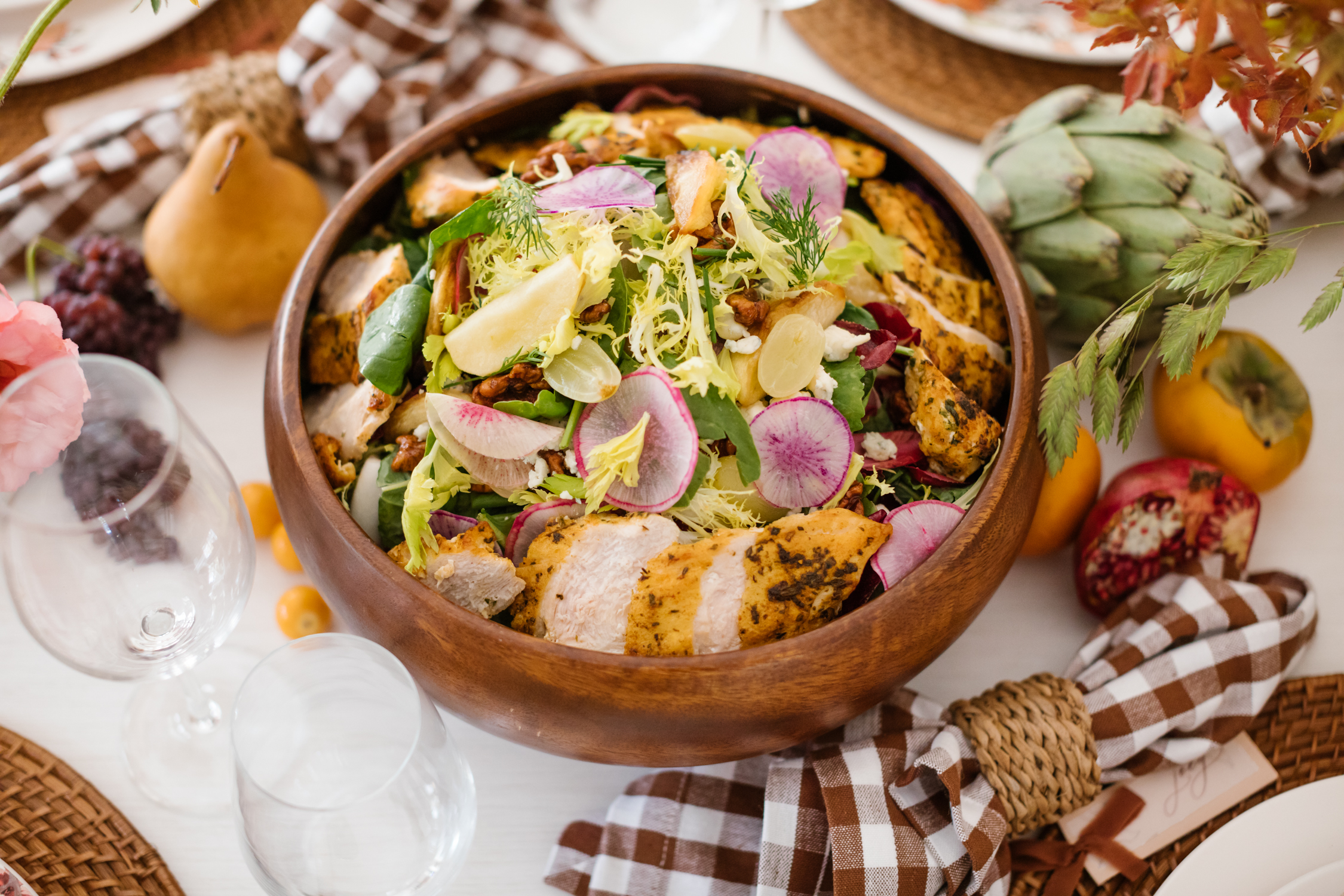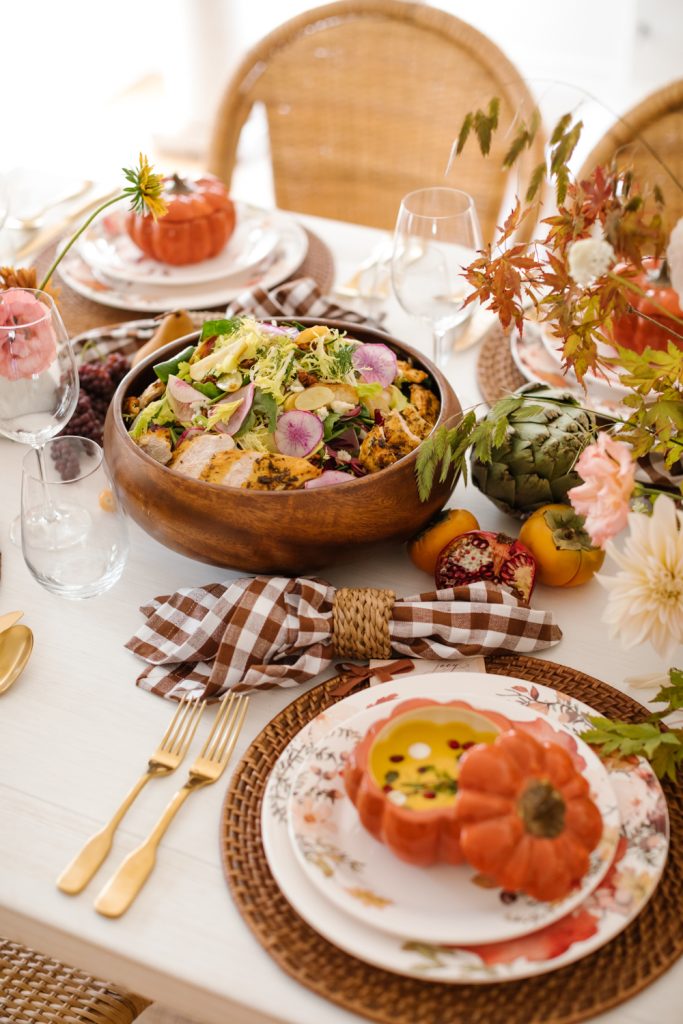 Onto the main dishes… Colette's Catering truly spoiled us with so many yummy dishes! What you see here is a pistachio crusted lamb loin with fresh herbs, couscous, golden raisins, apricot and a cherry demi – FANCY!!!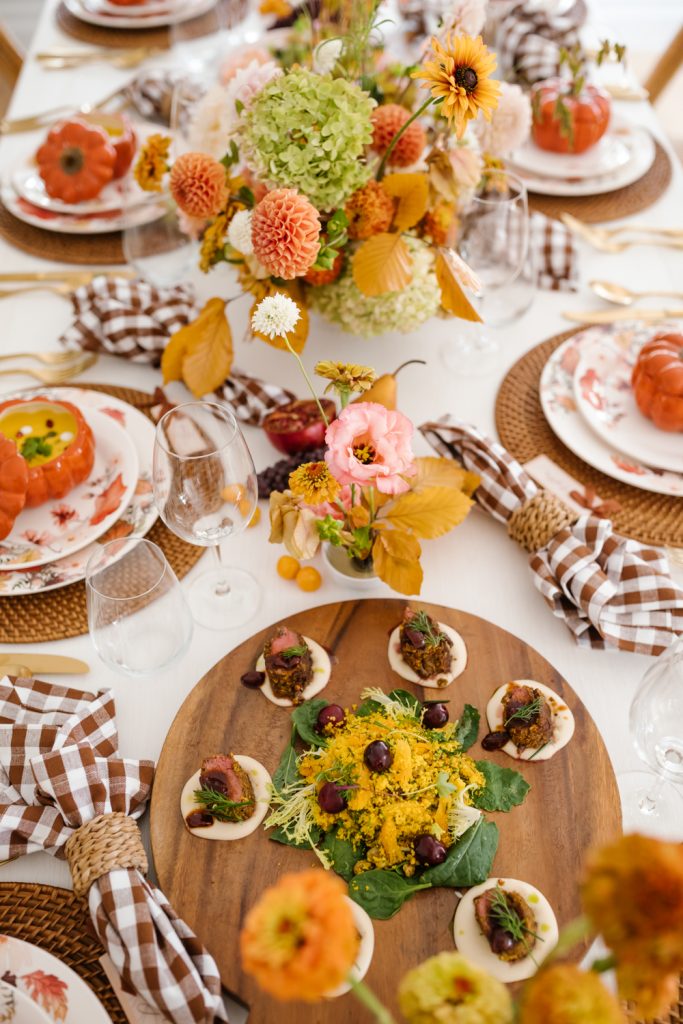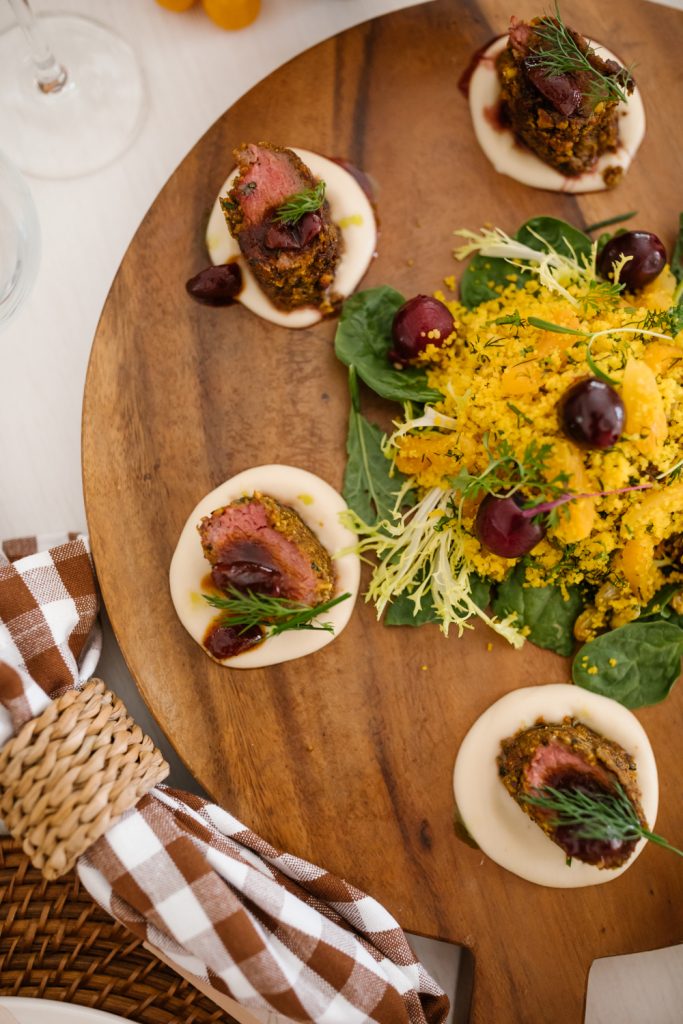 Next up is a seared scallop with a cauliflower puree, brussel sprouts two ways, pickled raisin + mustard seed, crushed hazelnut with a lime brown butter sauce… Ok, mouth is definitely watering!!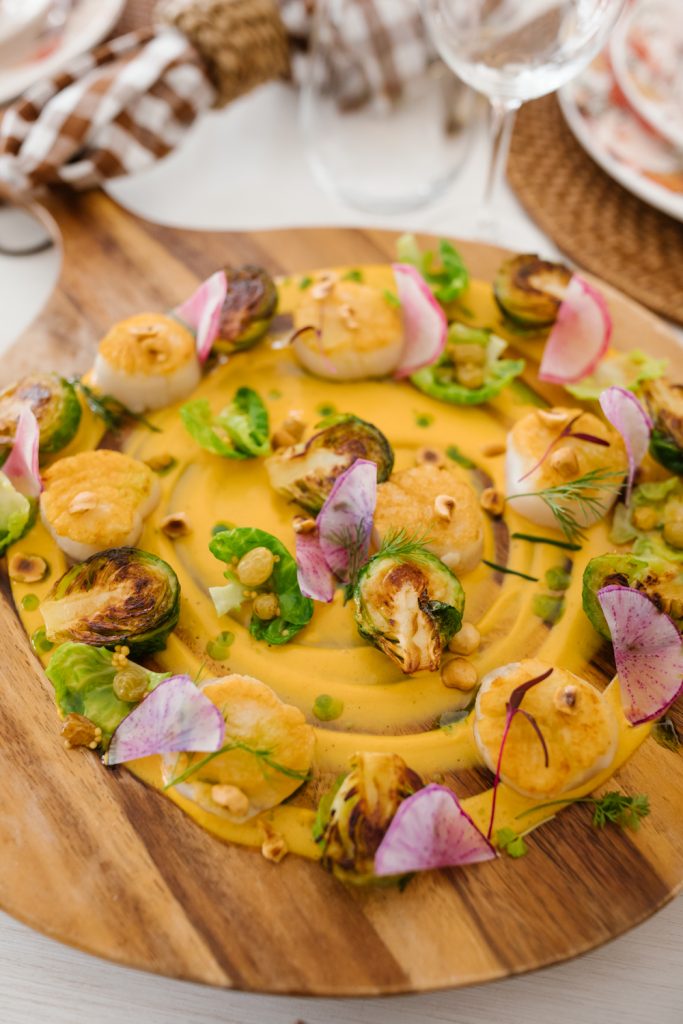 I don't know what's prettier, the dishes plated or on Sur La Table's amazing olive wood platters!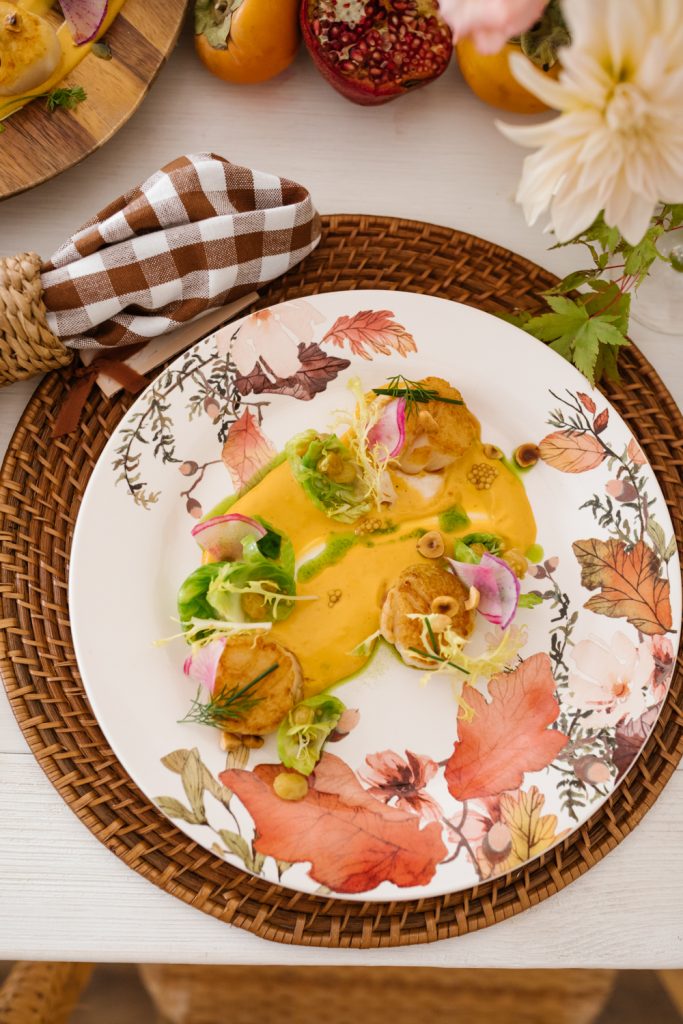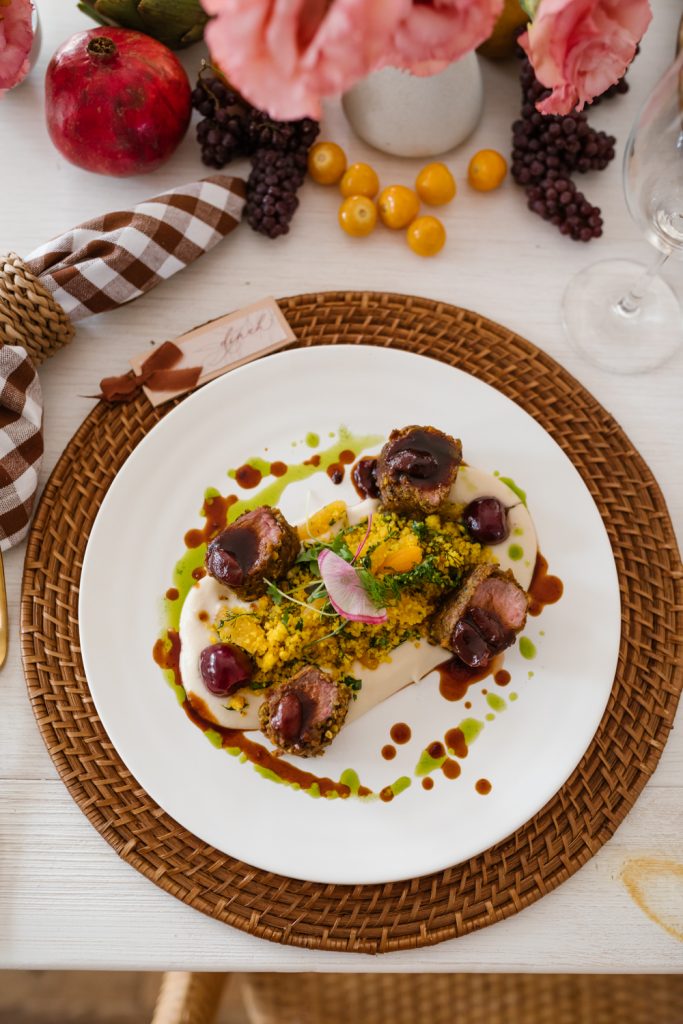 Look at our gorgeous spread on the kitchen island! So much pretty and yumminess I can barely stand it!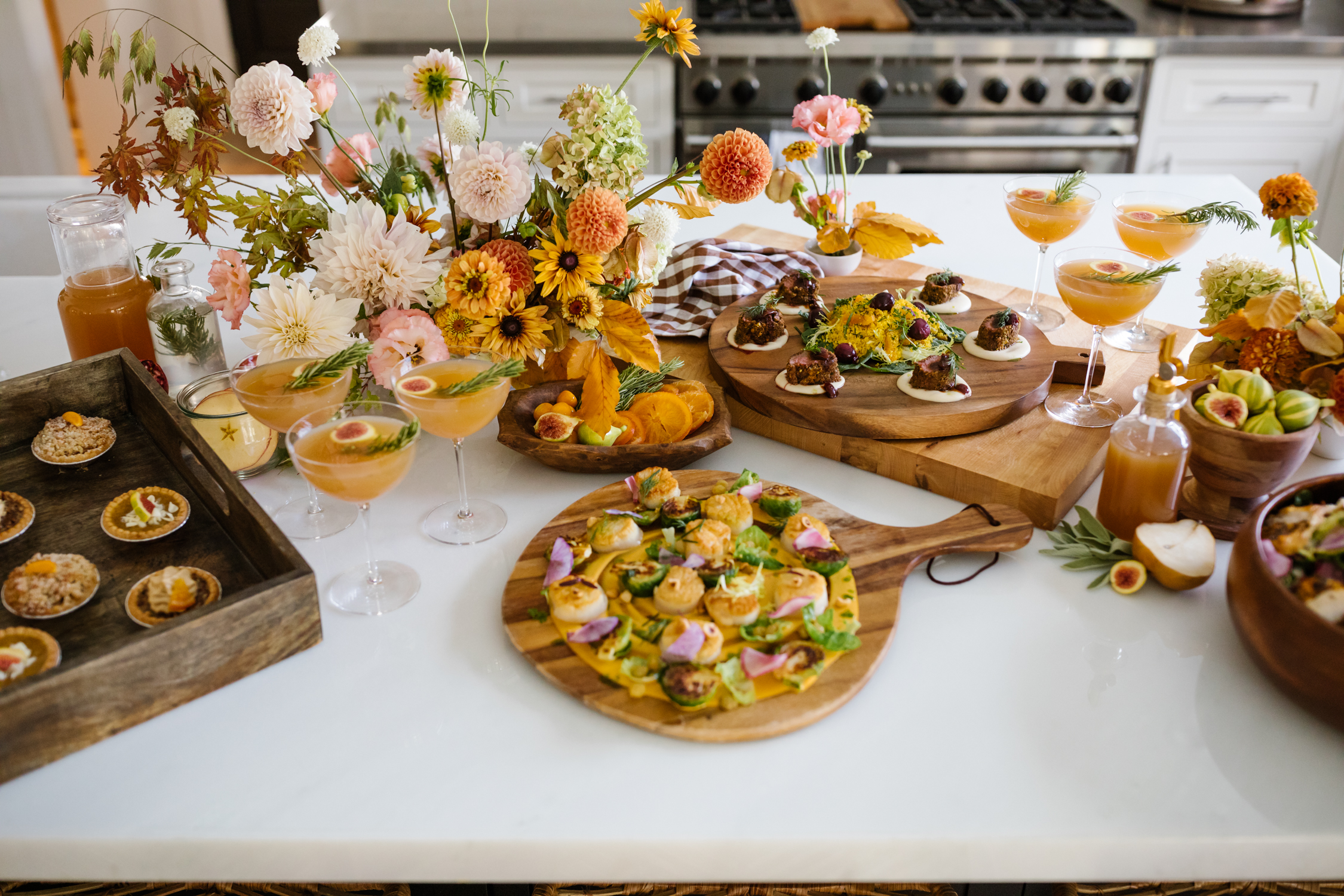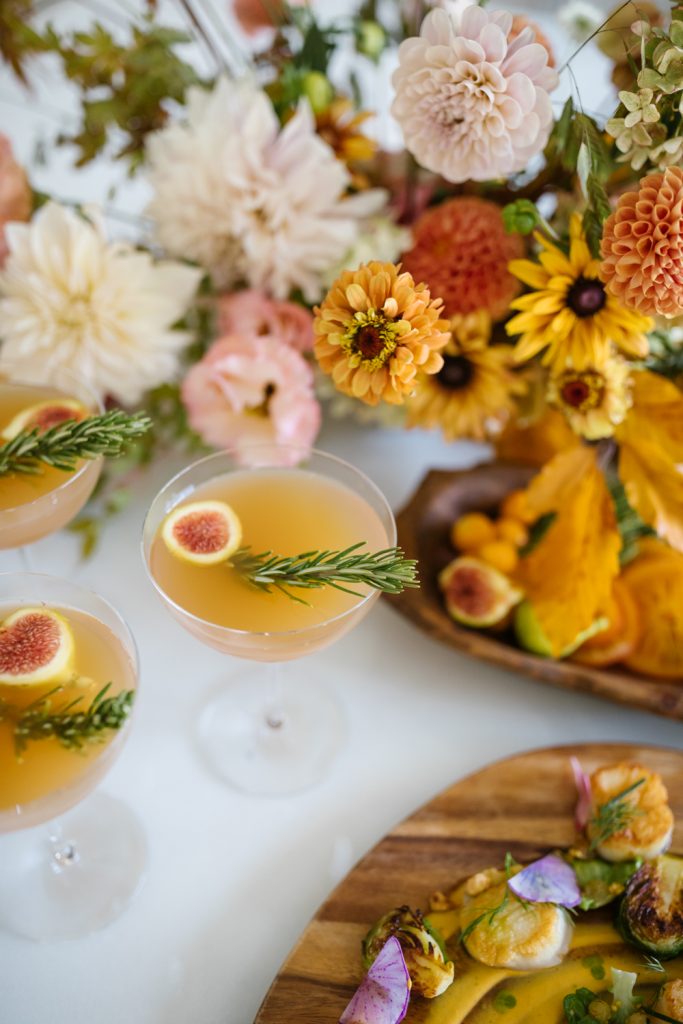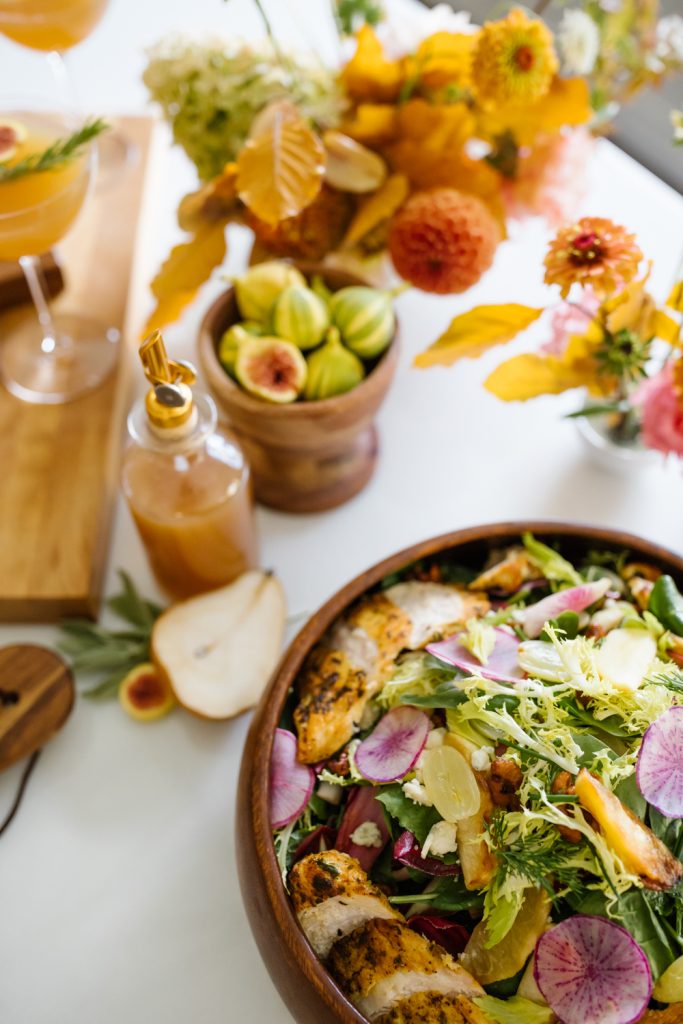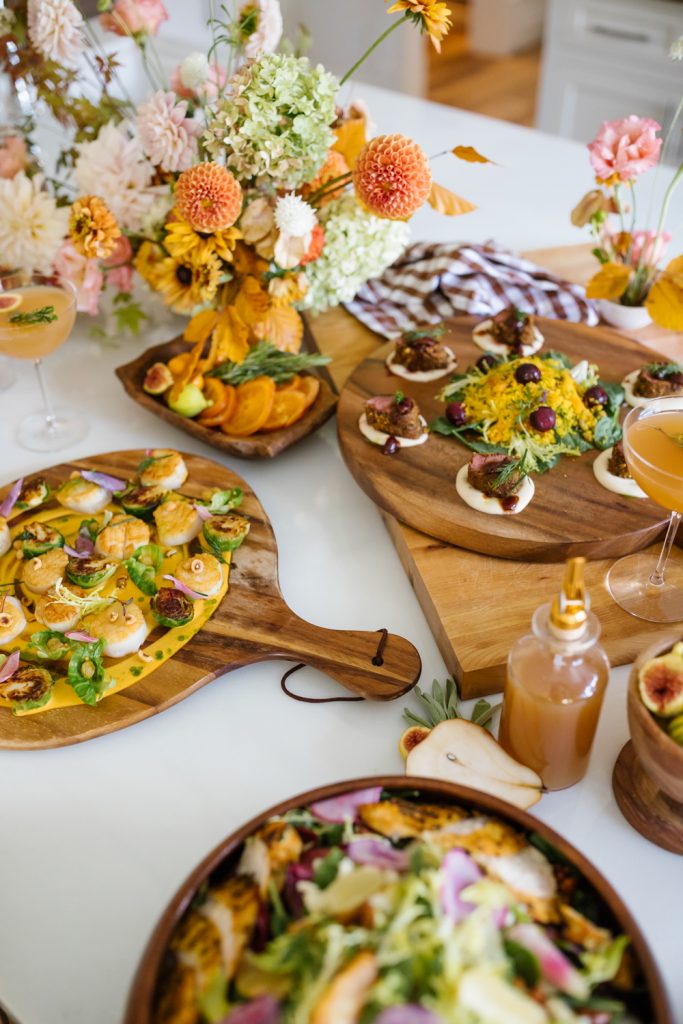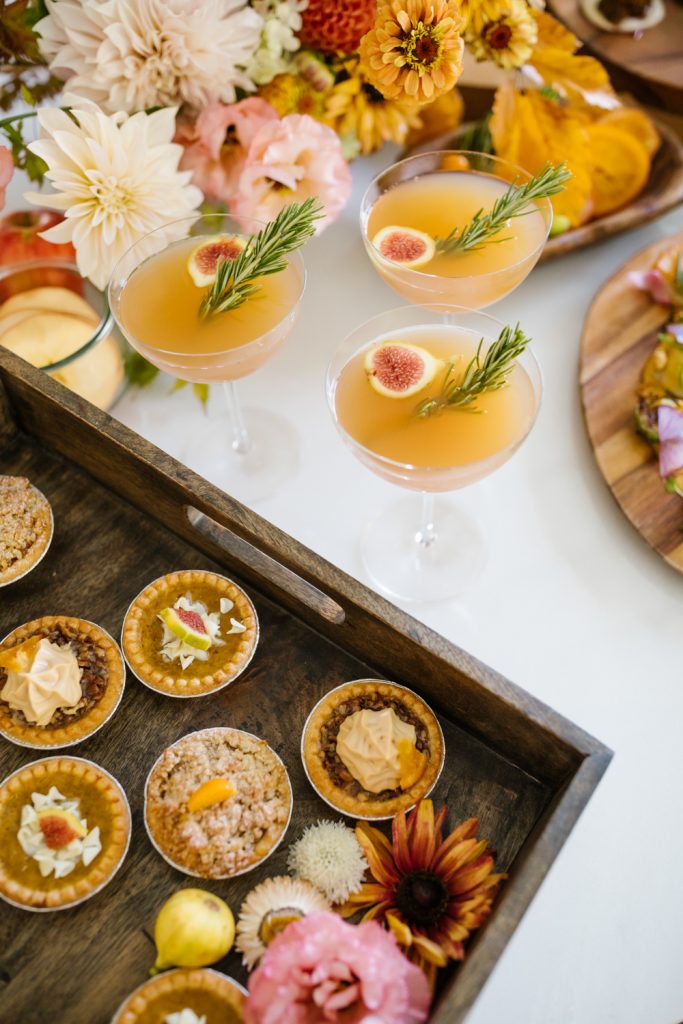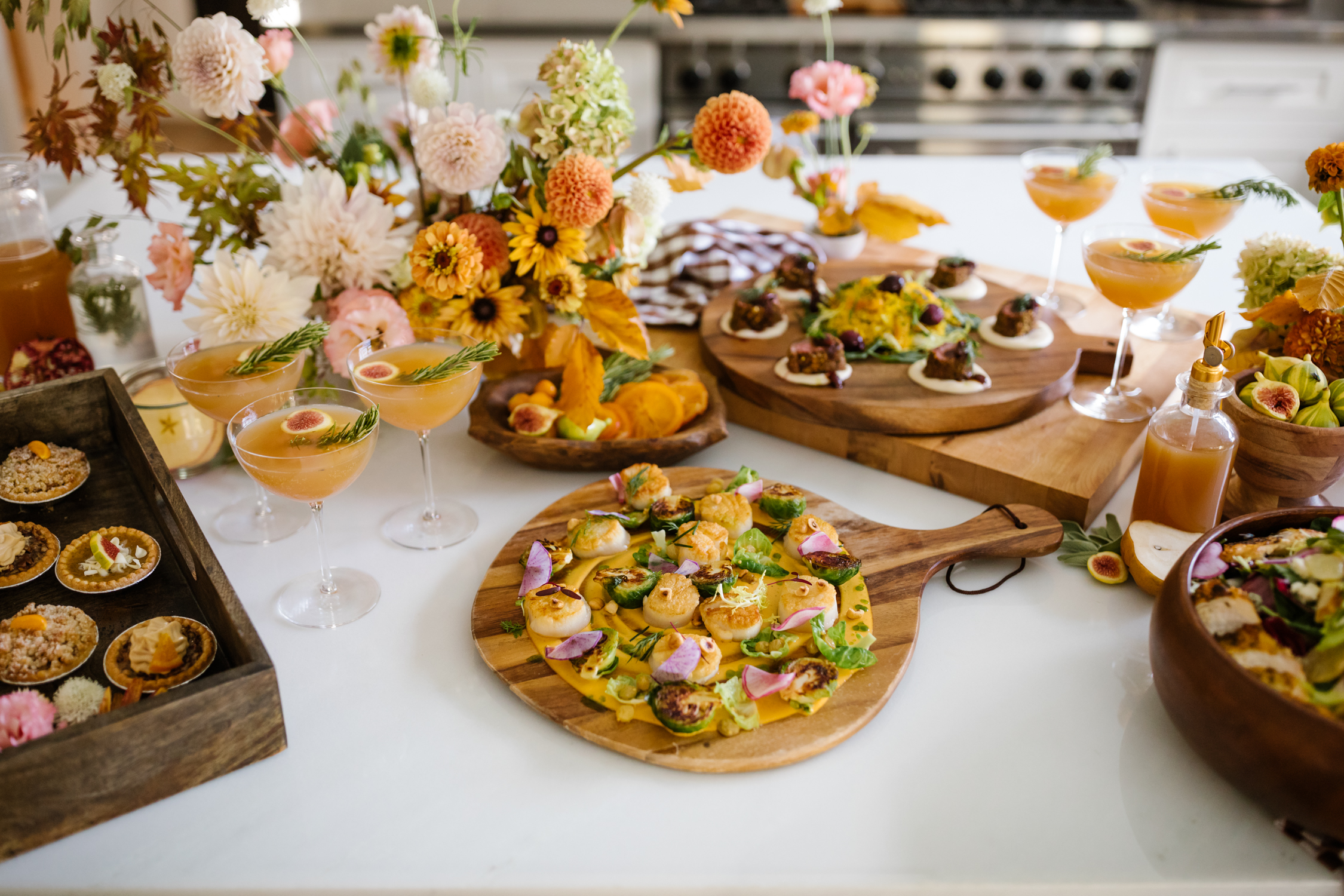 You didn't think I'd forget dessert, did you?! Never!!! I had to utilize this beautiful leaf platter from Sur La Table along with their Harvest collection small plates to showcase these scrumptious mini pies! Nothing says Fall like pumpkin pie, and we have that plus apple and pecan! Delish!!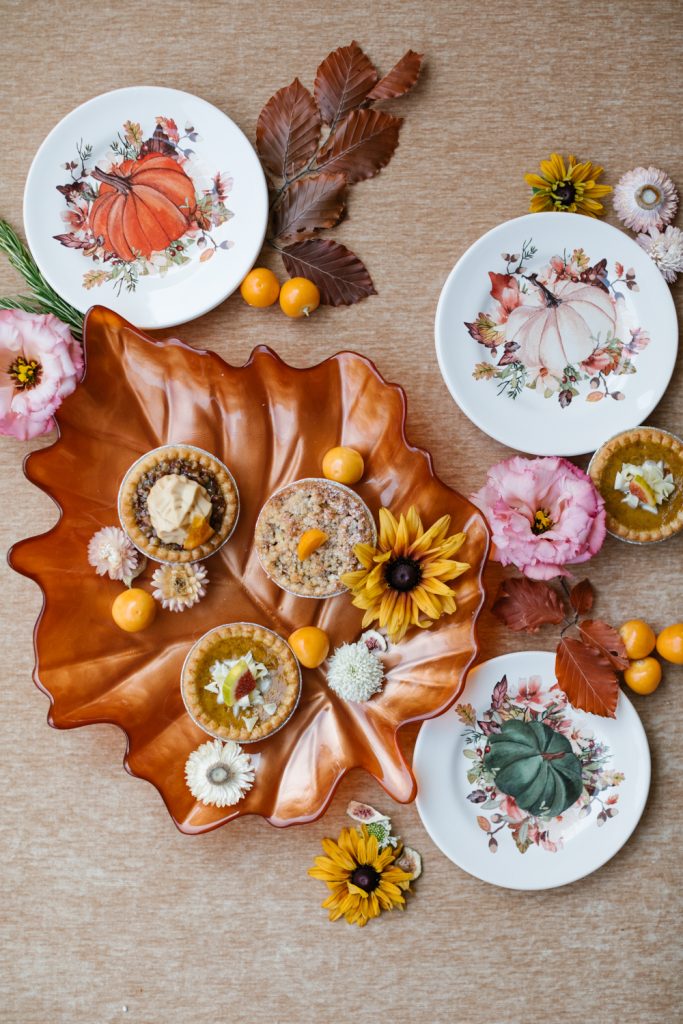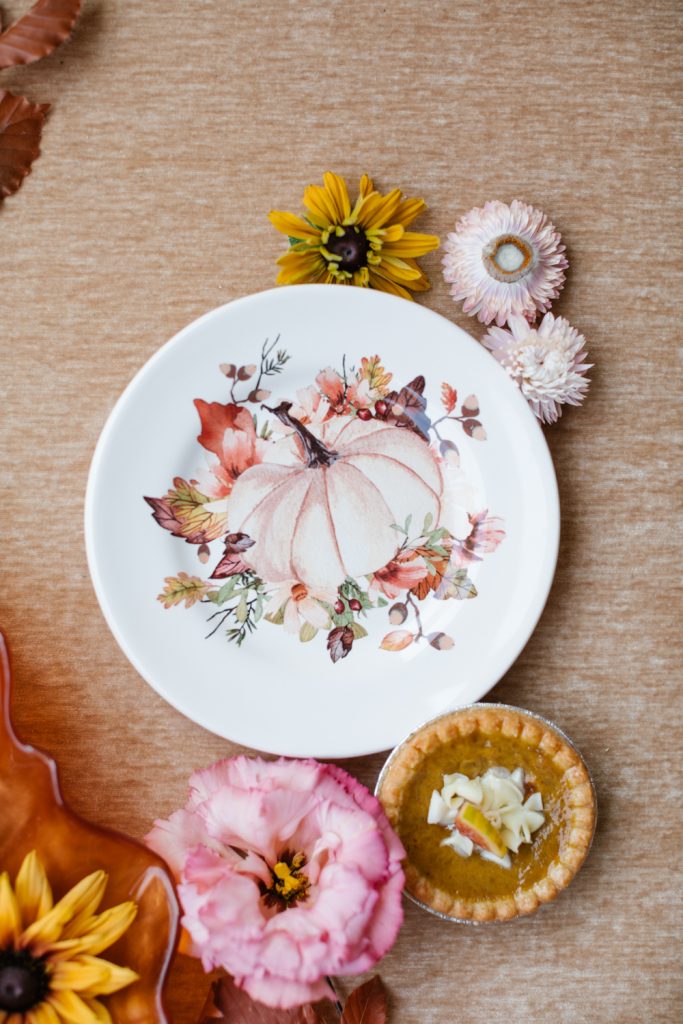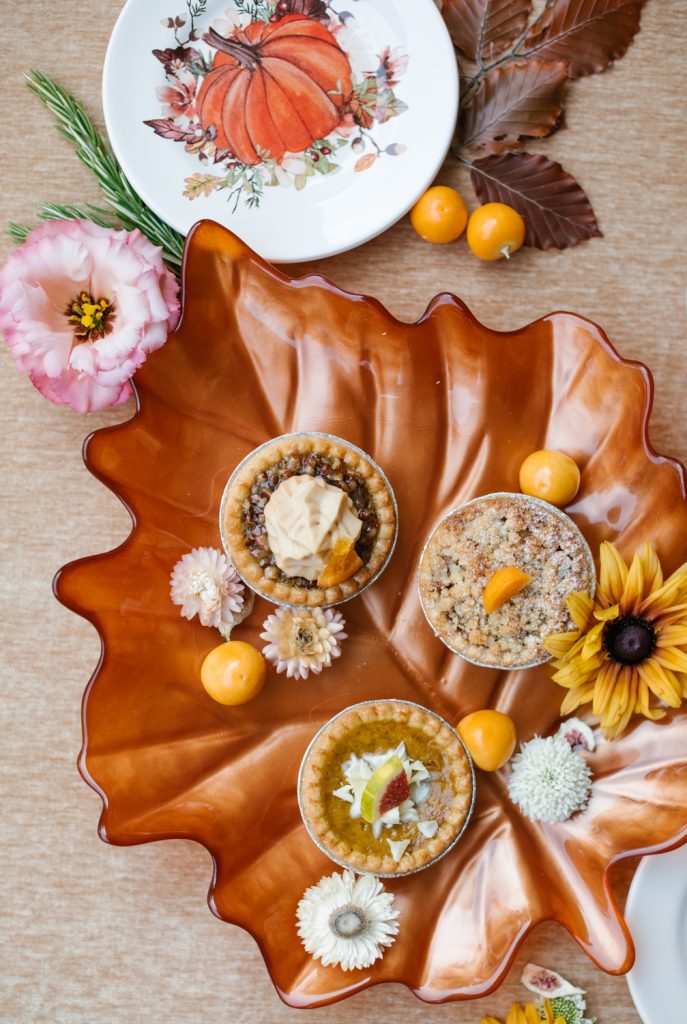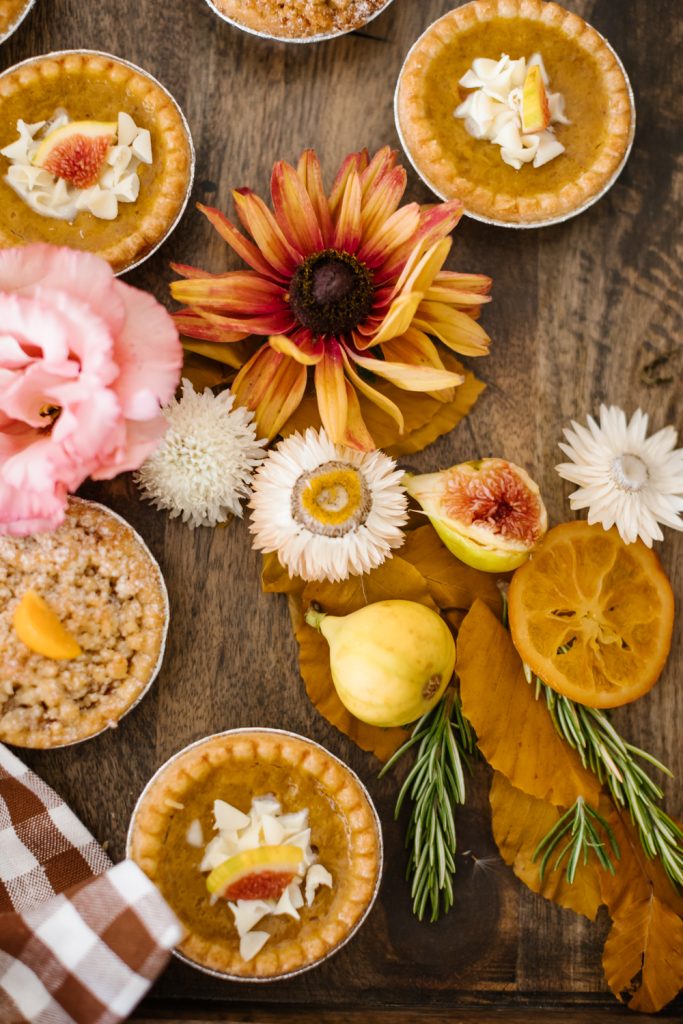 Hopefully we have you ready to go for your next hosting event, as we gear up for the holidays it's time to prep and we are here for all of the pretty table and hosting inspiration you need! Cheers to that!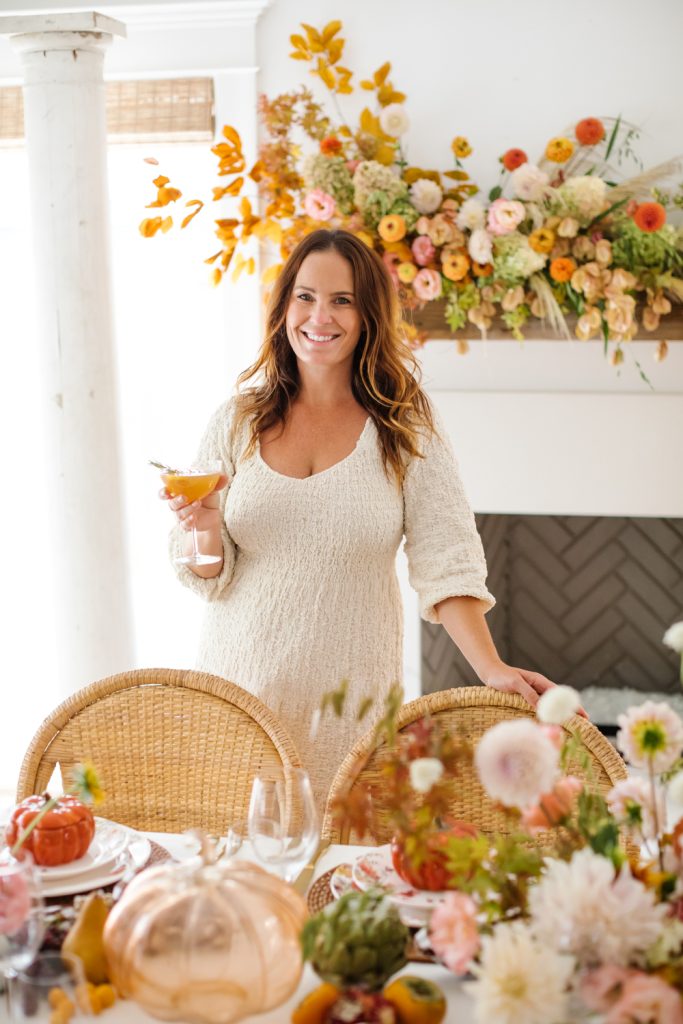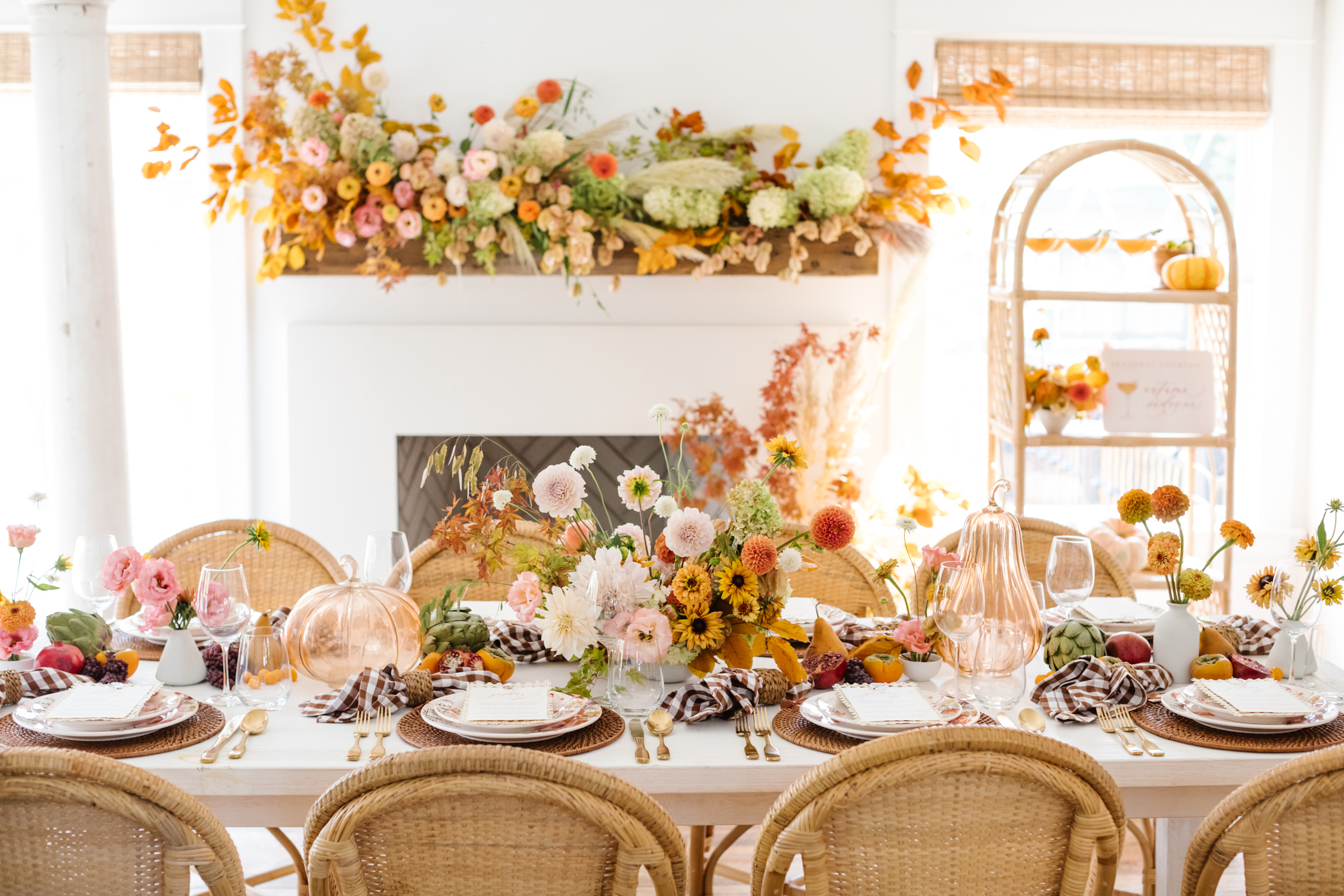 xx
Jacquelyn