Our last Halloween party for the littles this season and it's a good one!! Last but not least is this groovy & spooky Halloween. Who doesn't love a little bit of a hippy boho vibe, you know we do! It's fun to combine different themes with different holidays to make them unique. Think spiders, peace signs, flowers, with orange and pink! We are always thinking outside the box and trying to be creative. This one has so many cute little ladies, amazing desserts, a big bouncy and lots of adorable details. See it all below and on Inspired by This today!!
Photos by the talented Blaire Going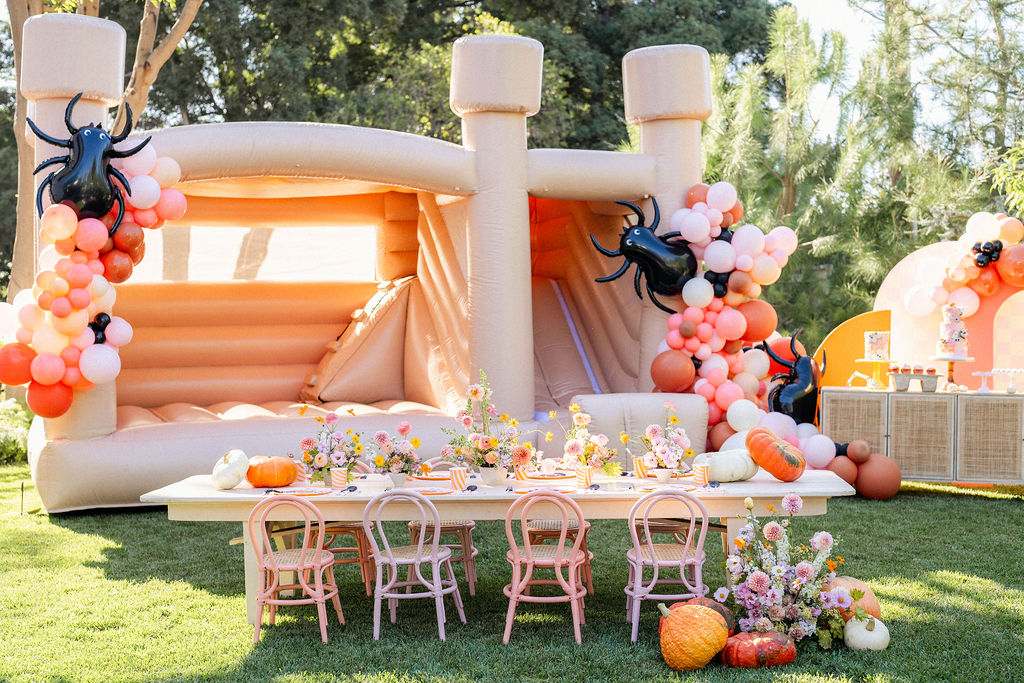 The spookiest and grooviest invite! As usual our theme was inspired by Meri Meri's cute plates, but Chelcea Creative took it to the next level!! That invite is way too cute and the font is oh so perfect. She also did those adorable place cards and designed the most amazing stir sticks that Creative Amme laser cut. Those cookies by Sheila Mae are another amazing detail you'll see later… All styled on my favorite Chasing Stone mats, of course!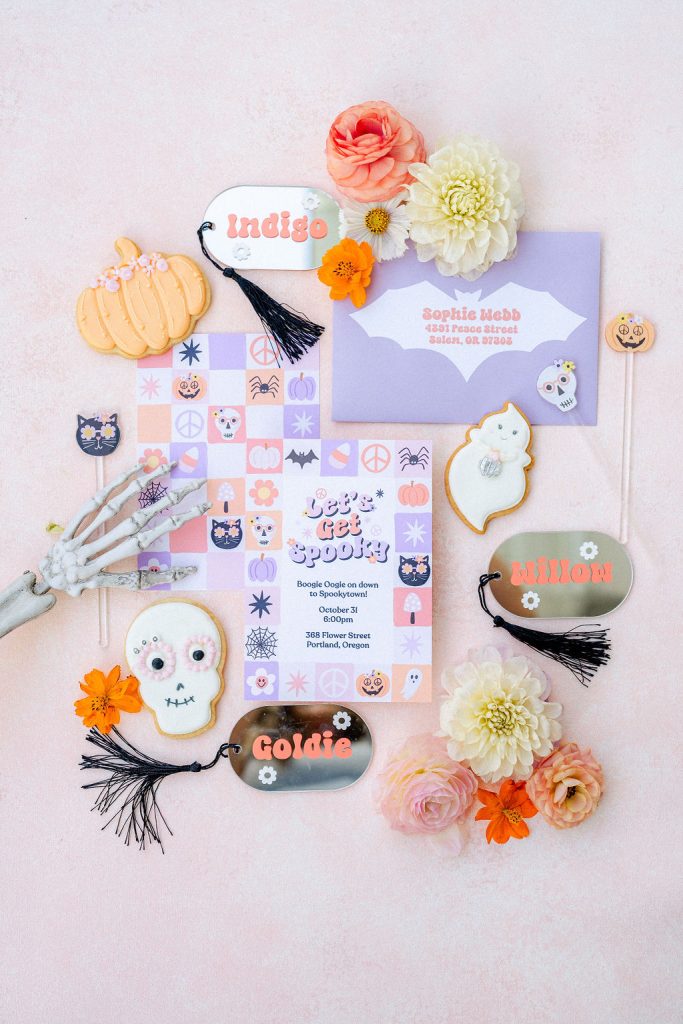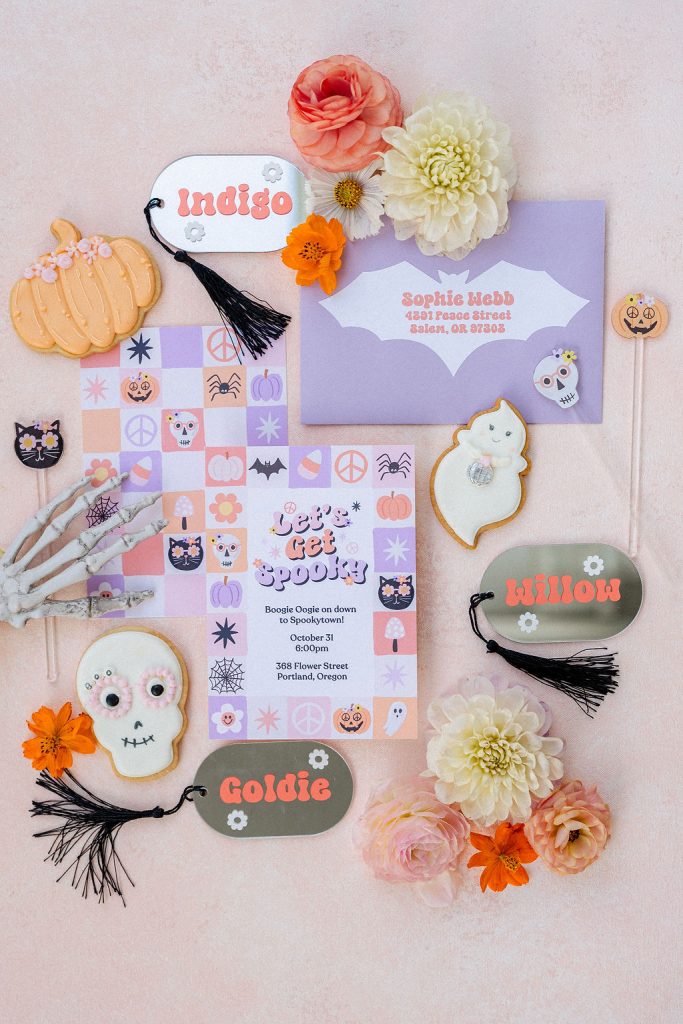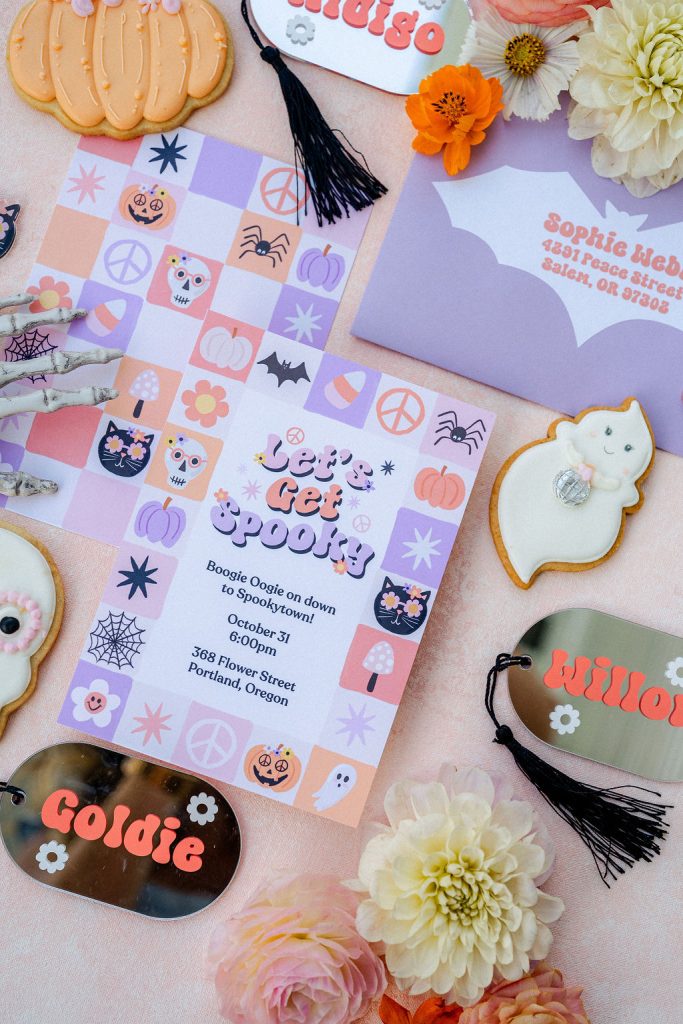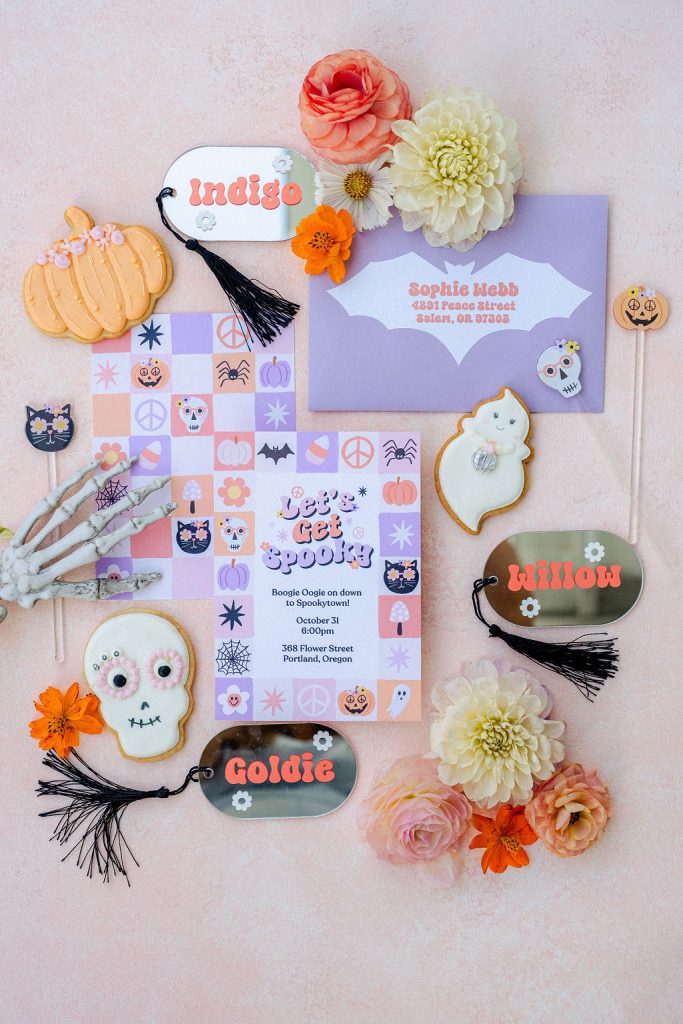 And there's our sweet place setting in action! Those plates are too cute along with the Meri Meri napkin & cup. I love an orange and pink combo and we took it even further with those gorgeous flowers by Earth & Grace. The Sophistiplate flatware added a little pop with the black and white and those little details by Chelcea & Creative Amme just make it oh so perfect!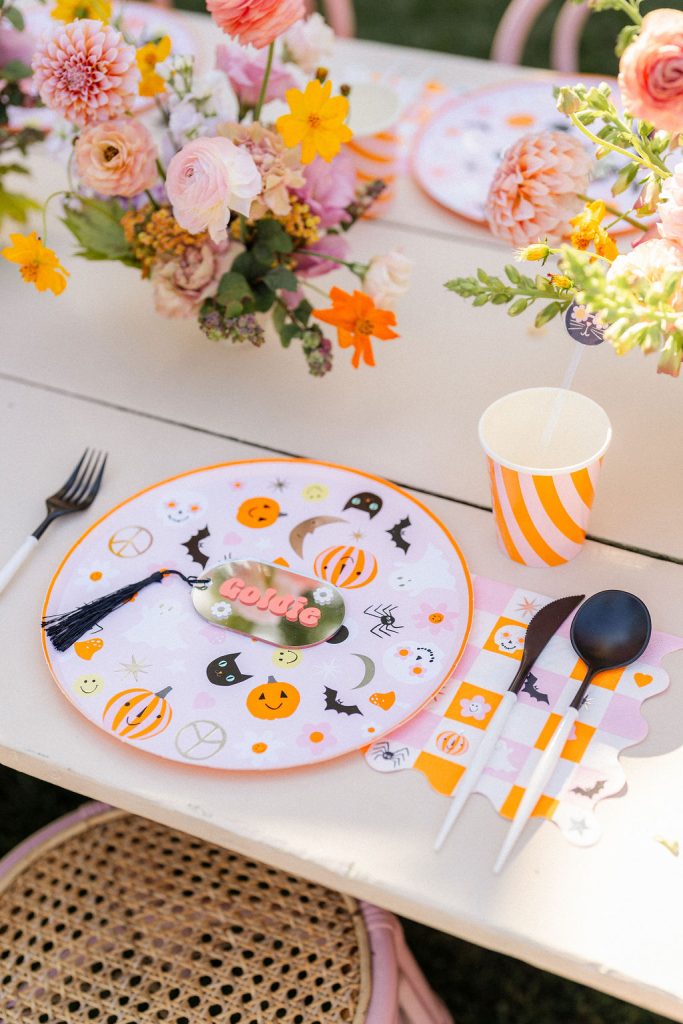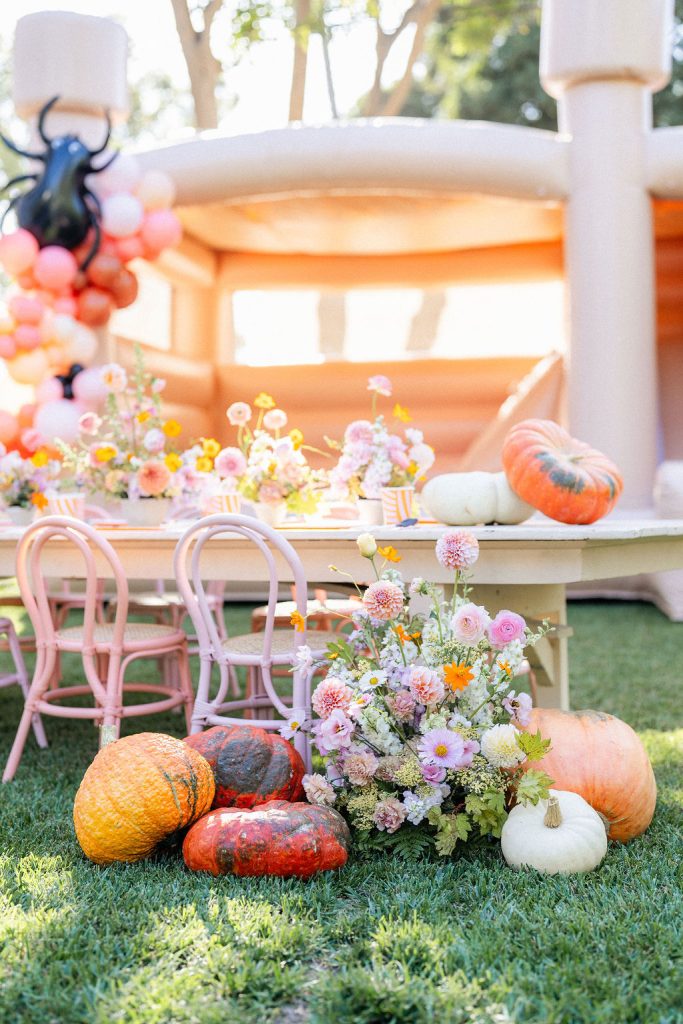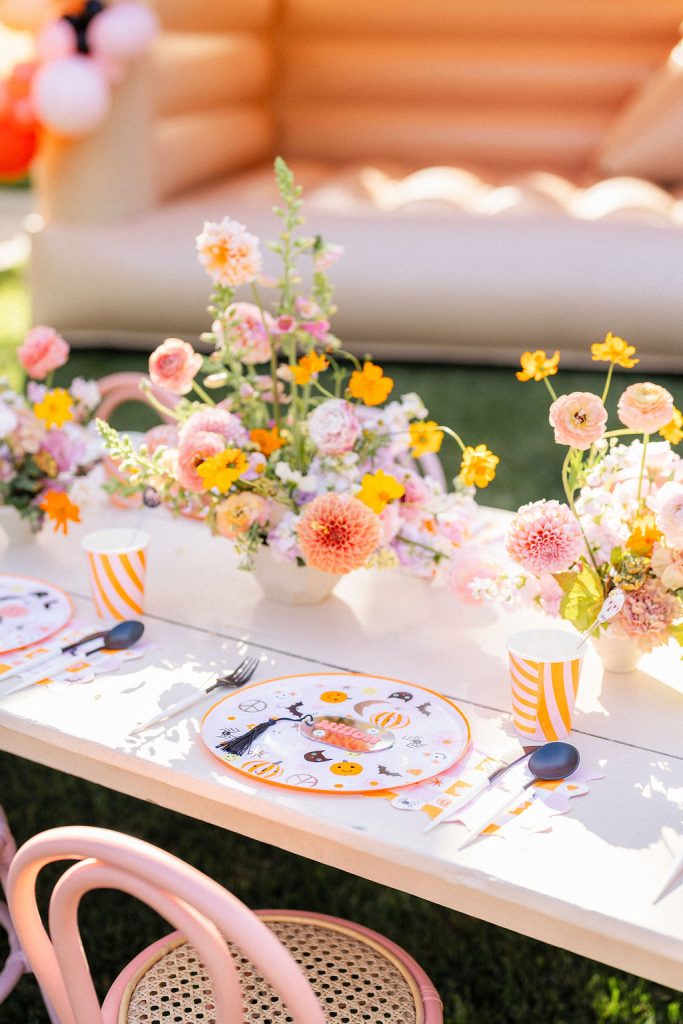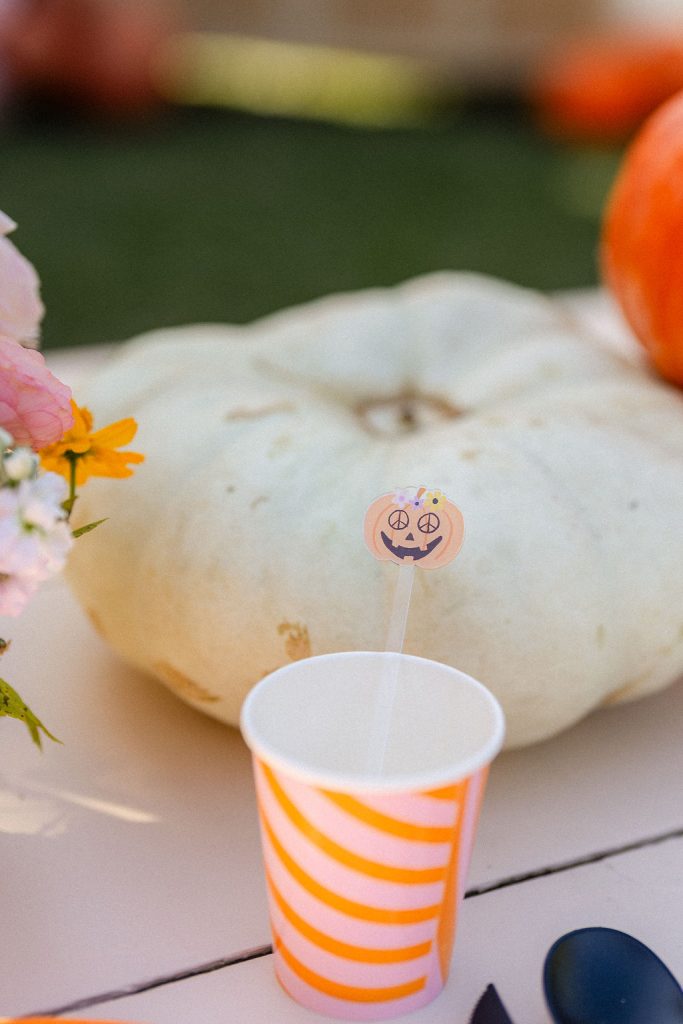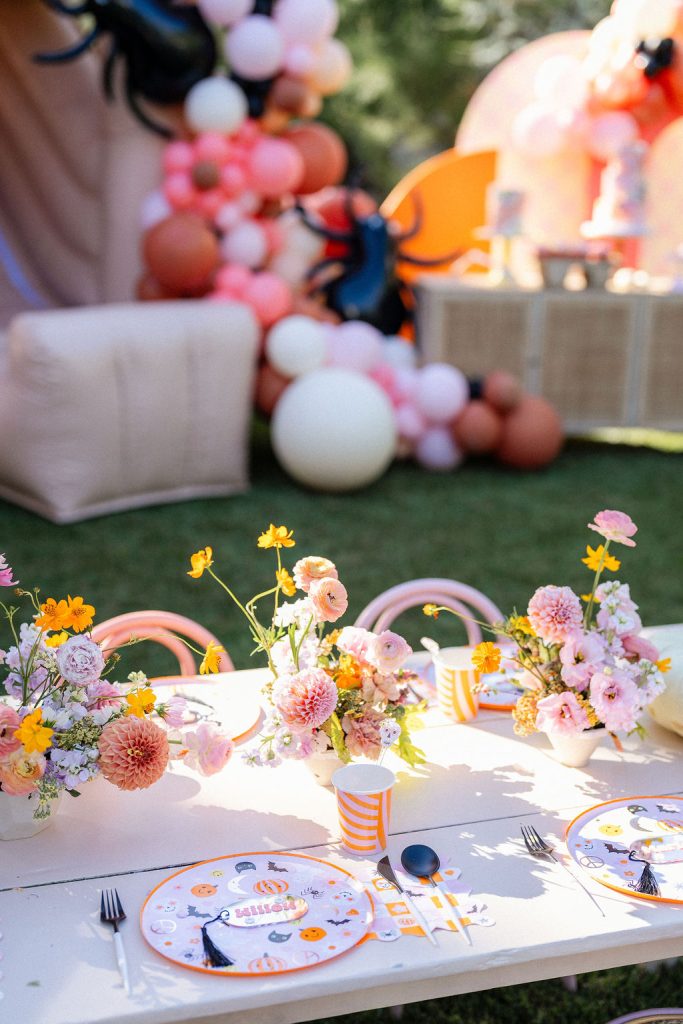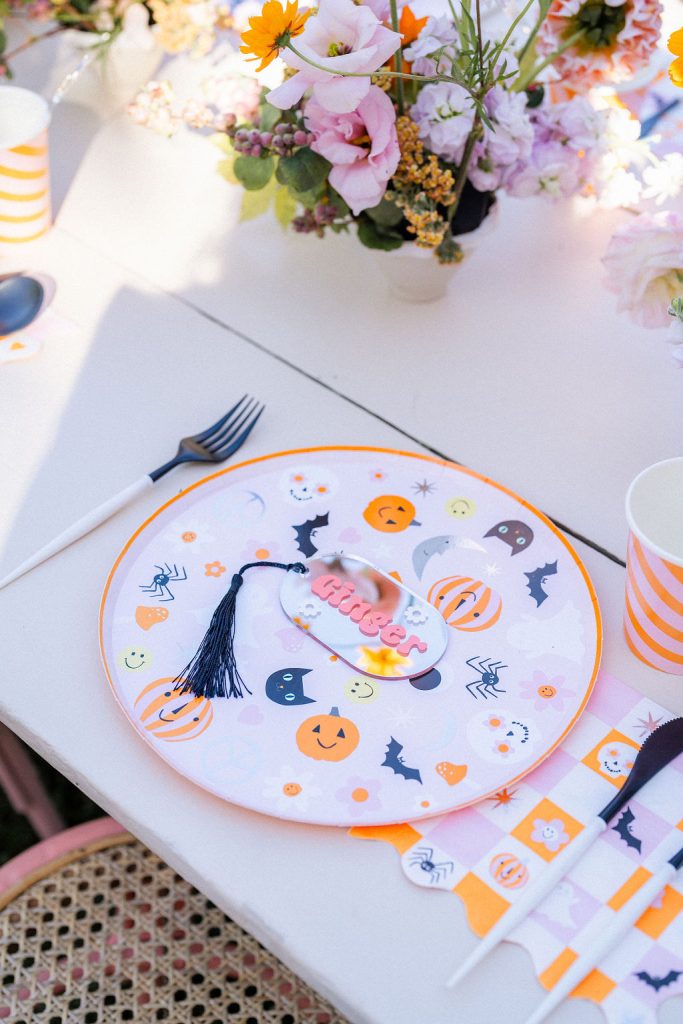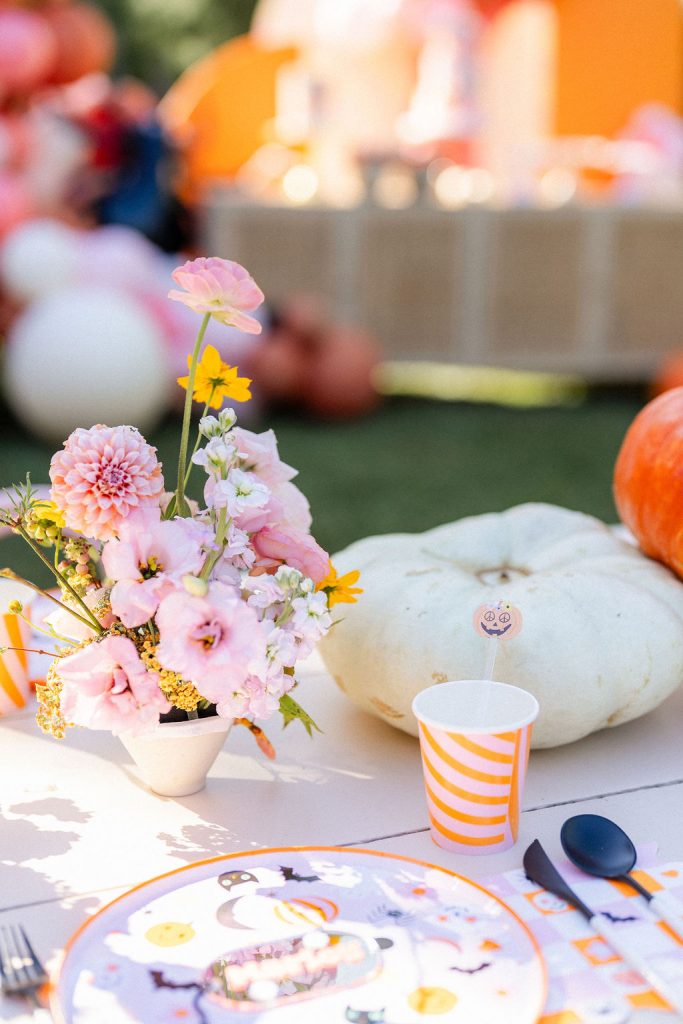 The cutest little rattan chairs in pink and orange were in order from Sweet Salvage Rentals, I can't get enough of them! And a few pumpkins scattered around really brought out the Halloween fun. Speaking of fun, that bouncy from What's Bouncing was the perfect backdrop to our party AND the best entertainment. What party is complete without one these days?! The Pop Shop adorned it with her pretty balloon garlands and we added a few spiders from Meri Meri to spook it up!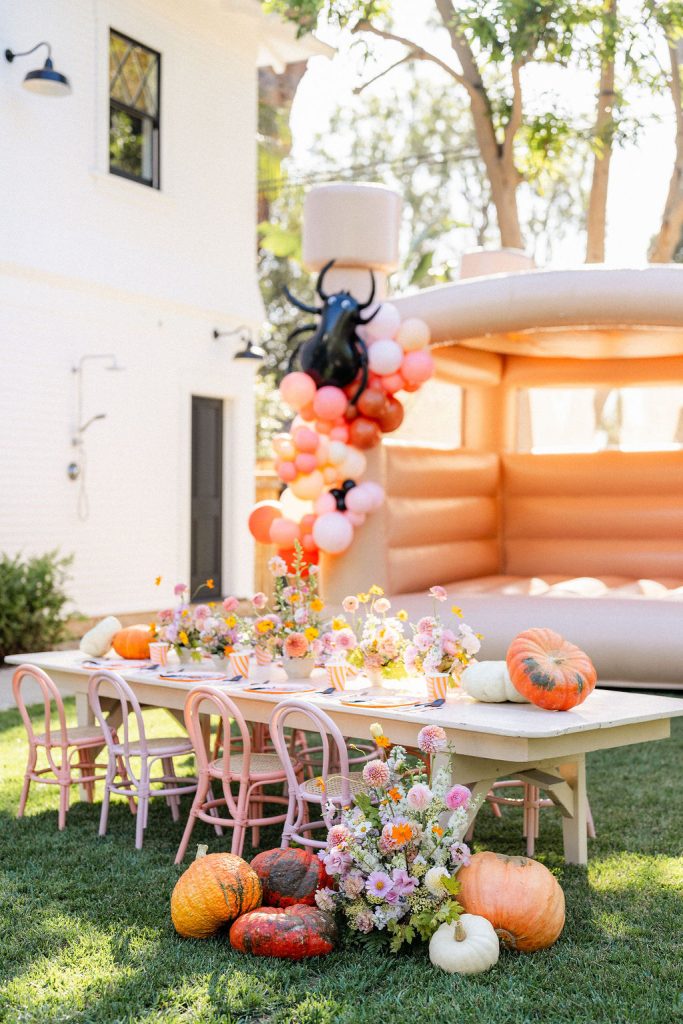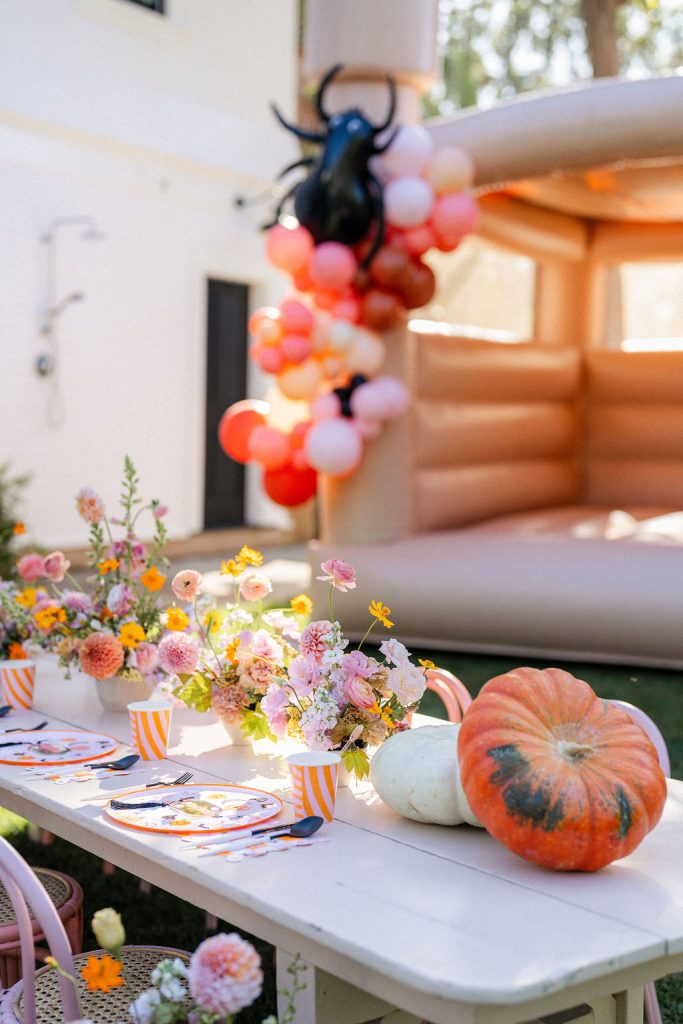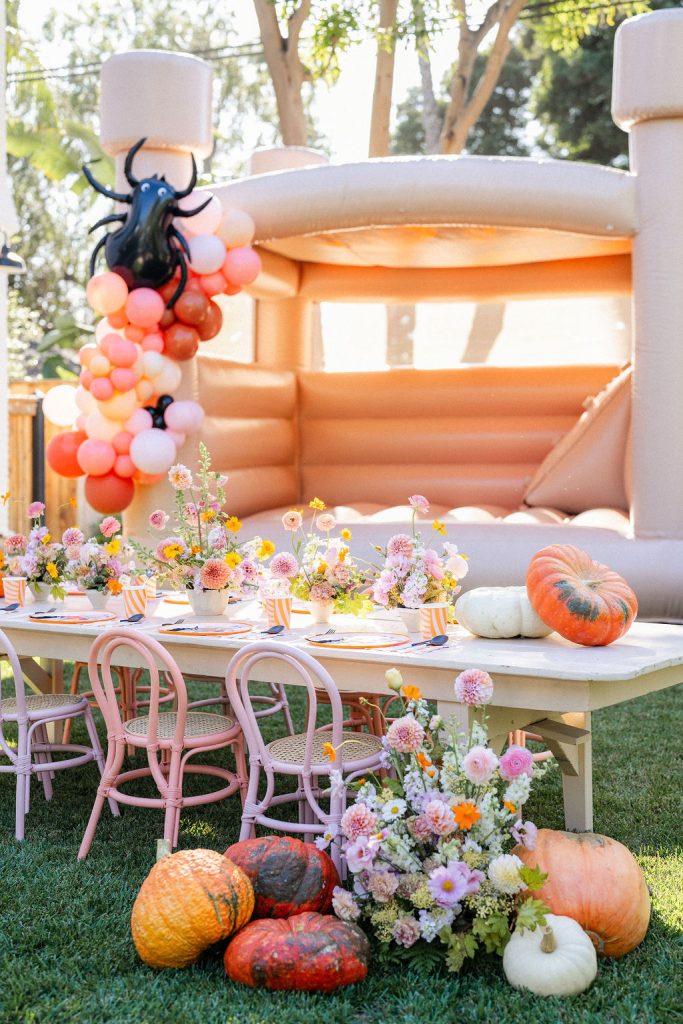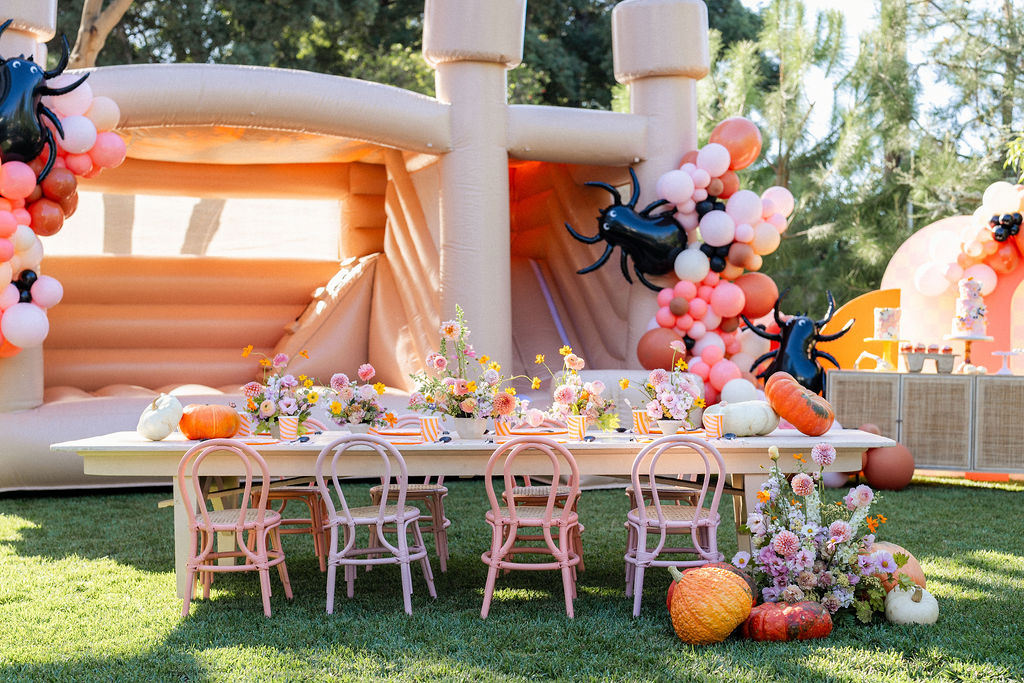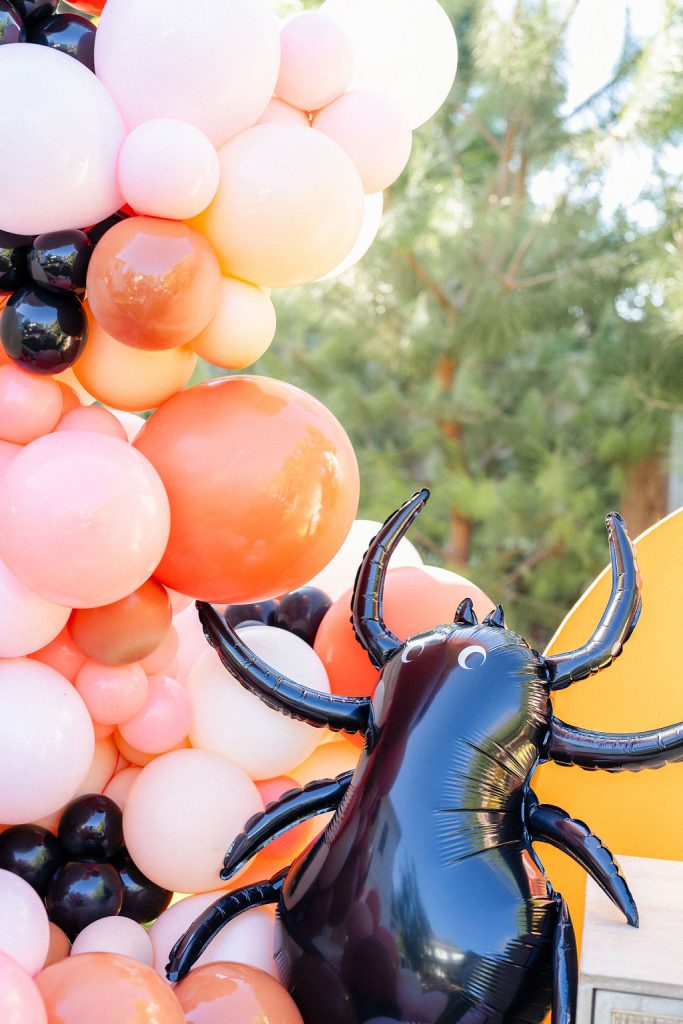 She's a cutie, that's for sure!!!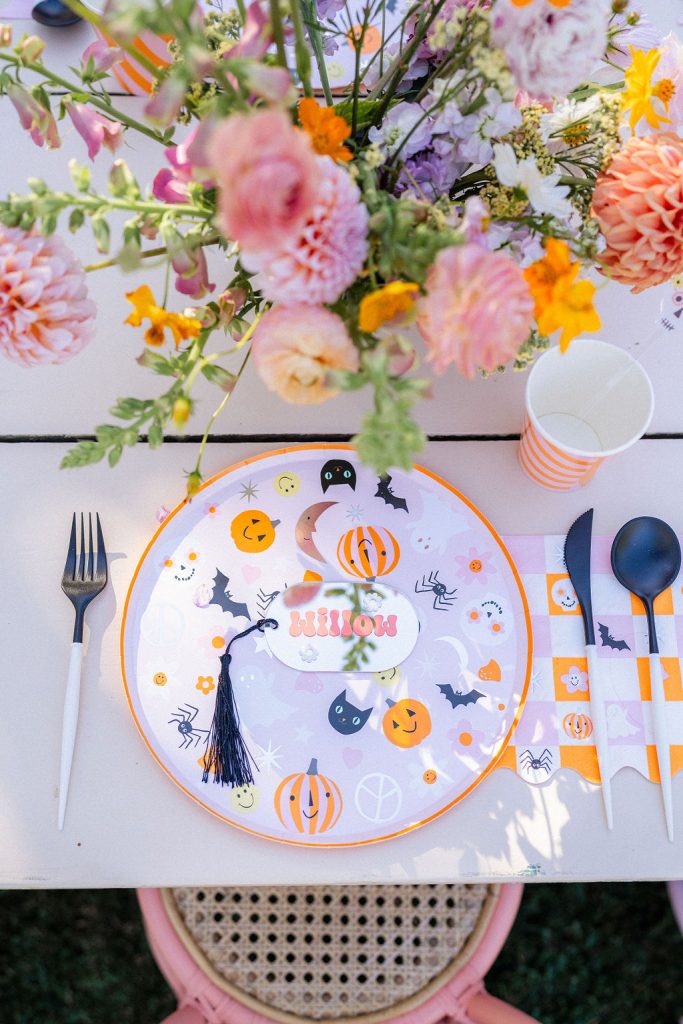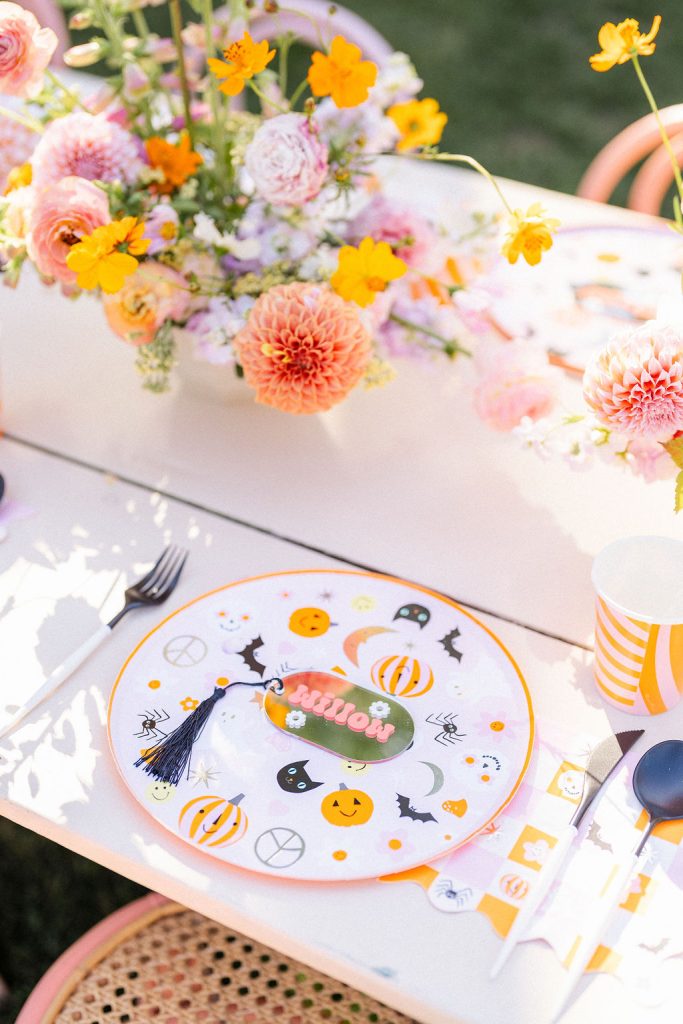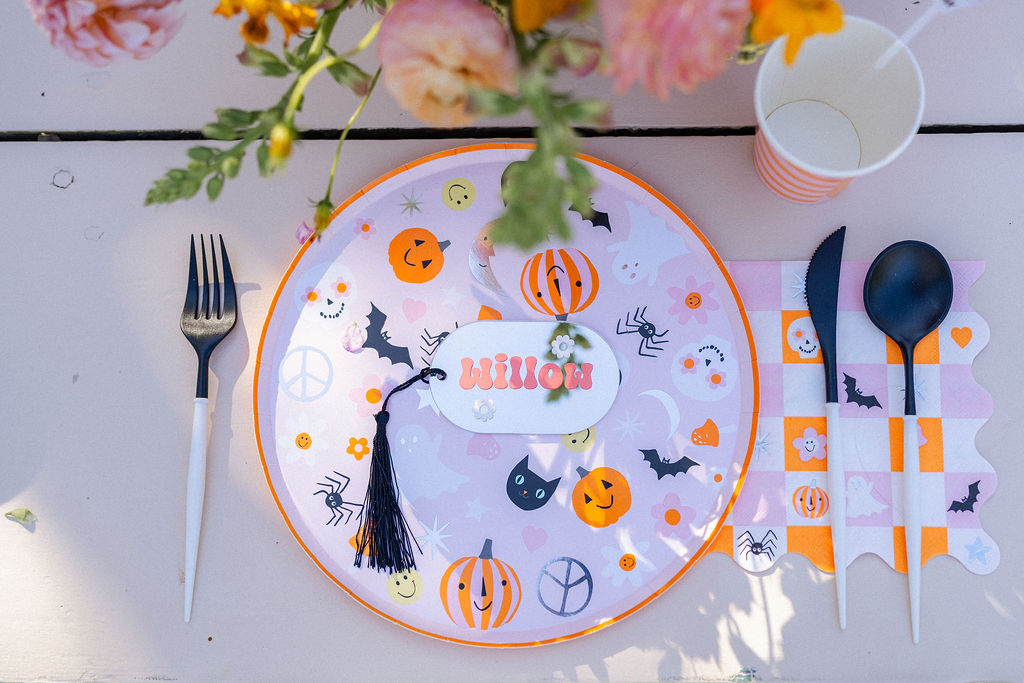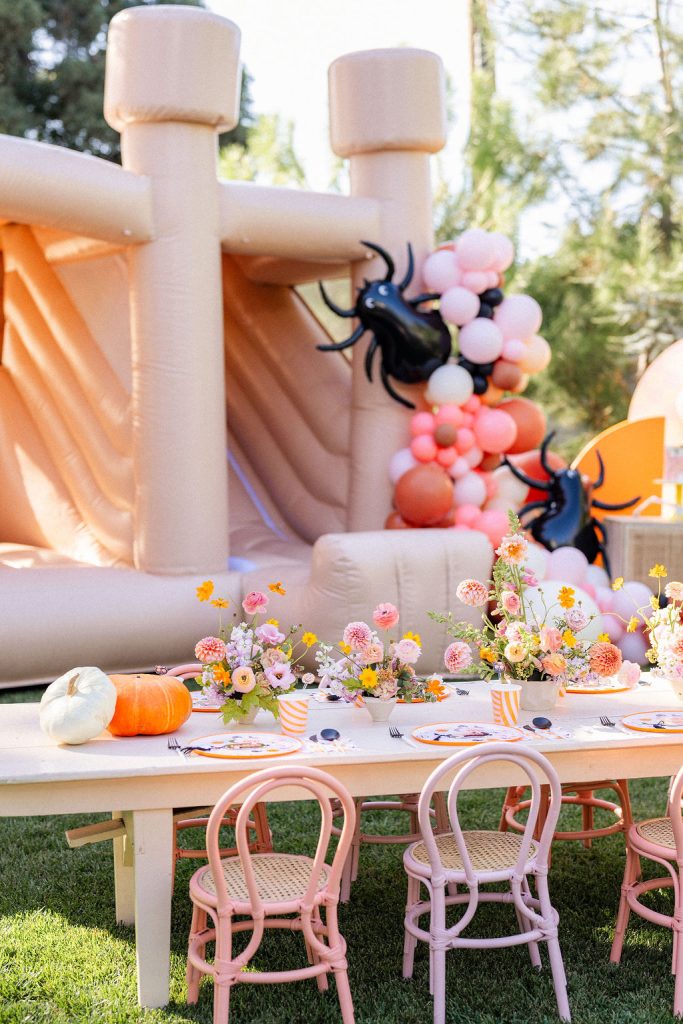 Such a rad set up! You know there's more…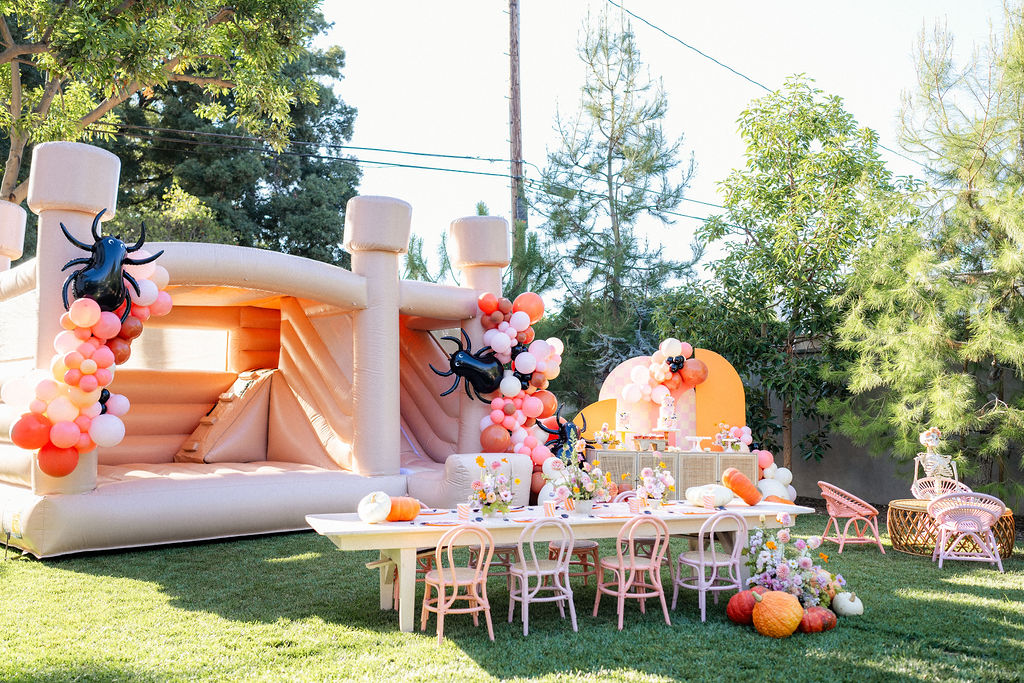 Onto dessert!!! The star of the party always deserves amazing presentation and Goldie Crew Creative let it shine with that cute backdrop. A little checkered print with orange and pink was the perfect way to showcase all those adorable sweets. Sheila Mae brought two amazing cakes, cupcakes, and the most adorable sugar cookies. She always goes above and beyond with her designs and of course this was no exception.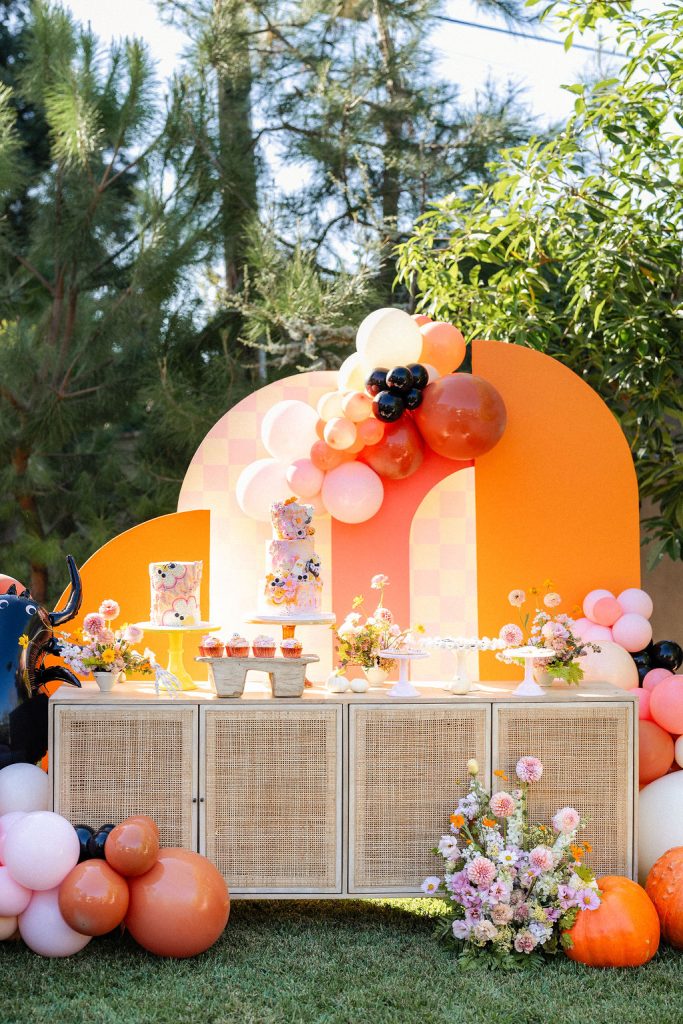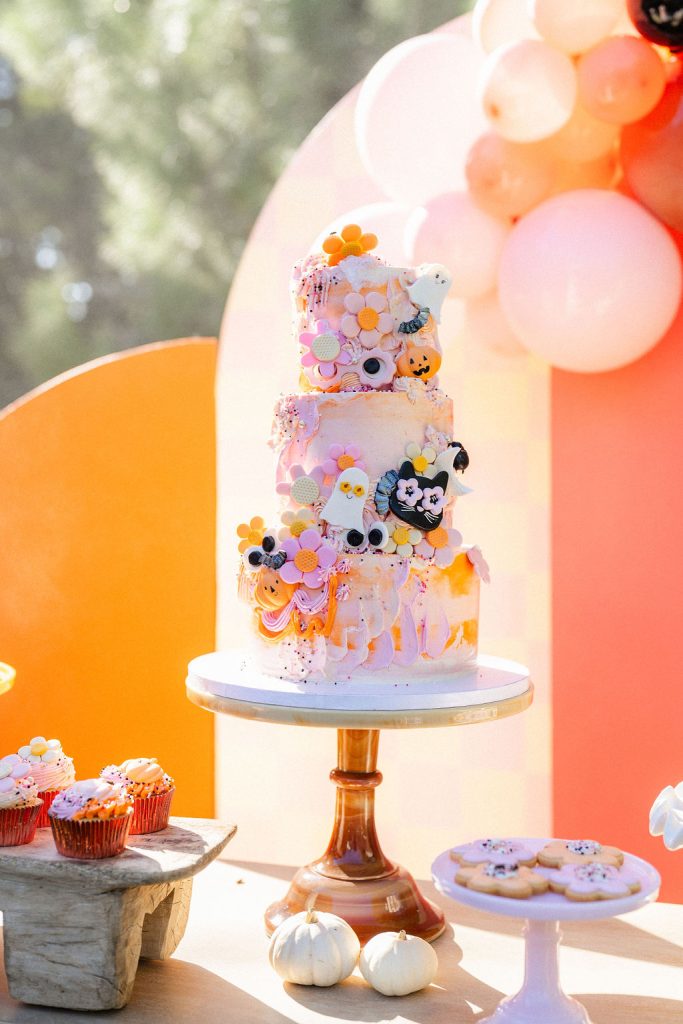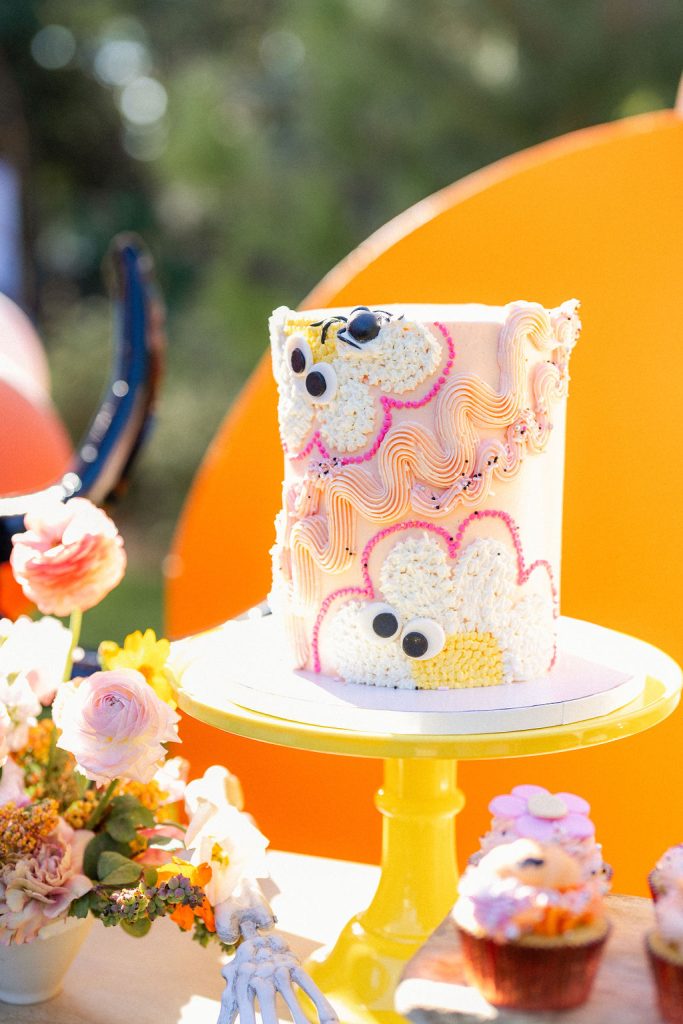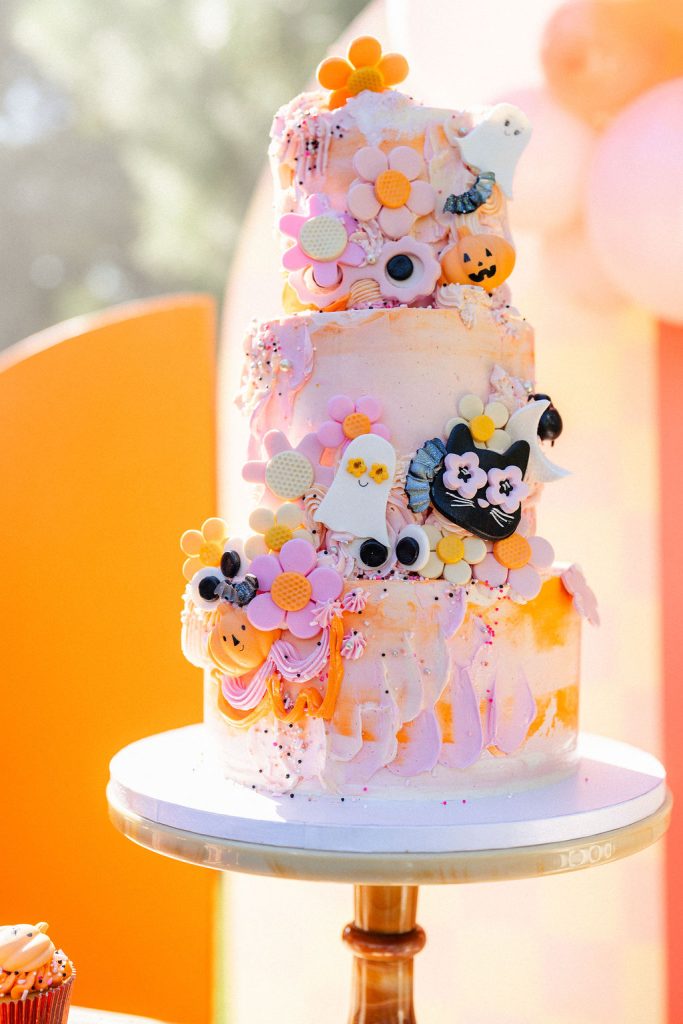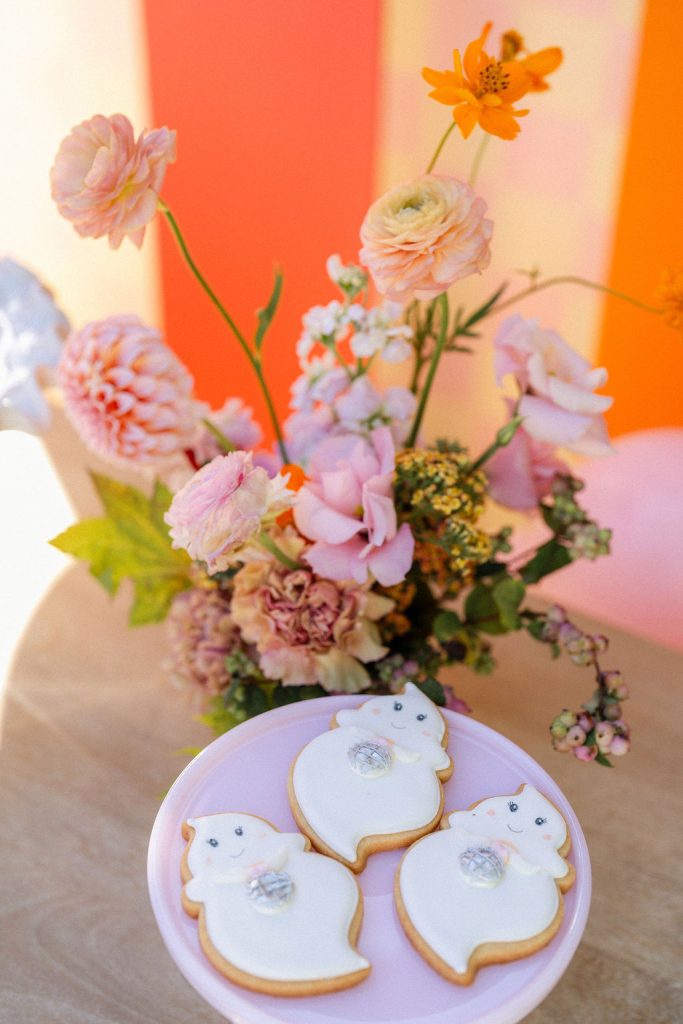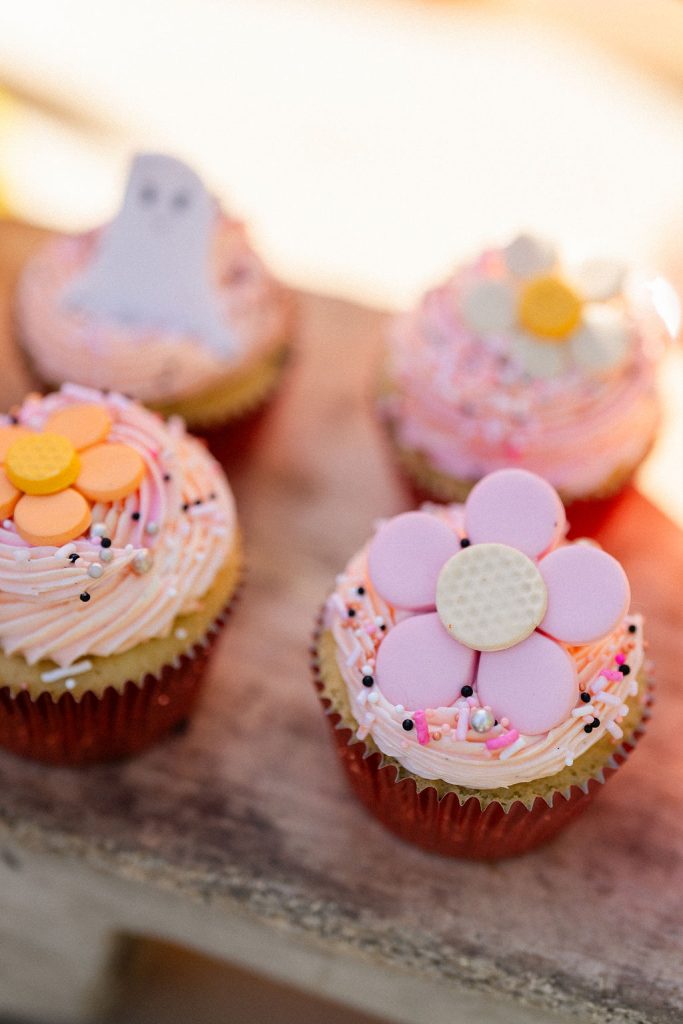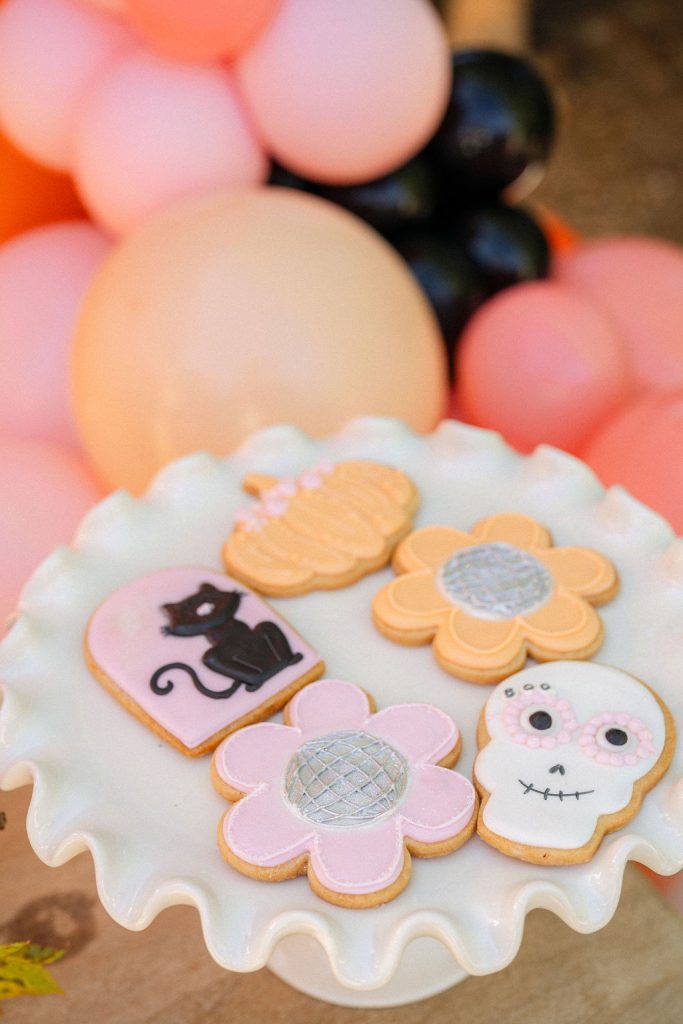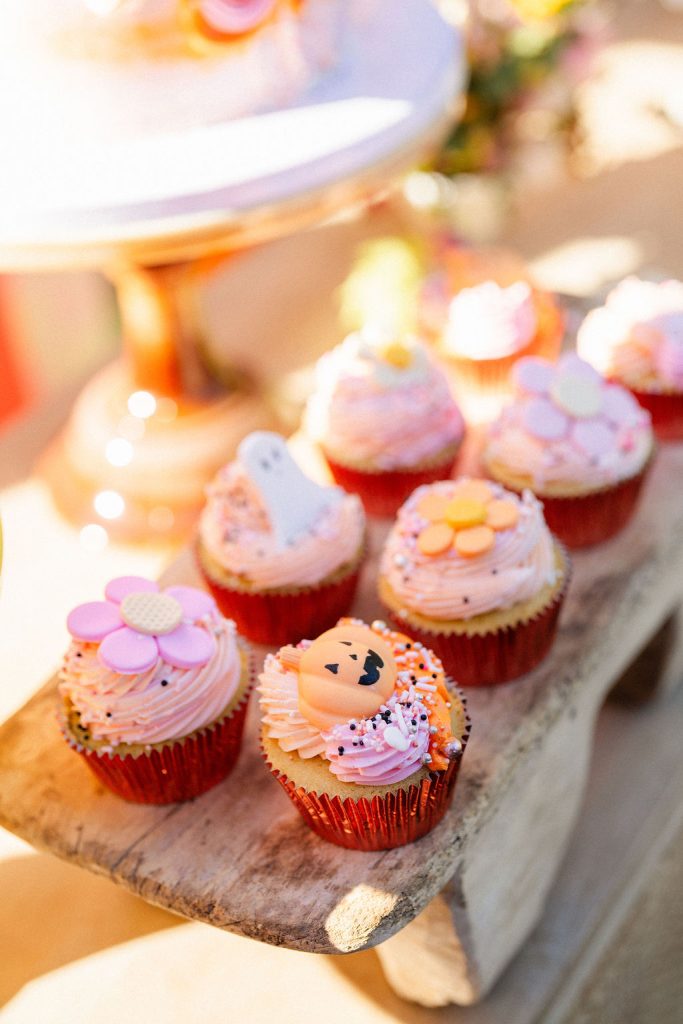 Doesn't it all look lovely on Sweet Salvage Rentals pretty rattan credenza?! Dessert perfection!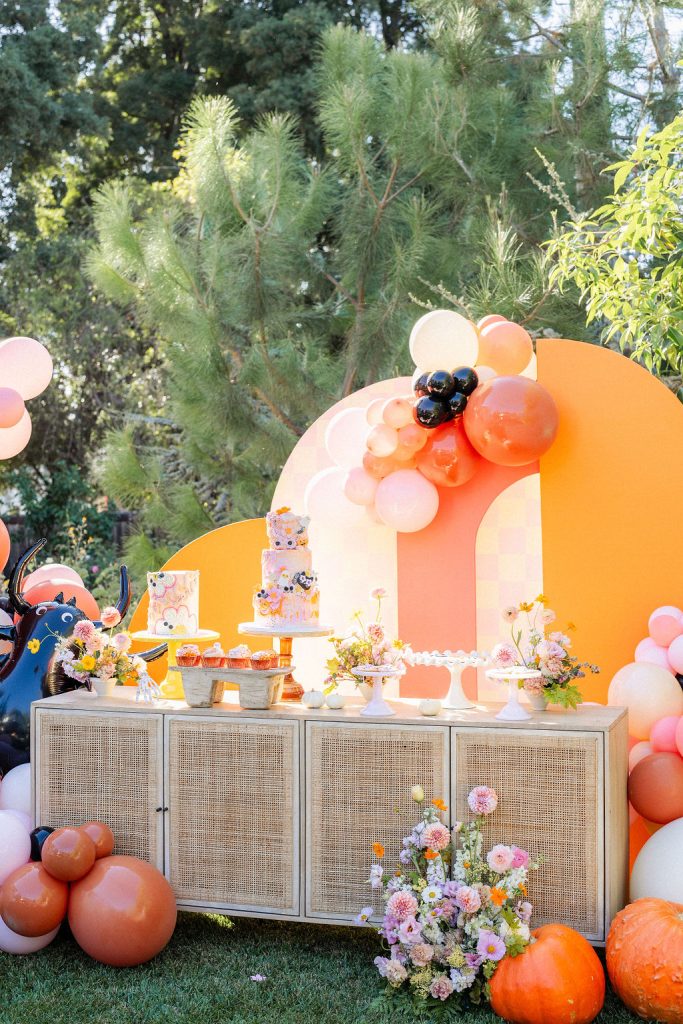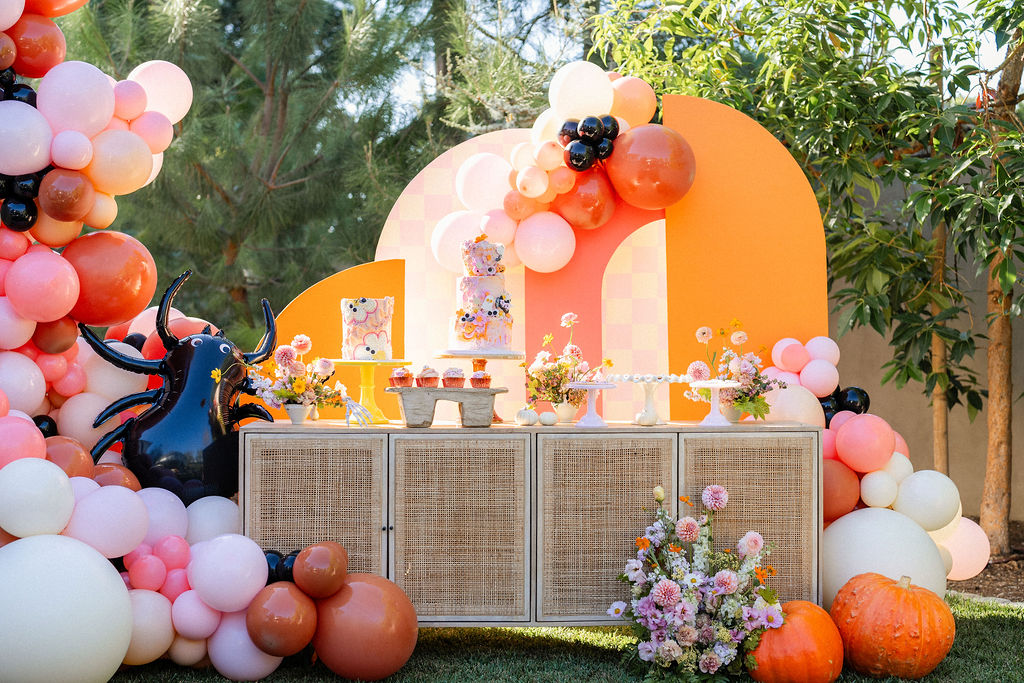 Time to add in our cute little models!!! The Daydream Republic came out to style these ladies and boy oh boy did she do just that. I'm talking about the cutest little Halloween outfits and accessories I ever did see! I love seeing these little ladies become friends at our shoots, they are always so sweet together!!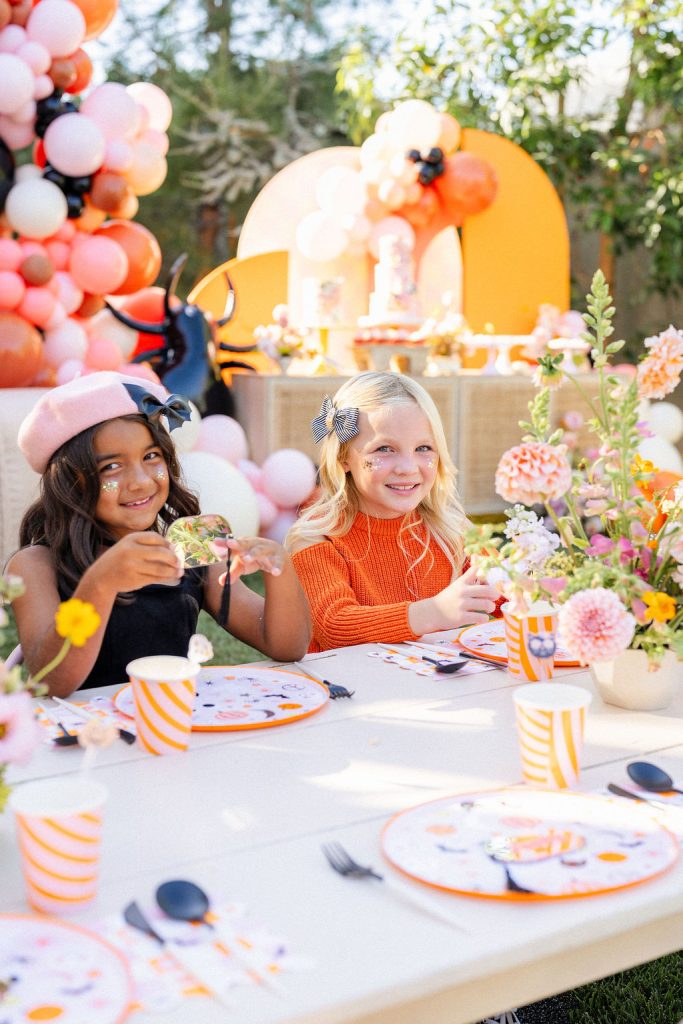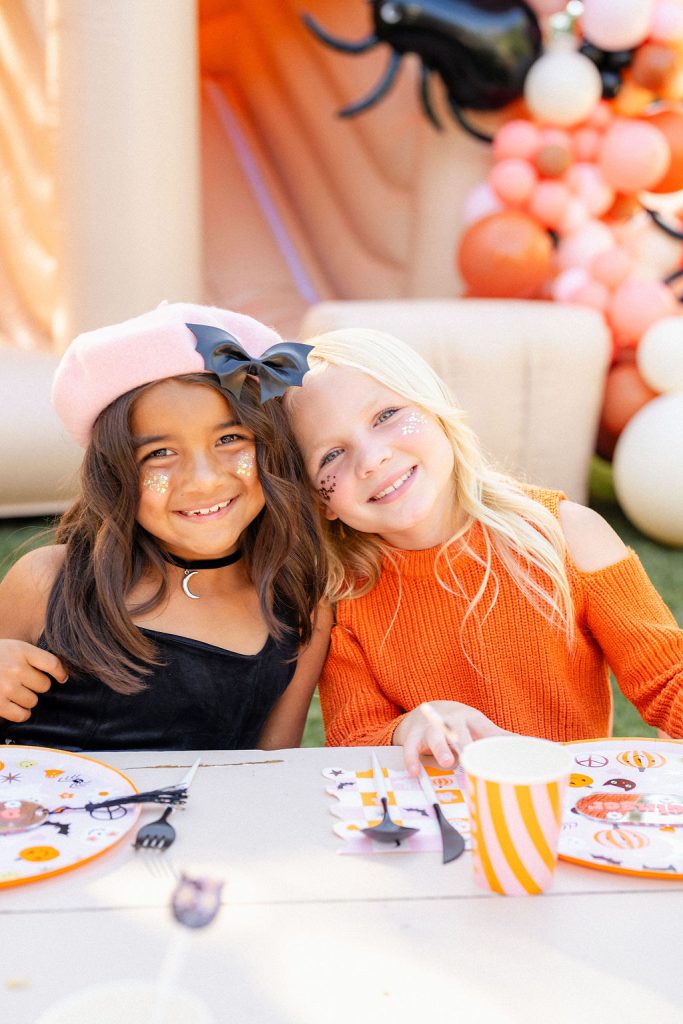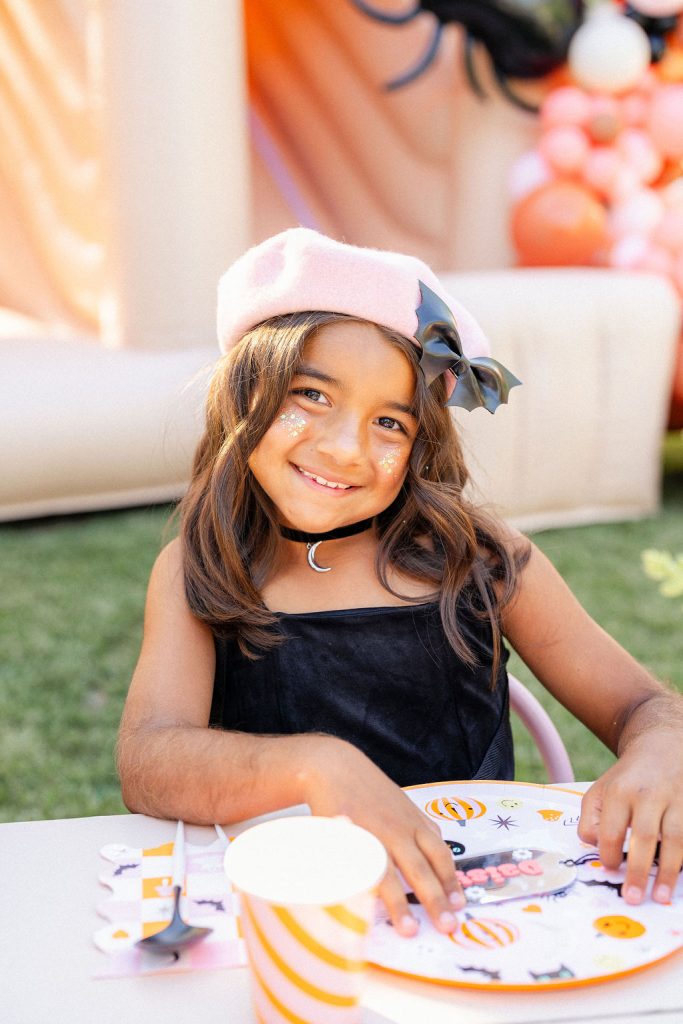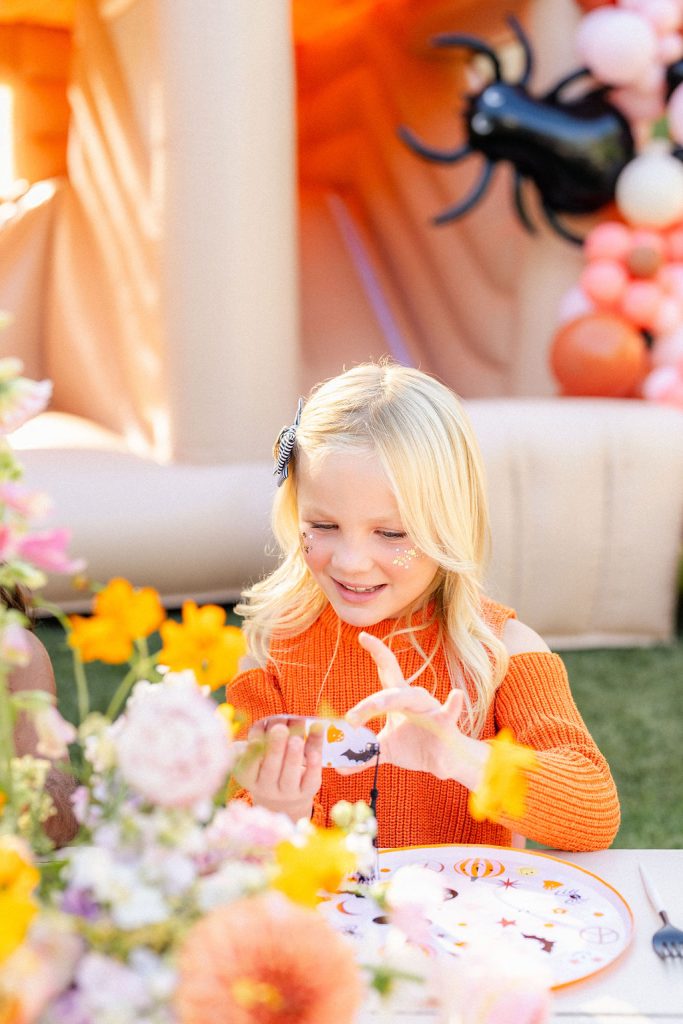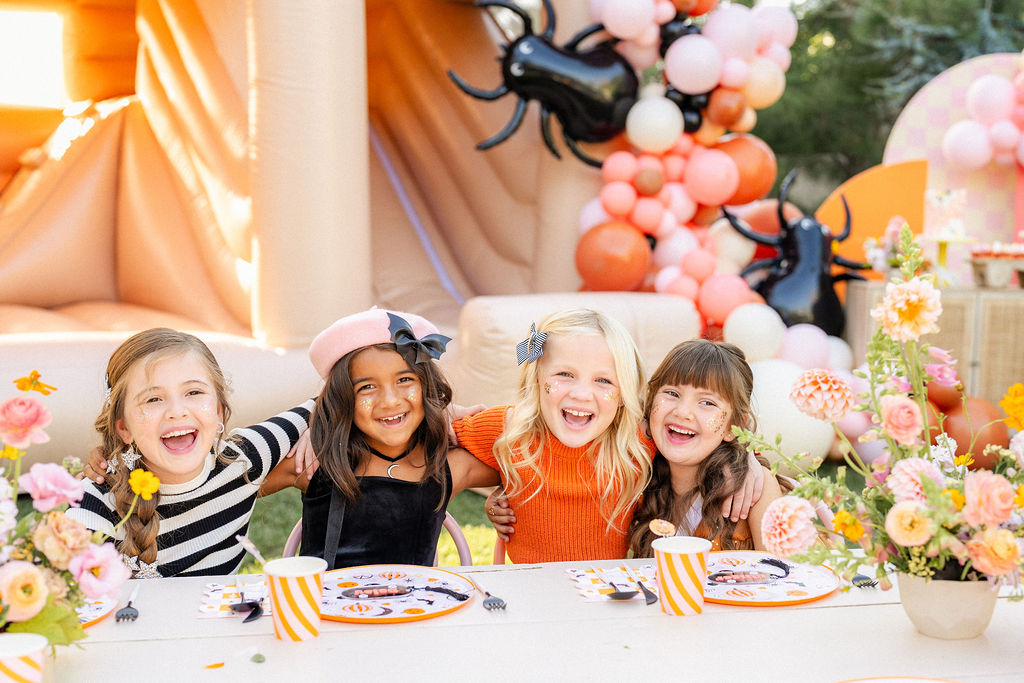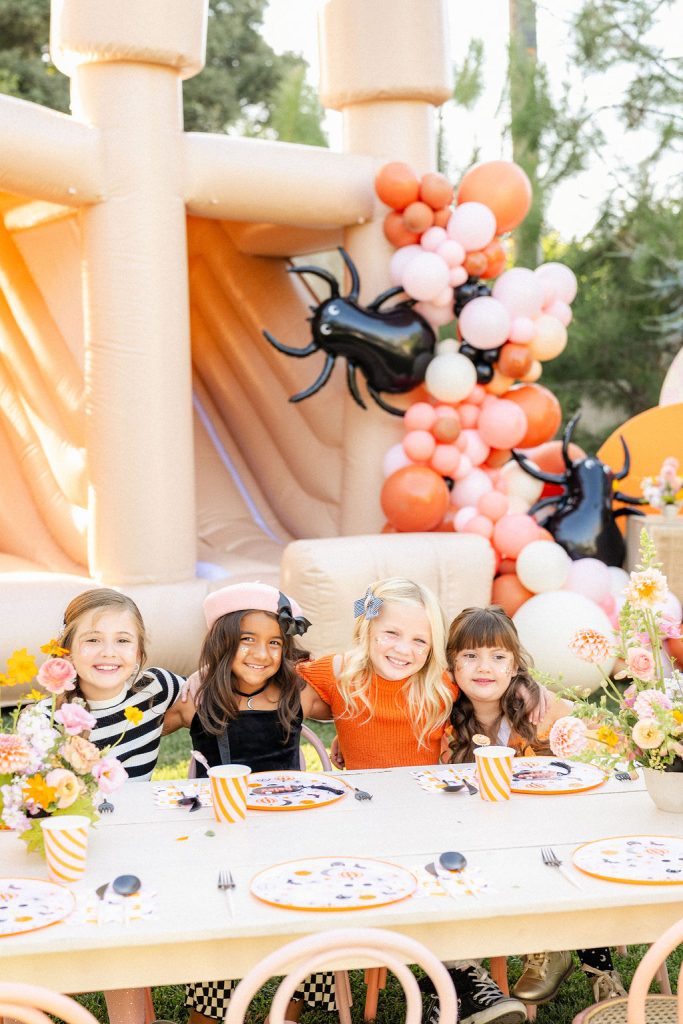 Cheers to all of the Halloween cuteness!!!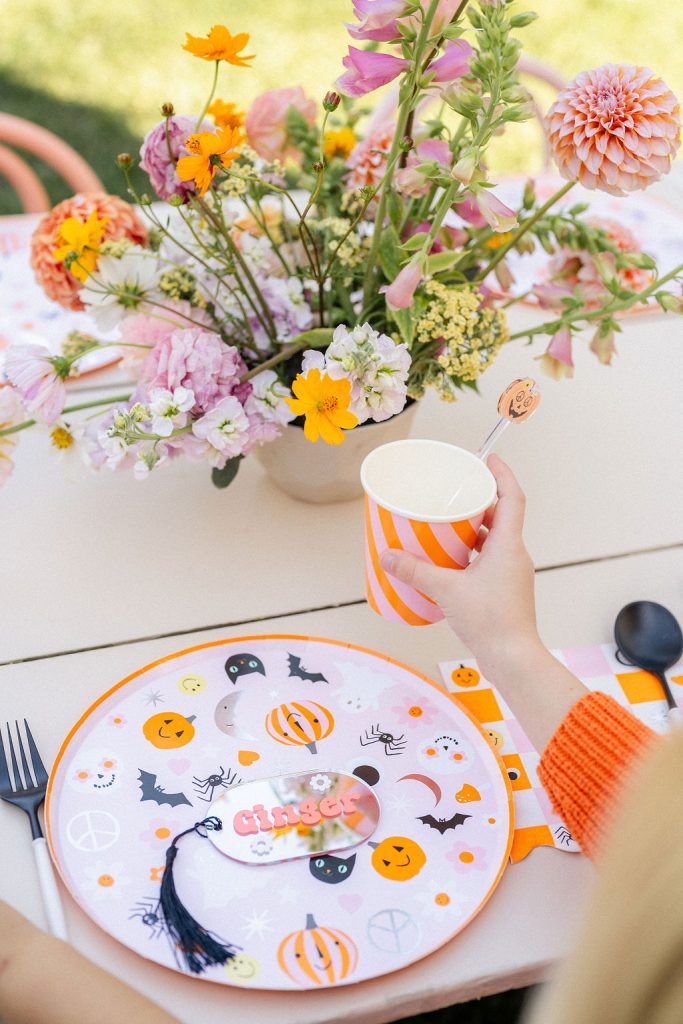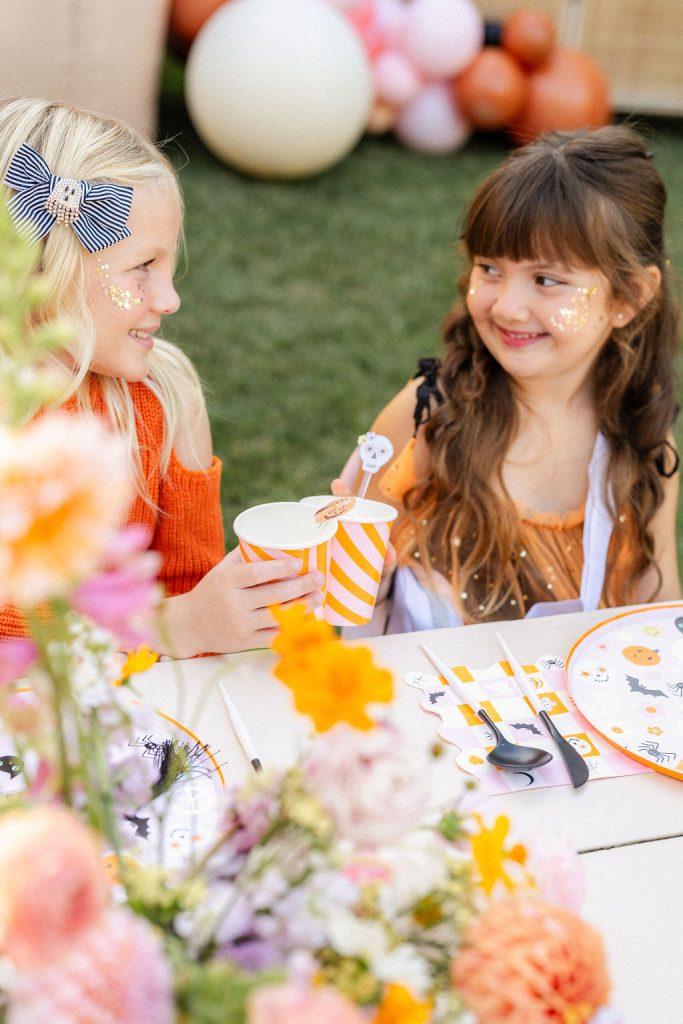 Baby sister even got in on some of the fun! Those pig tails…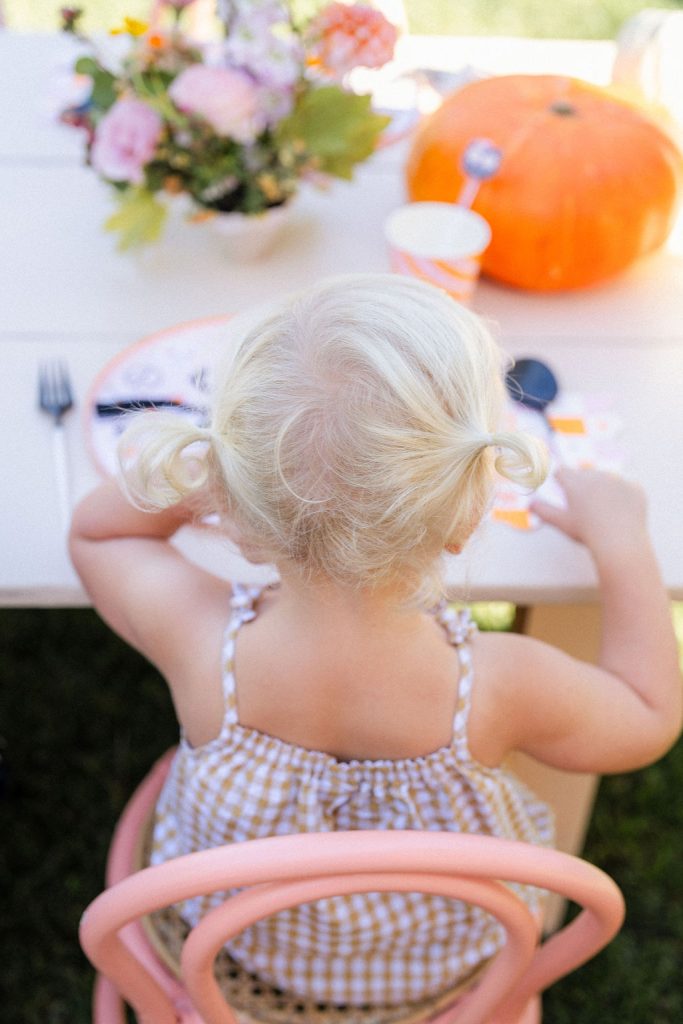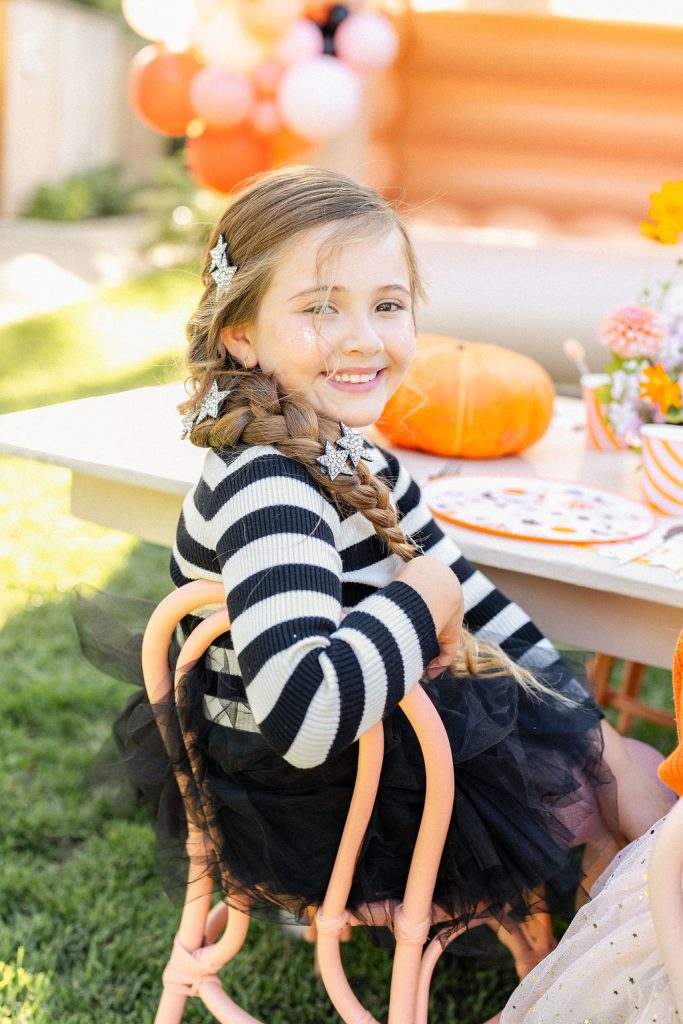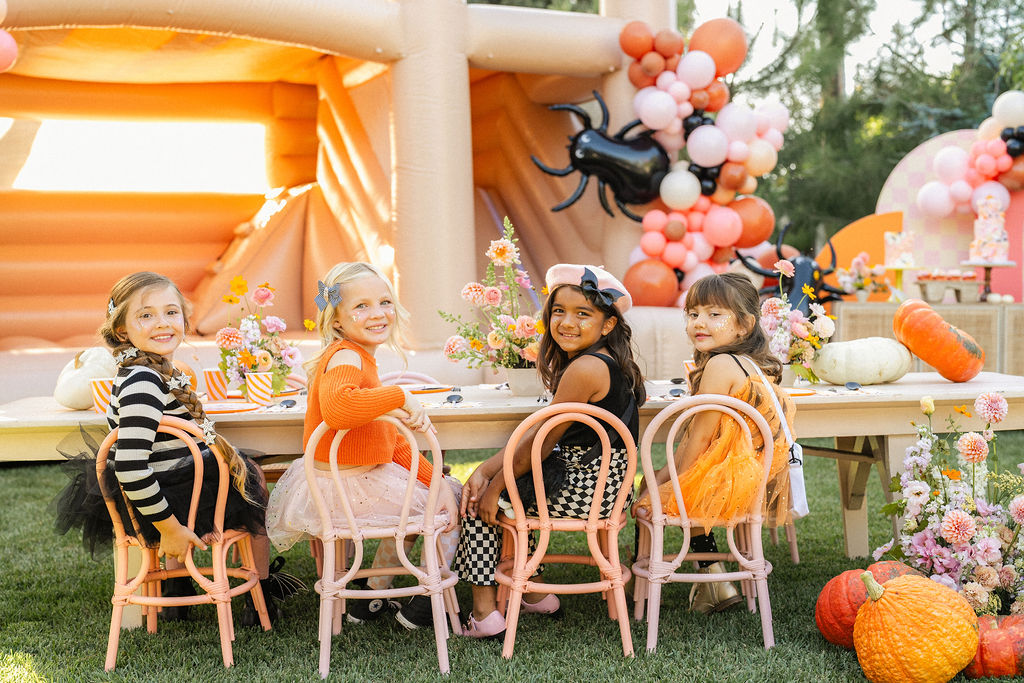 They definitely had their eyes on the desserts, how could they not?!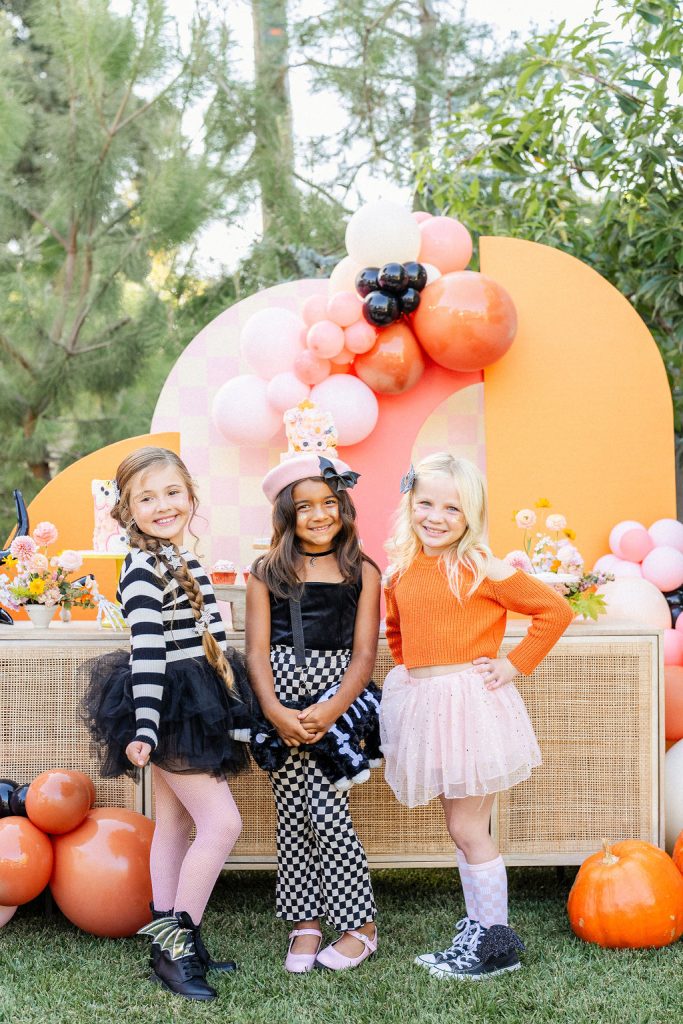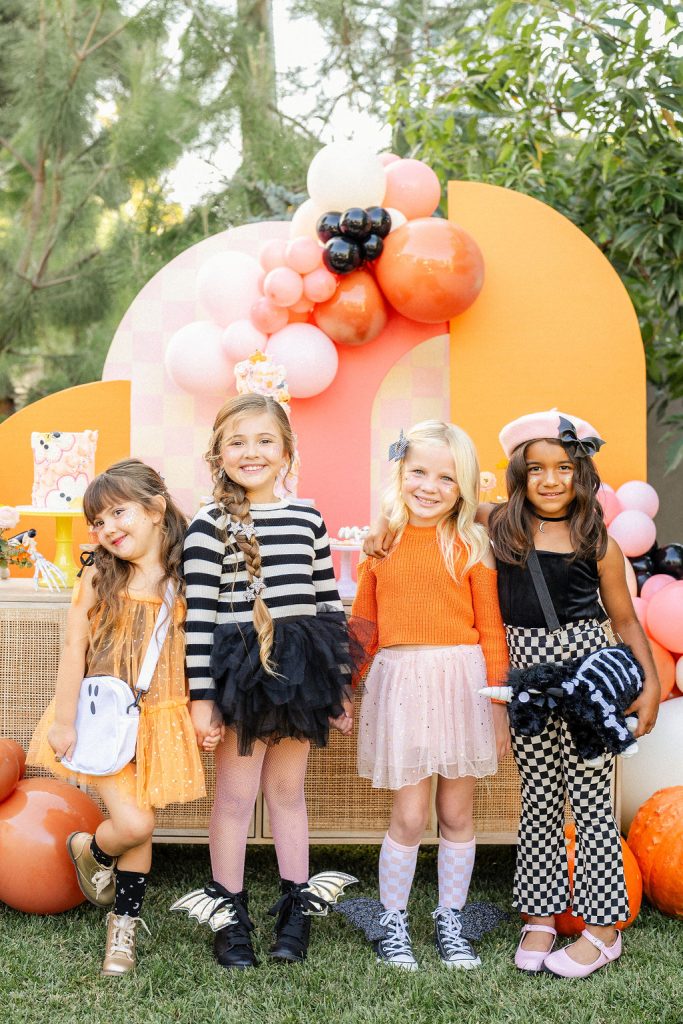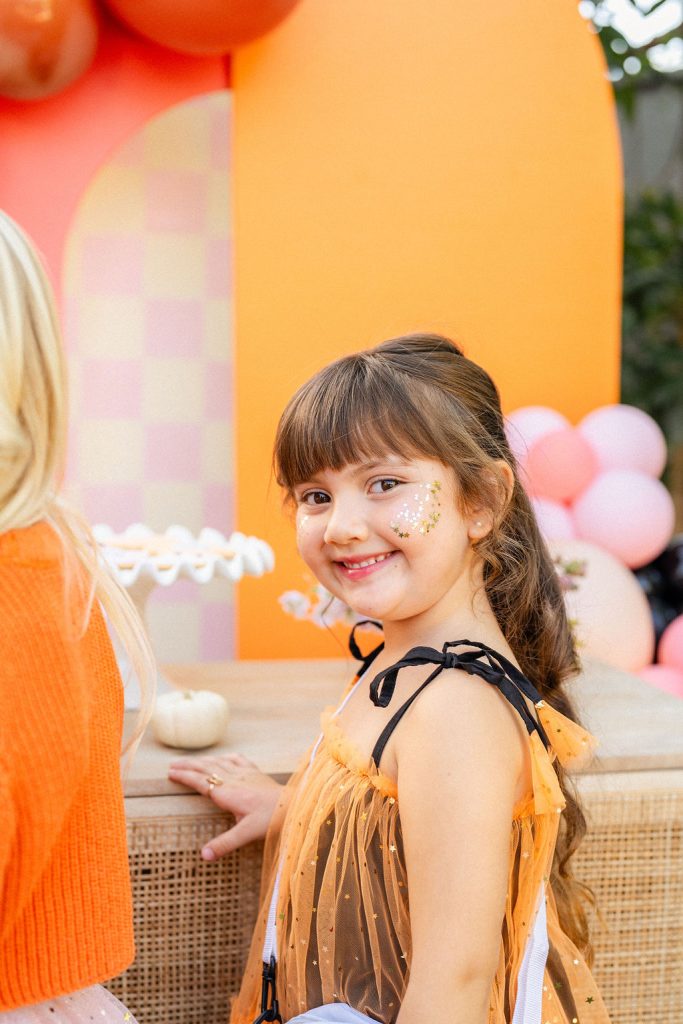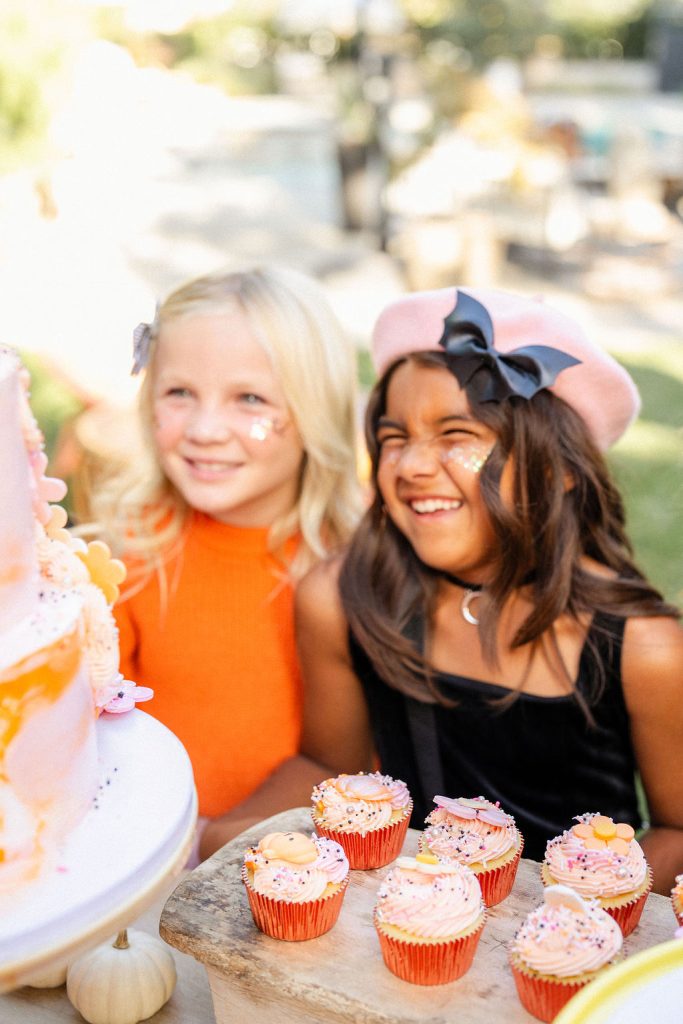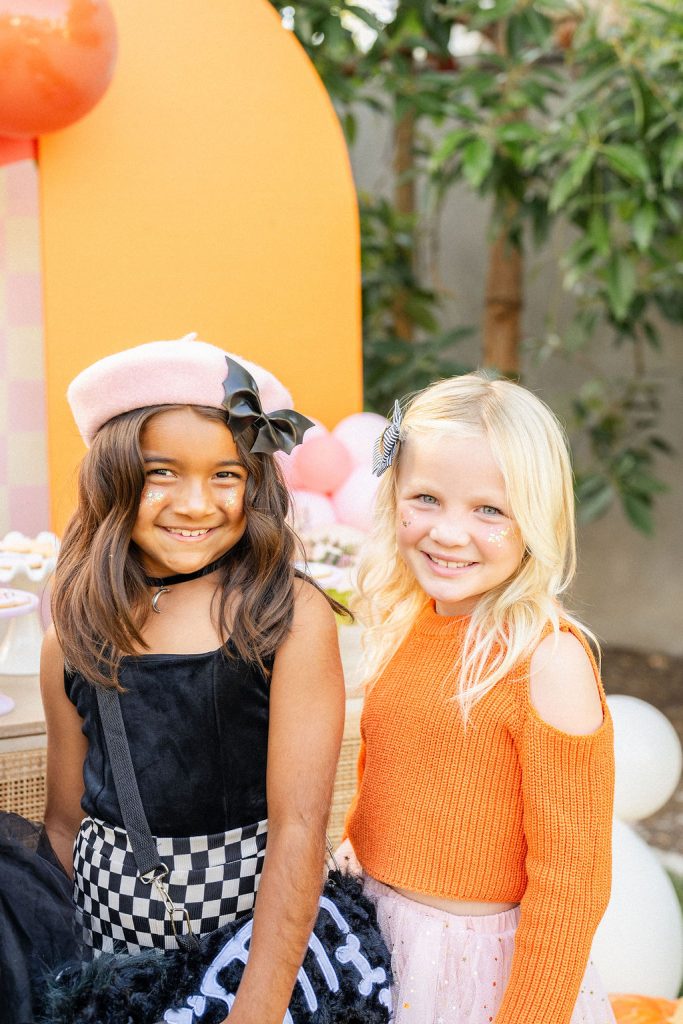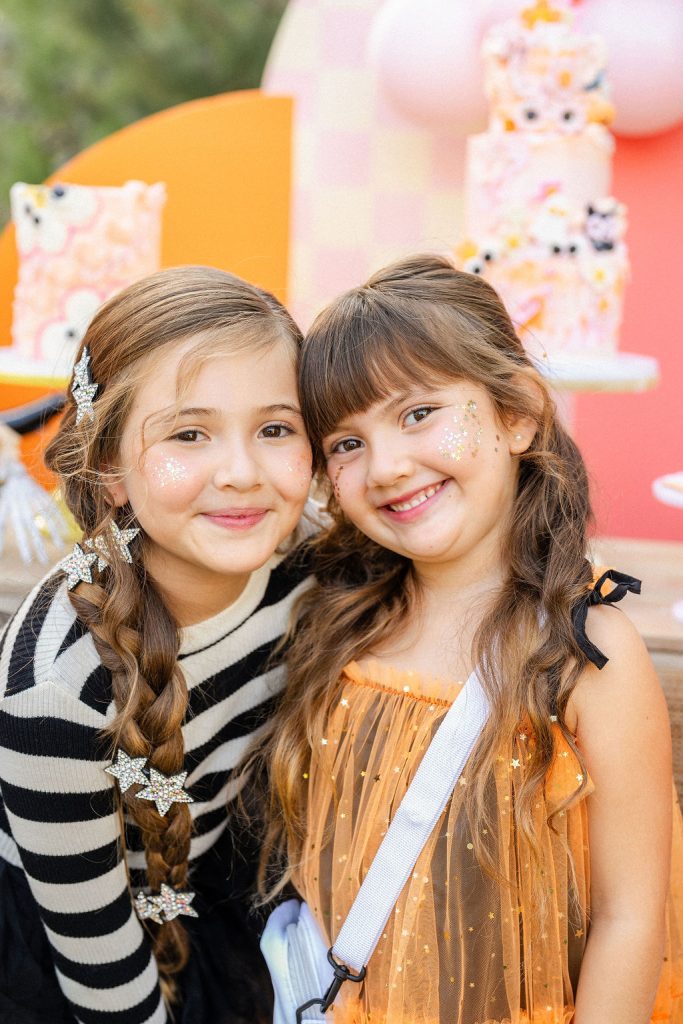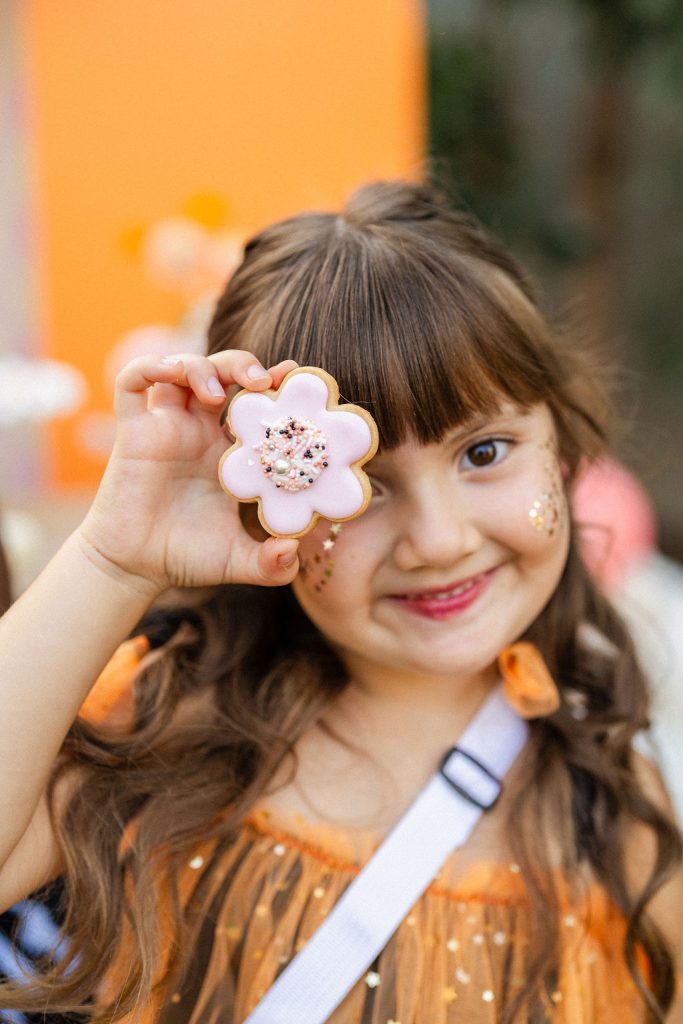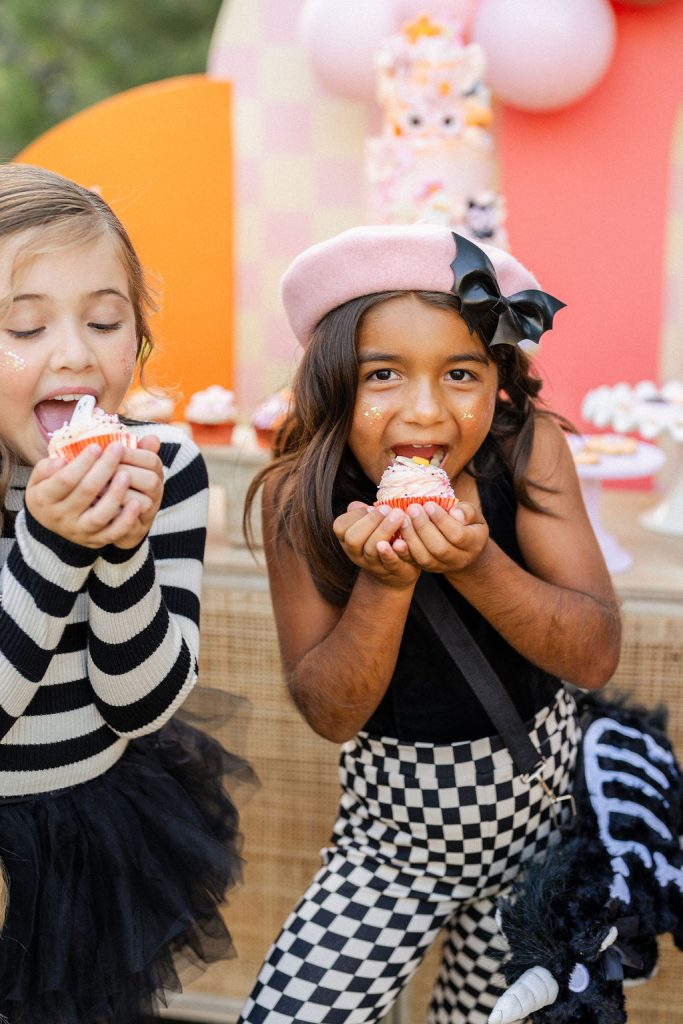 Mrs. Bones had to stop by for a visit with her flower crown too! She hung out in our little lounge and was the life of the party!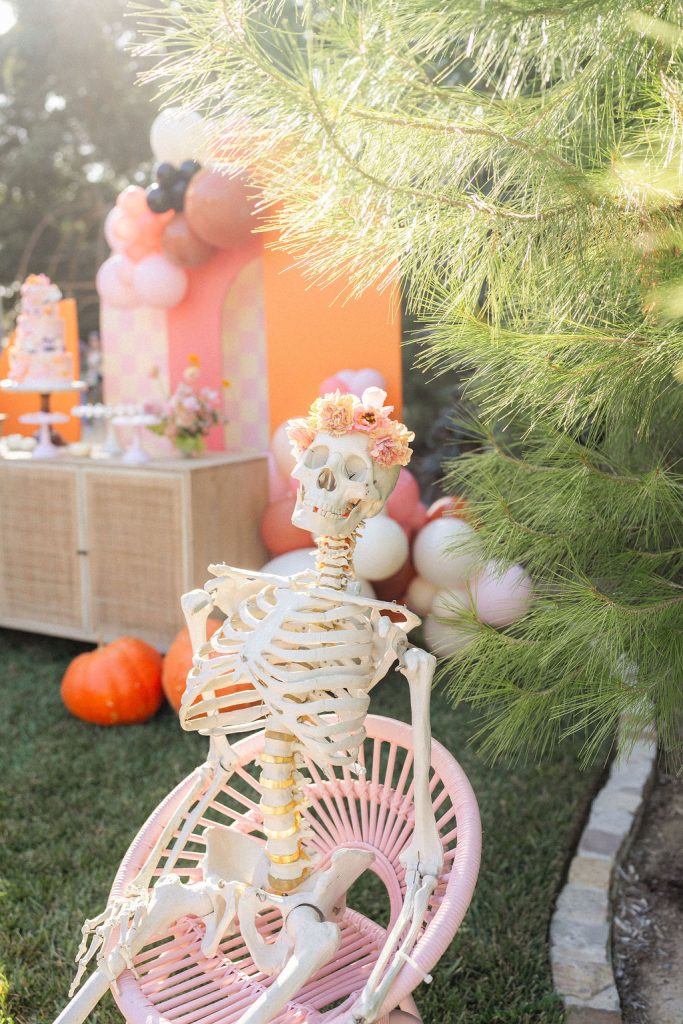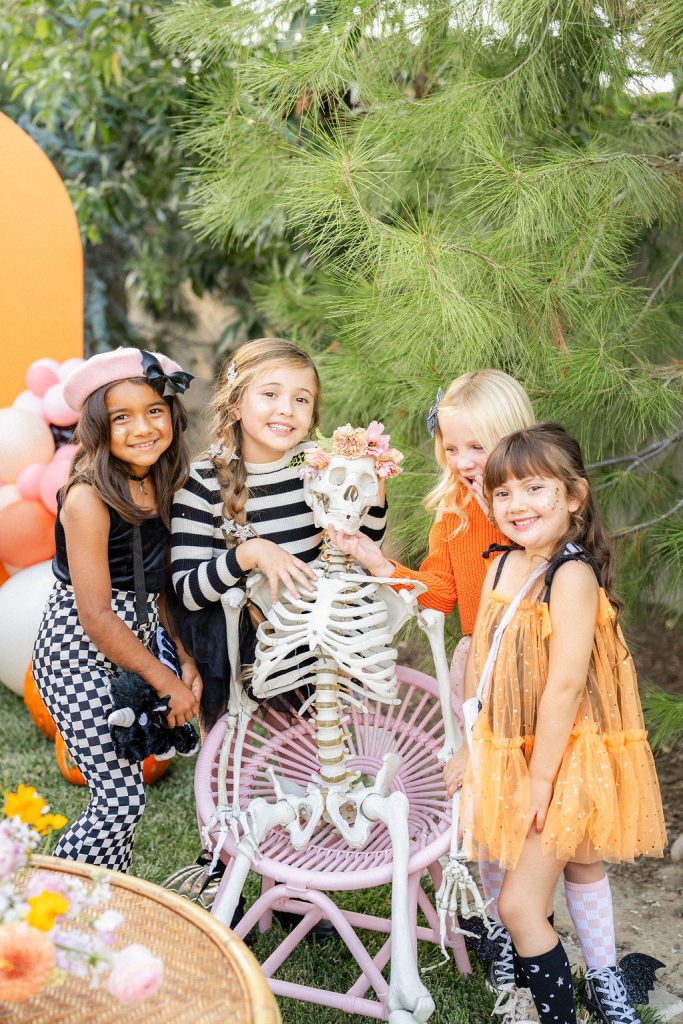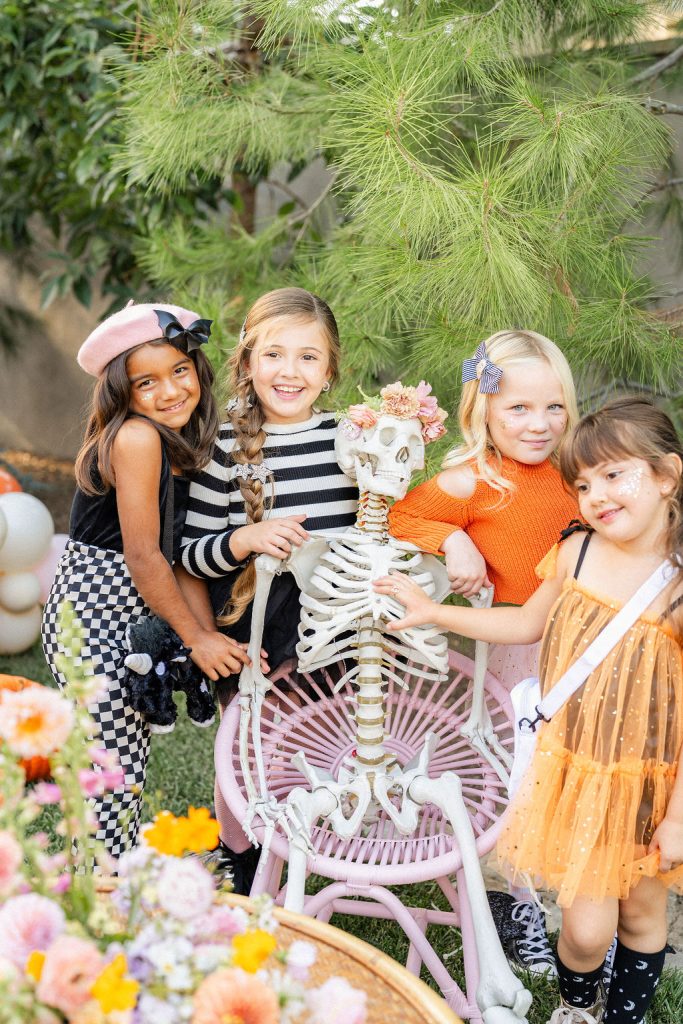 That bounce house was calling these girls name…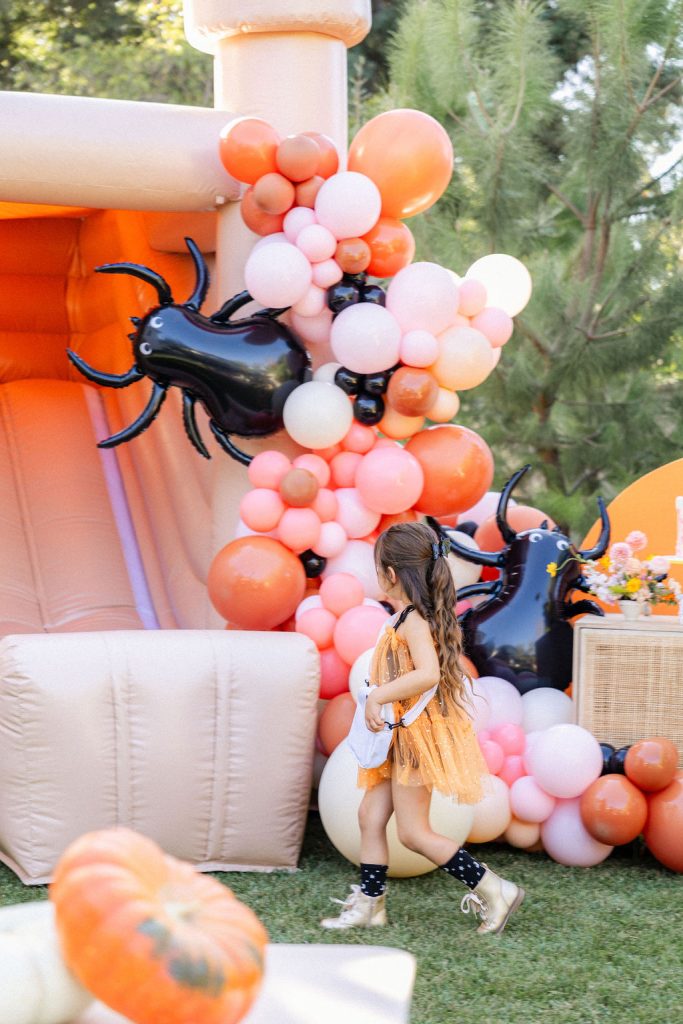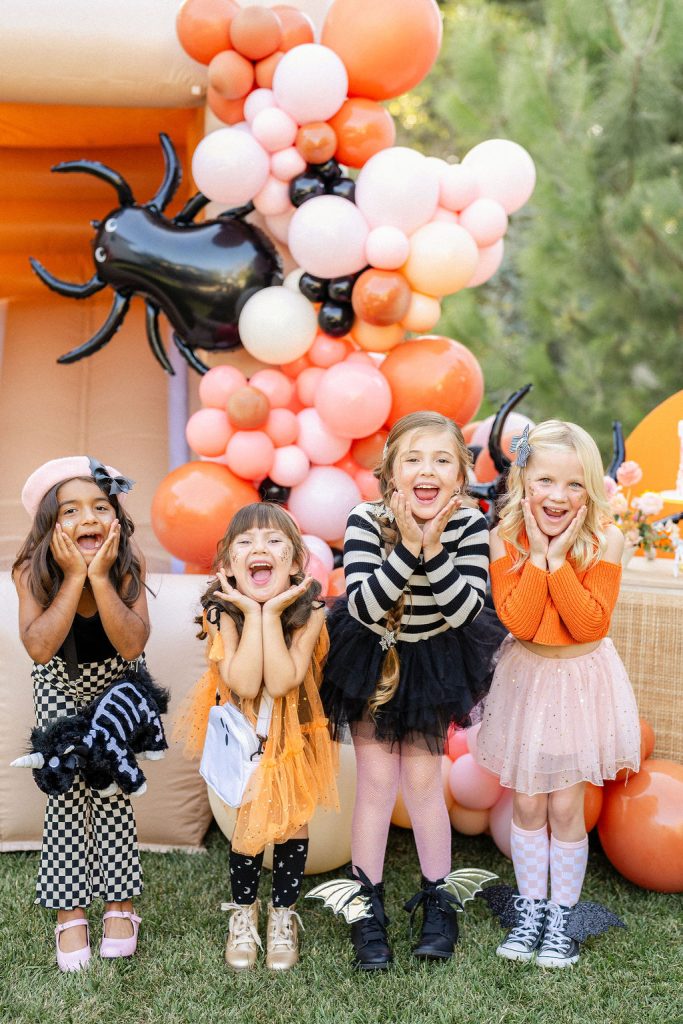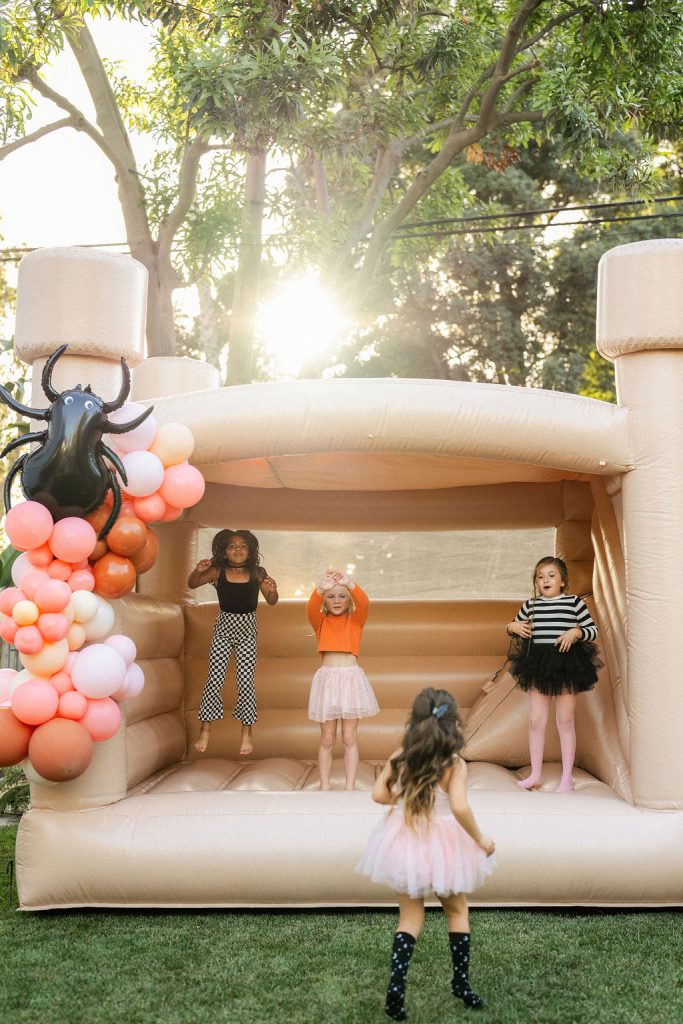 Always so much fun!!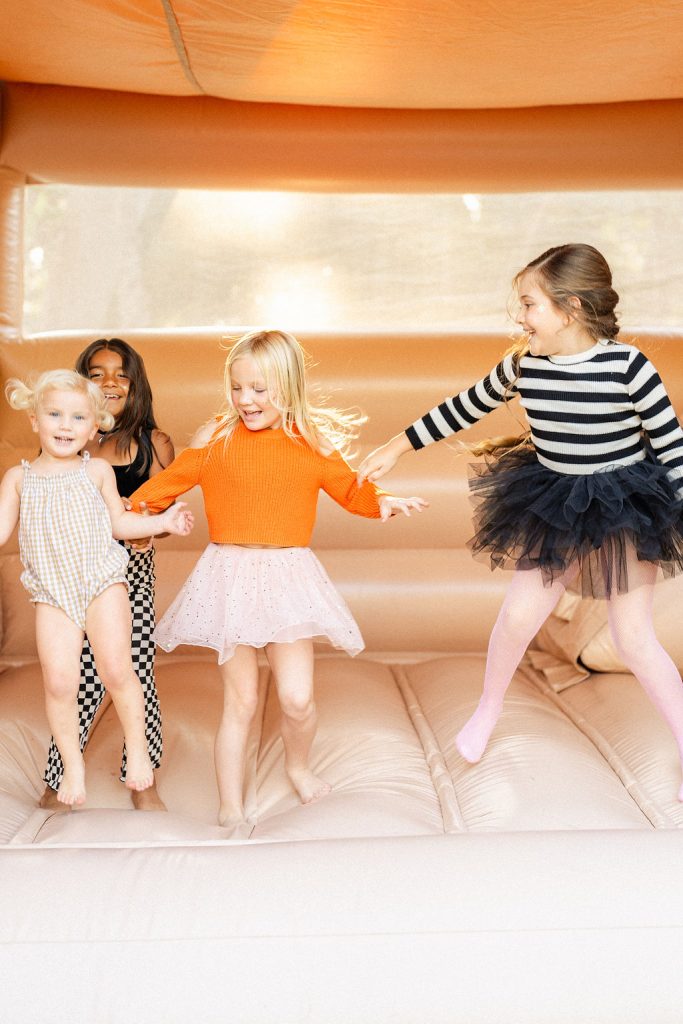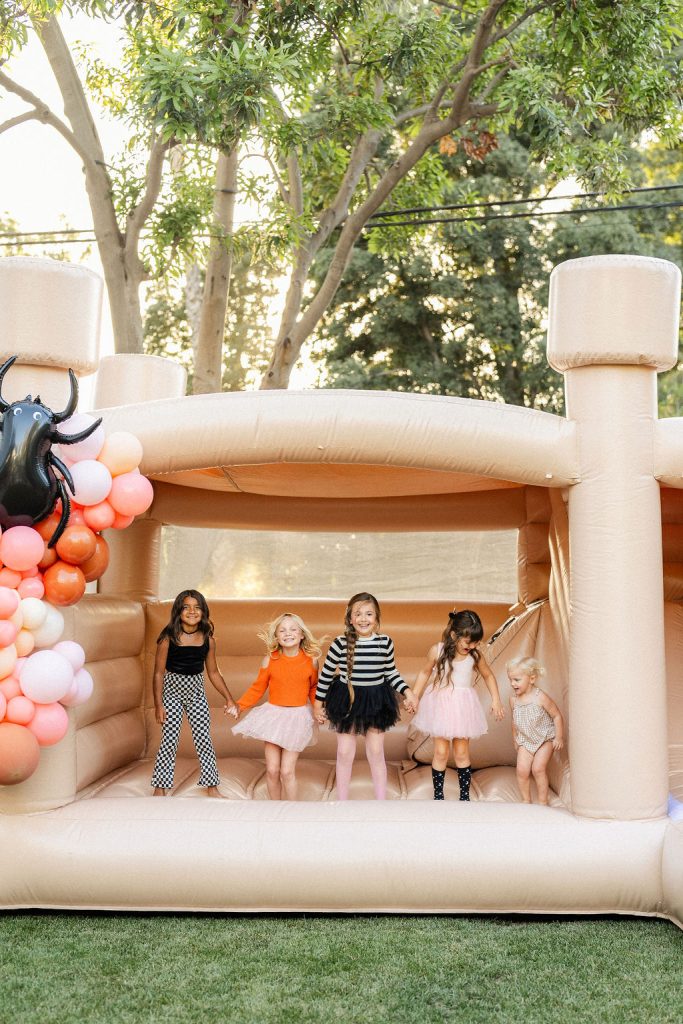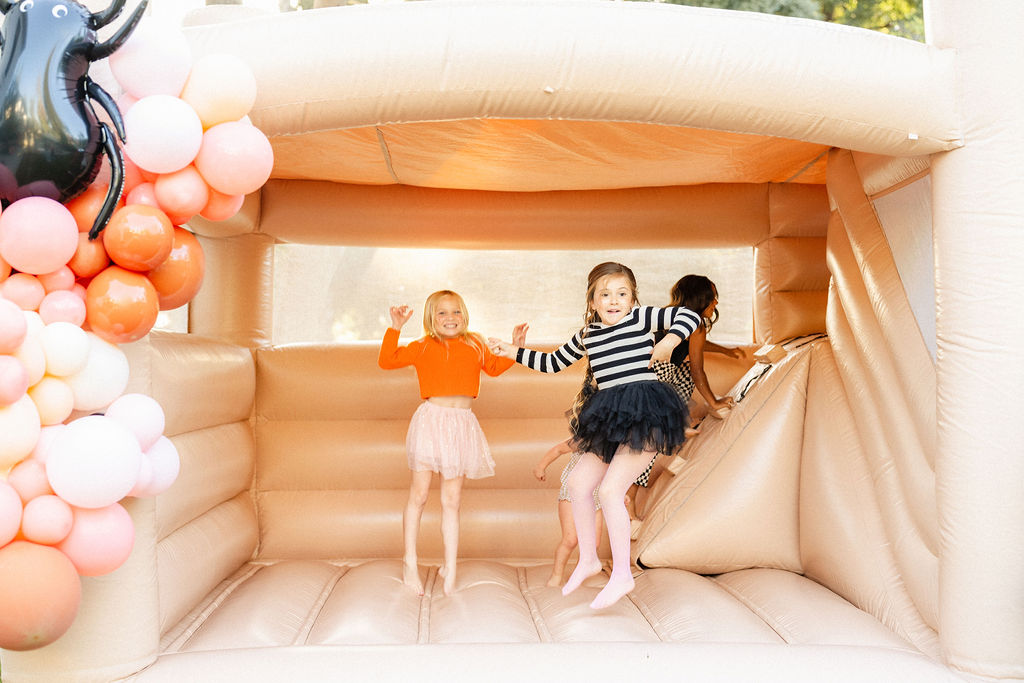 These two sisters kill me with their cuteness and gorgeous hair!!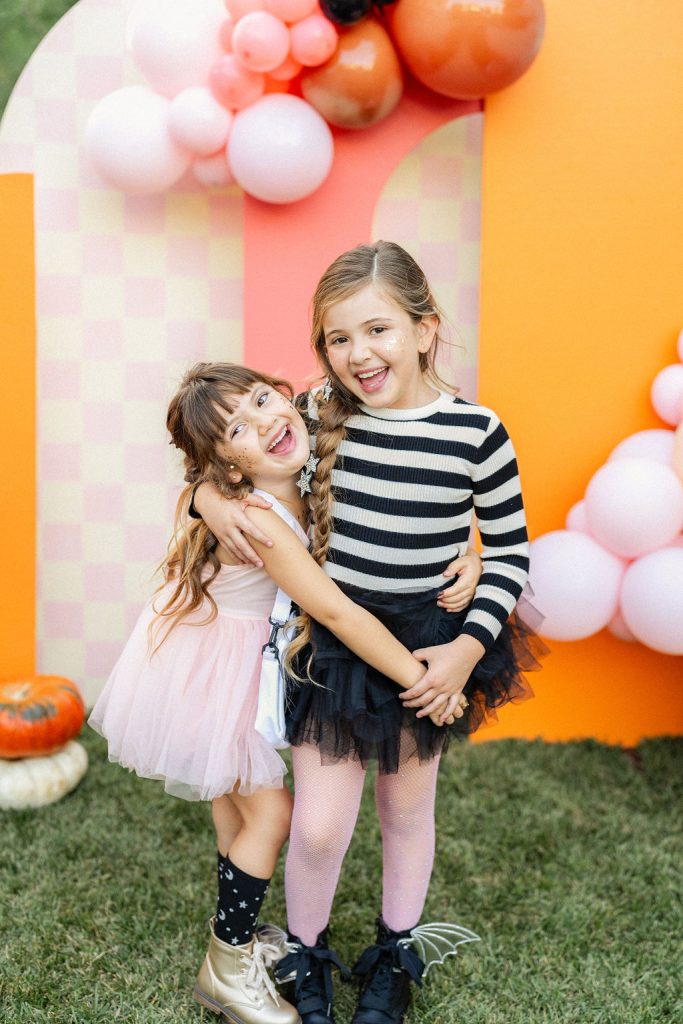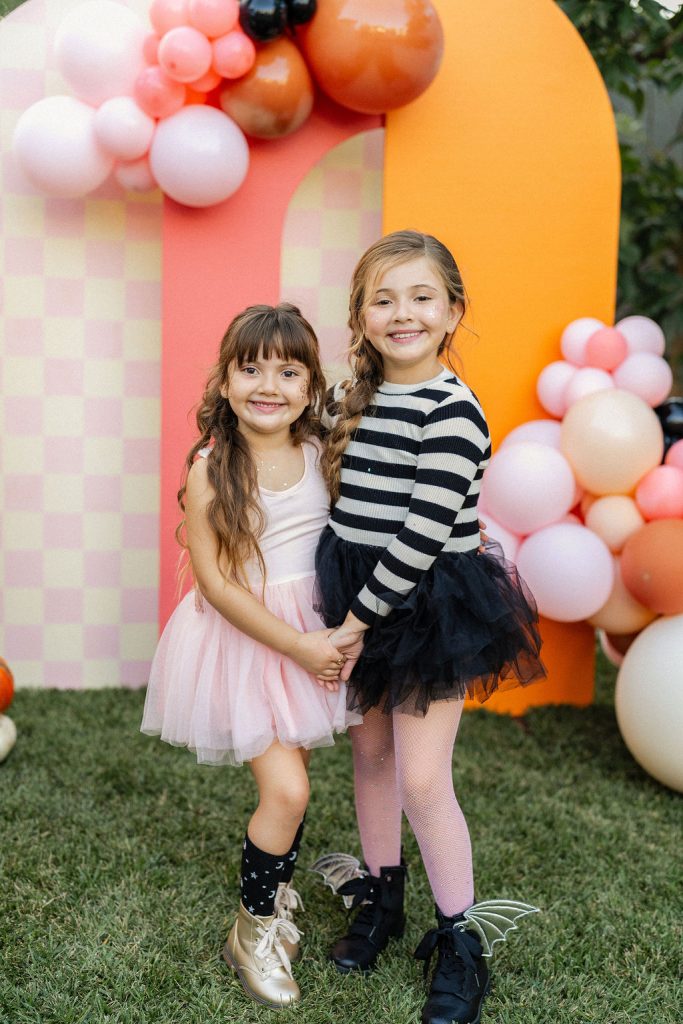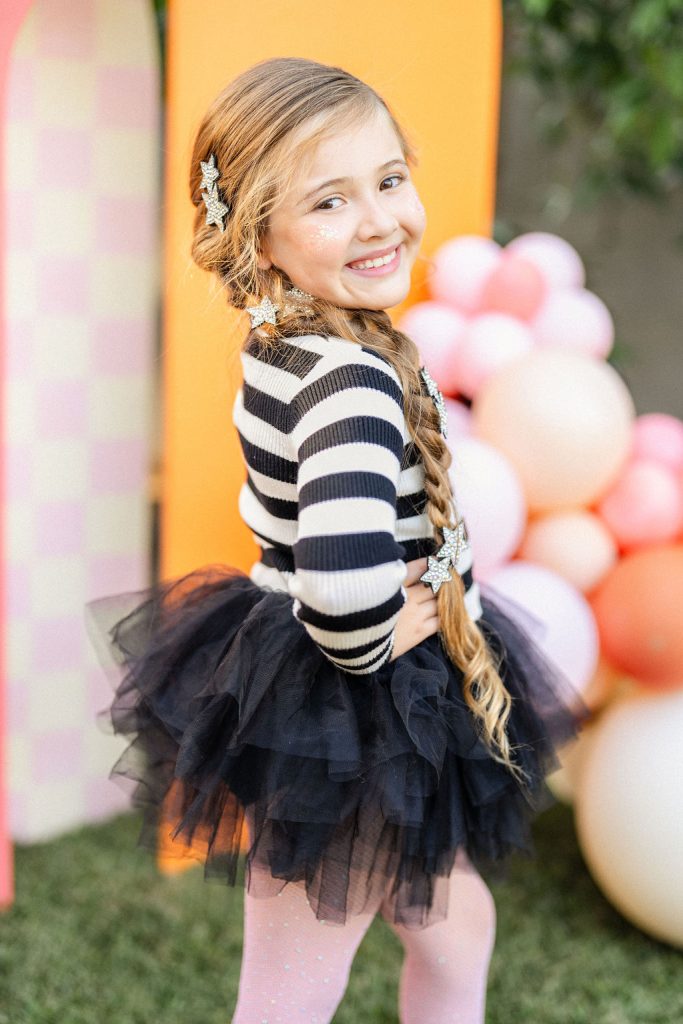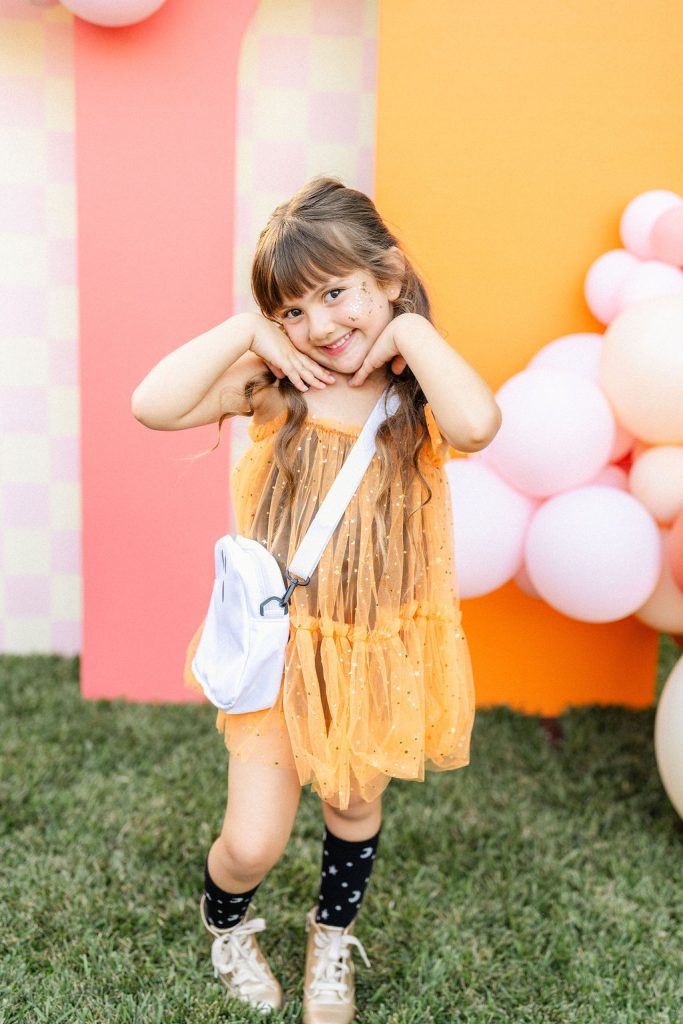 And this sister moment is just the sweetest!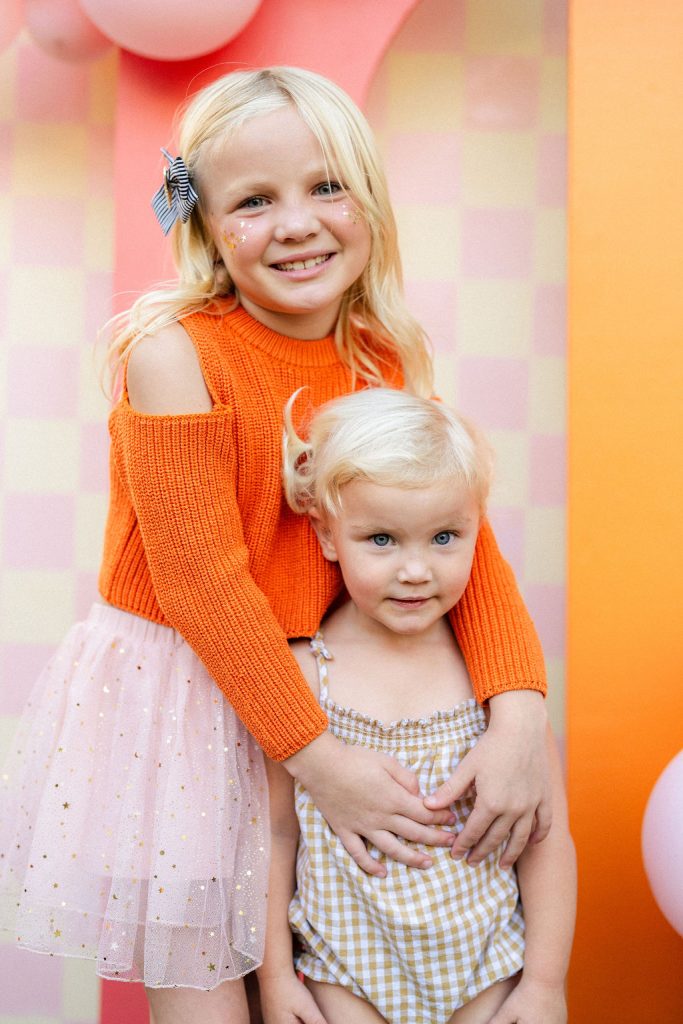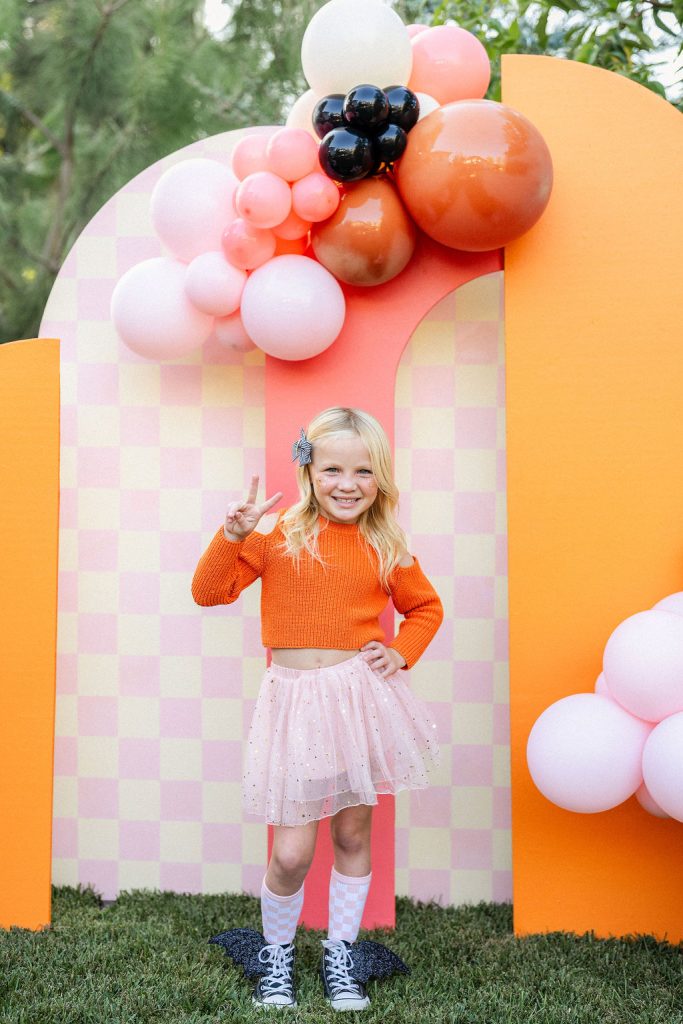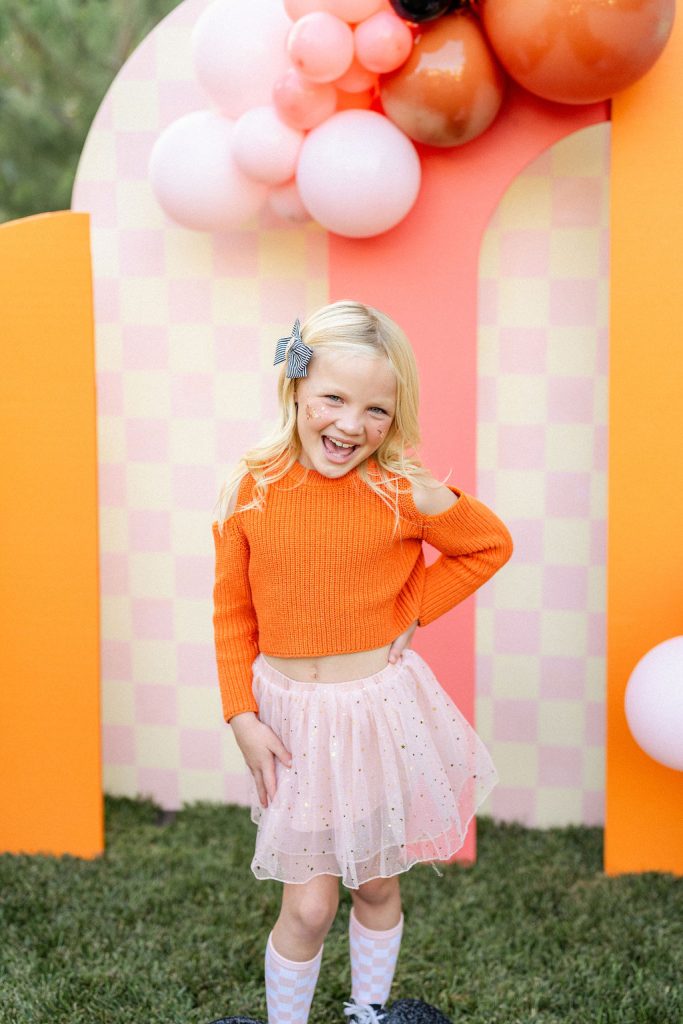 Ok Wild & Rae, I need those pants in my size!!!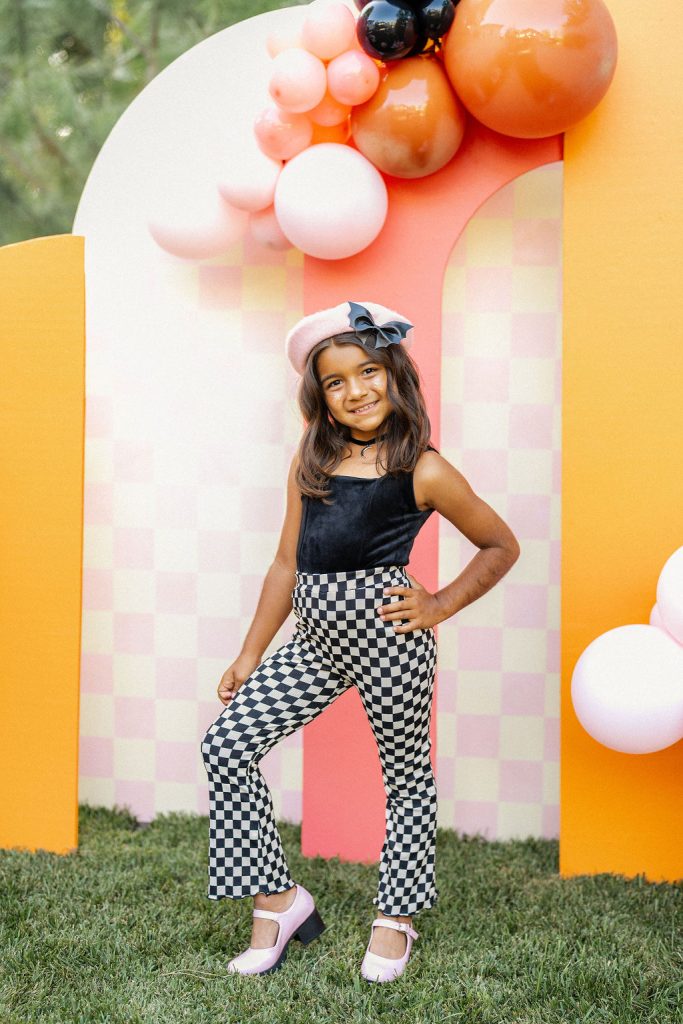 Always so much fun!!!! These girls were the best!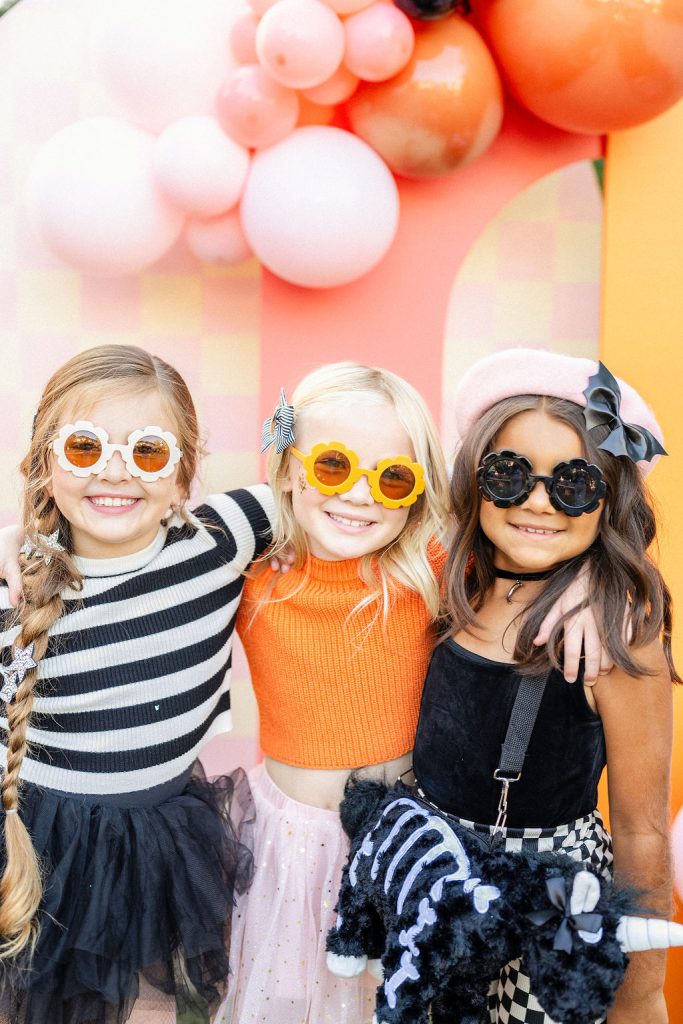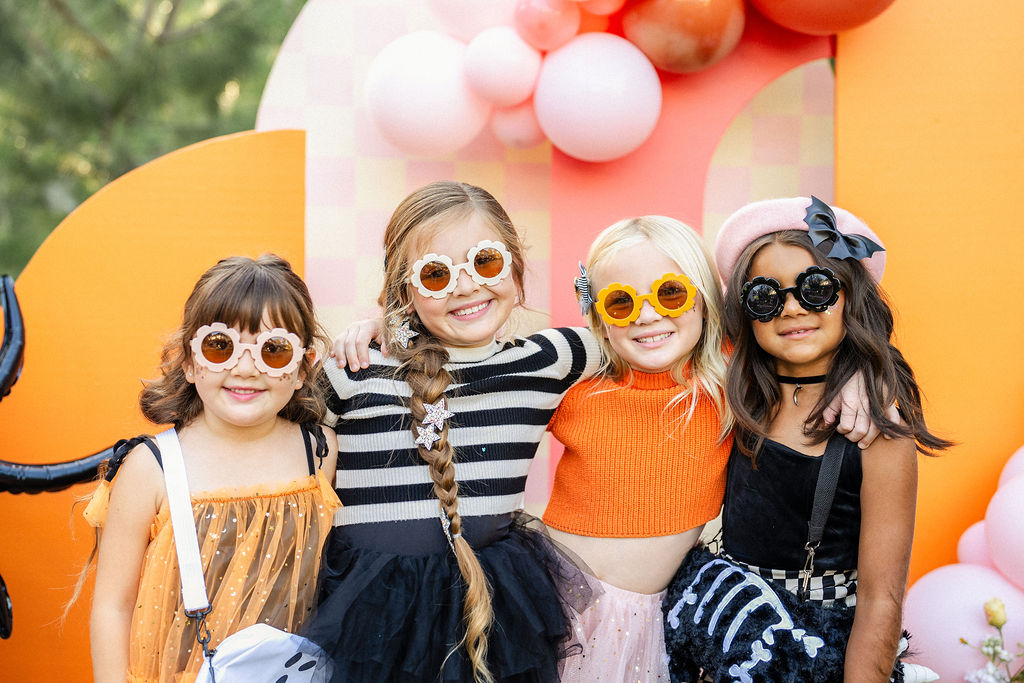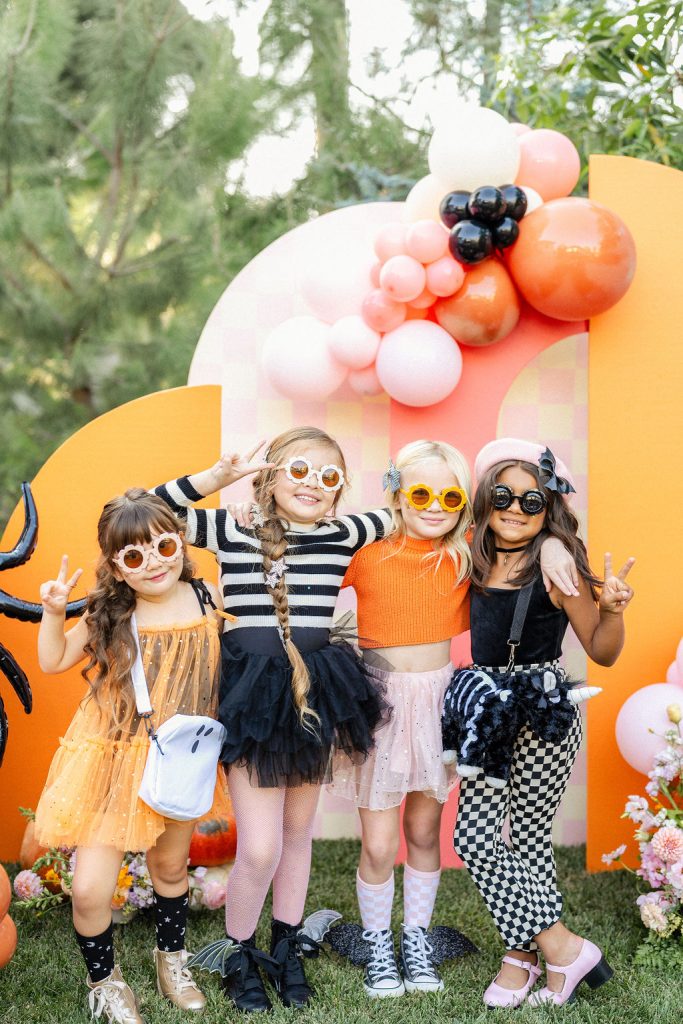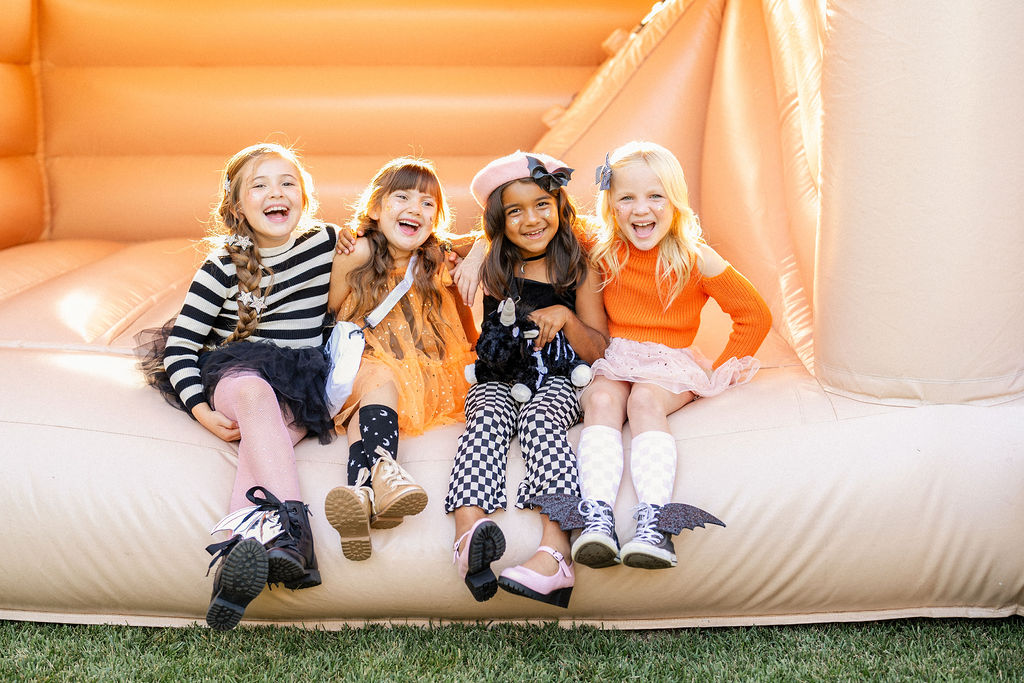 Shop this groovy party below!!!

xx
Jacquelyn