Any other Potter heads out there?!  I have been enamored with Harry Potter for years now.  I would read all the books the day they came out from front to back, sometimes within one day!  I would even drag my husband (my boyfriend at the time) and my sister to the midnight openings of the movies.  You may be thinking I'm crazy, and I probably am… Crazy for Harry Potter!!!
Well when our friends at Pottery Barn Kids told me they had a new Harry Potter collection and wanted me to throw a Harry Potter party I said YES!  There's something about the holiday season that makes me want to sit and snuggle and watch all the Harry Potter movies, like in a row, all day long.  But I settled for this little party, my favorite little people and a little bit of the movies – just the first one for the kiddos!
See how I incorporated the decor from Pottery Barn Kids into my home for the holidays and added some fun details for the kids to make this one extra special!!
Photos by Corrie Lynn Photo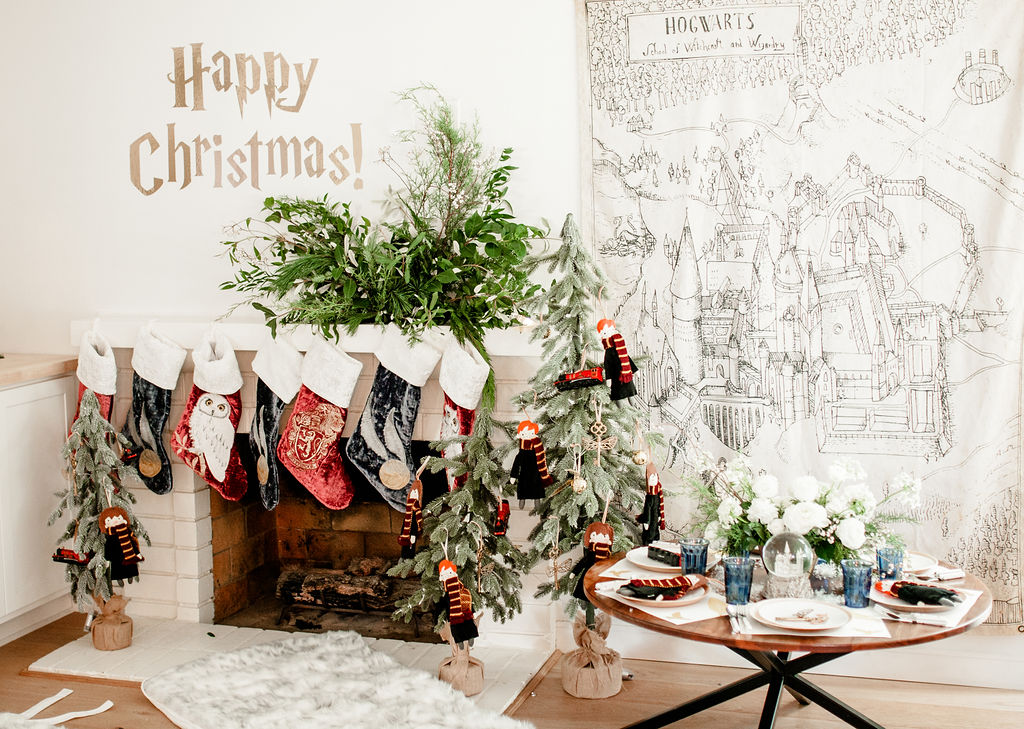 For all paper goods and calligraphy I turned to the Harry Potter aficionado herself, Andrea from Calligraphy Nerd!  We have worked with Andrea before and I knew she was obsessed with Harry Potter like me so I had to ask her to jump in on this one!  She of course came through with the most amazing details for this shoot, including this invite!!  Isn't it amazing?!  She captured the Harry Potter holiday essence so well!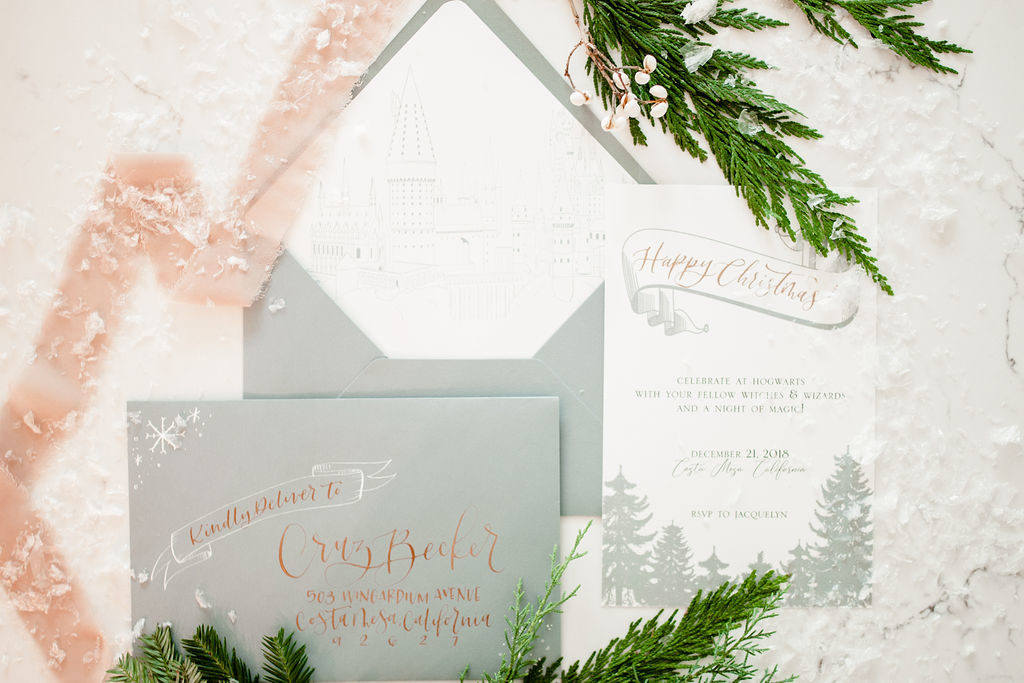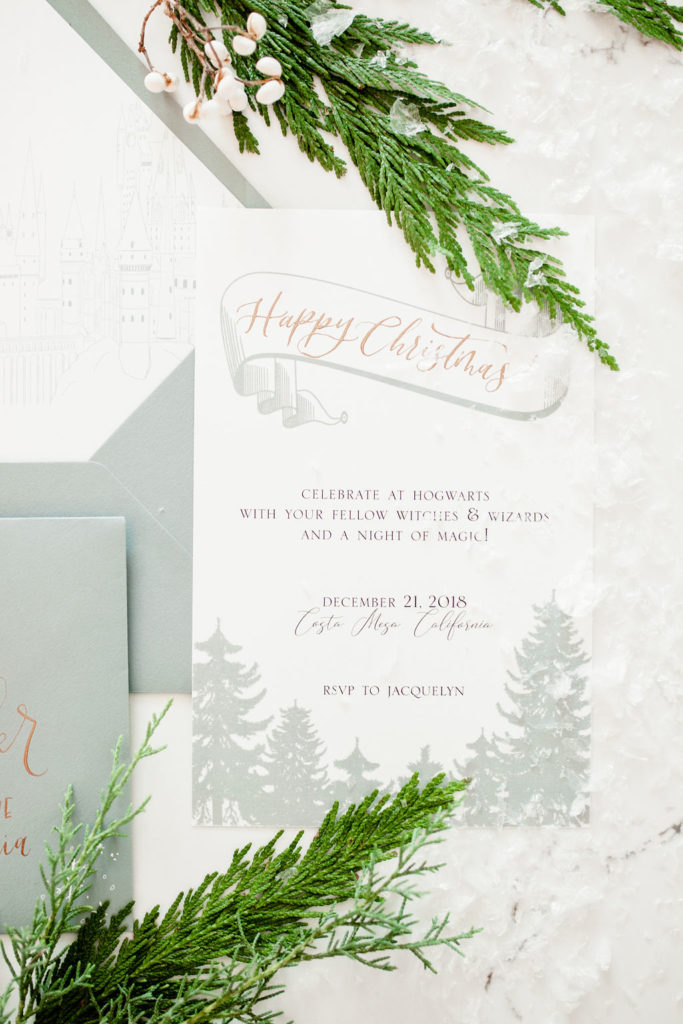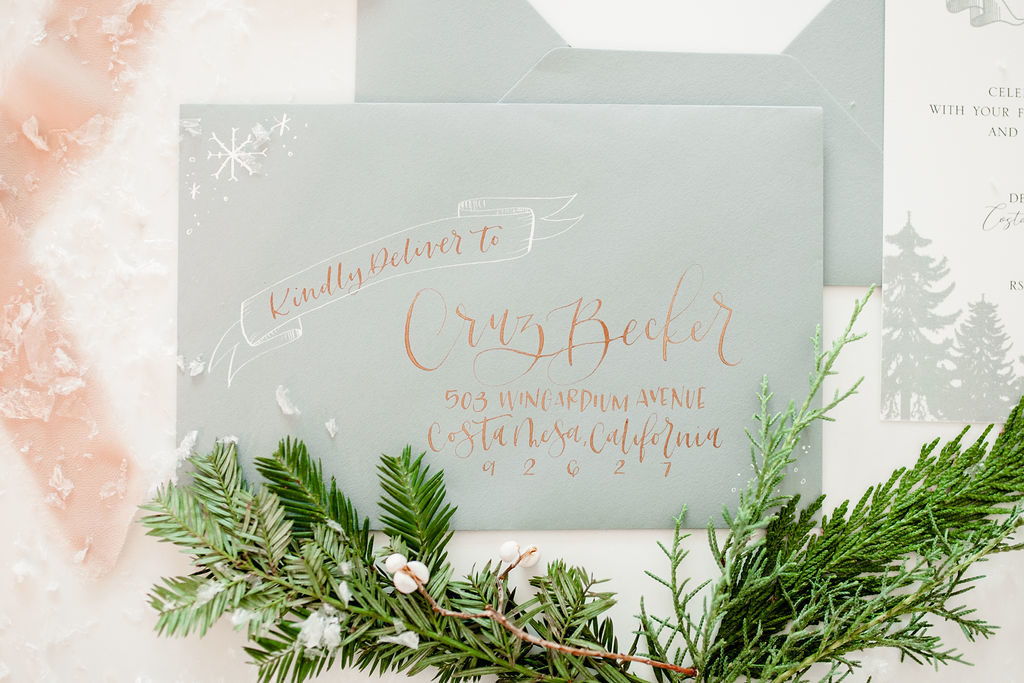 We set the table with a mixture of PBK goodies like cups and flatware but used disposable plates from L'entramise.  It was the perfect mesh of making things easy and cute!!  Andrea also did these great place cards and placemats with some inspiration from Hedwig the Owl – more about her later!!
The gorgeous florals are by our friend Alex from Third & Park she nailed those winter whites and greens right?!  Pottery Barn Kids has such fun ornaments all Harry Potter inspired – Harry, Hermione, Ron, the golden snitch and so much more!!  And how pretty is that snow globe with Hogwarts?  So magical!!  I just added a little bit of fake snow to make it even more so!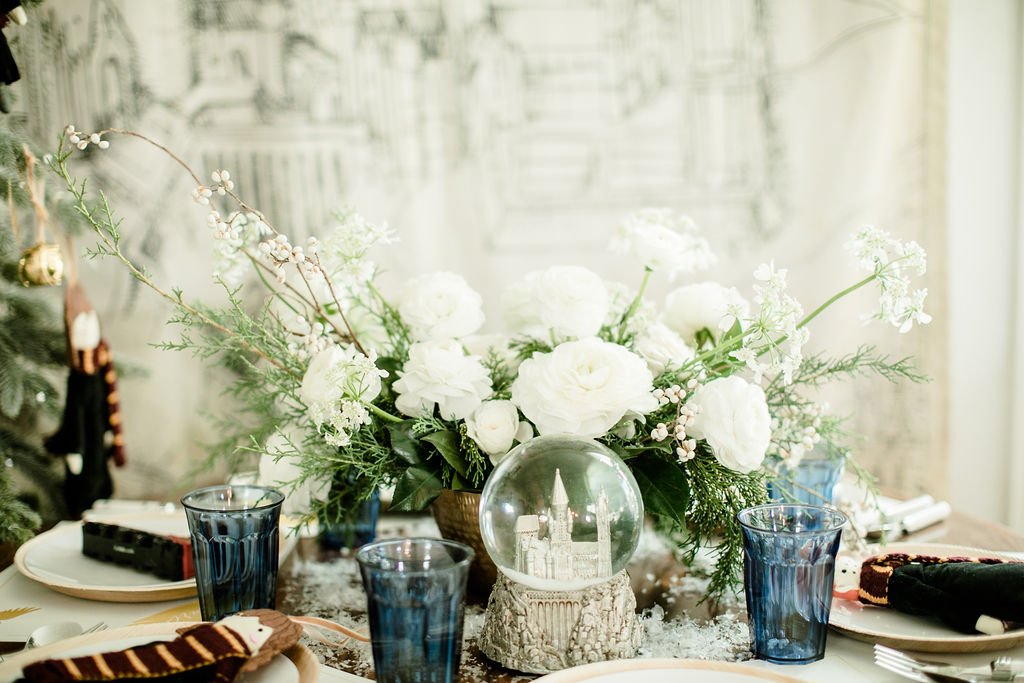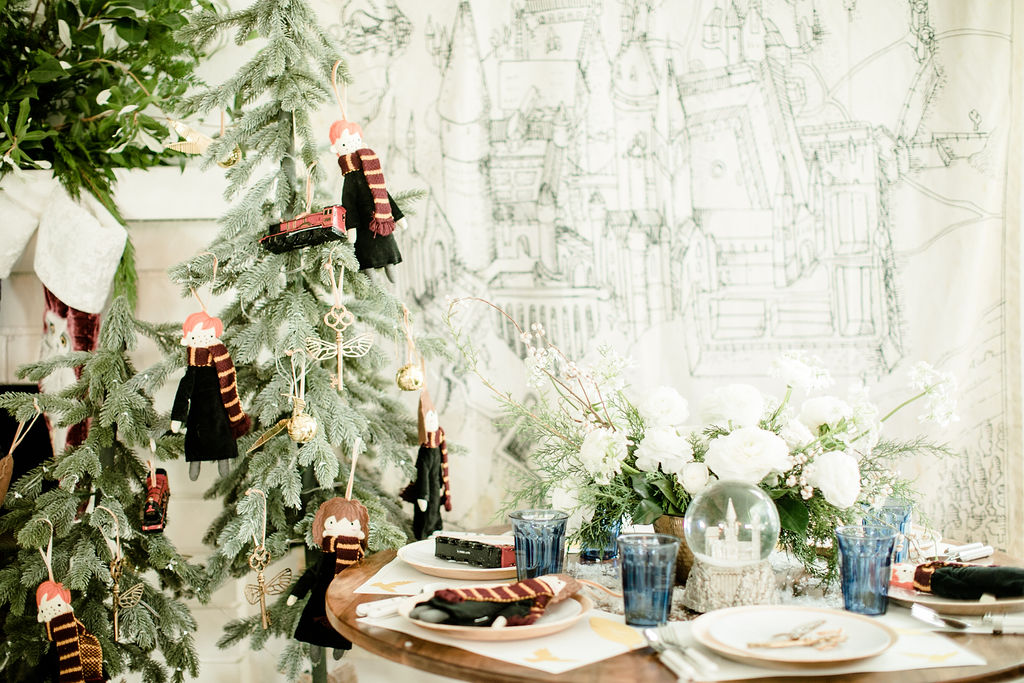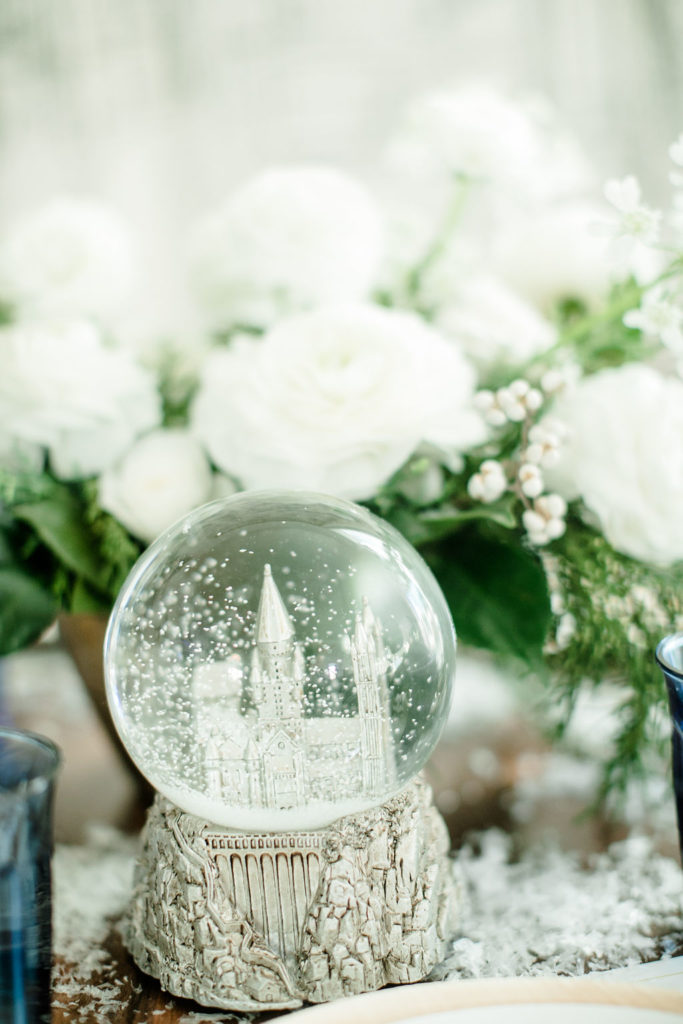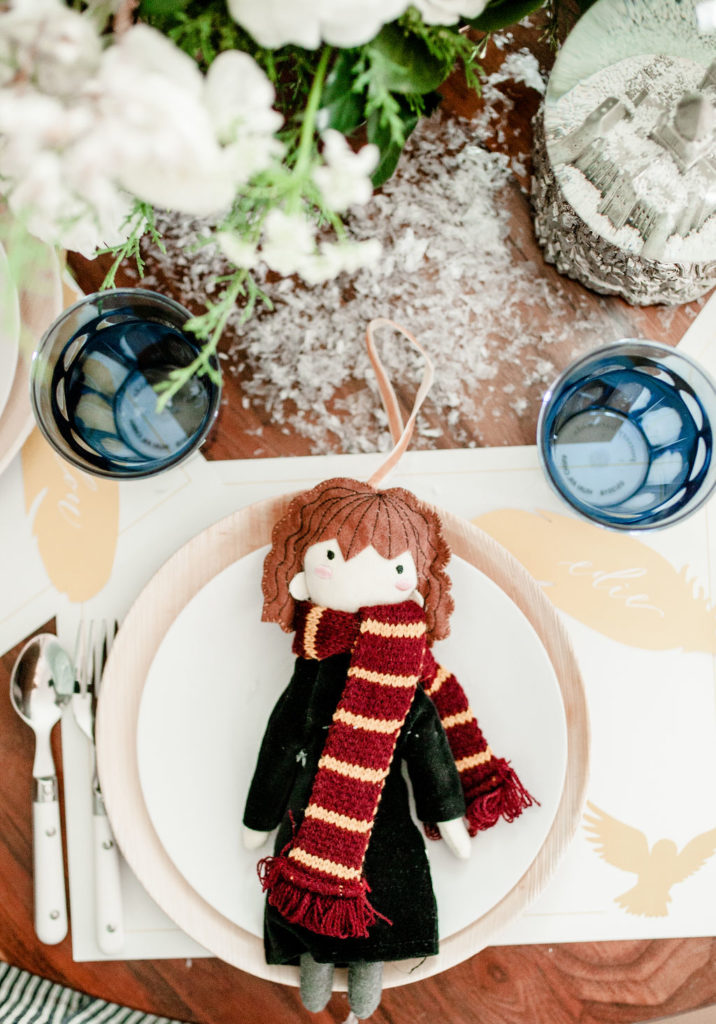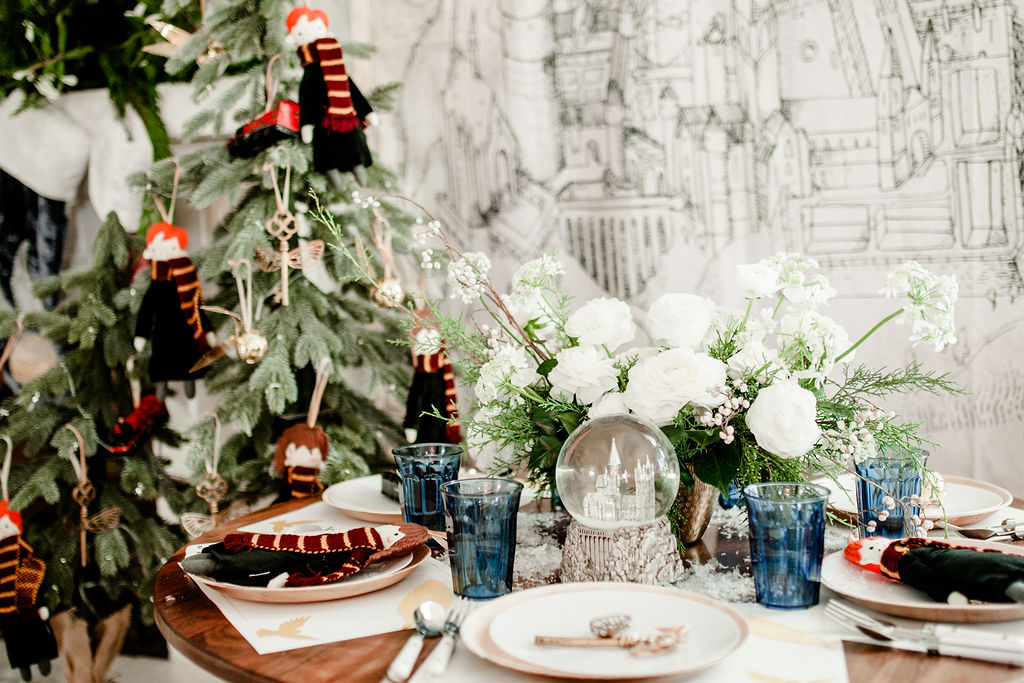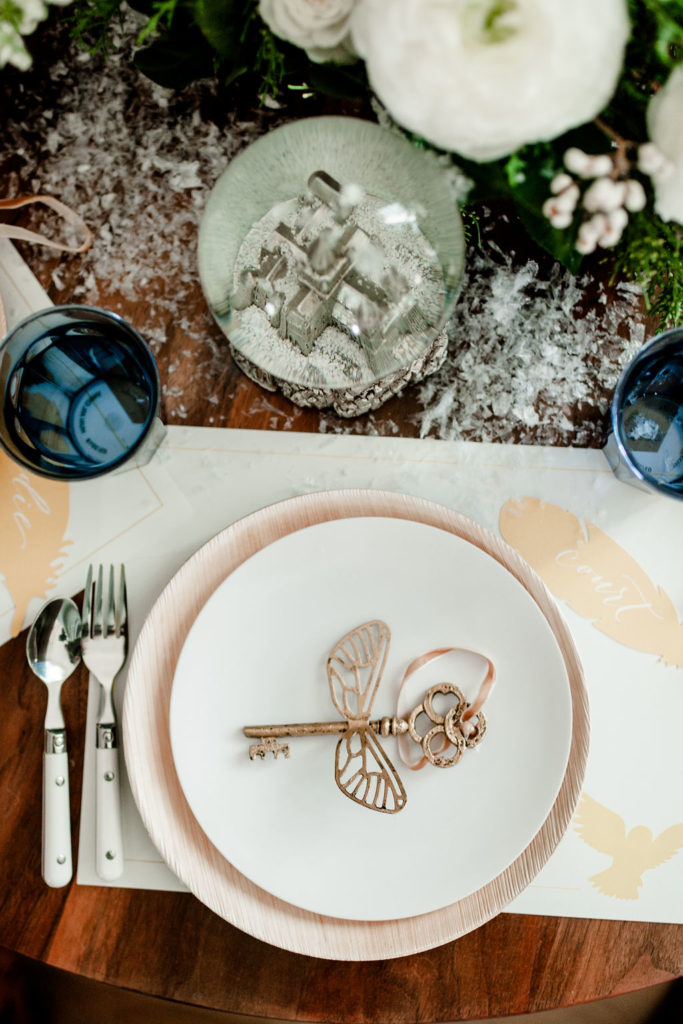 The Hogwarts wall map is seriously amazing you guys!  The kids were so excited to point out different places the real Harry Potter goes!  I would honestly put it in my bedroom but… Not sure my husband would be to into that, ha!  But really it is like a work of art and so well done, makes the perfect backdrop for any Harry Potter party!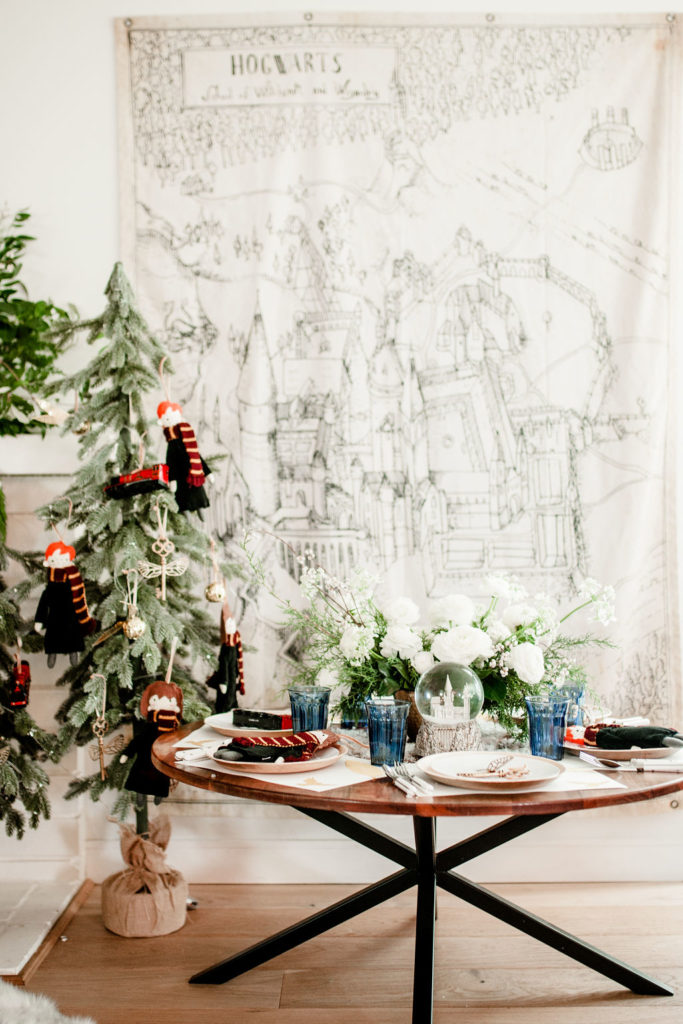 The kids loved decorating these mini trees from Pottery Barn Kids – they each picked their favorite ornaments to add on.  They are the perfect size for your kids to use and play with.  I like that I can decorate the main tree of our house with all the pretty ornaments and they can decorate theirs with all the kid ornaments, haha, am I the worst mom ever?!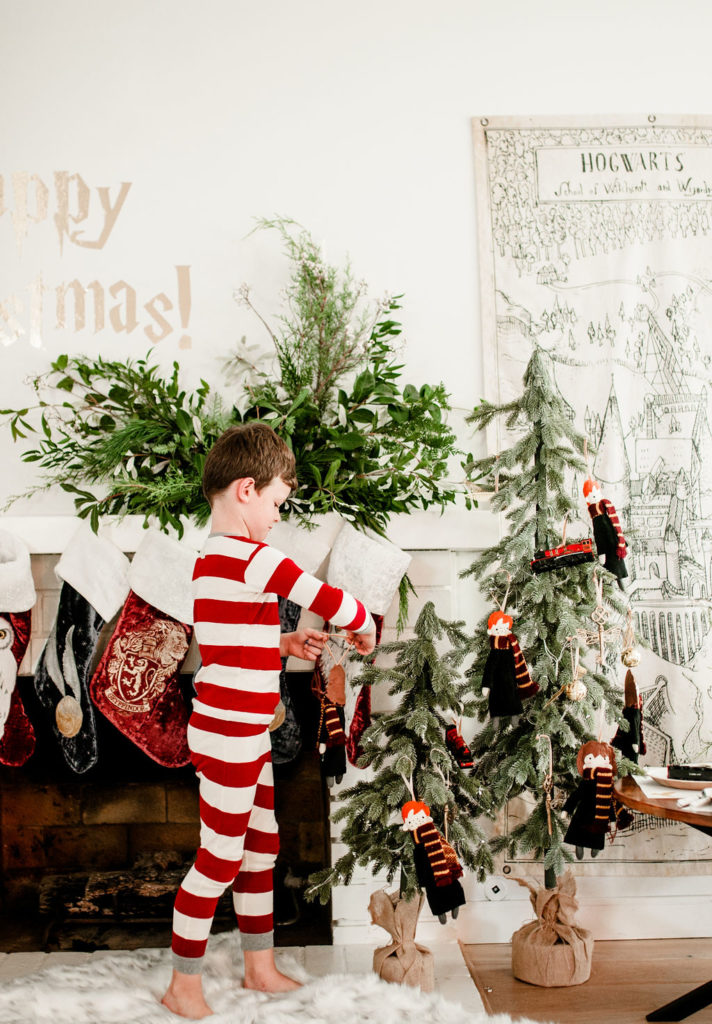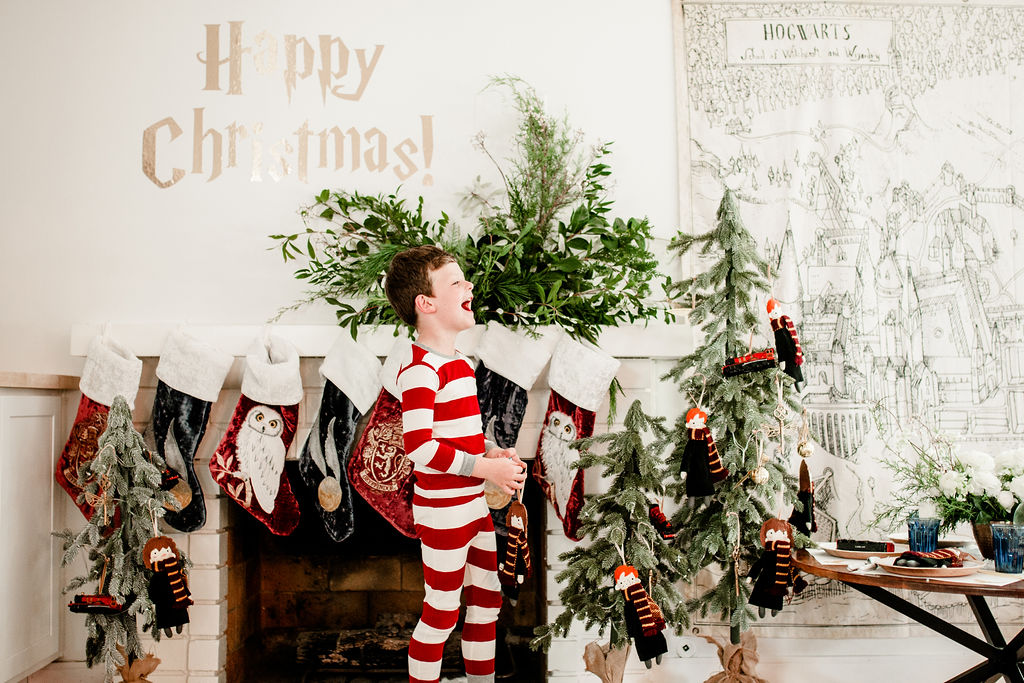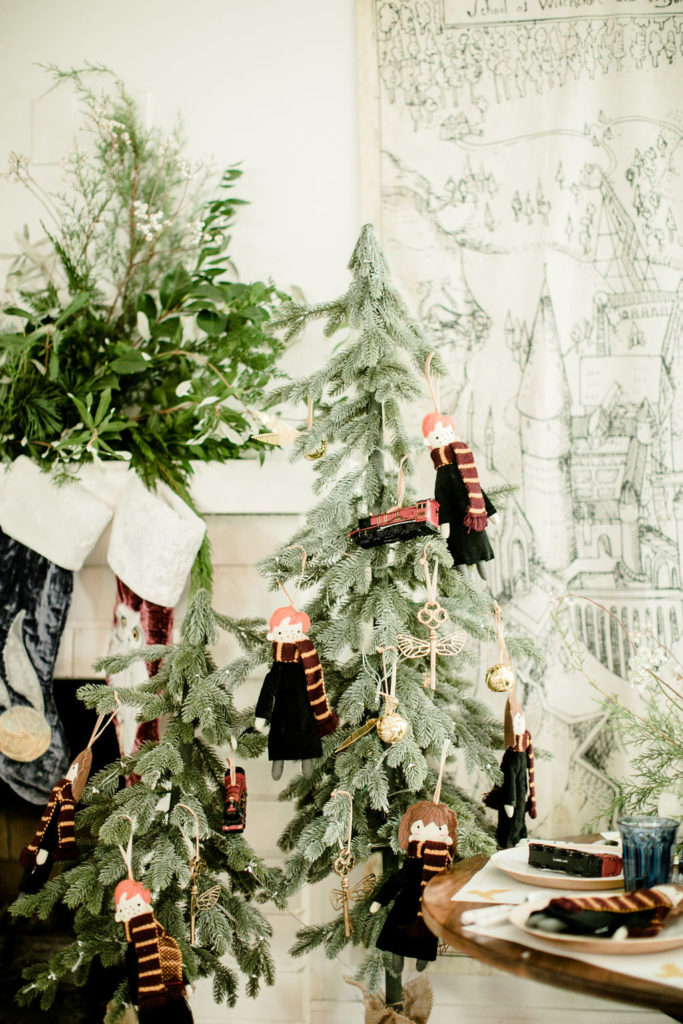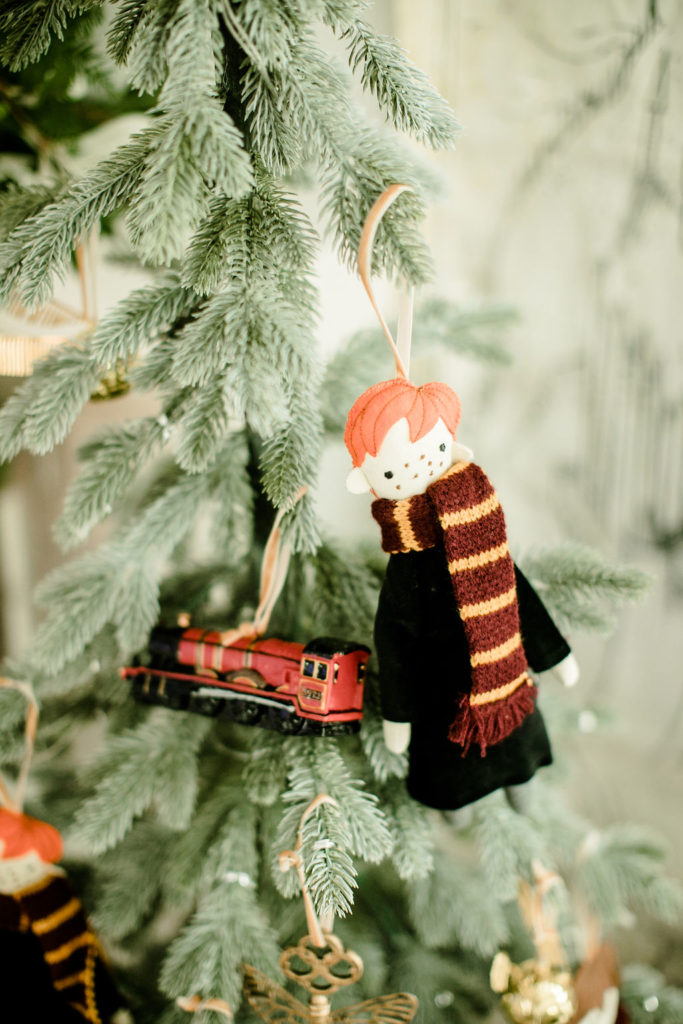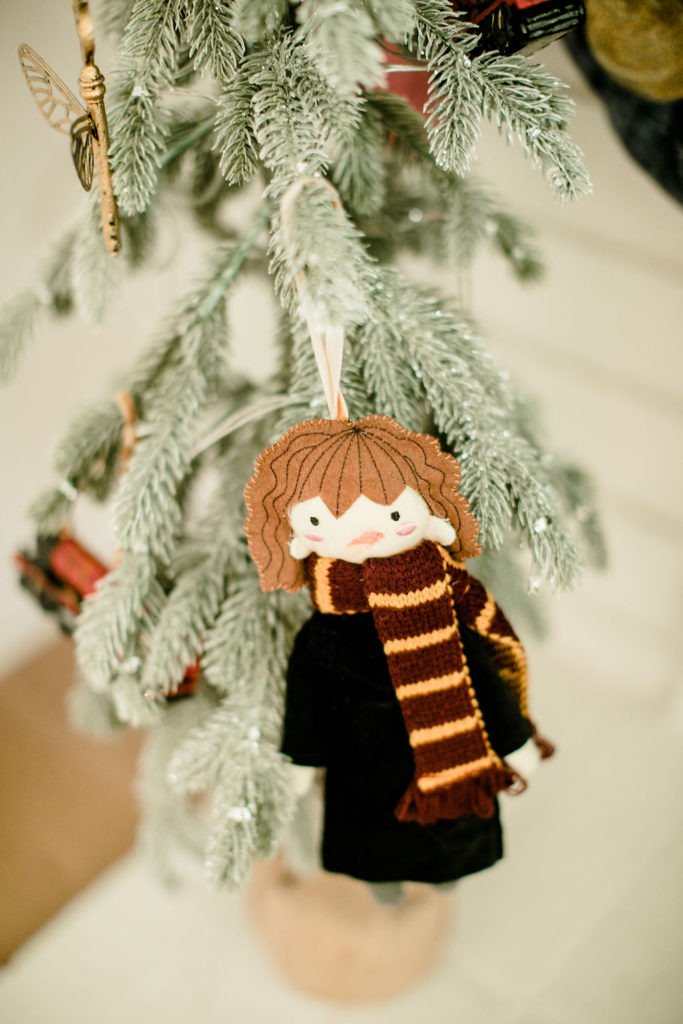 Now for my favorite part, the mantle!!!  Calligraphy Nerd did the Harty Potter wording to go above the mantle and Third & Park decked it out in greens.  Then we added the amazing Harry Potter stockings from Pottery Barn Kids.  They are so cute and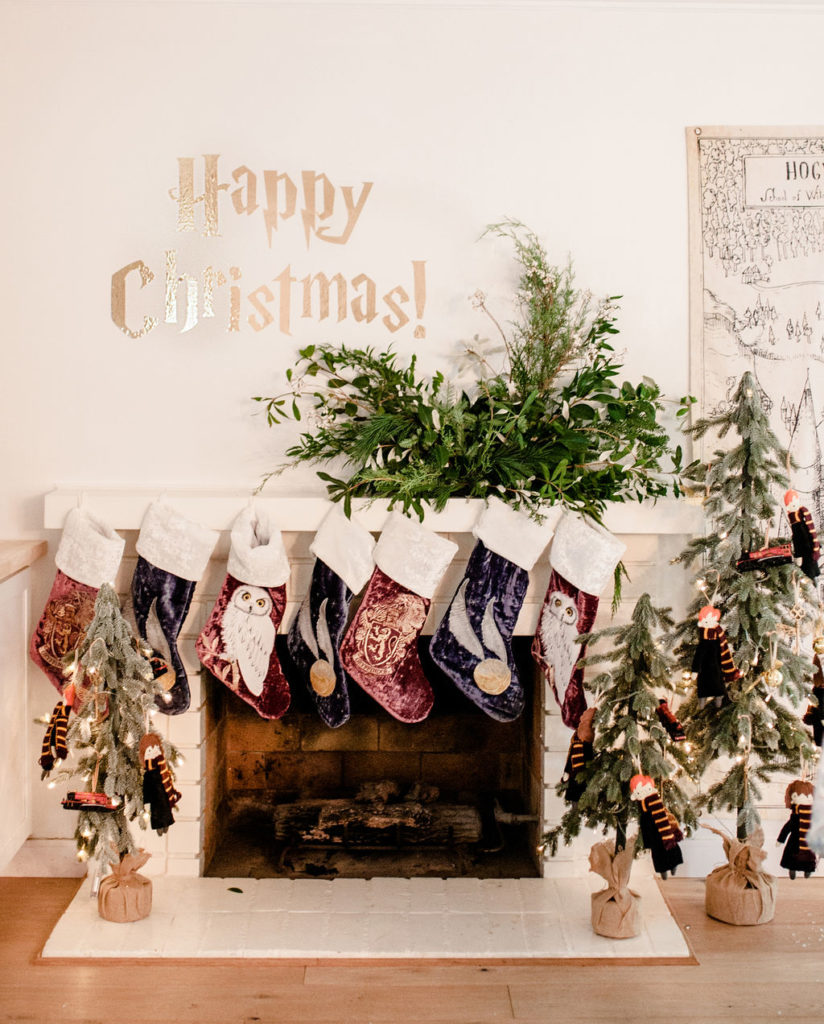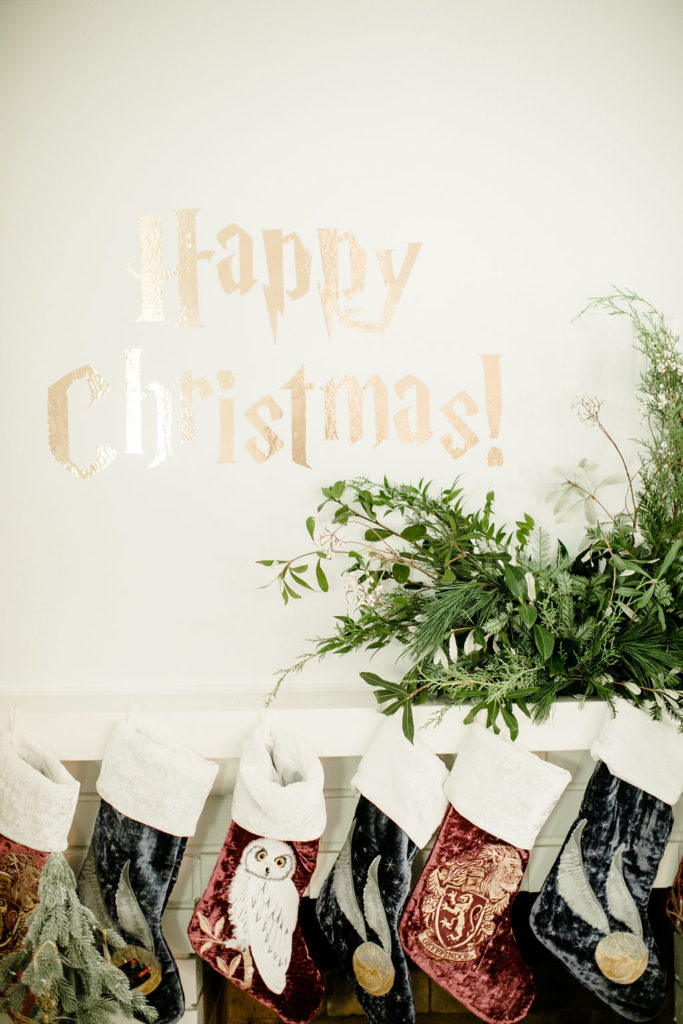 Doesn't it look so cute?!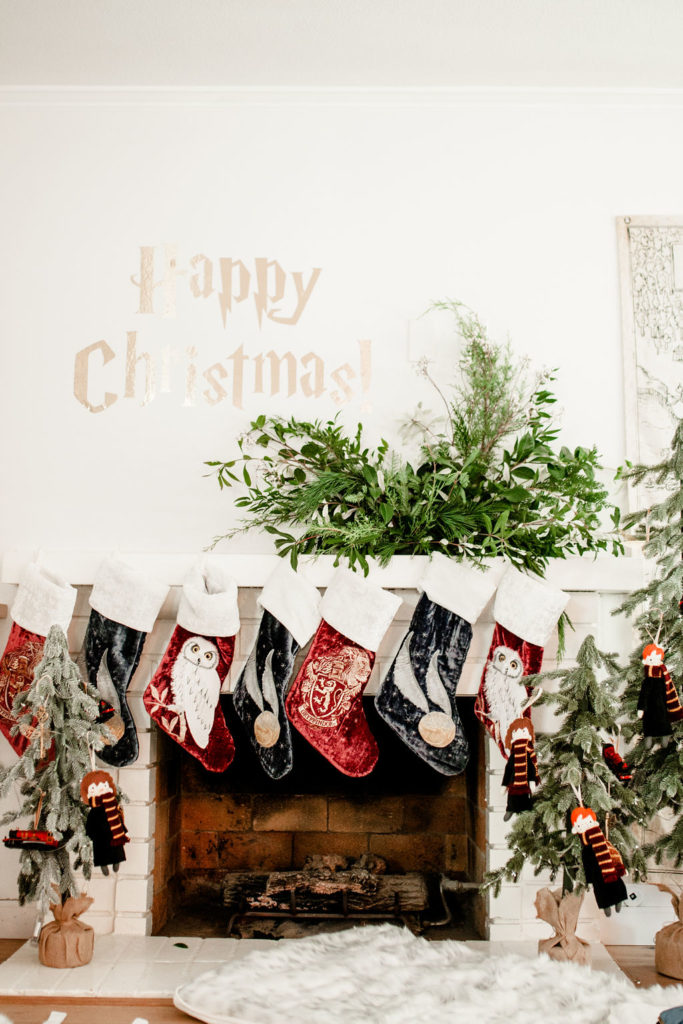 Talk about cute, Buck brought his Harry Potter book to our little party!  He is cuddling on our Ravenclaw beanbag and reading, so adorable!!  And did I mention this was a pajama party?!  Of course it was!!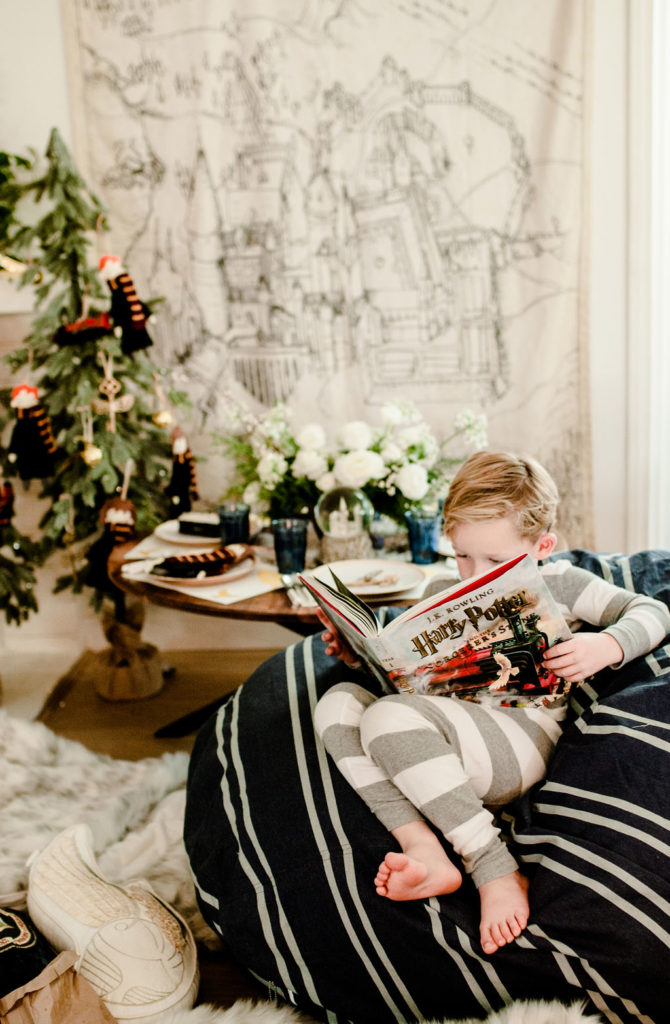 There's Henley and Harlow, the cutest brother & sister duo around, cuddling on the beanbag too!  These beanbags are pretty big, and I love that little siblings can enjoy them together!!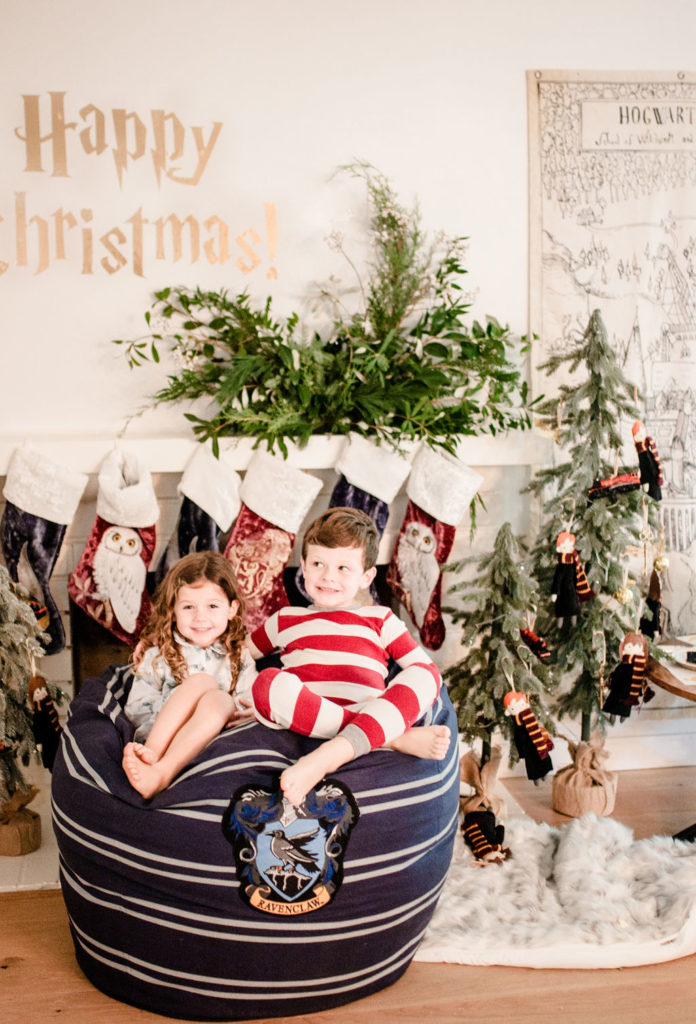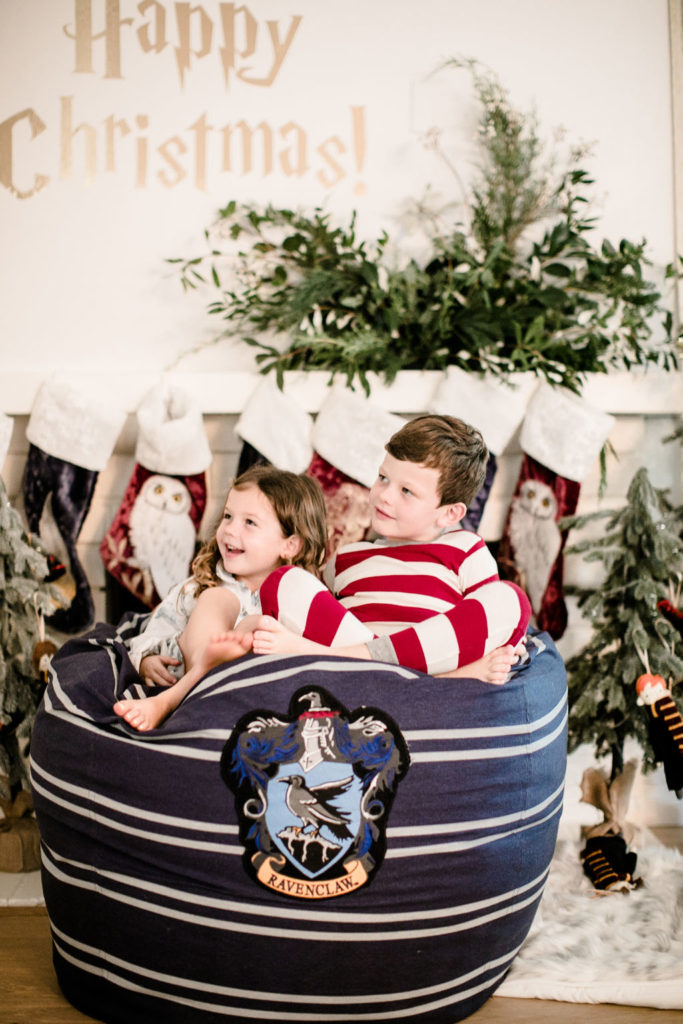 Remember when I said Hedwig would make another appearance?!  Well here she is!!!  These sleeping bags are AMAZING!!!  So soft and cuddly, we basically had to tear my dog Dolly away because she kept wanting to lay on them, haha!!  I set the sleeping bags up with pillows and popcorn for each little one, and that's what I call the ultimate Harry Potter sleepover party!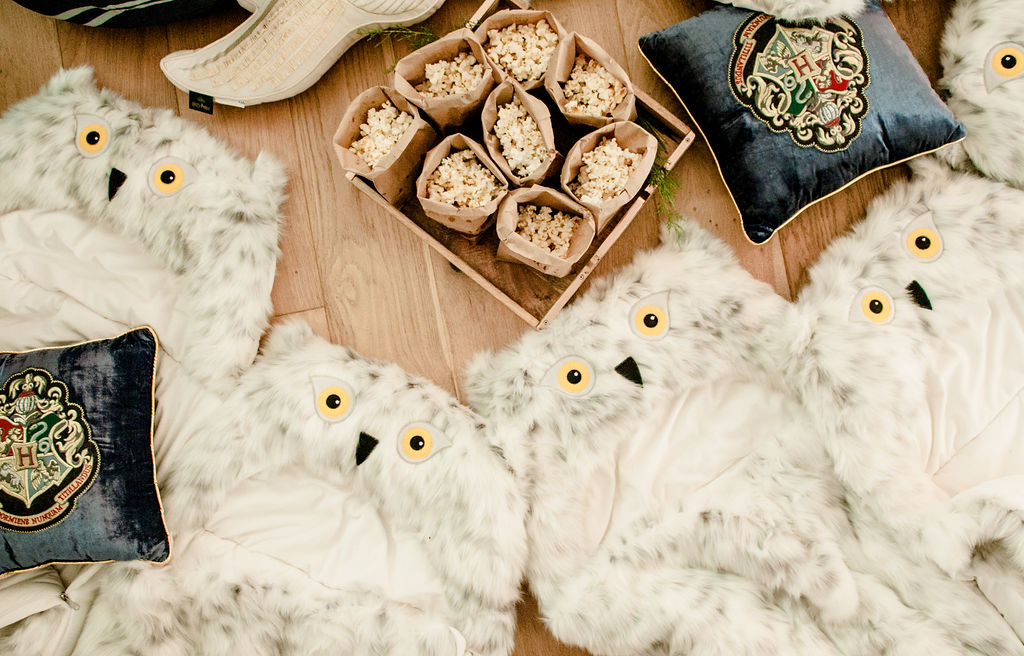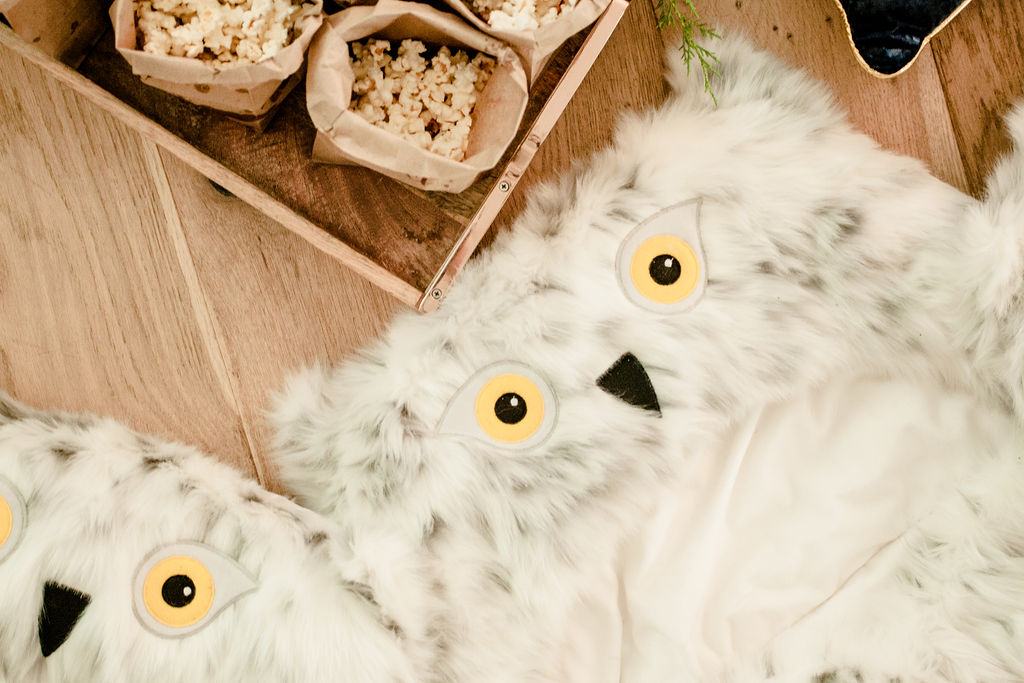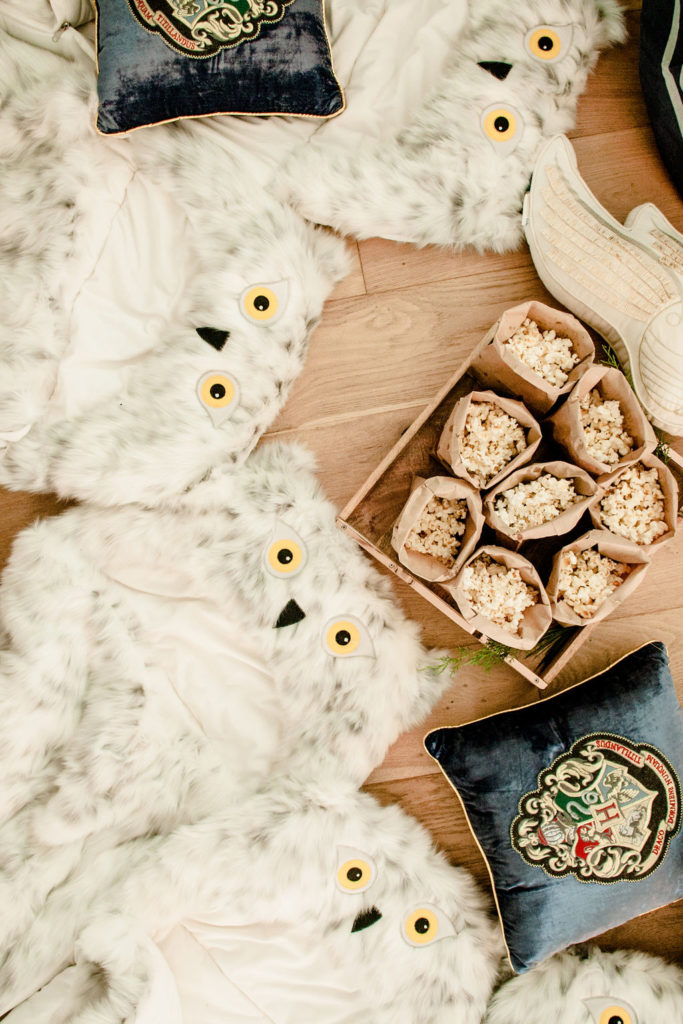 Look at these cuties all snuggled up!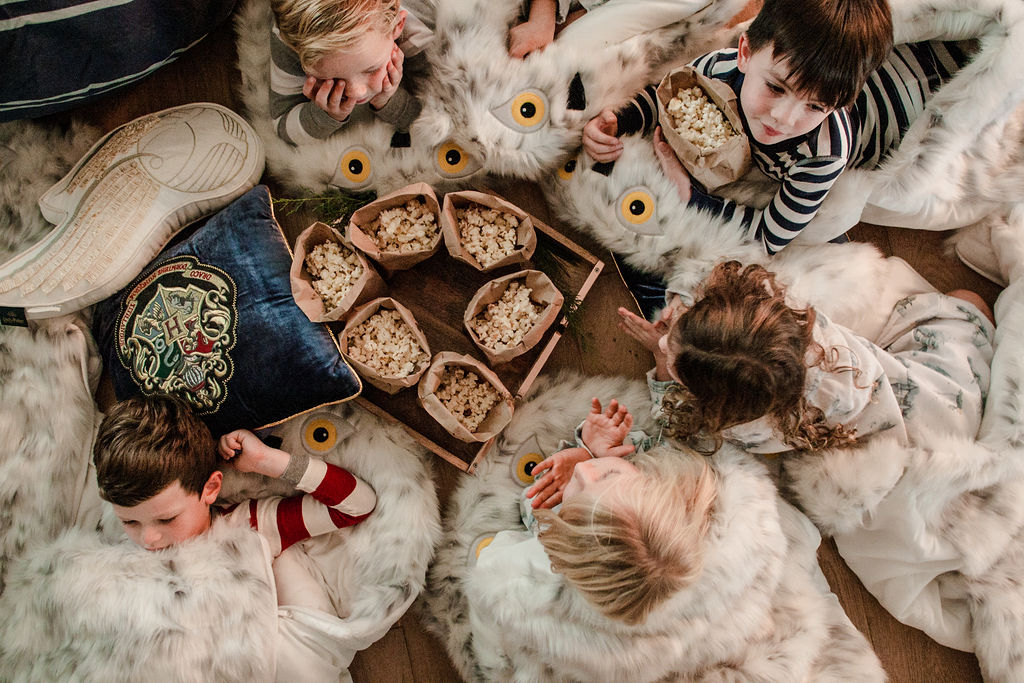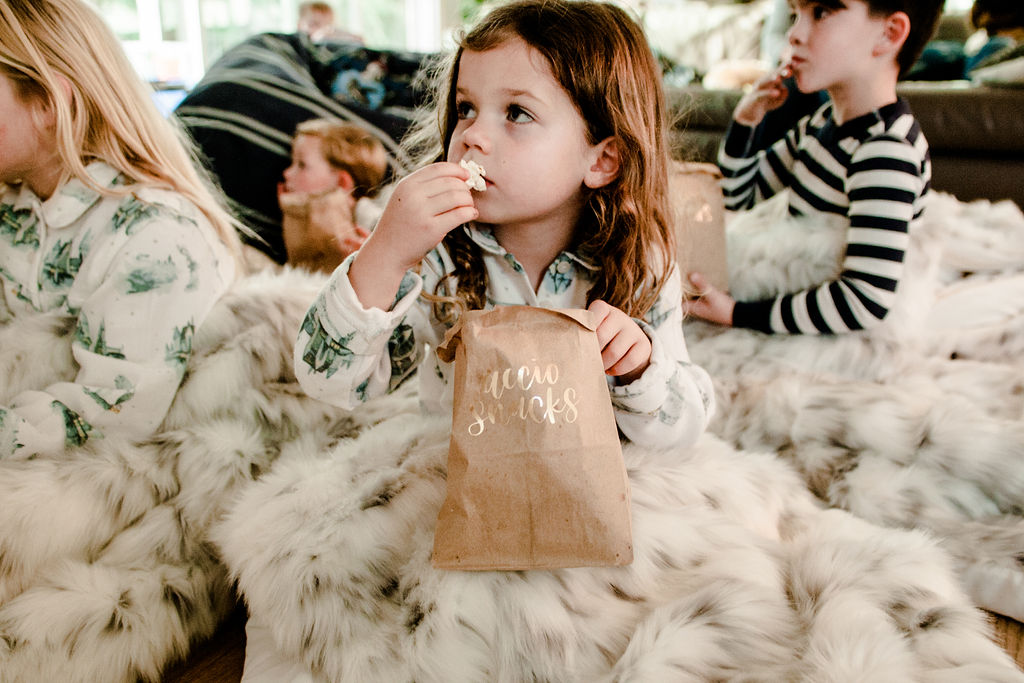 How rad are the wreaths Third & Park adorned to my walls!?  Framing the best movie ever!!  I love those three!!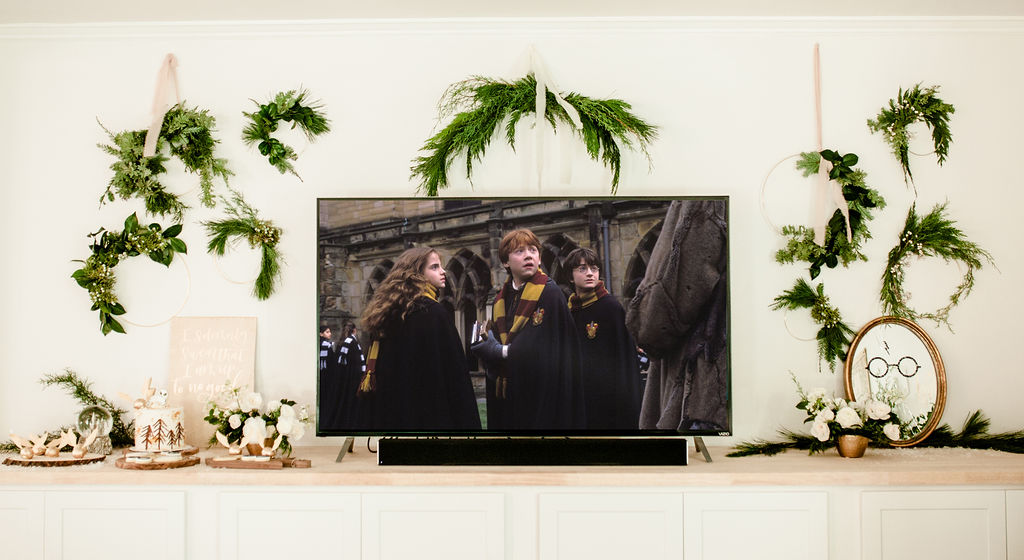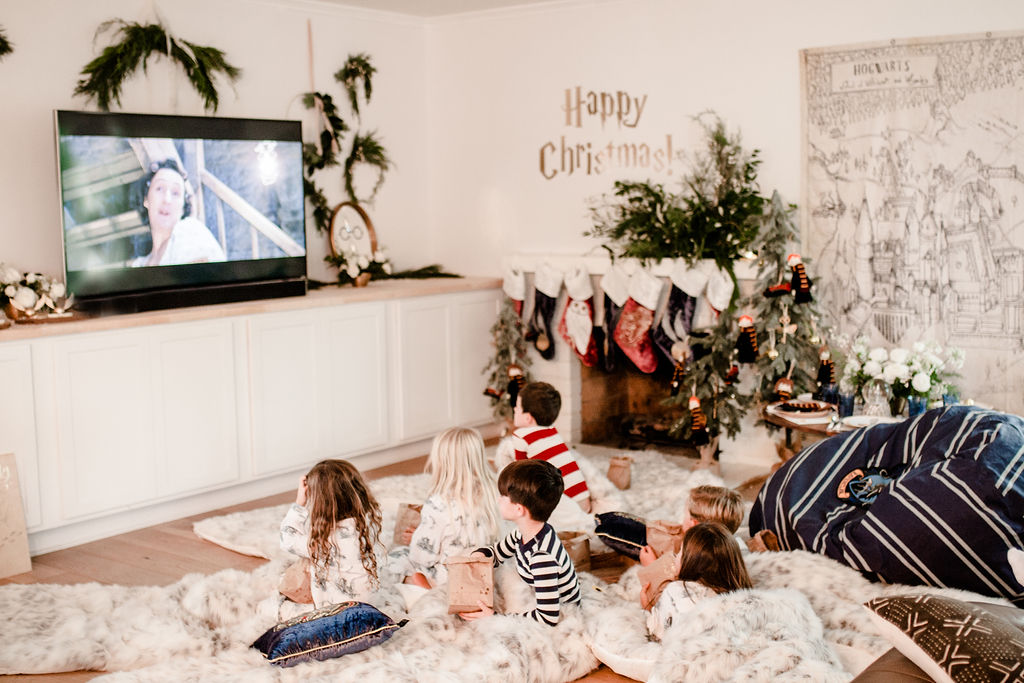 Accio Snacks!!!  Calligraphy Nerd strikes again!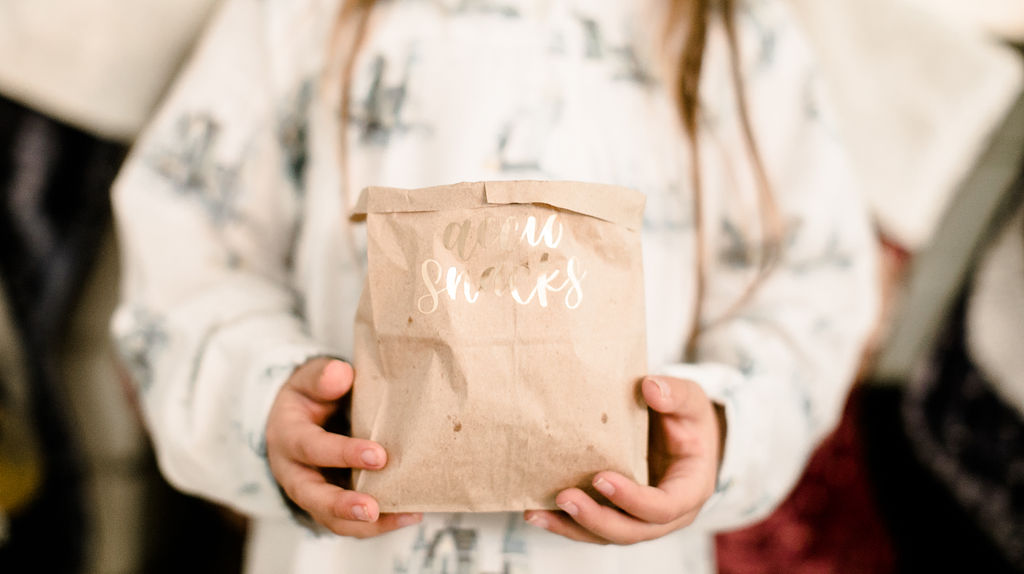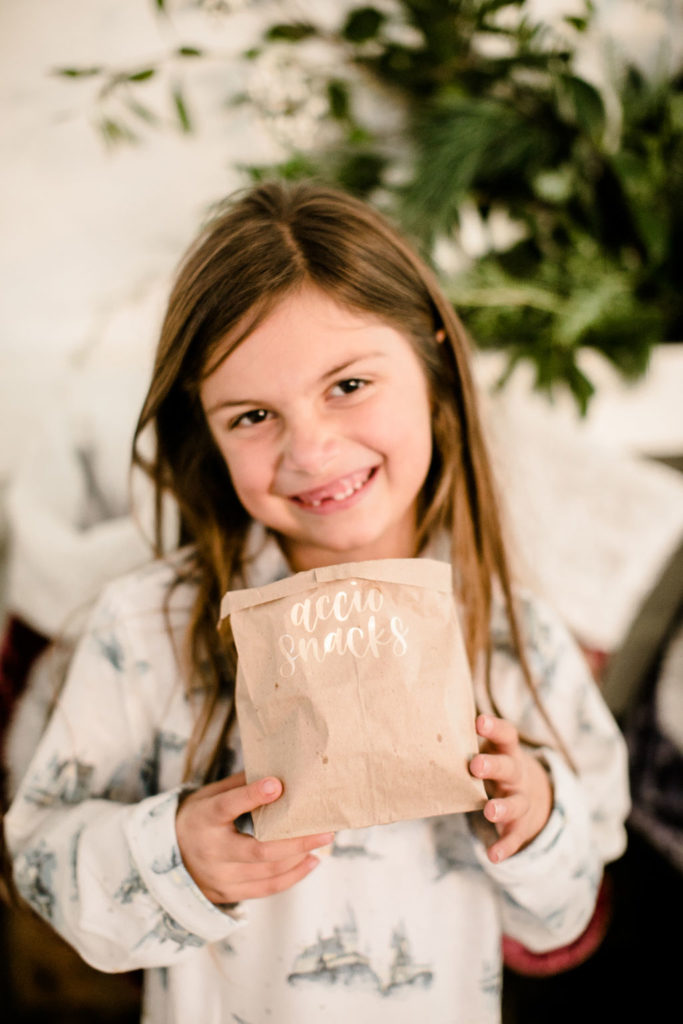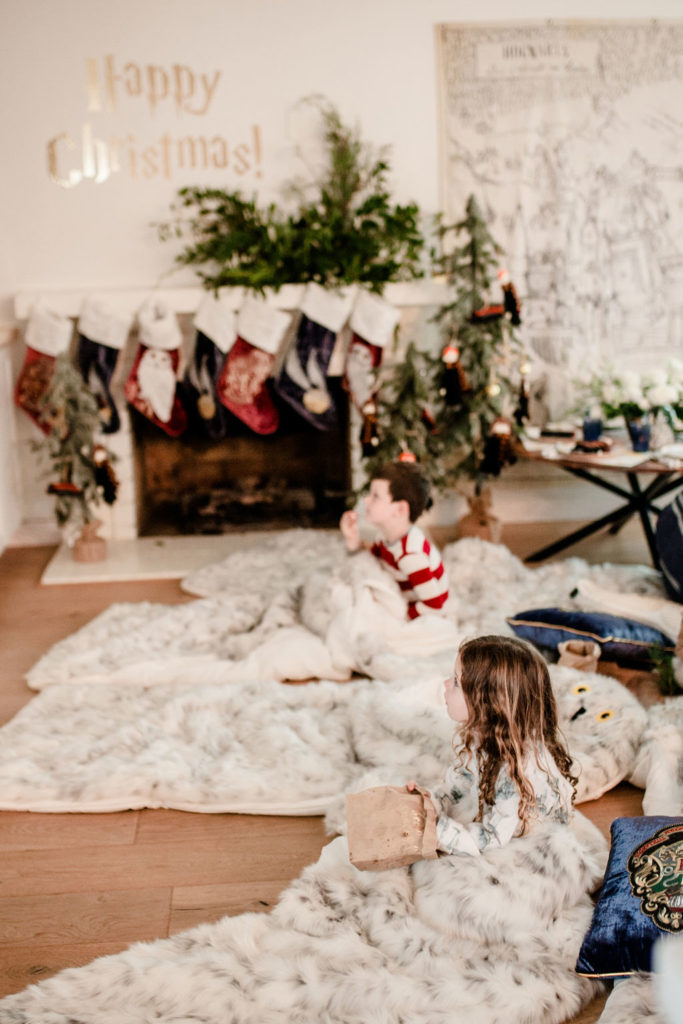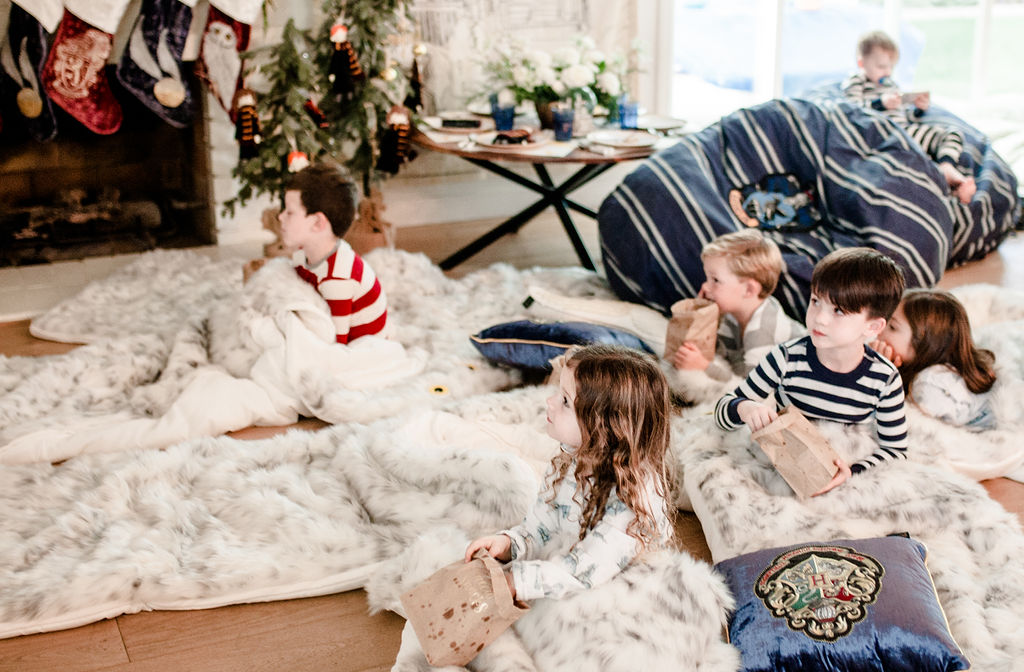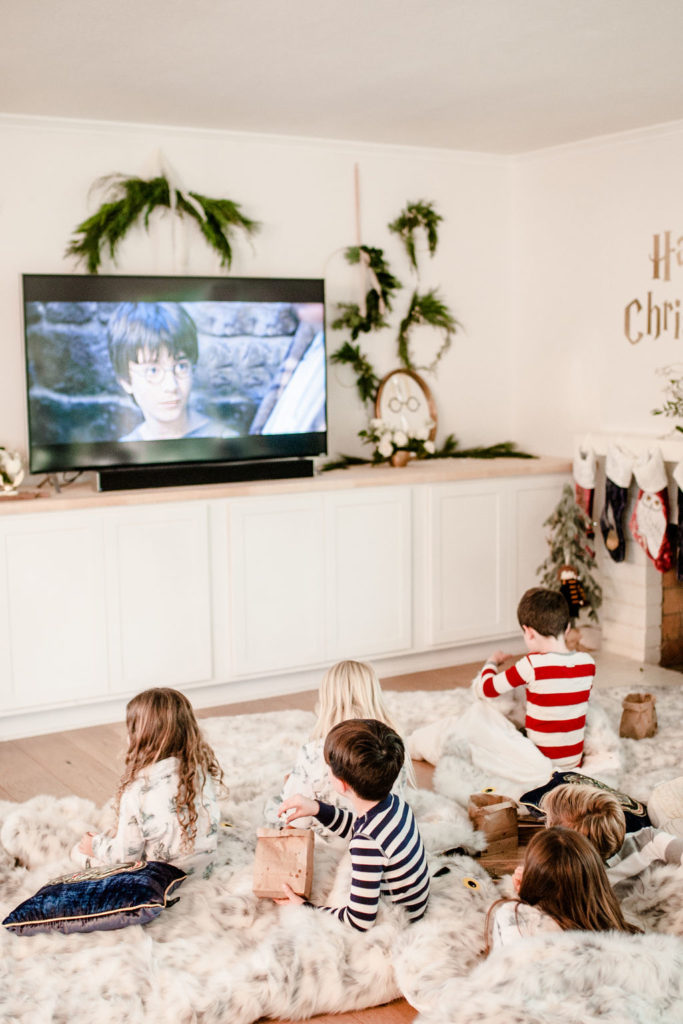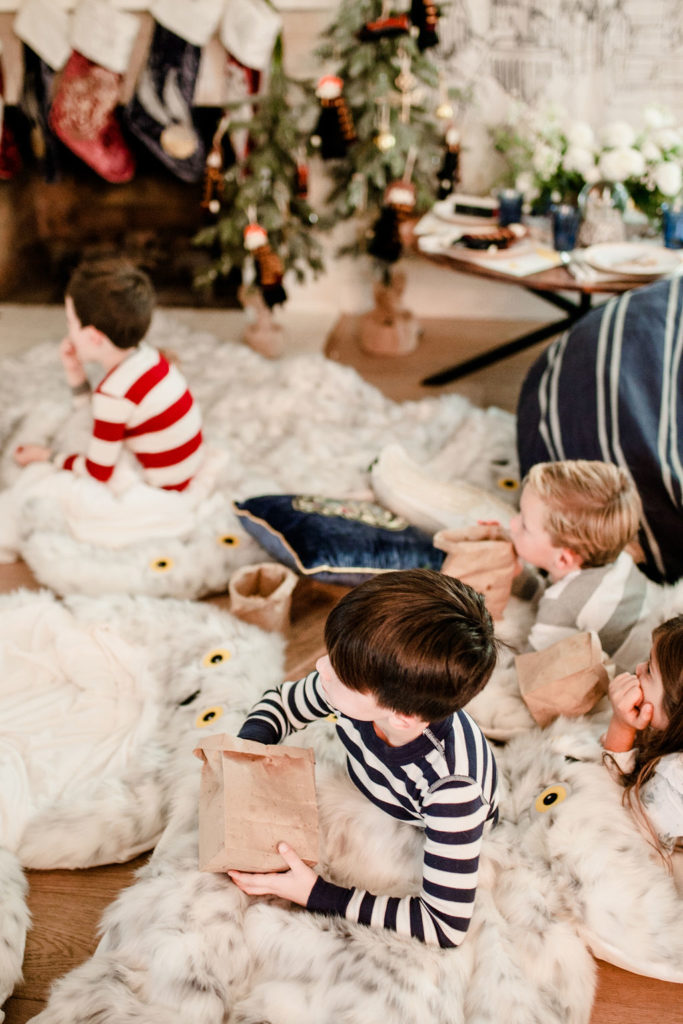 The girls were pretty smitten over these snow globes!  Like I said, they were magical!!  The girls were all decked out in Harry Potter nightgowns, don't they look so sweet?!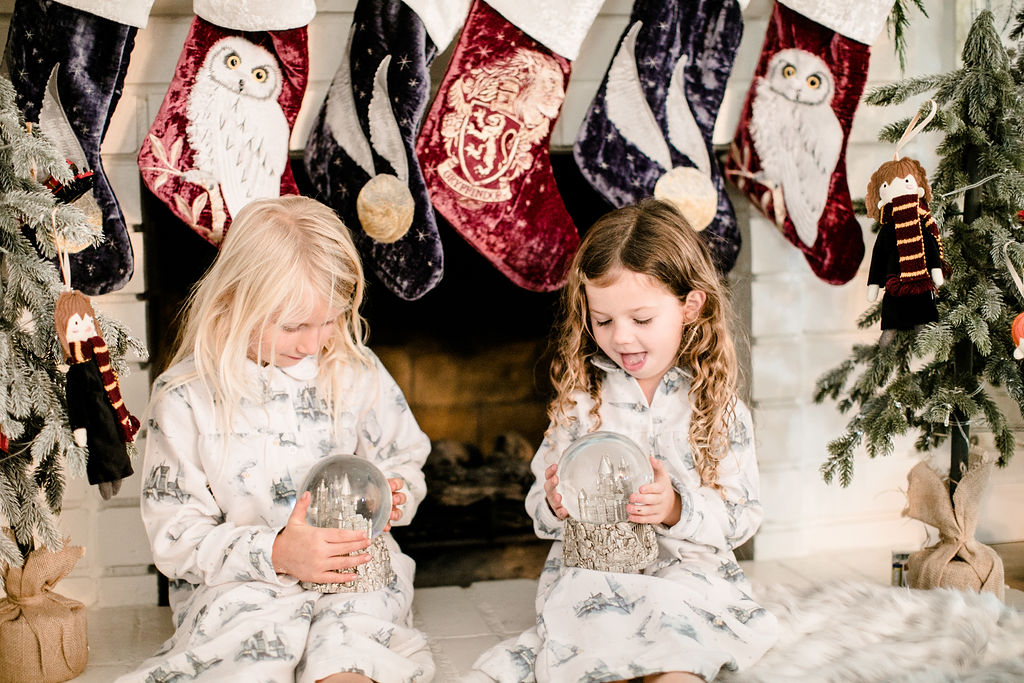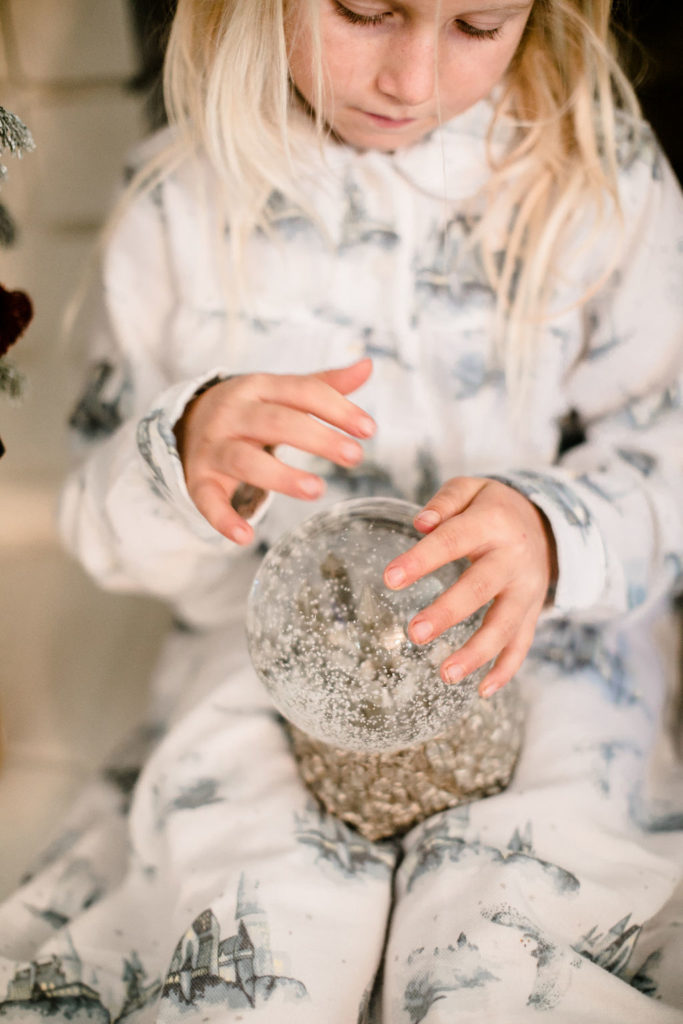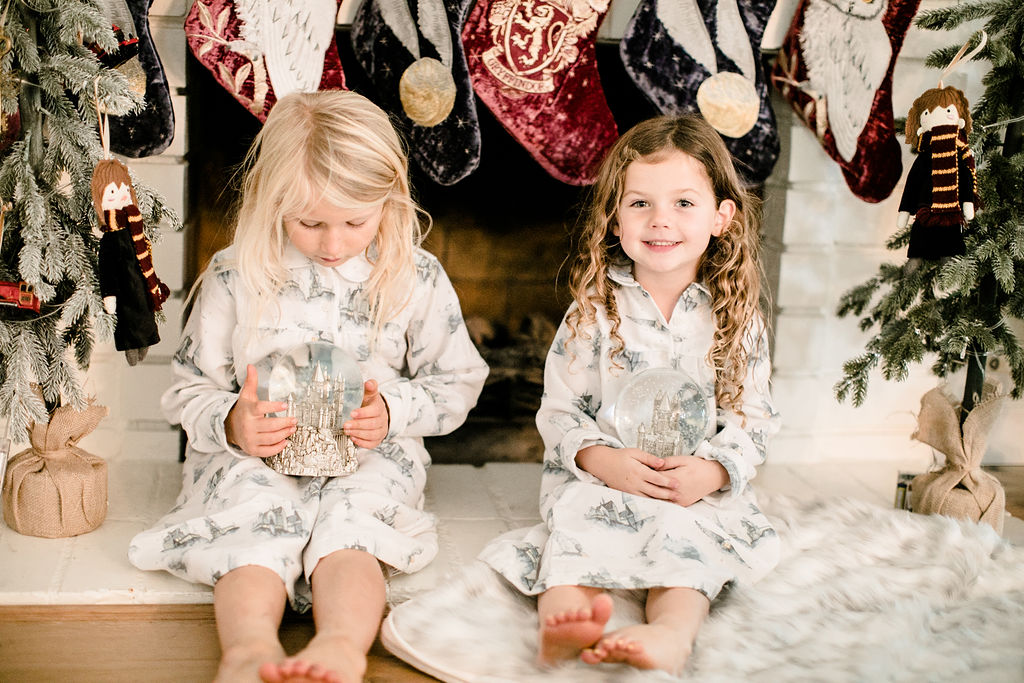 Another fun treat from PBK?!  This Harry Potter mirror!  Perfect for playing pretend.  Ours came broken, but I honestly thought it was intentional, a design element, haha!  I was wrong, but we still had fun with it!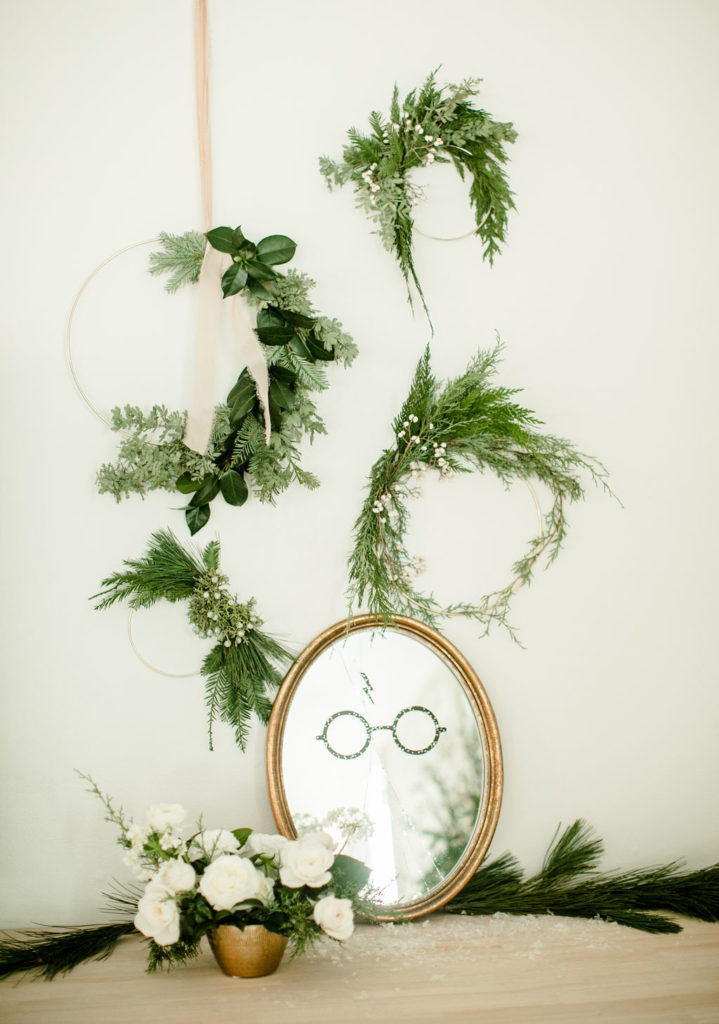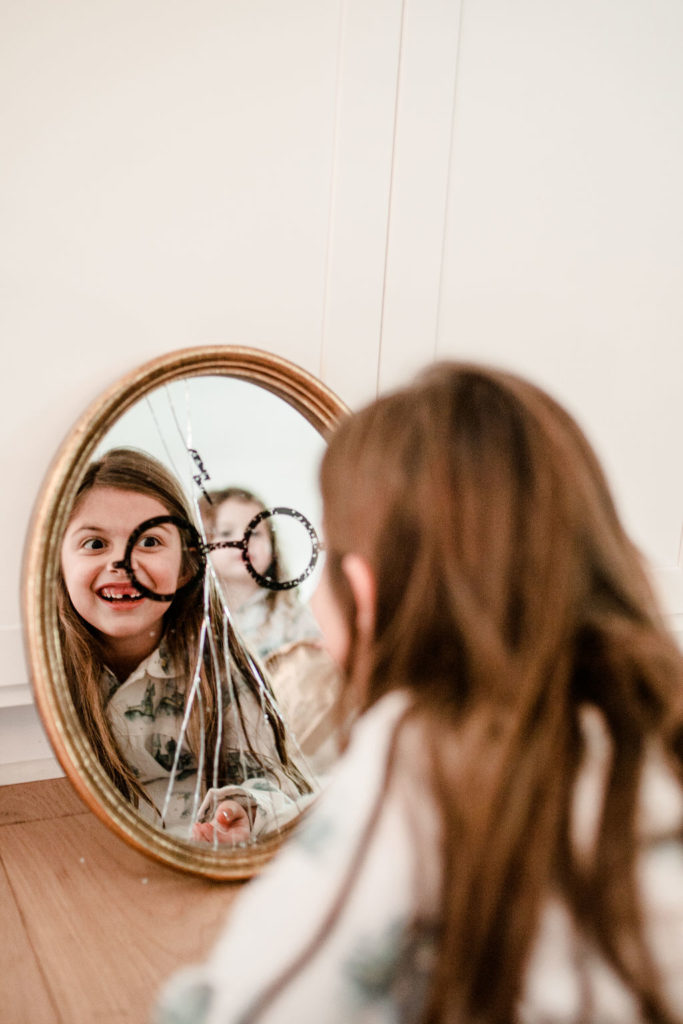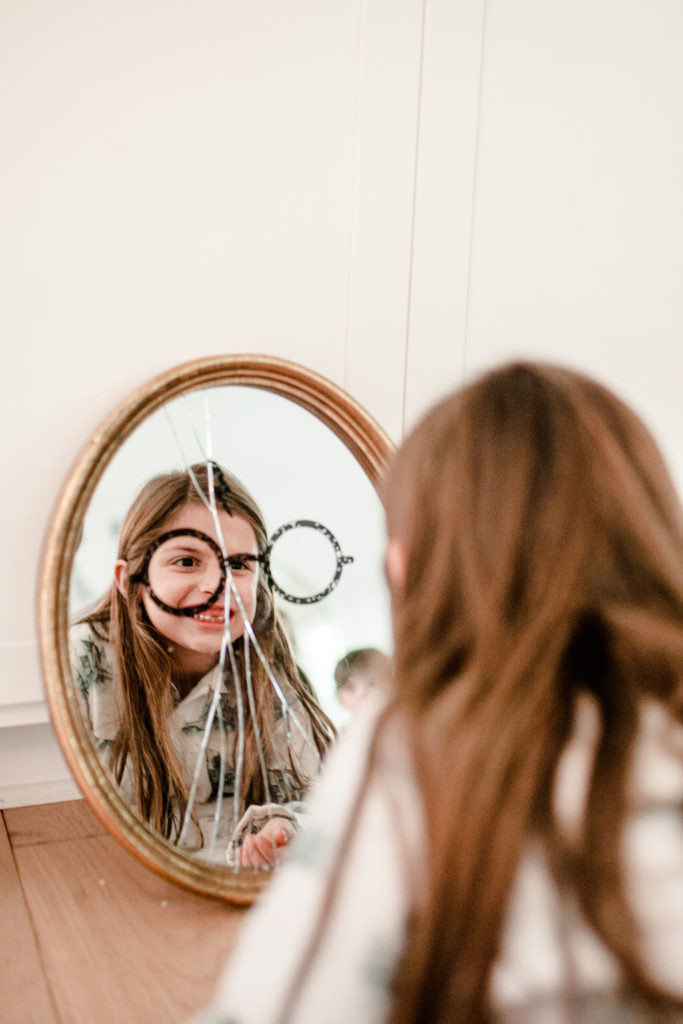 You didn't think I'd let a party go by without desserts, did you?!  The Sweet Lemon Bakeshop wow'd me again with this set up!  SO many amazing Harry Potter inspired treats like a Hedwig cake, golden snitch cake pops and the cutest sugar cookies ever!!  It was so cute to see the littles ooh and aah over these ones. And isn't that the perfect sign by Calligraphy Nerd to go along with them?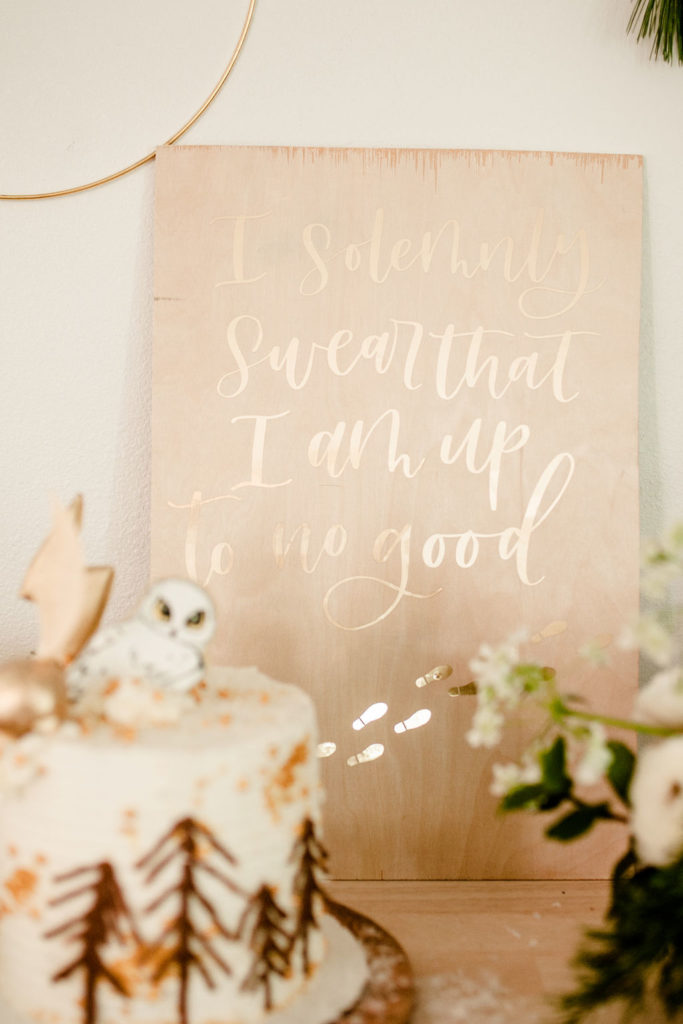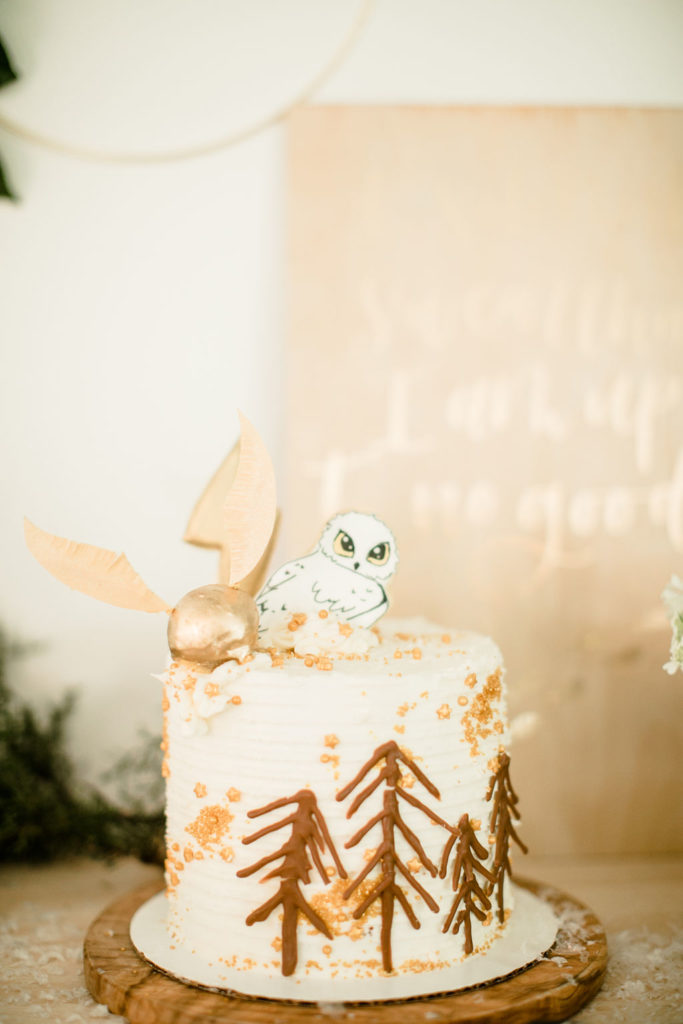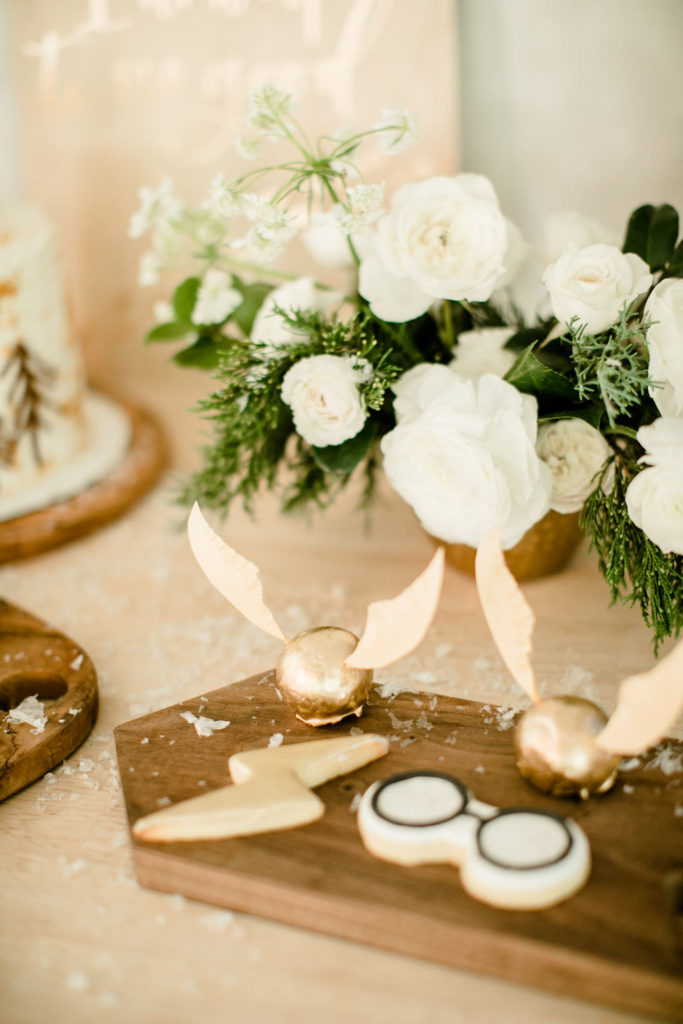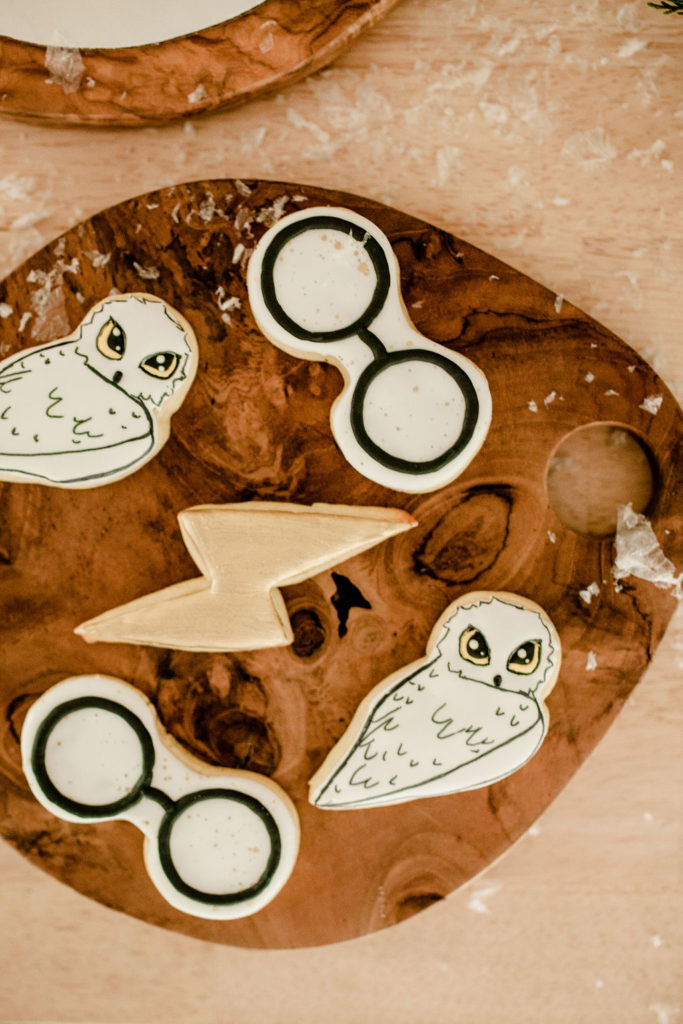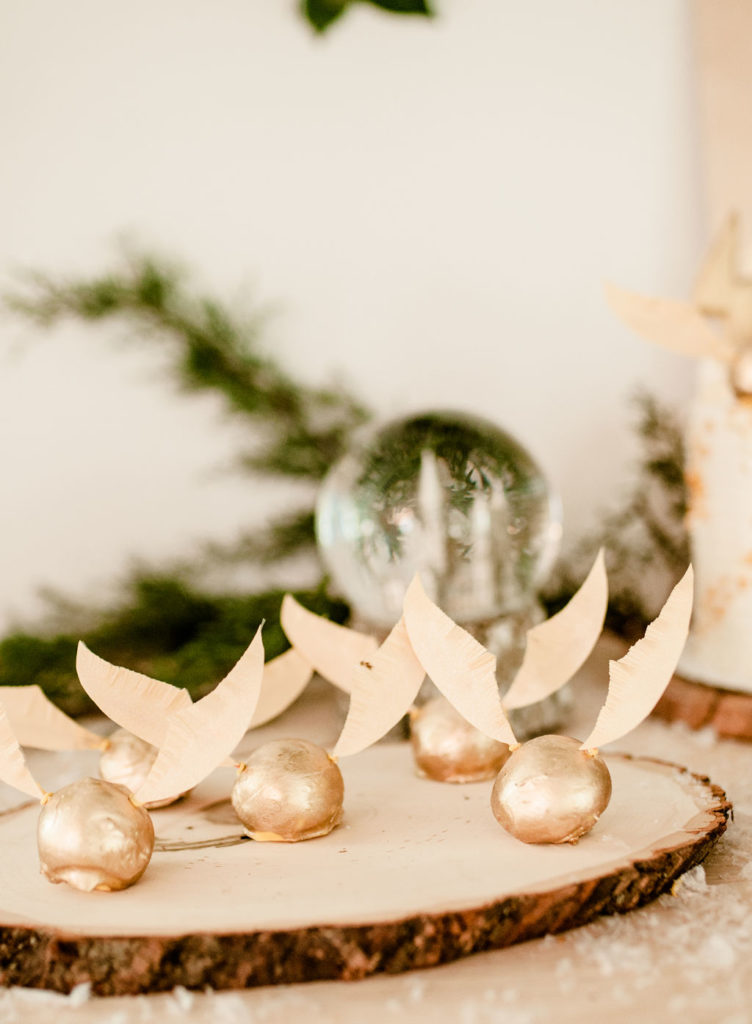 I solemnly swear these two were up to no good!!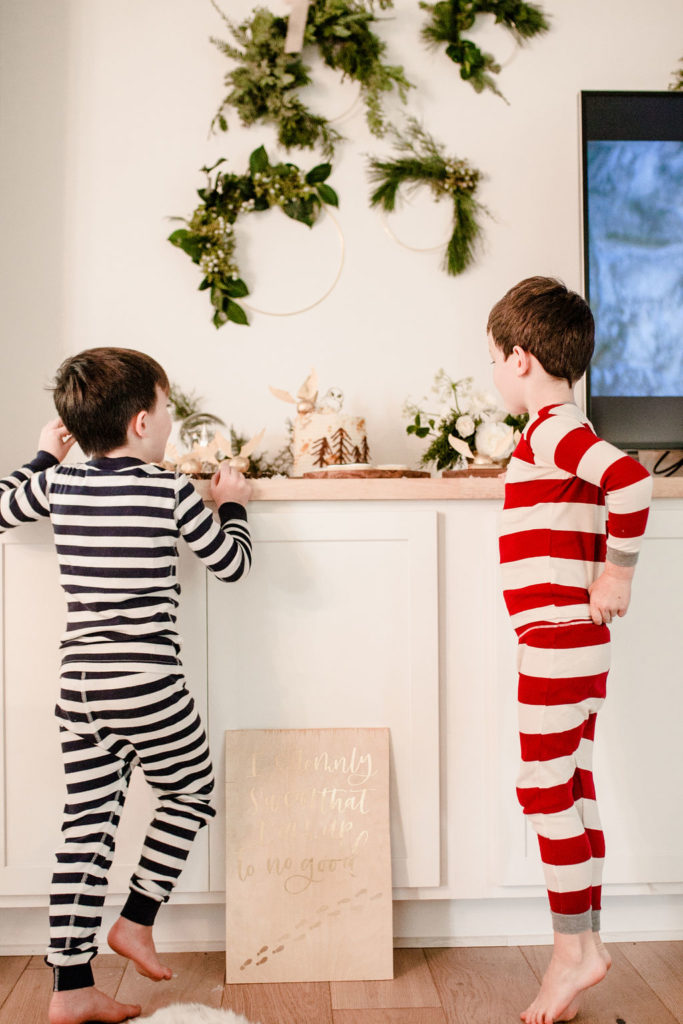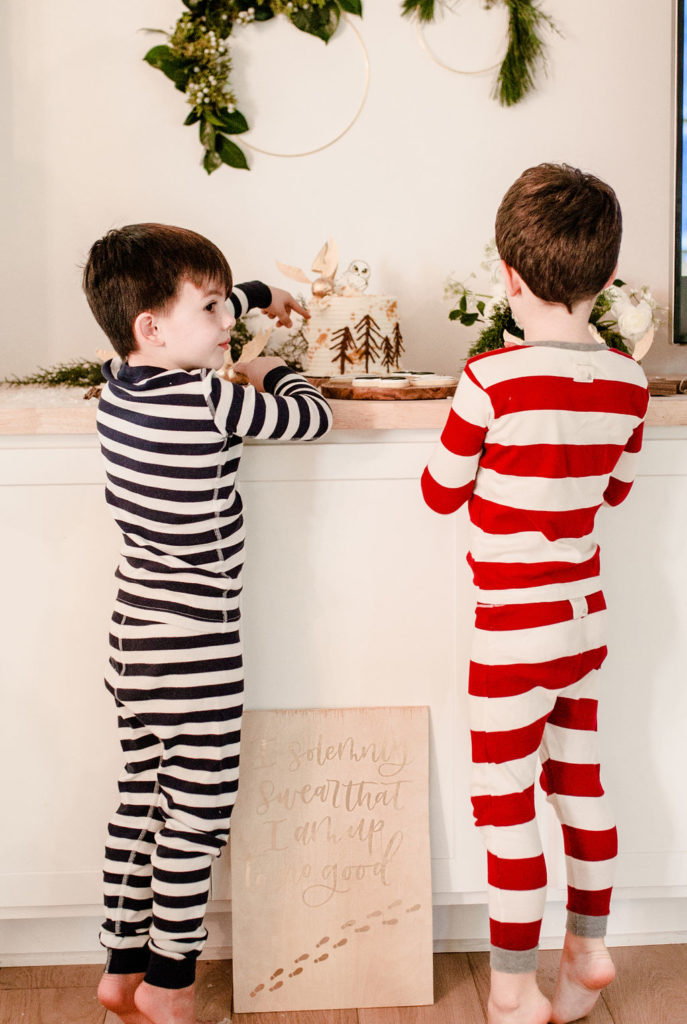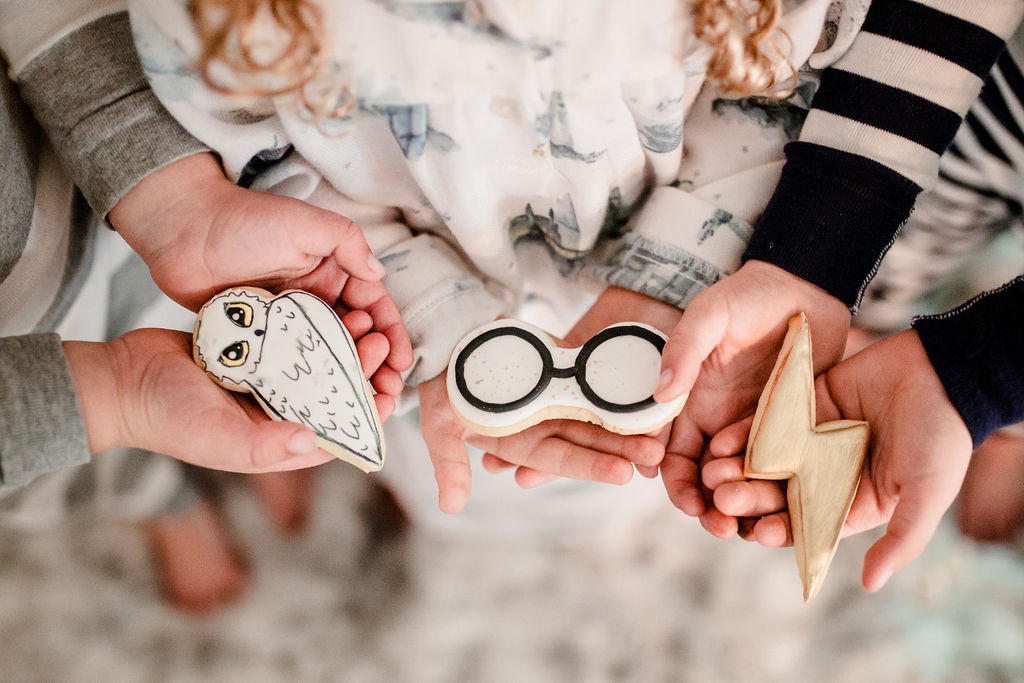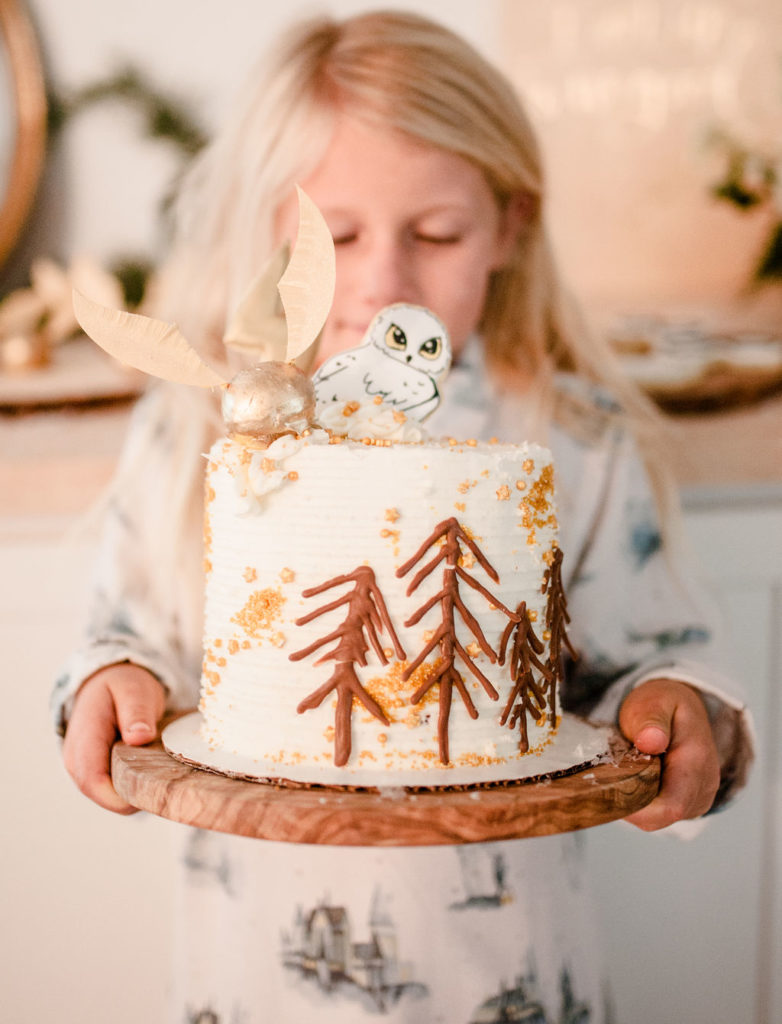 Last one of this wild bunch!!!!  Just so you can see that they love their Hedwig sleeping bags too, haha!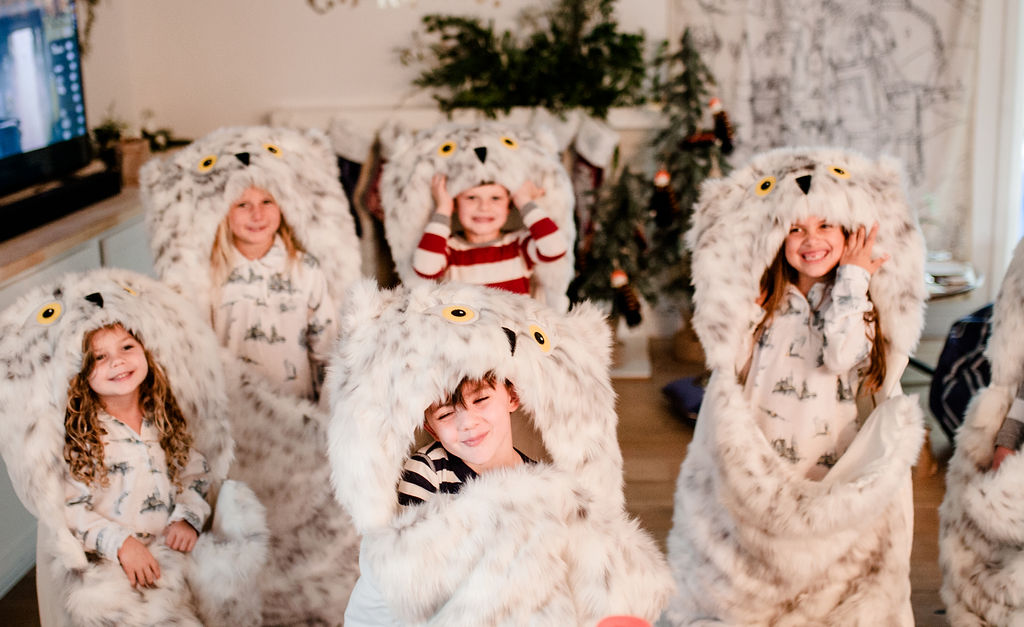 Shop all of these fun Harry Potter items from PBK below!!!  You're kids will love them, and you will too!!

xx
Jacquelyn