Just fresh off Easter Sunday, I bet you have some miscellaneous eggs in the fridge that could use some attention. Let me introduce you to my new way of incorporating poached eggs into our meals. The kids are now at an age where they enjoy a lovely poached egg with toast. Add in some marinated heirloom tomatoes and some fresh greens, and you have one spring dish that will be a great choice at any time of the day. Add fresh herbs like basil and cilantro to keep that spring flavor going. Top off with pretty microgreens and a simple dressing, which you can omit. Scroll down to see the recipe, and don't be scared of making poached eggs! They are super friendly and nice!

Photos by Dayna Studios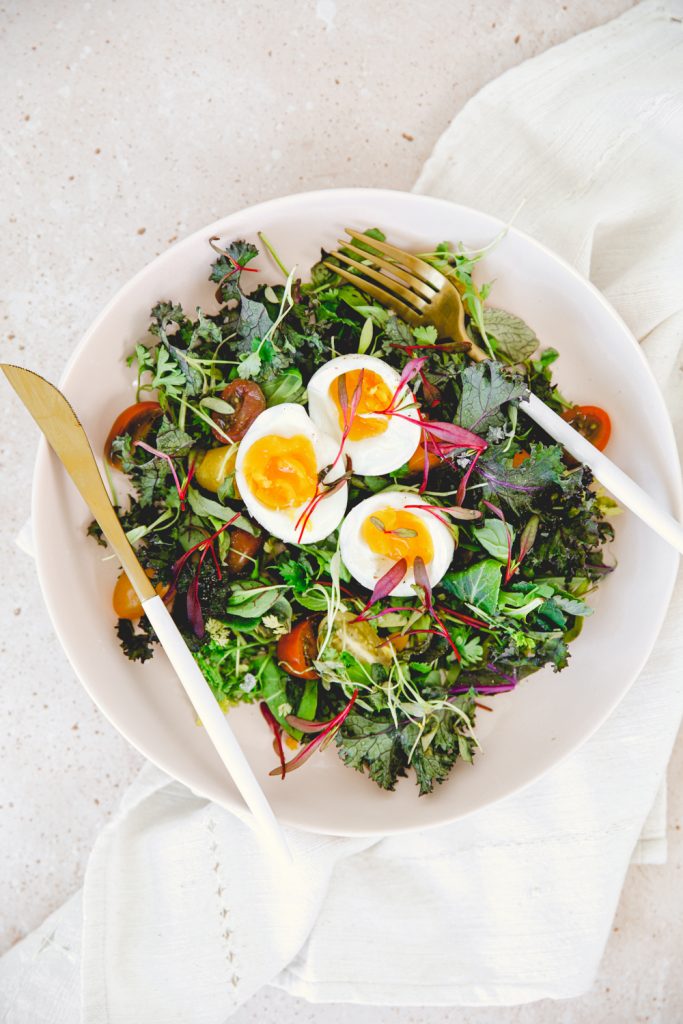 ---
A POACHED EGG BREAKFAST SALAD
SERVES: 2 | PREP: 10 MINUTES | COOK: 3-4 MINUTES
W H A T   Y A   N E E D
4 Eggs
1 Cup Heirloom Cherry Tomatoes
Variety Mix of Greens
Microgreens
Distilled white vinegar (for the egg bath)
Fresh herbs, I like to use basil, cilantro, and even mint.

DRESSING
2 teaspoon Dijon Mustard
2 tablespoons of Red Wine Vinegar
2 tablespoon Extra Virgin Olive Oil
Sea salt and freshly ground black pepper

B U S T   O U T
Serving Bowl
Pretty Utensils
Medium Saucepan
Small Ramekins
Slotted Spoon
---
I N S T R U C T I O N S
To prepare four poached eggs, bring a medium pot of water to a boil. Add the distilled vinegar and lower the heat to a simmer. Crack each egg into a small ramekin. As slowly as possible, gently lower the ramekin to the water (the edge should touch the water's surface) and slide the egg into the pot. Repeat for each egg. Cook the eggs for exactly 3 1/2 minutes. Remove with a slotted spoon. This will stop the egg from cooking. Store eggs in an ice bath until serving.

*Beijos Tip: Do a test run with two eggs to see if the timing is right for your stove, as it varies.The ones pictured are sou vide and are about 30-45 seconds longer than I wanted. Again, poached eggs vary. I will usually do them as instructed above. You know what they say, don't fix it if it's not broken.
I love marinated cherry tomatoes, but you can skip this if you like. Cut the tomatoes in half, and put them into a bowl. Then drizzle 1-2 tablespoons of olive oil and salt and pepper. Toss tomatoes and let sit to get all the juice flowing.
Time to serve!
You can make the dressing beforehand. It can save in the fridge for a couple of days. This dressing will make a bit more, so you can keep the rest. I only add a little to dress the greens lightly. Take your greens and place them in a bowl. I do a heavy handful of greens for each bowl. Toss your greens with the dressing, lightly coating it. Take your marinated tomatoes and place them around the greens. Now, carefully take your poached eggs and put them on top of the bed of lettuce. Sprinkle with a little bit of salt and pepper. For the last step, sprinkle some microgreens and fresh herbs on top!
Serve asap!
---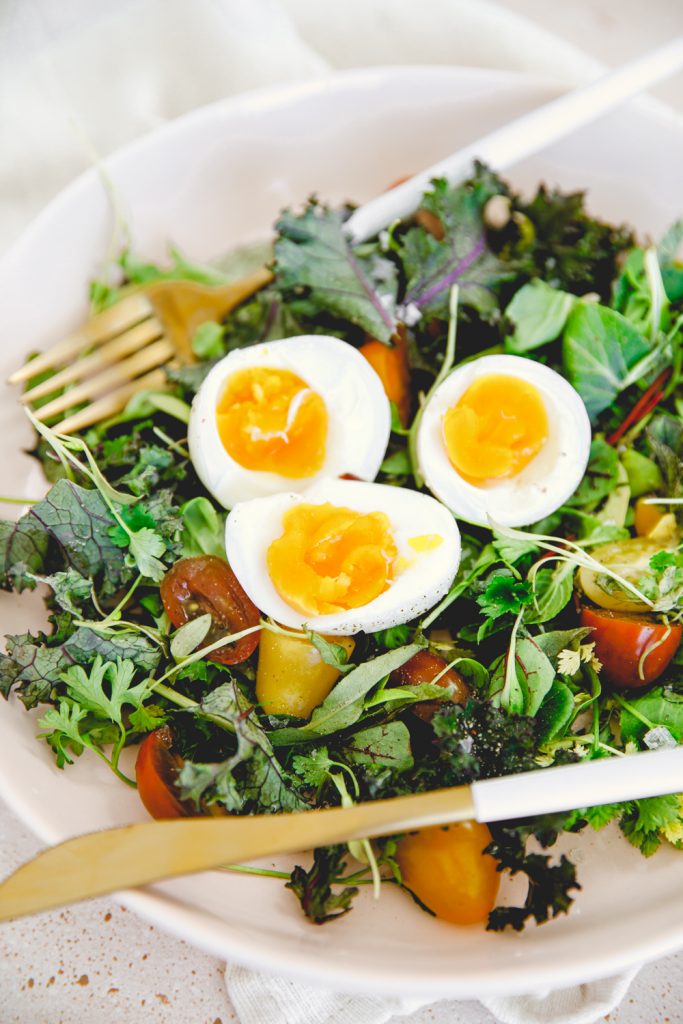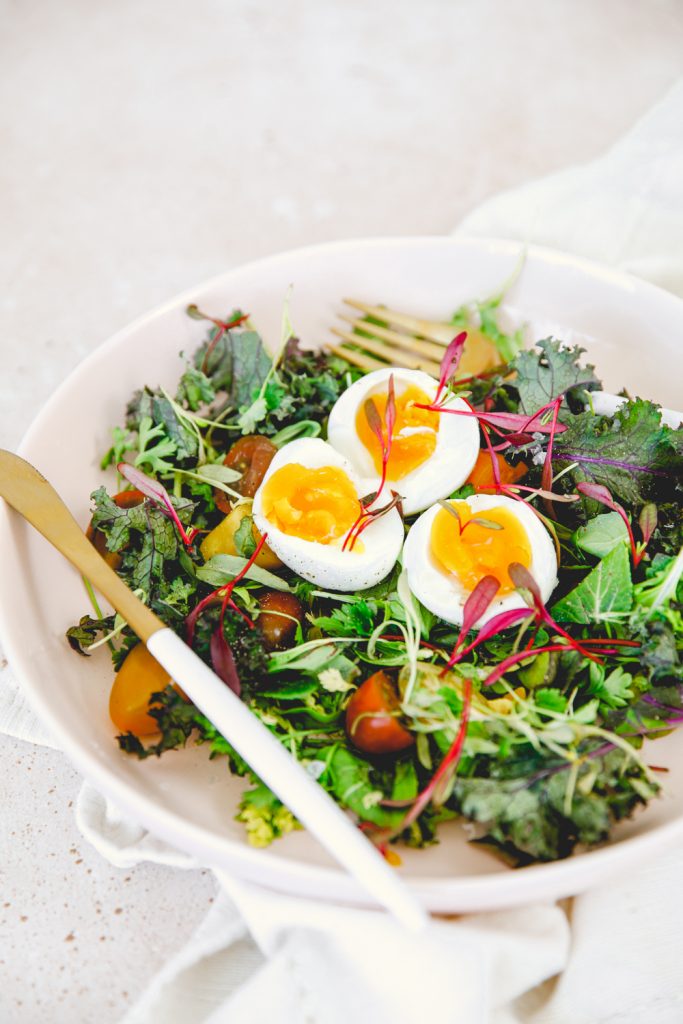 ---
B E I J O S K I T C H E N
SHOP THE POST

xx
Abby