---
Calling all melon and cucumber lovers! I'm whipping up a fast, healthy, and refreshing salad for any meal day or night. This simple dish is made up only of a couple of ingredients, and I have to say they are perfect for each other. I'm sure you have seen the combination of cucumber and cantaloupe before. Whether in a cocktail, refreshing infused water that you make at home, or even I have seen this combo during a spa visit. This duo, along with mint, is the perfect refreshing zen-like salad for you to enjoy this season. So let's scroll down to get the ingredients, and you know you might as well make your next spa appointment cause these flavors will be softly whispering to you – "it's time for a facial."

Photos by Dayna Studios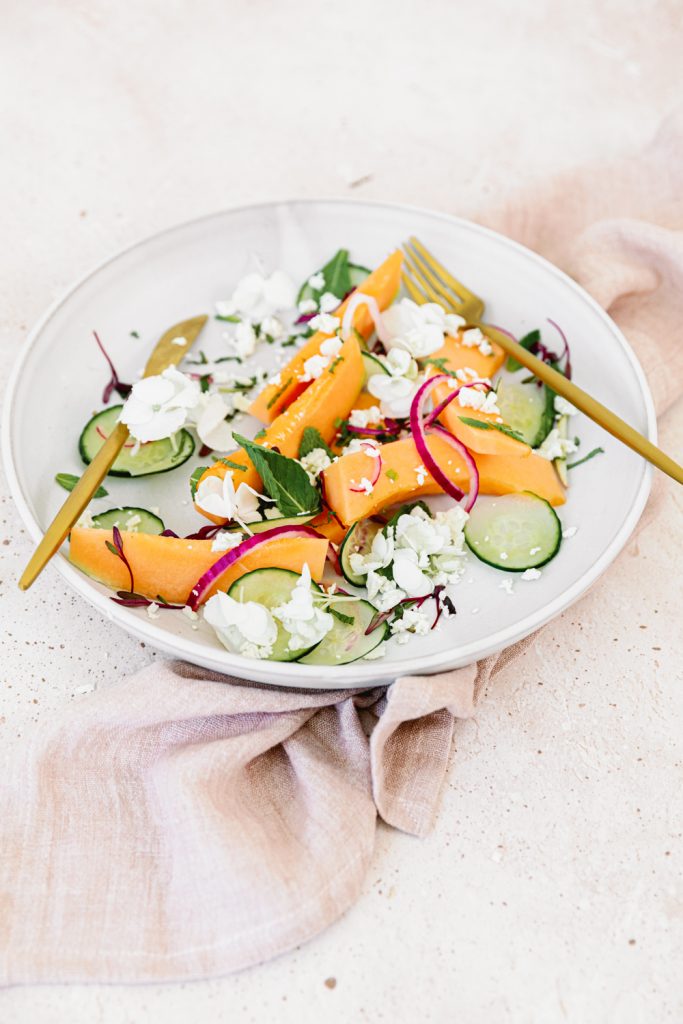 ---
A CANTALOUPE-CUCUMBER SALAD
SERVES: 8 | PREP: 45 MINUTES | COOK: 0 MINUTES
W H A T Y A N E E D
1 Cantaloupe, ripe and cut into wedges
1 English cucumber, very thinly sliced
1/4 cup Mint, fresh leaves
1 Red onion, thinly sliced
3 tbsp Honey
2 tbsp Lime juice, fresh
1 1/2 tsp Sea salt, fine
1/4 tsp Sea salt, flaky
3 tbsp Sugar
1/2 cup Red wine vinegar
1/2 cup Feta
Edible flowers
Microgreens (optional, for garnish)
B U S T O U T
Mixing bowl or Mason jar
Serving bowl
Madoline (optional)
---
I N S T R U C T I O N S
Start by doing a quick pickle on the red onions and making the dressing. Both can be done ahead of time which is so lovely! If you are like me, I do a prep day for the week on Mondays. It makes it so nice to enjoy healthy food and not be cooking or cleaning all week. Anywho! It's pretty simple if you haven't done it before.
*For the vinegar, you can use whatever you have. I had red wine vinegar at the time, but feel free to use white wine, champagne, or apple cider)
To make the red onion pickle: Take a small mixing bowl or a mason jar (I like this better, you can save it in the fridge), and pour in the red wine vinegar, sugar, and sea salt (the non-flaky ones). Add in the thinly sliced red onions, and let it sit for one hour.
*This batch can save up to 2 weeks in the fridge. Before serving, make sure the amount you use is drained from the pickle juices.
To make the dressing: Combine and whisk the honey and lime. Add in some olive oil if it is too thick for you.
Let's assemble!
Take a serving bowl; I like to use a larger one for a more upscale presentation instead of it all crammed into a small bowl. Take your cucumbers, use half, and scatter on the bottom of the bowl. Add your cantaloupe wedges in a fun pattern. Finally, add the remaining cucumbers, sprinkle the red onions, mint (tear by hand to create a rustic look), edible flowers, and feta cheese. Layering the ingredients makes a pretty deconstructed look.
---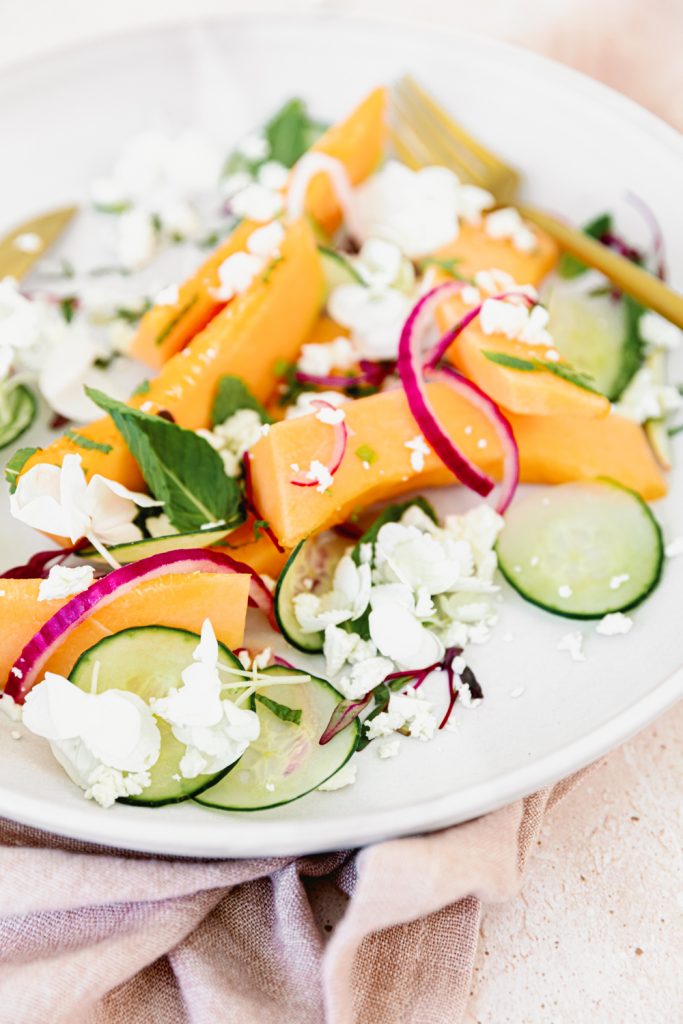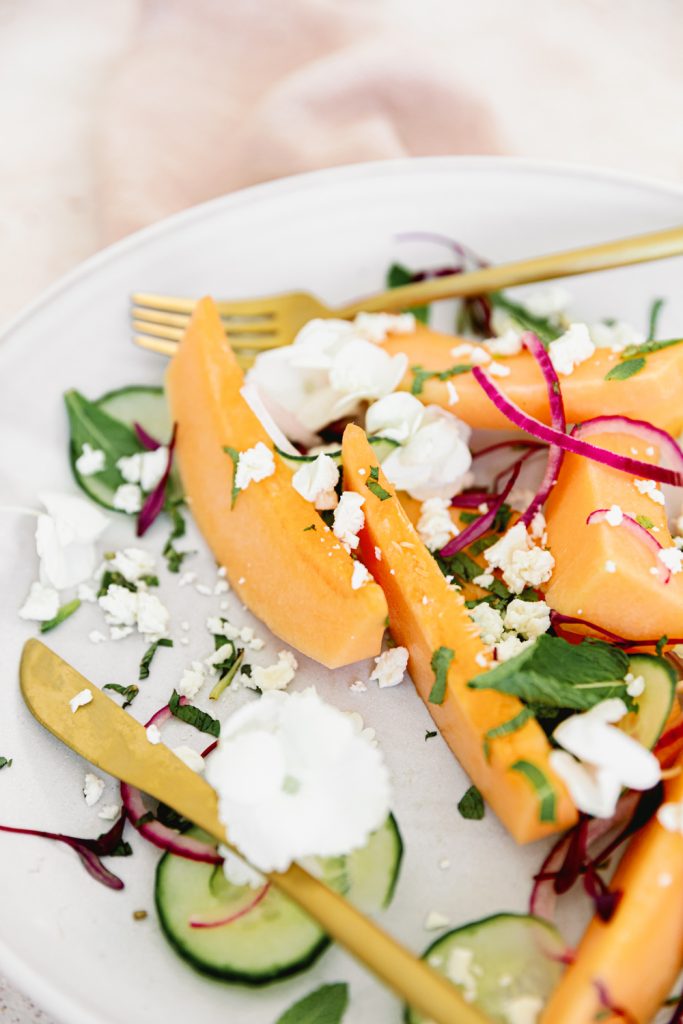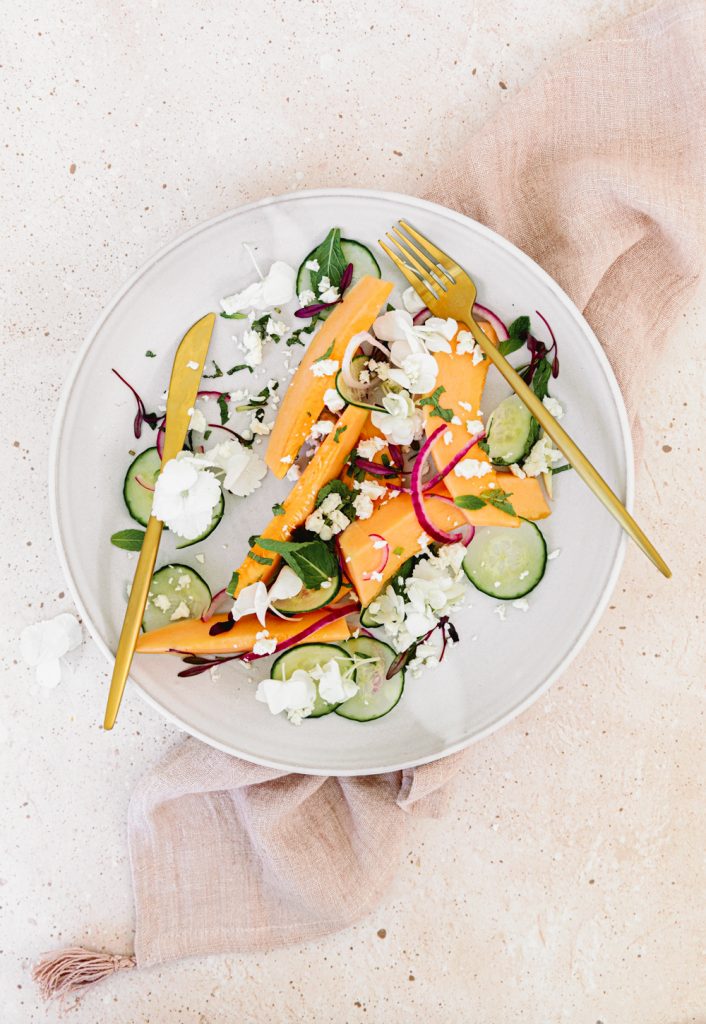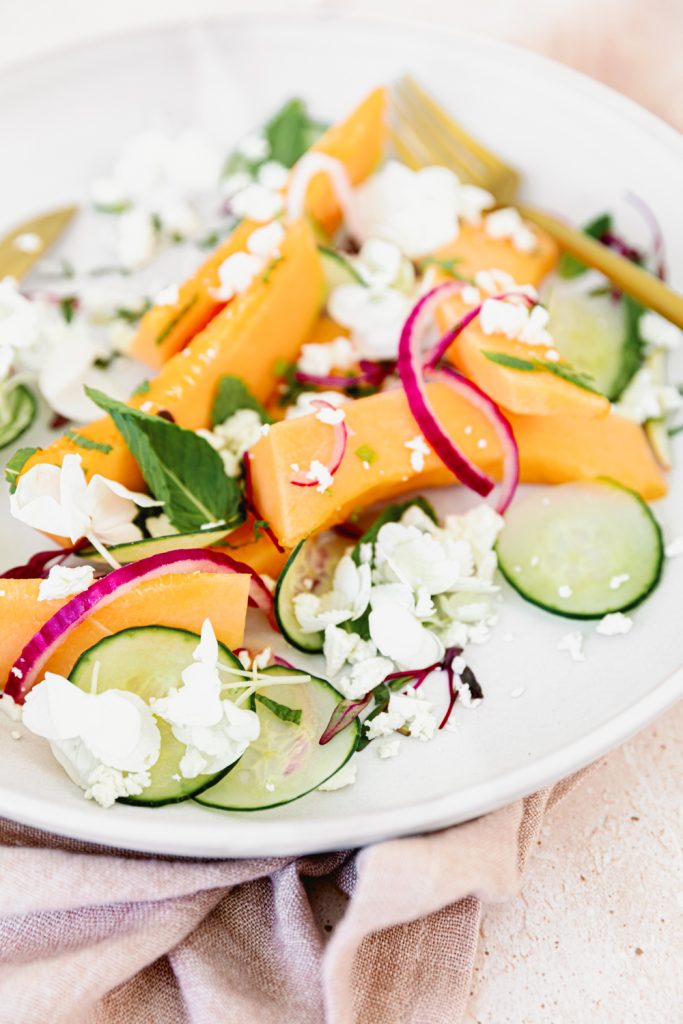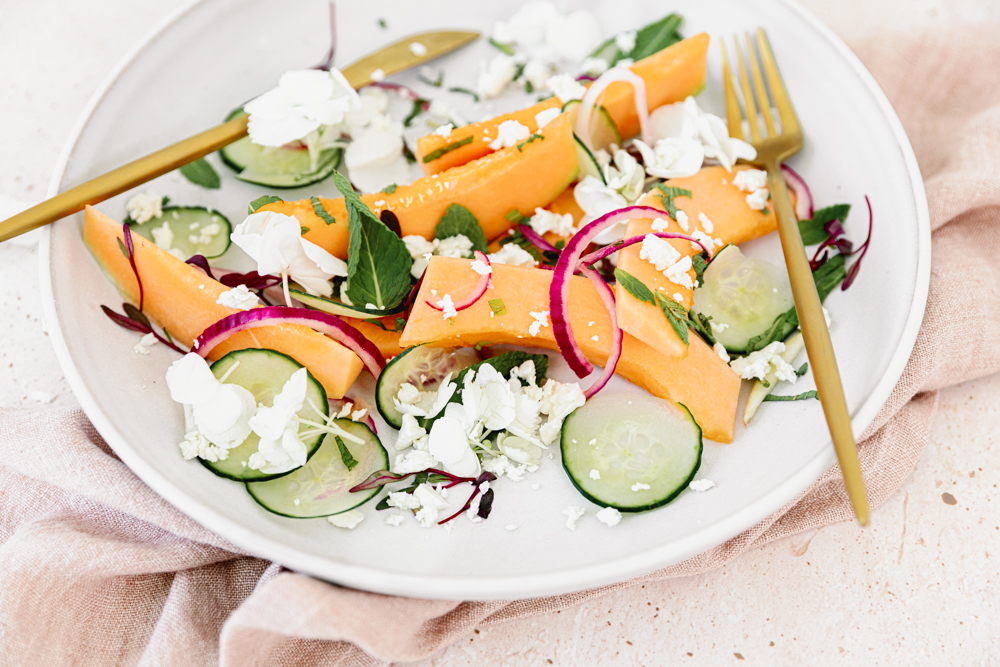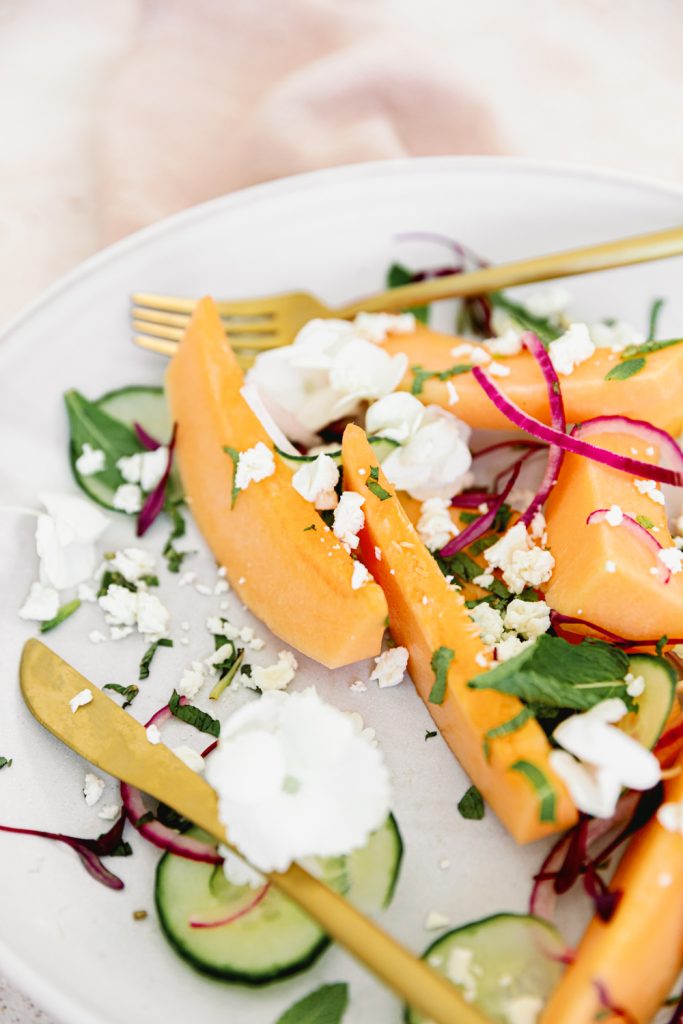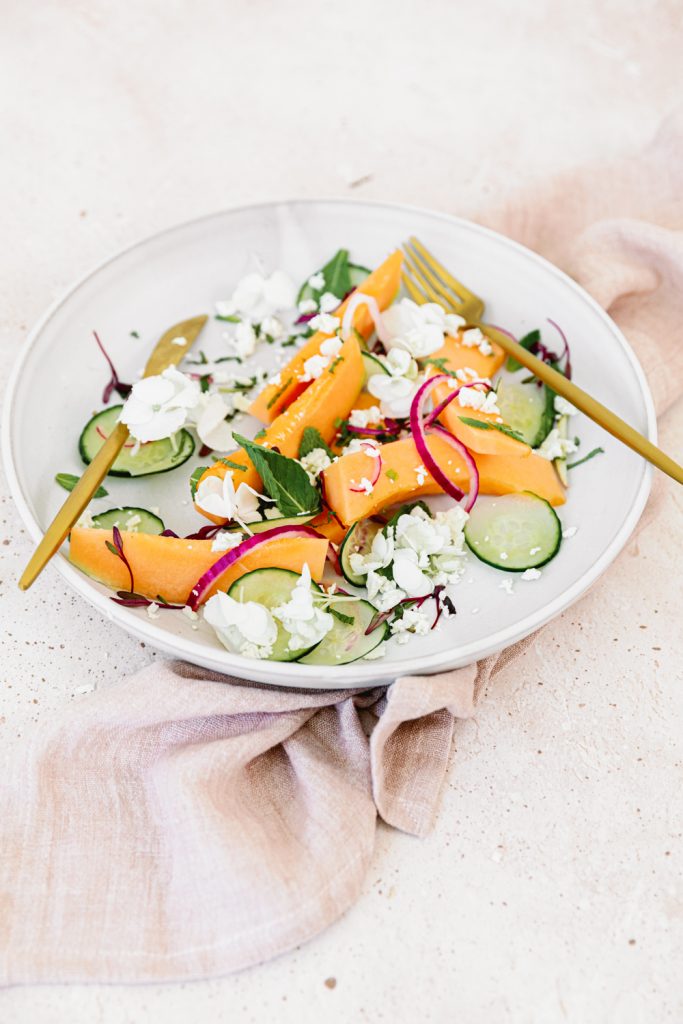 ---
B E I J O S K I T C H E N

xx
Abby