My lovely friend Alatheia had her 4th baby in last week – you read that right, 4th!! This woman was made to be a mama and she excels at this role. I am always amazed at how she balances a flourishing career, a beautiful blog and her four amazing kiddos with such grace. Speaking of Grace, that is her new baby girl's name! So classic and pretty, just like her mama's style! I took that sophisticated and elegant vibe that is Alatheia, and designed this pretty shower for her. Make sure you scroll all the way down to see all the amazing details!
Photos by Sarah Noel Photography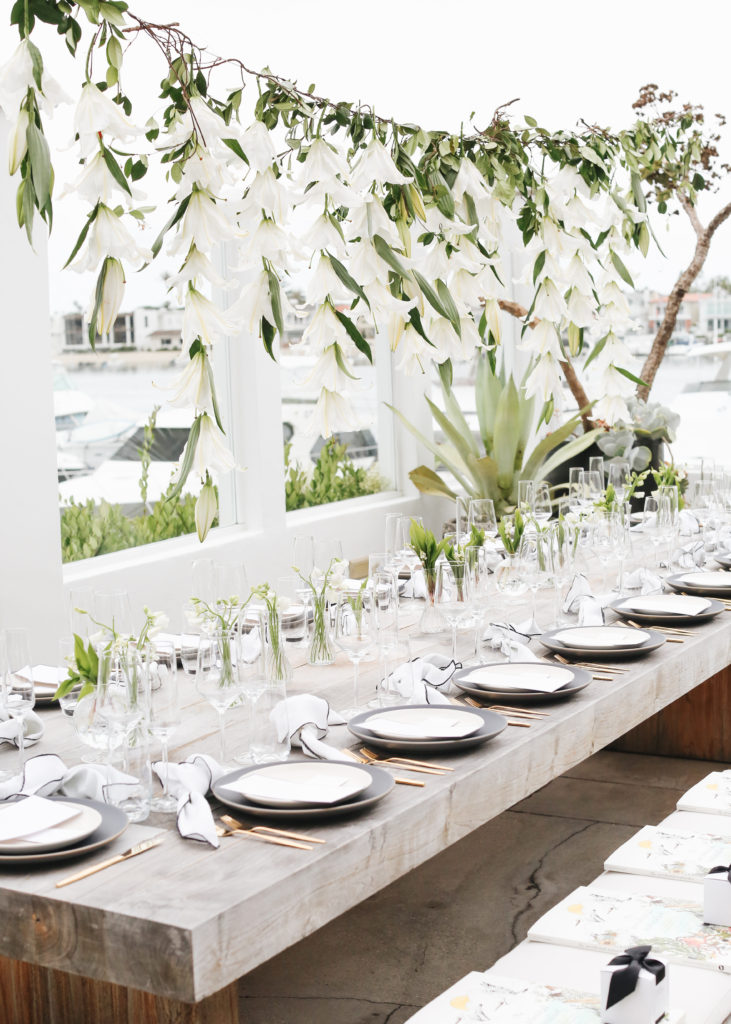 Let's start with the invite! Alatheia had the amazing idea to hand deliver these beautiful fresh flower invitations. I mean, seriously, how stunning are they?! French Buckets went to town with the beautiful white blooms and Alatheia designed the invitation herself with inspiration from the artist Matisse.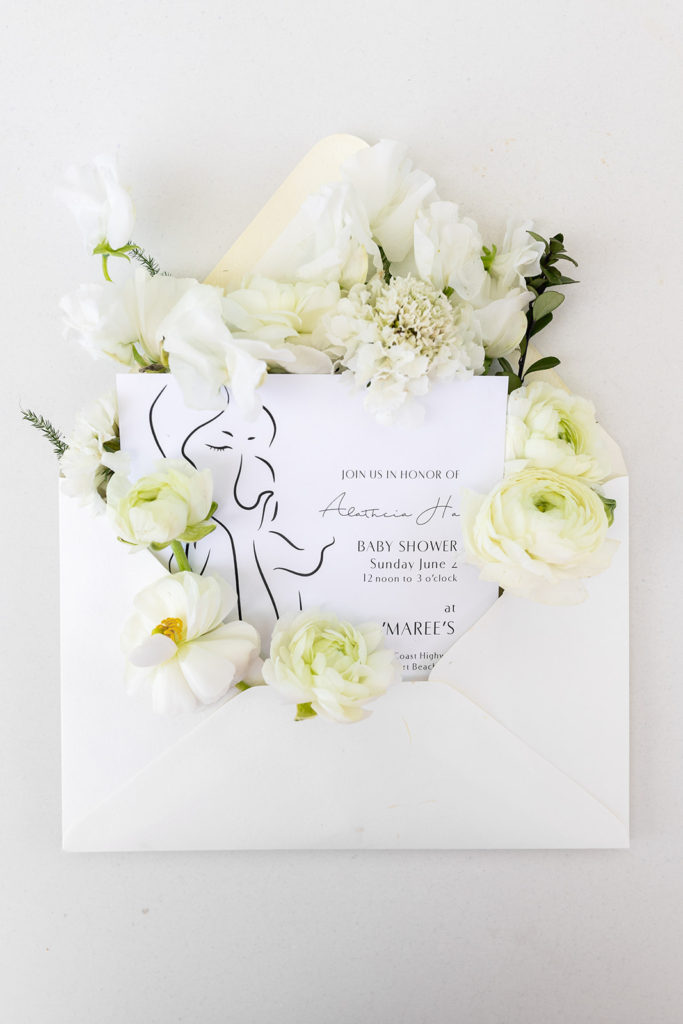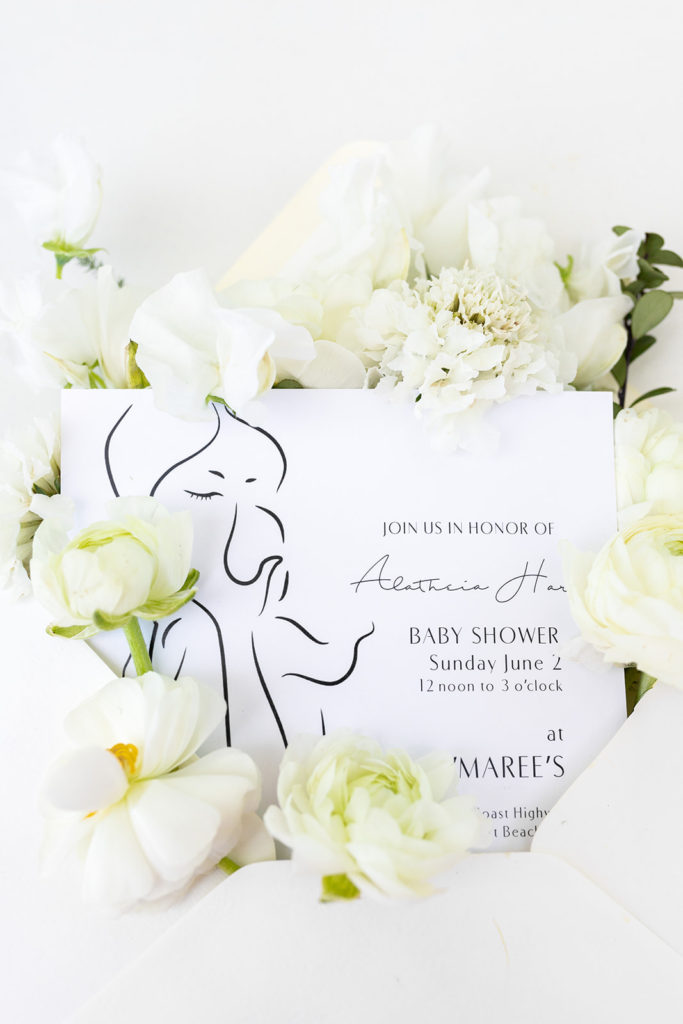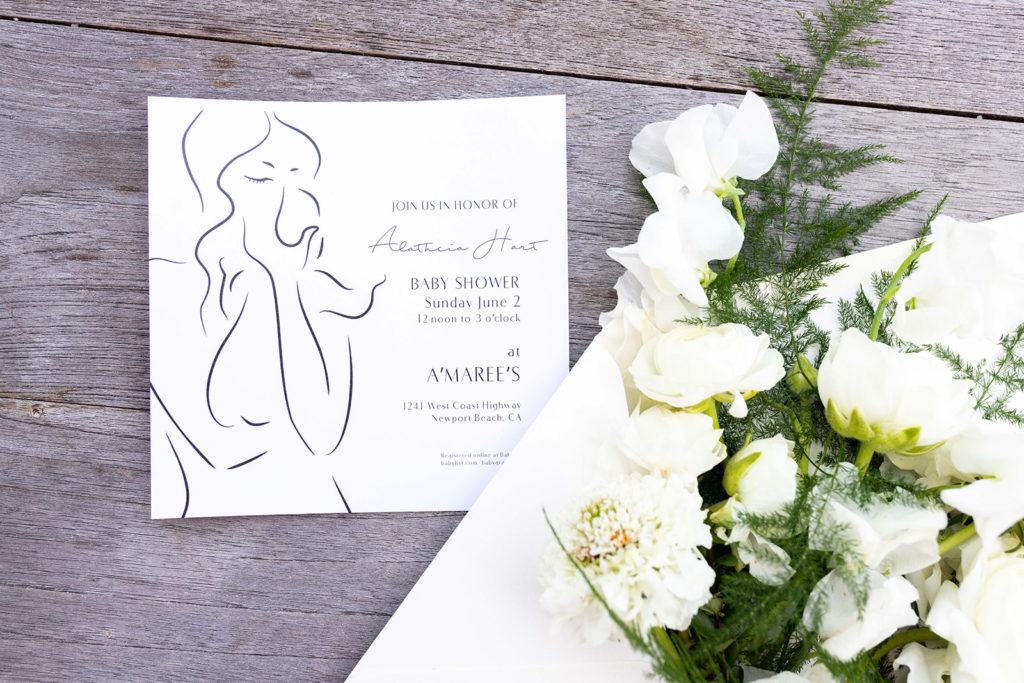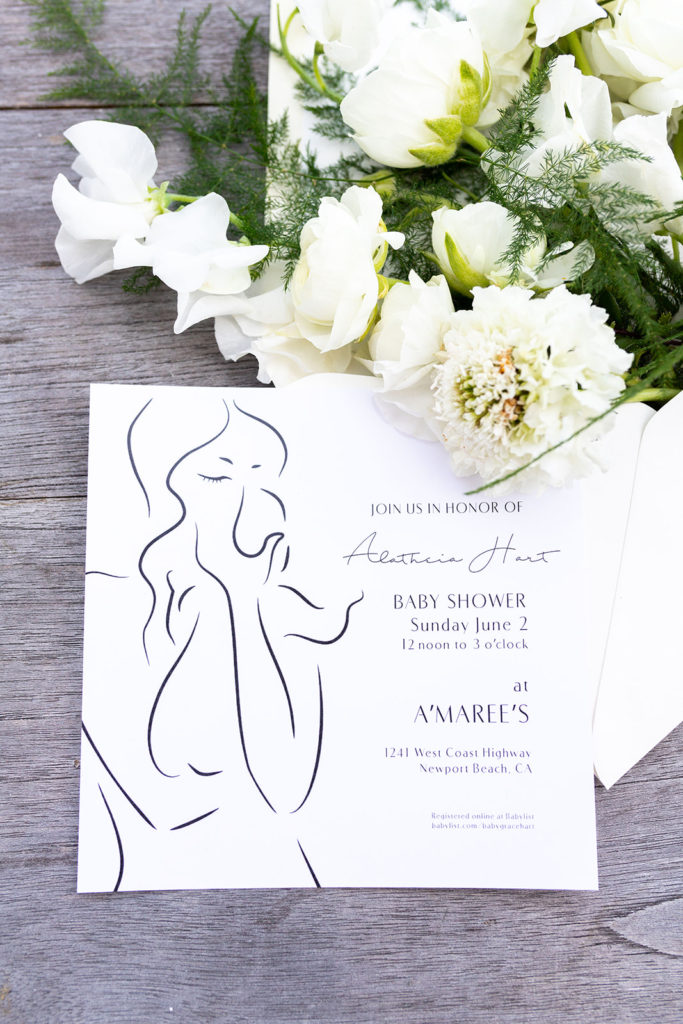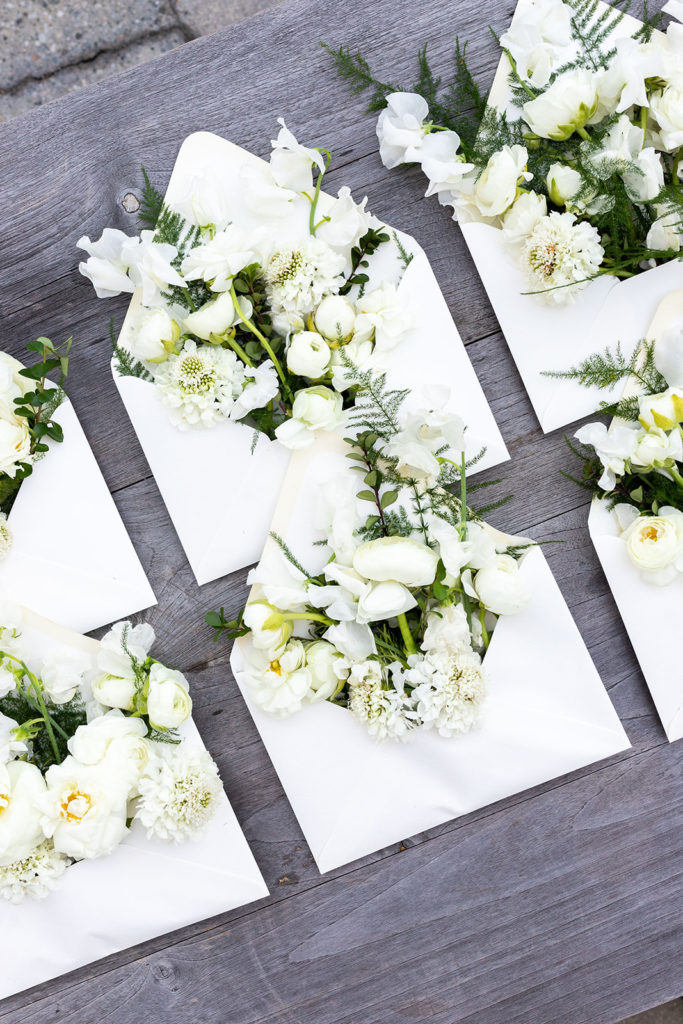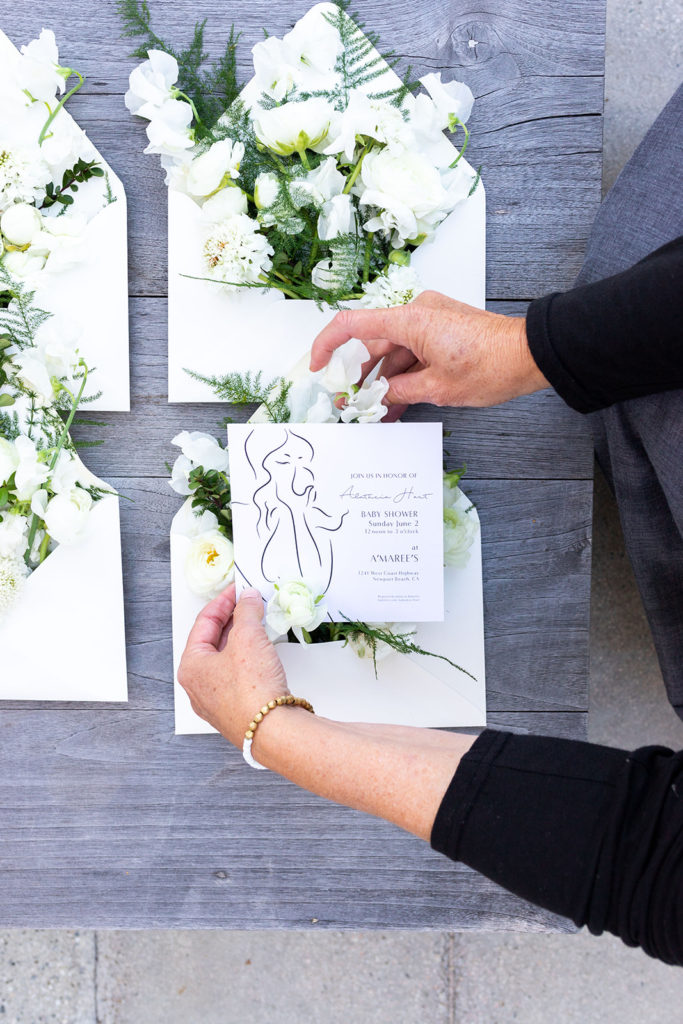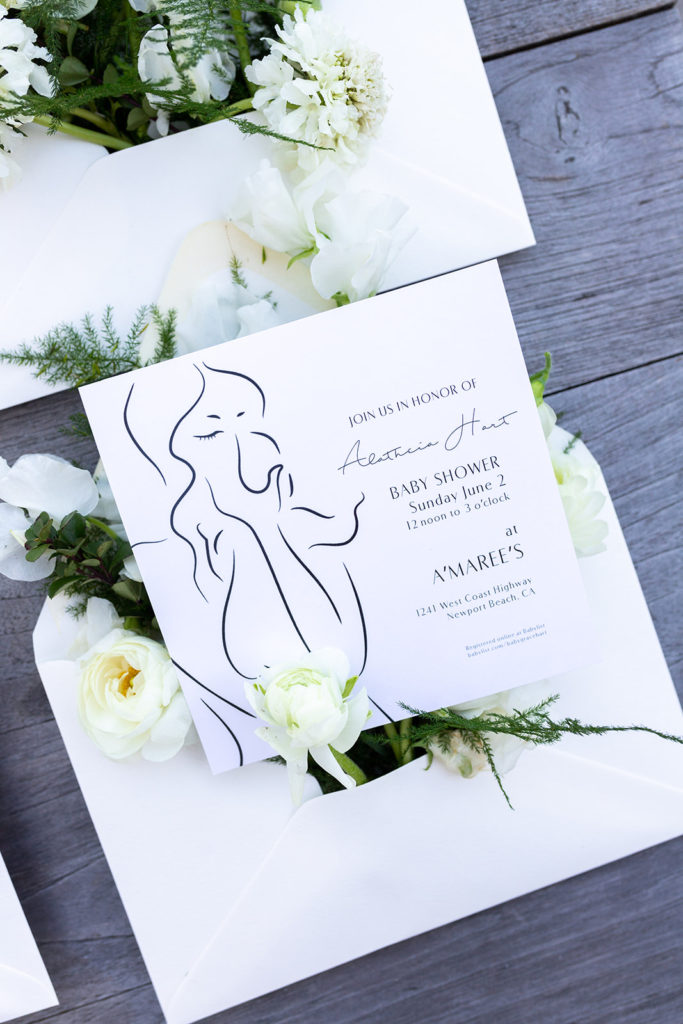 The shower was held at the most stunning boutique in Orange County, Amarees. It's situated right on the water so the view is pretty incredible. But not only that, every piece of clothing or accessory is like a piece of art. It's definitely a sight to be seen and what a beautiful place to host a shower!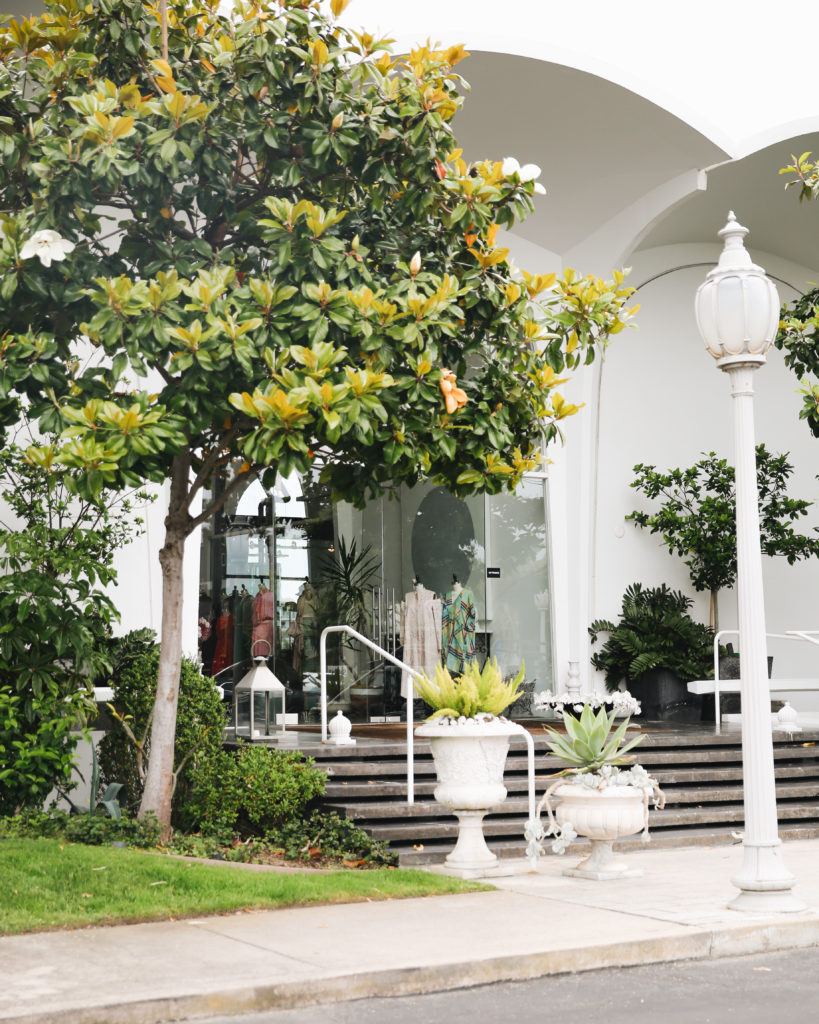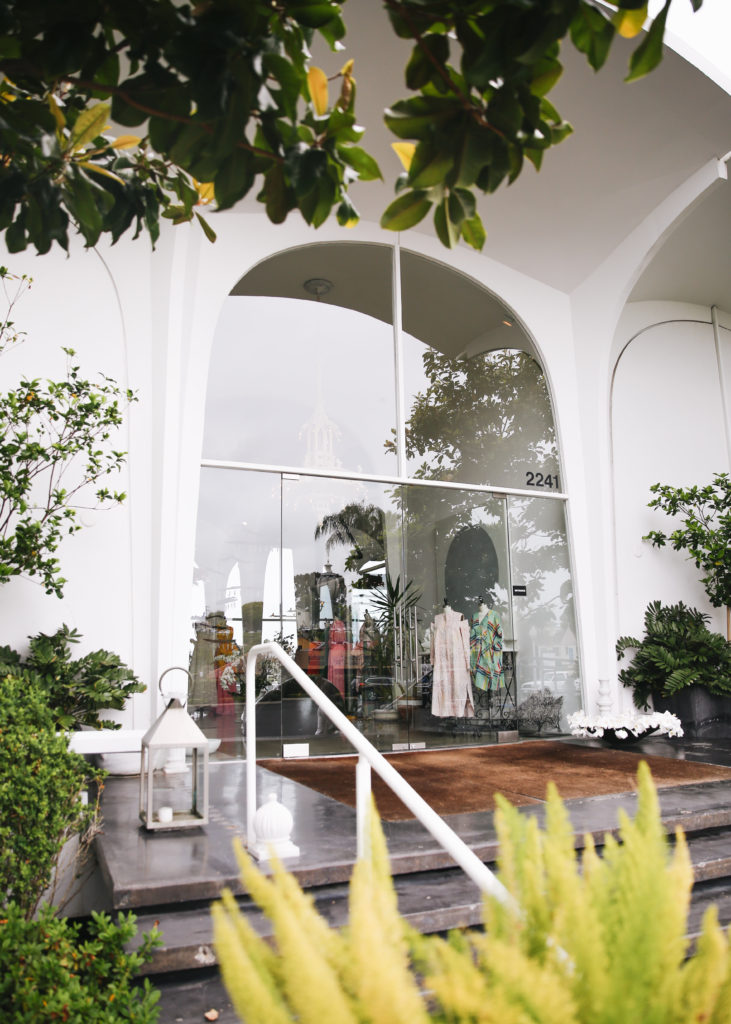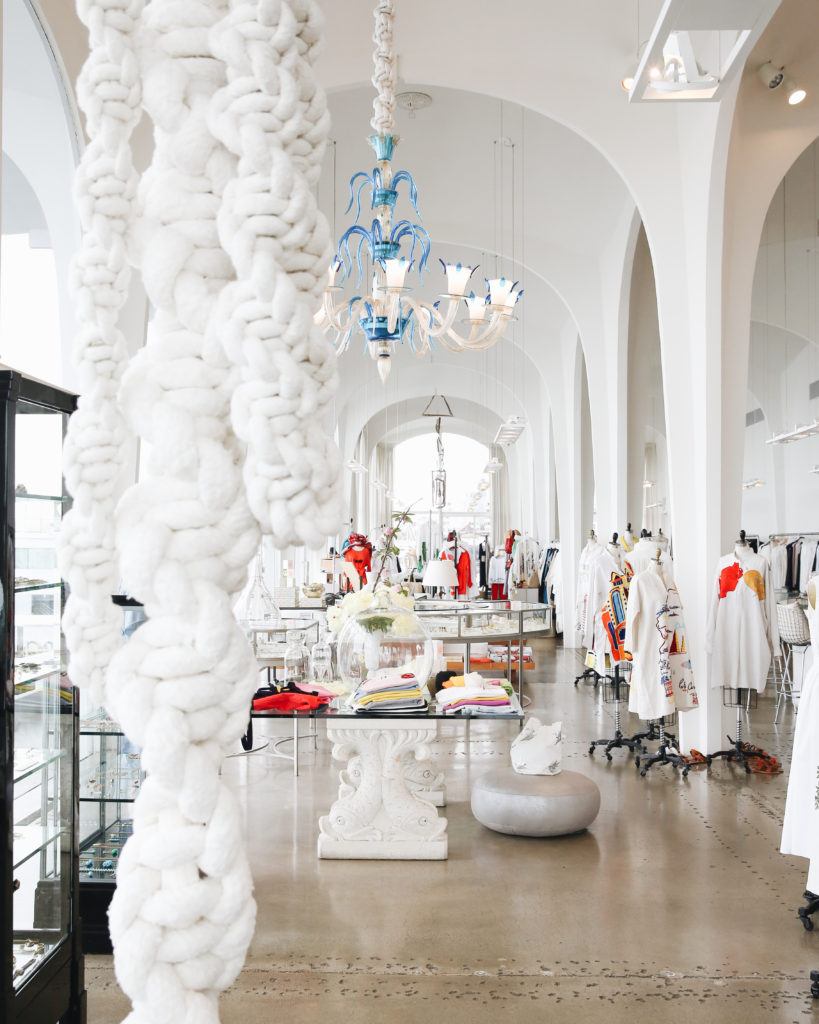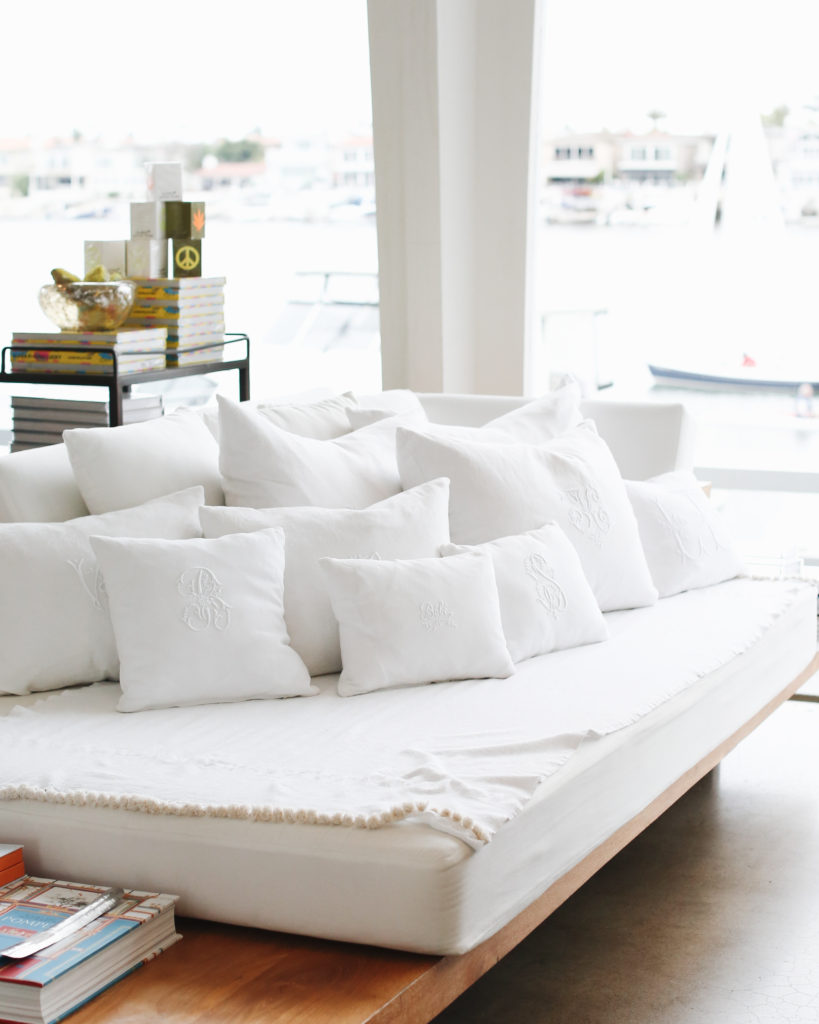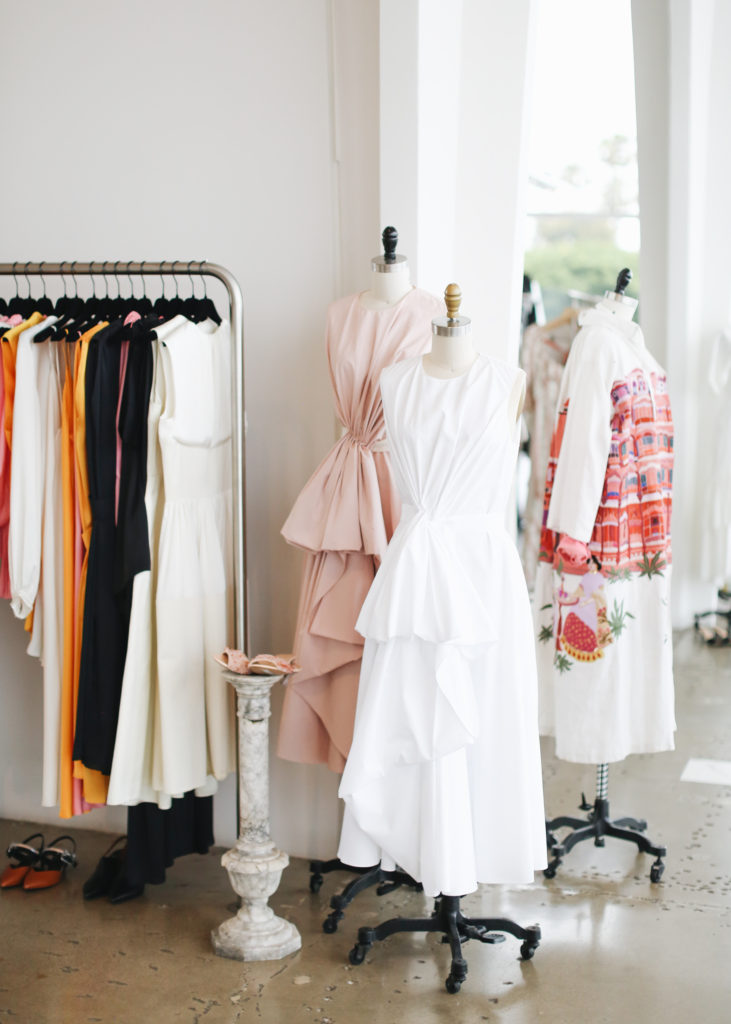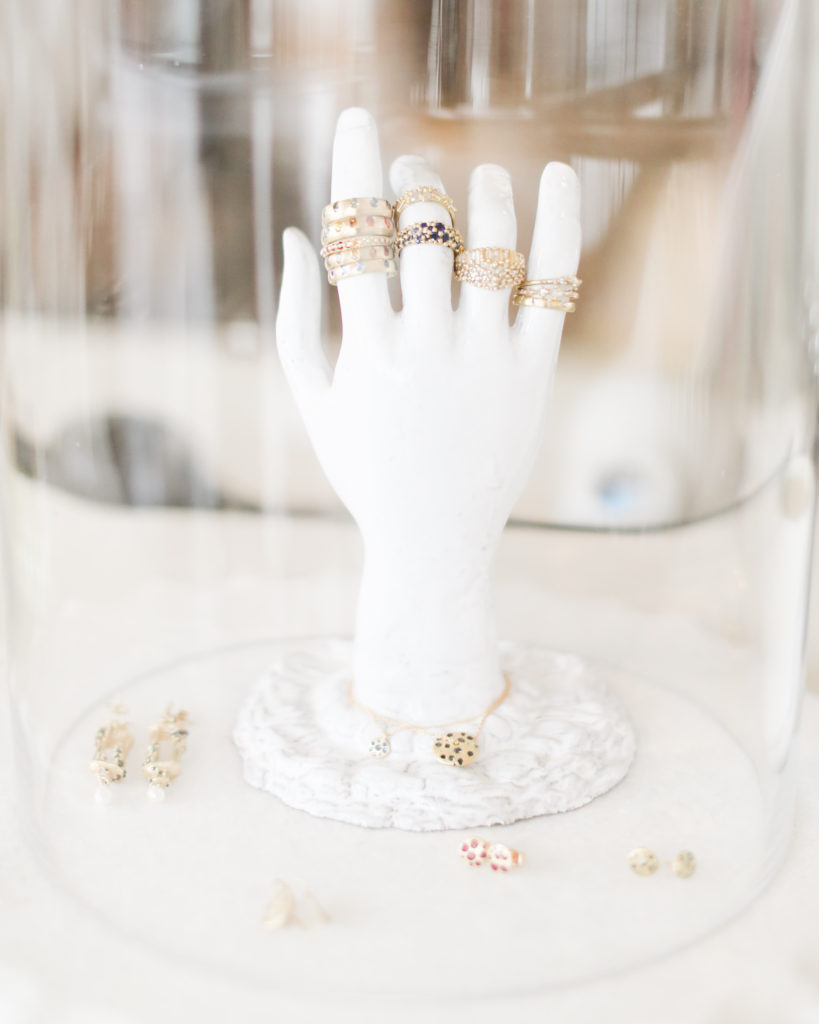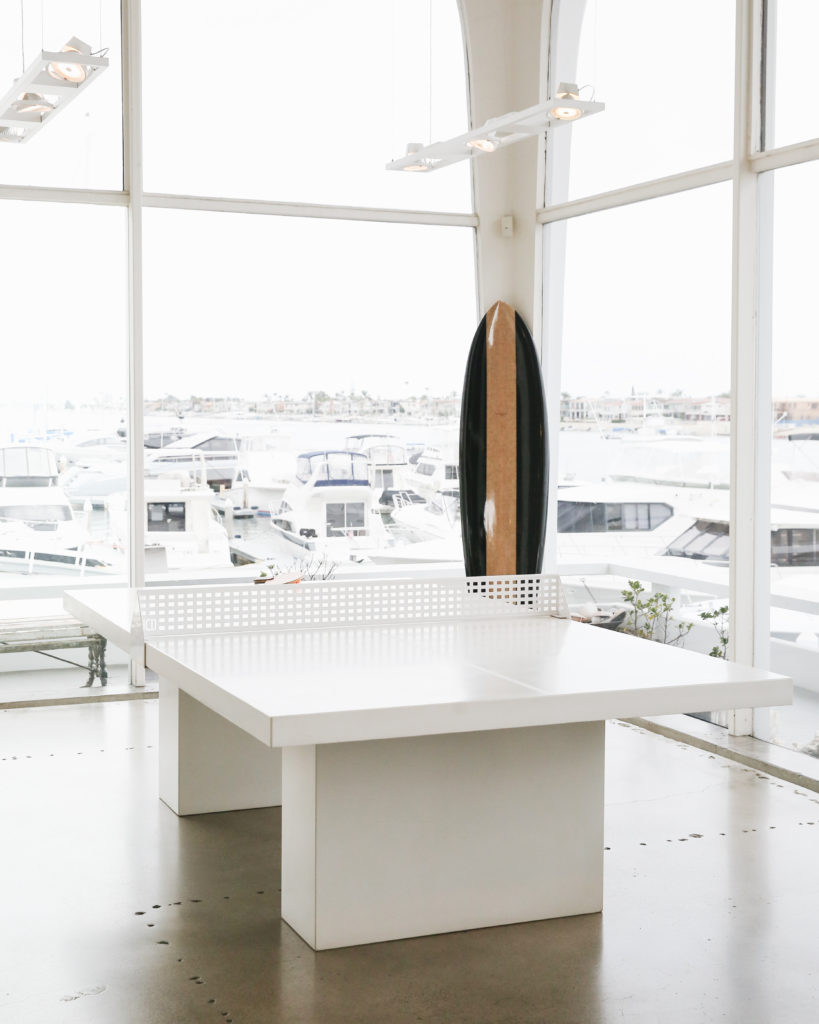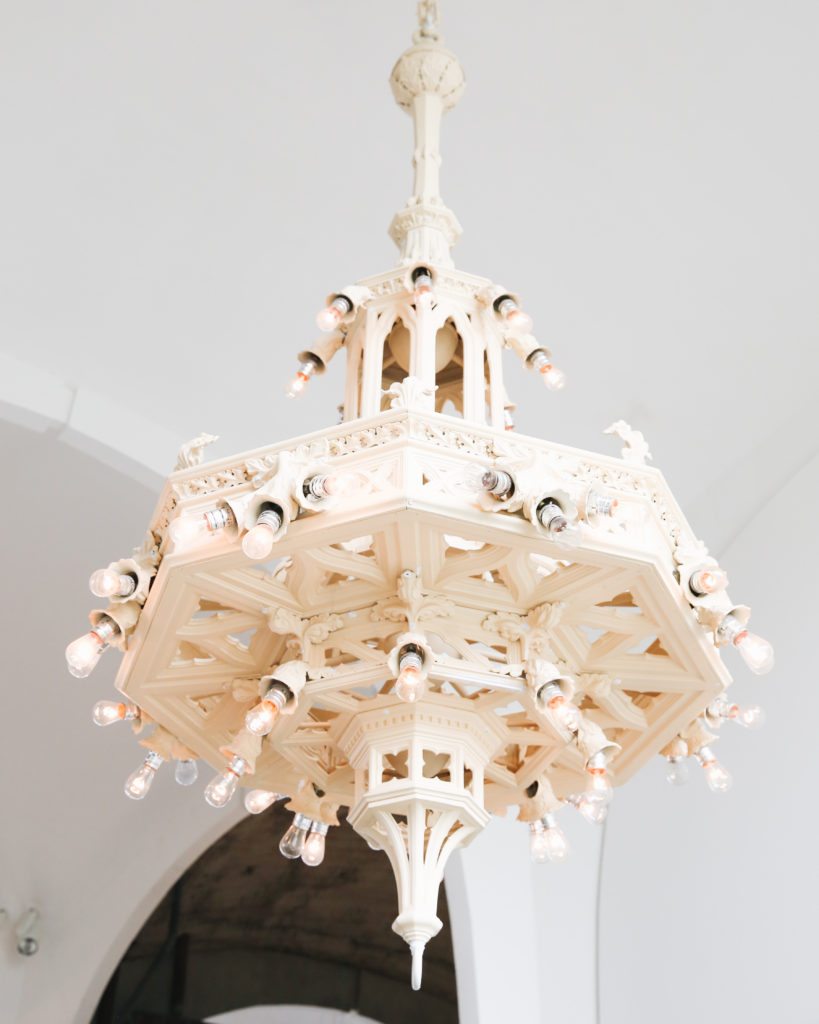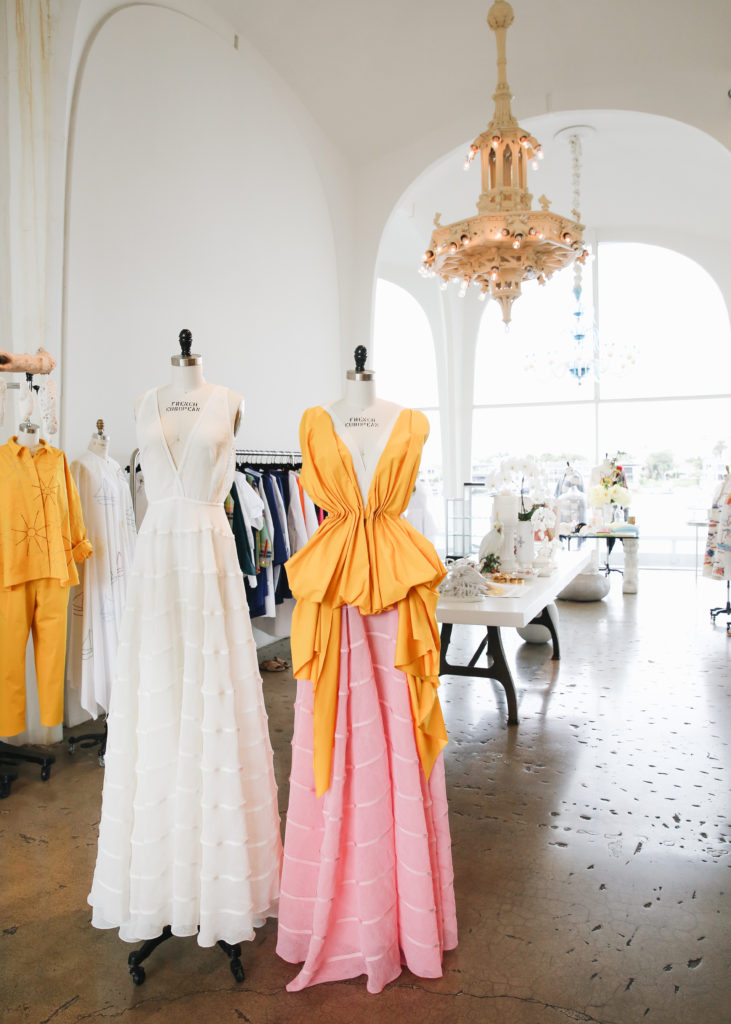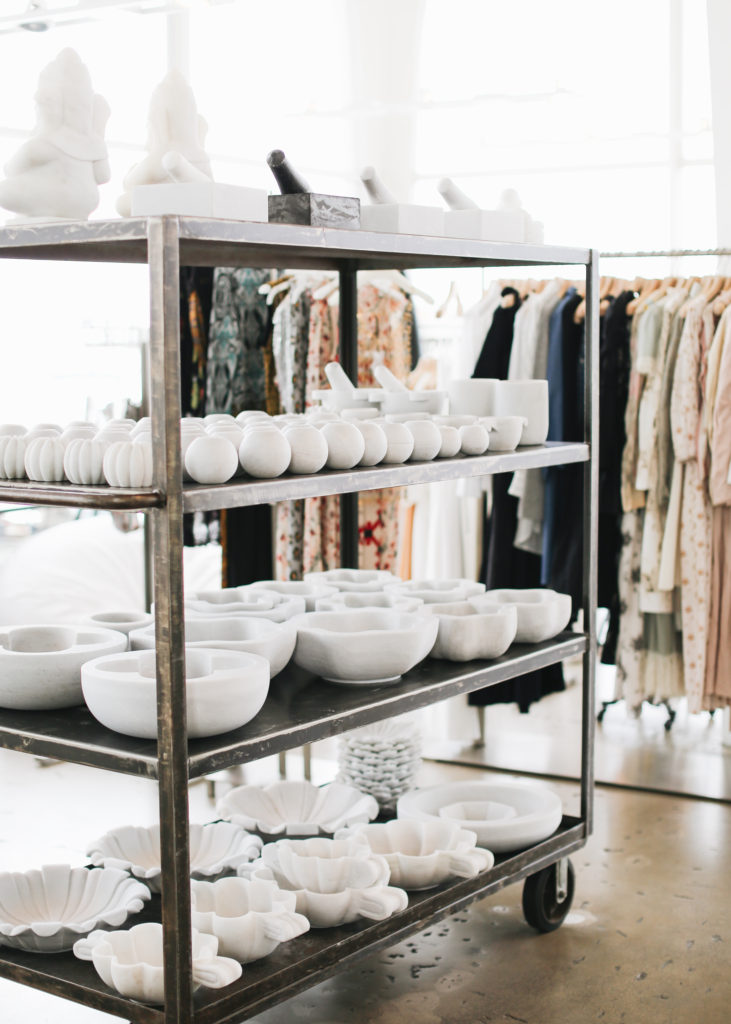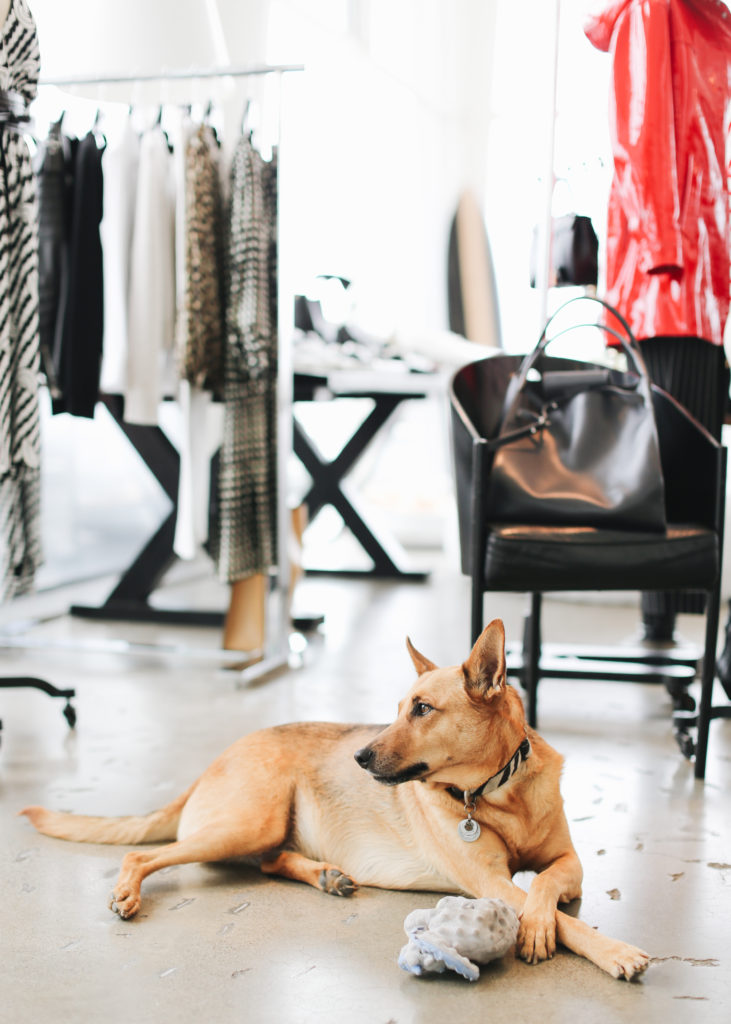 How pretty are all those boats lined up in front of Amarees?! I'm so lucky to live in this incredible place!!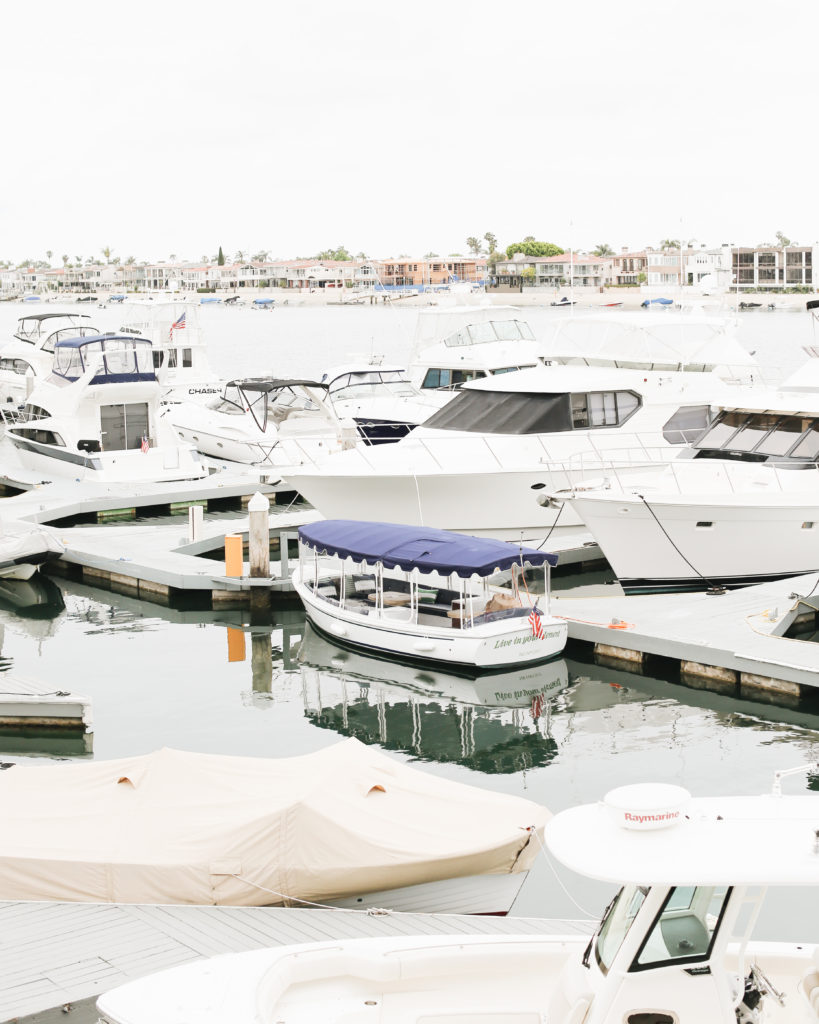 Now, back to the shower! I know Alatheia pretty well now, and like I said, I know she has a very classic and elegant style. For a split second we thought about doing color, but I really felt this white and black with a touch of green color scheme was more her… I'm glad we went this direction because it came together so beautifully! French Buckets executed it seamlessly.
Right away I knew I wanted to have the hanging floral installation, it was just so fitting for my girl. I also went very simple with the tabletop. Simple glassware and flatware, with black and creme heath ceramic plates from Cherished Rentals. The napkins from Hostess Haven were also so perfect, cream with black piping, loved it!!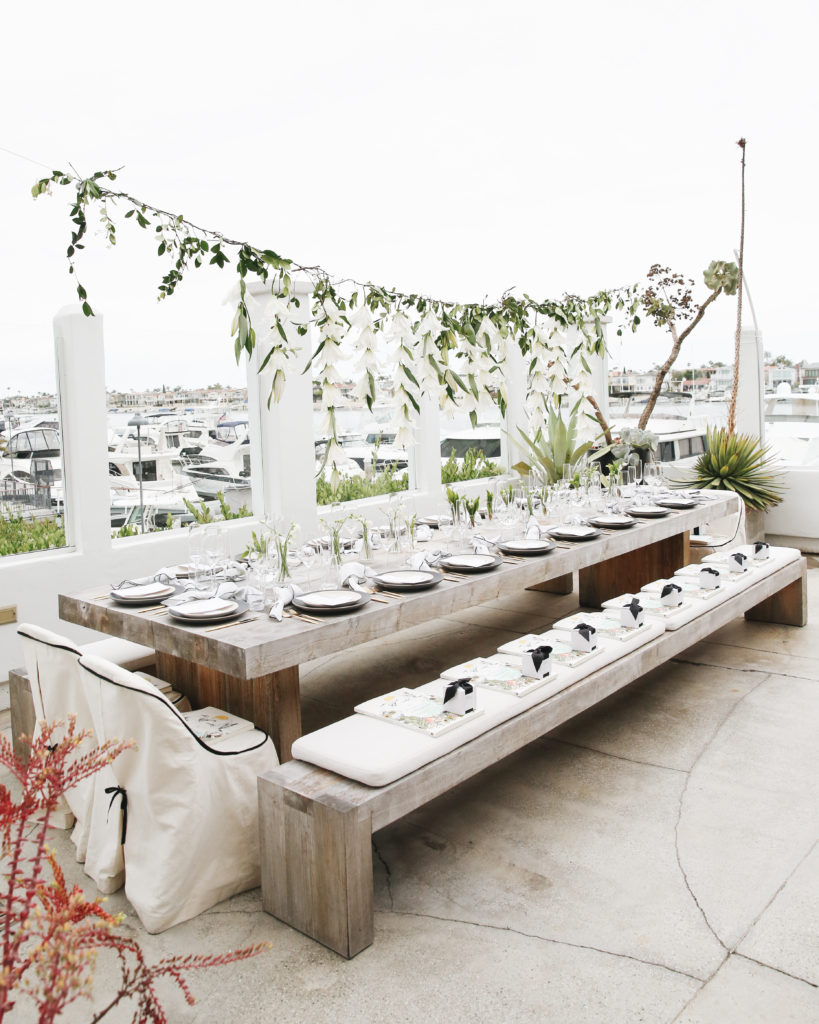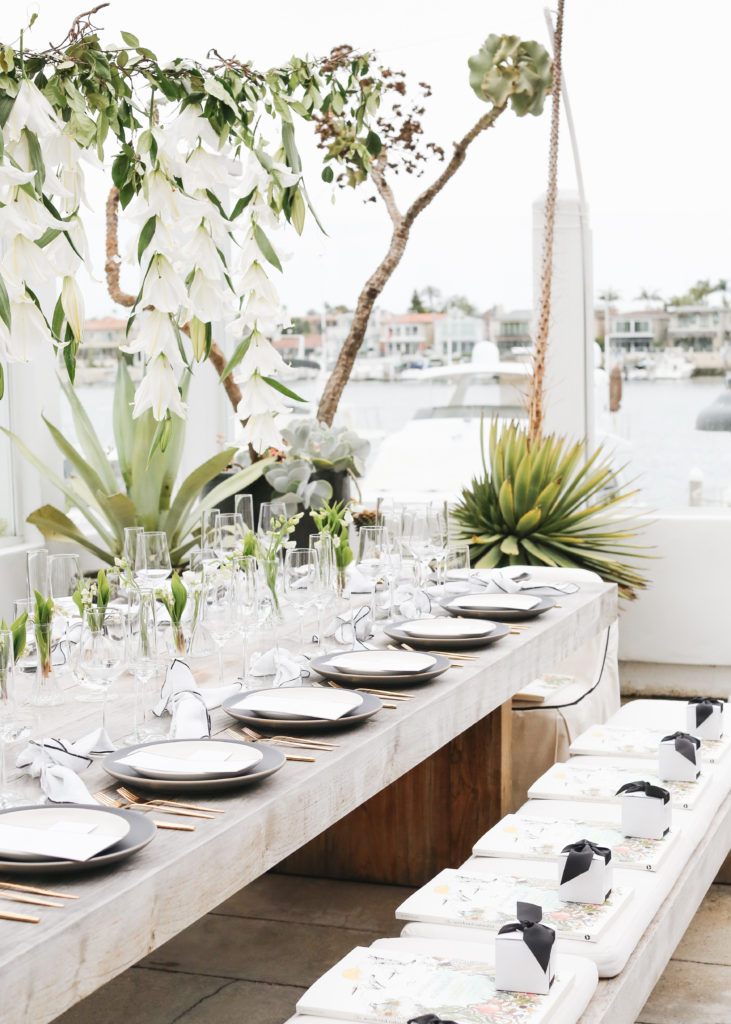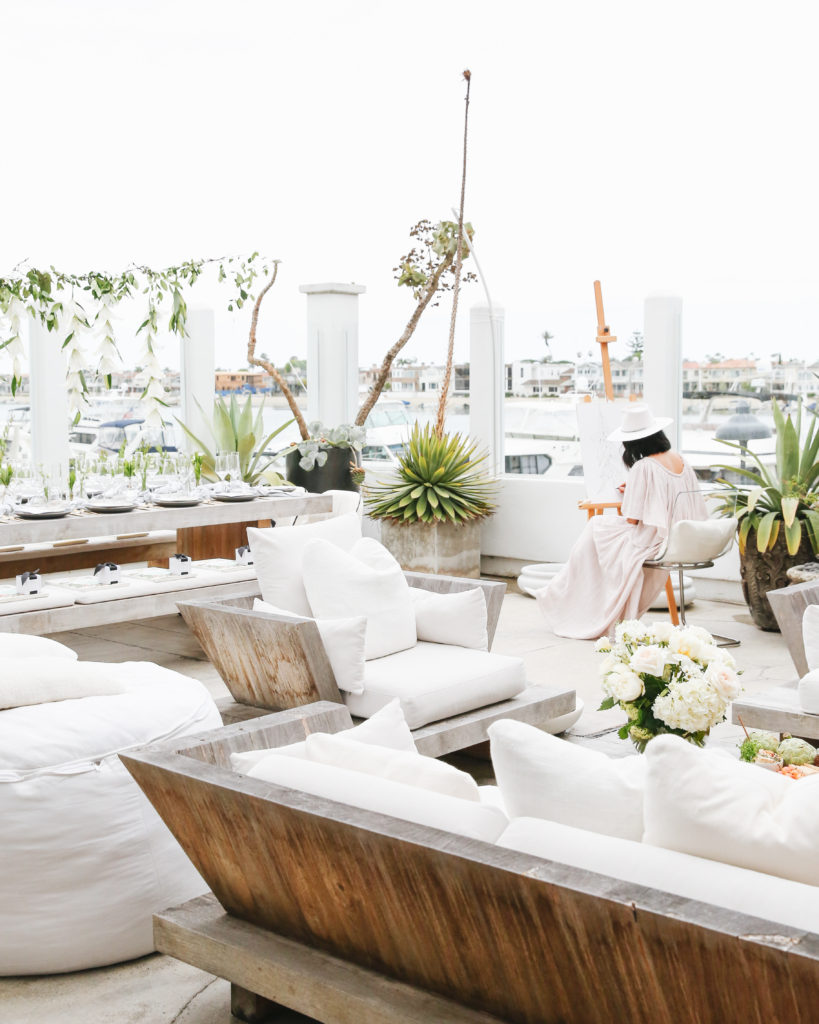 We decided to have inspirational quotes relating to mothers at each place setting. Alatheia found some really amazing ones, and it was such a sweet detail! She also continued the artistic Matisse touch for place cards.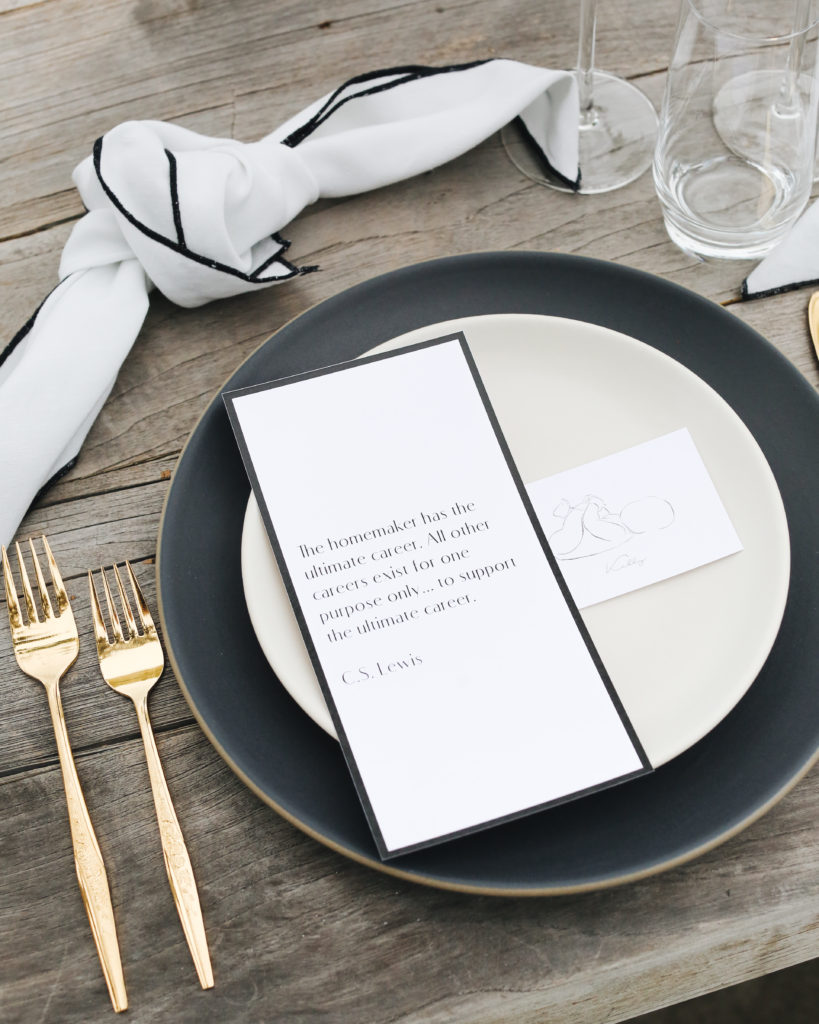 Such a dreamy setting, right?! I felt so lucky to be there!!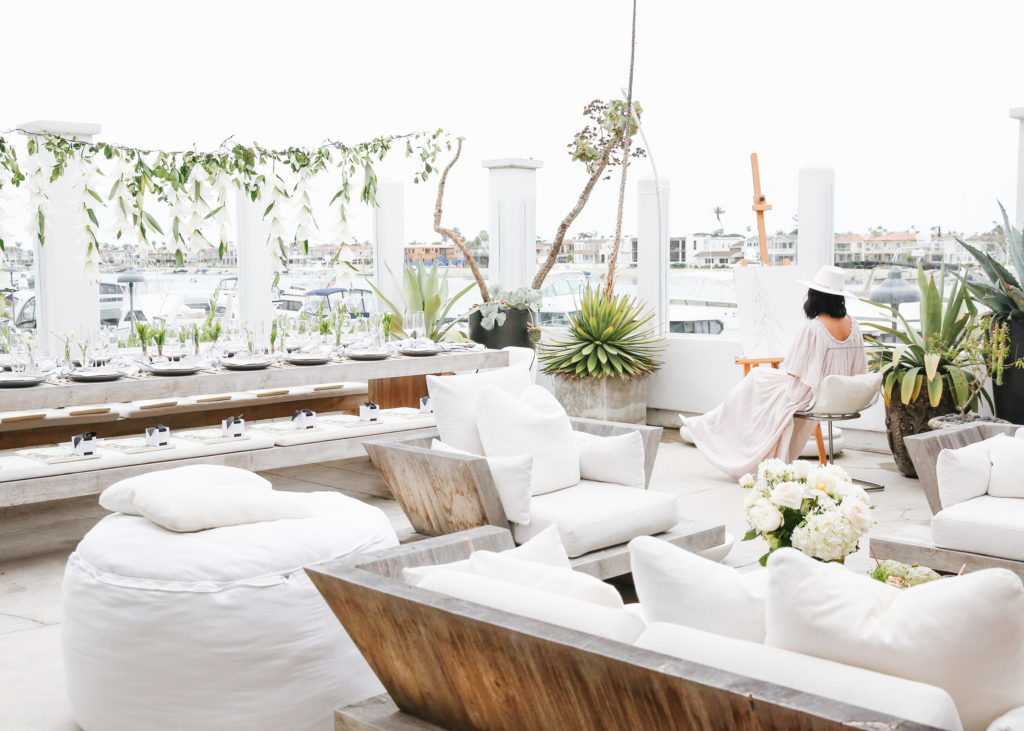 And those flowers… French Buckets, you are amazing!!!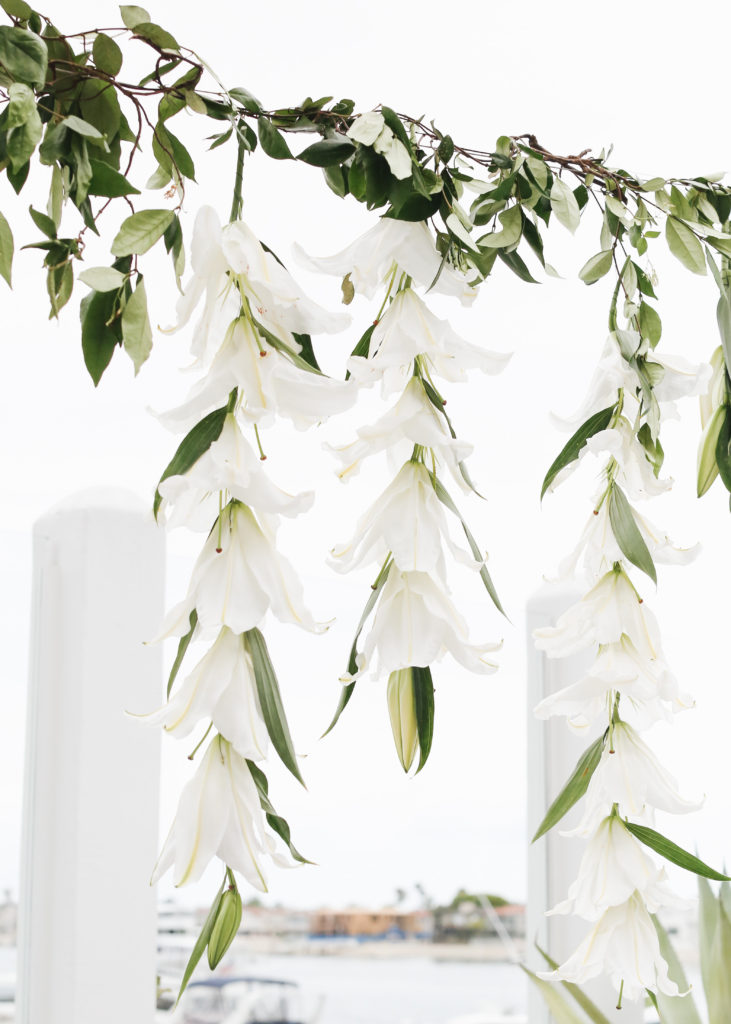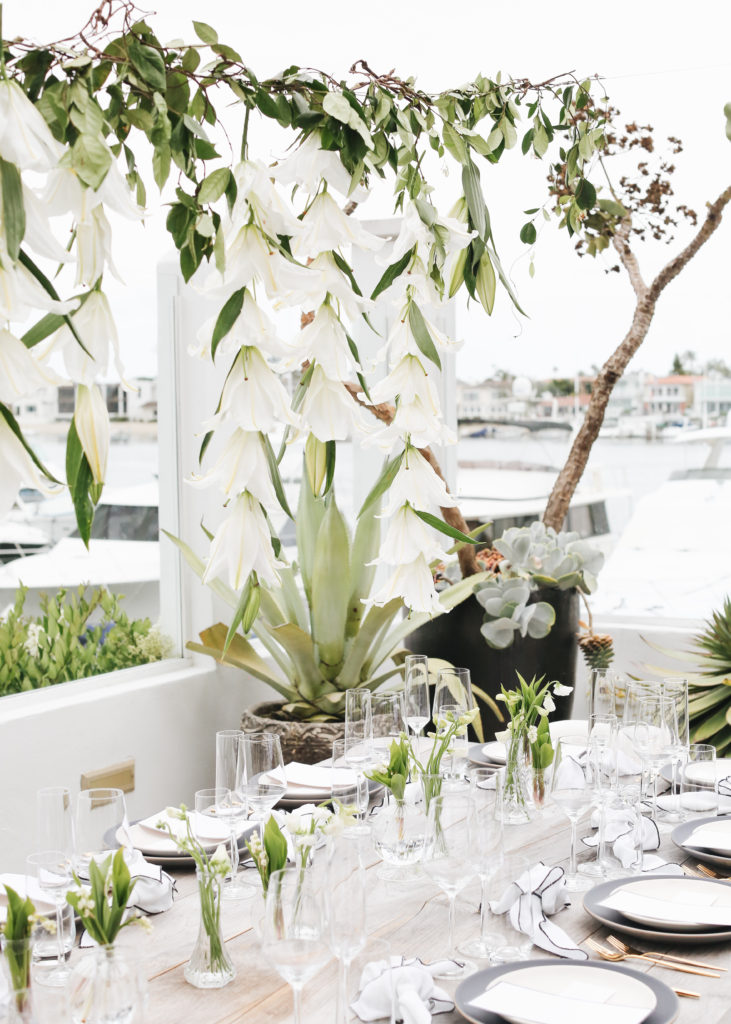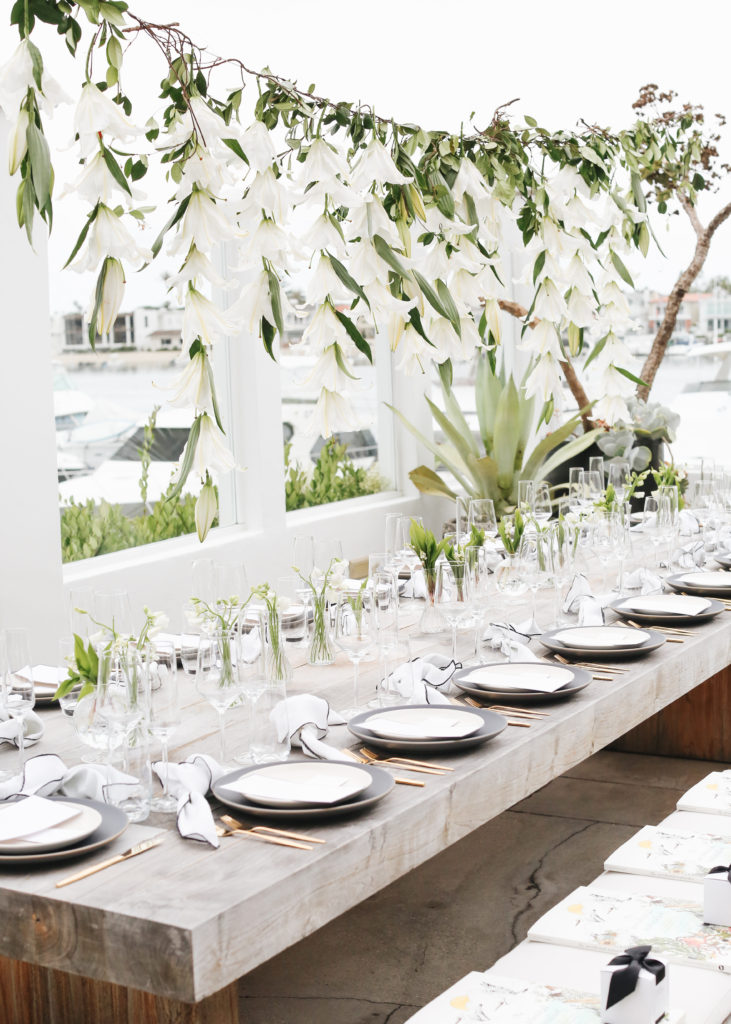 Alatheia is so thoughtful, she had the sweetest gifts for each of her guests. A set of oils from local company Campo along with the prettiest coloring book by artist Jo Situ Allen. More on Jo in a bit…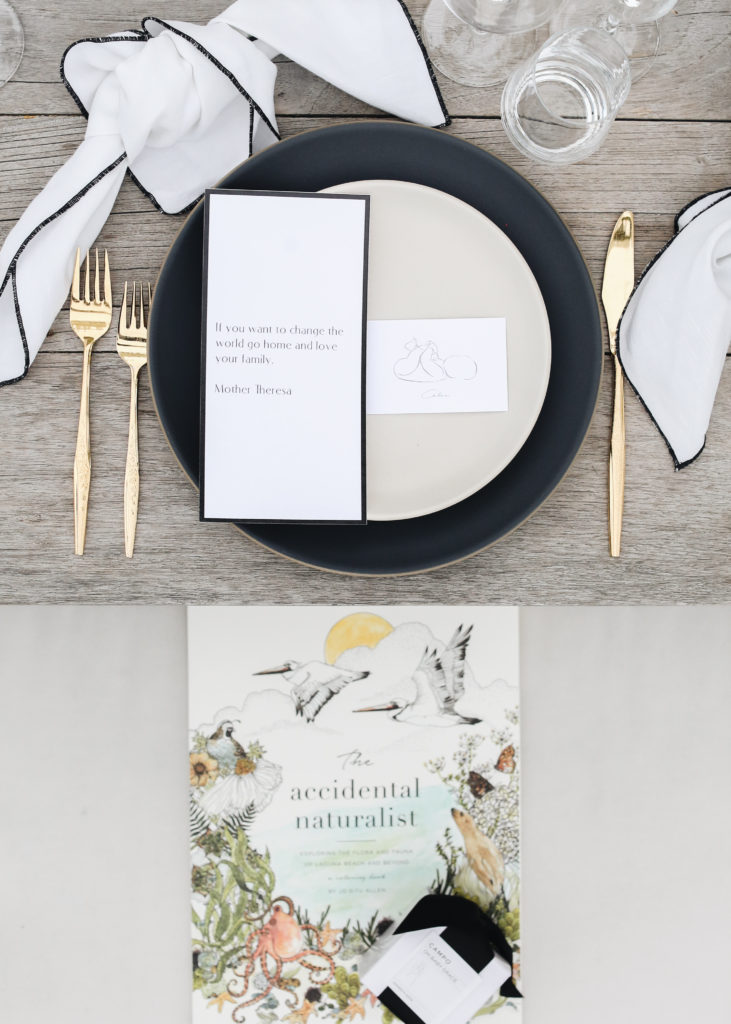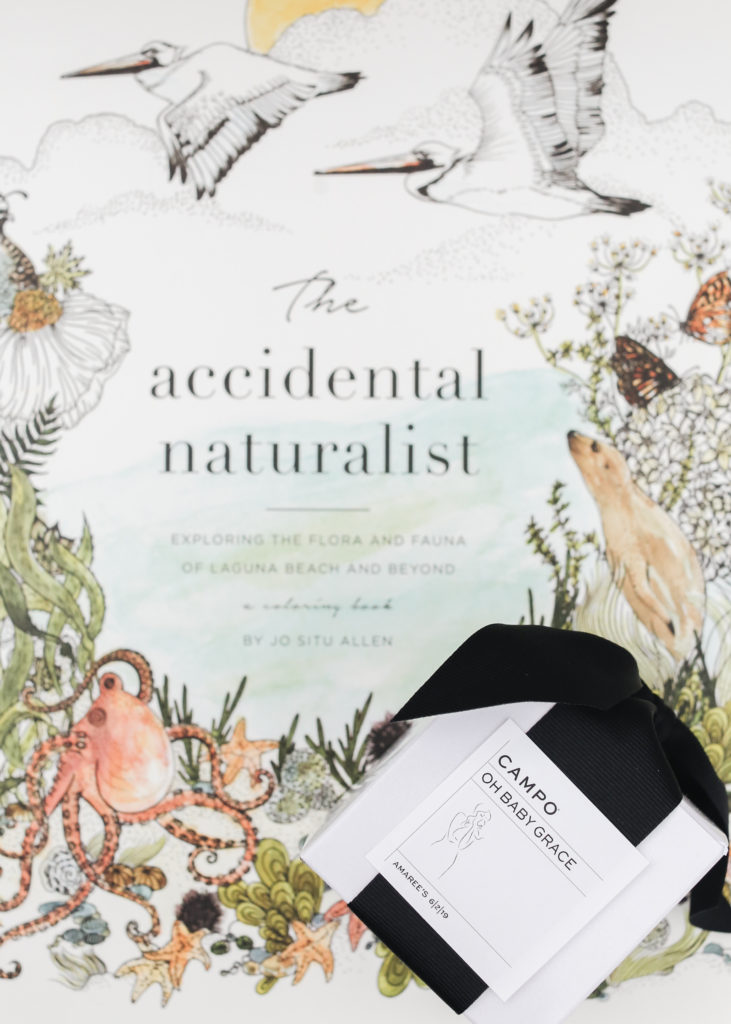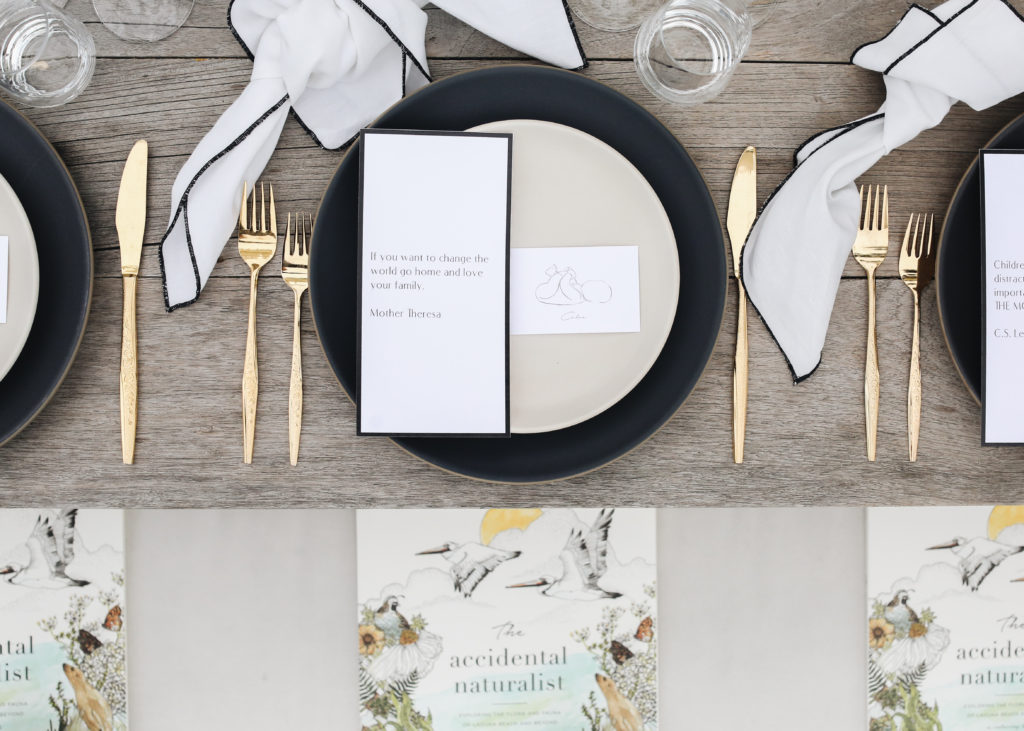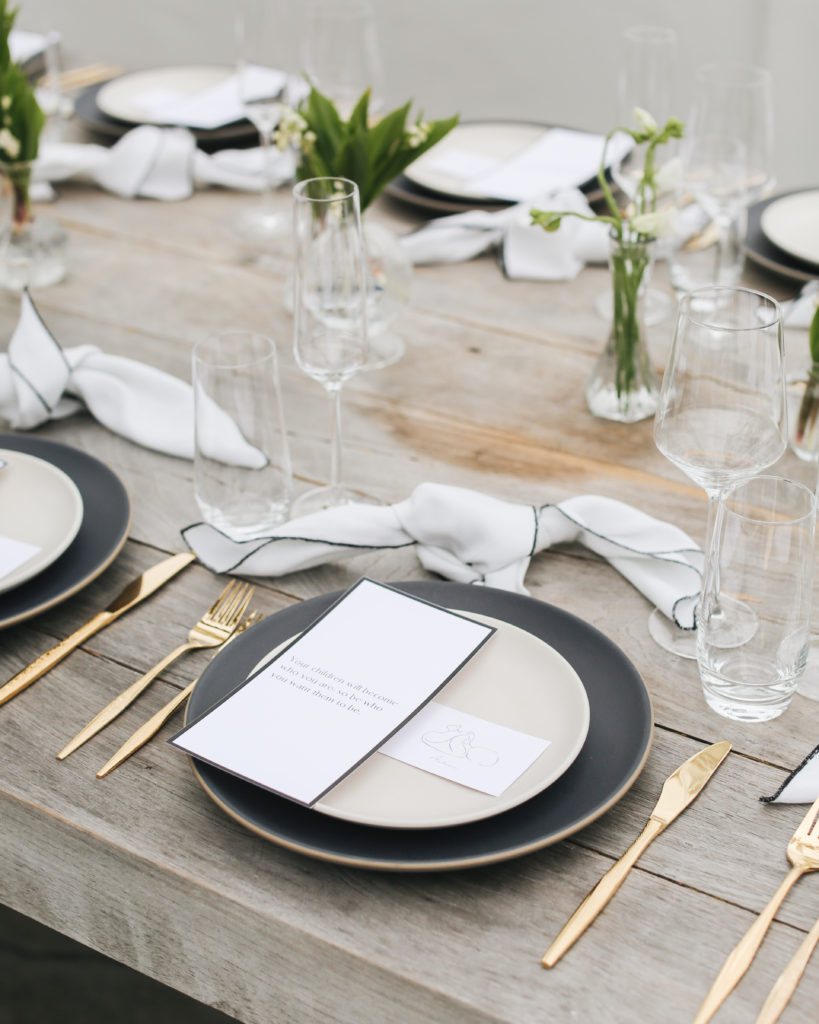 I just love this set up so much!!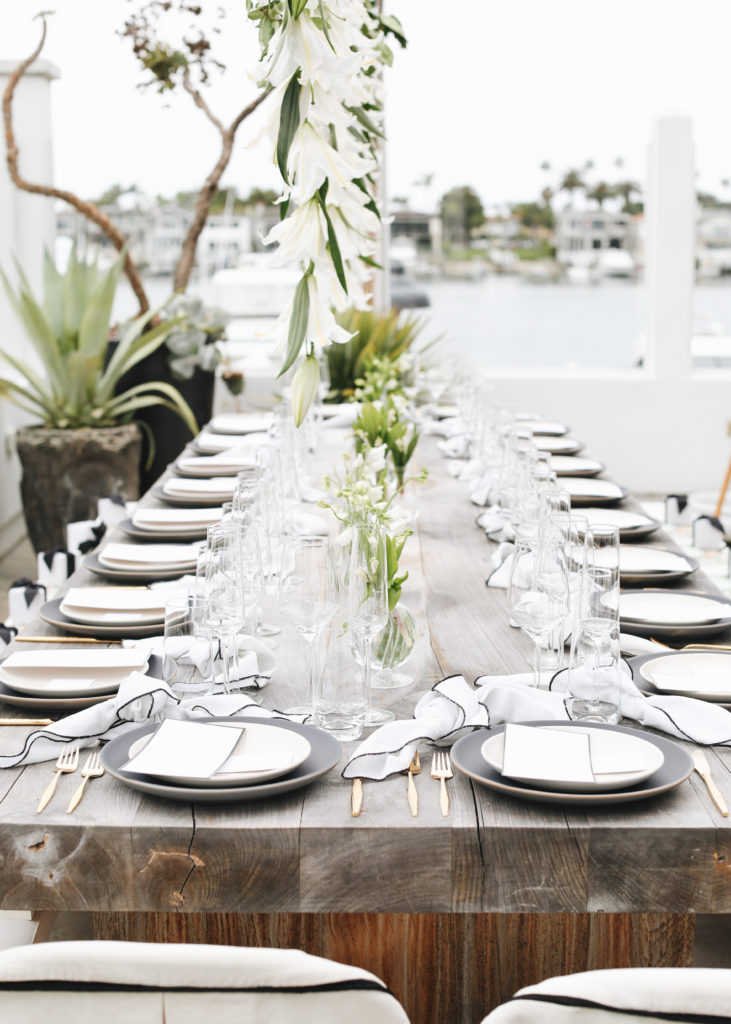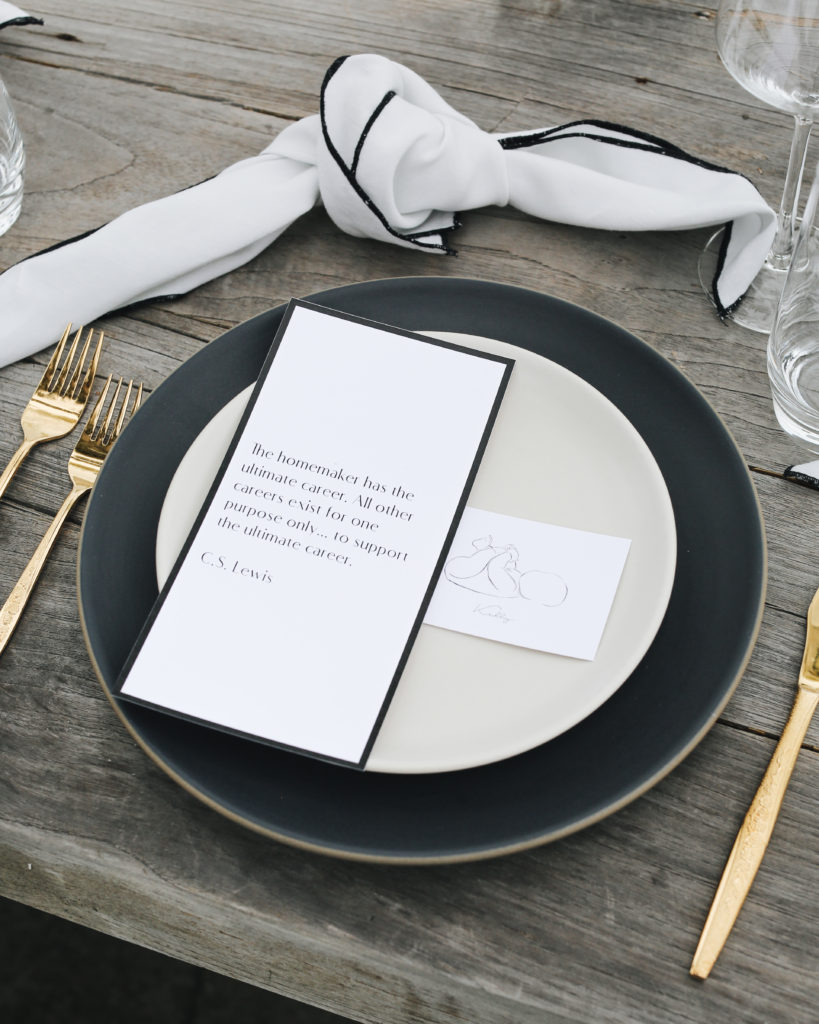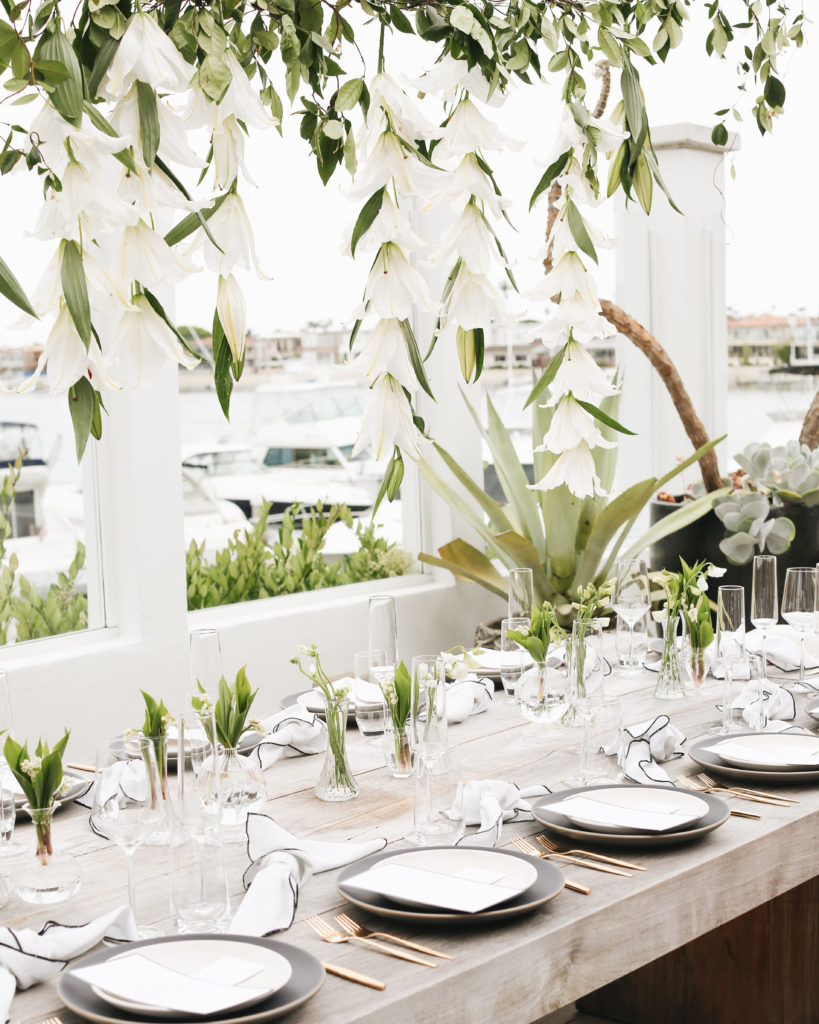 Remember I said there would be more on Jo?! Well she was at the shower doing live drawings for each guest to take home as well! This talented babe is also known as Dirty Eraser and we've had the pleasure of working with her a few times on our events. Pretty special!!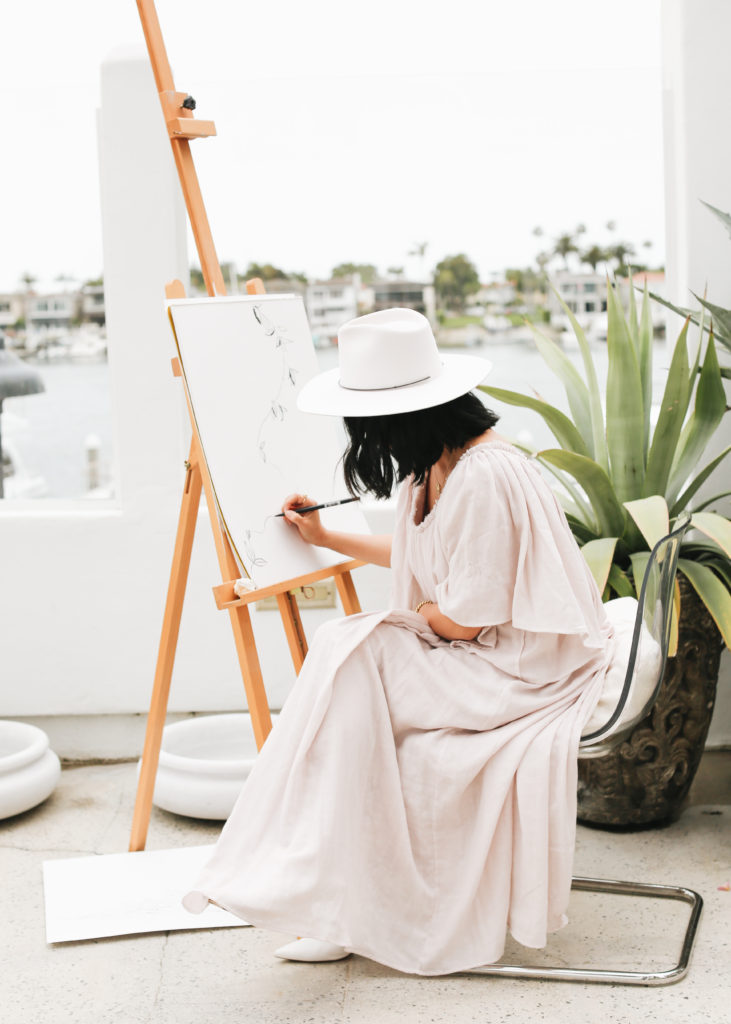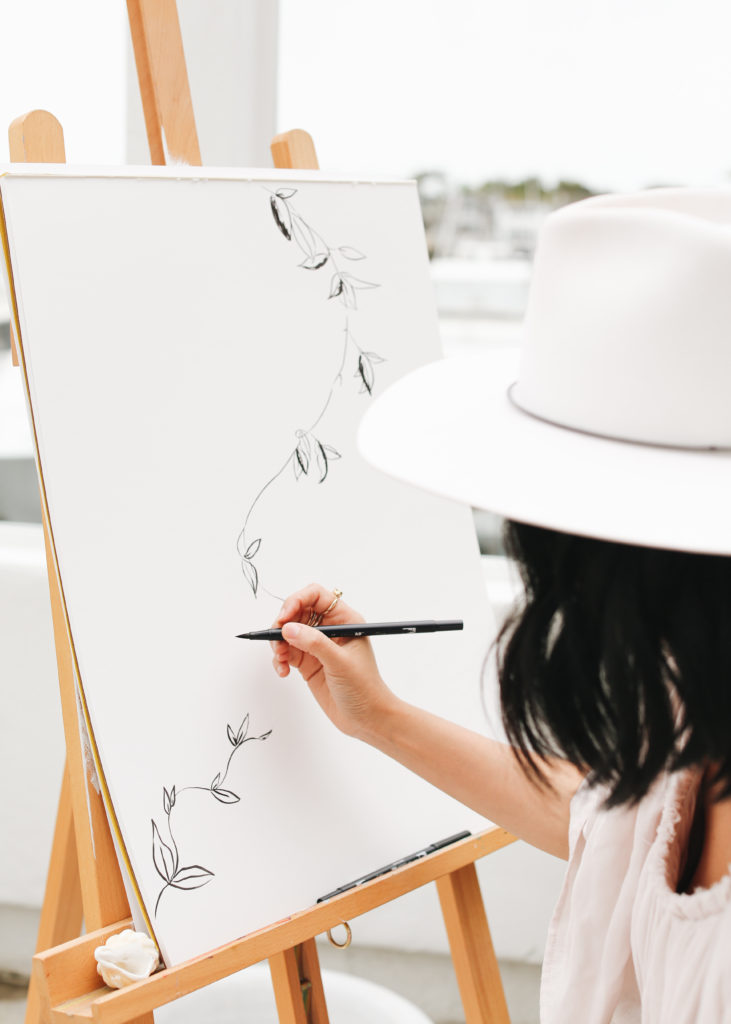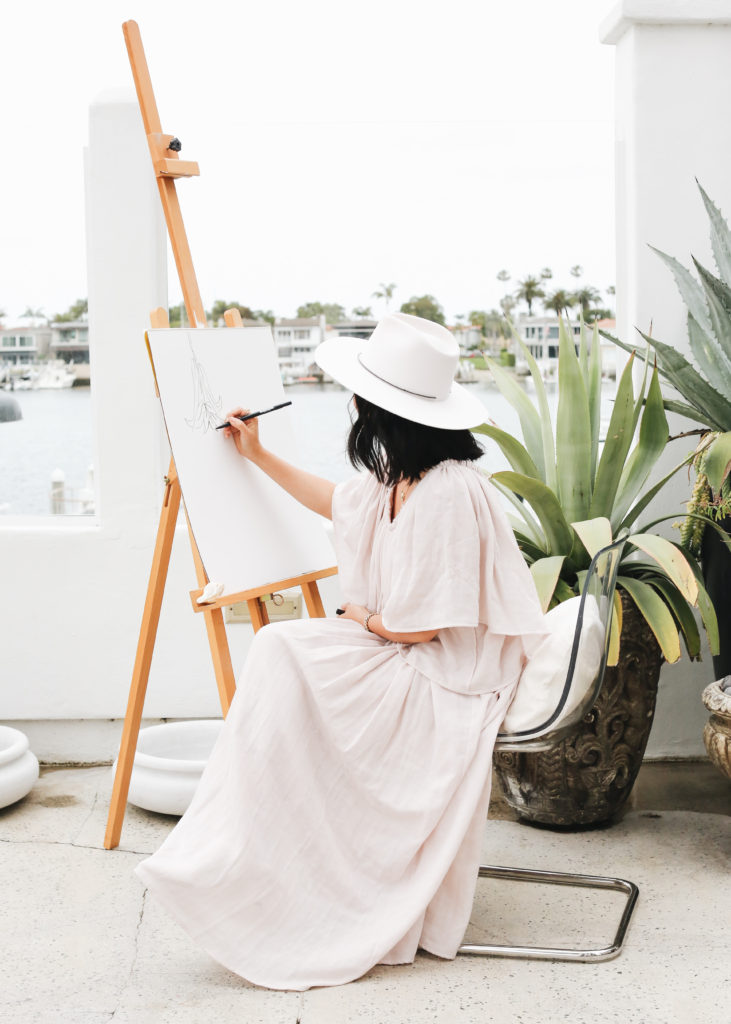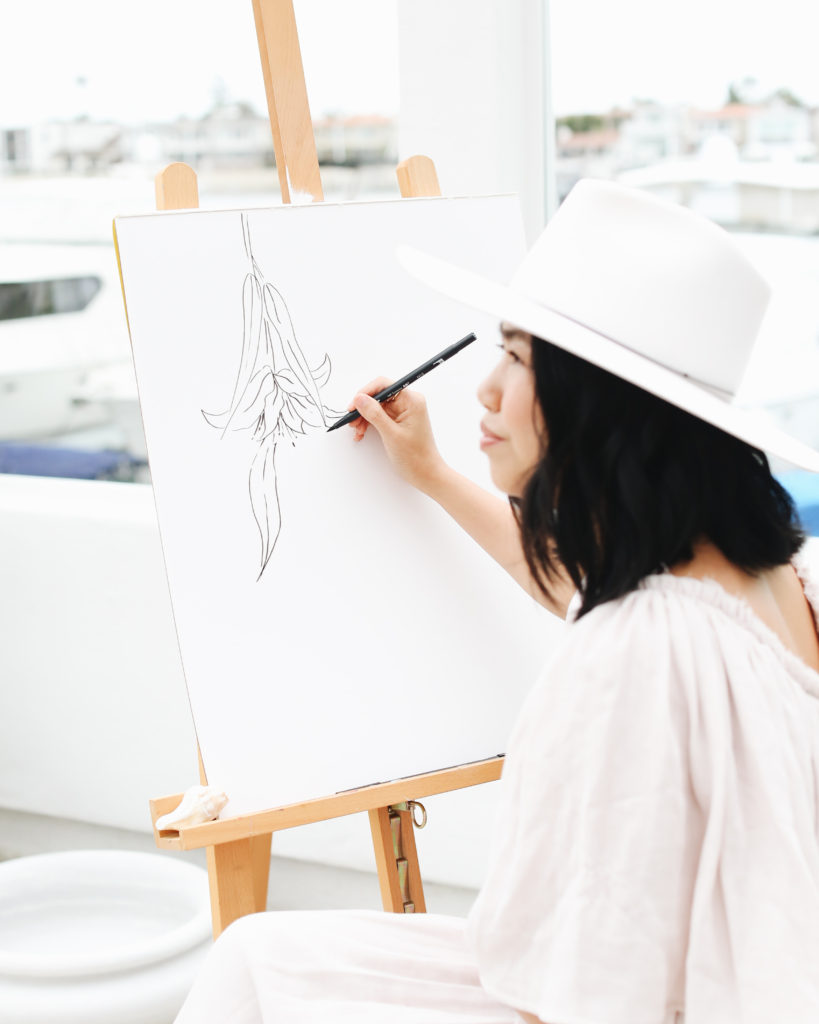 The rosé and champagne was flowing along with some light bites…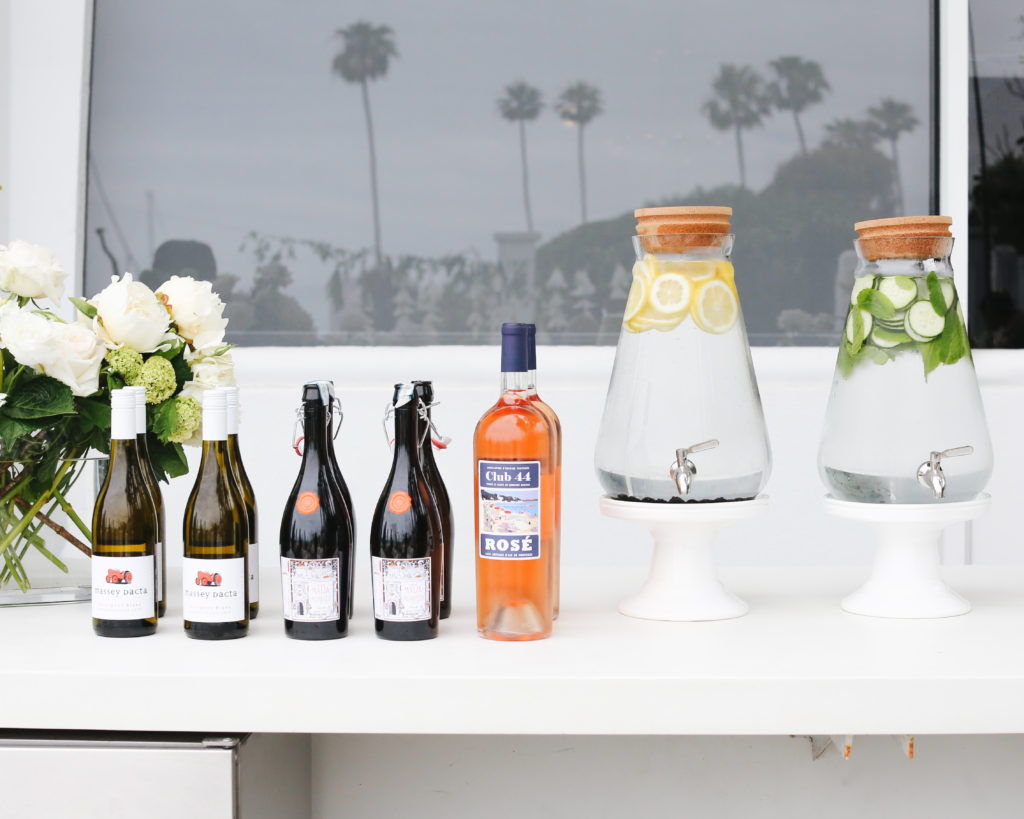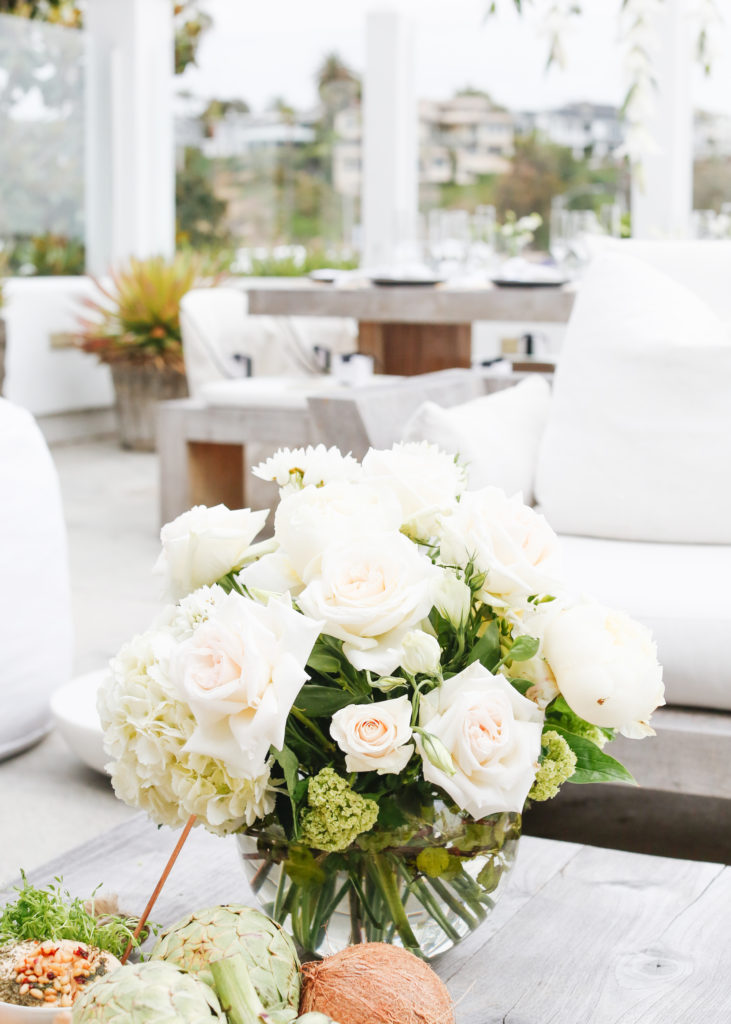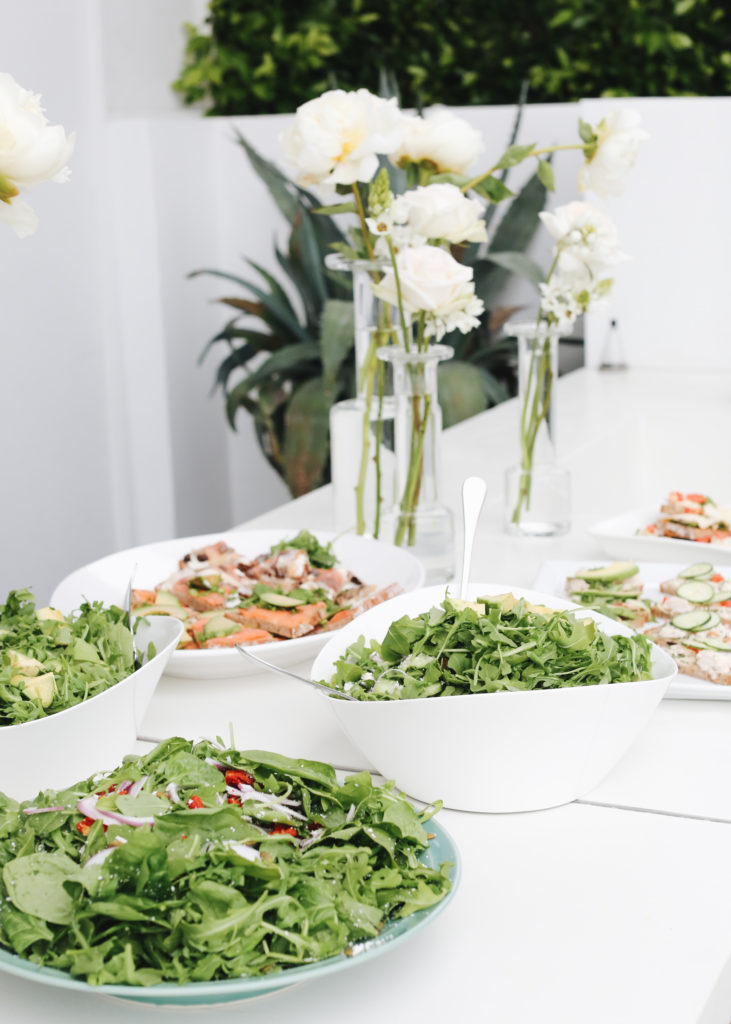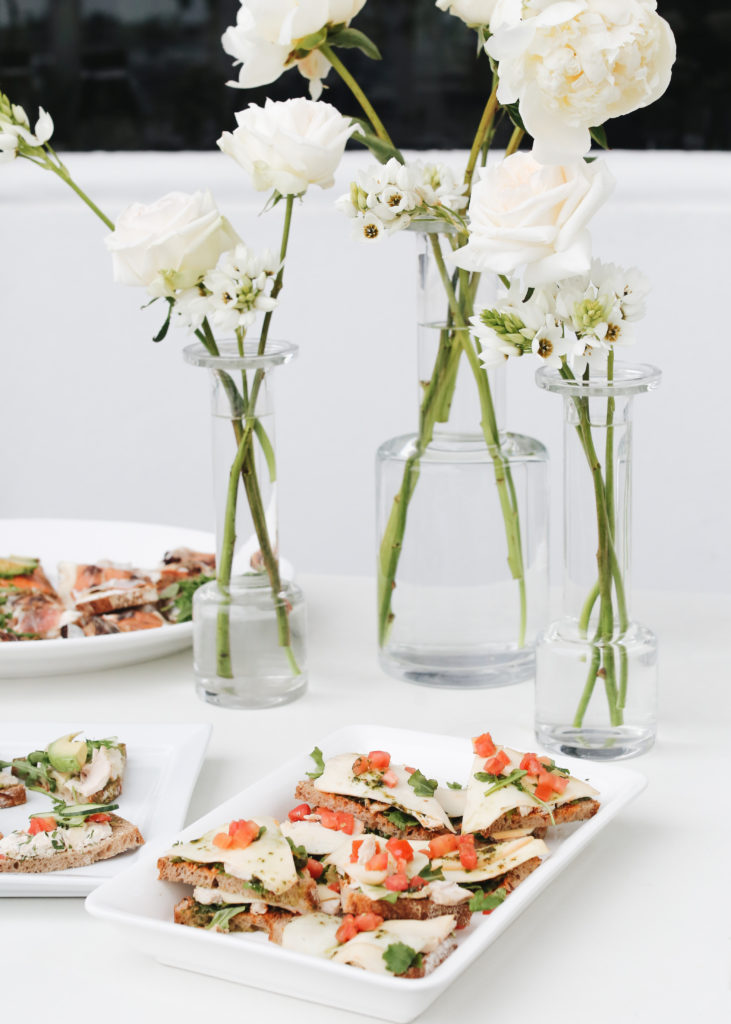 Lyke Minded created the prettiest and tastiest charcuterie spread ever!! I was basically sitting right next to it the entire time, haha!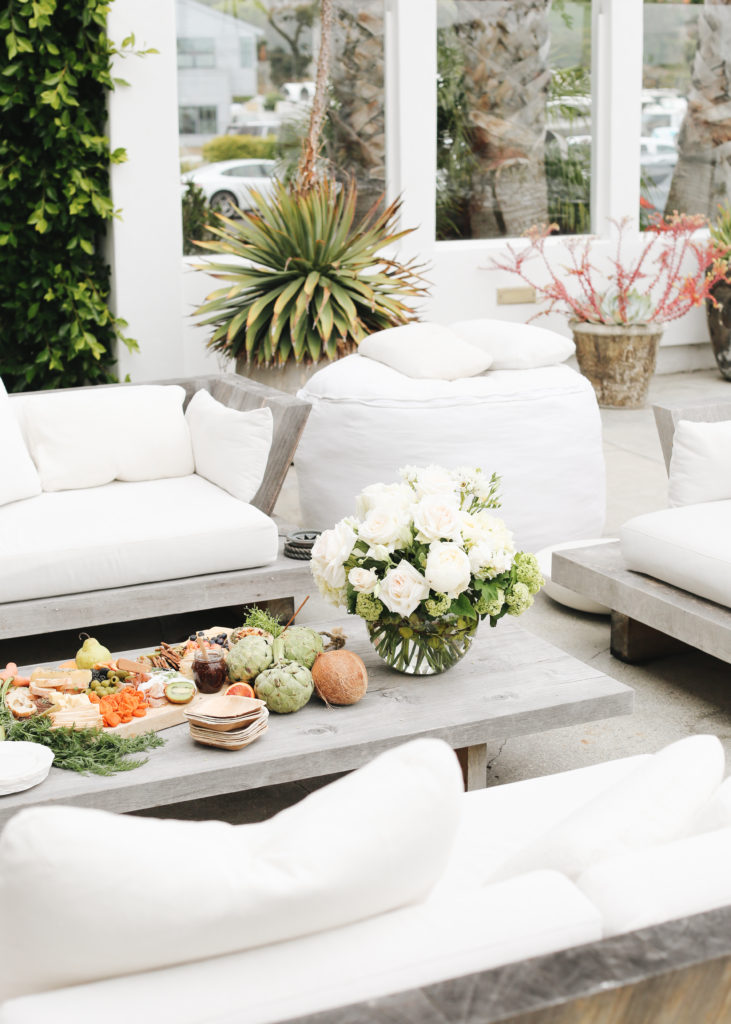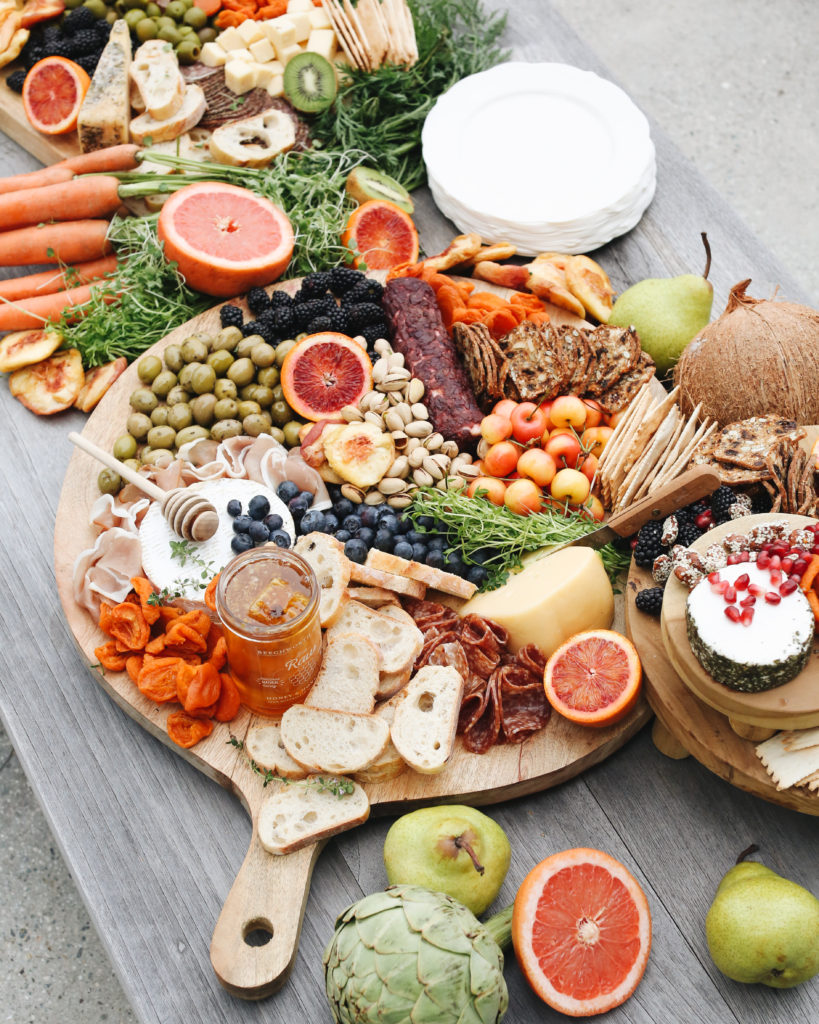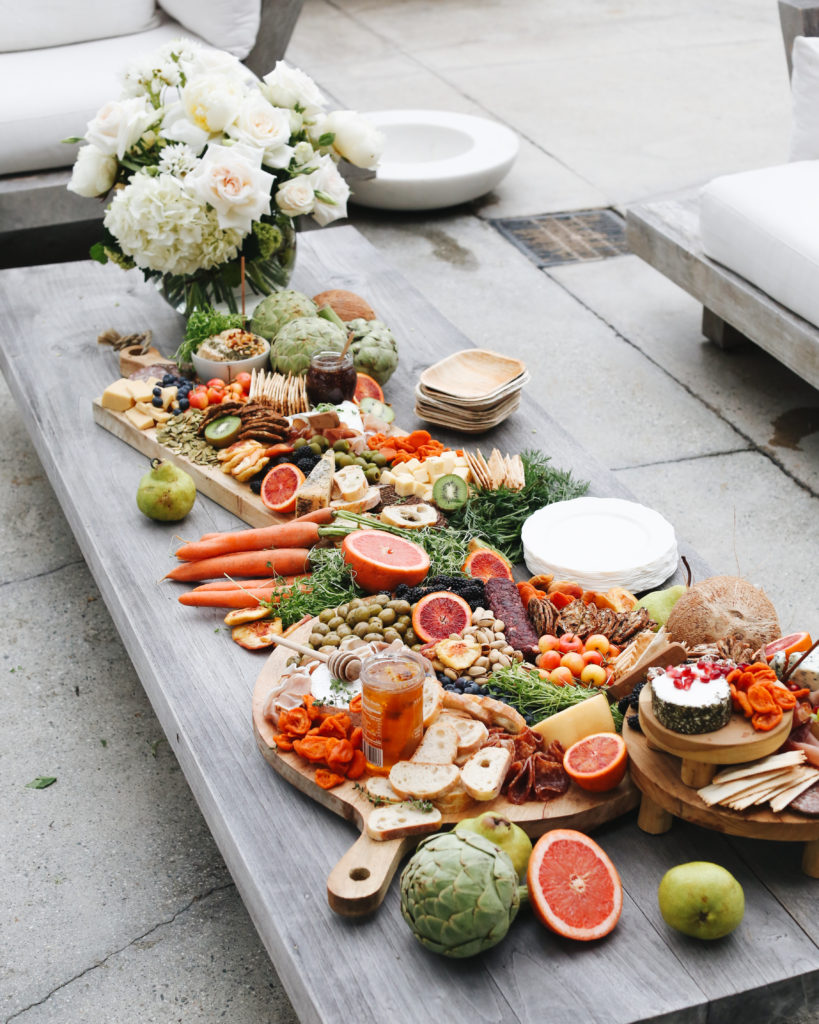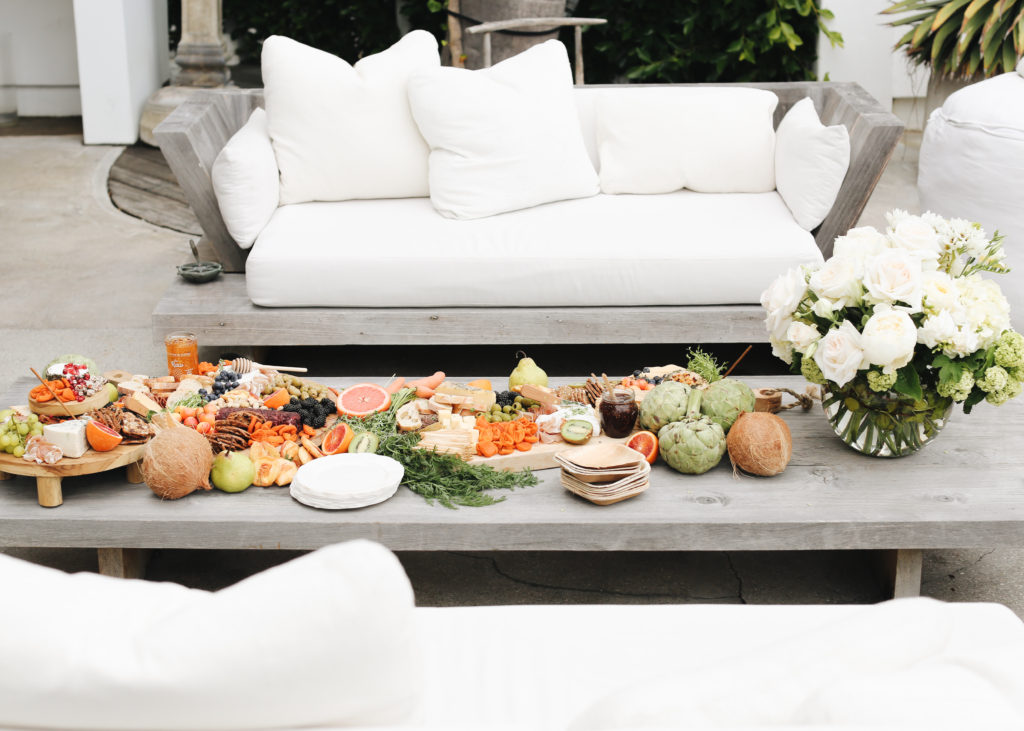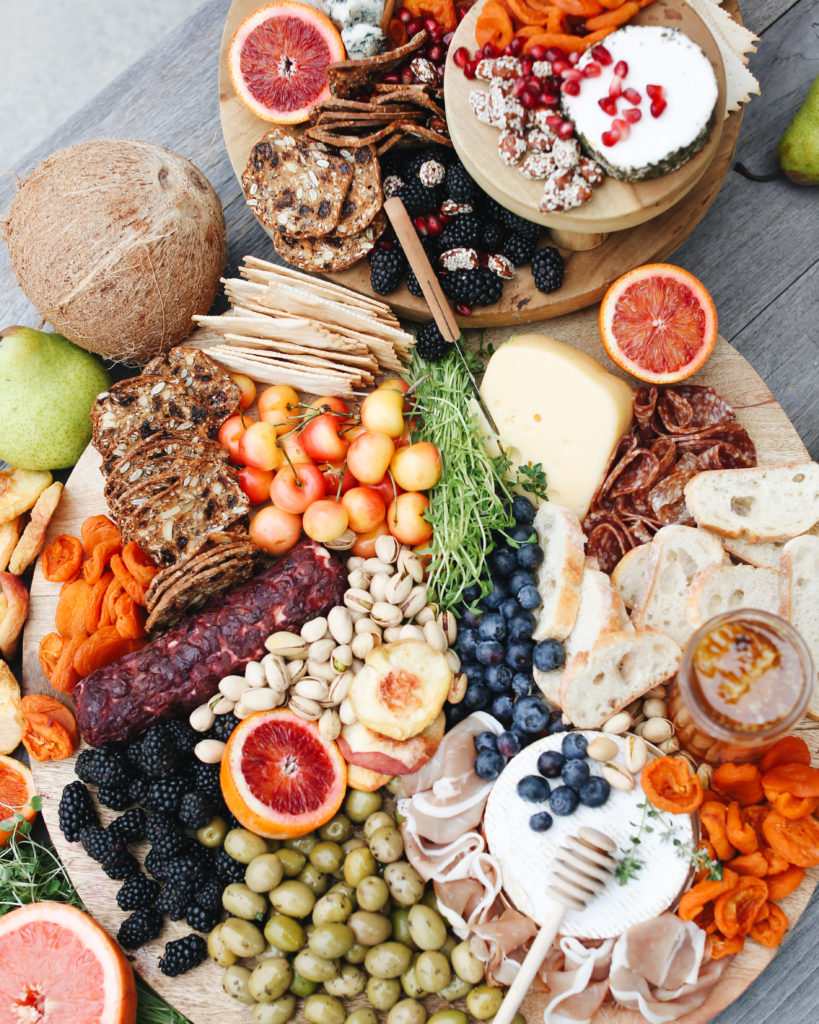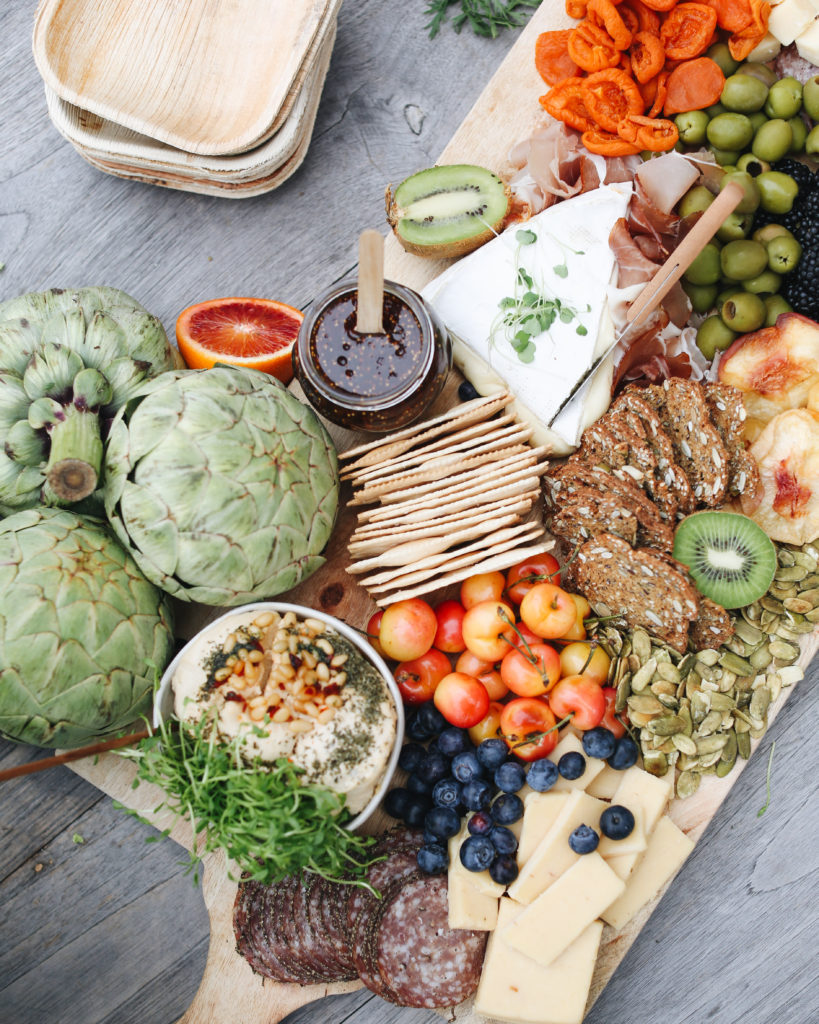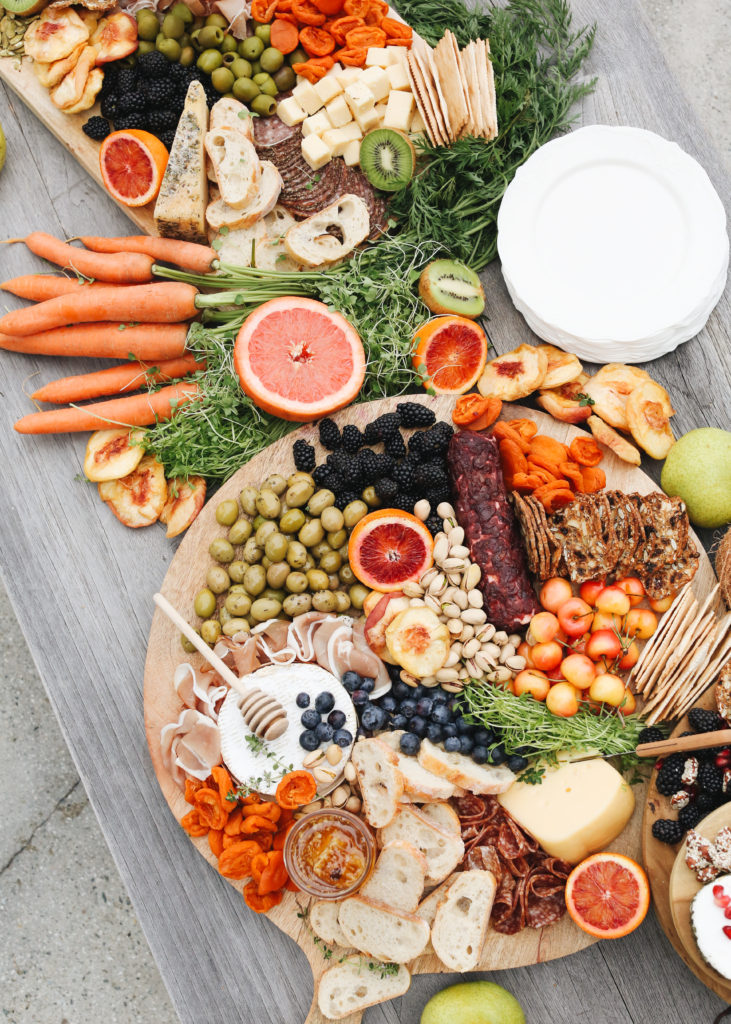 There's the stunning mama to be… for the 4th time!!! What can I say, she makes the cutest red headed babies so I'm all for her having more!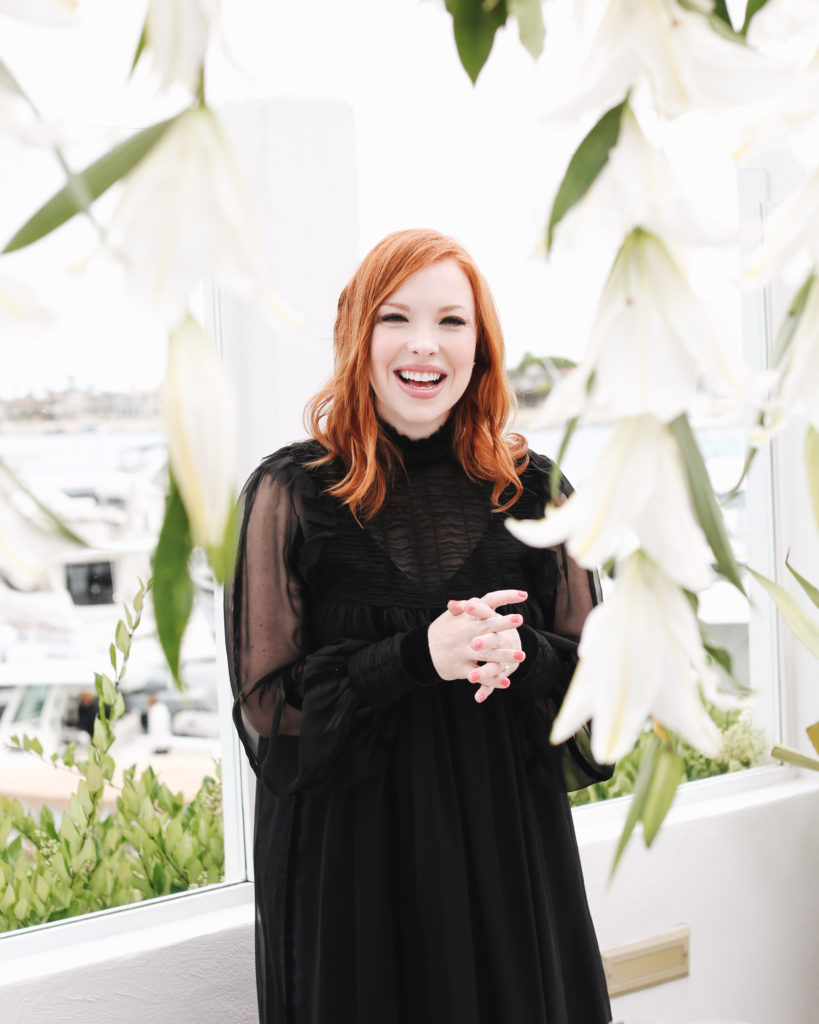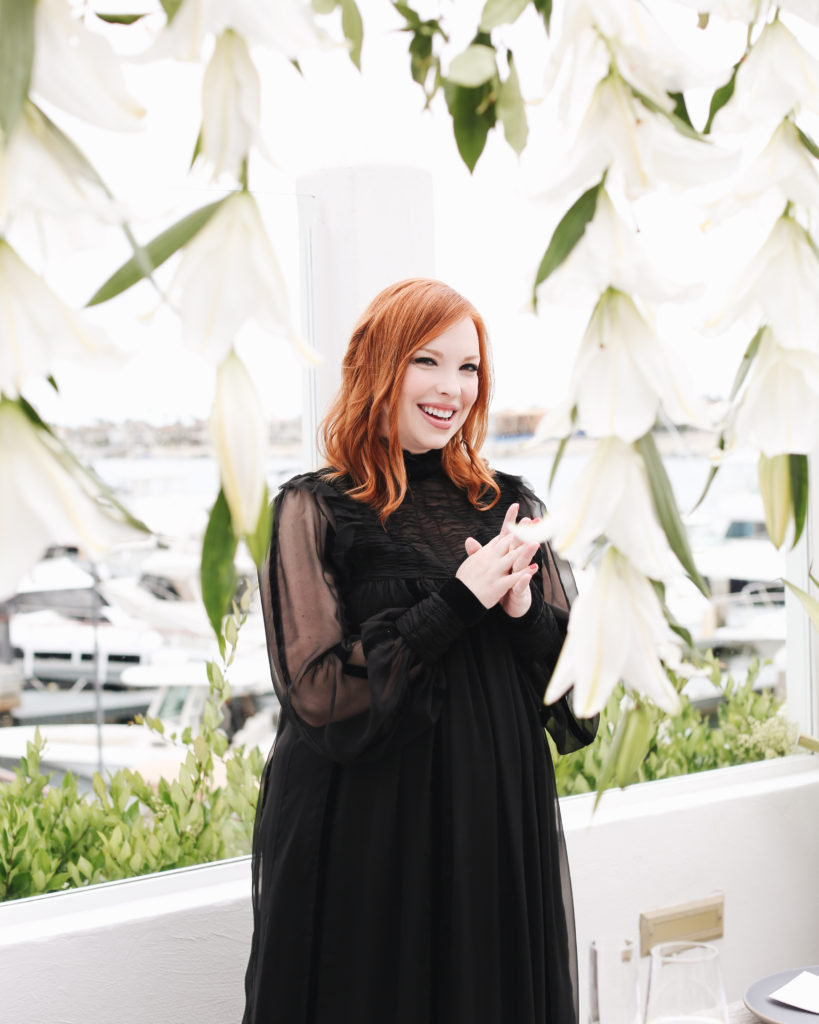 All of her pretty friends were there to support her too! Look at this gorgeous bunch!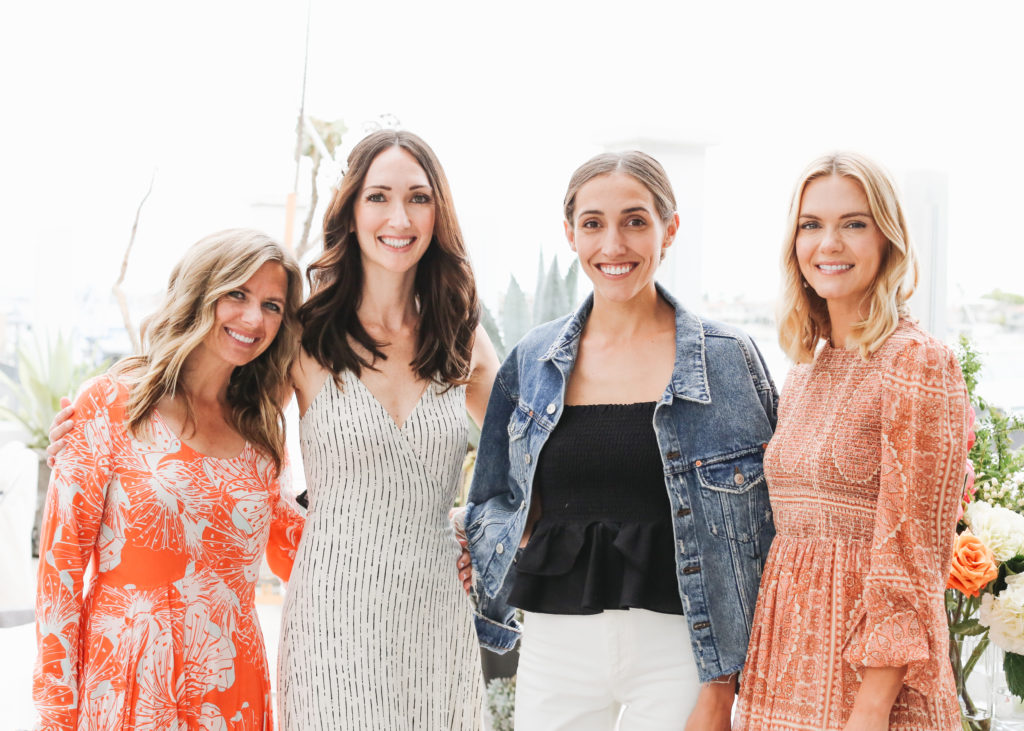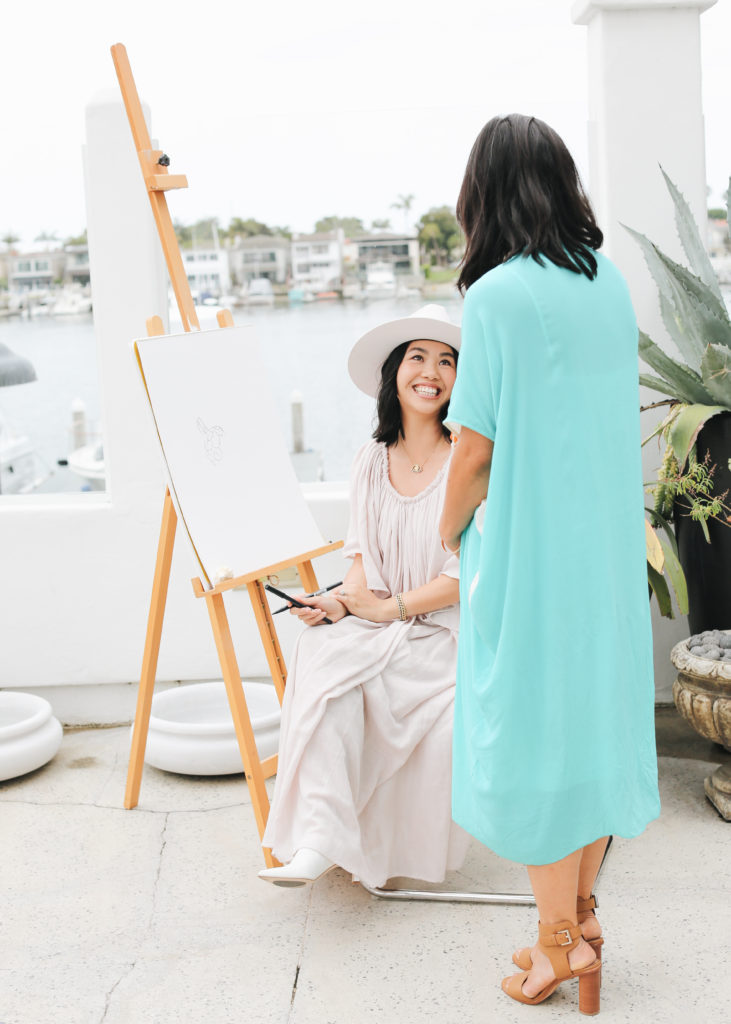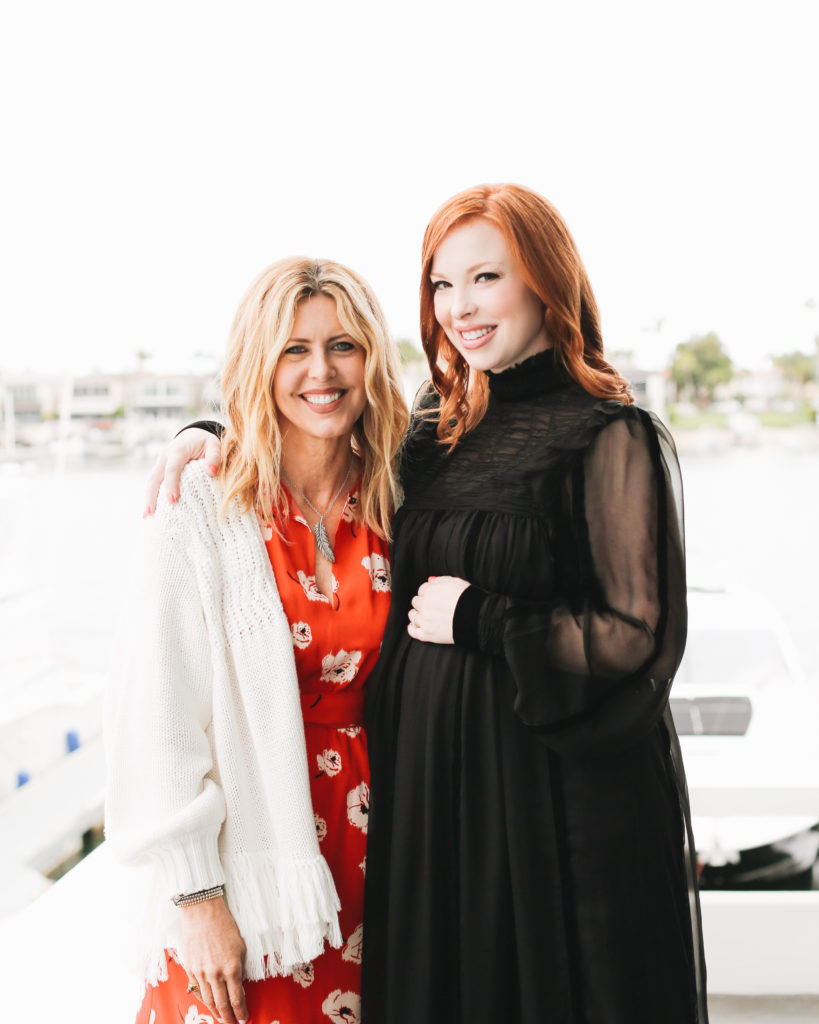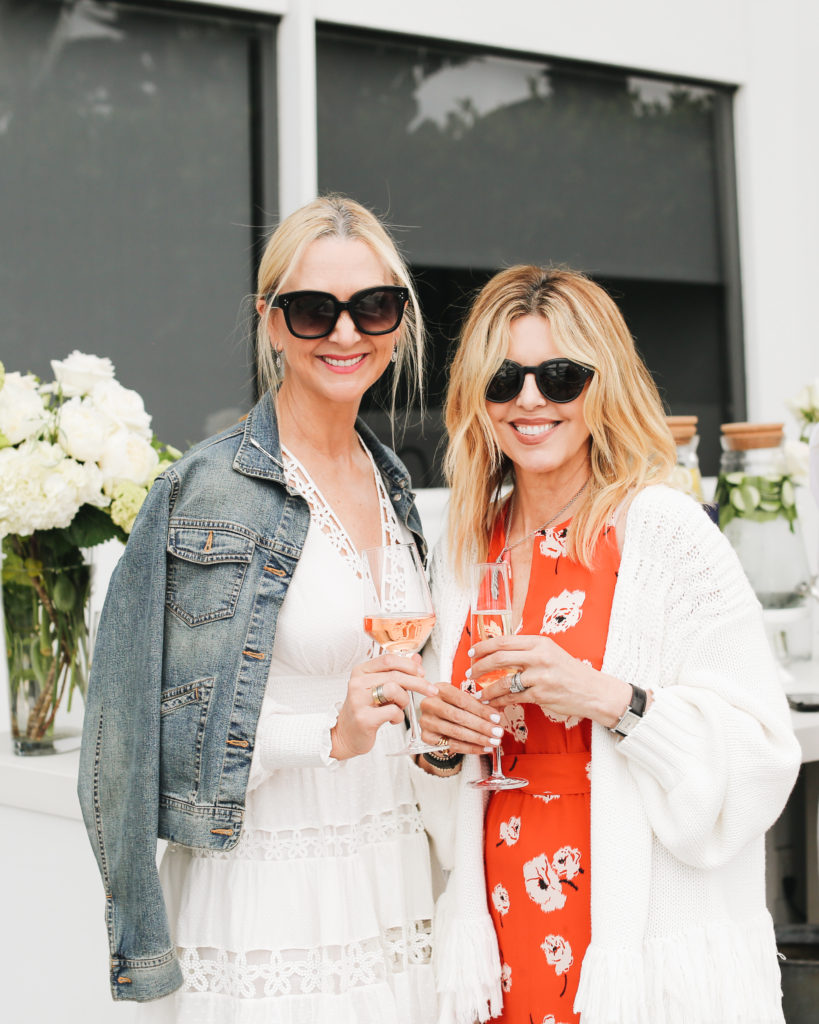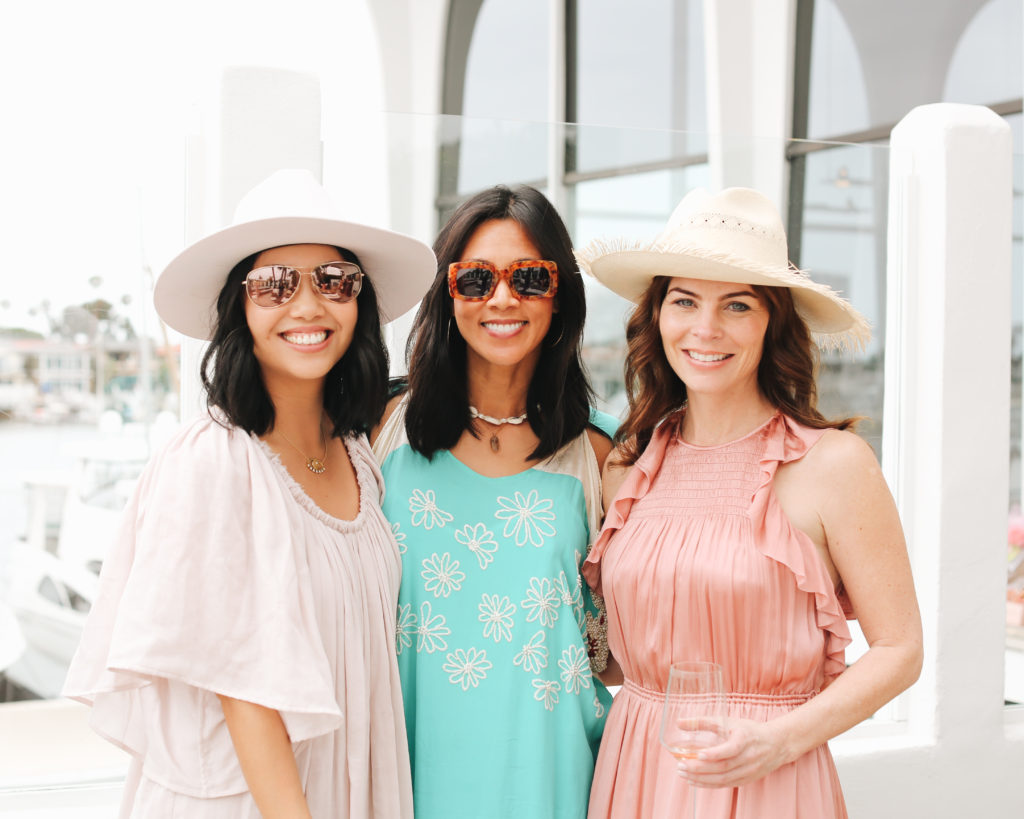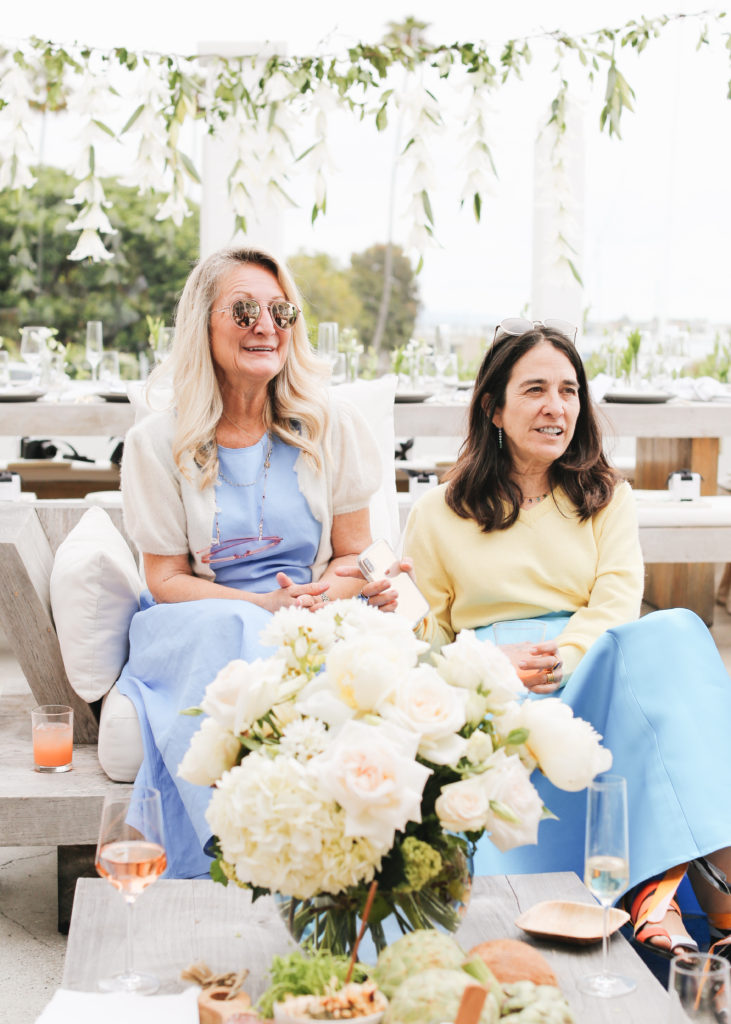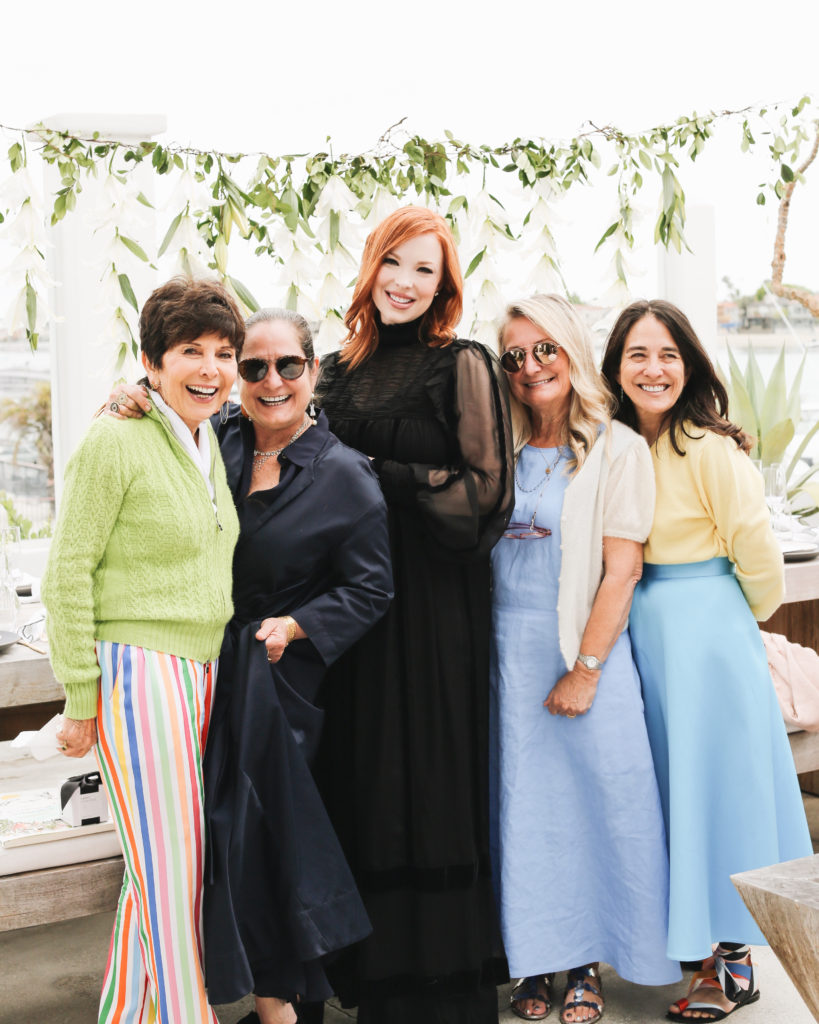 Yep, there's me on the left eating… Haha, best photo of me that day!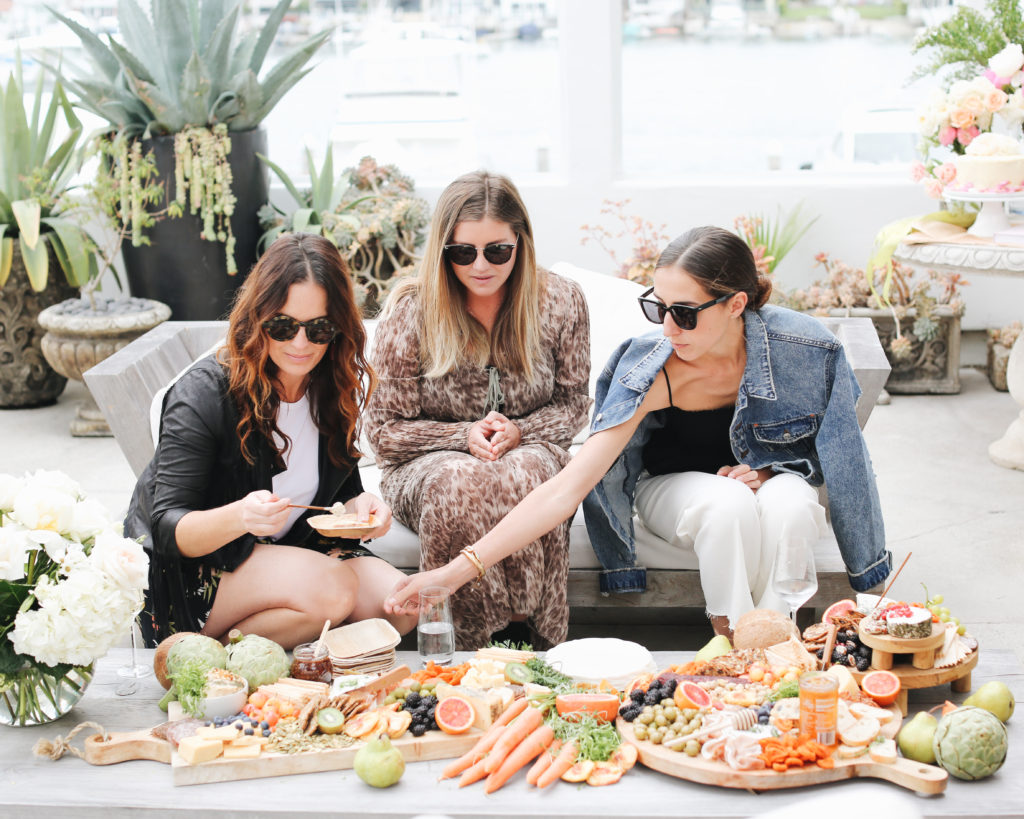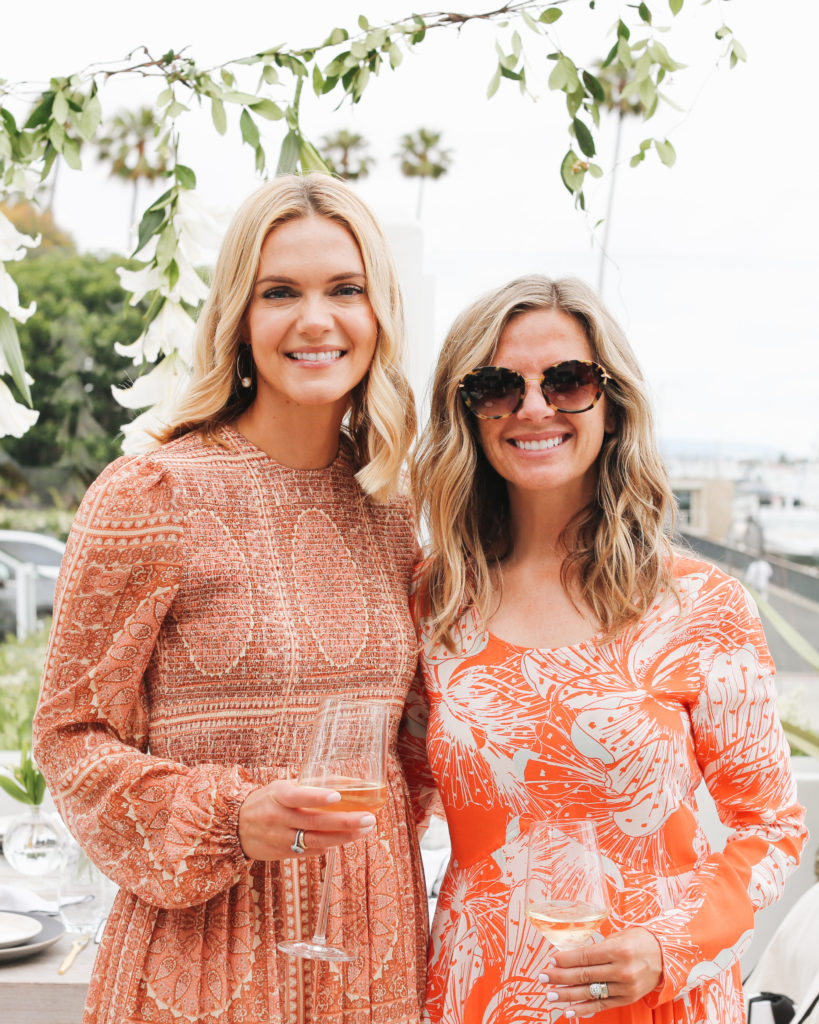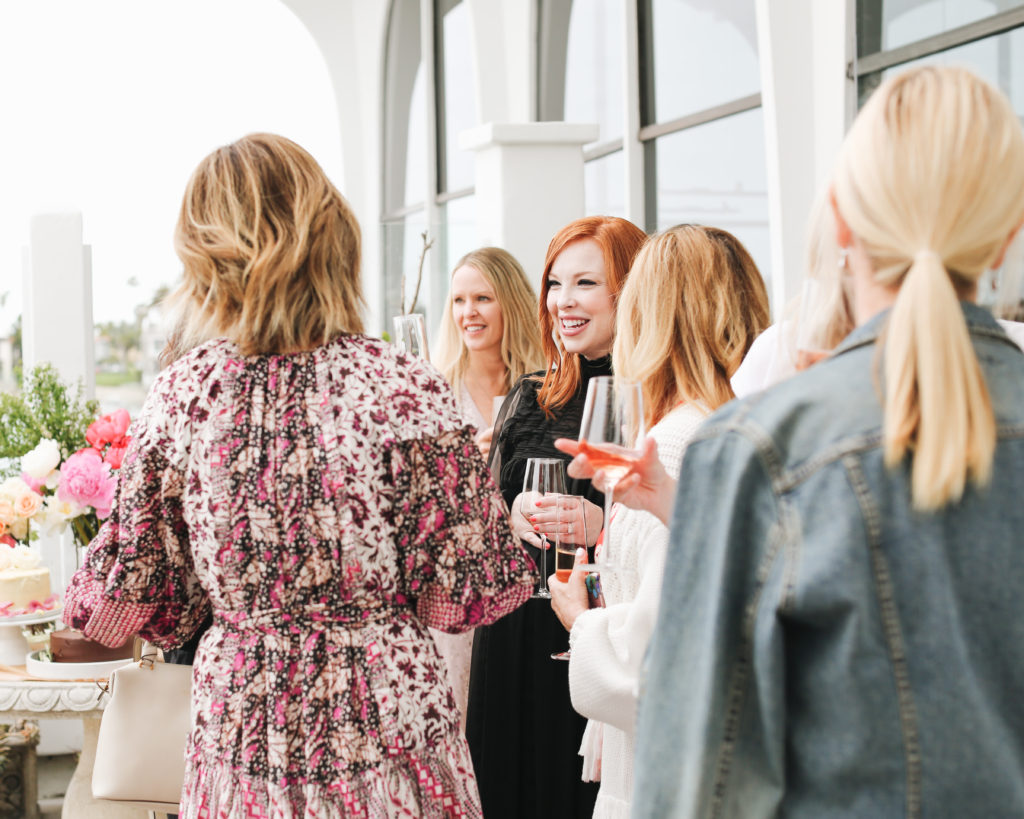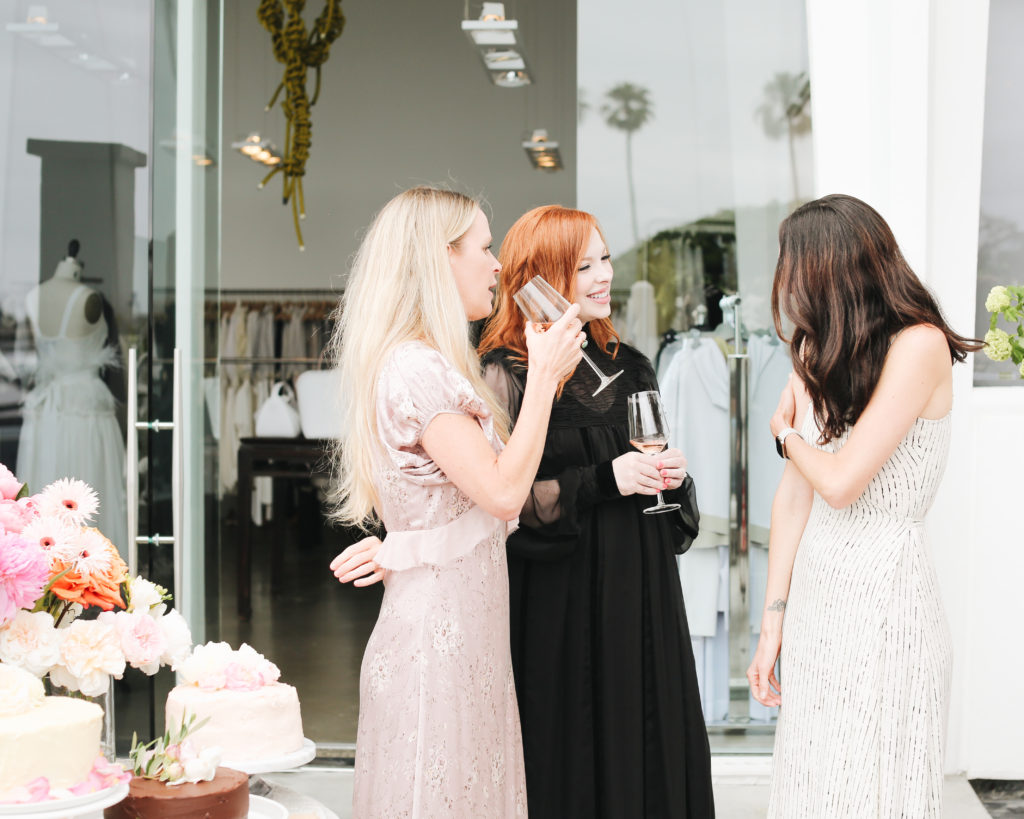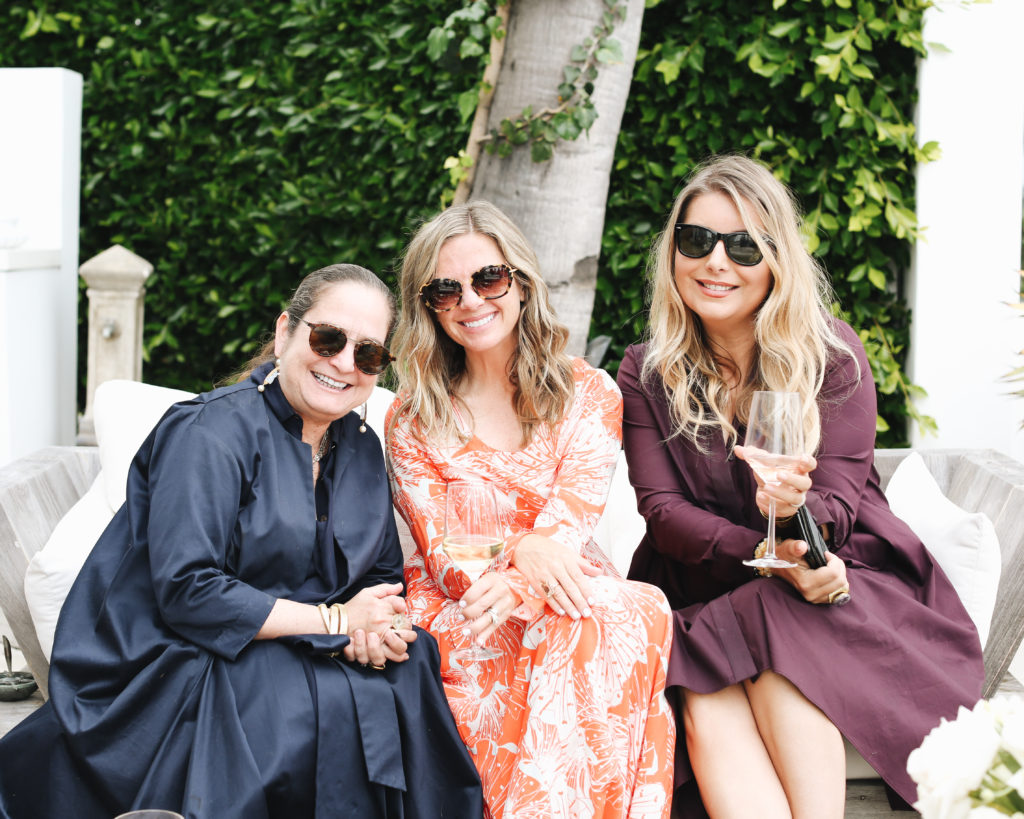 It was a beautiful afternoon with beautiful women all around!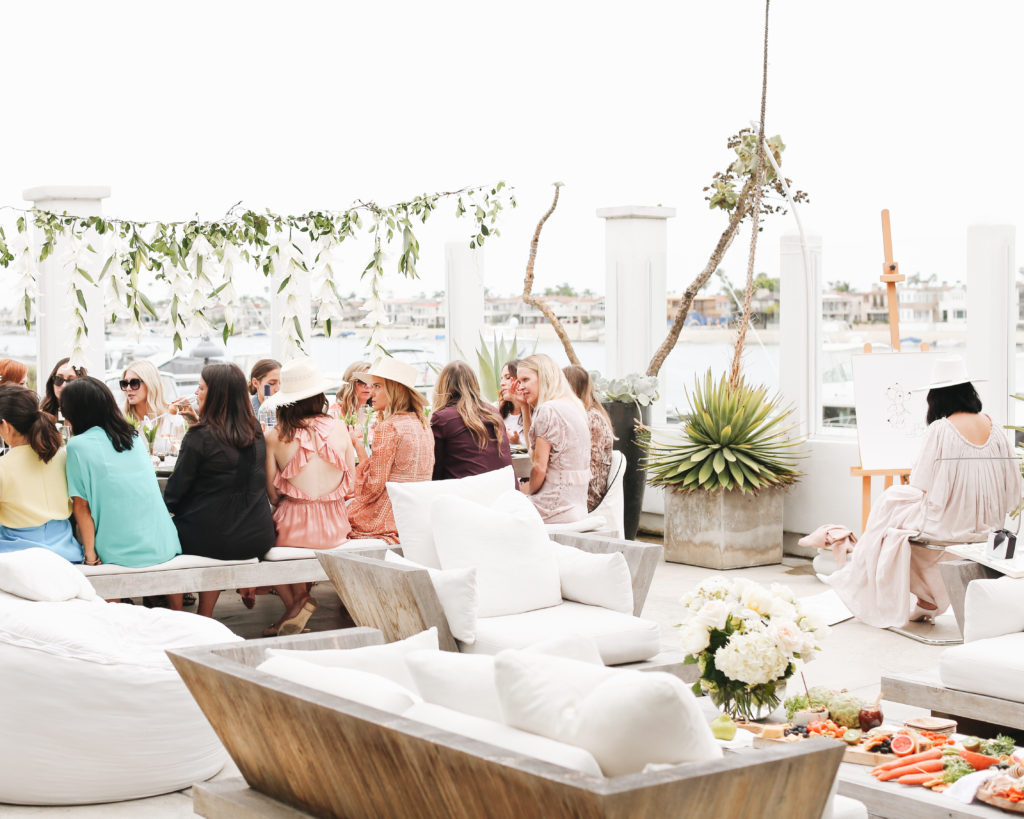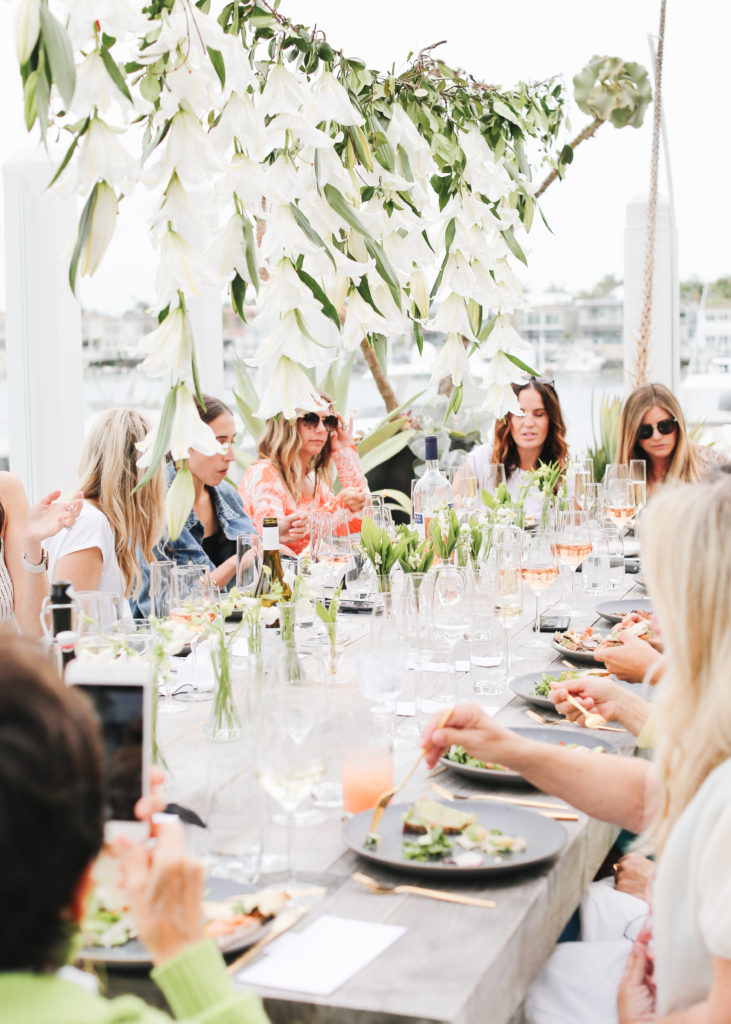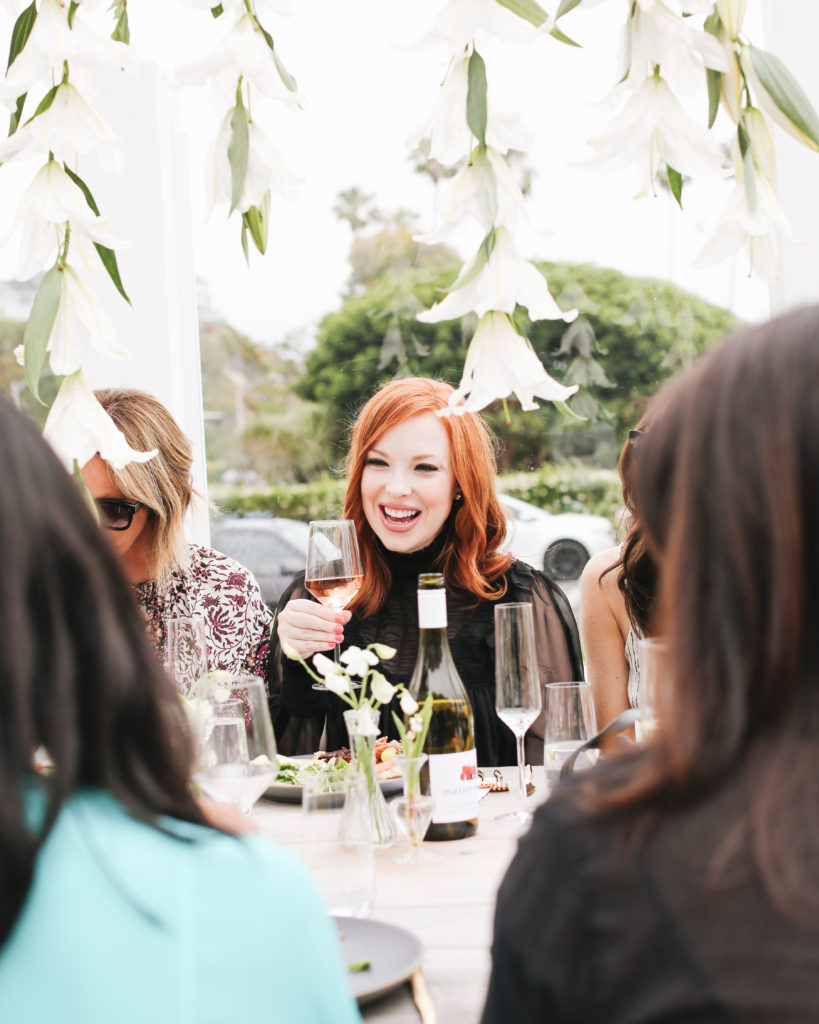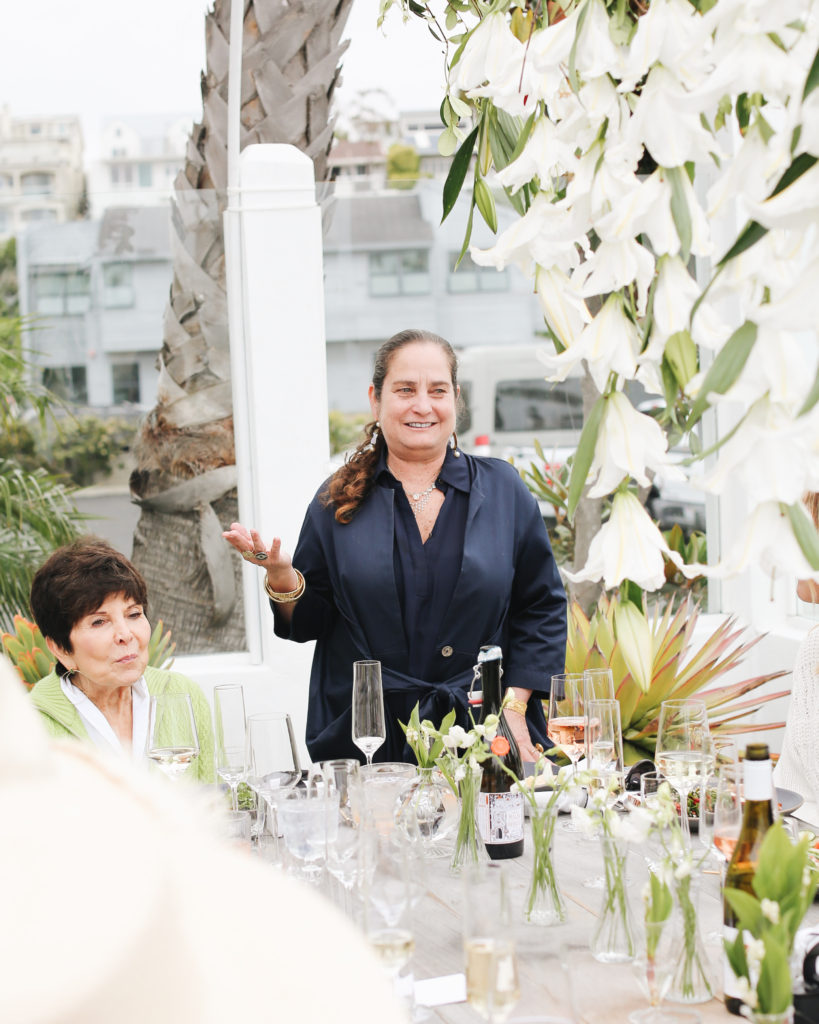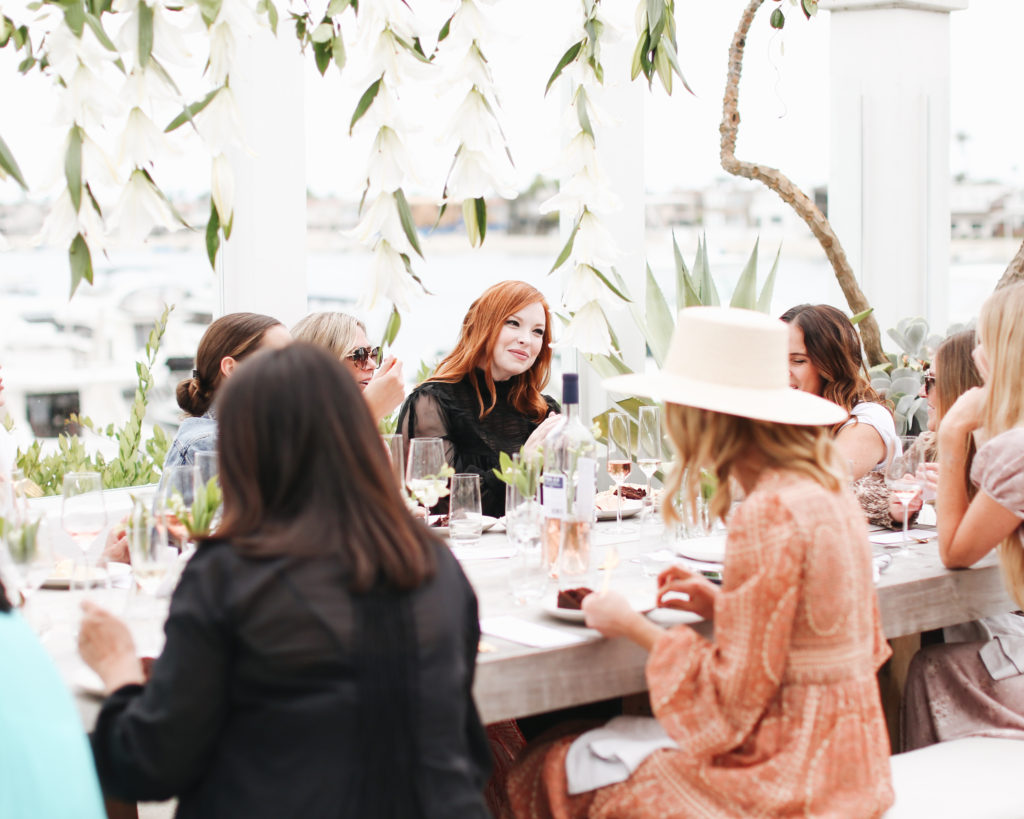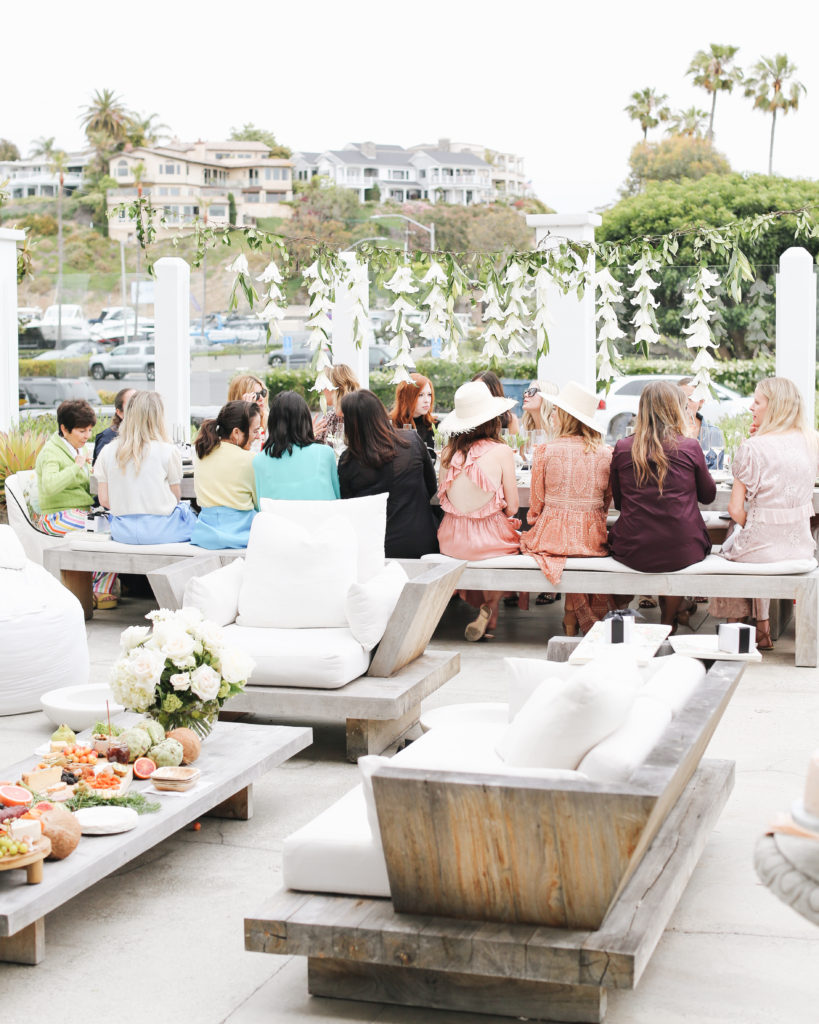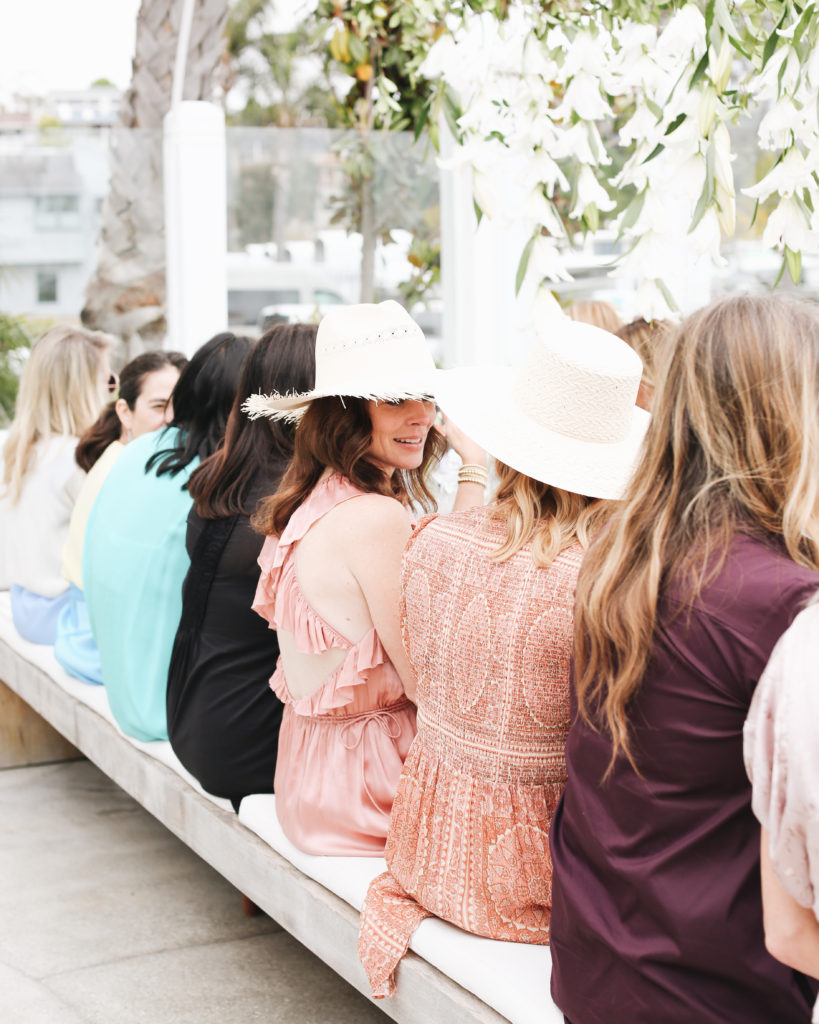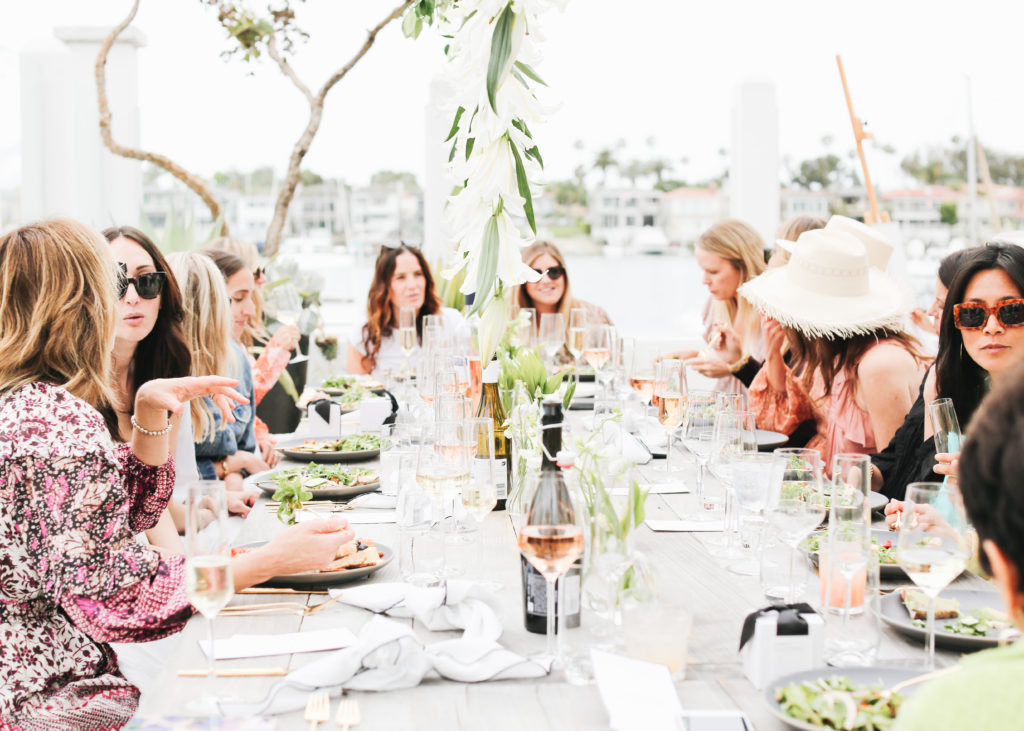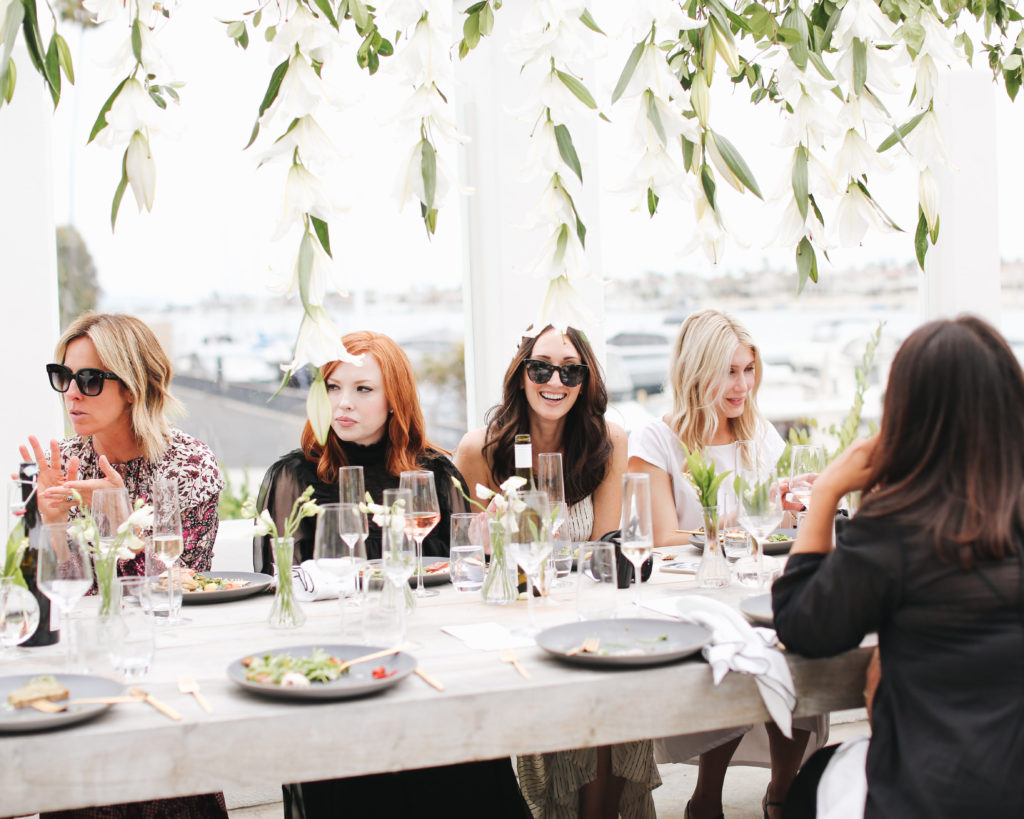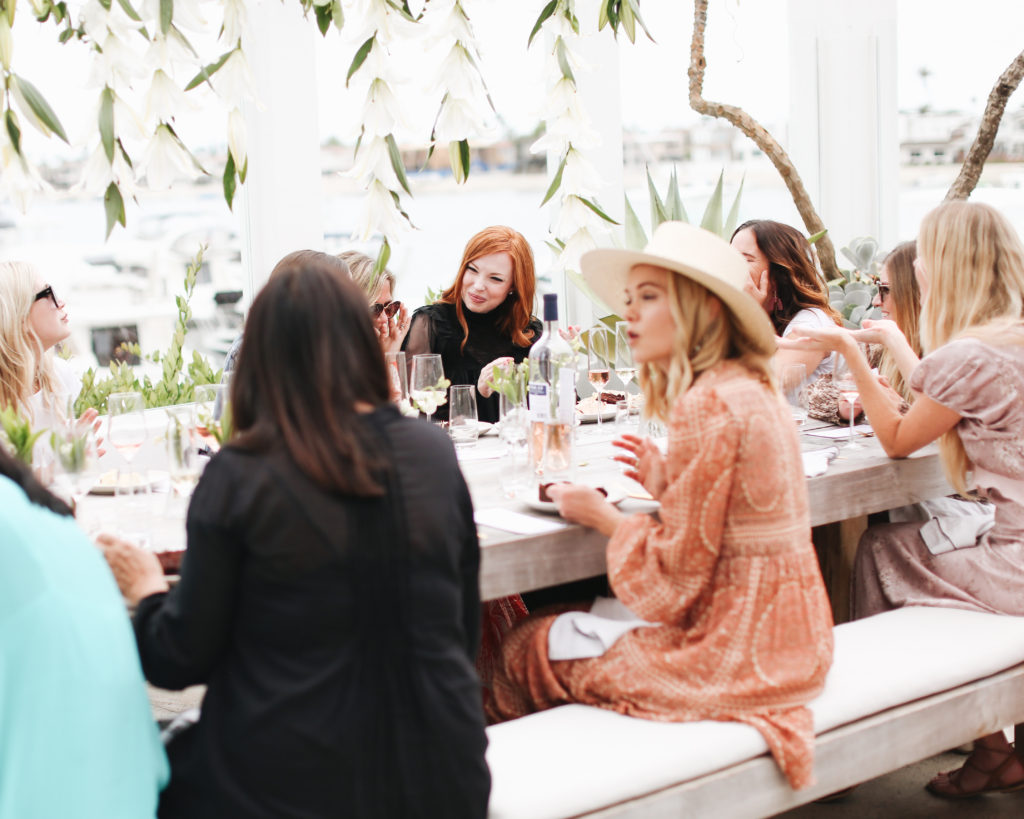 For dessert we were spoiled by this lovely lady, Alatheia's dear friend and one of her partners on Art of Being Female, Christine Anderson. She baked two delicious cakes for all of us to enjoy!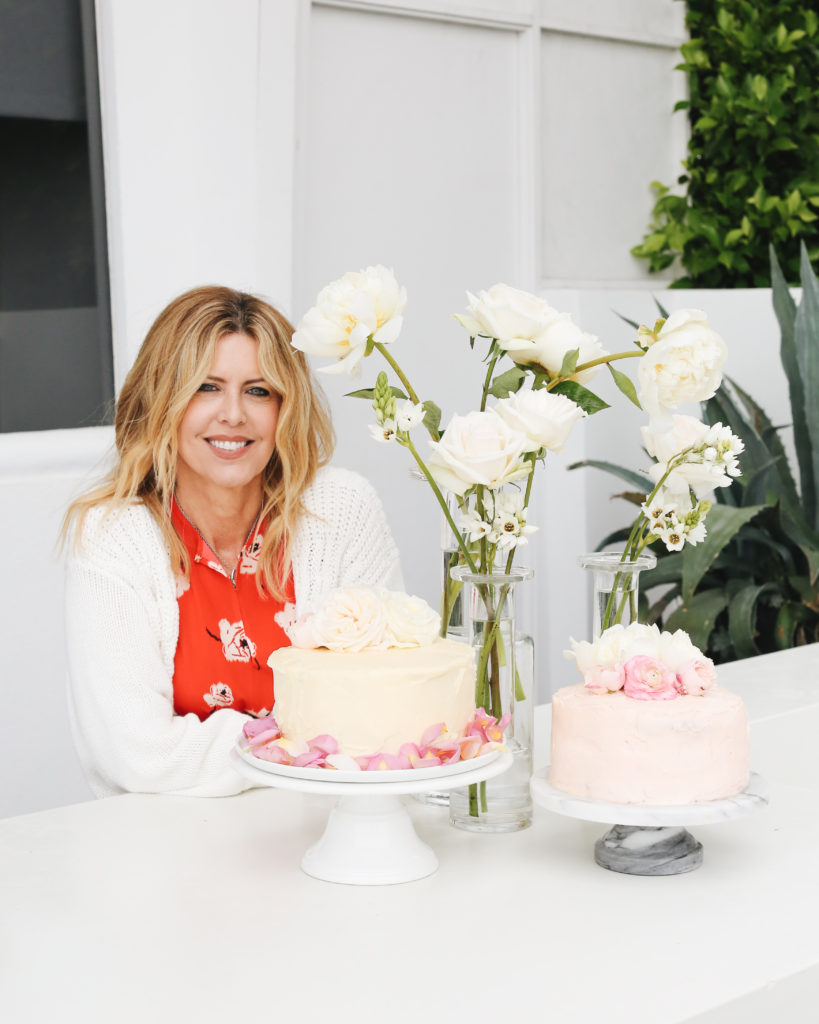 Isn't this set up pretty? We were all able to create bouquets with those gorgeous blooms to take home with us. So many amazing parting gifts!!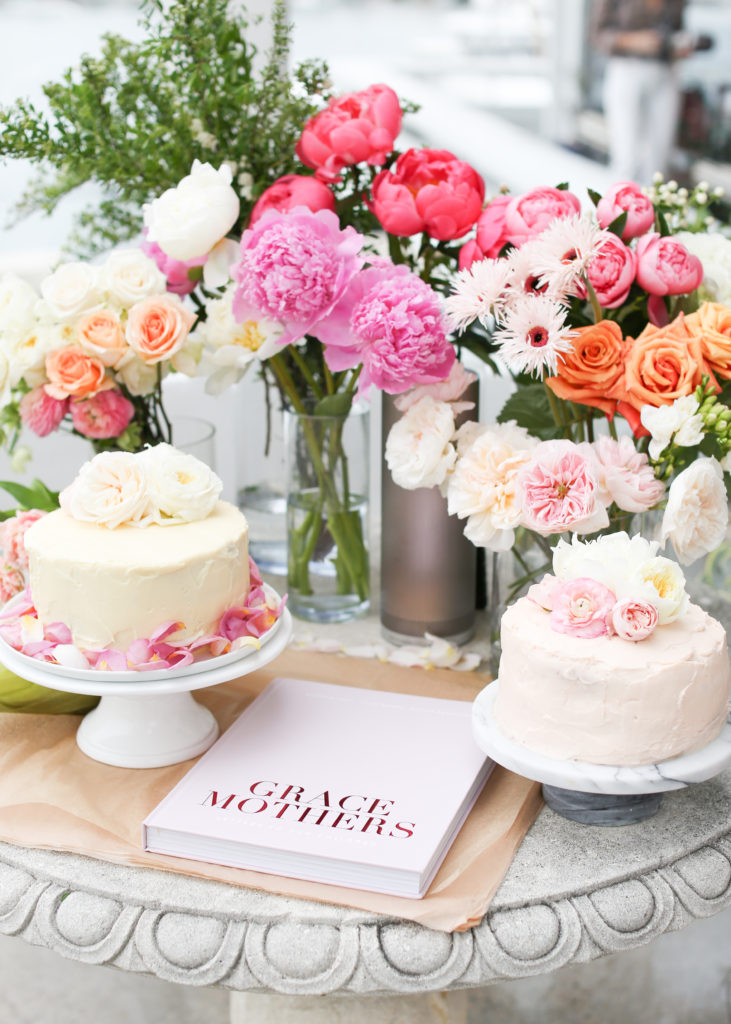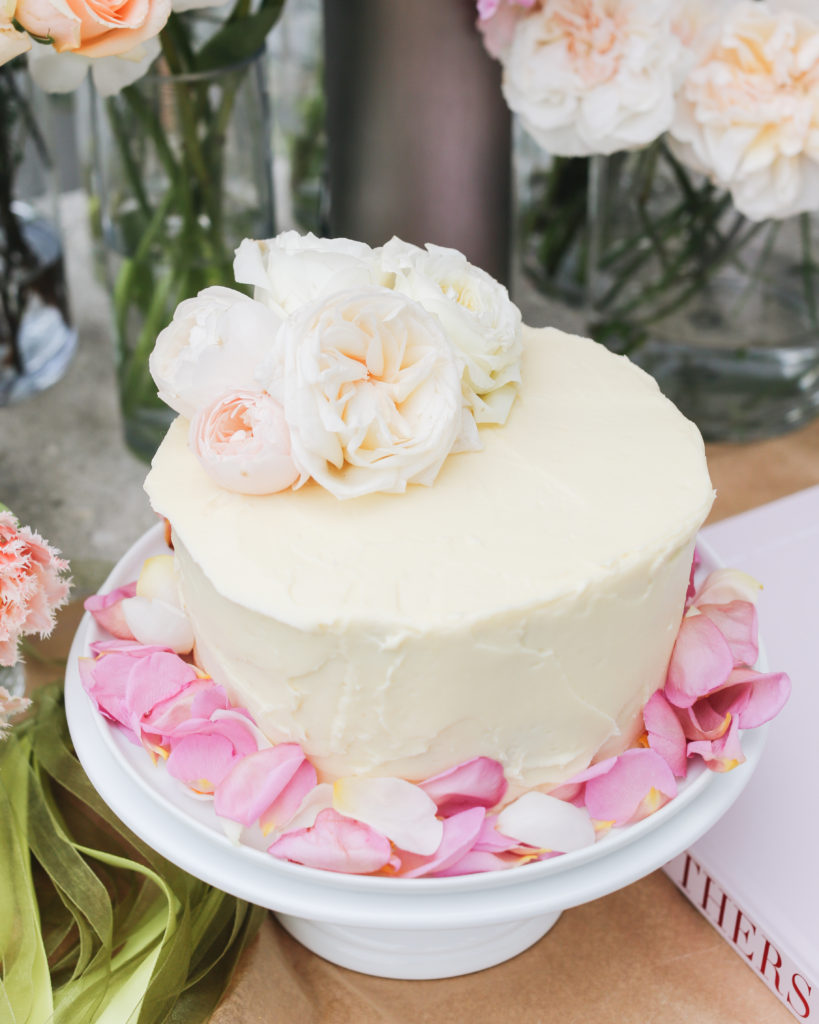 And this book!!! So fitting for sweet baby Grace!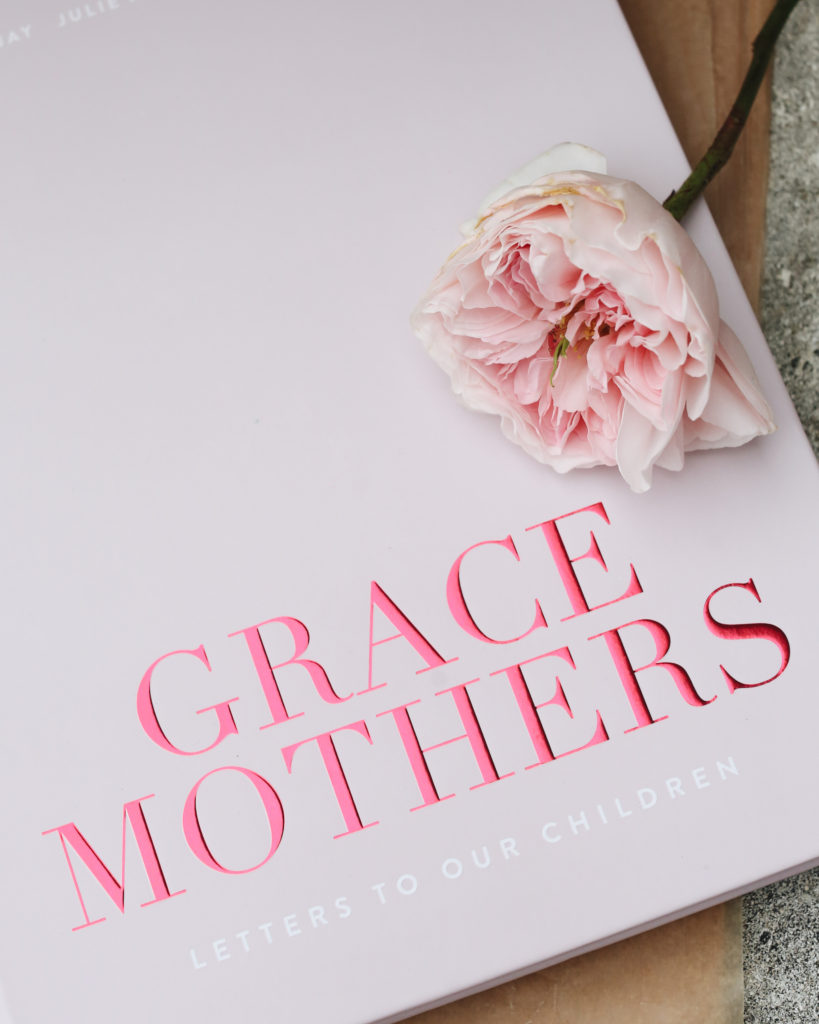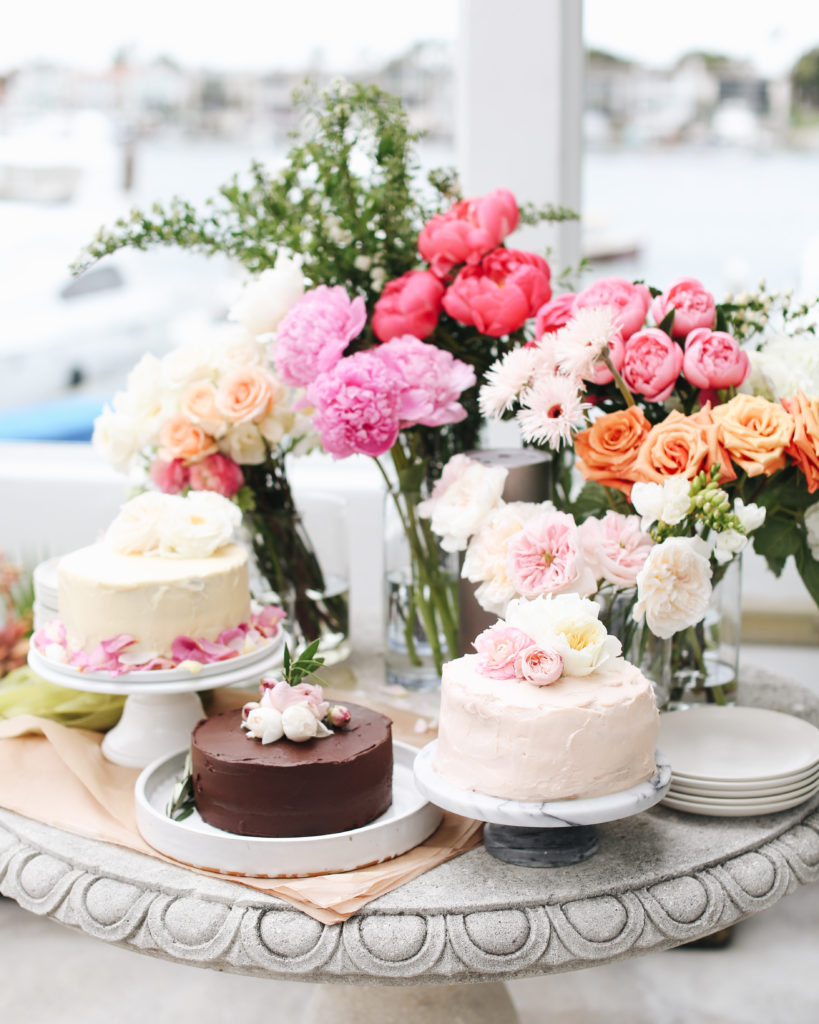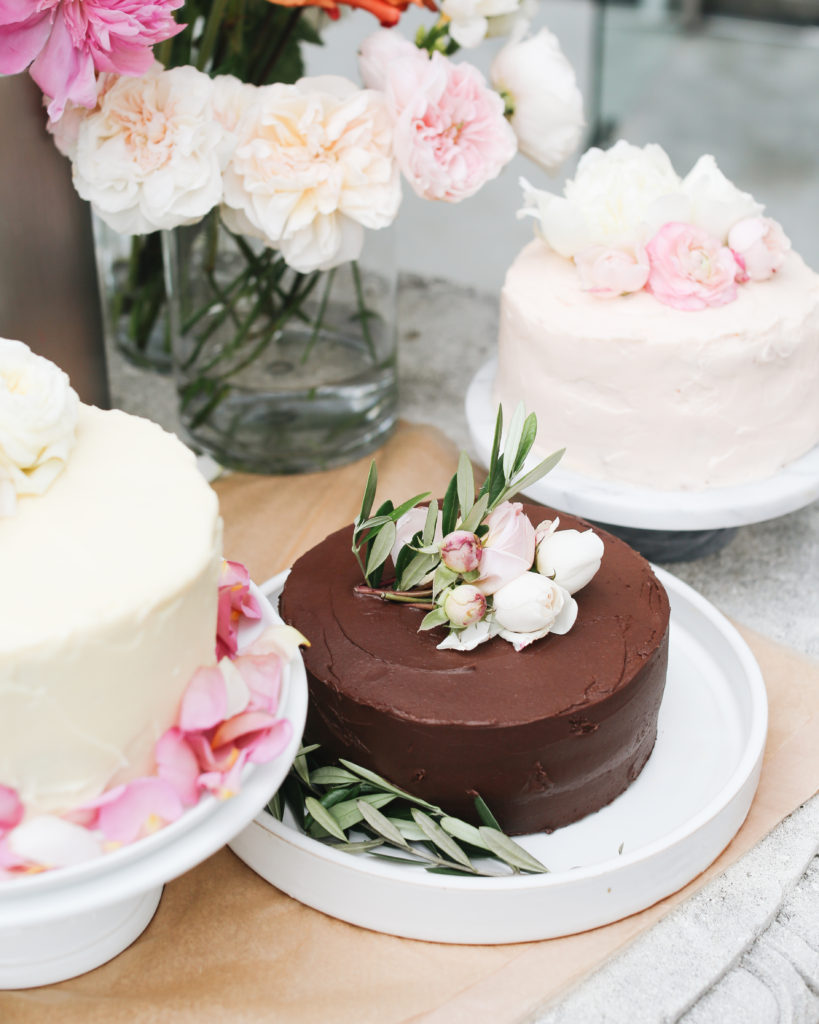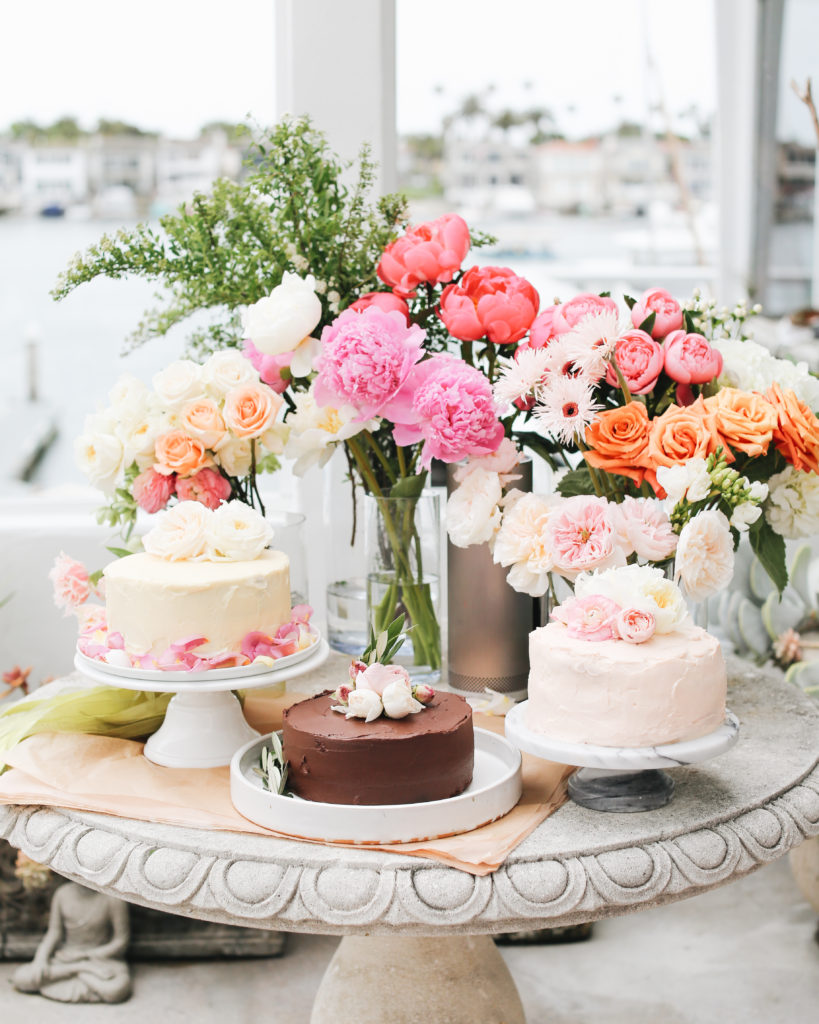 So much fun!! And such an amazing day, I'm so thankful to have been a part of it!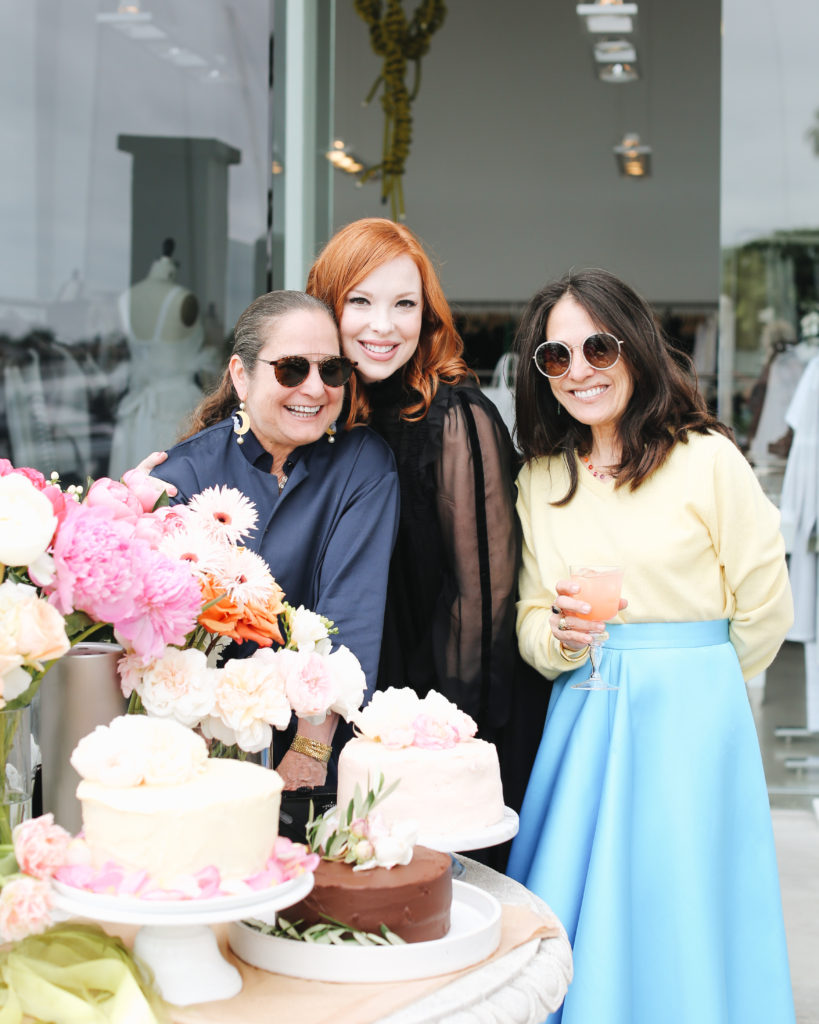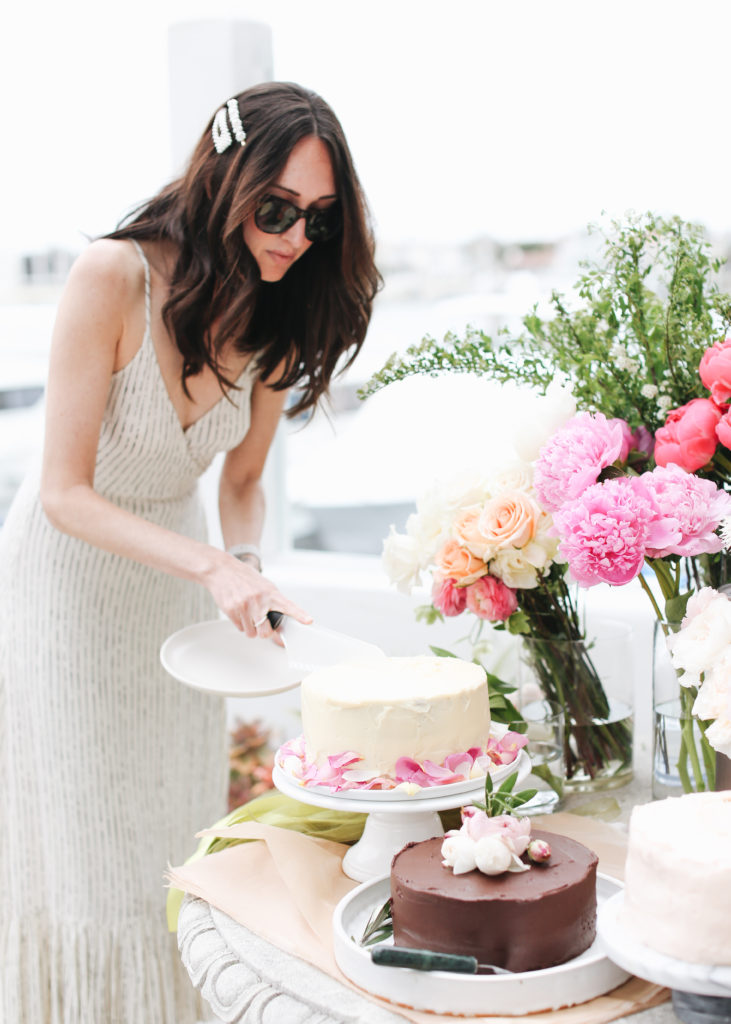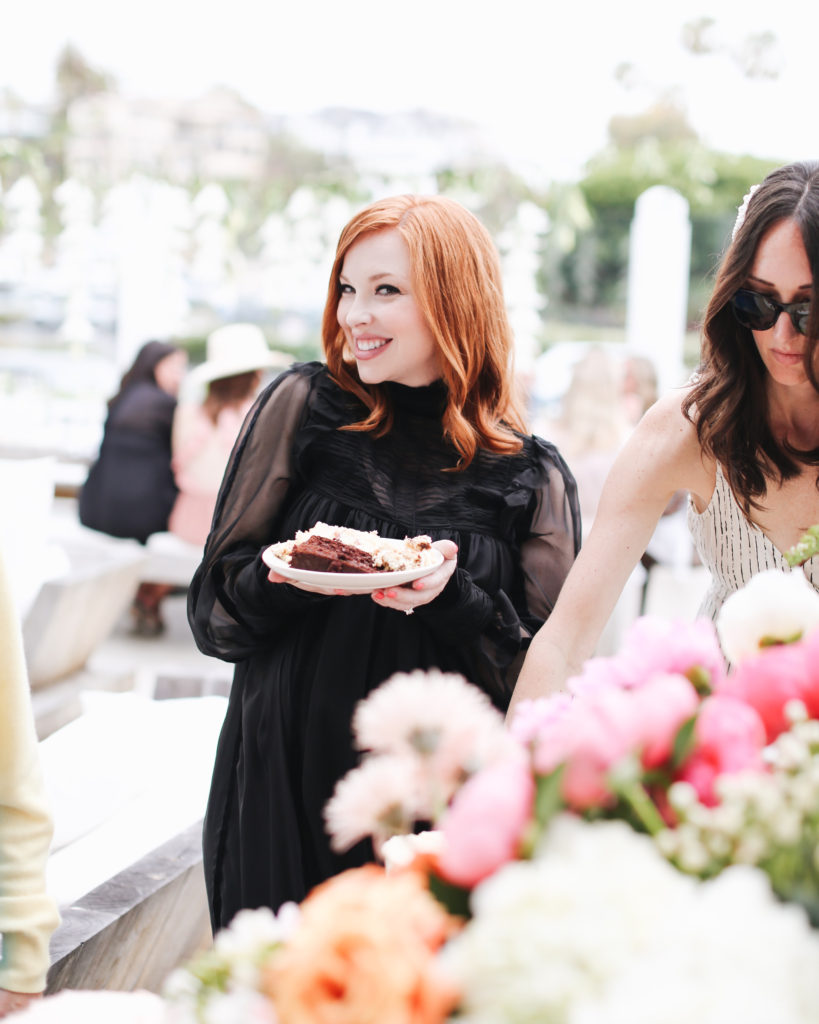 Cheers to you Alatheia! Can't wait to meet baby Grace!!
xx
Jacquelyn