Move over corned beef and cabbage, there is a new fresh kid in town to help you celebrate St. Paddy's day here in 2019! I don't know about you, but my mom use to force us to eat corned beef and cabbage every St. Patrick's Day! I promised myself that I would never do that to my kids! Unless they are being really bad, that seems like a great punishment, some soggy cabbage! I love a good sandwich, and this spicy sriracha cabbage and pastrami egg sandwich will have you loving St. Paddy's day again!  A modern take on a St. Paddy's sandwich with its Siracha infused cabbage and grilled pastrami, gooey melted white cheddar, and my favorite part, a runny fried egg! An addition of some spicy sprouts and a fresh citrus hint from lemon aioli and you are ready to dig in! Don't forget a good pint to go with it!
Photos by Dayna Studios
---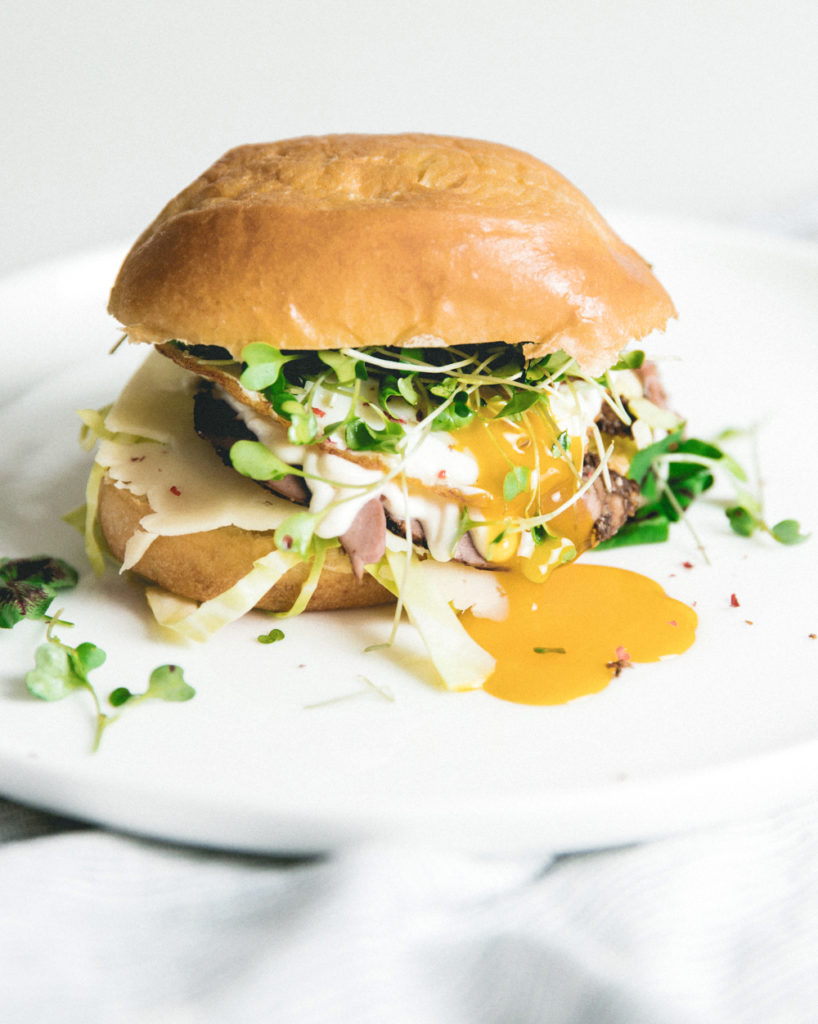 SPICY SRIRACHA CABBAGE & PASTRAMI EGG SANDWICH
SERVES: 1 SAMMI | PREP: 5 MINUTES | COOK: 10 MINUTES
W H A T   Y A   N E E D!
1 bun (if making for more then one, get more buns, hun!)
Olive oil
A handful of green cabbage (shredded)
Sriracha to taste
Salt & pepper
Dash of white wine vinegar
3-4 slices pastrami
2 eggs
Butter
sprouts
Lemon Aioli or Mayo
Aged white cheddar

B U S T   O U T:
Frying pan
Toaster

---
I N S T R U C T I O N S
In a pan on medium heat, add a drizzle of olive oil. Once heated, add the shredded cabbage.
Saute the cabbage until it's softened but still has a crunch to it, about 2-4 minutes. Add the vinegar and sriracha about half-way through.
Toast your bread or bun, spreading a generous amount of aioli or mayo, whatever you prefer, on each side. I like to use lemon aioli as it adds some fresh notes from the citrus. Place the sauteed cabbage on the bottom bun.
In the same pan, give your pastrami slices a quick sear, about 1 minute, until heated through. Then place the grilled pastrami onto of the cabbage.
Again, in the same pan, turn up the heat to medium-high and add some more oil to the pan.
Fry up both eggs to your liking. I do sunny side up, gimmie all the runny yolk! Place your cheese on top of your fried egg as its cooking, and cover the pan. This process will help the cheese to melt. But keep an eye on it, so you don't overcook your fried egg if you like it runny. Place the egg and cheese on top of the cabbage. Finally, top with sprouts and final bun.
Grab those napkins cause this is one delicious, messy sandwich!
Don't forget to wear your lucky green while whipping up this sammi. Mine is from Chaser Brand, and its the cutest! Get it here!
---
---
B E I J O S  K I T C H E N  

xx
Abby