There were oh so many parties this Summer, like SO many… We have been busy bees over here helping everyone celebrate life's big occasions! And a First Birthday Party is always a good one to celebrate. Brynn's mama Margaux reached out to us to help her with her daughter's first birthday and chose a sweet and lovely garden theme. We had fun bringing all of the adorable details and sweet touches to this one! Plus, Brynn couldn't be cuter!!
Photos by the talented Lorin Kelly Photo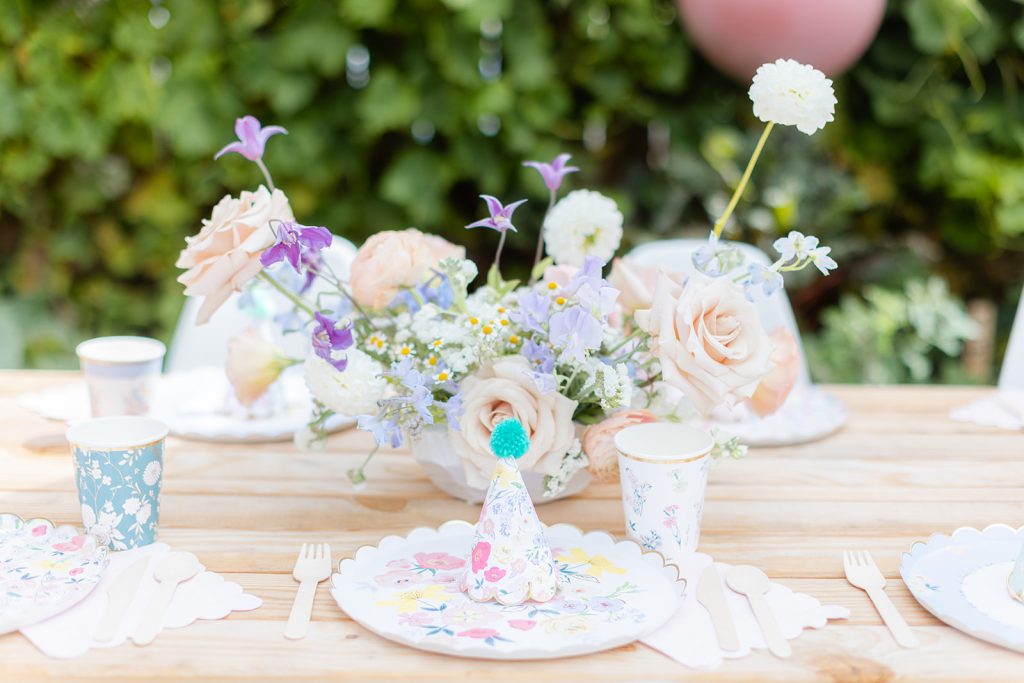 The party was held at our favorite Camp Lila. My son's amazing preschool has expanded and grown into this adorable new location. Miss Katie, the owner, can host your party and also supply entertainment like art projects and fun for the kids. We just make it look pretty, not like it's that hard!!
For the entrance, we added balloons by The Pop Shop and a welcome sign by Poppy Jack Shop. Nothing like making a good first impression!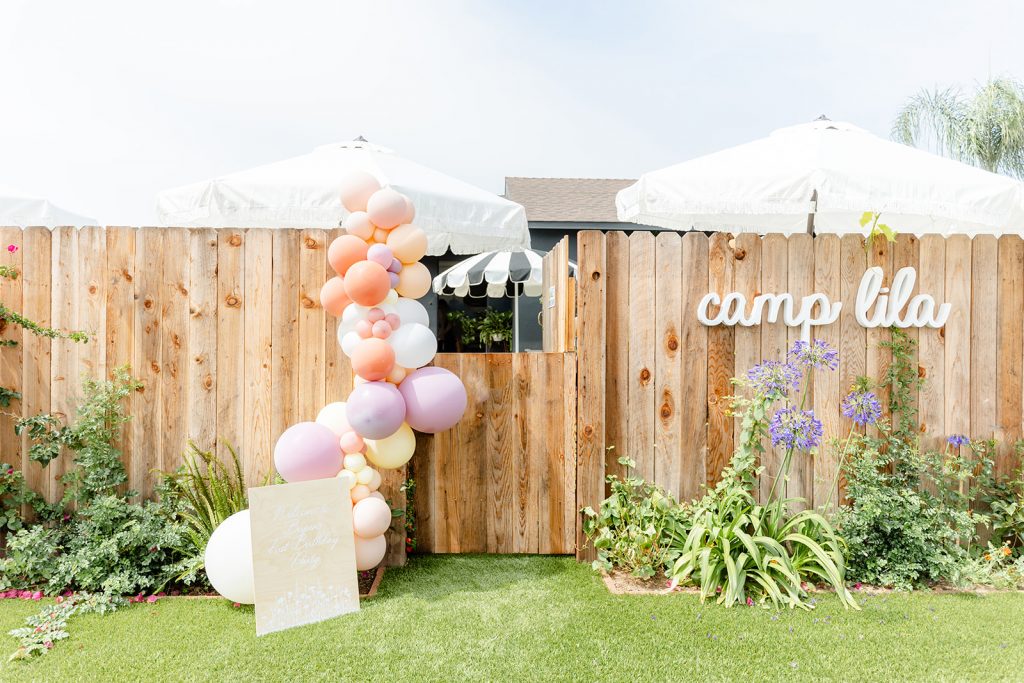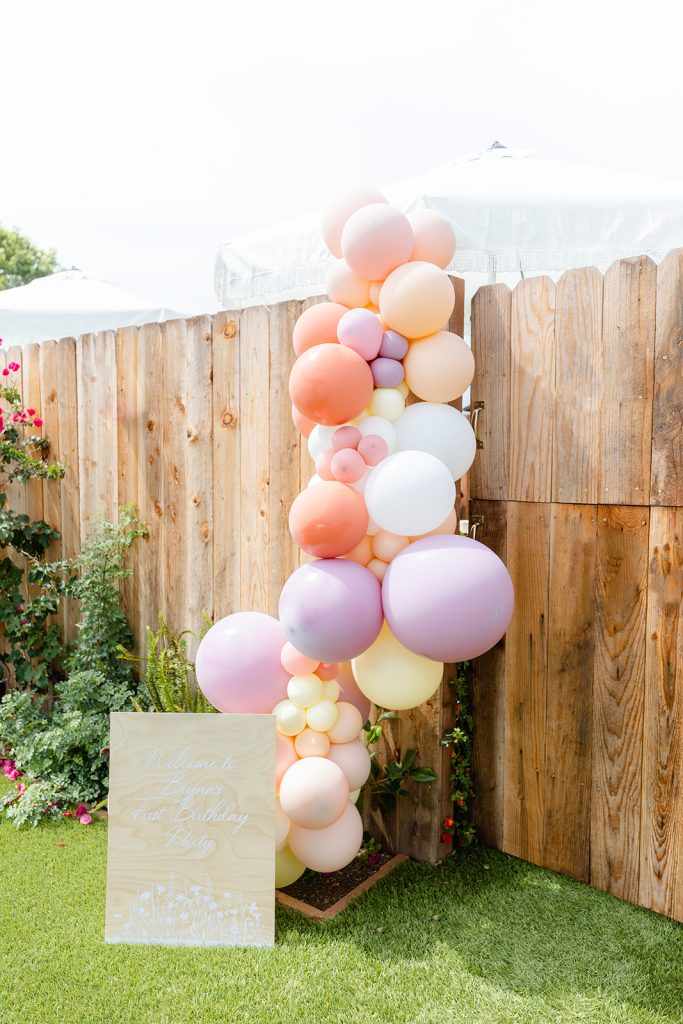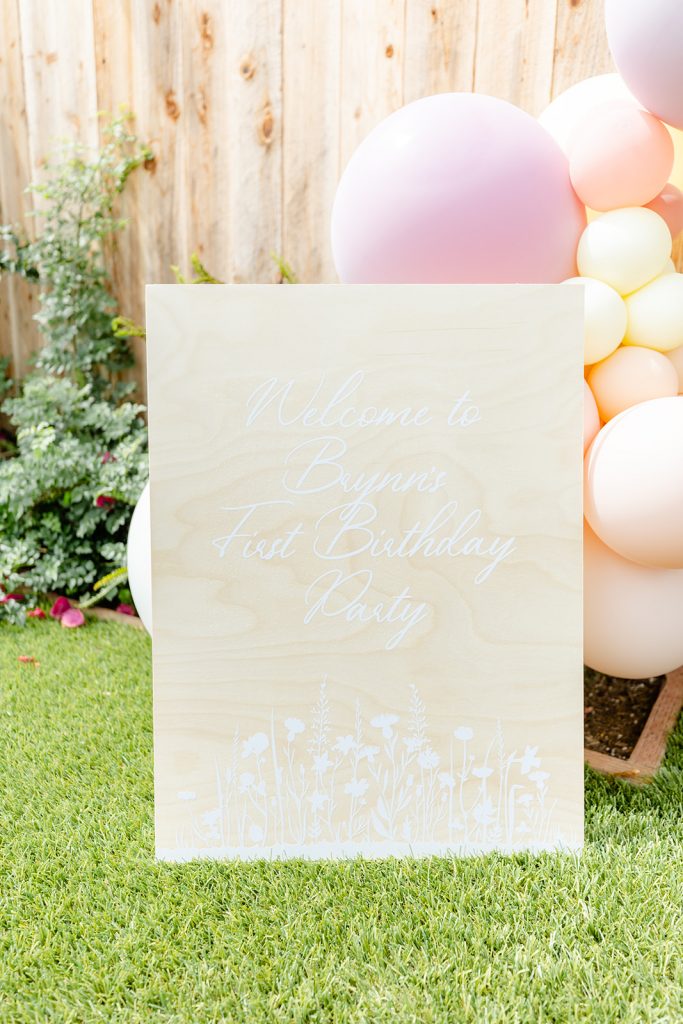 There's the adorable birthday girl herself!!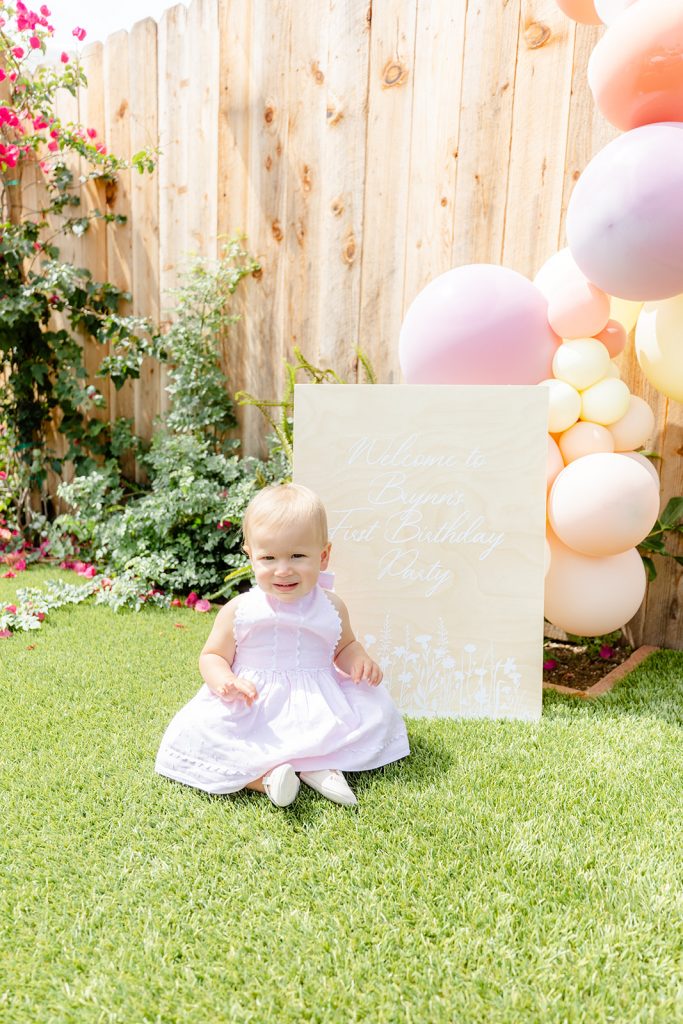 Such a sweet family! We love making our clients party dreams come true!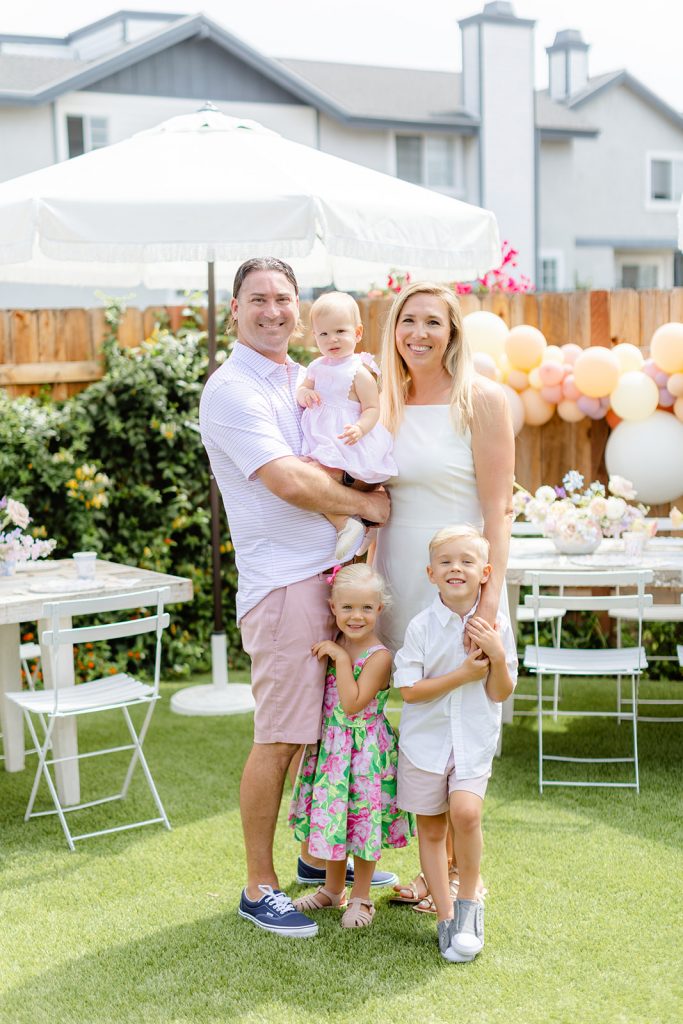 A mama and her littlest, nothing like seeing our babies grow that first year!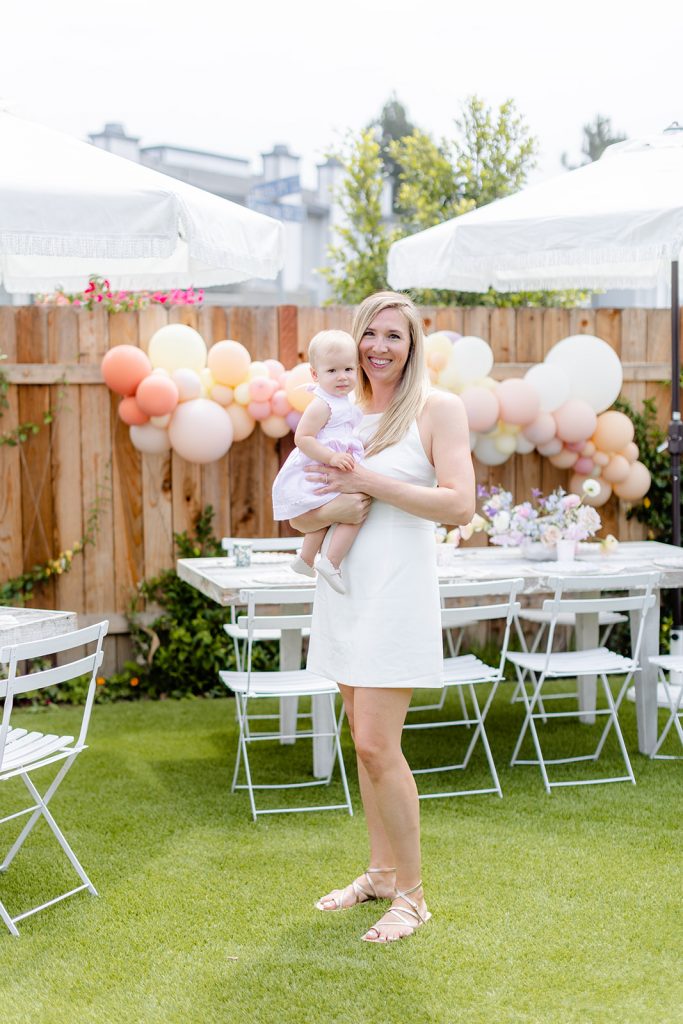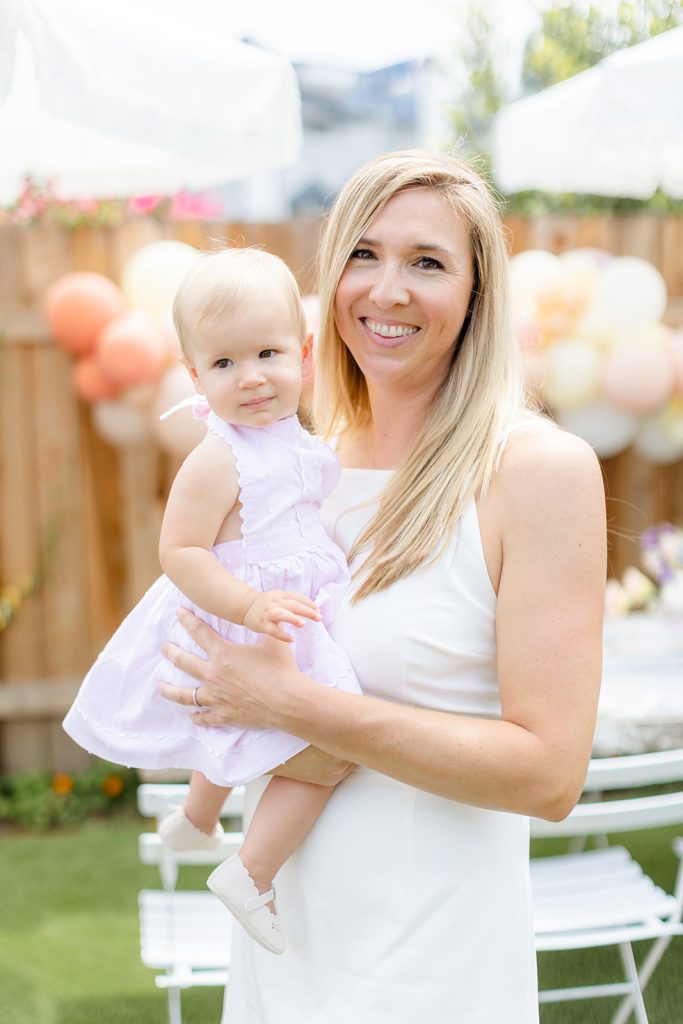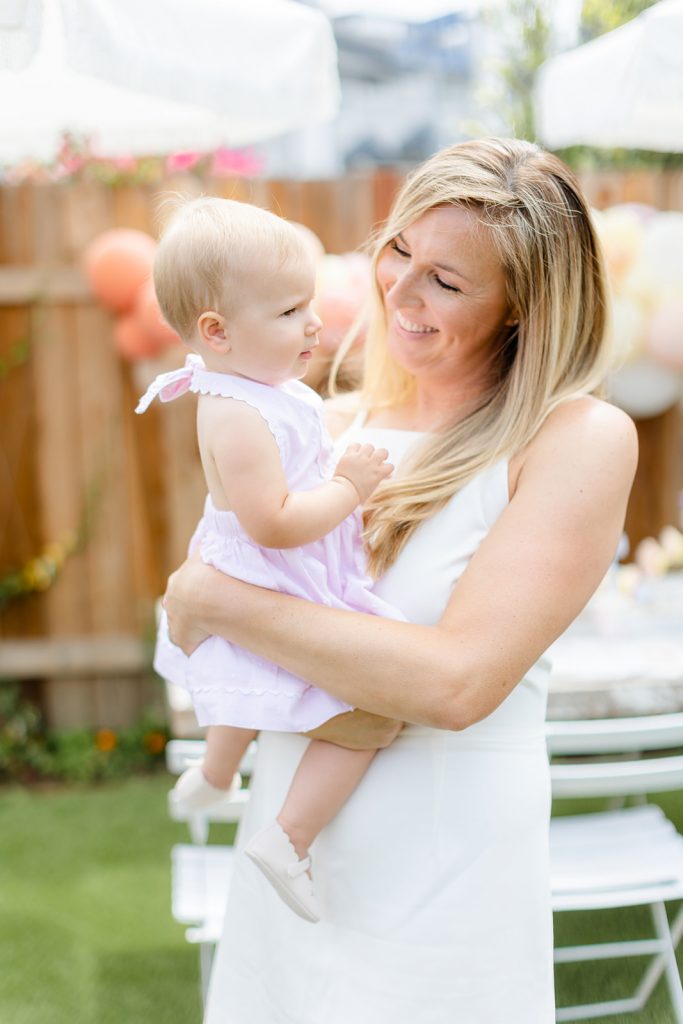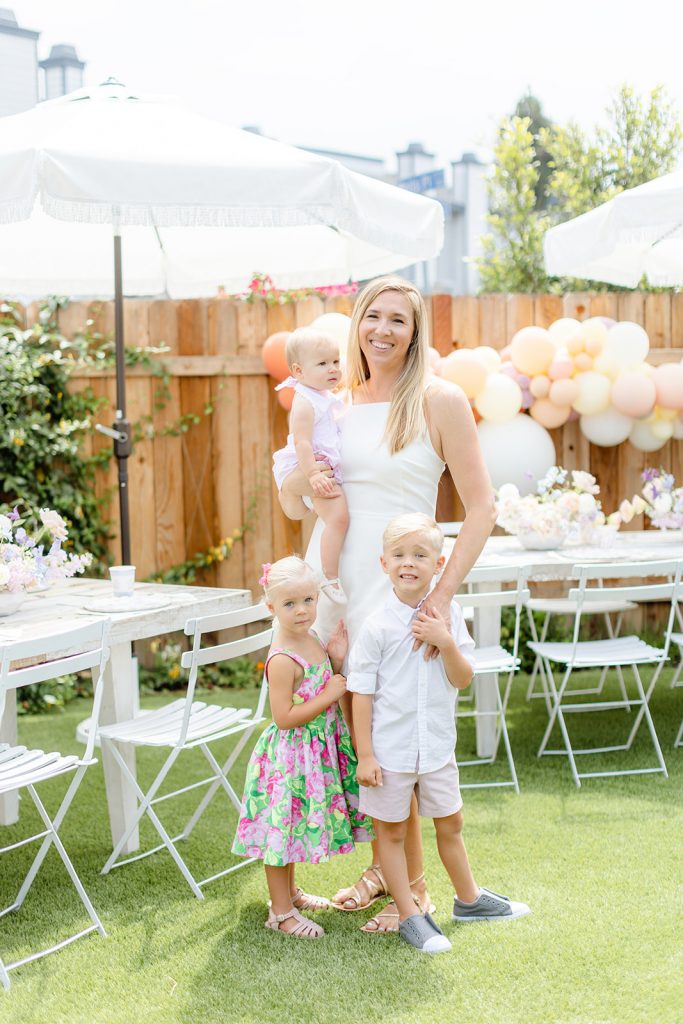 There were so many amazing elements to this party! Let's start with the kid's table… Margaux had sent me some inspiration for the vibe she wanted for the party and I immediately thought of this Meri Meri English Garden collection that we used at the tables. It made for the most adorable garden party feel and I loved how the colors are mixed from blues to pinks to yellows. It created such a fun color palette!
Carmen of The Lamb & Poppy was responsible for the gorgeous floral arrangements you see throughout the party. They were just the right amount of pretty and whimsy for this sweet first birthday party!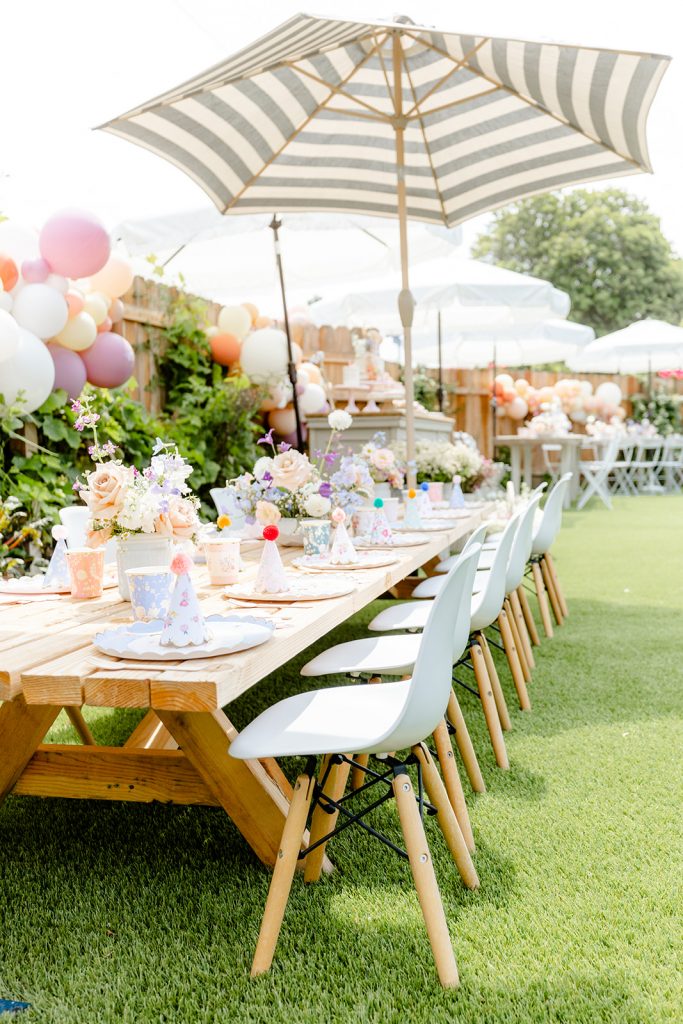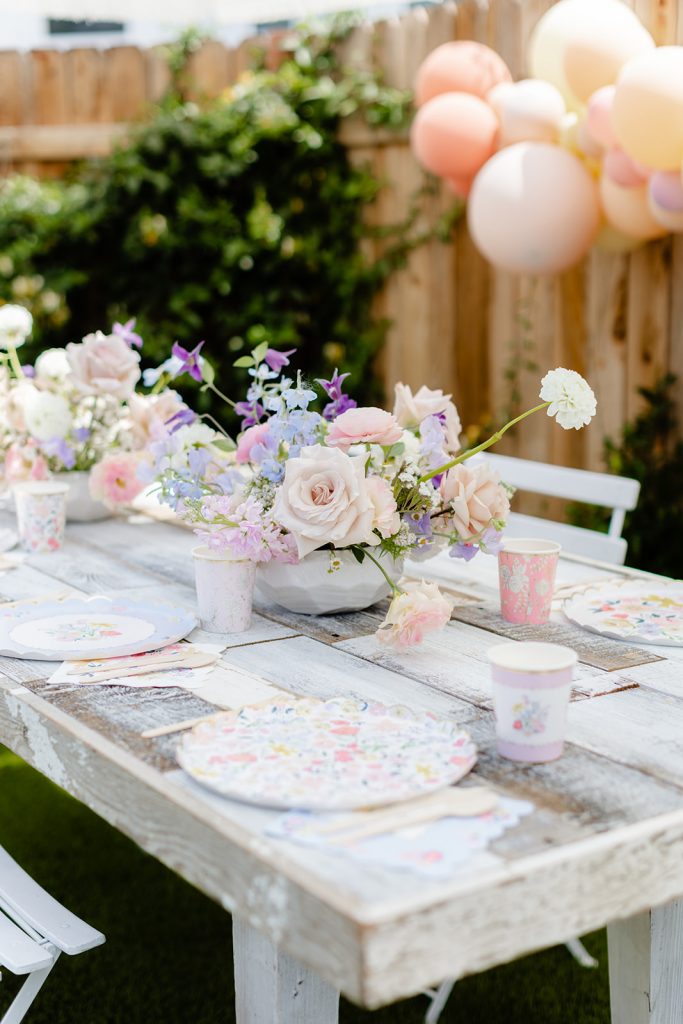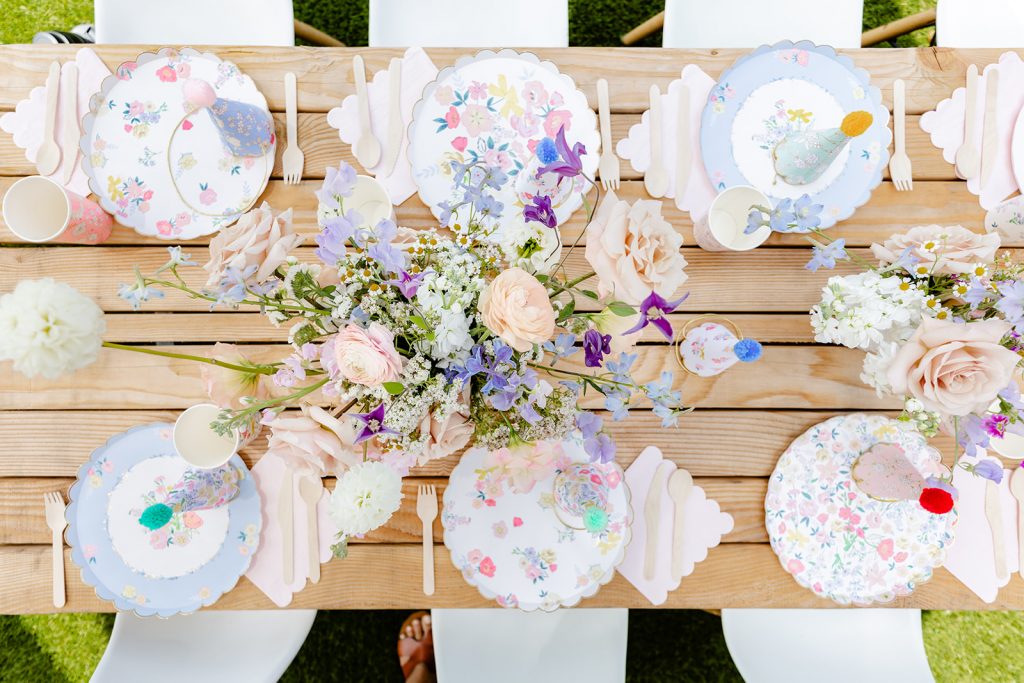 How cute are those little party hats?!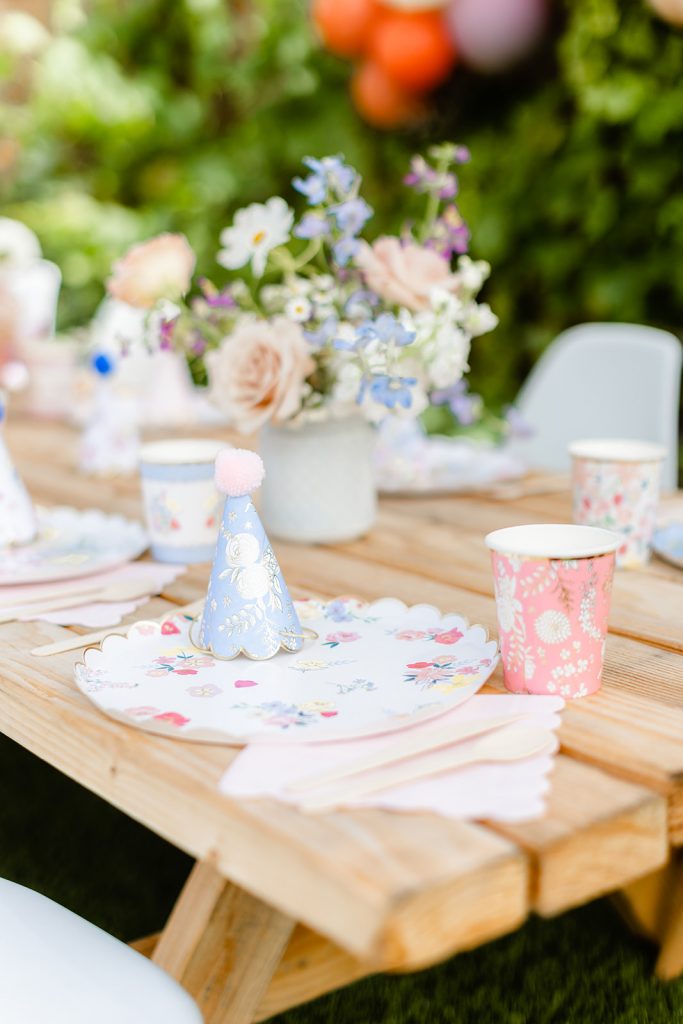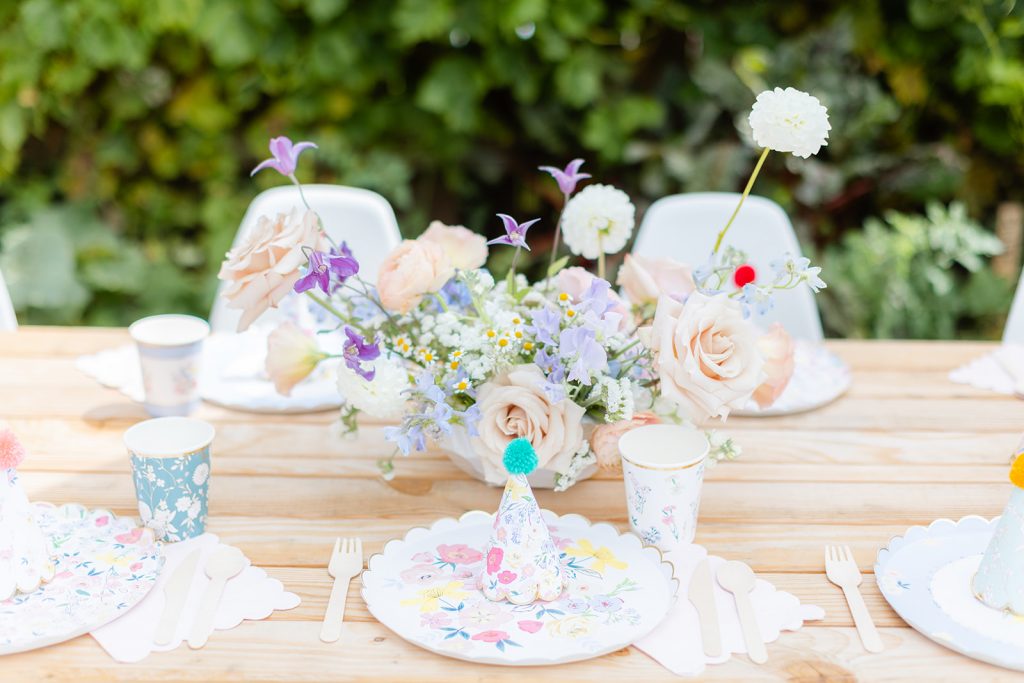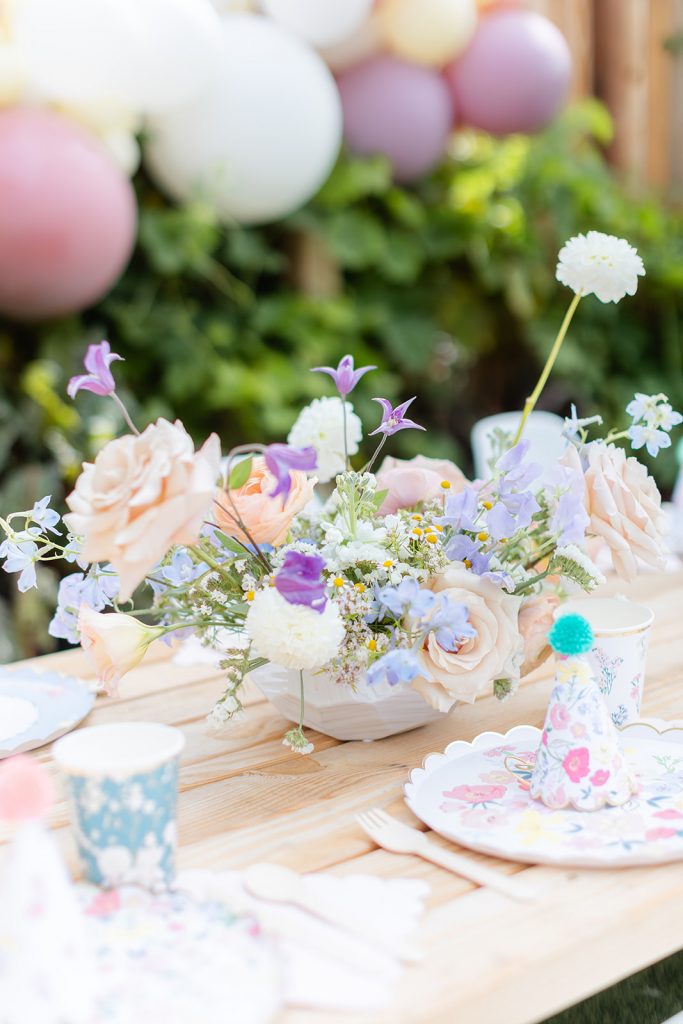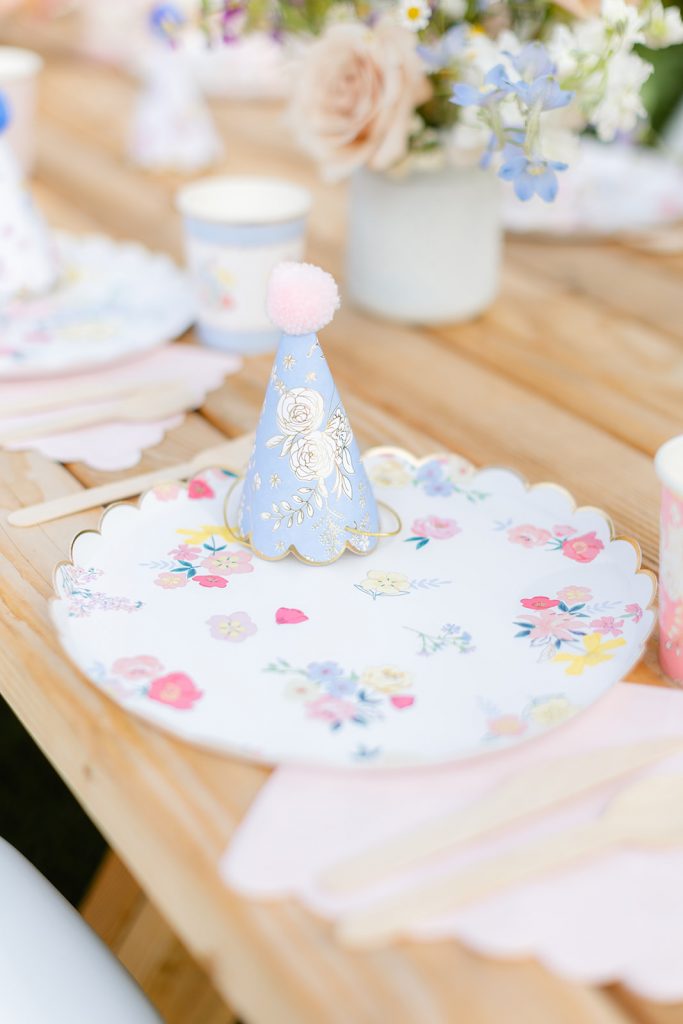 Such a sweet setup!!!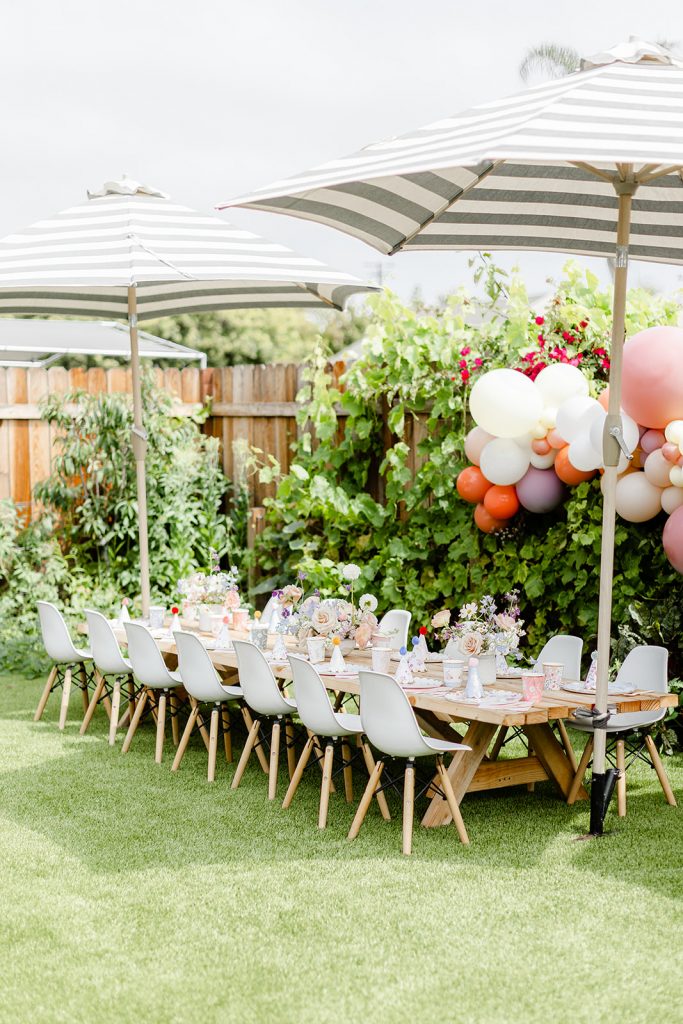 The kiddos weren't the only ones with a lovely place to sit, the adults were taken care of as well! With those pretty rentals from Sweet Salvage Rentals, flowers by The Lamb & Poppy, and of course The Pop Shop balloons – this was a nice little destination for the adults to sit, relax, and enjoy!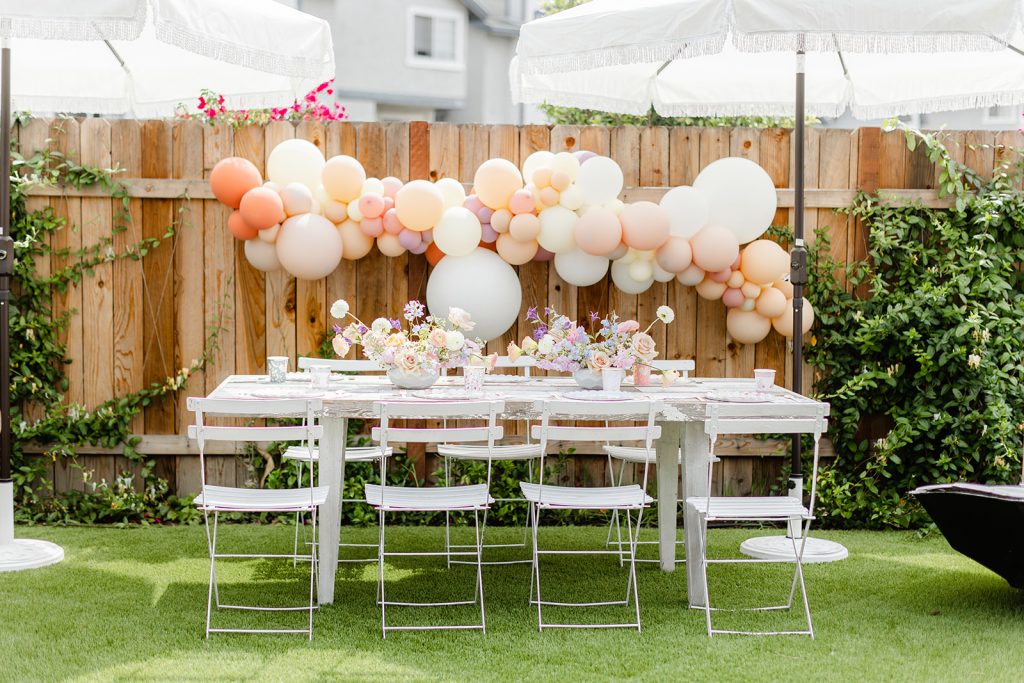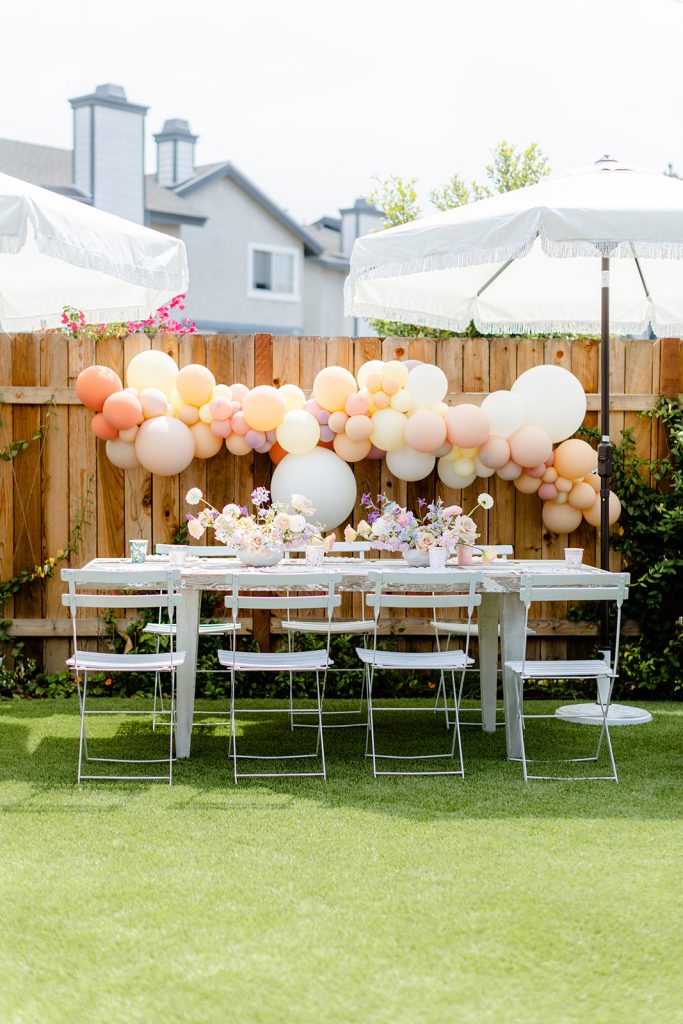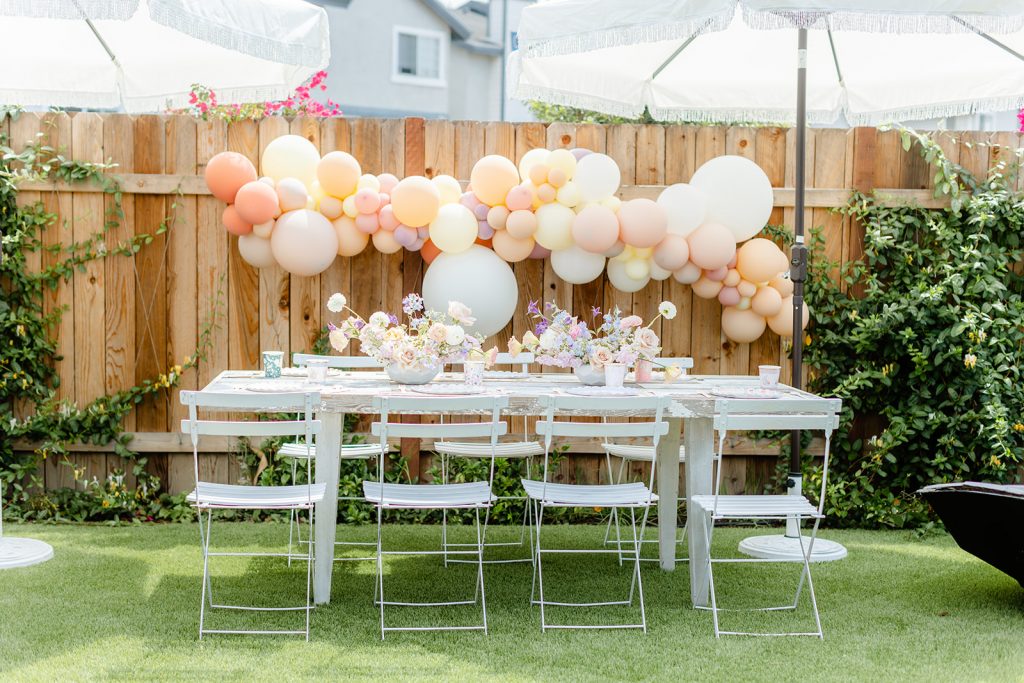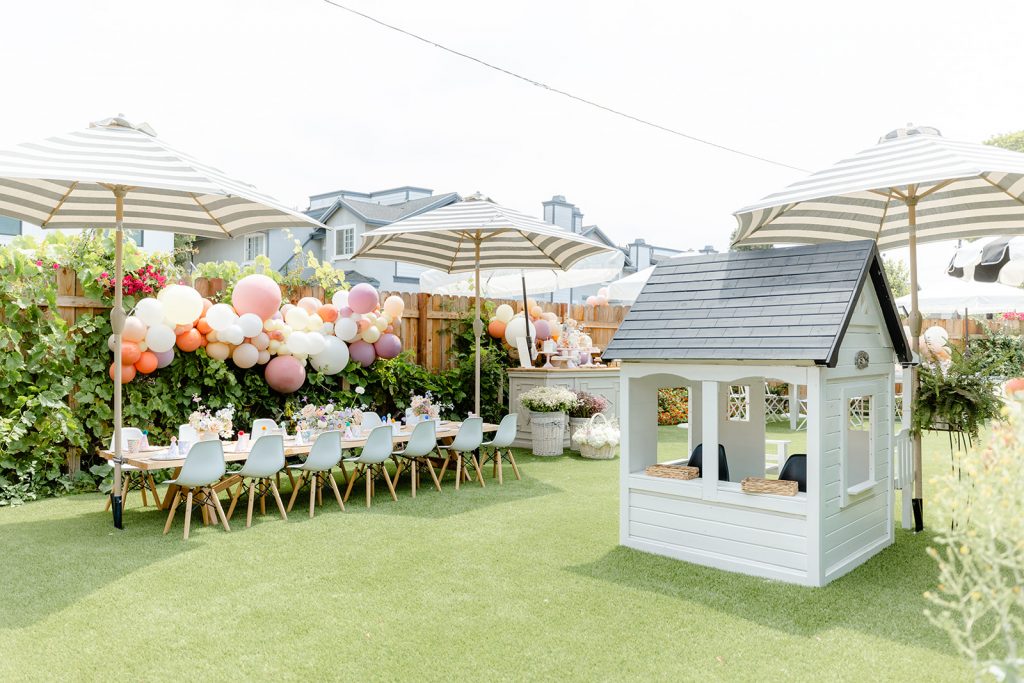 Onto our dessert table! This was one of my favorite dessert setups ever!! The Lamb & Poppy outdid herself with those big baskets of flowers, they looked so beautiful! And the desserts by Sweet as Love couldn't have been more perfect! They were adorable and delicious, according to my clients! That cake was AMAZING and I love how she adorned it with fresh florals. It all was sitting pretty on that lovely piece from Sweet Salvage Rentals, honestly, it was just perfection!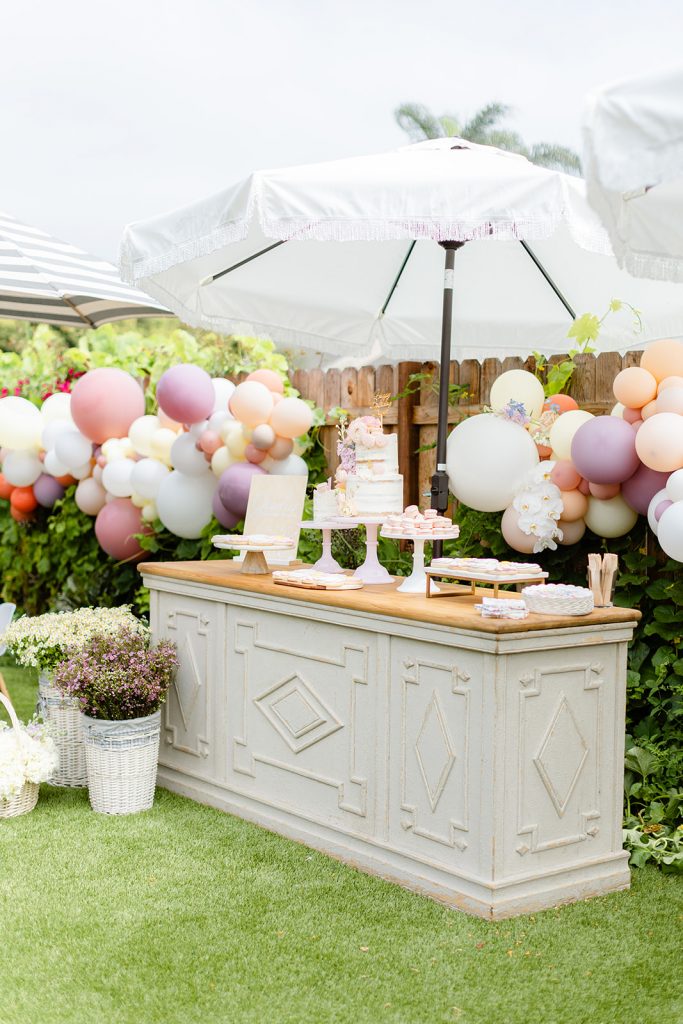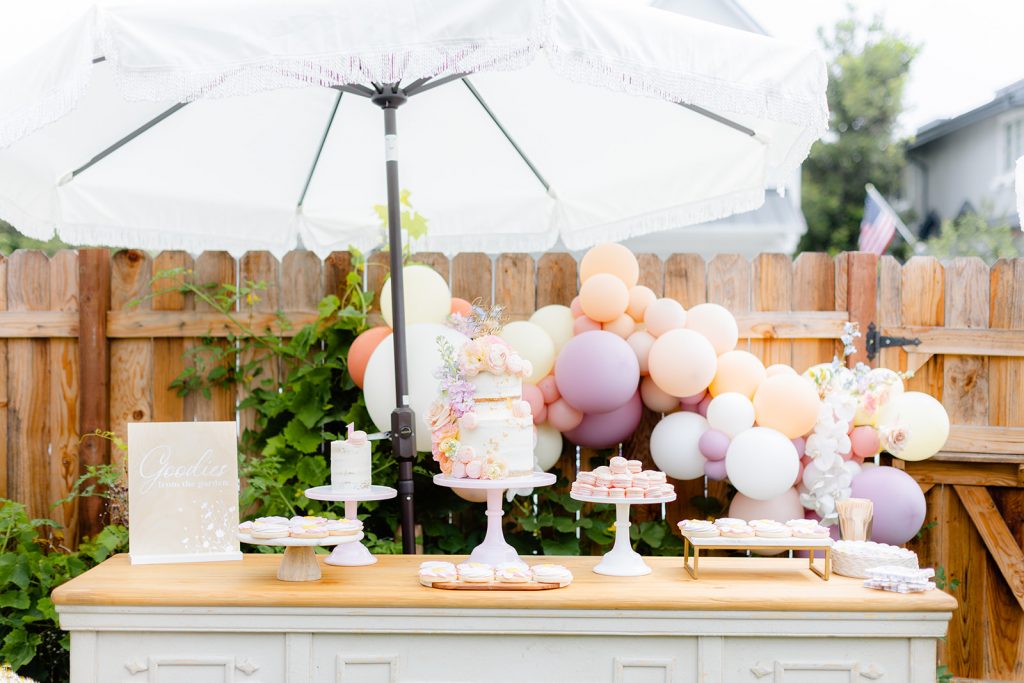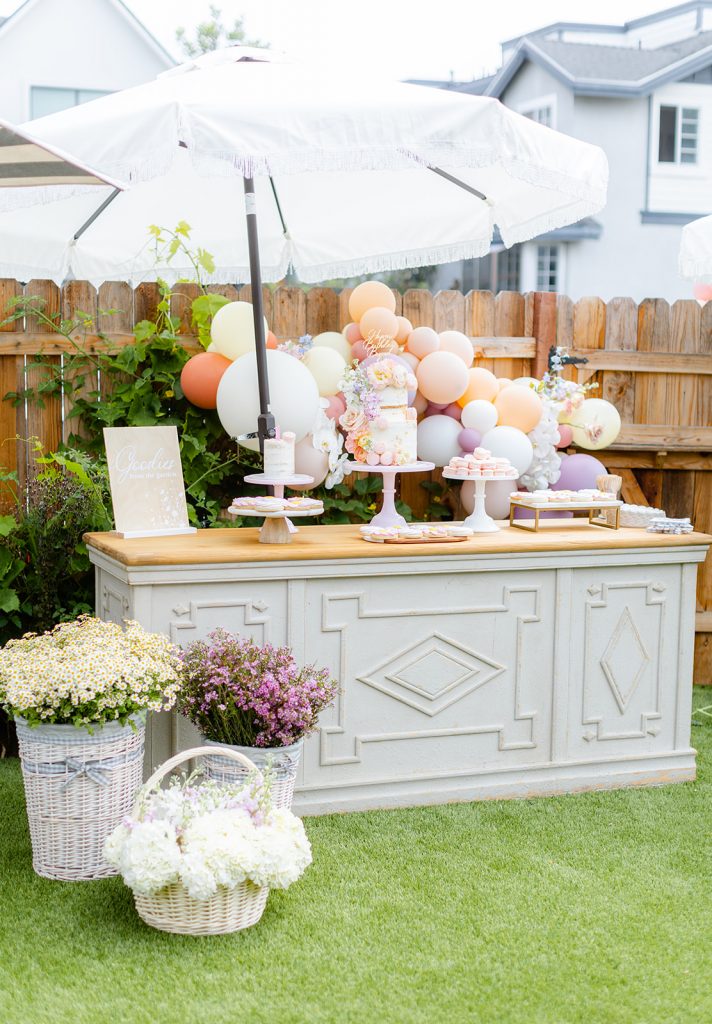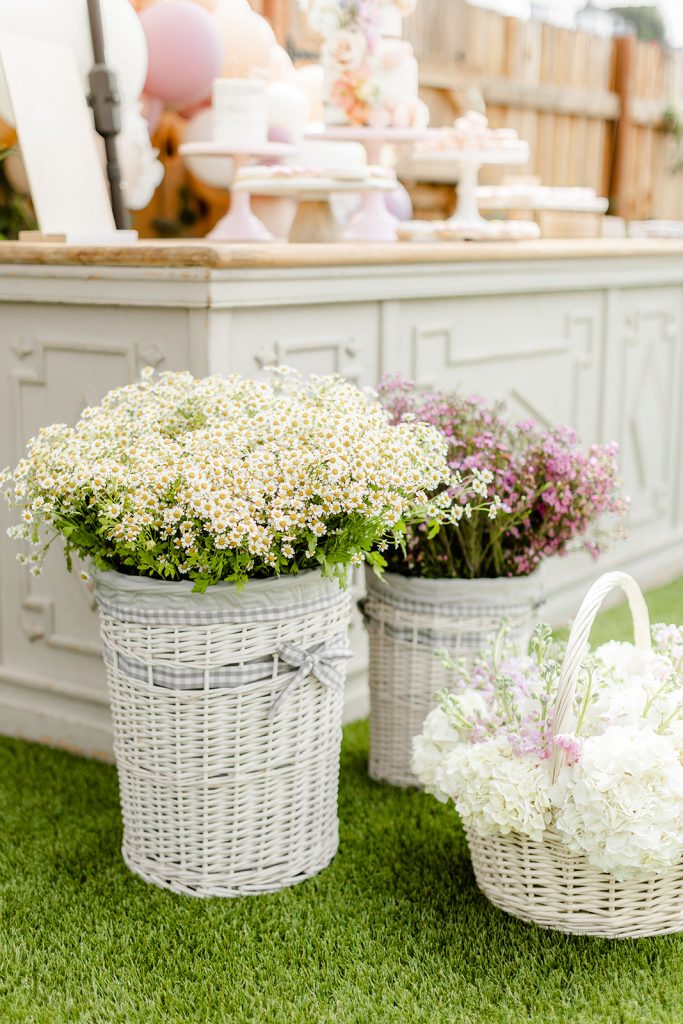 The Pop Shop and The Lamb & Poppy teamed up on this balloon garland and I'm obsessed. Fresh florals and balloons are always an amazing combo!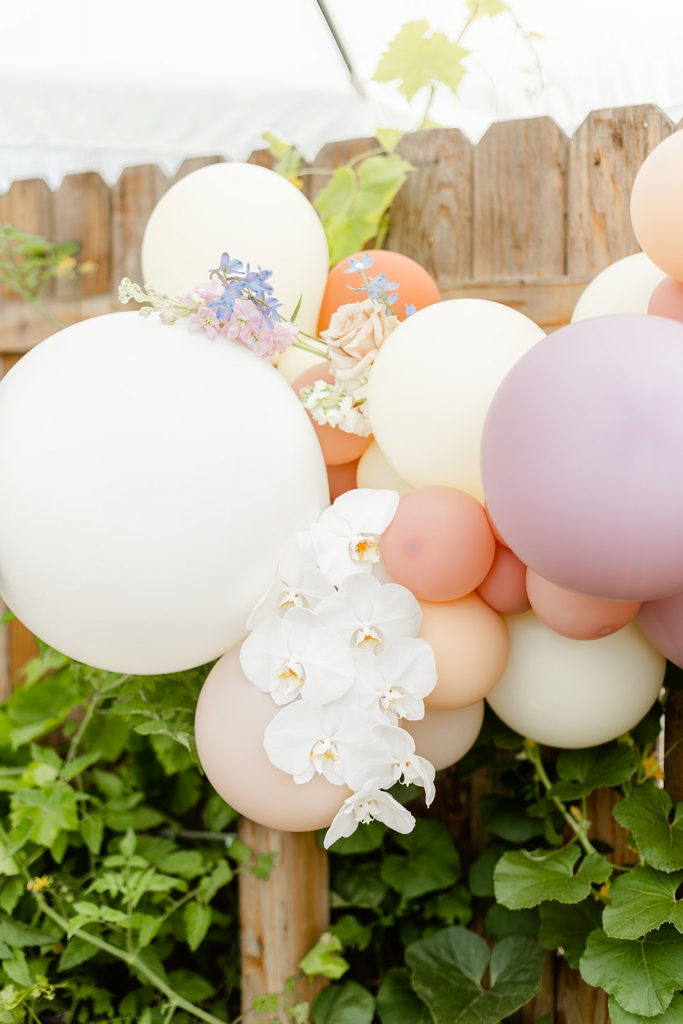 That cake!!!! So so good!! Topped with a sweet custom cake topper from Poppy Jack Shop, of course!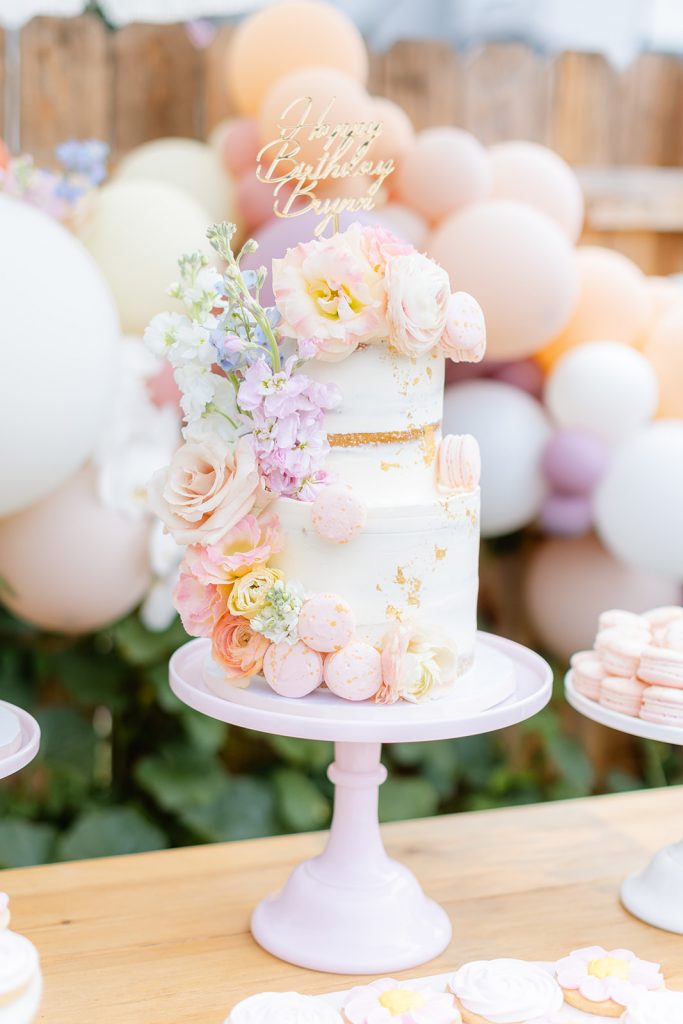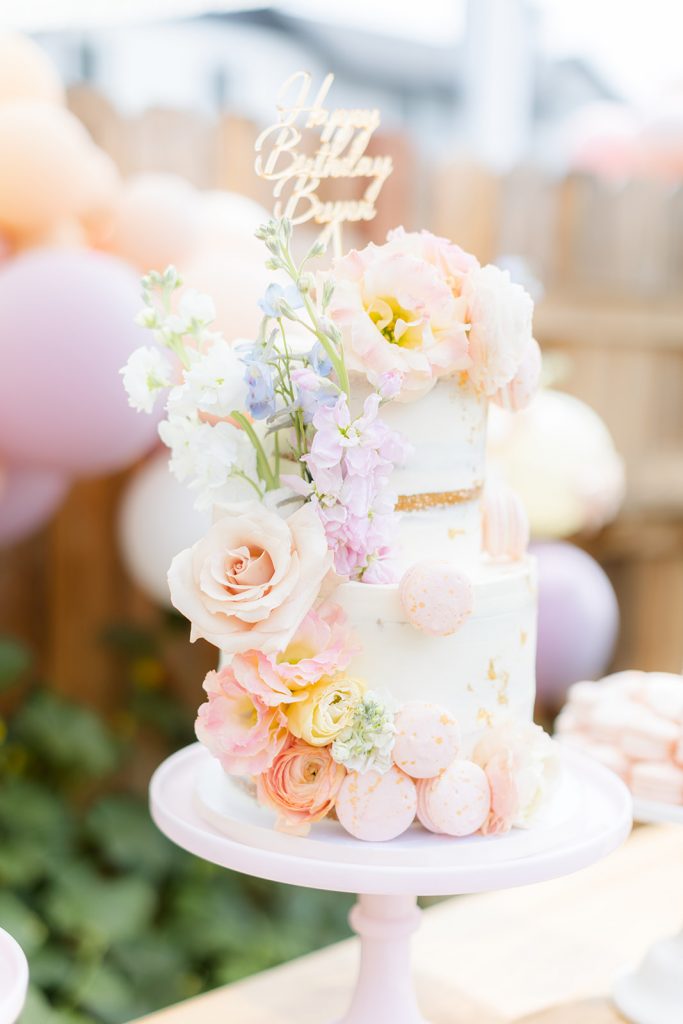 And every first birthday needs a smash cake!! Topped again with a 1 from Poppy Jack Shop!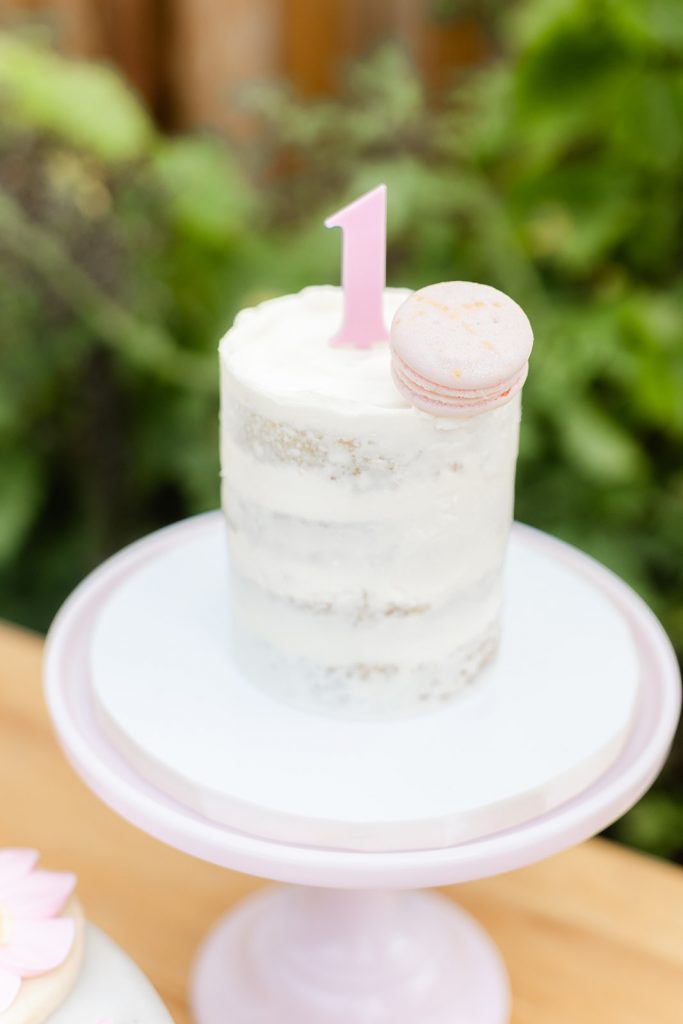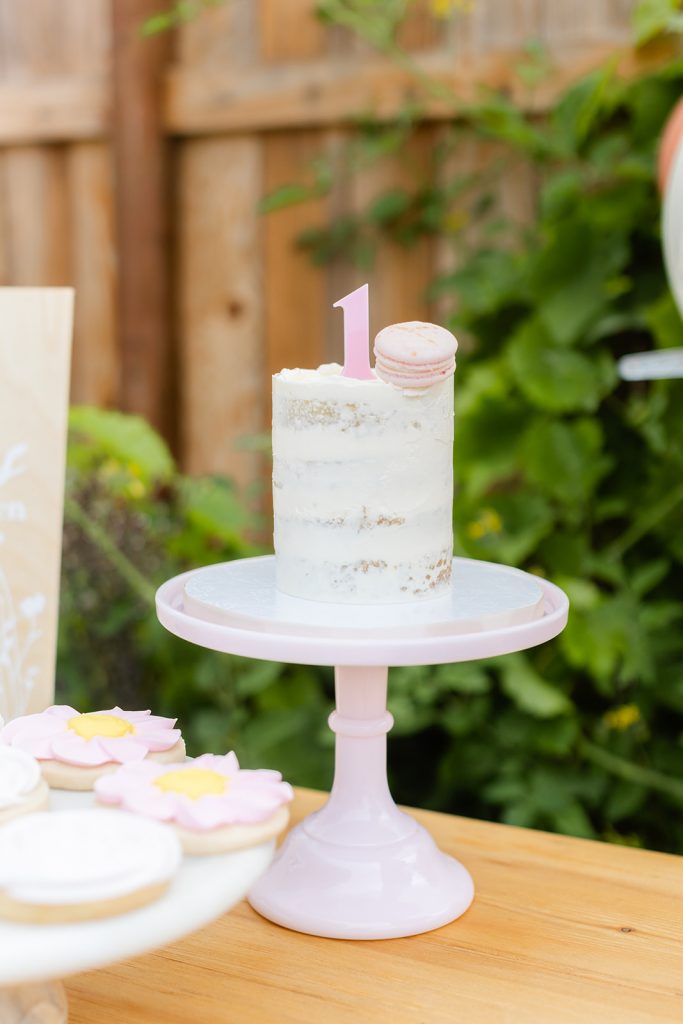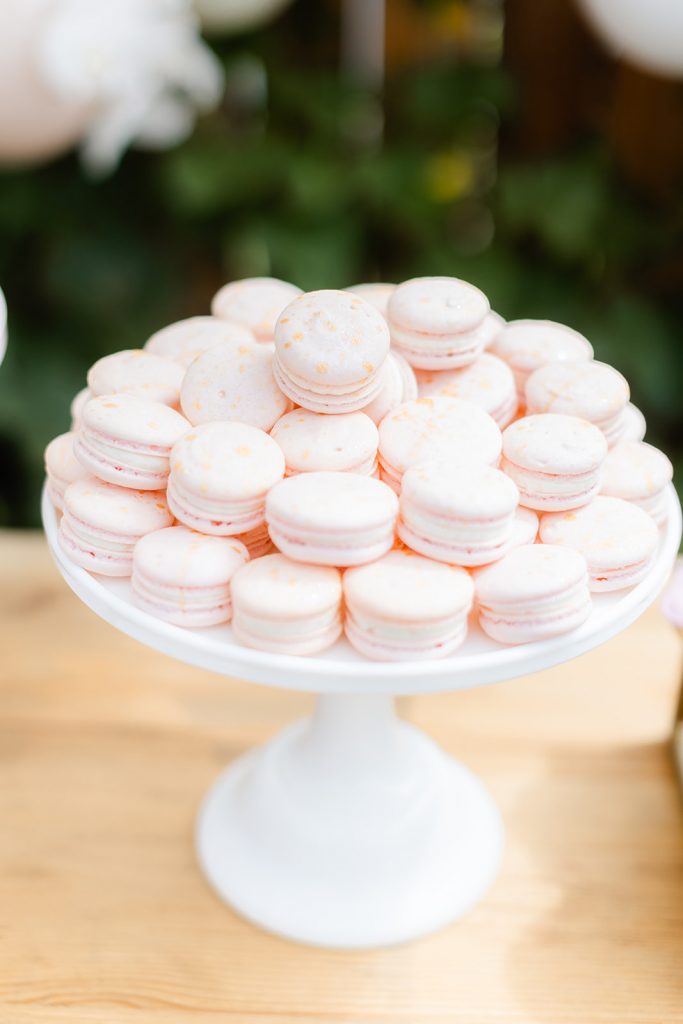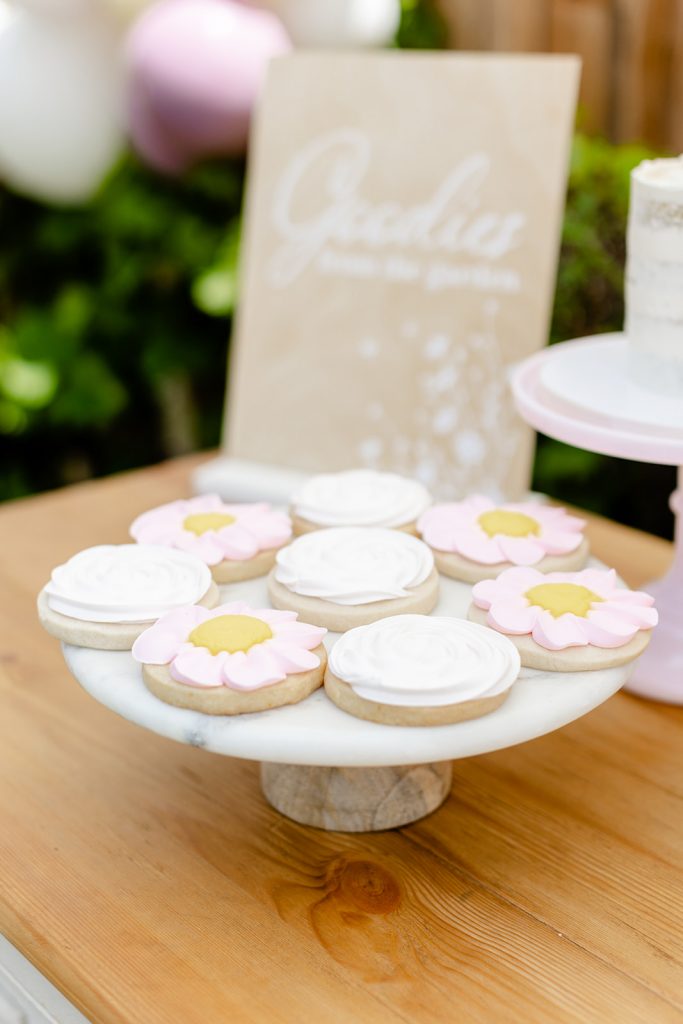 Like I said, perfection!!!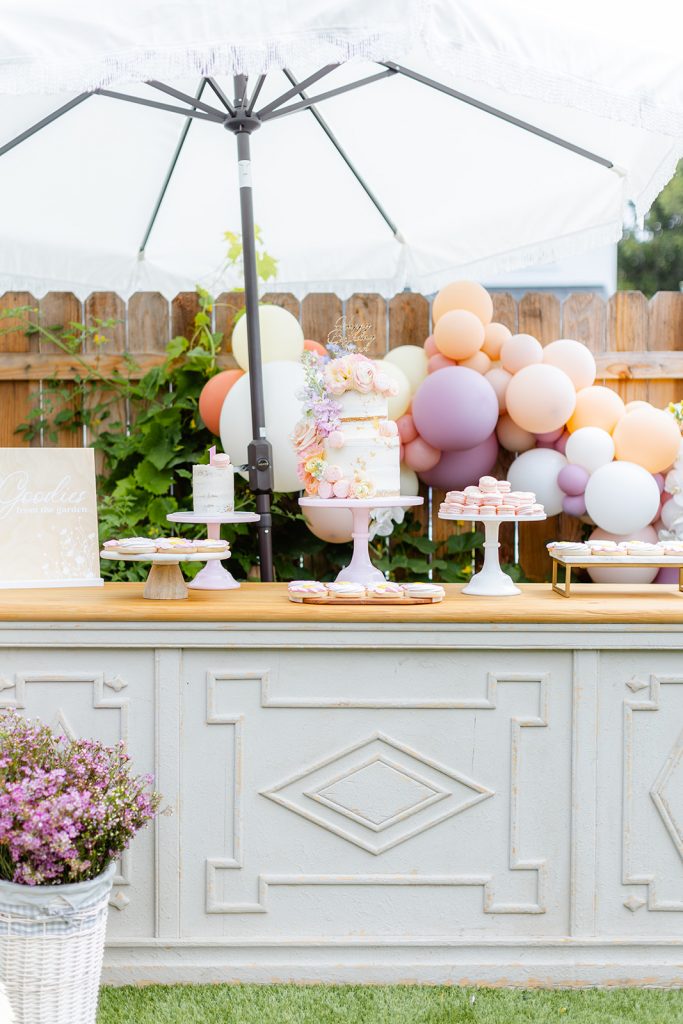 Speaking of perfection… I can't with this cute little face!!!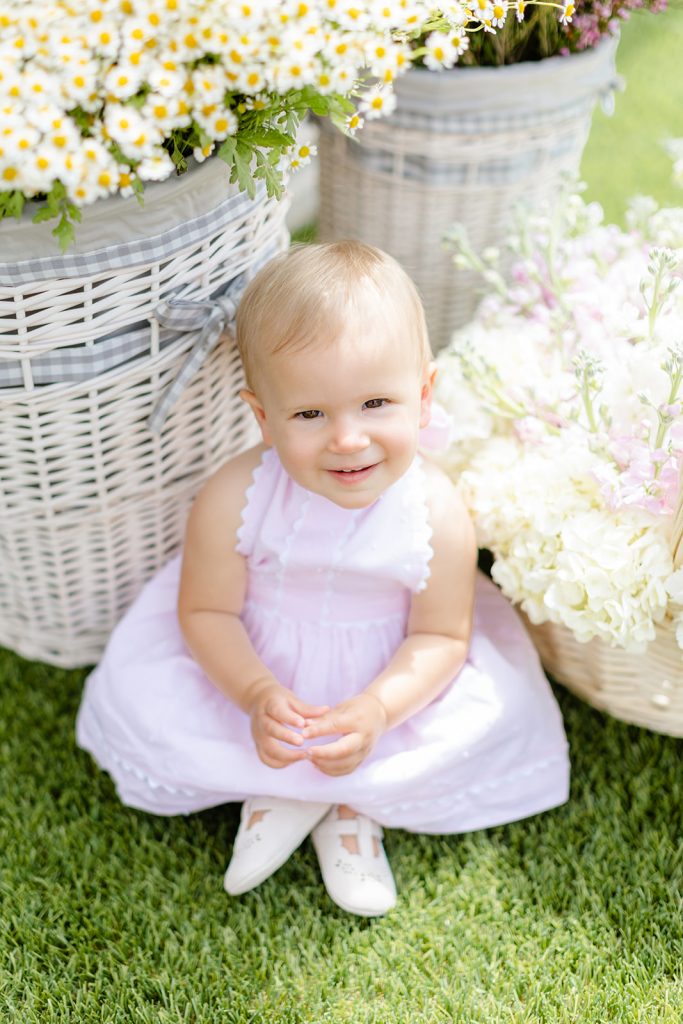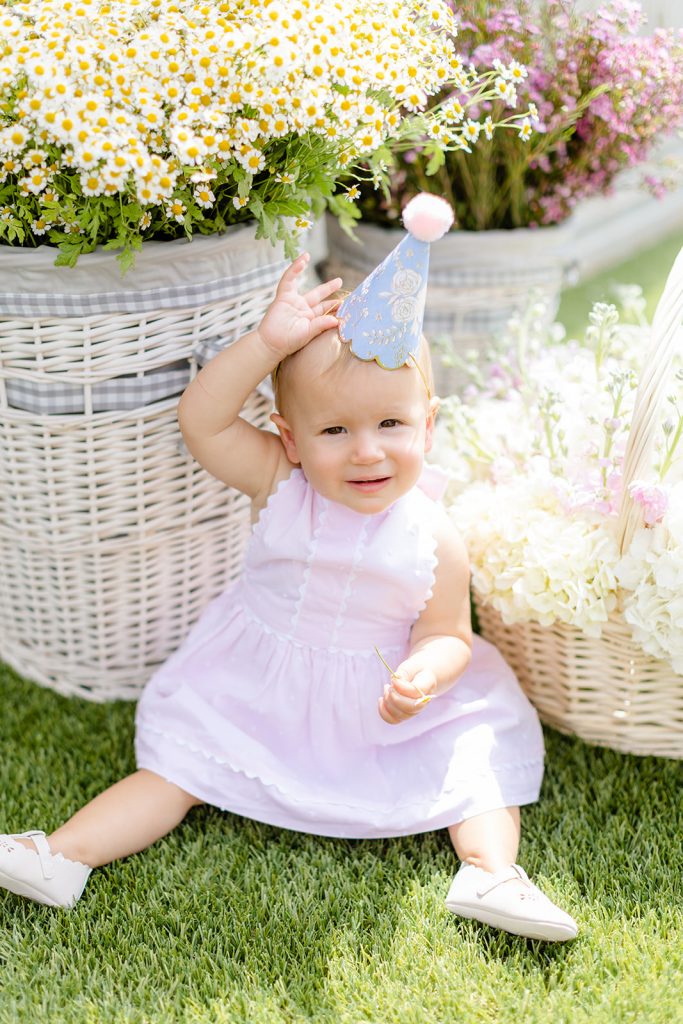 With every smash cake, you need a place to smash it! We set up this spot for Brynn to work her magic on that cake and it was the perfect little photo op! Balloons from The Pop Shop, with florals from The Lamb & Poppy, a sweet vintage high chair from Sweet Salvage Rentals, and that adorable Meri Meri Garland!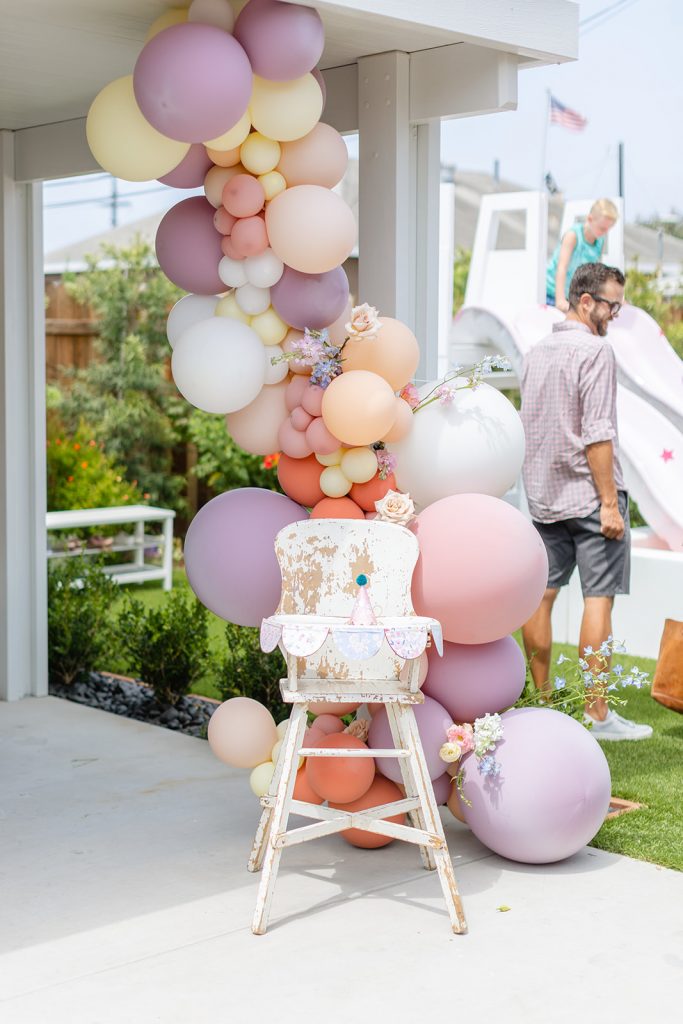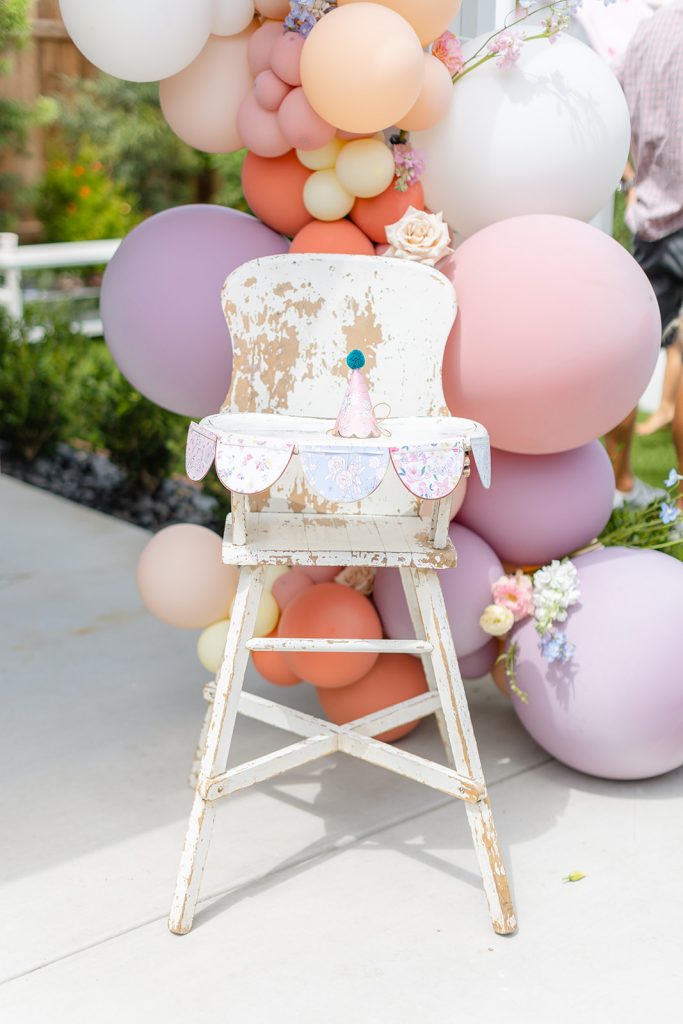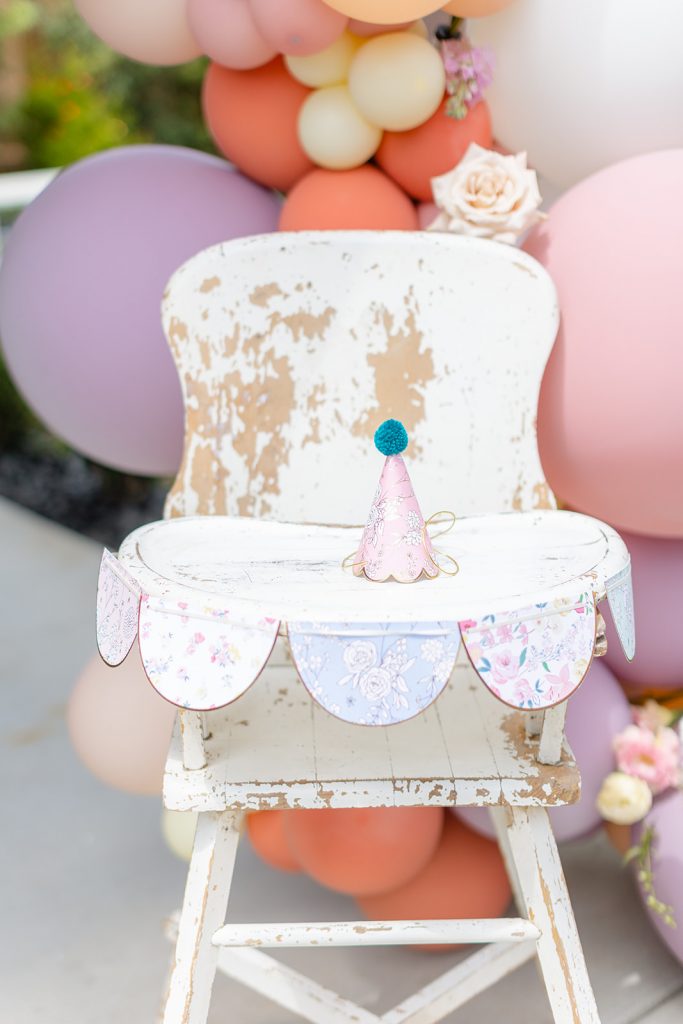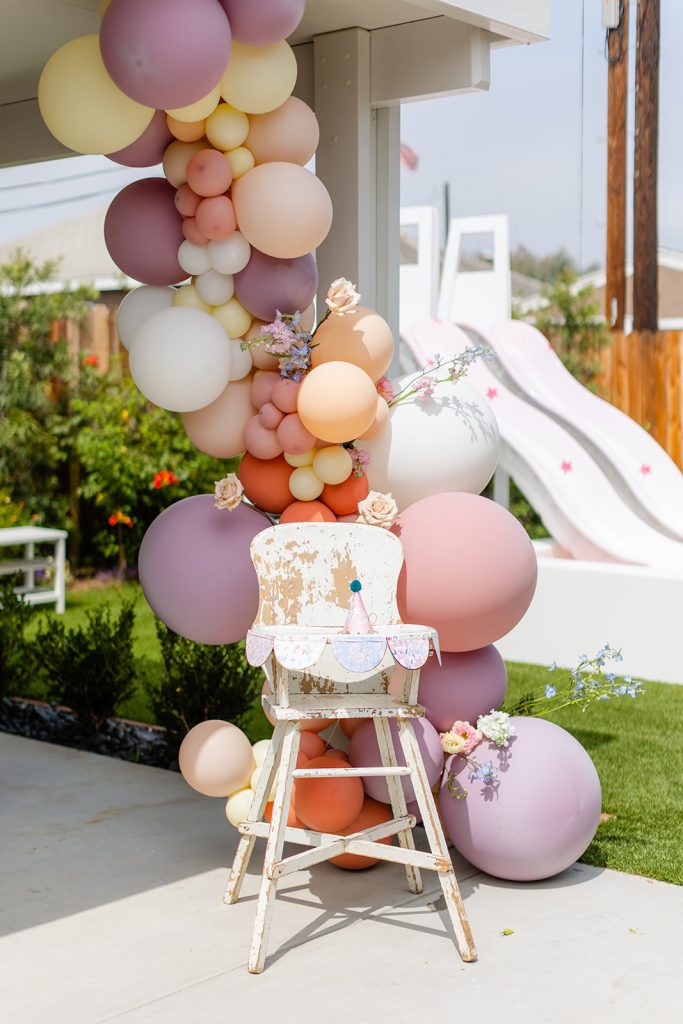 Another must at a first birthday party is a sign showcasing how the baby grew this past year. Adorned with balloons no less!! 12 months of Brynn was so cute by Poppy Jack Shop!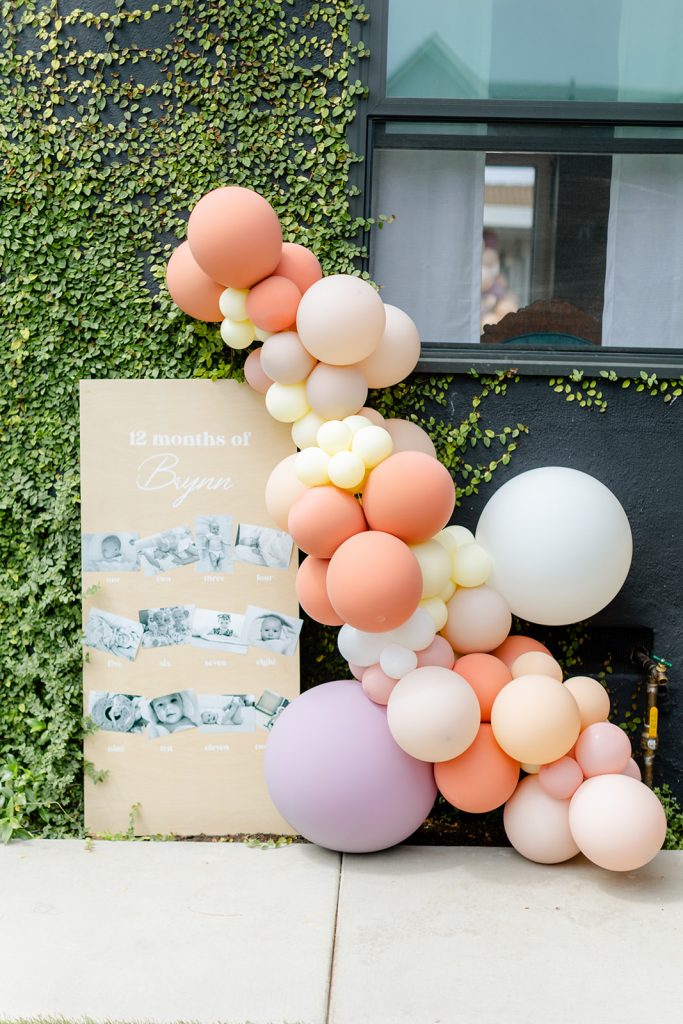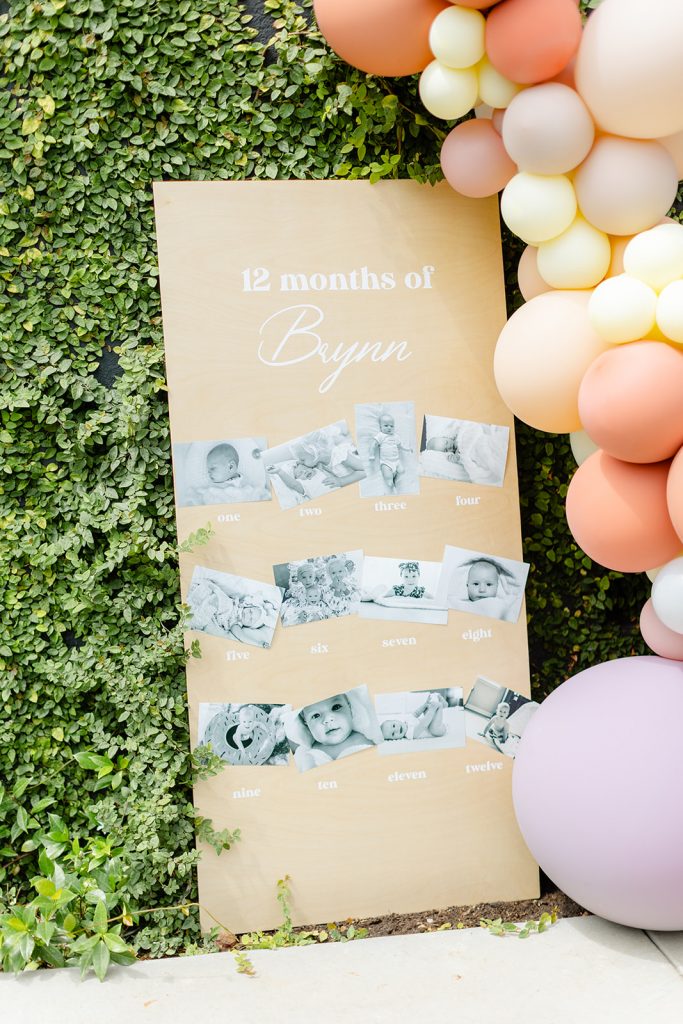 The kids were kept busy with lots of fun activities, including our friends at Mesh Kids! They brought the ball pit which means they brough the fun! Complete with slides, does it get any better?!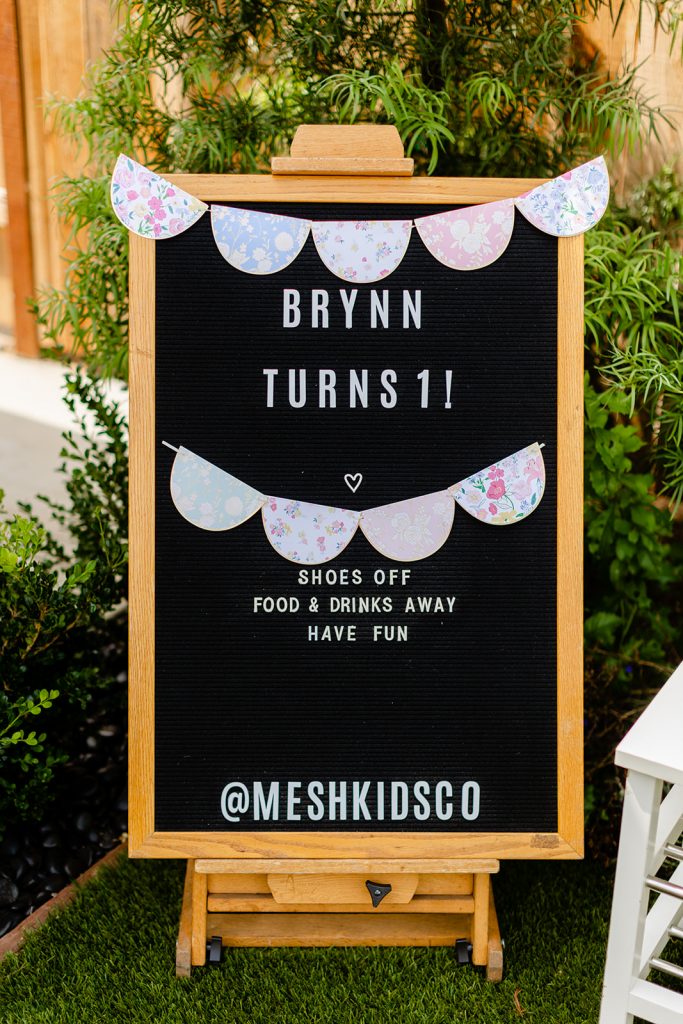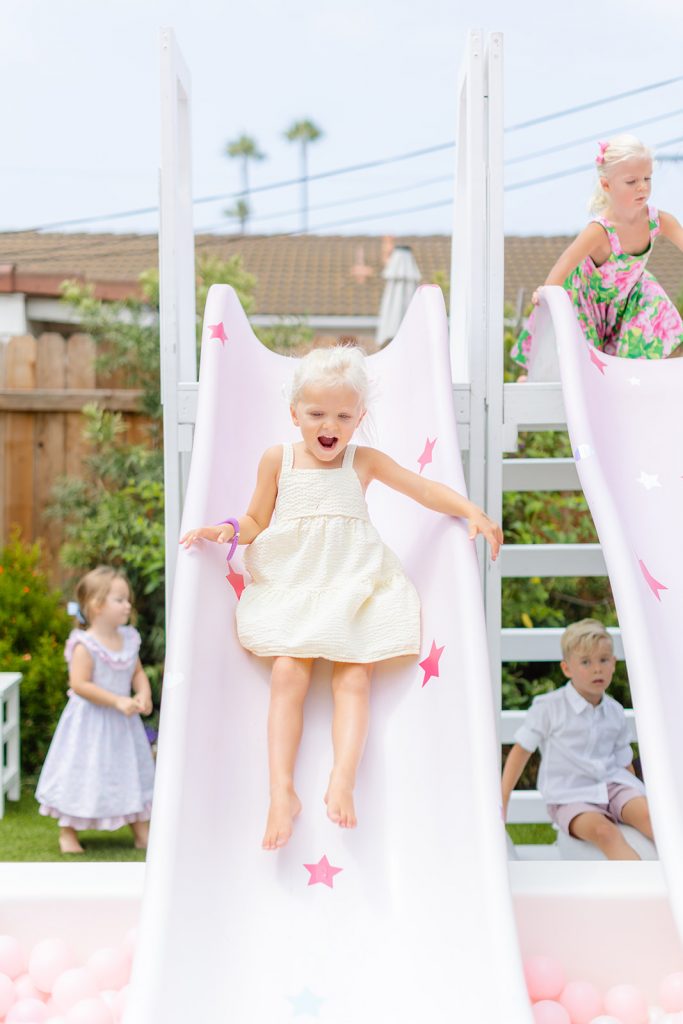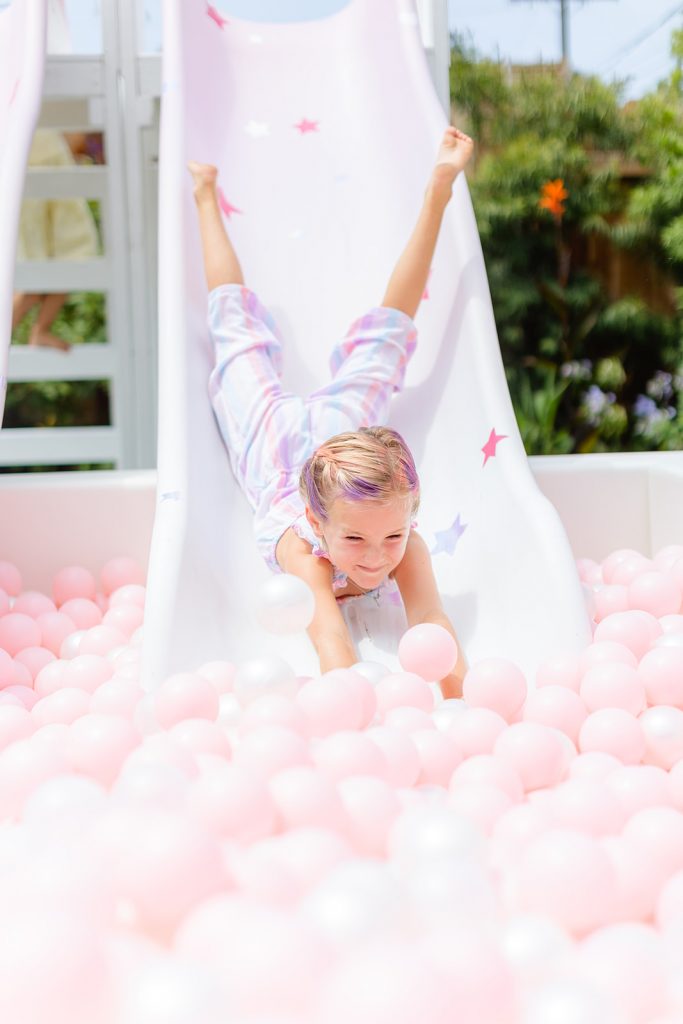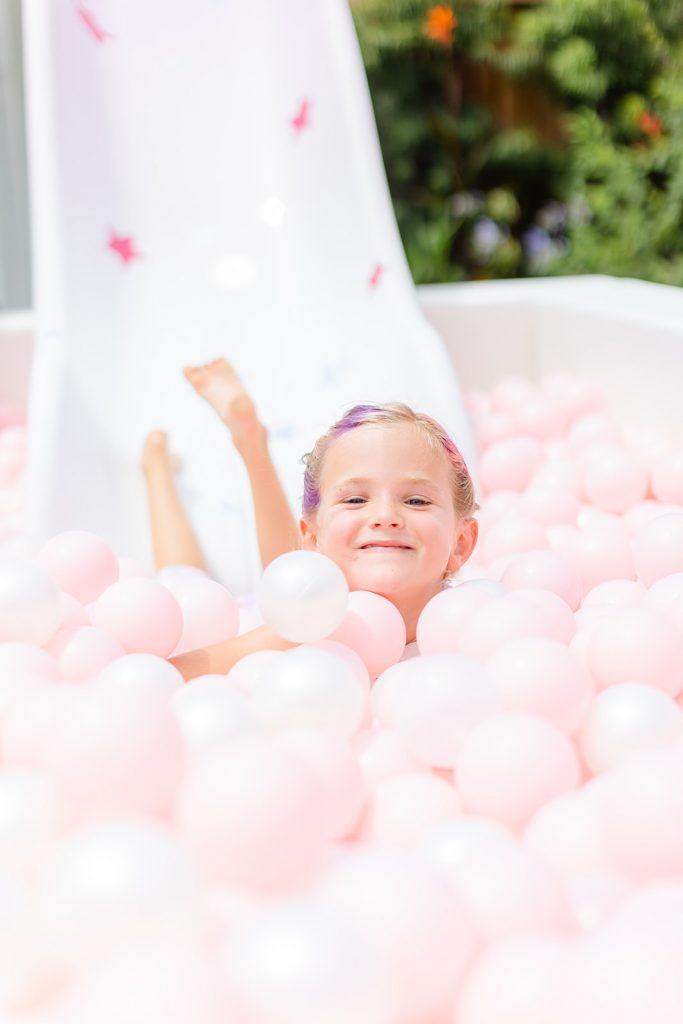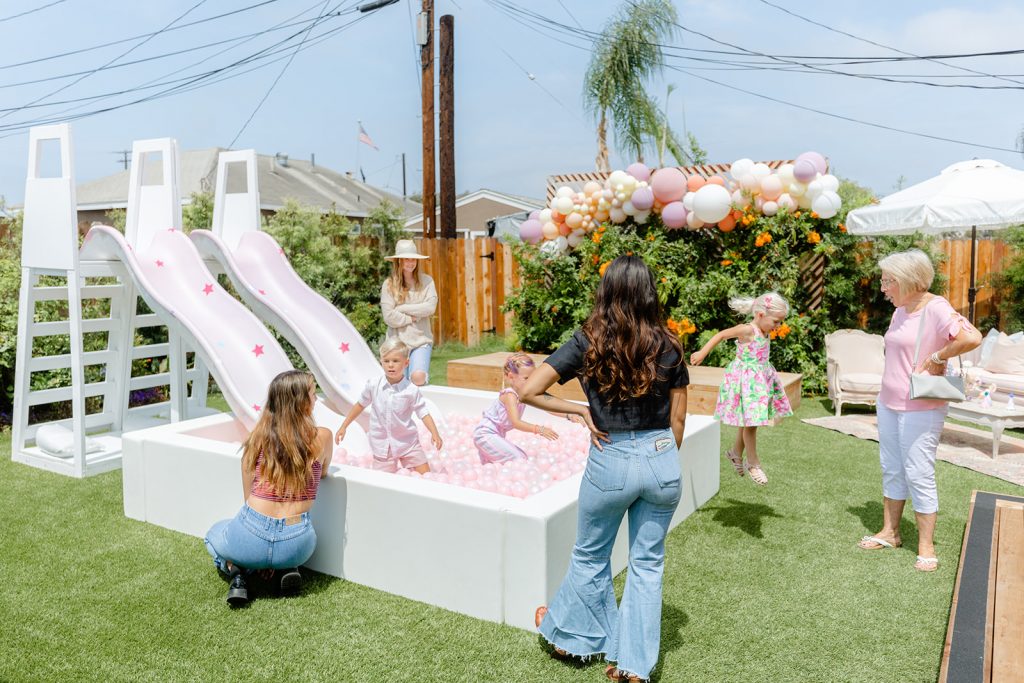 This pretty lounge from Sweet Salvage Rentals was the perfect spot for the parents to sit and watch their kids go wild in the ball pit!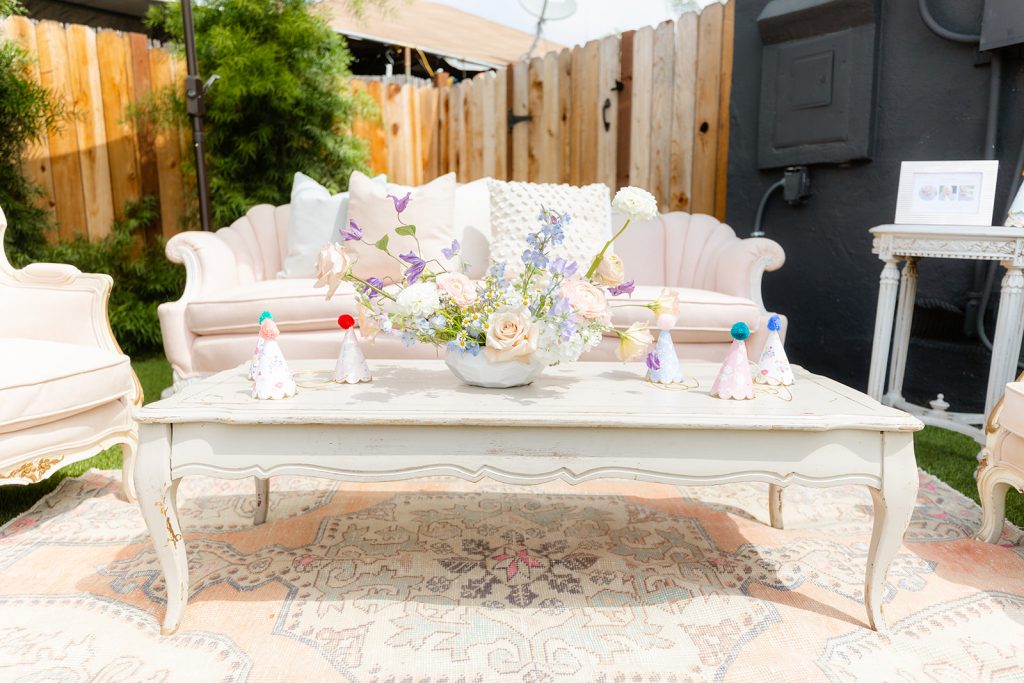 The parents were also spoiled by our friend Tarsia of Bubbles and Brews! She brought her adorable cart with lots of tasty drinks like beer, prosecco, and margaritas! Talk about bringing the party!!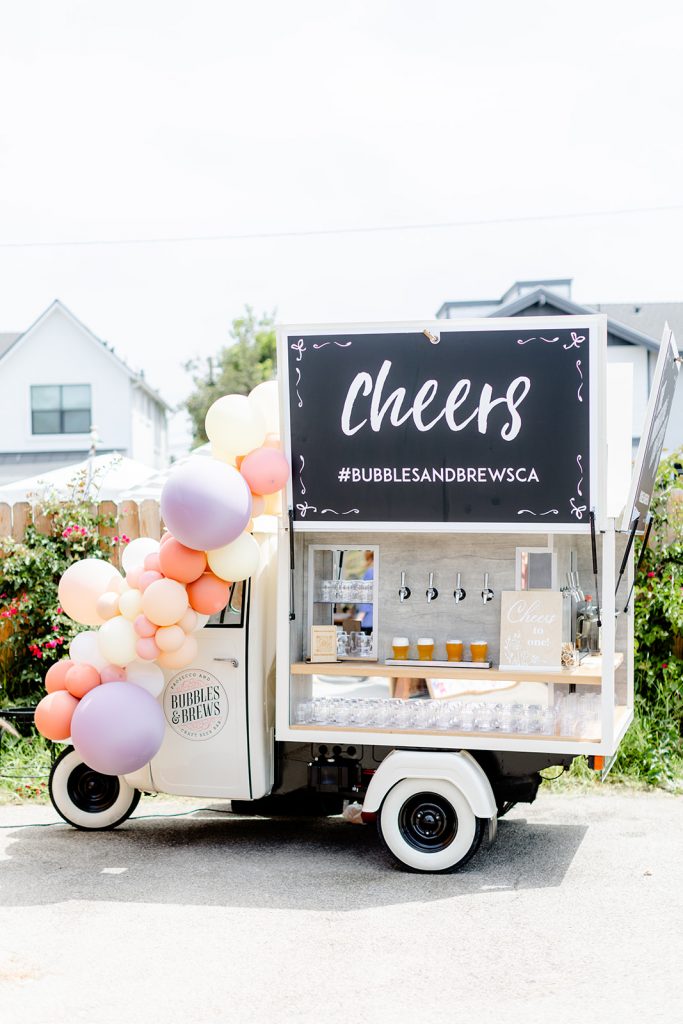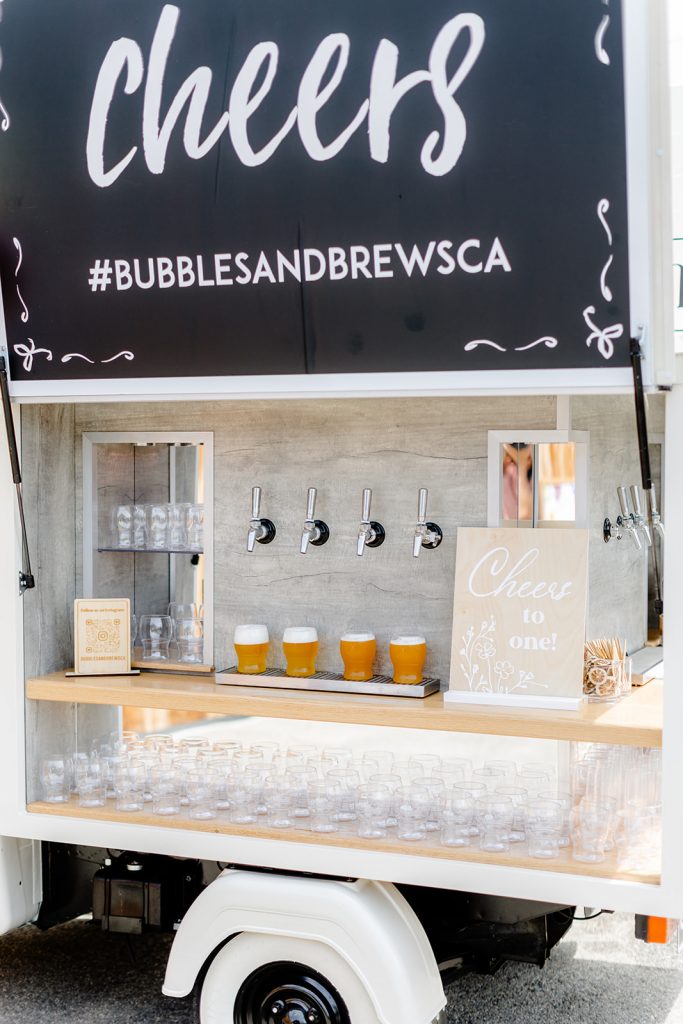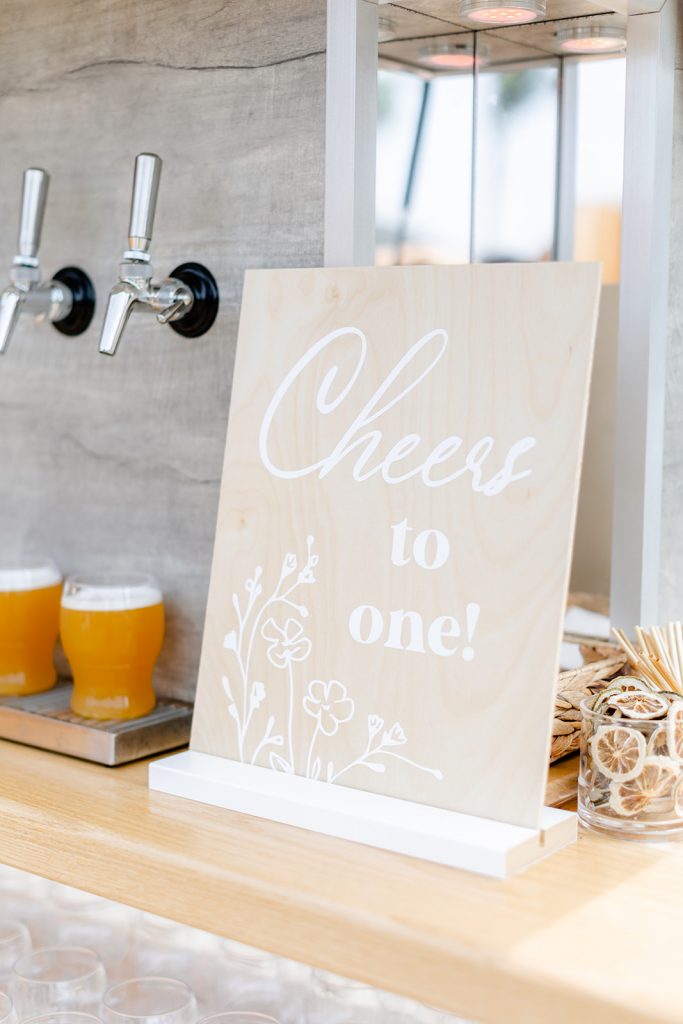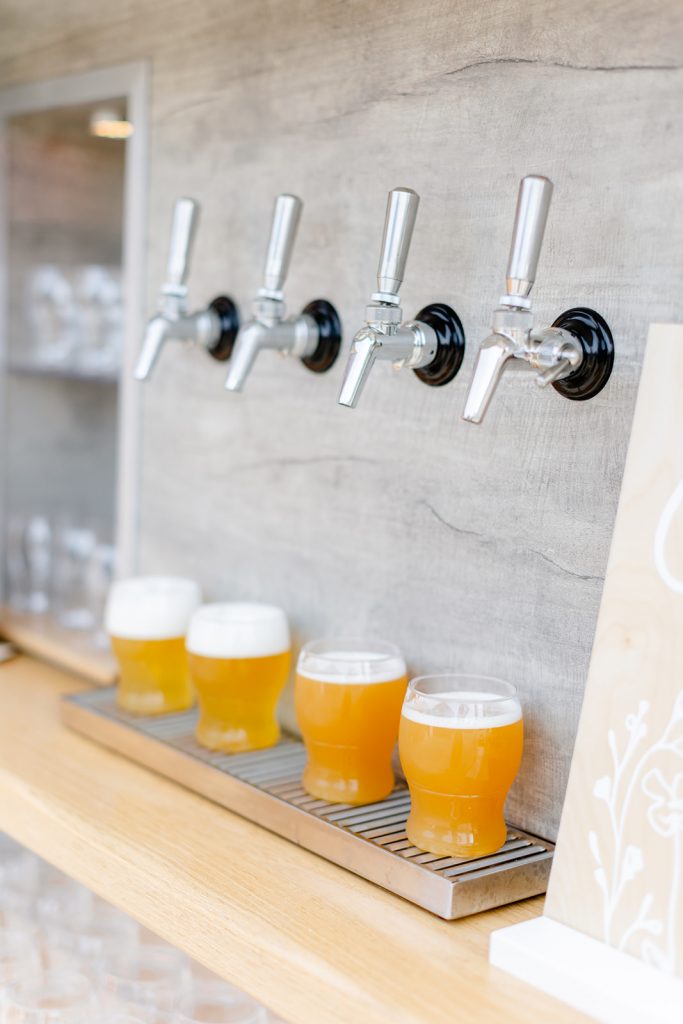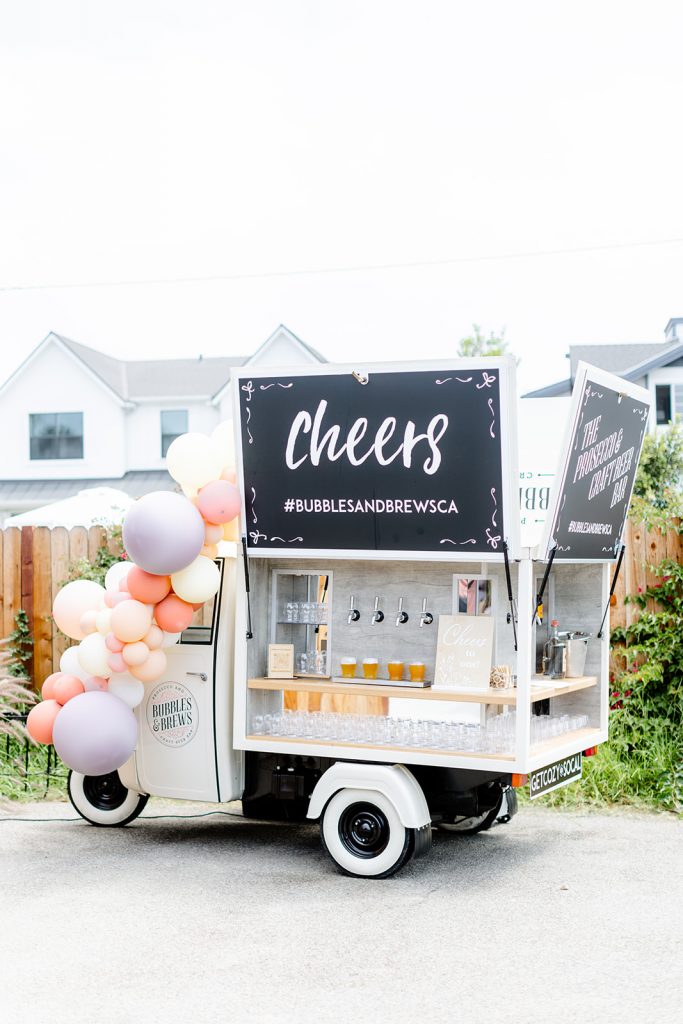 When Camp Lila is the venue, you know your kids will be doing something artistic! Lots of fun watercolor painting in the art room, isn't that fun?!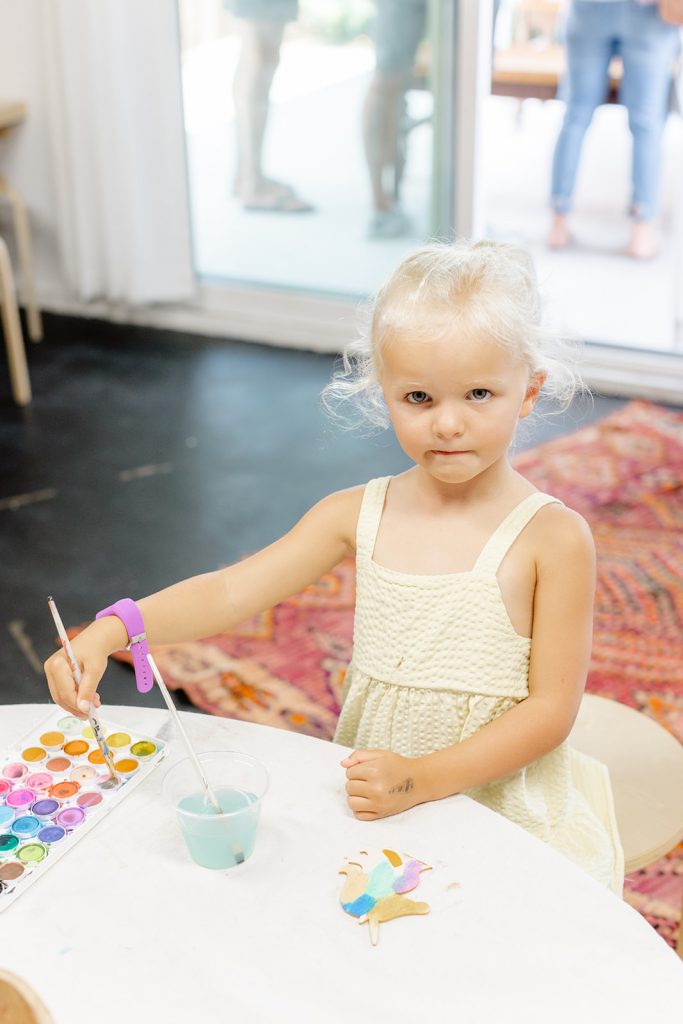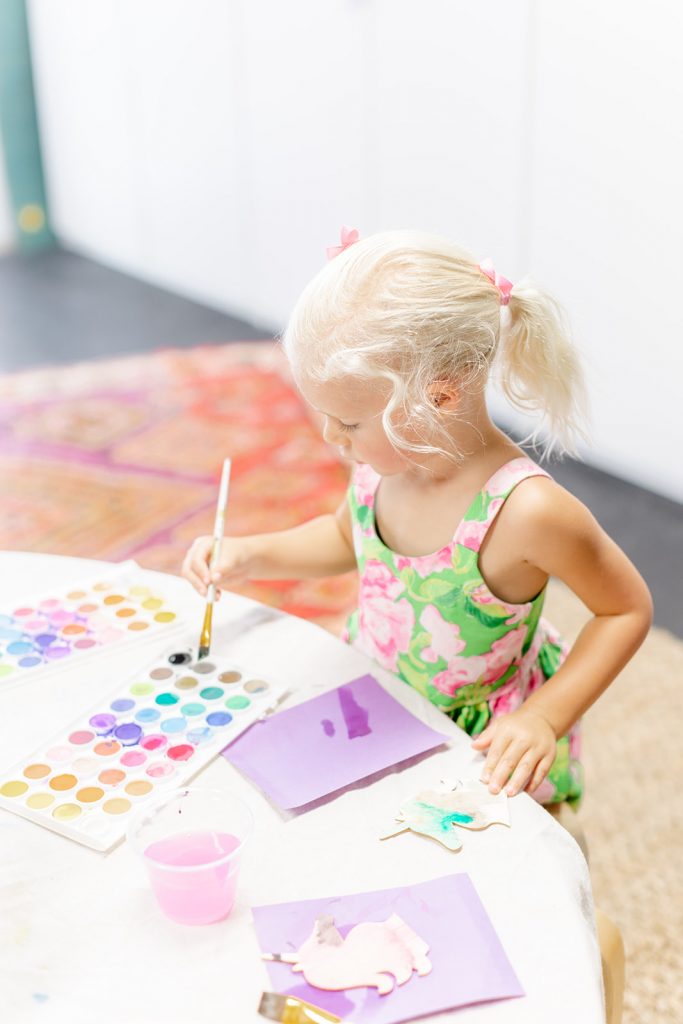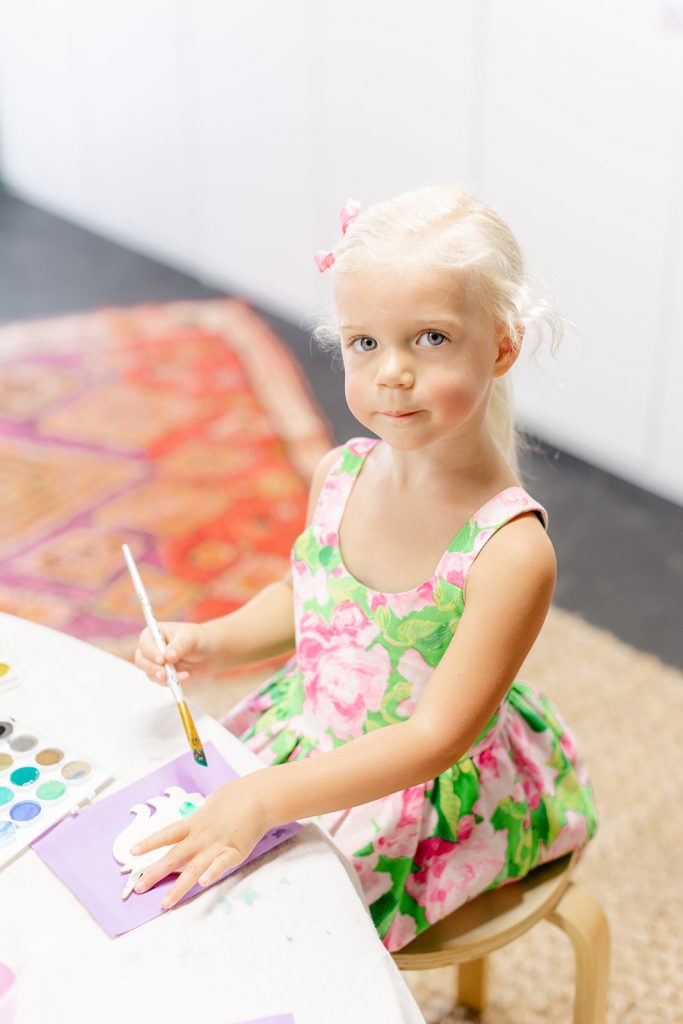 The spread of food couldn't have been prettier! Elysian Eats and Mendocino Farms were the tasty treats of choice! Yum!! I want to dive right into those personal charcuterie cones!!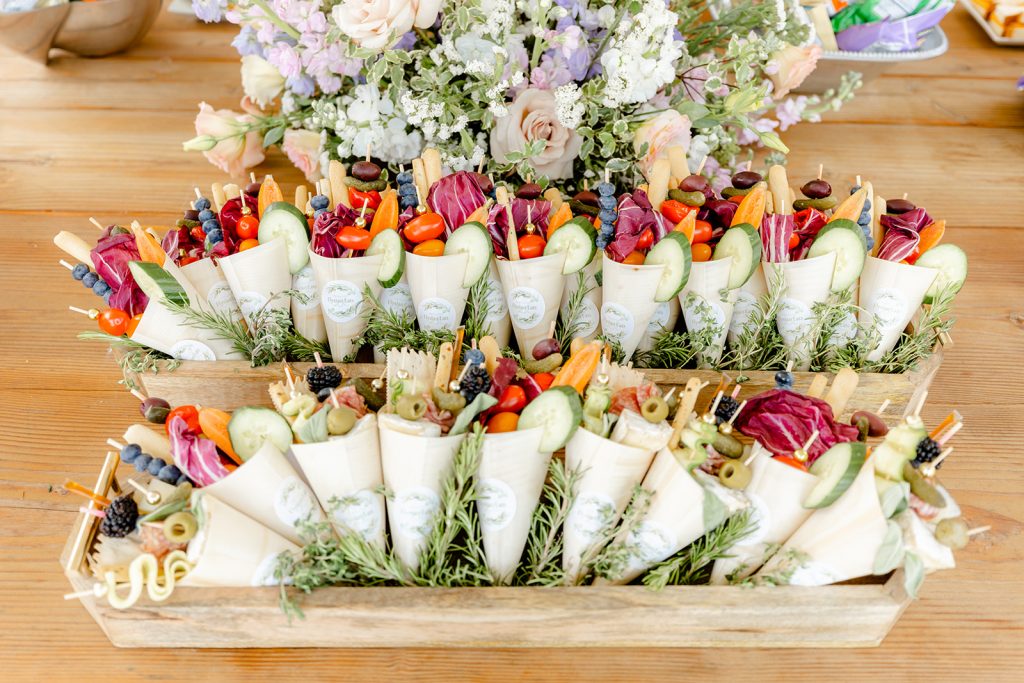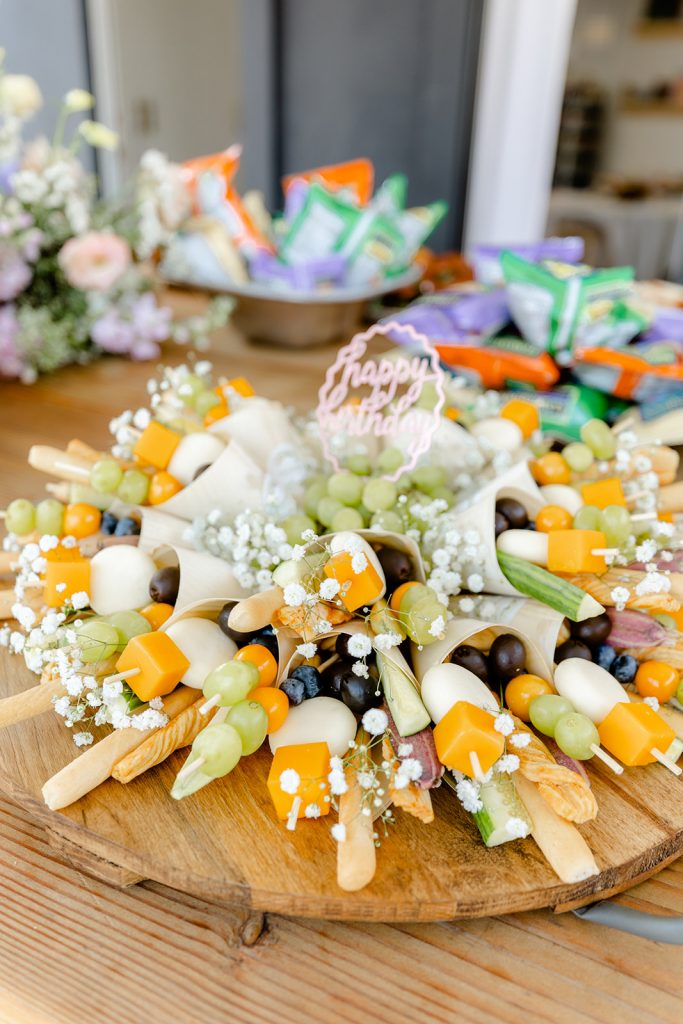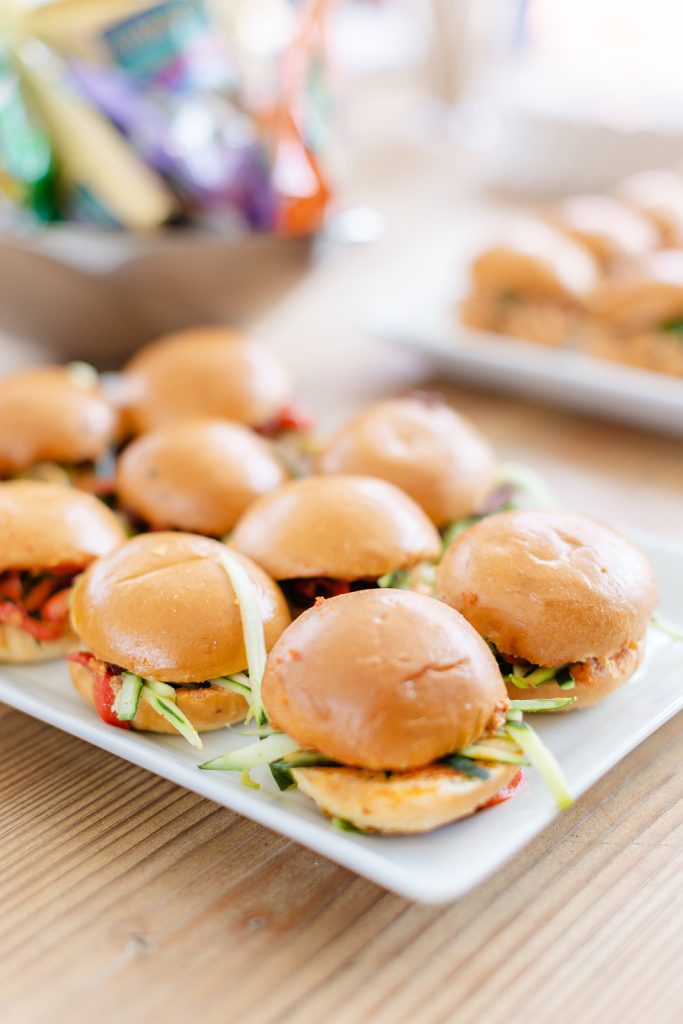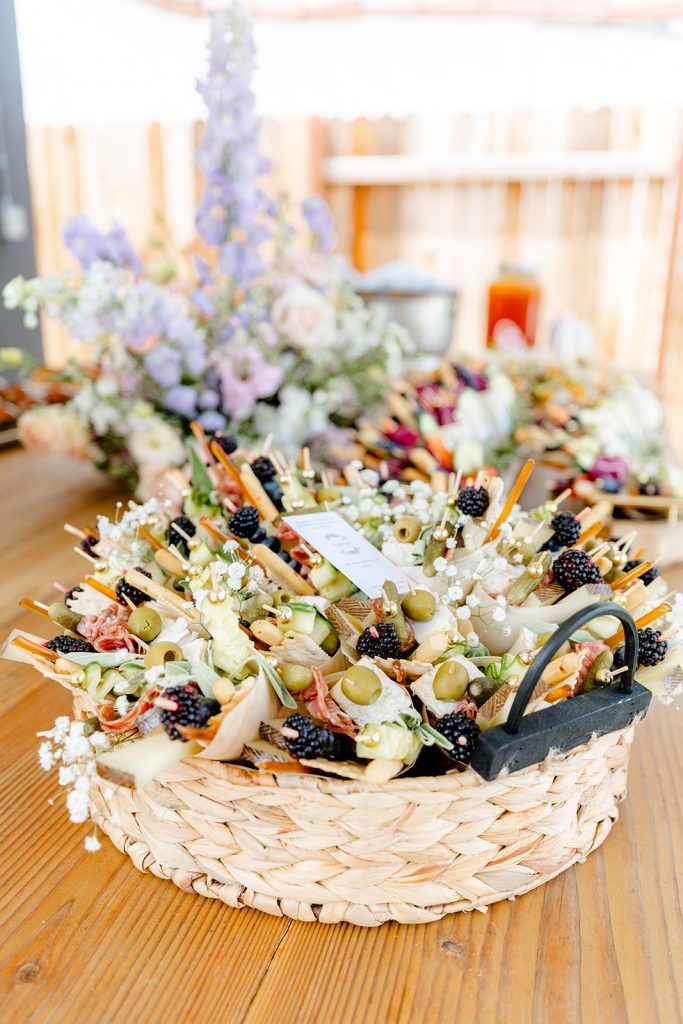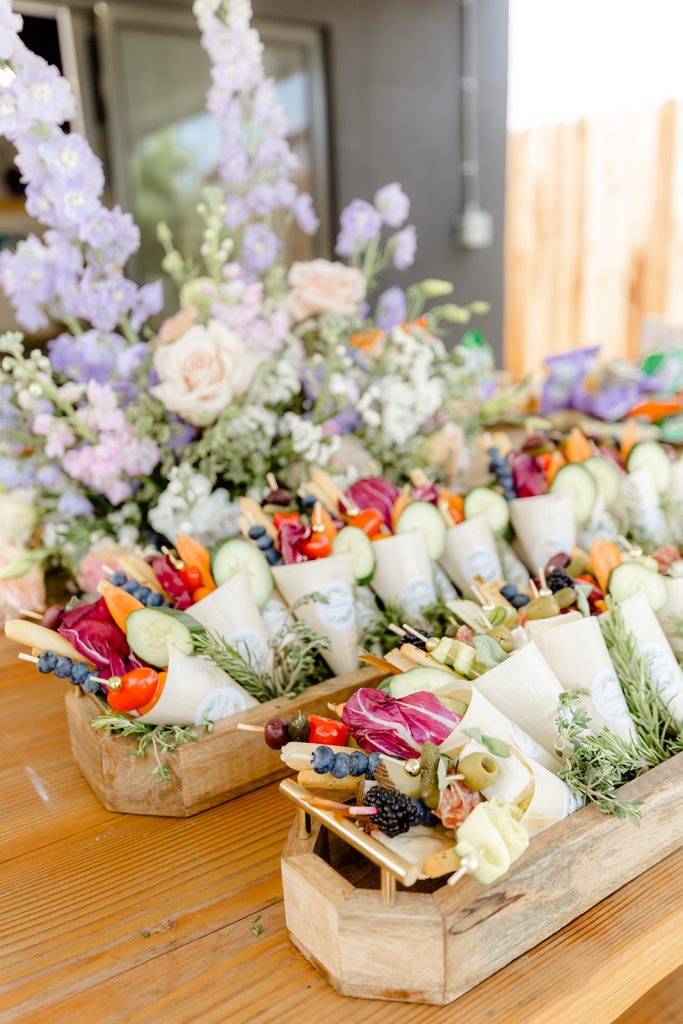 And to top it all off Ice Cream!!! The Ice Cream Peddler came and dished out the yummiest ice cream bars! Man, I want an invite to this party!!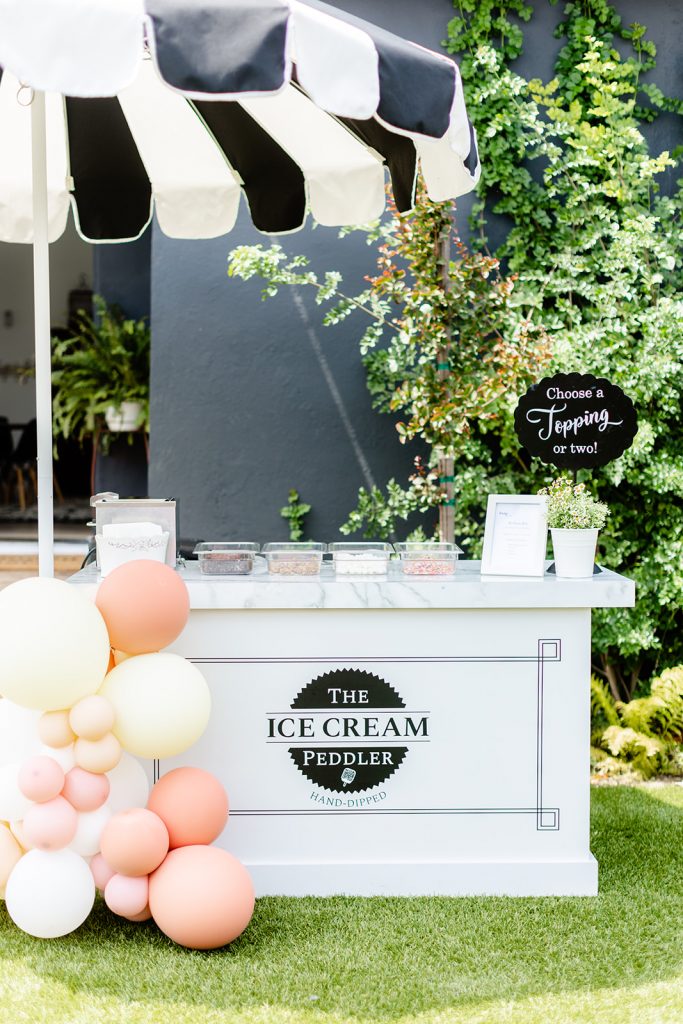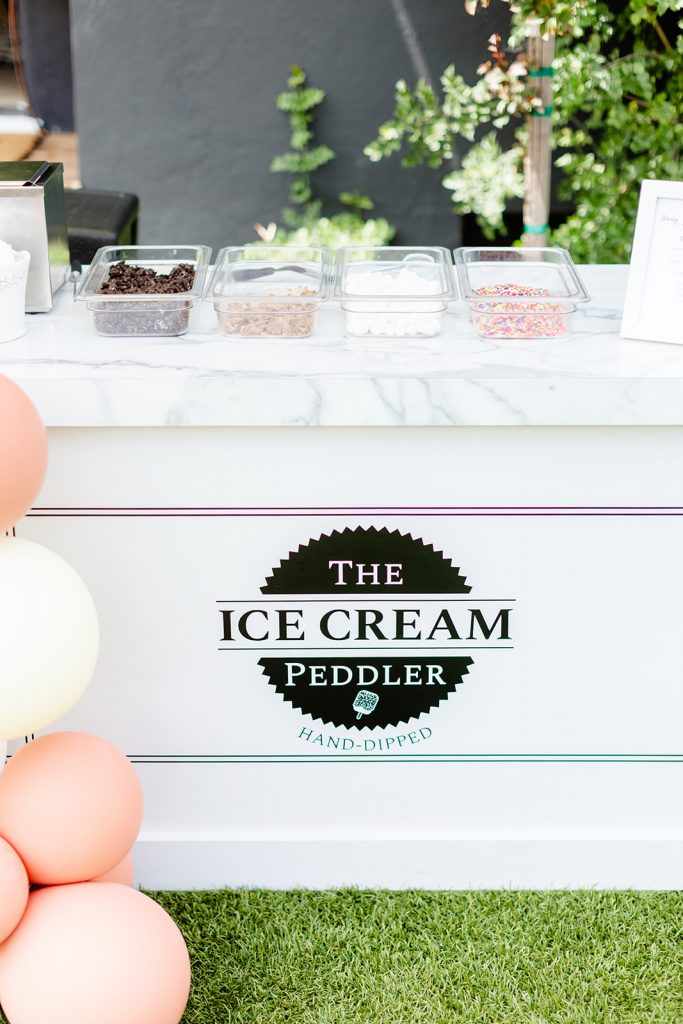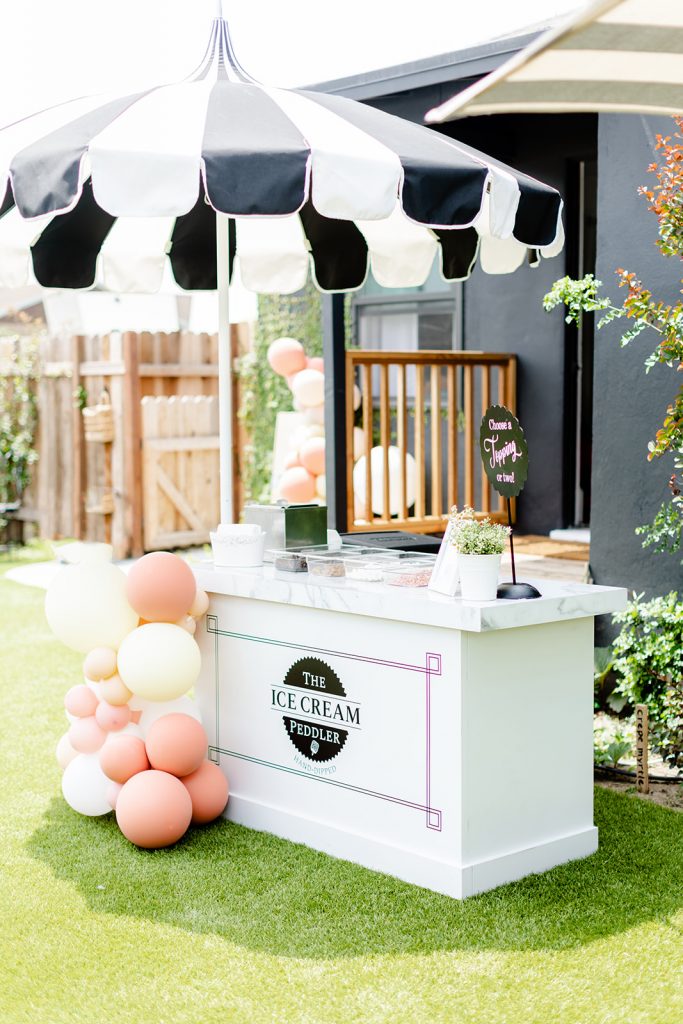 The lady of the hour had a lot to smile about!!!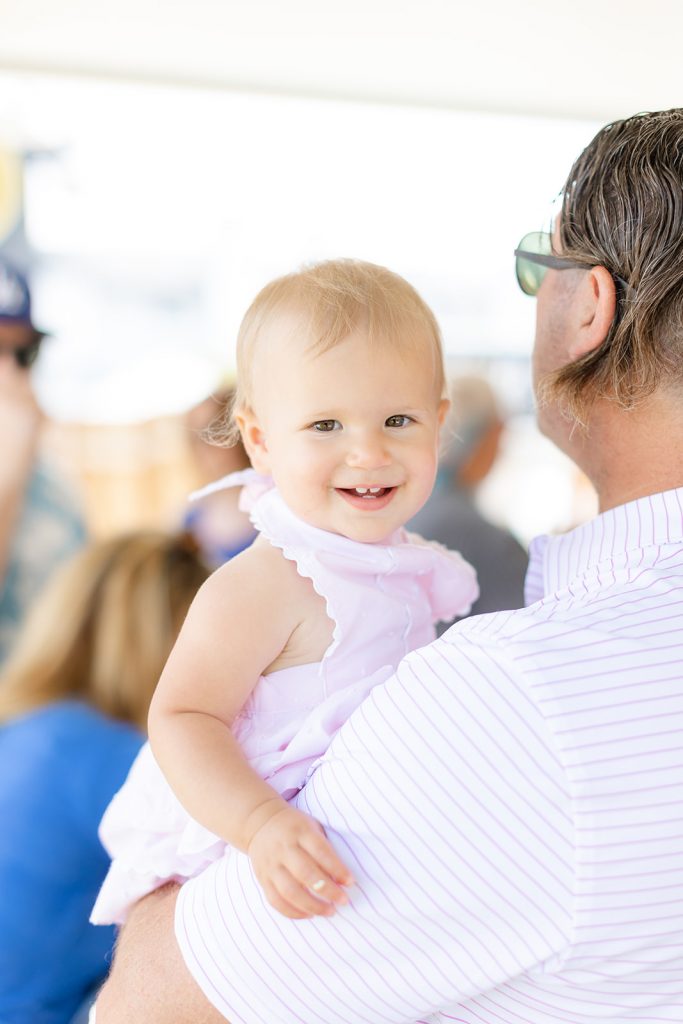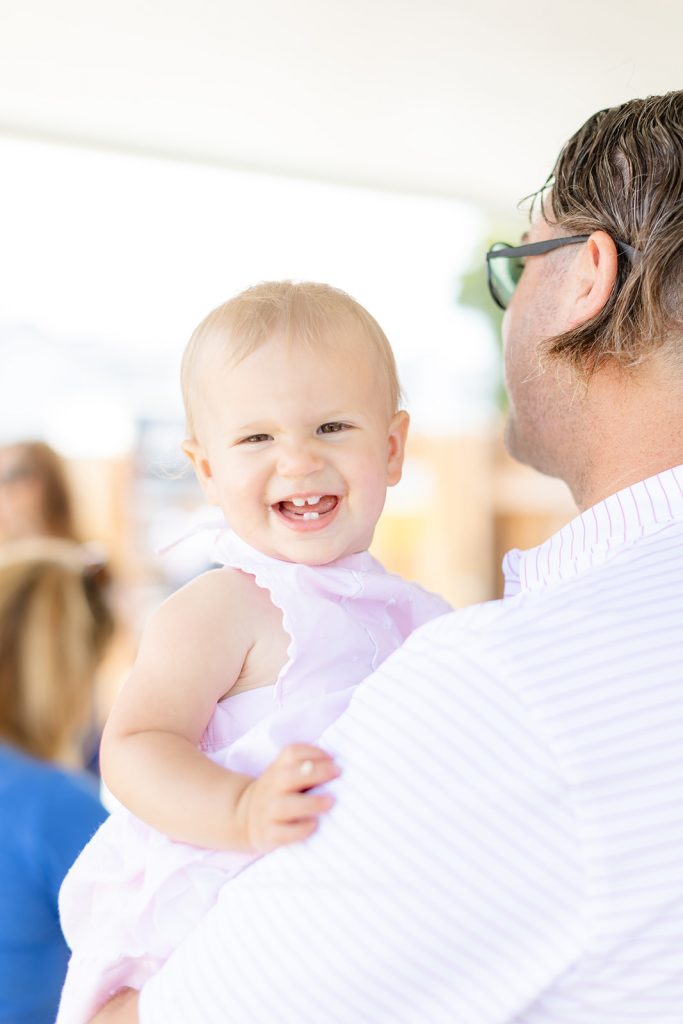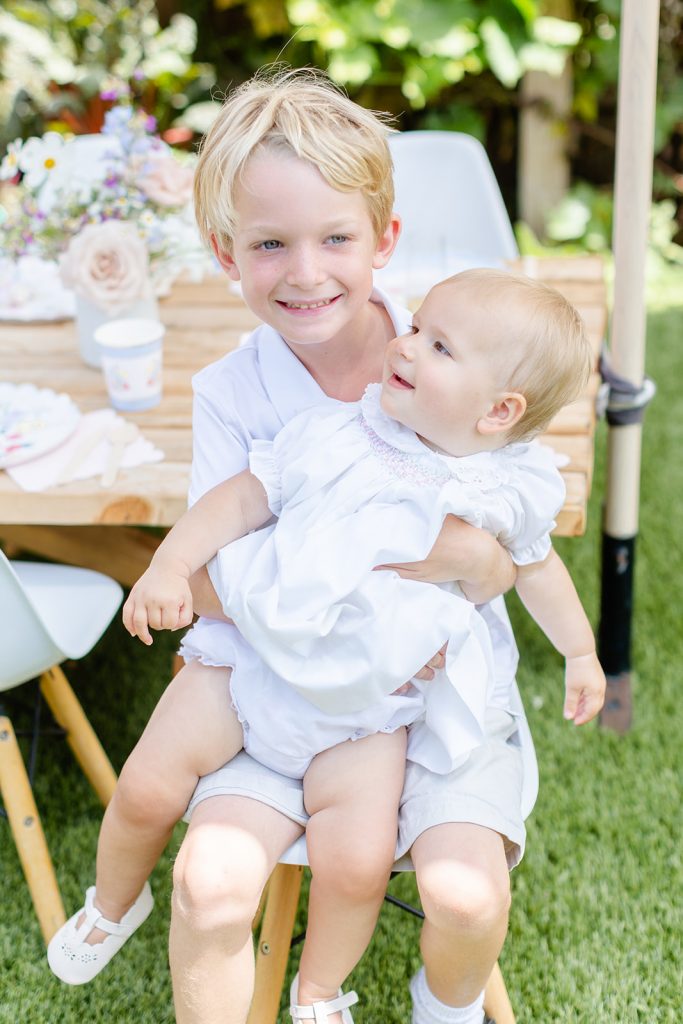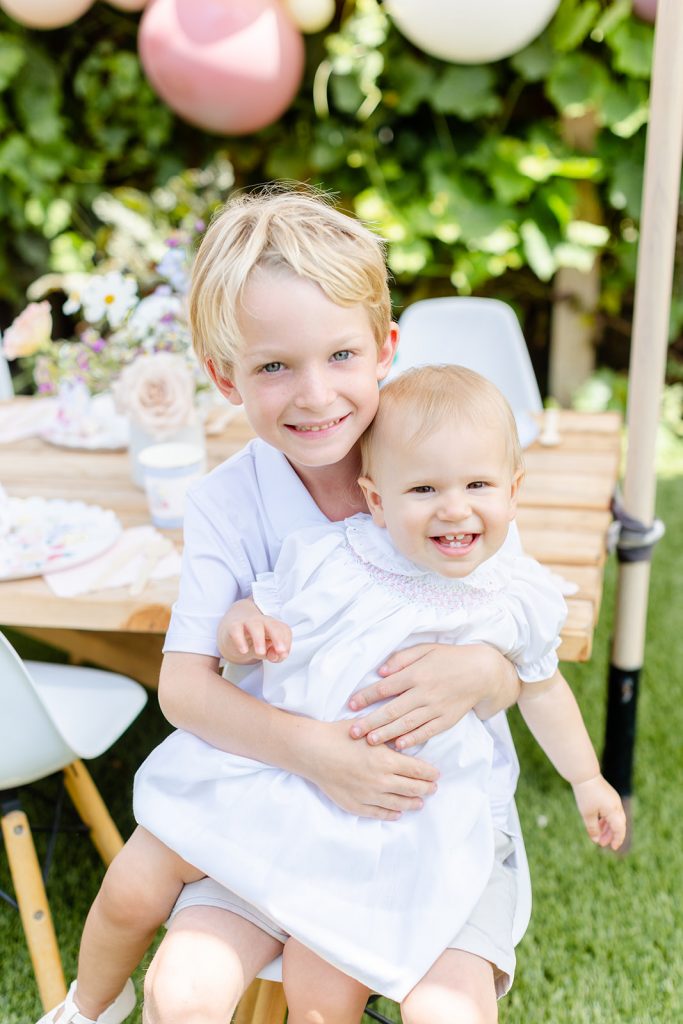 Now it's time for the smash cake!!!! I can't get over how cute these photos are, Lorin Kelly Photo captured it all so perfectly!!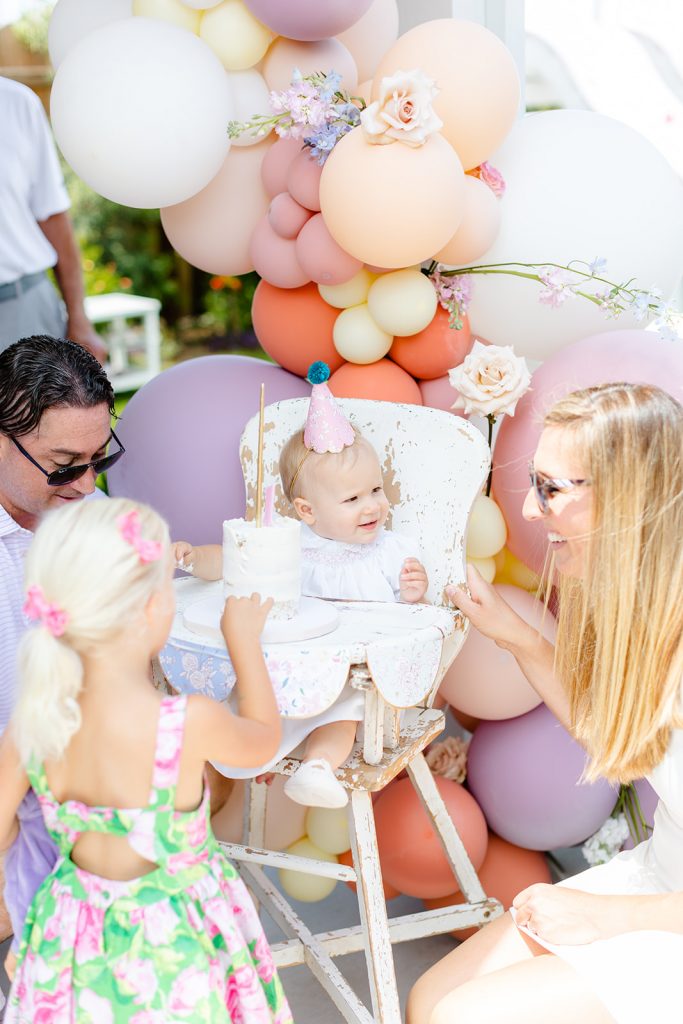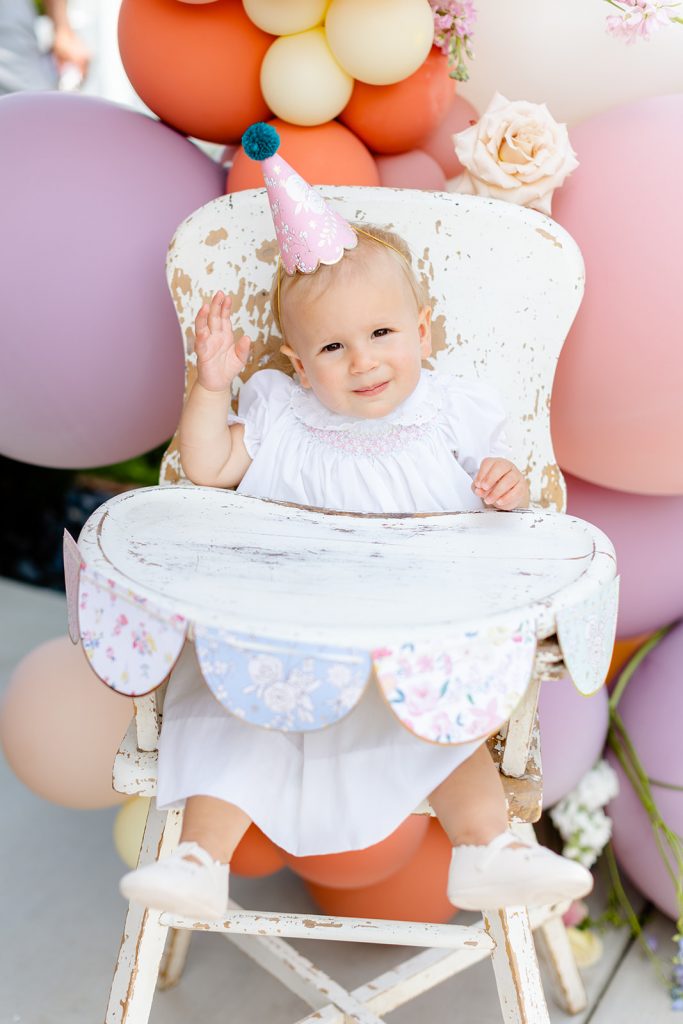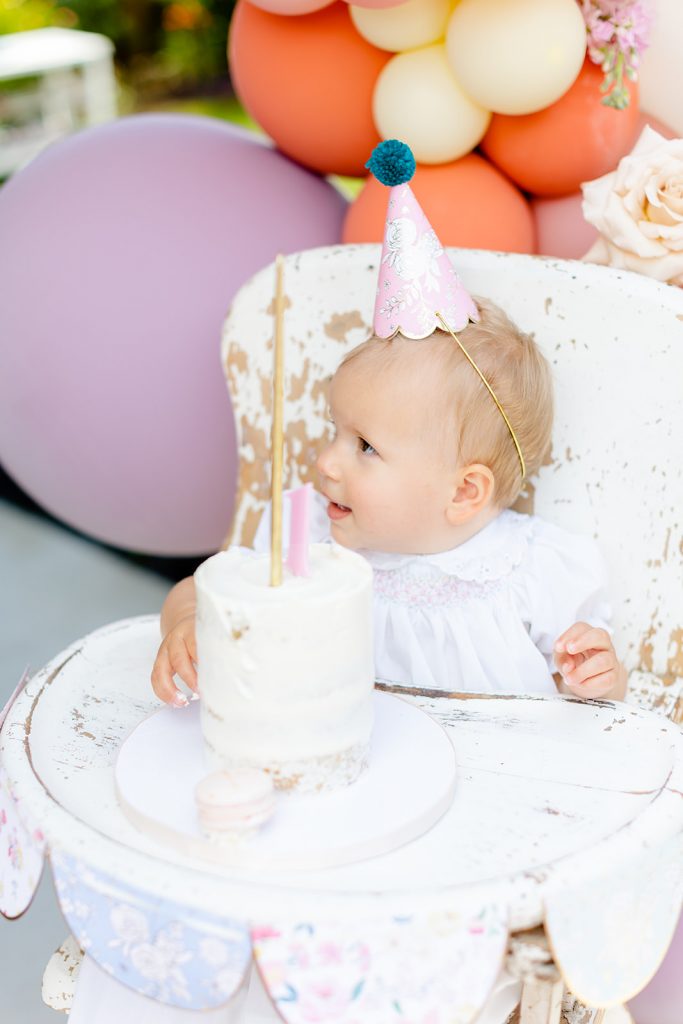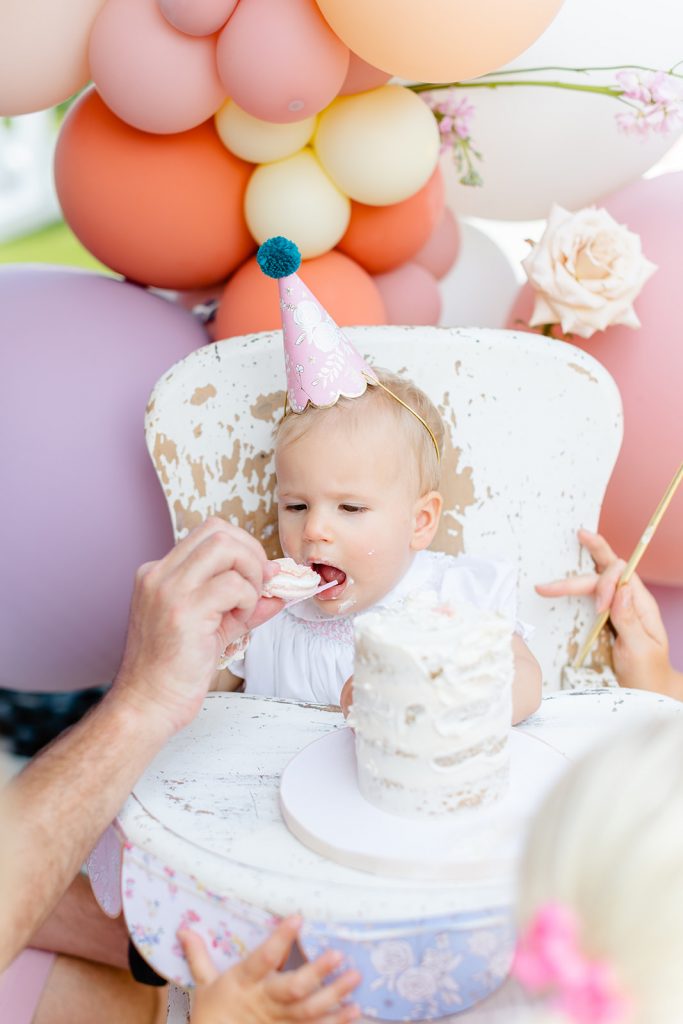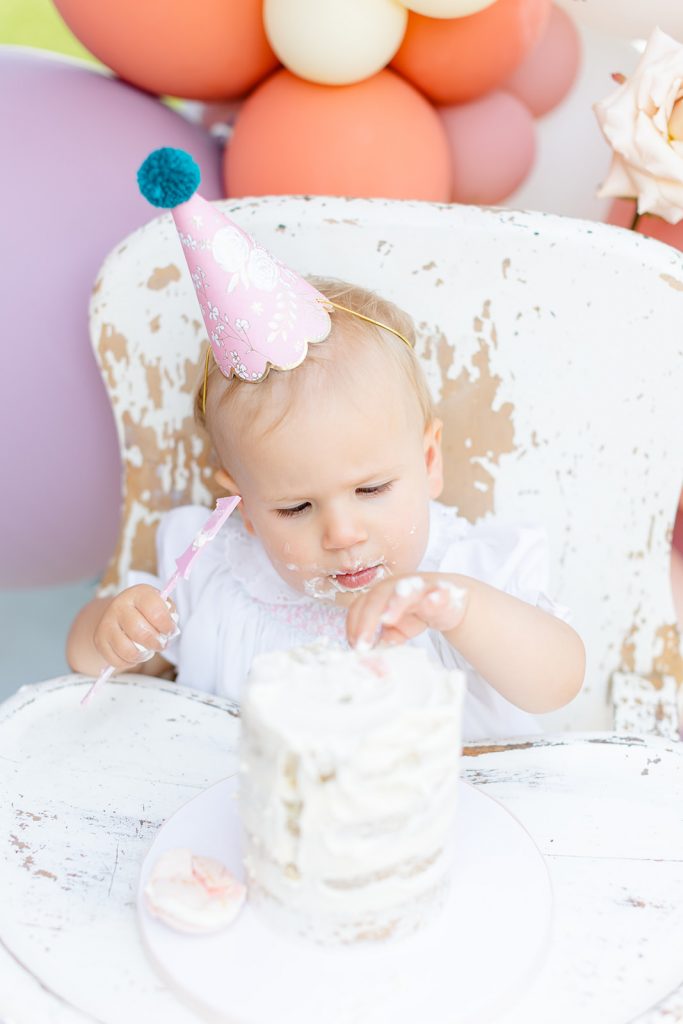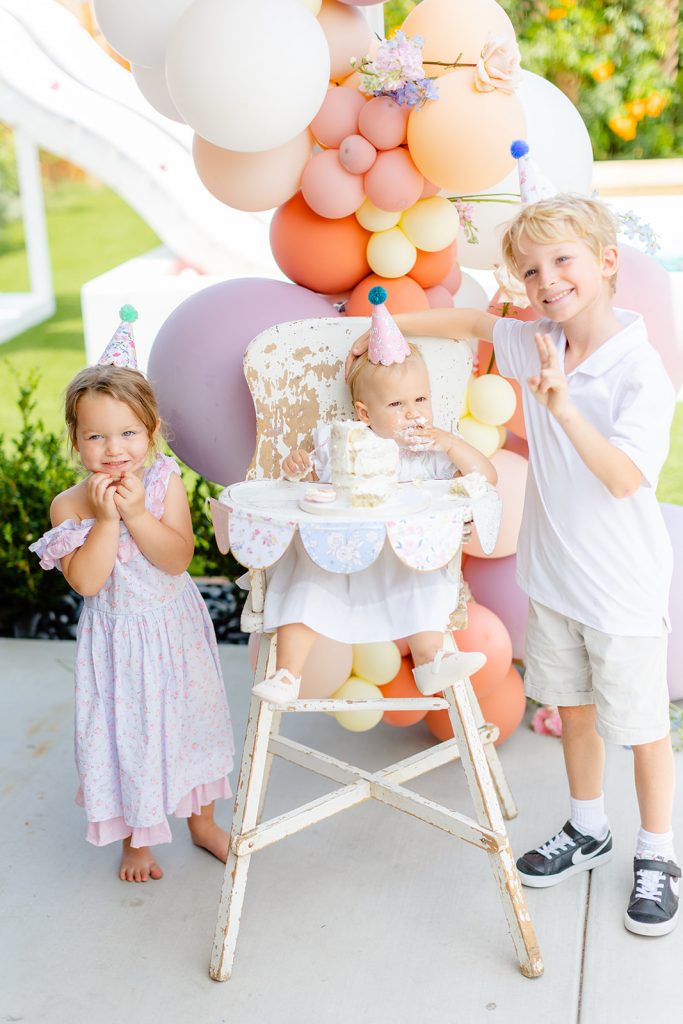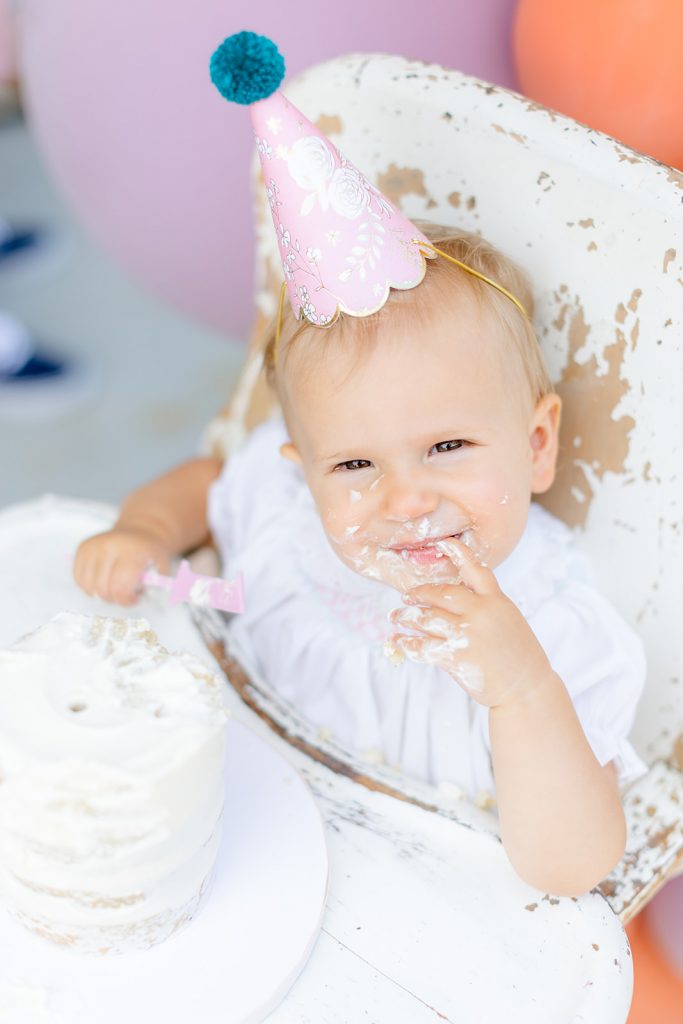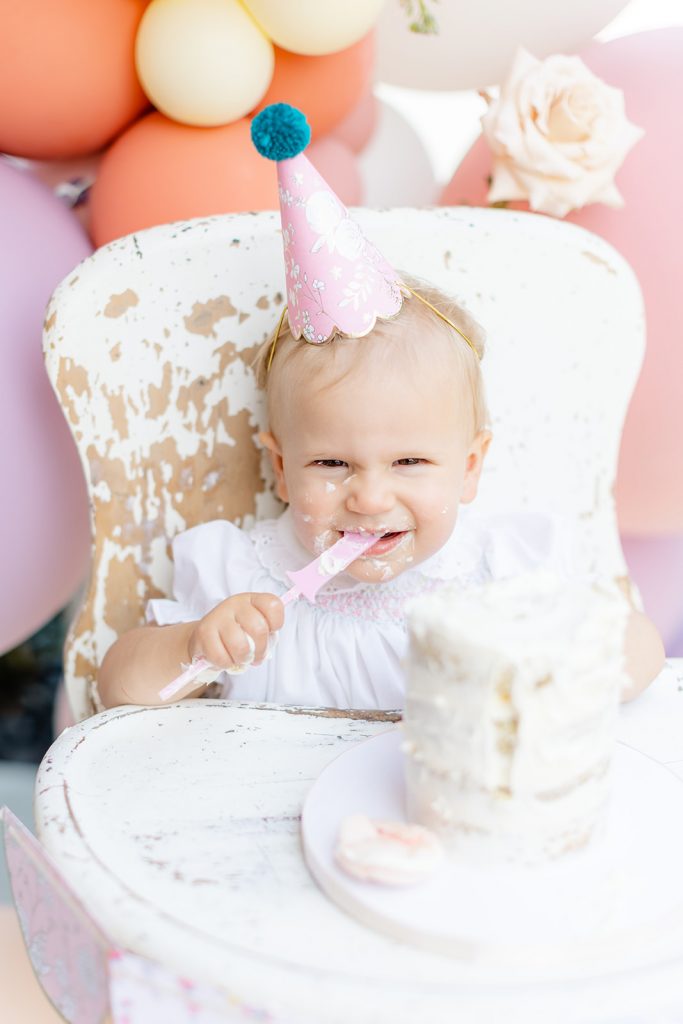 That last photo is everything!!!
You can shop this adorable party below!

Cheers!
xx
Jacquelyn