Today we have a fun giveaway to help you cook thru the winter months! Every kitchen needs a good cast iron dutch oven. We teamed up with Staub to give one of our lucky readers a Staub Cast Iron – Tall Cocottes! To enter, head to our Instagram and read the entry details!
Soup is a fall and winter staple here in our house. As soon as the weather gets a slight chill in the air, its soup making time! There isn't a soup we won't pass on. Lately, I've been super into thai food. So I twisted the classic pumpkin soup by adding thai flavors like coconut milk, lemongrass, Thai peppers, and cilantro. If you don't like pumpkin, I understand; switch in some butternut squash in its place. This Thai coconut pumpkin soup is a great creamy fall soup full that is dairy-free and fills your belly with those comforting thai flavors. The best part is that there are less than ten ingredients and the majority of them are probably already in your fridge. So let's get to it, and don't forget to enter the giveaway over on our Instagram!

Photos by Dayna Studios
---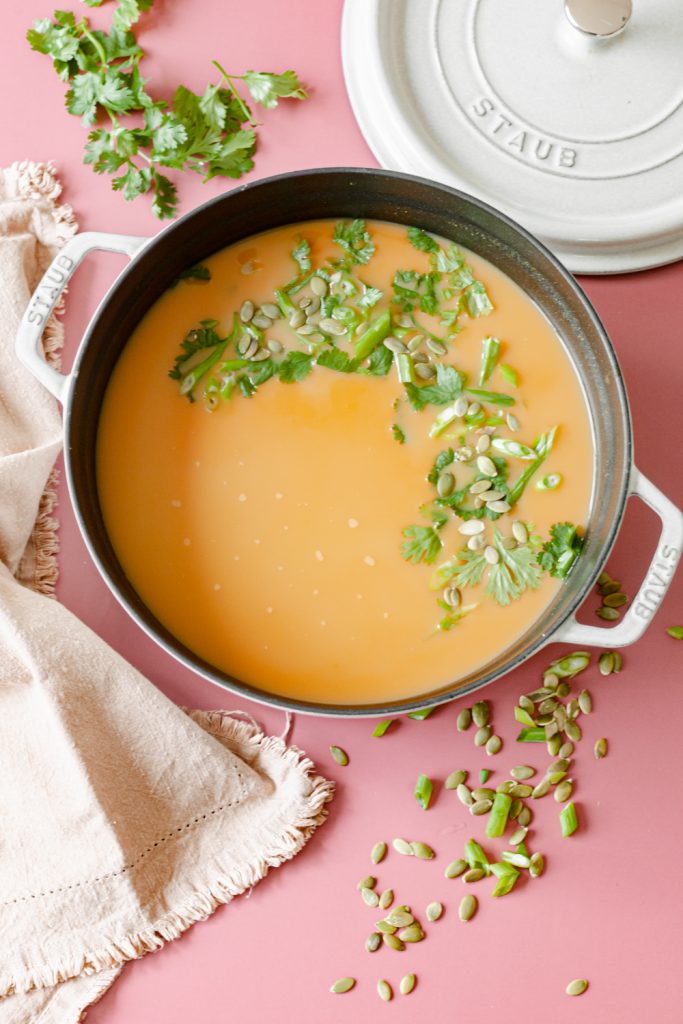 ---
THAI COCONUT PUMPKIN SOUP
SERVES: 6 | PREP: 15 MINUTES | COOK: 30 MINUTES
W H A T Y A N E E D

1 tbs Olive Oil
1 onion coarsely chopped
2 cloves garlic grated
3 pounds butternut pumpkin (you can also use butternut squash) peeled and chopped
1 lemongrass stalk finely chopped or grated
1 tbs fresh ginger grated
1 bunch cilantro
4 cups vegetable stock
2 cups coconut milk (13.5 oz)
Pumpkin seeds for garnish

B U S T O U T

Cutting Board
Soup Pot
Blender
Ladle
---
I N S T R U C T I O N S

Let's start with removing the cilantro leaves from the stalks. You will use the leaves as a garnish in the soup, and the stalks also go in the soup. Heat the oil in a large dutch oven over medium heat. Throw in your onion and stir. Cook until the onion becomes translucent. Throw in your garlic and continue to cook for a minute or two. Add in the ginger, lemongrass, and cilantro stalks. Cook until the cilantro stalks are soft. Once they are soft, add in your pumpkin and cook for 5 minutes. Add in the vegetable stock and bring to a boil. Once we are boiling, turn down the heat to low with a nice simmer. Cook for 30 minutes or until the pumpkin is nice and tender.
Remove from the heat and allow to cool slightly. In batches, take your soup and scoop it into your blender. Blend until all the soup is smooth and creamy. Add in the majority of your cilantro leaves and blend to combine. Save some to garnish with. Return all of the soup to your dutch oven and add in the coconut milk. Heat up and get ready to serve. I like to garnish with cilantro and pumpkin seeds.
Happy Eating!
---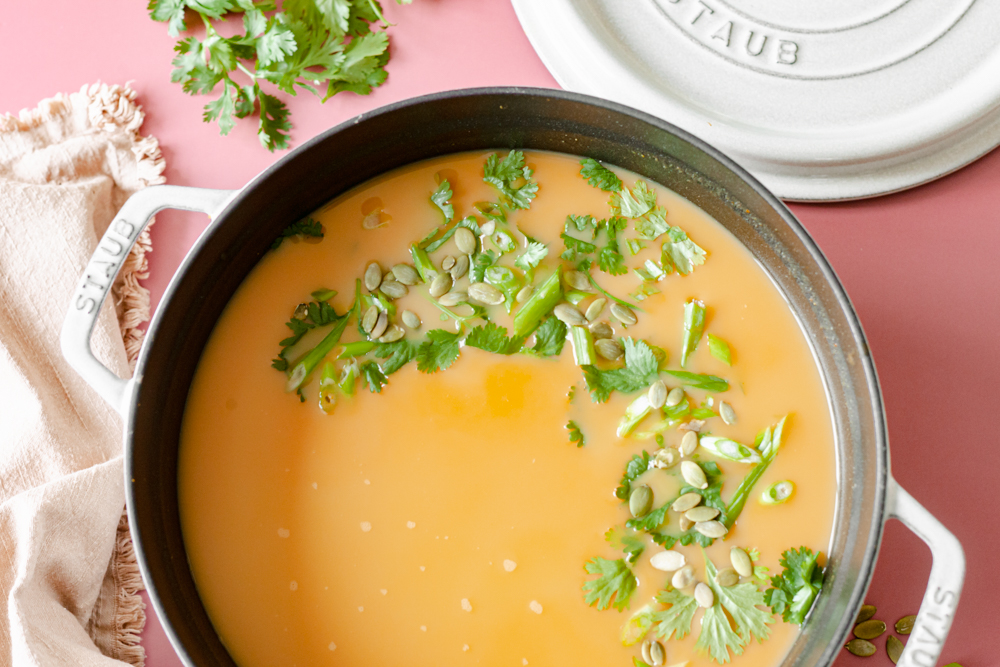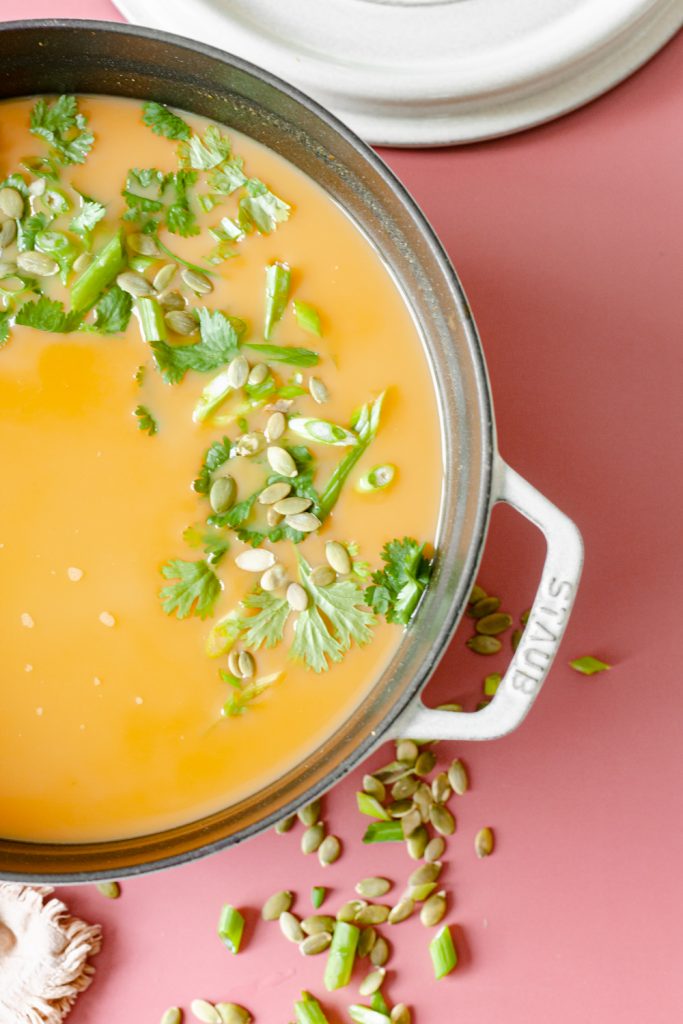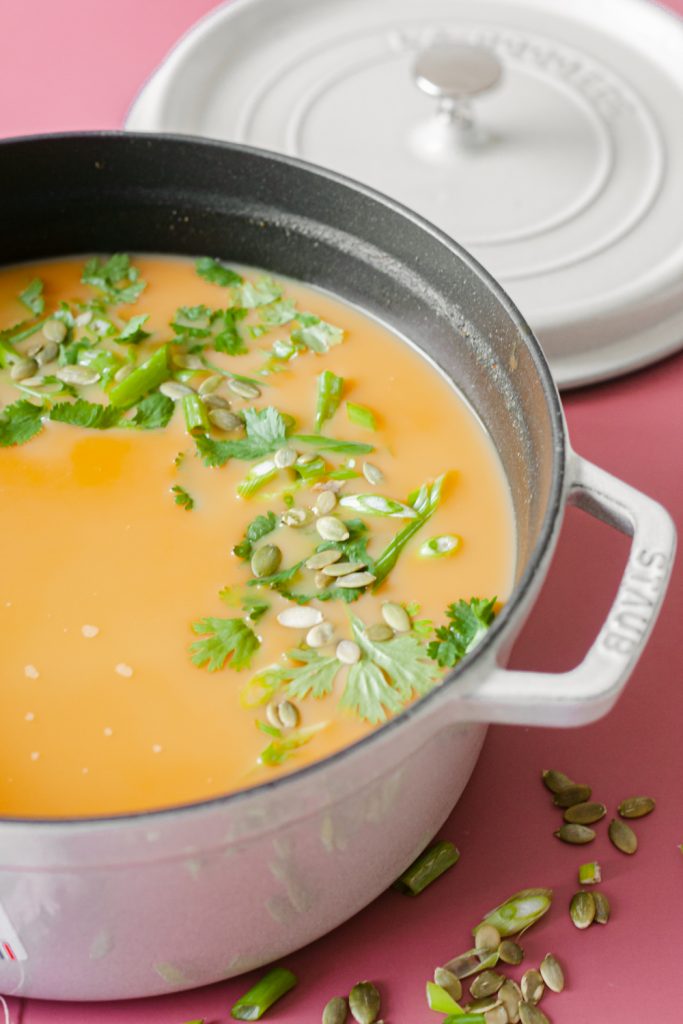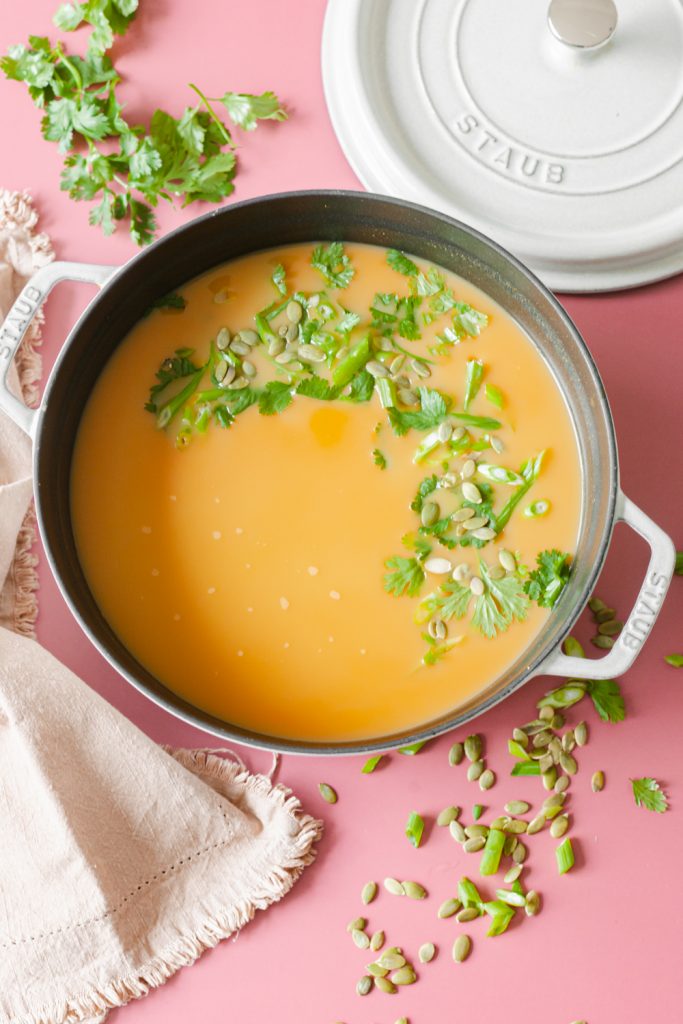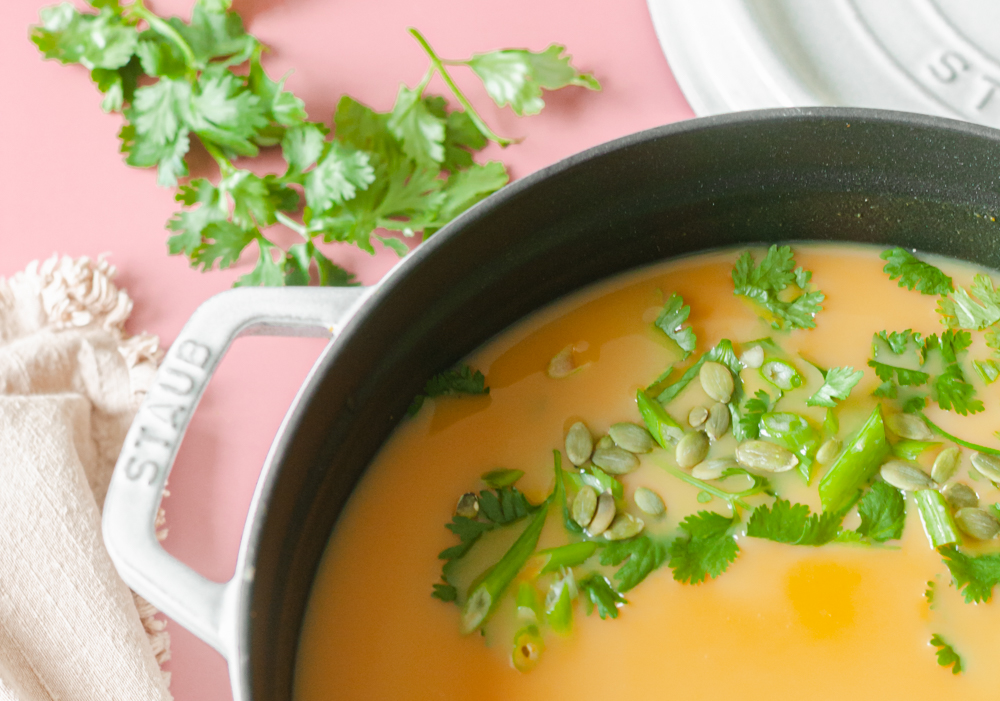 ---
B E I J O S K I T C H E N

xx
Abby