Every year after Christmas, my family and I head to Lake Tahoe to have some fun in the snow and celebrate my husband's birthday and ring in the New Year. This a tradition my husband and I started before we had kids. Instead of kids, we had all his close pals. Needless to say, I'm enjoying the family crowd vs. a condo filled with a bunch of dudes. Along with our little ones, we brought along our close friends that have little ones as well. Its a fun time for all! Snowboarding, snow play, crawdad fishing (or trying at least), smores by the firepit, and lots of lazy days by the fire. If we get crazy, we switch off, and the parents get a little casino action across the street at the Hyatt. Which by the way, I won 600 bucks on Kitty Glitter! Yes, Kitty Glitter!
One of our favorite things to make while we are up in Tahoe, is churros and the mommies favorite, the Quite Mexican Cocktail. The Quite Mexican cocktail is like a wintery version of the chocolate martini by having fresh rosemary sprigs and homemade vanilla syrup and bringing in some Mexican flavor with some tasty tequila. Cure any cabin fever with this winter favorite! With it being so close to Valentine's Day, I turned the churros into hearts, cause why not?! It's that much cuter! All the sweet love vibes here! And, let me tell you, these cute churros, and this fun cocktail are so easy to make.
I have to tell you about this new awesome online store I found! It was like Christmas for me! I discovered an online shop that has edible flowers, micro greens, and petite veggies, plus so much more! The pretty flowers you see here are from Gourmet Sweet Botanicals, and they ship overnight! It's my new obsession, and their store is now in my morning routine of Instagram and online shopping. I can't get enough; you gotta check them out!
Photos by Dayna Studios
---
HEART CHURROS
SERVES: 12-24  | PREP: 15 MINUTES | COOK: 25 MINUTES
W H A T   Y A   N E E D!
CHURRO
1/2 cup unsalted butter
1/2 tsp salt
2 Tbsp granulated sugar
1 cup water
1 cup all-purpose flour
3 large eggs
1 tsp pure vanilla extract

CHURRO TOPPING
1 Tbsp unsalted butter, melted
1/4 cup granulated sugar
1/2 tsp ground cinnamon
B U S T   O U T:
Parchment Paper
Cookie Sheet
Saucepan
Whisk
Wooden Spoon or Spatula
Pastry Bag + Large Star Tip
---
I N S T R U C T I O N S
Preheat oven to 350 degrees and line a cookie sheet with parchment paper. In a medium saucepan over medium heat, add butter, salt, sugar, and water. Allow the butter to melt and water to come to a boil, mix with a whisk to make sure the sugar dissolves. Then using a wooden spoon or spatula, add the flour all at once and quickly begin to stir consistently. Once the dough comes together, continue stirring, over the heat, for 30 seconds.
Remove from heat and begin stirring in the eggs one at a time, mixing well before adding the next. You will need to use your muscles here!
When all the eggs are incorporated, stir in pure vanilla extract then spoon the dough into a pastry bag fitted with a large star tip. Pipe dough onto a prepared baking sheet into shapes of hearts, or any shape desired.
Bake 22–24 minutes or until they become dark golden brown and crispy. Remove from oven and cool completely on a cooling rack.
Mix ¼ cup granulated sugar with ½ tsp cinnamon for the topping.
Brush top and sides of cooled churros with melted butter and sprinkle the cinnamon and sugar topping on top. Serve with chocolate and caramel sauce. I'm a caramel girl for sure!
---
Are you drooling over that dusty pink plate and cream/pale pink speckled small bowl like I am!? The sweet ladies behind Mr. Bowl Ceramics handmade these dreamy guys, and I can't get enough of their modern pottery pieces! Run on over to their Etsy page and check out all the handmade ceramics they have available for you! It's really hard to not buy them all. They just came out with their new collection and its matte black goodness!
---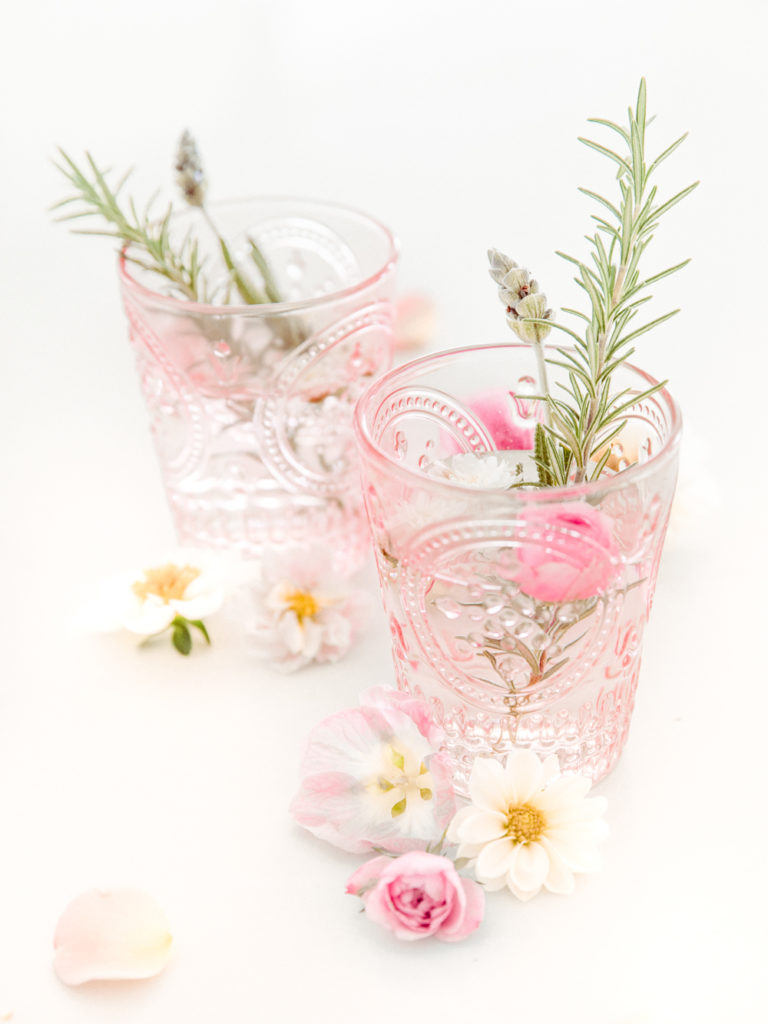 Quite Mexican Cocktail
makes: 4 cocktails
W H A T   Y A   N E E D!
Fresh Rosemary Sprig
25ml White Creme De Cacao
40ml Tequila
15ml Vanilla Syrup
Freshly grated nutmeg
Edible Flowers
P L U S   T H E S E:
Cute Pink Cocktail Glasses
Martini Shaker

---
I N S T R U C T I O N S
Add all ingredients to a shaker and shake with ice. Strain into a martini glass or any cute glassware and garnish with a fresh rosemary sprig and some edible florals for that pretty look. I love these pretty pink glasses for cocktails right now with Valentine's Day around the corner. I got them at Target!
---
---
B E I J O S  K I T C H E N

xx
Abby