Galentine's Day is such a great reason to get all your favorite ladies together, I mean not like we need one, but still fun! Getting all the gals together to say you love them like XO is a great excuse to go all out! And it's even more fun to use all the shades of pink, including our favorite – Rose Gold!!! We threw a pretty fun Galentine's Day celebration last year, you can see it here!
But this year may be my new favorite… The colors just make me giddy with happiness!  I mean that balloon wall is everything and so easy to recreate at home!  You can see more of this on Green Wedding Shoes where we are featured today!
Photos by the talented Roxanne McClure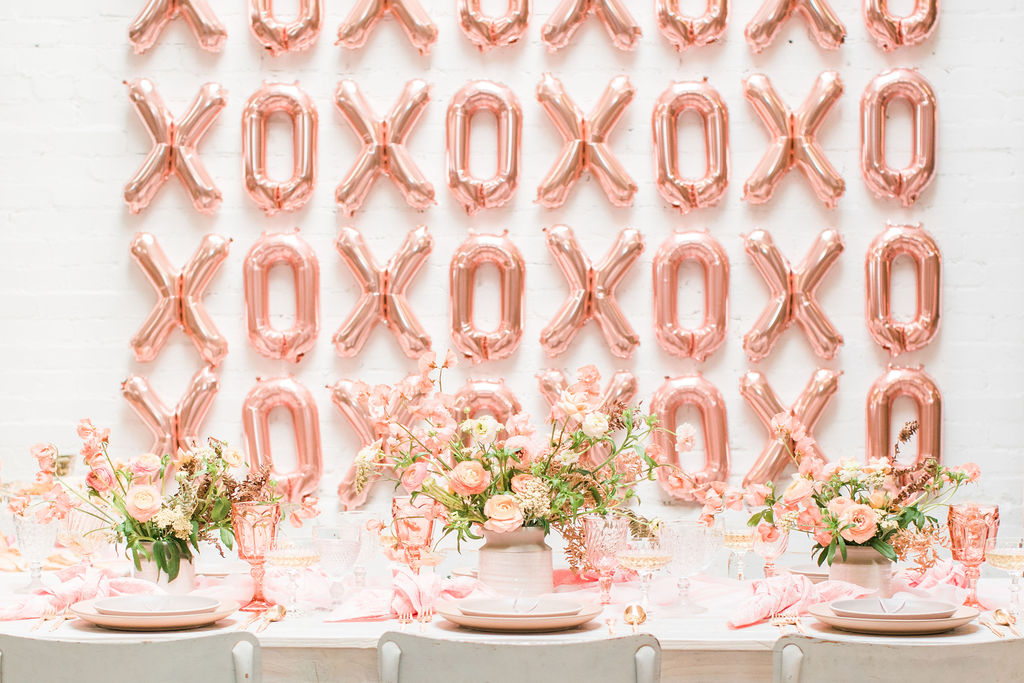 Let's talk necessities… Don't forget the details! Place cards & an invite are key!! Stand Tall Mia took care of that for us with her pretty penmanship. It's always nice to get an invite in the mail, makes you feel pretty darn special right?!  And my mailbox is lonely after all those Christmas cards, it needs some new friends other than bills, ha!
We laid the invite on the most beautiful surface by Chasing Stone – she creates the most gorgeous surfaces to style anything on!!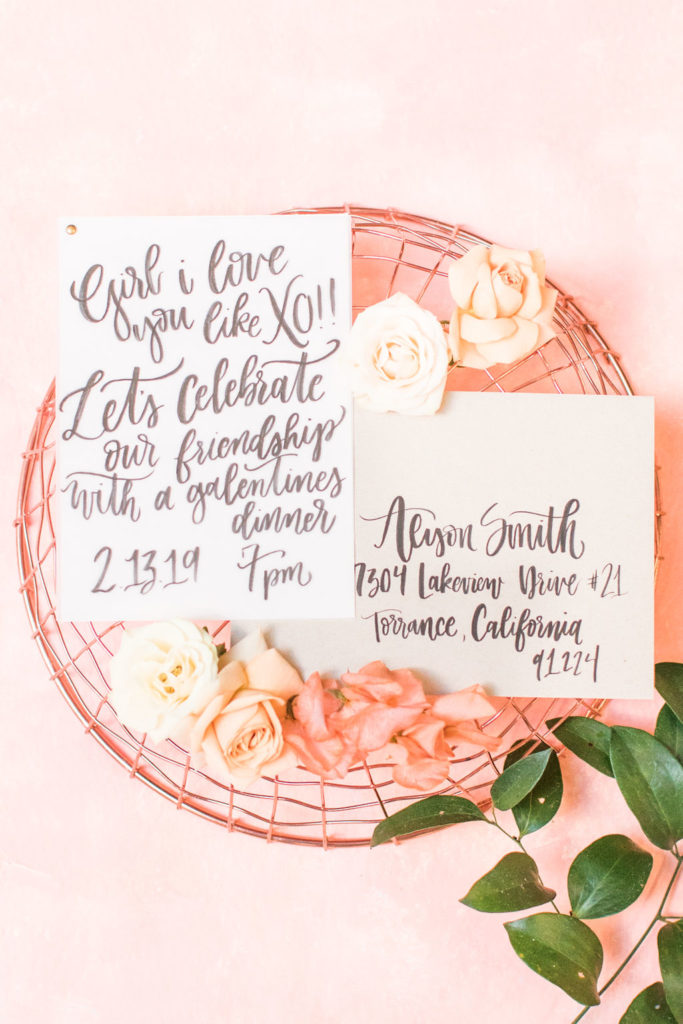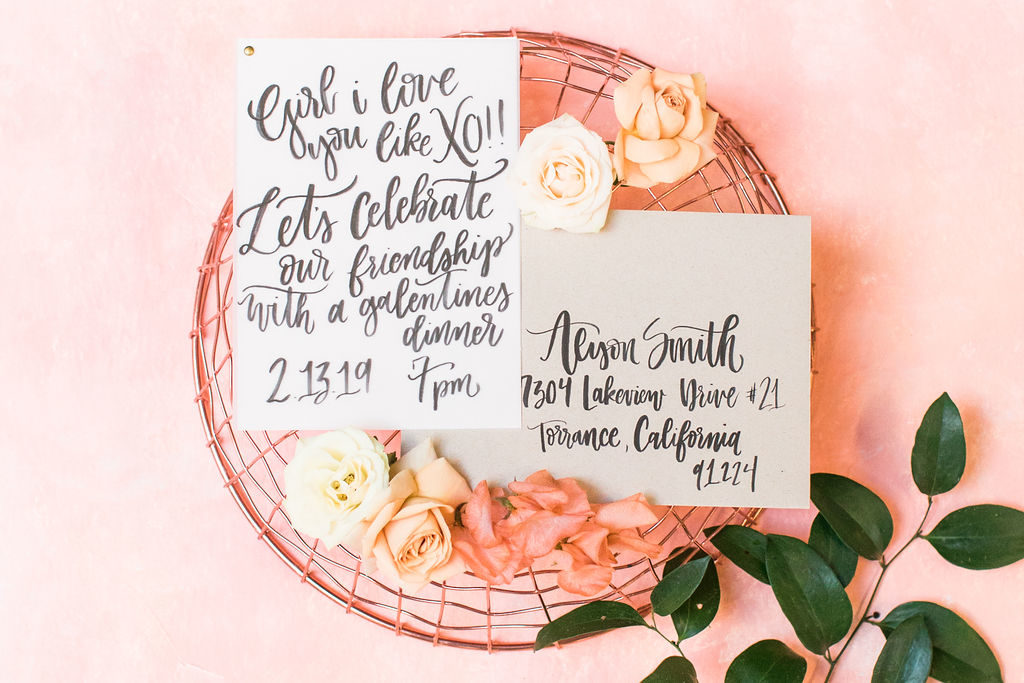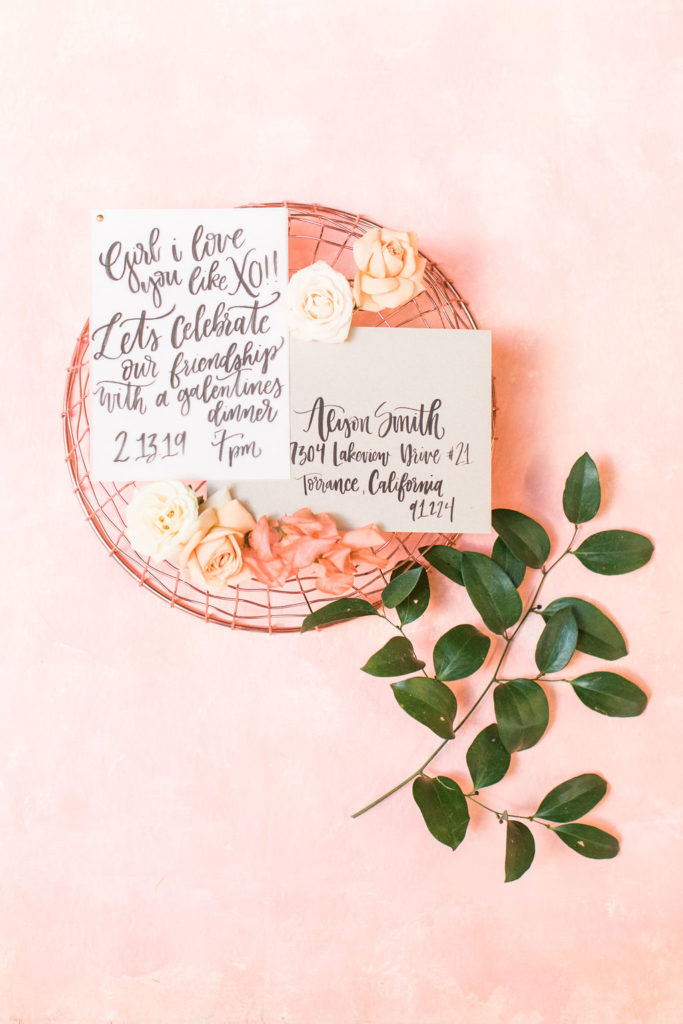 Next up is a pretty tablescape, which in my mind is #1, because you and your girls deserve it! Set the table with pretty pink plates & glassware and gold flatware, we got ours from Cherished Rentals. Next, you definitely need the most stunning floral arrangements, and our girl Alex from Third & Park didn't disappoint! Of course you need an amazing set up – we love Sweet Salvage Rentals collection of gorgeous rugs, tables and chairs, her inventory is endless and amazing.  We added in some pretty details like Party Crush Studio's gauzy runner and Hostess Haven's pink napkins!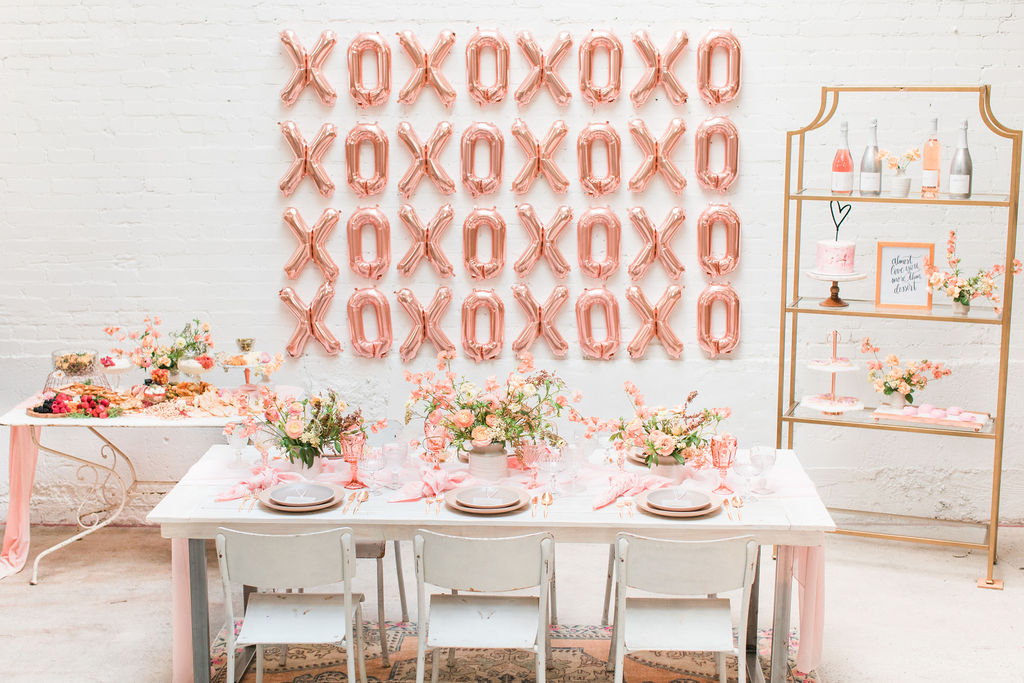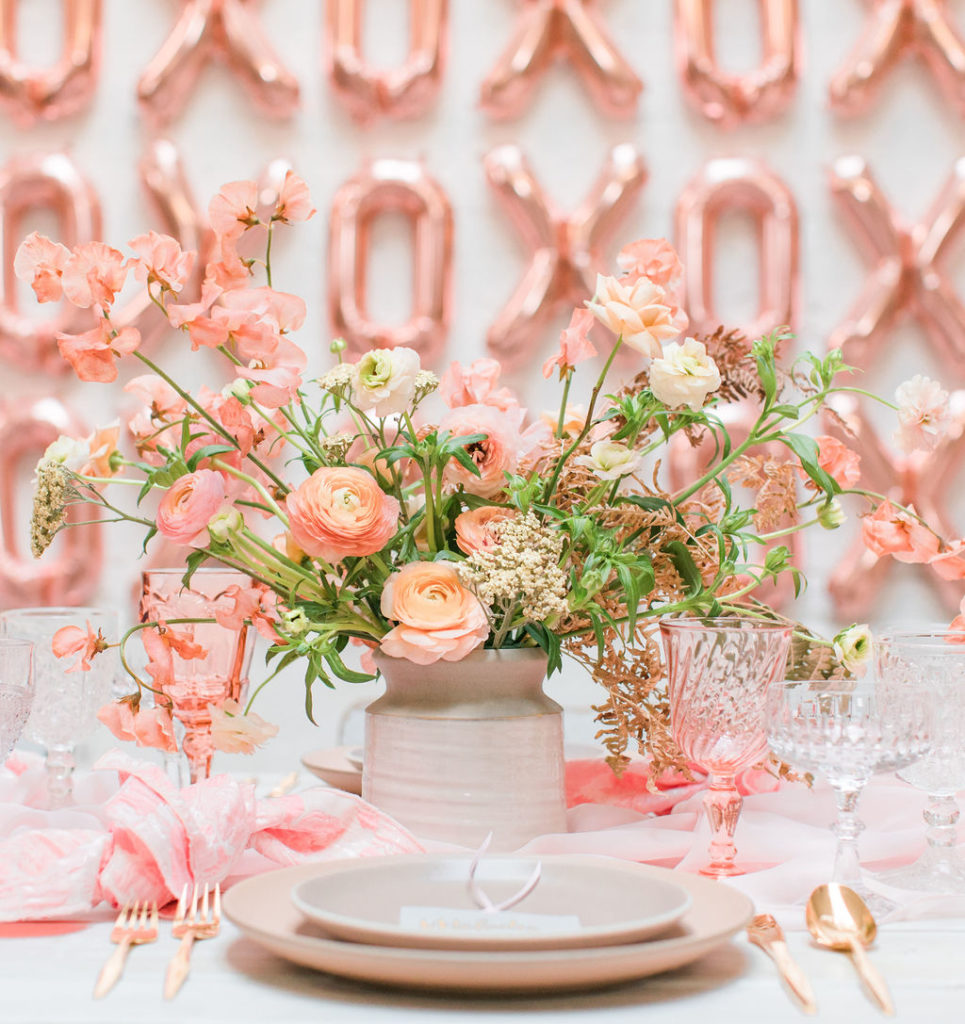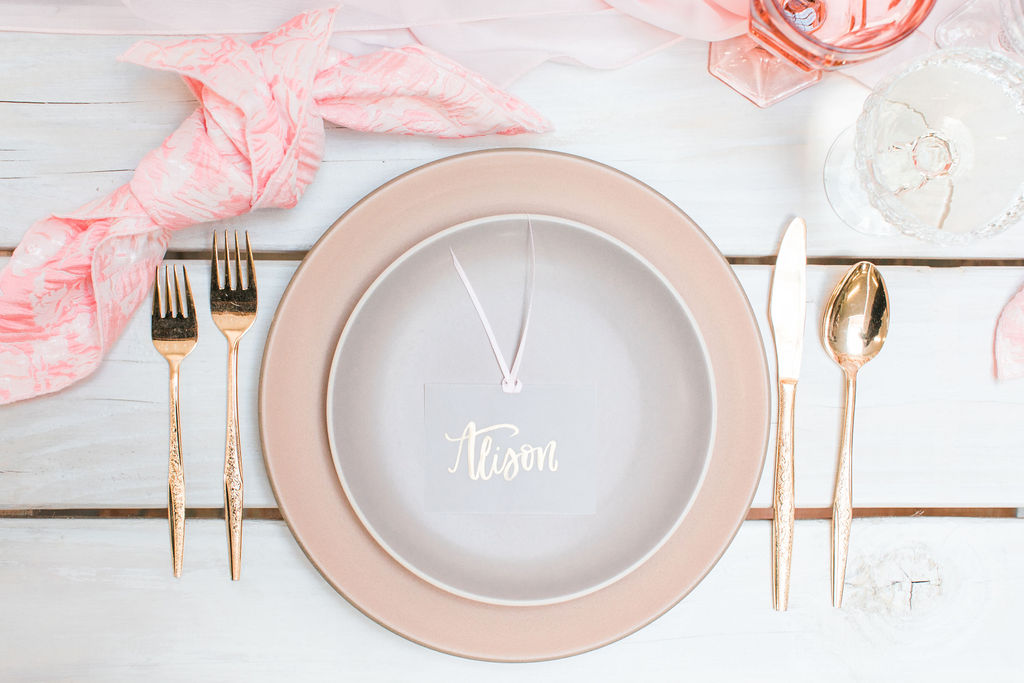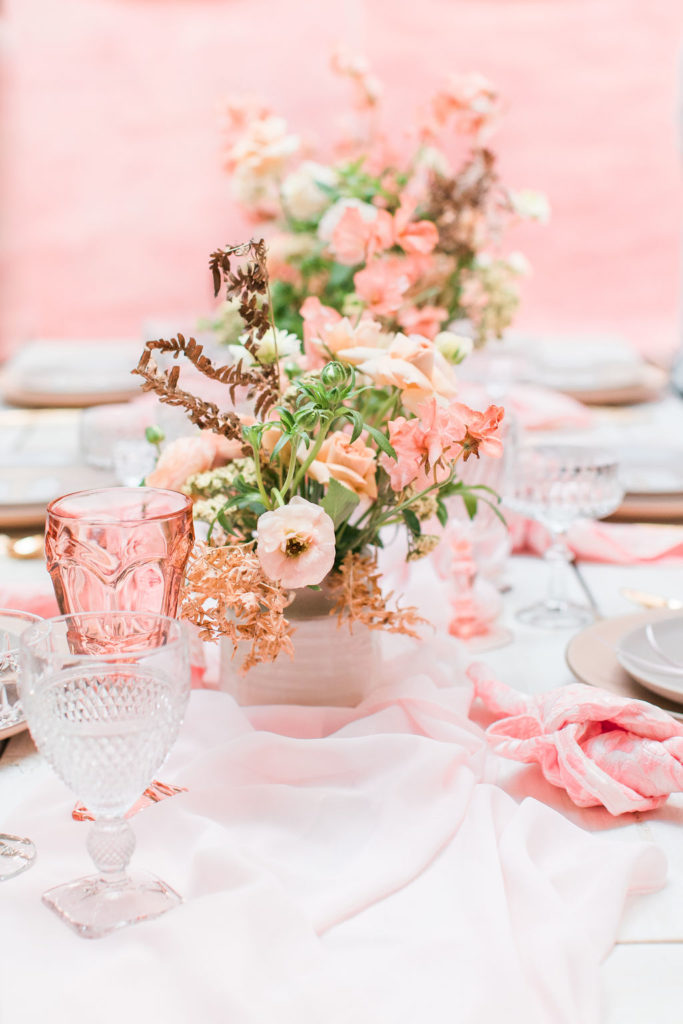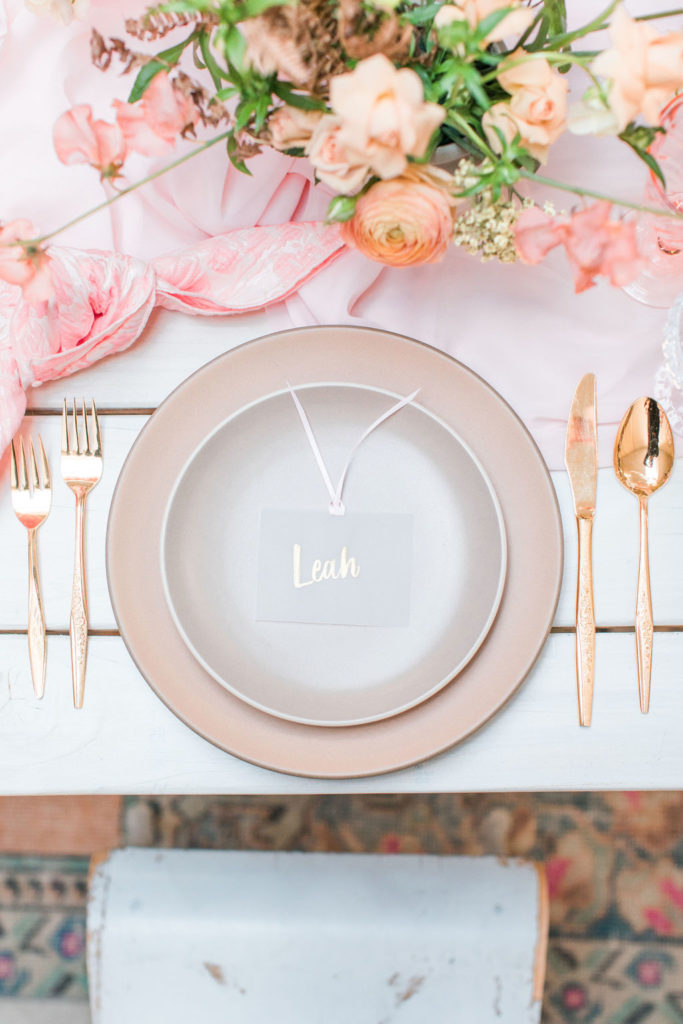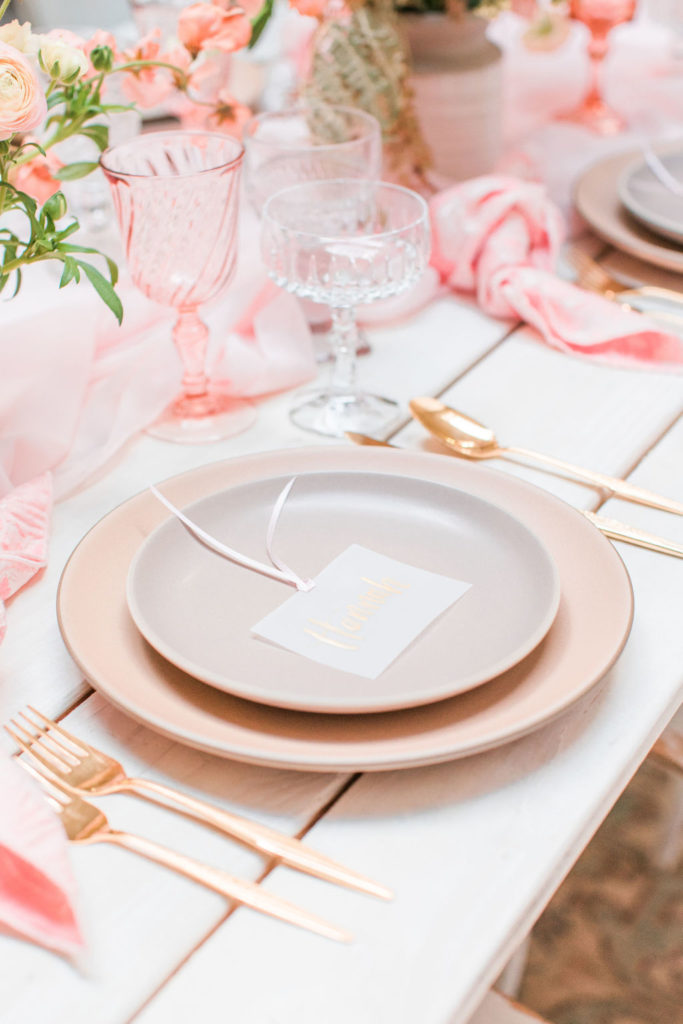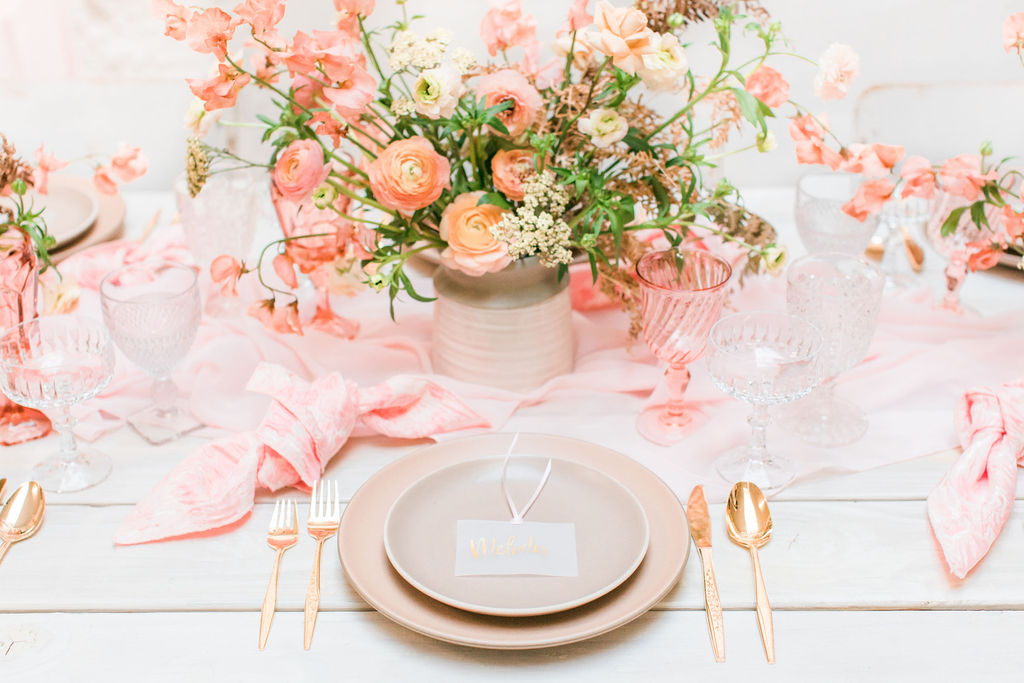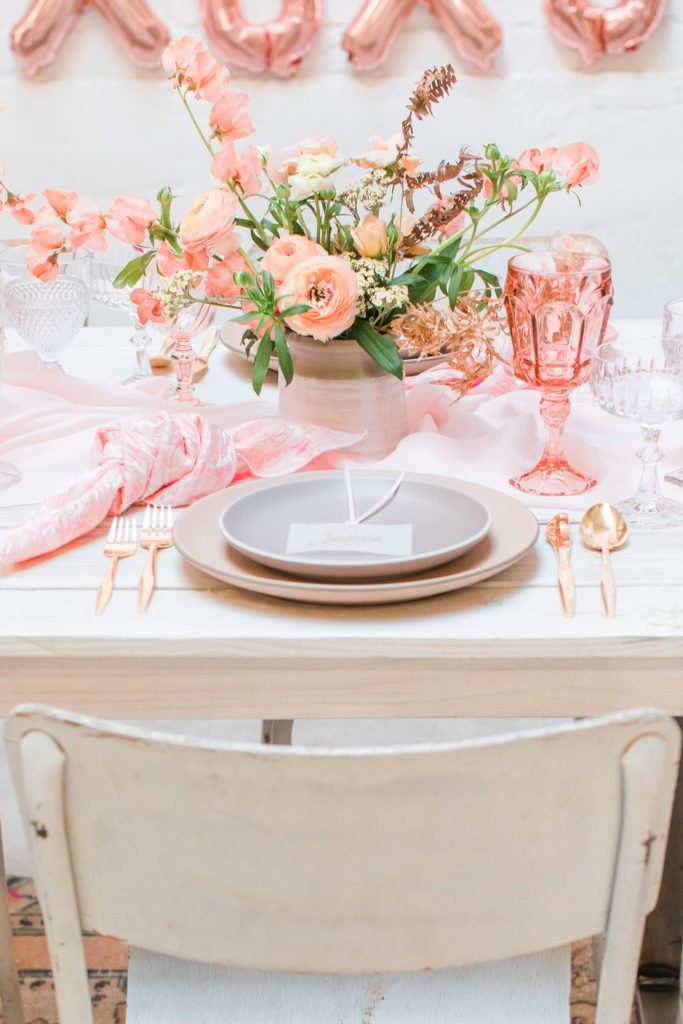 Pop the bubbly and pour some glasses!  I think it's always nice to greet your guests with a drink, and no girl in my tribe is gonna turn down a glass!  Especially of One Hope's sparkling wine!!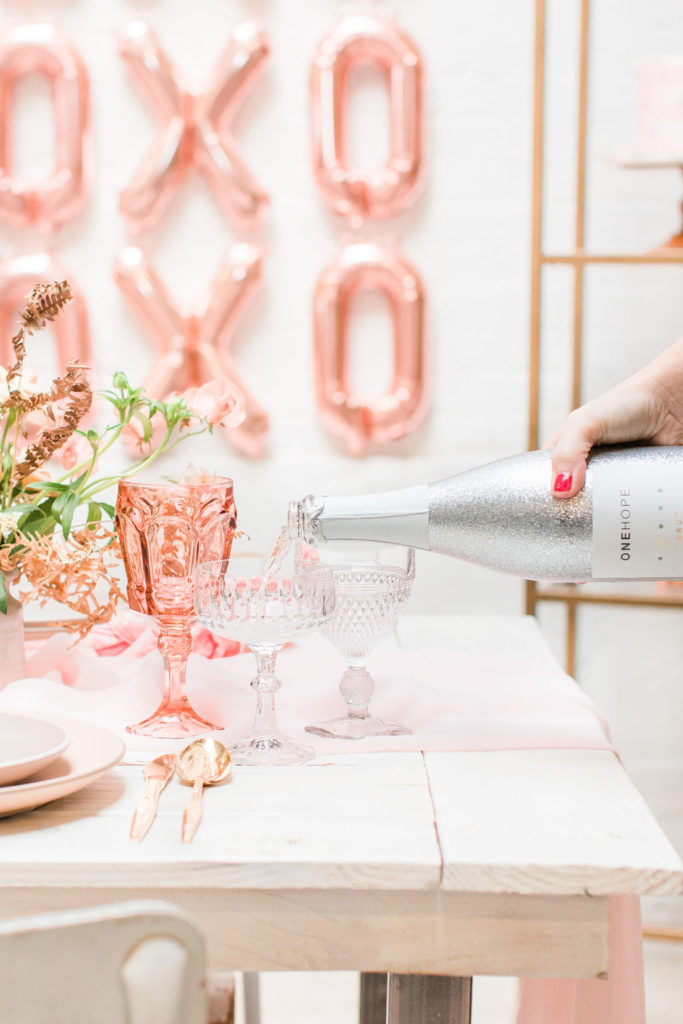 I can't get enough of these flowers!!!!!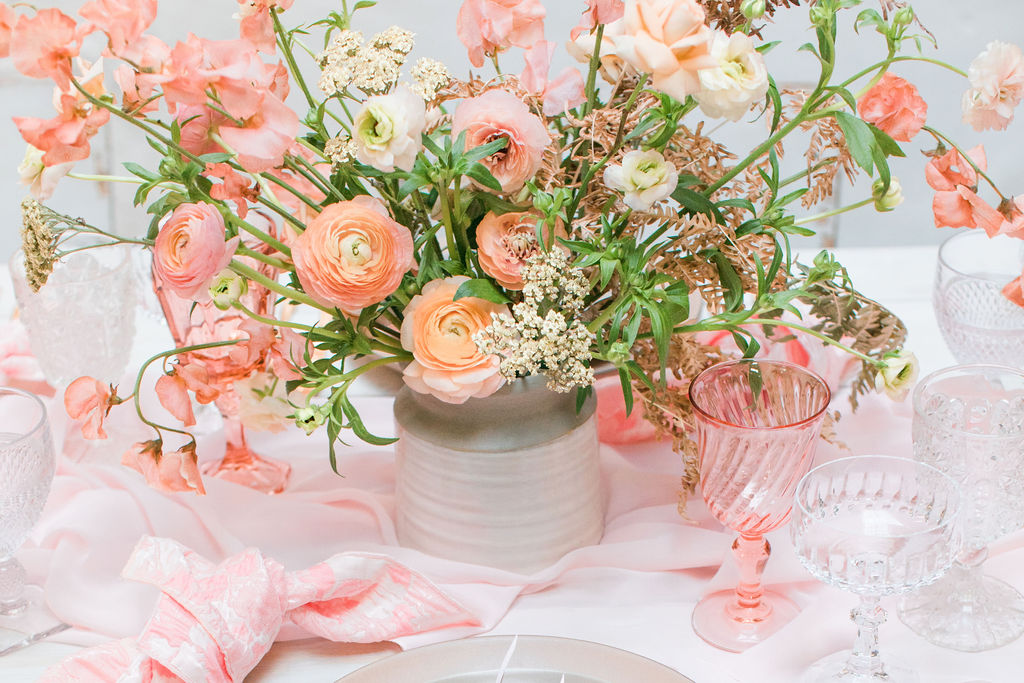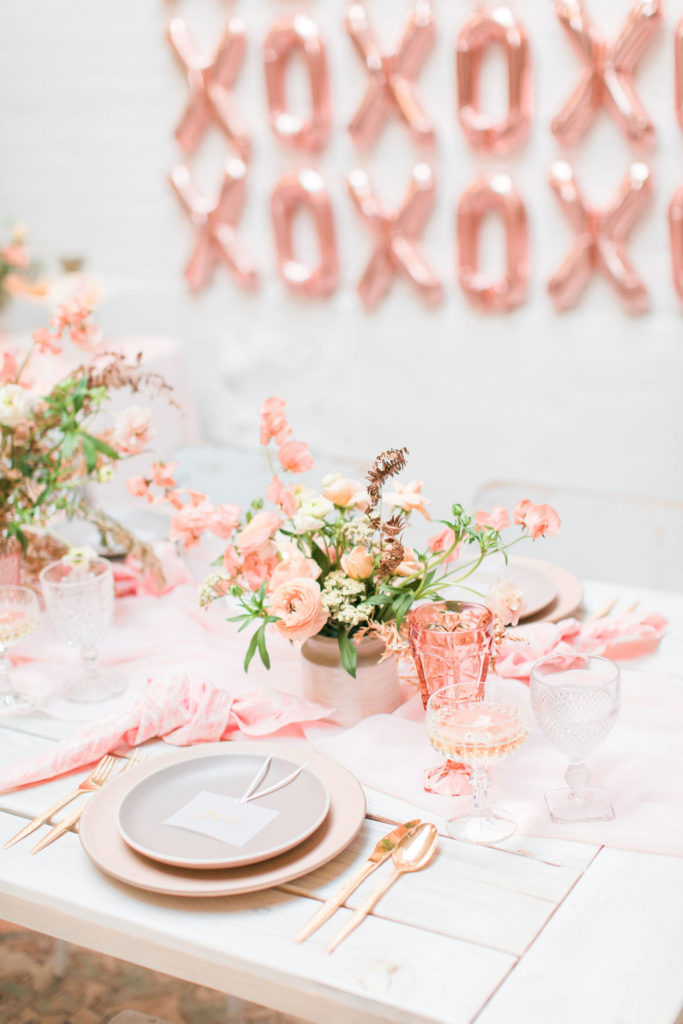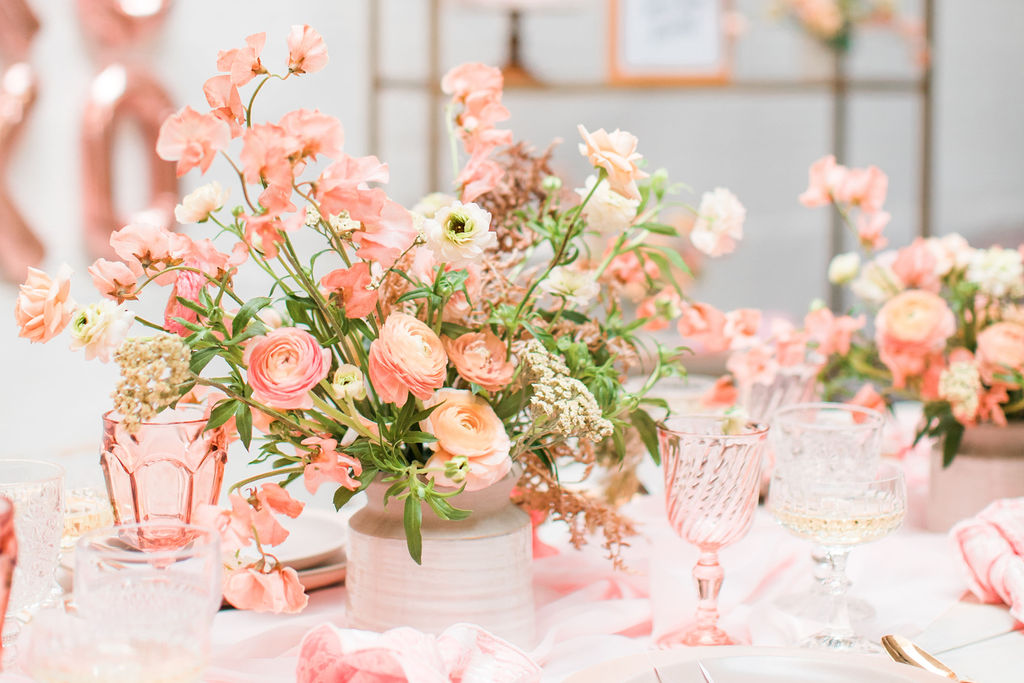 Can we talk about these BALLOONS?!?! Our rose gold XO balloons from North Star Balloons stole the show and created the perfect backdrop!!  You could easily recreate this at home, and you have plenty of time so order these balloons here and go for it!  I love all my girls like XO so these really set the tone for the whole party!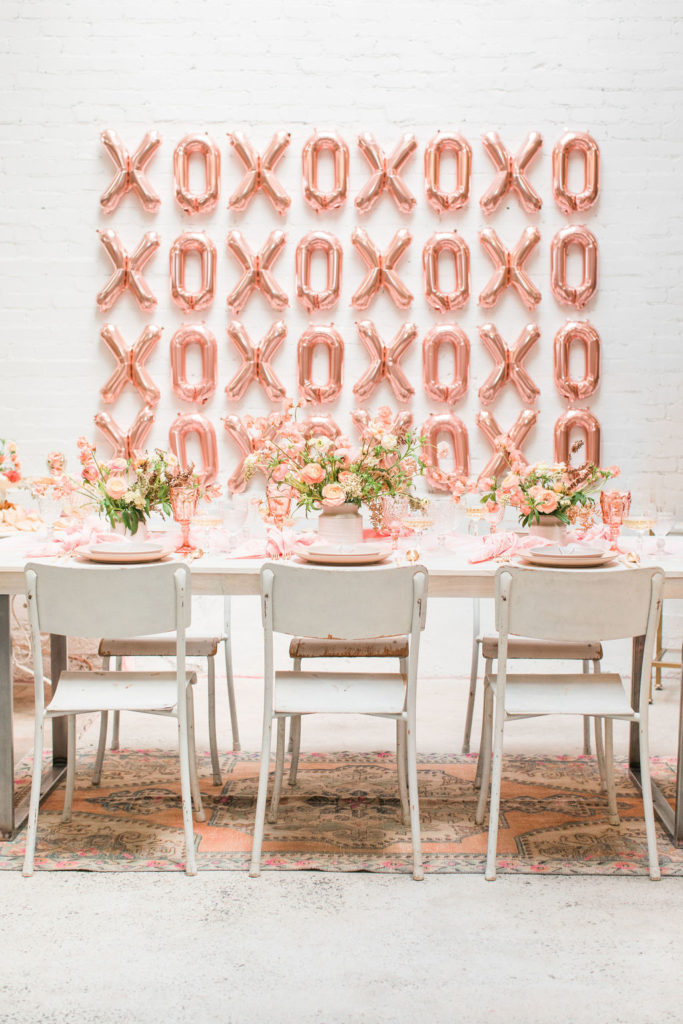 Holy cheese board heaven!!!  Colette's Catering does it again!  They created this gorgeous spread and it wasn't just yummy in our bellies but also incredible eye candy!!!  I love when the food is as pretty as the event itself!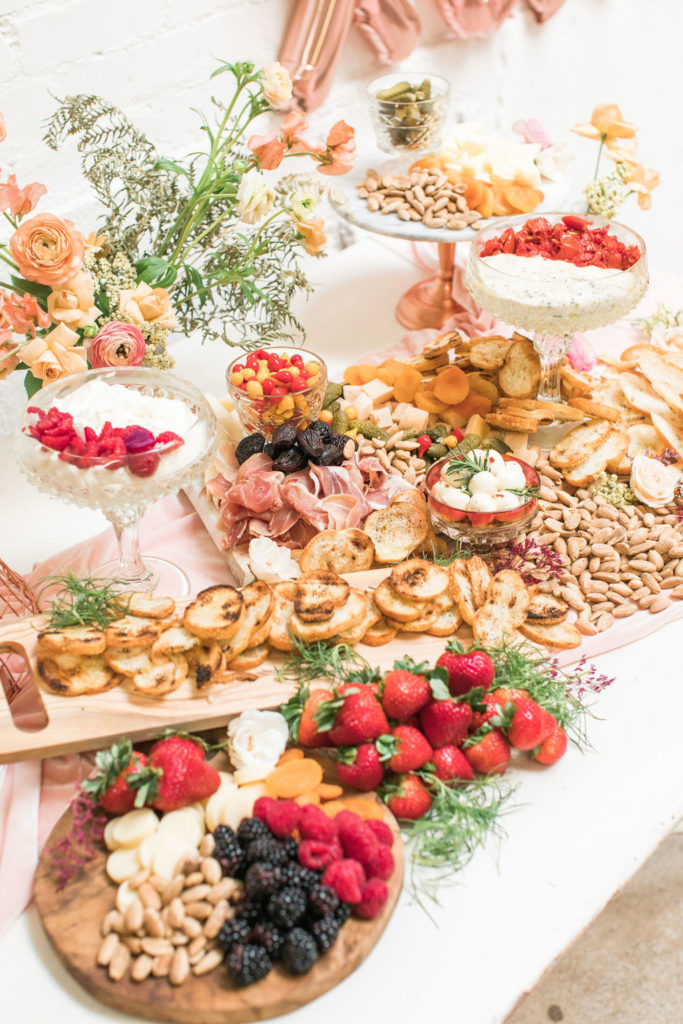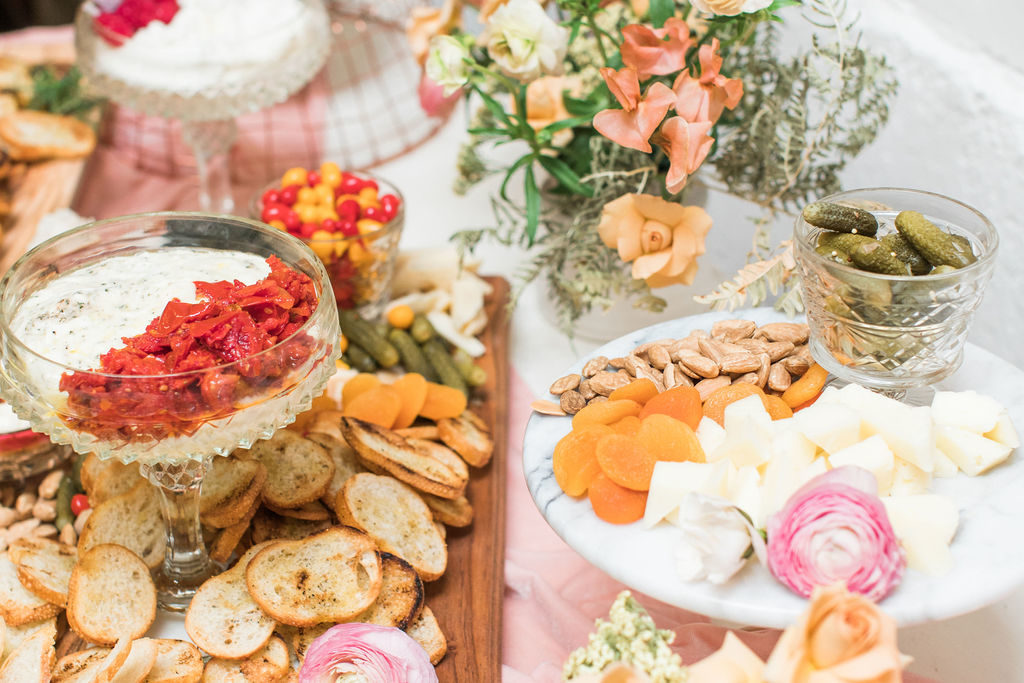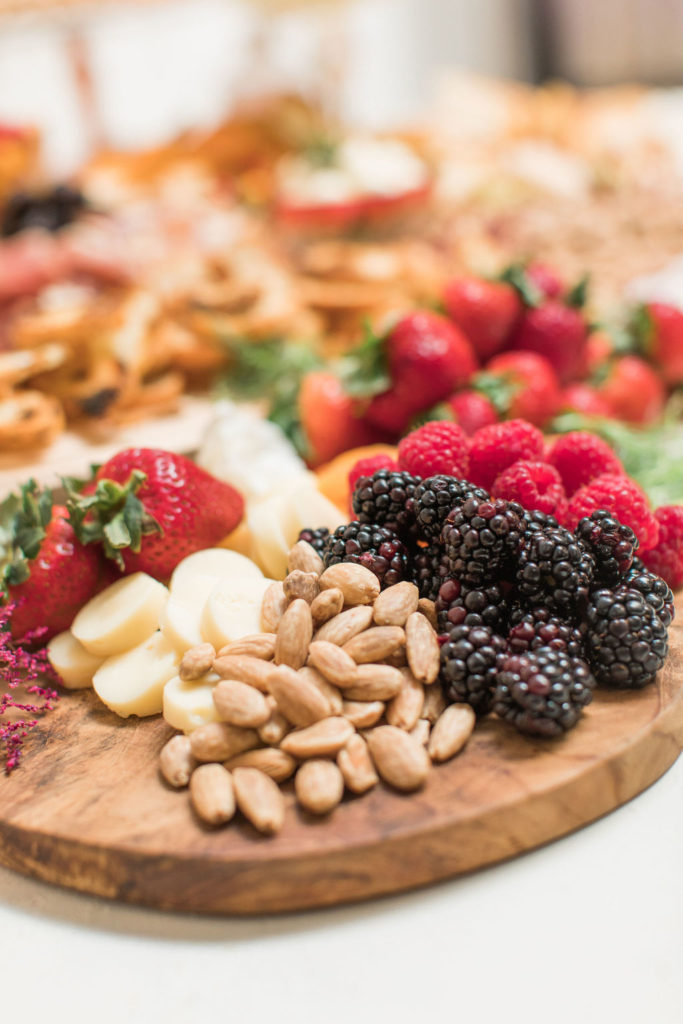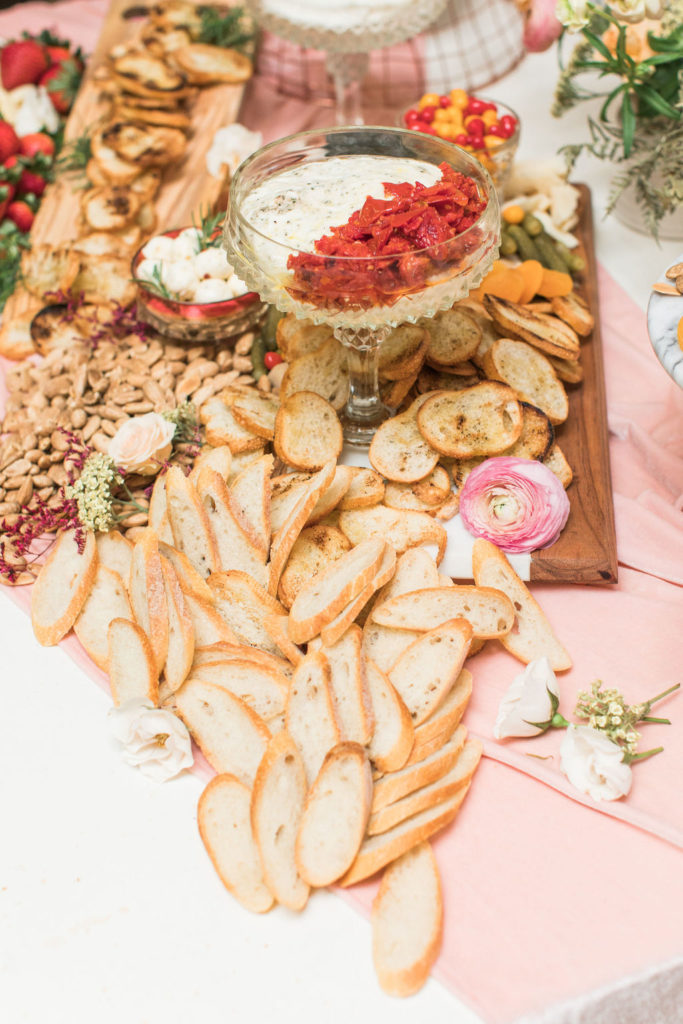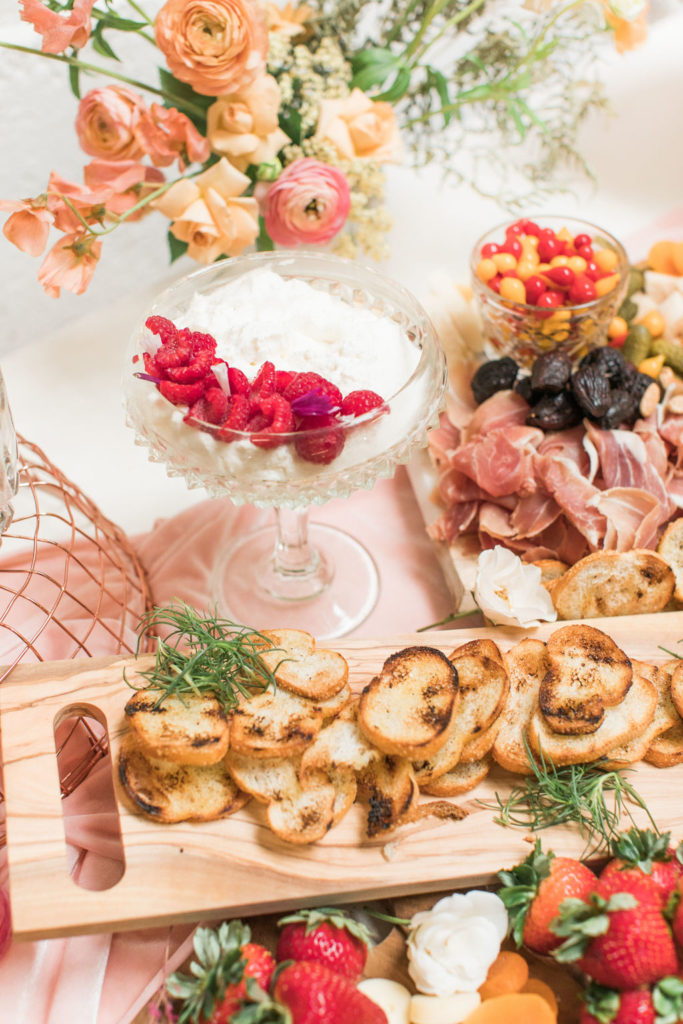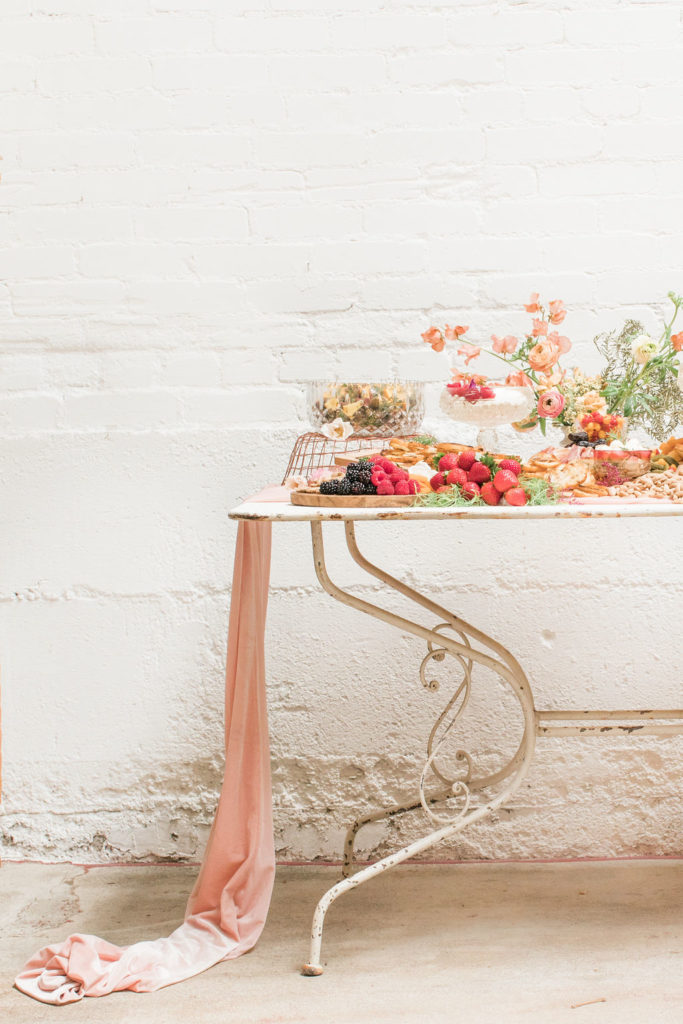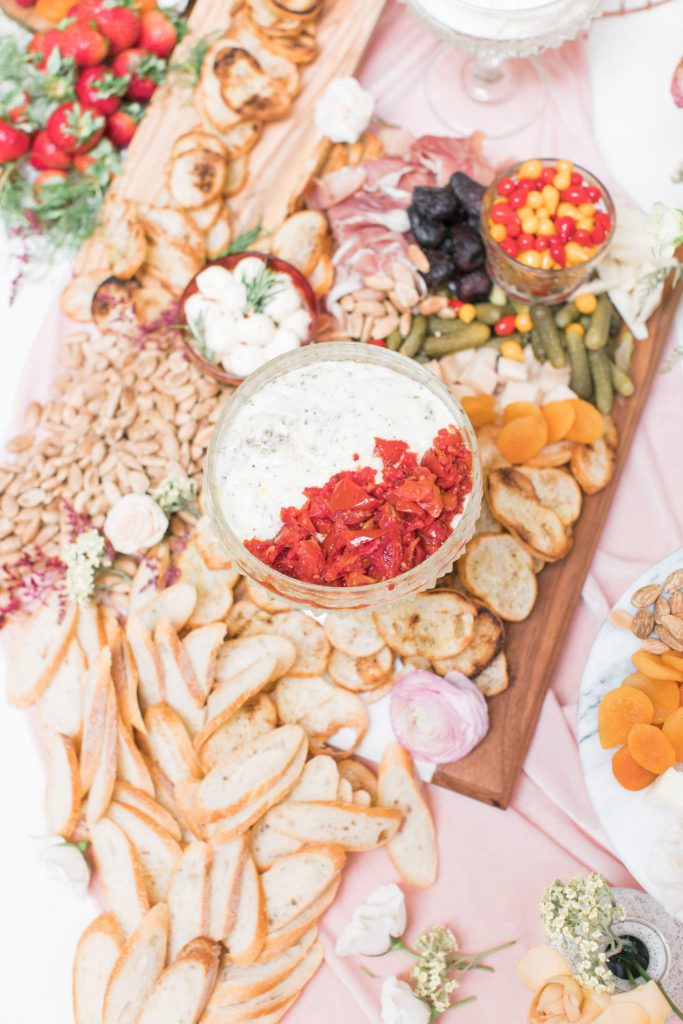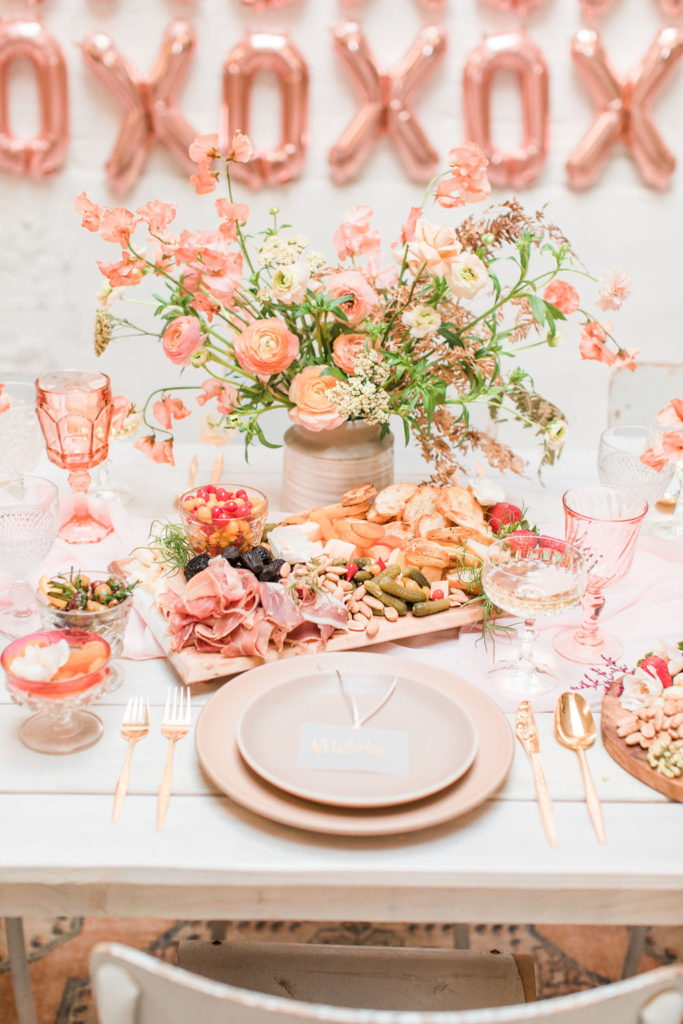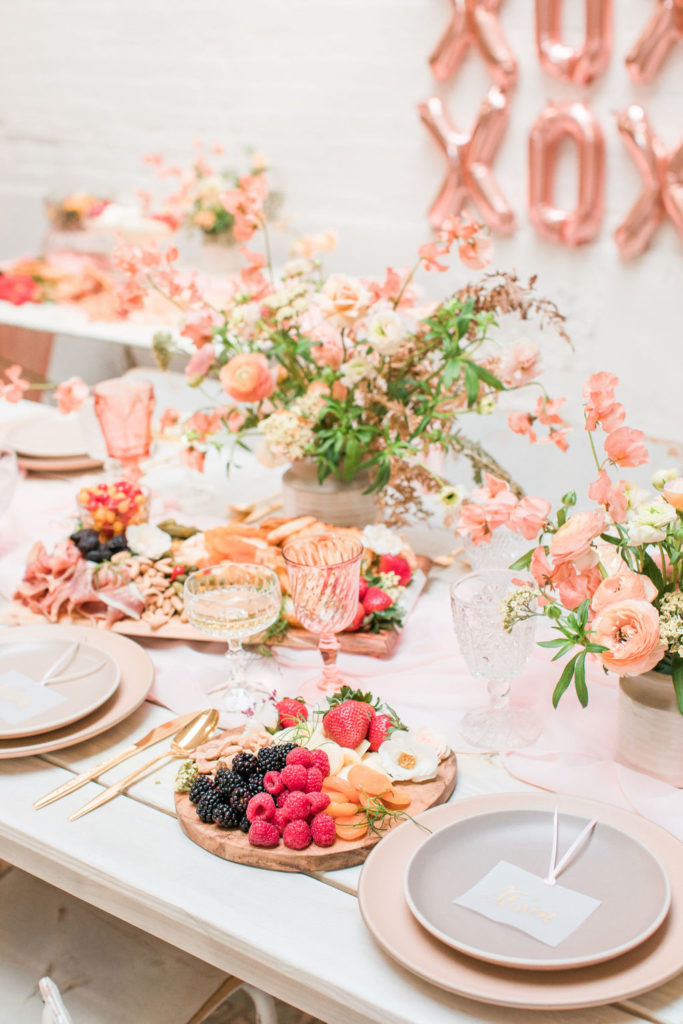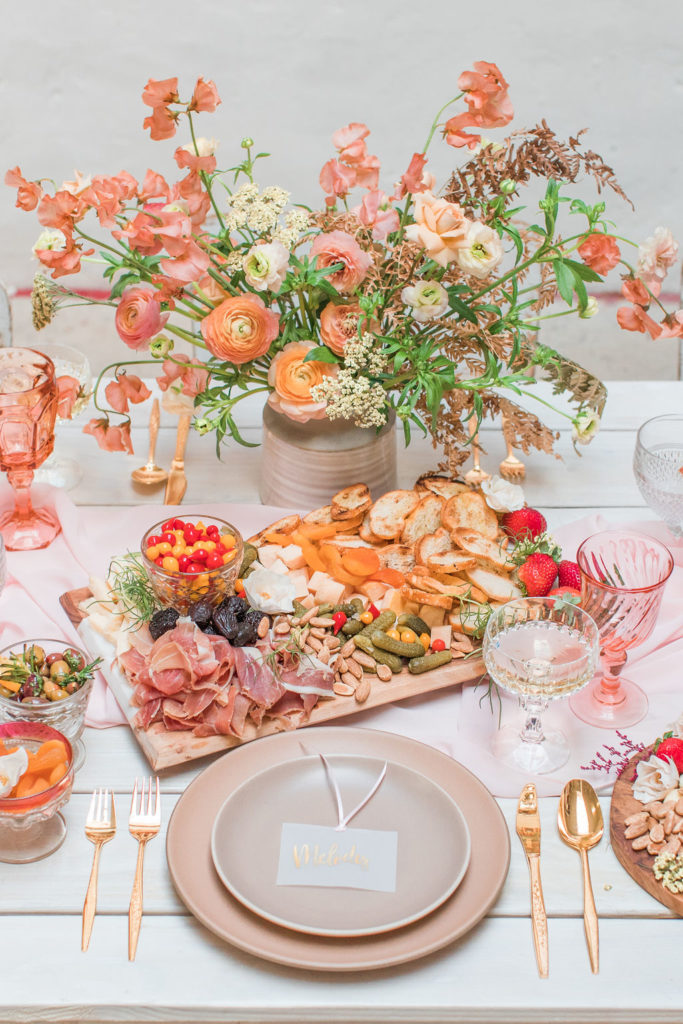 Every girl knows the way to our hearts are with desserts and champagne, so we had The Sweet Lemon Bakeshop create some yummy and fun desserts (how about that topper by Poppy Jack Shop?) and like I said, we got our champagne from the incredible One Hope.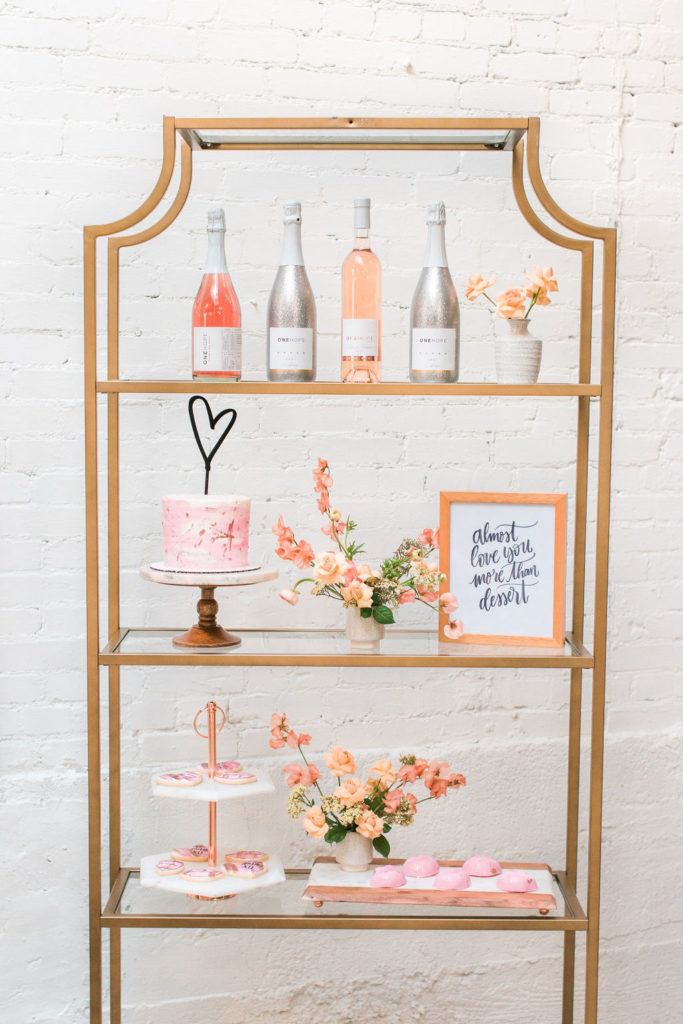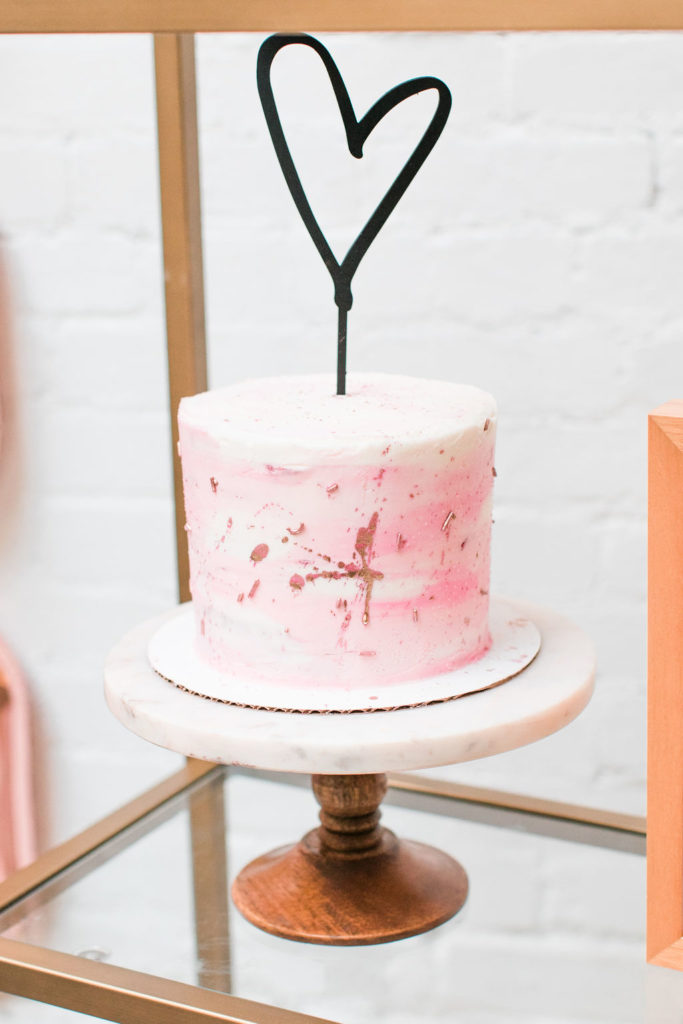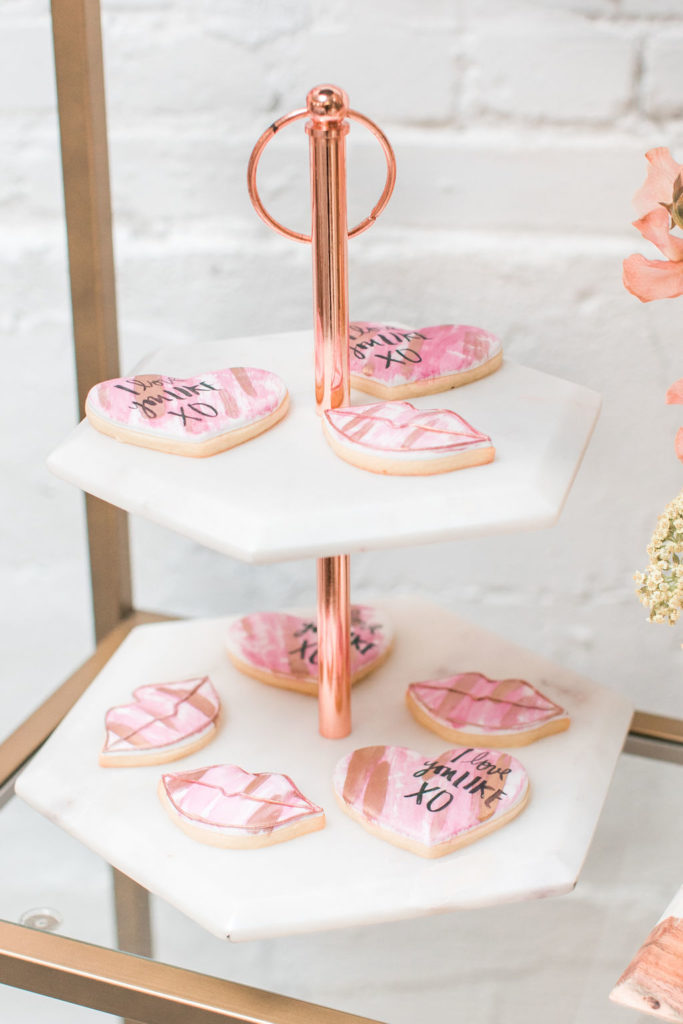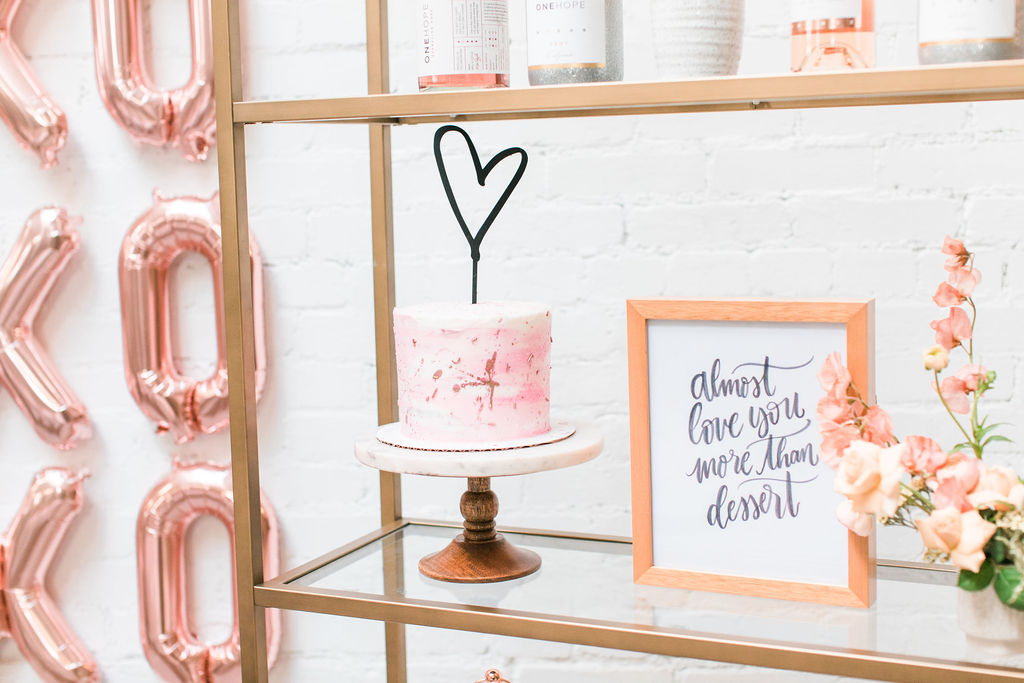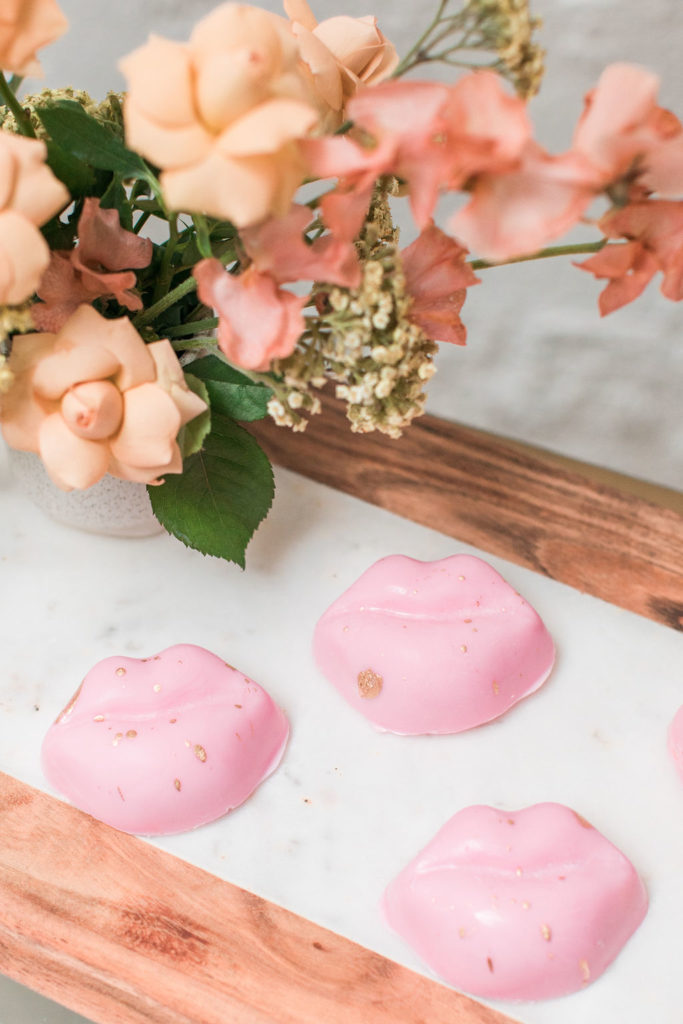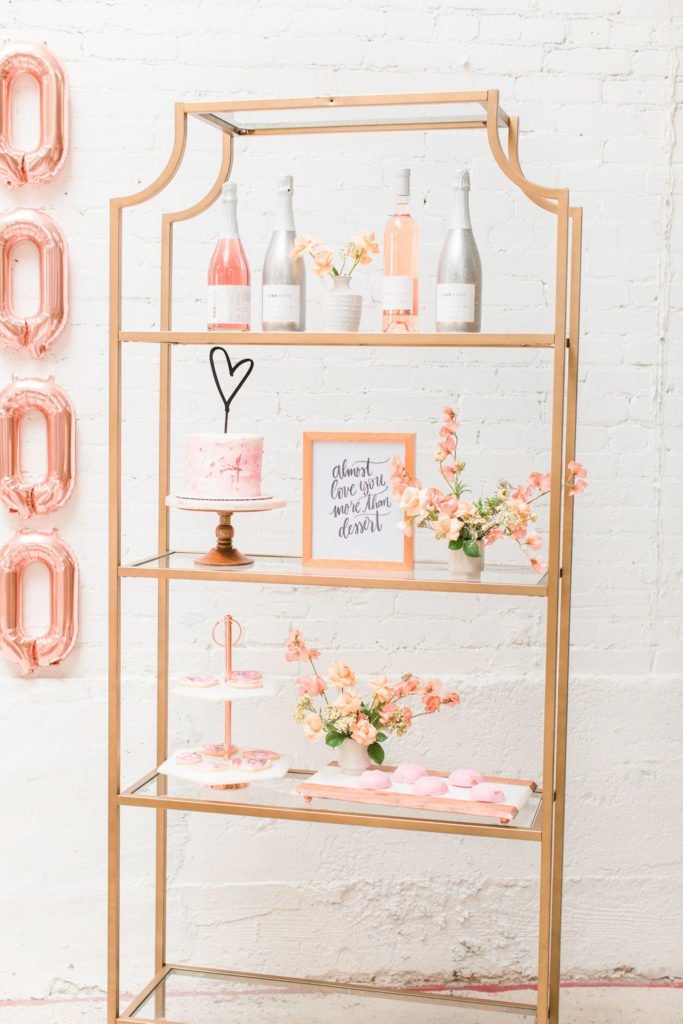 Just a little more champs, because duh!!  Why not?!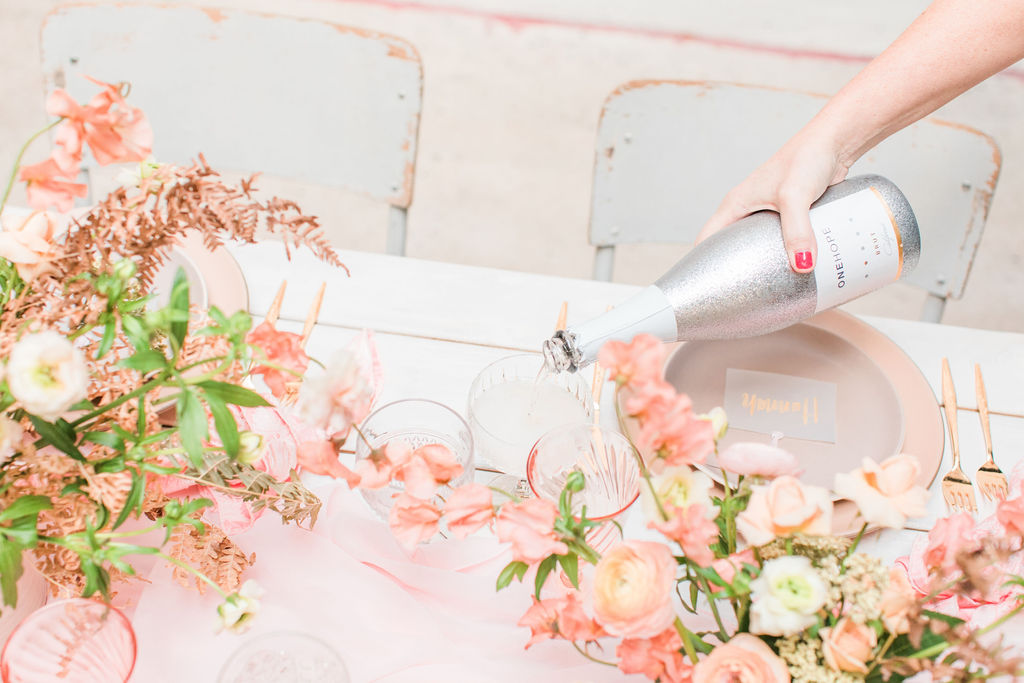 So blast the Beyonce and call all your girls because this Galentine's Day Party is ready!!!

Love you all like XO!!!
Let the Valentine's Day fun begin!!
xo,
Jacquelyn