This summer, I tried out a bunch of new snacks for the kids. Lots and lots of smoothies, summer rolls, you know, anything where I can sneak in yummy veggies without 27 questions of what's in this? One of the hits my whole house loved were these adorable rice paper flowers. The center is a simple turmeric sticky rice, and the petals are made of rice paper. Not only is this a simple snack that you can serve up with about any sauce you want, but it's super fun to watch it being made. As soon as you lower the flower into oil, it fries up into a puffy flower. Serve up for your next happy hour, snack for any part of the day, or even as a dessert, by serving on top of ice cream. This is one versatile treat you will want to make.

Photos by Dayna Studios
---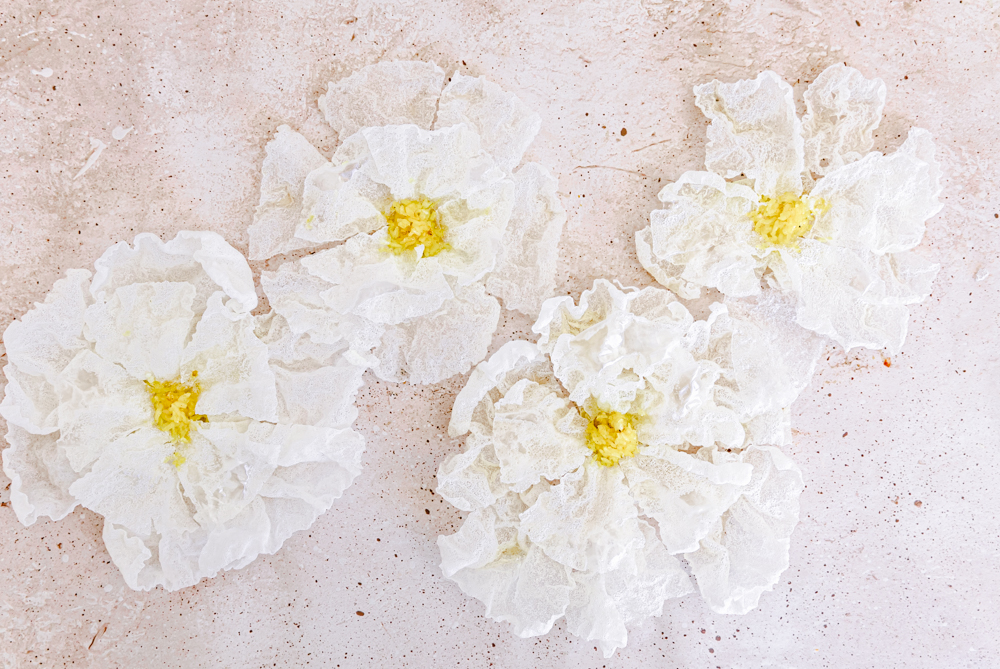 ---
BlOOMING RICE PAPER FLOWERS
SERVES: 10-15 | PREP: 10 MINUTES | COOK: 1-2 MINUTES
W H A T   Y A   N E E D
Rice Paper
Sticky Rice
Turmeric powder or turmeric tahini sauce
Japanese bbq sauce for dipping (shop my other favorites below)
B U S T O U T
Scissors
Vegetable oil
Frying pan
---
I N S T R U C T I O N S

It's pretty simple here, just like how we like it. Don't worry about cutting them into perfect little flowers. They fluff up more wildly with imperfect c ts. Use vegetable oil or peanut oil that can take the high heat. Heat several inches of oil in a deep skillet or Dutch o en. While the oil is heating up, cut out flower shapes from the dried rice papers. For each blossom, you'll want one large and one smaller flower. Again, size does not matter or being perfect at it. I had a lot that broke, so if wanting a bunch, keep that in mind.

Okay, so we have our flower shapes cut out; now, stick one small flower on top of one large one using the seasoned rice. Add another pinch of rice to the top of the smaller flower to create the center of your flower. I used sticky rice mixed with some ginger turmeric tahini sauce for mine. *Beijos Tip: Water your fingers to prevent the rice from sticking.
When the oil is up to temperature, you can check it by dropping a small piece of rice paper; it should puff up immediately, and carefully slide one flower into the oil. Be careful! The oil will bubble up immediately as the flower puffs up, so stand back. Get your camera ready to video it! Remove the flower from the oil and transfer it to a baking sheet lined with paper towels. 
Serve up with your favorite dipping sauce
---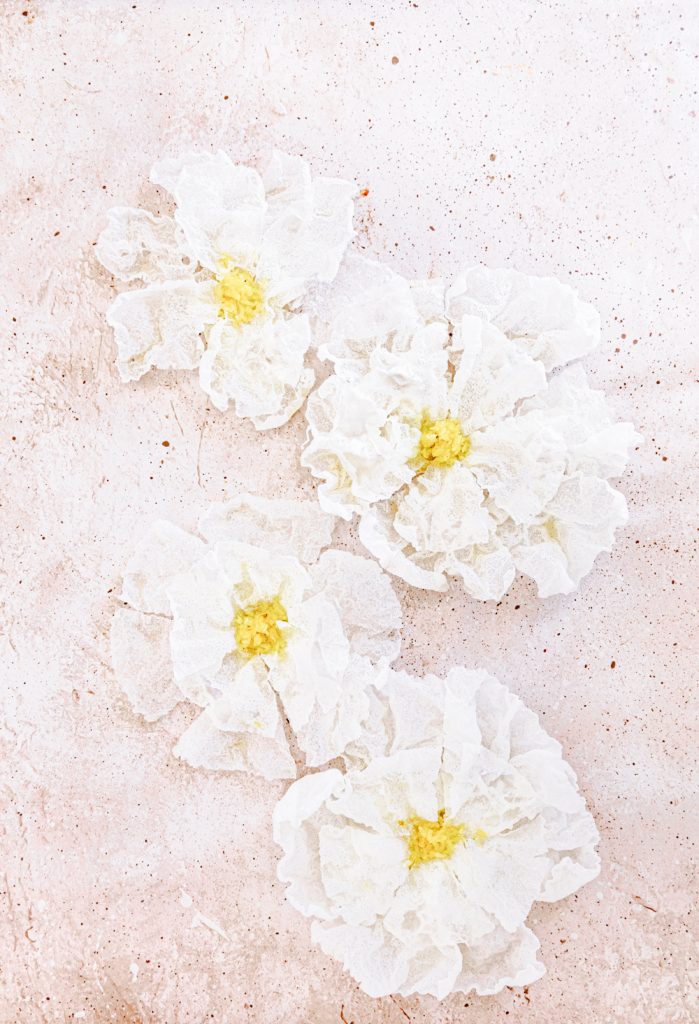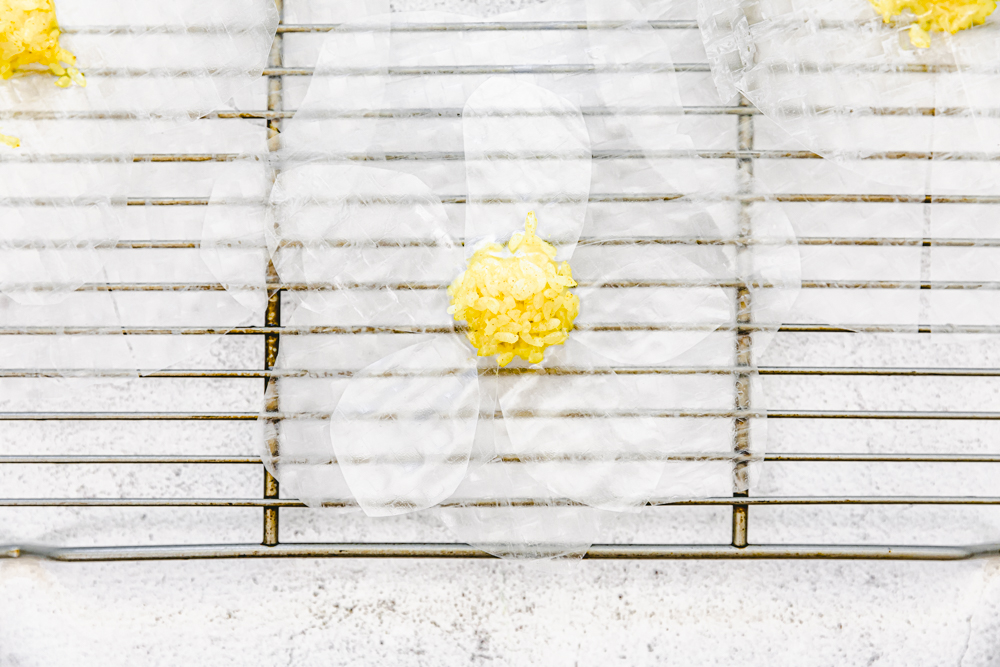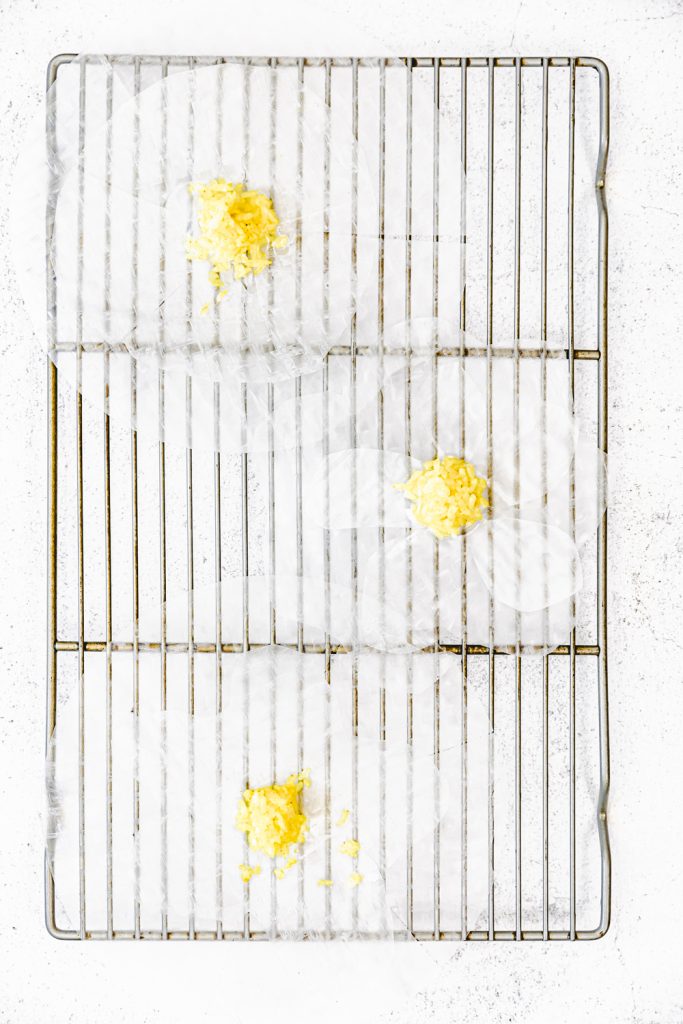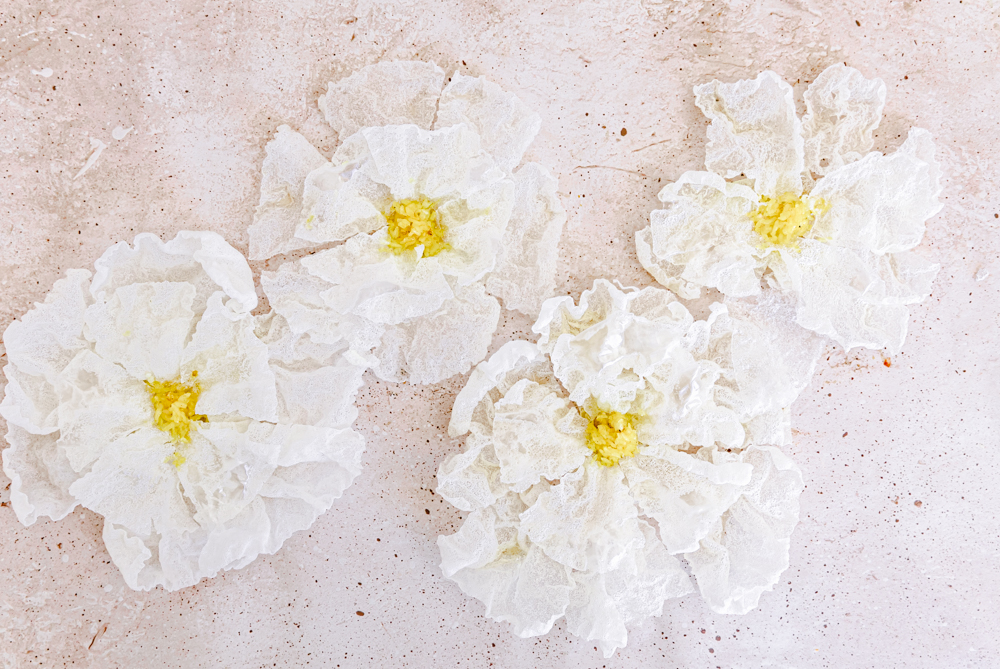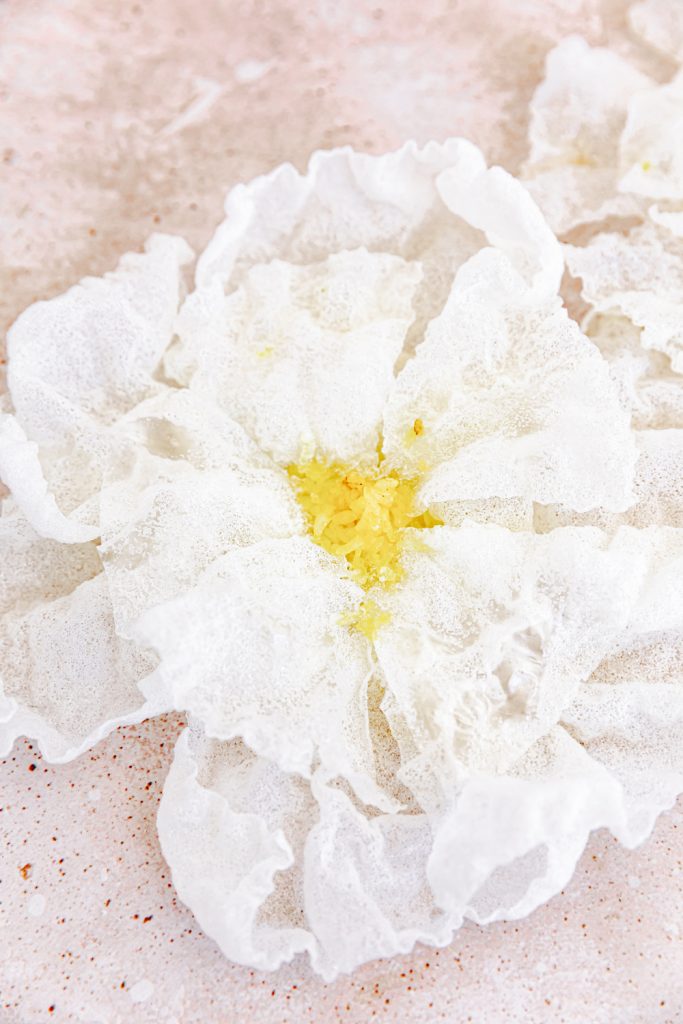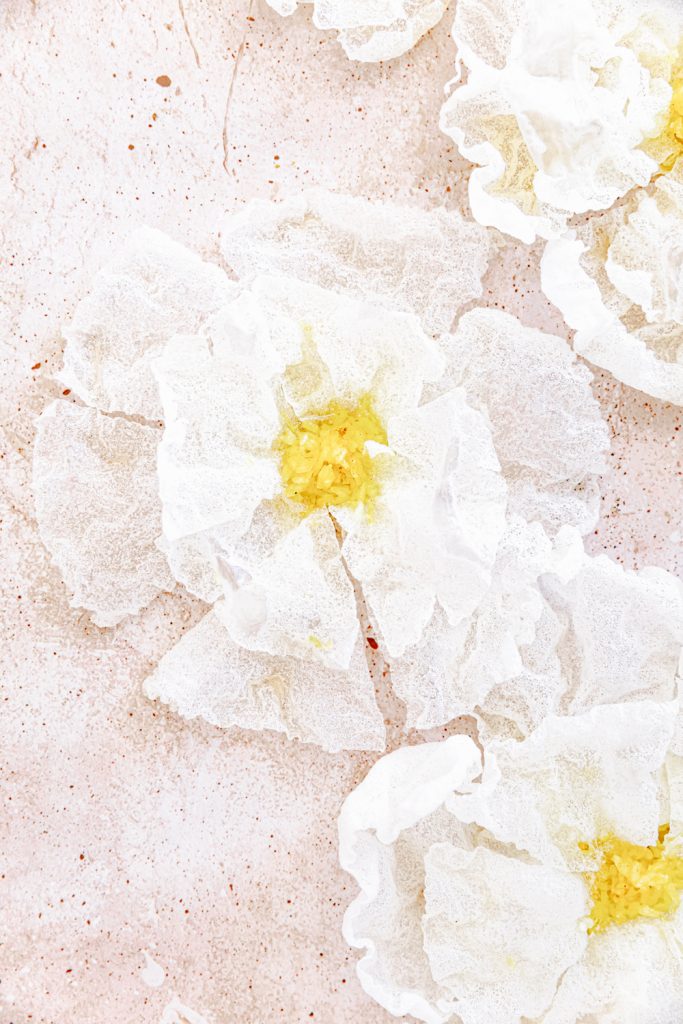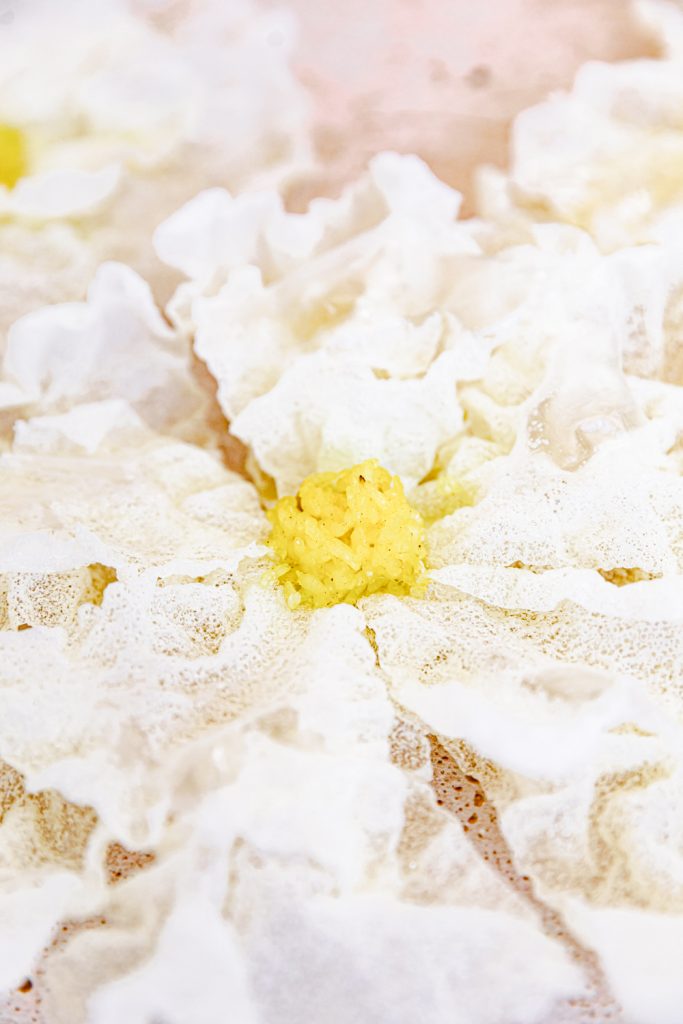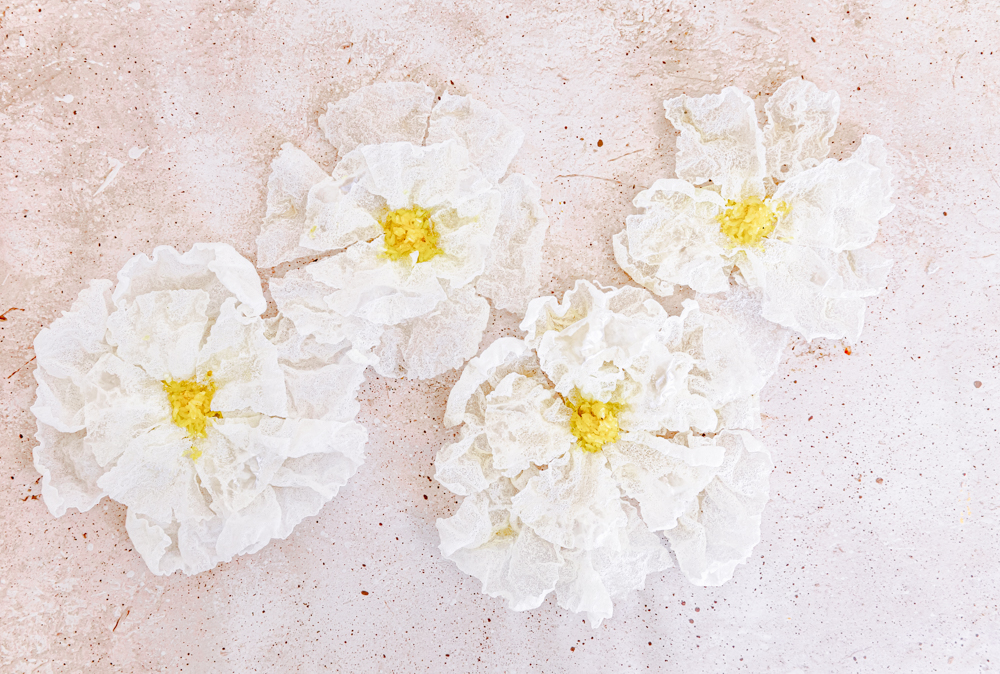 ---
B E I J O S  K I T C H E N  

xx
Abby