Spring is upon us! And with that comes Easter… Yes my friends, we are already talking about Easter this week! It's a little over a month away so it's time to start prepping people! But don't worry, we've got you covered thanks to our friends at Pottery Barn.
They have so many wonderful Easter items and we of course had to put together a table for with a few friends for some inspiration! So without further ado this lovely Monday, let's get to it! Thank you to Jessica Lynn Photo for the beautiful photos!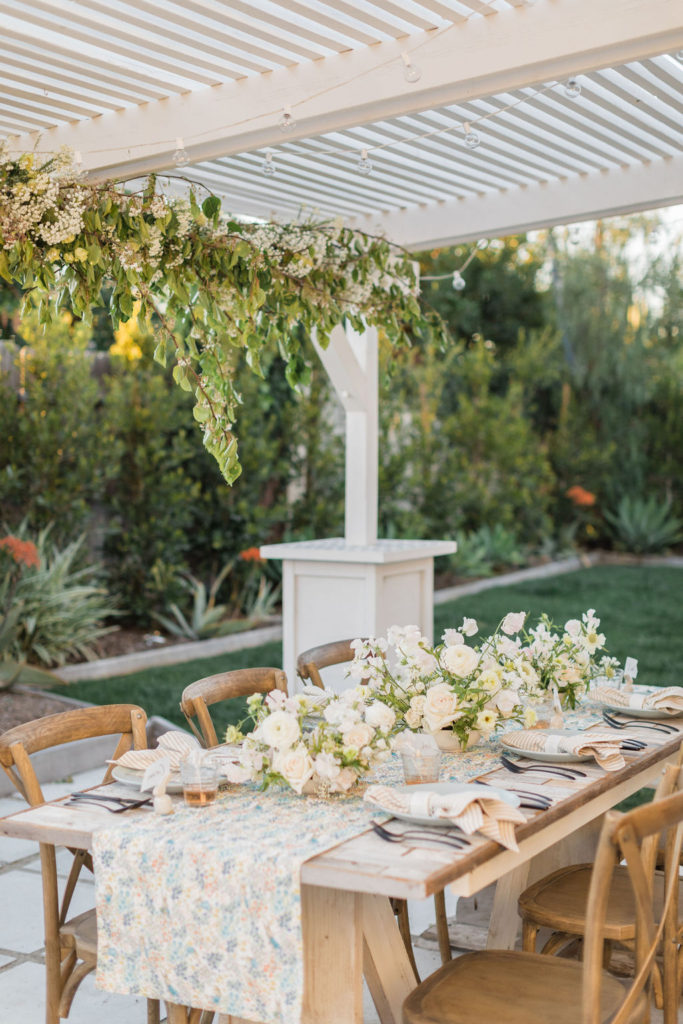 You know we love a good invite… Proper Letter is at it again! A sweet invite for one of the sweetest holidays! Plus all her amazing details like drink stirrers, place cards and menus. I love when pastels and bunnies start showing up, it's just the best!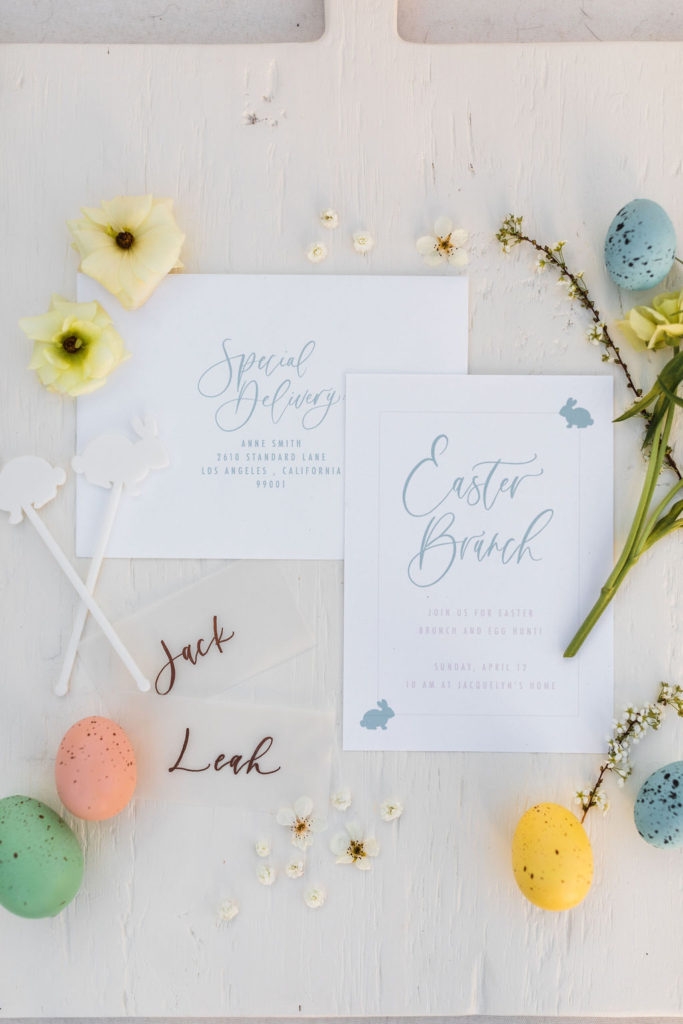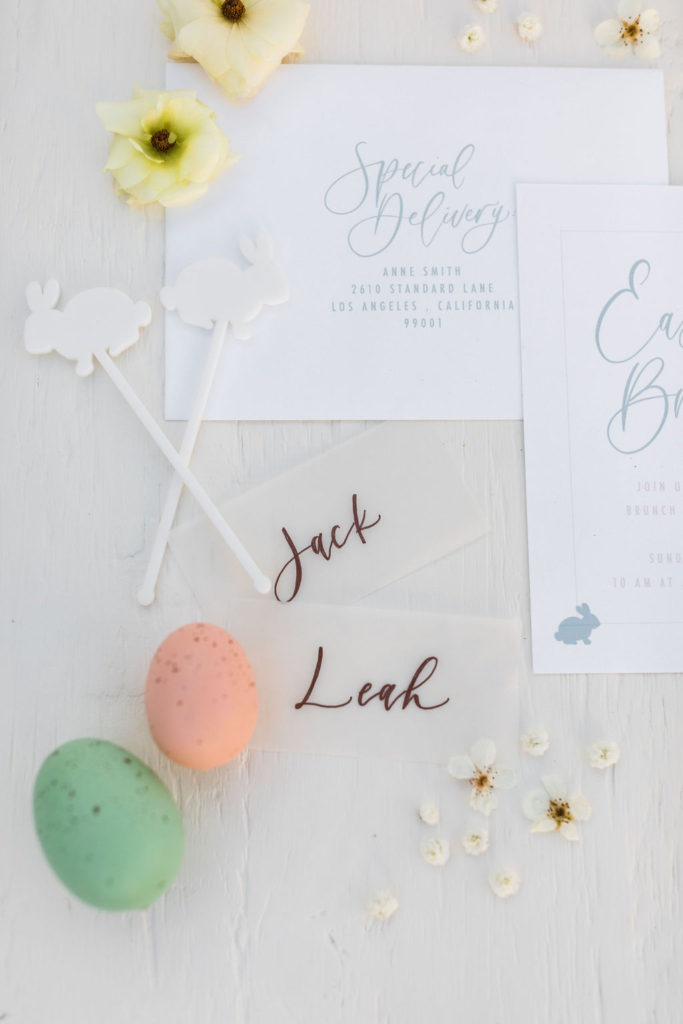 All the pretty little details… Swoon!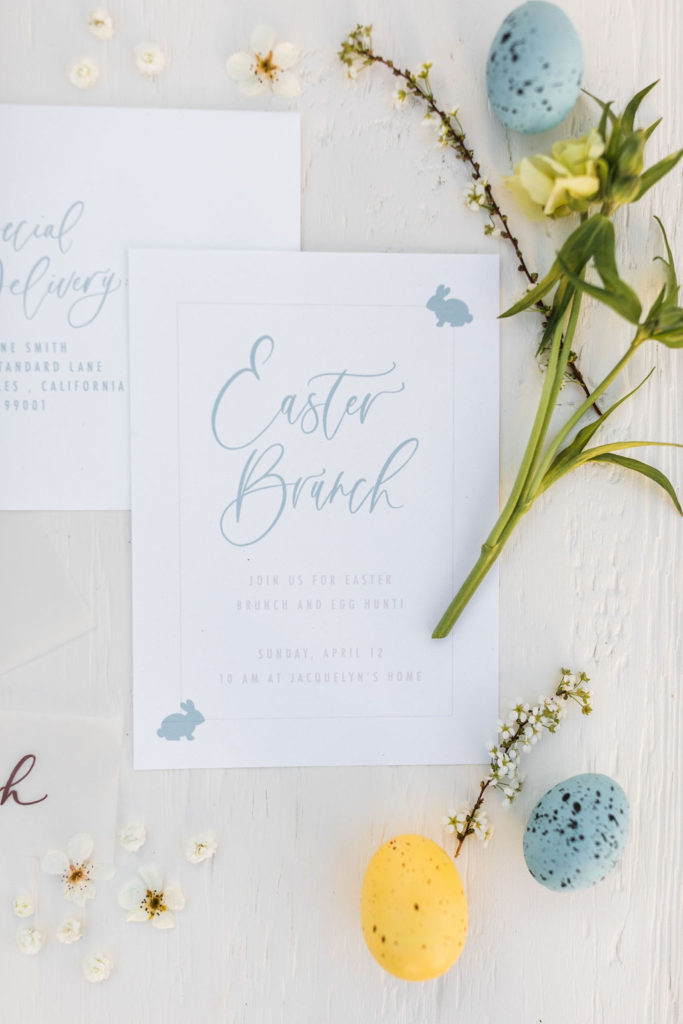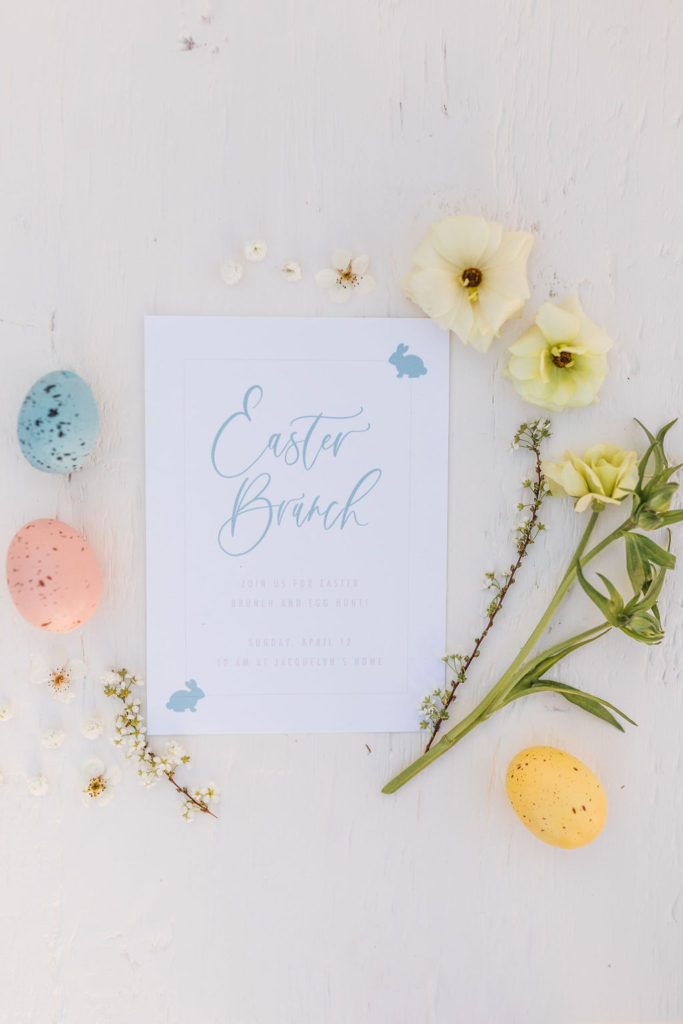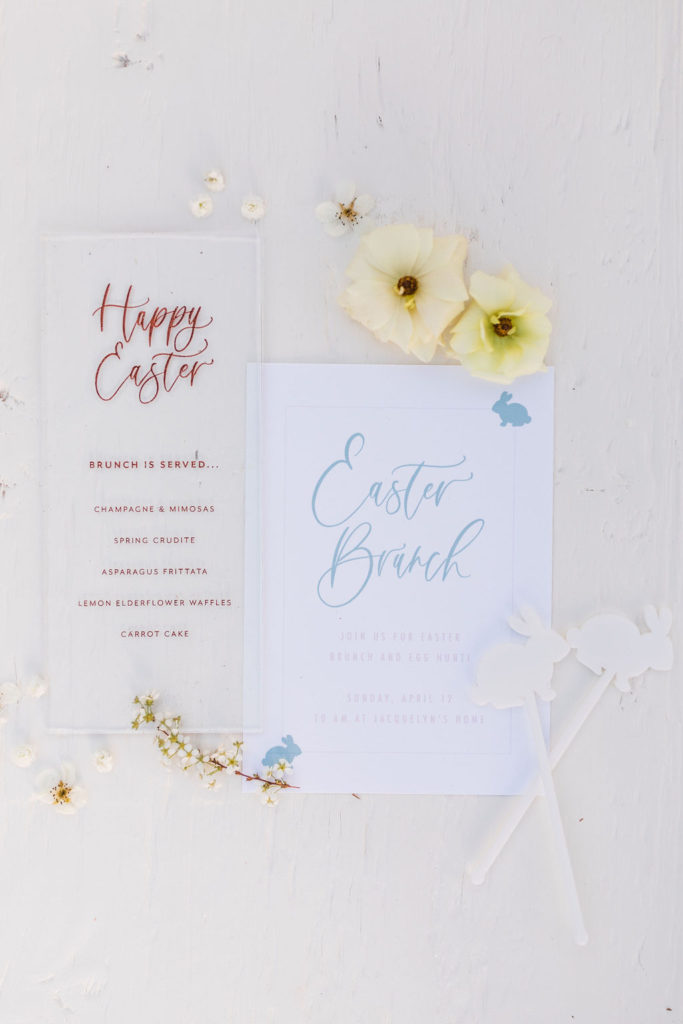 Spring is here! At least this table is saying so! Let's first talk about the pretty greenery and florals Third & Park added to the top of my pergola. I love doing simple but fun installations to dress up a space, and that one is perfection!
Along this post I'm going to give you all some tips on creating a table like this… So pay attention and take notes – class is in session ;)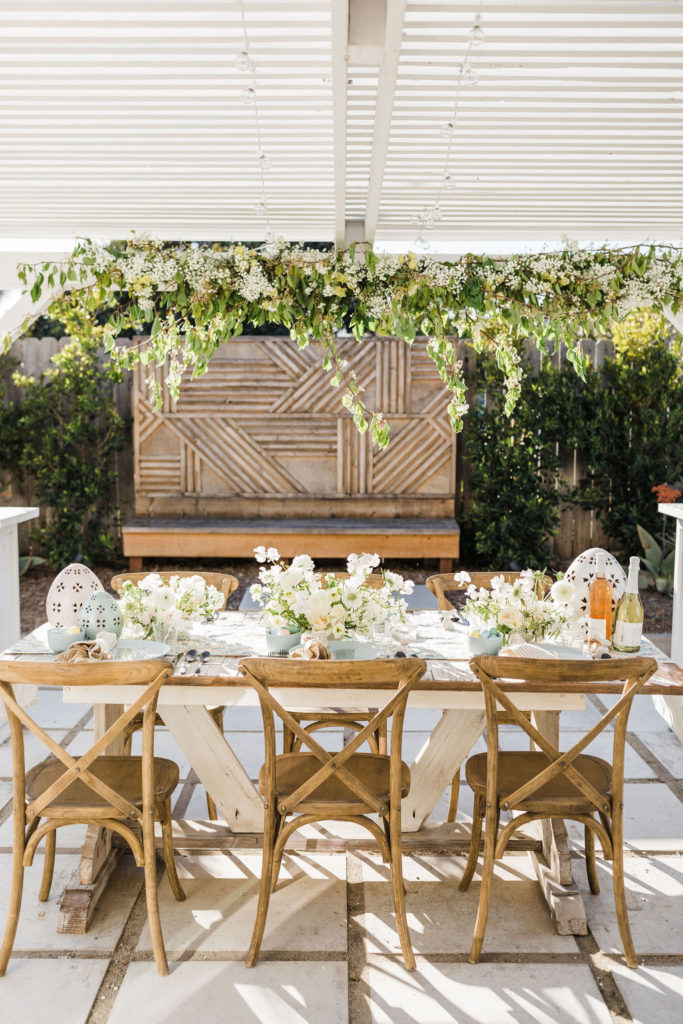 Tip One
When sourcing your tabletop don't be afraid to mix it up! When searching Pottery Barn's Easter items I fell in love with the Peter Rabbit table runner. The colors are so fun and fresh and perfect for Spring! Plus, those little bunnies peaking out are just too cute! But for napkins I was really feeling the neutral stripe of the Wheaton Napkin. It was definitely a risk to go with two different patterns but I love the way it came out. Plus the napkins are something I'll use besides Easter, so it was good to invest in those.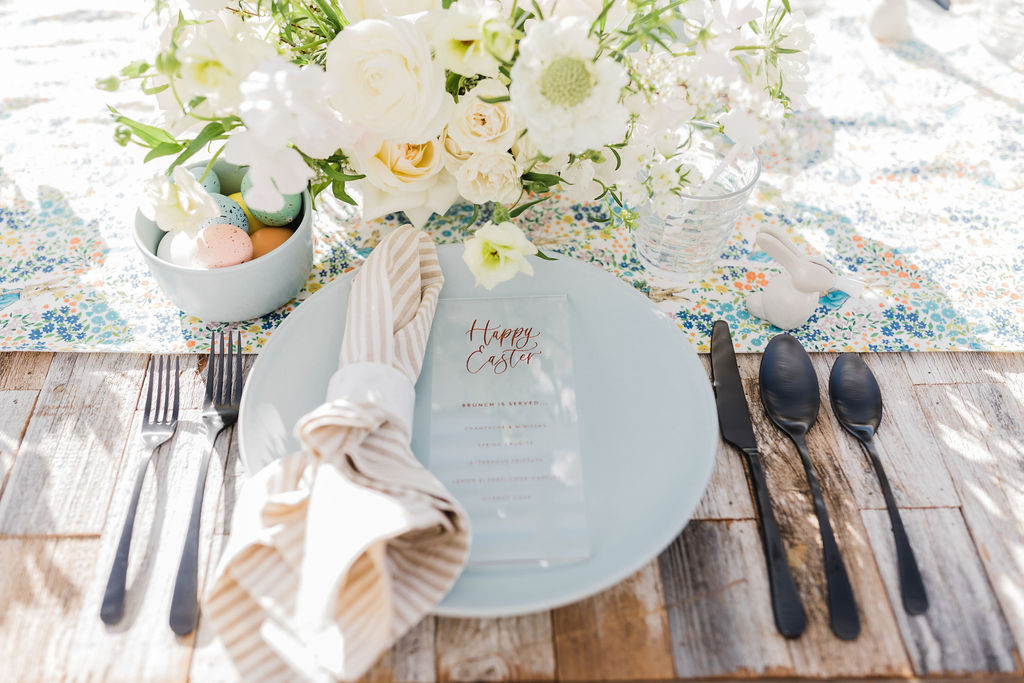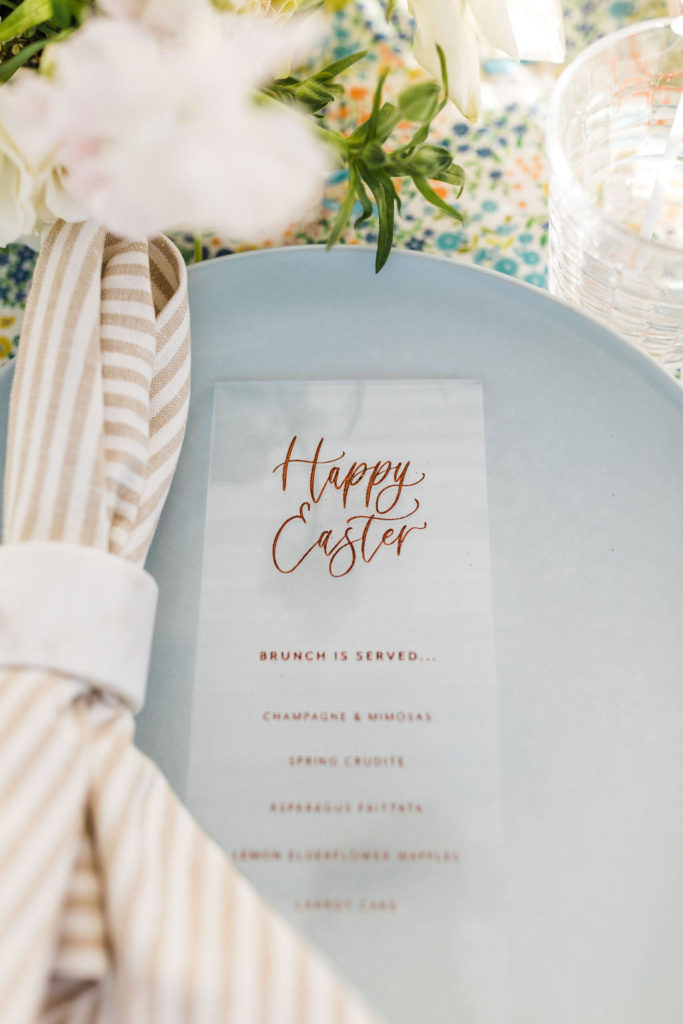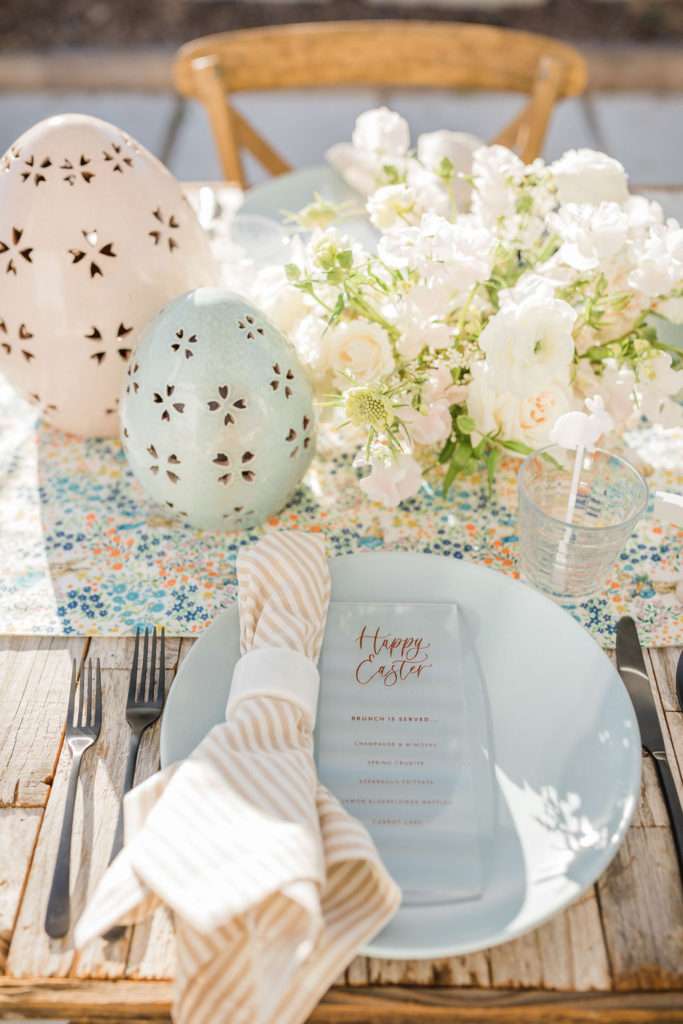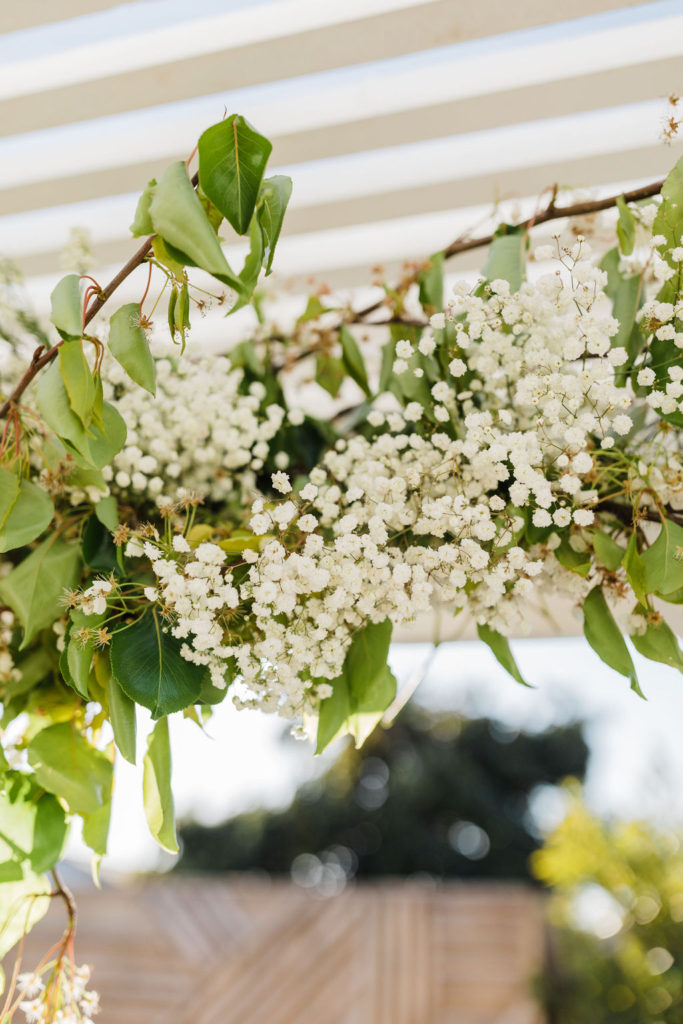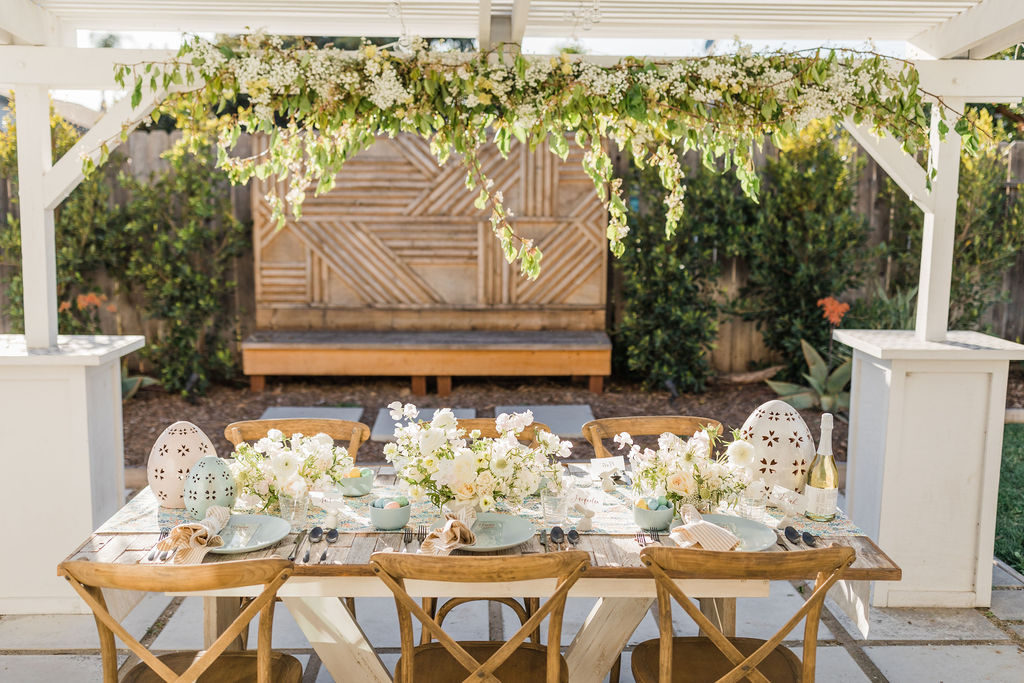 Tip Two
Don't be afraid of color! The new light blue Mason collection is such a pretty color! I know we all tend to go with a neutral like white for our dishware, but trying something different can definitely pay off! The light blue just makes this table and I am in love with how the plates brought the whole table together.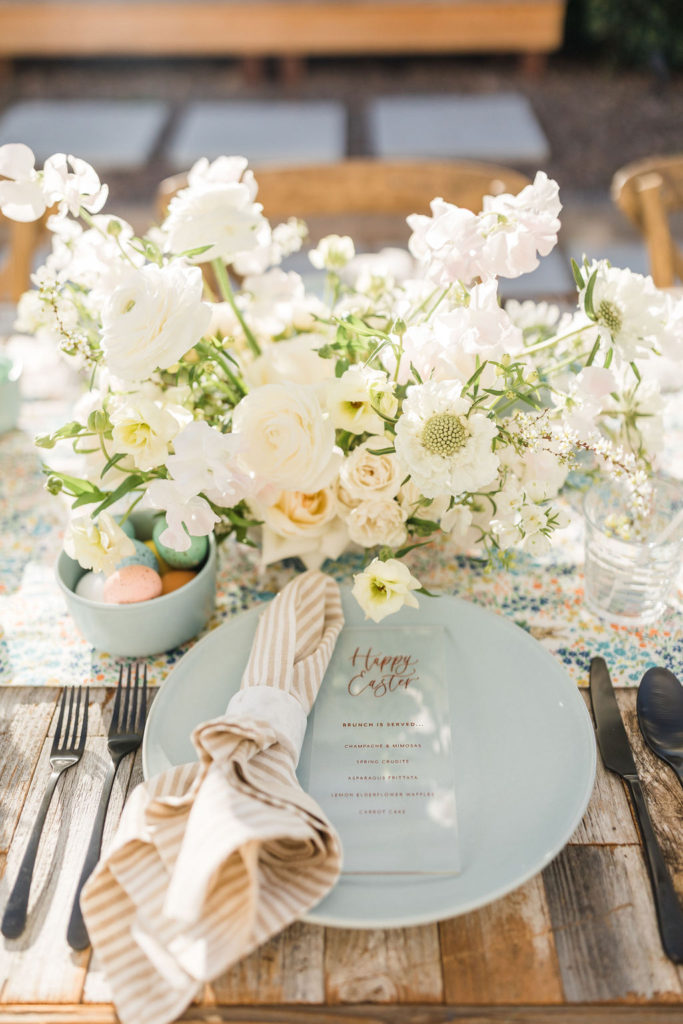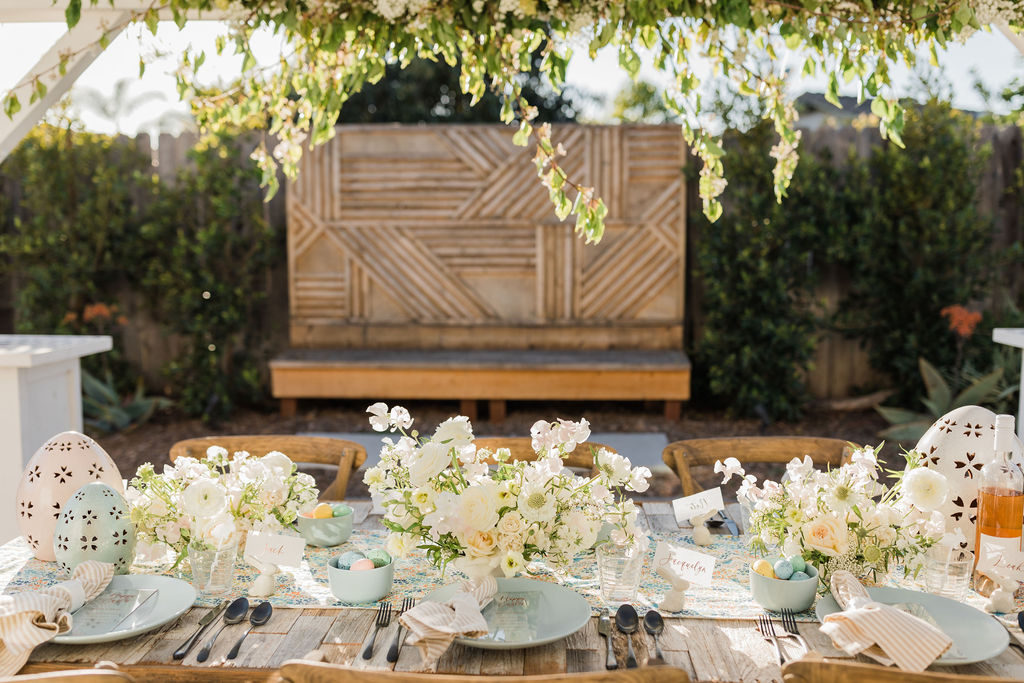 Also – I wanted to use a copper or rose gold for the calligraphy and it looks so pretty on that blue! Proper Letter took my vision and made magic with it! I mean those menus?! So good!! Which brings me to my next tip….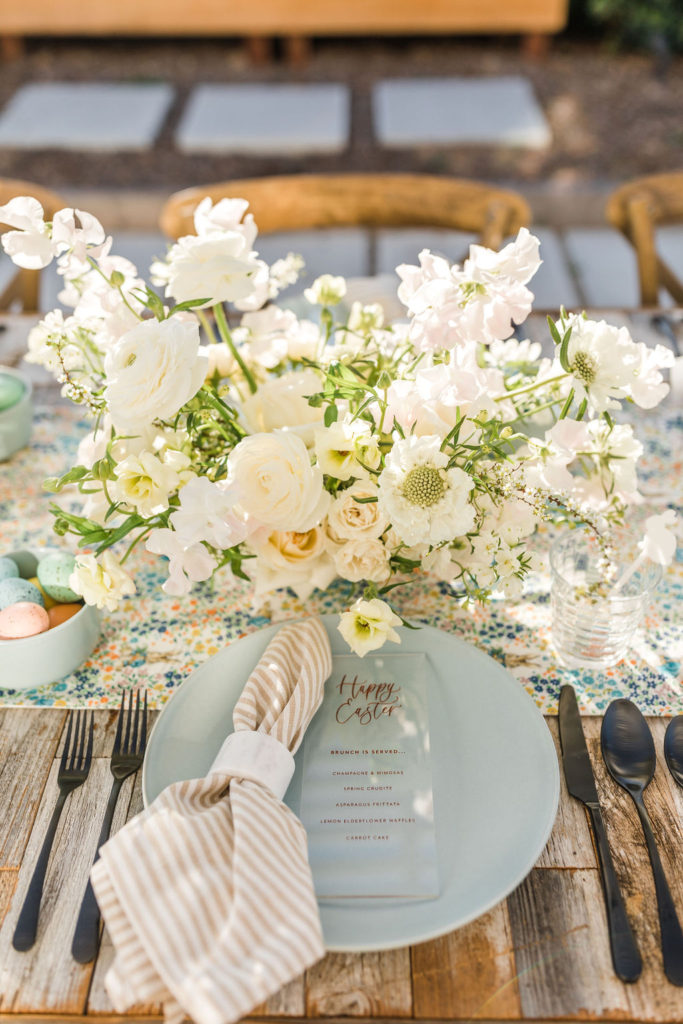 Tip Four
Details!!! We are all about the details and truly believe they are what make your guests remember an event. In this case I loved the bunny place card holders and the pretty eggs we put on the table. We didn't go full blown Easter, but had touches of it here and there and it really made for a pretty table. We also had the menus and drink stirrers made by Proper Letter as I mentioned. It isn't much cost to add these thoughtful touches that your guests will love!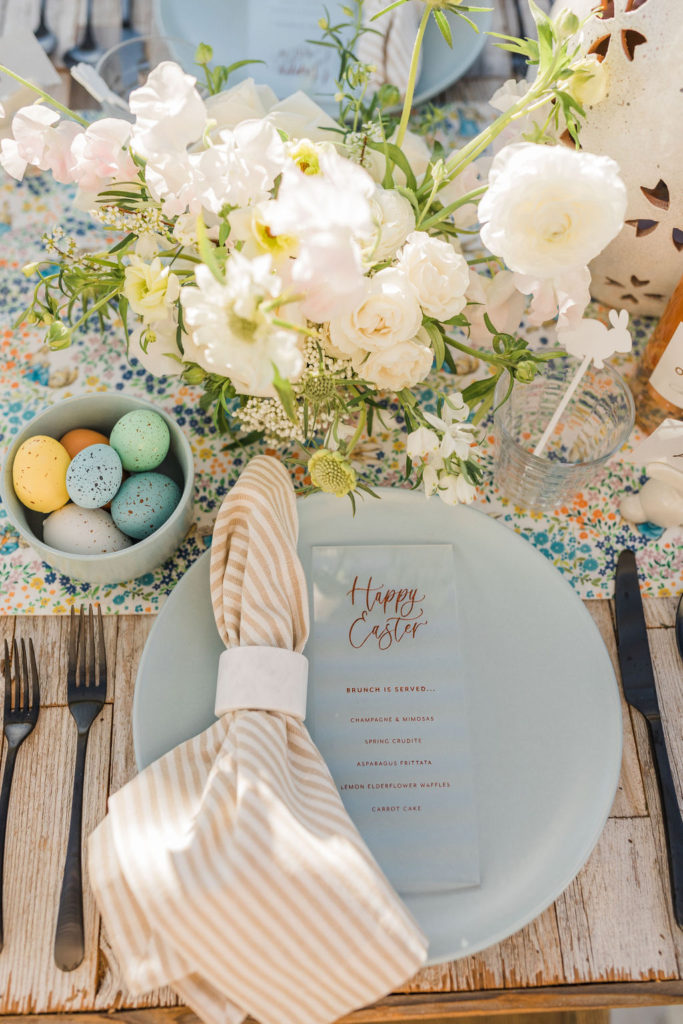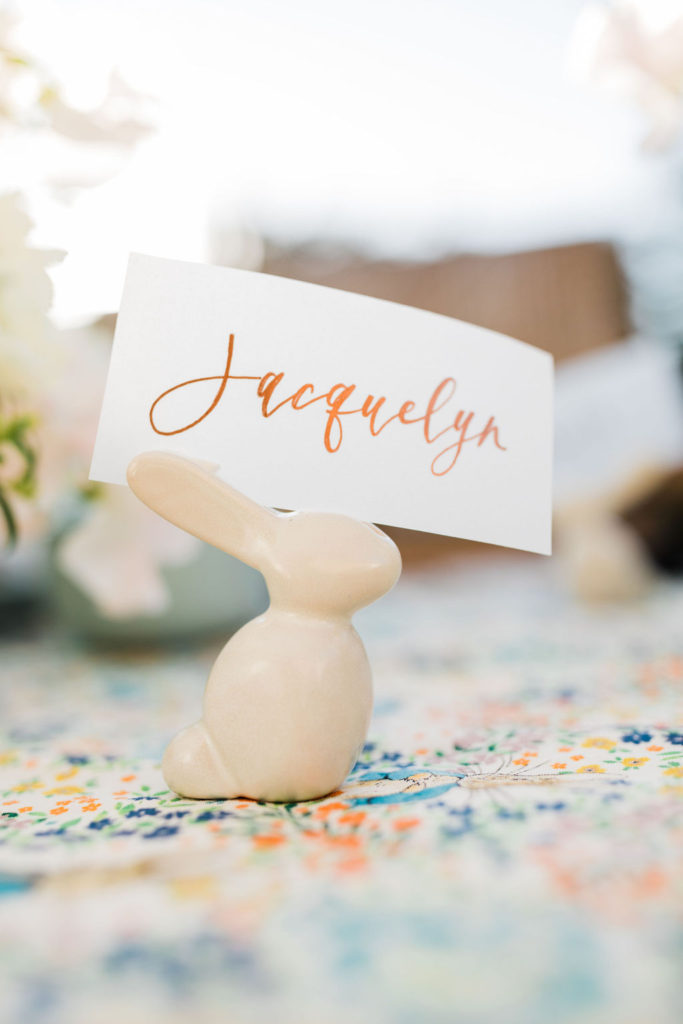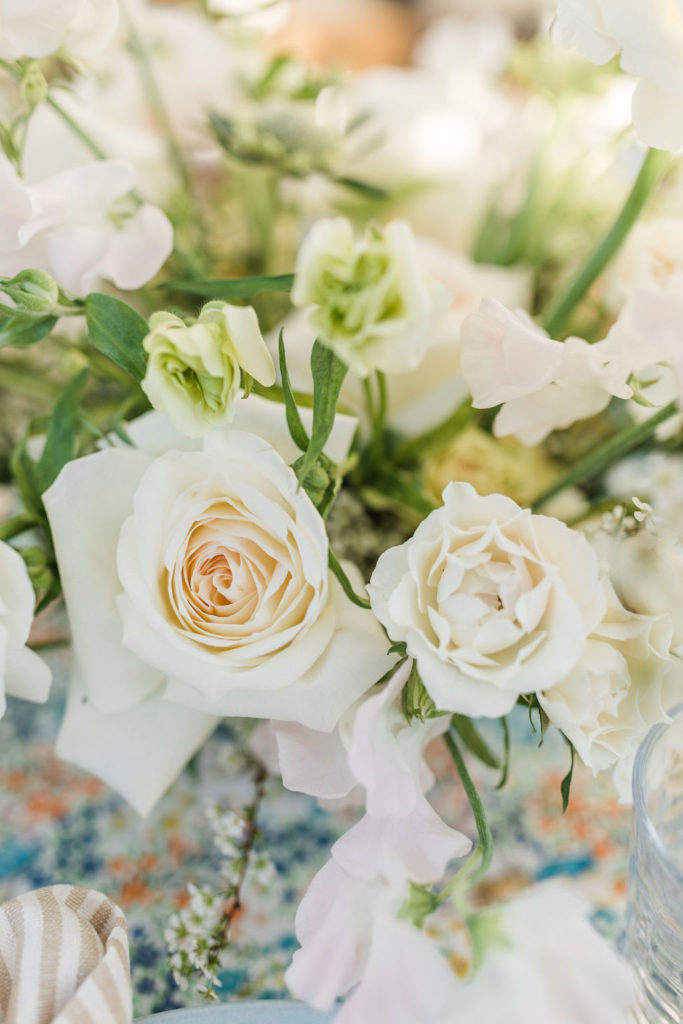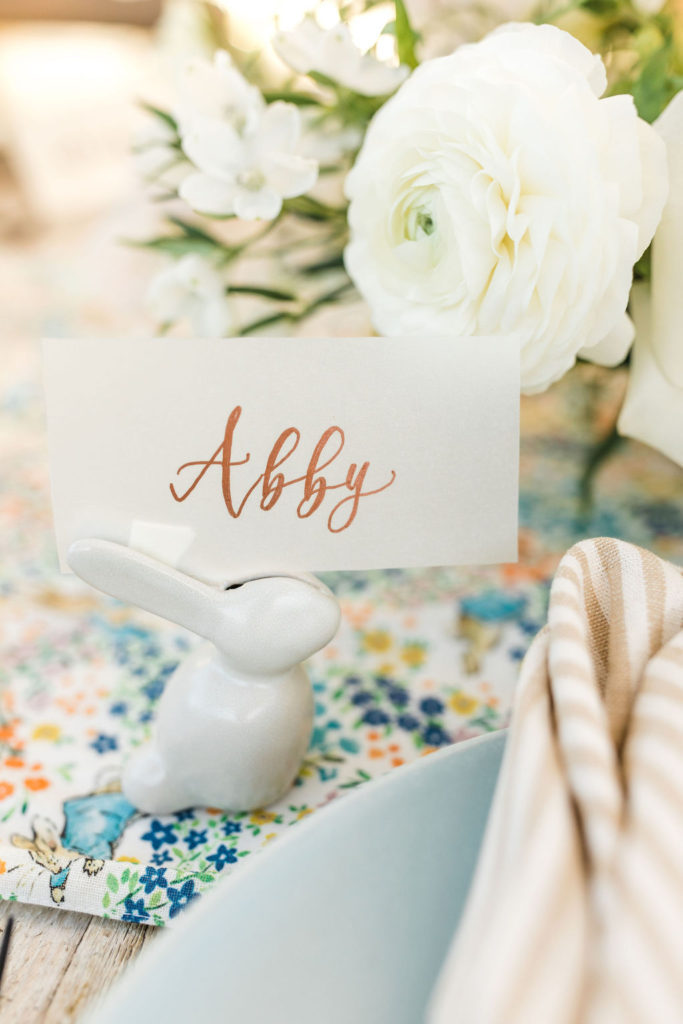 Are you feeling that table runner as much as me for spring?! Oh, and that black flatware thrown in is pretty fun too!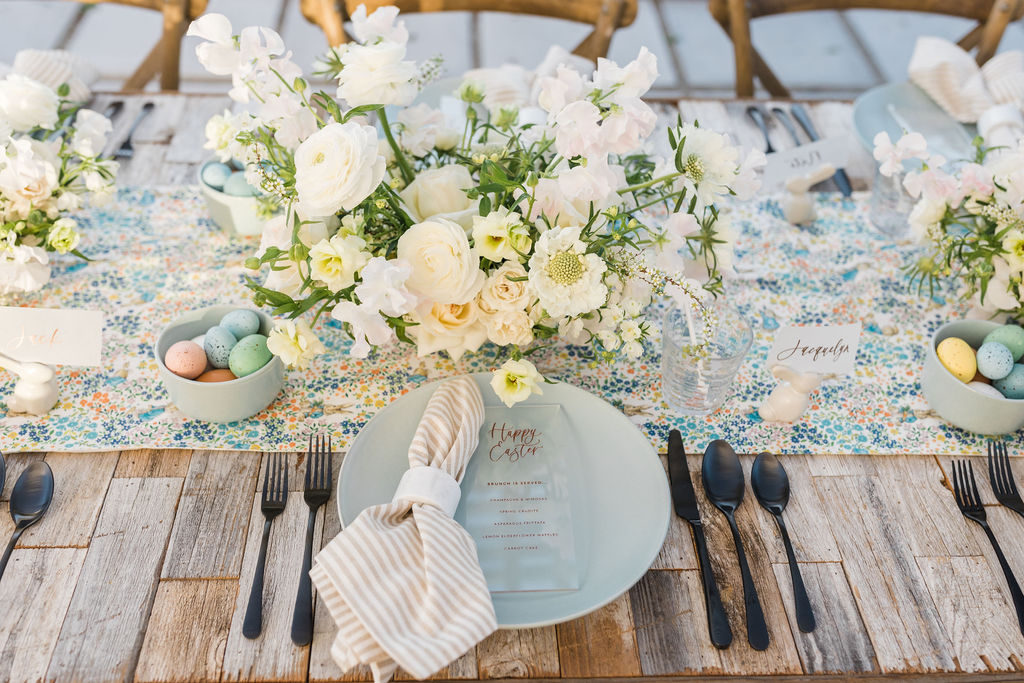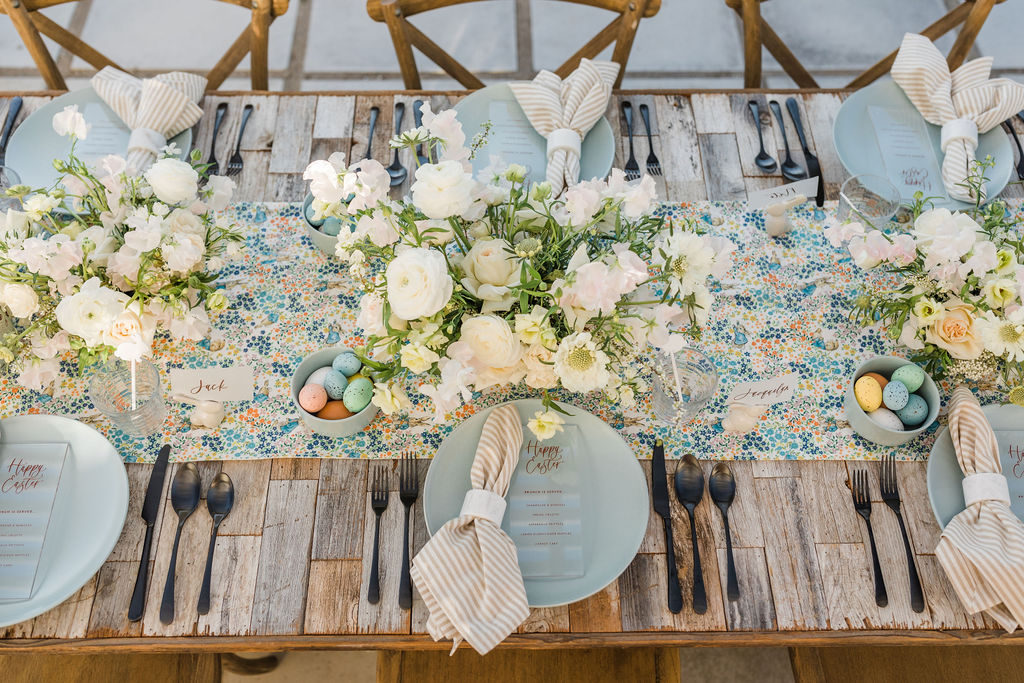 Rosé and champagne are brunch necessities, right?! So One Hope was definitely needed!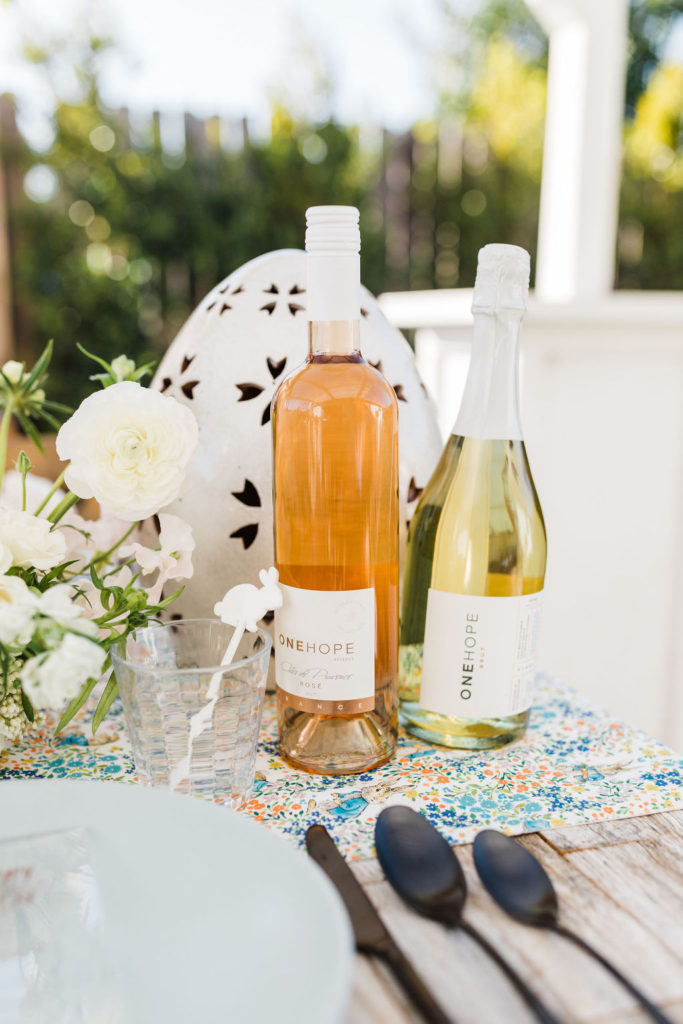 Tip Four
Always add flowers! It's really amazing how much flowers can add to the table. Yes, we had a professional florist (the talented Third & Park) do these gorgeous arrangements, but you could easily go to Trader Joes or any market and pick up something. Even babies breath or something simple like that makes a big impact! Not quite as good as these, but still very pretty!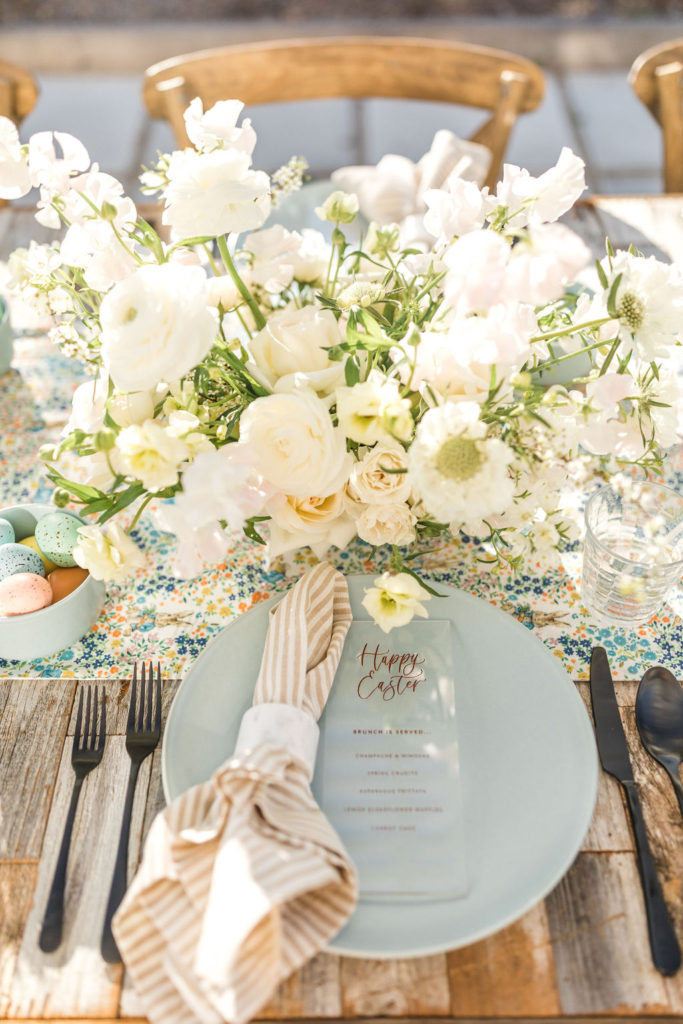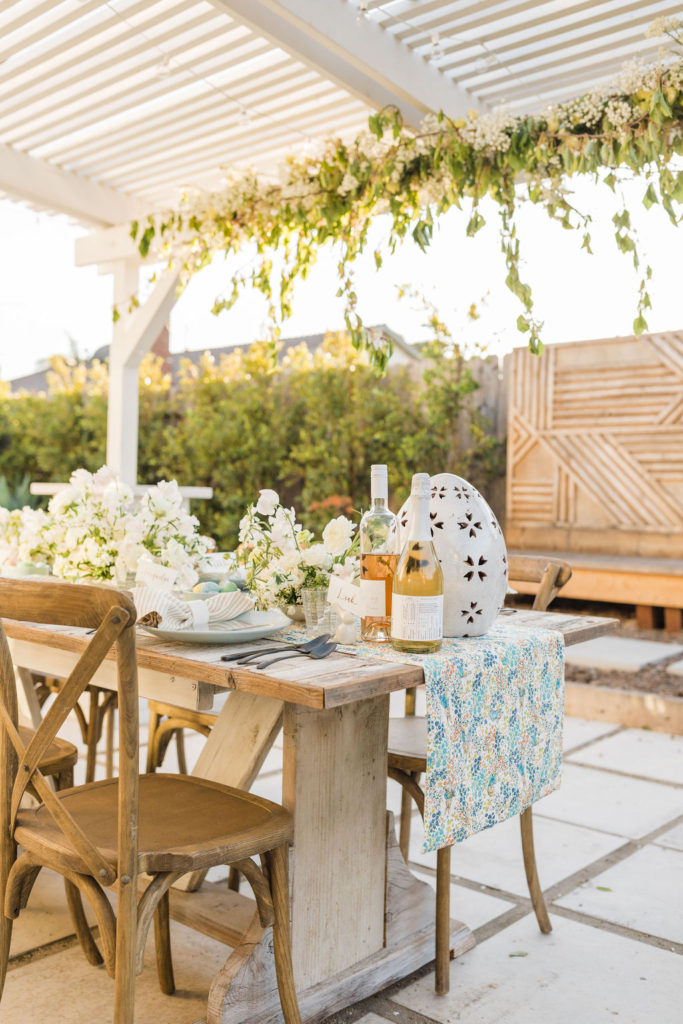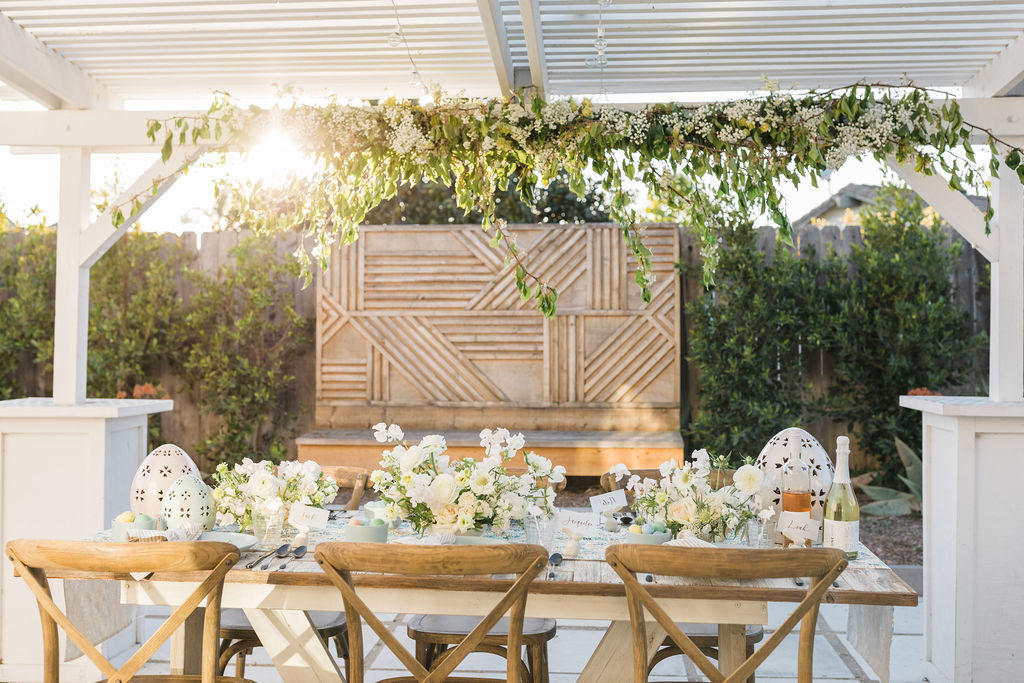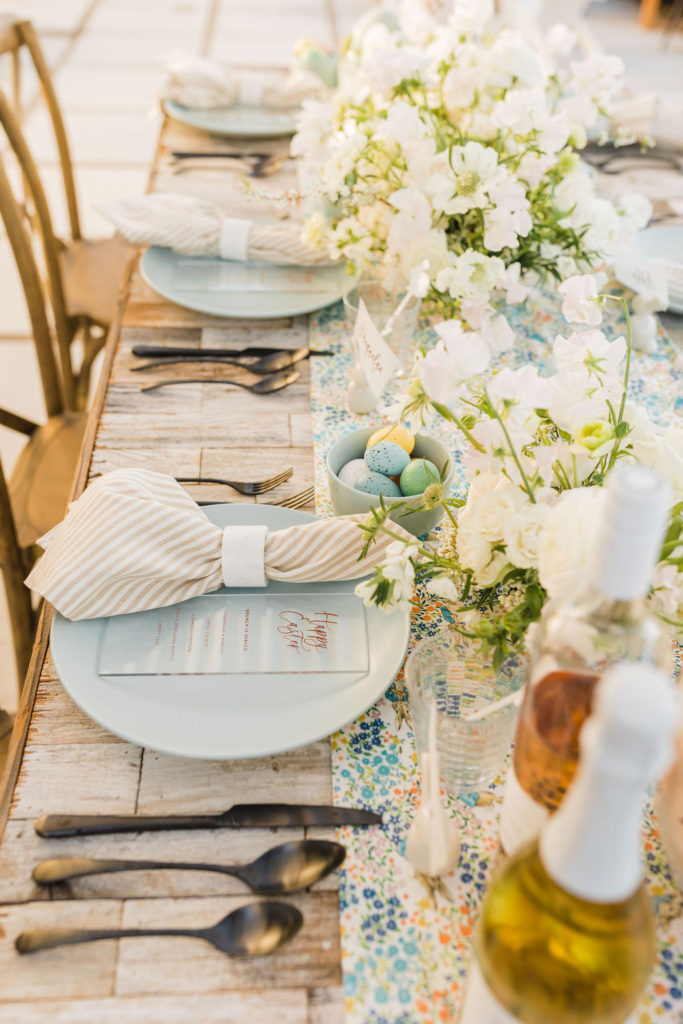 Tip Five
Live in the moment! You worked so hard to create this gorgeous setting, why not enjoy it?! Be sure to plan ahead so you are relaxed the day of. Even setting the table the night before is a huge game changer as it lessens the stress the day of!
And pour wine… Lots of wine!!!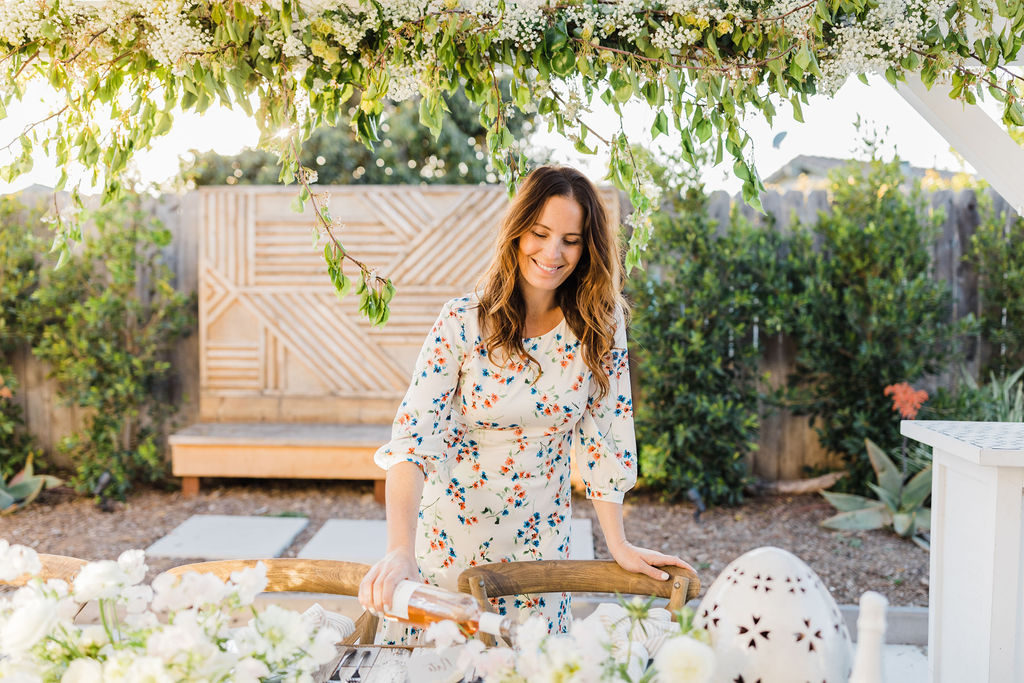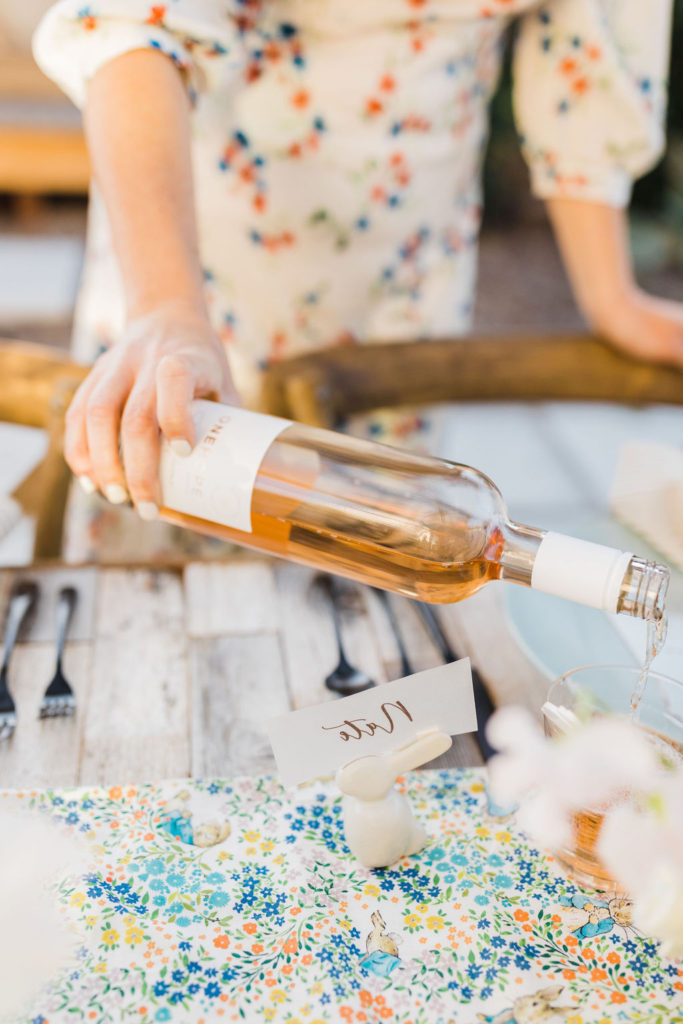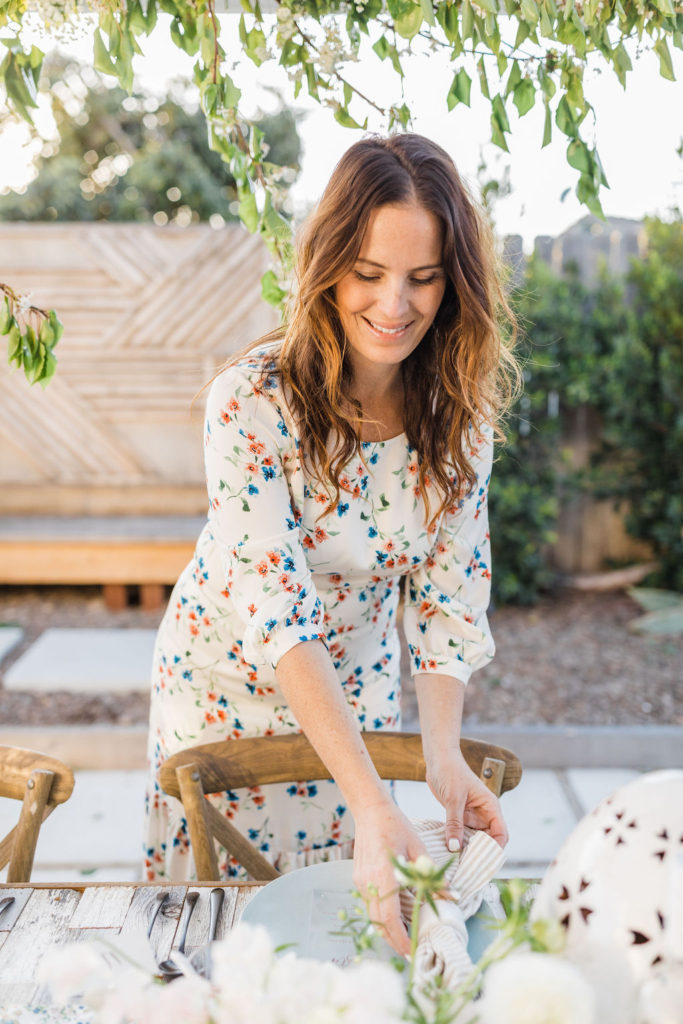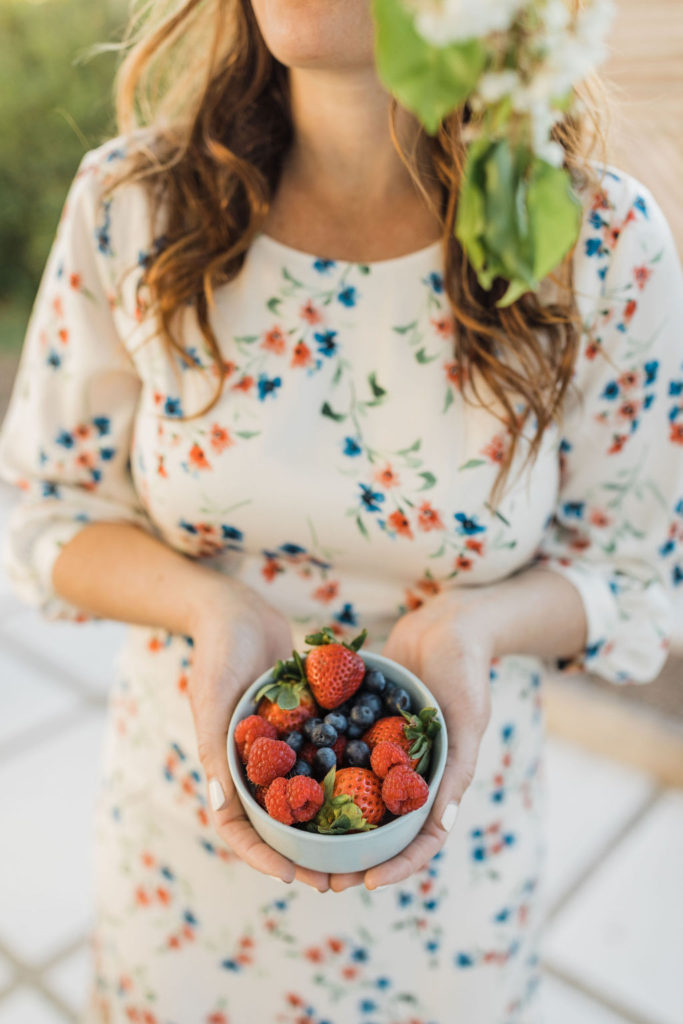 Loving this fun new dress from Saltwater Luxe – it's perfect for Easter don't you think?!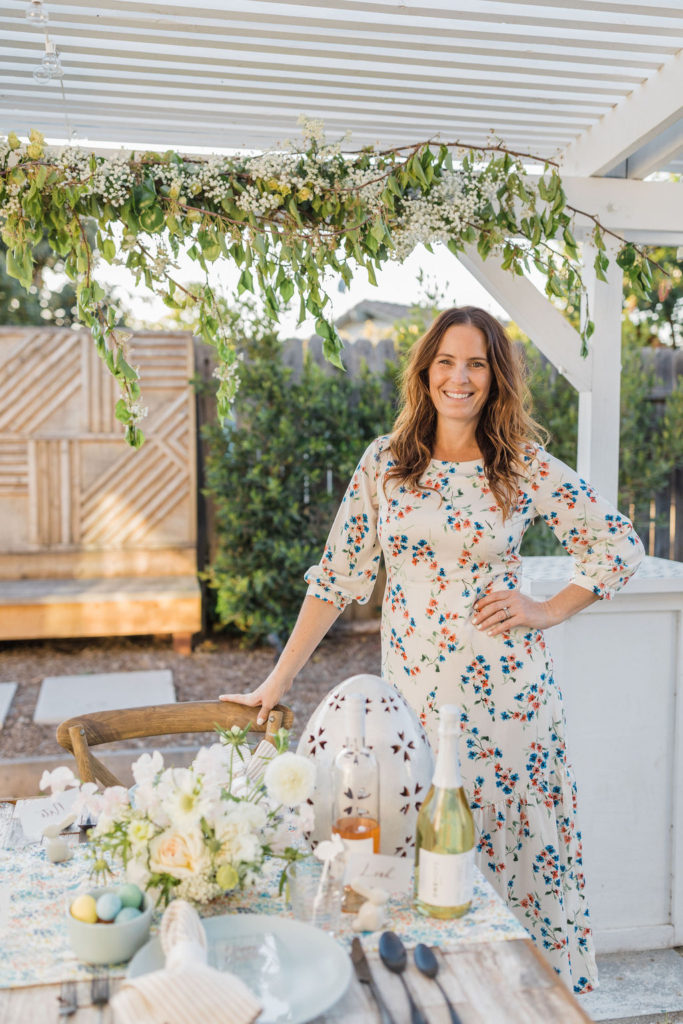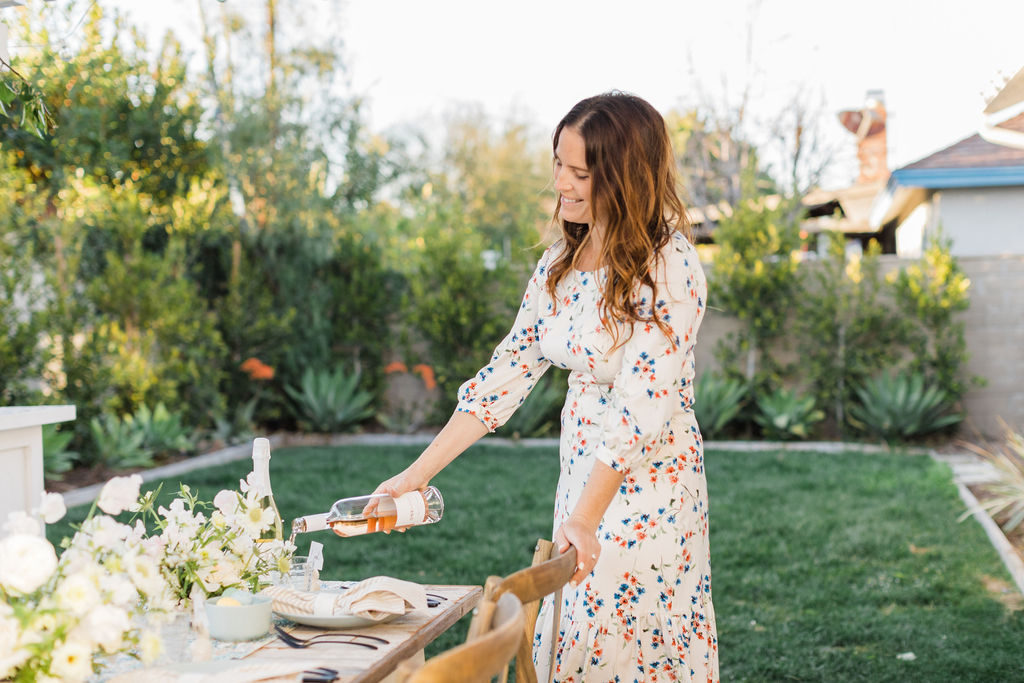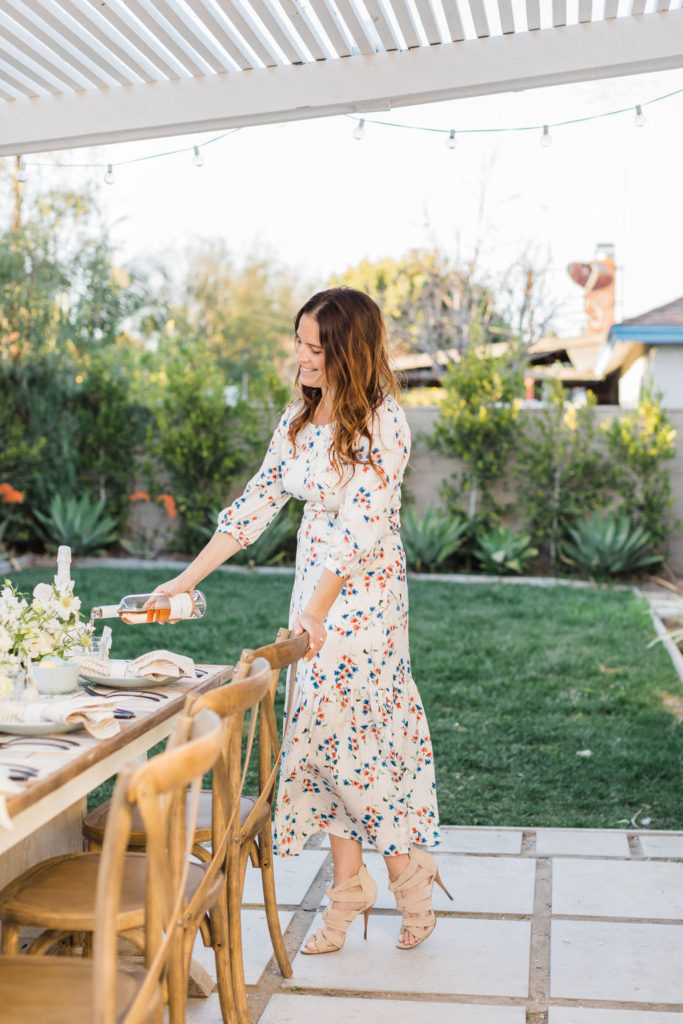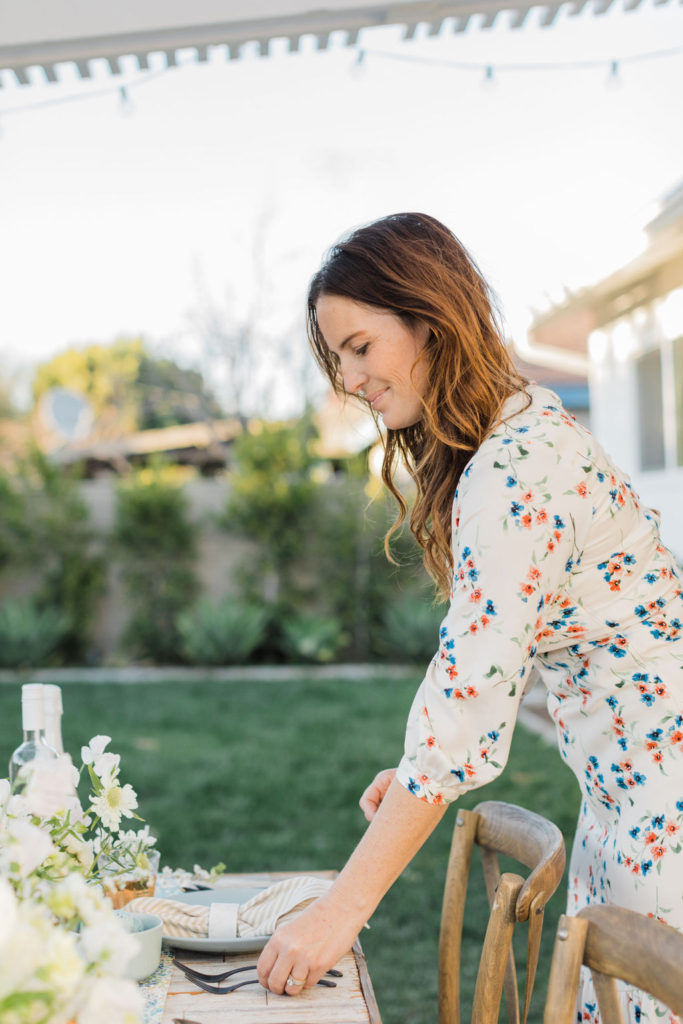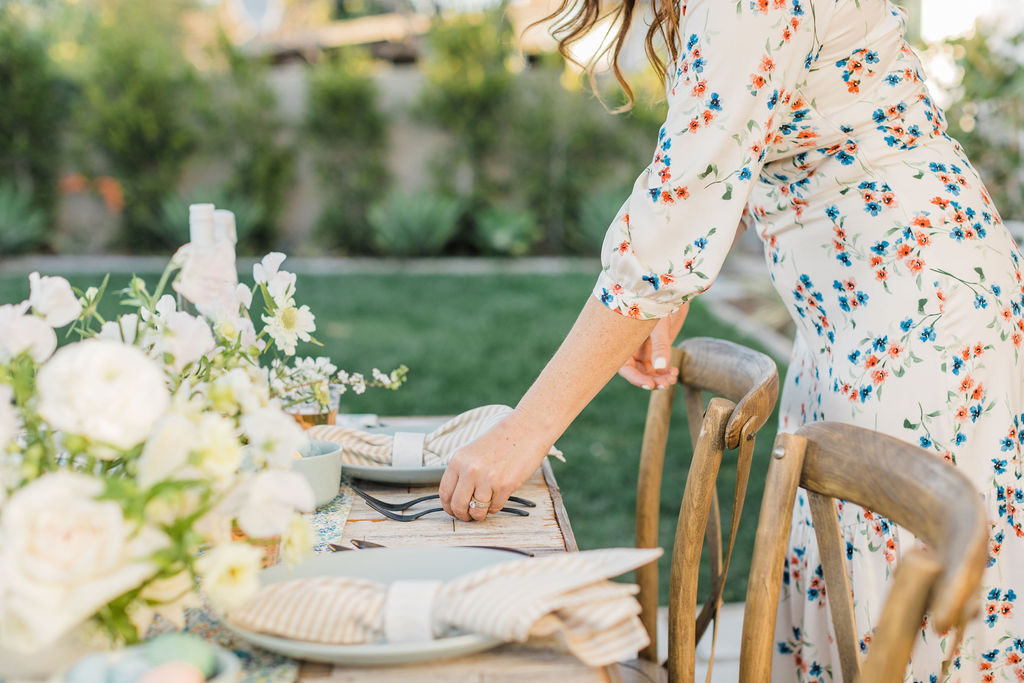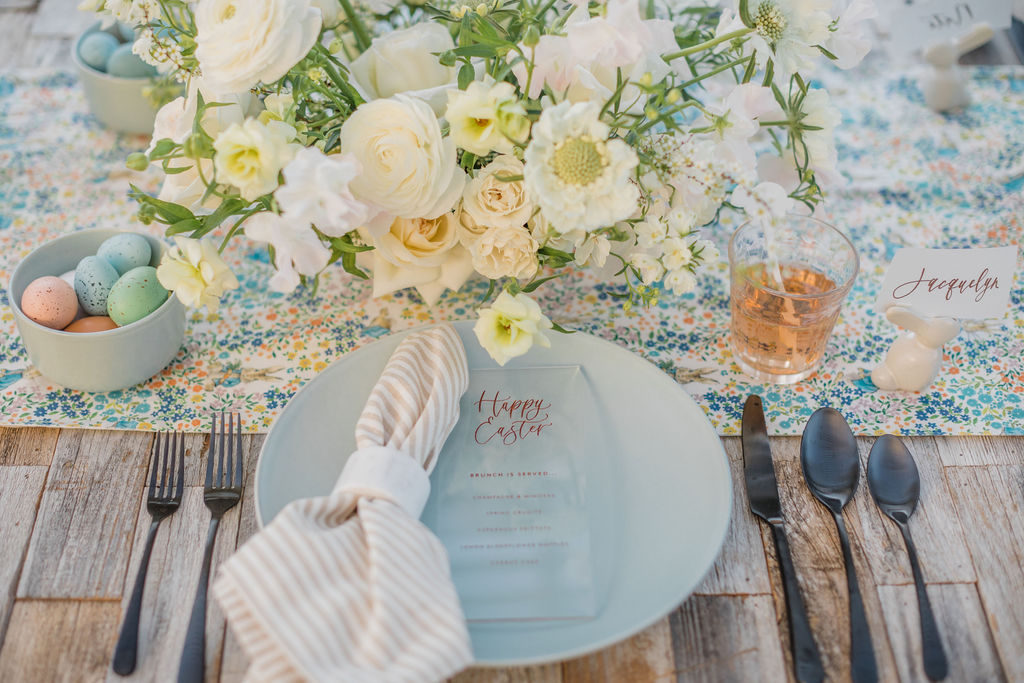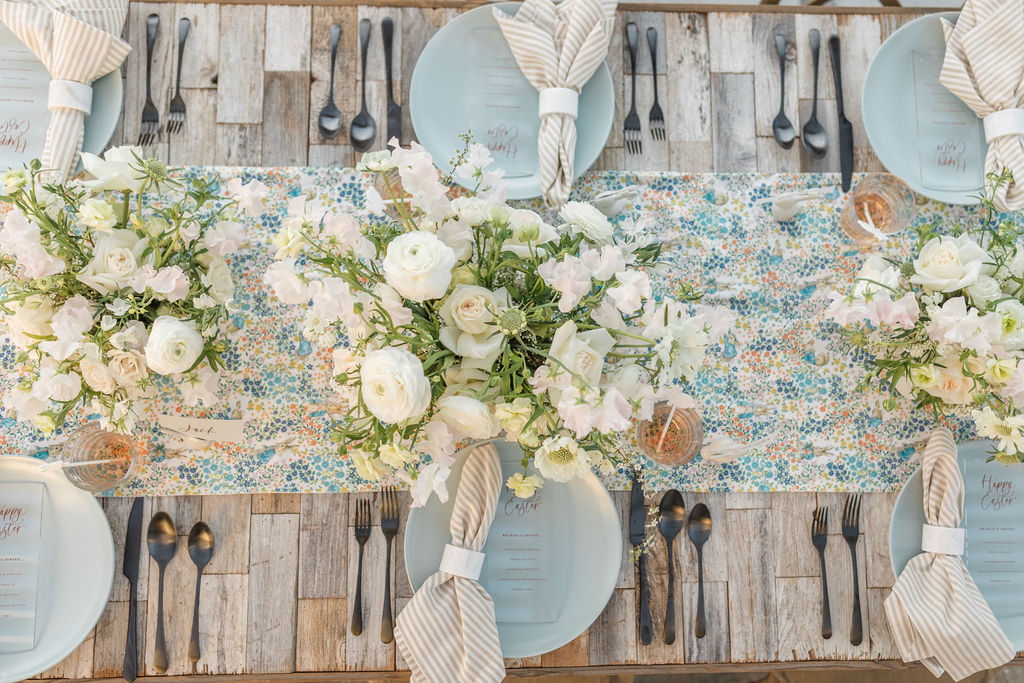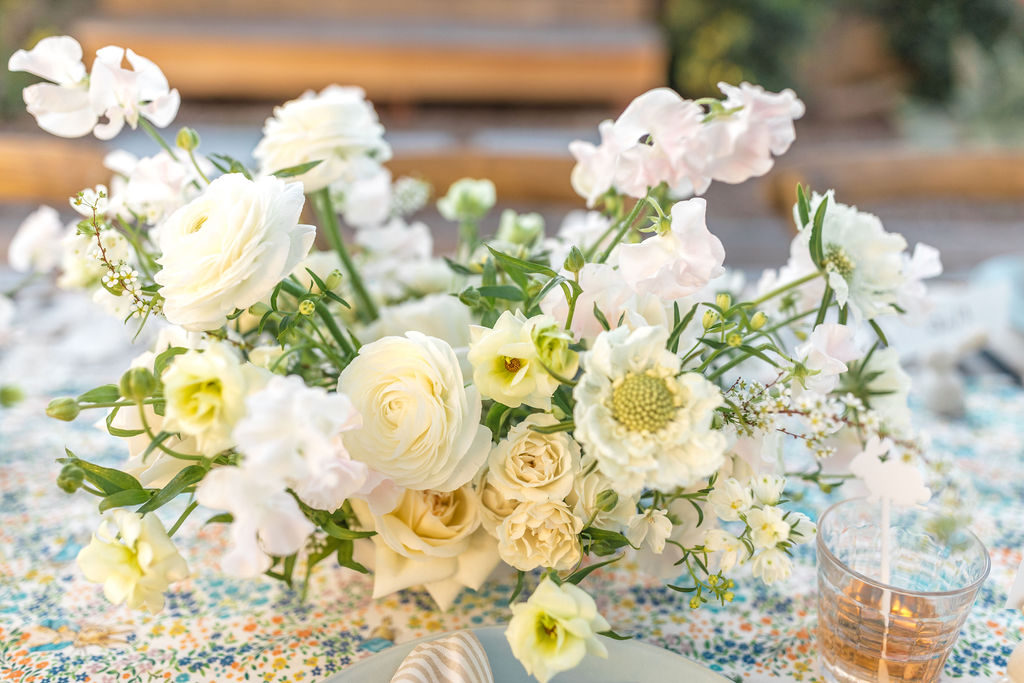 Yep, still obsessing over this table… Those flowers, that runner, just everything!!!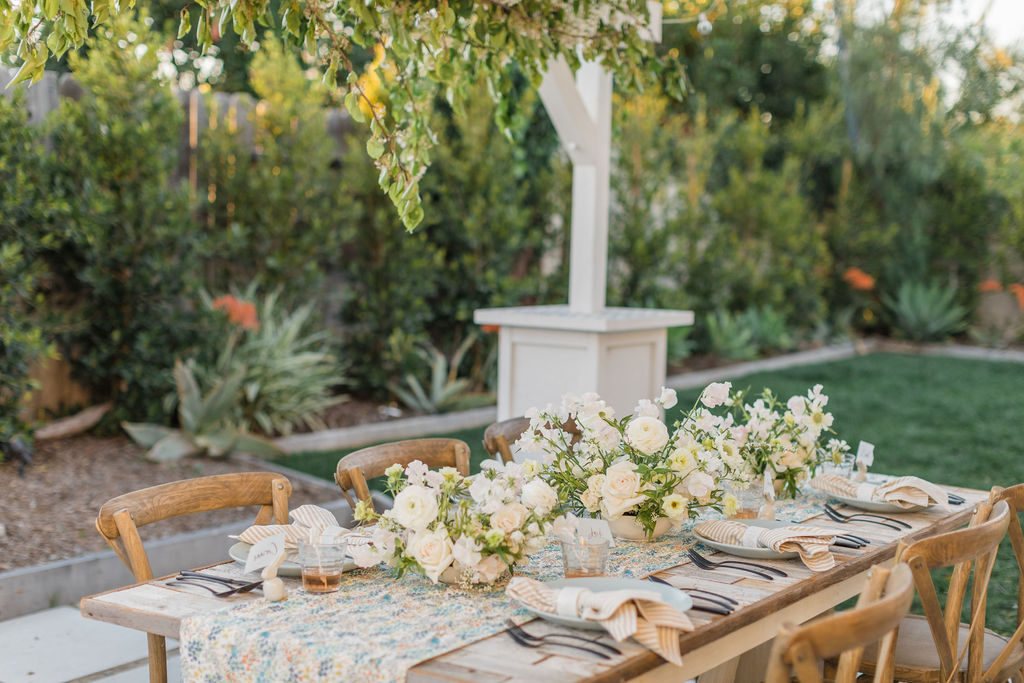 Now start shopping people! Easter will be here before you now it, and better to be prepared!! Shop the post below…

xx
Jacquelyn