And the Oscar for best cocktail goes to… The Golden Lady! This dazzling cocktail screams old Hollywood glamour. The golden lady cocktail is made with a ginger-spiced simple syrup and tops off with a dry sparkling wine. Garnished elegantly with some edible stars and a fresh lavender sprig. Enjoy this cocktail this Sunday while watching the Oscars! A winner for all crowds.
Photos by Dayna Studios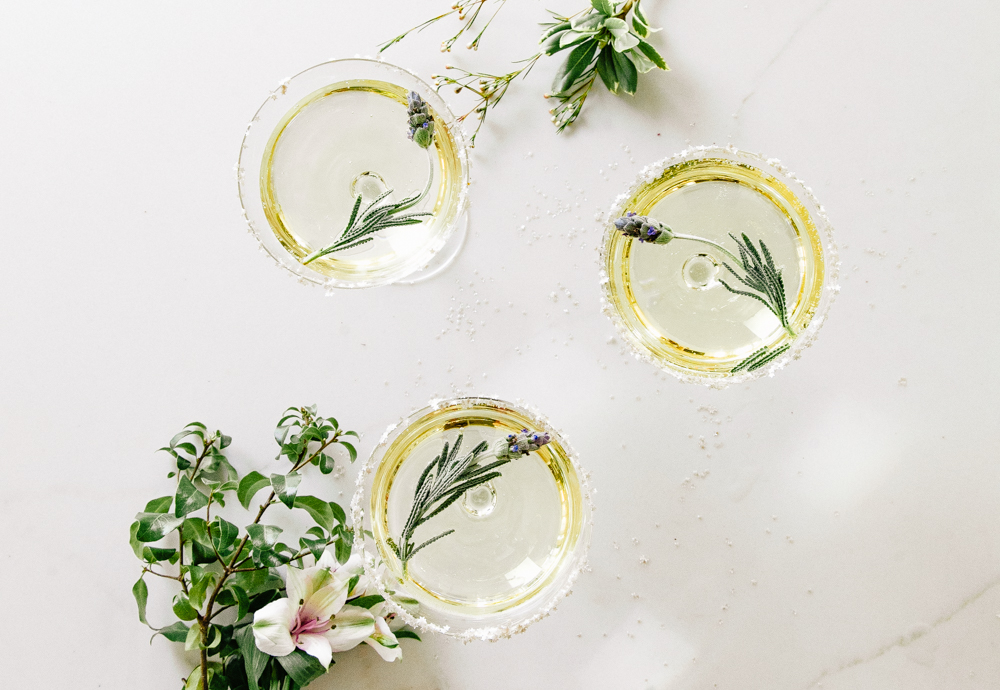 THE GOLDEN LADY
serves: 8 golden ladies
W H A T   Y A   N E E D!
2 tsp. finely grated, peeled fresh ginger
1/2 c. sugar
1 bottle Prosecco or Champagne (any type of dry sparkling wine)
Sprig of culinary-grade lavender, for garnish
Edible stars
B U S T   O U T:
Coupe Glassware
Fine Mesh Sieve
Small Bowl
Small saucepan
---
I N S T R U C T I O N S
Make this ahead of time:
Set up a fine-mesh sieve over a small bowl and set aside.
In a small saucepan boil ginger, sugar, and 1/4 cup water. Cool until you get a syrup-like consistency, about 2 minutes or so.
Pour through a sieve into a bowl, discarding solids.
Beijos tip: You can keep this syrup up to a week in the fridge.
Cocktail Time!
1st, its time to make these golden ladies the star of the show. Rim the coupe glasses with some of the ginger simple syrup you made prior. Pour the edible stars into a small bowl. Dip the coupes into the edible stars.
Next, pour 1 tbsp. ginger syrup into each of 8 cocktail glasses. Obviously, if you are only making 1-2 cocktails, don't pour into all 8 coupes.
Top with sparkling wine, and give it a slight stir.
Finally, top with a simple sprig of lavender for that show stopper garnish!
Cheers!
---

xx
Abby