When it comes to packing my son's lunch for school I must admit, I have a hard time. Maybe it's because he's so picky that I just want to make sure the actually eats something. The boy probably only eats 4-5 things and it drives my husband and I crazy! Or maybe, and this isn't easy to admit, it's out of convenience for me to make it easy. But I rarely get creative or try new things. Bad Mommy… I'm in a rut. But that is about to change!!!
I recently had the pleasure of meeting Andrea Howe of Howe We Live and discovered her Instagram feed full of tons of inspiration when packing your kid's lunch. Andrea is real about the struggles of having your kid's eat healthy and I like that. I know it's not going to happen over night and I also know that I don't want to be super rigid, everyone deserves a little treat here and there in my opinion! Even the kiddos! I mean life isn't worth living without some ice cream every once and a while, right?!
With the guidance of Andrea and the help of Pottery Barn Kids I created a few easy and healthy lunch options! I'm so excited to have Court start taking these to school. He'll be eating healthier and with more variety which is my main goal! Keep scrolling to see these bad boys that I put together, hopefully they will inspire or help you! Plus, Andrea answers a few key questions for us about meal planning and offers tons of great advice on how to make it easy!!
Photos by Alison Bernier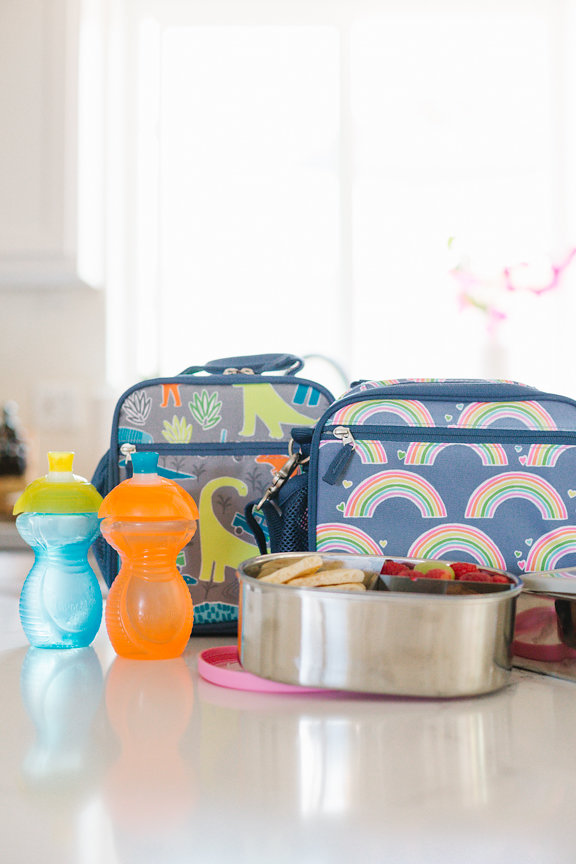 Tell us a little bit about you and your family…
I'm a mom of 3 1 girl and 2 boys ranging in age from 4-12, and a pet mom to 2 cats and a dog. My husband and I are both born and raised in Southern California, and we've been married for almost 19 years. I used to work in the fashion industry but now stay home with my kids while also working as an Executive Director at Beautycounter. We own our own IT business as well, so between being business owners and raising all these kids, we are quite busy.
How did you start making these creative and healthy lunches for your kids?
Both of my older 2 children are on the shy side, so buying lunches never appealed to them. Since I was going to have a long future of making lunches, I figured I may as well make them fun and healthy, but also simple. I purchased bento style lunch boxes for them and I was off! I found the different compartments inspired me to craft a lunch that would be enjoyable for them to eat while also being healthy and balanced.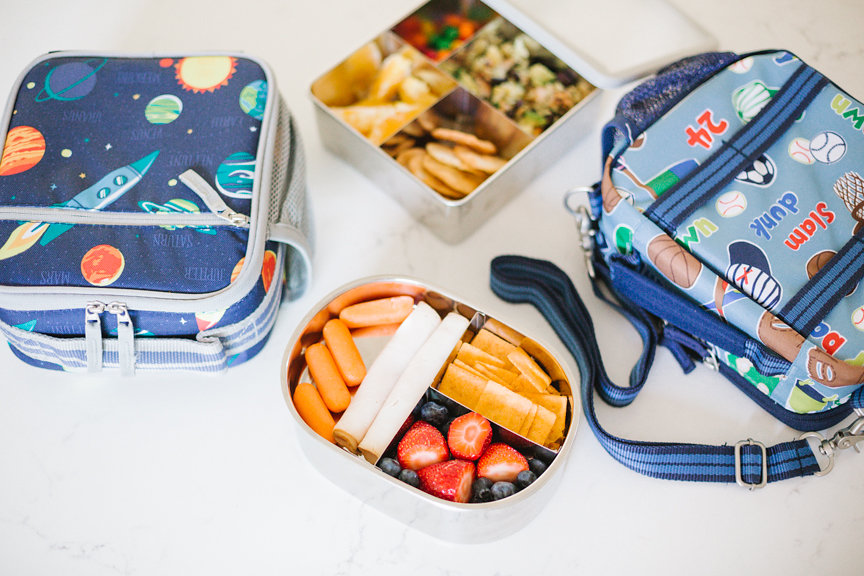 What advice do you have for that mom in a rut with her child that won't eat healthy or try new things, aka, me, haha…
Stay calm but firm. Kids can be tough and stubborn, so it can feel so much easier to just give in. But I try to set a balance of respecting their wants by also doing my job as a parent and making sure they eat as healthy as possible. Often times this involves negotiations, like "You can have more of x but you have to finish y first" or can also mean your kids eat a lot of the same foods. That's okay, as long as they're eating somewhat balanced over the course of the day. I learned early on that the bigger deal I made of what my kids were or weren't eating, the more stressful it became for everyone. So now, I make sure they understand how important it is to eat balanced and healthy (younger ones may not totally get it now but they will for sure understand as they get older), and always keep trying to get them to explore new foods.
I find it hard to get my child to try vegetables, how do you incorporate them in lunches?
There aren't a ton of fresh veggies my kids like, so they eat a lot of the same veggies over and over again, day after day, and that's okay with me. For dinner we expand our options with other cooked veggies, but at lunch it's usually a daily rotation of celery, carrots and sugar snap peas. I think we often compare our kids to others and feel like they all need to be eating and doing the same things. That creates too much stress for everyone, including you!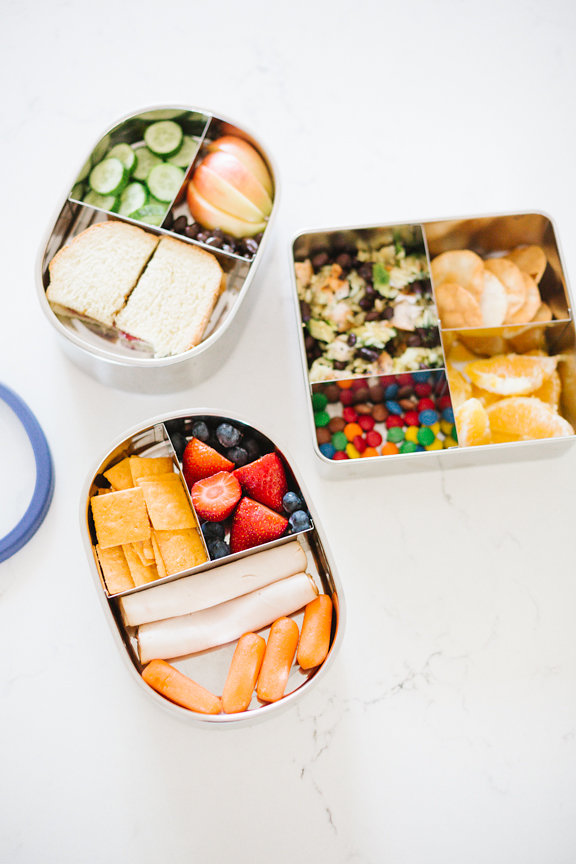 What are your favorite ways to add protein in the mix for lunch?
Lunch meats of course are always a quick and easy way to make sure they get protein. I also love packing yogurt and they can make their own parfaits. Shredded, cheese and chicken along with tortillas allow them to make little tacos, a rice cake with some sort of nut butter with some chia seeds or hemp seeds sprinkled on top is also fun.
You told me that you always include a "special treat" in your lunches, tell us why you think that's important…
Oh my kids love their special little treat each day and always have input on what I'll put in there for the day. They look forward to it and it's just an added little bonus for them in the middle of a long day. I do a small amount of jelly beans (I love the dye free ones from Trader Joe's), a Justin's mini peanut butter cup (if the school is not nut free), or even just a simple piece of dark chocolate or a single cookie. It's definitely not necessary for nutrition's sake, it's more for their own mental health haha! We know how nice it is to enjoy a piece of chocolate in the middle of or at the end of a long day; well kids do too!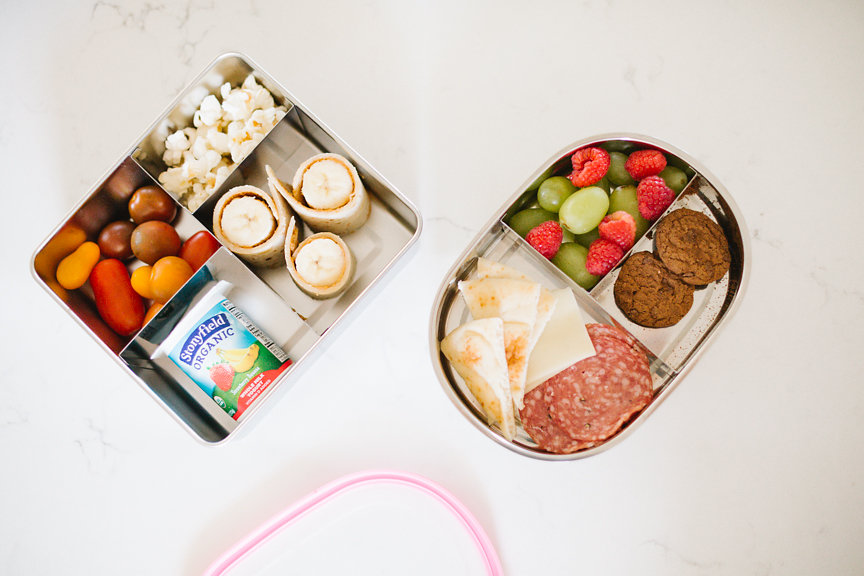 You have kids ranging in age from Elementary school to Middle school, do you have to vary what you put in their lunches? Do they evolve or grow out of things? How do you accommodate all three taste buds?
They all get the same basics; protein, a crunchy carb snack of some sort (crackers or a few chips), a fruit and a veggie. The most I'll usually do for my own sanity is adjust the protein. For instance my middle son doesn't like sliced turkey sandwich meat, but the other 2 do. So I'll give him roast beef or salami, and the other 2 turkey, but they all get the same of everything else. Quantities adjust somewhat as well; my youngest has a smaller style bento box than my older 2, but overall they get very similar lunches. It makes everyone's life a lot easier.
One other thing I'll add is that continually teaching them how to feed themselves healthy is so important. Talk to them on a regular basis about why they need to eat balanced, and of course how. This will empower them and eventually, as my older kids do now, they'll be able to pack their own lunch for themselves and do just a good as job as I do!
Thank you so much Andrea!!! Such great info!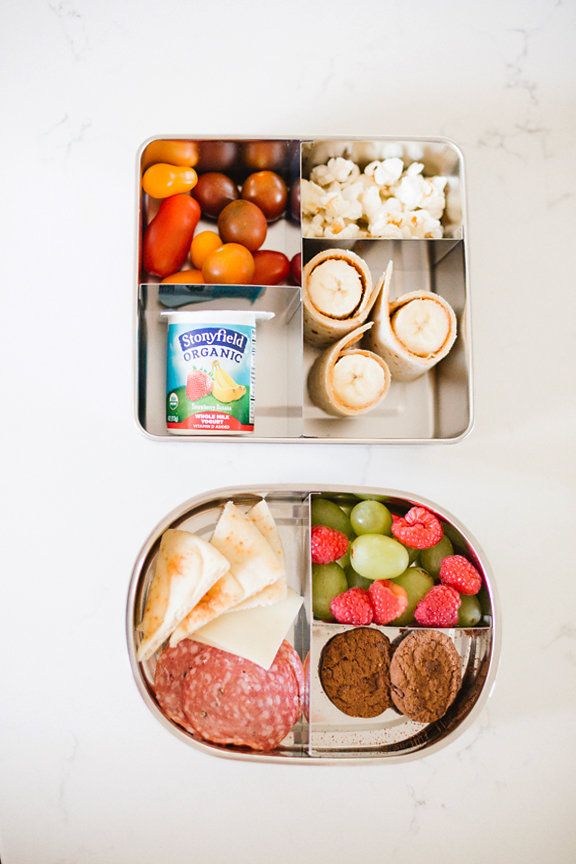 Now I took on the challenge of creating some lunches of my own… I was pretty proud of myself because this is not my forte… I did all of my grocery shopping at Sprouts, I love their healthy options that don't break the bank!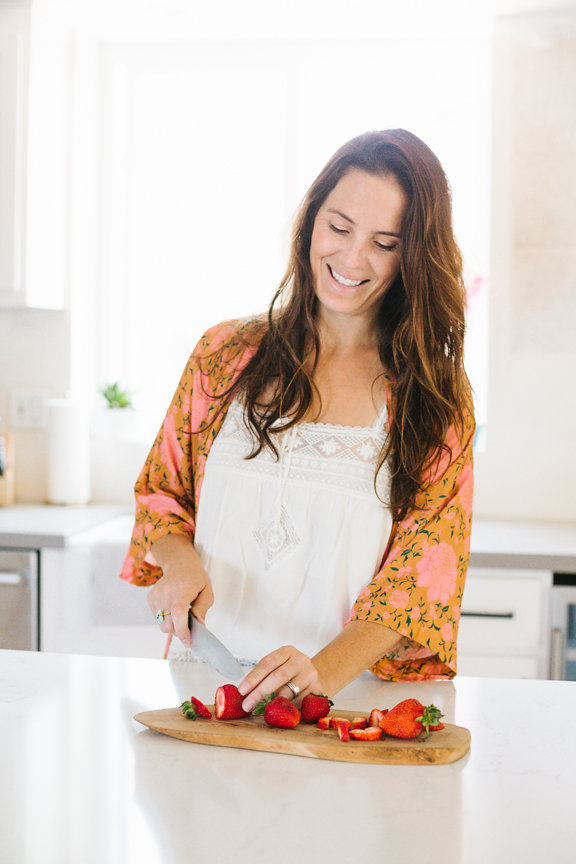 Here are some of the lunches I put together!
First I did these banana wraps with a whole wheat tortilla and peanut butter. You could use almond butter, sunflower butter whatever your little heart desires. I threw in an organic yogurt, some cherry tomatoes and a yummy coconut oil popcorn.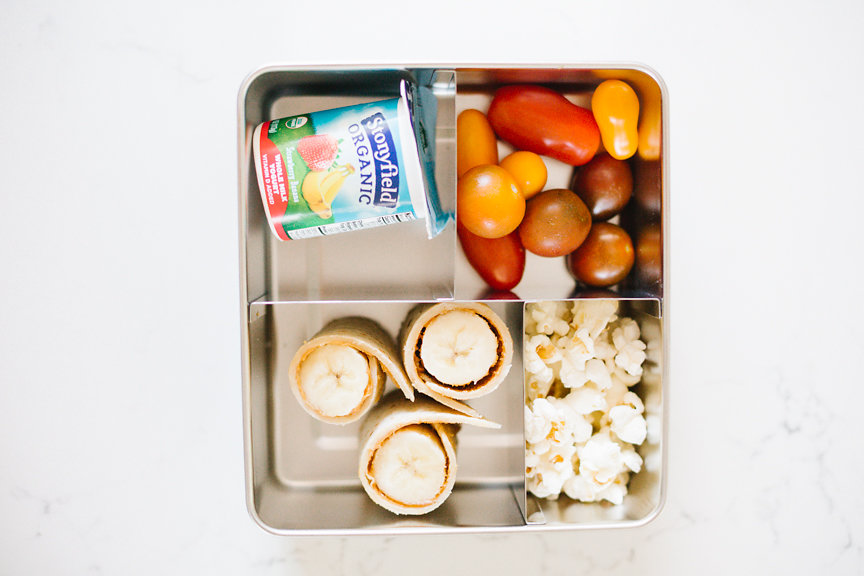 Going a little Mediterranean on this one… I did some salami, cheese and pita bread here with some grapes and raspberries on the side. I love how Andrea encourages us to have treats for the kids, so I added these Simple Mills Double Chocolate Cookies.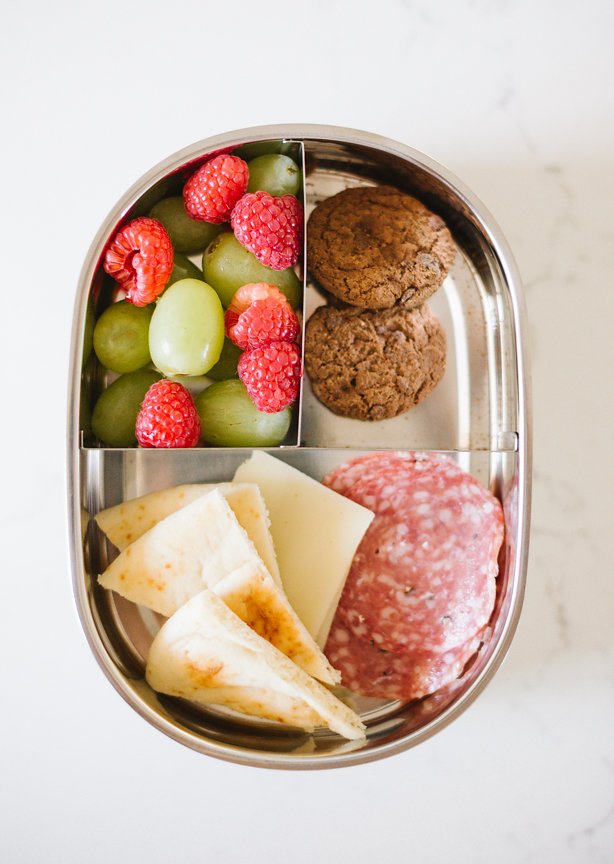 So… Remember how I said Court eats 4-5 things? Well Peanut Butter and Jelly sandwiches are one of them! Realistically for me, they will be in his lunch. To compliment his favorite sandwich I added persian cucumber and apples slices. For his treat, chocolate covered sunflower seeds! Which he liked… So let's up that list to 5-6 things :)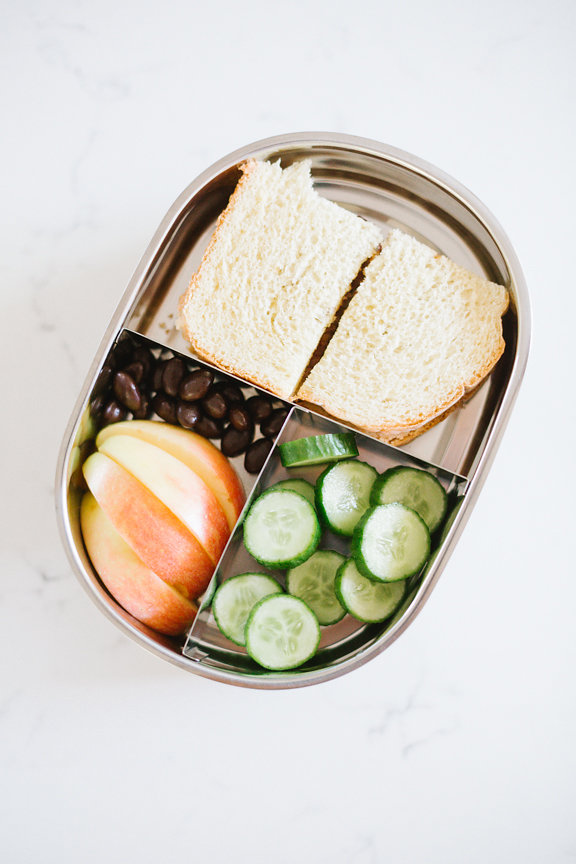 Turkey rolls are a great way to add protein to your kid's lunch. I have put them in Court's lunch and his teacher tells me he actually eats them when I do, who knew?! My friend Melody from Life on Loma got me into the Simple Mills Cheese Crackers, which are all natural. They are a great option instead of the over processed stuff. Then some carrots and berries complete this nutritious lunch!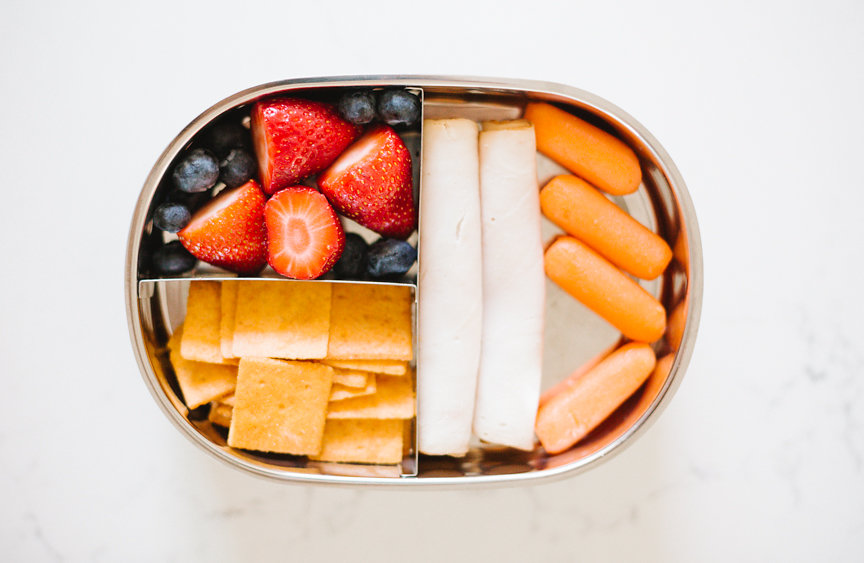 Last up I did a little rice bowl! This one was the easiest, because I used leftovers! We had chicken and rice the night before so I mixed that with some black beans and avocado for a yummy main dish. Added some orange slices, pita chips and for that special treat?! Sprout's version of M&M's, because YOLO!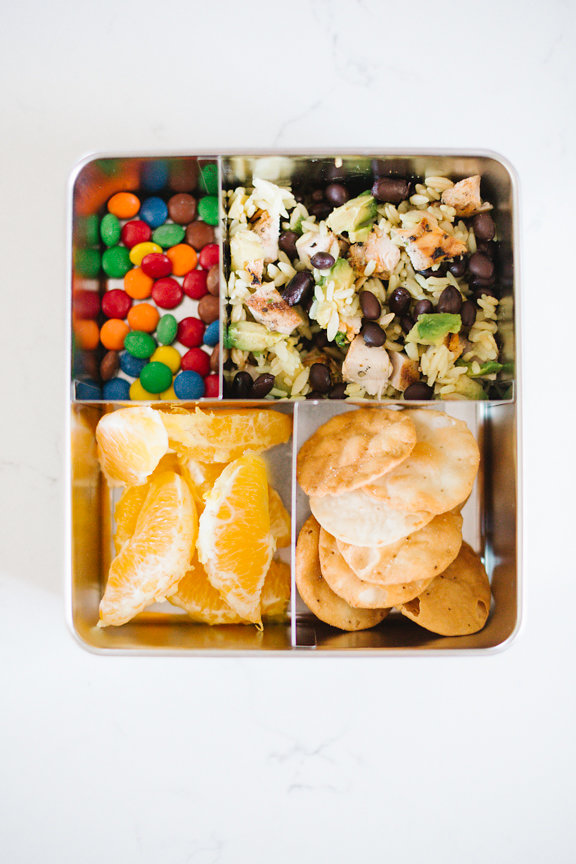 How cute are these two with their new lunch boxes?! So ready for the big school year!! The lovely Olivia had a great review for her new rainbow lunch box… "This is the best lunch box ever. It even has a zipper pocket for my fork and my napkin. Penny (her little sister) can have my old unicorn one now. " Spoken like a true big sister!!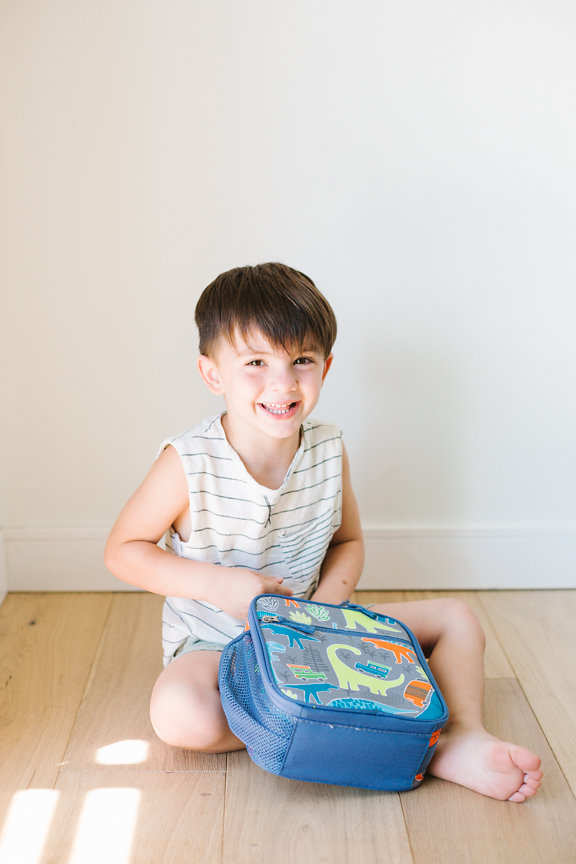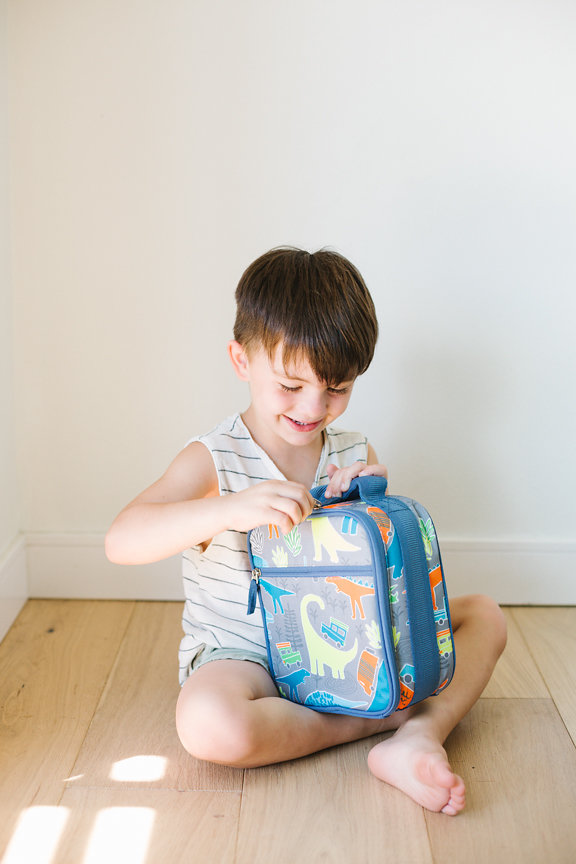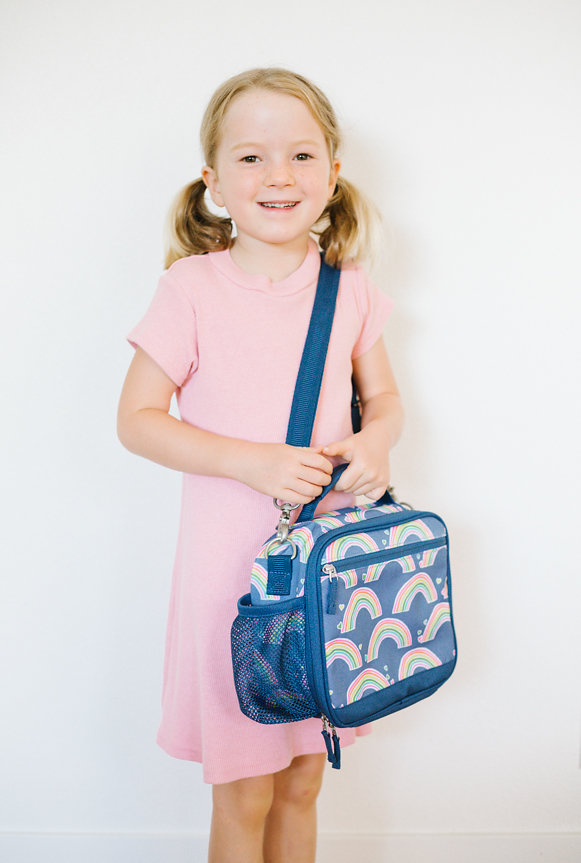 You can shop all of my Pottery Barn Kid's lunch essentials below!

Good luck to all the littles going back to school! I hope everyone has the best year yet!
xx
Jacquelyn