---
Ok, so its Friday and its Fall. And it's also raining here today, so it officially feels like Fall now. But! To make it a million times better, how about some delish baked salted caramel apple cider donuts?!
Totally!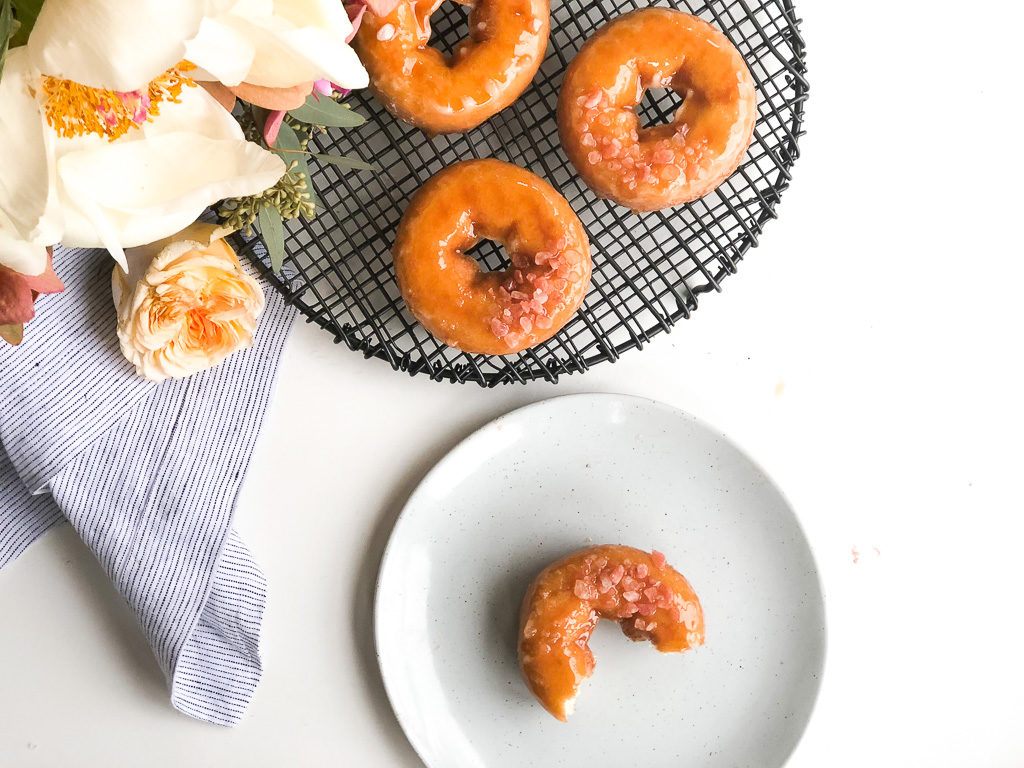 You are probably thinking, that sounds amazing but sounds like a lot of work? Nope! Totes easy! You are basically making cupcakes but in a doughnut pan instead. These bad boys won't stay on the plate long; they lasted maybe a couple of hours in my house. These babies are baked, not fried, so they are healthy for you right?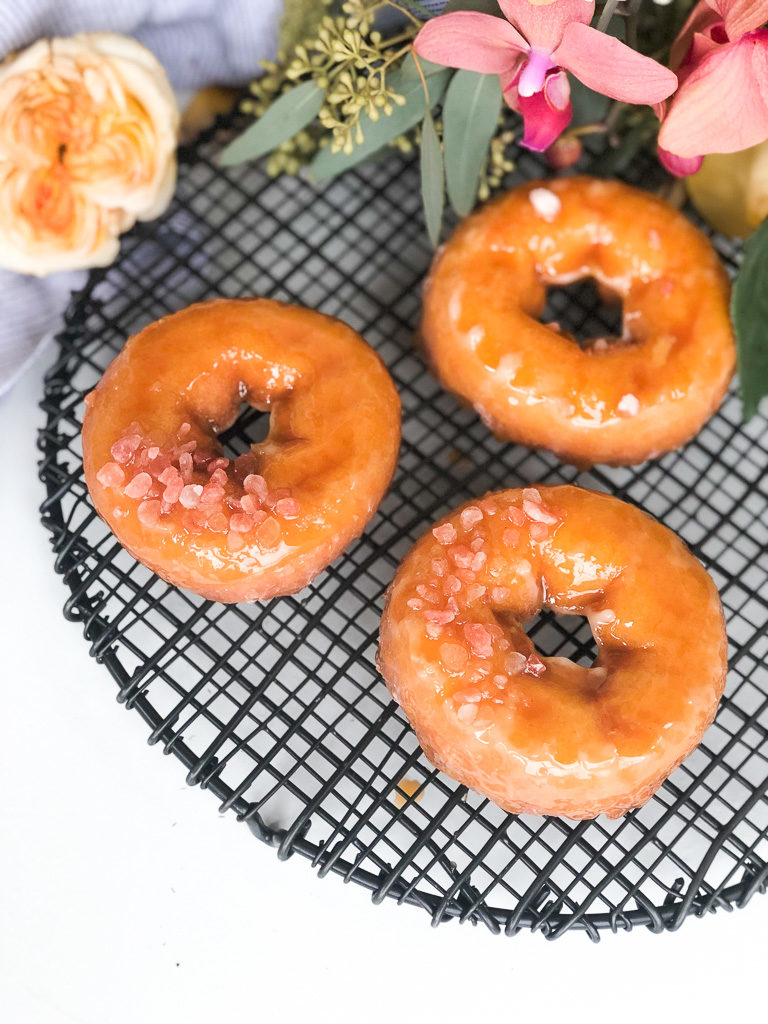 Yup, I'm going with that!
These essential fall donuts are incredibly moist, fluffy, and taste like fall itself. Plus that salted caramel. YUMMY.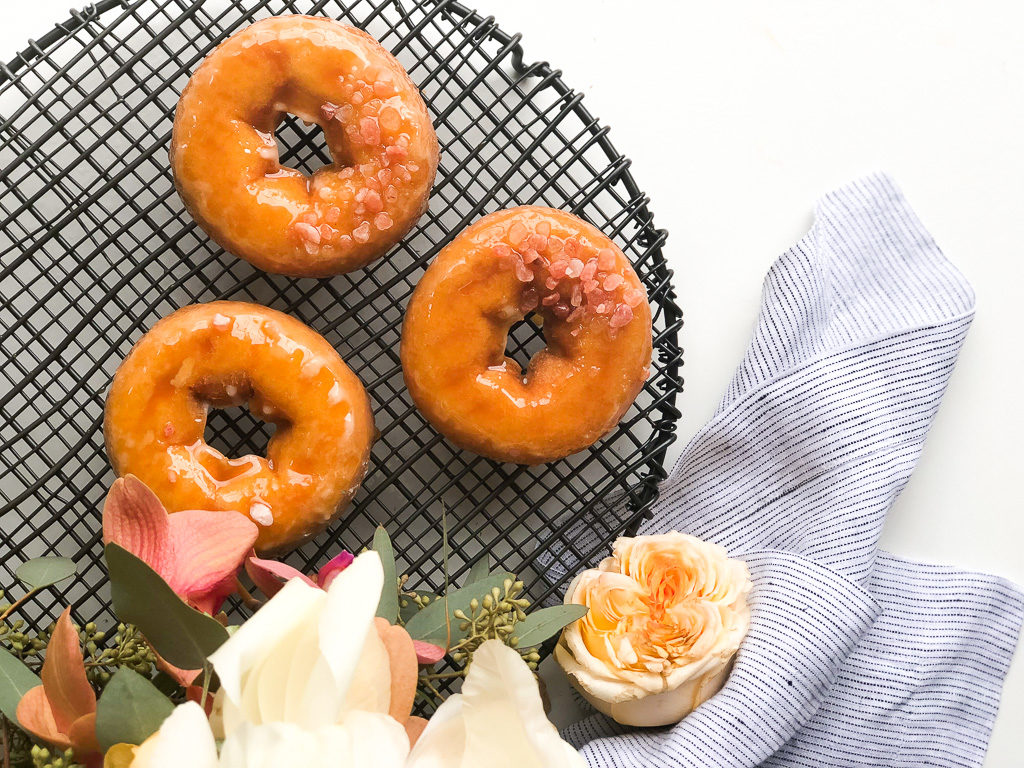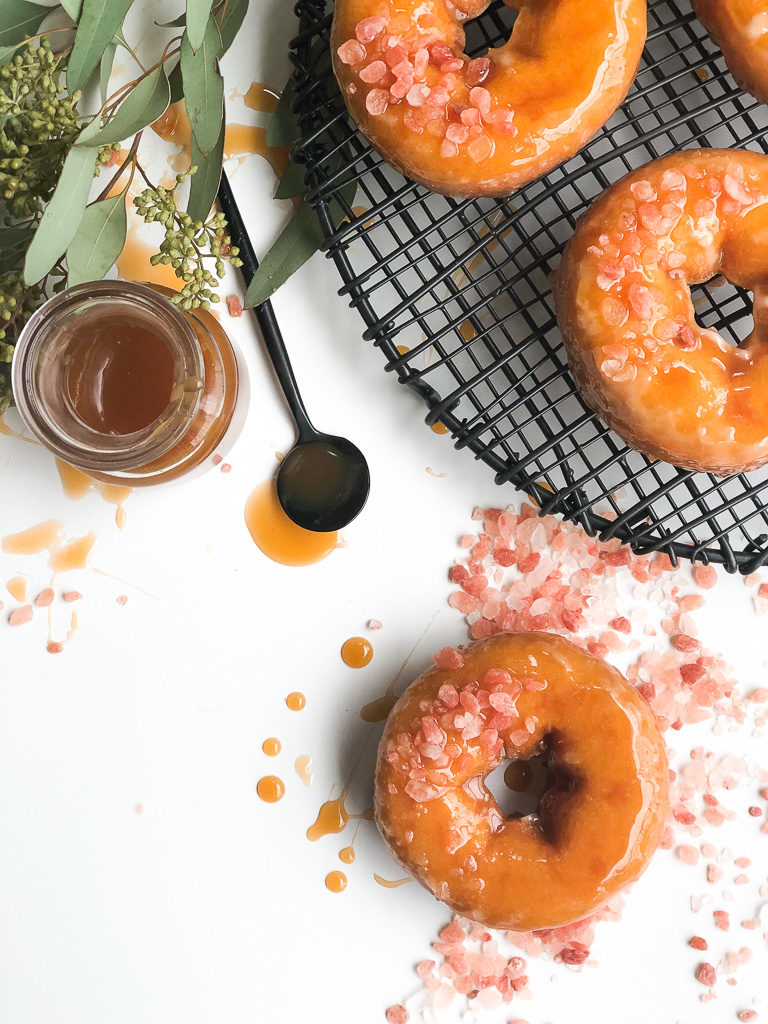 I N G R E D I E N T S
2 cups all-purpose flour
two teaspoons baking powder
one teaspoon salt
½ teaspoon ground cinnamon
2 eggs
¾ cup brown sugar
¼ cup canola oil
1/4 cup apple butter
3/4 cup apple cider
two teaspoons vanilla extract

C I D E R C A R A M E L
2 cups apple cider
1/4 cup salted butter at room temperature
1 cup brown sugar
3/4 cup cream
D I R E C T I O N S
Preheat the oven to 350 degrees F. Spray a 6-cup doughnut pan with nonstick cooking spray or lightly grease with butter.
In a large mixing bowl, combine the flour, baking powder, salt, and cinnamon. In another medium mixing bowl, whisk together the eggs, brown sugar, canola oil, apple butter, apple cider and vanilla until smooth. Pour the wet ingredients into the dry and mix until the batter is smooth.
Next, spoon the batter into the doughnut molds, filling to just below the top of each mold, 1/8 to 1/4-inch from the top. Bake for 20 to 25 minutes until lightly golden brown around the edges. Let cool in the pan for 5 minutes. Slide a thin spatula around the edges of the doughnuts to help loosen them out. Then place on a cooling rack and allow to cool for 5 to 10 minutes before glazing. Repeat with the remaining batter.
Let's make some caramel, shall we!?
Pour the apple cider into a medium sauce pot and bring to a boil, boil for about 15 to 20 minutes or until the cider has reduced to about 1/3 cup and is thick and syrupy. Reduce the heat and add the brown sugar, butter, and heavy cream. Bring back to a boil, reduce the heat and simmer for about 5 to 10 minutes or until the caramel has thickened and is dark in color. Remove from the heat. Set aside to cool slightly. Dip or drizzle the doughnuts in the caramel. If the caramel thickens too much, just place over low heat and add a splash of cream to thin the caramel.
Finally, dip or drizzle the doughnuts in the caramel. If it seems like the caramel has thickened too much, just place over low heat and add a splash of cream to thin the caramel.
Doesn't a warm salted caramel apple cider donut and a fuzzy bathrobe in front of a fireplace sound amazing this morning?
xx
Abby
SaveSave