This year we centered our inspiration for our cozy Christmas playdate to involve the littles having a grand ol' time in front of a fire place, munching on some yummy desserts and playing with the cutest puppies ever!  Who doesn't love parties involving puppies?? Adults and kids a like it's hard to resist those little suckers. So we got the kiddos together so they could play and most importantly write letters to good old St. Nick.   Also, don't forget to check out this playdate on 100 Layercakelet here today as well!!  Anyway, the puppies come a little later, but for now lets focus the detail on the space and table…
All amazing photos taken by Heather Kincaid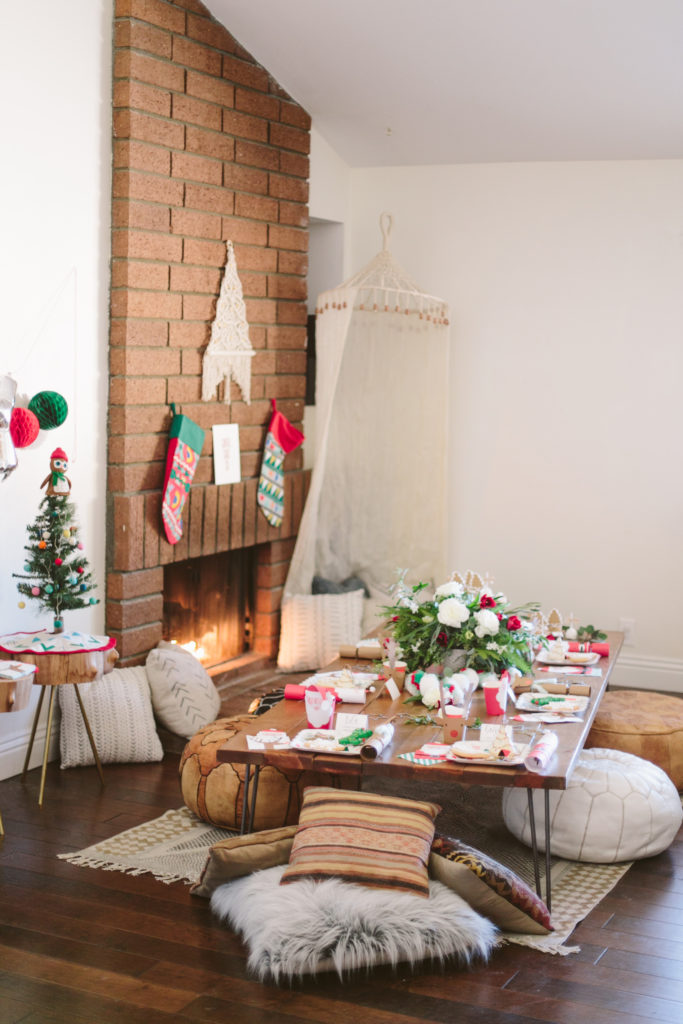 Here's our cute space, which thanks to our pals over at Circa Rentals, it looks pretty amazing.  We did the low modern table for the kids with some floor pillows.  Along with the cute canopy lounge set up in the corner!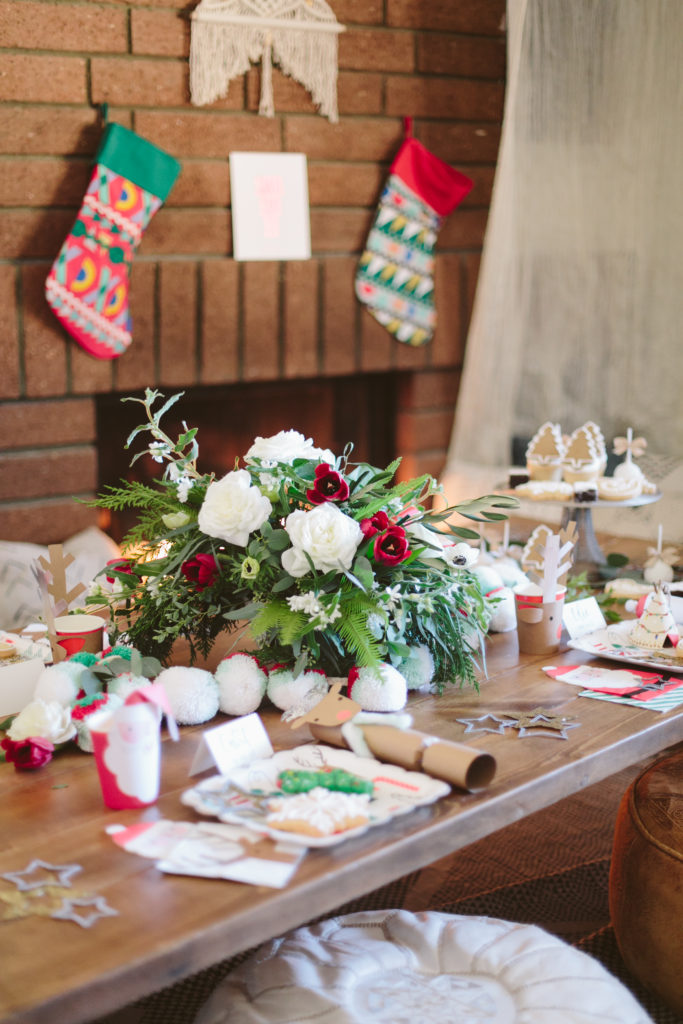 The pretty centerpiece flowers done by MV Florals and table details by The Land of Nod and Poppy Jack Shop.  The Land of Nod Christmas table top collection in partnership with Meri Meri was too cute to pass up!  I mean these cups, plates and napkins are so bright and playful.  We adorned every place setting with a cookie from Beverly's Best Bakery of course, which by the way were delicious, a little Christmas ornament, a popper with some fun toys inside and don't forget the sparkle…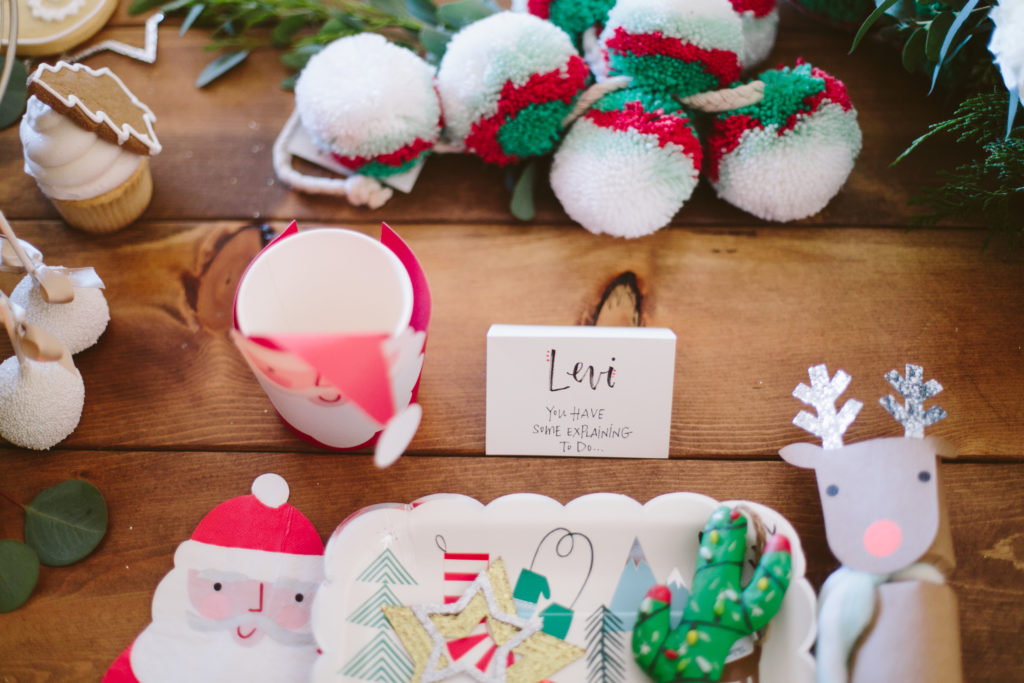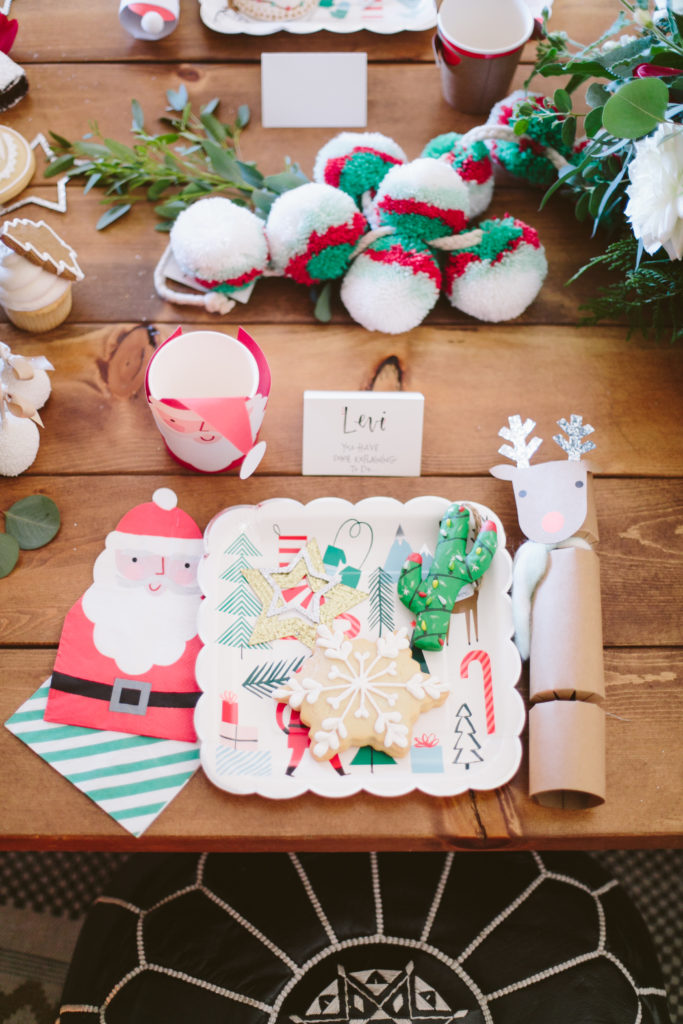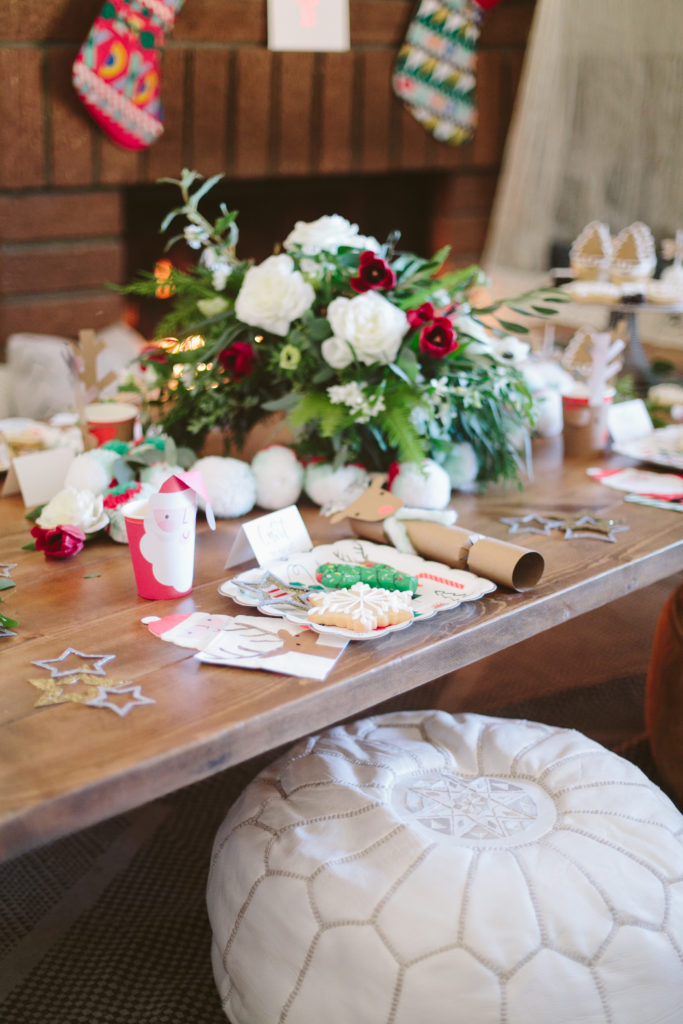 Here's a little peek at some of the desserts…these brownies….I wish I had one right now! And these pretty decorated sugar cookies!!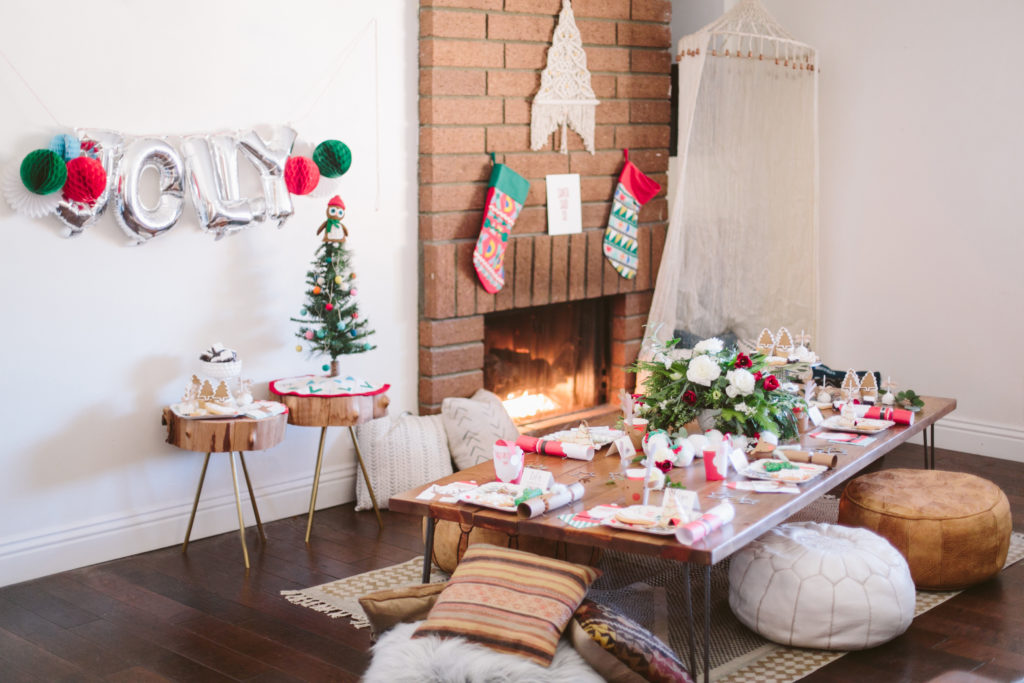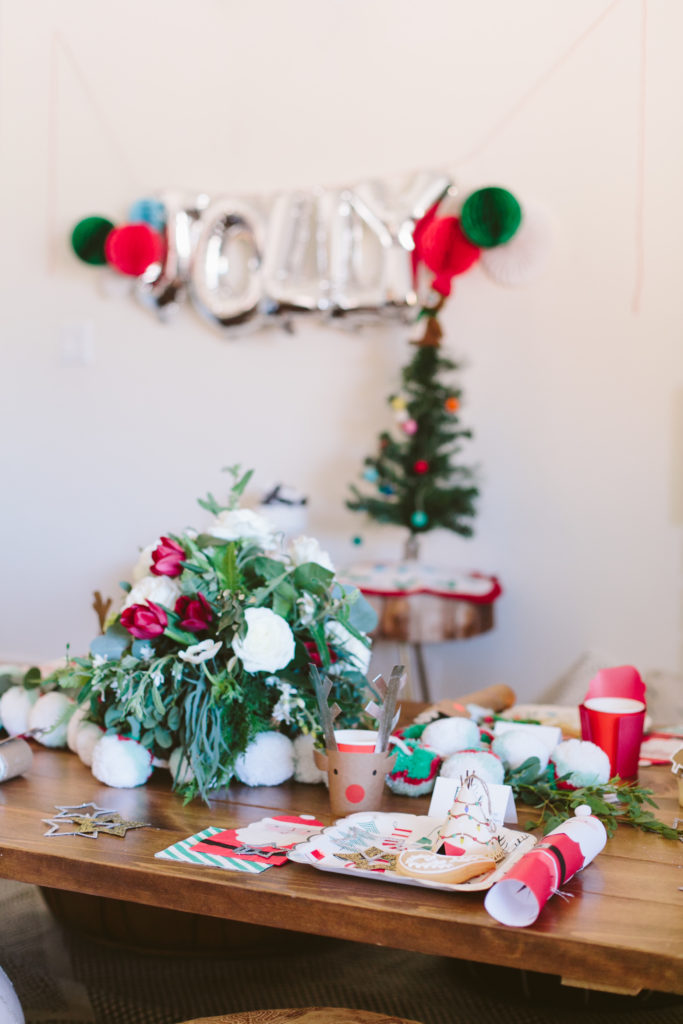 This cozy little lounge comes in very handy later with our furry friends…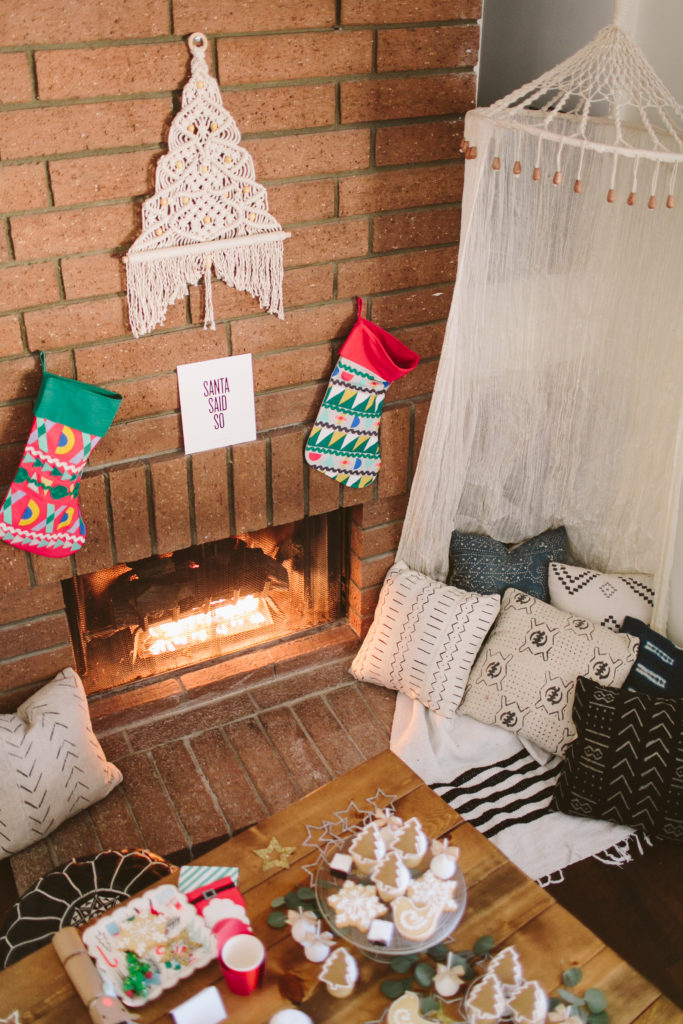 These shots of the space are so inviting, I just wanna do it all over again!! Especially with all of these yummy desserts!!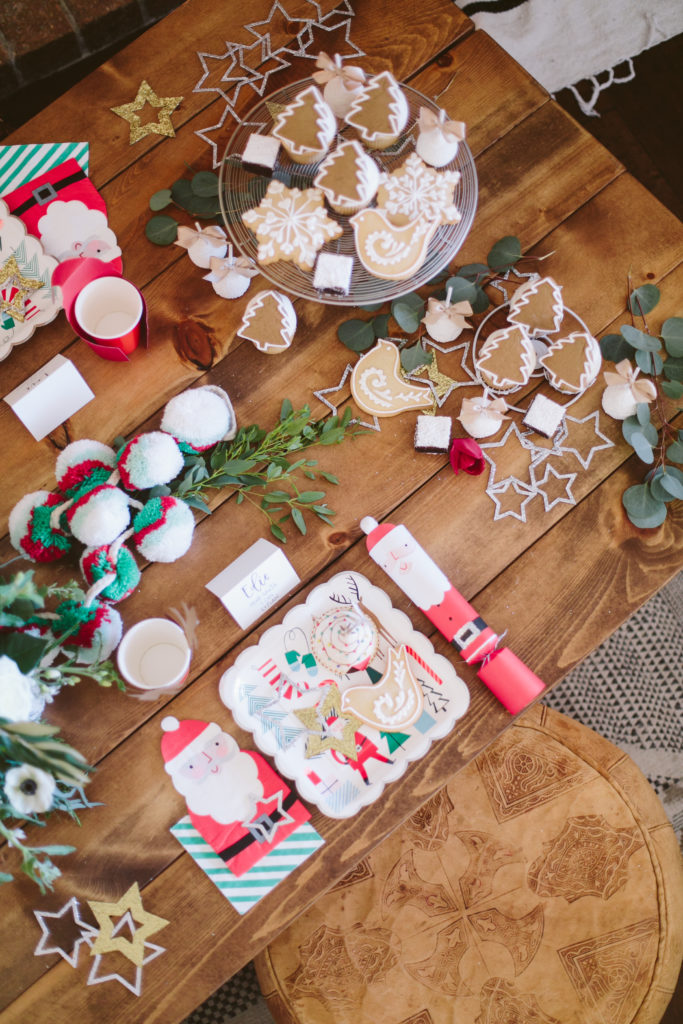 We can't forget about our JOLLY ballon display, which you can also find at The Land of Nod.  Aaaannndd  the mini tree, so cute right??  You can find that at The Land of Nod too here.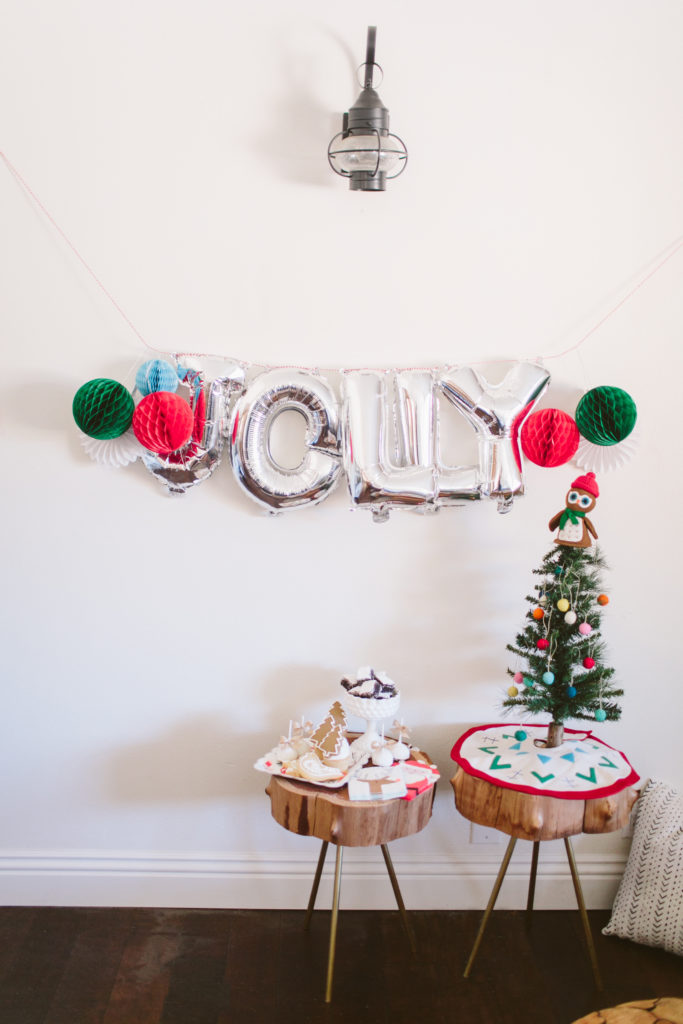 Here come the kiddos, which are all looking pretty cozy in one of our favorite brands for boys and girls Tiny Whales.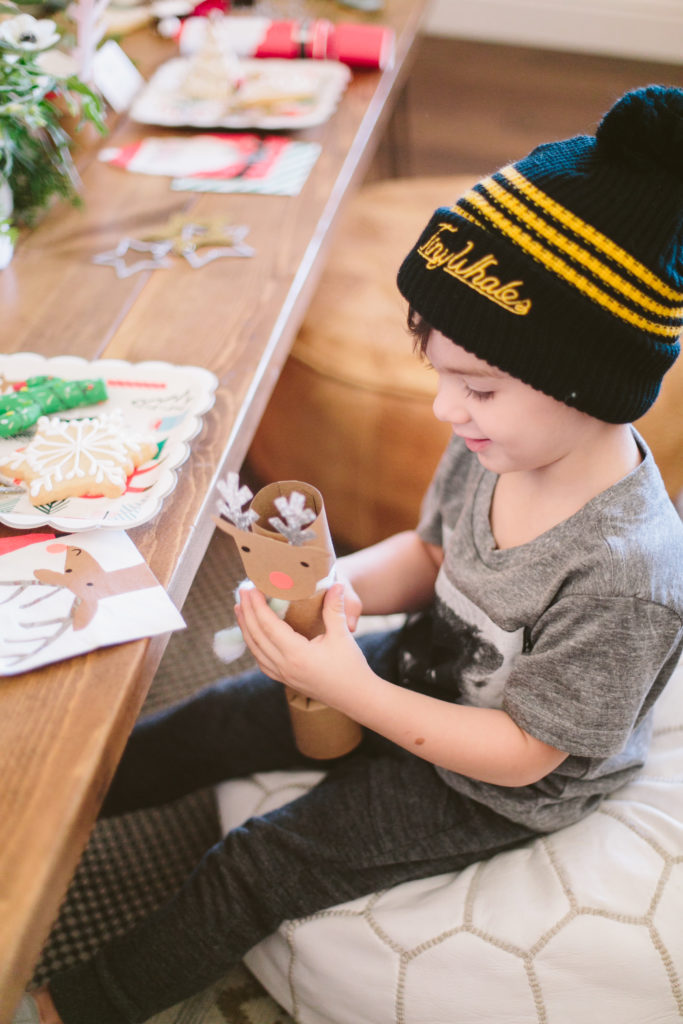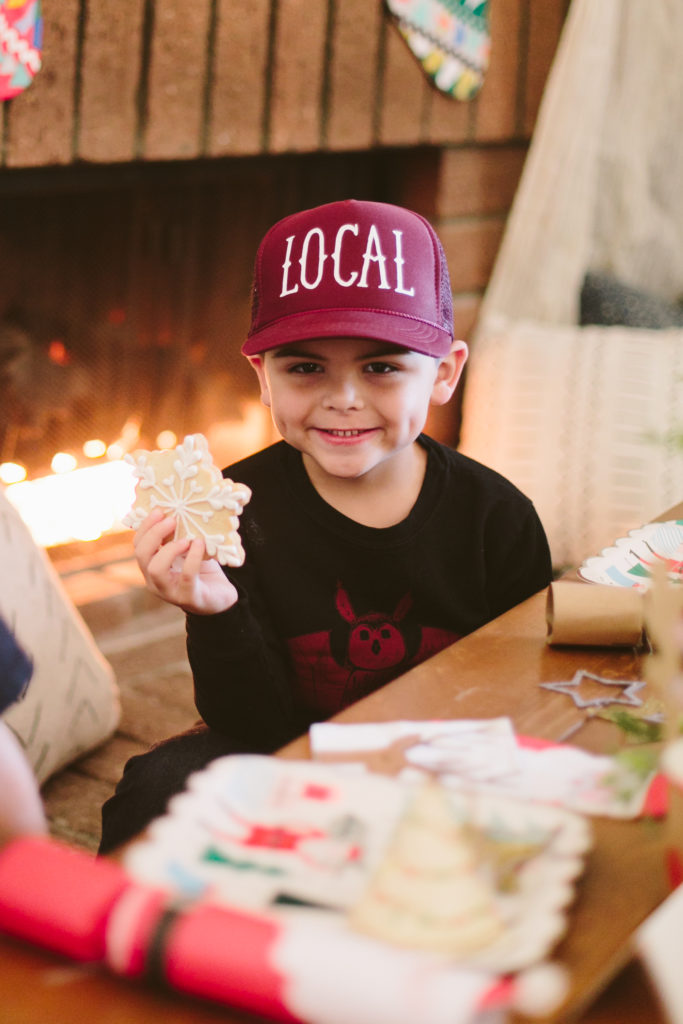 They just couldn't wait to dig into the sweets!!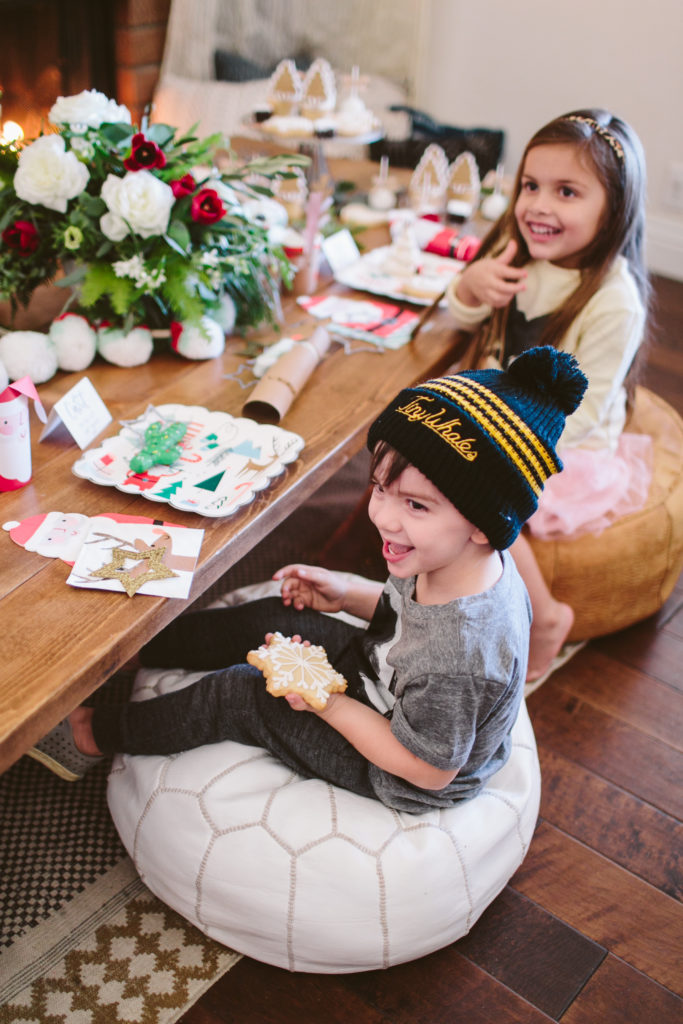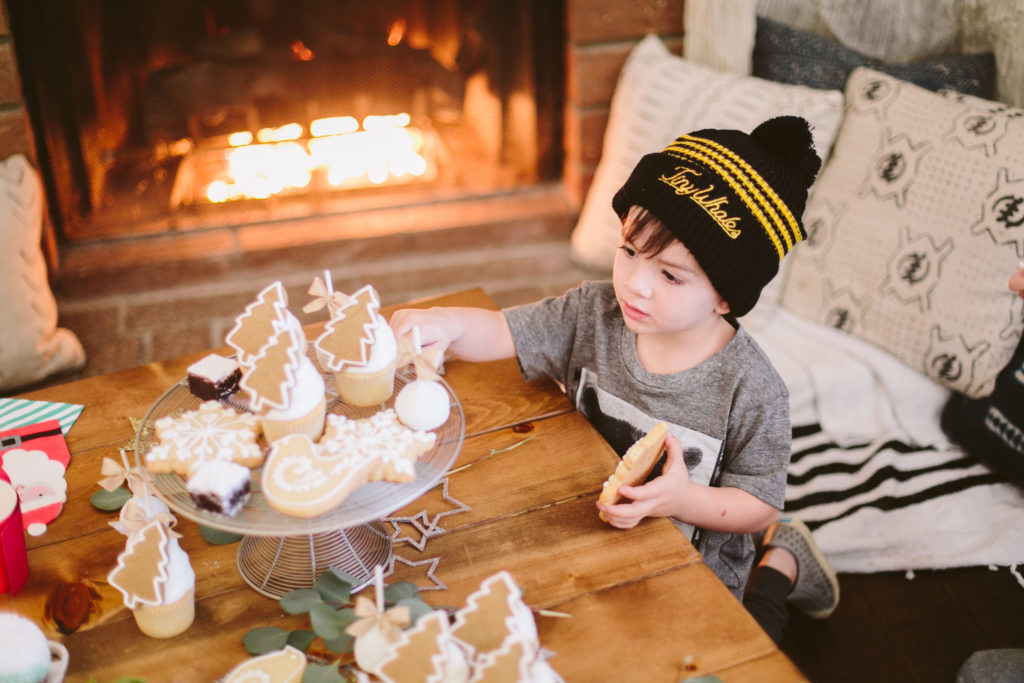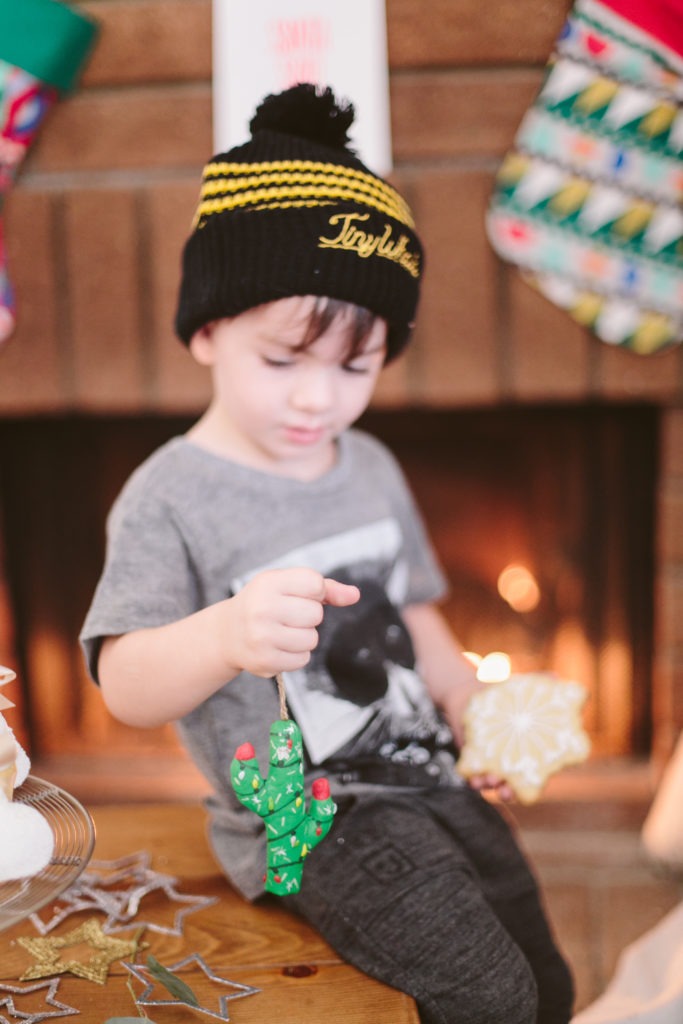 Boys being boys…
Now for the puppies!!!!! Our 4 year old yellow Lab Ivy just had puppies in October and they are just the cutest.  We couldn't resist bringing out a couple for the kiddos to snuggle.
Close up of these yummies…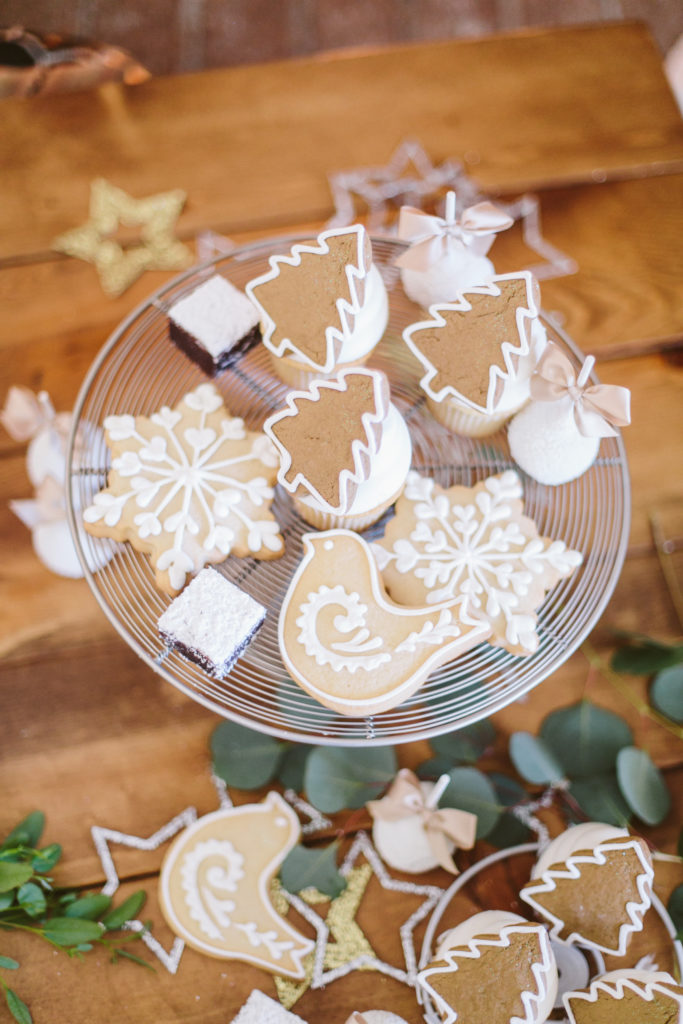 Now introducing the Edie show…
Our pretty little invited from our talented friend Courtney at Poppyjack Shop
Here's Court telling us because….Santa Said So!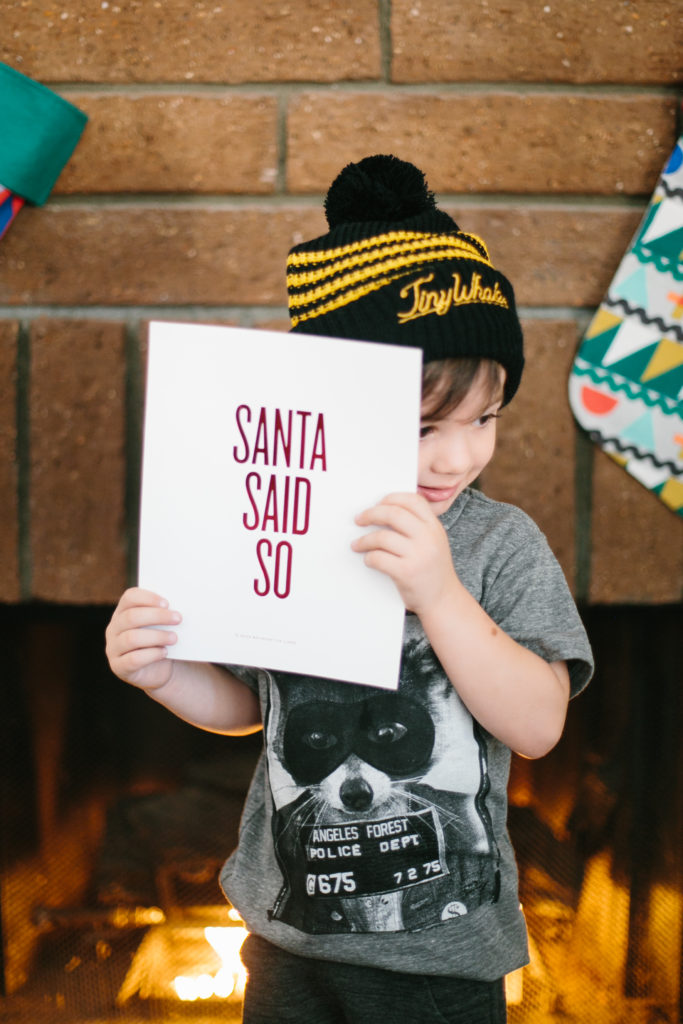 These poppers were the cutest!!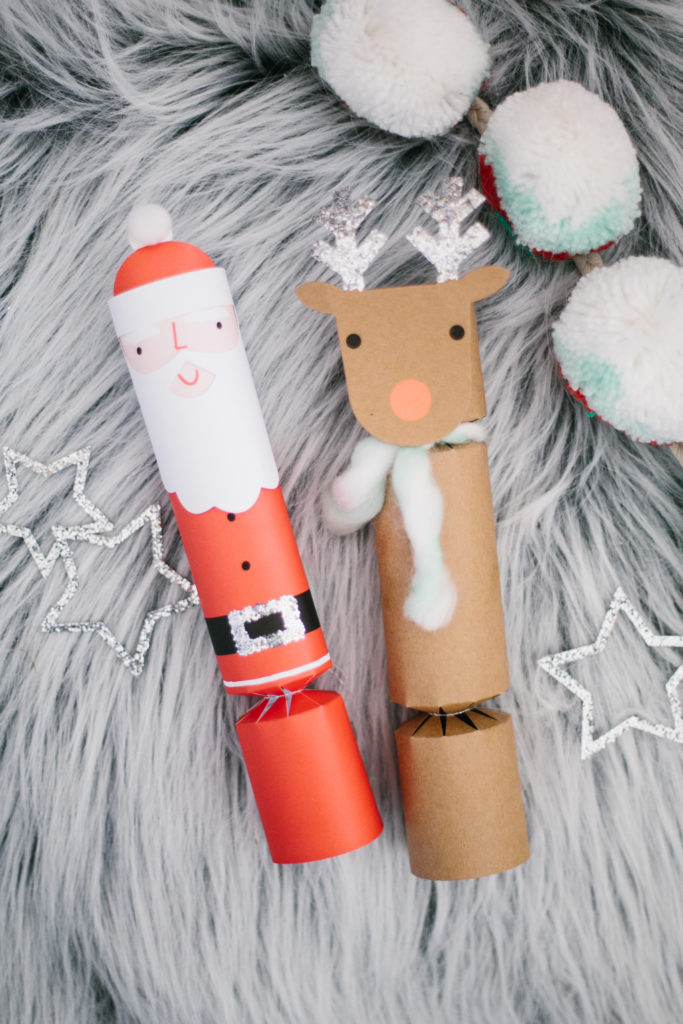 Don't forget our macrame tree made beautifully by Elizabeth McTague.  Fitting perfectly above this coziness.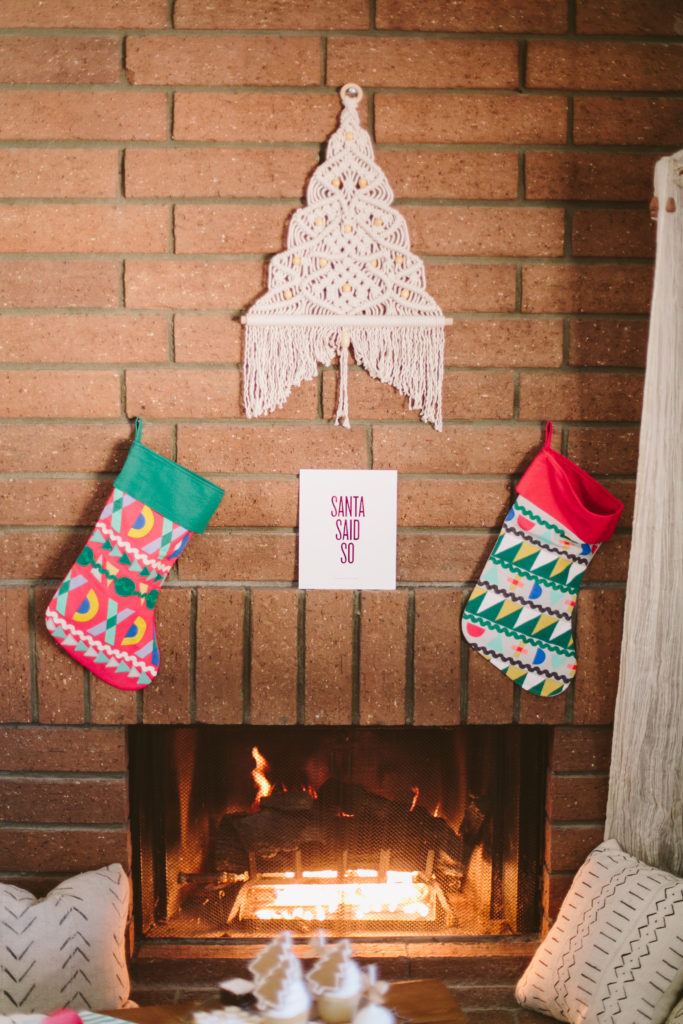 Annndddd more fun table details….
So hey there you have it…a fun, cozy Christmas playdate with Beijos.  Thank you so much to the list of all these amazing vendors below.  It definitely would not been as cute without you all!!
Xx Leah
Photography: Heather Kincaid / Styling: Beijos Events / Flowers: MV Florals / Desserts: Beverly's Best Bakery / Invitations & Paper Goods: Poppy Jack Shop / Tabletop & Holiday Décor: Land of Nod/ Rentals: Circa Vintage Rentals / Pillows: Boho Pillow / Macrame Tree: Elizabeth McTague / Kids' Outfits & Accessories: Tiny Whales