It's time for one of our favorite posts we love to create, our annual Easter baskets! We have so much fun curating these for our kids, trying to show them we are still those cool moms! This year, we are showing you fun ideas for both girl and boy baskets for little ages and tween ages! That is how old our kids are getting! I remember when they were all babies and toddlers. Our oldest out of the bunch is going to be 11 the day after Easter! Where is the time going? So without further ado, here are our 2021 Beijos Easter baskets. You can shop for all the goodies as well!

Photos by Dayna Studios and Jessica Lynn Photo
Let's start with the young bunnies…
Little Girls
For both of the little baskets, I went with the same items but with different color schemes. You could definitely intermix for what your little one loves best! In our house, we always like to gift swimming goodies in our Easter baskets! This year my family and I are going to Palm Springs for Spring break so it's the perfect time to stock up!!
I always like to get swimwear from my favorite Seaesta Surf. They always have the cutest prints and best fit! I also added in a fun pool float from Target, the girls got a llama!! To finish off the swimming fun I added a towel from Surfy Birdy, these were my favorite find!! Her beachy artwork was perfect for these Southern California kiddos.
Other essentials included Art 2 the Extreme bunny crayons, a Cuddle & Kind stuffy, Lula Flora mini bunny piñatas (to store all that Easter candy), an Easter book, The Neutral Knot macrame rainbow, and fresh Spring pastel Vans!
I found the cutest rope baskets from Target, the girl's one has rainbows on them and of course, our friend Proper Letter hooked us up with the cutest personalized bunny tags!!
Shop the little girl's basket below!

Little Boys
As I said, for the little ones I just interchanged the colors but basically did the same items! This one is meant for my little guy Cruz. He is 4.5 and these are all the items I know he will love! I did just order some Legos and swim goggles to go in there as well. These spoiled little kiddos!!
Just like the girls, I found this cute bunny version of the rope basket for Cruz. Proper Letter's bunny tag finishes it off well! Seaesta's shorts are a family favorite in our house, from the boys to my hubby! And let me tell you, the boys ALWAYS need new shoes, always – hence the Vans!!
We always spend a ton of time at the pool during the summer so having the cute sloth pool float will be so fun! Plus, we will get tons of use out of Surfy Birdy's rad towel. Cruz is still at the age where he loves his stuffies, so the Cuddle & Kind lamb will for sure be a win!
To finish it off I always love to include a new book, something art-related like Art 2 the Extreme crayons, The Neutral Knot macrame rainbow, and of course cute personalized items like Lula Flora's mini bunny piñatas, for the candy of course!!
Shop the basket for the little dudes right here!

Now for those tween bunnies…
Tween Girls
My little bunny isn't so little anymore. Dylan is turning 11 the day after Easter, and it's crazy how fast she is growing up! We definitely have hit a new level of hobbies, likes, interests, and definitely reliving the '90's thru her. I had so much fun picking these goodies out for her; I think she will really love everything! I tried to channel my 11-year-old self from back in the day. I was 11 in the '90s, so I feel like I really nailed it this year.

I like to find "baskets" that have a use after they open up their goodies. I know she is going to love this retro basket from Love of Character. It comes in different sizes and colors too! I adored both baskets with PoppyJack's custom bunny tags and added to her basket a hair scarf to add fun detail and pop of color. Talking about color, how cute are these pastel-themed glass straws from Arlie Glass?!?! I know she is going to go crazy over those. She is very anti-plastic, and will totally appreciate these beautiful creations.

As I said, the '90s are trendy in our house right now. So I guess you can say that is the theme I went with here. And what is more '90's than a tape cassette player! I mean, who didn't have the yellow walkman when they were little! And it would help if you had a little Brit to go with it.
Clothing is something I like to always add in each year. Sometimes it's bathing suits and sandals, or t-shirts and hats. This custom denim floral jacket from Wild + Rae was a must! Every girl needs a good jean jacket, and I paired it with this Romeo + Juliet tee. It's trendy to have shirts be oversized, so this is a perfect fit for young girls. Add in some biker shorts, vans, along with the denim jacket and headscarf, and you are set!
Let's not forget clean makeup and skincare; it's so important to start them off on the right foot at this age. Combat that dirt with this PMD Clean for teens. I let her play around with some neutral makeup, and I like to get clean products for her like Lip Gloss and Cheek Tint. I also added in this cute bunny lip balm too. Oh, and nails! Our nail color change is happening quite often these days. To make it easier and less messy for them, these Tweezy nail holders are a great Easter basket addition. They have glass files and stands too to add in there!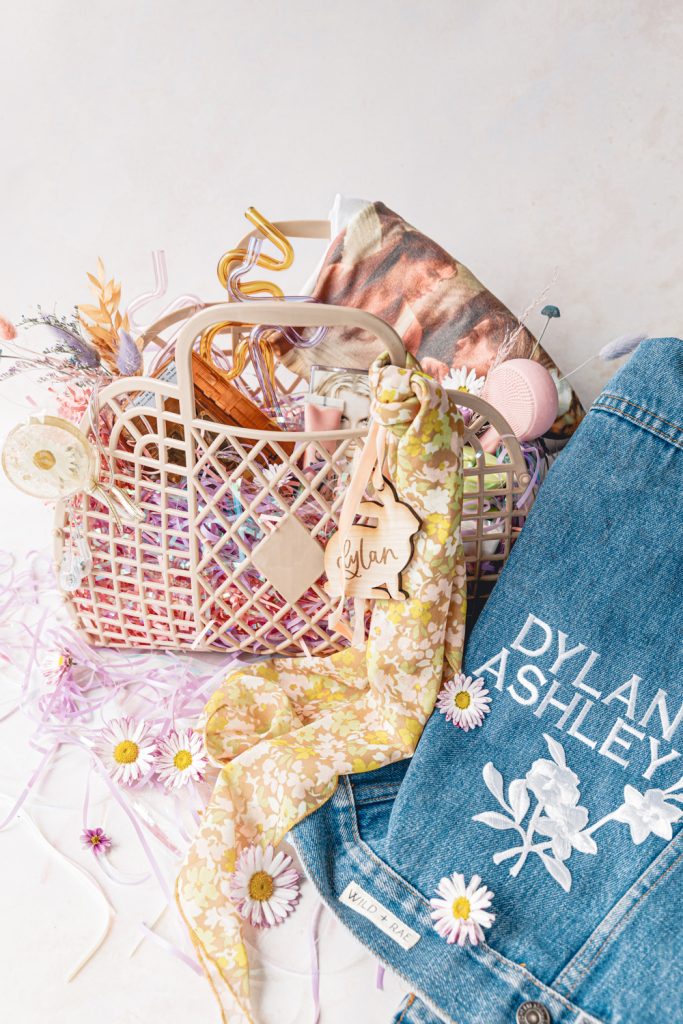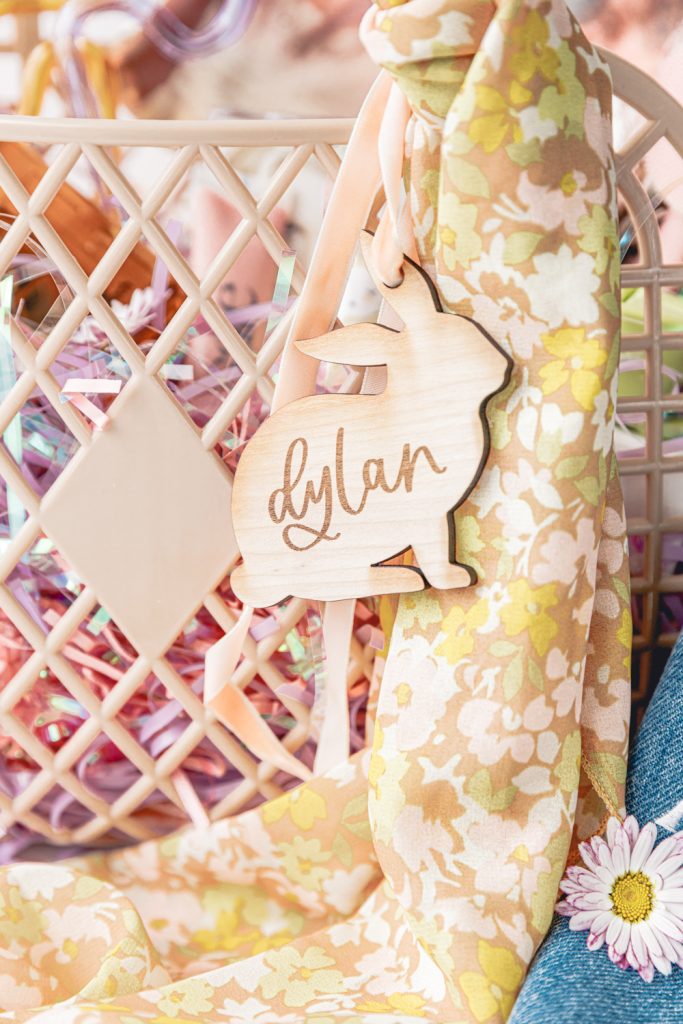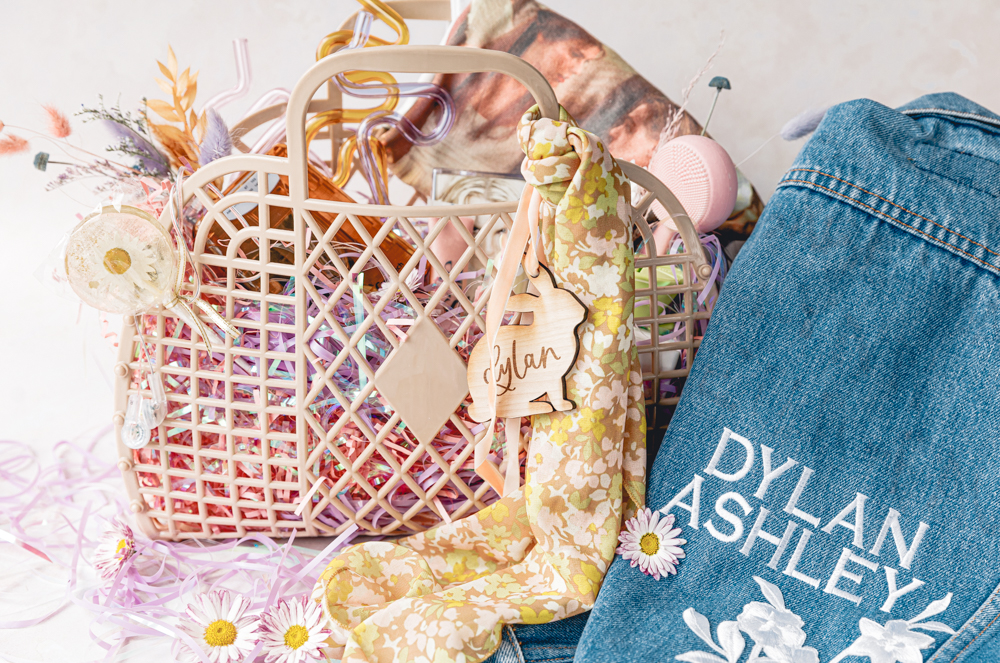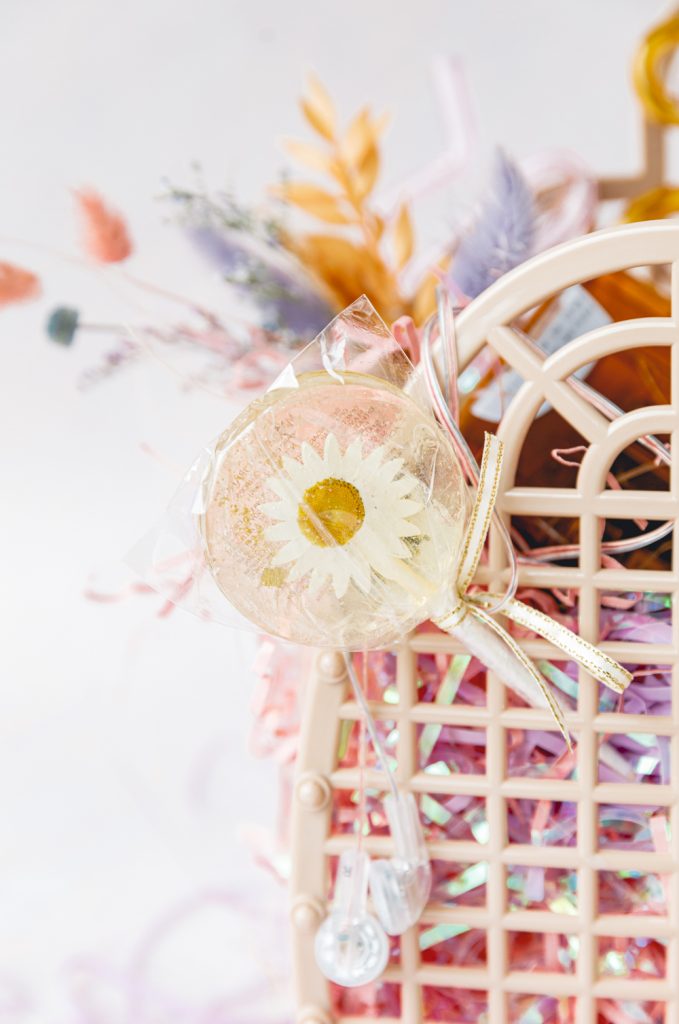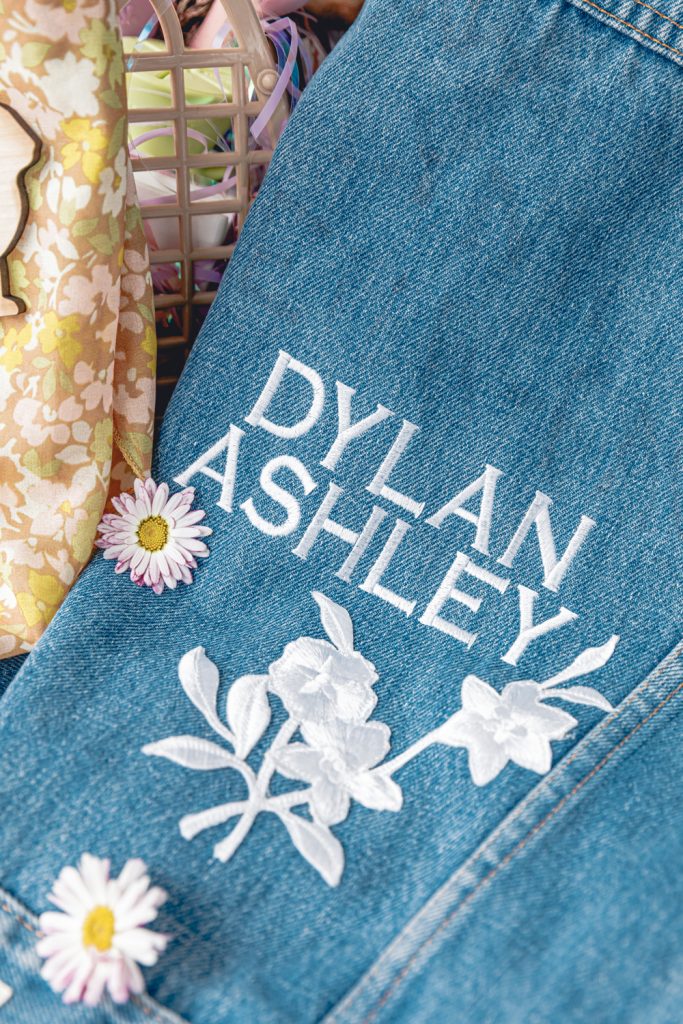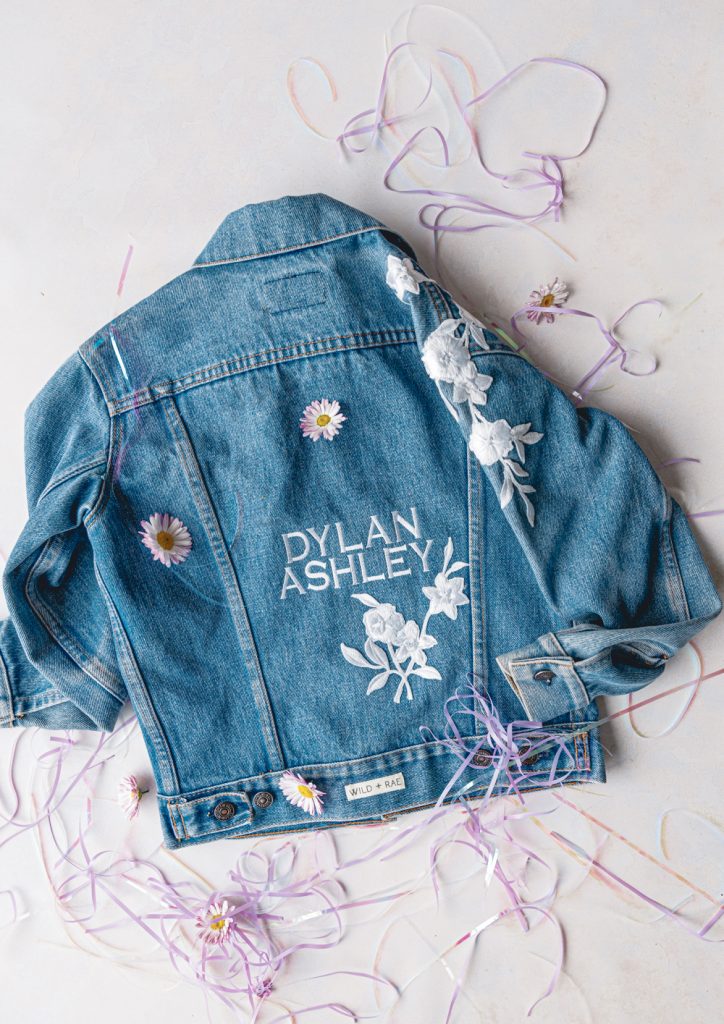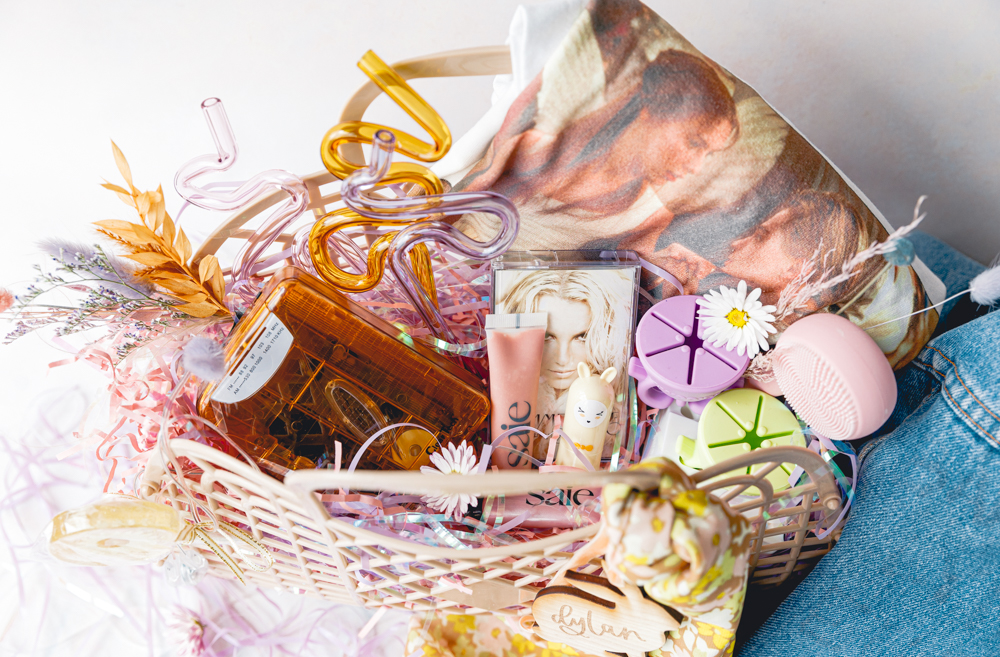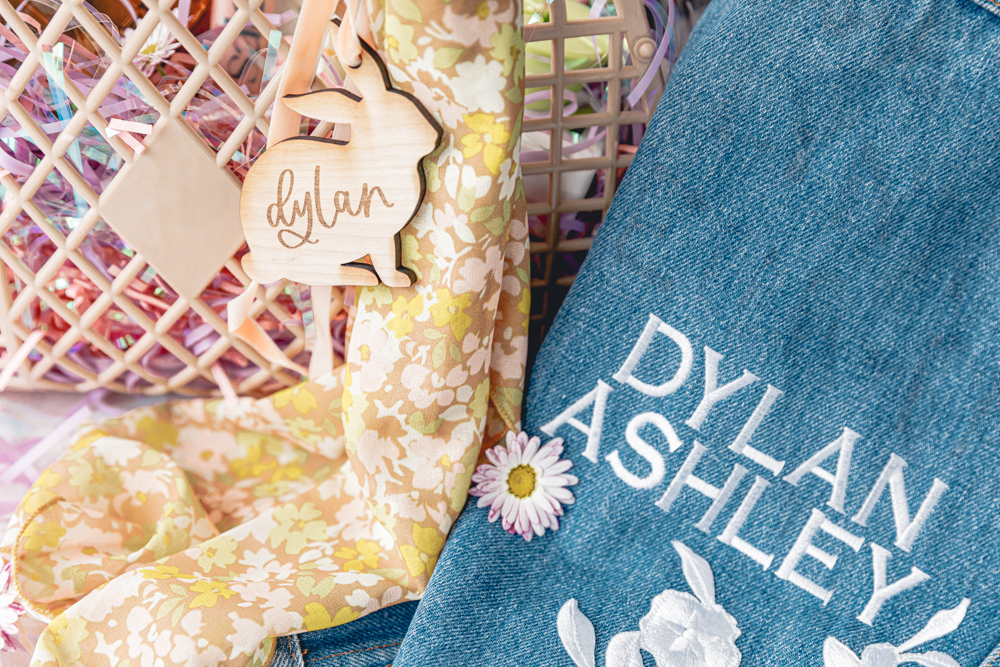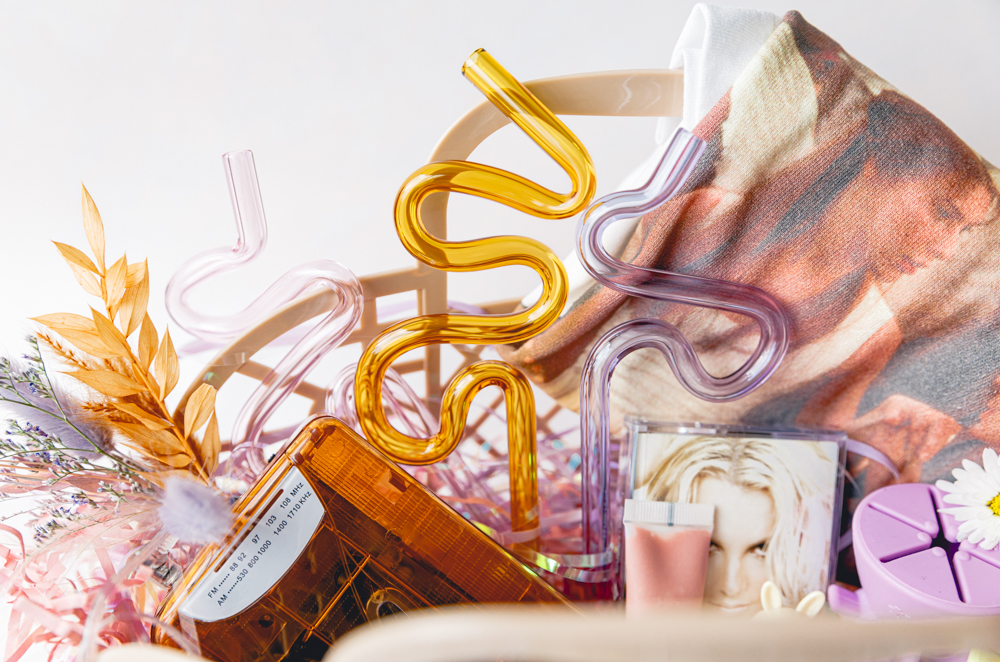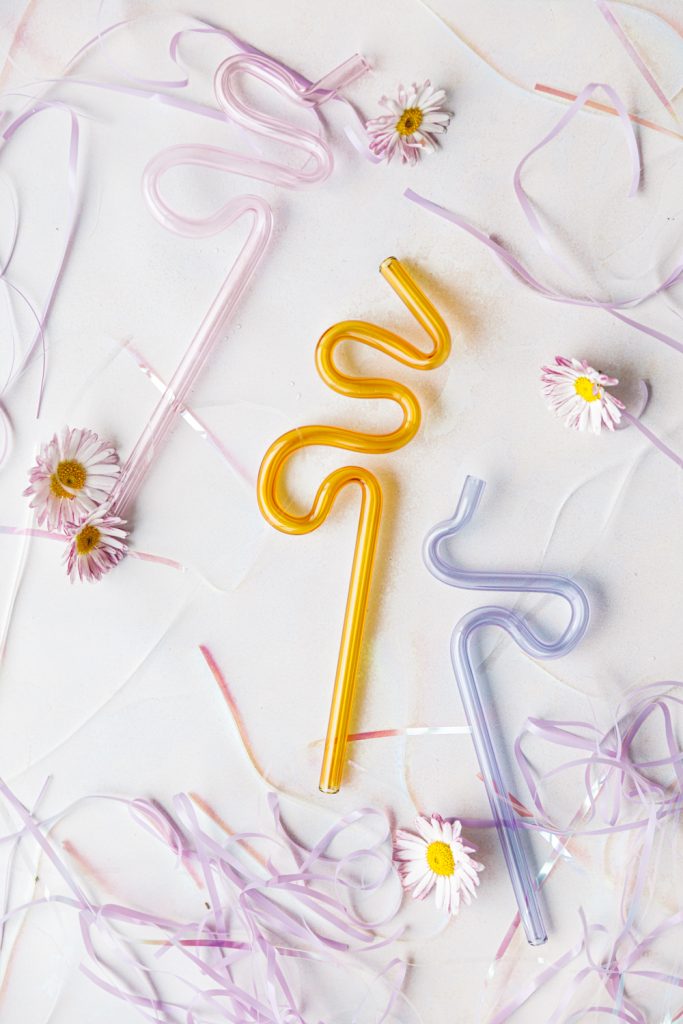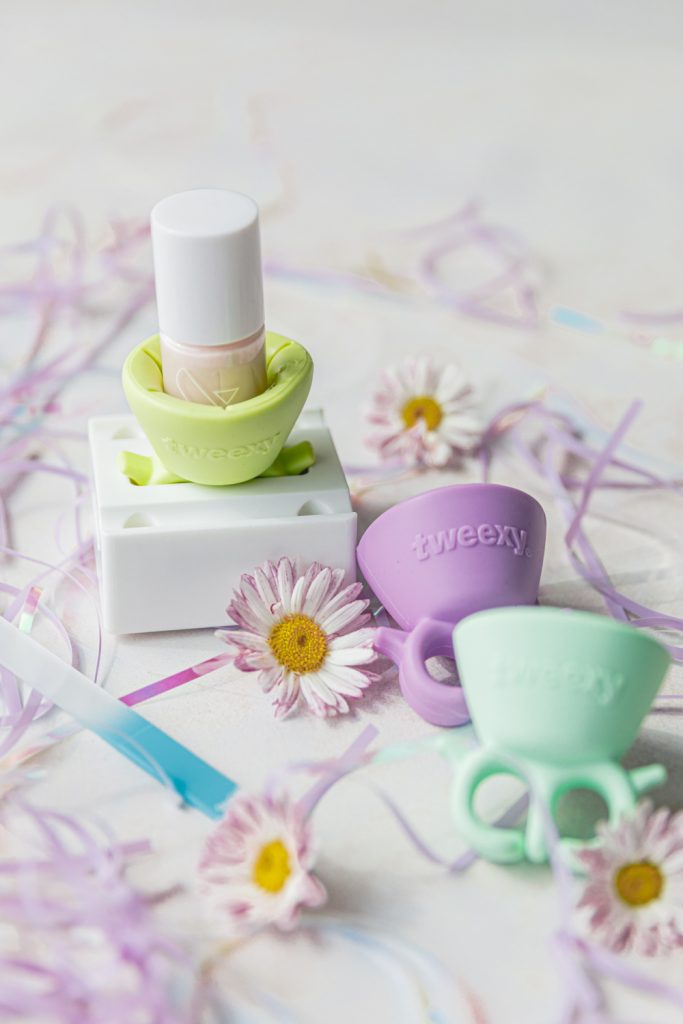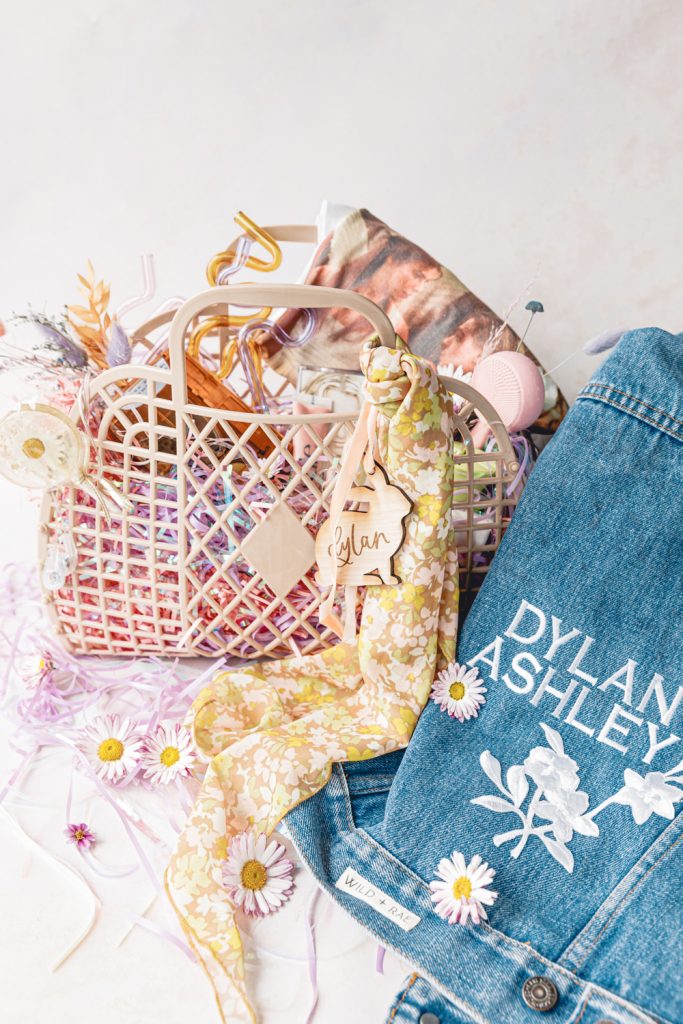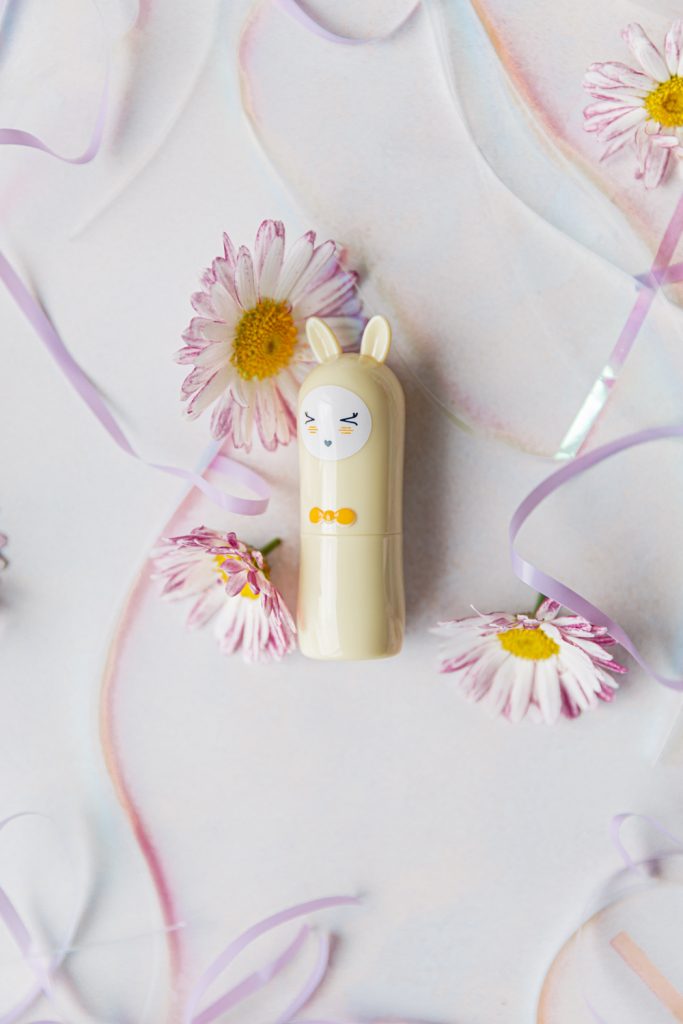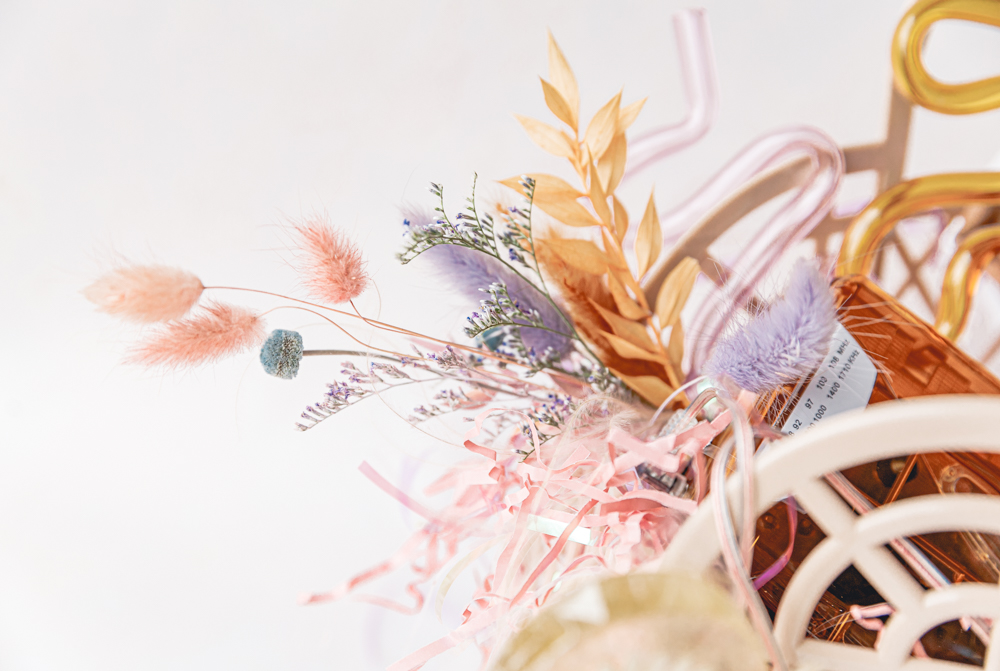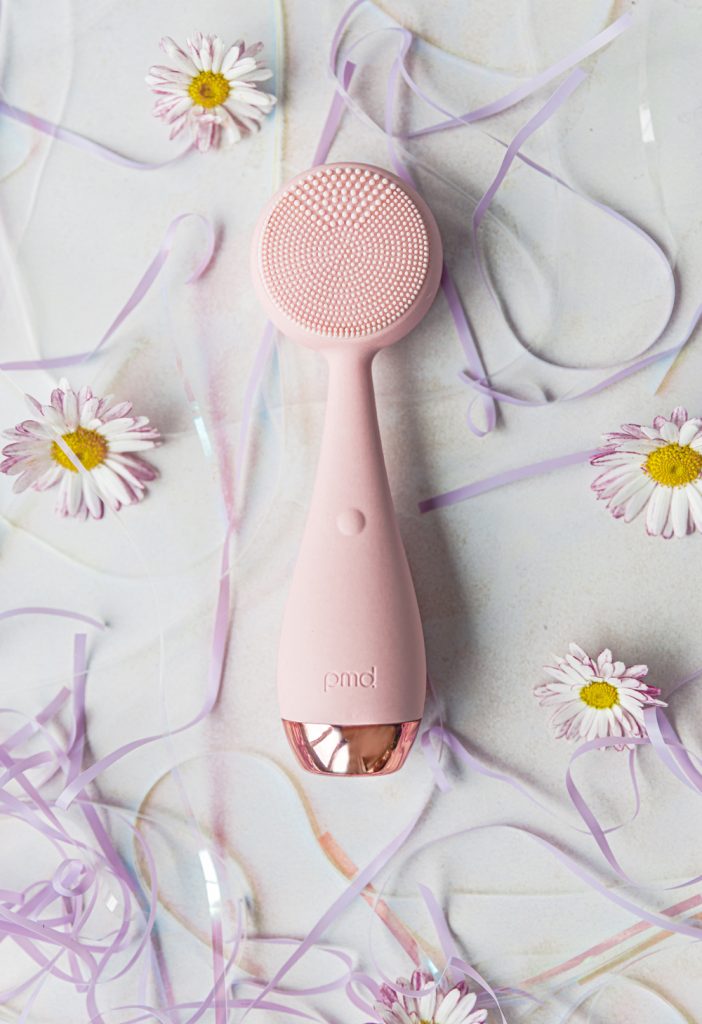 Tween Dudes
Lastly, the tween dudes in our lives! This basket all started with this floral basketball from Urban Outfitters. From there, I gathered goodies that went with a spring/bunny theme, plus some other random goodies. I really liked how this basketball could be for both boys and girls. I found this bugs bunny tee from Urban Outfitters; I thought it paired charming with the basketball. And I couldn't resist this Bart Simpson green hoody. Lastly, in the wardrobe department, this natural-colored Salty Crew hat.
For all the gamers, this fun Pac Man night light. It changes colors, super fun! My son loves playing music while playing video games, so I grabbed this blue portable speaker. Now, he can travel around and jam away.
Meet Heelie, the puppy. He is a fun squeaker balloon dog toy that copies your voice but in a squeaky voice. And lastly, some fun items like cotton candy, cute breakfast-themed chocolate, and a sticker to remind these guys that they are good humans. Lastly, I found his basket from Target, and I love that he can use it after in his room to put his video game accessories in.