Continuing our 90's fun with a favorite around these parts – 90210!! Now, did you even live in the 90's if you weren't in love with Dylan or Brandon?! I myself had a Dylan pillowcase, still so sad about Luke Perry's passing. I also wore a 90210 t-shirt when I won student of the month in elementary school, my mom has the photos to prove it! Last but not least, in High School Abby and I were part of a little club called BHB – Beverly Hills Buddies. In this club we got together weekly to watch the show. So as you can see, Beverly Hills 90210 holds a special place in our hearts!
We had to pay homage to this cult classic. As a matter of fact I've recently gotten into the reboot – BH 90210 – which if you haven't watched it you should give it a chance because it's pretty damn funny! Without further ado let's check out this fun and vibrant shoot celebrating all things 90210!!!
Photos by Cyd Weeks Photography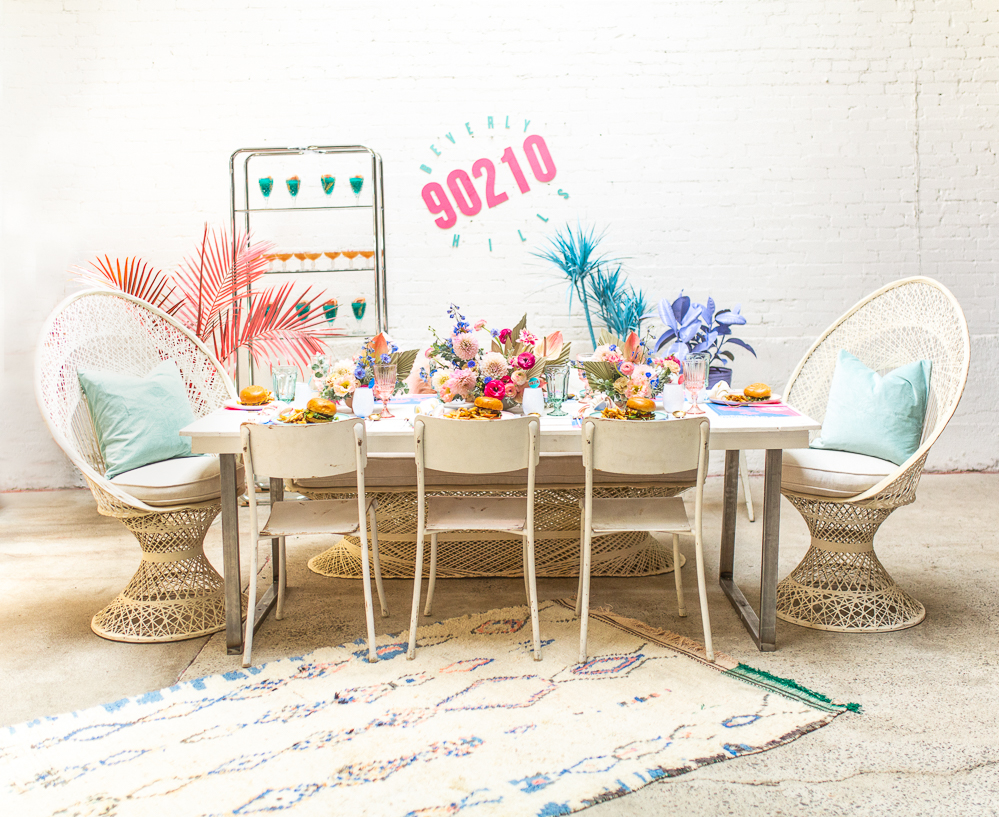 Kicking the fun off with an invite!! This one by River & Bridge featuring a note from one of the most famous 90210 moments – Donna Martin Graduates!!! All styled on the gorgeous Chasing Stone's styling surfaces with some of the cute details we used through-out the shoot!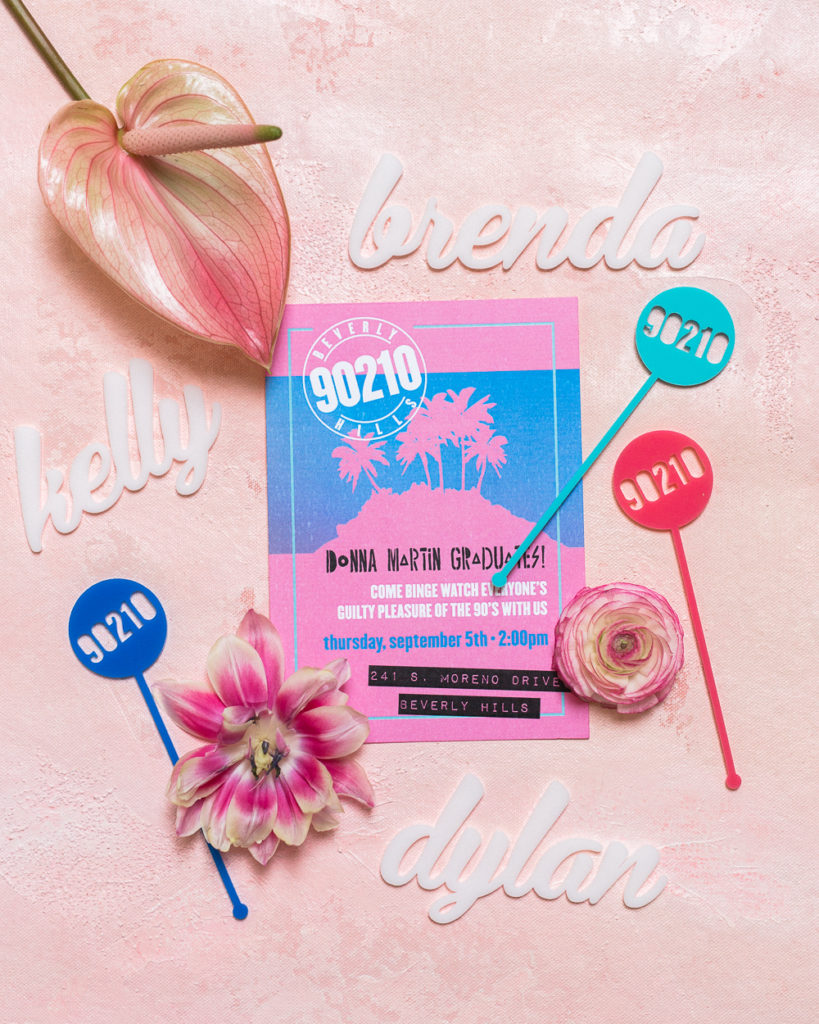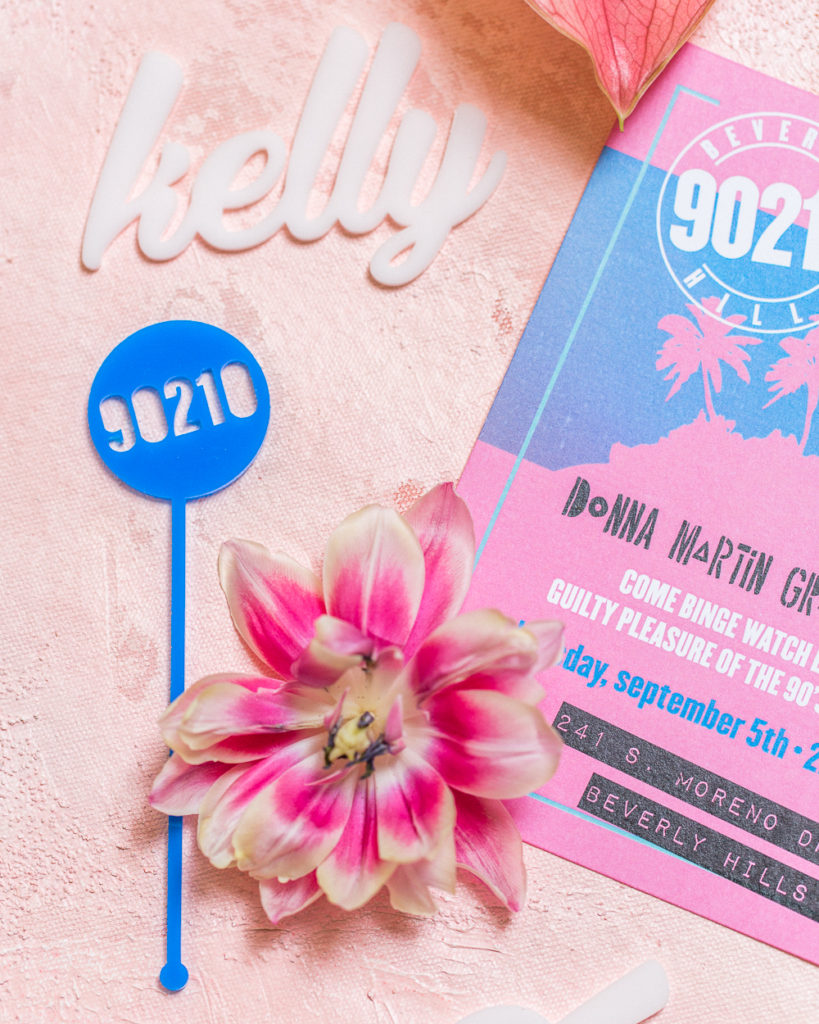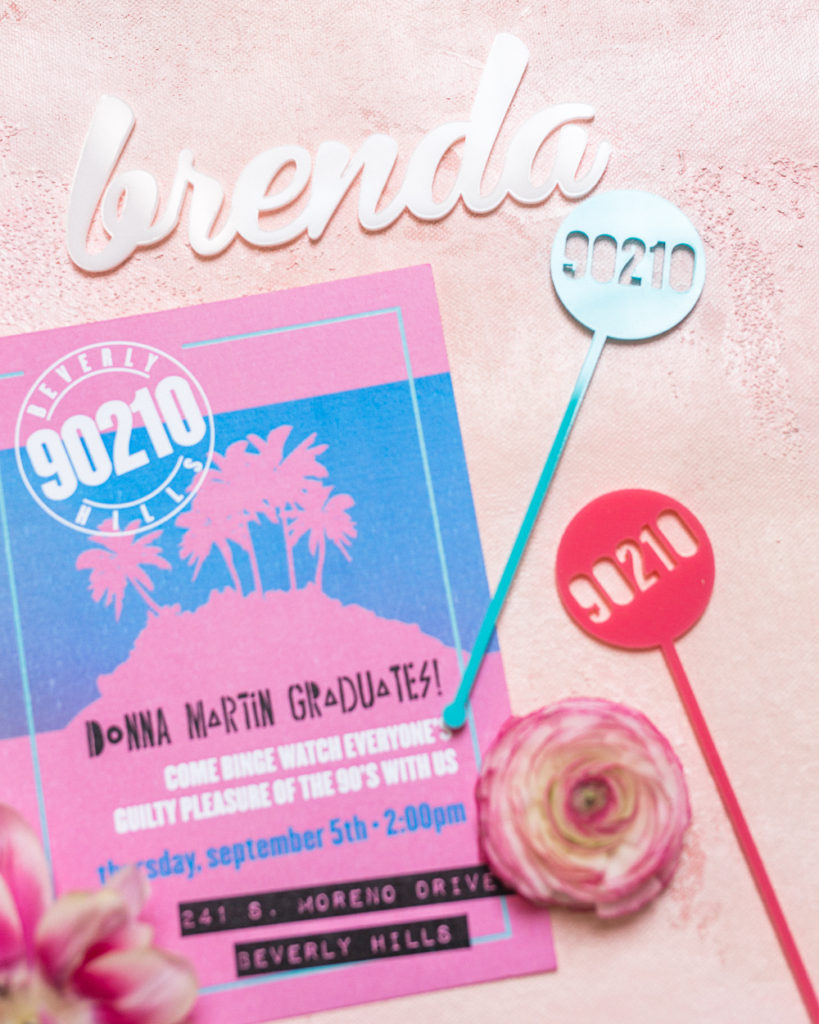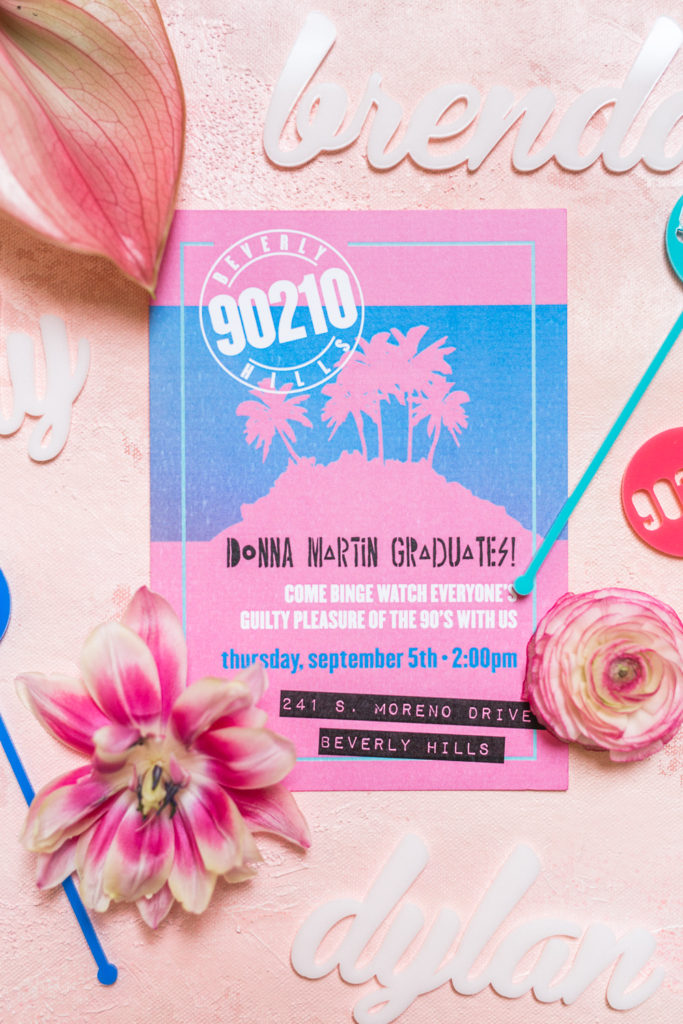 Onto the table!!! You know I had to feature that infamous logo somewhere, my thought was for it to be the main attraction! We affixed the laser cut letters by River & Bridge to the wall after spray painting them with COLORSHOT Spray Paint. They have the most amazing color selection that I used through-out the shoot, more on that later…
How fun are all the rentals from Sweet Salvage?! I love the mix of modern with that boho touch! Goes perfectly with our take on a tropical modern 90's vibe…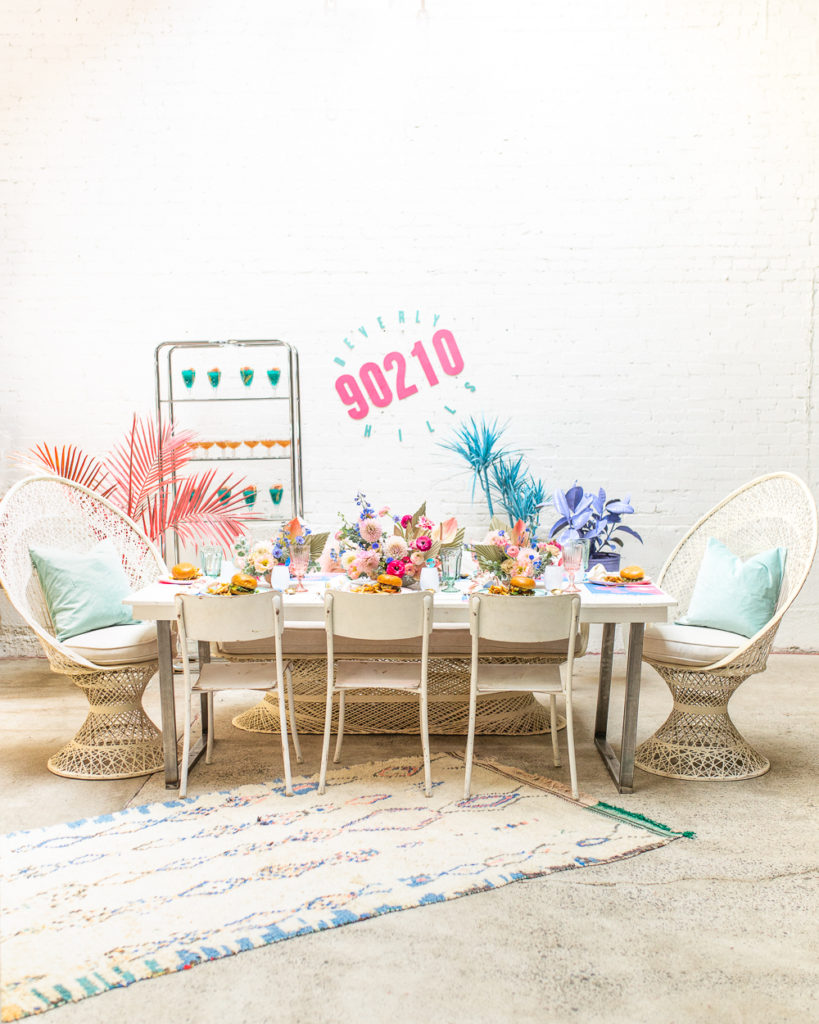 OMG, this overhead shot is pretty amazing, right?! Those colors!! They were SO much fun to play with you guys!! Here are some of the crazy amazing elements on that table. The flowers by Not Just in Novels are a good start! Can you even with them?! All of the pops of color mixed with some tropical fun make for one insanely good arrangement. Next up, the placemats by River & Bridge featuring that logo we love so much and palm trees in a fun color combo.
Lastly, all the tabletop goodness! I used Cherished Rentals who has some of the best glassware and flatware options but wanted something different for the plates. So I turned to Target! Haha, those plates are so cute and so cheap! A must have! Oh, and can't forget my favorite L'entramise white cups that added the perfect modern touch!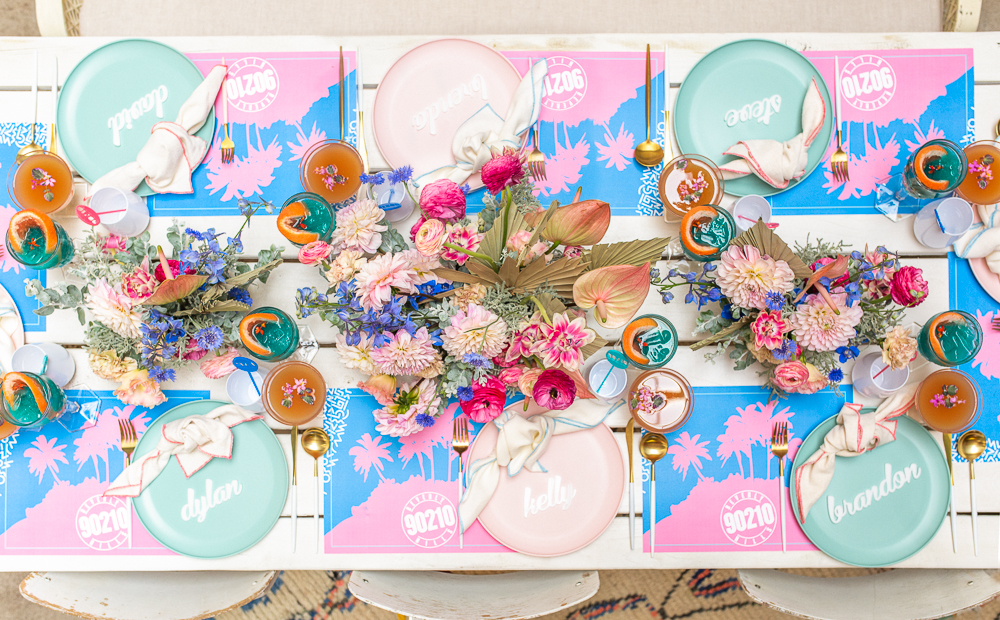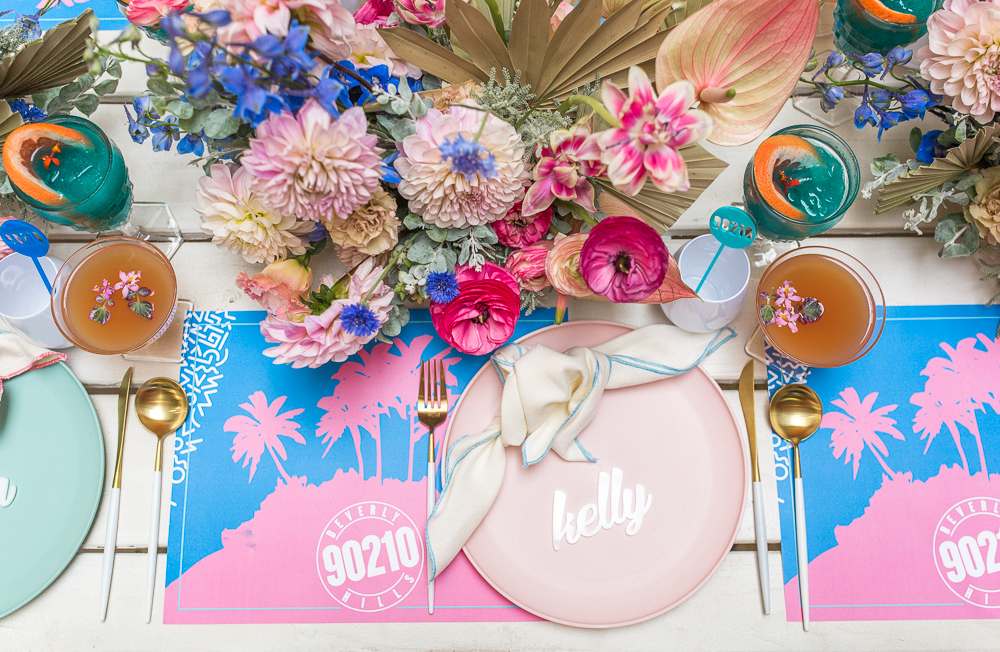 We got more details for ya!!! I mean, duh!!! All of the OG 90210 characters were in attendance for this party – Kelly, Brenda, Dylan, Brandon, Donna, David, Steve & Andrea. Love that crew!! Thanks to River & Bridge for creating a place card for each and every one of them! Oh, and those coordinating napkins from Hostess Haven are pretty sweet too!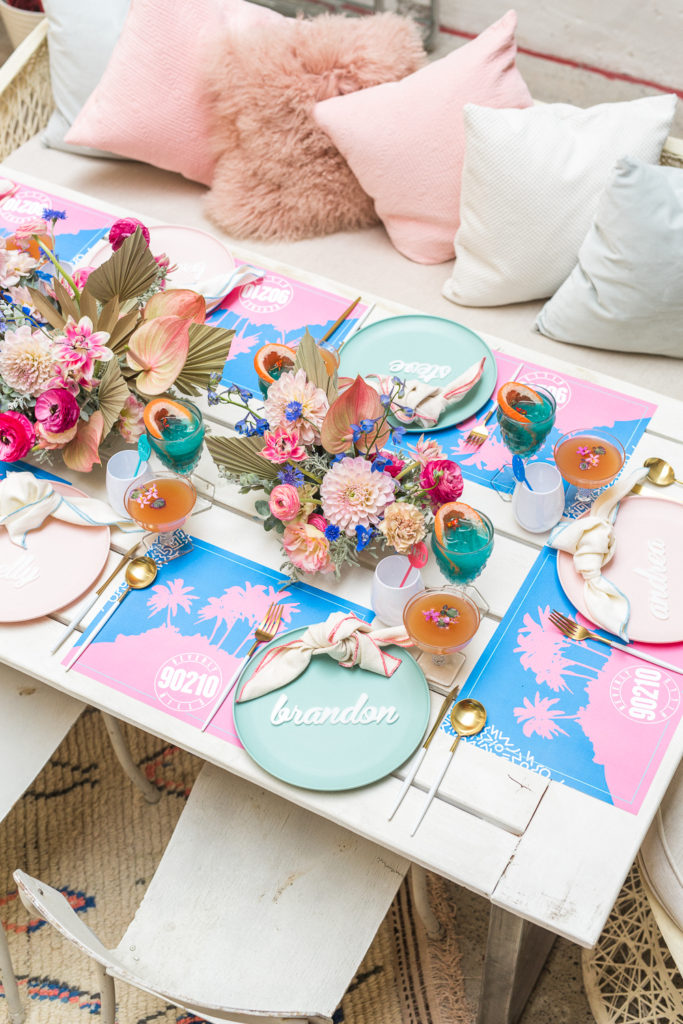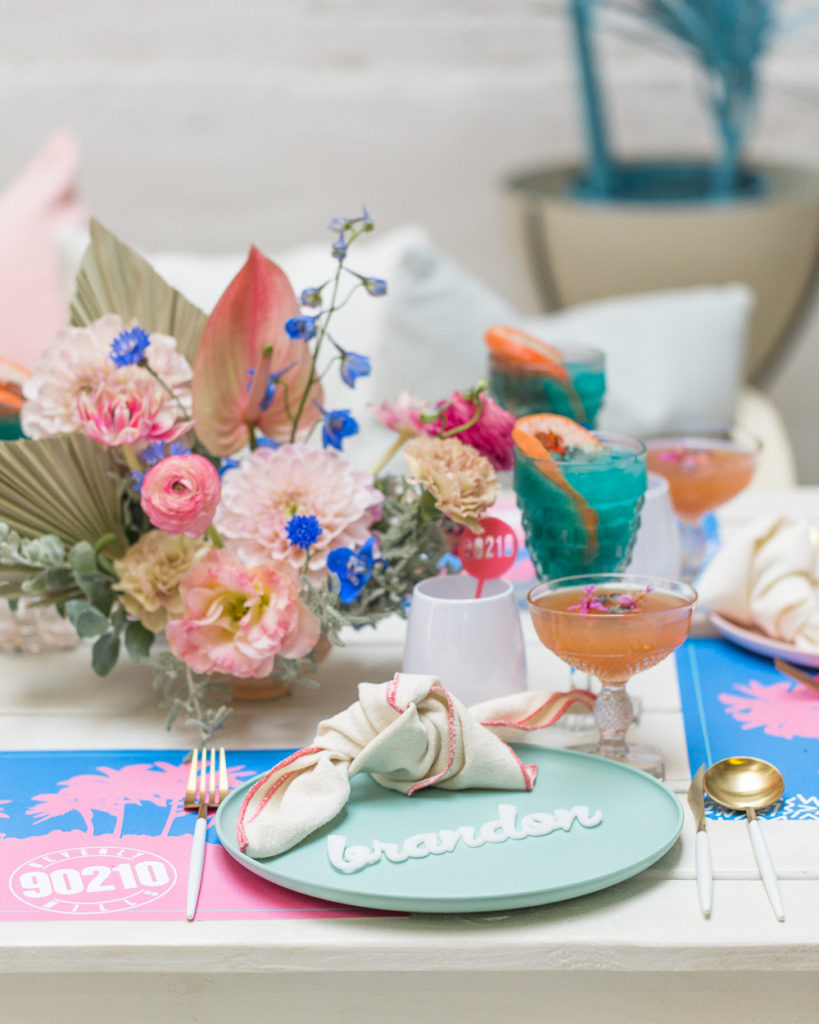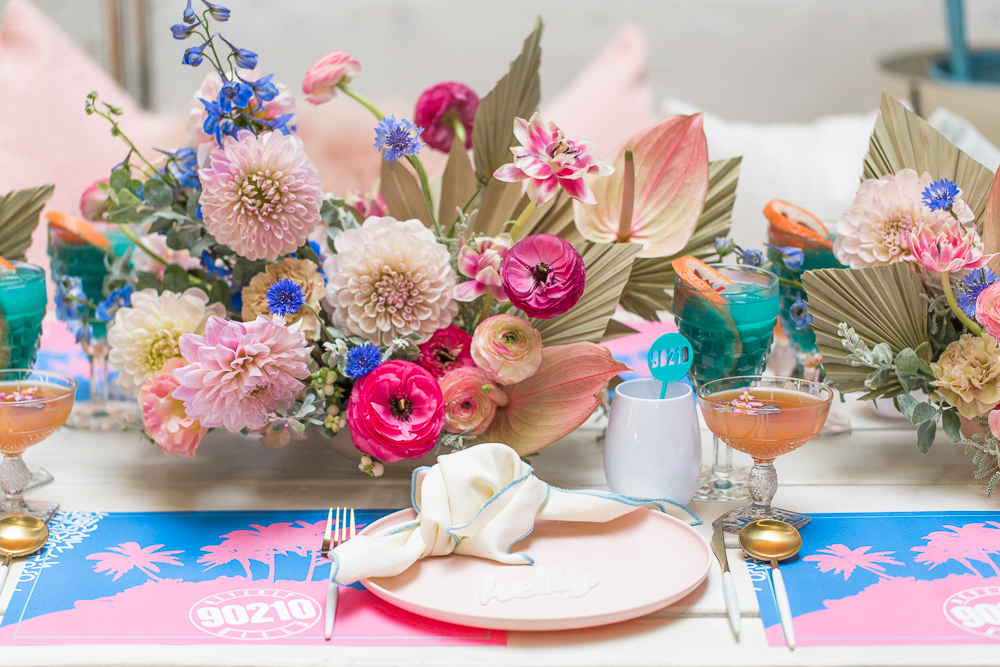 Those FLOWERS!!!! I'm bugging out… Not Just in Novels really brought it this time!!!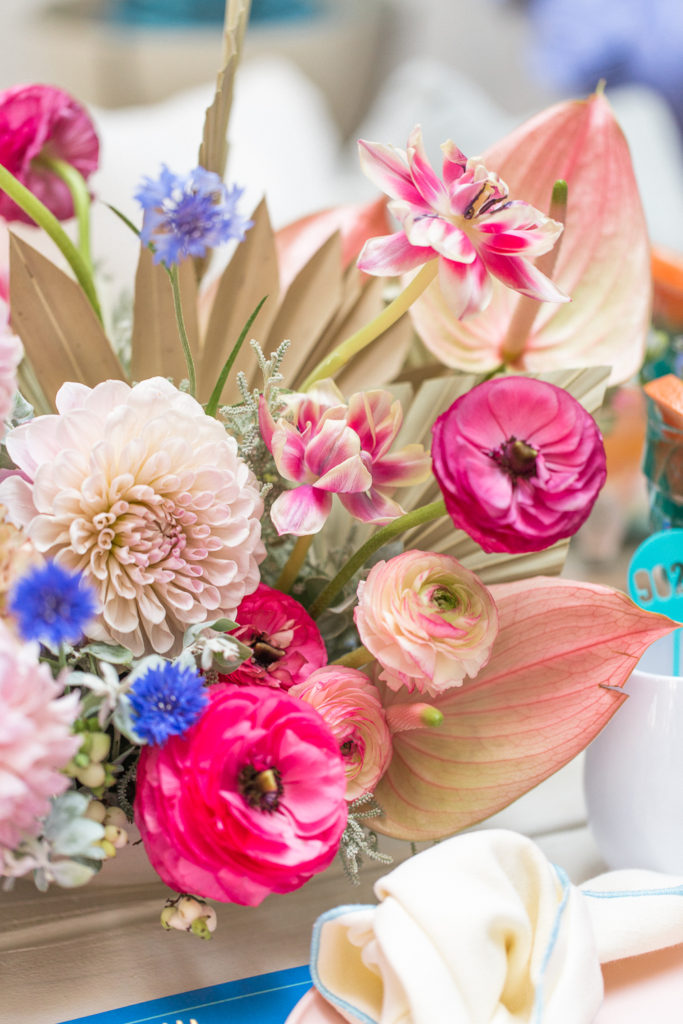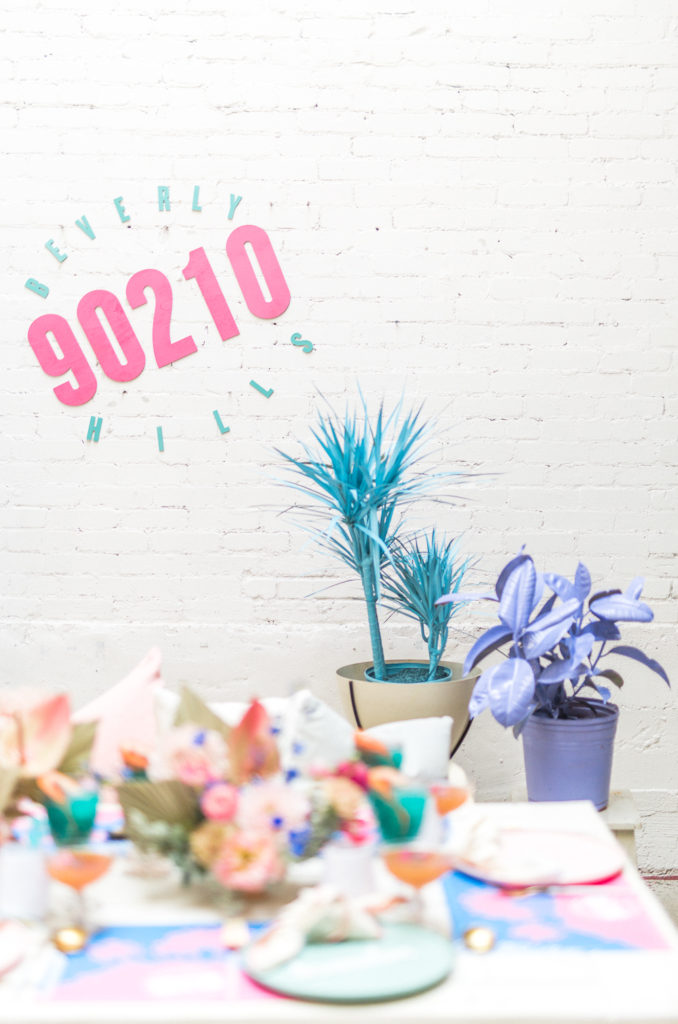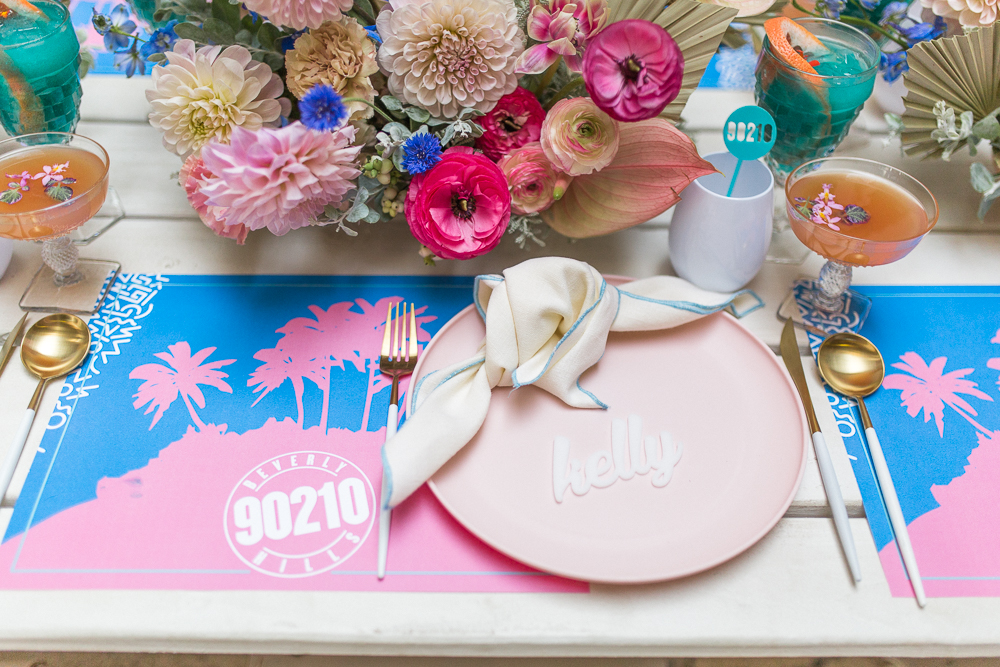 What were some of your favorite or most memorable episodes from 90210?! I have to say I always think of the episode where David Silver's friend Scott accidentally shoots himself – sorry to get dark but man, that one was so emotional… Also, when Dylan's wife Toni died at the hand of his FATHER!!! Jeez, the twists and turns, it was all so good…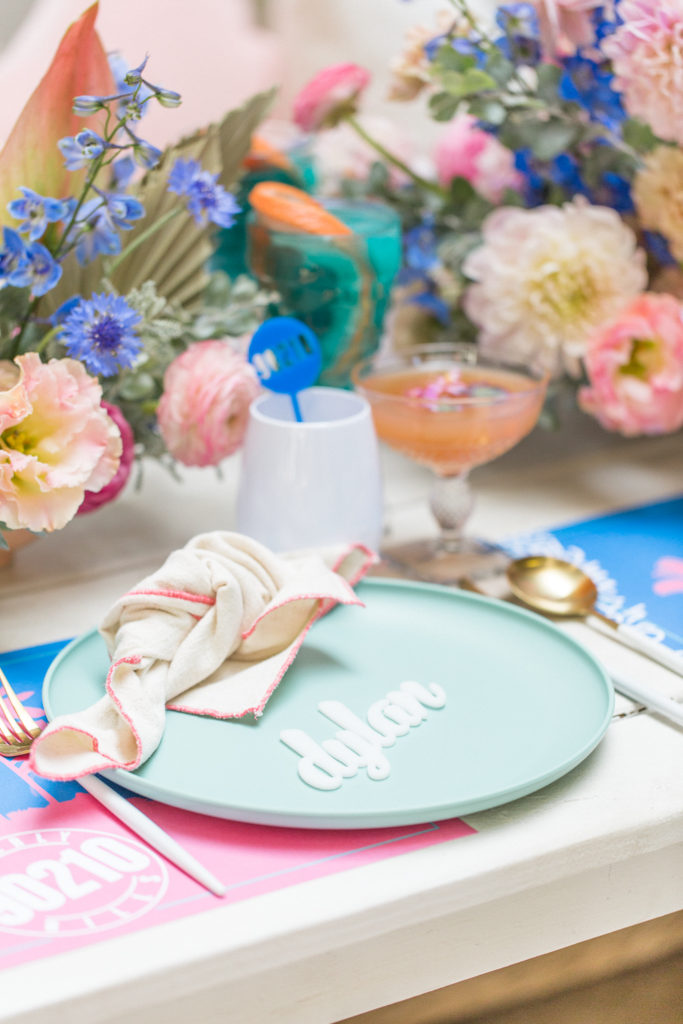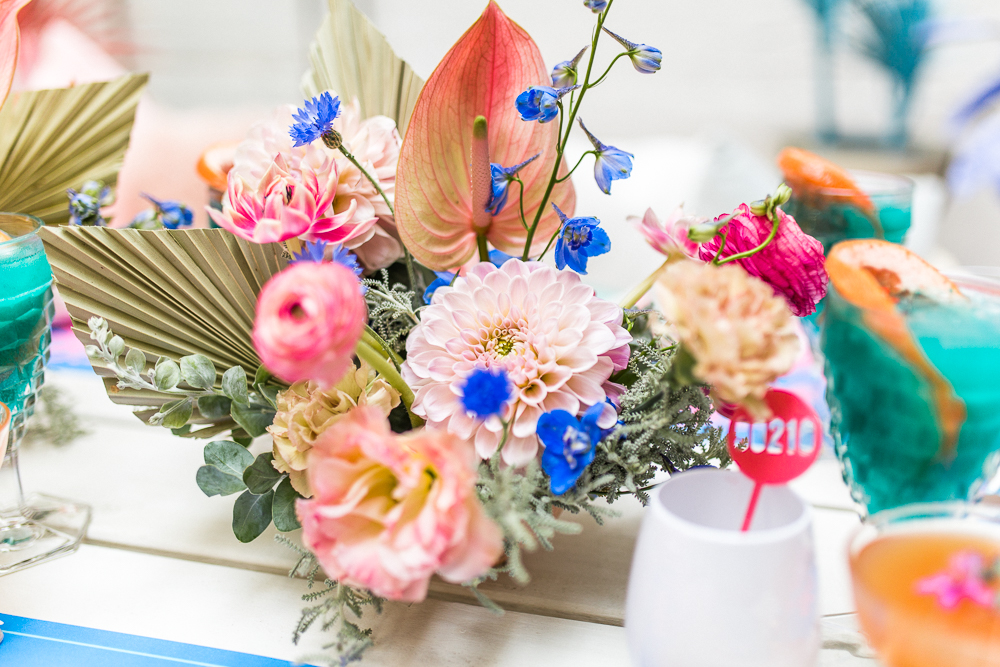 Our friends at Colette's Catering brought it in the cocktail department… It's like we are sitting at the Peach Pit with Nat! Speaking of the Peach Pit – our first cocktail is just that – The Peach Pit! With vodka, white peach puree and rose water – so yummy! The other is The After Dark! If you're a true fan you'll remember that! This tasty concoction is made with gold rum, blue curaçao, pineapple & coconut water. Now it's a party!!!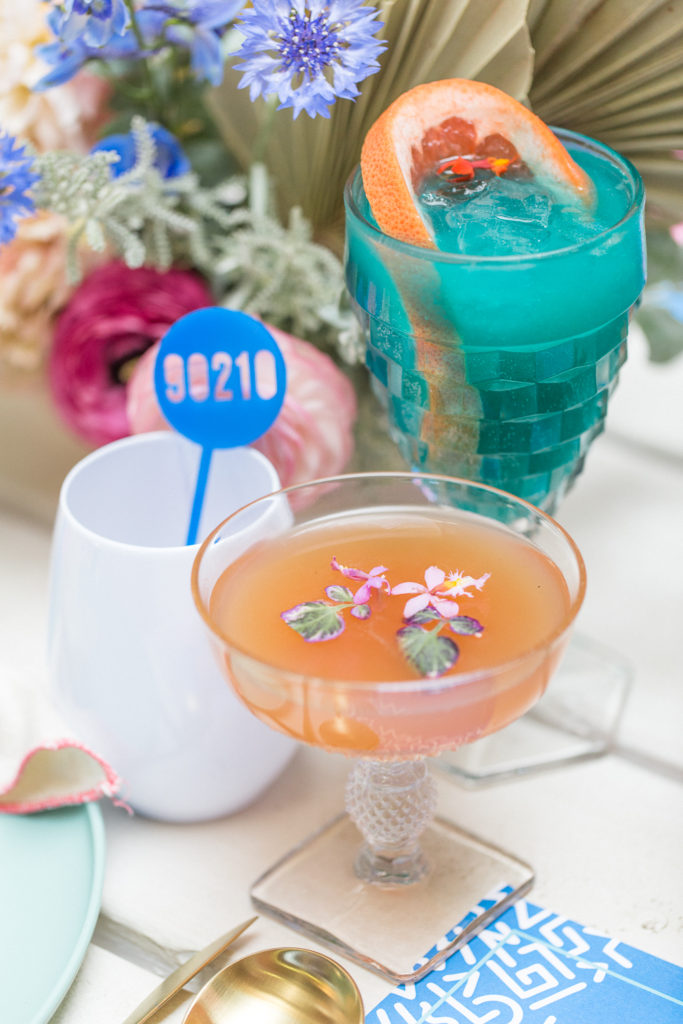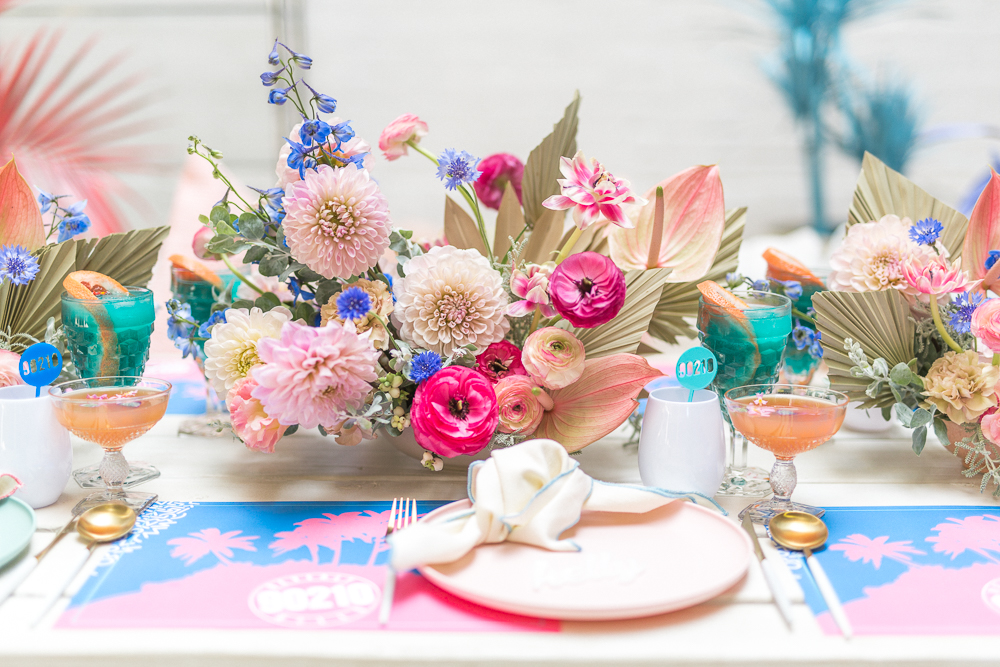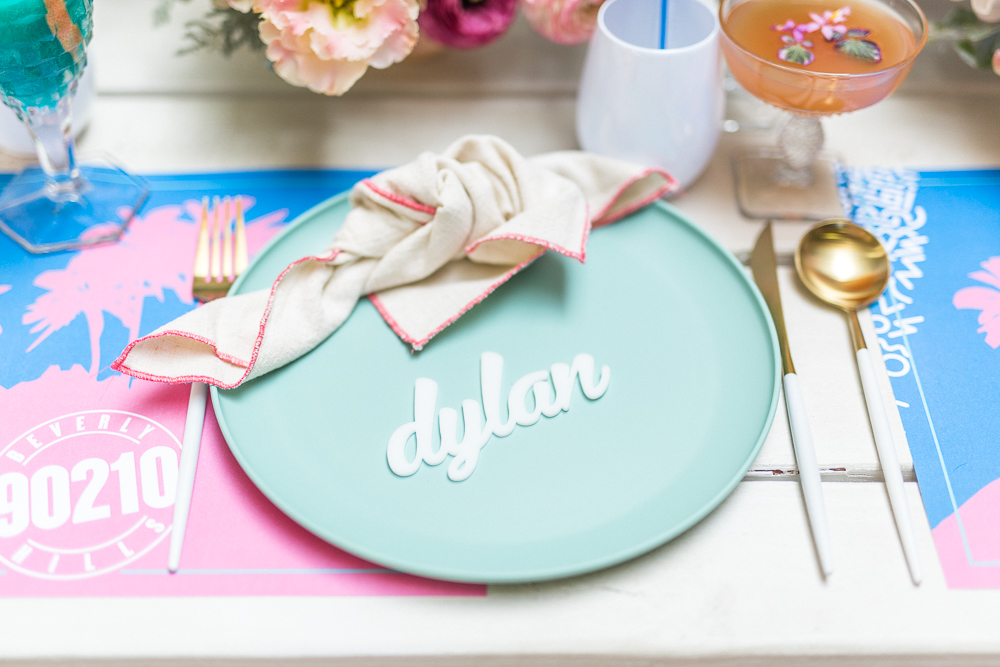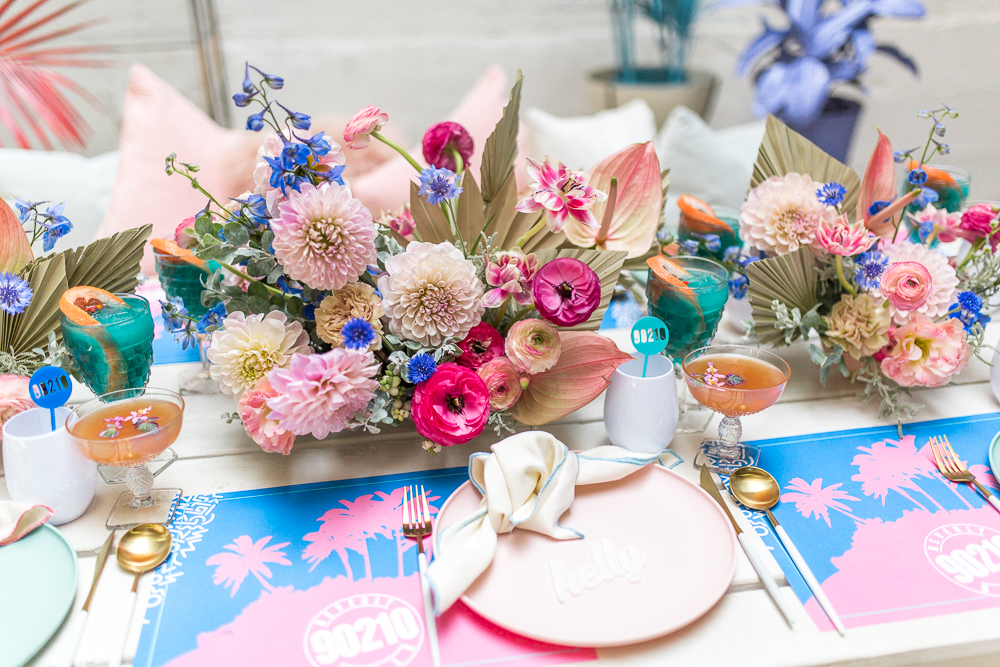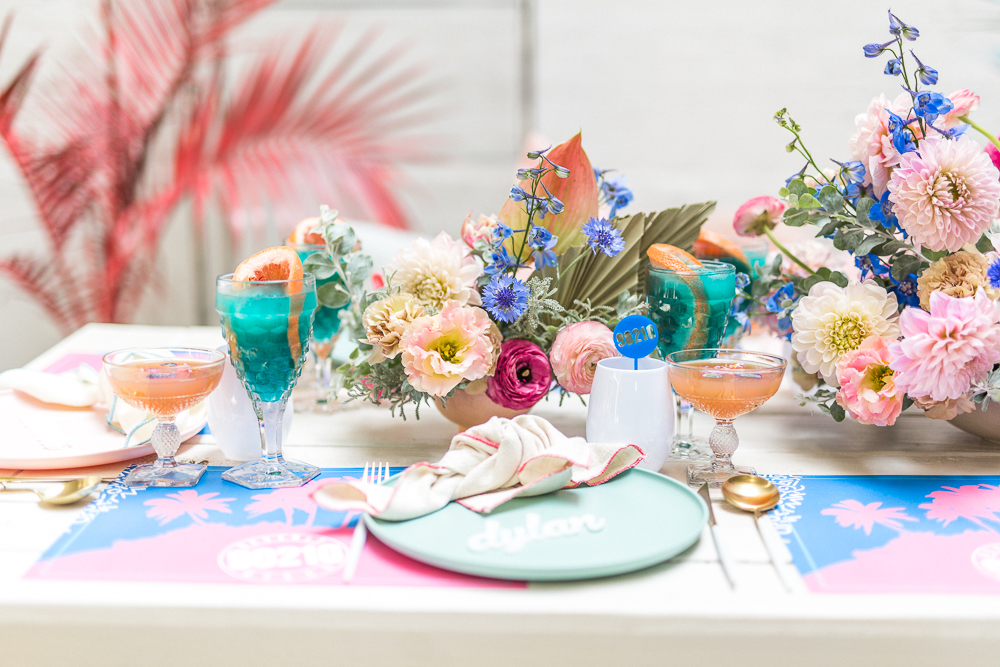 I can't get enough of those fresh details! So rad, right my friends?!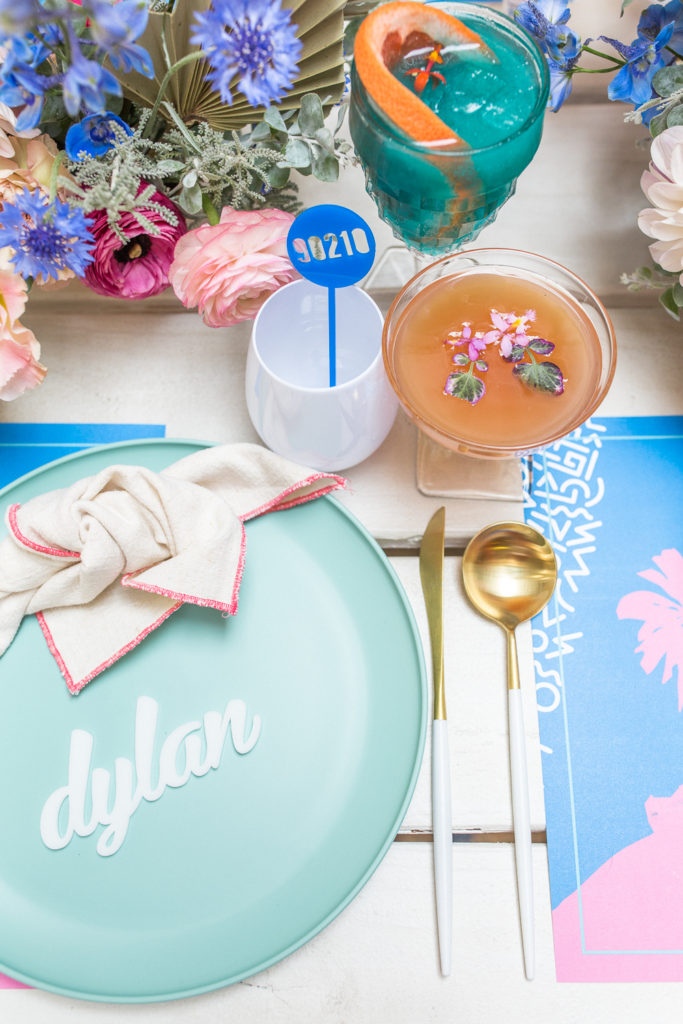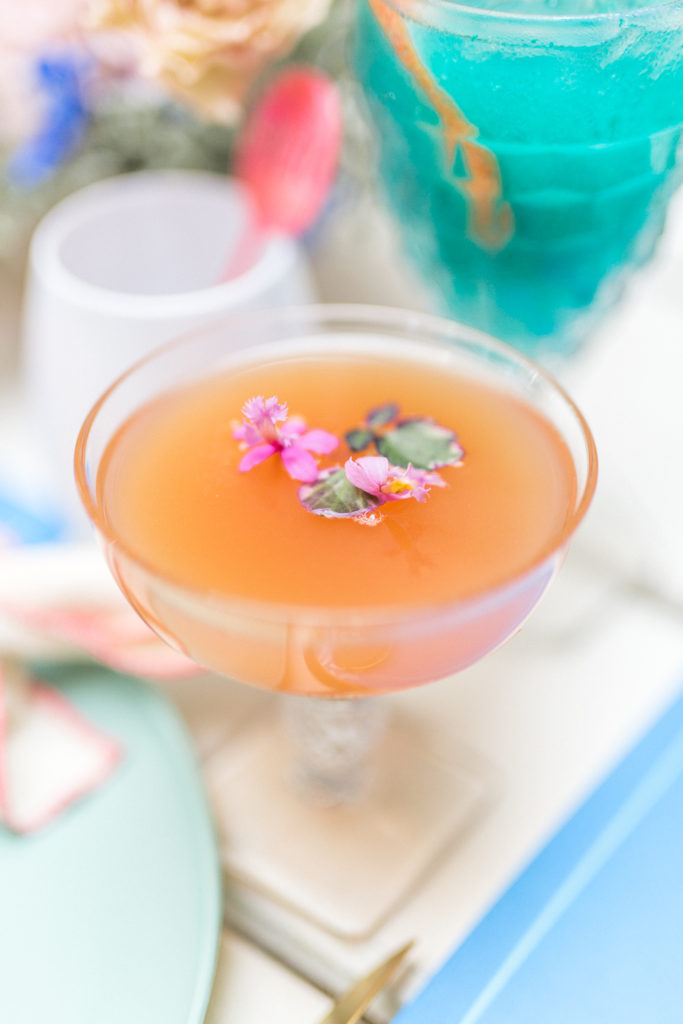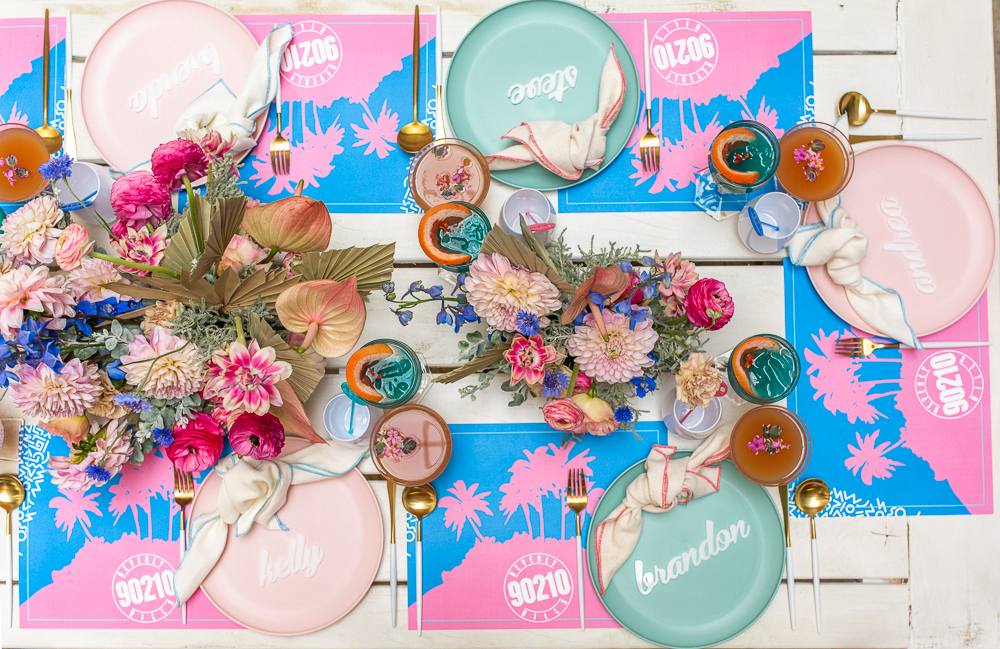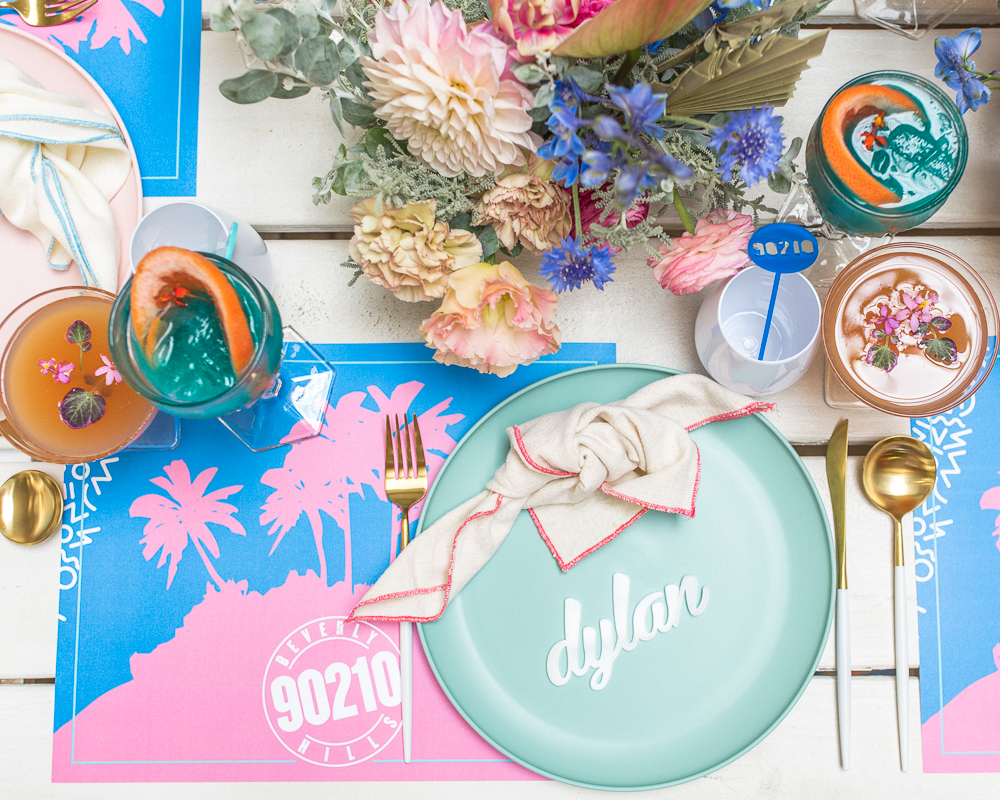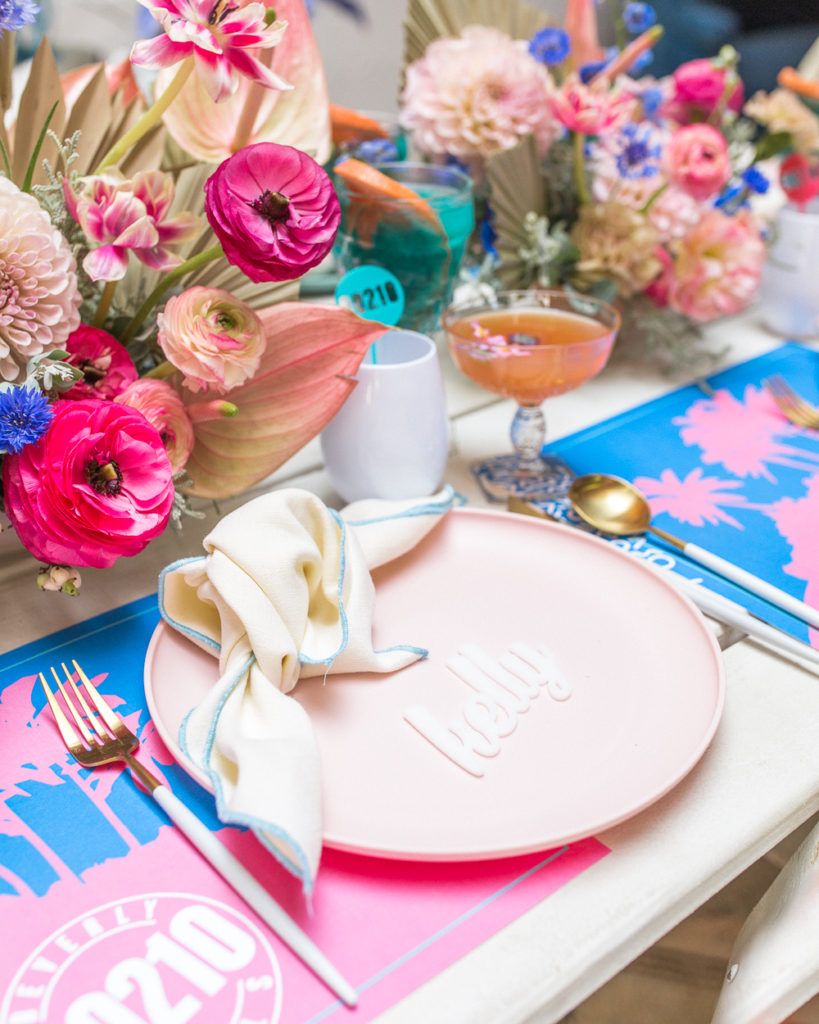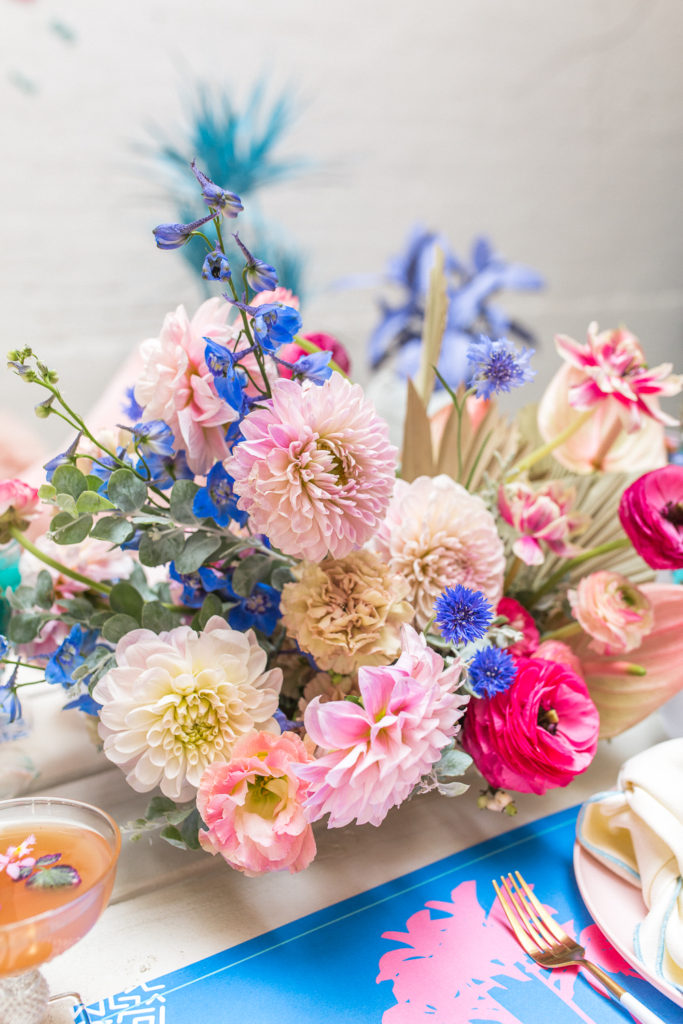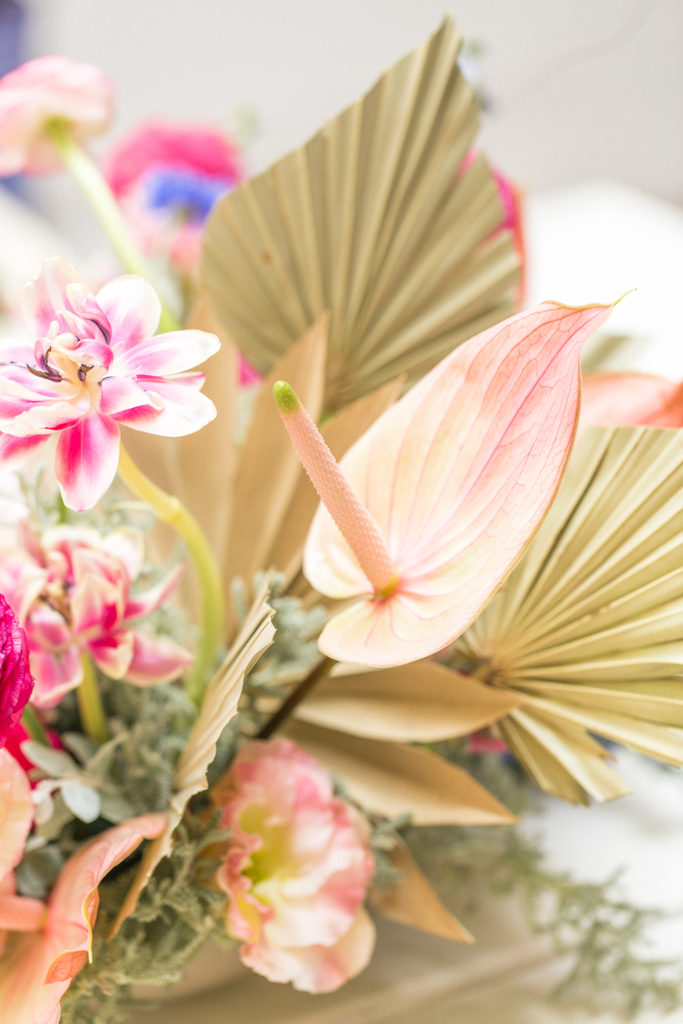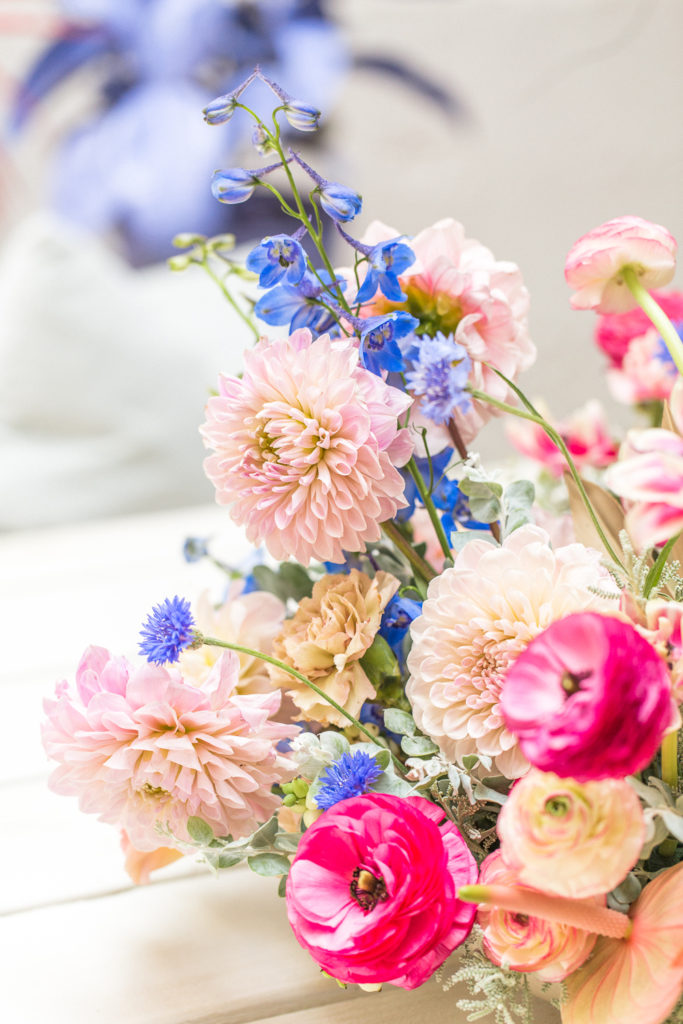 The cocktails weren't only tasty, they also added a fun pop of color as a bit of decor!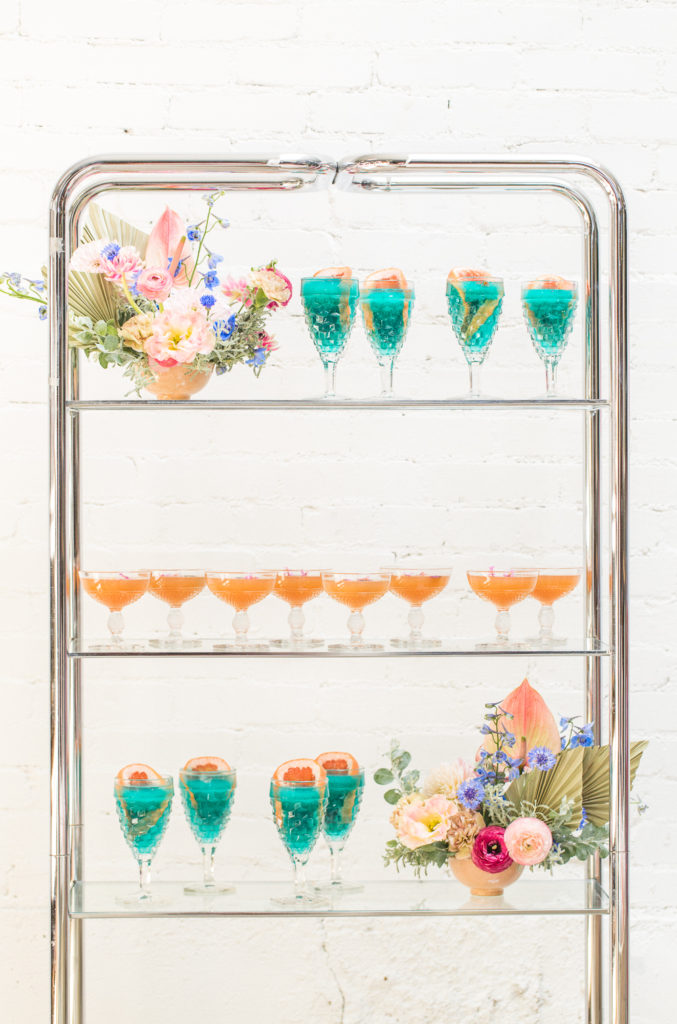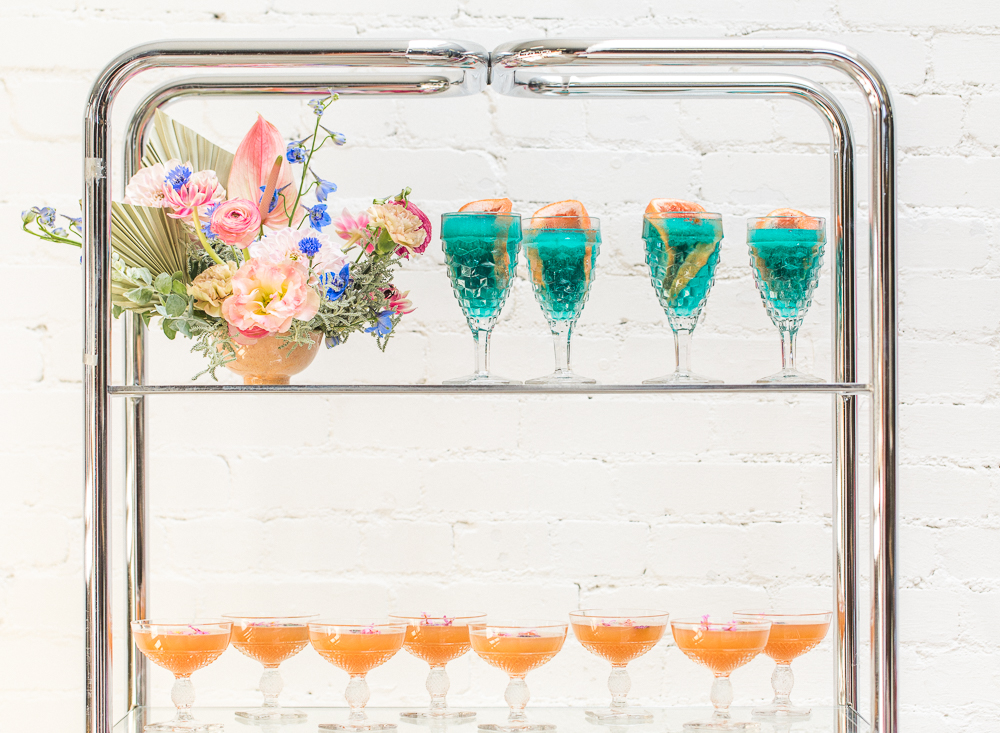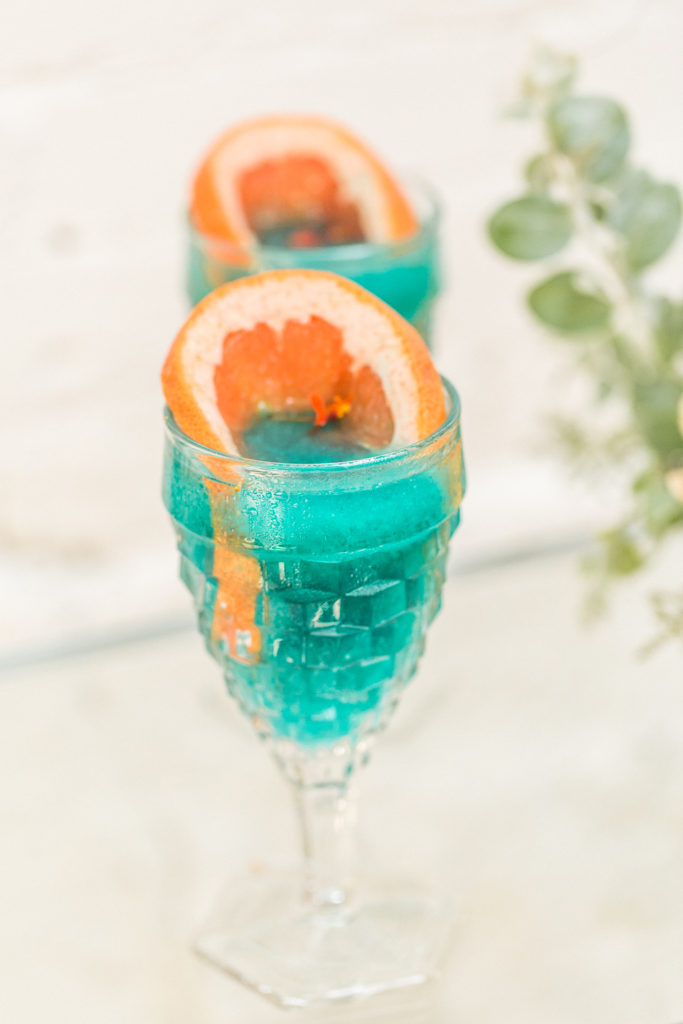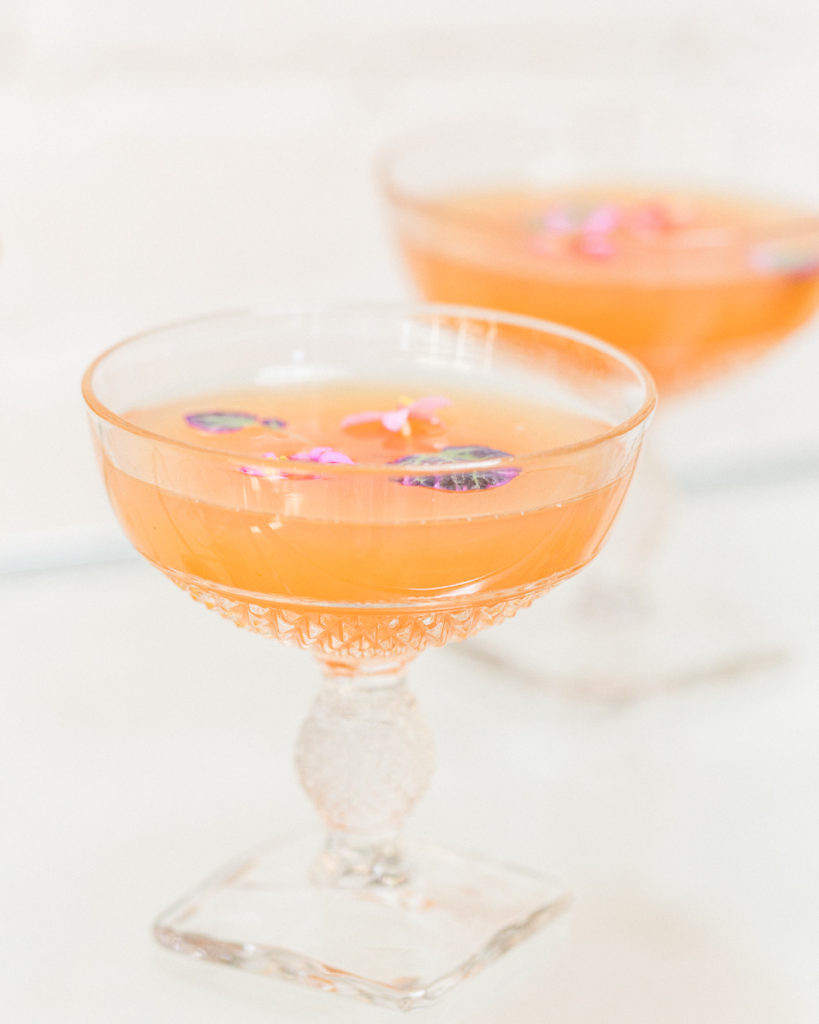 Another overall shot because yep, I'm in love!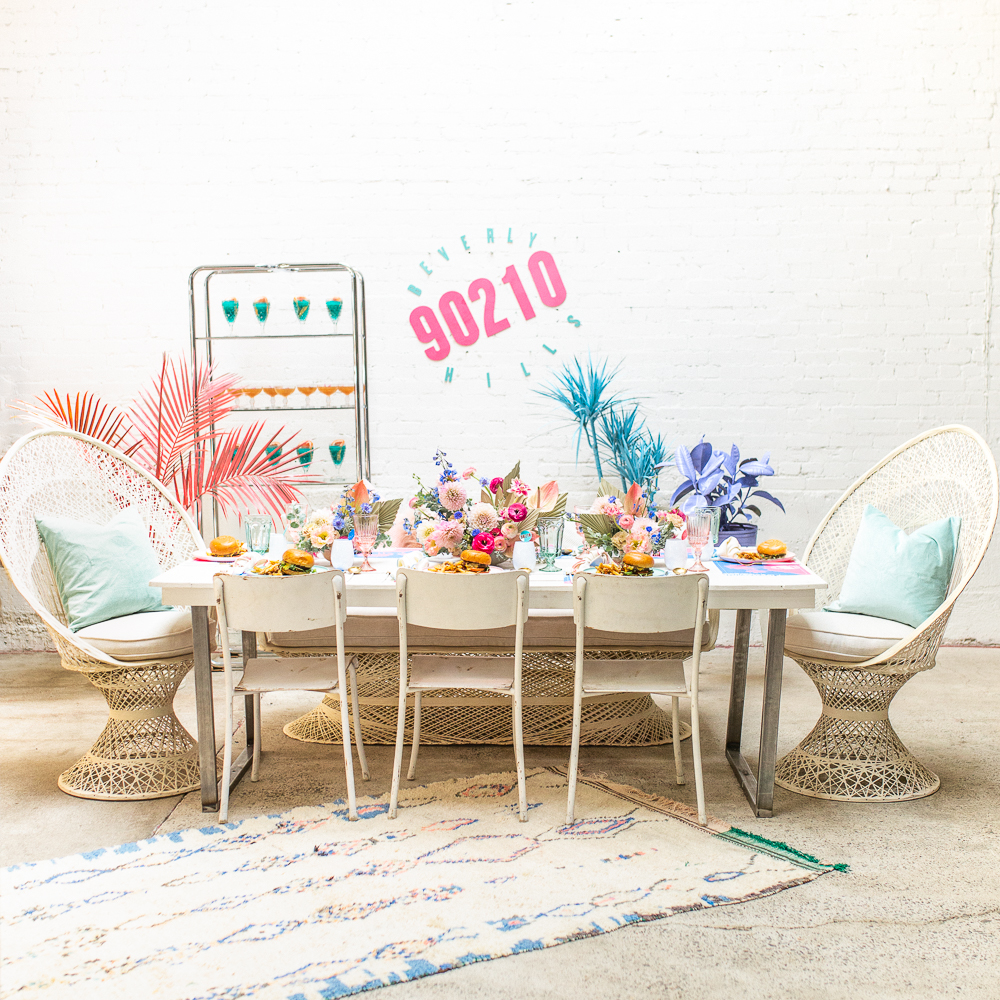 Now, let's talk about how I brought so much color into this fun shoot, shall we?! I recently discovered COLORSHOT Spray Paint. I've used my fair share of spray paint in the past for projects and events, but COLORSHOT Spray Paint by far has the best selection of colors! And that's really what I needed for this shoot!!
I chose 5 different colors from the start to base my color scheme on. I was going for pops of color that were reminiscent of the 90's and that would flow well together. It was so much fun going through all their colors, as they are so amazingly vibrant. Plus, you can purchase at Home Depot! Who doesn't have one of those close to them?!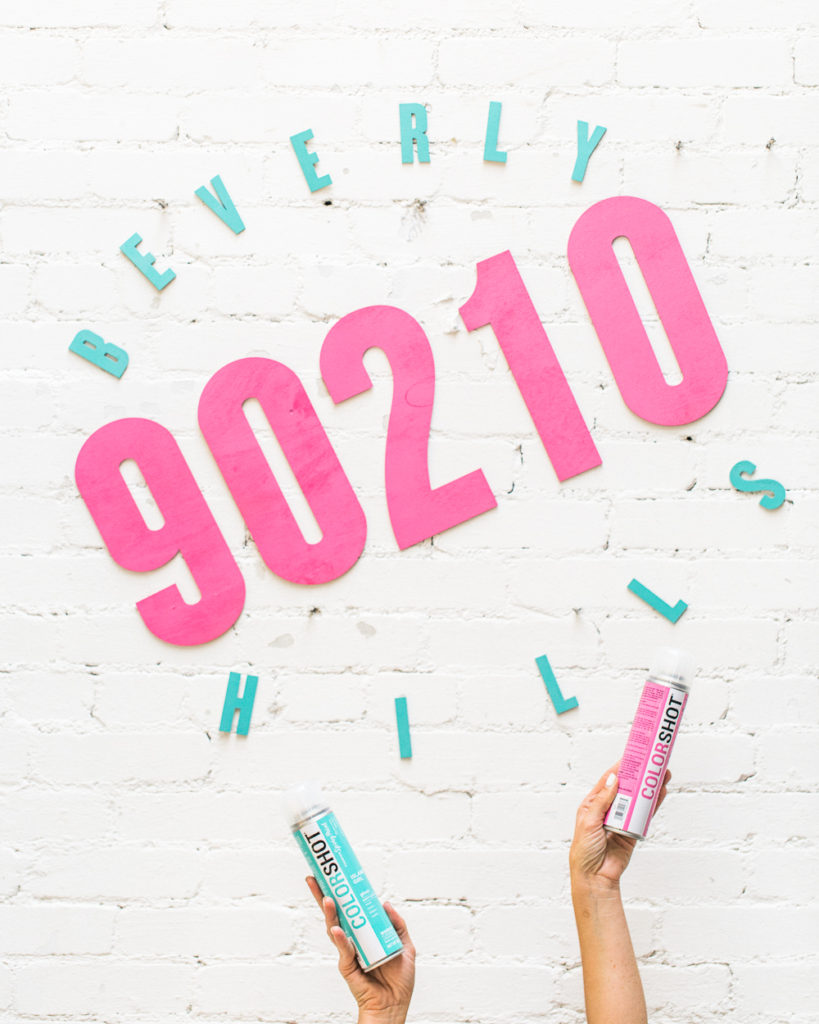 The paint was extremely easy to use, look how well it covered the plants!! Also bought at Home Depot – multi-tasking at it's finest!!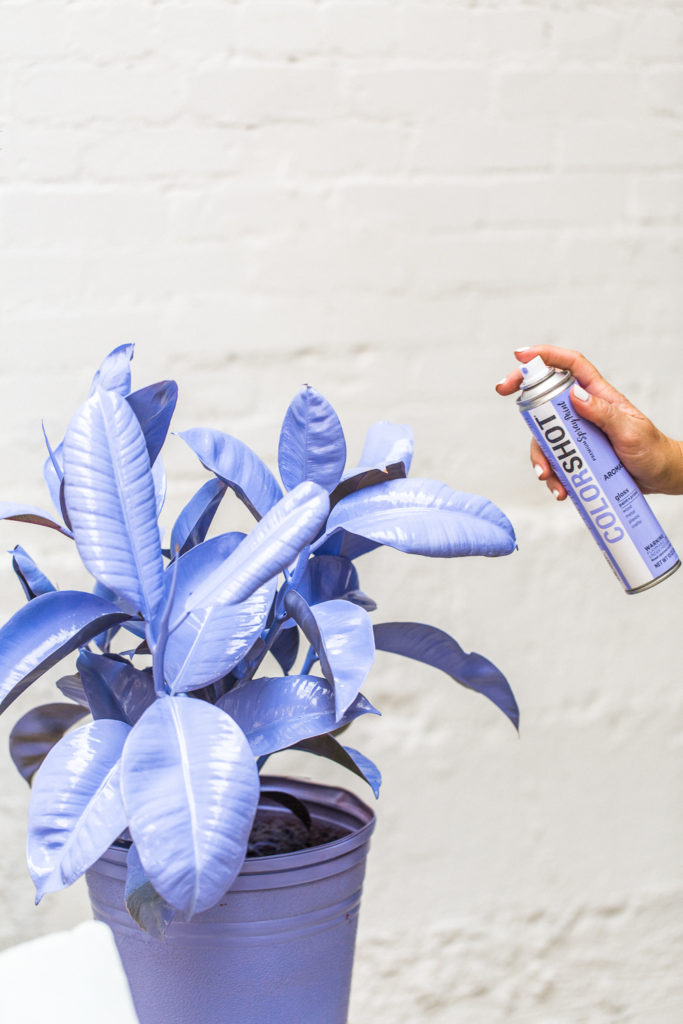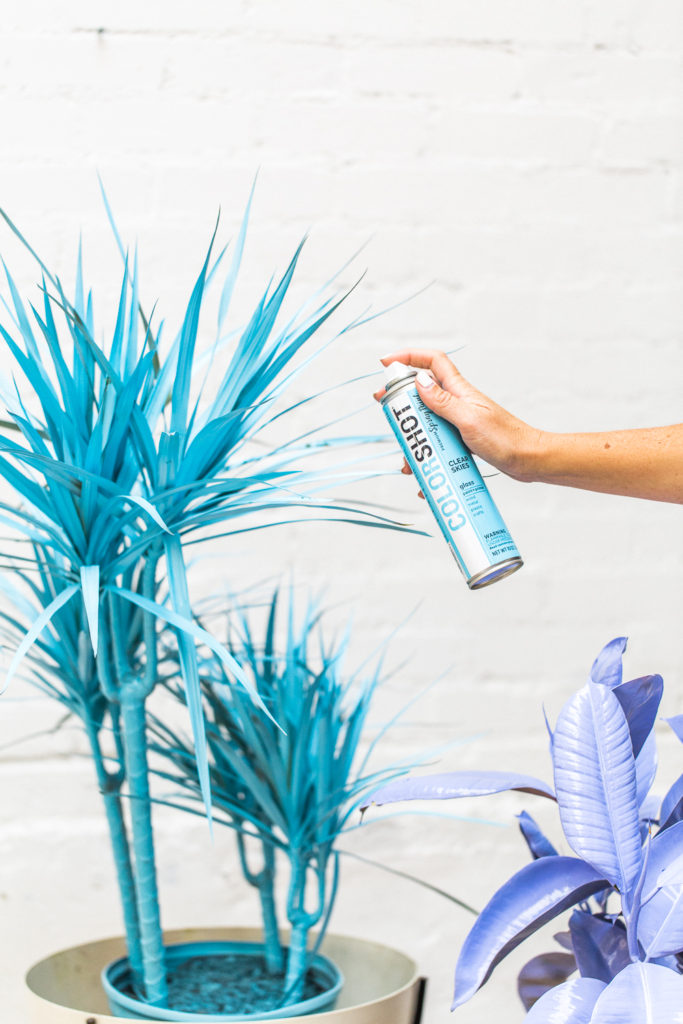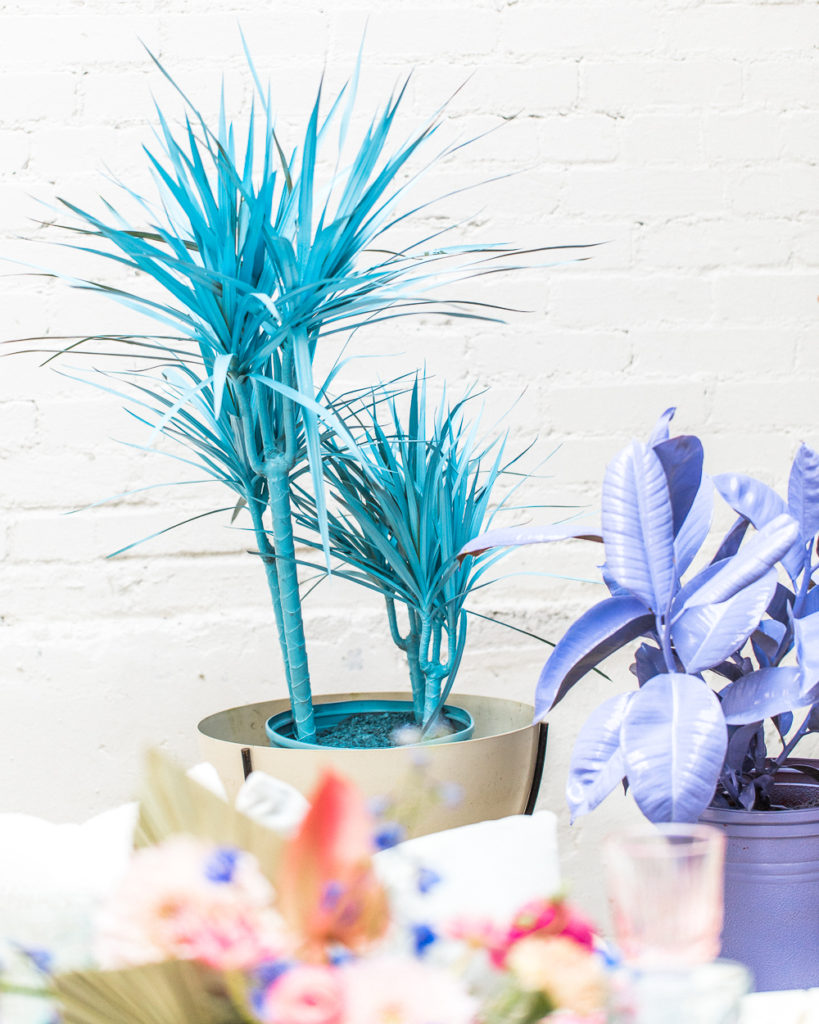 This was my color scheme – I'm so in love with it!!!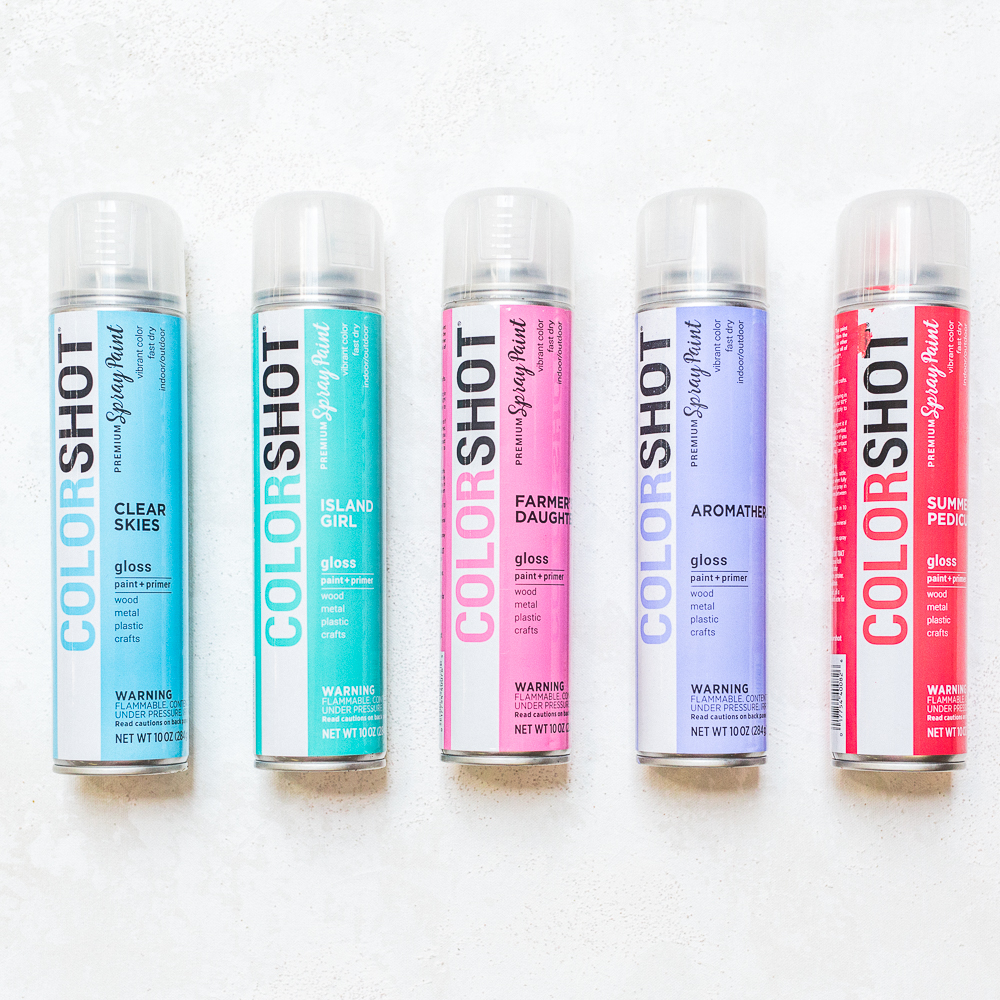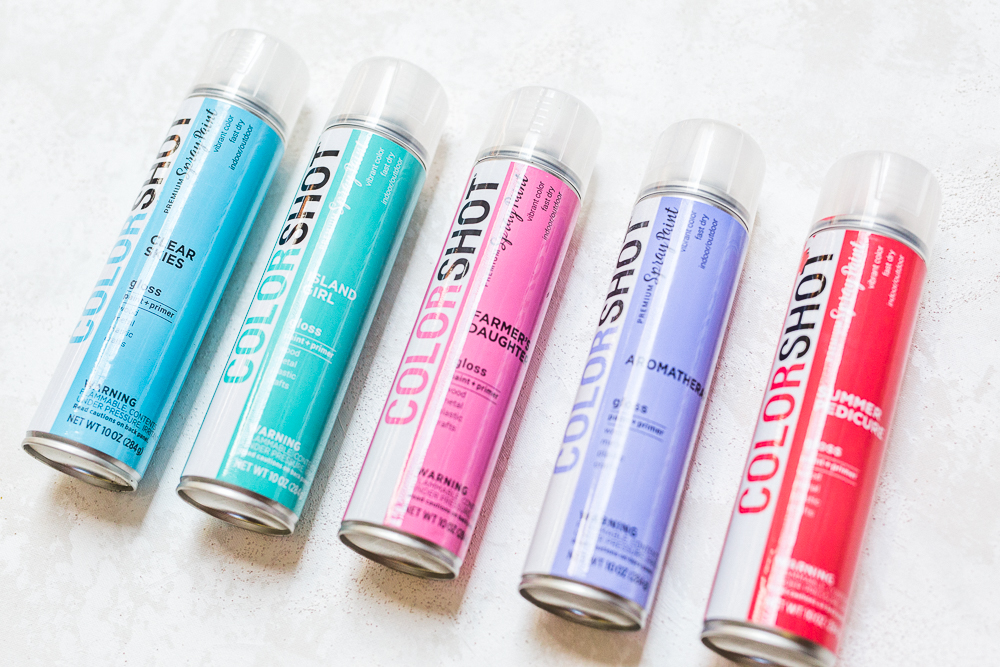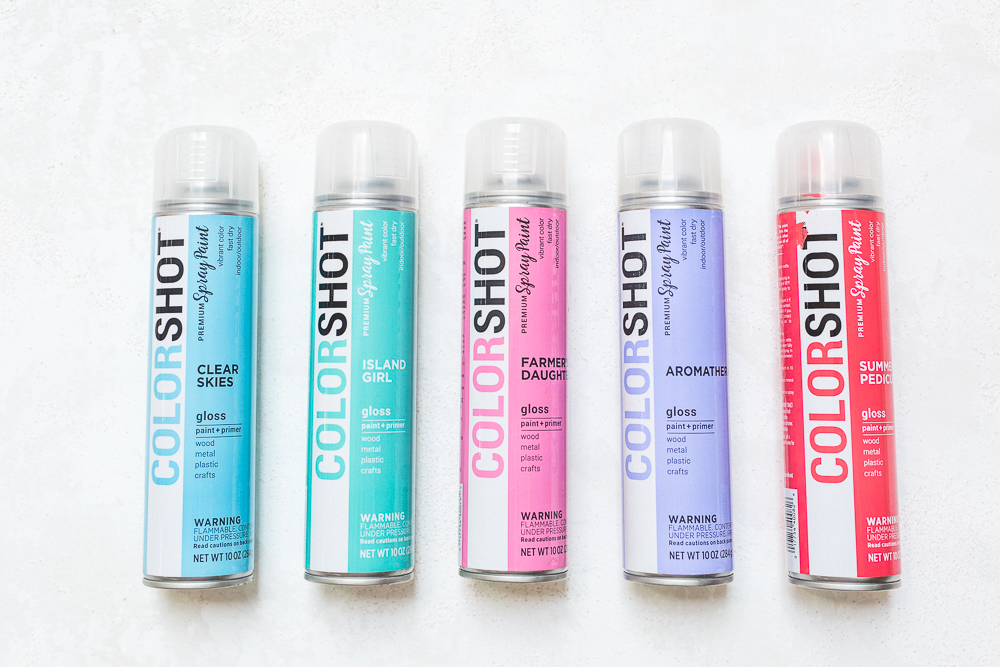 A trip to the Peach Pit isn't complete without a burger and fries! This time our friends at Benchmark Restaurant hooked it up though! And boy was it as delicious as it looked!!
And you know there's always room for cake!!! The super talented Jennifer Tee created this sight to be seen! I mean, each of us were oohing and aahing at this sucker!! The mixture of modern and gold palm tree detail is exactly what I wanted and boy did she deliver and then some!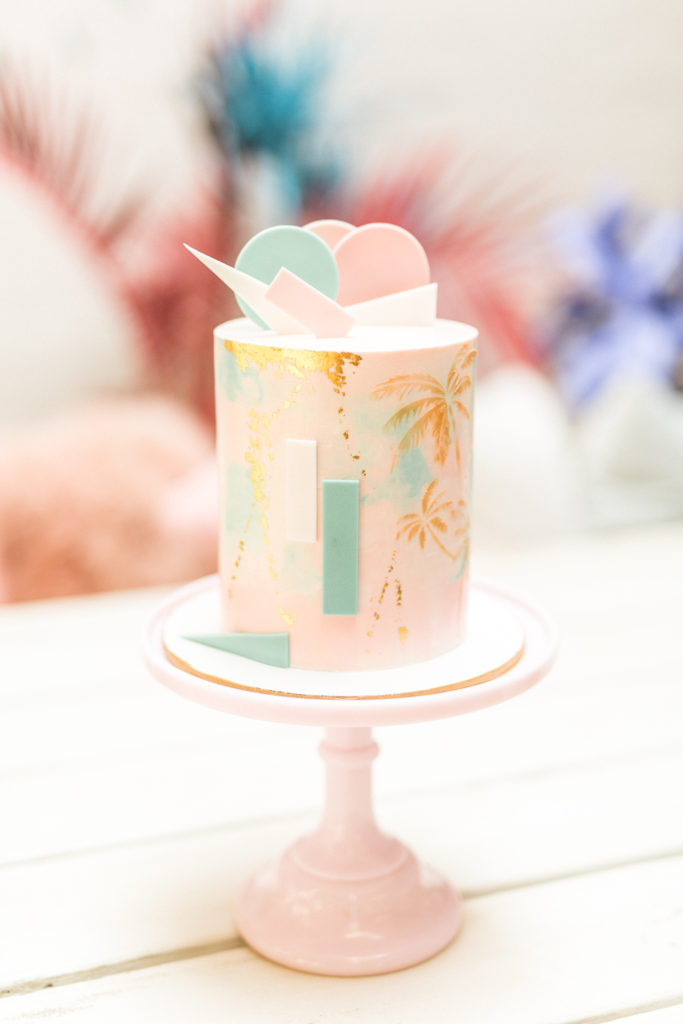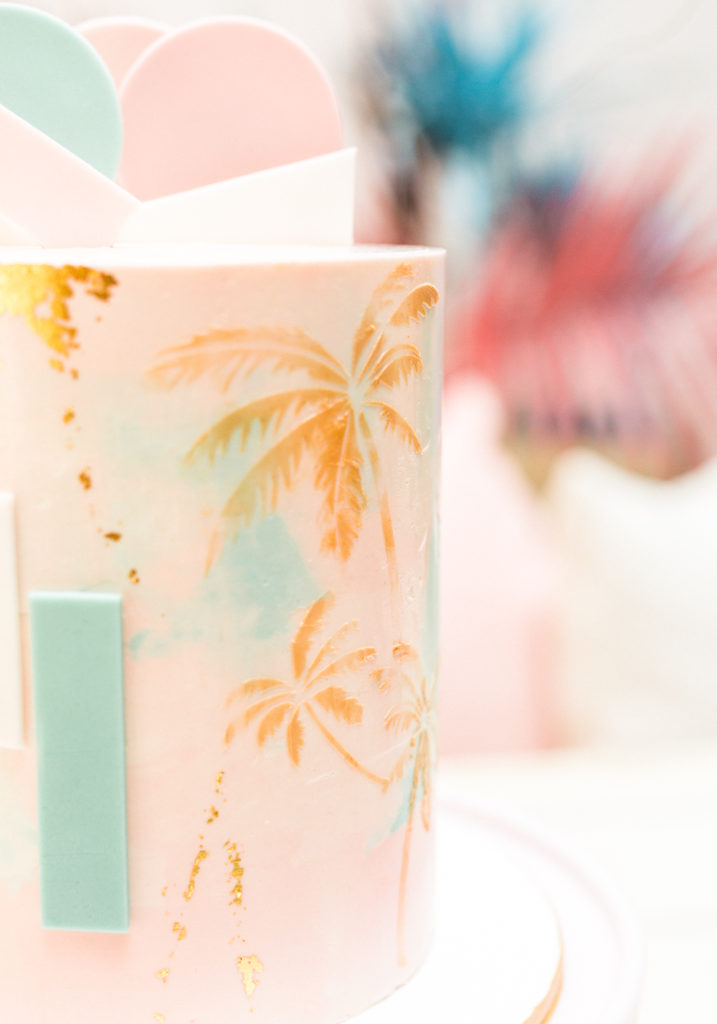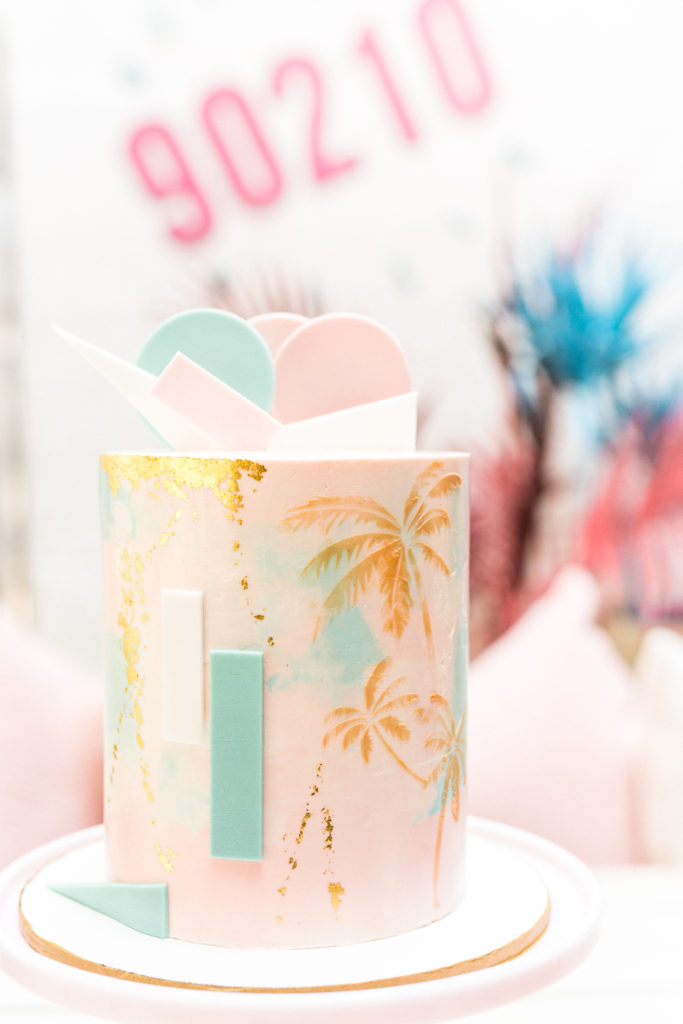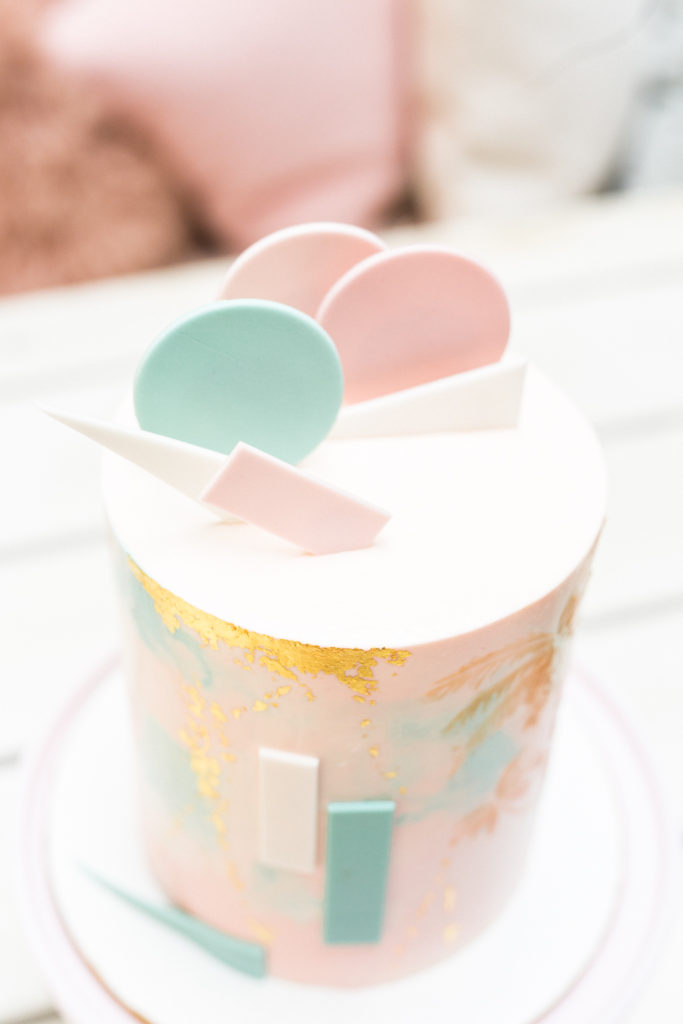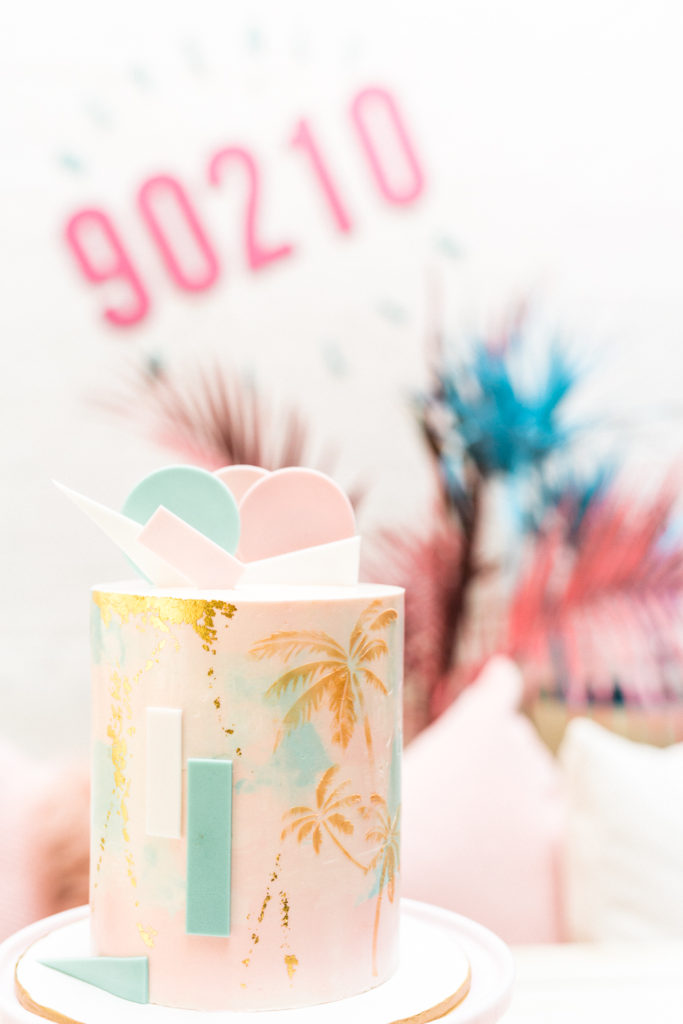 There you have it people! So much love and inspiration from this show!! I hope it was fun to go down memory lane with this one!!
xx
Jacquelyn