---
When it comes to the month of October, there is definitely no shortage of sugar comas around our house, especially on the night of the 31st. My little ones try to shove as much candy as possible into their little mouths before bed on Halloween night. Even I'm a little guilty of indulging in a few mini snicker bars, and I'm not even a big candy lover. It's gonna happen… its Halloween after all. So I could try to intermix some healthy treats in-between all those sugary bites. Now, it can be hard to get kids to eat something healthy with candy in sight. Simple solution: Make it fun for them to eat!
My daughter is all about the magic spells this year with her favorite movie, Descendants 2 out. There is a lot of "magic potions" being made in our house this month. I took that idea, and created a magic spell treat that she couldn't resist!
Cone Calligraphy by Meghann Miniello
Photos by Alyssa Onaka Photography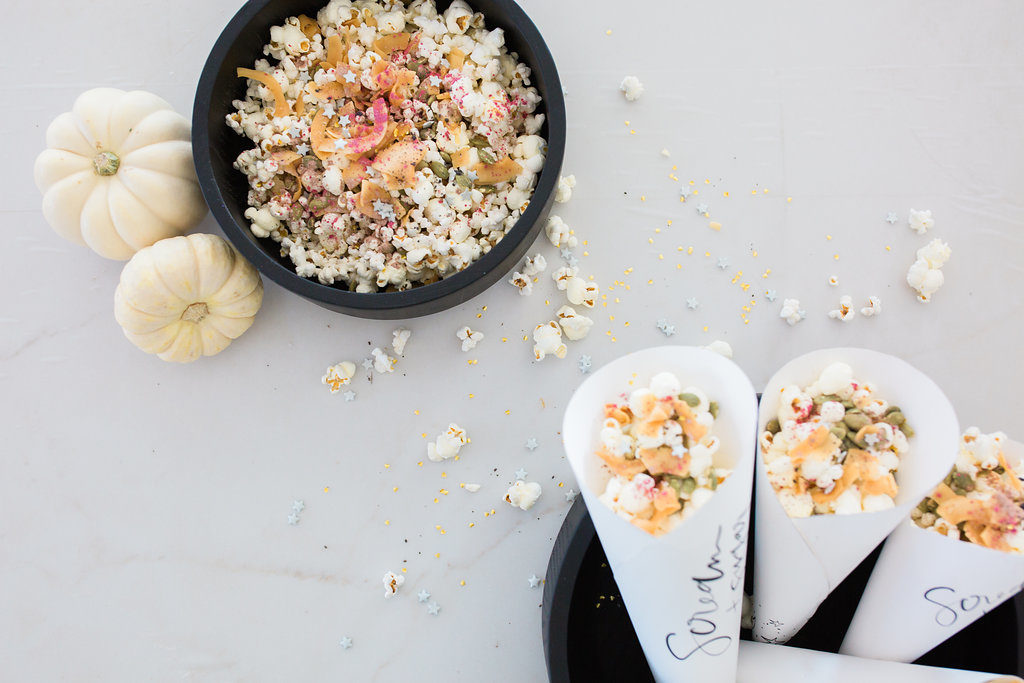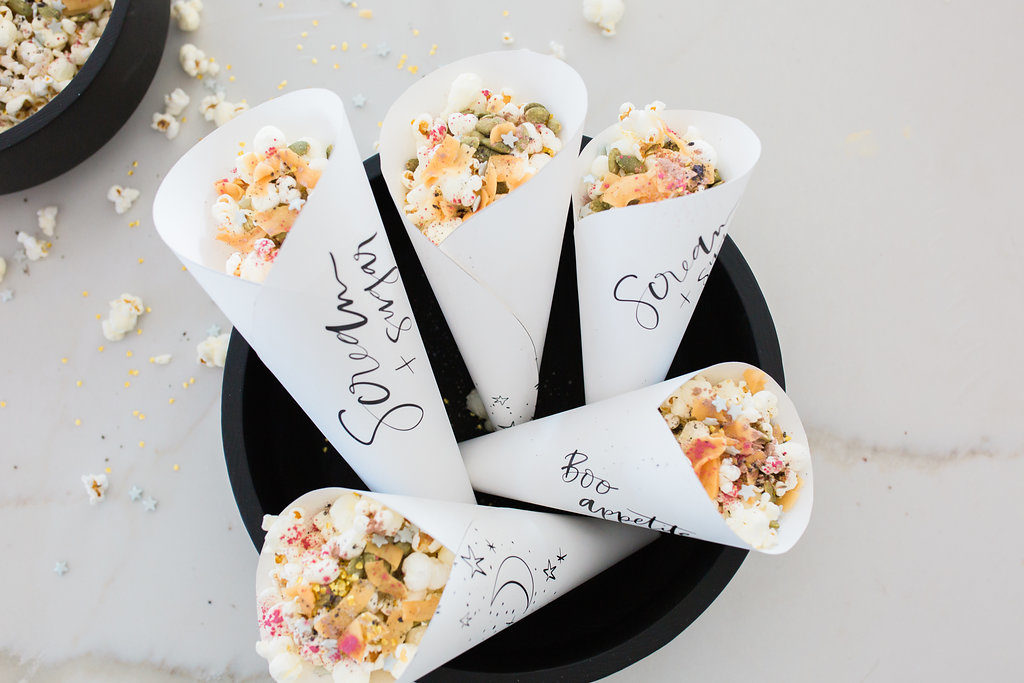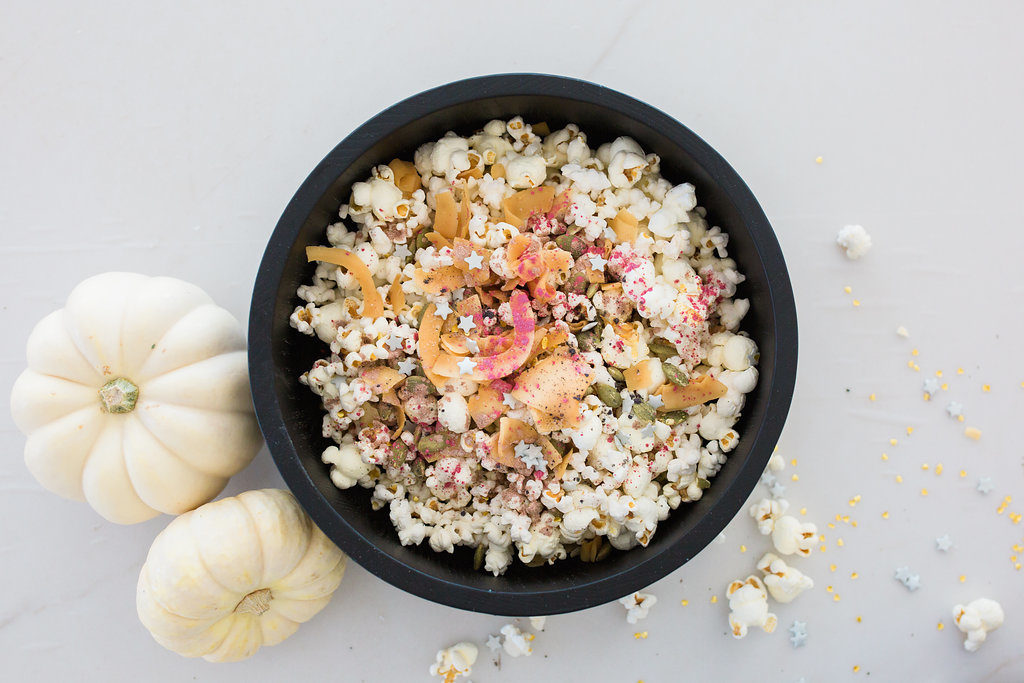 I N G R E D I E N T S
Organic Popcorn
Organic Mini Popcorn
Pumpkin Seeds
Chia Seeds
Shaved Coconut
Edible Glitter
Sprinkles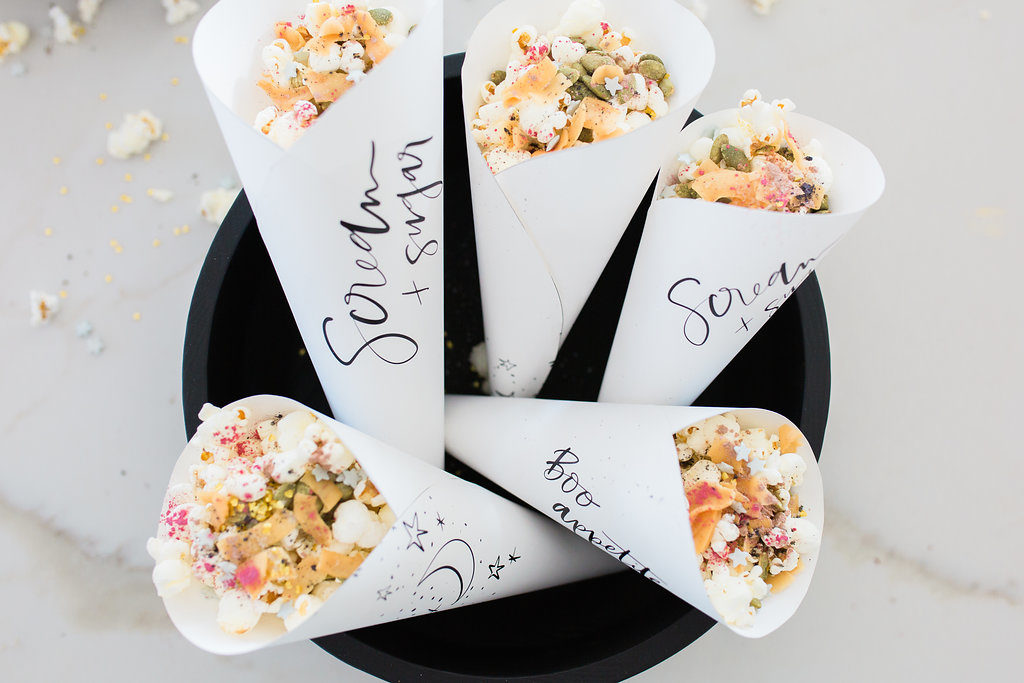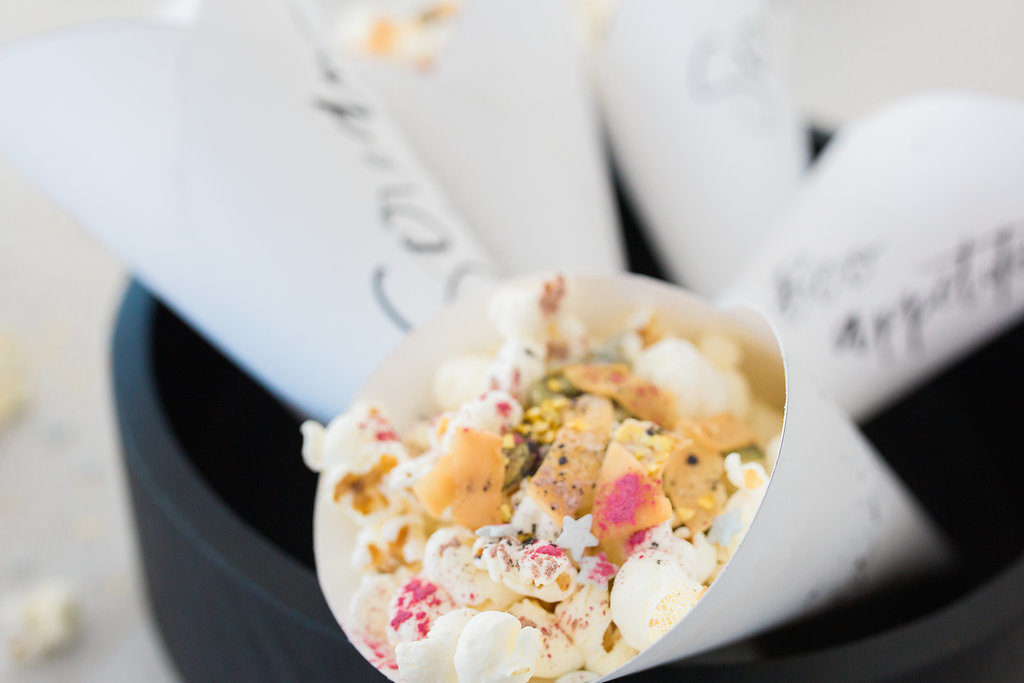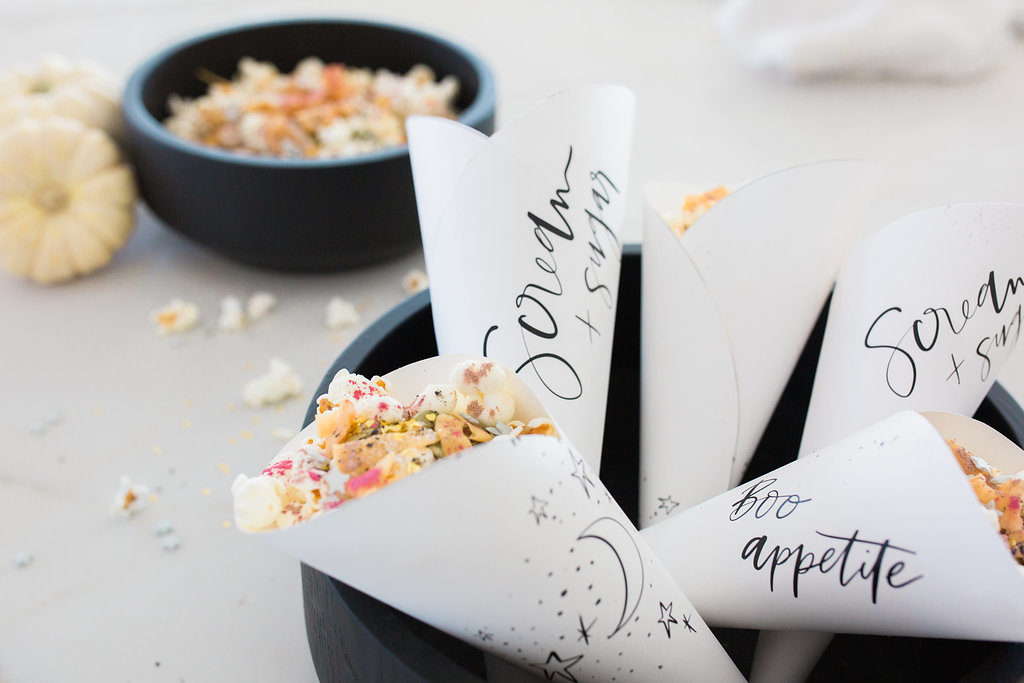 D I R E C T I O N S
In a large bowl, combine all ingredients. Toss to combine. Using a spoon or even your hands put popcorn trail mix into cones like the ones that Meghann Miniello created for me or any fun Halloween container. Sprinkle some edible glitter on top, and along with any Halloween sprinkles you have. I used silver stars to go with the whole magic theme. What little one could resist sparkly popcorn!!?!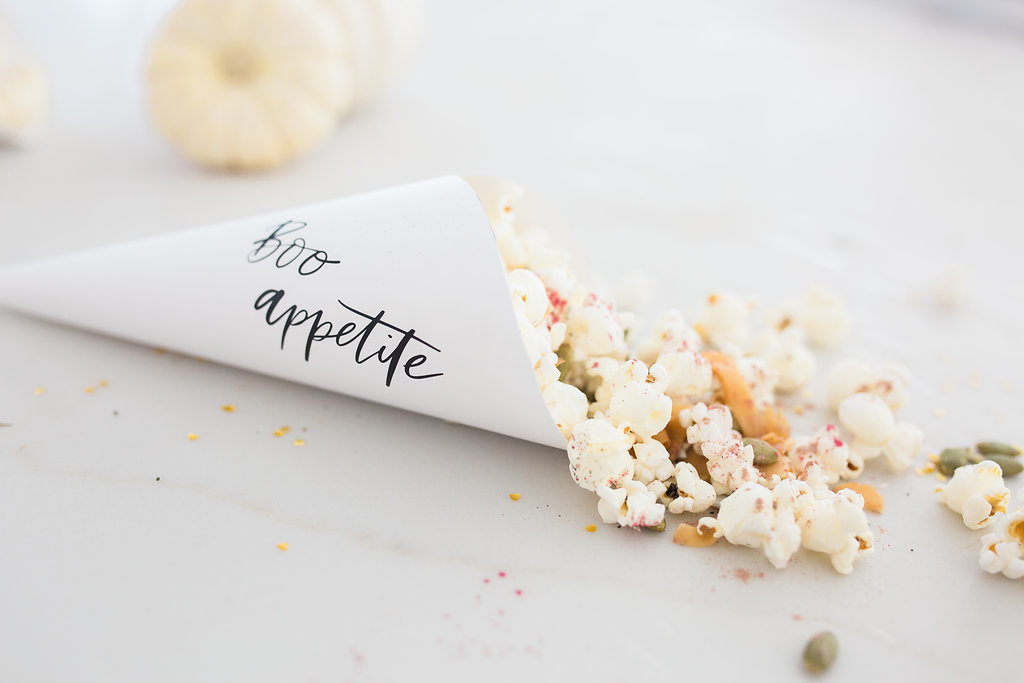 Get your sparkle on! Sprinkle all the glitter you want. The more the better! I used a color combination of white, rose gold, and a bright pink. You can also put the popcorn in separate bowls and sprinkle the glitter individually and toss to combine prior to combining all ingredients.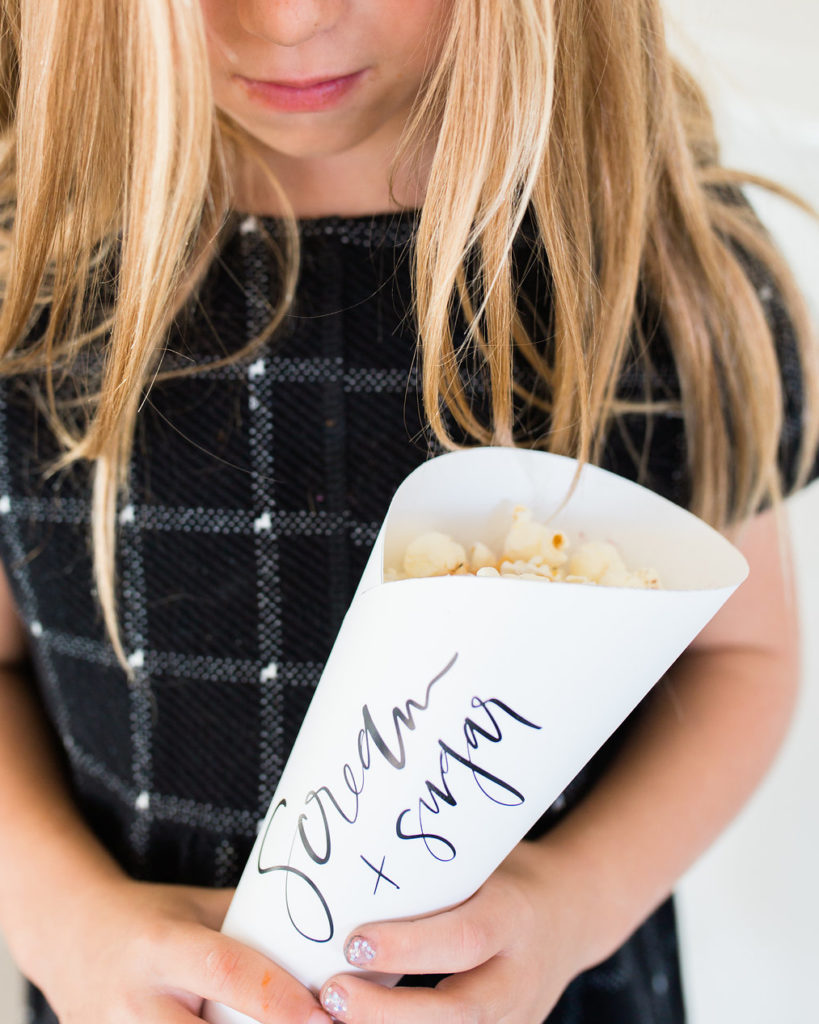 This makes a great treat for anyone that needs a class treat for their kids' school, and for any Halloween get together you have going on.
xx
Abby
SaveSave