Bring on Spring with this edible floral green salad. There is nothing better than a yummy fresh spring salad. My kids are in a salad-binging stage right now, and I'm taking full advantage of it. I have been sneaking in extra veggies and playing around with fresh dressings. If you have yourself a little garden in the back, pack it with edible flowers and herbs, and your spring salad game will be on point. This floral salad is dressed in a light, spring champagne vinaigrette and topped with homemade croutons tossed in yummy lemon, thyme, and honey for a fresh crunch. So let's celebrate Spring and serve this up for dinner tonight!

Photos by Dayna Studios
---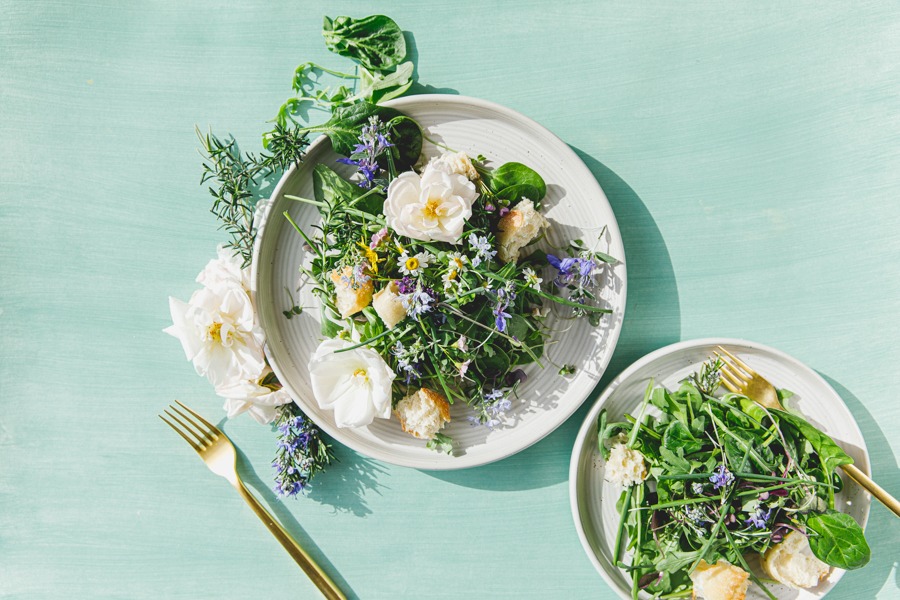 ---
SO WHAT EDIBLE FLOWERS CAN YOU USE IN A SALAD?

Looking to use or even grow some edible flowers to have on hand? Here are some of my favorite ones that I like to grow in my backyard.
Chive blossoms
Pea flowers
Chamoile
Cilantro flowers
Argula flowers
Pansy
Strawberry blossoms
---
AN EDIBLE SPRING FLORAL SALAD WITH HONEY THYME CROUTONS
SERVES: 2 | PREP: 10 MINUTES | COOK: 20 MINUTES
W H A T Y A N E E D

SALAD
Greens (I like to use arugula and spring mix)
1 shallot, thinly sliced
1–2 TBS chopped chives
1/4 cup soft herb leaves (a mixture of basil, mint, and lemon sage if you can find it)
A handful of edible flowers (you can find a mix in your local grocery store in the herb section)
DRESSING
2 TBS good quality olive oil
1 TBS champagne vinegar
1/2 TBS fresh lemon juice and zest from half of a lemon
1/8 TSP white pepper
1 TSP honey
CROUTONS
2 cups baguette bread, cubed
3 TBS olive oil
3 TBS honey
3 lemon thyme sprigs, leaves taken off.
Salt and pepper
B U S T O U T
Mixing bowl
Serving bowl
Cookie Sheet
---
I N S T R U C T I O N S

Combine all your ingredients for your dressing into a bowl and whisk away. Save in the fridge for a couple of days. I like to make a bigger batch to use a couple of times a week.

Let's make the croutons. Now in my house, I usually make more than needed for the recipe. I usually get a couple of little hands and big snacking on them after they come out of the oven. Turn the oven on 350º and let it pre-heat. In a bowl, combine the cut-up bread and olive and salt and pepper. Mix well. Then place on a cookie sheet, and let bake for about 15-20 min. Keep an eye on them, so they don't burn. Once they are out, drizzle with honey and add the lemon thyme leaves, and finish off with a little bit more salt and pepper.

Assemble the greens, herbs, shallots, and chives on a large serving tray or bowl. Right before serving, toss the greens with croutons and dressing. Lastly, add your edible flowers on top.
---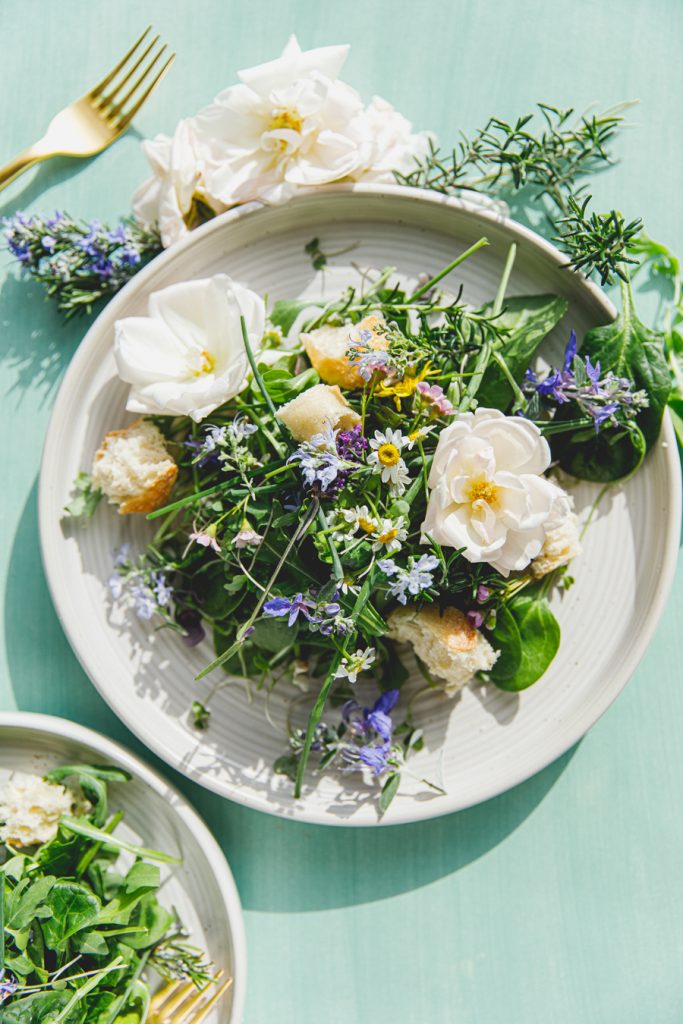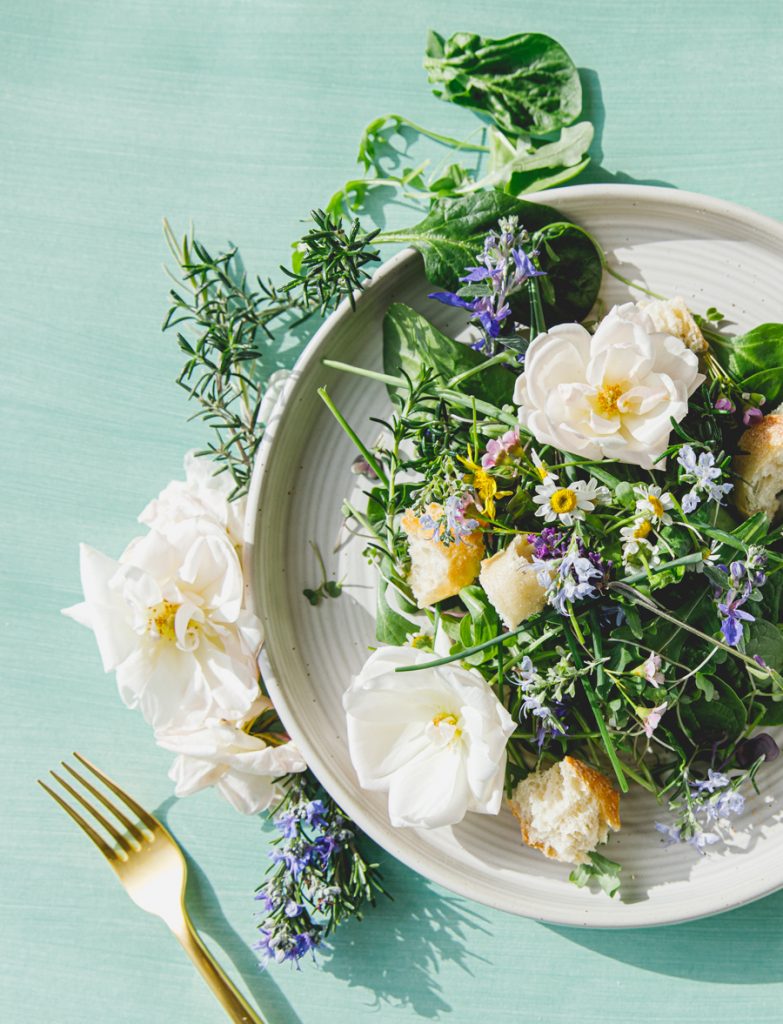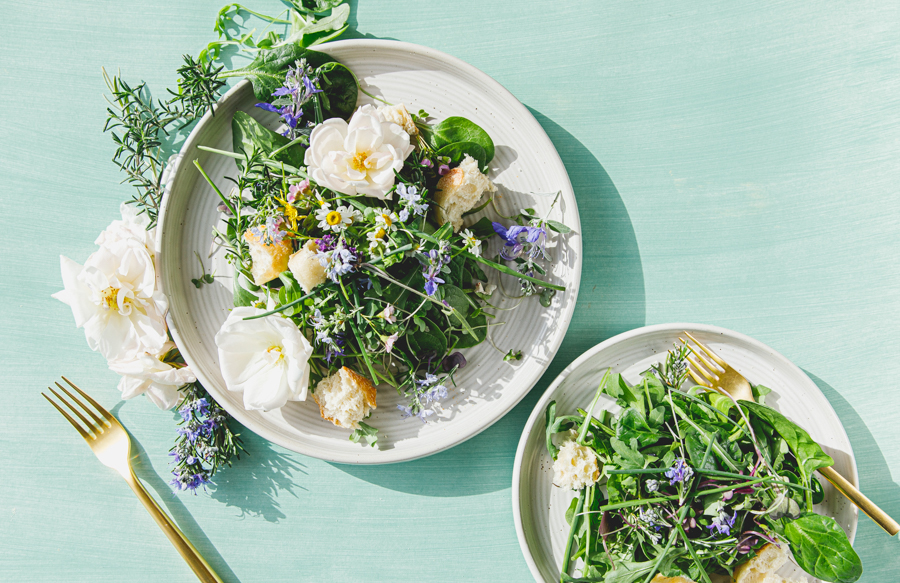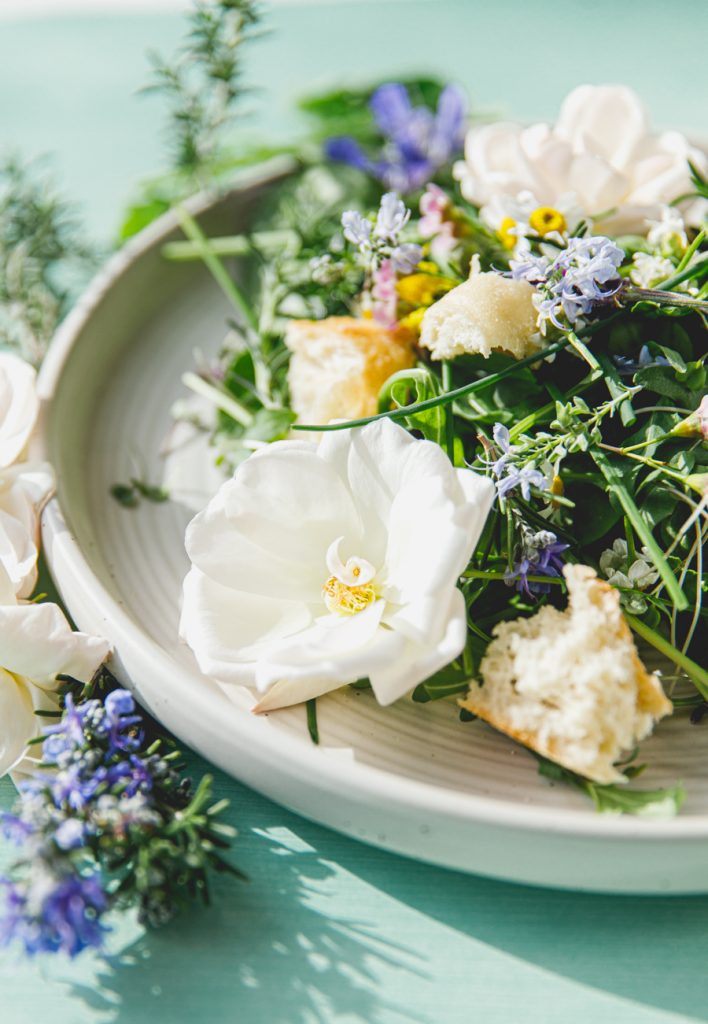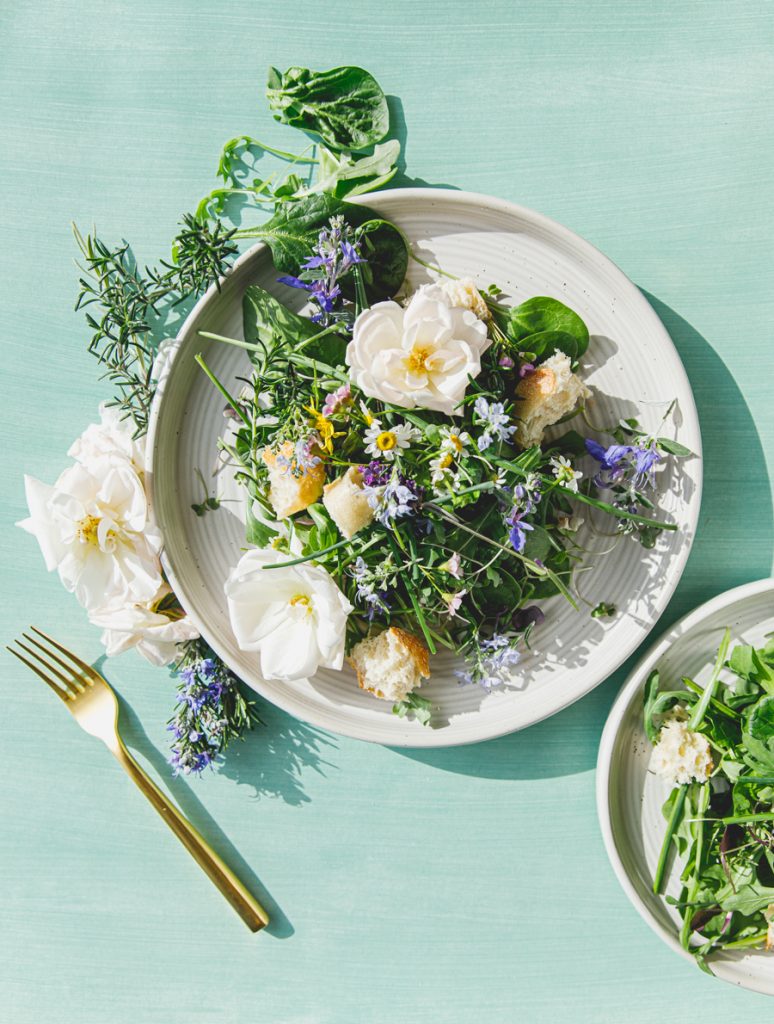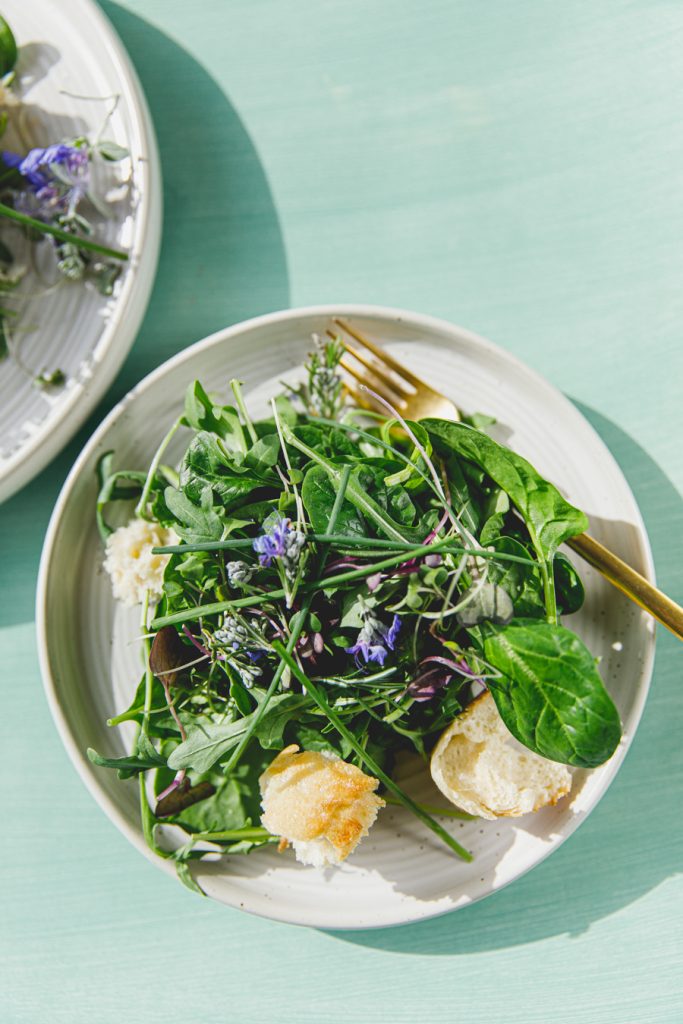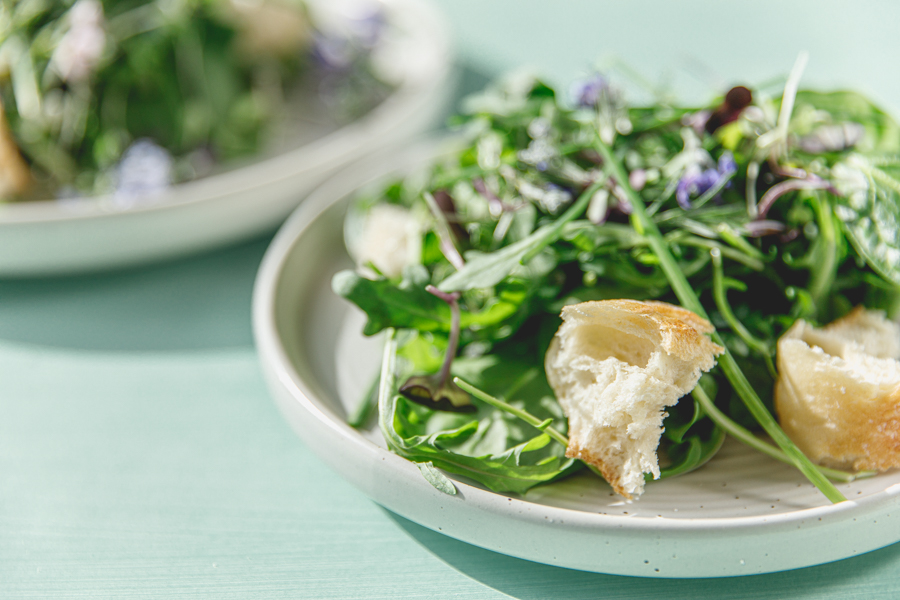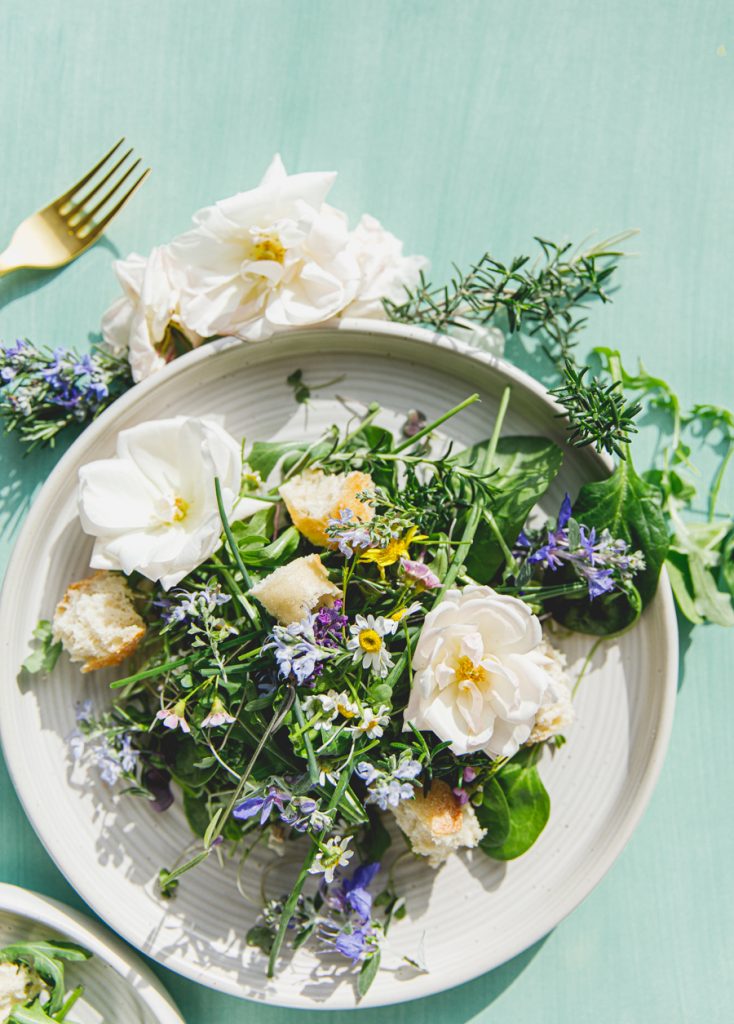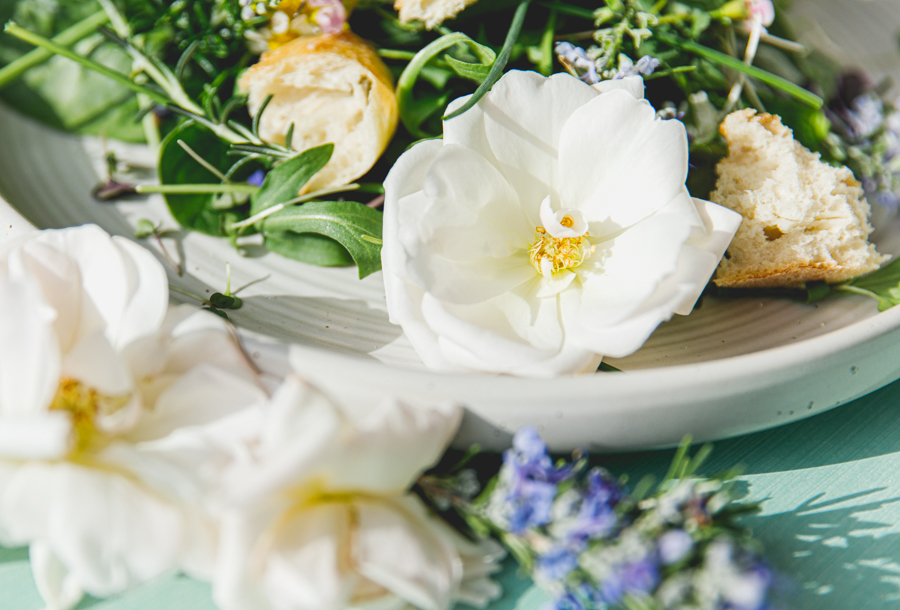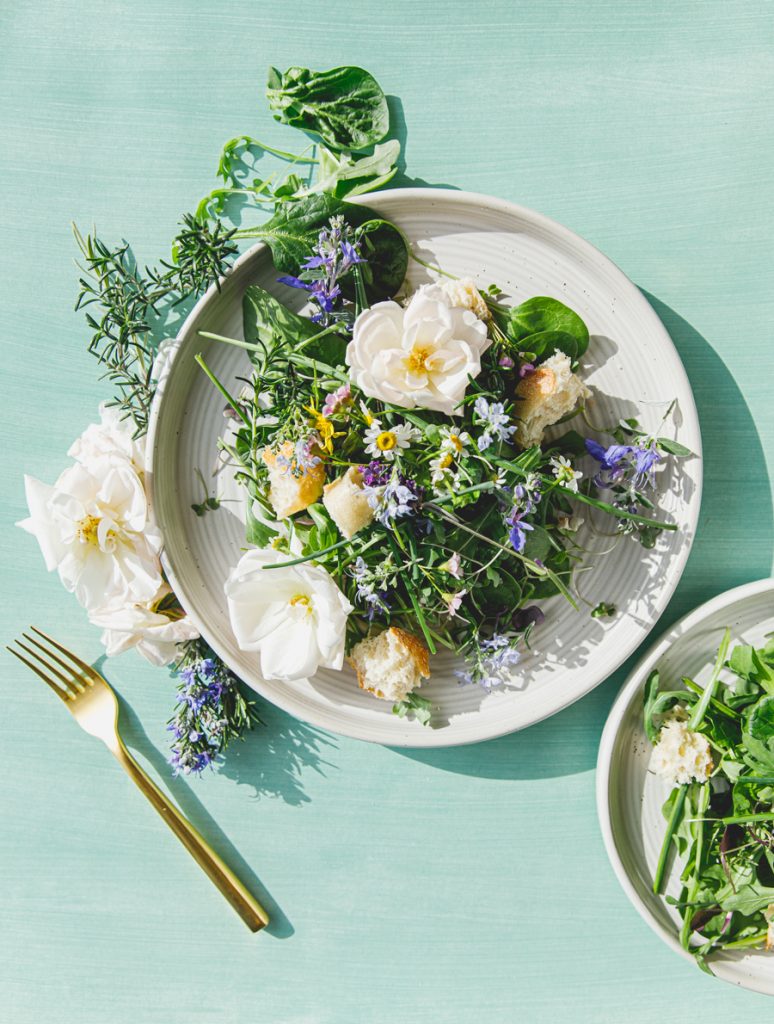 ---
B E I J O S K I T C H E N

xx
Abby