I think we say this every year, but where does the time go?!? I swear Jacquelyn, and I were just scheming ideas for our spring to do list, and today we are checking off our last final spring item with our buddha bowls. But don't fret, summer is among us, and this summer's to-do list is a goody! Summer is my favorite season… I think most of you feel the same way. How could you not, it's filled with sunshine, al fresco dinners, maybe a vacay or two, and most of all making fun memories with your little ones.
Cooking with this season's freshest bounty is always a must. I love to make dinner on spring and summer nights and eat outside with my family. It is what puts the biggest smile on my face! The best nights are when I can get one or both kids to help me cook dinner. I have some of the best memories cooking with my family when I was younger, and I hope I can instill that into my two kids. It requires time, a lot of patience, and some extra clean-up, but well worth the effort.
These bonding memories not only teach them about what it is in season, but also creates an opportunity to discuss the senses (taste, sight, smell, touch), boosts self-esteem, and encourages creativity which I love. All I can say is that I'm doing something right cause my kids eat more vegetables than my husband and myself combined. One of our favorite things to make is buddha bowls or hippie bowls. Also, these bowls allow each of us to put in our favorite ingredients. This is my take on a spring Buddha bowl.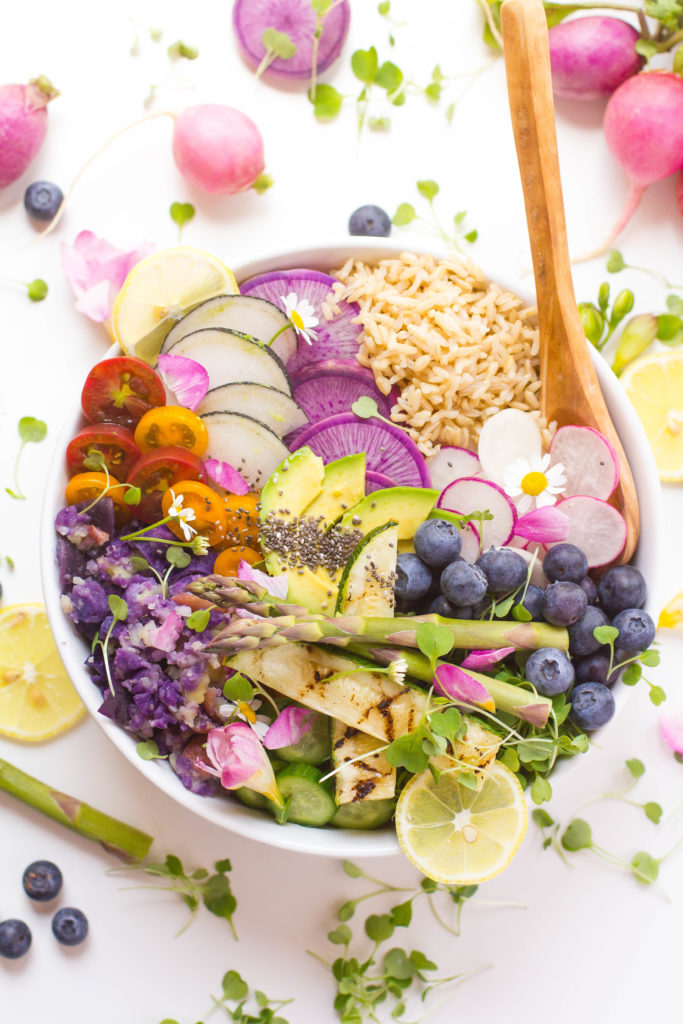 What the heck is a buddha bowl some of you might ask?
A buddha bowl or hippie bowl is a vegetarian bowl that is packed so full that it has a rounded "belly" appearance on the top much like the belly of a Buddha. While there are a lot of variations of these bowls, they usually incorporate a starch, vegetable protein, raw and cooked vegetables along with some fruit, nuts or seeds, and a dressing. It's really up to you! And who wouldn't love that?
Abby's Spring Buddha Bowl
Ingredients
Brown Rice
Asparagus (broiled or grilled)
Grilled Zucchini
Radishes (variety)
Blueberries
Cucumbers
Avacado
Purple potatoes (I roasted with salt + pepper and then mashed with a fork)
Chia seeds
Micro Greens (I like spicy arugula micro greens)
Heirloom cherry tomatoes (roasted)
Arugula
Directions
Layer arugula on the bottom of your bowl. And I sometimes will toss the bottom layer of arugula with some dressing before putting in the bowl. Then layer with brown rice. Then simply pile together your ingredients next to each other. Lastly, drizzle the citrus vinaigrette, and serve immediately. So, there are no rules to Buddha bowls, it's all about healthy options all in one place, cooked or not cooked. Totally up to you, which is fun especially for the kids. As a result, it gets them to eat their veggies. Or so we hope!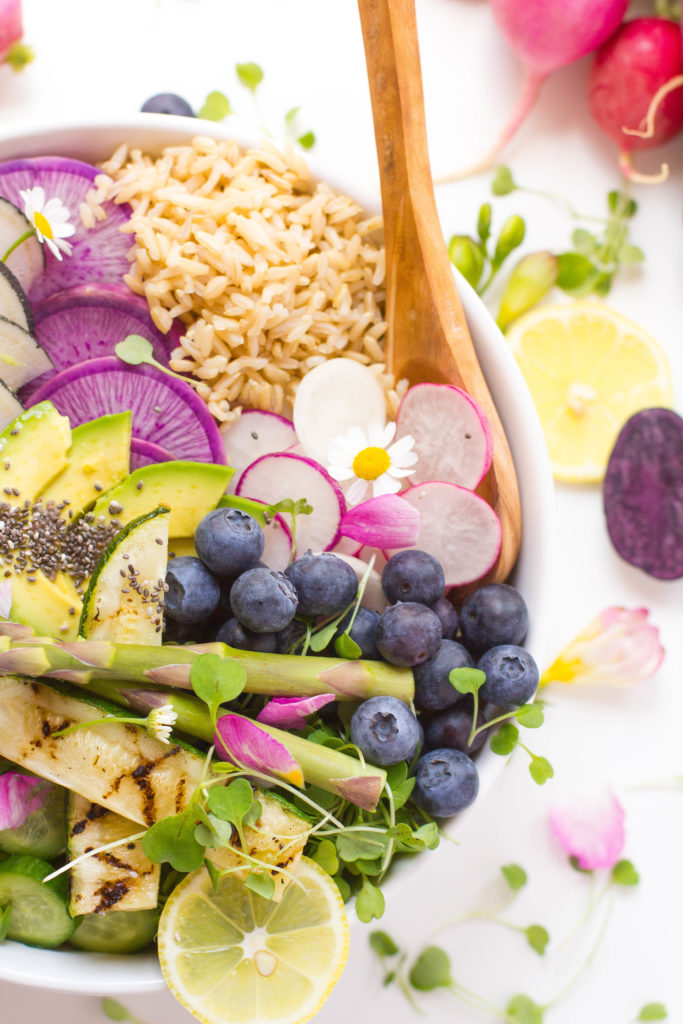 Citrus Vinaigrette
Ingredients
Makes 1 1/2 cups
One small shallot, finely chopped
¾ cup olive oil
¼ cup Champagne vinegar or white wine vinegar
Three tablespoons fresh lemon juice
Two tablespoons fresh orange juice
¼ teaspoon finely grated lemon zest
Kosher salt and freshly ground black pepper
Directions
Combine first six ingredients in a small jar; season vinaigrette to taste with salt and pepper. Finally, shake to blend and pour onto your bowls.
Can be made up to 1 week ahead, and kept chilled.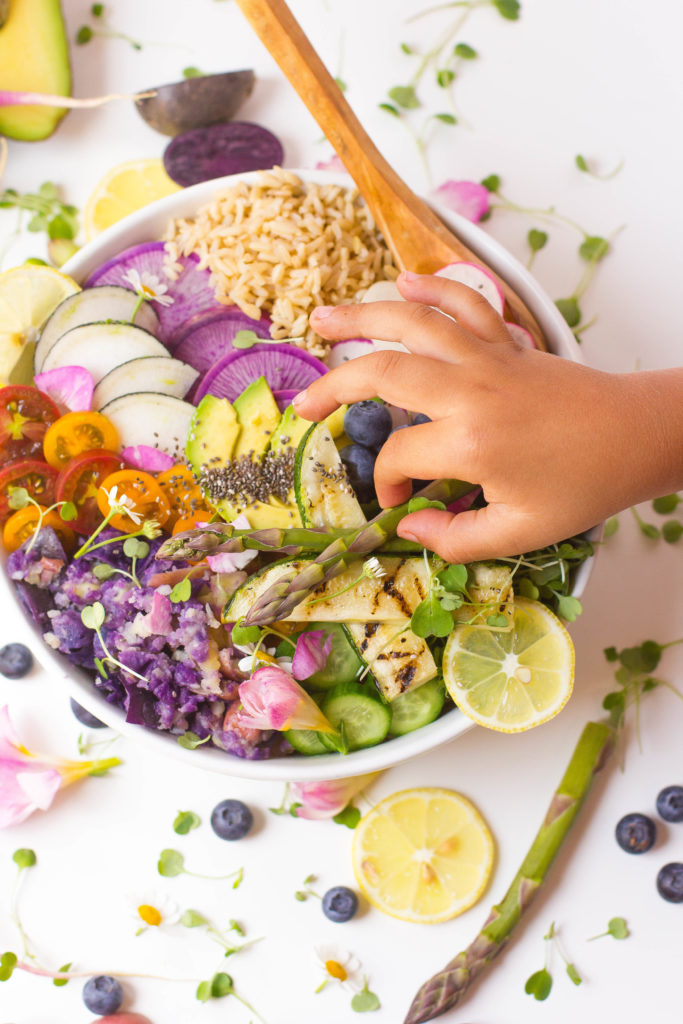 Watch out for sneaky little hands!
 xx
Abby