Us three Beijos ladies are all busy moms, what mom isn't? With everything life throws our way, plus work and chasing after our kiddos, who has time for anything?! When we discovered Sonnet James, a company founded with the idea to create "play dresses" for moms we had to check it out! Being active and able to play with your kids comes with the territory of being a mom, and a lot of the time it's hard to find fashionable clothing that keeps up. So we set out to find three ways to stay stylish while being a busy mom with Sonnet James and the results are really cute!
Each of us chose a play dress to wear with our kiddos and we all loved what we chose! The quality of each piece is amazing, built to outlast any grass stain, milk stain, peanut butter & jelly stain, or whatever comes it's way. We also like that nothing is too low cut or too short, you can actually PLAY without feeling uncomfortable and still look cute! What a concept!!
Keep scrolling to see our choices and to read a little bit more about what we do to stay active wth our kids and how we feel about motherhood. Truth be told guys, this was supposed to be a Mother's Day post but like I said, we are busy moms!!! Life is wild and crazy for each of us right now so time with our kiddos is the most precious of all!
Photos of Jacquelyn & Leah by Nea Nabayan / Photos of Abby by Erin Milnik
Jacquelyn
Jacquelyn is wearing the Daisy Tie Dye Dress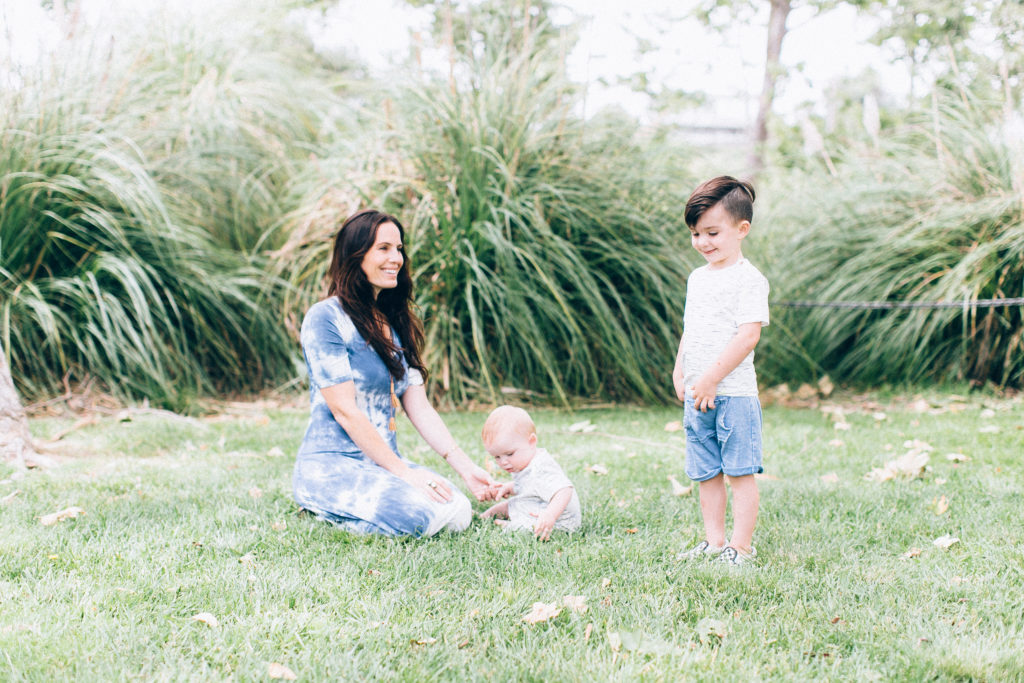 What is your favorite thing about being a Mom?
Gosh, where do I begin?! From the moment I had Court I was on cloud nine. Now having two little guys that depend and look to me for everything, well, I couldn't be happier. I love making them laugh, playing with them, cuddling with them and watching them learn and grow. It's amazing to see and it definitely gives me more purpose. I've always been a go getter but my kids motivate me to try harder and be better at everything I do. On the other hand, I love how they make me slow down. There are days where I have a million things to do but Cruz wants to cuddle or Court wants to play and I say to myself, there will be a time where they won't want this. That makes me stop, slow down, and focus on what's important; them.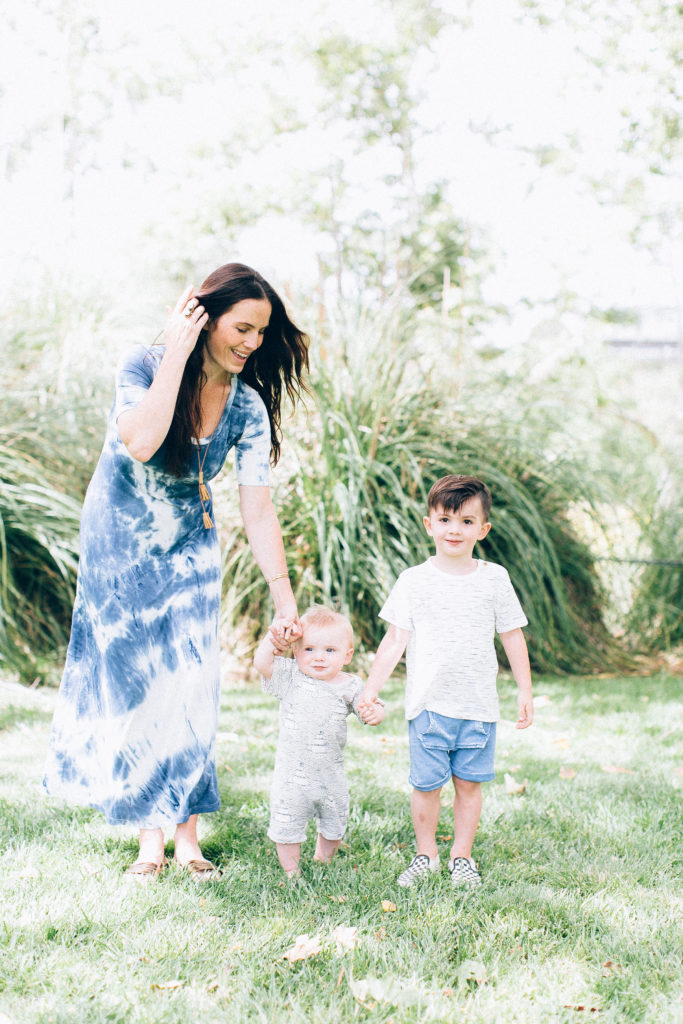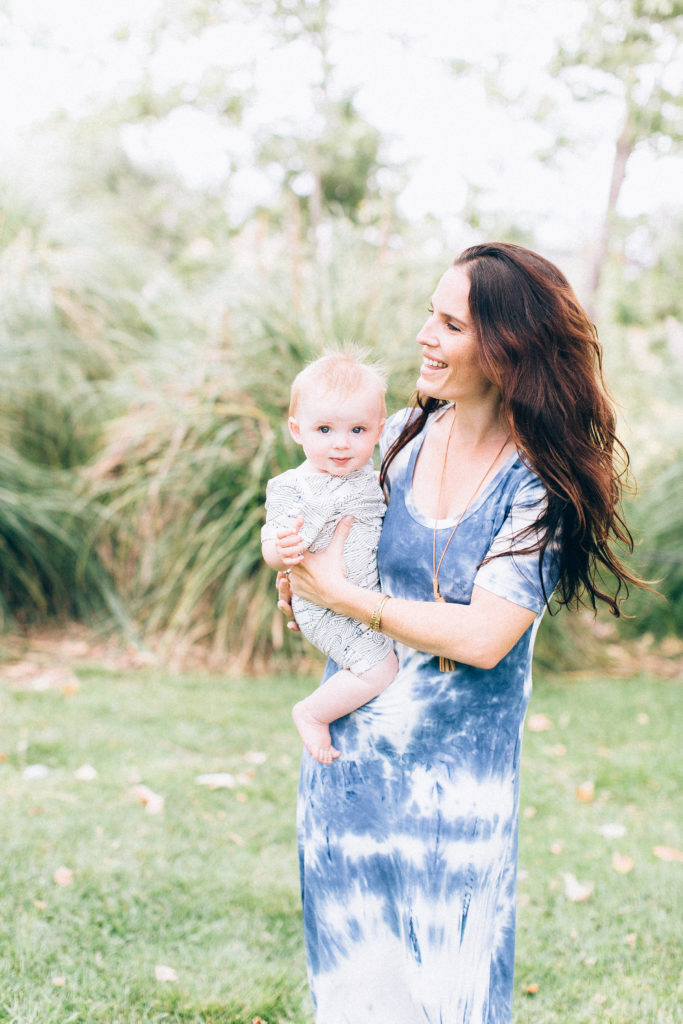 How do you get active and play with your kiddos?
Well, with these two boys I don't really have a choice not to! My husband and I have always been active. We both love to play sports and love to be outdoors. I played multiple sports growing up, soccer was my main love. Not a day goes by where I don't do some type of activity with my boys. Court basically requires it! About 99% of our days start out with a walk to the park. I will walk Cruz in his stroller with our dog Dolly while Court rides along on his scooter. We go to the park for a few hours and play, play, play. Court is usually dressed up as a super hero and Cruz is starting to walk now and getting into everything. I'm totally that mom that is out there getting down and dirty playing with my kids. Other things we like to do are go to the beach, the pool, play pretend super heroes or play soccer. Having boys is truly tiring, but since I don't have the time to work out as much as I used to, it's nice to have these two keeping me on my toes!!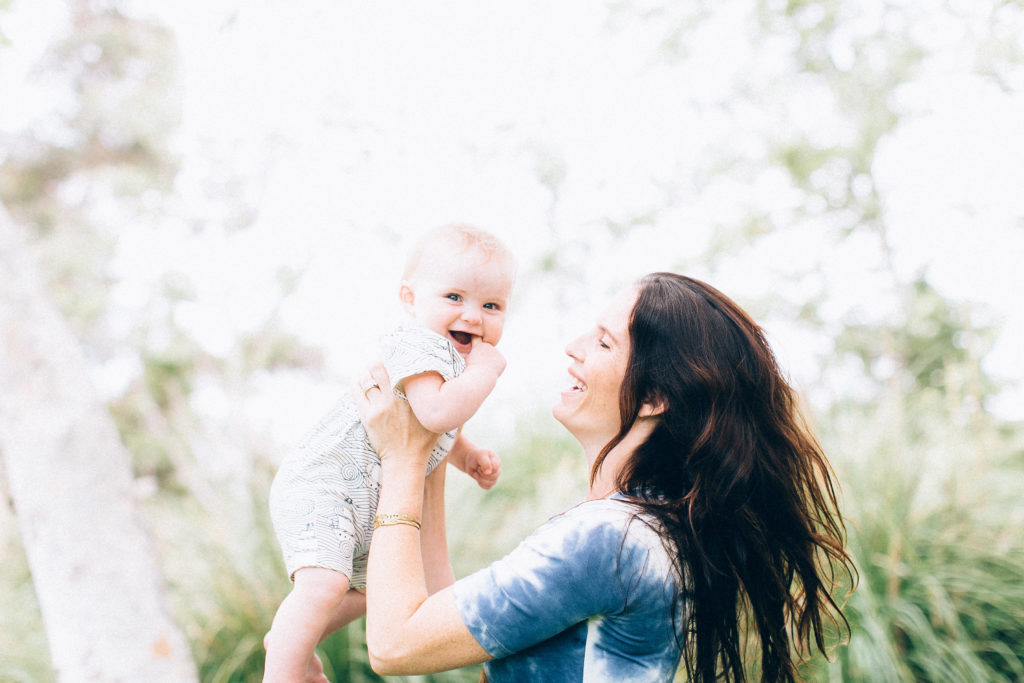 What is your ideal family day?
Our ideal family day would definitely begin with a day that daddy doesn't have to work! My husband's job entails him being on call basically 24/7, so on the days where he doesn't have anything we really make the most of it! The morning would start with a walk to the beach, picking up our favorite smoothie along the way and then playing in the water. Then on our walk back we would stop at the park and play longer. When we get home it's lunch time and then naps. After naps, a trip to the pool! Court is learning to swim these days with daddy and loving it, Cruz and I like to jump in as well, but mostly watch. Then BBQ at home and watch a movie with some ice cream. I honestly can't think of a more perfect day than that!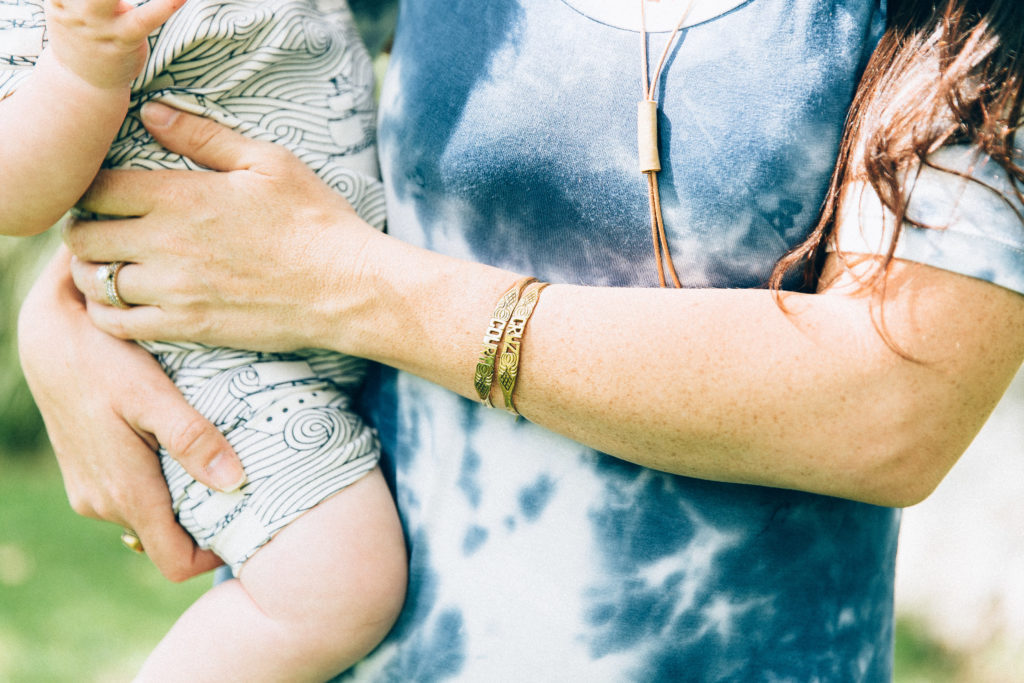 Abby
Abby is wearing the Brielle Dress in Floral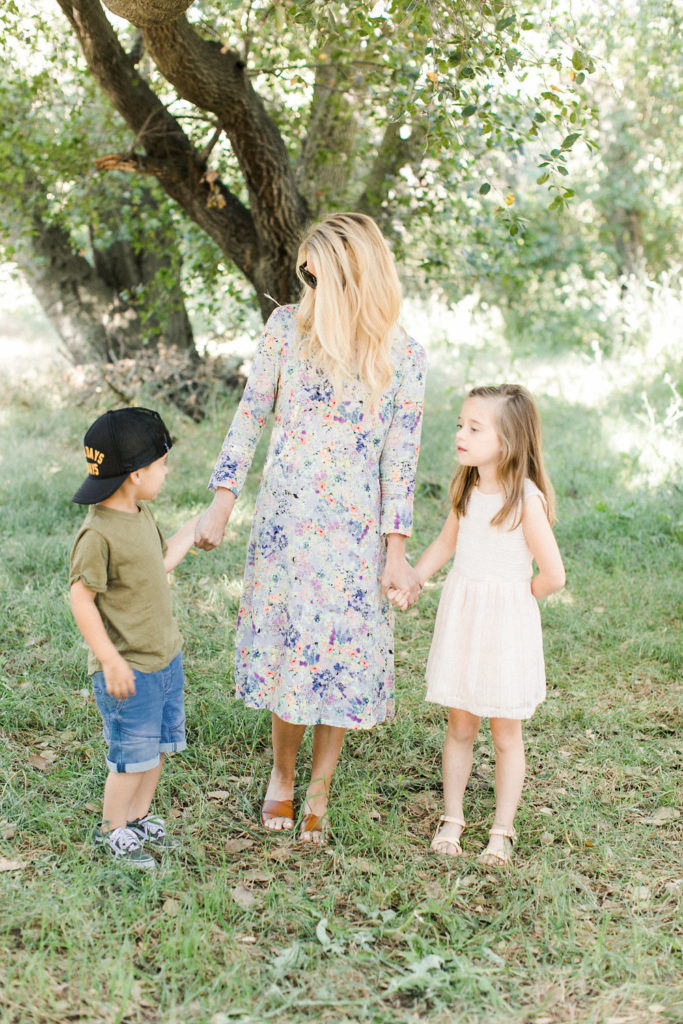 What is your favorite thing about being a Mom?
I love that my kids are a purer, more innocent version of myself and my husband. With it being just me, I have had more time with them and they have truly inspired me to go back to a "me" that wasn't as impatient, stressed-out, or tired. Pretty much a grouchy mom, no one likes that. They motivate me to be a better person in general, as I try each day to be a good mom. There are some days where I feel like I have failed, but at the end of the night those big hugs and I love you mommy so much makes anything that happened prior in the day all good.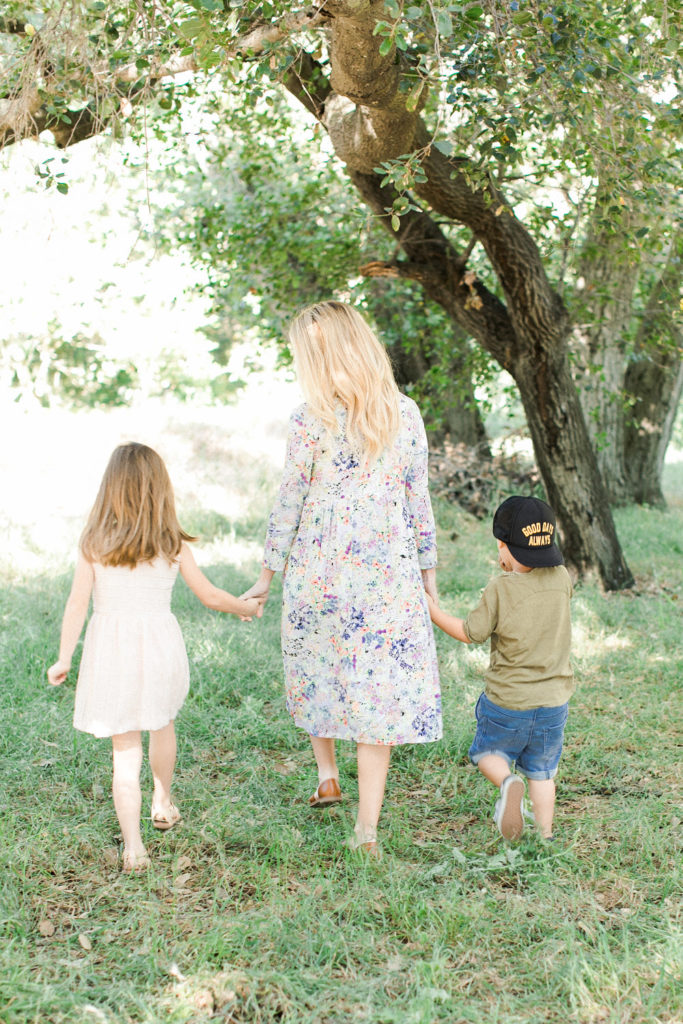 How do you get active and play with your kiddos?
My kids think that I have not one athletic bone in my body, so when I play soccer or any kind of sport they are amazed that I actually know what sports are for one, and that I'm actually kind of good. Believe it! I think I gained a couple cool mom points.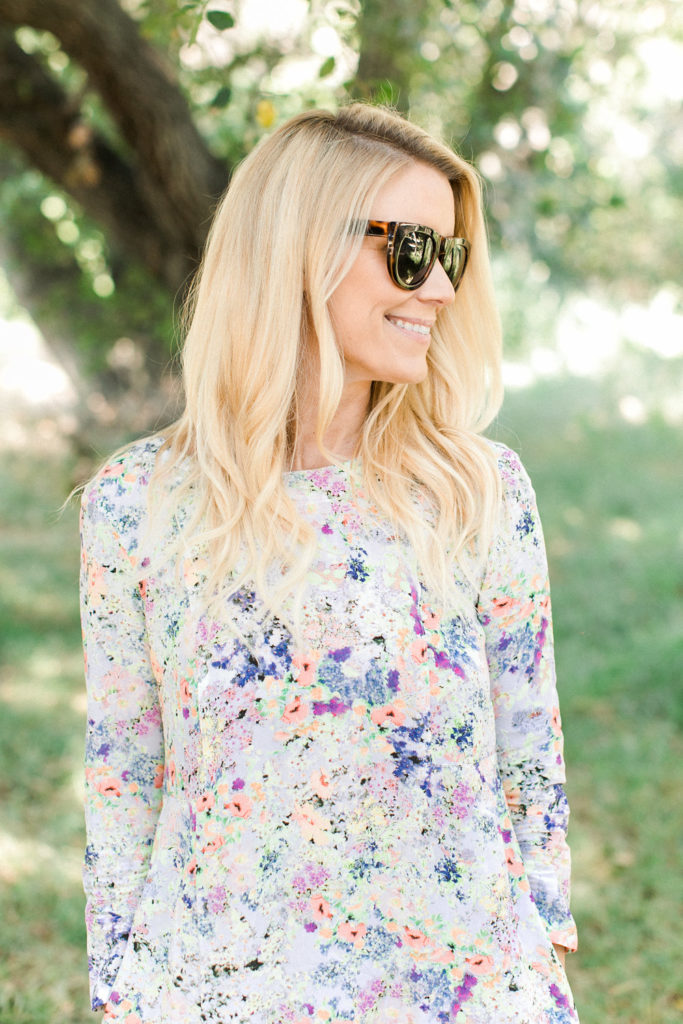 What is your ideal family day?
Right now, our ideal family day is every
Saturday
for the next three weeks. Having the hubby gone during the week, makes
Saturday
a holiday every week for us. It dosent really matter what the day consists of, as long as it includes Dad, we are one happy fam-I-ly. Life is extremely hectic right now with moving, sports, and life in general so we try to cook dinner together or go out to dinner
on Saturday
nights. Usually followed by a movie just the four of us. As challenging as these past six months had been and has tested myself as a parent especially my patience, I wouldn't change it at all. It really puts life into perspective and has given me new insight as how important family is especially when one of our tribe members is missing during the week. So long story short, any day with our whole family together is an ideal day in the Guido household. Now, eventually, when we are in our new home, our ideal day would probably be making breakfast together with our family playlist in the background followed by some park action and ending the day with making dinner and a family movie.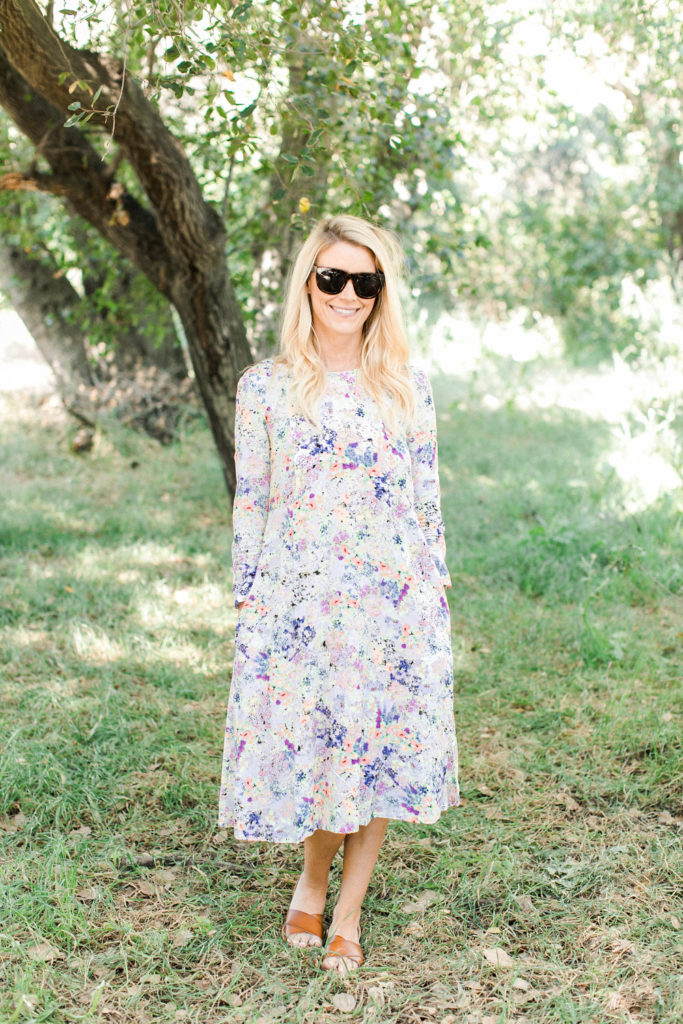 Leah
Leah is wearing the Reese Dress in White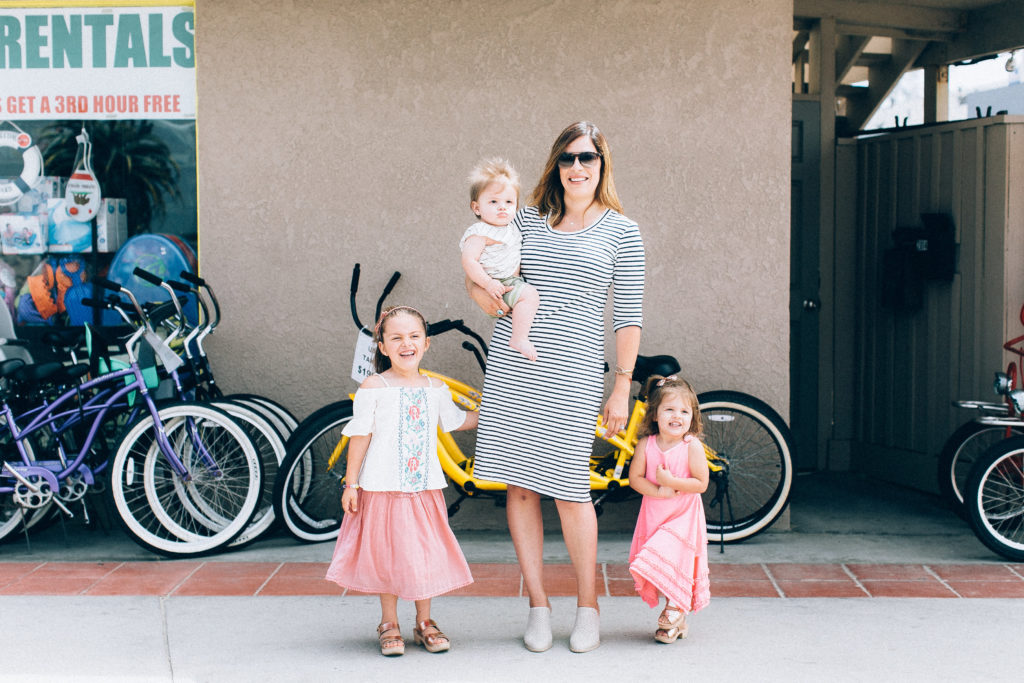 What is your favorite thing about being a Mom?
Ummmm, everything right?? I was just saying to someone, It's hard to remember life before being a mom. Believe me, I had some great times.. a good childhood, some really fun adolescent years and some super fun twenties!! But when I became a mom, it was the most powerful force, and it's like life started all over and everything changed. It's the best thing ever mixed with the most exhausting thing ever. I love having my three little personalities, I love seeing them blossom, and I love doing life again through their eyes. Most of all I love all the love coming my way, the cuddles, the I love you's, and the super tight hugs.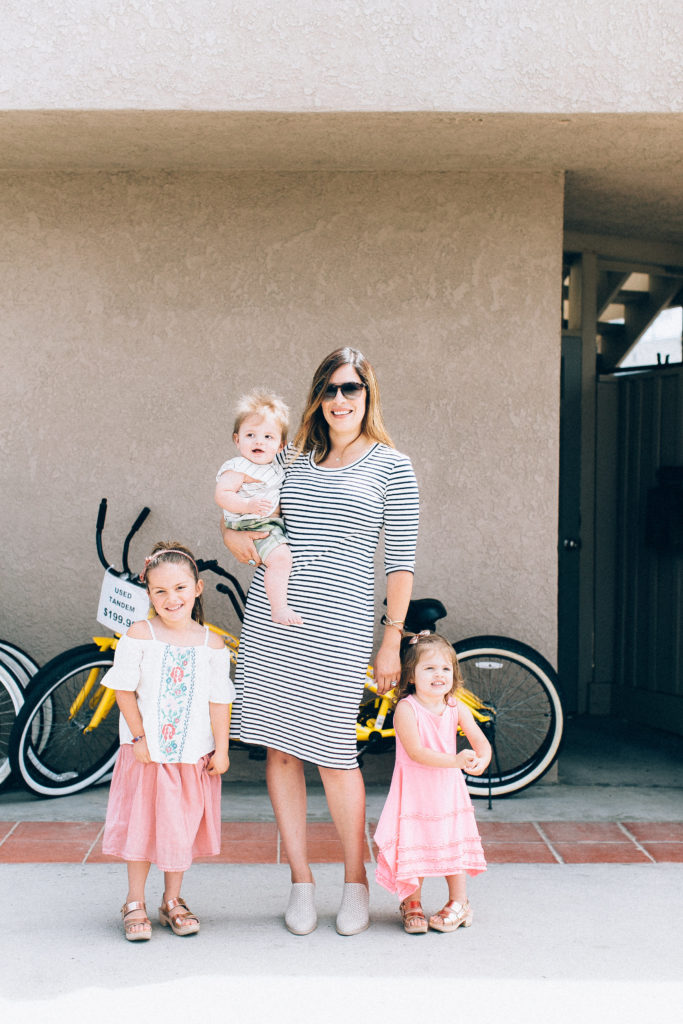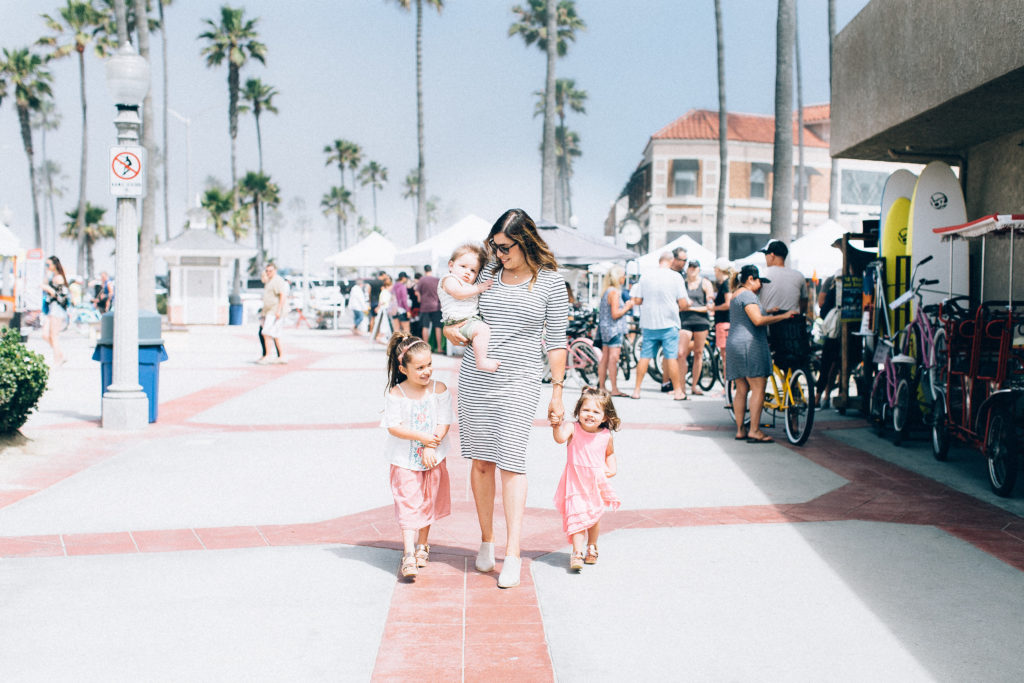 How do you get active and play with your kiddos?
This time of year we are swimming in our pool. With my oldest, she just got done with soccer so we usually play in the front yard kicking the ball back and forth. For the little ones we like being outside on our front lawn playing with bubbles and toys. I love seeing their expressions when a plane soars over, a car passes by or when a bug crossed our path. We ride bikes on our cul de sac too. Believe me it's all about getting all the energy out of these wild little active kiddos, so being outside is pretty essential.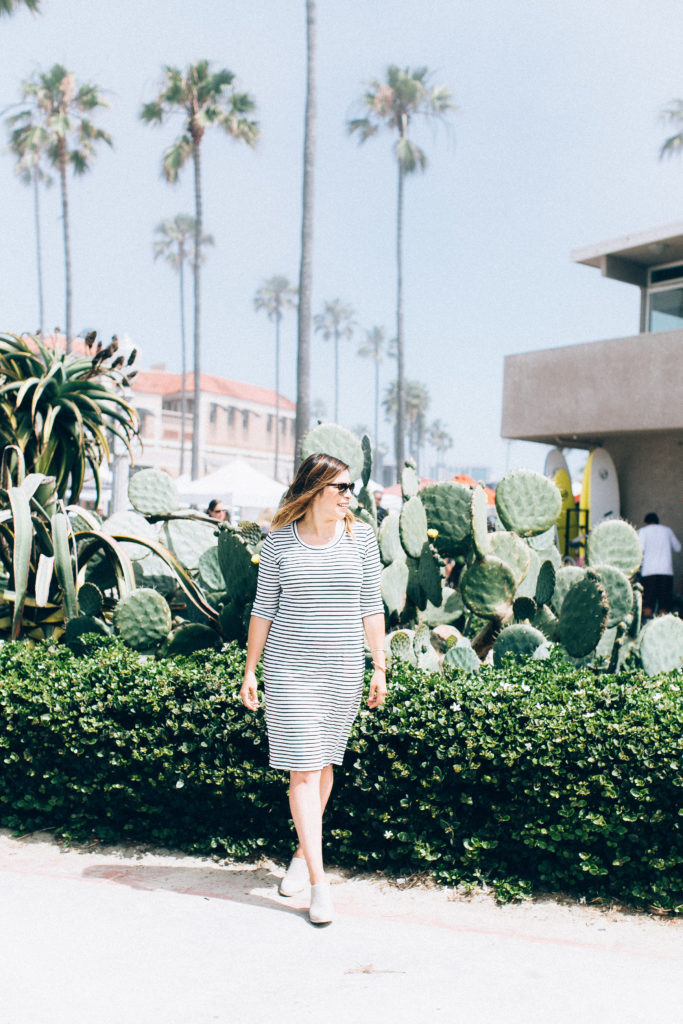 What is your ideal family day?
Right now I like hanging with family at home. It's hard to enjoy the kiddos outside of the comforts of our house because I have two babies. So if we decide to go to Disneyland or the Zoo or out to dinner it's pretty chaotic and exhausting for both me and my husband, haha. So a nice relaxing day is spent at home. I love being out and about so much and I miss doing it, but right now it's hard with the ages of my kids.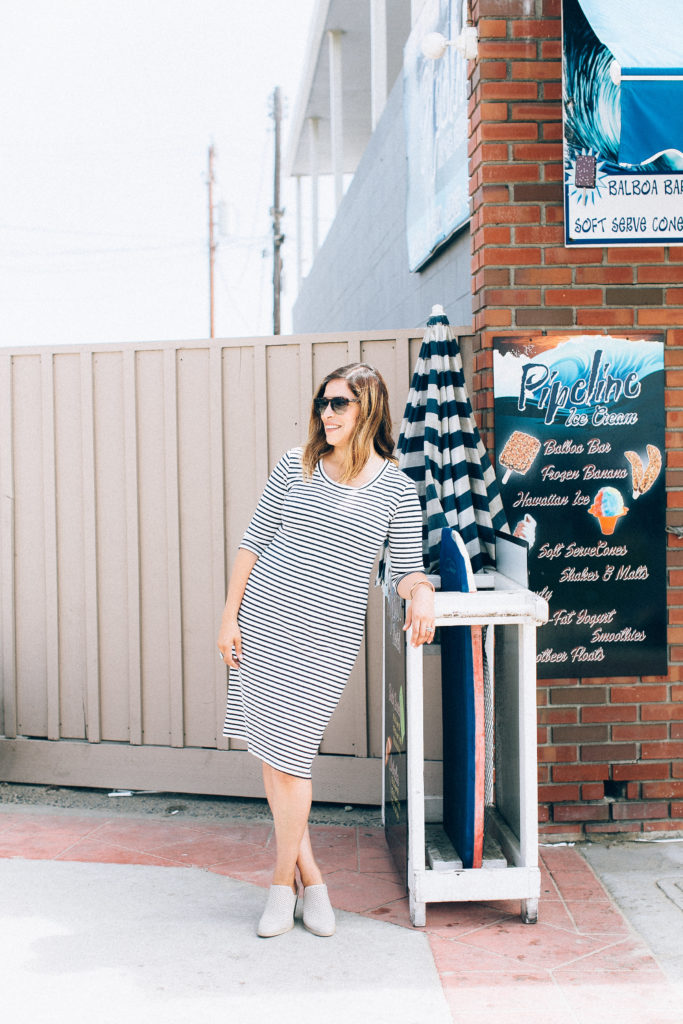 Thank you Sonnet James for thinking of mom's and exactly what they need! To have fun and live life to the fullest with our kiddos, but look stylish doing it!
xx
Jacquelyn