We did a ton of weddings this year, and we couldn't be more grateful. Each wedding we do I have a little pinch myself moment, it's usually during the vows or during a speech. Being a part of such a special day and seeing families so happy never gets old. This is the beautiful Palm Springs wedding of Casey and Erik. Their wedding really stands out to me because of their amazing family. Everyone was so kind and gracious and you could really feel the love for these two.
Casey came to us early on in the planning process and had a pretty clear vision of what she wanted. A touch of glam old Hollywood mixed with a moody modern vibe. She made it pretty easy being the stylish girl she is! Plus, they are a gorgeous couple, so that doesn't hurt!
Everything came together beautifully as captured by Andria Lindquist. Keep scrolling to see this Palm Springs beauty full of bougainvillea, glamour and romance.
Also featured today on Junebug Weddings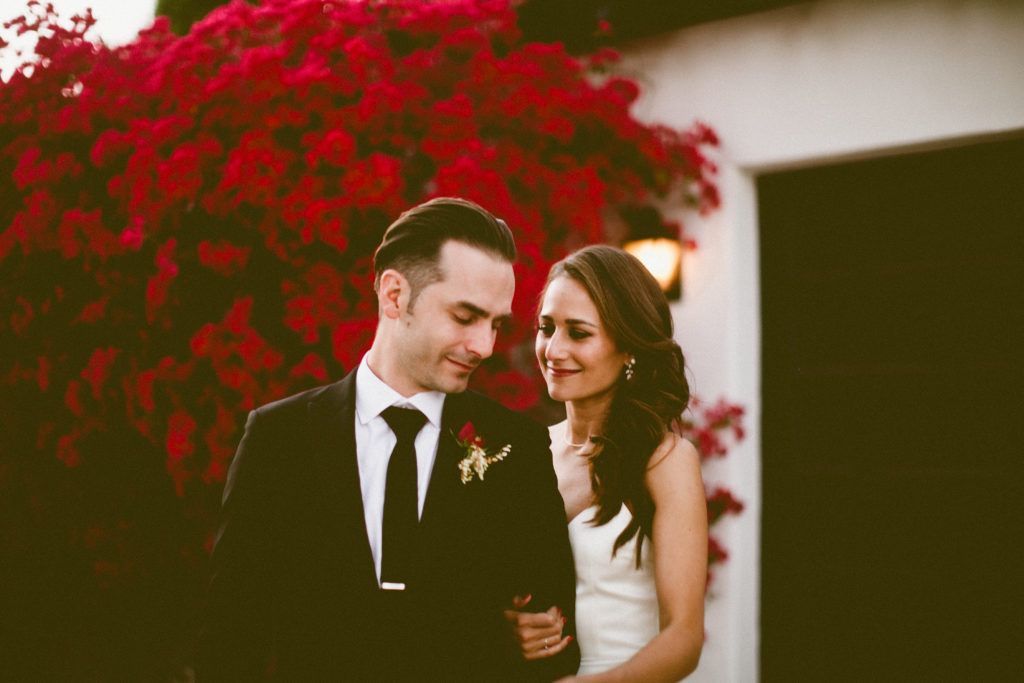 Let's start with the details… The wedding took place at the gorgeous La Chureya Estate in Palm Springs. It had everything your heart would desire from a gorgeous pool, tons of bougainvillea and tons of pretty corners to take photos. Casey's simple yet stunning dress took center stage below and we loved her velvet heels she chose.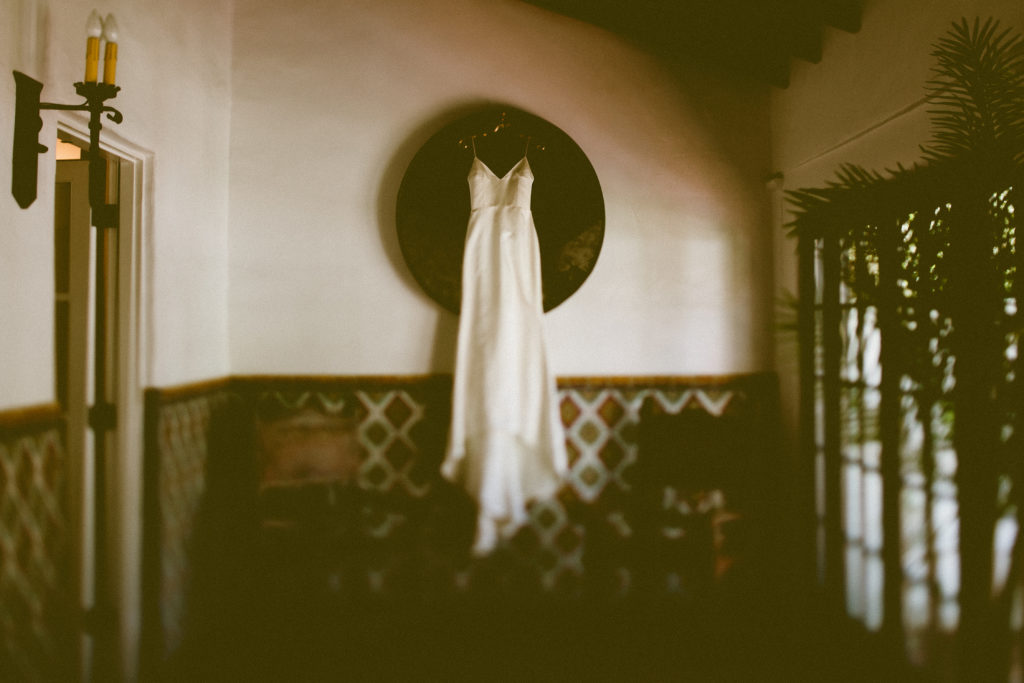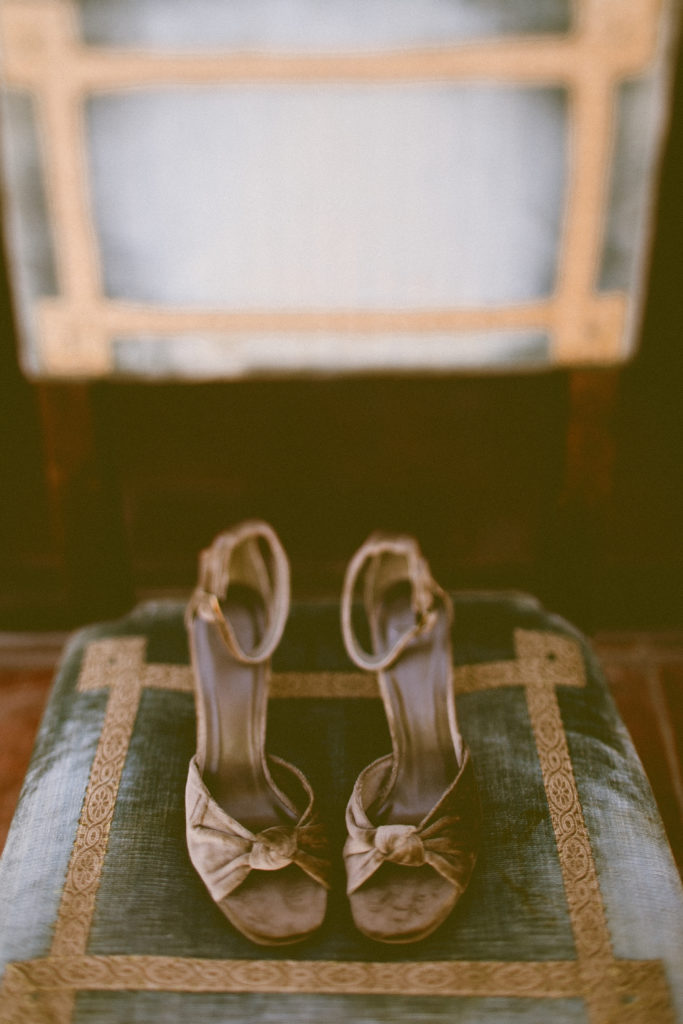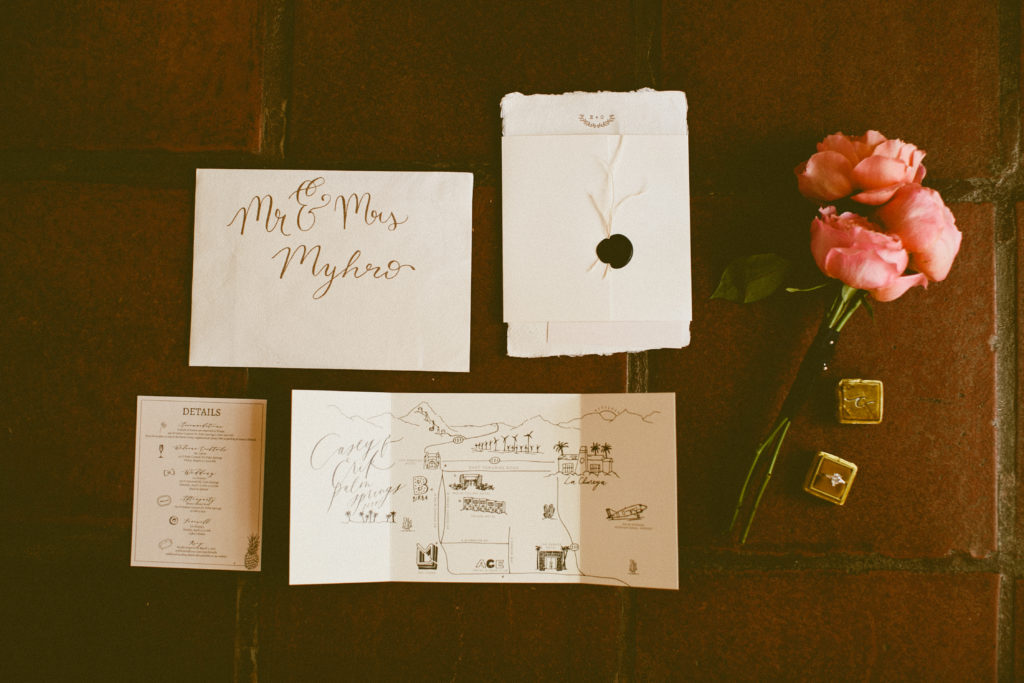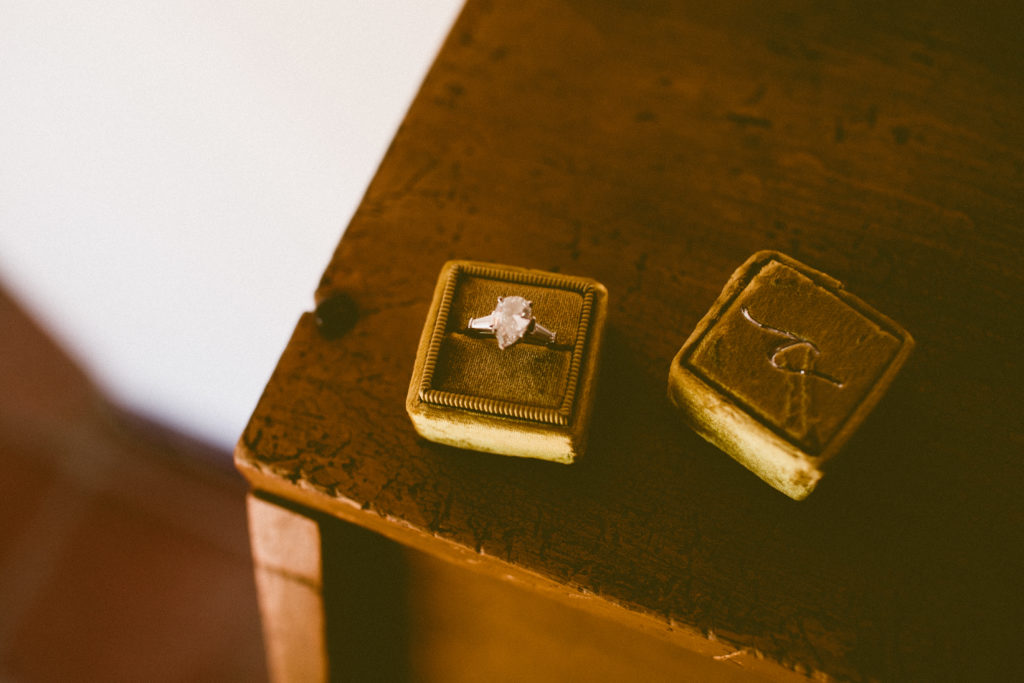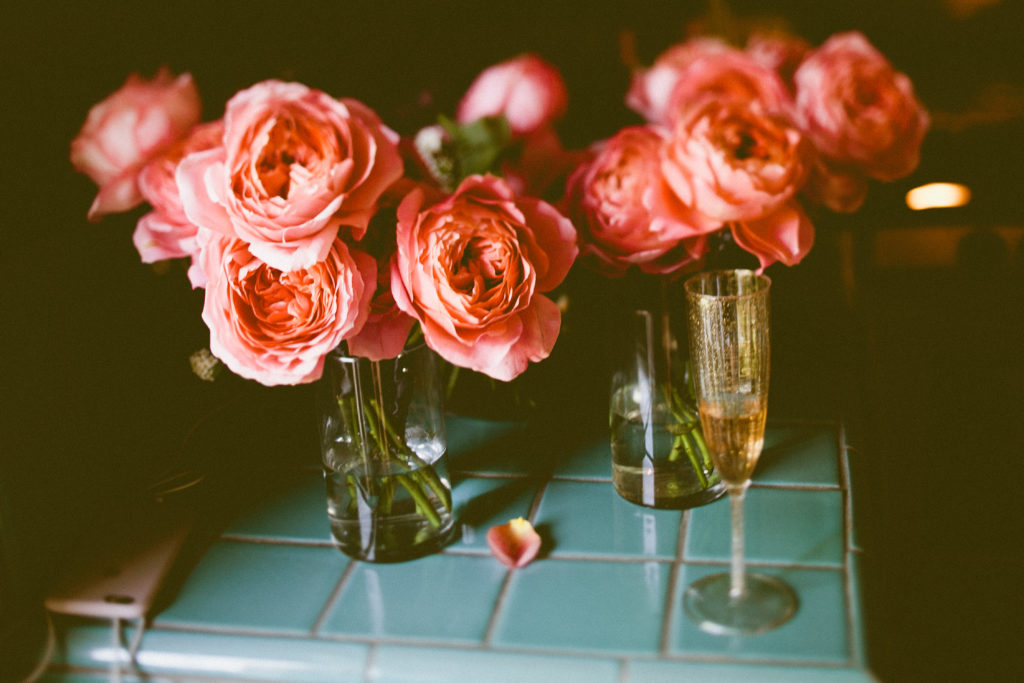 Could she look more beautiful?! This old Hollywood glamour look really got us! So beautiful inside and out!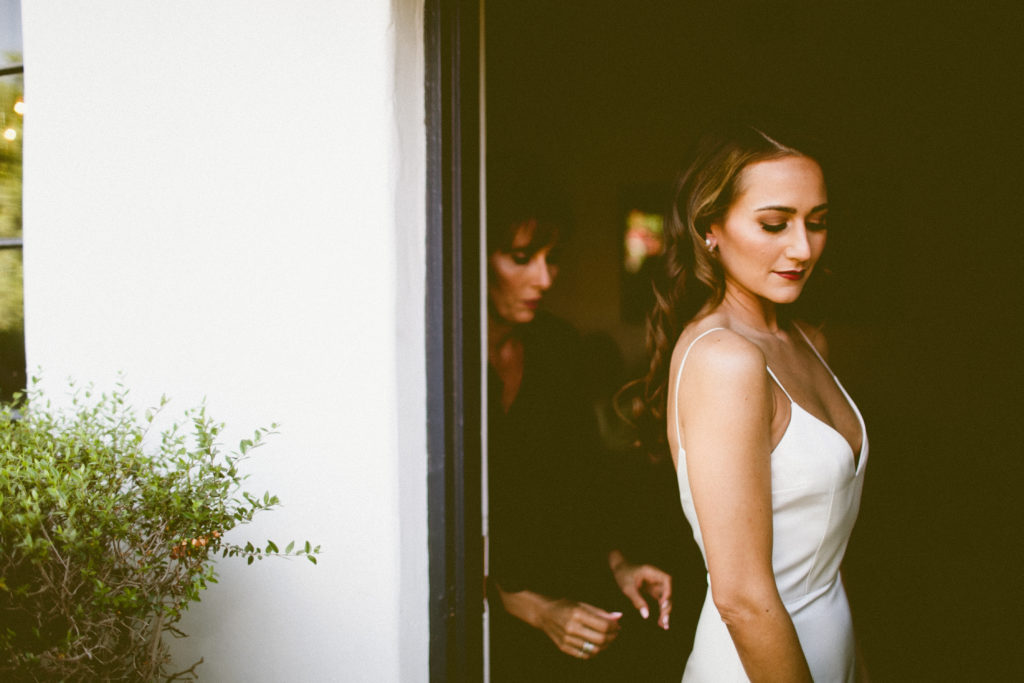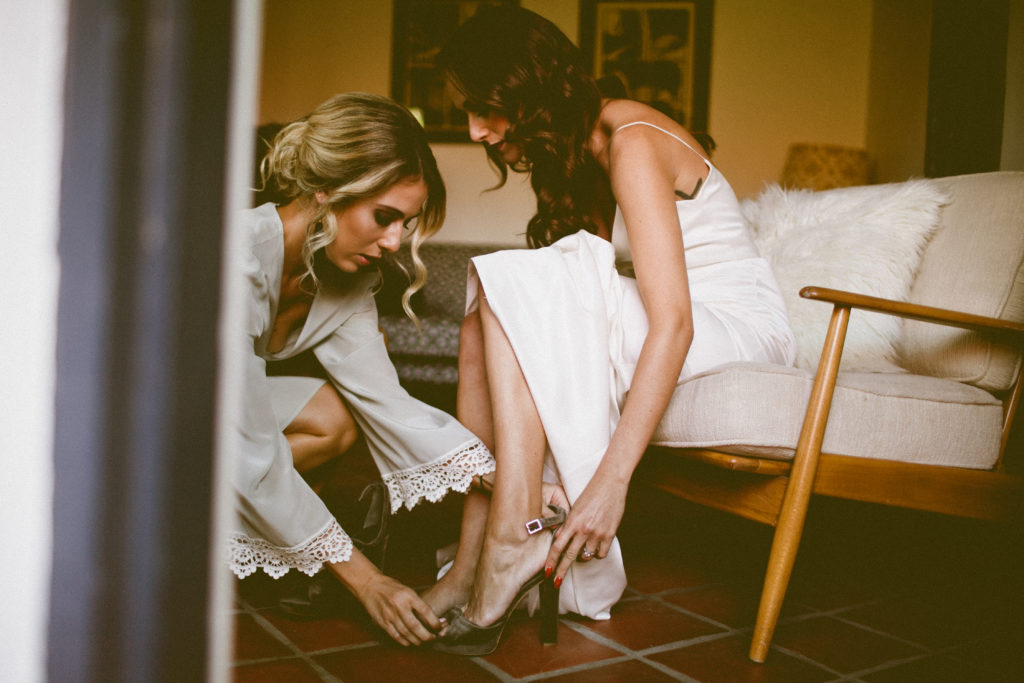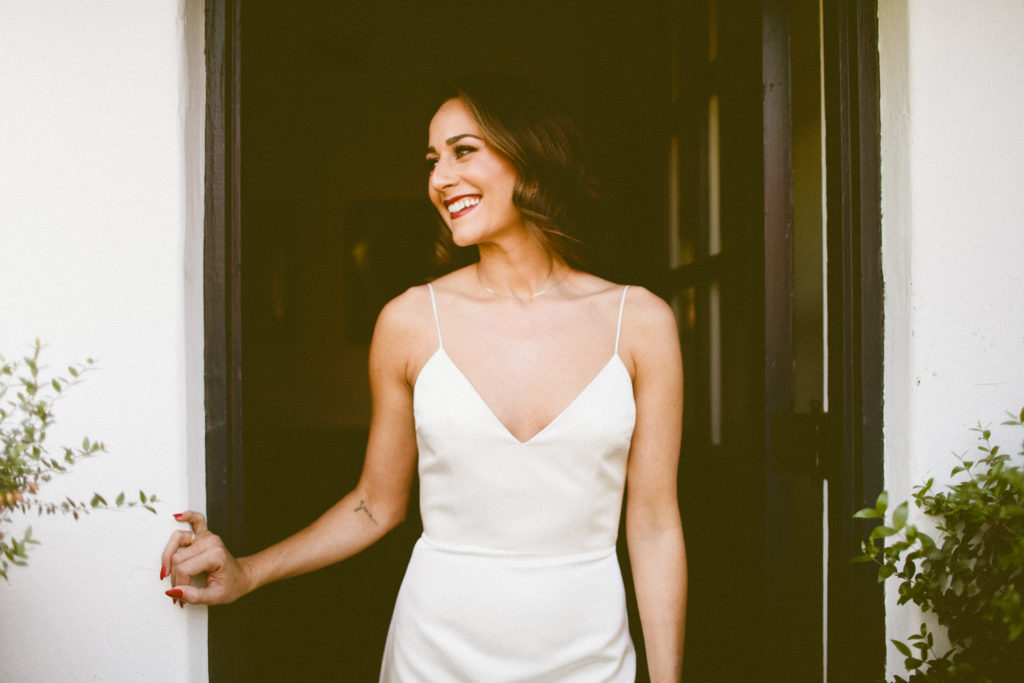 The first look took place in the estate and couldn't have been sweeter. I love how excited they both are, you can feel the giddyness in the photo!!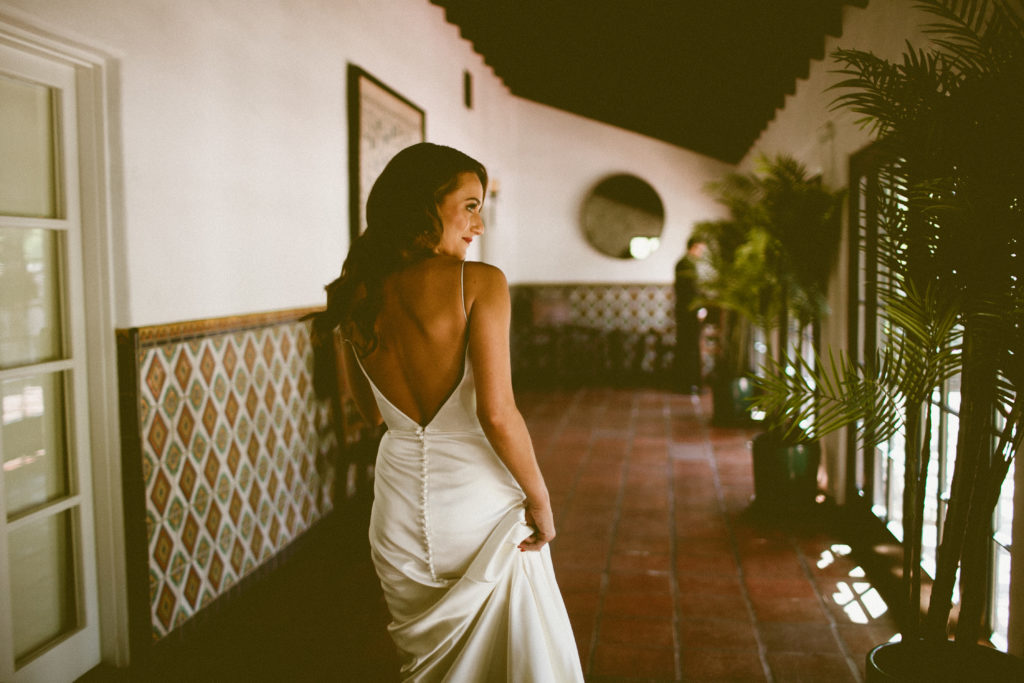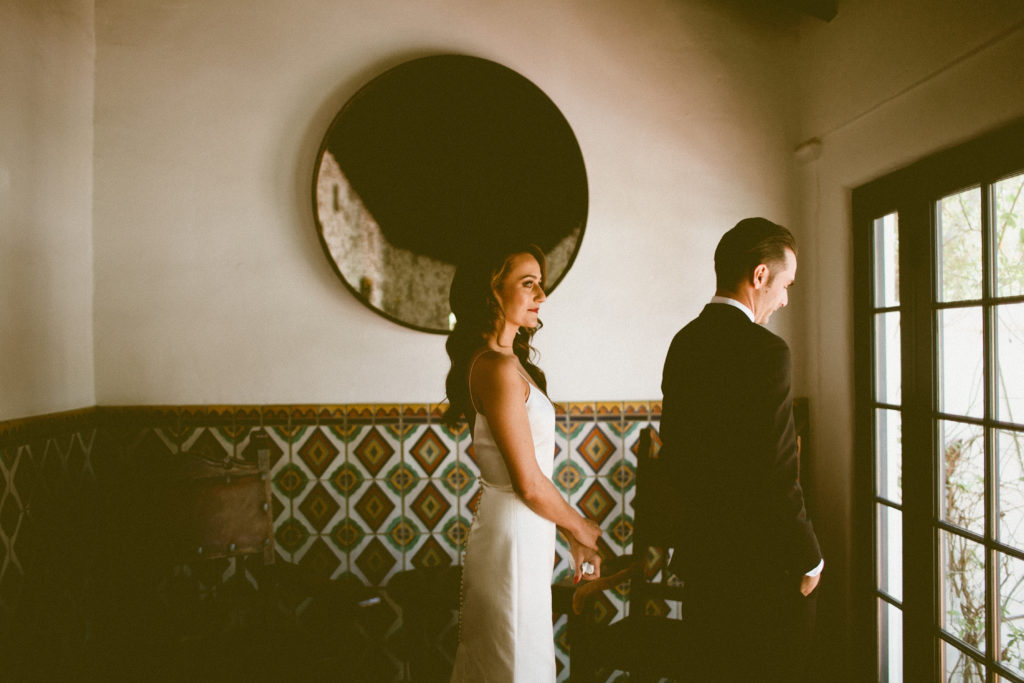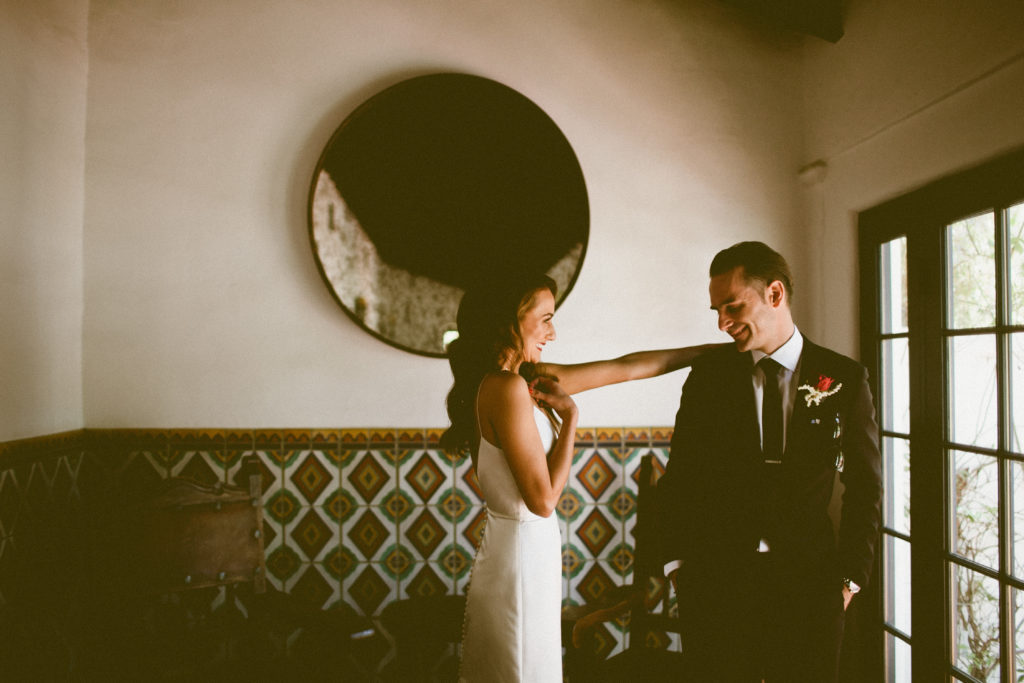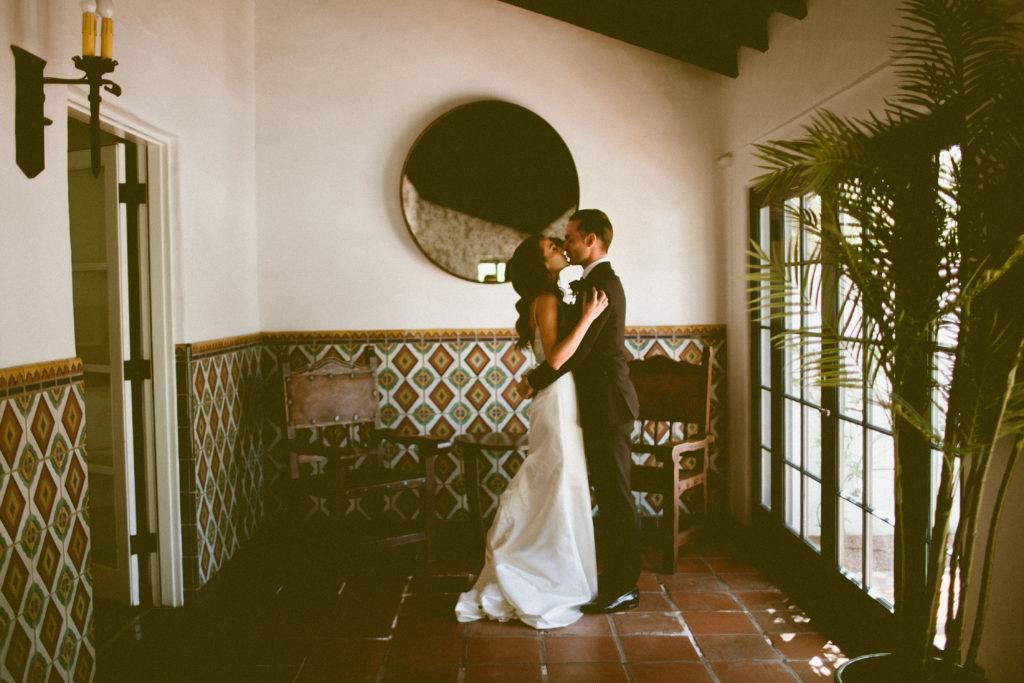 Bloom Babes handled all of the florals and Casey's bouquet. I love how dramatic and romantic it is, and that black ribbon just made it!! Also, that alter install they made will go down as one of our favorites of all time!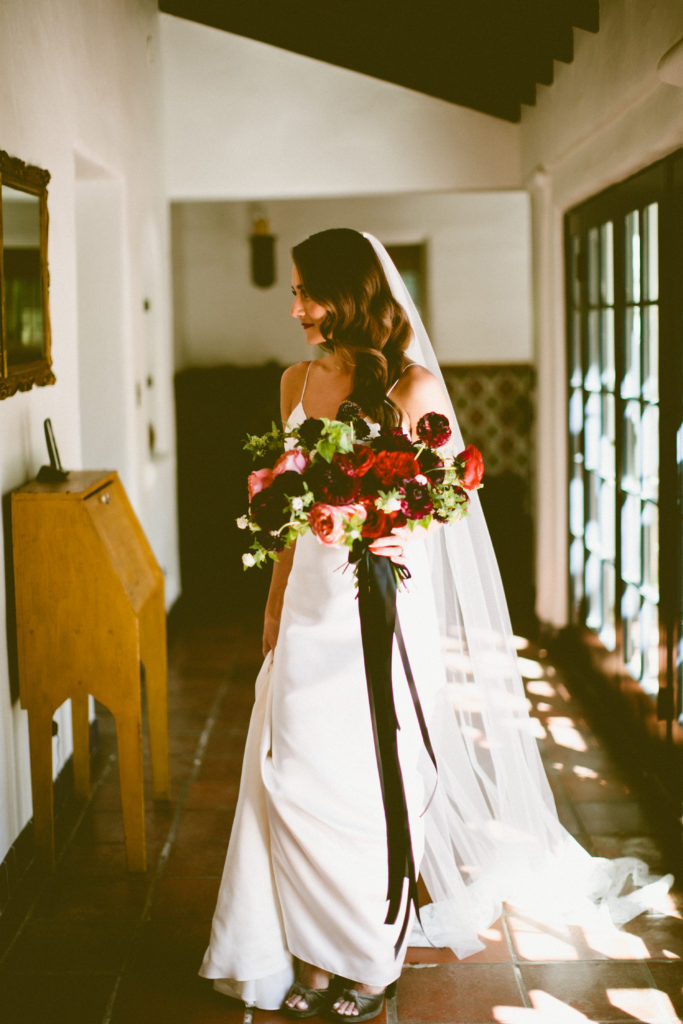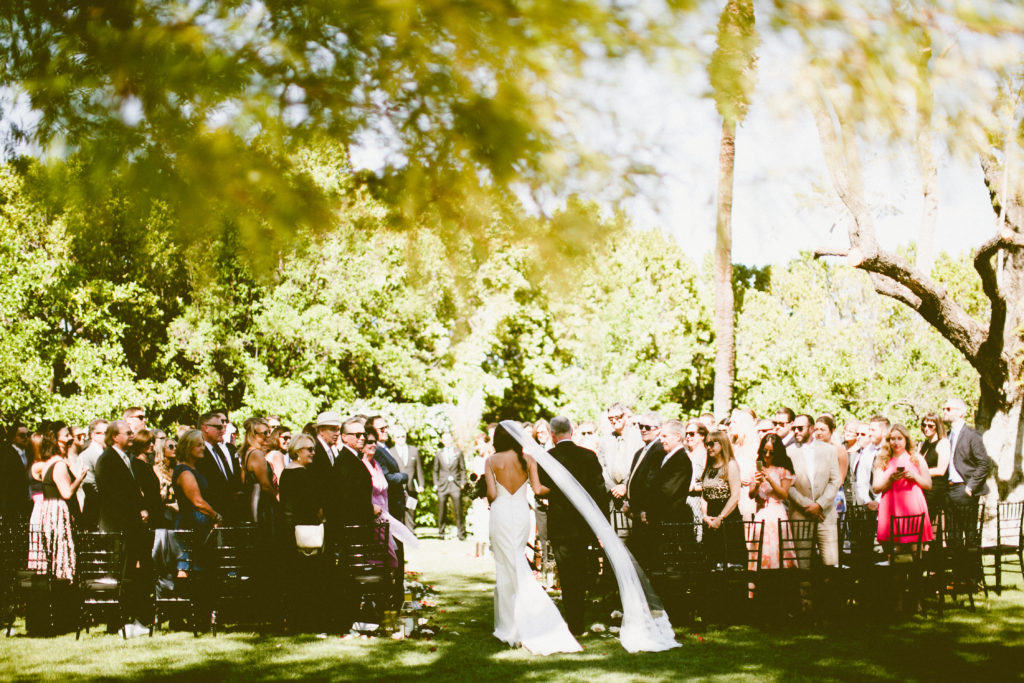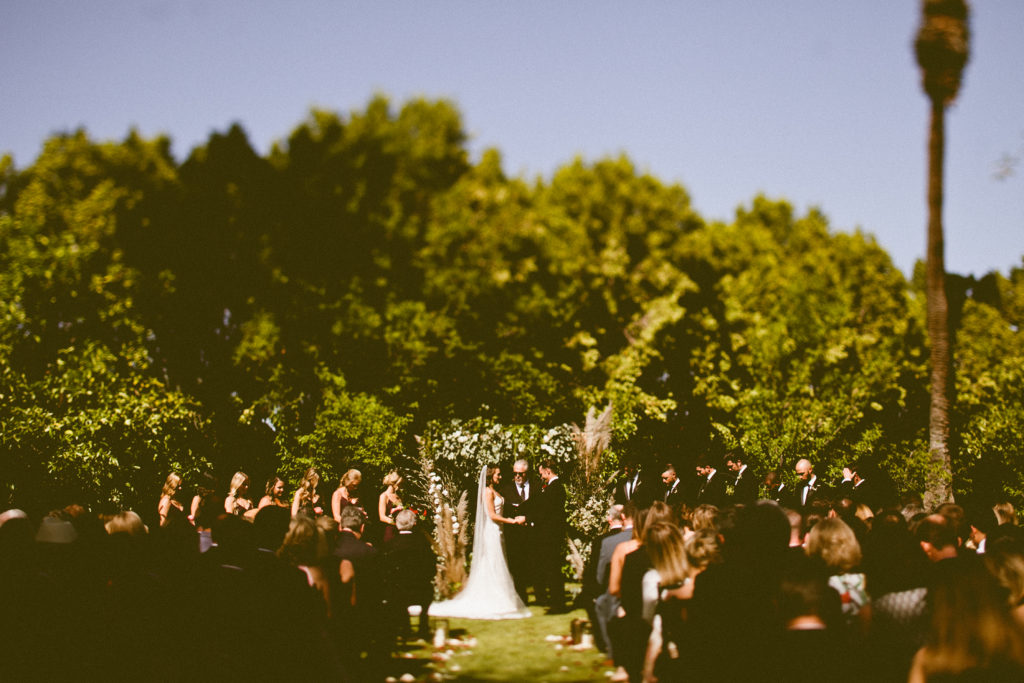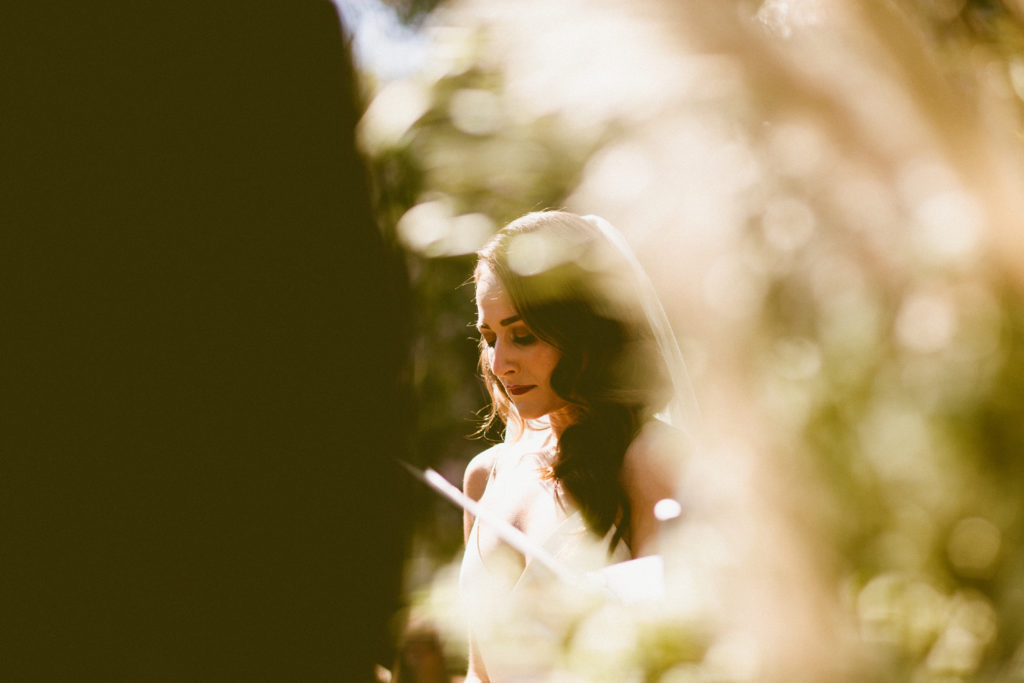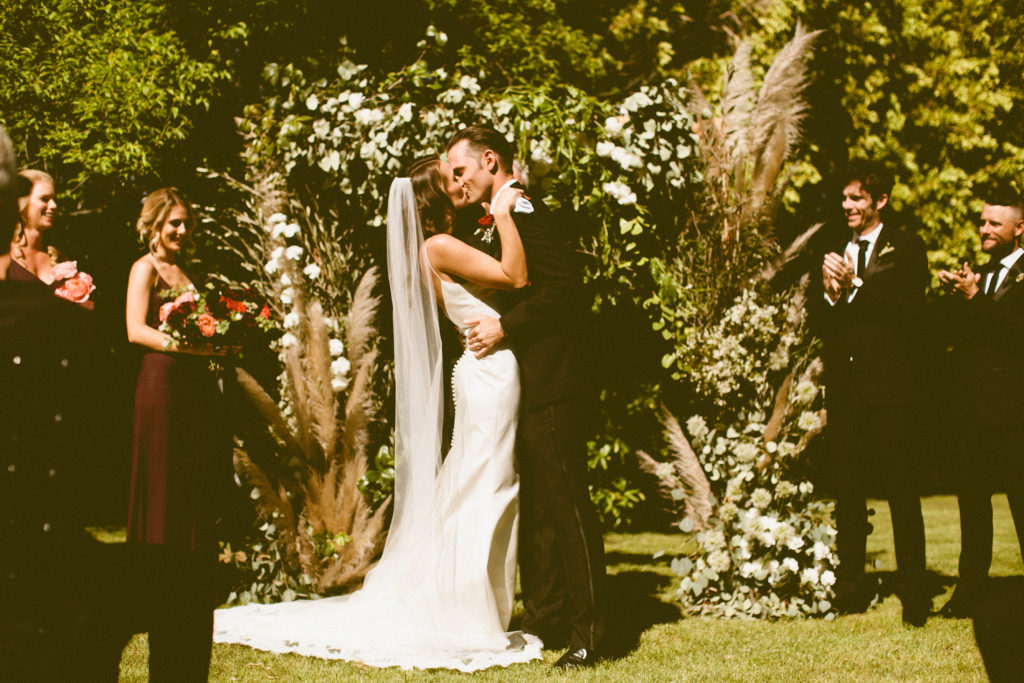 In my opinion, there's never enough bougainvillea, NEVER!!!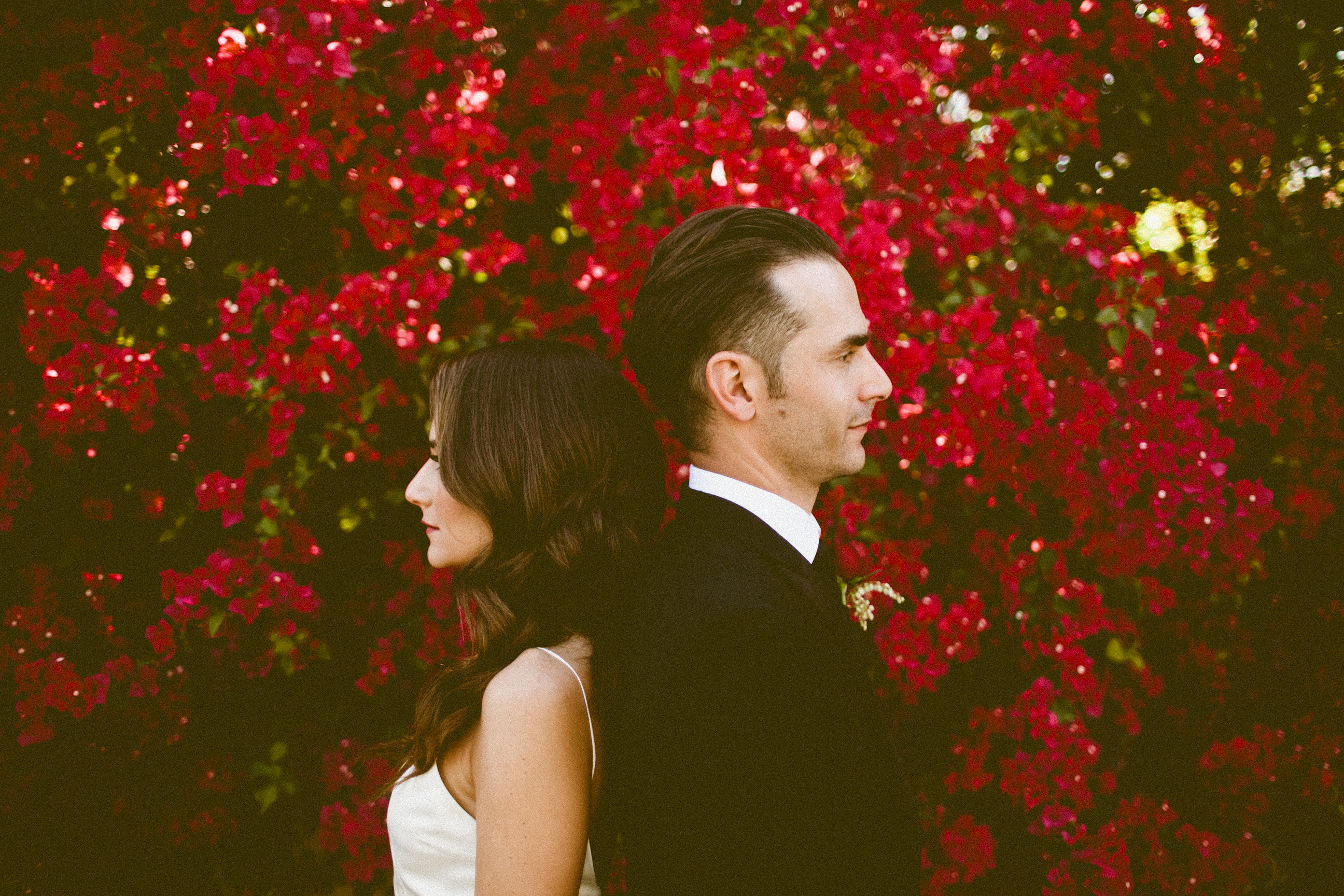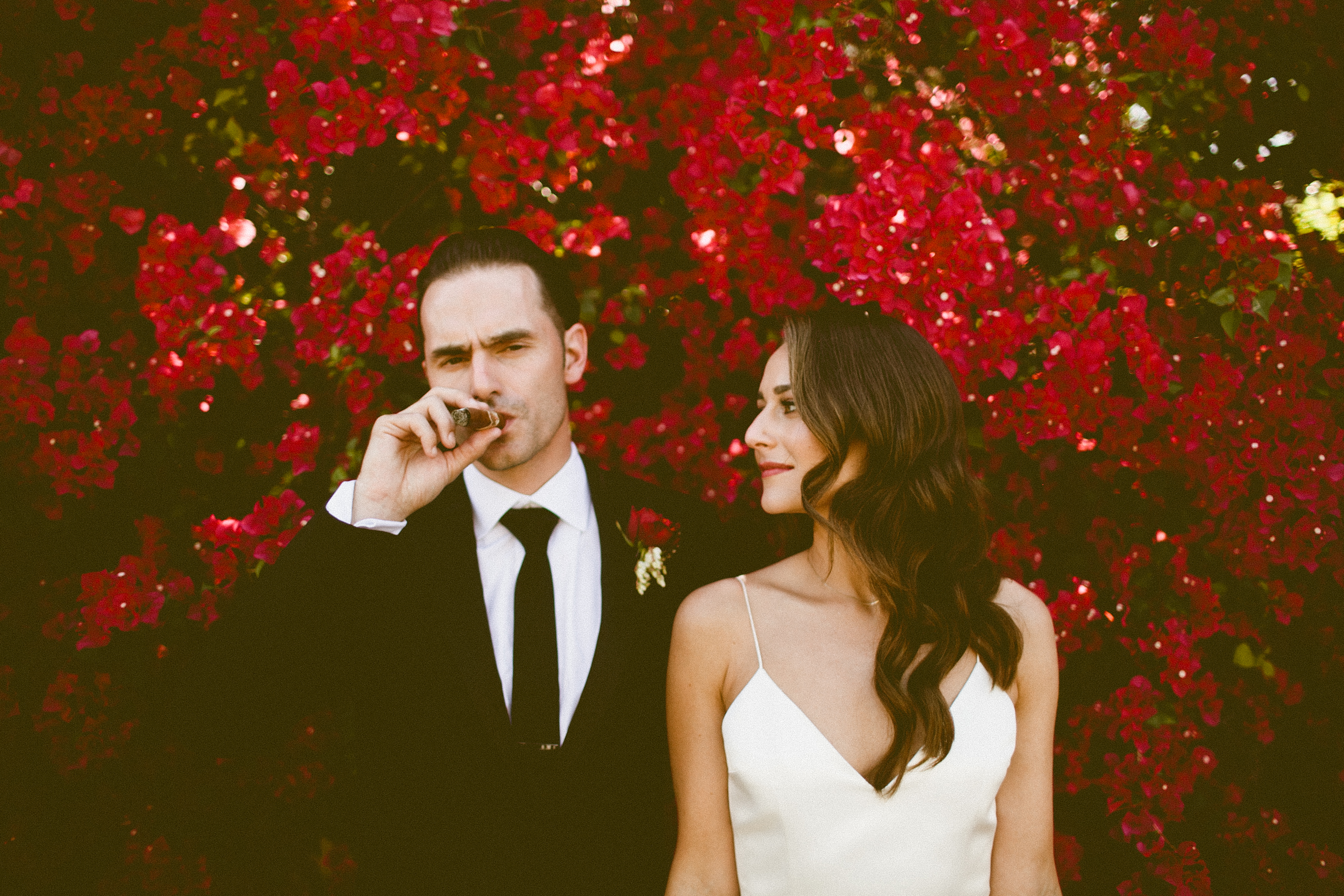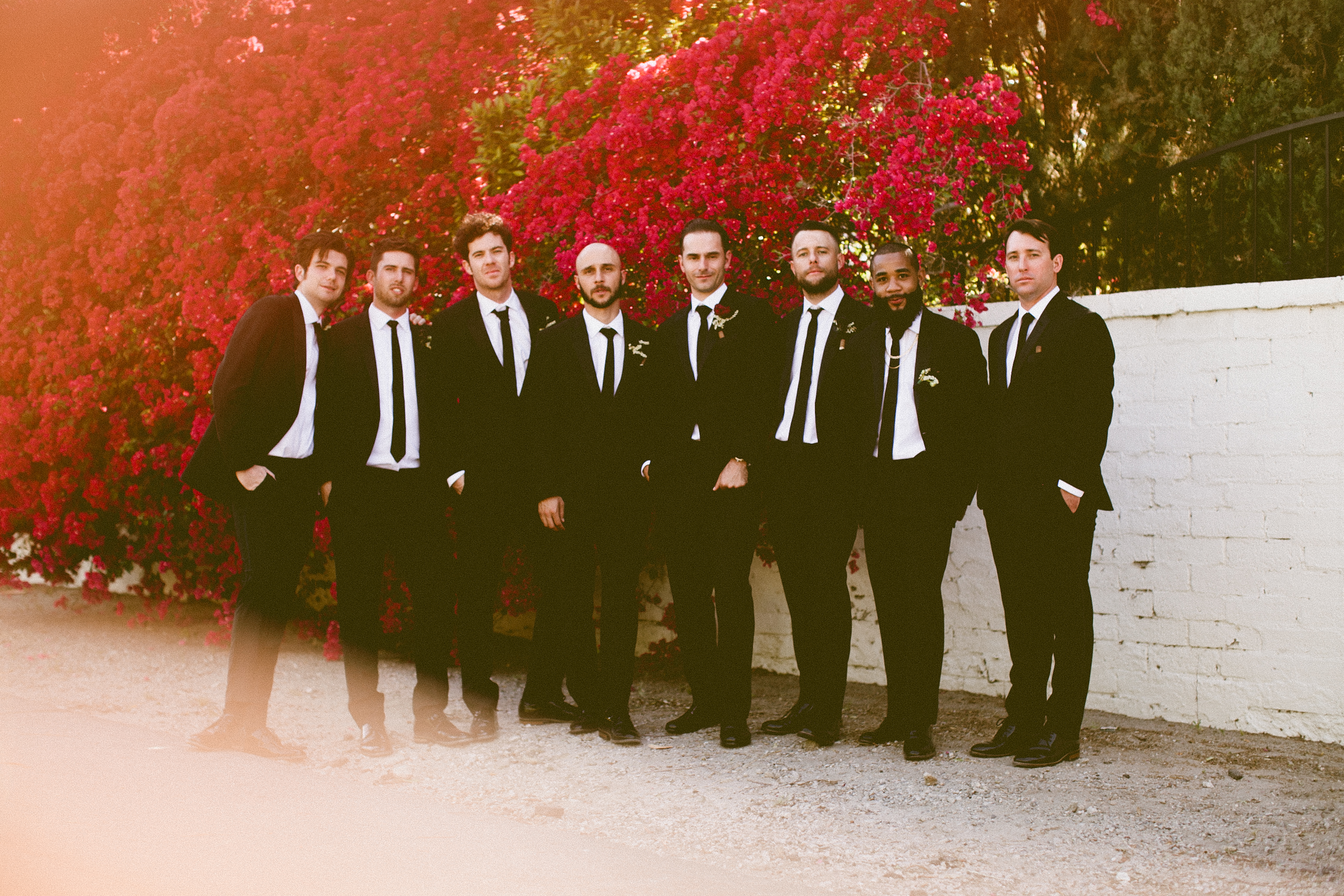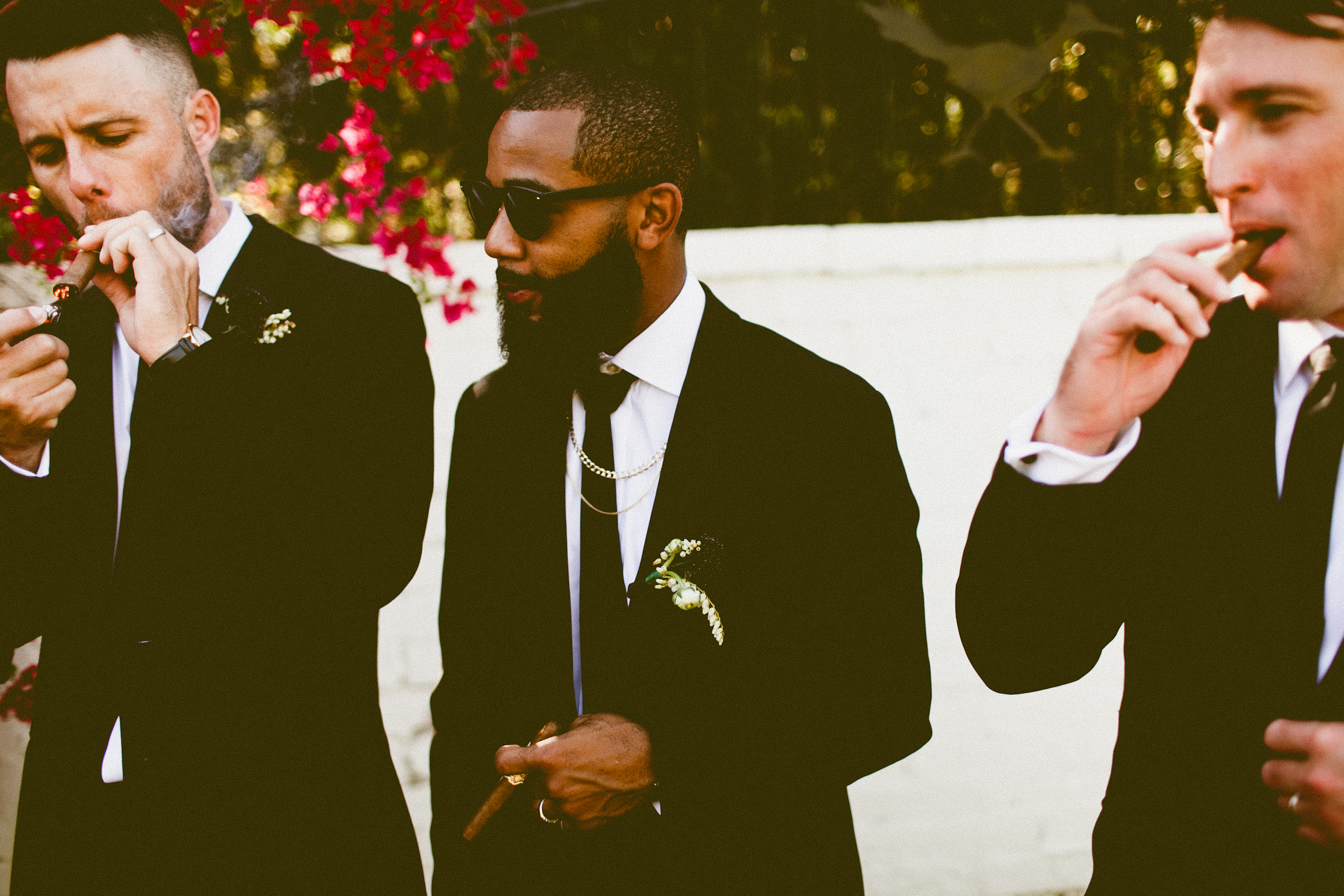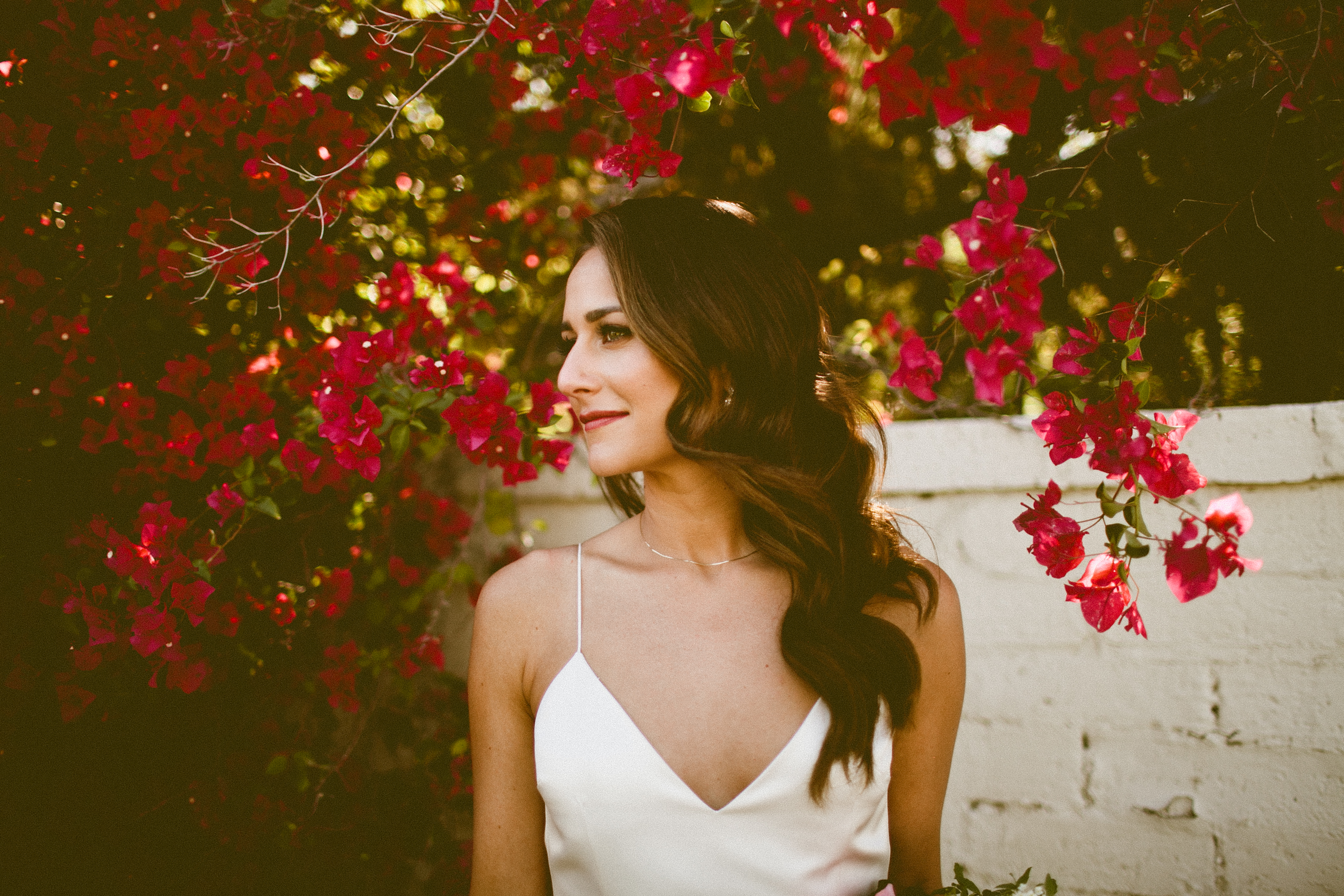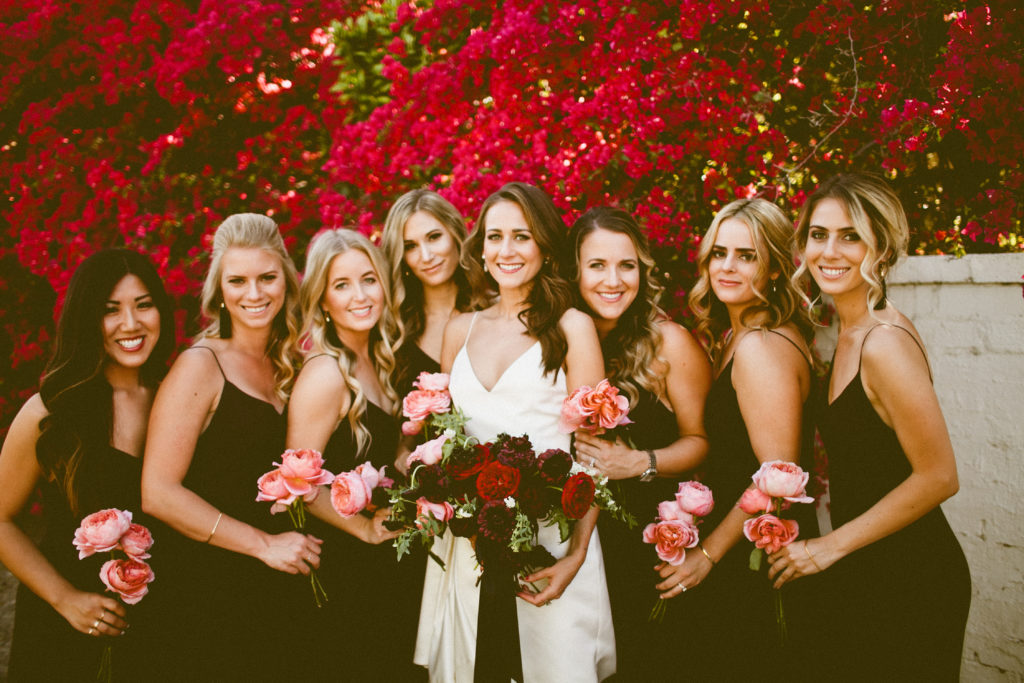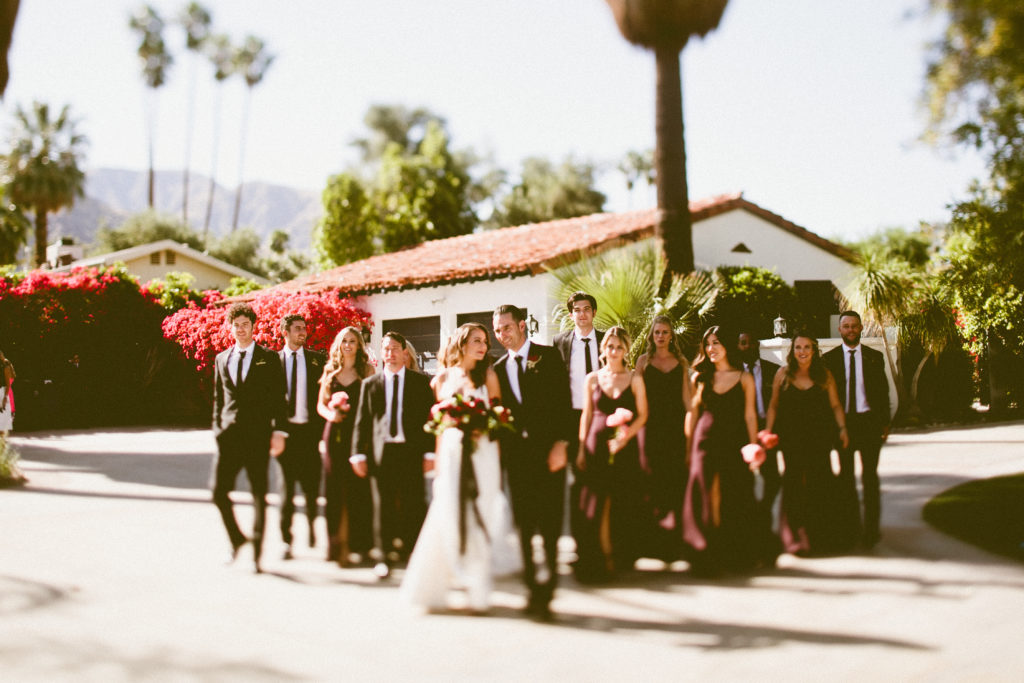 Cocktail hour was amazing with lots of yummy apps and drinks. Not only was the wedding party drop dead gorgeous but all of their guests were too! And so well dressed… How cute is Casey's dad double fisting?! Love that shot!!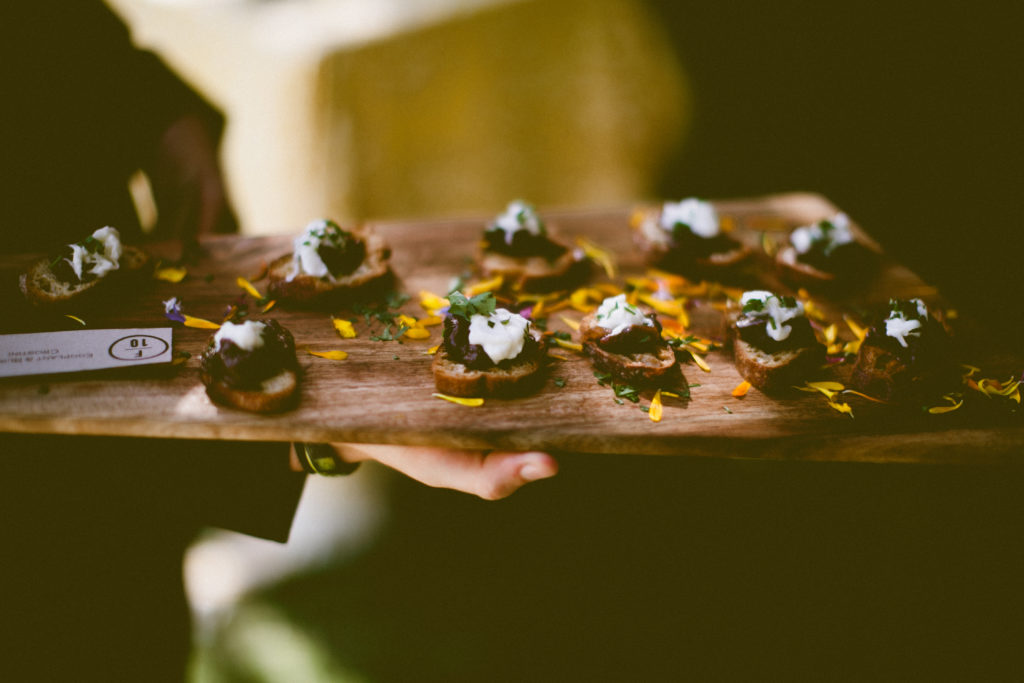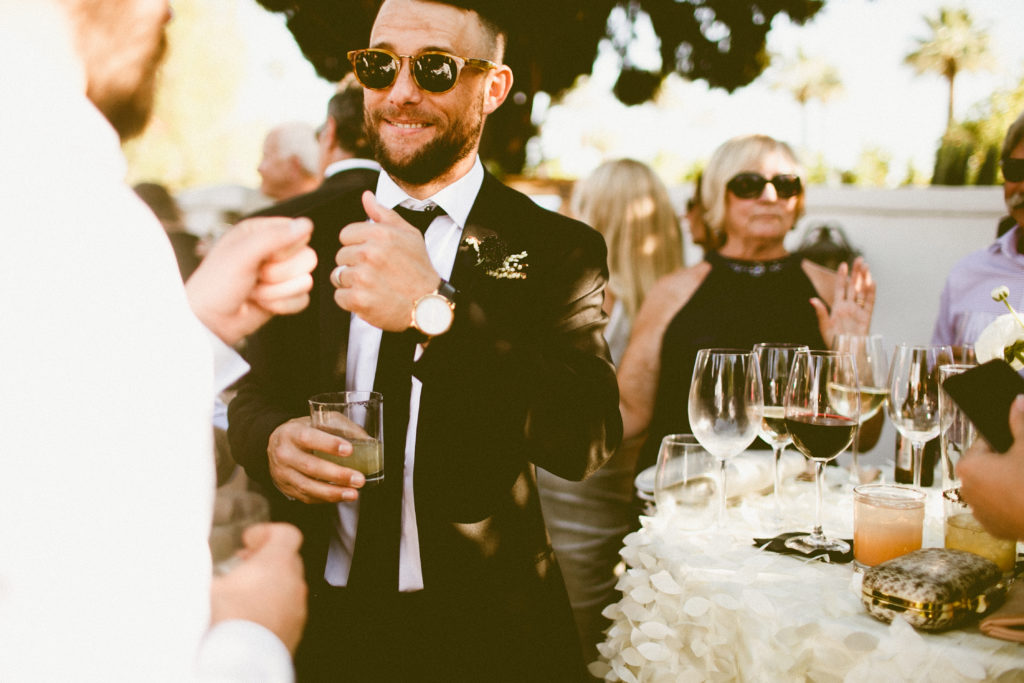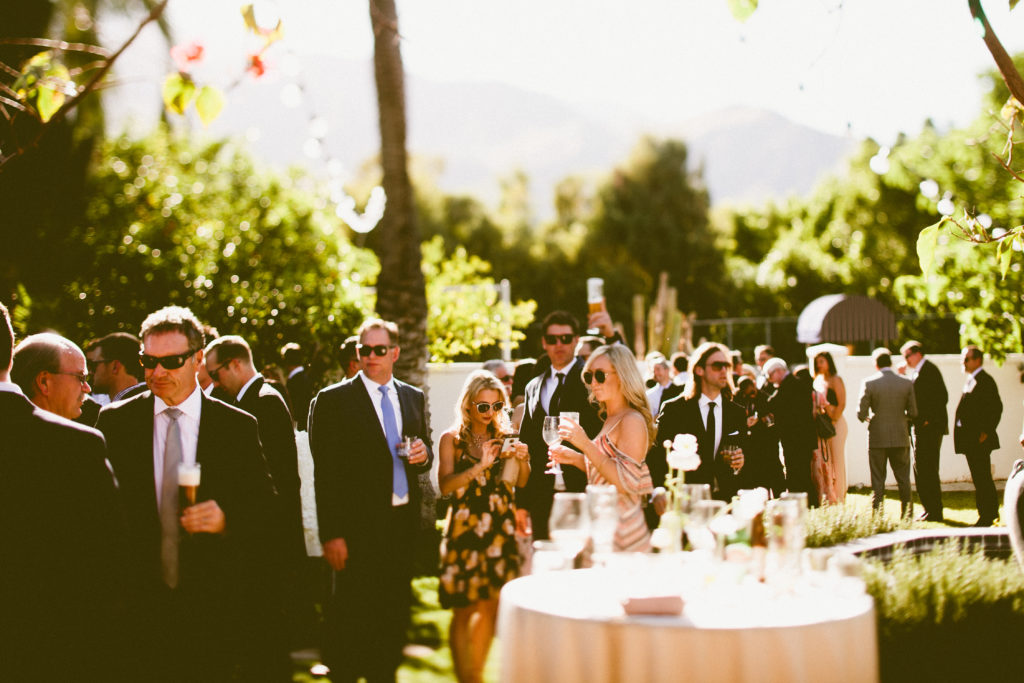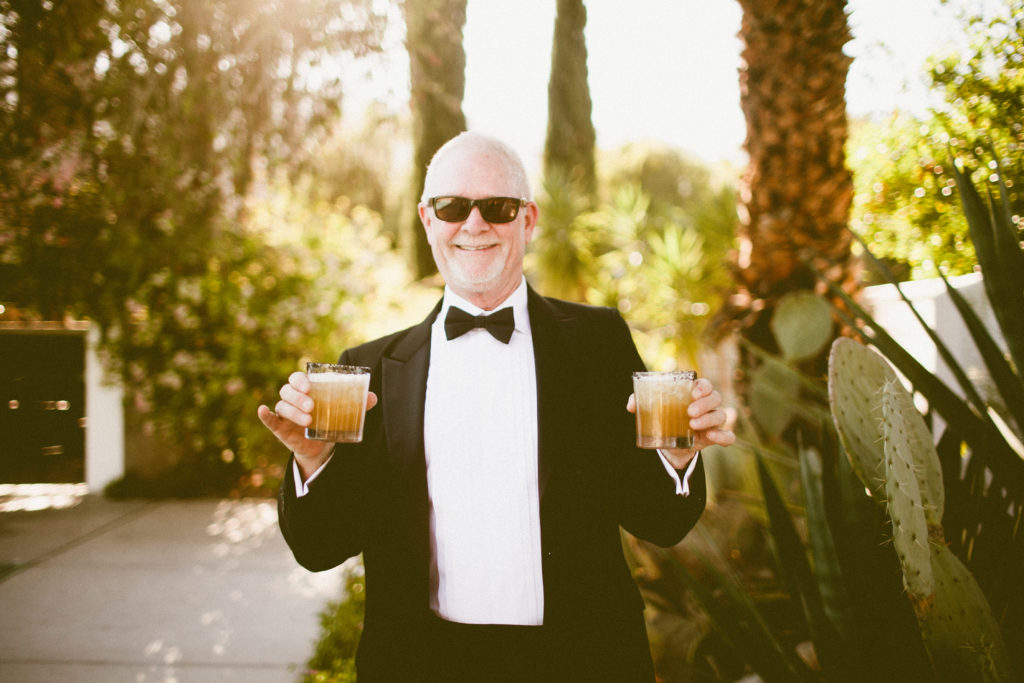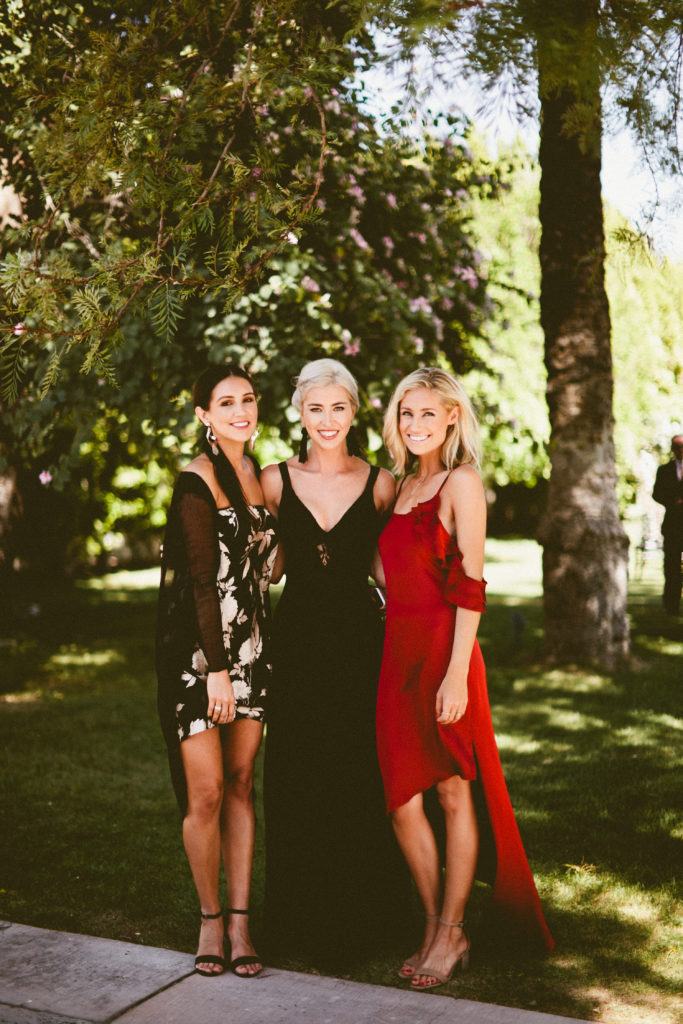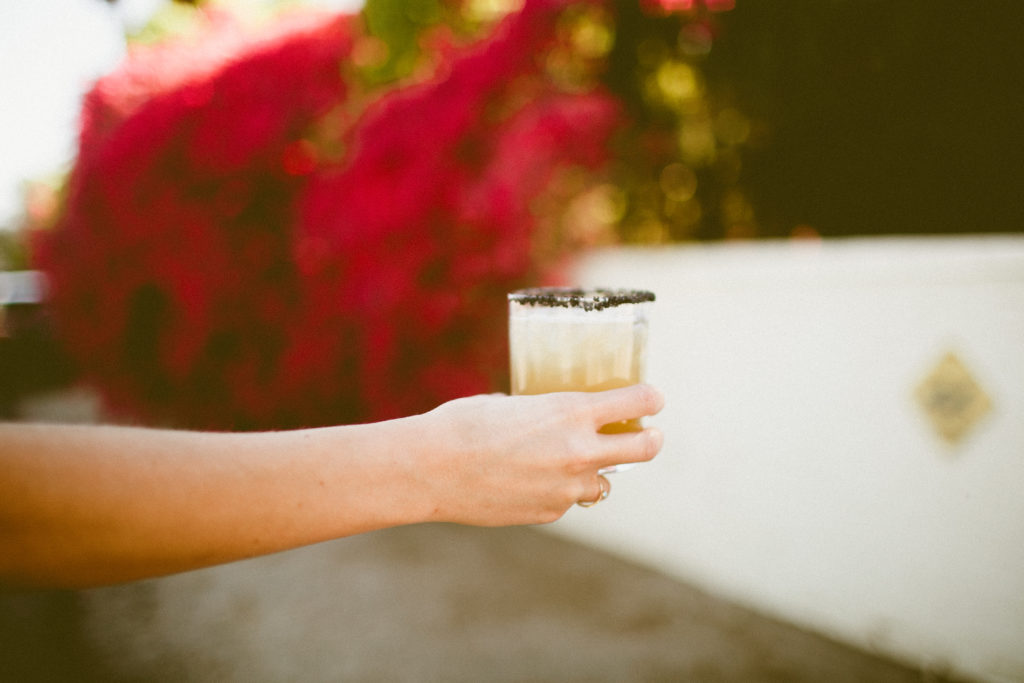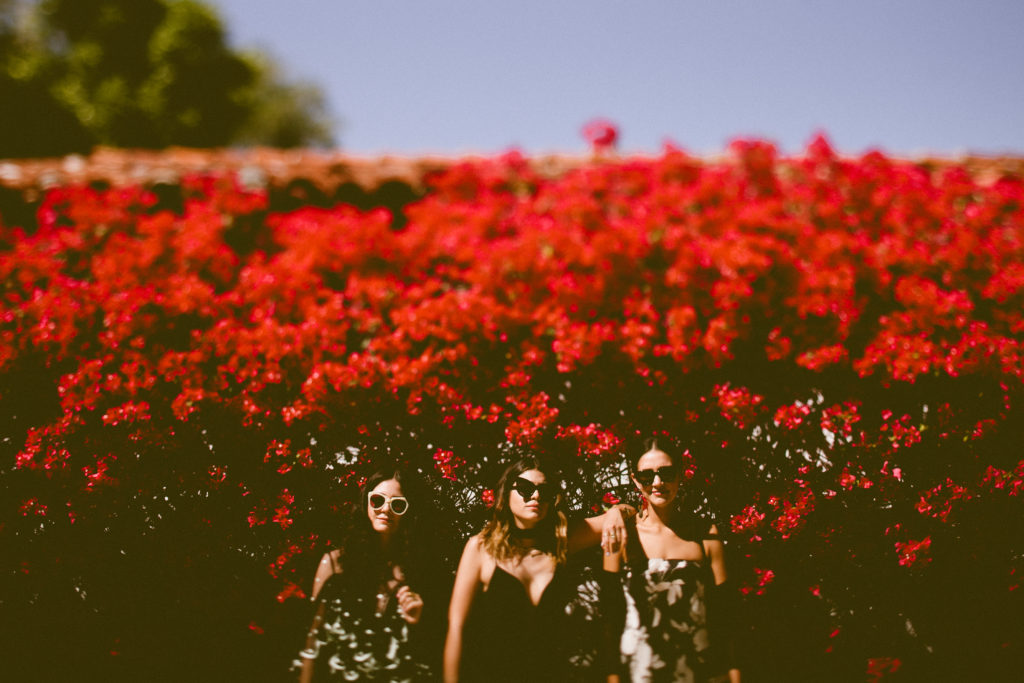 The reception continued with the moody glam vibe of the day. Colors of black, white and deep burgundy looked gorgeous against the rustic wood tables. Plus, that lounge from Adore Folklore makes my heart so happy. It was the perfect spot for guests to gather and rest and kick up their feet. I just love how well it all flowed together!!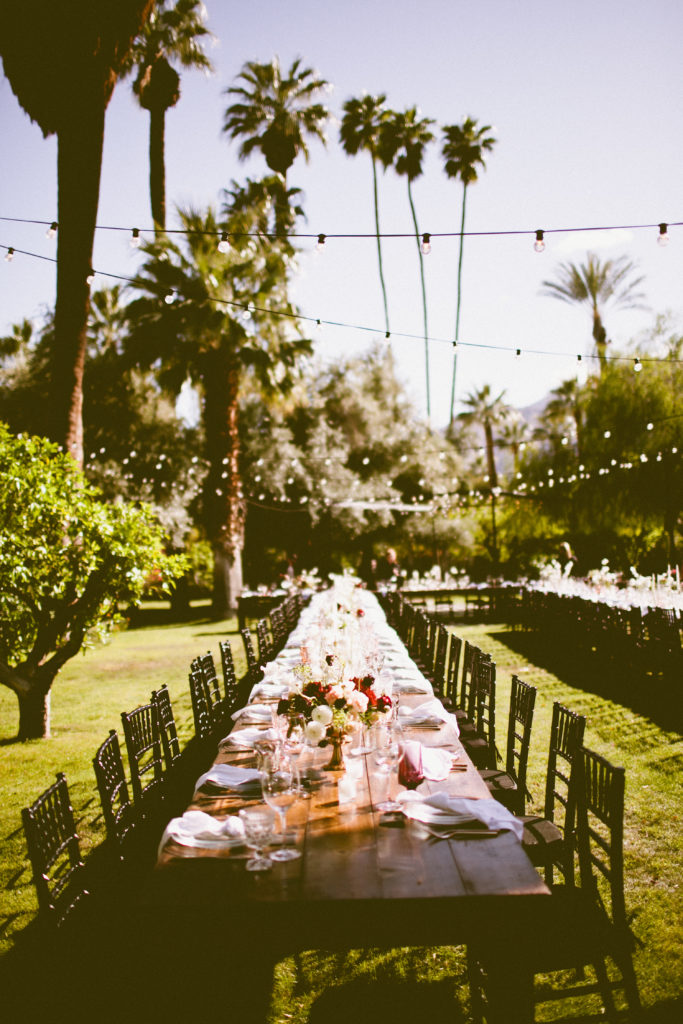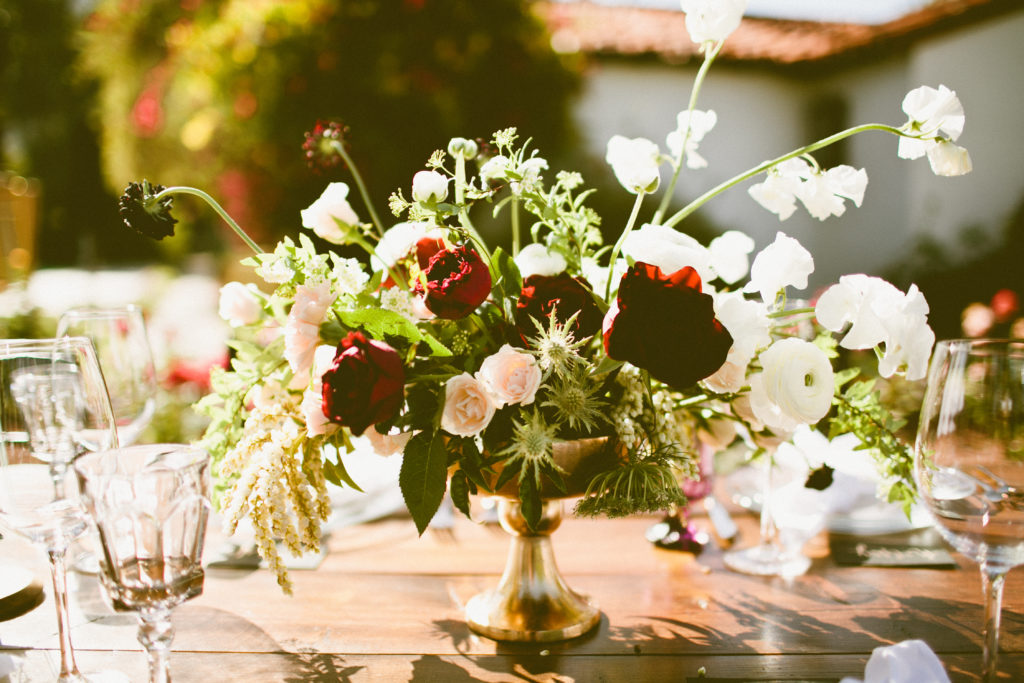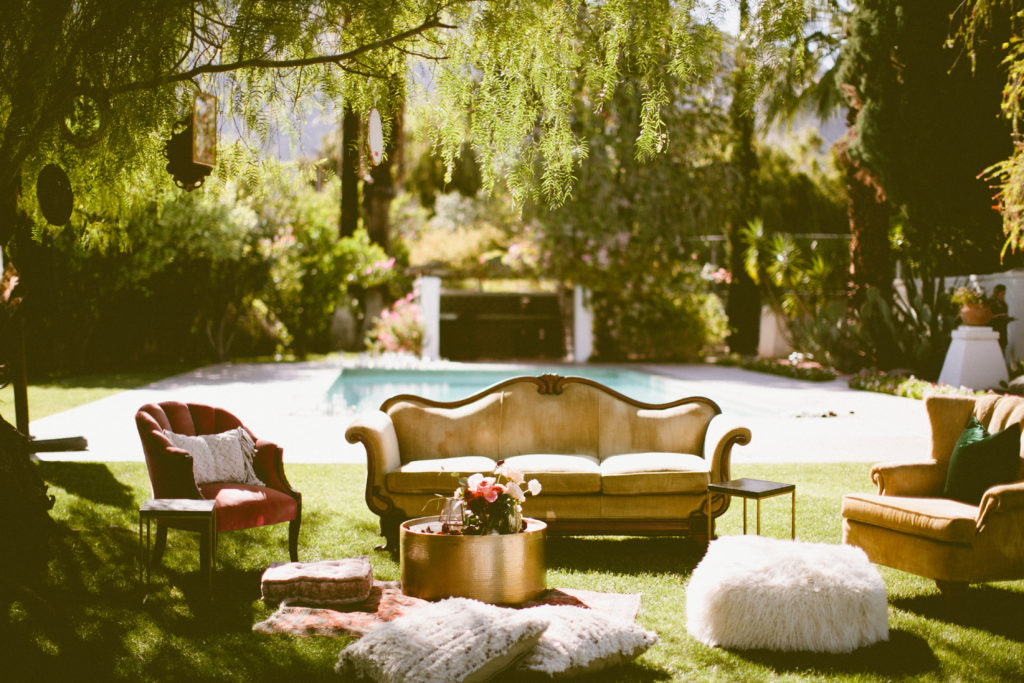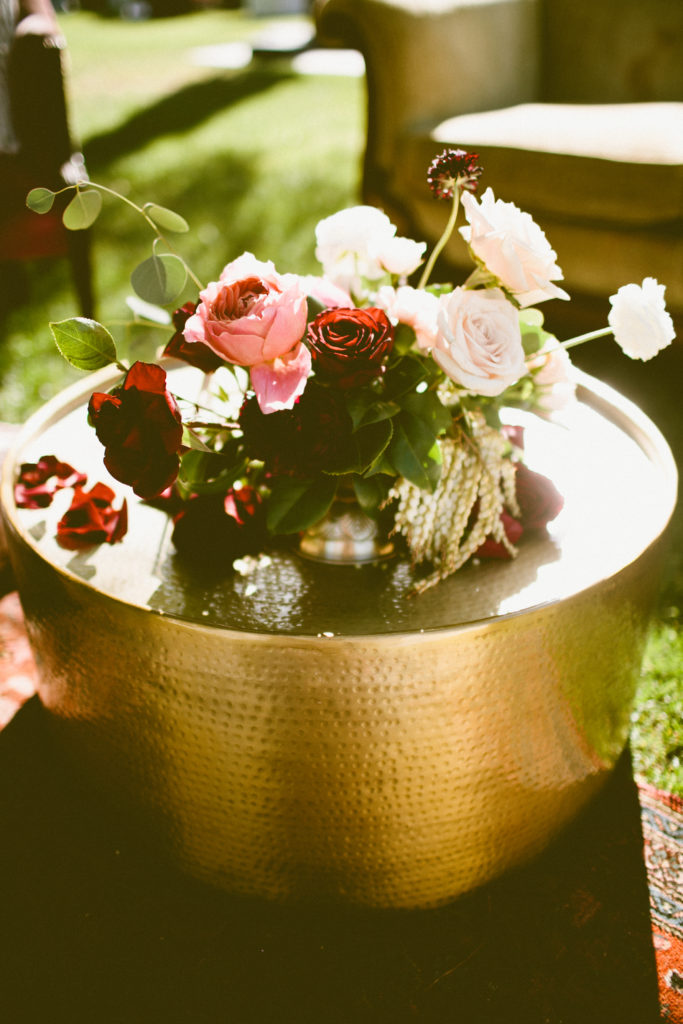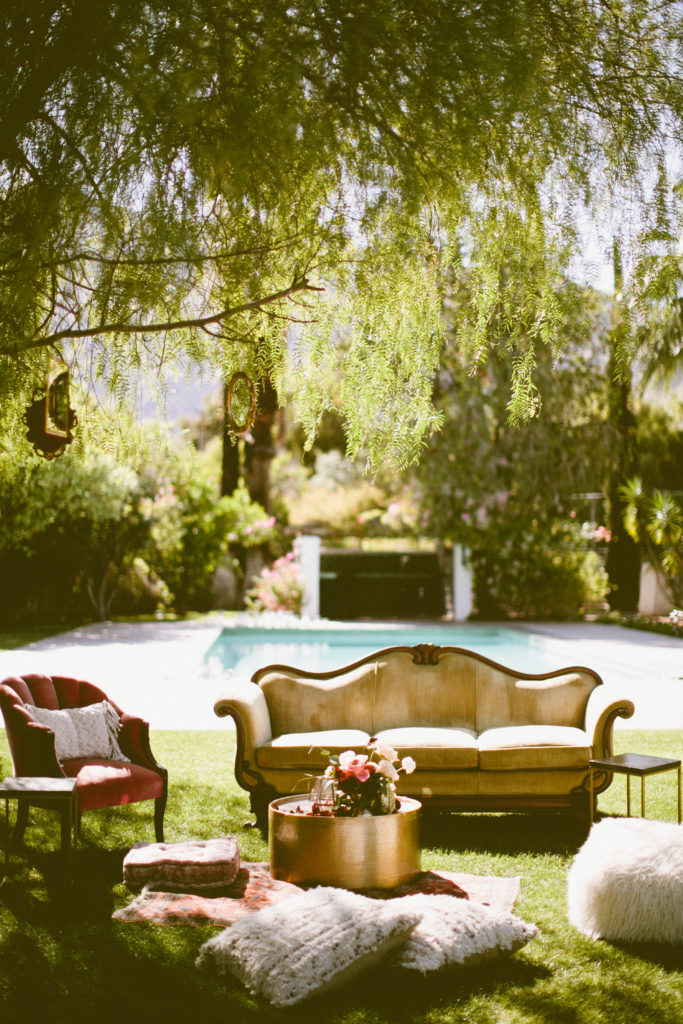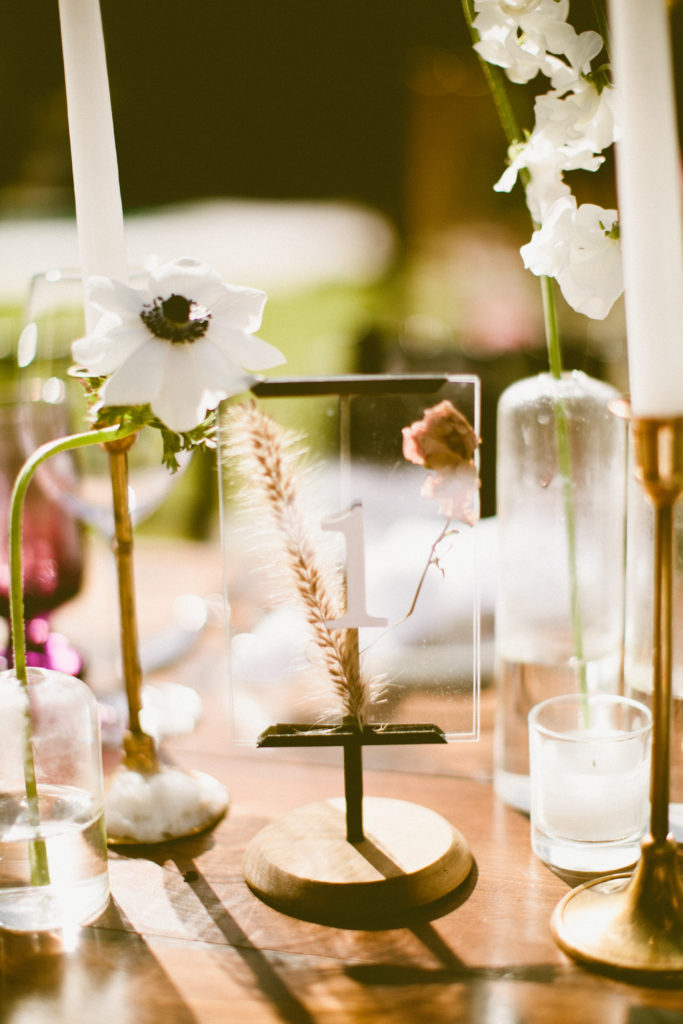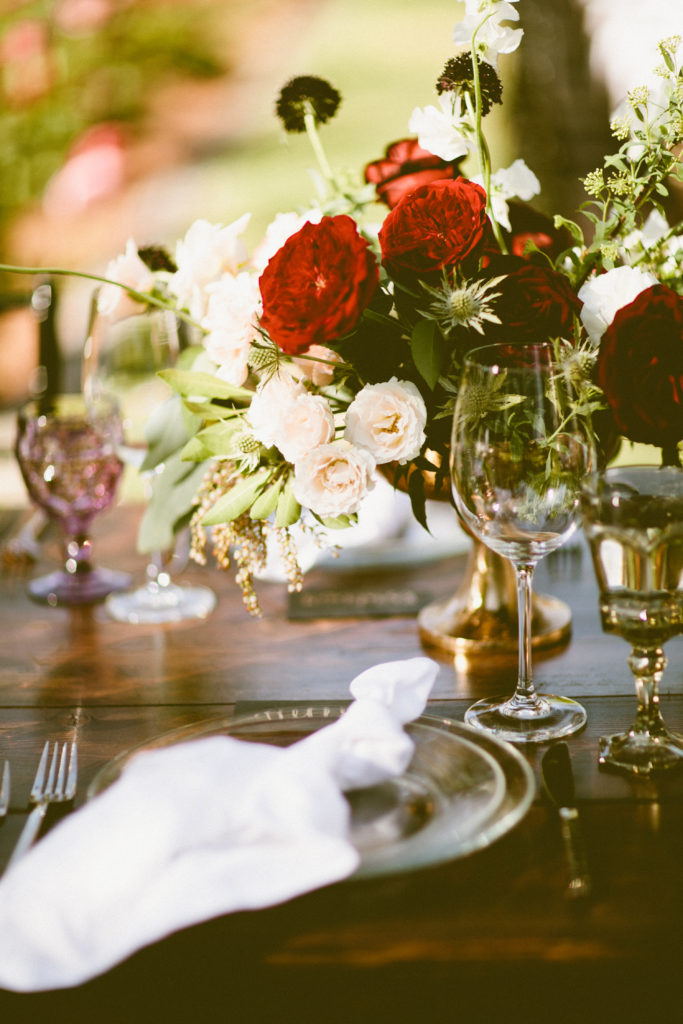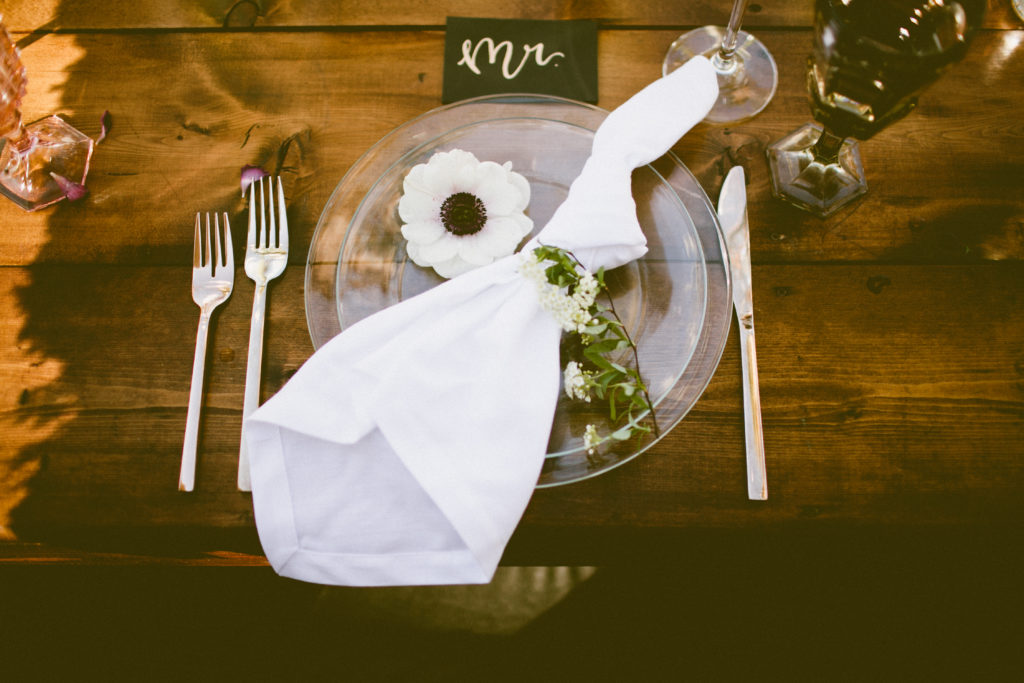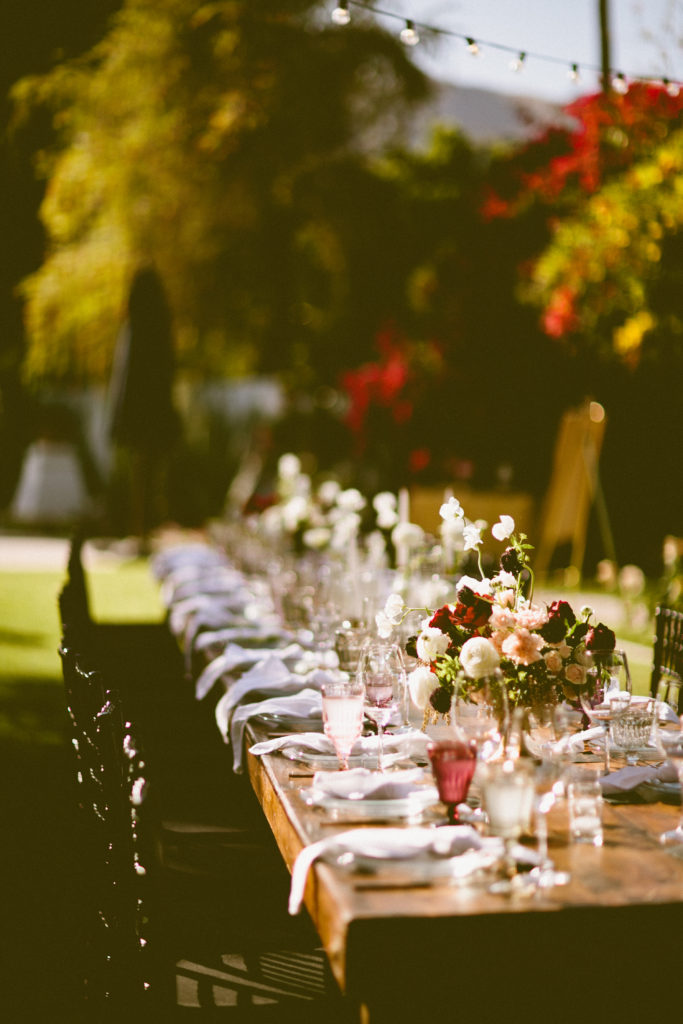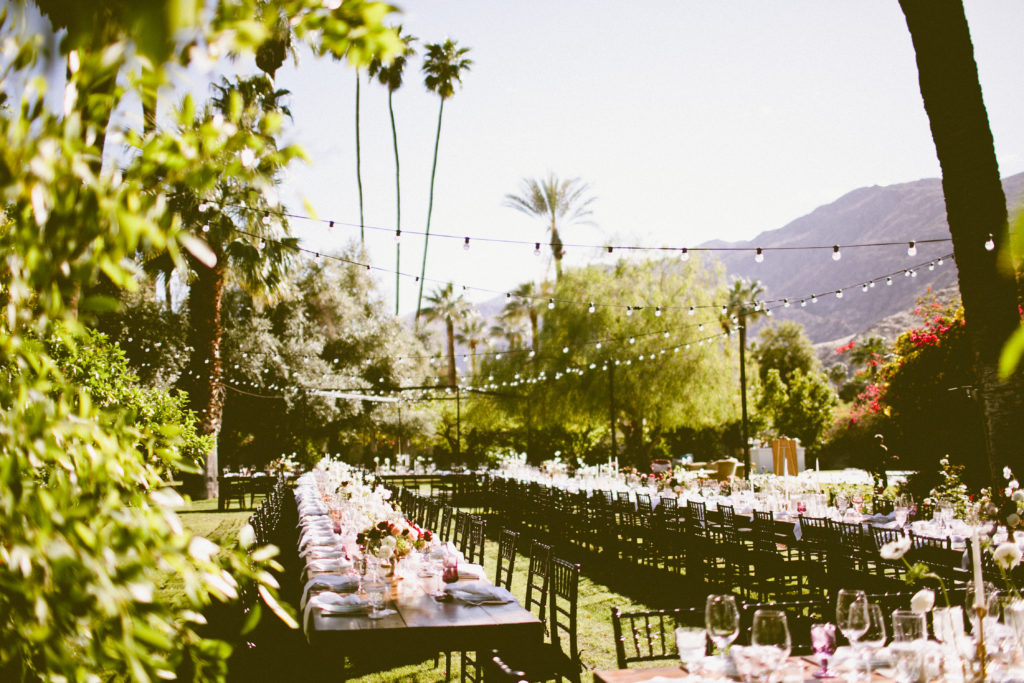 Andria captured these two so well… And I love all of the extra shots she did of the property, it just makes you feel like you are there. Seriously, I could frame some of those as art in my home.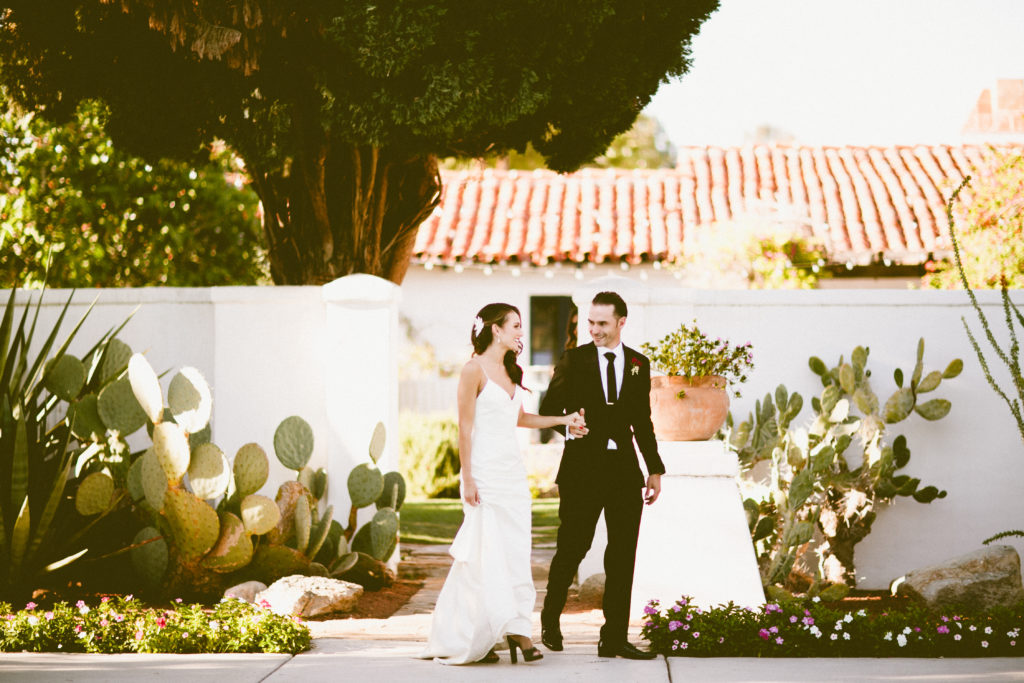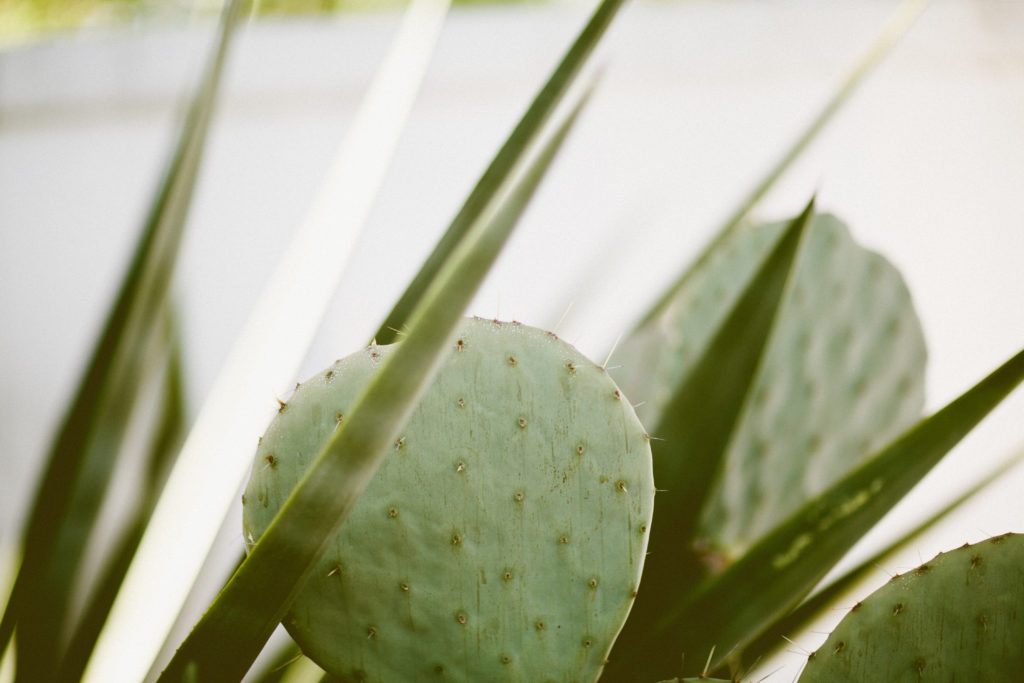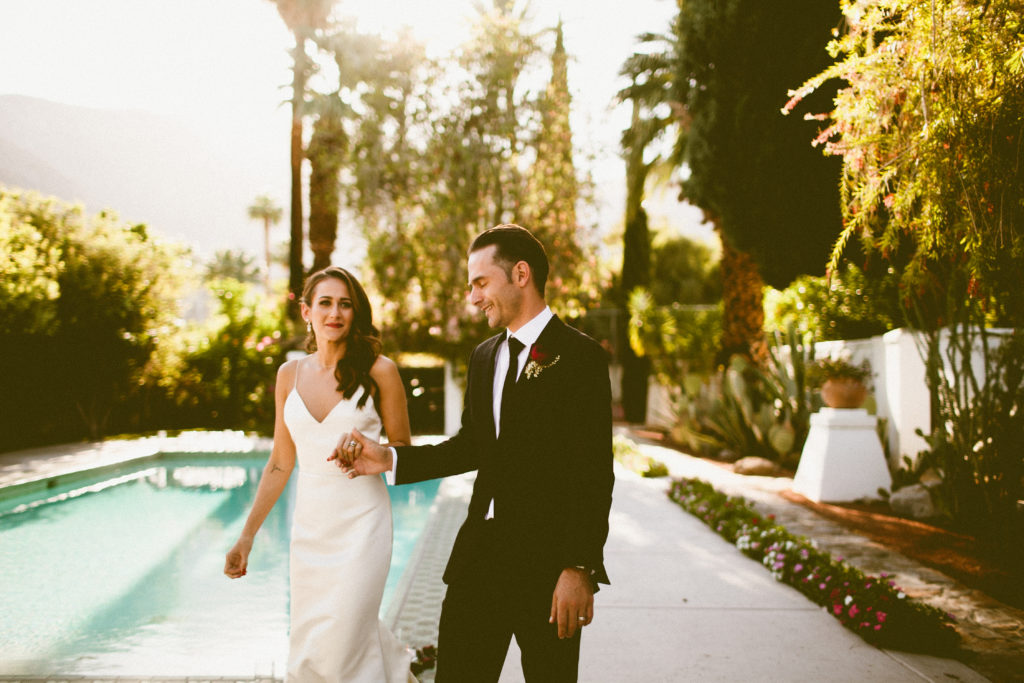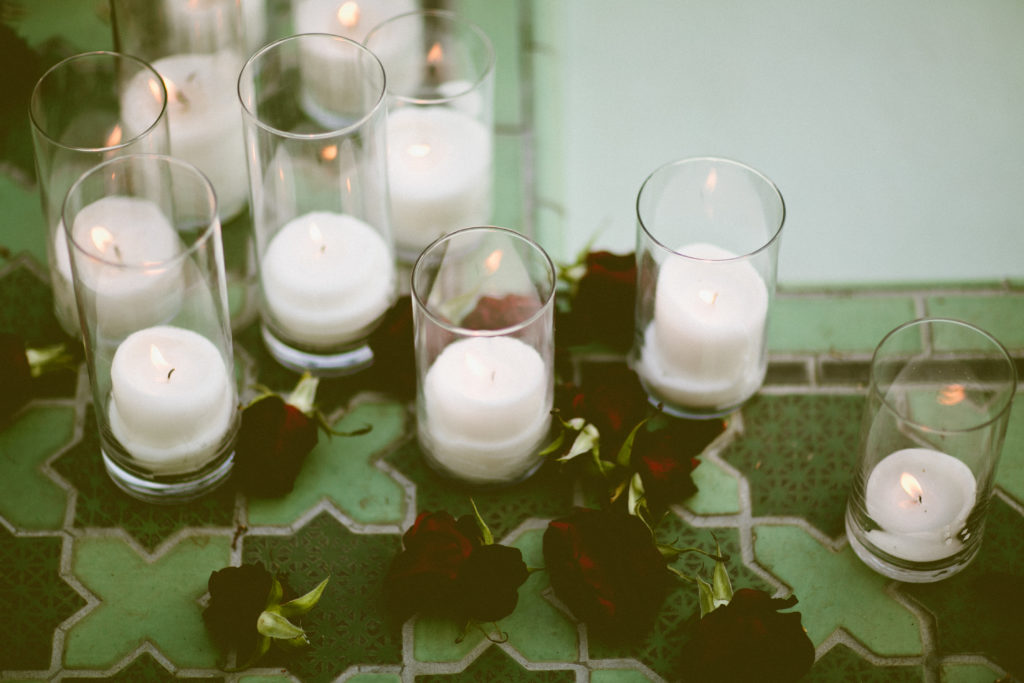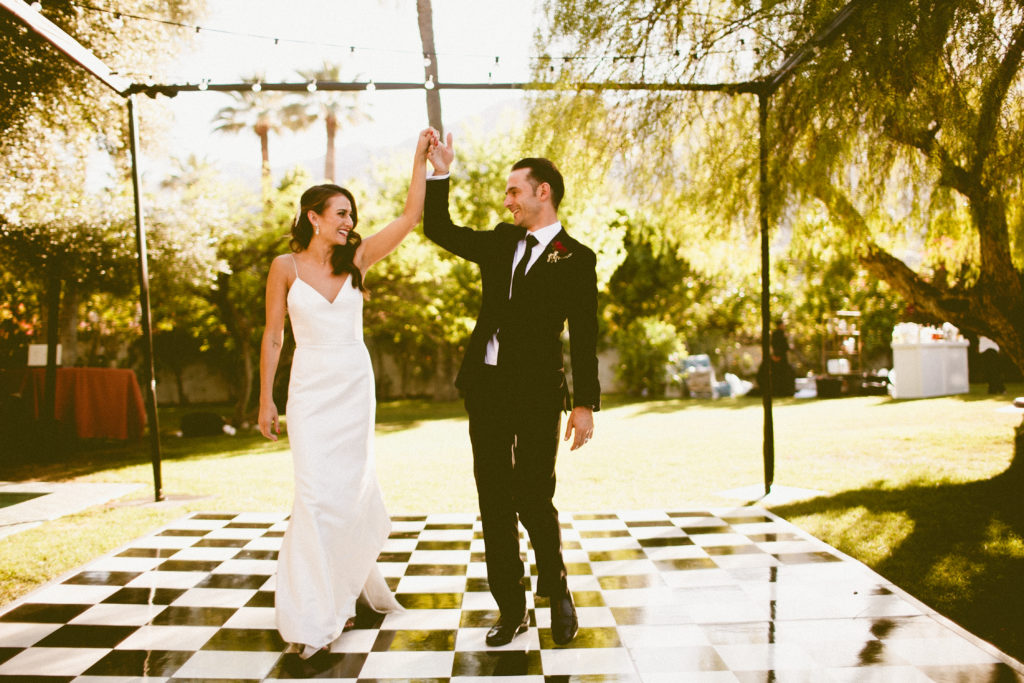 The cakes were gorgeous and made by Casey's friend! Can you believe that talent?! Bloom Babes prettied them up even more of course! Loved this whole set up, and they were delicious too….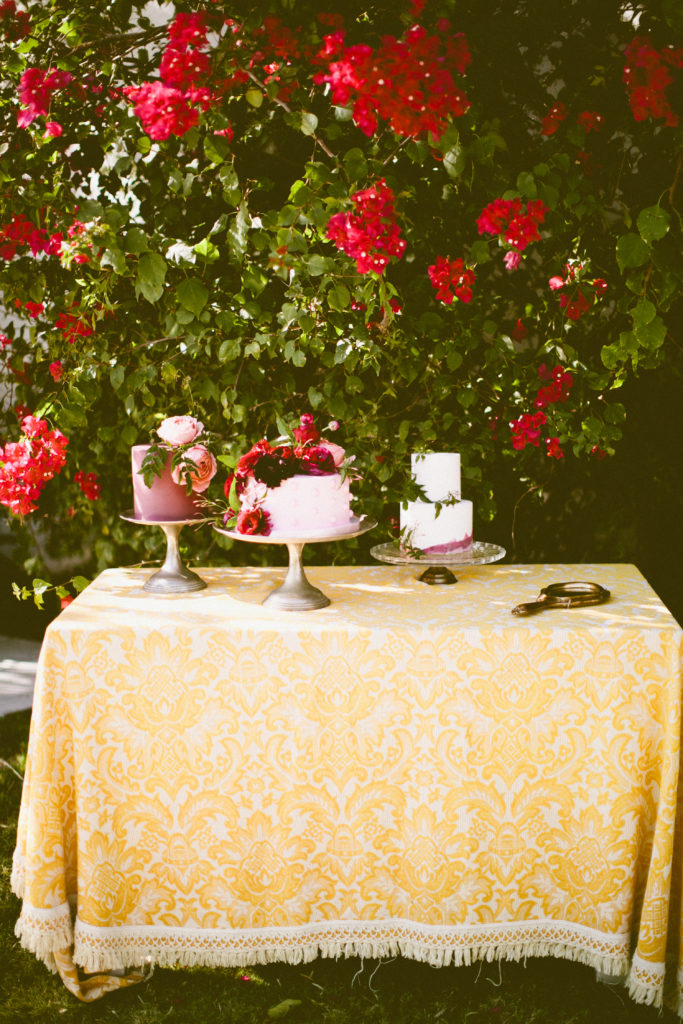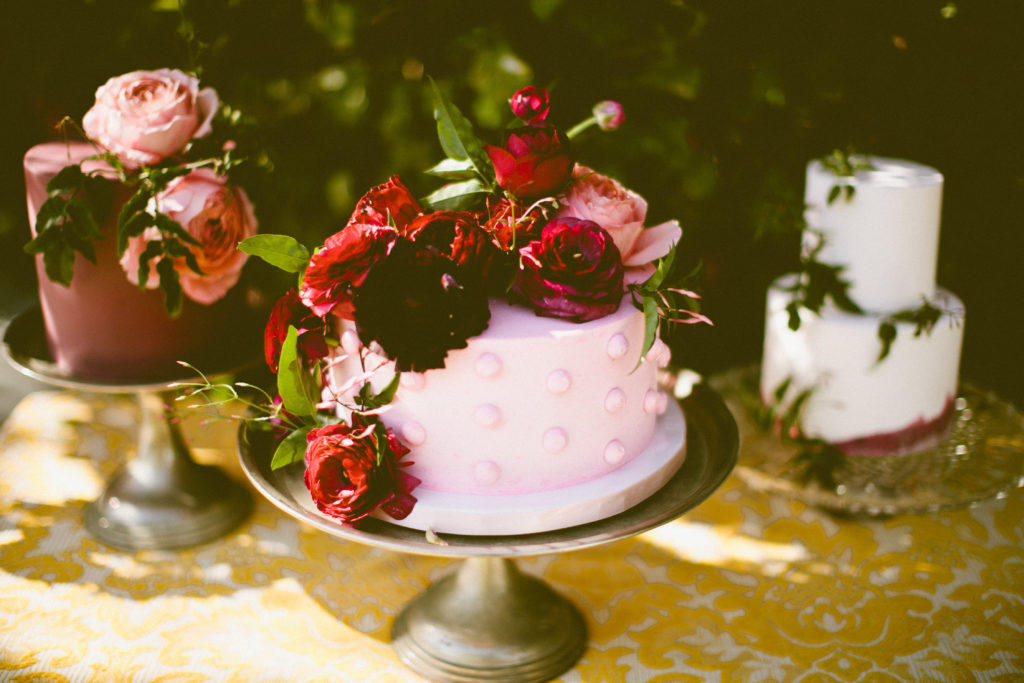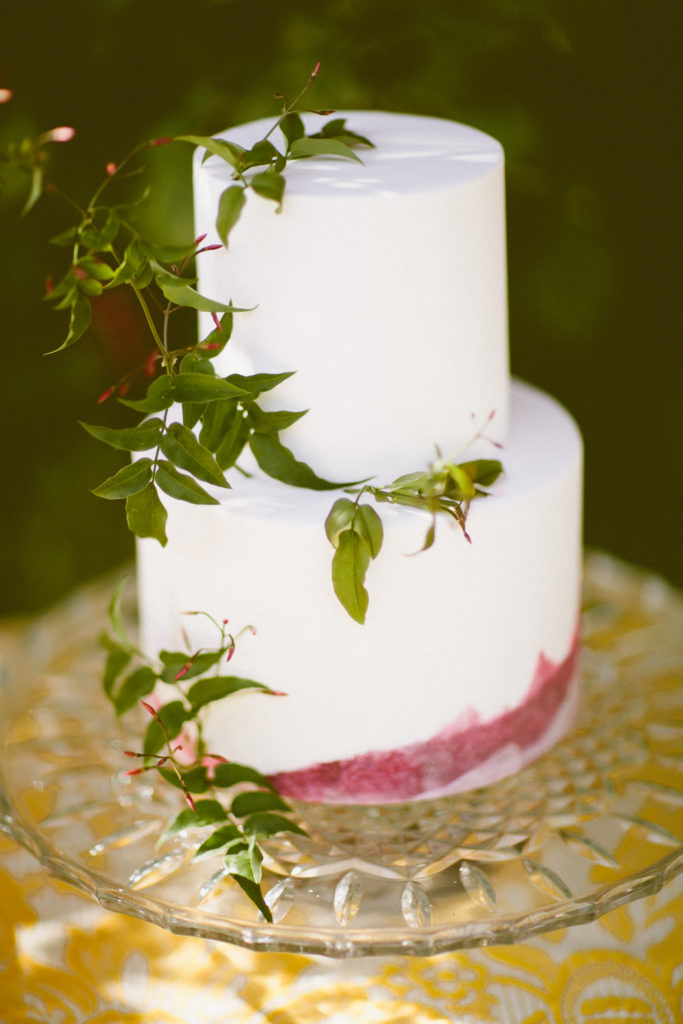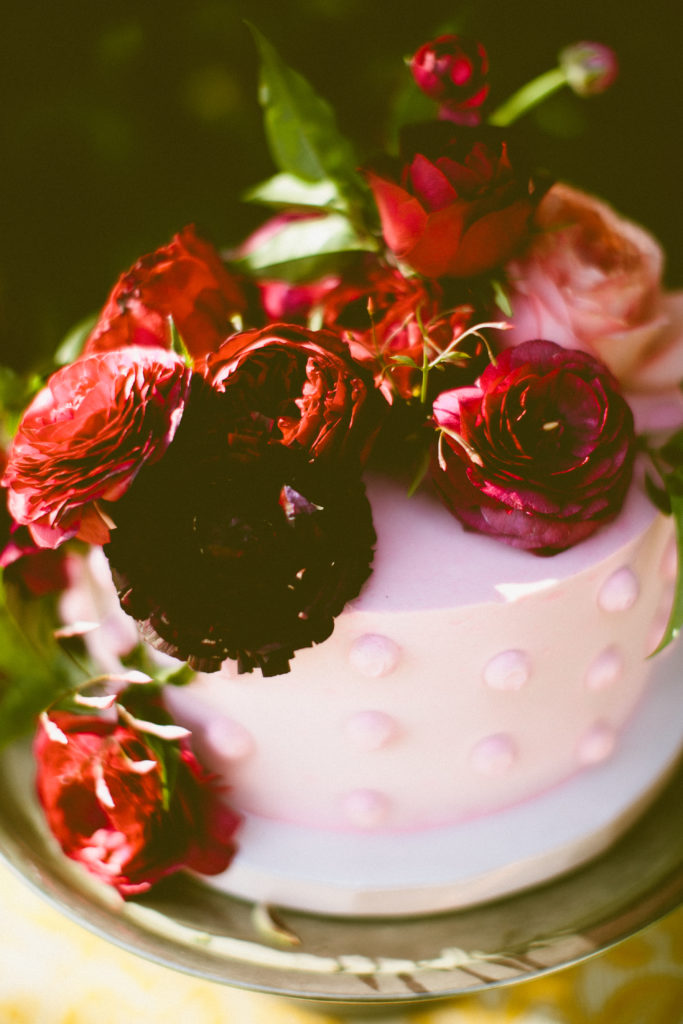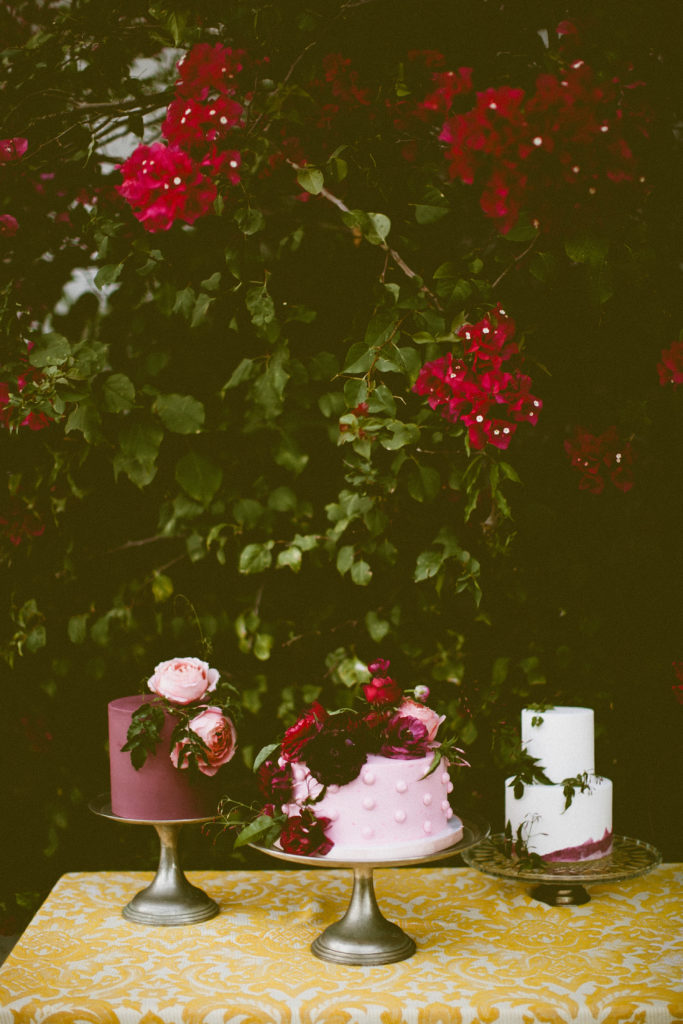 I always love seeing the "sunset photos" after a wedding we do… We aren't there to see them usually because we are busy at the reception. So it's really fun to see what the photographer captured after the fact. Of course Andria didn't disappoint!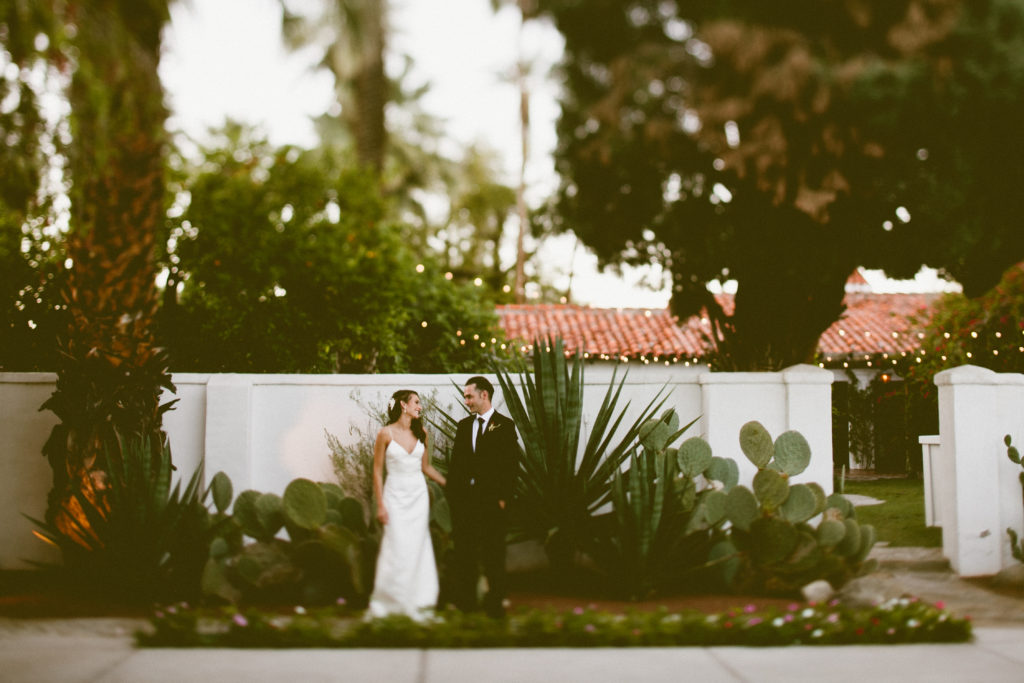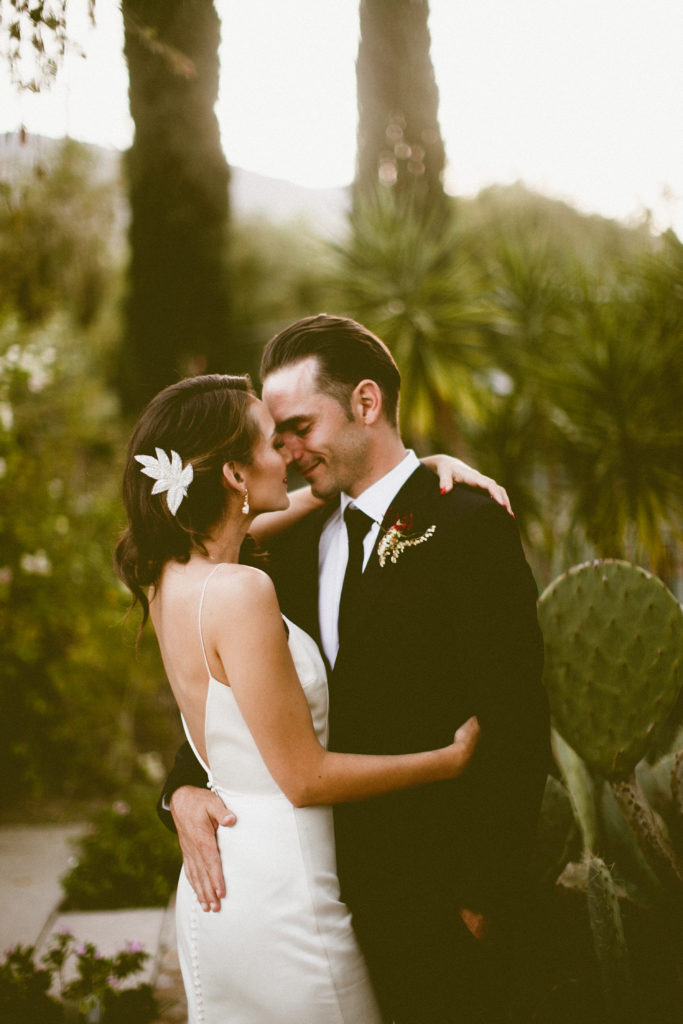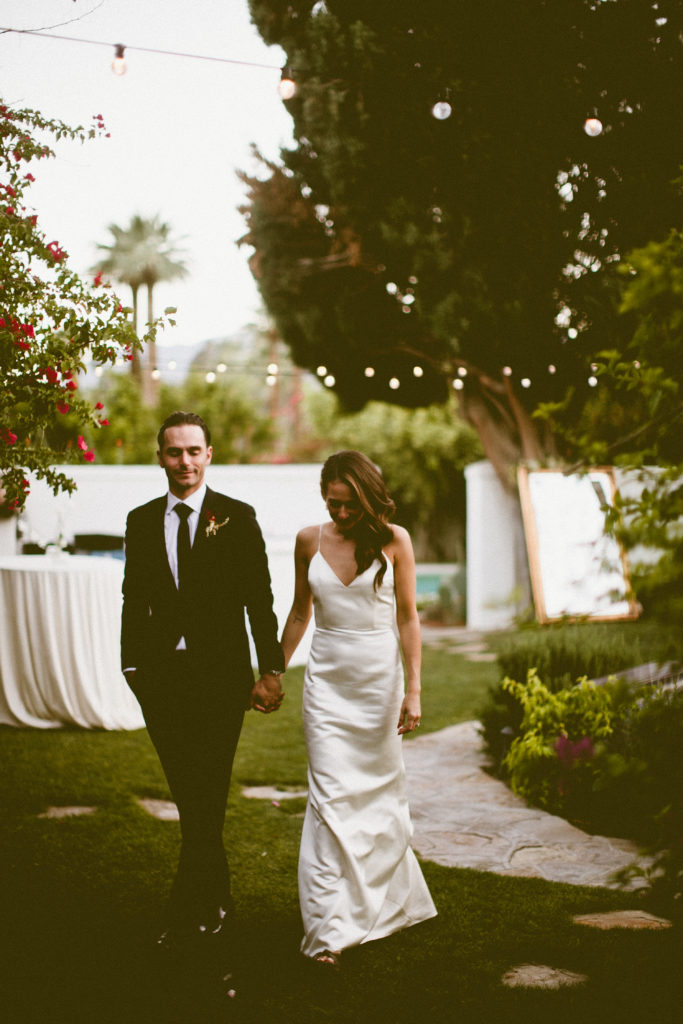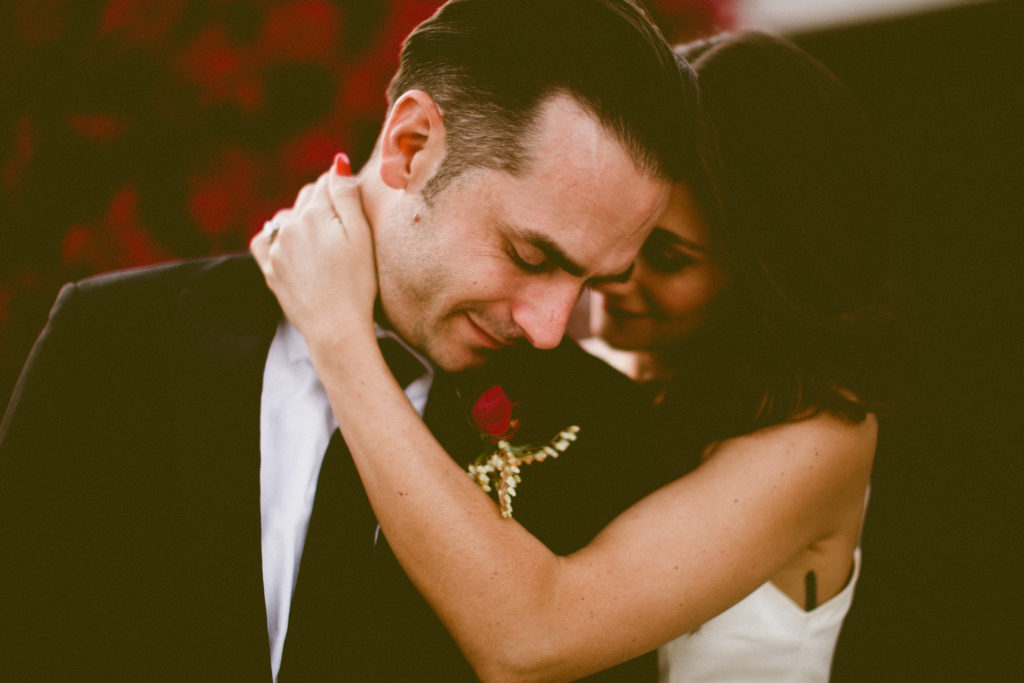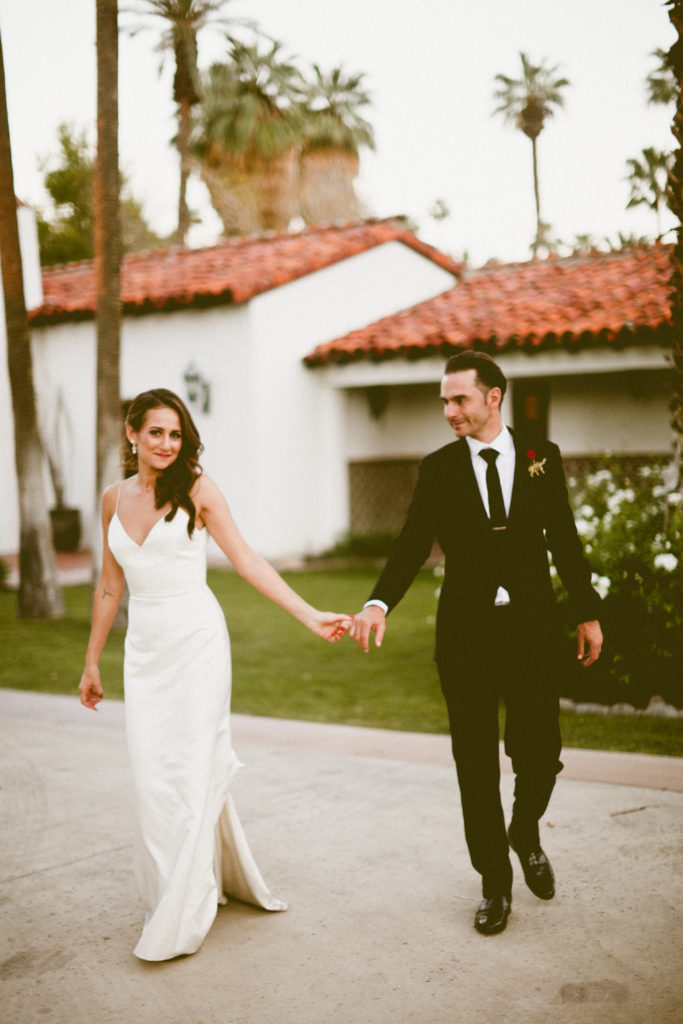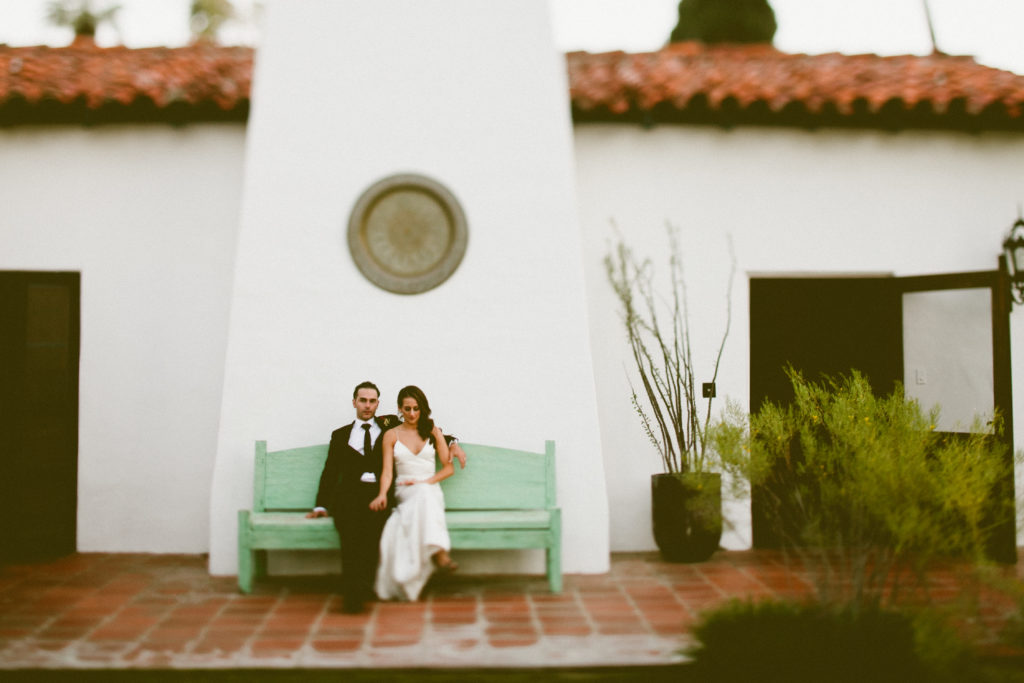 The night got even better!! How pretty does the pool look with all the candles and lighting? Quintessential Palm Springs… The party got moved inside for "Club Myhros" the couple's last name. Their friend dj'd all of their favorite jams and the dance party went off! The night ended with a sparkler exit for this amazing couple!!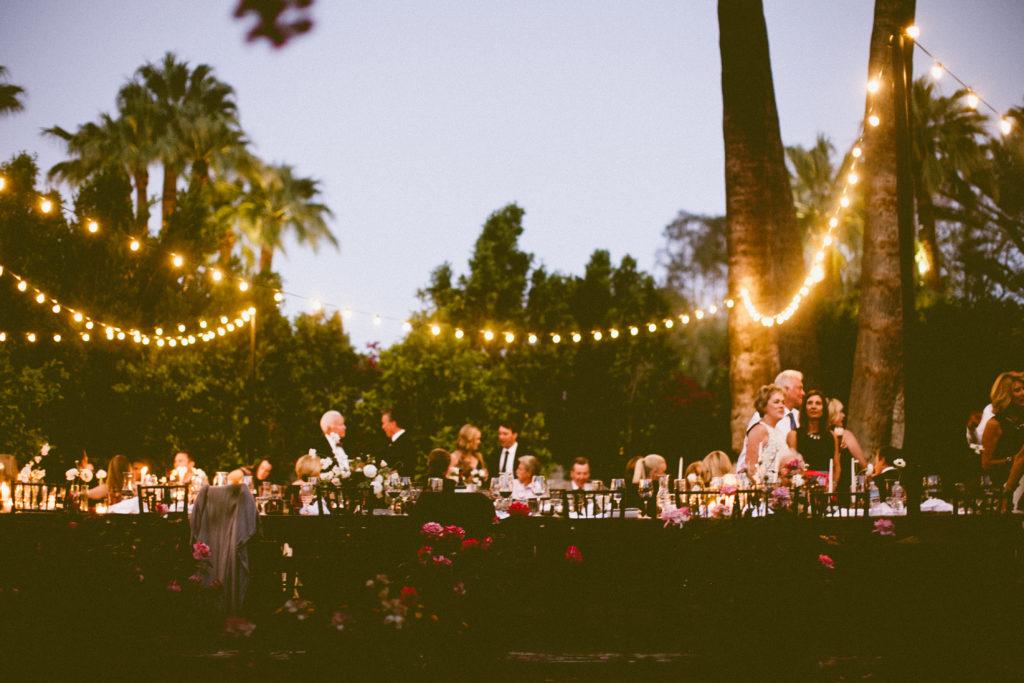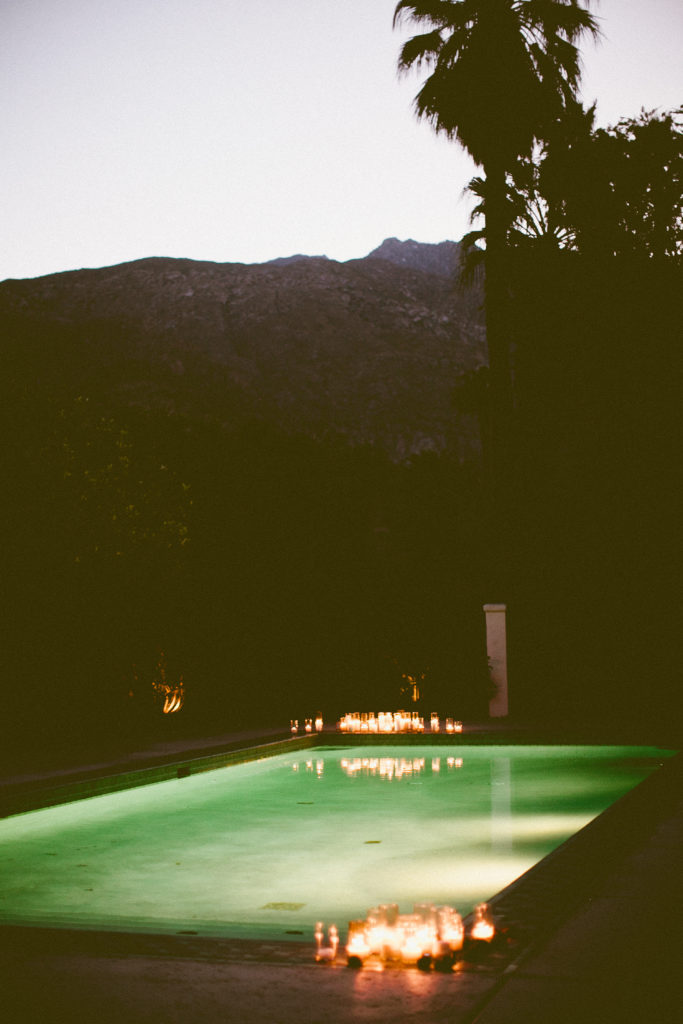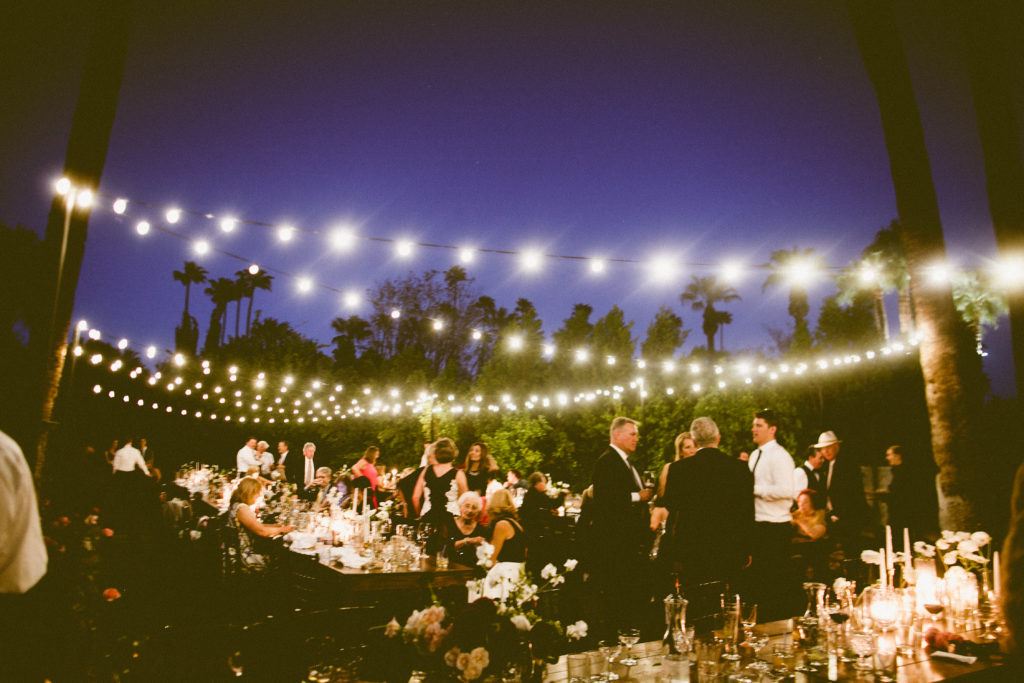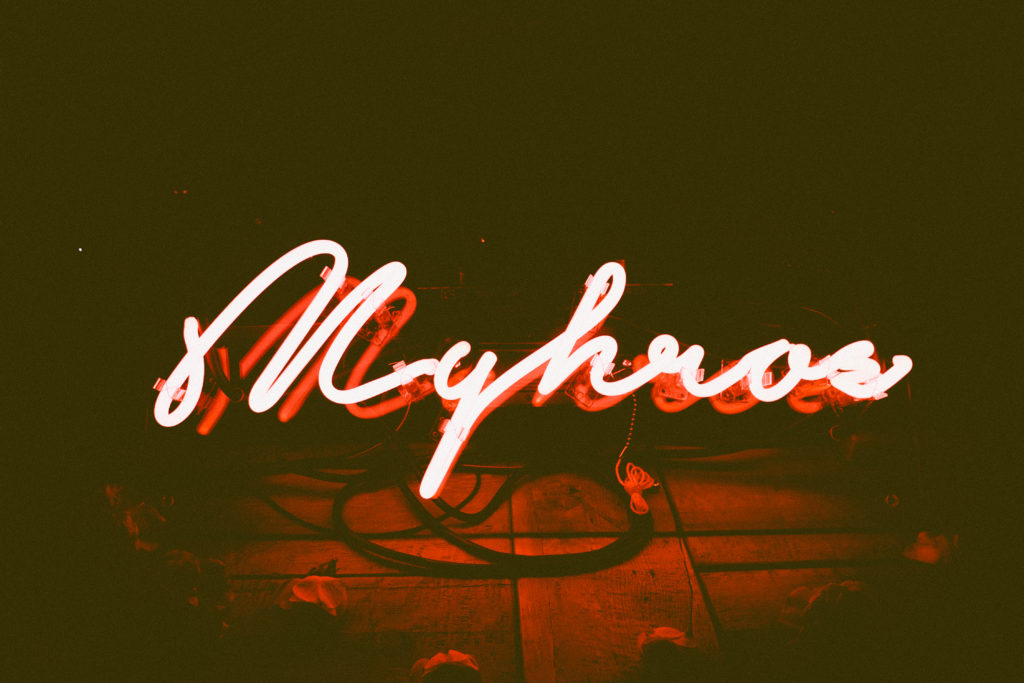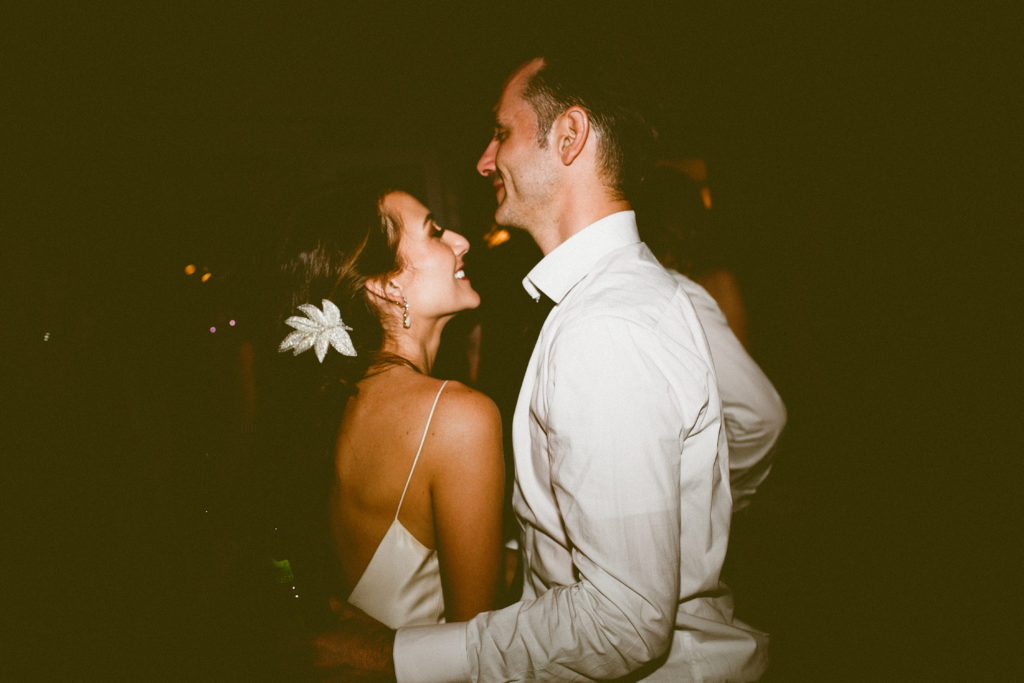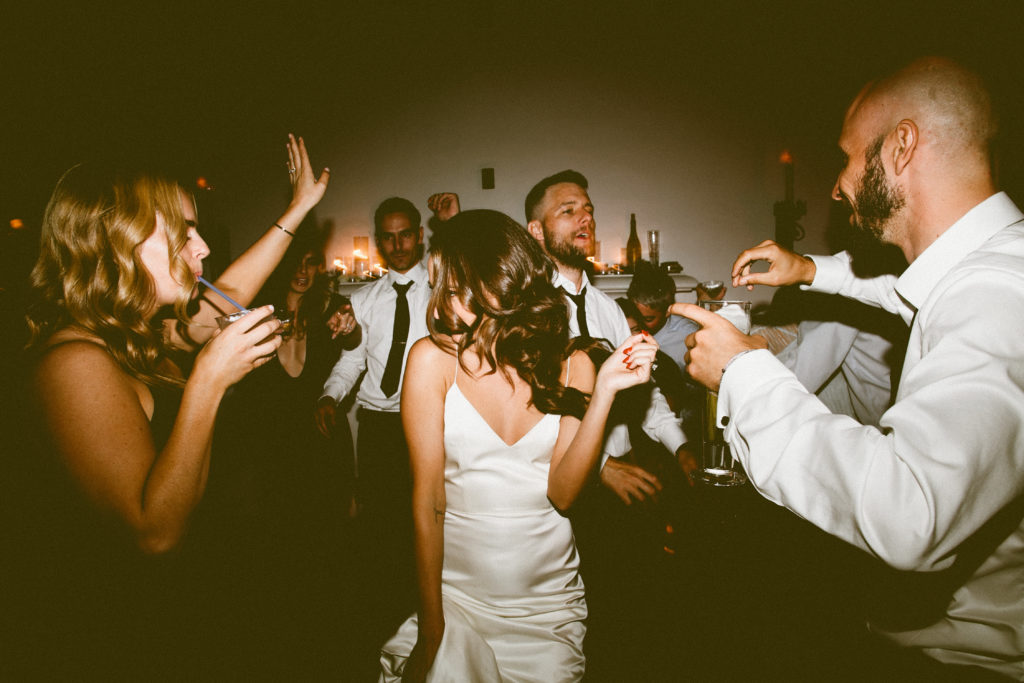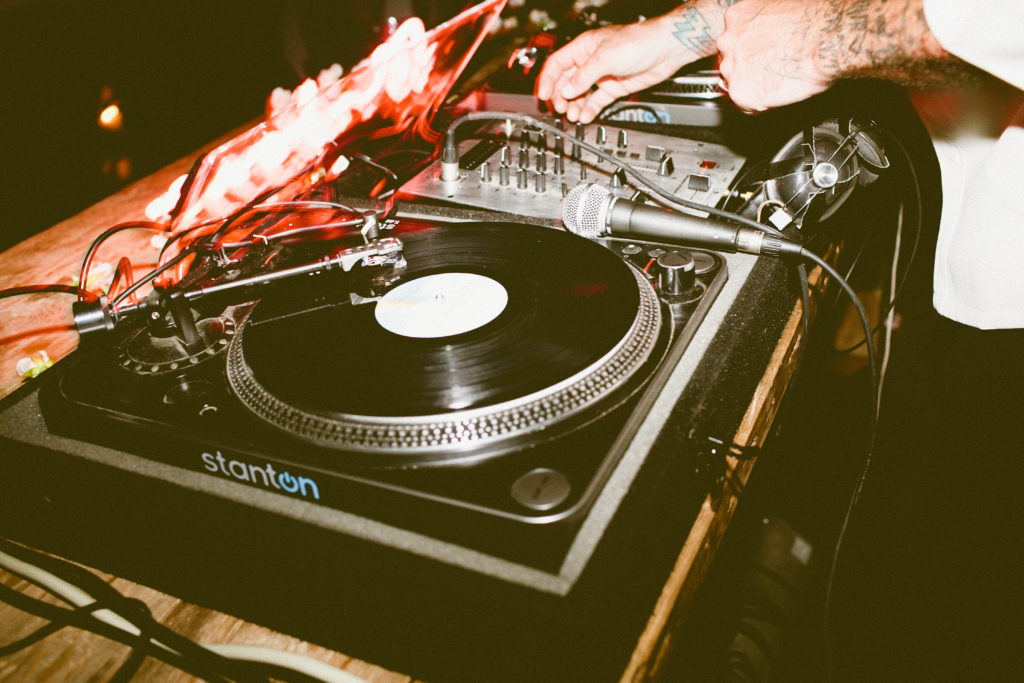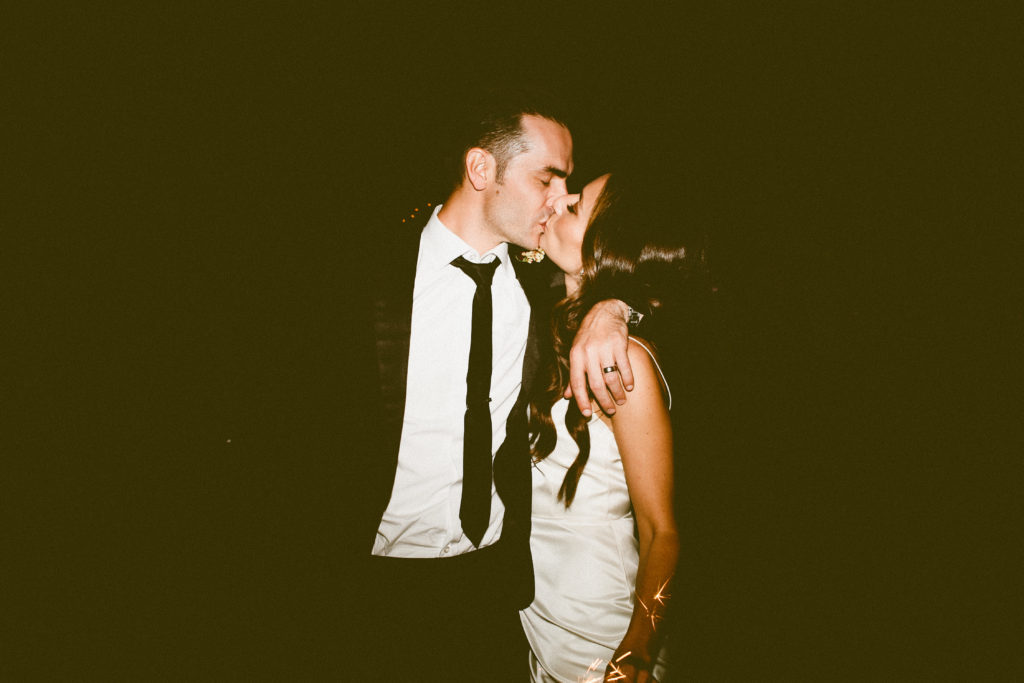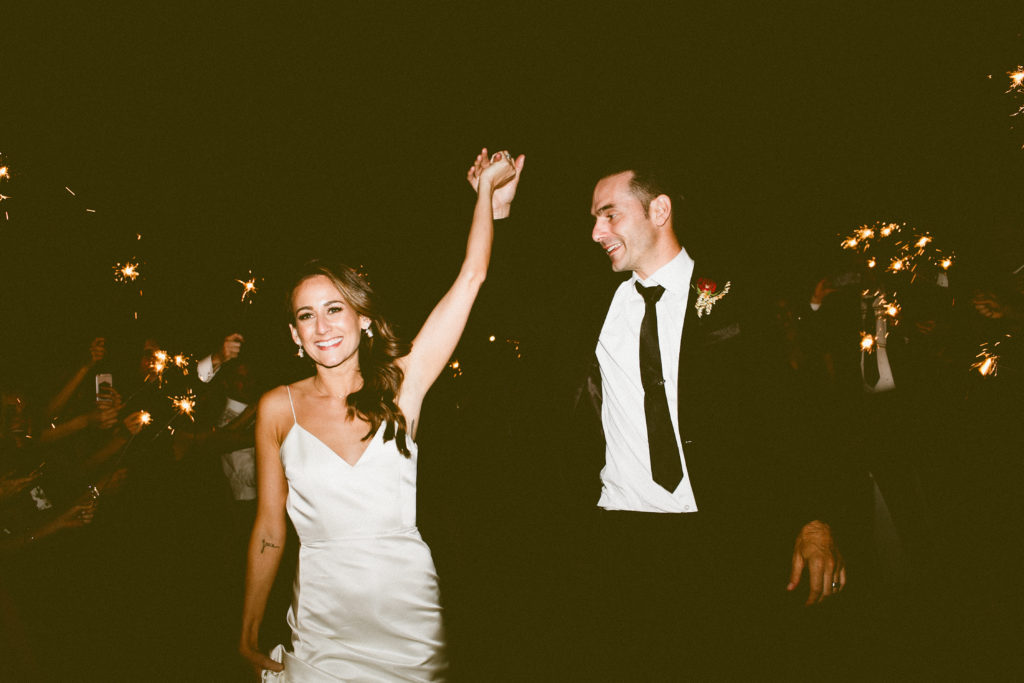 Such an amazing day for an amazing couple!! Cheers to many more years of happiness!
xx
Jacquelyn