With Spring right around the corner, its only fitting to enjoy this fresh spring lemon cucumber margarita. It's your excuse to drink a cocktail to say you got all your veggies! If you love cucumber, vodka, and a peppery bite from the black pepper honey, then this is your jam. I found this recipe online, and I usually tweak a couple of things for my taste, but this one didn't need anything changed. It does call for Persian cucumbers, but my store didn't have any. But guess what, its ok! Don't freak out if you can't find some of these items. Use regular cucumber or English cucumbers; they all work out! This cocktail is versatile as you can put any spring garnishes in it! Feel free to change it up to what you like! Pile up those spring garden garnishes and enjoy this Spring lemon cucumber margarita!
---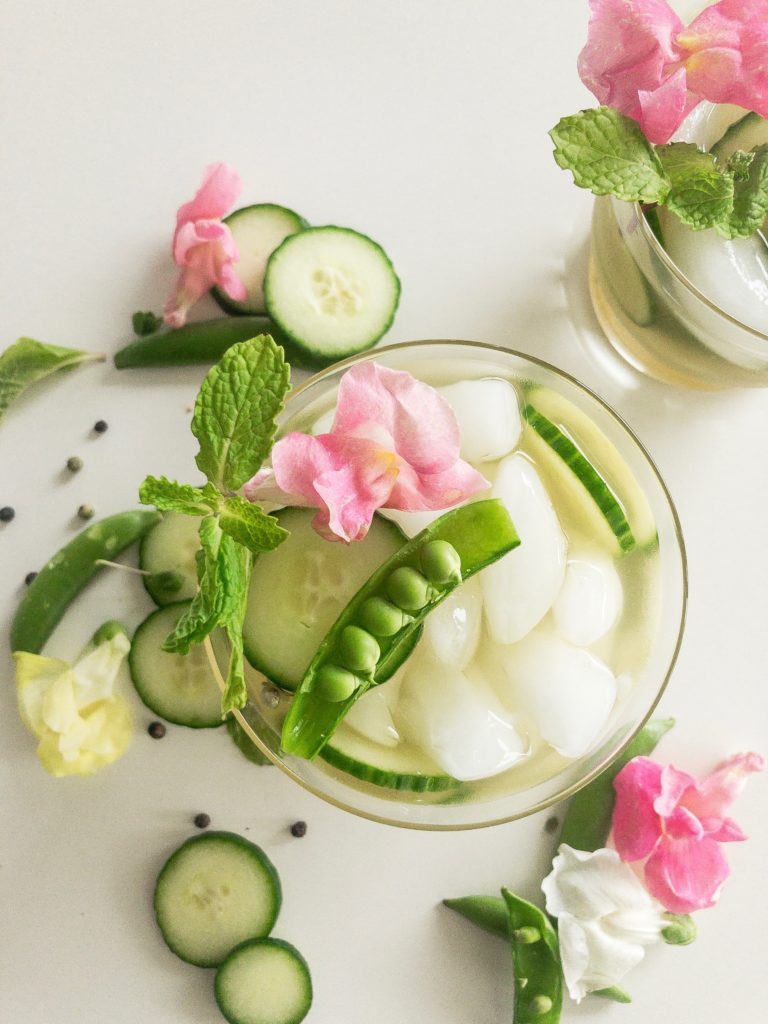 A SPRING LEMON GARDEN MARGARITA
serves: 2 margaritas
W H A T   Y A   N E E D!
3 oz silver tequila
2 oz fresh lemon juice
2 oz cucumber juice *see below
3/4 oz honey black pepper syrup * see below
a few cracks of sea salt
Cucumber Juice
2 small Persian cucumbers
1/4 cup water
Honey Black Pepper Syrup
1 Tablespoon wildflower honey
1 Tablespoon water
a few cracks of black pepper
Garnish:
2 cups ice cubes
snap pea garnish
fresh mint
edible flowers
cucumber slices
B U S T   O U T:
---
I N S T R U C T I O N S
Make cucumber juice by pureeing chopped cucumber with water. Strain out solids. Make honey pepper syrup by microwaving or heating water and honey together for about 15 seconds. Stir to combine.
Beijos Tip: watch your microwave during this so it doesn't bubble up and spill out. That is one sticky mess!
Add a few cracks of fresh black pepper. Then add the tequila, lemon juice, cucumber juice, honey syrup, and salt to a shaker with a few ice cubes. Add ice to cups.
SHAKE! SHAKE! SHAKE!
Then finally, pour mixture between two glasses, and garnish with mint, edible flowers, cucumber, and peas. This is where you can go crazy with the garnishes!
---
xx
Abby