Boy do I have a beauty of a home tour for you today!  Joshua Tree is such a special place and we love visiting it.  There's something so peaceful and stunning about the landscape out there.  There are some really nice places to stay but this new spot, Palo Verde Ranch, really takes the cake.  My friend Alison Bernier recently had the pleasure of staying there with her family and shooting this gorgeous space.  It's recently renovated and owner Danielle Shaw did the most amazing job designing it.  Each and every detail is just impeccable and oh so stylish.  We especially loved what she did with the exterior… PINK!!!  Keep reading for all the info from Danielle and all the pretty photos from Alison (and there are A LOT of them).Oh, and since I know you're already asking, here is the link to stay at this piece of magic – Palo Verde Ranch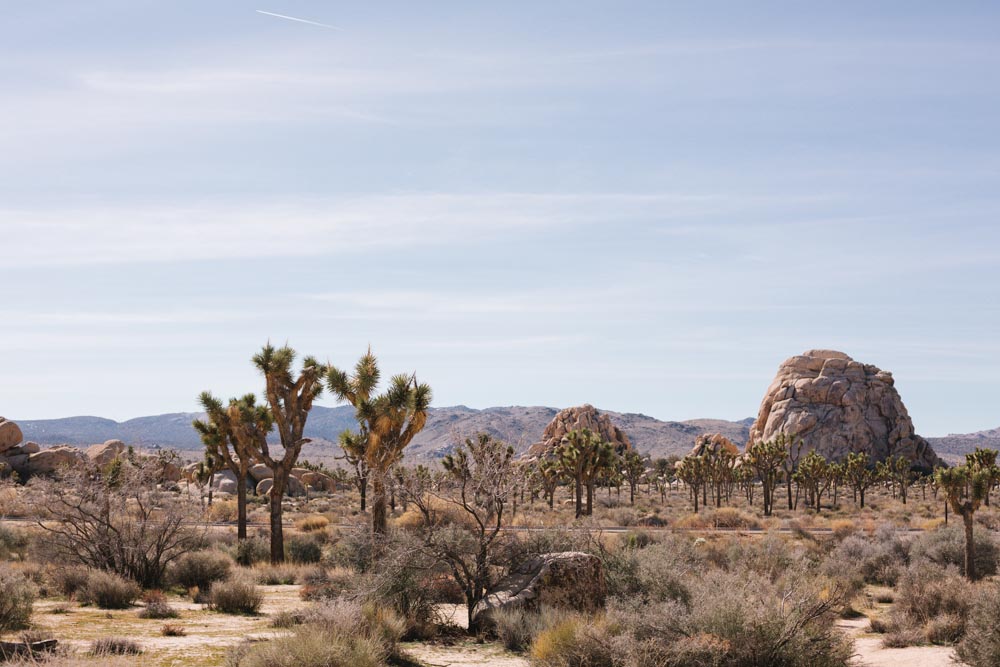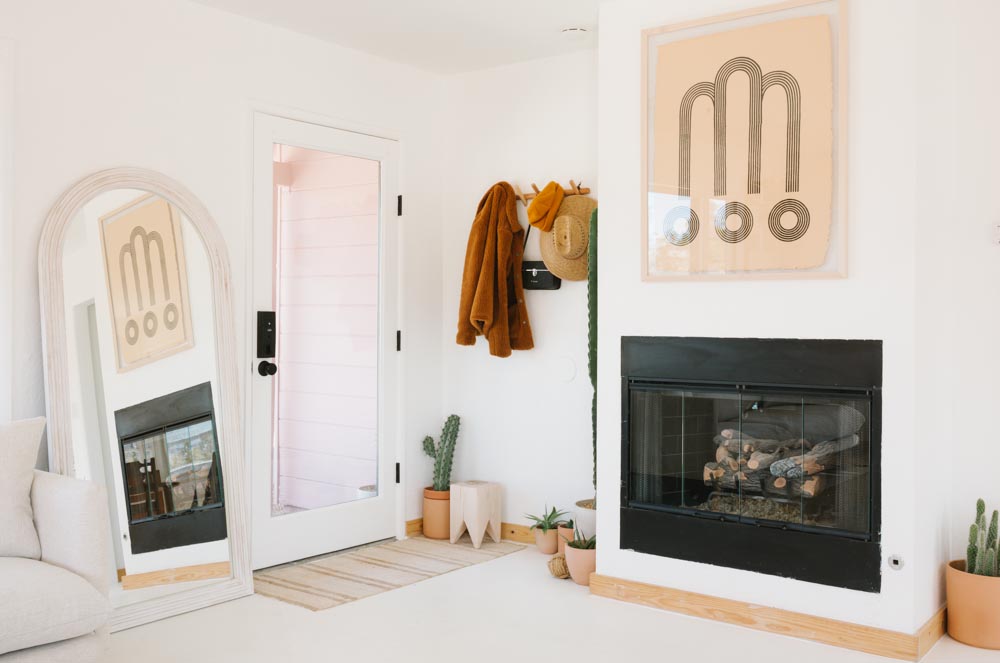 Why did you decide to purchase a home in Joshua Tree?  Why this home?
I have always loved the desert and there is something uniquely gritty yet beautiful about the High Desert.  With every visit I fall in love with it more and more.  After several months of searching, I came across this property late at night just seconds after it went on the market. I knew immediately this was the one. My family went out the next morning and I was ready to put in an offer the second we pulled up. The neighborhood, the boulder views, the gigantic Palo Verde canopy with the cutest mid-century ranch style home just looking for the proper love. All of this was enough for me to put in an offer before we even left.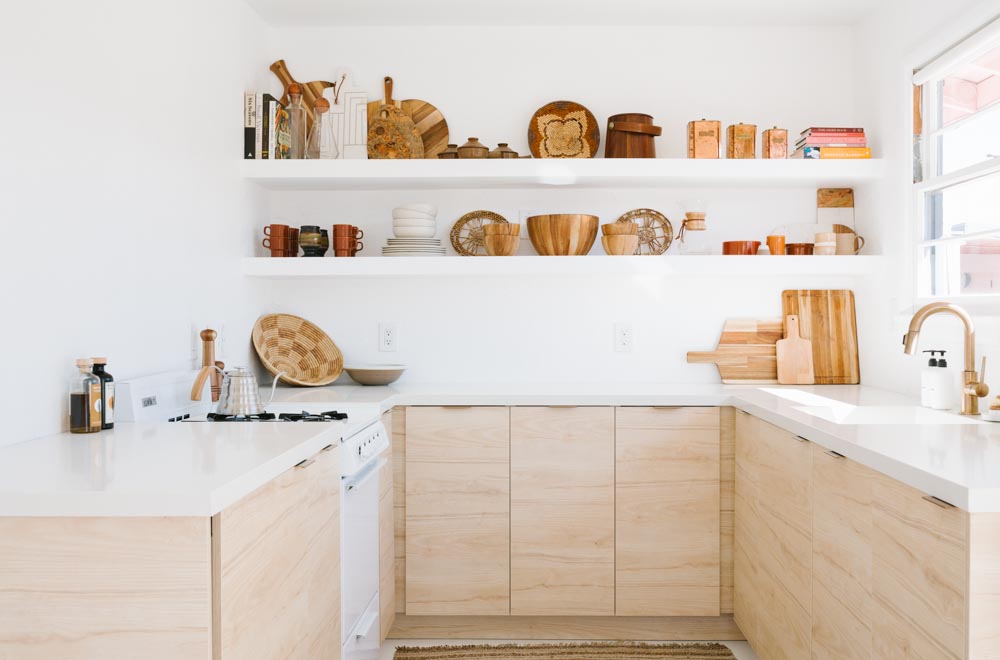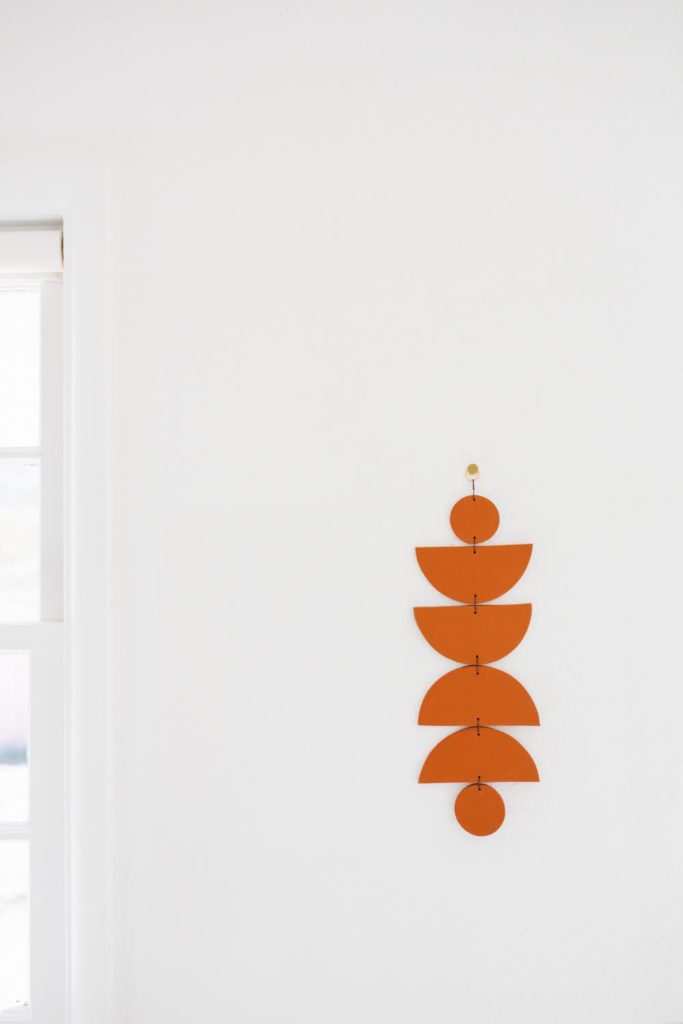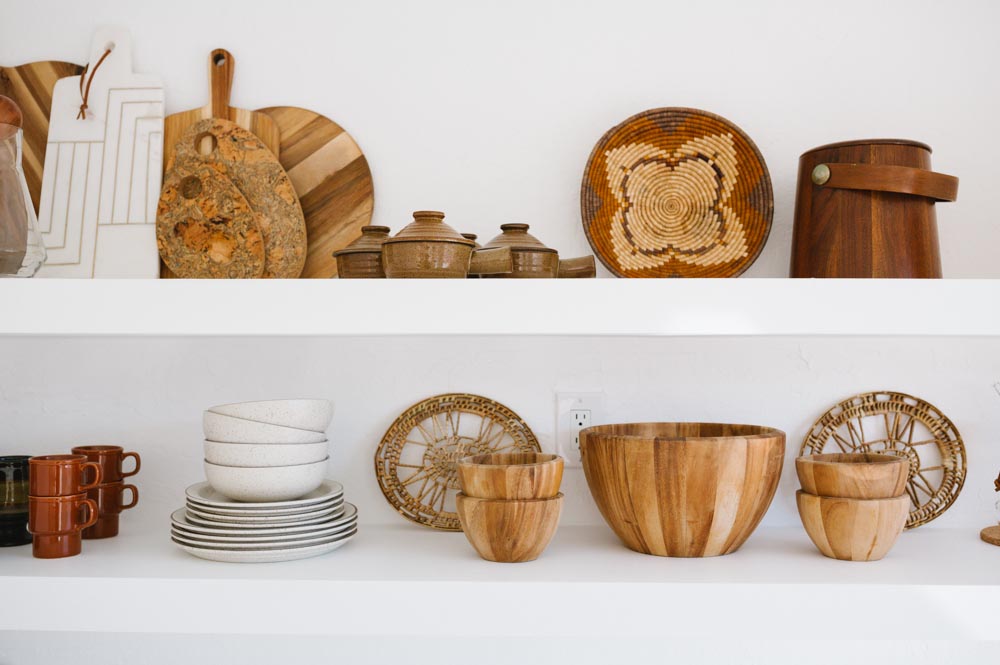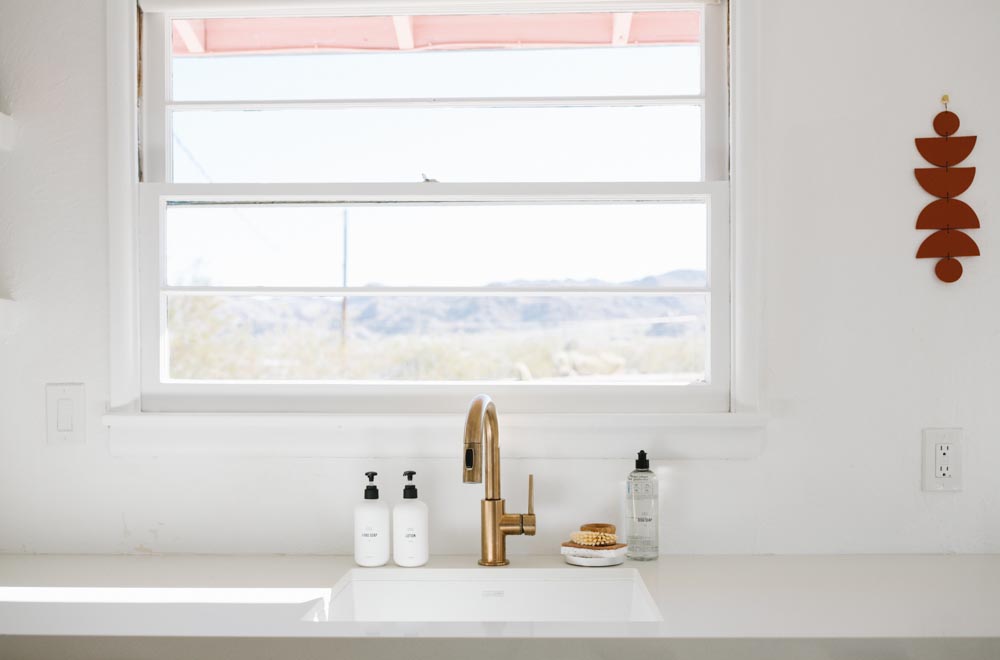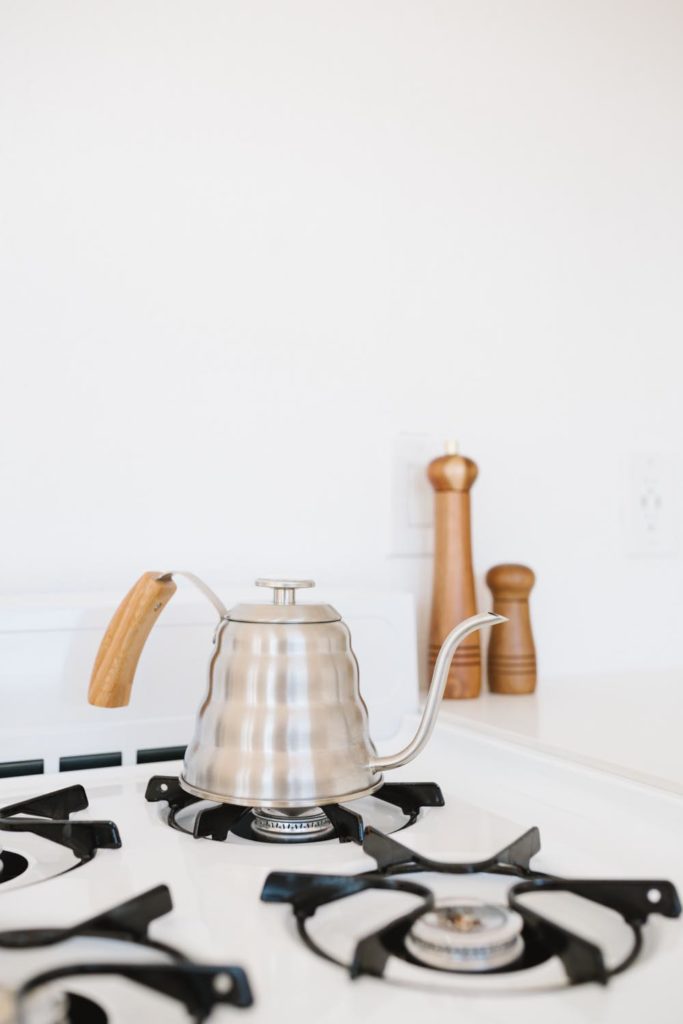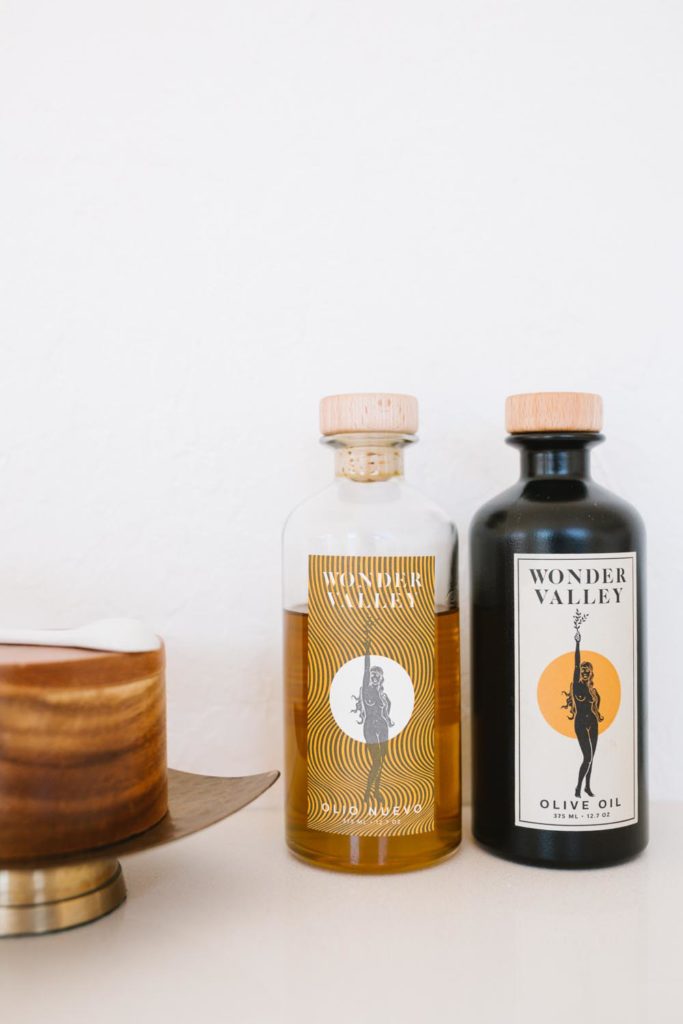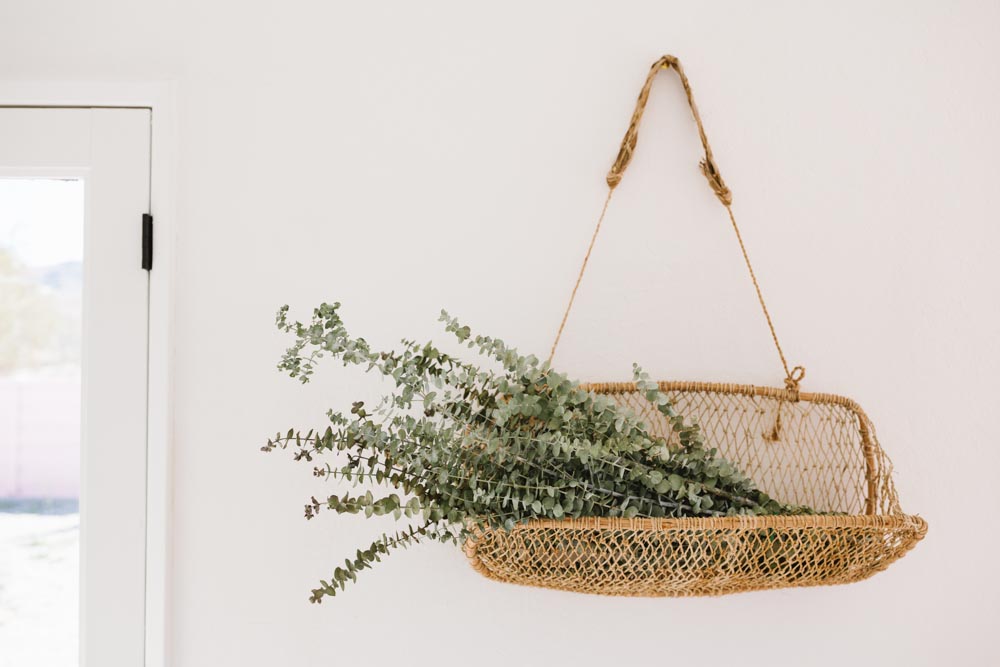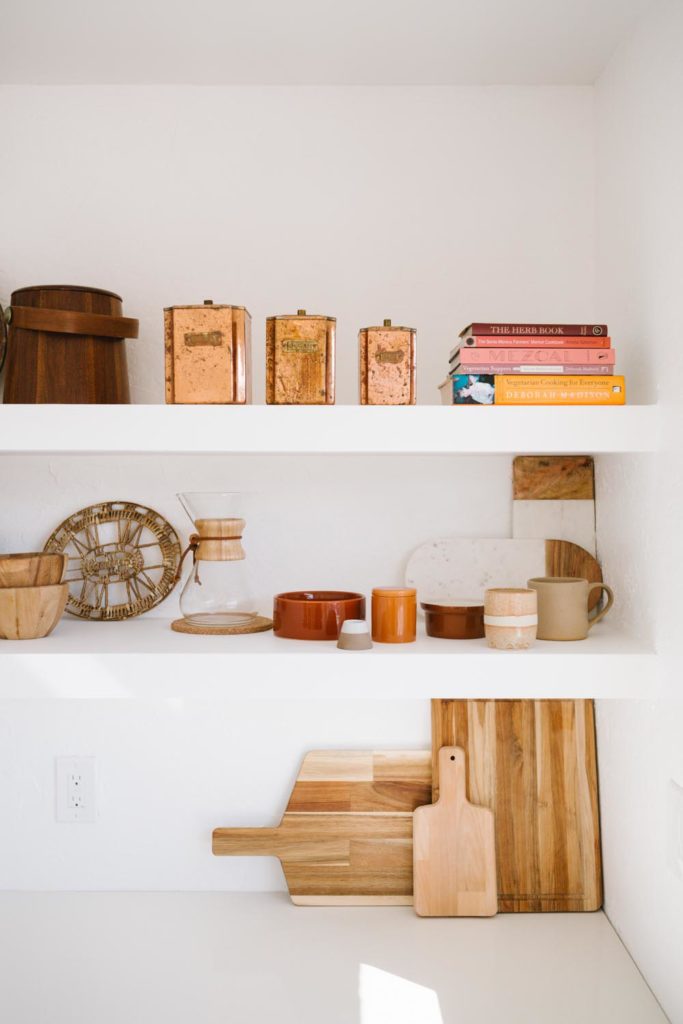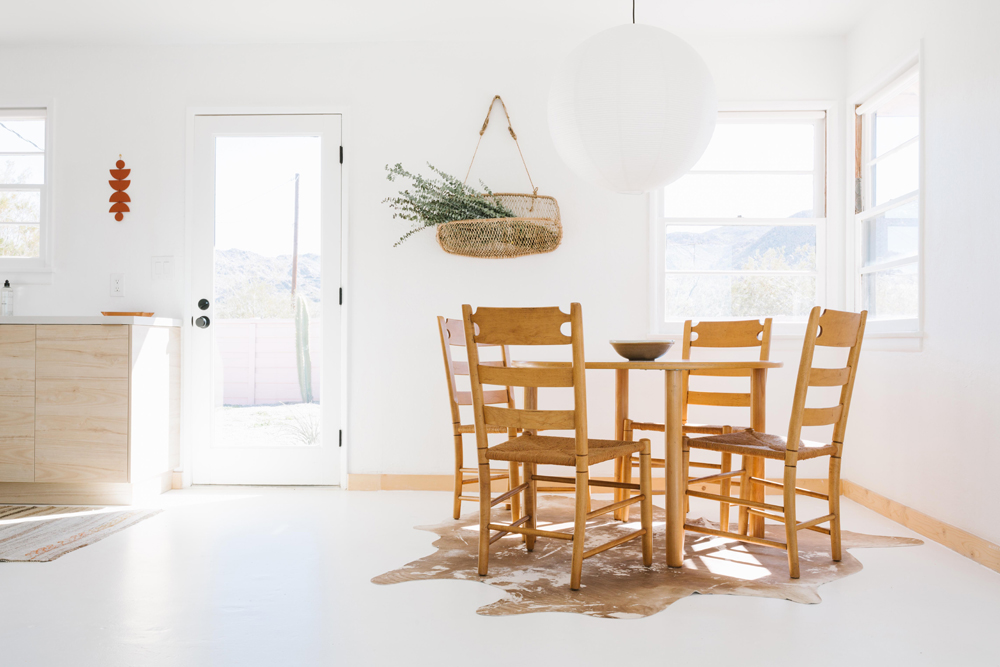 What is your favorite room or feature in the house?
Oh that is so hard! It's like asking what is your favorite part of your child! If I had to pick I would say the living room. The room sets the tone for the entire house. It is surrounded by huge windows. You can literally sit on the comfy down sofa and see boulders or look behind you and see snowy mountain tops in the distance.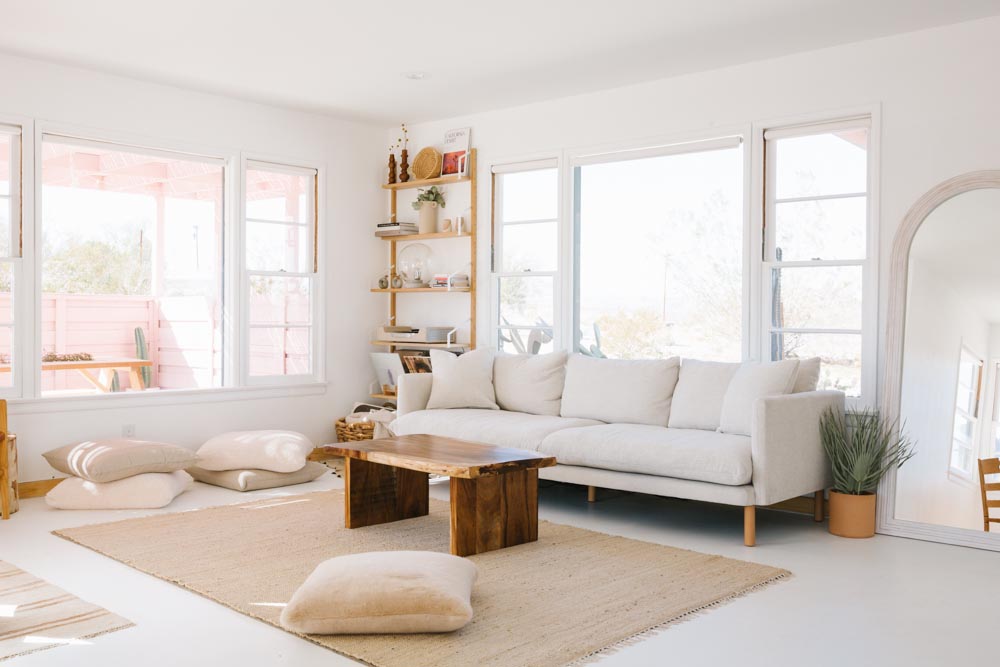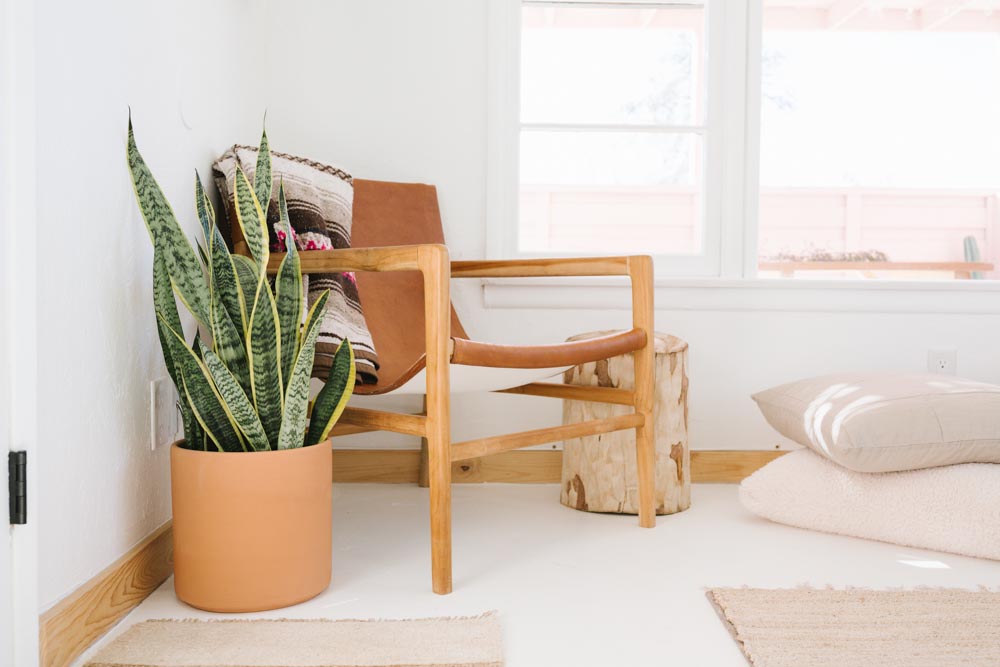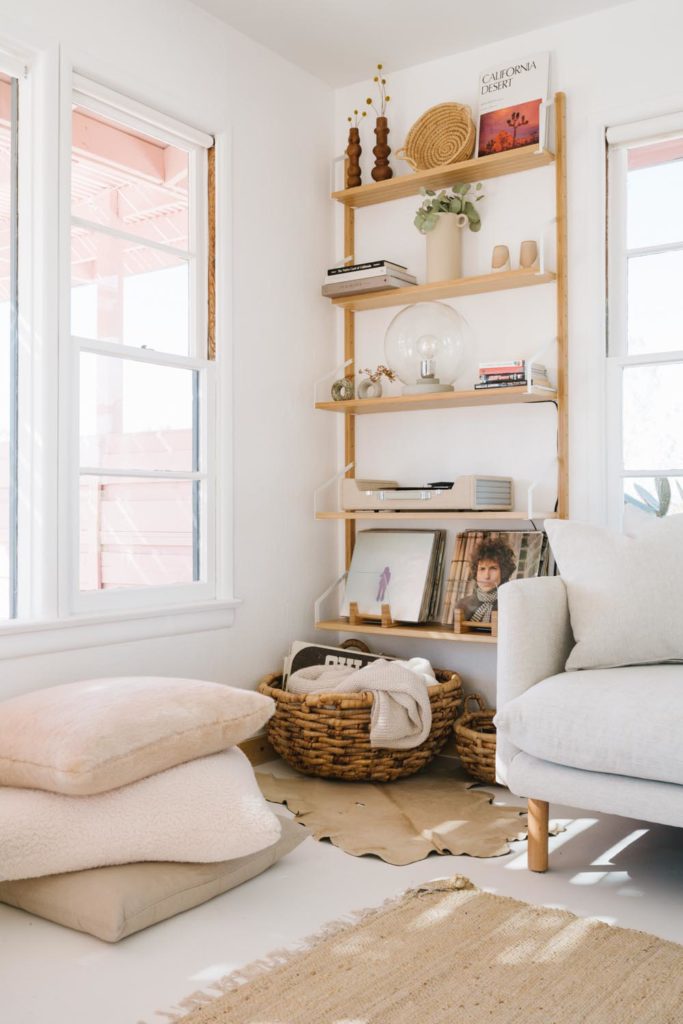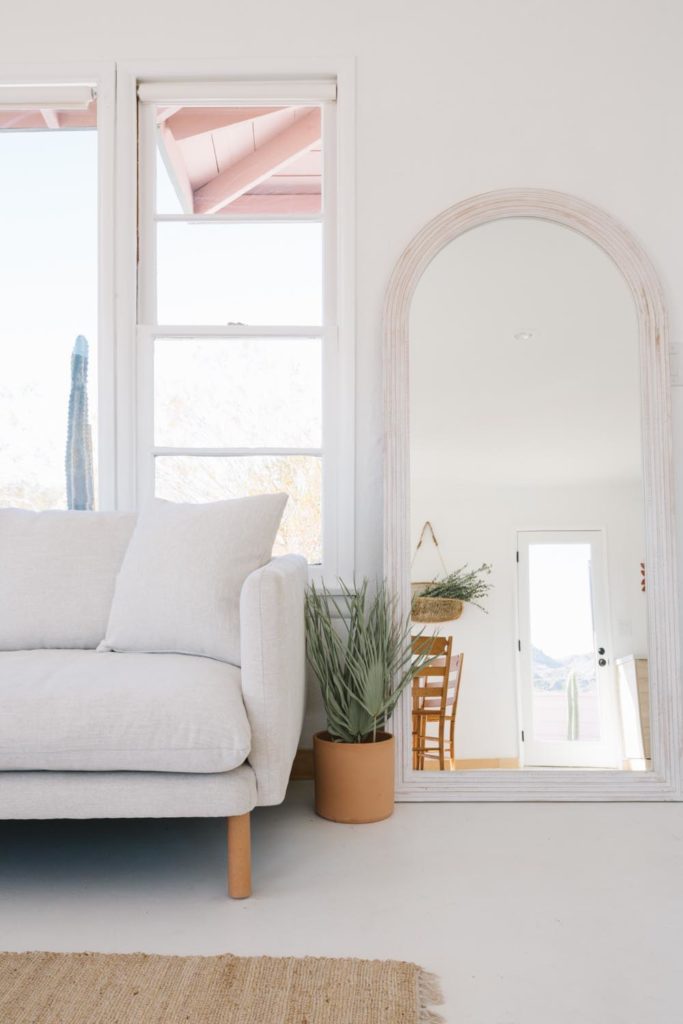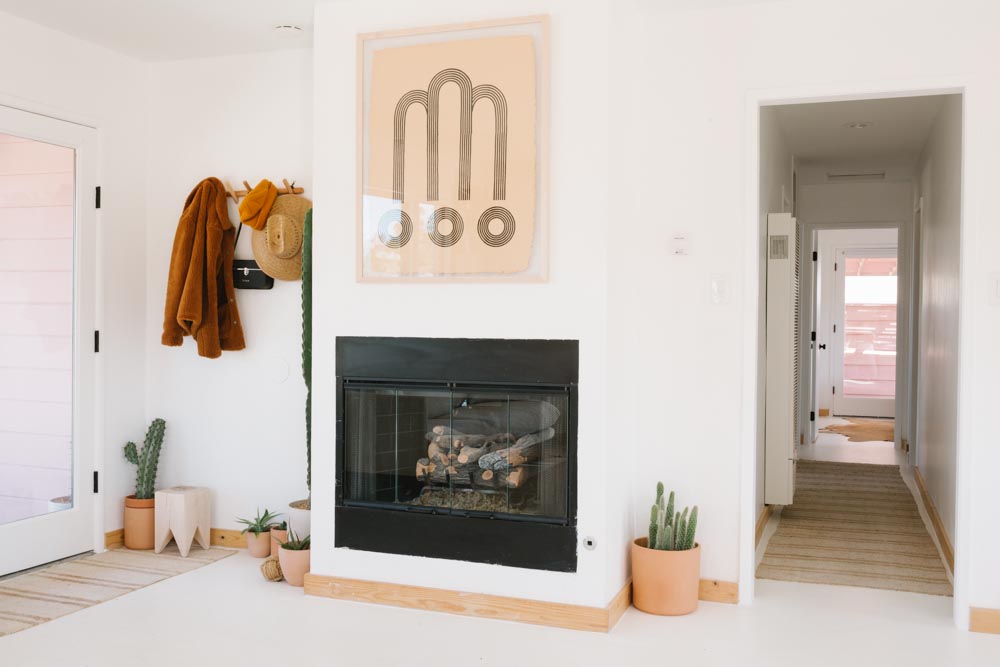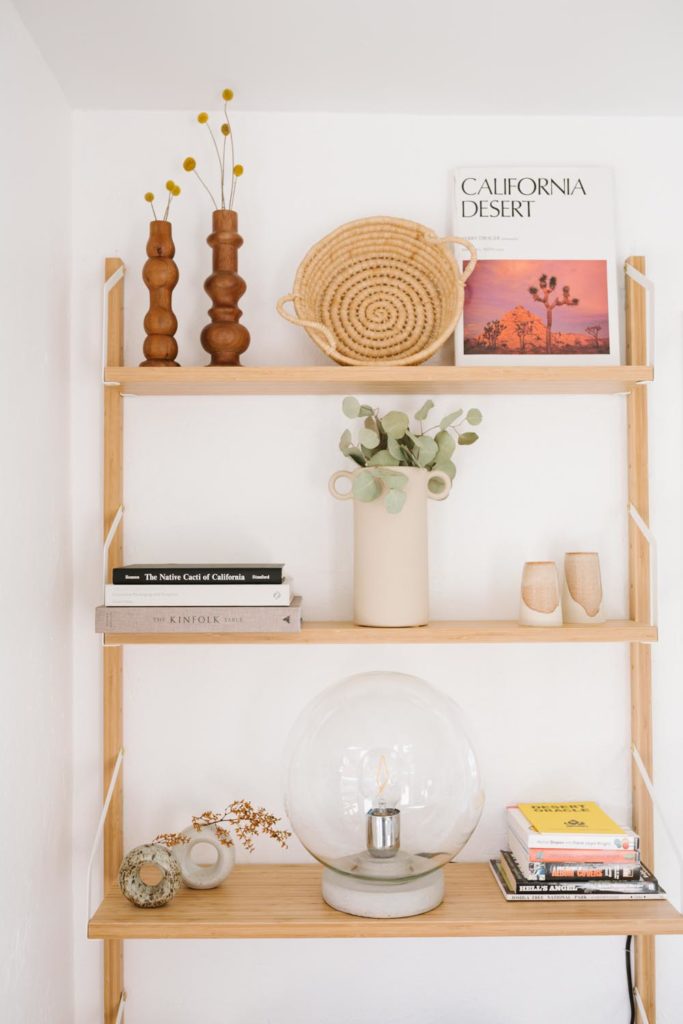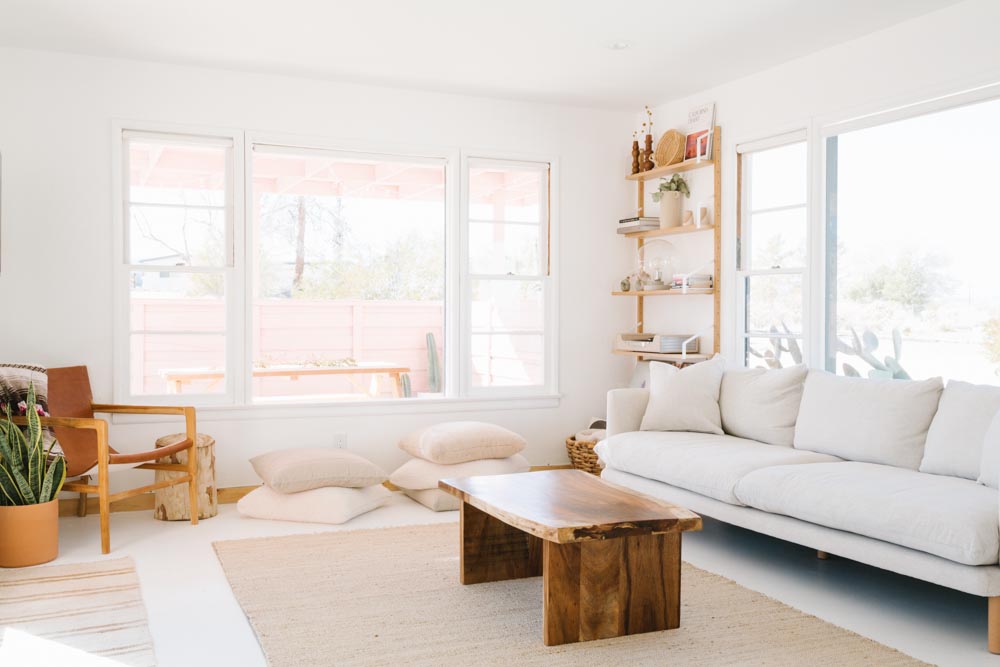 Talk to us about the design process to make the home so stylish…
Being faced with the task of designing a house from start to finish was both exciting and exhausting. In the past, whenever I attempted to design our own spaces I never seemed to finish because life has a tendency of getting in the way. With regards to my design aesthetic, I am particularly drawn to neutrals and mixing natural, organic elements with clean lines.  It took time for me to realize that even though I enjoy seeing fun pops of color or unique patterns, I am happiest living in a primarily neutral space. With this in mind I set out to mix warm, desert inspired tones and neutrals. The objective was to design a space that many people could not commit to living in 24/7 but rather a home one would be excited to get away to for a vacation where the feel promoted escape and relaxation with no distractions. I frequently have wild ideas and many times they do not work out—but what they do is morph into something different in order to work. In this house every time this happened it ended up better than the original idea. Inspired by Australia, Greece, and California design while keeping mind the bones of the house, the main goal was to showcase a simple space with minimal styling that feels relaxed.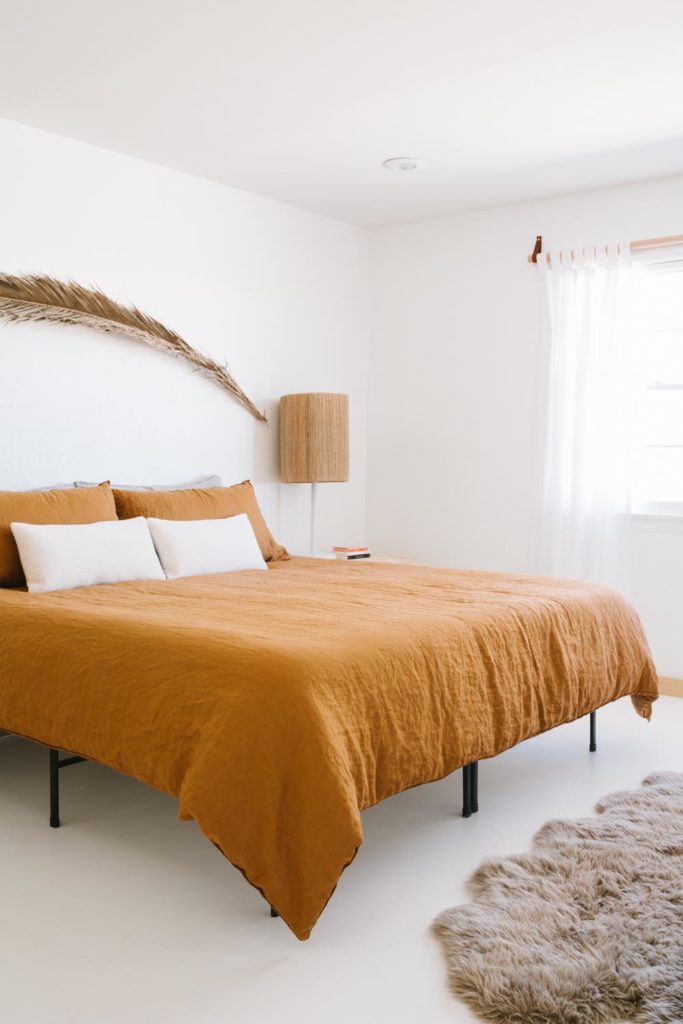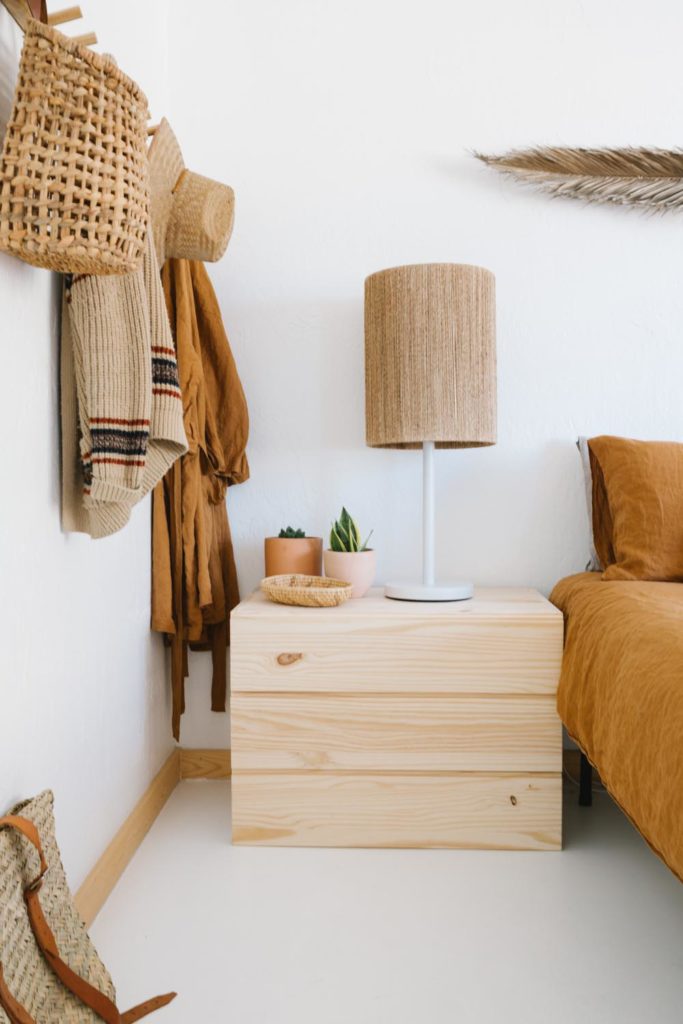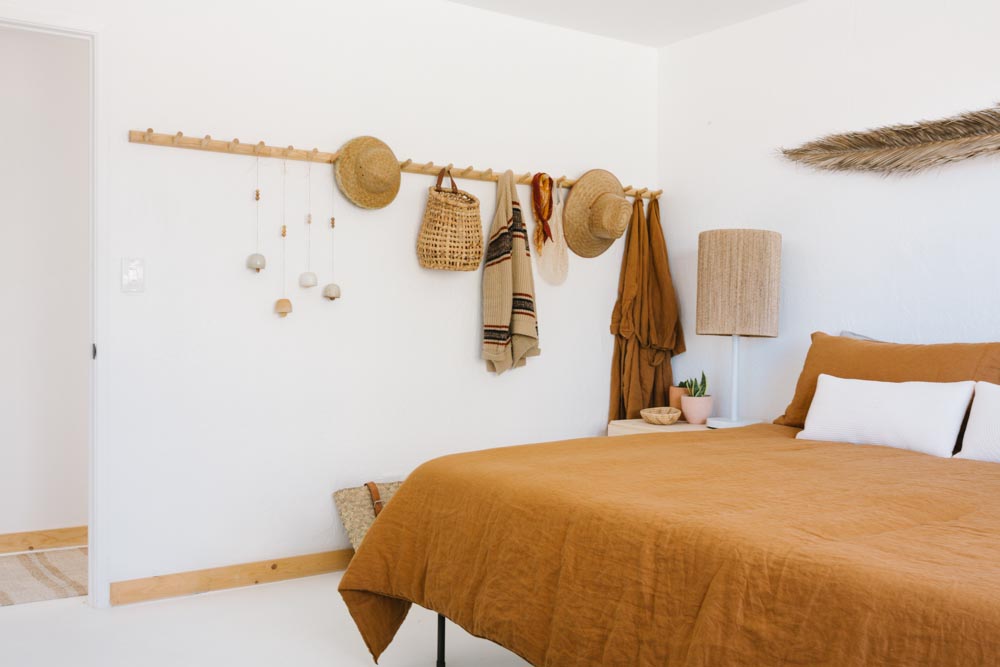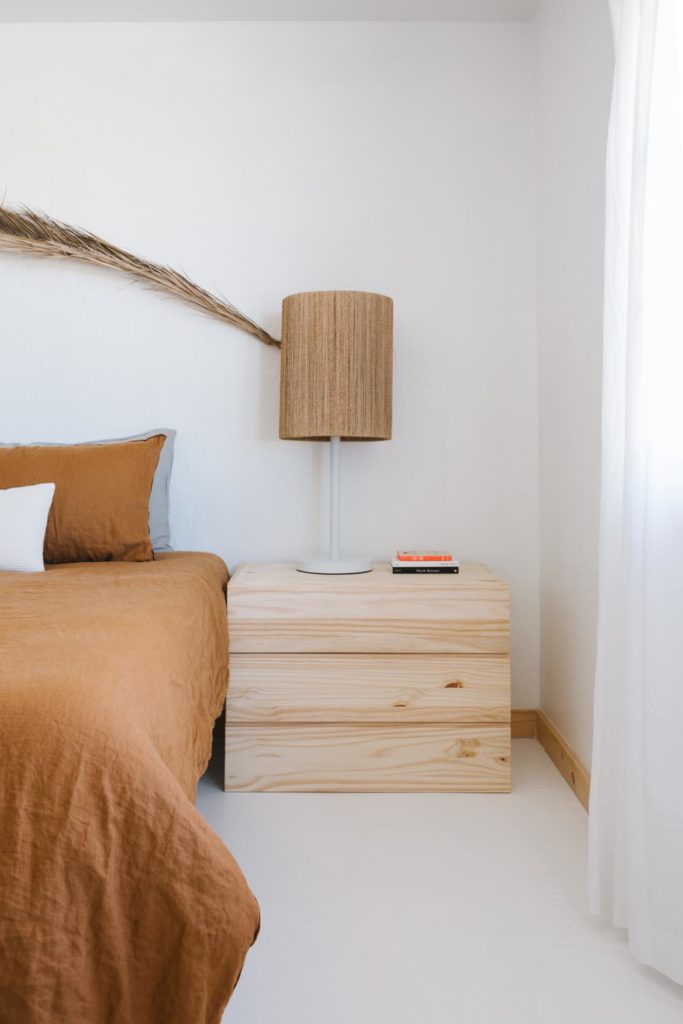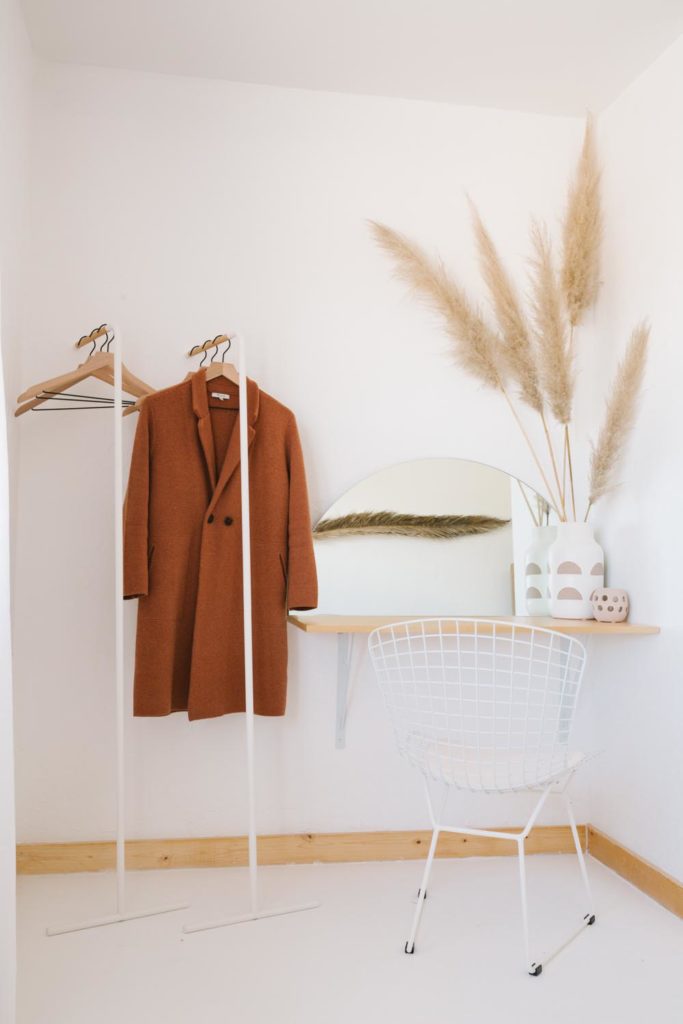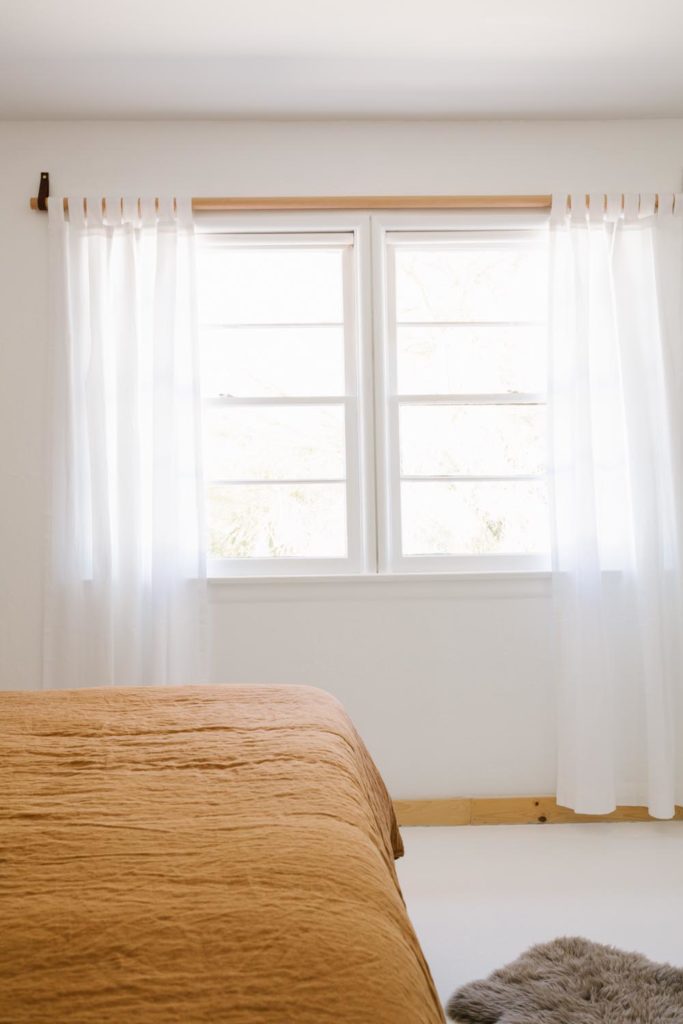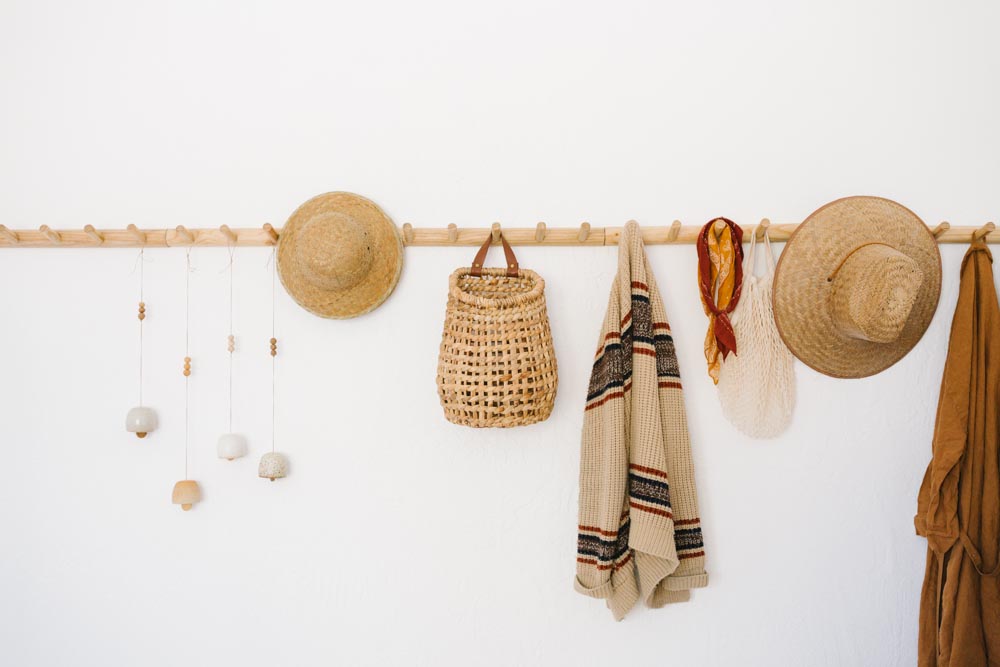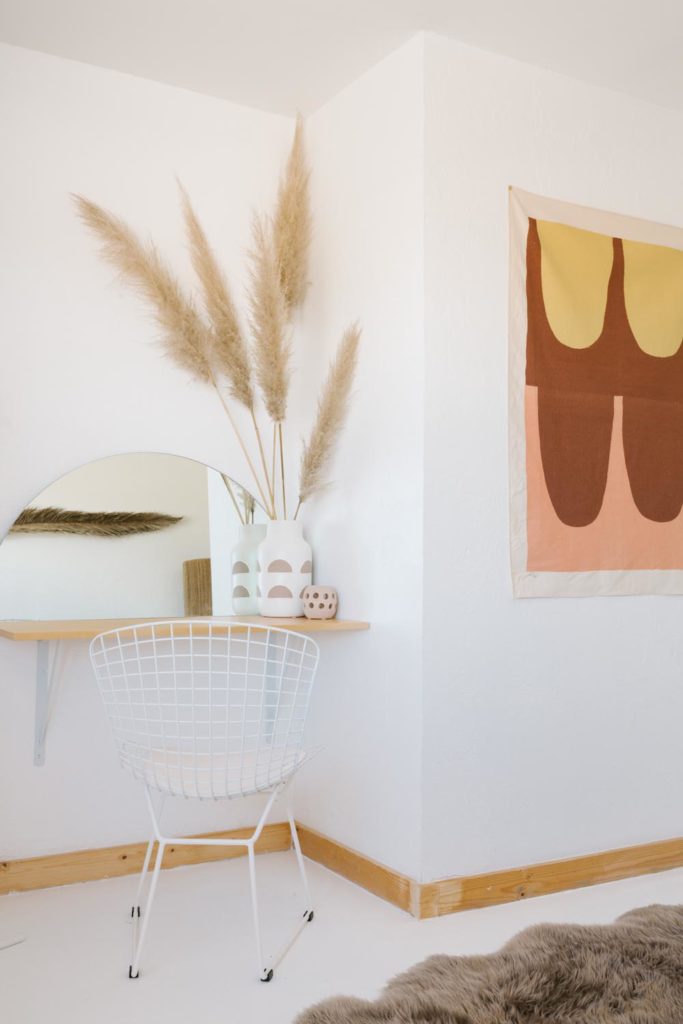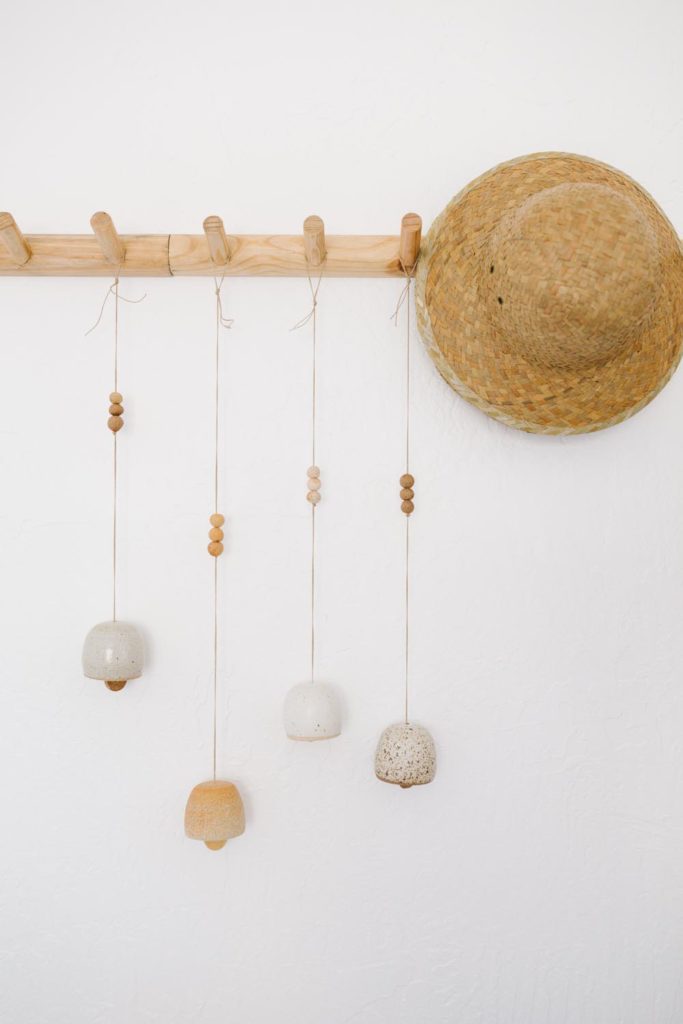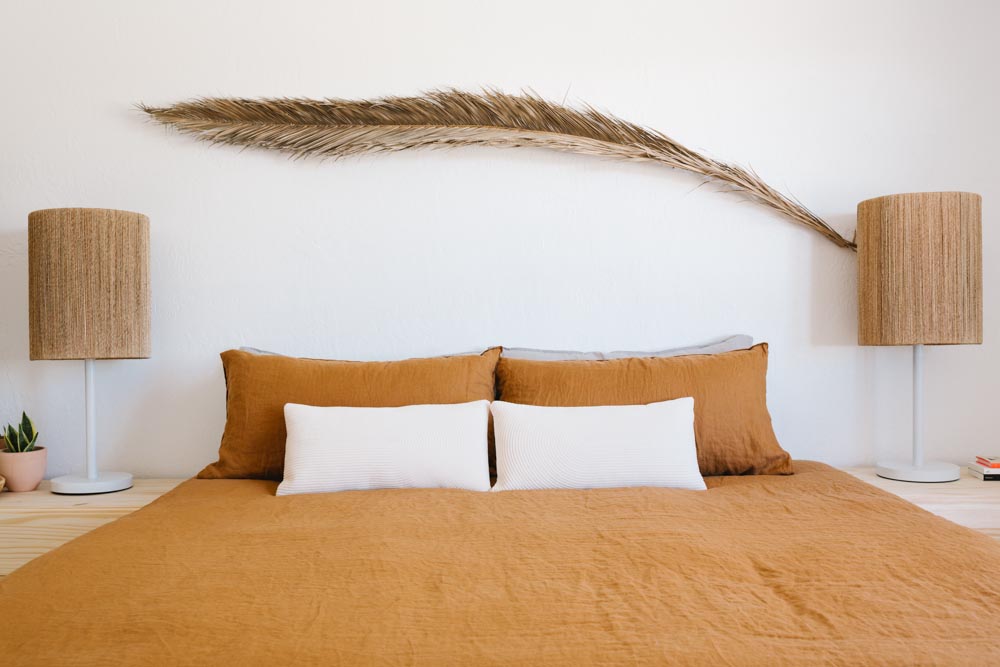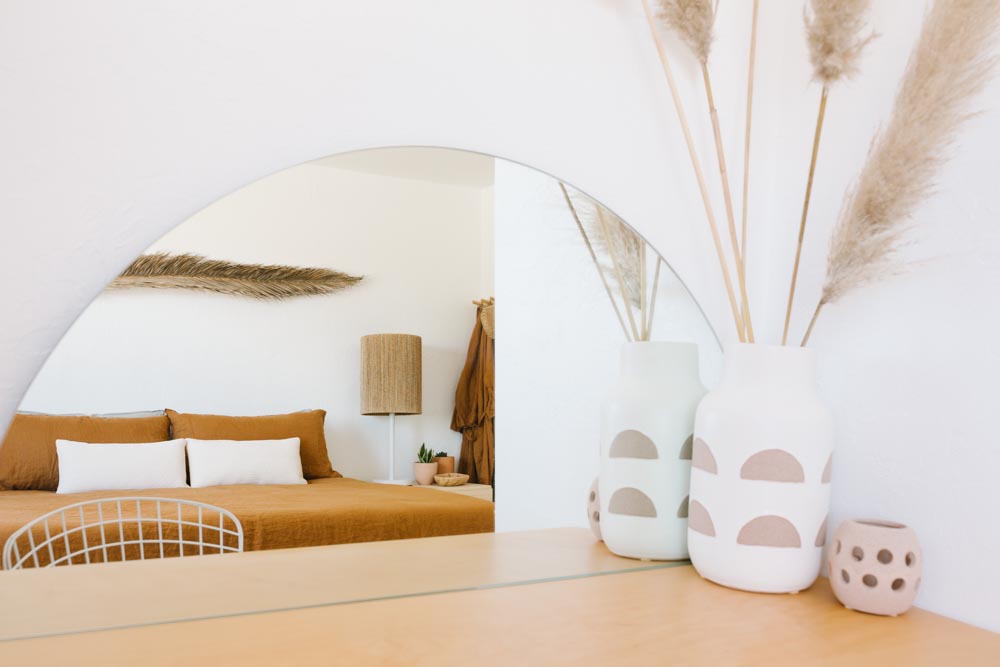 Where did you shop for most of the items in the house?
There isn't one place I sourced a majority of items from. This is actually intentional in anything I design. I find great pleasure in scouring all over to find the right items. I love thrift stores and flea markets while I'm not afraid to admit I love me some Ikea and Target for the right things!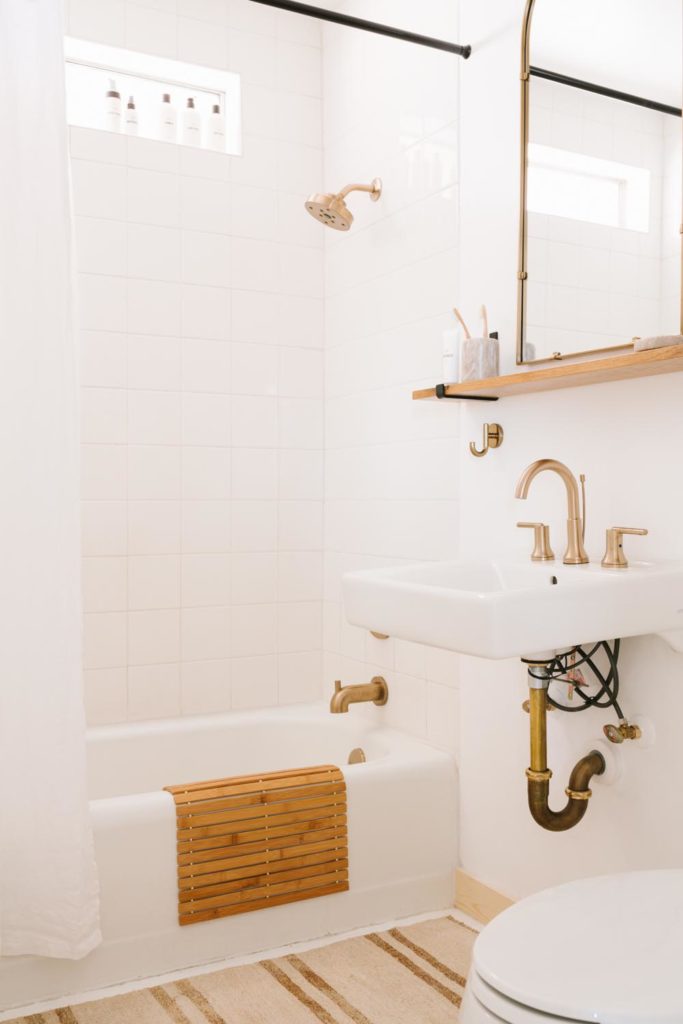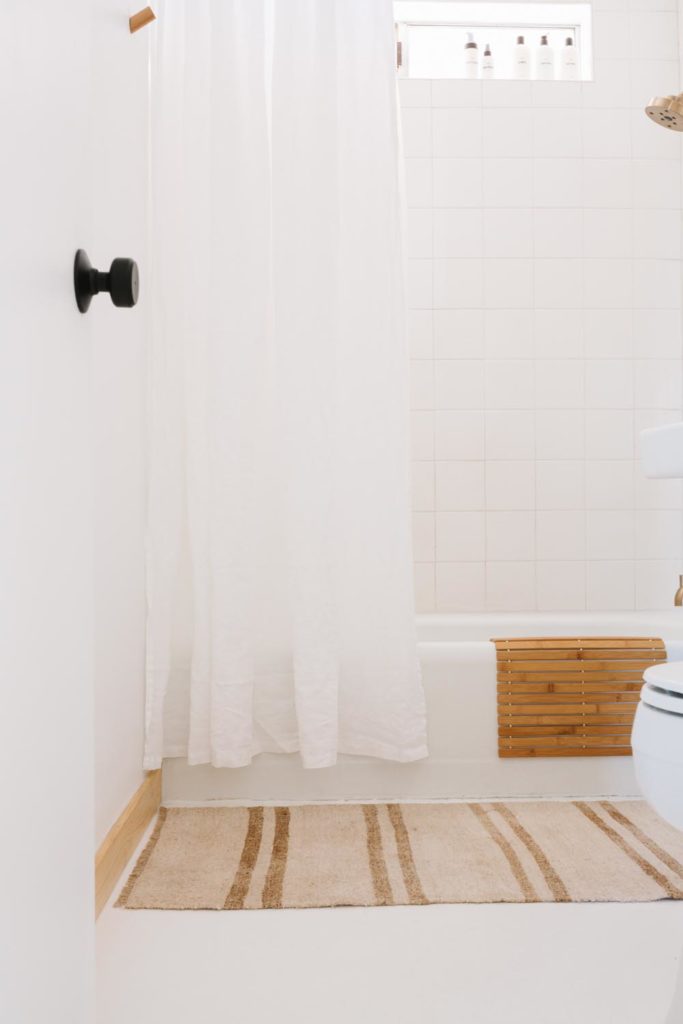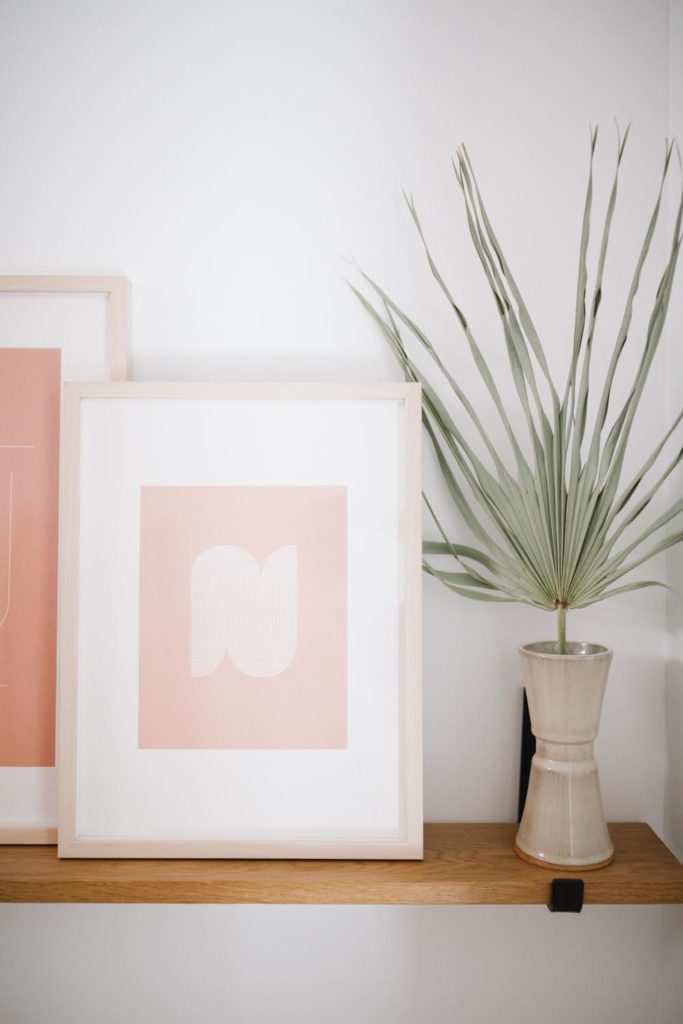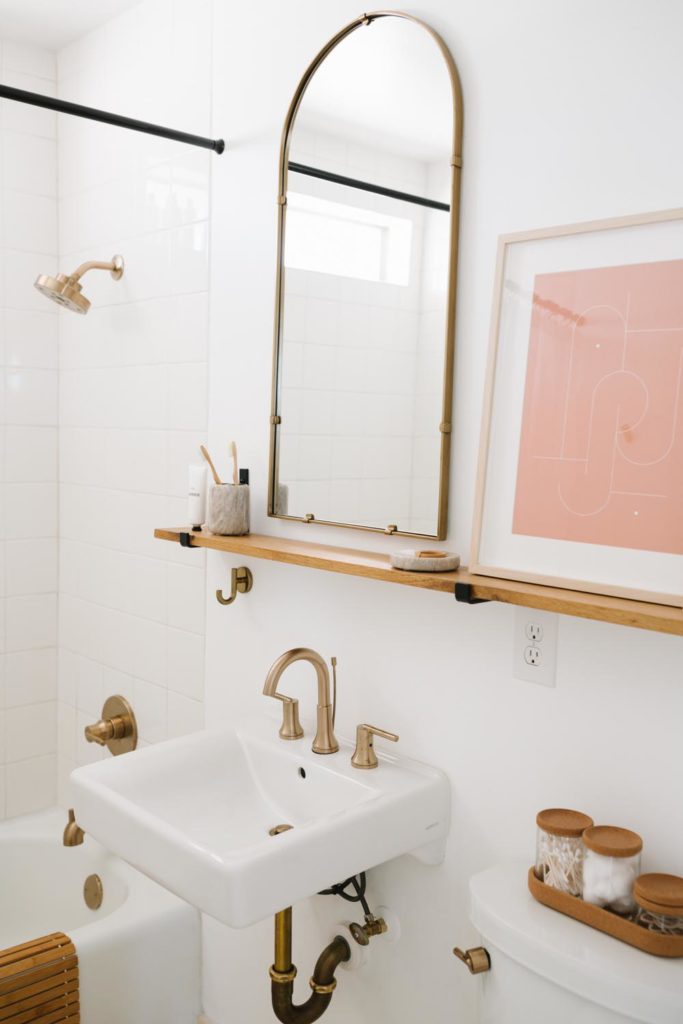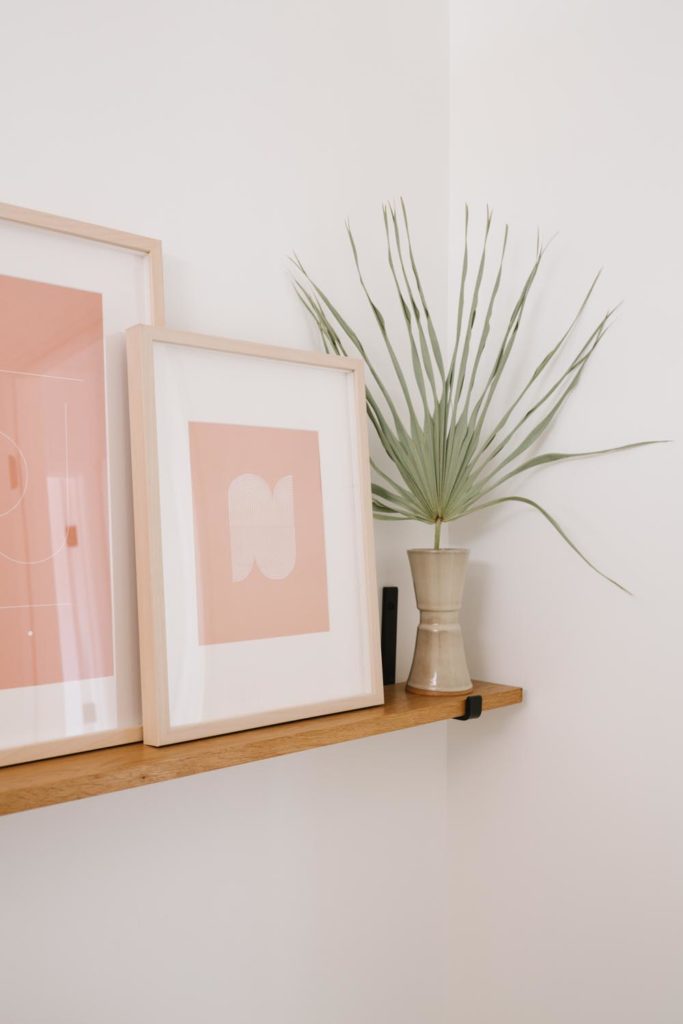 What do you want your guests to feel when they walk through the door?
I want them to walk in and immediately feel at ease, to find the space warm and inviting. For them to realize that their vacation has begun and this is the place that is going to recharge them for whatever is going on in their life or the world around them. To bring a sense of calmness and serenity.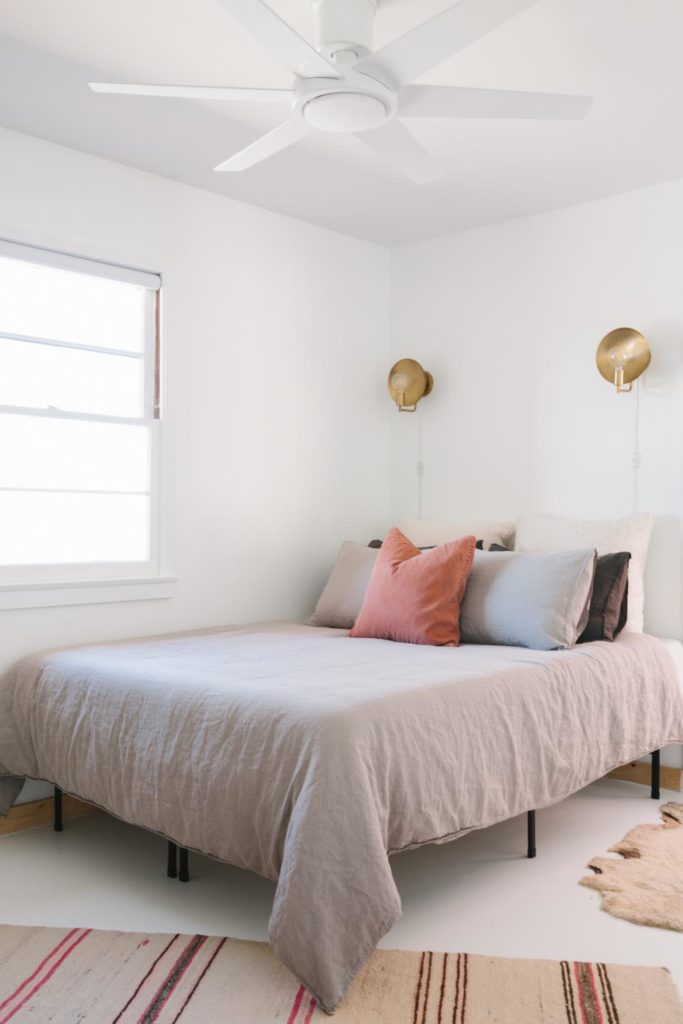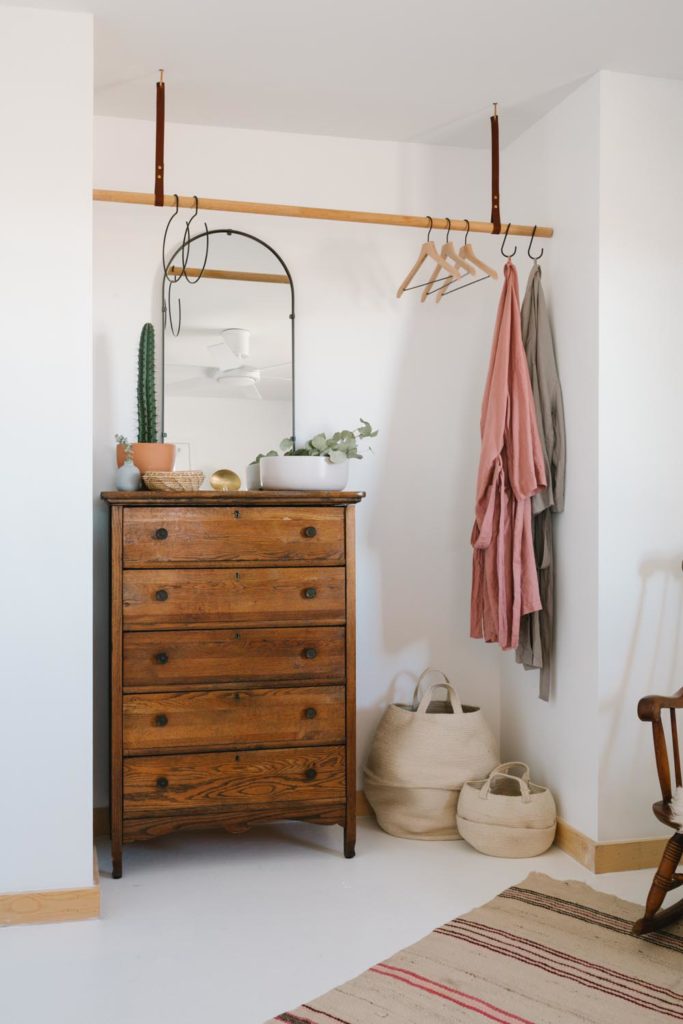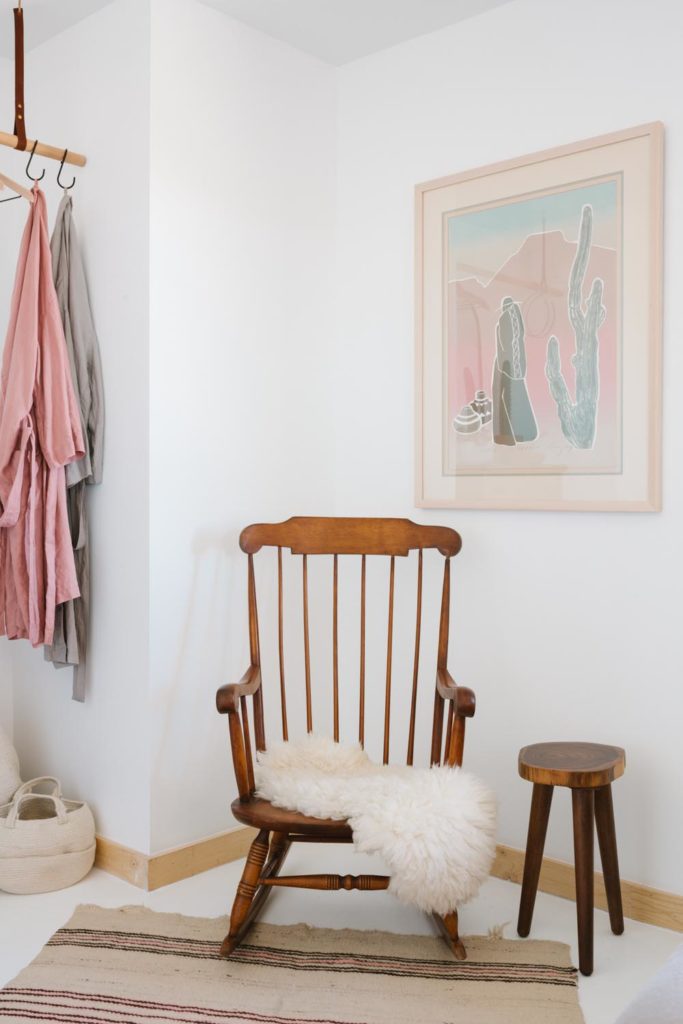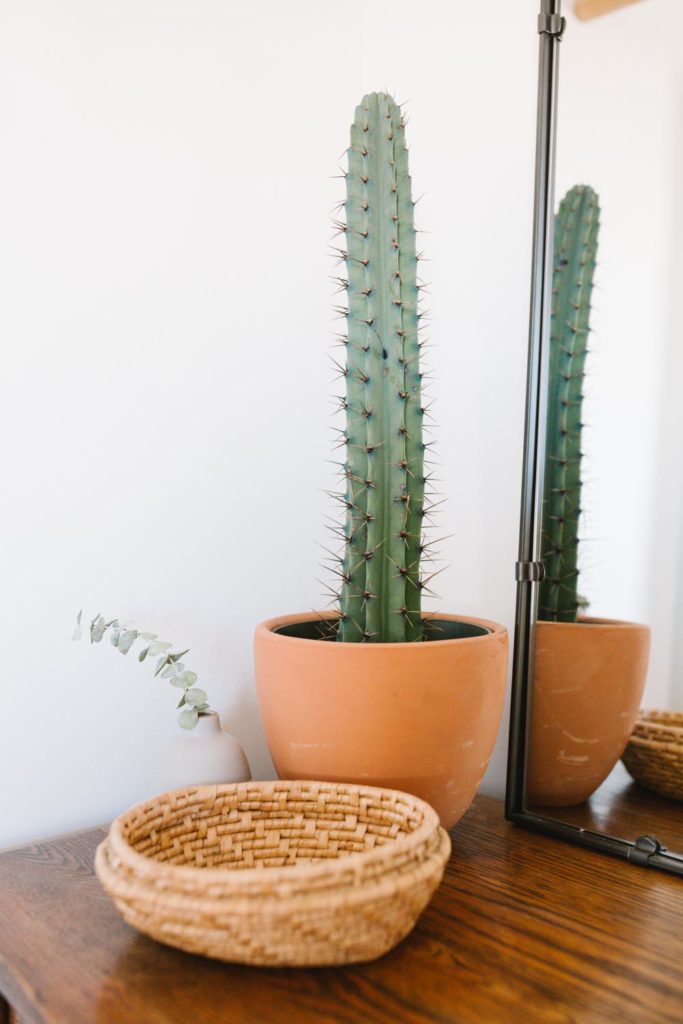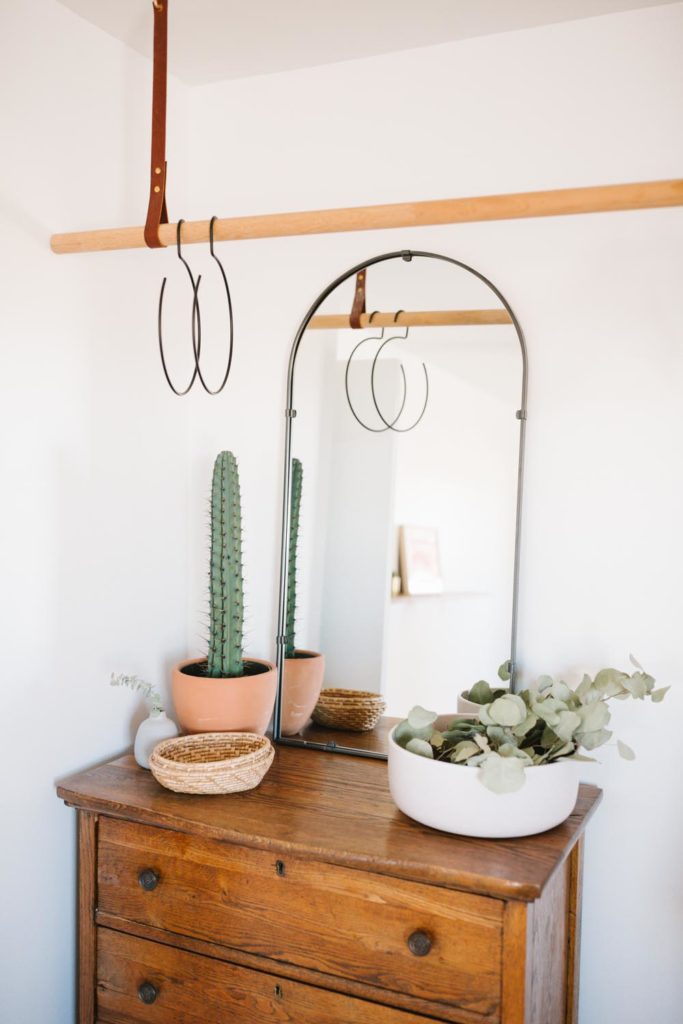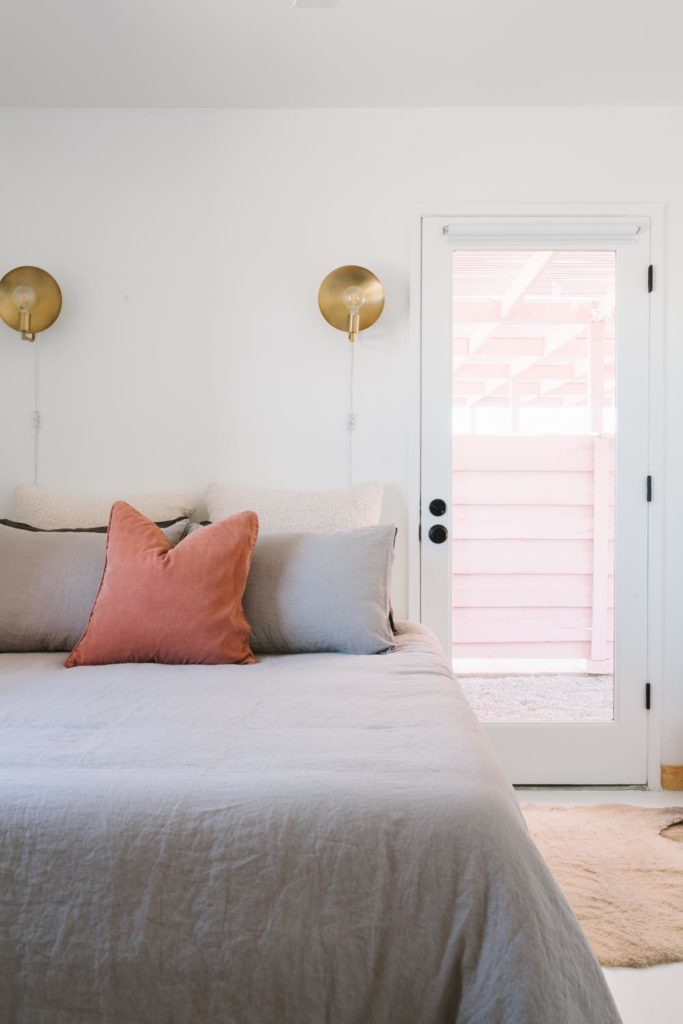 Where are some of your favorite spots to visit in Joshua Tree?
Hands down my favorite place to go to every time we head in or out of the desert is Wine and Rock Shop. They have great wine and snacks but also gifts for any age  Also, a rad family owns it so I'm always happy to support them and spread the word.
The Station, a converted old gas station, is also very cool and designed so well. They have great souvenirs and the best olive oil by Wonder Valley.
Finally a restaurant off Old Woman Springs Highway sorta in the middle of nowhere, called La Copine for great food and sunsets. Of course if you have never visited Pappy and Harriet's in Pioneertown, that is a must!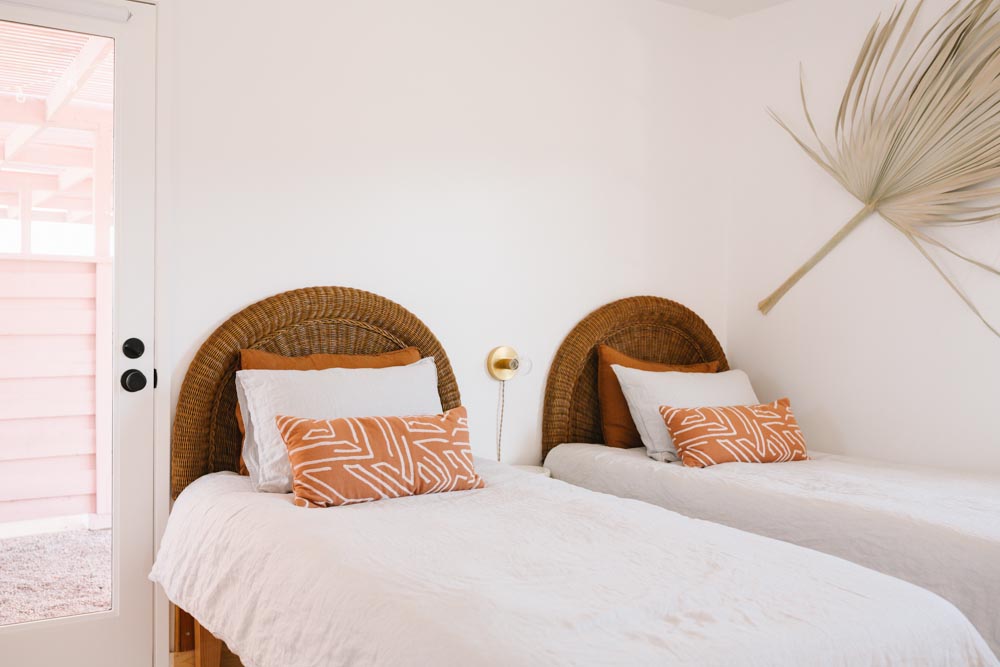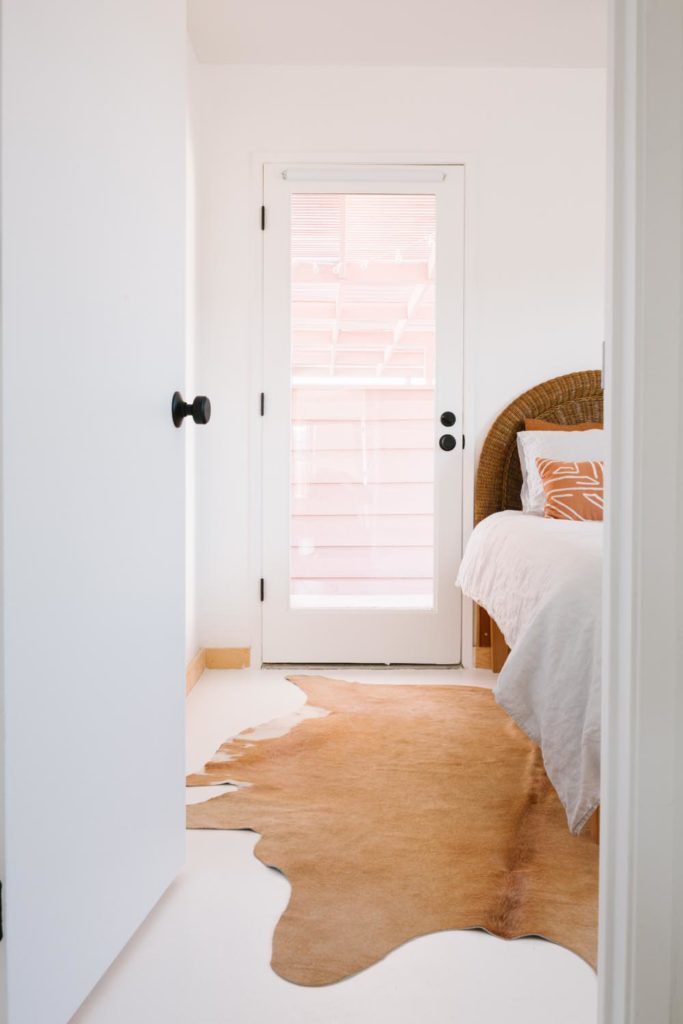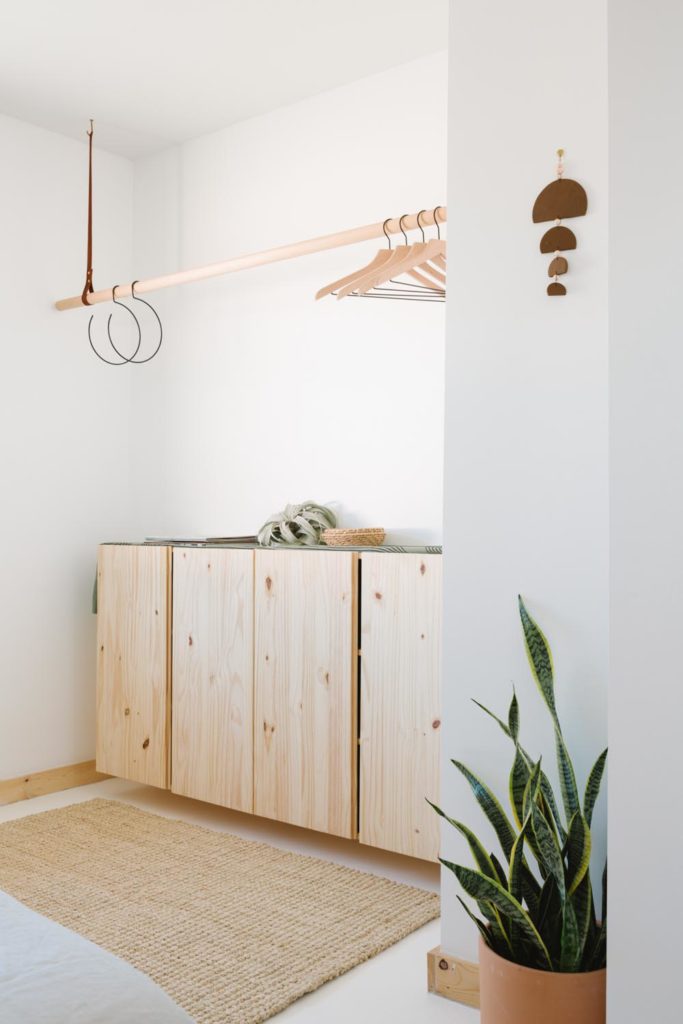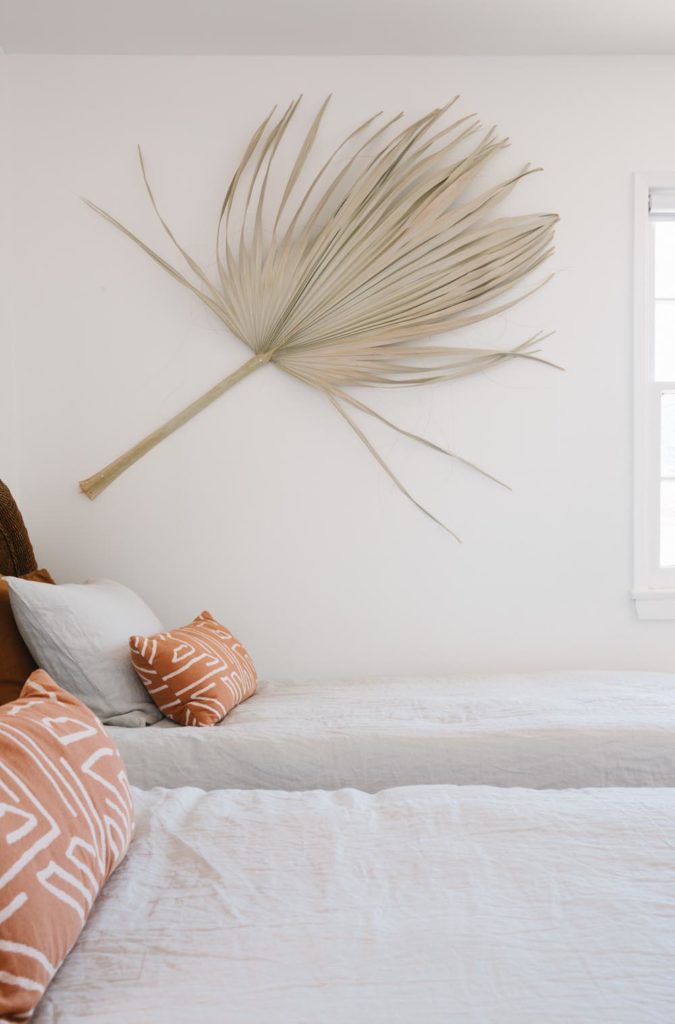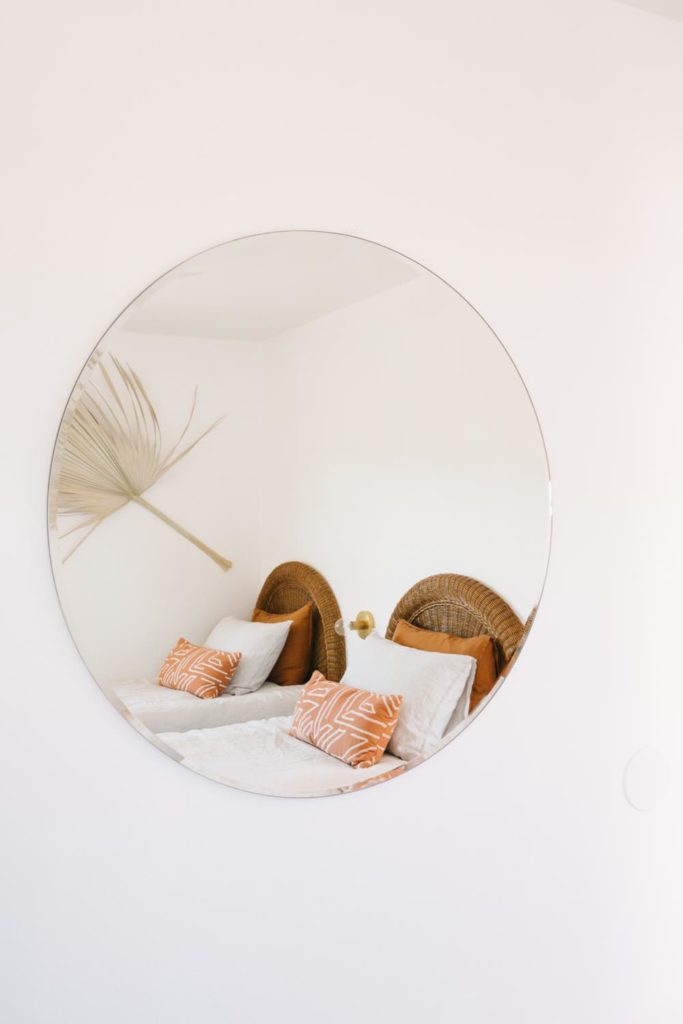 We're obsessed with the pink color you used for the exterior!!!  How did you decide to do that?
Honestly I was pretty bummed that we needed to paint the exterior. We had just painted the exterior of our own home and I wasn't ready to figure out another exterior so soon. However, the original exterior was this ugly beige-yellow and it was everywhere–same trim color, fence, and wood slat awnings. It did NOTHING for the great mid-century lines and windows of the house. I decided since the inside was so bright and neutral, I wanted to switch it up on the outside. I went with a desert pink and then painted the trim with a teal gray blue to add some oomph. I mean plants look good in front of pink walls and so do people, so why not? I got a lot of pushback when I decided on it, and candidly, I'm still not sure if it was a genius move or a happy mistake, but the response seems to be overwhelmingly good so I guess it worked!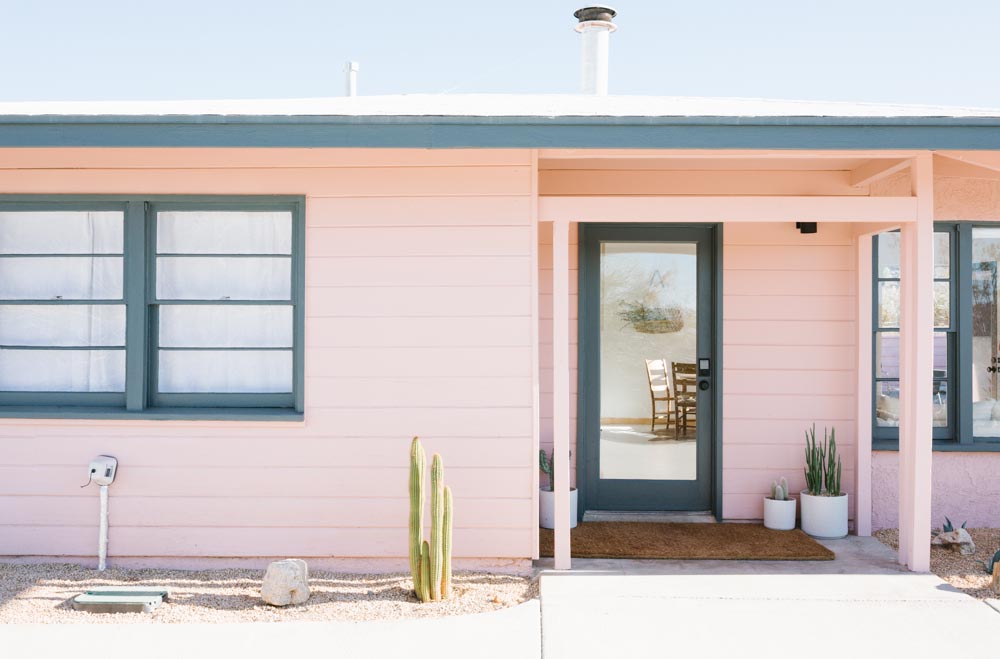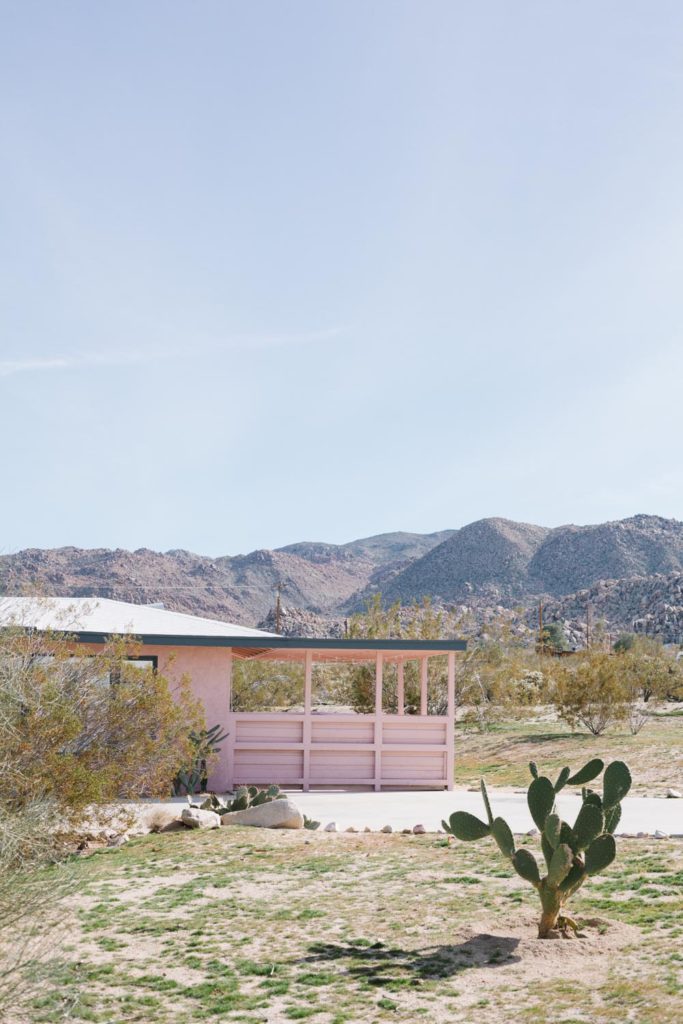 We are obsessed with that PINK!!!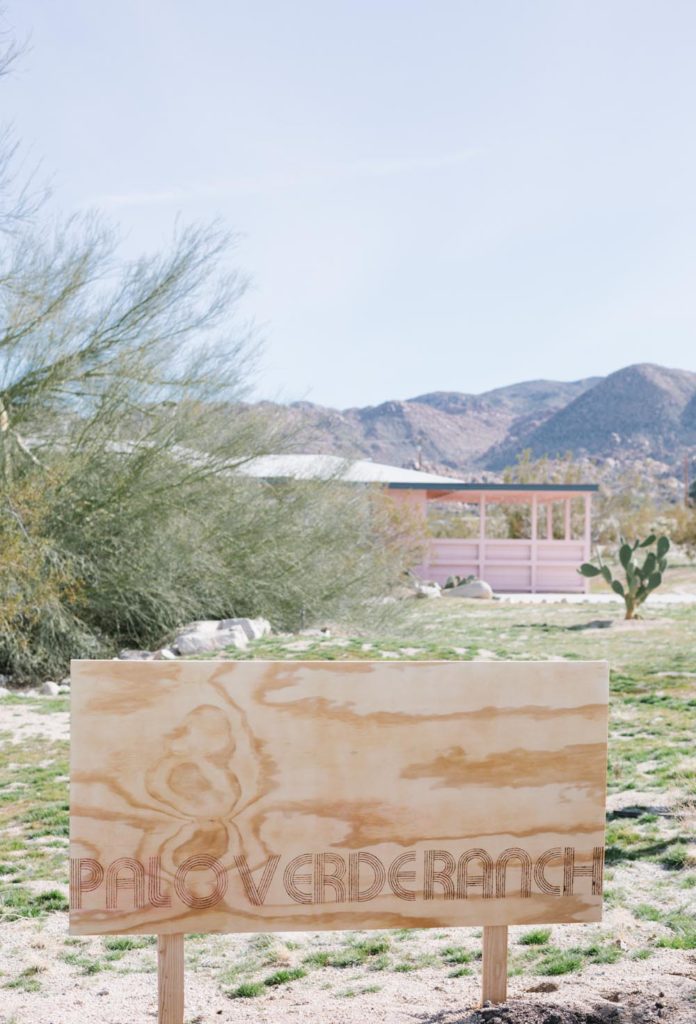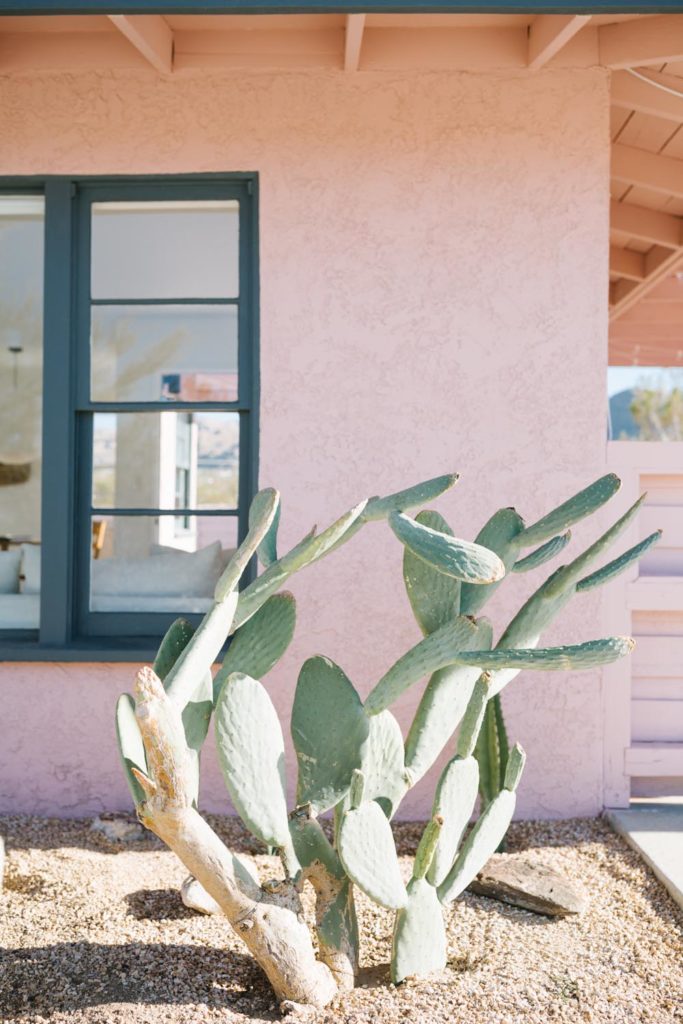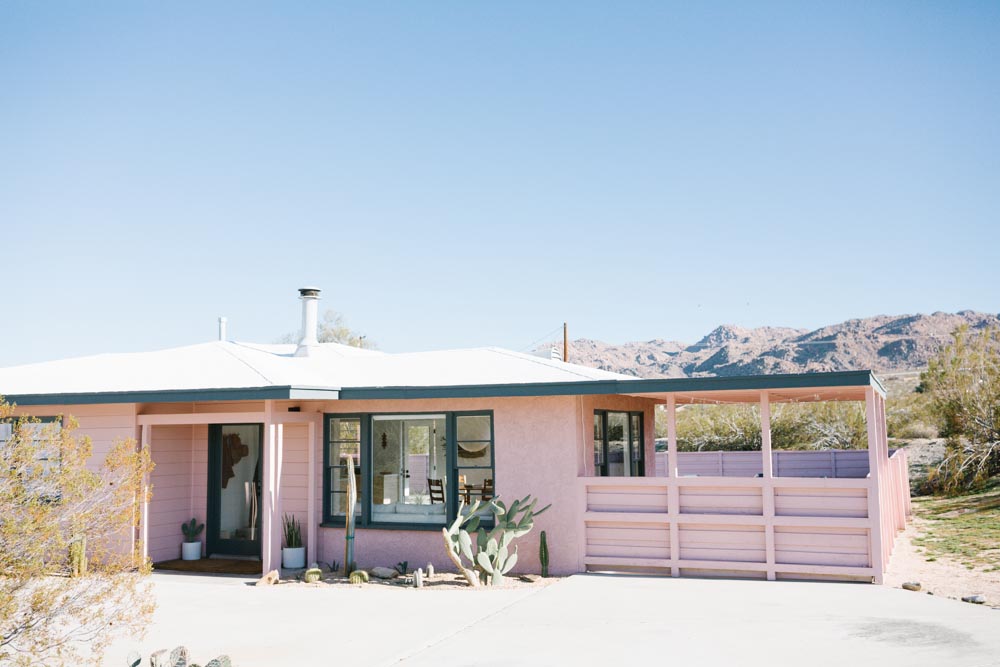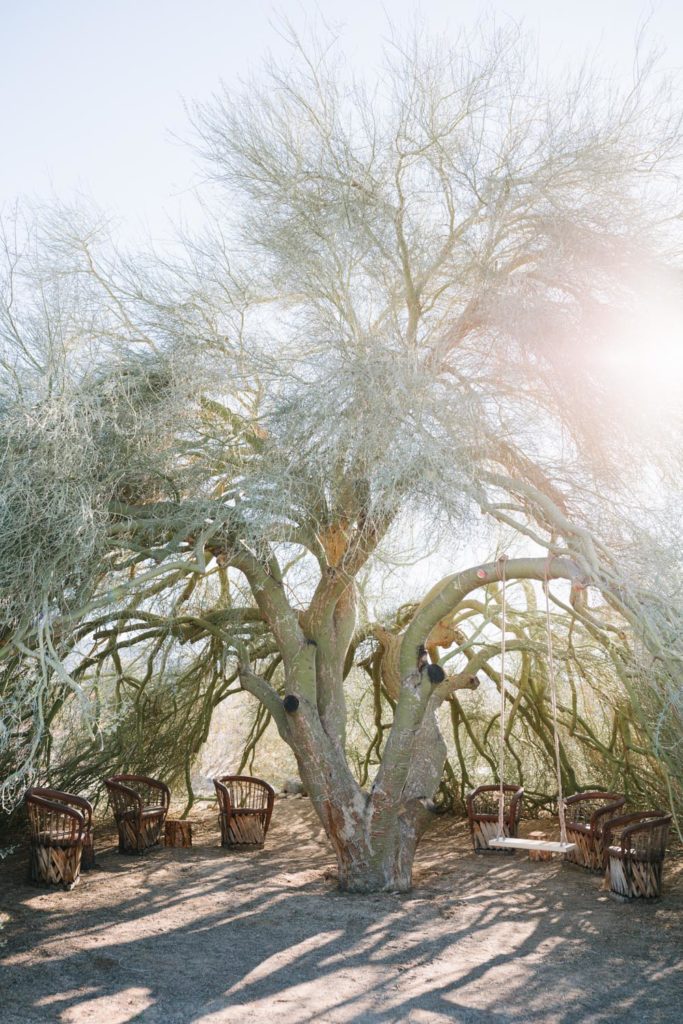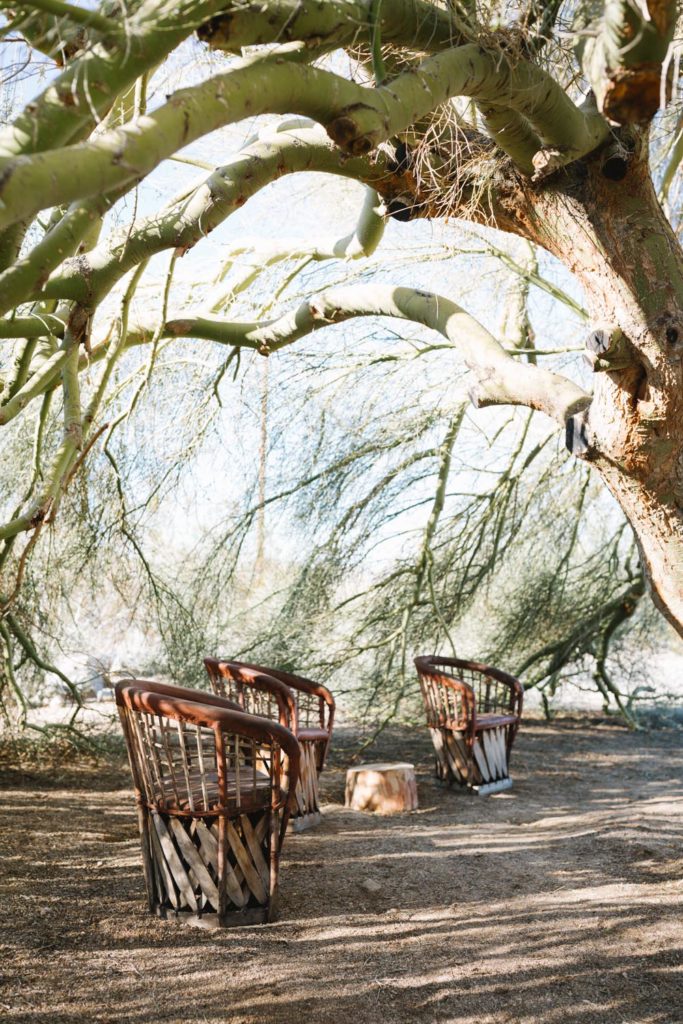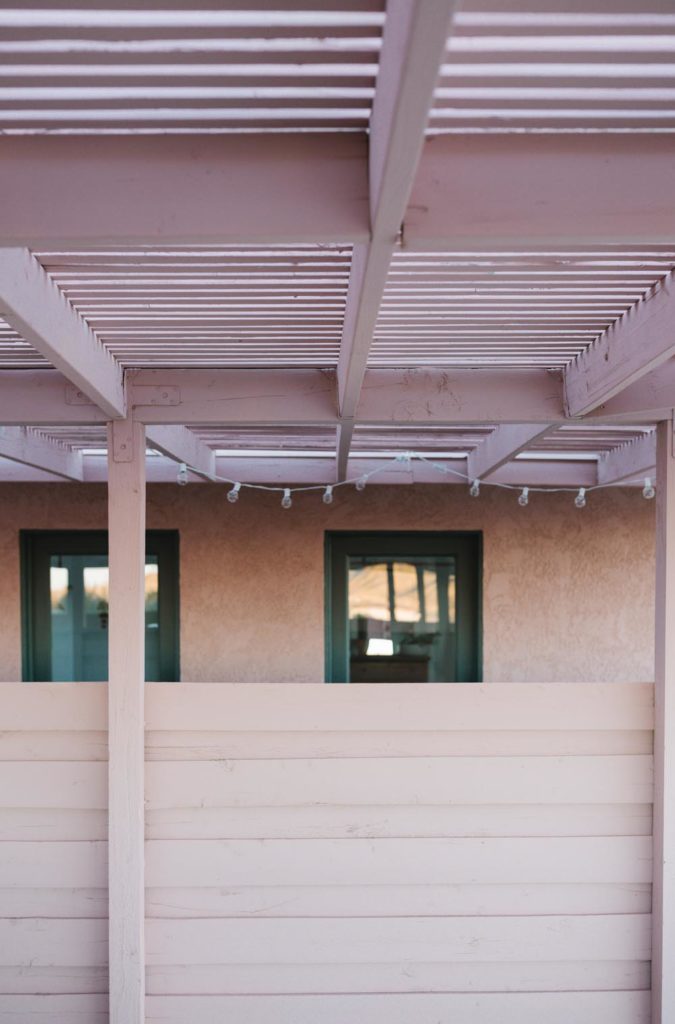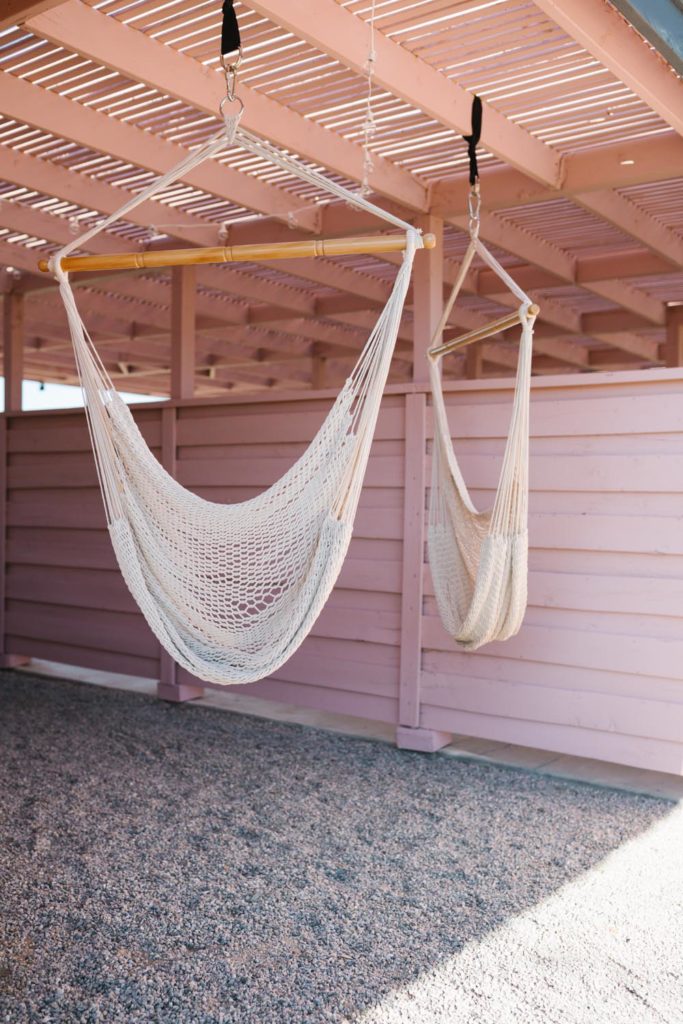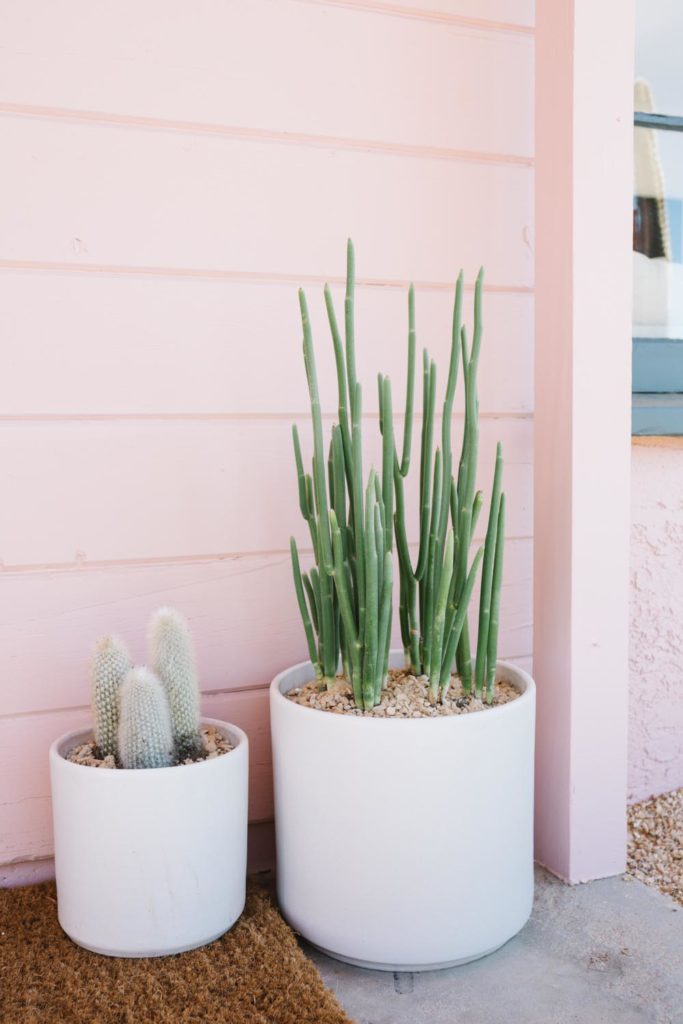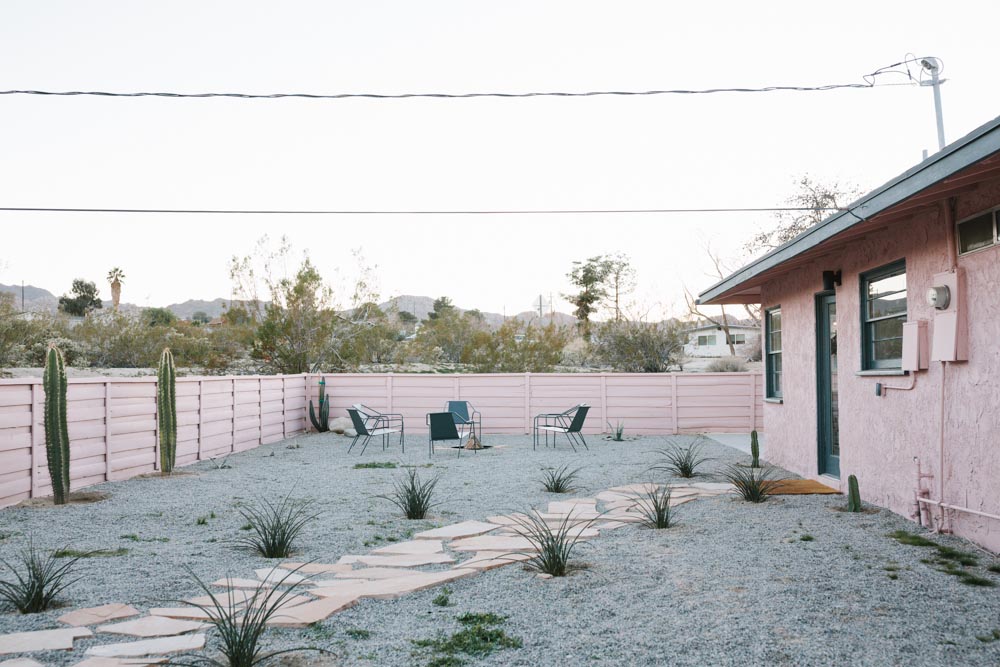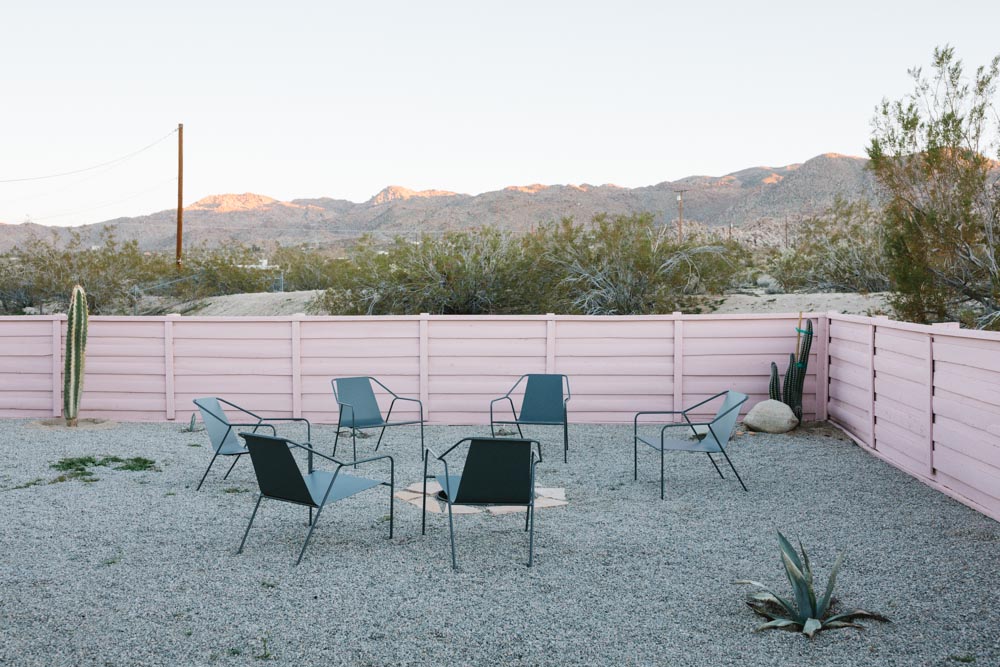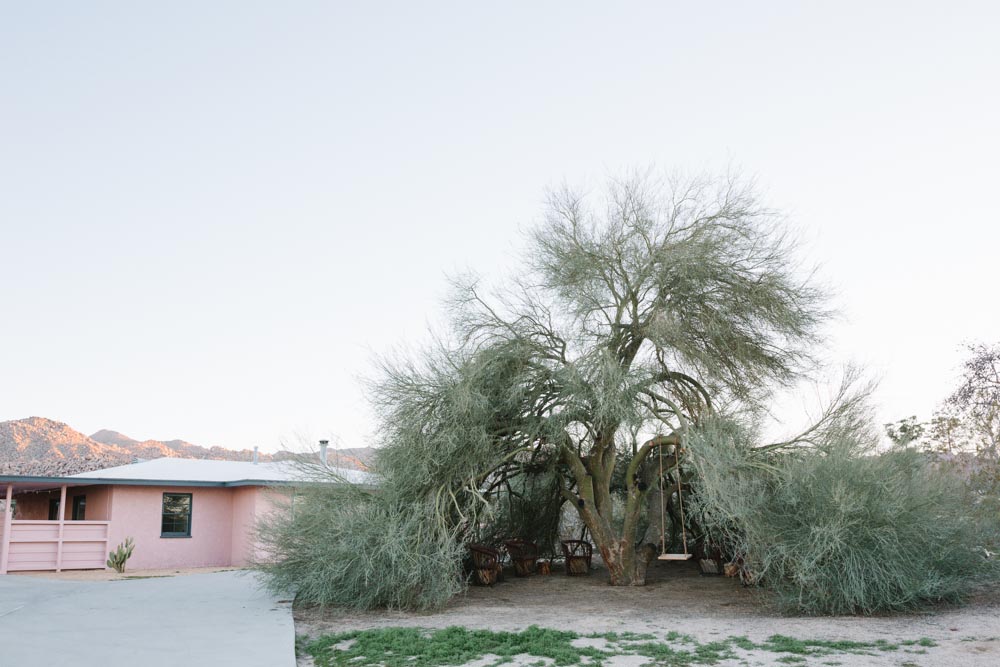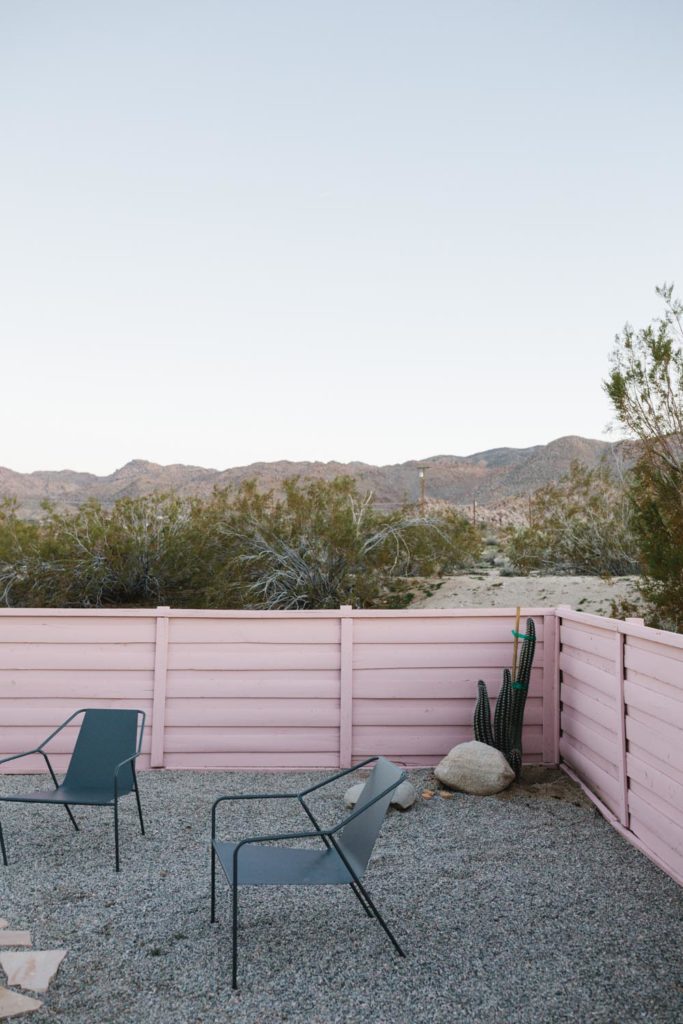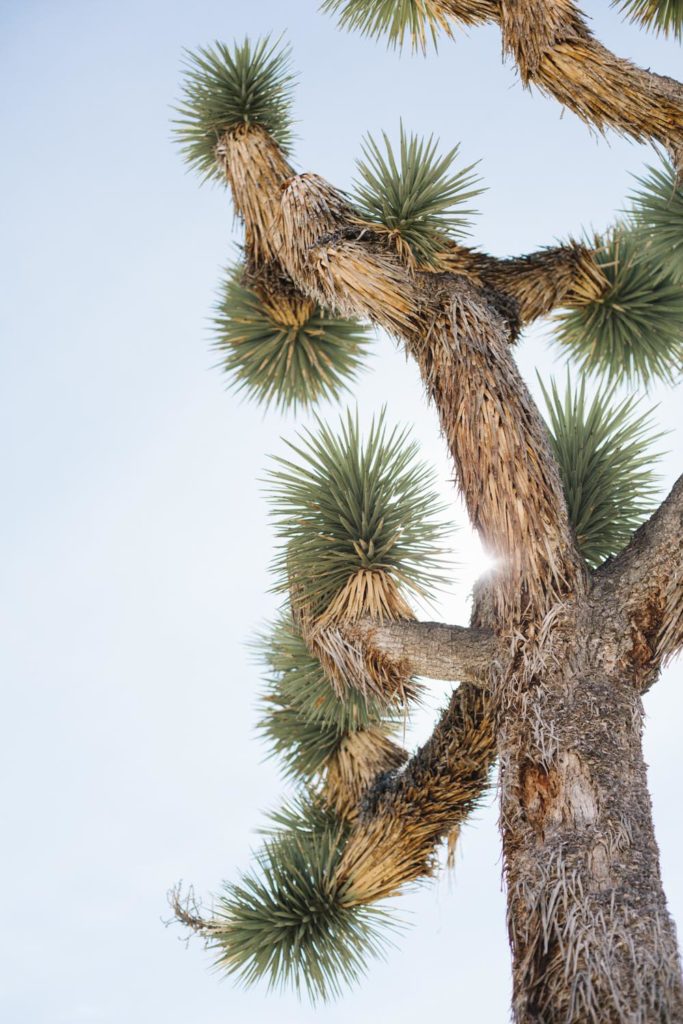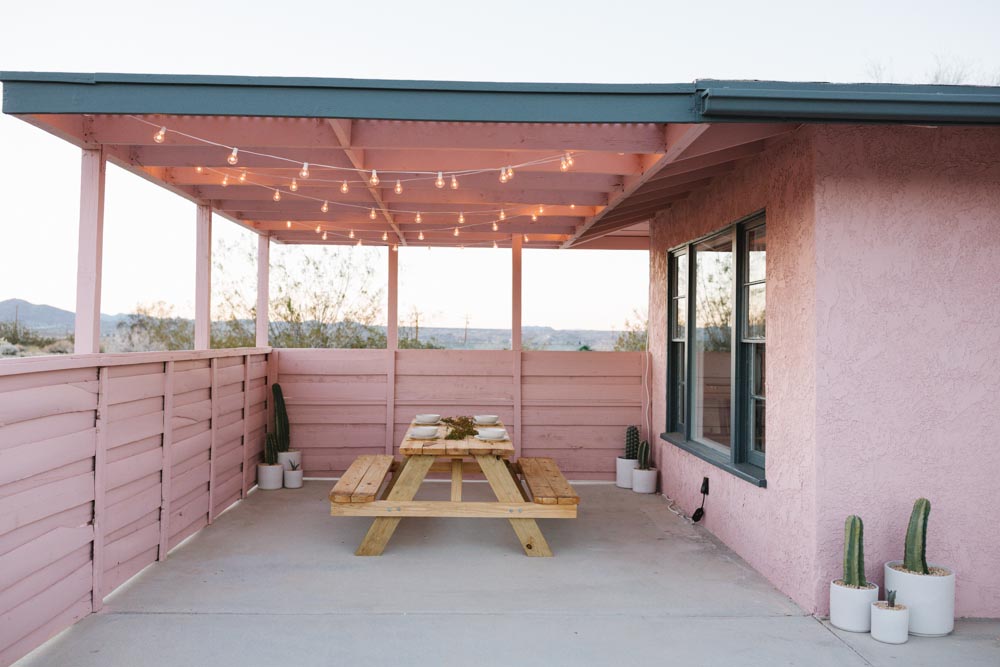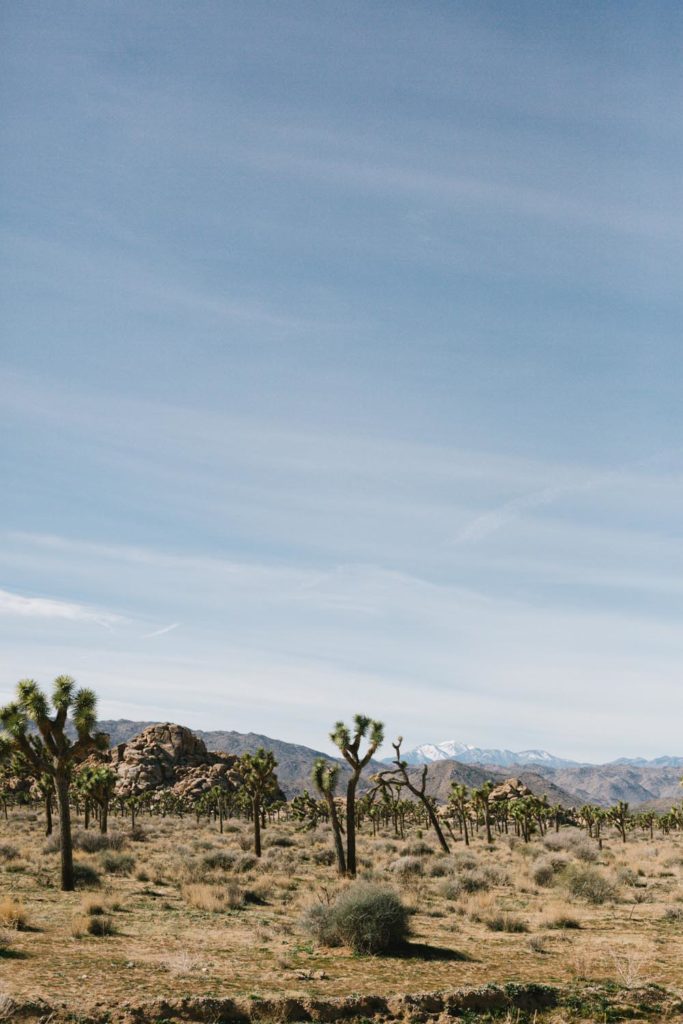 Pretty amazing right?!  Just one word for this place – MAGIC!!!  Thank you Alison and Danielle for sharing!!!
xx
Jacquelyn