This weather keeps teasing us of sunny days ahead. So I will pretend it's not hailing and pouring rain, and imagine warm summer days are here. And those summer nights are perfect to make ceviche. And today, just one way, but three! Pink fruity shrimp, goodies like peaches, jalapenos, carrots, and yummy citrus notes. Alongside the shrimp, we have coconut sea bass with cantaloupe and red onions. Then ending, with my favorite, yellowfin tuna with charred oranges, sriracha aioli, citrus vinaigrette, and scallions. I lie, they are so so good! So save these recipes and celebrate summer sneaky up on us!

Photo by Dayna Studios
---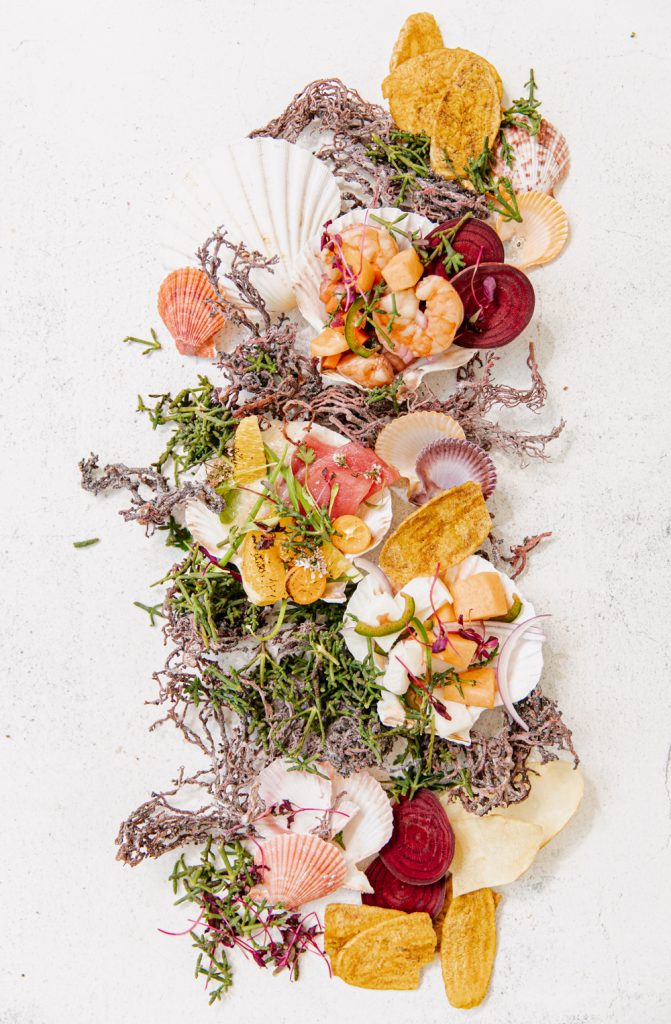 ---
PINK FRUITY SHRIMP CEVICHE
SERVES: 4 | PREP: 10 MINUTES | COOK: 15 MINUTES
W H A T Y A N E E D
400 grams Raw Peeled Blue Shrimp (or any size medium/large shrimp)
1/2 white onion
1 garlic clove
1 bay leaf
1 pinch of salt
1/2 red onion, finely diced
1 carrot, peeled and finely diced
3 red jalapeños or red chilies, finely chopped
1 beetroot, juiced
2-3 limes, juiced
2 tbsp extra virgin olive oil
3 peaches, cubed small
Sea salt and black coarse pepper to season.
50 grams of radishes, finely shaved
1 cup of fresh coriander, finely chopped
Artisan Tropic Cassava Strips
Artisan Tropic Plantain Strips
*Prepare a bowl with 1 cup of ice and a bit of water to stop your shrimp from keep cooking)

B U S T O U T
Large Seashells for plating
Sea Moss for garnish
---
I N S T R U C T I O N S
Fill a medium-sized saucepan with water, add the onion, garlic clove, bay leaf, and a pinch of sea salt, and bring your water to a boil. Add the uncooked cleaned shrimp into the water only briefly just enough so that they are cooked but still tender, about 2 minutes. Remove your shrimp and place it into an ice bath. Once cooled, drain, and set in the fridge.
In a small bowl, combine the beetroot juice, lime juice, extra virgin olive oil, and a pinch of salt, whisk and set aside. This is your marinade for your ceviche.
Get your shrimp out of the fridge, and add your finely chopped onion, carrot, and red chili, pour in the beetroot lime marinade, and mix. Season black pepper and a bit more salt, taste, and cover, and let it rest in the fridge for 30 minutes, no more. Any longer, and the acid from the lime will cook the shrimp.
Once your ceviche is ready to serve, get a nice platter and spoon your pink shrimp ceviche in, garnish with the freshly cut peaches, coriander, and shaved radish, and serve with your choice of chips. I love the artisan tropic strips. I like to serve them in shells which gives it a whole beachy vibe.
---
CHILI BASIL COCONUT CEVICHE
SERVES: 4 | PREP: 15 MINUTES | COOK: 0 MINUTES
W H A T Y A N E E D
1 pound sushi-grade Sea Bass, cut into 1/2-inch dice
3/4 cup freshly squeezed lime juice
1/4 cup freshly-squeezed orange juice
1 medium serrano or Thai chile thinly sliced
1/2 medium red onion sliced paper thin
1 cup lite or regular coconut milk
1/2 cup packed finely chopped fresh cilantro leaves
1 teaspoon kosher salt
1 medium ripe mango or cantaloupe peeled, pitted, and cut into small dice
1/2 cup roughly chopped fresh basil
1 medium Lime cut into wedges, for garnish
---
I N S T R U C T I O N S
Combine fish, lime juice, orange juice, chili, and onion in a nonreactive bowl and toss until well coated (make sure the fish is all covered by the liquid). Cover the bowl then refrigerate for at least 1 1/2 hours until the flesh is opaque-colored.
Place a strainer over a bowl and strain the fish, onion, and chili, reserving brine. Return the fish to the nonreactive bowl along with 1/4 cup of the brine; discard the remaining brine.
Add coconut milk, cilantro, and salt, and marinate for another 2 hours (until well flavored). Season with additional salt, as needed, and stir in mango and basil. Serve with lime wedges.
---
YELLOWFIN TUNA CRUDO
SERVES: 4 | PREP: 15 MINUTES | COOK: 0 MINUTES

W H A T Y A N E E D
1 pound Sushi-grade Wild Yellowfin Ahi Tuna (thinly sliced)
oranges
sriracha aioli (homemade or store-bought)
citrus vinaigrette (homemade or store-bought)
scallions
---
I N S T R U C T I O N S
Pretty easy here, which is great! Thinly slice your tuna (just like at the sushi restaurants). Segment your oranges. With a torch, charr your oranges until brown on top. Then it's time to plate! Yup, how easy is that! Pour a little of the citrus vinaigrette on the bottom of a shallow bowl or in this case a shell. Then place the tuna and oranges on top. Drizzle a little bit more of the citrus vinaigrette and some of the sriracha aioli. Garnish with sliced scallions, and enjoy!
---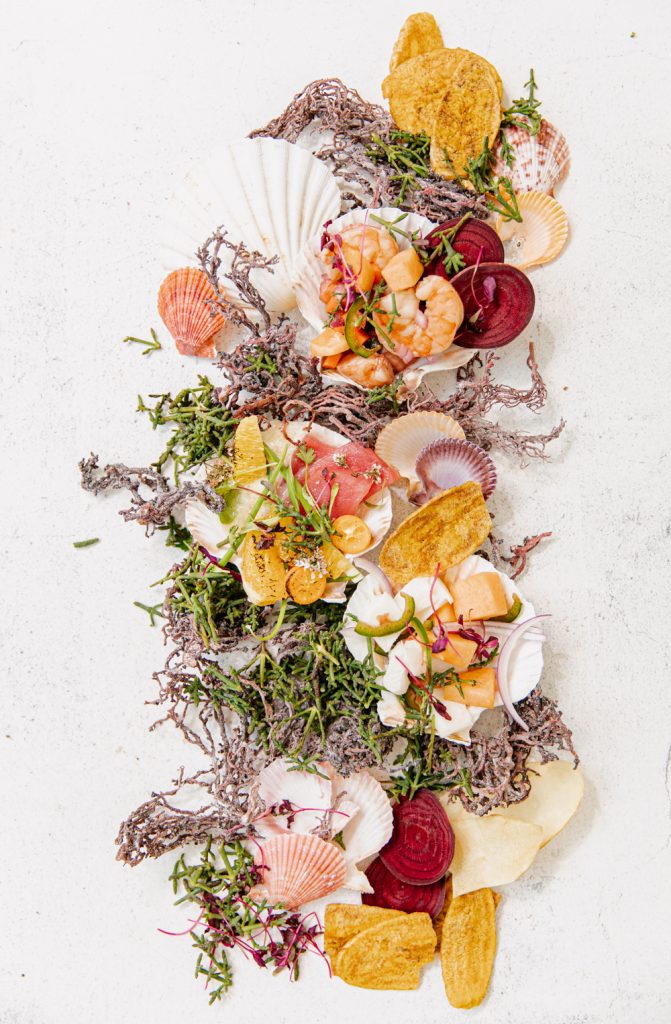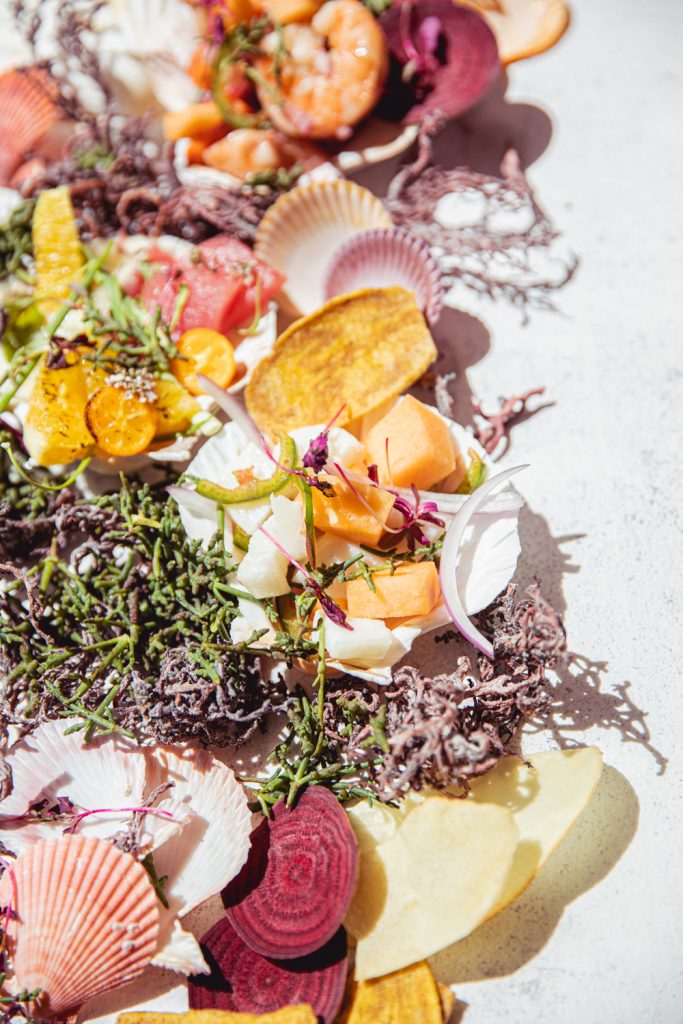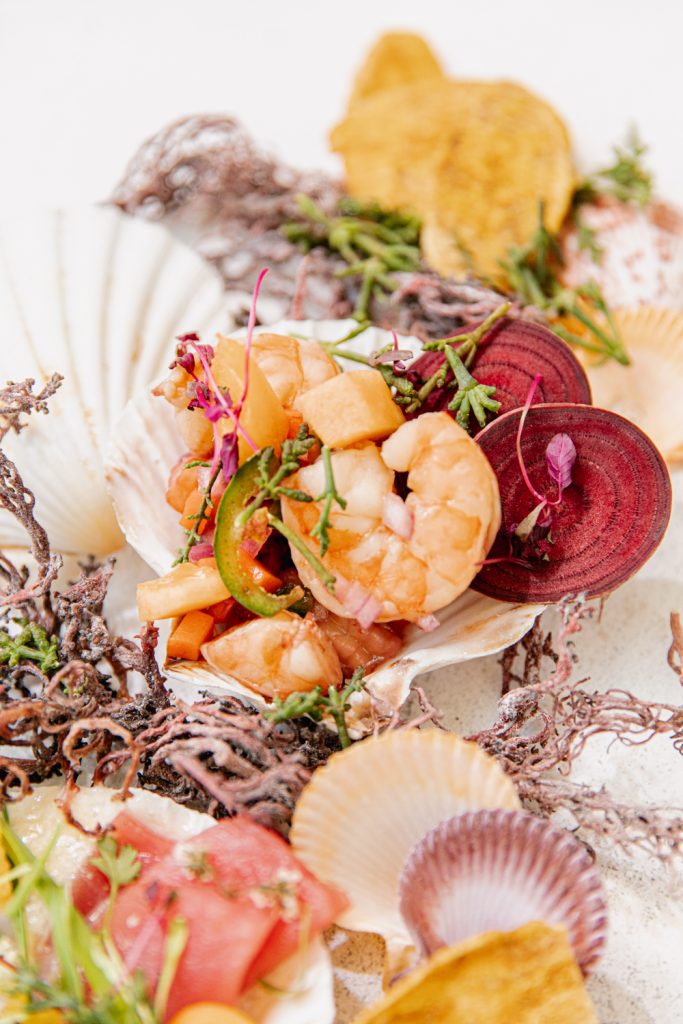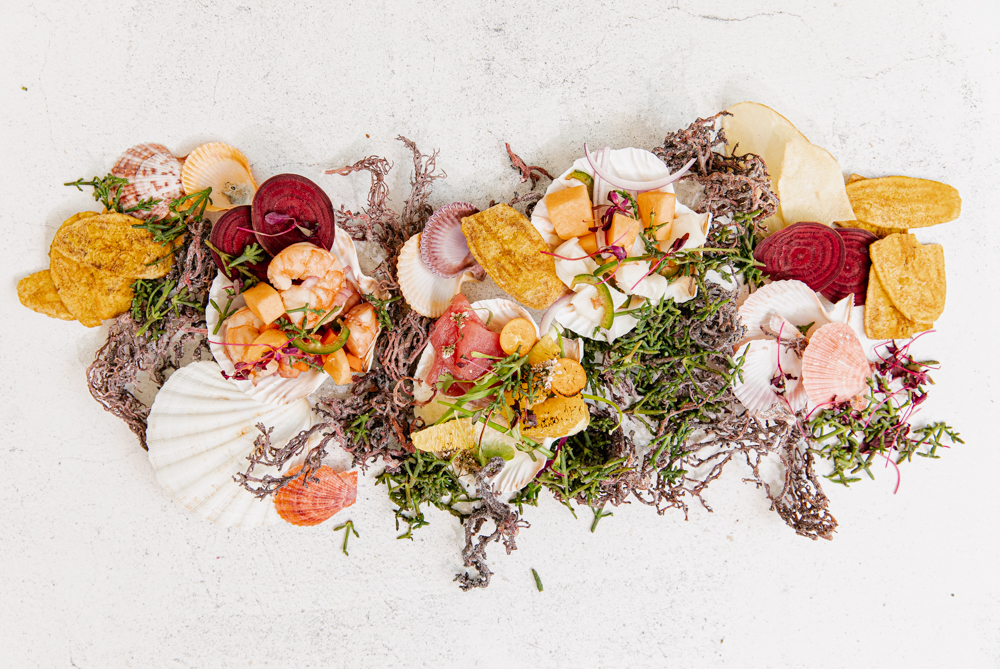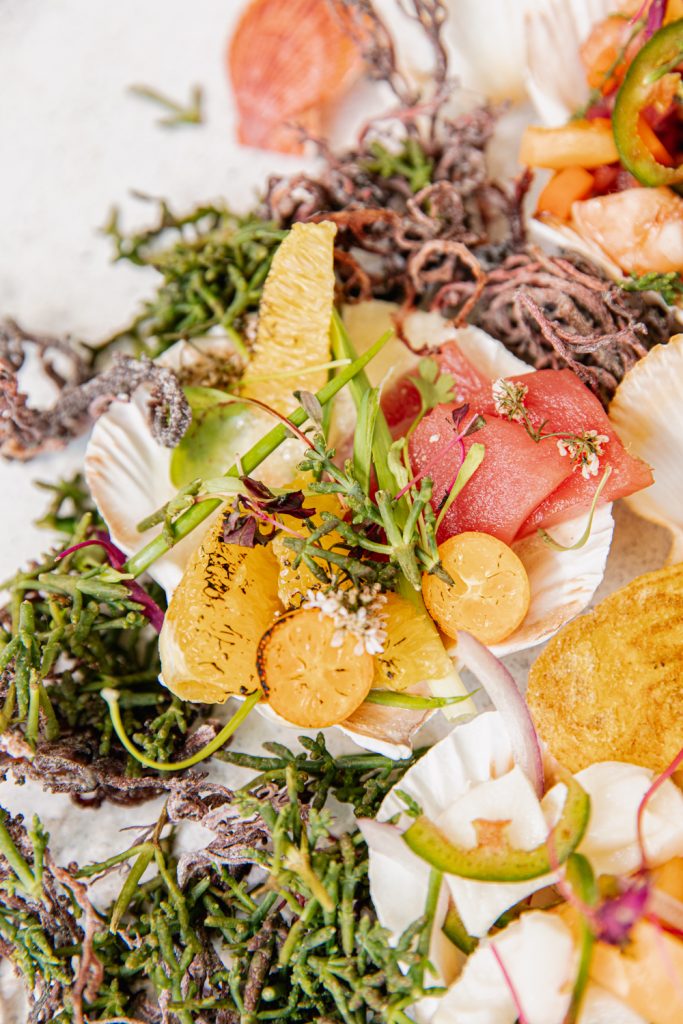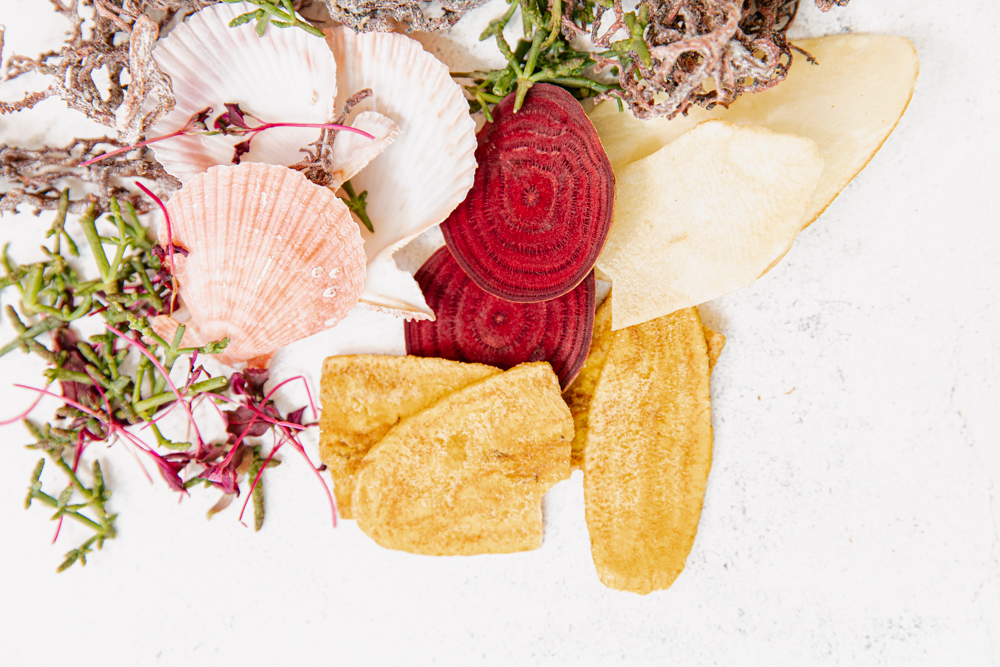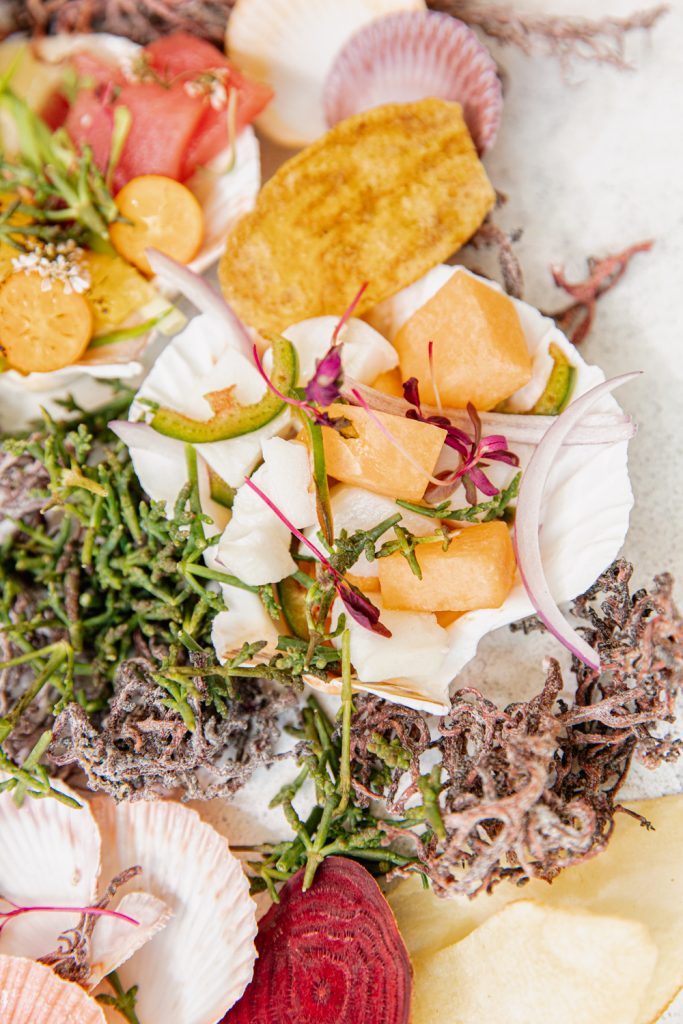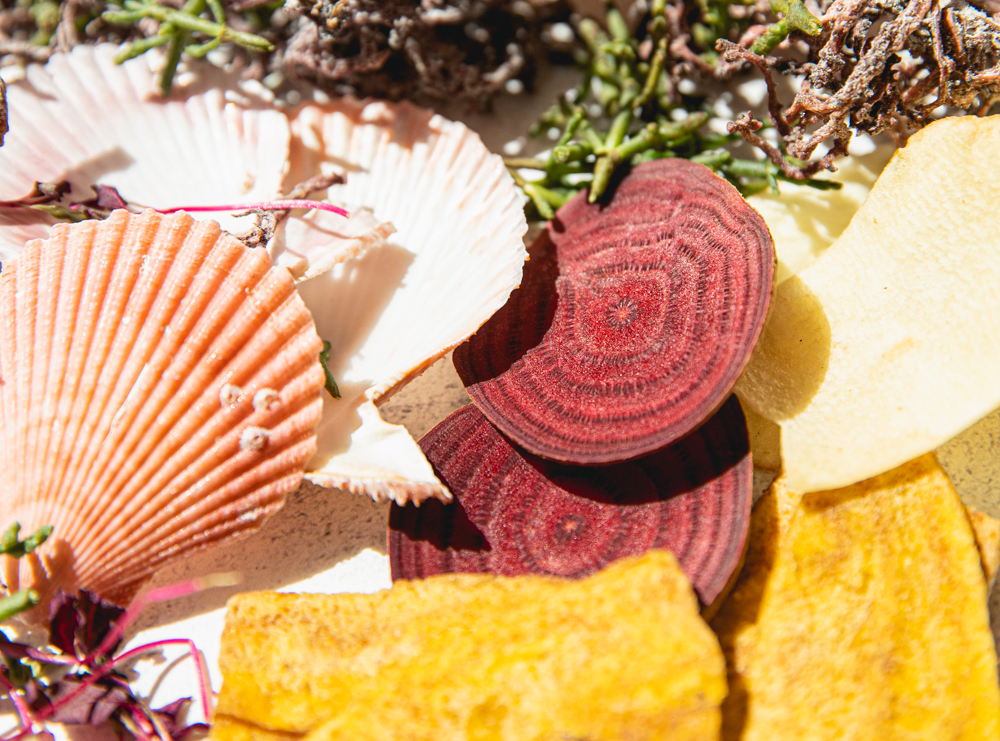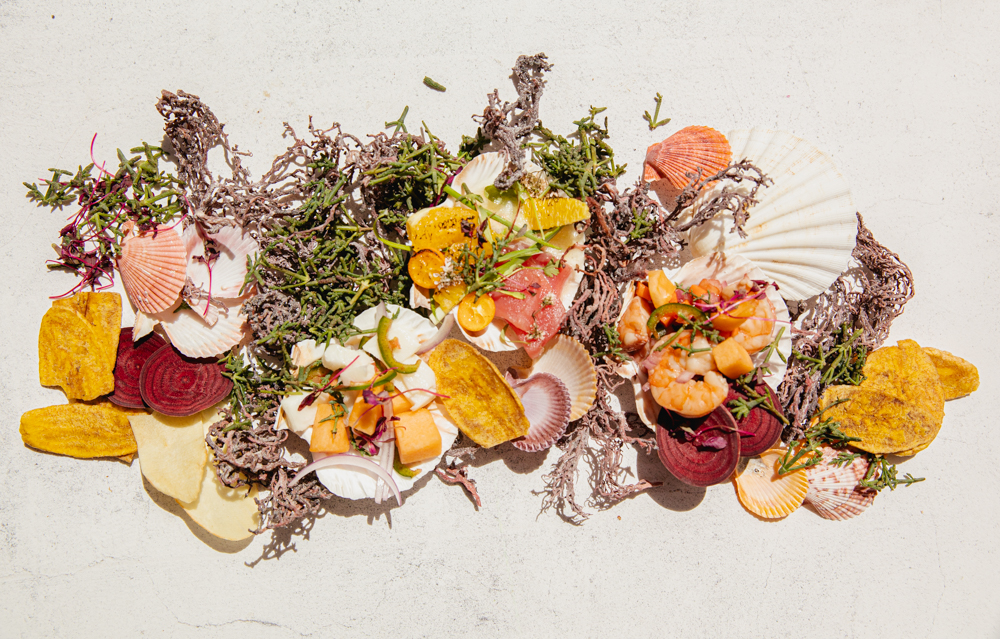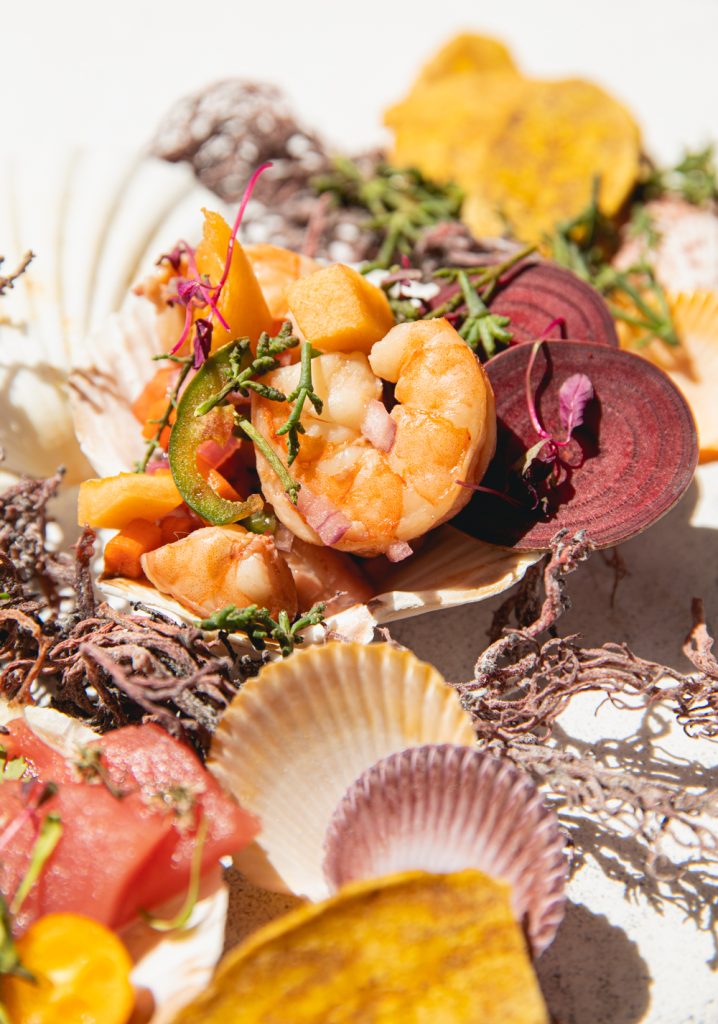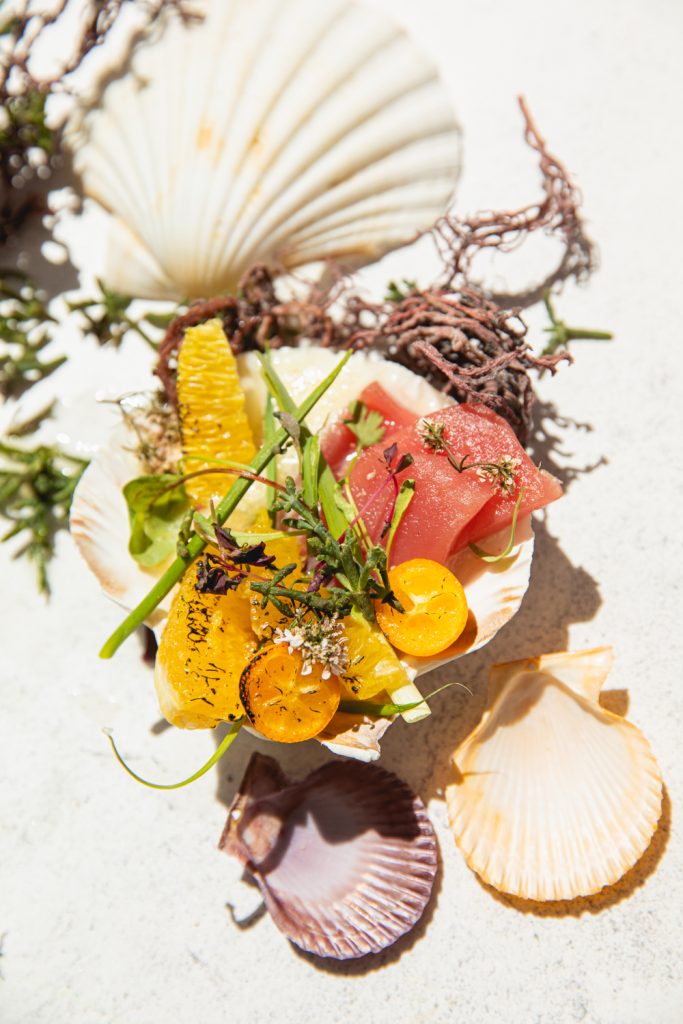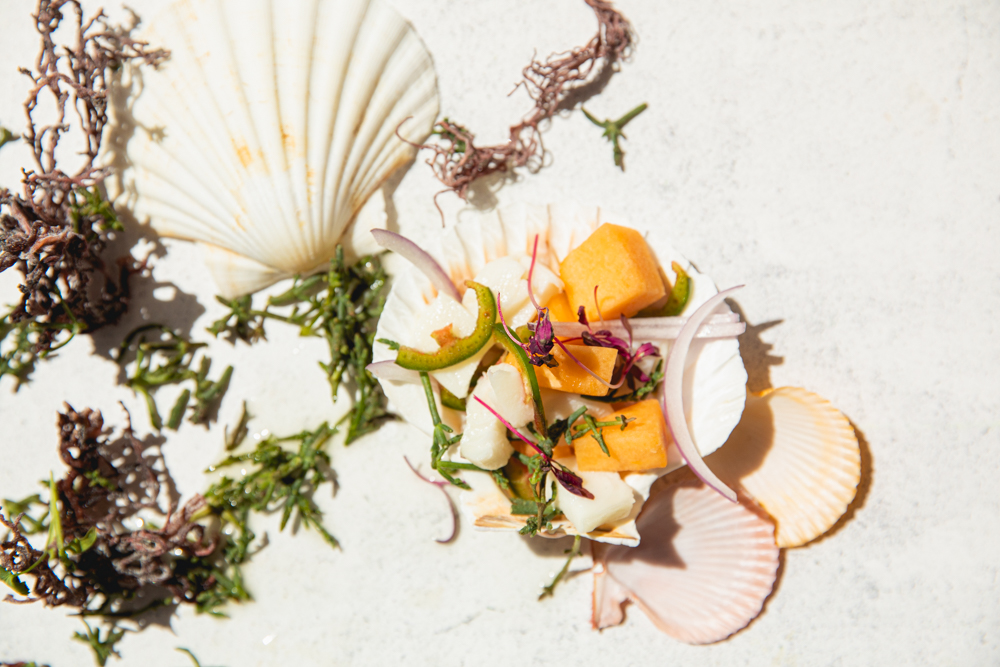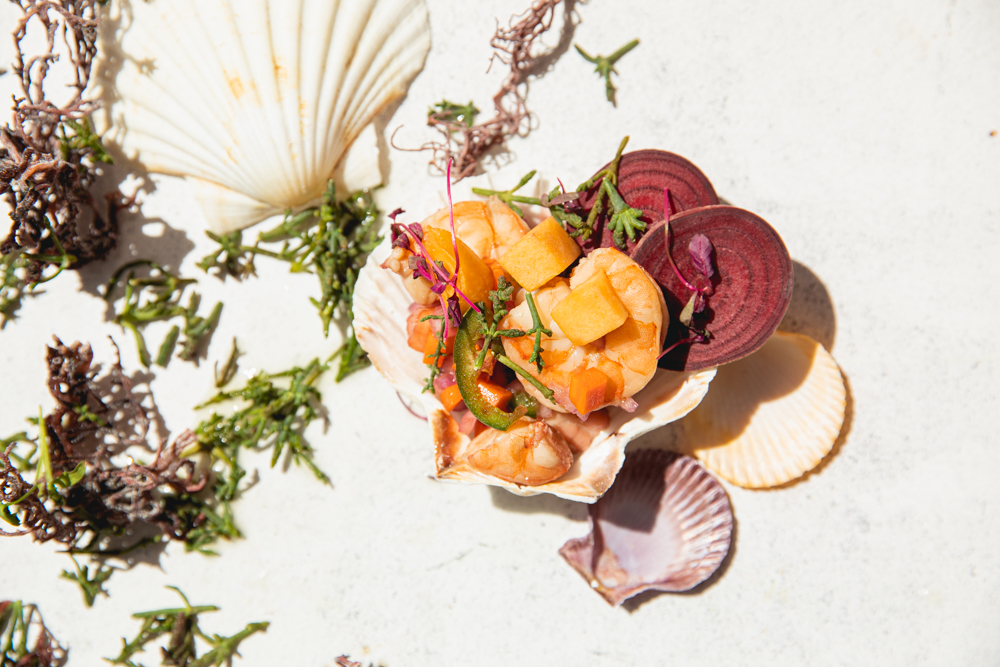 ---
B E I J O S K I T C H E N

xx
Abby