My son Court turned 9 in April and we had so much fun celebrating him with a Teppanyaki dinner party. As my kids get older it gets a little more difficult figuring out party themes, but this year worked out! We had gone to Benihanas for my nephews birthday party with my family and had the best time. I decided it would be fun to do that same type of dinner at home and make it extra cute, you know, Beijos it up! Luckily my friend Lauren had used Mac Noodlez Hibachi Grill and highly recommended him, so I knew exactly who to hire. See how I made my vision come to life and how Court had the BEST day with all of his buddies! Thank you for always capturing our family Alison Bernier, you're the best!!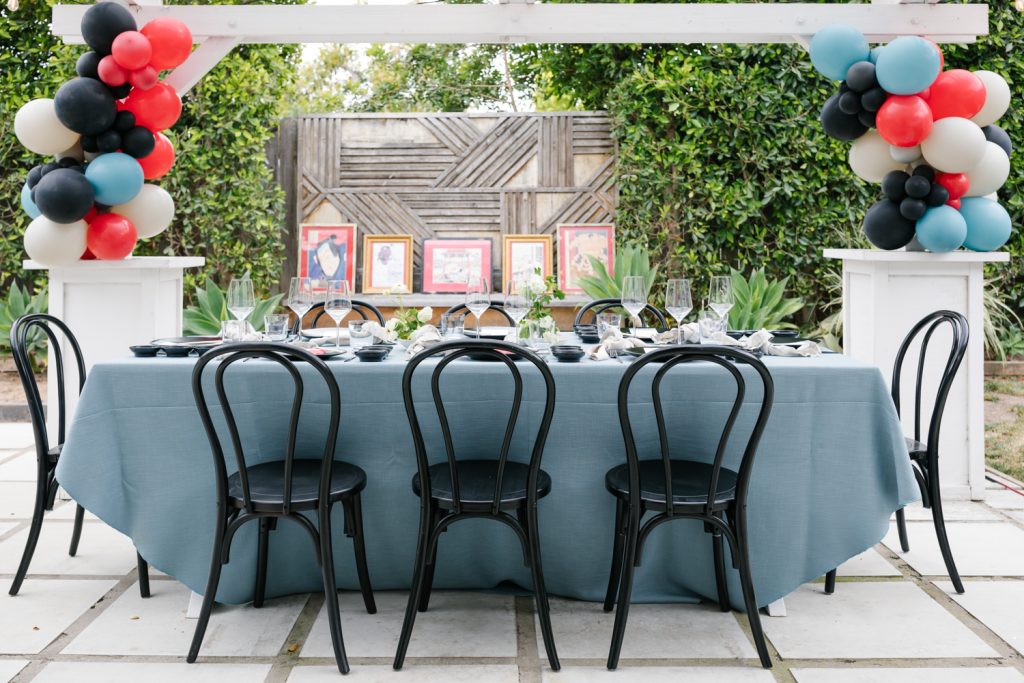 I have to start with the invite and all the details because I loved them SO much! Chelcea Creative really outdid herself and took my mood board and brought it to life! The invite was amazing and I loved our color scheme of blue, red, white and a touch of black. That wave and all the Japanese prints with the sauce bowls along with the simple flowers looks amazing together. All styled on a Chasing Stone mat, of course!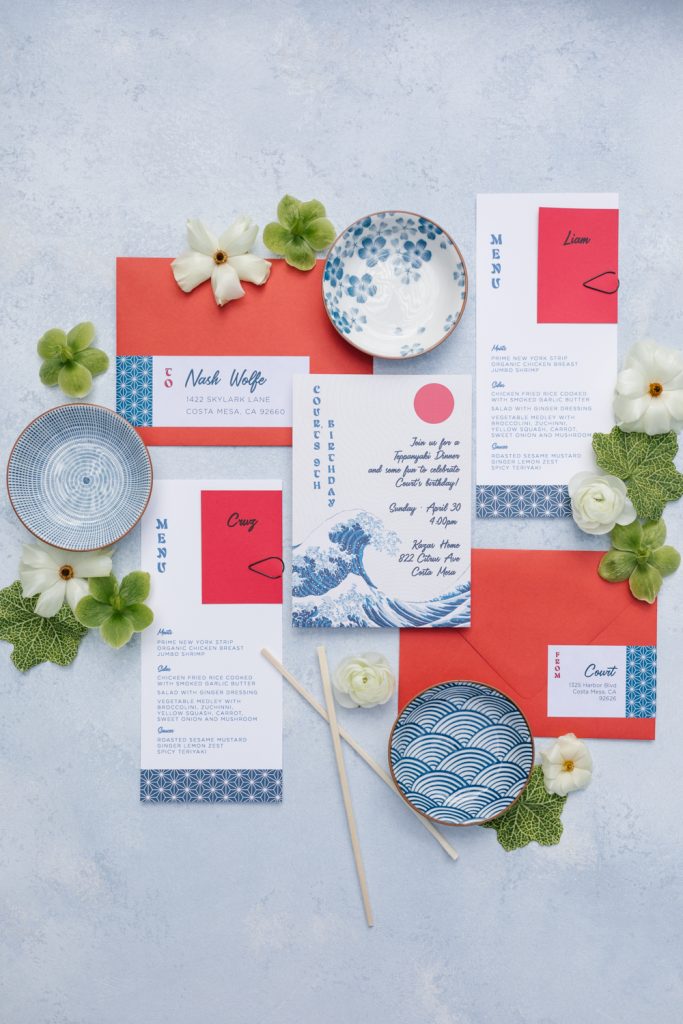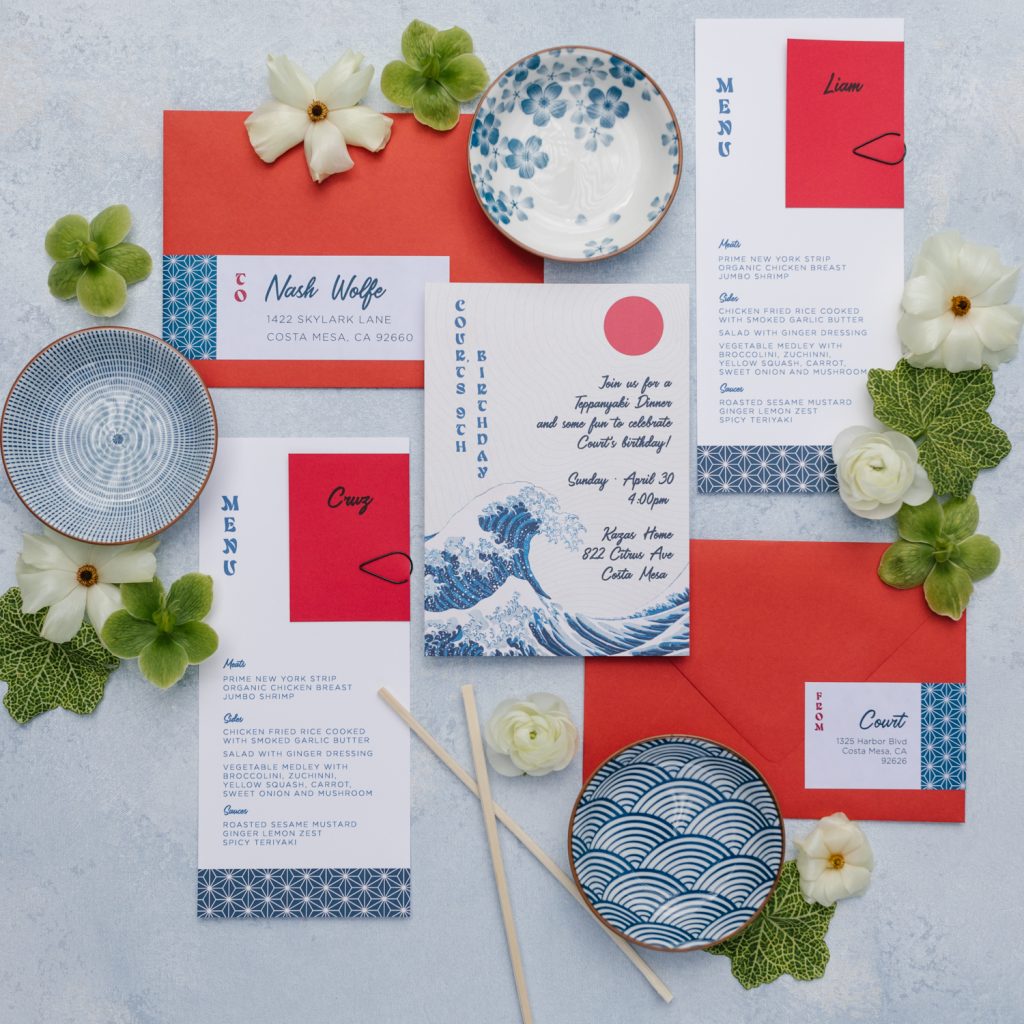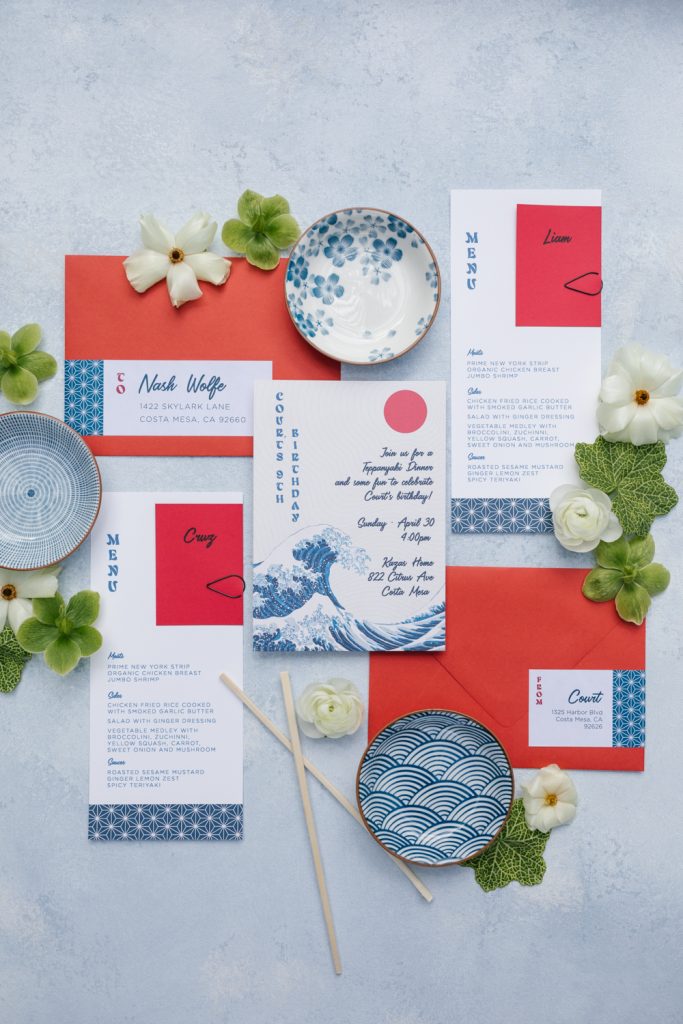 Guests were greeted by this rad sign from Chelcea and lots of balloons by The Pop Shop! We kept our color scheme going strong and the amazing details. I still can't believe Court is 9!!! I've been planning him parties year after year since he was one. Last year we went on a trip to Hawaii instead and kept it mellow with a small bowling and movie night, so it was fun to do something creative for him again this year.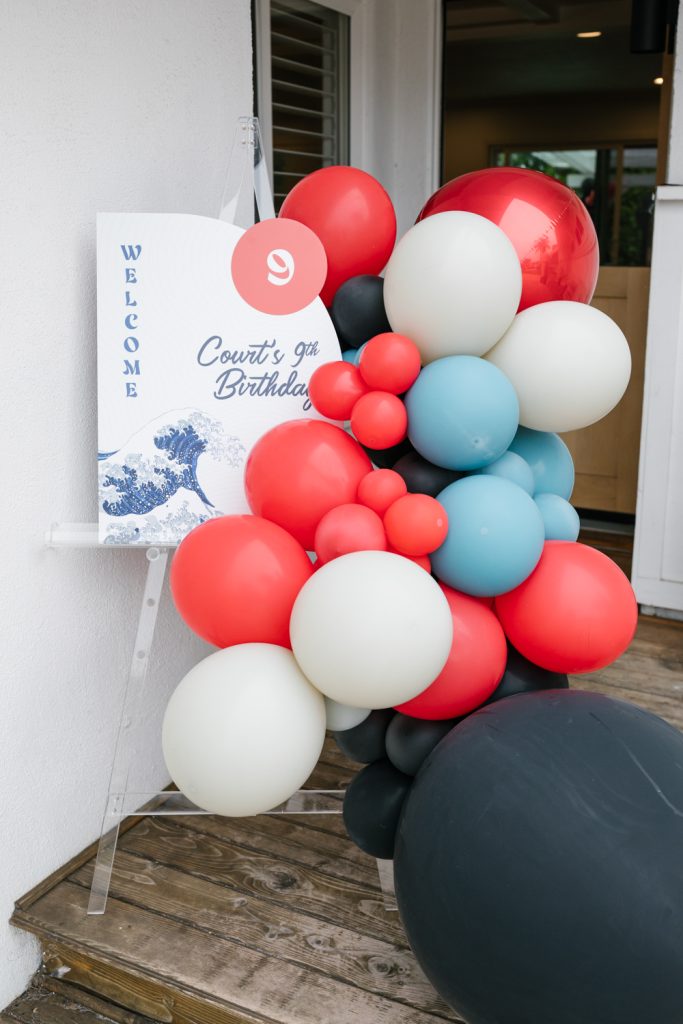 This boy definitely has his own style! Haha!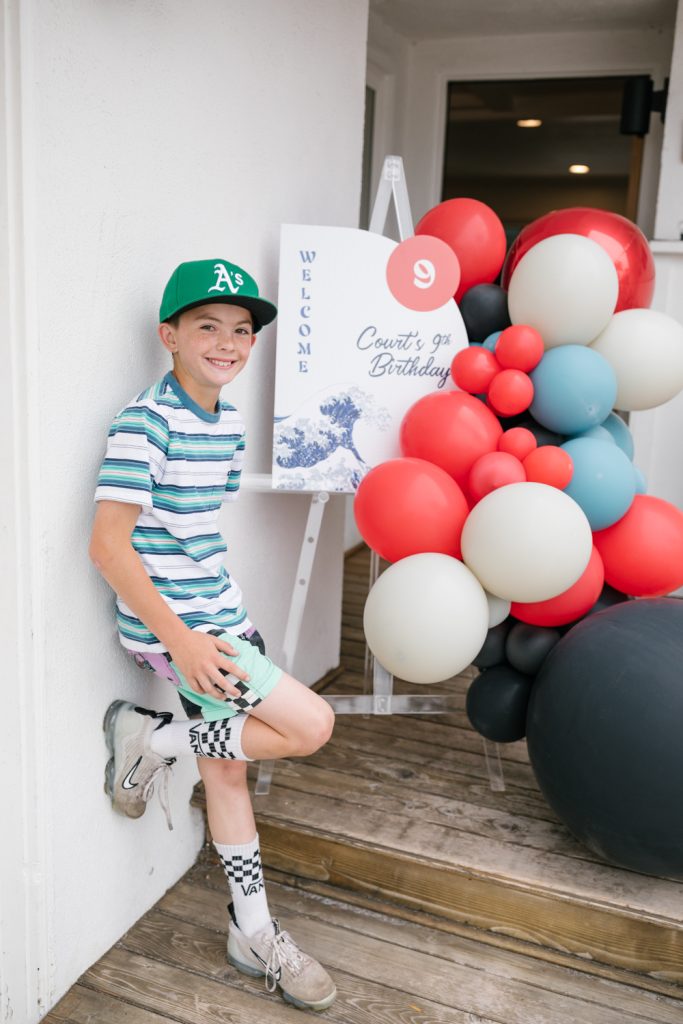 Both of my sweet boys!!!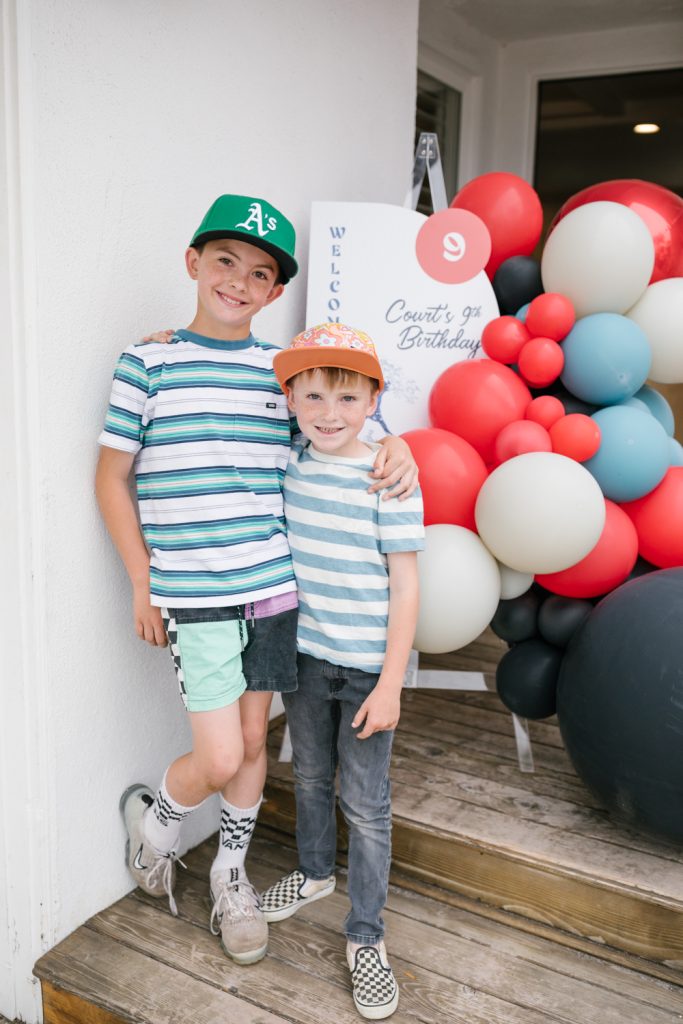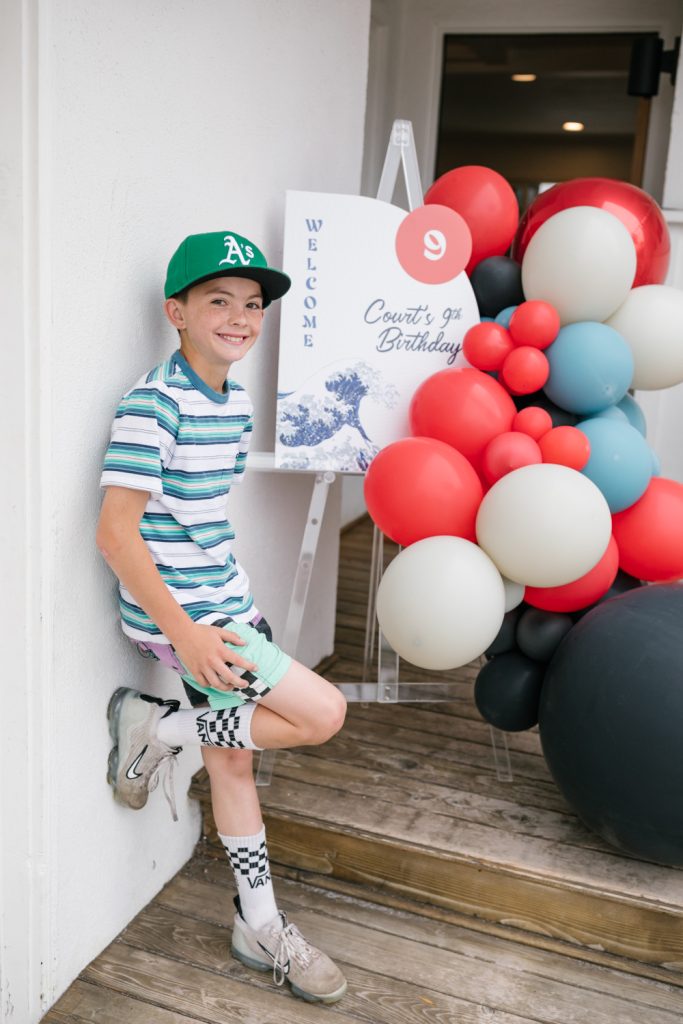 The backyard tables were set!! Thank you so much to my friends at Sweet Salvage Rentals who brought in all of the rentals for this epic dinner party. And a big thanks also to Earth & Grace who made all of the Ikebana inspired flower arrangements. Simple and understated but very pretty! I set the table with plates and flatware from Signature Party but got napkins from World Market and cups from Target. Chopsticks were a must along with Japanese headbands for each kiddo. And I am obsessed with those beautiful sauce bowls. So much fun! And yes, I was brave enough to host around 20 kids for this one, what was I thinking?! Haha!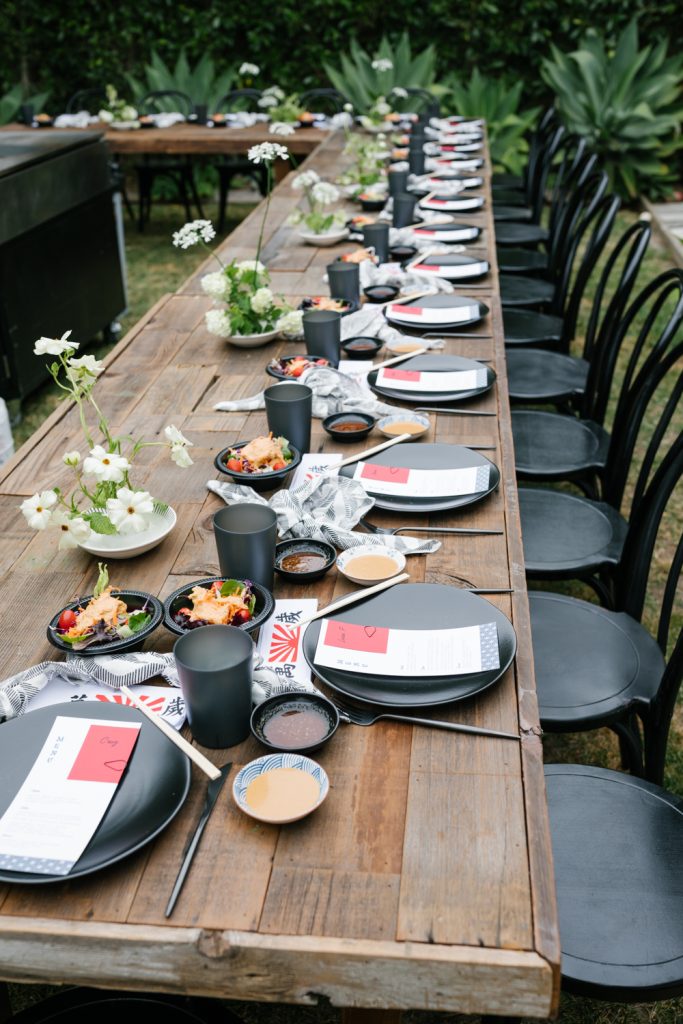 Love these place settings! I kept it masculine for these men, I mean 9 year old boys, haha…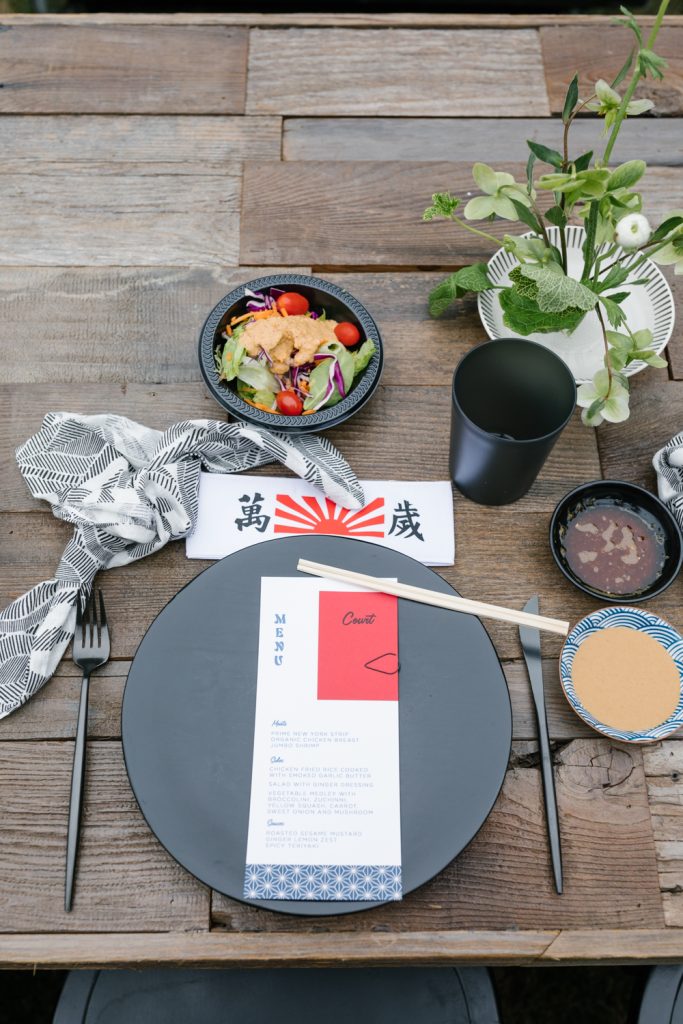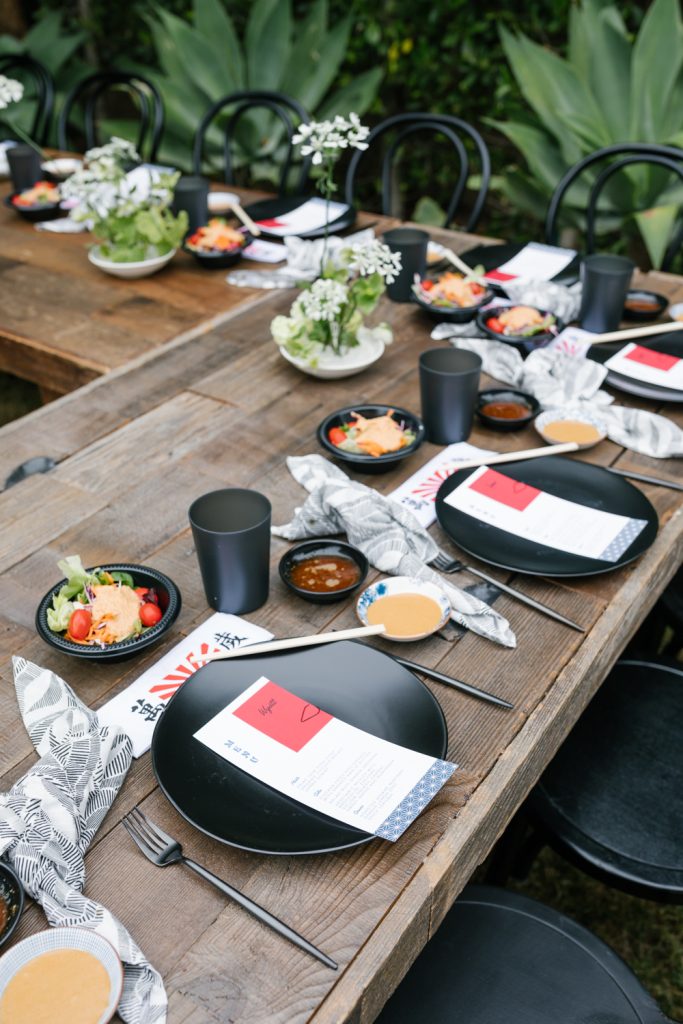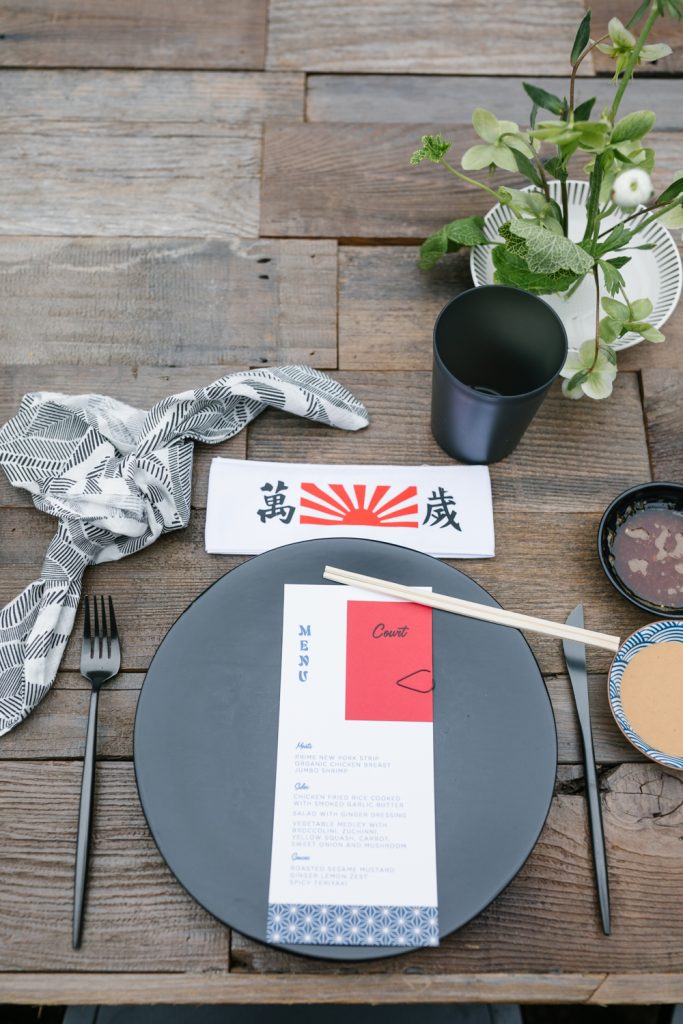 We were ready for the boys to dig in!!!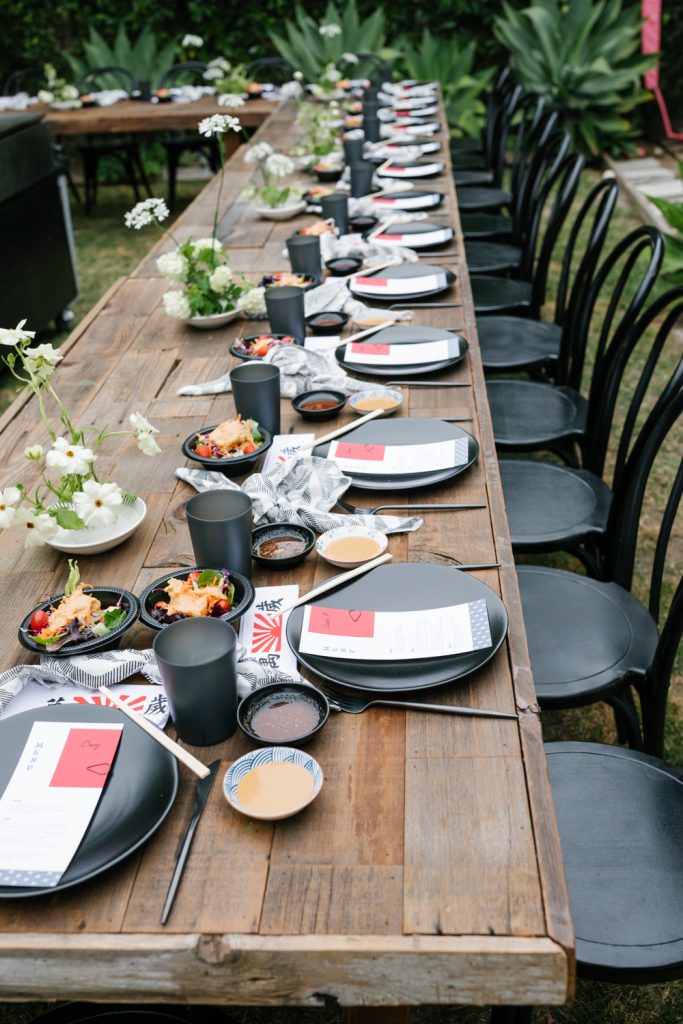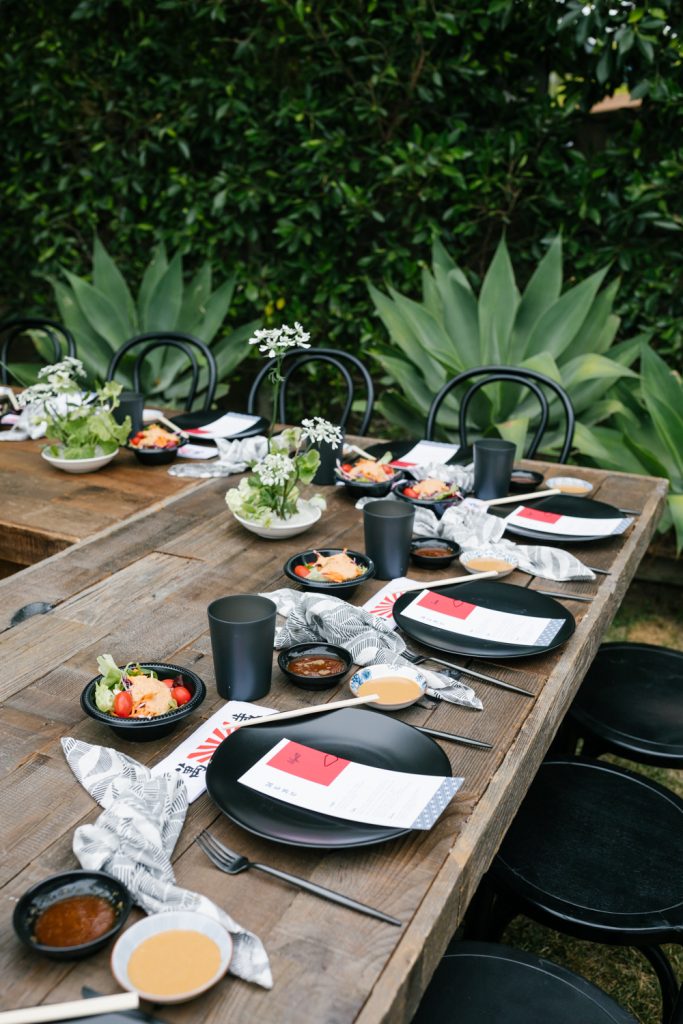 My cute little 9 year old!!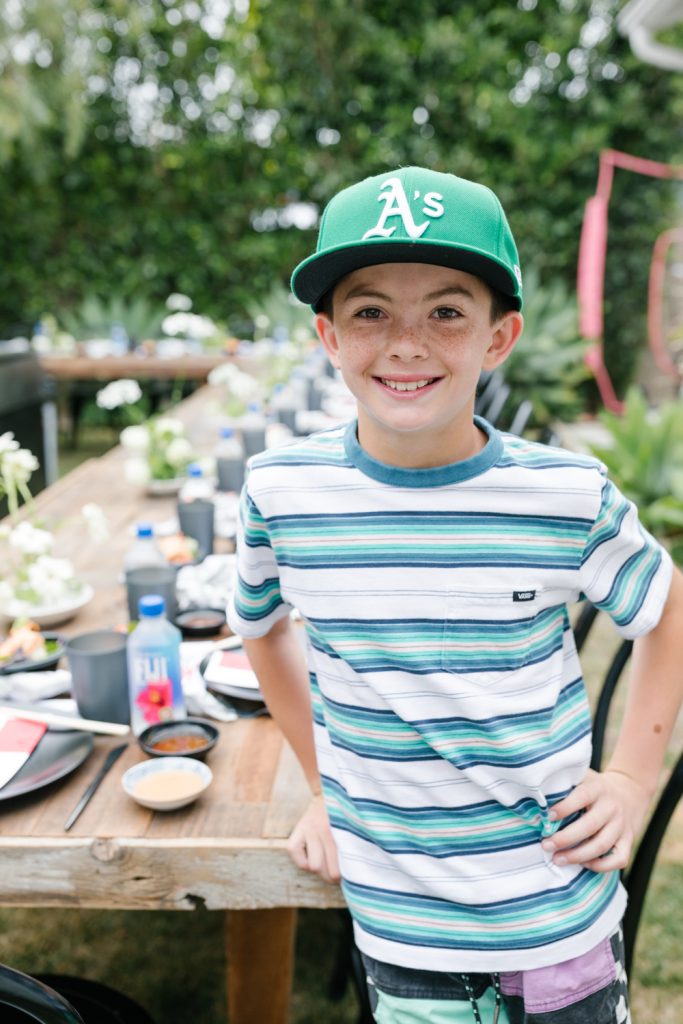 We invited a few of the parents to join us also and to keep the boys in line, haha! So I set a table for parents only near the kiddos. Looks so pretty with that blue tablecloth from Signature Party and those amazing vintage Japanese art pieces that Mac Noodlez brought along in the background.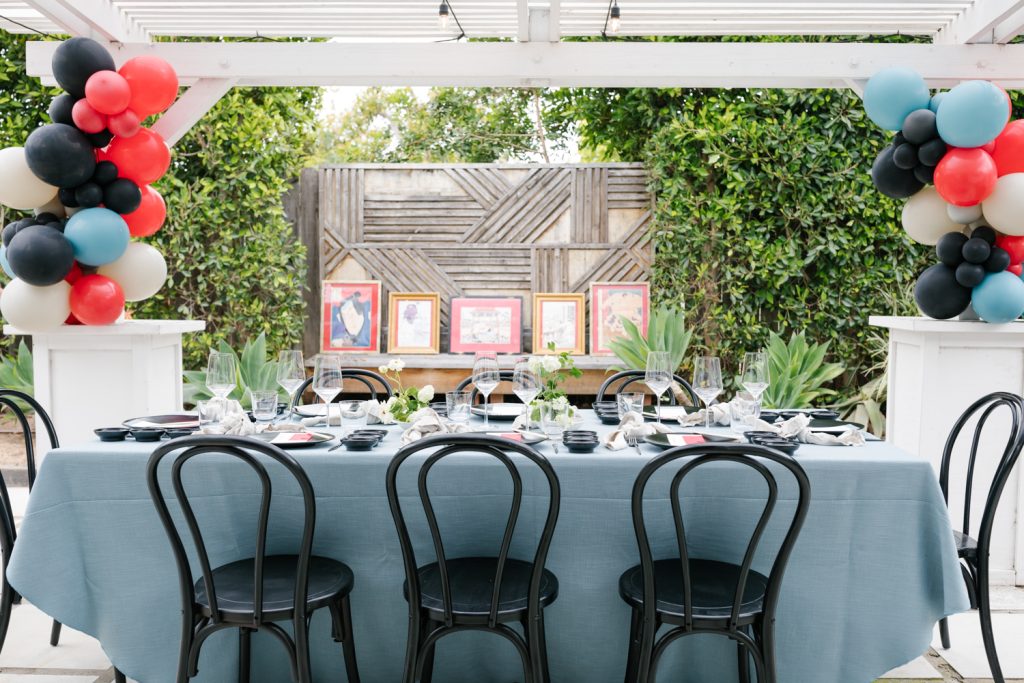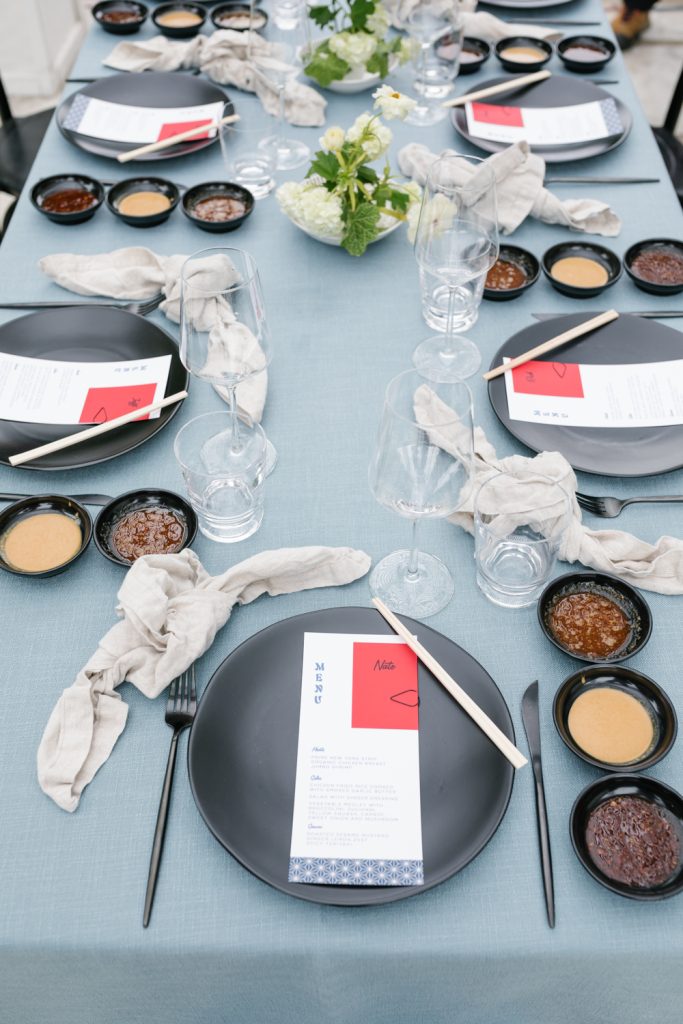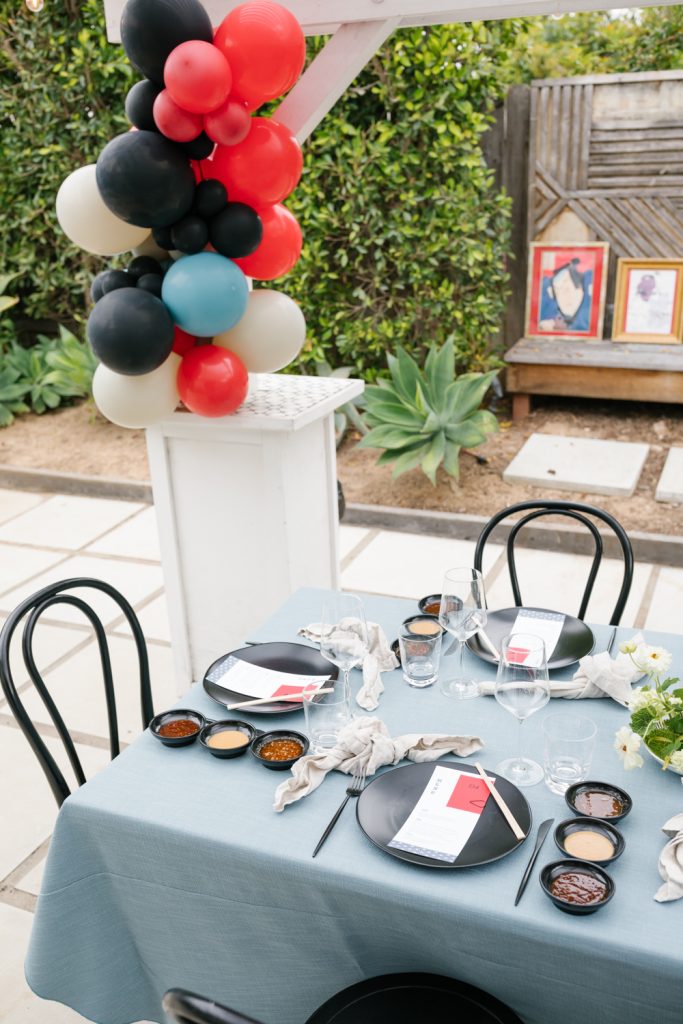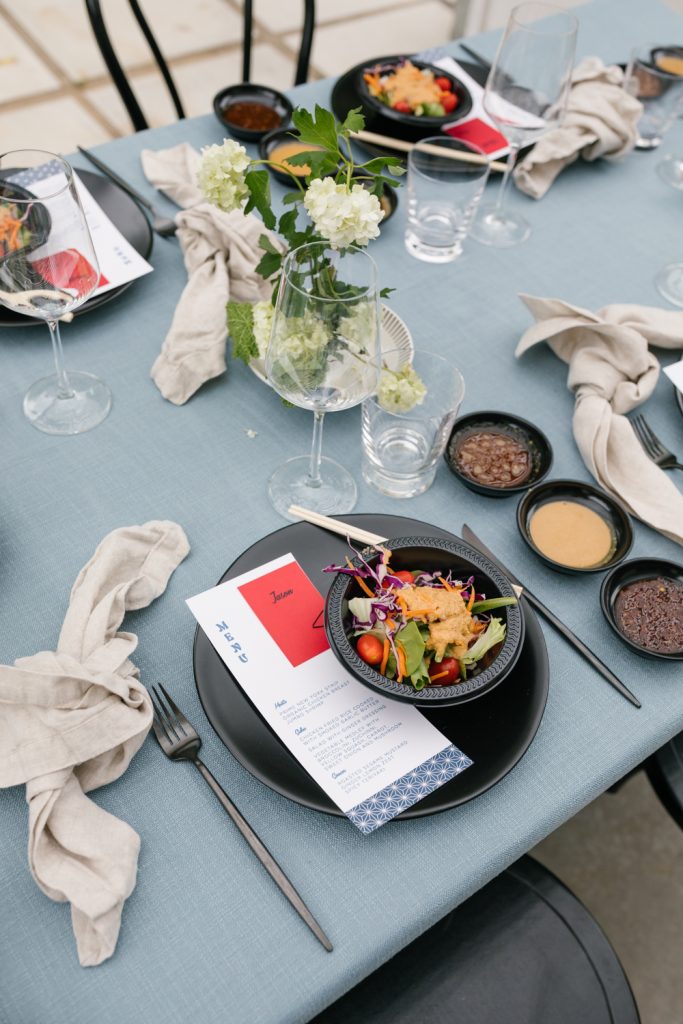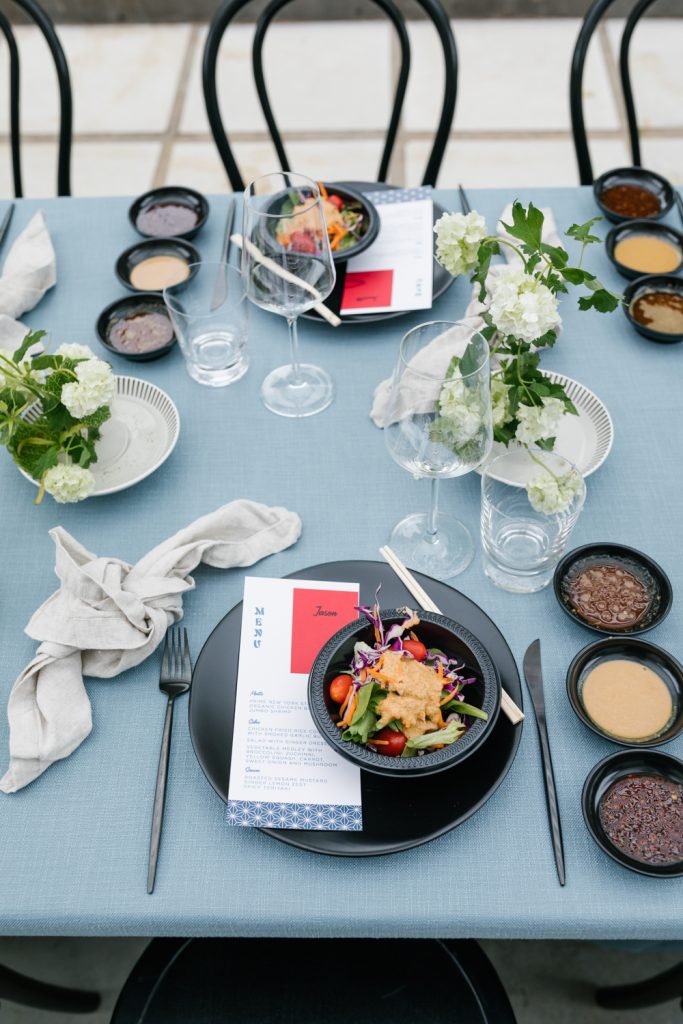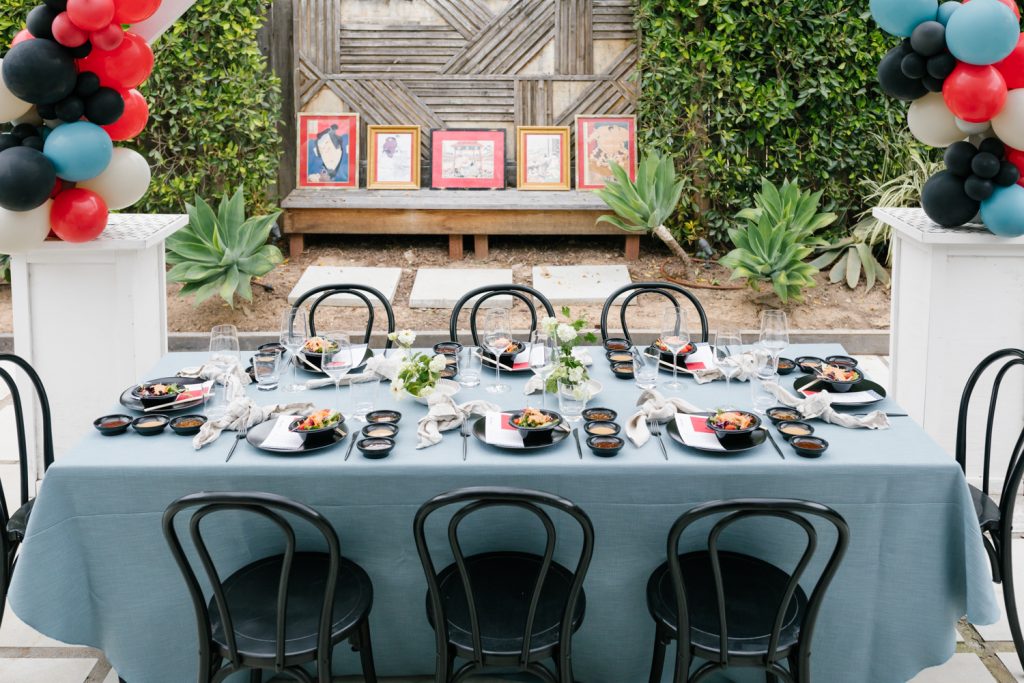 For a fun treat we had Mr. Hoodbrush come and treat each guest to a customized hat and hoodie! The birthday boy even got a bucket hat and shoes. I can't say enough of what a hit this was!!! The kids were obsessed and wore their swag the rest of the party. Court's school friends even all wore theirs to school the next day, it was so cute!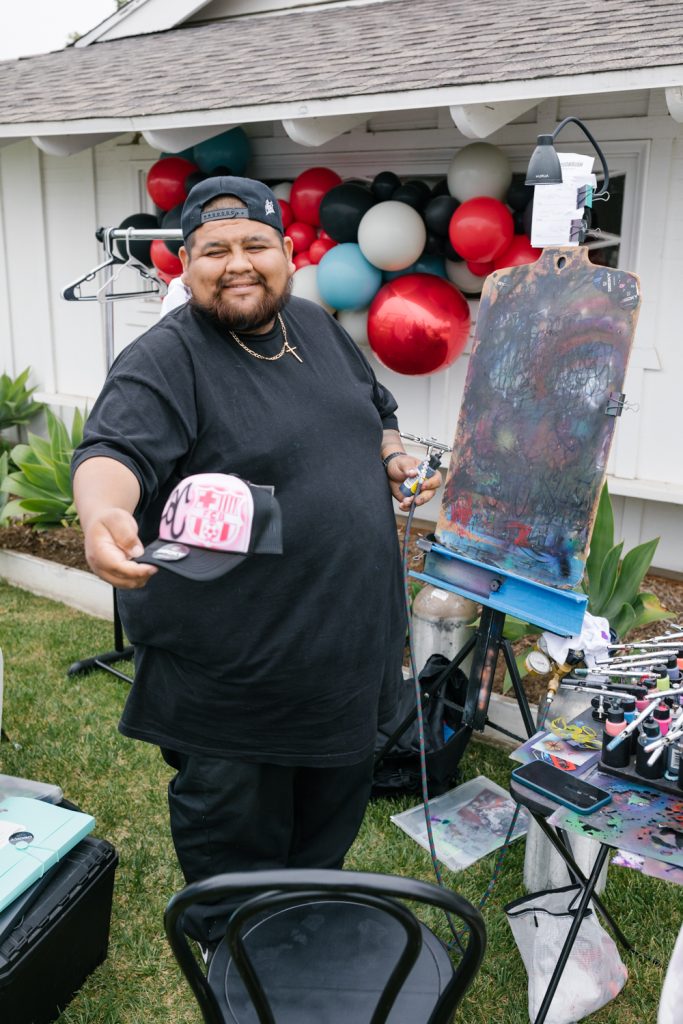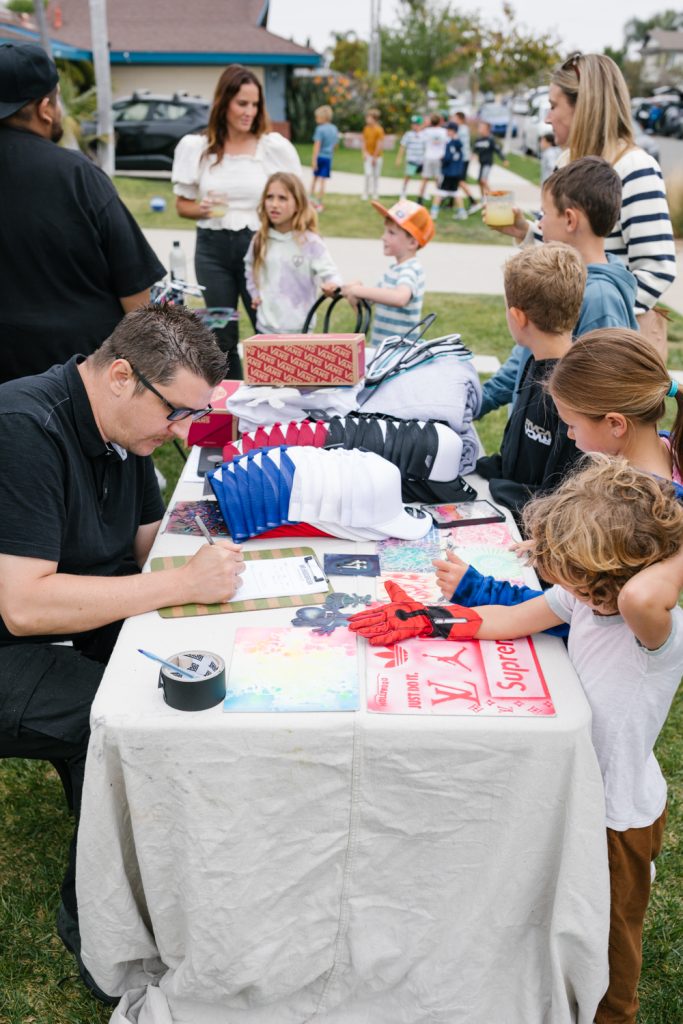 Pretty cool!!!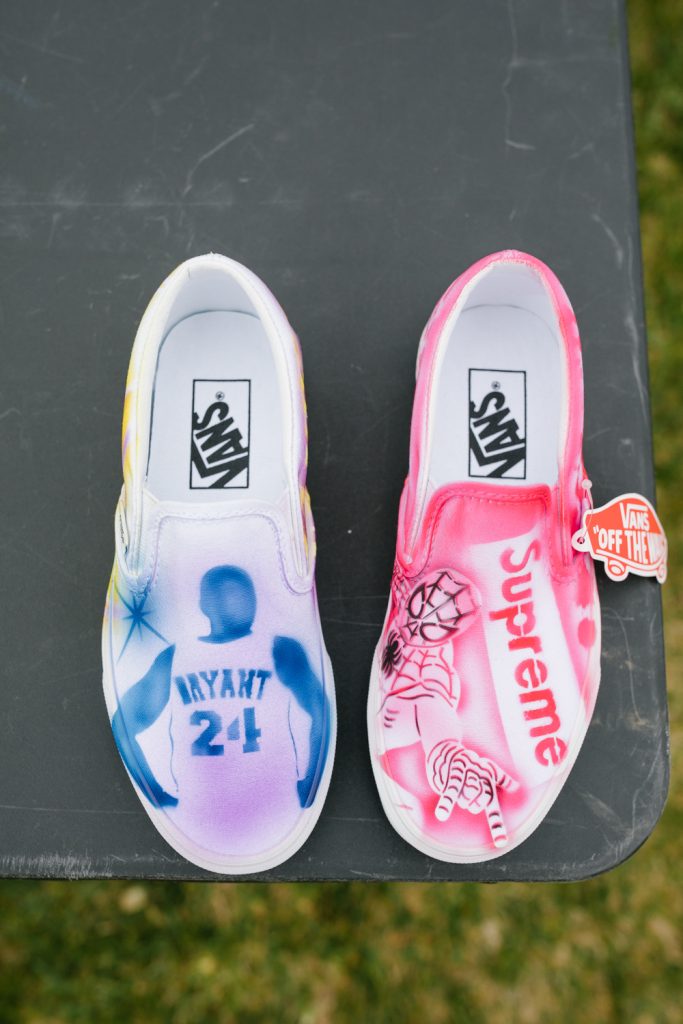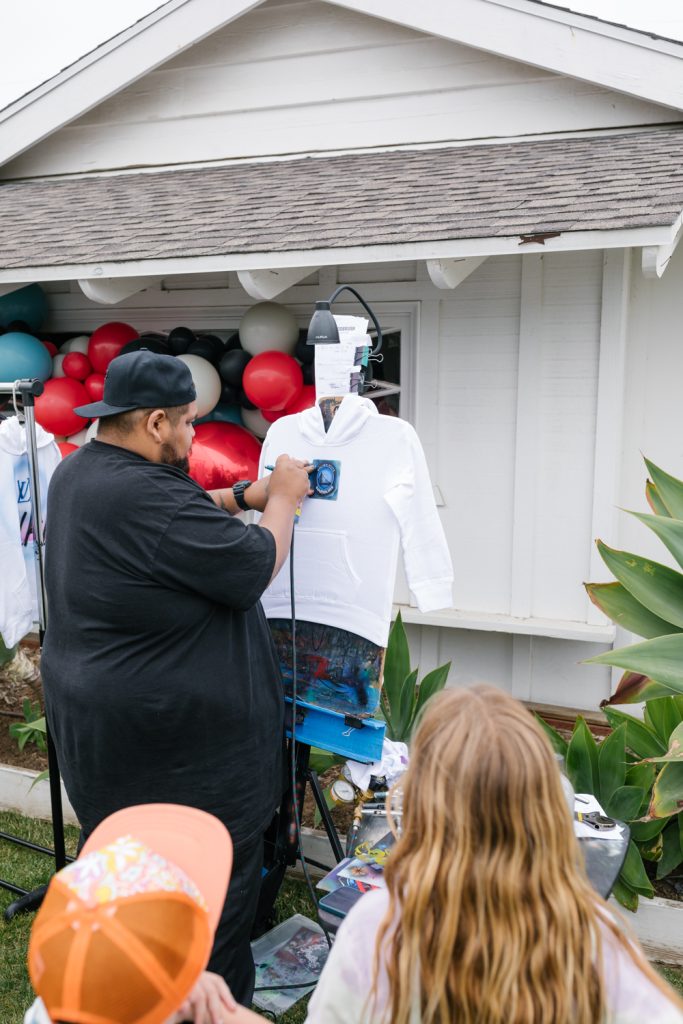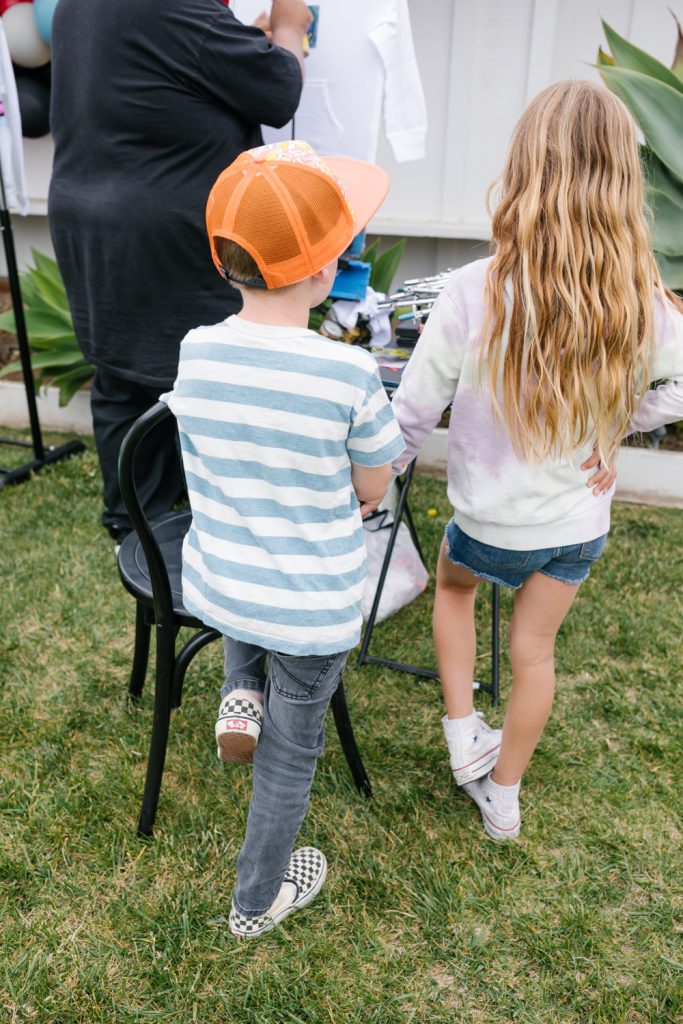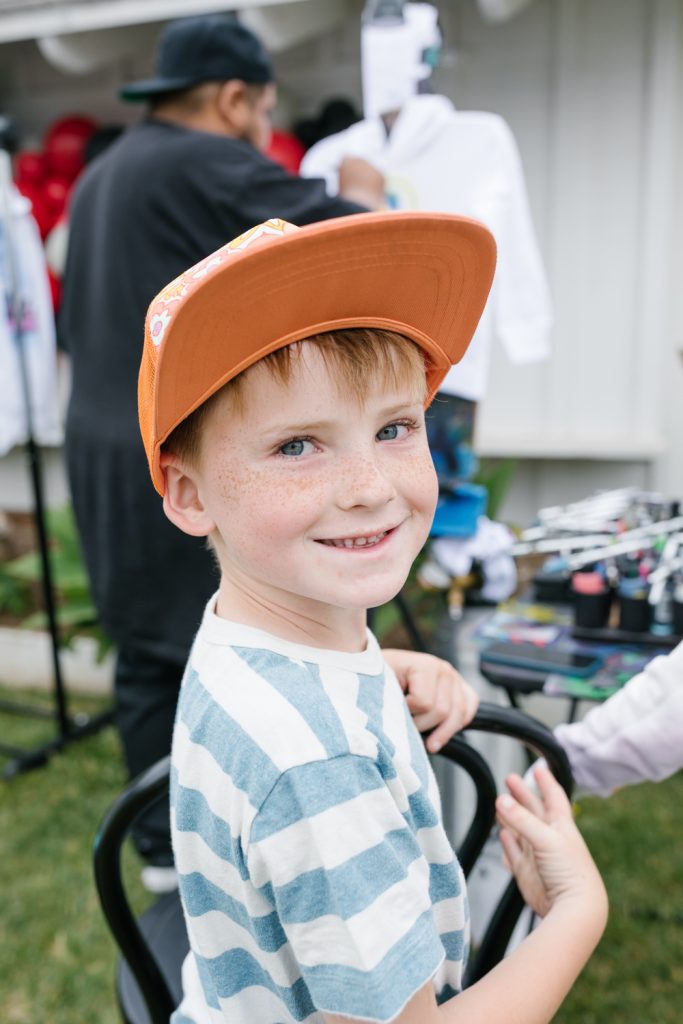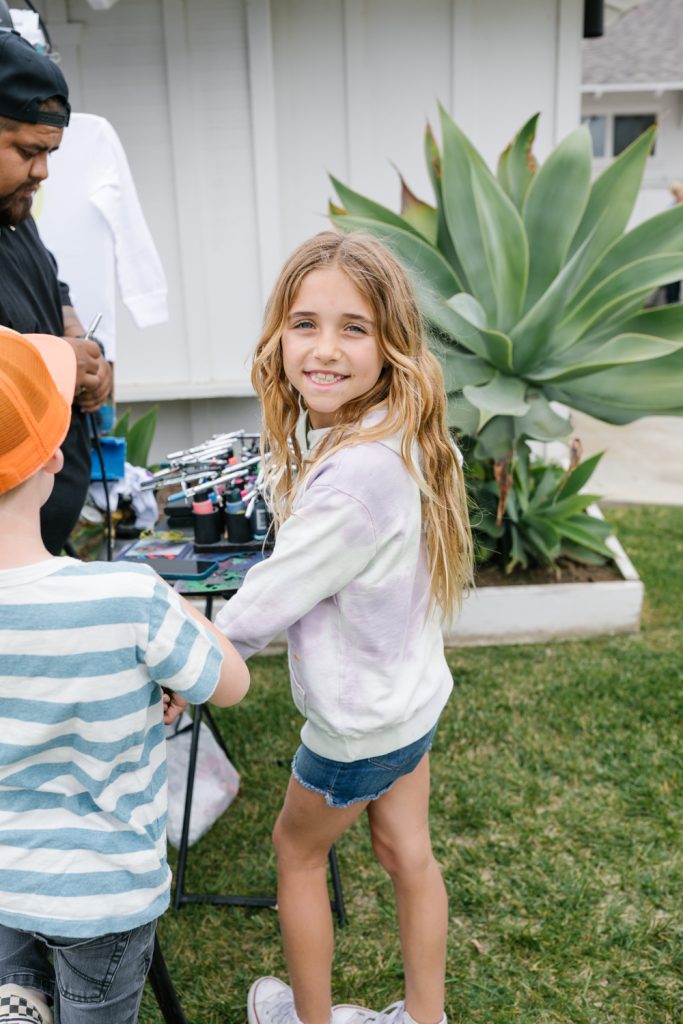 Next up was the Mac Noodlez show!!!! Not only can this guy cook – the food was delicious – but he was so fun and entertaining!! The kids loved him and I loved how engaging he was with all of them. I think the best part was the boys catching shrimp that he threw, they all did so well! It was such a blast! We can't wait to have him back for more parties, I highly recommend him!!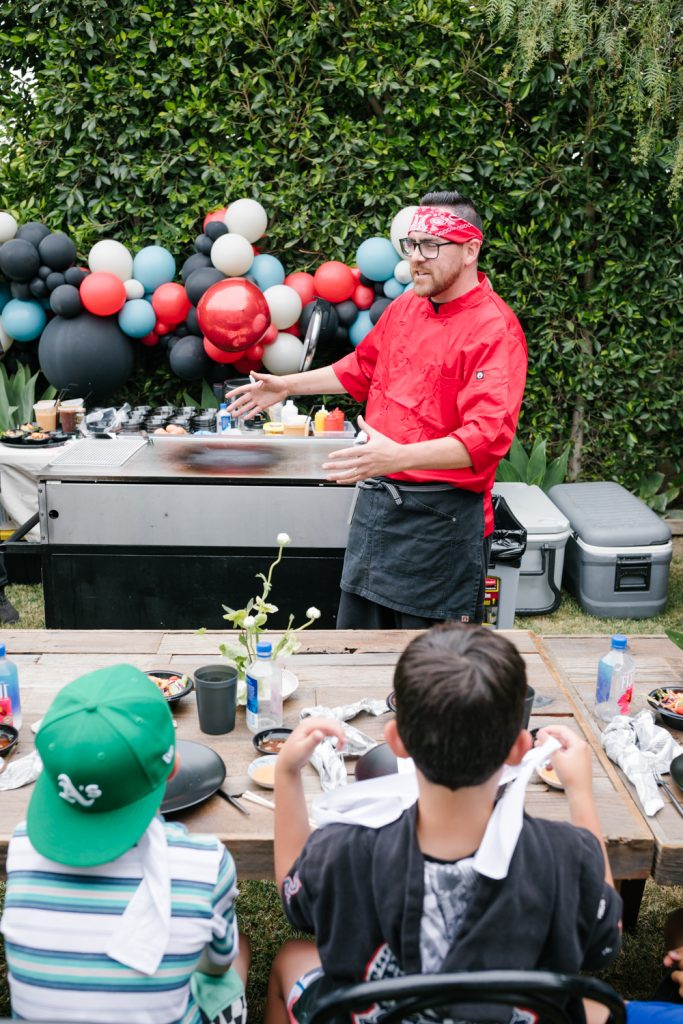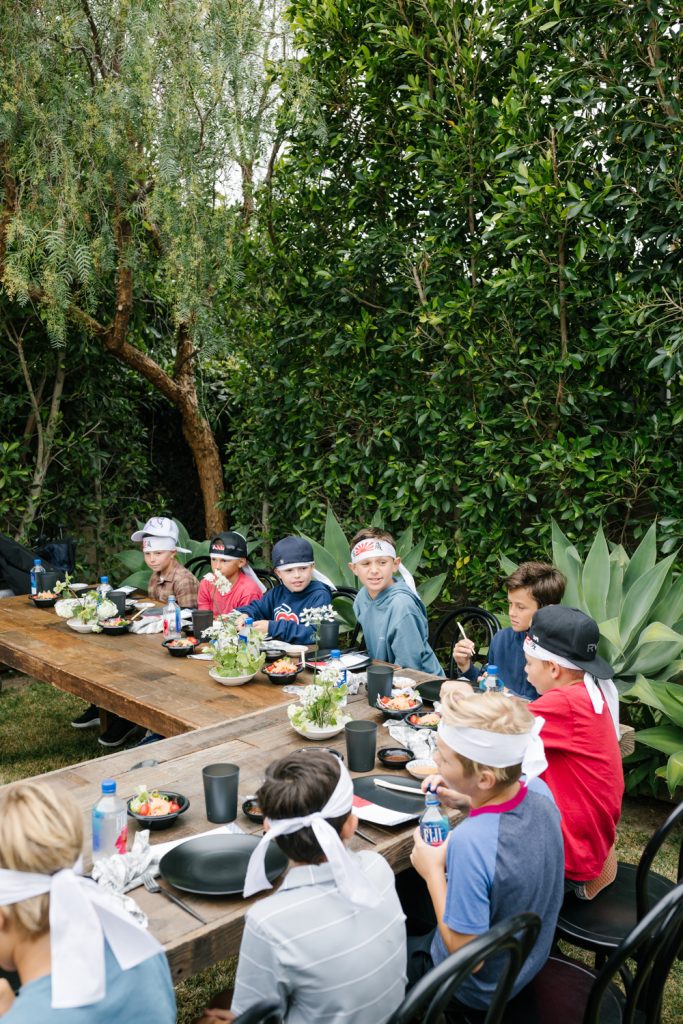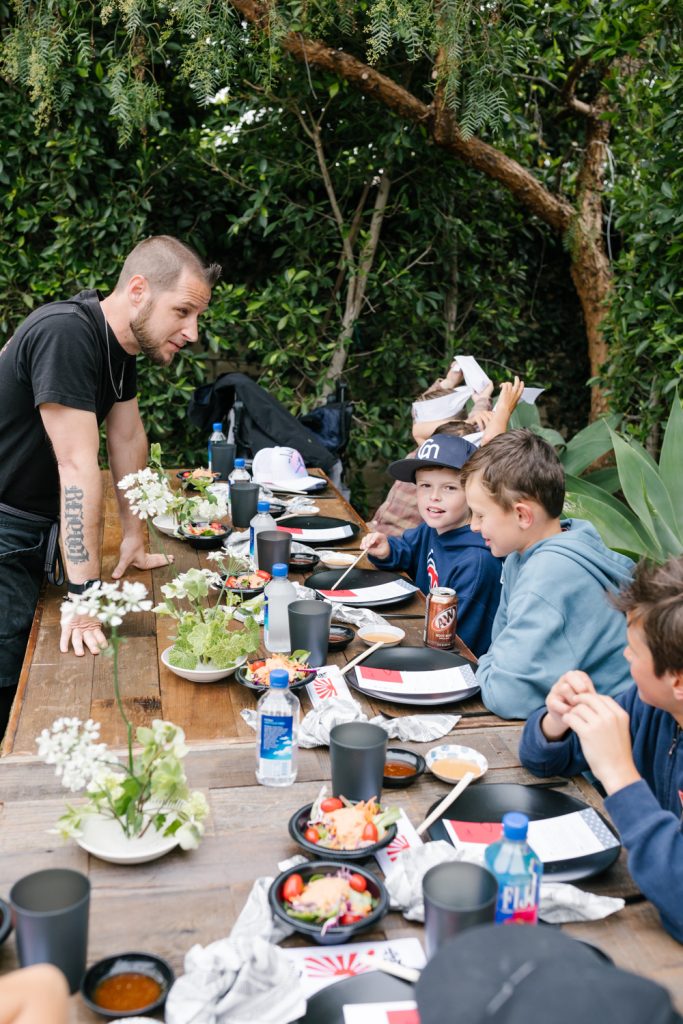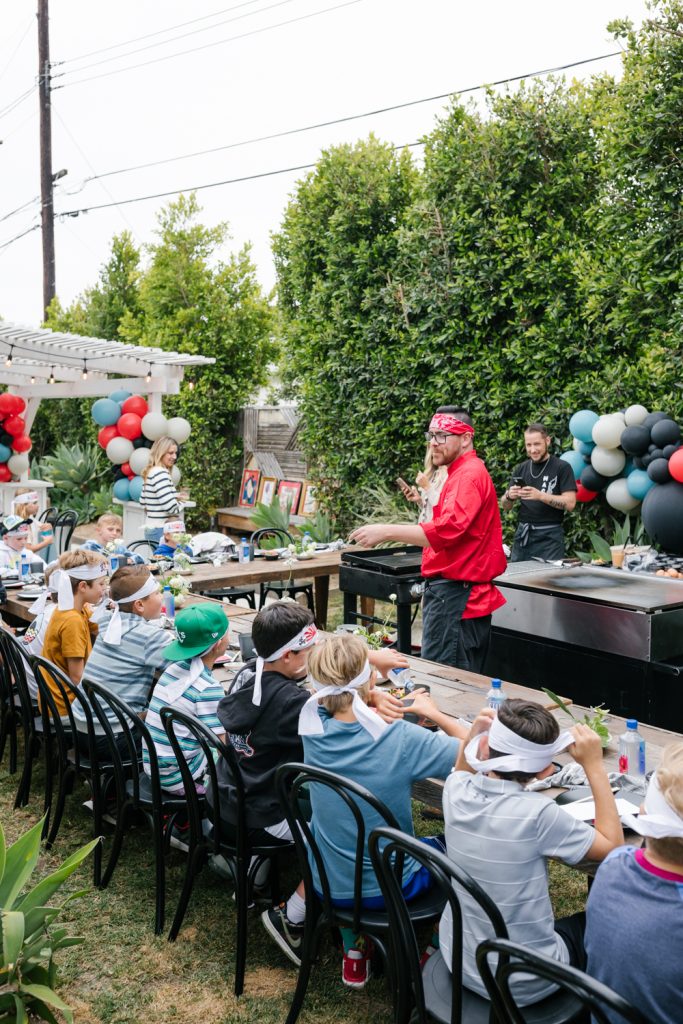 Having the best time all smiles!!!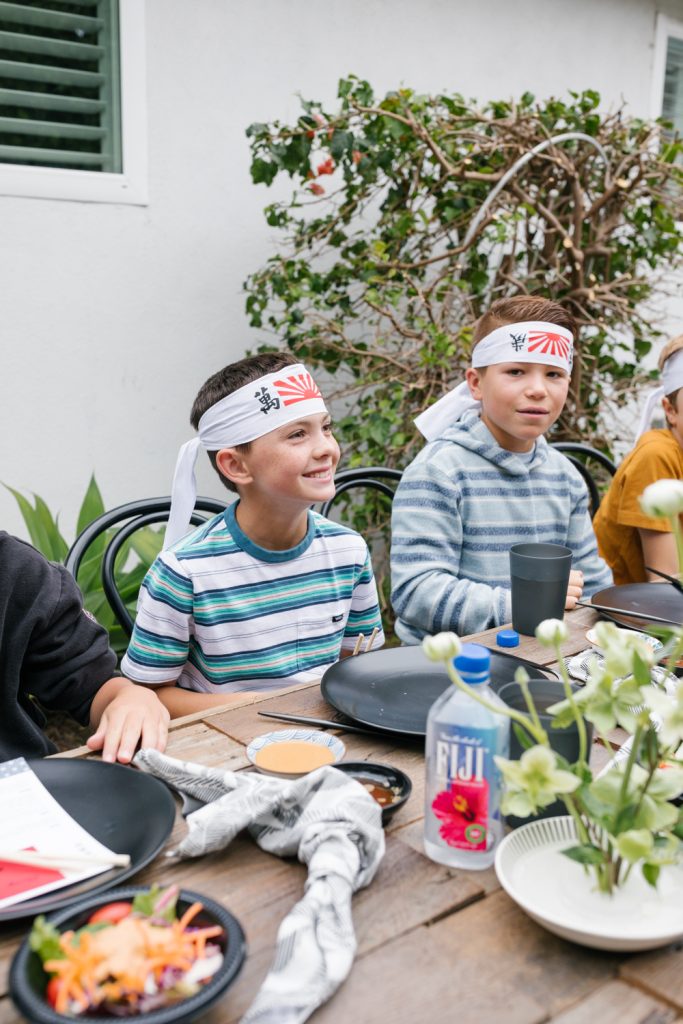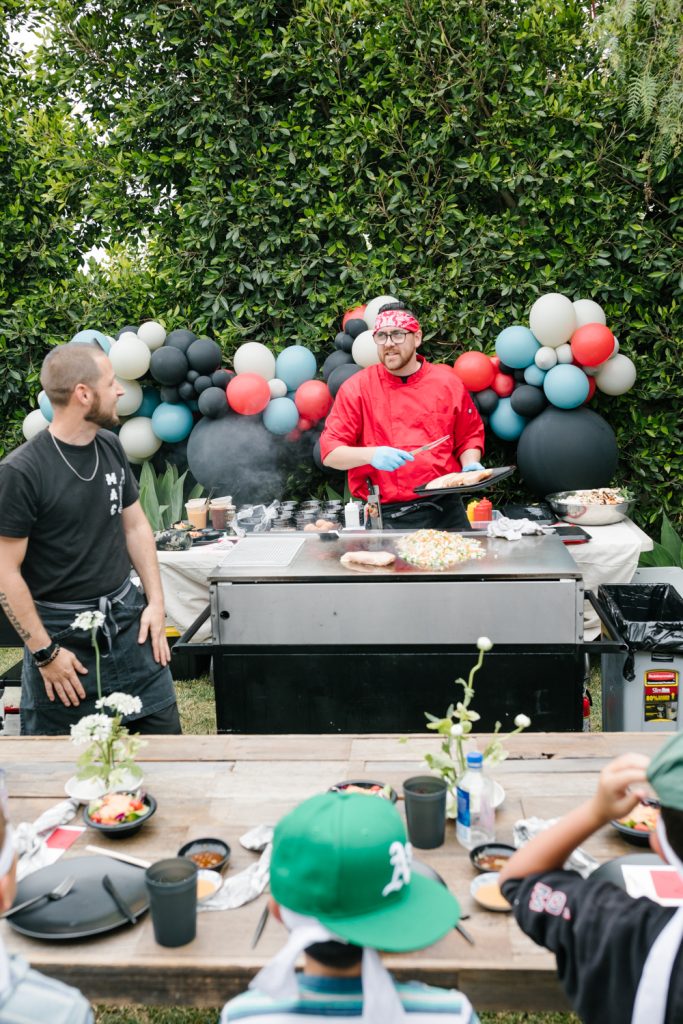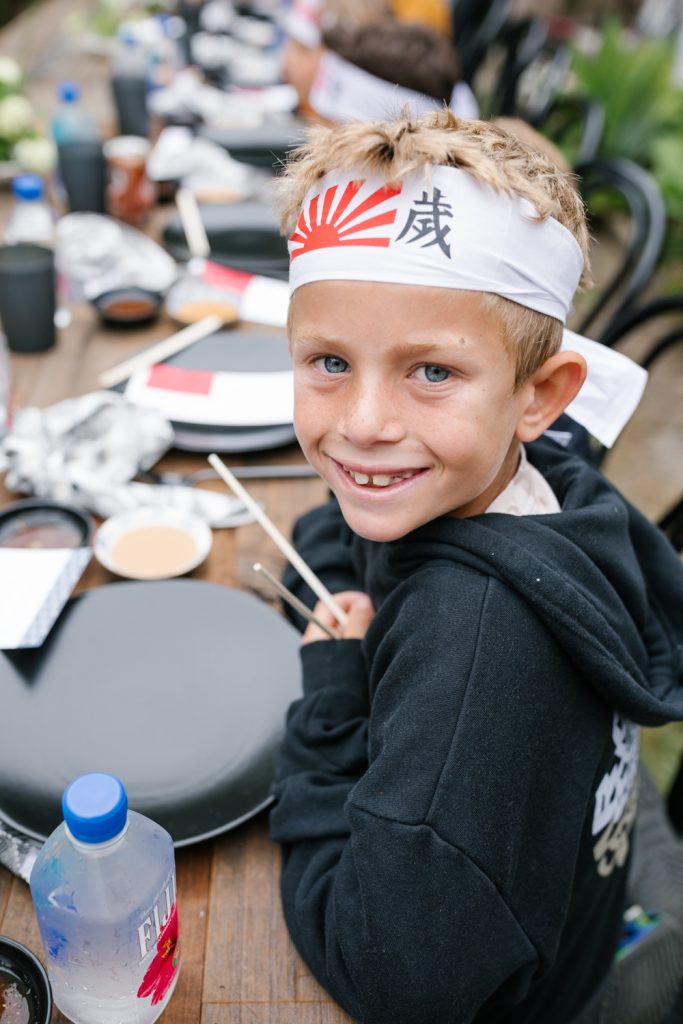 A few of my favorite mama friends that joined in on the fun!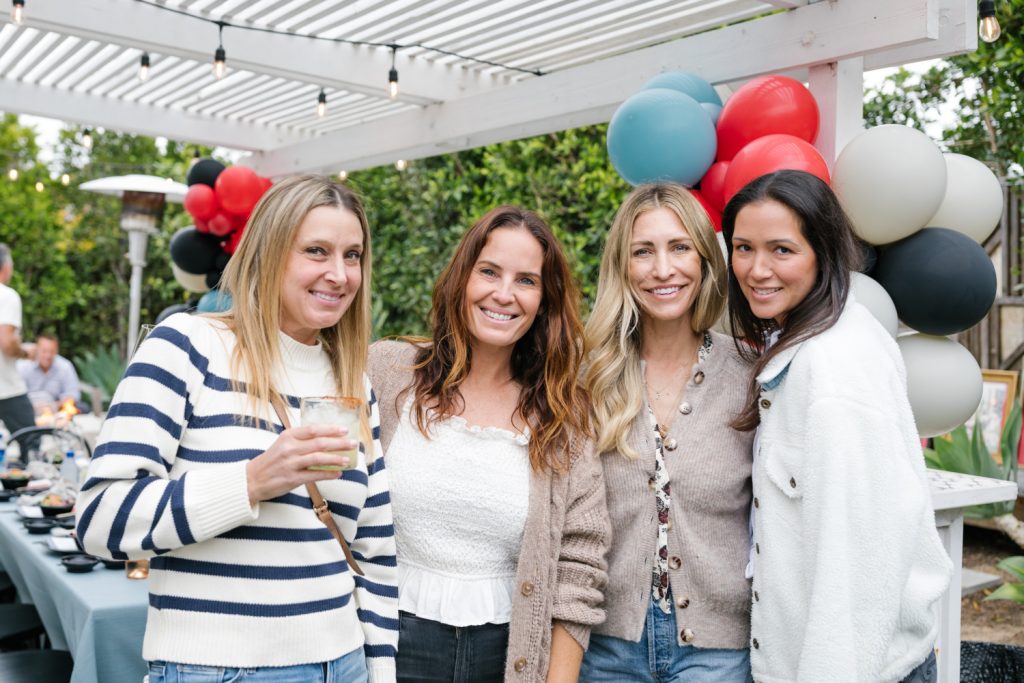 Mac Noodlez doing his thing!!!!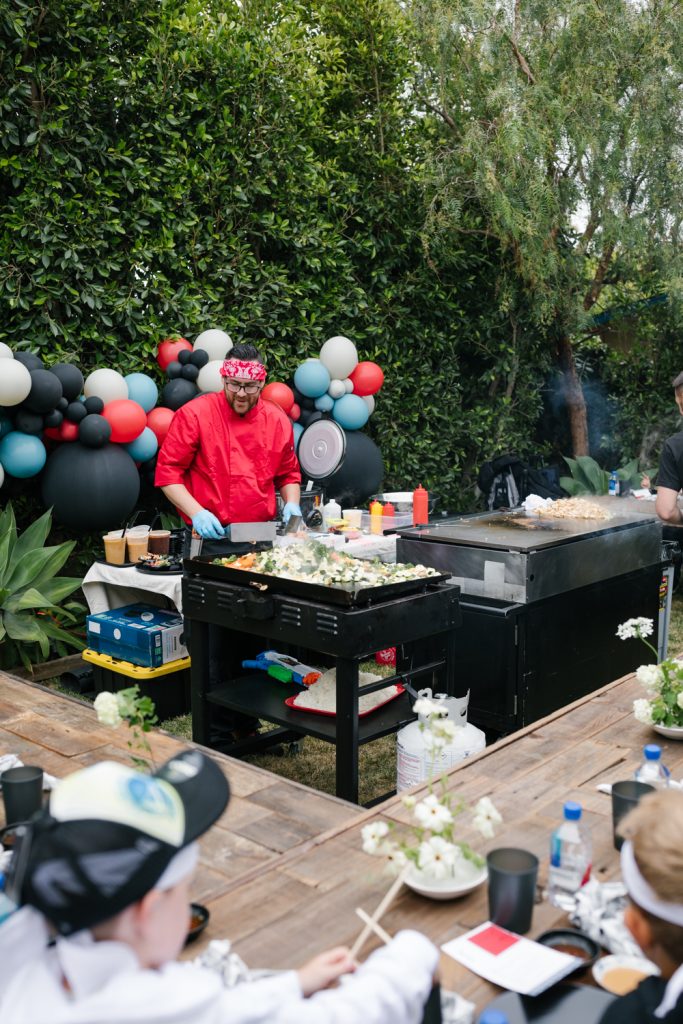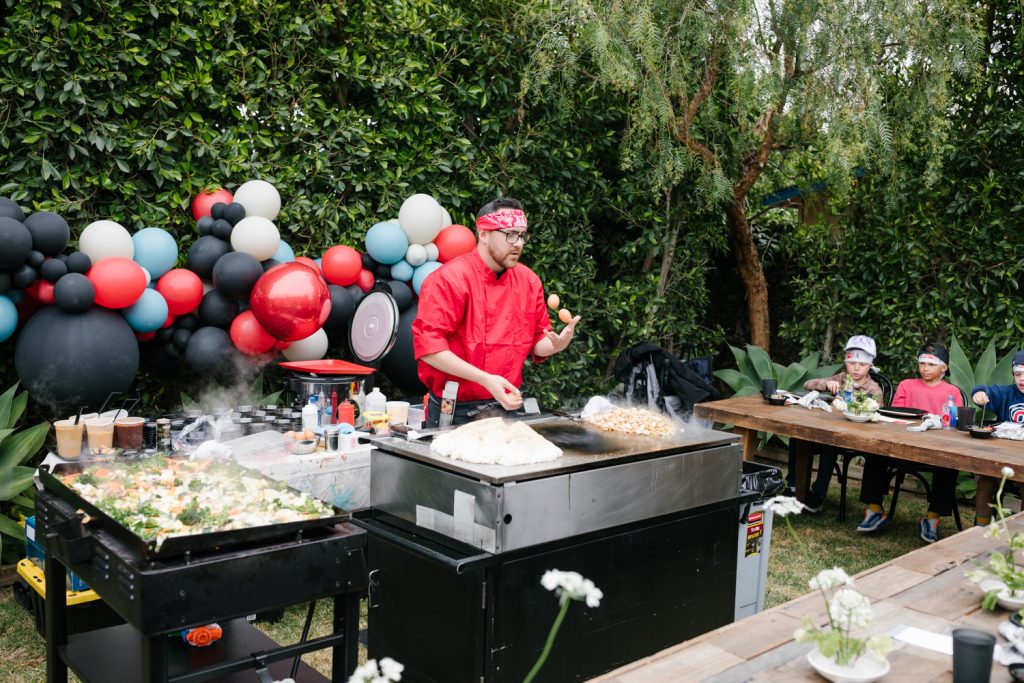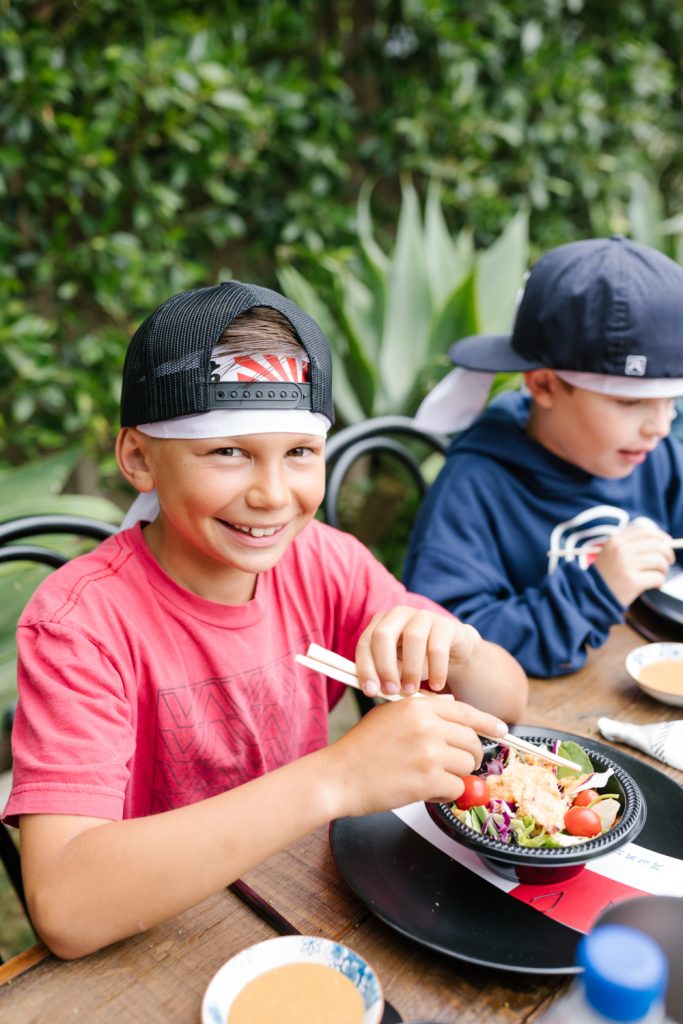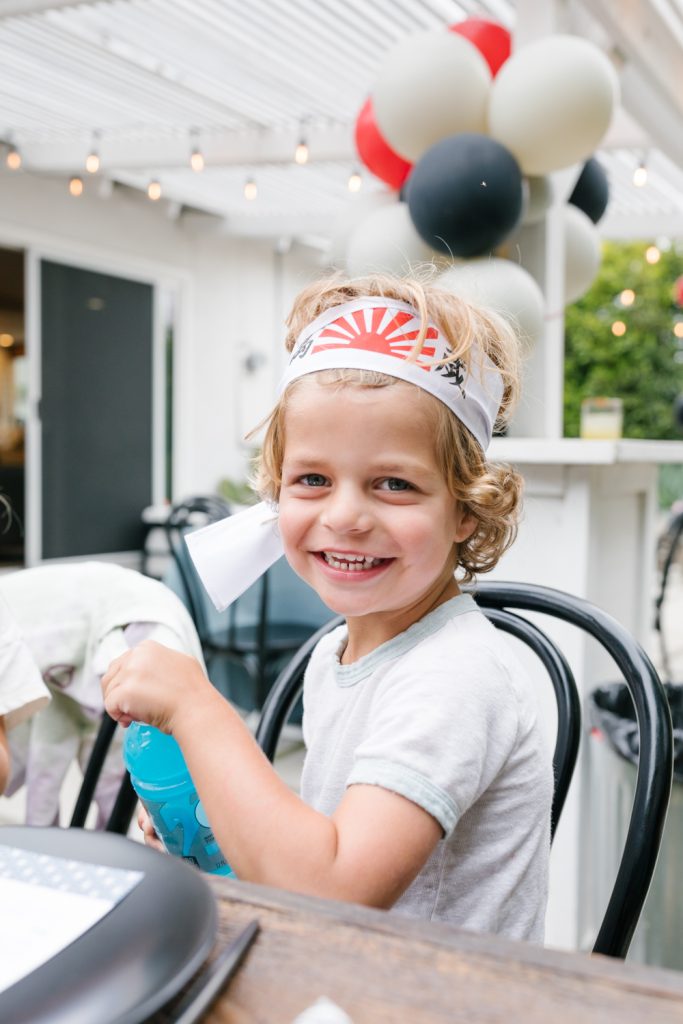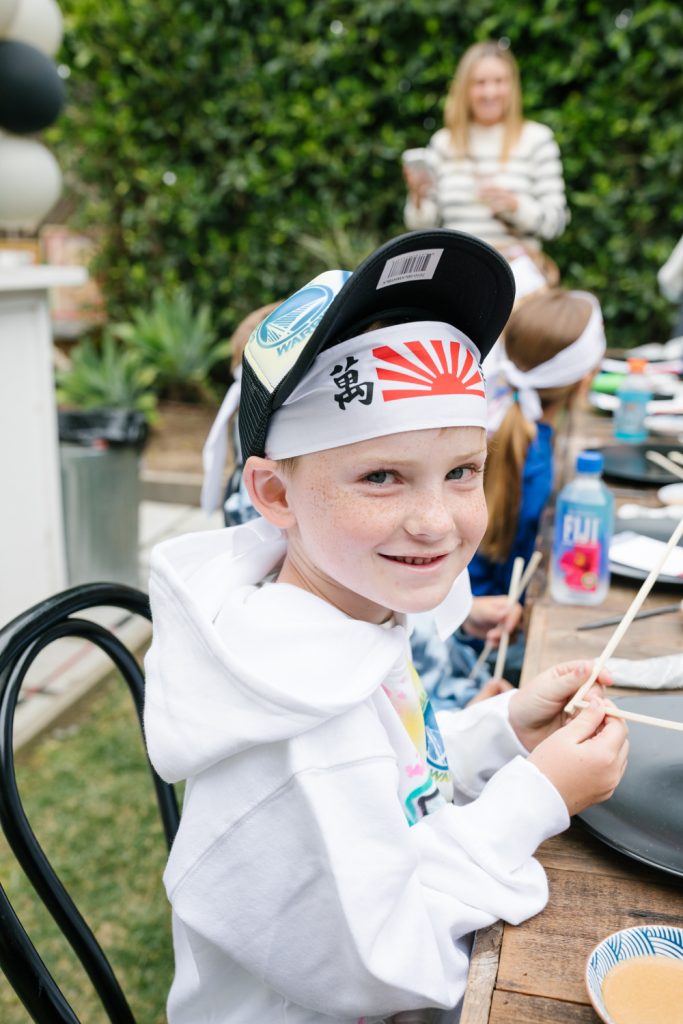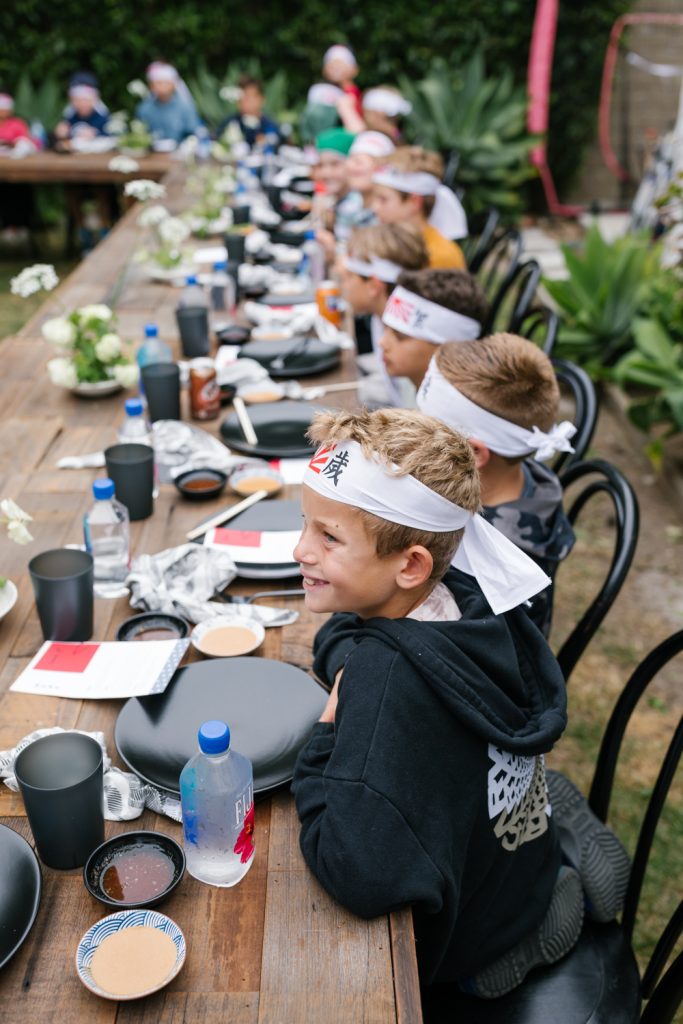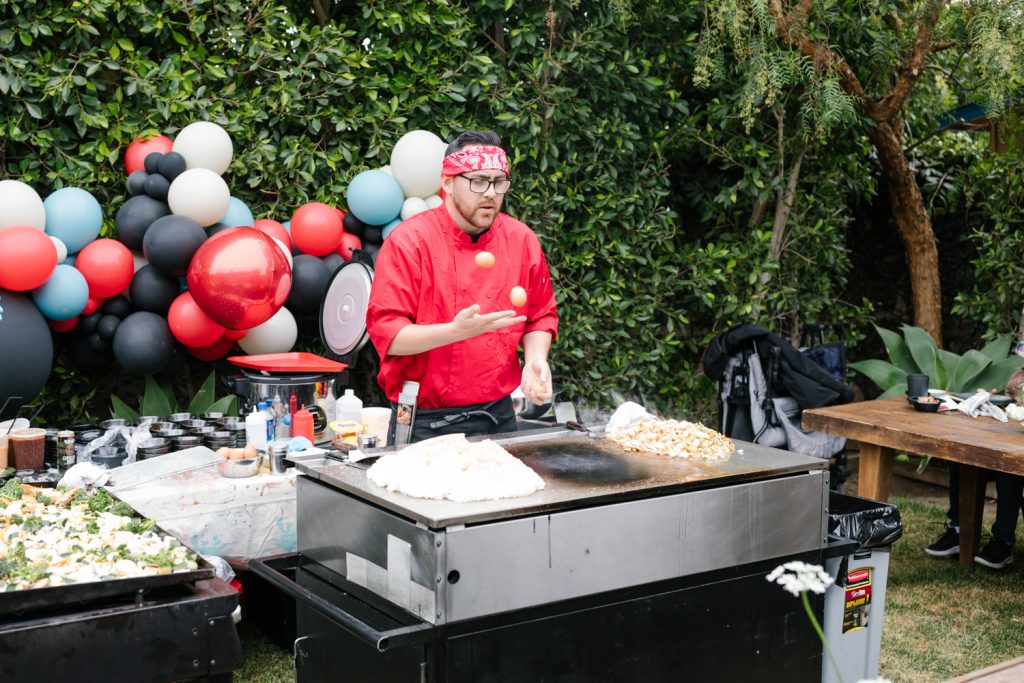 And to finish it off we had the most amazing cake from Sheila Mae – incredible, right?! The detail of this cake was insane, the boys were all in awe!! And it was SUPER yummy!!! With the perfect cake topper from Chelcea Creative & Creative Amme to make it complete!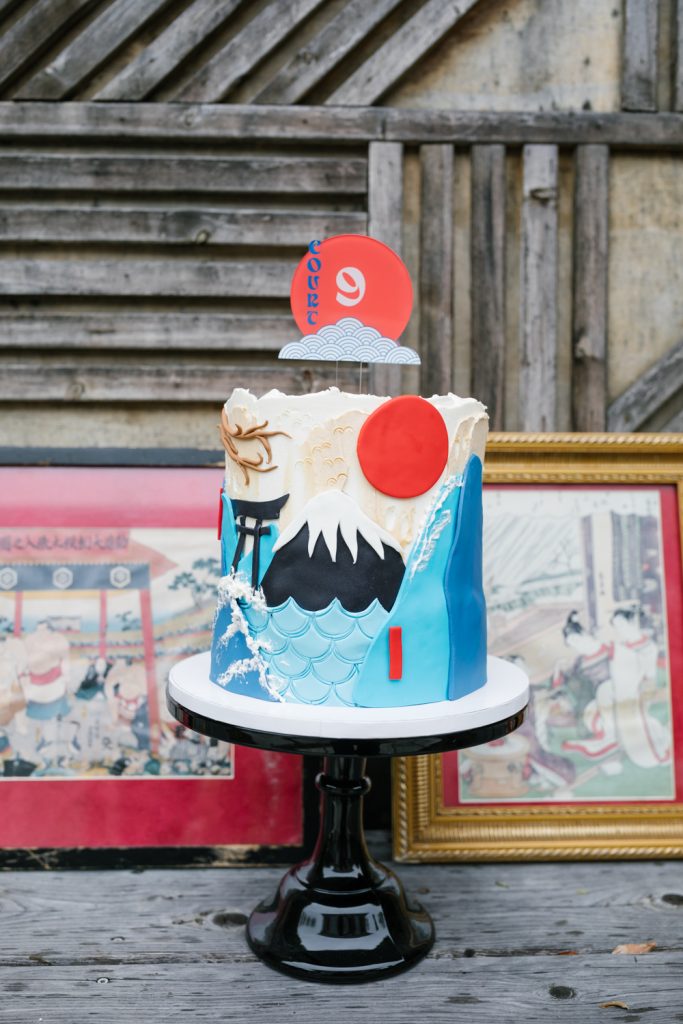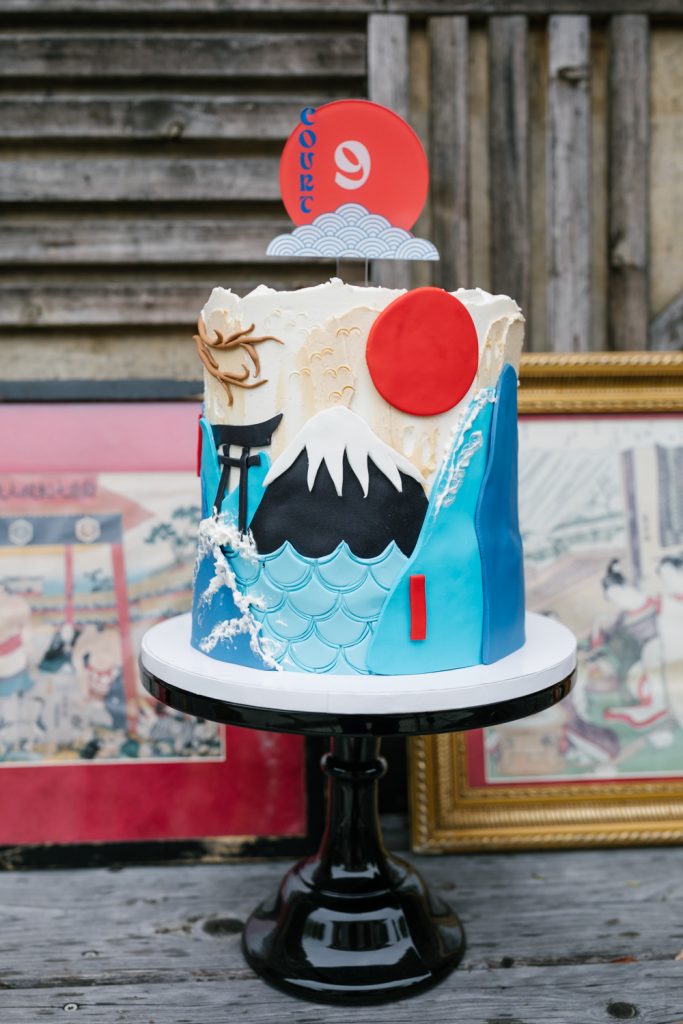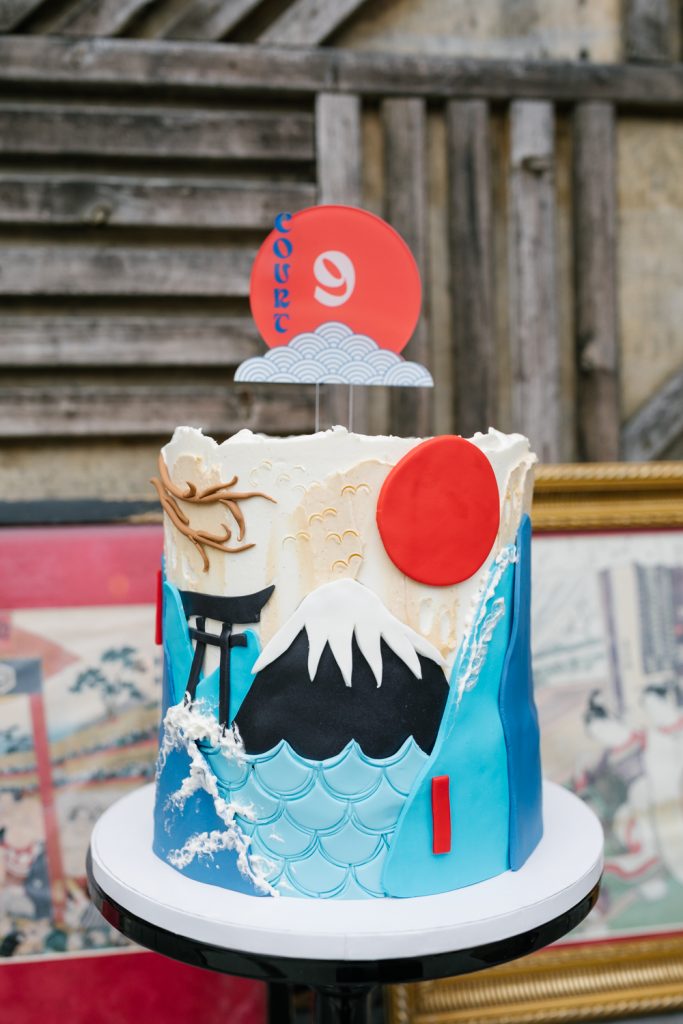 Such a fun day!!!! I'm still craving Mac Noodlez amazing fried rice!!! Another birthday in the books for the Kazas fam, next year double digits for my Court!!!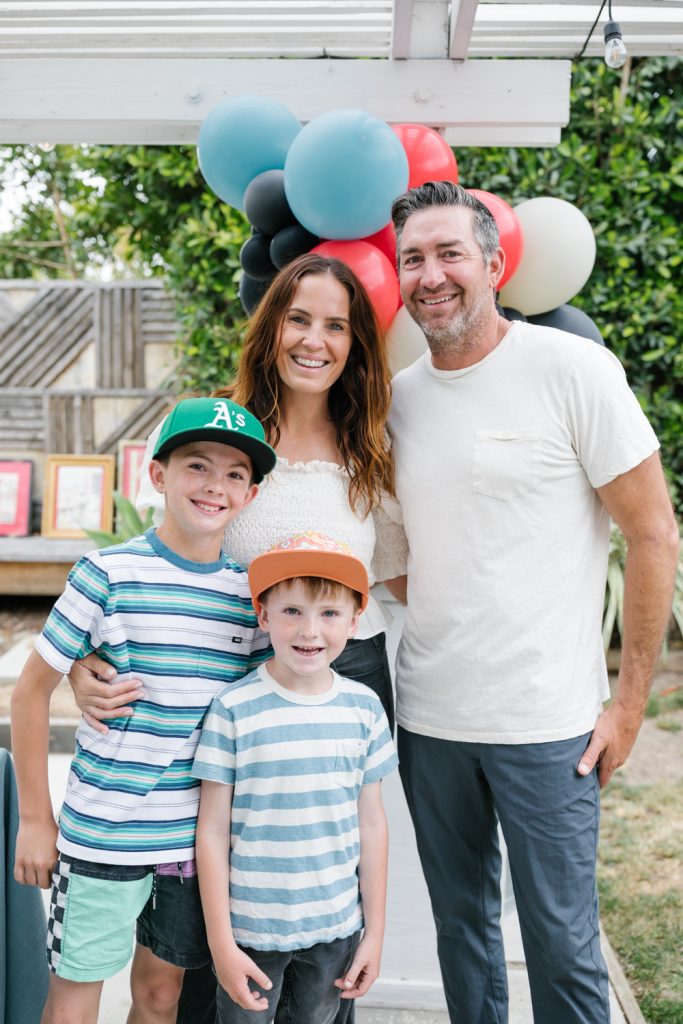 Shop Court's fun birthday party below!!!

xx
Jacquelyn