Nothing like a boy who loves his super heroes!! My boys were the same way, so I was pretty smitten when Carson's mom reached out to us to help make his 5th birthday party SUPER! His favorite super hero is Captain America so we went all out red, white & blue with a touch of black and grey. Carson played the part well with his awesome suit and shield and we took care of the rest! Lots of cute details, amazing desserts, a bouncy, and even an appearance by Cap himself! See all the adorable photos by Carolyn Ruiz below…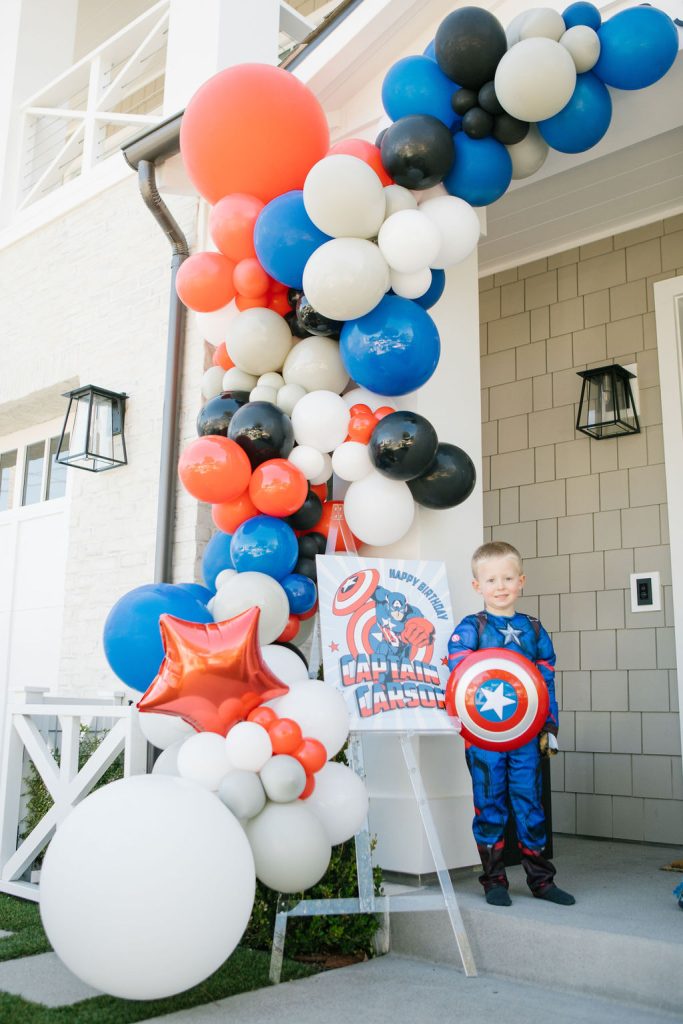 It's pretty nice when our clients have both an amazing front and backyard to deck out for a party! We decided to do all the food and tables in the front for this one and have an awesome balloon moment right at the entrance. Guests were greeted by The Pop Shop's super installation along with the most perfect welcome sign by Chelcea Creative. All of those sweet rentals are from our friends at Sweet Salvage Rentals, of course! Those red chairs couldn't be more perfect for a super hero party!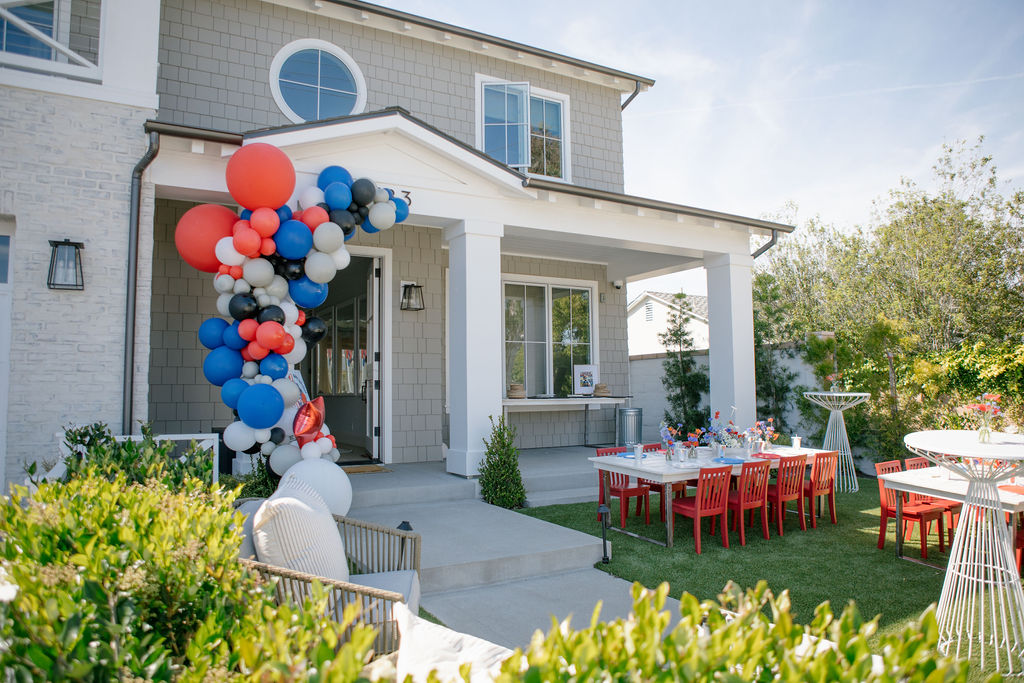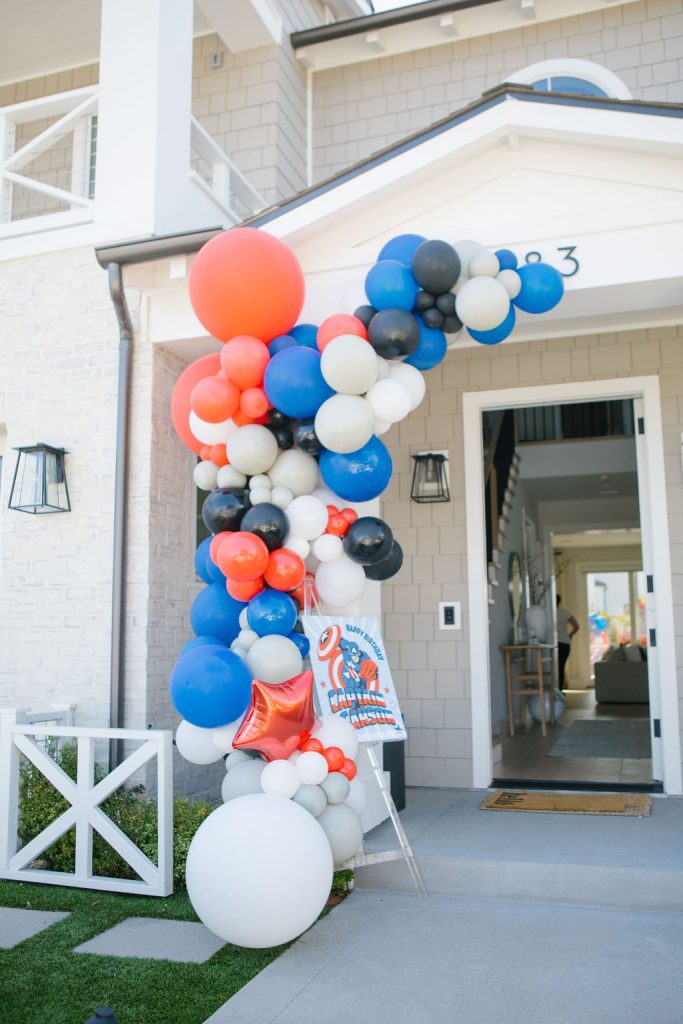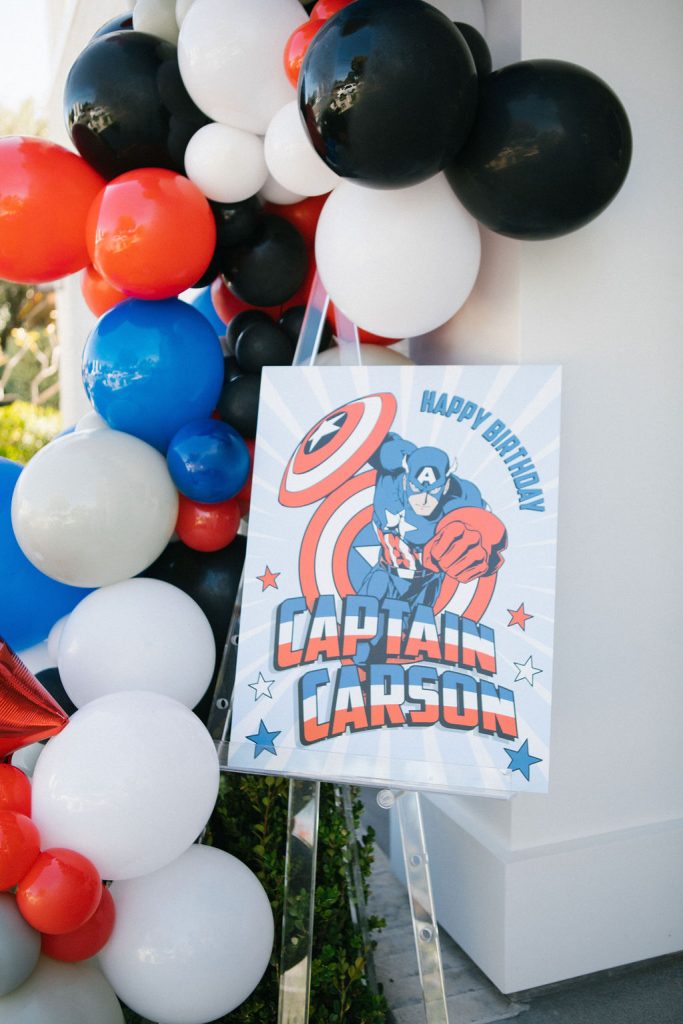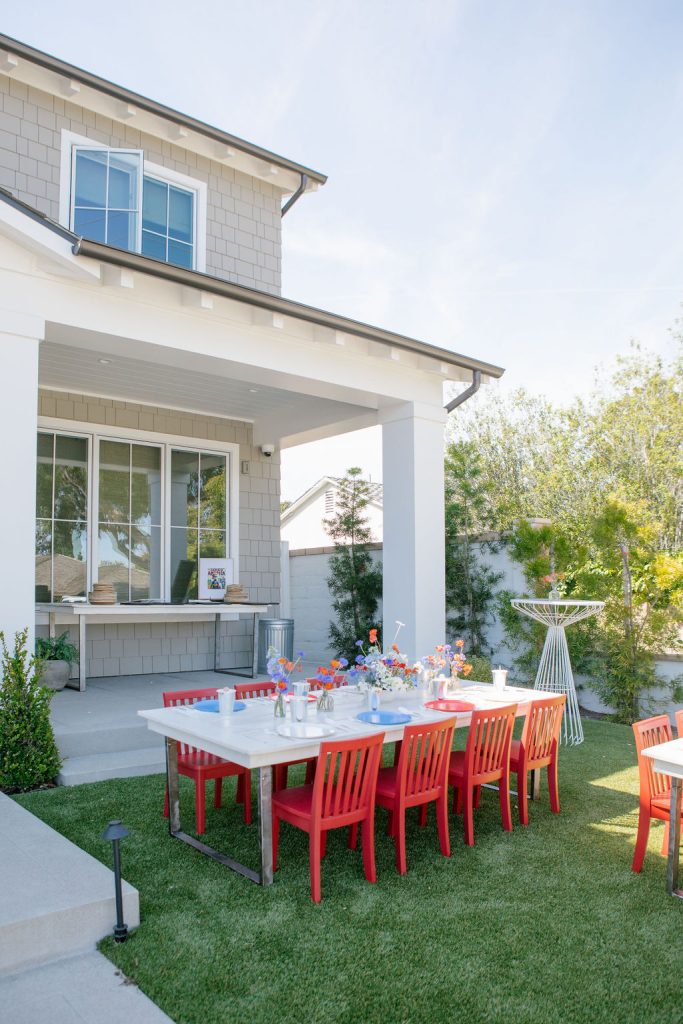 We set the table with Jollity & Co's red, white and blue plates along with Daydream Society's striped napkins and silver cups and flatware. The table wouldn't be complete without gorgeous blooms by Daisy Daisy Florals. We were going to go with all white florals but decided to add in a pop of red and blue and I'm so happy we did! They were perfection!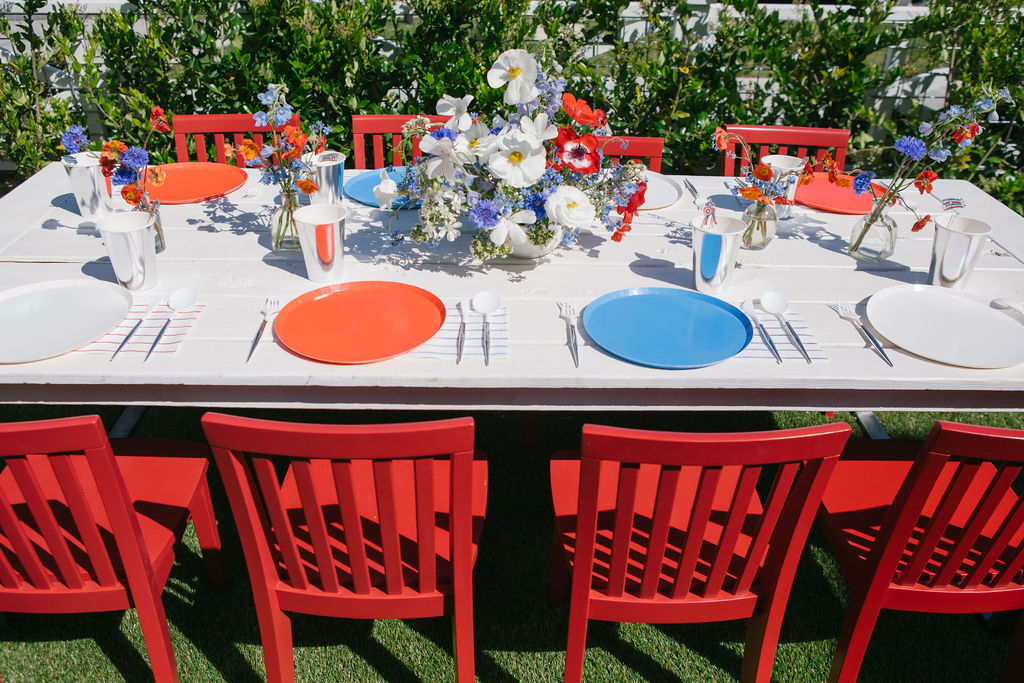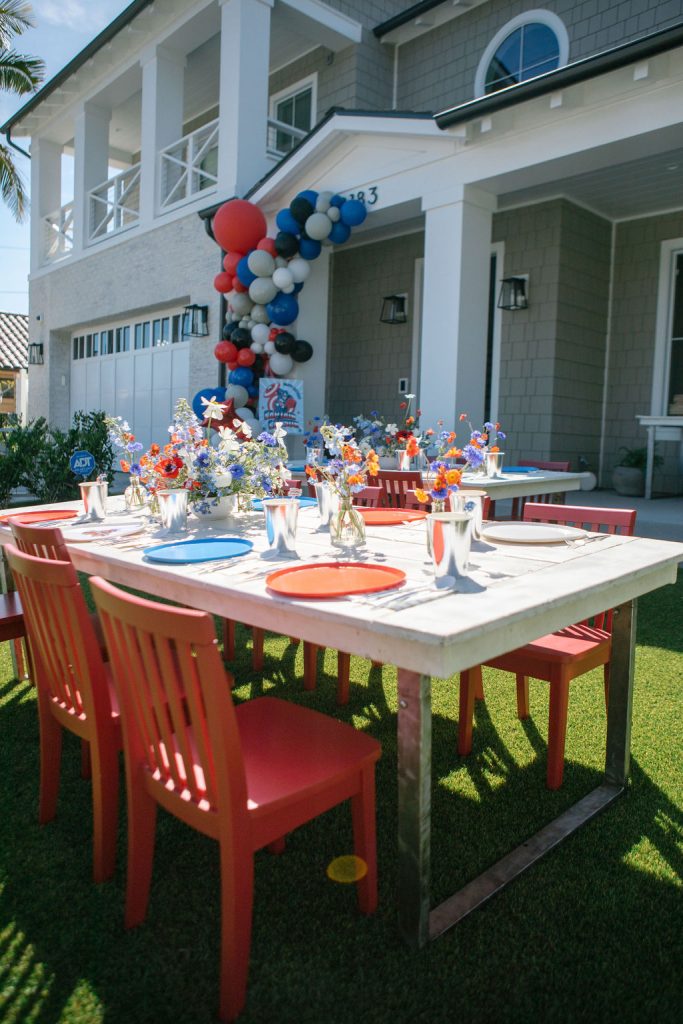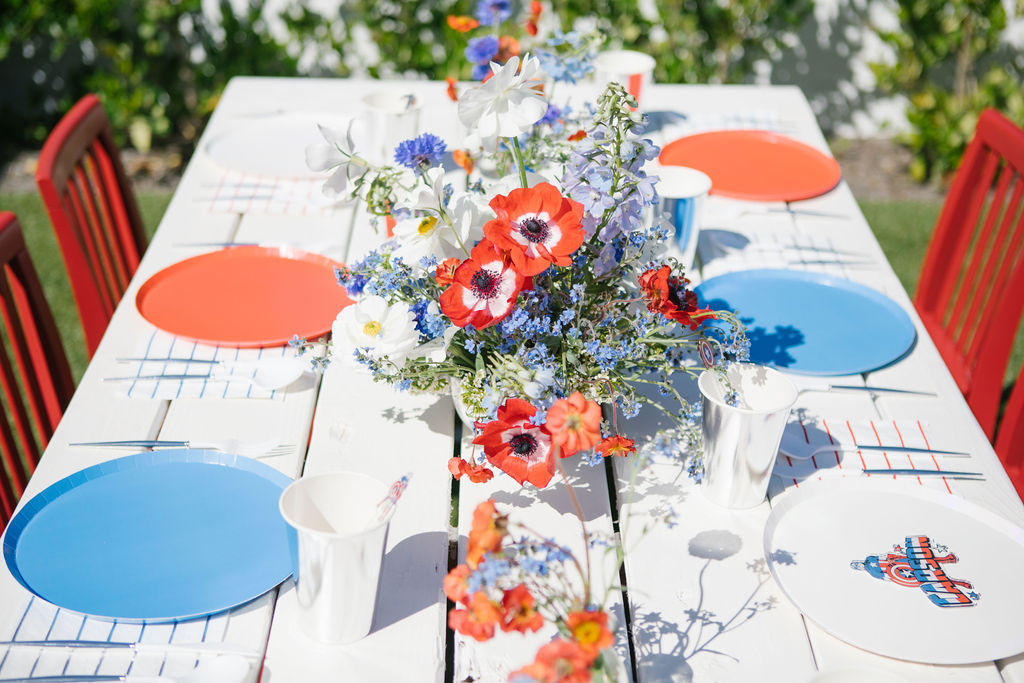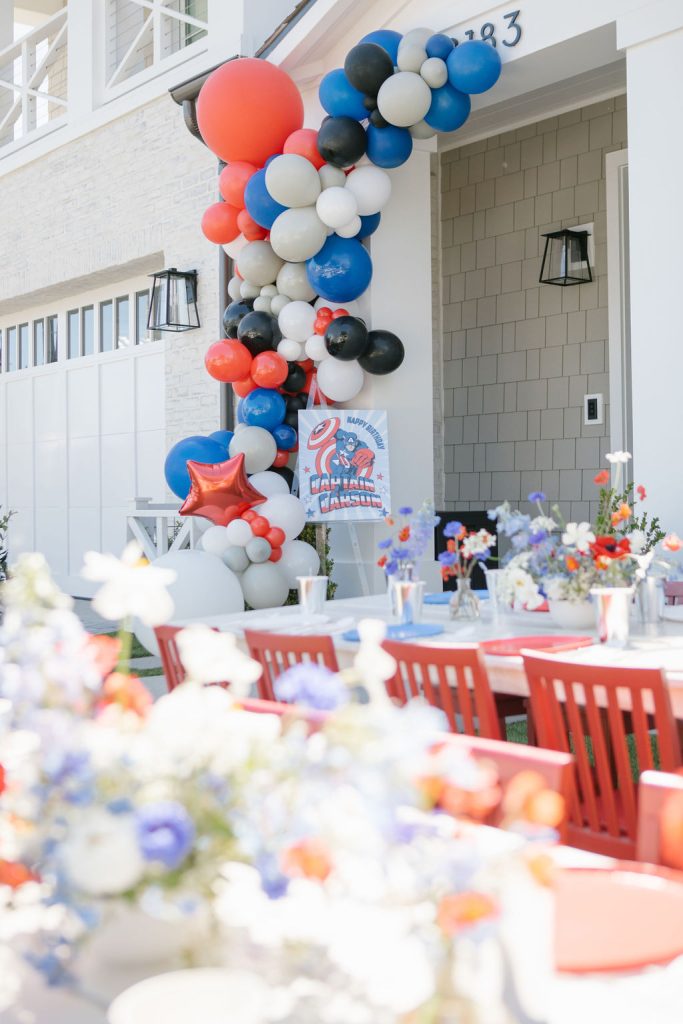 Chelcea designed the cutest place card for the birthday boy and all of the different stir sticks you see in the photos, everything was laser cut by the talented Creative Amme. SO many great details!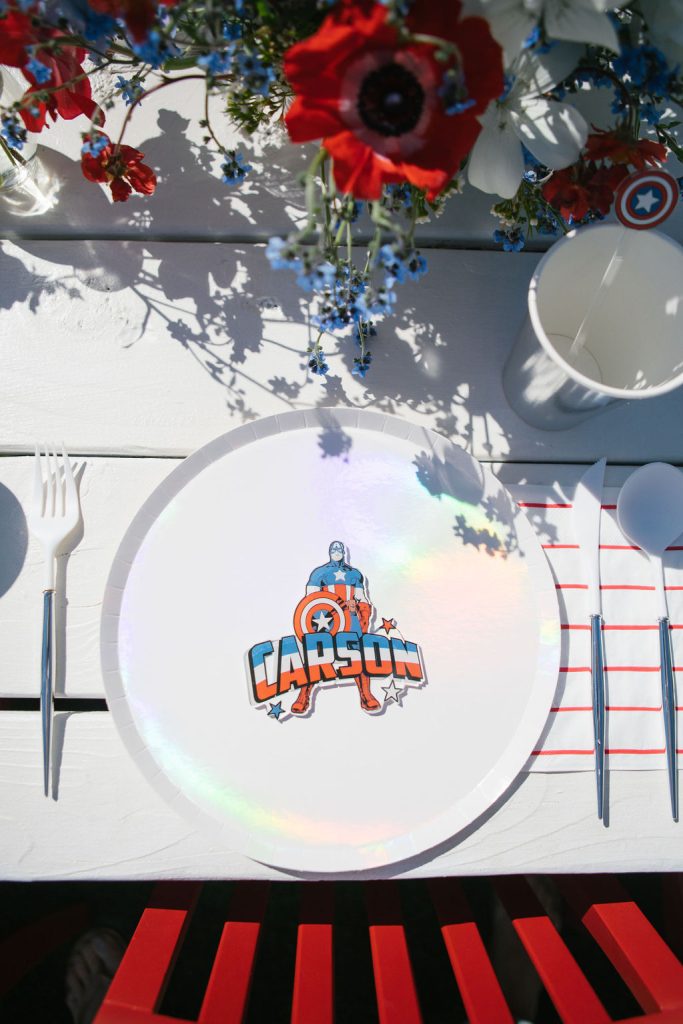 I just love this whole set up!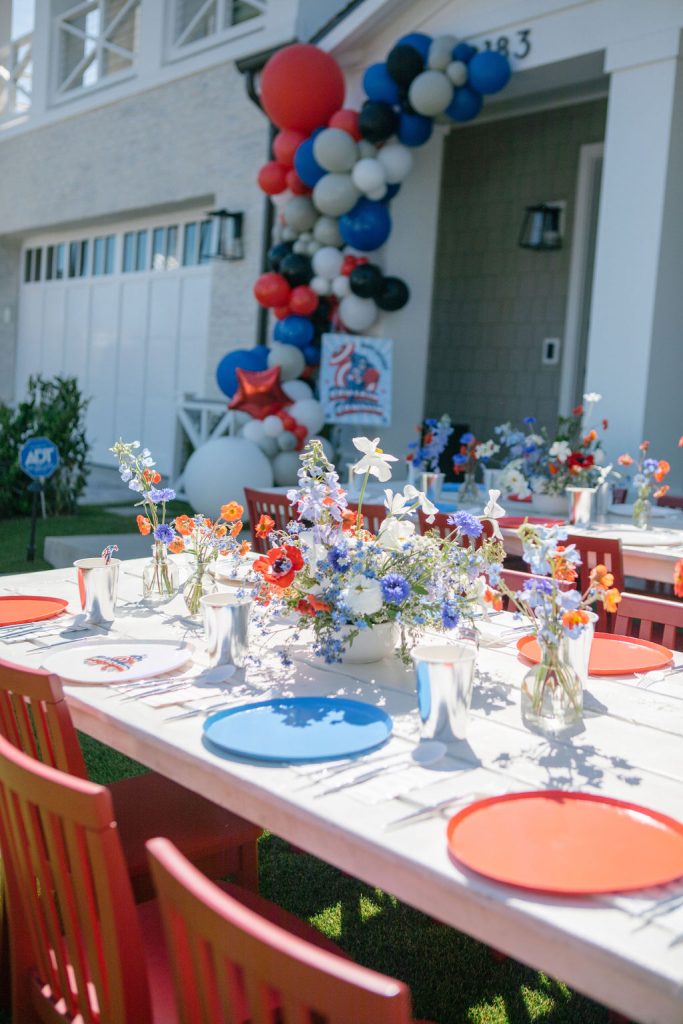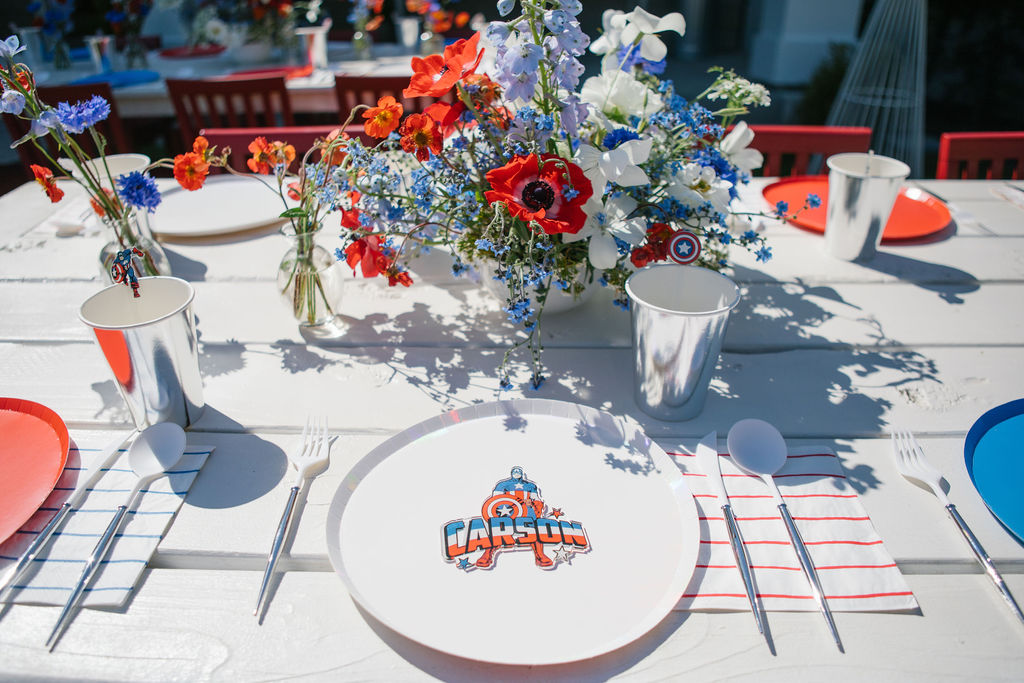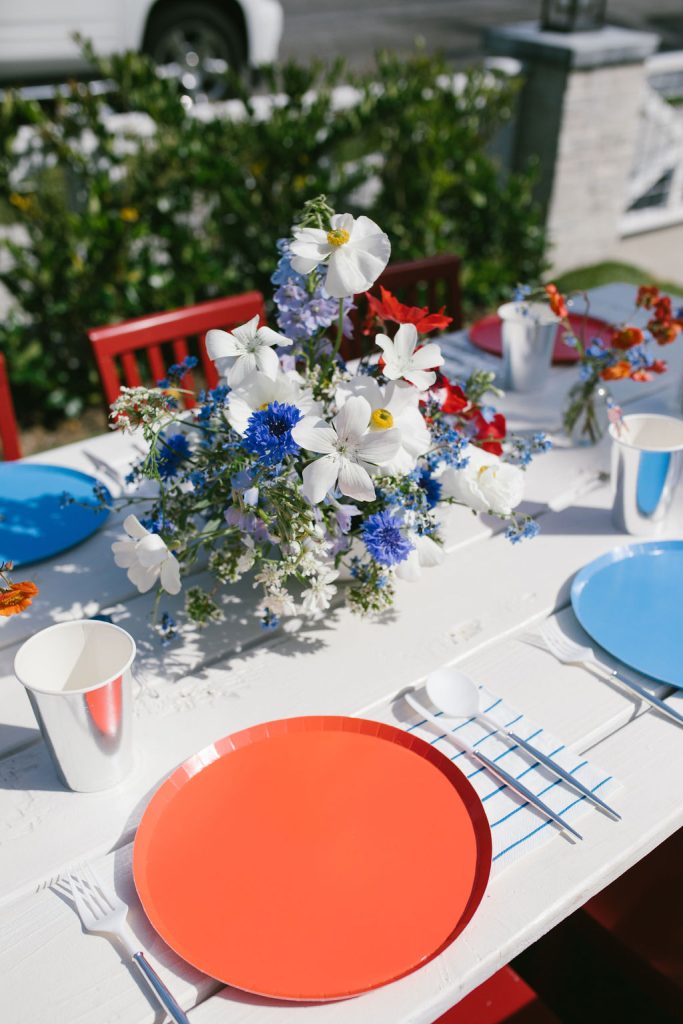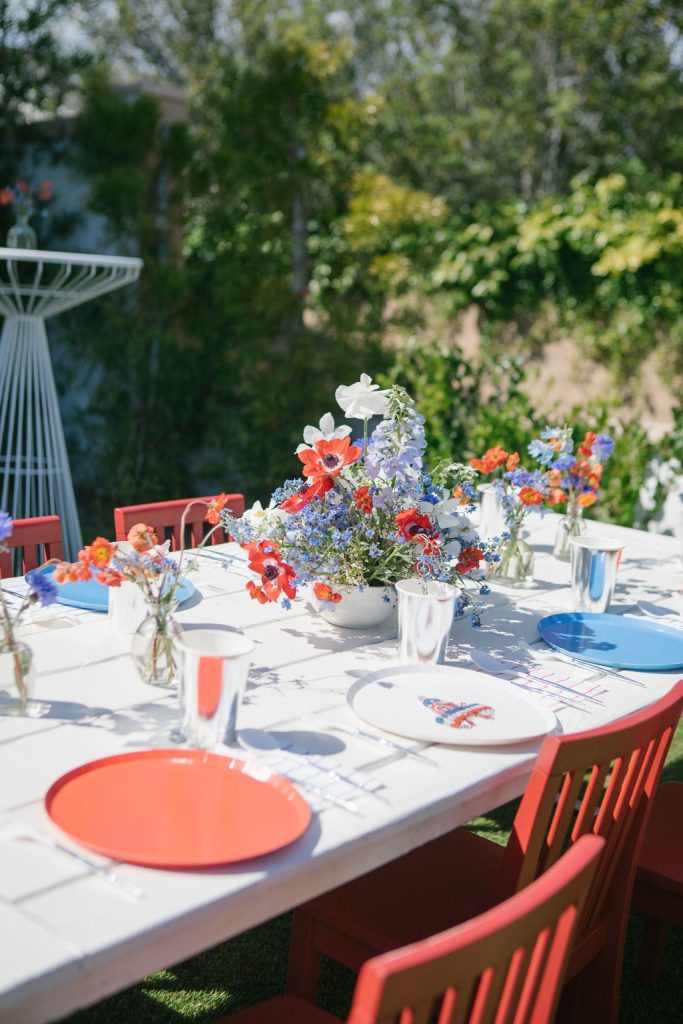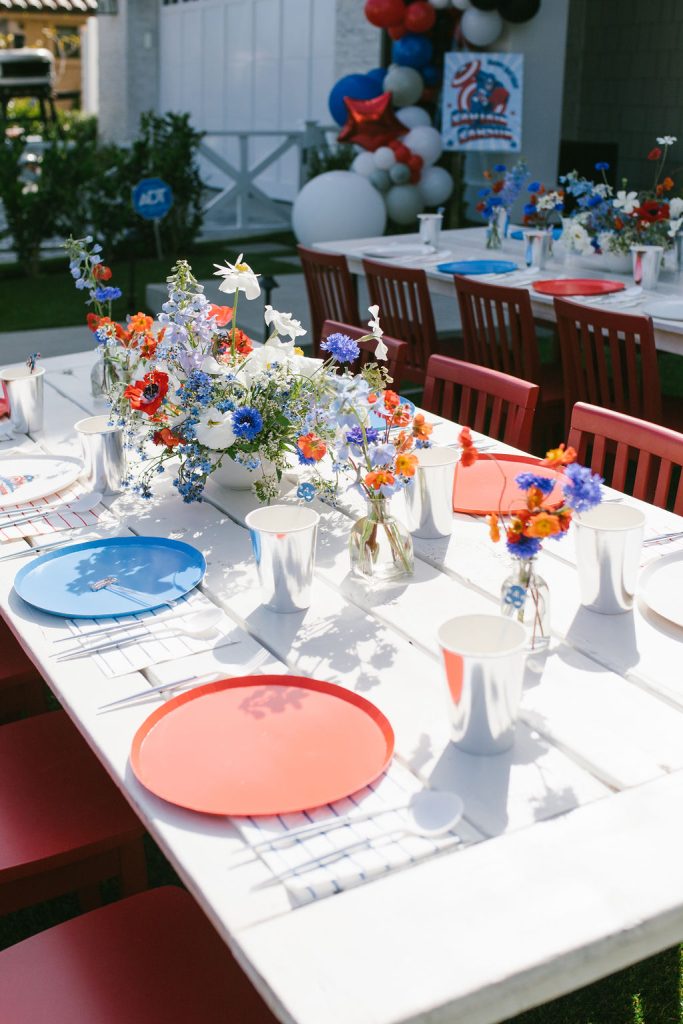 Picture perfect, and this is only the beginning! We still have the backyard to see… but first, the birthday boy!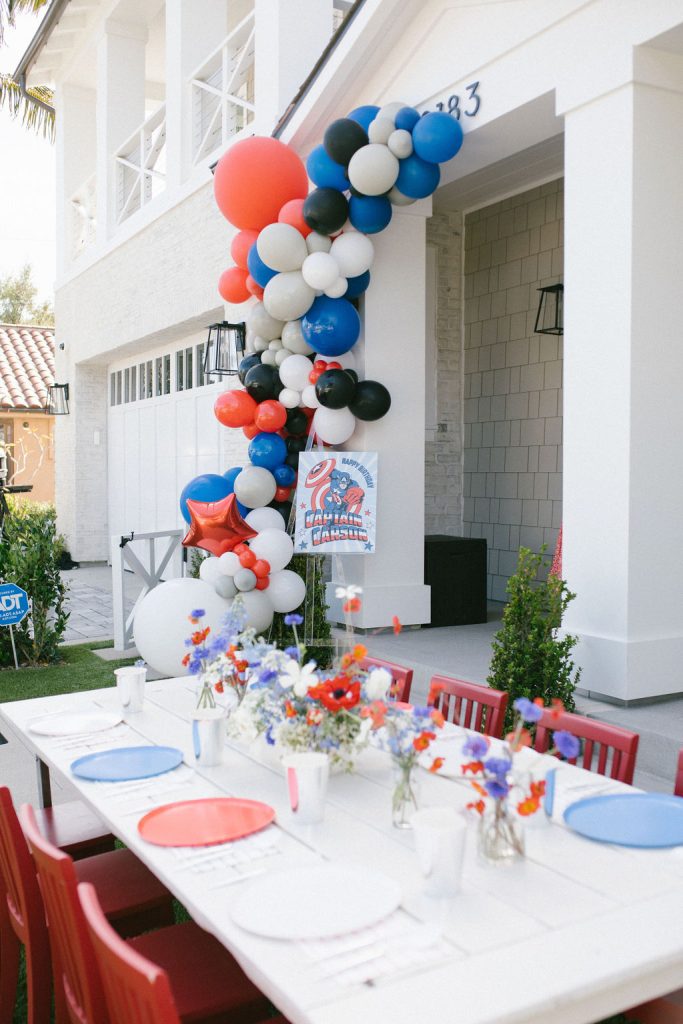 There's our buddy Carson who was so excited to celebrate!! Avengers assemble! Aka, Mom & Dad and little sister Andie!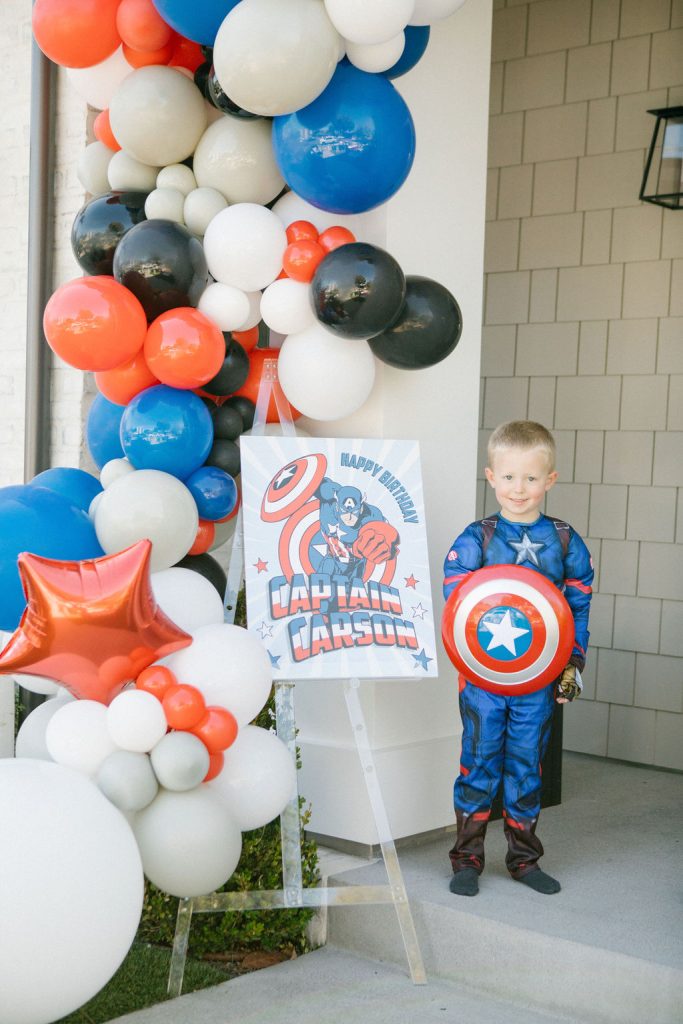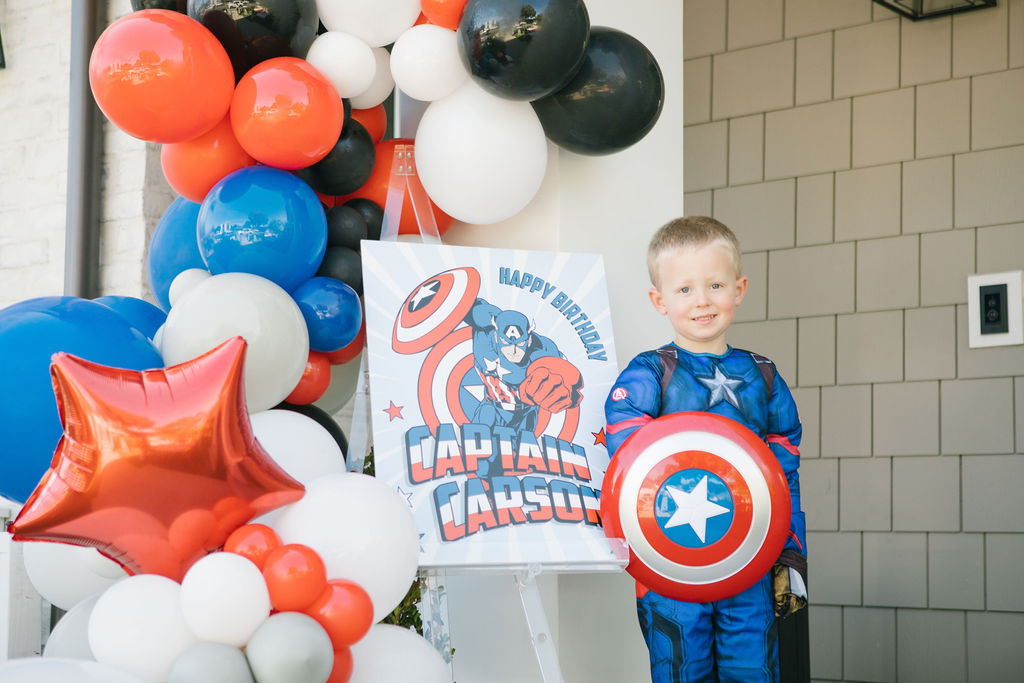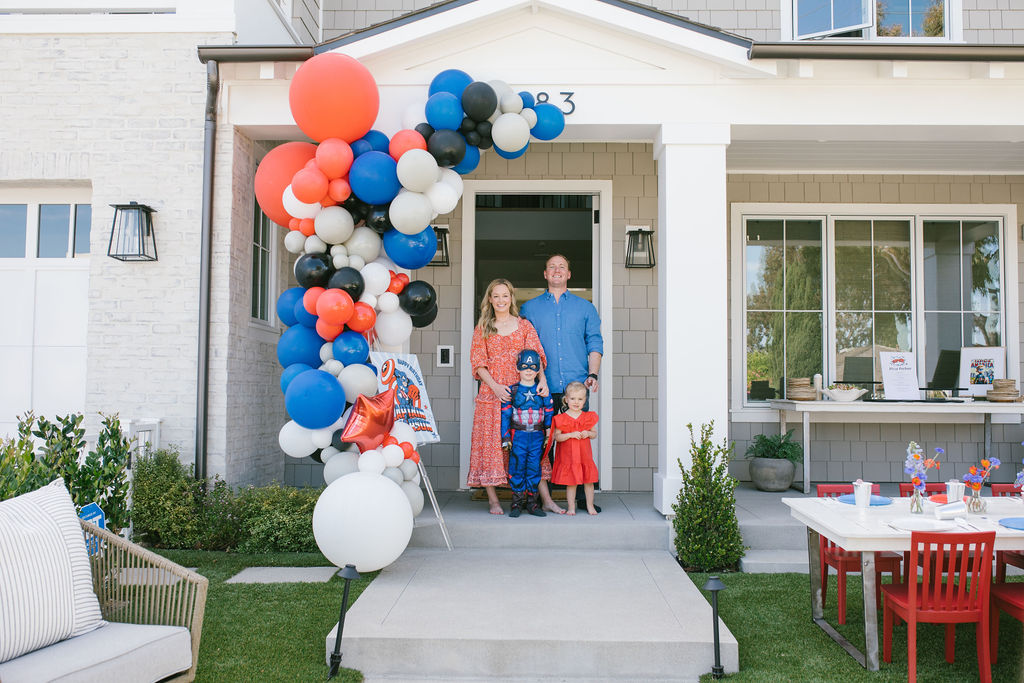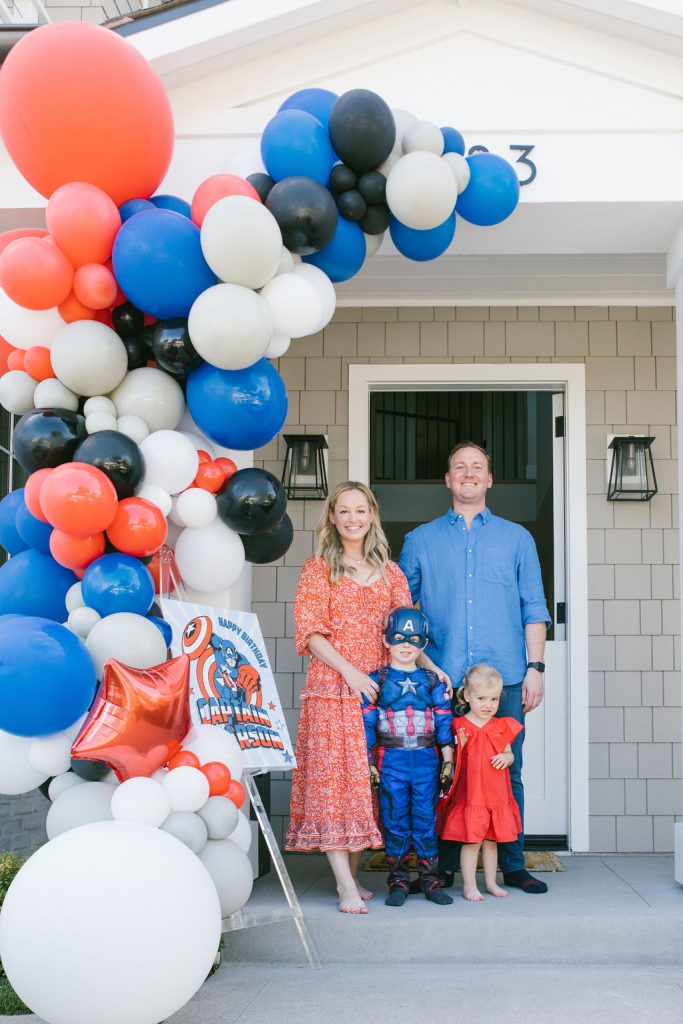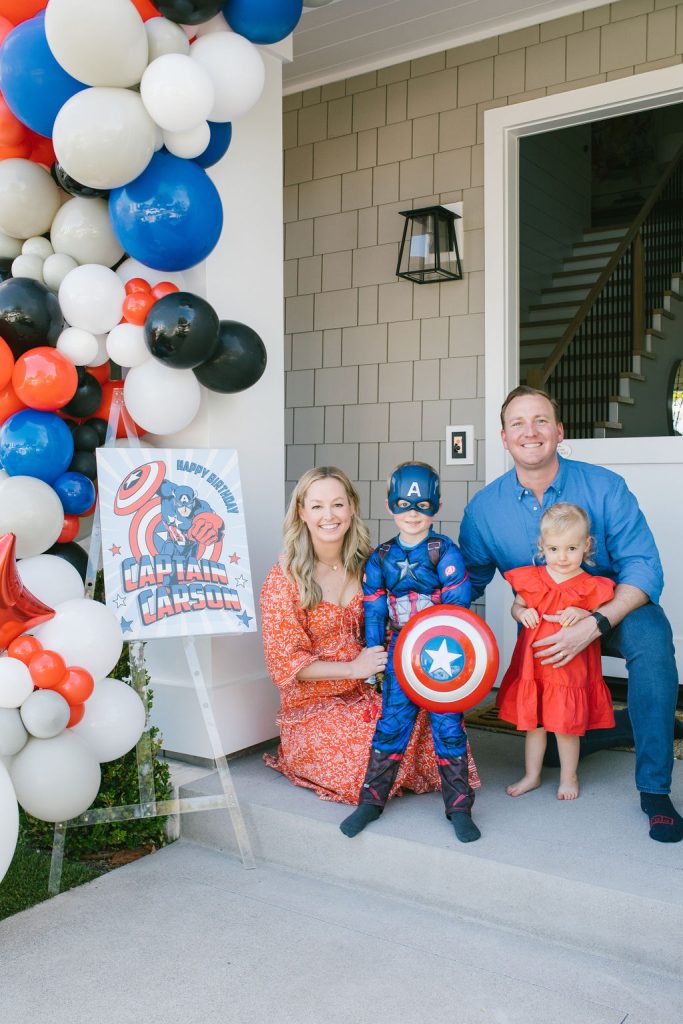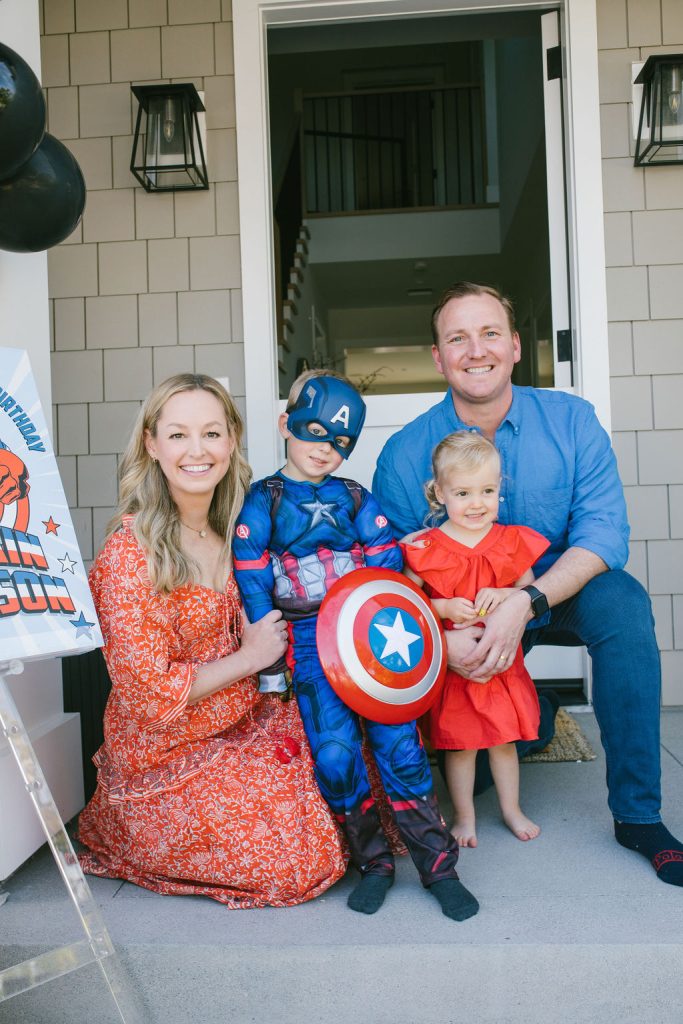 Doesn't get much cuter than this!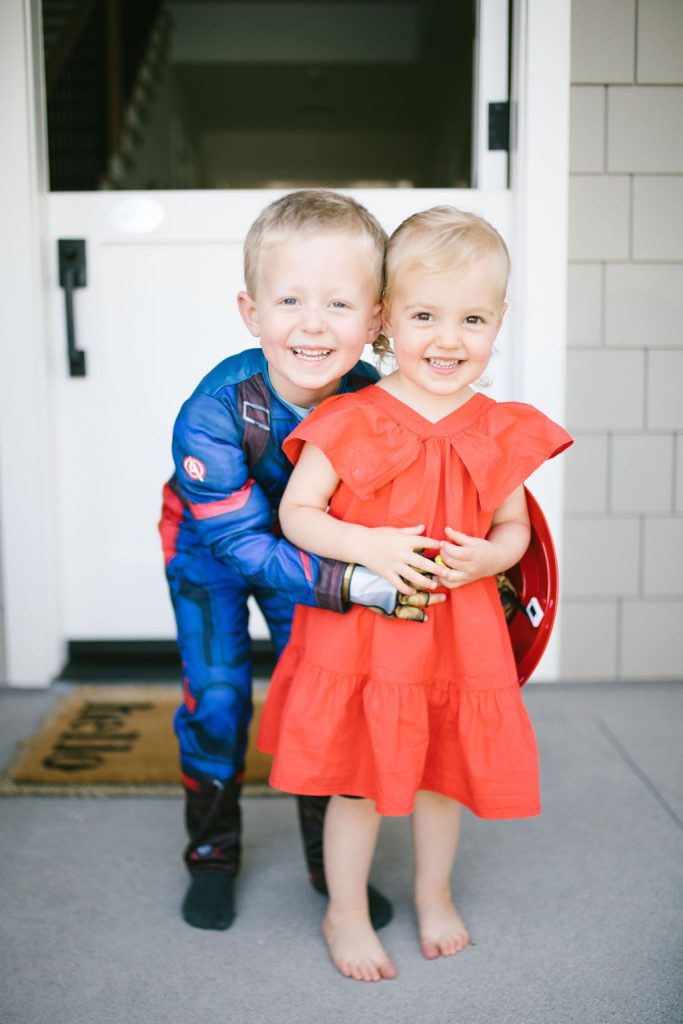 The backyard was more than ready for fun!! We had our friends at Play Play Zone bring their white bounce house along with Create & Celebrate who helped the kids with custom capes and masks! The kids were set on fun, the parents got a bar which also brings the fun ;)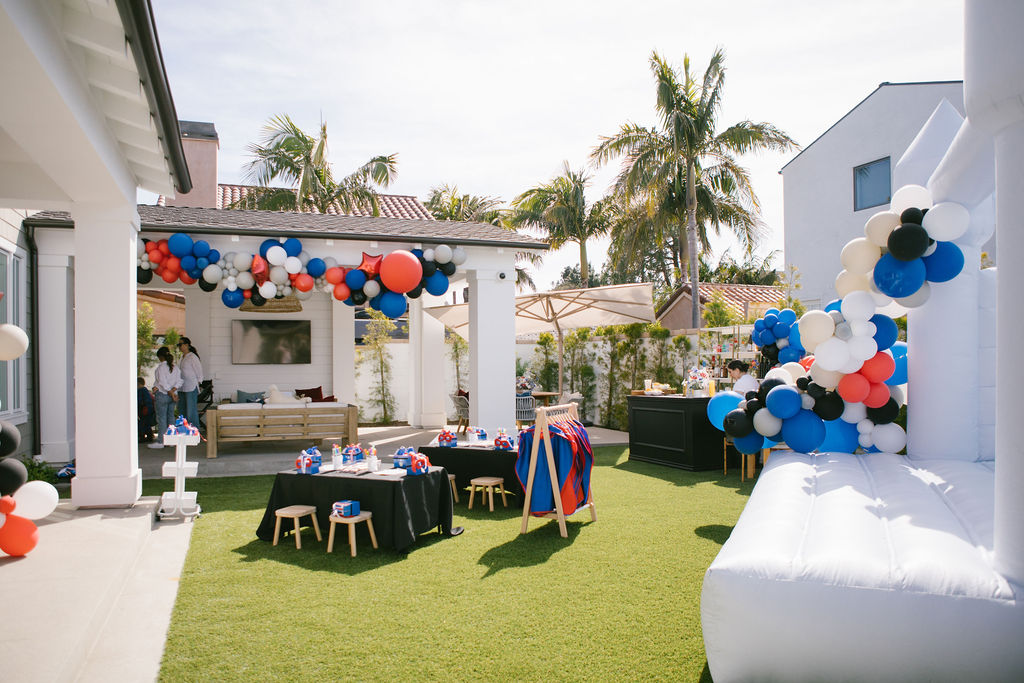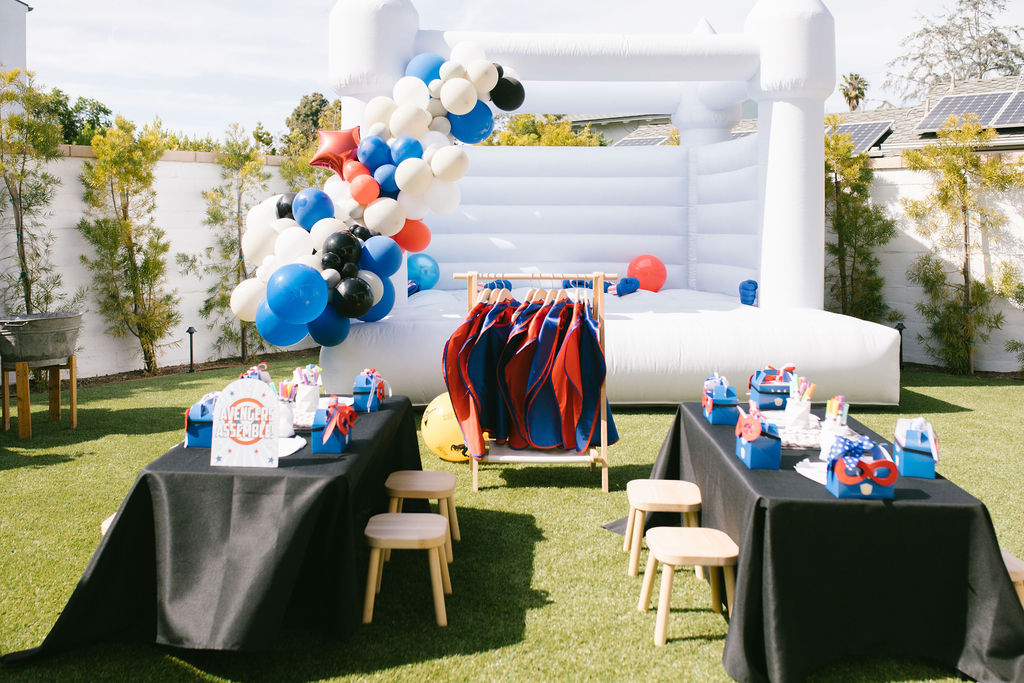 More amazing balloons by our talented friend Ellen of The Pop Shop!!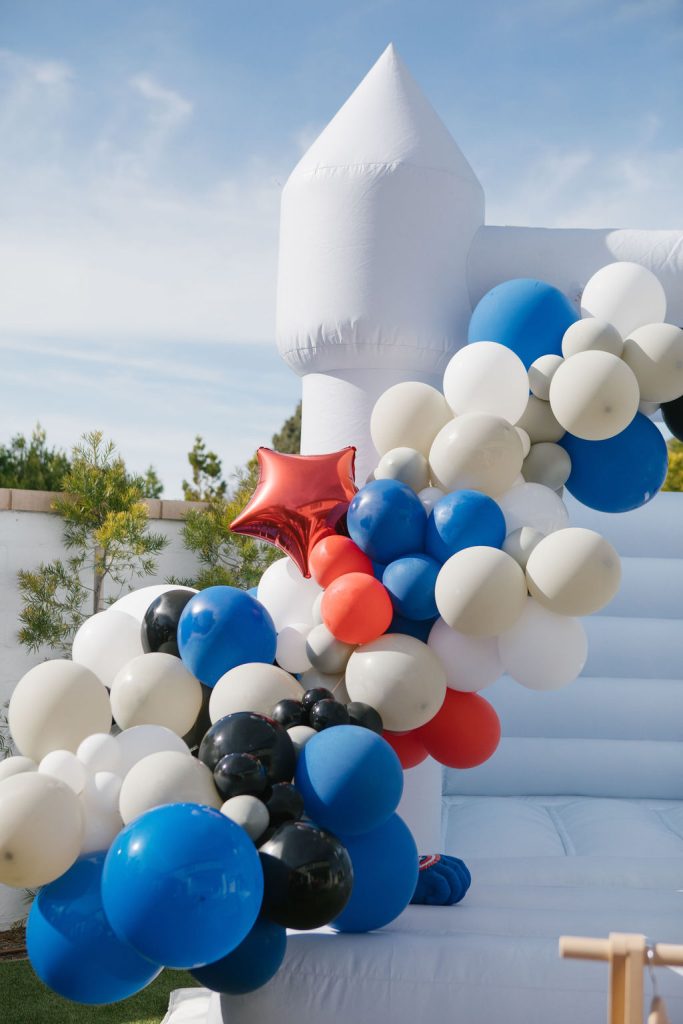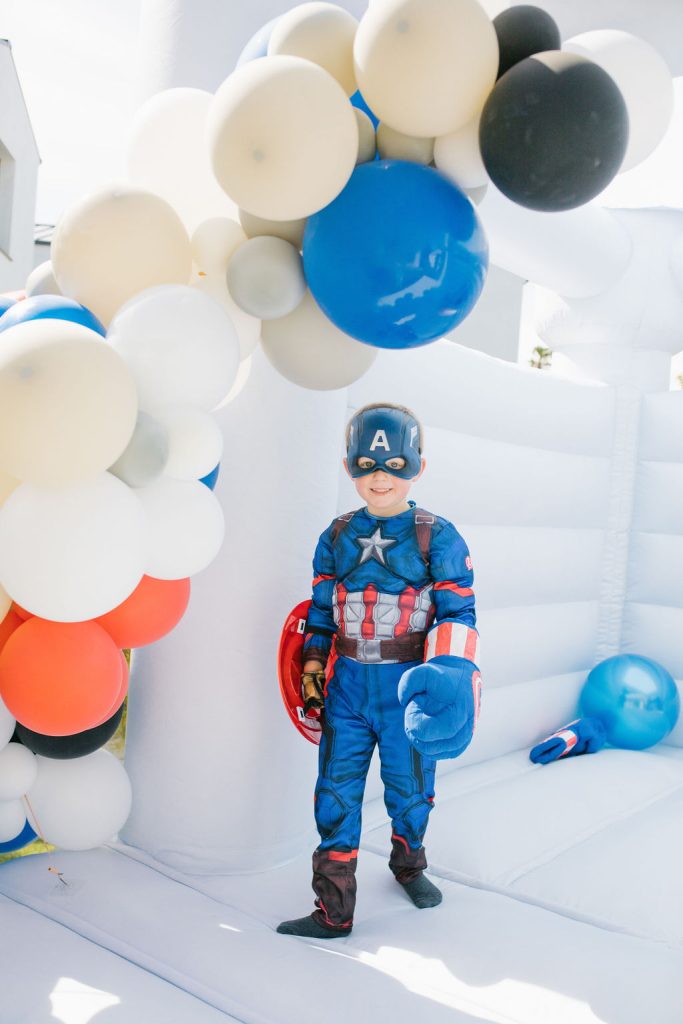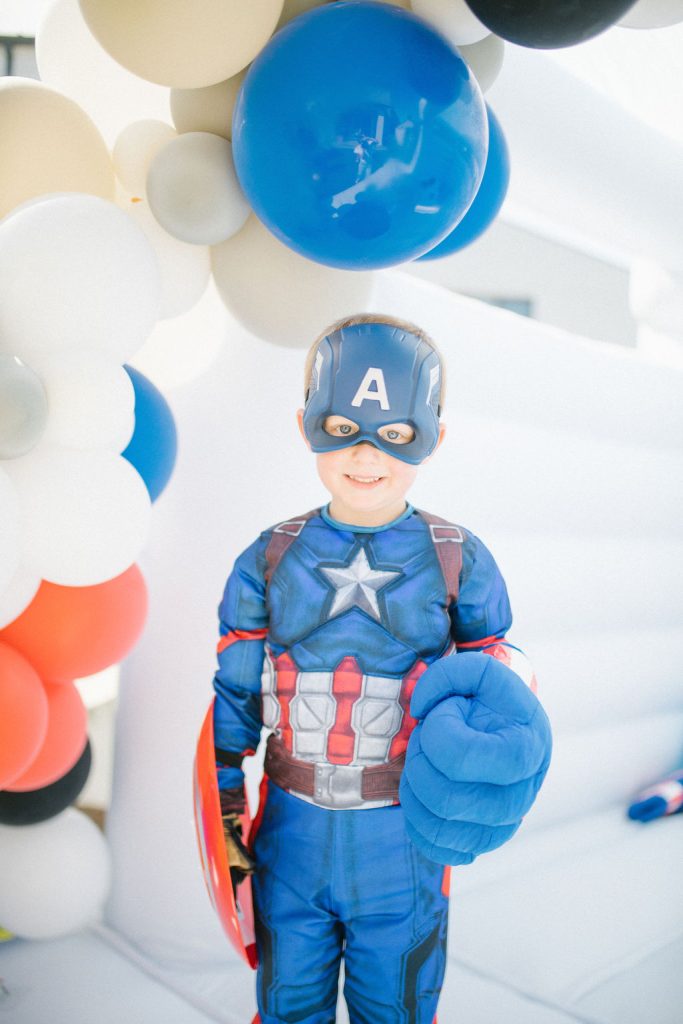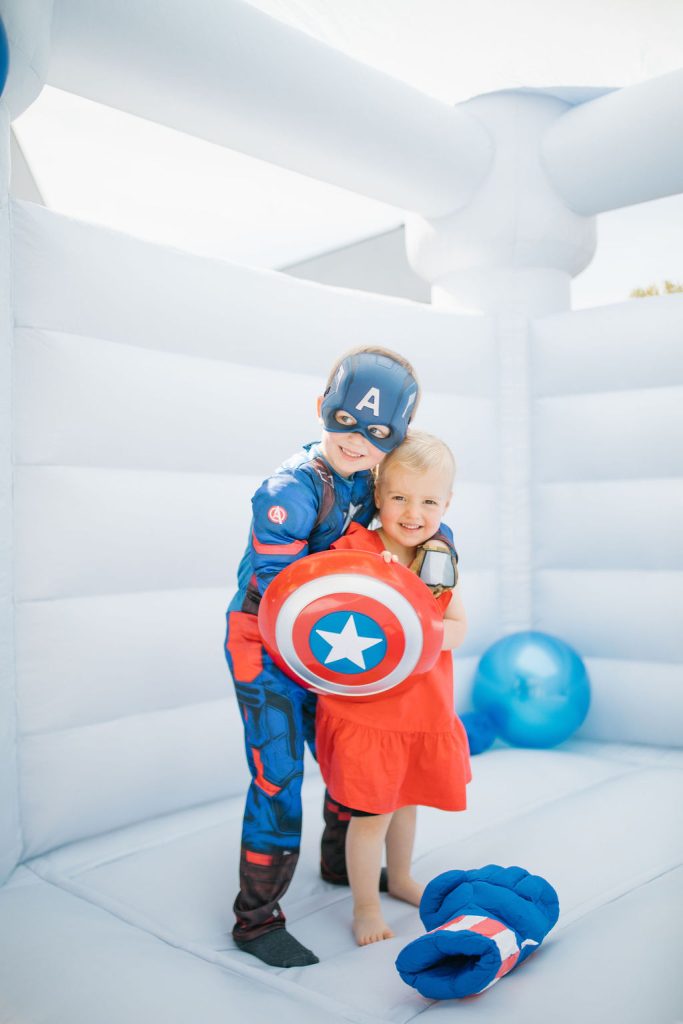 This set up by Create & Celebrate was so good! I love the patches the kids got to use for their capes and how adorable are those boxes with craft treats for each of them? The best!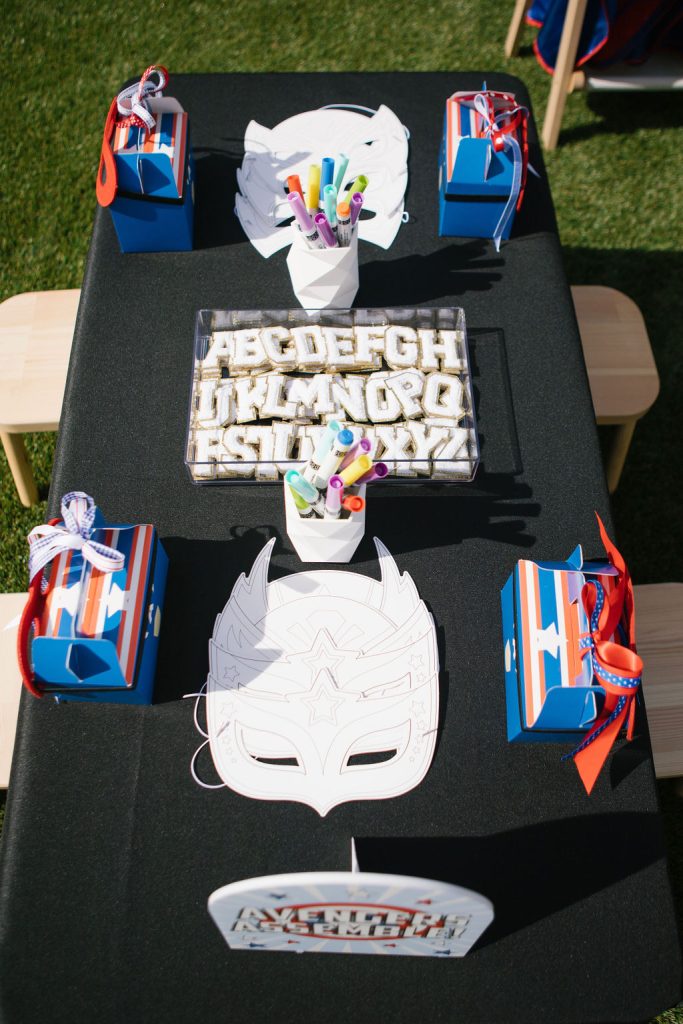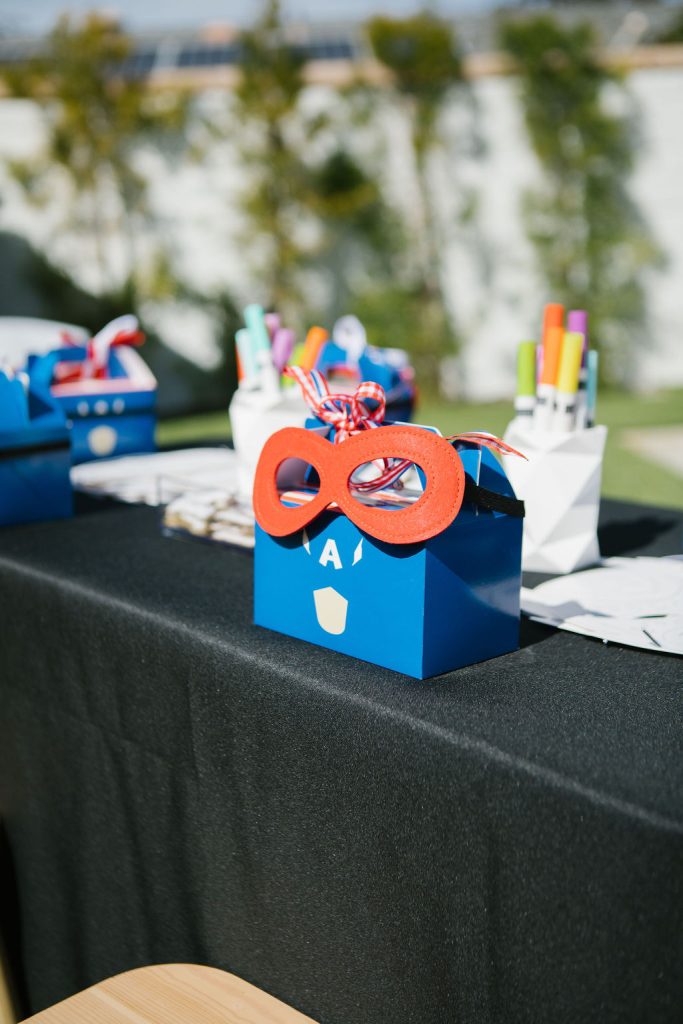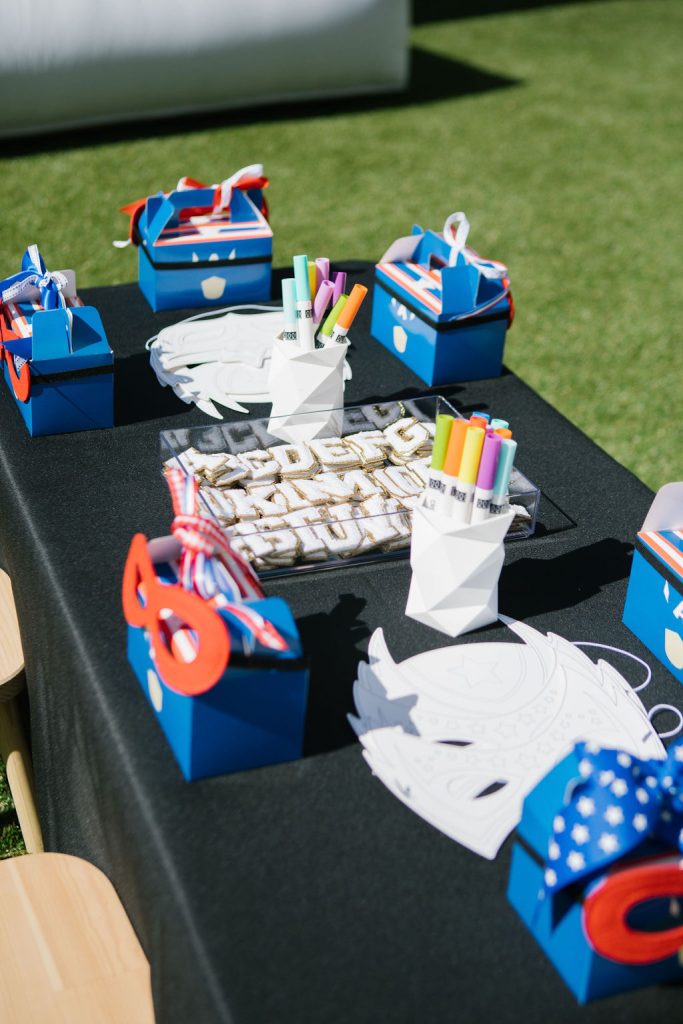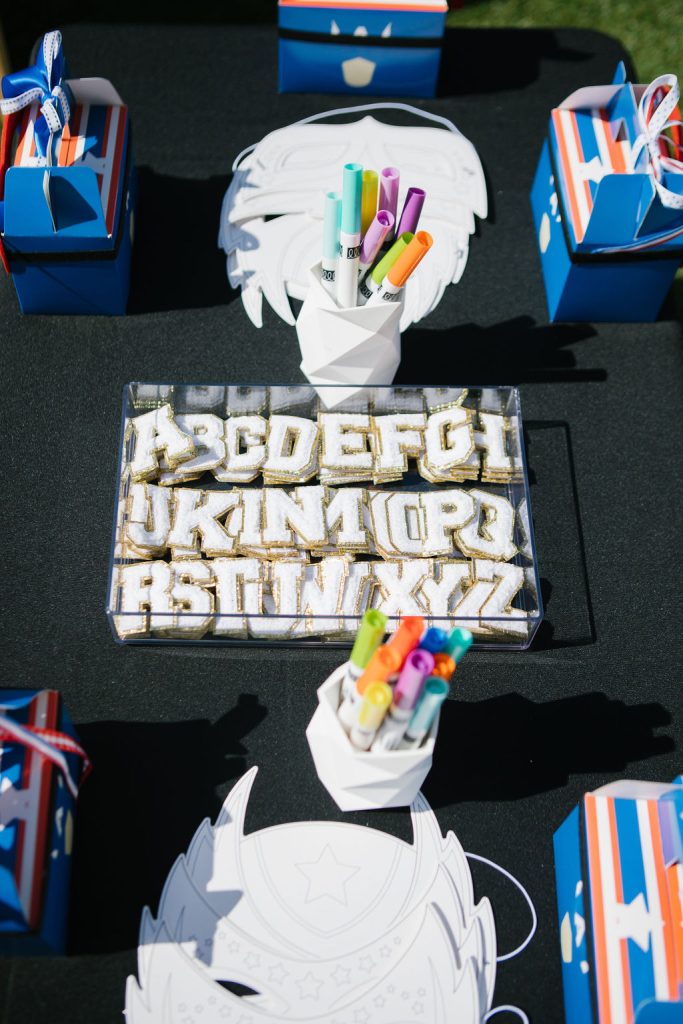 The spot where the parents can unwind! Our bar is from Sweet Salvage Rentals and was prepped ready to serve by our friends at Fig n Feather! They were serving specialty cocktails with the super hero theme in mind and keeping the parents sane during all the craziness that comes with a kid's party!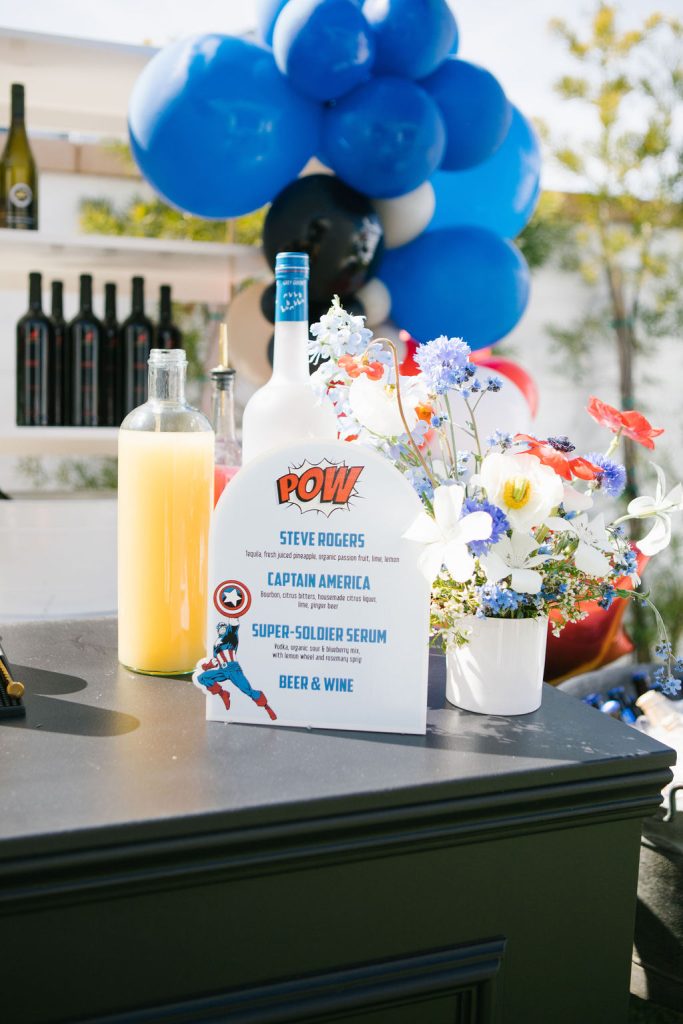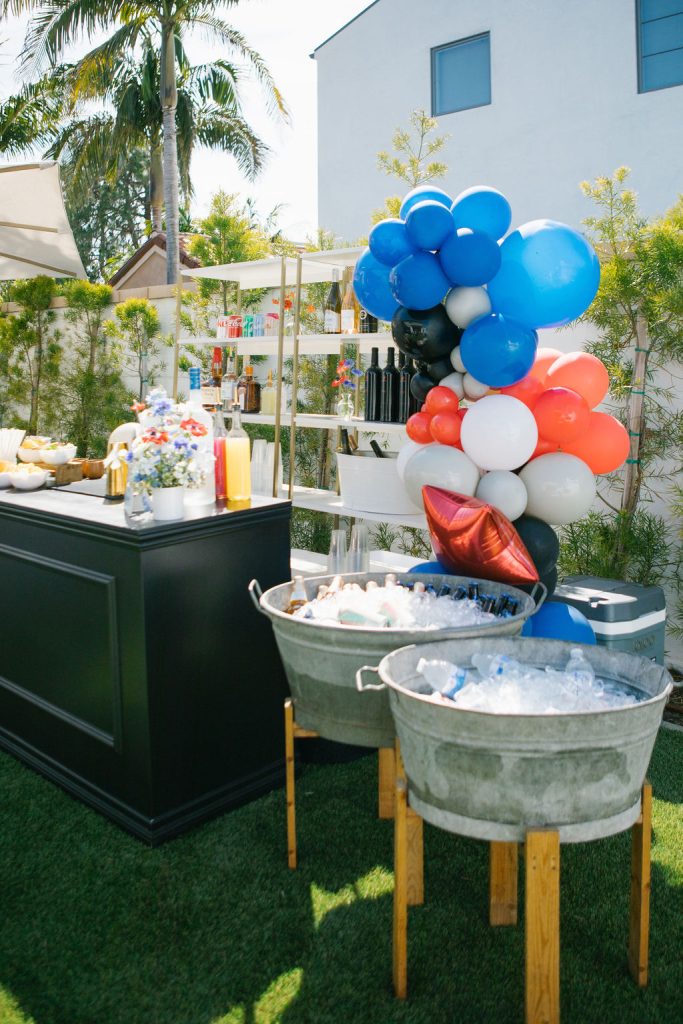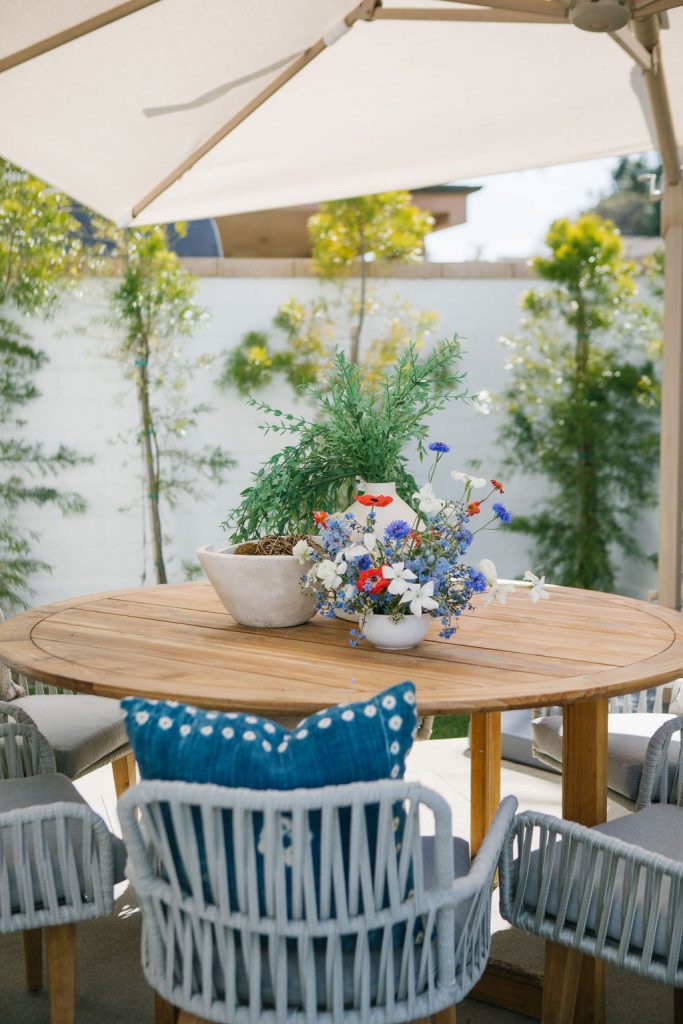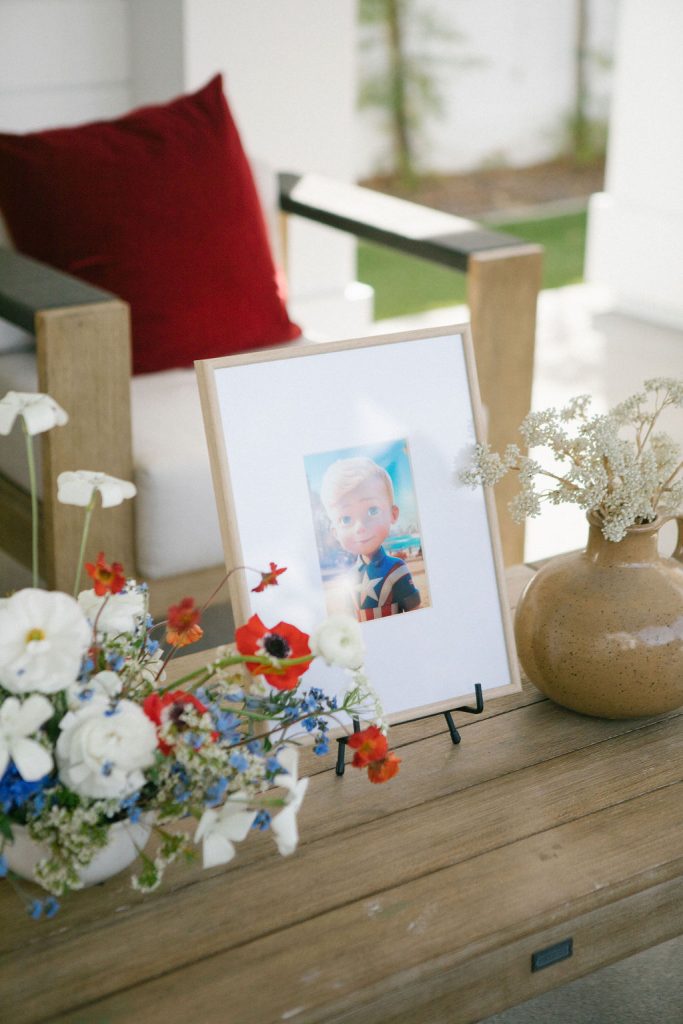 We were ready for all of our little guests!!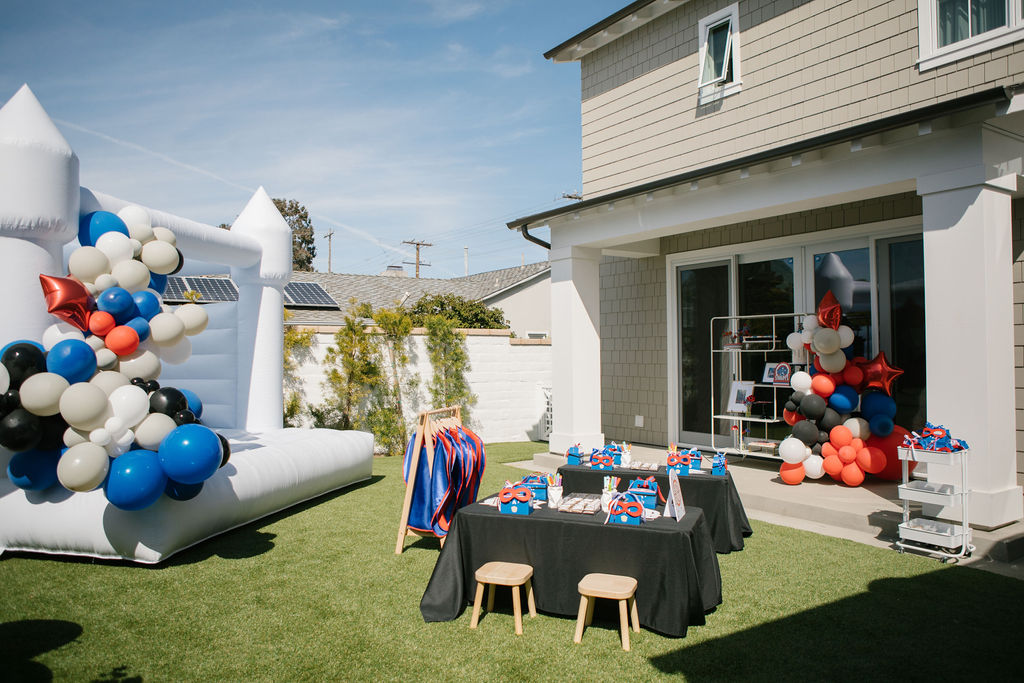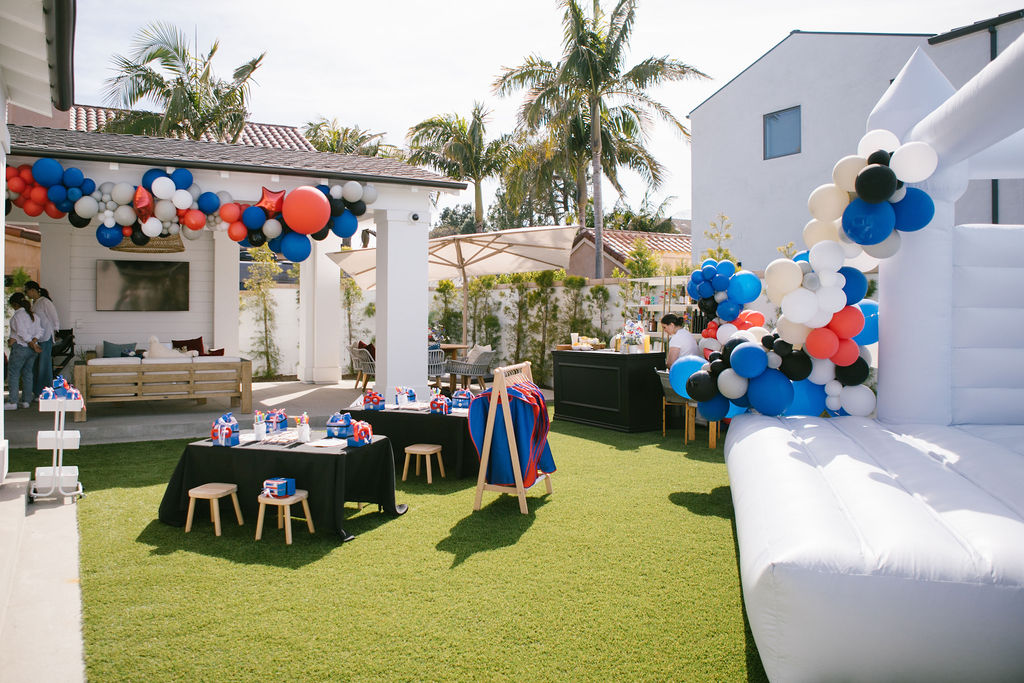 Don't forget dessert, because these super sweets need the spotlight!! Sheila Mae does it again creating the cutest and most delicious treats for our clients. That cake is next level!!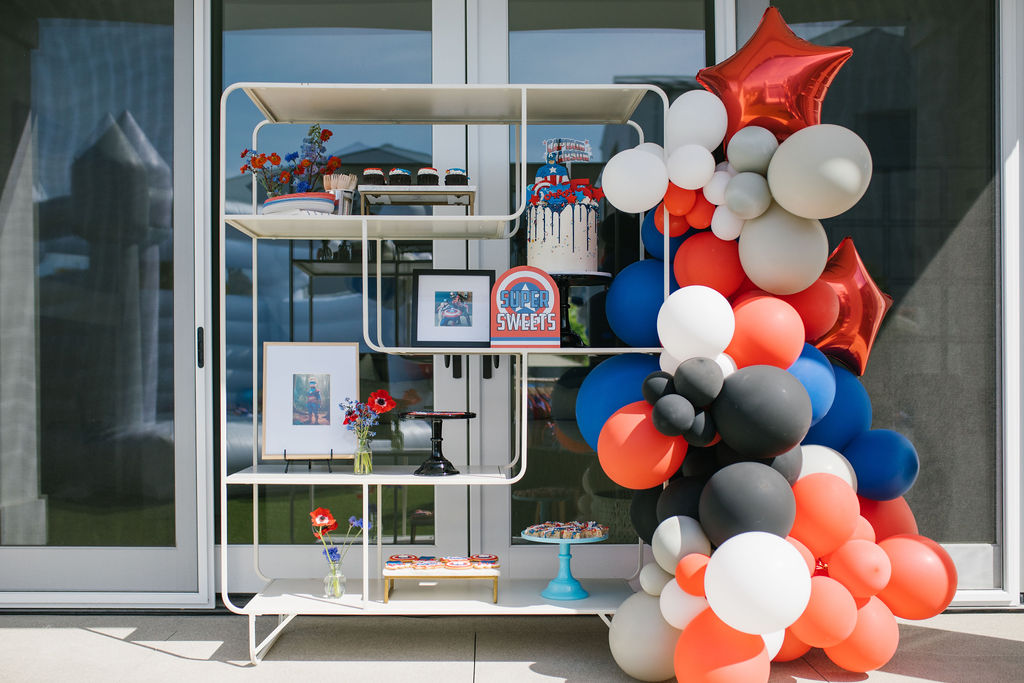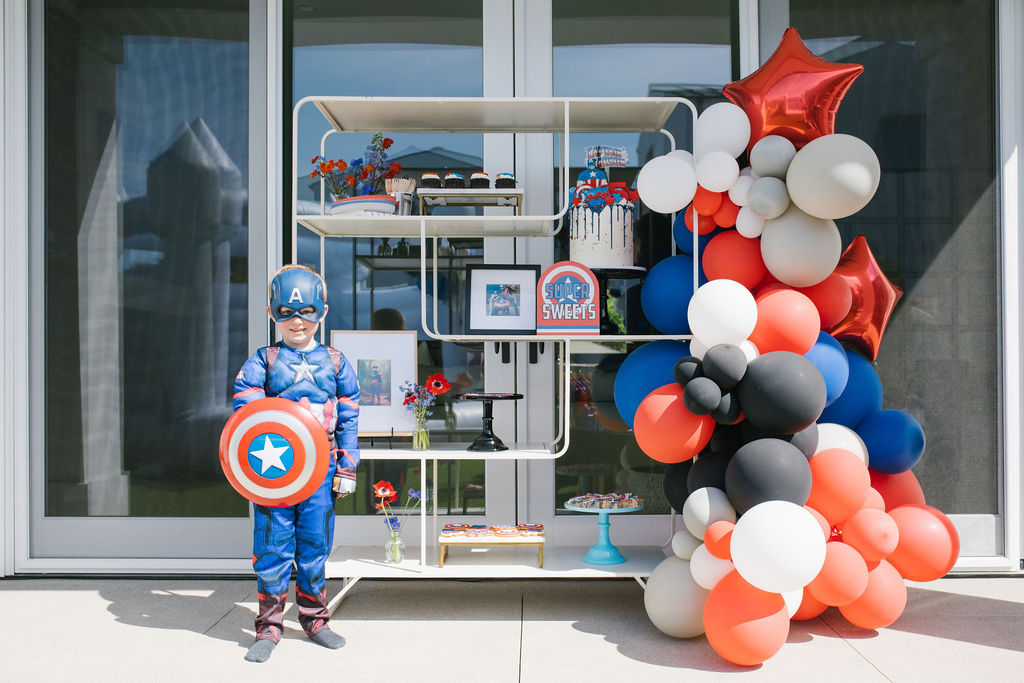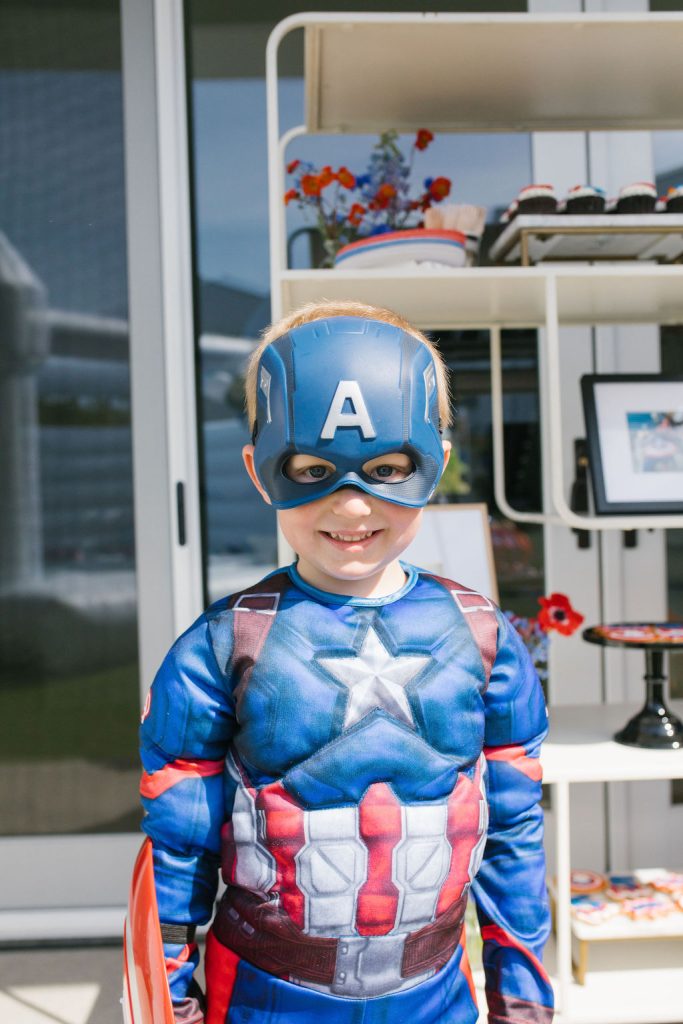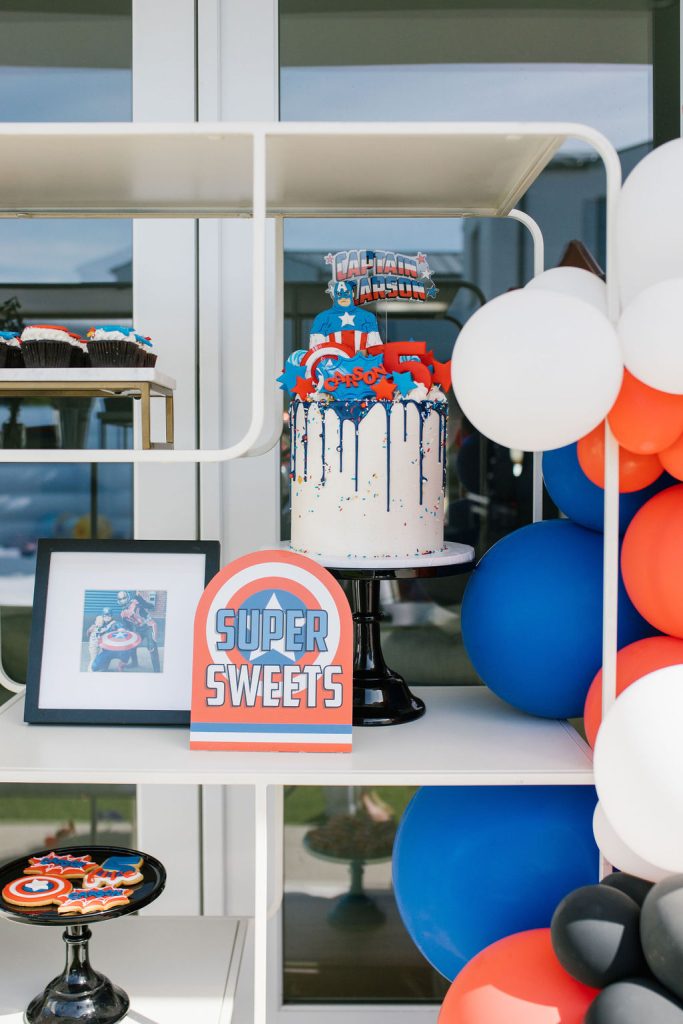 Wow!!! So much pop and that Captain cookie topper! Looks awesome with our Captain Carson topper from Chelcea Creative and Creative Amme!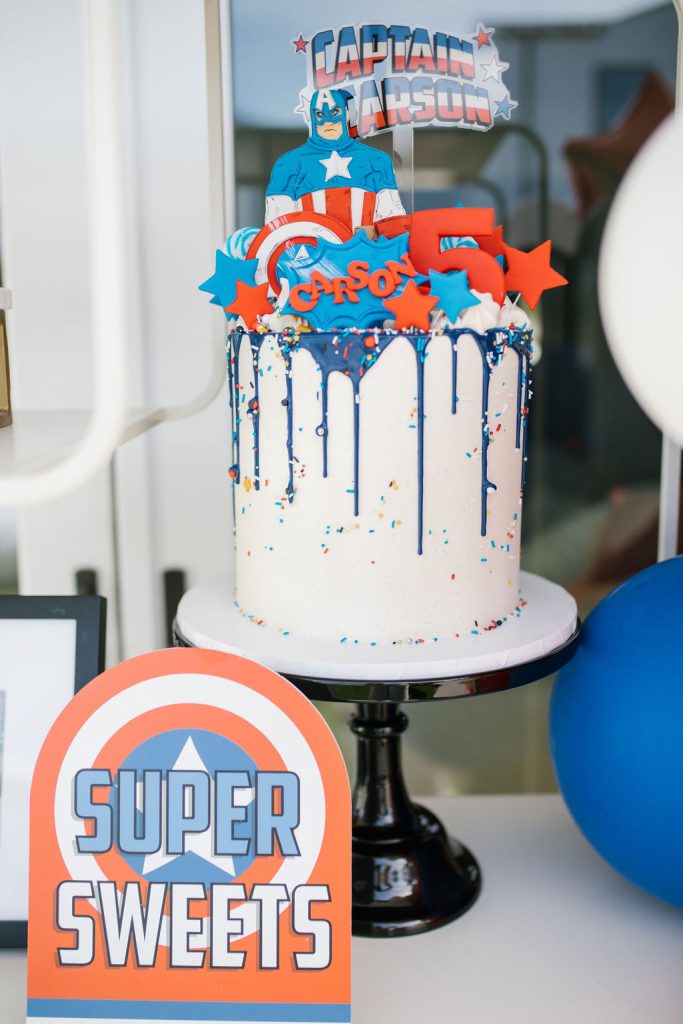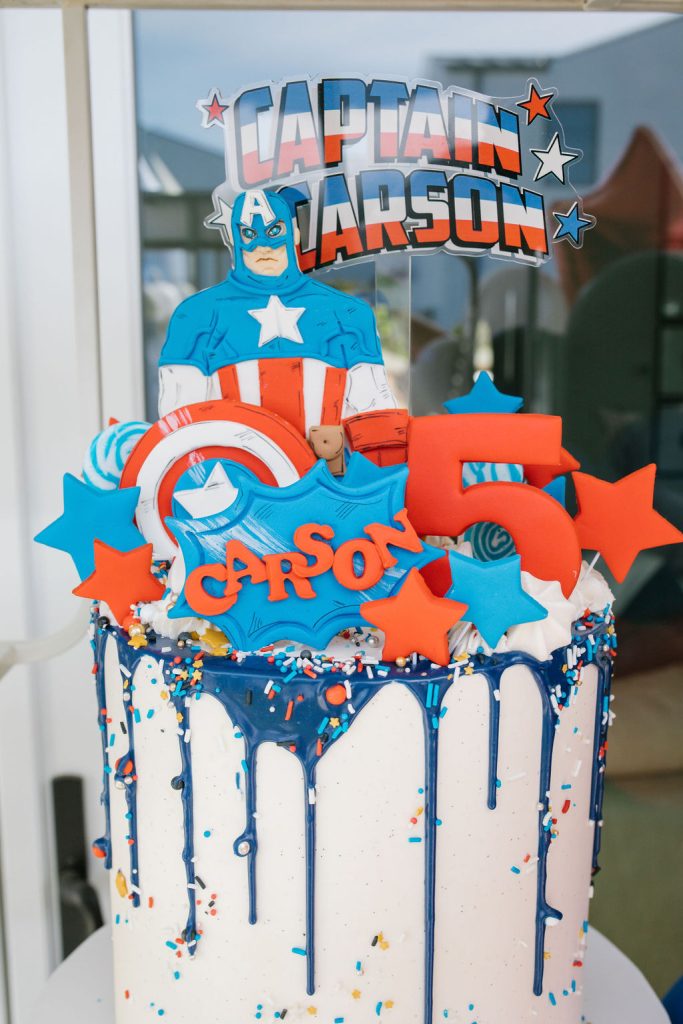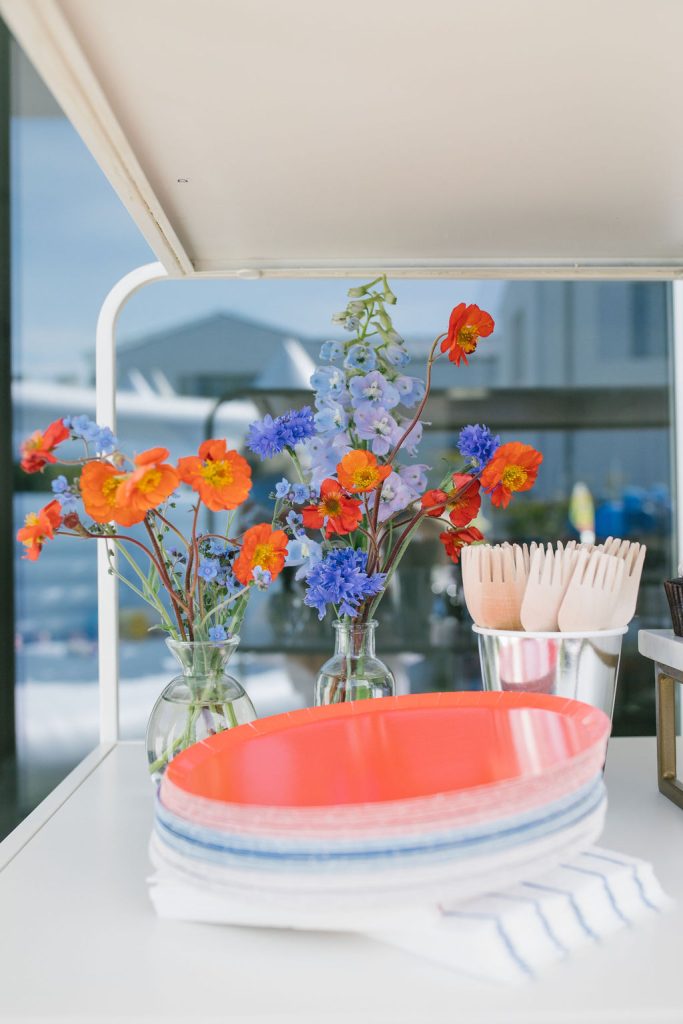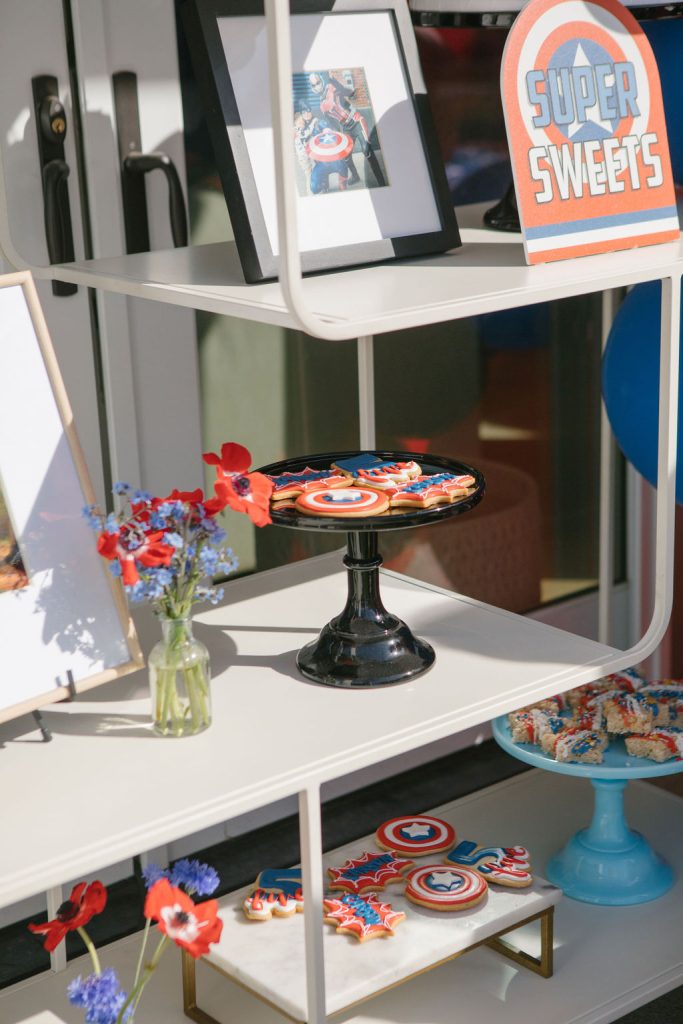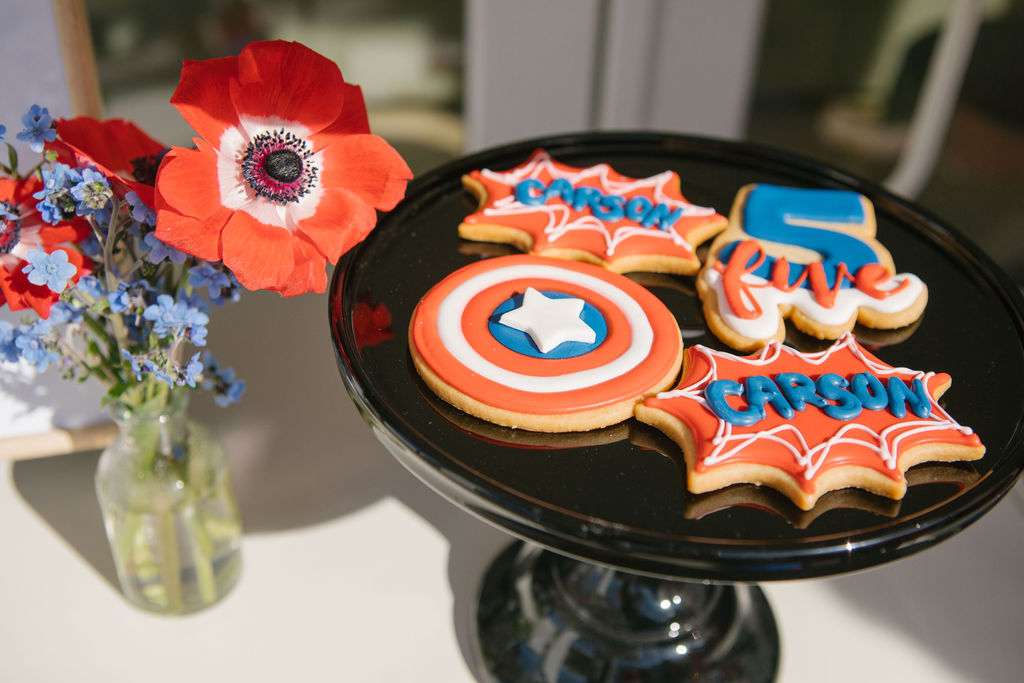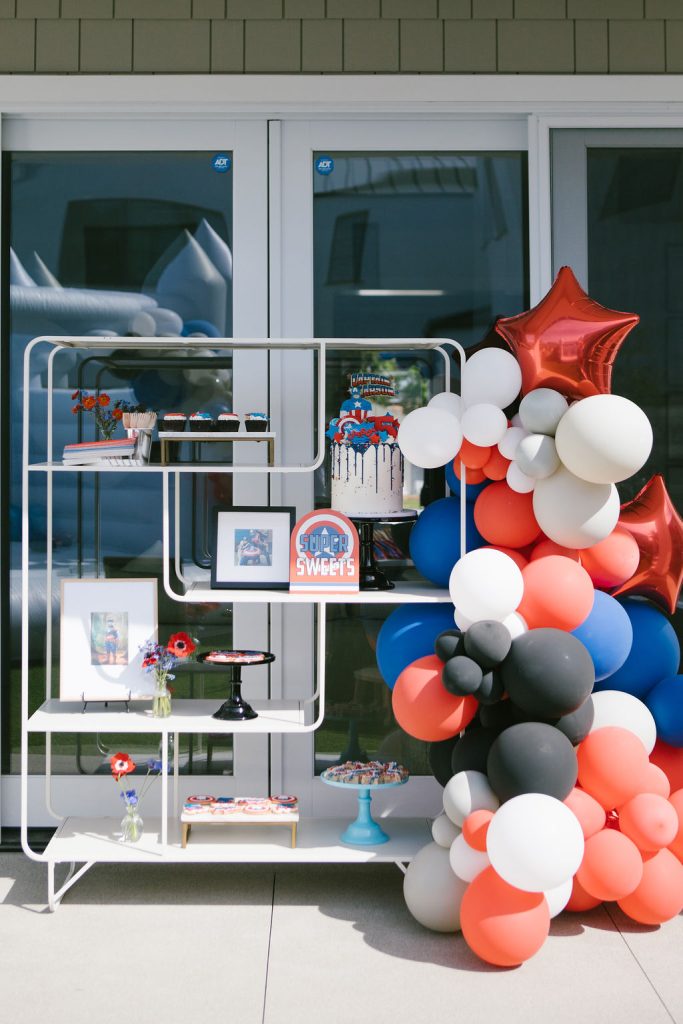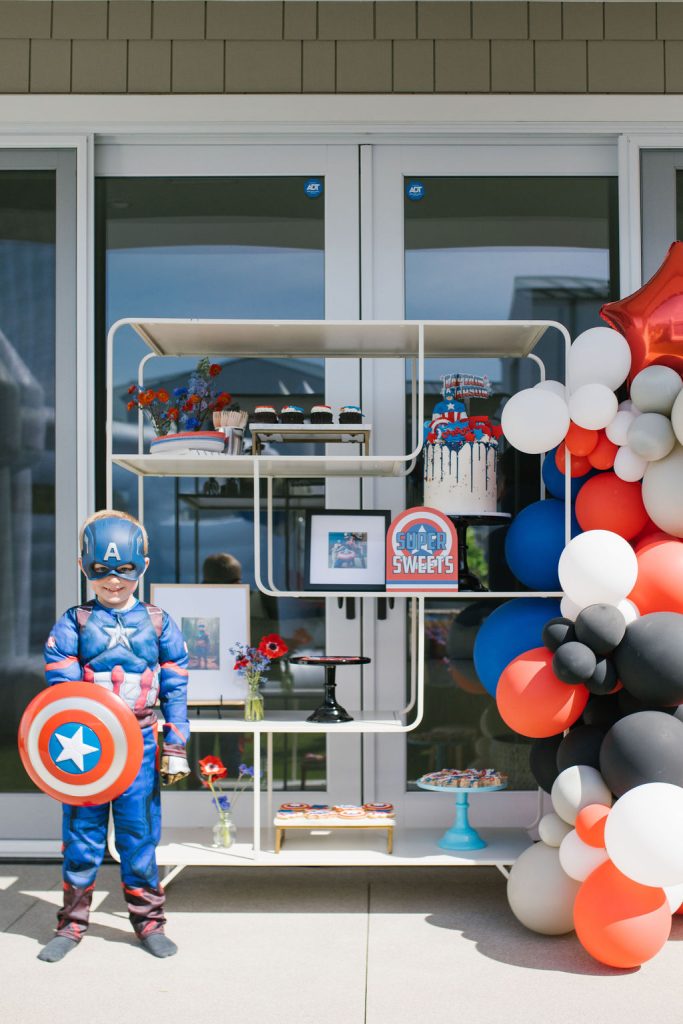 Once the little guests started arriving the fun commenced!!!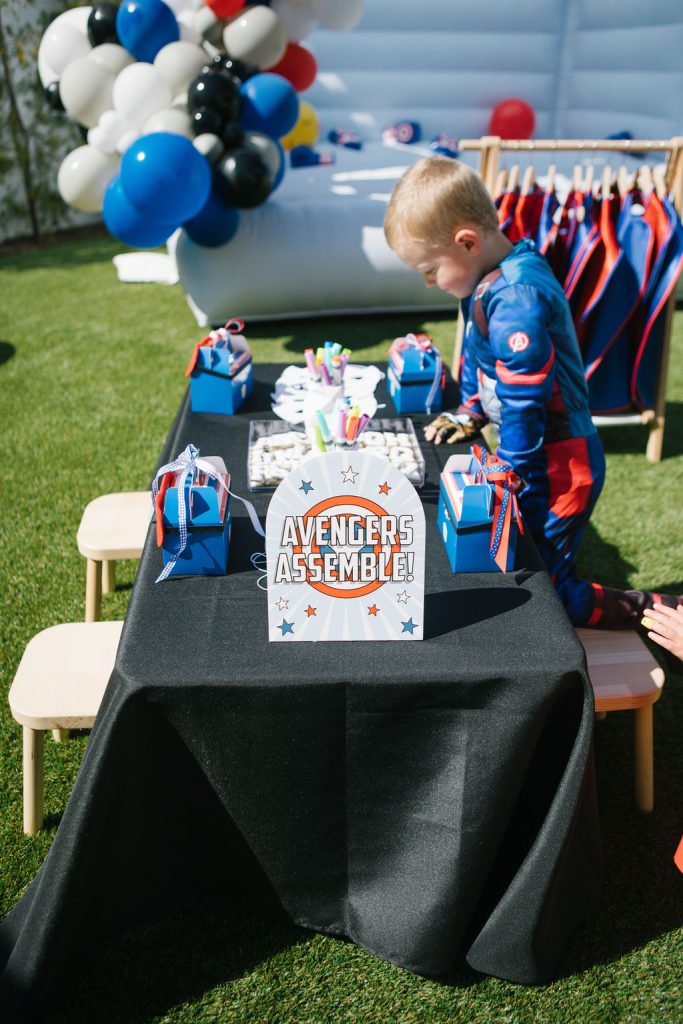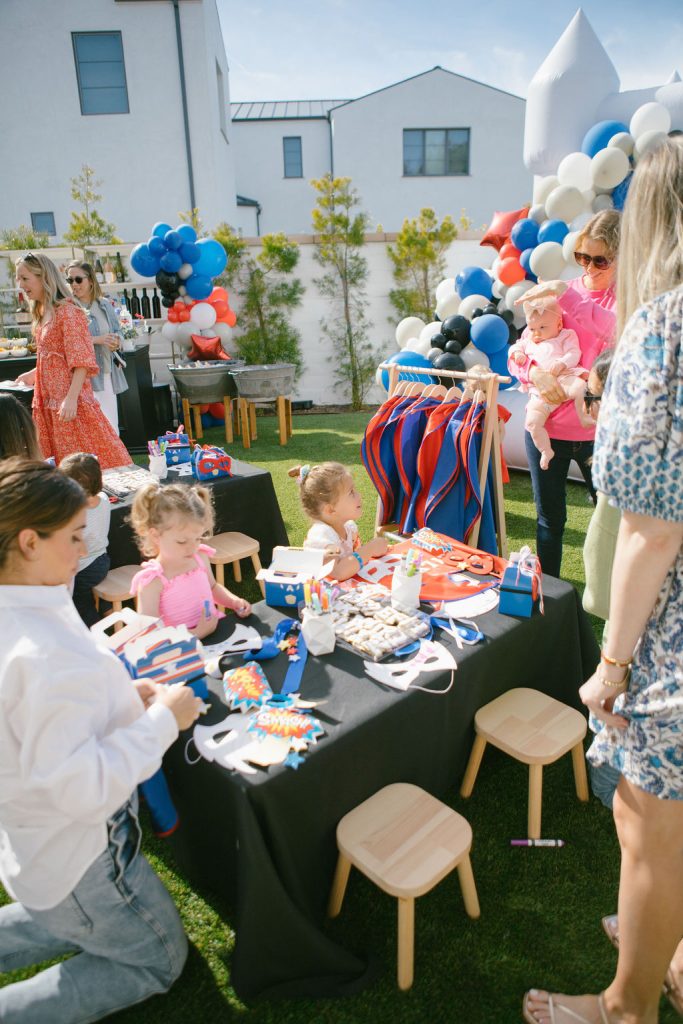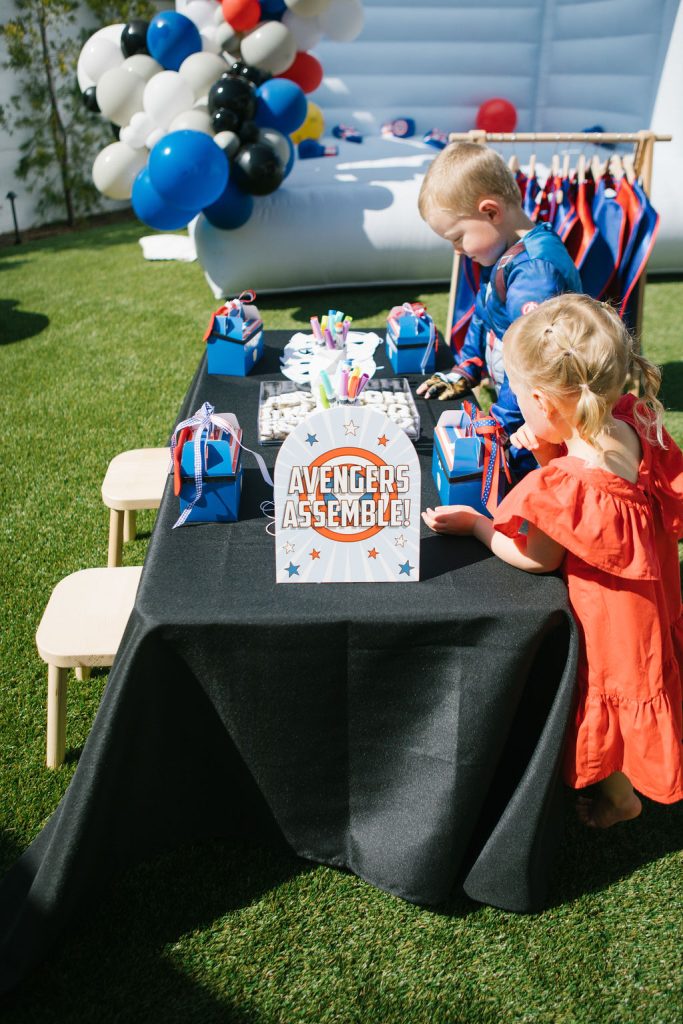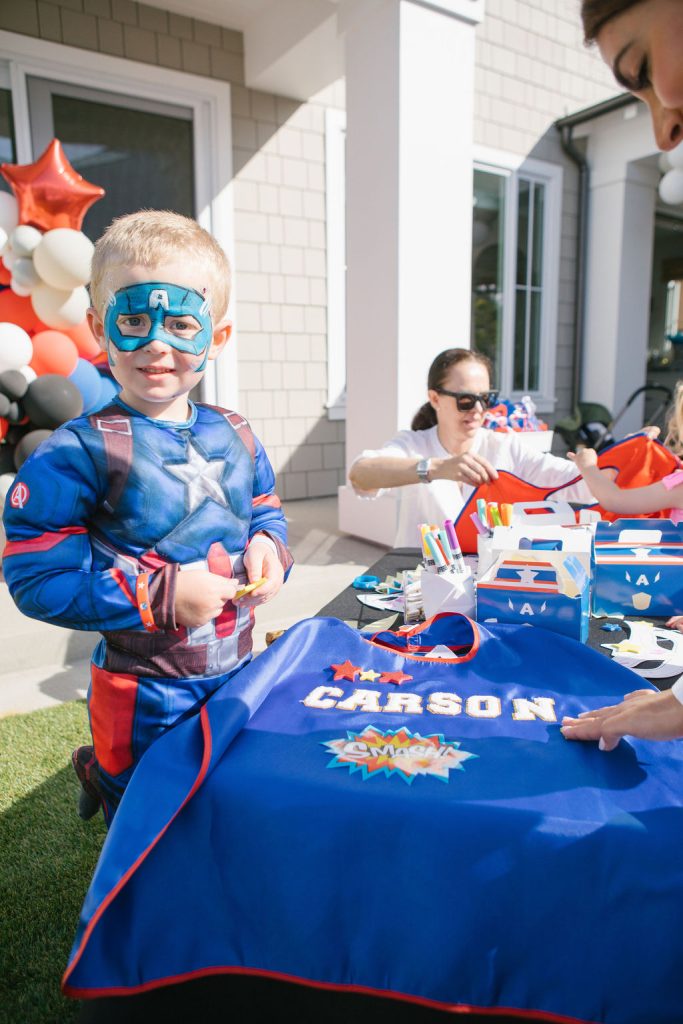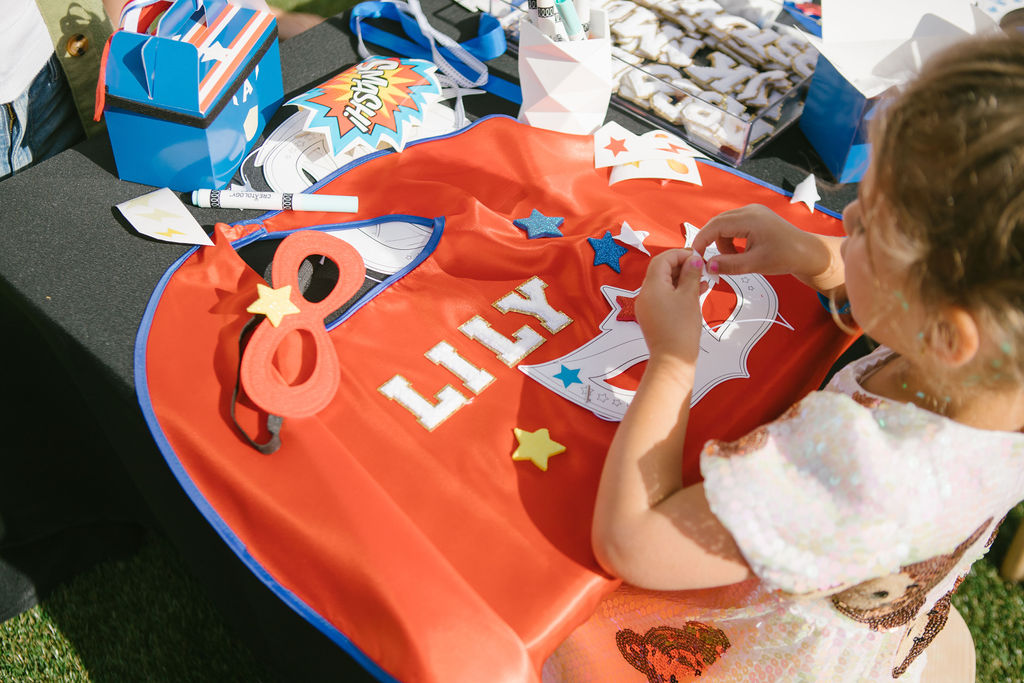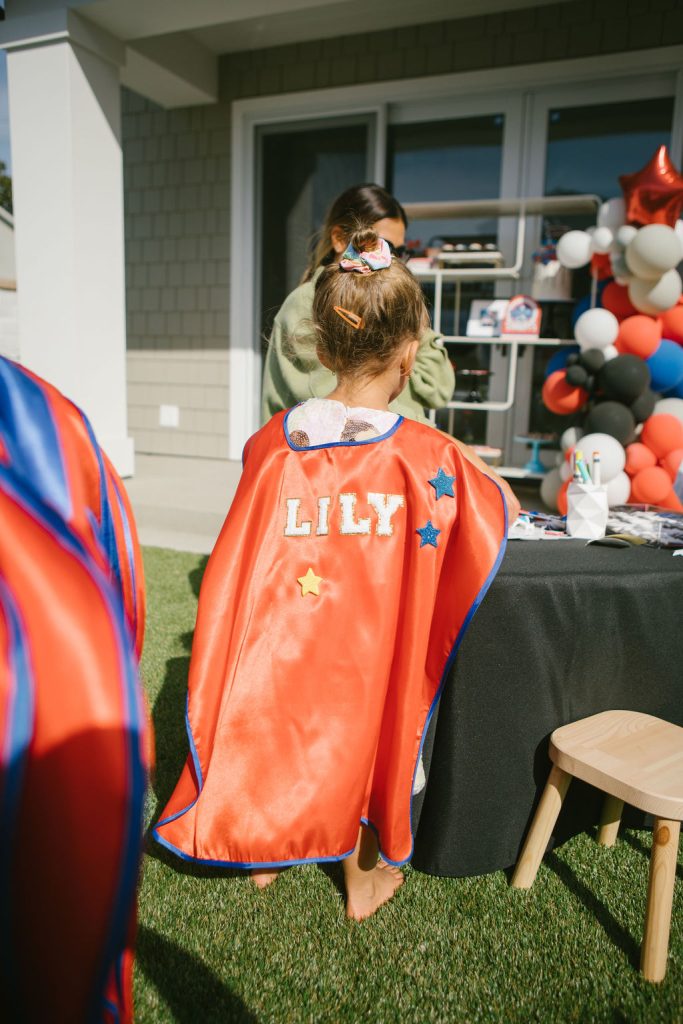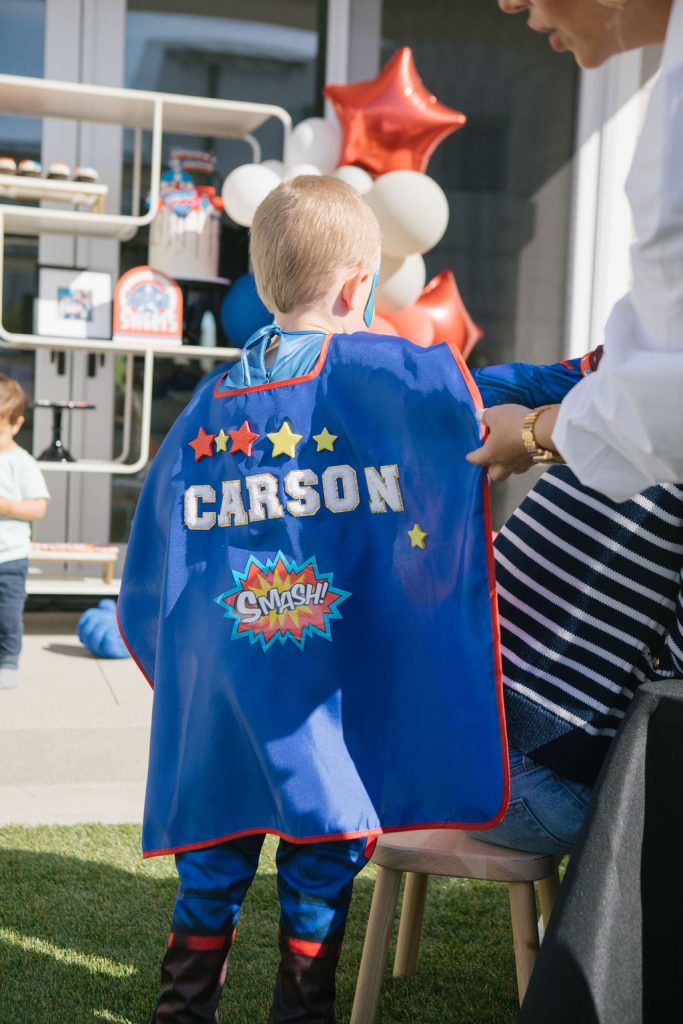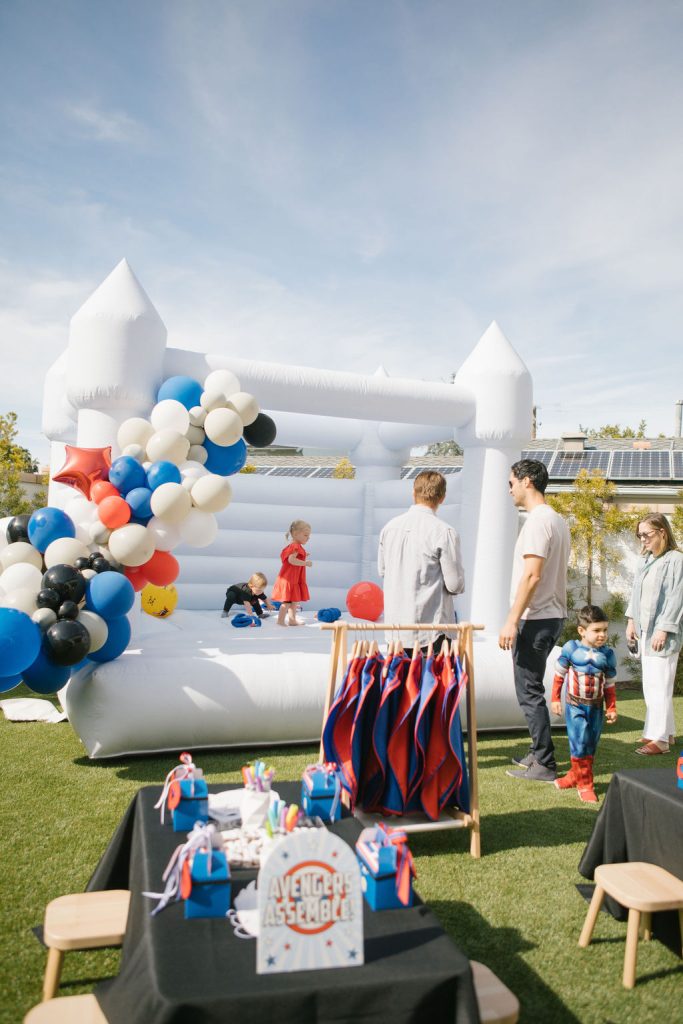 Guests were also treated to the most delicious spread of pizza and salad from Bocconcini! Their wood fired oven pizza is so darn tasty, some of the best I've ever tasted!! Yum, yum!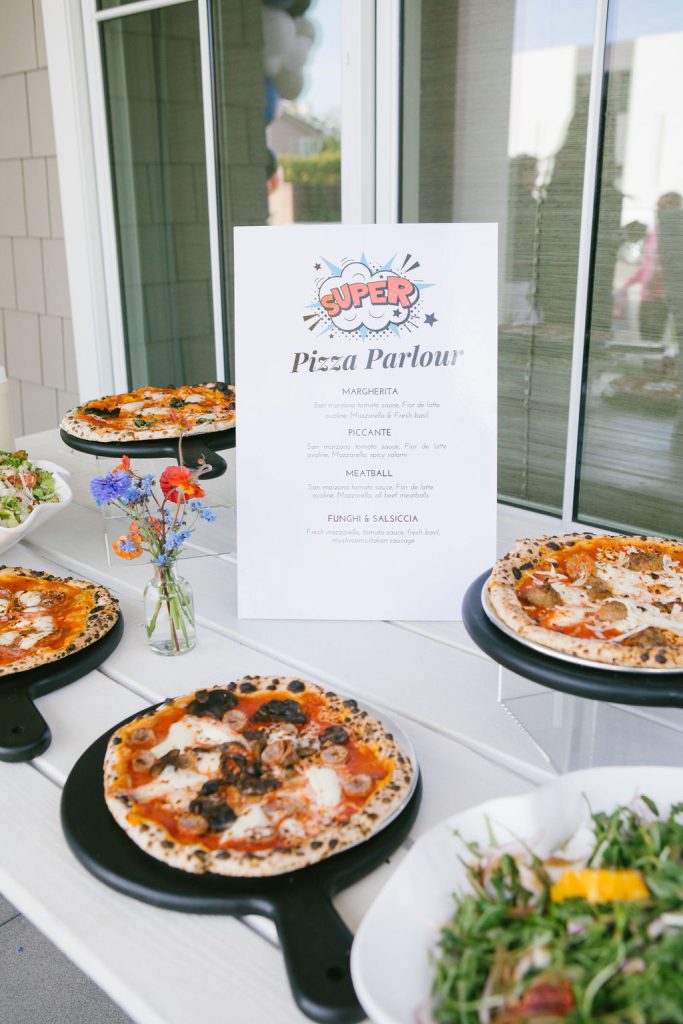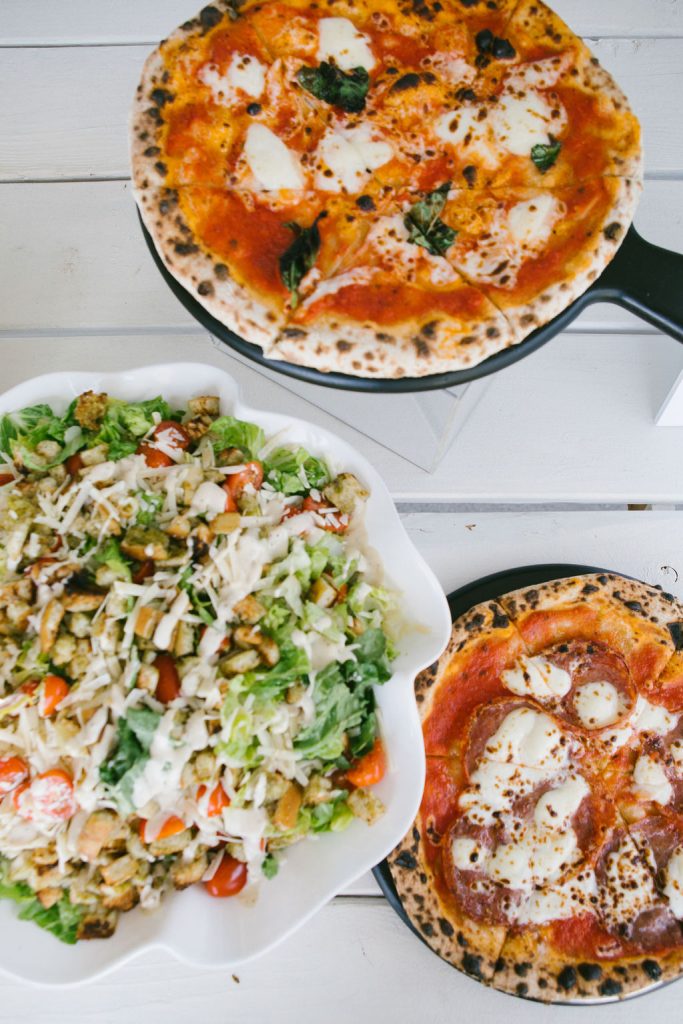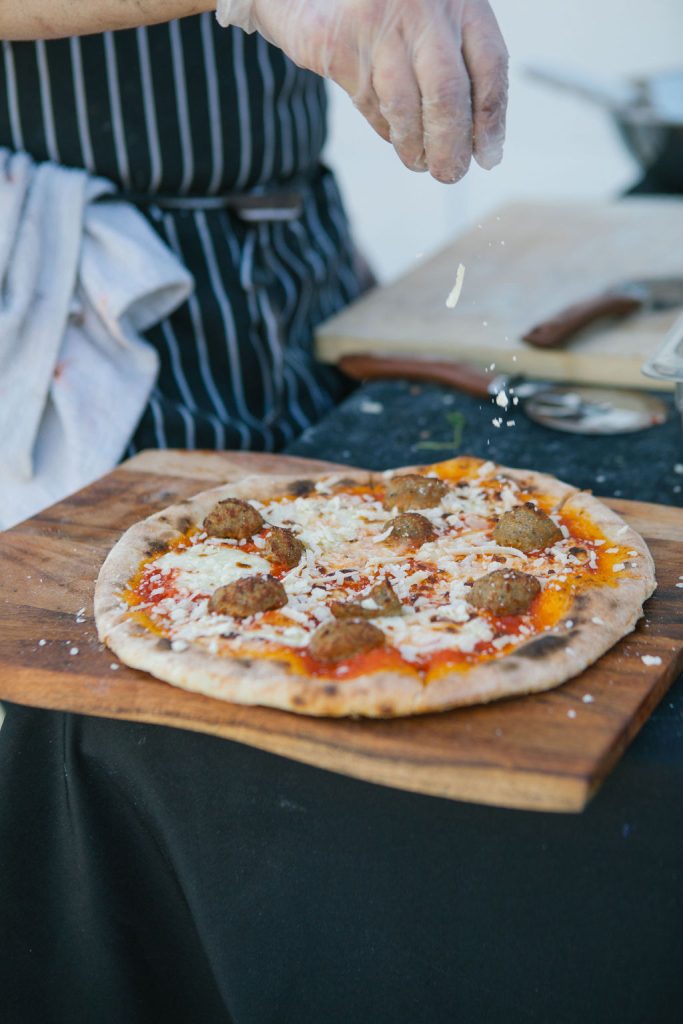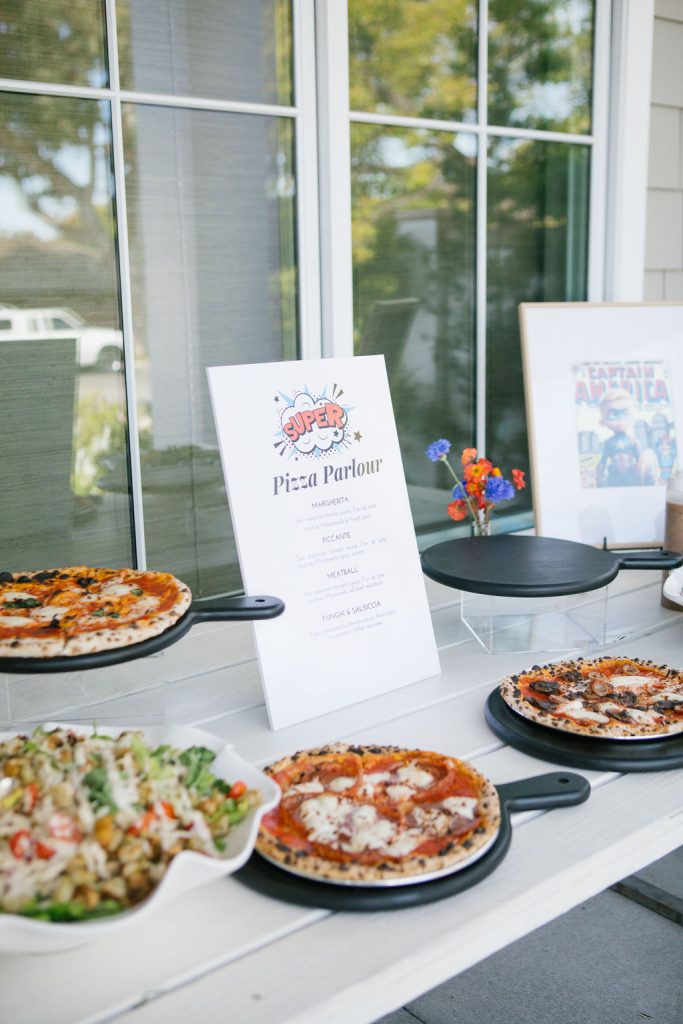 And then the amazing Captain America came to visit!!! The smile on the birthday boy's face says it all…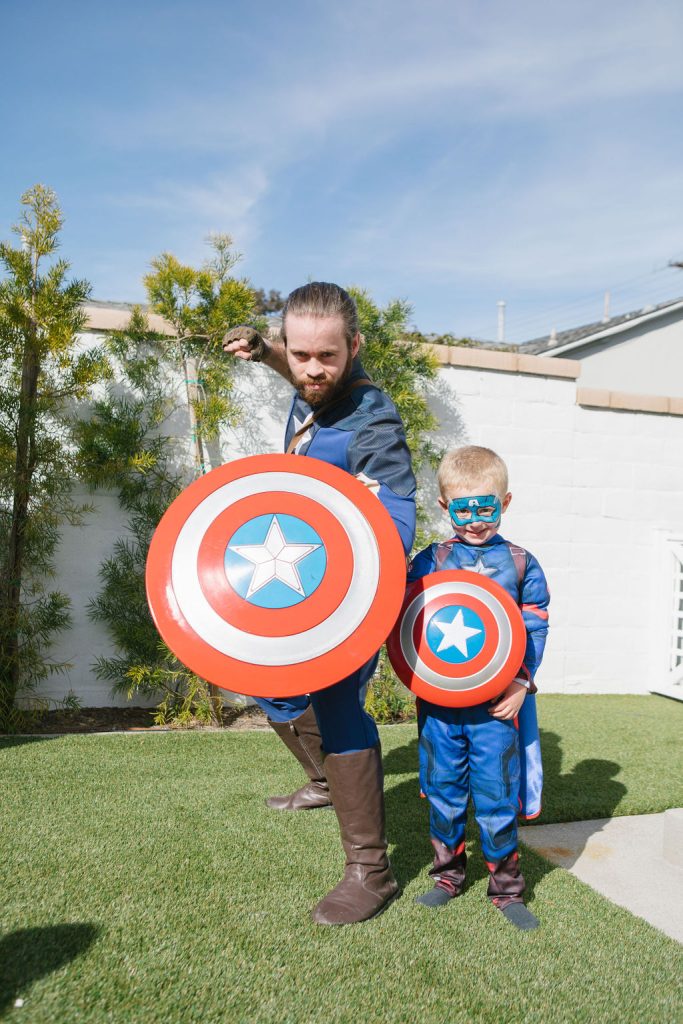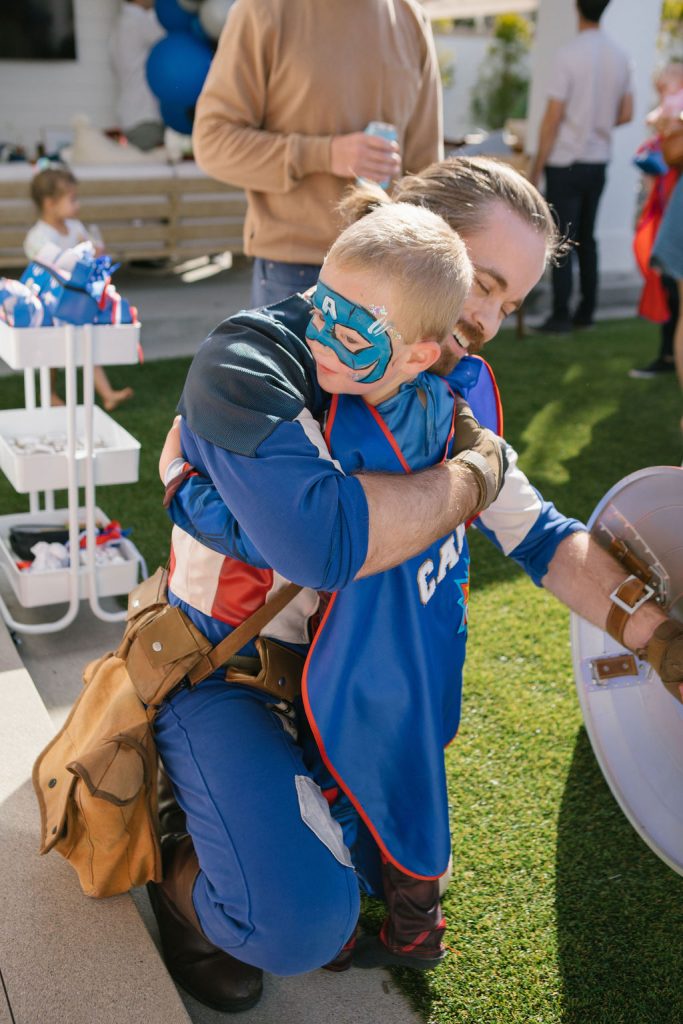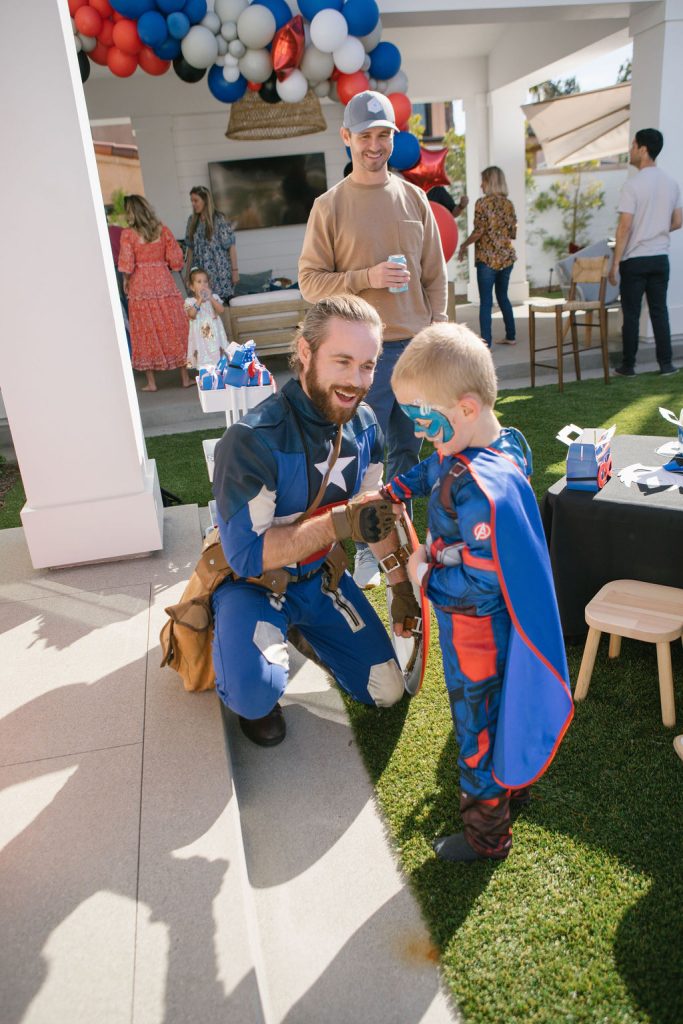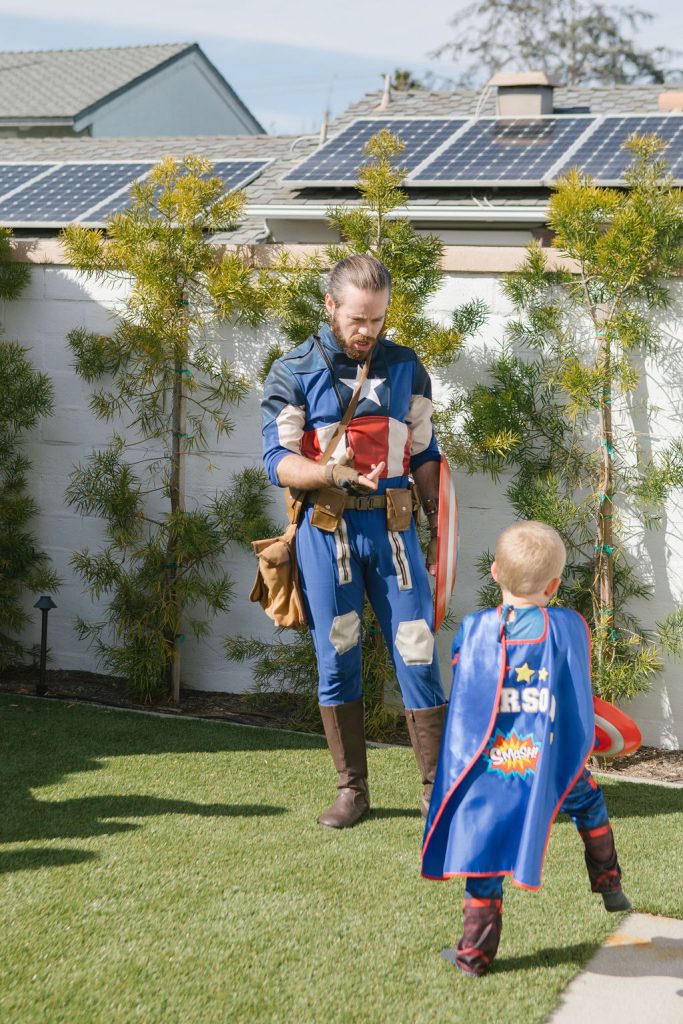 Love this!!! Amazing memories made – thanks to our friends at EC Parties for always having the best entertainment for the kids!!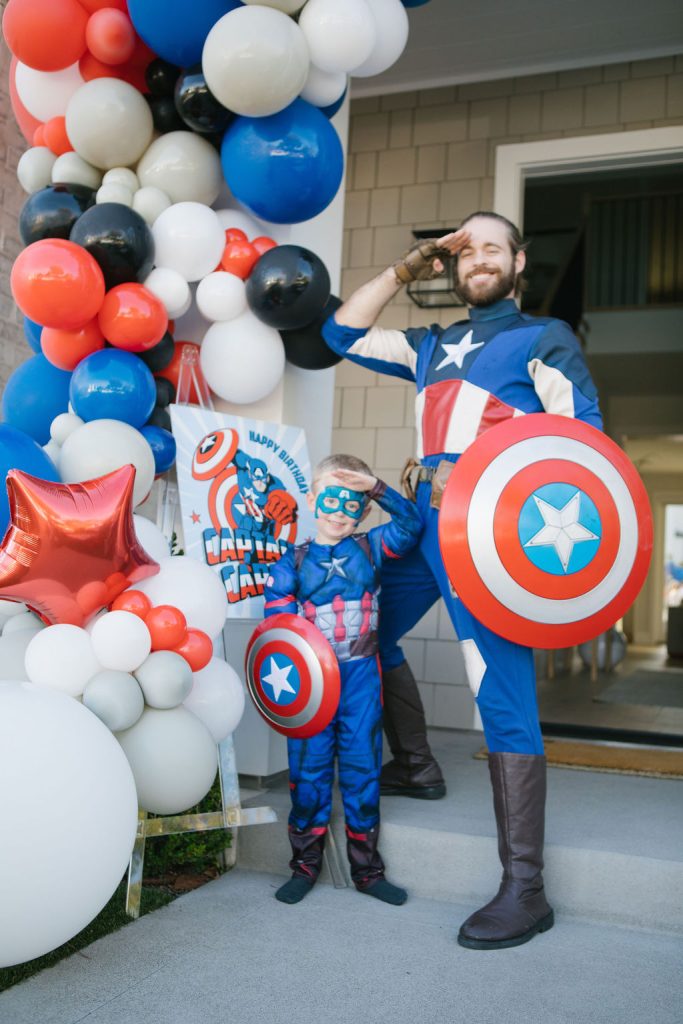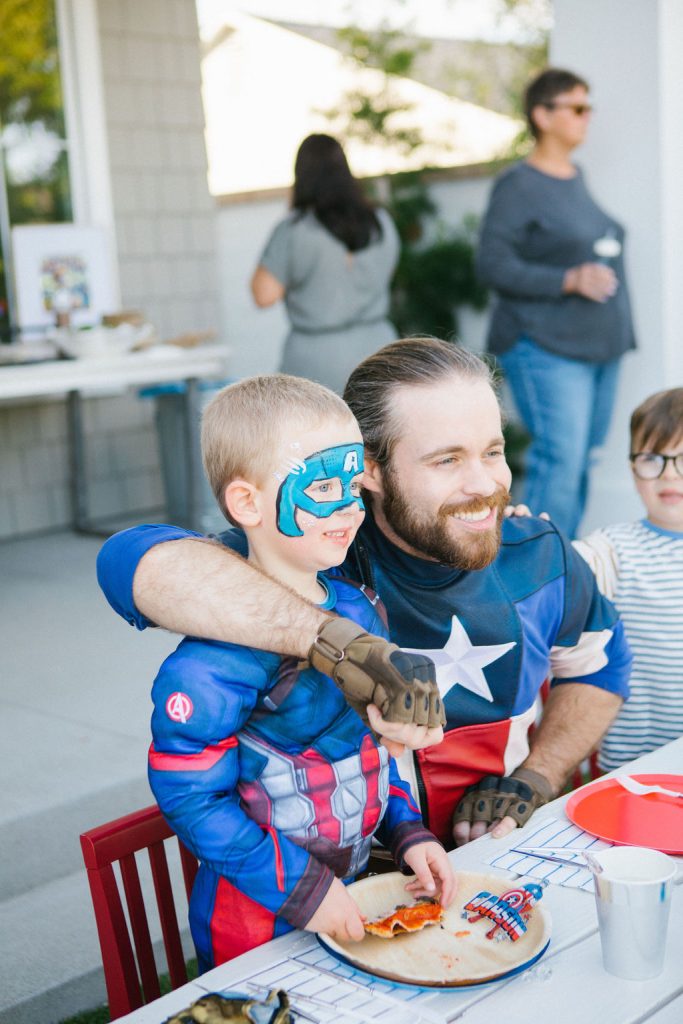 It was time for the cake to make it's last appearance and to blow out some candles!!!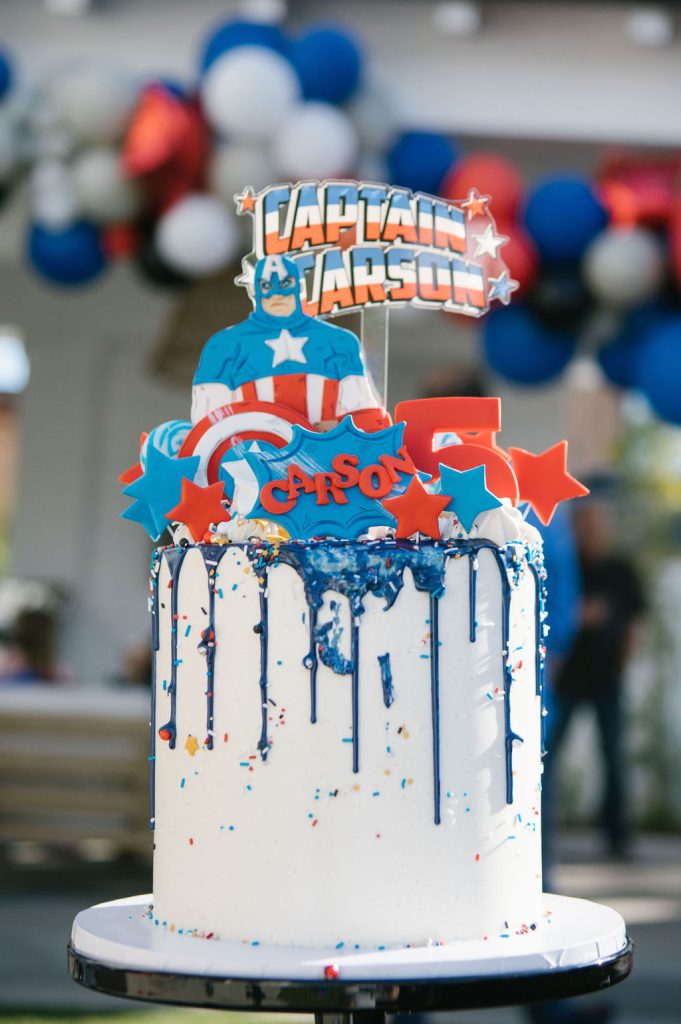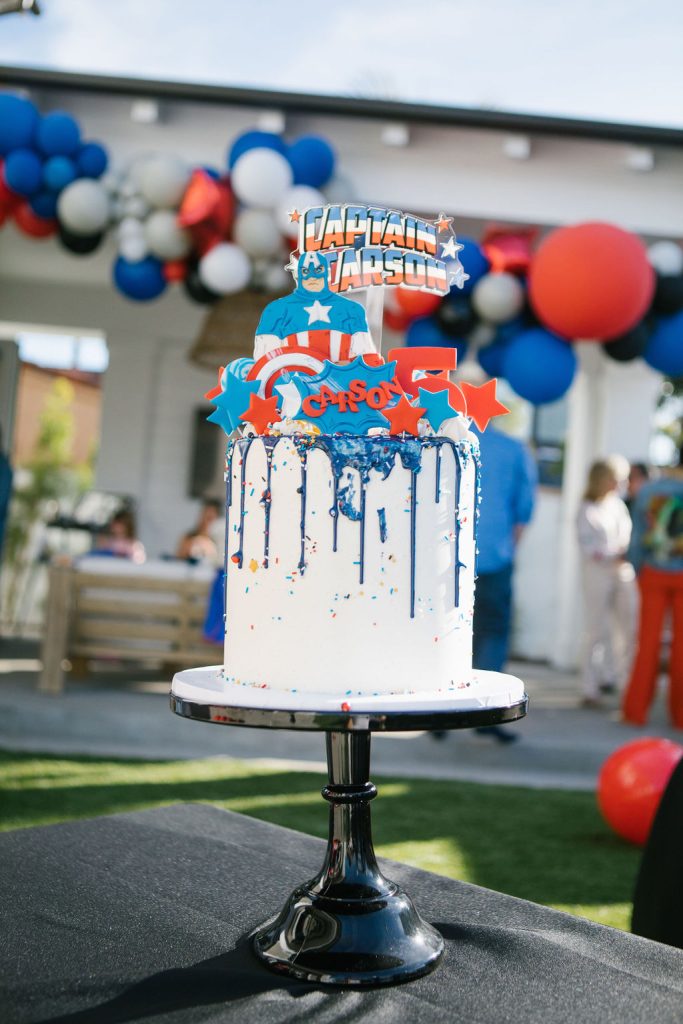 Make a wish Carson!!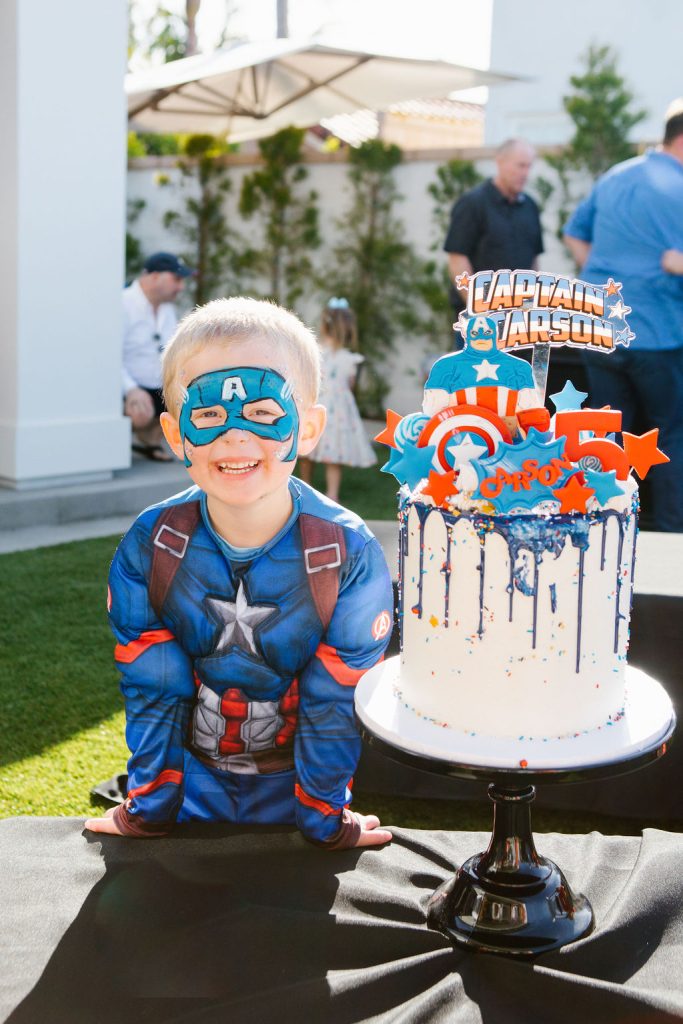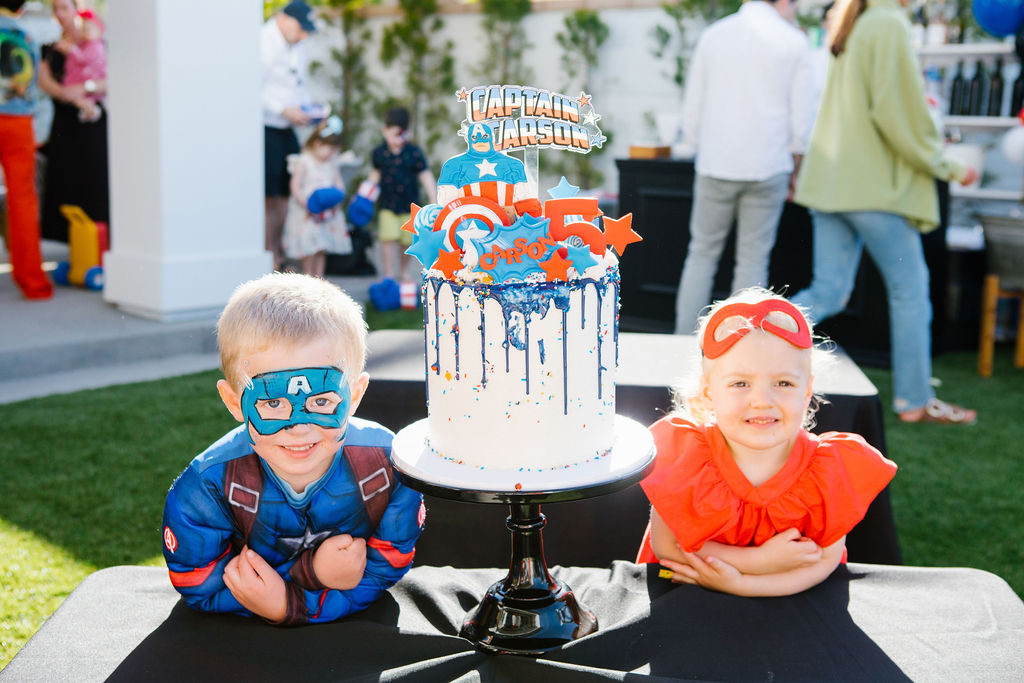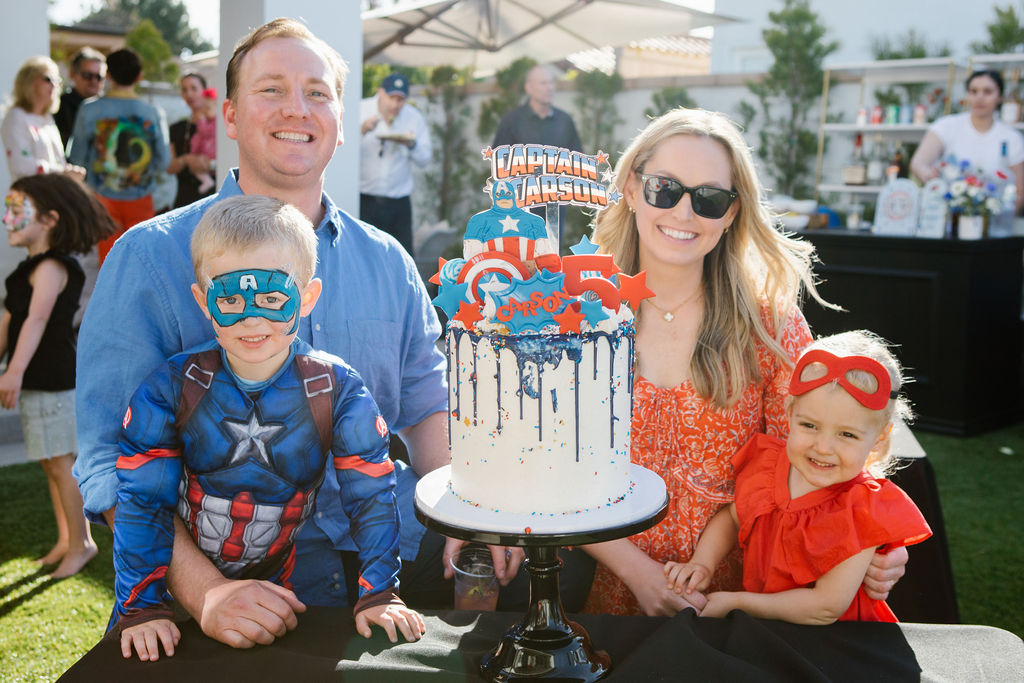 Such a fun day! Happy Birthday buddy!!
Shop this party below!

xx
Jacquelyn