There is nothing better in the world than deviled eggs. Nothing. I will be the 1st person to grab one whenever they appear. Every year for Halloween, I will make a wasabi version. So yummy! But this year, I was thinking of getting a little crazy and adding another flavor to the mix. These pretty curried deviled eggs with mustard caviar are a perfect choice. Yes, mustard caviar! Pickle juice-soaked mustard seeds give these eggs a delightful sour addition along with a fun pop in your mouth. You want to serve these up for your next get-together.

Photos by Dayna Studios
---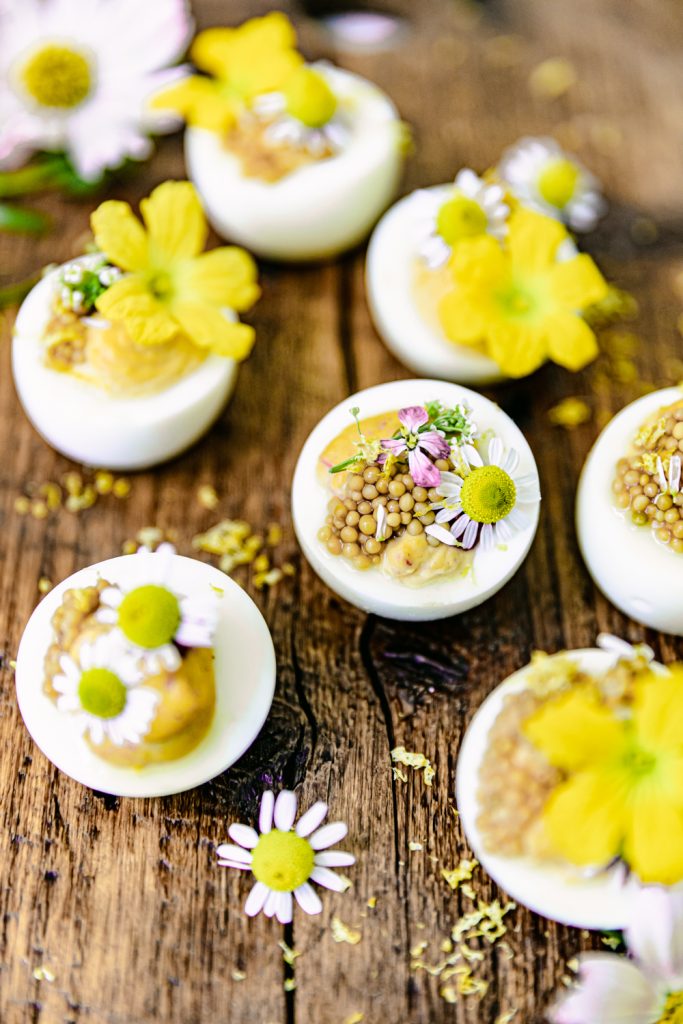 ---
Curry Deviled Eggs
SERVES: 12 | PREP: 5 MINUTES | COOK: 9 MINUTES
W H A T Y A N E E D
6 large eggs
1 tbsp. mayo
1 tsp. brown spicy mustard
1 tsp. creamy beet horseradish
1 tsp. curry powder
Cayenne pepper
Salt & pepper
Pickle Juice-soaked mustard seed
Edible flowers for garnish
B U S T O U T
Mesh strainer
Mixing Bowl
Serving Platter
Ziploc Bag or Piping Bag
---
I N S T R U C T I O N S
Let's start by making mustard caviar. Put mustard seeds in a bowl and cover the seeds with pickle juice. Let it sit in the fridge for a couple of hours; overnight is even better. They will keep in the refrigerator for a couple of days after too! I did mine a couple of days prior.

Add 6 eggs to a pot of cool water, then place them on the stove and let the water come to a boil. Once the water starts to boil, set a timer for 9 minutes. Take off immediately, and place them in a bowl of cold water for 10 minutes. Refrigerate for 1-2 hours.
Once the eggs are cool, remove the shells by carefully cracking them. A little tip: crack the eggs and place them back into the water. This trick will allow the water to get in and loosen the shell up.
Slice them in half. I like to slice them through the center, so they stand up looking all cute. Slice a bit off the bottom, so they sit flat and straight up.
Remove the yolks by carefully sliding them out. Push them through the mesh strainer into your mixing bowl. This might sound like an extra step, but trust me, it makes them nice and fluffy.
You can do regular horseradish if you don't care for the beet version. Mix in your mayo, mustard, curry, and creamy beet horseradish with a pinch of salt and pepper. I like to use beet horseradish cause it gives the eggs a hint of pink and a fun twist.  
I like to use a Ziploc bag for piping the egg mixture back into the egg. Put the mixture in the Ziploc bag and snip off a corner. Fill your eggs back up! Then, garnish with mustard seeds and edible flowers!
---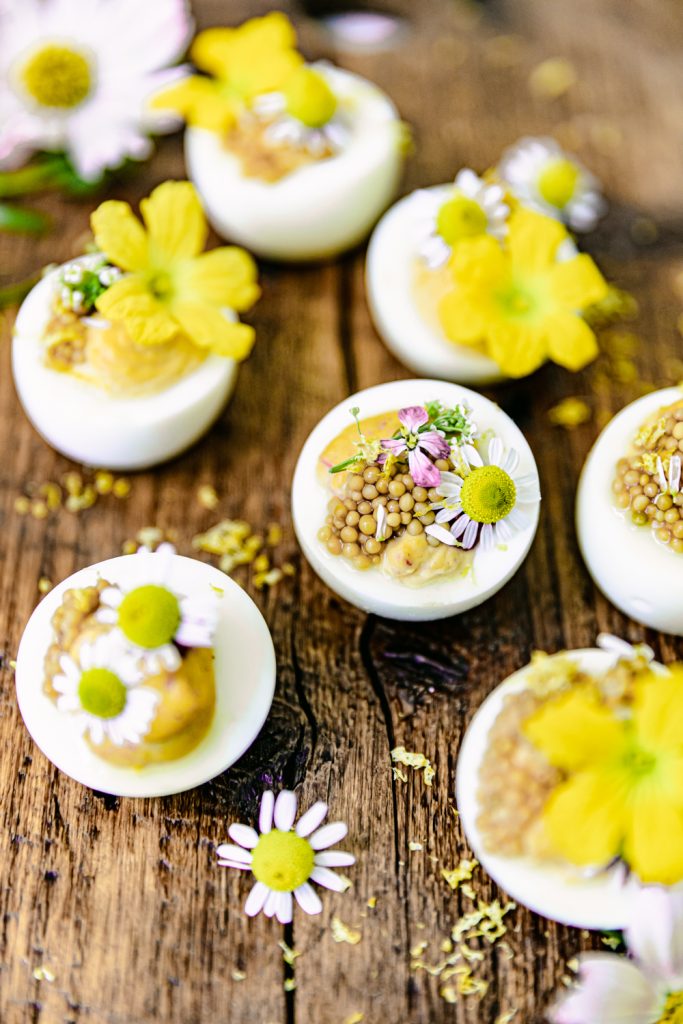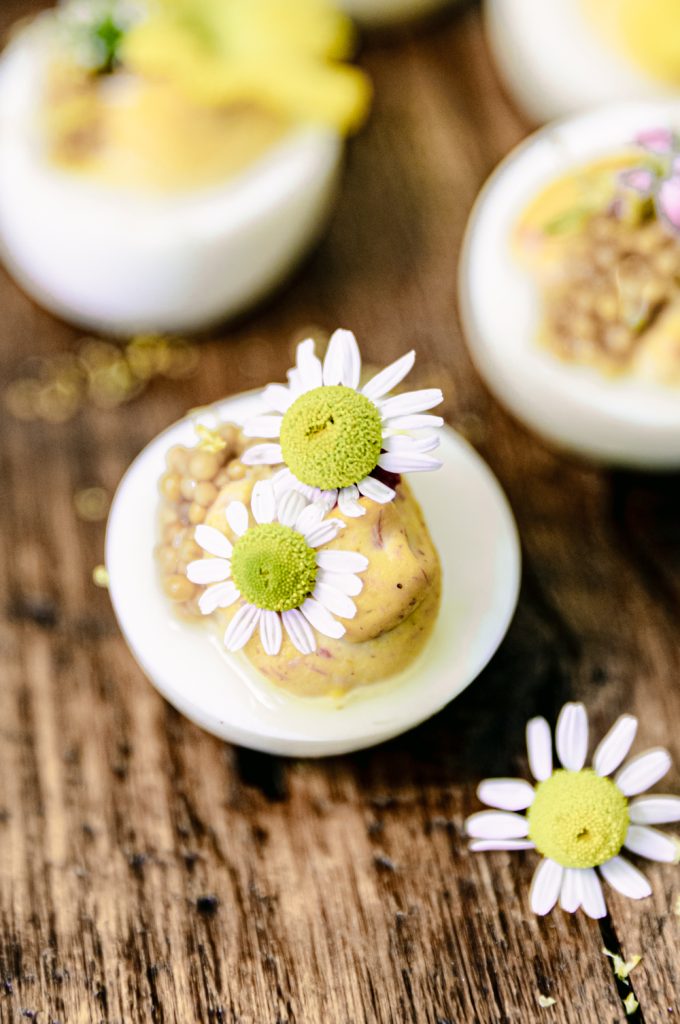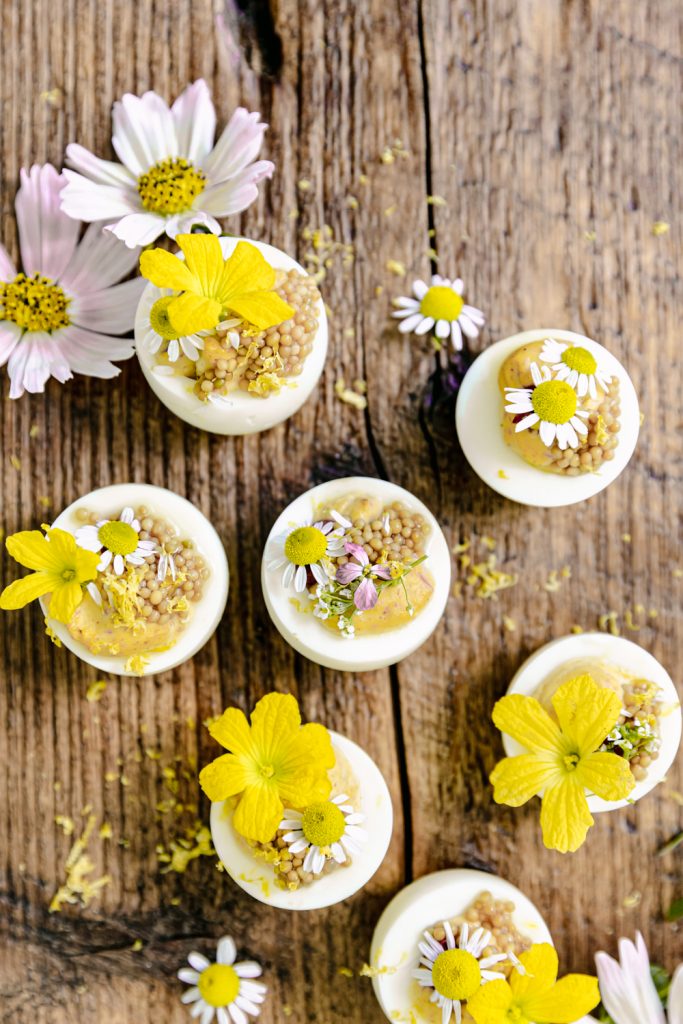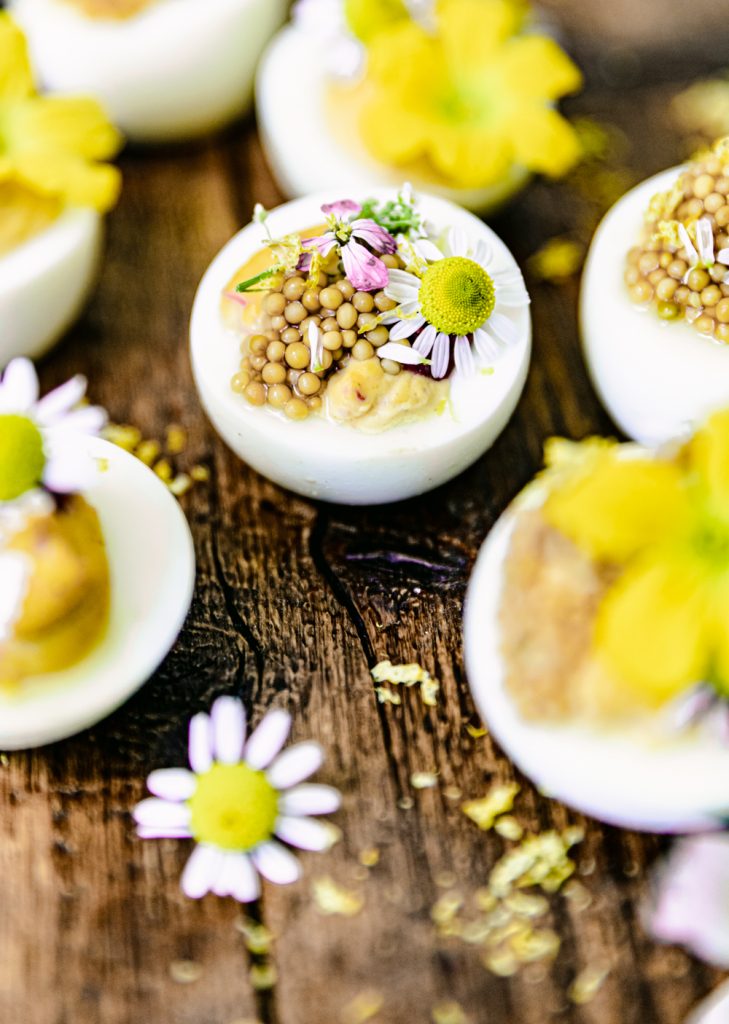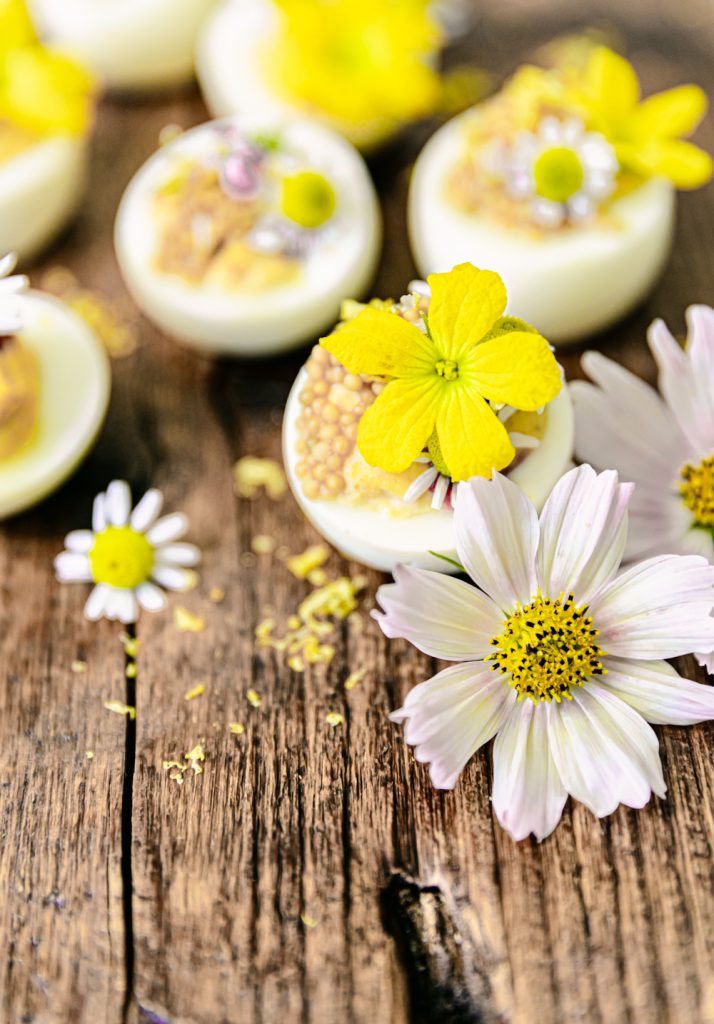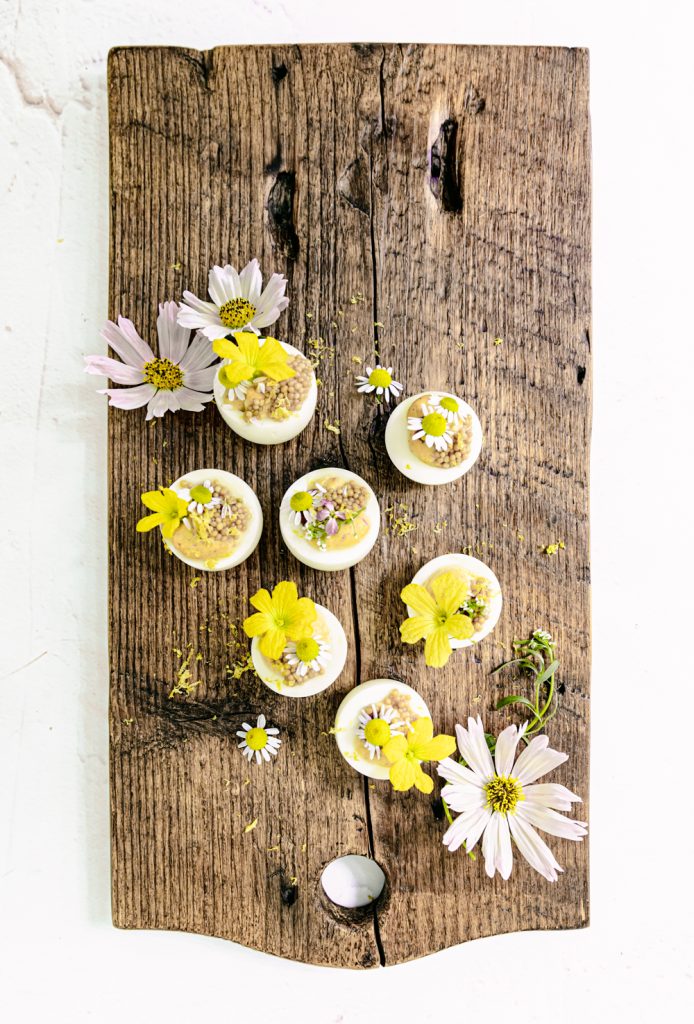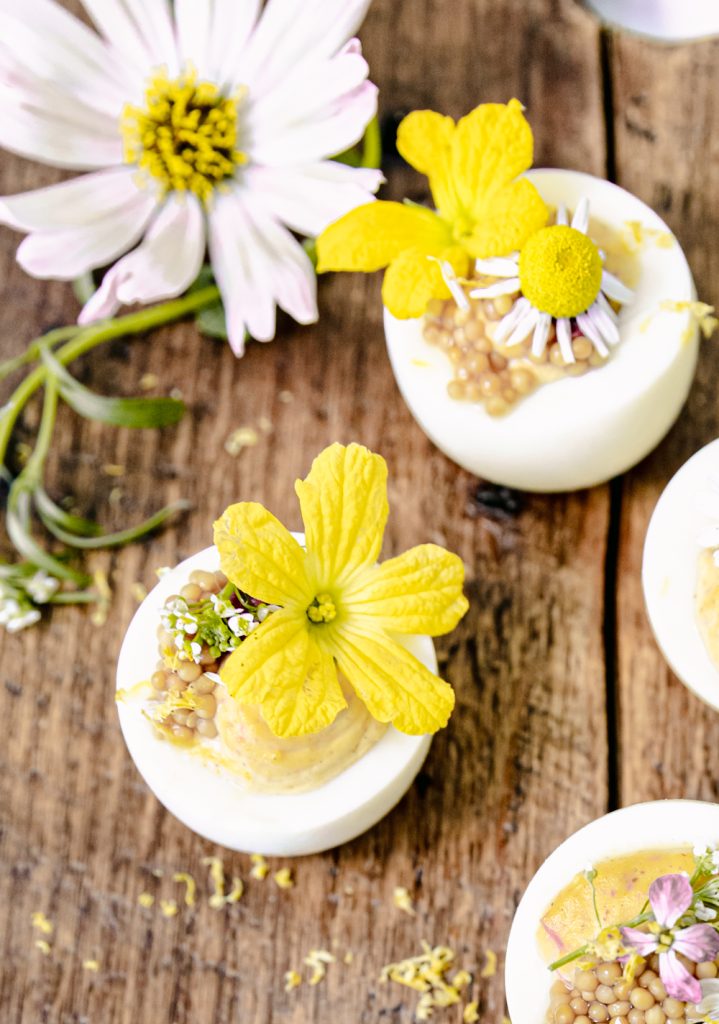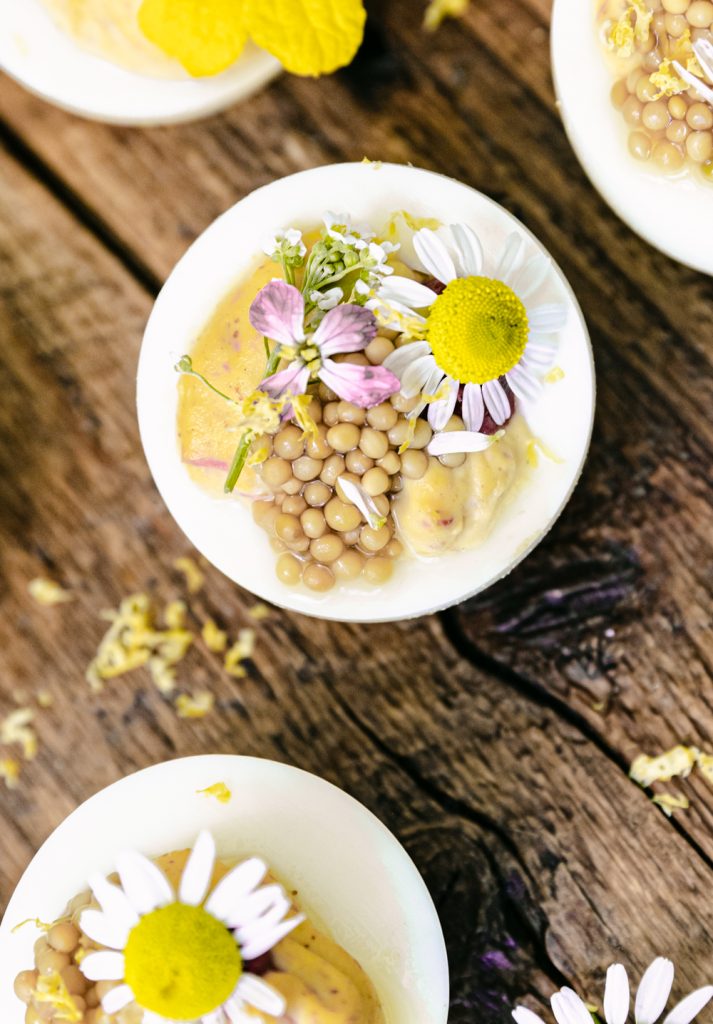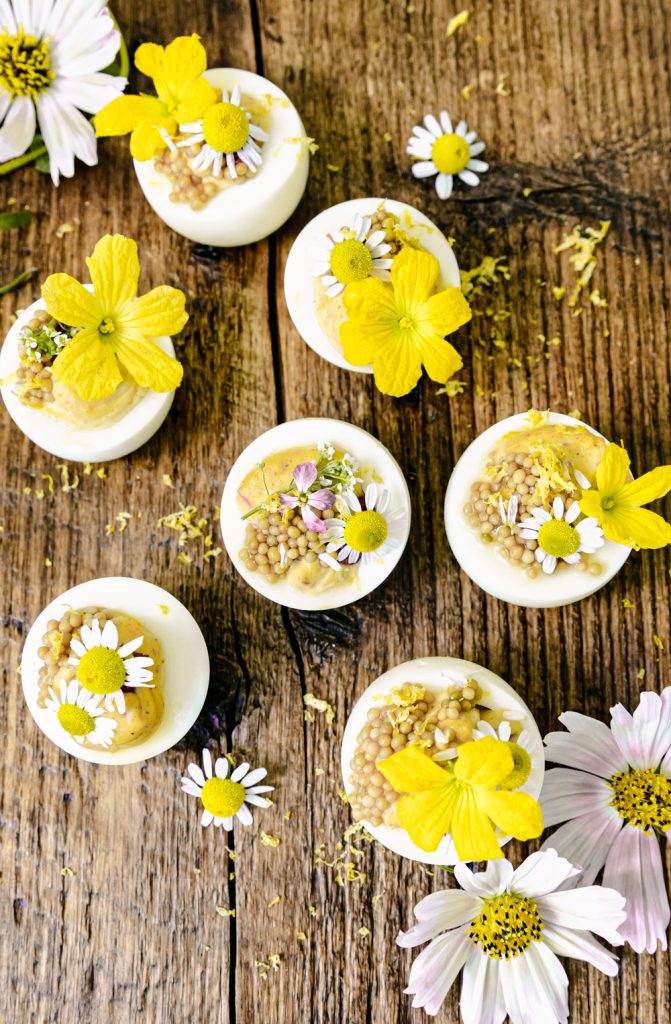 ---
xx
Abby