Hey All!
1st, can we say how freaking good the Disneyland giveaway is?!? I mean… Can I enter? If you haven't entered for some odd, weird reason, you still have plenty of time. Secondly, it's Friday, so it's cocktail time! Going with the theme of the happiest place on earth, I whipped up a little dole whip pineapple margarita.
Now, I sadly don't get the luxury of hitting up D-land as much as Jacquelyn, so when my family gets to go… it's serious! Let me correct myself; I'm serious! A whole game plan is in action, but really what 5 and 7-year-old and husband really follow anything Mom says?? I usually have to throw out my ride list, and just let them call the shots. No one wants to be that parent that has screaming kids at Disneyland cause Mom is making us go on pirates right now! But one thing that will always and will forever happen is my food list! If you have had the pleasure of going with me to Disneyland, you know that I have a food list that I need to complete. I have had this list since I was little. It has changed a little bit as I have gotten older, exchanging the classic cotton candy for a yummy cocktail. At the end of the day, or during, you need a cocktail when you got two little ones running around like a bunch of hooligans at the happiest place on earth.
So let's do a little Disneyland cocktail, shall we? One of the things on my food list is the dole whip at the tiki room. Duh. So I took that yumminess and made it into a margarita. Yeah, it happened. And yeah its really really good! I looked up a bunch of recipes, and it all called for a bunch of… crap. No canned pineapple or crappy marg mix here.
If you are wondering about that food list? It consists of the following in no particular order: giant pickle, churro, Mickey pretzel with the cheese, frozen lemonade (although they don't do the slushy one anymore, so I don't really get that these days) frozen banana, and finally the cinammon roll.
Dole Whip Pineapple Margaritas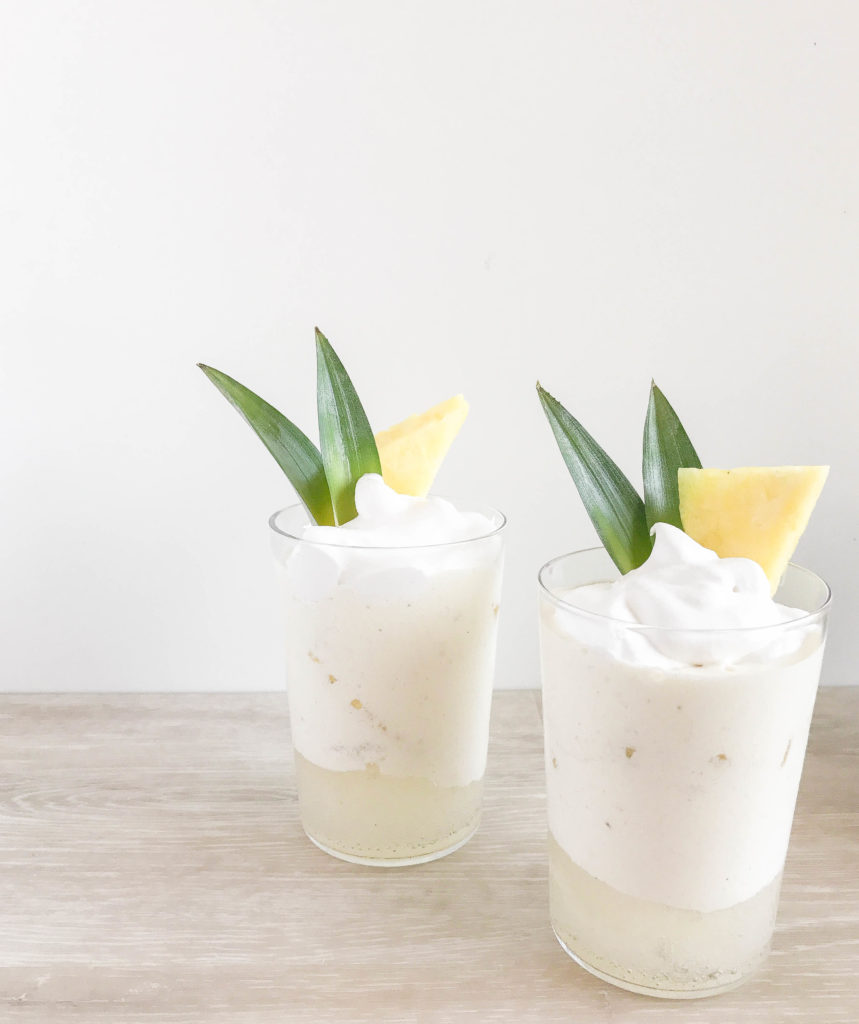 Ingredients
Serving Size: 2-3 margaritas
1 pineapple
Vanilla Gelato
Coconut Gelato
1 Carton of Cool Whip
Margarita Mix (with booze in it)
Ice Cubes
Directions
In a blender, Ninja, food processor, or whatever machine you can use to blend, put 6-8 ice cubes in with 3 shots of margarita mix. Blend until you get crushed margarita ice. Adjust by adding more ice or margarita mix to achieve a thick slushy crushed ice. In my house, we don't use shot glasses; we do the 3 to 4 count as one shot glass serving, so adjust as you please. Scoop some margarita mix into your glasses. Place the glasses into the freezer for about 15 min.
While the glasses are in the freezer, place a big scoop of both gelatos in the blender along with 1/4 cup of FRESH pineapple juice and one cup of fresh cubed pineapple. Add 1/4 cup margarita mix or more and finally one heaping scoop of cool whip. Blend until smooth.
Take your glasses out of the freezer. Pour in your margarita mix leaving a 1/3 free room in each glass. Add some chopped pineapple and then top with cool whip. Top with pineapple fronds and a slice of pineapple and cheers to the happiest place on earth!
Cheers!
Abby