We are approaching the double digits with my daughter, Dylan, and along with the attitude of "I know it all," is wanting a new big girl room. She has been asking for an older girl room and a new puppy for about three years now. I was quick to be like, new big girl room it is over a new puppy. But this little one is persistent, and she managed to convince us to get both. What a year this will be!
Her room is also being featured on 100 Layer Cake-let today!
Photos by Dayna Studios
Moving into our new house about 2 years ago, it wasn't hard to transition her room into an older girl version of what she wanted since we were working with a blank canvas. Knowing my daughter, and whatever I suggest for her room decor, she will say no. Is my daughter the only one like this? I mean I pick out trendy stylish things, right? So what I have learned that works for us is to involve her, and let her make some sdecisions.
Tip: Let them pick from a group of mommy approved items; this way, you both win.
We sat down and designed her new room together. The 1st thing that she wanted to change was her bed, which I was shocked about! She had a full-size bed with plenty of room to lounge in. But this independent little lady wanted a daybed. I couldn't say no since this will give her room more space to play in. I found her modern white daybed at Overstock. We kept her Rug + Weave Pillows and her Maven Collection Morrocaan wedding blanket (I'm obsessed with both) and added a pinkish lavender blanket and cream throw from Creative Women at the end of the bed. I love the textiles from Creative Women; they are fair trade home + lifestyle wholesale brand where their artisans spin and weave 100% locally grown environmentally friendly high-quality fibers.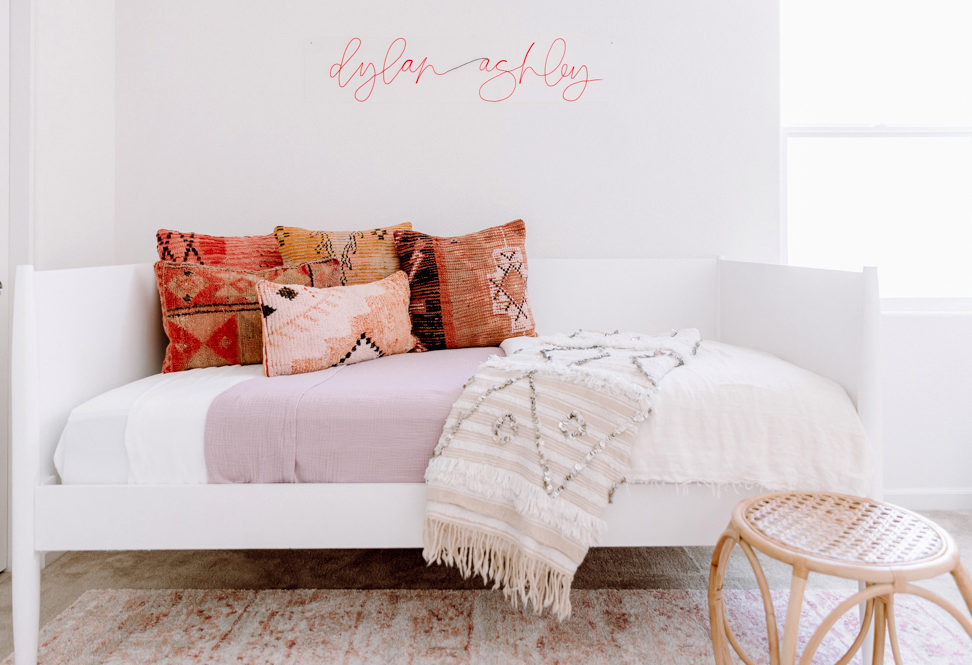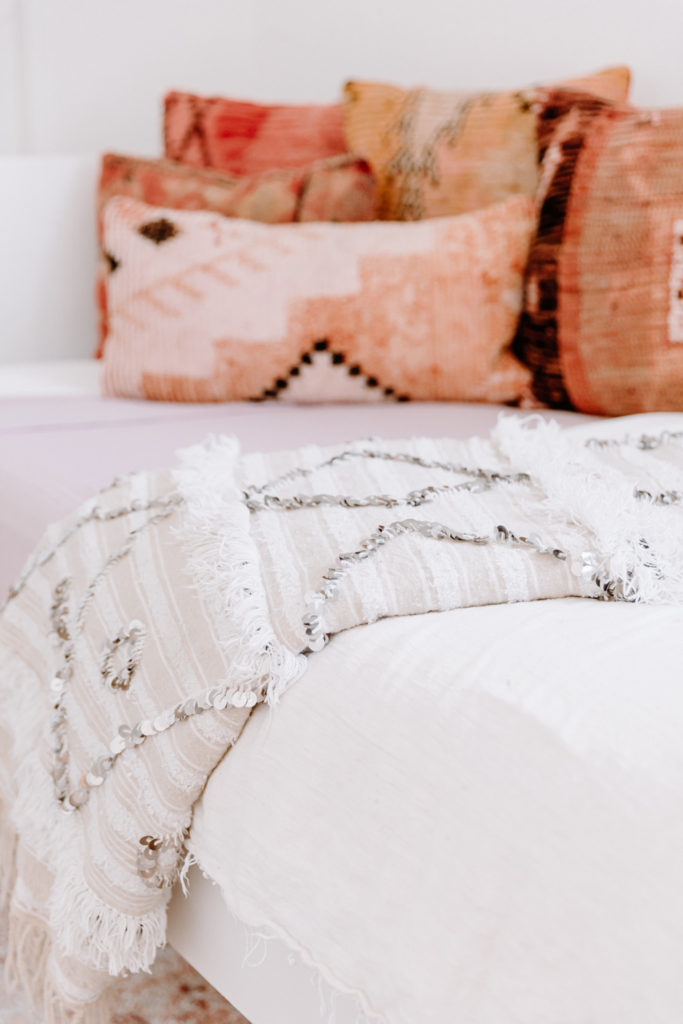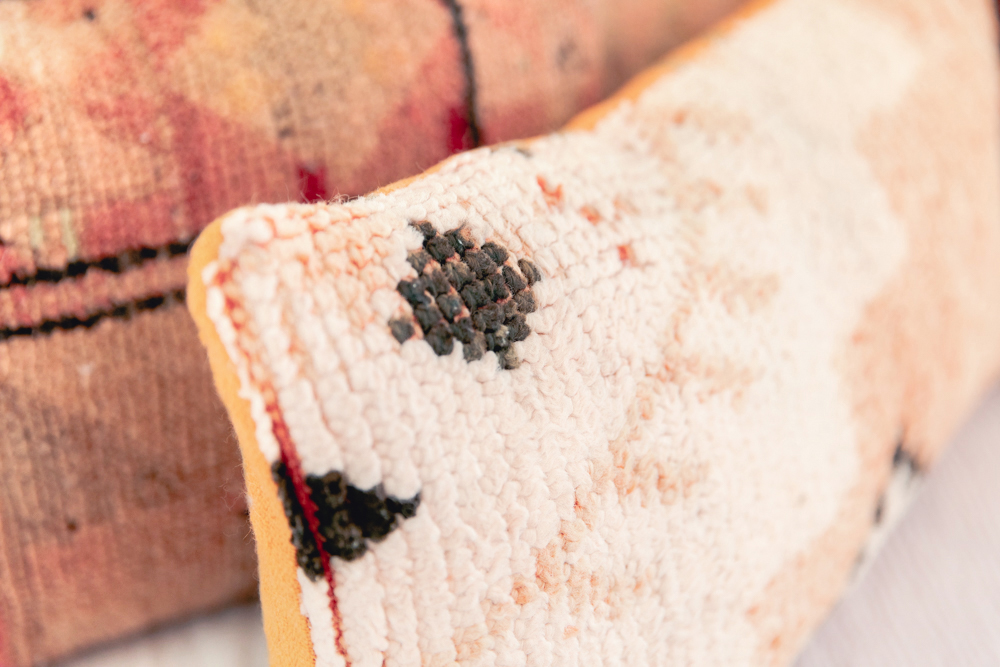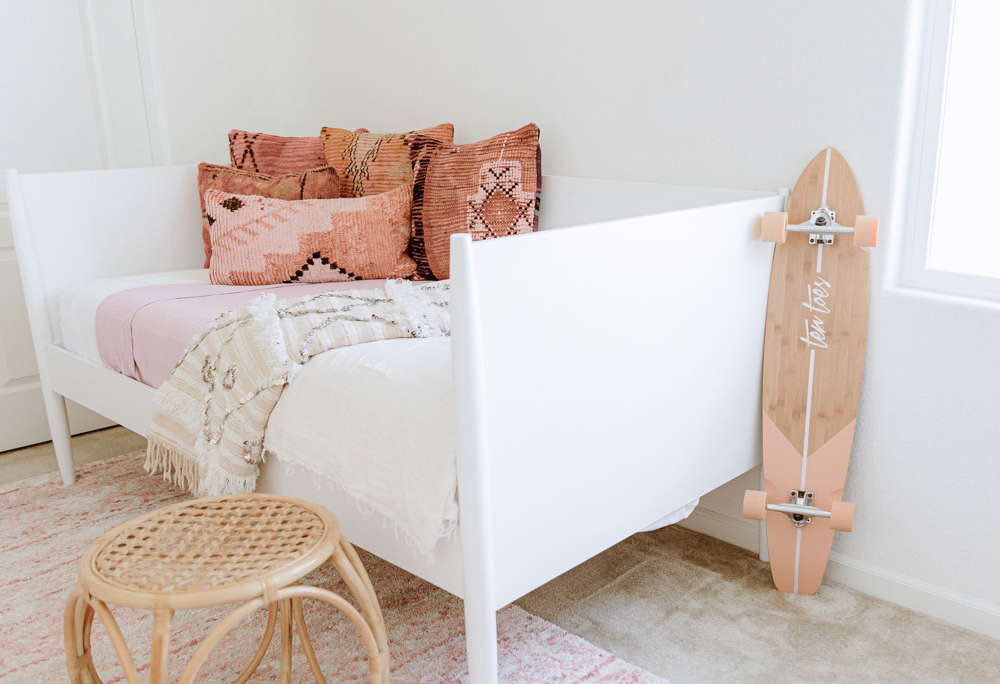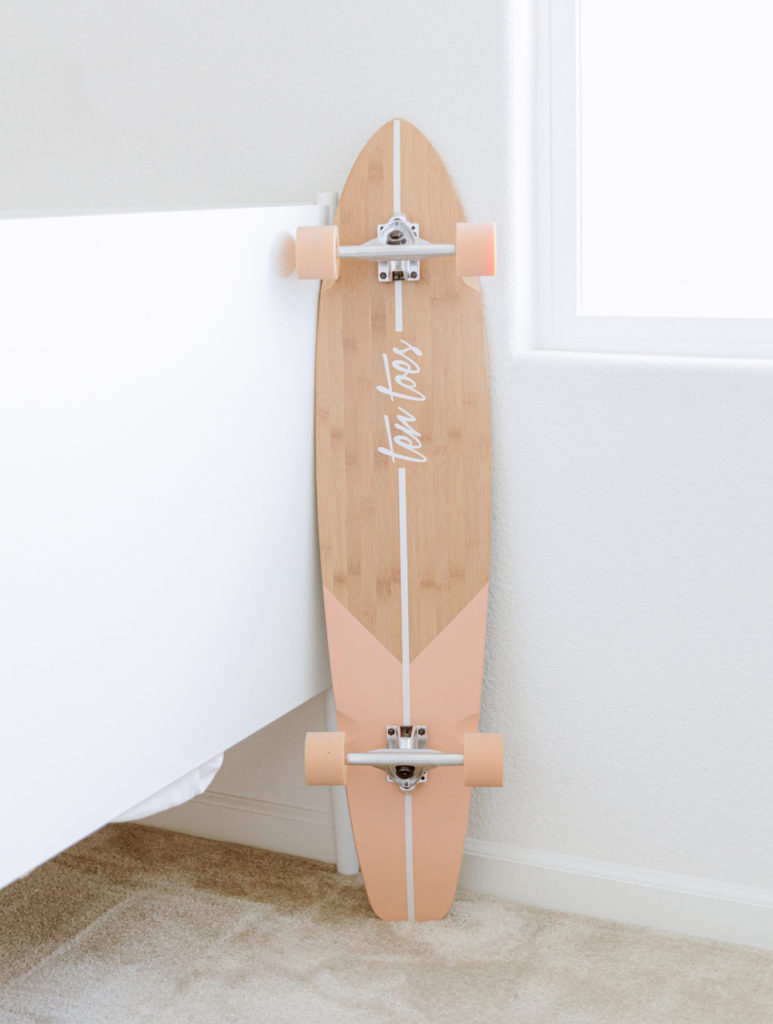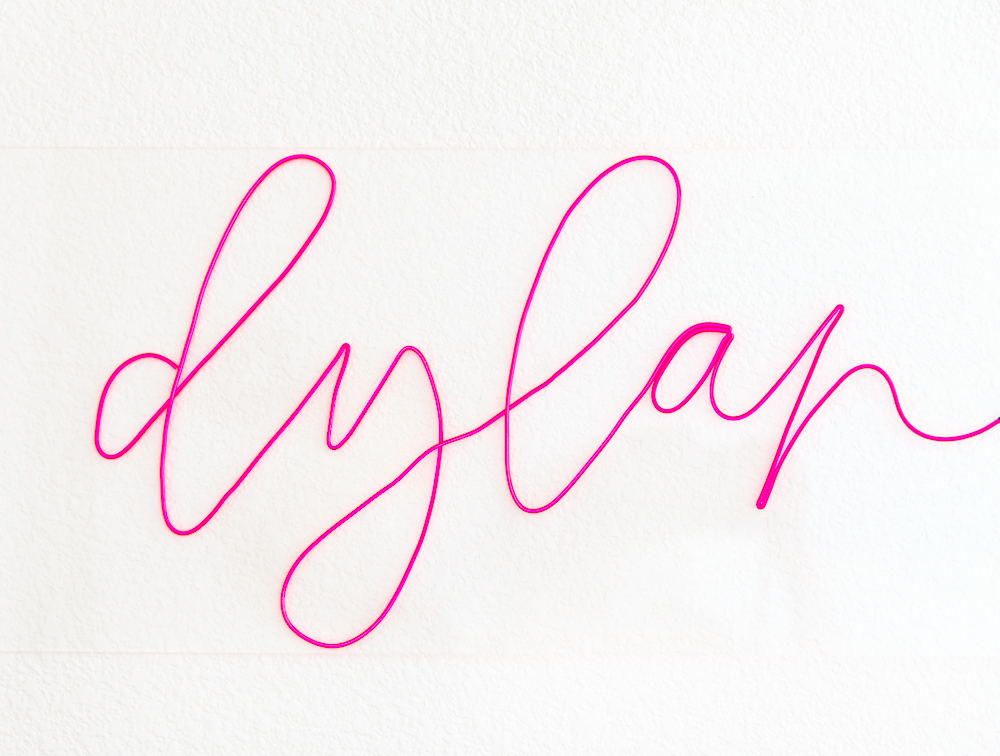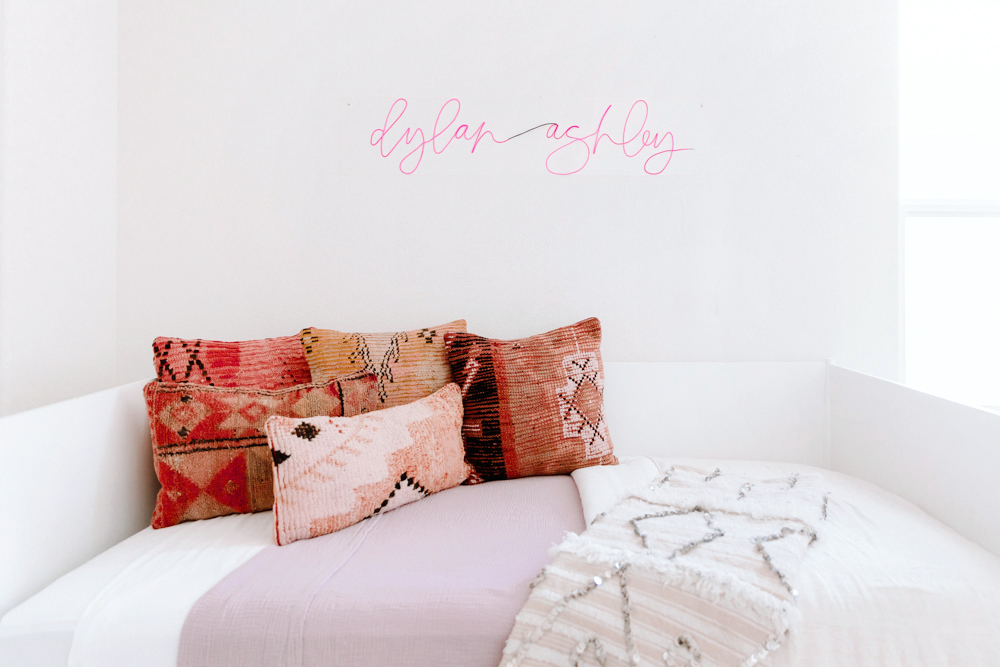 The cherry on top for her bed area was the custom neon light that was created from the handwriting from Bare Ink Co. and made by Artemisia. Now, that is a night light if you ask me!
Shop Dylan's Bed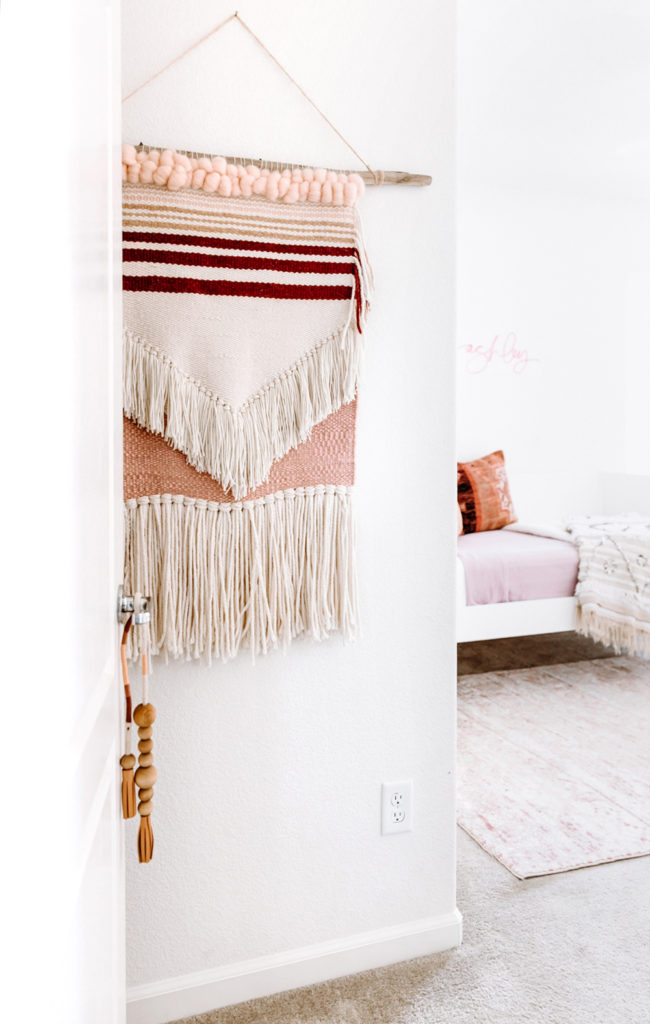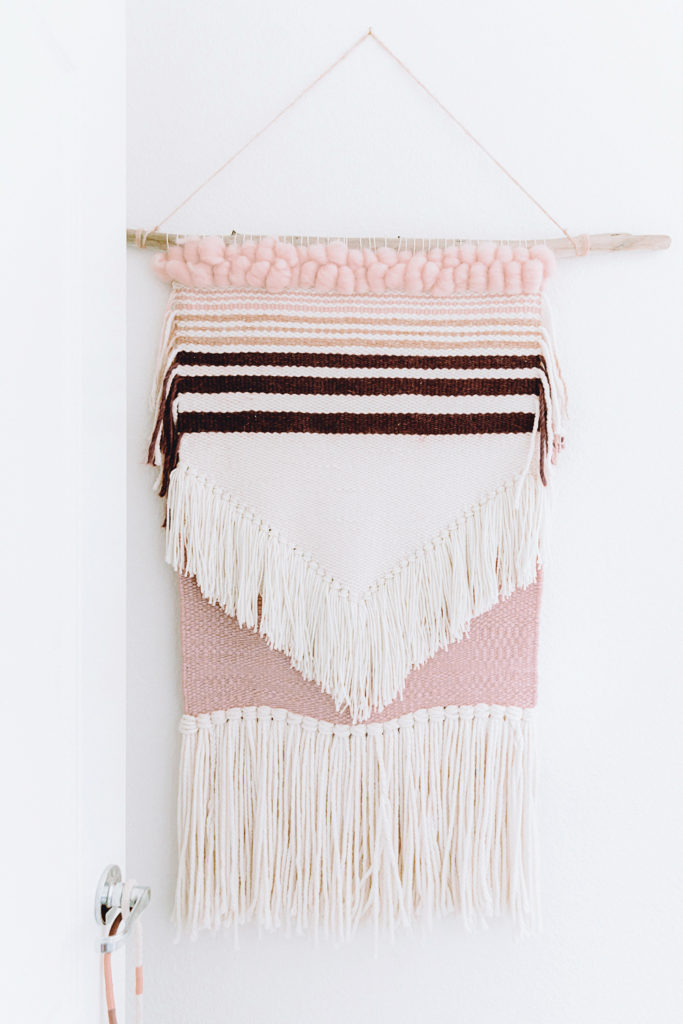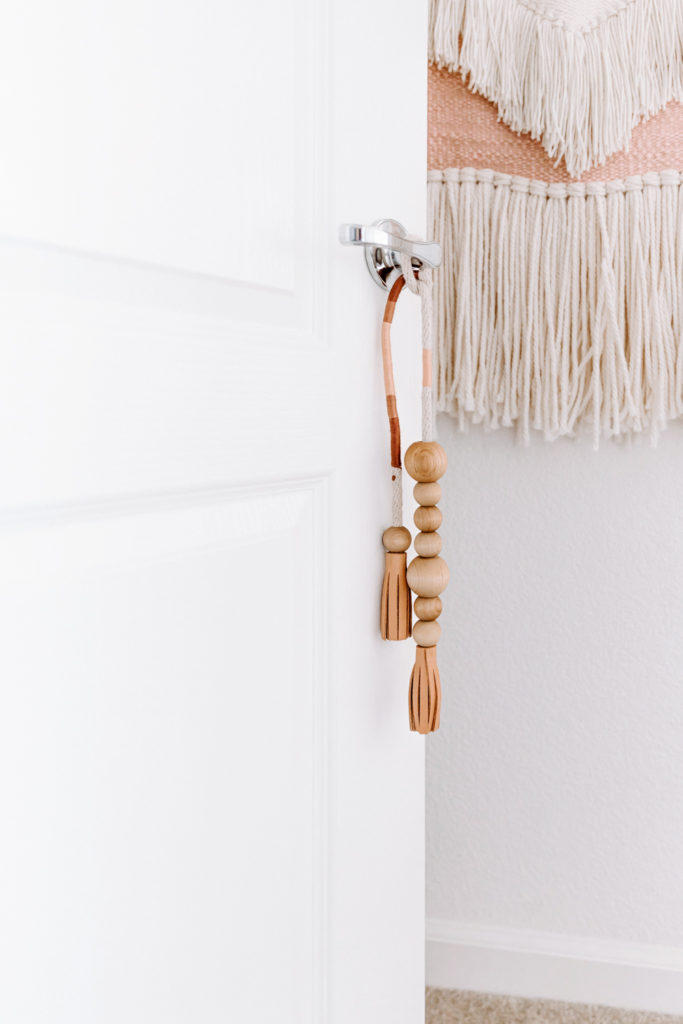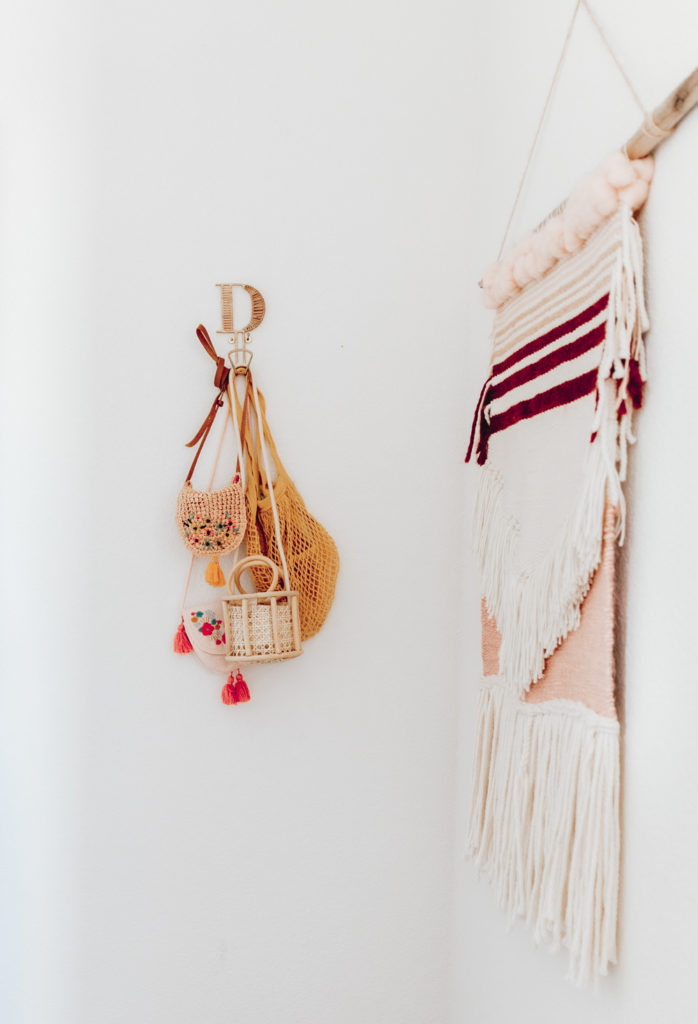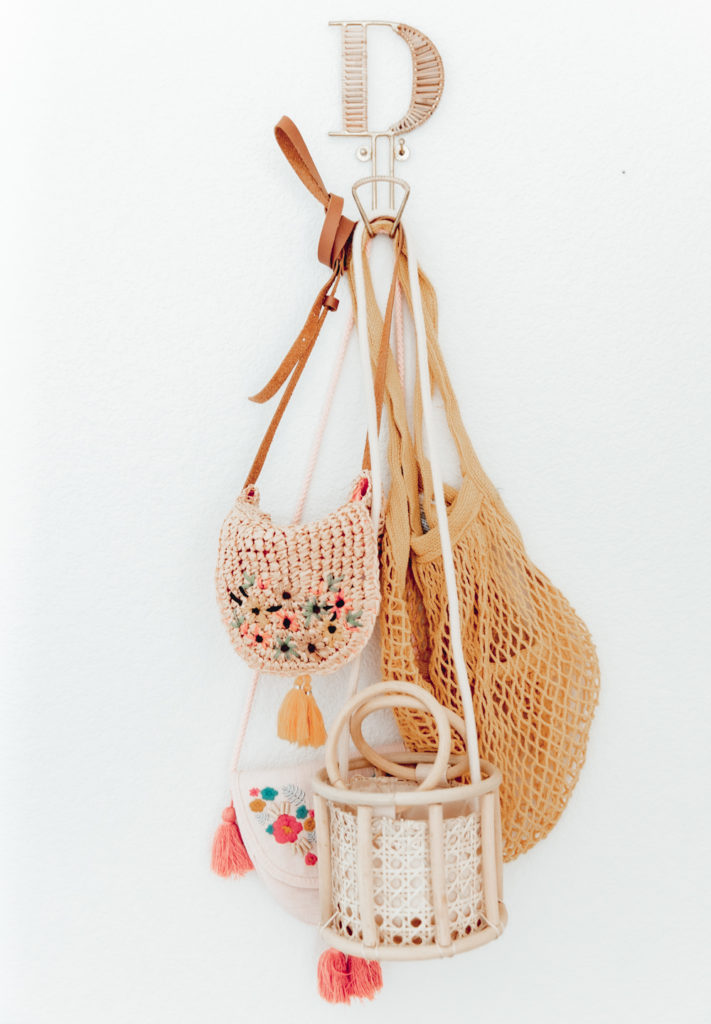 The entrance to her room is my favorite viewpoint. Her door is adorned with the sweetest wooden tassel from Ashwood Avenue, and you are greeted with the Handwoven wall hanging from The Northern Craft that she created for my home awhile ago.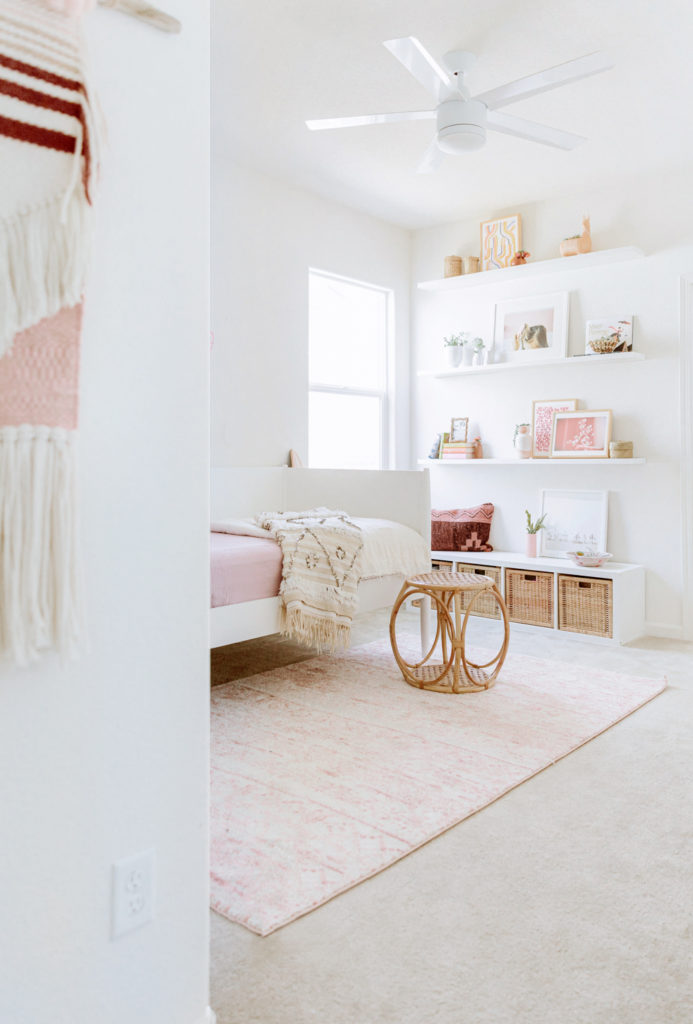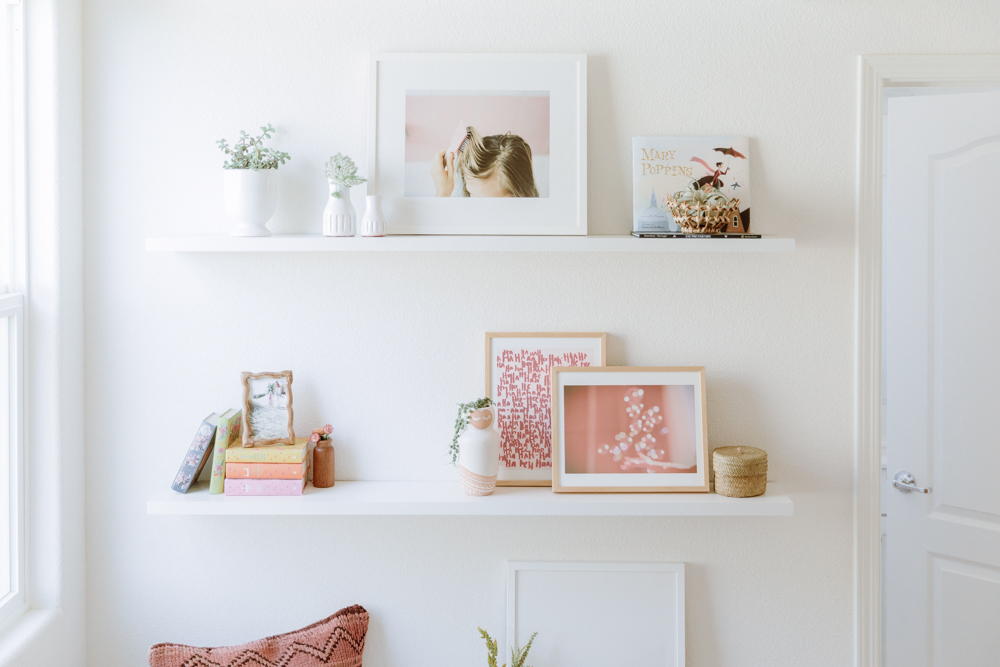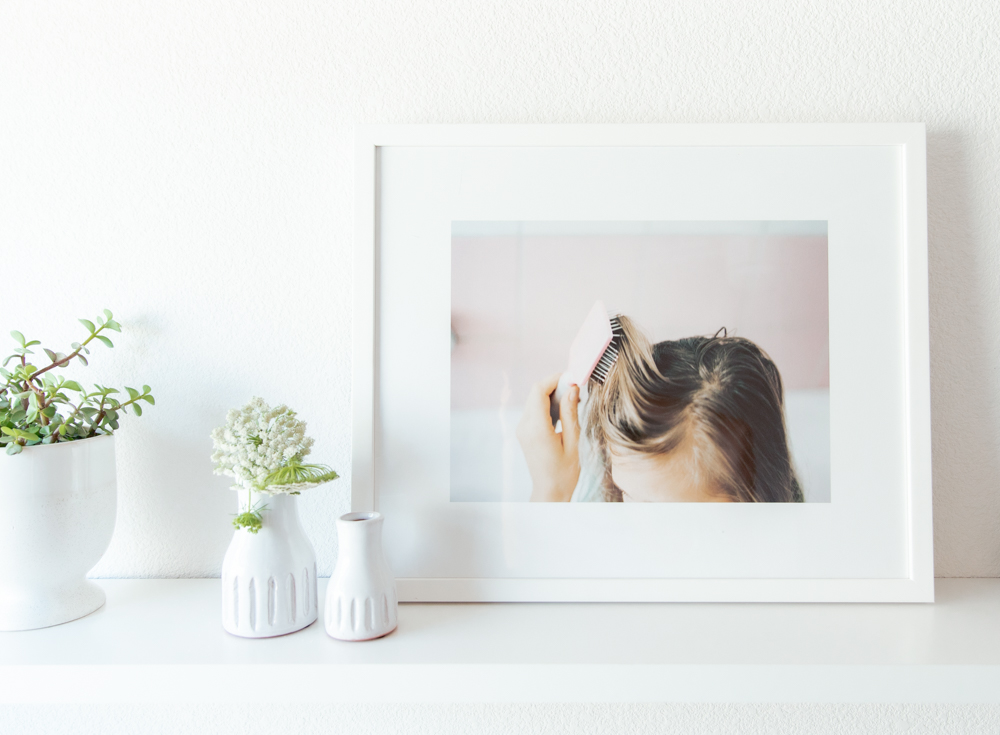 It's all about the floating shelves for a room in my mind. It's a place where you can showcase anything from art prints to their sports awards, and my personal favorite is adding in succulents and florals. It's all about the details for me, and this was the perfect place for me to style up! My husband hung these floating shelves above an Ikea bookcase with baskets that stores all her toys and arts + crafts. I love using baskets, as you can toss it all in them for a fast clean up.

Our favorite part was picking out art prints for her shelves. Minted has a massive collection of art prints that it was so hard to pick a couple we loved. She picked them all out herself, and I was so happy with her collection! My little designer chose the Magic Bubbles Art print 1st and then found ones that flowed, but each had a unique look and a story for why she picked each one. Shop them below!

Shop Dylan's Favorite Art Prints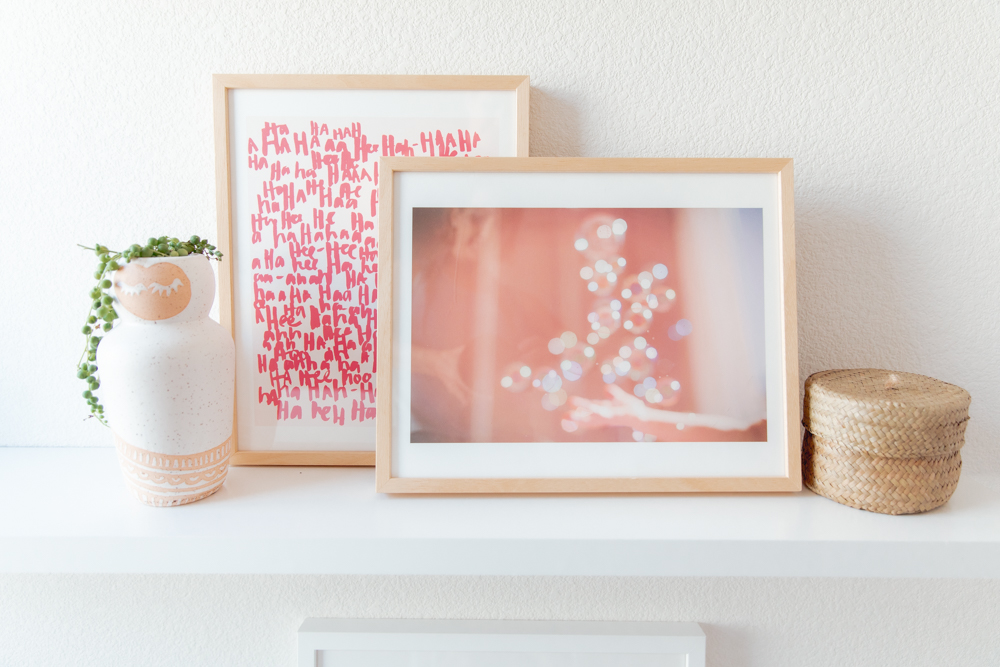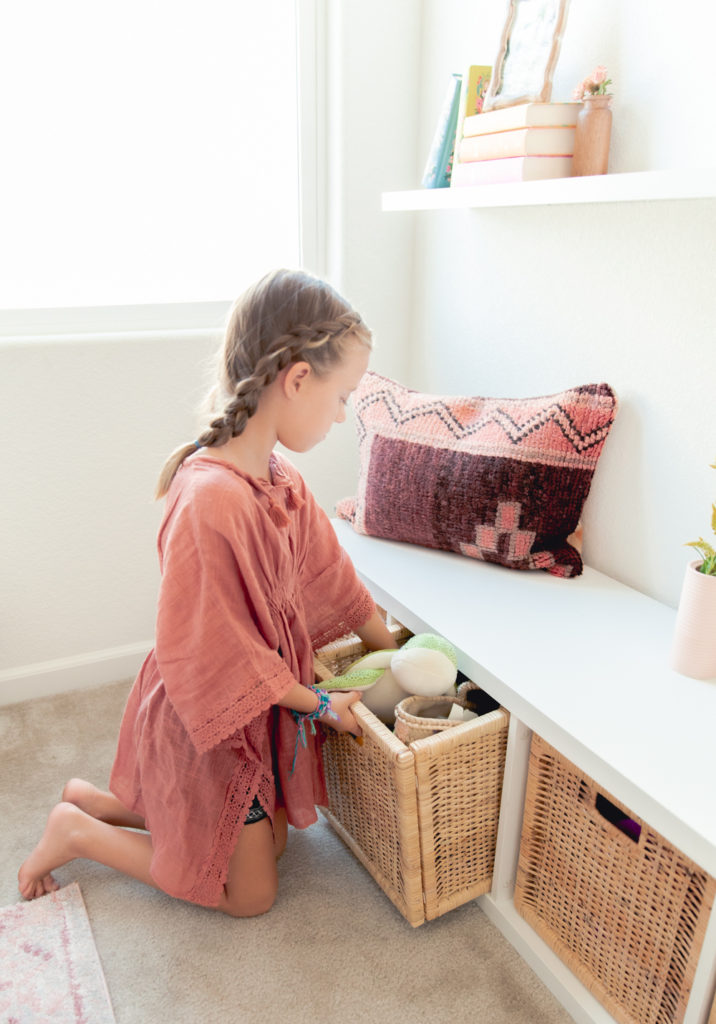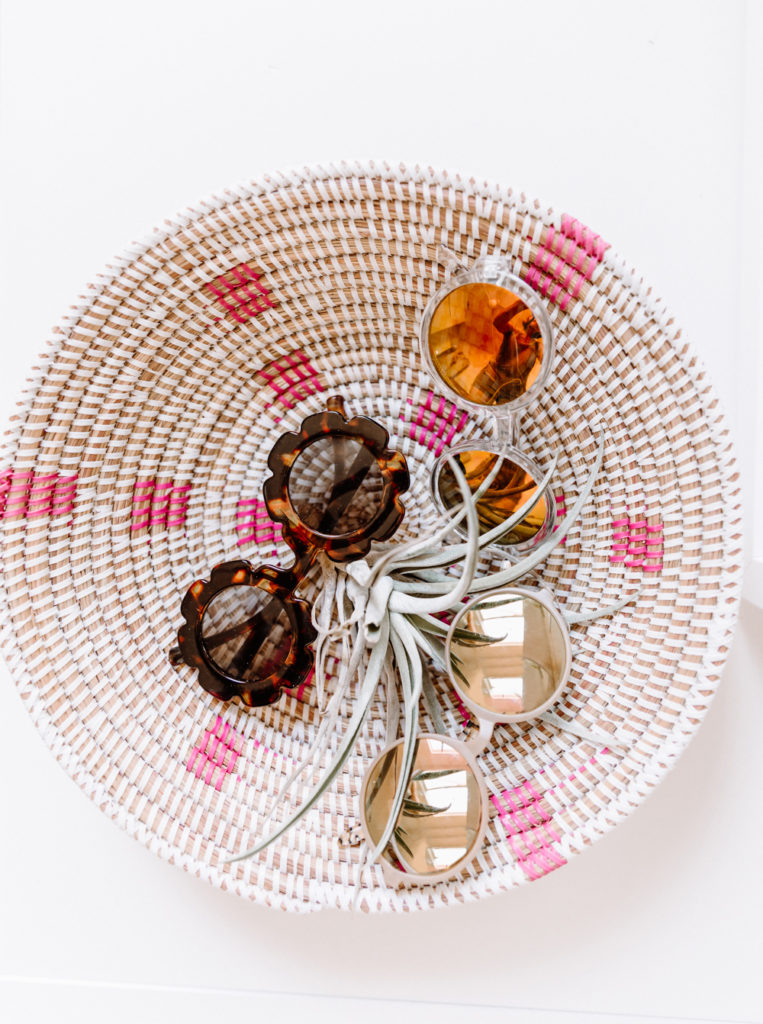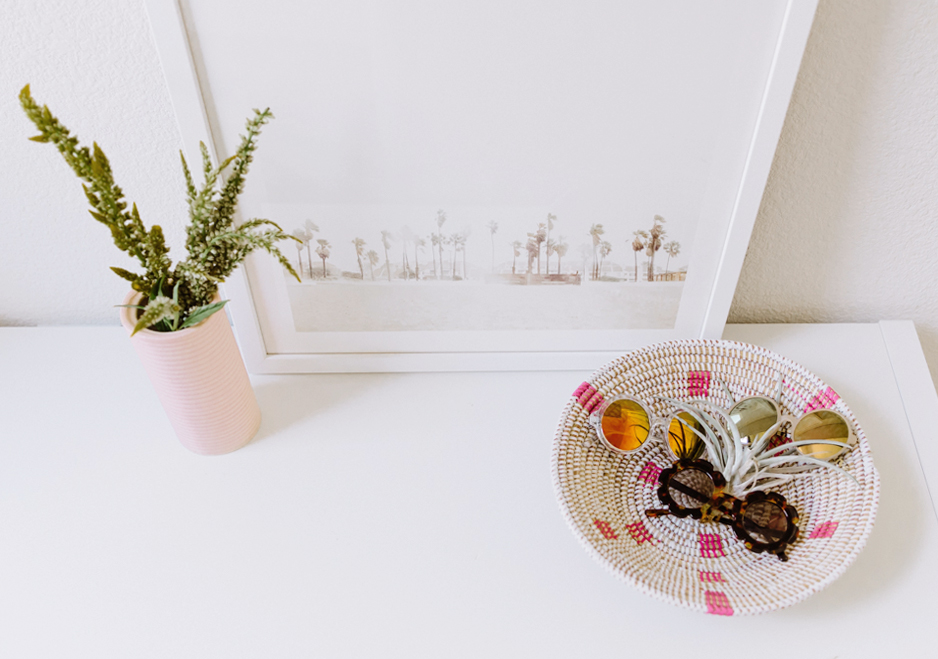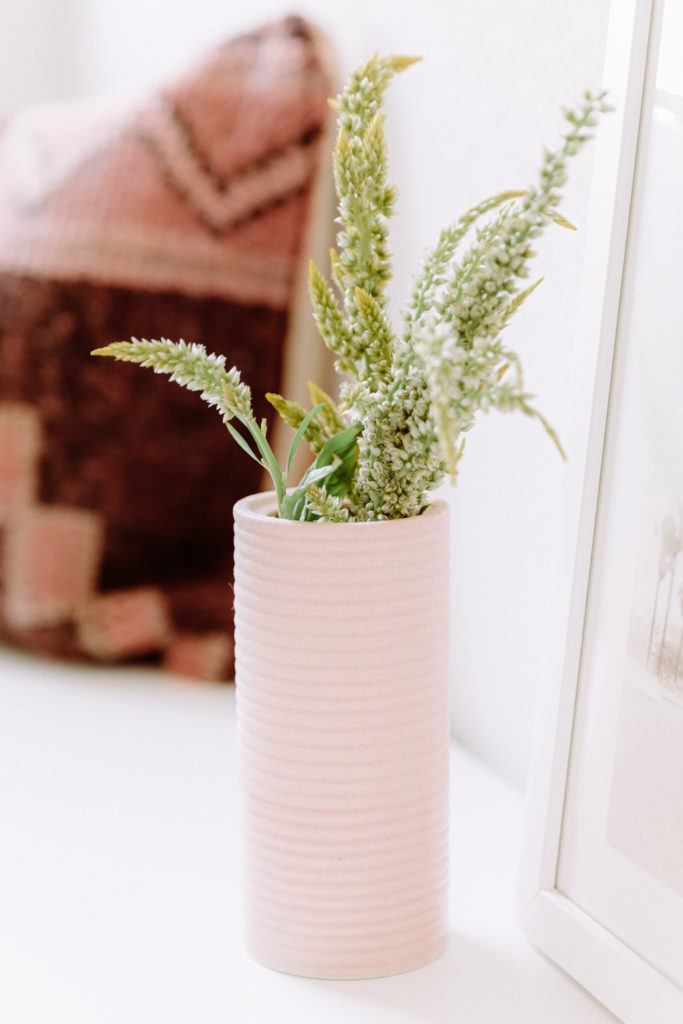 Accompanied with the art prints are some natural-toned vases which I filled with pink-toned succulents and florals. The Prickly Patch has a beautiful collection of plants. She was so helpful and sweet, helping me find the exact ones I wanted. I never knew there were pink succulents, and I can't wait to see them grow and fill in. How cute are the stacking doll and Llama vase from Anthropologie? They are sold out, but Penelope the giraffe is on sale! Here are some other vessels I love for styling shelves.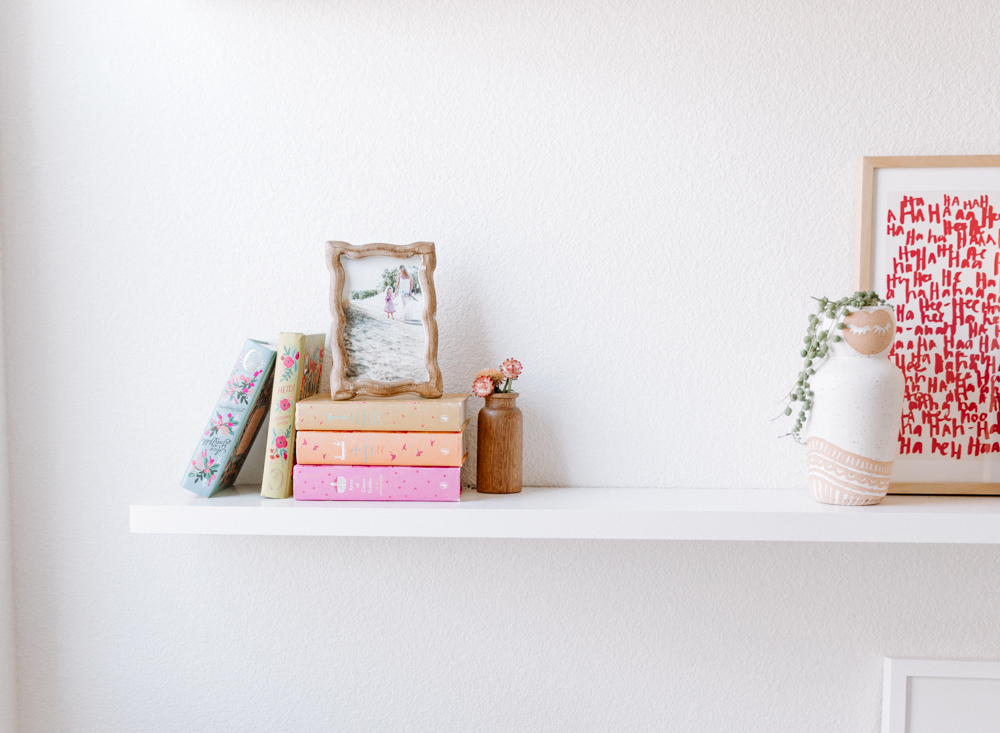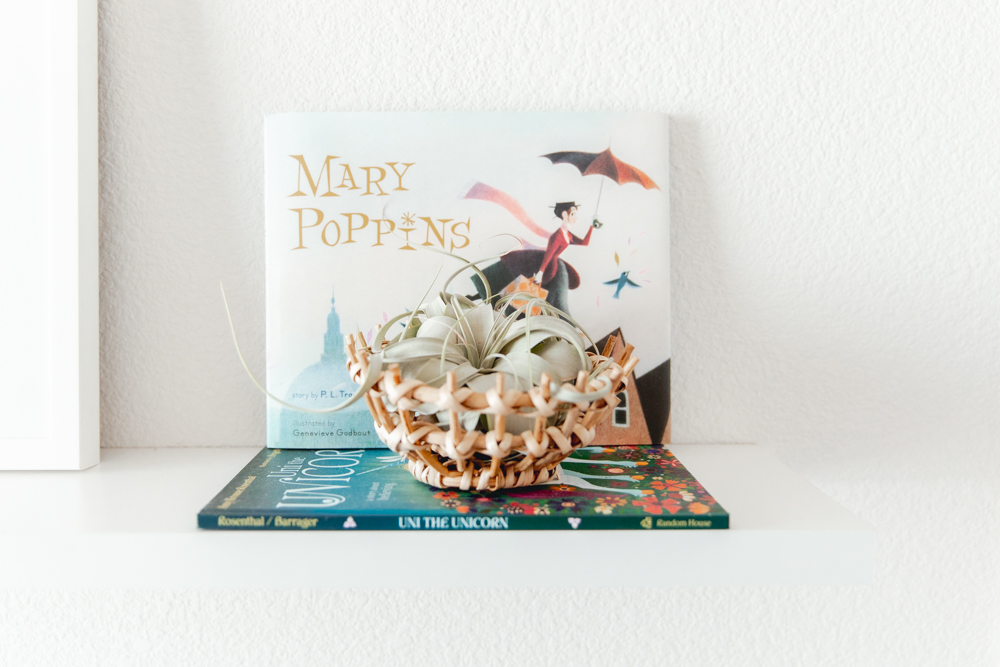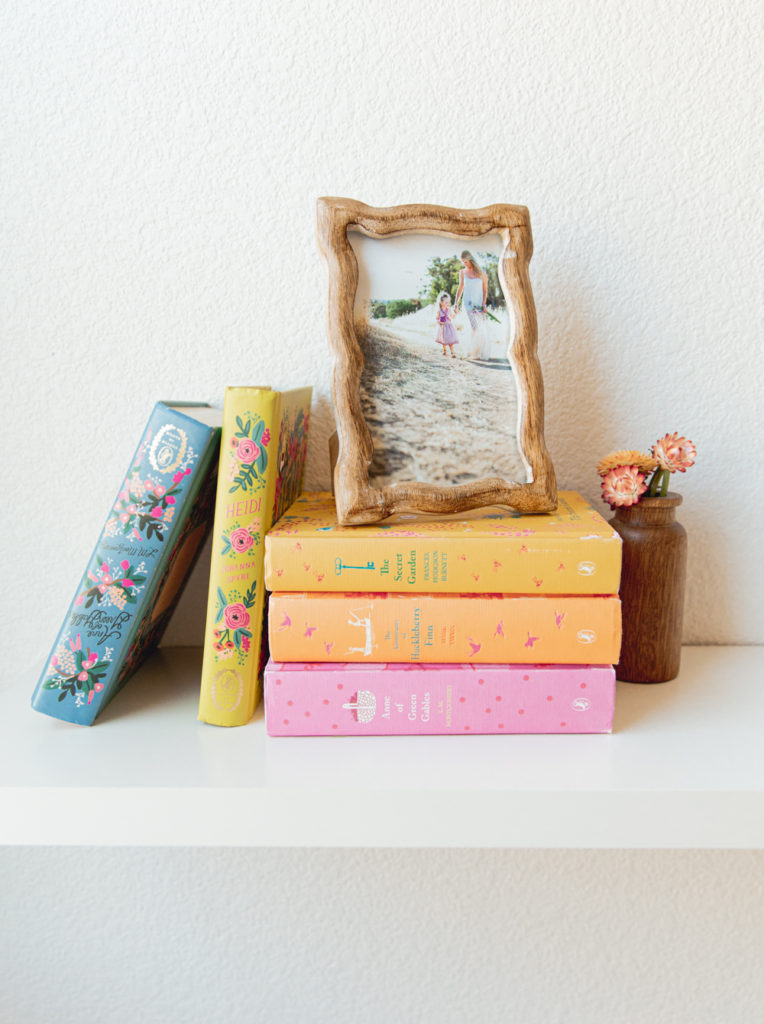 Shop Abby's Favorite Vases for Styling Shelves


Plus, some of our favorite books to style with as well!
Shop Dylan's Favorite Books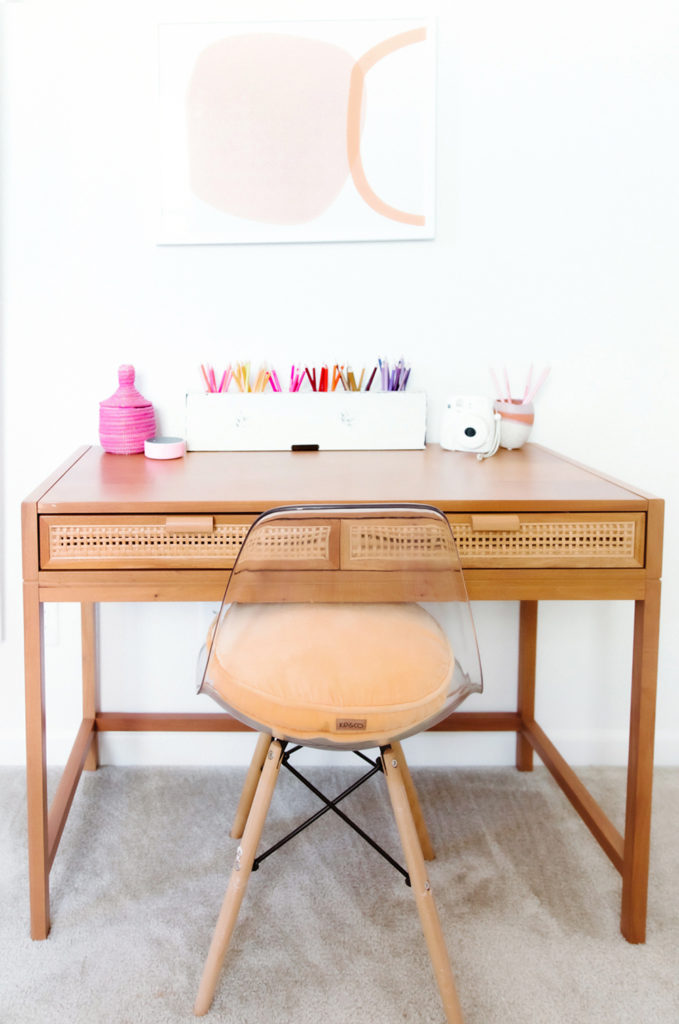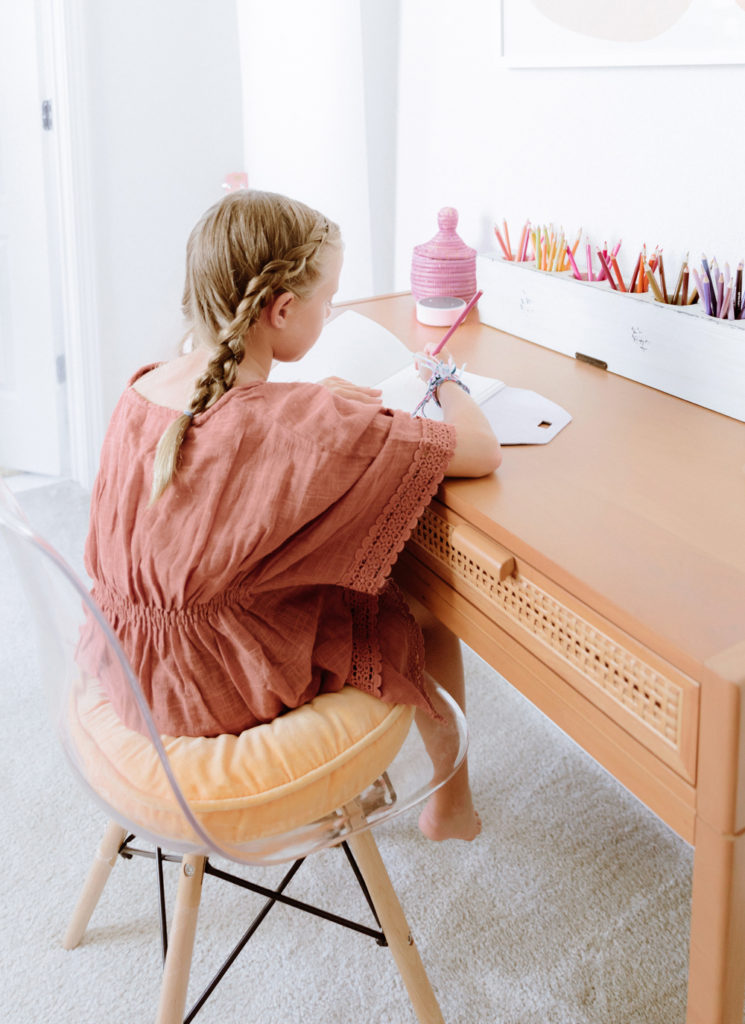 Every big girl room needs a desk area to get your homework game on! I love everything rattan so this desk from Target was perfect! It was styled with colored pencils in a Magnolia caddy, a fun woven jar from the Little Market, all which sits right below another fun Minted art print.
Shop Dylan's Desk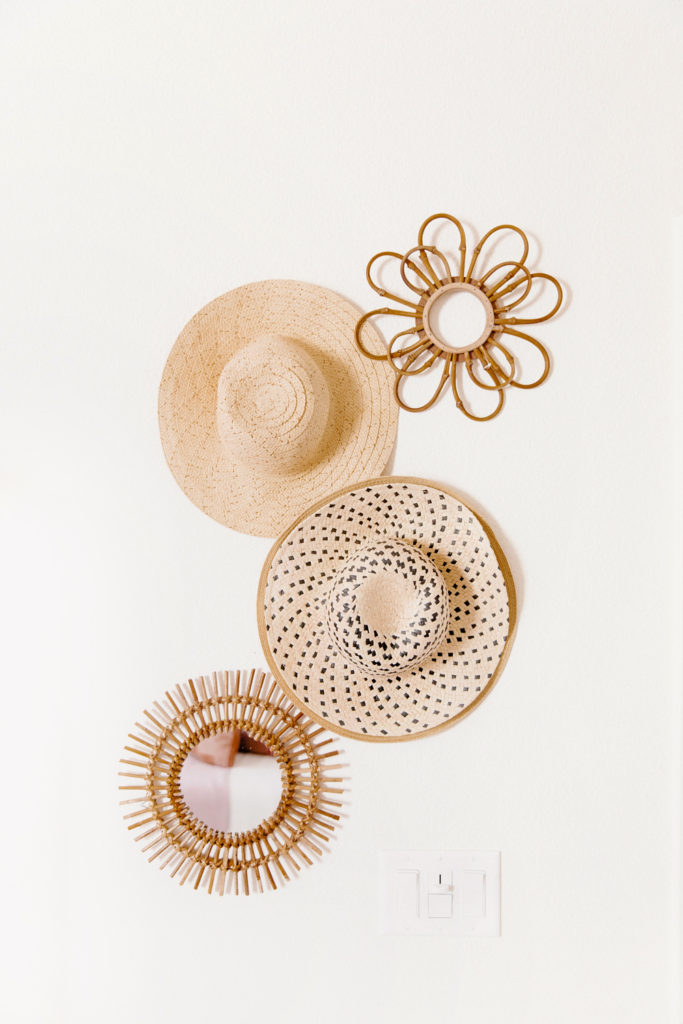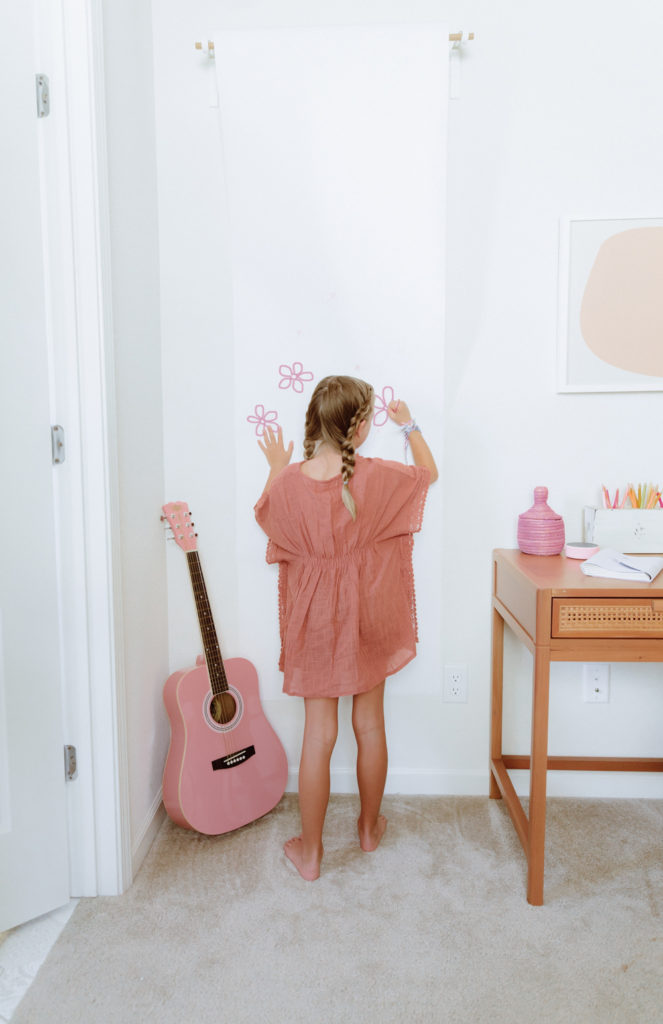 I kept her room under wraps from her for a full weekend. I wanted her to see the room fully decorated. I didn't tell her but I added a few other fun elements to her room. My husband and I made this DIY coloring wall for her to draw away on all day! She loved it! The other fun little element was her hats styled on the wall with some rattan mirrors. You can take everyday elements and style them on the walls.
Shop Dylan's DIY Coloring Wall


After all said and done, she loves her room! Big girl room status here at the Guido house!
xx
Abby