Yup thats right…. burrata + pork belly + pineapple all in for the pizza party! I have a strong love for burrata + pork belly, so I'm sure you could imagine my screech of a scream when I saw this pizza. This is a great pizza to do this time of the year where its getting a tad chill in the air but still warm.
Photos by Yasmin Sarai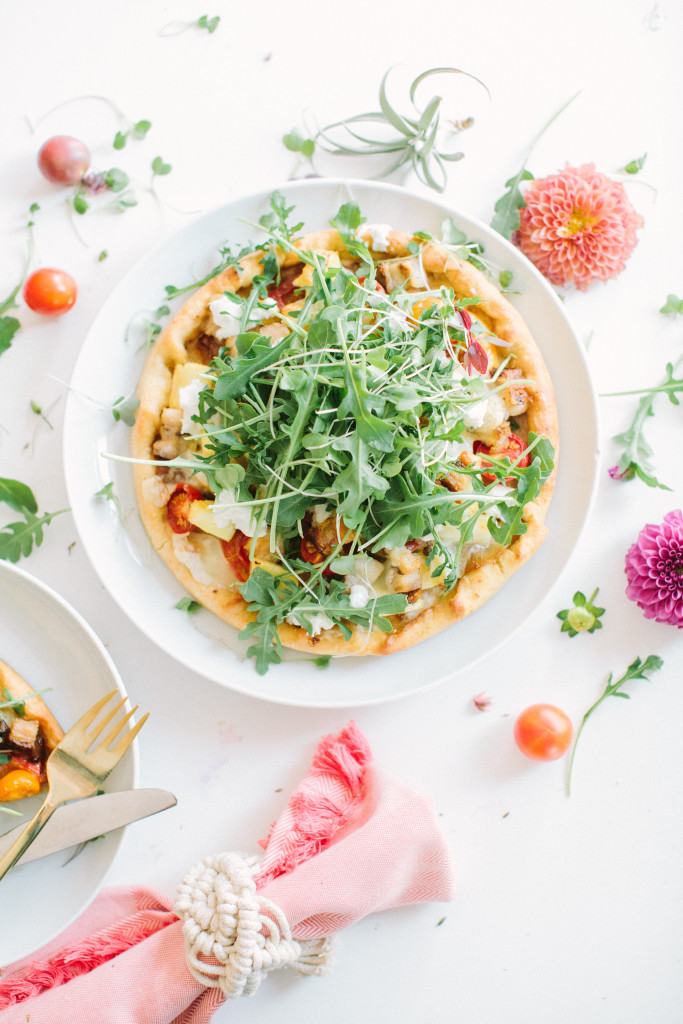 Let's see how to do it….
Ingredients
Prepared pizza crust
10 ounces burrata
12 oz pork belly, sliced into ¼-1/3" thick pieces
 2 cups arugula
4 pineapple rings
2 medium yellow onions
2 tablespoons coconut oil
2 tsp sea salt, divided
1 tsp black pepper, divided
2  medium heirloom tomatoes, sliced into thin ring
Instructions
Slice the onions in thin circles. Heat the coconut oil in a cast iron skillet and add the onions. Reduce heat to medium low and cook for 30-40 min stirring occasionally until caramelized. Set aside to cool.
Season the pork belly with half the salt and half of the pepper and cook on medium heat until crispy on both sides, about 20 min turning occasionally. Let drain on a paper towel and then roughly chop.
Brush pineapple rings with either coconut oil or grape seed oil and grill until you get some grill marks, about 2-3 minutes. Chop into squares and set aside.
Spread the caramelized onions over the top, then a single layer of tomatoes. Add on the pineapple and pork belly and then place the burrata over the top.
Grill for 5-8 minutes or until the burrata is melted and the crust is done. Remove from the grill. Season with the remaining salt and pepper and sprinkle the arugula over the top. Slice and serve.
So so good!!
xo Abby