Let's be honest… Florals are our favorite!!!
We always love a good floral arrangement and a Fall one to boot!!  Us Beijos girls often turn to Meagan of MV Florals for our floral needs, whether it's a wedding, bridal shower, photo shoot, or even for our own kiddo's birthdays.  She is such a talent and also, such a sweetheart.  She created this lovely Fall floral arrangement for us and shared her talented ways with a super easy DIY that any of us can do…
Take a peak and get ready for Fall with this step by step guide and beautiful photos by Alison Bernier.
Supplies Needed:
Decorative Container
Clippers or Knife to cut Flowers
Floral Foam (Meagan used Oasis brand)
Flowers and Greenery for Arrangement
After you soak your piece of floral foam, cut it to size and place inside your decorative container.  The foam should be a bit higher than the container.  Trim corners to make it easier to insert flower stems.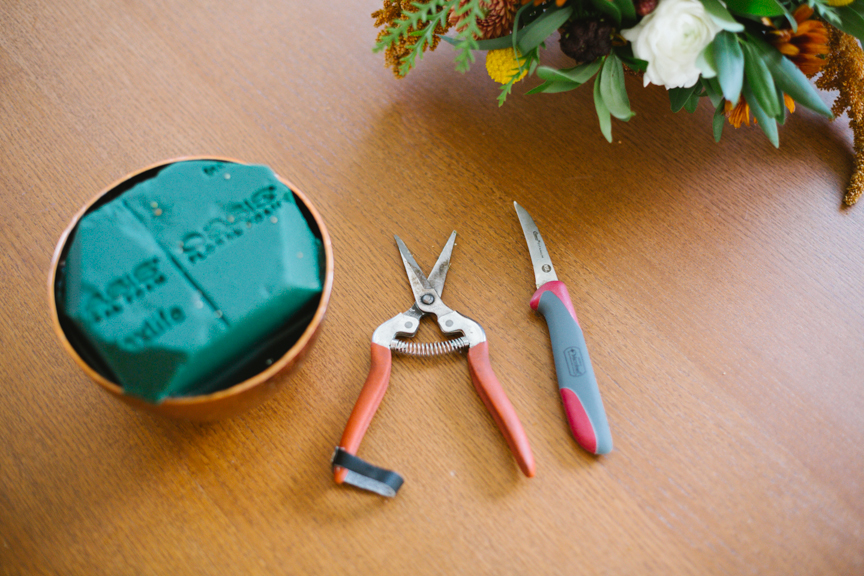 Gather all the flowers you want to use.  Choose a mass (focal) flower, as well as some filler flowers.  Using different textures makes the arrangements more interesting and eye catching.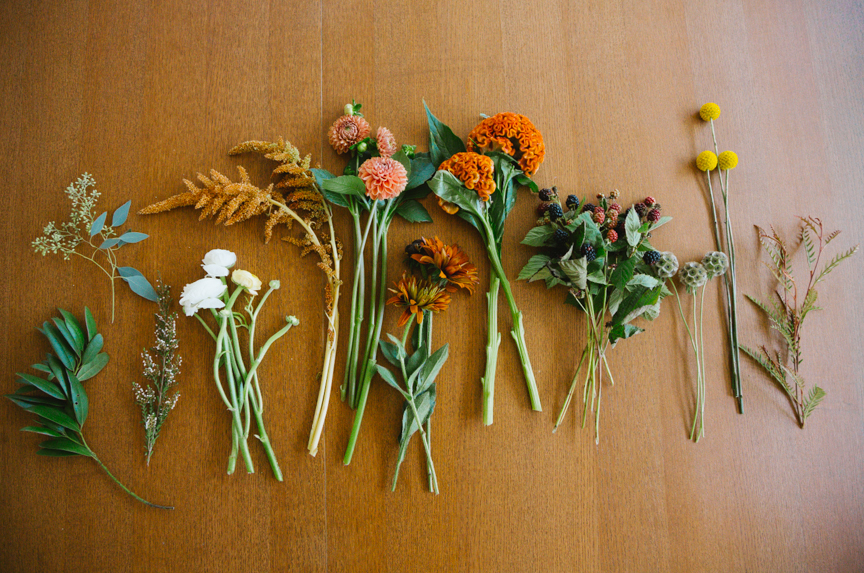 The flowers used in this arrangement are (from left to right)
Bay Laurel, Seeded Eucalyptus, Thryptomine, Ranunculus, Amaranthus, Dahlias, Rudbeckia, Cockscomb, Berries, Scabiosca, Craspedia Balls, and Grevelia.
 Create the shape you want for your arrangement by placing your line flowers (for this arrangement I used the bay laurel, grevelia, and white thryptomine) Make sure you give each stem a fresh clean cut before inserting into the foam.  The stems of each flower should reach water level and touch or be close to the bottom of the container.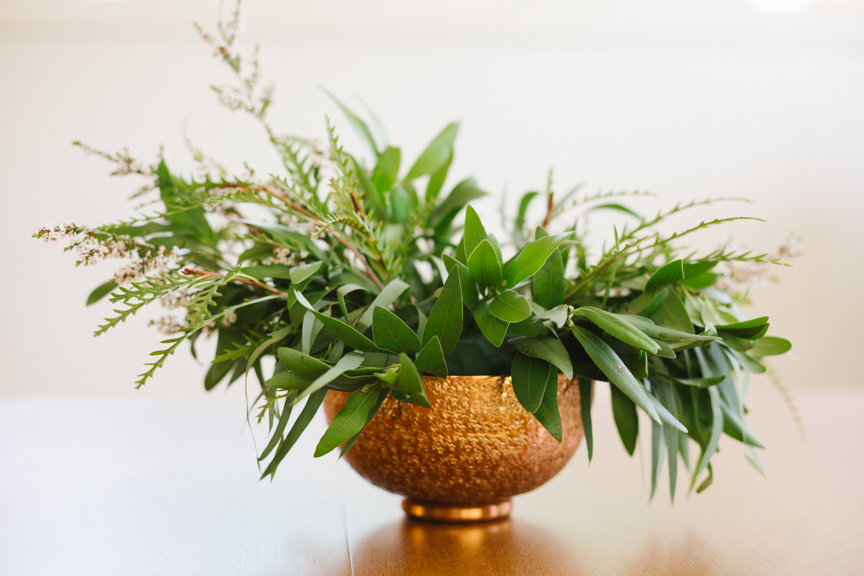 After you have your lines determined place your focal flowers.  Focal flowers are usually the biggest or most stricking flower you want to show and are placed in the center or front of the arrangement.  I used the orange cockscomb flower in this arrangement.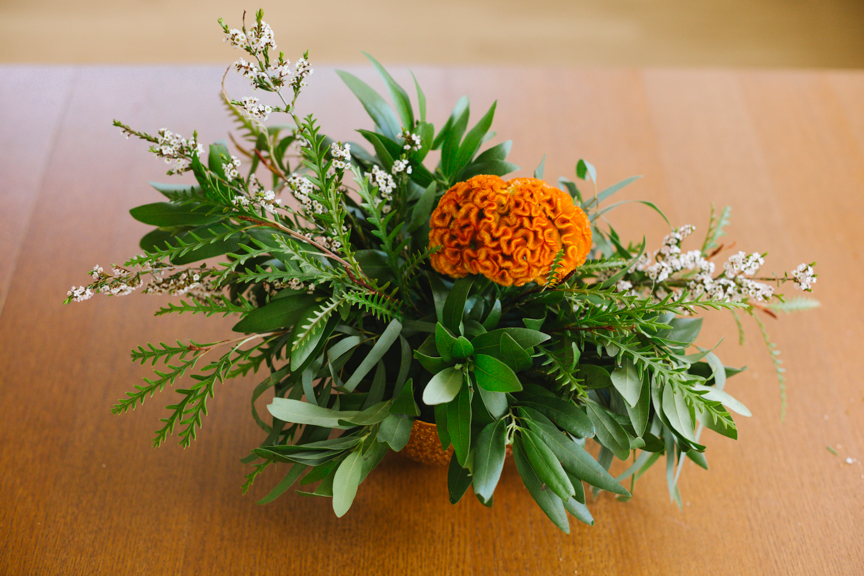 Continue adding filler flowers around your focal flowers, filling up space in the arrangement. You don't want to see any floral foam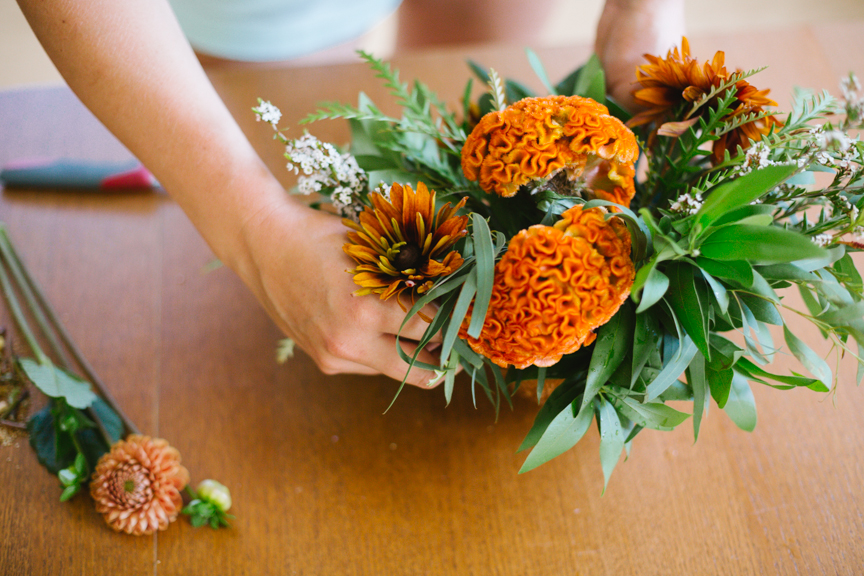 Once you think you have your arrangement filled to your desire, I like to sit at eye level and make sure you don't see any holes in your arrangement and do a final adjustment of the flowers and greenery.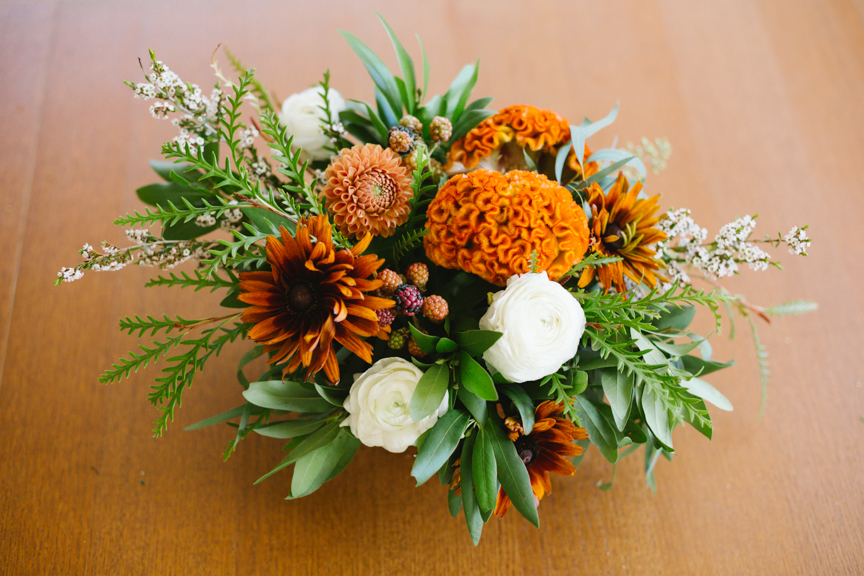 Keep your container filled with water each day to maximize your flower arrangement life & enjoy!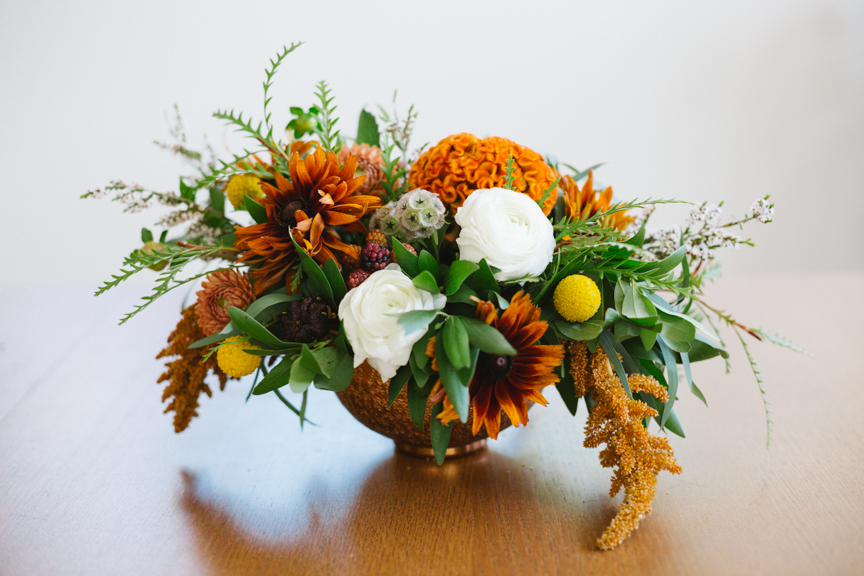 Isn't it gorgeous?!
We love the colors and think it adds such a beautiful touch to any table or other spot in your home for this Fall season!  Check back soon for more of Meagan's floral tips!